New Age Islam News Bureau
24 Apr 2017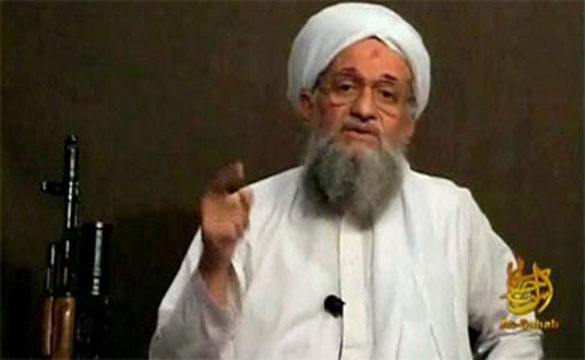 Al Qaeda's Ayman al-Zawahri speaks from an unknown location, in this still image taken from video uploaded on a social media website June 8, 2011. Social Media Websitevia REUTERS/File Photo
-----
• Ayman al-Zawahri Urges Jihadists To Use Guerrilla Tactics In Syria
• Pope Francis Likens Some Refugee Centres To 'Concentration Camps'
• Sharia Laws: Muslim Board To Use Social Media To Clear Confusion, Mulls News Channel
• Bangladesh Govt Plans 560 Model Mosques To Spread Islamic Values
• Perlis Mufti Says Plight Of Muslims In India Can't Be Ignored
Arab World
• Ayman al-Zawahri Urges Jihadists To Use Guerrilla Tactics In Syria
• Israel's Former Minister Admits Tacit Israel-Daesh Alliance: Report
• Arab coalition forces detain top Qaeda leaders
• Dolls, teddy bears return to eastern Mosul after ISIS
• Huge crowds throng Baghdad shrine
• Terrorists to Use US-Made Missiles to Slow Down Syrian Army Advances in Western Aleppo
• Al-Nusra Retreats from Key Position in Eastern Damascus
• Syria: Army Soldiers Continue Battle in Aleppo Province
• Syrian Army Smashes Terrorist Centres, Wins back More Territories in Hama
• Three Syrian Soldiers Killed in Israeli Attack on Army Position in Quneitra
• Non-Syrian ISIL Terrorists Killed in Syrian Army's Fresh Advances in Deir Ezzur
• Tebian project against terror continues registration for May enrolment
--------
Europe
• Pope Francis Likens Some Refugee Centres To 'Concentration Camps'
• Belfast Bomb 'Intended To Kill Officers', Police Say
• Morocco accuses Algeria of expelling 55 Syrians across the border
• Labour leader Corbyn says could suspend Syria air strikes if elected
• Germany 'rejects most Afghan asylum requests in 2017'
--------
India
• Sharia Laws: Muslim Board To Use Social Media To Clear Confusion, Mulls News Channel
• Joint Anti-Terror Operations: FBI May Give India 'Encrypted' Data On Terror
• 300 WhatsApp groups were used to mobilise stone-pelters at encounter sites in Kashmir: Official
• No One Questions Muslims Due To Vote-Bank Politics: Tripura Governor
• Surendranagar: Attacked and robbed, doctor supects role of IS sleeper cell | The Indian Express
--------
South Asia
• Bangladesh Govt Plans 560 Model Mosques To Spread Islamic Values
• Furious Afghans Call For Resignations After Base Attack
• Al-Qaeda members among 10 killed in southern Afghanistan airstrikes
• Afghan defence minister and army chief of staff resigns
• Killings on the rise in presence of US and their false actions: Karzai
• Afghan forces to take revenge of the attack on Shaheen Corps: Atmar
• Top Afghan defence officials to be summoned by parliament over base attack
--------
Southeast Asia
• Perlis Mufti Says Plight Of Muslims In India Can't Be Ignored
• Indonesia Does Not Need Caliphate, MUI Chief Says Amid Social Media Frenzy
• Zaid: Umno-PAS ties will result in 'Talibanisation' of country
• Zakir Naik issue: Need for empathy, Anas tells Malaysians
• How the Symbols of Indonesia's Hardline Muslim Groups Reached the Pages of Marvel Comics
• The Muslim Who Died Saving Christians
--------
Pakistan
• Afghan Commissionerate Turned Into JUI-F Commissionerate
• Pakistan Cajoles Iran To Join Saudi Alliance
• Tax breaks for Chinese won't hit economy: govt
• MQM-P holds big rally to 'seek rights for people of Karachi'
• Let's clean country from Fasaad: COAS
• BLF bomb kills four FC men in Turbat
• JITs grill criminals, not gentlemen: Chandio tells Nawaz
--------
Mideast
• Dissident Leader: Turkey Directly Involved in Khan Sheikhoun Chemical Attack
• US, Israel Two Sides Of Same Coin, Trying To Destroy Yemen: Houthi
• Large explosion kills 7 militiamen in Yemen's Aden
• Arab coalition forces detain al-Qaeda leaders, including Yemen's Zarqawi
• ISIS reportedly moves headquarters from Syria's Raqqa to Deir Ezzour
• UN Chief Guterres Vows To Stand Up Against Alleged 'Anti-Israel Bias'
• Three killed in Israeli attack on Syria military camp
• Protests in Istanbul over disputed referendum result
--------
Africa
• Kenya: Militant Groups Lure Youth Into Terrorism, Sex Slavery
• This Map Shows The Presence Of Salafism In The Middle East And North Africa
• US cites piracy in Somalia for new focus on Africa
• Roadside bomb blast kills eight Somali soldiers in Puntland
• Despite truce, Fayose deploys bulldozers near mosques marked for demolition – MURIC
--------
North America
• US Lawmaker Pledges To Defend Rights Of Muslim Americans
• Why Did Erdogan Meet Secretly With Prominent American Figures?
• Journalism and coverage of Islam is weighty topic of panel forum
• After Sadiq Khan and Ilhan Omar, will America get its first Muslim governor?
• Muslim Who Threatened Christians in Facebook Live Charged As a Terrorist
• Canada enacts more sanctions on Syria
Compiled by New Age Islam News Bureau
URL: https://www.newageislam.com/islamic-world-news/ayman-al-zawahri-urges-jihadists/d/110889
--------
Ayman al-Zawahri urges jihadists to use guerrilla tactics in Syria
Apr 24, 2017
Al Qaeda leader Ayman al-Zawahri has called on Syrian Sunni jihadists to wage guerrilla war against enemies ranging from Syrian President Bashar al Assad and his Iranian-backed allies to Western powers.
In an audio recording posted online on Sunday, Zawahri called for the rebels to be patient, saying they should be prepared for a long battle with the Western-led coalition in Iraq and Syria and Iranian-backed Shi'ites fighting alongside Syrian President Bashar al Assad's government.
"Our people in Sham (Syria) prepare yourselves for a long battle with the Crusaders and their allies the Shi'ites and Alawites," the successor to Osama bin Laden said.
Muslim Sunni militants consider Shi'ites and Alawites heretics.
Zawahri said jihadists were targeted by their enemies because they sought to impose Islamic rule in Syria, adding that the West and its allies were doing everything they could to prevent an "Islamic" wave that was sweeping the region.
It was not clear when the recording, in which the militant leader also said holy war (jihad) in Syria was not just the prerogative of Syrians but all Muslims, was made.
He also warned insurgents not to turn the conflict into an purely internal Syrian one.
Syria's former al Qaeda branch Nusra Front now spearheads an alliance of Islamist brigades known as Hayat Tahrir al Sham which is leading battles against Syrian government forces and their Russian and Iranian backed allies on most of the main fronts in the country.
This alliance plays a key role in the control of most of Idlib province, although U.S. led coalition strikes have killed dozens of its leaders in recent months.
http://nation.com.pk/international/24-Apr-2017/ayman-al-zawahri-urges-jihadists-to-use-guerrilla-tactics-in-syria
--------
Pope Francis Likens Some Refugee Centres To 'Concentration Camps'
23 April 2017
Pope Francis on Saturday described some of Europe's refugee centres as "concentration camps" as he paid tribute to an unknown Christian woman slain for her faith in front of her Muslim husband.
"These refugee camps -- so many are concentration camps, crowded with people... because international accords seem more important than human rights," Francis said in impromptu remarks at a ceremony in memory of modern day Christian martyrs.
Departing from his prepared script and appearing unusually emotional as he spoke, the 80-year-old pontiff said he wanted the woman to be remembered along with all the other martyrs commemorated in Rome's Basilica of St Bartholomew.
He revealed that he had met the woman's husband during his visit to a refugee camp on the Greek island of Lesbos last year.
"I do not know what happened to him, if he managed to get out of his concentration camp, and get to somewhere else" Francis said, describing the man as a father-of-three but not revealing his nationality.
"He looked at me and said 'Father, I am a Muslim and my wife was a Christian. In our country we were terrorised ... they saw her crucifix and they asked her to throw it away.
"When she refused they cut her throat in front of my eyes. We loved each other so much." Saturday's service at the Basilica located on an island in the Tiber river that separates most of Rome from the Vatican, was also addressed movingly by Roselyne Hamel.
She is the sister of Jacques Hamel, the 85-year-old priest murdered by militants last year as he was celebrating mass in his church in Normandy in northern France.
"At his age, Jacques was frail but he was strong in his faith in Christ, strong in love for the Gospel," Roselyne Hamel said.
Describing her sibling as "a universal brother," she said she was certain his love for humanity would even have extended to his killers.
The Basilica where Saturday's service took place is home to a large collection of relics of Christian martyrs across the ages.
https://english.alarabiya.net/en/News/middle-east/2017/04/23/-Pope-compares-refugee-centres-to-concentration-camps-.html
--------
Sharia laws: Muslim board to use social media to clear confusion, mulls news channel
Apr 23, 2017
To clear confusion over Sharia laws, the All India Muslim Personal Law Board (AIMPLB) has decided to tread the social media path and also explore the possibility of starting a TV news channel and newspaper.
The board has decided to constitute a special social media committee, which will provide clear information about various issues pertaining to divorce, marriage, halala, warisana haq (inhertiance rights) and women's rights among other issues. It will also convey the board's stand on these contentious issues.
"Senior office bearers along with a large section feel the medium through which Sharia laws are being criticised, the same medium should be utilised to register our presence and also to present the right picture of things," AIMPLB senior executive member Maulana Yasin Usmani said.
He said in the executive meeting of AIMPLB in Lucknow on April 15 and 16, the issue cropped up and it was decided to form a social media committee.
"For this, the board authorised its chairman Maulana Rabe Hasan Nadwi and general secretary Maulana Wali Rahmani," Usmani said. "The committee is likely to be formed soon. It is quite possible that office bearers of the board, who are active on the social media and have in-depth knowledge about Sharia laws, may be included so that they can immediately respond to queries on the social media and give their reaction."
The board also discussed at its recent meeting the idea of starting a television news channel and newspaper, Usmani added.
"Most of the office bearers in principle had agreed to the idea. But, on the issue of non-availability of the required resources in the current scenario, no decision was taken," he said. "Keeping in mind the present circumstances, the AIMPLB has to take some tangible steps in this direction."
On the issue of absence of Ulama (clerics) on news channels during debates raised by Darul Uloom Deoband, Usmani said, "Generally, it has been seen that news channels have their own agenda and they run their programme accordingly. It is better that Ulamas are not a part of these debates."
The issue of triple Talaq has been a hot topic of debate throughout the country.
Several Muslim women organisations have been opposing triple Talaq, while AIMPLB was of the view that the system is being misused.
AIMPLB has suggested spreading awareness in the society on the issue.
The board in its executive meeting here last week had declared that a person pronouncing triple Talaq without proper Sharia reasons will face a social boycott.
However, the All India Shia Personal Law Board and All India Muslim Women Personal Law Board had termed the move as "inadequate" and said it will not ensure justice to aggrieved women.
http://www.hindustantimes.com/india-news/sharia-laws-muslim-board-mulls-news-channel-to-use-social-media-to-clear-confusion/story-EanV3BzsasjbfTvCssthFI.html
--------
Bangladesh Govt Plans 560 Model Mosques To Spread Islamic Values
April 24, 2017
The government has initiated a move to set up some 560 model mosques across the country, aiming to develop and spread the Islamic values and culture.
The Executive Committee of the National Economic Council (Ecnec) is likely to consider a project to this end at tomorrow's meeting, with an estimated cost of Tk 9,062 crore, said a Planning Commission official.
Of the total project cost, Saudi Arabia will provide Tk 8,000 crore as grant while the rest will come from the national exchequer, the official told the news agency wishing to remain anonymous.
The Bangladesh Islamic Foundation will implement the project under which the model mosques-cum-Islamic cultural centres will be set up in all the districts, city corporations and Upazila areas.
During Prime Minister Sheikh Hasina's visit to Saudi Arabia in 2016, the Kingdom promised to provide assistance to Bangladesh for building mosque-cum-Islamic cultural centres in all Upazilas of Bangladesh.
Under the project, according to the official, model mosques in some 64 districts and 16 coastal areas will have four-storey buildings, and the rest three-storey ones. In these mosques, some 4.4 lakh men and 31,400 women will be able to offer prayers every day.
The model mosques will be built in three categories -- A, B, and C. Under category A, some 68 four-storey mosques having the elevator facility will be constructed in 64 districts, and four city corporation areas with an overall floor space of 2,81,584 square metres.
Under category B, 476 mosques will be built with a total floor space of 64,742 square metres, while 16 under C category will have a floor space of 61,025 square metres.
Another official at the Ministry of Religious Affairs said these mosques would have library facilities, where some 34,000 people would be able to read the Holy Quran and other Islamic books simultaneously.
Besides, there will be arrangements for conducting research on Islamic affairs for some 6,800 people, while some 56,000 people will be able to offer doa and munajat, and count in Tasbih round the clock in those mosques once the project is completed.
The ministry official told the news agency that there would be arrangements for imparting primary education to some 68,000 children every year apart from other religious affairs. Some 14,000 Hafez-e-Quran (people who memorise the whole Quran) will come out from these mosques every year, he added.
Besides, the official said, there would be arrangements for the accommodation of some 2,240 local and foreign guests alongside facility for digital registration of the holy hajj.
http://www.thedailystar.net/city/govt-plans-560-model-mosques-spread-true-islam-1395511
--------
Perlis Mufti Says Plight Of Muslims In India Can't Be Ignored
April 24, 2017
PETALING JAYA: Perlis mufti Mohd Asri Zainul Abidin took to his Facebook again today, calling for empathy for what he claims is happening to the Muslims in India.
In his post, Asri uploaded a report from a news portal, presstv.com, which claimed that a group of Hindu "cow vigilantes" had attacked a Muslim family in the Indian-controlled part of Kashmir, injuring the family members, including a young girl.
Above the uploaded article, Asri wrote as a caption: "Read about the fate of our fellow Muslims or at least of our fellow human beings. Are animals so revered that women and children have to pay the price? What are the most deserving words to describe what is happening in India? And what is the rationale of organisations in Malaysia being loyal to India?"
The post had received 4,500 likes and 492 shares at the time this was published.
Last Friday, Asri uploaded a controversial poem criticising "cow worshippers" and defending an unnamed preacher against attempts to hand him over to an "evil government". This received a lot of flak, especially from the Indian community in Malaysia.
The following day, however, Asri explained on Facebook that the poem he uploaded on Friday was directed at Indian Prime Minister Narendra Modi's administration for allegedly allowing the killing of Muslims over the slaughter of cows, which the Hindus consider sacred.
He has since taken down the poem.
Asri was also quoted by Malay Mail Online as saying that he will meet the Indian community to explain his controversial poem.
http://www.freemalaysiatoday.com/category/nation/2017/04/24/asri-says-plight-of-muslims-in-india-cant-be-ignored/
--------
Arab World
Israel's Former Minister Admits Tacit Israel-Daesh Alliance: Report
Apr 24, 2017
Israel's former minister of military affairs Moshe Ya'alon has admitted to a tacit alliance with Daesh, saying the Takfiri group had "immediately apologized" to Tel Aviv after firing "once" into Israel.
International media outlets have already reported extensively on Israeli commandos' missions inside Syria to rescue wounded militants but a senior regime official's acknowledgement of a link with Daesh is unprecedented.
Ya'alon's explosive revelation came during an interview reported Saturday on Israeli Channel 10's website, Israeli content portal Mako, which acts as a gateway to Israeli media outlets and websites.
Mako also incorporated footage of the event in the northern Israel city of Afula, during which the former military affairs chief was seen describing an occasion in which Syria-based Daesh terrorists had fired into Golan Heights.
Golan is a Syrian territory, which Tel Aviv has been occupying since 1967 and lays claim on it as its own property. Save some rare alleged rocket attacks from Egypt's Sinai Peninsula, for which Daesh has reportedly claimed responsibility and have not resulted in any human injury or losses, the group has generally refused to target either Israel or the territories under its occupation.
However, Ya'alon said after opening fire on Golan, Daesh served Tel Aviv with a quick apology, pointing to the alliance between the two, and also suggesting that the group had agreed not to target Israeli interests in line with the rapport.
"On most occasions, firing comes from regions under the control of the (Syrian) regime. But once the firing came from ISIS (Daesh) positions–and it immediately apologized," he said.
Israeli media outlets, meanwhile, refused to report on the Daesh strike, probably because of either a media blackout or military censorship, reported Tikun Olam, a Seattle-based liberal blog dedicated to outing "the excesses of the Israeli national security state," which also reported Ya'alon's remarks.
"In the midst of complaining about the Islamist threat to Israel and the world, Bibi (Benjamin) Netanyahu (Israel's prime minister) conveniently forgets that his own country enjoys a tacit alliance with ISIS in Syria," said New York-born Dr. Richard Silverstein, who runs the blog. "It is an alliance of convenience to be sure," he added.
According to him, Ya'alon has been speaking more candidly about the inner workings of the regime since falling out with Netanyahu and being replaced by successor Avigdor Lieberman.
"But he did reveal how closely tied Israel is to ISIS in Syria," wrote the blogger, who has also documented Israeli collaboration with al-Nusra Front, al-Qaeda's Syria branch, which has rebranded itself.
In June 2015, the blog published a story reporting on Israel's interventions in the foreign-backed militancy in Syria in favor of anti-Damascus militants.
It said Tel Aviv and al-Nusra had forged an alliance, featuring the former's building camps for terrorists and their families in Israel-held territory, holding regular meetings with terrorist commanders, and providing military and other critical supplies to them.
The report incorporated a video showing Israel's provision of medical assistance to the terrorists who had been wounded in Syria.
It also cited an incident in which locals had intercepted one Israeli ambulance carrying wounded two Takfiris, forcing the medics to flea and beating up one of the terrorists to death. The other was also seriously injured before Israeli forces intervened to save him.
http://www.presstv.ir/Detail/2017/04/24/519224/Israel-Daesh-Yaalon-Netanyahu-Syria-Nusra
--------
Arab coalition forces detain top Qaeda leaders
April 24, 2017
Riyadh - Arab coalition leaders fighting in Yemen said in a statement that their helicopters carried out an air strike Saturday to support the Yemeni counter-terrorism army in their battle against Houthi militias.
These raids were launched in pursuit of Al-Qaeda targets in the city of Mukalla.
The Saudi Press Agency (SPA) quoted the source stating that a number of members and senior leaders of different nationalities belonging to Al-Qaeda were arrested in Wadi al-Hadramawt, including Ahmed Said Awad Barhamah, known as Zarqawi.
The operation also resulted in the termination of terrorist plots by confiscating various equipment, weapons and armaments intended to carry out terrorist operations in a number of areas in Hadramawt.
Major General Ahmad Saeed Bin Braik, Governor of Hadramawt said, during a telephone interview with Al Arabiya's sister channel Al Hadath on Saturday evening, that elite forces carried out numerous ground operations against Al-Qaeda operatives with air support from Arab coalition forces.
He added that the operations enabled the capture of seven Al-Qaeda members, including two leaders, one of them was Abu Ali al-Saeri, a terror suspect believed to be responsible for the killing of soldiers in 2014, together with Ahmed Saeed Awad Baramah and a number of his companions.
Major General Bin Braik stressed the importance of these operations carried out with the participation of coalition forces in obstructing suicide bombings and assassinations.
DRONE STRIKE KILLS 5 QAEDA SUSPECTS IN YEMEN
AFP adds: A presumed US drone strike in south Yemen on Sunday killed five suspected members of Al-Qaeda and three civilians, a security official said.
Earlier, a local official gave a toll of three suspects killed in the strike in the Al-Said area of Shabwa province.
The vehicle targeted was carrying five suspected Al-Qaeda members, all of whom were killed by a missile, the security official said.
Three civilians who went to their aid were killed when a second missile struck, the official said. Washington has sharply intensified its air war against the jihadists since President Donald Trump took office in January.
The Pentagon said on April 3 that it had carried out more than 70 strikes against jihadist targets in Yemen since February 28.
Full report at:
http://nation.com.pk/national/24-Apr-2017/arab-coalition-forces-detain-top-qaeda-leaders
--------
Dolls, teddy bears return to eastern Mosul after ISIS
Apr 24, 2017
Toy shops are thriving in eastern Mosul, with Iraqi children once again able to buy dolls, teddy bears or action figures after Islamic State was driven out of the area.
The militant group banned toys with faces or eyes during the three years they controlled Iraq's second largest city, including any anthropomorphic animals, which they deemed a form of idolatry.
But when U.S.-trained security forces drove the group from eastern Mosul in January, two toy stores sprang up and there are now 15, toy wholesaler Abu Mohammed told Reuters.
"Under Islamic State, any toys with faces we would have to make them veiled (if it is female) or only show eyes. Now this is no longer required and there is no ban on imports," he said at his shop, Alaad for Toys.
Abu Mohammed imports toys from China and says that most of the large toy stores actually lie in the western side of the city, which is still the site of battle between Islamic State fighters and Iraqi security forces.
"Most of the large toy stores are in the west, so as soon as liberated there will be an even bigger boom."
For toy store owner Abu Seif, business is brisk.
"Everything a child might want is available. Before there was a lot of things banned like images and faces, now a child can come choose whatever toys they want," he said.
Parents say buying these toys for their children will help them move on after three years of war and terror.
Full report at:
http://nation.com.pk/international/24-Apr-2017/dolls-teddy-bears-return-to-eastern-mosul-after-isis
--------
Huge crowds throng Baghdad shrine
Apr 24, 2017
BAGHDAD : Hundreds of thousands of Shiite faithful thronged the mausoleum of Imam Kadhim in Baghdad Sunday for the climax of a week-long pilgrimage that saw millions converge on the Iraqi capital. Beating their heads and chests, crowds of pilgrims lurched and swerved to try to touch a mock coffin being carried to the shrine in the northern neighbourhood of Kadhimiyah. "This visit means a lot to us, it is about showing respect for the suffering of the imam and the injustice he faced and about reaffirming our dedication to him," said Ahmad Jamal, a 28-year-old civil servant in the crowd of pilgrims.
Kadhim, the seventh of 12 revered imams, died in 799 AD. The commemoration has in recent years turned into a huge event that brings the Iraqi capital to a standstill for days. The organisers estimated that around 10 million people came to Kadhimiyah for the commemoration in recent years.
Full report at:
http://nation.com.pk/international/24-Apr-2017/huge-crowds-throng-baghdad-shrine
--------
Terrorists to Use US-Made Missiles to Slow Down Syrian Army Advances in Western Aleppo
Apr 23, 2017
The websites revealed that the terrorist groups are getting ready to confront the army soldiers and their allied forces, adding that Tahrir al-Sham Hay'at has sent a large number of US-made TOW missiles to the battlefields in Western Aleppo to help their comrades to resist against the army attacks.
Reports said that terrorist groups used TOW missiles against the army in Eastern Aleppo in 2016, but the low quantity of the missiles was the reason behind the militants' defeats.
Based on the reports, terrorist groups have once again received a large number of TOW missiles via their Saudi and Turkish backers and are receving Washington's assistance to use them in the battles in Western Aleppo.
In March, images released by the newly-formed Tahrir al-Sham Hay'at showed that state-of-the-art anti-tank TOW missiles were used by terrorists in the war against the Syrian Army in Western Aleppo.
Tahrir al-Sham Hay'at released several images of continued missile attacks of Al-Nusra Front (recently renamed to Fatah al-Sham Front) on Syrian army positions in Western Aleppo, proving that the Al-Nusra that was the backbone of Tahrir al-Sham Haya'at had been targeting government force's position by US-made anti-tank TOW missiles.
Experts studying the military operations in terrorist-held regions said Tahrir al-Sham Hay'at likely gained access to the TOW missiles after the Al-Nusra seized control over the arms depots of rival terrorists of Jeish al-Mojahedin in Western Aleppo.
Full report at:
http://en.farsnews.com/newstext.aspx?nn=13960203000784
--------
Al-Nusra Retreats from Key Position in Eastern Damascus
Apr 23, 2017
The army units engaged in fierce clashes with Al-Nusra in al-Qaboun district and pushed the terrorists back from al-Hafez strategic street.
A large number of Al-Nusra fighters were killed and the remaining pockets of them fled towards other militant-held areas behind al-Hafez street.
A field source said that al-Hafez street was one of the main strongholds of Al-Nusra in the region, adding that after the capture of the key street, the terrorists' positions in Western Harasta region and in Tishrin district have been falling to the army soldiers one after another.
Also, the army soldiers engaged in heavy fighting with Jeish al-Islam on Saturday and managed to enter the settlement of Hawsh al-Salehiyeh.
In the meantime, the army's artillery and missile units pounded terrorists' positions and tunnels in the gardens near the towns of Douma and Harasta.
Full report at:
http://en.farsnews.com/newstext.aspx?nn=13960203000992
--------
Syria: Army Soldiers Continue Battle in Aleppo Province
Apr 23, 2017
The army clashed with terrorists in the regions of Showeihaneh and al-Tamoureh in the Northern countryside of Aleppo and in the Western direction of Jam'iyat al-Zahra district, killing a number of terrorists.
In the meantime, the artillery and missile units shelled terrorists' gathering centers in Showeihaneh and al-Tamoureh and in the Western direction of Jam'iyat al-Zahra.
Also, the Syrian forces exchanged fire with terrorist groups in the Northern direction of al-Rashedeen neighborhood in Aleppo's outskirts.
Local sources reported that the Russian fighter jets carried out a number of combat sorties over terrorist-held regions in the villages and towns of al-Artab, Orum al-Kobra, Hayyan, Anadan, al-Mansoureh, Ein Jareh, Kafr Naha, Tal al-Karameh, Khan al-Assal, Qabtan, Regiment 46 base, Hour and Dael in the Northern and Western countryside of Aleppo city, killing a number of terrorists.
They added that the artillery and missile units opened heavy fire on terrorists' strongholds in Qabtan al-Jabal settlement in Western Aleppo, killing or wounding several terrorists, while other units of the army engaged in heavy fighting with terrorists in Ma'arat al-Artiq settlement in the Western countryside of Aleppo.
Websites affiliated to the terrorist groups disclosed earlier today that Tahrir al-Sham Hay'at (the Levant Liberation Board) has dispatched a large number of US-made anti-tank TOW missiles to assist their comrades to slow down the devastating advances of the Syrian Army troops in Western Aleppo.
The websites revealed that the terrorist groups are getting ready to confront the army soldiers and their allied forces, adding that Tahrir al-Sham Hay'at has sent a large number of US-made TOW missiles to the battlefields in Western Aleppo to help their comrades to resist against the army attacks.
Reports said that terrorist groups used TOW missiles against the army in Eastern Aleppo in 2016, but the low quantity of the missiles was the reason behind the militants' defeats.
Full report at:
http://en.farsnews.com/newstext.aspx?nn=13960203001506
--------
Syrian Army Smashes Terrorist Centres, Wins back More Territories in Hama
Apr 23, 2017
The army soldiers continues clashes with terrorists and drove them out of the village of Zalin, Batish and Zour Abu Zeid and Naseriyeh hill.
A military source in the province said that hundreds of terrorist have been killed and hundreds more have been wounded in the attack.
The source added that 38 vehicles, three munitions depots, three tanks and a bomb-laden vehicle of the terrorists were destroyed in the attack, adding that the army men also seized seven mortar launchers, two machinegun-equipped vehicles and a large volume of ammunition.
Relevant reports said earlier today that the army soldiers engaged in fierce clashes with Al-Nusra n several regions in Northern Hama and managed to retake control of Tal (Hill) al-Oqab, al-Salman checkpost and its surrounding farms and Syriatel checkpost.
A military source reported that the army has reached the gates of the village of Albboyzeh after its recent advances against the terrorists in Northern Hama.
Full report at:
http://en.farsnews.com/newstext.aspx?nn=13960203001032
--------
Three Syrian Soldiers Killed in Israeli Attack on Army Position in Quneitra
Apr 23, 2017
The Israeli forces targeted one of the ammunition depots of the Syrian army in Naba'a al-Fawar garrison in Quneitra province, killing three soldiers and injuring two more.
There is yet no information if the assault has been conducted through air or has been an artillery attack.
A military source announced on Saturday that the Israeli enemy's warplanes fired two missiles from within occupied territory at a military position in the surroundings of Khan Arnabeh in Quneitra countryside, causing material damage.
The source said that this aggression came after an attempt by terrorists to infiltrate military positions in Quneitra countryside was foiled and the terrorists suffered heavy losses, which proves that Israel provides direct support to terrorist organizations, SANA reported.
The source added that such desperate attempts would not dissuade the Army and Armed Forces from continuing to crush the terrorist groups that act as Israel's proxy in the area.
General Command of the Syrian Armed Forces said in a statement in mid-March that the Syrian air defense shot down an Israeli warplane and hit another one after four aircraft breached the war-torn country's airspace.
"4 Israeli enemy aircraft penetrated our airspace at 2:40, in the Al-Bareij area across the Lebanese territory and targeted the military positions on the direction of Palmyra city East of Homs province," the armed forces' statement said, adding, "Our air defense system engaged and shot down an air plane in the occupied territories and hit another and forced the rest to flee."
"This desperate attempt and blatant aggression of the Zionist enemy, was a move to support terrorist group and raising their morale, and the disruption of the Syrian Arab Army victories in the face of terrorist organizations," the statement added.
"General Command of the Armed Forces affirms its determination to counter any attempt of the Zionist aggression on any part of the territory of the Syrian Arab Republic," the statement underscored.
The Israeli military told Sputnik at the time that its combat planes were targeted by missiles after they had attacked targets in Syria.
However, the incident allegedly did not result in any damages or casualties on the Israeli side, according to the source.
According to Israeli Channel 10, Israeli planes were targeted by the Syrian government forces using S-200 surface-to-air missile systems, also known as SA-5.
The Syrian defense ministry confirmed in November that the Israeli fighter jets launched a strike at army positions in the Western parts of Damascus, saying that they fired two missiles at al-Saboura region from areas near the Lebanese territories.
Syria's state TV reported at the time that the Israeli warplanes attacked Western Damascus after violating Lebanon's airspace.
A military source at the defense ministry said that the Israeli fighter jets flew over and violated the Lebanese airspace and fired two missiles at al-Saboura region in the Western parts of Damascus.
Full report at:
http://en.farsnews.com/newstext.aspx?nn=13960203000873
--------
Non-Syrian ISIL Terrorists Killed in Syrian Army's Fresh Advances in Deir Ezzur
Apr 23, 2017
The army soldiers clashed fiercely with ISIL in areas surrounding Deir Ezzur's military airport and managed to recapture several positions, arresting a terrorist and seizing the bodies of four more killed terrorists including a French one.
In the meantime, the army's artillery and missile units hit hard ISIL's movements in the Old Airport neighborhood, killing 15 terrorists and destroying a 150-meter long tunnel of the terrorists used by the ISIL for transferring forces and as an arms and ammunition depot.
Also, the army troops repelled ISIL's offensive on their positions in the Southern outskirts of Deir Ezzur city on Saturday, inflicting major losses on the terrorists.
Full report at:
ISIL's military hardware and weapons also sustained major damage in the failed attack.
http://en.farsnews.com/newstext.aspx?nn=13960203000478
--------
Tebian project against terror continues registration for May enrolment
24 April 2017
JEDDAH: The Dialogue Academy of the King Abdulaziz Center for National Dialogue continues to offer registration in its Tebian project for the prevention of extremism.
The program is designed to qualify national trainers to understand the dimensions of terrorism and address its issues.
The academy provides qualitative training for both men and women to raise awareness, reinforce national unity and protect the Kingdom's social fabric.
The two-day Tebian course will start at the academy's headquarters in Riyadh on May 8 for men and May 9 for women.
"Tebian represents a training bridge for intellectual communication through a methodology that promotes a preventive presence sufficient to recognize extremist ideology and the means through which extremists work," said the academy's director general for training and opinion polls, Ismail Al-Omari.
"In addition, the training is aimed at gaining the necessary skills to dismantle extremism with all its destructive negativity so that it becomes easy to discover and diagnose, and treat its issues by all interested parties."
Fatima Al-Qahtani, assistant director general of the academy, said Tebian is designed to enable trainees to learn about essential aspects of extremism, including its definition, composition and causes; defining Islam's attitude toward extremism; mechanisms to address extremist thoughts and ideologies; and the most effective ways to prevent it.
Tebian is participating in the National Talahom Week to combat extremism, organized and supported by the King Abdulaziz Center for National Dialogue.
So far, the project has benefited dozens of male and female trainees in Jouf, Qassim and Jazan.
Full report at:
http://www.arabnews.com/node/1089426/saudi-arabia
--------
Europe
Belfast bomb 'intended to kill officers', police say
A bomb discovered on Saturday night near a school in Belfast was intended to kill police officers, according to a senior officer.
The local media, including the Belfast Telegraph reported the bomb discovery was made in an alleyway beside Holy Cross Boys' Primary School in Ardoyne, North Belfast shortly before midnight on Saturday.
"There's no doubt that device was there to try and kill community police officers on the beat in their local area, but also it was left in such a reckless manner and in such a reckless location that it would have undoubtedly led to the death or serious injury of a member of the public had it exploded anywhere near them," Chris Noble, chief superintendent, said.
Noble said he was in no doubt that "dissident republicans were behind the incident" in an alleged attempt to kill police officers.
The latest discovery was one of a few other bombs discovered in the area following the March 2 snap election which was called by James Brokenshire after the resignation of Martin McGuinness as deputy first minister over a botched energy-saving scheme.
"I am sickened by this incident with dissident republican terrorists placing a bomb close to a primary school in north Belfast," Northern Ireland Secretary of State James Brokenshire said in a statement.
"This shows their wanton disregard for human life, potentially putting children in danger," Brokenshire said.
A deadline to form a power-sharing executive in Belfast was extended to May 29 when parties with the most seats at the Stormont (Northern Ireland parliament) failed to reach an agreement.
"The consequences could have been utterly devastating and it shows them for what they really are," Brokenshire said.
"I am grateful to the emergency services for their work in keeping people safe."
http://www.worldbulletin.net/europe/188422/belfast-bomb-intended-to-kill-officers-police-say
--------
Morocco accuses Algeria of expelling 55 Syrians across the border
23 April 2017
Morocco has accused Algeria of expelling 55 Syrians across the countries' shared border. Rabat condemned its neighbour's "inhumane behaviour" towards the migrants who included "women and children in a very vulnerable situation".
The Syrians were sent across the frontier near the desert town of Figuig, Morocco's interior ministry said in a statement late Friday.
In searing heat and rugged terrain, they had reached the area in several groups before being "surrounded" by Algerian police, according to the Moroccan authorities.
The expulsion was "contrary to the rules of good neighbourliness advocated by Morocco," it added.
An NGO official in Figuig, who requested anonymity, said the Syrians were still stuck at the border Saturday without access to water or food.
Moroccan media reported that the Syrians had been left to their fate in the border region as Morocco prevented them from entering its territory. The frontier has been closed since 1994.
The ministry's statement did not say whether they had been allowed to seek asylum in Morocco.
"This is not the first time that the Algerian authorities have expelled immigrants to Moroccan territory," it said.
A statement from the Moroccan foreign ministry late Saturday expressed "deep concern" over the situation, saying Algeria's ambassador to Rabat had been shown photographs showing that the Syrians had crossed from Algerian territory and then tried to enter Morocco.
"Algeria must meet its political and moral responsibility with regard to this situation," the ministry said, adding that "the humanitarian tragedy" faced by Syrian civilians should not be used "to sow trouble on the Moroccan-Algerian border".
In mid-March, a Moroccan migrant rights group, GADEM, reported that around 30 sub-Saharan migrants had been arrested in Morocco then left stranded in no man's land between Morocco and Algeria, having been deported from both countries.
Morocco adopted a new migration policy in 2013. In December it launched a new campaign to regularise the status of clandestine migrants in its territory, most of them from sub-Saharan Africa.
Rabat insists its migration policy is "humane and generous" -- in contrast, it says, with the policy of its Algerian rival.
Full report at:
https://english.alarabiya.net/en/News/middle-east/2017/04/23/Morocco-accuses-Algeria-of-expelling-55-Syrians-across-the-border.html
--------
Labour leader Corbyn says could suspend Syria air strikes if elected
23 April 2017
The leader of Britain's main opposition Labour Party Jeremy Corbyn said on Sunday he could suspend British involvement in air strikes against Syria if he was elected prime minister at a June 8 election.
The veteran peace campaigner, whose Labour Party is around 20 points behind the ruling Conservatives in opinion polls, set out his position on a range of security and foreign policies, saying he would look again at Britain's nuclear deterrent and was against using nuclear weapons.
His comments were pounced upon by the Conservatives, who said that Corbyn posed a threat to British security and was the best reason "for sticking with the strong leadership of (Prime Minister) Theresa May".
Corbyn told the BBC's Andrew Marr Show that he believed that "the only solution in Syria is going to be a political one".
"I want us to say 'Listen, let's get people around the table quickly' and a way of achieving that - suspending the strikes, possibly."
The leftist leader, whose views on foreign policy have often been at odds with those held by other lawmakers in his party, also said he would have to consider whether he would authorize a drone strike against the leader of ISIS to limit civilian casualties.
Full report at:
https://english.alarabiya.net/en/News/world/2017/04/23/Labour-leader-Corbyn-says-could-suspend-Syria-air-strikes-if-elected.html
--------
Germany 'rejects most Afghan asylum requests in 2017'
Apr 24, 2017
Germany has in the span of two months rejected the asylum requests of more than half of the Afghan refugees who had traveled 7,000 kilometers in search of a better life in the European country.
Citing Interior Ministry figures, the German Passauer Neue Presse newspaper reported on Sunday that less than 48 percent of the asylum requests by people from Afghanistan had been accepted in the first two months of 2017.
The newspaper said that in January and February, the government rejected 14,403 of the 27,639 Afghan asylum applications processed.
The report came shortly after another German publication said that thousands of former Taliban militants might have entered Germany over the past two years among an influx of more than a million refugees, including tens of thousands of Afghans.
German weekly news magazine Der Spiegel said in its report on Saturday that a large number of counter-terrorism and criminal investigations had been launched in 2016, with a number of Afghan refugees being held in investigatory detention. It added that preliminary court hearings involving several other Afghans were due to start next week.
German Chancellor Angela Merkel's government has been under fire by some political quarters in the country for allowing in large numbers of refugees, especially after several criminal attacks last year by rejected Afghan asylum seekers.
Berlin reached a deal with the Afghan government in October 2016 to have rejected asylum seekers returned to Afghanistan.
In early February, Merkel, a former advocate of an open-doors refugee policy, called on authorities to accelerate the deportations of the rejected refugees. She has defended the increased deportations of such asylum seekers, saying all other European Union countries are doing the same.
A fifth planeload of Afghans is due to be deported back to Afghanistan on Monday, the German Passauer Neue Presse newspaper said.
Full report at:
http://www.presstv.ir/Detail/2017/04/24/519223/Germany-Afghanistan-asylum-requests-rejection
--------
India
Joint anti-terror operations: FBI may give India 'encrypted' data on terror
Apr 24, 2017
NEW DELHI: The Federal Bureau of Investigation (FBI) has told Indian agencies that the US could share with India "encrypted data" on the internet and social media platforms pertaining to terror suspects, organisations and other criminals through legal channels.
However, how much this would be of help to Indian investigators is difficult to say as decrypting the evidence — like chats between terrorists — will be a tough and time consuming exercise.
The Indian government and agencies have time and again told American authorities that they failed to get timely evidence from the "digital space" as a large number of social media platforms — including websites and internet-based messaging applications like WhatsApp, Facebook, Google and YouTube — had their servers in the US.
The National Investigation Agency's top brass, during a meeting with FBI deputy director Andrew G McCabe earlier this month in New Delhi, said getting "digital evidence" quickly could really help in counter-terrorism and counter-radicalisation efforts.
In several cases registered by the NIA against Islamic State-inspired Indian youngsters, the agency approached the US seeking details about their chats, emails or coded conversations over messaging platforms.
Both countries have signed a Mutual Legal Assistance Treaty (MLAT) for sharing evidence through proper court procedures. McCabe told NIA officials that even US authorities had to approach the court for sharing data of private internet service providers with other countries.
"McCabe informed us that first data has to be retrieved and then encryption is an issue. He said they (FBI) can share encrypted data with us (through MLAT)," an NIA official said.
Officials said terrorists these days keep track of mobile-based application services which provide end-to-end encryption and use them to discuss targets, recruitment plans, travel details or to share propaganda material.
Full report at:
http://timesofindia.indiatimes.com/india/joint-anti-terror-operations-fbi-may-give-india-encrypted-data-on-terror/articleshow/58332664.cms
--------
300 WhatsApp groups were used to mobilise stone-pelters at encounter sites in Kashmir: Official
Apr 24, 2017
SRINAGAR: Nearly 300 WhatsApp groups were being used to mobilise stone-pelters in Kashmir to disrupt security forces' operations at encounter sites, of which 90 per cent have been shut down, a police official said on Sunday.
Each of these 300 WhatsApp groups had around 250 members, the official said while explaining how determined attempts were being made to disrupt the operations of the security forces by mobilising stone-pelting mobs at the encounter sites.
"We identified the groups and the group administrators, who were called in by police for counselling. We have had a good response to this initiative," he said on the condition of anonymity.
In the last three weeks, more than 90 per cent of these WhatsApp groups have been shut down, the official said.
He said the government's policy of suspending internet services appeared to be showing positive results in curbing stone-pelting during encounters and cited the case of yesterday's encounter in Budgam district.
Just a few youth gathered to hurl stones after two militants were gunned down in the encounter on Saturday.
Read this story in ગુજરાતી
This was in sharp contrast to an encounter in Durbugh village in the same area on March 28, when a large number of stone-pelters had assembled and three of them were killed in firing by security forces.
"With no internet services, the mobilisation of mobs has almost become impossible. Earlier, we would see youth from as far as 10 kilometres from the encounter sites joining the protesters to pelt stones at security forces to disrupt the anti-militancy operations.
"That did not happen yesterday during or after the encounter in the absence of internet on mobiles," the official said.
He said some of the youth listed personal issues like alleged harassment by security forces as reasons for taking to stone-pelting.
"Most of them get carried away momentarily," he said, adding authorities are also looking at further sensitising the personnel on the need to adopt a humane approach while dealing with the youth.
"With the internet facility withdrawn, the activity on these social networking groups and other sites like Facebook has come down drastically," he added.
Stone-pelting on security forces near the encounter sites has been causing major operational problems for the law enforcing agencies over the past one year. More than half a dozen youth have been killed in such incidents in the first quarter of this year. However, the common people especially those from the business community say they are facing hardships, because of the inability to stay connected online.
"Today, the business depends on internet for communication. I am into stock markets and I have had no business since the mobile internet services were withdrawn on Monday," Mudasir Bhat said.
Bhat said most of the people had done away with landlines and broadband internet services as mobile internet facility gave them more freedom and were also cheaper.
Ishfaq Ahmad, a contractor by profession, said life, without internet, had come to a standstill.
Full report at:
http://timesofindia.indiatimes.com/india/300-whatsapp-groups-were-used-to-mobilise-stone-pelters-at-encounter-sites-in-kashmir-official/articleshow/58331914.cms
--------
No one questions Muslims due to vote-bank politics: Tripura governor
Apr 23, 2017
COIMBATORE: Muslim religious traditions such as burqa (veil), polygamy and triple Talaq are not questioned because of vote-bank politics, Tripura governor Tathagata Roy has said. Addressing a gathering at a university here on the role of women in Indian polity, he said traditions had suppressed women in the country.
"Nobody questions these traditions because it will affect their vote bank. Recently some steps were taken to create an atmosphere to make Muslim women aware of their rights, and they are beginning to come out and speak for themselves," he said.
Noting that he was not against the Muslim community , Roy said: "I respect Muslims and their religion is as much important as Hinduism, Christianity or any other religion." While mentioning examples of some Muslim women who had spoken for their rights, Roy spoke about the Bangladeshi author Taslima Nasrin; Syria-born psychiatrist practicing in the US, Wafa Sultan; Pakistani author Irshad Manji and DutchAmerican activist from Somalia, Ayaan Hirsi Ali.
Roy was in Coimbatore to inaugurate a workshop at Avinashilingam University. During his speech, the governor recalled the contribution of women leaders in India, and said "Indian scriptures have mention of women playing an important role in public administration, and this continued till the 13th century when the Mughals invaded us. From then till the British rule, there were hardly any women who became prominent in public life."
Roy took names like Rani Lakshmibai, Sarojini Naidu, Indira Gandhi, Jayalalithaa, Mamta Banerjee, Sushma Swaraj, Mayawati and Vasundara Raje to cite examples of women politicians in India. As for Indira Gandhi, he said she was the person behind the liberation of East Pakistan and the formation of Bangladesh.
Full report at:
http://timesofindia.indiatimes.com/india/no-one-questions-muslims-due-to-vote-bank-politics-tripura-governor/articleshow/58322086.cms
--------
Surendranagar: Attacked and robbed, doctor supects role of IS sleeper cell
The Indian Express
April 24, 2017
A doctor who was allegedly attacked in Surendranagar Friday night apprehended role of an Islamic State (IS) sleeper cell behind the assault, and claimed that he had received a letter purportedly from the extremist outfit a month ago.
Dr Mukesh Shukla was allegedly attacked by three men when he was returning home from his office in Ghughri Park area. In his complaint, the doctor stated the men sprayed some chemical on his face and robbed him of a pen drive and Rs 24,000 cash. Based on the complaint, B Division police station have filed an FIR against three unidentified men for robbery and under other sections of the Indian Penal Code.
While police have made no headway in the probe so far, the doctor suspected that the IS could be behind the attack. "On March 20, I found a folded piece of paper in my residential compound. It was written in Arabic and demanded that I hand over my research data to the IS. While the letter was not posted, I suspect some member of a sleeper cell of the terror group could have thrown it in my residence. My suspicion is reinforced by the fact that the three men who assaulted me took away my pen drive containing data of my research on anti-HIV drug. Their motive could be sell that data and make money," Dr Shukla told The Indian Express on Sunday.
He claimed to hold a doctorate in alternative medicines from Institute of Alternative Medicines, Kolkata. The 68-year-old doctor said he had received US patent for his anti-HIV drug in 2013.
"Recently, two men were held for their alleged links with the IS and one of them was also planning attack in Chotila. This makes me believe that some sleeper cell could be behind the letter and the subsequent attack," he said.
Around 10 days after he received the purported letter and met the SP of Surendranagar, he was provided police protection. He was robbed minutes after the unarmed police constable in his security left. SP Deepak Meghani said, "We are probing the twin incidents from all angles."
Full report at:
http://indianexpress.com/article/india/surendranagar-attacked-and-robbed-doctor-supects-role-of-is-sleeper-cell/
--------
South Asia
Furious Afghans call for resignations after base attack
Apr 24, 2017
MAZAR-I-SHARIF - Afghan families buried their dead and the country observed a national day of mourning Sunday after at least 100 soldiers were killed or wounded in a Taliban attack on a military base, prompting angry calls for ministers and army chiefs to resign.
The exact toll from Friday's assault in the northern province of Balkh remained unclear, with some local officials putting the number of dead alone as high as 140. The raid, the deadliest-ever by the Taliban on a military base, underscores their growing strength more than 15 years after they were ousted from power.
Flags flew at half-mast throughout the country and special prayers were said for the dead.
The defence ministry gave a figure of at least 100 soldiers killed or wounded. Kabul has so far ignored media calls for a complete breakdown of casualties from the five-hour attack near the provincial capital of Mazar-i-Sharif.
But local officials including, Mohammad Ibrahim Khairandish the head of the provincial council, put the death toll as high as 130 and said about 60 were wounded.
Ten gunmen dressed in soldiers' uniforms and armed with suicide vests entered the base in army trucks and opened fire at unarmed troops at close range in the base's mosque and dining hall.
A military source at the base indicated the assault was an insider attack, and the militants were "young recruits who had come for training".
Families said prayers for the dead. In the village of Omra Kot in Balkh, the coffin of soldier Shir Mohammad, 25, was brought home to a house full of weeping relatives.
Qari Ahmadullah, Shir's brother who also served as the imam (cleric) of the 209th Corps which was attacked, said: "My brother just got married four months ago and now he is dead. The Taliban are the enemy of Islam and Muslims: they are misusing the name of Islam to hide their atrocities."
After the body was buried at a nearby hill, local resident Faiz Mohammad spoke of people's fears.
"We always thought our house is safe because of the base but now we are shocked. How could this have happened? I can't believe we lost all these young men."
There was also growing anger online, with many slamming the government for its inability to counter a series of brazen Taliban assaults, including one on the country's largest military hospital in Kabul in March that left dozens dead.
Twelve army officers, including two generals, were sacked for negligence over that attack.
"Mothers lost their sons, sisters lost their brothers and wives lost their husbands. What is the government doing to prevent such atrocities, only condemning? I am so tired, I can't do anything but to cry," a user called Zabiullah posted on Facebook about the latest tragedy.
"The best way to honour them is to fire and punish those who failed to do their jobs and/or cooperated with the enemy. Some leaders must go!" said another user on Twitter.
President Ashraf Ghani's spokesman Shah Hussain Murtazawi told reporters a thorough investigation had been ordered.
"Investigations must be acceptable to the nation and the president," he vowed, adding "At this moment, the people of Afghanistan need to unite like a strong fist."
Many internet commentators called for the resignation of Defence Minister Abdullah Habibi and the commander of the 209th Corps stationed at the base.
"This was no act of desperation. The Taliban infiltrated an Afghan military base. That's a major sign of strength," tweeted Washington-based analyst Michael Kugelman.
Full report at:
http://nation.com.pk/international/24-Apr-2017/furious-afghans-call-for-resignations-after-base-attack
--------
Al-Qaeda members among 10 killed in southern Afghanistan airstrikes
Apr 24, 2017
KABUL: At least ten militants including members of the Al-Qaeda terrorist network were killed in a series of airstrikes in southern Zabul province of Afghanistan.
The Ministry of Defense (MoD) said the airstrikes were carried out in the past 24 hours in Shahjoi district.
A statement by MoD stated that five Al-Qaeda members and five Taliban insurgents, including a local commander of the group identified as Mullah Noor Agha, were among those killed.
The statement further added that a vehicle and five motorcycles belonging to the insurgents were also eliminated during the airstrikes.
The anti-government armed militant groups have not commented regarding the report so far.
Zabul is among the relatively volatile provinces in southern Afghanistan where the Taliban insurgents and other militants including ISIS loyalists are actively operating.
This comes as key leader of the loyalists of Islamic State of Iraq and Syria (ISIS) terrorist group was killed during an operation of the Afghan Special Forces in this province last month.
Full report at:
http://nation.com.pk/international/23-Apr-2017/al-qaeda-members-among-10-killed-in-southern-afghanistan-airstrikes
--------
Afghan defense minister and army chief of staff resigns
Apr 24 2017
The Afghan defense minister Abdullah Habibi and the Afghan national army chief of staff Qadam Shah Shaheem have resigned from their post.
The Office of the President, ARG Palace, said "Defence Minister Abdullah Habibi & Army Chief of Staff Qadam Shah Shahim stepped down with immediate effect."
Full report at:
http://www.khaama.com/afghan-defense-minister-and-army-chief-of-staff-resigns-02636
--------
Killings on the rise in presence of US and their false actions: Karzai
Apr 24 2017
The former Afghan President Hamid Karzai has once again slammed the United States days after declaring a hard stance against the US presence in the country, saying killings are on the rise in the presence of the US and their false actions.
Karzai made the remarks during a meeting with the Chinese Ambassador to Afghanistan Yao Jing.
According to a statement released by the Office of the Former President, the two sides discussed the current situation of the country during the meeting.
The statement further added that the former President expressed regarding the attempts being made to spark ethnic tensions among the Afghan people.
He said the regional countries should assist Afghanistan and must let US to destroy the country because of its goals and turn Afghanistan into its rivalry ground.
This comes as the former President vowed to step up efforts in a bid to oust the US military from the country following the massive airstrike in Achin Nangarhar against ISIS terrorists involving the non-nuclear GBU-43 bomb.
He slammed the government for allowing the US forces to carry out the strike and insisted that the move would be a national treason if the government had approved the use of the massive bomb.
Full report at:
http://www.khaama.com/killings-on-the-rise-in-presence-of-us-and-their-false-actions-karzai-02635
--------
Afghan forces to take revenge of the attack on Shaheen Corps: Atmar
Apr 23 2017
The National Security Adviser Mohammad Hanif Atmar has said the Afghan National Defense and Security Forces (ANDSF) personnel are committed to take revenge of the deadly attack on 209th Shaheen Corps base in Balkh province.
Atmar made the remarks during a telephone conversation with the secretary of the National Security Council of Iran Ali Shamkhani.
According to a statement by the Office of the National Security Adviser (NSA), the Iranian National Security Council secretary made a telephone call to Mr. Atmar following the deadly attack on army base in northern Balkh province.
The statement further added that Mr. Shakhani strongly condemned the attack on the 209th Shaheen Corps base that led to the martyrdom of scores of soldiers during the Friday prayers.
He also conveyed the condolences of the Iranian government and nation regarding the incident to the Afghan government leadership and the Afghan nation.
In his turn, Mr. Atmar thanked the Iranian government for the message of condolences and emphasized on the need to joint regional efforts to root out terrorism.
Full report at:
http://www.khaama.com/afghan-forces-to-take-revenge-of-the-attack-on-shaheen-corps-atmar-02633
--------
Top Afghan defense officials to be summoned by parliament over base attack
Apr 23 2017
The top Afghan defense officials will be summoned by the Afghan parliament after a deadly attack on the main military base in northern Afghanistan that left scores of soldiers dead.
The lawmakers in the Lower House of the Parliament, Wolesi Jirga, decided to summon the top defense officials during the general session of the parliament today.
The defense officials, Minister of Defense, Afghan Army Chief of Staff, commander of the 209th Shaheen Corps, and other senior intelligence officials will be summoned to the House on Wednesday.
The lawmakers have warned to summon the defense officials again if they could not provide satisfactory information and brief the lawmakers regarding the security concerns.
The decision by the lawmakers was taken after a deadly attack on the 209th Shaheen Corps of the Afghan National Army in northern Balkh province.
The attack was launched on Friday noon as hundreds of Afghan soldiers had attended the Friday prayers.
A group of at least ten Taliban insurgents reportedly stormed the base by initially launching a suicide attack and allowing the remaining militants to start shooting spree.
Full report at:
http://www.khaama.com/top-afghan-defense-officials-to-be-summoned-by-parliament-over-base-attack-02632
--------
Southeast Asia
Indonesia does not need caliphate, MUI chief says amid social media frenzy
April 23, 2017
Indonesian Ulema Council (MUI) chairman Ma'ruf Amin stated on Saturday that a caliphate, a system of Islamic rule under a leader considered a successor to Prophet Muhammad, was not suitable for Indonesia, since the country had adopted the system of a republic.
"A republic as the foundation of the nation has been agreed. We don't need to talk about a caliphate anymore, [the debate about it] is already over," he said after the opening of an economic congress in Jakarta, as quoted by kompas.com.
Ma'ruf said Indonesia's founding fathers of different backgrounds had approved the democratic republican system. He added that the proposal of a caliphate would trigger turmoil.
"It has become noisy again since the emergence of groups wanting a new system," he said, referring to the planned International Khilafah Forum to be held in Jakarta on Sunday, organized by hard-line group Hizbut Tahrir Indonesia (HTI).
Reports of the event have triggered a social media frenzy, with hash tag #KhilafahSolusinya (a caliphate is the solution) going viral.
Some claimed to have made social media posts from the event at Balai Sudirman in South Jakarta.
But the idea immediately triggered rejection from netizens, making the hash tag one of the nationally trending topics on Sunday.
Full report at:
http://www.thejakartapost.com/news/2017/04/23/indonesia-does-not-need-caliphate-mui-chief-says-amid-social-media-frenzy.html
--------
Zaid: Umno-PAS ties will result in 'Talibanisation' of country
April 24, 2017
PETALING JAYA: Zaid Ibrahim underlined a key reason why Malaysians must not vote Barisan Nasional back into power in the next general election (GE14).
In a speech last Friday, the former Umno minister said the most important reason would be to avoid the country continuing to be under the "fascist" rule of Prime Minister Najib Razak and PAS president Abdul Hadi Awang.
"The two strongest promoters of this fascist-like ideology are Najib and Hadi. The prime minister's relationship with Hadi is not just based on political expediency as some people think.
"It is borne out of their mutual fascination with fascist ideas. They have a plan to have Umno Malays and Hadi Islamists join forces to control the country," Zaid said in a speech entitled "GE:14 Don't play with fire", which he delivered at the Ponderosa Golf and Country Resort, in Johor Bahru.
He said such rule will see enforcement authorities being directly controlled by the prime minister and laws being used selectively against the people, especially opposition party leaders and activists.
According to Zaid, the Umno-PAS relationship will also result in the "Talibanisation" of the country.
"If Najib wins GE14, Malaysia will transform into a dictatorship, with a Taliban-style legal system. Islam is not the problem, but Talibanisation is.
"In Malaysia, political Islam, under Najib's rule, will never be moderate and peaceful, it will be a complete change from democracy that we once knew."
Zaid, who is now a DAP member, referred to the numerous times that Hadi had said that only Muslims like him can rule this country, saying it was no different to how Najib had also said only Umno Malays can lead the nation.
"Muslims should be worried about this. They are not talking about defending the honour of the religion, but are using the religion to protect themselves.
"Again, this is unadulterated, fascist thinking. The only difference is that while Najib uses race, Hadi uses religion, and both have now joined forces and are using their respective platforms to divide this country and frighten its people," Zaid said.
He added that BN's non-Muslim component parties in Peninsular Malaysia, as well as Sabah and Sarawak, are deluding themselves thinking that a Najib-Hadi rule would not affect non-Muslims, giving the case of unilateral conversions involving minors as an example.
"Also, if this Taliban-style Islamic law didn't apply to non-Muslims then why are Christian Dayaks not able to use the word 'Allah' in their prayers, something they have been doing for the last 200 years?
Full report at:
http://www.freemalaysiatoday.com/category/nation/2017/04/24/zaid-umno-pas-ties-will-result-in-talibanisation-of-country/
--------
Zakir Naik issue: Need for empathy, Anas tells Malaysians
April 24, 2017
PETALING JAYA: The response from prominent Muslim personalities on the poem by Perlis mufti Mohd Azri Zainul Abidin continues, with the latest being a posting by Anas Zubedy on his Facebook page yesterday.
In the post, Anas highlighted the need for empathy on the part of all Malaysians, saying it was very much an individual responsibility.
"I stopped eating beef in 1985 on my 21st birthday although my favourite meal then was the McDonalds Quarter Pounder with cheese.
"I tried to convince my university to stop serving beef to respect the Hindus because there was no pork served there too.
"However, since I did not manage to convince them, I decided to start with myself, and so I have not taken beef for 32 years," Anas said, adding that he not only refrains from eating beef, but ensures that beef is not served at any of his functions at the office or at home.
Anas said he knew of Indian and Chinese friends who are sensitive to the needs of Muslims too.
"I have Hindu friends, who have many Malay friends, and they too avoid pork.
"I also have many non-Muslim – Chinese and Indian – friends who avoid going to non-halal restaurants and food outlets when I am in the picture. That is the beauty of Malaysia," he said.
Saying for the nation to succeed, Malaysians need to practise empathy, Anas also called for Muslims not to serve beef at functions, "even if only one Hindu is present".
Referring to the poem by Asri, a Muslim scholar who had previously received much praise from non-Muslims for speaking up against the views of his counterparts from Pahang and Perak, Anas said all Malaysian religious leaders should learn and understand about the other's faiths.
"Some, or perhaps many, religious leaders in Malaysia make comments about other beliefs without having even a rudimentary knowledge about the religion.
"My dear Muslim brothers and sisters, Hindus do not worship the cow but they hold cows in very high esteem. It's a respect they give to an animal that provides a lot within their agricultural history. Let's respect that please," said the founder of a company that specialises in human development.
Anas is famous for putting out full-page newspaper advertisements with positive messages during various religious festivals and on the new year celebrations of various ethnic groups in the country.
He also targeted controversial Islamic preacher Zakir Naik directly by asking him to do the right thing as a Muslim.
"The right thing for Zakir Naik to do now is to leave the country because as a good Muslim he must not want to cause trouble in the homeland of others. 'Melayu kata, tahu malu. (As Malays say, 'it's about having a sense of shame')," Anas said.
"Will there ever be a day when all preachers fully trust their God and religion so much so they need not belittle the other when they preach?"
The response to Anas' FB comment was swift and full of praises with most agreeing with his view on abstaining from eating meats which are not eaten by their friends for religious reasons.
A few, however, said eating a particular meat does not in any way show disrespect to another's faith as the two issues are separate.
Nizaruddin Tahir wrote: "Doesn't mean I eat beef I don't respect my Indian friend. It doesn't mean I eat meat I don't respect the vegetarian friend. Also doesn't mean that when my Chinese friends eat pork, they do not respect me as Muslim. We have beliefs for us to adhere to and we practise it."
Sures Thambuthurai wrote: "It's okay to serve beef if you ask me in events which are attended by Indians/Hindus. A good practice would be to have labels, like how it is done to cater for vegetarians."
Another Muslim commenter shared the same values practised by Anas, saying it was not just him but all residents in his area.
"Actually my housing area has been practicing this since the beginning. Basically it is no beef and pork. Vegetarian food is also served. Majority is Malay and there are Chinese and Indians," Mohd Rafi Ab Rahman wrote.
Full report at:
http://www.freemalaysiatoday.com/category/nation/2017/04/24/zakir-naik-issue-need-for-empathy-anas-tells-malaysians/
--------
How the Symbols of Indonesia's Hardline Muslim Groups Reached the Pages of Marvel Comics
23 April 2017
Symbols representing the campaign of Indonesia's hardline Muslims were inserted inside the pages of Marvel Comics' X-Men Gold #1 series.
After Indonesian artist Ardian Syaf uploaded a sketch he made for X-Men Gold #1 on Facebook, his fans quickly spotted the symbols used by Islamist hardliners in their campaign against the Christian governor of Jakarta, the country's capital.
The symbols are 212 and QS 5:51 which the Islamic Defenders Front (FPI) popularized during the massive rallies it organized last December 2016 to call for the removal of Jakarta Governor Basuki "Ahok" Tjahaja Purnama. Ahok is accused of insulting the Quran. QS refers to Quran and Surah (Koranic chapters). There are 114 chapters in Holy Quran.
212 refers to the anti-Ahok rallies last December while QS 5:51 is a verse in the Quran which Ahok allegedly quoted in a public speech to insult Islam.
More than 200,000 attended the rally under the banner of Movement in Defense of Islam, but the event was criticized for promoting religious intolerance. Using violent rhetoric, many leaders of the rally urged the public to reject Christian and Jewish leaders.
Indonesia is the largest Muslim-dominated nation in the world. In recent years, hardline Muslim groups like the FPI have been aggressive in criticizing the alleged failure of the government to defend Islam and prevent the spread of other religions.
Syaf, who is one of the country's prominent artists who worked with both DC and Marvel Comics, admitted that he inserted the 212 and QS 5:51 symbols because he believes in the principles of the Movement in Defense of Islam.
Some of his fans were infuriated and called the attention of Marvel Comics. The company acknowledged the complaints of its readers and released a statement announcing the removal of the inserted symbols in subsequent editions of X-Men Gold #1. It added that the artist will face disciplinary action.
The mentioned artwork in X-Men Gold #1 was inserted without knowledge behind its reported meanings. These implied references do not reflect the views of the writer, editors or anyone else at Marvel and are in direct opposition of the inclusiveness of Marvel Comics and what the X-Men have stood for since their creation. This artwork will be removed from subsequent printings, digital versions, and trade paperbacks and disciplinary action is being taken.
Ms. Marvel creator G. Willow Wilson, who is also a Muslim like Syaf, wrote on her blog about the error of interpreting the Quran to spread hate:
The Quran never suggests you can't be friends with non-Muslims. Which makes sense, because, you know, the Prophet had non-Muslim friends.
She also criticized the Indonesian artist for undermining the career of other Muslim illustrators:
He has committed career suicide; he will rapidly become irrelevant. But his nonsense will continue to affect the scant handful of Muslims who have managed to carve out careers in comics.
But artist Dicky Aryo Aditomo assured the public that his friend Syaf is not against Christians and Jews:
Personally I do not agree with what he did to the X-men comic because I do not think that was professional to include his personal views which were sensitive matters, especially on a property which is not his.
I respect his political and religious views but I don't think he is expressing them in a socially accepted manner.
I'm sure he did not mean any harm, spreading hatred, or to create a disturbance and to upset people, no, but he was too proud of himself supporting his beliefs and supporting the peace protest that is "212".
He added that Syaf is simply passionate about his beliefs noting that the controversial artist once inserted the image of Jokowi, the country's president, also on one of the pages of Marvel Comics.
Immediately after BleedingCool.com broke the news about the insertion of the symbols in the comics, Syaf encouraged his fans to buy the "soon to be collector's item." He argued too that the subliminal messages should not be interpreted seriously.
According to a report by Jawa Pos newspaper, Syaf said his contract was terminated by Marvel Comics despite his pleading that he was neither anti-Christian nor anti-Muslim. Nevertheless, he never apologized for offending non-Muslims.
Full report at:
https://globalvoices.org/2017/04/23/how-the-symbols-of-indonesias-hardline-muslim-groups-reached-the-pages-of-marvel-comics/
--------
The Muslim Who Died Saving Christians
by Jacobus E. Lato
April 23, 2017
When a 25-year-old, known just as Riyanto, entered the Eben Haezer Church of Pentecostal Assembly in East Java on Christmas Eve of 2000, he did not know that his life was about to end. He had been aware, however, of the risk he was taking by being there altogether, particularly on Christmas Eve. As a member of the Banser -- the youth wing of Indonesia's largest Muslim cultural organization, the Nahdlatul Ulama (NU) -- he had already made the choice to sacrifice personal safety to protect Christians from falling prey to radical Islamists.
Shortly after mass, as parishioners began to exit the Protestant house of worship, the reverend handed Riyanto and other guards at the entrance an unattended bag he had found among the pews. Looking inside the package and realizing that it contained a bomb, Riyanto took swift action. "Get down!" he called out to all those who were still inside the building.
But Riyanto himself did not duck. Instead, he clutched the explosive tightly to his chest, in an effort to prevent mass casualties. Within seconds, Riyanto was blown to bits.
Riyanto was one of four Banser members guarding the church in Mojokerto, a small town south of Surabaya, Indonesia's second-largest city. His name, like his heroic death, is hailed among moderates in the Muslim-majority country as a symbol of its credo of Bhineka Tunggal Ika ("Unity in Diversity"), which crosses all party and religious lines. His uniform is even on display at the NU Museum.
Every year since his death, the Wahid Foundation -- named after Indonesia's fourth president, the late Abdurrahman Wahid (known familiarly as Gus Dur) -- has presented awards in Riyanto's honor to hundreds of students in state and religious schools, with the goal of encouraging tolerance and peace.
To keep Riyanto's memory alive in the minds of moderate Muslims, the Mojokerto municipality named a street after him. In addition, every Christmas, the Eben Haezer congregation dedicates a prayer to him. Last Christmas Eve, the head of East Java's Banser Regional Coordination Unit proposed that the anniversary of Riyanto's death be marked as the "Day of Humanity."
Full report at:
https://www.gatestoneinstitute.org/10244/indonesia-saving-christians
--------
Pakistan
Afghan Commissionerate Turned Into JUI-F Commissionerate
April 24, 2017
PESHAWAR - In violation of the rules and regulations of the federal government employees recruitment policy, the Afghan commissionerate has been turned into JUI-F Commissionerate as 28 illegal appointments of blue-eyed people in BPS-16 have been made in the provincial headquarters.
They mostly belong to the hometown of Commissioner Afghan Refugees.
Reliable official sources informed The Nation that the illegal appointments were not only based on nepotism and favouritism but have also badly affected the careers of permanent employees of the organisation who await promotion since long.
As per the rules, in case of new inductions, 50 per cent quota was to be given to the junior employees for their upgradation. Contrary to this the employees in lower grades had not been upgraded and their due rights were violated after the induction of the new staff in BPS 16.
The sources added that even the office of Accountant General Pakistan Revenues (AGPR) has temporarily stopped their salaries and informed the federal government via letter no. TM (F) legal Cell/2016-171291 issued on January 1, 2017. It stated that the post of Refugee Village Administrator (BPS 16) had been upgraded from BPS-16 to BPS-17 by the Establishment Division with effect from March 31, 1991, and questioned how the recruitment was made in BPS-16 in place of BPS-17, while the posts lower than grade-16 and others await promotion.
The letter further suggested that the new posts of Refugee Village Administrator in BPS-16 would create strong organisational discrepancy besides being contrary to the Establishment Finance/ Division and court orders regarding upgradation. The letter further said that retaining the appointment of Refugee Village Administrator in BPS-16, in violation of the spirit of the court judgment, would further litigate the matter in the court of law.
To counter the salaries problems, the highs-ups of the department have transferred Budget Officer to Transport department while in his place another person, Syed Ali Shah, has been appointed to play his role in the release of salaries of the employees.
Most of the 28 newly recruited staffers in BPS-16 belong to Bannu, Lakki Marwat and Dera Ismail Khan, the hometown of Commissioner Afghan Refugees Ziaur Rahman, who is also the step-brother of Jamiat Ulema-e-Islam chief Maulana Fazlur Rahman.
The recruitments have clearly violated the right of promotion of employees serving in BPS-14 and below. The affected employees include sub-inspector, senior auditor, stenotypist, senior clerk, store keeper, junior clerk, driver, mechanic, naib qasid, and others who have challenged the appointments in the court.
The high-ups of the Afghan commissionerate have also violated the rules by deputing an employee of Workers Welfare Board of BPS-9 in BPS-16 on deputation at the post of superintendent at the office of District Administrator Afghan Refugees Dera Ismail Khan.
Despite repeated calls to Commissioner Ziaur Rahman for his version, he was not available for comments either on his cell phone or official number.
However, later The Nation contacted Additional Commissioner General of Commissionerate of Afghan Refugees Humayun Mohmand who said that the federal government had not issued them terms of reference (TOR) for filling these vacant posts. There are no rules for recruitment in SAFRON for this provincial headquarter, which was the reason these posts were filled without any advertisement, test and interview, he said.
When asked that why most of the posts were filled from the southern districts of Dera Ismail Khan and Lakki Marwat, he replied that it was a known fact that everyone gives priority to his own area. It is not the matter of only the commissioner but every politician would do this to adjust their own people and that was the reason that most of the appointees belong to Dera Ismail Khan, Bannu and Lakki Marwat.
When questioned about the violation of rights of the employees serving below grade-16, he said that there was some cadre problem for the post of assistant and stenotypist and that is why they were not promoted to the post of superintendent in BPS-16.
The rules and notification to fill the federal government vacancies issued by the Establishment Division clearly state that the posts in BPS-16 and above shall be filled through Federal Public Service Commission and these posts in concerned ministries, corporations and attached departments be advertised in widely published national dailies for the public information. The rules also state that a minimum of 15-day duration shall be given for receiving the application.
The rule further states that the regional quota for minorities and disabled persons shall also be allocated in the advertised posts while eligibility and the required qualification be clearly mentioned in the advertisement.
However, all the rules were entirely ignored and the additional commissioner general excused that they have no TORs and rules to fill these posts.
The employees of the concerned department have expressed severe anger over the illegal appointments made. They demanded of the Supreme Court and High Court chief justices to intervene in the matter and reward them their due rights of promotion.
http://nation.com.pk/national/24-Apr-2017/afghan-commissionerate-turned-into-jui-f-commissionerate
--------
Pakistan cajoles Iran to join Saudi alliance
April 24, 2017
ISLAMABAD: Although it has the potential to derail Pakistan's relationship with its key Muslim neighbor and have far-reaching strategic and domestic implications, the country's civil and military authorities decided to join the Saudi-led military alliance with the hope that it may foster unity in the Islamic world.
Towards this end, Pakistan has launched a diplomatic initiative to convince Iran to join the 41-nation coalition and bring about a rapprochement between Tehran and Riyadh. The Express Tribune has learnt through credible sources that Prime Minister Nawaz Sharif had given a special task to Attorney General Ashtar Ausaf.
Ausaf, who is considered a close confidant of the prime minister, last month travelled to Riyadh where he held a series of meetings including with Saudi Crown Prince to discuss the issue. More significantly, the attorney general is also scheduled to travel to Tehran in coming days as part of quiet diplomacy to ensure that Pakistan's relations with Iran are not affected by the decision on the Saudi alliance.
"We are trying to facilitate some kind of rapprochement between Iran and Saudi Arabia," said an official familiar with the development. He conceded, however, that bringing the Middle Eastern rivals on the same page "is a daunting task indeed."
Even so, he said Pakistan would continue to strive for unity among Muslim countries, particularly between Iran and Saudi Arabia. The official, who requested not to be quoted on the record since he was not authorised to speak to the media, added that tension free ties between Iran and Saudi Arabia would make Pakistan's job a lot easier.
When former army chief General (retd) Raheel Sharif accepted Saudi Arabia's offer to head the military alliance, he did so on the condition that other Muslim countries, including Iran, Syria and Iraq, would be invited to join it. Before the government formally granted him a no-objection certificate (NOC) on Friday, the biggest concern Pakistani decision-makers had was that the allowing the former army chief to lead the alliance would antagonise Iran and would harm bilateral ties.
That was the reason that both civil and military authorities went out of the way to placate Iran's apprehensions. In a matter of six weeks, current army chief Gen Qamar Javed Bajwa twice met Iran's Ambassador Mehdi Honardoost to discuss the subject. In fact, the day Gen (retd) Raheel was issued the NOC, the Iranian envoy was in the General Headquarters in Rawalpindi where Gen Qamar categorically assured him that the move would not affect Pakistan's ties with Iran at any cost.
Although Iran has shown reluctance, after Pakistan's concerted efforts it has indicated that it may soften its stance provided the alliance's real object is in fact to fight terrorist groups. Tehran is wary of the Saudi initiative on the grounds that it would eventually be used by the Kingdom to further its own 'sectarian' agenda in the Middle East. Both countries have accused each other of backing certain proxies in Yemen, Syria and Iraq.
Despite its decision to join the alliance, Islamabad does not want to be seen as taking sides. Sources said Pakistan made it clear to Saudi Arabia that it would pull out of the alliance if it turned out to be a sectarian front.
At the same time Pakistan informed Iran that presence of Gen (retd) Raheel in the alliance should be seen positively.
Full report at:
https://tribune.com.pk/story/1391723/quiet-diplomacy-pakistan-cajoles-iran-join-saudi-alliance/
--------
Tax breaks for Chinese won't hit economy: govt
KHALEEQ KIANI
Apr 24, 2017
ISLAMABAD: Chinese investors in the $56 billion China-Pakistan Economic Corridor (CPEC) are enjoying all sorts of tax breaks from customs, income, sales, federal excise and withholding taxes.
But despite all the tax discounts and exemptions, which amount to around Rs150 billion in lost revenue, the government is claiming there will be no adverse impact on local industries and domestic investors.
In a written reply submitted to the National Assembly last week, the finance ministry explained the series of tax exemptions or discounts offered to Chinese investors, which have been notified through statutory regulatory orders (SRO).
Finance ministry provides NA details of exemptions granted to companies for CPEC projects
The SRO is a piece of statute that has been, in the past, condemned by the Pakistan Muslim League-N for being discriminatory and causing revenue loss to the state.
In his reply, Finance Minister Ishaq Dar did not quantify the financial cost of the revenue exemptions.
According to him, exemptions from levy of customs duty at import stage have been specifically designed, notified and made available to Chinese contractors for a few projects of roads, mass transit and Gwadar port.
They include exemption of customs duties on the import of plant machinery and equipment, if not manufactured locally, by the China State Construction Engineering Corporation Limited and the China Communication Cons­truction Company for the construction of Sukkur-Multan section of Karachi-Peshawar Motorway and Karakoram Highway Phase-II (Thakot-Havelian section), respectively.
Also included in this category are the customs duty exemptions on the import of equipment and material for Lahore's Orange Line Metro Train Project. The original exemptions were notified on Jan 25 and further eased through another notification on March 6. Similarly, customs duty exemptions were also allowed on imports to the concession holder and its operating companies for the construction, operations and development of Gwadar port and all port-related businesses established in Gwadar Free Zone.
In addition, concessions and exemptions from levy of customs duty on import of goods were already available to some early projects of Thar coal field sector, which have now been extended to CPEC projects.
Some of them include the exemption of customs duties on import of coal mining machinery, equipment and spare parts not manufactured locally, for Thar coal field.
For the power sector, a concessionary duty rate of zero per cent, 3pc and 5pc on the import of machinery, equipment and spare parts, not manufactured locally, is available for generation projects using oil, gas, coal, wind and tidal energy.
On top of that, income derived from port operations by the China Overseas Ports Holding Company Limited, the China Overseas Ports Holding Company Pakistan (Private) Limited, the Gwadar International Terminal Limited, the Gwadar Marine Services Limited and the Gwadar Free Zone Company Limited has been granted exemption from income tax for 23 years, with effect from Feb 6, 2007.
Besides, income generated by contractors and sub-contractors of those five companies from port operations has been granted income tax exemption for 23 years from July 1, 2016.
Similarly, income and interest earned by a foreign lender or a local bank — with more than 75pc government or State Bank of Pakistan shareholding — by virtue of a financing agreement with the China Over­seas Ports Holding Company Limited, are exempt from income tax for 23 years with effect from July 1, 2016.
Dividends received by the China Overseas Ports Holding Company from the China Overseas Ports Holding Company Pakistan (Private) Limited, the Gwadar International Terminal Limited, the Gwadar Marine Services Limited and the Gwadar Free Zone Company Limited have also been granted income tax exemption for 23 years from July 1, 2016.
If this was not enough, exemptions from sales tax and federal excise duty have been provided on materials and equipment for construction and operation of Gwadar port and Gwadar Free Zone through the Finance Act, 2016 to the China Overseas Ports Holding Company Pakistan (Private) Limited and its operating companies, their contractors and sub-contractors. This exemption is equally available for imported and locally-manufactured materials and equipment.
Plant machinery and equipment, including dumpers and special purpose motor vehicles, imported for the construction of the Karachi-Peshawar Motorway Project and the KKH Phase-II are also exempt from income tax and sales tax.
Likewise, exemption from sales tax and federal excise duty has also been granted to machinery, apparatus, materials etc imported by the China Railway Corporation for the Orange Line project.
Rail-based mass transit projects in the four provincial metropolises have also been exempted from the provisions of Section 148 of the Income Tax Ordinance, 2001, which deals with advance income tax at the import stage.
This is in addition to exemption from income tax to interest and income derived by the Industrial and Commercial Bank of China (ICBC) and the Silk Road Fund in Pakistan from loans relating to the energy projects mentioned in CPEC Energy Projects Cooperation Agreement signed in Beijing in Nov 2014.
Full report at:
https://www.dawn.com/news/1328853/tax-breaks-for-chinese-wont-hit-economy-govt
--------
MQM-P holds big rally to 'seek rights for people of Karachi'
AZFAR-UL-ASHFAQUE
Apr 24, 2017
KARACHI: Less than three weeks after it released a 'white paper' against the bad governance of the Pakistan Peoples Party in Sindh, the Muttahida Qaumi Movement-Pakistan staged a big rally in the city on Sunday, demanding the rulers to give Karachi its due rights.
A large number of people participated in the Huqooq (rights) rally, which began from Liaquatabad No 10 and culminated at the Quaid's mausoleum, where it turned into a public meeting which was addressed by the party's central leadership.
Also on Sunday, graffiti against MQM-P chief Dr Farooq Sattar, senior leader Aamir Khan and some others emerged in different parts of the city.
And when the rally began, workers of the MQM-London joined it at certain spots and shouted slogans in favour of MQM founder Altaf Hussain. However, no untoward incident took place.
Carrying the national flag and tri-coloured MQM flags, the participants of the rally reached the Mazar-i-Quaid in buses, cars, motorcycles, etc.
Speaking on the occasion, MQM-P head Dr Sattar said that the rally "revived the MQM of 1986" — a reference to the first show of strength of the MQM in historic Nishtar Park on Aug 8, 1986.
He said the workers of the MQM had proved it the most organised party in Sindh which could not be divided.
He said that no-one was forced to come to the rally. "We have shunned politics of violence. We will make Karachi a national city where people of all ethnic origins will live in complete harmony."
Dr Sattar said that his party would never "bargain over the blood of the martyrs".
He said that the MQM-P would have been given back its Nine Zero headquarters seven months ago had it "bargained over the blood of the martyrs".
Responding to the criticism by MQM-London that he forgot the custodial death of his own coordinator Aftab Ahmed who died in Rangers' custody last year, he said: "Let me assure the heirs of Aftab shaheed that we can give up politics but will never leave our martyrs."
He said that very soon all "missing" workers would be recovered and those languishing in prisons would be released.
He said that the MQM had already launched its struggle for the rights of the urban areas of Sindh and soon it would raise voice for the rural areas.
MQM leader Aamir Khan warned that his party would launch a movement for a new province in Sindh if the rulers did not get the people their due rights.
He thanked the Jamaat-i-Islami, Pakistan Tehreek-i-Insaf, Pak Sarzameen Party and MQM-Haqiqi for extending support to the MQM rally.
Full report at:
https://www.dawn.com/news/1328878/mqm-p-holds-big-rally-to-seek-rights-for-people-of-karachi
--------
Let's clean country from Fasaad: COAS
April 24, 2017
ISLAMABAD - Army Chief Gen Qamar Javed Bajwa said on Sunday that every Pakistani was a soldier of operation Raddul Fasaad.
In a video message released by the Inter-Services Public Relations (ISPR), the army chief has invited all citizens to unite to rid the country of the menace of terrorism.
The video was shared by ISPR Director General Major General Asif Ghafoor on his official Twitter account along with a tweet quoting the army chief.
"Every Pakistani is a soldier of Operation Radd-ul-Fasaad'. Let us clean Pakistan from 'fasaad' [mischief]," the tweet read. The video itself shows a man attempting to rent a car from a business owner illegally. When the owner asks the man for his CNIC, the latter presses him to simply lend him the car for the extra money.
The video then shows the man, who rented the car, using it to transport a suicide bomber to his target.
This is followed by a message urging all Pakistanis, especially business owners, to be alert about any suspicious activity, transactions in particular, and to report any such incident or attempt to the authorities.
Pakistan launched Raddul Fassad in February in the wake of a series of terrorist attacks across the country in which more one hundred people were killed while more than two hundred injured.
Full report at:
http://nation.com.pk/national/24-Apr-2017/let-s-clean-country-from-fasaad-coas
--------
BLF bomb kills four FC men in Turbat
April 24, 2017
Quetta - Four security personnel were martyred and three others seriously wounded on Sunday in a roadside bomb explosion near Balochistan's Turbat town.
The victim Frontier Corps personnel were on patrol when their vehicle was hit by an improvised explosive device (IED) in Mand area, according to security sources.
Banned militant group Balochistan Liberation Front (BLF) claimed responsibility for the deadly attack.
Heavy contingents of law enforcement agencies rushed to the crime spot and launched a search for the culprits. The martyred and wounded soldiers were taken to a local hospital.
An official statement said the security forces remain determined and they will leave no stone unturned for the safety of people.
Chief Minister Nawab Sanaullah Zehri deplored the bomb attack and expressed his grief over the demise of security officials.
He said the brave soldiers were ensuring safety of borders and public lives by sacrificing their own lives and their worthy sacrifices won't go waste.
The CM said the military, paramilitary forces and police were targeting terrorists heavily and they have broken their back, expressing resolve to wipe out the remaining anti-state elements.
Zehri in a press statement also expressed condolence and sympathy with the victim families and prayed for the early recovery of wounded soldiers.
FOUR INJURED IN QUETTA FIRING
Four people including two policemen sustained bullet injuries in exchange of fire between security forces and motorcyclists at Joint Road here on Sunday.
As per details, the FC men, at a checkpost, singled two men riding a motorcycle to stop their bike for violating the pillion-riding ban at Joint Road Quetta. However, they did not stop and ignored order of the security forces.
The security personnel chased the motorcyclists and stopped them for failing to obey the instructions which triggered exchange of harsh words followed by firing. The police said the two wounded were security men.
As a result of firing, hawaldar Muhammad Afzal, constable Shafqat and two civilians Mehboob and Abdul Hammad sustained injuries and were shifted to hospital. The Civil Lines police were investigating the matter.
Agencies add: Prime Minister Nawaz Sharif strongly condemned the attack on Frontier Corps vehicle at Turbat.
The prime minister reiterated govt's resolve to fight against the terrorists till the motherland was cleared of all such elements. The prime minister expressed his deep grief over the loss of precious lives and prayed for the departed souls.
He also expressed condolences with the bereaved families, the PM office media wing said in a press release issued in Islamabad.
Balochistan is the largest of Pakistan's four provinces in area but has scattered population, roughly seven million. The province borders both war-torn Afghanistan and Iran. The Sunday's incident happened close to Iran's border.
This south-western province has long dealt with an insurgency by nationalist and separatists groups who want bigger shares in regional resources. Taliban- and al-Qaida-linked sectarian outfits also operate in the region.
In the intermittent fight, which has been continuing since 2004, hundreds of soldiers and militants have been killed. And the tide is turning now.
Around 500 Baloch rebel militants on Friday surrendered to the government as Islamabad pursues its development agenda linked to the ambitious China Pakistan Economic Corridor (CPEC) in the southwest province.
A greater push towards peace and development by Pakistani authorities, including starting work on roads and infrastructure under the Chinese-assisted CPEC project – which connects Balochistan's deep sea port of Gwadar to China – has reduced the violence considerably.
From page 1
sustained bullet injuries in exchange of fire between security forces and motorcyclists at Joint Road here on Sunday.
As per details, the FC men, at a checkpost, singled two men riding a motorcycle to stop their bike for violating the pillion-riding ban at Joint Road Quetta. However, they did not stop and ignored order of the security forces.
The security personnel chased the motorcyclists and stopped them for failing to obey the instructions which triggered exchange of harsh words followed by firing. The police said the two wounded were security men.
As a result of firing, hawaldar Muhammad Afzal, constable Shafqat and two civilians Mehboob and Abdul Hammad sustained injuries and were shifted to hospital. The Civil Lines police were investigating the matter.
Agencies add: Prime Minister Nawaz Sharif strongly condemned the attack on Frontier Corps vehicle at Turbat.
The prime minister reiterated govt's resolve to fight against the terrorists till the motherland was cleared of all such elements. The prime minister expressed his deep grief over the loss of precious lives and prayed for the departed souls.
He also expressed condolences with the bereaved families, the PM office media wing said in a press release issued in Islamabad.
Full report at:
http://nation.com.pk/national/24-Apr-2017/blf-bomb-kills-four-fc-men-in-turbat
--------
JITs grill criminals, not gentlemen: Chandio tells Nawaz
April 23, 2017
Karachi - Pakistan People's Party (PPP) Parliamentarian Central Secretary for Information Maula Bux Chandio on Saturday said that Joint Investigation Teams (JITs) were formed not to grill good people, but to interrogate the criminals.
At the same time, he questioned, "How come a subordinate of the prime minister could get to the facts when judges of the Supreme Court failed to do so?"
He expressed these views while addressing a condolence reference held in the memory of PPP leaders Latif Mughal and Khawaja Muhammad Awan.
He said that it was an insulting decision for the PML-N, as the apex court had termed them as thieves and now the prime minister should resign from his post on moral grounds.
He warned the PML-N leaders, especially Abid Sher Ali, against going ahead with making vitriolic comments against PPPP President Asif Ali Zardari and said that if the practice was not halted, then PPP would also respond to it thinking that Nawaz Sharif himself had condoned this tirade. He asked as to why the PML-N leaders were distributing sweets when two judges of the apex court had disqualified the prime minister and the entire bench had rejected the evidence submitted by Nawaz's lawyers.
"This decision will pave the way for accountability in the country," he said.
Speaking on services of Lateef Mughal and Khawaja Muhammad Awan for the party, Chandio said that he could not speak much on the PPP stalwarts who had left the world due to grief, but wanted to say that he had very close association with Lateef Mughal. "Khawaja Muhammad Awan was our senior member. Both of them had very polite personalities and it is the fact that every soul has to return to its real destiny one day," he said, adding that the important thing is that they continued to raise voice against injustices and worked for the deprived labour class of the country.
He was of the view it was necessary to remember those who had done good deeds in their lifetime, as it would further encourage others.
Speaking on the occasion, Senator Saeed Ghani said that the chief minister also had to attend this condolence session; however, he had promised to hold a similar condolence session at the Chief Minister's House.
Full report at:
http://nation.com.pk/karachi/23-Apr-2017/jits-grill-criminals-not-gentlemen-chandio-tells-nawaz
--------
Mideast
Dissident Leader: Turkey Directly Involved in Khan Sheikhoun Chemical Attack
Apr 23, 2017
Sarhab Golhan, the leader of Moon and Star party, was quoted by SANA news agency as saying that Erdogan is directly involved in the chemical attack and he is "the ISIL's current leader".
"If investigations are carried out about Khan Sheikhoun incident, it will certainly reveal that Erdogan is behind it and all massacres happening in our region; the Justice and Development government opened the borders to the terrorists' easy traffic and equipped them with weapons," he added.
Golhan said that certain pharmaceutical companies close to the Justice and Development government have supplied the terrorists with Sarin gas to be used against the civilians and raise allegations against the Syrian government to provoke the international community.
Meantime, head of Turkey's Socialist Workers Party Turgut Kocak said that the same side that had provided the terrorists in Aleppo with chemical weapons supplied their comrades in Khan Sheikhoun with the same kind of weapons "and therefore, they were sent by Turkey to the Syrian city".
"We know that 90% of weapons in terrorists' hands have been sent from Turkey and we think that the terrorist groups in Idlib which are led by the Turkish intelligence agencies are the culprits behind the Khan Sheikhoun incident," he added.
In relevant remarks on Saturday, Syrian President Bashar al-Assad said Damascus is 100% certain that terrorists get chemical weapons directly from Turkey.
"Directly from Turkey, and there was evidence regarding this, some of [it has] been shown on the internet a few years ago. You had many parties and parliament members in Turkey who questioned the government regarding those allegations. So, it's not something hidden," Assad told Sputnik.
He further maintained that financial, armament and logistic support for terrorists in Syria, including recruitment, is provided through Turkey.
"They don't have any other way to come from the North. So, it's a hundred percent Turkey," Assad underlined.
On April 4, the National Coalition for Syrian Revolutionary and Opposition Forces claimed that 80 people were killed and 200 injured in a suspected chemical attack in Khan Sheikhoun, putting the blame on the Syrian government. Damascus vehemently rejected the accusations and said militants and their allies were responsible.
According to the Russian Defense Ministry, the Syrian Air Force hit a warehouse where militants stored chemical weapons, which were sent to Iraq. The Russian Foreign Ministry reminded that the Syrian government doesn't possess chemical weapons since mid-2014. Chemical weapons have been taken out of the country with the US help.
In response to the Khan Sheikhoun incident the United States launched 59 Tomahawk cruise missiles at the Syrian military airfield in Shayrat in Homs province.
http://en.farsnews.com/newstext.aspx?nn=13960203000803
--------
US, Israel two sides of same coin, trying to destroy Yemen: Houthi
Apr 23, 2017
Leader of Yemen's Houthi Ansarullah movement, Abdul-Malik Badreddin al-Houthi, says the United States and the Israeli regime are two sides of the same coin and together they seek to destroy Yemen through a brutal military campaign launched by Saudi Arabia.
Addressing a group of Yemenis in Sa'ada, thorough a video conference, Houthi further said on Sunday that the US, Israel and their allies are trying to impose their values on regional nations, adding that enemies view Yemenis as a worthless tool to sustain their own interests in the region.
"Independent forces in the region from Yemen to Syria, Lebanon and Iraq are considered as rogue from the American perspective, and sympathy for the oppressed in these countries is viewed as a crime," he said, adding that Washington is trying hard to turn regional players into its own puppets.
The Yemeni leader also noted that collusion in the atrocities committed against the Yemeni people is not an issue in the eyes of the American leaders, but when the oppressed and independent forces cooperate with each other, the US perceives it as a crime. He called on all Yemenis to stand united against the aggressors and defend their country.
"[When] anyone says Israel is a threat to our nation, the United States and its allies say they are supporters of Iran, and with the help of this false justification, they (Washington and allies) target anyone that does not accept adopting a hostile attitude towards Iran," he added.
"[When] anyone says Israel is a threat to our nation, the United States and its allies say they are supporters of Iran, and with the help of this false justification, they (Washington and allies) target anyone that does not accept adopting a hostile attitude towards Iran," he added.
He also said the only sin committed by Iran, from the perspective of the United States, was that it freed itself from being a puppet country in the 1979 Islamic Revolution.
'US, Israel main source of terrorism worldwide'
The Yemeni leader added that Washington considers regional or international threats all those countries that are not its ally, "but the reality is that the US and Israel are themselves the main source of terrorism worldwide."
Elsewhere in his remarks, Houthi said the Yemeni nation, from all walks of life, should boost their awareness of the realities of regional developments and use it as a tool to battle the US propaganda against the Arab country. Ignorance, he said, makes people an easy target for the US and the Zionists.
Houthi also stated that only Yemenis can decide about their future and the internal affairs of their country and that absolutely no other country or organization, even the United Nations and the Arab League, can impose their so-called solutions to the crisis in Yemen.
He described as utterly ridiculous Washington and Riyadh's claim that they want to liberate Yemeni cities from "Yemeni occupation."
"You are Yemenis, who have occupied the capital Sana'a? The US wants to liberate Sana'a from Yemenis?!" he asked.
Houthi reiterated that the Yemeni nation's resistance against the Riyadh regime's incessant attacks was deeply rooted in religious orders and was meant to safeguard national sovereignty and freedom.
Full report at:
http://www.presstv.ir/Detail/2017/04/23/519173/Yemen-AbdulMalik-Badreddin-alHouthi-US-iSrael-Saudi-Iran
--------
Large explosion kills 7 militiamen in Yemen's Aden
Apr 23, 2017
At least seven militiamen have been killed and over a dozen others have been injured after a shipment of ammunition accidentally went off in Yemen's southern port city of Aden, local officials say.
The incident occurred on Sunday morning, when a lorry laden with mines and missiles was unloading its shipment in the arms depot of Jabal al-Hadid military camp in the center of the city, local emergency and health officials said.
They added that miscarriage of the explosives triggered a huge explosion, which killed all the guards standing around the vehicle and injured some 15 other militiamen in the vicinity of the blast site.
Since March 2015, Saudi Arabia has been heavily bombarding Yemen as part of a brutal campaign against its impoverished southern neighbor in an attempt to reinstall Abd Rabbuh Mansur Hadi, Yemen's former president and a staunch ally of Riyadh, and crush the popular Houthi Ansarullah movement, which is in control of large parts of Yemen including the capital Sana'a.
Hadi, who initially fled the country to Riyadh, managed to capture Aden in July 2015 with the military help of the regime in Riyadh after it fell in the hands of Houthis in September 2014.
Since then, Hadi, along with his supporters and militiamen, have turned the port city to their base, calling it the country's temporary capital, and have gone hand-in-hand with the Saudi war machine against his own people.
Over the past two years, Houthis have been running state affairs and defending Yemeni people against the Saudi campaign.
Full report at:
http://www.presstv.ir/Detail/2017/04/23/519151/Yemen-Aden-mines-explosion
--------
Arab coalition forces detain al-Qaeda leaders, including Yemen's Zarqawi
23 April 2017
Arab coalition leaders fighting in Yemen said in a statement that their helicopters carried out an air strike Saturday to support the Yemeni counter-terrorism army in their battle against Houthi militias.
These raids were launched in pursuit of al-Qaeda targets in the city of Mukalla.
The Saudi Press Agency (SPA) quoted the source stating that a number of members and senior leaders of different nationalities belonging to al-Qaeda were arrested in Wadi al-Hadramawt, including Ahmed Said Awad Barhamah, known as Zarqawi.
The operation also resulted in the termination of terrorist plots by confiscating various equipment, weapons and armaments intended to carry out terrorist operations in a number of areas in Hadramawt.
Major General Ahmad Saeed Bin Braik, Governor of Hadramawt said, during a telephone interview with Al Arabiya's sister channel Al Hadath on Saturday evening, that elite forces carried out numerous ground operations against al-Qaeda operatives with air support from Arab coalition forces.
He added that the operations enabled the capture of seven al-Qaeda members, including two leaders, one of them was Abu Ali al-Saeri, a terror suspect believed to be responsible for the killing of soldiers in 2014, together with Ahmed Saeed Awad Baramah and a number of his companions.
Full report at:
https://english.alarabiya.net/en/News/middle-east/2017/04/23/Coalition-forces-arrest-al-Qaeda-leaders-including-Yemen-s-Zarqawi.html
--------
ISIS reportedly moves headquarters from Syria's Raqqa to Deir Ezzour
23 April 2017
ISIS has moved its headquarters from Syria's Raqqa to Deir Ezzour, according to a report published by Fox News this week.
The move is seen as an indicator of a potential breakdown within the terrorist organization.
Fox News quoted sources in the Pentagon as saying that ISIS had reinforced their presence in Deir Ezzour two months ago.
The sources also said that hundreds of ISIS officials and administrators left Raqqa to the area of al-Mayadeen, which lies 50 kilometers southeast of Ezzour.
However, the relocation did not protect ISIS leaders from evading the Americans.
Full report at:
https://english.alarabiya.net/en/News/middle-east/2017/04/23/ISIS-moves-headquarters-from-Raqqa-to-Deir-Al-Zour.html
--------
UN chief Guterres vows to stand up against alleged 'anti-Israel bias'
24 April 2017
UN Secretary General Antonio Guterres sought to reassure international Jewish community leaders on Sunday that he would stand up against any perceptions of anti-Israel bias at the world organization.
Guterres spoke amid a deepening row over alleged bias within the UN following US pressure, exacerbated last month when a UN rights expert issued a blistering criticism of Israel's policies.
Guterres said he would "guarantee" that those working under him would abide by principles that he considers right.
"As secretary general of the United Nations I consider that the state of Israel needs to be treated as any other state," he said to applause at the World Jewish Congress in New York.
"I have already had the opportunity to show that I'm ready to abide by that principle even when that forces me to take some decisions that create some uncomfortable situations," he added.
Former UN official and Jordanian national Rima Khalaf last month said Guterres asked her to withdraw a report in which she accused Israel of being an "apartheid state" and subsequently resigned.
The UN chief nonetheless qualified: "That does not mean that I will always be in agreement with all the decisions that are taken at any moment by any government that exists in Israel."
Guterres promised that he would be "in the frontline" in the struggle against anti-Semitism, which he warned was on the rise in Europe and America, and called "absolutely unacceptable."
He promised to "make sure that the United Nations is able to conduct all possible actions for anti-Semitism to be condemned, and if possible eradicated from the face of the earth."
His 15-minute speech was interrupted by applause at least 11 times. The former Portuguese prime minister was also given a standing ovation.
It was the first time that a UN secretary general has addressed an international gathering of Jewish leaders.
Israel last month announced a $2 million cut in its contribution to the UN budget because of constant criticism by the UN Human Rights Council of its policies towards the Palestinians.
Full report at:
https://english.alarabiya.net/en/News/middle-east/2017/04/24/UN-chief-vows-to-stand-up-against-alleged-anti-Israel-bias-.html
--------
Three killed in Israeli attack on Syria military camp
23 April 2017
An Israeli attack on a Syrian camp for pro-government forces killed three fighters near the Golan Heights on Sunday, an official from the forces said.
The official told AFP that two fighters were also wounded in the attack on the Al-Fawwar camp near Quneitra in southwestern Syria, adding that it was unclear whether the damage was inflicted by an air strike or shelling.
The Syrian Observatory for Human Rights monitoring group confirmed the early Sunday attack but had no further details.
Israel's army on Friday said it targeted positions inside Syria in retaliation for mortar fire that hit the northern part of the Golan Heights.
Syria's official news agency SANA said Israel had struck a Syrian army position in the province of Quneitra on the Golan plateau, "causing damage".
The Syrian government labels rebel groups and militants fighting the regime as "terrorists" and accuses Israel of backing them.
Israel seized 1,200 square kilometres (460 square miles) of the Golan from Syria in the Six-Day War of 1967 and later annexed it in a move never recognised by the international community.
Around 510 square kilometres of the Golan are under Syrian control. The two countries are still technically at war, although the border remained largely quiet for decades until 2011, when the Syrian conflict broke out.
Full report at:
https://english.alarabiya.net/en/News/middle-east/2017/04/23/Three-killed-in-Israeli-attack-on-Syria-military-camp.html
--------
Protests in Istanbul over disputed referendum result
23 April 2017
Hundreds of supporters of the 'No' campaign and Turkey's main opposition party protested in Istanbul on Sunday against the narrow victory in last week's vote on expanding President Recep Tayyip Erdogan's powers.
The 'Yes' camp won 51.41 percent in last Sunday's referendum in a tighter-than-expected win, but opponents claim the result would have been reversed in a fair poll.
Nearly 1,000 people made up of supporters from the Republican People's Party (CHP) demonstrated in Taksim square on the western side of Istanbul against the result and to mark a public holiday, an AFP correspondent said.
The protest took place on the 97th anniversary of the establishment of the Turkish parliament, known as National Sovereignty and Children's Day.
Across the Bosphorus, in the district of Kadikoy, hundreds more protested carrying placards saying: "The 'No' hasn't finished, it's only just begun" and "No, we won".
Some held a large banner saying "Cancel the referendum" while others held gold balloon letters spelling out "Hayir" meaning "No" in Turkish, an AFP photographer said.
The tight result has been disputed by the opposition after the top election authority known as the Supreme Election Board (YSK) made a last-minute decision on Sunday to accept ballot documents in envelopes without an official stamp.
But the CHP had its bid with two other parties to annul the referendum rejected by the YSK last week.
The party also launched a legal challenge in the country's top administrative court on Friday in a bid to cancel the YSK decision on the ballots which opponents argue opened the way for fraud.
On Sunday, parliament held a special session for the holiday which resulted in heated debates between CHP leader Kemal Kilicdaroglu and Prime Minister Binali Yildirim.
Full report at:
https://english.alarabiya.net/en/News/middle-east/2017/04/23/Protests-in-Istanbul-over-disputed-referendum-result.html
--------
Africa
Kenya: Militant Groups Lure Youth Into Terrorism, Sex Slavery
23 APRIL 2017
By Fred Mukinda
A significant number of youth who have been pursuing degrees in Kenyan universities have ended up in ruin, after they fell into the trap of terrorists, Sunday Nation can reveal.
The young men have been killed in battles in Libya while the young women were sold off as sex slaves to terrorist militants and are now struggling to return home.
The Nation has learnt that security agencies - Kenya Police Service, Immigration department, Directorate of Criminal Investigations, National Intelligence Service, Probation Department and Kenya Prisons - are grappling with the calls for youngsters who have survived the terror network and are willing to return home.
TERROR ATTACK
A confidential dispatch shared among security agencies in Kenya and seen by the Sunday Nation paints a grim picture of the youngsters' life in the hands of terrorists.
The most prominent are Farah Dagane Hassan, 26, and Hiish Ahmed Ali, 25, who were medical interns at Kitale hospital, and were killed in Libya during a sting operation against Islamic State terrorists.
Months before, they were labelled wanted terrorists and a Sh4 million bounty placed on their heads after they were linked to planned biological terror attacks in Kenya.
Ashur Mahfoudh Ashur and Abdi Sharif Makbul have also died in battle after they were recruited by terrorists.
Deputy secretary for Internal security Thomas Sakah last Tuesday said universities had become centres of radicalisation and recruitment by terrorists in Somalia and Syria.
UNIVERSITY STUDENTS
Security agencies in Kenya are more concerned about others still at large.
They include Anthony Kiprop Rotich aka Abdul Hakim Kiprotich, Hassan Ahmed Waqo Bonaya and Mahmoaud Mohamed Abubakar Mbarak who all studied at Moi University.
Kiprotich was a fourth year entrepreneurship student.
The security dispatch describes him as "the humble young man from Kaptembwa, Nakuru, who converted to Islam while at the university at the behest of Isis recruiters.
It is believed that these recruiters brainwashed him into accepting to travel to Libya to join the group.
The 23-year-old was last seen on June 8, 2015. He called his mother while in Sudan informing her he was en route to a better place."
The government has given priority to six youngsters whom it believes are at behest of terrorists.
"The world is grappling with a rise in radicalisation and movement of youth to terrorist theatres of Syria, Libya and Somalia.
"Members of the public must be on the lookout for radical elements who are seeking to mislead Kenyan youth and send them to terrorist arenas.
"While this trend is not rampant in Kenya as has been observed in other countries, some Kenyan youth have left the country to fight alongside Isis terrorists," the dispatch reads.
BETTER LIFE
According to the police, Samiha Swaleh Awadh Noor alias Sameer, Shindeys Abey Noor aka Osman Shindey Noor, Khalida Dahir Adan aka Twafiga Dahir and her friend Salwa Abdalla made a trip to join Isis in Syria.
Currently, a number of parents have approached the government after they received phone calls from cartels in Libya demanding money in exchange for their children.
Most of the victims are young women whose "supposed husbands" died in battle.
The dispatch names Firthoza Ali Ahmed aka Firdaus, a Kenyan who underwent harrowing experiences in her travel to Syria.
"After being brainwashed and promised a better life, she decided to travel in March 2015. In the company of Zeitun Ali Ahmed, Firthoza began her journey to join Isis in Syria via Turkey.
"Aisha Saleh, who also travelled to Syria, shares the same distressing experience.
"The former student at Abu Hureira Secondary School in Mombasa was married off to an Isis fighter," the dispatch says.
HUMAN TRAFFICKING
The report also reveals a terror link to human trafficking and human organs harvesting criminal networks.
It says: "For those who are weak and whose organs cannot be harvested nor be sold to Isis, ransom is demanded from their families."
The reports identifies the Magafe network, a human trafficking cartel that Isis depends on for the transportation of recruits.
So far, investigations have established 10 routes used by the Magafe network to transports terror recruits from Kenya to Syria and Libya.
http://allafrica.com/stories/201704240072.html
--------
This map shows the presence of Salafism in the Middle East and North Africa
24 April 2017
Salafism originated in the mid-18th century in an area that now covers Saudi Arabia. It can best be described as an ultraconservative form of Islam. This modern trend within Islam began as a corrective movement in 18th century Arabia to bring Muslims back to the religion's original creed.
For many decades, the kingdom exported Salafism and associated ultraconservative ideas by constructing and purchasing mosques, underwriting seminaries, publishing literature, dispatching clerics, supporting charities, and so on.
Over time, however, it gradually lost control over the Salafist ideology itself, and three distinct branches formed: quietist, jihadist, and electoral.
Three Branches Of Salafism
Quietists are the most dominant strand of Salafism. They seek to promote ultraconservative interpretations of Islam through peaceful proselytization. This structural contradiction between Saudi Arabia's geopolitical behavior and the religious ideals it supported led to the growth of the jihadist branch.
Jihadists also pursue an ultraconservative religious agenda, but believe in the use of armed insurrection to achieve it.
The electoral branch grew largely out of the Arab Spring movement. It involves Salafists who want to use the electoral process as a means to operationalize their orthodox religious views via government.
Though Salafism has spread to different parts of the Muslim world, its core is rooted in the Arab world where it was born (see the map below).
This area is also experiencing the greatest turmoil created by the jihadist strand of Salafism. So far, there have not been any cases where jihadist Salafists have embraced electoral Salafism—this space is currently dominated by those who were formerly of the quietist Salafist realm.
However, when exhaustion from war produces political settlements in the distant future, electoral Salafism could have a role to play as a potential way for some of today's jihadist Salafists to join mainstream politics.
Grab George Friedman's Exclusive eBook, The World Explained in Maps
The World Explained in Maps reveals the panorama of geopolitical landscapes influencing today's governments and global financial systems. Don't miss this chance to prepare for the year ahead with the straight facts about every major country's and region's current geopolitical climate. You won't find political rhetoric or media hype here.
Full report at:
http://www.businessinsider.com/map-of-salafism-in-middle-east-and-north-africa-2017-4?IR=T
--------
US cites piracy in Somalia for new focus on Africa
Apr 23, 2017
The commander of the US Africa Command cites fight with Somalia's piracy during a visit by the Pentagon chief.
US Marine General Thomas Waldhauser made the remarks alongside Defense Secretary Jim Mattis during a press conference in Djibouti, a tiny African country at the southern entrance to the Red Sea, which makes it ideal for US military operations in Somalia as well as Yemen.
Waldhauser made the comments amid reports of an increase in piracy attacks off the coast of Somalia, considered an international threat since the early 2000s.
"The bottom line is there have been a half dozen or so (incidents)," Waldhauser."We're not ready to say there is a trend there yet but we'll continue to watch."
Two ships have been captured this month and a third rescued by Indian and Chinese forces.
The attacks peaked to 237 in 2011 but decreased afterwards.
Famine and drought in the region is behind the alleged new rise in the attacks, according to the US Africa Command chief.
Over 20 million people from Nigeria, Somalia, South Sudan and Yemen are at risk of death from starvation, according to UN World Food Program.
The Pentagon chief said, however, that he did not expect the US forces to respond to piracy rise off the coast of Somalia.
Mattis was visiting an important military base in Djibouti, named Camp Lemonnier.
Full report at:
http://www.presstv.ir/Detail/2017/04/23/519197/US-cites-Somalia-piracy-for-Africa-focus
--------
Roadside bomb blast kills eight Somali soldiers in Puntland
Apr 23, 2017
A roadside bomb explosion in a remote town in Somalia's semi-autonomous state of Puntland has killed eight soldiers.
Media reports said at least three troops were also injured when the deadly blast targeted a military convoy in Galgala on Sunday.
The al-Qaeda-linked al-Shabab militant group has claimed responsibility for the bomb attack. The militant group has a history of launching similar attacks across the troubled region in the past.
Somalia has been the scene of deadly clashes between government forces and al-Shabab militants since 2006.
President Mohamed Abdullahi Mohamed recently declared war on al-Shabab, calling on the militants to withdraw from the group within 60 days in exchange for jobs and education.
Al-Shabab has stepped up its deadly bombings in the capital Mogadishu since the new president took office in February.
The Takfiri militant group was forced out of the capital by African Union troops in 2011 but still controls parts of the countryside and carries out attacks against government, military and civilian targets.
Full report at:
http://www.presstv.ir/Detail/2017/04/23/519148/blast-Somali-soldiers-Putland
--------
Despite truce, Fayose deploys bulldozers near mosques marked for demolition – MURIC
24 April 2017
The Muslim Rights Agenda has raised the alarm over the deployment of bulldozers near mosques earlier marked for demolition by the Ekiti State Government.
The alleged deployment of the bulldozers is coming less than a month after the State Governor, Ayo Fayose, and the Muslim community in the state reached a truce over the proposed demolition of the mosques.
Raising the alarm about the deployment of the bulldozers, said to have been carried out on Saturday, MURIC, in a statement by its Director, Prof. Ishaq Akintola, said it was against the spirit of the agreement reached with the Muslim community on the mosques.
Among others, the agreement was that the mosques would only be used for prayer by those just passing by at prayer times and not as a regular one where people mass to pray.
In the statement on Sunday, MURIC said: "In spite of the truce reached at a parley between Governor Ayodele Fayose of Ekiti State and Muslim leaders from the South West three weeks ago, members of the Muslim Rights Concern (MURIC) in Ekiti State have sighted the governor's bulldozers strategically stationed near the mosques under threat in Ado Ekiti yesterday, Saturday 22nd April, 2017.
"This move is not only irrational but also highly provocative. Governor Fayose is deliberately provoking Muslims in Ekiti State and, by inference, in Yorubaland and the country as a whole for his own personal agenda. For reasons best known to him, Fayose wants to set Nigeria on fire. He knows that his action is capable of causing a breach of the peace yet he appears determined to go ahead. We warn that nobody should blame Muslims for any breakdown of law and order if those mosques are demolished.
"We are bewildered that the chief security officer of a state can be hell-bent on stoking religious riot in a country heavily beleaguered with religious conflicts. Fayose's belligerence and open display of hostility towards his Muslim citizens belies the perceived atmosphere of peaceful coexistence between Christians and Muslims in South Western Nigeria.
"Many people, including foreigners in the country, are under the impression that religious intolerance exists only in the northern part of the country. Nay, the truth of the matter is that Muslims in the region have been patiently bearing a long-drawn repression and denial of their Allah-given fundamental human rights.
"Fayose's latest exhibition of fascism and religious intolerance has just proved that the claim of peaceful coexistence among Yoruba Christians and Muslims is a myth, a mirage and a total illusion. There has been peace because the Muslims of the region have demonstrated extreme forbearance. The Muslims have continued to remain peaceful even in the face of gross provocations.
"We recall that the American Congress invited the former president of CAN, Ayo Oritsejafor, to address its members on the purported atrocities committed by Nigerian Muslims. He told the American lawmakers bundles of lies but, unfortunately, the US Congressmen are yet to grant Nigerian Muslims the right of response in the name of fair hearing.
"The reality on ground is that while a handful of Christians may be amenable to the idea of religious tolerance, many others like Fayose have a phobia for Muslims and an allergy for seeing any Islamic monument in their neighbourhood. Fayose is determined to uproot every single Islamic landmark on Ekiti soil before his tenure expires in 2018.
"MURIC calls the attention of leaders of the Christian Association of Nigeria (CAN) to Fayose's aggression against Muslims. We appeal to Western diplomats in the country to spare a little time to study the religious landscape in Yorubaland. We charge leaders of the National Assembly, lawmakers from Ekiti State and all men of goodwill to make Fayose see reason. We invite notable traditional rulers in Yorubaland, particularly the much revered Ooni of Ife and the Alaafin of Oyo to intervene in the matter before it gets out of hand.
Full report at:
http://theeagleonline.com.ng/despite-truce-fayose-deploys-bulldozers-near-mosques-marked-for-demolition-muric/
--------
North America
US lawmaker pledges to defend rights of Muslim Americans
April 23, 2017
A US lawmaker pledged his support for Pakistani Americans and said he will work to ensure civil liberties of all American Muslims are upheld.
Republican Congressman Daniel Donovan was addressing an audience largely filled with Americans of Pakistani origin at an event at the Pakistan Consulate in New York on Saturday.
Donovan further assured of making concerted efforts to help Pakistan get rid of the crippling polio virus.
Known for his activism in healthcare, Donovan said he hopes to boost Pakistan's efforts in wiping out the crippling disease.
At the event, Aziz Memon, chairman of Pakistan PolioPlus Committee, said some 20,000 Rotarians from over 200 countries will be convening in Atlanta, Georgia, in June this year to discuss various issues surrounding the eradication of Polio.
Pakistan is one of the only two countries ─ the other being Afghanistan ─ in the world where polio cases continue to emerge.
The congressman further said the US Constitution guarantees freedom of religion, and that there can be no law banning a Muslim from coming to the country.
Consul General Raja Ali Ejaz, who was also present at the event, thanked the congressman and expressed hope to see the Pak-US relations grow.
http://nation.com.pk/national/23-Apr-2017/us-lawmaker-pledges-to-defend-rights-of-muslim-americans
--------
Why Did Erdogan Meet Secretly With Prominent American Figures?
23 April 2017
Turkish president Recep Tayyip Erdogan reportedly had a secret meeting with Rudy Giuliani former New York mayor and Michael Mukasey, former Attorney General, to represent Istanbul businessman Reza Zarrab, as the man could be a potential bargaining chip in a national security deal with Turkey, Giuliani said in a court filing, reported New York Times late March.
Giuliani was hired recently, along with Michael Mukasey, to represent Zarrab who was accused of conspiring to process hundreds of millions of dollars' worth of financial transactions for Iranian businesses or Iran's government from 2010 to 2015. Zarrab, 33 was a central player in a massive 2013 corruption and bribery scandal in Turkey, though criminal charges were ultimately dropped. He is a famous personality in Turkey because he is married to Turkish pop star and TV personality Ebru Gundes.
In papers unsealed late Wednesday, Giuliani and Mukasey said they were hired "principally although not exclusively on an effort to determine whether this case can be resolved as part of some agreement between the United States and Turkey that will promote the national security interests of the United States and redound to the benefit of Mr. Zarrab."
The two lawyers met recently with Turkey's president, Recep Tayyip Erdogan, after notifying Attorney General Jeff Sessions and federal prosecutors that they planned to settle the case on a "state-to-state basis" to pursue the possibility of an agreement that could promote the security of the United States and resolve the issues in this case," they wrote.
Full report at:
https://english.alarabiya.net/en/News/world/2017/04/23/Why-did-Erdogan-meet-secretly-with-prominent-American-figures-.html
--------
Journalism and coverage of Islam is weighty topic of panel forum
Apr 23, 2017
How the media covers the Muslim community and how the public interprets that news was the focus of a wide-ranging "Muslimedia" panel discussion Sunday in the Islamic Center, Getzville.
The crowd of about 60 people obtained insights from two retired Western New York journalists as well as religious leaders and representatives of the Muslim community.
Lee Coppola, a print, TV reporter and longtime dean of St. Bonaventure University's journalism school, praised journalists' work in covering the Trump administration but said there is room for improvement when it comes to reporting on Islam, and reporters have not "done an adequate job."
"Have journalists done a good job reporting on Islam?" he asked. "No. And that's simply because I think that when news happens, it's the news that attracts attention – the violence, for instance, the crime for instance, and not the good deeds ... I think journalism needs to do a better job at that."
As a journalism teacher, he said, he would look at a classroom full of "white-faced, generally from suburban America" students and tell them: "If you were a reporter and you had to cover an issue involving a Muslim or a black person or an Asian, do you know anything about those people? ... It's your job to find out about people who are foreign to you. "
Rich Kellman, a 40-year broadcast journalist and TV news anchor, recounted that when 9/11 broke, he went to Lackawanna the next day to talk with the Muslim community.
"I thought, they must be terrified. Most people hid in their houses and didn't want to be exposed," he said. "They didn't know how to feel."
Kellman said he found out that Lackawanna's Muslims were "just like you and me."
They were angry as hell," he said. "I don't think it was phony."
Both Kellman and Coppola concurred that it is a journalist's job to cover a community – "not to just scratch the surface."
Rabbi Jonathan Freirich of Temple Beth Zion added that the news consumer also has a responsibility.
"We are responsible for what we consume, and how we regard it," he said. "We are responsible for finding the right outlet."
"In our specifically American context," he added, "many people who are in the media encounter Jewish people and encounter the diversity of Judaism. So Jews don't look or sound the same to most of the people who are making American news, whereas Islam gets a treatment that is unfairly monolithic."
"When we look at the American media, we want black and white, we want pro and con. We want things that are simple," he said.
"And to identify culture of religion with people of a billion individuals plus, as simple, is problematic," he said.
Gamileh Jamil, who serves on the Erie County Commission on the Status of Women, is keenly aware of the fear factor.
"We see that with students and health care professionals," she said. "As soon as they invite you into their home, then you know that they love you. That misconception and fear is very real."
Full report at:
http://buffalonews.com/2017/04/23/journalism-coverage-islam-weighty-topic-panel-forum-looking-media-coverage-muslims/
--------
After Sadiq Khan and Ilhan Omar, will America get its first Muslim governor?
April 23rd, 2017
There are only two Muslims in Congress, but this 32-year-old physician turned professor turned public servant is eyeing the gubernatorial race.
In the wake of Brexit, Sadiq Khan, was elected London's first Muslim mayor. And in the same general elections that brought Trump to the White House, the US got its first Muslim Congresswoman, Ilhan Omar, who originally came to the US as a refugee from Somalia.
Only one other Muslim holds a seat in the US Congress – Keith Ellison of Minnesota – but at a time when racially-motivated crimes are up in the US, a young Egyptian American is running for governor.
A rise in right-wing nationalism in the US and Europe has all kinds of people worried, not only Muslims – immigrants, people of color, women, the LGBT community. But perhaps the one silver lining to this is seeing people from under-represented communities getting into politics, community organizing and activism like never before.
And while there's a tendency to lump supporters of Trump in with Geert Wilders of the Netherlands and Marine Le Pen in France, the issues facing their constituents are different. Wilders, who ultimately lost the race for Prime Minister in the Netherlands, ran on a platform based solidly on anti-immigration and Islamophobia. Le Pen – coming in second in the French presidential elections at publishing time - has tried to soften the National Front party that her father founded with the likes of former Nazi SS officers.
For Abdulrahman El-Sayed, the path to politics was winding and unconventional. El-Sayed worked as a doctor, then gave up a tenure-track position as a professor to be the director of Detroit's Public Health department. He's never held elected office before, but his stint at the Public Health department is what led him there - specifically the water crisis in Flint.
El-Sayed is hoping his status as an outsider to the political machine will appeal to Michigan voters – half of whom are black, and a fifth of whom are living below the poverty line.
"As much as folks will look on paper and say 'he's young and he's brown and his name is Abdul,' they're not in the rooms when we have conversations with real people," El-Sayed said during a state-wide tour.
Full report at:
http://www.albawaba.com/loop/after-sadiq-khan-and-ilhan-omar-will-america-get-its-first-muslim-governor-966438
--------
Muslim Who Threatened Christians in Facebook Live Charged As a Terrorist
04-23-2017
A Muslim man who went live on his Facebook page with disturbing threats towards Christian conference attendees in Sioux Falls, South Dakota, will now face criminal charges.
State Attorney General Marty Jackley made the announcement Friday, just days after Sioux Falls police said they would not press charges against Ehab Abdulmutta Jaber.
"He had a lot of guns with him, but he wasn't breaking any laws," Sioux Falls police officer Sam Clemens told KDLT-TV after the incident.
"He didn't threaten anybody directly. He didn't threaten any groups of people, anything like that, and it's not illegal to carry guns or have guns with you," he explained.
But now, the 45-year-old has been charged with one count of terrorist threats, a class five felony with a maximum sentence of five years in prison.
CBN News previously reported that Jaber was at the Worldview Weekend rally, filming the event via Facebook Live. He was also carrying a Quran and a handgun.
One of the event's off-duty police officers noticed Jaber and asked him to abide by event rules and stop filming the conference. When the officer asked for his name, Jaber lied, calling himself "John Smith, the Muslim John Smith."
Jaber left the event and later posted two more Facebook live videos of himself sitting in a car parked outside the conference. He pulled out several weapons and repeatedly told the camera "be scared" and "be terrified." He taunted believers in a speech laced with profanity.
The conference, held on April 9, addressed the extreme dangers of Islamic teaching.
Pastor Sharam Hadian, an ex-Muslim who converted to Christianity, and Brannon Howse, a Christian author and radio host, spoke to the crowd of about 500 men, women, and children. They didn't know Jaber was secretly recording them.
Hadian and Howse told that Capital Journal, a South Dakota newspaper, they were not anti-Muslim, but concerned with those who use Islamic teachings to promote violence.
Jaber was among 70 conference protestors. He wore a shirt with a printed message that read "I am a Muslim," and indicated that he "conceal carried" a handgun.
Police officers later found guns and methamphetamine in his home, and the Minnehaha County state's attorney is prosecuting Jaber for possessing meth.
When asked why he filmed the event, Jaber replied, "Because I can. Because I am an American citizen."
Full report at:
https://www1.cbn.com/cbnnews/us/2017/april/muslim-who-threatened-christians-in-facebook-live-charged-as-a-terrorist
--------
Canada enacts more sanctions on Syria
22 April 2017
Canada placed new sanctions on Syria on Friday in a bid to pressure President Bashar Assad to cease attacking his own people.
Foreign Affairs Minister Chrystia Freeland said 17 high-ranking officials in the Assad regime, along with five organizations that may have used chemical weapons, have been placed on a list that freezes their assets in Canada and prohibits dealing with them.
"Canada is working with its allies to put an end to the war in Syria and to hold those responsible to account," Freeland said in a statement on the government's website. "Today's announcement of additional sanctions against key officials in the Syrian regime sends a strong, unified message to the Assad regime that their war crimes will not be tolerated and that they will be held accountable for their actions."
Canada had already applied sanctions against 27 high-ranking officials earlier this month.
Canada is committed to international efforts to end the Syrian civil war that has killed hundreds of thousands and spawned an international refugee crisis, CTV News reported.
Freeland previously called on Russian President Vladimir Putin, an ally of Syria, to step in to find a way to remove Assad and bring peace to Syria, according to the Canadian Broadcasting Corporation.
Full report at:
http://www.worldbulletin.net/america-canada/188348/canada-enacts-more-sanctions-on-syria
--------
URL: https://www.newageislam.com/islamic-world-news/ayman-al-zawahri-urges-jihadists/d/110889
New Age Islam, Islam Online, Islamic Website, African Muslim News, Arab World News, South Asia News, Indian Muslim News, World Muslim News, Women in Islam, Islamic Feminism, Arab Women, Women In Arab, Islamophobia in America, Muslim Women in West, Islam Women and Feminism