New Age Islam News Bureau
11 Jul 2019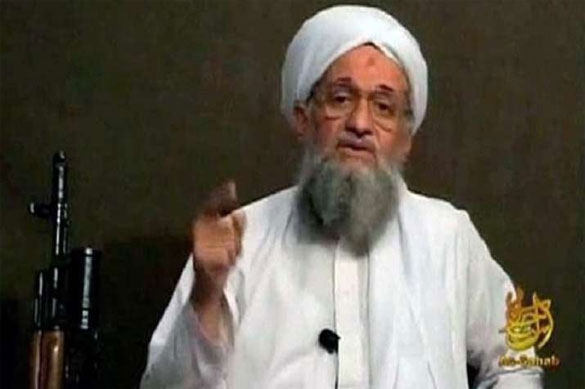 Al Qaeda chief Ayman Al-Zawahiri
-------
• Ayman al-Zawahiri, Al Qaeda Chief Called for 'Mujahideen in Kashmir' To Inflict 'Unrelenting Blows' On The Indian Army And The Government
• Shias Free To Worship, But Don't Spread Beliefs among Malaysian Muslims, Says Dr M
• Nearly Two Dozen Countries Unite at UN to Condemn China's Mass Detention of One Million Muslims for First Time
• Sri Lanka Reconsiders the Nature of Its Relationship with Saudi Arabia
• Metro Detroit Muslims, Jews Work Together To Raise $26K for Border Asylum Seekers
• Muslim Advocates Defend Ilhan Omar against Fox News
• Anti-Extremism Groups, Lawmakers in Europe Want Apple to Ban 'Fatwa' App
• As Head of the Muslim World League, I See Islamic Leaders Calling For Tolerance More Than Ever
India
• Ayman al-Zawahiri, Al Qaeda Chief Called for 'Mujahideen in Kashmir' To Inflict 'Unrelenting Blows' On The Indian Army And The Government
• Terror Incidents In J&K Down By 28%: Govt
• German national missing in Kerala since March, Interpol says may have links with terror outfits
• TikTok suspends accounts of trio who posted video on Jharkhand mob attack
--------
Southeast Asia
• Shias Free To Worship, But Don't Spread Beliefs among Malaysian Muslims, Says Dr M
• Nearly Two Dozen Countries Unite at UN to Condemn China's Mass Detention of One Million Muslims for First Time
• Islamic State Sympathizers Allowed to Go Home as Long as They Swear Allegiance to Pancasila and NKRI
• Malaysia's indigenous people protest forced conversions
• Spotlight on online anti-Shia militancy after seminar called off over bomb threat
• Home minister explains why Zakir Naik, wanted by India, free in Malaysia
--------
South Asia
• Sri Lanka Reconsiders the Nature of Its Relationship with Saudi Arabia
• Rohingya issue could turn into unbearable crisis for Bangladesh: ex-UN chief
• Bangladesh cannot bear Rohingya crisis long: ex-UN head
• PM for making Islamic tourism as global brand
• 7 Pakistani militants killed, wounded in a premature IED explosion in East of Afghanistan
• Afghan Special Forces kill 10 Taliban militants in Faryab and Kunduz operations
• Airstrikes kill 6 Taliban militants in Ghazni province
• Special Forces detain 3 Taliban militants; destroy weapons cache, opium in Farah, Ghor
--------
North America
• Metro Detroit Muslims, Jews Work Together To Raise $26K for Border Asylum Seekers
• Muslim Advocates Defend Ilhan Omar against Fox News
• Trump: Sanctions on Iran "will soon be increased, substantially"
• US accuses Iran of nuclear extortion but remains open to talks
• US using nuclear weapons claims in vain to form global front against Iran: AEOI
• US troubled by rise in Houthi attacks on Saudi Arabia
• US lawmakers introduce bill to recalibrate Saudi ties
--------
Europe
• Anti-Extremism Groups, Lawmakers in Europe Want Apple to Ban 'Fatwa' App
• As Head of the Muslim World League, I See Islamic Leaders Calling For Tolerance More Than Ever
• ISIS still strikes fear in Germany amid reports of government losing track of 160 former militants
• French army chief: Situation in Gulf unlikely to 'spiral out of control'
• UK says 3 Iranian vessels unsuccessfully tried to stop British ship
• France announces military base in Mali
• France denies giving missiles to Haftar forces in Libya
--------
Pakistan
• Convicted Politicians Not To Get Media Time in Pakistan
• Opposition Parties in Balochistan to Observe Black Day On 25th
• Pakistan Calls for Global Effort to Break Nexus between Terrorism, Organised Crime
• IMF blames PML-N, PTI for inadequate policies
• Maryam releases more video clips of alleged meeting between accountability judge, PML-N rep
• White House confirms July 22 meeting between PM Imran, US President Trump
• Governor's rule not being imposed in Sindh: Imran
--------
Mideast
• U.S. Imposes Sanctions on Hezbollah Officials Accused of Supporting Iran
• Netanyahu Vows To Retain Every West Bank Settlement
• Three Iranian IRGC Members Killed In Northwest Iran
• Two Turkish soldiers killed in attack by Kurdish militants: ministry
• Scores of Houthi militants killed in clashes
• Yemen: Houthi Court Sentences 30 to Death for Spying For Saudi-Led Coalition
• Yemeni Missile Strike Kills Dozens of Saudi Mercenaries in Kingdom's Najran
• Israeli settlers take over east Jerusalem home after court battle
--------
Arab World
• Iraq Government Employees Face Prosecution for Working under ISIL
• At Least 3 Killed in ISIS Attack in N. Iraq
• Iraqi Forces Target ISIS Sleeper Cells
• Iraq seeks to issue identification papers for IS children
• US Sanctions 3 Hezbollah Officials, Including 2 Members of Lebanese Parliament
• US-Backed SDF Steals $100m from Saudi Arabia's Financial Aid
• New chemical weapons team to launch first Syria investigations
• UN envoy, Syria report progress in talks on post-war constitution
• Senator calls for 'comprehensive review' of US-Saudi relationship
• Media watchdog visits Saudi Arabia to free journalists
--------
Africa
• Malawi: Muslim Community Urged to Promote Peace and Unity
• Tunisia's Upcoming Elections Vulnerable to Terror Threats, Experts Warn
• U.S. Missiles Found in Libyan Rebel Camp Were First Sold to France
• Paris says its missiles found on pro-Haftar rebel base in Libya
• Tunisia rescues 71 Italy-bound migrants in the Mediterranean
• Nigeria police kill two Zakzaky supporters: Islamic group
• Somalia executes 3 Al-Shabab members over 2017 hotel attack
Compiled by New Age Islam News Bureau
URL: https://www.newageislam.com/islamic-world-news/ayman-al-zawahiri-al-qaeda/d/119156
--------
Ayman al-Zawahiri, Al Qaeda Chief Called for 'Mujahideen in Kashmir' To Inflict 'Unrelenting Blows' On The Indian Army And The Government
July 10, 2019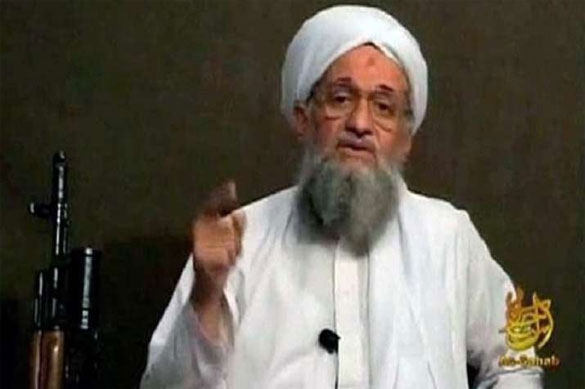 Al Qaeda chief Ayman Al-Zawahiri
-------
NEW DELHI: Al Qaeda terrorist Ayman al-Zawahiri has, in a video released by the global terror outfit, called for "Mujahideen in Kashmir" to inflict "unrelenting blows" on the Indian Army and the government in Jammu and Kashmir. In the video message titled "Don't Forget Kashmir", the terror chief has also talked about Pakistan's involvement in fueling cross-border terrorism in Kashmir.
"(I am) of the view that the Mujahideen in Kashmir - at this stage at least- should single-mindedly focus on inflicting unrelenting blows on the Indian Army and government, so as to bleed the Indian economy and make India suffer sustained losses in manpower and equipment," Zawahiri says, an assault rifle on his right and a Quran to his left.
While Zawahiri does not mention Zakir Musa, the terrorist killed in May by security forces in Kashmir, his photo flashes on the screen as he speaks on Kashmir. Zakir Musa was the founder of the Indian cell of the Al Qaeda, titled "Ansar Ghazwat-ul-Hind". Al Qaeda has been preparing the upstart group for attacks on security forces in Kashmir.
Zawahiri calls Pakistan's army and government as "toadies of America" and says terrorists should avoid falling in Pakistan's trap.
"All the Pakistani Army and government are interested in is exploiting the mujahideen for specific political objectives, only to dump or persecute them later," Zawahiri says.
Pakistan's "conflict with India is essentially a secular rivalry over borders managed by the American intelligence," the Qaeda chief says. The words have led to some experts suggesting the involvement of the Pakistani ISI in putting out the video to show that it is not supporting terror.
Zawahiri also says the "fight in Kashmir" is not a separate conflict but part of the worldwide Muslim community's "jihad against a vast array of forces". He called on "unnamed" scholars to propagate this point.
"You (the scholars) must clearly state that supporting the jihad in Kashmir, the Philippines, Chechnya, Central Asia, Iraq, Syria, the Arabian Peninsula, Somalia, the Islamic Maghreb and Turkistan is an individual obligation on all Muslims, until sufficient strength is achieved to expel the disbelieving occupier from Muslim lands," he says.
Zawahiri also tells terrorists not to target "mosques, markets, and gathering places of Muslims" in Kashmir.
Intelligence agencies believe the Qaeda video is prompted by the government's success in checking terror incidents in Jammu and Kashmir and isolating separatists.
"There has been a fall in terror attacks and a rise in the killing of terrorists in Jammu and Kashmir. The video is an attempt to motivate terror cadre," a home ministry official said.
https://www.ndtv.com/india-news/in-message-al-qaeda-chief-ayman-al-zawahiris-threat-on-jammu-and-kashmir-indian-army-2067147
--------
Shias free to worship, but don't spread beliefs among Malaysian Muslims, says Dr M
Ainaa Aiman
July 11, 2019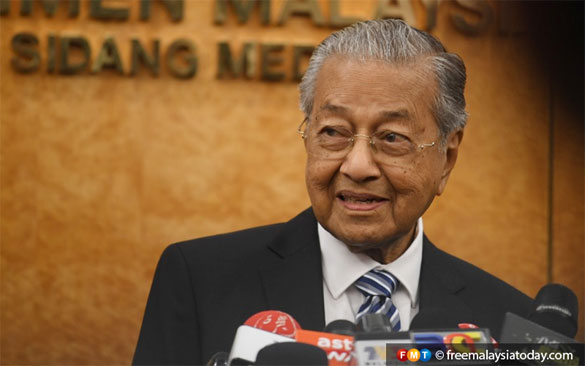 Prime Minister Dr Mahathir Mohamad.
-------
KUALA LUMPUR: Prime Minister Dr Mahathir Mohamad today assured the people of their freedom to practise any school of Islam as long as they respect the Sunni-majority of Muslims.
"If they want to welcome Buddhists or Shias or whatever, it is their right as long as they (minority sects) don't try to spread their teachings among Malaysian Muslims who are all Sunnis," he told reporters in a press conference at the Parliament lobby.
This follows reports yesterday that a seminar on the Amman Message – a declaration signed by Muslim leaders worldwide pledging an end to sectarianism – organised by the International Institute of Advanced Islamic Studies was cancelled due to a bomb threat.
The Amman Message, signed in Amman by Jordan's King Abdullah II in 2004, recognises the validity of all eight Islamic schools, including Sunni and Shia, the two biggest denominations in the Muslim world.
Mahathir said threatening the organisers was "not the proper way to do it".
According to Bukit Aman spokesman Asmawati Ahmad, the threat, posted on the Facebook account of a movement called Gerakan Banteras Syiah, was made on July 6.
The organisers then cancelled the seminar which had been scheduled on July 13.
https://www.freemalaysiatoday.com/category/nation/2019/07/11/shias-free-to-worship-but-dont-spread-beliefs-among-malaysian-muslims-says-dr-m/
--------
Nearly two dozen countries unite at UN to condemn China's mass detention of one million Muslims for first time
Samuel Osborne
Jul 11, 2019
China has been urged to stop its mass detention of Uighur Muslims by 22 members of the United Nations Human Rights Council in the first such joint move on the issue.
The UN says at least 1 million Uighurs and other Muslims have been detained by China in the western region of Xinjiang.
In an unprecedented letter ambassadors from 22 countries voiced their concerns about reports of unlawful detention in "large-scale places of detention, as well as widespread surveillance and restrictions, particularly targeting Uighurs and other minorities in Xinjiang".
Britain, France and Germany were among the European nations to join the call, along with Australia, Canada and Japan, but not the United States, which quit the council a year ago.
However, the letter fell short of activists demands for a formal statement to be read out at the council, or a resolution submitted for a vote.
The letter to the forum's president, dated 8 July, cited China's obligations as a member of the 47-state forum to maintain the highest standards.
"We call on China to uphold its national laws and international obligations and to respect human rights and fundamental freedoms, including freedom of religion or belief in Xinjiang and across China," the letter said.
"We call also on China to refrain from the arbitrary detention and restrictions on freedom of movement of Uighurs, and other Muslim and minority communities in Xinjiang."
It urged China to allow international independent experts, including Michelle Bachelet, the UN high commissioner for human rights, "meaningful access" to Xinjiang.
Ms Bachelet, a former president of Chile, has lobbied China to grant the UN access to investigate reports of disappearances and arbitrary detentions of Muslims in Xinjiang.
Last month, China's ambassador to the UN in Geneva said he hoped Ms Bechelet would take up an invitation to visit.
One diplomat told Reuters China's delegation was "hopping mad" at the move and was preparing its own letter in response.
In a statement, Human Rights Watch welcomed the letter as "important not only for Xinjiang's population, but for people around the world who depend on the UN's leading rights body to hold even the most powerful countries to account".
At the start of the three-week session, which ends on Friday, the vice-governor of Xinjiang responded to international condemnation of the state-run detention camps by saying they were vocational centres which had helped "save" people from extremist influences.
Last week, a study said thousands of Muslim children in the region were being separated from their parents in what it called a "systematic campaign of social re-engineering and cultural genocide".
https://www.independent.co.uk/news/world/asia/china-muslim-detention-centres-xinjiang-un-security-council-letter-a8999236.html
--------
Sri Lanka Reconsiders the Nature of Its Relationship With Saudi Arabia
July 10, 2019
Bottom Line Up Front
As Sri Lanka continues to deal with the fallout from the Easter terrorist attacks, the government is reportedly examining links to Saudi-exported Wahhabism.
Authorities are investigating Saudi-funded mosques and foundations to determine what impact the austere brand of Islam pushed by Riyadh is having on radicalizing Sri Lanka's Muslim population.
Besides Sri Lanka, many other countries have long been worried about the corrosive effects of Saudi influence on local Muslim populations.
Colombo needs to be careful to avoid creating more anti-Muslim sentiment in a country that has long struggled with ethnic tensions and religious violence.
Concerns over the spread of Saudi-funded Wahhabism throughout religious institutions, charities and mosques are not new. For decades, Riyadh has spent millions or more to spread an austere version of Islam throughout Southeast Asia, Africa, Europe, and elsewhere. The money is earmarked specifically to build Wahhabi mosques and train hardline preachers to take the Saudi version of the faith back to their home countries. Sri Lanka is just the latest country to take a more discerning look at precisely what the Saudis are funding in their country and what the implications might be. This comes as the government is still dealing with the impact of the devastating terrorist attacks that occurred this past April on Easter Sunday that were targeted against churches and hotels frequented by Westerners that killed at least 250 people. The Islamic State claimed responsibility for the attacks, which were carried out by nine Sri Lankan members of a local terrorist group called National Thowheed Jama'ath.
The investigations into the attacks are still ongoing, and hundreds of people have been detained for alleged involvement. At the center of the inquiry are concerns over Saudi-funded institutions and possible connections to Salafi jihadist ideology. In May, police arrested the founder of the Saudi-supported Centre for Islamic Guidance, Mohamed Aliyar, on charges related to the financing of terrorism. Aliyar had links to Zahran Hashim, a radical preacher who mentored many of the Easter-attack bombers. Locals have claimed that they relayed concerns to security officials about Hashim's extremism, although these leads were never acted upon. Other prominent Sri Lankan Muslim leaders have also come under scrutiny as authorities review financial transactions between Saudi Arabia and religious leaders in the South Asian island nation. Several of these leaders have been forced to step down due to pressure from politically influential Buddhist monks.
With a drastic increase in sectarian violence, the Sri Lankan government must protect its Muslim citizens from roving mobs and vigilantes. The government will need to walk a fine line to balance reasonable concerns over the impact of Saudi-funded hardline ideology on the Sri Lankan Muslim community, while avoiding scapegoating and persecuting that population. In the weeks following the bombings, there were widespread anti-Muslim riots throughout the country, and authorities were criticized for not acting swiftly to protect Muslim lives and property. There has been a long history of anti-Muslim sentiment and violence in Sri Lanka, particularly throughout the thirty-year civil war that ended in 2009. The majority Buddhist population comprises 70% of the total population, with Muslims accounting for approximately 10%. Tensions between Muslims and Buddhists in Sri Lanka remain high and could quickly worsen if the government fails to act even-handedly. Moreover, there has been a rising tide of militarism among Buddhist monks in Sri Lanka, some of whom have lent their authority to vigilante mobs seeking to confront the country's Muslims in more aggressive, often violent ways.
Riyadh rejects all criticism of the spread of its Wahhabi ideology and claims to promote a moderate brand of Islam within the kingdom. Even if that is true of the country's domestic promotion of religion, it fails to address concerns about the ultra-conservative style of Islam the Kingdom often exports. Radical religious education that preaches dangerous sectarian narratives contributes directly to incidents like the attacks in Sri Lanka, where identity politics lead to real-world violence. Despite proclaiming in 2017 that he wanted to moderate Saudi Arabia in terms of religion, Saudi Crown Prince Mohammad bin Salman has targeted moderate Islamic scholars and human rights activists. Sri Lanka is not alone in trying to limit the influence of Saudi funding on its mosques and schools. From Indonesia to Bangladesh, governments have been worried for years about the massive infusion of money from Riyadh and how this has led local Muslims with a history of moderate views to begin adopting the hardline Salafism popular in Saudi Arabia, which is often at odds with more tolerant local strains of Islam.
https://www.thecipherbrief.com/column_article/sri-lanka-reconsiders-the-nature-of-its-relationship-with-saudi-arabia
--------
Metro Detroit Muslims, Jews work together to raise $26K for border asylum seekers
Jul 11, 2019
Building on years of cooperation, Muslim and Jewish communities have come together to help asylum seekers at Mexican borders, raising funds to offer living essentials, Fox 2 Detroit reported.
"We have a lot in common as American citizens from all faiths. Whether we practice our religion or uphold our Constitution, we have a lot in common," Mahmoud Al-Hadidi with the Michigan Muslim Community Council said.
According to Rabbi Jen Lader with Temple Israel, when asylum-seekers arrive at border cities as they try to enter from Mexico, they're met with resistance and told to find their own way.
"They're then dumped in a downtown city with no food, no clothes, no lodging – often with children in tow and they are expected, often without English skills, to find their way to their sponsors, so they can have their asylum hearings in that city," Lader said.
Therefore, she decided to cooperate with the Muslim community to raise funds for Congregation Albert in New Mexico, where hundreds of families are being dropped off with nothing.
The cooperation is not the first for the Muslim and Jewish communities in Detroit, Michigan, with a long history of helping others.
Thanks to this interfaith unity, $26,000 have been raised for toiletries, food, underwear, and bus tickets.
"When they clear the process to give them essential health aid, transportation to their destination, some cash. To give them some dignity and welcome to this country that we all wish to receive when we enter any other country," Al-Hadidi said.
"Buying packs of T-shirts, housing their families in hotel room for a night or two, giving them $10 cash and a bus ticket for a three-day journey to somewhere else in the country. So, we can't be there on our hands to hug children had to hand people sandwiches, but we are doing our best to partner with them in their holy work on the ground," said Lader.
It's taken years for the Jewish and Muslim faiths to work hand-in-hand.
In September 2016, Muslim and Jewish communities came together to prepare a struggling Detroit elementary school for New Year and counter potential fear and mistrust among both communities.
Six months earlier, more than 100 Muslim and Jewish volunteers along with Nolan students and parents came together to clean the school's library, paint the bathroom stalls and install new toilet seats, clean debris from the grounds and complete a student-designed hallway mural.
Every year on Christmas season, American Muslim and Jewish families come together to deliver gifts to poor families in Detroit.
https://aboutislam.net/muslim-issues/n-america/detroit-muslims-jews-unite-raise-26k-asylum-seekers/?utm_campaign=organic_fb_promotion&utm_medium=social&utm_source=Facebook&utm_content&utm_term&fbclid=IwAR2BV-aCVYzqjexqTG9Sf2WNEwOWB32GyUZqa4Kt-0HOWE5EMwr8IAfuiZ0
--------
Muslim Advocates Defend Ilhan Omar Against Fox News
JULY 11, 2019
The head of a Muslim advocates group has condemned conservative talk show host Tucker Carlson for accusing US Congresswoman Ilhan Omar of being "living proof that the way we practice immigration has become dangerous to this country."
Scott Simpson, public advocacy director of Muslim Advocates, said in a statement on Tuesday that, "Tucker Carlson's latest rant on Rep. Ilhan Omar is a dangerous escalation of his anti-Muslim and anti-immigrant rhetoric. These remarks are part of a clear pattern of racism, sexism and white nationalism that Carlson has long championed."
Carlson, speaking on his Fox News show, noted that Omar is "a warning to the rest of us that we better change our immigration — or else." He stated multiple times that Omar "hates" America, and is encouraging immigration from places "whose values are simply antithetical to ours."
"This is not a critique of Omar's ideas or politic," Simpson said on behalf of Muslim Advocates, the national civil rights organization that works to end bigotry through legal and political change. "This is hate speech directed at her as a Muslim and as an immigrant. Attacks on mosques and hate crimes against Muslims have skyrocketed in recent years and these bigoted tropes contribute to a toxic culture where divisiveness and racism trump American values of religious freedom for all people."
The statement concluded with a call to fire Carlson and a plea to advertisers to stop funding Fox News.
Justin Wells, Senior Executive Producer of FOX News' Tucker Carlson Tonight, responded to attack.
"Anyone who values democracy and free expression should be gravely concerned when members of Congress demand that their critics be silenced," Wells said. "Tucker will address this on tonight's show."
Tucker continued his rant against Omar on Wednesday night.
"Think about that for a minute. Our country rescued Ilhan Omar from the single worst place on earth. We didn't do it to get rich. In fact, it cost us money. We did it because we are kind people. How did Omar respond to the remarkable gift we gave her? She scolded us and called us names," Tucker said on his show. "Omar has made a career of denouncing anyone and anything in her way as racist. That would include virtually all of her political and personal opponents, and even inanimate objects, like the proposed border wall, the United States congress and the entire state of North Dakota. Omar may be from another country, but she learned young that crying racism pays."
https://www.jpost.com/Diaspora/Muslim-Advocates-defend-Ilhan-Omar-against-Fox-News-595178
--------
Anti-Extremism Groups, Lawmakers in Europe Want Apple to Ban 'Fatwa' App
By Fayçal Benhassain
July 9, 2019
Paris (CNSNews.com) – A French senator and a British lawmaker have joined with other campaigners to call for a ban on a mobile application linked to the Muslim Brotherhood and its perceived spiritual leader, the controversial Egyptian cleric Yusuf al-Qaradawi.
At a recent press conference at the Senate in Paris, Senator Nathalie Goulet, who previously led a commission investigating militant networks in Europe, and British member of parliament Ian Parsley Jr. called on Apple to ban the Euro Fatwa app.
Representatives of three British associations which counter extremism said the app was dangerous, conveys hate, and has a negative impact on young Muslims in their country.
After complaints, Google reportedly pulled it from its Google Play Store around mid-May. (The Saudi daily Arab News quoted a Google spokesman at the time as saying, "While we can't comment on individual apps, we'll take swift actions against any app that break our policies once we've been aware of them, including those that contain hate speech.")
The Euro Fatwa app is available on the Apple app store in English, Arabic, Spanish and Portuguese, and its stated aim is "to enable the European Muslims to adhere to the regulations and manners of Islam and to fulfil their duties as Muslim citizens."
Launched in April for iPhone and Android, it contains all fatwas issued since 1997 by the European Council for Fatwa and Research (ECFR), a Muslim Brotherhood-linked group founded in London that year by Qaradawi and others.
Paisley argued that terror online has no borders and spreads easily thanks to new technologies.
"We are happy that Google had reacted quickly as soon as we let it know which kind of application Euro Fatwa is, and banned it from its Google [Play] Store," he said.
But Paisley voiced disappointment that Apple had not taken the step.
He said that he has been calling on the British government to take action against the app.
"An application like this is sophisticated, complicated and expensive to put in place," he said. "We want the government to find out how it's financed and to block all its money."
A fatwa is a formal ruling or interpretation on a point of Islamic law given by a qualified legal scholar or a recognized authority, often called a mufti. Fatwas are usually issued in response to questions from individuals or Islamic courts.
Ghanem Nuseibeh, chairman of London-based nonprofit organization Muslims Against Anti-Semitism, said the app includes extremist and anti-Semitic views.
"It aims not only to incite anti-Semitism, but also to isolate Muslim communities from mainstream European life," he said, adding that the groups are looking into taking legal action.
"European values are now threatened by radical speeches," said Fiyaz Mughal, founder and director of Faith Matters, a British organization that works on countering extremism and community integration. "Their impacts are huge and could lead, for instance to the killing of civilians and to problems between communities and racial hate."
Mughal said the app conveys hate and the content is often anti-Semitic and hostile to Muslim integration into European and British society.
He also called on European governments to restrict the Muslim Brotherhood, noting that Qaradawi has been banned from Britain, the United States, and several other countries.
Qaradawi is living in Qatar under the protection of the ruling family of the small, oil-rich Arab state which is supportive of the Muslim Brotherhood.
Haras Rafiq of the London-based counter-extremism organization Quilliam said prohibiting the Muslim Brotherhood was not enough since the organization has "set up intricate networks of organizations, including the one that launched the app. They run hundreds of such organizations in Europe."
Goulet said deradicalization efforts carried out by the French government are not working. She said it makes more sense to prevent radicalization, than to fight it later.
The French senator pointed out that the lower legislature in her country voted just days ago for a law requiring Internet platforms and search engines to remove hateful content within 24 hours, or risk large fines.
It was absurd not to view Euro Fatwa as a terrorist application with hateful content, she said.
The ECFR has not commented publicly on the calls to ban the app.
Apple's press room did not respond to queries. The UAE daily The National earlier quoted an Apple spokesman as saying, "We are reviewing Euro Fatwa again for possible violations of our guidelines and, if we find content that violates our guidelines and is harmful to users, we will notify the developer and may remove it from the store."
https://www.cnsnews.com/news/article/fay-al-benhassain/anti-extremism-groups-lawmakers-europe-want-apple-ban-fatwa-app
--------
As Head Of The Muslim World League, I See Islamic Leaders Calling For Tolerance More Than Ever
Mohammad Al-Issa
ON 7/10/19
As tensions mount in the Middle East, it might be easy from the West to imagine the Islamic world locked in an internecine political struggle, with each side wielding threats of open conflict and the violent rhetoric of exclusion.
Beyond the testy politics, however, Islamic religious leaders are speaking in greater unison than ever before. The message we are advancing is one of moderate Islam, and the promotion of peace, tolerance and love.
In May, I gathered with more than 1,200 Muslim leaders, scholars, academics and religious teachers in Mecca for the Muslim World League's Conference on Moderation. We represented more than 139 countries and 27 different Islamic sects. Our four days of discussions focused on combating the global rise in hate speech and political intolerance plaguing so many of our communities.
We did not obsess over Shiite vs. Sunni or the questions of theological interpretation that have proved so divisive over time. Certainly, no one in our congregation recited "Death to America," "A curse on the Jews" or any of the other political slogans so often deployed by the extremists, and so regularly replayed in television hits, newspaper quotes and rapid-fire retweets.
Instead, our mission centered on advancing harmony among Muslims, and coexistence between Muslims and everyone else. After the horrifying terrorist attacks on the Islamic community in Christchurch, New Zealand, and similar atrocities against synagogues in the United States and churches in Sri Lanka, we know we have a global problem.
Our solution is the Charter of Mecca, a document of groundbreaking frankness that received the endorsement of the entirety of the Islamic scholars who participated. It received political backing as well through its first signatory, Saudi King Salman bin Abdulaziz Al-Saud.
The charter's 30 points send a clear message not just to the Muslim world but to the entire global community and worshippers of all faiths: We must put aside our differences and embrace our religious and cultural diversity. For isolated and independent of one another, we will never overpower the voices of hate.
We have a great challenge before us. Everywhere we look, we see old divides and outdated superstitions calcifying. We see the forces of intolerance and fanaticism finding new followers, spurred by social media and a culture that magnifies our disagreements and ignores our commonalities.
How do we win this battle? From the Muslim world, it starts with commitments the likes of which we have never formally adopted or connected to tolerance.
Our charter demands that we safeguard natural resources and manage industrial development; support climate treaties, fight hunger and poverty; eliminate disease and discrimination, and preserve the human rights of all people, including women and minorities. It includes a special obligation to empower women through social equality and economic opportunity, and to reject any effort that is disrespectful or marginalizing toward women.
We will take each of these commitments home with us, and exhort our community members to adhere to them. We must.
It is impossible not to feel that we have reached an inflection point in history. We can climb the roughhewn ladder toward greater unity and cooperation, or slide down the convenient chute of conflict and divisiveness.
For me, the choice is obvious. It is the only viable choice.
As the Charter of Mecca instructs us, we must build cultural and religious ties among each other, deepen understanding between different communities, construct civilized partnerships, stand arm-in-arm against hatred and declare now and forevermore that every culture is a reflection of God's will, with an inviolable right to exist. We must view every conflict in the world as an opportunity for dialogue.
Islam can play a leading role. The charter provides a blueprint for how the Muslim world should interact with other faith traditions, including precise guidance on how we ought to welcome differences and affirm our common ethical, social and environmental values. It demands that we go beyond mere theory and empty slogans by taking concrete actions to reconcile, not radicalize, our future generations.
In short, it compels us to we choose the ladder over the chute, no matter how difficult the climb.
This is the objective at the heart of the Charter of Mecca, which we would ask everyone to embrace. We must all be leaders in building the world we want to live in.
https://www.newsweek.com/head-muslim-world-league-i-see-islamic-leaders-calling-tolerance-more-ever-opinion-1448346
--------
India
Terror incidents in J&K down by 28%: Govt
Jul 10, 2019
NEW DELHI: The home ministry on Wednesday informed the Rajya Sabha that while the number of counter-terror actions initiated by security forces in Jammu & Kashmir had gone up by 59% during the first half of 2019 as compared to the corresponding period of 2018, the number of incidents initiated by terrorists declined by 28% over the same period.
Stating that the government has adopted a policy of zero tolerance towards terrorism, minister of state for home G Kishan Reddy in reply to a question in Rajya Sabha said that the concerted and synergized efforts of security forces had led to an improvement in the security situation in the state this year.
Between the Pulwama attack and now, 93 terrorists have been neutralised by the security forces. Investigation by NIA into the attack resulted in conspirators, suicide attacker and vehicle provider getting identified. Further the operations on ground resulted in neutralisation of the conspirator, his associate and owner of the vehicle used in the attack that left 40 CRPF personnel dead.
Until June this year, there were 261 terrorist attacks and 125 actions initiated by security forces in J&K. The fatalities suffered by the forces included 15 Army personnel, 48 CRPF personnel and 7 J&K police personnel.
For the CRPF, the fatal casualties so far this year have far surpassed the numbers recorded in 2016 (11), 2017 (12) and 2018 (7).
https://timesofindia.indiatimes.com/india/terror-incidents-in-jk-down-by-28-govt/articleshow/70164158.cms
--------
German national missing in Kerala since March, Interpol says may have links with terror outfits
Jeemon Jacob
July 10, 2019
True that Kerala is not the Bermuda Triangle where objects or people disappear without a trace, but the case of Lisa Wiese, a German national who has been missing since March 10, has left the state police in a state of bother. This is more so because the Interpol has signalled that she may have links with terror outfits.
On March 7, Lisa Wiese landed in Thiruvananthapuram along with a UK national Ali Muhammad. Police say Lisa last contacted her family in Germany on March 10. But since then, there has been no news about her whereabouts. Her mobile phone is switched off and her Google accounts have reportedly been deleted, the police say.
The Kerala Police launched a search for the 31-year-old German national after her mother lodged a complaint recently. However, despite 11 days of search, the police have been unable to trace her. A team headed by Assistant Commissioner of Police R Ilango is investigating the case.
In her embarkation form, Lisa had declared that she would be visiting the Amritandandamai Math in Vallikavu, Kollam. This was apparently to be her second visit to the Math. She had stayed there for two months in 2011 when she visited Kerala.
Police say Lisa's visa (which was valid for a month) expired on April 5. She had flown to Thiruvananthapuram from Stockholm via Dubai and checked out of the airport on March 7.
"We are investigating the case and have sought help from the Interpol to locate Lisa's travel companion Ali Muhammad (a UK national)," Police Commissioner Dinedra Kashyap told India Today.
Ali Muhammad returned to the UK from Kochi on March 15.
City Police Commissioner Dinedra Kashyap said they have issued a look out notice for Lisa and have also shared her details and photographs with police forces of other states.
"So far we have found that Lisa has not left India," Dinedra Kashyap said.
Police say that in his embarkation form, Lisa's travel companion Ali Muhammad too had declared that he would be travelling to the Amritanandanmai Math.
However, Math authorities have told the police that neither Lisa nor Ali visited the site.
During their investigation, the police found that Lisa and Ali visited a hotel in Kovalam Beach and Varkala after they landed. Police have also found that during their stay in Kerala, Lisa and Ali, did not fill Form C that is mandatory for foreigners while staying at a hotel or in a home-stay.
"This indicates two possibilities. Either Lisa stayed with a private home or in a hostel run by religious groups," a senior police official who is privy to the investigation told India Today, adding that she has not checked in any other ports in India with her passport.
A questionnaire has also been prepared by police to be sent to the relatives of the missing woman through the German consulate, a senior official investigating the case said.
WHO IS SHE?
As per the findings of the police investigations, Lisa Wiese is a Jew and was converted to Islam in 2012. She converted to Islam while working with an NGO in Egypt.
She married a US citizen Abd-ul-Rehman Hashim and has two children. But in 2016, the two separated.
WHAT DOES INTERPOL CLAIM?
In order to trace Lisa and her travel companion Ali, the Kerala Police has requested help from Interpol to trace Ali. According to the Kerala Police, Interpol has informed them that the NGO that Lisa and Ali were working with in Egypt has links with terror outfits.
There is no information however about who these outfits are and whether Lisa and Ali were involved in terror activities in any manner.
On July 8, the Interpol issued a yellow notice, a global alert to trace Lisa.
DIPLOMATIC PRESSURE TOO
Meanwhile, besides the puzzling mystery of Lisa's disappearance, Kerala Police is under tremendous pressure with diplomatic pressure mounting.
Full report at:
https://www.indiatoday.in/india/story/german-national-missing-in-kerala-since-march-interpol-says-may-have-links-with-terror-outfits-1566121-2019-07-10
--------
TikTok suspends accounts of trio who posted video on Jharkhand mob attack
by Karishma Mehrotra
July 10, 2019
In what could be the first for the platform in India, video-sharing app TikTok has taken down the accounts of three users after their video on the attack on Tabrez Ansari by a mob in Jharkhand stirred up a controversy.
Shiv Sena's IT cell chief Ramesh Solanki had filed a complaint regarding the videos with Mumbai Police on Sunday.
Ansari was assaulted in Jharkhand's Seraikela Kharswan district on June 18 by a mob which, according to a video widely shared on social media, allegedly demanded that he say "Jai Shri Ram, Jai Hanuman". He succumbed to injuries four days later.
The three whose accounts were suspended had verified accounts – collectively, they had millions of followers for videos that often showcased them lip-syncing with a group called "Team 07".
Full report at:
https://indianexpress.com/article/india/tiktok-suspends-accounts-of-trio-who-posted-video-on-jharkhand-mob-attack-5823080/
--------
Southeast Asia
Islamic State Sympathizers Allowed to Go Home as Long as They Swear Allegiance to Pancasila and NKRI
JULY 09, 2019
Jakarta. Defense Minister Ryamizard Ryacudu said on Tuesday that thousands of Indonesian Islamic State sympathizers will be allowed to return to their home country on the condition they take an oath to be loyal to the Unitary State of the Republic of Indonesia and its official state ideology Pancasila.
They must also admit their wrongdoing, show contrition and promise not to join terrorist groups upon their return, the former Army commander said in Jakarta.
"Promise those things [then they can return home]. Don't come home if they still believe in IS," Ryamizard said.
Government officials will be dispatched to Syria to bring these IS sympathizers back home on humanitarian grounds.
The government has been facing a conundrum on what to do with Indonesian IS sympathizers who are still stranded in Syria after the caliphate was wiped out early this year.
Under Indonesian citizenship law, despite having professed allegiance to IS these sympathizers are still considered Indonesian citizens and technically there is nothing to stop them from coming back to Indonesia.
Nevertheless, returnees from Syria have often been involved in domestic terrorist attacks, such as the suicide attacks on two churches in Surabaya last year.
The suicide bombers turned out to be a family of six who had spent time in Syria as IS sympathizers.
The government has been working with lawmakers at the House of Representatives to find a way to ensure these returnees will not cause trouble once they are repatriated.
https://jakartaglobe.id/context/islamic-state-sympathizers-allowed-to-go-home-as-long-as-they-swear-allegiance-to-pancasila-and-nkri
--------
Malaysia's indigenous people protest forced conversions
July 10, 2019
Malaysia's indigenous community wants the government to end the practice of coerced conversion to Islam in the Muslim-majority country and show respect for others and their culture.
Known as Orang Asli (native people), the original inhabitants of the Malaysian peninsula claim that the insidious nature of the country's Islam-first policy is diluting their way of life without their consent.
A group of them this week handed over a memorandum to the nation's parliament urging Prime Minister Mahathir Mohamad's government to halt the practice of sending Muslim preachers to convert their community to Islam.
The group's spokesman, Anjang Aluej, said outside Kuala Lumpur's Parliament House that the issue had been ongoing for many years and many of them had been surprised to find that they had even been registered as Muslims in their identity cards.
"It is a big offense to us as we should be given prior and informed consent before such changes are made," he told reporters.
"It is as if we do not have the freedom to choose our religion. Not only are we slowly losing our land, we are also losing our identity."
He claimed that their children were also being subjected to discrimination and bullying in government schools.
"I would like to also emphasize that this also applies to Christian proselytizers who come into our villages to spread the Christian faith. Please leave us and our customs alone," he said.
The memorandum also highlighted commercial activities like logging and mining on their traditional land. The community discovered that there were plans by the government to build hydroelectric dams near their villages, potentially forcing them to leave their homes.
The group also noted that Malaysian authorities had not been able to prevent encroachment and hunting taking place by outsiders on their land.
Anjang said there were also instances of outsiders living in their villages without the community's consent.
Other government services such as family planning programs that included distribution of medicines has not been adequately explained and were viewed with suspicion by the community, he said.
The visit to Parliament House to highlight the problems the disadvantaged community faced followed a tragedy that hit the community last month.
The government was forced on the defensive after 15 Orang Asli died in the space of a month. Three of the deaths were confirmed as being caused by measles but autopsies conducted on the remaining 12 bodies were inconclusive.
The Health Ministry later acknowledged that the villagers had been suffering from malnourishment and had not been vaccinated.
Traditionally animists, several members of the community have over the years embraced Islam and Christianity following state-sponsored proselytizing by Muslims and evangelism by Christian missionaries.
Discrimination against non-Muslims is well known. In June 2007, members of the community claimed a church in one of their villages had been torn down by the Islamic state government in Kelantan.
Full report at:
https://www.ucanews.com/news/malaysias-indigenous-people-protest-forced-conversions/85604
--------
Spotlight on online anti-Shia militancy after seminar called off over bomb threat
Abdar Rahman Koya
July 11, 2019
PETALING JAYA: The circumstances which led to the last-minute cancellation of a seminar on the problem of sectarianism in the Muslim world have brought into the open fears on the rise of Salafist Islam, a strand of thinking whose promoters have often considered those outside their folds as deviants and apostates.
A check by FMT revealed that several social media accounts have been set up in recent months, where minority Muslims such as the Shias – who belong to the second largest Muslim school of thought that Malaysia's religious authorities have labelled deviant – are targeted, including with threats of violence.
"Just make a bomb, throw it at their gatherings," said one post on a Facebook account called "Gerakan Banteras Syiah" (Anti-Shia Movement).
The account has garnered close to 19,000 followers within less than two months.
"FB is not the right place to discuss destroying the Shias. Maybe there are more Shias here than Sunnis," said user Suratman Hj Mandira.
Yesterday, FMT reported that a seminar on the Amman Message – a declaration signed by Muslim leaders worldwide pledging to end sectarianism, including the age-old Sunni-Shia conflict – was cancelled on security grounds.
Organiser International Institute of Advanced Islamic Studies lodged a police report following a threat to bomb the seminar venue, posted on the same Facebook page.
Police said the threat was made by one Amirol Md Zain on July 6.
"The Facebook account owner said: 'We are bombing this place'," Bukit Aman spokesman Asmawati Ahmad told FMT.
The Amman Message, signed in Amman by Jordan's King Abdullah II in 2004, brought together some 200 senior Islamic scholars worldwide representing different schools of thought.
The document recognises the validity of all eight Islamic schools, including Sunni and Shia, the two biggest denominations in the Muslim world.
Shia Islam is predominant in Iraq, Iran, Kuwait, Bahrain and several parts of Saudi Arabia and Yemen.
But some scholars aligned to Saudi Arabia's Wahhabi ideology have branded Shias as heretics, although stopping short of banning them from visiting Mecca where only Muslims are allowed in.
Since the 1990s, Malaysia's Islamic authorities have echoed such views, with a 1996 ruling by the National Fatwa Council declaring Shia teachings "deviant".
Authorities have in the past raided private religious events by Shia Muslims, arresting them and charging them with violating local Islamic laws on the basis of the fatwa.
Putrajaya has also banned books which it claims promote Shia Islam, while muftis such as Perlis' Mohd Asri Zainul Abidin have often criticised Shia Islam.
Novelist Faizal Musa, better known by his pen-name Faisal Tehrani, can personally relate to the government's anti-Shia stand.
Many of his novels, sometimes themed on ancient Muslim figures revered in Shia Islam, are still banned.
For this, Faisal, an academic who has often questioned the prevalent narratives in the studies of Malay history, was himself targeted by Salafist groups on social media.
One example is a Facebook page called "Bongkar Ajaran Sesat", which posted pictures of Faisal and where users left threatening comments.
"If you see him crossing the road, just ram into him," says one comment.
Faisal said he is used to the death threats.
He showed FMT at least three death threats he received on Twitter, including one calling for his beheading.
"I've actually tried to ignore the threats because I regard them as a group of uneducated extremists," said Faisal, whose seven books still remain under a ban slapped by the previous government.
But Faisal said he would have to take such threats more seriously in the wake of the threat to attack the seminar on the Amman Message.
He said those behind anti-Shia groups would often cite writings and opinions of "certain Muslim scholars and muftis" who are associated with Wahhabism.
He said there is little protection for those who do not toe the official line.
"This is what happened to people like Amri Che Mat," he said, referring to the Perlis activist who went missing in 2016.
Full report at:
https://www.freemalaysiatoday.com/category/nation/2019/07/11/spotlight-on-online-anti-shia-militancy-after-seminar-called-off-over-bomb-threat/
--------
Home minister explains why Zakir Naik, wanted by India, free in Malaysia
11 July 2019
BY AZRIL ANNUAR
KUALA LUMPUR, July 11 — Controversial Muslim preacher Dr Zakir Naik is not listed on the International Police Organization's Red Notice of wanted criminals or fugitives, Tan Sri Muhyiddin Yassin confirmed today.
The home minister said the Malaysian permanent resident born in Mumbai — wanted by India on money-laundering charges related to terror activities — was also not listed as a terror suspect by the United Nations Security Council Resolutions (UNSCR).
"The Ministry had conducted a search on the Interpol's Red Notice and found that the name Zakir Naik is not listed as a wanted man. His name was also not found as a suspect when we checked with the UNSCR terrorist list," he said in a written parliamentary reply to PAS' Kubang Kerian MP Datuk Tuan Ibrahim Tuan Man.
Muhyiddin said the government allowed Dr Zakir free travel into and out of Malaysia, as well as within its borders, because the latter had followed all procedures and had abided by the laws of the country.
He denied claims that the government was giving Dr Zakir preferential treatment.
Muhyiddin added that Malaysia has the right to refuse the provisional arrest request from the Indian government in its diplomatic note dated December 29, 2017 and the formal extradition request for Dr Zakir made on January 19, 2018.
The minister explained that there is a provision in the Extradition Treaty between Malaysia and India which allows the restriction on return of fugitive criminals if the charges against the person are political, religious or racists in nature and the person charged is in danger of being punished.
Full report at:
https://www.malaymail.com/news/malaysia/2019/07/11/home-minister-explains-why-zakir-naik-wanted-by-india-free-in-malaysia/1770357
--------
South Asia
Rohingya issue could turn into unbearable crisis for Bangladesh: ex-UN chief
July 10, 2019
The Rohingya issue would eventually become an unbearable crisis for Bangladesh, former UN chief Ban Ki-moon said Wednesday as he criticised Myanmar for being reluctant in taking back tens of thousands of persecuted Rohingya Muslims.
According to the UN estimates, nearly 700,000 minority Rohingya Muslims have fled to Bangladesh to escape violence in the Rakhine state since August 2017 when the Myanmar army launched a military crackdown
Buddhist-dominated Myanmar does not recognise Rohingya as an ethnic group and insists that they are Bangladeshi migrants living illegally in the country.
"It is not possible for Bangladesh to host such a large number of Rohingyas for long," Ban told newsmen while visiting Rohingyas' makeshift camp along with Marshal Islands President Hilda Heine and World Bank CEO Kristalina Georgieva at southeastern Bangladesh's Cox's Bazar.
The former South Korean diplomat, who subsequently served as the eighth Secretary-General of the UN for two consecutive terms from January 2007 to December 2016, said Rohingyas appeared as a huge "burden" for a country like Bangladesh.
The former UN chief said that Myanmar's role in repatriating Rohingyas was much less than what was expected. "Myanmar government should do much more so that Rohingyas can return to their homeland without fear and persecution," he said.
Ban, however, lauded Prime Minister Sheikh Hasina and Bangladeshis for extending refuge to more than 1.1 million Rohingyas on humanitarian ground despite constrains of internal resources.
Ban sought a harmonious solution to the Rohingya crisis through their dignified and fearless return to Myanmar and thanked the UN organisations for extending humanitarian assistance to the Rohingyas.
Ban arrived in Dhaka on Tuesday to attend a meeting on climate change adaptation along with Heine and Georgieva.
The World Bank CEO lauded Hasina and Bangladeshi people for their generosity to the vulnerable Rohingyas.
"Bangladesh opened its border while its people open their heart to Rohingyas," Georgieva said.
Bangladesh's Foreign Minister A K Abdul Momen and Environment, Forest and Climate Change Minister M Shahab Uddin accompanied the foreign dignitaries.
Bangladesh is hosting over 1.1 million forcefully displaced Rohingyas in Cox's Bazar district and most of them arrived there since August 25, 2017 after a military crackdown by Myanmar, termed as "textbook example of ethnic cleansing" by the UN.
https://www.theweek.in/news/world/2019/07/10/rohingya-issue-could-turn-into-unbearable-crisis-for-bangladesh.html
--------
Bangladesh cannot bear Rohingya crisis long: ex-UN head
Md. Kamruzzaman
10.07.2019
Former UN Secretary-General Ban Ki-Moon on Wednesday warned of Bangladesh's incapability to carry the burden of a huge Rohingya refugee group for a long period.
"It is not possible for Bangladesh to host such a large number of Rohingya for a long time," state-run Bangladesh Sangbad Sangstha news agency quoted Moon as saying while visiting a Rohingya makeshift camp in the southern Cox's Bazar district.
He was accompanied by Marshall Islands President Hilda Heine and World Bank CEO Kristalina Georgieva.
Moon also criticized Myanmar for its visible reluctance to take back the forcibly displaced Rohingya people to their home country.
Pointing to permanent solution of the crisis, Moon said that safe and dignified repatriation of the displaced people is a must for the harmonious solution of the Rohingya crisis.
"Myanmar government should do much more so that Rohingya can return to their homeland without fear and persecution," Moon said.
Praising Bangladesh's generosity to the persecuted Rohingya, World Bank's Georgieva said: "Bangladesh opened its border while its people opened their heart to Rohingya."
According to Amnesty International, more than 750,000 Rohingya refugees, mostly women and children, have fled Myanmar and crossed into Bangladesh after Myanmar forces launched a crackdown on the minority Muslim community in August 2017, extending the figure of the persecuted people here more than 1.1 million.
Since Aug. 25, 2017, nearly 24,000 Rohingya Muslims have been killed by Myanmar's state forces, according to a report by the Ontario International Development Agency (OIDA).
More than 34,000 Rohingya were also thrown into fires, while over 114,000 others were beaten, said the report, titled "Forced Migration of Rohingya: The Untold Experience".
Full report at:
https://www.aa.com.tr/en/asia-pacific/bangladesh-cannot-bear-rohingya-crisis-long-ex-un-head/1528381
--------
PM for making Islamic tourism as global brand
July 11, 2019
Prime Minister Sheikh Hasina today stressed the need for taking prompt measures to make Islamic tourism as a global business brand considering its huge potential since it witnesses 8.3 percent annual growth.
"The value of Islamic tourism market will increase to $243 billion by 2021 with an annual 8.3 percent growth. So, all-out efforts and roadmap aims at promoting Islamic tourism as a global business brand is urgently required," she said while inaugurating the two-day "Dhaka OIC City of Tourism 2019 "in a city hotel here.
The prime minister has also proposed allocating a separate tourist spot for the OIC member states in Cox's Bazar.
Calling upon all the OIC member states to work together for flourishing Islamic tourism, she said, "In realising our targets (to be a developed and prosperous nation), flourish of tourism sector can play an important role. In this case, Islamic tourism is the best possible area where we have the opportunity and potential to work together."
Bangladesh has been playing a significant role in upholding solidarity and unity among the Muslims following Islamic values of fraternity, justice, cohesion and inclusion as a whole since Father of the Nation Bangabandhu Sheikh Mujibur Rahman joined the second OIC conference in 1974, the premier said.
Referring to a report of Thomson-Reuters that forecasted tremendous potential of Islamic tourism, the premier said, "Muslim populations globally spent a total of $151 billion on travel in 2015 (excluding Hajj and Umrah).
Of the amount, OIC member states contributed to $109 billion."
By 2020, the world's Muslim population will be 26 percent of the entire world population while the number of Muslim tourists will rise to 180 million from 156 million within that year, she mentioned.
Full report at:
https://www.thedailystar.net/business/tourism/pm-sheikh-hasina-making-islamic-tourism-global-brand-1769851
--------
7 Pakistani militants killed, wounded in a premature IED explosion in East of Afghanistan
10 Jul 2019
A premature Improvised Explosive Device (IED) explosion killed or wounded at least 7 Pakistani militants in Kunar province of Afghanistan.
The 201st Silab Corps in a statement said an Improvised Explosive Device went off prematurely in Khas Kunar district of Kunar province.
The statement further added that explosion killed 4 Pakistani militants and wounded 3 others.
Furthermore, the 201st Silab Corps said preliminary reports indicate the explosion killed or wounded Tehrik-e-Taliban (TTP) militants.
Full report at:
https://www.khaama.com/7-pakistani-militants-killed-wounded-in-a-premature-ied-explosion-in-east-of-afghanistan-03883/
--------
Afghan Special Forces kill 10 Taliban militants in Faryab and Kunduz operations
0 Jul 2019
The Afghan Special Forces killed 10 Taliban militants during the operations which they conducted in Faryab and Kunduz provinces.
The informed military officials said Wednesday that the Special Forces killed 6 Taliban militants in Gurziwan district of Faryab.
The officials further added that the Special Forces killed 4 Taliban militants during a similar operation in Khanabad district of Faryab.
Full report at:
https://www.khaama.com/afghan-special-forces-kill-10-taliban-militants-in-faryab-and-kunduz-operations-03881/
--------
Airstrikes kill 6 Taliban militants in Ghazni province
08 Jul 2019
The security forces conducted a series of airstrikes in Ghazni province in South-east of Afghanistan killing at least six Taliban militants.
The military officials said Monday that an airstrike killed 4 Taliban militants in Ghazni district of the province.
Furthermore, the security forces killed 2 Taliban militants by conducting an airstrike in Andar district of Ghazni province.
Full report at:
https://www.khaama.com/airstrikes-kill-6-taliban-militants-in-ghazni-province-03857/
--------
Special Forces detain 3 Taliban militants, destroy weapons cache, opium in Farah, Ghor
10 Jul 2019
The Special Forces arrested three Taliban militants during the operations in Farah and Ghor provinces.
The informed military officials said Wednesday that the Special Forces arrested a Taliban fighter in Khak-e Safayd district of Farah.
The officials further added that the Special Forces also destroyed 12 kgs of opium and a cache of small weapons during the same operation.
Furthermore, the Special Forces arrested 2 Taliban militants during a similar operation in Tulak district of Ghor province.
Full report at:
https://www.khaama.com/special-forces-detain-3-taliban-militants-destroy-weapons-cache-opium-in-farah-ghor-03882/
--------
North America
Trump: Sanctions on Iran "will soon be increased, substantially"
10 July 2019
President Donald Trump accused Iran on Wednesday of secretly enriching uranium for a long time and warned that US sanctions will be increased soon, as the UN nuclear watchdog held an emergency meeting on Tehran's breach of a nuclear deal.
"Iran has long been secretly 'enriching,' in total violation of the terrible 150 Billion Dollar deal made by John Kerry and the Obama Administration. Remember, that deal was to expire in a short number of years. Sanctions will soon be increased, substantially!" Trump said on Twitter.
Donald J. Trump
✔
@realDonaldTrump
Iran has long been secretly "enriching," in total violation of the terrible 150 Billion Dollar deal made by John Kerry and the Obama Administration. Remember, that deal was to expire in a short number of years. Sanctions will soon be increased, substantially!
63.7K
7:44 PM - Jul 10, 2019
Twitter Ads info and privacy
27.8K people are talking about this
The United States used an emergency meeting of the UN International Atomic Energy Agency's board on Wednesday to pressure Iran over breaches of the 2015 international nuclear deal, accusing it of extortion and pledging to continue sanctions while still offering to hold talks.
In the past two weeks Iran has breached two limits central to the 2015 nuclear deal, which aimed to extended the time Iran would need to obtain enough fissile material for a nuclear weapon.
President Hassan Rouhani said on Wednesday that Iran's measures were within the framework of the deal, which Trump pulled the United States out of last year.
Washington, meanwhile, is set on isolating Iran to force it to negotiate over the nuclear pact, its missile program and its actions in the region.
Former secretary of state Kerry spearheaded the diplomacy that led to the 2015 accord between Iran and world powers, the Joint Comprehensive Plan of Action (JCPOA).
The deal promised sanctions relief, economic benefits and an end to international isolation in return for stringent curbs on the Islamic republic's nuclear program.
But Tehran says it has lost patience with perceived inaction by European countries more than a year after Trump pulled the United States out of the agreement, reimposing stinging sanctions.
Tehran announced on Monday it had surpassed 4.5 percent uranium enrichment -- above the 3.67 percent limit under the accord -- though still far below the 90 percent necessary for military purposes.
President Rouhani said in May that Iran would roll back its commitments under the deal in stages every 60 days in an effort to force the other parties to deliver on their side of the bargain.
As tensions rose, the United States dispatched a naval carrier, bombers and extra troops to the region to counter perceived threats from Iran.
Trump said last month he had called off a retaliatory military strike against Iran at the last minute after the Islamic republic shot down a US drone that it said had crossed into its airspace, a claim denied by Washington.
https://english.alarabiya.net/en/News/middle-east/2019/07/10/Trump-Sanctions-on-Iran-will-soon-be-increased-substantially-.html
--------
US accuses Iran of nuclear extortion but remains open to talks
10 July 2019
The United States said on Wednesday Iran's breaches of its nuclear deal are an attempt at extortion, warning Tehran that it is isolating itself while at the same time repeating that Washington is open to talks.
"There is no credible reason for Iran to expand its nuclear program, and there is no way to read this as anything other than a crude and transparent attempt to extort payments from the international community," the US statement to an emergency
International Atomic Energy Agency board meeting said.
Full report at:
https://english.alarabiya.net/en/News/middle-east/2019/07/10/US-accuses-Iran-of-nuclear-extortion-but-remains-open-to-talks.html
--------
US using nuclear weapons claims in vain to form global front against Iran: AEOI
Jul 10, 2019
The United States will never be able to form a global front against Iran by falsely claiming that the Islamic Republic is looking to develop nuclear weapons, says the spokesman for the Atomic Energy Organization of Iran (AEOI).
"Claiming that Iran wants nuclear weapons, America is trying to form a coalition against this country and put Tehran under pressure but these political attempts are in vain," Behrouz Kamalvandi said in Tehran on Wednesday.
Reiterating the fact that nuclear weapons are not part of Iran's defense doctrine, the official said even the International Atomic Energy Agency (IAEA) has confirmed Tehran's declaration that it is not seeking such weapons.
"A country with Iran's strategic and security level and its civilization history doesn't need nuclear weapons," he said. "The Islamic Republic has never sought nuclear weapons and never will."
If Trump is sincere then he should remove unilateral sanctions against Iran after hearing the IAEA's confirmations, Kamalvandi added.
Washington and its allies have long tried to use issues such as human rights, terrorism and nuclear energy to project Iran as a threat, he argued.
"However, human rights and terrorism didn't work as they wanted and so they are now using nuclear energy to scare the world," Kamalvandi said.
The official asserted that all aspects of Iran's nuclear activities were covered in Tehran's 2015 nuclear deal with the US, the UK, France, China, Russia and Germany.
Since US President Donald Trump's decision in May 2018 to leave the deal, which is known as the Joint Comprehensive Plan of Action (JCPOA), Iran and the remaining signatories have been working to salvage it in the wake of Washington's sanctions against Tehran.
"What Iran wants is based on its rights in the JCPOA," he asserted.
Kamalvandi also downplayed America's call for an emergency meeting of the 35-member Board of Governors of the IAEA to discuss Iran's nuclear program, which was due to be held in Vienna, Austria on Wednesday.
The meeting request comes after Iran reduced some of its commitments under the JCPOA in response to the European signatories' failure to deliver their end of the bargain and protect bilateral trade from US sanctions.
Iran announced this week that it was enriching uranium to 4.5% purity, above the 3.67% limit set by the international treaty.
Trump took the chance Wednesday to repeat hollow threats against Tehran, accusing the country of violating the nuclear deal.
Donald J. Trump
✔
@realDonaldTrump
Iran has long been secretly "enriching," in total violation of the terrible 150 Billion Dollar deal made by John Kerry and the Obama Administration. Remember, that deal was to expire in a short number of years. Sanctions will soon be increased, substantially!
63.7K
7:44 PM - Jul 10, 2019
Twitter Ads info and privacy
27.8K people are talking about this
Kamalvandi said that 20% purity was also an option if Iran's demands to save the deal were not met.
'Iran intends to save nuclear deal'
Iran's envoy to the IAEA Kazem Gharib Abadi said Wednesday that Iran wanted to preserve the JCPOA provided that other parties also fulfilled their commitments.
"What we're doing only has one aim: We want to preserve the nuclear treaty," he said.
Full report at:
https://www.presstv.com/Detail/2019/07/10/600633/US-Iran-Kamalvandi-nuclear-energy-AEOI
--------
US troubled by rise in Houthi attacks on Saudi Arabia
Michael Hernandez
11.07.2019
WASHINGTON
The U.S. voiced concern Wednesday to the UN's Yemen envoy over a recent uptick in Houthi attacks on Saudi Arabia.
Secretary of State Mike Pompeo thanked Martin Griffiths for his efforts to end the Yemen conflict but "expressed concern over the recent increase in Iranian-supported Houthi attacks into Saudi territory that exacerbate the conflict and deepen mistrust," the State Department said.
"The Secretary and the Special Envoy agreed that parties must continue working toward a political settlement and an end to the conflict in Yemen," spokeswoman Morgan Ortagus said in a statement.
Iran-backed Houthi rebels used a drone to strike Abha International Airport in southern Saudi Arabia, the group's Al-Masirah TV said Monday.
The Houthis have increasingly used drones to target southern Saudi Arabia, including Abha. Two drones previously hit the city's airport, killing at least one person and wounding more than 30.
Yemen has been beset by violence and chaos since 2014, when Houthi rebels overran much of the country, including the capital, Sanaa.
Full report at:
https://www.aa.com.tr/en/americas/us-troubled-by-rise-in-houthi-attacks-on-saudi-arabia/1528482
--------
US lawmakers introduce bill to recalibrate Saudi ties
Michael Hernandez
11.07.2019
WASHINGTON
A bipartisan group of senators introduced legislation Wednesday that could dramatically overhaul U.S.-Saudi ties.
Senate Foreign Relations Committee Chairman Jim Risch was joined by Republican Senator Marco Rubio and Democratic Senators Jeanne Shaheen and Chris Coons in sponsoring the Saudi Arabia Diplomatic Review Act of 2019.
In addition to initiating a sweeping and strategic review of bilateral relations, the bill would revoke or deny visas for members of the Saudi royal family that serve in executive posts. It would further address in a yet-unspecified manner the Saudi-led campaign in Yemen.
Historically close U.S.-Saudi ties have been strained by the Kingdom's air campaign in Yemen, which has exacerbated widespread famine in what was already the Arab world's poorest country and has resulted in mass civilian casualties, as well as Riyadh's brutal murder of Washington Post columnist Jamal Khashoggi in October 2018.
Risch said that while Saudi Arabia's conduct is not new, "it reached a turning point" with Khashoggi's murder.
"All of us in Congress agree that we need to see a change in Saudi conduct going forward," he said in a statement accompanying the bill's introduction.
"This legislation is meant to address the tensions between our two nations, reevaluate our bilateral relationship, and change Saudi conduct moving forward."
The bill makes specific mention of Saudi Crown Prince Mohammad bin Salman, Saudi Arabia's de facto leader whom the CIA concluded with a relatively high degree of certainty ordered Khashoggi's killing despite the Kingdom's official denials.
It says that bin Salman's actions since having been elevated in Riyadh's succession hierarchy in 2017 "have had the potential to significantly harm the United States' historic relationship with Saudi Arabia".
"The Crown Prince has frequently behaved in a reckless manner, including arresting those opposed to his rule," it says.
Full report at:
https://www.aa.com.tr/en/americas/us-lawmakers-introduce-bill-to-recalibrate-saudi-ties/1528458
--------
Europe
ISIS still strikes fear in Germany amid reports of government losing track of 160 former militants
Jul 11, 2019
The Islamic State caliphate may have fallen in the Middle East, but the terrorist group still strikes fear in Germany.
A newly released German government intelligence report for 2018 finds a high level of danger from ISIS returnees. Of the more than 1,000 Germans who traveled to Syria and Iraq to fight for the terrorist group, 350 are back in Germany. Others have died, or remain in Kurdish prisons, mainly in Syria, with a small number in Iraq.
Some of the returnees are in German jails, while others await trial. Some are in hiding after slipping through the European Union's porous borders. The German government has admitted having completely lost track of more than 160 of the former ISIS militants, the DW reported.
The report by Germany's domestic security agency, Bundesamt fur Verfassungsschutz (BFV), warns that the returnees, who are glorified by domestic radical Islamic groups, may commit crimes.
"They are greeted as heroes because they fought for an Islamic state," Deidre Berger, director of the Berlin office of the American Jewish Committee (AJC), told Fox News.
The report states that in regards to the risk of returnees, "the picture is heterogeneous."
"The spectrum is assessing these persons ranges from the 'disillusioned,' whose activities significantly decline after return and/or are no longer detectable, to persons with combat experience ready to commit violence," it says. "In principle, it must be assumed that Islamist attitudes prevail in most cases. Their ability to move inconspicuously in Western countries, from the jihadi groups' perspective, predestines the returnees to plan and commit attacks in their home countries."
Among those who welcome these fighters is Germany's growing community of Salafists – Muslim fundamentalists who shun German secular life and pose security threats.
The Islamic state for which the returning Germans fought was guilty of atrocities that were often videotaped and seen around the world. A trial in Munich provides an example of one atrocity.
A German woman identified as Jennifer W. bought a five-year-old Yazidi girl as a slave and chained her outside for bedwetting. The girl died of thirst in the scorching heat. Thousands of Yazidi women and girls were sold to ISIS members as slaves when the fighters overran the Yazidi homeland in northern Iraq. The Yazidi people follow an ancient, non-Muslim religion that ISIS considers devil worship.
The judge charged Jennifer W. with murder and war crimes.
The German parliament has passed legislation that strips Germans with dual nationality of their citizenship if they join foreign terrorist militias. The law's wording was deliberately left vague so that, while aimed at ISIS, it could be applied to other terrorist groups.
German government spokesperson Steve Alter said the government faces a big challenge in bringing the former ISIS fighters to justice. German law requires concrete proof of wrongdoing such as photos or social media accounts, which makes it difficult to bring charges. It is often impossible to gather such evidence because Germany does not have an embassy in Syria where Kurdish forces hold many of the fighters. German courts have had to drop cases for lack of evidence.
Frank Jensen, who writes about extremism for the center-right daily newspaper Der Tagesspiegel, told Fox News that according to the German Interior Minister, Horst Seehofer, each prisoner must be thoroughly investigated in Syria, or Iraq before they can be brought to trial in Germany.
"We have a huge danger from Islamic terror in Germany, and many people don't want them to come back," said Jensen, recalling the 2016 Muslim terrorist attack that killed 12 people at a Christmas market in Berlin.
"Some get aggressive suddenly and end up stabbing people," he added, noting that many have been left with deep emotional scars from their exposure to combat and torture.
The government is trying to rehabilitate them, he said, but it will take a long time to normalize their behavior.
"I don't know whether the government is willing to accept a lengthy de-radicalization program," Jensen said.
ISIS is guilty of many crimes against humanity. For example, Khaled Al Asaad, the chief archaeologist in the ancient city of Palmyra in Syria, was beheaded for refusing to reveal the location of hidden artifacts. And young girls, who have been gang-raped, have disfigured themselves to avoid being repeatedly assaulted.
Some in Germany are now speaking out for the victims.
"Justice should be served on all who participated in the ISIS state," Berger said. "Including those who continue to propagate the deadly and inhumane philosophy of the movement in Germany and Europe."
https://www.foxnews.com/world/isis-still-strikes-fear-in-germany-amid-reports-of-government-losing-track-of-160-former-militants
--------
French army chief: Situation in Gulf unlikely to 'spiral out of control'
11 July 2019
Tensions in the Gulf are unlikely to spiral out of control, French armed forces chief Francois Lecointre said on Thursday after Britain accused Iran of harassing a British oil tanker.
"There is a clash of wills underway between the United States and Iran with posturing, reactions, signals and which can from one day to the next get out of control," Lecointre told CNews television.
"I think it is under control now... I don't think it can spiral out of control but there can be escalation," he added.
Full report at:
https://english.alarabiya.net/en/News/world/2019/07/11/French-army-chief-Situation-in-Gulf-unlikely-to-spiral-out-of-control-.html
--------
UK says 3 Iranian vessels unsuccessfully tried to stop British ship
11 July 2019
Britain says three Iranian vessels unsuccessfully tried to impede the passage of a British commercial vessel through the Strait of Hormuz.
The British government said in a statement Thursday that the Iranian vessels only turned away after receiving "verbal warnings" from a UK navy vessel accompanying the commercial vessel British Heritage.
The statement says "we are concerned by this action and continue to urge the Iranian authorities to de-escalate the situation in the region."
"HMS Montrose was forced to position herself between the Iranian vessels and British Heritage and issue verbal warnings to the Iranian vessels, which then turned away," a British government representative said in a statement.
It marked the latest escalation of tensions in the Arabian Gulf over the 2015 nuclear deal between Iran and world powers, which the Trump administration abandoned last year.
Authorities in Gibraltar seized an Iranian supertanker last week for allegedly trying to breach Western sanctions on oil shipments to Syria. Tehran had warned there would be repercussions.
Earlier this week, Iran's armed forces chief of staff, Major General Mohammad Bagheri, said Britain's seizure of an Iranian oil tanker off Gibraltar last week will not be "unanswered."
"Capture of the Iranian oil tanker based on fabricated excuses ... will not be unanswered and when necessary Tehran will give appropriate answer," Bagheri said.
FM Zarif
Britain's claim that Iran tried to stop one of their oil tankers in the Gulf on Wednesday is worthless, Iran's Foreign Minister Mohammad Javad Zarif said on Thursday, according to the semi-official Fars news agency.
"Apparently the British tanker has passed. What they have said themselves and the claims that have been made are for creating tension and these claims have no value," Zarif said, according to Fars.
IRGC denial
Iran's Revolutionary Guards denied on Thursday that they had impeded a British oil tanker in the Strait of Hormuz, the force's Sepah news agency said.
Full report at:
https://english.alarabiya.net/en/News/world/2019/07/11/UK-says-3-Iranian-vessels-unsuccessfully-tried-to-stop-British-ship.html
--------
France announces military base in Mali
Fatih Hafız Mehmet
10.07.2019
France has inaugurated a new temporary military base in the West African country of Mali, the French Defense Ministry said on Wednesday.
The temporary base in the rural commune of Gossi, in Gourma was officially inaugurated by Gen. Frederic Blachon, the commander of France's Barkhane force, on 26 June, a statement said.
Since August 2014, France's anti-insurgent Operation Barkhane has had around 4,500 troops deployed in five West African countries: Burkina Faso, Mali, Mauritania, Niger, and Chad.
Full report at:
https://www.aa.com.tr/en/africa/france-announces-military-base-in-mali/1528107
--------
France denies giving missiles to Haftar forces in Libya
Fatih Hafız Mehmet
10.07.2019
France on Wednesday denied providing missiles to forces loyal to commander Khalifa Haftar in Libya's east.
Haftar commands forces loyal to a rival government based in eastern Libya.
According to media reports on Wednesday, forces of Libya's UN-recognized Government of National Accord (GNA) based in capital Tripoli had seized four French missiles when it overran a camp of Haftar forces in June.
A statement by the French Defense Ministry said the anti-tank Javelin missiles were intended for the "self-protection" of French forces deployed for counterterrorism, confirming the presence of French forces on Libyan territory.
However, the statement added that the missiles "have not been transferred to local forces."
The missiles were "damaged and unusable", it added.
In early April, Haftar launched a wide-ranging campaign to take the capital, but his forces have failed to achieve their primary objective, although they have captured several strategic towns and cities in the vicinity.
Libya has remained beset by turmoil since 2011 when a bloody NATO-backed uprising led to the ouster and death of long-serving President Muammar Gaddafi after more than four decades in power.
Full report at:
https://www.aa.com.tr/en/europe/france-denies-giving-missiles-to-haftar-forces-in-libya/1528066
--------
Pakistan
Convicted politicians not to get media time in Pakistan
July 10, 2019
Islamabad: Pakistan has decided to block media coverage and interviews of politicians who are convicts or on trial.
They have also directed the Pakistan Electronic Media Regulatory Authority (Pemra) to fulfil its "responsibility" to discourage airing of such programmes.
Later in a press conference, Education Minister Shafqat Mehmood said that Prime Minister Imran Khan and members of his cabinet unanimously made this decision.
"Those who have plundered national wealth and brought the country on the verge of collapse should not be glorified. No democracy permits interviews and media coverage of those who have been arrested on charges of corruption," the minister quoted the prime minister as saying.
A cabinet meeting on Tuesday, presided over by Imran, also unveiled details of foreign visits by former president Asif Ali Zardari and former prime ministers Nawaz Sharif and Shahid Khaqan Abbasi. It claimed that they had made 245 foreign visits, which cost more than Rs3.5 billion (Dh80 million) was spent, Dawn newspaper reported.
On the issue of the video leak related to an alleged conversation between Accountability Court Judge Arshad Malik and Nasir Butt, a close aide of Nawaz Sharif, the cabinet reached the conclusion that as the video was made public by Maryam Nawaz, daughter of Sharif and a senior leader of the Pakistan Muslim League-Nawaz (PML-N), therefore the onus to prove the allegations against the judge was on her and not the judge and the judiciary.
He, however, said the government had not directed Pemra to close down any private TV channel as it was an independent body competent to take its own decisions.
Pemra suspended transmission of three private TV channels a couple of days ago for airing an interview of PPP leader Zardari, who is in the custody of the National Accountability Bureau and facing trial in a fake accounts/money laundering case.
The authority also took off air an interview of the former president that was being conducted by anchor Hamid Mir on July 1, on the premises of the Parliament House where the former had come to attend a National Assembly session after the house's speaker had issued his production order.
The government is reportedly of the view that the production orders for Zardari were issued only to enable him to attend the assembly session and not for him to give any interview to 'undermine' the judiciary and trial court.
Responding to the allegations, the government's spokesperson Firdous Ashiq Awan Awan explained that the interview was pulled under Pemra rules for specific reasons.
"[Firstly], an under-trial suspect who is in the custody of the National Accountability Bureau cannot appear in an interview before cameras in the parliament" she said.
Secondly, the permission of the National Assembly speaker is a prerequisite to bring cameras in the parliament.
"This interview was conducted in violation of the rules of parliament," she concluded.
https://gulfnews.com/world/asia/pakistan/convicted-politicians-not-to-get-media-time-in-pakistan-1.65142098
--------
Opposition parties in Balochistan to observe black day on 25th
Saleem Shahid
July 11, 2019
QUETTA: A multiparty conference (MPC) organised by the opposition parties in Balochistan decided on Wednesday to observe July 25 as black day against unprecedented hike in prices, imposition of heavy taxes, alleged rigging in the last year's general elections and fake cases against their leaders.
Among others, Pakistan Peoples Party (PPP) Balochistan chapter president Ali Madad Jattak, National Party's secretary general Mir Jan Mohammad Buledi, Abdul Rahim Ziaratwal of the Pakhtunkhwa Milli Awami Party (PkMAP), Mir Gohar Khan Mengal of the Pakistan Muslim League-Nawaz (PML-N), Awami National Party (ANP) Balochistan chapter general secretary Mabat Khan Kakar and Amir of Jamiat Ulema-i-Islam-Fazl (JUI-F) Balochistan chapter Maulana Abdul Wasay attended the conference.
After conclusion of the MPC, Maulana Abdul Wasay said at a press conference that this conference was in continuity of the Islamabad conference. Despite being a part of the coalition government of Balochistan, the ANP attended the conference.
The opposition leaders criticised the federal government and said that it had failed to deliver but increased the people problems of by adopting wrong policies.
They said the country was facing the worst economic crisis in history as the masses were facing unprecedented increase in prices of gas, electricity and other essential commodities.
The leaders said that the government had imposed heavy taxes in the federal budget which had broken the backbone of the poor people as their purchasing power was affected badly.
Maulana Wasay said the Pakistan Tehreek-i-Insaf (PTI) had no right to stay in power and the opposition parties would not allow it to rule any more as it would destroy the country's economy.
"We will have to launch a movement against the PTI government to save democracy and the country from further destruction," he said, adding that if the opposition parties did not launch movement against the government the people would not forgive them.
The JUI-F leader said that his party would stage a million march in Islamabad on July 25.
Abdul Rehim Ziaratwal of the PkMAP said that the people's mandate was stolen through massive rigging in the 2018 general election. "We will observe a back day on July 25 against rigging in elections."
Ali Madad Jattak of the PPP said that the PTI government had become a disappointment with its lack of interest in solving public issues. "Inflation is forcing people to commit suicide. The PTI is only focusing on political vendetta as the recent arrest of PML-N leader Rana Sanaullah is a glaring example of it."
Full report at:
https://www.dawn.com/news/1493387/opposition-parties-in-balochistan-to-observe-black-day-on-25th
--------
Pakistan calls for global effort to break nexus between terrorism, organised crime
Jul 11, 2019
NEW YORK: Pakistan on Wednesday urged the United Nations Security Council (UNSC) to ensure "evidence-based" responses to the nexus between terrorism and organised crime and insisted that a supply-demand approach to counter-narcotics is most effective.
Speaking at the UNSC, permanent representative to UN Maleeha Lodhi said that only through collective regional and international efforts could the world community choke off the various sources that support terrorist outfits through organised crime.
"We will continue to play our role to sever the vicious link between terrorism and organised crime in our region," Ambassador Lodhi said.
"This is critical for our own people, as well as for our neighborhood and indeed the rest of the world," she said, adding the crime-terrorist nexus varies across different contexts, with several common areas of confluence, including financing tools, recruiting vulnerable youth and operating in areas outside government control.
"Being one of the principal victims of terrorism, Pakistan's resolve to eliminate this scourge is clear and unwavering," she added.
Underscoring its commitment in that regard, Pakistan's law enforcement agencies continued to make record drug seizures every year.
The Pakistani envoy added it was a "tangible manifestation of our consistent and dedicated efforts to not only protect our own country but also protect the rest of the world from this scourge.
"The global drug problem must be addressed effectively at local, national, regional and international levels," the ambassador said citing a range of ongoing regional initiatives to tackle the illicit trade.
Steps to do so can include allocation of proper resources to better understand the correlation between terror financing and transnational organised crimes, re-establishment of government control over territories used for drug production, and promotion of development to provide alternative livelihoods, she added.
Regarding the global drug problem, Ambassador Lodhi called for focusing on reducing both the supply and the demand for narcotics drugs through a well-integrated, comprehensive and balanced approach.
Full report at:
https://www.pakistantoday.com.pk/2019/07/10/pakistan-calls-for-global-effort-to-break-nexus-between-terrorism-organised-crime/
--------
IMF blames PML-N, PTI for inadequate policies
Khaleeq Kiani
July 11, 2019
ISLAMABAD: The International Monetary Fund has implicitly blamed two political governments of the Pakistan Muslim League-Nawaz and Pakistan Tehreek-i-Insaf for misaligned policies and inadequate policy action, respectively, for the critical economic challenges the country is facing.
In its staff report on $6 billion bailout to Pakistan approved by its executive board earlier this week, the IMF has given a background of how the economic difficulties emerged and how corrective measures were delayed.
Without directly naming the two governments, the IMF held the PML-N government responsible for unbalanced policies and unfinished reforms. "Misaligned economic policies, including large fiscal deficits, loose monetary policy, and defence of an overvalued exchange rate, fuelled consumption and short-term growth in recent years, but steadily eroded macroeconomic buffers, increased external and public debt, and depleted international reserves," it said.
While economic growth has been relatively fast — averaging close to five per cent over the past five years — macroeconomic vulnerabilities have rapidly increased on the back of weak policies supporting a consumption- and import-driven growth model. In particular, procyclical fiscal policies led to a surge in the FY2018 fiscal deficit to 6.5pc of GDP, 2.5pc higher than budgeted, pushing public debt to 75pc of GDP.
The IMF said the lacklustre progress in structural reforms continued to hamper investment and allowed inefficient state-owned entities (SOEs) to linger and a large informal economy to expand. While the macroeconomic deterioration, which eroded the stability gains achieved during 2013-16, had been largely due to homemade factors, the increase in oil prices and more limited capital flows added to this difficult picture.
Likewise, the IMF also blamed the current PTI government for delayed and yet unsatisfactory policy action for correction. Hence despite some exchange rate depreciation and significant monetary policy tightening, sizeable foreign exchange interventions continued through April 2019. "Similarly, fiscal slippages in the first half of the fiscal year have been significant despite the adoption of two budget amendments. Finally, increases in power and gas tariffs have not been sufficient to stem the accumulation of quasi-fiscal losses," the Fund noted.
It also pointed out that sizable short-term financing from bilateral creditors provided critical financing relief, but "also deferred the urgency to tackle the underlying problems while increasing the maturing debt obligations due in coming years".
Therefore, on the back of weakening confidence, economic activity has slowed considerably and inflation accelerated. High-frequency indicators, including the large-scale manufacturing index, domestic cement dispatches and motor vehicle sales, have continued to deteriorate, confirming a marked slowdown in economic activity.
Also, fiscal imbalances have continued to build. Despite the adoption of two supplementary budgets, the overall fiscal deficit (excluding grants) widened to over 7pc of GDP against the budgeted target of 5.1pc. "This deterioration is largely driven by a significant revenue shortfall, equivalent to 1.4 per cent of GDP relative to the budget target," the Fund noted.
It said the authorities were committed to carrying out the new programme, but the outlook was subject to considerable risks. The risks relate mainly to domestic policy implementation as well as external events. It said Pakistan's capacity to repay its Fund obligations in a timely manner was adequate but was subject to "higher than usual risks".
Risks to Pakistan's repayment capacity have increased on account of the continued decline in reserves and a delay in the adoption of adjustment policies. Adequate capacity to repay and debt sustainability will depend on strong policy implementation and adequate execution of the existing financing commitments.
The Fund also highlighted that despite the safeguards included in the design and financing of the programme, the risks to the programme were "particularly high".
Managing successfully the transition to a market-determined exchange rate will be crucial to ensure popular support for the programme. In this respect, failure to maintain an adequately tight monetary policy could lead to exchange rate overshooting and second-round effects on inflation.
Fiscal slippages and resistance to some of the fiscal measures could undermine the programme's fiscal consolidation strategy, thus putting debt sustainability at risk. Progress in governance and institutional building may be opposed by vested interests, weakening structural reforms and medium-term growth prospects.
Moreover, the absence of the ruling party's majority in the upper house of parliament may hinder the adoption of legislation needed to achieve programme objectives. Also, there is a risk that provinces may underdeliver on their commitments to budget parameters.
Full report at:
https://www.dawn.com/news/1493361
--------
Maryam releases more video clips of alleged meeting between accountability judge, PML-N rep
July 10, 2019
PML-N leader Maryam Nawaz on Wednesday shared two more video clips on Twitter to corroborate her claim that Accountability Judge Arshad Malik allegedly met a PML-N 'sympathiser' to confess that he had been "pressurised and blackmailed" to convict her father, former prime minister Nawaz Sharif, in the Al-Azizia reference.
On Saturday, a video purported to be about the conversation between Judge Malik and PML-N supporter Nasir Butt was played on a screen projector during a hurriedly called presser at the PML-N's provincial headquarters in Lahore.
In a press release issued a day later, Judge Malik acknowledged to have met Nasir Butt in the past, but rejected Maryam's allegations that he had convicted Nawaz under any sort of pressure, saying that the former premier was convicted on the basis of evidence.
"The videos shown during the press conference are fake and based on lies and assumptions," the judge had said in the press release.
Taking to Twitter today, Maryam shared a new video which she claimed shows Judge Malik's "official car with a green number plate" coming to escort Nasir Butt, who then allegedly follows the car to the judge's residence.
This video, shot by a person riding a motorcycle, appears to show a white sedan with a green number plate approaching a Land Cruiser before both vehicles drive away. None of the occupants of the vehicles are clearly visible in the video.
The video "belies all claims of Judge Arshad Malik [sahib] that he mentioned in his press release," Maryam claimed.
She tweeted a second video which she claimed shows Nasir Butt entering the judge's residence. "Judge Arshad Malik sb comes in, greets Nasir sb & switches the lights on," she wrote.
The veracity of the contents of either of the video clips could not be verified independently by Dawn.com.
Judge's reaction
Judge Malik in the press release issued on Sunday had said that he had seen Maryam's press conference as well as the video attributed to him. "Serious allegations were made against me; it was a conspiracy to affect my credibility as well as that of my institution and my family. Therefore, I want to present the facts.
"I am a resident of Rawalpindi where before becoming a judge, I worked as a lawyer. The individual shown in the video, Nasir Butt, is also from the same city and is an old acquaintance. Nasir Butt and his brother Abdullah Butt have met me many times at numerous instances.
"The video shown in Maryam Safdar sahiba's press conference is not only contrary to the facts but it is also a despicable attempt to mesh together various instances and topics spoken about, and to present them out of context.
Full report at:
https://www.dawn.com/news/1493250/maryam-releases-more-video-clips-of-alleged-meeting-between-accountability-judge-pml-n-rep
--------
White House confirms July 22 meeting between PM Imran, US President Trump
July 10, 2019
The White House on Wednesday confirmed that Prime Minister Imran Khan will meet US President Donald J. Trump on July 22.
According to a press release issued by the White House, the US president will welcome the prime minister.
The confirmation came amidst confusion over if the meeting would actually happen.
Earlier in the day, Foreign Office Spokesperson Dr Mohammad Faisal had issued a tweet to address questions about the certainty of the visit.
"We wish to caution against speculation about the prime minister's visit. We are in close contact with the US side. As per practice, formal announcements are made at the appropriate time," he had said.
The FO spokesperson's remark had come after a section of the media reported that the US State Department had expressed its ignorance of the visit, which had cast doubt over whether the meeting was actually happening.
"The visit will focus on strengthening cooperation between the US and Pakistan to bring peace, stability and economic prosperity to a region that has seen far too much conflict," read the release, issued on Wednesday by the White House.
"President Trump and PM Imran will discuss a range of issues, including counterterrorism, defense, energy and trade, with the goal of creating the conditions for a peaceful South Asia and an enduring partnership between our two countries," the statement added.
This will be Imran Khan's first visit to the US since assuming power last year following PTI's victory in the general elections.
The FO reiterated in a subsequent statement that the premier will visit the US from July 21 to 23 on the invitation of US President Trump.
During the visit, it said, the prime minister will also be meeting prominent members of the US Congress, corporate leaders and opinion makers as well as members of the Pakistani diaspora.
According to the statement, the prime minister will outline his vision of "Naya Pakistan".
"In the regional context, the prime minister will underscore Pakistan's commitment to peace and stability and the importance of constructive engagement to promote a political solution in Afghanistan."
"He will also highlight Pakistan's policy of 'peaceful neighbourhood' aimed at resolving disputes through dialogue and promoting the vision of peace, progress and prosperity in South Asia and beyond," it added.
Foreign Minister Shah Mehmood Qureshi had told reporters last month that President Trump had invited the prime minister in June but he could not undertake the visit because of the budget session.
The foreign minister had also said that talks between the two leaders would focus on "important regional matters". Pakistan has helped the United States in jump-starting the ongoing US-Taliban dialogue.
Earlier on January 3, Trump had told a cabinet meeting that he wanted "to have a great relationship with Pakistan, but they house the enemy, they take care of the enemy".
"We just can't do that. So, I look forward to meeting with the folks from — and the new leadership in Pakistan, we'll be doing that in the not-too-distant future," he had said.
Then in March, Trump had said he hoped to meet Pakistani leaders soon as he acknowledged that relations between the two countries are "now very good".
Full report at:
https://www.dawn.com/news/1493255/white-house-confirms-july-22-meeting-between-pm-imran-us-president-trump
--------
Governor's rule not being imposed in Sindh: Imran
JULY 11, 2019
Prime Minister Imran Khan on Wednesday dismissed the possibility of imposing governor's rule in Sindh province.
"No one has talked about imposing governor's rule in Sindh and nor will it happen in near future," the prime minister said while talking to media here. He reiterated that all the corrupt elements, who had burdened the country with whopping debt of Rs 30,000 billion, will be brought to justice because the country cannot progress without holding accountable such corrupt politicians and former rulers.
In a veiled reference to the leadership of Pakistan Muslim League-Nawaz (PML-N) and Pakistan People's Party (PPP), the prime minister said they are out to create panic by blaming the government for the price hike. "Unless they are held accountable, the country cannot be put on track of progress. They just want to hear three words 'NRO' from me, which I will not utter as it will amount to treachery with the country," he added.
The prime minister said the country is passing through hard times because of the two previous NROs and the subsequent debt of Rs 30,000 billion. "Why we should not talk of the past corruption and plunder of the previous rulers," he said, adding that keeping silence on their misdeeds will amount to treason with the country. He maintained that unless the nation punishes the corrupt elements who burdened it into huge burgeoning debt trap, there will be no future. "In the past, about 10 to 12 billion dollars were laundered from the country. When these corrupt elements are not brought to book, there will be no end to corruption and no future for the country," he added. Citing China, which is witnessing fast-paced economic progress, the prime minister noted that it has jailed about 415 ministers and bureaucrats on allegations of corruption in the last five years. The prime minister said the country has immense potential to move ahead on the path of progress and prosperity, and appealed to the people to pay taxes for a strengthened economy. The country cannot move ahead if the people and traders are reluctant to pay taxes, he said, and maintained that only one per cent out of the total 220 million population pay taxes.
He said fewer people in the country are overburdened with taxes as the industry is paying 70 per cent of taxes alone. The government cannot go on printing currency as it will escalate price hike, he said, and cautioned that if the people do not realise their responsibility to pay taxes, the country can run into hyperinflation. "There is dire need to change the mindset for paying taxes," he emphasised.
The prime minister said the government is striving to generate taxes. He said the business community has been told to become a partner with the government in its efforts for the stability of the economy. "When there are investment and business activities, there will be ample employment opportunities and industrialisation, thus enabling the country to shake its debt off," he opined.
The prime minister said Pakistan is ideally located in the region and gifted with immense potentials, adding that it is surrounded by the countries rich with natural resources. He said he has himself taken the responsibility to introduce tax reforms in the country as well as reforms in the Federal Board of Revenue (FBR). The government set the target of collecting tax amounting to Rs 5,550 billion in the next fiscal year, he added.
Imran Khan regretted that half of the country's tax collection in a year was spent on the payment of interest on Rs 30,000 billion debt. He said for economic stability, the business community should be taken on board and industrialisation be given a boost with surge in exports. On the contrary, in Pakistan, export is on the nosedive with rampant mismanagement and corruption, he added.
Imran Khan spelled out that with the collective efforts of the government and the business community, the gap between imports and exports can be bridged. The government is keen to facilitate the business community with all the possible incentives to enable a thriving industry, he added.
Referring to the presence of his economic team, the prime minister resolved that they will remove all the hurdles for the business community. He said the country's exports have witnessed a quantum term of 30 per cent by reducing the import. "The government is trying to lure investments. Different memorandums of understanding have been signed with a number of countries, including Saudi Arabia, the United Arab Emirates, etc, while negotiations are underway with others," he said, adding that Pakistan has also entered into the second phase of free trade agreement with China. He also mentioned the austerity measures the federal government has introduced by slashing its expenditures and cited the announcement made by the federal cabinet and army in this regard.
The prime minister said during his forthcoming visit to the United States, he will stay at the Pakistan Embassy with a very small entourage, which is also a part of the austerity measures. Replying to different media queries, he said the governments of Saudi Arabia, UAE, Qatar and China extended financial help to Pakistan as an honest leadership was in power here. "Had they not helped out Pakistan on time, the country could have been bankrupted," he added.
Citing the examples of Scandinavian countries, the prime minister said all those states are prosperous today where there is no corruption, while the ones ruled by the people like Asif Ali Zardari and Nawaz Sharif are poverty stricken. Lashing out at the leadership of PML-N and PPP, Imran Khan said former prime minister Nawaz Sharif siphoned off the Hudabiya Papers Mills money, laundering the same abroad through Hundi and then bringing it back through banking channels for whitening it. Former president Asif Zardari also did the same in the fake bank account cases, while Leader of Opposition Shehbaz Sharif's sons are also involved in the benami account cases, he added.
Full report at:
https://dailytimes.com.pk/427908/governors-rule-not-being-imposed-in-sindh-imran/
--------
Mideast
U.S. Imposes Sanctions on Hezbollah Officials Accused of Supporting Iran
By Alan Rappeport
July 9, 2019
WASHINGTON — The Trump administration imposed sanctions on three senior Hezbollah officials in Lebanon on Tuesday, accusing them of having a "malign agenda" to support the Iranian government.
The sanctions were the first to directly target members of Lebanon's Parliament and underscored the White House's intention to ratchet up pressure on Iran by punishing groups with ties to its government.
The United States considers Hezbollah a terrorist organization even though members of the group have embedded into legitimate parts of the Lebanese government. Amin Sherri and Muhammad Hasan Ra'd, who are members of Parliament, and Wafiq Safa, a senior Hezbollah security official in Lebanon, were added to the Treasury Department's sanctions list.
"Hezbollah uses its operatives in Lebanon's Parliament to manipulate institutions in support of the terrorist group's financial and security interests, and to bolster Iran's malign activities," Sigal Mandelker, the Treasury Department's under secretary for terrorism and financial intelligence, said in a statement.
Tension between the United States and Iran has been rising as Iran violated a key provision of the 2015 international accord to restrict its nuclear program this month. Tehran has also warned that it would begin enriching its nuclear fuel to a purer level, potentially moving it closer to developing a nuclear weapon.
Since President Trump withdrew from the nuclear accord in 2018, the United States has renewed sanctions on Iranians and warned other countries not to do business with Iran. In June, the Trump administration issued a new sanctions order barring Ayatollah Ali Khamenei, the supreme leader of Iran, and his office from access to the international financial system. The administration also levied sanctions on eight Iranian military commanders last month.
Senior administration officials said that the sanctions announced on Tuesday were meant to emphasize to the world that the United States saw no distinction between the political and military wings of Hezbollah, which is supported by Iran. They urged Lebanon's leaders to sever ties with anyone affiliated with Hezbollah.
"Hezbollah threatens the economic stability and security of Lebanon and the wider region, all at a cost to the Lebanese people," Ms. Mandelker said. "The United States will continue to support efforts of the Lebanese government to protect its institutions from exploitation by Iran and its terrorist proxies, and to secure a more peaceful and prosperous future for Lebanon."
The new sanctions are sure to irritate Lebanon. When Secretary of State Mike Pompeo visited Beirut in March, and denounced Hezbollah as a terrorist group, he faced resistance.
"For us, Hezbollah is a Lebanese party, not terrorists," said Gebran Bassil, Lebanon's foreign minister. "Its members of Parliament were elected by the Lebanese people, with high popular support."
The Trump administration's sanctions on Iran have affected Hezbollah's finances — the group has had a harder time paying its members.
Mr. Pompeo noted in a statement on Tuesday that Hassan Nasrallah, the leader of Hezbollah, made a plea for financial support for the first time ever this year.
The Trump administration has been frustrated that Europe continues to support the nuclear agreement and has threatened secondary sanctions against allies that continue to buy Iranian oil.
The broader use of sanctions by the United States has struck some critics of its approach as overreach.
"The notion of simply listing people and freezing their accounts without evidence of their specific financial support to Iran or specific terrorist activities, that is a reach," said George A. Lopez, a professor at Notre Dame and an expert in economic sanctions. "But it is consistent with the use — some would say misuse — of sanctions by this administration. The emphasis is less on direct causal linkage and more guilt by association."
The Trump administration has also considered imposing economic penalties against militias in Iraq that are supported by Iran. Similarly, however, the militias have members in Parliament, similar to Hezbollah in Lebanon. The Iraqi government officially recognizes the militias, which are grouped under the umbrella of the Popular Mobilization Forces, and pays their salaries. The militias fought against the Islamic State, with the help of the Iranian military.
Administration officials said on Tuesday that more sanctions against Iran were in the pipeline.
In late June, Treasury Secretary Steven Mnuchin said that sanctions targeting Mohammad Javad Zarif, Iran's foreign minister, were forthcoming. While they have yet to be announced, an administration official described Mr. Zarif as a figure of key interest and said that additional sanctions were being explored.
Speaking in the Oval Office on Tuesday, Mr. Trump said he was keeping a close eye on Iran's enrichment activities.
"Well, we're going to see what happens with Iran," Mr. Trump said. "Iran is doing a lot of bad things right now, and they better be very careful."
Edward Wong and David E. Sanger contributed reporting from Washington, and David D. Kirkpatrick from London.
https://www.nytimes.com/2019/07/09/world/middleeast/us-sanctions-hezbollah-iran.html
--------
Netanyahu vows to retain every West Bank settlement
10 July 2019
Israeli Prime Minister Benjamin Netanyahu pledged Wednesday not to dismantle even the remotest Jewish settlement in the West Bank, in a message to settlers ahead of next month's general election.
Israeli media had speculated that after US President Donald Trump handed Netanyahu valuable political prizes by recognizing Jerusalem as Israel's capital and its annexation of the Golan Heights, Trump might expect concessions in return when he finally unveils his long-awaited proposals for Israeli-Palestinian peace.
"We shall not allow the dismantling of any settlement in any peace plan," Netanyahu told an audience at the settlement of Revava in the Israeli-occupied West Bank.
"I also make no distinction between the settlement blocs and isolated settlement sites," he said in Hebrew. "Every such spot is Israeli from my point of view."
Israel occupied the West Bank in the 1967 Six-Day War.
Israeli settlements are viewed as illegal under international law and major obstacles to peace since they are located on land the Palestinians see as part of their future state.
Full report at:
https://english.alarabiya.net/en/News/middle-east/2019/07/10/Netanyahu-vows-to-retain-every-West-Bank-settlement.html
--------
Three Iranian Irgc Members Killed In Northwest Iran
By Seth J. Frantzman
JULY 10, 2019
Three members of the Hamza Saiyid al-Shohada, a local force of the Iranian Islamic Revolutionary Guard Corps (IRGC), were killed near Piranshahr, just a few kilometers from the Iraqi border in northwest Iran. This is a serious incident, and although no group initially claimed responsibility, focus will likely shift toward Kurdish dissident groups that operate in the Kurdish regions of northwest Iran.
Last fall, the IRGC fired ballistic missiles at Koya in northern Iraq, targeting Iranian Kurdish opposition groups. This led to a cessation of attacks by several Kurdish groups, including PJAK, KDP and PKK, all of which oppose Iran's regime and had been alleged to be behind several attacks in the summer of 2018.
Iran's Tansim News Agency said that the IRGC members were attacked at the entrance to the city by "terrorists," who Iran claimed were "affiliated with the arrogance of the world," a generalization that likely means Tehran sees US or Western hands behind the attack. The names of two of the killed were released on Tuesday night. The IRGC said that it would continue its intelligence work and search for "terrorists" in the area.
Kurdistan24, a Kurdish news network, said the attack comes as clashes have increased in Kurdish areas of Iran, where a variety of opposition groups exist. The attack, the most serious in almost a year, will likely lead to an increased Iranian security presence in the border areas and could mean that Iran will demand that Iraq crack down on any Iranian dissident groups that operate in Iraq.
Full report at:
https://www.jpost.com/Middle-East/Three-Iranian-IRGC-members-killed-in-northwest-Iran-595165
--------
Two Turkish soldiers killed in attack by Kurdish militants: ministry
JULY 9, 2019
DIYARBAKIR, Turkey (Reuters) - Kurdistan Workers Party (PKK) militants launched an attack on a Turkish military vehicle in southeast Turkey on Tuesday, killing two soldiers and wounding another, the country's defense ministry said.
It said the attack occurred in the Hakkari province of Turkey, which borders Iraq and Iran, and was carried out from a distance. It did not specify what form the attack took.
The PKK, which is deemed a terrorist organization by Turkey, the United States and the European Union, launched its insurgency in 1984 and seeks autonomy in Turkey's largely Kurdish southeast.
Full report at:
https://www.reuters.com/article/us-turkey-security-militants/two-turkish-soldiers-killed-in-attack-by-kurdish-militants-ministry-idUSKCN1U4116
--------
Scores of Houthi militants killed in clashes
July 10, 2019
DUBAI: The Yemeni army killed 20 Houthi militants during clashes in Dhale province, south of the country, Saudi national news agency SPA reported on Wednesday.
The militia were trying to infiltrate a district in Dhale when the Yemeni troops launched a counter attack, forcing them to flee.
A further 23 militants were killed in clashes with army forces in Saada province on Tuesday.
Full report at:
http://www.arabnews.com/node/1523526/middle-east
--------
Yemen: Houthi court sentences 30 to death for spying for Saudi-led coalition
9 July 2019
A Yemeni court run by Houthi rebels sentenced 30 people to death on charges of espionage for Saudi Arabia and its allies in the international coalition fighting in Yemen, a judicial source has said.
The source, cited by AFP news agency, said that 30 men, mainly academics, trade unionists and preachers, were handed death sentences on Tuesday and six others were acquitted by the criminal court in the Houthi-controlled capital city of Sanaa.
The defendants have been detained for a year, the source added.
He said the men were found guilty of providing the coalition with information on military targets.
A Saudi-led coalition has been engaged in a military campaign in Yemen since 2015, after the Houthis overran Sanaa and ousted Yemeni President Abd Rabbuh Mansour Hadi, who is backed by Riyadh.
Efforts to end the fighting have failed so far, with neither side coming to a long-term agreement.
A 'mockery of justice'
Amnesty International dismissed Tuesday's trial as a "flawed legal process" and "a mockery of justice" that targeted mainly individuals opposed to the Houthi government.
Lynn Maalouf, Amnesty's Middle East director of research, said the Houthi-led criminal court has systematically targeted critics and opponents since the rebels assumed control of Sanaa's justice system in 2015.
"Today thirty individuals, and all of their loved ones, are bracing for what is the ultimate cruel, inhuman and degrading punishment, and handed down following such flagrantly unfair trials," Maalouf said in a statement.
"We call on the Houthi de facto authorities to quash these unjust convictions and brutal sentences and release the 30 men immediately."
Courts run by the Houthis in Yemen have issued several death sentences against Yemeni citizens convicted of spying for the coalition, but executions have yet to be carried out.
In May last year, two men were sentenced by the same court for "providing information to a foreign state and co-operating with aggressor state Saudi Arabia between 2015 and 2016".
In January, the court condemned to death 22-year-old mother Asmaa al-Omeissy and two men on charges of aiding the UAE.
In 2017, the same court sentenced President Hadi and six senior officials in his administration to death on charges of "high treason".
Hamid bin Haydara, a member of Yemen's Bahai religious community, was also sentenced to death by the Sanaa court in January 2018 on charges of apostasy.
The United States Commission on International Religious Freedom (USCIRF) called on the Houthi court to overturn the death sentence and release Haydara, "a religious prisoner of conscience".
The Houthis have stepped up their cross-border attacks on Saudi Arabia in recent weeks, killing at least one person and wounding dozens in attacks targeting mainly civilian airports.
Saudi Arabia has accused Iran of arming the Houthis, a charge both the Houthis and Tehran deny.
The United Arab Emirates, a key partner in the coalition, announced on Monday it was scaling down its involvement in the war in a shift from a "military-first strategy" to a "peace-first strategy".
Full report at:
https://www.middleeasteye.net/news/yemen-houthi-court-sentences-30-death-spying-saudi-led-coalition
--------
Yemeni missile strike kills dozens of Saudi mercenaries in kingdom's Najran
Jul 10, 2019
Dozens of Saudi-sponsored militiamen loyal to Yemen's former president, Abd Rabbuh Mansur Hadi, have been killed and scores of others sustained injuries when Yemeni army forces and their allies fired a domestically-manufactured ballistic missile at their camp in Saudi Arabia's southern province of Najran.
The spokesman for Yemeni Armed Forces, Brigadier General Yahya Saree, said on Wednesday afternoon that Yemeni missile defense units launched a Badr-F missile at a position of Saudi mercenaries near al-Khazra border crossing.
He added that the missile hit the designated target with great precision, leaving 45 Saudi-paid militiamen killed and tens of others injured. The death toll is expected to further rise as some of the injured are in critical condition.
Earlier in the day, a woman and her two children suffered injuries when Saudi-led coalition forces launched a barrage of artillery rounds at a residential neighborhood in July 7 area of the strategic western Yemeni province of Hudaydah.
Missiles and mortar shells also rained down on several villages in the Monabbih district of Yemen's mountainous northwestern province of Sa'ada. There were no immediate reports about possible casualties and the extent of damage caused.
Saudi Arabia and a number of its regional allies launched a devastating campaign against Yemen in March 2015, with the goal of bringing the government of Hadi back to power and crushing the Houthi Ansarullah movement.
The US-based Armed Conflict Location and Event Data Project (ACLED), a nonprofit conflict-research organization, estimates that the Saudi-led war has claimed the lives of over 60,000 Yemenis since January 2016.
The war has also taken a heavy toll on the country's infrastructure, destroying hospitals, schools, and factories. The UN says over 24 million Yemenis are in dire need of humanitarian aid, including 10 million suffering from extreme levels of hunger.
On Tuesday, Yemen's Houthi Ansarullah movement has called for the full withdrawal of the Saudi-led military coalition from the conflict-ridden Arab country, after the United Arab Emirates (UAE), a key part of that alliance, said it was going ahead with plans to reduce the number of troops in Yemen.
"We call on the countries of aggression to declare withdrawal from Yemen. The Republic of Yemen rejects the aggression, siege and aerial embargo," Mohammed Ali al-Houthi, the chairman of the Supreme Revolutionary Committee of Yemen, wrote in a post published on his official Twitter page.
He added, "Withdrawal from Yemen is the ideal decision that must be taken at this particular time. It is just good enough for the countries of aggression to use Yemen a test field for European and American weapons for five years, and prove the ugliness of their crimes to the world."
An unnamed senior Emirati official told reporters on July 8 that the Persian Gulf country was planning troop drawdown in Yemen in what was claimed to be a shift from a military strategy to a "peace" plan instead.
He added, "We do have troop levels that are down for reasons that are strategic in (the Red Sea city of) Hudaydah and reasons that are tactical" in other parts of the country.
Full report at:
https://www.presstv.com/Detail/2019/07/10/600621/Yemeni-missile-strike-kills-dozens-of-Saudi-mercenaries-in-kingdoms-Najran
--------
Israeli settlers take over east Jerusalem home after court battle
July 10, 2019
JERUSALEM: Palestinian family was evicted from a home in east Jerusalem near the Old City on Wednesday after Israeli settlers won a court battle that stretched more than two decades, activists said.
The apartment in the Palestinian neighborhood of Silwan was home to a 53-year-old woman and her four children, according to Israeli NGO Peace Now, which opposes Israeli settlement expansion.
Police arrived and evicted the residents from the apartment and they will at least temporarily stay with relatives.
An Israeli court found that the Elad foundation, which seeks to increase the Jewish presence in mainly Palestinian east Jerusalem, had legally purchased that portion of the property and ruled in its favor.
"To take us from the house is like taking my heart from my body," one of the Palestinian residents, Ali Siyam, 20, told AFP.
Elad said in a statement "the property was purchased by Jewish people in accordance with the law, in good faith and in a fair and legal transaction."
It added that "three separate courts verified that the property was lawfully purchased by Jews."
The foundation, known in English as the City of David foundation, also oversees a nearby archaeological center in Silwan that seeks to demonstrate Jews' historical connection to Jerusalem.
It was in the news recently when US officials attended an inauguration of an archaeological project it organized in Silwan, another break with traditional diplomatic practice by President Donald Trump's White House that drew Palestinian outrage.
Their attendance was seen as further US recognition of Israeli sovereignty over east Jerusalem.
Palestinians say Israel and groups such as Elad are on a systematic campaign to force them out of Jerusalem.
Israel occupied east Jerusalem in the 1967 Six-Day War and later annexed it in a move never recognized by the international community.
It sees the entire city as its capital, while the Palestinians view the eastern sector as the capital of their future state.
East Jerusalem includes highly sensitive holy sites for Christians, Muslims and Jews that are located in the Old City near Silwan.
Some 600,000 Israeli settlers now live in the occupied West Bank and east Jerusalem among around 2.9 million Palestinians.
Peace Now said in a statement "the settlement in Silwan not only harms the prospects for a conflict-ending agreement and stability in Jerusalem, it is also cruel and evil."
Full report at:
http://www.arabnews.com/node/1523756/middle-east
--------
Arab World
Iraq government employees face prosecution for working under ISIL
by Tessa Fox
10 Jul 2019
Mosul, Iraq - As the city fell to the occupation of Islamic State of Iraq and the Levant (ISIL) five years ago, many doctors in Mosul's public hospital ripped off their scrubs and fled.
Labeeb, a doctor himself, was unable to join his colleagues in their escape as he had just reached the hospital with his wife who was showing complications in her pregnancy.
"There were lots of gunshots... The doctors even left their patients and ran away," Labeeb, whose name has been changed to protect his identity, told Al Jazeera in an interview last month.
His wife needed a caesarean section though the anaesthetist had already fled, leaving her to bear a child with a birth defect at 8pm on June 9, 2014 - the same day ISIL took over the city.
"My child was about to die. It was a tough time. It forced me to stay in the hospital and witness everything," he said.
Labeeb, employed by the Iraqi government, is one of the hundreds of government employees under investigation for working under ISIL, also known as ISIS.
As the group occupied the city, it began building its administration from the foundations of the existing Iraqi government workforce.
It was the blueprint the armed group set up across all the territories it controlled. At its peak, ISIL employed thousands of teachers, doctors and various civil employees, even down to municipality drivers.
Considering Labeeb remained in Mosul to care for his wife and newborn child, ISIL took advantage of his expertise.
As Human Rights Watch (HRW) has pointed out in various reports, including Flawed Justice - Accountability for ISIS Crimes in Iraq, all civil employees are subject to investigation and prosecution under the government's blanket system for dealing with ISIL affiliates under its counter-terrorism law.
Forced to work
Within a month after the birth of his child, Labeeb received a phone call informing him to meet in a cafe in Mosul to discuss going back to work.
"I felt shocked because I didn't know who they were," he said.
His number was obtained by ISIL from the Nineveh government employment records.
English teacher Younis Muawiyah, 35, a government employee at Mosul High School since 2008, fell into the same position as Labeeb when the armed group seized control of the city.
"At first they sent me a message saying: 'You should come into the school because we need you.' I didn't answer them. I ignored it at first," Muawiyah said.
"The second day they sent me another message: 'You should come otherwise we'll punish you.'"
Muawiyah reluctantly went back to work, teaching a class of 150 ISIL children.
"They learned English in order to know what their enemies, such as the US, said," he added.
There are no exact numbers of government workers currently prosecuted or facing investigation under the counter-terrorism law, though HRW has documented charges against a "wide range" of individuals.
Salim Muhammed Noori, chief judge of Nineveh Court, told Al Jazeera it was difficult for a government employee to work for ISIL.
He said people did not have to stay in Mosul when ISIL came. "A lot of important people left the city," Noori added.
Harsh sentences
The Iraqi justice department has an investigation division that looks into the cases of those who worked for ISIL, gathering written witness statements and evidence.
HRW said only in a handful of cases has the court questioned witnesses or called them in to give evidence.
Considering many arrests are based on names provided to the security forces from ordinary civilians, there are cases where feuds between people have resulted in someone's name being submitted as an act of revenge, residents told Al Jazeera.
Muawiyah said, due to false witness accounts, there were many people in prison who did not work with ISIL.
"If I hate you, I can go to the police station and say this person worked with ISIL. You're innocent but you'll stay in prison until they check, and after that the government just says 'sorry'," Muawiyah said.
Noori confirmed this version of Iraqi "amnesty".
"If somebody is sent to prison because they killed someone then afterwards we find the person is not dead - they get out of prison," he explained.
HRW also highlighted charges are often based on confessions extracted under duress.
Labeeb continued working for three years under ISIL rule, even after the Iraqi government cut salaries in mid-2015, and the group offered no payment.
He worked at the Mosul Oncology Hospital, in which ISIL's leadership used the basement as a hiding place and patients and workers as human shields from air raids, Labeeb explained.
He was instructed not to examine female patients, but he refused their order.
"ISIL couldn't punish doctors because numbers were very few and they needed us, so they would only say bad things to us," Labeeb said. He said his constant refusal to follow ISIL's orders led to the investigation against him to be dropped by Iraqi authorities.
"The intelligence says I didn't join ISIL. It was proved I was innocent," Labeeb said. "I tried to get away from them as much as I could, so I didn't interact with them. Others may have had direct contact with them, [so they are] the people who are in danger now," he added.
In the Nineveh Counter-terrorism Court, under which the Mosul region falls, if someone is found guilty of a killing in the name of ISIL they are sentenced to death by hanging.
The minimum sentence given for someone who joined ISIL, including those who worked under the group, is 15 to 20 years in prison.
Noori said each case is carefully considered, but he acknowledged it was not an easy task.
"While ISIL never had any human rights and did so many bad things to the Iraqi people, [we have] guarantees to protect these suspects," he said.
Granting amnesty
For those convicted in Iraqi courts, some may be entitled to release under the General Amnesty Law.
For this to be possible, the person convicted would have to provide evidence showing they joined ISIL against their will and did not commit a serious offence.
Belkis Wille, HRW's senior Iraq researcher, said it is difficult for people to prove they were forced to work for the armed group because the bar has been set so high.
"The government would argue that you should have stayed at home, because by then you aren't working for the Iraqi government any more. So why did you continue to work," Wille said.
Even though this law exists, and would benefit the government workers forced to work under ISIL, HRW found the majority of judges handing counter-terrorism cases are not applying it.
HRW detailed a senior counter-terrorism judge in Nineveh who expressed his refusal to apply the law "because he thought no one who provided any support to ISIL deserved an amnesty".
It is also noted a senior judge recommended the death penalty for a man who was a cook for ISIL fighters.
Wille said there should be broad amnesty applied to people who are not linked to violent crimes.
"Particularly for those in government functions that helped keep the rights of people in that area, so people could continue to have access to water, electricity, et cetera," Wille said.
The way prosecutions are being handled are misguided and not helping the future of Iraq, she added.
"There's no comprehensive transitional justice action plan where prosecutions play a key role in helping to heal wounds and foster reconciliation," Wille said.
https://www.aljazeera.com/news/2019/07/iraq-government-employees-face-prosecution-working-isil-190708105114170.html
--------
At Least 3 Killed in ISIS Attack in N. Iraq
9 July, 2019
At least three people were killed in northern Iraq on Tuesday in what authorities said was an attack by ISIS militants.
Four people were wounded when three mortar bombs hit the town of Shirqat, police officials and hospital sources said.
Police in the area said ISIS was involved in the attack and the mortars were fired from a nearby mountainous area were militants are still active.
"ISIS fighters are hiding in (the) Makhoul mountains area and use it as a launchpad for their attacks," said Shirqat police colonel Khalil Sahan, according to Reuters.
ISIS has recently mounted a series of hit-and-run attacks aimed at undermining the government.
Full report at:
https://aawsat.com/english/home/article/1804781/least-3-killed-isis-attack-n-iraq
--------
Iraqi Forces Target ISIS Sleeper Cells
9 July, 2019
Iraqi army units, backed by the international coalition and with the participation of the Popular Mobilization Forces (PMF), continue to target ISIS terrorists in three governorates: Nineveh, Salaheddine, and al-Anbar on the Iraqi border with Syria.
The Ministry of Defense issued a statement announcing that the military operation dubbed "Will of Victory" would continue under the supervision of the Joint Operations Command, indicating that the island's operations command was able to destroy two terrorist sites and two explosive devices.
Nineveh operations command added that the air force succeeded in killing three terrorists inside a vehicle, asserting the operation will continue until achieving all of its objectives.
Meanwhile, the Popular Mobilization Forces confirmed the participation of about 13 brigades in "Will of Victory", less than a week after Iraqi Prime Minister Adel Abdul Mahdi announced a plan to restructure the PMF within the Defense Ministry's military forces.
The PMF issued a statement saying their forces and security forces developed a plan to maintain the security and stability of the region after its liberation from ISIS remnants.
In Diyala, the provincial police command announced the implementation of a security operation in Balad Ruz district within operation "Will of Victory".
A statement issued a statement saying the joint security forces from Diyala's second, fourth, and seventh emergency brigades, the SWAT Brigade, and the Balad Ruz police department carried out a security operation in a number of areas south of the district.
The statement added that the security forces will search a number of villages under the operation command to target the terrorists and prevent them from finding safe havens in these areas.
It is noteworthy that the international coalition air force participates heavily in this operation, whether through providing logistical support or coordinates of the terrorists' locations, making it easier for the Iraqi forces to target them.
The coalition's participation in an operation involving the PMF comes at a time when the forces refuse US presence in Iraq, saying they support ISIS.
ISIS does not threaten the national security, but threatens the border and remote areas, National Security Professor at al-Nahrain University Hussein Allawi told Asharq Al-Awsat.
Full report at:
https://aawsat.com/english/home/article/1804941/iraqi-forces-target-isis-sleeper-cells
--------
Iraq seeks to issue identification papers for IS children
Mustafa Saadoun
July 9, 2019
More than two years have passed since Iraq was liberated from the Islamic State (IS). The Iraqi government is now working to issue identification documents for children born under IS rule.
The Telegraph reported June 22 that nearly 45,000 children in Iraq do not have identification documents due to being born in IS territory. This has obstructed the issuance of identification documents following liberation.
The Iraqi government has now altered its previously undeclared position — that it would not issue documents to these children — and will move to grant them Iraqi citizenship. Such a step aims to prevent thousands of children from unknown fates.
Rezan al-Sheikh, the rapporteur for the Children and Women's Affairs Committee of the former parliament, said June 26 that the government has started developing mechanisms to resolve the problem.
"The government adopted fair and just mechanisms away from any personal and sectarian stances," she said. "Hence, those children will be granted identification documents."
Article 18 of the Iraqi Constitution stipulates that children born to an Iraqi father or mother shall be granted citizenship, meaning that children born under IS rule are entitled to Iraqi citizenship.
Lawyer Ismail Saad said the Iraqi government's move to grant these children identification documents is "a positive" step that would save them from living "in limbo."
"It is necessary for these decisions to be implemented in a way that does not obstruct the issuance of identification documents," he said. "It is also necessary to speed up the issuance of papers for those who need to be enrolled in schools."
When born under IS rule, the children were registered at IS-affiliated "Sharia courts," which issued them birth documents. The Iraqi government has refused to recognize such documents.
These children, a number of whom continue to live in the camps, have not received any health care and cannot be enrolled in school unless the government issues them identification documents.
Wahida al-Jamili, the rapporteur for the parliamentary Human Rights Committee, said that special tribunals will be established for the registration of children born under IS rule. They will be given birth certificates based on papers and witness depositions, she said, adding that the process will be easier for children whose parents are alive.
"It is unacceptable to leave Iraqi children without identification documents that would guarantee their right to health, education and food," she said.
A source at the Supreme Judicial Council of Iraq spoke to Al-Monitor about how the documents will be issued. "The issuance of documents will be an easy process for those whose parents are still alive," he said. "The parents and two witnesses will need to show up in the courtroom."
He added, "DNA testing will probably be adopted. This will, however, take a long time and result in months of delay before a number of them get health care and can be enrolled in the government or civil schools and nurseries."
The judicial source indicated the authorities fear that the parents are affiliated with IS.
This is not a new issue in Iraq. Former Prime Minister Haider al-Abadi said in 2016 that the government does not have a problem registering children born under IS rule in their hometowns.
There are two categories of children in areas IS controlled. First are the children whose parents are known and not affiliated with IS. The Iraqi government is working to issue documents to these children. Next are the children born to Iraqi women and IS foreign fighters who entered the country illegally. Many of the latter parents were killed, detained or disappeared. The children remained with their relatives or foster parents. This category is the real problem for the Iraqi government, as it knows nothing about their parentage.
Full report at:
https://www.al-monitor.com/pulse/originals/2019/07/iraq-isis-camps-human-rights.html
--------
US Sanctions 3 Hezbollah Officials, Including 2 Members of Lebanese Parliament
By Sirwan Kajjo, Mehdi Jedinia
July 9, 2019
WASHINGTON - The U.S. government announced new sanctions Tuesday on three senior officials of the Lebanese terror group Hezbollah for its role in undermining Lebanon's financial system and assisting Iran's agenda in the country.
The targeted Hezbollah officials are Amin Sherri, Muhammad Hasan Ra'd and Wafiq Safa. Sherri and Ra'd are members of the Lebanese parliament, while Safa is known to be a major Hezbollah facilitator.
This is the first time that the U.S. Department of the Treasury has targeted members of the Lebanese parliament who are affiliated with Hezbollah, which the U.S. has designated a terrorist organization.
"They have assisted the Iranian regime in its efforts to undermine Lebanese sovereignty," U.S. State Department spokesperson Morgan Ortagus said during a press conference Tuesday.
"These officials have exploited their positions to smuggle illicit goods into Lebanon, undermining Lebanese financial institutions to assist Hezbollah and to evade U.S. sanctions against Hezbollah facilitators and financiers," she added.
Ortagus said targeting the three officials was part of the U.S.' efforts to counter Hezbollah's "corrupting influence in Lebanon."
Hezbollah is backed by the Iranian government. The group has a growing influence over Lebanon's political and military establishments. The Shiite terror group is in control of the country's parliament after winning the majority of seats in the country's 2018 elections.
Phillip Smyth, a researcher at the Washington Institute for Near East Policy, said sanctioning Hezbollah-linked officials is a significant move, as Iran and Hezbollah have infiltrated the Lebanese political system.
"This is a way of demonstrating that the United States understands not only that philosophy and ideology (are) guiding these groups, but it also sends a message that (Hezbollah) can no longer use political elements as a face or a veneer for the party," he told VOA.
U.S. officials said Hezbollah's presence in the Lebanese parliament has benefited the group and its benefactor, Iran.
"Hezbollah uses its operatives in Lebanon's parliament to manipulate institutions in support of the terrorist group's financial and security interests, and to bolster Iran's malign activities," Sigal Mandelker, Treasury under-secretary for terrorism and financial intelligence, said in a statement on Tuesday.
Some experts believe that Iran's influence in Lebanon could be reduced through U.S. sanctions.
"This is a strong signal to Tehran that their efforts will not go unabated anymore, in terms of how the U.S. recognizes Hezbollah's general control over the Lebanese state and the influence that they wield," Smyth said.
However, Alex Vatanka, an analyst at the Middle East Institute in Washington, doubts the effectiveness of such measures.
"Sanctioning elected politicians who came to power through democratic means will not only muddle the cause but may also bring more complexity to the intentions made upon blacklisting these Lebanese officials," he said.
"The usefulness of this tool has not (been) proven yet," Vatanka told VOA. "I think it will have a minimal effect on the course of politics in Lebanon and its next election, nor will it change Tehran's policies or its trajectory for the region."
Full report at:
https://www.voanews.com/extremism-watch/us-sanctions-3-hezbollah-officials-including-2-members-lebanese-parliament
--------
US-Backed SDF Steals $100m from Saudi Arabia's Financial Aid
Jul 10, 2019
The Arabic-language al-Watan newspaper quoted dissident sources as saying that the SDF has robbed $100 million from a hefty sum paid by Saudi Minister Samer al-Sahban during his recent visit to the Eastern regions of Syria.
It noted that Saudi Arabia had paid the sum to buy the companionship of the tribal leaders of Eastern Syria on the pretext that it was an aid to those tribes whose farms Raqqa, Deir Ezzur and Hasaka had been ruined during the recent SDF war with the ISIL. After the SDF withheld the huge sums paid by Riyadh, it also forced the administrative employees of those regions to levy tax from the local people.
The sources pointed to people's fury over SDF's measures, and said corruption, plundering and robbery of people's assets in the occupied areas have considerably increased.
In a relevant development on Sunday, the SDF continued their pressures to force children into their ranks and train them in their secret military bases in Eastern Syria despite an agreement with the United Nations.
The al-Watan newspaper quoted dissident sources as saying that despite SDF's agreement with the UN not to forcefully recruit child soldiers in Eastern Syria, it still continues to arrest and transfer the detained children to SDF's secret military bases in Eastern Deir Ezzur.
The source noted that the SDF is arresting boys and girls aged under 18 years in areas under its control in Deir Ezzur and Raqqa and transfers them to its secret military bases, and said, "The SDF has recently arrested a 14-year-old child in the town of Ahras in Eastern Aleppo, and forced the kid to join the its ranks."
The Syrian Observatory for Human Rights (SOHR) also pointed to the SDF's forced recruitment of 130 teachers in the town of al-Darbasieh in Hasaka province, and said that the SDF's behavior has resulted in a wave of anger by civilians there.
Full report at:
https://en.farsnews.com/newstext.aspx?nn=13980419000708
--------
New chemical weapons team to launch first Syria investigations
10 July 2019
A new team established by the global chemical weapons watchdog to attribute blame for the use of banned munitions in Syria will investigate nine alleged attacks during the country's war, including in the town of Douma, sources briefed on the matter told Reuters.
The Organization for the Prohibition of Chemical Weapons (OPCW) was created in 1997 as a technical body to enforce a global non-proliferation treaty. It had until now only been authorized to say whether chemical attacks occurred, not who perpetrated them. Last June, the Investigation and Identification Team (IIT) was established by the OPCW's member states during a special session, a move that has brought deeper political division to the UN -back agency. Now it has identified the locations of its first investigations to be conducted in the coming three years.
Full report at:
https://english.alarabiya.net/en/News/middle-east/2019/07/10/New-chemical-weapons-team-to-launch-first-Syria-investigations.html
--------
UN envoy, Syria report progress in talks on post-war constitution
Jul 10, 2019
The United Nations and the Syrian Foreign Ministry report progress in talks on a constitutional committee that could pave the way for a political solution to the country's eight-year conflict.
"I believe we have made a very solid progress and we are very close to have agreement on establishing the constitutional committee," the UN Syria envoy, Geir Pedersen, told reporters after meeting Syrian Foreign Minister Walid al-Muallem on Wednesday.
The Syrian Foreign Ministry also said in a statement that great progress had been made in the talks.
Damascus also reiterated that the constitutional committee should be a purely Syrian affair to be decided by the Syrian people alone without any foreign interference.
Writing a new constitution for a post-war Syria is part of a potential political solution to end the eight-year crisis in the Arab country. To that end, an agreement was made in the Russian town of Sochi last year for the formation of a UN-backed Constitutional Committee composed of 50 members from the incumbent Damascus government, 50 opposition members, and another 50 independent figures chosen by the world body.
Full report at:
https://www.presstv.com/Detail/2019/07/10/600630/UN-cites-progress-talks-Damascus
--------
Senator calls for 'comprehensive review' of US-Saudi relationship
Jul 11, 2019
Washington, DC - Citing the war in Yemen, the murder of Saudi journalist Jamal Khashoggi and other human rights abuses, a leading Republican senator has introduced legislation calling for a "comprehensive review" of the US relationship with Saudi Arabia. The bill also seeks to criticise Saudi Crown Prince Mohammed bin Salman (MBS) and impose travel restrictions on Saudi royals until the kingdom improves its human rights record.
Senator Jim Risch, chairman of the Senate Foreign Relations Committee, introduced the bill at Senate hearing on President Donald Trump's "emergency" designation allowing $8bn in precision-guided weapons sales and high-technology transfers to Saudi Arabia and the United Arab Emirates (UAE).
The bill is the latest in a series of attempts to hold Saudi Arabia accountable for the mounting death toll in Yemen, as well as the murder of Khashoggi who was killed last October in a Saudi consulate in Turkey.
Risch has been working for months with his Republican and Democratic colleagues in the Senate and White House officials to put together legislation that Trump may accept. Trump vetoed a bipartisan measure passed by Congress to end the US military's role earlier this year.
The US president has also threatened to veto a measure passed by the Senate that expresses disapproval of his administration's move to bypass Congress to complete the $8bn in weapons sales. The House is expected to vote on that measure next week.
"I am really hoping that all of us can come together and pass a piece of legislation" that provides "a bipartisan method for re-evaluating our relationship", Risch said at a Foreign Relations Committee hearing on Wednesday.
"It has headed south on us since about 2015 and unfortunately it comes at a time when Iran presents an increasing challenge to us," Risch said.
'Reckless manner'
Risch's bill, which does not mention the weapons sales, is cosponsored by Senator Lindsey Graham, a close ally of Trump who has been critical of MBS, and Senator Jeanne Shaheen, a Democrat, among others. The Foreign Relations Committee will vote on the bill later this month.
The bill said that MBS's "actions have had the potential to significantly harm the United States historic relationship with Saudi Arabia".
Prince Mohammed "has frequently behaved in a reckless manner", the proposed legislation added.
According to reports, US intelligence agencies have concluded that MBS ordered the 2018 murder of Khashoggi - a conclusion Saudi Arabia denies. Since the murder, there has been increased pressure by members of Congress on Trump to hold MBS accountable.
Risch's bill would authorise the president to suspend US visas of citizens of Saudi Arabia, including specifically government employees and descendants of King Abdul Aziz Ibn Saud, the late founder of modern-day Saudi Arabia. The bill, however, allows for exceptions for diplomatic personnel and heads of state.
'Disdain for Congress'
In defending the Trump administration's recent "emergency" designation, R Clarke Cooper, assistant secretary of state for political and military affairs, said the US believed Iran was prepared to make an attack on US forces or allies in the region.
Cooper came under sharp criticism from Republicans and Democrats during Wednesday's hearing.
"Since you began your tenure your department has shown only disdain for Congress," Democratic Senator Bob Menendez said.
"The secretary of state's message is clear: 'Congress can review arms sales, just don't take too long, or ask tough questions. Otherwise, I will ignore the law and cut you out of the process'," Menendez added.
Menendez has introduced separate legislation that would impose financial sanctions on Saudi individuals involved in Khashoggi's murder and requiring a report from the State Department on Saudi Arabia's abuse of human rights of journalists, bloggers and women's rights advocates.
Senator Ted Cruz, a Republican, described Saudi Arabia as a "problematic partner" which has too often embraced enemies of the US.
"The process the administration followed on these arms sales was crap," Cruz told Cooper.
Full report at:
https://www.aljazeera.com/news/2019/07/senator-bill-seeks-push-saudis-rights-abuses-190710141658340.html
--------
Media watchdog visits Saudi Arabia to free journalists
Jul 11, 2019
Reporters Without Borders visited Saudi Arabia to seek freedom for at least 30 jailed journalists amid sustained criticism of Riyadh following the murder of journalist Jamal Khashoggi.
The Paris-based rights group, known by its French acronym RSF, said its secretary-general led a four-member delegation to the Gulf kingdom from April 21 to 23, in what it described on Wednesday as an "unprecedented" mission.
The RSF team met the Saudi foreign, justice and media ministers as well as the public prosecutor during the three-day visit to engage directly with the government on the need for urgent press-freedom reforms.
RSF said it kept the trip "confidential" as it hoped Riyadh would pardon the 30 journalists and citizen reporters during the month of Ramadan, which started in May.
The idea was discussed with officials but "the Saudi government did not act", it added.
The kingdom has come under heightened international criticism over its human rights record after Khashoggi was killed and dismembered by Saudi operatives inside its Istanbul consulate last October.
'A real low point'
The CIA and some Western countries allege the killing was ordered by Crown Prince Mohammed bin Salman, which Saudi officials deny.
A UN special rapporteur investigating the murder said the powerful prince and other senior officials should be investigated given credible evidence against them.
"The murder of Jamal Khashoggi caused extensive damage to Saudi Arabia's international image, marking a real low point for a country that has one of the world's worst press freedom records," RSF Secretary-General Christophe Deloire said in a statement.
"A signal of strong political will from the Saudi government is now needed for this damage to begin to be repaired," she added.
Human rights lawyer Amal Clooney accused world leaders on Wednesday of failing to protect journalists and faulted their "collective shrug" over Khashoggi's assassination.
Clooney, the British government's envoy on media freedom, said at a conference on press freedom that "journalists are under attack like never before", not just while covering wars but for exposing crime and corruption.
"The vast majority of these murders go unpunished," she said, adding "world leaders responded with little more than a collective shrug" to Khashoggi's killing.
G20 summit chairmanship
Among the 30 that RSF wants to be released is Saudi blogger Raif Badawi who was sentenced to 10 years in prison in 2012 for insulting Islam and has received 50 of 1,000 lashes to which he was sentenced.
Saleh al-Shehi, a columnist for Arabic-language daily al-Watan, was sentenced last year for accusing the royal court of corruption.
The detention and trial of about a dozen women's rights activists - including journalist Hatoon al-Fassi and bloggers Eman al-Nafjan and Nouf Abdulaziz - on charges that include contacts with foreign media, have sparked outrage.
Foreign journalists, Yemeni Marwan Al-Muraisy and Jordanian Abdelrahman Farhaneh, who were victims of enforced disappearances, are also in jail in Saudi Arabia.
RSF said releasing the journalists was necessary for Riyadh to maintain its chairmanship of the G20 summit, which it is set to hold next year.
The prospect of Prince Mohammed, viewed by many as Saudi Arabia's de-facto leader, greeting leaders of 19 of the world's biggest economies as well as the European Union at the next G20 summit in the kingdom has already raised eyebrows.
The communique issued at the end of the G20 summit in Japan last month confirmed that Saudi would host the next summit in 2020. So far no G20 member has announced a boycott.
The assassination of Khashoggi last year further darkened Saudi Arabia's already bleak press freedom credentials.
Full report at:
https://www.aljazeera.com/news/2019/07/media-watchdog-visits-saudi-arabia-free-journalists-190710140441330.html
--------
Africa
Malawi: Muslim Community Urged to Promote Peace and Unity
10 JULY 2019
By Synd Kalimbuka
Deputy Minister of Gender, Disability and Social Welfare, Grace Kwelepeta, has hailed the Muslim Community in the country for maintaining and promoting peace in the country.
Kwelepeta (L) presents certificates to Muslims
Kwelepeta praised the Islamic faithful on Sunday when she presented certificates to 20 women on Muslim studies during the closing of madrasa at Paulosi Village in Traditional Authority Malemia in Zomba which was organized by Bayani Islamic Organization.
"Muslims are commended for maintaining and promoting peace which reflects positively on the religion," she said.
Kwelepeta encouraged the Muslim women to be proactive and not look down upon themselves.
"This program is significant as it empowers women to conduct themselves in a Muslim way on culture and beliefs, hence promoting self-reliance," she said.
The deputy minister who is also Member of Parliament (MP) for Zomba Malosa Constituency, promised to support the adult literacy school with resources from her ministry.
Kwelepeta also donated 40 robes to women from various madrasas in Zomba and Machinga.
Acting District Commissioner for Zomba, Dr. Raphael Piringu said the council was impressed with the initiative the Muslim Society was implementing.
Piringu further said there was need to pump more resources on women education, especially adults, as Muslims are peaceful and promote cleanliness.
Presidential Advisor on Islamic matters, Sheik Imran Mtenje said the skills gained from the training would enhance education and knowledge of the Islamic community in Malawi.
"Government is committed to promoting different religions in this country as the institutions are partners in development," Mtenje said.
He also commended President Arthur Peter Mutharika for promoting freedom of worship and also allowing Muslim learners to put on Hijab during lessons, making sure that they are accessing education without any hindrance.
Mtenje then encouraged every Malawian to attend primary, secondary and tertiary education in order to be knowledgeable and for Malawi to develop.
He further urged Muslims to continue promoting peace and unity to make Malawi a better nation to live in.
He said the Islamic Religion will not allow some Malawians to disturb peace and unity the country has been enjoying
https://allafrica.com/stories/201907100707.html
--------
Tunisia's Upcoming Elections Vulnerable to Terror Threats, Experts Warn
By Rikar Hussein
July 9, 2019
As an estimated 6.7 million Tunisian voters prepare to head to the polls to elect their next government later this year, a growing fear of terrorist attacks could risk undermining the democratic process in the North African country, some analysts warn.
Two suicide attackers blew themselves up in two separate bombings against police in the capital Tunis on June 27, leaving at least one police officer dead and injuring eight people. A third bombing occurred on July 2 after a militant surrounded by police blew himself up.
Islamic State militant group claimed responsibility for all three attacks.
The incidents occurred during the peak of the country's tourism season and as the country prepares to hold parliamentary elections in October and presidential elections in November.
The elections are critical for Tunisians in consolidating their democratic process, which began after the ousting of President Zine El Abidine Ben Ali during the Arab Spring protests in 2011, said Sarah Yerkes, an expert on Tunisia at the Carnegie Endowment for International Peace (CEIP) in Washington. As such, the country is going through "a dangerous time" because jihadist organizations that flourish in chaos will likely increase their activities to spread fear among voters.
"I think we are going to see more of these attacks in the months leading up toward the elections," Yerkes said, speaking Tuesday at the "Tunisia at a Crossroads" panel discussion at CEIP.
Unlike its southern neighbor, Libya, where terrorism and armed conflict has plagued the country, Tunisia has taken strides to maintain a relative security, Yerkes said, adding, "Tunisia has done a tremendous job, largely because of the U.S. assistance and the European assistance, at shoring up its security services, security sector reform, and border control."
However, jihadists remain active and pose a serious threat to the Arab country's stability, she said.
Yerkes charged that increased terror attacks could also risk subverting the democratic process by giving authorities a justification to keep the country in a state of emergency.
"The fear is whether these attacks will be a pretense to have a harsher security measure. You can picture that you want to protect the elections and you want people to go out to vote. But if you have heavily armed election stations and if you have soldiers out at polls, that could hamper the democratic process by scaring people away."
Tunisia has been in a state of emergency since mid-2015, when an IS-inspired attack killed 38 people at the Sousse tourist resort in northern Tunisia.
President Beji Caid Essebsi, after leaving hospital Friday, extended the state of emergency for another month in response to the recent bombings in Tunis.
Citing security concerns, Prime Minister Youssef Chahed signed a government order Friday that prohibits wearing a full-face veil — known as niqab — in public places.
Libya and Algeria
Emir Sfaxi, a public policy consultant on Tunisia, said Tunisian officials are concerned a militant threat could be imported from its south and western borders, as Islamists use escalation of Libya's conflict and the Algerian political crisis to gain influence.
"Libya and Tunisia have open borders in a way that you can just cross with an SUV between Tunisia and Libya. Libya has been an open battlefield with guns all over," Sfaxi said, adding that inability to control Tunisia-Libya borders allowed hundreds of radicalized Tunisians to travel to join jihadi groups such as IS in Iraq and Syria.
"I think that foreign powers in general need to keep supporting the Tunisian effort to control its borders as a regional security measure because if Tunisia fails, as the southern border of Europe, it is going to become a mess in the region," Sfaxi said.
Thousands of fighters
A study by Tunisian Center for Research and Studies on Terrorism has found that about 69% of Tunisia's jihadists had first traveled to Libya for military training. It concluded that the uncontrolled border has allowed the free flow of weapons and fighters between the two neighbors.
According to the United Nations, about 5,500 Tunisian citizens have traveled in recent years to Libya, Iraq and Syria to join the Islamic State and al-Qaida. Human Rights Watch, however, estimates the number could be higher, with nearly 6,500 having traveled to Syria and Iraq and about 1,500 to Libya.
With the IS territory in Iraq, Syria, and Libya retaken, many of those Tunisian jihadists who did not die in the battlefield escaped or were captured by U.S.-backed Syrian Democratic Forces and the Iraqi government.
Mokhtar Ben Nasr, the head of the government's National Counterterrorism Commission, last February warned that about 1,000 of the jihadists had returned home between 2011 and 2018. Of the returnees, he said, some were arrested but a larger number re-entered the country covertly.
De-radicalization
Oumayma Ben Abdallah, a human rights researcher and Tunisia analyst, said the Tunisian government should step up its de-radicalization efforts as more fighters return home and risk spreading the jihadi ideology.
"My recommendation at this stage is to focus more on rehabilitation programs," Ben Abdallah said, warning that children and frustrated young people could easily fall prey to those who have returned from combat zones.
Full report at:
https://www.voanews.com/extremism-watch/tunisias-upcoming-elections-vulnerable-terror-threats-experts-warn
--------
U.S. Missiles Found in Libyan Rebel Camp Were First Sold to France
By Eric Schmitt and Declan Walsh
July 9, 2019
WASHINGTON — A cache of powerful American missiles was sold to France before ending up in the hands of rebel fighters loyal to Gen. Khalifa Hifter, who is seeking to overthrow the United Nations-backed government in Tripoli.
The four Javelin anti-tank missiles, which cost more than $170,000 each and are usually sold only to close American allies, were recovered last month by Libyan government forces during a raid on a rebel camp in Gheryan, a town in the mountains south of Tripoli.
A French military adviser denied on Tuesday that the weapons were transferred to General Hifter, which would violate the sales agreement with the United States as well as a United Nations arms embargo. It would also put Washington at odds over Libya policy with France, a staunch NATO partner and ally in other hot spots like West Africa.
Over the past several days, the State Department investigated the origins of the missiles, using their serial numbers and other information, and concluded that they had originally been sold to France, which has been a strong supporter of General Hifter. France agreed to buy up to 260 Javelins from the United States in 2010, according to the Pentagon's Defense Security Cooperation Agency.
Two United States officials said the State Department briefed House and Senate foreign relations panels on Monday about its conclusion that the missiles were sold to France. The two officials spoke on condition of anonymity to discuss the classified briefing. Spokesmen for the congressional committees and the State Department declined to comment.
On Tuesday, an adviser to the French armed forces minister confirmed that the Javelin missiles found in Gheryan belonged to French forces but said they were damaged and no longer usable. Responding to questions from The New York Times, he said the missiles were being temporarily stored in a warehouse awaiting destruction and were not transferred to local forces.
The French adviser, who under his government's policy was not authorized to be identified by name to discuss the issue, said the weapons were among those that were bought from the United States in 2010, and were intended to protect French troops deployed in Libya for intelligence and counterterrorism operations.
He said they did not violate arms embargoes in Libya, calling it out of the question that the missiles would be sold or otherwise transferred to "anybody" in Libya.
But that account left many questions unanswered about how the weapons ended up in a rebel compound near the front lines of a battle that the United Nations said on Tuesday has led to over 1,000 deaths since April, including 106 civilians.
French special forces troops deployed to Libya, including three killed in 2016, have largely been based in the east of the country, far from Tripoli where the fighting has been concentrated.
The issue could come up on Wednesday when the Senate Foreign Relations Committee hears testimony from R. Clarke Cooper, the assistant secretary of state in the bureau of political-military affairs. Mr. Cooper is scheduled to testify about the Trump administration's use of an emergency declaration to push through arms sales to Saudi Arabia and the United Arab Emirates, a plan he defended last month to a House committee.
General Hifter relied on military assistance from the United Arab Emirates, France and Egypt in his fight to capture the eastern city of Benghazi, his current headquarters.
The Javelin missiles were discovered after forces loyal to the United Nations-backed national unity government carried out a successful surprise attack on June 26 on Gheryan, a mountain redoubt 40 miles south of Tripoli. Gheryan was the headquarters for General Hifter's military campaign to seize control of Tripoli.
After capturing Gheryan, pro-government fighters uncovered Chinese-made attack drones and the stack of four American-made Javelin missiles at an abandoned base. Known in the military as "fire and forget" weapons, the Javelins are guided by infrared technology and are capable of destroying all currently fielded main battle tanks.
Markings on the missiles' shipping containers at first appeared to indicate that they were originally sold to the United Arab Emirates, an important American partner, in 2008. Other crates at the captured base, containing 155 mm artillery shells, had markings of the Emirati military, but the Emirati government, one of General Hifter's most committed foreign backers, strongly denied providing the general's forces with the missiles.
The discovery of the Javelin missiles confirmed longstanding fears that foreign sponsorship on all sides of Libya's conflict is amplifying the fighting.
General Hifter, the aspiring strongman based in eastern Libya whose forces were storing the Javelins, relied on military assistance from the United Arab Emirates, France and Egypt in his fight to capture the eastern city of Benghazi, his current headquarters.
During the grinding battle for control of Benghazi between 2014 and 2017, the Emiratis supplied attack helicopters, warplanes and drones to General Hifter's air force. Egypt carried out airstrikes against the eastern city of Derna in support of his forces.
Then in July 2016, the then-president of France, François Hollande, said that three members of the French Special Forces had been killed in a helicopter crash in Libya during "dangerous intelligence operations." Days earlier, an Islamist militia fighting against General Hifter said it had shot down a helicopter 45 miles south of Benghazi.
A year later, France told a panel of United Nations investigators that its military activities in Libya conformed to international law.
Critics, though, said it was another example of how the United Nations arms embargo, in place since 2011, has been widely flouted by Middle Eastern and European powers seeking to influence the outcome of the war.
United Nations inspectors have documented numerous breaches of the embargo by the United Arab Emirates, which has stationed warplanes on an air base that it runs in eastern Libya, in territory controlled by General Hifter. More recently, experts say, the Emirates has stepped up its military assistance to General Hifter as he presses his assault on Tripoli, including armed Chinese drones and a Russian-made surface-to-air missile system.
On the other side of the war, Qatar and Turkey have funded Islamist factions in Libya since 2011. American officials say the Qataris have scaled back their involvement in recent years, but Turkey has ramped up its engagement.
As the fight for Tripoli intensified, the Turks sent armed drones and armored vehicles to the forces of the Government of National Unity, which is backed by the United Nations and was defending the capital against attack by General Hifter.
Correction: July 10, 2019
An earlier version of this article misstated the timing of a United Nations statement regarding the death toll from conflict in Libya. The statement was made on Tuesday, not Thursday.
Full report at:
https://www.nytimes.com/2019/07/09/world/middleeast/us-missiles-libya-france.html
--------
Paris says its missiles found on pro-Haftar rebel base in Libya
Jul 10, 2019
PARIS: The French government said Wednesday that its missiles had been found in Libya on a base used by rebel forces loyal to Khalifa Haftar, in an embarrassing admission that raises fresh questions about its role in the conflict.
Confirming a report in the New York Times, the defence ministry said in a statement that US-made Javelin missiles discovered in a camp south of Tripoli at the end of June had been purchased by France.
But it denied supplying them to rebel commander Haftar and breaching a UN arms embargo, saying French forces operating in the war-torn country had lost track of them after they were judged to be defective.
"Damaged and out-of-use, these weapons were being temporarily stocked in a warehouse ahead of their destruction," the statement said. "They were not transferred to local forces."
The anti-tank missiles, worth 170,000 dollars (150,000 euros) each, were seized when forces loyal to the UN-recognised government in Tripoli overran the rebel base in Gharyan, 100 kilometres (60 miles) south of Tripoli.
Three of them, as well Chinese-made shells bearing the markings of the the United Arab Emirates (UAE), were shown off to journalists including AFP reporters on June 29.
The statement from the French ministry did not explain how the missiles had been lost and will likely increase suspicions that Paris is backing Haftar on the ground, while also giving him diplomatic support internationally.
France has publicly called for the UN arms embargo to be enforced, while an EU naval mission off the Libyan coast called Operation Sophia is trying to stop the flow of foreign weapons into the conflict.
French special forces and members of its DGSE intelligence service are known to be operating in Libya, which descended into chaos after a 2011 uprising and NATO-backed military campaign against late dictator Moamer Kadhafi.
"These weapons were for the protection of forces undertaking intelligence and counter-terror missions," the French statement added.
The Libyan conflict has drawn in a range of regional and international actors who are all competing for influence.
Analysts say Haftar has been backed by Saudi Arabia, the UAE, Egypt, Russia and France during offensives against Islamist militias that have brought most of the country under his control.
But he has been branded a warlord and dictator-in-the-making by his opponents and on April 4 he launched an offensive on Tripoli seeking to overthrow the government of Prime Minister Fayez al-Sarraj.
The fighting has claimed at least 1,000 lives and displaced tens of thousands of people.
The UN-recognised government in Tripoli headed by Sarraj controls a much smaller amount of territory in the east and draws support from Turkey, Qatar and Italy, analysts say.
In May, it posted pictures showing the arrival of Turkish BMC Kirpi armoured vehicles at Tripoli port.
France's role in the conflict under President Emmanuel Macron has caused tensions.
Macron threw himself into diplomatic efforts to resolve the conflict after his elections in May 2017, seeing the instability across the Mediterranean as a major security worry and a source of migration to Europe.
He invited Haftar along with Sarraj to a peace conference in Paris in 2017 which was seen as giving the rebel commander international legitimacy for the first time.
The move also ruffled feathers in Italy, the former colonial power in Libya which had led European policy in the country until then.
When Haftar launched his offensive on Tripoli in April, France was accused by Sarraj of being complicit in the violence which was condemned by the international community.
Full report at:
https://timesofindia.indiatimes.com/world/europe/paris-says-its-missiles-found-on-pro-haftar-rebel-base-in-libya/articleshow/70158272.cms
--------
Tunisia rescues 71 Italy-bound migrants in the Mediterranean
10 July 2019
Tunisian authorities rescued 71 migrants as their boat began to sink after setting out from neighboring Libya for Italy, the National Guard said Tuesday.
Monday night's rescue operation came just days after a boat taking the same route across the Mediterranean capsized with more than 80 people on board.
Tunisian National Guard spokesman Houcem Eddine Jebali said the boat had set off from the Libyan town of Zuwara, west of Tripoli, and started to leak as it approached Tunisia's Kerkennah Islands.
Rescuers brought to shore all 71 passengers, including 37 citizens from Bangladesh, eight Moroccans, eight Egyptians, seven Algerian, four Sudanese, two Chadians, and a Tunisian, Jebali told AFP.
All of them are safe and sound, he added.
Dozens of migrants who have tried to reach Italy from Libya have been rescued in recent weeks off Tunisia's shores.
But many others have drowned or have been reported missing, including the passengers of the ill-fated boat that took off from Zuwara last week.
The boat tipped over only hours after setting out to sea.
Tunisian authorities have so far retrieved 16 bodies from that tragedy, including those of a pregnant woman and a toddler.
A Malian survivor told the UN's migration agency that 86 people had been on board the dinghy, which capsized.
"People were terrified as water started pouring in, some of them fell into the water. They stayed down there," survivor Soleiman Coulibaly told AFP.
Full report at:
https://english.alarabiya.net/en/News/north-africa/2019/07/10/Tunisia-rescues-71-Italy-bound-migrants-in-the-Mediterranean-.html
--------
Nigeria police kill two Zakzaky supporters: Islamic group
Jul 10, 2019
Police in Nigeria have killed two supporters of jailed Muslim cleric Sheikh Ibrahim al-Zakzaky, who were demanding his release in the capital, Abuja, according to the Islamic Movement in Nigeria (IMN), an organization that he heads.
The two, who were members of the IMN, were shot and killed outside the National Assembly on Tuesday.
Clashes erupted there as protesters gathered outside the parliament and then sought to enter to register a demand for the cleric's release.
"The security... took our report to go and give the legislators but perhaps they refused to inform the legislators, or the legislators refused to respond. So, we decided to enter and submit it ourselves," said one protester. "But they stopped us and started spraying tear gas and shooting live bullets sporadically. I saw more than three people collapsing."
Police also arrested 40 people during the rally.
In a statement, police claimed two officers had been shot and wounded in the legs, and six other officers had been injured. They said they had "used minimum force to disperse the unruly protesters."
According to human rights groups, Nigerian forces have killed at least 400 members of the IMN over the past four years.
The group regularly organizes protests outside the assembly to demand the release of its leader, whose life is reportedly in danger due to health issues.
Sheikh Zakzaky, who is in his mid-sixties, lost his left eyesight in a 2015 raid by security forces that left more than 300 of his followers and three of his sons dead. His wife also sustained serious wounds.
The Islamic Human Rights Commission (IHRC), based in London, said earlier this week that the cleric's health condition has further deteriorated, since he was reportedly poisoned in prison.
The cleric's son, Mohammad, told Press TV on Saturday that his father was in dire need of medical treatment, as "large and dangerous quantities of lead and cadmium have been found in his blood." He said that the authorities intended to murder his father since they refuse to take any measures.
Full report at:
https://www.presstv.com/Detail/2019/07/10/600583/Nigeria-Zakzaky-police-kill-supporters
--------
Somalia executes 3 Al-Shabab members over 2017 hotel attack
July 10, 2019
MOGADISHU: Somalia executed three men on Wednesday convicted of participating in the bombing of a Mogadishu hotel that killed 18 people in 2017 as members of the insurgent group Al-Shabab, the state-run news agency said.
"They were accused of being Al-Shabab members. They were also among the attackers in the bombing of the Nasahablod Two Hotel, in which 18 people died and 47 others were injured," Somalia's state news agency said on its website.
They were executed by gunshot.
Al Shabab, an Islamist militant group which is trying to topple Somalia's central government, was ejected from Mogadishu in 2011 and has since been driven from most of its other strongholds.
Full report at:
http://www.arabnews.com/node/1523726/world
--------
URL: https://www.newageislam.com/islamic-world-news/ayman-al-zawahiri-al-qaeda/d/119156
New Age Islam, Islam Online, Islamic Website, African Muslim News, Arab World News, South Asia News, Indian Muslim News, World Muslim News, Women in Islam, Islamic Feminism, Arab Women, Women In Arab, Islamophobia in America, Muslim Women in West, Islam Women and Feminism