New Age Islam News Bureau
4 Oct 2014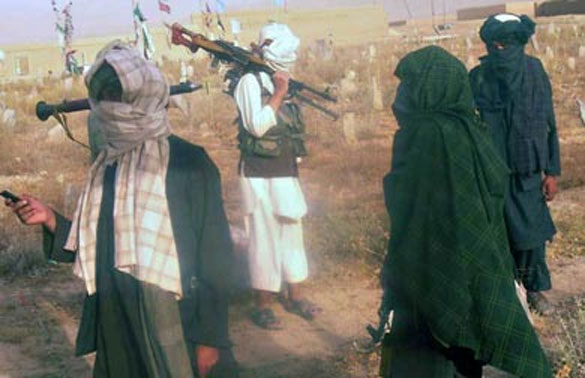 The image shows Afghan Taliban fighters. — File photo
-----------
Europe
• Austria's New Law on Islam to 'Standardise' Quran
• Muslims Say Beheadings Are an Insult to Islam
• Sweden to recognize state of Palestine
• Horror in Britain over IS hostage beheading
• Mosques open doors to non-Muslims in Germany for encouraging cultural exchange
• British PM Cameron says he will use 'all assets' against Islamic State
• Child soldiers, mass executions, and jihadi slave markets where women are sold for sex for $10: UN report confirms ISIS's atrocities across Iraq
• Rights groups condemn Myanmar's Rohingya plan
India
• India`s Southern States Ignoring Jihad: RSS Chief
• World Needs Android, Hindutva: RSS Mouthpiece
• Muslim Clerics in Tonk, Rajasthan, Become Voice of Change
• Dalits throng Nagpur on Dhammachakra Pravartan Din
• PM Modi Gives Obama Rare Rogan Paintings Made By Gujarat-Based Muslim Family
• Seeking the Pleasure of Allah, Indian Volunteers Help the Weak and Elderly Perform Haj
Arab World
• Us-Led Strikes on Syria Kill 35 Jihadists Overnight: Monitor
• In Rare Alliance, Shi'ites Join Sunnis to Defend Iraqi Towns
• Allies Hit Islamic State near Syrian Kurdish Town as Briton Slain
• Nine killed in attacks targeting Iraq's military
• Official says ISIS downs Iraqi chopper
• As Kurds regain ground in Iraq, new challenges emerge
• Defeat forces sowing chaos — Saudi Grand Mufti
• Despite losing everything, Syrian pilgrim's heart pleads for homeland
• Sufi cleric abducted in Sinai by suspected militants: Military source
• In Lebanon, Syria refugees face growing discrimination
Mideast
• Erdoğan: Turkey cannot simply watch the mass slaughter
• 138 UNRWA Students Killed in Israel's Gaza War
• Turkey warns will hit back if ISIS attacks Syria exclave
• Iran: Ayatollah Boroujerdi Being Prepared for Execution
• Palestinians hail Swedish move on statehood as 'courageous'
South Asia
• We Stand With You: A Statement of Solidarity with Hong Kong Protesters from a Tibetan, Uyghur, Southern Mongolian and Chinese
• Errant Afghan Taliban tweet shows spokesman's location as Pakistan
• Bangladesh Islamist parties to stage demos against Latif today
North America
• Muslims from Cuba performing Haj for first time
• Canada, Netherlands set to join ISIS strikes
• South Florida Muslim leaders, federal authorities meet to discuss terrorism
• US Vice President Biden says Turkish President Erdoğan admitted ISIL mistake
• US welcomes Turkish anti-ISIL motion, contrasts reactions in Syria, Iran
Pakistan
• Conspiracy to derail democracy will fail: PM
• Afghan Taliban pamphlets distributed in parts of KP reject pact with US
• Explosion in passenger van kills six in Kohat
• Annoyed PPP workers demand dissolution of KP organisation
• Peace committee member gunned down in Swat
• 'Enemy' can take advantage of political infighting: Zardari
• Qadri tells supporters from Lahore, Faisalabad and Karachi to go back
Southeast Asia
• Isis has tarnished Islam's image, says Anwar
• For Bumiputera Christians, 'Allah' ban akin to cultural 'genocide', says archbishop
• Immigration discovers 155 Uyghurs crammed into 2 KL apartments
Africa
• Nine UN troops killed in worst-ever attack in Mali
• Boko Haram video apparently shows beheading of Nigeria pilot
• Tunisia begins landmark election race
• Algeria says five militants killed in border clashes with army
Compiled by New Age Islam News Bureau
URL: https://www.newageislam.com/islamic-world-news/new-age-islam-news-bureau/austria's-new-law-on-islam-to--standardise--quran/d/99386
-----------
Europe
Austria's New Law on Islam to 'Standardise' Quran
World Bulletin/News Desk
04 Oct, 2014
Austria called for standardised German-language translations of the Quran and moved to prohibit foreign funding of Muslim organisations on its soil in a draft law aimed in part at tackling extremism.
The bill will overhaul a 1912 law governing the status of Austrian Muslims, prompting concern from a major local Islamic body, which saw it mirroring widespread mistrust of Muslims.
The initiative comes at a time of robust support for the far-right in Austria and also alarm over reports of Muslims from the small, neutral country joining rebel forces fighting in the Middle East.
"The clear message should be that there is no contradiction between being a faithful Muslim and a proud Austrian," said Foreign Affairs and Integration Minister Sebastian Kurz, a member of the conservative People's Party.
"If you don't have orderly legal regulation ... this can always bring dangers. In this sense, if you like this is maybe a part of prevention," he told reporters.
He added that Sharia, or Islamic law, had "no place here".
Roughly half a million Muslims live in Austria, representing about 6 percent of the total population, which is overwhelmingly Roman Catholic.
The Christian and Muslim communities have co-existed for years and relations have been relatively unproblematic by comparison with friction seen in other European nations.
For example, unlike France, Austria has not moved to ban Muslim women from wearing full-face veils in public.
However, tensions have grown with the rise of the anti-immigration and anti-Islam Freedom Party, which is backed by roughly a quarter of Austrians according to opinion polls.
"NOT A GIFT"
Under the terms of the draft bill, state-recognised religious organisations will have to offer a unified German-language version of their doctrine and sources of faith, including for the Muslim holy book, the Quran.
At present, there are only two officially recognised Islamic organisations in Austria.
The legislation would also forbid Islamic teachers employed by any foreign states from working in Austria and stop outside funding for any Islamic organisations.
All "living subsidies" will be covered by the rule, including the money given to imams. Currently there are around 300 imams in Austria, and 65 of them are employed by Turkey. The new law would mean they could no longer work in Austria.
"Among the Muslim base, the law is not seen as a gift for the Eid holiday," said Carla Amina Baghajati, spokeswoman of the Islamic Community of Faith in Austria (IGGIO), referring to Eid-al-Adha which Muslims will celebrate in the coming days.
"(The bill) mirrors in its overtone the spirit of the times we currently perceive which is marked by blanket suspicion and mistrust against Muslims," she said, adding that she was optimistic the legislation might still be amended.
Specifically, the IGGIO was worried about the law appearing to bundle together various Sunni, Shi'ite and Alawite sects and also about the ramifications of trying to agree on a unified German-language version of the Quran.
The Arabic version of the Quran is generally thought of as the word of Allah in Islam, with any translation including an element of interpretation.
"If a version of the Quran (in German) comes along as the codified, ultimate (version), then this would contradict the self-conception of Islam," Baghajati said.
Foreign minister Kurz told Austrian radio last month that numerous translations of the Quran had generated countless interpretations and said it was in the interests of local Muslims to eliminate possible misunderstandings.
Last month, Austria said it would ban militant groups' symbols and strip citizenship from people who travel abroad to fight with rebels.
On Thursday Kurz dismissed suggestions that a unified translation would pose a problem.
"Am I sceptical when I hear this is difficult or not easily done? Fundamentally no," said Kurz, adding that it had previously been possible to create unified teaching material for Islamic religious studies at schools across Austria.
http://www.worldbulletin.net/world/145618/austrias-new-law-on-islam-to-standardise-Quran
---------
Muslims Say Beheadings Are an Insult to Islam
04 Oct, 2014
Muslims have condemned the murder of aid worker Alan Henning, branding it a "cowardly and criminal act".
In a strongly worded statement, the Muslims of the North of England said Mr Henning had been a "local and national hero" and called for justice to be carried out on his killers.
Muslim leaders said the beheading of Mr Henning had been carried out on the eve of the "great day of mercy" (Eid Al-Adha) in the Islamic calendar, which set the terrorists apart from ordinary Muslims.
And they condemned the way in which the jihadists had toyed with the family's emotions.
"The killing of Alan Henning was a cowardly and criminal act of appalling brutality by a group who do not represent Islam at all and in fact are an insult to the Islamic faith," they said in a statement.
"The killing of Alan Henning marks the beginning of the end of this group. We now call for justice to be carried out on the killers of Alan Henning."
Speaking to Sky News, Naved Siddiqi of the Islamic Society of Britain said there were "very clear distinctions" between the jihadists and ordinary Muslims.
He said that what had sickened people most was the "way in which they were toying with the family. Giving them a glimmer of hope".
Mr Siddiqi said Muslim leaders were still trying to understand why young Muslims were travelling out to Syria and Iraq to join Islamic State fighters.
He said he thought a great number were expecting to find "some sort of utopia" and only by questioning them on their return could the Muslim community understand why those born and brought up in Britain were seeking to join the terrorists.
Dr Shuja Shafi, Secretary General of the Muslim Council of Britain, said: "This reported murder is a despicable and offensive act, coming as it does on the eve of the Muslim festival of Eid Al-Adha.
"It is quite clear that the murderers of Alan Henning have no regard for Islam, or for the Muslims around the world who pleaded for his life.
"Alan was a friend of Muslims, and he will be mourned by Muslims.
"In this period of Hajj and this festival of Eid, Muslims remember the mercy of God and the emphasis God places on human life.
"Alan Henning's murderers have clearly gone against that spirit of Islam. Our thoughts and prayers go out to his family."
Sara Khan of Inspire, an anti-extremist campaign group of British Muslim women, said: "The only thing that the killing of Alan has achieved is greater revulsion for ISIS and the fact that more people from across our world, within our communities, Muslims and non-Muslims alike, are united in their stance against their barbarity and inhumanity."
https://uk.news.yahoo.com/muslims-beheadings-insult-islam-094943757.html#cbhT4yc
---------
Sweden to recognize state of Palestine
04 Oct, 2014
Sweden's new centre-left government will recognise the state of Palestine in a move that will make it the first major European country to take the step, Prime Minister Stefan Lofven said on Oct. 3.
The U.N. General Assembly approved the de facto recognition of the sovereign state of Palestine in 2012 but the European Union and most EU countries, have yet to give official recognition.
"The conflict between Israel and Palestine can only be solved with a two-state solution, negotiated in accordance with international law," Lofven said during his inaugural address in parliament.
"A two-state solution requires mutual recognition and a will to peaceful co-existence. Sweden will therefore recognise the state of Palestine."
For the Palestinians, Sweden's move will be a welcome boost for its ambitions.
With its reputation as an honest broker in international affairs and with an influential voice in EU foreign policy, the decision may well make other countries sit up and pay attention at a time when the Palestinians are threatening unilateral moves towards statehood.
However, there is likely to be strong criticism of Sweden from Israel, as well as from the United States and the EU, which maintain that an independent Palestinian state should only emerge through a negotiated process.
Within the EU, some countries, such as Hungary, Poland and Slovakia recognise Palestine, but they did so before joining the 28-member bloc.
If the centre-left government fulfils its plans, Sweden would be the first country to recognise Palestine while being a member of the European Union.
The Social Democrats and Greens hold a minority of seats in parliament and the incoming centre-left government is likely to be one of Sweden's weakest for decades.
The former centre-right government would not recognise Palestine as the Palestinian authorities did not control their territory.
The Palestinians want an independent state in the West Bank and Gaza, with its capital in East Jerusalem. While Gaza's boundaries are clearly defined, the precise territory of what would constitute Palestine in the West Bank and East Jerusalem will only be determined via negotiations with Israel on a two-state solution, negotiations which are currently suspended.
http://www.hurriyetdailynews.com/sweden-to-recognize-state-of-palestine.aspx?pageID=238&nID=72511&NewsCatID=351
---------
Horror in Britain over IS hostage beheading
04 Oct, 2014
Britain reacted with horror on Saturday to the beheading of hostage Alan Henning, who many had dared to hope might be spared after a cross-community appeal for his release.
"The murder of Alan Henning is absolutely abhorrent, it is senseless, it is completely unforgivable," Prime Minister David Cameron said, in comments reflected across the political spectrum. The father of two was a "man of great peace, kindness and gentleness", he said, adding: "The fact they could murder him in the way they did shows what we are dealing with."
Cameron led tributes to the 47-year-old taxi driver who went to the region as a volunteer to deliver aid and whose death was announced by Islamic State jihadists in a video released late Friday.
Speaking after a meeting with intelligence, military and government officials on Saturday morning, Cameron vowed to "do everything we can to hunt down and find the people who are responsible for this".
Henning, from Manchester in northwest England, became the fourth Western hostage murdered by IS militants since August and the second Briton, after aid worker David Haines.
But many friends and family had hoped Henning's fate would be different after an appeal for his release led by Britain's Muslim community.
Imams and other influential figures had written an open letter saying that the "despicable threats to Mr Henning cannot be justified anywhere in the Quran". And Henning's wife Barbara claimed to have assurances that he had been cleared in a Sharia court of being a spy.
She issued a video appeal to his captors on Tuesday, saying he was a "peaceful, selfless man", and revealed that she had received an audio message from her husband.
The Muslim Council of Britain, the country's biggest Muslim umbrella organisation, said his murder was a "despicable and offensive act".
Majid Freeman, an aid worker from the central English town of Leicester who travelled to Syria with Henning, said that "it doesn't make sense to kill him". "We're all very loud and clear that he's a simple aid worker, he's not gone there for political reasons," he told BBC radio.
Friends said Henning was touched by the suffering of Syria's civilian population, and he joined a group of Muslim friends who founded the charity "Rochdale Aid4Syria".
He was seized in December while taking an aid convoy to the country, and reappeared in the video showing Haines' beheading on September 13, threatened with his life.
Peter Neumann, professor of security studies at King's College London, said the murder made clear that the IS organisation would not be swayed by outside opinion.
"There's been a massive campaign over the past two weeks by pretty much every facet of the Muslim community in this country to get him to be released, including by a lot of people who would normally be considered extremist," he said.
Henning's murder "clearly shows that they have no red lines", Neumann told BBC radio.
Cameron concurred that "no appeals made any difference", and vowed to use "all the assets we have" to track down those responsible, help other hostages and defeat the IS militants. But Freeman accused the British government of failing to work hard enough to secure Henning's release.
"The government have done nothing at all to help his case. If anything, they voted for air strikes which may have sealed his fate," the Leicester aid worker said.
British lawmakers voted last week to join US-led air strikes against IS jihadists in Iraq, and Royal Air Force (RAF) jets have conducted a number of strikes in recent days.
In the beheading video, Henning explained that he was being made to pay the price of the parliamentary vote.
One opposition Labour MP who did not take part in the vote said she now thought she perhaps should have. "The vile murderers of ISIL make me almost wish I voted to bomb in Iraq last week," Fiona Mactaggart said on Twitter. "I want to avenge the death of Alan Henning. I despise them."
http://english.ahram.org.eg/NewsContent/2/8/112351/World/Region/Horror-in-Britain-over-IS-hostage-beheading.aspx
----------
Mosques open doors to non-Muslims in Germany for encouraging cultural exchange
World Bulletin / News Desk
04 Oct, 2014
Muslims in Germany have opened the doors of their mosques to non-Muslims on Friday with the hope of eliminating prejudices against Muslims and encouraging cultural exchange.
"Unfortunately we are witnessing a growing fear of Islam and growing hostilities against Muslims in German society," Ender Cetin, the chairman of the Sehitlik Mosque Association in Berlin, told journalists during the "Open mosque day" event.
"Our German guests here are often asking us questions on violence and terrorism and whether they have any root in Islam. We are telling them the real values of Islam, informing them about our activities against extremism. We are trying to reduce prejudices against Muslims," Cetin said.
Recent reports of violent murders and atrocities committed by ISIL have sparked suspicion and a negative backlash towards Muslims across Germany.
Germany has approximately four million Muslims; around three million of them of Turkish origin. According to a recent representative public poll by Infratest-dimap, 42 percent of Germans now view Islam as "aggressive" and 38 percent as a "threat."
Germany's Muslim Coordination Council, a platform bringing together the four largest Muslim organizations in the country, expressed hope on Friday that with the "Open mosque day" they will be able to present to German society the various aspects of Muslim community life and answer questions on Islam.
Organizers said more than a hundred thousand visitors attended events at more than 700 mosques across Germany.
Stefan Streicher, a young German who visited a mosque for the first time told Anadolu Agency that he was impressed by the visit to Berlin's Sehitlik Mosque.
"That is a beautiful building. Taking off shoes before entering the mosque was not something common to me. Overall, I had a positive impression," he said.
Sabine Schwanz stressed that as a Christian, it was interesting to learn more about Islam.
"These kind of events help reduce prejudices," she stressed.
http://www.worldbulletin.net/news/145638/mosques-open-doors-to-non-muslims-in-germany
---------
British PM Cameron says he will use 'all assets' against Islamic State
04 Oct, 2014
British Prime Minister David Cameron said on Saturday he would use "all the assets we have" to try to find hostages being held by Islamic State.
Speaking in a broadcast message after the release on Friday of a video showing the decapitated body of British aid worker Alan Henning, Cameron said the whole country was mourning.
"In terms of what we will do, we will use all the assets we have ... to try and find these hostages, to try and help these hostages ... and do everything we can to defeat this organisation which is utterly ruthless, senseless and barbaric in the way it treats people."
http://english.ahram.org.eg/NewsContent/2/8/112349/World/Region/British-PM-Cameron-says-he-will-use-all-assets-aga.aspx
-----------
Child soldiers, mass executions, and jihadi slave markets where women are sold for sex for $10: UN report confirms ISIS's atrocities across Iraq
04 Oct, 2014
Islamic State militants have carried out mass executions, set up slave markets where women are sold for sex for $10 and used child soldiers in what may amount to systematic war crimes in Iraq that demand prosecution, the UN has reported.
It said ISIS fighters had committed gross human rights violations of an 'increasing sectarian nature' against groups including Christians, Yazidis and Shi'ite Muslims in a widening conflict that has forced 1.8 million Iraqis to flee their homes.
UN Investigators believe as many as 2,500 women and children have been captured, subjected to sex attacks and then sold for around $10 a head by extremist militants in Iraq.
However, the report also said Iraqi government air strikes on the Muslim militants had caused 'significant civilian deaths' by hitting villages, a school and hospitals in violation of international law.
Full report at:
http://www.dailymail.co.uk/news/article-2777834/Mass-executions-1-500-time-girls-abducted-sex-slaves-children-used-soldiers-UN-report-confirms-ISIS-s-atrocities-Iraq.html#ixzz3FAslebax
---------
Rights groups condemn Myanmar's Rohingya plan
04 Oct, 2014
YANGON — Human rights groups condemned on Friday a Myanmar government plan that could force thousands of minority Rohingya Muslims into detention camps indefinitely if they do not qualify for citizenship.
The US and some other embassies in Myanmar had raised their concern with the government about some aspects of the plan, a US official told Reuters.
Most of Myanmar's 1.1 million Rohingya Muslims live in apartheid-like conditions in Rakhine state on the west coast of the predominantly Buddhist country, and almost 140,000 are displaced after deadly clashes with ethnic Rakhine Buddhists in 2012.
The government has refused to grant most Rohingya citizenship and refers to them as Bengali, which implies they are illegal immigrants from Bangladesh despite having lived in Myanmar for generations.
Full report at:
http://www.saudigazette.com.sa/index.cfm?method=home.regcon&contentid=20141004220196
--------
India
India`s Southern States ignoring jihad: RSS Chief
Southern States ignoring jihad: Bhagwat
04 Oct, 2014
PAVAN DAHAT
Rastriya Swayamsevak Sangh Sarsanghachalak Mohan Bhagwat claimed that there was a "serious surge in Jihadi activities" in Tamil Nadu and Kerala
Rastriya Swayamsevak Sangh Sarsanghachalak Mohan Bhagwat claimed that there was a "serious surge in Jihadi activities" in southern regions of the country especially in Tamil Nadu and Kerala and blamed the state governments for not making effective policy interventions to curb them.
In his annual Vijaydashmi address at Reshimbagh ground here, Mr. Bhagwat said, "No effective policy imperatives, efforts are visible in curbing these Jihadi activities by the southern state governments. "
"Security situation difficult"
In his annual Vijaydashmi speech, RSS chief Mohan Bhagwat hailed India for making genuine efforts through the path of truth and non-violence and claimed that 'Hindutva' assimilated many languages, geography, faiths, sects, castes, sub castes, food habits, and traditions.
Mr Bhagwat however, warned about the "difficult and complex" ground situation of the country.
Full report at:
http://www.thehindu.com/news/national/rss-chief-warns-of-difficult-security-situation/article6469365.ece
-----------
World Needs Android, Hindutva: RSS Mouthpiece
Oct 4, 2014
What's common between the Android operating system for mobile phones and Hindutva or Apple Inc products and Islam? Or, do Chimpanzees have anything to do with 'love jihad'? A lot, if one were to believe some recent editorials in Panchjanya, mouthpiece of the Rashtriya Swayamsevak Sangh (RSS).
"The world needs 'Android'. The world needs Hindutva," concluded the weekly's August 16 editorial. Drawing parallel between the apple that tempted Adam and the Apple Inc products, the article says "in this age of mobile revolution, people are continuing to fall for the 'apple'. "However, despite its all its attraction, the 'Apple' has some limitations too. Other than its own 'products' it's 'operating system' does not support anything else. If you have faith in 'Apple', then you are welcome to that limited world where partnership with the others is prohibited and is a sin," said the edit. It went on to state that for those who follow Islam, accepting others is a crime and is unpardonable.
Full report at:
http://indianexpress.com/article/india/politics/world-needs-android-hindutva-rss-mouthpiece/#sthash.x2GhqLSJ.dpuf
-----------
Muslim Clerics in Tonk, Rajasthan, Become Voice of Change
DC | Sanjay Bohra | October 04, 2014
Jaipur: Every day after Namaaz is over, Abdul Aziz, imam of Masjid Alam Shah in Tonk doesn't forget to deliberately engage himself in talks with a different group of people. After some informal chat about family and work, he comes down to the business; He talks to them about importance of institutional deliveries and family planning.
Unbelievable as it may sound, a group of 26 clergymen has become voice of change in their community. Breaking stereotype image of Muslim clerics, the one holding rigid orthodox views particularly on health and family planning, they have been spearheading a campaign to save mothers and newborns.
With their help government agencies and NGOs have been able to establish their reach in a community overwhelmingly orthodox and conservatives.
High rate of illiteracy and extreme poverty had only complicated things further for government health workers and volunteers. Not surprisingly, Tonk was one of the worst performers in IMR and MMR in Rajasthan as people resisted to formal health care, family planning and immunisation for the fear of breaking religious laws.
"We have seen women beaten by their men even if they went to Anganwadi centre where pregnant mothers and young children are provided nutritional food," said Ejaz Hussain, who is also a cleric.
Full report at:
http://www.deccanchronicle.com/141004/nation-current-affairs/article/muslim-clerics-tonk-become-voice-change
----------
Dalits throng Nagpur on Dhammachakra Pravartan Din
PAVAN DAHAT
04 Oct, 2014
Manisha Kursunge, 21, a student of BSW (Bachelor of Social Work) from Gondia district of Maharashtra, is astounded to see the huge crowd gathered at the Deekshabhoomi here on Friday.
"I have come here for a field assignment. It's amazing to see so many people and I am trying to understand what motivates them to gather here every year," said Manisha.
Every year on the day of 'Ashoka Vijayadashami', Dalits from across the country gather at Deekshabhoomi (the place where Dr. B.R. Ambedkar converted to Buddhism with his followers in 1956) to celebrate the Dhammachakra Pravartan Din — the day on which he converted to Buddhism. Lakhs of people thronged Nagpur to celebrate the 58th Dhammachakra Pravartan Din. "Babasaheb [Ambedkar] gave us new life. Before him we were not even being considered humans. I come here every year to thank him," claimed Rahul Bagade, a deputy engineer in the Public Works Department from Amravati.
Full report at:
http://www.thehindu.com/news/national/dalits-throng-nagpur-on-dhammachakra-pravartan-din/article6469961.ece
-----------
PM Modi gives Obama rare Rogan paintings made by Gujarat-based Muslim family
04 Oct, 2014
NEW DELHI: PM Narendra Modi has made gifts, which essentially capture the essence of India, the hallmark of his outreach to world leaders including President Barack Obama but what's not known is that his choice of these may not be as lopsided as was originally thought.
While he again gifted a Bhagavad Gita to Obama, or Gandhi's take on it, Modi also used the extremely rare Rogan art form practiced only by a Muslim family in Gujarat to woo? the US president, who seemed to have thoroughly enjoyed Modi's company at the White House dinner and at the bilateral. TOI has learnt that Modi gifted a couple of exquisitely handcrafted Rogan paintings to Obama.
Full report at:
http://timesofindia.indiatimes.com/india/PM-Modi-gives-Obama-rare-Rogan-paintings-made-by-Gujarat-based-Muslim-family/articleshow/44251860.cms
-----------
Seeking the pleasure of Allah, volunteers help the weak and elderly perform Haj
04 Oct, 2014
With a broad smile on his face, Indian volunteer Basheer Chekku receives and helps pilgrims arriving at the train station in Mina on way to Arafat. Dressed in a phosphorus vest decorated with the Indian flag, Chekku, along with many other native and foreign volunteers, stand for hours at the station's platforms offering their services free of charge to women and men, young and old from all over the globe who have come to the Kingdom to perform Haj.
While millions of pilgrims are seeking God's forgiveness and blessings while performing Haj, Chekku and his fellow volunteers are seeking the same in their own way.
"I only seek to please Allah. This kind of work brings me peace of mind and satisfies my soul," he told Arab News, as he helped an elderly female pilgrim board the train heading for Arafat.
Chekku is one of dozens of people who have been serving pilgrims during Haj for the past decade.
Full report at:
http://www.arabnews.com/saudi-arabia/news/639616
-----------
Arab World
US-led strikes on Syria kill 35 jihadists overnight: Monitor
04 Oct, 2014
At least 35 jihadists from the Islamic State group were killed in air strikes by a US-led coalition overnight in northern and northeastern Syria, a monitor said Saturday.
The Syrian Observatory for Human Rights said 30 jihadists were killed around the town of Shadadi in northeastern Hasakeh, and another five outside the embattled town of Kobane, on the border with Turkey in northern Aleppo province.
http://english.ahram.org.eg/NewsContent/2/8/112354/World/Region/USled-strikes-on-Syria-kill--jihadists-overnight-M.aspx
-----------
In rare alliance, Shi'ites join Sunnis to defend Iraqi towns
04 Oct, 2014
BAGHDAD (Reuters) - When Islamic State fighters tried to storm the Tigris River town of Dhuluiya north of Baghdad this week, they were repelled by a rare coalition of Sunni tribal fighters inside the town and Shi'ites in its sister city Balad on the opposite bank.
The assault, which began late on Tuesday ran into Thursday, was one of several major battles in recent days in which Sunni tribes joined pro-government forces against the militants, in what Baghdad and Washington hope is a sign of increasing cooperation across sectarian lines to save the country.
Further north, another powerful Sunni tribe fought alongside Kurdish forces to drive Islamic State fighters from Rabia, a town controlling one of the main border checkpoints used by fighters pouring in from Syria.
In western Iraq, Sunni tribes have fought alongside government troops in Hit, which was captured by Islamic State fighters on Thursday, and in Haditha, site of a strategic dam on the Euphrates.
Full report at:
http://news.yahoo.com/rare-alliance-shiites-join-sunnis-defend-iraqi-towns-100809825.html
-----------
Allies hit Islamic State near Syrian Kurdish town as Briton slain
04 Oct, 2014
A US-led coalition has carried out new air strikes against Islamic State group jihadists laying siege to a key Kurdish town on the Syrian-Turkish border, where fighting raged on today.
The violence around Kobane came after Islamic State released a new video showing a masked militant beheading a British aid worker, Alan Henning, and threatening to kill a fellow aid worker from America, Peter Kassig.
The footage, almost identical to three previous execution films released by the group, triggered revulsion around the world and prompted Britain's prime minister to pledge the killer would be found.
Islamic State began its advance towards Kobane, also known as Ain al-Arab, on September 16 to cement its grip over a long stretch of the border. It has prompting a mass exodus of residents from the town and the surrounding countryside, with some 186,000 fleeing into Turkey.
Today, fierce clashes were continuing as Islamic State militants battled to seize Kobane, said activists and a monitoring group that also reported the latest US-led air strikes launched yesterday.
Full report at:
http://www.themalaysianinsider.com/world/article/allies-hit-islamic-state-near-syrian-kurdish-town-as-briton-slain#sthash.yFaauNWW.dpuf
-----------
Nine killed in attacks targeting Iraq's military
4 October 2014
Officials in Iraq say two attacks targeting the country's military have killed nine people.
The deadliest attack struck Diyala province, west of the capital. A police official says militants with the Islamic State of Iraq and Syria (ISIS) group targeted an Iraqi army checkpoint in the town of Mansouriya, killing four people and wounding 14.
A second attack hit Tarmiyah, a town 50 kilometers north of Baghdad. Another police official says a roadside bomb targeting an Iraqi military convoy there killed at least five people. The official says three of those killed were civilians and two were soldiers, while eight people were wounded.
Hospital officials confirmed the casualties. All spoke on the condition of anonymity because they were not authorized to speak with journalists.
http://english.alarabiya.net/en/News/middle-east/2014/10/04/9-killed-in-attacks-targeting-Iraq-s-military.html
-----------
Official says ISIS downs Iraqi chopper
4 October 2014
Islamic State of Iraq and Syria group militants armed with a rocket launcher shot down an Iraqi military attack helicopter Friday in the country's north and killed two pilots, the Defense Ministry said, highlighting their ability to attack aircraft as a U.S.-led coalition expands its efforts to combat the extremists.
The helicopter crashed outside the town of Beiji near the Iraqi city of Tikrit, killing two people, Iraqi Defense Ministry spokesman Mohammed al-Askari told state-run Iraqiyya TV, adding that an investigation into the incident is underway.
An official with the Defense Ministry told The Associated Press the militants downed the Mi-35 helicopter between the towns of Beiji and al-Senniyah. An official with the Iraqi air force corroborated the information, saying the helicopter's pilot and co-pilot were killed in the crash.
Full report at:
http://english.alarabiya.net/en/News/middle-east/2014/10/04/ISIS-rocket-launcher-downs-Iraqi-chopper-.html
-----------
As Kurds regain ground in Iraq, new challenges emerge
04 Oct, 2014
The changing fortunes of war in northern Iraq are recorded in layers of graffiti daubed on the walls of villages overrun by Islamic State militants this summer, but since re-appropriated by Kurdish peshmerga forces.
"Bravo peshmerga," read the freshest markings, painted over older inscriptions - some of them already scribbled out - that proclaim "property of the Islamic State".
Village by village, Kurdish forces have regained around half the territory they gave up in August when IS militants tore through their defenses in the northwest, prompting September's airstrikes by the United States - their first since 2011.
Full report at:
http://www.jpost.com/Breaking-News/As-Kurds-regain-ground-in-Iraq-new-challenges-emerge-377988
-----------
Defeat forces sowing chaos — Saudi Grand Mufti
04 Oct, 2014
ARAFAT/MAKKAH — The vast plains of Arafat soaked with tears of millions of repenting pilgrims and the air reverberated with their prayers at the spiritual climax of Haj. Chanting "Labbaik Allahumma Labbaik" (O God, here I am answering your call), around two million believers from all corners of the globe converged on the plains of Arafat with many of them openly crying and beseeching Almighty Allah to forgive their sins.
Retracting the noble tradition of Prophet Muhammad (peace be upon him), who said "Haj is Arafat", pilgrims performed noon (Dhuhr) and evening (Asr) prayers, shortened and combined, at the time of Dhuhr with one adhan and two iqamas, and then immersed in prayers seeking forgiveness and mercy of Almighty Allah as well as seeking welfare of the Ummah and world peace.
Full report at:
http://www.saudigazette.com.sa/index.cfm?method=home.regcon&contentid=20141004220238
-----------
Despite losing everything, Syrian pilgrim's heart pleads for homeland
04 Oct, 2014
MINA — He lost his wife, five children, home and country. These tragedies, one after another, gave him no respite in his old age. But despite losing so much, he willed himself to come to the pilgrimage where his heart pleads for his homeland despite his spirit and body being broken.
"I am in Mina with a devastated body and spirit. The war in Syria has claimed my entire family — wife and five children. My right hand's fingers have been paralyzed by a bullet wound," Mohammed Hussein, a Syrian pilgrim said.
He told Al-Hayat newspaper that all members of his family died when their house in Aleppo was razed to rubble by an air raid by the Syrian government forces. "No one survived the raid. We dragged all the bodies from the rubble and buried them. Since then I have not been quite myself," he said.
Full report at:
http://www.saudigazette.com.sa/index.cfm?method=home.regcon&contentid=20141004220242
-----------
Sufi cleric abducted in Sinai by suspected militants: Military source
04 Oct, 2014
Suspected militants abducted a Sufi leader late on Friday in the restive Sinai Peninsula, where the army is combating a mounting Islamist insurgency.
A military source told Aswat Masriya that the cleric was kidnapped along with others from a small mosque in the North Sinai town of Sheikh Zuweid following evening prayers.
According to tribesmen in the region, the abductors are believed to be militant insurgents who take issue with Sufism, a mystical concept of Islam whose practices are considered by extremist Muslims to be in breach of sharia, or Islamic law.
Several Sufi mausoleums in Sinai have been bombed by Islamist militants in recent years amid a growing Islamist insurrection that has spiked since the army's ouster of Islamist president Mohamed Morsi last summer.
Eyewitnesses present at the mosque at the time of the incident said the abductors said those kidnapped "will be our sacrfice this Eid," a reference to the festival of Eid Al-Adha which began on Saturday. Muslims typically sacrifice animals during the celebration in commemoration of Ibrahim's willingness to sacrifice Ismail in submission to God's will.
Some Sinai-based militant groups say their attacks, which have mainly targeted police and troops, are to avenge a state crackdown on Islamists after Morsi's removal, which has seen hundreds killed and thousands jailed.
Full report at:
http://english.ahram.org.eg/NewsContent/1/64/112355/Egypt/Politics-/Sufi-cleric-abducted-in-Sinai-by-suspected-militan.aspx
-----------
In Lebanon, Syria refugees face growing discrimination
04 Oct, 2014
In Lebanon, it is no longer unusual to see posters prohibiting "foreigners" -- understood to mean Syrians -- from being outside after 8:00 pm. And both Lebanese and Syrians report witnessing harsh treatment of Syrians or even attacks against them, including by municipal guards who at times enforce the curfews.
Human Rights Watch, a New-York based group, has identified at least 45 municipalities in the country that have imposed curfews on Syrian refugees. In a new report on Friday it called for an end to practices "that feed into a climate of discrimination against and stereotyping of Syrians in Lebanon."
Even before the flood of war refugees, Syrian workers in Lebanon were often treated with a mixture of condescension or mistrust, in part a legacy of resentment over Syria's 30-year military presence in Lebanon.
Full report at:
http://english.ahram.org.eg/NewsContent/2/8/112352/World/Region/In-Lebanon,-Syria-refugees-face-growing-discrimina.aspx
---------
Mideast
Erdoğan: Turkey cannot simply watch the mass slaughter
04 Oct, 2014
Turkey cannot simply watch while millions of people from countries bordering Turkey are slaughtered and forced from their homes, President Recep Tayyip Erdoğan said Oct. 3.
He made the statement in his official communique on the occasion of Eid al-Adha when he also reiterated Turkey's commitment to peace and security.
"We do not have our eye on the territories or internal affairs of any country in our region," Erdoğan said. "But while the region is shaken by bloodshed, while the mass killing of women, children and innocent civilians continues, it is not possible for us to remain bystanders."
Erdoğan's message came as the Turkish Parliament approved a motion authorizing the army to conduct cross-border operations into Iraq and Syria. Parliament also authorized the deployment of foreign troops in Turkish territory, primarily to deal with the growing threat of the Islamic State of Iraq and the Levant (ISIL).
Full report at:
http://www.hurriyetdailynews.com/erdogan-turkey-cannot-simply-watch-the-mass-slaughter-.aspx?pageID=238&nID=72525&NewsCatID=338
-----------
138 UNRWA Students Killed in Israel's Gaza War
04 Oct, 2014
Some 138 Palestinian students in UNRWA-run schools have been killed in a recent Israeli offensive on the Gaza Strip, the UN refugee agency said.
"We can confirm that 138 UNRWA students were killed since 8 July," UNRWA Spokesman Chris Gunness said in a statement on Friday, Middle East Monitor reported.
He said that additional 814 UNRWA students were injured and 560 have become orphans due to the Israeli onslaught.
"Family life for so many has been devastated," Gunness said.
Over the course of the 50-day Israeli onslaught on Gaza, more than 2,150 Palestinians were killed – mostly civilians – and nearly 11,000 injured, while thousands of homes across the territory were partially or totally destroyed.
The offensive finally ended on August 26 with an Egyptian-brokered cease-fire deal that was celebrated by resistance faction Hamas as a strategic victory over Israel.
http://english.farsnews.com/newstext.aspx?nn=13930712000549
-----------
Turkey warns will hit back if ISIS attacks Syria exclave
4 October 2014
Turkey warned on Saturday it would not hesitate to strike back at Islamic State jihadists if they attacked Turkish troops stationed at Ankara's exclave inside Syria.
"We will absolutely not hesitate to respond if something happens there," President Recep Tayyip Erdogan told reporters in Istanbul, referring to the tomb of Suleyman Shah, the grandfather of the founder of the Ottoman dynasty Osman I.
The small patch of land inside Syria around the tomb is considered Turkish territory under a 1920s treaty signed between the Turkish authorities and France, who at the time had a mandate on Syria.
"Forty of our soldiers are stationed in this zone, which is Turkish territory," he said.
"If one so much as touches a hair on the their heads, Turkey with its army will do all that is necessary and everything will change from that moment on," Erdogan warned.
His warning came just two days after Turkey's top general issued an unusual message of support for the Turkish troops stationed at the tomb, saying that the army "will be there for you the moment we hear a single word from you."
Full report at:
http://english.alarabiya.net/en/News/middle-east/2014/10/04/Turkey-warns-will-hit-back-if-ISIS-attacks-Syria-exclave-.html
-----------
Iran: Ayatollah Boroujerdi Being Prepared for Execution
04 Oct, 2014
At 2:30am this morning friends telephoned and told us in tears that they had been informed from Iran that the prison guards have just transferred Ayatollah Hossein Kazamani Boroujerdi to prepare his execution.
Human rights advocates for Iran take these reports seriously and I ask all human rights organizations, concerned individuals, and governments from international community to react and intervene.
Please contact your government representatives and pressure the executioner regime of Iran, to stop them before they hang Mr. Boroujerdi. We are also asking the regime of Iran to immediately release this innocent freedom-loving Iranian cleric; his only crime is advocating for separation of Religion from the State in Iran.
http://israelagainstterror.blogspot.in/2014/10/iran-ayatollah-boroujerdi-being.html
http://www.gatestoneinstitute.org/4749/ayatollah-boroujerdi-execution
-----------
Palestinians hail Swedish move on statehood as 'courageous'
04 Oct, 2014
Sweden's decision to recognise a Palestinian state is "courageous," senior Palestinian negotiator Saeb Erakat said Friday, calling on other EU states to follow suit.
"We salute the announcement by the Swedish prime minister," said Saeb Erakat in the West Bank administrative capital of Ramallah.
"We hope that all countries of the European Union will take the same courageous and remarkable decision... as there is no reason not to recognise the Palestinian state."
http://english.ahram.org.eg/NewsContent/2/8/112328/World/Region/Palestinians-hail-Swedish-move-on-statehood-as-cou.aspx
---------
South Asia
We Stand With You: A Statement of Solidarity with Hong Kong Protesters from a Tibetan, Uyghur, Southern Mongolian and Chinese
04 Oct, 2014
As a Tibetan, Uyghur, Southern Mongolian and Chinese – people who have all suffered from the oppressive policies of the Chinese Communist Party – we express our deep admiration for and solidarity with the movement for democracy and rights in Hong Kong. We have all dedicated our lives to restoring rights and freedom to our people, and we salute the people of Hong Kong for refusing to remain silent as Beijing reneges on its promise of universal suffrage and democratic reforms.
The events unfolding in Hong Kong highlight the deep and enduring problems the Chinese Communist Party faces as it tries to maintain draconian control over all the territories it rules within the People's Republic of China. Just as Hong Kongers are refusing to accept a sham version of democracy with leaders pre-approved by Beijing, Tibetans, Uyghurs, Southern Mongolians and Chinese refuse to accept the pervasive restrictions on our fundamental rights and freedoms. We hold a common desire for genuine democracy; a desire shared with millions around the world. Unless the Chinese government takes the necessary steps to devolve political power to the people, it is inevitable that the people's uprising we see in Hong Kong today will one day spread across Tibet, East Turkestan, Southern Mongolia, and China itself.
The citizens of Hong Kong have mounted a remarkable challenge to Beijing, who now face an unanticipated dilemma. Thanks to the freedom of press that exists in Hong Kong – unlike anywhere else in the PRC – the world is closely watching Beijing's response. We call on the Chinese authorities to refrain from use of force against these peaceful protesters, and in particular appeal directly to security forces to refuse unconscionable orders from their superiors if they come.
We call on world governments to also convey this message to the Chinese authorities in the strongest possible terms, and we remind them that, should tensions grow, to remain silent or passively standby is to support the oppressor. Let no one forget that the Party machine that justified rolling the tanks out against a similar group of students and youth in 1989 remains in power and continues to inflict brutal repression against anyone who challenges its authority.
To the students and youth of Hong Kong, we pledge to stand with you as long as it takes to achieve true democracy. The world has witnessed mass street protests to oust rulers in many countries over the past four years and we know that structural, not just cosmetic, changes are essential in order to cement the gains made by grassroots uprisings and ensure that authoritarian forces cannot prevail over time. Whatever the coming days bring, change is inevitable, whether it happens in this moment or in the months and years ahead.
Five generations of Chinese Communist Party leaders have failed to quash – or buy off – the aspirations of the people of Hong Kong, Tibet, East Turkestan, Southern Mongolia and China for democracy and liberty. Our collective resistance will endure until we all – or our children or even our children's children – experience the sweet taste of freedom.
Signed:
Yang Jianli Teng Biao Tenzin Dorjee Rebiya Kadeer Enghebatu Togochog
Biographies:
Mr. Yang Jianli is a leader of China's democracy movement and President of Initiatives for China. He has been involved in the pro-democracy movement in China since the 1980s and was forced to flee China in 1989 after the Tiananmen Square massacre. He spent 5 years in a Chinese prison between 2002 and 2007 after travelling to China on a friend's passport to investigate labour unrest. He has met with His Holiness the Dalai Lama on many occasions.
Mr. Teng Biao is a Chinese human rights activist and lawyer, and the co-founder of Gongmeng or the Open Constitution Initiative. He has been a vocal supporter of human rights activists such as Chen Guangcheng and Hu Jia and was arrested in March 2008 and again in February 2011. He is currently a visiting scholar at Harvard Law School and President of China Against the Death Penalty.
Mr. Tenzin Dorjee (Tendor) is a Tibetan writer, activist and musician, and Researcher and Strategic Advisor for Tibet Action Institute. He is the former Executive Director of Students for a Free Tibet. He was arrested and briefly detained in Tibet in 2007 after protesting against the Beijing Olympics at Everest Base Camp.
Ms. Rebiya Kadeer is the leader of the Uyghur Democracy Movement and President of the World Uyghur Congress. An activist and businesswoman, she was imprisoned from 2000 – 2005 for her relentless political and human rights activism and now lives in exile in the United States. She's been awarded the Rafto Prize for Human Rights and in 2012 was included in the list of '500 Most Influential Muslims'.
Mr. Enghebatu Togochog is the Director of the Southern Mongolian Human Rights Information Center (SMHRIC), a New York based human rights organization dedicated to protection and promotion of the Mongolian people in Southern Mongolia.
---------
Errant Afghan Taliban tweet shows spokesman's location as Pakistan
04 Oct, 2014
KABUL: An apparently errant tweet by the Taliban's spokesman in Afghanistan gave his location as being in Pakistan.
On Friday, a tweet by Taliban spokesman Zabihullah Mujahid claiming an attack included geolocation information that suggested he sent the message from Sindh, Pakistan.
Mujahid later sent a tweet Saturday describing the location leak as an "enemy plot".
He also offered his Afghan telephone number to confirm his identity and wrote: "With full confidence, I can say that I am in my own country."
Twitter says such geolocation data is based on latitude and longitude data or other information provided by users at the time of their message.
In an explanation of geolocation, Twitter itself warns: "Remember, once you post something online, it's out there for others to see"
http://www.dawn.com/news/1136173/errant-afghan-taliban-tweet-shows-spokesmans-location-as-pakistan
-----------
Bangladesh Islamist parties to stage demos against Latif today
04 Oct, 2014
Several Islamist parties and groups will stage demonstrations across the country after Jum'a prayers today demanding capital punishment to Posts and Telecommunications Minister Abdul Latif Siddique for his "derogative" comment on hajj.
Islami Andalon Bangladesh, Islami Oikya Jote, Khelafat Mojlish and Hefazat-e-Islam are among the parties and groups to stage the demonstrations, a statement said yesterday.
They will hold their Dhaka city demonstrations in front of the Baitul Mukarram National Mosque after Jum'a prayers and elsewhere in the capital, it said
Earlier on Sunday, Latif, also an Awami League Presidium member, made his remarks on hajj while addressing a reception arranged by the Tangail expatriates in New York.
Several political and Islamist groups reacted to his remarks with protests and processions across the country.
They also demanded that he be removed from the cabinet, parliament and the Awami League and subjected to capital punishment too.
http://www.dhakatribune.com/politics/2014/oct/03/islamist-parties-stage-demos-against-latif-today#sthash.s8egTREq.dpuf
-----------
North America
Muslims from Cuba performing Haj for first time
04 Oct, 2014
MINA — Five pilgrims from Cuba are performing Haj this year as guests of Custodian of the Two Holy Mosques King Abdullah. This was for the first time, Muslims from Cuba arriving in the Kingdom to perform Haj, according to Abdullah Al-Modlej, executive director for the program of the King's guests at the Ministry of Islamic Affairs.
Al-Modlej said the five-member team includes leader of the Muslim community in Cuba. He noted that the ministry deputed one preacher to lead taraweeh prayers for Muslims of Cuba during the last Ramadan. There are no mosques in Cuba and therefore the Muslims hired a wedding hall to offer prayers. "On the first day, the number of worshippers who came to attend prayers was around 130 and the second day their number shot up to 500, and this number increased further by the end of the fasting month," he said. Several new Muslims from Korea and Europe have also arrived to perform Haj as the King's guests, Al-Modlej added.
http://www.saudigazette.com.sa/index.cfm?method=home.regcon&contentid=20141004220244
---------
Canada, Netherlands set to join ISIS strikes
4 October 2014
The Netherlands and Canada are poised to join air strikes against Islamic State of Iraq and Syria (ISIS) militant group in Iraq, after Prime Minister Stephen Harper sought parliament's support on Friday and the Netherlands set to strike militant-held positions this weekend.
If Canadian lawmakers greenlight the action on Monday -- as expected -- it will be Canada's first military expedition since Libya in 2011.
Harper said members of the House of Commons, where his Conservative Party enjoys a solid majority, would be asked to vote on the six-month "counter-terrorism" mission.
The White House on Friday welcomed Dutch participation.
"The United States welcomes the decision this week by the government of the Netherlands to send up to eight F-16 fighters and 250 support personnel to conduct air strikes against ISIL (ISIS) in Iraq," a White House statement said.
Full report at:
http://english.alarabiya.net/en/News/middle-east/2014/10/04/U-S-praises-Netherlands-for-joining-ISIS-fight-.html
---------
South Florida Muslim leaders, federal authorities meet to discuss terrorism
04 Oct, 2014
They do not support terrorism or any acts of violence done in the name of their faith, and these South Florida Muslim leaders are willing to take a stand against those who commit such acts.
This past week, the leaders met with representatives from federal agencies to discuss terrorism, safety and hate crimes. The conversation took place as religious leaders were preparing for Eid al-Adha — the holiday that marks the end of Hajj, a pilgrimage to Mecca, and recognizes the Biblical/Quranic story of Ibrahim (Abraham) attempting to kill his son for his faith in God.
Eid al-Adha begins Saturday at sunset.
"I thought it was an excellent meeting," Imam Nasir Ahmad said of Thursday's meeting at Masjid Al-Ansar in Liberty City. He said he was impressed with the group's sincerity and professionalism.
Thursday's meeting and an earlier one on Tuesday, at the FBI's North Miami headquarters, were designed, in part, to strengthen bonds between law enforcement and the Islamic community.
Full report at:
http://www.miamiherald.com/news/local/community/miami-dade/article2506514.html#storylink=cpy
---------
US Vice President Biden says Turkish President Erdoğan admitted ISIL mistake
04 Oct, 2014
U.S. Vice President Joe Biden has said that Turkish President Recep Tayyip Erdoğan admitted mistakes that paved the way for the rise of the Islamic State of Iraq and the Levant (ISIL).
"President Erdoğan told me, he is an old friend, said you were right, we let too many people through, now we are trying to seal the border," Biden said during a speech on foreign policy at Harvard Kennedy School on Oct. 2.
While speaking to the students for nearly an hour and a half, Biden defended the U.S. foreign policy, stressing that the White House was not late to move against the rise of the ISIL. He said that the regional allies of the U.S, determined to take down Syrian President Bashar al-Assad, "poured hundreds of millions dollars, and tens thousands of tones of weapons into anyone who would fight against al-Assad, accepted the people who would be in supply for Al Nusra and Al Qaeda and extremist elements of jihadists coming from other parts of the world."
Full report at:
http://www.hurriyetdailynews.com/us-vice-president-biden-says-turkish-president-erdogan-admitted-isil-mistake.aspx?pageID=238&nID=72530&NewsCatID=359
---------
US welcomes Turkish anti-ISIL motion, contrasts reactions in Syria, Iran
04 Oct, 2014
As the U.S., which is leading a military operation against Islamic State of Iraq and the Levant (ISIL) targets both in Iraq and Syria, has welcomed the Turkish Parliament's approval on a government motion for military operations, both Syria and Iran reacted negatively to such plans.
Syrian Deputy Foreign Minister Faisal Miqdad said late Oct. 3 that any military action by Turkey inside Syria's territory would be considered "an act of aggression," according to Press TV, the state-controlled Iranian broadcaster.
The 550-seat Turkish Parliament voted 298-98 in favor of the motion, providing legal grounds for the government to deploy forces to Iraq and Syria, along with many other military rights.
Miqdad also called on the United Nations Security Council to hold an emergency session condemning Turkey's decision, Press TV said on its website.
Full report at:
http://www.hurriyetdailynews.com/us-welcomes-turkish-anti-isil-motion-contrasts-reactions-in-syria-iran.aspx?pageID=238&nID=72483&NewsCatID=359
---------
Pakistan
Conspiracy to derail democracy will fail: PM
04 Oct, 2014
MURREE: Prime Minister Nawaz Sharif on Friday said those creating hurdles in the development and progress of the country would not succeed in their designs and democracy would flourish.
He was talking to people gathered at the site of the development projects being undertaken in Murree.
The prime minister said his government would overcome all odds and make Pakistan a welfare state.
The hill resort will have a university of international standard, a modern hospital and water supply from Kohala, he said.
A large number of people gathered to see Nawaz Sharif when he visited the under construction building of General Post Office on the Mall.
The building is being restored to its original British era design. This historical look of the GPO is being given on the direction of the prime minister.
He also visited the newly constructed bus terminal and appreciated the efforts of the administration for completing the terminal in the scheduled time.
Full report at:
http://www.dawn.com/news/1136133/conspiracy-to-derail-democracy-will-fail-pm
-----------
Afghan Taliban pamphlets distributed in parts of KP reject pact with US
04 Oct, 2014
PESHAWAR: The Afghan Taliban has rejected talks with the United States and has called upon the Afghan people to unite against what they called the invading coalition forces led by America.
In a message distributed via a pamphlet, a copy of which is also available with Dawn, the leader of the Afghan Taliban Mullah Omar said the coalition forces in the war-torn country had already been defeated and the time for their complete ouster was fast approaching.
The distribution of the pamphlet indicates that members and active supporters of the Afghan Taliban are spread out across the region.
Omar urged Afghan citizens to leave the Afghan National Army and the US-led war and take care of their families instead. He further urged the Afghan people to join hands with the Taliban with the aim of serving their country.
The pamphlets were distributed in the Kacha Ghari refugee camp, Board Bazaar, Charsadda, Shamshato camp in Nowshera and through a majority of Afghan inhabited areas in Peshawar as well as the tribal areas.
Full report at:
http://www.dawn.com/news/1136171/afghan-taliban-pamphlets-distrbuted-in-parts-of-kp-reject-pact-with-us
-----------
Explosion in passenger van kills six in Kohat
04 Oct, 2014
PESHAWAR: Six people were killed and several injured in an explosion that took place in a passenger van in Kohat's Peshawar Chowk area on Saturday.
Police confirmed the death toll, adding that at least 13 others were also injured in the blast which damaged two vehicles.
"The blast occurred at a small bus stop in Kohat city. At least two vehicles were damaged in the explosion," Salim Khan Marwat, district police chief in Kohat, told AFP.
"The explosion has left six people dead and 17 injured," he added.
Fazal Khaliq, head of the emergency department at Kohat's main government hospital, also confirmed the toll.
Full report at:
http://www.dawn.com/news/1136172/explosion-in-passenger-van-kills-six-in-kohat
-----------
Annoyed PPP workers demand dissolution of KP organisation
04 Oct, 2014
PESHAWAR: The annoyed activists of Pakistan Peoples Party on Friday appreciated the central leadership for constituting a three-member committee to resolve the party's internal issues and demanded early dissolution of the provincial organisation to hold intra-party elections at the earliest.
The demand was raised in an emergency meeting held at the residence of Khwaja Yawar Naseer with former governor Barrister Masood Kausar in the chair. Several senior leaders and former elected representatives participated in the meeting.
According to a party leader, Tahir Abbas, the speakers welcomed the formation of the reconciliatory committee, headed by Senator Farhatullah Babar, and described it as a good omen for the future of the party in Khyber Pakhtunkhwa. He said that fair intra-party elections could only be held under the supervision of a neutral organising committee. He said that the central leadership should accept the demand in the best interest of the party.
Full report at:
http://www.dawn.com/news/1136154/annoyed-ppp-workers-demand-dissolution-of-kp-organisation
-----------
Peace committe member gunned down in Swat
04 Oct, 2014
PESHAWAR: A peace committee member was gunned down in Matta tehsil in northwestern Pakistan's Swat region on Saturday.
Two others, including a policemen, were injured in the attack on peace committee member Ashraf Khan who was also a local leader of the Awami National Party (ANP), police sources said.
Khan was shot dead in the Bama Khela area of Matta.
Scores of anti-Taliban elders have been killed in Matta since the ouster of Mullah Fazlullah from Swat. Today's killing comes days after suspected militants shot dead three peace volunteers — Zahir Shah, Mohammad Zeb and Fareed — in Swat's Kabal district. Peace volunteers Zahir Shah, Mohammad Zeb and Fareed.
The killings which appear to be targeted have caused a sense of insecurity to prevail among the local peace volunteers.
Full report at:
http://www.dawn.com/news/1136167/peace-committe-member-gunned-down-in-swat
-----------
'Enemy' can take advantage of political infighting: Zardari
04 Oct, 2014
LAHORE: Pakistan People's Party (PPP) Co-chairman Asif Ali Zardari said on Friday that the country must not suffer in the battle of power and warned that the enemy could take advantage of fighting among political powers.
Talking to media after meeting Jamaat-e-Islami Ameer Sirajul Haq, Zardari said the rallies being held across the country are not in love of anyone and suggested the Pakistani politicians need to mature as the world is changing. He expressed the fear that some "devil" could take advantage of the in-fighting among politicians. He said East Pakistan had separated because of "our weaknesses". The only way to save Pakistan, he said, is if all the political forces work together. The PPP co-chairman said his party has an agenda to make Pakistan a stable state, but no one can realise this alone and collective decisions are needed in this regard.
Full report at:
http://www.dailytimes.com.pk/punjab/04-Oct-2014/enemy-can-take-advantage-of-political-infighting-zardari
-----------
Qadri tells supporters from Lahore, Faisalabad and Karachi to go back
04 Oct, 2014
ISLAMABAD: Pakistan Awami Tehreek (PAT) chief Tahirul Qadri on Friday directed his supporters from Faisalabad, Lahore and Karachi at the sit-in to go back to their cities for preparation of the party's public meeting in these cities.
Although Qadri vowed to continue the sit-in at the Constitution Avenue his announcement will reduce the number of his hardline supporters at the protest that has been continuing for over fifty days. "The workers of Lahore, Karachi and Faisalabad should now spend energies for success of public meetings in these cities," Qadri stated. He also announced to hold a public meeting in Karachi after the Islamic month of Moharram but refrained from giving any specific date. The public meetings in Faisalabad and Lahore will be held after Eid, which he had earlier announced.
Full report at:
http://www.dailytimes.com.pk/islamabad/04-Oct-2014/qadri-tells-supporters-from-lahore-faisalabad-and-karachi-to-go-back
-------
Southeast Asia
Isis has tarnished Islam's image, says Anwar
04 Oct, 2014
he Islamic State of Iraq and Syria (Isis), which has seen scores of Malaysians joining its cause, has tarnished the image of Islam by using the Islamisation agenda as part of its struggles, said Datuk Seri Anwar Ibrahim.
In his Hari Raya Aidiladha address today, the opposition leader said the terror group opted for violence because of its failure to understand Islam wholly.
"The failure to understand Islam holistically creates a wrong perception among the public which affects Islam as a perfect and whole religion," he said in a statement.
The PKR de facto leader said Muslims should return to true Islamic teachings in conjunction with the Aidiladha celebrations this year.
This includes understanding and mastering the teachings of Islam.
"We need to get back to the roots of understanding Islam and the humanity that its teaching contains," he added.
Full report at:
http://www.themalaysianinsider.com/malaysia/article/isis-has-tarnished-islams-image-says-anwar#sthash.GzOQYSJt.dpuf
---------
For Bumiputera Christians, 'Allah' ban akin to cultural 'genocide', says archbishop
OCTOBER 4, 2014
KUALA LUMPUR, Oct 4 — Putrajaya's persistence in refusing non-Muslim Malaysians the right to use the word "Allah" is tantamount to the systematic destruction of the language and culture of the Bumiputera community in Sabah and Sarawak, the head of the Anglican Church in Southeast Asia said.
Archbishop Datuk Bolly Lapok said the word "Allah" has been part and parcel of the community's language for generations and has become "embedded" in every aspect of their culture, including for the Bumiputera Christians, who make up the majority of Malaysia's Christian population.
However, the government's prohibition and the Federal Court's denial for the Catholic Church to appeal for the right to publish the "Allah" in its weekly newspaper, had made the Bumiputera Christians feel they had been wronged, said the Sarawakian senior clergyman.
"In other words, it is in our language and culture DNA. We feel that the judgment was made without taking into due consideration of what the word means to us.
"We feel there has been a miscarriage of justice. It is insidious. It is tantamount to an act of language and culture genocide," said Bolly, who also chairs the Association of Churches in Sarawak.
Full report at:
http://www.themalaymailonline.com/malaysia/article/for-bumiputera-christians-allah-ban-akin-to-cultural-genocide-says-archbish#sthash.1hIxqXvd.dpuf
---------
Immigration discovers 155 Uighurs crammed into 2 KL apartments
04 Oct, 2014
KUALA LUMPUR, Oct 4 — Malaysian authorities have detained 155 Uighurs, more than half of them children, who were found crammed into two apartments in the capital Kuala Lumpur, immigration officials said.
The Uighurs, a Muslim people from China's far-western region of Xinjiang, were discovered when officers from Malaysia's Immigration Department raided the residential units on October 1 after receiving a tip-off.
Ninety people, including 44 children, were crammed into one unit, while the remaining 65 were in a second unit, according to a report from enforcement operations unit chief Basri Hassan.
"We had not expected to see so many of them in one unit," said an immigration officer who took part of the raid, adding that the Uighurs were found in cramped and smelly conditions.
He added that the Uighurs were carrying Turkish passports that were suspected to be fake.
"We are trying to determine where they came from and where they are headed. As of now we are uncertain whether they entered the country illegally or through the proper channels."
The Uighurs were transported to the Kuala Lumpur International Airport (KLIA) Immigration Detention Depot for further investigations.
Full report at:
http://www.themalaymailonline.com/malaysia/article/immigration-discovers-155-uighurs-crammed-into-2-kl-apartments#sthash.ezZMU68r.dpuf
---------
Africa
Nine UN troops killed in worst-ever attack in Mali
04 Oct, 2014
Suspected Islamists on motorbikes killed nine United Nations peacekeepers from Niger in northeastern Mali, in the deadliest ever attack on the mission, military sources said.
MINUSMA did not immediately hold any armed group responsible, but a Nigerien officer from the mission told AFP the ambush had been carried out by the Movement for Oneness and Jihad in West Africa (MUJAO), an al-Qaeda-linked militia behind numerous attacks in the restive west African nation.
"This is the deadliest attack against the UN mission in Mali," a statement from the mission said, adding that aircraft had been deployed to secure the area.
MINUSMA and a senior Nigerien military official said the convoy of peacekeepers on a supply run in the northeastern Menaka-Asongo corridor, had been ambushed by men on motorbikes.
Arnauld Akodjenou, the deputy head of the mission, said he was "horrified" by the "cowardly" attack.
Full report at:
http://english.ahram.org.eg/NewsContent/2/10/112317/World/Africa/Nine-UN-troops-killed-in-worstever-attack-in-Mali.aspx
---------
Boko Haram video apparently shows beheading of Nigeria pilot
04 Oct, 2014
LAGOS, Nigeria -- A new Boko Haram video shows the beheading of a man identified as the pilot of a missing Nigerian Air Force jet and burnt out parts of a plane - the first indication that Nigeria's homegrown Islamic extremist group has the capability to bring down aircraft.
It also allegedly features Boko Haram leader Abubakar Shekau, a man Nigeria's military twice has claimed to kill in 2009 and again last year. Two weeks ago the military said they had killed in battle a Shekau lookalike who had posed in the group's videos.
"Here I am, alive and I will remain alive until the day Allah takes away my breath," the man says in the Hausa language. "Even if you kill me ... it will not stop us imposing Islamic rule ... We are still in our Islamic state, reigning and teaching the Quran."
The United States still has a $7 million ransom on Shekau's head, despite the death claims.
The video was made available to The Associated Press through the same channels used previously and seems to show the same man claiming to be Shekau.
Full report at:
http://www.cbsnews.com/news/boko-haram-video-apparently-shows-beheading-of-nigeria-pilot/
---------
Tunisia begins landmark election race
4 October 2014
Campaigning officially got under way today for Tunisian parliamentary elections seen as a milestone in efforts to establish a democratic foothold in the birthplace of the Arab Spring.
Hailed as a rare success story following the uprisings that swept much of the region in 2011, the North African nation hopes the vote will be a highlight of a sometimes troubled transition.
Tunisia has grappled with social unrest over the feeble economy, violence blamed on Islamists, and attacks by militant groups including al-Qaeda loyalists.
The Oct. 26 parliamentary polls will be the second since the revolution four years ago that swept away longtime dictator Zine El Abidine Ben Ali.
Stalwarts of the deposed regime as well as members of the once-outlawed Ennahda moderate Islamist party are among those standing for office.
In 2011, Ennahda won the largest share of seats in the National Assembly, which was due to be replaced by a permanent parliament the following year.
But the process was delayed by political crises which culminated with the assassination last year of two opposition lawmakers by suspected Islamist militants.
Under an agreement finally reached to break the deadlock, parliament ratified a new constitution in January and Ennahda handed power to an interim government of independents.
Full report at:
http://english.alarabiya.net/en/News/africa/2014/10/04/Tunisia-begins-landmark-election-race-.html
---------
Algeria says five militants killed in border clashes with army
04 Oct, 2014
Five militants were killed and four were wounded Thursday night in clashes with the Algerian army near the Algeria-Niger borders, the Algeria Press Agency (APS) reported on Friday.
The militants were attempting to sneak into Algeria through the southern town of In Guezzam near the Niger border, APS quoted the country's defense ministry as saying.
The militants were all foreign nationals, including one from Libya, said the ministry, adding that an investigation was under way.
This is the second military operation to happen near the Niger-Algeria border within 24 hour, according to Al Arabiya News Channel.
Full report at:
http://english.alarabiya.net/en/News/middle-east/2014/10/03/Algeria-says-five-militants-killed-in-border-clashes-with-army-.html
---------
URL: https://www.newageislam.com/islamic-world-news/new-age-islam-news-bureau/austria's-new-law-on-islam-to--standardise--quran/d/99386