New Age Islam News Bureau
12 Nov 2018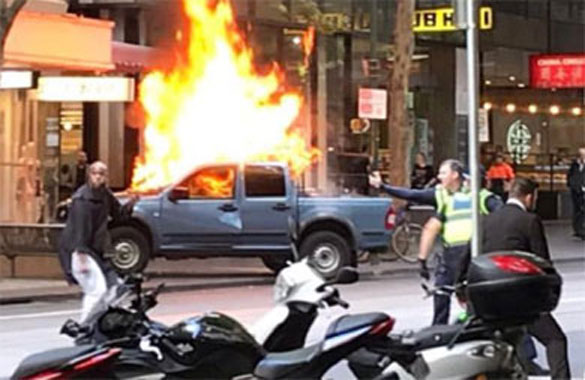 An unverified picture from the scene from Australia. Source: Twitter
-----
Australia
• Bourke Street Attack: Morrison Accused of 'Scapegoating' Muslim Community
• Morrison urges Muslim community to be more 'proactive' in tackling terrorism
• 'They can't look the other way': Scott Morrison turns up heat on Muslim leaders
------
North America
• The Forgotten Muslim Soldiers Who Fought In First World War Trenches for the Allies
------
Europe
• Macron Thrashes Nationalism at WWI Centenary in Paris
• At least 6 Palestinians, 1 Israeli killed in IDF 'operation' in Gaza
• 'Left to count their dead': Striking report breaks MSM silence on plight of 'liberated'
• Raqqa
------
South Asia
• Afghanistan: Taliban Destroy Army Base, Kill 16
• Bangladesh to blame if Rohingya returns delayed: Myanmar
• Protesters gather near Presidential Palace in Kabul over recent wave of violence
• Three Taliban militants blown up by own IED in Zabul province
• Mullah Imam among 7 detained on charges of training terrorists in Herat
------
India
• SC Refuses Urgent Hearing of Ram Janmabhoomi-Babri Masjid Title Dispute Case
• Uttar Pradesh: Muzaffarnagar Riot Accused Dead, Cops Probe Revenge Angle
• Father-Son Had Promised Halal Investments to Attract Muslims
• Union minister: Muslims want amicable settlement
• 'Muslims may not get 4% quota if TRS comes to power'
------
Pakistan
• Fazl Accuses PTI Govt Of Attempting To End Blasphemy Law
• CJP Directs Authorities to Develop Policy on Collection of Donations at Mosques, Shrines
-----
Arab World
• Clashes Reach Residential Streets in Yemen's Rebel-Held City
• Syrian Army to Reinvigorate Positions near Kurdish Militias in Raqqa
• More Civilians Killed in Fresh US Air Raids in Eastern Syria
• Turkey-Backed Militants Target Kurdish Militias in Manbij
• Syrian Army Repels Terrorists' Attacks in Demilitarized Zone in Hama, Idlib Provinces
• Iran Blames Foreign Military Deployment for Prolonged War in Afghanistan
• US-backed SDF fighters resume offensive against Islamic State in Syria
• Iraqi troops arrest two Islamic State members in Anbar
------
Mideast
• House Speaker At The Conference: No Return Of Sedition To Lebanon, Israel Cannot Attack Us, And Dares Not!
• U.S.-Backed Syrian Force Resumes Ground Assault On Islamic State
• Netanyahu defends Qatari cash infusion for Gaza
• Turkey puts the heat on Saudi Arabia over Khashoggi murder
• Erdoğan, Trump discuss Khashoggi case
• AKP municipality pulls plug on Islamist opposition MP's conference
------
Southeast Asia
• Malaysia Ahead Of Other Islamic Finance Markets - RAM Ratings
• Resign from IIUM now, PPBM tells Maszlee
------
Africa
• Abuja Imam Cautions against Selling Votes To Corrupt Politicians
• Egyptian Court Adds Islamist Group to Terrorism List
• What Osinbajo told Council of Imams during meeting
------
Compiled by New Age Islam News Bureau
URL: https://www.newageislam.com/islamic-world-news/australia-grand-mufti-rejects-government/d/116857
---
Australia's Grand Mufti Rejects Government Calls to Do More to Combat Radicalism
By Fares Hassan, Nick Baker
12 November 2018
Australia's Grand Mufti has rejected government calls for Muslim community leaders to do more to combat radicalism following Friday's Bourke Street attack.
Grand Mufti Ibrahim Abu Mohamed told SBS Arabic 24 that comments made by Prime Minister Scott Morrison and Home Affairs Minister Peter Dutton constituted "serious discrimination" against Australia's Muslim community.
In what is being treated as an IS-inspired terrorist attack, Somalian-born Hassan Khalif Shire Ali set a car alight then stabbed three men, one who died from his injuries. After lunging at an officer with a knife, the 30-year-old Somali-Australian was shot and killed by police.
Imams, Muslim groups outraged by PM's 'divisive' Bourke Street comments
On Sunday, Mr Dutton stressed that the Muslim community was key in alerting authorities to potential threats, but Dr Mohamed said security agencies were to blame.
"We do not need Dutton's plea to remember our duties," Dr Mohamed said.
"I'd like to remind him that security agencies failed to do their job; the offender's passport had been cancelled and he was being monitored."
Twitter
His comments add to a growing list of key Muslim community leaders speaking out against the government's divisive comments.
Muslims Australia on Monday called on the Prime Minister to retract the comments he made following the attack and apologise to the Muslim community.
The group, which calls itself "the peak body for Australian Muslims", wrote to the prime minister expressing its "deep concern" over how he and other politicians are discussing the role of Islam since Friday's attack.
"The comments ... serve no other purpose than to foster an ill-conceived notion that all Muslims are somehow responsible for the actions of every individual within our community. This is not a burden that is placed on any other community," said the correspondence, authored by Muslims Australia president Dr Rateb Jneid.
The family of the attacker say he had mental health problems.
"Hassan suffered from mental illness for years and refused help. He's been deteriorating these past few months," they said in a note given to Nine Network.
"Please stop turning this into a political game. This isn't a guy who had any connections with terrorism but was simply crying for help."
But on Monday, Mr Morrison dismissed the idea that Mr Shire Ali's actions were solely the result of mental health issues.
"I think that's an excuse. This bloke, radicalised here in Australia with extreme Islam, took a knife and cut down a fellow Australian in Bourke Street," Mr Morrison told the Ten Network.
"He was a terrorist. He was a radical, extremist terrorist, who took a knife to another Australian because he'd been radicalised in this country. And we can't give him excuses."
Bourke Street attack: Somali-Australians condemn 'scourge' of terrorism
Muslims Australia say that such sentiments are unfair.
"It appears to us that when a Muslim commits such acts then all other possible factors are either downplayed or ignored. This is a privilege that is extended in most other incidents to such perpetrators."
"Violent crime is not something that is limited, or unique, to Muslims and violence perpetrated by an individual who happens to be of the Muslim faith should never be reflective of the whole community," it said.
The group drew a comparison to a similar incident on Bourke Street last year, where faith was not a factor.
"The faith of the individual does not detract from the information that has emerged about his mental health, substance abuse and criminal history," the correspondence said.
"What role his faith may or may not have played in motivating his actions is clearly difficult to ascertain otherwise the security services would have taken action against him previously."
Muslims Australia also took aim at Mr Dutton.
"The idea that [Islamic] community leaders would have information but withhold it from the police or intelligence agencies is unacceptable," Mr Dutton said on Sunday.
Muslims Australia said this allegation is "insulting and offensive and may put members of our community in danger. It is without any basis."
"To suggest that Imams and leaders of the community are not doing what they can in this regard is untrue and extremely disappointing."
On Sunday, the Australian National Imams Council called the attack a national tragedy but said it was "outraged" by the Prime Minister's recent comments linking Islam to a radical and dangerous ideology.
"It is extremely disappointing in such difficult times and during a national tragedy, when all Australians of all faiths and backgrounds should be called upon to unite and stand together against any form of extremism and violence, to see our nation's leader politicising this incident and using it for political gain," a statement said.
Source: https://www.sbs.com.au/news/australia-s-grand-mufti-rejects-government-calls-to-do-more-to-combat-radicalism
------
Muslims Invite Canadians To 'Visit My Mosque' And Ask Them Anything
By Liz Haq
Muslims across Canada invited their neighbours to join them inside their most sacred spaces, a week after joining together to support Jewish worshippers in a moving show of empathy.
Mosques in Halifax, Sussex and Moncton, N.B., Sherbrooke, Que., Montreal, Ottawa, Toronto, Edmonton and Calgary opened their doors Saturday for the second annual Visit My Mosque Day. The event aims to dispel misconceptions, foster an appreciation of the Muslim faith in Canada, and celebrate the philanthropy of the Canadian-Muslim community throughout the year.
The day is organized by the Canadian-Muslim Vote, a non-partisan organization that encourages Muslims to be politically engaged.
"We have nothing to hide," Shafiq Ebrahim, vice-president of Jaffari Islamic Centre in Thornhill, Ont., told HuffPost Canada by phone. "We aren't a secret society or mysterious in any way. We're law-abiding people who pay taxes and love our neighbourhood and want to build genuine relationships here."
The centre offered tours of worship halls, gave lectures on education and outreach activities and had scholars on standby to answer any theological queries. Stations for women to have their hands painted with traditional henna and learn how to tie a hijab were also available for anyone interested.
"Just being available to talk is key," Ebrahim said. "I'm always surprised by how many great questions people ask, and we are committed to giving proper answers."
Ebrahim said that some of the questions were philosophical in nature, while others were more focused on where the congregation comes from and how it ended up in Canada. Ebrahim's community was welcomed to Canada in 1972 by then-Prime Minister Pierre Trudeau, following the forcible expulsion of Asians from Uganda.
"We owe so much to Canada and the values on which it was built," he said. "Canada opened its doors and welcomed us. We understood what this country is. What a privilege it is to live by our dear Canadian values, which we now instill in our children."
For Jaffari Community Centre, the event was yet another opportunity to invite neighbours to congregate in the space — the centre opens its doors more than 200 times a year for charitable events, talks and tours. It also joins several multi-faith communities to house, feed and clothe the homeless at the peak of winter.
Joel Harden, an NDP MPP for Ottawa Centre who toured the Ottawa Mosque, knows that charitable effort well: he recalled how, after powerful tornadoes knocked out power for legions of Ottawa-area residents in September, members of the mosque delivered food to thousands of people.
"They don't brag about it, but they're doing important things to help their neighbours all the time," Harden told HuffPost Canada by phone.
Harden, who calls himself a 'Presbyterian-socialist,' took his 10-year-old daughter, Adele, to the mosque yesterday. As kids do, she asked all the bold questions.
"She asked, 'Why do the women pray separately? Do I have to wear a head covering?'" Harden recounted. But Adele's fearlessness emboldened the adults in the room to open up a dialogue, too, instead of relying on false presumptions.
The presumptions are pervasive, however: a 2017 survey showed almost half of Canadians viewed Islam in an unfavourable light, compared to Christianity and Buddhism. The survey was taken just two weeks after gunman Alexandre Bissonnette killed six worshippers in a Quebec City mosque that January.
Ali Manek, executive director of Canadian-Muslim Vote, said that online death threats led two mosques, one in Sherbrooke and another in Scarborough to pull out of the event at the last minute. While the person who posted a violent threat to the Sherbrooke mosque apologized and removed it, Manek said that an arrest might be made in the case in Scarborough.
Manek, a former entrepreneur and non-profit organizer, was heartened by the commenters who swarmed those vitriolic posts with messages of support and encouragement. But as the organizer of an event that involved many vulnerable people in open spaces, he found himself wracked with anxiety as the event grew close. He also worried for the safety of his children, who would be accompanying him throughout the day.
"I didn't anticipate how much of that affected my mental health," he said to HuffPost Canada by phone. "I had to reflect often on the point of the event. To say, despite the negativity, we are still going to be right here. We are still going to answer your questions."
For its part, Jaffari has developed protocols and best practices with other local religious organizations to try to protect against violence. "As with any faith-based group, there's always a fear at the back of your mind that something nasty could happen," Ebrahim agreed. "But we choose not to focus on that."
Jeff Leiper, city councillor in Ottawa's Kitchissippi Ward who also toured the Ottawa Mosque yesterday, said officials must strengthen relationships with local Muslims on a regular basis, not just during times of turmoil.
"It's important for opportunities like these to be created, but Muslim members of your community shouldn't have to always ask to be included," he told HuffPost Canada. "For the relationship to be genuine, you have to work at it all the time, even when there's nothing going on."
"That's how you learn what the their needs are, where they feel their elected officials can improve, what we need to do better."
For Manek, that drive towards civic participation is key.
"The more we open up, make ourselves vulnerable, the more that the Muslim community will feel like it's part of the larger conversation," he said. "That means increased participation by Muslims in the greatest parts of Canadian life: democracy, government and civic duty."
"So much of what we're doing isn't for us," he added. "It's for the next generation, for the future of Canadian society."
https://www.huffingtonpost.ca/2018/11/11/visit-my-mosque-day-2018-canada_a_23586638/
------
Swiss cryptocurrency firm X8 obtains Islamic finance certification
Bernardo Vizcaino
November 12, 2018
Nov 12 (Reuters) - Switzerland-based financial technology firm X8 AG has obtained certification from Islamic scholars for its digital currency, with plans to expand its business in the Middle East, a senior executive said on Monday.
Several fintech firms are integrating their technology into the field of Sharia-compliant finance, with regulators and financial exchanges in the Middle East region keen to attract new business and encourage innovation in the sector.
This has prompted Islamic scholars to assess the religious validity of digital currencies, some wary of price volatility and the types of assets behind digital tokens.
The company hopes its Ethereum-based cryptocurrency, which is fully backed by a basket of eight fiat currencies and gold, can address such concerns, said X8 director and co-founder Francesca Greco.
"The Gulf region is a really good place for financial technology companies, because they all want to become hubs for fintech," said Greco, adding the company would open a regional office in the Middle East later this month.
Regulators in the Gulf region have built a welcoming environment for fintech but they are also being cautious about cryptocurrencies, giving an opportunity for so-called "stablecoins" which are designed to reduce price volatility, Greco said.
The company also plans to launch a crypto-exchange that would include a Sharia-compliant component, and it has held discussions with local exchanges in Abu Dhabi, Dubai and Bahrain, Greco added.
The firm received certification for its cryptocurrency and related tokens from the Shariyah Review Bureau (SRB), an Islamic advisory firm licensed by Bahrain's central bank.
Cryptocurrencies have drawn a variety of rulings from scholars over the past few years, with differing views on how they fit into religious principles that emphasize real economic activity and forbid outright monetary speculation.
The debate among Islamic scholars has been narrowing, however, as some have compared the trading of cryptocurrencies to the transfer of rights, which is deemed permissible in Islam. (Reporting by Bernardo Vizcaino; Editing by Gopakumar Warrier)
https://uk.reuters.com/article/islamic-finance-cryptocurrencies/swiss-cryptocurrency-firm-x8-obtains-islamic-finance-certification-idUKL8N1XN0BG?rpc=401&
------
Afghanistan: Dozens killed fighting as sectarian threat grows
November 11, 2018
Fifteen Afghan civilians and 10 commandos sent to reinforce Shi'ite militia forces fighting Taliban in the central province of Ghazni were killed on Sunday, officials said, as a days-long battle with threatening ethnic overtones continued. The fighting in Jaghori district, an area inhabited mainly by Shi'ite ethnic Hazaras, has been going on since Wednesday, when Taliban fighters attacked the district and the government sent special forces units to back up local militia forces.
Police spokesman Ahmad Khan Sirat said six members of the security forces were wounded in addition to the 25 civilians and commandos who were killed.
The fighting took place as US special envoy Zakmay Khalilzad prepared for a fresh round of meetings aimed at bringing the Taliban to the negotiating table to try to find a political settlement to the decades-long war in Afghanistan.
Although Afghanistan has traditionally not suffered from the sectarian violence that has scarred Iraq or Syria, suicide attacks on Shi'ite targets in recent years have caused deepening anger among Hazaras, a mainly Shi'ite minority.
The Taliban, a movement dominated by Sunni Muslim ethnic Pashtuns, does not have any openly sectarian agenda and deny targeting Shi'ites but many Hazaras have blamed Pashtuns for the attacks on mosques and cultural centres.
Angered by what many see as official indifference, Hazaras have formed militia groups of their own, fuelling concern among some officials and Western diplomats at the potential for an upsurge in ethnic, sectarian violence.
Disputes over the balance of representation between Hazaras and Pashtuns, the two largest groups in Ghazni, led to the postponement of last month's parliamentary election in the province.
On the other side of the country, in the northern province of Baghlan, at least 14 members of the Afghan security forces and civilians were killed and eight others were injured in Taliban attacks, provincial governor Abdulhai Nemati said. A spokesman for the Taliban, Zabihullah Mujahid in statements said killed 36 Afghan security forces and captured one military base five security checkpoints in Ghazni and Baghlan provinces.
https://indianexpress.com/article/world/afghanistan-dozens-killed-fighting-as-sectarian-threat-grows-5441423/
------
Australia
Bourke Street attack: Morrison accused of 'scapegoating' Muslim community
Mon 12 Nov 2018
Terrorism experts and lawyers have dismissed claims by the prime minister that Muslim community leaders need to do more to intervene in the wake of Friday's fatal Bourke Street attack, and have criticised politicians for their punitive response to such incidents.
The national president of the Australian Lawyers Alliance, Greg Barns, said police and Asio already had almost 80 pieces of legislation "at their fingertips" which had been introduced over the past 17 years to deal with terrorism or suspected terrorism.
"Legislating further is a dumb response," he said.
Morrison urges Muslim community to be more 'proactive' in tackling terrorism
Scott Morrison told Sky News on Monday that Islamic leaders needed to do more to prevent terrorist attacks. "If you're an imam or a leader in one of those communities, you need to know who those people are in your community that might be doing that," the prime minister said. "They are the infiltrators."
The comments were echoed by the home affairs minister, Peter Dutton, who told the Seven Network: "Let's be real, we need people to do more and certainly that's what we would expect from the Islamic community."
The comments came as early polling booths opened on Monday ahead of the Victorian election later this month, in which issues of law and order have taken a front seat.
The Labor premier, Daniel Andrews, supported Morrison's comments that Islamic leaders have a responsibility to identify and call out terrorism. He added the police commissioner would receive any further resources he requested. Andrews also rolled out anti-terrorism bollards throughout the city following a fatal siege in Brighton in 2017, which was not terror-related. He has also tightened bail laws.
The opposition leader, Matthew Guy, said if elected as premier on 24 November he would expedite mandatory sentencing reforms and deport violent offenders in Victoria on visas. Neither of those measures, however, would have prevented Friday's attack.
Barns, who as a barrister has advised and appeared in cases involving anti-terrorism laws, told Guardian Australia that attackers rarely interacted with Islamic leaders nor regularly attended mosques. He said the comments from Dutton and Morrison were "scapegoating, racist and simplistic".
"These people who commit these crimes fly under the radar, including who they associate with," Barns said.
"And then you have opportunistic politicians in both Guy and Andrews who are obsessed with wasting taxpayer funds on gross incursions into the rights of individuals and neither party is interested in more sophisticated responses. These are isolated incidents that occur, but there seems to be this bullshit view that we have to stop this from happening ever.
"Well, 364 days of the year these acts don't happen and are prevented. The reason why people commit actions of the type committed in Bourke Street are complex, and simplistic slogans and solutions by politicians have not resulted in a violence-free Australia and never will."
Barns called for a holistic approach that included examining the mental health system and ensuring it was accessible to people from other countries, and on programs to keep people well-connected and integrated with their communities.
"What we shouldn't do is draw a conclusion that all people who are refugees from Somalia are dangerous or that all those with mental illness are dangerous," he said.
Michelle Noon, a criminologist and forensic psychologist with RMIT university who works with the clinically dangerous and assists Victoria police, said international evidence had shown tough-on-crime approaches did not reduce the incidence or severity of crime.
"What they do is placate the community," Noon said.
Over-policing and a lack of willingness from the Australian community to support new immigrants exacerbated community tension, she said.
"These punitive political responses could increase tensions and that lack of welcome and support to immigrants. We live in a really safe community and we should build resilience by continuing to be in that community and work together to support each other.
"Victoria is not only one of the world's most liveable states; it is also one of its safest. Despite this, election after election we see that votes are won from increasing the community's fear of crime."
"The executive director of the Forum on Australia's Islamic Relations, Kuranda Seyit, described Friday's attack, which saw restaurateur Sisto Malaspina killed, as "absolutely shocking and abhorrent".
The saddest thing for me was the gentleman who was killed was one of the nicest people you could ever meet, a sweet and kind soul, who tried to assist the attacker unknowingly going to his death," Seyit said. "My sympathies go out to his family."
But he said Muslims had been "dragged into mud once again" by politicians.
"This is something that all of us have scratched our heads about dealing with, the federal police, the government and community leaders, it is near impossible to … prevent radicalisation," he said.
"However, we must not blame Islam for these radicalised people who take violence on to our streets."
Since you're here …
… we have a small favour to ask. More people are reading The Guardian's independent, investigative journalism than ever but advertising revenues across the media are falling fast. And unlike many news organisations, we haven't put up a paywall – we want to keep our reporting as open as we can. So you can see why we need to ask for your help.
The Guardian is editorially independent, meaning we set our own agenda. Our journalism is free from commercial bias and not influenced by billionaire owners, politicians or shareholders. No one edits our editor. No one steers our opinion. This is important because it enables us to give a voice to the voiceless, challenge the powerful and hold them to account. It's what makes us different to so many others in the media, at a time when factual, honest reporting is critical.
https://www.theguardian.com/australia-news/2018/nov/12/bourke-street-attack-morrison-accused-of-scapegoating-muslim-community
------
Morrison urges Muslim community to be more 'proactive' in tackling terrorism
Mon 12 Nov 2018
Scott Morrison has said the Muslim community in Australia must be more "proactive" in tackling the threat of terror attacks because "in many cases" imams and community leaders will know who is infiltrating and radicalising members of their flock.
Morrison said that community engagement was "the only way" law enforcement authorities could stop attacks such as the one in Bourke Street, Melbourne on Friday in which Hassan Khalif Shire Ali killed one person and injured two others.
In a round of interviews on Monday the prime minister identified the "vile presence" of radical Islam as the cause of the attack, dismissing the suggestion that mental health issues negated that primary cause as a "lame excuse".
Hassan Khalif Shire Ali deluded and paranoid before Bourke Street attack, friends say
The home affairs minister, Peter Dutton has, linked the attack to the government's re-evaluation of pathways to Australian citizenship and on Monday called on Labor to pass a bill to allow law enforcement agencies to break technological encryption.
Bill Shorten noted that Labor had cooperated on 10 sets of national security laws since he was leader, suggesting that Dutton "wants a headline" by raising the citizenship issue.
Shadow attorney general Mark Dreyfus said Labor would continue to consider the encryption bill through the parliamentary committee on intelligence and security, rebuking Dutton for suggesting it had taken a position against the bill:
Morrison told Sky News on Monday that although the Melbourne attack was a "serious terrorist incident", he did not regard it as a national security failure.
Shire Ali was born in Somalia in 1988 but emigrated to Australia in the 1990s. He had his passport cancelled in 2015 and was known to authorities before he died in Friday's attack.
Although Shire Ali was one of 400 people on a terrorism watchlist and one of 230 who had their passports cancelled, authorities could not keep everyone under observation "all the time", Morrison said.
Morrison called on "Muslim religious communities" to increase their awareness, alertness and "proactivity".
"Their community is the one that's being infiltrated – and we have to say that, because it's true, and it presents a real risk to the safety of Australia, and themselves, and their own children."
Morrison said law enforcement authorities already get "good cooperation" from community leaders, which had helped thwart 14 terror attacks, but "more needs to happen".
"The leaders of the community need to know what's going on in their community and there can be no excuses for looking [the other way]."
Giving a hypothetical example of his own making about how to prevent radicalisation, Morrison said it was "not the imam, necessarily" to blame but the "shady character who is at the periphery of the mosque, the one talking to young people".
"These people prey on vulnerable Australians, vulnerable young men particularly.
"They fill their heads full of this hate and this vile rubbish, to try and make sense of their lives."
Morrison said that imams and community leaders "need to know who might be doing that" and stated – without evidence – that "in many cases they will" know.
Peter Dutton: 'pathway to citizenship' should be examined after terror attack
The Labor MP Graham Perrett said it was "not [his] experience" that imams would know when people were being radicalised, and questioned why Morrison was "[broadcasting] to our imams via the nation".
People who knew Shire Ali say he suffered delusions and substance abuse problems in the lead-up to his terrorist attack.
Isse Musse, an imam who was a friend of the family but not close to Shire Ali himself, told the Age on Saturday that Shire Ali had become increasingly "deluded", estranged from his family and paranoid.
He said the 30-year-old attacker had attended his mosque "many years ago, when he was 11 years old or so", but hadn't attended for the nearly 20 years since.
Earlier, Morrison dismissed the idea that because the Bourke Street attacker had mental health issues he was not "really a terrorist".
"I think that's an excuse. This bloke, radicalised here in Australia with extreme Islam, took a knife and cut down a fellow Australian in Bourke Street," Morrison told Channel Ten.
On Sky, Morrison said that he blamed "extremist radical Islam" for radicalising Shire Ali. "We can talk about all these other issues, but why did this happen? Why was he motivated to do this in this way? Because of what he had exposed to in his religious community."
At a doorstop on Monday Dutton said the Bourke Street attack was "unsophisticated", consisting of an offender who had taken "a kitchen knife and throw a couple of gas bottles on to the back of the ute".
"There's no level of intelligence or information that will stop that and the best way to try to prevent it is if we get tip-offs and information from the community," he said.
But Dutton noted that law enforcement agencies have "great difficulty" with the "blind spot" created by 90% of serious criminal targets using encryption technology on messaging apps.
Dutton also said it is "much harder" to deal with Australian citizens radicalised in Australia than a visa holder, who can be deported, signalling that he would make an announcement in "due course" about that problem.
At a doorstop in Melbourne, Shorten said he did not know what change to citizenship laws Dutton was proposing, adding that it "sounds like he wants a headline".
Shorten said the best way to respond to the incident was to "pull together" but Dutton "wants to blame this or that", warning that Australians could "smell" when someone is playing politics with terrorism.
Shorten said that the terrorist attack was "an evil terrible tragedy" and while there was "no doubt an element of mental illness", that factor could help explain but not excuse the incident.
https://www.theguardian.com/australia-news/2018/nov/12/morrison-urges-muslim-community-to-be-more-proactive-in-tackling-terrorism
------
'They can't look the other way': Scott Morrison turns up heat on Muslim leaders
By David Wroe
12 November 2018
Prime Minister Scott Morrison says some Muslim leaders "clearly" don't know enough about radical influences in their midst and has urged them not to "look the other way", in an escalation of his demands on Islamic communities in the wake of Friday's terror attack in Melbourne.
Mr Morrison has doubled down on previous calls for Muslim leaders to be more proactive, saying on Monday that security agencies and police couldn't monitor everyone and it was therefore up to communities to spot "infiltrators" who are spreading extremism.
"If you're an Imam or a leader in one of those communities, you need to know who those people are in your community that might be doing that. They are the infiltrators," Mr Morrison told Sky News on Monday following last week's deadly Bourke Street terrorism attack.
He said he had confidence Imams were doing "the right thing" in their religious teachings and how their influenced their communities.
But asked whether they knew who the extremists in their communities were, he said: "In many cases they will, and what I'm saying is you can't look the other way."
Asked whether leaders knew what was going on in their communities, he said: "Clearly not. Clearly not. I think many are, but more needs to happen in this area and I want to work with the Muslim community across Australia."
As questions continued about why Bourke Street attacker Hassan Khalif Shire Ali was not regarded as a threat despite having had his passport cancelled in 2015 because he wanted to fight with Islamic State in Syria, Mr Morrison said that with 400 priority ASIO investigations and about 230 people stripped of their passports, "not all of them can be under observation all the time".
Asked whether such low-tech attacks would become something Australians would simply have to live with, Mr Morrison said: "What we have to live with is the understanding that the only way that you're going to be able to thwart something like this with an individual that was exhibiting no greater level of agitation than the other 399 on the list that had done nothing to elevate their status in the view of agencies who examine this stuff very, very carefully, what you rely on is the relationship with the community and understanding what's going on.
"My encouragement to the Muslim and religious communities across Australia is, I think, to raise the level of awareness and alertness and to raise the level of proactivity - both members of that community and the leaders of that community because their community is the one that's being infiltrated and we have to say that because it's true and it presents a real risk to the safety of Australians and themselves and their own children."
His remarks follow comments at the weekend calling for Muslim leaders to "call out" extremist activity in their communities.
Tony Abbott, who oversaw a major strengthening of Australia's counter-terrorism laws as prime minister, on Monday said Mr Morrison was "quite right to say on the weekend that there is a problem within Islam".
Mr Abbott said the vast majority of Muslims in Australia were "decent people who have joined our team and have embraced the Australian way of life".
"But there is this small minority that have this 'death to the infidel' mindset and the sooner Islam can rid itself of that, the better for everyone," he told 2GB radio.
Mr Abbott said despite being welcomed by Australia, a handful of Muslim extremists believed "there is something wrong, evil, almost satanic with the way we live and this [the Bourke Street attack] is their response."
"The sad truth is there are a small number of people living in our midst who wish to do us harm," he said.
https://www.smh.com.au/politics/federal/they-can-t-look-the-other-way-scott-morrison-turns-up-heat-on-muslim-leaders-20181112-p50fhh.html
------
North America
The forgotten Muslim soldiers who fought in First World War trenches for the Allies
By Rahul Kalvapalle
November 12, 2018
They rarely get mentioned during Remembrance Day and Armistice Day tributes, but hundreds of thousands of Muslim soldiers fought for the Allied cause during the First World War — around 885,000, according to the British Royal Legion.
Some 400,000 of them hailed from the British Indian Army, whose 1.5 million troops comprised the largest volunteer force in history.
Now, a century after Muslim soldiers from South Asia, North Africa and elsewhere went to war for their colonial masters, a U.K.-based campaign is working to shed light on their oft-overlooked sacrifices.
The idea is to give overdue appreciation for the Muslim contribution to the war effort and use the stories of Muslim soldiers to counter Islamophobic and anti-immigrant narratives in Europe and North America.
"Many far-right activists and sympathizers in Europe say and believe, 'Muslims have never done anything for us,'" wrote Hayyan Bhabha, executive director of The Muslim Experience. "The truth is one which they can't deny. They (Muslim soldiers) made the greatest sacrifice. They died for you too. Hundreds of thousands of them."
The Muslim Experience is a project of Forgotten Heroes 14-19, a non-profit organization set up by Belgian aeronautics executive Luc Ferrier in 2012. Ferrier is not Muslim, but he was inspired to set up the foundation after discovering the diaries of his great-grandfather, a soldier in the First World War.
"I was impressed by the enormous respect he had for his Muslim brothers in arms from all these continents, while he himself was a very devout Christian," Ferrier told Emirates-based newspaper The National.
His NGO's research effort suggests the number of Muslim soldiers who fought for the Allies exceeds 2.5 million, nearly three times as high as the British Royal Legion estimate.
Forgotten Heroes 14-19 unearthed some 850,000 original documents drawn from 19 countries, spanning journals, field reports and diaries in Arabic, Hebrew, Farsi, Urdu and other languages, each in their own way telling the incredible stories of the Muslim soldiers who stood with the Allies during the war from 1914 to 1918.
There are also photographs, some of which are truly remarkable.
One shows King George V on the front lines in France, breaking protocol by dismounting his horse to pay his respects to Algerian soldiers on horseback.
Another shows Moroccan soldiers caring for a wounded German prisoner-of-war in Villeroy in north-central France.
Allied officers are reported to have expressed surprise at the humane way in which the Moroccan troops insisted on caring for German prisoners.
"When the officers asked why they behaved with this courtesy towards German prisoners, they explained that according to the Qur'an, Hadith and examples of the Prophet, prisoners must be cared for and fed in a dignified manner," says Bhabha. "This was jaw-dropping for the officers."
The stories uncovered by the foundation also speak to the camaraderie among men of different faiths uniting for a shared military cause.
There are stories of Muslim imams, Christian priests and Jewish rabbis learning each other's funeral rites so that they could lay to rest soldiers of different faiths who perished on the battlefield, says Bhabha.
In December 1914, five months into the war, the French Minister of War Alexandre Millerand instructed members of his military to learn the Shahada — the Muslim declaration of faith — so that they could recite it for dying Muslim soldiers unable to do so themselves.
Troops were also required to learn how to bury Muslim soldiers per Islamic tradition, ensuring that their faces and graves faced the direction of Mecca.
"This practice is feasible and it will be necessary to comply with it," wrote Millerand in a letter seen on page 58 of The Unknown Fallen, a book written by Ferrier.
The British Indian Army supplied the most decorated Muslim soldiers of the war, many of whom went on to be awarded the coveted Victoria Cross by King George V.
Perhaps the most famous was Khudadad Khan, a machine gunner who was among 20,000 Indian troops dispatched to help tired British troops tackle the advancing Germans in Boulogne in France and Nieuwpoort in Belgium.
Khan's division was outnumbered five-to-one, but they fought on until they were completely overrun, according to the U.K. Foreign and Commonwealth Office.
The British Indian Army supplied the most decorated Muslim soldiers of the war, many of whom went on to be awarded the coveted Victoria Cross by King George V.
Perhaps the most famous was Khudadad Khan, a machine gunner who was among 20,000 Indian troops dispatched to help tired British troops tackle the advancing Germans in Boulogne in France and Nieuwpoort in Belgium.
Khan's division was outnumbered five-to-one, but they fought on until they were completely overrun, according to the U.K. Foreign and Commonwealth Office.
Mir Dast was also honoured with the Victoria Cross. Born in modern-day Pakistan, he arrived in France in March 1915, a lieutenant with over 20 years of military experience behind him.
The following month, his division was instructed to mount a counter-attack against the Germans, alongside French troops.
The Germans released chlorine gas, prompting many soldiers to retreat. But Dast was among a small number of troops who managed to hold their position until nightfall.
He is credited with helping to shepherd eight British and Indian officers to safety, evading heavy fire along the way, notes the U.K. Foreign & Commonwealth Office. King George V presented him with his Victoria Cross on the grounds of the Brighton Pavilion.
Shahamad Khan, a Punjabi Muslim corporal, was awarded the Victoria Cross for "most conspicuous bravery" in Mesopotamia (modern-day Iraq) in April 1916, according to the U.K. Foreign and Commonwealth Office.
Khan's Victoria Cross citation notes that he worked his machine gun single-handedly for three hours under very heavy fire, after most of his men were killed.
"For three hours he held the gap under very heavy fire while it was being made secure… But for his great gallantry and determination our line must have been penetrated by the enemy," reads his citation.
https://globalnews.ca/news/4651054/muslim-soldiers-first-world-war/
------
Europe
Macron thrashes nationalism at WWI centenary in Paris
12 Nov, 2018
It was a busy day in Paris as world leaders flocked to the City of Lights to mark the centenary of the end of WWI. Putin and Trump chatted, Macron spoke against nationalism and topless protestors disrupted US leader's motorcade.
They did meet
Vladimir Putin and Donald Trump were both late for the ceremony on Saturday but were visibly glad to see each other when they finally arrived.
The two leaders nodded, with Putin tapping his US counterpart on the shoulder and giving him a thumbs up. The Russian President then greeted both Trump and his wife Melania with handshakes, under the scrutinizing gazes of the other world leaders.
Every circumstance was against the reunion, it seems: Putin and Trump were reportedly supposed to sit next to each other during a working lunch at the Elysee Palace, but last-minute changes placed them on the opposite sides of the table.
Instead, the Russian president was entertained by conversation with UN Secretary-General Antonio Guterres, and European Commission head Jean-Claude Juncker, while Trump was given a seat between Macron and Moroccan King Mohammed VI.
But where there's a will, there's a way, and despite initial reports that there'd been no conversation, Putin later said he did manage to sneak a chat with Trump at lunch. That it had been a "good" discussion was, however, was the only detail he was willing to share.
'Nationalism is a betrayal of patriotism'
Later on in the day, Macron used his address to make what many saw as a veiled swipe at Trump. Speaking from a stage at the foot of the iconic Arc de Triomphe, he blasted nationalism, which, according to him, erases the most important thing for any country: "its moral values."
"Patriotism is the exact opposite of nationalism. Nationalism is a betrayal of patriotism," the French leader said.
Nationalism is a betrayal of patriotism, Emmanuel Macron said in his speech before the world leaders in Paris and caused a storm on Twitter, with the French President getting praise and bashing in...
Trump, a self-proclaimed unapologetic nationalist and advocate of the "America First" agenda, was reportedly unimpressed, awarding Macron with just a few weak claps.
However, a France 24 journalist claimed that the US President didn't even have an earpiece on and simply couldn't understand a word of what Macron was saying.
The past year's "bromance" between the French and American leaders seems history now, as their relations slide downhill over Trump's withdrawal from the Iranian nuclear deal and his tariff war against Europe. Trump didn't seem too happy to see Macron on his visit to Paris. Especially after he slammed the French leader's proposal of a European army on Twitter just a couple of days prior.
Unexpectedly, Macron's idea received backing from Putin, who told RT that it was "only natural" for the EU to seek independence in security and defense. The potential creation of a European army would be "a positive process" that would "strengthen the multipolar world," he said.
In Paris, the bare-breasted protestors from FEMEN once again proved that they can't be stopped by even the tightest security measures. A reckless, shirtless lady climbed over the barricades and almost threw herself at Trump's motorcade as it drove along the Champs Elysees, prompting the police to intervene.
Some less dangerous, and less spectacular, forms of protest against the US President's arrival were also employed on Sunday. Several hundred people gathered in central Paris despite the rainy weather to decry Trump's policies, chanting slogans, carrying anti-war banners and waving LGBT pride flags.
https://www.rt.com/news/443699-wwi-trump-putin-macron-femen/
------
At least 6 Palestinians, 1 Israeli killed in IDF 'operation' in Gaza
11 Nov, 2018
Two Hamas commanders and four other Palestinians were killed during an Israeli special forces raid in the Gaza Strip. An Israeli soldier also died and another was injured, the Israeli military confirmed.
At least two Hamas commanders have been killed in a shootout with Israeli forces that took place east of the town of Khan Younes, the Interior Ministry in Gaza reported, as cited by Haaretz. Gunfire was opened from a passing car, a Hamas official told Reuters.
There have also been reports of Israeli warplanes targeting the area with some 40 missiles shortly after the incident. Another four people have been reportedly killed in the bombing.
The two commanders killed in the alleged Israeli operation have been identified as Nur Barake and Muhammad al-Qara. Barake was a deputy commander of Hamas' military wing, the Iz al-Din al-Qassam Brigades, Haaretz reported, citing a Palestinian source.
Seven other Palestinians were wounded, Ma'an News Agency reported, citing a spokesman for the Gaza Health Ministry. The outlet also said an Israeli soldier was killed and another was seriously wounded.
The IDF confirmed the media reports, saying that one of their servicemen was killed in the operation and another was "moderately injured."
Israel has acknowledged that the exchange of fire took place "during IDF operational activity" in the Gaza Strip, without providing details about the targets or the circumstances of the raid.
Multiple alarm sirens have sounded in the Eshkol Regional Council in southern Israel near the Gaza border. The IDF tweeted that Israeli missile defense systems have so far intercepted two projectiles coming from Gaza.
Israeli Prime Minister Benjamin Netanyahu, who has been in Paris to commemorate the centenary of the end of WWI along with other world leaders, cut his visit short to head back home.
https://www.rt.com/news/443693-gaza-israeli-op-palestinians-killed/
------
'Left to count their dead': Striking report breaks MSM silence on plight of 'liberated' Raqqa
11 Nov, 2018
Entire families perished in US-led strikes on Raqqa that may have claimed more civilian lives than those of ISIS, NPR said in a shocking report tilting the Western media narrative on what has become of the "liberated" city.
The retaking of Raqqa, Islamic State's (IS, formerly ISIS/ISIL) stronghold in Syria, was hailed as a major victory for the Western coalition one year ago – even despite harrowing reports of civilian casualties and unhinged destruction caused by the offensive. One year later, the Syrian city, where people are living side-by-side with rubble and human remains, barely makes a blip in Western media. RT has extensively reported about the plight of the city.
But now a new report, supplied with a warning it "contains descriptions of dead bodies," is bringing harrowing testimonies of people, working tirelessly to recover corpses from under the ruins, to the Western readers. Those may be surprised to discover that US-led airstrikes apparently left more civilian casualties than publicly acknowledged.
The story opens up with a chilling description of "delicate skeletons of two children" being retrieved from a collapsed home. More bodies are then unearthed from a mass grave in what was once Raqqa's public park.
While the US coalition says 104 civilians were killed in airstrikes and shelling, emergency teams working on the ground recovered more than 2,600 bodies since January of this year alone. Citing local workers, the report states that most of them "were civilians killed in coalition airstrikes during the battle for Raqqa between June and October 2017."
When verifying the claim that the real tally could be "likely in the 'thousands'," the outlet then went to study the data provided by Airwars, an independent website monitoring conflicts in Iraq and Syria. It estimates that the Western coalition had used as many as 21,000 munitions against targets in Raqqa.
"We expected a significantly higher portion of civilian harm reports to be determined as credible, since in Raqqa really the only player causing the destruction was the coalition," Chris Woods, the director of Airwars, said. According to Woods, the coalition only partially admitted casualty reports from Raqqa, which "suggests a political dimension to the decision-making process."
In turn, Donatella Rovera, an adviser for Amnesty International, who gathered testimonies from journalists embedded with Western-backed Syrian militias, said the airstrikes sometimes came "within minutes" of a local commander choosing a target. No precautions had been made to ensure there were no civilians "in those buildings."
RT crews filmed scenes of destruction and despair in Raqqa since it was cleared of Islamic State militants. A shadow of its former self, the ruined city still smells of decomposing bodies and is strewn with IS landmines that hamper reconstruction efforts.
https://www.rt.com/news/443694-raqqa-bodies-destruction-report/
------
South Asia
Afghanistan: Taliban destroy army base, kill 16
November 11, 2018
Afghan officials say the Taliban have attacked a small army base, killing 12 members of the security forces and leaving behind explosives that killed four tribal elders who had come to help collect the bodies.
Safder Mohsini, head of provincial council in the northern Baghlan province, says the insurgents abducted two soldiers and wounded three others in the attack, which began late Saturday.
He says the militants burned down the base before planting bombs around it. The Taliban claimed the attack and said they seized ammunition from the base.
The Taliban carry out near-daily attacks, mainly targeting Afghan security forces at rural outposts. Seventeen years after the US-led invasion, the insurgents control nearly half the country.
https://indianexpress.com/article/world/afghanistan-taliban-army-base-attack-5441307/
------
Bangladesh to blame if Rohingya returns delayed: Myanmar
November 11, 2018
Myanmar's government on Sunday insisted any delays to the repatriation of Rohingya refugees would be the fault of Bangladesh, just four days ahead of the controversial planned start date.
After repeated setbacks, the neighbouring countries declared that the first of more than 2,200 Rohingya Muslims would be repatriated on November 15, even though international NGOs and the United Nations have said conditions are not yet in place for a safe return.
More than 720,000 Rohingya Muslims fled Myanmar's western Rakhine state in a military crackdown in August last year.
Survivors brought with them testimony of widespread murder, rape, torture and arson and are fearful of going back to Rakhine state without guarantees of safety, freedom of movement and citizenship.
Myanmar and Bangladesh signed the deal in November 2017 but the UN has repeatedly said that any repatriations must be "safe, dignified and voluntary".
"We are ready," declared social welfare minister Win Myat Aye to reporters in Yangon on Sunday.
Provisions at a transit camp will include clothes and food rations, and the refugees will also be provided with money to help them rebuild their homes in one of 42 locations, he added.
But he was unable to confirm who would be in the first group to return, insisting that it was down to Bangladesh to make sure they meet the deadline this week.
"It depends on the other country (Bangladesh) if the repatriations will start on 15 November," he said.
A Bangladesh foreign ministry official in Dhaka said while they would be moving forward with the repatriation on November 15 as planned, determining that each refugee return was voluntary would be the responsibility of the UN's refugee agency.
UNHCR spokesman Firas Al-Khateeb confirmed this, but added that it had not yet fully resolved the issue despite the tight timeframe.
"(The Bangladesh government) asked us officially to assess the voluntariness of the refugees," he said. "But we have not concluded this process yet."
Take a look: 21 Rohingya women recall rape horrors perpetrated by Myanmar security forces
Both governments have been pushing ahead with this first large-scale repatriation effort, pledging to bring back a total of 2,251 Rohingya at the rate of 150 individuals a day.
This has prompted criticism from a group of 42 aid agencies — including Oxfam, WorldVision and Save the Children — who say that it would be dangerous for them.
UN investigators have called for the country's top military brass to be prosecuted for genocide at the International Criminal Court (ICC) over the crackdown.
Myanmar vehemently rejects the court's jurisdiction over the country and insists the military campaign was justified to defend itself against Rohingya terrorists.
The UN fact-finding team also said that civilian leader Aung San Suu Kyi's government — in a power-sharing agreement with the military — were complicit in the atrocities against the Rohingya through their "acts and omissions".
She is due to speak to business leaders at a regional ASEAN forum in Singapore on Monday.
https://www.dawn.com/news/1444975/bangladesh-to-blame-if-rohingya-returns-delayed-myanmar
------
Protesters gather near Presidential Palace in Kabul over recent wave of violence
Mon Nov 12 2018
Hundreds of protesters marched towards Presidential Palace in Kabul late last night demanding President Ghani's immediate actions regarding the recent wave of violence which struck two districts in Ghazni and another district in Uruzan province, mainly inhabited by Hazaras of Afghanistan.
The protesters have gathered near the road leading towards Presidential Palace and demand President Ghani to issue a decree to suppress the Taliban militants.
According to reports, the Taliban militants have launched coordinated attacks on Jaghoori and Malistan districts of Ghazni and Khas Uruzgan district of Uruzgan province.
The attacks were launched few days earlier and have claimed the lives of several civilians so far.
In the meantime, the Kabul Garrison Command Commander Gen. Murad Ali Murad told protesters that President Ghani was ready to hold talks with them over the phone but the protesters have refused to hold talks with President and demand the release of a decree by the President to allow the security forces to suppress the militants.
On the other hand, lawmakers representing Ghazni in the parliament are saying that heavy clashes still continue between the uprising forces and the Taliban militants as they urge the government to take immediate steps to curb the violence.
https://www.khaama.com/protesters-gather-near-presidential-palace-in-kabul-over-recent-wave-of-violence-02722/
------
Three Taliban militants blown up by own IED in Zabul province
Sun Nov 11 2018
At least three Taliban militants were killed in an explosion triggered by own Improvised Explosive Device in southern Zabul province of Afghanistan.
The Ministry of Interior (MoI) in a statement said the incident took place on Saturday in Jaldak district of the province.
The statement further added that three Taliban militants were busy planting an improvised explosive device on a roadside when the incident took place, leaving three of them dead.
The anti-government armed militant groups including Taliban militants have not commented regarding the incident so far.
The Taliban militants and other militants including ISIS often use improvised explosive device as the weapon of their choice to target the security forces and government officials.
However, in majority of such attacks the ordinary civilians are killed while in some cases the Taliban militants are themselves blown up in premature explosions.
Anti-government elements must immediately end the indiscriminate and disproportionate use of all improvised explosive devices (IEDs) in areas frequented by civilians, said UNAMA in a special human rights report released few weeks earlier.
The special report – titled "Increasing Harm to Afghan Civilians form the Deliberate and Indiscriminate Use of Improvised Explosive Devices" – documents a sharp increase from 1 January – 30 September 2018 in the killing and maiming of Afghan civilians by IEDs, which have caused almost half of the civilian casualties from conflict-related violence.
https://www.khaama.com/three-taliban-militants-blown-up-by-own-ied-in-zabul-province-02721/
------
Mullah Imam among 7 detained on charges of training terrorists in Herat
Sun Nov 11 2018
At least seven people including a Mullah Imam of a mosque have been arrested on charges of training terrorists in Herat province.
The local officials confirmed that the suspects have been arrested by the security forces in Pashtun Zarghoon district.
Provincial Police Chief Gen. Aminullah Amar Khel confirmed the arrest of the individuals and said the detained suspects were also involved in the murder of two policemen.
He said the individuals had recently trained some residents of Herat and some other provinces including Ghor and Badghis for future terrorist attacks.
The anti-government armed militant groups including Taliban militants have not commented in this regard so far.
Herat is among the relatively calm provinces in West of Afghanistan but the security situation in some remote districts of Herat has deteriorated during the recent years.
The Taliban militants are active in some remote districts of Herat and often attempt to carry out terrorist related activities.
https://www.khaama.com/mullah-imam-among-7-detained-on-charges-of-training-terrorists-in-herat-02720/
------
India
SC refuses urgent hearing of Ram Janmabhoomi-Babri Masjid title dispute case
November 12, 2018
The Supreme Court on Monday rejected a plea for an urgent hearing in the Ram Janmbhoomi-Babri Masjid title dispute case. The plea was filed after the apex court last month deferred the hearing on the matter till January.
A three-judge bench, headed by Chief Justice Ranjan Gogoi, had on October 29 said the appropriate bench will decide the future course of hearing in January next year on the appeals filed against the Allahabad High Court verdict in the Ayodhya land dispute case.
The Supreme Court, while observing "we have our own priorities", ordered listing of appeals before an "appropriate bench" in the first week of January 2019 to fix a date for the hearing.
"We will fix the date of hearing of the Ayodhya dispute case before the appropriate bench in January," the bench, which also comprised Justices S K Kaul and K M Joseph, had said.
Earlier, a three-judge bench, by a 2:1 majority, refused to refer to a five-judge constitution bench the issue of reconsideration of the observations in its 1994 judgement that a mosque was not integral to Islam. The matter had arisen during the hearing of the Ayodhya land dispute.
Appeals have been filed against the 2010 Allahabad High Court judgment that ordered a three-way division of the disputed 2.77-acre site in Ayodhya, awarding a third each to the Nirmohi Akhara, the Sunni Central Wakf Board of UP and Ramlalla Virajman.
https://indianexpress.com/article/india/sc-ayodhya-hearing-ram-janmabhoomi-babri-masjid-5442035/
------
Uttar Pradesh: Muzaffarnagar Riot Accused Dead, Cops Probe Revenge Angle
Written by AMIT SHARMA, Manish Sahu
November 12, 2018
AN ACCUSED in the 2013 Muzaffarnagar riots, facing charges over killing of eight members of a minority community, was found dead at his home in Kutba village on Saturday afternoon of gunshot injuries. Ramdass alias Kaala, 42, was out on bail.
Police are probing if the death was a result of revenge killing, with Kaala's brother alleging some gunmen had barged into his home and shot him. Kutba was one of the worst-hit villages in the riots.
Looking for clues, the police raided a rehabiliation camp in nearby Palda village, where the Muslims of Kutba had moved after the riots five years ago. The police have put mobile phones of people at the camp under watch to trace their location at the time of the death. Additional police and PAC personnel have been deployed in Kutba as "precautionary measure".
Senior Superintendent of Police, Muzaffarnagar, Sudhir Kumar Singh, however, stressed that Kaala's death "had no connection with the riots case against him".
"The FIR into the death was lodged today, almost after 24 hours… We have recovered broken bangles from the spot. The evidence found suggests it could also be a case of suicide. Several articles have been sent to the laboratory and picture would be clear soon."
Circle officer, Muzaffarnagar, Hari Ram Yadav said they were informed around 2.30 pm on Saturday. That was nearly 90 minutes after Kaala died, soon after he had come home from his general merchant shop nearby.
According to his brother, some men who had arrived on a bike entered his residence and shot him in the temple at close range, killing him instantly. His two sons and a daughter were on the first floor of the house at the time, while his wife was not home. His family members claimed several neighbours saw the assailants fleeing after killing him.
The police said they had not found any weapon near the body.
Kutba pradhan Ashok said the village had "a mixed population" and had not seen any trouble since the riots.
"An FIR under Section 302 (murder) of the IPC was lodged by Kaala's brother. No arrests have been made so far," said Mahendra Tyagi, the acting in-charge of the Shahpur Police Station, adding that raids at the Palda rehab camp had so far not yielded any clues.
Kaala's brother also claimed in the FIR that several people were angry over Kaala being granted bail, and that once earlier too, he had been attacked. While the brother claimed Kaala had told police about this, Station House Officer, Shahpur Police Station, Kushal Pal Singh denied this.
Kaala, a Dalit, was one of the 10 people named in an FIR, along with 250 unidentified people, following the killing of eight people in Kutba on September 8, 2013, during the riots. The eight killed were Shamshad, his son Irshad, Waheed, Faiyyaz, Tarrabu, Kayyum, Momin and a woman, Khatun.
The 10 named in the FIR, including Kaala, had surrendered before the Special Investigating Cell formed by the then Akhilesh Yadav government to probe the riots. While the case against him is still pending in a Muzzafarnagar court, Kaala had got bail.
Overall, 62 people had been killed in the 2013 riots.
https://indianexpress.com/article/india/uttar-pradesh-muzaffarnagar-riot-accused-dead-cops-probe-revenge-angle-5441679/
------
Father-Son Had Promised Halal Investments To Attract Muslims
Nov 12, 2018
Bengaluru: The fraudulent Ambidant Marketing and investment company run by father-son Syed Fareed and Syed Afaq Ahmed had allegedly faked halal investment and misused ulemas to attract Muslim investors.
The company, which assured investors that it was dealing with halal business (businesses in accordance with Sharia) allegedly invested in cryptocurrencies and made a fortune, until it came under Enforcement Directorate scanner, after Reserve Bank of India declared cryptocurrency (Bitcoin) illegal tender.
In the beginning the company used to pay huge returns (up to 50 percent) per lakh every month to the investors. Later as more investors joined, it paid 25 per cent, then 11 percent and the last payout was in January, which was 9 percent.
The company since then has not paid to any investor but has provided flats to those who had made heavy investment.
According to a source, the father-son systematically used ulemas (Muslim clerics) to attract Muslims to invest in 'Halal business".
When the Bitcoin business was booming, the company allegedly invested huge sums in it. The going was good until the RBI declared the crypto-currencies illegal and Income Tax Department issued notices to those involved in this currency exchange.
It is learnt that Ambidant was one among over 4,000 companies and individuals who had been served with a notice.
The company, however, never revealed to its investors about its exposure to crypto-currencies.
Ambidant has investors who had deposited amounts ranging from Rs 50,000 to over Rs 1 crore. While a few of the early customers earned double of what they invested, majority of them have not received even a quarter their investments.
It's un-Islamic: Scholars
Many Islamic scholars have termed crypto-currency trade non-permisable as per Islam. They said it neither had intrinsic value like gold, nor were they backed by a government, standards of reliability required to make them a currency, according to Sharia.
In addition, the value of this currency is shrouded in secrecy, exposing investors to fraud and use by criminal networks.
Various schemes
Ultimate Plan: Investors were told to invest the amount starting from Rs 50,000 with a guaranteed returns of Rs 9,000 to 11,000. The payment was made to investors in four months along with the returns.
Vehicle Scheme: Under this plan, the investors were asked to pay 75 per cent of the vehicle amount (any vehicle) and the rest of the amount will be added by the company after four months.
Umrah scheme: Muslims planning to do Umrah (visit Makkah in Saudi Arabia as part of Islamic rituals) were asked to invest an amount less than market price and promised the journey four months after the investments.
The company had many other plans which attracted many investors, who ended up losing money.
https://www.deccanchronicle.com/nation/current-affairs/121118/father-son-had-promised-halal-investments-to-attract-muslims.html
------
Union minister: Muslims want amicable settlement
Nov 12, 2018
New Delhi: Union minister Mukhtar Abbas Naqvi on Sunday pitched for a resolution of the contentious Ram temple issue at the earliest and asserted that a common Muslim does not have an "attitude of conflict" that may harm social unity.
He, however, advocated a "wait and watch" approach amid demands from many of his BJP colleagues for a law to construct a Ram temple at the disputed site in Ayodhya, and said the Narendra Modi government has not spoken on the matter yet.
"Whatever stand the government takes will be my stand as well. The government has not spoken on the matter so far," Naqvi told PTI in an interview.
The issue should be resolved at the earliest, he said.
To a question on how Muslims view the thorny issue as, the Minority Affairs Minister said, "A common Muslim wants peace, and an amicable settlement. A common Muslim does not have an attitude of conflict which may harm social unity."
Asked about no adverse statement coming from Muslims on the temple issue, he said, "Muslim community is a very peaceful community. They don't want to involve themselves in any destructive agenda. Some individuals, some political parties for their own interest can try to incite people. So people feel that there should be a peaceful solution and it (the matter) should be ended."
Mr Naqvi also rejected the opposition's claim that the BJP and its Hindutva affiliates were deliberately bringing forth the Ram temple issue ahead of the Lok Sabha elections next year.
The matter has long been in court, and organisations linked to it, he said in an apparent reference to Hindutva bodies, thought that day-to-day hearing would be conducted and a resolution would be arrived at soon.
As it did not happen, they have been making their demands, he said.
"People have sentiments and no ban can be imposed on expressing them in a democracy. It is a coincidence that it has happened before elections. Otherwise, it is an old issue," he said.
Mr Naqvi said the issue of Ram temple was part of the BJP's manifesto even in the last elections.
He also claimed that there was growing support for Prime Minister Narendra Modi among Muslim voters, saying in the four and half years of his government, their mindset and approach had changed a lot and they had become "very positive".
"They (Muslims) have seen that his (Modi's) development agenda is very far from any discrimination or political exploitation," the lone Muslim minister in the government said.
Asked about the Prime Minister's image among Muslims compared to the 2014 Lok Sabha polls, he said it was "very positive and constructive."
http://www.asianage.com/india/all-india/121118/mukhtar-abbas-naqvi-muslims-want-amicable-settlement.html
------
'Muslims may not get 4% quota if TRS comes to power'
NOVEMBER 12, 2018
Telangana Pradesh Congress Committee president N. Uttam Kumar fears that caretaker Chief Minister K. Chandrasekhar Rao's proximity with the BJP may pose a huge threat to the continuation of 4% reservation for Muslims.
If TRS comes to power, the 4% quota for Muslims, introduced by the Congress, may go, he said while addressing a meeting on 'National Integration' to mark the 130th birth anniversary of India's first Education Minister, Moulana Abul Kalaam Azad.
He reminded that the Congress government implemented 5% reservation in jobs and education for Muslims within 58 days after coming to power in 2004. Although it was reduced to 4% on High Court's direction, Congress took steps for smooth implementation of Muslim reservation till the final judgment of the Supreme Court.
Mr. Reddy alleged that Mr. Chandrashekar Rao had duped the Muslim community by promising 12% reservation, but was never serious about it. When the BJP government rejected the proposal, Mr. Rao did not approach the Supreme Court and never even raised it with Mr. Modi despite meeting the latter on multiple occasions to discuss his political agenda.
Other incidents that unmasked his disinterest in Muslims were the TRS government's failure in challenging the verdict of NIA Court on Mecca Masjid blast case wherein all the accused were acquitted and the report on Alair encounter, where five Muslim youth were shot dead, which is yet to be made public.
Mr. Reddy also slammed the MIM president, Asaduddin Owaisi, for supporting Mr. Chandrasekhar Rao and being an 'agent' of Mr. Modi. He reiterated that voting for TRS or MIM would be like voting for the BJP.
Strong foundation
Recalling the services rendered by Moulana Azad for the country, the TPCC chief said as India's first Education Minister, Moulana Azad laid a strong foundation that eventually led to the establishment of institutions like IIMs and IITs. He said Moulana Azad was a true secular leader till his last breath and fought against all communal forces.
The meeting was also addressed by All India Congress Committee (AICC) spokesperson and former Union Minister Rajiv Shukla, Rajya Sabha member Syed Naseer Hussain, student leader Kanhaiyya Kumar, AICC Minorities Department Chairman Nadeem Jaweed, AICC secretary Saleem Ahmed, TPCC Minorities Department Chairman Shaik Abdullah Sohail and other senior leaders of the party.
https://www.thehindu.com/news/cities/Hyderabad/muslims-may-not-get-4-quota-if-trs-comes-to-power/article25469906.ece
------
Pakistan
Fazl accuses PTI govt of attempting to end blasphemy law
November 12, 2018
PESHAWAR: The ideology of Pakistan is based on Islamic principles, but today the party, which has been given the task to run the government, wants to end the blasphemy law and the Islamic ideology in the country, the JUI-F chief says.
"First, this government tried to make amendments to the blasphemy law whereas the culprit in a blasphemy case was acquitted," said Maulana Fazlur Rehman while addressing a workers convention on Ring Road on Sunday.
Member of National Assembly Mufti Abdul Shakoor, Maulana Gul Naseeb, Maulana Shujaul Mulk and other leaders also delivered speeches.
Fazl said, "Imran has been imposed on the country and in the Aasia (Bibi) case got a pat on the back from European countries as well as the US."
He said when (Zulfikar Ali) Bhutto was hanged, it was not accepted, and when Nawaz Sharif and Jahangir Tareen were also disqualified, the public did not accept the decision. "Just like that, the public does not accept the verdict in the Aasia Masih case," he said, adding that as it has hurt the sentiments of the Ummah, the Supreme Court should withdraw its decision.
"Rigging took place openly during the elections and a party was made to win; and the Election Commission of Pakistan completely failed in conducting free and fair elections," said the JUI-F chief.
He said the government wants to end the registration of Madrassas, while strict Madrassa laws are being made, but the JUI-F "will protect the Madrassas".
'Anti-state remarks' Treason proceedings sought against TLP, JUI-F chiefs
"People are being arrested in the Aasia Bibi case but we are not afraid of jails and first of all the JUI will not shy away from rendering any sacrifice to protect the blasphemy law," he said.
He said a blasphemy law convention is being held on November 15.
Addressing the event, former Senate deputy chairman Maulana Ghafoor Haideri said, "Imran Khan said if he goes to the IMF for loans he will commit suicide that day. Now the prime minister sahib should pick a date to commit suicide."
Maulana Haideri said the current government has broken the inflation record of the previous government as "today the inflation market is booming", while "the prime minister sahib is busy in begging from different countries".
https://tribune.com.pk/story/1845298/1-fazl-accuses-pti-govt-attempting-end-blasphemy-law/
------
CJP directs authorities to develop policy on collection of donations at mosques, shrines
November 12, 2018
The Supreme Court on Sunday directed authorities to develop a policy over the collection of donations for mosques and shrines across Punjab, a local media outlet reported.
Chief Justice of Pakistan (CJP) Mian Saqib Nisar remarked that donations made by people were being used by the Auqaf department to pay salaries to its employees.
The top judge observed that Rs850 million were being collected and spent to pay salaries of departments officials.
Hearing over the matter was then adjourned till next week.
https://www.pakistantoday.com.pk/2018/11/12/cjp-directs-authorities-to-develop-policy-on-collection-of-donations-at-mosques-shrines/
------
Arab World
Clashes reach residential streets in Yemen's rebel-held city
November 12, 2018
HODEIDA: Fighting for control of Yemen's rebel-held city of Hodeida reached residential streets on Sunday, as the Houthi insurgents mounted fierce resistance to government forces backed by Saudi Arabia, military sources said.
Fears for civilian safety have been rising since November 1, when the loyalist forces renewed an operation to take Hodeida. The Red Sea port city has been in the grip of Yemen's Iran-backed Houthi rebels since 2014.
Troops entered residential streets in eastern Hodeida on Sunday with the aim of "purging them of insurgents", according to a pro-government military official.
Rebels entrenched in the streets and positioned on rooftops battled to keep loyalist fighters out of a neighbourhood located between two major landmarks in Hodeida, the city's main hospital and vegetable market, both essential to the daily lives of civilians.
Yemenis across the city have reported seeing snipers stationed on rooftops and rebel-run tanks firing artillery in Hodeida, home to the impoverished country's most important port.
Residents south of the site of Sunday's clashes said they could hear gunfire and shelling throughout the night.
"We had three people from our neighbourhood hospitalised over the weekend for shrapnel wounds," said Marwa, who asked that her name be changed.
"We're really tired. It's not safe. We have no money. This time no one is leaving. We can't afford it, and it's too dangerous." Saudi Arabia and its allies first launched an offensive to take Hodeida in June, sparking an exodus from the densely populated city.
The operation was temporarily suspended amid UN efforts to hold peace talks, which failed to materialise. The United Nations is now pushing for talks by the end of the year.
Pro-government fighters moved into the neighbourhood between the May 22 hospital — the largest in Hodeida — and Sanaa Road, which links the port city to inland Yemen.
Fighters clashed around the Al-Waha (Oasis) Resort hotel complex, closing in on a civilian district located south of the hospital and north of Sanaa Road.
Hodeida's docks, while under blockade, were not yet impacted by the fighting, according to a local official.
https://www.dawn.com/news/1445077/clashes-reach-residential-streets-in-yemens-rebel-held-city
------
Syrian Army to Reinvigorate Positions Near Kurdish Militias in Raqqa
Sun Nov 11, 2018
TEHRAN (FNA)- The Syrian Army is planning to deploy thousands of fresh forces along the contact lines with the Syrian Democratic Forces (SDF) in Raqqa province in Northeastern Syria, well-informed sources reported on Sunday.
The sources said that the army is planning to station almost 5,000 fresh forces and more equipment at contact lines with the SDF from the village of Sho'ayb al-Zekr in Western Raqqa to the village of Dahlah in the East.
The sources further said that the plan was decided after intensificaiton of tensions between Raqqa's residents and the SDF and growing insecurity in the region.
Tensions have been rising between Raqqa citizens and SDF militants during the last week after Sheikh Bashar Faysal Al-Huwaydi, a leader of Arab tribes in Raqqa, who had opposed occupation of Raqqa by the SDF and the US-led coalition, was assassinated.
In the meantime, at least 10 SDF members have been killed or wounded in attacks by unknown raider in Raqqa in recent days.
Last week, the tribal leaders in Deir Ezzur and Raqqa provinces, in a statement, called on their fellow Arabs to fight against the SDF in Eastern and Northeastern Syria.
Per the statement, the tribes in Raqqa and Deir Ezzur called on Arabs within the SDF to defect; if they refuse, they will be labeled as enemies.
The statement came after the tribal leader Sheikh Al-Huwaydi was killed in Eastern Syria.
Huwaydi was the leader of one of the largest tribes in Northern Syria; he was assassinated by unknown assailants in Raqqa city.
He was reportedly assassinated after leaving an SDF commander meeting in Raqqa city.
The Arab tribes accused the SDF of assassinating him.
http://en.farsnews.com/newstext.aspx?nn=13970820000855
------
More Civilians Killed in Fresh US Air Raids in Eastern Syria
Sun Nov 11, 2018
TEHRAN (FNA)- Ten civilians were killed in the US-led coalition airstrikes in Southern Eastern Deir Ezzur, a Lebanese media outlet reported on Sunday.
The Arabic-language al-Manar TV Channel reported that the US warplanes bombed again the town of Hajin in Southeastern Deir Ezzur, killing 10 civilians, including women and children.
In the meantime, the London-based Syrian Observatory for Human Rights (SOHR) reported that the death toll of the coalition airstrikes on the towns of Hajin and al-Shafa'ah in Southeastern Deir Ezzur on Saturday has increased to 44.
Local sources said on Saturday that the US warplanes carried out several combat sorties over the small towns of Hajin and al-Shafa'ah in Southeastern Deir Ezzur, adding that at least 33 civilians, mostly women and children were killed and tens more were wounded in the attack that also destroyed a number of residential units.
The sources further said that death toll will possibly rise as the warplanes continue attacking and taking out the injured from under the debris of ruined buildings is being done slowly.
http://en.farsnews.com/newstext.aspx?nn=13970820000271
------
Turkey-Backed Militants Target Kurdish Militias in Manbij
Sun Nov 11, 2018
TEHRAN (FNA)- The Turkish troops and their allied militants targeted the strongholds of the Kurdish militias in Manbij region in Northeastern Aleppo in violation of an earlier agreement between Ankara and Washington, the London-based Syrian Observatory for Human Rights (SOHR) reported on Sunday.
SOHR reported that the Ankara-backed forces known as the Euphrates Shield opened heavy machinegun fire at the village of al-Hamran Northwest of the town of Manbij.
It further said that the Ankara forces targeted the positions of the Syrian Democratic Forces and farms in the region.
In the meantime, the US-led coalition fighter jets conducted round the clock flights over Manbij.
The attacks were carried out regardless of an agreement between the US and Turkish forces to carry out joint patrols along a buffer zone separating the Euphrates Shield forces from the Manbij Military Council forces.
SOHR said earlier this month that Turkish intelligence service transferred over 700 Ankara-backed militants and their military hardware from Afrin to the Eastern bank of the Euphrates River via the Turkish territory to use them in a massive operation against the Kurds.
In the meantime, the Turkish-language Yeni Safak paper reported that the Turkish troops were fully prepared to launch a large-scale operation against the Kurds on the Eastern banks of the Euphrates River at the border with Turkey.
The daily further pointed to the Kurdish forces' movements at the borderline with Turkey, and said that the Kurds equipped their militias with advanced missile launchers, cannons and mortar launchers.
It said that most of the Kurdish militias have been trained by the US forces in a military base in the town of Ein al-Arab.
http://en.farsnews.com/newstext.aspx?nn=13970820000356
------
Syrian Army Repels Terrorists' Attacks in Demilitarized Zone in Hama, Idlib Provinces
Sun Nov 11, 2018
TEHRAN (FNA)- The Syrian Army units exchanged heavy fire with terrorists deployed in the demilitarized zone and fended off their attacks on government forces' positions in Hama and Idlib provinces on Sunday.
The army men engaged in fierce clashes with a group of terrorists of Kata'eb al-Izzah in Zalin and al-Zalaqiat in Northern Hama in the demilitarized zone mentioned in the Sochi Agreement, inflicting major losses on them and repelling their attack.
Other units of the army clashed fiercely with terrorists in al-Wasetah West of the small town of Abu al-Dhohour in Southeastern Idlib and fended off their assault.
In the meantime, the army's artillery and missile units shelled heavily the movements of a groups of terrorists and preempted their attack on army positions in the village of Tal Malah North of Mahrada from the village of Hasraya.
The terrorist group suffered heavy casualties and pulled the remaining pockets of its forces back from the battlefield.
On Saturday, a group of Jeish al-Izzah terrorists tried to prevail over the army positions in al-Zalaqiyat region, but faced the government forces' ambush.
Razi Rajoub, a commander of Jeish al-Izzah, along with 23 gunmen were killed in the ambush.
In the meantime, Tahrir al-Sham Hay'at (the Levant Liberation Board or the Al-Nusra Front) launched missile attacks on Hama military airport.
Also, the army's positions in the small towns of Tal Bazam, Ma'an and regions near Morek came under fire by the terrorists that were deployed in demilitarized zone.
Meanwhile, local sources reported that Morek passageway in Northern Hama was cut off after terrorists' attacks, adding that the army's artillery units pounded terrorists' positions in Morek, Atshan and Ma'arkabah regions in Northern Hama in response to the militants' attacks.
Other artillery and missile units of the army, in response to the terrorists' attacks, shelled their movements and positions near Khan Sheikhoun, Skeik and Tar'ei in Southern Idlib, inflicting major losses on them.
http://en.farsnews.com/newstext.aspx?nn=13970820000214
------
Iran Blames Foreign Military Deployment for Prolonged War in Afghanistan
Sun Nov 11, 2018
TEHRAN (FNA)- Director General of the Iranian Foreign Ministry for West Asian Affairs Rasoul Eslami took the foreign forces responsible for the long war in Afghanistan.
Addressing the Second International Afghanistan Peace Conference in Moscow, Eslami said that military approach has failed to resolve problems in Afghanistan, adding that continued presence of foreign military forces in the country has prolonged the war.
He also described responsible and timetabled withdrawal of foreign forces from Afghanistan as an important step to pave the ground for starting peace talks between the Afghan government and the opposition.
Iran, Russia, Afghanistan, China, Pakistan, India, Kazakhstan, Tajikistan, Kyrgyzstan, Uzbekistan and Turkmenistan attended the conference in Moscow on Friday. The US was also represented by an expert from its embassy in Moscow.
The Taliban were ousted from power in 2001 following a US-led invasion of the country.
However, the group still controls some parts, and wields huge influence in other parts, of the country and is involved in widespread militancy.
Thousands of Afghan soldiers and civilians as well as foreign forces have been killed in raids by the militant outfit.
The Takfiri Daesh (ISIL) terrorist group is also making inroads in Afghanistan as well taking advantage of the chaos there.
Last year, Washington added thousands of additional troops to its forces in Afghanistan, but the violence has only seen a rise.
A report by the Pentagon's watchdog said last week that the Afghan government was struggling to recover control of districts lost to the Taliban while casualties among security forces had reached record levels.
The government had control or influence over 65 percent of the population, but only 55.5 percent of Afghanistan's 407 districts, the Special Inspector General for Afghanistan Reconstruction said in the report.
http://en.farsnews.com/newstext.aspx?nn=13970820000174
------
US-backed SDF fighters resume offensive against Islamic State in Syria
Nov 11 2018
The U.S.-backed Syrian Democratic Forces on Sunday resumed their ground offensive against the Islamic State (IS) in the last territories controlled by the group in eastern Syria, Associated Press reported.
The decision to resume the fighting came following threats from Turkey against the Kurdish-led force decreasing due to diplomatic activities, the SDF said in a statement.
Turkey's attacks in Kurdish-controlled territory in northern Syria - part of a large scale operation against Kurdish militants in the east of Euphrates River - have led to a temporary halt in an offensive by the U.S.-backed SDF against Islamic State in the Deir al-Zor region.
The SDF said in late October it was temporarily suspending its campaign, accusing Turkey of jeopardizing its efforts.
Turkey considers the SDF an extension of Kurdistan Workers' Party (PKK), an armed group waging an insurgency within Turkey.
U.S. support for the SDF has resulted in increased tension between the two NATO allies.
Since SDF suspended operations, AP said, IS has launched several offensives, leaving scores of U.S.-backed fighters dead or wounded.
The U.S.-led coalition has continued with its airstrikes against the extremist group while halting its ground operations.
Meanwhile, the SDF has said its fighters captured a senior IS commander in the northern city of Raqqa, the former capital of the IS seized by the SDF in Oct. 2017.
https://ahvalnews.com/islamic-state/us-backed-sdf-fighters-resume-offensive-against-islamic-state-syria
------
Iraqi troops arrest two Islamic State members in Anbar
by Mohammed Ebraheem
Nov 11, 2018
Anbar (IraqiNews.com) – Iraqi security forces arrested on Sunday two members of Islamic State group in al Amria district in Anbar, the National Media Centre said.
"Our security forces arrested two Islamic State members and detonated 15 explosive charges in different parts in Albu Hassan area in Anbar," the center was quoted by All Iraq News Agency (AIN) as saying.
"The troops also exploded 10 explosive charges and two jerry cans filled with explosive materials in al Humayra area in Ramadi," added the center.
Between June 2014 and December 2017, Islamic State seized large areas of Iraq and led a campaign of widespread violence and systematic violations of international human rights and humanitarian law – acts that may amount to war crimes, crimes against humanity, and possible genocide.
Despite the group's crushing defeat at its main havens across Iraq, Islamic State continues to launch sporadic attacks against troops with security reports warning that the militant group still poses a threat against stability in the country.
https://www.iraqinews.com/iraq-war/iraqi-troops-arrest-two-islamic-state-members-in-anbar/
------
Mideast
House Speaker At The Conference: No Return Of Sedition To Lebanon, Israel Cannot Attack Us, And Dares Not!
Sun 11 Nov 2018
NNA - House Speaker, Nabih Berri, stressed Sunday that "there will be no return of any Christian-Christian strife or Islamic-Islamic sedition in Lebanon," adding, "Let no one harbour such thoughts, for this is totally out of question!"
Berri's words came during the 16th Conference of the "Islamic Rissala" Scout Association which was held in Ain El-Teeneh this afternoon.
Touching on the government formation issue, Berri deemed that "the test of any government is not in its composition but rather in its harmony, and not only in the presentation of its ministerial statement..."
"The real test is in the decisions it will adopt during the first hundred days of its mandate and the extent of its response to the implementation of reform laws," he added.
On the conflict with the Israeli enemy, Berri said, "For the first time in the history of the Arab-Israeli conflict, and through the resistance, our people and our national unity, there is a deterrent force against Israel. Therefore, Israel cannot strike Lebanon nor does it dare to do so!"
"The real threat is the economic condition prevailing in Lebanon, and if the status quo persists, the situation would be even more dangerous," warned the House Speaker.
http://nna-leb.gov.lb/en/show-news/97182/Berri-at-the-39-Islamic-Rissala-39-Scout-Conference-No-return-of-sedition-to-Lebanon-Israel-cannot-attack-us-and-dares-not
------
Us, And Dares Not!
Sun 11 Nov 2018
NNA - House Speaker, Nabih Berri, stressed Sunday that "there will be no return of any Christian-Christian strife or Islamic-Islamic sedition in Lebanon," adding, "Let no one harbor such thoughts, for this is totally out of question!"
Berri's words came during the 16th Conference of the "Islamic Rissala" Scout Association which was held in Ain El-Teeneh this afternoon.
Touching on the government formation issue, Berri deemed that "the test of any government is not in its composition but rather in its harmony, and not only in the presentation of its ministerial statement..."
"The real test is in the decisions it will adopt during the first hundred days of its mandate and the extent of its response to the implementation of reform laws," he added.
On the conflict with the Israeli enemy, Berri said, "For the first time in the history of the Arab-Israeli conflict, and through the resistance, our people and our national unity, there is a deterrent force against Israel. Therefore, Israel cannot strike Lebanon nor does it dare to do so!"
"The real threat is the economic condition prevailing in Lebanon, and if the status quo persists, the situation would be even more dangerous," warned the House Speaker.
http://nna-leb.gov.lb/en/show-news/97182/Berri-at-the-39-Islamic-Rissala-39-Scout-Conference-No-return-of-sedition-to-Lebanon-Israel-cannot-attack-us-and-dares-not
------
U.S.-backed Syrian force resumes ground assault on Islamic State
November 12, 2018
AMMAN (Reuters) - The U.S.-backed Syrian Democratic Forces said on Sunday it had resumed a ground assault against Islamic State in its last foothold near the Iraqi border, following the suspension of the offensive last month after Turkish shelling of northern Syria.
The Kurdish-led SDF said its operations in the Deir al-Zor area had restarted as the result of "intensive contacts between our forces' leadership and the international coalition and active diplomatic efforts aimed at defusing the crisis on the (Turkish-Syrian) border".
In a statement, the SDF said it was committed to continuing operations "to eliminate (Islamic State)".
The U.S.-led coalition kept up air strikes in the Deir al-Zor area despite the pause in SDF operations.
Turkey views Kurdish influence in northern Syria as a national security threat. The SDF is spearheaded by the Kurdish YPG militia, which Ankara views as an extension of the Kurdistan Workers' Party (PKK), which has waged a three-decade insurgency in Turkey.
Reporting by Tom Perry and Suleiman al-Khalidi. Editing by Jane Merriman
https://in.reuters.com/article/mideast-crisis-syria/u-s-backed-syrian-force-resumes-ground-assault-on-islamic-state-idINKCN1NG0RK?rpc=401&
------
Netanyahu defends Qatari cash infusion for Gaza
November 12, 2018
JERUSALEM: Israeli Prime Minister Benjamin Netanyahu has defended allowing Qatar to transfer millions of dollars to Hamas-run Gaza despite criticism from within his own government over the move aimed at restoring calm after months of unrest.
The Israeli-authorised money transfer appeared to be part of talks that would see Islamist movement Hamas end months of often violent protests along the border in exchange for Israel easing its blockade of the Gaza Strip.
Border protests have been much calmer the last two Fridays, the day they usually peak.
Netanyahu's remarks late Saturday were his first on the issue since Israel allowed the money transfer to the enclave controlled by Hamas, which Israel, the United States and European Union consider a terrorist movement.
Naftali Bennet, Netanyahu's education minister and right-wing rival, compared the cash flow to "protection money" paid to criminals.
"I'm doing what I can, in coordination with the security establishment, to return quiet to the southern communities, but also to prevent a humanitarian crisis," Netanyahu said, referring to Israeli towns near the Gaza border and deteriorating conditions in the enclave.
Netanyahu said the Israeli security establishment supported the move and that ministers in his security cabinet approved it.
"We held serious discussions," he said ahead of his flight to Paris to join world leaders marking the centenary of the end of World War I.
"I think we're acting in a responsible and wise way," he said. "At this time, this is the right step."
On Friday, Palestinian civil servants began receiving payments after months of sporadic salary disbursements in cash-strapped Gaza, with $15 million delivered into the enclave through Israel in suitcases.
A total of $90 million is to be distributed in six monthly instalments, Gaza authorities said, primarily to cover salaries of officials working for Hamas.
Qatar has also said it would hand out $100 to each of 50,000 poor families, as well as larger sums to Palestinians wounded in clashes along the Gaza-Israel border.
Netanyahu has faced political pressure within Israel, including from opposition head Tzipi Livni, who called it the premier's "submission to Hamas," which would strengthen the Islamist movement.
General elections in Israel are due in a year but could take place earlier, and Netanyahu is widely seen as wanting to avoid a war that holds unpredictable risks before then.
But the Gaza cash is also being used by his political opponents on the right and left against him.
"You might buy short-term quiet, but you accustom the other side to applying violence as a way of advancing its interests," Bennett, a member of the security cabinet, told public radio Sunday.
Defence Minister Avigdor Lieberman said he had opposed "transferring the money to Hamas".
The cash influx was also criticised by the Ramallah-based Palestinian Authority, which saw it as undermining reconciliation efforts with rivals Hamas and its attempts to return to power in Gaza.The cash transfer was the latest Qatari assistance to Gaza approved by Israel in recent weeks.
The Gulf emirate has also started buying additional fuel for Gaza's sole power station, allowing outages to be reduced to their lowest level in years.
Egypt and the United Nations have been brokering indirect negotiations for a long-term truce with Israel, against which Hamas has fought three wars since 2008.
Deadly clashes have accompanied the major protests along the Gaza-Israel border that began on March 30, generating fears of a new war between Hamas and the Jewish state.
https://www.dawn.com/news/1445065/netanyahu-defends-qatari-cash-infusion-for-gaza
------
Turkey puts the heat on Saudi Arabia over Khashoggi murder
November 12 2018
By SERKAN DEMİRTAŞ
serkan.demirtas@hurriyet.com.tr
It has been more than 40 days since Saudi Arabian journalist Jamal Khashoggi was murdered in the premises of the Saudi Consulate General by a group of Saudi high-ranking military and intelligence officials.
Saudi officials initially denied the killing, then admitted to it and later sent delegations, as well as their chief prosecutor, to cooperate with relevant Turkish officials. It was later found out that a technical team who was deployed to Istanbul to investigate the murder with the Turkish officials was in fact there to cover up the remaining traces of the inhuman crime at the consulate general and the residence of the consul general. In addition, the Saudi chief prosecutor had no intention to share information with his counterparts. He was sent to Istanbul to see what evidence Turkey has.
President Recep Tayyip Erdoğan spoke with King Salman twice in this period and stressed in an opinion piece in the Washington Post: "I do not believe for a second that King Salman, the custodian of the holy mosques, ordered the hit on Khashoggi." He, however, also said "We know the order to kill Khashoggi came from the highest levels of the Saudi government," almost pointing at Crown Prince Mohammed bin Salman.
In the meantime, Turkey has continued its efforts to keep the international attention on the Khashoggi case. The Turkish government has made it clear that Saudi's efforts to let this murder fade away in due course will not be allowed and it will continue to carry out its strategy to keep this issue alive.
That was perhaps why Foreign Minister Mevlüt Çavuşoğlu told reporters last week that there are evidence that have not been shared with the international community. He also made clear, like Erdoğan did, that Turkey will continue to ask questions about the whereabouts of Khashoggi's body, a local collaborator who is allegedly an accomplice and, more importantly, who gave the instructions.
Plus, Erdoğan announced over the weekend that Turkey gave the recordings of the killing of the Saudi journalist to Saudi Arabia, the United States, Germany, France and Britain. "We gave the tapes. We gave them to Saudi Arabia, to the United States, Germans, French and British, all of them. They have listened to all the conversations in them. They know," Erdoğan said.
He unveiled this fact before his scheduled meetings with world leaders in Paris, including U.S. President Donald Trump, French President Emmanuel Macron, Russia President Vladimir Putin and German Chancellor Angela Merkel and U.N. Secretary-General Antonio Guterres. He also had a private meeting with Qatari Emir Sheikh Tamim bin Hamad al-Thani on Nov. 9 in Ankara.
All these moves are in line with Turkey's strategy to impose a concerted pressure with the involvement of the global powers from the very beginning of the incident. Erdoğan conveyed the message to King Salman that Turkey is not in favor of a bilateral crisis with Saudi Arabia but it will not stop until all perpetrators are brought to justice and pay for what they did.
It's not certain whether evidence Turkey has are enough to blame the crown prince for Khashoggi's murder and whether Turkey's political objective is to see the young prince's departure from power. What is certain is that Turkey is in efforts to increase pressure on Riyadh and to direct the international community to this end.
In the meantime, Erdoğan revealed the fact that special representatives from the two countries have in fact exchanged visits to each other's capitals in the past weeks but without explaining the real motive behind this diplomatic shuttle.
Only time will tell how all these efforts and communication between the two countries will end up.
Jamal Khashoggi, Turkey, Saudi Arabia
http://www.hurriyetdailynews.com/opinion/serkan-demirtas/turkey-puts-the-heat-on-saudi-arabia-over-khashoggi-murder-138770
------
Erdoğan, Trump discuss Khashoggi case
November 11 2018
Turkish President Recep Tayyip Erdoğan and U.S. President Donald Trump discussed how to respond to the killing last month of Saudi dissident columnist Jamal Khashoggi, a White House official said on Nov. 11.
The conversation took place during a dinner on Nov. 10 with heads of states gathered in Paris to mark the World War One Armistice centenary.
Trump expects to form a "much stronger opinion" by next week on Khashoggi's killing and Washington's response, he said on Nov. 7, adding that he was working with Congress, Turkey and Saudi Arabia to establish who bore responsibility.
Khashoggi, a columnist for The Washington Post, was killed on Oct. 2 after entering the Saudi Consulate in Istanbul.
Once inside, he was immediately strangled and then dismembered, according to the Istanbul Prosecutor's Office.
After announcing he was killed, Saudi Arabia has yet to reveal the location of Khashoggi's body.
Turkish police found traces of hydrofluoric acid and other chemicals inside a well at the Saudi consul general's home in Istanbul and think that Khashoggi's dismembered body was dissolved in acid in one of the rooms of the residence, according to an Al Jazeera report published on Nov. 8.
Saudi Consul Mohammad al-Otaibi returned to Saudi Arabia on Oct. 16 before his residence in Istanbul was searched by police for more than eight hours on Oct. 17 and Oct. 18.
Khashoggi recordings
Erdoğan revealed on Nov. 10 that the recordings of the murder were shared with Saudi Arabia, the U.S., Germany, French and the U.K.
"We gave the tapes. We gave them to Saudi Arabia, to the United States, Germans, French and British, all of them. They have listened to all the conversations in them. They know," Erdoğan said.
Erdoğan did not give details of the contents of the tapes on Saturday but two sources with knowledge of the issue have told Reuters that Turkey has several audio recordings.
They include the killing itself and conversations pre-dating the operation which Turkey subsequently uncovered, the sources said.
Erdoğan said a 15-member hit squad that arrived at the Saudi Consulate in Istanbul on Oct. 2, "certainly knows" who killed Khashoggi.
"These 18 people or precisely 15 people certainly know the perpetrator and they know where the body was taken."
He said Turkey does not have any documents or findings, but it has information.
"What is this information? I have always said since the beginning, these 15 people who came here [Turkey], with plus three, 18 people are now arrested [in Saudi Arabia]," he noted.
"There is no need to distort this. Certainly, they know among these 15 [people] who the killer or killers are, and the Saudi Arabia administration will succeed in revealing things by making the 15 speak," he said.
"The murderers are surely among this 15 or 18, there's no need to look elsewhere," Erdoğan said.
On the day of Khashoggi's disappearance, 15 other Saudis, including several officials, arrived in Istanbul on two planes and visited the consulate while he was still inside, according to Turkish police sources. All of the identified individuals have since left Turkey.
http://www.hurriyetdailynews.com/erdogan-trump-discuss-khashoggi-case-138767
------
AKP municipality pulls plug on Islamist opposition MP's conference
Nov 11 2018
A ruling Justice and Development Party (AKP) municipality cancelled the reservation for a venue where opposition Islamist Felicity Party deputy was scheduled to hold a conference, Diken news site reported.
The move by the municipality follows an investigation launched earlier this month against Cihangir İslam by the Ankara's Chief Prosecutor's Office over Islam's recent parliamentary address where he criticised the AKP's response to a failed coup attempt of July 15, 2016.
Islam, who is among group of intellectuals who signed a 2015 petition urging the government to improve its heavy-handed treatment of Kurdish citizens and was consequently sacked from his university, is accused of ''degrading the Turkish nation and the Turkish state and praising criminals and criminal acts,'' through his posts on social media.
Islam was scheduled to deliver a speech in the Black Sea region town of Ardeşen; however, was informed the reservation for the conference hall booked for the event had been cancelled by the town's AKP municipality, Diken said.
"Don't become upset with the respected mayor. He is only following orders and cannot go outside of the commands of the volition over him,'' Diken quoted Islam as saying referring to the town's mayor.
Ardaşan's Mayor Hakan Gültekin took to Twitter in response, saying the cancellation was his own decision.
https://ahvalnews.com/felicity-party/akp-municipality-pulls-plug-islamist-opposition-mps-conference
------
Southeast Asia
Malaysia ahead of other Islamic finance markets - RAM Ratings
12/11/2018
KUALA LUMPUR, Nov 12 (Bernama) -- Malaysia is ahead of other Islamic finance markets in terms of progress and maturity in the development of its Islamic finance eco-system, says RAM Rating Services Bhd (RAM Ratings).
RAM Ratings said this was based on two reports it produced together with the International Shari'ah Research Academy for Islamic Finance for the Standing Committee for Economic and Commercial Cooperation of the Organisation of Islamic Cooperation.
"The market studies, which were conducted in several jurisdictions, include comprehensive engagements with regulators and market participants, who played a critical role in supporting the policy recommendations proposed in the reports," it said in a statement today.
http://www.bernama.com/en/business/news.php?id=1663938
------
Resign from IIUM now, PPBM tells Maszlee
November 12, 2018
PUTRAJAYA: PPBM has instructed Maszlee Malik, who is one of the party's MPs, to immediately step down as president of the International Islamic University Malaysia (IIUM).
PPBM president Muhyiddin Yassin said the government had already informed him to resign from the varsity post, but the education minister had requested more time.
"It was a government and also a party decision. He is aware and has accepted the decision.
"As such, I advise him to do so immediately," he told reporters today.
On Friday, FMT reported that Maszlee had agreed to relinquish the IIUM president's post pending his replacement by a suitable candidate.
An aide however said Maszlee was waiting until the end of IIUM's convocation ceremony, which concludes tomorrow.
The Sultan of Pahang, who is the constitutional head of IIUM, reportedly named Maszlee as the varsity's president.
The decision did not sit well with some student groups, who said it was against the coalition's promise not to put politicians in charge of academic institutions.
https://www.freemalaysiatoday.com/category/nation/2018/11/12/resign-from-iium-now-ppbm-tells-maszlee/
------
Africa
Abuja Imam cautions against selling votes to corrupt poliicians
By Nkechi Onyedika-Ugoeze (Abuja)
12 November 2018
National Chief Imam, Fuad Adeyemi, has cautioned Nigerians against selling their votes to corrupt politicians.He gave the advice at the weekend in Birnin-Kebbi, at a three-day workshop for 81 chief Imams in Kebbi State, titled: "Encouraging accountability and transparency through faith-based intervention (EAT-Fln).
Adeyemi, who is Executive Director of Al-Habibiyya Islamic Society, linked the actions of corrupt leaders to the growing insurgency, large number of out-of-school children, poverty and poor infrastructure in schools.
He condemned the large scale unpaid salaries across the country and warned that it was against the will of Allah.Ishaq Azika Mugundi, who spoke on behalf of other Imams, promised top spread the message to their followers.
Meanwhile, the governorship candidate of the Alliance for Democracy (AD) in Lagos State, Owolabi Salis, has charged the Independent National Electoral Commission (INEC) to conduct free, fair and credible elections in 2019.He described the APC TraderMoni scheme as a fraud, and said he was in a better position to defeat the candidate of the All Progressives Congress (APC), Mr. Babajide Sanwo-Olu.
He said: "Some individual have cornered the resources of Lagos, and until we collectively remove them through the ballot, they will continue to plunge the wealth of Lagos. Sanwo-Olu is one of them, he is their agent and we must reject him in the coming poll."
In a related development, a body, the Basic Registry and Information System of Nigeria (BRISIN) has disclosed plans to assist INEC in continuous compiling and updating of the voters register.Head, BRISIN implementation in Nigeria, Dr. Anthony Uwa, who revealed this at the weekend in Abuja, said there is the need for daily and constant updating of information of eligible voters in the country.
He stressed that by 2023, Nigerians will witness an automatic voter registration and also see the diaspora being involved in the election, just as you have foreigners voting in Nigeria for their country's elections.
Uwa disclosed that as soon as the implementation of BRISIN takes off, a data centre would be built from the ward to federal level, while promising a Nigerian Social Security Number, different from (NIN), as well as assisting the National Population Commission NPC).He said BRISIN would obtain vital demographic statistics and population figure without necessarily conducting head counts from now on.
http://guardian.ng/politics/abuja-imam-cautions-against-selling-votes-to-corrupt-poliicians/
------
Egyptian court adds Islamist group to terrorism list
NOVEMBER 12, 2018
CAIRO (Reuters) - A Cairo criminal court has added Islamist group Al-Gamaa Al-Islamiya as well as 164 of its leaders and members to a list of terrorist entities, Egypt's official gazette said on Sunday.
The group waged a bloody campaign against Egypt's security forces in the 1990s but later gave up violence and entered mainstream politics.
Previous rulings adding individuals to the terrorism list have focused on the Muslim Brotherhood, which has been subject to a far-reaching crackdown since the Brotherhood's Mohamed Mursi was ousted as president in 2013.
In an Oct. 28 ruling, the Cairo court said that following the 2011 uprising that toppled former Egyptian leader Hosni Mubarak, "many leaders and members of Al-Gamaa Al-Islamiya renounced their previous initiatives to stop violence", according to the official gazette.
Travel bans and asset freezes are automatically imposed on those included on the terrorist list. Criminal court rulings can be appealed against at the court of cassation, Egypt's highest court.
https://www.reuters.com/article/us-egypt-court/egyptian-court-adds-islamist-group-to-terrorism-list-idUSKCN1NG0RQ?feedType=RSS&feedName=worldNews&utm_source=feedburner&utm_medium=feed&utm_campaign=Feed%3A+Reuters%2FworldNews+%28Reuters+World+News%29&&rpc=401
------
What Osinbajo told Council of Imams during meeting
November 12, 2018
By Wale Odunsi
Vice President, Yemi Osinbajo, SAN, has stated that prudent management of resources by the Buhari administration has helped it achieve far more in terms of infrastructure and development than previous administrations.
Prof. Osinbajo stated this at a public lecture organized by the Council of Chief of Imams, Ikeja Division in Lagos on Saturday.
The Vice President also stated the determination of the administration in its fight against corruption, noting that it was a major challenge which had slowed the country's development in the past.
He added that the Buhari administration has spent over N2.7 trillion on capital expenditure in the last three years, pointing out that it is the highest amount ever spent on capital project in the history of Nigeria.
The Vice President listed some of the infrastructure projects to include, among others, the Lagos-Kano Standard Gauge Railway, the Lagos-Ibadan Dual Carriageway and the Second Niger Bridge.
According to Prof. Osinbajo, the Buhari administration has been able to achieve this through prudent management of resources, despite earning 60% revenue less than the previous administration when the price of crude oil was high.
"Despite earning 60% less revenue, we are spending more on infrastructure in this government, from roads, rails to power," he said.
The Vice President also said that components of the administration's Social Investment Programme have impacted the lives of millions of Nigerians.
He adds, "If the N60 billion that was part of the sum looted from the nation's treasury in the past, was given out to these traders, 6m petty traders would have been beneficiaries."
Prof. Osinbajo said at the inception of the administration, over 23 states in Nigeria owed salaries of between three to 12 months, which necessitated the Federal Government giving the states bailout funds to pay their workers.
He said the Buhari administration was also confronted with the drop in Nigeria's crude oil production of 2.2 million bpd, coming down to around 1 million bpd as a result of the restiveness in the Niger Delta Region.
Speaking further, the Vice President stated that the struggle in Nigeria is that between good and evil, and not between religions.
"I want to say to you that it's a battle between good and evil. What we are fighting for in this country is a battle between good and evil, it is not a battle between religions. Corruption is our major challenge. The people that steal Nigeria's resources are both Christians and Muslims," he said.
http://dailypost.ng/2018/11/12/osinbajo-told-council-imams-meeting/
------
URL: https://www.newageislam.com/islamic-world-news/australia-grand-mufti-rejects-government/d/116857
New Age Islam, Islam Online, Islamic Website, African Muslim News, Arab World News, South Asia News, Indian Muslim News, World Muslim News, Women in Islam, Islamic Feminism, Arab Women, Women In Arab, Islamophobia in America, Muslim Women in West, Islam Women and Feminism