New Age Islam News Bureau
9 March 2020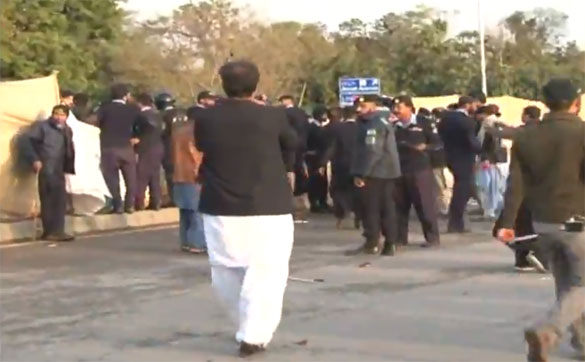 • Indonesian Ulema Council, Government to Rein In Intolerant Television Sermons
• Saudi Arabia Locks down Shia-Majority Region Using Coronavirus as Excuse
• India Changed Attitude towards Muslims after Trump's Visit: Iranian MP
• US, Russia Not To Accept 'Islamic Emirate' In Afghanistan
• Afghan Forces Will Reverse 'Defence Mode' If Taliban Continues Attacks: Defence Minister
• The Muslim Running For Mayor in Christian Bavaria
• Top Al-Shabab Commander Believed Killed in Drone Strike
Pakistan
• Aurat March Attacked By Religious Men with Bricks, Sticks in Islamabad
• JeM chief Masood Azhar moved to Rawalpindi for personal safety: Intel
• Complete consensus in PTI on women's rights: Fawad
• COAS pays tribute to women for role in nation-building
• Balochistan govt announces two-day holiday on Holi
• PM says equal opportunities for women will result in inclusive growth
• They plan to march for gender equality. In Pakistan, that has caused outrage
• Violence in India may engulf whole region: Qureshi
• Seventh case of coronavirus detected in Pakistan
• Bilawal is proud to be son of 'most empowered woman'
--------
Southeast Asia
• Indonesian Ulema Council, Government to Rein In Intolerant Television Sermons
• Manila hopes to recover remains of Filipino workers abducted by Daesh
• Former Cabinet members laud DAP for unconditional support of Malay-Muslim causes
• Perlis Mufti says told Cabinet members cleared by MACC and cops, nobody with fake degrees
--------
Arab World
• Saudi Arabia Locks down Shia-Majority Region Using Coronavirus as Excuse
• 4th prince arrested in Saudi royal purge over alleged coup plot: NY Times
• Syrian army, residents block US military convoy, force it to retreat in Hasakah
• Oil crashes after Saudi Arabia declares price war amid coronavirus
• Riyadh releases king's photos after purge over 'coup plot'
• Iraq confirms two more coronavirus deaths, raising total to six
• First coronavirus death recorded in Egypt is German citizen: Health ministry
• Road crash in Syria kills 22, including Iraqi pilgrims: Reports
• Coronavirus: Saudi Arabia imposes quarantine on al-Qatif city
• US muddling region, pressuring Iraq to cut ties with Iran: Iraqi PM
• Hezbollah backs Lebanon government's decision not to repay $1bn in foreign currency debt
• Syria reopens Damascus-Aleppo highway to traffic
--------
Mideast
• India Changed Attitude towards Muslims after Trump's Visit: Iranian MP
• Iranian NGOs, Student Organizations Urge UN to End Brutality against Muslims in India
• SOHR: Turkey Sends over 4700 Mercenaries to Libya
• Netanyahu says Israel may broaden entry restriction due to coronavirus
• Turkey's Erdogan set to discuss migration issue with EU
• Coronavirus claims lives of two Iranian clerics, former prosecutor
• Some in Iran die after drinking homemade alcohol to prevent coronavirus: Experts
• Intelligence Min.: Jaish ul-Adl terrorist leader killed in south eastern province
• Erdogan to Greece: Open your borders to migrants
• Israeli snipers say how they incapacitated Palestinians in peaceful protests
• Israel, US team up to sabotage ICC war crimes investigation
• Palestinians in East Jerusalem neighborhood living in constant fear
--------
North America
• US, Russia Not To Accept 'Islamic Emirate' In Afghanistan
• As the US squares up for a fight with the ICC over Afghanistan, who will win?
• US 'very frustrated' over years-long failure to overthrow Syria govt: Analyst
--------
South Asia
• Afghan Forces Will Reverse 'Defence Mode' If Taliban Continues Attacks: Defence Minister
• Taliban Reacts to Parallel Swearing-In Ceremonies of Abdullah and Ghani
• ISIS release of assailants involved in deadly Kabul attack
• For the first time in history, two might swear-in as Presidents in one Afghanistan
• Afghan president demands 'executive guarantee' before release of Taliban inmates
• US operating in Afghanistan 'under the law of the jungle': Former US marine
• Afghan peace pact in chaos as presidential rivals squabble
--------
Europe
• The Muslim Running For Mayor in Christian Bavaria
• Erdogan urges Greece to 'open the gates' to migrants
• MCB dossier sets out extent of Tory Islamophobia
• Mainland Greece to temporarily house 'migrants from Turkey'
• Gunman opens fire in Paris mosque, wounding one
• Turkey deports 2 German nationals over terror links
• Turkey sends reinforcements into Idlib as ceasefire holds
--------
Africa
• Top Al-Shabab Commander Believed Killed in Drone Strike
• Turkey dispatches over 4,500 allied Takfir militants from Syria to Libya: SOHR
• Boko Haram jihadists attack Niger army position after lull in conflict
--------
India
• Jammu And Kashmir: Militant Killed In Encounter In Shopian
• Pulwama attack case: Dead suspect's phone helped NIA join the dots
• Pakistan fires on Indian posts along the LoC in Jammu and Kashmir's Poonch district
Compiled By New Age Islam News Bureau
URL: https://www.newageislam.com/islamic-world-news/aurat-march-attacked-religious-men/d/121265
--------
Aurat March Attacked By Religious Men with Bricks, Sticks in Islamabad
March 9, 2020
Several people were injured after the Aurat March in Islamabad came under attack by religious men –one of whom was disguised as a woman in a Burqa — on Sunday as the march was drawing to a close in front of Islamabad Press Club.
The men initially began with throwing stones at the marchers, but also drew out sticks to chase after and hit the women. The Burqa-clad man was arrested by the police as it was later revealed that he along with a few others had infiltrated the march pretending to be supporters and had begun attacking the marchers.
A cloth partition installed for the protection of the participants was also removed after which hoards of men infiltrated the demonstration, prompting people to hurriedly exit from the venue.
Tooba Syed AWP ☭
@Tooba_Sd
We were flashed at by the JUIF goons, they threw chillies on another woman's face, they injured multiple people but no one backed off! I'm so proud of each and everyone person and the organisers. We will win. Victory is ours!
285
20:47 - 8 Mar 2020
It may be noted here that the men were on the other side of the partition had been staging a counter-protest when they decided to launch the attack.
According to an organiser who spoke to a local media channel, the men, who reportedly belonged to the Jamiat Ulema-e Islam – Fazl (JUI-F) and Lal Masjid, were hurling abuses at women, telling them to stop chanting the slogan 'Mera Jism, Meri Marzi'.
Maria H. Malik ☭
@marriyamalik1
JUIF & Sunni-ittehad mullahs violently attacked us today at #AuratAzadiMarch2020 with rocks & chilli powder and 5 of our people got severely injured. What triggered them? Seeing women reclaiming public space.
This is the true & ugly face of this society that we march against!
21:45 - 8 Mar 2020
Police and organisers struggled to control the situation and closed the F-6 road for traffic but the people were stopped from marching till D-Chowk. Some policemen were also seen running away and escaping themselves.
Benazir Jatoi
@BenazirJatoi
Islamabad police DID NOT provide the protection the way it should have.
1. Why was the mullah session in the same place separated only by a cloth tent?
2. When stones were thrown at us why were the police running away?
#AuratAzadiMarch2020
129
20:40 - 8 Mar 2020
Many women reported being subjected to violence. According to a woman who was returning to her car with her children, a man threw chilli powder at her face while many others reported that the religious men showed them their private parts.
Irfana Yasser
@irfanacheema
I was with my kids in march and coming back to my car when a man sprinkled chilli powder on my face. How he brought chilli with him. Did no body check him @dcislamabad @AuratAzadiMarch @Tooba_Sd
490
20:45 - 8 Mar 2020
Tooba Syed AWP ☭
@Tooba_Sd
We were flashed at by the JUIF goons, they threw chillies on another woman's face, they injured multiple people but no one backed off! I'm so proud of each and everyone person and the organisers. We will win. Victory is ours!
View image on Twitter
285
20:47 - 8 Mar 2020
The march was attended by over 2,000 people who protested against multiple issues faced by women, transgenders, men, children and society as a whole and raised slogans urging the government to take action for their causes.
In the lead up to the March, supporters of the march had been threatened with murder, rape and violence, in addition, to being subjected to online vitriol and opposition from men and religious women.
On the other hand, Pakistan Electronic Media Regulatory Authority (PEMRA) had issued an advisory, asking TV channels to refrain from broadcasting 'vulgar/inappropriate content' citing Pemra rules as well as court orders.
PPP Senator Mustafa Nawaz Khokhar also condemned the incident and said: "To scare women from sticks, stones and bad language is cowardly behaviour."
Khokhar demanded that legal action be taken against the people responsible for pelting marchers with stones.
Human Rights Minister Shireen Mazari also issued a condemnation, saying that while people have the right to disagree, "violence is unacceptable".
"Strongly condemn the stoning and violence against peaceful gathering of women, men and families in #AuratMarch2020. Our religion teaches tolerance and Sabr. It does not allow throwing stones and sticks at unarmed people one disagrees with. Can disagree with them but violence is unacceptable," she tweeted.
https://www.pakistantoday.com.pk/2020/03/08/religious-party-attacks-aurat-march-in-capital-several-injured/
--------
Indonesian Ulema Council, Government to Rein In Intolerant Television Sermons
March 8, 2020
The Indonesian Ulema Council (MUI) is seeking to rein in the spread of hate sermons by introducing certification standards for Muslim preachers appearing on television. The move follows the government's campaign to stem the rising tide of religious intolerance spread through sermons in public places, including mosques, schools and the internet. On Thursday, the MUI invited around 80 Muslim preachers to its office, including many who make regular television appearances giving sermons or hosting religious programs. They took part in a three-day course to ensure they met the basic competency standards set by the MUI, the umbrella for all Islamic organizations in Indonesia. The course is intended to ensure that they promote moderation and tolerance. While an MUI certificate is not a prerequisite to appear on television, it is clear that the government wants to ensure that tele...
https://www.thejakartapost.com/news/2020/03/08/ulema-council-government-to-rein-in-intolerant-television-sermons.html
--------
Saudi Arabia locks down Shia-majority region using coronavirus as excuse
08 March 2020
Saudi Arabia has imposed a lockdown on the oil-rich and Shia-populated Qatif region with an excuse to prevent the spread of coronavirus.
In a statement released on Sunday, the Saudi Interior Ministry said no one would be allowed to enter or exit Qatif and that work at all public and private sectors in the region had been suspended with the exception of institutions providing necessary services.
"Given that all 11 recorded positive cases of the new coronavirus are from Qatif... it has been decided... to temporarily suspend entry (into) and exit from Qatif," the statement read.
Residents in Eastern Province, which includes Qatif, have long demanded an end to what they say is discrimination by the Riyadh regime.
Saudi Arabia has faced protests since 2011, when a wave of uprisings hit dictatorial Arab monarchies in West Asia and North Africa.
The kingdom has stepped up security measures in the region, which has also witnessed deadly shootings and bombings targeting security forces or Shia residents.
Saudi Arabia has also increased politically-motivated arrests, prosecution and conviction of peaceful dissident writers and human rights campaigners.
Anti-regime protests intensified in the province after the January 2016 execution of prominent Shia cleric Sheikh Nimr Baqir al-Nimr, an outspoken critic of the Al Saud ruling dynasty.
In 2017, Saudi regime forces stormed the ancient village of Maswarah in the same province. Authorities were said to be seeking to tear down homes belonging to the poor locals under the pretext of developing the region.
The Eastern Province governor's office stressed at the time that Maswarah and similar ancient villages should not be demolished as such raids were inconsistent with the instructions for preserving historic sites.
Last month, a media report said Saudi authorities will execute a dozen imprisoned minor dissidents from Eastern Province.
The Lebanon-based Arabic-language al-Ahed news website, citing sources from the European Saudi Organization for Human Rights (ESOHR), reported that the Qatif residents are facing death penalty at various levels of litigation.
Among the detainees already on the death row is Muhammad Issam al-Faraj, born in 2002, who faced charges before reaching the age of ten.
Those executed are buried alone and their families are not allowed to bid farewell or receive their loved ones' wills.
Human rights organizations have repeatedly criticized Britain and the United States for giving the Saudi regime an easy pass on perpetrating human rights abuses on its own people.
https://www.presstv.com/Detail/2020/03/08/620416/Saudi-Arabia-Qatif-coronavirus
--------
India changed attitude towards Muslims after Trump's visit: Iranian MP
March 08, 2020
From Iran's foreign minister Javad Zarif to its supreme leader Ayatollah Khameini, Iranian officials have increasingly taken to condemning India in the wake of the Delhi violence that left 53 dead at latest count. Now, the spokesman for the Iranian parliament's national security and foreign policy commission is the latest to issue a strong statement, blaming US President Donald Trump for changing India's attitude.
Naqavi Hosseini told Iranian news agency Tasnim that the "mass killing" of Muslims was taking place in India, and that India's attitude towards the Muslim community changed after US President Donald Trump's visit to India.
"Today, we are witnessing the mass killing of Muslims in India, which must be strongly condemned by the international community and Islamic countries," Hosseini said
"I believe that since President Trump travelled to India and met with its officials, the country's behaviour… toward the Indian Muslim community changed," he said.
"The Islamic Republic of Iran and its diplomatic apparatus should use the capacities of the Organization of Islamic Cooperation and the Non-Aligned Movement to counter the killing of Muslims in India," he continued.
According to Tasnim, he said that the "crimes by extremists against the Indian Muslims" indicate that the "New Delhi government is ingratiating itself with the American officials". He also said that inaction on these crimes was a source of shame for Indian statesmen.
Hosseini's comments come days after Ayatollah Khamenei called on India to stop the "massacre of Muslims". On March 5, Khamenei had tweeted, "The hearts of Muslims all over the world are grieving over the massacre of Muslims in India. The govt of India should confront extremist Hindus & their parties & stop the massacre of Muslims in order to prevent India's isolation from the world of Islam."
Earlier, foreign minister Zarif had tweeted, "Iran condemns the wave of organised violence against Indian Muslims. For centuries, Iran has been a friend of India. We urge Indian authorities to ensure the wellbeing of ALL Indians & not let senseless thuggery prevail. Path forward lies in peaceful dialogue and rule of law." The statement prompted India to summon the Iranian ambassador, with MEA spokesperson Raveesh Kumar saying that it was conveyed that such "selective and tendentious characterisation of recent events in Delhi" were unacceptable. "We do not expect such comments from a country like Iran," he said.
India has not yet reacted formally to Khamenei's tweet. However, at a summit on March 7, external affairs minister S. Jaishankar responded to a question on whether India was losing friends in the world. "Maybe we are getting to know who our friends really are," ANI reported him as saying.
Jaishankar also responded to the UNHCR's move to approach the Supreme Court to challenge the Citizenship (Amendment) Act (CAA), saying that the UN body had been wrong before. He cited their record on Kashmir, saying, "They carefully skirt around the problem of cross-border terrorism in the region as if it has nothing to do with Kashmir."
India enjoys strong bilateral ties with Iran, with strategic tie-ups such as with the Chabahar port. However, India's growing ties with the US have also come in the way of relations. Under US pressure, India reduced all oil imports from Iran to zero in April 2019, choosing to rely on alternate source.
The move came after the US withdrawal from the 2015 nuclear deal revived a range of sanctions against Iran. India was part of a group of eight countries that had a six-month waiver from these sanctions, which was set to expire in May 2019.
Likewise, when the commander of Iran's Quds force was assassinated in January, India sought to balance relations with both Iran and the US, reaching out to both sides in the aftermath and seeking to ensure that the Chabahar Port project continued.
As Iran struggles to battle the coronavirus outbreak in the country, India has been working closely with Iran to ensure its nationals are able to leave the country safely and vice versa.
https://www.theweek.in/news/world/2020/03/08/india-changed-attitude-towards-muslims-after-trumps-visit-iranian-mp.html
--------
US, Russia Not To Accept 'Islamic Emirate' In Afghanistan
Anwar Iqbal
March 09, 2020
WASHINGTON: The United States and Russia have agreed to work together to ensure that the international community does not accept or support the restoration of the "Islamic Emirate of Afghanistan".
In a joint statement released by the US State Department in Washington earlier this weekend, the United States and Russia also welcomed the Taliban's commitment to "a political process and their prospective role in a new post-settlement Afghan Islamic government as determined by the intra-Afghan negotiations".
But they "reaffirmed that the Islamic Emirate of Afghanistan is not recognised by the international community and at the United Nations, and furthermore, the international community will not accept or support the restoration of the Islamic Emirate of Afghanistan".
On Saturday, the Taliban issued a statement as well, insisting that it's their duty to restore the "Islamic government" that existed before US forces toppled their government in Kabul in 2001. But they too avoided using the term, Islamic Emirate of Afghanistan.
American representatives drafted a joint statement in Doha on Feb 28, a day before signing a peace deal with the Taliban.
The deal calls for an intra-Afghan dialogue to create a new administrative setup in Kabul and lays down conditions for the ultimate withdrawal of all 14,000 US and Nato troops from Afghanistan.
The Taliban, however, insisted that their leader Mullah Haibatullah was "the only legal ruler of Afghanistan" and after the withdrawal of foreign forces from the country, they were duty-bound to restore an "Islamic government" in Afghanistan, a term also used in the US-Russia joint statement.
The Taliban said the Doha agreement aimed at ending 19 years of war in Afghanistan, but it "will have no impact" on their "legitimate claims".
In the joint statement, the United States and Russia expressed readiness for commencement of intra-Afghan negotiations to "review the status of sanctions designations" on Taliban leaders "in order to support the peace process".
But they also noted that Taliban action to further reduce violence and otherwise cease to "engage in or support activities that threaten the peace, stability and security of Afghanistan or other countries will affect the review".
The two countries encouraged all countries to support the Afghan people and contribute to a lasting peace settlement in the interest of all.
They pledged to work with the Kabul government, Afghan political leaders, civil society and the Taliban to "bring about a comprehensive and sustainable peace agreement that ends the war and contributes to regional stability and global security".
They also reiterated that a "comprehensive and sustainable peace can be achieved only through an inclusive negotiated political settlement among Afghans".
The joint statement appreciated the Feb 22-28 reduction of violence in Afghanistan and urged all sides to further scale down violence in order to create an environment conducive to intra-Afghan negotiations.
Russia and the United States called on the Taliban and other Afghan groups to take concrete steps to ensure that the territory of Afghanistan was not used by Al Qaeda, the militant Islamic State group or other international terrorist groups to threaten or attack other countries.
They said they expected all sides would observe a ceasefire for the duration of intra-Afghan negotiations to enable participants to reach agreement on a political roadmap for the country's future and the modalities of a permanent and comprehensive ceasefire.
They called on all Afghans to begin discussions immediately on issues of mutual concern, such as prisoner releases and a ceasefire.
Washington and Moscow pledged to provide political support and economic assistance to a future Afghan government if it respects the rights of all Afghans, including women, youth and minorities.
https://www.dawn.com/news/1539436/us-russia-not-to-accept-islamic-emirate-in-afghanistan
--------
Afghan Forces Will Reverse 'Defence Mode' If Taliban Continues Attacks: Defence Minister
08 March 2020
Afghanistan's defense minister says the government forces would switch from 'defense mode' to offensive if the Taliban militant group does not stop attacks by the end of the week.
"Afghan forces will remain in defense mode until the end of this week under the guidance of President Ashraf Ghani because of the peace agreement, but if the Taliban do not stop their attacks by the end of the week, our troops will target the enemy everywhere," Asadullah Khalid said in a statement on Sunday.
Taliban have ramped up violence against Afghan security forces in recent days. Last week, they carried out over a dozen attacks on Afghan military bases in 13 of the country's 34 provinces.
The United States and Taliban have signed an agreement aimed at ending the 19-year-old war in Afghanistan.
A week-long truce between the Taliban, the US, and Afghan forces, which preceded the February 29 signing of the deal, was violated shortly after it was signed.
The deal sets out a timetable for the foreign forces to quit Afghanistan within 14 months, subject to a pledge by the militants to hold talks with the Kabul government.
The agreement also calls for up to 5,000 jailed Taliban prisoners to be released in exchange for up to 1,000 Afghan government captives by March 10.
The Ghani administration has since rejected that demand. The president says the issue has to be discussed as part of a comprehensive peace deal that includes the Kabul government.
Taliban now control or hold influence over more Afghan territory than at any point since 2001.
The militants have long demanded the withdrawal of foreign troops, calling them an "occupation" force, and blaming them for almost two decades of war.
https://www.presstv.com/Detail/2020/03/08/620427/Afghanistan-Taliban
--------
The Muslim running for mayor in Christian Bavaria
MARCH 9, 2020
With his neatly trimmed beard, sharp suit and broad smile, Ozan Iyibas looks like a typical politician out to win votes ahead of a municipal election in southern Germany's Bavaria region.
But he has unleashed a mini earthquake with his candidacy — as the first Muslim standing for the Christian Social Union (CSU) in a predominantly Catholic region.
"I don't see any contradiction in this choice," says the 37-year-old, sitting back in an armchair and clutching a mug of tea in the town of Neufahrn.
"It's a question of values. The values of my religion are very close to those of Christians."
While Iyibas won the local CSU's nomination unanimously, such support is not always a given in the region where party chief Markus Soeder in 2018 ordered crosses to be displayed at the entrances of all public buildings, as a way of honouring the region's "cultural heritage".
In another Bavarian village, Wallerstein, resistance from local CSU members was so great against a Muslim candidate that the hopeful was forced to pull out of the race.
"It was not about me, but about my faith. For example, an argument is that the C in CSU and I as a Muslim did not go together," Sener Sahin told Sueddeutsche Zeitung.
Party top brass had sought to intervene in Sahin's favour, but the rank and file would not budge, even though Sahin is a successful entrepreneur who was both player and trainer in the village football club and whose wife is Catholic.
'No difference'
The CSU, sister party of Chancellor Angela Merkel's Christian Democratic Union (CDU), has been the dominating force in Bavaria since the end of World War II.
But the far-right and Islamophobic AfD, and the ecologist Greens, have in recent years chipped away at that support, which at the last state elections in 2018 hit its lowest level since 1954.
In recent years the CSU has swung between lurching right to save its conservative vote, and veering left to win back younger, ecologically minded voters.
In Neufahrn, the CSU is counting on Iyibas' unusual profile to rejuvenate the party and wrest the mayoral post from the Greens at the March 15 vote.
The consultant for start-ups was born just a few kilometres (miles) away from the town where he grew up in the suburbs of Munich.
When he crosses paths with someone he knows, they discuss the local economy, public transport, the environment — but not religion.
"In my opinion, the most important issue is housing," says Erica, a pensioner who he meets at the entrance to a grocery store.
"The religion of the candidates makes no difference."
Branded 'enemy'
Iyibas, who is of Turkish origin and an adherent of Alevism, a secular branch of Islam, said he has been brought up to feel at ease in a predominantly Catholic environment from a young age.
"When I was little, my mother took me to a church and I asked her why. She replied that if we were going to live here, we needed to understand and share the values of this country. That's what I have done."
Stefan Wurster, a professor of political studies at the Bavarian School of Public Policy, has noted that "many Germans from migrant backgrounds believe in conservative values that correspond with those of the CSU."
The conflict in the party today, he says, is "less between Christians and Muslims, and more between religious people and atheists".
Iyibas is also convinced his party is changing.
For him, a "new conservatism" could arise that "honours tradition but innovates at the same time".
And he is hopeful that "in five or 10 years' time, (religion) won't be an issue".
But he still faces an uphill battle to win over local far-right supporters.
AfD members have branded him an "enemy" on Facebook, and have told him that they "will fight against a Muslim mayor".
https://dailytimes.com.pk/572758/the-muslim-running-for-mayor-in-christian-bavaria/
--------
Top Al-Shabab Commander Believed Killed in Drone Strike
By Carla Babb, Harun Maruf
March 08, 2020
WASHINGTON - The U.S. military has confirmed to VOA that one of al-Shabab's top leaders was likely killed in a drone strike last month.
"It is believed that indeed Bashir Mohamed Mahamoud, aka Bashir Qoorgaab, was killed" in a U.S. air strike Feb. 22, U.S. Africa Command (AFRICOM) spokesman Col. Chris Karns told VOA. The strike occurred in the town of Saakow in Middle Jubba region.
Qoorgaab was one of the most battle-hardened al-Shabab commanders of the group's Jabhat (military). Most recently he commanded three al-Shabab Jabhat units, two of which are operating in Kenya, including the notorious Jaysh Ayman unit in the area of Manda Bay.
"This is progress," Karns told VOA. "Removal of threats, like this terrorist, make Africans and Americans a bit safer and sends a strong message to a common enemy whose ambition is to export violence and do serious harm to African partners, Americans, and international partners."
AFRICOM had reported Feb. 25 that a senior al-Shabab leader who was behind the Jan. 5 attack at Manda Bay was killed in the Saakow strike. The news release said the leader's wife, who was also a member of the terror group, was also killed.
A relative of the wife told VOA about her death along with her husband.
In the Jan. 5 attack, al-Shabab militants penetrated a Kenyan military base used by U.S. forces at Manda Bay, killing an American soldier and two American contractors. The militants also destroyed six aircraft.
Jaysh Ayman executed the attack, although the attackers may have come from one of the commando units of al-Shabab, according to a Somali intelligence official.
Although Qoorgaab was in charge of operations in Kenya, he was looking to replicate those attacks in other countries like Tanzania, according to Abdirahim Isse Addow, a former Islamic court official who knew Qoorgaab.
He was not the overall leader of al-Shabab, but he was undoubtedly no less important to al-Shabab fighters, Addow added.
Qoorgaab had a $5 million bounty on his head, the second highest al-Shabab bounty behind current leader Ahmed Diriye Abu Ubaidah, who has $6 million on his head.
Qoorgaab had been a senior al-Shabab member for more than a decade. Before commanding the Jabhat, he led al-Shabab's special militia commandos known as "Jugta Ulus," training fighters and commanding them in the field.
To date, AFRICOM has carried out 24 attacks in coordination with the government of Somalia against al-Shabab this year.
https://www.voanews.com/africa/top-al-shabab-commander-believed-killed-drone-strike
--------
Pakistan
JeM chief Masood Azhar moved to Rawalpindi for personal safety: Intel
Shishir Gupta
Mar 09, 2020
Days after he mocked the US as a "wolf whose tail was cut" by Taliban jihadists in Afghanistan, ailing Jaish-e-Mohammed (JeM) chief and global terrorist Masood Azhar has been shifted by Pakistan's deep state from his Bahawalpur headquarters to Rawalpindi for his personal safety, according to people with knowledge of the matter.
While it is not clear whether Azhar was shifted by the Rawalpindi General Headquarters under pressure from the Trump administration, counterterror operatives say the JeM chief was moved to a safe house in Rawalpindi on March 3, a day after he was summoned by Rawalpindi GHQ along with his brothers Maulana Rauf Asghar, the de facto chief of operations of JeM, and Maulana Ammar, who heads the terror group's jihadist magazine Al Qalam.
For someone who was reported "untraceable" by the Pakistan government to the Financial Action Task Force (FATF) plenary in Paris last month, Azhar's statement praising his ideological brothers, the Taliban, has come as an embarrassment to the Imran Khan government, according to experts.
Signed under the pen name "Khadim"(servant of the faith), Azhar's statement congratulated the mujahideens and ghazis (Islamist warriors) as well as Taliban deputy chief and military commander Sirajuddin Haqqani for forcing the US to seek peace with the terrorist group in order to withdraw from Afghanistan.
He took potshots at the US policy in Afghanistan by saying that "there was a day when America was walking like a wolf wandering in Afghanistan, today is that day in Qatar, Doha where faith is high, jihad is high, hopes are smiling, the wolf's tail is cut off and its teeth are shattering".
People aware of the development said that Azhar and his two brothers were called to Rawalpindi on March 2, and the former was moved to a safe house for his personal security even though the US has not launched armed drone attacks in the Punjab province of Pakistan.
According to experts, Azhar is one of the principal promoters of the Taliban since the early 1990s, and has a personal bond with top leaders such as their founder Mullah Omar, Akhtar Mansour, current chief Hibatullah Akhundzada, and the Haqqani network headed by Jalaluddin and his son Sirajuddin.
Though India is skeptical of the US-Taliban peace deal, given the Islamist group's links with Azhar and other terror groups in Pakistan, it will not pose hurdles to either bringing peace to Kabul or withdrawal of the US and NATO forces from Afghanistan. HT learns that, for the moment, India has adopted a graded approach and intends to closely watch the Taliban on their commitments to move away from terror.
While the Taliban are learnt to have made backchannel overtures to India, the Narendra Modi government has no intentions of engaging the group at the moment, people familiar with the matter said. At the same time, it will watch the developments closely over the group's contribution to peace in the strife-torn country.
"We are with the Afghanistan government, which is in favour of a Republic and not an Islamic Emirate as favoured by the Taliban where Sharia laws apply. While the US is just in withdrawing from Kabul after 18 years, it has also to balance this with the force giving it access into Central Asia and keep a watch on China as it races towards the Indian Ocean through Pakistan and Myanmar… Direct talks with the Taliban are not even on the table and beyond the horizon," a senior security establishment official said on condition of anonymity.
https://www.hindustantimes.com/india-news/masood-azhar-shifted-to-rawalpindi-for-personal-safety-intel/story-5ffICZy1kZzTkPs9JHILVP.html
--------
Complete consensus in PTI on women's rights: Fawad
March 9, 2020
FAISALABAD: Federal Minister for Science and Technology Fawad Chaudhry on Sunday said that there was a complete consensus in the Pakistan Tehreek-e-Insaf (PTI) on women's rights, and the government was pursuing a holistic strategy to include all segments of society, including women, in the mainstream of national development.
Speaking to the media, Fawad said that women were an integral part of society as they were about 50 per cent of the total population. "According to Quaid-e-Azam, we cannot make progress until and unless we bring the women in the mainstream of national development," he said.
Responding to a question, Fawad said that women should get themselves educated first and then make themselves strong economically. "When women will be strong and independent economically, they can easily take part in all activities of national progress and prosperity," he added.
Earlier, Fawad visited the residence of Chief Minister's Complaint Cell Chairman Chaudhry Mehboob Alam Sindhu and condoled with him over the demise of his mother. He also prayed for the departed soul and patience for the bereaved family.
Full report at:
https://www.pakistantoday.com.pk/2020/03/08/complete-consensus-pti-womens-rights-fawad/
--------
COAS pays tribute to women for role in nation-building
March 9, 2020
ISLAMABAD: Chief of Army Staff (COAS) General Qamar Javed Bajwa on Sunday paid tribute to the women of the country for their pivotal role in nation-building.
In a tweet, Inter-Services Public Relations (ISPR) Director General Major General Babar Iftikhar said that COAS has paid tribute to all women of Pakistan, who have played a pivotal role in nation-building in all segments of our society. "Our brave mothers, sisters, daughters especially our martyrs' families and those serving in armed forces are the pride of our nation," ISPR quoted the army chief as saying.
https://www.pakistantoday.com.pk/2020/03/08/coas-pays-tribute-women-role-nation-building/
--------
Balochistan govt announces two-day holiday on Holi
March 9, 2020
QUETTA: The Balochistan government has announced a two-day holiday for the Hindu community to mark Holi.
In a notification issued on Sunday, Chief Minister Jam Kamal Khan declared March 9 and 10 as holiday for the "Hindu community only".
Sindh was the first province that had declared Holi as a holiday for the Hindu community of the province in 2016. Hindus make up around 2 per cent of Pakistan's 200 million population and mostly live in Sindh.
The ancient Hindu festival of Holi, which heralds the end of winter and the victory of good over evil, is marked with a national public holiday in India and sees revellers pour onto streets.
Celebrated mainly in India, Nepal and other countries with large Hindu populations, it falls on the last full moon of winter.
https://www.pakistantoday.com.pk/2020/03/08/balochistan-govt-announces-two-day-holiday-holi/
--------
PM says equal opportunities for women will result in inclusive growth
March 9, 2020
ISLAMABAD: Prime Minister Imran Khan on Sunday said that the observance of International Women's Day was the reiteration of the commitment to undertake every possible effort to ensure equal rights and opportunities for the women.
"In this effort, we are guided by the teachings of our religion, the character of Holy Prophet (PBUH) and the core values that distinguish our society," the prime minister stated.
He said that it was indeed encouraging to see that the Pakistani women were proving their mettle in all walks of life and were achieving excellence in their respective fields at the national and international levels.
"I firmly believe that inclusive and sustainable socio-economic development can only be ensured by providing equal opportunities and a conducive environment for women."
"I reaffirm my pledge this day to take all measures that would help our women to lead a safe, secure and prosperous life," the PM office media wing quoted the prime minister as saying.
The Aurat March was held in various cities across Pakistan to observe the International Women's Day. The first march of such kind was held in 2018 by Hum Aurtain – a feminist collective – in Karachi, but last year it extended to other cities, including Lahore, Multan, Faisalabad, Larkana, and Hyderabad.
President Arif Alvi quoted Quaid-e-Azam Mohammad Ali Jinnah as saying, "Power of women is greater than the pen and sword."
Minister for Human Rights Shireen Mazari said women in Pakistan would be marching to "demand their rights in accordance with our religion Islam, as enshrined in our Constitution and in the commitments made by successive governments through ratification of international human rights conventions". She said that the right to peaceful protest is a "democratic right and women cannot be denied it".
"Women must also respect that right for other women. Diversity and tolerance — respect for the 'other'. #AuratMarch," she tweeted.
Special Assistant to the Prime Minister on Information and Broadcasting Dr Firdous Ashiq Awan said Islam has given respect to women and added that without the development of the women the country cannot progress.
Addressing a special ceremony in connection with International Women's Day in Lahore, she said without the active participation of women in every field of life, the dream of a true Islamic welfare state cannot be fulfilled. She said that Pakistani women were committed to proving their capabilities in every field of life.
Firdous Ashiq Awan said Islam gave the highest respect to women and all rights given to them in the United Nations (UN) Charter were already present in the Holy Quran.
Full report at:
https://www.pakistantoday.com.pk/2020/03/08/pm-says-equal-opportunities-women-will-result-inclusive-growth/
--------
They plan to march for gender equality. In Pakistan, that has caused outrage
March 8, 2020
Islamabad, Pakistan (CNN)On March 8, a series of rallies to mark International Women's Day are scheduled to take place in major cities across Pakistan.
They are calling for gender equality, but in Pakistan, that has stirred controversy -- and even violence.
In the lead up to March 8, two petitions were filed in the courts of Islamabad and Lahore calling for the rallies to be banned on the grounds of being against the "norms of Islam." Both cases were dismissed, with the Islamabad judge saying International Women's Day should be taken as "an opportunity for society to stand up and show outrage against the inhuman traditions and mindsets which are in flagrant violation of the injunctions of Islam."
But as International Women's day drew closer, calls against marches became louder and more sinister.
Popular political leader Maulana Fazlur Rehman, who heads the Assembly of Islamic Clerics (JUIF), a hard line, right wing Islamist party, called on his supporters to stop the marches, condemning them as threatening Muslim culture and excuses for "vulgarity and obscenity " in the name of human rights.
"Participants of the march have been 'doxed,' participants from minority communities have been marginalized," says journalist and illustrator Reem Khurshid Khurshid, referring to how participants' private information has been shared in an attempt to harass people.
"Year after year, we've seen a stronger pushback against the movement in the country and more participants are being specifically targeted online."
Rimmel Mohydin, Amnesty International's South Asia campaigner, has called on authorities in Pakistan to "immediately take action against anyone trying intimidate the women leading and participating in the protests."
"Their security is paramount, and participants have a right to demand their human rights in an environment free from fear," said Mohydin.
The women's march
The Aurat March -- or Women's March -- has been held across Pakistan on March 8 for the past three years, attracting thousands of attendees. Organizers are expecting the numbers to rise again this year.
Young women -- and men -- make placards and paint murals for the events.
In previous years, placards have demanded that men heat up their own food at home, while others have read "divorced and happy." These slogans caused outrage on social media, with commentators calling them "anti Islamic." They have even made it into parliamentary debates.
"There's a lot more expression now," says journalist and illustrator Reem Khurshid. "The march riffs on the patriarchy and challenges it in a way which feminist movements hadn't done in the past ... it's new, it's different and it is inevitably creating a conflict in society."
In 2019, in the provincial assembly of Sindh, right-wing parliamentarian Abdul Rasheed condemned the march, saying: "None of us are ready to enjoy the idea of our mothers and daughters coming out on the streets."
But Tasneem Ahmer, an activist who has run media advocacy group Uks for more than 20 years, says that as Pakistan grapples with issues including incest, rape, child abuse and female genital mutilation, the feminist cause is important.
Pakistan ranked 151 out of 153 countries in the World Economic Forum's Global Gender Gap Index Report 2020. In 2019, Pakistan Human Rights Watch (HRW) found that over 5 million primary school-age children in Pakistan were out of school, "most of them girls." Another HRW report said that "early marriage remains a serious problem, with 21 percent of girls in Pakistan marrying before the age of 18."
The United Nations Population Fund has reported that Pakistan has one of the highest maternal mortality ratios in South Asia.
Yet there is optimism for things to improve in the country.
"Change is here, the louder the voice the bigger the impact. We may not be able to shake the earth or shatter the sky but change is here," Ahmer says.
My body, my choice
The broader topic of gender equality has become a lightning rod in Pakistan in recent months.
A popular feminist slogan "My Body, My Choice" has been used on social media by activists across the women's rights movement, provoking considerable backlash in Pakistani media.
This week, playwright Khalil Ur Rehman Qamar appeared on a Pakistani TV show claiming that his "liver shudders with disgust" when he hears the slogan. When fellow guest and feminist Marvi Sirmed repeated the slogan, he called her a "disgusting women." While the outburst was widely condemned by a spectrum of celebrities and politicians, it was also celebrated, with many men and women in Pakistan agreeing with Qamar's opinions in Pakistani media.
"Feminists are seen as bad women because talking about the body is so taboo. It's a politicization of the private sphere of family life -- any discussion about taking women out of the confines of the home causes a backlash," said Tooba Syed, one of the planners of the Women's Independence March in the capital city of Islamabad.
Syed added that in Pakistan it is still controversial to even use the word body because "bodies are controlled, reproductive rights are controlled, traditional gender roles in society are controlled" by men.
A mural vandalized
In the center of Islamabad, a massive mural painted on the side of a house has been vandalized.
The towering image of two women leaning against each other in solidarity, is now faceless -- black paint has been smeared over their eyes, nose and lips.
Painted last week in the lead up to the March 8 by a collective of more than 20 men and women, it was destroyed in mere minutes.
Organized by the Islamabad Women's Independence March, the work was a celebration of sisterhood.
It was destroyed by students of Jamia Hafsa, a hardline women's seminary in Islamabad. The group released a statement confirming that it had vandalized the mural on the grounds of it being "a conspiracy to promote obscenity in the country." The group is also organizing a "respectability" rally on March 8.
Shezil Malik, an illustrator whose work revolves around the male gaze and female empowerment, has also had her feminist murals vandalized.
"As soon as you put a woman who is strong, people immediately have a problem with it ... Why are we so intolerant now?" she said. "As a real-life woman, I ask, why I am considered so offensive? Should women like me be blacked out, should women like me just disappear?"
Tooba Syed, the organizer of the Islamabad march, said she is not scared of taking to the streets on March 8.
Full report at:
https://edition.cnn.com/2020/03/07/asia/pakistan-womens-marches-intl-hnk/index.html
--------
Violence in India may engulf whole region: Qureshi
March 9, 2020
MULTAN: Foreign Minister Shah Mehmood Qureshi urged the world leaders to stop Indian atrocities otherwise it will spread to the whole Sub-Continent.
He slammed India for killing Muslims. The protests against Muslims' genocide in India were being staged around the world, he added. Talking to media at the Timber Market Sunday after inauguration of newly-constructed road, he thanked the Bengalis for staging protests against the killing of Muslim population in India.
India was playing with world peace, Muslims and minorities were not safe there. The aggression and hatred against India was increasing across the globe, he added. The people of Bangladesh have expressed solidarity with the Indian Muslims and exposed India's atrocities. The foreign minister said Delhi police were killing innocent Muslims on roads, burning mosques and their properties for the only reason that they are Muslims.
This type of beginning is extremely shameful, which must be stopped and discouraged at all levels; otherwise it would destroy the world. The people in Bangladesh are protesting against Delhi riots. People in Afghanistan are protesting against Modi while the Turkish president and Iranian supreme leader have condemned Muslims genocide in India.
He said Indian Prime Minister Narendra Modi was going to Europe on March 13 but members of the European Union have cancelled the visit, keeping in view the public protest against Modi. The entire Muslim world stands with oppressed Indian Muslims, he added. He termed the Afghan peace deal a golden opportunity to move towards peace.
He underlined the need for promotion of intra-Afghan dialogue between the Afghan government and the Taliban. He said both the Taliban and Afghan government have denied their links to the recent attack on Abdullah Abdullah. Some forces were conspiring to sabotage peace treaty and they were planning killings in Afghanistan. He said Afghan President Ashraf Ghani was looking comfortable in releasing prisoners, it was a positive omen.
Pakistan wishes for the OIC role in the resolution of the Kashmir dispute, he added. The OIC envoy visited the country lately and was briefed on the current situation in Azad Kashmir and the LoC. The envoy would submit his report and findings before the OIC secretary general and Pakistan was expecting a meaningful role of OIC in resolution of Kashmir issue.
To a query, he said Pakistan has achieved a big goal of two years extension in GSP-Plus status. Qureshi ruled out in-house change in Punjab or Centre. The government has frozen hike which was increasing rapidly and the inflation rate is going to reduce. Those who were criticising the PTI government were now appreciating its performance. US President Donald Trump praised Pakistan in New Delhi, he added. He said Pakistani students in China are completely safe.
To another query, he said the court had granted permission to former premier Nawaz Sharif for his medical treatment abroad keeping in view his health condition. He said Nawaz was asked to keep informing government's medical board about his treatment but he had not followed the instructions of the court.
He said the government has informed the court and was waiting for court's decision.
Qureshi said the creation of South Punjab province is the dream of the PTI government. A meeting was chaired by the Punjab chief minister and there was a consensus among all the allied political parties, MNAs and MPAs on making South Punjab province.
However, the provincial capital could not be decided yet. He said during the meeting someone joked and proposed establishment of capital in Taunsa. Some people desired making Bahawalpur capital and some in Multan.
Full report at:
https://www.thenews.com.pk/print/626433-violence-in-india-may-engulf-whole-region-qureshi
--------
Seventh case of coronavirus detected in Pakistan
Ikram Junaidi | Tahir Siddiqui
March 09, 2020
KARACHI / ISLAMABAD: While one more patient of novel coronavirus has been found in Sindh, taking the number of cases to four in the province and seven in the country, the National Institute of Health (NIH) is content that the country has avoided a major outbreak of the deadly disease as 16 days have passed to closure of Pak-Iran border.
The new patient belongs to Karachi. One of the seven patients has been discharged from hospital after recovery.
This was disclosed on Sunday in a meeting of the Task Force on Coronavirus held at the CM House in Karachi and chaired by Sindh Chief Minister Syed Murad Ali Shah.
The meeting was attended by Minister for Health Dr Azra Pechuho, Minister for Local Government Nasir Shah, Chief Secretary Mumtaz Shah, Inspector General of police Mushtaq Mahar, health secretary Zahid Abbasi, Provincial Disaster Management Authority director general Salman Shah, Dr Faisal of Aga Khan, representatives of the Civil Aviation Authority, Corps 5, Rangers and World Health Organisation and others.
The health secretary told the meeting that the samples of four suspected patients were recently sent for lab test; of them one was diagnosed as positive while the rest were declared negative.
The chief minister directed the health department to isolate the suspects, their family members and others who had remained in contact with them.
The meeting was informed that the health department had conducted the test of a total of 107 samples, of them four were diagnosed as positive and 103 negative.
It was informed that one of the affected persons had recovered and had been released from hospital on Saturday while at present 265 persons were quarantined at their homes.
The meeting was told that 300 pilgrims coming from Iran, who were scheduled to reach Sukkur on Sunday, could not leave the border town of Taftan and now they would leave for Sukkur on Monday evening.
The chief minister directed the commissioner of Sukkur to ensure that the pilgrims were checked when they reached Sukkur. He said that if all pilgrims were declared clear they should be allowed to go to home but if any of them had symptoms of coronavirus all the passengers of the bus should be kept in quarantine.
The commissioner said that they had developed a capacity of keeping 1,024 pilgrims in quarantine in Sukkur. He said that all the facilities, from electricity, water, sanitation, bedding, food and clothing to regular medical checkups, testing and screening and counselling had been made available at the facility.
The chief minister directed the commissioner to establish a control room where presence of representatives of revenue, buildings, public health and health departments, the municipal corporation and Sepco should be ensured.
Mr Shah was told that 30 male medical officers, 18 women medical officers, two gynaecologists, three senior women medical officers and paramedical and janitorial staff had been deputed at the facility and all were present on their duty.
The Sindh police chief said that he had posted 216 police personnel at the facility.
The chief minister directed the commissioner of Sukkur to arrange eight ambulances to be kept at the facility and a standby generator should also be made available there.
The commissioner said that a 27-bed isolation ward had been established at the Jacobabad Institute of Medical Sciences.
The chief minister approved Rs30 million for the Sukkur quarantine facility and vowed to provide more funds, if and when required.
Meanwhile, authorities in Islamabad are satisfied that the country has avoided a major outbreak of coronavirus.
"Unfortunately around 7,000 people crossed the Pak-Iran border without being kept in quarantine as our major focus was on China and we were not aware that the virus had reached Iran," Executive Director of the National Institute of Health, Islamabad, Maj Gen Dr Aamir Ikram told Dawn. "We feared that a large number of pilgrims who had returned from Iran could be infected with the virus. However as the incubation period of the virus is around two weeks, we can surely say that no other pilgrim, who has crossed border over two weeks ago, has been infected."
He said that samples of nine persons, who had remained in contact with the latest confirmed case, had been collected to check whether they were also infected with the virus or not.
"One patient in Pakistan has been recovered from disease and all others are in stable condition," Dr Ikram said.
Full report at:
https://www.dawn.com/news/1539433/seventh-case-of-coronavirus-detected-in-pakistan
--------
Bilawal is proud to be son of 'most empowered woman'
March 9, 2020
Pakistan People's Party (PPP) chairman Bilawal Bhutto-Zardari on Sunday took to Twitter to pay tribute to women, including his mother, former prime minister Benazir Bhutto on International Women's Day.
"Women in Pakistan have been on the forefront of every struggle, against every tyrant. Today they march not just for themselves, but for generations to come," the PPP leader said.
"So proud to have been raised by the strongest most empowered woman. She remains my guiding light."
Full report at:
https://www.pakistantoday.com.pk/2020/03/08/bilawal-proud-son-empowered-woman/
--------
Southeast Asia
Manila hopes to recover remains of Filipino workers abducted by Daesh
March 08, 2020
MANILA: The Philippines is seeking to recover the remains of four nationals alleged to have been killed by Daesh in Libya.
The Filipinos, identified as Donato Santiago, Gregorio Titan, Roladan Blaza, and Wilson Eligue, were abducted five years ago in southern Libya while they were working for an oil firm. Reports said that Daesh members broke into the company compound, killing security guards and kidnapping foreign workers.
The Philippine Embassy's chargé d'affaires, Elmer Cato, told the media late on Friday that authorities were coordinating with groups in Libya to help families of the victims.
"Five years on their families just want closure," Cato said. "That's why they are hoping that the remains of the victims could at least be brought back home. The four Filipinos were abducted along with five other foreign workers from the Al Ghani Oil Field, about 700 km southeast of Tripoli."
Cato added that there were no leads in the case until 2017, when authorities in the city of Derna said that the abducted workers were executed by retreating Daesh fighters.
A 2015 video recovered by the Derna Shoura Council — from a laptop belonging to Daesh members — purportedly showed the four Filipinos being killed by militants. Their remains, however, were never found.
Cato said the embassy was in touch with the families of the slain workers, as well as with the firm that had employed them and the International Committee of the Red Cross (ICRC).
"The embassy has been working with the ICRC which is spearheading the efforts to recover the remains of the victims," Cato told Arab News. "The ICRC has been working with local authorities in identifying the area where the bodies were believed to have been buried."
He said the embassy had been informed that the bodies of the four were buried somewhere in Derna, and that the ICRC had been working closely with authorities to ascertain the exact location of the site.
"We are hoping that the security situation in the area is now stable enough to allow the recovery and identification of the victims. We hope our kababayan (countrymen) can be found soon so we can bring them home and reunite them with their loved ones."
There were more than 2,000 Filipinos in Libya as of 2019, although fighting between rival militias for control of Tripoli has prompted some to return.
The Philippines is one of the world's biggest providers of labor, with a tenth of its population working abroad.
On March 6, the anniversary of their abduction, Cato tweeted: "Today, @PhinLibya remembers four Filipino oil workers who were taken by ISIS from the Al Ghani oil field in Libya exactly five years ago and have not been heard of since then. We pray that they would soon be found and reunited with their loved ones back home."
https://www.arabnews.com/node/1638386/world
--------
Former Cabinet members laud DAP for unconditional support of Malay-Muslim causes
09 MAR 2020
PETALING JAYA: In the books of its non-Chinese allies in the now defunct Pakatan Harapan (PH) Cabinet, DAP has passed with flying colours in the test of racial and religious tolerance.
In fact, according to former minister in the Prime Minister's Department Datuk Seri Dr Mujahid Yusof Rawa, and former Deputy Human Resources minister Datuk Mahfuz Omar (pix), DAP has been very supportive of Malay and Muslim causes.
Even former prime minister Tun Dr Mahathir Mohamad has commended DAP for its preparedness to cooperate fully with him.
This is in contrast to accusations by Umno and PAS that the Chinese-majority party had always been anti-Malay and anti-Islam.
In an exclusive interview with theSun, Mujahid revealed how DAP had been receptive towards policies relating to the Malay-Muslim community and did not have any objections to the move to rescue and restructure Lembaga Tabung Haji (TH).
The former minister in charge of Islamic affairs explained that when plans to pump billions into the pilgrimage fund was raised in Cabinet, it was met with favourable response from DAP ministers.
"No one in the room from DAP questioned why we need billions to save TH, there was absolutely none," he said.
"What I got were only positive reactions because they know very well that by saving TH, it shows our commitment to save an institution that is of interest to the government and the rakyat and depositors," he added.
Neither did the party object to funding the compassionate Islam policy nor the introduction of Jawi Day for his ministry, a day when all communications are done in the Jawi script.
"I do not see why people are saying DAP is dominating the Cabinet and that the others in PH are only its servants."
Mahfuz said the perception that DAP was against the Malays was created by certain quarters for their own personal gain.
He recalled how the party had no issue with Mahathir calling for a special meeting of only Malay Cabinet members during the early days of the PH administration to discuss ways to improve the Malay economy.
"The non-Malays were not envious of the Malays. They know that it is our responsibility to uplift the poor, and the majority of these poor are the Malays," he said.
The Pokok Sena MP said any suggestion the party only champions Chinese causes was inaccurate.
"It's not fair to blame a different race and religion for our own failings and weaknesses," he said.
In Langkawi, Mahathir also quashed claims the previous administration was dominated by DAP, noting that the party only had six federal ministers.
He pointed out that all PH component parties had six or seven members each, reflecting the coalition's aspiration for political equality and tolerance.
The Langkawi MP said this was also reflected in his own party, Parti Pribumi Bersatu Malaysia (Bersatu), which had six ministers despite it initially being the party with the smallest number of MPs (13) in PH.
Full report at:
https://www.thesundaily.my/local/former-cabinet-members-laud-dap-for-unconditional-support-of-malay-muslim-causes-HY2098988
--------
Perlis Mufti says told Cabinet members cleared by MACC and cops, nobody with fake degrees
08 Mar 2020
BY KENNETH TEE
KUALA LUMPUR, March 8 — Perlis Mufti Datuk Mohd Asri Zainul Abidin today claimed Prime Minister Tan Sri Muhyiddin Yassin's Cabinet members would include those cleared by authorities and with accredited credentials.
Mohd Asri, wrote on Facebook claiming this was made known to him during a dinner with Muhyiddin at the latter's house yesterday.
"What delighted me was that he informed me, God-willing, his future Cabinet members comprised of those cleared by the police and Malaysian Anti-Corruption Commission.
"I was also informed that he had ordered those who join his Cabinet to not make false claims of degrees they hold. Each one of them must state their true education qualifications that they have obtained," he said, referring to Muhyiddin.
Mohd Asri then told Muhyiddin that if the Cabinet consisted of those free from corruption and qualified, it was a strong statement coming from Muhyiddin as the people wanted a government whose ministers were made up of those who were honest and efficient.
"The people want ministers who do not antagonise fundamental issues such as Islam in the country and do not make foolish statements to the people.
"The people and I will await the good news tomorrow. I support good governance for the sake of the country and religion," he said, adding he was also prepared to criticise if the need arises.
Full report at:
https://www.malaymail.com/news/malaysia/2020/03/08/perlis-mufti-says-told-cabinet-members-cleared-by-macc-and-cops-nobody-with/1844511
--------
Arab World
4th prince arrested in Saudi royal purge over alleged coup plot: NY Times
08 March 2020
Saudi Arabia has detained a fourth prince in a new purge of royal family members over an alleged coup attempt to unseat King Salman bin Abdulaziz Al Saud and his son Crown Prince Mohammed bin Salman (MBS).
Two Saudis close to the royal family said Nayef bin Ahmed bin Abdulaziz had been arrested on Saturday, The New York Times reported.
He was the fourth prince taken into custody after the detention of his father Ahmed bin Abdulaziz, along with former Crown Prince Mohammed bin Nayef and his half brother Nawaf on Friday.
Prince Nayef has held positions in both the Saudi Interior Ministry and the military. A Saudi military website still lists him in his former role as the head of army intelligence.
The arrests came just days after Prince Ahmed, the king's only surviving full brother and a potential rival to bin Salman, had returned from a falcon hunting trip abroad. His son, Prince Nayef, was with him at the time, a person close to the family said.
Prince Ahmed was one of only three people on the Saudi Allegiance Council who opposed bin Salman becoming crown prince in 2017.
In 2018, he made comments critical of the crown prince to protesters chanting for the downfall of the Al Saud dynasty in London, but later said he had been misinterpreted.
Mohammed bin Nayef was next in line to the throne before he was suddenly replaced by bin Salman in 2017. Since being ousted, Prince Nayef has effectively been under house arrest and prevented from leaving the kingdom.
Three sources with knowledge of the crackdown, including a regional source, said Mohammed bin Nayef and Prince Nawaf had been picked up at a private desert camp.
The arrests have sparked speculations that aging King Salman is about to die or abdicate.
Reuters cited a regional source as saying that bin Salman "accused them of conducting contacts with foreign powers, including the Americans and others, to carry out a coup d'etat."
The news agency further quoted sources as saying that King Salman had himself signed the arrest warrants.
Meanwhile, the Middle East Eye news portal reported that moments after the arrests, bin Salman had ordered the princes to tweet their loyalty to him.
"Although many questions still remain about what has happened in Saudi Arabia in the last 24 hours, what is clear is that MBS is now facing ruling Saudi Arabia without the backing of the rest of the royal family," said Hugh Miles, editor of ­ArabDigest.org.
"This is a major problem for him because any would-be Saudi king is expected not only to have the royal family's full allegiance, but also to be able to prove it."
Michael Stephens, a scholar at the Royal United Services Institute, said, "It looks like MBS is just taking out all rivals."
"The problem is that after the Khashoggi murder, trust in the kingdom of Saudi Arabia is very low," he added. "No one will believe the official narrative."
Bin Salman is said to be the chief culprit behind the brutal killing of dissident journalist Jamal Khashoggi by a Saudi hit team inside the kingdom's consulate in Istanbul on October 2, 2018.
In 2017, he rounded up hundreds of wealthy princes and businessmen at Ritz-Carlton Hotel in the Saudi capital, Riyadh.
He demanded that they turn over large sums of their wealth as part of an alleged "anti-corruption campaign," which observers said was meant to consolidate bin Salman's grip on power and silence his critics.
https://www.presstv.com/Detail/2020/03/08/620387/Saudi-Arabia-Mohammed-bin-Salman-royal-purge
--------
Syrian army, residents block US military convoy, force it to retreat in Hasakah
08 March 2020
A US military convoy has been forced to retreat from an area in Syria's northeastern province of Hasakah after government forces blocked its way and groups of angry local residents, upset with its presence in the region, throw stones at the US convoy.
Syria's official news agency SANA reported that Syrian army soldiers stopped the American convoy, consisting of 7 armored vehicles, as it tried to make its way through the village of Kuzelia, which lies west of Tal Tamr town, on Sunday.
Locals then threw stones at the American convoy and cursed the soldiers, forcing them to move back.
The development came only two days after local residents of Rumailan al-Basha village in the same Syrian province hurled stones at US troops as their convoy sought to drive through the area.
Scores of Turkish-backed militants slain in internal disputes
Separately, scores of Turkish-backed Takfiri militants have been killed and injured as infighting between rival groups continues in the embattled northern part of Syria.
The so-called Syrian Observatory for Human Rights (SOHR), citing local sources, reported that a fierce exchange of gunfire broke out on Sunday when members of the so-called Ahrar al-Sharqiya (Free Men of the East) militant group launched an offensive on the positions of the Levant Front (Jabhat al-Shamiyah) terrorists in the northern Syrian border town of Tal Abyad.
The sources noted that the clashes have left dozens of militants killed and injured from both sides.
The incident took place only a few days after dozens of Turkish-backed militants were killed in a dispute over the distribution of property stolen during attacks in the western countryside of Tal Abyad.
SOHR reported that the militants were killed in the village of Kafifa on March 5 after they turned on each other and engaged in a heavy gun battle.
Also on Sunday, scores of Turkish-backed militants were killed and injured after members of Hamzat and Ahrar al-Sharqiya Takfiri terrorist groups were engaged in an internal dispute over booty in the village of Tal Halaf of Syria's northeastern province of Hasakah.
This comes as Press TV has obtained credible information from sources on the ground that Ankara is generously offering various kinds of support to roughly 80,000 Takfiri militants in their fight against Syrian forces.
The sources, requesting not to be named, said some 38,500 extremists are operating under the banner of the so-called National Front for Liberation. The group joined the Turkish-backed so-called Free Syrian Army (FSA) on October 4 last year, and their merger was announced at a press conference in the southern Turkish city of Sanliurfa at the time.
The FSA is estimated to have 22,000 members, who are commanded by self-proclaimed Colonel Haitham al-Ofeisi.
Full report at:
https://www.presstv.com/Detail/2020/03/08/620408/Syrian-army-troops,-residents-force-US-troops-to-retreat-in-Hasakah
--------
Oil crashes after Saudi Arabia declares price war amid coronavirus
March 09, 2020
Oil prices plummeted around 30% on Monday, with US oil heading for its biggest loss on record, after Saudi Arabia slashed prices and set plans for a dramatic increase in crude production in April.
Prices fell by as much as a third following Saudi Arabia's move to start a price war after Russia balked at making the further steep output cuts proposed by Organization of the Petroleum Exporting Countries (Opec) to stabilise oil markets hit by worries over the global spread of the coronavirus.
Saudi Arabia over the weekend cut its official selling prices for April for all crude grades to all destinations by between $6 and $8 a barrel.
Saudi Arabia plans to boost its crude output above 10 million barrels per day (bpd) in April after the current deal to curb production expires at the end of March, two sources told Reuters on Sunday.
The world's biggest oil exporter is attempting to punish Russia, the world's second-largest producer, for not supporting the production cuts proposed last week by Opec.
Saudi Arabia, Russia and other major producers last battled for market share like this between 2014 and 2016 to try to squeeze out production from the United States, which has grown to become the world's biggest oil producer as flows from shale oil fields doubled its output over the last decade.
"This clearly is the start of a price war, and the Saudis were quick to react over the weekend, reducing their April official selling price for crude oil significantly," ING Economics said in a note.
Brent crude futures were down $13.29, or 29%, at $31.98 a barrel by 0433 GMT, after earlier dropping to $31.02, their lowest since Feb 12, 2016. Brent futures are on track for their biggest daily decline since Jan 17, 1991, at the start of the first Gulf War.
US West Texas Intermediate (WTI) crude fell by $13.29, or 32%, to $27.99 a barrel, after touching $27.34, its lowest since Feb 22, 2016. The US benchmark is potentially heading for its biggest decline on record, surpassing a 33% fall in January 1991.
"I think all forecasts are out the window," said Jonathan Barratt, chief investment officer at Probis Securities in Sydney. "It seems like a race to the bottom to secure order(s)."
The disintegration of the grouping called Opec+ — made up of Opec plus other producers including Russia — ends more than three years of cooperation on supporting the market, most recently to stabilise prices under threat from the economic impact of the coronavirus outbreak.
Virus impacts demand
Meanwhile, China's efforts to curtail the coronavirus outbreak has disrupted the world's second-largest economy and curtailed shipments to the biggest oil importer.
And the spread of the virus to other major economies such as Italy and South Korea and the growing number of cases in the United States have increased concerns that oil demand will slump this year.
Major banks such as Morgan Stanley and Goldman Sachs have cut their demand growth forecasts, with Morgan Stanley predicting China will have zero demand growth in 2020. Goldman sees a contraction of 150,000 bpd in global demand.
Goldman Sachs cut its forecast for Brent to $30 for the second and third quarters of 2020.
Full report at:
https://www.dawn.com/news/1539535/oil-crashes-after-saudi-arabia-declares-price-war-amid-coronavirus
--------
Riyadh releases king's photos after purge over 'coup plot'
March 09, 2020
DUBAI: Saudi Arabia's King Salman was shown in state media on Sunday in apparent good health and working, just days after the arrest of two senior princes triggered speculation about a possible coup attempt or a sudden deterioration in the king's health.
Two people close to the royal family said that the two princes were under arrest for not supporting Crown Prince Mohammed bin Salman, who has consolidated control of all major levers of power inside the kingdom with the support of his father, King Salman.
The arrests of the king's younger and beloved brother, Prince Ahmed bin Abdelaziz, and the king's nephew and former counter-terrorism czar, Prince Mohammed bin Nayef, came after what one person in Saudi Arabia with knowledge of the arrests described as an accumulation of behaviour that was provocative to leadership.
The source added that the arrests sent a message to anyone in the royal family feeling disenfranchised: Stop grumbling and toe the line, because if Prince Ahmed can be arrested, any prince can and will be. Prince Ahmed was seen as a person who royals could look to when feeling vexed with the crown prince's grip on power, the person said.
The reports of a crackdown emerged early on Friday. In the king's first appearance since then, state media showed the 84-year-old king on Sunday standing and greeting two Saudi diplomats being sworn in as ambassadors. He was previously seen on Thursday meeting British Foreign Secretary Dominic Raab in Riyadh.
The arrests came as a surprise, given that Prince Mohammed bin Nayef, 60, was widely known to be under close surveillance since he was shunted out of the line of succession by the king's son in mid-2017, a person close to the royal court said.
The arrest of Prince Ahmed, 78, was also unexpected since he is the king's full younger brother and also a senior member of the ruling Al Saud family.
Prince Ahmed, however, has long held unfavourable views of the crown prince and was one of just a few senior princes to abstain from pledging allegiance to him when the young royal sidelined more senior princes to become first in line to the throne.
Both princes had served previously in the post of interior minister, overseeing security and surveillance inside the country.
There has been no official comment from Saudi authorities on the arrests.
The crown prince is popular among many in Saudi Arabia for pushing through bold reforms that have transformed life for many, including loosening severe restrictions on women and allowing concerts to be performed and movie theatres to open.
Still, his economic transformation plans have struggled to take off.
Full report at:
https://www.dawn.com/news/1539480/riyadh-releases-kings-photos-after-purge-over-coup-plot
--------
Iraq confirms two more coronavirus deaths, raising total to six
8 March 2020
Iraq confirmed on Sunday two further deaths due to the coronavirus, taking the total number to six, the state news agency reported citing the health ministry. The total number of confirmed coronavirus cases climbed to 54 so far, according to health officials.
On Saturday Iraq's health ministry confirmed eight new coronavirus cases. The ministry said seven of the new cases were detected in the capital Baghdad, and the eighth in Najaf.
Click here for our dedicated coronavirus site.
On Friday, Iraq banned entry to travelers coming from France and Spain, bringing the total number of countries on its entry ban list to 11. The country's health minister also announced on Friday that Iraq would halt border trade with Iran and Kuwait between March 8 and 15 to curb the spread of the coronavirus.
Full report at:
https://english.alarabiya.net/en/News/middle-east/2020/03/08/Iraq-confirms-tow-more-coronavirus-death-raising-total-to-six.html
--------
First coronavirus death recorded in Egypt is German citizen: Health ministry
8 March 2020
Egypt confirmed its first death as a result of the coronavirus in the country after a German citizen died from the disease on Sunday, according the health ministry officials.
The 60-year-old German citizen showed symptoms of a high fever when he arrived from Luxor to Hurghada, according to Dr. Khaled Mujahid, an adviser to Egypt's Minister of Health. The patient then went to Hurghada General Hospital on Friday to receive medical care.
Necessary tests confirmed he had tested positive for the new coronavirus on Saturday and he was then placed in intensive care.
Egyptian officials said on Saturday the coronavirus had been detected in 45 people on a cruise ship, including foreign tourists, on the River Nile, after the vessel reached the southern city of Luxor. Until then, Egypt had reported only three confirmed cases of the virus.
https://english.alarabiya.net/en/News/middle-east/2020/03/08/First-coronavirus-death-recorded-in-Egypt-in-German-citizen-Health-ministry.html
--------
Road crash in Syria kills 22, including Iraqi pilgrims: Reports
8 March 2020
At least 22 people died on Saturday after a fuel tanker crashed into two buses and several other vehicles on a road connecting the Syrian capital to Homs province, state media reported.
A break failure caused the tanker to crash into 15 vehicles and two large busses carrying several Iraqi passengers, said Interior Minister Mohammad Khaled al-Rahmoun, while inspecting the site of the accident outside Damascus.
Another 70 people were injured in the accident, he added, in comments carried by SANA.
Footage aired on state media showed rescue teams deployed around the mangled remains of two cars.
SANA released photos of a passenger bus with one of end blown off.
Victims of the crash are believed to include Shia Iraqi pilgrims visiting holy shrines near the capital.
Full report at:
https://english.alarabiya.net/en/News/middle-east/2020/03/08/Road-crash-in-Syria-kills-22-injures-70-Reports.html
--------
Coronavirus: Saudi Arabia imposes quarantine on al-Qatif city
8 March 2020
Saudi Arabia has imposed a quarantine on al-Qatif city, in the Kingdom's Eastern Province, as part of precautionary health measures to stem the spread of the coronavirus, the Saudi Press Agency reported citing an interior ministry source.
The temporary suspension of entry and exit will extend from the city's Saihat district in the south to Safwa in the north, according to the report.
"Given that all 11 recorded positive cases of the new coronavirus are from Qatif... it has been decided... to temporarily suspend entry and exit from Qatif," the ministry said in a statement carried by the official Saudi Press Agency.
The interior ministry source said authorities will allow returnees who live in the governorate to reach their homes during the period of suspension.
The new measures comes as Saudi Arabia confirmed four new cases of the deadly coronavirus, raising the total number of cases to 11, the Ministry of Health announced on Sunday.
Al Arabiya English
✔
@AlArabiya_Eng
"Whoever is in the al-Qatif region must remain there until further announcement," says a spokesman for #SaudiArabia's Health Ministry as the eastern region of al-#Qatif was cordoned off in a bid to contain the #coronavirus outbreak.https://english.alarabiya.net/en/News/gulf/2020/03/08/Saudi-Arabia-temporarily-bars-entry-exit-into-Kingdom-s-al-Qatif-city.html …
Embedded video
23
1:29 AM - Mar 9, 2020
Twitter Ads info and privacy
23 people are talking about this
All work in government departments and private institutions will be stopped during the suspension as authorities increase measures to stem to the transmission of the novel coronavirus. An exception to the work suspension will include the service of basic facilities to provide security, supply and necessary services, such as pharmacies, supply stores, petrol stations, health, environmental, municipal and security facilities.
"The source emphasized that the continued cooperation of all citizens in implementing the precautionary measures will have the greatest impact on the success of the measures taken, and enabling the competent health authorities to provide the best medical care, to prevent the spread of the virus and eliminate it, to ensure the safety of all," the SPA report added, citing the source.
Full report at:
https://english.alarabiya.net/en/News/gulf/2020/03/08/Saudi-Arabia-temporarily-bars-entry-exit-into-Kingdom-s-al-Qatif-city.html
--------
US muddling region, pressuring Iraq to cut ties with Iran: Iraqi PM
08 March 2020
Meeting with the Secretary of Iran's Supreme National Security Council (SNSC), Iraq's caretaker Premier has said that the US is muddling regional affairs and pressuring Baghdad to cut its constructive ties with Tehran.
"The US has further complicated the region's situation by withdrawing from the 2015 Iran nuclear deal and by pressuring Iran and Iraq," Iraq's Adel Abdul-Mahdi said in a Sunday meeting with Iran's Ali Shamkhani.
Washington "is now further pressuring us to cut our ties with Iran," Abdul-Mahdi said.
The Iraqi premier added that despite Washington's desires, "geopolitical logic necessitates the use of opportunities presented by our neighbors to bolster our national interests and security".
Abdul-Mahdi highlighted that it was Iran's "sincere" assistance that enabled the country to counter the Daesh Takfiri terrorist group, which was ultimately defeated in 2017 following three years of bloody conflict.
Shamkhani, speaking on his part, said that the existence of common enemies targeting both countries necessitates the expansion of ties between Tehran and Baghdad.
He added that Washington and Tel Aviv have been attempting to dishearten and discourage nations taking part in the "axis of resistance" against US and Zionist influence in the region.
Referring to Iraq's ongoing political crisis, Shamkhani said that a combined front comprised of Israel and certain western and Arab states are seeking to undermine Iraq's stability.
He added that Iran, however, fully supports the quick formation of a government chosen by the Iraqi people as the country "plays a key role in stabilizing the region".
In November, Abdul-Mahdi announced his resignation following unprecedented anti-government protests which accused the former government of corruption and mismanagement.
The country has since failed to approve a new government.
Also on Sunday, Iran's SNSC chief met Iraqi President Barham Salih.
According to statement published by the media office of the Iraqi presidency, the two discussed joint cooperation related to countering terrorism and safeguarding Iraq's sovereignty.
Shamkhani also met other Iraqi government officials and party leaders during the trip, including Iraq's adviser of the National Security Council Falih Fayyad, Senior Iraqi cleric Ammar al-Hakim and former Iraqi Prime Ministers Nouri al-Maliki and Heidar Al-Ebadi.
Iran's SNSC chief also held a meeting with Iraq's Health Minister Ja'far Allawi. The two discussed cooperation aimed at containing the novel coronavirus outbreak.
'A strategic mistake'
Speaking to the chief of Iraq's intelligence agency, Mostafa Kazemi, Shamkhani lauded Iraq's recent nationwide rallies calling for the expulsion of American forces from the country.
The rallies took place after Washington assassinated Iran's popular anti-terrorism figure, Lieutenant General Qassem Soleimani, along with Abu Mahdi al-Muhandis, second-in-command of Iraq's Popular Mobilization Units (PMU), in Baghdad earlier this year.
Full report at:
https://www.presstv.com/Detail/2020/03/08/620436/US-pressuring-Iraq-cut-ties-Iran
--------
Hezbollah backs Lebanon government's decision not to repay $1bn in foreign currency debt
08 March 2020
The Lebanese resistance movement Hezbollah has expressed its support for the government's decision not to pay looming Eurobond maturities due on Monday, emphasizing that the measure secures liquidity and prevents bankruptcy in the heavily indebted state.
"The government's decision not to pay the dues and restructure the debt is less negative than payment, because paying with no solutions to provide liquidity may lead to bankruptcy," Vice President of the Executive Council of Hezbollah Sheikh Ali Damoush said on Sunday.
He added, "Hezbollah supports the government in its decision regarding Eurobond, and we call on all political forces and people to ... support their position and cooperate with them."
The remarks came a day after Prime Minister Hassan Diab said in a televised address to the nation on Saturday that foreign currency reserves had hit a "critical and dangerous" level and were needed for basic imports.
Diab said Lebanon's public debt had reached around 170% of gross domestic product, meaning the country was close to being the world's most heavily indebted state.
"The debt has become bigger than Lebanon can bear, and bigger than the ability of the Lebanese to meet interest payments," he said, adding, "In light of the current situation, the state cannot pay the coming maturities ...
"The Lebanese state will strive to restructure its debt in line with the national interest by holding fair, well-intentioned negotiations with all lenders," he added.
Later in the day, Minister of Economy and Trade Raoul Nehme told local Arabic-language al-Jadeed television network that negotiations to restructure Lebanon's foreign currency debt should not last more than nine months if well-intentioned.
"The negotiation process will last for months and if we have good intentions will not go on for more than nine months," he said.
"The government is now waiting for the position of the Eurobond holders," Nehme added, noting that he expected them to adopt "positive" positions.
Lebanon has a $1.2 billion Eurobond due on March 9, and defaulting on the bonds will probably have negative repercussions in the country as international agencies are likely to further downgrade the Arab state's credit ratings.
Lebanon's financial crisis has led to a hard currency crunch and seen the Lebanese pound lose close to 40 percent of its value since October last year.
Lebanese banks have also imposed tight restrictions on access to deposits and transfers abroad.
Lebanon has been facing a very tough economic situation because of the failing policies of successive governments, which have led to the impoverishment of the people.
Growth in Lebanon has plummeted in the wake of endless political deadlocks and an economic crisis in recent years.
The country hosts 1.5 million Syrian refugees, and their presence is often blamed for putting pressure on the already struggling economy.
Unemployment stands at more than 20 percent, according to official figures.
The Lebanese Finance Ministry says the national debt is hovering around $85 billion, which accounts for more than 150 percent of Gross Domestic Product (GDP).
Full report at:
https://www.presstv.com/Detail/2020/03/08/620417/Hezbollah-backs-Lebanon-government%E2%80%99s-decision-not-to-repay-$1bn-in-foreign-currency-debt
--------
Syria reopens Damascus-Aleppo highway to traffic
08 March 2020
Syrian has reopened a strategic highway connecting the capital city of Damascus and the northern city of Aleppo after troops purged the area of Daesh and other foreign-backed militants.
Syria's official news agency SANA said the M-5 highway that links Damascus to the second largest city Aleppo was reopened to the public after forces secured its surroundings from the danger of terrorists and rocket shells targeting civilians and travelers.
Dozens of buses arrived in Aleppo province from Damascus, Homs, Hama, Lattakia and Tartous governorates as a number of buses also left Aleppo through the western entrance of Aleppo, al-Nasr roundabout and the beginning of Aleppo-Damascus highway, according to SANA.
The Aleppo-Damascus international highway is considered an economic vital artery as it is a fast road for the flow of goods, transit trade and transporting passengers among big cities.
Turkish-backed terrorists violate truce
The development came as Turkish-backed terrorist groups on Saturday violated a newly-agreed ceasefire in the northwestern province of Idlib 19 times over a period of 24 hours and shelled the villages of Hazaren and Dar al-Kabira in Idlib's southern countryside.
"Over the past day, 19 violations of the cessation of hostilities by illegal armed groups have been recorded," SANA quoted head of the Russian defense ministry's Coordination Center Rear Admiral Oleg Zhuravlev as saying.
On Thursday, Russia and Turkey came to an agreement on an imminent ceasefire regime in Idlib, where Turkish violations have brought about an unwarranted flare-up of violence.
According to the agreement, joint Russian-Turkish patrols will secure a six-kilometer-wide corridor along the M4 highway connecting the two government-held provinces of Latakia and Aleppo.
The ceasefire also consolidates Syrian control over the M5 highway.
Full report at:
https://www.presstv.com/Detail/2020/03/08/620399/Syria-Aleppo-Idlib-ceasefire-Turkey
--------
Mideast
Iranian NGOs, student organizations urge UN to end brutality against Muslims in India
08 March 2020
A large group of Iranian student organizations, nongovernmental organizations (NGOs) and individuals have penned a letter to the UN High Commissioner for Human Rights Michelle Bachelet, asking her to take decisive action to end the ongoing wave of violent attacks and brutality against Muslims in India.
Last month, in the worst communal violence in decades in New Delhi, nearly 50 people were killed and over 100 wounded as groups chanting Hindu nationalist slogans torched mosques and dozens of Muslim houses.
Last month's worst anti-Muslim violence by Hindu nationalists began on the eve of a state visit by US President Donald Trump, infamous for his anti-Muslim rhetoric and policies.
Anti-Muslim violence started in India amid widespread protests over the Citizenship (Amendment) Act (CAA) that Prime Minister Narendra Modi's Hindu nationalist government introduced in December, offering a path to Indian citizenship for six religious groups from neighboring countries, specifically excluding Muslims.
In their letter, the Iranian signatories said, "We hope and request that through effective and serious actions by the United Nations Human Rights Council, the main purpose of this letter, which is to help achieve a peaceful life for the people of India with different religions and ethnicities, will be fulfilled and it also becomes a positive role model for others."
Human rights advocates, including nongovernmental organizations, groups and persons can sign the letter at the following website:
https://docs.google.com/forms/d/e/1FAIpQLSfT4EappjP23gRRltC5GpuRfreNu1Y75ev-RXFVIDQKIdK02g/viewform
The full text of the letter follows:
In the Name of God, the Compassionate, the Merciful
Mrs. Michelle Bachelet Jeria,
United Nations High Commissioner for Human Rights
Hello,
As your Excellency well know, in the contemporary era paying attention to human rights issues as one of the chief matters to governance and international relations has an important place. Also, one of the main principles of human rights is to provide and preserve the human dignity. In the present time this topic has become a peremptory norm in the governance of the states and international relations. An inherent, God-given blessing to human kind that governments are obliged to provide it.
Unfortunately, however, in recent years there has been an increase in organized violence against Muslim minorities in India, particularly with the ratification of the CAA law in a discriminatory way in the Parliament of India and the support of the Government of India for this discriminatory legislation in December 2019, in recent months we have witnessed the spread of organized violence by extremist Hindus against the Muslims of India
It should be noted that the aforementioned law discriminates in granting citizenship of the Government of India to the people's religions and seeks even more pressure on Muslims in this country.
This is while the constructing body of India's society has for long been a diverse and multi-cultural one in which the factor of unity has been for being Indian not for having a specific religion. The CAA discriminatory law, however, has led some organized extremist groups to carry out destructive and anti-human dignity measures against Muslims and their sanctities.
In this regard, some Hindu extremists' insults including the burning of the Farukiyah Mosque in India can be considered a disgrace to all Muslims in the world as in the past there have occurred similar cases various times such as mass beatings and injuring of defenseless Muslims, including women and children, whose images and news have deeply touched the hearts of free humans around the world. According to international reports, thousands were injured and 43 were killed and there is concern that the death toll will rise if the process fails to be stopped.
As an example, a group attacked a 37-year-old Muslim young man, Mohammad Zubair, repeatedly hit him with a baton and stabbed him in the middle of the street, while he couldn't do anything but to incur the hits, with his face beaten severely damaged.
The killing of a 30-year-old Muslim named Musharraf is yet another case. Musharraf was with his family at home located in Northeast Delhi when suddenly a group of 30 people who have covered their faces casket raged into his house and attacked him by cold weapons, his wife calls the police but the police aren't there. Eventually they took Musharraf to the street and killed him in front of her 11-year-old daughter.
These are only few examples of such organized extremism, all of which have been committed in the face of the constant neglect of the Indian government and police, who are responsible for securing the lives and sanctities of the Muslims of India.
To this end, explaining the followings seems necessary:
The Universal Declaration of Human Rights proclaimed by the United Nations General Assembly in Paris on 10 December 1948 (General Assembly resolution 217 A), "all human beings are born free and equal in dignity and rights. They are endowed with reason and conscience and should act towards one another in a spirit of brotherhood."
Again, according to article 3 of the same document, "everyone has the right to life, liberty and security of person."
Especially article 7 of this universal declaration is notable here as it declares that: "All are equal before the law and are entitled without any discrimination to equal protection of the law. All are entitled to equal protection against any discrimination in violation of this Declaration and against any incitement to such discrimination."
The above-mentioned content has explicitly been emphasized in articles 26 and 27 of the Covenant on Civil and Political Rights, to which the Government of India is a party.
Therefore, while strongly condemning these extremist behaviors against defenseless Muslims of India and the neglect of the Indian government and police who are tasked with securing the lives of all the Indian people, we believe that the solution to this crisis is to avoid discrimination and respect for basic human rights and dignity.
Hence, we call for an end to these kinds of violence and extremism against Muslims in India as soon as possible and we also request the Human Rights Council to address this issue by forming a fact-finding committee.
We hope and request that through effective and serious actions by the United Nations Human Rights Council, the main purpose of this letter, which is to help achieve a peaceful life for the people of India with different religions and ethnicities, will be fulfilled and it also becomes a positive role model for others.
With high respect
A group of student organizations and NGOs and persons
Islamic Republic of Iran
This Petition has been signed by 1,140 persons in the Islamic Republic of Iran along with 146 NGOs and student organizations.
https://www.presstv.com/Detail/2020/03/08/620426/Muslims-India-Iran-NGO-student-letter-Michelle-Bachelet
--------
SOHR: Turkey Sends over 4700 Mercenaries to Libya
Mar 08, 2020
SOHR sources said that the number of Ankara-backed militants who arrived in Tripoli up to now has risen to 4,750, while nearly 1,900 others arrived in Turkey to undergo training courses.
They added that 6,650 Turkey-backed terrorists have been trained to go to Libya, 117 mercenaries have been killed in Tripoli so far and 150 others crossed to Europe
The fatalities are of the factions "al-Mu'tasim Division, Sultan Murad, Suqur Al-Shamal Brigade, Al-Hamzat and Suleiman Shah".
According to very reliable SOHR sources, the fatalities were killed in clashes in Salah Al-Din in the South of Tripoli, frontline in Al-Ramlah near Tripoli Airport, and Al-Hadabah Project area. The casualties are taken to three medical points (Al-Mashtal Sanitarium, Qaddour Sanitarium, Ghout Al-Sha'al Sanitarium).
It is noteworthy that nearly 150 militants of those who arrived earlier in Libya, crossed to Europe.
The recruitment of more mercenaries continues to send militants to Libya.
https://en.farsnews.ir/newstext.aspx?nn=13981218000093
--------
Netanyahu says Israel may broaden entry restriction due to coronavirus
8 March 2020
Prime Minister Benjamin Netanyahu said on Sunday Israel might broaden its entry restrictions to include visitors from all countries due to the spread of coronavirus.
Israel already requires travelers arriving from 15 countries, in Europe and Asia, to go into home quarantine for 14 days. The measure effectively cut off tourism from those countries and led some foreign airlines to suspend flights to Israel.
Israel has reported 26 coronavirus cases and some 80,000 Israelis are in self-quarantine after returning from foreign visits.
Netanyahu spoke by telephone on Sunday with US Vice-President Mike Pence to discuss coronavirus concerns amid Israeli media reports that Israel was considering barring visitors from parts of the United States where the illness has spread.
Israeli political commentators have said Netanyahu, fearful of drawing criticism from a main ally, US President Donald Trump, has resisted pressure by Israeli public health officials to add New York, the state of Washington and California to the restricted list.
At a news conference, Netanyahu said Israel was "weighing quarantine for everyone" flying into the country.
"We have reached the decision that if we take additional steps, it will apply to all countries," he said. "But on the other hand, it is very difficult decision."
He said a decision would be made on Monday in consultation with Israeli health authorities and emergency authorities.
Netanyahu and Pence agreed to follow up their telephone call with discussions between US and Israeli health officials on technological and scientific cooperation and ways to "confront the challenges" posed by the virus, Netanyahu's office said in a statement.
Full report at:
https://english.alarabiya.net/en/News/middle-east/2020/03/08/Israel-may-broaden-entry-restriction-due-to-coronavirus.html
--------
Turkey's Erdogan set to discuss migration issue with EU
8 March 2020
Turkish President Recep Tayyip Erdogan said he would hold talks in Brussels on Monday as he called on Greece to "open the gates" for migrants at Turkey's border trying to get to Europe. "I will have a meeting with European Union officials tomorrow (Monday) in Belgium," Erdogan said during a speech in Istanbul on Sunday.
He added he would discuss the migration issue after Turkey opened its borders. "I hope I will return from Belgium with different outcomes."
Turkey repeatedly rails against what it describes as unfair burden-sharing, since around four million mostly Syrian refugees live in Turkey. In 2016, Turkey and the EU agreed a deal in which Brussels would provide billions of euros in aid in exchange for Turkish authorities preventing the flow of migrants.
But Ankara has repeatedly accused the bloc of not fulfilling promises made as Europe suffered the worst refugee crisis since the Second World War. Over a million people fled to the continent in 2015. Erdogan's top press aide Fahrettin Altun has said one of the unmet conditions was that the EU would take in refugees from Turkey.
During the same televised speech, Erdogan urged Greece to open its border after clashes in recent days between migrants and Greek police. "Hey Greece! I appeal to you... open the gates as well and be free of this burden," he said, adding: "Let them go to other European countries."
Thousands of migrants massed on the land border with Greece after Turkey last month said it would no longer prevent people from leaving the country. Turkey's decision sparked an escalating row between Ankara and Brussels, as well as a war of words between Turkey and Greece.
But Erdogan on Friday ordered the Turkish coastguard to prevent risky Aegean sea crossings after more than 1,700 migrants landed on Lesbos and four other Aegean islands from Turkey over the past week.
EU foreign policy chief Josep Borrell and European Council President Charles Michel met Erdogan in Ankara on Wednesday. Erdogan has felt extra pressure as nearly a million people in Syria's northwestern province of Idlib fled towards the Turkish border during the recent Syrian regime assault backed by Russia and Iran.
Full report at:
https://english.alarabiya.net/en/News/middle-east/2020/03/08/Turkey-s-Erdogan-set-to-discuss-migration-issue-with-EU-.html
--------
Coronavirus claims lives of two Iranian clerics, former prosecutor
8 March 2020
Iranian clerics Reza Modarresi and Ali Hosseini, as well as former prosecutor Mousa Torabzadeh, have died from coronavirus, according to the Iranian media.
Iran's health ministry on Sunday reported 49 new deaths from coronavirus, the highest toll within 24 hours since the start of the outbreak in the Islamic Republic.
The virus has spread to all of Iran's 31 provinces with 6,566 confirmed cases.
Reza Modarresi, a cleric from Qom, died from coronavirus, the semi-official Khabar Online news agency reported.
Cleric Ali Hosseini, the head of the Islamic Development Organization in the city of Aliabad-e-Katul in Golestan province, died on Thursday, the semi-official Mehr news agency reported on Friday.
While Mehr did not cite the cause of death, other Iranian media outlets reported that Hosseini died from coronavirus.
The Islamic Development Organization is a religious and cultural organization created by former Supreme Leader and founder of the Islamic Republic Ayatollah Ruhollah Khomeini after the 1979 Revolution in Iran. The goal of this organization is to promote the ideologies of the Islamic Republic.
Hosseini had also served in the Islamic Revolutionary Guard Corps (IRGC).
Two other Iranian clerics, Mostafa Amini and Nematollah Javadi Bamiani, have also died from coronavirus, according to unconfirmed reports.
Mousa Torabzadeh, the former prosecutor of Astaneh-ye Ashrafiyeh, a city in Gilan province, has also died from coronavirus, according to a Telegram channel affiliated with the Iranian judiciary.
Iran's northern province of Gilan is one of the epicenters of the coronavirus outbreak in the country.
Full report at:
https://english.alarabiya.net/en/News/middle-east/2020/03/08/Coronavirus-claims-lives-of-two-Iranian-clerics-former-prosecutor-.html
--------
Some in Iran die after drinking homemade alcohol to prevent coronavirus: Experts
8 March 2020
There has been an increasing number of people in Iran who have been hospitalized recently due to alcohol-poisoning, after they resorted to drinking home-made or industrial alcohol hoping it would prevent coronavirus infection, said an Iranian professor of toxicology.
Iran confirmed 5,823 cases of coronavirus and a death toll of 145 people as of Saturday, making it one of the most affected countries outside of China.
"Most of the patients have the false belief that alcohol consumption can prevent coronavirus infection," Shahin Shadnia told Iran's semi-official Mehr news agency on Friday, adding that in some cases, especially when the patient was poisoned by high concentrations of methanol, they died.
Methanol is an industrial alcohol used as a solvent, pesticide, and alternative fuel source.
In extreme cases, alcohol poisoning could lead to permanent blindness, brain damage or heart attacks.
Infectious disease specialist and member of Iran's national influenza committee, Masoud Mardani, told semi-official ILNA news agency that one to three cases of alcohol-poisoning come in to Logham hospital in Tehran every day.
Full report at:
https://english.alarabiya.net/en/business/economy/2020/03/07/Lebanon-s-banks-ready-to-talk-to-foreign-creditors-on-debt-restructure-Report.html
--------
Intelligence Min.: Jaish ul-Adl terrorist leader killed in south eastern province
08 March 2020
Iran's Intelligence Ministry says security forces have identified and dismantled a terrorist team affiliated with the so-called Jaish ul-Adl terrorist group in the country's southeastern province of Sistan and Balouchestan.
"A terrorist team affiliated with the Jaish ul-Adl group was identified and dismantled on the other side of the border through a complicated and extensive intelligence operation and its members were entrapped by [Iran's] security forces upon arrival in the country," the ministry said in a statement on Sunday.
It added that the terrorist team was attacked by provincial security forces on Sunday and its leader, Elias Narou'i, nicknamed Zubair, was killed in the operation.
The statement noted that various types of weapons and ammunition as well as some equipment for making bombs were seized in the operation.
Narou'i was planning to identify military and security targets in the provincial capital city of Zahedan to conduct terrorist operations, but failed to achieve his goals, the statement said.
The slain terrorist played a key role in numerous terrorist operations, including commanding the attack on the Islamic Revolution Guards Corps' base in the city of Nikshahr, which killed two IRGC forces; participating in the killing of 27 IRGC personnel who were traveling between the cities of Zahedan and Khash in Sistan and Baluchestan province; and planting a sound bomb in front of the Zahedan police station.
Full report at:
https://www.presstv.com/Detail/2020/03/08/620412/Sistan-Balouchestan-terrorists-Jaish-ul-Adl-Elias-Naroui
--------
Erdogan to Greece: Open your borders to migrants
08 March 2020
Turkey's President Recep Tayyip Erdogan appeals to Greece to open its borders to thousands of migrants attempting to cross the country toward other European destinations.
"Hey Greece! I appeal to you... open the gates as well and be free of this burden," Erdogan said during a televised speech in Istanbul on Sunday.
"Let them go to other European countries."
Earlier, Greek police fired tear gas at migrants on its border with Turkey who were seeking access to European Union territory.
The police also used water cannon to stop the migrants, many of whom have been stranded for days at the Pazarkule border, known as Kastanies on the Greek side.
On March 2, Erdogan said Ankara had no plans to stop the flow of migrants into the European Union, warning that "millions of refugees" will soon be moving toward Turkey's borders with the EU.
Ever since, over 1,700 migrants are said to have landed on the Greek island of Lesbos and four other Aegean islands from Turkey, adding to the 38,000 who are already crammed into overstretched refugee centers there.
Turkish officials say Erdogan has ordered the Turkish coast guard to prevent refugees from crossing the Aegean Sea due to the risks.
During the same televised speech, Erdogan said he will hold talks in Brussels on Monday, focusing on the migration issue after Turkey opened its borders.
"I will have a meeting with European Union officials tomorrow (Monday) in Belgium," Erdogan said.
"I hope I will return from Belgium with different outcomes."
The Turkish decision to allow refugees to cross the border into Europe followed an escalation of clashes in the Syrian province of Idlib.
Last month, Turkey relaxed curbs on the migrants' movement through its borders and said Ankara would no longer prevent hundreds of thousands of asylum seekers in its territory from reaching Europe despite an agreement struck with the EU in 2016, under which Ankara was committed to stop the refugee flow into Europe in exchange for financial assistance from Europe.
Ankara complains that funds promised by the EU to help it deal with the 3.7 million Syrian refugees already in the country have been slow to arrive. Turkey's government had warned in the past that it would open the floodgates if it did not receive more funding.
The massing of migrants has caused fears of a repeat of the 2015 European migrant crisis, in which more than one million people crossed into Europe, most of them fleeing conflict zones in West Asia and North Africa.
Full report at:
https://www.presstv.com/Detail/2020/03/08/620424/Greece-Erdogan-migrants-
--------
Israeli snipers say how they incapacitated Palestinians in peaceful protests
08 March 2020
A group of snipers with the Israeli military who took part in the suppression of peaceful protests by the Palestinians in the besieged Gaza Strip have opened up to a local media, recounting the harrowing tale of how they intentionally incapacitated protesters over a time span of two years.
A report carried by the Israeli daily Haaretz revealed the content of interviews with the six snipers, out of dozens of such servicemen approached, who agreed to relate what it really looked like through their gun sights when they targeted Palestinians.
The anti-occupation demonstrations, during which these snipers were doing their horrendous job, commenced on Land Day on March 30, 2018 and continued on a weekly basis, known as the Great March of Return, until this past January. They were mainly held near the border fence separating the blockaded enclave from the Occupied Territories.
According to figures by the UN Office for the Coordination of Humanitarian Affairs, Israeli forces shot dead 215 protesters. However, the Gaza Health Ministry raises the number of fatalities to around 310.
The interviewees, whose names have been changed in the report arguably for security reasons and who were discharged from the military, described the nature of their mission in how they shot the protesters, mostly young men and teenagers, in their knees, thus incapacitating them for a long time and, at times, even killing them by 'choosing' to make mistakes and aim higher.
Eden, one of the snipers, revealed that he managed to break the "knee record" in a much-heated protest on May 14, 2018, on the eve of the 70th anniversary of Nakba Day (Day of Catastrophe), which coincided with the US embassy relocation from Tel Aviv to occupied East Jerusalem al-Quds.
"On that day, our pair had the largest number of hits, 42 in all. My locator wasn't supposed to shoot, but I gave him a break, because we were getting close to the end of our stint, and he didn't have knees. In the end you want to leave with the feeling that you did something, that you weren't a sniper during exercises only. So, after I had a few hits, I suggested to him that we switch. He got around 28 knees there, I'd say," he said.
They said snipers usually work in pairs, along with another individual known as a locator, who is also a sniper by training but whose main job is to provide the two snipers with precise data, including the distance from the target, wind direction and the like.
The interviewed snipers said there were snipers in the Israeli military who deliberately made a mistake of aiming higher and inflict a more lethal wound on the target.
"If you mistakenly hit the main artery of the thigh instead of the ankle, then either you intended to make a mistake or you shouldn't be a sniper. There are snipers, not many, who 'choose' to make mistakes [and aim higher]. Still, the numbers aren't high. [In comparison,] there are days when you collect 40 knees in the whole sector. Those are the proportions," said Amir, another Israeli sniper.
They insisted that the best target is the knee, among other parts of the leg, since it lacks many capillaries and consequently there is not much blood, meaning that you have done a clean job.
"You are not meant to see massive bleeding, because in the region of the knee and bones there aren't a lot of capillaries. If you see blood, that's not a good sign, because you probably hit too high. The regular scenario is supposed to be that you hit, break a bone – in the best case, break the kneecap," said Itay, another Israeli sniper.
There are reports of snipers that suffered post-traumatic stress, said Tuly Flint, a mental health officer in the reserves and a clinical social worker who specializes in trauma, who was also interviewed for the report.
"If I am one of 30 soldiers who is in the area and fires a volley, I don't necessarily know that I did the killing," he said, whereas the sniper knows when he has hit his target.
Flint also remembered a sniper from an elite unit who aimed at a protester's knee but hit too high, and the demonstrator lost his life from loss of blood.
"That soldier, a sniper who was very dedicated to his mission, describes watching the demonstrator bleed to death. He can't forget the man's screaming not to be left alone. He also remembers vividly the evacuation [of the body], and the women who wept over him. From then on, that's all he thinks about and all he dreams about. He says, 'I wasn't sent to defend, I was sent to murder.' Thoughts of the girlfriend of the person he killed also continue haunting him. The result is that he breaks up with his own girlfriend of two years. 'I don't deserve to have one,' he says."
Daniel, another interviewed sniper, recounted the other side of this unbearable story, aiming at a demonstrator but hitting someone else.
"I know someone who took aim at one of the leaders of a demonstration, who was standing on a box and urging the people to keep marching ahead. The soldier aimed at his leg, but at the last moment the man moved and the bullet missed him. Instead, he hit a little girl, who was killed on the spot. That soldier is a wreck today. He is being watched 24/7, so he won't commit suicide," he said.
Israeli snipers did war crimes, must be tried at ICC: Hamas
On Sunday, the Palestinian resistance movement Hamas condemned what the Israeli snipers had revealed of their horrific mission against the peaceful protesters, insisting that these criminals must be tried at the International Criminal Court (ICC).
"Zionist regime's snipers' pride in killing and deliberately wounding Palestinians despite their peaceful demonstrations reflects the cruel and brutal mentality of the regime's commanders and soldiers," said Hamas spokesman Hazem Qassem in a statement, referring to the Haaretz report about the Israeli snipers.
"The Israeli regime must fully pay for these crimes by leaving our land," he said.
Gaza has been under Israeli siege since June 2007, which has caused a decline in living standards.
Full report at:
https://www.presstv.com/Detail/2020/03/08/620421/Israel-snipers-
--------
Israel, US team up to sabotage ICC war crimes investigation
08 March 2020
The United States and Israel are reportedly coordinating a joint campaign against the International Criminal Court (ICC) as both face potential war crimes charges at the Hague.
According to Israel's Channel 13 news, an Israeli delegation led by energy minister Yuval Steinitz was in Washington on Thursday and Friday to discuss with senior US officials the ICC's possible investigation into war crimes committed by the Israeli regime in the occupied Palestinian territories.
The Hague's pre-trial chamber is currently debating whether the ICC has jurisdiction to hear war crimes cases against Israel for actions committed in the occupied West Bank, East Jerusalem al-Quds and the besieged Gaza Strip.
Israel and the US have both refused to sign up to the ICC, which was set up in 2002 to be the only global tribunal trying the world's worst crimes, war crimes and crimes against humanity.
Both Tel Aviv and Washington have claimed that they have credible legal systems that can properly adjudicate human rights violations and there is no need for ICC intervention.
US President Donald Trump's administration has backed Israel in its battle against the court. The Palestinian Authority joined it in 2015.
The ICC has to accept briefs on Israel's behalf from Germany, Austria, Hungary, the Czech Republic, Uganda, Brazil and Australia on the question of jurisdiction. The briefs are expected to be filed by March 16. Canada has also told the ICC it opposes war crimes suits against Israel.
The trip by the Israeli delegation was timed to coincide with the ICC's decision to open an investigation into war crimes and crimes against humanity by the US in Afghanistan.
"The appeals chamber considers it appropriate to... authorize the investigation," presiding Judge Piotr Hofmanski said at the court in The Hague on Thursday.
He said prosecutors' preliminary examination in 2017 had found reasonable grounds to believe war crimes were committed in Afghanistan and that the ICC has jurisdiction.
The court upheld an appeal by prosecutors against a pretrial chamber's rejection in April last year of chief prosecutor Fatou Bensouda's request to open a probe in Afghanistan.
In 2006, the ICC's prosecutors opened a preliminary probe into possible war crimes and crimes against humanity committed in the Asian nation since 2003.
In 2017, prosecutor Bensouda asked judges to allow a full-blown probe, not only into Taliban and Afghan government personnel but also international forces, US troops and members of the Central Intelligence Agency (CIA).
Bensouda's move angered Washington, which in April last year revoked the Gambian-born chief prosecutor's visa as part of broader restrictions on ICC staff probing American or allied personnel.
Former national security adviser John Bolton warned in 2018 that the US would arrest ICC judges if the court pursued an Afghan probe.
The ICC decision, which came days after the US agreed to pull its troops from the long-running conflict, opens the way for prosecutors to launch a full investigation, despite Washington's opposition.
New York-based Human Rights Watch (HRW) and other international rights bodies on Thursday hailed the decision to uphold the prosecutions' appeal.
The US invaded Afghanistan to overthrow a ruling Taliban regime in 2001. American forces have since remained bogged down in the country through the presidencies of George W. Bush, Barack Obama, and Donald Trump.
About 2,400 US soldiers have been killed, along with unknown tens of thousands of Afghan troops, Taliban militants and Afghan civilians.
America has spent more than $1 trillion on fighting in Afghanistan.
Fighting has continued ever since -- last year more than 3,400 civilians were killed and almost 7,000 injured, according to data provided by UN agencies.
Full report at:
https://www.presstv.com/Detail/2020/03/08/620393/Israel-delegation-US-ICC-war-crimes
--------
Palestinians in East Jerusalem neighborhood living in constant fear
March 08, 2020
JERUSALEM: Murad Mahmoud's 14-year-old son has been detained by Israeli police in his East Jerusalem neighborhood three times in the last two years. His 10-year-old has been interrogated by police in combat gear. These days, he keeps all six of his children inside most of the time, fearing even worse.
"I won't even let them go to the corner store," he says. "I'm not just afraid they'll be arrested, I'm afraid they'll lose an eye or get shot in the head."
Nearly every day for the last nine months Israeli police have stormed into the Palestinian neighborhood of Issawiya in East Jerusalem in a campaign they say is needed to maintain law and order.
Rights groups say that in addition to searching houses and issuing fines, they have detained hundreds of people — some as young as 10 — on suspicion of stone-throwing.
The operations frequently ignite clashes, with local youths throwing rocks and firebombs, which police say justifies their heightened presence.
But residents and human rights groups say the raids themselves seem intended to provoke confrontations and have created an atmosphere of terror, with parents afraid to let their children play outside.
Last month, a 9-year-old boy was shot in the face by police, losing an eye in an incident authorities say they are still investigating.
It is unclear what prompted the crackdown, but many residents feel police are making an example out of Issawiya so that Israel can cement its control over East Jerusalem, which it seized in the 1967 war and later annexed.
East Jerusalem Palestinians have Israeli residency, but few have accepted citizenship, either because they do not recognize Israeli control or because of the long and complicated application process. That has left many feeling vulnerable.
"From May of last year until today, every day they occupy Issawiya all over again," said Amin Barakat, an optometrist and a member of the neighborhood council.
Issawiya tumbles down a hillside behind Israel's Hebrew University, just a few miles from the city center. But like other Arab neighborhoods in East Jerusalem it is overcrowded and poorly served, a legacy of decades of Israeli policies favoring Jewish areas of the city, including East Jerusalem settlements. Under President Donald Trump's Mideast initiative, which strongly favors Israel and was rejected by the Palestinians, Issawiya would remain part of Israel's capital.
The intensive raids began last May, but the situation escalated the following month, when a 20-year-old was shot and killed by police, who said he approached to within a few meters (yards) and launched fireworks at them.
Rights groups say the raids go far beyond the targeting of individual suspects and amount to collective punishment of the neighborhood's 20,000 residents.
Ir Amim, an Israeli group that advocates for equal rights in Jerusalem and has closely followed developments in Issawiya, said the operations are "unprecedented in scope and scale," amounting to a "violent disruption of daily life."
Full report at:
https://www.arabnews.com/node/1638351/middle-east
--------
North America
As the US squares up for a fight with the ICC over Afghanistan, who will win?
James Reinl
March 9, 2020
In 2002, United States lawmakers passed what was nicknamed the Hague Invasion Act, authorising military action to free any American service members who were being held on war crimes charges at the International Criminal Court.
This week, such a bizarre scenario came one small step closer to being realised, with ICC judges ruling that a probe into claims of torture and other atrocities committed in Afghanistan should go ahead.
Legal experts told The National not to expect to see US marines storming Dutch beachheads any time soon. But the ICC decision and the angry reaction from the Trump administration augur a rocky road ahead.
The row comes amid sensitive deal-making over a US military pull-out from Afghanistan and could see Washington slap sanctions on ICC judges, stirring tensions between Washington and its European allies which are strong backers of the court.
"It's a long road from the ICC decision to the execution of arrest warrants against US nationals," Liz Evenson, a Washington-based global justice expert at Human Rights Watch, told The National.
"Investigations take a long time, the court has no police force and it relies on members to enforce its warrants. This is definitely a long game and a difficult one that will require support from those who believe in accountability. But justice has a long memory."
On Thursday, an ICC appeals panel gave the green light to prosecutor Fatou Bensouda to investigate whether war crimes were committed in Afghanistan by the Taliban, Afghan military and US forces between 2003 and 2014.
Ms Bensouda, a Gambian lawyer, seeks to probe everything from alleged civilian killing sprees by Taliban militants to the torture of detainees by Afghan security services and, to a lesser extent, by US forces and the CIA.
After the ruling, Ms Bensouda said the "many victims of atrocities" in Afghanistan were "one step closer" to justice.
In Washington, US Secretary of State Mike Pompeo delivered a fiery response. He blasted an "unaccountable political institution masquerading as a legal body" that was drifting away from its mandate by focusing on America when it should be going after rogue regimes.
"We have lots of young men and women who served in Afghanistan, and not only our military but intelligence warriors and diplomats who served there," Mr Pompeo told Fox News on Friday.
"Now you have this crazy, renegade body sitting in The Hague, Netherlands, who wants to come after them for actions that the American people wanted them to undertake."
The US and other forces entered Afghanistan after the 9/11 attacks to topple the Taliban government, which had protected Al Qaeda leader Osama bin Laden.
In its reports, HRW accused Afghan police and the National Directorate of Security of widespread abuse of detainees, including electro-shocks and head-drilling, in a long-running battle with Taliban insurgents.
For its part, the Taliban has carried out suicide and other deliberate attacks on thousands of civilians, including judges, lawmakers, community elders and journalists, including by suicide attacks, car bombs and booby traps, HRW says.
The probe also shines a light on US forces. Washington is not a party to the court, and says it will protect US servicemen from politicised prosecutions. But the ICC prosecutor has jurisdiction over alleged crimes committed on Afghan territory by foreigners that are not being properly addressed in domestic courts.
"There's a whole panoply of criminality by the Taliban and Afghan security forces that would make for feasible ICC cases, while alleged US crimes are just one small sliver of what the court is assessing," Christopher "Kip" Hale, an atrocity crime attorney who prosecuted Khmer Rouge cases in Cambodia, told The National.
Still, there is evidence of wrongdoing by US service members. The ICC prosecutor's early-stage findings showed "crimes of torture, outrages upon personal dignity and rape and other forms of sexual violence" by US personnel.
A study by US lawmakers in 2014 detailed the CIA's harsh detention and interrogation programme of waterboarding and other "enhanced interrogation techniques" in Afghanistan and at other black sites globally.
In the past, human rights groups have called for criminal probes into former president George W Bush, vice president Dick Cheney, defence secretary Donald Rumsfeld, CIA director George Tenet and lawyers from that administration, including John Yoo and attorney general John Ashcroft.
"The US has shown itself entirely unwilling to hold the perpetrators of its torture programme to account and has actively tried to impede the court's investigation," said Grant Shubin, legal director of the Global Justice Centre, a campaign group.
World governments should support the ICC's recent "critical step towards justice", he said.
Any ICC indictment of an American official would not come for many years, said Mr Hale, but would pose challenges for US allies like South Korea, Britain and France that back the court yet value ties with the US.
"You enter a world of dicey international intrigue by which more than 120-plus ICC members around the world become obliged to execute arrest warrants of ex-American officials, and all the trouble this creates between that government and Washington," Mr Hale said.
While it is intriguing to imagine a Bush-era official taking an ill-advised shopping trip to Paris and ending up in a Dutch courtroom, Stephen Rapp, a prominent war crimes lawyer, said that the chances of any ICC charges against Americans were slim.
In 2012, US attorney general Eric Holder concluded that there was not enough evidence to prosecute anybody in the US for the deaths of a prisoner in Afghanistan in 2002 and another in Iraq in 2003. Ms Bensouda would likely reach the same conclusion, said Mr Rapp.
The ICC was designed to prosecute the kinds of ethnic cleansing that ravaged Rwanda and the Balkans in the 1990s. It charges the ringleaders of systematic abuses when domestic courts are unwilling or unable to prosecute.
In her Afghanistan probe, Ms Bensouda will see "horrible" evidence of CIA waterboarding, but the small number of detainee deaths and a "genuine, if imperfect" US effort to hold wrongdoers to account makes the case unsuitable for the ICC, said Mr Rapp, a US ambassador on war crimes during the Obama administration.
"There can be bad things that happen, but a prosecutor has to be able to go to court and tie it all together."
Still, Mr Pompeo's response suggested that the Trump administration would not wait around for any ICC indictments. Last April, Washington revoked Ms Bensouda's US visa for her work on Afghanistan. ICC insiders expect more to follow.
In September 2018, the national security adviser at the time, John Bolton, threatened to target ICC prosecutors and judges with travel bans, freezing their bank accounts and even prosecuting them in US courts.
The US may also try to end-run the court. Ted Cruz, a Texas senator, is hatching plans for a UN Security Council resolution to bar the ICC from bringing charges against citizens of non-member states — which includes the US, Russia, China and Israel.
Similarly, the US could ask the UN Security Council to freeze the ICC probe for a year, arguing that cutting a deal with the Taliban, ending its longest war and withdrawing some 13,000 US troops was more important than historic claims of torture, Mr Rapp said.
https://www.thenational.ae/world/the-americas/as-the-us-squares-up-for-a-fight-with-the-icc-over-afghanistan-who-will-win-1.989940
--------
US 'very frustrated' over years-long failure to overthrow Syria govt: Analyst
March 9, 2020
Sunday, 08 March 2020The reason behind the US efforts to block the adoption of a United Nations Security Council statement supporting a ceasefire agreed between Russia and Turkey in Syria's northwestern province of Idlib is that the American authorities are "very frustrated" because they have failed over the years to overthrow the legitimate Syrian government, an American political analyst says.
"What's back of the US efforts to block the UN endorsement of the ceasefire in Syria is simply that the United States for the past nine years has been trying to destroy the legitimate Syrian government and to that end has been backing the Turks and has been backing all the extremist groups operating in Syria, from White Helmets — the medical arm of al-Qaeda — to the various name-changing organizations like Jabhat al-Nusra which has a new name every other week," J. Michael Springmann, a Washington-based author and former US diplomat in Saudi Arabia, said during a phone interview with Press TV on Saturday.
"The Americans are very frustrated… because they failed to overthrow the government with their own efforts, with the CIA's efforts, with their support of the terrorists and with all-out support of the Turkish army operating in Syria," he added.
Presidents of Russia and Turkey, Vladimir Putin and Recep Tayyip Erdogan, announced after three hours of face-to-face talks in Moscow on Thursday that the truce would take force in Idlib at 00:01 a.m Friday.
Diplomats cited by AFP said, however, that the US had stonewalled the measure, with Washington calling it "premature," and Britain and Germany adopting the same stance.
The deal was clinched amid a pressing need for pacification in Idlib, where Turkish violations had brought about an unwarranted flare-up of already high levels of deadly violence.
The ceasefire comes a few months after the Syrian army launched an anti-terror operation against foreign-sponsored militants in Idlib after terrorists failed to honor an earlier de-escalation agreement brokered by Ankara and Moscow.
According to the so-called Syrian Observatory for Human Rights (SOHR), more than 1138 terrorists and 73 Turkish soldiers were killed in clashes against pro-Damascus forces in the last 51 days.
Full report at:
https://www.presstv.com/Detail/2020/03/08/620431/US-%E2%80%98frustrated%E2%80%99-over-failure-to-overthrow-Syria-government
--------
South Asia
Taliban reacts to parallel swearing-in ceremonies of Abdullah and Ghani
09 Mar 2020
The Taliban group reacted to parallel swearing-in ceremonies of Abdullah Abdullah and Ashraf Ghani due to be held in capital Kabul today.
Taliban spokesman Zabiullah Mujahid has said the disagreements between the Afghan leaders and the swearing-in ceremonies threatens the peace process.
"We don't think they will make it to getting ready for the intra-Afghan talks on March 10, because of … the disagreement between the politicians that is even leading to two swearing-in ceremonies," Mujahid was quoted as saying by The News.
He also added "Instead of swearing in, we want them to focus on intra-Afghan talks. We call upon them to leave the internal disagreements, stop the swearing in, and work for peace."
The Independent Election Commission announced incumbent Ashraf Ghani as the winner of the controversial presidential elections last month.
However, Ghani's rival Abdullah Abdullah said he had won the presidential race insisting that he would form a parallel government.
According to reports, both Abdullah and Ghani have issued invitations to parallel swearing-in ceremonies.
https://www.khaama.com/taliban-reacts-to-parallel-swearing-in-ceremonies-of-abdullah-and-ghani-04484/
--------
ISIS release of assailants involved in deadly Kabul attack
07 Mar 2020
The Islamic State of Iraq and Syria (ISIS) terrorist group released the details of the assailants who carried out the deadly attack in Kabul city on Friday.
The offshoot of the terror group, ISIS Khurasan, posted a statement in Amaq News, claiming the deadly attack which left scores of people dead or wounded.
The statement further added that the group's fighters, Ahmad Al-Tajiki and Abdur Rahman Al-Muhajir carried out the attack, killing or wounding at least 150 people.
The security officials said late on Friday that the attack which targeted the death anniversary of a prominent political leader in Kabul city left 32 dead and 81 others wounded.
The gunmen stormed the death anniversary ceremony of Anbdul Ali Mazari, a prominent Hazar leader on Friday as some of the key political leaders including Abdullah Abdullah and Mohammad Karim Khalili were present in the scene and were delivering speeches.
The Taliban group rejected the involvement of the group's fighters in the attack.
Yesterday's attack followed a steep rise in attacks across the country following the signing of a peace deal between U.S. and Taliban following a 7-day reduction in violence.
Full report at:
https://www.khaama.com/isis-release-of-assailants-involved-in-deadly-kabul-attack-04482/
--------
For the first time in history, two might swear-in as Presidents in one Afghanistan
09 Mar 2020
Both Ghani and Abdullah have been prepared for a 'swear-in' ceremony on Monday, the U.S envoy's efforts to stop them have failed, sources said.
The U.S peace envoy, Zalmay Khalilzad held several meetings with both Mohammad Ashraf Ghani and Abdullah Abdullah on Sunday till late in the evening, but he has failed to convince the President and the CEO on not to take a swear-in ceremony until the issues get resolved.
Early on Monday morning, Fazl Ahmad Manawi, a key member of Abdullah's electoral team tweeted that both ceremonies have been postponed due to mediation of the U.S peace envoy Zalmay Khalilzad, but later Shah Hussain Murtazawi, an advisor to President Ghani said Ghani's swear-in ceremony will be held as scheduled.
Both events were to kick-off at 09:00 am on Monday, but due to unclear reasons, the ceremonies were rescheduled for the afternoon.
If the international community fails to drag out a solution for Afghanistan's political scuffles, and for the first time in history, Ghani and Abdullah swear-in as the Presidents in one capital, the country will go to a crisis that will make it tough to return it back to normal.
This comes as President Ghani who has won the 2019 Presidential election is accused of systematic election frauds and the legitimacy of the election is under serious questions due to way low turnout, wherein only less than 2 million cast votes.
Abdullah Abdullah, the main rival of Ghani backed by 'king-maker' tribal leaders urge for the invalidation of the election results.
On the other hand, the Taliban also reacted to the disagreements on the swear-in ceremonies saying it will threaten the peace process.
"We don't think they will make it to getting ready for the intra-Afghan talks on March 10, because of … the disagreement between the politicians that is even leading to two swearing-in ceremonies," Zabihullah Mujahid a spokesperson to Taliban told The News.
Full report at:
https://www.khaama.com/for-the-first-time-in-history-two-might-swear-in-as-presidents-in-one-afghanistan-87897089/
--------
Afghan president demands 'executive guarantee' before release of Taliban inmates
08 March 2020
The Afghan president says the proposed release of five-thousand jailed Taliban militants under the US deal will happen only if Kabul gets a guarantee that they will not return to violence
Addressing lawmakers on Saturday, President Mohammad Ashraf Ghani pressed for a mechanism to be put in place to ensure that Taliban prisoners would not revert to terrorism after their proposed release.
The issue of releasing 5,000 Taliban inmates was declared by a top Taliban negotiator in the Qatari capital, Doha, who said that Washington has guaranteed the release of Taliban's prisoners as part of the deal they signed on February 29, 2020.
In his Saturday remarks, President Ghani said the Afghan government did not want to keep 5,000 militants imprisoned forever.
Instead, he said, Kabul sought to release them as proposed in the US-Taliban deal, in line with such a transparent mechanism that supported an eventual cease-fire between the insurgent group and the Afghan government.
"The people should be confident that these people [Taliban] have changed after becoming free," Ghani said.
Based on the US-Taliban agreement, up to 5,000 imprisoned Taliban insurgents in Afghanistan's custody are to be released by March 10 ahead of intra-Afghan peace negotiations.
Full report at:
https://www.presstv.com/Detail/2020/03/08/620370/Ghani-Afghanistan-taliban-peace-deal-prisoners
--------
US operating in Afghanistan 'under the law of the jungle': Former US marine
07 March 2020
The years-long occupation of Afghanistan by the United States began based on a lie and the US has been operating in the war-ravaged country "under the law of the jungle," says a former US marine.
Kenneth O'keef, a peace activist and former US marine in Oregon, made the remarks during a Friday edition of Press TV's The Debate program while commenting on the International Criminal Court (ICC)'s decision to launch a probe into the alleged war crimes and crimes against humanity by the US in Afghanistan.
US Secretary of State Mike Pompeo was quick to denounce the decision, calling it "reckless" and describing the move as a "truly breathtaking action by an unaccountable political institution masquerading as a legal body."
"The invasion of Afghanistan was based on a lie that the Taliban was responsible somehow for providing aid and sanctuary to a man named Osama bin Laden who happened to be hanging out in a CIA-controlled hospital in Dubai in July apparently a couple of months before he committed the greatest terrorist act of all times," O'keef told Press TV on Friday, referring to the former leader of the al-Qaeda terrorist group accused by Washington of being behind the September 11, 2001 terrorist attacks in the United States.
"There is just one lie after another and all of this nonsense that's being spouted is an absolute denial of the fact that we have not been operating under law, we have been operating under the law of the jungle, might makes right, and the United States has been in charge, that's a fact and we have invaded and occupied so many countries, it's not even funny, we have hardly gone a year without bombing someone somewhere in the world."
The former US marine also praised the decision by the ICC and said the move could set a precedent for other countries, stressing that "law plays a critical role in establishing a world in which we can live in dignity, all of us, without the threat of war, poverty and starvation and mass violence."
Tim Kirby, an American radio host and political commentator in Moscow, was the other panelist invited to the show and denounced as a "farce" the US war in Afghanistan.
"The Afghanistan war has revealed to be a farce and a proven farce and it's been a complete waste of time, money, effort and lives on both sides," Kirby said.
The political analyst, however, argued that the crimes committed by Washington in Afghanistan was part of the American foreign policy and the ICC lacked enough authority to change that.
"The international criminal court really doesn't have much authority and there is nothing they can really do to stop the United States and they are not going to change the American foreign policy," Kirby noted.
The court upheld an appeal by prosecutors against a pretrial chamber's rejection in April last year of chief prosecutor Fatou Bensouda's request to open a probe in Afghanistan.
In 2006, the ICC's prosecutors opened a preliminary probe into possible war crimes and crimes against humanity committed in the Asian nation since 2003.
In 2017, prosecutor Bensouda asked judges to allow a full-blown probe, not only into Taliban and Afghan government personnel but also international forces, US troops and members of the Central Intelligence Agency (CIA).
Bensouda's move angered Washington, which in April last year revoked the Gambian-born chief prosecutor's visa as part of broader restrictions on ICC staff probing American or allied personnel.
Former national security adviser John Bolton warned in 2018 that the US would arrest ICC judges if the court pursued an Afghan probe.
The US invaded Afghanistan to overthrow a ruling Taliban regime in 2001. American forces have since remained bogged down in the country through the presidencies of George W. Bush, Barack Obama, and Donald Trump.
About 2,400 US soldiers have been killed, along with unknown tens of thousands of Afghan troops, Taliban militants and Afghan civilians.
America has spent more than $1 trillion in fighting in Afghanistan.
Fighting has continued ever since -- last year more than 3,400 civilians were killed and almost 7,000 injured, according to data provided by UN agencies.
Over 100,000 Afghans have also been killed or injured since 2009, when the UN Assistance Mission in Afghanistan began documenting casualties.
The Taliban now control or hold influence over more Afghan territory than at any point since 2001.
After nearly two decades of war, the United States and the Taliban last week signed an agreement aimed at paving the way for complete withdrawal of American forces from Afghanistan.
Full report at:
https://www.presstv.com/Detail/2020/03/07/620314/US-invasion-Afghanistan-lie-jungle-law-Kenneth-O'keef
--------
Afghan peace pact in chaos as presidential rivals squabble
March 09, 2020
KABUL, Afghanistan: Squabbling Afghan presidential rivals threatened to both declare themselves president in dueling inauguration ceremonies Monday, throwing plans for negotiations with the Taliban into chaos.
Those talks among Afghans on both sides of the conflict were supposed to be the next crucial step in a US-Taliban peace deal, signed less than two weeks ago. But the dispute between the top two candidates in last year's presidential election over who actually won means the Afghan government side appears unable to present a united front.
When Washington and the Taliban insurgents signed the deal, the promise was that Afghans would sit down and negotiate a road map for their country's future. They are looking to hammer out such thorny issues as women's rights, free speech and the fate of tens of thousands of armed men on both sides of the 18-year war. Those negotiations were set to be held Tuesday in Oslo.
The US has said its troop withdrawal from Afghanistan will be linked to the Taliban keeping their counter-terrorism promises, but not to the success of talks between the Taliban and the Afghan government.
Afghanistan's election commission has declared incumbent President Ashraf Ghani as the winner of September's vote. His former partner in a unity government, chief executive Abdullah Abdullah, as well as the election complaints commission say the results are fraught with irregularities. As a result, both Ghani and Abdullah have declared themselves winners.
The two candidates are also backed by warlords who have a stake in who becomes president, complicating negotiations to break the stalemate being conducted by Washington's peace envoy, Zalmay Khalilzad.
The rival presidential candidates called journalists to their respective inaugurations early Monday, only to delay them for a few hours while more talks were being held.
A senior member of Abdullah's team, Basir Salangi, told local Afghan channel Tolo TV that the US peace envoy has asked both sides to delay their inaugurations for three days to sort out the stalemate. Abdullah reportedly said he was ready, but would go ahead with his ceremony Monday if Ghani refused to postpone.
Taliban spokesman Zabihullah Mujahed, in response to questions from The Associated Press, said late Sunday that the Taliban were still committed to the deal, but said the dueling presidential inaugurations "are not good for the Afghan nation."
As well as competing candidates, Khalilzad still has to get some agreement on a prisoner release, which was supposed to be settled before the intra-Afghan negotiations could begin. The peace deal signed by the US and Taliban said 5,000 Taliban prisoners and up to 1,000 captives from the government side would be freed as a goodwill gesture ahead of the intra-Afghan negotiations.
Ghani had previously said he won't release the Taliban prisoners, even as US Secretary of State Mike Pompeo called on all sides to stop posturing and free their prisoners, some of whom have already served their sentences. Pompeo called on all sides get on with talks about the country's future.
The Taliban spokesman said that the group wants their prisoners released and were ready to free the captives they're holding. Mujahed said they did not want to see a delay, but reiterated that if it occurred "we remain committed to the agreement."
Meanwhile, an Afghan provincial council member and two of his bodyguards were killed by gunmen on Sunday in the capital of Kabul.
No one immediately claimed responsibility for the attack. But it came just days after Daesh killed at least 32 people at a ceremony in Kabul attended by prominent political leaders.
Full report at:
https://www.arabnews.com/node/1638751/world
--------

Europe
Erdogan urges Greece to 'open the gates' to migrants
8 March 2020
Turkish President Recep Tayyip Erdogan on Sunday called on Greece to "open the gates" to migrants after he previously said he would not stop people leaving Turkey to go to Europe.
"Hey Greece! I appeal to you... open the gates as well and be free of this burden," Erdogan said during a televised speech in Istanbul.
"Let them go to other European countries."
https://english.alarabiya.net/en/News/world/2020/03/08/Erdogan-urges-Greece-to-open-the-gates-to-migrants.html
--------
MCB dossier sets out extent of Tory Islamophobia
07 March 2020
The Muslim Council of Britain (MCB) has published a research document setting out a detailed account of the depth and breadth of Islamophobia in the Conservative party.
The MCB, which is widely regarded as Britain's leading representative body, released the meticulously detailed – but still inexhaustive – study on March 05.
Describing the problem of Islamophobia in the Tory party as "widespread, institutional and systemic", the dossier lists 300 cases of Islamophobia in the party.
The cases apply to the party's leadership as well as the rank and file.
Long list
The examples cited in the study begin with the Prime Minister, Boris Johnson, who has five instances or issues relating to Islamophobia to his name.
Besides making direct Islamophobic comments – for example by claiming that "Islam is the problem" – Johnson also maintains strong ties to anti-Islam thinkers and activists, including US ideologue and Donald Trump ally, Steve Banon, and the late conservative British philosopher, Sir Roger Scruton.
Other leading Tories identified for either making Islamophobic comments or supporting Islamophobic causes and personalities include: Bob Blackman (MP for East Harrow); health minister Nadine Dorries; former foreign secretary Jeremy Hunt; former Prime Minister David Cameron; and leading Tory ideologue and MP for Surrey Heath, Michael Gove.
Growing problem
The sheer detail contained in the dossier will go a long way to raise public awareness of the Tory's party massive Islamophobia problem.
But whether that will apply sufficient pressure on the higher reaches of the party to finally take decisive action against the problem is doubtful.
After all, if the top leadership of the Tory party is Islamophobic it stands to reason they won't even acknowledge the problem let alone fight it.
Full report at:
https://www.presstv.com/Detail/2020/03/07/620342/UK-Conservative-Party-Islamophobia-MCB-Dossier
--------
Mainland Greece to temporarily house 'migrants from Turkey'
07 March 2020
Greece says it is to set up two makeshift camps on its mainland to house the migrants that Turkey reportedly allowed into Europe to evoke a response from the continent.
"We want to build two closed centers in [the northern region of] Serres and the greater Athens area with 1,000 places," Notis Mitarachi, migration minister, told Greece's Skai TV on Saturday.
"We need the backing of local communities. We cannot leave all [these] people on the islands," he said, referring to the Greek island of Lesbos and four other Augean islands that have been hosting Europe-headed migrants.
Turkish President Recep Tayyip Erdogan claimed on March 1 that the country would no longer keep migrants from crossing onto Europe, alleging that Turkey could host no more refugees from neighboring Syria.
Ever since, over 1,700 migrants are said to have landed on the islands from Turkey, adding to the 38,000 who are already crammed into overstretched refugee centers there.
Erdogan's announcement came after Turkey's military intervention in neighboring Syria prompted deadly clashes with the Syrian military, and threatened direct confrontation with Russia, which is backing Damascus against militancy and terrorism.
Observers say Turkey played the refugee card to enable European support for its operations in Syria, where Ankara backs a number of anti-Syria militant groups, and potentially pit the Western military alliance of NATO against Damascus and Moscow.
Brussels responded coolly, however, and the attempted provocation backfired further amid reports that far-right European militants had come to Lesbos and the Greek border with Turkey amid the refugee influx to apparently spark incidents and prompt anti-migrant hatred.
AFP named one of the hardliners as Swedish far-right leader Jimmie Akesson, who reportedly handed out flyers in the northwestern Turkish province of Edirne with the message "Sweden is full."
On Friday, two Germans and two Austrians, who had identified themselves as journalists, but were exposed by local media as hardline nationalists, claimed to the police that they had been attacked and beaten at a market on Lesbos, the agency said. One of the four was named as Mario Mueller, a German member of the far-right Identitarian Movement, it added.
Amid the backlash, Erdogan said during a press conference alongside his Russian counterpart Vladimir Putin in Moscow that Turkey and Russia had agreed a ceasefire in Idlib.
Full report at:
https://www.presstv.com/Detail/2020/03/07/620355/Greece-camps-Turkey-
--------
Gunman opens fire in Paris mosque, wounding one
Cindi Cook
09.03.2020
PARIS
A man opened fire in a mosque in northeastern Paris on Sunday night, seriously wounding one person.
The mosque is located on Rue de Tanger in the city's 19th administrative district, a religiously and culturally diverse part of the capital.
The gunman, wearing a helmet, fled the scene on a scooter, according to local sources.
The victim, a 32-year-old man, has been rushed to the hospital with multiple gunshot wounds.
Around 15 people were inside the mosque at the time the gunman entered. No other injuries have been reported.
https://www.aa.com.tr/en/europe/gunman-opens-fire-in-paris-mosque-wounding-one/1759004
--------
Turkey deports 2 German nationals over terror links
Omer Olcay
07.03.2020
Turkey on Saturday deported two foreign terrorists to their home country of Germany, the Interior Ministry said.
Turkey continues to deport foreign terrorists, said a ministry statement.
The issue of the handling of Daesh/ISIS terrorists and their families detained in Syria – including foreign members of the terror group – has been controversial, with Turkey arguing foreign-born terrorists should be returned to their countries of origin.
Ankara has said several European countries resisted its efforts to send Daesh/ISIS members back to their countries, but that it will nevertheless press forward.
Turkey deported almost 780 foreign terrorists back to their countries of origin in 2019, according to Interior Minister Suleyman Soylu.
https://www.aa.com.tr/en/europe/turkey-deports-2-german-nationals-over-terror-links/1757979
--------
Turkey sends reinforcements into Idlib as ceasefire holds
Khaled Yacoub Oweis
March 8, 2020
Turkey sent military reinforcements into Idlib on Sunday, Syrian opposition sources said, despite a ceasefire last week that helped prevent direct armed confrontation between Ankara and Russia.
Limited fighting was also reported between Turkish and Russian proxies around separation lines roughly drawn in the deal on Thursday between presidents Recep Tayyip Erdogan and Vladimir Putin in Moscow.
But Russian and regime air bombing, which the Syrian Network for Human Rights said killed at least 300 civilians in Idlib in the past two months, has stopped, the sources said.
Continued ground military activity indicates the perpetual nature of the conflict in Syria and the scramble among foreign powers with troops in the country to hold on to or expand their territory.
A witness in the Syrian town of Atma on the Turkish border said hundreds of Turkish troops equipped with tanks, artillery, multiple-rocket launchers and mobile radar jamming units crossed into Idlib on Sunday.
"Four mechanised columns came in since the morning," the witness, who declined to be identified, told The National.
Pro-regime forces have been advancing in Syria since Russia's military intervention in late 2015. The advances have been mainly due to Russian air power and deals between Turkey and Moscow to carve out spheres of influence.
Through these deals, reached through negotiations known as the Astana process, Turkey had all but stopped supporting the opposition's goal of removing President Bashar Al Assad and instead focused on rolling back gains by Kurdish militia supported by the United States.
But the understandings between Ankara and Moscow collapsed at the start of this year.
For the first time since the outbreak of the Syrian revolt in 2011, Turkey last month launched sustained air and ground strikes against the regime and allied Shiite militia supported by Iran, causing hundreds of casualties in loyalist ranks in a span of days.
Ankara also renewed support to rebel forces in Idlib, enabling them over the past few weeks to resist the regime's advances along two major highways passing through the province.
Another source in Idlib said regime forces on Sunday entered and then withdrew under rebel fire from three villages near the Zawiya Mountain. Fighting was also reported in the west of Hama province adjoining Idlib.
Zawiya Mountain overlooks the the M5 highway linking Aleppo to Damascus and the M4 between Aleppo and the Mediterranean coast, home to two Russian military bases. Many of Mr Al Assad's Alawite minority sect live in the area, having come from the Alawite Mountains overlooking the coast.
Turkey announced on Saturday that last week's ceasefire agreement was holding, as the regime touted territorial advances implicitly recognised in the deal, saying the M5 highway was now open.
The agreement called for a cessation of hostilities from midnight on March 6 and a six-kilometre buffer zone on both sides of the M4 that Russian and Turkish forces are to patrol jointly from the middle of the month.
Most of Idlib falls under under "de-escalation zones" drawn up under Russian supervision in Astana in 2017. The deal between Russia, Turkey and Iran was supposed to halt fighting in places where the revolt had not been crushed, offering the possibility of sustained humanitarian relief and restoration of basic services.
But all of these zones, except for parts of Idlib, have since been captured by the regime and the Iranian-backed militias under Russian air cover.
The regime's gains and scorched earth tactics resulted in mass displacement and forced transfers of Sunni populations, mainly into Idlib, raising it population to more than three million. Nearly a million people have been displaced since pro-Assad forces launched their offensive in December, most of them squeezed into a strip of territory along the Turkish border.
Full report at:
https://www.thenational.ae/world/turkey-sends-reinforcements-into-idlib-as-ceasefire-holds-1.989925
--------
Africa
Turkey dispatches over 4,500 allied Takfir militants from Syria to Libya: SOHR
07 March 2020
The so-called Syrian Observatory for Human Rights (SOHR) says Turkey has so far sent more than 4,500 allied Takfiri militants from Syria to Turkey, after the Turkish parliament passed a bill earlier this year that will allow the government to deploy forces to the North African country to intervene in the ongoing war.
The Britain-based war monitor, citing informed sources requesting anonymity, reported on Saturday that the number of Turkish-backed militants, who have arrived in the Libyan capital city of Tripoli up until now, stands at some 4,750.
The Observatory added that nearly 1,900 Takfiris are currently receiving military training in Turkey in order to be sent to Libya.
The sources further noted that Turkey is recruiting young extremists in the predominantly Kurdish town of Afrin and other Turkish-controlled areas of northern Syria for the purpose, emphasizing that they are members of the Mu'tasim Division, Sultan Murad, Northern Falcons Brigade, al-Hamzat, the Sham Legion, Suleyman Shah and Samarkand Brigade militant groups.
They underlined that 117 Syrian militants, who joined the ranks of Turkey's military operations in Libya, have been killed there.
The Observatory went on to say that the Takfiris have been killed in clashes in Salah al-Din district south of Tripoli, al-Ramlah area near Tripoli's Mitiga International Airport as well as Hadaba project area in southern Tripoli.
The sources added that some 150 Takfiri militants who were sent to Libya have managed to sneak into Europe.
Libya plunged into chaos in 2011, when a popular uprising and a NATO intervention led to the ouster of long-time dictator Muammar Gaddafi and his execution by unruly fighters.
The North African country has since been split between two rival administrations based in the east and west amid a conflict drawing increasing involvement from foreign powers.
According to the latest UN tally, more than 280 civilians and roughly 2,000 fighters have been killed since Haftar launched his offensive in April to seize Tripoli. An estimated 146,000 Libyans have been displaced.
https://www.presstv.com/Detail/2020/03/07/620337/Turkey-dispatches-over-4,500-allied-Takfiri-militants-from-Syria-to-Libya:-SOHR
--------
Boko Haram jihadists attack Niger army position after lull in conflict
08 March 2020
Boko Haram jihadists have attacked an army position in southeastern Niger, sources said on Sunday, following a lull in violence since the end of last year.
The attack saturday in Niger's Diffa region, which has been targeted since 2015 by the jihadist group, left an unknown number of soldiers injured.
"The military base of Chetima Wangou was attacked by heavily armed Boko Haram elements who came in vehicles," a local journalist told AFP.
"There were injuries among our soldiers who were admitted to Diffa Hospital for emergency medical treatment," the journalist added.
"The attack took place but we do not have a toll," a security source told AFP.
Chetima Wangou is a small village about 25 kilometres (15 miles) southwest of the regional capital Diffa. Since 2015, the group has targeted areas near Lake Chad, north of the city.
The attack was the latest ascribed to the jihadist group which began a bloody insurgency in neighbouring Nigeria in 2009 that has spread to nearby countries, prompting a regional military response.
In February 2019, seven Niger soldiers were killed during an attack on the same position.
Full report at:
https://guardian.ng/news/world/boko-haram-jihadists-attack-niger-army-position-after-lull-in-conflict/
--------
India
Jammu and Kashmir: Militant killed in encounter in Shopian
March 9, 2020
One militant was killed in an encounter in Jammu and Kashmir's Shopian district, police said on Monday. Kashmir Zone Police said the encounter was underway and security forces were on the job.
A police official said security forces launched a cordon and search operation in Reban in south Kashmir on receiving information about the presence of militants. He said that the operation turned into an encounter after the militants fired on the search party and gunfight is going on.
https://indianexpress.com/article/india/jammu-kashmir-encounter-shopian-6306242/
--------
Pulwama attack case: Dead suspect's phone helped NIA join the dots
By Deeptiman Tiwary
March 9, 2020
After months of tardy progress in the investigation into the 2019 Pulwama terror attack that killed 40 CRPF personnel, the NIA got a major breakthrough due to the recovery of the phone of a dead suspect. The memory of the phone had not been cleared. Not only did it have several numbers crucial to the probe, it also had pictures related to preparation for the attack. It was this breakthrough that paved the way for five arrests in the past few days.
In November 2019, J&K police raided the residence of a suspected Jaish-e-Mohammed (JeM) overground worker in south Kashmir. Among the recovered items was a mobile phone that police shared with NIA. It belonged to Pakistani terrorist Mohammed Umar Farooq.
According to the NIA, Farooq was the key man behind the blast, from planning to execution. In fact, he was sent to India in May 2018 by JeM bosses in Pakistan with the sole task of carrying out a massive attack, NIA sources said.
According to the sources, Farooq entered India through a tunnel on the International Border in Jammu and one Mohammed Abbas Rather in Pulwama gave him shelter. Rather introduced Farooq to another family in Pulwama which sheltered him several times in the next six months and also helped in the planning for the blasts, the sources said.
Rather has been arrested. So have two members of the family that allegedly sheltered Farooq — Tariq Ahmed Shah (50), and his daughter Insha Jan (23). The NIA has also arrested Shakir Bashir Magrey, a saw mill owner. Magrey allegedly conducted reconnaissance for the attack and drove the IED-laden vehicle till 500 m of the attack spot before handing it over to Adil Ahmed Dar, the suicide bomber who exploded the car near the CRPF convoy. A 19-year-old from Srinagar, Waiz-ul-Islam, who allegedly used his Amazon account to order bombmaking material, has also been nabbed.
However, until November 2019, the NIA did not know any of this. It had only identified a bunch of JeM operatives who played a role in the attack. However, all of them, including Farooq, had been killed in encounters within a month of the attack. "The case had almost hit a dead end even though we had identified the vehicle and tracked down the owners. All our suspects were dead and there were no leads. And then we got this phone," an NIA officer said.
The phone had numbers of the people in Kashmir Farooq was in touch with and the investigators used the information to track down more suspects, said the sources. Based on the numbers found in the phone, the NIA put multiple people on surveillance and zeroed in on Magrey, Shah and Jan, the sources added. "The phone had all the pictures related to preparation for the attack. It had pictures of the IED used in the attack, of the car it was fitted into, of suicide bomber Dar before he committed the act and several other logistics. It appears these pictures were clicked to be sent to the JeM bosses in Pakistan, but those behind the attack forgot to delete them later," an officer said.
Full report at:
https://indianexpress.com/article/india/pulwama-attack-case-dead-suspects-phone-helped-nia-join-the-dots-6306041/
--------
Pakistan fires on Indian posts along the LoC in Jammu and Kashmir's Poonch district
Mar 8, 2020
JAMMU: In yet another ceasefire violation, the Pakistani army fired on forward Indian posts along the Line of Control in Poonch district for the second consecutive day on Sunday, a defence spokesman said. "At about 5.45 pm, Pakistan initiated unprovoked ceasefire violation by small arms firing along LoC in Shahpur and Qasba sectors. The Indian Army is retaliating befittingly," the spokesman said.
This is the second ceasefire violation by Pakistan in two days.
On Saturday, the Pakistani army fired mortar shells and small arms on forward posts and villages in Mankot sector of Poonch district.
Full report at:
https://timesofindia.indiatimes.com/india/pakistan-fires-on-indian-posts-along-the-loc-in-jammu-and-kashmirs-poonch-district/articleshow/74540171.cms
--------
URL: https://www.newageislam.com/islamic-world-news/aurat-march-attacked-religious-men/d/121265
New Age Islam, Islam Online, Islamic Website, African Muslim News, Arab World News, South Asia News, Indian Muslim News, World Muslim News, Women in Islam, Islamic Feminism, Arab Women, Women In Arab, Islamophobia in America, Muslim Women in West, Islam Women and Feminism