New Age Islam News Bureau
08 December 2020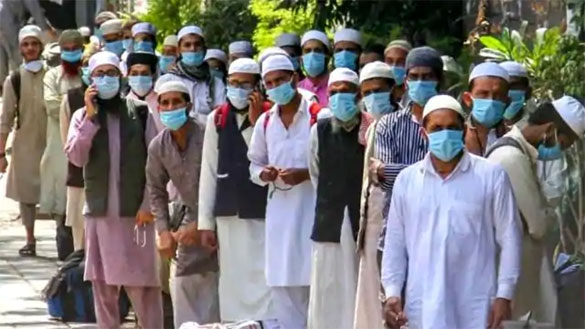 Why press 'attempt to murder charge' for attending Tablighi meet, asks HC
-----
• Supreme Court Refused To Quash Firs against a TV Anchor for Defamatory Remarks against Sufi Saint Khwaja Moinuddin Chisti
• Saudi Regime Forces Detain Senior Shia Scholar, Razes Shia Mosque To Ground In Qatif Region
• Bangladesh: Sedition Case Filed Against Islamist Hefazat-e-Islam Chief
• New Zealand Probe into Mosque Shooting Blames Focus on Takfirism
• US Acts Against Pakistan, China for Violations of Religious Freedom
• Islamic Terror Groups Praise Recent Terror Attacks On France
• Uyghur Muslims Forced to Eat Pork Every Friday in Chinese Concentration Camps
• 11 Villagers in Unlawful Custody: Court Awards 11-Month Term to SHO to Sweep Mosque
• Iran Dismisses Saudi Call for Inclusion in Nuclear Talks
India
• 'Attempt To Murder Charge' For Attending Tablighi Meet - Prima Facie Reflects an Abuse of the Power of Law: Allahabad High Court
• Supreme Court Refused To Quash Firs against a TV Anchor for Defamatory Remarks against Sufi Saint Khwaja Moinuddin Chisti
• Muslim Groups: Help Rebuild Mosques and Spread Brotherhood across Hyderabad
• BJP 'Land Jihad' Allegation Backfires in Jammu and Kashmir
• No Love Jihad (Law) in Ongoing Assembly Session, Karnataka Will Enact Only Anti-Cow Slaughter Legislation
• MP 'Love Jihad' Law Could Have Provisions of Alimony and Attaching Accused's Property
• PM Modi conveys India's full support to France in fight against terrorism, extremism, radicalism
• Terror plot: ISI henchman held in Dubai, 5 arrested in capital
------
Arab World
• Saudi Regime Forces Detain Senior Shia Scholar, Razes Shia Mosque To Ground In Qatif Region
• Kurdish Media: Turkey Reassigning Syrian Militants to Kashmir
• Syria's foreign minister goes to Iran for first visit abroad
• As Lebanon subsidy crunch looms, two UN agencies warn of social catastrophe
• Suspected al-Qaeda gunmen kill 5 south Yemen separatists
• Iraqi forces arrest senior Daesh commander in Anbar
• Israel evicts Syrians in occupied Golan Heights to establish wind turbines
--------
South Asia
• Bangladesh: Sedition Case Filed Against Islamist Hefazat-e-Islam Chief
• Officials Seize Explosive-Laden Car, Nab Suspect
• Taliban Attacks Rebuffed in Kandahar, Commander Killed
• 330% of Civilian Casualties Blamed on Trump Administration: Report
• Security Forces Foil Car Bomb Blast in Kandahar
--------
New Zealand
• New Zealand Probe into Mosque Shooting Blames Focus on Takfirism
--------
North America
• US Acts Against Pakistan, China for Violations of Religious Freedom
• American forces in Somalia are unwanted
• Venezuela, Turkey relations peaked after coup attempt
--------
Europe
• Islamic Terror Groups Praise Recent Terror Attacks On France
• Macron dismisses calls to get tough with Egypt's Sisi on human rights
• Germany cuts funding for Islamic Relief aid group over ties to Muslim Brotherhood
• Iran's new nuclear activity worrying: UK, Germany, France
• EU foreign ministers set to talk ties with US, Turkey
• 'Turkey won't allow imperialist expansionism on E.Med'
• Lincoln man Ben John in court over terrorism offences
--------
Southeast Asia
• Uyghur Muslims Forced to Eat Pork Every Friday in Chinese Concentration Camps
• Indonesia Receives Over A Million Chinese Covid-19 Vaccine Doses, Indonesia Ulema Council to Ensure It Meets Halal Requirements
• What Does Cleric Rizieq Shihab's 'Moral Revolution' Mean For Indonesia?
• 'Perak Move' exposes myth about working for Ummah
• NGOs say use of term 'Darul Hana' an attempt to change Sarawak's identity as secular state
-------
Pakistan
• 11 Villagers in Unlawful Custody: Court Awards 11-Month Term to SHO to Sweep Mosque
• China-Pakistan Air Forces to hold joint exercises
• Fazlur Rehman Slams Govt over Banning Ansar-Ul-Islam Ahead Of Lahore Jalsa
• Consensus in PDM on resignations: PML-N leader
• Minor maid's tormentor on judicial remand
--------
Mideast
• Iran Dismisses Saudi Call for Inclusion in Nuclear Talks
• Iran, Syria Discuss Bilateral Ties, Joint Fight against Terrorism
• Iran Reiterates Firm Support for Syria in War on Terrorism
• Iran Supreme Court upholds death sentence against journalist Ruhollah Zam
• Turkey orders detention of 304 military personnel over suspected Gulen links
• Yemeni VP hosts US officials to discuss designating Houthis as terrorist organization
• Yemeni army launches drone attack against Saudi positions
--------
Africa
• Ethiopian PM Abiy Denies the TPLF Is Fighting a Guerrilla War in Tigray
• 'US must not abandon civilian victims in Somalia'
• Libya threatens to withdraw from ceasefire over Haftar
• Libya and UK discuss training, combatting terrorism and organized crime
• Morocco Arrests Three From IS-Linked Cell: Police
Compiled by New Age Islam News Bureau
URL: https://www.newageislam.com/islamic-world-news/attempt-murder-charge-attending-tablighi/d/123698
--------
'Attempt To Murder Charge' For Attending Tablighi Meet - Prima Facie Reflects an Abuse of the Power of Law: Allahabad High Court
Dec 8, 2020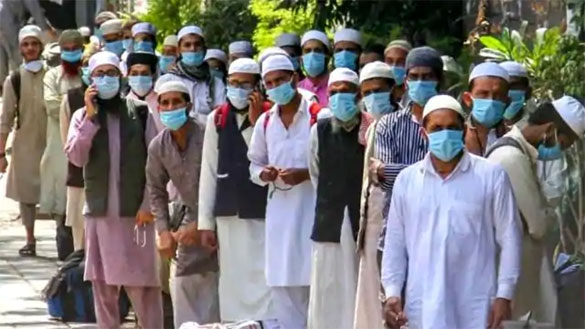 Why press 'attempt to murder charge' for attending Tablighi meet, asks HC
-----
PRAYAGRAJ: The Allahabad high court has observed that filing a chargesheet for "attempt to Murder" against a person for attending the Tablighi Jamaat meet at New Delhi, even though that person tested negative for the novel coronavirus infection, prima facie reflects an abuse of the power of law.
"The matter needs consideration," Justice Ajay Bhanot said while directing the counsel for the applicant, Mohammed Saad of Mau district, to implead the UP DGP, Mau SSP and Mau circle officer as respondents in the case.
The court also stayed criminal proceedings registered against Mohammad Saad at police station Kotwali, Mau district, under IPC Sections 307 (attempt to murder) and 270 (malignant act likely to spread infection of disease dangerous to life) in the court of the Juvenile Justice Board, Mau, till further orders.
The counsel for Mohammad Saad contended that the prosecution said in the chargesheet that the applicant had visited a religious congregation organised by Tablighi Jamaat in New Delhi but did not intimate the administration of his arrival after returning nor undergo voluntary quarantine. The counsel added that the applicant had tested negative and contended that even if evidence collected during investigation and in the FIR were taken at face value (though denied as incorrect), no offence was disclosed against the applicant.
Times View
Charges of attempt to murder can only be applied if there is an intent to kill. Even if the congregation is accused of being callous or reckless, it cannot be equated with attempt to murder. The HC is right.
He said that the original chargesheet was drawn up under IPC Sec 270 and another IPC section, and even presented in the court, but it was then recalled and a fresh chargesheet was submitted under IPC Secs 307 and 270 as per the orders of the Mau circle officer.
Justice Bhanot directed the circle officer to file a personal affidavit indicating how an "attempt to murder" charge was made out from the facts on record from material collected during the investigation, and to justify the amendment in the chargesheet directed by him.
The HC also directed the additional government advocate, representing the state government, to file a "counter reply" in the matter within 10 days.
https://timesofindia.indiatimes.com/india/why-press-attempt-to-murder-charge-for-attending-tablighi-meet-asks-hc/articleshow/79616462.cms
--------
Supreme Court Refused To Quash Firs against A TV Anchor For Defamatory Remarks Against Sufi Saint Khwaja Moinuddin Chisti
Dec 8, 2020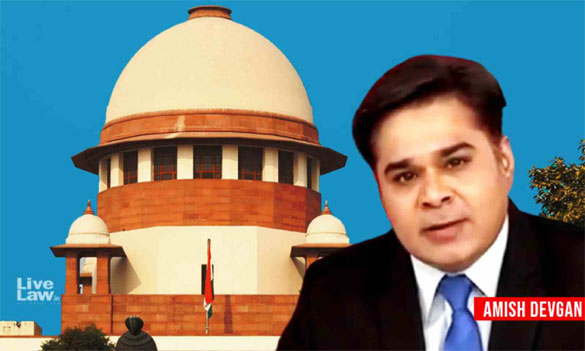 Supreme Court on Monday refused to quash FIRs registered against Journalist Amish Devgan for his remarks against Sufi Saint Moinnuddin Chisthi.
------
NEW DELHI: The Supreme Court on Monday refused to quash FIRs lodged against a TV anchor for his alleged defamatory remarks against Sufi saint Khwaja Moinuddin Chisti during a show on June 15, saying any attempt at dissemination of discrimination on the basis of race, religion, caste, creed or region must be condemned. The court granted Amish Devgan protection from arrest till conclusion of the probe if he cooperates.
A bench of Justices A M Khanwilkar and Sanjiv Khanna said, "We must act with the objective for promoting social harmony and tolerance by proscribing hateful and inappropriate behaviour... It is not penal threat alone which can help us achieve and ensure equality between groups... As stated earlier, in a polity committed to pluralism, hate speech cannot conceivably contribute in any legitimate way to democracy and, in fact, repudiates the right to equality."
Referring to the relevant portions of the transcript of the TV debate anchored by Devgan, SC said it was "apparent that the petitioner (the journalist) was an equal coparticipant, rather than a mere host". Emphasising the importance of freedom of speech and expression, the bench, however, referred to various verdicts of SC and said, "The argument that in a democratic society, there is no scope for agitational approach and the law, if bad, can be modified by democratic process alone was rejected on the ground that if the same is accepted it would destroy the right to freedom of speech..."
Complaints alleged that Devgan had insulted the saint belonging to the Muslim community and thereby hurt religious sentiments and incited hatred against the community. The court also ordered transfer of all seven cases registered in Rajasthan, Maharashtra, Telangana and Madhya Pradesh to Ajmer where the first complaint was filed.
https://timesofindia.indiatimes.com/india/wont-nix-firs-against-anchor-for-sufi-saint-remarks-supreme-court/articleshow/79616469.cms
--------
Saudi Regime Forces Detain Senior Shia Scholar, Razes Shia Mosque To Ground In Qatif Region
07 December 2020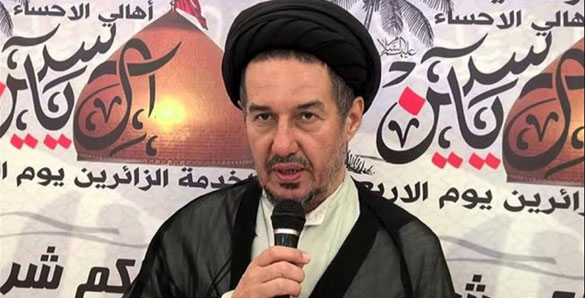 Hashim Muhammad al-Shakh
-----
Saudi security forces have reportedly arrested a distinguished Shia scholar in the country's oil-rich Eastern Province as the Riyadh regime keeps its clampdown against members of the Shia community in the kingdom.
The London-based and Arabic-language Nabaa television news network, citing local sources, reported that members of the General Intelligence Presidency cordoned off the area around the house of Hashim Muhammad al-Shakhs in the city of al-Ahsa on Monday, before breaking in and arresting the cleric.
The sources added that the Saudi regime forces ransacked the house, terrorizing the entire family.
They then took away the Shia scholar to an unknown location at gunpoint.
Saudi Arabia razes Shia mosque to ground in Qatif region
Also on Monday, Saudi forces leveled to the ground a Shia Muslim mosque south of al-Awamiyah town in Qatif region, located more than 420 kilometers (260 miles) east of the capital, Riyadh.
Locals said forces demolished Imam al-Hussein (PBUH) Mosque in al-Zarah neighborhood without any prior notice, after forming a cordon around the site in the morning, Lebanon's Arabic-language al-Ahed news website reported.
Eastern Province has been the scene of peaceful demonstrations since February 2011. Protesters have been demanding reforms, freedom of expression, the release of political prisoners, and an end to economic and religious discrimination against the oil-rich region.
The protests have been met with a heavy-handed crackdown by the regime. Security forces have increased security measures across the province.
Ever since Crown Prince Mohammed bin Salman became Saudi Arabia's de facto leader in 2017, the kingdom has intensified its crackdown on dissent despite international condemnations.
Muslim scholars have been executed, women's rights campaigners have been put behind bars and tortured, and freedom of expression, association and belief continue to be denied.
https://www.presstv.com/Detail/2020/12/07/640217/Saudi-regime-forces-detain-top-Shia-scholar-in-Eastern-Province
--------
Bangladesh: Sedition case filed against Islamist Hefazat-e-Islam Chief
Dec 07, 2020
A Dhaka court on Monday ordered the Police Bureau of Investigation (PBI) to probe the sedition cases filed against the hardline Chief of the Islamist organisation Hefazat-e-Islam Junaid Babunagari and others who had allegedly threatened to pull down all the sculptures including that of Bangabandhu Sheikh Mujibur Rahman. The court ordered the PBI to submit the report by January 7.
The case was filed by the Muktijodho Monch alleging that Junaid Babunagari and a few others had threatened to pull down the sculpture of Bangabandhu Sheikh Mujibur Rahman thus insulting the father of the nation and the constitution of the country. It also alleged that the accused were trying to create communal hatred using religion for political gains.
In the meanwhile, the High Court in Dhaka ordered authorities to take immediate steps to protect all the statues of Bangabandhu Sheikh Mujibur Rahman across the country. It also directed the government to submit a report on the progress in installing the sculptures of Sheikh Mujibur Rahman at all the districts and upazilas of the country, reports the official news agency BSS.
A controversy has been generated in Bangladesh after the hardline Islamist organisation Hefazat-e-Islam Chief Junaid Babunagari and other office bearers threatened to tear down all sculptures in the country as they call it 'un-Islamic'. They are opposing the government plan to erect a sculpture of Bangabandhu Sheikh Mujibur Rahman on the occasion of his birth centenary year 'Mujib Borsho' currently being observed in Bangladesh.
Following the threat, an under construction statue of Bangabandhu Sheikh Mujibur Rahman was damaged on Friday in Kushtia town of Bangladesh. Police have arrested four persons including two students of a local madrasa for vandalism.
http://www.newsonair.com/News?title=Bangladesh%3A-Sedition-case-filed-against-Islamist-Hefazat-e-Islam-Chief&id=405683
--------
New Zealand probe into mosque shooting blames focus on Takfirism
08 December 2020
An investigation of shooting attacks at two mosques in New Zealand last year has found that the country's security agencies were "almost exclusively" overwhelmed by the threat of Takfiri terrorism and missed that of a white supremacist gunman behind the horrific attacks, which claimed the lives of 51 Muslim worshipers.
An 800-page report of the Royal Commission of Inquiry released on Tuesday said the intelligence agencies had been too focused on the threat posed by Takfirism at the expense of other threats, including white supremacy.
The report said there had been an "inappropriate concentration of resources" on the threat of Takfiri terrorism.
The Royal Commission also decried police for failing to enforce proper checks when granting a firearms license to the assailant, Australian national Brenton Tarrant.
On March 15, 2019, Tarrant opened fire on Muslim worshipers attending prayers at two mosques in Christchurch. He live-streamed parts of the shooting rampage on Facebook.
Shortly before the terrorist attacks, Tarrant had published an ideological "manifesto" filled with extreme views in which he described Muslim immigrants to Europe as "invaders."
But despite the faults, the report found no issues within government agencies that would have prevented the massacre.]
The report prompted Prime Minister Jacinda Ardern to apologize.
"The commission made no findings that these issues would have stopped the attack. But these were both failings and for that I apologize," she said.
Gamal Fouda, the Imam of al-Noor Mosque, condemned the report, saying it showed "institutional prejudice and unconscious bias" existed in government agencies.
The Islamic Women's Council also said in a statement, "We find it concerning that the Commissioners found systemic failures and an inappropriate concentration of resources" on Takfiri terrorism, "and yet state that these would not have made a difference to the terrorist being detected prior to the event."
Authorities in New Zealand were at the time slammed for turning a blind eye to repeated warnings from the Muslim community that hate crimes against them were escalating.
According to the report, Tarrant was "socially isolated" and trained for the assault in New Zealand by practicing shooting at a rifle club, working out at a gym, and taking steroids to bulk up.
In August, Tarrant was given a life without parole for the attack, which also injured dozens of people.
The report proposed 44 recommendations, all of which were accepted by the government.
They included tightening firearm licensing laws, setting-up a new national intelligence and security agency, and appointing a minister to coordinate the government's response.
The government said it would make changes so police can better record and respond to hate crime.
https://www.presstv.com/Detail/2020/12/08/640252/New-Zealand-probe-into-mosque-shooting-blames-focus-on-Takfirism
--------
US acts against Pakistan, China for violations of religious freedom
Dec 8, 2020
WASHINGTON: The United States on Monday designated Pakistan and China in its list of "Countries of Particular Concern" (CPC) for engaging in or tolerating "systematic and egregious violations of religious freedom".
Both Pakistan and China are among the 10 countries highlighted by the US State Department as CPCs for their failure to stem the persecution and discrimination of faith groups.
In an official statement, Secretary of State Mike Pompeo said Burma, China, Eritrea, Iran, Nigeria, the DPRK, Saudi Arabia, Pakistan, Tajikistan and Turkmenistan have been designated as CPC under the International Religious Freedom Act of 1998, as amended, for engaging in or tolerating systematic, ongoing, egregious violations of religious freedom.
The Secretary of State further informed that countries - Comoros, Cuba, Nicaragua and Russia have been placed on a Special Watch List for governments that have engaged in or tolerated "severe violations of religious freedom".
"The United States will continue to work tirelessly to end religiously motivated abuses and persecution around the world, and to help ensure that each person, everywhere, at all times, has the right to live according to the dictates of conscience," Pompeo said.
Additionally, al-Shabaab, al-Qa'ida, Boko Haram, Hayat Tahrir al-Sham, the Houthis, ISIS, ISIS-Greater Sahara, ISIS-West Africa, Jamaat Nasr al-Islam wal Muslimin, and the Taliban have been designated as "Entities of Particular Concern" under the Frank R. Wolf International Religious Freedom Act of 2016, Pompeo said.
He further said that Sudan and Uzbekistan have been removed from the Special Watch List based on "significant, concrete progress" undertaken by their governments the past year.
https://timesofindia.indiatimes.com/world/pakistan/us-acts-against-pakistan-china-for-violations-of-religious-freedom/articleshow/79616525.cms
--------
Islamic terror groups praise recent terror attacks on France
December 7, 2020
Islamic terror groups have praised the spate of terror attacks in France. The ISIS praised the Nice attacks on RocketChat
On October 29, 2020, three people were killed in a stabbing attack at Notre-Dame de Nice, a Roman Catholic basilica in Nice, France. The suspect, identified as Brahim Aouissaoui, a 21-year-old Tunisian, was shot by the police. Aouissaoui who had a copy of the Quran and three knives with him, shouted "Allahu Akbar" (God is Greatest) when approached by police who shot and seriously wounded him, France's anti-terror prosecutor Jean-Francois Ricard told a press conference.
Nice Mayor Christian Estrosi characterized the attack in his city as a terrorist incident. He said it was again the victim of what he called "Islamo-fascism." He said the suspect, taken to a hospital after being wounded during a police arrest, did not stop saying "Allahu Akbar" during his detention. French President Emmanuel Macron denounced the attack and said, "If we are attacked once again it is for the values which are ours: freedom, for the possibility on our soil to believe freely and not to give in to any spirit of terror. I say it with great clarity once again today: we won't surrender anything."
The Nice attack took after the murder of Samuel Paty, a French middle-school teacher on October 16, 2020 in Conflans-Sainte-Honorine, a suburb of Paris. The perpetrator, Abdoullakh Abouyedovich Anzorov, an 18-year-old Muslim Russian-born refugee of Chechen descent, killed and beheaded Paty with a 30-centimetre knife. Anzorov was shot and killed by police minutes later.
The French President Emmanuel Macron gave France's highest civilian award, the Legion of Honour, to Paty and said he had been killed by "cowards" for representing the secular, democratic values of the French Republic. "He was killed because Islamists want our future," Macron said. "They will never have it." "Our fellow citizens expect actions," Macron said and promised that the government will intensify a crackdown on radical Islam.
Islamic terror groups have praised the spate of terror attacks in France. The ISIS praised the Nice attacks on RocketChat. According to the terrorism monitoring website, Counter Extremism Project (CEP), the ISIS supporters on RocketChat praised the attack and shared photos of Aouissaoui and a video allegedly from the aftermath of the assault showing emergency personnel recovering a body. The ISIS published a full-page article in Al Naba featuring an image of Nice attack and giving threatening calls to France.
Al Shabab called the terrorists who perpetrated the France attacks as "gallant knights" who "have treaded the path of the noble companions in dealing with those who malign our religion." The terror group then advised others to follow in those footsteps as well in a "war" against secularism, naming recent attackers in France "and the other unknown soldiers of Allah." "Killing the one who insults the Prophet is the right of every Muslim capable of applying it," the Al Qaeda in the Islamic Maghreb (AQIM) declared in its statement, which told would-be jihadists to "not ask for authorization to kill the one who insults the Prophet" but to mind Sharia law and "spare those whom it is illegitimate to target."
https://www.newdelhitimes.com/islamic-terror-groups-praise-recent-terror-attacks-on-france/?utm_source=iterable&utm_medium=email&utm_campaign=1790258_
--------
Uyghur Muslims Forced to Eat Pork Every Friday in Chinese Concentration Camps
7th December 2020
In a newly published book by Sayragul Sautbay, a Uyghur Muslim who was released from one of China's detention camps spread across the northwestern province of East Turkestan (renamed Xinjiang in Chinese), she details her horrifying ordeal while being arbitrarily detained in a concentration camp.
Detailing her continued nightmares and flashbacks of the numerous instances of "humiliation and violence" she endured while being detained by China, her book details the systematic cases of torture, sexual abuse, and forced sterilization. In addition, she also details a highly disturbing instance of humiliation and shame Uyghur Muslims were forced to endure while in the camps: the forced consumption of pork.
Explaining that the experience was "difficult to explain in words", she describes that every time she was forced to eat the meat, "I was feeling like I was a different person. All around me got dark. It was really difficult to accept."
In addition to the already horrifying indignity of forcing Uyghur and other ethnic minority Muslims to eat pork, the authorities reportedly forced them to eat this on Fridays, the holy day of the week for Muslims. Sautbay stated:
Every Friday, we were forced to eat pork meat. They have intentionally chosen a day that is holy for the Muslims. And if you reject it, you would get a harsh punishment…The days I have spent in the concentration camp will not be erased from my memory, and I have to live with it my entire life."
Another worrying report coming from the region is that China is attempting to promote agricultural development in Xinjiang/East Turkestan – particularly in the field of pig farms. In November of 2019, Shohrat Zakir, Xinjiang's top administrator, had claimed that the region would be turned into a "pig-raising hub" – and based on local reports, a new pig farm project in the southern Kashgar area is aiming to produce more than 40,000 pigs every year and occupy a 25,000 square-meter area. The project is also reportedly not for export purposes, but instead to "ensure the supply of pork in Kashgar". This is strikingly suspicious in the region that is around 90% Muslim.
Adrian Zenz, a Uyghur scholar and anthropologist based in Germany, stated:
This is part of the attempt to completely eradicate the culture and religion of the people in Xinjiang. It is part of the strategy of secularization, of turning the Uyghurs secular and indoctrinating them to follow the Communist Party and become agnostic or atheist."
Sautbay's account and the recent reports on the state-sponsored pig farming projects are just another example of China's brutal genocidal campaign – operating with almost full impunity as much of the international community remains silent. In addition to the numerous detention camps across the province of Xinjiang, or East Turkestan, where up to two million Uyghur and other ethnic minority Muslims are subjected to physical and psychological torture, mass rape, mass sterilization, and forced renunciation of Islam and cultural identities, the Uyghur people's cultural, religious, and historical heritage sites are also being systematically eradicated by China.
Important burial grounds are being razed, mosques are being demolished or "de-Islamified", and a brutal crackdown on anyone deemed "too religious" means that Uyghur Muslims in the region of East Turkestan/Xinjiang are being systematically targeted by the state itself. Uyghur Muslims in the region can be arrested and thrown in detention camps for something as simple as having a beard, wearing a hijab, or praying in public.
The Chinese government claims this is part of their "anti-terror" campaign, stating that their horrifying campaign against Uyghur and other ethnic minority Muslims within the region is because they remain a national threat to state security. The state-sponsored campaign of genocide, however, is in no way justified and is a blatant example of severe human rights violations and arguably should be tried as a crime against humanity.
Frustratingly, the majority of the international community continues to turn a blind eye to the atrocities being conducted in China against the Uyghur Muslims. Muslim majority countries have also decided to remain silent while loudly announcing new partnerships with China in lucrative economic and political gains. Most infamously, 37 nations signed a letter in support of China's "remarkable achievements in the field of human rights" last year – these countries included Saudi Arabia, the UAE, Qatar, Bahrain, Kuwait, Oman, Algeria, Egypt, Pakistan, Somalia, and Sudan.
As China continues to systematically destroy Uyghur lives, cultural heritage, and religious and linguistic identity, the world remains relatively passive while the atrocities continue. Human rights groups and Uyghur activists across the world continue to campaign against China's ongoing genocide, however, with the power of China's political and economic leverage, it seems that the majority of the international community will continue to turn a blind eye to the abuses being conducted against Uyghur Muslims.
https://themuslimvibe.com/muslim-current-affairs-news/uyghur-muslims-forced-to-eat-pork-every-friday-in-chinese-concentration-camps?utm
--------
11 villagers in unlawful custody: Court awards 11-month term to SHO to sweep mosque
December 8, 2020
SUKKUR: District and Sessions Judge Kandhkot-Kashmore Jamsheed Ahmed Awan on Tuesday awarded a unique punishment to SHO Kamal police station for illegally detaining 11 villagers by ordering him to keep a local mosque clean by working there for 11 months.
The District and Sessions Judge, Kashmore-Kandhkot, Jamsheed Ahmed Awan, on Tuesday heard the case of unlawful detention of 11 villagers by SHO Wakeel Ahmed Jafferi of the Police Station Kamal. The victims were recovered following a raid on the private detention centre by Commissioner Abdul Jabbar Domki. The D&SJ convicted SHO Jafferi of Kamal Police Station to work at a local mosque and keep it clean for 11 months, plant trees in Police Headquarters within a week. He ordered the officer to appear before the court every month along with a certificate of work at the mosque by its Pesh Imam, failing which he will undergo 11 months of imprisonment
https://www.thenews.com.pk/print/755532-11-villagers-in-unlawful-custody-court-awards-11-month-term-to-sho-to-sweep-mosque
--------
Iran dismisses Saudi call for inclusion in nuclear talks
08 Dec 2020
TEHRAN: Iran on Monday flatly dismissed a call by Saudi Arabia for Gulf states to be consulted on any potential negotiations with the Islamic republic on its nuclear programme.
Saudi Foreign Minister Prince Faisal bin Farhan had on Saturday sought that the kingdom be "fully consulted" on "what goes on vis a vis the negotiations with Iran".
The request was rejected on Monday by Iran's foreign ministry spokesman Saeed Khatibzadeh.
"Everyone is free to talk, but it's better that they do not talk above their level so that they don't embarrass themselves," he told reporters.
"Dwelling too much about the place of a mediocre country in the region does not help," the spokesman said in response to repeated questions on the Saudi position.
Khatibzadeh also accused Riyadh of funding extremist ideology and being responsible for many of the "troubles" of the Arab and Muslim world, saying the Saudi people "deserve better".
President-elect Joe Biden has signalled he wants the United States to return to the 2015 Iran nuclear deal known formally as the Joint Comp­rehensive Plan of Action, or JCPOA.
The accord has been on life-support since 2018, when US President Donald Trump withdrew and began reimposing sanctions as part of a "maximum pressure" campaign against the Islamic republic.
Since 2019, Iran has gradually walked back most of its key nuclear commitments in response to the sanctions and what it calls Europe's inability to provide it with the agreement's promised economic benefits.
Tehran has maintained that its measures can be restored if the other parties to the deal carry out their commitments.
https://www.dawn.com/news/1594541/iran-dismisses-saudi-call-for-inclusion-in-nuclear-talks
--------
India
Muslim Groups: Help Rebuild Mosques And Spread Brotherhood Across Hyderabad
Dec 8, 2020
HYDERABAD: Muslim groups and many Old City residents called on people to help rebuild mosques and spread brotherhood in the city.
"We want to give a message to our youths to rehabilitate mosques by establishing prayers. Its time we took care of our historic structures," said Asif Alam, a trader in Begum Bazaar.
Many mosques in the Old City and across Hyderabad need attention and people said there was a need to care for them.
"There are many mosques requiring attention and public representatives should take up the matter to construct all of them," said Syed Iftekar Hussaini, member of Association of Save Waqf Properties (ASWP).
"It hurts every Muslim in the city of Hyderabad. We demand that all mosques be protected by the present regime and Muslim scholars and intellectuals must be serious enough when it comes to this issue,'' he said.
A group of women said that though they would never forget Babri Masjid demolition, they will call on people to save the remaining ones.
"We want the reconstruction of Babri Masjid at the earliest, and we pray to the Almighty and seek strength to protect mosques in the country," said a woman in Saidabad.
During the recent Greater Hyderabad Municipal Corporation (GHMC) elections, opposition parties also raised the issue in Old City, saying the All India Majlis-e-Ittehadul Muslimeen (AIMIM) and other parties should do their bit to save the religious structures in the state that needs urgent attention and upkeep.
https://timesofindia.indiatimes.com/city/hyderabad/muslim-groups-residents-call-for-rebuilding-mosques/articleshow/79614347.cms
--------
BJP 'Land Jihad' Allegation Backfires in Jammu and Kashmir
Muzaffar Raina
08.12.20
When the courts quashed the Roshni Act that regularised encroachments on government land in Jammu and Kashmir, a gleeful BJP had alleged the legislation represented a "land jihad" by Muslims keen on settling in Jammu to change its Hindu-majority demography.
Now the BJP-controlled Administration of the Union Territory has sought a review of Jammu and Kashmir High Court's October 9 order, having realised that the bulk of the 19-year-old law's beneficiaries in Jammu were non-Muslims.
The government affidavit, moved on Friday, has sought modification of the court order — which declared the Roshni Act unconstitutional and directed retrieval of the occupied plots — saying it may "unintentionally" affect a large number of poor people.
Lists of the act's beneficiaries that the government has released over the past fortnight under the court's orders reveal that the overwhelming majority among the beneficiaries in Jammu were non-Muslims.
For instance, one of the earliest lists that named 541 beneficiaries in Jammu contained only 3 Muslim names.
Jammu lawyer Sheikh Shakeel Ahmad, who had campaigned against the law for years but felt outraged when it was given a communal colour, recently told this newspaper that of the 44,000 kanals (5,500 acres) encroached on in Jammu district, only 1,180 kanals (2.7 per cent) had gone to Muslims. Jammu district is one of Jammu province's 10 districts.
The government's affidavit urged the high court to distinguish between influential and ordinary beneficiaries.
Earlier, the administration had publicly accused several senior Valley politicians, including former chief minister Farooq Abdullah, of being beneficiaries of the act, passed during Farooq's tenure as chief minister. The politicians had denied the allegation.
Many believe that the first lists were released just before the district body polls, which started on November 28, to tarnish politicians who had formed an alliance to contest the elections to try and prove to the world that Kashmiris want Article 370 restored.
Ahmad, the lawyer, told a news conference in Jammu that at least three senior BJP politicians had encroached on government land and wondered why their names had not been made public. The BJP has denied the charge.
"We would like to bring to the kind notice of the hon'ble court the fact that a large number of common people would suffer unintentionally," the government affidavit says.
"This includes landless cultivators and individuals who are themselves residing in dwellings on small areas. They are unfortunately clubbed along with the rich and wealthy land-grabbers...."
The affidavit urged the court "to come up with appropriate mechanisms" to enable the poor beneficiaries to retain their plots "subject to an appropriate ceiling and on payment at an appropriate rate".
Raja Muzaffar Bhat, a politician and activist campaigning against the eviction of poor beneficiaries, said the government seemed to have realised that "their men" would be hit.
"I think there was pressure from influential people within as well as from ordinary people to make amends.…There are a lot of non-Muslims in Jammu, many of them also poor, who have benefited and they would have been hit hard," Bhat told The Telegraph.
"The government has issued thousands of eviction notices to poor people who have been living for generations on forestland. They have the right to live there under certain central laws that were extended (to Jammu and Kashmir) after the abrogation of Article 370 provisions."
BJP spokesperson Anil Gupta said the review had been sought to "avoid collateral damage", and drew a distinction between "general people and rich land-grabbers".
Evictions "could have caused unrest among the poor", Gupta said, adding that the review plea had "nothing to do with politics or winning elections".
"Some people see politics in whatever we do and are raising these issues after realising they are losing the (district body) elections," he said.
The eight-phase District Development Council elections in Jammu and Kashmir end on December 22.
According to the high court, 604,602 kanals (75,575 acres) of encroached-on government land had been transferred to the occupants against nominal payments.
Of this, the Jammu region accounted for 571,210 kanals (71,401 acres) — 17 times the land regularised in the Valley.
https://www.telegraphindia.com/india/kashmir-bjp-land-jihad-allegation-backfires/cid/1799863
--------
No Love Jihad (Law) in Ongoing Assembly Session, Karnataka Will Enact Only Anti-Cow Slaughter Legislation
Dec 8, 2020
BENGALURU: Two days after the BJP's executive committee gave its nod and after several cabinet ministers supported fast-tracking of a law against forcible conversion for marriages, the Karnataka government on Monday decided not to introduce the bill in the ongoing winter session of the legislature.
"No love jihad (law) this time. We will enact only anti-cow slaughter legislation in this session,'' said revenue minister R Ashoka.
to and fro
Home minister Basavaraj Bommai, among those in the cabinet who favoured early introduction of the contentious bills, on Monday said the state will keep the anti-love jihad bill "ready" before the next session. He said he's been asked to gather information on UP's ordinance.
Bill against farmers, hope govt backs out, says DKS
Home minister Basavaraj Bommai said he's been asked to gather information on Uttar Pradesh's ordinance against forcible or fraudulent religious conversions which imposes up to 10-year jail term and up to Rs 50,000 penalty under different categories. However, law minister JC Madhuswamy has been maintaining that the government has no plans to bring in a bill against love jihad in the backdrop of criticism from the Congress.
'It's to stop killing of cows'
In Shivamogga, chief minister BS Yediuruappa said the bill against cow slaughter will be tabled in the current session. "Farmers worship cow as god, and Indian culture accords special place for it. The blanketban move is to stop killing of cows," Ashoka said.
A team of officials led by animal husbandry minister Prabhu Chavan recently visited Uttar Pradesh and Gujarat — which have enacted anti-cow slaughter law — to study its implementation before introducing the bill in the session that began on Monday. The minister held discussions with UP CM Yogi Adityanath in this regard.
Earlier, Siddaramaiah, opposition leader in the legislative assembly, had said the Congress will oppose bills against love jihad and cow slaughter. KPCC president DK Shivakumar said the BJP was playing a dangerous political game in a bid to reap electoral dividends. "BJP functionaries are in the forefront of beef-export business; we know in which state the business is thriving. The bill is against farmers as it will affect them. I hope good sense prevails and the government backs out from tabling the bill," he said.
Rural development and panchayat raj minister KS Eshwarappa attacked the Congress and said, "People, especially women, regard cow as mother and goddess. Let Siddaramaiah and Shivakumar ask their spouses whether they will endorse cow slaughter."
https://timesofindia.indiatimes.com/city/bengaluru/ktaka-govt-not-to-table-bill-against-love-jihad-in-this-session/articleshow/79616318.cms
--------
MP 'love jihad' law could have provisions of alimony and attaching accused's property
MILIND GHATWAI
7 December, 2020
Bhopal: In a bid to outdo other BJP-ruled states in introducing a stricter 'love jihad' law, the Madhya Pradesh government has said it will add provisions of attaching property of the accused and payment of maintenance to the victim in case of talaq (divorce).
"Soon the 'love jihad' bill will come before the cabinet. We have added many provisions, which are not there in laws being enacted by other states. We will add attachment of property (of the accused), and, in case of talaq, maintenance has to be given. We are also contemplating whether a deserted person (alleged victim of 'love jihad') can get maintenance," Home Minister Narottam Mishra told reporters Sunday.
The Shivraj Singh Chouhan government has already announced that the Madhya Pradesh Freedom of Religion Bill 2020 will be tabled in the three-day session of the assembly that will begin on 28 December.
Both the CM and the home minister have referred to the proposed bill as 'love jihad' law.
On Saturday, Chouhan had discussed the format of the proposed bill with top officials at the secretariat. Mishra was, however, not present at the meeting.
VDO.AI
"No person in the state will be able to convert anyone from one religion to another directly or otherwise through marriage or any other fraudulent means by intimidation, deceit or force,'' the CM said in a statement before elaborating on some provisions.
The proposed bill provides a maximum punishment of 10 years and shifts the burden of proof — that no conversion has taken place — to the accused.
Besides the affected person, parents or blood relatives will be able to file a complaint. The offence will be cognizable, non-bailable and only sessions court will take up the case. Marriage with the intention of conversion will be held null and valid.
The bill will provide jail term of between two to 10 years if the victim is minor, female or belongs to SC/ST community, and a fine of at least Rs 50,000.
Attempts to hide one's religion will be punished with a jail term of three to 10 years and a fine of at least Rs 50,000.
Mass conversions (of two or more persons) will invite jail terms of five to 10 years, and a fine of at least Rs one lakh.
Also read: Why Sonia, Priyanka and Rahul Gandhi have not said a word on Yogi govt's 'love jihad' law
Other provisions
The home minister, meanwhile, Sunday said organisations involved in conducting such marriages, those giving donations for such marriages and those receiving donations for it will have their registrations cancelled.
He said priests, gurus and maulvis who conduct such marriages will also be punished. Advance intimation for all such marriages to the district magistrate is must under the proposed law.
Mishra further said that some other measures are also under consideration because MP wants to make the most stringent law.
While the Yogi Adityanath government has already come out with a law, other BJP-ruled states such as Haryana, Karnataka, Assam have said they will follow suit.
The Uttar Pradesh government came up with a 'love jihad' ordinance last month that provides a maximum jail term of 10 years. MP, which had initially proposed a five-year term for alleged 'love jihad' related offences, then doubled the punishment to 10 years.
In a statement Monday, state BJP president V.D. Sharma claimed more and more cases of 'love jihad' are being reported from Madhya Pradesh as also other states.
"The law proposed by the Chouhan government will keep such elements under check and will set an example for other states to follow,'" the BJP leader added.
He said everyone enjoys the freedom to marry, but the legislation was aimed at people who marry by assuming false identity, who mislead and put pressure to convert. He further said the term 'love jihad' was used by the Kerala High Court.
'Competition shouldn't dictate framing of law'
The Congress, meanwhile, said "competition should not dictate framing of a law or a rule".
"Any law that stems from competition will not succeed. It will not only weaken the law, but also make it difficult to implement," Congress leader Durgesh Sharma told ThePrint.
He said the Congress was not against the law, but against its potential to discriminate and fulfill politically selfish interest.
https://theprint.in/india/mp-love-jihad-law-could-have-provisions-of-alimony-and-attaching-accuseds-property/562138/
--------
PM Modi conveys India's full support to France in fight against terrorism, extremism, radicalism
Dec 7, 2020
NEW DELHI: In a telephonic conversation with French President Emmanuel Macron, Prime Minister Narendra Modi on Monday reiterated India's full support to France in the fight against terrorism, extremism and radicalism.
During the talks, Modi also conveyed condolences for the recent terror attacks in France, according to a Prime Minister's Office statement.
"Spoke with my friend @EmmanuelMacron on the challenges and opportunities presented by the post-COVID world. India stands by France in its fight against terrorism & extremism," Modi said in a tweet.
Spoke with my friend @EmmanuelMacron on the challenges and opportunities presented by the post-COVID world. India… https://t.co/UUrmzAh5AT
— Narendra Modi (@narendramodi) 1607359874000
The India-France partnership is a force for good in the world, including in the Indo-Pacific, he said.
The PMO statement on the telephonic conversation said the prime minister reiterated India's full support to France in the fight against terrorism, extremism and radicalism.
France was struck by terror attacks recently. A teacher was beheaded outside his school on October 16. On October 29, a man recently arrived from Tunisia killed three people with a knife in a Nice church.
During their conversation, Modi and Macron also discussed other bilateral, regional and global issues of mutual interest, including improving the affordability and accessibility of Covid-19 vaccines, post-Covid economic recovery, cooperation in the Indo-Pacific region, maritime security, defence cooperation, digital economy and cyber security, strengthening multilateralism, and climate change and biodiversity.
The two leaders expressed satisfaction at the depth and strength that the India-France strategic partnership has acquired in recent years and agreed to continue working closely together in the post-Covid era, the statement said.
Prime Minister Modi also expressed his wish to welcome President Macron in India after the normalisation of the public health situation.
https://timesofindia.indiatimes.com/india/pm-modi-conveys-indias-full-support-to-france-in-fight-against-terrorism-extremism-radicalism/articleshow/79612438.cms
--------
Terror plot: ISI henchman held in Dubai, 5 arrested in capital
Dec 8, 2020
NEW DELHI: Delhi Police's special cell has carried out an operation leading to the detention of most wanted gangster and ISI henchman Sukhmeet Pal Singh, alias Sukh Bhikhariwal, in Dubai, with assistance from UAE police, top sources have told TOI.
Simultaneously, the special cell arrested two Punjab-based alleged assassins — who were in the end stage of executing the killing of a right-wing leader in the capital — along with three Kashmir-based Hizbul Mujahideen operatives from east Delhi early on Monday, winding up a month-long investigation.
Bhikhariwal, top sources said, was nabbed from a flat in Dubai after his location was confirmed by Delhi Police's sources deployed on ground last month. Now, the intelligence establishment at the highest level is coordinating the deportation of Bhikhariwal, who has masterminded several targeted killings this year and earlier, including the assassination of Shaurya Chakra awardee Balwinder Singh Sandhu, who was shot dead by the two men in October.
The cops said that this operation, which shows the growing cooperation between the two countries, has exposed the Pak spy agency's new plan of trying to use the Khalistan and Kashmir networks to revive extremism in Punjab and other parts of the country. In the past three years, UAE and Indian intelligence had coordinated on the arrest of AgustaWestland middleman Christian Michel and Rajiv Saxena, among others.
While officials in Delhi Police remained tight-lipped on the UAE operation, they elaborated on the operation in Delhi saying they had averted a "slew of targeted killings" in the capital with these arrests.
The cell had kicked off an operation in April this year after receiving inputs about targeted killings being planned and executed by the ISI through Bhikhariwal. "While these inputs were being developed, multiple teams were dispatched to Punjab, Uttar Pradesh and Uttarakhand to collect specific information with active coordination and cooperation of central intelligence agencies," said DCP (special cell) Pramod Kushwaha.
Last month, police commissioner S N Shrivastava had formed a crack team to carry out the operation. The team comprised encounter specialist ACPs Lalit Mohan Negi and Hriday Bhushan and inspectors Sunil Rajain, Ravinder Joshi and Vinay Pal to execute the last phase of the operation.
A few days ago, an intercepted chatter suggested that Bhikhariwal had instructed his sharpshooters to commit another targeted killing of a right-wing leader in Delhi on the instructions of ISI. Bhikhariwal had further tasked them to meet some persons from Kashmir in east Delhi near the Ramesh Park bus stand, Shakarpur. The suspects, belonging to Hizbul Mujahideen, were to hand over cash to the assassins. Cops started to look out for a car with a J&K registration number.
"Accordingly, a trap was laid. Around 6.45am, two cars were spotted near the place of information. The advance team immediately moved to verify the suspects. Sensing police presence, the suspects tried to flee by firing at the police party," DCP Kushwaha said. The police party too fired in self-defence. Both sharpshooters were nabbed along with their three Kashmiri associates.
"The Kashmiri men were found in possession of 2kg of fine-quality heroin and Rs 1 lakh in cash. Three sophisticated pistols of different make were recovered from the two sharpshooters. A total of 13 rounds were fired during the exchange of fire," Kushwaha added.
The men from Punjab were identified as Gurjit Singh, alias Bhaa, and Sukhdeep Singh, alias Bhura, while the Kashmiri suspects were identified as Shabbir Ahmed, Ayub Pathan and Riyaz Rather.
Pathan is claimed to have disclosed that he was working for Hizbul Mujahideen and his handler was his cousin, Abdul Majeed Khan, who is at present based in Rawalpindi and is a senior operative of Hizbul.
Khan had introduced him to a Pakistan-based operative, codenamed "Sadakat", who is handling channelling of funds to India through narco-terrorism.
"Sadakat tasked them to receive a consignment of narcotics — which was sent to India through Pakistan — and deliver it to his other contacts in Punjab. They were also tasked to pay Rs 1 lakh to to the assassins," DCP Kushwaha added.
https://timesofindia.indiatimes.com/india/terror-plot-isi-henchman-held-in-dubai-5-arrested-in-capital/articleshow/79614755.cms
--------
Arab World
Kurdish Media: Turkey Reassigning Syrian Militants to Kashmir
2020-December-7
The Kurdish-language Forat news website quoted informed sources as saying that the Solaiman Shah militia affiliated to Turkey in Northern Syria are preparing forces to be dispatched to Kashmir.
They added that al-Makni Abu Amsheh, one of the militant commanders affiliated to Turkey, has informed his forces that the Turkish army has demanded a list of volunteers from the terrorist groups, including the so-called Syria National Army, to be sent to Kashmir.
He has also told them that Turkey will pay $2,000 to anyone who is ready to go to Kashmir.
Turkish officials have not yet shown any reaction to the report.
Claimed by both India and Pakistan, Kashmir has remained a source of tension between the two countries.
https://www.farsnews.ir/en/news/13990917000998/Krdish-Media-Trkey-Reassigning-Syrian-Milians-Kashmir
--------
Syria's foreign minister goes to Iran for first visit abroad
07 December 2020
Iran's Foreign Minister Mohammad Javad Zarif on Monday hosted his Syrian counterpart Faisal Mekdad in Tehran, in the top diplomat's first official visit abroad.
During their meeting, the two discussed "bilateral, regional and international issues, as well as the joint fight against terrorism," Iran's foreign ministry said in a statement.
Zarif emphasized the "necessity of vigilance and consultation" between Iran and Syria due to the "recent regional developments and condition," it added.
Mekdad arrived in Tehran on Sunday night and is expected to meet Iran's top officials in the next few days, according to the ministry.
He succeeded Wallid Muallem as Syria's foreign minister on November 22, after the veteran diplomat died days before.
Iran has been a staunch supporter of Syria's President Bashar al-Assad in the civil war that has ravaged the country since 2011.
The conflict has killed more than 380,000 people and displaced more than half of Syria's pre-war population.
"Iran stands alongside the people and government of Syria in the fight against terrorism," Iran's foreign ministry spokesman Saeed Khatibzadeh said in a tweet.
"A political solution is the only possible choice to end the current crisis," he added.
https://english.alarabiya.net/en/News/middle-east/2020/12/07/Syria-s-foreign-minister-goes-to-Iran-for-first-visit-abroad-
--------
As Lebanon subsidy crunch looms, two UN agencies warn of social catastrophe
07 December 2020
The removal of subsidies in Lebanon without guarantees to protect the vulnerable would amount to a social catastrophe, two UN agencies said on Monday, warning there is no parachute to soften the blow.
With Lebanon deep in financial crisis, the central bank has been subsidizing basic goods by providing hard currency to importers at the old exchange rate of 1,500 Lebanese pounds to the dollar even as the currency fell by 80 percent from the peg.
Central bank governor Riad Salameh said last week the subsidies could be kept for only two more months, urging the state should come up with a plan.
For all the latest headlines follow our Google News channel online or via the app.
Though Lebanon faces the gravest crisis since the 1975-90 civil war, policymaking has been crippled by old rivalries between fractious politicians. Saad Hariri was nominated to form a new government in October but one has yet to be agreed.
"The impact of removing price subsidies on the country's most vulnerable households will be tremendous and yet there is almost nothing in place to help soften the fall," the UNICEF'S Lebanon country representative and the ILO's regional director wrote in an op-ed.
"It is critical to realize that for Lebanon to fly off another cliff now, without first putting in place an inclusive system of social guarantees, would be to inflict a social catastrophe on the country's most vulnerable people, sacrificing their wellbeing, and that of the country as a whole, for many years to come," they wrote.
The universal way in which Lebanon has been subsidizing basic goods including fuel, wheat and medicine has been widely criticized, including by senior politicians from ruling parties, because it does not target those most in need.
A rough analysis shows up to 80 percent of the subsidies may actually be benefiting the wealthiest 50 percent with only 20 percent going to the poorer half, UNICEF Representative Yukie Mokuo and ILO Regional Director Ruba Jaradat wrote in their op-ed.
The caretaker government is due to meet Salameh on Monday to discuss the subsidies.
The World Bank has said poverty is likely to continue to worsen and engulf more than half the population by 2021.
https://english.alarabiya.net/en/News/middle-east/2020/12/07/As-Lebanon-subsidy-crunch-looms-two-UN-agencies-warn-of-social-catastrophe
--------
Suspected al-Qaeda gunmen kill 5 south Yemen separatists
07 December 2020
Suspected al-Qaeda gunmen killed five south Yemen separatists in Abyan province on Monday, in the terror group's biggest attack in the region for months, a secessionist security official said.
The five members of the Security Belt separatist force, which is dominated by the Southern Transitional Council (STC), were killed at dawn on the outskirts of Lawdar city, the official told AFP.
Read more: Yemen's army attacks Houthi positions in Taiz
"It was gunmen believed to be from al-Qaeda who launched the attack and managed to escape," he said, speaking on condition of anonymity.
A medic in Lawdar confirmed the death toll, while al-Qaeda has yet to issue any statements on the attack.
Al-Qaeda in the Arabian Peninsula has thrived in the chaos of Yemen's civil war between an internationally recognized government that is supported by the Arab coalition and the Iran-backed Houthi militia.
The US, which considers AQAP the terror group's most dangerous branch, has carried out a campaign of drone strikes against its leaders for the past two decades.
Monday's attack was the biggest in southern Yemen since August, when Aal-Qaeda killed a dentist in Al-Bayda accused of guiding US drone strikes against its militants and later that month blew up the medical center in which he worked.
Security Belt forces played a decisive role in fighting against al-Qaeda and ISIS, which were forced to withdraw from southern urban centers.
The separatist STC wants the south to secede from the rest of the country, even while it is allied with the central government in a fight against their common foe, the Houthis, in the civil war.
The government and rebels have been locked in a five-year-old war that has killed tens of thousands -- triggering what the UN terms the world's worst humanitarian crisis.
https://english.alarabiya.net/en/News/gulf/2020/12/07/Suspected-Al-Qaeda-gunmen-kill-5-south-Yemen-separatists
--------
Iraqi forces arrest senior Daesh commander in Anbar
08 December 2020
Iraq's Counter-Terrorism Service (CTS) has arrested the so-called deputy governor of Daesh the Iraqi province of al-Anbar, a senior military spokesman said.
The top Daesh commander was arrested on Monday by a CTS special force, according to a statement by Major-General Yahya Rasool, the spokesman for the Commander-in-Chief of the Armed Forces.
In the statement, seen by Shafaq News Agency, Rasool described the Daesh element as a "dangerous terrorist leader."
He said the terrorist was arrested after "intense monitoring and a high-level joint intelligence effort."
Rasool said the operation resulted in the arrest of two terrorists involved in Camp Speicher massacre in Saladin Governorate.
On June 12, 2014, Daesh terrorists killed around 1,700 Iraqi air force cadets after kidnapping them from Camp Speicher, a former US base. There were reportedly around 4,000 unarmed cadets in the camp when it came under attack by Daesh militants.
Following the abductions, the attackers took the victims to the complex of presidential palaces and killed them. The terrorists also threw some of the bodies into a river.
The massacre was filmed by Daesh and broadcast on social media.
An investigation committee later revealed that 57 members of Saddam Hussein's Ba'ath Party aided Takfiri Daesh terrorists in the massacre.
In his Monday statement, General Rasool also noted that the Iraqi Counter-Terrorism Service carried out two missions in the Fallujah district, which resulted in the arrest of three members of the terrorist gangs.
Daesh began a terror campaign in Iraq in 2014, overrunning vast swathes in lightning attacks. However, shortly after the beginning of Daesh's campaign, top Shia cleric Grand Ayatollah Ali al-Sistani issued a religious edict (fatwa) and called on his followers to rush to the national army's help in the fight against the Takfiri outfit.
The fatwa helped bring together Shia fighters, Sunni tribesmen as well as Christian and Izadi volunteers under the umbrella of the Popular Mobilization Units (PMU) to reverse Daesh's gains and ultimately in Iraq in late 2017.
After three years of fierce fight, former Iraqi prime minister Haider al-Abadi declared the end of military operations against Daesh and the end of the terror group's territorial rule in the country on December 9, 2017.
https://www.presstv.com/Detail/2020/12/08/640250/Iraq-security-forces-daesh-anbar
--------
Israel evicts Syrians in occupied Golan Heights to establish wind turbines
07 December 2020
Israeli forces have closed a number of the main entrances to the villages in the occupied Golan Heights of Syria, barring the locals from reaching their farms, where the Tel Aviv regime wants to set up wind turbines.
Syria's official news agency, SANA citing an unnamed local source, announced the news on Monday, adding that crowds of locals in rural areas of Majdal Shams, Sheita and Baqaatha, and Masada were gathering on the blocked roads leading to their farms.
The source added that Israeli soldiers were present in the areas in large numbers and had already cut off the main roads there.
It further said that infuriated locals spread in their agricultural lands to prevent the regime from installing the colossal turbines.
People of Golan continue defending their land: Activist
Separately on Monday, Sidqi al-Maqt, an activist from the Druze community in the Israeli-occupied Golan Heights, said in a statement to the Syrian TV Channel that inhabitants of Golan would never allow Tel Aviv to carry out its scheme on their farms.
Magt, who spent several years behind bars in Israeli prisons before his release, added that Golan villagers would defend their lands against the occupation forces, no matter what the price would be, SANA reported.
He stressed that the people of the Golan would continue their struggle against the occupiers till the liberation of every inch of the occupied Syrian Golan Heights.
In 1967, Israel waged a full-scale war against Arab territories during which it occupied a large swathe of Syria's Golan Heights and annexed it four years later, a move never recognized by the international community.
Syria has repeatedly reaffirmed its sovereignty over the Golan Heights, saying the territory must be completely restored to its control.
In March 2019, US President Donald Trump signed a decree recognizing Israeli "sovereignty" over Golan during a meeting with Israeli Prime Minister Benjamin Netanyahu in Washington.
https://www.presstv.com/Detail/2020/12/07/640214/Syria-Israel-Golan-Heights-wind-turbines
--------
South Asia
Officials Seize Explosive-Laden Car, Nab Suspect
By Mohammad Arif Sheva
08 Dec 2020
KANDAHAR, Afghanistan – The Counter Narcotic Police of Afghanistan (CNPA) has seized an explosive-laden vehicle, after carrying an operation in Police District 3 (PD3) of Kandahar city, said the Ministry of Interior Affairs in a statement Tuesday.
At least one suspect has been arrested in the case.
"CNPA discovered & seized an explosives-laden vehicle in PD#3, Kandahar City of Kandahar province," said the MoIA in a tweet.
According to the statement, at least 2,000 rounds of PK machine gun, including a huge number of rockets and grenades, were loaded in the vehicle.
"The vehicle was carrying 2,000 rounds of PK machine gun, 50 RPG-7 rocket propelled grenade warheads & 17,960 light rounds," the tweet added. "The driver was arrested in connection with the case."
The came at a time the Afghan National Defense Security Forces (ANDSF) carried multiple operations throughout the province, foiling a number of attempted attacks by the Taliban insurgents since Monday.
https://www.khaama.com/officials-seize-explosive-laden-car-nab-suspect-34534/
--------
Taliban Attacks Rebuffed in Kandahar, Commander Killed
By Mohammad Arif Sheva
08 Dec 2020
KANDAHAR, Afghanistan – At least five Taliban killed during a battle with Afghan National Army (ANA) in Panjwae district of Kandahar province, said the Ministry of Defense in a statement Tuesday.
According to the statement, security forces have wrecked a huge amount of arms and ammunition own by the insurgent groups during clashes.
"5 #Taliban were killed after they attacked #ANDSF positions in Panjwae district of Kandahar province, yesterday," said the MoD in a tweet. "Also, a large amount of their weapons and ammunitions were destroyed during reciprocal attacks of ANA."
Meanwhile, A Taliban commander, including five of his fighters, were killed in Maiwand district of Kandahar province Monday, said the MoD.
"A large amount of their weapons and ammunitions were destroyed during reciprocal attacks of #ANA," the ministry added.
In a news form Uruzgan, officials said at least 16 Taliban were killed and further 11 were wounded in Gizab and Dehrawood districts of the province.
"They were planning to attack #ANDSF positions when they were targeted by #ANA," said the ministry.
The Taliban did not immediately comment on the incident.
https://www.khaama.com/taliban-attacks-rebuffed-in-kandahar-21-killed-23443/
--------
330% of Civilian Casualties Blamed on Trump Administration: Report
By Mohammad Haroon Alim
08 Dec 2020
American President Donald Trump's decision in 2017 to loosen military rules of engagement in Afghanistan, the rules that were meant to protect civilians took a sharp turn to an increase in the civilian casualties.
On Monday Brown University Watson Institute's Costs of War Project, released a report that indicated a 330% increase in the number of civilians killed by US-led airstrikes from 2016 to 2019.
"Some of this harm could be avoided by tighter rules of engagement, as well as better training. A negotiated ceasefire might also yield results at the bargaining table and at the same time avoid escalating harm to Afghan civilians from airstrikes." the author of the report, Neta C. Crawford, said.
In 2007 to 2016, the Afghan government and US-led forces killed an average of 582 civilians, the report found.
During trump's administration from 2017 till 2019, named forces killed an average of 1,134 civilians in one year, a 95% increase according to the report.
Civilian casualties have taken a dramatic increase due to the U.S. and allied forces airstrike, the report indicates.
The 2019 was the year 700 civilians were killed due to airstrikes, more civilians than in 2001 and 2002, the airstrikes decreased following the US-Taliban agreement in Doha, Qatar in February of 2020.
As strikes declined so the civilian casualties have decreased, report said.
According to the United Nations, US-led and Afghan government airstrikes killed more civilians than did Taliban militant attacks during the first half of 2019.
The new report found that as US-led bombings declined following the agreement reached with the Taliban in February 2020, Afghan government airstrikes have increased.
According to the report, "as a consequence, the Afghan Air Force (AAF) is harming more Afghan civilians than at any time in its history."
The report says, "In the first six months of this year, the AAF killed 86 Afghan civilians and injured 103 civilians in airstrikes. That rate of harm nearly doubled in the next three months. Between July and the end of September, the Afghan Air Force killed 70 civilians and 90 civilians were injured," adding that "As with the international airstrikes, some of this harm could be avoided by tighter rules of engagement, as well as better training."
Per the highlights of the facts, total U.S. withdrawal of the infantry does not mean a decrease in the civilian casualties, the combat is one-sided, and may the airstrikes continue.
A total of 43,000 civilians were killed in the US-led war, the analysis of this report showed most civilians were killed by the Taliban, some civilians including children were victims of US, Allied, and Afghan government bombings and bullets.
https://www.khaama.com/330-of-civilian-casualties-blamed-on-trump-administration-report-8979879/
--------
Security Forces Foil Car Bomb Blast in Kandahar
By Mohammad Arif Sheva
08 Dec 2020
KANDAHAR, Afghanistan – The Afghan National Defense and Security Forces (ANDSF) foiled an attempted car blast during an operation in Zherai district of Kandahar province, said the Ministry of Defense in a statement Tuesday.
Officials did not provide further details on how the plot was halted but said the terrorist was identified before he succeed in his target of attacking security forces.
"A suicide attacker was identified and eliminated with his car bomb by #ANA when he wanted to attack ANDSF in Zherai district of Kandahar prov," said the MoD in a tweet.
According to the statement, "Fortunately, the ANDSF were not harmed in the incident."
The Taliban did not immediately comment on the incident.
https://www.khaama.com/security-forces-foil-car-bomb-blast-in-kandahar-345345/
--------
North America
American forces in Somalia are unwanted
07 December 2020
By Julius Mbaluto
Well, US presence in Somalia has been extremely controversial since the early 90s, and, you know, subject to which a movie was made Black Hawk Down. So the thing is at the moment US forces have been in Somalia in the name of fighting, Al-Shabaab, the terrorist group.
In the past, we have seen their approach or methodology used by the US forces not working in Somalia. I'll give you an example, sometime back early 90s or late 90s after many years of civil war in Somalia, Kenya's leadership called the Somalia warring parties in Nairobi, and they created what they were calling a transitional central government. Elections were conducted in Kenya and then authority taken back to Somalia to govern.
Now, of course, Kenya is a good neighbor they were trying to ensure these people in their neighboring country. But the moment they went, the transition of the central government began to roll. We saw the involvement of America sending troops and supporting Ethiopia. And that was the end of the transitional central government and emergency of the Islamic government that came in to declare children law across the country. Then after that is when the bulk of Al-Shabab, the current terror group began.
Has America been successful? No. It was actually Kenya's defense forces which went inside Somalia, and they managed to push back the activities of the Al-Shabaab military group. The later, we see, Kenya Defense Forces being incorporated into Africa Union force, Amazon, and since that time, it's not just been America. These American troops are very, very... They're not that many. They're not that much. Their impact alone cannot work. There is a lot of work that has been done by Amazon forces.
So, will they withdraw? I don't think it is very consequential. I don't think it would make a huge difference. By the way, Somalia's narrative, they don't want forces in Somalia. They don't want any forces for their country. Will they govern themselves? Probably, if they are given the chance, why not?
One of the greatest crying points of Somalia are Somalian people has always been, whether it's Amazon forces, or whether US forces, or whether it be elections of their government. They just want to do it themselves. They don't want America to be involved. They don't want Amazon to be involved, but can they contend with the forces of Al-Shabab? We find that Al-Shabab, most of it, get irritated by presence of the US.
We've seen anytime America tried to attack any point of them quickly they came to attack Kenya, Kenya is America. And America is Kenya, so we may see a different picture emerging we may see different situations if they are gone. American forces are withdrawn, because maybe then Al-Shabaab may stop attacking Kenya because most of the assailants have attacked Kenya because they think Kenya as an ally of the US. So celebration? Not quite. Internally Somalia needs to do a lot of work for its own security operations.
Julius Mbaluto, Founding Editor of Informer East Africa Newspaper: Julius is currently the host for Global Radio Show, known as "Global Conversations" on Colourful Radio. He is an award- winning International Journalist and a mentor to Journalism students at City University. He is the Founder and Chief Editor of Informer East Africa Newspaper published in the UK. Mbaluto's broadcasting career began at Carlton Television. He then joined ITV and, later, the BBC.
https://www.presstv.com/Detail/2020/12/07/640213/American-forces-in-Somalia-are-unwanted
--------
Venezuela, Turkey relations peaked after coup attempt
Gokhan Varan
06.12.2020
Existing relations between Venezuela and Turkey peaked after a 2016 defeated coup attempt in Turkey by the Fetullah Terrorist Organization (FETO), Venezuela's foreign minister said Saturday.
Venezuela always had "good relations" with Turkey and President Nicolas Maduro was one of the first leaders to condemn the July 15 coup attempt by FETO, said Jorge Arreaza.
Relations are not yet at the desired level but the Turkish and Venezuelan economies have the potential to complement each other, he said while taking questions by Mehmet Necati Kutlu, Latin Studies Center Director at Turkey's Ankara University
"Those who want to invest in Venezuela from Turkey are being phoned and threatened. There are some who are imposing sanctions. Therefore, I believe there is a need for a new legal framework to protect private sector investments," he said. "In the coming years we will see the best figures in trade with Turkey and I believe we will establish closer cultural relations."
Also, he went on to say: "The Turkish Ambassador wants to inaugurate the cultural center of Turkey in a short time and we also mentioned a mosque. We are starting to get to know each other. We are very distant but very alike."
Regarding possible relations between Venezuela and the US, Arreaza said if the new American administration wants dialogue, Venezuela is open to it.
"There was no way a civilized dialogue with the Trump administration could continue. I hope we can establish this with President-elect Joe Biden," he said. "We will have to wait to see if Biden will allow being controlled by military, industry, technological, financial groups, or whether he can put some will of his own identity and personality to improve relations with Venezuela."
The US has been Venezuela's most important trade partner for 100 years but now it is China, he said, adding we can have a "good relationship" with the US under international law and mutual respect.
FETO and its US-based leader Fetullah Gulen orchestrated the defeated coup in 2016, in which 251 people were martyred and nearly 2,200 injured.

Turkey accuses FETO of being behind a long-running campaign to overthrow the state through the infiltration of Turkish institutions, particularly the military, police and judiciary.
https://www.aa.com.tr/en/americas/venezuela-turkey-relations-peaked-after-coup-attempt/2067106
--------
Europe
Macron dismisses calls to get tough with Egypt's Sisi on human rights
07 December 2020
French President Emmanuel Macron has defied widespread criticism of his close ties with Egyptian President Abdel Fattah el-Sisi over flagrant human rights violations in the African country, saying Paris will not take a tough line on the government in Cairo and would not condition the sale of weapons as well as military equipment to Egypt.
Macron made the comment on Monday as he hosted Sisi, whom he referred to as his "friend," for talks on the second day of his three-day official visit to France.
The Egypt president has long been facing international condemnation for his crackdown on political and civil society groups since he took power in 2014, a year after a military coup spearheaded by him toppled the country's first democratically elected President Mohamed Morsi.
Amnesty International and other rights groups, ahead of the two presidents' meeting in the Elysee Palace, censured France for having "long indulged President el-Sisi's brutal repression of any form of dissent," and said it was "now or never" for Macron to stand up for human rights.
Macron told a joint press conference with his Egyptian counterpart on Monday that he had brought up the issue of human rights during their discussions, but said he would not condition France's deepening military and trade ties with Egypt on the issue of rights.
"I will not condition matters of defense and economic cooperation on these disagreements over human rights… There is a strategic partnership between France and Egypt, and we will continue progress to improve the situation," the French president said.
French officials also dismissed rights-related criticism, claiming that the government had a policy of avoiding public declarations about other countries' rights records and instead raises concerns in private.
Macron has already been taken to task by French rights activist groups for turning a blind eye to the increasing violations of freedoms by Sisi's government over the past years.
Since the Sisi coup, Egyptian authorities have been engaged in a crackdown on dissent, killing hundreds and arresting thousands, particularly from the Brotherhood organization, which is Egypt's oldest opposition movement.
Rights groups in Egypt and across the world say the Cairo government has detained thousands of people, including 200 people who have been sentenced to death in mass trials.
Egyptian courts have sentenced some 3,000 people to death since 2014, when Sisi took power, according to the Arab Network for Human Rights Information, an independent organization that documents human rights violations in the Middle East and North Africa.
The figure compares with fewer than 800 death sentences in the previous six years, according to Amnesty International.
https://www.presstv.com/Detail/2020/12/07/640220/France-Macron-Egypt-Sisi-weapons-sales
--------
Germany cuts funding for Islamic Relief aid group over ties to Muslim Brotherhood
Jennifer Bell
07 December 2020
The German government has ceased funding to aid organization Islamic Relief Worldwide over its alleged ties to the Muslim Brotherhood, the Interior Ministry said in response to a request for information from an opposition party.
A spokesman for the ministry told journalists it had information that both Islamic Relief Worldwide and Islamic Relief Deutschland (IRD) had "significant personal links to the Muslim Brotherhood" or related organizations and affiliates.
For all the latest headlines follow our Google News channel online or via the app.
The Muslim Brotherhood - a transnational Sunni Islamist organization founded in Egypt by Islamic scholar and schoolteacher Hassan al-Banna in 1928 – has long been denounced as a terrorist organization by Germany.
In 2018, a local German news outlet, citing German Intelligence and security sources, said an official report has concluded that German security authorities consider the Muslim Brotherhood group as "more dangerous" to Germany's democracy, compared to the ISIS.
The ceasing of aid followed a question from Germany's Free Democratic Party on donations by the government to Islamic Relief Worldwide , earmarked for the implementation of humanitarian aid in Syria, in particular to support health facilities with medicines and medical supplies
The decision to stop donations follows news reports in August that IR's leadership resigned en masse after the discovery that the aid organization's new director had labeled terrorists "heroes".
The director had described leaders of the Hamas extremist group as "great men" who were answering "the #divine and holy call of the Muslim Brotherhood."
The comments were made in social media posts between 2014 and 2015 and uncovered by terrorism researchers.
Headquartered in Birmingham, UK, Islamic Relief describes itself on its website as "an international aid agency that has served humanity for over 30 years by striving to make the world a better, fairer place."
It adds: "We remain guided by the timeless values and teachings of the Quran and prophetic example. As such, you don't need to be a Muslim to work for us, but you will need to show a commitment to our faith-inspired values – sincerity, excellence, compassion, social justice and custodianship."
The organization employs more than 2,000 staff across 40 offices around the world.
https://english.alarabiya.net/en/News/world/2020/12/07/Germany-cuts-funding-for-Islamic-Relief-aid-group-over-ties-to-Muslim-Brotherhood
--------
Iran's new nuclear activity worrying: UK, Germany, France
Busra Nur Bilgic Cakmak
07.12.2020
Iran's new nuclear activity is against the Joint Comprehensive Plan of Action (JCPOA) and "deeply worrying", the UK, Germany and France said on Monday in a joint statement.
"Iran's recent announcement to the IAEA [International Atomic Energy Agency] that it intends to install an additional three cascades of advanced centrifuges at the Fuel Enrichment Plant in Natanz is contrary to the JCPoA and deeply worrying," said the statement.
"Furthermore, we have taken note, with great concern, of the recent law passed by the Iranian Parliament, which - if implemented - would substantially expand Iran's nuclear programme and limit IAEA monitoring access," it added.
The statement also said Iran's move would jeopardize efforts to protect the JCPOA and risk the return to diplomacy with US President-elect Joe Biden's administration.
"If Iran is serious about preserving a space for diplomacy, it must not implement these steps," said the statement.
"We will address Iran's non-compliance within the framework of the JCPoA. We welcome the statements by President-elect Biden on the JCPoA and a diplomatic path to address wider concerns with Iran. This is in all our interests," it added.
In 2015, world powers, including the US, China, Russia, France, Germany, and the UK agreed to lift economic sanctions on Iran in return for Tehran agreeing to limit its nuclear activity to civilian purposes.
Despite a 2018 decision by the administration of outgoing US President Donald Trump to withdraw from the accord, Germany, France, and the UK have repeatedly underlined their commitment to the deal and urged Tehran to return to full compliance with the agreement.
https://www.aa.com.tr/en/europe/iran-s-new-nuclear-activity-worrying-uk-germany-france/2068281
--------
EU foreign ministers set to talk ties with US, Turkey
Rabia İclal Turan
07.12.2020
Foreign ministers of the EU bloc gathered in Brussels on Monday to discuss several international issues, including the future of transatlantic ties and relations with membership candidate Turkey.
"We are going to talk a lot about transatlantic relations and present a proposal … about a new refresh start with our engagement with the US," foreign policy chief Josep Borrell, who brought the proposal, told reporters in a doorstep statement.
The top diplomats of the EU member state will exchange views on transatlantic relations, and the future of the relations with the US as well as the post-election situation in Georgia, legislative elections in Venezuela, and a Chinese security law for Hong Kong, according to the official agenda items.
Heiko Maas, the German foreign minister, told reporters that relations with Turkey would also be on their agenda today.
"Germany has made considerable efforts in the last couple of months to find a way to enhance dialogue with Turkey," he said, criticizing Ankara for recent tensions with EU members Greece and the Greek Cypriot administration in the Eastern Mediterranean.
"Today we will discuss what kind of consequences we would draw from this, also with a view to the EU summit later this week," he added.
Turkey has sharply criticized Greece for rejecting its offers to engage in dialogue over the disputes as well as taking steps that only serve to raise regional tensions.
Today's meeting in Brussels is expected to determine the framework of the leader's agenda at the Dec. 10-11 summit.
Amid recent tensions in the region, Greece and the Greek Cypriot administration have upped their pressure on other EU members to impose sanctions on Turkey at this week's summit.
To date, the EU's current term president, Germany, and most EU members have been reluctant to take such action.
Turkey, which has the longest continental coastline in the Eastern Mediterranean, has rejected the maritime boundary claims of Greece and the Greek Cypriot administration, stressing that these excessive claims violate the sovereign rights of both Turkey and the Turkish Cypriots.
Ankara has sent several drillships in recent months to explore for energy resources in the Eastern Mediterranean, asserting its own rights in the region, as well as those of the Turkish Republic of Northern Cyprus.
Turkish leaders have repeatedly stressed that Ankara is in favor of resolving all outstanding problems in the region through international law, good neighborly relations, dialogue, and negotiation.
https://www.aa.com.tr/en/europe/eu-foreign-ministers-set-to-talk-ties-with-us-turkey/2068210
--------
'Turkey won't allow imperialist expansionism on E.Med'
Burak Bir
07.12.2020
Turkey will not bow to threats and blackmailing over the Eastern Mediterranean, the Turkish president reiterated on Monday, stressing that the county will not allow any "imperialist expansionism" on the sea, either.
"Turkey will not accept plans and maps that aim to confine country to its coasts off Antalya," Recep Tayyip Erdogan told the Workshop on Eastern Mediterranean at Akdeniz University via a video message.
He also said that any plans and maps excluding Turkey from its rights on the Eastern Mediterranean are "unacceptable".
Recalling his offer to hold an international conference on the Eastern Mediterranean, Erdogan said that related issues will only be solved by bringing all the actors in the region together around the same table.
"Our country has never sided with tension in the Eastern Mediterranean issue, but rather with peace, cooperation, fairness, and the establishment of justice," he said.
Diplomacy, negotiation for permanent solution
Stressing diplomacy for a permanent solution, Erdogan said: "Diplomacy and negotiation are the shortest and most secure way that will bring us together on a common ground."
Noting that Turkey has kept its calmness despite all the spoiled acts of Greece and the Greek Cypriot administration since 2003, the leader vowed that Turkey will preserve its stance which it has adopted so far.
"We are following the developments very closely for both to guarantee our interests and to protect the rights of our brothers in the Turkish Republic of Northern Cyprus [TRNC]," he said, adding the EU should not be unfair to Turkey and the Turkish Cypriots asserting union solidarity.
"I believe that by acting with sincerity and common sense, we can find a win-win-based formula that protects everyone's rights," Erdogan concluded.
Amid recent tensions in the region, Greece and the Greek Cypriot administration have increased their pressure on other EU members to impose sanctions on Turkey during the upcoming EU leaders summit.
Turkey, which has the longest continental coastline in the Eastern Mediterranean, has rejected maritime boundary claims of Greece and the Greek Cypriot administration, and stressed that these excessive claims violate the sovereign rights of both Turkey and the Turkish Cypriots.
Ankara has sent several drill ships in the past weeks to explore for energy resources in the Eastern Mediterranean, asserting its own rights in the region, as well as those of the Turkish Republic of Northern Cyprus.
Turkish officials have repeatedly stressed that Ankara is in favor of resolving all outstanding problems in the region through international law, good neighborly relations, dialogue, and negotiation.
https://www.aa.com.tr/en/europe/turkey-wont-allow-imperialist-expansionism-on-emed/2068044
--------
Lincoln man Ben John in court over terrorism offences
05.12.2020
An alleged far-right extremist has appeared in court accused of possessing documents on combat, homemade weapons and explosives.
Ben John, 20, appeared at the Old Bailey charged with seven counts of having a record likely to be useful to a terrorist on or before 7 January.
Mr John, of Addison Drive, Lincoln, spoke only to confirm his name and was granted conditional bail.
He is next due to appear at Nottingham Crown Court on 12 March.
A preliminary trial date has been set for 2 August.
https://www.bbc.com/news/uk-england-lincolnshire-55189049?utm_source=iterable&utm_medium=email&utm_campaign=1790258_
--------
Southeast Asia
Indonesia Receives Over A Million Chinese Covid-19 Vaccine Doses, Indonesia Ulema Council to Ensure It Meets Halal Requirements
December 7, 2020
JAKARTA: Indonesia has received 1.2 million doses of a Covid-19 vaccine made by China's Sinovac, officials said, as the world's fourth most populous nation struggles to get soaring case rates under control.
The doses arrived in Jakarta late Sunday on a flight from Beijing, with another 1.8 million expected to be sent again next month.
Although Chinese regulators have yet to clear any of country's vaccines for mass distribution, they have approved some advanced candidates for emergency use.
On Monday, Indonesia's Covid-19 response team chief Airlangga Hartarto said the first batch of doses will be examined by the food and drug agency, with plans to distribute them to medical workers and other high-risk groups.
The country's top Muslim clerical body, the Indonesia Ulema Council (MUI), will also check the first consignment, officials said — to ensure it meets halal requirements in the world's largest Muslim-majority nation.
Late Sunday, President Joko Widodo welcomed the delivery.
"We are grateful that the vaccine is now available, and we can immediately prevent the spread of the Covid-19 outbreak," he said.
"(But) I have to reiterate, first, that all procedures must be followed properly to ensure public health and safety, and the efficacy of the vaccine," he added.
In August, Indonesia launched human trials of the Sinovac-made jab, with around 1,600 volunteers taking part in the six-month study.
The Indonesian government has paid some 637 billion rupiah (US$45 million) for the three million Sinovac doses. Another 100,000 more are set to be delivered by another Chinese firm, CanSino.
China has promised to make its vaccines available as a "global public good" as it seeks to counter global criticism for its early handling of the pandemic.
"We expect that multilateral vaccines [from other countries] will also start to arrive gradually in 2021," Foreign Minister Retno Marsudi said Monday.
Indonesia has been in talks with other pharmaceutical firms, including UK-based AstraZeneca.
The country is one of the Asian nations worst hit by the pandemic, with Covid-19 infections topping 575,000, and more than 17,000 deaths.
However, the true scale of the crisis is widely believed to be much bigger, as the country has one of the world's lowest testing rates.
https://www.freemalaysiatoday.com/category/world/2020/12/07/indonesia-receives-over-a-million-chinese-covid-19-vaccine-doses/
--------
What does cleric Rizieq Shihab's 'moral revolution' mean for Indonesia?
December 8, 2020
JAKARTA: Six supporters of Indonesian Islamic cleric Rizieq Shihab were killed in a shootout on Monday, police said, raising worries the clash could reignite tensions between authorities and Islamist groups in the world's biggest Muslim majority country.
Since his return from self-exile in Saudi Arabia last month, Rizieq has declared plans for a "moral revolution" causing unease in President Joko Widodo's administration as Indonesia battles the coronavirus pandemic and an economic recession.
Who is Riziek Shihab?
Hardline Islamic cleric Rizieq Shihab has for years cut a controversial figure in Indonesian politics.
Rizieq heads the Islamic Defender's Front (FPI) group.
He was jailed in 2008 for inciting violence and left Indonesia in 2017 after facing charges of pornography, and insulting state ideology, which were later dropped.
With a reputation for raiding bars, brothels and violently cracking down on religious minorities, the FPI has since become politically influential.
In 2016, Rizieq was the figurehead of the mass 212 movement against Jakarta's former Christian governor, Basuki Tjahaja Purnama, or Ahok, who was jailed on charges of blasphemy for insulating Islam.
The 2016 mass rallies, the biggest since the fall of Suharto in 1998, raised concern about the rise of identity politics and political Islam.
The president, known as "Jokowi", viewed the rallies as one of the biggest threats to his government.
What happened in shootout?
When Rizieq returned to Indonesia he was met by tens of thousands of supporters and in subsequent days held several events also attended by thousands.
Hard hit by the pandemic and amid restrictions on mass gatherings, police have twice summoned Rizieq for questioning over alleged violation of health protocols.
The cleric has ignored the requests, most recently on Monday – the day of the shootout in which police said six of his supporters were killed.
Police say they were tailing a convoy of Rizieq supporters on a Jakarta highway just after midnight after hearing they were preparing to mobilise, when firearms were pointed at them.
Police say they acted in self-defence when they opened fire and killed six people.
The FPI claims Rizieq was traveling to a dawn prayer when they were attacked by unknown assailants who "abducted" six of his bodyguards.
An FPI spokesperson described the incident as an "extrajudicial killing".
Amnesty International Indonesia and Indonesia Police Watch have called for an independent investigation.
How big a force is Islam in Indonesian politics?
As the world's biggest Muslim-majority nation, Islam has always been important in Indonesian politics.
Every president has been Muslim. The 2016 rallies against the Jakarta governor saw Islam take on an increasingly prominent political role.
In a move widely seen as an attempt to appeal to Islamic voters, President Jokowi chose a senior Islamic cleric, Ma'ruf Amin, as his vice-presidential running mate in 2019.
To further neutralise the threat posed by Islamists, in 2019 Jokowi appointed fiery former general Prabowo Subianto as defence minister.
Prabowo had harnessed support from Islamist groups when running against Jokowi.
While Rizieq was overseas, hardline Islamic groups such as the FPI have been relatively quiet and Jokowi had until the pandemic hit, been able to govern without too much pushback.
What could happen now?
Political analysts say given the opposition vacuum, the coronavirus and the first recession in 22 years, Rizieq may harness frustrations with the government and pose a threat.
The 55-year-old cleric has already met with several key opposition figures and there is a sense that politicking for the 2024 election is already underway.
More immediately, Monday's fatal clash with police may create six "martyrs" and give the FPI a rallying point.
According to sources and analysts that spoke to Reuters the government grossly underestimated Rizieq's continued appeal and following his reception was aware it would have to carefully calibrate its response, fearing if it cracked down too hard it may backfire.
Despite more vocal backlash from pluralists and moderate Islamic groups such as the MUI toward Rizieq this year, Monday's incident was unlikely to have met the careful approach the president and his key ministers had been aiming for.
https://www.freemalaysiatoday.com/category/world/2020/12/08/what-does-cleric-rizieq-shihabs-moral-revolution-mean-for-indonesia/
--------
'Perak Move' exposes myth about working for Ummah
K. Parkaran
December 8, 2020
Call it a blow, hard-hit or otherwise, but the "Perak Move" proves just one thing. All claims by politicians that they were doing things for the unity of the Ummah or in the interest of the nation and the rakyat, to justify their wily manoeuvres, is simply hogwash.
Who would have thought that the 25 Umno assemblymen in the Perak state assembly who voted against a motion of confidence in their coalition's menteri besar would actually turn against someone from their own ummah?
Neither Ahmad Faizal Azumu himself nor the Perikatan Nasional leadership would have expected to be stabbed in the back by their friends from the ummah. Like many others, I believe it may have been orchestrated by the Umno leadership in an obvious bid to show PPBM head, Muhyiddin Yassin, a thing or two.
They drove home the point that this could happen at the national level and a few other states with a wafer-thin majority if certain key positions and power are not given to Umno.
If their earlier exhortations, especially after GE14 — that the mainly non-Malay opposition had taken over political power and thus the need for Umno, PAS and PPBM to get together to retake their "rightful place" — was an honest rallying cry, the drama in Perak would not have unfolded.
The move by Faizal's allies to go for the jugular when he needed them most proved the hollowness of claims by the Muafakat Nasional partners that they made the "Sheraton Move" in February to save the race and religion.
There were merely using supremacy of race and religion in quest of power and the privileges that follow.
While the DAP had its many faults when it was in the government, I dare say that the MN partners had nothing against the party other than the fact that there were "too many" non-Malay ministers and deputy ministers for the first time in Malaysian history, most of whom were from the party that has been branded as Chinese-chauvinist.
It had nothing to do with claims of Malays losing their political clout or being ousted from senior government positions because the overall numbers hardly changed. Yes, after the 2018 general election, the attorney-general, finance minister and the chief justice were non-Malays or non-Muslims for the first time in several decades.
But aside from these positions, nothing was altered. The key heads of the civil service, government-linked companies and armed forces continued to be held by Malays as no one saw a need for change. Anyway, in less than a year, a Malay Muslim took over from the Pakatan Harapan-appointed Chief Justice Richard Malanjun.
So when the PN-controlled state government of Perak collapsed, the orchestrators behind it probably wanted it to be a hard slap in the face for the prime minister whose party dominates the ruling coalition.
Umno, which is not used to playing second fiddle in politics, wanted to show who is boss, and they did it in a devastating style – 48 against,10 for and one spoilt or absented vote in the confidence motion.
The PPBM leadership must have been reeling in shock because Faizal was not only the deputy president of the dominant party in PN, he was also Muhyiddin's deputy, and the state coalition chairman.
Well, to former prime minister Dr Mahathir Mohamad's credit, he had warned several times that Muhyiddin would most probably be at the mercy of the Umno warlords who are trying to wrest control of the coalition and take the leading role at the federal level.
So here you go, we saw more betrayals now after the nasty "Sheraton Move" which drove Malaysian politics to the lowest levels of hypocrisy, dishonesty and charlatanism.
Soon after the abysmal move in Perak, Zahid declared that Umno is open to forming a new Perak state government by working with PH parties, even with their arch-nemesis DAP! When this news was out, it reverberated in the social media, shocking many supporters of both parties to the core.
In response, a DAP leader, none other than Nga Kor Ming, who had never failed to criticise Umno in the past, said the party was willing to work with its sworn enemy in the "interest of the people and the nation".
So, we now have a seemingly nationalistic bunch of politicians from both sides of the divide who announce that they are willing to make "sacrifices" and be in power to save us poor rakyat from problems of political instability which in the first place was caused by all of them!
So all these treacherous political manoeuvring, party hopping, show of might and sleeping with strange bedfellows is being done "in the interest of the rakyat", it seems.
Do they seriously expect sane Malaysians to believe them? Come on guys, get real. These politicians are sowing so much hatred and discord in our lives by their actions that Malaysians tend to get drowned in this noise, unfortunately.
Racial and religious divisions remain ripe grounds for fertilising hatred and division. Our politicians are doing just that. We will be able to see through their actions if each and every one of us imbibes a true sense of the Malaysian spirit in us.
If we fail to do this, the political charlatans will continue dividing us to rule so that they can perpetuate their narrow concept of racial and religious supremacy with their dubious claim of doing so for the sake of the rakyat and nation.
https://www.freemalaysiatoday.com/category/highlight/2020/12/08/perak-move-exposes-myth-about-working-for-ummah/
--------
NGOs say use of term 'Darul Hana' an attempt to change Sarawak's identity as secular state
07 Dec 2020
MIRI, Dec 7 — Five local non-governmental organisations (NGOs) voiced their objection yesterday to certain quarters using 'Darul Hana' when describing Sarawak, claiming it was an attempt to change Sarawak's identity from a secular state to one based on religion.
In a joint statement, the NGOs said Parti Islam Se-Malaysia (PAS) and other groups should immediately cease using the term 'Sarawak Darul Hana' as it could disrupt racial and religious harmony in the state.
"We are aware that there are parties out there trying to disturb our religious harmony by trying to change 'Sarawak Bumi Kenyalang' to 'Sarawak Darul Hana', which was never agreed upon by all the races in the state.
"In terms of history, the use of 'Darul Hana' in Sarawak is not suitable as it has never been used since the setting-up of the modern government of Sarawak in 1841.
"Any attempts by irresponsible elements to change the history of Sarawak which is a secular state should be stopped immediately," said the NGOs.
The statement was signed by Dayak Think Thank Association deputy president Edward Awan, Dayak National Congress president Paul Raja, Sarawak Iban Association president Samuel Suring, Persatuan Balang Balai Nyabong president Mengga Mikui, and Sarawak Dayak Iban Association Miri secretary Rafael Dru.
The five NGOs said the administration of Sarawak since the formation of Malaysia was based on the 'agreement' of all races, adding that parties such as PAS do not know the history of Sarawak.
"We do not dispute the history of any race, but historical references must be accurate and the purpose is to promote good for all parties.
"In terms of history that is generally known, Sarawak was under the rule of the Sultan Tengah once upon a time only in the present part of Kuching, and not the whole state of Sarawak as it is now (up to the divisions of Limbang and Lawas).
"Sarawak today is not a continuation of the Tengah Sultanate government that only existed and lasted from 1627 to 1657."
In April last year, Utusan Borneo had reported PAS Sarawak commissioner Jofrie Jaraiee as defending the use of the term 'Sarawak Darul Hana' in a greeting uploaded onto the party's social media page in conjunction with the visit of the Yang di-Pertuan Agong and Raja Permaisuri Agong to Kuching.
Jofrie had said that 'Darul Hana' was the original name of Sarawak during the rule of Sultan Tengah from 1627 till 1657, and that those who disputed this ought to study the history of Sarawak prior to British rule. — Borneo Post Online
https://www.malaymail.com/news/malaysia/2020/12/07/ngos-say-use-of-term-darul-hana-an-attempt-to-change-sarawaks-identity-as-s/1929462
--------
Pakistan
China-Pakistan Air Forces to hold joint exercises
Dec 7, 2020
BEIJING: A batch of Chinese air force's troops left for Pakistan on Monday to take part in "Shaheen (Eagle)-IX", joint exercises, the Chinese military said.
The troops left for Pakistani Air Force's air base in Bholari at Thatta district in Sindh, northeast of Pakistan's port city of Karachi, to participate in the drills, a statement issued by China's defence ministry said.
The joint air force exercise, which will conclude in late December, is a project within the 2020 cooperation plan of the two militaries, it said.
It will promote the development of China-Pakistan military-to-military relationships, deepen practical cooperation between the two air forces, and improve the actual-combat training level of the two sides, it said.
The first such drill was held in Pakistan in March 2011.
All weather friends, China and Pakistan share close military ties. China helps Pakistan to jointly produce JF-17 fighter jets.
https://timesofindia.indiatimes.com/world/pakistan/china-pakistan-air-forces-to-hold-joint-exercises/articleshow/79611294.cms
--------
Fazlur Rehman slams govt over banning Ansar-ul-Islam ahead of Lahore Jalsa
December 8, 2020
LAHORE: PDM's president and JUI-F chief Maulana Fazlur Rehman has condemned the PTI government for banning his party's youth volunteers wing, Ansar-ul-Islam, ahead of the vital PDM public meeting in Lahore on December 13, terming the move frustration and confusion in government circles.
In a statement Monday, Maulana Fazlur Rehman said the notification by interior ministry was mala fide and a stigma on the face of the PTI government which claimed to be the champion of democracy and justice. He alleged that the notification was aimed at pressurising and blackmailing a political party to desist it from just political struggle. He questioned why the government considered a volunteer body as militant when it has been a constitutional part of the party for decades and already registered with the Election Commission.
He said never in the past any government or election commission had raised any objection over Ansar-ul-Islam, but on the contrary the organisation was praised for its remarkable discipline and organisational skills in performing security duties of national and international public gatherings and providing relief duties during 2005 earthquake, floods and other natural calamities.
He also reminded the government that it was the same Ansar-ul-Islam which provided security duty of last year's Azadi March in Islamabad, where not a single glass or flower pot was broken during the two weeks long activity.
https://www.thenews.com.pk/print/755543-fazl-slams-govt-over-banning-ansar-ul-islam-ahead-of-lahore-jalsa
--------
Consensus in PDM on resignations: PML-N leader
Amjad Mahmood | Zulqernain Tahir
08 Dec 2020
LAHORE: The Pakistan Democratic Movement (PDM) announced on Monday that it would hold its Lahore rally as per plan on Dec 13 where former prime minister Nawaz Sharif will make his 'decisive' speech.
"The Dec 13 rally will be held at all costs and people from across the country will participate in it, while Nawaz Sharif will deliver his decisive speech on the occasion," PML-N leader Rana Sanaullah announced at a news conference here.
Flanked by PPP's Qamar Zaman Kaira and other leaders of the PDM, he said it would be a 'do or die' event, but a peaceful effort to oust the government.
Talking to Dawn later, Mr Sanaullah said mainstream opposition parties — Pakistan Muslim League-Nawaz (PML-N), Pakistan Peoples Party (PPP) and Jamiat Ulema-i-Islam-Fazl (JUI-F) — had reached a consensus about resigning from the National Assembly in order to push the Pakistan Tehreek-i-Insatf (PTI) government for a fresh election.
Kaira says PPP leadership will take final decision
"The opposition will resign from the National Assembly (in the first phase) and not let the Imran Khan government hold by-polls. We want new free and fair elections and there will be no compromise on this," he said.
To a question about resignations from provincial assemblies, Mr Sanaullah said the PPP had reservations regarding resigning from the provincial assemblies along with the National Assembly. "Therefore, the PDM may not resign from the provincial assemblies initially," he said.
"Nawaz Sharif has spoken to PPP co-chairman Asif Ali Zardari and JUI-F chief Maulana Fazlur Rehman and reached a consensus regarding resignations from the NA. The other leaders of the alliance have also been taken into confidence," Mr Sanaullah said and added that an announcement in this regard would be made after Tuesday's PDM huddle.
During the press conference and his talk with some TV channels, Mr Kaira, however, remained non-committal over the resignation issue and said the top PPP leadership would take the final decision.
About the Lahore show, Mr Kaira said: "The situation will worsen only if the government attempted to create hurdles in the holding of the public meeting and the prime minister will be held responsible for the consequences."
He stressed the venue, Minar-i-Pakistan, for the show would not be changed and the PDM leadership, along with the organising committee, would visit it on Dec 11 to make final arrangements.
Hundreds of thousands of people would show their no-trust in the 'incompetent' government and seek respect for their vote, he added.
Mr Sanaullah told a questioner that at least 500 workers would be maintaining security and overseeing other arrangements at the rally venue. These workers, he said, might be given some identity like a specific cap, uniform, badge, etc. These measures, he added, should not be misconstrued as an attempt to raise a uniformed force.
JUI-F's Maulana Safiullah said his party's wing Ansarul Islam was not a militant wing and it had been mainly tasked with maintaining discipline during various events of the party, including its "million marches".
Corner meetings
PML-N leader Maryam Nawaz, who on Monday held corner meetings in different constituencies of Lahore to mobilise party workers for the PMD's power show at Minar-i-Pakistan, has also hinted at resignations from the assemblies. At the same time Ms Nawaz gave a warning to those legislators who would not comply with the direction of the leadership (to tender their resignation) that their houses would be surrounded by party workers.
To a question about Ms Nawaz's fear (that some legislators may not resign), Mr Sanaullah said: "Such legislators' number cannot be in double figure and the party is not much bothered about this. A majority of our lawmakers will follow Mr Sharif's direction."
About going for the long march on Islamabad option, Mr Sanaullah said: "Weather of January is not favourable for this."
During her visit to the constituencies where her party candidates were elected in 2018 polls, Ms Nawaz took the pledge from the workers to come to the Dec 13 public meeting at Minar-i-Pakistan which she termed a "do and die act".
Ms Nawaz expressed her delight seeing the charged workers saying: "Imran Khan should see today is not Dec 13 but the whole Lahore has come out to give a verdict against him."
"I have named Imran Khan 'Tabedar Khan'(obedient Khan). Imran Khan said that he would not stop this rally because he knows this cannot be stopped," she said and added the people would have to get rid of the 'fake government'.
A party worker got good thrashing from the security of Ms Nawaz for trying to touch her.
Former premier Shahid Khaqan Abbasi also visited his constituency (old city) here first and mobilised the workers for the Dec 13 power show.
Meanwhile, the Lahore police have booked 18 leaders, including Sardar Ayaz Sadiq, Saad Rafique, Javed Latif, Rana Mashhood, Mehr Ishtiaq and Attaullah Tarar and 500 workers violating Covid-19 SOPs during a rally.
On the other hand, Punjab Chief Minister Usman Buzdar chaired a meeting of the apex committee which was attended by Corps Commander Lahore Lt Gen Majid Ehsan, GOC 10-Division Maj Gen Mohammad Aneeq-ur-Rehman Malik, DG Rangers Punjab Maj Gen Mohammad Amir Majeed and high ranking military officials. Provincial ministers, the chief secretary, the IG police and medical experts also attended the meeting.
The meeting resolved strict compliance of facemasks at public places and offices and legal action will be initiated in case of any violation. It also dilated upon the proposal of imposing fines over SOPs' violation at public places and decided to implement closure-timings of markets and bazaars.
Talking to reporters, CM Buzdar said the opposition should realise that coronavirus was spreading. "We will take action against the opposition for violating the law (Covid-19 SOPs)," he warned.
https://www.dawn.com/news/1594535/consensus-in-pdm-on-resignations-pml-n-leader
--------
Minor maid's tormentor on judicial remand
08 Dec 2020
FAISALABAD: A woman accused of torturing a minor maid was remanded in 14-day judicial custody on Monday.
The Madina Town police arrested the woman and produced her before magistrate Muhammad Nasrullah and requested the court that physical custody of the suspect was not required.
After going through the case record, the magistrate said section 34 of the Punjab Destitute and Neglected Children Act 2004 was non-bailable that's why the woman was being remanded in judicial custody for 14 days.
The magistrate directed the police to produce the suspect before the court on Dec 21 and also submit a complete or incomplete report of the case under section 173 of the CrPC.
Munir Ahmed, woman's husband, had been booked in the case on same charges, however, the magistrate granted him post-arrest bail on Sunday.
The police said they had requested the court to send Munir to jail for 14 days although nothing was required to recover from his possession.
Munir and his wife had been booked by the Madina Town police on Dec 5 on charges of subjecting minor maid Sadaf, a resident of Sahiwal, to torture. A footage showing torture had gone viral on the social media which invited the attention of the Child Protection and Welfare Bureau and the police officials as well.
A local lawyer, Zafar Iqbal, said he would provide free legal aid to Sadaf's family.
https://www.dawn.com/news/1594621/minor-maids-tormentor-on-judicial-remand
--------
Mideast
Iran, Syria Discuss Bilateral Ties, Joint Fight against Terrorism
2020-December-7
During the meeting, the two officials referred to the extensive and strategic ties between Iran and Syria, stressing the two countries' determination to expand and consolidate relations, specially in the economic field.
Zarif, for his part, expressed pleasure in the continued political process in Syria, emphasizing Iran's support for the Astana process.
He also described the recent conference on the Syrian refugees in Damascus as a positive step.
Zarif also underscored the need for vigilance and consultations among Iran and Syria and other countries given the recent regional conditions and developments.
Mekdad appreciated Iran for continued support for Syria in the fight against terrorism and extremism, and termed joint cooperation between the two countries in this area important and a fundamental step to return peace and tranquility to Syria.
He also said the US abnormal acts in the region which benefit Israel's interests have increased tensions.
In relevant remarks earlier today, Iranian Foreign Ministry Spokesman Saeed Khatibzadeh noted the visit to Tehran by Mekdad, and stressed Iran's continued support for Damascus in the fight against terrorist groups.
"Tehran is today hosting the first foreign visit of the new Syrian foreign minister," Khatibzadeh wrote on his twitter page on Monday.
He added that studying the latest situation of the crisis in Syria, bilateral ties and regional cooperation are on the agenda of Mekdad's meetings with the Iranian officials, and said, "Political solution is the only possible option to end the current crisis."
"Iran is standing beside the Syrian people and government on the path of war on terrorism," Khatibzadeh said.
Last month, Zarif in a telephone conversation with Mekdad underlined the need for the further expansion of mutual cooperation.
During the phone talk, Zarif congratulated Mekdad on his election as Syria's new foreign minister.
Zarif also once again expressed his condolence over the passing of Walid al-Muallem and emphasized the expansion of strategic cooperation between the two countries.
The Iranian foreign minister once again extended his condolences on the death of the late Syrian Foreign Minister Walid al-Muallem while stressing continuation of strategic cooperation between the two countries.
Walid al-Muallem passed away last month at the age of 79 following years of poor health and heart problems.
https://www.farsnews.ir/en/news/13990917000830/Iran-Syria-Discss-Bilaeral-Ties-Jin-Figh-agains-Terrrism
--------
Iran Reiterates Firm Support for Syria in War on Terrorism
2020-December-7
"Tehran is today hosting the first foreign visit of the new Syrian foreign minister," Khatibzadeh wrote on his twitter page on Monday.
He added that studying the latest situation of the crisis in Syria, bilateral ties and regional cooperation are on the agenda of Mekdad's meetings with the Iranian officials, and said, "Political solution is the only possible option to end the current crisis."
"Iran is standing beside the Syrian people and government on the path of war on terrorism," Khatibzadeh said.
Last month, Iranian Foreign Minister Mohammad Javad Zarif in a telephone conversation with Mekdad underlined the need for the further expansion of mutual cooperation.
During the phone talk, Zarif congratulated Mekdad on his election as Syria's new foreign minister.
Zarif also once again expressed his condolence over the passing of Walid al-Muallem and emphasized the expansion of strategic cooperation between the two countries.
The Iranian foreign minister once again extended his condolences on the death of the late Syrian Foreign Minister Walid al-Muallem while stressing continuation of strategic cooperation between the two countries.
Walid al-Muallem passed away last month at the age of 79 following years of poor health and heart problems.
https://www.farsnews.ir/en/news/13990917000569/Iran-Reieraes-Firm-Sppr-fr-Syria-in-War-n-Terrrism
--------
Iran Supreme Court upholds death sentence against journalist Ruhollah Zam
08 December 2020
Iran's Supreme Court has upheld the death sentence against dissident journalist Ruhollah Zam, according to the country's judiciary spokesman.
https://english.alarabiya.net/en/News/middle-east/2020/12/08/Iran-Supreme-Court-upholds-death-sentence-against-journalist-Ruhollah-Zam
--------
Turkey orders detention of 304 military personnel over suspected Gulen links
08 December 2020
Turkey has ordered the detention of 304 military personnel in an operation targeting supporters of the Muslim preacher that Ankara says was behind a failed coup in 2016, state-owned Anadolu news agency said on Tuesday.
Operations targeting the network of US-based cleric Fethullah Gulen have continued under a four-year-long crackdown since the attempted coup in July 2016. Gulen denies involvement in the putsch attempt, in which about 250 people were killed.
Tuesday's operation was initiated by the prosecutor's office in the western coastal province of Izmir and was spread over 50 provinces, Anadolu said.
The suspects, including five colonels and 10 captains, most of them on active duty, were believed to be in contact with people with links to Gulen's network, Anadolu said.
Since the coup attempt, about 80,000 people have been held pending trial and some 150,000 civil servants, military personnel and others have been sacked or suspended. More than 20,000 people had been expelled from the Turkish military alone.
https://english.alarabiya.net/en/News/middle-east/2020/12/08/Turkey-orders-detention-of-304-military-personnel-over-suspected-Gulen-links
--------
Yemeni VP hosts US officials to discuss designating Houthis as terrorist organization
Rawad Taha
07 December 2020
Yemen's Vice President Ali Mohsen al-Ahmar discussed the possibility of designating the Iran-backed Houthi militia as a terrorist organization with senior US officials on Sunday.
Al-Ahmar stressed the importance of including the Houthi militia on the US' terrorism list in discussions with US Assistant Secretary of State for Near Eastern Affairs David Schenker, local news agencies reported on Sunday.
He emphasized that the Houthis had enacted a criminal coup in the country, which placed the international community in a position significant responsibility to implement a global reaction and pressure the Houthis and their financiers in Tehran.
For all the latest headlines follow our Google News channel online or via the app.
"The Houthi approach puts the international community in charge of responding to popular, political and legal demands to criminalize the group and quickly include it on terrorist lists," said al-Ahmar, according to reports from the Yemeni News Agency.
He noted the Houthis' continuous escalation, their lack of commitment to the Stockholm Agreement, and their attacks and drones on Yemeni cities and brothers in the Kingdom, and their committing crimes that outweigh what terrorist groups are practicing and their defiance and disdain for the international community and its decisions.
The US Ambassador to Yemen Christopher Henzel was also reportedly in the meeting.
The complexity of the military landscape
"The Houthis, with the support of Iran, are compounding the military and political scene and exacerbating the human suffering of Yemenis," he said.
He also indicated that the government's priorities are to work to accelerate the implementation of the Riyadh Agreement to bridge the rift and unify the ranks of the Yemenis, noting that Yemenis refused to accept the Iranian experience or the experience of Hezbollah in Yemen.
For his part, US Assistant Secretary of State Schenker renewed his country's support for the legitimate government and its willingness to strengthen various areas of cooperation, including the field of counterterrorism.
Terrorist organization
The talks took place amid reports that Secretary of State Mike Pompeo may declare the Houthi militia as a terrorist organization later this week.
According to the Washington Post, Pompeo is finalizing the Iranian-backed group's designation as a foreign terrorist organization.
The Washington Post reported that the Houthi militia's declaration as a terrorist group comes within the framework of the maximum pressure policy that President Donald Trump's administration continues to follow in dealing with the Iranian regime.
The US National Security Adviser, Robert O'Brien, announced a week ago that the US options are open to deal with the Houthi militia in Yemen. He also called on the Houthis to turn away from Iran and stop attacking neighboring countries.
https://english.alarabiya.net/en/News/gulf/2020/12/07/Schenker-Yemeni-Vice-President-discuss-listing-Iran-backed-Houthis-terrorist
--------
Yemeni army launches drone attack against Saudi positions
07 December 2020
The Yemeni army, backed by popular committees, has launched a fresh drone attack against the positions of the Saudi-led coalition, whose war on Yemen's Ansarullah movement has killed thousands of civilians since 2015.
The Saudi-led coalition's spokesman, Turki al-Maliki, confirmed the drone attack, but claimed that the coalition forces have managed to intercept the unmanned aerial vehicle.
The UAE's Al-Khaleej newspaper quoted Maliki as saying that the drone attack had been launched against southern regions of Saudi Arabia.
Yemen's Houthi Ansarullah forces had targeted Saudi positions with three drones last week. Riyadh claims it has shot all of them down.
With the intensification of the coalition attacks against civilian areas of Yemen, the popular committees and the Yemeni army have resumed their deterring and defensive attacks deep inside the Saudi territories in recent days.
In late November, the Yemeni army launched a missile attack against the Saudi-led coalition's Camp Tadawain in Yemen's Ma'rib, killing at least eight Saudi forces.
Following the attack, Spokesman for the Yemeni Armed Forces Brigadier General Yahya Saree warned that such operations against the coalition positions will continue as long as the Saudi aggression and the siege of Yemen continues.
He also noted that Yemeni forces are observing and controlling the enemy's movements, and will target them wherever they are.
Supported militarily by the US, the UK, and several other Western countries, Saudi Arabia and a number of its regional allies launched the devastating war on Yemen in March 2015 to crush a popular uprising that had overthrown a regime friendly to Riyadh.
The US-based Armed Conflict Location and Event Data Project (ACLED) estimates that the war has claimed more than 100,000 lives in Yemen.
Nearly 3,500 children have been killed in Yemen since 2015, Yemen's Human Rights Center says.
It says that some 5,500,000 Yemeni children are also at the risk of catching diseases due to malnutrition and shortage of health services.
Late last year, Yemen's health ministry warned that around three million children under the age of five were suffering from malnutrition, 400,000 of whom were suffering from severe malnutrition and were at risk of death every ten minutes if they did not receive appropriate medical care.
https://www.presstv.com/Detail/2020/12/07/640249/Yemen-drone-attack-saudi-coalition
--------
Africa
Ethiopian PM Abiy denies the TPLF is fighting a guerrilla war in Tigray
07 December 2020
Ethiopian Prime Minister Abiy Ahmed denied on Monday that a rebellious northern force his troops have battled for over a month would have the capacity to mount a guerrilla war from the mountains of Tigray.
Federal troops have captured the regional capital Mekelle from the former local ruling party, the Tigray People's Liberation Front (TPLF), and declared an end to their offensive.
For all the latest headlines follow our Google News channel online or via the app.
But TPLF leaders say they are fighting back on various fronts around Mekelle. Ethiopia experts fear a drawn-out insurgency with a destabilizing impact around east Africa.
"The criminal clique pushed a patently false narrative that its fighters and supporters are battle-hardened and well-armed, posing the risk of protracted insurgency in the rugged mountains of Tigray," Abiy said in a statement.
"It also claimed that it has managed to undertake strategic retreat with all its capability and regional government apparatus intact. The reality is the criminal clique is thoroughly defeated and in disarray, with insignificant capability to mount a protracted insurgency."
There was no immediate TPLF response.
With communications largely down and access for humanitarian workers and media restricted, Reuters has not been able to verify claims from all sides on the state of fighting.
Aid needed fast
The conflict, which has its roots in Abiy's pushback against Tigrayans' past dominance of federal government and military posts, is thought to have killed thousands of people.
It has also sent nearly 50,000 refugees fleeing to Sudan, seen TPLF rockets fired into Eritrea, stirred ethnic divisions, and led to the disarming of Tigrayans in Ethiopia's peacekeeping contingency combating al Qaeda-linked militants in Somalia.
The United Nations and aid agencies are pressing for safe access to Tigray, which is home to more than 5 million people and where 600,000 relied on food aid even before the war.
However, two senior aid officials told Reuters over the weekend that looting and lawlessness meant the region was still too dangerous to dispatch convoys.
The government says that with peace restored, its priorities are the welfare of Tigrayans and return of refugees. However, some residents, diplomats and the TPLF say clashes persist, with protests and looting also reported in Mekelle on Friday.
The TPLF dominated government for nearly three decades, until Abiy took power in 2018 and began democratic reforms.
The party accuses him of seeking to centralize power at the expense of Ethiopia's 10 regions and says Tigrayan officials were unfairly targeted in a crackdown on corruption and rights abuses. The government denies that and accuses TPLF leaders of treason for attacking federal forces in early November.
https://english.alarabiya.net/en/News/world/2020/12/07/Ethiopian-PM-Abiy-denies-the-TPLF-is-fighting-a-guerrilla-war-in-Tigray
--------
'US must not abandon civilian victims in Somalia'
Felix Tih
08.12.2020
A rights group has called on the US to not abandon civilian victims of its air strikes after the planned troop withdrawal from the Horn of Africa country of Somalia, according to a statement.
Amnesty International made the statement on Monday few days after the US announced that troops will be removed from the Horn of Africa country by January 2021.
The US president ordered the Department of Defense and the United States Africa Command (AFRICOM) to reposition the majority of personnel and assets out of Somalia by early 2021, the Pentagon said in a statement on Friday.
It also said the US will retain the capability to conduct targeted counterterrorism operations in Somalia.
"Whether or not US ground troops leave Somalia, AFRICOM must immediately implement a strategy to ensure that it does not abandon any progress made towards accountability for US military actions – including their reporting on civilian casualty allegations," Deprose Muchena, Amnesty International's Director for East and Southern Africa said.
"Regardless of having boots on the ground or not, AFRICOM still must ensure justice and reparation for the civilian victims of violations of international humanitarian law and their families. And if air strikes continue, AFRICOM must ensure they take all feasible precautions to spare civilians."
On April 28 in a rare admission, the US admitted killing two civilians during their operations in Somalia, regretting the deaths and injuries caused by an airstrike in 2019.
The US has been involved in military operations against al-Shabaab terrorist group in Somalia since at least 2007.
Airstrikes have risen since early 2017. In June this year, the US military said it conducted 63 strikes in 2019 and at least 40 during the first five months of 2020.
https://www.aa.com.tr/en/africa/us-must-not-abandon-civilian-victims-in-somalia/2068971
--------
Libya threatens to withdraw from ceasefire over Haftar
Walid Abdullah
07.12.2020
Libyan Defense Minister Salahaddin Namroush has threatened to withdraw from a ceasefire agreement in Libya over practices of warlord Khalifa Haftar.
"We warn the UN and peace-supporting countries that if they don't curb war criminal Haftar and stop his recklessness, we may withdraw from the 5+5 military agreement," Namroush said in statements cited by the media office of the government's "Volcano of Rage" Operation.
"We will consider the ceasefire invalid if Haftar launches any military action," he warned.
On Sunday, Haftar's militia attacked a military camp in the southern town of Awbari, a move decried by Libya's High Council of State as a new violation of the ceasefire by the eastern warlord.
"We question why the UN and international community remain silent on Haftar's actions and threats to the ceasefire in southern Libya," Namroush said.
Awbari, 964 km south of Tripoli, has a strategic importance given its close location to the Sharara oilfield, the country's largest.
On Oct. 23, the UN announced a permanent ceasefire agreement between Libya's warring rivals during its facilitated 5+5 Libyan Joint Military Commission talks in Geneva.
Libya has been torn by civil war since the ouster of late ruler Muammar Gaddafi in 2011.
Based in the capital Tripoli and currently led by Prime Minister Fayez al-Sarraj, the Government of National Accord was founded in 2015 under a UN-led agreement, but efforts for a long-term political settlement have failed due to a military offensive by Haftar.
Al-Sarraj's government has been battling Haftar's militias since April 2019 in a conflict that has claimed thousands of lives.
https://www.aa.com.tr/en/africa/libya-threatens-to-withdraw-from-ceasefire-over-haftar/2068265
--------
Libya and UK discuss training, combatting terrorism and organized crime
By Sami Zaptia.
6 December 2020
In a meeting between Fathi Bashagha, Interior Minister of Libya's internationally recognized government in Tripoli, and Britain's ambassador to Libya, Nicolas Hopton, joint security cooperation was discussed.
During the meeting held on Thursday 3 December, prospects for joint cooperation between Libya and Britain were discussed, especially in the security field, and British support for the Ministry of the Interior was discussed through training the ministry's security cadres in several security areas, the most important of which was combating terrorism and organized crime, and benefiting from British expertise in the field of security work, in addition to a number of topics of common interest.
The security situation in Libya was reviewed and the efforts made by the Ministry of the Interior to extend security despite the difficult conditions the country is going through were also discussed.
https://www.libyaherald.com/2020/12/06/libya-and-uk-discuss-training-combatting-terrorism-and-organized-crime/?utm_source=iterable&utm_medium=email&utm_campaign=1790258_
--------
Morocco Arrests Three From IS-Linked Cell: Police
DECEMBER 4, 2020
Moroccan police said Friday they have arrested three men in the northern city of Tetouan suspected of "terrorist plots" and links to the Islamic State group.
The three had recorded a "video in which they pledge allegiance to the supposed emir of (IS)… and specify the main objectives of their terrorist plans," the Central Bureau of Judicial Investigations said.
The suspects had already conducted "several exploratory visits to identify the targets" they intended to attack with explosives or through methods similar to "Daesh," the statement said, using the Arabic acronym for IS.
Among the items seized during the operation were chemicals used to make explosive devices, an IS banner, and several firearms, it added.
The suspects were aged 21 to 38, and one had "family ties with a fighter in the ranks of IS" in the Iraq-Syria arena, the statement said.
Morocco regularly announces that it has dismantled radicalized cells, and according to an official report, it made 79 arrests in 2019 related to "terrorism."
https://www.thedefensepost.com/2020/12/04/morocco-arrests-is-cell/?utm_source=iterable&utm_medium=email&utm_campaign=1790258_
--------
URL: https://www.newageislam.com/islamic-world-news/attempt-murder-charge-attending-tablighi/d/123698
New Age Islam, Islam Online, Islamic Website, African Muslim News, Arab World News, South Asia News, Indian Muslim News, World Muslim News, Women in Islam, Islamic Feminism, Arab Women, Women In Arab, Islamophobia in America, Muslim Women in West, Islam Women and Feminism