New Age Islam News Bureau
19 Dec 2014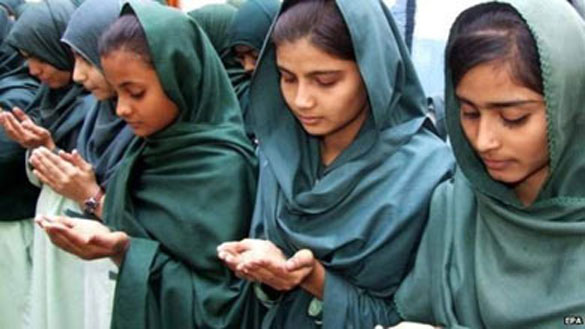 Pakistani schoolgirls pray for the victims of the attack, which ended after a nine-hour gun battle
----------
Pakistan
• At Least Two Children Beheaded In Pakistan School Attack
• 67 militants killed in Pakistan raids after Peshawar school massacre
• 8 militants, including TTP commander, killed in Ziarat
• Rangers kill four militants in Karachi operation
• Hang 3,000 terrorists in 48 hours: Pak army chief to Sharif
• Peshawar massacre to cause mental problems among students, parents
• Madaris body warns against criticism on seminaries
• Inmate on Death Row Maybe Executed Immediately After Black Warrant Issued
• Dr Usman, Arshad Mehmood to be executed within 24 hours
• Lakhvi booked again; to remain in jail for three months under Maintenance of Public Order
• Citizens arrive at Lal Masjid to 'reclaim their mosque'
Africa
• Cameroon army says killed 116 Boko Haram fighters
• Kenyan parliament passes controversial terror law
South Asia
• Peshawar Terrorists Called Handlers in Afghanistan
• 5 Taliban Insurgents Blown Up By Own Explosives in Heart
• 13-Year-Old Suicide Bomber Arrested In Kabul City
• Maldivian ICJ's Director Says Majlis Has "Decapitated the Country's Judiciary"
• Mir Afghan sacrificed life to stop deadly attack in Kabul city
India
• Conversion to Islam Solely For Marriage Not Valid: Allahabad High Court
• 'Islam Is Religion Which Came To Give Life, Not Take It Away': Sufi Scholar
• Don't compromise with terrorists, India tells Pakistan
• 'IS Sympathiser Planned To Attack Mumbai School'
• Peshawar massacre: Dilip Kumar says he's wounded beyond words
• I'm a soldier, I have no regrets, says ISIS Twitter handler Mehdi Masroor Biswas
• Indians now will be able to sit for US CPA Exam in Middle East
• Madrasas controlled by Bangladeshis indoctrinating youths: Centre tells Parliament
Arab World
• Iraqi Forces Kill 35 ISIL Terrorists in Salahuddin
• U.S.-led air strikes kill several ISIS leaders
• ISIL, Nusra Clash Fiercely on Qalmoun Barrens: 25 Terrorists Killed, Injured
• Kurdish troops open Sinjar corridor for Yazidis
• Leading Scholar 'Faces' Lawsuit for Encouraging Women to Show Their Faces
• In Lebanon, Syrian newborns risk statelessness
• Kuwait accepts Iraq Gulf war pay delay
• ISIS in Iraq beheads man it accuses of 'sorcery'
• Famous Egyptian writer says Hamas is "the real enemy," not Israel
Mideast
• Dozens of People Dead and Wounded In Car Bomb Attacks On Yemen Shiite Militia
• Israel won't accept 'unilateral' Palestine bid: Netanyahu
• Mosque's land in Istanbul to return to Greek-origin citizen
'• Hamas holds biggest military exercise in Gaza since end of Operation Protective Edge'
North America
• Peshawar attack may not change Pak's ties with terror groups: Expert
• US: We won't support Palestinian UNSC resolution on an Israeli withdrawal
• US general: Islamic State fight to take at least 3 years
• CIA: Targeted killings may backfire
• Experts fear ISIS adding malware to digital arsenal
• Lakhvi remained in touch with pals from prison: U.S. agencies
Europe
• U.N. Experts: Taliban Radicals Are Gaining Prominence
• Lifting Moratorium 'A Flawed Response to Peshawar School Attack': HRW
• Danish warrant for Syria militant who posed with severed heads
• UN seeks $8.4bn to help Syrian victims
• London's year-long Arab film festival widens the scope of audiences
• Dozens of Israelis fighting in Ukraine, rebel leader claims
Southeast Asia
• Christians Out to Convert Muslims through Christmas: Hizbut Tahrir
• Business radio station fined RM10, 000 over Reza Aslan 'Allah' interview
• PKR and DAP's 18 Muslim lawmakers can 'save' Malaysia from Hudud
• Indonesian military sets sights on radicals
• Malaysian Business radio station says Muslim groups' allegations 'baseless'
Compiled by New Age Islam News Bureau
URL: https://www.newageislam.com/islamic-world-news/new-age-islam-news-bureau/at-least-two-children-beheaded-in-pakistan-school-attack/d/100586
-----------
Pakistan
At Least Two Children Beheaded In Pakistan School Attack
December 19, 2014
At least two of the children killed by Taliban militants in the attack on a school in the Pakistani city of Peshawar were beheaded, medical staff said.
"One 13-year-old boy came in without his head. It was missing," said a senior doctor who was among staff who received the dead and injured at the Lady Reading Hospital.
He said his throat appeared to have been cut with a sharp knife.
Another health worker, Anwar Ali, said a second boy from grade six also had his head missing.
"He has received multiple bullet injuries in his whole body," Mr Ali said. "His head was missing. It seems that he was beheaded by the militants." One of the boys was identified by his parents from pre-existing marks on his body.
More than 130 pupils of the Peshawar Army Public School and nine staff were killed when it was stormed by seven militants on Tuesday.
They went from room to room shooting students, before blowing themselves up with suicide belts.
The attack was in retaliation for an army offensive on Taliban positions in the north-west of the country.
Mr Ali said the Taliban had been trying to sow terror in the local population.
"We saw terrible scenes as many the parents turned pale and fainted when they saw the headless and mutilated bodies of their sons," he said.
The family to whom he handed the headless body of their son had become angry, he said.
"They cursed the Taliban militants and took away his body, weeping," he said. "The Taliban killed all the children so brutally because they wanted to send a message across and terrify people."
http://www.telegraph.co.uk/news/worldnews/asia/pakistan/11301600/At-least-two-children-beheaded-in-Pakistan-school-attack-say-medical-staff.html
----------
67 militants killed in Pakistan raids after Peshawar school massacre
December 19, 2014
Pakistani jets and ground forces killed 67 militants in a northwestern tribal region near the Afghan border, officials said on Friday, days after Taliban fighters killed more than 140 people most of them children in a school massacre.
The violence at a school in Pakistan's northwest earlier this week stunned the country and brought cries for retribution. In the wake of the mass killing the military has struck targets in the Khyber tribal region and approved the death penalty for six convicted terrorists.
The military said its ground forces late Thursday killed 10 militants while jets killed another 17, including an Uzbek commander. Another 32 alleged terrorists were killed by security forces in an ambush in Tirah valley in Khyber on Friday as they headed toward the Afghan border, the military said.
Khyber agency is one of two main areas in the northwest where the military has been trying to root out militants in recent months. Khyber borders Peshawar, where the school massacre happened, and militants have traditionally attacked the city before fleeing into the tribal region where police can't chase them.
The other area is North Waziristan, where the military launched a massive operation in June.
In the southern Province of Balochistan, Pakistani security forces killed a senior Pakistani Taliban leader along with seven of his associates in three separate pre-dawn raids, said a tribal police officer, Ali Ahmed.
Army chief Gen. Raheel Sharif late Thursday signed death warrants of six "hard core terrorists" convicted and sentenced to death by military courts, the Army said.
It was unclear when the military planned to hang the six men, but authorities generally move quickly once death warrants are signed. Such executions are usually carried out at prisons under the supervision of Army officers and then the bodies are handed over to relatives for burial.
There was no information on the men or the crimes for which they were convicted.
The news comes after Prime Minister Nawaz Sharif on Wednesday announced that he would lift a moratorium on executions in terrorism-related cases. The government has not yet carried out any executions.
The lifting of the moratorium was aimed at demonstrating the government's resolve. But the decision by an anti-terrorism court on Thursday to grant bail to the main suspect in the 2008 Mumbai terror attacks, Zaki-ur-Rehman Lakhvi, called into question that commitment.
India reacted with outrage to news of Lakhvi's pending release.
Special public prosecutor Abu Zar Peerzada said he would appeal to the High Court to cancel the bail and said Lakhvi had not yet been released.
http://www.thehindu.com/news/international/south-asia/67-militants-killed-in-pakistan-raids-after-peshawar-school-massacre/article6707872.ece
-----------
8 militants, including TTP commander, killed in Ziarat
December 19, 2014
QUETTA: Eight suspected militants, including a local Tehreek-i-Taliban Pakistan (TTP) commander, were killed by security forces in Balochistan's Ziarat district on Friday morning.
Sources told Dawn that an operation was conducted in the Chotair area of Ziarat during which a TTP commander and another seven militants were killed.
Security forces also claimed to have recovered arms and ammunition from the possession of militants.
Sources said that the deceased militants were involved in acts of kidnapping and other terrorist incidents in the area. They added that the militants who were killed appeared to be foreigners.
This incident has come a day after security forces and police picked up four militants from Quetta's Eastern Bypass area.
Security agencies are investigating the arrested militants who belong to the country's volatile tribal belt.
Police inspector killed in Mastung
Police said two motorcycle-riding armed men opened fire and killed police inspector Muhammad Amin Shahwani in Mastung Bazar area.
The assailants managed to escape from the scene after the attack.
Police and other law enforcement agencies reached the spot and started investigation into the incident.
There was no immediate claim of responsibility for the attack but police sources said the incident appears to be an act of ongoing targeted killing in the province.
Balochistan has been under the grip of violence for many years. Militants in the area have been targeting security forces, vital national installations and pro-government personalities.
http://www.dawn.com/news/1151845/8-militants-including-ttp-commander-killed-in-ziarat
-----------
Rangers kill four militants in Karachi operation
December 19, 2014
KARACHI – Four alleged members of banned militant organisation were killed during a search operation launched in Musharraf Colony area of the city, said a spokesman for Sindh Rangers on Friday.
The spokesman told that the Rangers personnel launched a targeted operation after receiving the tip off regarding the presence of banned outfit members in Musharraf Colony area. While Rangers were searching the area, militants opened fire on them and during the retaliatory action; four militants belonging to banned outfit were killed.
One Rangers man was also injured when militants hurled a hand grenade during the clashes. The spokesman said that a key militant figure identified as Abid Machar was also killed in the shootout. He was an expert in manufacturing bombs while he was also involved in Karachi bomb blasts. Identities of the others suspects were yet to be identified. Huge cache of arms including four SMG was also recovered from their possession.
http://www.dailytimes.com.pk/national/19-Dec-2014/rangers-kill-four-militants-in-karachi-operation
-----------
Hang 3,000 terrorists in 48 hours: Pak army chief to Sharif
TNN | Dec 19, 2014
NEW DELHI: Army chief Gen Raheel Sharif, arguably the most powerful man in Pakistan, tweeted on Wednesday, "Asked PM Nawaz Sharif to hang all terrorists. More than 3,000 terrorists should be hanged in next 48 hours." A day later, Lashkar-e-Taiba's commander Zaki-ur Rahman Lakhvi was out on bail.
Gen Sharif, who has frontally taken on the Taliban, is credited to have changed the army's approach towards extremist groups, from one of using them as allies — as "strategic assets" against "enemies" like India — to launching an uncompromising offensive against them.
Gen Sharif's Twitter profile makes for interesting reading. Overcome by the sheer horror of the Peshawar attack, he announced, "Enough is enough, now strict action should be taken against those who speak in favour of terrorists." Even as his soldiers were battling the terrorists in the school, Gen Sharif announced on Twitter that the army "has launched massive air strikes in Khyber on the intelligence reports. More than 10 air strikes have been carried out in last 1 hour."
Threatening strong retribution against Taliban, Sharief tweeted, "#PakArmy will come at you #Taliban & will destroy you. And they will not target women & children. They are not coward like you." Promising to go after terrorists, Sharief asked for popular support. "Dear people of #Pakistan stand & support #PakArmy in ops #ZarbeAzb & #Khyber1 & We will surly eliminate #TTP from our homeland InshaAllah!"
Both these military campaigns in North Waziristan and Khyber Pakhtunkhwa were launched without political approval.
In another tweet, Gen Sharif threatened Tehrik-i-Taliban, saying, "Message to TTP. You kill our child. Now you will see the deadly consequences and (be) ready to pay the price. Pak Army will revenge (sic) each & every single drop of blood of little departed angels. It's my promise."
http://timesofindia.indiatimes.com/world/pakistan/Hang-3000-terrorists-in-48-hours-Pak-army-chief-to-Sharif/articleshow/45568558.cms
-----------
Peshawar massacre to cause mental problems among students, parents
December 19, 2014
PESHAWAR: The parents, who lost their sons in Tuesday's massacre at Army Public School, were most likely to develop psychological problems, said a known psychiatrist.
"Not only parents but students elsewhere in the country, especially in Peshawar, are prone to develop post traumatic stress disorder, anxiety disorder, panic disorder, mixed anxiety depression disorder and depression," consultant psychiatrist Dr Mian Iftikhar Hussain told Dawn on Thursday.
He said that women were the worst victims of the tragedy and it was extremely difficult for them to forget their beloved ones. Thousands of students, who witnessed the bloody scene, wouldn't remain unharmed, he said.
Full report at:
http://www.dawn.com/news/1151832/peshawar-massacre-to-cause-mental-problems-among-students-parents
-----------
Madaris body warns against criticism on seminaries
December 19, 2014
ISLAMABAD: Wafaqul Madaris al Arabia Pakistan (WMAP), biggest federation of religious seminaries in the country, condemned the deadly attack on the army-run school in Peshawar but at the same time warned against 'undue criticism' on seminaries.
"Undue criticism of seminaries under the garb of Peshawar attack would not be tolerated and should end immediately," said WMAP interim secretary general Maulana Qazi Abdul Rasheed.
Addressing a press conference at Jamia Muhammadia in the federal capital, Rasheed announced that WMAP will observe Friday [today] as 'condemnation day' while on Saturday students of 25,000 seminaries will stage demonstrations across the country.
Full report at:
http://tribune.com.pk/story/809122/bearing-the-burnt-madaris-body-warns-against-criticism-on-seminaries/
--------
Inmate on Death Row Maybe Executed Immediately After Black Warrant Issued
Execution rules changed in Punjab
December 19, 2014
LAHORE: The rules for carrying out the death penalty have been changed in the province of Punjab in an effort to expedite the execution process.
According to jail sources, an inmate on death row maybe executed immediately after a black warrant is issued.
According to the previous rules there was a time-frame of 14-21 days from when the black warrant was issued and the execution was carried out.
Prime Minister Nawaz Sharif announced on Wednesday that the moratorium on the death penalty in terrorism cases had been lifted. The announcement came a day after Tehreek-e-Taliban Pakistan (TTP) militants carried out a brutal attack at the Army Public School in Peshawar killing 141 people mostly children.
According to the sources, while lifting the moratorium on death penalty, the federal government has asked all the four provincial governments to process the cases of those on death row so that their death warrants or black warrants could be issued on a priority basis.
http://www.thenews.com.pk/article-169160-Execution-rules-changed-in-Punjab-
-----------
Dr Usman, Arshad Mehmood to be executed within 24 hours
December 19, 2014
FAISALABAD: Aqeel alias Dr Usman a former soldier of the army's medical corps and the mastermind of the attack on the headquarters of the Pakistan Army in 2009 along with Arshad Mehmood who was convicted for the assassination attempt on former President General (retd) Pervez Musharraf are expected to be executed within 24 hours.
Ahead of the executions security has been heightened at the central and district prisons on Faisalabad.
It is pertinent to mention that Chief of Army Staff General Raheel Sharif Thursday signed the death warrants of six hardcore terrorists including Dr Usman, whose execution was pending.
Director General Inter-Services Public Relations (DG ISPR) told that the Court Martial (military court) had already convicted these terrorists.
He further told that the Army Chief had signed the death warrant of those terrorists involved in attacks on military installations and the military court had already awarded death sentence to them.
Full report at:
http://www.thenews.com.pk/article-169141-GHQ-attack-mastermind-Dr-Usman-to-be-hanged-in-24-hours
----------
Lakhvi booked again; to remain in jail for three months under Maintenance of Public Order
December 19, 2014
Zakiur Rehman Lakhvi will remain in jail for at least three more months with Pakistani authorities on Friday slapping stringent provisions under public security against the key accused in the 2008 Mumbai attack, a day after a court gave him bail sparking outrage in India.
Lakhvi (54) was detained for three months under Maintenance of Public Order (MPO).
"Lakhvi was to be freed from Adiala Jail Rawalpindi today morning but the government detained him there for three months under the 16 MPO," Prosecution chief Chaudhry Azhar told PTI, adding the Pakistan government had also informed India about this.
Lakhvi was granted bail by Islamabad Anti-Terrorism Court on Thursday due to lack of evidence against him.
The order of detention was handed over to Adiala Jail superintendent before Lakhvi's counsel could show his bail order to jail authorities.
Full report at:
http://www.thehindu.com/news/international/south-asia/lakhvi-still-under-detention-at-rawalpindis-adiala-jail/article6707777.ece
-----------
Citizens arrive at Lal Masjid to 'reclaim their mosque'
December 19, 2014
ISLAMABAD: Staff at the capital's Lal Masjid found themselves in an unexpected situation on Thursday evening when a large number of civil society activists, politicians and students arrived at the mosque chanting slogans against the chief cleric and lighting candles as part of a vigil.
The candlelight vigil and protest was organised in response to a statement by the mosque's chief cleric Maulana Abdul Aziz in which he refused to condemn the massacre of students and teachers in a terrorist attack on a school in Peshawar.
In a late night move, however, Islamabad police registered a First Information Report (FIR) against participants of the protest on the complaint of the mosque management.
Earlier, following the announcement of the candlelight vigil on social media, shared with the hash tag 'reclaim our mosques' police closed the road in front of the mosque to traffic and deputed police personnel on the median.
Full report at:
http://www.dawn.com/news/1151823/citizens-arrive-at-lal-masjid-to-reclaim-their-mosque
-----------
Africa
Cameroon Army Says Killed 116 Boko Haram Fighters
Dec 19, 2014
Yaoundé (AFP) - Cameroon's army said its troops had killed 116 Nigerian fighters from the Islamist Boko Haram group in the far north.
Insurgents attacked an army base in Amchide on the border with Nigeria on Wednesday, but soldiers repelled them, inflicting heavy losses, the defence ministry said.
"A column made up of a military truck and four pick-ups from the BIR (elite Rapid Intervention Battalion) were caught in an ambush that began with an explosion of a roadside bomb," the army said.
"At the same time..., the Amchide military base was attacked by hundreds of fighters from the sect, but the response from our defence forces was instant and appropriate," the statement said.
"There are 116 of the assailants dead on Cameroonian territory and undetermined casualties on the Nigerian territory from our artillery fire," the statement said. "There is one dead on the Cameroonian side and one officer missing."
According to the army, the Boko Haram fighters destroyed a pick-up and a troop truck, as well as managing to capture another military truck.
Boko Haram has grown in power in the area, where Cameroon and Nigeria are linked by a bridge. Militants have carried out repeated massacres of civilians and attacks on villages there, but are now increasingly active against military targets.
http://news.yahoo.com/cameroon-army-says-killed-116-boko-haram-fighters-101649569.html
-----------
Kenyan parliament passes controversial terror law
December 19, 2014
NAIROBI: Kenyan lawmakers voted through a tough anti-terror bill amid chaotic scenes in parliament and a brawl between opposition and government MPs.
The new law gives authorities sweeping powers to crack down on terror suspects and curtail press freedoms in a country that has suffered a string of attacks by Somalia-based Shebab Islamists.
"I am not happy about the manner in which the bill was passed.... But I am happy it has passed," said National Alliance MP Johnson Sakaja, a member of the ruling coalition.
The government argues the measures are necessary to confront the militants, but rights groups and the opposition say they are an assault on basic freedoms.
Divisions over the legislation triggered heated exchanges between lawmakers that culminated in a brawl, forcing the vote to be repeatedly delayed on Thursday.
It was finally approved to loud boos from opposition MPs, who bombarded Speaker of Parliament Justin Muturi with books and documents.
Full report at:
http://www.dawn.com/news/1151742/kenyan-parliament-passes-controversial-terror-law
----------
South Asia
Peshawar terrorists called handlers in Afghanistan
Aarti Tikoo Singh,TNN |Dec 19, 2014
NEW DELHI: The Peshawar terror attack was conspired and planned in an area near the Pakistan-Afghanistan border by the Tehreek-e-Taliban Pakistan (TTP) in the first week of December, according to Pakistani English dailies.
The Express Tribune claimed that it is in possession of a police report that revealed TTP chief Mullah Fazlullah headed the meeting of all co-conspirators from Bajaur, Mohmand and Orakzai agencies of Federally Administered Tribal Areas (FATA). Seven fidayeen (suicide bombers) were chosen and trained at Sheen Drang Markaz in Bara, Khyber Agency to execute the plan, the newspaper reported. The police investigation report named Abuzar, Umar, Imran, Yousaf, Uzair, Qari and Chamnay as the suicide bombers trained for the attack.
Geo News claimed that the Taliban suicide bombers were in contact with their handlers in Afghanistan. In a news report, Dawn quoted one of the attackers asking his handler, "We have killed all the children in the auditorium. What do we do now?" His handler response was: "Wait for the army people, kill them before blowing yourself."
Full report at:
http://timesofindia.indiatimes.com/world/pakistan/Peshawar-terrorists-called-handlers-in-Afghanistan/articleshow/45560957.cms
-----------
5 Taliban insurgents blown up by own explosives in Herat
19 December 2014
A group of five Taliban insurgents were killed following a premature explosion in western Herat province.
According to the local government officials, the militants were blown up in Shindand district of Herat province while they were looking to plant an Improvised Explosive Device (IED).
The Taliban militants group has not commented regarding the report so far.
Taliban militants frequently use improvised explosive device (EID) as the weapon of their choice to target Afghan and coalition security forces.
IEDs are also a major contributor to civilian casualties in Afghanistan as the civilians are mostly targeted in roadsede bombings.
According to UN, Improvised Explosive Devices used by Anti-Government Elements, were the second leading cause of civilian casualties in 2014.
At least 1,463 civilian casualties were reported in IED attacks during the first six months of the year, up seven per cent from 2013 and the highest number of civilian casualties from this tactic recorded in a six month period since 2009, the UN said following a report.
http://www.khaama.com/5-taliban-insurgents-blown-up-by-own-explosives-in-herat-8864
-----------
13-year-old suicide bomber arrested in Kabul city
19 December 2014
A teenager suicide bomber was arrested by the Afghan national security forces before he manage to carry out an attack in Kabul.
The Afghan Intelligence – National Directorate of Security (NDS), said the 13-year-old suicide bomber was arrested from the 5th police district of Kabul city.
A statement by NDS said the detained bomber was identified as Bilal and he was looking to carry out an attack in a crowded in area in Kabul city.
The statement further added that the teenager bomber has confessed to his crime and has admitted that he was trained outside the country for a period of 45 days on how to carry out insurgency activities.
The detetion of the teenager suicide bomber comes as the Taliban-led insurgency has been rampant across the country, including capital Kabul.
A suicide bomber who was looking to carry out an attack in Kabul city was killed after he was recognized and detonated his explosives in the outskirts of Kabul city this morning, leaving one policeman martyred and three others injured.
http://www.khaama.com/13-year-old-suicide-bomber-arrested-in-kabul-city-8866
-----------
Maldivian ICJ's Director Says Majlis Has "Decapitated the Country's Judiciary"
19 December 2014
The International Commission of Jurists (ICJ) has called this week's removal of two Supreme Court judges an assault on the independence of the judiciary.
"The Maldivian parliament and executive have effectively decapitated the country's judiciary and trampled on the fundamental principles of the rule of law and separation of powers in a democratic State," said Sam Zarifi, ICJ's Director for Asia and the Pacific.
Zarifi went on to call for the reinstatement of Chief Justice Ahmed Faiz and Justice Muthasim Adnan, labelling their removal by the People's Majlis "astonishingly arbitrary".
The two judges were removed following amendments to the Judicature Act passed last week, requiring a reduction of judges on the Supreme Court bench from seven to five.
After the Majlis approved the changes, the Judicial Services Commission (JSC) recommended the following day (December 11) that Faiz and Adnan be removed. The reasons for the decision have yet to be made known to either the public or the Majlis, which nevertheless voted to remove the judges on Sunday (December 14).
Full report at:
http://minivannews.com/politics/icj-says-majlis-has-decapitated-the-countrys-judiciary-91694
---------
Mir Afghan sacrificed life to stop deadly attack in Kabul city
19 December 2014
The Ministry of Interior (MoI) released the details of an Afghan police officer who sacrificed his life to stop a deadly suicide attack in Kabul city this morning.
The police officer, Mir Afghan, was martyred after he chased a suicide bomber in the outskirts of Kabul city.
According to Ministry of Interior spokesman, Sediq Sediqi, officer Mir Afghan prevented the suicide bomber to enter the city after the suspected was identified and chased.
"We lost another hero today, Officer Mir Afghan, who identified & chased a suicide bomber & prevented him entering KBL," Sediqi said in a message posted on his twitter account.
The incident took place in Tangi Tara Khel area around 7:40 am local time after the suicide bomber detonated his explosives near the vehicle of the police forces.
According to Kabul police officials, at least three policemen were also injured following the explosion.
The Taliban militants group claimed responsibility behind the incident and said heavy casualties were incurred to security forces.
http://www.khaama.com/mir-afghan-sacrificed-life-to-stop-deadly-attack-in-kabul-city-8867
-----------
India
Conversion to Islam Solely For Marriage Not Valid: Allahabad High Court
Dec 19, 2014
In a significant judgement, the Allahabad High Court has ruled that the religious conversion of girls "without their faith and belief in Islam" and "solely for the purpose of marriage" to Muslim boys could not be held valid.
Justice Surya Prakash Kesarwani passed the order while dismissing a batch of petitions filed by five couples, hailing from different districts of Uttar Pradesh, who had sought "protection as married couple."
In each case, the boys were Muslim while the girls were Hindus who got converted to Islam for solemnising nikah.
In his order earlier this week, Justice Kesarwani quoted a Supreme Court order of 2000 wherein it was laid down that "conversion of religion of a non-Muslim without any real change of belief in Islam and only for the purpose of marriage is void."
http://www.thehindu.com/news/national/other-states/conversion-to-islam-solely-for-marriage-not-valid-high-court/article6708077.ece
----------
'Islam Is Religion Which Came To Give Life, Not Take It Away': Sufi Scholar
Mohammed Wajihuddin, TNN | Dec 19, 2014
MUMBAI: The marauders who staged the naked drama of death at an army school in Karachi should have heard him. In his powerful, passionate talk on 'Islam: The Religion of Peace, Not Terror', Syrian-born, US-based Sufi scholar Shaykh Dr Muhammad bin Yahya Ninowy exposed the fallacy of jihadist ideology which justifies killing of innocents in the name of Islam.
In an hour-long lecture and quoting copiously from the Quranic commandments and the Prophet's traditions, the senior scholar declared that violence and Islam are not compatible and killing of innocents in the name of religion is the biggest disservice to religion.
Organized by NGO Tadkya Foundation, the lecture comprehensively rejected the alibi which extremists produce. They say that they kill people to avenge injustice and atrocities. "Taking revenge and destroying innocent lives are not Prophetic and Islamic approach. Islam means peace and is a Deen (religion) which came to give life, not to take it away," he said.
Slamming those who put emphasis on rituals and not the spiritual aspect of religion, Ninowy said rituals were not enough for fulfilment of the demands from a religious person.
The scholar said Indian Muslims could be role models for Muslims elsewhere. "As Muslims in a multi-cultural society, you have a bigger responsibility to present the right message of Islam to the world. How you conduct yourselves will be an example for others," he said.
Ninowy called upon Muslims not just to shun violence and choose the path of peace, he also asked the community members to educate and transform themselves. Calling this world a family and all humans children of Adam, he said that to a Muslim, every non-Muslim is a brother. "Since we believe that Allah created Adam and all humans are children of Adam, people of other faiths are our brothers," he explained.
He said no non-Muslim can be forced to convert to Islam as the Prophet didn't force anyone to embrace his faith. "In the Prophetic scheme of things, pardon is preferred to punishment," he said.
http://timesofindia.indiatimes.com/india/Islam-is-religion-which-came-to-give-life-not-take-it-away/articleshow/45568676.cms
-----------
Don't compromise with terrorists, India tells Pakistan
Dec 19, 2014
NEW DELHI: An outraged India on Thursday told Pakistan that release of LeT commander Zakiur Rehman Lakhvi, one of the key conspirators of the Mumbai terror attacks, on bail was unacceptable to it and demanded immediate steps for reversal of the decision.
In a sharp reaction to the bail granted to 54-year-old UN-designated terrorist by a Rawalpindi court, New Delhi told Islamabad that there could be no selective approach to terrorism, emphasising that it should realise that no compromise can ever be made with terrorists.
"We cannot accept that LeT's chief operation commander Zakiur Lakhvi, one of the key conspirators of the Mumbai terror attacks in which so many innocent people were slaughtered, a person designated as an international terrorist by the UNSC, is being released on bail," external affairs ministry spokesman Syed Akbaruddin said.
Noting that the release comes just two days after the dastardly terrorist attack on a school in Peshawar, where over a hundred children were purposefully and systematically butchered in the name of revenge, he said the grant of bail to Lakhvi will serve as a reassurance to terrorists who perpetrate heinous crimes.
Full report at:
http://timesofindia.indiatimes.com/india/Dont-compromise-with-terrorists-India-tells-Pakistan/articleshow/45564035.cms
-----------
'IS Sympathiser Planned To Attack Mumbai School'
RASHMI RAJPUT
Dec 19, 2014
An alleged 'Islamic State (IS) sympathiser' arrested by the Maharashtra Anti-Terrorism Squad (ATS) had plans to carry out a Peshawar-like attack in India, ATS sources have told The Hindu.
Anis Ansari (24), a software engineer who was arrested by the agency in October, is believed to have told interrogators that he planned to carry out a 'lone wolf attack' (individuals undertaking violent acts of terrorism outside a command structure) by bombing a suburban American school in Mumbai and targeting children above 13 years.
His agenda was two-fold: one, to 'teach' America a lesson and two, to get the attention of the international press, police say.
"Ansari was angered by America's military action against the IS. He believes children over 13 years are adults and therefore it was alright to kill them for a larger cause," a senior ATS official told The Hindu.
Police claim Ansari took orders from a certain person identified as 'Omar Elahi,' who is yet to be tracked down. "Elahi indoctrinated Ansari through the Internet,"said the officer.However, Ansari's parents claim that he is mentally disturbed and requires medical attention. Police have contested this claim.
http://www.thehindu.com/news/national/is-sympathiser-planned-to-attack-mumbai-school/article6705266.ece
-------
Peshawar massacre: Dilip Kumar says he's wounded beyond words
December 19, 2014
Veteran Bollywood actor Dilip Kumar has expressed his thoughts and condemned the barbaric terrorist attack on Army Public School in Peshawar that killed over 140 people, most of them children.
Speaking to IANS, Kumar, who was born in Peshawar, said: "I was born in the charming city of Peshawar in undivided India and I still have many special memories of the place. What the Taliban terrorists of Pakistan did to the school children in Peshawar is unforgivable and sinful.
"The massacre has wounded me beyond words. My heart longs to reach out to the parents who lost their sons and daughters in the worst crime any country has witnessed in recent years."
The 92-year-old further said: "I pray to the Almighty to give strength to the grieving parents to live through the trauma and horror and bear the loss. The time has come to crush and destroy such evil forces."
Kumar's Peshawar house, which was declared a national heritage and a protected monument, is in shambles and nothing practical has so far been done for its preservation.
http://www.dawn.com/news/1151844/peshawar-massacre-dilip-kumar-says-hes-wounded-beyond-words
-----------
I'm a soldier, I have no regrets, says ISIS Twitter handler Mehdi Masroor Biswas
Rajiv Kalkod,TNN | Dec 19, 2014
BENGALURU: "I'm a soldier and messenger. I don't regret what I've done," Mehdi Masroor Biswas, 24, told an advocate as a posse of policemen escorted him out of court hall 49, Civil Court Complex, Bengaluru, on Thursday.
Mehdi, arrested for operating a pro-ISIS Twitter handle, was remanded to 15 days in police custody by special judge Somaraju. One of the advocates asked Mehdi outside the courtroom, "Why did you do this, man?" Mehdi replied he had no regrets.
His parents were present in the courtroom. West Bengal-born Mehdi was as a management executive in an MNC, and allegedly worked as an ISIS propaganda activist, tweeting and retweeting thousands of messages. Arrested in the early hours of Saturday, Mehdi was produced before court on Thursday when his five-day police custody ended.
The court complex was a fortress in the afternoon. Ten police inspectors in plainclothes, led by ACP Thammaiah, Central Crime Branch, arrived in five vehicles with Mehdi around 4.05pm. As Mehdi walked in, the court hall was packed with advocates. Curious lawyers and other clients peered through every available inch of the windows.
Full report at:
http://timesofindia.indiatimes.com/india/Im-a-soldier-I-have-no-regrets-says-ISIS-Twitter-handler-Mehdi-Masroor-Biswas/articleshow/45567376.cms
-----------
Indians now will be able to sit for US CPA Exam in Middle East
PTI | Dec 18, 2014
DUBAI: Indian citizens will now be able to appear for the uniform Certified Public Accountants (CPA) examination, the only licenced qualification for accounting in the Middle East.
The announcement was made by the American Institute of Certified Public Accountants (AICPA), National Association of State Boards of Accountancy (NASBA) and Prometric.
CPA Exam candidates can register and conduct their exams at prometric test sites throughout the Middle East.
"There has consistently been strong demand for the CPA Exam from candidates in India," said Michael Decker, AICPA vice-president of exams.
"Opening testing in the Middle East for Indian CPA Exam candidates will help meet that demand. US citizens abroad, foreign nationals and Indian CPA Exam candidates all have additional options and increased convenience," Decker said.
Full report at:
http://timesofindia.indiatimes.com/world/middle-east/Indians-now-will-be-able-to-sit-for-US-CPA-Exam-in-Middle-East/articleshow/45565286.cms
----------
Madrassas controlled by Bangladeshis indoctrinating youths: Centre tells Parliament
Dec 19, 2014
Three madrassas controlled by illegal Bangladeshi migrants were indoctrinating youths, the central government said Wednesday.
Minister of State for Home Affairs Haribhai Parathibhai Chaudhary, citing a written document, informed the Rajya Sabha: "During investigations into the Burdwan blast case, it has been disclosed that in three madrassas controlled by illegal Bangladeshi migrants, religious extremism and indoctrination were being preached."
"There is no information with the government that madrassas in general are involved in training of terrorists," Chaudhary said.
The minister said the central government gets information about various institutions, including madrassas, from open sources as well as from security and intelligence agencies.
IANS
http://www.thenewsminute.com/news_sections/2371
-----------
Arab World
Iraqi Forces Kill 35 ISIL Terrorists in Salahuddin
Dec 19, 2014
The Iraqi security forces killed 35 terrorists of the Islamic State of Iraq and the Levant (ISIL) group in Salahuddin province.
"The security forces conducted a security operation on the outskirts of Dijail district on Wednesday night, and killed 35 of the ISIL terrorists and destroyed some of their vehicles," a security source said.
http://english.farsnews.com/newstext.aspx?nn=13930927000553
-----------
U.S.-Led Air Strikes Kill Several ISIS Leaders
19 December 2014
U.S. airstrikes have killed several very senior military leaders of Islamic State of Iraq and Syria (ISIS) group, the chairman of the U.S. Joint Chiefs of Staff said Thursday and U.S. officials told the Wall Street Journal that a key aide to the chief of the militant group was among those killed.
Gen. Martin Dempsey, the Pentagon's top uniformed officer, told The Wall Street Journal in an interview that the ISIS military leaders were killed in Iraq in recent weeks.
The strikes were designed to curb the group's ability to conduct its own attacks, provide its fighters with supplies and financing, he told the daily.
"It is disruptive to their planning and command and control," Dempsey said. "These are high-value targets, senior leadership."
The paper quoted officials as saying the Haji Mutazz, a key deputy to ISIS leader Abu Bakr al-Baghdadi, was killed in one U.S. military airstrike. Another senior member was Abd al Basit, the head of Islamic State's military operations in Iraq, the paper reported.
The strikes took place between Dec. 3 and Dec. 9.
Officials also told the newspaper that Radwin Talib, the ISIS 'wali' of Iraq's second city Mosul was killed in an airstrike in late November.
Full report at:
http://english.alarabiya.net/en/News/middle-east/2014/12/18/U-S-official-says-several-ISIS-leaders-killed-in-air-strikes-.html
-----------
ISIL, Nusra Clash Fiercely on Qalmoun Barrens: 25 Terrorists Killed, Injured
Dec 19, 2014
At least 10 militants were killed and 15 others injured after fierce clashes erupted between al-Nusra Front as well as the so-called Free Syria Army (FSA) on one hand and ISIL on the other on Qalamoun barrens.
Security sources told Al-Manar that the clashes, which have reached the barrens of the town of Qara in Qalamoun, concentrate at Sheikh Ali and al-Zamrani crossings which border the outskirts of the Northeastern Lebanese town of Arsal.
The sources added that all kinds of weapons are being used and that the clashes started after al-Nusra Front and FSA in the region rejected to express allegiance to ISIL.
http://english.farsnews.com/newstext.aspx?nn=13930927000364
-----------
Kurdish Troops Open Sinjar Corridor for Yazidis
19 December 2014
Iraqi Kurdish forces battling ISIS militants managed on Thursday to open up a key corridor so that thousands of people from the country's Yazidi minority who have been trapped on a mountain can flee, a senior Kurdish official said.
The development was an incremental step in the battle to retake the town of Sinjar, at the foothills of the mountain by the same name, which fell to ISIS militants in early August.
Backed by U.S.-led coalition airstrikes, the Kurdish peshmerga troops, launched the operation to retake Sinjar on Wednesday.
Masrur Barzani, chancellor of Kurdistan Region Security Council, told the Associated Press that the Kurdish forces advanced in battle, establishing the passageway to the mountain on Thursday.
Full report at:
http://english.alarabiya.net/en/News/middle-east/2014/12/19/Iraqi-Kurdish-troops-fighting-ISIS-open-key-corridor-in-Iraq.html
-----------
Leading Scholar 'Faces' Lawsuit for Encouraging Women to Show Their Faces
Dec 19, 2014
A number of Saudis in Jeddah are planning to file a lawsuit against Ahmed Qassim Al-Ghamdi, a leading scholar, for allegedly encouraging women to show their faces and appear before the public in style.
Al-Ghamdi's opponents also believe that his statements would encourage the public to violate Shariah teachings and reject religious edicts of the country's senior scholars.
They urged authorities not to allow Al-Ghamdi to speak on Shariah matters and prevent him from appearing on channels and other media.
They pointed out that Al-Ghamdi had previously allowed music and mixing of unrelated men and women.
http://www.arabnews.com/featured/news/676086
-----------
In Lebanon, Syrian newborns risk statelessness
19 December 2014
Nearly 30,000 Syrian children born as refugees in Lebanon are in a legal limbo, not registered with any government, exposing them to the risk of a life of statelessness deprived of basic rights.
It is a problem that is replicated, to varying degrees, in nations across the Middle East where more than 3.3 million Syrians have found safe haven from the intractable civil war in their homeland.
The life of a stateless person is a life without a nationality, without citizenship, without the basic documents that establish an individual's identity and give him the rights accorded everyone else. Without a birth certificate, identity papers or other documents, even basic things like getting married, going to school or finding a job can be next to impossible.
"If you can't prove your nationality, it means you can't get legal documentation, can't cross borders legally, can't enjoy any other basic rights that citizens of a country are entitled too," said Isabella Castrogiovanni, a senior child protection specialist with UNICEF. "So the consequences are obviously huge."
Full report at:
http://english.alarabiya.net/en/perspective/features/2014/12/19/In-Lebanon-Syrian-newborns-risk-statelessness.html
-----------
Kuwait accepts Iraq Gulf war pay delay
19 December 2014
The United Nations Gulf War compensation fund agreed on Thursday to defer Iraq's requirement to deposit five percent of its oil revenues for a year due to its budgetary difficulties, a senior U.N. official said.
Major powers on the fund's ruling body took the decision by consensus as Iraq's economy is being battered by both low oil prices and war with Islamic State of Iraq and Syria (ISIS) militants.
"The Governing Council adopted a decision agreeing to a postponement of Iraq's requirement to deposit five percent of oil proceeds until 1 January, 2016," Leah Kraft, legal officer of the U.N. Compensation Commission (UNCC), told Reuters.
Full report at:
http://english.alarabiya.net/en/News/middle-east/2014/12/18/Kuwait-accepts-Iraq-Gulf-war-pay-delay-.html
-----------
ISIS In Iraq Beheads Man It Accuses Of 'Sorcery'
19 December 2014
The Islamic State of Iraq and Syria (ISIS) on Thursday beheaded a man publicly on charges that he was a "sorcerer," north of their bastion of Tikrit, the Islamist militant organization and residents said.
The group released pictures of the execution on a square in Nahyat al-Alam, a town a few kilometres north of Tikrit.
One picture showed what the ISIS statement called "talismans" found in the victim's possession but appear to be nothing more than prayer beads and a green Shiite banner.
Some residents who spoke to AFP said the executed man was a Sunni who had recently joined the police in Samarra, a town further south which is under government control.
Full report at:
http://english.alarabiya.net/en/News/middle-east/2014/12/19/ISIS-in-Iraq-beheads-man-it-accuses-of-sorcery-.html
-----------
Famous Egyptian writer says Hamas is "the real enemy," not Israel
19 December 2014
Egyptian writer and playwright Ali Salem, who has a record of peaceful statements regarding Israel, said Israel is Egypt's "friend" and Hamas is "the real enemy."
It is not in Israel's interest for Egypt to suffer from a lack of security, Salem said on Al-Arabiya TV in an interview Wednesday, the Egyptian El-Watan website reported.
The intellectual said Hamas and Islamic State present the most serious threat to Egypt.
Salem has visited Israel and called for the normalization of relations, drawing strong reactions from critics.
The real enemy is also poverty, ignorance, and disease, he said, adding, "Egypt will defeat terrorism no matter how long it takes."
There are currently Israeli factories in Egypt and normalization with Israel is necessary, the playwright said.
Full report at:
http://www.jpost.com/Arab-Israeli-Conflict/Famous-Egyptian-writer-says-Hamas-is-the-real-enemy-not-Israel-385120
---------
Mideast
Dozens of People Dead and Wounded In Car Bomb Attacks On Yemen Shiite Militia
19 December 2014
Twin car bomb attacks in Yemen's western port city of Hodeida targeting Shiite militiamen left dozens of people dead and wounded on Thursday, a security official said.
"The two explosions were the result of two car bombs and left dozens dead and wounded," the official told AFP, without providing any precise figures.
The first bomb detonated at the Hodeida headquarters of the Shiite militia known as Ansarullah which seized the town at the end of September, said the official.
The other bomb went off close to another position of the Shiite militia west of Hodeida University, not far from the site of the first attack.
Thursday's attacks came two days after 16 schoolgirls were among 26 people killed in a car bomb attack targeting a Shiite militia leader in the central town of Rada.
Yemen has been rocked by worsening instability since the Shiite fighters, who are also known as Huthis, seized control of the capital Sanaa on September 21.
The Huthis have since expanded their presence in central and western Yemen, including Hodeida, but have met fierce resistance from Sunni tribes and Al-Qaeda militants.
Thursday's attack came as a new Yemeni government won a confidence vote in parliament a month after its formation.
Full report at:
http://english.ahram.org.eg/NewsContent/2/8/118285/World/Region/UPDATE-Dead,-wounded-in-car-bomb-attacks-on-Yemen-.aspx
-----------
Israel won't accept 'unilateral' Palestine bid: Netanyahu
AFP | Dec 19, 2014
JERUSALEM: Prime Minister Benjamin Netanyahu said on Friday Israel would never accept the "unilateral" recognition of a Palestinian state, after a draft resolution calling for a final peace deal was submitted to the UN.
In a statement from his office, Netanyahu accused Palestinian president Mahmud Abbas of "thinking he can threaten us by taking unilateral steps" over statehood.
"He doesn't understand that his authority in the West Bank will be overturned by Hamas like it was in Gaza," the Israeli premier added.
"We will never accept unilateral diktats," Netanyahu said.
The Palestinian draft resolution, submitted yesterday to the UN in New York, sets a 12-month deadline for wrapping up negotiations on a final settlement and the end of 2017 as the timeframe for completing an Israeli withdrawal from Palestinian territories.
A final peace deal would pave the way to the creation of a Palestinian state with Jerusalem as a shared capital, according to the text.
Full report at:
http://timesofindia.indiatimes.com/world/middle-east/Israel-wont-accept-unilateral-Palestine-bid-Netanyahu/articleshow/45571298.cms
---------
Mosque's land in Istanbul to return to Greek-origin citizen
19 December 2014
A precious plot on Istanbul's Anatolian side, where a mosque is now located, has been returned to the 92-year-old sole heir of former Fener Greek Patriarch Maximus V, daily Milliyet reported on Dec. 18.
Turkey's Supreme Court of Appeals approved the decision to return the area, located in the Kadıköy district near the shores of the Marmara Sea, to Greek-origin Turkish citizen Stamatis Papamanolaki, many years after the area was seized by the state based on a regulation from 1964, according to Milliyet.
Papamanolaki, however, does not want to demolish the mosque built on the land, but only demands the price of the land from the Turkish Treasury, reportedly saying the mosque is also a holy place for him.
Full report at:
http://www.hurriyetdailynews.com/mosques-land-in-istanbul-to-return-to-greek-origin-citizen.aspx?pageID=238&nID=75798&NewsCatID=339
-----------
'Hamas holds biggest military exercise in Gaza since end of Operation Protective Edge'
19 December 2014
Hamas held its biggest military exercise since the end of the 50-day war in Gaza over the summer, according to Israeli media reports on Thursday morning.
Residents of southern Israeli communities on the border with northern Gaza reported hearing sounds of shooting and explosions overnight.
The IDF Spokesman's Office told The Jerusalem Post that the explosions were an internal Gaza issue and did not involve the engagement of IDF forces.
Ground forces of Hamas's military wing, the Izzadin Kassam Brigades held the ground exercises on the ruins of Israeli settlements that were abandoned during the 2005 disengagement from Gaza, according to the reports.
Full report at:
http://www.jpost.com/Arab-Israeli-Conflict/Hamas-holds-biggest-military-exercise-in-Gaza-since-end-of-Operation-Protective-Edge-385060
-----------
North America
Peshawar attack may not change Pak's ties with terror groups: Expert
PTI | Dec 19, 2014
WASHINGTON: The terrorist attack on a school in Peshawar that shocked the entire world is unlikely to change Pakistan's policy of strategic ties with terrorist outfits like Lashkar-e-Taiba (LeT), an American expert on South Asia has said.
"This attack on a school, as horrible as it is, doesn't necessarily change the Pakistani strategic calculation about the value of its continued relationship with some of these other groups," said Daniel Markey, senior fellow for India, Pakistan and South Asia at the Council on Foreign Relations (CFR).
Markey said India has a reason to be concerned about Pakistan's continued relationship with LeT in particular or with any successor organisation that would share similar goals or aspirations but come under a different name.
Even during this past several months or six months or so of hard fighting by the Pakistani military in North Waziristan against the Pakistani Taliban, LeT founder Hafiz Mohammad Saeed, was freely roaming around the country, Markey said.
Full report at:
http://timesofindia.indiatimes.com/world/pakistan/Peshawar-attack-may-not-change-Paks-ties-with-terror-groups-Expert/articleshow/45573958.cms
-------------
US: We won't support Palestinian UNSC resolution on an Israeli withdrawal
19 December 2014
The US said it plans to veto a Palestinian UN Security Council resolution setting a three-year timetable for Israel and its security forces to withdraw from the West Bank.
"We have seen the draft. It is not something we would support," US State Department spokeswoman Jen Psaki told reporters.
"We think others feel the same and are calling for further consultations. The Palestinians understand that. You may have also seen [Palestinian Authority] President [Mahmoud] Abbas speak to this earlier today.... They support continued consultations and they are not pushing for a vote on this now."
US Secretary of State John Kerry and US officials had hinted throughout the week that they were unlikely to support a resolution that set such a timetable and attempted to unilaterally impose a solution, as opposed to a resolution that supported a negotiated process.
Full report at:
http://www.jpost.com/Arab-Israeli-Conflict/US-We-will-not-support-new-Palestinian-UN-draft-resolution-385133
-----------
US general: Islamic State fight to take at least 3 years
19 December 2014
The general in command of US forces involved in the fight against Islamic State militants in Iraq and Syria said on Thursday he thought it would take a minimum of three years to achieve a turning point against the group.
Asked at a Pentagon briefing about progress on the ground, Army Lieutenant General James Terry said that the first US air strikes had taken place only four months ago and counseled patience, estimating it would "at least take a minimum of three years."
http://www.jpost.com/Breaking-News/US-general-Islamic-State-fight-to-take-at-least-3-years-385114
----------
CIA: Targeted killings may backfire
19 December 2014
The U.S. government's program to capture and kill insurgent leaders can backfire, a leaked CIA report said Thursday, citing "limited" results in Afghanistan in particular.
The July 2009 document released by WikiLeaks tackles the pros and cons of "high value targeting" (HVT) operations conducted "against specific individuals or networks."
The 18-page report was made under former CIA director Leon Panetta just months before President Barack Obama ordered a "surge" of troops in a bid to reverse the Taliban insurgency, defeat Al-Qaeda and quicken an end to the war in Afghanistan.
The report categorized the program's contribution to counterinsurgency success in Afghanistan as "limited."
"The Taliban has a high overall ability to replace lost leaders," it said.
"The government's limited influence outside of Kabul has impeded integration of high-value targeting (HVT) efforts" it concluded, adding that Taliban leaders' use of sanctuary in Pakistan had "also complicated the HVT effort."
But, it said, the tactics were successful in driving Osama bin Laden into hiding, where he adopted a low-key profile "including his reliance on low-technology communications, his reluctance to meet with subordinates, and his contentment with leading from a sequestered distance."
Full report at:
http://english.alarabiya.net/en/News/world/2014/12/19/Leaked-CIA-document-reveals-setbacks-of-targeted-killings.html
-----------
Experts fear ISIS adding malware to digital arsenal
The Associated Press, London
18 December 2014
A botched cyberattack aimed at unmasking Syrian dissidents has experts worried that the Islamic State of Iraq and Syria (ISIS) group is adding malicious software to its arsenal.
Internet watchdog Citizen Lab says an attempt to hack into systems operated by dissidents within the self-styled "caliphate" could be the work of hackers affiliated with ISIS.
Citizen Lab analyst John Scott-Railton said that there was circumstantial evidence of the group's involvement and cautioned that if the group has moved into cyberespionage, "the targets might not stop with the borders of Syria."
The Nov. 24 attack came in the form of a booby-trapped email sent to an activist collective in Raqqa, Syria, that documents human rights abuses in the ISIS' de-facto capital. The activist at the receiving end of the email wasn't fooled and forwarded the message to an online safety group.
Full report at:
http://english.alarabiya.net/en/media/digital/2014/12/18/Experts-concerned-ISIS-adding-malware-to-online-arsenal-.html
-----------
Lakhvi remained in touch with pals from prison: U.S. agencies
SUHASINI HAIDAR
Dec 19, 2014
Union Home Minister Rajnath Singh has termed as 'unfortunate' the bail granted to Zaki-ur-Rahman Lakhvi, the mastermind of the 26/11 Mumbai terror attack.
Lakhvi, who was the operation's commander of the Lashkar-e-Taiba, was charged along with six others in 2009 in the Mumbai attack case.
Mumbai attacker Ajmal Kasab, executed in India, and David Coleman Headley, convicted in the U.S. for planning the attacks, had identified Lakhvi as the operations mastermind for the 26/11 attack on Mumbai in which 166 people were killed.
In July 2009, the Pakistan government admitted to Lakhvi's role in a dossier handed over to India.
Full report at:
http://www.thehindu.com/news/national/lakhvi-remained-in-touch-with-pals-from-prison-us-agencies/article6705218.ece
-----------
Europe
U.N. experts: Taliban radicals are gaining prominence
The United Nations
19 December 2014
Radical splinter groups within the Taliban movement that oppose any negotiation with Afghanistan's new government are gaining prominence, U.N. experts said in a report circulated Thursday.
The experts monitoring U.N. sanctions against the Taliban said that despite gestures by the international community and the Afghan government in support of reconciliation, "there are currently no clear signals that the Taliban leadership is willing to engage in a political negotiation in a meaningful way."
The monitoring team noted, for example, that the release of Taliban members from the Bagram detention center and Afghan prisons, and the transfer of five Taliban detainees from Guantanamo Bay to Qatar in exchange for U.S. Sgt. Bowe Berhdahl, had not led to any concessions from the Taliban.
Full report at:
http://english.alarabiya.net/en/perspective/analysis/2014/12/19/U-N-experts-Taliban-radicals-against-peace-gain-prominence-.html
-----------
Lifting moratorium 'a flawed response to Peshawar school attack': HRW
December 19, 2014
NEW YORK: Human Rights Watch (HRW) on Thursday termed Pakistan's decision to lift a ban on capital punishment as 'flawed and reckless response' to the horrific Peshawar school attack and urged Pakistan to reinstate the moratorium on death penalty as a step toward its abolition.
On December 17, Prime Minister Nawaz Sharif decided to end a moratorium on the death penalty in terror-related cases, a day after Tehreek-e-Taliban Pakistan gunmen killed 141 people, including 132 children, in an attack on a school in Peshawar.
"Reinstating the death penalty is a flawed and reckless response to the horrific Peshawar attack," said HRW Deputy Asia Director Phelim Kine.
Full report at:
http://tribune.com.pk/story/808906/hrw-term-lift-of-moratorium-a-flawed-response-to-peshawar-school-attack/
--------
Danish warrant for Syria militant who posed with severed heads
19 December 2014
Danish police issued an arrest warrant in absentia for a Danish fighter in Syria who posed with severed heads and said another Dane who travelled to Syria had been held.
Copenhagen police said the warrant for the 26-year-old man was issued for condoning acts of terrorism after he posted some photographs on Facebook.
The pictures showed the man "standing in front of some severed heads, and ... wearing a shoulder strap with the Arabic text for the Islamic State [of Iraq and Syria ISIS]," a police statement said.
"The pictures appear to be taken in the city of Raqqa in Syria, which is an area controlled by ISIS, where the accused is presumed to have stayed in July 2014 when the pictures were published on his Facebook profile," it said.
The man also uploaded two pictures of ISIS leader Abu Bakr al-Baghdadi, one of which carried the caption: "I sacrifice myself for you."
Full report at:
http://english.alarabiya.net/en/News/world/2014/12/18/Danish-warrant-for-Syria-militant-who-posed-with-severed-heads-.html
-----------
UN seeks $8.4bn to help Syrian victims
Dec 19, 2014
BERLIN: The UN appealed Thursday for $8.4 billion to provide emergency aid and longer-term help to nearly 18 million people in Syria and across the region hit by the drawn-out conflict.
For the first time, the United Nations' appeal includes funding for life-saving food, shelter and other humanitarian aid as well as development support, as the bloody war in Syria heads toward a fifth year.
UN agencies said at its launch in Berlin that $2.9 billion (2.4 billion euros) was needed to help 12.2 million people inside Syria in 2015. A further $5.5 billion is eyed for Syrians who have sought refuge in neighboring countries and more than a million people in host communities, it said.
The Berlin appeal for Syria is slightly higher than an indicative amount announced in Geneva earlier this month, which did not include funding needs of neighboring countries.
The UN is planning for up to 4.3 million refugees in countries neighboring Syria by the end of 2015, it added.
Full report at:
http://www.arabnews.com/world/news/676541
-----------
London's year-long Arab film festival widens the scope of audiences
Dec 19, 2014
THE British Film Institute's (BFI) year-long exploration "Discover Arab Cinema" draws to a close this month. Having stood in sharp contrast to other film festivals or seasons in the Western world which usually span between a few days to a month, it's dedication to widen the scope of audiences to Arab cinema remains unprecedented.
Over the past year, the program has showcased a wide array of Arab cinema to BFI Southbank audiences for the first time. Speaking to Al Arabiya News, Helen de Witt, Head of Cinemas at BFI explained that the "the program was both geographically and thematically constructed to show films from Morocco to Iraq; experimental films for Palestine to documentaries from Syria, and a rare program of Saudi shorts."
Discover Arab Cinema, programed by Mona Deeley, in collaboration with the Zenith Foundation, launched with the UK premier of Ahmad Abdalla's groundbreaking film "Rags and Tatters" at the BFI last year in December. This month, the festival boasts of popular epic literary adaptations, including Yousry Nasrallah's "The Door to the Sun" and Marwan Hamed's "The Yacoubian Building."
Full report at:
http://www.saudigazette.com.sa/index.cfm?method=home.regcon&contentid=20141219227970
-----------
Dozens of Israelis fighting in Ukraine, rebel leader claims
19 December 2014
A senior leader of the Moscow- backed insurgency in eastern Ukraine revealed that he is Jewish and a former counselor in a Jewish Agency youth program, in an interview with a Russian Jewish media outlet earlier this month.
Speaking with lechaim.ru, Alexander Kofman, the foreign minister of the self-proclaimed Donetsk People's Republic, said that he comes from a "largely secular" family, although his maternal grandmother tried to observe religious festivals.
Kofman described himself as agnostic and added that he is probably not Jewish according to strict Orthodox law.
The Jewish Agency was unable to confirm any prior connection to Kofman.
Pinchas Vishedksi, the rabbi of Donetsk and an internally displaced person, told The Jerusalem Post that Kofman is fully "Jewish according to Halacha."
Asked by the Jewish website if he had any connection to the organized community of the city, which boasted a prewar Jewish population of between 10,000 and 11,000, the separatist leader admitted to having visited the synagogue on Shabbat, explaining that he has "many friends among religious Jews," who had invited him.
Full report at:
http://www.jpost.com/Diaspora/Dozens-of-Israelis-fighting-in-Ukraine-rebel-leader-claims-385170
-----------
Southeast Asia
Christians Out to Convert Muslims through Christmas: Hizbut Tahrir
DECEMBER 19, 2014
KUALA LUMPUR, Dec 19 ― Muslims nationwide must beware the "dangers" of Christmas next week as it is allegedly a ploy by the Christian community to attract Muslims into accepting Jesus, the local chapter of international hard-line Islamist group Hizbut Tahrir alleged today.
According to the group, Christmas celebrations try to condition Muslims into accepting "Western values", allegedly through festivals of vice, free mingling, illicit sex, and excess that it said pervade the year-end celebrations.
"The momentum of Christmas is made into an important point to spread the Christians' proselytisation mission. That is why Christians are serious in celebrating Christmas and the New Year to attract other races, especially Muslims," the group claimed in its weekly newsletter which is also distributed at local mosques during Friday prayers.
It alleged that communal Christmas celebrations, either held in homes but open to all or in public, were a way to get non-Christians to believe in Jesus as the saviour, or at least coax them to join the Christians in celebrating their faith towards Jesus.
Hizbut Tahrir also claimed that Christians are using the celebrations to cement their existence and domination in Muslim countries, especially when a country promotes religious tolerance and allows themselves the freedom to publicly celebrate Christmas.
"Any Muslim who refuse to offer a greeting of merry Christmas or celebrate it will be seen as intolerant, and maybe extreme," it claimed.
Full report at:
http://www.themalaymailonline.com/malaysia/article/christians-out-to-convert-muslims-through-christmas-islamist-hardliners-cla#sthash.wIh9EJfI.dpuf
-----------
Business radio station fined RM10,000 over Reza Aslan 'Allah' interview
19 December 2014
Business radio station BFM has been fined RM10,000 by regulators for airing an interview on Malaysia's "Allah" controversy with Iranian-American Muslim scholar Reza Aslan on October 21 last year, reflecting the stringent media laws in the country.
The Malaysian Insider learnt that the Malaysian Communications and Multimedia Commission (MCMC) fined BFM under the Communications and Multimedia Act 1998 for violating the special licence conditions of Individual Content Applications Service Provider (CASP-I) which stipulates the regulator's approval must be obtained before any live or delayed telecast.
MCMC strategic communication adviser Sheikh Raffie Abd Rahman confirmed the action on BFM to The Malaysian Insider.
Full report at:
http://www.themalaysianinsider.com/malaysia/article/bfm-radio-fined-rm10000-over-reza-aslan-allah-interview#sthash.2bNl9wwW.dpuf
-----------
PKR and DAP's 18 Muslim lawmakers can 'save' Malaysia from hudud
19 December 2014
Eighteen is the "magic number" in Pakatan Rakyat's hands which can stop PAS from implementing hudud, said Gerakan, a ruling coalition party, as the Islamist opposition charges ahead with its plan to implement the Muslim penal code in Kelantan.
PAS's allies DAP and PKR can order 18 of their Muslim lawmakers not to support the private members' bill that PAS intends to move in Parliament to enable Kelantan to enforce hudud, said Gerakan secretary-general Liang Teck Meng.
"I want PKR and DAP leaders to get their Muslim MPs not to vote for the bill. Forget about politics, these 18 can determine the country's destiny.
"I hope PKR and DAP agree with me on this," Liang told The Malaysian Insider.
The PAS-led Kelantan government has moved to convene a special sitting of the legislative assembly on December 29 to amend its Islamic laws, which will pave the way for the private members' bill to be tabled in the Dewan Rakyat at its next sitting.
Of the 37 parliamentary seats held by DAP, two of its federal representatives are Muslims, namely Bukit Bendera MP Zairil Khir Johari and Raub's Datuk Ariff Sabri; while 16 out of 29 PKR MPs are Muslims.
Full report at:
http://www.themalaysianinsider.com/malaysia/article/pkr-and-daps-18-muslim-lawmakers-can-save-malaysia-from-hudud-says-gerakan#sthash.qQ14PjTl.dpuf
-----------
Indonesian military sets sights on radicals
Dec 19, 2014
The country must stay prepared to defend itself against a growing terrorist threat, the commander of Indonesia's armed forces (TNI) warned at the start of joint military exercises earlier this month.
"Their methods, means, skills, and ability for recruiting regular people have changed, and it is very concerning. Therefore, we will continue to improve our military ability to counter possible threats anywhere and anytime," TNI commander General Moeldoko said on December 1st as he opened a joint exercise among the various military branches at Halim Perdanakusuma Airport in Banten Province.
"We are facing a real threat from the growing Islamic State of Iraq and Syria (ISIS). We need to be preparing personally in our community and our military," he added.
Moeldoko was overseeing the kick-off of Tri Matra IX 2014, a five-day exercise involving a combined 627 army, navy and air force personnel.
Full report at:
http://khabarsoutheastasia.com/en_GB/articles/apwi/articles/features/2014/12/17/feature-01
------------
Malaysian Business radio station says Muslim groups' allegations 'baseless'
19 December 2014
Business radio station BFM89.9 today refuted allegations that it had broadcasted talk shows which touched on a number of topics deemed sensitive to Islam, saying that the accusations were "inaccurate and baseless".
BFM Media Sdn Bhd managing director Malek Ali also clarified that the police report made by several Malay groups yesterday was on a programme that had aired a week ago on December 12 and not on the show featuring Iranian-American Muslim scholar Reza Aslan which was broadcast last year.
"We wish to clarify that the complaint by the NGOs is not in any way related to the issues surrounding the Reza Aslan broadcast (broadcasted in 2013), but in fact towards programming that was broadcasted one week ago, on Friday, December 12, 2014," he said in a statement today.
Full report at:
http://www.themalaysianinsider.com/malaysia/article/bfm-says-allegations-against-it-by-muslim-groups-baseless#sthash.tCjbDfnG.dpuf
-----------
URL: https://www.newageislam.com/islamic-world-news/new-age-islam-news-bureau/at-least-two-children-beheaded-in-pakistan-school-attack/d/100586