New Age Islam News Bureau
21 Oct 2013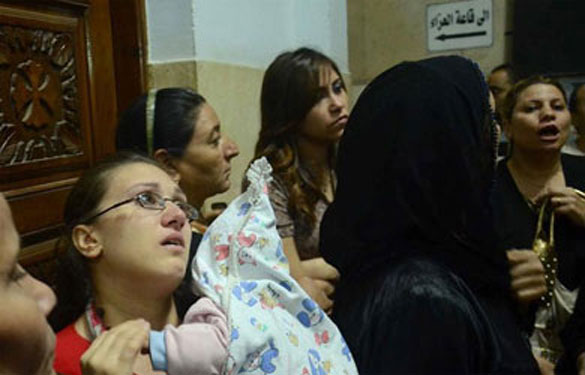 Egyptian women, some in tears, gather inside the Virgin Mary Coptic Christian Church in Cairo after gunmen on a motorbike shot dead three people late on October 20, 2013 (AFP Photo)
------------
Arab World
• At least 55 people have been killed in a series of suicide explosions in Iraqi cities
• Deadly attack outside Cairo church wedding, 3 Killed, nine wounded
• Arab states urge Saudi to rethink UNSC Seat
• Egyptian security forces fire teargas at Islamist protesters
• GCC backs Saudi Arabia rejection of UN seat
• Lebanon's Religious leaders, politicians hail release of pilgrims
• Jordan's rural poor chafe under the burden of hosting Syrian refugees
• Conference on Syria set for Nov 23-24
------------
Africa
• Boko Haram kills 19 near the Nigerian border with Cameroon
• Westgate attack: Kenya CCTV 'shows soldiers looting'
• South Sudan rebels kill 41 villagers, steal cattle
• Gaddafi's compound to serve as Public Park
• Nigeria opens National Identity Cards developed by Nadra
------------
Pakistan
• Extremism, economy to dominate Sharif's US visit
• Six killed, 17 hurt as blast hits Jaffar Express in Balochistan
• Talks possible only on principles: Punjabi Taliban
• US aid to snare Pakistan: Jamaat-e-Islami
• US Congress to resume Pakistan aid, Nawaz meets Kerry
• Malik vows to end corruption in Balochistan
• Sharif, Obama likely to launch efforts for rebuilding ties
• Turkish investment to further strengthen Pak-Turk ties: CM
• Shariat Court hears Riba case today
------------
North America
• Muslim group appoints Jew as Philadelphia director
• US rejects Nawaz Sharif's call for intervention in Kashmir
------------
Mideast
• Hamas acknowledges digging tunnel under Gaza-Israel border
• Police resort to tear gas as Kurds protest on both sides of the Turkish-Syrian border
• Turkish special operation team 'snatch' Lebanese pilgrims inside Syria: Report
• More than 600,000 Syrian refugees in Turkey: Agency
------------
India
• Laws to deal with communal riots inadequate: Minority Affairs Minister
• Explore other options if ceasefire violations by Pakistan continue, Omar says
• Manmohan Singh-Vladimir Putin talks will focus on Taliban
• 8 Pak citizens with 'terror links' held
------------
South Asia
• Afghanistan commander defects, joins group linked to Taliban
• Afghan families want accountability, not apologies
• Ban on gatherings no hindrance to dialogue: Bangladesh Communications Minister
• Bangladesh, India must fight challenges
------------
Southeast Asia
• Malaysian leader strengthens hand in party polls
• Indonesian President pushed to lobby Saudi king on amnesty
• Indonesian National Police encourages officers to join UN peacekeeping missions
------------
Europe
• 4,500 new Muslims from Europe perform pilgrimage
• Meet the British al-Qaeda 'super grass' dishing the dirt on terrorists
Compiled by New Age Islam News Bureau
URL: https://newageislam.com/islamic-world-news/at-least-55-people-been/d/14076
------------
Arab World
At least 55 people have been killed in a series of suicide explosions in Iraqi cities
21 Oct 2013
At least 55 people have been killed in a series of suicide explosions in Iraqi cities, with the highest death toll reported at a cafe in a Shia Baghdad neighbourhood.
Sunday's cafe attack killed at least 36 people and wounded 45 others.
Police officials said they saw a suicide bomber ram his explosive-laden car into a busy cafe in Baghdad's Amil neighbourhood on Sunday night.
The cafe and nearby shops were damaged in the attack, police said.
Earlier, police said at least eight people were killed and 20 others injured when eight suicide bombers targeted police stations and the local council, a police station and an army checkpoint in the town of Rawa, west of Baghdad.
Police Captain Mohammed Ahmed al-Rawi said two suicide bombers on foot and another driving a vehicle rigged with explosives attacked the police headquarters for the area, while another driving a vehicle hit an army checkpoint at the town's entrance.
That attack claimed the head of the local council, two council members and five policemen.
In other violence, six civilians were killed and 10 injured when a roadside bomb and a car bomb, targeting the house of the chief of police, exploded in Tikrit, the northern home town of former president Saddam Hussein.
Violence has been on the rise in Iraq following a deadly crackdown by security forces on a Sunni protest camp in the northern town of Hawijah in April.
Places such as cafes, markets and mosques are favourite targets for fighters in Iraq.
Hospital officials confirmed the casualty figure.
The latest attacks bring the death toll to more than 450 so far this month, and over 5,150 since the beginning of the year, according to figures from the news agency AFP based on security and medical sources.
A study released this month by academics based in Canada, Iraq and the United States said nearly half a million people had died from war-related causes in Iraq since the US-led invasion of 2003.
http://www.aljazeera.com/news/middleeast/2013/10/suicide-bomber-kills-dozens-at-baghdad-cafe-20131020175333446639.html
------------
Deadly attack outside Cairo church wedding, 3 Killed, nine wounded
21 Oct 2013
Three people including an eight-year-old girl have been killed by armed men who opened fire on a group of people leaving a wedding at a Coptic church in the Egyptian capital, Cairo.
The group was targeted late on Sunday night as it emerged from the church in north Cairo's Al-Warak neighbourhood, Egypt's Interior Ministry said.
It said an eight-year-old girl, a woman and a man were killed and nine others wounded in the attack.
"There were two men on a motorbike and one of them opened fire," the ministry said.
Bishop Angelos, from the Coptic Orthodox Church in the UK, told Al Jazeera: "It's terrible to see that in the light of recent attacks where Christians and Muslims are trying to get on with life, regardless of antagonism and violence, that even on a night like this, when people are trying to celebrate, people can lose loved ones."
He said attacks against Christians have been taking place for a while, but there has been a heightening of tensions in recent months due to the political situation.
"There are still some who wrongly accuse the Christians to be responsible for the ousting of President [Mohamed Morsi]," he said.
Angelos said there is no justification for killing of an eight-year-old girl.
Religious animosity
Egyptian Christians, the majority of whom are Copts, have been targeted since the removal of Morsi and, in particular, since an August 14 crackdown by security forces on two Cairo camps of Morsi's Islamist supporters.
Islamists were angered by the deadly crackdown and they accuse Coptic Chrisitians of backing the coup that toppled Morsi, who belongs to the Muslim Brotherhood and was Egypt's first democratically elected president.
This perception was reinforced by the appearance of Coptic Pope Tawadros II alongside army chief General Abdel Fattah el-Sisi when he announced on television Morsi's removal from office. Muslim leaders and other politicians were also present.
Rights groups say that Copts, who account for six to 10 percent of Egypt's 85 million people, have come under attack mainly in the provinces of Minya and Assiut in central Egypt.
On October 9 London-based Amnesty International said that more than 200 Christian-owned properties were attacked and 43 churches seriously damaged across the country since the August 14 crackdown against Morsi supporters in Cairo.
http://www.aljazeera.com/news/middleeast/2013/10/several-killed-outside-church-cairo-201310202143341911.html
------------
Arab states urge Saudi to rethink UNSC Seat
October 21, 2013
Arab nations yesterday called on Saudi Arabia to reverse a decision to reject a seat on the UN Security Council in protest at its handling of the Syria war.
Saudi Arabia's leaders should "maintain their membership in the Security Council and continue their brave role in defending our issues specifically at the rostrum of the Security Council," said a statement released by Arab envoys to the UN body.
The Arab ambassadors held emergency discussions after Saudi Arabia's surprise announcement Friday that it would not take up a Security Council seat because of the body's "double standards" on Syria and other Middle East hotspots.
The ambassadors expressed "respect and understanding" for the "brotherly" Saudi position. They added, however, that it was crucial for Saudi Arabia to represent the Arab and Muslim world on the council "at this important and historical stage, specifically for the Middle East region."
Many diplomats and analysts have said the Saudi protest was a message to the United States that it wanted a tougher stance on Syria and was angry that Washington had opened contacts with Iran.
Saudi Arabia, the world's number one oil producer and a predominant Islamic power, is a major backer of Syrian opposition rebels and an arch-rival of the Iranian government.
http://www.thedailystar.net/beta2
------------
Egyptian security forces fire teargas at Islamist protesters
October 21, 2013
* Morsi supporters try to march to protest camp
CAIRO: Egyptian security forces fired bird shot and teargas to prevent supporters of deposed Islamist President Mohamed Morsi from marching on Sunday to the site of a protest camp that was destroyed two months ago, a Reuters witness said.
The crowd of about 100 people were students from Al-Azhar University, the historic seat of Sunni Muslim learning. They threw rocks at riot police stationed outside the gates of the university, and police threw the stones back.
The university is in the same Cairo suburb as the Rabaa al-Adawiya mosque, scene of one of two pro-Morsi protest camps crushed by security forces on Aug. 14. Hundreds of protesters were killed.
"Rabaa Square is completely off-limits," a security source said. "Protesters are not allowed to move inside it." A separate security source said 11 students had been arrested.
Authorities have cracked down hard on Morsi's Muslim Brotherhood. The group was outlawed by a court order after the army overthrew Morsi and installed an interim government in July following massive street protests a year after his election.
Brotherhood leaders, including Morsi, have been arrested on charges of inciting or taking part in violence.
Brotherhood supporters say they will keep protesting until the army-backed government falls. But demonstrations are far smaller than the ones that immediately followed Morsi's downfall.
The Interior Ministry said in a statement that security forces took action after 3,000 students blocked roads around the Al-Azhar campus.
A few police trucks kept students from moving beyond the front entrance of the facility.
"We want the return of legitimate rule to Egypt, we want the return of President Morsi" said Mohamed Magdi, a commerce student. "We are unarmed students. We just approached them and said 'you are our police' and then they attacked us."
The students had been protesting for the second day on campus in support of Morsi. Graffiti scrawled on university buildings condemned General Abdel Fattah al-Sisi, the army chief who toppled Morsi, as a murderer and traitor.
"We will take measures to continue studies even with the continuation of the demonstrations," said Ibrahim el-Hadud, a university official.
The army rejects allegations from the Brotherhood that it deposed Morsi in a coup and says it was responding to the will of the people.
The government refers to the Brotherhood as "terrorists" and does not distinguish between the movement and al Qaeda-affiliated groups in the lawless Sinai Peninsula who carry out almost daily attacks on security forces. The Brotherhood describes itself as a peaceful movement. reuters
http://www.dailytimes.com.pk/default.asp?page=2013\10\21\story_21-10-2013_pg4_14
------------
GCC backs Saudi Arabia rejection of UN seat
20 Oct 2013
The Gulf Co-operation Council has backed Saudi Arabia's rejection of its seat on the UN Security Council, praising the Gulf nation's call for reform.
In a statement released on Saturday, the GCC Secretary General, Abdul Latif bin Rashid Al Zayani, "underlined the importance of Saudi Arabia's call for the realisation of a fundamental reform of the Security Council's system," reported Qatar's state news agency.
In addition, the news agency also reported the Qatari government's support of Saudi Arabia's stance.
"The state of Qatar agrees with the reasons outlined by the Kingdom of Saudi Arabia to turn down a non-permanent seat on the United Nationsl Security council," QNA reported, quoting an official source from the Foreign Ministry.
Breaking ranks
Meanwhile, other Arab nations appealed to Saudi Arabia to reverse its unprecedented decision to reject the seat.
Arab UN ambassadors made the appeal on Saturday after an emergency meeting following Friday's surprise announcement by the kingdom to decline the seat in a display of anger over the failure of the international community to end the war in Syria.
Saudi Arabia's leaders should "maintain their membership in the Security Council and continue their brave role in defending our issues specifically at the rostrum of the Security Council," said a statement released by Arab states at the UN.
It added however that it was crucial for Saudi Arabia to represent the Arab and Muslim world on the council "at this important and historical stage, specifically for the Middle East region."
Many diplomats and analysts have said the Saudi protest was a message to the United States that it wanted a tougher stance on Syria and was angry that Washington had opened contacts with Iran.
The kingdom has been angered by the increasing rapport between Washington and Iran, Saudi Arabia's old regional foe, which has taken root since President Barack Obama spoke by telephone with Iranian President Hassan Rouhani.
The conservative Muslim kingdom has traditionally avoided big political statements, preferring to wield its influence as world's top oil exporter, birthplace of Islam and chief Arab ally of the US behind closed doors.
http://www.aljazeera.com/news/middleeast/2013/10/gcc-backs-saudi-arabia-rejection-un-seat-2013102022651363292.html
------------
Lebanon's Religious leaders, politicians hail release of pilgrims
October 21, 2013
BEIRUT: Lebanon's religious leaders and politicians Sunday praised the release of nine Lebanese hostages held captive in Syria as an event that had brought the Lebanese together in a rare show of unity.
Meanwhile, Syrian Foreign Affairs Minister Walid al-Moallem contacted caretaker Foreign Minister Adnan Mansour to congratulate him on the the pilgrims' safe return to Lebanon, the National News Agency reported.
Moallem stressed that "Syria will spare no effort in helping Lebanon," the NNA reported.
Mansour thanked Syria for its stance and cooperation which resulted in the release of the nine.
President Michel Sleiman thanked regional countries for their efforts in securing the release of pilgrims, who were held hostage by Syrian rebels for 17 months.
Sleiman contacted Turkish President Abdullah Gul to congratulate him on the safe return of the two Turkish Airlines pilots and thanked him for his efforts in releasing the Lebanese.
He highlighted "the solidarity of the Lebanese and their united humanitarian and national feelings on this matter away from any political or sectarian alignment."
In congratulating the Lebanese hostages on their return home, Sleiman said: "The state had exerted all its efforts to secure the release of the Lebanese kidnapped in Azaz.
"There is big joy today with the success of these efforts which brought them back to their families and beloved ones under the wing of the beloved homeland."
He thanked caretaker Interior Minister Marwan Charbel, the ministerial committee tasked with the case and Maj. Gen. Abbas Ibrahim, head of General Security, for maintaining contacts with Turkish, Qatari, Syrian and Palestinian authorities which all cooperated to finalize the conditions of the swap agreement.
Speaker Nabih Berri and Ibrahim also thanked Qatar for its role in helping the release of the nine Lebanese.
Sleiman expressed hope for the release of Aleppo's Greek Orthodox Archbishop Paul Yazigi and Syriac Orthodox Archbishop Yohanna Ibrahim, who were abducted in April by armed men near the Turkish border. He also called for determining the fate of thousands of Lebanese who went missing during the 1975-90 Civil War.
Full report at:
http://www.dailystar.com.lb/News/Lebanon-News/2013/Oct-21/235189-religious-leaders-politicians-hail-release-of-pilgrims.ashx#axzz2iHwUCOBY
------------
Jordan's rural poor chafe under the burden of hosting Syrian refugees
By Rania Abouzeid
October 21, 2013
ZAATARI, Jordan — The cylindrical water trucks, their precious cargo sloshing inside, amble along the dusty road separating the small Jordanian village of Zaatari from the massive Syrian refugee camp that has taken its name. They do not stop at the village, which like most of this desert state is parched. Instead, they roll on to the camp, past the gray armored personnel carrier at its gate, and into the sprawling warren of caravans and tents that is now Jordan's fourth-largest city.
It is often said that there was little except scorpions and sand in this forgotten patch of Jordan before waves of refugees from across the nearby Syrian border brought the camp into being a year ago. That's not quite true. Before the Syrian Zaatari, there was the Jordanian one — and today the two coexist uneasily.
The refugee camp, the second largest in the world, houses at least 120,000 Syrians, a fraction of the almost 550,000 that have sought refuge in this country of six million since the outbreak of Syria's civil war. But not all of the refugees who've come to Zaatari want to live in the camp, with its common toilets and kitchens, disease and crowding.
As a result, the sleepy village that is home to 12,000 Jordanians has been transformed by the arrival of several thousand refugees.
Canvas tents, many bearing the blue logo of the United Nations' refugee agency, the UNHCR, are pitched in back yards, or in vacant lots between the flat-roofed single- and double-story homes, which are sun-faded into dull shades of white, pale ochre or gray. The water and electricity supply to the tent dwellers is provided by the nearby home owners, who mostly foot the bills.
There are also tents abutting the village's neat olive groves, where a fine sandy dust covers the silvery green leaves of trees surrounded by chain-link fences. Some Syrians have established businesses here, such as Homs Nights, a shawarma restaurant along the village's main road. Most, however, are destitute.
Locals say that municipal water had previously been pumped through the village twice a week, but since the influx of Syrians, it's just once a week — and they blame the Syrians for the rationing. There's not enough water as it is in this country, one of the world's driest, and now there are more people sharing what little is available.
There are other pressures, too. Many of the schools in Zaatari village and its surroundings run double shifts to accommodate the increased number of students. Local health centers have seen a 30 to 40 percent increase in their case load, according to Madallah al-Khalde, the head of Zaatari's development council who also heads the charitable Zaatari Association that has aided needy locals for almost three decades.
"This area was poor already," Khalde says, "now it's a disaster area because of the large numbers of Syrian refugees." A trim middle-aged man in a blue blazer and slacks, with a thick black mustache and neatly slicked short hair, Khalde says he has three Syrian families living on the grounds of his home.
Full report at:
http://america.aljazeera.com/articles/2013/10/21/jordana-s-rural-poorchafeundertheburdenofhostingsyrianrefugees.html
------------
Conference on Syria set for Nov 23-24
2013-10-21
BEIRUT: A key international conference aimed at ending Syria's civil war will be held in Geneva in late November, according to an announcement by the Arab League chief on Sunday that followed weeks of diplomacy to finalise the meeting.
League chief Nabil Elaraby made the announcement at a news conference at the pan-Arab organisation's headquarters in the Egyptian capital, Cairo, after talks with the Arab League-UN envoy to Syria, Lakhdar Brahimi.
The proposed conference on Nov 23 and 24, will attempt to get Syria's rival sides to agree on a transitional government in that country based on a plan adopted in Geneva in June 2012.
Syria's conflict, now into its third year, has left over 100,000 dead. It has devastated the economy and the country's delicate social fabric. It has caused 5 million Syrians to flee their homes to other places within the country, and driven another 2 million abroad. A seasoned Algerian diplomat and an international trouble-shooter, Brahimi, said he planned to visit Qatar and Turkey on Monday as part of his preparations for the Geneva conference. Elaraby said "many difficulties" face the proposed Geneva conference. He did not elaborate.
Syria's fractured and squabbling opposition movement immediately criticised the plan, saying they were not consulted. They said they could not accept any negotiations that allowed for the Syrian President Bashar Assad to remain as head of state in any transitional period.
The talks have been put off repeatedly in the past, in part because of fundamental disagreements over Assad's fate.
Full report at:
http://www.dawn.com/news/1050634/conference-on-syria-set-for-nov-23-24
------------
Africa
Boko Haram kills 19 near the Nigerian border with Cameroon
21 October 2013
KANO, Nigeria: Boko Haram gunmen dressed in military uniform on Sunday killed 19 people near the Nigerian border with Cameroon in the restive northeast where the militants have carried out deadly attacks, residents and a survivor said.
The motorcycle-riding gunmen armed with Kalashnikovs blocked the highway near the town of Logumani, 30 km(19 miles) from the border around 5:00 am, shooting and hacking to death 19 motorists and burning three trucks, they said.
"We have recovered 19 dead bodies from the scene of the attack by Boko Haram gunmen," Musa Abur, leader of a civilian vigilante group in the area said.
"Five of the victims, who included two truck drivers and their assistants, were shot dead while the rest were slaughtered," he said.
He said the gunmen had attacked the border town of Gamboru Ngala near Logumani late Friday but were repelled by soldiers and local vigilantes.
A passenger who survived the attack gave a similar account.
"We were asked to get out of our vehicles and lie face down by nine men dressed as soldiers who blocked the road around 5:00 am," the man who gave his name as Buba said.
"They shot dead five people and went about slaughtering 14 others before someone called them on the phone that soldiers were heading their way," he said.
"They abandoned the rest of us and sped into the bush on their motorcycles," added Buba who was shot in the leg.
Full report at:
http://www.arabnews.com/news/468310
------------
Westgate attack: Kenya CCTV 'shows soldiers looting'
21 October 2013
Security camera footage has emerged which appears to show Kenyan security forces looting goods during last month's siege of the Westgate mall.
In the footage, some Kenyan soldiers can be seen carrying white shopping bags, while others appear to take white boxes from a mobile phone store.
At least 67 people died when suspected al-Shabab militants stormed the Nairobi shopping centre on 21 September.
The Kenyan military says it is investigating the looting allegations.
News agencies say the CCTV footage is taken inside the entrance to the Westgate mall's Nakumatt supermarket, which sells everything from food to televisions.
In one section of footage, several soldiers are seen walking out of the supermarket, past a blood-spattered floor, carrying plastic carrier bags.
In another clip, Kenyan soldiers can be seen next to a mobile phone outlet.
One reaches over the counter, and apparently removes a white item.
Then more soldiers remove white items, which the Reuters news agency describes as mobile phone boxes.
The Westgate attack sparked a four-day siege in which large parts of the shopping centre were destroyed.
Fourth body found
The Kenyan military says it has launched an investigation into the looting allegations, which correspondents say will have angered many Kenyans.
At the weekend, Kenya's biggest-selling newspaper, The Nation, ran an article entitled "Shame of soldiers looting Westgate".
The footage of the alleged looting emerged as the Kenyan authorities announced they had recovered the body of what they consider to be a fourth attacker.
Full report at:
http://www.bbc.co.uk/news/world-africa-24606152
--------
South Sudan rebels kill 41 villagers, steal cattle
21 October 2013
JUBA, South Sudan: Rebels in South Sudan killed at least 41 people and wounded scores in a gun attack in a remote part of the country's restive Jonglei state, a regional official said Sunday.
The attack on Sunday morning is believed to have been carried out by rebels loyal to militia leader David Yau Yau helped by youth from his Murle tribe, according to Hussein Maar, the acting governor of Jonglei.
"Preliminary reports we got indicate that 41 people got killed and 63 got wounded, some of them critically," he said. "Some of the injured are in very bad condition and they will most likely die tonight or later."
He said the UN Mission in South Sudan airlifted some of the wounded to the state capital, Bor, and to the country's main hospital in the capital, Juba.
The attackers were armed with automatic weapons and shot indiscriminately. They also stole thousands of cattle, according to Maar.
South Sudan peacefully broke away from Sudan in 2011 after a brutal civil war and years of effort by US leaders, but since then the country has seen multiple bouts of ethnic violence in Jonglei. The country is awash in weapons — many held by civilians and security forces accused of poor discipline.
Full report at:
http://www.arabnews.com/news/468293
------------
Gaddafi's compound to serve as public park
20 Oct 2013
Muammar Gaddafi's former military barracks and compound in Tripoli will be converted into a public park, the Libyan government has announced.
Ikram Bash Imam, the country's tourism minister, said on Saturday that the government has embarked on "preliminary works" in the development of the park in the infamous complex of Bab al-Azizya, or Spledid Gate, in the southern suburbs of the capital.
"[Before Gaddafi's rule] most of the area was already a park and it had been divided and a lot of trees had been removed as well," Imam said.
"We are now trying to return this area to what it was before, especially because it's in the middle of Tripoli city, so it will be a green area to be enjoyed by the people of Tripoli and guests," she said.
The 6-square-kilometre base was originally built by King Idris, Libya's ruler before Gaddafi, and boasted trappings of wealth well beyond the means of ordinary Libyans.
In the 1980s, Gaddafi reinforced and expanded the compound with the help of foreign contractors by installing an extensive network of underground tunnels that stretched into several districts of Tripoli.
The sprawling complex, which was a defining symbol of Gaddafi's 40-year rule, was heavily damaged by NATO air strikes, and destroyed buildings and other debris from the fighting now occupy large areas of it.
Full report at:
http://www.aljazeera.com/news/africa/2013/10/gaddafi-compound-serve-as-public-park-201310204276381225.html
------------
Nigeria opens National Identity Cards developed by Nadra
October 21, 2013
ISLAMABAD - Nigeria has started registration of citizens after the formal inauguration and issuance of National Identity Card to President of Nigeria on Thursday.
The National Identity Card Programme was formally inaugurated at a formal event held at the Nigerian Presidency in Abuja in which Goodluck Jonathan, the First Lady, Vice President and other dignitaries were enrolled for National Identity using backend system powered by NADRA, NADRA spokesperson disclosed this in a press release issued here on Sunday.
The spokesperson informed that NADRA is working with its counterpart Nigerian Government Agency; National Identity Management Commission (NIMC) to deliver a robust National Identity Management System to assist the Government of Nigeria in the issuance of Smart ID cards to its citizens.
The Nigerian President at the inauguration function observed that his country could not be an exception to the global trend towards Identity Management and Centralized National Identity Database.
He further noted that already, "there is a growing quest for specific databases and identity verification by several government institutions and private sector organizations in our country".
Federal Minister for Interior and Narcotics Control Chaudhry Nisar Ali Khan congratulated the Nigerian Government and expressed his optimism for the strengthened ties between the two countries.
He also praised the NADRA management and project team for the hard work they have demonstrated to bring this success.
Full report at:
http://www.nation.com.pk/pakistan-news-newspaper-daily-english-online/islamabad/21-Oct-2013/nigeria-opens-nics-developed-by-nadra
------------
Pakistan
Extremism, economy to dominate Sharif's US visit
Oct 21 2013
Washington : Seeking to build on the recent 'positive trajectory' in ties with Pakistan, President Barack Obama and top officials of his team will meet visiting Prime Minister Nawaz Sharif and discuss a wide range of issues of mutual concern including extremism.
When Sharif ends up his four-day official trip to the US - first by a Pakistani leader in more than five years – he would have met top US officials like the Defence Secretary, the Commerce Secretary, the Energy Secretary, the Treasury Secretary, Trade Representatives and the USAID Administrator, besides the National Security Advisor.
Sharif, who kicked off his US trip soon after his arrival with a meeting and dinner with Secretary of State John Kerry at the State Department, would meet President Obama and Vice President Joe Biden at the White House on Wednesday.
A senior US official described Sharif's visit as 'historic', to which Obama was eagerly looking forward to.
"It is clear that the visit comes as bilateral relationship has strengthened in the past year and that strengthening offers an opportunity to really put the relationship on a better footing and agenda on a realistic way," the official said in a conference call with reporters.
"We see this as a very realistic and pragmatic partnership, one that would remain focused on people's interest," the official said, adding that the elements of the strategic partnership with Pakistan are going to be economic growth and countering violent extremism.
"The relationship is on a positive trajectory... I believe by the time the visit ends, he would have met every single senior administration official on issues of key areas of national interest for Pakistan on the security side as well as the economic side," another official said on anonymity.
They said 'economic growth' would be one of the key areas of discussions between Sharif and the US officials.
"This would be a core area of discussion. The fact that the visit would focus on many areas of economic and energy progress, outside the security area of discussion is important in itself," they said explaining the significance of the trip.
Acknowledging that there are differences in perceptions of militancy between the two sides, they said the US would like to hear from Sharif on his ideas of dealing this important subject including his recent move to start talks with the Tehrek-e-Taliban Pakistan.
"We want to hear from him, what his priorities are and much of this would be a dialogue," the officials said, as they described the talks with TTP as Pakistan's internal matter.
"We look forward to hearing from Prime Minister on what their plans are, the negotiations that are occurring in what time frame, but that is part of the overall critical shared discussion that we have on countering and ending terrorism and helping Pakistan achieve a more stable and prosperous role."
On the question of militancy, the official said that it is clear that both countries have a common enemy and a common cause in the problem of violent extremist. "We need to have a concerted and coordinated (effort) to deal with this problem."
Given Sharif's statement on drone attacks and those coming from other Pakistani leaders, they said the US is prepared for this and expect that this would be raised by him, but insisted that this would be part of their larger security and strategic dialogue with Pakistan.
"We anticipate that Prime Minister Sharif is likely to raise our efforts against terrorist networks. I think this will be part of what has been an ongoing strategic dialogue with Pakistan - the issue of security and counter-terrorism co-operation. We need to work together to address this difference. We continue to work closely with Pakistan to make sure that they have the support and capacity to conduct counter terrorism operation," the officials said.
"There is obvious differences in the perspective (of militancy), between US' traditional concerns, historically US' concern on al-Qaeda, Kabul's concerns on the Haqqani network and the Afghan Taliban, Islamabad's concerns on the Pakistani Taliban, separatists coming into Baluchistan," he said.
"So across that border there is clearly different perspective, even with cross border militant issue on that border alone, not to mention the issues with India," they said.
Full report at:
http://www.indianexpress.com/news/extremism-economy-to-dominate-sharif-s-us-visit/1185338/
-------
Six killed, 17 hurt as blast hits Jaffar Express in Balochistan
October 21, 2013
A bomb hit a passenger train in Pakistan's restive southwest on Monday, killing at least six people and wounding more than 17 others, officials said.
The device, apparently planted on the railway track, exploded when the train approached a station in Naseerabad district, around 250 kilometres (150 miles) southeast of Quetta, the capital of insurgency-hit Baluchistan province.
"It was a bomb blast, the target was the passenger train. At least six people have been killed," provincial home secretary Asad Gilani told AFP, adding that more than 17 others were wounded in the blast.
Zafar Shah Bukhari, a senior official in the area, confirmed the bomb attack and death toll.
Bukhari said the Jaffar Express was travelling from Rawalpindi to Quetta.
"We have taken the dead bodies and injured to the nearby hospital," Bukhari said, adding that the condition of six of the injured was critical.
The explosion derailed the train, Bukhari added.
The identity of those killed in the attack was yet not clear but Gilani said some security personnel were travelling in the train.
Full report at:
http://www.nation.com.pk/pakistan-news-newspaper-daily-english-online/national/21-Oct-2013/six-killed-17-hurt-as-blast-hits-jaffar-express-in-balochistan
------------
Talks possible only on principles: Punjabi Taliban
October 21, 2013
PESHAWAR/ISLAMABAD - The leader of Punjabi Taliban and Junood-e-Hafsa, Asmatullah Moavia, in his new message to the media, has said talks are possible with the government on the basis of principles.
Moavia said talks could be held if the government solved all the problems which were the cause of conflict. He said: "If the government reviews its foreign policy which revolves around the US and abolishes all laws against Islam, rapprochement can be made quite easily." Moavia claimed that his outfit had deep roots in all parts of the country and the main purpose of the group was to serve the country, people and Islam. He said the Punjabi Taliban were active for implementation of Shariah for which this country was achieved.
The Punjabi Taliban leader said talks could not be held through the media or talk shows. He said the Taliban would present their demands only if the government showed seriousness. However, he said the media was presenting conditions for the talks from its side which was even against ethics and principles of journalism. He said the Taliban would take the nation into confidence after the talks.
Moavia said Junood-e-Hafsa was established after the Lal Masjid operation. He said Maulana Abdur Rasheed Ghazi raised his voice against vulgarity and obscenity, but the then government under the US pressured launched an operation and caused massive bloodshed, which became the reason for formation of Junood-e-Hafsa.
The Punjabi Taliban chief said the implementation of Shariah in the country was not a difficult task for the government. For this purpose, he said, the government should gather ulema from all parts of the country to seek their recommendations for the Shariah system. He said the Taliban could not ignore the appeal of ulema for peace, but it had also appealed to the government to stop violence, adding the government should take the initiative for peace.
Full report at:
http://www.nation.com.pk/pakistan-news-newspaper-daily-english-online/national/21-Oct-2013/talks-possible-only-on-principles-punjabi-taliban
------------
US aid to snare Pakistan: Jamaat-e-Islami
October 21, 2013
LAHORE - Commenting on reports about the US decision of releasing $1.6 billion to Pakistan in aid, Jamaat-e-Islami chief Munawar Hasan said on Sunday Washington would ask for 'do more' in return.
In a statement released by Jamaat, Hasan suspected that the US aid decision at this point in time was not without a motive.
He said the loans from the International Monetary Fund and World Bank as well as monetary assistance from the US were in fact snares of American slavery and would prove to be death warrants for the country's self-reliance and economy. He said "unless Pakistan gets rid of these snares, our economic well-being and sovereignty would be at stake".
Hasan was of the view that if corruption was weeded out, the Pakistanis could live as a prosperous nation. But, he regretted, the rulers were carrying the begging bowl because of which the country had lost its prestige and respect in the world. Jamaat chief said foreign loans and US aid had brought disgrace and insult to the country and the nation. He further said this was simply an announcement about release of US aid and that its payment would start next year in the form of Islamabad's compliance with the US terms and conditions.
Meanwhile, JI chief Hasan expressed grave concern over the continuous hostilities and unprovoked firing by Indian forces along the Line of Control. He said India was taking undue advantage of Pakistan's soft policy and repeated desire for friendship. This process had been continuing for more than two months, due to which civilians were badly affected.
He said India's hostilities would increase further unless Islamabad decided for a tit-for-tat response. He said it was an irony that while India was continuing with an aggressive policy, the Indian foreign minister was levelling baseless charges against Pakistan.
He called on the government to raise the issue before the UN, and said Prime Minister Nawaz Sharif should also take up the matter in his meeting with US President Obama.
JAMAAT SAYS GOVTS OBSTRUCTING LG POLLS
Jamaat-e-Islami Secretary General Liaquat Baloch said on Sunday the federal and provincial governments were deliberately creating obstructions in the conduct of local bodies elections. He said the governments' attitude was in violation of the Constitution, and tantamount to contempt of court.
Baloch in a statement said the election commission could not hold local bodies elections unless the federal and the provincial governments had made necessary preparations. Besides, he said, the governments and the ruling parties must be honest and impartial if the elections were to be fair, free and transparent.
Full report at:
http://www.nation.com.pk/pakistan-news-newspaper-daily-english-online/lahore/21-Oct-2013/us-aid-to-snare-pakistan-jamaat
------------
US Congress to resume Pakistan aid, Nawaz meets Kerry
2013-10-21
WASHINGTON: The US State Department has asked Congress to resume more than $300 million in blocked security assistance to Pakistan, officials said Sunday amid an upswing in relations.
The development came as Secretary of State John Kerry met with Pakistan's Prime Minister Nawaz Sharif, who is making his country's highest-level official visit to the United States in years.
"We're very anxious to have a series of high level, important discussions over the course of the next few days. The vice-president, the president, tonight's dinner. We have a lot to talk about and the relationship with Pakistan could not be more important," Kerry said at the start of the meeting.
He added ''On its own, (Pakistan is) a democracy that is working hard to gets its economy moving and deal with insurgency, and also important to the regional stability.''
Secretary of State John Kerry spoke Sunday as he sat down with Pakistan Prime Minister Nawaz Sharif, who is in Washington this week for talks with the White House.
Sharif did not speak during the brief session with reporters.
Moreover, Kerry declined to answer questions after brief remarks to reporters at the State Department.
But US officials say the Obama administration is posed to release more than $1.6 billion in military and economic aid to help bolster ties with Islamabad that have deteriorated over deadly American airstrikes and the 2011 raid that killed Osama bin Laden in Pakistan.
The two men met over dinner, shortly before Kerry planned to head to Europe for peace talks for Syria and between Israel and Palestinian authorities.
He will be meeting with foreign ministers in Paris, London and Rome before returning to Washington on Thursday.
Sharif was elected in May, and Washington has praised his efforts to reduce tensions in South Asia.
Relations with the United States have also improved since they plunged to one of their lowest points in 2011 amid the killing of Al Qaeda leader Osama bin Laden in a US commando raid in Pakistan, as well as the killing of 24 Pakistani soldiers in a US airstrike.
US security assistance was interrupted during that period, although $857 million in civilian assistance continued to flow, Harf said.
"As part of our annual funding process, throughout the course of this past summer the State Department notified Congress of how it planned to program funds from several different accounts for various programs in Pakistan.
"Funding was notified to Congress following a rigorous planning process over multiple months, to ensure it was in line with both US and Pakistani interests, and would deliver important results for both countries," she said.
Harf said US security assistance would build the capabilities of Pakistan's security forces, "which is critical to countering violence in the western border regions."
Full report at:
http://www.dawn.com/news/1050763/us-congress-to-resume-pakistan-aid-nawaz-meets-kerry
------------
Malik vows to end corruption in Balochistan
2013-10-21
QUETTA: Balochistan Chief Minister Dr Abdul Malik Baloch has vowed to ensure good governance and blamed the various problems faced by the province for the lack of it over the years.
He was talking to reporters after calling on Pakhtunkhwa Milli Awami Party (PkMAP) chairman Mehmood Khan Achakzai at his residence here on Sunday.
The two leaders discussed issues pertaining to Balochistan and the strategy under which the provincial coalition would be run.
After the hour-long meeting, the chief minister told journalists: "It was not a political meeting. I have come here to present Eid greeting to Khan Sahib."
The chief minister said it was a good omen that the process of cabinet formation had been completed and added that the coalition partners would jointly make efforts to restore peace in the province.
Full report at:
http://www.dawn.com/news/1050759/malik-vows-to-end-corruption-in-balochistan
------------
Sharif, Obama likely to launch efforts for rebuilding ties
ANWAR IQBAL and MASOOD HAIDER
2013-10-21
WASHINGTON: Prime Minister Nawaz Sharif arrived in Washington on Sunday on a four-day trip to the United States to discuss issues that have soured relations between the two countries.
The visit begins on a positive note. A day before his arrival, the Obama administration announced it was releasing more than $1.6 billion in economic and military assistance to Pakistan.
The prime minister begins his official engagements with a meeting with US Secretary of State John Kerry late Sunday afternoon. Since Secretary Kerry will be in Europe from Oct 21 to 24, this will be his only meeting with the prime minister.
Mr Kerry and the prime minister will have their senior aides with them as the two sides are also expected to review the agenda for the Obama-Sharif meeting.
The prime minister will meet US President Barack Obama at the White House on Wednesday which both sides hope will help remove recent misunderstandings that had adversely affected an otherwise close relationship between the two sides.
US State Department's deputy spokesperson Marie Harf told reporters on Sunday that the Obama administration's decision to release funds for Pakistan also intended to normalise the relationship.
"Funding was notified to Congress following a rigorous planning process over multiple months, to ensure it was in line with both US and Pakistani interests," she said. "And it would deliver important results for both countries."
In two recent statements, the White House also emphasised the need for rebuilding once close ties with Pakistan, adding that President Obama would also focus on this aspect in his meeting with Mr Sharif.
"The president looks forward to discussions with Prime Minister Sharif on ways we can advance our shared interest of a stable, secure, and prosperous Pakistan," the statement added.
Relations between Pakistan and the US have been on the mend this year after lurching from crisis to crisis in 2011 and 2012. While talking to the media on the decision to release US assistance to Pakistan after almost two years, a State Department official also noted "signs of greater cooperation" from Pakistan on issues of mutual concern.
Ms Harf said that resuming aid was "part of a long process of restarting security assistance cooperation after implementation was slowed during the bilateral challenges of 2011 and 2012".
Drone attacks
But one issue that can affect the process of rebuilding ties is that of US drone strikes. The prime minister, before leaving for Washington, told reporters that he would urge Mr Obama to stop the strikes.
Pakistan argues that the strikes violate its sovereignty and also kill a large number of innocent civilians. The United States says that the targets are carefully selected and the strikes have also eliminated militants who were killing Pakistani citizens and soldiers.
A US official told reporters in Washington that the Americans were willing to discuss the drone issue with the Pakistanis, but only as "part of a very comprehensive conversation we have on security across the board".
Full report at:
http://www.dawn.com/news/1050753/sharif-obama-likely-to-launch-efforts-for-rebuilding-ties
------------
Turkish investment to further strengthen Pak-Turk ties: CM
October 21, 2013
LAHORE: Punjab Chief Minister Shahbaz Sharif has said that Turk investors should fully benefit from investment opportunities in energy sector. He was talking to a delegation of Turk investors after the signing of a memorandum of understanding (MoU) between the Punjab government and Turk Cooperation and Coordination Agency.
Under the agreement, bilateral cooperation would be increased in the field of vocational training, protection of archaeological sites, capacity-building of Red Crescent and the housing sector. Turkish Cooperation and Coordination Agency will extend technical assistance in vocational training in garments, construction and automobile sectors. The Turk agency will also provide help in preparation of syllabus, training of trainers, courses as well as provide training equipments.
Speaking on the occasion, the CM welcomed the agreement of cooperation between the Punjab government and Turkish Cooperation and Coordination Agency. He said that the Punjab government and Turk companies were already cooperating in various sectors and Turk companies have invested billions of dollars in various sectors in Punjab. He said that the growing cooperation between the Punjab government and Turk companies would bring the two countries closers. He said that new avenues of cooperation were opening up due to collaboration between the Punjab government and Turkey. He said that the Turkish Cooperation and Coordination Agency had expertise in the housing sector and the Punjab government would fully benefit from it. He said that investment of billions of dollars by Turk companies in Punjab was strengthening friendship between Pakistan and Turkey.
Talking to the delegates, Shahbaz said that the government was making serious efforts on an emergent basis for controlling the energy crisis, as it was essential for realising the dream of progress and prosperity.
Full report at:
http://www.dailytimes.com.pk/default.asp?page=2013\10\21\story_21-10-2013_pg13_1
------------
Shariat Court hears Riba case today
October 21, 2013
ISLAMABAD - A five member bench of the Federal Shariat Court (FSC) led by Chief Justice Agha Rafiq Ahmed Khan will take up the Riba case (interest case) for hearing today.
The other four judges on the bench of the court, which deals with religio-legal matters, are Justice Allama Dr Fida Muhammad Khan, Justice Rizwan Ali Dodani, Justice Sheikh Ahmad Farooq and Justice Shahzado Shaikh would hear the case.
The Federal Shariat Court in 1992 had declared Riba as un-Islamic but the then government of Nawaz Sharif appealed the judgement in the Supreme Court through nationalised and other banks. The apex court took years to hear this appeal and in 1999 the Shariat Appellate Bench of the SC upheld the decision of the FSC.
Full report at:
http://www.nation.com.pk/pakistan-news-newspaper-daily-english-online/national/21-Oct-2013/shariat-court-hears-riba-case-today
------------
North America
Muslim group appoints Jew as Philadelphia director
Oct. 19, 2013
The Council on American-Islamic Relations hired a Jewish filmmaker and interfaith activist as executive director of the group's Philadelphia office.
Jacob Bender is the highest ranking non-Muslim in the Washington-based organization, and the first to lead one of its chapters, Religion News Service reported Thursday.
"Many Muslims face daily suspicion, not unlike other immigrant groups throughout history," said Bender. "When one group of Americans is attacked, it lessens the quality of democracy for all of us.
"As part of a community that has historically faced persecution in Europe and the United States as well, I hope that I would bring a certain amount of sensitivity," he told RNS.
Iftekhar Hussein, chairman of CAIR-Philadelphia's board of directors, told the Jewish Daily Forward that Bender brought a minority's sensibility to the job.
"The needs of the Muslim community are really the needs of any minority community in the United States," he said. "Jacob, being Jewish, understands that from his own background."
At CAIR, Bender said his work would focus on fighting civil rights violations, discrimination, and hate speech, and promoting relations between Muslims and non-Muslims.
But several Jewish Americans greeted the move with caution, citing positions adopted by ICAR which they found unacceptable.
Full report at:
http://www.haaretz.com/jewish-world/jewish-world-news/1.553325
------------
US rejects Nawaz Sharif's call for intervention in Kashmir
Oct 21, 2013
WASHINGTON: Pakistan's Prime Minister Nawaz Sharif arrived in Washington DC on Sunday after having essayed the K-word during his stopover in London. The K-word, for those outside the Indian subcontinent loop, is code for Kashmir, eternal boondoggle/ bugaboo for all sides. Pakistan wants all of it; India has half of it and is hanging on to it; and US wants none of it - the issue, that is; not the territory. Now, for someone who is said to have complained that India's Prime Minister Manmohan Singh brings his complaints against Pakistan to Washington DC like a "dehati aurat," it was rather rich for MianSahib to start his K-mantra during a layover in London, but the only K-word he heard on his arrival at Andrews AirForce Base in Maryland on a PAF Gulf Stream jet, was John Kerry, the secretary of state.
Arriving on a Sunday for an official visit has the great advantage of beating traffic into DC, but the downside is it's Obama's day off. Unlike Clinton, who came to work even on a July 4 when Sharif last came to Washington DC for Pakistan's "Dehati Aurat" part I - when it was getting a smacking in Kargil - Obama has no time for time or sympathy for losers. The president was out playing golf with his White House staffers, including Sam Kass, the chef and logistics guys Mike Brush and Marvin Nicholson, leaving it to his secretary of state to welcome the visiting prime minister. Kerry, seen in Indian circles as being a mite too sympathetic to Pakistan, duly met Sharif and hosted him for a dinner later in the night. The menu consisted of Butternut Squash Soup and Grilled Halal Lamb - and you can use your vivid imagination to divine any hidden messages there.
For the record though, Kerry welcomed Sharif with the following 127 words: "Let me just say that I'm really pleased to welcome Prime Minister Sharif here. He was just telling me that he hasn't been here since 1999 when he was last in office. He has received me several times very generously in Pakistan. We're very anxious to have a series of high-level, important discussions over the course of the next few days - the vice president, the president, tonight's dinner. We have a lot to talk about and the relationship with Pakistan could not be more important. On its own, a democracy that is working hard to get its economy moving and deal with insurgency and also important to the regional stability. So, we're very happy to have you here, Mr Prime Minister. I look forward to the conversations."
The word that caught my eye was "anxious." That about describes the state of the relationship and the feeling in Washington DC over Pakistan. When they say, "the relationship with Pakistan could not be more important," it is not the same as "defining partnership of the 21st century." More like ... you scare the hell out of us. Many Pakistanis take this as a compliment. Also duly noted that MianSahib did not say anything. Either his advisors/minders did not trust him to open his mouth or he's saving his much-improved English - upgraded during exile in Saudi Arabia - for a better occasion.
Anyway, after feeding Sharif and Party, Kerry is hoofing off to some other crisis spot somewhere in the world, determined one suspects, to beat Hillary Clinton's travel record of 956,733 miles, and become first million-mile secretary of state in US history. That leaves Sharif two whole days to twiddle his thumbs before he meets Obama at the White House on Wednesday, by which time I maybe hoofing off too - not that anyone would notice. Obama remains in town, and in fact, will do a Rose Garden event on the Affordable Care Act in the morning — so it is something of mystery why MianSahib is being made to cool his heels. Maybe he'll jet off someplace to woo investors — they don't play cricket in these parts.
Full report at:
http://timesofindia.indiatimes.com/india/US-rejects-Nawaz-Sharifs-call-for-intervention-in-Kashmir/articleshow/24466752.cms
------------
Mideast
Hamas acknowledges digging tunnel under Gaza-Israel border
21 October 2013
The military wing of the Gaza's ruling Hamas said on Monday it was behind the recently uncovered tunnel running into Israel meant to kidnap Israeli soldiers.
"This tunnel was made by the hand of the fighters of (Izzadine) al-Qassam and they will not sleep in their efforts to hit the occupation and kidnap soldiers," the group's spokesman Abu Obeida told Hamas's al-Aqsa radio, according to Agence France-Presse.
"We are working on the ground and under the ground to release the prisoners (held by Israel)," he was quoted as saying by AFP.
Full report at:
http://english.alarabiya.net/en/News/middle-east/2013/10/21/Hamas-says-dug-tunnel-into-Israel.html
------------
Police resort to tear gas as Kurds protest on both sides of the Turkish-Syrian border
October/20/2013
Tension erupted during a protest on both sides of the Turkish-Syrian border near Mardin's Nusaybin district organized by the Peace and Democracy Party (BDP) and the Democratic Union Party (PYD) on Oct. 20 to denounce the Turkey's decision to build a wall along the boundary line.
Several hundreds, including BDP's Mardin MP Erol Dora and other local party officials, gathered in Nusaybin to walk to the border, which lies only a few kilometers from the town center. Police however did not allow the demonstration, resorting to use a water cannon and tear gas to disperse the protesters as they approached the border.
Around 1,000 Syrian Kurds, who simultaneously gathered at Qamishli, right across from Nusaybin to walk to the Syrian side of the border, protested against the intervention of the Turkish police.
Full report at:
http://www.hurriyetdailynews.com/police-resort-to-tear-gas-as-kurds-protest-on-both-sides-of-the-turkish-syrian-border.aspx?pageID=238&nID=56544&NewsCatID=341
------------
Turkish special operation team 'snatch' Lebanese pilgrims inside Syria: Report
October/21/2013
A special operations team from Turkey's National Intelligence Organization (MİT) has conducted an operation to rescue the kidnapped pilgrims in the midst of clashes in northern Syria, a daily has claimed.
Syrian rebels, who kidnapped the pilgrims in May 2012, transferred the pilgrims to the northern Syrian city of Azaz in early October as part of the deal of releasing two Turkish pilots in Lebanon, daily Sabah reported, quoting high-level officials. The deal foresees the simultaneous transfer of pilgrims to Turkey in Eid al-Adha with the release of the pilots. However, clashes intensified between the Northern Storm Brigade, the rebel group who held the pilgrims and the al-Qaeda-linked group Islamic State of Iraq and Syria (ISIS) in Azaz on Oct. 15.
The MİT then decided to send a special operations team to Azaz to take the pilgrims out of the clashes. Upon the approval of Prime Minister Recep Tayyip Erdoğan, the group was sent to Turkey's Syrian border by the plane. The group then headed to Azaz and took the pilgrims without any shootout, the report said.
Full report at:
http://www.hurriyetdailynews.com/turkish-special-operation-team-snatch-lebanese-pilgrims-inside-syria-report.aspx?pageID=238&nID=56549&NewsCatID=338
------------
More than 600,000 Syrian refugees in Turkey: Agency
October 21, 2013
ANKARA: The number of Syrian refugees in Turkey has exceeded 600,000 and more than 400,000 of them are living outside the refugee camps set up mainly in Turkish border cities, the Turkish disaster management agency said on Monday.
Full report at:
http://www.dailystar.com.lb/News/Middle-East/2013/Oct-21/235243-more-than-600000-syrian-refugees-in-turkey-agency.ashx#axzz2iHwUCOBY
------------
India
Laws to deal with communal riots inadequate: Minority Affairs Minister K Rahman Khan
Oct 21, 2013
Noting that Muzaffarnagar riots have underlined inadequacies in existing laws to deal with such clashes, Minority Affairs Minister K Rahman Khan today pitched for introduction of the Communal Violence Bill in Winter Session of Parliament.
Asked if UPA would table the Prevention of Communal and Targeted Violence Bill in the next session of Parliament, he told PTI that he was in its favour "but the decision has to be taken by the government". A law on the lines of the Bill would have fixed accountability for Muzaffarnagar riots and helped victims who are still waiting for rehabilitation, he said.
The communal clashes in Muzaffarnagar and adjoining areas last month claimed 62 lives and displaced over 40,000 people. Khan dismissed BJP's claim that the Congress-led government is pushing for the Bill with an eye on elections, saying it has been under consultation for a long time and the government's job is to function "till the last day".
BJP has dubbed the Bill as "anti-majority" while some regional parties feel it violated federal principles by giving overriding powers to the Centre in several aspects. "I do not see why it should be opposed by any party. It is not any community specific. Any communal violence should be curbed and there should a law for that," he said. Khan said he had written to Prime Minister Manmohan Singh and Home Minister Sushilkumar Shinde after the riots, pushing for tabling of the Bill in Parliament and Shinde wrote back to him, saying it is "under consideration".
Full report at:
http://www.dnaindia.com/india/1906716/report-laws-to-deal-with-communal-riots-inadequate-minority-affairs-minister-k-rahman-khan
--------
Explore other options if ceasefire violations by Pakistan continue, Omar says
Oct 21, 2013
SRINAGAR: Amid no signs of cooling of tension on the Indo-Pak border, Jammu and Kashmir chief minister Omar Abdullah on Monday said the Centre will have to look at other options if Pakistan continues to violate ceasefire.
"Obviously this cannot be a one-sided affair. It cannot be a situation where we are at the receiving end and no response is given," he told reporters on the sidelines of a function here.
Centre should explore other options if Pakistan continues to violate ceasefire along LoC, he said.
Referring to the New York meeting between prime ministers of India and Pakistan, Omar said Manmohan Singh was very forthright in putting across India's concerns.
"A mechanism had been worked out whereby the DGMOs of both countries would meet to discuss cooling of the LoC and IB (international border). That has not happened so far. I believe that is an option that needs to be exercised, failing which obviously, Government of India will have to look at responding in kind," he said.
A total of 136 ceasefire violations have been reported in 2013, the highest in the past 8 years.
Omar also lashed out at Pakistan Prime Minister Nawaz Sharif for seeking US intervention for resolution of Kashmir issue.
"The Pakistani Prime Minister is guilty of playing to his home audience. Clearly, he knows from experience that India will not accept any sort of foreign intervention in the matter of Jammu & Kashmir. No sort of mediation or any sort of role for a third party exists (in Kashmir). It is something that both the countries have agreed.
"Please remember one of the major aspects of Tashkent agreement decades ago was exactly this: for the return of territories that India had won in that war, Pakistan will give up its claim for any third party mediation on the issue of Kashmir. For some reason, Pakistan wants to forget those aspects of these agreements that do not suit it," he said.
Earlier, addressing police personnel on the occasion of Police Martyrs' Commemoration Day, the chief minister said if Pakistan continued to violate ceasefire, India will have to look at other options.
"If they violate the ceasefire, we won't respond by words only. We will have to find some other options. If our people living along the borders are being targeted, we also know how to respond in kind but at present we do not want to do it," he said.
Omar said the restraint exercised by India was to avoid sufferings for the masses.
"We do not want that common people face problems but continued ceasefire violations will not be tolerated. Today, villages are being deserted ... people are leaving their farms, their houses and children are leaving their schools. The reason is that Pakistan is violating the ceasefire," he said.
Pakistani troops had on Sunday night opened fire at six forward posts of the BSF along the International Border(IB) in Jammu district.
The Pakistani rangers resorted to unprovoked firing at the six border out posts (BOP) in RS Pura sub-sector. Two of the six posts were pounded with mortar shells.
Full report at:
http://timesofindia.indiatimes.com/india/Explore-other-options-if-ceasefire-violations-by-Pakistan-continue-Omar-says/articleshow/24472060.cms
------------
Manmohan Singh-Vladimir Putin talks will focus on Taliban
Rajeev Deshpande
Oct 21, 2013
MOSCOW: Signaling a strong convergence to protect their strategic stakes in Afghanistan, India and Russia are set to emphasize that Pakistan's bid to rehabilitate Taliban is not an acceptable outcome post the US drawdown.
A "fundamental commonality" over combating terrorism is expected to be the focus of the joint statement to be issued on Monday after Prime Minister Manmohan Singh's bilateral summit with Russian President Vladimir Putin at the Kremlin.
India and Russia will not ink contracts for units 3 and 4 of the Kudankulam nuclear power plant - negotiations are held up in legal nitty-gritty - but will look to make up for the disappointment by leveraging a strategic confluence over the security scenario in Afghanistan.
Speaking on background, a senior official said, "Any resurgence of regressive forces (seen as a code for Taliban) or extremism is not desirable. A chance to exchange views at the highest level is always helpful."
As Singh and Putin share perceptions on Afghanistan, they are likely to agree that the US compulsion to leave the war-torn nation cannot come at the cost of India and Russia's interests or those of other nations who have reasons to worry about increased instability in the region.
Experts have noted that the US need to move troops and military hardware out of Afghanistan would require Pakistan's cooperation and the Pakistani military - and political leadership - sees an opportunity to install a friendly regime in Kabul.
The sensitivity of the unfolding Afghan scenario could be gauged by the official caution on Pakistan reducing violations of the ceasefire agreement along the line of control in J&K after Singh's recent meeting with Prime Minister Nawaz Sharif.
"We will have to give it time to see how it works," the official said when asked whether an exchange of information between the Indian and Pakistani Director Generals of Military Operations was yielding results.
Singh, a veteran of meetings with the Russian leaderships as he heads into his 10th summit, is expected to continue an almost unbroken dialogue with Putin. Singh has been able to reach back to his exchanges with Putin that go back to 2004 as he prepared to meet the Russian strongman.
Full report at:
http://timesofindia.indiatimes.com/india/Manmohan-Singh-Vladimir-Putin-talks-will-focus-on-Taliban/articleshow/24455026.cms
------------
8 Pak citizens with 'terror links' held
Oct 21, 2013
MAHARAJGANJ (UP): Eight suspected Pakistani nationals, with some of them involved in terror activities, were detained by security forces here when they allegedly tried to cross Indo-Nepal border, official sources said on Sunday.
"Some of them have been involved in terrorist activities. They had reached Kathmandu from Pakistan and from there crossed over into India at Sonauli," commandant Sashastra Seema Bal (SSB) B K Bankhoti said.
The group, including two women and four children, which was detained on Saturday, has been sent to the Jammu and Kashmir Police cell in Delhi by road, he said.
Bankhoti said the SSB, which guards the 1,751-km long Indo-Nepal border, would be accompanying the group till Delhi, from where central intelligence agencies will take over.
Full report at:
http://timesofindia.indiatimes.com/india/8-Pak-citizens-with-terror-links-held/articleshow/24453670.cms
------------
South Asia
Afghanistan commander defects, joins group linked to Taliban
21 October 2013
KUNAR, Afghanistan: An Afghan army Special Forces commander has defected to an insurgent group allied with the Taliban in a Humvee truck packed with his team's guns and high-tech equipment, officials in the eastern Kunar province said on Sunday.
Monsif Khan, who raided the supplies of his 20-man team in Kunar's capital Asadabad over the Eid Al-Adha religious holiday, is the first special forces commander to switch sides, joining the Hezb-e-Islami organization.
"He sent some of his comrades on leave and paid others to go out sightseeing, and then escaped with up to 30 guns, night-vision goggles, binoculars and a Humvee," said Shuja ul-Mulkh Jalala, the governor of Kunar.
Zubair Sediqi, a spokesman for Hezb-e-Islami, confirmed that Khan had joined the group, saying he had brought 15 guns and high-tech equipment.
The NATO-led coalition is grappling with a rise in "insider attacks" by Afghan soldiers who turn on their allies, undermining trust and efficiency.
It has reported four lethal incidents over the past month taking the total number this year to 10, according to a Reuters tally.
Kunar, like other provinces along the border with Pakistan, is among the more insecure and volatile parts of Afghanistan.
Local security forces have started a manhunt for the commander and tribal elders have promised to help.
"We are trying our best to use elders' influence in that area to bring back all equipment," Jalala said.
Full report at:
http://www.arabnews.com/news/468311
------------
Afghan families want accountability, not apologies
October 21, 2013
Giuliano Battiston - The dusty cemetery in Saracha village hosts three new graves: small hills of soil shielding the bodies of Sahebullah, Wasihullah and Amanullah, three of the five boys and young men killed by an Isaf-Nato airstrike on late Friday, Oct. 4.
According to the firsts Isaf-Nato reports, the five were "enemy forces", "insurgents", killed with a "precision strike". According to the white banner overlooking their graves, they are "martyrs": innocent people killed by error.
Wasihullah and Amanullah were brothers. They used to live in a house not far from the cemetery in Saracha village in the district of Beshud at the door of Jalalabad, the main city in the eastern province of Nangarhar. Their father, Qasim Hazrat Khan, shows IPS the place where they were killed, just behind his house.
Amanullah was about 21 years old (civil registries here are not common), and had a wife and three daughters. Khan produces a card showing that Amanullah was working for the Afghan government forces since March this year.
His brother Wasihullah was 10 years old, a student in fifth class in Samarkheel's high school, not far from Saracha. Friday evening they were with Sahebullah, 14, who "was an apprentice in a metalworkers shop in Jalalabad," his brother Nader Shah, 35, told IPS.
Asadullah Delsos and Gul Nabi were the other two boys with them. Asadullah, "a 14-year-old boy, was still waiting to have his first whiskers," said Khan. Gul Nabi "was a 15-year-old boy, whose family comes from Pachir in Khogyani district. He worked as a carpenter in Kabul, but he used to come here whenever his parents needed his help."
Khan said the five boys were sitting in the open space behind his house "after they went hunting for birds with badì (air guns)." Around 10 pm he heard "the first of three long-lasting shooting-sequences. When it stopped, I reached the roof and saw at least two helicopters and, far from here, some planes without pilots."
When the shooting started again, he waited inside the house until he heard someone screaming: "Brother, your kids have been killed."
He came out and tried to reach them, he said, "but the American soldiers told me to keep away." The bodies were carried to the main Jalalabad hospital "only at 1.40 am," said Nader Shah. "We were able to have them back in our hands after 2.30 am."
Early Saturday morning Asadullah's father Dagarwal Khan Agha, a logistics officer in the city jail, received a call. He had thought his son was sleeping in his parents' house in Saracha. "They said I had to go to the hospital. Once there, I was told my son was in the morgue."
The elder brother of Dagarwal Khan Agha, Malim Said Agha, still cannot understand "how those young boys could be confused with insurgents. They were just kids. The Americans killed innocent people. This was confirmed by the Afghan authorities," he told IPS.
Ahmad Zia Abdulzai, spokesperson for the governor of Nangarhar province, told IPS by phone: "The Nangarhar deputy governor, Mohammed Hanif Gardiwal, sent an envoy to Beshud, together with an envoy sent by President Hamid Karzai: their inquiry states the five boys had no links with insurgency." Isaf-Nato have not yet publicly admitted the airstrike was an error. Contacted by IPS, Lieutenant-Colonel Will Griffin, chief of the press desk at the headquarters of ISAF Public Affairs, said "the incident is still under investigation. It would be inappropriate to comment at this time."
Full report at:
http://www.nation.com.pk/pakistan-news-newspaper-daily-english-online/international/21-Oct-2013/afghan-families-want-accountability-not-apologies
------------
Ban on gatherings no hindrance to dialogue: Bangladesh Communications Minister
October 21, 2013
Communications Minister Obaid ul Quader yesterday said the ban on political gatherings would not be a hindrance for dialogues and consensus regarding the election-time government.
The prime minister's October 18 proposal for an all-party election-time government has opened the doors for possibilities and consensus and the opposition parties should take up the opportunity, he said.
Dhaka Metropolitan Police indefinitely banned all rallies and assemblies from 6:00am yesterday whereas the BNP-led 18-party alliance had earlier declared to hold a rally in the capital on October 25.
Addressing journalists at Bangladesh Secretariat, Quader said the ban was slapped as a precautionary measure to ensure security to public life and property on the basis of information that sabotage would have taken place on a huge scale.
Full report at:
http://www.thedailystar.net/beta2/news/ban-on-gatherings-no-hindrance-to-dialogue/
------------
Bangladesh, India must fight challenges
October 21, 2013
Indian High Commissioner to Bangladesh Pankaj Saran yesterday stressed the need for facing the challenges between the two neighbours to achieve common development.
"We are neighbours–that's a matter of fact. How we can be good neighbours–that's the challenge," he told a Bangladeshi youth delegation at Indira Gandhi Cultural Centre in the capital.
The 100-member team including young male and female doctors, engineers, management graduates, business people, entrepreneurs, journalists, musicians and students will leave for India today on a weeklong visit at the invitation of India's government.
The initiative is part of India's policy to further people-to-people contacts and exchanges between India and Bangladesh. This is the second 100-member Bangladesh youth delegation to visit India. The first team visited the country in October last year.
Full report at:
http://www.thedailystar.net/beta2/news/bangladesh-india-must-fight-challenges/
------------
Southeast Asia
Malaysian leader strengthens hand in party polls
October 21, 2013
KUALA LUMPUR: Malaysian Prime Minister Najib Razak strengthened his hand in ruling-party elections, but analysts said questions remain over his stop-start plans for reforms amid resistance from conservatives.
Najib was unopposed as president of the long-ruling United Malays National Organisation (UMNO) in the party's polls, the final results of which were tallied late Saturday. But other posts were closely watched to determine whether Najib was losing ground to powerful conservatives, upset with his earlier pledge to liberalise a controversial system of preferences for the Muslim Malay majority and with other reforms. Analysts said Najib appeared to have held off conservatives, for now.
"On the surface of it, Najib's leadership of the party is undisputed," said Ibrahim Suffian, director of leading polling organisation Merdeka Centre.
"His team will be able to push some reforms, but the right-wing element of the party is not extinguished. There will have to be some compromise."
The Barisan Nasional (National Front) coalition, through which UMNO has ruled the multi-ethnic, Muslim-majority country for decades, has won national elections by diminishing margins as voters tire of its race-based politics and authoritarian rule.
Najib, now 60 and in office since 2009, responded by advocating political and economic reforms to win back support, but has been restricted by hardliners keen to protect Malay dominance.
Najib has already backtracked on key reform moves including a cautious pledge to weaken UMNO's decades-old affirmative-action policies for Malays in education, housing and economic opportunities.
The system is resented by the sizeable ethnic Chinese and Indian minorities and economists see it as a drag on national competitiveness.
Najib was seen to be under heightened pressure from UMNO right-wingers since the May general election, in which he led Barisan to its worst showing ever although it clung to power.
But in the party polls the three UMNO vice-presidents, who are close to Najib, defended their positions. They narrowly fended off a challenge by Mukhriz Mahathir, son of conservative former strongman leader Mahathir Mohamad.
Full report at:
http://www.dailytimes.com.pk/default.asp?page=2013\10\21\story_21-10-2013_pg4_5
------------
Indonesian President pushed to lobby Saudi king on amnesty
October 21 2013
A team of volunteers monitoring an amnesty program for Indonesian migrant workers in Saudi Arabia has urged President Susilo Bambang Yudhoyono to lobby Saudi King Abdullah Al Saud to extend the grace period for Indonesians who have overstayed their visa in the Kingdom.
The team wants Saudi Arabia to grant a three-month extension past Nov. 3, 2013, the date when the Saudi government has said it would begin punishing undocumented workers and their employers.
With the deadline looming, thousands of Indonesian overstayers in Saudi Arabia are facing homelessness as their employers plan to dismiss them ahead of the deadline, said Ninik Andrianie, the team leader, on Monday.
"Many Saudi employers already terminated contracts with their Indonesian workers overstaying their visas for fear of being fined or otherwise punished by the Saudi government," Ninik said, as quoted by the Antara news agency.
She added that some overstayers had already been arrested and imprisoned by Saudi authorities.
Full report at:
http://www.thejakartapost.com/news/2013/10/21/president-pushed-lobby-saudi-king-amnesty.html
------------
Indonesian National Police encourages officers to join UN peacekeeping missions
Yuliasri Perdani
October 21 2013
The National Police (Polri) has encouraged more officers to take part in United Nations peacekeeping missions around the globe this year.
Over the weekend, as many as 209 police officers participated in the UN Police's selection process at a police facility in Serpong, Tangerang, Banten.
They were expected to be deployed on peacekeeping missions to conflict-stricken countries.
However, only 76 of the officers passed the preliminary tests.
The test's local coordinator, Sr. Comr. Krishna Murti, anticipated all of the 76 would pass the remaining tests and eventually be authorized by the UN to have roles as individual police officers (IPO) in the missions.
"The higher participation of Indonesian police, to some extent, will help the international community to recognize that Indonesia supports peace," he said on the sidelines of the tests on Saturday.
"And, when the officers complete their missions, they will bring new perspective to the country. For instance, they will not perceive protesters as the enemy, but as those who need to be assisted," Krishna added.
Last year, there were 30 Indonesian police officers serving as IPOs in Sudan's Darfur, South Sudan, Haiti and Somalia.
Full report at:
http://www.thejakartapost.com/news/2013/10/21/polri-encourages-officers-join-un-peacekeeping-missions.html
------------
Europe
4,500 new Muslims from Europe perform pilgrimage
21 October 2013
A total of 16,875 million euro was paid by 4,500 pilgrims of European nationalities who performed Haj as new Muslims. They all have started off on their new journey toward Islam, turning their backs on their previous lives.
The Organization of the Islamic Community in Europe made extensive efforts to contain all European Muslims under its umbrella as much as it could.
The organization fledged out of a Turkish labor syndicate during the eighties of the last century in Germany to embrace the small Islamic groups dispersed throughout European.
Head of the organization Kamal Argon said it organizes a Haj campaign every year for the new Muslims so they perform the pilgrimage and visit the holy sites they heard of or read about.
He said that starting from Sept. 11, 2001, the organization marked a turning point in its formation, where large numbers of people of the European community turned to read about Islam. "In view of the defamation campaigns of Islam, in the wake of the World Trade Center disaster in New York, many people discovered the truth about the religion of Islam, and found out it is not a religion of terrorism," he said.
Full report at:
http://www.arabnews.com/news/468331
------------
Meet the British al-Qaeda 'super grass' dishing the dirt on terrorists
21 October 2013
A British man with connections to al-Qaeda terrorist branches has been revealed as the "super grass" who is helping British and U.S. intelligence officials fight terrorism across the Middle East and North Africa, the Daily Mail reported on Sunday,
Ahmed Warsame, 27, reportedly has links to an al-Shabaab chief known as Ikrima. He is also believed to have links with al-Qaeda in the Arabian Peninsula.
Ikrima is believed to have masterminded the Kenyan shopping mall massacre which left 67 dead last month.
Warsame could also help intelligence officials locate "white widow" Samantha Lewthwaite another suspect in the mall attack.
Somalia-born Warsame gained asylum in Britain 13 years ago and lived there for about six years before joining al-Shabaab, the Mail reported. He was captured in 2011 and faces nine terror-related charges in New York.
Warsame helped the U.S. in the assassination of one of al-Qaeda's spiritual chiefs in 2011 - Anwar al-Awlaki.
Full report at:
http://english.alarabiya.net/en/News/middle-east/2013/10/21/Meet-the-British-al-Qaeda-supergrass-dishing-the-dirt-on-terrorists.html
------------
URL: https://newageislam.com/islamic-world-news/at-least-55-people-been/d/14076