New Age Islam News Bureau
22 Jul 2015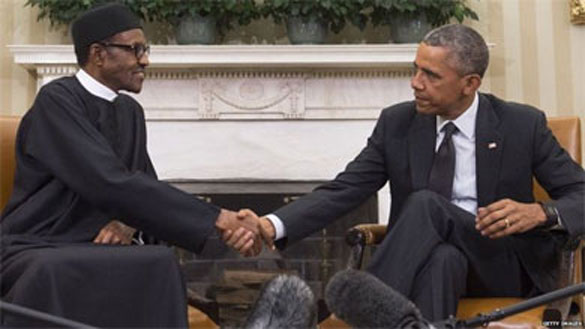 President Buhari met President Obama in the White House's Oval Office on Monday
--------
Africa
• At least 40 killed in tribal clashes in biggest city in southern Libya
• Suspected Boko Haram militants kill 23 in Cameroon village
• Nigeria's Chibok abductions: Buhari 'ready to negotiate'
-------
Arab World
• Iraqis launch offensive near Anbar base as blasts kill 32
• Iraq bomb attacks kill at least 30
• Houthis to withdraw from Yemen's Ibb
• U.N. concerned over civilians in Zabadani
• Wanted Egyptian militant urges jihad against Sisi
• Egypt: 'Dozens detained secretly' by security forces
------
South Asia
• Suicide Bomber Kills 15 in Afghanistan Market
• Suicide attack in Faryab leaves at least 10 dead, several wounded
• 21 rebels killed in Afghanistan military operations
• Taliban publicly execute tribal elder in Urozgan
• ISIS recruiting fighters in the outskirts of Kabul: Mohaqiq
• Afghan Security Forces Struggle Just to Maintain Stalemate
• Afghan peace deal: Islamabad, Beijing ready to become 'guarantors'
• Iran won't accept nuclear curbs beyond 10 years
• Adeeb sworn in as Maldives new vice president
--------
Pakistan
• The weakest link: Seminaries have no link with terrorism: JUI-F
• Muttahida, PPP created crisis in national politics: Jamaat-i-Islami
• Balochistan conundrum: Dr Baloch renews talks offer to insurgents
• Negotiations: Khan of Kalat says grand Jirga can decide his return
• Border violation: Iranian forces fire four mortar shells into Panjgur
• Paris airport imposes fine of 40,000 euros on PIA
------
North America
• U.S. imposes sanctions on Hezbollah officials for Syria support
• Pentagon: Top al-Qaeda leader killed in Syria
• Obama pitches Iran deal to vets, Daily Show's Stewart
• Kerry to visit Gulf Arab states, vows to 'push back' against Iran
• Ohio man charged with supporting ISIS pleads not guilty
• U.S. general touts putting air controllers with Iraqi troops
• US, Pakistan discuss regional stability
--------
Europe
• Moscow becoming Europe's largest Muslim city
• British university says its Koran manuscript is among world's oldest
• Italy police arrest two suspected Islamic State supporters
• French prosecutor requests Arafat death probe be shelved
-------
Mideast
• Israel declares stone-throwers terrorist, approves 20 years prison
------
India
• Pakistan's envoy makes a pitch for better ties with India
• Curfew imposed in Jamshedpur after clashes
• Amid border tensions, Nawaz sends mangoes to Modi
-------
Compiled by New Age Islam News Bureau
URL: https://www.newageislam.com/islamic-world-news/new-age-islam-news-bureau/at-least-40-killed-in-tribal-clashes-in-biggest-city-in-southern-libya/d/103988
-------
Africa
At Least 40 Killed In Tribal Clashes In Biggest City In Southern Libya
By Ahmed Elumami | Reuters, Benghazi
Tuesday, 21 July 2015
Dozens have been killed in clashes between two tribes in the biggest city in southern Libya, officials said on Tuesday as a security vacuum grew in a remote corner of the oil producer.
A power struggle between two governments fighting for control in the north of the desert nation has hit the poor south hard, hampering supplies of anything from fuel and food to central bank money as flights to Tripoli are halted.
Fighters from two tribes, the Tuareg and Tebu, have exploited a security vacuum to vie for control in a vast area long neglected. Clashes broke out four days ago in a suburb of Sabha, said the city's mayor, Hamed Rafa al-Khayali.
A Tebu official said the clashes had started after a Tebu was killed at a checkpoint.
"Around 29 people of the Tuareg tribe were killed and four were wounded in clashes," said Khayali by phone from Sabha, some 700km to the south of the Libyan capital Tripoli.
Eight people of the Tebu were killed and 18 wounded, said Zahra Adam, a local official in the neighboring al-Tayori town dominated by Tebu.
Khayali said tribal elders had tried to negotiate a truce but talks had failed. The city had asked military officials in Tripoli for help to restore order but had got no response.
Libya is in chaos with two governments fighting for control while Islamic State of Iraq and Syria (ISIS) militants exploit a security gap. Tripoli is controlled by a government not recognized by world powers which took office a year ago after an armed faction expelled the official premier to the east.
Rivalry between the Tebu and Tuareg goes back before Muammar Qaddafi was toppled in 2011, though in the past his police state had succeeded in keeping some order.
https://english.alarabiya.net/en/News/africa/2015/07/21/Dozens-killed-in-tribal-clashes-in-biggest-city-in-southern-Libya.html
-------
Suspected Boko Haram militants kill 23 in Cameroon village
JUSTIN CARISSIMO Tuesday 21 July 2015
More than 80 militants reportedly stormed the village, its second attack in two weeks
The terror group may be responsible for more deaths after a Sunday night attack on the northern strip of Cameroon.
Pastor Edward Ngosu, a Nigerian missionary, told the Associated Press on Monday that more than 80 militants stormed the village where he's been located the past four years.
The pastor said that armed soldiers tried to protect the village but were quickly overwhelmed by the attackers — resulting in 23 deaths of the locals.
Bachirou Ahmad, another resident, told the AP that residents asked for military protection after a suspected raid last week. Livestock were reportedly stolen from the area in days prior to the attack.
Earlier this year, the Nigerian based terror group pledged allegiance to the so-called Islamic State group. The northern section of Cameroon was targeted last week as bombs were planted at a local bar, killing 14 villagers.
In a recent interview with Vice News, Nigerian president Muhammadu Buhari condemned the terror group, clarifying that the group is anything but Islamic — and that no religious group would take the lives of innocent people.
"To go and kill people in churches and mosques, and slaughter children in their sleep and school, bomb people in the market places, in Moto parks and say "Allahu Akbar" — I say this only means one thing, you either don't believe in God, or you don't know what you are saying."
"So I think that Boko Haram have to be severely kept away from Islam. They are not Islamic, they could be anything but they are not Muslims," he added.
On Monday, US president Barack Obama welcomed the Nigerian president at the White House as Mr Buhari vowed to end the terror's groups regime. Mr Obama praised Nigeria's newly elected president and hoped to provide military aid to end the crisis.
"[Buhari] has a very clear agenda in terms of rooting out the corruption that too often has held back the economic growth and prosperity of his country," Mr Obama said.
Additional reporting by Edwin Kindzeka Moki, Associated Press
http://www.independent.co.uk/news/world/africa/suspected-boko-haram-militants-kill-23-in-cameroon-village-10403445.html
----
Nigeria's Chibok abductions: Buhari 'ready to negotiate'
July 22, 2015
Nigeria's new president has said he is willing to negotiate with Boko Haram leaders for the release of more than 200 schoolgirls kidnapped last year.
Muhammadu Buhari told CNN it would depend on the credibility of those saying they represented the Islamist militant group.
"Our main objective as a government is to secure these girls safe and safe," he said during a visit to the US.
A previous prisoner-swap attempt for the girls' release ended in failure.
The kidnap of the girls from a boarding school in the north-eastern town of Chibok in April 2014 sparked global outrage.
The mass abduction sparked one of the biggest social media campaigns last year, with the Twitter #BringBackOurGirls being used more than five million times.
Boko Haram, thought to be responsible for more than 10,000 deaths since 2009, has stepped up attacks since Mr Buhari took office in May, vowing to tackle the insurgency "head on".
'Arms dealer arrested'
"If we are convinced that the [Boko Haram] leadership that presented itself can deliver these girls safe and sound, we'll be prepared to negotiate what they want," President Buhari, a former Nigerian military ruler, told the US broadcaster.
"We have to be very careful about the credibility.... [of those] claiming that they can deliver... we are taking our time because we want to bring them safe back to their parents".
US President Barack Obama shakes hands with Nigerian President Muhammadu Buhari during a meeting in the Oval Office of the White House in Washington, DC, July 20, 2015.
President Buhari met President Obama in the White House's Oval Office on Monday
He told CNN that bringing security to stabilise Nigeria - both in dealing with the oil militants in the south as well as the Islamist insurgents in the north-east - was his main priority.
"Nothing will work until this country is secure," he said.
In last seven weeks, he has replaced his military chiefs, moved the military headquarters to the north-east and organised for the deployment of a multi-national force to fight Boko Haram by the end of July.
Meanwhile, a Nigerian spokesman has told the BBC that the multi-national force has arrested a suspected arms dealer in Chad who was allegedly supplying weapons to the militants.
Mr Buhari was speaking in Washington after meeting US President Barack Obama and World Bank officials about securing help to tackle Boko Haram.
The US has committed $5 million (£3.2m) to the fight against the insurgents since his election.
And the World Bank has pledged $2.1bn to help rebuild north-eastern parts devastated by the insurgency, Mr Buhari said on Tuesday.
Many villages and towns have been burnt down during six-year insurgency and more than one million people have fled their homes.
The Chibok schoolgirls have not been seen since last May when Boko Haram released a video of around 130 of them gathered together reciting the Koran.
Some of those who were kidnapped have been forced to join the militant group, the BBC was told last month.
Amnesty International estimates that at least 2,000 women and girls have been abducted by Boko Haram since the start of 2014.
http://www.bbc.com/news/world-africa-33620800
-------
Arab World
Iraqis launch offensive near Anbar base as blasts kill 32
Baghdad, Reuters Wednesday, 22 July 2015
Iraqi security forces and Sunni tribal fighters launched an offensive on Tuesday to dislodge Islamic State of Iraq and Syria (ISIS) militants and secure a supply route in Anbar province, police and tribal sources said.
In other action, bomb attacks across the country killed at least 32 people.
The deadliest was when a car packed with explosives was detonated in the mainly Shiite district of New Baghdad in north-eastern Baghdad, killing 16 people and wounding 48.
The pro-government offensive tackled ISIS militants near the western outpost of Haditha in a bid to secure a route to the nearby Ain al-Asad military base.
Haditha and its nearby dam are in one of the few parts of the Sunni Muslim province of Anbar still under the control of Iraq's Shiite-led government forces, who were driven out of the provincial capital Ramadi in May.
The offensive started with army and police forces backed by Sunni tribal fighters attacking the Albu Hayat area, 20 km (12 miles) southeast of Haditha, police and tribal sources said.
Militants have used the area to strike the supply route to Ain al-Asad where U.S. Marines are training Iraqi troops.
"We are attacking Daesh from three directions and we will not retreat until retaking Albu Hayat to secure not only Haditha but the supply route to the base", said Sunni tribal leader Khalid Mijbil al-Nimrawi, using a pejorative term for ISIS.
Clashes were going on, the sources said, with advancing troops facing heavy fire from the radical Sunni militants who seized swathes of Iraq's north and west last year.
Meanwhile, at least 32 people were killed in explosions across the country, police and medical sources said.
As well as the bombing in New Baghdad, two others were killed in bomb attacks in Zafaraniya, the predominantly Shiite southern district of the capital.
At least six soldiers and policemen were killed in a suicide attack at a checkpoint in the central town of Tarmiya, about 25 km (15 miles) north of Baghdad, police and medical sources said.
Another eight people were killed and 16 wounded when a car bomb went off in a busy commercial street in Mandali, a predominately Kurdish Shiite town about 100 km (60 miles) northeast of Baghdad.
No group immediately claimed responsibility for any of the attacks, but Shiite areas and government forces are often targeted by Sunni Islamist insurgents the government is struggling to dislodge from large sections of the north and west.
Separately, pictures circulated on social media appeared to show a U.S. drone crashed in a government-controlled desert area near Samawah, about 280 km (170 miles) southeast of Baghdad.
Samawah intelligence chief Brigadier Saad al-Waeli told Reuters that intelligence teams had located a plane body after receiving reports from factory workers.
"Our initial report shows that the plane was an American drone," he told Reuters.
The Pentagon could not immediately confirm a lost drone but said it was looking into the reports.
https://english.alarabiya.net/en/News/middle-east/2015/07/22/Iraqis-launch-offensive-near-Anbar-base-as-blasts-kill-32.html
--------
Iraq bomb attacks kill at least 30
By AFP Published: July 22, 2015
BAGHDAD: Car bomb attacks in Baghdad and the Iraqi province of Diyala, mostly claimed by the Islamic State (IS) militant group, have killed at least 30 people, police and medical sources said Wednesday.
The deadliest of the attacks was in the Iraqi capital's eastern district of Baghdad al Jadida, a predominantly Shia area that has been one of the most targeted by car bombs in recent years.
At least 19 people were killed and 43 wounded when a car bomb exploded near a market there on Tuesday, a police colonel and hospital sources said.
Another four people were killed and 10 wounded in a similar attack in the southern neighbourhood of Zafaraniya.
The IS group claimed responsibility for both attacks, saying they had targeted Shia militants, a claim it often makes even when most of the victims are civilians.
A car bomb also struck a joint police and army checkpoint in Tarmiya, a town which lies on of the main highways north of Baghdad, police said.
At least three members of the security forces were killed and nine wounded.
Also on Tuesday, a car bomb went off in Mandali, a town in the eastern province of Diyala which lies near the border with Iran, killing at least four people.
A huge suicide car bomb attack claimed by IS killed dozens of people in Khan Bani Saad, a town just north of Baghdad, on Friday.
Baghdad announced in January that Iraqi forces had "liberated" Diyala, significant parts of which had been overrun by IS after the militants launched a brutally effective offensive in June 2014.
The militants no longer have fixed positions in the province but have reverted to their old tactics of planting car bombs and carrying out suicide operations or hit-and-run attacks.
http://tribune.com.pk/story/924379/iraq-bomb-attacks-kill-at-least-30/
------
Houthis to withdraw from Yemen's Ibb
By Staff writer | Al Arabiya News
Wednesday, 22 July 2015
Iranian-backed Houthi militias have reportedly been ordered to withdraw from Yemen's southern city of Ibb, according to Al Arabiya News channel's correspondent in the country.
The militias were ordered to leave the southern city and return to Saada – the group's stronghold in northern Yemen- by their leader Abdelmalik al Houthi, according to the channel.
Also in Ibb, heavy clashes between forces loyal to Yemen's President Abd Rabbu Mansour Hadi and the militias led to the killing of a Houthi leader known as Abu Mahammed al-Ghayli.
Meanwhile, the Arab-led coalition conducted a series of airstrikes against the militias in both Ibb and the country's southern province of Lahej.
The latest developments come a day after forces loyal to Hadi made significant advances in the country's third largest city of Taez.
Saudi Arabia intervened in Yemen's war on March 26 in an effort to stop Houthi and pro-Saleh forces taking Aden, the last city nominally controlled by exiled President Abd-Rabbu Mansour Hadi's government, and to restore him to power in Sanaa.
https://english.alarabiya.net/en/News/middle-east/2015/07/22/Houthis-ordered-to-withdraw-from-Yemen-s-southern-city-Ibb-.html
------
U.N. concerned over civilians in Zabadani
By Reuters | Beirut Wednesday, 22 July 2015
The United Nations envoy for Syria has voiced deep concern about civilians in the city of Zabadani, the focus of an offensive by the Syrian military and Lebanon's Hezbollah aimed at wresting control of the area from insurgents.
Citing local sources in a statement late on Tuesday, Staffan de Mistura said the military had dropped a large number of barrel bombs on Zabadani "causing unprecedented levels of destruction and many deaths among the civilian population."
Control of the city, about 45 km (30 miles) northwest of the capital Damascus, is seen as crucial to consolidating President Bashar al-Assad's control over the border zone between Lebanon and Syria.
The Syrian air force has bombarded areas in and around the city and Sunni insurgents have retaliated by firing rockets and heavy mortar shells on two villages near Idlib city in the north, de Mistura said.
An alliance of insurgents known as the "Army of Fatah" (Islamic Conquest) had targeted Al Foua and Kefraya, northern villages where a large number of civilians are trapped, he said.
"In both cases, civilians are tragically caught in the middle of the fighting," he added. Al Foua and Kefraya are home to Shi'ite populations.
Earlier this week the Syrian army backed by Hezbollah advanced deeper into Zabadani, two weeks into a campaign to capture it from insurgents, rebels and the army said.
Taking Zabadani from the insurgents would be a strategic gain for the Syrian army which is battling on several other fronts with a range of different insurgent groups.
Hezbollah's military role inside Syria has been growing steadily since the start of the conflict in 2011. The Syrian government has described the group as its main ally in the fight against the insurgents battling to topple Assad.
https://english.alarabiya.net/en/News/middle-east/2015/07/22/U-N-deeply-concerned-about-civilians-in-Zabadani-.html
--------
Wanted Egyptian militant urges jihad against Sisi
CAIRO: Jul 22, 2015
One of Egypt's most wanted men, a former special forces officer turned Islamist militant commander, has condemned President Abdel Fattah al-Sisi and called for a holy war against his government.
An audio message attributed to Hisham al-Ashmawy, who security officials suspect masterminded the recent car bomb assassination of Egypt's top prosecutor, said the country is "overpowered by the new pharaoh" Sisi.
Ashmawy is part of a small but highly dangerous succession of former Egyptian army officers who have joined militant groups, complicating Sisi's efforts to confront what he calls an existential threat from extremism.
With their knowledge of the Arab world's biggest army and training, they pose a security threat to strategic U.S. ally Egypt which faces an insurgency based in northern Sinai.
"All of you must come together to confront your enemy. Do not fear them, but fear Allah if you are truly believers," said the audio message carried by U.S.-based monitoring group SITE, which it said was posted on July 20 on an al Qaeda-affiliated forum.
The comments coincided with the Eid al-Fitr holiday just marked by Muslims.
The audio message features two pictures of Ashmawy in military uniform. He is identified by the nom de guerre of Abu Omar al-Muhajir al-Masri and as Emir of the al-Murabiteen group.
Militants have stepped up attacks on soldiers and police since Sisi, as army chief, toppled Islamist President Mohamed Mursi in 2013 after mass protests against his rule. Hundreds have been killed.
Ashmawy, who has been on the run for years, formed a cell within a militant group recently renamed Sinai Province which has pledged allegiance to Islamic State, the ultra-hardline Sunni organization based in Iraq and Syria.
He accused Sisi "and his soldiers" of fighting "our religion" and killing "our men and women".
Sisi has launched a tough security crackdown since Mursi's overthrow. Security forces killed hundreds of supporters of his Muslim Brotherhood in the streets and arrested thousands of others.
Ashmawy is described by security officials as the leader of Sinai Province's military training committee. His cell carried out an operation in October that killed 33 members of the security forces in one of the bloodiest attacks in years.
Egypt closely watches the military for any signs of Islamist-leaning officers, though a senior military official told Reuters defections are not a phenomenon.
A militant cell headed by army officers assassinated President Anwar al-Sadat in 1981.
(Reporting by Michael Georgy; Editing by Yara Bayoumy and Dominic Evans)
http://www.reuters.com/article/2015/07/22/us-egypt-militant-idUSKCN0PW0M220150722
------
Egypt: 'Dozens detained secretly' by security forces
22 July 2015
An Egyptian riot policeman detains a female student at al-Azhar University during a protest inside their campus in Cairo on 30 December 2013
More than 40,000 people have been detained in a crackdown on dissent since July 2013, rights groups say
Dozens of people in Egypt have apparently disappeared after being detained secretly by security forces, Human Rights Watch (HRW) has warned.
The US-based group said in some cases officials denied holding individuals or refused to reveal their fates.
It called on the authorities to immediately disclose their whereabouts and hold those responsible to account.
An Egyptian official rejected the report as "lies" and part of a campaign to embarrass Egypt.
Speaking to the state-run Mena news agency, the unnamed official said: "The report was based on undocumented sources that did not provide true information or data on the issues it tackled."
The official went on to say that most of those named in the report had been "convicted in criminal cases or held pending trials".
Enforced disappearances constitute a serious violation of international law.
If carried out systematically as a matter of policy, they are a crime against humanity.
Denials
HRW's deputy Middle East director Joe Stork said that under President Abdul Fattah al-Sisi, who as military chief led the overthrow of President Mohammed Morsi in 2013, Egypt's security forces operated with "nearly absolute impunity".
Hundreds of people have been killed and more than 40,000 believed to have been detained, in a crackdown on dissent, HRW says.
Most were members or supporters of the outlawed Muslim Brotherhood but also secular and liberal activists.
Journalists wait outside Cairo's Tora Prison as Al Jazeera employees are put on trial at a court inside (20 February 2014)
Egyptian human rights groups have documented scores of cases of enforced disappearances
HRW documented the cases of five people "forcibly disappeared" between April 2014 and June 2015, and two most likely to have suffered the same fate.
In three cases, the victims were last seen in the custody of state officials, although the authorities initially denied that the people had been detained or refused to reveal their whereabouts.
In three others, relatives and others who knew the disappeared said security forces had detained them. A doctor who disappeared remains unaccounted for.
The whereabouts of three of the individuals were determined only days or weeks after their disappearances either because state authorities eventually acknowledged their detention or because other people saw them in official custody.
Three university students, Esraa al-Taweel and her two friends Omar Ali and Souhaib Saad, all in their early 20s, were apparently arrested on 1 June as they walked along the River Nile in Cairo's Maadi district, according to their families.
Interior ministry officials repeatedly denied arresting any of them but more than two weeks later relatives saw them in various detention facilities, HRW said.
Egyptian police officers stand in front of the police academy in Cairo during the trial of Egypt's former President Hosni Mubarak on 29 November 2014
The Egyptian interior ministry has previously denied carrying out enforced disappearances
Three other victims of enforced disappearances were found dead after a period during which their whereabouts were unknown, HRW said.
Al-Sayed al-Rassed, 46, was arrested on 4 June in Banha, the capital of Qalyubia province, by several police in civilian clothes and a Central Security Forces officer and soldiers in uniform, his son Mohamed said.
They did not say where they were taking him. Three days later, his family received a call from the mayor's office informing them that his body was at a mortuary.
Whereabouts unknown
HRW said Egyptian human rights organisations had credibly documented scores of additional cases of enforced disappearances in 2015 and in some from 2013.
In June, Freedom for the Brave, an independent group offering support to detainees, documented what it said were 164 cases of enforced disappearance since April and said that the whereabouts of at least 66 remained unknown.
It listed 64 people whose whereabouts were revealed after more than 24 hours, the maximum time allowed to detain someone without charge under Egyptian law.
http://www.bbc.com/news/world-middle-east-33609646
------
South Asia
Suicide Bomber Kills 15 in Afghanistan Market
World | Agence France-Presse July 22, 2015
MAZAR-I-SHARIF, AFGHANISTAN: A suicide bomber killed 15 people including women and children in a northern Afghan market today, as militants intensify their annual summer offensive despite nascent peace talks.
The attack in Almar district of Faryab province, bordering Turkmenistan, highlights the heavy toll of such attacks on civilians after 13 years of war.
No group claimed responsibility for the suicide bombing, which comes just before another round of peace negotiations between the government and Taliban militants are due to start.
"This morning a suicide bomber detonated his explosives-laden vest in a market in Almar," Faryab governor Abdul Sattar Barez told AFP.
"Our information shows at least 15 people were killed in the attack, including women and children and at least one Afghan army soldier," he said, adding that around 38 others were wounded.
Almar district chief Saleh Mohammad Saleh confirmed the death toll.
Taliban insurgents, who launched their annual summer offensive in late April, have stepped up attacks on government and foreign targets despite official efforts to jumpstart peace talks.
Civilians often fall victim to insurgent attacks, with almost 1,000 Afghan civilians killed during the first four months of the year, according to the UN mission in Afghanistan.
Ghani's government has drawn criticism for failing to end an increasing number of insurgent attacks, which critics partly blame on the protracted delay in the appointment of a defence minister.
The crucial post has not been filled since Ghani came to power last September.
US-led NATO forces ended their combat mission in Afghanistan in December, leaving local forces to battle the Taliban alone, but a 13,000-strong residual force remains for training and counter-terrorism operations.
Afghan officials sat down with Taliban cadres this month in Murree, a tourist town in the hills north of Islamabad, Pakistan, for their first face-to-face talks aimed at ending the bloody insurgency.
They agreed to meet again in the coming weeks, drawing praise from Islamabad, Beijing, Washington and the United Nations.
Afghan officials have not said when and where the next round of negotiations will take place, but they are widely expected to be conducted in the coming days.
But despite the willingness to engage in peace talks there has been no letup in militant attacks on foreign and government targets, leaving Afghan forces stretched on multiple fronts and inflicting a heavy blow on civilians.
Earlier this month 33 people were killed in a suicide attack at a military base in the eastern province of Khost and a few days later 25 civilians were wounded in a bombing inside a mosque in northern Baghlan province.
The attack in Almar district of Faryab province, bordering Turkmenistan, highlights the heavy toll of such attacks on civilians after 13 years of war.
No group claimed responsibility for the suicide bombing, which comes just before another round of peace negotiations between the government and Taliban militants are due to start.
"This morning a suicide bomber detonated his explosives-laden vest in a market in Almar," Faryab governor Abdul Sattar Barez told AFP.
"Our information shows at least 15 people were killed in the attack, including women and children and at least one Afghan army soldier," he said, adding that around 38 others were wounded.
Almar district chief Saleh Mohammad Saleh confirmed the death toll.
Taliban insurgents, who launched their annual summer offensive in late April, have stepped up attacks on government and foreign targets despite official efforts to jumpstart peace talks.
Civilians often fall victim to insurgent attacks, with almost 1,000 Afghan civilians killed during the first four months of the year, according to the UN mission in Afghanistan.
Ghani's government has drawn criticism for failing to end an increasing number of insurgent attacks, which critics partly blame on the protracted delay in the appointment of a defence minister.
The crucial post has not been filled since Ghani came to power last September.
US-led NATO forces ended their combat mission in Afghanistan in December, leaving local forces to battle the Taliban alone, but a 13,000-strong residual force remains for training and counter-terrorism operations.
Afghan officials sat down with Taliban cadres this month in Murree, a tourist town in the hills north of Islamabad, Pakistan, for their first face-to-face talks aimed at ending the bloody insurgency.
They agreed to meet again in the coming weeks, drawing praise from Islamabad, Beijing, Washington and the United Nations.
Afghan officials have not said when and where the next round of negotiations will take place, but they are widely expected to be conducted in the coming days.
But despite the willingness to engage in peace talks there has been no letup in militant attacks on foreign and government targets, leaving Afghan forces stretched on multiple fronts and inflicting a heavy blow on civilians.
Earlier this month 33 people were killed in a suicide attack at a military base in the eastern province of Khost and a few days later 25 civilians were wounded in a bombing inside a mosque in northern Baghlan province.
http://www.ndtv.com/world-news/suicide-bomber-kills-15-in-afghanistan-market-officials-784065
------
Suicide attack in Faryab leaves at least 10 dead, several wounded
By KHAAMA PRESS - Wed Jul 22 2015, 12:02 pm
At least ten people have been reported killed and several others have been wounded in a suicide attack in northern Faryab province of Afghanistan.
The incident took place in a busy market in Alamar district but the main target of the attack has not been ascertained so far.
In the meantime, a local security official said the suicide bomber detonated his explosives targeting the security forces around 11:45 am local time.
The official further added at least 10 people were killed and over 30 others were wounded in the attack.
No group including the Taliban militants has so far claimed responsibility behind the attack.
Faryab is among the relatively volatile provinces in northern Afghanistan where anti-government armed militant groups are actively operating in a number of its districts and often carry out insurgency activities.
http://www.khaama.com/suicide-attack-in-faryab-leaves-at-least-10-dead-several-wounded-9524
--------
21 rebels killed in Afghanistan military operations
By KHAAMA PRESS - Wed Jul 22 2015, 10:43 am
Afghan National Army 221 insurgents have been killed in newest military operations across in five provinces, the Ministry of Defense announced on Wednesday morning.
According to a statement issued by the ministry, the operations were carried out in Samkani District of Paktia, Almar District of Faryab, Dehrawoud District of Urozgan, Nawzad District of Helmand and in the jurisdiction of capital Kabul in past 24 hours.
21 militants were killed, 17 wounded and one arrested during these operations, the statement adds.
A weapon depot and 10 motorcycles belonging to the rebels were also destroyed in the operations.
The statement further states that five soldiers from Afghan National Army also embraced martyrdom due to insurgent fire and landmine explosions in past 24 hours.
It does not describe the exact location of the incidents.
http://www.khaama.com/21-rebels-killed-in-newest-military-operations-3669
------
Taliban publicly execute tribal elder in Urozgan
By KHAAMA PRESS - Wed Jul 22 2015
Taliban (6)A tribal elder has been publicly executed by Taliban militants after being kidnapped in southern Urozgan province.
Abdul Karim Karimi, the governor of Khas Urozgan province says that Taliban kidnapped the tribal elder and Malik of Shaheedan area earlier in the morning and later hanged him to death in public.
Taliban spokesman had not commented on the execution of Haji Abas by the time this report was filed. Haji Abas was also member of the council of Khas Urozgan District.
This is second incident of Taliban execution this month.
The group's fighters executed Imam of a local mosque after he spoke out against insurgency during his Friday sermon in Faryab province on July 16.
http://www.khaama.com/taliban-publically-execute-tribal-elder-in-urozgan-3667
-------
ISIS recruiting fighters in the outskirts of Kabul: Mohaqiq
By KHAAMA PRESS - Tue Jul 21 2015
The Islamic State of Iraq and Syria (ISIS) terrorist group has started recruitments in the outskirts of Kabul province, Mohammad Mohaqiq, the Second Deputy to Chief Executive Officer has said.
In an interview with Voice of America Ashna TV, Mohaqiq said based on the information they have received the ISIS recruits are receiving salaries upto $1,000 along with a motorcycle.
He said the group has so far recruited around 700 to 800 fighters in the country and warned that the group poses a serious threat to Afghanistan.
Mohaqiq further added that the group will fight the Taliban militants in the first step as witnessed in eastern parts of the country where they have captured some districts.
Mohaqiq also added that the ISIS affiliates have also started persecution of Hazaras and Shias where they abducted 31 Hazara passengers in Zabul and some others were kidnapped by the group between Jaghoori and Qarabagh.
He said ISIS militants also abducted two women which was rare during the past three decades of war in the country.
This comes as Mohaqiq called on his supporters during the second day of Eid al-Fitr to remain alert and vigilant for self defence amid deteriorating security situation.
During a gathering in western part of capital Kabul, Mohaqiq said the people should be alert to face any situation and should not be concerned and disappointed.
His remarks are followed amid growing concerns that the ISIS group is looking to gain foothold in Afghanistan as the militants in the battlefield have started rebranding by pledging allegiance to the terror group.
Pentagon also released a report earlier last month stating that the terror group is likely to continue looking for ways to expand their activities in Afghanistan.
According to the report, the US forces have noted a few militants re-branding themselves, likely in an attempt to draw media attention, greater resources and more recruits.
http://www.khaama.com/isis-recruiting-fighters-in-the-outskirts-of-kabul-mohaqiq-1310
--------
Afghan Security Forces Struggle Just to Maintain Stalemate
By JOSEPH GOLDSTEIN JULY 22, 2015
KABUL, Afghanistan — After suffering setbacks and heavy casualties at the hands of the Taliban in 2014, Afghan security forces came into this year with what Afghan and Western officials acknowledge were relatively modest goals: hang on till the end of the fighting season without major collapses.
But with months of heavy fighting still ahead, 2015 is already shaping up to be worse for the Afghan Army and the national police, even as President Obama is set to begin deliberating this year on whether to follow through with a complete withdrawal of the United States military assistance mission here in 2016.
The forces are struggling to maintain a stalemate: an at-least token government presence in the hundreds of district capitals handed over by departing NATO combat troops.
Several Afghan officers described desertion as such a problem that soldiers and police officers in some critical areas have simply been barred from returning home on leave, keeping them on the front lines for months straight.
And after a casualty rate last year that the previous American commander called unsustainable, the numbers this year are even worse: up more than 50 percent compared with the first six months of 2014. About 4,100 Afghan soldiers and police officers have been killed, and about 7,800 wounded, according to statistics provided by an official with the American-led coalition here.
A range of interviews with army and police commanders and regional government officials in crucial battleground areas indicated that even though the Afghan forces have nominally met their goal of maintaining a presence in every city and all but a very few district centers, they are often functionally penned in by the Taliban, rarely mounting patrols, much less taking territory back.
At the same time, they say the insurgents have increased their influence in many areas, even near cities, giving them the ability to move freely and mount intensified attacks on the Afghan forces.
"We are in a passive defense mode — we are not chasing the enemy," said a retired Afghan lieutenant general, Abdul Hadi Khalid. "Units get surrounded, and we don't send them support, so they are killed."
He described consequences of mounting casualties as "really grave," undermining the confidence of the security forces and the Afghan public. "It will turn into a subversive war that benefits the enemy," he added.
The fighting this year has put increased pressure on President Ashraf Ghani's struggling government, even as he has succeeded in opening initial talks with the Taliban in the hope of beginning a formal peace process. For both sides in the war, battlefield results will govern how strong a hand they can bring to the negotiating table.
In several critical areas, particularly in the traditional Taliban heartland in the Afghan south and east, the army and the police say they are struggling to hold on.
In the district of Musa Qala, in Helmand Province, one army officer, Lieutenant Javed, said in a telephone interview from his outpost that he and his men had faced Taliban fire for seven months without being "out of the battle zone for a single day."
In the past few months, some 41 of his comrades — more than a third of the soldiers in his area — have been killed, he said, as the Taliban mined the roads and attacked their guard stations in Musa Qala.
Home visits were banned after many soldiers began deserting, and in recent months in Musa Qala and a neighboring district there have been several cases of soldiers shooting themselves in the hope that they would be evacuated, said Lieutenant Javed, who spoke on the condition that he be identified only by his first name.
The urge to desert is often driven by more than just facing danger, he said. Many soldiers cannot access their pay, because it can be drawn only at a bank branch in the far-off provincial capital. "Your family is calling you and telling you they have run out of food, but you cannot send them money," Lieutenant Javed said, describing the plight of soldiers who are often the sole breadwinners for large families. "This is depressing."
But by one important measure, Lieutenant Javed and the other soldiers in the district are succeeding: The Taliban flag does not yet fly over Musa Qala.
And that, Afghan and American officials say, is the bottom line. Even if the Taliban are able to gain ground in large stretches of their traditional homeland, like Helmand, it is critical for the Afghan forces to maintain a government presence in the district capitals.
Generals and politicians are expressing confidence that the Afghan military — officially reported at 353,000 strong, including the national and Afghan Local Police forces — will be able to hold, despite heavy losses that a Pentagon report this June anticipated would "increase in the next several months."
One member of Parliament, Mirdad Khan Nejrabi, said that the casualty rate was "very concerning," but would not lead to any large-scale collapse.
"Our security forces disintegrating — that will not happen," said Mr. Nejrabi, who heads the Internal Security Committee. "Our forces have no other option but to fight, to defend at whatever cost possible."
The top American commander in Afghanistan, Gen. John F. Campbell, who is to report to Mr. Obama in the fall with his recommendations on the future of the United States mission here, has praised the Afghan forces for their continued resilience, saying they have continued to be able to inflict heavy casualties on the Taliban.
Some of the heaviest challenges fall to the various Afghan police forces, whose reported 183,000 members are stretched over vast portions of rugged Afghan territory.
In Bati Kot district, a dangerous stretch of eastern Nangarhar Province, one upbeat police sergeant, Muhammad Daud, described how in the past 18 months, his six-man outpost — a fortified hut with a flag flying over it — had suffered only one man killed and another wounded.
That was relatively good fortune, Sergeant Daud said, and it was provided by the checkpoints in both directions down the road that left him insulated from the worst. Not far off, two checkpoints had been overrun by the Taliban, with most of the men inside killed.
He, too, described pressure to desert. He said he often received phone calls from deserters he once knew beseeching him to protect his life and leave his post. "I told them I love my country and I love serving my country," Sergeant Daud said.
Concerns about overall force attrition — which takes into account decisions not to re-enlist as well as casualties and desertions — rose sharply after the heavy losses last year, leading Afghan officials to mount a heavier recruiting effort. Though a few military and police recruiters interviewed at posts around Kabul said they ultimately came up short of their increased goals, most described continued success at bringing in new soldiers and police officers.
A spokesman for the Afghan Defense Ministry, Dawlat Waziri, insisted that desertions remained rare, and that there had been no effort to ban leaves or to stop rotations away from the front to cut down on the number of people going absent without leave.
But interviews with soldiers and police officers repeatedly countered the government's claims. One army major in Oruzgan Province, for instance, speaking on the condition of anonymity to avoid retribution, said, "Once the soldiers are taken for their breaks, they are unwilling to come back and join their duty — and that's the main reason the government is not taking them out."
Constant themes in the security forces' account were worsening morale, how close they were to the Taliban, and how far they were from help and reinforcements.
"Every moment, I'm with my friends in a trench, finger on the trigger," said Mirza Khan, a police commander who said he had been stationed at a check post in Sangin district, long the scene of some of the heaviest fighting in Helmand Province, for five years. "We are all living by chance and death is inevitable to us."
In Musa Qala district, where Lieutenant Javed's unit is stationed, the lack of reinforcements and medical supplies has heavily drained morale. Somehow, in one of the top opium-producing provinces in the world, the morphine had run out, soldiers and medics in Musa Qala said. Blood transfusions are a rarity, and the blood type that soldiers have listed on their identification cards to assist medics is often incorrect.
Ahmad, a battlefield medic in Musa Qala who would only give his first name, said that he and his colleagues treat arm and leg wounds on the front lines, but that "when the soldiers got wounded on chest, head and abdomen, we cannot treat them or stop bleeding."
Periodically cut off by the Taliban, the soldiers have not always been able to evacuate casualties out of the district. Their dead often decompose under the hot sun for days — a particular source of anxiety, given the Muslim imperative to conduct burials quickly. Sometimes, soldiers have beseeched local men in the town to accept their dead and contact foreign groups like the International Committee of the Red Cross that might be able to get the bodies back to the provincial capital more quickly.
Lieutenant Javed said the prospect of remaining trapped even in death weighed heavily on him.
"I am not afraid of death," he said. "But I am afraid of this sort of death. Will your body ever arrive safely to your family?"
Reporting was contributed by Taimoor Shah from Kandahar, Afghanistan; Khalid Alokozay from Bati Kot district, Afghanistan; and Mujib Mashal, Jawad Sukhanyar and Ahmad Shakib from Kabul.
http://www.nytimes.com/2015/07/23/world/asia/afghan-security-forces-struggle-just-to-maintain-stalemate.html?_r=0
-------
Afghan peace deal: Islamabad, Beijing ready to become 'guarantors'
By Kamran YousafPublished: July 22, 2015
ISLAMABAD: Pakistan and China are ready to become 'guarantors' of a possible peace deal between the Afghan government and the Afghan Taliban, officials familiar with the development have said.
"We are ready to go the extra mile. We are even willing to become guarantors for any peace agreement," said a senior Pakistani official, who requested not to be named because of sensitivity of the issue.
The official said Pakistan has been facilitating Afghan led and Afghan owned peace talks. "But if talks make progress and all sides agree, then Pakistan has no problem in playing its role beyond that of a facilitator," he said.
Pakistan recently hosted the first-ever direct talks between the Afghan government and Taliban representatives at the popular tourist resort of Murree as part of its efforts to put an end to over a decade-old conflict in the war-torn country. Senior officials from Pakistan, China and the United States also attended the closed-door talks suggesting that the Murree process had the backing of all major international players.
During the talks, the Afghan side demanded immediate ceasefire from the Afghan Taliban. However, the Taliban reportedly agreed to cease fire if Islamabad and Beijing become 'guarantors' to ensure that a 'United National Government' will be formed in Afghanistan. Another official said China is also ready to provide guarantees if all the negotiating parties accept this arrangement. Following the Murree talks, China had hinted at playing a more proactive role in brokering a peace deal between the Afghan government and the Taliban.
A statement issued by the Chinese foreign ministry said Beijing was ready to work with relevant parties and play a constructive role in achieving broad and inclusive peace and reconciliation in Afghanistan.
The next round of talks is expected to take place in China later this month. As a result of forward movement in Murree talks, the next phase of negotiations will be led by the Afghan foreign minister.
The two sides are expected to discuss substantive issues in the next round as a result of the recent endorsement of the peace process by Afghan Taliban's supreme leader Mullah Omar.
http://tribune.com.pk/story/924172/afghan-peace-deal-islamabad-beijing-ready-to-become-guarantors/
------
Iran won't accept nuclear curbs beyond 10 years
By Reuters | Dubai Wednesday, 22 July 2015
Iran will not accept any extension of sanctions relating to its nuclear programme beyond 10 years, the Islamic Republic's senior nuclear negotiator said on Wednesday.
Abbas Araqchi told a televised news conference that any attempt to re-impose sanctions after they expire in 10 years would breach the agreement Iran reached with six world powers one week ago.
Araqchi was referring to a resolution the United Nations Security Council passed on Monday, endorsing the deal to curb Iran's nuclear programme in return for relief from sanctions. The world powers suspected Iran was trying to create a nuclear bomb; Tehran said the programme was peaceful.
The resolution allows all U.N. sanctions to be re-imposed if Iran violates the agreement in the next 10 years. If Iran adheres to the terms of the agreement, all the provisions and measures of the U.N. resolution would end in 10 years.
However, the six world powers, known as the P5+1, and the European Union told U.N. Secretary-General Ban Ki-moon earlier this month that after 10 years they planned to seek a five-year extension of the mechanism allowing sanctions to be re-imposed.
"The U.N. Security Council's resolution says clearly that the timeframe of agreement is 10 years, and Iran's case will be closed in the Security Council after that," Araqchi said.
"If the U.S. and any other member of P5+1 say they want to adopt a new resolution after 10 years allowing sanctions to be re-imposed, it is the breach of Vienna agreement and has no credibility."
https://english.alarabiya.net/en/News/middle-east/2015/07/22/Iran-won-t-accept-curbs-beyond-10-years.html
------
Adeeb sworn in as Maldives new vice president
By Minivan News | July 22, 2015
Ahmed Adeeb, the influential tourism minister, has been sworn in as the Maldives' new vice president at a ceremony at the President's Office this afternoon.
Chief Justice Abdulla Saeed administered the oath of office.
His appointment must now be approved by the People's Majlis. The parliamentary debate on the nomination was underway at the time of publication.
The ruling Progressive Party of the Maldives (PPM) and its ally Maldives Development Alliance (MDA) control 48 seats of the 85-member house. Only a simple majority is required to approve the appointment.
Adeeb's appointment comes after the parliament impeached Vice President Dr Mohamed Jameel with overwhelming multi-party support yesterday.
The impeachment process was initiated by the PPM-MDA coalition. Pro-government MPs accused Jameel of incompetence, dereliction of duty, links with the opposition, failure to defend the government, and excessive expenditure from the state budget.
Last week, the parliament also approved changes to its standing orders to fast-track the process of voting on a president's nominee to fill a vacancy in the vice president's post.
The rules were changed to allow the speaker to call for a vote on the day a committee's evaluation report is sent to MPs. Items are normally tabled in the agenda three days after the committee report is sent out.
In late June, the parliament approved a first amendment to the constitution to set age limits of 30 to 65 years for the presidency and vice presidency. Adeeb is 33 years old and was previously ineligible for the post as the constitution required candidates to be above 35 years of age.
Opposition MPs' backing for the amendment was widely perceived as part of a deal in exchange for transferring imprisoned former President Mohamed Nasheed to house arrest.
The main opposition Maldivian Democratic Party (MDP) is currently engaged in talks with the government and has expressed hope that the opposition leader could be freed ahead of July 26 when the Maldives marks 50 years of independence.
Adeeb's supporters meanwhile launched a social media campaign backing Adeeb for the vice presidency whilst rumours spread about former President Maumoon Abdul Gayoom's opposition to appointing the tourism minister to the post.
However, the PPM leader has repeatedly denied favouring a particular candidate, stating that the appointment of a deputy is the sole prerogative of the president.
Minivan News understands that senior members of the ruling party were split over Adeeb's appointment. Several PPM MPs had, however, publicly declared that Adeeb would be sworn in before July 26.
Shortly after the constitutional amendment lowering the age limit for the vice presidency was passed, the tourism minister reprimanded Gayoom's son, newly elected MP Ahmed Faris, for his absence from the vote.
Accusing Faris of letting Yameen down, Adeeb said in a text message in English: "You cannot differentiate youth or any segment with educated, non educated, poor and rich, beyfulhu [aristocrat] or non beyfulhu [non-aristocrat] etc."
http://minivannews.com/politics/adeeb-sworn-in-as-new-vice-president-101196#sthash.j68Pv76r.dpuf
-----
Pakistan
The weakest link: Seminaries have no link with terrorism: JUI-F
By Our Correspondent: July 22, 2015
MULTAN: Jamiat Ulema-i-Islam (JUI-F) chief Fazl ur Rehman said on Tuesday that religious seminaries had no link with terrorism.
Rehman was speaking to a delegation of party officials from Dera Ghazi Khan in Dera Ismail Khan on the occasion of Eidul Fitr. He said government and law enforcement agencies had been maligning religious seminaries to please their masters in the West. Rehman said the nation was passing through a critical juncture. To secure Pakistan, he said those affiliated with religious seminaries should collectively strive to foil the designs of the nation's enemies.
Rehman said the United States of America and Israel were the chief adversaries of the nation. He said they wanted to destabilise Pakistan. Rehman said the JUI-F was the only party in the nation that did not have a militant wing.
He said those who had introduced extremism in politics stood exposed. Rehman said the Pakistan Tehreek-i-Insaf (PTI) had strong links with Israel. He said a few political parties also had links with India. Rehman said terrorism in the nation could be traced back to Israeli and Indian agents.
The JUI-F chief said the enemies of Islam were the enemies of Pakistan. He said the Sharif brothers had been maligning religious seminaries in a bid to appease their masters in the West. Rehman said there efforts would be in vain.
He said the Wafaqul Madaris, the JUI-F and other religious parties were the saviours of the Constitution. Rehman said all political parties regarded the Constitution as being supreme. He said traitors affiliated with either secular or religious parties would be meted out a severe punishment.
The JUI-F chief said party activists should brace for the forthcoming local government elections. He said they should spread the message of the party across every household. Rehman said the Khyber-Pakhtunkhwa (K-P) government had broken all records of electoral malpractice in by-polls in the province. He said the proponents of decentralisation had used it as a ploy to vest power in the hands of their friends and relatives.
Rehman said an Eid milan party would be held on August 5 in Dera Ghazi Khan. He said he would use the opportunity to interact with party workers. Rehman praised the efforts of party activists who strived to arrange such gatherings.
The delegation was led by JUI-F Dera Ghazi Khan amir Qari Jamal Abdul Nasir. Maulana Abdul Ghafoor Gurmani, Maulana Muhammad Ramazan, Qari Allah Wasaya Raheemi, Qari Lal Hussain Akhtar, Master Manzoor Ahmad, Maulana Abdul Majeed Qaiserani and Qari Sameeullah Qureshi were also present on the occasion.
http://tribune.com.pk/story/924124/the-weakest-link-seminaries-have-no-link-with-terrorism-fazl/
------
Muttahida, PPP created crisis in national politics: Jamaat-i-Islami
A CORRESPONDENT — 22 07 15
BADIN: Jamaat-i-Islami (JI) leader Liaquat Baloch has said Muttahida Qaumi Movement chief Altaf Hussain hatches conspiracies against the solidarity of the country while sitting in London.
He said the Pakistan Peoples Party and the MQM had created crisis in national politics.
Addressing Jamaat workers at an Eid Milan party here in a wedding hall on Tuesday, he said Mr Hussain should save his skin as he had been trapped in a number of different cases.
Mr Baloch asked Mr Hussain to come Pakistan to lead his party and face the cases instead of going on hunger strike. He asked the government to ban the telephonic speeches of Mr Hussain which he said were creating hatred against the armed forces of the country.
He said the claims about an armed wing of the MQM, its terrorism and getting funds from anti-Pakistani forces were now being endorsed by everyone.
Mr Baloch accused Asif Ali Zardari and the Sindh government of giving a free hand to the terrorists of MQM in Karachi to kill innocent people. He criticised the Sindh government for failing to give any relief to the common people of the province.
He said that those fled the country for fear of accountability against their massive corruption were still enjoying luxurious lives in Dubai.
Mr Baloch said the only solution to the problems of people and ills affecting the country lay in imposition of Islamic laws.
Some areas of the country were facing flashfloods while a lot of people of tail-end areas were deprived of even drinking water, he said.
Mr Baloch said the people of Sindh were facing the worst situation due to rampant corruption of the rulers who always duped the people by raising hollow slogans.
He also alleged that Prime Minister Nawaz Sharif was least concerned about even spending his time in the country. Dr Meraj ul Huda, the provincial JI Amir, speaking on the occasion, severely criticised the rulers for their indifferent and callous attitude towards the genuine problems facing Sindh.
Mohammad Hussain Mehanti, Dr Mumtaz,Hussain Sahto, Syed Daud Shah and others also spoke on the occasion.
Later Mr Baloch visited a hunger strike camp of the farmers belonging to various outlets of Akram Wah division, outside the Badin Press Club. They have been protesting against water crisis in their waterways for over a week. Mr Baloch observed a token hunger strike for sometime to express solidarity with the farmers.
He said it was due terrible governance of the PPP in Sindh that people were facing hunger and starvation.
http://www.dawn.com/news/1195546/muttahida-ppp-created-crisis-in-national-politics-says-ji-leader
----------
Balochistan conundrum: Dr Baloch renews talks offer to insurgents
By Mohammad Zafar: July 21, 2015
QUETTA: While reiterating his offer of peace talks to Baloch insurgents, Chief Minister Dr Malik Baloch has thanked Khan of Kalat Agha Mir Suleman Daud Khan for meeting a delegation of Baloch chieftains at his residence in London.
Exchanging Eid greetings with crowds of people at the Chief Minister House on Eid Day, Dr Baloch said the Khan of Kalat received the delegation with honour according to Baloch traditions. The delegation, led by Nawab Shawani, included Sardar Kamal Khan Bangulzai, Mir Khalid Khan Lango and Senator Mohammad Kabir Muhammad Shahi.
"The Khan of Kalat is our elder and it is not possible to resolve all complicated issues in one meeting," the chief minister told media persons. "We will repeat such attempts in future also," he added. "One should expect some result after a relentless struggle."
Dr Baloch said both, federal as well as provincial government, had approved the plan to pursue talks with Baloch insurgents in order to restore peace and tranquillity in the province.
Read: National Party convention: Dr Malik urges Baloch people to shun emotional slogans
"The purpose is to bring them to the negotiating table so that they should wage a peaceful and democratic struggle within the framework of the federation," he added. "It is our effort to reach out to everyone for rapprochement."
The chief minister also praised the security forces for maintaining peace and tranquillity in the province during the Eid holidays.
http://tribune.com.pk/story/923554/balochistan-conundrum-dr-baloch-renews-talks-offer-to-insurgents/
-------
Negotiations: Khan of Kalat says grand Jirga can decide his return
By Mohammad Zafar: July 22, 2015
QUETTA: The condition put forward by self-exiled Baloch leader, Khan of Kalat, has complicated the process of negotiation initiated by the Balochistan government to bring back to Pakistan all the estranged Baloch leaders.
"Khan of Kalat Agha Suleman Daud said he left the country following the decision of a grand jirga of Baloch tribal chieftains held in Kalat right after the assassination of Nawab Akbar Khan Bugti in 2006 and could return on the instruction of the same forum ," revealed a credible source present in the meeting.
"The grand jirga is only mandated to decide whether I should return to Pakistan or not as the jirga sent me abroad to fight the case of Balochistan," a close relative of Daud quoted him as saying.
The delegation – comprising Balochistan Services and General Administration Department Minister Nawab Muhammad Khan Shahwani, MNA Sardar Kamal Bangulzai, Senator Mir Kabir Muhammad Shahi and Provincial Adviser on Finance Mir Khalid Langove – met Suleman Daud in order to persuade him to return to Pakistan. The delegation informed the Khan of Kalat that people of Balochistan wanted him to come back and serve the nation. According to sources, the Khan replied that his struggle was solely for the people of Balochistan but he was unable to return.
One of the Khan's relatives said Suleman Daud also demanded that the combat forces should return to barracks and put an end to the military operation. He also demanded that all the detainees should be released and a guarantee should be given that life and property of Baloch people are protected.
However, the Balochistan government said the outcome of the meeting was positive and hoped that it would help expedite efforts at bringing back the estranged Baloch leaders.
"Most of the tribal chieftains, who had been part of the grand jirga, are either part of the government or are sitting in the Balochistan Assembly," said Balochistan Chief Minister's spokesperson Jan Mohammed Buledi. He said the government will support Khan of Kalat for holding another grand tribal gathering, once he returns as the earlier jirga was called by the Khan himself.
He said those who went to London to meet Suleman Daud were also part of the grand Jirga in 2006. "Almost all the tribal chieftains are part of the mainstream politics in Pakistan and are struggling to attain the rights of Balochistan people," Buledi said.
He said the government is hopeful and is making its utmost efforts to address this serious issue.
http://tribune.com.pk/story/924152/negotiations-khan-of-kalat-says-grand-jirga-can-decide-his-return/
-------
Border violation: Iranian forces fire four mortar shells into Panjgur
By Mohammad Zafar Published: July 21, 2015
QUETTA: Four mortar shells fired by the Iranian border forces on Tuesday landed in Balochistan's bordering district of Panjgur. However, no loss of life or damage to property was reported.
"Three mortar shells landed in open area near Kushak, Surab district of Panjgur," security sources said.
This was not the first border violation by Iranian border guards this month. A similar incident was reported on July 1.
Earlier in April, eight Iranian border guards were killed in an ambush by armed men near the Pakistan-Iran border. Sectarian outfit Jaish al Adl had claimed responsibility for the attack.
Pakistan has repeatedly raised the border violation issue with the Iranian government, which has maintained that its forces will continue to target terrorists who are a threat to peace.
http://tribune.com.pk/story/923949/border-violation-iranian-forces-fire-four-mortar-shells-into-panjgur/
---------
Paris airport imposes fine of 40,000 Euros on PIA
ZULQERNAIN TAHIR —22 07 2015
LAHORE: The Paris Airport Authority has imposed a fine of 40,000 euros on the Pakistan International Airlines for violating 'curfew hours' (at the airport).
The Paris Airport Authority has recently written a letter to the PIA asking it to pay 40,000 euros for violating the curfew hours (between 12 mid night to 6am at the airport) in last September by its Lahore-Paris flight.
The PIA flight landed and took off in curfew hours. According to a source, the Paris Airport Authority has warned the PIA to strictly follow its rules and avoid such violations in the future.
PIA spokesman Aamir Memon told Dawn that a PIA flight from Lahore to Paris got delayed in last September because of a technical issue. "The PIA flight had to land and take off during the curfew hours at the Paris airport because of this reason," he said, adding the PIA management had spoken to its office manager in Paris and hopefully this fine would be waived of as this was a "routine matter".
On the other hand, the PIA has yet to clear its outstanding dues of the General Authority of Civil Aviation of Saudi Arabia regarding air navigation charges.
The outstanding dues amounting to more than SAR 5 million in connection with Air Navigation invoice have been pending since February this year.
The Saudi aviation authority had stressed on early settlement of outstanding dues. The national flag carrier has already lost its most of the business on profitable routes and very few lucrative business routes are available and Jeddah is one of them.
The Saudi authority last year had penalised PIA over continuous flight delays and cancellations during the Haj rush at the Jeddah Airport. Fine was also imposed after reviewing all the data available and failure of PIA's commitment to streamline its operations. It had also highlighted the schedule lapses and mishandling of passengers.
It had also issued many notices to PIA on creating disruption by flight cancellation, mismanagement of flight schedule, creating passengers chaos and over bookings at the Jeddah Airport Hajj Terminal.
Aamir Memon said the PIA would clear the remaining outstanding amount in connection with air navigation to the Saudi aviation next week. He said the PIA faced problems during the last Haj operation because of shortage of fleet. "This year the PIA is operating seven Boeing and two A-330 aircraft for the Haj operation and hopefully there will be no delay," he added.
http://www.dawn.com/news/1195584/paris-airport-imposes-fine-of-40000-euros-on-pia
-------
North America
U.S. imposes sanctions on Hezbollah officials for Syria support
By Reuters, Tuesday, 21 July 2015
The U.S. government imposed sanctions on Tuesday on three leaders of the militant group Hezbollah and a businessman in Lebanon, saying they are key players in the group's military operations in Syria.
The U.S. Treasury Department said in a statement that Mustafa Badr Al Din, Ibrahim Aqil, and Fu'ad Shukr, military officials within Hezbollah, had coordinated or participated in the group's military support for the government of President Bashar al-Assad in Syria's ongoing civil war.
A fourth individual, a businessman in Lebanon named Abd Al Nur Shalan, was sanctioned for procuring weapons for Hezbollah and shipping them to Syria.
https://english.alarabiya.net/en/News/middle-east/2015/07/21/U-S-imposes-sanctions-on-Hezbollah-officials-for-Syria-support.html
-------
Pentagon: Top al-Qaeda leader killed in Syria
By Staff writer | Al Arabiya News 22 July 2015
The alleged leader of Al-Qaeda's Khorasan Group was killed in an air strike by the U.S.-led coalition in northern Syria, the Pentagon said Tuesday, according to Agence France-Presse.
The "kinetic strike" reportedly killed Muhsin al-Fadhli on July 8 while he was traveling in a vehicle near Sarmada, Syria, Pentagon spokesman Captain Jeff Davis said.
He did not confirm whether a drone or a manned aircraft had killed Fadhli.
Fadhli was allegedly the leader of the Khorasan Group, a group of senior Al-Qaeda members who have traveled from Central Asia and elsewhere in the Middle East to Syria to plot attacks on the West.
Officials say Khorasan is part of Al-Qaeda's Syrian branch, Al-Nusra Front, though experts and activists cast doubt on the distinction between the two groups.
Fadhli "was a senior Al-Qaeda facilitator who was among the few trusted Al-Qaeda leaders who received advance notification of the September 11, 2001, terrorist attacks on the United States," said Captain Jeff Davis, a Defense Department spokesman.
"His death will degrade and disrupt ongoing external operations of Al-Qaeda against the United States and its allies and partners."
Davis, who heads the Defense Department's press operations, said Fadhli was also involved in October 2002 attacks against US Marines on Kuwait's Failaka Island and on the MV Limburg, a French oil tanker.
He was reported to have been previously targeted in a U.S. air strike in September, but his death was not confirmed by U.S. officials at the time.
The U.S. State Department had posted a $7 million reward for information leading to Fadhli's death or detention.
He was wanted by law enforcement authorities in Kuwait, Saudi Arabia and the United States for terrorist activities.
The U.S. .National Counterterrorism Center has said Fadhli had become Al-Qaeda's senior leader in Iran.
Fadhli was a major facilitator to late militant Abu Musab al-Zarqawi, who once led Al-Qaeda in Iraq, and other fighters against US and multinational forces.
He was designated by the U.S. Treasury Department for providing financial and material support to Zarqawi's network and Al-Qaeda.
The U.N. Security Council's Al-Qaeda Sanctions Committee cited him in 2005 for his role in planning, facilitating and financing Al-Qaeda attacks, which triggered a freeze on his assets and a travel ban.
https://english.alarabiya.net/en/News/middle-east/2015/07/22/Senior-al-Qaeda-leader-killed-in-Syria-.html
------
Obama pitches Iran deal to vets, Daily Show's Stewart
By Julia Edwards | Reuters, 22 July 2015
President Barack Obama's campaign to convince Congress to support the Iran nuclear deal led him on Tuesday to a veterans' convention and The Daily Show, where he took jabs at those opposing the agreement.
In a back and forth on Comedy Central's nightly political satire show, Obama pushed back against hard questions from host Jon Stewart.
"This is an adversary. They are anti-American, anti-Semitic, they sponsor terrorist organizations like Hezbollah," Obama said of Iran.
"Sounds like a good partner for peace," Stewart responded sarcastically.
"Well, as has been said frequently, 'you don't make peace with your friends,'" Obama said. "The issue here is, do we want them having a nuclear weapon? The answer is no."
Obama urged Americans to write their representatives in Congress to express their opinion of the deal.
Tuesday's efforts widened the administration's efforts to gain support for the deal, from Capitol Hill to the general public.
Congress is reviewing the agreement, reached last week, and could vote to reject it. The process has prompted a lobbying effort on Capitol Hill from both the Obama administration and opponents of the accord.
The White House started the Twitter handle @theirandeal on Tuesday to inform Americans about the contents of the agreement.
Speaking to thousands of veterans at the 116th annual Veterans of Foreign Wars conference in Pittsburgh, Obama pushed back against Republicans who oppose him on the issue.
"Some of the same politicians and pundits that are so quick to reject the possibility of a diplomatic solution to Iran's nuclear program are the same folks who were so quick to go to war in Iraq and said it would take a few months," Obama said.
"We know the consequences of that choice, and what it cost us in blood and treasure."
The Daily Show interview was Obama's seventh and last appearance before Stewart leaves the show next month.
Stewart asked Obama for his take on Republican presidential contender Donald Trump, who has made a series of comments, ranging from criticism of Mexican immigrants to insults flung at Republican senators John McCain and Lindsey Graham.
Obama joked, "I'm sure the Republicans are enjoying Mr. Trump's dominance of their primary."
https://english.alarabiya.net/en/News/world/2015/07/22/Obama-pitches-Iran-deal-to-vets-Daily-Show-s-Stewart.html
-------
Kerry to visit Gulf Arab states, vows to 'push back' against Iran
DUBAI: Jul 22, 2015, U.S. Secretary of State John Kerry will seek to reassure Gulf Arab officials at a meeting in Qatar soon that Washington will work with them to "push back" against Iranian influence in the region, he told the pan-Arab newspaper al-Sharq al-Awsat.
Most U.S. allies in the energy-rich Gulf publicly welcomed a deal between world powers and Tehran over its disputed nuclear program, but they accuse Tehran of interfering in Arab conflicts and pushing hard for heightened regional influence.
"I will be traveling to Doha in the next couple of weeks to meet with the whole (Gulf Cooperation Council)," Kerry told the paper in an interview published on Wednesday. He was referring to a group of countries comprising Saudi Arabia, the United Arab Emirates, Bahrain, Kuwait, Oman and Qatar.
"I think we can persuade them both that by being more effective in our counter-push as well as through the restraints we have, they will be significantly strengthened going forward."
Iran's Supreme Leader Ayatollah Ali Khamenei told supporters on Saturday that U.S. policies in the region were "180 degrees" opposed to Iran's and his country would continue to back its allies in Arab states.
Kerry told Al Arabiya television he found those comments disturbing and troubling.
Few of America's friends in the region back the deal.
Israel is implacably opposed, and Arab allies of the United States such as Saudi Arabia, ruled by Sunni Muslims, are suspicious of an arrangement that would benefit their Shi'ite, non-Arab rival Iran, which they accuse of fomenting sectarian conflict in wars in Yemen, Iraq and Syria.
Kerry's diplomatic outreach follows a summit with Gulf Arab leaders called by President Barack Obama at Camp David in May, which was snubbed by the leaders of Bahrain and Saudi Arabia.
Despite their misgivings, Kerry said, the United States aimed to convince its allies the deal was in their interests.
"The whole reason for Camp David was to bring people together around in an organizational effort to push back against Iran," Kerry said.
"We have negotiated a nuclear deal for the simple reason that we believe if you are going to push back against Iran, it's better to push back against an Iran without a nuclear weapon than with one," he said.
(Reporting By Noah Browning; Editing by Paul Tait)
http://www.reuters.com/article/2015/07/22/us-iran-nuclear-kerry-idUSKCN0PW0CZ20150722
-------
Ohio man charged with supporting ISIS pleads not guilty
By AP | Cleveland, 22 July 2015
An Ohio man accused of trying to recruit people to join the Islamic State terror group has pleaded not guilty to federal charges in a Cleveland courtroom.
Thirty-eight-year-old Amir Said Rahman Al-Ghazi entered his plea at a hearing Tuesday. No bond was set and he remains in federal custody.
Al-Ghazi, of Sheffield Lake, pleaded not guilty to one count of supporting terrorism, two weapons-related charges and 25 counts related to marijuana sales.
He was arrested June 19 after he tried to buy an assault rifle from an undercover FBI agent.
Authorities say Al-Ghazi, formerly Robert McCollum, pledged his support online to the Islamic State group and tried to recruit others to join the cause. A criminal complaint said his targeted recruits were FBI sources.
https://english.alarabiya.net/en/News/middle-east/2015/07/22/Man-charged-with-supporting-Islamic-State-pleads-not-guilty.html
-------
U.S. general touts putting air controllers with Iraqi troops
By David Alexander | Reuters
Wednesday, 22 July 2015
Putting U.S. air controllers with Iraqi forces closer to combat areas so they can identify and direct bombing would improve air strikes on ISIS rebel targets and should be "seriously considered," a top U.S. general told lawmakers on Tuesday.
General Mark Milley, nominee for the next Army chief of staff, also told his Senate confirmation hearing he favored providing lethal defensive equipment to help Ukrainian troops counter the artillery of Russian-backed rebels.
Milley, who served in both Iraq and Afghanistan, was named to replace outgoing Army Chief of Staff Ray Odierno, whose four-year term ends in several weeks.
Milley's appointment is one of several that is reshaping U.S. military leadership. Another is the choice of Marine Commandant Joe Dunford as new chairman of the joint chiefs of staff to replace outgoing Army General Martin Dempsey.
Asked if Iraqi security forces, who have sometimes retreated from combat, were willing to fight ISIS militants, Milley said they were when he was in the country.
But after U.S. military withdrawal in 2011, the chain of command was "decimated," troops were not getting "proper pay" and training "went down the tubes," he said.
"If three or four years go by and you lack training, you lack money, you lack equipment, you lack spare parts and most importantly you lack a competent, capable, committed leadership, then you can certainly understand why units fell apart," Milley said.
Asked if forward U.S. air controllers were needed in Iraq, Milley said they would provide "more effective close-air support."
The step "should be seriously considered," he added later, noting that there would be "lots of issues with that, with security of our people."
Dempsey has rejected routine use of forward air controllers, but has indicated he might recommend them for important battles where they could affect the outcome.
Milley said he agreed with Dunford's recent comment that Russia posed the greatest threat to the United States because of its large nuclear arsenal and its behavior in recent years.
"The activity of Russia since 2008 has been very, very aggressive," he said. "They've attacked and invaded Georgia, they've seized the Crimea, they've attacked into the Ukraine. That's worrisome."
Asked whether the United States should provide weapons to enable Ukraine to counter artillery and rocket fire from Russian-backed rebels, Milley said, "lethal equipment, I think, is something we should consider, and I would be in favor of lethal defensive equipment."
The United States has resisted providing defensive lethal weapons to Kiev due to concerns about escalating the conflict. But U.S. officials have indicated they are considering it.
https://english.alarabiya.net/en/News/middle-east/2015/07/22/U-S-general-touts-putting-air-controllers-with-Iraqi-troops.html
------
US, Pakistan discuss regional stability
July 22, 2015
Washington: Top officials of US and Pakistan have stressed on achieving peace and stability in South-Asia and its economic development through enhanced cooperation.
NSA Susan Rice had met with Tariq Fatemi, Special Assistant to Pakistan Prime Minister on Foreign Affairs, at the White House yesterday.
Rice in her meeting with Fatemi appreciated their "positive approach and outreach" to its neighbors as part of Nawaz Sharif's vision of a peaceful neighborhood, a statement by Pakistan Embassy said.
This, Rice said, would go a long way in achieving enduring peace and stability in the region, it said.
Accompanied by the Pakistan Ambassador to the US, Jalil Abbas Jilani, Fatemi discussed with Rice the evolving regional scenario and how the two countries could cooperate to achieve their shared goals.
Acknowledging Pakistan's "immense sacrifices" in war against terrorism, Rice expressed US' unremitting support for accelerated regional economic development through enhanced cooperation between the countries of South Asia, the statement said.
Fatemi is currently on an official visit to the US and is meeting senior Administration officials and members of the US Congress. PTI
http://zeenews.india.com/news/south-asia/us-pakistan-discuss-regional-stability_1634134.html
------
Europe
Moscow becoming Europe's largest Muslim city
By Web Desk Published: July 22, 2015
MOSCOW: With a population of 12.5 million, Russia's capital is now home to at least 1.5 million Muslims, making it one of Europe's largest Muslim city according to political analyst Alexei Malashenko.
Whether the Muslim population is met with acceptability in the capital remains ambivalent Malashenko said "Moscow is slowly adapting to being Europe's largest Muslim city, and Muslims are gradually adapting to it."
At one end, the Muslims of Moscow seem to have been able to fit well within the social jigsaw of Russian society. Religious demonstrations and public rituals have taken place on a large scale; of which one included a gathering of a total of 180,000 people at five mosques and three temporary sites in celebration of the end of the holy month of Ramazan.
Another included a gathering of 60,000 in light of Eidul Fitr at the golden domed Sobornaya mosque. However those who passed by appeared to be scared and baton-wielding police officers were present.
Furthermore, a new custom in Moscow includes thousands of Muslims gathering on Saturday mornings, chanting "God is great!" Additionally, the presence of Muslim's in Moscow has given rise to a large number of ethnic Russians reverting to Islam.
"I hear many compliments about how I am dressed and how beautiful it looks," said Anastasiya Korchagina, who changed her first name to Aisha after reverting to Islam five years ago.
However, the extent to which the Muslims of Moscow feel unpleasant is reasonable. Citizens have claimed that in the workplace they are censured for carrying out their prayers. Similarly, Murad Abdullaev told a news channel that "You want to pray at a mosque, you have to enter a cage."
The number of mosques too remain limited to six within the large city, consequent to the fact that attempts to build more are met with resistance. There exist only a handful of Muslim kinder-garden schools and only two halal hotels in the city. The only Muslim health clinic and gym shut down soon after their opening.
http://tribune.com.pk/story/924270/moscow-becoming-europes-largest-muslim-city/
-------
British university says its Koran manuscript is among world's oldest
LONDON: Jul 22, 2015 | BY MICHAEL HOLDEN
A British university said on Wednesday that fragments of a Koran manuscript found in its library were from one of the oldest surviving copies of the Islamic text in the world, possibly written by someone who might have known Prophet Mohammad.
Radiocarbon dating indicated that the parchment folios held by the University of Birmingham in central England were at least 1,370 years old, which would make them one of the earliest written forms of the Islamic holy book in existence.
"They could well take us back to within a few years of the actual founding of Islam," said David Thomas, Professor of Christianity and Islam at the university.
Researchers said the manuscript consisted of two parchment leaves and contained parts of Suras (chapters) 18 to 20, and was written with ink in an early form of Arabic script known as Hijazi.
The university said for years it had been misbound with leaves of a similar Koran manuscript which dated from the late seventh century.
The radiocarbon dating, said to have a 95.4 percent accuracy, found the parchment dated from between 568 and 645. Mohammad is believed to have lived between 570 and 632.
Thomas said the tests carried out on the parchment of the folios strongly suggested the animal from which it was taken was alive during the lifetime of the Prophet Mohammad or shortly afterwards.
"TEARS OF JOY"
"The person who actually wrote it may well have known the Prophet Mohammad. He would have seen him probably, he would maybe have heard him preach. He may have known him personally," Thomas told BBC TV.
The manuscript was part of the university's collection of 3,000 Middle Eastern documents which was acquired in the 1920s by Alphonse Mingana, a Chaldean priest born near Mosul in Iraq.
His trips to acquire the manuscripts were funded by philanthropist Edward Cadbury to raise the status of Birmingham as an intellectual centre for religious studies.
"The parts of the Koran that are contained in those fragments are very similar indeed to the Koran as we have it today," Thomas said. "So this tends to support the view that the Koran that we now have is more or less very close indeed to the Koran as it was brought together in the early years of Islam."
The university said it will put the manuscript on public display in October, and Muhammad Afzal, chairman of Birmingham Central Mosque, said he expected it to attract people from all over Britain.
"When I saw these pages I was very moved. There were tears of joy and emotion in my eyes," he told the BBC.
http://www.reuters.com/article/2015/07/22/religion-koran-britain-idUSKCN0PW0YE20150722
--------
Italy police arrest two suspected Islamic State supporters
MILAN: Jul 22, 2015
Italian police arrested a Tunisian and Pakistani on Wednesday on suspicion they were plotting attacks in Italy and circulating threatening messages on the Internet in support of Islamic State.
The men were arrested in Brescia, a small city near Milan, police said in a statement, without naming either man.
It said the Tunisian man, 35, had created a Twitter account from which he posted "threatening messages signed Islamic State" with the backdrop of famous landmarks such as Rome's Colosseum and Milan's cathedral.
Police were due to give details at a news conference later on Wednesday.
Italian security forces have for months been on high alert against attacks at embassies, synagogues, churches, the Vatican and areas usually crowded with tourists.
(Reporting by Silvia Aloisi,; editing by Philip Pullella, Larry King)
http://www.reuters.com/article/2015/07/22/us-italy-islamic-state-arrests-idUSKCN0PW0JY20150722
------
French prosecutor requests Arafat death probe be shelved
Nanterre, France, AFP 21 July 2015
A French prosecutor on Tuesday said there was no case to answer regarding the death of Palestinian leader Yasser Arafat, whose widow alleges he was poisoned.
"The prosecution gave the opinion that the case should be dismissed," the prosecutor's office told AFP.
Arafat died in Percy military hospital near Paris aged 75 in November 2004 after developing stomach pains while at his headquarters in the West Bank city of Ramallah.
His widow Suha filed a case in 2012 at a court in Nanterre, north of Paris, saying he was murdered.
The same year, Arafat's tomb in Ramallah was opened for a few hours allowing three teams of French, Swiss and Russian investigators to collect around 60 samples.
Three French judges concluded their investigations in April and sent their findings to the Nanterre prosecutor.
A center in the Swiss city of Lausanne had tested biological samples taken from Arafat's belongings that were given to his widow after his death, and found "abnormal levels of polonium."
It stopped short of saying that he had been poisoned by the extremely radioactive element.
However, French experts found that the isotopes polonium-210 and lead-210, found in Arafat's grave and in the samples, were of "an environmental nature," Nanterre prosecutor Catherine Denis said in April.
Lawyers for Arafat's widow accused the judges of closing the investigation too quickly and called for more experts to be questioned.
https://english.alarabiya.net/en/News/middle-east/2015/07/21/French-prosecutor-requests-Arafat-death-probe-be-shelved.html
-------
Mideast
Israel declares stone-throwers terrorist, approves 20 years prison
REUTERS —22 07 15
JERUSALEM: Israel's parliament imposed tougher penalties of up to 20 years prison for people throwing stones at vehicles and roads, a move one Palestinian official branded racist and excessive.
Lawmakers voted 69 to 17 to increase the punishments late on Monday, approving legislation proposed after a wave of Palestinian protests last year in East Jerusalem.
"Tolerance toward terrorists ends today. A stone-thrower is a terrorist and only a fitting punishment can serve as a deterrent and just punishment," Israel's Justice Minister Ayelet Shaked, of the far-right Jewish Home party, said in a statement.
Also read: Israel responsible for Gaza shelter attacks: UN report
Confrontations between Palestinian youths and Israeli police routinely degenerate into violent clashes, and stone-throwing has been a symbol of Palestinian resistance since the first Palestinian uprising, or Intifada, against Israel in the late 1980s and early 1990s.
Since 2011 three Israelis, including a baby and a girl, have been killed in the occupied West Bank after rocks were thrown at vehicles they were in.
Human rights groups have criticised Israel for using excessive force including live fire in suppressing Palestinian demonstrations, causing dozens of deaths and hundreds of injuries.
The new law allows for a sentence of up to 20 years in jail for throwing a rock at a vehicle with the intent of causing bodily harm and 10 years in prison if intent was not proven.
Prosecutors in such cases have usually sought sentences of no more than three months in jail when the offence does not result in serious injury.
Qadura Fares, head of the Palestinian Prisoner Club, an organisation that advocates on behalf of Palestinian prisoners in Israeli jails, said the new law was "racist".
"This law is hateful and contradicts the most basic rule that the punishment fit the offence," he said.
The law would cover territory including East Jerusalem, but not the occupied West Bank, most of which is under the jurisdiction of the Israeli military.
Israel hands down about 1,000 indictments a year for rock-throwing, according to the Israeli Knesset.
Prime Minister Benjamin Netanyahu's right-wing government faced growing calls to take action after the Palestinian protests in 2014 over the Gaza war and the burning alive of a Palestinian teenager in a suspected revenge attack for the killing of three Israeli teens by Palestinian militants.
During the protests, stones were regularly thrown at the city's light railway.
The new legislation was originally promoted by Shaked's predecessor, centrist Tzipi Livni.
The Palestinians seek a state in East Jerusalem, the West Bank and Gaza Strip. US-brokered peace talks between Israel and the Palestinians broke down in 2014.
http://www.dawn.com/news/1195576/israel-declares-stone-throwers-terrorist-approves-20-years-prison
--------
India
Pakistan's envoy makes a pitch for better ties with India
By News Desk Published: July 22, 2015
Pakistan's High Commissioner to India Abdul Basit said on Tuesday that Islamabad was committed to improving ties with New Delhi amid renewed tensions between the two hyphenated but hostile neighbours.
Speaking on the sidelines of an Eid Milan programme at Pakistan's High Commission in the Indian capital, Basit said, "We all want all issues of importance between Pakistan and India to be discussed. We hope very soon our leaders will meet and resolve all issues of importance between our two nations."
"I hope very soon we move from confrontation to cooperation. I want to assure you that our Prime Minister Nawaz Sharif is committed to peace between our two nations," he added.
Commenting on the meeting between Nawaz Sharif and Narendra Modi in the Russian city of Ufa, he said, "Pakistan is committed to building on positivity which was reflected in Ufa. We hope that we can make a good beginning."
Imam Bukhari and Tariq Bukhari, Aam Aadmi Party's Iliyas Azmi and Hurriyat leader Mirwaiz Umar Farooq were among those who attended the Eid Milan.
Basit comments come against the backdrop of India's violation of a delicate ceasefire on the border between the two nuclear-armed countries.
The two countries have traded blame for a series of firefights and shelling over the past two days along their contentious border. The perennially tense ties suffered a major blow last week when an Indian reconnaissance drone was shot down for intruding Pakistani airspace along the Line of Control (LoC).
Breaking months of deadlock, India and Pakistan decided to revive the dialogue process following talks between Nawaz and Modi in Russia. In their first bilateral talks in over a year, the two leaders met in Ufa's Congress Hall on the sidelines of the Shanghai Cooperation Organisation (SCO) summit and decided that National Security Advisers Ajit Doval and Sartaj Aziz would meet in New Delhi either next month or in September to discuss "all issues connected to terrorism".
http://tribune.com.pk/story/924162/pakistans-envoy-makes-a-pitch-for-better-ties-with-india/
-----
Curfew imposed in Jamshedpur after clashes
RANCHI July 22, 2015, by Desk
Ranchi, July 22 (IANS) A curfew has been imposed in Jharkhand's Jamshedpur city, the home town of Chief Minister Raghubar Das, after two communities clashed over the alleged harassment of a girl, police said on Wednesday.
The curfew was imposed on Tuesday night. Trouble started on Monday evening when a girl of one community was allegedly harassed by boys of another community. The incident took place near Gandhi maidan area of city.
A mob burnt tyres following which members of the two communities clashed. Police said both the communities resorted to violence at many places and burnt vehicles.
On Monday, prohibitory orders were imposed. But as the situation continued to be tense, authorities imposed a curfew in many parts of the district.
More than 100 people have been arrested so far.
Das has set up a two-member committee to probe the incident and appealed to the people to maintain calm. Source: IANS
http://www.avenuemail.in/ranchi/curfew-imposed-in-jamshedpur-after-clashes/78650/
------
Amid border tensions, Nawaz sends mangoes to Modi
By Web Desk Published: July 22, 2015
In a bid to normalise escalating border tensions between the two neighbouring countries, Prime Minister Nawaz Sharif sent a box of mangoes to his Indian counterpart Narendra Modi, The Hindustan Times reported.
"Mangoes were delivered to Modi through official channels even as Pakistan was accusing us of flying a drone into its airspace,'' an official told Hindustan Times on the condition of anonymity.
The move comes amid renewed tensions along the Line of Control in Kashmir and the working boundary in Sialkot, as well as the intrusion of an Indian 'spy' drone into Pakistani territory.
Pakistan and India have constantly exchanged gunfire in the last week. Four people have been killed by the firing of Indian border security forces on civilian populations on the Pakistani side in recent days. Five more have been left injured by the unprovoked attacks.
Earlier it was reported the clashes have thrown the fate of crucial talks between the national security advisers of Pakistan and India in the doldrums with New Delhi reluctant to fix a date for the meeting.
During a recent meeting between Prime Minister Nawaz Sharif and his Indian counterpart Narendra Modi in the Russian city of Ufa, the two leaders had agreed to a meeting of their security advisers in New Delhi to discuss issues related to terrorism.
http://tribune.com.pk/story/924413/amid-border-tensions-nawaz-sends-modi-mangoes/?utm_source=Daily+Roundup+Newsletter&utm_campaign=35535c72a2-Daily_Roundup_5pm&utm_medium=email&utm_term=0_19961368d8-35535c72a2-65338937
-----
URL: https://www.newageislam.com/islamic-world-news/new-age-islam-news-bureau/at-least-40-killed-in-tribal-clashes-in-biggest-city-in-southern-libya/d/103988