New Age Islam News Bureau
20 March 2014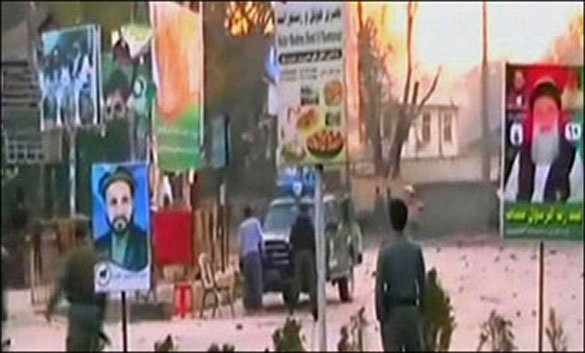 Photo: Multiple suicide attack on Jalalabad PS
----------
South Asia
• At Least 18 Dead in Taliban Suicide Attack On Jalalabad Police Station
• Afghanistan: As China forges new alliances, a new Great Game has begun
---------------
Arab World
• Suicide attack in Baghdad cafe kills 12 people
• Saudi accepts 181 UN human rights proposals
• Shoura finds labour pact with Manila unacceptable
• Saudi Arabia jails 13 for 'terror' offences
• Syria rebels seize prison near Jordan, free inmates
---------------
Mideast
• Egypt general, colonel killed in clash with militants
• Israel 'destroys' ancient Palestinian sites
• Border control is essential to end Syria crisis, Iran says
• Israel strikes Syrian posts, warns Assad
• Disgruntled worker kills six at Turkish govt agency
• Turkey on Course to Joining Advanced World Economies, Author Say
• Tehran 'won't give up' uranium enrichment
• Al-Qadi allegedly manipulating Turkish foreign policy on Egypt
---------------
Europe
• Muslim Tatars Fear Hard Times under Russia
• 'Morocco winning anti-terrorism fight through moderate Islam'
• Charity Spreads Islam Awareness in UK
• Michael Piggin terror plot trial shown anti-Muslim video
---------------
Africa
• Christian leaders urge dialogue with Nigeria's violent Boko Haram
• Somalia launches ideology war against Al-Shabaab
• Brazen al-Shabaab attack in Bulo Burde tests resolve of allied forces
• UN struggles to rehouse South Sudan refugees
• Libya asks world to help it fight 'terrorism'
---------------
North America
• Islamic Group Shares Concerns with ABC Family Show
• US Muslim Family Sues Empire State
---------------
Pakistan
• Pakistan not sending troops to Bahrain or Saudi: PM
• Nawaz to allay West's concerns on nukes safety
• Efforts should be made to make talks fruitful: JI
• Govt finalises plan for direct talks with TTP
---------------
Southeast Asia
• Shariah conviction in Penang of Indonesian Christian throws up jurisdictional limbo
• Malaysia probes 'deleted' data of Missing Plane
• Ethnic Malaysia finds unity in shared sadness of missing plane
• In Indonesian Christian's Khalwat conviction, Pakatan leaders see 'gross' power abuse
• Indonesian Muslim cleric faces 12-year jail term over sex video
---------------
India
• Don't let Muzaffarnagar riot refugees vote, BJP nominee says
Compiled by New Age Islam News Bureau
URL: https://www.newageislam.com/islamic-world-news/new-age-islam-news-bureau/at-least-18-dead-in-taliban-suicide-attack-on-jalalabad-police-station/d/56210
---------------
South Asia
At Least 18 Dead in Taliban Suicide Attack On Jalalabad Police Station
2014-03-20
JALALABAD: Seven Taliban suicide attackers stormed a police station in the centre of Jalalabad city in eastern Afghanistan on Thursday, killing 10 policemen in a major assault ahead of the presidential election.
The target of the three-hour truck bomb and gun assault was a police station near the governor's house in the city, which has been the scene of repeated militant attacks in recent years.
The Taliban have vowed a campaign of violence to disrupt the election on April 5, and a spokesman for the insurgents claimed responsibility for the early-morning suicide strike which also left a civilian dead.
"Ten policemen, including the district police chief, were killed and 14 police were wounded," deputy interior minister Mohammad Ayoub Salangi told AFP.
"One civilian was also killed, and all seven attackers.
Sediq Sediqqi, spokesman for the interior ministry, said one or two attackers had holed up in a small room inside the police station before they were finally killed by security forces.
Bomb scatters debris
Taliban spokesman Zabiullah Mujahid said the attack began when a mini-truck loaded with explosives was detonated at the station's entrance.
The blast left debris littered across the surrounding streets as security forces cordoned off the scene.
Homayoun Zaheer, chief doctor at Jalalabad hospital, told AFP that a total of 20 people had been treated for injuries.
The area of the attack includes the compound of the governor of Nangarhar province, of which Jalalabad is the capital, several other government buildings and the state-run television station.
Ten days ago Taliban leaders vowed to target the presidential election, urging their fighters to attack polling staff, voters and security forces before the vote to choose a successor to President Hamid Karzai.
Previous Afghan elections have been badly marred by violence, with 31 civilians and 26 soldiers and police killed on polling day alone in 2009, as the Islamist militants displayed their opposition to the US-backed polls.
On Tuesday a suicide bomber killed 16 people at a crowded market in the northern province of Faryab. There was no claim of responsibility for that attack.
Another bloodstained election would damage claims by international donors that the expensive military and civilian intervention in Afghanistan since 2001 has made progress in establishing a functioning state system.
Nato combat troops are withdrawing from the country after 13 years of fighting a fierce Islamist insurgency, which erupted when the Taliban were ousted from power after the 9/11 attacks on the United States.
Karzai, who is barred from serving a third term in office, has consistently said Afghanistan will hold a safe and clean election, despite previous violence and allegations of massive fraud when he won the last poll five years ago.
The election front-runners are Abdullah Abdullah, who came second in 2009, former foreign minister Zalmai Rassoul and former World Bank economist Ashraf Ghani.
The next president will face a testing new era as the Afghan army and police take on the Taliban without the assistance of 53,000 Nato combat troops.
http://www.dawn.com/news/1094405/multiple-afghan-suicide-attack-kills-ten-police
---------------
Afghanistan: As China forges new alliances, a new Great Game has begun
March 20, 2014
William Dalrymple - As the disappearance of flight MH370 dominated the headlines across China, a party of senior US officials and AfPak experts arrived in Beijing last week for discreet talks with their Chinese counterparts. They were there as part of a little reported but crucial new Sino-American dialogue on Afghanistan, discussing the role China could play there after the US withdrawal. It is an important development in the new Great Game that is already realigning the delicate geopolitical balance of the region.
The public standoff between the world's two greatest military powers in the South China Sea over the Senkaku/Diaoyu islands has disguised a growing detente between them both over central Asia. "The Chinese are very much aware that we are now on the same page in Afghanistan," I was told by a senior state department official with the delegation. "Our interests are now in almost complete alignment there."
The fledgling dialogue received a huge boost earlier this month when China suffered what one newspaper affiliated with the party described as "China's 9/11". A knife attack by a group of eight militants at Kunming station in Yunan province left 29 dead and 140 injured. The authorities stated that the assailants were Uighurs, the Turkic-speaking Muslim minority, many of whom want independence for the northwest region of Xinjiang – or East Turkestan, as Uighurs call it.
Tensions between Uighurs and Han Chinese have been simmering for years. The Chinese have bulldozed great swaths of Kashgar, the historic Uighur capital, and drafted hundreds of thousands of Han Chinese into the sensitive border region. Like the Tibetans, the Uighurs now find themselves a minority in their own homeland.
In 2009 riots between Uighurs and Han in the regional capital of Urumqi left more than 100 dead. In October 2013, a vehicle carrying three Uighurs ploughed into pedestrians near Tiananmen Square, killing two and wounding 40. The Chinese authorities said the attack was the work of the East Turkestan Islamic Movement (Etim), a militant Uighur group they say has links to the Taliban and Pakistani militant networks. Last week there were was much gossip in China of a possible Etim hijacking in the case of flight MH370.
This may well prove illusory, and American intelligence does not believe that the Uighur militant presence in Afghanistan or Pakistan is very large: "There must be some Uighurs there," I was told by a US delegation member last week. "But the Chinese overdo it. The Uighurs are certainly not as significant a presence as the Uzbeks, who are definitely there and are genuinely a threat." The primitive nature of the Kunming attack – using knives not guns or bombs – would seem to confirm that the Uighurs may be angry but they remain largely untrained and unarmed.
Nevertheless, the perceived Pakistan link to Uighur militancy has become the crucial factor in changing the Chinese approach to Afghanistan. Five years ago the Chinese viewed the country primarily as a source of hydrocarbon and mineral deposits – trillions of dollars of the oil, gas, copper, iron, gold and lithium that China will need if its economy is to expand. In 2008 Chinese Metallurgical Group and Jiangxi Copper Co bought a 30-year lease on the site of Mes Aynak in Logar for $3bn, which they estimated to be the largest copper deposit in the world. But after Taliban attacks the mine remains dormant, and Beijing now views Afghanistan more as a security problem than an economic opportunity: "Driving Chinese policy in Afghanistan now are concerns on terrorism," said the state department official.
In September 2012, the then Chinese public security chief, Zhou Yongkang, visited Kabul, the first such visit by a Chinese minister – and announced a major turnaround in policy. China began security co-operation with President Hamid Karzai's regime, training 300 Afghan police officers. Since then the US and China have collaborated in training Afghan diplomats, health workers and agricultural engineers, the first time China has ever co-operated with a third party in another country. Ambassador James Dobbins, Obama's special representative for Afghanistan, now has thrice-yearly meetings with his Chinese counterpart to discuss future areas of co-operation.
Barnett Rubin, who recently stepped down as adviser to Obama's special representative for Afghanistan and Pakistan, told the Jaipur Literature Festival that China and America "have a growing convergence of interests in the areas to the west of China. Taliban militants attacking Chinese mining activities in Logar province are coming from Pakistan. Uighur militants in western China are being trained in Pakistan, and are going back to China. China has found that Pakistan is not effectively stopping those people. This has really affected China's attitude to Pakistan. This is one of the reasons why Chinese-Indian relations have started to warm, and that China is seeking co-operation with the US in Afghanistan."
While China is pressing Pakistan to do more to contain militant groups, it is also mending fences with India, an old rival. It has pulled back its troops from disputed border areas in the Himalayas and is entering into talks with India on security co-operation in Afghanistan. Last month China became India's biggest trading partner. The China-Pakistan alliance, for 50 years the crucial relationship between south and east Asia, is now looking increasingly past its sell-by date. Much of what happens next will be determined by events in Afghanistan. Elections will be held, Karzai will step down, and Nato and the US will both withdraw. Sadly, the stability and integrity of Afghanistan during that process is something that even the growing power of China cannot guarantee.–Guardian
http://www.nation.com.pk/international/20-Mar-2014/afghanistan-as-china-forges-new-alliances-a-new-great-game-has-begun
---------------
Arab World
Suicide attack in Baghdad cafe kills 12 people
2014-03-20
BAGHDAD: A suicide bomber struck inside a Baghdad cafe overnight where customers were watching a football game on TV, killing at least 12 people and wounding 38, Iraqi officials said Thursday.
The attack in the western Washash neighborhood took place late on Wednesday night, two police officers said. The bomber had mingled with the cafe crowd and set off his explosives-laden belt as they watched the game.
A medical official confirmed the casualty figures. All officials spoke on condition of anonymity because they are not authorized to talk to the media.
Iraq has been struck by a surge in violence unseen since 2007, relentless attacks that have become the Shiite-led government's most serious challenge.
Violence has spiked since last April, when security forces cracked down on a Sunni protest camp north of Baghdad in clashes that left 45 dead.
Scores of people have been killed in the Iraqi capital, in recent attacks that have targeted busy areas, restaurants and other public places.
On Tuesday, a series of bombings struck both commercial streets and security forces in Baghdad and its surroundings, killing 15 people.
No one has claimed responsibility for the latest attacks, but they bear the hallmarks of an Al Qaeda breakaway group that frequently uses car bombs and suicide attacks to target public areas such as cafes, restaurants, mosques and markets to undermine the government's efforts to maintain security in the country.
According to the UN 8,868 people were killed in Iraq last year the country's highest death toll since a peak of sectarian bloodletting in 2007.
http://www.dawn.com/news/1094417/suicide-attack-in-baghdad-cafe-kills-12-people
---------------
Saudi accepts 181 UN human rights proposals
19 Mar 2014
Saudi Arabia has accepted, either totally or partially, the vast majority of recommendations made to it by the UN Human Rights Council, but Amnesty International has warned that many of the reforms were vaguely worded promises to "consider" changes.
The kingdom was handed 225 recommendations at the 17th session of the Working Group of the Universal Periodic Review (UPR) of the UN Human Rights Council (UNHRC) in October 2013.
At the meeting of the 25th session of the UNHRC in Geneva on Wednesday, Saudi Arabia fully accepted 145, partially accepted 36, gave no answer to six, and rejected 38.
The accepted recommendations included taking steps to phase out male guardianship for women.
In a statement on Wednesday, Amnesty International said despite Saudi Arabia's action, the kingdom had "rejected crucial recommendations to ratify core international treaties including those that would safeguard the rights of women and grant victims access to justice".
"Until Saudi Arabia's actions match its words the kingdom's dire reputation as a grave violator of human rights is unlikely to change," said Said Boumedouha, Deputy Director of the Middle East and North Africa Programme at Amnesty International.
"Saudi Arabia must prove that its acceptance of these recommendations is more than a mere public relations exercise designed to deflect criticism of its human rights record."
Welcomed changes
A source travelling with the Saudi delegation, who wished to remain anonymous, told Al Jazeera that significant advances had been accepted by the kingdom, most particularly those regarding male guardianship.
However, Amnesty International said that despite accepting this recommendation, the Kingdom refused to acknowledge the existence of such a guardianship system and claimed that laws in Saudi Arabia already guarantee equal rights to women and men.
"By and large women in Saudi Arabia are still treated like second-class citizens," it said.
Dr Abdulaziz Sagar, chairman of the Gulf Research Centre, told Al Jazeera that: "The most significant recommendations accepted are 151 and 37, which state an intent to prohibit torture and codify criminal law respectively."
He also said that the kingdom had accepted all the recommendations on fighting human trafficking, building human rights awareness, and protecting labour.
"This is an unequivocal stance in favour of improving human rights in the country," said Sagar.
Boumedouha cautioned however that the "kingdom's human rights record remains appalling."
"While any signs that Saudi Arabia is committed to improving human rights are to be welcomed, the measures accepted today alone are not going to stop the authorities from imprisoning peaceful critics or ending gross discrimination against women and girls," he said.
According to the rights organisation, Saudi Arabia has persistently implemented repressive policies that stifle freedom of expression, association and assembly in defiance of international criticism.
Peaceful demonstrations and gatherings are banned and many people have been jailed merely for posting harmless messages on social media, it said.
A new vaguely-worded anti-terrorism law granting sweeping powers to the authorities, has raised fears of a renewed crackdown on peaceful dissent in the name of defending national security, the rights organistion said.
'Arab Spring' effect
The source travelling with the Saudi delegation told Al Jazeera that the move to accept the majority of the recommendations was likely due to pressures on the country because of developments within the region, particularly those related to the "Arab Spring" and growing demands within the country.
Tamader Yousef Mogbel Al-Rammah is a Saudi academic at the Princess Noura University in Riyadh, who is also part of the Saudi delegation to Geneva.
Speaking to Al Jazeera, Al-Rammah, who has worked on a number of new initiatives aimed at improving access to healthcare and education in Saudi Arabia, said that the kingdom had freely accepted the UPR process and committed itself to follow through on the recommendations it had accepted.
"In many cases, plans were already in place to implement changes that other countries recommended," he said.
"Many people don't realise that Saudis want this progress for their own sake, not just for the sake of the international community."
Speaking to Al Jazeera, an driving campaign activist, Aziza al-Yousef, said that while women in the country reach high positions in work, they still need permission to get a job.
"They cannot travail without the permission of their legal guardian and can not drive to their prestigious jobs," she added.
Commenting on the demand from some groups within the country for women to be allowed to drive, the anonymous source in Geneva told Al Jazeera that it was expected that the human rights advancements would eventually lead to this.
http://www.aljazeera.com/indepth/features/2014/03/saudi-accepts-181-un-human-rights-proposals-2014318164746532558.html
---------------
Shoura finds labour pact with Manila unacceptable
20 March 2014
Shoura Council members have criticized the draft agreement on the recruitment of domestic workers from the Philippines as harsh on Saudis, and said the Labor Ministry should revise it, according to a report in a local newspaper.
The council members said the agreement imposed certain penalties on Saudis without similar conditions for workers.
"The agreement does not say anything about compensation for an employer if a worker runs away," one member reportedly said.
Haya Al-Manie, a women member, said: "The agreement does not include the issue of a worker assaulting an employer or a family member."
There were several instances of violent foreign workers harming Saudi sponsors and their children, they said.
Al-Manie said the agreement did not specify any penalties for workers or their governments for violations.
"This agreement has been drafted against the interests of Saudi citizens," the member said.
One member said no one represented Saudi employers when discussions took place with the Philippine side on the clauses of the agreement.
However, one member said that Saudis must be made more aware of the rights of workers. In addition, foreign workers must be conversant with Saudi culture and traditions so that they understand their employers.
Another member said higher recruitment costs could not be justified because hiring not only benefits Saudis, but also workers and their countries.
The council said the ministerial committee overseeing the process should revise the agreement and resubmit it during its next session.
The agreement aims to protect the rights of Filipino workers and their employers. It lays out certain requirements including working hours and minimum pay for domestic workers.
http://www.arabnews.com/news/543091
---------------
Saudi Arabia jails 13 for 'terror' offences
March 20, 2014
RIYADH, March : A Saudi court Wednesday sentenced 13 people to up to 14 years in prison for backing "terrorist organisations", training with Al-Qaeda and luring young people to fight abroad, media reported. The ultra-conservative Muslim kingdom recently toughened measures against Islamist groups, listing Al-Qaeda-linked organisations fighting in Syria among terrorist movements. The 13–nine Saudis, two Jordanians, an Egyptian and one Syrian–were convicted of providing support to people wanted for security reasons, and "supporting terrorism, as well as terrorist acts and organisations", the official SPA news agency said. Some defendants were charged with undergoing weapons training at "Al-Qaeda bases", SPA said.
Charges also included "coordinating to arrange the travel of misled youths to areas of trouble and fighting", the agency said, without elaborating.
One defendant received a 14-year jail sentence, while the remainder were jailed for between three and nine years.
Full report at:
http://www.nation.com.pk/international/20-Mar-2014/saudi-arabia-jails-13-for-terror-offences
---------------
Syria rebels seize prison near Jordan, free inmates
20 March 2014
BEIRUT: Rebels seized a prison outside the city where Syria's uprising began three years ago this month and freed dozens of inmates, activists said on Wednesday.
They took control of the Gharaz Central Prison on the outskirts of Daraa near Syria's border with Jordan after fighting off President Bashar Assad's forces.
Rebel supporters posted videos online showing what they said were fighters touring the prison grounds and greeting and embracing prisoners they had freed.
"God give life to the Free Syrian Army," men chanted in one video, referring to anti-Assad rebel fighters. Another video showed four bodies of what were said to be pro-Assad soldiers. "This is the fate of all tyrants," the man filming said.
Full report at:
http://www.arabnews.com/news/542961
---------------
Mideast
Egypt general, colonel killed in clash with militants
March 20, 2014
CAIRO: Two senior Egyptian army officers were killed during a raid on a jihadist hideout north of Cairo on Wednesday, as security forces close in on militants in the Nile Delta.
Six members of the Al-Qaeda-inspired Ansar Beit al-Maqdis (Partisans of Jerusalem) group, which has been implicated in spate of attacks on security forces, were also killed in the hours-long shootout, the army and police said.
The jihadists have increasingly shifted their campaign of bombings and shootings from their base in the restless Sinai Peninsula to the Nile Delta and the capital. Ansar Beit al-Maqdis has claimed responsibility for some of the deadliest attacks in a wave of violence that has killed more than 200 soldiers and policemen since the army overthrew Islamist president Mohamed Morsi in July.
The brigadier and colonel killed in the early morning shootout were both bomb disposal experts, the army said.
The cell targeted was suspected of involvement in a Saturday attack on a military checkpoint that killed six soldiers, as well as a January bombing of Cairo police headquarters.
The interior ministry said several barrels filled with explosives were discovered in the warehouse near the Nile Delta town Al-Qanatir Al-Khayriya, 30 kilometres (20 miles) north of the capital.
Television footage showed forensic experts sifting through bomb-making materials, including ball bearings used to make blasts more deadly.
Police also found a sedan previously identified as the getaway car used in the Cairo police headquarters bombing as well as last week's checkpoint attack.
Most of the attacks since Morsi's overthrow have taken place in the Sinai Peninsula, where jihadist leaders are believed to be based.
Full report at:
http://www.nation.com.pk/international/20-Mar-2014/egypt-general-colonel-killed-in-clash-with-militants
---------------
Israel 'destroys' ancient Palestinian sites
20 March 2014
Several ancient archeological sites were "destroyed" after the Israeli Antiquities Authority conducted controversial digs in the Palestinian neighborhood of Silwan in East Jerusalem, a Palestinian news agency reported Wednesday.
The West Bank and East Jerusalem are part of the Palestinian territories, which have been internationally recognized since 1967.
Maan News reported the Palestinian al-Aqsa Foundation for Endowment and Heritage as saying that Israel started the final stage of archaeological excavations at the site, which is located in the Wadi Silwan area only 20 meters from the walls of the Old City.
The dig reportedly destroyed a cemetery that dated back to the Abbasid caliphate and damaged relics that date back to the Jebusite Canaanite era in the second millennium BC, according to the Palestinian al-Aqsa Foundation.
Ir David Foundation, commonly known as Elad, is funding the excavations as part of a plan to build a seven-story building which will serve as a Jewish cultural center, the Palestinian foundation said in a statement.
The Israeli project reportedly includes building a biblical park in the area, alongside the City of David archaeological park, and will feature a "museum of Jewish history" and a "Jewish national park."
Full report at:
http://english.alarabiya.net/en/life-style/art-and-culture/2014/03/20/Israel-destroys-ancient-sites-in-Palestinian-territories.html
---------------
Border control is essential to end Syria crisis, Iran says
19 March 2014
TEHRAN – The key to end the conflict in Syria is to control Syria's borders to prevent arms shipment and entry armed groups into the country, Iranian Deputy Foreign Minister Hossein Amir Abdollahian suggested in a meeting on Monday with Lakhdar Brahimi, the UN-Arab League envoy for Syria.
Amir Abdollahian, the deputy foreign minister for Arab and African Affairs, and Brahimi also exchanged views on other measures necessary to resolve the crisis in Syria.
Brahimi praised Iran's regional and international efforts to settle the civil war in Syria in a peaceful way.
Full report at:
http://www.tehrantimes.com/politics/114815-border-control-is-essential-to-end-syria-crisis-iran-says
---------------
Israel strikes Syrian posts, warns Assad
19 March 2014
Israeli air raids on Syria on Wednesday killed one soldier and injured seven, the Syrian army said, warning that the strikes endangered regional security and stability.
The army command in a statement said the strikes targeted military bases in the Quneitra region "leading to the martyrdom of one soldier and the wounding of seven others".
"We warn that these desperate attempts to escalate and exacerbate the situation in these circumstances by repeating these acts of aggression would endanger the security and stability of the region," the statement added.
The statement came after Israel announced it had carried out air raids overnight against several Syrian army positions that "aided and abetted" an attack against Israeli troops on Tuesday.
Syria, which has long accused the rebels fighting to oust President Bashar al-Assad of ties to Israel, said the Jewish state's strikes were intended to bolster the opposition.
"This new aggression is an attempt to divert attention from the successive victories achieved by the Syrian Arab Army, particularly in Yabrud," the statement said, referring to the army's capture of the former rebel bastion on Sunday.
The Syrian army statement made no mention of Tuesday's attack that targeted the Israeli soldiers.
Attack on Syrian military posts
The Israeli army attacked several Syrian military sites on Wednesday in retaliation for Tuesday's attack on an Israeli patrol near the Golan Heights Frontier. Four soldiers were wounded in the assault.
Israeli military spokesman, Lieutenant-Colonel Peter Lerner, said the attacks targeted Syrian military headquarters, a training facility and artillery batteries, according to statements carried by Reuters.
The Syrian fighting sometimes spills over into Israeli border communities, prompting occasional retaliations from Israel.
Full report at:
http://english.alarabiya.net/en/News/middle-east/2014/03/19/Israel-bombs-Syrian-military-posts-over-Golan-attack.html
---------------
Disgruntled worker kills six at Turkish govt agency
March 20, 2014
ANKARA : A disgruntled former employee burst into a government agency in eastern Turkey on Wednesday, shooting dead six staff before taking his own life.
The gunman took his one-time colleagues hostage at the Turkish Statistical Institute in the city of Kars and then embarked on a wild shooting spree that has also left many people injured, officials said.
"We unfortunately lost seven people," Development Minister Cevdet Yilmaz told reporters. The minister said the assailant was a former employee who had been blocked from any promotion after facing administrative sanctions.
"Someone who was dismissed from his job ran amok and killed six people before committing suicide," Kars governor Eyup Tepe said in a statement. It said the assailant, identified by the governor as Veysi Erim, had received treatment for "psychological problems".
Specialist police teams rushed to the scene after the hostage-taking but the staff were killed before their arrival, media reports said.
Full report at:
http://www.nation.com.pk/international/20-Mar-2014/disgruntled-worker-kills-six-at-turkish-govt-agency
---------------
Turkey on Course to Joining Advanced World Economies, Author Say
By Zuber Hewrami
18/3/2014
WASHINGTON DC – Turkish Prime Minister Recep Tayyip Erdogan has "transformed" Turkey economically and must maintain the country's openness in order to turn it into one of the world's advanced economies, according to Soner Cagaptay, speaking in Washington at his book launch.
The Beyer Family Fellow and director of the Turkish Research Program at The Washington Institute, in his new The Rise of Turkey: The Twenty First Century's First Muslim Power, outlined the inspiring potential and grave challenges inherent in the changes taking place in Turkey.
Erdogan "transformed Turkey's economic structure and increased the living standards of inhabitants in a way not seen before," Cagaptay told an audience that included analysts, Turkey experts and Iraqi ambassador Lukman Faily. "In turn, Turkey has effectively become a majority middle-class society of 55 percent in the past decade and of 85 percent by the end of this decade," he said.
Addressing the title of his talk, "Turkey's Transformation, Prospects and Limits," the author said he was optimistic about the country's future.
"The most important change to me is the fact that Turkey is on the cusp of becoming the first majority Muslim society that is also universally literate, as 95 percent of Turks are literate and by the end of the decade for the first time in history everyone in this majority Muslim society can read and write."
Full report at:
http://rudaw.net/english/middleeast/18032014
---------------
Tehran 'won't give up' uranium enrichment
20 March 2014
TEHRAN: President Hassan Rowhani insisted Wednesday that Iran would not abandon its enrichment of uranium, after US senators called for it to be denied any such right under a long-term nuclear deal.
"The world has admitted that Iran is, and will be, among the countries which have nuclear technology, including enrichment, and there is no doubt about this for anyone," state media quoted Rowhani as telling a cabinet meeting.
His comment came after an overwhelming majority of US senators signed a bipartisan letter to President Barack Obama on Tuesday urging him to reject Iran's claim to the right to enrich uranium for civilian purposes in talks under way with the major powers. "We believe that Iran has no inherent right to enrichment under the nuclear Non-Proliferation Treaty," the letter signed by 83 of the 100 members of the US Senate said.
Rowhani said Iran was ready to be more transparent about its nuclear program to allay Western concerns about its ambitions.
Full report at:
http://www.arabnews.com/news/542971
---------------
Al-Qadi allegedly manipulating Turkish foreign policy on Egypt
19 March 2014
A recently leaked recording purportedly between Saudi businessman Yasin al-Qadi, who is on the US Department of Treasury's "specially designated global terrorist" list, and Turkish Prime Minister Recep Tayyip Erdoğan's son Bilal has created doubts concerning the motives of the Erdoğan government's foreign policy in Egypt.
The audio recording was uploaded by Twitter user "Başçalan" (Prime Thief) onto YouTube late Tuesday. In it the alleged voice of al-Qadi tells someone on the line with a voice said to be that of Bilal Erdoğan in English to warn his father (the prime minister) about his intense public criticism of Saudi Arabia. Al-Qadi asks Bilal if he can possibly talk with his father for a short time and mentions that if time doesn't allow, he would like for Bilal Erdoğan to give the prime minister a message -- not to use harsh rhetoric against Saudi Arabia.
"Let him [Erdoğan] not fire on our people [Saudi Arabians] for the time being ... not to speak hard [against] our people [Saudi Arabians]," a man, allegedly al-Qadi, says in English in the recording.
Erdoğan has been very critical of the military intervention in Egypt that ousted Egypt's first democratically elected president Mohammed Morsi in early July of last year. He has criticized Western nations for not calling the military intervention "a coup." Saudi Arabia backed the military intervention against Morsi.
Full report at:
http://www.todayszaman.com/news-342554-al-qadi-allegedly-manipulating-turkish-foreign-policy-on-egypt.html
---------------
Europe
Muslim Tatars Fear Hard Times under Russia
19 March 2014
SIMFEROPOL – As Russia celebrates annexing Crimea to its territories, native Muslim Tatars in the Black Sea peninsula are voicing increasing fears of losing their identity and freedom under the Russian reign.
"Why do I not want to be a part of Russia?" Mustafa Asaba, a regional leader of Crimean Tatars, told Reuters on Tuesday, March 18.
"Russia's government is unpredictable, because at its head sits a dictator," he said, referring to President Vladimir Putin.
Earlier on Monday, electoral officials in Crimea confirmed the official results of the peninsula's referendum after 96-prcent voted in favor of Crimea quitting Ukraine.
The referendum was followed by several steps from pro-Moscow Crimean parliament, issuing a law that allows Russia's annexation of the disputed peninsula.
By Tuesday, Russian President Vladimir Putin has signed a treaty which puts Crimea under the Russian control, saying "the peninsula has always been part of Russia".
After Russian annexation of Crimea, fears of Muslim Tatars were doubled, voicing concerns over losing freedom and reviving the memories of exile and prosecution they faced in 1944.
"We have always enjoyed freedom of expression ... and I think that if they oppress us, we will resist," Asaba vowed.
"There will be trials and prisons. Nothing good will come of it," the Tatar leader added.
More than 250,000 Tatars now live in Crimea, about 13 percent of its population of 2 million people.
Back to 1944
As the Russian incursions rise in Crimea, the images of 1944 forced evacuation by Joseph Stalin were back to the memories of fearful Muslims.
Full report at:
http://www.onislam.net/english/news/europe/470409-muslim-tatars-fear-hard-times-under-russia.html
---------------
'Morocco winning anti-terrorism fight through moderate Islam'
March 14, 2014
Rome: Morocco is winning the fight against terrorism particularly through the promotion and dissemination of moderate Islam as an antidote to religious fundamentalism, according to a leading Italian daily.
Commenting on the recently concluded three-week African tour of King Mohammed VI that took him to Mali, Cote d'Ivoire, Guinea and Gabon, the Il Foglio said in an article that Morocco has embarked for several years on the fight against religious fundamentalism and terrorism, the Maghreb Arab Press (MAP) reported.
Full report at:
http://zeenews.india.com/news/world/morocco-winning-anti-terrorism-fight-through-moderate-islam_917904.html
---------------
Charity Spreads Islam Awareness in UK
20 March 2014
By Catherine Shakdam
LONDON – With events organized across British cities and universities, organizers of Islam Awareness Week, launched earlier in March, hope to spark insight and understanding of Muslim efforts to alleviate suffering in the society and present a true image of their faith.
"Britain as a society is suffering financially … many families have been forced to rely on food banks and charitable organizations to make ends meet and this is why we need as a society to be promoting charity," Summer Shah a young Muslim activist from Croydon, told OnIslam.net.
Shah, one of the attendants at London's opening ceremony last Monday, March 17, was thrilled by the Islamic Society of Britain decision to speak of charity this week.
"British Muslims have a social responsibility to uphold, not only toward our kin but toward Britain," she said.
"Islamic Awareness Week will I hope help build those bridges."
Hosted by the Islamic Society of Britain (ISB), a not-for-profit organization, Islam Awareness Week opened doors last Monday at the prestigious JW3, the Jewish Arts, Culture and Community Centre in London.
Opening under the theme, Charity Begins At Home, the event focuses on the concept of charity and what it means in Islam.
In its 21st anniversary, it will focus on social action, showcasing some projects led by Muslims around the country.
The theme was picked as a trial by ISB to promote values of social responsibility and solidarity.
Full report at:
http://www.onislam.net/english/news/europe/470421-charity-spreads-islam-awareness-in-uk.html
---------------
Michael Piggin terror plot trial shown anti-Muslim video
20 March 2014
A teenager accused of planning a terror attack made videos containing threats against Muslims, a court heard.
The jury at the Old Bailey were shown footage of Michael Piggin, 18, talking about an "invasion of our country".
He is alleged to have planned attacks on targets in his hometown of Loughborough, Leicestershire, including a mosque, a cinema and a school.
The teenager denies two charges under the Terrorism Act but has admitted having explosives found in his house.
The jury heard the defendant referring to the URA in several of the clips, which they were told stood for the Urban Revolutionary Army.
In one video, Mr Piggin, who has Asperger's Syndrome, said: "Hello great people of the United Kingdom, we are the URA, we support the EDL and the Knights Templar. We are against the Muslim invasion of our country. If you are looking at us... we will kill you, yeah - we are willing to take arms to fight for this country."
Full report at:
of the Mujahideen Poisons Handbook, which is banned under terrorism laws.
http://www.bbc.com/news/uk-england-leicestershire-26655738
---------------
Africa
Christian leaders urge dialogue with Nigeria's violent Boko Haram
Mar 19, 2014
For five years, bombs and bullets from Nigeria's Islamist group Boko Haram have ripped through churches and their members, raising concerns over the security of Christians in majority Muslim regions of the country.
But as similar attacks ignite violent reprisals by pro-Christian militias in the Central African Republic, Christian leaders in Nigeria continue to insist on a path of dialogue and nonviolence.
The clerics have also pressed President Goodluck Jonathan to use the state security services against the militants.
These Christian leaders want Jonathan to negotiate with Boko Haram leadership and end the campaign of terror.
Recently, militants have slaughtered both Christians and Muslims in the states of Borno, Adamawa and Yobe.
"We are living in perpetual fear and tension here in Maiduguri," said the Rev. John Bakeni, secretary of the Roman Catholic Diocese of Maiduguri in Borno.
On Friday (March 14), gunmen from Fulani, a largely Muslim ethnic community, attacked villages in Kaduna state in central Nigeria, killing more than 100 people.
The Fulani who migrate with their livestock have a long-standing land conflict with farming Christian communities, according to church leaders.
Humanitarian agencies say the attacks have forced hundreds of Christians to flee to the south and neighboring Cameroon, Chad and Niger. Human Rights Watch says more than 300,000 people have been forced out of their homes since 2009.
Boko Haram means "Western education is sinful" in the Hausa ethnic language. It is also known as "Jama'at Ahl as-Sunnah lid-da'aw wal-Jihad" in Arabic, or "Congregation of the People of Proselytism and Jihad."
Full report at:
http://www.religionnews.com/2014/03/19/christian-leaders-urge-dialogue-nigerias-violent-boko-haram/
---------------
Somalia launches ideology war against Al-Shabaab
March 17, 2014
MOGADISHU – Somalia has declared an ideological war against Al-Qaeda-linked Al-Shabaab group, creating a government office for Muslim scholars to refute Al-Shabaab's militant ideology and influence public opinion.
"You are a very important part of the governance of this nation and play a leading role in the fight against Al-Shabaab," Premier Abdiweli Sheikh Ahmed told religious leaders Saturday, according to a press release mailed to Anadolu Agency by his office.
"That is why I'm creating a government office for religious scholars to incorporate you closer to the government and help bridge the gap between the people and the government," he added.
"You will have a leading role in helping influence public opinion and be part of the decision-making of this government," vowed the prime minister.
He vowed to create a framework of increased cooperation between the government and religious scholars.
"It is our national and religious duty to fight against Al-Shabaab… You have a big role in defending our religion, our people and our country," Ahmed told the scholars.
Two Somalis were killed and three others injured in a car bombing outside a hotel in central Mogadishu earlier today.
A bomber rammed his explosives-laden car into the garage of the Makkah Al-Mukarama hotel, which is popular with government officials.
In November, President Hassan Sheikh Mohamud vowed that 2014 would witness the end of the Al-Shabaab.
Full report at:
http://www.midnimo.com/2014/03/17/somaliasomalia-launches-ideology-war-al-shabaab/
---------------
Brazen al-Shabaab attack in Bulo Burde tests resolve of allied forces
By Harbi Abdillahi Omar in Djibouti and Omar Mohamud in Mogadishu
March 19, 2014
Al-Shabaab's attack against a hotel housing Somali and African Union Mission in Somalia (AMISOM) troops in Bulo Burde on Tuesday (March 18th) served as a test of the resolve allied forces and Somali citizens have for annihilating al-Shabaab.
Despite the brazenness of the attack and the significant loss of life, military officials and citizens alike say they will remain united against their common enemy.
On Tuesday at around 2:15 pm, a car laden with explosives blew up outside the Camalow hotel in Bulo Burde, where high-ranking officers from the Somali and AMISOM forces were staying, AMISOM spokesperson Colonel Ali Aden Humad told Sabahi.
"A few minutes later, there was an exchange of fire involving heavy and light weapons which lasted for five hours," he said.
Captain Rachid Hachi, spokesperson for the Djiboutian armed forces, said Wednesday (March 19th) that 14 soldiers had died in the attack, nine from Somalia and five from Djibouti.
Seven wounded Djiboutian soldiers were taken to Nairobi for treatment, Hachi said.
Among those killed was commander-in-chief of the Somali forces in Hiran district Colonel Mohamed Amin, who "succumbed to his injuries after the car blew up", Humad confirmed.
"In fomenting terror in Bulo Burde, the militants from the al-Shabaab terrorist movement, which is affiliated with al-Qaeda, probably intended to recapture this city in central Somalia, which they lost control of last week to Somali and AMISOM forces, including the Hill battalion from Djibouti which has been deployed to the Hiran region," Hachi told Sabahi.
"But the opposite occurred and their bodies are still lying on the ground in Bulo Burde," he said, adding that 25 members of al-Shabaab were killed in the attack.
"It is our sacred duty to help our Somali brothers to find peace and security once again, and that is why we will not deviate from our main mission, which is to bring peace and stability to this nation which is our brother and our friend, and with which we share our language, culture and religion," Hachi said.
Full report at:
http://sabahionline.com/en_GB/articles/hoa/articles/features/2014/03/19/feature-01
---------------
UN struggles to rehouse South Sudan refugees
19 Mar 201
About 77,000 refugees have moved to a UN base in South Sudan since peacekeepers opened up the site to people fleeing violence caused by a coup attempt in December.
Full report at:
http://www.aljazeera.com/news/africa/2014/03/un-struggles-rehouse-south-sudan-refugees-201431982844274250.html
---------------
Libya asks world to help it fight 'terrorism'
20 Mar 2014
The Libyan government has called on the United Nations and international community to help fight what it called a war on terrorism as it struggles to stop the country sliding into widening chaos and instability.
The appeal came after a wave of bombings and assassinations in the eastern city of Benghazi and clashes between pro-government forces and a rebel militia controlling major oil ports in Sirte in central Libya.
The violence is part of turmoil in the North African country where the government in unable to control militias that helped overthrow Muammar Gaddafi in 2011 but kept their weapons to grab oil wealth and power.
"Terrorist groups" had declared war on Benghazi, Sirte and other cities, the government said. A powerful car bomb targeting an army academy killed at least eight people in Benghazi on Monday.
"Libya's interim government asks the international community and especially the United Nations to provide assistance to uproot terrorism," the government said in a statement posted on its website late on Wednesday.
"The government confirms that it wants this war on terror and its crimes to start as soon as possible," it said.
The weak central government did not say what kind of help it expected. Western, Arab and African countries have been training thousands of Libyans to build up an army and police but progress has been slow.
Full report at:
http://www.aljazeera.com/news/middleeast/2014/03/libya-asks-world-help-it-fight-terrorism-201432004226999702.html
---------------
North America
Islamic Group Shares Concerns with ABC Family Show
20 Mar 2014
The Los Angeles chapter of the Council on American-Islamic Relations has sent a letter to ABC Family regarding their upcoming show "Alice in Arabia". According to ABC Family, the show is a high-stakes drama series about a rebellious American teenage girl who, after tragedy befalls her parents, is unknowingly kidnapped by her extended family, who are Saudi Arabian. Alice finds herself a stranger in a new world but is intrigued by its offerings and people, whom she finds surprisingly diverse in their views on the world and her situation. Now a virtual prisoner in her grandfather's royal compound, Alice must count on her independent spirit and wit to find a way to return home while surviving life behind the veil.
An ABC Family spokesperson commented on the concern by stating, "We hope people will wait to judge this show on its actual merits once it is filmed. The writer is an incredible storyteller and we expect 'Alice' to be a nuanced and character driven show."
Here is the text of the letter sent to ABC Family:
Full report at:
http://www.laughingplace.com/w/news/2014/03/19/islamic-group-shares-concerns-with-abc-family-show/
---------------
US Muslim Family Sues Empire State
19 March 2014
CAIRO – A Muslim family that has been kicked outside observation deck in the Empire State building after praying briefly has filed a $5 million lawsuit against the owners of the building for humiliation and embarrassment before their two kids and visitors of the tourist hotspot.
The suit claims that Fahad Tirmizi, 32, and his 30-year-old wife were unfairly targeted "because they were Muslim, wearing traditional Muslim attire, and/or engaged in Muslim prayer," New York Post reported, citing the lawsuit.
Filed at Manhattan federal court, the suit names the midtown icon's owner and property manager Malkin Properties, security company Andrews International Inc. and others as defendants.
The problem dates back to July 2 when Fahad and Amina Tirmizi of Farmingville visited the Empire state building with their two kids.
Visiting the 86th-floor outdoor Observatory, the family wanted to do the evening prayer around 11 pm.
The wife picked a section where there was little foot traffic to pray. After finishing, her husband followed only to be interrupted by a security guard who strutted over to Fahad and "menacingly poked" him with his hands and feet.
Full report at:
http://www.onislam.net/english/news/americas/470397-us-muslim-family-sues-empire-state.html
---------------
Pakistan
Pakistan not sending troops to Bahrain or Saudi: PM
2014-03-20
ISLAMABAD: Prime Minister Nawaz Sharif on Thursday denied speculation that Pakistan was sending its troops to Bahrain and Saudi Arab, DawnNews reported.
In response to a question posed by media representatives after a ceremony at the M.M. Alam airbase in Mianwali, the premier said Pakistan was not sending its forces to either of these countries and neither had it been approached to do so.
He said the Bahraini king's visit to Pakistan was beneficial to the country and should be viewed as such, adding that the country was faced with multiple challenges and timely decisions needed to be made.
King Hamad bin Isa bin Salman Al Khalifa of Bahrain is on a three-day official visit to Pakistan, leading a 21-member delegation which includes his top defence and internal security chiefs.
On Wednesday, King Hamad along with his delegation made an unprecedented visit to the Joint Services Headquarters (JSHQ) in Rawalpindi where both sides discussed "brotherly relations between the two countries and vowed to further enhance military cooperation".
Pakistan has been looking at the visit as an opportunity for expanding trade and promoting investment links but Bahrain appears more interested in bolstering defence relationship.
In 2011, Pakistan had helped Bahrain quell an uprising against the monarchy by sending security personnel recruited through military's welfare wings — Fauji Foundation and Bahria Foundation.
Full report at:
http://www.dawn.com/news/1094412/pakistan-not-sending-troops-to-bahrain-or-saudi-pm
---------------
Nawaz to allay West's concerns on nukes safety
March 20, 2014
ISLAMABAD - Prime Minister Nawaz Sharif would try to ally western concerns about security and safety of Pakistan's nuclear assets during the two-day international Nuclear Security Summit 2014 (NSS2014) commencing from March 24 in The Hague.
According to well-placed government sources, Prime Minister Sharif would lead a high-level delegation to The Hague, Netherlands, next week to participate in the mega summit that seeks to prevent nuclear terrorism around the world by ensuring the security of dangerous nuclear materials.
Meanwhile, in a background media briefing about the NSS 2014, the Ambassador of Netherlands to Pakistan Marcel De Vink commended Pakistan's responsible and prudent resolve in safeguarding and taking care of its nuclear assets.
He said that Pakistan was an important participant among 53 others, in the forthcoming nuclear summit as safety of Pakistan's nuclear assets was very important for the region.
The Ambassador said that Pakistan, with its nuclear security experience and nuclear assets, is an important participant in the summit, which requires ideas and active contributions to improve measures to secure dangerous nuclear material, both at the national and international level.
"Pakistan's establishment of a Nuclear Security Training Center (NSTC) is an example of an important step Pakistan has taken through the summit process to improve nuclear security at home and in the region," the Ambassador said.
Pakistan has been dealing with nuclear technology for the last 40 years in civilian' as well as defense sectors and the International Atomic Energy Agency (IAEA) and other organizations have listed Pakistan as a model country with regard to the security mechanisms.
He also deliberated that the conference, which would be omitting Iran and North Korea, would rather stress on the issue of nuclear security instead of nuclear weapons and other issues, with special focus on safety of nuclear weapons from falling in terrorists' hands; since if ever occurring, would be a very dangerous situation.
Ambassador Vink said the conference aimed at discussing various issues related to safeguarding of nuclear assets, which had nevertheless steadily improved since the last conference held in 2010.
Full report at:
http://www.nation.com.pk/islamabad/20-Mar-2014/nawaz-to-allay-west-s-concerns-on-nukes-safety
---------------
Efforts should be made to make talks fruitful: JI
March 20, 2014
LAHORE - Jamaat-i-Islami Secretary General Liaquat Baloch has stressed upon the Prime Minister to keep in mind the national priorities as against foreign and internal pressures in regard to talks with the Taliban. In a statement here on Wednesday, he said that the terms of dialogue were also important, however, in the present situation, effort should be made to make the talks fruitful because peace was the requirement of the country as well as its people. He said that if the government, the Armed Forces, the media, the intelligentsia and analysts were on one page and had the same stance, there would be an atmosphere of confidence and talks would lead to positive results for the country and the nation. He said that anxiety for military action would push the situation to the point of destruction. He said that US and India want that unrest and instability continues in Pakistan so that their agenda against this country could be implemented in phases.
http://www.nation.com.pk/lahore/20-Mar-2014/efforts-should-be-made-to-make-talks-fruitful-ji
---------------
Govt finalises plan for direct talks with TTP
2014-03-20
ISLAMABAD: The government has finalised a plan for holding direct talks with the outlawed Tehreek-i-Taliban Pakistan.
The new committee formed by the government to hold talks with the TTP Shura called on Interior Minister Chaudhry Nisar Ali Khan on Wednesday and gave final touches to the plan for taking the peace process forward.
Official sources told Dawn that the venue for talks would be decided in two days.
The TTP has proposed its stronghold of North Waziristan as the venue, while the government wants to hold talks at the Bannu airport.
The meeting was informed that the Taliban had promised to dissociate themselves from the groups which did not follow the ceasefire. It was told that the TTP was trying to identify such groups and committed to taking action against them.
A source said the government was committed to the peace process and wanted to start the second phase of talks as early as possible. The government wanted to remove all irritants and believed that any uncalled for delay would encourage enemies of peace, he added.
He was confident that the venue would be decided in 48 hours and the talks would start soon.
The head of Taliban negotiating team, Maulana Samiul Haq, also expressed optimism about early start of talks and said there was no deadlock.
Full report at:
http://www.dawn.com/news/1094301/govt-finalises-plan-for-direct-talks-with-ttp
---------------
Southeast Asia
Shariah conviction in Penang of Indonesian Christian throws up jurisdictional limbo
March 18, 2014
GEORGE TOWN, March 18 — An Indonesian Christian is now fighting her conviction for "khalwat" (close proximity) under local shariah laws, but lawyers are outraged that a non-Muslim was even prosecuted under the Islamic legal system.
Malaysia operates a dual-track legal system: civil law that applies to all residents of the country, and a shariah law that is exclusively used for Muslims.
"This is a travesty of the law, the first such case where a Christian woman is charged for khalwat in shariah court; it should have been thrown out of court immediately upon proof of her religion," said Penang Legal Aid Centre consultant Cecil Rajendra.
Cecil and Sharie lawyer Ahmad Munawir Abdul Aziz were also present today to hold a watching brief for the Indonesian Christian.
According to the facts of the case, Halimah, 42, was charged with close proximity with a person of the opposite sex who is not her spouse or relative at a reflexology centre along Jalan Seang Teik at 11.40am on December 8, 2011.
Indonesians occasionally have only single names.
She then pleaded guilty to the charge before the Penang Shariah Court on May 15, 2012.
She was convicted of close proximity by the lower Shariah Court under Section 27 (b) of the Penang Sharia Criminal Offences Enactment and fined RM3,000 and sentenced to 14 days' jail.
The court allowed her application for a stay of execution pending her appeal against the conviction and she is now out on RM3,000 bail.
Full report at:
http://www.themalaymailonline.com/malaysia/article/shariah-conviction-in-penang-of-indonesian-christian-throws-up-jurisdiction
---------------
Malaysia probes 'deleted' data of Missing Plane
March 20, 2014
KUALA LUMPUR - Angry Chinese relatives tried to gatecrash Malaysia's tightly controlled daily media briefing on the missing plane Wednesday in chaotic scenes underlining the frustrations surrounding the 12-day search.
Shouting and crying, a handful of relatives of passengers aboard Malaysia Airlines flight 370 unfurled a protest banner reading "Give us back our families". They accused Malaysian authorities of withholding information and doing too little to find the plane.
The dramatic protest unfolded just before Malaysian officials arrived for the briefing, in which they announced no progress in determining what befell the plane. "They give different messages every day. Where's the flight now? We can't stand it anymore!" one woman wailed as reporters mobbed her and other relatives. Shortly afterwards, Malaysia staged a shorter-than-usual press conference during which officials indicated the investigation was zooming in closer on the pilot.
Investigators probing the disappearance of a Malaysia Airlines jetliner with 239 people on board believe it most likely flew into the southern Indian Ocean, a source close to the investigation said on Wednesday.
No wreckage has been found from Flight MH370, which vanished from air traffic control screens off Malaysia's east coast at 1:21 a.m. local time on March 8 (1721 GMT March 7), less than an hour after taking off from Kuala Lumpur bound for Beijing.
Authorities said investigators had discovered that data had been deleted from the home flight simulator of Captain Zaharie Ahmad Shah about one month before the plane vanished early on March 8. But they cautioned against a rush to judgement. "Some data had been deleted from the simulator, and forensic work to retrieve this data is ongoing," said Transport Minister Hishammuddin Hussein. Officials gave no details on the simulator data.
Zaharie, a 33-year veteran of the airline, was highly regarded by his peers. But suspicion has clouded him since investigators concluded that the plane's communication systems were manually disabled and the Boeing 777 was deliberately diverted by a skilled aviator.
Hishammuddin said Malaysia's own investigations, and background checks received from other countries, had so far raised no indications that any of the plane's 227 passengers might have been responsible. "So far, no information of significance on any passengers has been found," he said. The aircraft also carried 12 crew.
The international quest to find the jet came up empty again, 12 days after it mysteriously vanished, with the Malaysian government acknowledging red tape was slowing a massive search.
Full report at:
http://www.nation.com.pk/international/20-Mar-2014/malaysia-probes-deleted-data
---------------
Ethnic Malaysia finds unity in shared sadness of missing plane
20 March 2014
KUALA LUMPUR: The imam cupped his palms before his face and invited the congregation to pray: "Oh Allah, return to us those who are lost. Oh, Allah, grant safe passage to MH370."
The prayer was not unusual. The setting was.
Gathered in the courtyard of a shopping mall in a suburb of Kuala Lumpur, the Muslim religious leader was followed by a Christian reading from the Bible, then a Buddhist monk, a Hindu and finally a Taoist priest echoing the imam's pleas before hundreds of worshippers in a largely Muslim country where religious intolerance has been on the rise.
The baffling mystery over the disappearance of Malaysia Airlines Flight 370 with 239 people on March 8 has united Malaysia, a nation of numerous ethnicities, as never before in recent memory.
Tuesday night's interfaith ceremony would have been inconceivable 11 days ago in the country of 28 million people where religious differences and bigotry have often been on open display. For Malaysians the sight of non-Muslims bowing respectfully as Imam Hilman Nordin said prayers from the rostrum was an incredible step toward unity. While there have been interfaith prayers before, they have always been without a Muslim representative.
Malays, who account for about 60 percent of the population, are almost exclusively Muslim. Chinese, who are Buddhists, Christians and Taoists, represent about 21 percent, while Indians, who are Hindus, Sikhs and Christians, are about 7 percent.
"In the shared sadness of loss, the tragedy has revealed and reinforced a strong sense of community," said Bridget Welsh, a political scientist from Singapore Management University.
"If anything, this is a silver lining of the tragedy."
Full report at:
http://www.arabnews.com/news/543021
---------------
In Indonesian Christian's khalwat conviction, Pakatan leaders see 'gross' power abuse
By Opalyn Mok
March 19, 2014
GEORGE TOWN, March 19 — The conviction of a non-Muslim for close proximity in the Shariah Court is a gross abuse of power, Penang Pakatan Rakyat (PR) leaders said today.
They were appalled that an Indonesian Christian woman was arrested, charged and subsequently convicted of close proximity, known as khalwat, under Islamic laws which they stress are enforceable only on Muslims in the country.
"It is extremely wrong to use shariah laws on non-Muslims, there is no basis for this and it constitutes a gross abuse of power," Bukit Bendera MP Zairil Khir Johari said.
Zairil also said the case is a clear example of moral policing gone awry.
"Moral policing is also not what Islam is all about. Islam at its most fundamental is a religion that promotes freedom of thought and conscience," he said.
He added that any attempt to suppress Muslims and control them would always elicit the opposite result.
"The Quran itself stressed that no one can be forced or compelled in matters of faith," he said, referring to al-Baqarah verse 256 in the Quran.
It was not clear why the JAIPP enforcement officers had arrested Halimah and charged her in shariah court but it was believed that they assumed she is a Muslim due to her Malay name.
"Judging people by their names is not something intuitive at all, for example, a Turkish visitor to Malaysia once told me that he is surprised that there are many Muslims in Malaysia named Sofia, whereas in Turkey, it is a name that only Christians would use," Zairil said.
Zairil was commenting on 42-year-old Halimah's case where she was arrested by the Penang Islamic Religious Affairs Department (JAIPP) officers in 2011 while she was at work at a reflexology centre.
Halimah, who is a Christian, was convicted of close proximity with a man who is not her husband or relative and she was fined RM3,000 and jailed 14 days.
The shariah court allowed her a stay of execution pending her appeal against the conviction and sentence so she is now out on bail.
State executive councillor Dr Afif Bahardin agreed with Zairil that the shariah court has no jurisdiction to impose Islamic laws on those of other faiths.
"We should go back to the Federal Constitution that clearly upholds freedom, individual rights and liberty so if we are talking about people trying to impose their religious values on those of other faiths, it is against the constitution," he said.
Bukit Mertajam MP Steven Sim believed that the Islamic religious authorities in Malaysia are becoming careless and indiscriminate in their overzealous actions against non-Muslims.
He likened this action against a Christian to that of the raid on the Bible Society of Malaysia by the Selangor Islamic Religious Affairs Department early this year.
"Indiscriminate actions such as this are making the already tense inter-racial, inter-religious situation worse," he said.
Full report at:
http://www.themalaymailonline.com/malaysia/article/in-indonesian-christians-khalwat-conviction-pakatan-leaders-see-gross-power
---------------
Indonesian Muslim cleric faces 12-year jail term over sex video
March 19, 2014
Bogor, Indonesia: An Indonesian Islamic cleric arrested for allegedly making an explicit video with two teachers could face 12 years in jail under the Muslim country's tough anti-porn laws, police said Wednesday.
Saeful Sardi Jayadi, 44, surrendered to police Saturday after the video began circulating in Cisarua, south of Jakarta.
Indonesia, the world's most populous Muslim-majority country, introduced a tough anti-pornography law in 2008 that criminalises any work that could be deemed obscene.
Jayadi is accused of making the six-minute video in a hotel room in 2011, said Didik Purwanto, police chief in Bogor district, which includes Cisarua.
Full report at:
http://gulfnews.com/news/world/other-world/indonesian-muslim-cleric-faces-12-year-jail-term-over-sex-video-1.1306037
---------------
India
Don't let Muzaffarnagar riot refugees vote, BJP nominee says
ERAM AGHA,TNN | Mar 20, 2014
ALIGARH: BJP Lok Sabha candidate from Kairana Hukum Singh, one of the four party MLAs named in an FIR for inciting mobs to violence during the Muzaffarnagar riots, on Wednesday stoked more controversy demanding the riot victims, mostly living in refugee camps, be barred from voting because they didn't have permanent addresses.
"The riot victims living away from their homes are not eligible to vote," said Singh, who was also briefly under arrest for his hate speech last year. "These people (the riot victims) are living on government land. In fact, the state government has even ordered them to leave. But they don't. They are trespassers. How can they be qualified to vote?" Singh told TOI.
Singh's comment came even as the Muzaffarnagar district administration, with help of a few NGOs, succeeded in giving voting cards to around 25 victims a fortnight ago, promising another 3,200 would be able to vote by month-end. Most victims had lost their voting cards and other relevant documents as they fled from their homes.
Full report at:
http://timesofindia.indiatimes.com/home/specials/lok-sabha-elections-2014/news/Dont-let-Muzaffarnagar-riot-refugees-vote-BJP-nominee-says/articleshow/32327207.cms?
---------------
URL: https://www.newageislam.com/islamic-world-news/new-age-islam-news-bureau/at-least-18-dead-in-taliban-suicide-attack-on-jalalabad-police-station/d/56210