New Age Islam News Bureau
15 Sept 2015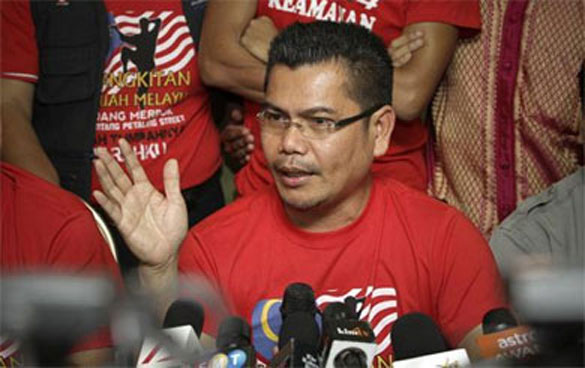 File picture show Datuk Jamal Md Yunos of Red Shhirt, speaking during a press conference
-----------
Southeast Asia
• At Isma Event, Dr M Tells Sunnis to Accept Shias as Muslims
• 'Red Shirt' Group Confirms Rallying At National Mosque, PWTC, and Two Other Spots
• X-ray technician, interior designer charged with possession of Islamic State-related materials
• Indonesia, UAE sign deal on weapon production
----------
Arab World
• Isil Executes 30 Members on Charge of Coup in Iraqi Mosul
• Twin Suicide Bomb Blasts Kill 26 in Syria
• Saudi Airstrikes Kill 10 Yemenis in Sa'ada
• Five Saudi soldiers killed at Yemen border
• Kuwaiti Court Sentences 7 to Death over Shia Mosque Bombing
• Rights Activist: Detention, Assassination of Opposition High on Al-Khalifa's Agenda
• Syrian Army Launches Fresh Offensive to Lift ISIL Siege on Kuweires Airbase
• 24 Saudi Military Vehicles Destroyed in Ma'rib
• Egyptian Soldiers Kill 360 Militants in Restive Sinai Peninsula in Eight Days
• Egypt activist died of barbaric torture, forensic experts say
----------
South Asia
• 70 Militants Killed In Fresh Afghanistan Operations
• Bangladesh PM Hasina Named UN 'Champion of Earth'
• Taliban storm Afghan prison, free hundreds of inmates
• Dozens of Taliban arrive in Badakhshan through Pakistan's Chetral
• NDS detain four Taliban in Baghlan
• Afghan businessmen return to country after showcasing agri-products at the World Food Istanbul
----------
Mideast
• Clashes Shake Jerusalem's Al-Aqsa Mosque
• Jordan King Warns Israel against Jerusalem 'Provocation'
• Iran's Space Scientist Killed In Mecca Crane Collapse
• Bangkok bombing suspect fled to Turkey: police
• Thirteen Turkish soldiers wounded in bomb blast in east: sources
• U.N. nuclear chief to visit Tehran this week
• Turkey again lifts curfew in restive Cizre
• Iranian, Chinese FMs Discuss N. Deal Implementation, Expansion of Ties
• Iranian FM Underlines China's Vital Role in Implementation of Nuclear Agreement
• Iran, Kazakhstan Discuss Expansion of N. Energy Cooperation
----------
North America
• Federal Data: U.S. Annually Admits Quarter of A Million Muslim Migrant
• U.S. says Russia may be creating air base in Syria
• Mexican president denounces killing of tourists in Egypt
----------
India
• RSS Mouthpiece Hits Out At Arab Nations, Blames Europe for ISIS Threat
• Hyderabad Muslim Group Vows To Protect Cows
• Muslims Oppose Ganesh Pandal Near Masjid, Hindus Refuse to Shift Idol in Gujarat
• 7/11 Defence argument: Court must eliminate possibility of reform
----------
Pakistan
• Pakistan Liberates Taliban 'No-Go Zones' In Karachi
• 'Pak Forces Capable Of Thwarting Any Aggression'
• Jiwani airport attack: Eight suspects arrested from Gawadar
• Democracy demands everyone to remain within constitutional limits: Zardari
• ECP acts on reports of police coercing PTI candidates into withdrawing from LG polls
• Imran wants fraud booted out of Punjab
• Nisar for terrorists' financial network destruction
----------
Europe
• French President: We Will Bomb ISIS in Syria
• UK: Groundbreaking Conference With Media Leaders: Reporting Islam & Muslims In Brit
• Russia to continue military aid to Syria: President Putin
• Charlie Hebdo publishes cartoon of drowned Syrian toddler Aylan Kurdi
• Why Russian Propaganda Links Chechen Militants, IS, and Assad's Coastal Stronghold
----------
Africa
• Niger's Muslims and Christians Join Forces for Peace
• Daesh Takfiris Abduct 12 Egyptians in Libya's Sirte: Reports
• Wilayat West Africa Reboots for the Caliphate
• Somalis in Minnesota question counter-extremism program targeted at Muslims
Compiled by New Age Islam News Bureau
URL: https://www.newageislam.com/islamic-world-news/new-age-islam-news-bureau/at-isma,-a-hardline-islamic-group,-event,-dr-m-tells-sunnis-to-accept-shias-as-muslims/d/104586
----------
Southeast Asia
At Isma Event, Dr M Tells Sunnis to Accept Shias as Muslims
BY SYED JAYMAL ZAHIID
September 14, 2015
SHAH ALAM, Sept 14 — At an event held by known hardline Islamic group Ikatan Muslimin Malaysia (Isma), former prime minister Tun Dr Mahathir Mohamad today urged Muslims in the country to embrace differences of opinions.
Dr Mahathir, known for his progressive views on Islam, noted that Muslims have the tendency to amplify their differences instead of their common goal, and said this was one of the main factors that divides the Muslim community and makes them weak.
He said it was not the right of any Muslim to declare those who do not share similar views as unislamic, noting that as long as they hold to the "ikraq" (pledge), they are considered Muslims.
"We as Muslims, whether we are Shiah or Sunni, we read out the kalimah shahadah… where we proclaim Allah to be our God and Muhammad as his messenger. As long as they hold to this ikraq, they are considered Muslims.
"We do not have the right to declare someone unislamic just because they think differently, dress differently or do not look like us," Dr Mahathir said while addressing the attendees of an event meant to reminisce the struggles of past Malay-Muslim leaders.
Isma have in the past created controversy over several statements deemed incendiary, including accusing its critics as less Islamic and even traitors of the Malay race.
It is unclear if Dr Mahathir's statement was aimed at Isma, or to Muslims in general.
The former prime minister had repeatedly in the past his claim that the Muslim community is weak despite their huge numbers worldwide, pointing to sectarianism as the chief cause.
Today Dr Mahathir claimed that divisions in the Muslim world often resulted in bloodbaths, much to the joy of the community's enemies – the Jews and the US.
"So what happens is we end up killing each other and when that happens the ones clapping are the Jews and the US," he said.
The former prime minister, who served for 22 years, said Muslims should instead focus on their common goal – to strengthen Islam and the Malays – and by doing so would foster greater unity among the community.
http://www.themalaymailonline.com/malaysia/article/at-isma-event-dr-m-tells-muslims-to-accept-differences
----------
'Red Shirt' group confirms rallying at National Mosque, PWTC, two other spots
BY AIZYL AZLEE
September 15, 2015
KUALA LUMPUR, Sept 15 — The Coalition of Malay NGOs that is behind the "Red Shirt" gathering has set four meeting points for its march towards Padang Merbok where it will link up with the larger "Himpunan Rakyat Bersatu".
The group's president Datuk Jamal Md Yunos today named the meeting points as the front of Kompleks Kraf Kuala Lumpur at Jalan Conlay, the Putra World Trade Centre (PWTC), Masjid Negara and Masjid Wilayah.
He added that 4,000 volunteers will be mobilised by the coalition purporting to represent 250 non-governmental organisation (NGOs) to ensure the safety of the marches they are organising, which he said was open to people of all races even though the organisations were made up solely of Malays.
"I have full faith that the programme tomorrow will go on smoothly. Any kind of provocation and stories of us wanting to riot and act untowardly are all rumours," he said after claiming an expected turnout of 300,000.
"What is the harm if other people who are like-minded want to join us? We are not making any race our enemy. The only thing that is important to us is that we want to remind all races to respect one another, especially towards Malays as enshrined in our country's constitution," he added.
http://www.themalaymailonline.com/malaysia/article/red-shirt-group-confirms-rallying-at-national-mosque-pwtc-two-other-spots
----------
X-ray technician, interior designer charged with possession of Islamic State-related materials
September 15, 2015
KANGAR, Sept 15 — X-Ray technician Ahmad Kamil Ghazali and an interior designer, Azlee Md Salleh, were charged in the Magistrate's Court here today with possession of materials related to the Islamic State (IS) militant group.
Ahmad Kamil, 24, an employee at Tuanku Fauziah Hospital here, and Azlee Md Salleh, 30, however, pleaded not guilty to the charge before Kangar Court Senior Registrar Monica Joseph Gaisah.
Ahmad Kamil, from Taman Seri Manis Dua here, was charged with possession of IS publication, the Dabiq magazine issue 1 to 10.
The offence was allegedly committed at about 7.50 am in front of the Taman Kechor Administrative Complex here last August 19.
Azlee was charged with possession of a handphone containing pictures of IS militants at a house in Taman Ira, Kangar at about 8.30 am last August 19.
They were charged under Section 130JB(1)(a) of the Penal Code which carris an imprisonment for up to seven years or fine, if found guilty.
The court set September 30 for mention.
The prosecution was conducted by deputy public prosecutor Nur Nisla Abdul Latif. — Bernama
http://www.themalaymailonline.com/malaysia/article/x-ray-technician-interior-designer-charged-with-possession-of-islamic-state
----------
Indonesia, UAE sign deal on weapon production
September 15 2015
Indonesia has agreed to grant licensing of SS2 assault rifles to the United Arab Emirates (UAE) to enable the latter to produce and market the weapons.
Under an agreement between Indonesian state-owned arms maker PT Pindad and the UAE's Continental Aviation Services, the UAE becomes the official distributor of the Indonesian weapons in the Middle East.
The agreement was signed in a bilateral meeting attended by President Joko "Jokowi" Widodo and local government representatives in Abu Dhabi on Sunday.
According to statements released by the Presidential communications team on Monday, the governments discussed economics and national defense during the meeting.
"In the meeting, [the governments] discussed economic and non-economic issues, including defense cooperation," said Foreign Minister Retno LP Marsudi as quoted by setkab.go.id.
According to Retno, the UAE is a main export destination for Indonesia in the Middle East, with trade volume reaching US$4.25 billion in 2014. Indonesia has benefitted from $748 million in trade surplus from the UAE.
Moreover, she said that the UAE was currently one of the biggest investors in Indonesia, with direct investment hitting $25.4 million in 2014.
Indonesia and the UAE have also signed an agreement on preventing human trafficking and protecting human trafficking victims.
"We have agreed to enforce laws to prevent human trafficking," Retno said.
She added the Indonesian government was also currently trying to make the UAE its Middle East export hub.
http://www.thejakartapost.com/news/2015/09/15/national-scene-indonesia-uae-sign-deal-weapon-production.html
----------
Arab World
ISIL Executes 30 Members on Charge of Coup in Iraqi Mosul
Sep 15, 201
"The ISIL executed 30 members of its own by firing squad in the old prison in Mosul," said media official of the Kurdistan Democratic Party (KDP) in Mosul Saeed Mamouzini.
"The executed ISIL members were accused of planning operations against the group," He further added.
Full report at:
http://english.farsnews.com/newstext.aspx?nn=13940624001036
----------
Twin suicide bomb blasts kill 26 in Syria
Sep 15, 2015
BEIRUT: At least 26 people including two children were killed on Monday in twin suicide car bomb attacks in the northeastern Syrian city of Hasakeh, a monitor said.
The attack was later claimed by the self-styled Islamic State, which has regularly targeted Hasakeh and briefly captured parts of the city earlier this year before being expelled.
The Syrian Observatory for Human Rights said 13 civilians were killed in the two blasts, along with six members of the Kurdish sec­u­rity services and seven fi­ght­ers from a pro-regime militia.
Full report at:
http://www.dawn.com/news/1206983/twin-suicide-bomb-blasts-kill-26-in-syria
----------
Saudi Airstrikes Kill 10 Yemenis in Sa'ada
Sep 15, 2015
On Monday, at least a dozen Yemenis were killed in a new round of Saudi airstrikes on Sa'ada Province.
Meanwhile, at least five African nationals were killed in the Saudi airstrikes on the district of Beihan in the province of Shabwah.
Saudi Arabia has been striking Yemen for 174 days now to restore power to fugitive president Mansour Hadi, a close ally of Riyadh. The Saudi-led aggression has so far killed at least 5,862 Yemenis, including hundreds of women and children.
Full report at:
http://english.farsnews.com/newstext.aspx?nn=13940624000593
----------
Five Saudi soldiers killed at Yemen border
14 September 2015
Five Saudi soldiers were killed near the border with Yemen, the Saudi Press Agency said late on Sunday, while a Saudi-led military coalition began an offensive to drive Houthi militia forces out of Yemen's energy-rich province of Marib.
The statement said the five Saudis were killed in southern Najran province.
Meanwhile, one Emirati serviceman was killed in the ground offensive in Marib, the United Arab Emirates state news agency WAM said late on Sunday.
Also on Sunday, Yemen's exiled government pulled out of U.N.-mediated peace talks with the Iran-backed Houthi militia group, casting doubt on the future of the talks that were meant to end the nearly six-month old war.
Full report at:
http://english.alarabiya.net/en/News/middle-east/2015/09/14/Five-Saudi-soldiers-killed-at-Yemen-border-.html
----------
Kuwaiti court sentences 7 to death over Shia mosque bombing
Sep 15, 2015
KUWAIT: Seven defendants were sentenced to death on Tuesday for the self-styled Islamic State-claimed bombing of a mosque in June in Kuwait that killed 27 people, the Kuwaiti news agency KUNA reported.
Eight other suspects were given prison sentences ranging from two to 15 years by a Kuwaiti criminal court, KUNA reported. Fourteen other defendants were acquitted.
Daesh or the self-styled Islamic State claimed responsibility for the June 26 bombing, when a Saudi suicide bomber blew himself up inside the Imam al-Sadeq mosque in Kuwait City.
Hundreds of Shia Muslims were performing Friday noon prayers when the bomb went off.
Also read: Suicide bombing at Kuwait Shia mosque kills at least 13
Kuwait cracked down on Islamist militants after the bombing, the country's worst militant attack. Officials say the bombing was aimed at stoking strife between Sunnis and Shias in the majority Sunni state, where the two sects have usually coexisted in peace.
Full report at:
http://www.dawn.com/news/1207115/kuwaiti-court-sentences-7-to-death-over-shia-mosque-bombing
----------
Rights Activist: Detention, Assassination of Opposition High on Al-Khalifa's Agenda
Sep 15, 2015
"The Al-Khalifa has formed security units to target the political and legal figures and it has decided to assassinate and kill those people who oppose its policies and reveal its crimes," Abdol Amir al-Rashed told FNA on Tuesday.
He, meantime, underlined that the tricks used by the Bahraini interior ministry to cover its security plots against the protesting activists will never benefit the regime.
His remarks came after Bahraini regime forces arrested a prominent Shiite Muslim cleric as the ruling Al Khalifa monarchy is pressing ahead with its heavy-handed crackdown on opposition forces and political dissidents in the tiny Persian Gulf kingdom on Saturday.
Bahraini forces detained Sheikh Ahmad al-Jidhafsi at a security checkpoint in the industrial neighborhood of Sitra, which is located about 12 kilometers (seven miles) Southeast of the capital, Manama, after delivering a speech at an anti-regime gathering. His daughter and granddaughter were also arrested. The condition of Sheikh Jidhafsi, who suffers from heart failure, worsened later and officials transported him to a military hospital to receive treatment.
Full report at:
http://english.farsnews.com/newstext.aspx?nn=13940624000473
----------
Syrian Army Launches Fresh Offensive to Lift ISIL Siege on Kuweires Airbase
Sep 15, 2015
The sources said that the Syrian army, in cooperation with the National Defense Forces (NDF) and the Al-Ba'ath Battalion, launched a fresh offensive inside the Aleppo Governorate in order to lift the ISIL two-year-long siege on the Kuweires airbase.
The Syrian Armed Forces have started their operation from the Southeast of Aleppo from two different directions.
The army targeted the terrorist group at the Jabboul Lake front and the town of 'Ayn Sabil to spread out the ISIL fighters in the Deir Hafer Plateau.
It did not take the Syrian Armed Forces very long to get their offensive in Southeastern Aleppo going; in fact, within two hours of launching their assault, the Syrian Arab Army and National Defense Forces took control of the two hilltops at Tal Na'am and Tal Sab'in, which are located just North of Jabboul Lake.
While the Syrian forces would prefer to reach the Kuweires airbases from the Deir Hafer Highway, their current advance leaves them only two villages away from the Southwestern corridor of the airport.
Full report at:
http://english.farsnews.com/newstext.aspx?nn=13940624000469
----------
24 Saudi Military Vehicles Destroyed in Ma'rib
Sep 15, 2015
The Yemeni forces conducted operations to prevent the Saudi soldiers from advancing in the districts of Zat al-Redaa and Hamma al-Masaria in Ma'rib, killing and injuring several Saudi soldiers. 24 Saudi military vehicles were also destroyed in the operations.
Saudi Arabia has been striking Yemen for 174 days now to restore power to fugitive president Mansour Hadi, a close ally of Riyadh. The Saudi-led aggression has so far killed at least 5,847 Yemenis, including hundreds of women and children.
Full report at:
http://english.farsnews.com/newstext.aspx?nn=13940624000570
----------
Egyptian Soldiers Kill 360 Militants in Restive Sinai Peninsula in Eight Days
Sep 15, 2015
Egyptian government forces have killed nearly a dozen militants in the Sinai Peninsula as they press ahead with clean-up operations in the restive region, Press TV reports.
The Egyptian army, in a statement released late on Monday, said it launched offensives against the Takfiri militants of Velayat Sinai, previously known as Ansar Bait al-Maqdis, in the town of Sheikh Zuweid, the city of el-Arish as well as the border town of Rafah earlier in the day.
Full report at:
http://www.presstv.ir/Detail/2015/09/15/429248/Egypt-army-Sinai-Peninsula-Velayat-Sinai-elArish-Sheikh-Zuweid
----------
Egypt activist died of barbaric torture, forensic experts say
Sep 14, 2015
Egypt's forensic doctors have admitted that "barbaric torture" had been behind the death of an activist while he was in police custody in the capital city of Cairo, Press TV reports.
On Monday, the experts submitted their report to a Cairo court, saying Karim Hamdy had been beaten to death inside al-Matariya police station in the east of the capital in late February.
This is while the Egyptian authorities had earlier reported that Hamdy, a 28-year-old lawyer, had committed suicide in detention.
Hamdy had defended a number of prisoners of conscience, including several from Muslim Brotherhood party, who were arrested and prosecuted during Cairo's heavy-handed crackdown on anti-government protesters.
Karim Hamdy and his two daughters
Earlier in the day, the family of Mohamed al-Awden, a Brotherhood affiliate, also said that police forces had thrown the dissident from a fifth-floor balcony during a raid on their apartment.
The Egyptian authorities are responsible for the life of the anti-government activist who is currently in an intensive care unit in a hospital in the Nile Delta province of al-Monoufiya, the family said.
Full report at:
http://www.presstv.ir/Detail/2015/09/14/429205/Egypt-Muslim-Brotherhood-Karim-Hamdy-Morsi-Sisi-Mohamed-alAwden
----------
South Asia
70 militants killed in fresh Afghanistan operations
September 15, 2015
Kabul: Some 70 Taliban militants have been killed during military operations in different Afghan provinces, the Afghan Defense Ministry said today morning.
"Within the past 24 hours, up to 70 armed insurgents were killed, 42 wounded and six other insurgents were detained during Afghan National Army operations and air strike throughout the country," the ministry said in a statement.
The army also seized weapons and ammunition in addition to defusing several landmines, according to the statement.
A total of 12 army personnel were also killed in separate incidents within the same period, the statement confirmed.
Full report at:
http://nation.com.pk/international/15-Sep-2015/70-militants-killed-in-fresh-afghanistan-operations
----------
Bangladesh PM Hasina Named UN 'Champion of Earth'
Sep 15, 2015
UNITED NATIONS: Prime Minister Sheikh Hasina of Bangladesh was named as one of the winners of the United Nations Champions of the Earth award on Monday in recognition of her country's initiatives to address climate change.
"Serving as Prime Minister of Bangladesh – one of the world's least-developed countries – Sheikh Hasina has proven that investing in climate change is conducive to achieving social and economic development," said the statement issued by the UN Environment Programme (UNEP), which confers the awards.
Full report at:
http://www.dawn.com/news/1206984/hasina-named-un-champion-of-earth
----------
Taliban storm Afghan prison, free hundreds of inmates
September 15, 2015
GHAZNI - Taliban insurgents in military uniform stormed an Afghan prison Monday, freeing hundreds of inmates after detonating a car bomb and killing four policemen in the country's largest jailbreak in years.
The brazen raid in the eastern city of Ghazni comes as the Taliban ramp up attacks on government and foreign targets despite being embroiled in a bitter leadership transition.
It was the Taliban's third mass prison break since 2008 and a major blow to Afghan forces facing their first fighting season without full NATO support.
"Around 2:30 am six Taliban insurgents wearing military uniforms attacked Ghazni prison. First they detonated a car bomb in front of the gate, fired an RPG (rocket-propelled grenade) and then raided the prison," deputy provincial governor Mohammad Ali Ahmadi told AFP. The interior ministry said 355 of the prison's 436 inmates escaped. Most were Taliban and other militants.
It added that four Afghan police officers were killed and seven wounded in the raid, which left bullet-riddled bodies near the entrance of the prison.
Ahmadi said the raid came hours after inmates protested at government moves to shift up to 20 Taliban prisoners to Kabul - a possible indication that the jailbreak was coordinated.
He added that daggers and knives carved out of furniture pieces were found on some of the inmates.
The Taliban, who launched a countrywide summer offensive in late April, claimed responsibility for the raid.
"This successful operation was carried out at 2:00 am and continued for several hours. The jail was under Taliban control," spokesman Zabihullah Mujahid said in a statement. "In this operation, 400 of our innocent countrymen were freed... and were taken to mujahideen-controlled areas," it added.
The Taliban are known to exaggerate and distort their public statements. In the last major Afghan jailbreak in 2011 nearly 500 Taliban inmates escaped from a prison in the southern province of Kandahar.
The Taliban at the time said they sprang the inmates through a one-kilometre tunnel that took five months to dig. The government described that incident as a security "disaster". And in 2008 about 1,000 prisoners including hundreds of Taliban rebels escaped when suicide bombers blew open the gates of Kandahar city's main prison.
Full report at:
http://nation.com.pk/international/15-Sep-2015/taliban-storm-afghan-prison-free-hundreds-of-inmates
----------
Dozens of Taliban arrive in Badakhshan through Pakistan's Chetral
Sep 15 2015
Dozens of Taliban militants have just crossed border into northeastern Badakhshan province from Pakistan.
Senator Gulalai Akbari told Parliament session on Tuesday that the group arrived through Pakistan's Chetral area which is on the border with Badakhshan.
Akbari who is from the same province said that the leader of the group is Mawlawi Fasih-ud-din who crossed the border with his group yesterday.
She said if government pays attention, 200 to 300 militants won't be able to enter this province at one time.
Full report at:
http://www.khaama.com/dozens-of-taliban-arrive-in-badakhshan-through-pakistans-chetral-3907
----------
NDS detain four Taliban in Baghlan
Sep 15 2015
The National Directorate of Security (NDS) – Afghanistan's intelligence agency has arrested four Taliban militants in northern Baghlan province.
A statement released by NDS on Tuesday states that the group was arrested red handed with two Kalashnikovs, five home-made bombs, three kilograms of explosive materials, ten leaflets and other terrorist materials.
They are identified Rahimuddin S/O Shamsuddin, Zabihullah S/O Rahim, Habib S/O Qurban and Faizullah S/O Rahim residents of Mullahkhil village of Baghlan-e-Markazi District.
Full report at:
http://www.khaama.com/nds-detain-four-men-with-taliban-propaganda-leaflets-in-baghlan-3907
----------
Afghan businessmen return to country after showcasing agri-products at the World Food Istanbul
Sep 15 2015
Agriculture plays a crucial role in the life of the Afghan family households. Surveys show that more than 60% of the Afghan population are directly or indirectly associated with agriculture. However, merely 4% of the total volume of private investment in the country has been concentrated over this sector, according to Afghanistan Investment Support Agency (AISA). This sector can offer huge potential for economic growth of the country, creating new job opportunities, and turning Afghanistan as a potential hub for certain agri- products in the region.
During the last decade, the international community has largely worked on developing a sound agricultural infrastructure in the country. With the huge foreign aid, the sector has seen certain growth; however, a huge amount of gaps and deficiencies still exist in the sector. Hence, projects such as Regional Agriculture Development Program (RADP- North) can help boost this sector and help the farmers increase their volume of outputs. The main goal of RADP-North- a project funded by USAID- is to advance food and economic security for rural Afghans in six Northern Provinces. To achieve this, the program strengthens the capacity of farmers leading to improved production in wheat, high value crop and livestock value chains. It focuses on enabling farmers to increase their commercial viability and competitiveness in response to market demand, thereby generating greater income opportunities and empowering families to meet their household needs.
As part of its initiatives to grow and promote Afghan agri- businesses, RADP- North facilitated participation of 11 Afghan agri- businesses at the "World Food Istanbul" exhibition, Turkey from 3rd- 6th September, 2015. World Food Istanbul is one of the biggest food exhibitions in the world where companies from across the world showcase their agri- products and investors from different corners of the world visit the exhibition in pursuit of establishing strategic business alliances and partnerships.
RADP- North in coordination with Pace Group designed a separate pavilion for the Afghan agri- businesses to differentiate them from the rest in the mega exhibition. The Afghan dry fruit SMEs showcased their products such as almonds, raisin, walnuts, pistachios, fine nuts and etc. The quality of the Afghan dry fruits was the central point of attraction in the exhibition which enticed thousands of visitors to visit the pavilion and show immense interest in tying business relationship with Afghan SMEs.
Full report at:http://www.khaama.com/afghan-businessmen-return-to-country-after-showcasing-agri-products-at-the-world-food-istanbul-3906
----------
Mideast
Clashes shake Jerusalem's Al-Aqsa Mosque
September 15, 2015
Palestinians and Israeli forces clashed at Jerusalem's Al-Aqsa Mosque for a third straight day, as Israeli forces were seen on the roof of the holy site.
Suleiman Ahmad, the president of Jerusalem's Affairs Department, who is currently at the scene, told Al Jazeera that at least 17 Palestinians were injured in the clashes early on Tuesday.
"They have placed snipers on the rooftops and are using rubber bullets," Suleiman said.
The site of the mosque is revered by Jews and Muslims and is a frequent flashpoint of violence.
Palestinians inside Al-Aqsa threw stones and fireworks at the Israeli forces and set up barricades to prevent them from closing the entrance to the mosque.
The police forces eventually closed the doors to the mosque with the Palestinians still inside.
Israeli police are set to allow Jewish activists to tour the courtyards of the mosque, which in the past has stirred angry reactions from Palestinians who fear Israel may change the rules for visiting Al-Aqsa compound.
Full report at:
http://nation.com.pk/international/15-Sep-2015/clashes-shake-jerusalem-s-al-aqsa-mosque
----------
Jordan king warns Israel against Jerusalem 'provocation'
14 September 2015
Jordan's king warned Israel on Monday that any further "provocation" in Jerusalem where Israeli police have clashed with Muslims at Al-Aqsa mosque would damage ties between the two countries.
"Any more provocation in Jerusalem will affect the relationship between Jordan and Israel" which have a 1994 peace accord, said King Abdullah II following a second day of clashes at the flashpoint holy site in annexed east Jerusalem.
"Jordan will not have a choice but to take actions, unfortunately," he told journalists in English after talks with visiting British Prime Minister David Cameron.
The kingdom, which has custodian rights over the Al-Aqsa mosque compound, on Sunday condemned what it described as an Israeli army assault on the site.
Muslims and Israeli police clashed for a second day Monday as Jews celebrated their New Year and protesters vowed to protect Islam's third-holiest site.
As on Sunday, Israeli security forces entered the compound to prevent Muslim youths from harassing visiting Jews, police said.
Full report at:
http://english.alarabiya.net/en/News/middle-east/2015/09/14/Jordan-king-warns-Israel-against-Jerusalem-provocation-.html
----------
Iran's Space Scientist Killed in Mecca Crane Collapse
Sep 14, 2015
Iran's Communications and Information Technology Minister Mahmoud Vaezi announced on Monday evening that Dr. Ahmad Hatami, a science board member of Iran Space Research Center, was among the 8 Iranian pilgrims who died in the incident.
The minister expressed deep sorrow over Hatami's death and extended his most heartfelt condolences to his family and to the Iranian IT and space technology community.
Iran's High Council of Cultural Revolution also issued a statement minutes later this evening, confirming the scientist's death and expressing its profound sadness and condolences to the community of Iranian scientists.
At least 107 Hajj pilgrims were killed and 238 more were injured when the crane collapsed on to the Grand Mosque during storms.
Full report at:
http://english.farsnews.com/newstext.aspx?nn=13940623001478
----------
Bangkok bombing suspect fled to Turkey: police
September 15, 2015
BANGKOK: A key suspect in last month's bombing at a Bangkok shrine that killed 20 people has fled to Turkey, Thai police said on Monday, in another indication that the attack could be the work of members of China's ethnic Uighur minority who have sympathisers in Turkey.
Police had previously said the man, carrying a Chinese passport in the name Abudureheman Abudusataer, may have directed the Aug 17 bombing of the Erawan Shrine.
Also on Monday, Malaysia's police chief announced that a Pakistani and two Malaysians have been detained in connection with the Bangkok bombing.
Full report at:
http://www.dawn.com/news/1206989/bangkok-bombing-suspect-fled-to-turkey-police
----------
Thirteen Turkish soldiers wounded in bomb blast in east: sources
15 September 2015
Thirteen Turkish soldiers were wounded when their convoy was hit by a roadside bomb explosion in the largely Kurdish eastern province of Mus, security sources said on Tuesday.
Turkey has been hit by waves of daily violence between Kurdish militants and security forces, with much of it centred in the largely Kurdish southeast, since a ceasefire with the Kurdistan Workers Party (PKK) broke down in July.
http://english.alarabiya.net/en/News/middle-east/2015/09/15/Thirteen-Turkish-soldiers-wounded-in-bomb-blast-in-east-sources.html
----------
U.N. nuclear chief to visit Tehran this week
15 September 2015
The head of the United Nations nuclear watchdog will visit Tehran this week, joining a group of experts who were due to fly late on Monday, Iran's top nuclear official said.
Ali Akbar Salehi spoke in Vienna after meeting International Atomic Energy Agency (IAEA) chief Yukiya Amano, who is responsible for monitoring whether Iran complies with a nuclear deal reached with world powers on July 14.
The IAEA said in an email that a visit by Amano to Tehran was under consideration but the "details are still to be worked out".
The Joint Comprehensive Plan of Action (JCPOA) requires Iran to curb its nuclear programme under close supervision from the IAEA, in return for relief from international sanctions.
"About 12 or 13 IAEA experts are going to Tehran tonight and Amano will visit in the next three or four days," Salehi said on state television late on Monday.
"We hope the remaining issues are resolved by December 15 so the implementation of the JCPOA can start," he added, referring to a deadline set in a 'Road-map' deal Iran reached with the agency alongside the JCPOA.
Full report at:
http://english.alarabiya.net/en/News/middle-east/2015/09/15/U-N-nuclear-chief-to-visit-Tehran-this-week.html
----------
Turkey again lifts curfew in restive Cizre
14 September 2015
Turkish authorities on Monday lifted a curfew in the mainly Kurdish southeastern city of Cizre after re-imposing it for 12 hours following a deadly nine-day military lockdown, the regional governor's office said.
The curfew, enforced as the army battles Kurdish militants, had first been put in place on the evening of Sep. 4 and then lifted last Friday amid concerns of a humanitarian crisis in the battered city.
Local residents on Saturday ventured outside for the first time, stocking up on supplies and burying victims who they say were killed by the army during the curfew.
However the regional authorities in Sirnak province re-imposed the curfew from 1600 GMT on Sunday evening for another operation to arrest Kurdistan Workers' Party (PKK) militants.
"The curfew in Cizre has been lifted as of 7:00 am (0400 GMT)," the Sirnak governor's office said in a statement early Monday.
The Turkish government said that up to 32 Kurdish rebels were killed during the previous nine-day curfew in an "anti-terror" operation against suspected members of the PKK.
But the pro-Kurdish Peoples' Democratic Party (HDP) has said 23 civilians were killed during the operation, which triggered food shortages.
HDP MP Muslum Dogan, Turkish development minister in the current caretaker government, said Monday that the victims ranged from a 35-day-old baby to an 85-year-old woman. Hundreds were also wounded, he added.
"Can a 35-day old child be a terrorist?" he said in Ankara, quoted by Turkish media. "Can this be someone who carries arms?"
"We need to get this country out of this chaos," he added.
Thousands attended funerals on Sunday morning in Cizre for 16 of those killed during the curfew.
The operation in Cizre, a city of 120,000 on the border with Syria and close to Iraq, came as part of the government's drive to cripple the PKK in southeast Turkey and northern Iraq, a campaign that started in late July and shows no sign of abating.
Full report at:
http://english.alarabiya.net/en/News/middle-east/2015/09/14/Turkey-again-lifts-curfew-in-restive-Cizre-.html
----------
Iranian, Chinese FMs Discuss N. Deal Implementation, Expansion of Ties
Sep 15, 2015
In the meeting, the two foreign ministers discussed the ways to implement the Joint Comprehensive Plan of Action (JCPOA) in the best way possible and in due time.
Zarif said in the meeting that despite sanctions against Iran and the obstacles on the way of bilateral relations, Tehran and Beijing continued mutual cooperation.
He stressed that Iran will keep boosting ties with China during the new era (post-sanctions era).
He further appreciated China's role during the intensive nuclear talks with the six world powers, adding Beijing played constructive role during those negotiations.
Wang said for his part that Iran's foreign relations witnessed remarkable development, adding that his country as a friend welcomes such atmosphere.
Upon arrival on Monday night, Zarif told reporters that as an active and influential member of the Group 5+1 (the five permanent UN Security Council members plus Germany), China has always played a constructive role in the trend of nuclear talks and the Beijing is expected continue its positive role in implementation of the JCPOA too.
He emphasized that Iran and China enjoy very extensive relations in political and economic domains as well as regional and international relations. "Tehran is ready to expand its relations with Beijing in all areas."
Full report at:
http://english.farsnews.com/newstext.aspx?nn=13940624000993
----------
Iranian FM Underlines China's Vital Role in Implementation of Nuclear Agreement
Sep 15, 2015
Speaking to reporters upon arrival in China on Monday night, Zarif said as an active and influential member of the Group 5+1 (the five permanent UN Security Council members plus Germany), China has always played a constructive role in the trend of nuclear talks and the Beijing is expected continue its positive role in implementation of the JCPOA too.
He emphasized that Iran and China enjoy very extensive relations in political and economic domains as well as regional and international relations. "Tehran is ready to expand its relations with Beijing in all areas."
Zarif said Iran and China share common concern on a number of subjects, including extremism, sectarianism, terrorism, regional problems, and crisis in Afghanistan, Yemen and Syria. So, talks need to be held with the Chinese party on the aforementioned issues, he added.
Upon his arrival, Zarif was welcomed with the senior officials at the Chinese foreign ministry.
In late August, Iranian and Chinese officials in a meeting in Beijing underscored the necessity for the further development of their cooperation in using the peaceful nuclear technology.
The issue was raised in a meeting between Head of the Atomic Energy Organization of Iran (AEOI) Ali Akbar Salehi and senior Chinese officials, including Chairman of China Atomic Energy Authority Xu Dazhe.
During the meeting, the two sides underlined development of cooperation to utilize peaceful nuclear energy.
Full report at:
http://english.farsnews.com/newstext.aspx?nn=13940624000272
----------
Iran, Kazakhstan Discuss Expansion of N. Energy Cooperation
Sep 15, 2015
In a meeting on the sidelines of the 59th Annual Regular Session of the International Atomic Energy Agency (IAEA) General Conference in Vienna, the two sides underlined friendly and close relations between the two countries and called for the expansion of relations mainly in energy sector.
During the meeting, Salehi and Shkolnik discussed details of the Joint Comprehensive Plan of Action (JCPOA) struck between Iran and the Group 5+1 (the five permanent UN Security Council members plus Germany) in Vienna on July 14.
Speaking to reporters after his meeting with the Kazakh minister, Salehi said that it has been stipulated in the JCPOA that Iran can buy nuclear fuel from Kazakhstan nuclear fuel bank.
Also on Monday, Senior Iranian, US and Chinese nuclear energy officials, in a trilateral meeting in the Austrian capital, discussed issues related to the implementation of the nuclear agreement between Tehran and the world powers, specially the redesigning of the Arak Heavy Water Reactor.
Full report at:
http://english.farsnews.com/newstext.aspx?nn=13940624000208
----------
North America
FEDERAL DATA: U.S. ANNUALLY ADMITS QUARTER OF A MILLION MUSLIM MIGRANT
14 Sep 2015
In 2013 alone, 117,423 migrants from Muslim-majority countries were permanently resettled within the United States— having been given lawful permanent resident status. Additionally in 2013, the United States voluntarily admitted an extra 122,921 temporary migrants from Muslim countries as foreign students and foreign workers as well as 39,932 refugees and asylees from Muslim countries.
Thus, twelve years after the September 11th hijackers were invited into the country on temporary visas, the U.S. decided to admit 280,276 migrants from Muslim countries within a single fiscal year.
To put these numbers into perspective, this means that every year the U.S. admits a number of Muslim migrants larger in size than the entire population of Des Moines, Iowa; Lincoln, Nebraska; or Dayton, Ohio.
The rate of Muslim immigration has been increasing since September 11. Between 2001 and 2013, the United States permanently resettled 1.5 million Muslim immigrants throughout the United States. Unlike illegal immigrants, legal immigrants granted lifetime resettlement privileges will be given automatic work permits, welfare access, and the ability to become voting citizens.
Experts believe these numbers will only continue to increase.
The Middle East represents the fastest-growing bloc of immigrants admitted into the country on visas, according to a census data-based report authored by the Center for Immigration Studies. Student visas for Middle Eastern countries have similarly grown enormously, including 16-fold increase in Saudi students since 9/11. Arabic is now the most common language spoken by refugees, and 91.4 percent of recent refugees from the Middle East are on food stamps.
Full report at:
http://www.breitbart.com/big-government/2015/09/14/federal-data-u-s-annually-admits-quarter-of-a-million-muslim-migrants/
----------
U.S. says Russia may be creating air base in Syria
14 September 2015
Russia's latest movements at an airfield in Syria suggest plans to establish a forward air operating base, the Pentagon said on Monday, generally describing Russian movement of "people and things" in Syria but declining to offer specifics on U.S. intelligence.
"We have seen movement of people and things that would indicate that they plan to use that base there, south of Latakia, as a forward air operating base," said Pentagon spokesman Captain Jeff Davis.
Russian tanks in Syria
Meanwhile, Russia has also positioned about a half dozen tanks at a Syrian airfield at the center of a military buildup, two U.S. officials said on Tuesday, adding the intentions of Moscow's latest deployment of heavy military equipment to Syria was unclear.
One of the U.S. officials said seven Russian T-90 tanks were observed at the airfield near Latakia, a stronghold of Syrian President Bashar al-Assad.
The two U.S. officials said Russia had also positioned artillery, which they said appeared to be arrayed defensively to protect Russian personnel stationed there.
Reuters has previously reported that Russia had deployed about 200 naval infantry forces to the airfield. Moscow has also been sending about two cargo flights a day to the airfield over the past week, U.S. officials say.
Moscow has come under increased international pressure in recent days to explain what Washington and Gulf states say is a significant Russian military build-up in Syria, where the Kremlin has been supporting Assad in a four-and-a-half-year war.
Russia has said it will continue with military supplies to Syria and that its assistance to the Syrian army is in line with international law.
Full report at:
http://english.alarabiya.net/en/News/middle-east/2015/09/14/U-S-officials-Russia-deployed-tanks-at-Syria-airfield-.html
----------
Mexican president denounces killing of tourists in Egypt
Sep 14, 2015
Mexican President Enrique Pena Nieto has strongly condemned the recent killing of Mexican tourists by Egyptian security forces, demanding that the Cairo government conduct an "exhaustive" investigation into the fatal incident.
The Mexican president on Monday called on the Egyptian government to probe the deaths of at least two of its nationals following the attack on a group of tourists by Cairo's security forces on Sunday.
"Mexico condemns these acts against our citizens and has demanded that the Egyptian government conduct an exhaustive investigation of what happened," the president wrote in a post on Twitter.
The incident occurred as the tourists were traveling in four vehicles in the Wahat area of the North African country's Western Desert, which is popular with foreign tourists, but is also attractive to militants.
The attack left 12 Mexicans and Egyptians dead and 10 others wounded.
Meanwhile, Egypt's Interior Ministry has said that the vehicles were "mistakenly dealt with" in a security operation that involved both armed forces and military police.
Senior Egyptian authorities say the tourists had been in a restricted area as they came under attack by the government forces. However, a local tour guide in an interview with state-run BBC denied the Egyptian government's claim, insisting the group was not in a restricted area.
Meanwhile, Mexico's Foreign Minister Claudia Ruiz Massieu told a news conference that the tourists who were mistakenly killed by Egyptian security forces were hit by an airstrike.
Mexican survivors told Mexico's ambassador to Egypt that they had stopped for a meal when they "suffered an aerial attack with bombs launched by a plane and helicopters," Massieu said.
Full report at:
http://www.presstv.ir/Detail/2015/09/14/429192/Egypt-Mexico-Enrique-Pena-Nieto-Velayat-Sinai--
----------
India
RSS mouthpiece hits out at Arab nations, blames Europe for ISIS threat
14 September 2015
Amid the ongoing Syrian refugee crisis, RSS mouthpiece 'Organiser' has called for building international opinion to force West Asian nations to "stop deadly politics in the name of Islam".
It also hit out at Arab nations including Saudi Arabia and Kuwait for refusing to help the refugees from strife-torn Syria despite having capacities and resources.
"...Not only Europe but even countries like Bharat (India) and China cannot afford to sit back and wait for the crisis to subside. The time is ripe to build international opinion and force West Asian countries to stop deadly politics in the name of Islam," it said.
An editorial, "Refuge behind refugees", in the RSS organ also said Indian "clerics issuing fatwa against the inhuman actions of IS is exemplary in this regard".
Hitting out at the Arab countries, it said, "The worst culprits are the Arab countries. After financing terrorist groups in many countries, the oil rich West Asian countries have shamed the 'Arab Conscience' by refusing to take in any refugee."
"...why are some Muslim governments seemingly indifferent to the plight of refugees? They have all the capacities, resources and space but for them the cause espoused by IS is greater than the humanitarian concerns," it said.
The organ said Saudi Arabia has openly declared that it will not allow any Syrian refugee into the kingdom, while Kuwaiti official argued that 'they would not fit in' with the Kuwaiti culture.
Full report at:
http://www.dnaindia.com/india/report-syrian-refugee-crisis-rss-mouthpiece-hits-out-at-arab-nations-blames-europe-for-isis-threat-2125280
----------
Hyderabad Muslim group vows to protect cows
Syed Mohammed
Sep 15, 2015
HYDERABAD: A Muslim group in the city has entrusted itself with the task of protecting cows from being slaughtered, days ahead of Bakrid.
Called Arab Gourakshana Samithi (AGS), the group comprises Muslims from Barkas, a suburban area of the Old City here.
The neighbourhood, which has become synonymous over the years for being an important market that sells meat of bovine creatures, is home to a host of tribes which trace their lineage to Hadhramaut in Yemen.
Abdallah Bin Ali Bahameid, president of AGS and a lawyer by profession, chooses to call the initiative a "movement" which intends to bring about communal harmony. "We are working towards building a spirit of brotherhood among Hindus and Muslims. No nation can survive if there is a trust deficit between communities. The Hindus revere the cow and there is no harm if Muslims respect their sentiments. By law, cow slaughter is prohibited," he said.
Much like the Gujarat government's Gauseva and Gauchar Vikas Board's recent claims that the Quran mentions cow's meat as the cause of disease, the AGS too makes strikingly similar claims. But instead of quoting verses from the Quran, its members say that it is a hadith (tradition and sayings of Prophet Muhammad) which records the Prophet as saying that consumption of beef is bad for health.
"When such a hadith exists, there is no room for further debate. We have Muslim scholars and other persons of repute on board who can corroborate this," Bahameid said.
AGS members say that about 200 people from over 25 tribes have joined forces. These include youth and NRIs from the United Arab Emirates as well. But why begin from Barkas? "Charity begins from home. Had the movement begun from another place, questions about our sincerity would arise," he said.
Sources said that the move has invited condemnation and criticism from a section of the Muslim community. "Many alleged that we are backed by the RSS and the BJP. This is false and we remain undeterred," an AGS member said.
Others have accused members of being in cahoots with BJP Goshamahal legislator T Raja Singh, a fierce critic of cow slaughter. The MLA has a string of cases filed against him under section 153 - A (promoting enmity between communities) of the Indian Penal Code for his "provocative speeches".
Full report at:
http://timesofindia.indiatimes.com/city/hyderabad/Hyderabad-Muslim-group-vows-to-protect-cows/articleshow/48962872.cms
----------
Muslims Oppose Ganesh Pandal Near Masjid, Hindus Refuse to Shift Idol In Gujarat
By Aditi Raja
Vadodara
Sep 15, 2015
Three years ago Muslims had invited Hindus to install a Ganesh idol outside Idgah Masjid compound in Pratapnagar here during Ganesh Chaturthi, but this year it has turned into a contentious issue between the two communities as Bakrid coincides with the 10-day festival in the later half of September.
Muslims have objected to the presence of an idol just outside the masjid compound gate during Bakrid and after talks between the two communities broke down, the mutawalli of the Masjid has written to the city police chief, apprehending law and order problem.
"The compound is the property of the Idgah Masjid and belongs to the Wakf board. I requested organisers of the Ganesh pandal that since Eid-ul-Adha (Bakrid) is coinciding with Ganesh Chaturthi festivities this year; they must shift the idol as Muslims do not worship idols. Presence of an idol on the premises will hurt sentiments of many Muslims. After the mandal refused to shift the pandal, I requested the police commissioner to look into the matter as the issue could snowball into a law and order problem," said mutawalli Syed Aamirullah Shukranullah. Ganesh Chathurthi festivities are likely to coincide with Bakrid that may fall between September 22 and 24.
The Ganesh mandal, which has been installing the idol at the compound, has told the Muslim community that as per rituals, it is mandatory to install the idol of Ganesh at one spot for consecutive five years. After the Ganesh mandal erected a tinned structure for the pandal near the gate of the compound, several Muslims registered protest before Aamirullah, apprehending that the idol would be visible to those offering Namaaz.
The mutawalli said the compound gate is kept open for only two Eid Namaaz — Ramzan Eid and Eid-ul-Adha due to a large number of people offering prayers. "We held a meeting, in which, members of the mandal having political connections assured us that they would cover the idol during the Namaaz. However, it is a sensitive matter. I have told the police that the masjid should not be held responsible if any anti-social elements try to take advantage of the situation," Aamirullah said.
Full report at:
http://indianexpress.com/article/cities/ahmedabad/muslims-oppose-ganesh-pandal-near-masjid-hindus-refuse-to-shift-idol/
----------
7/11 Defence argument: Court must eliminate possibility of reform
by Aamir Khan
Mumbai Updated: Sep 15, 2015
As defence lawyers for the 12 convicts in the 7/11 serial blasts trial began their arguments on the quantum of punishment on Monday, they submitted three applications to the court — seeking a report from the jail's probationary officer on the convicts' behaviour, asking for their medical records to be produced, and requesting permission to take on record evidence of some witnesses. While the charges under which the men are convicted include those attracting the maximum punishment of death, the defence is set to plead that reform is possible. Defence counsel Yug Mohit Chaudhry submitted the three applications on behalf of all the convicts. He argued that all the 12 convicts had spent nine years behind bars, and each suffered a health problem. The defence said Mohammed Faisal Ataur Rahman Shaikh, accused No. 3 in the chargesheet, suffers from brain tumour, while two others, Kamal Ansari and Naveed Khan, need psychiatric help. The court then directed all the medical records to be produced.
Full report at:
http://indianexpress.com/article/india/india-others/711defence-argument-court-must-eliminate-possibility-of-reform/
----------
Pakistan
Pakistan liberates Taliban 'no-go zones' in Karachi
September 15, 2015
KARACHI - With a machine-gun in the back seat, his foot on the accelerator and wearing "Top Gun" style sunglasses, Azfar Mahesar pushes deeper into the heart of one of Karachi's "Talibanised" areas.
"This used to be a war zone, but we have liberated it," says the slightly chubby policeman with pride as his vehicle races through the Pakistani city of 20 million.
Over the past few years, one word has been on everyone's lips here: "Talibanisation".
If the remote mountains that straddle the Pakistan and Afghanistan border have been the militant group's playground, Karachi, Pakistan's economic hub on the Arabian Sea, has been the insurgents' hideout and cash-cow.
The Taliban dug deep into areas populated by ethnic Pashtuns, creating virtual "no-go zones" and terrorising the local population with extortion and kidnappings for ransom to provide funding for their groups.
But, say Pakistani officials, that has all changed now.
"Talibanisation in Karachi has died down," says Mahesar, a former soldier turned senior police officer in the most dangerous, western part of the city.
"I can say very confidently 70 to 80 percent (are purged).
There are a few remnants in Karachi but they are not as capable of coming back with the efficiency that they had a year or so ago," he adds.
Today, policemen wearing flak jackets are advancing deep into the bowels of one of the remaining "no-go zones", through dug-up streets and up rocky hills that mark the city's western edge.
"This was a local Taliban HQ," one says as he stands before a pulverised hovel.
The Tehreek-e-Taliban Pakistan has been this country's public enemy number one since its formation in 2007.
Last December, the group carried out its deadliest attack ever, on a school in Peshawar, killing more than 150 people, mainly children.
The TTP called it revenge for a military operation being carried out in North Waziristan, the epicentre of their movement and a sanctuary for Al-Qaeda fighters along the Afghan border.
In response, the government gave the police and paramilitaries permission to lay siege to Talibanised areas.
All this occurred as the military made gains in North Waziristan, from where the Taliban of Karachi received orders.
"The disconnection between Karachi and Miranshah (capital of North Waziristan) has helped law enforcers to keep the Pashtun parts of the city safe and clear of the militancy," said Zia Ur-Rehman, an expert on security in Karachi.
Taliban fighters instead sought refuge in neighbouring Afghanistan, and Pakistan is now facing its lowest levels of terrorist violence in almost a decade.
In the Manghophir district of Karachi, residents now say business is picking up.
Extortion and racketeering by the Taliban -- or criminals posing as them -- is now almost a thing of the past.
"God be thanked that the Taliban have gone.
People were scared, they wouldn't go out to the markets," says elderly Fatima, dressed in a large and multicoloured shawl, in front of the shrine of the Sufi Saint Pir Haji Mangho -- which serves as a barometre of militants' presence.
Full report at:
http://nation.com.pk/karachi/15-Sep-2015/pakistan-liberates-taliban-no-go-zones-in-karachi
----------
'Pak forces capable of thwarting any aggression'
September 15, 2015
KARACHI/ISLAMABAD - President Mamnoon Hussain has said the armed forces are fully alive to the enemy's designs, adding Pakistan is a peaceful country and wants friendly relations with all its neighbours on the basis of equality.
Addressing naval celebrations marking the 50th anniversary of 1965 War at Pakistan Navy Station (PNS) Qasim, Karachi, yesterday, the President made it clear that the armed forces of Pakistan were capable of thwarting any aggression against it. He was satisfied that the officers and jawans of Pakistan Navy had complete command over modern technology.
President Mamnoon said the government was committed to the development of Pakistan Navy in the light of the country's defence needs, adding all its needs would be met within the given resources.
The President said that with the cooperation of China, work on the economic corridor was in progress rapidly, which would inject a new life in economic activities of the whole region. He expressed confidence that Pakistan Navy could effectively fulfil its responsibilities.
The President stated that exhibition of the state-of-the-art naval weaponry and practical demonstration of professional skills by commandoes against terrorism reflects robust preparation of Pakistan Navy, which is a matter of satisfaction for the nation. The President congratulated Chief of Naval Staff Admiral Zakaullah, officers and jawans on their excellent performance.
Earlier, speaking on the occasion, the naval chief said the 1965 War characterised the acts of valour and courage demonstrated by the Pak armed forces. The supreme act of bravery and courage and patriotism shown during the 1965 War was matchless. "On September 6, 1965, when the motherland was attacked at midnight, the armed forces of Pakistan defeated the enemy with great courage and bravery. A formation of Pakistan Navy ships destroyed Dwarka Radar Station and deployment of Pak submarine, Ghazi, restricted the enemy to its own waters during the war," he said
Full report at:
http://nation.com.pk/national/15-Sep-2015/pak-forces-capable-of-thwarting-any-aggression
----------
Jiwani airport attack: Eight suspects arrested from Gawadar
SYED ALI SHAH
Sep 15, 2015
QUETTA: Security forces on Tuesday claimed to have arrested eight 'militants' allegedly involved in the recent attack on Jiwani airport.
The miscreants, who were arrested from Gawadar district, are also suspected of involvement in target killings and other subversive activities in the area, said Frontier Corps Spokesman Khan Wasey.
The suspects belong to a banned militant organisation operating in the area, he added.
The arrests were made during a joint operation conducted by intelligence personnel and the Frontier Corps. The arrested suspects were shifted to undisclosed locations for further interrogation.
Full report at:
http://www.dawn.com/news/1207108/jiwani-airport-attack-eight-suspects-arrested-from-gawadar
----------
Democracy demands everyone to remain within constitutional limits: Zardari
IRFAN HAIDER
Sep 15, 2015
ISLAMABAD: Former president and PPP co-chairperson Asif Ali Zardari on Tuesday said the first and foremost demand of establishing true democracy is that all the state institutions respect the limits imposed on them by the Constitution.
"Fighting militancy and corruption are laudable aims but shall not be used as an excuse to overstep the constitutional limits and authority," he said.
In a statement issued on the eve of 'International Day of Democracy' the PPP leader said that democracy is more than merely holding elections periodically to distribute political power among parties and individuals according to their electoral strength.
"Rule of law, restraining oneself within the constitutional limits, transparent and across the board accountability and tolerance to criticism are critical elements that constitute a democracy," the former president said.
Zardari was of the view that the perception of powerful institutions overstepping their constitutional limits and treading into the domain of other institutions is not a good omen for the stability of a democracy and needs to be addressed urgently and meaningfully.
"Such perceptions must not be allowed to gain strength", he said.
Related Zardari cautions military establishment for stepping out of domain
The Pakistan Peoples Party (PPP) co-chairperson maintained that Pakistan has seen democratic setups assaulted by devices such as the doctrine of necessity, the so called Legal Frame Work (LFO) order and Provisional Constitution Orders (PCOs).
"The enemies of democracy constantly change their faces and tactics," he remarked.
Asif Ali Zardari also cautioned against threats to democracy from extremists, who in his view seek to arbitrarily impose their agenda.
Full report at:
http://www.dawn.com/news/1207119/democracy-demands-everyone-to-remain-within-constitutional-limits-zardari
----------
ECP acts on reports of police coercing PTI candidates into withdrawing from LG polls
IFTIKHAR A. KHAN
Sep 15, 2015
ISLAMABAD: Taking notice allegation that police personnel forced candidates of the Pakistan Tehreek-i-Insaf (PTI) to withdraw from the electoral race in Punjab, the Election Commission of Pakistan (ECP) sought on Monday a report from the Inspector General of Police (IGP).
In a letter sent to the IGP on Monday, the ECP referred to media reports accusing senior police officers of coercing Lahore district candidates into withdrawing from the local government elections. The ECP said the alleged act was tantamount to sabotaging the constitutional sanctity of the election process.
The commission directed the IGP to seek explanation from police officers responsible for the offence and submit a report within 48 hours.
Take a look: Withdrawal of nomination: PTI men allege pressure, Hassaan denies
Also on Monday, a PTI delegation met the ECP authorities and called for replacing returning officers appointed for the important by-elections in Lahore (NA-122) and Lodhran (NA-154).
Sources in the ECP told Dawn that the PTI had suggested that new returning officers should be brought from provinces other than Punjab. The PTI delegation was, however, told that training of the officers had already been completed and it would not be possible to replace them at this stage.
Full report at:
http://www.dawn.com/news/1207063/ecp-acts-on-reports-of-police-coercing-pti-candidates-into-withdrawing-from-lg-polls
----------
Imran wants fraud booted out of Punjab
September 15, 2015
ISLAMABAD - PTI Chairman Imran Khan yesterday called for a third party crackdown on corruption in Punjab and even in Khyber Pakhtunkhwa where his own party rules.
"Agencies should come to Punjab, and even KP to clean what we have been unable to.
But it is more important than ever to cleanse Punjab because the biggest scams will be found there," Imran told the media at his Bani Gala residence.
He said had the "muk-muka" (unlawful deal) between the PPP and the PML-N not broken down, the Nandipur power plant failure would have gone unnoticed.
"It is at least a Rs22 billion project.
We demand a third-party audit, not one on the lines of the Model Town investigation," the PTI chief maintained.
Khan added that these mega corruption scandals had not come to the forefront before because the "Public Accounts Committee and the National Accountability Bureau (NAB) was controlled by them (the PPP and the PML-N).
"
"But today their cooperation has ended and they are at loggerheads over Rangers' and federal agencies' action in Sindh," he viewed.
He said it was intriguing why the Nandipur project was a failure after so much work had been done, and held Punjab Chef Minister Shahbaz Sharif responsible for it.
"The metro bus projects by the PML-N government were also extravagant.
We also demand an independent audit of the metro projects,.
The biggest of all corruption cases is the LNG scandal.
We know your friends in Qatar and how you are doing it," Khan said.
The PTI chairman said "not even revealing the cost of the project was questionable," adding that the "Sindh government was right in pointing out it produced a major chunk of gas in the country.
He Army Chief Gen Raheel Sharif's popularity has been hitting new heights in the country as the public becomes more and more wary of corrupt politicians, Online news agencies reported.
"When PPP and MQM were targeted, both parties began clamoring for help.
I urge the Rangers and agencies to also go to Punjab to investigate the mega scams taking place there," said the PTI chief
The PTI chairman said: "Not even revealing the cost of the project was questionable," adding that the "Sindh government was right in pointing out it produced a major chunk of gas in the country.
Full report at:
http://nation.com.pk/national/15-Sep-2015/imran-wants-fraud-booted-out-of-punjab
----------
Nisar for terrorists' financial network destruction
September 15, 2015
ISLAMABAD - Interior Minister Ch Nisar Ali yesterday directed FIA to gear up its efforts for disrupting financial network of the terrorists in collaboration with the State Bank of Pakistan and other financial institutions.
A high-level security meeting headed by PM Nawaz Sharif last week had stressed to choke funding of terrorists as part of the 20-point National Action Plan (NAP) on Counter-Terrorism announced in December last year.
Chairing a meeting on terror financing at the Ministry of Interior, the interior minister said, "Choking terror financing and getting hold of terrorists' financers and facilitators was critical to effectively overcome the menace of terrorism and disrupting their networks.
"
Secretary Interior, director general FIA and senior officers of FIA and SBP, besides officials of the Interior Ministry attended the meeting.
Addressing the meeting, the interior minister said that the financial resources of the terrorists could not be fully choked under the existing framework and State Bank as well as its Financial Monitoring Unit (FMU) alone could not achieve the desired goals and objectives.
He said that a new strategy should be worked out within next few days that should also include provincial governments, intelligence agencies and FBR.
He said that the strategy should be formulated keeping in view the information available regarding the financial sources of the terrorists, their facilitators, mode of money transfer and statistics available with the provinces.
The minister said, "The issue of terrorist financing was not confined to one country but was an international issue.
" He asserted that he had been continuing raising this issue with foreign dignitaries and delegations and had been calling for action at international level by the international fraternity.
Nisar said that choking terror financing was an important aspect of National Action Plan and no effort would be spared in this regard.
This, he continued, is a difficult task but not impossible.
The interior minister directed FIA to keep an eye on financial transactions made through various formal and informal modes.
He said that swift action should be taken on the report of any suspicious transaction.
The minister also directed that it should also be ensured that no terror financing takes place in the garb of welfare organisations.
DG FIA briefed the meeting about various steps taken so far to curb terror financing.
Chairing another meeting, Ch Nisar directed FIA to launch crackdown with the help of police and Rangers on elements and organised groups involved in human-trafficking and smuggling.
He directed that swift action be taken against all those who were involved in sending Pakistanis abroad illegally and on forged documents.
The meeting that was convened to deliberate on the issue of human-trafficking was attended by senior officials of FIA and Ministry of Interior.
The minister said, "Those involved in heinous business of human-trafficking, bonded-labour, selling human beings and violating human rights were not only bringing bad name to the country but were also exploiting innocent and needy people.
Full report at:
http://nation.com.pk/national/15-Sep-2015/nisar-for-terrorists-financial-network-destruction
----------
Europe
French president: We will bomb ISIS in Syria
14 September 2015
President Francois Hollande said on Monday French air strikes against Islamic State of Iraq and Syria (ISIS) militants in Syria would be necessary.
"We are part of the coalition in Iraq [against ISIS]," Hollande said in a news conference with his Nigerian counterpart Muhammadu Buhari. "We started reconnaissance flights [in Syria] to enable us to consider air strikes if they were necessary and they will be necessary in Syria."
Hollande last week said Paris was beginning flights over Syria given the expansion of ISIS over the last year and the threat its militants could have on French interests at home and abroad.
Paris has also been heavily engaged in the fight against al-Qaeda militants in West Africa and has been providing logistical support and intelligence to Nigeria and neighboring states combating Boko Haram militants.
"Boko Haram is linked to Daesh. It receives aid and support from this group. The fight against Boko Haram is the fight against Daesh," Hollande said, referring to the Arabic acronym for ISIS.
Full report at:
http://english.alarabiya.net/en/News/middle-east/2015/09/14/Hollande-says-French-airstrikes-will-be-necessary-in-Syria.html
----------
UK: Groundbreaking conference with media leaders: Reporting Islam & Muslims in Brit
15th Sep 2015
London, (The Muslim News): A ground breaking conference under the theme Reporting Islam and Muslims in Britain' is being held Tuesday in London, organised by the UK's oldest Muslim newspaper, The Muslim News in partnership with the Society of Editors.
• Editors and senior journalists from major media outlets will join cross section of Muslim community members and leaders
• Initial findings of an ongoing study analysing media reporting of Islam and Muslims in last 17 years
• Conference organized to mark 25th anniversary of The Muslim News, the UK's oldest and largest circulation Muslim community newspaper
'Reporting Islam and Muslims in Britain', will convene leaders from the media and news industry and leading members of the British Muslim community.
Chaired by Fatima Manji of Channel 4 News, the conference will also hear from:
• Lord Black of the Telegraph Media Group
• Bob Satchwell, Executive Director of the Society of Editors
• John Wellington, Managing Editor of the Mail on Sunday
• Sir Alan Moses, Chair of the Independent Press Standards Organisation (IPSO)
• Robin Elias, Managing Editor of ITV News
Full report at:
http://www.muslimnews.co.uk/news/uk/uk-groundbreaking-conference-with-media-leaders-reporting-islam-muslims-in-britain/
----------
Russia to continue military aid to Syria: President Putin
Sep 15, 2015
Russian President Vladimir Putin says his country will continue to supply the Syrian government with military assistance.
Putin made the remarks at a Collective Security Treaty Organization (CSTO) summit in the capital of Tajikistan, Dushanbe, on Tuesday.
He dismissed allegations that Russia's support for Syria's President Bashar al-Assad has resulted in a flow of refugees, saying that without Moscow's support for the Syrian government the number of Syrian refugees heading to Europe would have even become bigger.
"People are fleeing from Syria primarily because of the hostilities which are largely triggered from abroad, through the delivery of armaments and special purpose hardware; people are fleeing from atrocities of the terrorists, we are aware of the atrocities they are committing and ruining cultural monuments," he said.
"If Russia had not been supporting Syria, the situation in that country would have been even worse than in Libya and the refugee flow would have been much larger," said Putin.
The Russian president further expressed concern about the return of Takfiri Daesh militants to their home country.
Full report at:
ttp://www.presstv.ir/Detail/2015/09/15/429282/Russia-Putin-Syria-military-assistance
----------
Charlie Hebdo publishes cartoon of drowned Syrian toddler Aylan Kurdi
ALICE HARROLD
14 September 2015
The French satirical magazine Charlie Hebdo has publishes a cartoon about the death of Syrian toddler Aylan Kurdi on the cover of its latest issue.
Eight months after the terrorist attacks at the Charlie Hebdo offices in Paris which killed 12, the magazine has continued to create controversial content.
Since the photograph of three-year-old boy, Aylan al-Kurdi, who fled with his family from the Syrian civil war but died on a Turkish beach was shared around the world, public support in Europe for refugees has reached increased significantly.
Charlie Hebdo used two cartoons both including drawings of Aylan's death.
The print accompanying the image reads: "Welcome to migrants!"
"So near his goal..." is the message over Aylan's body.
A sign on the beach with a children's clown character says: "Promo! 2 kids menus for the price of one".
A second cartoon depicts what appears to be Jesus next to the drowned boy with the caption: "Proof that Europe is Christian. Christians walk on water - Muslim children sink."
The cartoons have attracted a lot of criticism online from those who view the use of Aylan's death for satirical purposes as offensive. Others have said magazine is merely the West's handling of the refugee crisis.
The images were drawn by artist, Laurent "Riss" Sourisseau. The political cartoonist has had to be chaperoned at all times by armed, plain-clothed police since the attack on the Charlie Hebdo headquarters.
Full report at:
http://www.independent.co.uk/news/world/europe/charlie-hebdo-cover-cartoon-jokes-about-death-of-drowned-syrian-toddler-aylan-kurdi-10499645.html
----------
Why Russian Propaganda Links Chechen Militants, IS, And Assad's Coastal Stronghold
September 14, 2015
Over the weekend, reports emerged that Russian forces are expanding a military airport in Syria's coastal province of Latakia.
This comes amid more reports of a Russian military buildup near Latakia.
Two weeks before these reports broke, Life News, a tabloid-style Russian website with links to the security services, carried a story that appears to set the scene for these developments, warning of the threat posed by the Islamic State (IS) group in Latakia.
And in an emotional appeal to its Russian readers, it frames the "war on terror" in Latakia as an extension of Russia's own struggle against Islamic militancy in the North Caucasus.
Life News claimed IS has dispatched "natives of [Russia's North] Caucasus republics" to Latakia. "Among them are militants who took part in actions against the Russian Army during the Chechen campaigns, and then fled from Russia," it said. "Their skills aid in the development and implementation of operations in the Latakia heights."
Half-Truths
The Life News report is based on elements of truth that have been misinterpreted -- or twisted -- to tell a particular narrative.
It is true that there are several groups of Chechen militants based in the forests of Latakia (though Life News only refers to one). And three of those groups have leaders and fighters who are known to have fought against Russian forces as part of the Islamist insurgency in the North Caucasus.
Indeed, North Caucasus militants in Syria like to say that Latakia is "Syria's Caucasus." They joke that fighters feel at home there, because they can hide out in the forests and mountains.
The catch is that none of the Latakia Chechen groups is connected with IS.
The three main Chechen-led groups in the Latakia mountains are Ajnad al-Kavkaz (Soldiers of the Caucasus), Junud al-Sham (Soldiers of Syria), and a much smaller group, Tarkhan's Jamaat.
Ajnad al-Kavkaz is led by Abdul-Hakim al-Shishani (Hamzat Azhiyev), who is believed to be from Prigorodnoye, a town southeast of the Chechen capital, Grozny.
Azhiyev came to Syria via Turkey after losing several fingers from his left hand in an injury sustained during the armed insurgency against Russian government forces in the North Caucasus.
A media activist with Azhiyev's group told RFE/RL earlier this year that Azhiyev had not sworn an oath of allegiance to the North Caucasus militant group the Caucasus Emirate, but would fight alongside them if he were to return to Chechnya.
Junud al-Sham is led by the veteran ethnic Chechen militant Muslim al-Shishani (Murad Margoshvili) from Georgia's Pankisi Gorge, who fought alongside Arab foreign fighters in Chechnya.
Tarkhan's Jamaat is a much smaller group of fighters loyal to Chechen militant Tarkhan Ismailovich Gaziyev.
All three fight against Syrian President Bashar al-Assad's forces alongside Syrian Al-Qaeda affiliate Jabhat al-Nusra and Ahrar al-Sham -- factions that are opposed to IS.
Why Create An 'IS Threat' In Latakia?
The Life News claim that IS poses a threat in Latakia is part of Moscow's "grand narrative" about the Syrian conflict, according to which Assad is engaged in a war against extremist groups funded by external enemies.
Moscow has insisted that only the Syrian Army is capable of opposing these groups, chiefly IS. "Excluding the Syrian Army from the fight against IS is absurd," Russian Foreign Minister Sergei Lavrov said on September 13.
Life News makes another assertion that is based on distorted facts but which reveals a larger truth about why Moscow is helping Assad shore up his military capabilities in Latakia.
Controlling the mountains of Latakia is "not the terrorists' goal," Life News says. Instead, the Chechen-led groups have advanced into Latakia to "advance from Idlib Province...and advance into Hama Province."
This claim is misleading. All three Chechen-led militant groups in Latakia have been entrenched there for well over a year before they took part in the Idlib offensives.
What is true is the claim that rebels from Idlib could advance on Latakia. That is a very real fear for Assad (and Moscow).
A key loyalist bastion, Latakia is the home of numerous Syrian government officials -- including Assad himself. And so far, although there have been Islamist rebel offensives here -- against the Armenian town of Kessab in 2014, for example -- Syrian government supporters have by and large felt safe there.
But that is changing.
Full report at:
http://www.rferl.org/content/why-russia-propaganda-links-chechens-is-latakia/27248094.html
----------
Africa
Niger's Muslims And Christians Join Forces For Peace
15th September 2015
NIAMEY, Niger: Eight months after Muslims rioted in Niger at a cost of 10 lives and many burned churches, efforts are afoot to mend ties with the Christian minority in the west African country.
The rampage was triggered in January when radical Muslims angered by caricatures of the Prophet Mohamed in French satirical weekly Charlie Hebdo killed 12 people in an assault on the magazine's Paris offices.
In Niger, hundreds of Muslims took to the streets, clashing with police and razing 45 churches, five hotels, as well as bars and schools run by Christians. The French cultural centre in the second city, Zinder, was also set alight.
Muslims make up about 98 percent of the 17 million population in the deeply poor, landlocked nation south of the Sahara. Until the riots, they lived in peace with the small Christian minority.
However, the threat of armed Islamist activity is present both in the north, where Niger is prey to Al-Qaeda-linked groups in the desert, and the south, which has been attacked by Boko Haram fundamentalists from neighbouring Nigeria.
'Value of living together'
Leaders of both faiths have been striving to restore strong community bonds by means of an inter-religious dialogue backed by a plan to "renew the value of living together" (REVE) funded by the European Union.
The aid organisation CARE International, based in the United States, is overseeing the REVE project "to prevent violence" on the ground and "strengthen peaceful coexistence", according to CARE chief in Niamey, Ibrahim Niandou.
"Committees for dialogue" have already been set up in the country's eight regions and their members reflect all religious tendencies, including "the most radical ones", Niandou said.
"Christians and Muslims mutually enlighten each other for better peaceful coexistence according to the recommendations of the Bible and the Koran," the national CARE chief added.
"It has become necessary... that really different religions, leaders of different religions, meet to talk," says Boubacar Seydou Toure, an influential member of the Islamic Association of Niger (AIN), the biggest such body and one of the oldest.
"You know what has happened over the past months in our country, and it is really down to misunderstanding each other," Seydou added.
Last week, the AIN hosted a peace forum bringing together about 100 Muslim religious jurists and doctors known as ulemas, Christian priests as well as theologians from both faiths.
"The crises are often triggered by religious leaders during their fiery preaching in the mosques and in the churches," Seydou explained.
Christian preacher Baradje Diagou said January's disturbances have heightened the need to co-exist peaceably.
Full report at:
http://www.newindianexpress.com/world/Nigers-Muslims-And-Christians-Join-Forces-For-Peace/2015/09/15/article3029398.ece
----------
Daesh Takfiris abduct 12 Egyptians in Libya's Sirte: Reports
Sep 15, 2015
Members of the Takfiri Daesh (ISIL) terrorist group have reportedly abducted 12 Egyptians in northern Libya.
Local sources, requesting not to be identified, said the Egyptian nationals were heading back home on Monday evening when Daesh extremists stopped them on a road in the Libyan port city of Sirte, located 450 kilometers (280 miles) east of the Libyan capital city of Tripoli, and took them away.
The abductees were mainly construction workers who were building a prison as well as several administrative buildings in Sirte. There were a number of Coptic Christians among the kidnapped Egyptian citizens.
The screen grab taken from a video released by Daesh terrorists on February 15, 2015 allegedly shows a number of Egyptian Christians moments before their killing.
On February 15, Daesh released a video that purportedly showed the beheading of 21 Egyptian Christians at the hands of the terrorist group in Libya. The footage showed the handcuffed hostages dressed in orange jumpsuits kneeling down along the seaside near the Libyan capital, Tripoli.
The North African country has in recent months witnessed an increasing presence of Daesh, which has taken control of swathes of land in the Middle Eastern countries of Iraq and Syria. The Takfiri group has also carried a number of terror attacks in other parts of the world in recent months.
Taking advantage of the chaos across Libya, Daesh has established a foothold along the African state's Mediterranean coast.
Full report at:
http://www.presstv.ir/Detail/2015/09/15/429278/Libya-Daesh-Sirte-Daesh-Egyptian-Coptic-Christians-Bernardino-Leon
----------
Wilayat West Africa Reboots for the Caliphate
15 September 2015
Jacob Zenn rejects the idea that Boko Haram's recent declaration of allegiance to the so-called Islamic State has "changed nothing" in West Africa. On the contrary, the pledge confirms that an operational relationship exists between both organizations and that the renamed Wilayat West Africa now reports to a new emir.
By Jacob Zenn for Combating Terrorism Center (CTC)
This article was originally published in the CTC Sentinel (Volume 8, Issue 8; August 2015) by the Combating Terrorism Center (CTC) at West Point.
After a nearly one-year-long "courtship process"[1] that began when Boko Haram[2] leader Abu Bakr Shekau claimed the Chibok kidnapping in May 2014, on March 7, 2015, Shekau pledged baya`a[3] to Islamic State leader Abu Bakr al-Baghdadi. Al-Baghdadi via his spokesman accepted Shekau's baya`a and renamed the group as the Islamic State's Wilayat[4] West Africa, thereby rendering "Boko Haram" obsolete. In the next two months, ten other Islamic State wilayat in Algeria, Libya, Yemen, Syria and Iraq issued videos praising Shekau's baya`a.[5] Wilayat West Africa became the most significant of the Islamic State's more than 30 claimed wilayat in terms of number of militants, territory controlled, and operational capacity.[6]
However, in early February 2015, as the courtship process between Boko Haram and the Islamic State was in the final stage, the Nigerian and neighboring country militaries launched a large-scale offensive against Boko Haram in the "Islamic State" in northeastern Nigeria that Shekau had declared in 2014.[7] Together, they expelled the new Wilayat West Africa from almost all of the more than 25 towns that the militants had occupied.
Boko Haram over-extended in its bid to follow the model of the Islamic State's "core" leadership and hold territory and engage in conventional warfare. In declaring Boko Haram's own "Islamic State" and announcing his "support" for al-Baghdadi, Shekau had shown his admiration of the Islamic State's territorial conquests in Syria and Iraq. Thus, from the beginning of the courtship process in May 2014, Boko Haram had shifted tactics by trying to hold territory for the first time since the start of the insurgency in 2010.
But the new Wilayat West Africa that was announced in March 2015 was shrinking not expanding. The militants fled from most of the territory Boko Haram had held. One of the side-effects of the military offensive, however, was that some militants appear to have responded to the military pressure by strengthening relationships with Islamic State wilayat in Libya.
Wilayat West Africa is a far from finished force, however, and can still engage in asymmetric warfare. The next phase of the insurgency in Nigeria and the Lake Chad sub-region[8] will likely feature a Wilayat West Africa determined to re-establish enough territorial control to support the narrative that it has a "state". However, Nigeria's new President Muhammed Buhari will also prioritize cross-border military and political cooperation with Cameroon, Chad, and Niger as well as anti-corruption and soft measures to "encircle" Wilayat West Africa and prevent the militants from reclaiming their lost "Islamic State" in the Nigeria-Cameroon border region.
This article will discuss how Wilayat West Africa militants responded to the military offensive and analyze the extent to which the militants were able to withstand the offensive tactically, strategically, and in terms of morale. The article also examines Wilayat West Africa's attacks in Chad after the military offensive, which for the first time showed signs of cooperation from the Islamic State's "core" leadership. Finally, the article assesses reports of Wilayat West Africa militants mixing with other Islamic State wilayat in Libya and whether an operational or command-and-control relationship exists.
Each section of the article also highlights the role of "post-Ansaru"[9] networks (militants formerly in the faction Ansaru, who reintegrated with Boko Haram and played the lead role in managing Boko Haram's courtship process) in enabling Boko Haram's evolution into Wilayat West Africa today.
The article challenges the notion that Shekau's baya`a "changed nothing" and suggests that while the Islamic State's impact on Wilayat West Africa is thus far most easily seen in media and propaganda (and, of course, Boko Haram's new name), an operational relationship already exists.[10] Moreover, there have been suggestions from a source with a record of inside knowledge that in the Islamic State hierarchy Shekau now reports to a new overall emir of Wilayat West Africa, who is a Libyan and former Mali-based militant in Mokhtar Belmokhtar's al-Mourabitoun.[11] Nonetheless, the Islamic State still recognizes Shekau as the titular head, or wali, of Wilayat West Africa.[12]
Reorganizing After the Military Offensive
The military offensive led to immediate battlefield losses for Wilayat West Africa. An estimated 30 percent of its 10,000 to 20,000 militants were killed. Among those militants killed were several key members of the new Wilayat West Africa Media Foundation, who previously were part of Boko Haram's "post-Ansaru" network and collaborated with the Islamic State media operative Shaybah al-Hamad and Tunisia-based Africa Media[13] to run the "al-Urhwa al-Wutqha"[14] twitter account. This account served as the public platform for the final phase of the courtship process, including the audio recording of Shekau's baya`a. The deaths of members of the media team likely led to a downturn in Wilayat West Africa media output for nearly two months after Shekau's baya`a, while the Wilayat West Africa's battlefield losses upset the intended plan of the militants to advertise the territory they had controlled.[15]
As a result of the military offensive, many militants had also abandoned bases in northeastern Nigeria, where they had previously stored weapons, trained, and held captive hundreds of female "servants", cooks, and porters (but apparently none of the more than 250 kidnapped Chibok schoolgirls). The militants were seen leaving Nigerian border towns near Cameroon and, in one case, even walked across a bridge into Cameroon. Aerial footage also showed dozens of militants escaping in convoys from Boko Haram's main "armory" in the Sambisa Forest of Borno State.[16]
Despite these setbacks, when Wilayat West Africa Media Foundation became active again in June 2015, it incorporated into its messaging strategy the most prevalent narrative of the Islamic State: that it is "always winning" and "in control of territory" that constitutes a state.[17] Nonetheless, the reduction in Wilayat West Africa attacks after the military offensive, the dispersal of militants, and the non-appearance of Shekau after his baya`a (which may have been for strategic reasons) led to an impression that "Boko Haram" was "defeated" and that the baya`a was a "desperate attempt" to "distract attention" (even though the baya`a was in process for nearly a year before the offensive).[18]
But the loss of territory did not destroy the resolve of Wilayat West Africa. In an Islamic State-styled April 22, 2015 statement, militants appeared to accept that they had suffered losses to the "crusader African alliance" knowing they were preparing for a new phase of asymmetric warfare once military pressure returned to regular levels. Boko Haram had after all bounced back after military offensives in July 2009 and May 2013. In addition, the Islamic State-supported "upgrade" of Wilayat West Africa's media enabled the militants to portray to followers that they still controlled a "state" even if it was not true.
Thus, the military offensive and President Buhari's renewed commitment to countering the insurgency did not deal to the militants the decisive blow that leaders in the outgoing administration anticipated. However, it did eliminate Wilayat West Africa's capacity to engage in conventional warfare and hold territory.[19]
Tactics, Strategy and Morale
On the tactical level, with Wilayat West Africa forced from its bases and under pressure, the militants increased suicide attacks on soft targets, with a focus on deploying young girls.[20] The more than 60 females (some were elderly women) who attempted suicide attacks in Borno State and Cameroon from early February 2015 through August 2015 likely sustained that unprecedented frequency because elements of the "post-Ansaru" network in Cameroon, who have been largely immune to the Borno-focused offensive, masterminded some of the attacks.[21]
Full report at:
http://www.isn.ethz.ch/Digital-Library/Articles/Detail/?lng=en&id=193370
----------
Somalis in Minnesota question counter-extremism program targeted at Muslims
14 September 2015
Hibaaq Osman has a glow that changes the energy in a room, or in her case, the energy of the restaurant her family owns in Karmel mall, the oldest Somali mall in Minneapolis. The cafe is right near the mosque on the top floor of the building, past rows of entrepreneurs selling wares in individual stalls, sipping hot drinks in small cups and chatting in Somali.
Osman retains her glow, even in anger. And after a press conference held outside the mosque, she is upset.
"I feel like we as a community need to wake up," she said. "We need to wake up and say, 'You know what? Enough is enough.' We are citizens, we are taxpayers, we own businesses, we need people to understand that we also are part of this country just the way anybody else is."
With a population of at least 30,000, the Somali people are a significant presence in the Twin Cities, home to more 3.5 million people. Because they have been coming to Minnesota since the 1980s, the people who come now have family and friends who have already established a life in the midwest. They love it – besides the cold winters.
Rooted as they are in Minnesota, many in the the Somali Muslim community are alarmed at a US attorney-led program that they believe singles them out as more blood thirsty than other ethnic or religious groups, and makes them vulnerable to surveillance.
Led by a taskforce of 15 Somali Americans and a traditional community grant-making organization, the Counter Violent Extremism (CVE) program is the brainchild of the chief federal prosecutor for Minnesota, Andrew Luger. Later this month, it will launch a number of yet-to-be-announced grants to programs aimed at creating educational and professional opportunities among the Somali Muslim community in Minnesota. The goal is to prevent youth recruitment by overseas extremist groups such as Isis or al-Shabaab.
But even before any specifics of the program have been announced, the program has engendered dramatic hostility and division within the Muslim Somali community. Those opposed to the premise of the program point out that 96% of domestic terrorism is committed by white men. The exact figure is disputed, but all statistics have it at more than 90%.
"The idea that this Muslim community needs help, itself for this issue is problematic," says Jaylani Hussein the executive director of the Council on American-Islamic Relations (CAIR-MN). "Because now you're saying that countering violent extremism is only from one community. The threat comes from one community, the threat is only identified within one community, that community needs a program. The whole premise is wrong. This program, no matter how good it is, is flawed from its principle."
Those who support the program are welcoming of new resources to their community, particularly if they will keep any brewing problem contained.
The conflict derives from the perceived radicalization of several individuals from Minnesota. Between 2008 and 2013, about 40 young men left Minneapolis to join al-Shabaab, the militant, radical Islamist insurgent group at war in Somalia, between approximately 2008 and 2013. Since then, 11 people from the Twin Cities have been charged with planning to leave for Syria to join Isis. Authorities believe Isis is focusing its US recruitment efforts on Somali Muslims in Minnesota because of the state's history, and a potential pre-existing recruitment infrastructure.
Six young men charged with planning to leave Minnesota for Syria to join Isis are awaiting trial in February. The boys claim they were entrapped, but one is now expected to change his plea to guilty.
"We have a terror recruiting problem in Minnesota," Luger said in April.
Opponents of the CVE program point out that these 40 individuals make up less than 0.3% of Minnesota's Somali population.
Full report at:
http://www.theguardian.com/us-news/2015/sep/14/somali-muslims-minnesota-counter-extremism-program
----------
URL: https://www.newageislam.com/islamic-world-news/new-age-islam-news-bureau/at-isma,-a-hardline-islamic-group,-event,-dr-m-tells-sunnis-to-accept-shias-as-muslims/d/104586