New Age Islam News Bureau
31 Dec 2013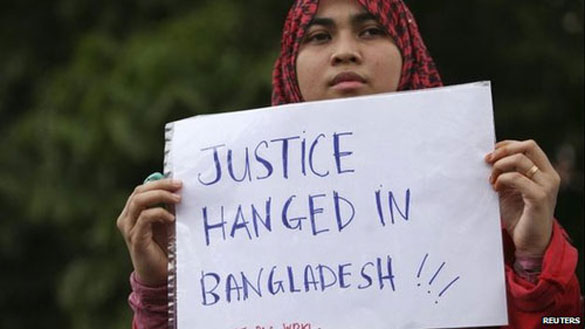 Supporters of Jamaat say the war crimes tribunal is pursuing a political vendetta - a claim the government denies
-----------
Arab World
• Assad Urges Fight against Wahhabism the Political and Saudi Religious Ideology
• Al Qaeda Opens Syrian Jihad School
• Deadly clashes as Iraq forces demolish Sunni protest camp
• Activists: Missile hits bus in Syria, killing 10
• 44 Iraqi MPs resign in protest at Anbar dispersal
• Syrian Rebels Receiving Arms, Military Counselling from Secret Command Center in Amman
• Saudi religious police chief rejects repression to enforce Shariah code
• Four more killed in clashes after Iraq protest camp shut
• Bahrain thwarts terror plot: Iranian, Syrian arms seized
• Increase in Iraq executions draws international ire
• War, weather, bureaucracy cause Syria to miss chemical weapons deadline
Mideast
• Kurdish Youth May Have Been Recruited at Mosques for Syrian 'Jihad'
• Iran says 'good progress' made at negotiations with P5+1
• Palestinians convicted in terror attacks released as part of peace deal
• Suicide car bombing kills three Yemeni soldiers
• Muslim scholars union expresses trust in PM Erdogan
South Asia
• Top Fundamentalist Jamaat-e-Islami leader charged with war crimes in Bangladesh
• Afghanistan rejects grim US intelligence forecast as baseless
• Afghan Street Children Beg For Change
• Uyghurs call for int'l probe on China killings
Southeast Asia
• Indonesia Sharia stronghold bans New Year's festivities
• Banda Aceh Confiscates Fireworks, Trumpets as New Year's Ban Enforced
• For interfaith harmony, this 'bridge builder' pushes forward
Pakistan
• PM Tasks Sami Ul Haq to Revive Conditions for Taliban Talks
• India asked to be cautious on Afghanistan, says Aziz
• Zardari asks CM to reach out to Muttahida over LG concerns
• 150 killed in 26 Karachi blasts in '13
Africa
• 63 Boko Haram Militants Killed: Nigerian Military
• Death toll in Congo attacks rises to 100
• South Sudan rebel 'agrees to talks after taking Bor'
• The heart-breaking story of Libya and migrants told through the eyes of a boy, Khalid
• African Union threatens sanctions over South Sudan violence
• US, Libyan forces capture Tunisia Islamist militant: News agency
Europe
• Children 'beheaded and mutilated' in CAR, says UNICEF
• Caucuses Muslims call for New Year celebration boycott
• Afghanistan war more unpopular than Vietnam – poll
• Putin warns 'terrorists' face total destruction
• Global chemicals watchdog grateful for Russia sponsorship in Syria disarmament effort
North America
• Muslims and Jews sing, talk and protest their way to interfaith cooperation
• US calls for closer security cooperation with Russia after bombings
• Kerry to present Israel, Palestine outline for final Middle East peace deal
• Boston Marathon bombings: Dad of Tamerlan Tsarnaev's friend writes Obama
India
• Cleric draws Ulema's' support to expel Taslima
• Manmohan condemns terror attack in Russia as 'ghastly', writes to Putin
• The historic calligraphy of Bangalore's Institute of Indo-Islamic Art and Culture
Compiled by New Age Islam News Bureau
For Details and More Headlines from All Regions, Please click, 'More'
URL: https://www.newageislam.com/islamic-world-news/new-age-islam-news-bureau/assad-urges-fight-against-wahhabism-the-political-and-saudi-religious-ideology/d/35078
------------
Arab World
Assad urges fight against Wahhabism the political and Saudi religious ideology
Dec 31 2013
Syria's President Bashar al-Assad Monday called for a battle against Wahhabism, the political and religious ideology embraced by the Saudi government, a key backer of the uprising against his regime.
The comments came amid ongoing tensions between the two countries, which are fiercely opposed to each other.
"President Assad said that extremist and Wahhabi thought distort the real Islam, which is tolerant," state news agency SANA said.
"He underlined the role of men of religion in fighting against Wahhabi thought, which is foreign to our societies," the agency said.
Wahhabism is an ultra-conservative Muslim tradition, which is predominant in Saudi Arabia and applied to both religious and political life.
Assad's remarks during a meeting with religious clerics from Lebanon come a day after Saudi King Abdullah accused the Syrian leader of "destroying his country".
The monarch, who is hosting French President Francois Hollande, also accused Assad of having attracted Islamic extremists to Syria.
Groups affiliated with and loyal to Al-Qaeda are now among those fighting on the ground against Assad's government.
Saudi Arabia is a key backer of the rebels fighting against Assad's regime, and the Damascus government accuses the kingdom of funding "terrorists" seeking to destroy Syria.
http://english.ahram.org.eg/NewsContent/2/8/90433/World/Region/Syrias-Assad-urges-fight-against-Saudi-religious-i.aspx
------------
Al Qaeda Opens Syrian Jihad School
Dec 31, 2013
Jabhat Al Nusra, an Islamist group affiliated with Al Qaeda, maintains an infrastructure of governance as one of the central opposition forces. Aside from managing religious courts based on Islamic Sharia law, the group has opened new schooling programs emphasizing Islam and jihad.
In the southern Syrian town of Daraa, a school established by the organization teaches roughly 30 students ranging in age from 10 to 15 to believe in Allah, follow Islam, and aspire to jihad holy war.
Video footage from the school shows students learning by rote passages from the Koran, reading "our path is the path of jihad."
The use of child soldiers by rebel forces, including the more "moderate" Free Syrian Army (FSA), has been documented, and shows how the lessons learned in the school may quickly be turned into action.
On the walls of the classroom hang posters featuring verses from the Koran, including one praising jihadist "martyrs," explaining that they aren't "dead" but rather "living" with Allah.
One of the teachers explains that the students learn how to use weapons and are prepared to become jihadists. Video can be seen here:
he Islamist nature of the Syrian opposition forces has been a point of contention, with Russia recently claiming the West understands Syrian President Bashar Assad is "better" than the rebels.
The Russian comment came after Islamic Front battalions, which call for an Islamic state, took over warehouses held by the more secular FSA in early December, leading the US and Britain to suspend military funding to rebel factions.
Geneva II peace talks, aiming to end the 3 year conflict that has claimed over 100,000 lives and created over 2 million refugees, are set for January 22.
http://www.israelnationalnews.com/News/News.aspx/175731#.UtBFptJDsqM
------------
Deadly clashes as Iraq forces demolish Sunni protest camp
Dec 31 2013
Deadly clashes broke out and mosques called for holy war as Iraqi forces on Monday demolished a year-old protest camp set up by Sunni Arabs on a major highway.
The violence, which came just days after a deadly raid on the home of a Sunni lawmaker in the adjacent city of Ramadi, threatens to escalate already-widespread anger among Iraq's minority Sunni Arab community.
Another operation at a Sunni protest camp outside the northern town of Hawijah on April 23 triggered clashes in which dozens of people died, sending tensions and death tolls soaring.
An AFP journalist saw the body of one person and reported that at least 10 more people were wounded in an area of Ramadi that adjoins the protest site, where demonstrators have camped out for more than a year.
Security forces were deployed near the site and helicopters could be seen firing into the area, the journalist said, adding that two security forces vehicles were burned and gunmen had seized a third.
As the fighting raged, some mosques in the city used loudspeakers to exhort people to "go to jihad", or holy war.
Mobile phone connections in the city were down.
Prime Minister Nuri al-Maliki's spokesman, Ali Mussawi, told AFP that military sources confirmed police and tribal militia had "completed the removal of the tents that were (at) the site, and opened the road that was closed."
This was done "without any losses, after Al-Qaeda and its members escaped from the camp to the city, and they are being pursued now," Mussawi said.
He was repeating an assertion made on December 22 by Maliki, who said that "the sit-in site in Anbar has turned into a headquarters for the leadership of Al-Qaeda."
Maliki called on "those who are with them in this place who refuse sabotage and who have legal or illegal demands... to leave these camps, and leave this place, so that Al-Qaeda stays alone".
He added that protesters had a "very short period" in which to leave.
Security forces found two car bombs and other explosives in the protest camp on Monday, state television said.
The sprawling camp, located on the highway near Ramadi that leads to Jordan and Syria, included a stage from which speakers could address the crowds, a large roofed structure and dozens of tents.
Numbers of protesters there ranged from hundreds during the week to many thousands on some Fridays when the Muslim weekly main prayers are held.
Protests broke out in Sunni Arab-majority areas of Iraq late last year after the arrest of guards of then-finance minister Rafa al-Essawi, an influential Sunni Arab, on terrorism charges.
The arrests were seen by Sunnis as yet another example of the Shiite-led government targeting one of their leaders.
In December 2011, guards of vice president Tareq al-Hashemi, another prominent Sunni politician, were arrested and accused of terrorism. Hashemi fled abroad and has since been given multiple death sentences in absentia for charges including murder.
The demonstrations have tapped into long-standing grievances of Sunnis, who say they are both marginalised by the government and unfairly targeted with heavy-handed tactics by security forces.
In another incident that has escalated tensions, security forces on Saturday raided the Ramadi home of Sunni Arab MP Ahmed al-Alwani, who backs the anti-government protesters, arresting him and sparking clashes that killed his brother, five guards and a security forces member.
Sunni discontent has been a key factor in the escalating unrest in Iraq this year, boosting recruitment for militant groups and eroding cooperation with security forces.
But while the government has made some concessions aimed at placating Sunni Arabs, including freeing prisoners and raising the salaries of anti-Al-Qaeda fighters, underlying issues remain unaddressed.
Nationwide death tolls from violence spiked following the operation, reaching a level not seen since 2008, when the country was just emerging from a brutal period of sectarian killings.
The violence continued elsewhere in Iraq on Monday, with nine people, among them three security forces members, killed in attacks.
More than 6,750 people have been killed in violence since the beginning of the year, according to AFP figures based on security and medical sources.
http://english.ahram.org.eg/NewsContent/2/8/90424/World/Region/Deadly-clashes-as-Iraq-forces-demolish-Sunni-prote.aspx
------------
Activists: Missile hits bus in Syria, killing 10
Dec 31, 2013
BEIRUT (AP) — Syrian activists say a missile has struck a bus in a rebel-held area of the northern city of Aleppo, killing at least 10 people.
The British-based Syrian Observatory for Human Rights said Tuesday that another missile landed nearby as medics were evacuating the wounded from the first explosion.
The Observatory says the missiles were fired from a plane and that at least two children were among the killed. It gave no further details on the missiles used.
Syrian forces have killed over 500 people, mostly civilians, since Dec. 15, in an intensified bombing campaign of Aleppo, mostly dropping crude dynamite-filled barrels over rebel neighborhoods.
The fighting has divided the city into rebel-held areas and those loyal to the government of President Bashar Assad.
http://news.yahoo.com/activists-missile-hits-bus-syria-killing-10-124135189.html
----------
44 Iraqi MPs resign in protest at Anbar dispersal
Dec 31 2013
Forty-four Iraqi lawmakers resigned on Monday in protest at the violent dispersal by security forces of a sit-in staged in the western Anbar province against the government of Prime Minister Nouri al-Maliki.
"The military operation serves Maliki's personal interests," Dhafer al-Ani, the spokesman for Parliament Speaker Osama al-Nujaifi's Motahedoun (United) coalition, told a press conference.
On Monday, Iraqi police and army troops dismantled a sit-in staged by anti-government Sunni Muslims, triggering fierce clashes between troops and tribesmen.
Twelve people were killed and injured in clashes between army forces and armed men in Ramadi, the capital city of Anbar.
In Fallujah, a major city of Anbar, seven civilians, including a woman and a child, were also killed in clashes between armed tribesmen and government forces.
Saleh al-Essawi, deputy head of Anbar's provincial council, told AA Sunday that Defense Minister Saadoun al-Dulaimi had met with council members, local tribal chieftains and sit-in organizers.
According to al-Essawi, the two sides agreed on the release of Anbar lawmaker Ahmed al-Alwani, who was detained by Iraqi authorities on Saturday during a deadly raid on his Ramadi home.
The two sides also agreed to dismantle a number of tents erected by protesters near the province's international road, provided they were dismantled by local police rather than army personnel.
Since last December, Iraqi Sunni Muslims have staged sit-ins in several provinces, including Anbar, to denounce perceived anti-Sunni discrimination by the al-Maliki government.
Fresh clashes in Falluja
Clashes erupted in the early hours of Tuesday between Iraqi troops and tribesmen in the western city of Fallujah, a tribal source said.
The clashes, which were still ongoing as of 6:55am GMT, featured the use of light, medium and heavy weapons by both sides, the source said.
Meanwhile, a security source told Anadolu Agency that four mortar shells had fallen on an army base in Ramadi, capital of the western Anbar province, causing minor damage to buildings.
Iraqi tribesmen control vast swatches of Anbar
Armed tribesmen have seized control of vast swatches of the western Iraqi province of Anbar, a tribal source told Anadolu Agency on Monday.
According to the source, tribesmen provide protection to army troops who give themselves up and move the injured to hospitals.
Meanwhile, government forces withdrew from the highway near the western city of Falluja following five-hour clashes with tribesmen, another trial source said.
The highway is now controlled by tribesmen, who block supplies to the government forces, the source added.
Government officials could not be reached for comment.
The two sides also agreed to dismantle a number of tents erected by protesters near the province's international road, provided they were dismantled by local police rather than army personnel.
Al-Dulaimi said that army units dispatched to Anbar following al-Alwani's arrest would be withdrawn within three days.
http://www.worldbulletin.net/?aType=haber&ArticleID=125974
------------
Syrian Rebels Receiving Arms, Military Counselling from Secret Command Center in Amman
December 31, 2013
TEHRAN (FNA)- Rebel fighters and opposition members said a command center, based in an intelligence headquarters building in the Jordanian capital, channels vehicles, sniper rifles, mortars, heavy machine guns, small arms and ammunition to Free Syrian Army units.
Officials in Amman denied the command center exists.
"We dismiss these allegations. Jordan is not a host or part of any cooperation against Syria. Jordan's interest is to see a stable and secure Syria, one that is able to keep its problems inside its borders," said Minister of Media Affairs Mohammad Al-Momani said, the National reported.
Full report at:
http://english.farsnews.com/newstext.aspx?nn=13921008001531
----------
Saudi religious police chief rejects repression to enforce Shariah code
Dec 31 2013
The head of Saudi Arabia's controversial religious police, officially referred to as the Committee for the Promotion of Virtue and the Prevention of Vice, has denied that his forces are using repression to enforce the Shariah code in public.
Sheikh Abdulatif Al al-Sheikh told Al Arabiya News Channel in a special interview aired on Monday that there are ultra-conservative members within the committee who espouse a tougher approach to enforcing the Shariah code.
"We are neither extremists nor too lenient. We follow the course of the Prophet Mohammad and we don't seek to be repressive or brutal because this is not part of Islamic Shariah,' he said.
Full report at:
http://english.alarabiya.net/en/News/middle-east/2013/12/31/Saudi-religious-police-chief-rejects-repression-to-enforce-Shariah-code.html
------------
Four more killed in clashes after Iraq protest camp shut
Dec 31 2013
Clashes between security forces and gunmen killed four more people in Ramadi on Tuesday, a day after the closure of a sprawling anti-government protest site, police and a doctor said.
Three gunmen and an Iraqi army sniper were killed, while three other militants were wounded, the sources said, bringing the death toll from clashes set off by the closure of the camp to 14.
The violence came after Iraqi security forces dismantled the protest camp located near the city of Ramadi, where Sunni Arab demonstrators had gathered for more than a year.
As the camp was demolished, heavy clashes broke out in the Ramadi area, with 10 gunmen killed as some mosques exhorted followers to "go to jihad," or holy war.
Full report at:
http://www.hurriyetdailynews.com/four-more-killed-in-clashes-after-iraq-protest-camp-shut.aspx?pageID=238&nID=60366&NewsCatID=352
------------
Bahrain thwarts terror plot: Iranian, Syrian arms seized
Dec 31 2013
MANAMA: Bahraini authorities have foiled an attempt to smuggle explosives and arms, some made in Iran and Syria, into the country by boat, the state's public security chief said on Monday.
The boat, which had two Bahrainis aboard, was stopped over the weekend at two nautical miles off the archipelago's coast, public security chief Maj. Gen. Tareq Al-Hasan said.
He said it had been tracked over a distance of 118 nautical miles northeast of the kingdom.
"Fifty hand grenades made in Iran," as well as "295 fuses connected to switches labeled as made in Syria," were found in the 29-foot vessel, he said in a statement carried by state news agency BNA.
Full report at:
http://www.arabnews.com/news/501206
------------
Increase in Iraq executions draws international ire
December 31, 2013
BAGHDAD: Iraq's use of the death penalty has increased despite international condemnation, with some fearing execution rates could rise further as officials seek to appear tough on security ahead of elections.
At least 169 people were put to death in 2013, by far the country's highest such figure since the 2003 US-led invasion, and one that puts it third in the world, behind just China and Iran.
Iraqi officials insist capital punishment is both sanctioned by Islam and an effective way to curb violence, despite the fact that this year's executions have had no visible impact on the worst protracted surge in bloodshed since 2008.
Full report at:
http://tribune.com.pk/story/652892/increase-in-iraq-executions-draws-international-ire/
----------
War, weather, bureaucracy cause Syria to miss chemical weapons deadline
Dec 31, 2013
(Reuters) - Security concerns and bureaucracy have caused President Bashar al-Assad's government to miss Tuesday's deadline for the removal of deadly toxins from Syria under an international effort to remove its chemical arsenal, the global chemical weapons agency said.
Bad weather and a complex multinational procurement effort for equipment have also delayed the operation, an official from the Organisation for the Prohibition of Chemical Weapons said.
Syria agreed to abandon its chemical weapons by next June under a deal proposed by Russia and hashed out with the United States after an August 21 sarin gas attack that Western nations blamed on Assad's forces.
Full report at:
http://www.reuters.com/article/2013/12/31/us-syria-crisis-deadline-idUSBRE9BU0A120131231
----------
Mideast
Kurdish Youth May Have Been Recruited at Mosques for Syrian 'Jihad'
Dec 31, 2013
ERBIL, Kurdistan Region – Scores of Kurdish youth may have been recruited at mosques across the Kurdistan Region and sent across the border to the "jihad" in Syria, local officials say. Most have gone without the knowledge of parents and 10 have so far been killed in the fighting.
Security officials, particularly in Sulaimani province, recently reported that around 150 young Kurds had traveled across the border to Syria to fight against the embattled regime of Bashar Assad. This month, security forces also carried out night raids on several mosques in Sulaimani to check out suspicions they were being used for recruitment.
Mariwan Naqshbandy, the spokesperson for the Ministry of Religious Affairs in Erbil, believes that part of the reason youth are attracted by the war next door is the way anti-Assad fighters have been glorified in the media.
"Some of the Arab media portrayed those who fight the Assad regime as heroes," Naqshbandy told Rudaw in a recent interview. "So that influenced our young at the start of the Syrian conflict."
Full report at:
http://rudaw.net/english/kurdistan/29122013#sthash.9nmqTIL6.dpuf
------------
Iran says 'good progress' made at negotiations with P5+1
Dec 31 2013
ranian Deputy Foreign Minister Abbas Araghchi has said he may meet with Helga Schmidt, a deputy of EU foreign policy chief Catherine Ashton, next week.
He told Iranian journalists the negotiations had come to conclusion "with relatively good progress" but certain issues remained unsolved.
Experts from Iran and the P5+1 group (five permanent members of the UN Security Council and Germany) are discussing mechanisms of the implementation of the intermediate agreement dealing with the Iranian nuclear problem, which was signed in Geneva on November 24.
Full report at:
http://voiceofrussia.com/news/2013_12_31/Iran-says-good-progress-made-at-negotiations-with-P5-1-9490/
------------
Palestinians convicted in terror attacks released as part of peace deal
Dec 31, 2013
JERUSALEM – Israel released more than two dozen Palestinian prisoners convicted in deadly attacks against Israelis early Tuesday as part of a U.S.-brokered package to restart Mideast peace talks.
After departing on buses from Israeli jails overnight, the prisoners received hero's welcomes upon their return to the West Bank and Gaza with officials and jubilant relatives lining up to greet them. At his headquarters in Ramallah, Palestinian President Mahmoud Abbas waited to meet the men in the middle of the night. Speaking before thousands, he pledged to continue pressing for the release of long-serving and ill prisoners.
"We will not sign a final peace deal with Israel before all the prisoners are released," he said.
In Israel, though, the release was accompanied by great anger and frustration with Prime Minister Benjamin Netanyahu facing a public uproar from all directions over the move.
With Netanyahu expected to accompany the releases with plans to build hundreds of new homes in Jewish settlements, the criticism came from some unlikely quarters. Dovish supporters of peace talks said the expected construction would destroy any goodwill created by the prisoner release, while hard-line allies criticized Netanyahu for linking the Jewish settlement cause with the release of prisoners convicted in connection with killings, mostly of Israelis.
Full report at:
http://www.foxnews.com/world/2013/12/30/palestinians-convicted-in-terror-attacks-released-as-part-peace-deal/
------------
Suicide car bombing kills three Yemeni soldiers
31 Dec 2013
A suicide car bomber attacked the security headquarters in Yemen's southern city of Aden at dawn on Tuesday, killing at least three soldiers, police said.
The car exploded as it rammed into the front gate of the Aden security offices in the Khormaksar district, a police official said. Several other soldiers were wounded in the blast.
Another police source said that two other attackers in an explosives-laden car attempted to ram through the gate after the first bombing, but their bid was aborted by security forces.
The two "terrorist elements" are being questioned, he said.
Two police centres in the Muala and Mansura neighbourhoods simultaneously came under attack with rockets, a third source said, adding that there were no casualties.
The assailants are suspected of belonging to Al-Qaeda, whose Yemen branch is considered by Washington as the most dangerous affiliate of the global network.
Full report at:
http://english.ahram.org.eg/NewsContent/2/8/90453/World/Region/Suicide-car-bombing-kills-three-Yemeni-soldiers.aspx
---------
Muslim scholars union expresses trust in PM Erdogan
World Bulletin / News Desk
Dec 31 2013
The General Secretary of the World Muslim Scholars Union, Ali al-Karadagi, spoke at a press conference in the city of Suleymaniye in the autonomous Kurdistan Regional Government of northern Iraq, marking the 25th anniversary of the organization.
Referring to a number of incidents this year, including the Turkish anti-graft operations that took place in Istanbul on December 17, which many deem to be targeting the government's credibility, al-Karadagi said, 'What is happening in Turkey is a conspiracy that has been started against all Islamic movements.'
Full report at:
http://www.worldbulletin.net/?aType=haber&ArticleID=125949
------------
South Asia
Top Fundamentalist Jamaat-e-Islami leader charged with war crimes in Bangladesh
Dec 31 2013
A top fundamentalist Jamaat-e-Islami leader was on Tuesday charged by a special Bangladeshi court with war crimes during the country's 1971 liberation war against Pakistan.
Abdus Subhan, in his 70s, has been accused of "murder, genocide, loot, abduction, confinement, arson and torture."
According to charges, Subhan committed the atrocities at different parts of his northwestern home district in Pabna from April 17 to October 30, 1971.
"The charges are framed," International Crimes Tribunal chairman Justice ATM Fazle Kabir said, indicting Subhan of nine counts as he appeared on the dock and set January 28 as the date of hearing.
Full report at:
http://www.thehindu.com/news/international/south-asia/jamaat-leader-charged-with-war-crimes-in-bangladesh/article5522618.ece
------------
Afghanistan rejects grim US intelligence forecast as baseless
Dec 31 2013
KABUL — Afghanistan rejected as baseless a US intelligence forecast that the gains the United States and allies have made in the past three years will be significantly rolled back by 2017.
The US National Intelligence Estimate also predicted that Afghanistan would fall into chaos if Washington and Kabul failed to sign a pact to keep an international military contingent there beyond 2014.
President Hamid Karzai's spokesman dismissed the US forecast, reported by the Washington Post on the weekend, and suggested there was an ulterior motive for it.
"We strongly reject that as baseless as they have in the past been proved inaccurate," Faizi told Reuters.
Full report at:
http://www.saudigazette.com.sa/index.cfm?method=home.regcon&contentid=20131231191009
------------
Afghan Street Children Beg For Change
By Kathy Kelly
Dec 31, 2013
Kabul , Afghanistan is "home" to hundreds of thousands of children who have no home. Many of them live in squalid refugee camps with families that have been displaced by violence and war. Bereft of any income in a city already burdened by high rates of unemployment, families struggle to survive without adequate shelter, clothing, food or fuel. Winter is especially hard for refugee families. Survival sometimes means sending their children to work on the streets, as vendors, where they often become vulnerable to well organized gangs that lure them into drug and other criminal rings.
Last year, the Afghan Peace Volunteers (APV), a group of young Afghans who host me and other internationals when we visit their home in Kabul , began a program to help street children enrol in schools. They befriend small groups of children, get to know the children's families and circumstances, and then reach agreements with the families that if the children are allowed to attend school and reduce their working hours on the streets, the APVs will compensate the families, supplying them with oil and rice. Next, the APVs buy warm clothes for each child and invite them to attend regular classes at the APV home to learn the alphabet and math.
Full report at:
http://www.countercurrents.org/kelly301213.htm
------------
Uyghurs call for int'l probe on China killings
World Bulletin / News Desk
Dec 31 2013
Uyghur Muslims in China have demanded an independent investigation into recent violence in the country's restive far western region of Esat Turkistan (Xinjiang).
The World Uyghur Congress (WUC), based in Munich, said in a statement on Tuesday that the regional government should "fully disclose all information on the violence occurred on Monday and allow an independent investigation to be conducted by international organs."
On Monday, December 30, Chinese security forces killed eight people, who the government said attacked a police station in the county, about 200 kilometers southeast of the old Silk Road city of Kashgar.
Full report at:
http://www.worldbulletin.net/?aType=haber&ArticleID=125986
----------
Southeast Asia
Indonesia sharia stronghold bans New Year's festivities
December 31, 2013
BANDA ACEH: Sharia police in Indonesia's sharia stronghold seized thousands of firecrackers and cardboard trumpets after the city administration banned New Year's Eve celebrations for the first time, an official said Tuesday.
The Monday night raid on street stalls and shops selling the items followed a fatwa, or decree, by the clerical Ulema Consultative Assembly that said New Year's celebrations or wishing someone "Merry Christmas" was "haram" (forbidden) in the city of Banda Aceh.
The Banda Aceh government backed the fatwa by banning New Year's Eve celebrations in the city.
"This public-order operation ahead of New Year's Eve is to ensure residents are compliant with calls from the government and ulema," a senior Banda Aceh sharia police official Reza Kamilin told AFP.
Full report at:
http://tribune.com.pk/story/652917/indonesia-sharia-stronghold-bans-new-years-festivities/
------------
Banda Aceh Confiscates Fireworks, Trumpets as New Year's Ban Enforced
Dec 31 2013
Banda Aceh. Shariah police in Aceh have confiscated thousands of fireworks, firecrackers and trumpets in the provincial capital as they enforce local ulemas' call for a ban on New Year's Eve festivities.
The items were seized from dozens of shops and street vendors in Banda Aceh on Monday evening, said Reza Kamilin, an official with the Banda Aceh Shariah Police. Members of local police and public order agency (Satpol PP) joined the shariah police officers in the raid, he said.
"The raid was conducted to anticipate 2014 New Year's Eve celebrations by people in Banda Aceh because, in accordance with a joint call by the Banda Aceh administration and an edict by the Banda Aceh office of the Ulema Consultative Assembly [MPU], there should no celebrations of any kind for New Year's Eve," Reza said on Tuesday.
Full report at:
http://www.thejakartaglobe.com/news/banda-aceh-confiscates-fireworks-trumpets-as-new-years-ban-enforced/
------------
For interfaith harmony, this 'bridge builder' pushes forward
Dec 31 2013
As 2013 draws to a close, Malaysia has seen its fair share of events with people who either inspire or bring despair to the country. It has been a year where some feel a sense of entitlement, that it is their way or the highway, that they have to make a name for themselves no matter what, and where the little people's hopes have risen and have also been shattered. Yet, there are the few who do good work quietly to help their fellow man, to make Malaysia a better place. Over the next few days, The Malaysian Insider will feature some of them – Malaysia's Inspiring People 2013 – the ordinary heroes who never cease to amaze us with their perseverance, diligence, empathy and vision for a happier nation.
Amid interfaith tensions in the country, there's one man that took the road less travelled. He is known as the "builder of bridges". He is Muslim. He is from PAS. He is Datuk Mujahid Yusof Rawa.
Full report at:
http://www.themalaysianinsider.com/malaysia/article/for-interfaith-harmony-this-bridge-builders-pushes-forward
------------
Pakistan
PM tasks Samiul Haq to revive conditions for Taliban talks
013-12-31
ISLAMABAD: Prime Minister Nawaz Sharif on Tuesday delegated Maulana Samiul Haq, chief of his own faction of Jamiat Ulema-i-Islam and chairman of the Pakistan Defence Council, the task to create a feasible environment to initiate a dialogue with the Pakistani Taliban, DawnNews quoted sources as saying.
Haq met with the prime minister today and the two discussed the strategy to revive conditions to initiate peace talks with the Taliban, sources said.
Prime Minister Sharif expressed serious interest in reviving the conditions for talks with the Taliban and requested Haq to assist the government in clearing the way for such dialogue to take place.
Full report at:
http://www.dawn.com/news/1077524/pm-tasks-samiul-haq-to-revive-conditions-for-taliban-talks
------------
India asked to be cautious on Afghanistan, says Aziz
December 31, 2013
ISLAMABAD - Sartaj Aziz, the National Security and Foreign Affairs Advisor to Prime Minister Nawaz Sharif, has said that Islamabad is looking to impose greater control over the country's porous western borders with Afghanistan.
Aziz said that Pakistan will expedite visa issuance process and special passes will be issued to people from the border region in a bid to facilitate their cross-border movements.
"Even now we issue 1,000 or 2,000 visas to the Afghans every day. This is a process and we will know the outline of the new border management once Afghanistan and Pakistan work out its details.
Full report at:
http://www.nation.com.pk/islamabad/31-Dec-2013/india-asked-to-be-cautious-on-afghanistan-says-aziz
------------
Zardari asks CM to reach out to Muttahida over LG concerns
2013-12-31
KARACHI: Former president and co-chairman of the Pakistan Peoples Party Asif Ali Zardari on Monday asked Sindh Chief Minister Syed Qaim Ali Shah to reach out to the Muttahida Qaumi Movement (MQM) and other opposition parties and allay their concerns over amendments to the local government law in the wake of Sindh High Court judgement against the statute.
Mr Zardari's overture is being seen as an attempt to bring closer the party's former ally, which many believe has suffered a serous dent to its widely-known bargaining ability mainly after the May 13 elections and the recently-launched 'Karachi operation'.
The directives were given to the veteran PPP leader when he and senior members of his cabinet met Mr Zardari in Naudero. They also vowed to challenge the SHC verdict in the Supreme Court, said the party sources.
Full report at:
http://www.dawn.com/news/1077465/zardari-asks-cm-to-reach-out-to-muttahida-over-lg-concerns
------------
150 killed in 26 Karachi blasts in '13
December 31, 2013
KARACHI - At least 150 people were killed and over 600 wounded in some 26 bomb blasts occurred in 2013.
According to the reported incidents, the first blast was carried out at the congregation of Muttahida Qaumi Movement (MQM) at Azizabad on January 1. The blast claimed four lives and wounded 45 when the workers of MQM were returning from Jinnah Ground.
The second major blast was occurred on March 3 which ripped though the area of Abbas Town that claimed 47 lives and wounded over 100. A bomb blast was occurred which targeted the security agencies. At least 10 personnel of rangers and army were killed in some four separate blasts.
Full report at:
http://www.nation.com.pk/editors-picks/31-Dec-2013/150-killed-in-26-karachi-blasts-in-13
------------
Africa
63 Boko Haram Militants Killed: Nigerian Military
Dec 31 2013
At least 63 Boko Haram fighters were killed during Nigerian army's raids following a recent pre-dawn attack on military barracks in Bama town by the militant sect in the northern state of Borno, a military spokesperson said Monday.
The military launched ground and air operations on terrorists locations in the forest, about 21 km from Bama, a local government area of Borno state, dealing a heavy blow to Boko Haram fighters, Xinhua reported citing Major General Chris Olukolade, the defence director of information.
"Over 56 terrorists died in the ensuing intensive fight over the weekend and in another development, troops of the Multi- National Joint Task Force foiled an attempt by terrorists who were massing up on an island on Lake Chad with a view to carrying out an attack on some Nigerian communities," Olukolade added.
Full report at:
http://www.newindianexpress.com/world/63-Boko-Haram-Militants-Killed-Nigerian-Military/2013/12/31/article1974991.ece
------------
Death toll in Congo attacks rises to 100
World Bulletin / News Desk
Dec 31 2013
Around 100 people were killed on Monday in Democratic Republic of Congo when security forces clashed with supporters of a self-proclaimed 'prophet' who tried to seize control of the airport, a military barracks and state television, the government said.
Paul Joseph Mukungubila, who calls himself 'the prophet of the Eternal' was on the run from authorities, government spokesman Lambert Mende said on Tuesday.
Mukungubila, who ran unsuccessfully for president in 2006, said the attacks were in response to government harassment of his supporters.
Armed youths attacked the airport, a military barracks and the state television headquarters in Kinshasaon Monday before being repulsed by troops. The government had earlier said dozens were killed.
Full report at:
http://www.worldbulletin.net/?aType=haber&ArticleID=125994
------------
South Sudan rebel 'agrees to talks after taking Bor'
Dec 31 2013
South Sudan rebel leader Riek Machar has told the BBC he will enter peace talks, claiming his forces have captured the key town of Bor.
He had previously demanded 11 detainees accused of being co-conspirators in the coup plan be freed before negotiations.
He denies there was a plot - alleged by his rival President Salva Kiir.
Uganda's president has threatened the rebels with military action if they fail to agree to a ceasefire by the end of Tuesday, and begin talks.
In a BBC interview on Monday, President Kiir ruled out any power sharing with Mr Machar to halt violence that has killed at least 1,000 people in the last two weeks.
"These men have rebelled. If you want power, you don't rebel so that you are rewarded with the power. You go through the process," he said.
Full report at:
http://www.bbc.co.uk/news/world-africa-25557414
------------
The heart-breaking story of Libya and migrants told through the eyes of a boy, Khalid
Dec 31, 2013
Rome (AsiaNews) - In September of 2011, the rebels captured and killed Muammar Gaddafi. The presumed executioner was a young fighter who allegedly shot the dictator with his own gold-plated gun, according to media reports.
Although they were released from the yoke of their former strongman, Libyans have not become free from divisions, murders, hunger and uncertainty. Thousands of them continue to flee the country. This is where Il mio nome è Khalid (My name is Khalid by Marietti 1820, 89 p, €12) by journalist Monica Mondo begins.
Khalid, 13, is a Muslim boy from Tripoli who speaks several languages and is a Juventus fan. His family, like countless others, has been torn by hatred and suspicions. His father sided with Gaddafi, his older brother sided with the rebels after he was rejected by the army, his mother's relatives said. They too were against Gaddafi.
Full report at:
http://www.asianews.it/news-en/The-heart-breaking-story-of-Libya-and-migrants-told-through-the-eyes-of-a-boy,-Khalid-29923.html
------------
African Union threatens sanctions over South Sudan violence
Dec 31 2013
The African Union has said it will impose "targeted sanctions" over violence in war-torn South Sudan, where two weeks of fighting is feared to have left thousands dead.
The pan-Africa bloc's Peace and Security Council said in a statement it would "take appropriate measures, including targeted sanctions, against all those who incite people to violence, including along ethnic lines".
The warning comes as rebels battled government troops in a bid to retake the flashpoint town of Bor, dashing hopes a looming ceasefire deadline in the war-torn nation would be heeded.
The AU, meeting in Banjul in The Gambia on Monday, expressed "Africa's dismay and disappointment that the continent's newest nation should descend so quickly into civil strife, with the potential of rapidly deteriorating into ethnic clashes and a full-fledged civil war".
Full report at:
http://english.ahram.org.eg/NewsContent/2/9/90468/World/International/African-Union-threatens-sanctions-over-South-Sudan.aspx
------------
US, Libyan forces capture Tunisia Islamist militant: News agency
Dec 31 2013
US and Libyan forces on Monday captured Saifallah Benahssine, the leader of Tunisia's Islamist militant group Ansar al-Sharia, in the Libyan city of Misrata, Tunisia's state news agency TAP said, citing a security source.
A former fighter in Afghanistan, Benahssine, also known as Abu Iyadh, had declared loyalty to al Qaeda and was accused of inciting an attack on the US embassy in Tunisia a year ago.
http://english.ahram.org.eg/NewsContent/2/8/90407/World/Region/US,-Libyan-forces-capture-Tunisia-Islamist-militan.aspx
------------
Europe
Children 'beheaded and mutilated' in CAR, says Unicef
December 31, 2013
The UN agency for children says attacks against children have reached new levels of viciousness in the Central African Republic (CAR), where fighting between Muslim Seleka rebels and Christian militias left more than 1,000 people dead and displaced an estimated 400,000 in Bangui, the capital, this month.
According to Unicef, at least at least two children have been beheaded, and one of them mutilated, in the violence that has gripped Bangui since early December.
"We are witnessing unprecedented levels of violence against children. More and more children are being recruited into armed groups, and they are also being directly targeted in atrocious revenge attacks," said Souleymane Diabate, Unicef representative in CAR. "Targeted attacks against children are a violation of international humanitarian and human rights law and must stop immediately. Concrete action is needed now to prevent violence against children."
Unicef and its partners say they have verified the killings of at least 16 children, and injuries among 60, since the outbreak of communal violence in Bangui on 5 December. In November, the UN warned that the number of child soldiers in the former French colony had more than doubled to up to 6,000 as anti-balaka militias have sprung up to counterattacks by the Seleka.
Full report at:
http://www.theguardian.com/global-development/2013/dec/30/children-beheaded-mutilated-central-african-republic-violence-unicef
----------
Caucuses Muslims call for New Year celebration boycott
Dec 31 2013
Some Muslim groups in Azerbaijan and Russia's Caucuses state of Dagestan have called on their countrymen to boycott public celebrations of the New Year.
Akhmad Anchikhsky, an imam in the city of Makhachkala stated that New Year's Day was neither a Muslim holiday, nor a national holiday and not even a Christian holiday. Another imam by the name of Siradjudin-hadji Akhmedov, also stated that it was not a Muslim holiday.
Last year, former Dagestan president Magomedsalam Magomedov refused requests to cancel New Year celebrations and 10 young men were arrested for handing out leaflets calling on Muslims not to celebrate it.
Full report at:
http://www.worldbulletin.net/?aType=haber&ArticleID=125997
------------
Afghanistan war more unpopular than Vietnam – poll
Dec 31 2013
Public opposition to the war in Afghanistan has hit a new high and is now well above even opposition to the war in Vietnam, according to a new poll. More than 12 years after the United States invaded Afghanistan, support for the war is dipping below levels of support for American intervention in Iraq and Vietnam, according to a new CNN poll released Monday.
CNN found that 17 percent support the effort in Afghanistan, down from 52 percent in December 2008. Eighty-two percent disapprove of the conflict. Americans' assessment of the war is gloomy - 57 percent said the war is going badly, and about a third think the United States are winning it.
Full report at:
http://voiceofrussia.com/2013_12_31/Afghanistan-war-more-unpopular-than-Vietnam-poll-1630/
------------
Putin warns 'terrorists' face total destruction
AFP | Dec 31, 2013
MOSCOW: President Vladimir Putin warned "terrorists" on Tuesday they face total destruction, after Russia was hit by double suicide bombings in its southern city of Volgograd that claimed 34 lives.
"Dear friends, we bow our heads in front of the victims of the terrible acts of terror. I am sure we will toughly and consistently continue to fight against terrorists until their total destruction", he said.
Putin made the comments in a New Year's address from the Far Eastern Russian city of Khabarovsk, which is seven hours ahead of Moscow and where he met with victims of devastating summer floods.
Full report at:
http://timesofindia.indiatimes.com/world/europe/Putin-warns-terrorists-face-total-destruction/articleshow/28196058.cms
--------
Global chemicals watchdog grateful for Russia sponsorship in Syria disarmament effort
Dec 31 2013
The head of the Organization for the Prohibition of Chemical Weapons (OPCW), an international chemicals watchdog that oversees the destruction of Syrian toxic stockpile, has thanked Russia for its contribution to the disarmament effort.
Ahmet Uzumcu said that equipment donated to Damascus by Moscow and several other nations would be enough to neutralize Syria's chemical arms arsenal, after some Western countries gave the cold shoulder to the OPCW mission.
Speaking to Russia's RT channel, Mr. Uzumcu confirmed that the Syrian government had earlier turned to the anti-chemicals watchdog for assistance. Their call was heard by Moscow and its partners, who provided the regime with funds and logistics.
The OPCW chief added, however, that local officials were fully responsible for chemicals transportation and security on the Syrian soil and urged the government to take toxin safety very seriously.
Full report at:
http://voiceofrussia.com/2013_12_31/Global-chemicals-watchdog-grateful-for-Russia-sponsorship-in-Syria-disarmament-effort-2458/
---------
North America
Muslims and Jews sing, talk and protest their way to interfaith cooperation
Dec 31 2013
A program inside a theater on Chicago's North Side feels a little like a talent show, or maybe a family reunion. Performers step up from the audience to recite original poetry, do interpretative dance or sing.
The sound quality's spotty. The pacing's a little off. But this isn't about slick production values or seamless performances. The goal here is far more ambitious: to bridge the divide between Jews and Muslims in Chicago.
The show is called "Café Finjan," after the Hebrew and Arabic words for a metal coffee pot. It showcases Muslim and Jewish poets, musicians, painters and more. It's one of several interfaith events that share the goal of getting Jews and Muslims to move past historical tensions and distrust so they can work together and help solve some of the city's urban problems.
Full report at:
http://www.wbez.org/news/culture/muslims-and-jews-sing-talk-and-protest-their-way-interfaith-cooperation-109452
------------
US calls for closer security cooperation with Russia after bombings
Dec 31 2013
The United States on Monday called for closer security cooperation with Russia ahead of the Sochi Winter Olympics, after two deadly bombings in the city of Volgograd.
"The US government has offered our full support to the Russian government in security preparations for the Sochi Olympic Games, and we would welcome the opportunity for closer cooperation for the safety of the athletes, spectators, and other participants," National Security Council spokeswoman Caitlin Hayden said in a statement.
At least 14 people were killed Monday when a suicide bomber blew himself up on a packed trolleybus in the city during the morning rush hour. On Sunday, another similar attack claimed 17 lives.
Full report at:
http://english.ahram.org.eg/NewsContent/2/9/90447/World/International/US-calls-for-closer-security-cooperation-with-Russ.aspx
------------
Kerry to present Israel, Palestine outline for final Middle East peace deal
Dec 31 2013
Washington : US Secretary of State John Kerry will present Israel and the Palestinians the broad outlines of what a final Mideast peace agreement could look like when he travels to the region this week, the State Department said.
State Department deputy spokeswoman Marie Harf said on Monday that Kerry will discuss with Israeli Prime Minister Benjamin Netanyahu and Palestinian President Mahmoud Abbas a proposed framework to serve as a guideline for addressing all core issues in the decades-long dispute.
The core issues include the borders between Israel and a future Palestine, security arrangements, the fate of Palestinian refugees and conflicting claims to the holy city of Jerusalem.
Full report at:
http://www.indianexpress.com/news/kerry-to-present-israel-palestine-outline-for-final-middle-east-peace-deal/1213762/
----------
Boston Marathon bombings: Dad of Tamerlan Tsarnaev's friend writes Obama
Dec 31, 2013
BOSTON – The father of a man shot dead by authorities in Florida while being questioned in the Boston Marathon bombing investigation has written President Barack Obama seeking help finding out what happened.
Abdulbaki Todashev says in his letter from Russia son Ibragim Todashev knew dead marathon suspect Tamerlan Tsarnaev through boxing but had no connection to the bombing or any other crime. He says his son voluntarily went to an FBI office in Orlando to speak with agents four times before they showed up at his apartment May 22.
Full report at:
http://www.foxnews.com/us/2013/12/30/boston-marathon-bombings-dad-tamerlan-tsarnaev-friend-writes-obama/
------------
India
Barelvi Cleric draws Ulema's' support to expel Taslima
Priyangi Agarwal,TNN | Dec 31, 2013
BAREILLY: On the last day of annual Urs-e-Razwi of Imam Ahmed Raza, commonly known as Aala Hazrat, a Muslim cleric drew support of lakhs of Ulema for expulsion of Bangladeshi author Taslima Nasrin for allegedly hurting the sentiments of the community.
Hasan Raza Khan alias Noori Miyan, who had lodged a police complaint against Nasrin on December 4, said the author had hurt the religious feelings and launched a campaign against her with thousands of Ulema, who had gathered at the Islamia College ground, raising their Full report at:
http://timesofindia.indiatimes.com/india/Cleric-draws-Ulemas-support-to-expel-Taslima/articleshow/28159865.cms
-------
Manmohan condemns terror attack in Russia as 'ghastly', writes to Putin
Dec 30 2013
New Delhi : Prime Minister Manmohan Singh on Monday strongly condemned the "ghastly" terrorist attacks in the southern Russian city of Volgograd and conveyed to Russian President Vladimir Putin condolences for the victims.
In a letter to Putin, Singh termed the attacks as "unconscionable" crime against humanity and said he was "outraged and pained" to know about them.
"On behalf of people and Government of India and on my personal behalf, please accept our deepest condolences on the loss of lives and injuries in these ghastly attacks. Our prayers go out to families of all the victims," Singh said in the letter.
At least 14 people were killed on Monday when a suicide bomber blew himself up on a trolleybus in Volgograd.
Full report at:
http://www.indianexpress.com/news/manmohan-condemns-terror-attack-in-russia-as--ghastly--writes-to-putin/1213494/
------------
The historic calligraphy of Bangalore's Institute of Indo-Islamic Art and Culture
Dec 31, 2013
Muqtar Ahmed's Institute of Indo-Islamic Art and Culture in Bangalore offers a pleasing sight every Sunday. From an eight-year-old pupil to a retired 70-year-old gentleman, there is a mix of enthusiastic men and women who look forward to his class on Arabic calligraphy week after week. Ahmed opened his institute to revitalise this dying art in India four years ago with financial and moral support from his mentor Syed Mohamed Beary, a real estate developer in Bangalore. His lessons reach all the way to Riyadh and London, where his online students are based.
Ahmed charges no fee for the lessons. "It's a tradition all masters follow," he says. But that doesn't attract takers. "Learning Arabic calligraphy takes time and effort and offers no immediate results," he says. Perfecting the art may take up to five years, which is why a lot of people leave midway. "To top that, there isn't even enough appreciation of the art in India," he adds.
Full report at:
http://www.thenational.ae/arts-culture/art/the-historic-calligraphy-of-bangalores-institute-of-indo-islamic-art-and-culture#ixzz2q1cmlfWx
------------
URL: https://www.newageislam.com/islamic-world-news/new-age-islam-news-bureau/assad-urges-fight-against-wahhabism-the-political-and-saudi-religious-ideology/d/35078