New Age Islam News Bureau
15 Jul 2013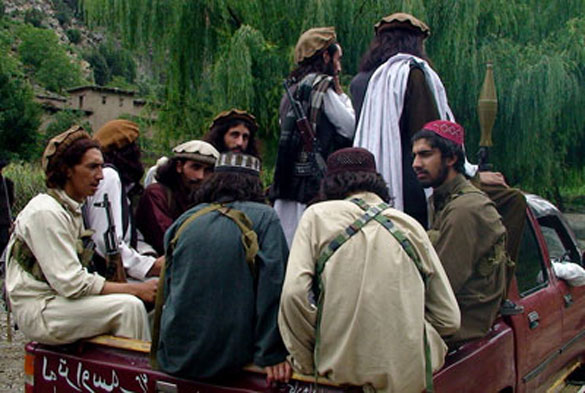 In this file photo taken on Sunday, Aug. 5, 2012, Pakistani Taliban patrol in their stronghold of Shawal in Pakistani tribal region of South Waziristan. Dozens of domestic and foreign militants have left Pakistan for Syria in recent months. — AP photo
------------
Arab World
• Assad forces launch air raids in Idlib province, killing 29
• Blasts across Iraq Kill At Least 40 amid a Surge in Attacks
• Egypt militants kill 3 in Sinai bus attack
• Reciting Quran Repeatedly Is Not Enough, Application Is Necessary: Saudi Scholars
• Egypt freezes assets of 14 top Muslim Brotherhood leaders
• Lebanese officials to comply with demands to accept Syrian refugees
• Muslim extremists kill priests, burn churches and kidnap women: Egypt's Arab Spring turned into religious hatred
• Higher Islamic Council members circulate petition to sack Qabbani
• Saudi Arabia re-emerges as powerful Middle East player
Pakistan
• Pakistan's Religious Extremists Leave for 'Greener Pastures'
• Pakistani Taliban claim joining Syria war
• At least ten suspected militants killed as Pakistan air force strikes hideouts
• Heritage under attack: After Ziarat, Fort Munro under threat
• Militants enlist six teenage boys from Sheikhan
• 'Islamic wealth being enjoyed by western countries': Pakistan Visionary Forum
• Sharif govt mulls peace talks with Tehreek-e-Taliban Pakistan
• Financing the Pakistani economy under Shariah law
• Militants torch oil tankers in Balochistan
• Nawaz to open Pakistan's first private hydel plant today
• Pakistan's FO condemns US drone strike in N Waziristan
India
• 45 Hindu prisoners at Tihar keep Ramzan fast
• Arab states to fund minorities in Karnataka
• CPI (M) general secretary demands release of innocent Muslims implicated in false terror charges
• Complaint filed against Narendra Modi for post-Godhra riots remark
• Cong slams Modi, says 'Burqa of secularism' better than 'nakedness of communalism'
• New Indian high commissioner Raghavan arrives in Pakistan
• India now Nigeria's biggest crude oil buyer
• Underworld, terrorists, ISI run counterfeit racket
North America
• 'Facebook fast' sparks debate over Ramadan social media use
• Candidates Court Muslims as They Break Their Fast
• Calif. Mulls Separate Counting of Hindu, Sikh Hate Crimes
• U.S. lawmakers call for penalizing Argentina over Iran ties
• Senior US official William Burns visits Egypt to break the ice with military
• Israel targeted Russian-made missiles in Syria, US officials say
• Muslim group excluded from July 4 Independence Day Parade
• 'Anti-Shariah' bill clumsy and dangerous to all people of faith
• Juvenile may be charged in Islamic Center vandalism
Europe
• Islamic extremists threaten to stab inmates who eat pork in front of them
• Legacy of Afghan conflict: 50 British soldiers committed suicide last year, report
• David Cameron warned arming Syrian rebels could embroil Britain in all-out war
• Teenage white Muslim convert who wants Sharia law jailed for assault
• UN helping Pakistan uplift common people's standard
• Gunmen kill four policemen in Russia's Dagestan
Mideast
• Netanyahu brands new Iranian president a 'wolf in sheep's clothing'
• Tehran Quran exhibit displaying new Islamic costumes
• Israel Steps Up Information War against Hezbollah
• Turkey sees Morsi as Egypt's President, Turkish FM says
• Netanyahu calls Abbas for Ramadan, urges peace
• Hamas MPs caught hiding with e. J'lem Red Cross sentenced to 30 months in prison
Africa
• Nigeria Islamists hit schools to destroy Western ideas
• Nigeria claims rescue of women, children held by Boko Haram
• Boko Haram leader calls for more schools attacks after dorm killings
• Libyan official claims Egypt's ex-president Morsi behind Benghazi attack
• Activists demand Omar al-Bashir's arrest in Nigeria
Southeast Asia
• Muslim NGOs want check against "abuse" of social media
• Is a one-for-all national Islamic calendar possible in Indonesia?
South Asia
• Bangladesh Islamist jailed for 90 years for war crimes
• Bangladesh in grip of radical ideology
• Rohingyas struggle to find new home
• PPM confirms "talks" with Adhaalath Party over prospective coalition
• Former President Nasheed granted Saudi visa for Umra pilgrimage
• Reconciliation: Afghan peacemakers say Nawaz can broker deal
Compiled by New Age Islam News Bureau
URL: https://www.newageislam.com/islamic-world-news/new-age-islam-news-bureau/assad-forces-launch-air-raids-in-idlib-province,-killing-29/d/12609
----------
Arab World
Assad forces launch air raids in Idlib province, killing 29
15 July 2013
At least 29 people were killed in air raids by Syrian government forces against a string of villages in the northwestern province of Idlib, a watchdog said.
The military carried out five separate strikes, including a rocket attack on the village of Maghara that killed 13 people, the Syrian Observatory for Human Rights told AFP news agency on Monday.
According to the watchdog, the dead included at least eight women and six children and the attack came just before iftar on Sunday, the meal at which Muslims break their daytime Ramadan fast.
The attack in Maghara was the deadliest, but the Observatory also reported six killed in the village of Al-Bara, four in Basamis, three in Kfar Nabl in an air strike and three in Iblin, according to AFP.
The news agency reported that video footage posted online by activists showed what they said was the rocket strike on Maghara.
The screams of survivors were heard as the camera panned over the rubble.
"God is great. Where are our Muslim brothers? Where are our Arab brothers?" the activist says as he films residents trying to dig out people trapped beneath the wreckage of their homes.
"This is the iftar of the Muslims in Jabal Zawiya," he said, referring to the hill district where the village lies.
http://english.alarabiya.net/en/News/middle-east/2013/07/15/Assad-forces-launch-air-raids-in-Idlib-province-killing-29.html
----------
Blasts Across Iraq Kill At Least 40 Amid A Surge In Attacks
By DURAID ADNAN
2013/07/15
BAGHDAD — A series of bombings across Iraq on Sunday left at least 40 people dead and dozens wounded, security officials said.
In recent months Iraq has had its worst wave of violence in years. This month, more than 300 people have been killed, according to the Interior Ministry.
In Karbala, just before Muslims were breaking their Ramadan fast in the evening, a blast near a downtown market killed 9 people and wounded 22 others.
"Is this how Muslims exchange the peace of the holy month of Ramadan?" said Jafar Ali, whose leg was wounded in the blast.
Earlier in the day, 11 people were killed and 68 were wounded in Kut, southeast of Baghdad, when a bomb exploded while they were shopping in a market, officials said. When the provincial governor visited the site after the explosion, angry bystanders threw stones and shoes at him.
In Babil, south of Baghdad, four people were killed when two car bombs exploded near a government office, officials said.
In Nasiriya, southeast of the capital, a car bomb exploded close to a hotel, killing 2 people and wounding 12 others, according to a security official.
In Falluja, west of Baghdad, two people walking near a cemetery were killed by unidentified gunmen using silencers, a security official said.
Two blasts killed four people and hurt seven in Basra, southeast of Baghdad, the police said.
On Sunday morning, eight people died in attacks in Mosul, northwest of Baghdad, according to a security official: a local official and his son, who struck a roadside bomb; four police officers, also killed by a roadside bomb; and two soldiers, who were shot at an army checkpoint.
http://www.nytimes.com/2013/07/15/world/middleeast/blasts-across-iraq-leave-at-least-40-dead.html?_r=0
--------
Egypt militants kill 3 in Sinai bus attack
JULY 15, 2013
Militants killed at least three people and wounded 17 today in an attack on a bus carrying workers in the North Sinai town of Al-Arish, security and medical sources said.
"The bus was attacked with a rocket-propelled grenade near Al-Arish airport. Three people died and 17 were injured in the attack," a security official said.
A medical source confirmed the toll, adding that "many of those injuries are critical." The bus was carrying workers from a cement factory. - AFP, July 15, 2013.
http://www.themalaysianinsider.com/world/article/egypt-militants-kill-3-in-sinai-bus-attack/
----------
Reciting Quran Repeatedly Is Not Enough, Application Is Necessary: Saudi Scholars
Ahmed Shaaban / 15 July 2013
Muslims around the world are not mostly well aware that the Holy Quran, with its diverse and incredible verses and teachings, is the real miracle of the nation at all times, said Saudi scholar Dr Sheikh Ibrahim Al Duwaish in a lecture on the 'Prophet's deep thinking of the Quran' on Saturday night.
The lecture saw the presence of Shaikh Majid bin Mohammed bin Rashid Al Maktoum, Chairman of the Dubai Culture and Arts Authority, other dignitaries and senior officials.
Shaikh Majid bin Mohammed and other dignitaries listening to Dr Al Duwaish's lecture at the Dubai Chamber.
In the fourth lecture in a series of 22, being held as part of the 17th session of the Dubai International Holy Quran Award at the Dubai Chamber of Commerce and Industry, Dr Al Duwaish said: "Not only do we need to keep reciting the Quran on a regular basis, but more importantly mull over its verses for more benefits in life and the Hereafter. It is not a matter of how much we read, but rather how deep we understand for application."
The professor of Prophetic Sunnah (sayings and acts) at Al Qassim University, Saudi Arabia, said the Quran is very rich in all types of miracles, be they scientific, lingual, numerical or educational.
"To know, understand, and feel such miraculous aspects and others, we should first recite the Quran as due, mull over its verses, and live them as a reality not as a set of instructions for just mental, spiritual and religious grounds."
Giving an example, he said the first chapter of the Quran (Al Fatiha) is the greatest and most comprehensive in the holy book that Muslims need to recite 17 times in the daily obligatory five prayers. "However, very few know about the secrets of such repetition; it is like a perfect weapon we do not know how to use.
"Based on the authentic prophetic sayings, Al Fatiha chapter may be recited with the intention of treatment, immunity, supplication, true worship, and wish for guidance to the right path and happiness in life and Hereafter."
Dr Duwaish noted that Prophet Muhammad (Peace be upon him) used to humbly and properly recite the Quran all the year round, particularly in Ramadan and at night, in prayer, verse by verse, alone and in group. "He also preferred to listen to the Quran from others, and never read the Quran in full in less than three days."
Getting ready for recitation alone, with ablution, in a pure place, free mind, confidence, and mulling over every word and context for application are important as well, he added.
On Sunday night, Sheikh Talal Fakhir would deliver a lecture on the 'Prophet's training to achieve set goals' and popular Egyptian scholar Dr Sheikh Omar Abdul Kafi will give a lecture on 'How the Prophet is a harbinger of good and bad tidings' today.
All lectures are slated to start at 10.30pm after the Taraweeh prayer. Valuable prizes await attendees all along the 1 to 20 Ramadan Award. More details are available at the award website (www.quran.gov.ae), by emailing to quran@eim.ae, or on the phone at 04-2610666.
http://www.khaleejtimes.com/kt-article-display-1.asp?xfile=data/ramadannews/2013/July/ramadannews_July69.xml&section=ramadannews
----------
Egypt freezes assets of 14 top Muslim Brotherhood leaders
July 14, 2013
CAIRO: Egypt's public prosecutor on Sunday ordered the freezing of assets belonging to 14 top Muslim Brotherhood leaders as part of an investigation into deadly violence, judicial sources said.
The order by Hisham Barakat affects nine Muslim Brotherhood leaders, including the group's general guide Mohamed Badie, and five Islamists from other groups including ex-militant faction Gamaa Islamiya, the sources said.
The investigation relates to four incidents since the military's ouster of Islamist president Mohamed Morsi on July 3, including clashes in Cairo last Monday in which 53 people died. (AFP)
http://www.thenews.com.pk/article-109358-Egypt-freezes-assets-of-14-top-Muslim-Brotherhood-leaders
----------
Lebanese officials to comply with demands to accept Syrian refugees
July 15, 2013
Senior officials have expressed their readiness to comply with international demands to aid the Syrian refugees in Lebanon, reported the pan-Arab daily al-Hayat Sunday.
They voiced their readiness to establish "institutional foundations with full privileges" that would be capable of managing the aid as requested by the United Nations Security Council earlier this week.
International donor groups had conditioned that a government mechanism be set in order to manage funds.
They should be spent through the World Bank, which will in turn transfer them to a dedicated fund for the refugees that would be controlled by designated by government agencies.
Earlier this week, the Security Council had called for "unprecedented" international help for the Lebanon in dealing with the refugees.
Full report at:
http://www.albawaba.com/news/lebanese-officials-comply-demands-accept-syrian-refugees-506432
----------
Muslim extremists kill priests, burn churches and kidnap women: Egypt's Arab Spring turned into religious hatred
By ANGELLA JOHNSON
July 15, 2013
The mob converging on a church on the outskirts of Cairo were armed only with sticks and stones.
But their frenzied attack on a lone, elderly Coptic priest was merciless. Father Matthew Awad had refused to reveal the whereabouts of a Muslim woman who had converted to Christianity. For this offence, he was assaulted, suffered death threats and barely escaped with his life.
Today, he is in hiding. His entire family fear for their safety. Matthew's son, shop owner Marco Awad, cannot set foot in public after he was arrested and tortured by Egyptian police officers sympathetic to the Muslim Brotherhood.
Two of his three young children are with him in a safe house while his sister, wife and four month-old-son have fled Egypt to Britain and are now staying in Brighton.
Marco, who refused to be photographed because of the risk to his life, told The Mail on Sunday from a monastery in the desert: 'Muslim fundamentalists are killing our priests, kidnapping our women and burning our churches. Since the 2011 revolution, Coptics like me have lived in fear of our lives. I'm being forced to live apart from my family because of my faith.'
The minority Christian group are reeling after a frightening rise in religiously-motivated attacks. Last Thursday, the decapitated body of church elder Magdy Lamay Habib, 59, was found in a graveyard, six days after he was kidnapped by extremists in northern Sanai.
And priest Father Mina Aboud Sharobeel, 39, was shot dead when Islamic gunmen opened fire as he drove home from a weekly grocery shop at a market in the town of El Arish, near the Gaza border.
Christians are especially vulnerable in Sinai, where much of the population is armed and the local economy hinges on the smuggling of weapons, drugs and people.
Security officials believe a local branch of Jabhat al-Nusra, the feared Islamist group that is fighting against the Syrian government, may also be operating in Sinai. As are Jihadist groups, including affiliates of Al Qaeda.
Christians saw discrimination against them escalate during Morsi's drive for an Islamic state. Around 200,000 are said to have left for new lives in Europe, America and Canada over the past year.
Father Youssef Souby Zaky, a friend of the slain priest, reluctantly left his church in Rafa, northern Sinai, after it was ransacked and torched. He says: 'Every Christian family abandoned the town because it was unsafe for us to live there.
'Several churches were vandalised and set alight, threats made against our families and four priests were kidnapped in the region – three were released after ransoms were paid, but sadly one was slaughtered.
'These hate crimes have been fuelled by extremists trying to drive us out of Sinai, perhaps even out of Egypt. My fear is that long-term enmity will be established and our national unity will crumble to dust.'
The Awad family became targets after the family of a Muslim woman objected to her conversion to Christianity last July.
'Extremists led the attack against my father but he managed to escape,' Marco says. 'They threatened to kill my sister Feeby and we were forced to flee our homes.'
He took his wife Rania and their children – son David, ten, and daughter Karma, aged six – to live with the in-laws. 'Then, four months ago, I was taken from my shop by two policemen, who said my business permit was not in order.
'I was locked in a cell and beaten every day. They kept asking where my father and sister had gone. But my wife had been looking for me and she contacted the Egyptian Federation for Human Rights, who spoke to the right people and I was eventually freed. I was taken unconscious in a car and dumped in the middle of the countryside.'
Dr Naguib Gobraiel, head of the Human Rights Federation and also a Christian, describes what's happening as ethnic cleansing. 'It's a pogrom,' he claims. 'I have three sons in their late 20s and they all emigrated with their families since Morsi took power. I've been threatened with death and my office burned three times.'
The former judge saw a big increase in false allegations made against Christians, especially teachers, after the Brotherhood were voted into power in the country's first democratic elections a year ago.
Criminalising blasphemy was enshrined in a controversial Islamist-backed constitution passed by Mr Morsi soon after he became president. Liberal Muslim writers and activists have since been accused of insulting Islam.
But it is the country's minority Christians – about ten per cent of the population – who bear the brunt of prosecutions and imprisonment for blasphemy.
Dr Gobraiel represented 18 of them. 'Seventeen received three to six years in prison,' he says. 'They went to appeals courts, hoping for retrials or lighter sentences. But the system is biased.'
His most notorious case involved Dimyana Abdel-Nour, a woman teacher in the southern tourist city of Luxor.
The shy 24-year old was arrested and charged with insulting Islam during her classes, after three parents claimed she had expressed disgust for the religion to their ten-year-old daughters.
She spent a week in jail before being bailed for £2,000 in May and is now hiding in a church outside the city. 'She is in a very bad way and is being protected by one of our priests,' says Dr Gobraiel.
There has been unrest throughout Egypt as pro-Morsi supporters clashed with his opponents
'The charges are spurious, yet she was arrested and kept in custody. It was a very shocking experience and her father says she suffered a nervous breakdown.'
Meanwhile, a tense stand-off between pro-Morsi supporters and the military continues in the holy month of Ramadan – fasting has dampened any appetite for fighting.
Television producer Maha Reda believes the Brotherhood hierarchy know they have lost the battle to hold on to power – but also claims that Egypt is not ready to be a functioning democracy: 'The army is the only solid institution that can hold our society together and stop us drifting into more chaos.'
Marco Awad hopes that is the case – but is too afraid to take a chance with his family's safety. 'I never thought of leaving my country but I don't feel safe here any more,' he says.
'I want my children to live somewhere where being a Christian does not put a target on their backs.'
http://www.dailymail.co.uk/news/article-2362672/Muslim-extremists-kill-priests-burn-churches-kidnap-women-How-Egypts-Arab-Spring-dream-descended-nightmare-religious-hatred.html#ixzz2Z5n0tUxJ
----------
Higher Islamic Council members circulate petition to sack Qabbani
July 15, 2013
BEIRUT: Over 80 members of the Higher Islamic Council signed a petition urging the body to sack Grand Mufti Mohammad Rashid Qabbani, media reports said Sunday. Most of the 82 members who signed the petition are close to the Future Movement of former Prime Minister Saad Hariri. Hariri signed the petition as well, according to the reports.
The 32-page-petition also bore the signatures of caretaker Prime Minister Najib Mikati, former Prime Minister Omar Karami and Prime Minister-designate Tammam Salam.
Full report at:
http://dailystar.com.lb/News/Local-News/2013/Jul-15/223688-higher-islamic-council-members-circulate-petition-to-sack-qabbani.ashx#ixzz2Z5x9adMD
----------
Saudi Arabia re-emerges as powerful Middle East player
14 July 2013
The Kingdom of Saudi Arabia has reemerged as the Middle East's most powerful influential country, Richard Spencer said in article published in the UK's The Telegraph.
"The Saudis are our brothers," said Sayed Sami Hassan from a tent in Cairo's Tahrir Square. "They are Muslims, they believe in God. [Egypt's ousted Islamist] President Mursi, now he was an agent of America and Qatar, but the Saudis are helping us."
Saudi Arabia's influence is being felt specifically in Egypt and Syria, said Spencer, adding that "not long ago, [the kingdom was] written off as a gerontocracy whose oil billions could not prevent it being outmaneuvered by a host of rivals in the power struggles of the Middle East."
Full report at:
http://english.alarabiya.net/en/perspective/2013/07/14/Saudi-Arabia-re-emerges-as-powerful-Middle-East-player.html
----------
Pakistan
Pakistan's Religious Extremists Leave for 'Greener Pastures'
July 15, 2013
ISLAMABAD: Suleman spent years targeting members of the Shia community in his home country of Pakistan as a member of sectarian terrorist group Lashkar-e-Jhangvi (LeJ). Now he is on his way to a new sectarian battleground, Syria, where he plans to join rebels battling President Bashar Assad's regime.
The short and stocky man, who identified himself using only his first name for fear of being targeted by authorities, is one of an increasing number of militants who have left Pakistan for Syria in recent months.
The fighters have contributed to a growing presence of extremists and complicated US efforts to help the rebels. Many fighters like Suleman believe they must help Syria's Sunni majority defeat Assad's Alawite regime.
Full report at:
http://dawn.com/news/1029198/pakistans-religious-extremists-leave-for-greener-pastures
----------
Pakistani Taliban claim joining Syria war
July 15, 2013
ISLAMABAD/PESHAWAR: The Pakistani Taliban have set up camps and sent hundreds of men to Syria to fight alongside rebels opposed to President Bashar al Assad, militants said on Sunday, in a strategy aimed at cementing ties with Al Qaeda's central leadership.
More than two years since the start of the anti-Assad rebellion, Syria has become a magnet for foreign Sunni fighters who have flocked to the Middle Eastern nation to join what they see as a holy war against Shia `oppressors'.
Operating alongside militant groups such as the Al Nusra Front, described by the United States as a branch of Al Qaeda, they mainly come from nearby countries such as Libya and Tunisia riven by similar conflict as a result of the Arab Spring.
Full report at:
http://dawn.com/news/1029014/pakistani-taliban-claim-joining-syria-war
----------
At least ten suspected militants killed as Pakistan air force strikes hideouts
ZAHIR SHAH SHERAZI
July 15, 2013
PESHAWAR: At least ten suspected militants were killed and 12 others injured as Pakistani jet fighters targeted nine militants hideouts in Khyber tribal region and Darra Adam Khel.
Official sources say that the jet fighters struck the militants hideous in Akakhel area of Bara Tehsil in Khyber tribal region destroying at least three of their secret bases while five alleged militants were killed and six others injured.
Separately in other strikes carried out by the military jets in Kharmatong, Mansoor Sangar, Zawao Adda and Khawngai area of Dara Adam Khel region, six militants hideouts were destroyed.
Full report at:
http://dawn.com/news/1028984/at-least-ten-suspected-militants-killed-as-pakistan-air-force-strikes-hideouts
----------
Heritage under attack: After Ziarat, Fort Munro under threat
July 15, 2013
LAHORE: Having established the precedent of desecrating national monuments after the destruction of Quaid's Ziarat Residency, the Balochistan Liberation Army (BLA) now seem to be in a position to threaten colonial vestiges in Dera Ghazi Khan, including Fort Monro and other historic monuments, The Express Tribune has learnt.
"The Punjab home ministry issued us a warning on June 16, a day after the attack on Ziarat residency because there were strong chances of military operation against BLA militants in Ziarat.
Full report at:
http://tribune.com.pk/story/577072/heritage-under-attack-after-ziarat-fort-munro-under-threat/
----------
Militants enlist six teenage boys from Sheikhan
July 14, 2013
PESHAWAR: Militants have enlisted at least six children from Sheikhan village. To add to the worry of residents, the armed men have been actively preaching jihad to the villagers for the past few days without inviting any attention from law enforcement agencies, residents told The Express Tribune on Sunday.
Dozens of armed militants belonging to the banned outfit Lashkar-e-Islam (LI) visit Sheikhan after Iftar, and urge people to join hands with them.
Full report at:
http://tribune.com.pk/story/576940/picking-them-young-militants-enlist-six-teenage-boys-from-sheikhan/
----------
'Islamic wealth being enjoyed by western countries': Pakistan Visionary Forum
July 15, 2013
Wealth of Islamic countries is being enjoyed by some western powers and world powers oppose even democratic government of Islamic countries which do not adopt pro-western policies instead dictatorship is supported to secure their vested interests.
These thoughts were shared by participants in special session of Pakistan Visionary Forum at a private club here on Sunday on the topic of "Egyptian political situation."
Former Secretary Foreign Affairs Shamshad Ahmed Khan, Former Minister of State Qayyum Nizami, Justice (retd) Sharif Hussain Bokhari, Dr. Muhammad Sadiq, Zubair Sheikh, Engr. Muhammad Azeem, Prof. Dr. Hasibullah, Jameel Gishkori, Manzoor A. Sheikh, Khalid Mehmood Saleem, Sardar Saeed Khan, Jameel Bhatti, Engr. Shafqat Mahmood and Engr. Yaqoob Chaudhry participated in the discussion.
Full report at:
http://www.thenews.com.pk/Todays-News-5-189908-Islamic-wealth-being-enjoyed-by-wester
----------
Sharif govt mulls peace talks with Tehreek-e-Taliban Pakistan
PTI | Jul 15, 2013
ISLAMABAD: Pakistan plans to form a "working group" this month to hold peace talks with the outlawed Tehreek-e-Taliban Pakistan and other Islamist militant groups, in an effort to end continuous violence in the country, according to a media report.
The working group is expected to be announced after an all-party conference scheduled to be held later this month to build a consensus on the proposed national security policy, The Express Tribune reported on Monday.
The proposed working group would comprise of politicians and other figures who could use 'their influence and good offices' to make peace talks successful, the report said.
Full report at:
http://timesofindia.indiatimes.com/world/pakistan/Sharif-govt-mulls-peace-talks-with-Tehreek-e-Taliban-Pakistan/articleshow/21083392.cms
---------
Financing the Pakistani economy under Shariah law
July 14, 2013
LONDON: With the strengthening of democracy in Pakistan, calls for building an interest-free economic system are increasingly gaining traction. As the debate on public sector borrowing intensifies in the wake of the recent budget and the government's successful conclusion of a US$5.3 billion facility from the International Monetary Fund (IMF), it would be helpful to look into Shariah guidelines for both spending and borrowing.
First let us look at the Shariah guidelines for expenditure. Monzer Kahf, an Islamic economist, lists three areas that early Islamic governments traditionally spent on: defence, judiciary and what was known as society's management, under which internal social/tribal affairs and foreign relations were included. Social goods, such as health, education, drinking water were provided through Auqaf, or charitable trusts.
Full report at:
http://tribune.com.pk/story/576814/the-islamic-way-financing-the-pakistani-economy-under-shariah-law/
----------
Militants torch oil tankers in Balochistan
SYED ALI SHAH
July 15, 2013
QUETTA: Armed militants torched four oil tankers carrying fuel for a Chinese company in Chaghi district of Balochisan on Sunday evening.
Ghullam Haider, a Levies official told Dawn.com that militants opened fire on four oil tankers carrying fuel for a Chinese company, operating in the Saindak Copper-Gold project, in Chaghi district of Balochisan.
He said all four tankers caught fire during firing by militants.
"Flames of fire and thick black some could be seen on the spot", Haider said, adding that there was no information regarding the number of militants involved in the attack.
The drivers managed to escape unhurt from the spot, the levies official added.
The administration was facing difficulties to put off roaring flames of fire due to the lack of fire fighters in the remote area of Balochistan.
Full report at:
http://dawn.com/news/1028988/militants-torch-oil-tankers-in-balochistan
----------
Nawaz to open Pakistan's first private hydel plant today
KHALEEQ KIANI
July 15, 2013
ISLAMABAD: Prime Minister Nawaz Sharif is scheduled to inaugurate Pakistan's first private hydel power project near Mangla Dam in Azad Kashmir on Monday.
The 84MW run-of-the river New Bong Escape Hydropower Project is expected to provide electricity to Wapda at about Rs8.7 per kwh, compared to average thermal generation cost in excess of Rs18 per unit.
The commercial production at the project is estimated to save about 135,000 tons of imported oil costing over $100 million per annum.
It will provide 540 GWh of green energy per year to the national grid under a 25-year power purchase agreement with the National Transmission and Dispatch Company.
Full report at:
http://dawn.com/news/1029013/nawaz-to-open-pakistans-first-private-hydel-plant-today
----------
Pakistan's FO condemns US drone strike in N Waziristan
July 15, 2013
ISLAMABAD: Pakistan's Ministry of Foreign Affairs issued a statement on Monday in condemnation to the US drone strike that had killed two suspected militants in Mir Ali Tehsil of North Waziristan tribal region on July 13.
These unilateral strikes are a violation of Pakistan's sovereignty and territorial integrity, the statement said adding that, Pakistan has repeatedly emphasised the importance of bringing an immediate end to drone strikes.
Full report at:
http://dawn.com/news/1029196/pakistans-fo-condemns-us-drone-strike-in-n-waziristan
----------
India
45 Hindu prisoners at Tihar keep Ramzan fast
July 14, 2013
In a unique example of communal harmony, 45 Hindu prisoners in Tihar Jail in new Delhi have been keeping rozas, the dawn-to-dusk fast during Ramzan, along with over 1,800 Muslim inmates.
Tihar Law officer Sunil Gupta said the Hindu prisoners had started keeping rozas from July 11, the first day of Ramzan and conveyed to the authorities that they would continue it for the entire length of fasting period.
"45 Hindu inmates have joined around 1,800 Muslim inmates in observing fasts. It is a wonderful example of unity and harmony among the prisoners," said Gupta.
Against its sanctioned strength to house 6,000 prisoners, the Tihar prison currently has 13,000 inmates including 3,500 from Muslim community.
Gupta said the jail authorities have made all the arrangements so that those observing Ramzan do not face any difficulty.
"We are making special arrangements for the inmates keeping roza. Various food items are being made available to them at 3am while seasonal fruits, snacks and other dishes are being arranged for 'iftar' (the evening meal)," he said.
Full report at:
http://www.hindustantimes.com/India-news/newdelhi/45-Hindu-prisoners-at-Tihar-keep-Ramzan-fast/Article1-1092200.aspx
--------
Arab states to fund minorities in Karnataka
July 15, 2013
Nearly 20 Arab states have pledged to improve the welfare of minorities in Karnataka with financial aid to young entrepreneurs, small and medium enterprises and for empowering women.
"About 20 Arab nations in West Asia and Africa have committed to grant Rs.8 million this year to fund minority entrepreneurs, help young women become self-reliant and educate the youth," Indo-Arab Chamber of Commerce executive director Asif Iqbal told IANS.
Among the states that have pledged help are Bahrain, Egypt, Iran, Iraq, Jordan, Kuwait, Lebanon, Morocco, Oman, Qatar, Saudi Arabia and the UAE.
Full report at:
http://www.hindustantimes.com/India-news/bangalore/Arab-states-to-fund-minorities-in-Karnataka/Article1-1092760.aspx
--------
CPI (M) general secretary demands release of innocent Muslims implicated in false terror charges
Ashish Tripathi, TNN | Jul 15, 2013
LUCKNOW: Communist Party of India (Marxist) general secretary Prakash Karat, on Tuesday, criticized the role of security agencies in investigating terror cases and claimed that innocent people across the country are being booked on false terror charges.
"There is no body to monitor security agencies, which are free to do whatever they want. In many cases, innocent youths are being implicated in false terror cases," Karat said, while addressing a demonstration organized by the RihaiManch, demanding the release of innocent Muslims in UP booked under terror cases which were later found be false.
The Rihai Manch is an outfit formed by social activists to fight for the release of innocent Muslims and to press demand for a thorough probe into the role of security agencies, as well to punish police officers involved in implicating innocents in false terror charges. The indefinite demonstration of the Manch completed 55 days on Tuesday.
"There are lot of cases in which security agencies imposed false charges on youths. Innocent persons were arrested after Malegaon and Mecca Masjid blasts. Later, some people belonging to a Hindu extremist outfit were arrested. It revealed that those booked earlier were innocent. However, the innocent have not been acquitted. They are out on bail, but, cases against them are still going on in the courts," said Karat.
Regarding innocent Muslims booked under false terror cases in UP, Karat said that he had met Uttar Pradesh chief minister Akhilesh Yadav a few months back and requested him to provide compensation and ensure rehabilitation of six Muslim youths, who were arrested on terror charges but later acquitted by various courts in the state. "However, state government has not done anything till now. Also, no action was taken against the investigating officers who imposed false charges against the innocent people," he said.
Full Report at:
http://timesofindia.indiatimes.com/india/Prakash-Karat-demands-release-of-innocent-Muslims-implicated-in-false-terror-charges/articleshow/21086066.cms
-------
Complaint filed against Narendra Modi for post-Godhra riots remark
Jul 14 2013
Hyderabad: A complaint was filed against Gujarat Chief Minister Narendra Modi at a police station here today over the controversial remarks made by him about post-Godhra riots in Gujarat during 2002.
Ghulam Rabbani, a practising advocate, lodged the two-page complaint with Santosh Nagar police station, seeking legal action against Modi and his immediate arrest terming his statements as "highly provocative and malicious against Muslim community, with an intention to wound their religious feelings and promote enmity between Muslims and Hindus".
The police, who received the complaint, said it has not yet registered any case and is seeking legal opinion.
Full report at:
http://www.indianexpress.com/news/complaint-filed-against-narendra-modi-for-postgodhra-riots-remark/1141712/
-----------
Cong slams Modi, says 'burqa of secularism' better than 'nakedness of communalism'
July 15, 2013
Just days after he triggered an outrage with his 'puppy' remark, Gujarat chief minister Narendra Modi has once again come under attack from the Congress over his 'burqa of secularism' comment.
Congress leader Ajay Maken on Monday launched a counter-attack on the Gujarat chief minister and said: 'The burqa of secularism is better than the nakedness of communalism."
Highlights of Ajay Maken's press conference
# Modi says that our Olympics performance could have been much better, but in the Jharkahand games, Gujarat got zero medals
# Of the over 1000 gold medals in the National Games, Gujarat had 7. Even Chandigarh won 10 gold medals
# Narendra Modi should keep in mind the the performance of the NDA government and also his own tenure in Gujarat
# In 2011-12, in Gujarat, only 13.9% was spent on education and the state was ranked 14th in India
# We had only 7 IIT's earlier while now we have 16 IIT's; there were only 6 IIM's earlier, now there are 13
# Ajay Maken: How is Modi making claims about education when posts of principals are empty in schools and colleges in Gujarat?
# Drop out rates in Gujarat schools are 57%, far above the national average
# Only 4 degree and engineering colleges have regular principals in Gujarat
# Gujarat ranks 18th in India on gender gap in literacy rates, far below the national average
# The burqa of secularism is better than the nakedness of communalism
# Maken: Gujarat is on the 10th place in domestic tourism. Contributes only 2.5% of the total tourism. Why is Modi advising others on tourism?
Full report at:
http://www.hindustantimes.com/India-news/NewDelhi/Cong-slams-Modi-says-burqa-of-secularism-better-than-nakedness-of-communalism/Article1-1092632.aspx
----------
New Indian high commissioner Raghavan arrives in Pakistan
PTI | Jul 15, 2013
ISLAMABAD: T C A Raghavan, a diplomat with considerable experience of Pakistan affairs, arrived in the country on Monday to take over as the new Indian high commissioner.
Raghavan, who served as deputy high commissioner in Islamabad about a decade ago, crossed via the Wagah land border.
He will replace Sharat Sabharwal, who was given several extensions after he reached the age of retirement last year. Sabharwal returned to India earlier this month.
During his last stint in Pakistan, Raghavan served under Shivshankar Menon, who went on to become the foreign secretary.
Full report at:
http://timesofindia.indiatimes.com/world/pakistan/New-Indian-high-commissioner-Raghavan-arrives-in-Pakistan/articleshow/21084452.cms
-----------
India now Nigeria's biggest crude oil buyer
2013/07/15
India has overtaken the U.S. as the top buyer of Nigerian crude oil, a top Indian diplomat in Abuja has said.
Indian High Commissioner to Nigeria Mahesh Sachdev said recent statistics showed that India had been buying more of Nigeria's crude than the U.S. over the last three months.
"India will continue to cooperate with Nigeria to improve its economy and it will also assist the country in capacity building of workers in both the public and private sectors," Mr. Sachdev said, during a courtesy visit to the Governor of Niger state in northern Nigeria last Wednesday.
Full report at:
http://www.thehindu.com/business/Industry/india-now-nigerias-biggest-crude-oil-buyer/article4917091.ece
--------
Underworld, terrorists, ISI run counterfeit racket
July 15, 2013
Security agencies fighting against the circulation of fake Indian currency notes have to take on a deadly mix of the underworld, various terrorist networks and Inter Services Intelligence (ISI), Pakistan's intelligence agency, who are using new routes to pump fake currency into India.
Sources in the Mumbai police said the involvement of the underworld has been established on a number of occasions, and distribution of fake currency is controlled by Dawood Ibrahim's trusted lietenant, Aftab Batki alias Sultan.
A sessions court last week sentenced four people, including two Bangaldeshi nationals, to five years imprisonment in a fake currency case investigated by the ATS in January 2011
In two separate raids, the ATS had seized fake currency worth around Rs10 lakh from the four. controlled by Dawood Ibrahim's trusted lieutenant Aftab Batki alias Sultan.
Full report at:
http://www.hindustantimes.com/India-news/mumbai/Underworld-terrorists-ISI-run-counterfeit-racket/Article1-1092622.aspx
--------
North America
'Facebook fast' sparks debate over Ramadan social media use
15 July 2013
As Muslims across the world abstain from eating and drinking during daylight hours, some are extending Ramadan traditions even further – with a self-imposed 'Facebook fast'.
Data points to higher use of social media over Ramadan in general, yet some Muslims see the holy month as a time to refrain or reduce the time they spend posting, tweeting, and writing status updates.
Saud Inam, a Muslim based in Atlanta, U.S., said that he plans to abstain from social media completely for Ramadan, in order to spend more time reading the Koran and reflecting on the holy month with family.
"I wanted to make sure this Ramadan I had no distractions whatsoever," he told the Huffington Post.
"I'm reducing things in Ramadan that don't have to do with religion. I felt I should concentrate more on introspection and reflecting on my spiritual state… sometimes Facebook and social media can be information overload."
Full report at:
http://english.alarabiya.net/en/special-reports/ramadan-2013/2013/07/15/-Facebook-fast-sparks-debate-over-Ramadan-social-media-use-.html
----------
Candidates Court Muslims as They Break Their Fast
By MONA EL-NAGGAR
July 15, 2013
Christine C. Quinn, the City Council speaker and one of the leading Democratic candidates for mayor, walked into a clubhouse in Dyker Heights, Brooklyn, just as people had started to eat and was escorted straight to the buffet.
"I'd like to say I planned it," Ms. Quinn joked.
She grabbed a plate, sat down, set aside her fork and picked up one of the stuffed vine leaves sitting on her plate.
The event at Dyker Beach Golf Course was an iftar, a meal to break the daylong fast during Ramadan, hosted by local Muslim Americans. For Ms. Quinn and several other candidates who attended, it was just another stop on a busy campaign trail. But for the Muslim community, it represented an opportunity to make its voice heard and build bridges with key government figures.
Full report at:
http://www.nytimes.com/2013/07/13/nyregion/candidates-court-muslims-as-they-break-their-fast.html?src=twr
----------
Calif. Mulls Separate Counting of Hindu, Sikh Hate Crimes
July 15, 2013
The state of California could separate out hate crimes committed against Hindus, Sikhs and other religious groups before the federal government implements its own program, Harsimran Kaur, staff attorney with the Sikh Coalition, told a panel discussion at the North America South Asian Bar Association convention here June 21 (I-W, June 28).
Kaur said that California District Attorney Kamala Harris has indicated the state is willing to follow the lead of a new FBI data gathering program and track hate crimes committed against religious groups not counted previously.
Full report at:
http://www.indiawest.com/news/12091-calif-mulls-separate-counting-of-hindu-sikh-hate-crimes.html#IKSImtpRoXj3g9Q6.99
----------
U.S. lawmakers call for penalizing Argentina over Iran ties
July 15, 2013
TEHRAN – A number of lawmakers in the U.S. House of Representatives listed Argentina's conciliatory approach to Iran among reasons to penalize the country economically, Jewish Telegraphic Agency reported on Sunday.
In separate letters, slates of lawmakers wrote John Kerry, the secretary of state, and Eric Holder, the U.S. attorney general, asking them to reconsider a decision to back Argentina's appeal to the U.S. Supreme Court to reconsider lower court rulings ordering Argentina to come to an agreement with debtors from the country's 1999-2002 economic crisis, when it defaulted on billions of dollars in debt.
Full report at:
http://www.tehrantimes.com/politics/109294-us-lawmakers-call-for-penalizing-argentina-over-iran-ties
----------
Senior US official William Burns visits Egypt to break the ice with military
15 July 2013
The first senior US official to visit Egypt since the army toppled the country's elected president will hold high-level talks on Monday in Cairo, where thousands of supporters of the ousted Islamist leader, Mohamed Morsi, are expected to take to the streets.
Deputy secretary of state William Burns may face awkward questions when he visits Cairo, where portraits of the American ambassador, Anne Patterson, have been overwritten with the words "Go home, witch". Burns, an Arabic speaker, would not miss the point.
His visit will include talks with the military and comes as Egypt's interim prime minister finalises his cabinet.
In a statement, the State Department said Burns would "underscore US support for the Egyptian people, an end to all violence, and a transition leading to an inclusive, democratically elected civilian government".
Full report at:
http://www.guardian.co.uk/world/2013/jul/15/us-official-william-burns-visits-egypt
----------
Israel targeted Russian-made missiles in Syria, US officials say
14 July 2013
US officials say Israel targeted advanced anti-ship cruise missiles near Syria's principal port city, Latakia, in an air attack this month, the New York Times reported.
The officials say the attack on 5 July near Latakia targeted a type of Russian-made missile called the Yakhont that Russia had sold to the Syrian government, the paper's website reported. Russia is a key political ally and arms supplier of Syrian president Bashar al-Assad's regime.
Full report at:
http://www.guardian.co.uk/world/2013/jul/14/israel-accused-russian-missiles-syria
----------
Muslim group excluded from July 4 Independence Day Parade
By Brad Stutzman
July 15, 2013
Austin Community Newspapers Staff
Spectators who lined the July 4 route through downtown were treated to a wide variety of sights and sounds, among the approximately 110 entrants in Round Rock Sertoma Club's annual Independence Day parade.
They saw soldiers in uniform, combat veterans on motorcycles and roller derby women on skates.
They saw kids on bicycles and on horseback, Star Wars characters and men driving vintage cars.
They saw floats full of Republicans, Democrats and Vacation Bible Schoolers. They saw tumbling gymnasts, beauty queens in their tiaras and a high school marching band – plus Boy Scouts, Girl Scouts, martial artists, Masons and the Knights of Columbus.
Full report at:
http://www.statesman.com/news/news/local/muslim-group-excluded-from-july-4-parade/nYkRp/
----------
'Anti-Shariah' bill clumsy and dangerous to all people of faith
By Barak Richman
July 15, 2013
N.C. House Bill 695, titled the "Family, Faith and Freedom Protection Act of 2013" and passed by the N.C. Senate, has attracted scrutiny because of language restricting access to abortions. But the bill's original purpose, "to protect rights and privileges granted under the U.S. and N.C. Constitutions in the application of foreign law," remains at the top of the bill and passed both chambers with little examination.
It is a euphemistic effort to ban Shariah law from North Carolina's courtrooms. Efforts in other states that explicitly ban Shariah, rather than "foreign law," have been appropriately rejected for being unconstitutional, thus sponsors now use neutral language. But the clumsy revision produced a bill that could infringe upon the religious freedoms of many North Carolinians. In banning "foreign law," the bill could also interfere with Jewish adherence to "the laws of Israel" and Catholic commitments to dictates from the Vatican.
Full report at:
http://www.newsobserver.com/2013/07/12/3026294/anti-shariah-bill-clumsy-and-dangerous.html#storylink=cpy
----------
Juvenile may be charged in Islamic Center vandalism
July 15, 2013
Islamic Center Imam Osama Hassan would prefer charges not be filed against a juvenile boy suspected of spray-painting hateful graffiti on the worship center this week.
Only days into Ramadan, a monthlong period of fasting and prayer in Islam, Hassan said the act of the boy who came forward Thursday admitting responsibility to spray-painting "H8" on the front of the building should be forgiven.
"This is a time of forgiveness, and we would like to show peace," Hassan said Friday.
Victoria Police Chief J.J. Craig said as of Friday no arrests have been made, but that could change by early next week if the district attorney accepts the charges.
Full report at:
http://www.victoriaadvocate.com/news/2013/jul/12/islamiccenter_follow_jp_071313_214574/?features
----------
Europe
Islamic extremists threaten to stab inmates who eat pork in front of them
July 15, 2013
Islamic extremists threaten to stab fellow inmates who eat pork in front of them at one of Britain's toughest jails, a prisoner has claimed.
The 'long serving prisoner' at HMP Long Lartin said cooking pork at the communal kitchen is 'deemed dangerous, even a threat to your life'.
The anonymous man made the claims in a letter to prisoners' magazine Inside Time.
He claims inmates at the jail are being radicalised but the issue is not being addressed by prison bosses.
'Terror' preacher Abu Hamza and radical cleric Abu Qatada have both been held at the prison.
The inmate wrote: 'The kitchen is usually occupied by 90 per cent Muslims and we have been told if we cook pork we will be stabbed. There have been incidents here where people have been targeted and pressured and bullied into converting to Islam.
Full report at:
http://www.dailymail.co.uk/news/article-2362865/Islamic-extremists-threaten-stab-inmates-eat-pork-Britains-toughest-prisons.html#ixzz2Z5mJ4SfB
----------
Legacy of Afghan conflict: 50 British soldiers committed suicide last year, report
July 15, 2013
LONDON: A total of 50 serving and veteran British soldiers committed suicide last year, more than were killed fighting the Taliban in Afghanistan, according to figures reported on Sunday.
The UK Ministry of Defence confirmed that seven serving soldiers killed themselves in 2012 and a further 14 died in suspected suicides, although inquests have not yet been held. BBC investigation found that at least 29 veterans also took their lives last year. There are no official figures.
Full report at:
http://tribune.com.pk/story/577057/legacy-of-afghan-conflict-50-british-soldiers-committed-suicide-last-year-report/
----------
David Cameron warned arming Syrian rebels could embroil Britain in all-out war
July 15, 2013
Senior military figures have warned the Prime Minister that with the momentum on the side of President Assad's regime, sending small arms and missiles is unlikely to make a difference.
There are also growing concerns that arms sent to Syria could end up in the hands of extremists rather than moderate rebels, potentially presenting a long-term threat to British security.
More significant military intervention, such as introducing a no-fly zone over Syria, could mire Britain in a conflict for months because of the strength of the regime's air defences.
The move represents a significant climb-down by Mr Cameron. He and his Foreign Secretary, William Hague, have been keen to act. In May he demanded an end to the EU arms embargo to give him more options.
Full report at:
http://www.telegraph.co.uk/news/politics/david-cameron/10179226/David-Cameron-warned-arming-Syrian-rebels-could-embroil-Britain-in-all-out-war.html
----------
Teenage white Muslim convert who wants Sharia law jailed for assault
July 15, 2013
He has said Osama bin Laden was a hero who had gone to heaven and that British ­soldiers should burn in hell
A white Muslim convert who vowed to bring Sharia law to the UK has been jailed for six weeks for beating up a photographer.
Jordan Horner, who changed his name to ­Jamal Uddin, also laid into a car, causing £3,000 of damage.
Horner, 19, had earlier said he ­believed Osama bin Laden was a hero who had gone to heaven and that British ­soldiers should burn in hell.
Full report at:
http://www.mirror.co.uk/news/uk-news/jordan-horner-teenage-white-muslim-2051097
----------
UN helping Pakistan uplift common people's standard
July 15, 2013
ISLAMABAD: Many organisations of the United Nation are working in Pakistan for its social development and to improve the social standards of the common man by addressing their basic needs.
Talking to VOA, United Nations Information Centre correspondent Ishrat Rizvi said that the UN had been working in Pakistan for 66 years, and it had performed in various sectors and supported the government of Pakistan in different fields.
"Moreover, Pakistan is a member of Peacekeeping Nations and in various operations it has proved its strength. The UN has helped Pakistan to overcome polio," she added.
Full report at:
http://www.dailytimes.com.pk/default.asp?page=2013\07\15\story_15-7-2013_pg7_21
----------
Gunmen kill four policemen in Russia's Dagestan
July 14, 2013
Four policemen were killed in Russia's violence-plagued Dagestan region on Sunday when unidentified gunmen opened fire on their car, local investigators said.
The police officers were on their way back from a village of Burshi, some 100 km south-west of regional capital Makhachkala, when their car was attacked by two assailants.
Insurgents are fighting to carve out an Islamic state in Dagestan - an ethnically mixed, mostly Muslim region in the north Caucasus between Chechnya and the Caspian Sea.
Dagestan drew an international spotlight following an April bomb attack at the Boston Marathon in the United States.
Full report at:
http://www.hindustantimes.com/world-news/europe/Gunmen-kill-four-policemen-in-Russia-s-Dagestan/Article1-1092343.aspx
--------
Mideast
Netanyahu brands new Iranian president a 'wolf in sheep's clothing'
July 15, 2013
Benjamin Netanyahu insisted that Iran is still pressing forward with a program designed to develop a nuclear weapon, and the signs of moderation coming from Iran's new leader, Hassan Rouhani, are merely cosmetic.
Speaking on CBS-TV's "Face the Nation," Netanyahu called the incoming Iranian president a "wolf in sheep's clothing."
He urged the world to step up pressure on Iran to halt its nuclear program through tougher sanctions and threats to take military action.
Israel appears to be concerned that the world will ease pressure on Iran in order to engage Rouhani in negotiations.
Iran denies Western charges that it is pursuing nuclear weapons, saying its program is for peaceful purposes.
http://www.telegraph.co.uk/news/worldnews/middleeast/israel/10179237/Benjamin-Netanyahu-brands-new-Iranian-president-a-wolf-in-sheeps-clothing.html
---------
Tehran Quran exhibit displaying new Islamic costumes
14 July 2013
TEHRAN – A collection of 50 Islamic fashions has been put on display in an exhibition at the 21st International Holy Quran Exhibition, which is currently underway at Tehran's Imam Khomeini Mosalla.
The exhibition has been organized by the Fashion National Foundation to promote Islamic costumes, Deputy Culture Minister for Artistic Affairs Hamid Shahabadi said in a press release on Saturday.
The foundation has tried to make use of Iranian costume designers and producers to make chadors based on traditional Iranian costumes promoting the culture of hijab, the Islamic dress code, he said.
Full report at:
http://tehrantimes.com/arts-and-culture/109249-tehran-quran-exhibit-displaying-new-islamic-costumes
----------
Israel Steps Up Information War Against Hezbollah
14, 2013
Though the Israeli government never officially admits to any of its attacks on Syria, every one so far this year (at least four confirmed) have been followed by Israeli claims about Hezbollah acquiring defensive weapons and "red lines" of Hezbollah arms.
The efforts to paint Hezbollah as some sort of new "threat" to Israeli interests has led the Israeli military's "interactive media branch" to launch a new Hezbollah web site hyping the militia's size and claiming it has plans to destroy all Jews, everywhere, as part of an Iran-backed plot.
Full report at:
http://news.antiwar.com/2013/07/14/israel-steps-up-information-war-against-hezbollah/
----------
Turkey sees Morsi as Egypt's President, Turkish FM says
15 July 2013
Turkish Foreign Minister Ahmet Davutoğlu said that Turkey still recognized Mohamed Morsi as the Egyptian President.
"We see Morsi still has been holding his post," Davutoğlu told private broadcaster NTV today.
He also said that in case of the marginalization of political elements after the coup in Egypt, violence could spiral across the Middle East.
Prime Minister Recep Tayyip Erdoğan has recently said that ousted President Mohamed Morsi was the only legitimate president of Egypt. "Currently, my president in Egypt is Morsi because he was elected by the people," he said.
http://www.hurriyetdailynews.com/turkey-sees-morsi-as-egypts-president-turkish-fm-says.aspx?pageID=238&nID=50718&NewsCatID=338
----------
Netanyahu calls Abbas for Ramadan, urges peace
15 July 2013
Prime Minister Binyamin Netanyahu on Sunday telephoned Palestinian Authority President Mahmoud Abbas and said he hoped the two sides could resume peace talks, stalled for three years, Israeli officials said.
Netanyahu offered greetings for the Muslim holy month of Ramadan, his office said, adding that he told Abbas: "I hope we will have the opportunity to speak with one another not only during festivals, and will start negotiating. It's important."
US Secretary of State John Kerry has in recent months mounted shuttle visits in the hope of reviving negotiations.
Full report at:
http://www.jpost.com/Middle-East/Netanyahu-pays-Abbas-Ramadan-phone-call-urges-peace-319835
----------
Hamas MPs caught hiding with e. J'lem Red Cross sentenced to 30 months in prison
15 July 2013
The courts on Sunday announced the sentencing of two Hamas politicians to 30 months in prison, about a-year-and-a-half after their dramatic arrest inside an east Jerusalem Red Cross building where they had been in hiding for over a year.
The actual sentence was handed down Thursday, but its announcement was delayed for reasons which were unclear, though sometimes similar decisions are delayed due to security considerations.
The two men, Khaled Abu- Arafa and Muhammad Totah, agreed to a plea bargain in which they were convicted of participating in a terrorist organization, supporting a terrorist organization and having illegally crossed into Israel.
Full report at:
http://www.jpost.com/National-News/Hamas-MPs-caught-hiding-with-e-Jlem-Red-Cross-sentenced-to-30-months-in-prison-319804
----------
Africa
Nigeria Islamists hit schools to destroy Western ideas
ISAAC ABRAK
2013-07-15
MAMUDO (Nigeria): They crept up to the school under cover of darkness, armed with petrol and automatic weapons.
Most of the teachers and pupils had fled, but some students, one teacher and headmaster Adanu Haruna were still in the compound, one of many rural boarding schools in Nigeria surrounded by forest and farmland.
"They made the students line up and strip naked, then they made the ones with pubic hair lie face down on the ground," Haruna said, eyes wide with horror at describing the attack on the iron-roofed school built by British colonisers in the 1950s.
"They shot them point blank then set the bodies on fire."
The Mamudo government school, charred and smelling of scorched blood after 22 students and a teacher were killed there in the July 6 attack near Potiskum in Nigeria's northeast, was the fourth to be targeted by suspected Boko Haram militants in less than a month.
he attacks reveal much about the rebels who are fighting to revive a mediaeval Islamic caliphate in northern Nigeria, the type of state they are seeking to establish and the impact of their efforts to do so on the African economic powerhouse.
In a video uploaded to the internet on Saturday, Boko Haram's purported leader Abubakar Shekau denied ordering the latest killings, saying Boko Haram does not itself kill small children, but he praised attacks on Western schools.
"We fully support the attack on school in Mamudo, as well as on other schools," he said. "Western education schools are against Islam... We will kill their teachers."
Boko Haram, a nickname which translates roughly as "Western education is sinful", formed around a decade ago as a clerical movement opposed to Western influence, which the sect's founder, Mohammed Yusuf, said was poisoning young minds against Islam.—Reuters
http://dawn.com/news/1029120/nigeria-islamists-hit-schools-to-destroy-western-ideas
----------
Nigeria claims rescue of women, children held by Boko Haram
July 15, 2013
Nigeria's military on Sunday claimed the rescue of women and children hostages from a Boko Haram Islamist stronghold, saying troops killed several insurgents during recent gun battles in the area.
The Bulabulin Nganaram area of the northeastern city of Maiduguri, where the fighting occurred, is considered an enclave of the radical Islamist group.
The military battled Boko Haram fighters in the area from July 3 to July 8, killing "some terrorists", spokesman Lieutenant Colonel Sagir Musa said in a statement.
"Many abducted women, children and girls were rescued and handed over to their families," he added.
Boko Haram, which has said it is fighting to create an Islamic state in Nigeria's mainly Muslim north, has been accused of carrying out a series of abductions across the region.
The military also said it discovered a series of bunkers dug by the insurgents at the site.
A number of bodies were also found, Musa said.
Full report at:
http://www.foxnews.com/world/2013/07/14/nigeria-claims-rescue-women-children-held-by-boko-haram/#ixzz2Z6bsG7eR
--------
Boko Haram leader calls for more schools attacks after dorm killings
14 July 2013
The leader of Nigeria's Islamist militant group Boko Haram has called for more attacks against schools, describing western education as a "plot against Islam", in a video released days after his fighters killed 46 students in an assault on a dorm.
In the 15-minute recording released at the weekend, Abubakar Shekau said schools would continue to be targeted "until our last breath".
"Teachers who teach western education? We will kill them! We will kill them in front of their students, and tell the students to henceforth study the Qur'an," he said, gesticulating energetically while dressed in military fatigues and a traditional hat.
Shekau denied that his fighters killed children. "Our religion does not permit us to touch small children and women, we don't kill children," he said, reading from sheets of paper as he cradled a Kalashnikov. He also dismissed talk of a ceasefire. Last week the government said it had signed a deal with Shekau's second-in-command.
With its ability to launch attacks reduced by a military crackdown, Boko Haram is redrawing the battle lines in Nigeria's four-year insurgency by going after softer targets. A recent spate of attacks on schools is part of a two-pronged strategy that plays up the extremists' ideology against western institutions while also providing a stream of potential new recruits as frightened parents pull their children out of education.
Unschooled and unemployed children are increasingly being recruited – sometimes forcibly – to fill the ranks of Boko Haram and unleash violence against their peers, the Guardian has learned. Witnesses say many are plied with dates stuffed with tramadol – a narcotic used to tranquilise horses – before being sent on missions.
Just after dawn on 6 July, a school dormitory was doused in petrol and set alight in north-eastern Yobe. Those trying to flee the flames were shot. The attack left 46 dead, mostly students. More than 300 classrooms have been torched in the remote, arid state since 2009, according to official counts.
Hundreds of families have fled the region. "This really shook us up. Students being attacked in their sleep is too disgusting for us to even imagine," said Adam Mohammed, a textiles trader visiting neighbouring northern Kano state, where he relocated his family for safety reasons. "It was hard, but I feel I made the right decision to leave Yobe. I'm a father of three and when I think of what those parents must be going through …" He shook his head mutely.
Last month 16 students were gunned down in consecutive strikes on a secondary comprehensive in Yobe and another school in Borno, Boko Haram's spiritual home. In April two attacks on a university left 16 dead.
A state of emergency has been in place for two months in three north-eastern states. Soldiers pouring into Yobe and Borno have dismantled urban cells, but Boko Haram has responded by changing tactics. Previously it had attempted to ignite a sectarian war by bombing packed churches.
Closing down mobile phone services is thought to have reduced the insurgents' ability to co-ordinate attacks, but it has also had unintended deadly consequences. "I saw the gunmen sneaking into the school compound in hordes but I couldn't call any soldiers for help," said Ahmadu Sani, whose farm borders the school grounds where 46 were killed. "The police cannot be everywhere so they should restore the connections even if there's a state of emergency."
Northern Nigeria has some of the highest unemployment and school dropout rates in the world, despite the country being the eight largest oil exporter. At one of the many checkpoints around the Yobe capital of Damaturu, a soldier said the number of children hawking on the streets had ballooned in recent weeks.
"As they are no longer in school, their parents send them to sell groundnuts or boiled eggs on the long queues of vehicles created by the stop-and-search," said the soldier, who like others had removed his name tag from his uniform. "We know they are paid by the Boko Haram to spy on us."
Mohammed, a gardener working in the economic capital of Lagos, said he had fled from his village of Dikwa, a few miles from a large Boko Haram camp. "The Boko Haram were everywhere. They collected taxes from us. They stripped one Muslim girl naked and beat her because they said she didn't cover her ankles," he said, looking nervous at the mention of the militants.
He said two men had turned up at his grass-roofed house in May. "They said the almajari [religious school] my son was going to was haram [forbidden] because the imam used prayer beads. They gave me all kinds of warnings. They said that I shouldn't cross my arms when I was talking to them because crossing the arms is haram too."
The final straw had come days later when his family were awakened by a neighbour's wailing. "[Boko Haram] told her they took her son to their camp to fight for Allah," Mohammed said. "They said the boy's family is now the Boko Haram. My wife said we should leave that very day."
At the defence ministry in the capital, Abuja, a senior official showed footage found on the mobile phones of alleged Boko Haram members. In one, a suicide bomber barely old enough to be out of primary school showed off his new sunglasses and joked in rapid slang with fellow teenage members as he got behind the wheel of a car packed with explosives. A few minutes later, his friends filmed the car blowing up outside an army barracks.
"Our structure has never been geared towards the current challenges – suicide attacks, IED attacks. These are tactics that until very recently we only saw on television, just like the US was rudely awakened by planes entering into buildings," the official said. "It's not just about training Nigerians how to shoot. We need to look at what terrorism will look like in 20 years from now."
Vigilante groups armed with sticks and machetes prowl the streets of Borno and Yobe, complicating efforts to flush out the insurgents. "They want to help out but they're also a nuisance," said a soldier based in Borno. "They're not professionals and they're not trained for a job like this. They're too many of them and it's hard to manage them."
"The problem is some of them have lost their loved ones during the course of the insurgency and they're looking at vigilantism as a way to get revenge. The bad guys have been pushed out of the towns. They're resorting to ambushes from the villages now, and that is a different kind of warfare."
http://www.guardian.co.uk/world/2013/jul/14/boko-haram-school-attacks-nigeria
----------
Libyan official claims Egypt's ex-president Morsi behind Benghazi attack
July 15, 2013
A letter from a high ranking officer assigned as the chief of the Libyan government's Department of Security has reportedly placed the blame for the Sept. 11, 2012 terrorist attack on the American compound in Benghazi squarely at the feet of the deposed Egyptian president Mohamed Morsi, as reported by the right-of-center news portal World Net Daily (WND) on July 10, 2013.
WND claims they have verified the legitimacy of the letter, as well as having it independently translated by ex-Muslim Brotherhood member Walid Shoebat.
Full report at:
http://www.examiner.com/article/libyan-official-claims-egypt-s-ex-president-morsi-behind-benghazi-attack
----------
Activists demand Omar al-Bashir's arrest in Nigeria
15 July 2013
Civil rights activists are demanding that Nigeria arrest Sudanese leader Omar al-Bashir and deliver him to the International Criminal Court to stand trial for crimes in Darfur.
The Socio-Economic Rights and Accountability Project Monday urged President Goodluck Jonathan "to support the demand by the international community for justice for the victims of genocide and war crimes."
Full report at:
http://english.alarabiya.net/en/News/africa/2013/07/15/Activists-demand-Omar-al-Bashir-s-arrest-in-Nigeria.html
-----------
Southeast Asia
Muslim NGOs want check against "abuse" of social media
JULY 15, 2013
A Facebook photograph of a non-Muslim couple partaking in "bak kut teh", a popular Chinese herbal meat (usually pork) dish, accompanied by a message to all to enjoy the breaking of fast with the dish, has prompted a Muslim non-governmental organisation to urge for a review of the Multimedia Super Corridor Bill of Guarantees to check what it sees as increasingly rampant abuse of social media.
Responding to the provocative action by the couple concerned, Tan Jye Yee (Alvin), 25, and Vivian Lee, 24, Malaysian Muslim Consumers Association (PPIM) representative Datuk Nadzim Johan said the freedom of expression enjoyed by Malaysians has clearly been abused.
"There is a limit to everything…just like how food, if consumed excessively, can cause illness and become toxic," he said yesterday.
The couple were already infamous from previously courting controversy by uploading their sex video clip in Singapore. Last Friday, they uploaded on their Facebook the controversial picture that also had the "halal" logo on it.
Full report at:
http://www.themalaysianinsider.com/malaysia/article/bak-kut-teh-buka-puasa-controversy-muslim-ngos-want-check-against-abuse-of-social-media/
----------
Is a one-for-all national Islamic calendar possible in Indonesia?
July 15, 2013
Muslims in Indonesia have many different ways of interpreting the starting times for new months. The same date could fall on two different days, as happened at the beginning of the Ramadhan fasting month this year.
The Ministry of Religious Affairs has taken measures to face up to and solve this problem. It has done its best to reach a shared perception of the Hilal (new moon) in order to avoid repeating unnecessary disputes among Muslims. The ministry has continuously held and facilitated dialogue among Muslim organizations to reach an agreement on criteria for the new moon that would settle the differences once and for all.
Full report at:
http://www.thejakartapost.com/news/2013/07/13/is-a-one-all-national-islamic-calendar-possible.html
----------
South Asia
Bangladesh Islamist jailed for 90 years for war crimes
AFP | Jul 15, 2013
DHAKA: A special Bangladesh court on Monday sentenced a top Islamist to 90 years in prison for masterminding atrocities during the 1971 war of independence against Pakistan.
Ghulam Azam, 90, the wartime head of the largest Islamic party, Jamaat-e-Islami, and now its spiritual leader, was found guilty of all five charges by the International Crimes Tribunal.
http://timesofindia.indiatimes.com/world/south-asia/Bangladesh-Islamist-jailed-for-90-years-for-war-crimes/articleshow/21081920.cms
----------
Bangladesh in grip of radical ideology
By Tariq A. Al Maeena
July 13, 2013
While most media attention lately has focused on the divisive conflict of ideology between the Muslim Brotherhood and secular parties in Egypt, there is another such conflict going on in another part of the world, albeit with far little global press coverage.
This is happening in Bangladesh, a country with a population of more than 150 million, of which 90 per cent is Muslim. The conflict has become increasingly violent, with lines drawn in blood. It centres around which ideology the country should adopt: Secular or Islamist?
While Shaikha Hasina's government has been credited with pushing ahead reforms, there are roadblocks set by the Bangladesh Nationalist Party (BNP) — the main opposition. This political party has been accused of encouraging radical and fundamental groups to exploit the religion card to oppose some of the government's decrees.
One such group is the Hefazat-E-Islam, which came into focus in 2010 to counter the government's promotion of a secular education policy. More recently, its demands have become even more direct. In March this year, the group released a 13-point list of demands to the government. Included in the list were:
1. Abolishment of all laws in conflict with the values of the Quran and Sunnah, enactment of a blasphemy law to prevent defamation of Allah, the Prophet (PBUH) and Islam with the death penalty as the highest form of punishment, and prevent the spreading of hate against Muslims.
2. An end to all alien cultural practices like immodesty, lewdness, misconduct, culture of free mixing of the sexes, candle lighting in the name of personal freedom and free speech.
3. Abolishment of the current ungodly education policy, and making Islamic education compulsory at all levels — from primary to higher secondary education.
4. Halting the installation of more statues at road intersections and educational institutions to prevent Dhaka, the city of mosques, from becoming the city of statues.
5. The government must immediately refrain from preventing the faithful from carrying out their spiritual duties. Specifically, all the hassles and obstructions at Baitul Mokarram and all mosques in Bangladesh must be removed which prevent the faithful from offering prayer. Also stop creating obstruction for people to attend religious sermons and other religious gatherings.
6. The government must stop the spread of Islamophobia among the youth through depiction of negative characters on TV plays and movies in religious attire and painting negative stereotypes of the beard, cap and Islamic practices on various media.
The group has been emboldened by the support of the Jamaat-e-Islami, a political party whose platform has always been to run the country on Islamic principles and the Sharia. Together they have allied with the BNP.
Faith is personal
Power and religion do not and should not mix. Faith is individualistic, and we have seen in other countries how religion is often distorted for personal gains or triumphs. Today's events in Egypt are a prime example of how a democratically-elected government began to adopt fundamentalism in its governing doctrine and eventually lost the capacity to govern. Historically, there is no success story of governments that adopted rigid religious values to rule.
It is not the religion that is not palatable. It is not lack of faith. It is often the interpretation and application of extreme ideology that is rejected by most people. That ideology is also used to promote the party line and deviates from the simplicity and peace promoted by religious doctrine.
The current state of Islamophobia around the globe must also be attributed to the rise of religious fundamentalists who seek to promote their hardline creed from the corridors of power and will not hesitate to use violence to spread their message.
Swadesh Roy, a respected and renowned journalist in Bangladesh recently expressed alarm at the rising movement of religious parties. He writes, "The two Islamic fundamentalist groups have remained afloat mainly due to the support of the Bangladesh Nationalist Party (BNP) — the main opposition in the country's current government.
All they want is to win the elections, and hold the seat of power, making it so that no development takes place, and change present-day democratic politics into something that works in their favour.
"If Islamic fundamentalist groups come to power through the election, it will be disastrous for the country. Bangladesh will stop continuously developing; its society will be in a state of chaos. Politicians, business leaders, and development partners of the country have to think seriously about the use of the 'religion card'.
"Now is probably the best time to try and keep religion and the state separate. Many countries have strong laws against using religion in elections. Bangladesh too, should introduce a similar law with the help of development partners."
I couldn't agree more, Roy. Religious freedom should be left to the individual to exercise and should not be governed through rules developed by a party whose fundamentalism is in question.
Faith is personal and not a mandate.
Tariq A. Al Maeena is a Saudi socio-political commentator. He lives in Jeddah, Saudi Arabia. Follow him on Twitter at www.twitter.com/@talmaeena
http://gulfnews.com/opinions/columnists/bangladesh-in-grip-of-radical-ideology-1.1208711
---------
Rohingyas struggle to find new home
July 15, 2013
In the corner of the room, Muhammad Hanif had just started to eat with his sister, Hasinah, when Jakarta Legal Aid (LBH) legal consultant came to check on them and their fellow Rohingya refugees on the third floor of the LBH office.
Hanif wore a dull white shirt with a plaid sarong covering his thin, dark-skinned body. The eyes of the 38-year-old man from Myanmar seem tired and lost.
He went to sit on the floor, but the consultant asked him to have a seat on the leather couch. "I don't know what to do anymore. I just want people to help me and my family to get citizenship," he said.
Full report at:
http://www.thejakartapost.com/news/2013/07/15/rohingyas-struggle-find-new-home.html
----------
PPM confirms "talks" with Adhaalath Party over prospective coalition
By Neil Merrett | July 14th, 2013
PPM confirms "talks" with Adhaalath Party over prospective coalition thumbnail
The government-aligned Progressive Party of Maldives (PPM) has confirmed talks have been held with "senior members" of the religious conservative Adhaalath Party (AP) over potentially standing in a coalition for this year's presidential election.
PPM MP and Spokesperson Ahmed Nihan has told Minivan News that "several meetings" had been held between the party's vice presidential candidate Dr Mohamed Jameel Ahmed, AP President Sheikh Imran Abdullah and Islamic Minister Sheikh Mohamed Shaheem Ali Saeed.
Nihan could not provide further details of what conclusion had been reached between the two parties, but claimed that the AP's potential support would be a "huge boost" for the PPM's election campaign.
Full report at:
http://minivannews.com/politics/ppm-confirms-%E2%80%9Ctalks%E2%80%9D-with-adhaalath%C2%A0party-over-prospective-coalition-61088
----------
Former President Nasheed granted Saudi visa for Umra pilgrimage
By Minivan News | July 14th, 2013
Former President Mohamed Nasheed has been granted a visa to visit Saudi Arabia to conduct an Umra pilgrimage, reports local media.
The Saudi Embassy in Sri Lanka requested Nasheed 'hand over' his passport for visa processing and the request has been forwarded to the former president's office, said State Foreign Minister Hassan Saeed.
Parliament Speaker Abdulla Shahid and former Attorney General Ahmed Ali Sawad have also been granted visas, according to local media.
http://minivannews.com/category/news-in-brief
----------
Reconciliation: Afghan peacemakers say Nawaz can broker deal
July 15, 2013
ISLAMABAD: With a new government at the helm of affairs in Islamabad, members of the Afghan High Peace Council are confident in Prime Minister Nawaz Sharif's ability to play a crucial role in brokering a peace deal.
"We are hopeful that Pakistani Prime Minister Nawaz Sharif will help in promoting the peace process in Afghanistan," Qazi Amin Waqad, a senior member of the Afghan High Peace Council said on Sunday.
Talking to The Express Tribune from Kabul, Waqad disagreed with President Hamid Karzai, saying that "dividing Afghanistan has never been Pakistan's policy."
"We should not doubt Pakistan's intentions because this leads to mistrust. Instead we need to bridge the trust deficit," he said.
Full report at:
http://tribune.com.pk/story/577055/reconciliation-afghan-peacemakers-say-nawaz-can-broker-deal/
----------
URL: https://www.newageislam.com/islamic-world-news/new-age-islam-news-bureau/assad-forces-launch-air-raids-in-idlib-province,-killing-29/d/12609