New Age Islam News Bureau
2 Aug 2017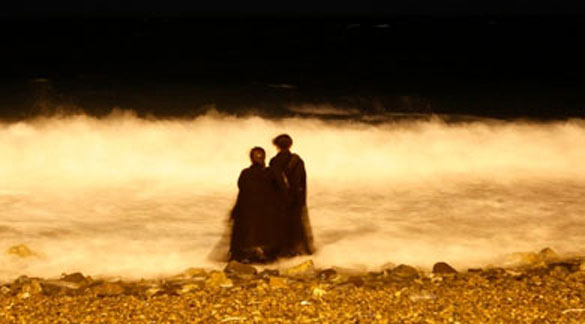 Two veiled Saudi women enjoy the Red Sea at night, in Jiddah, Saudi Arabia on Dec. 26, 2007. (Hasan Sarbakhshian/AP)
----
• Asri Ups the Ante by Citing Shafi'i View on Illegitimate Children
• No Visa, No Veil? Saudi Arabia May Ease Rules for Tourists
• Taliban Rejects Herat Mosque Bombing As Casualties Toll Climbs to 93 People
• Iran Executes 100 People in One Month Alone
• Kolkata Civic Body Elections: Absence of Muslim Candidates Will Send Right Message, Says BJP
Southeast Asia
• Asri Ups the Ante by Citing Shafi'i View on Illegitimate Children
• New Rules for Malay Muslim Minors Seeking To Get Married
• Islamic School Seeks To Steer Sons of Militants to New Path In Indonesia
• Malaysia Government Sparks Anger with Ban on Moderate Islam Book
• Why Are 'Zina' Cases Up Despite 'Bin Abdullah' Policy? Perlis Mufti Asks
• Philippine Police Watching Muslim Hitmen Ahead of International Gathering
• Draft Law to Ensure Rights for Religious Minorities Met With Skepticism
• Home Ministry bans seven publications on Islam, and one 'Saucy Seaside Postcards'
--------
Arab World
• No Visa, No Veil? Saudi Arabia May Ease Rules for Tourists
• Body Organ Trafficking: Militants Focus on Children Now
• Saudi asks US judge to drop lawsuits over 9/11 attacks
• Syria: More Terrorists Defecting from ISIL in Deir Ezzu
• Syrian Army Inches Closer to Last ISIL Bastions in Raqqa Province
• Prisoner exchange between Nusra, Hezbollah militias begins
• US-backed Syria force advances in south of ISIS bastion Raqqa
• UAE says measures against Qatar do not violate global trade agreements
• Fateh al-Sham terrorist group releases three Hezbollah captives
• Saudi gets 8 years in jail for urging end to Saudi, Bahraini rule
--------
South Asia
• Taliban Rejects Herat Mosque Bombing As Casualties Toll Climbs to 93 People
• Drone Strike in Afghanistan Kills Seven ISIS Terrorists: Local Media
• Bangladesh Proposes Awareness-Building among Non-Muslim States to Protect Palestinians
• Explosion in Gardez city in southeast of Afghanistan, casualties feared
• Afghan Air Force conducted 112 sorties in the past 24 hours, MoD says
• ISIS attack on Iraqi embassy in Kabul widely condemned
• Taliban group member says regretting for anti-Afghanistan insurgency activities
• Mohaqiq slams US for interfering in Dostum and Ishchi case
--------
Mideast
• Iran Executes 100 People in One Month Alone
• Zionist Regime Primary Threat to Islamic World: Iran FM
• IRGC Official: Iran Has No Military Base in Foreign States
• 500 suspects on trial in Turkey's biggest coup case
• Muslim states slam 'provocative' Israel actions in Jerusalem
• Israel could soon launch new round of 'nasty' actions in Quds: Palestine FM
• PKK militants kill 2 soldiers in Turkey's east
--------
India
• Kolkata Civic Body Elections: Absence of Muslim Candidates Will Send Right Message, Says BJP
• Gujarat Floods: Muslims' Kar Seva Cleans Flood-Hit Temples
• Time to Cripple Our Ungrateful Separatists
• Jharkhand govt clears bill to ban conversions
• 86 of 117 terrorists killed in J&K this year were from across the border
• Kashmir cop tried to foil NIA swoop on Hurriyat
• Jama Masjid blast case: Court orders framing of charges against Yasin Bhatkal, 10 others, 3 discharged
--------
North America
• US: Qatar Spreads Terrorist Ideology, Tolerant Of Its Funding
• US: Islamic Cemetery In Suburban Minneapolis Is Vandalized
• New Campaign Teaches How to Help When a Muslim Is Harassed
• Despite judicial intervention, Iraqi Christians in the US face uncertain times
• Tillerson: We aim to avoid civil war in Syria after defeating ISIS
--------
Pakistan
• Pakistan Must Reject US Aid, Exit Terror War: Imran
• Democracy Progressing, Says COAS
• Maryam hails PML-N MNAs for upholding party discipline, ideology
• NAB probe against Shahid Khaqan Abbasi closed in December
• Political Parties Cannot Be Disqualified Over a Fake Certificate, SC Tells PML-N Lawyer
--------
Africa
• Jordan Activists Celebrate Repeal of 'Marry the Rapist' Law
• Nigeria: Does the Sultan Need N700 Million House in Abuja?
--------
Europe
• Germany Will Become Islamic State-Angela Merkel
• UK: Ahmadiyya chief calls on Muslims to reject terrorism
• Etihad Airways assisting Australian police with plane attack probe
Compiled by New Age Islam News Bureau
URL: https://www.newageislam.com/islamic-world-news/asri-ups-ante-citing-shafii/d/112062
--------
Asri Ups The Ante By Citing Shafi'i View On Illegitimate Children
August 1, 2017
PETALING JAYA: The spat between two state muftis over the issue of illegitimate children continued today with Mohd Asri Zainul Abidin highlighting a little known view taken by Shafi'i Muslim scholars in allowing the biological father to marry his out of wedlock daughter.
The Perlis mufti said this was based on the position that they do not have family ties.
Majority of Muslims in Malaysia follow the Shafi'i school of thought, one of the four major Sunni schools.
But Asri said while the view could invite criticism, it showed the vast differences of opinions among Muslim jurists of the past.
He said agreeing to disagree with such a view was in the spirit of ijtihad, referring to the process of interpreting Islamic texts to come up with contemporary solutions within the scope of the shariah.
Yesterday, Perak mufti Harussani Zakaria chided Asri for supporting a Court of Appeal decision allowing a Muslim child to adopt the biological father's name instead of the usual practice of affixing "Abdullah".
Harussani said Asri's support was akin to legitimising illicit sex.
"Something that has been decided for centuries cannot be changed as it was made based on the Quran, hadith and ijma (consensus among jurists).
"I hope these ulama are careful. We should stick to a consensus that has been there for ages," he said.
In the judgment released last week, judge Abdul Rahman Sebli said the National Registration Department (NRD) had acted outside its powers by relying on a fatwa, adding that both Muslims and non-Muslims were subjected to the Births and Deaths Registration Act 1957.
The decision was not well received by conservative Muslim groups, who said it undermined the fatwa committee's say in Muslim affairs.
Deputy Prime Minister Ahmad Zahid Hamidi had also urged Muslims to unite behind religious authorities in appealing the court's decision.
Asri today said it was important that Islamic jurisprudence be able to offer solutions to contemporary problems in a fast changing world.
"Obsession and shallowness cause us to fail in solving new problems," he added.
Asri also cited other strict interpretations of the Islamic texts by past jurists, including the four Sunni schools' prohibition on musical instruments.
"We don't hear anyone expressing alarm that people were abandoning the majority views of the jurists. In fact, some who hold firm to these schools of thought still listen to music, watch movies with music in them and have music on their mobile phones. Why do they not say they too have strayed from the religion?" asked Asri.
http://www.freemalaysiatoday.com/category/nation/2017/08/01/asri-ups-the-ante-by-citing-shafii-view-on-illegitimate-children/
--------
No visa, no veil? Saudi Arabia may ease rules for tourists
Aug 01, 2017
Saudi Arabia has announced plans to build a "semi-autonomous" visa-free travel destination along its northwestern Red Sea coast.
The Red Sea area will include diving attractions and a nature reserve — and there are suggestions that the kingdom's strict rules on women's veils and gender segregation could be waived in the tourist haven.
The resort area will be developed with seed capital from the country's Public Investment Fund.
The fund said Monday the project will be built along 125 miles (200 kilometers) of coastline and is tailored toward global luxury travellers and those seeking wellness travel, a genre of tourism associated with personal well-being and health.
The Saudi Commission for Tourism did not immediately respond to an Associated Press request for more details on the rules.
http://www.hindustantimes.com/world-news/no-visa-no-veil-saudi-arabia-may-ease-rules-for-tourists/story-q7ouqvRqLlWwlW3rcg8fRI.html
--------
Taliban Rejects Herat Mosque Bombing As Casualties Toll Climbs to 93 People
Aug 02 2017
The Taliban group in Afghanistan has rejected role in a deadly suicide attack on a mosque in western Herat province of Afghanistan.
A spokesman of the group Qari Yousuf Ahmadi has said the group has links with the attack on Jawadia mosque in Herat city.
The local officials are saying that the death toll from the deadly attack has climbed to at least 29 people while 64 others are wounded.
Provincial governor's spokesman Jilani Farhad said the attack was carried out by two suicide bombers who initially started spraying the prayer participants with bullets before detonating their explosives.
The attack on the mosque sparked furor among the local residents who also started to attack a check post located close to an area where the incident took place.
No group or individual has so far claimed responsibility behind the incident.
However, majority of such attacks have been carried out by the militants loyal to the Islamic State of Iraq and Syria (ISIS) terrorist group during the recent months although similar attacks have also been carried out by the Taliban insurgents in the past.
Last night's attack followed a day after the ISIS terrorist group carried out a coordinated suicide attack on the embassy of Iraq in Kabul.
The attack was repulsed following a four hour clash between the security forces and the remaining assailants, at least two Afghan workers of the embassy dead and three others wounded.
http://www.khaama.com/taliban-rejects-herat-mosque-bombing-as-casualties-toll-climbs-to-93-people-03261
--------
Iran executes 100 people in one month alone
2 August 2017
The Iranian Human Rights Organization announced that the Iranian authorities executed over one hundred people during the month of July.
In a report received by Al Arabiya, the organization reported that the Iranian authorities only declared eight executions.
The report confirmed that the Iranian judicial authorities stopped execution just during the month of Ramadan in July, but resumed the executions again after the Eid.
This came at a time when the Iranian parliament approved a draft resolution on the review of the death penalty and commute it to prison sentences against traffickers and drug dealers.
Due to some administrative obstacles, the draft resolution was turned for a re-vote to the Judicial Committee of the Iranian Shura (parliament), according to the Iranian human rights organization.
The organization has repeatedly called on the judicial authorities to stop all executions and abolish the death penalty from the Iranian Penal Code.
Mahmoud Amiri Muqaddam, the spokesman for the Iranian human rights organization, said that if the new draft law was passes in parliament, those sentenced to death for drug crimes would only serve time in prison.
Muqaddam expressed his surprise that the authorities continue to carry out executions against those convicted of drug-related crimes, even though the death penalty had not been effective in combating the spread of drugs and reducing the phenomenon of addiction.
Three million addicts
Last month, for the first time in years, Iran's anti-drug committee revealed that the number of addicts in Iran exceeded 3 million, while study centers predicted that the number would be much higher.
"This increase in the number of addicts in recent years comes at a time when mass executions are increasingly rampant over drug crimes," says the Oslo-based human rights organization.
The organization has documented nearly 3,000 drug-related executions based on statistics from January 2010 to January 2017, where more than 2,993 people were executed for drug-related offenses.
In 2017 alone, more than 130 people were executed for drug crimes.
https://english.alarabiya.net/en/features/2017/08/02/Iran-executes-100-people-in-a-month.html
--------
Kolkata Civic Body Elections: Absence of Muslim Candidates Will Send Right Message, Says BJP
August 2, 2017
With two of its Muslim candidates withdrawing their nomination under alleged pressure from Trinamool Congress activists, the state BJP currently has no Muslim candidate for the civil body polls on August 13. The BJP fielded two Muslim candidates this year, as opposed to the previous civic election in May, when it had put up 10 Muslim candidates. Asked to comment on whether absence of Muslim candidates will send a wrong message to minorities, state BJP president Dilip Ghosh said the party does not win elections on Muslim votes.
"Instead of sending a wrong message, absence of Muslim candidates will send right message to people. BJP does not win elections by riding on Muslim votes. The party wins elections with the help of Hindu votes. This has been proved in Uttar Pradesh Assembly election. However, we are giving opportunities to Muslims in places where they are coming to our party, like in Panskura Municipality," Ghosh told The Indian Express.
According to state BJP Minority Morcha president Ali Hossain, the party did not feel the need to field Muslim candidates, as the poll-bound civic bodies do not have large number of Muslim populations.
"In Panskura municipality, we had fielded two minority candidates in ward 2 and 15. But due to TMC's intimidation, they had withdrawn their nomination. We do not have a Muslim candidate in other poll-bound civic bodies. It is because these civic bodies do not have a large Muslim population," Hossain told The Indian Express.
The minority morcha chief is also the state BJP's election co-observer for Panskura Municipality.
Elections to seven civic bodies – Durgapur Municipal Corporation, Dhupguri municipality, Buniadpur municipality, Coopers' Camp Notified Area, Nalhati municipality, Panskura municipality and Haldia municipality will be held on August 13. Out of 148 wards in these seven civic bodies, BJP does not have a single Muslim candidate.
In the previous civic polls, which were held in May, the party had fielded 10 Muslim candidates in Domkol and Pujali municipalities, which had a large population of Muslims.
http://indianexpress.com/article/india/civic-body-elections-absence-of-muslim-candidates-will-send-right-message-says-bjp-4778224/
--------
Southeast Asia
New Rules for Malay Muslim Minors Seeking To Get Married
BY TOH EE MING
AUGUST 1, 2017
SINGAPORE — Muslim couples with at least one person aged below 21 when tying the knot will have to attend a compulsory marriage preparation programme, and the minor's parents or guardians are also required to give consent to the marriage. These were among the slew of changes to the Administration of Muslim Law Act (AMLA) which were passed in Parliament on Tuesday (Aug 1).
Previously, only the consent of the wali — the lawful guardian for the marriage of a Muslim woman — is needed for marriage involving a minor.
As part of the amendments aimed at strengthening Muslim families, couples seeking a divorce will also have to attend a marriage counselling programme.
During the debate on the Bill, Minister-in-charge of Muslim Affairs Yaacob Ibrahim noted that Muslim marriage numbers are on the rise while those involving at least one person below 21 years at the time of marriage have been in steady decline. Divorce rates have remained relatively stable.
"While these are positive trends, the fact remains that minor marriages are more vulnerable. For example, in the case of Muslim marriages involving younger grooms, the recent marriage cohorts have experienced 1.5 times the divorce rate compared to older grooms," he said.
Under the amended law, minor couples have to attend a pre-marriage programme approved by the Ministry of Social and Family Development. The couples must complete the programme together before the application for marriage is made.
Likewise, divorcing couples will have to first attend the Syariah Court's Marriage Counselling Programme, before seeking a divorce, so as to see if the marriage can be saved. If the couple goes ahead with the divorce, they will be able to discuss care and living arrangements for their children, and be referred to financial assistance or education support.
Over 33,000 couples have been counselled since the programme's launch in 2004, and almost half of these marriages have been salvaged, said Dr Yaacob.
He noted that about 64 per cent of divorce cases in the last five years involved at least one child of the marriage under 21 years old, with more than 85 per cent of these involving at least one child under 14 years old.
Changes were also made to the AMLA to strengthen the management of Muslim assets including the wakafs (Muslim endowments) and the Mosque Building and Mendaki Fund.
This year, the Islamic Religious Council of Singapore (Muis) disbursed S$3.1 million of the revenue generated from wakafs to various beneficiaries such as mosques, madrasahs, and Muslim organisations. This amount was almost 3 per cent more compared to the previous year, said Dr Yaacob.
Under the changes proposed, a trustee or mutawalli (those appointed to manage the wakaf) can be removed if he fails to give information or particulars as required by Muis, or does not allow Muis to inspect the wakaf properties, accounts, and records.
Previously, Muis can do so when it appears that the wakaf has been mismanaged, or if there have been no trustees appointed.
But for these conditions to be met, the wakaf "might already be in jeopardy", Dr Yaacob pointed out. Muis will need to give prior approval in writing on the appointment of a new trustee, to ensure they are qualified to manage the wakaf.
http://www.todayonline.com/singapore/new-rules-kick-muslim-minors-seeking-get-married
--------
Islamic school seeks to steer sons of militants to new path in Indonesia
Aug 2, 2017
Indonesia: The slim boys in Muslim caps and robes at the Al Hidayah Islamic boarding school are grinning bolts of energy who love football, need a little coaxing to do their math and Quran lessons assiduously and aspire to become policemen or respected preachers.
Their school, like many in rural Indonesia, started as a modest affair with a dusty yard, spartan sleeping quarters and an open-air classroom with a dirt floor and corrugated iron roofing. The boys, though, have been spoken to roughly by villagers, the school's banners and billboards trampled and burned, and its head teacher reported to police.
The 20 pupils are the sons of Islamic militants, reviled by most Indonesians for killings and other acts of violence that they justified with distorted interpretations of Islam. Nearly half of the boys' fathers were killed in police raids, and in some cases the children witnessed the deaths. Most of the other fathers are in prison for terrorism offenses.
Al Hidayah's founder, Khairul Ghazali, is a former radical preacher whose involvement in militancy stretches back decades. He was recruited at age 19 by Abdullah Sungkar, the now-deceased leader of the Jemaah Islamiyah terror group responsible for attacks including the 2002 Bali bombings that killed more than 200 people.
Nowadays, the soft-spoken Ghazali, 52, professes to be a changed man who wants to atone by preventing his young charges, who were ostracized and taunted at mainstream schools, from becoming the next generation of Indonesian jihadists. His three sons attend the school.
A turning point, he said, came in 2010 when anti-terror police raided his home in North Sumatra and shot dead two other militants, wanted for killing police officers, in front of him, his wife and children. In prison, he dwelt on his decades of jihad and in the hours spent poring over the Quran found his past wanting. With the encouragement of prison officials, he wrote several books against radicalism, earning the enmity of other jihadists who denounced him as an infidel who deserves death.
"It's hurt our innocent children. It's hurt us," said Ghazali, who was released in 2015 after serving four years for offenses that included a major bank robbery to fund attacks. "Stigmatization, poverty and the fact that many innocent people were killed and the destruction we caused all accumulated into an inner torment."
Ghazali's school in North Sumatra is supported by counterterrorism officials but is only a small dent in a largely undiscussed problem. By his reckoning, there are at least 2,000 sons and daughters of killed and imprisoned militants at risk of becoming battle fodder for a new wave of jihadism.
Indonesia has had successes in rooting out violent militants but officials acknowledge risks remain. A 2015 Pew survey of Indonesians showed that 4 percent, or about 10 million people, had a favorable attitude toward the Islamic State group. A survey by Saiful Mujani Research and Consulting in May this year showed 9 percent support Indonesia, the world's most populous Muslim nation, changing from a secular to an Islamic state. A few Islamic boarding schools churn out students susceptible to violent radicalization.
The IS group's declaration of a caliphate over swaths of territory it temporarily held in Iraq and Syria, and more recently the occupation of the southern Philippine city of Marawi by IS sympathizers, has provided a psychological boost to militant networks in Indonesia that had been atomized by a sustained crackdown. As the group's territory in the Middle East shrinks, officials fear Indonesians who fought there, or in Marawi, will return to Indonesia and provide leadership and skills that could help produce more lethal attacks.
Sitting in a classroom just after dawn with students whose ages range from 9 to 15, Ghazali tells them stories about the life of the Prophet Muhammad to show them, he said, that Islam is a religion of love and mercy, not an ideology to justify a war against police, currently the most frequent target of militant attacks in Indonesia.
Abdullah, 13, and his two younger brothers were sent by their mother to Ghazali's boarding school last year because of the hostility they faced at their regular school.
"I can't stand the taunts at school," he said, his lips trembling. "I dropped out when I was in the third grade and I had to move from place to place. I was insulted as a terrorist kid when my father was in prison. I was so sad."
Abdullah said his favorite activities at school are football and Arabic lessons. He aspires to become an Islamic teacher because "there are many people who claim to know Islam but actually they don't know what Islam is and how to practice it."
The initial hostility the school faced when it opened in 2015 has faded. Local police talked to villagers, raising awareness about its purpose. A stream of officials from the district and provincial governments and the military visited to show their support.
Villager Hendra Widiarto, who lives about 300 meters (yards) from the school, said lack of information about it and its makeshift appearance made locals suspicious, and they became confrontational when they learned about the backgrounds of Ghazali and the students.
Nowadays, Widiarto, a carpenter, helps Ghazali make cabinets and bookshelves for the school. Every Friday, people from surrounding villages and students from government schools come to Al Hidayah to pray.
"If ever possible, I want my own two children to learn morals and discipline at this school," he said.
At the request of the National Agency for Counter-Terrorism, the local government last year provided 30 hectares of land next to the school and agency's chief collected donations from companies and businessmen that allowed a substantial mosque and two sturdy classrooms, painted lime green, for up to 60 students to be built. The original open-air classroom now has a tiled floor and construction of better living quarters will start next month; Ghazali said that will allow the boarding school to also accept the daughters of militants and kids with ordinary backgrounds.
Another school that can cater to 100 students has been set up with the counterterrorism agency's assistance in Lamongan, the East Java hometown of three brothers who assembled a massive bomb used in the 2002 Bali attack.
"These children are victims of their parents' wrong ideology," said Suhardi Alius, chief of the counterterrorism agency, who wants schools for children of jihadists to be established in areas known as hotbeds of Islamic militancy such as Poso in Sulawesi and Bima in West Nusa Tenggara.
"If these children are not rescued they will follow what their parents did," Alius said, citing the example of the 19-year-old son of executed Bali bomber Imam Samudra who police say was killed in a battle in Syria in 2015.
Alius describes Ghazali as "totally changed" and taking the right course by drawing on his experience to prevent others from taking up violence.
"The state should support him because people become radical not within a day or two, but it takes a long process, so to deradicalize them we also need a long process," he said.
Six teachers from provincial schools are voluntarily helping Ghazali and his wife teach the standard national curriculum plus religious studies, Arabic and farming at Al Hidayah.
One of them, Muhammad Haris Iskandar, 51, a math teacher and vice director at a public school in Medan, Indonesia's third-largest city, said he left his formal job because of the rare challenge offered by Al Hidayah.
"This school is very special for me," he said.
He and the other volunteers are not only educators and motivators, but also healers and role models for children traumatized by their family's radicalism and society's reaction to it, Iskandar said.
The teachers also need to be combative and argue persuasively, he said, because the students sometimes doubt what they are taught about Islam when they compare it with what they absorbed from their parents.
For example, he said, they have questioned why non-Muslims should not be regarded as infidels who can be killed.
Dimas, 14, said he regrets the crimes of his father, who was arrested in 2014 for trafficking drugs to fund extremism and is serving a 10-year prison sentence.
Full report at:
http://nation.com.pk/international/02-Aug-2017/islamic-school-seeks-to-steer-sons-of-militants-to-new-path
--------
Malaysia government sparks anger with ban on moderate Islam book
AUG 1, 2017
KUALA LUMPUR (AFP) - Activists and authors in Muslim-majority Malaysia reacted with outrage on Tuesday (Aug 1), after the authorities banned a book aimed at promoting moderate Islam, as concerns mount over growing conservatism.
The book, Breaking The Silence: Voices Of Moderation - Islam In A Constitutional Democracy, is a collection of essays whose publication was organised by a group of prominent Muslim Malaysians pushing for a more tolerant form of Islam.
The ban, signed by Deputy Prime Minister Ahmad Zahid Hamidi, said that printing or possessing the book was "likely to be prejudicial to public order" and "likely to alarm public opinion".
Anyone breaching the ban on the book - which was published in neighbouring Singapore - can be jailed for up to three years.
Malaysia routinely bans books, movies and songs that may contain sensitive material regarding religion or sex, but critics say the government has been clamping down harder in recent times.
The book was the brainchild of a group of high-ranking former civil servants and diplomats known as the "G25" - for the number of its founding members - which was formed to push back against intolerance, and some of the essays were written by its members. Chandra Muzaffar, one of the authors featured in the collection, said the ban showed the government's "authoritarian approach to Islam".
"It's a collection of essays which is intended to show that extremists and bigoted thinking on matters pertaining to the practice of Islam in the country should be combated in an intellectual manner," he told AFP.
Marina Mahathir, a rights activist and daughter of former long-serving premier Mahathir Mohamad, said the ban - signed last week - was aimed at silencing government critics.
"It is about silencing anybody who has a different view," she said.
Critics say the government clampdown on anything deemed un-Islamic has accelerated in recent times as Prime Minister Najib Razak's party seeks to appeal to its Muslim Malay base amid speculation elections could be called in the coming months.
In July, the hit song Despacito was banned on state TV and radio due to its racy lyrics after pressure from an Islamic political party.
Full report at:
http://www.straitstimes.com/asia/se-asia/malaysia-govt-sparks-anger-with-ban-on-moderate-islam-book
--------
Why are 'zina' cases up despite 'bin Abdullah' policy? Perlis mufti asks
August 2, 2017
KUALA LUMPUR, Aug 2 — Datuk Mohd Asri Zainul Abidin refuted today assertions that the Perlis fatwa allowing children conceived outside marriage to bear the names of their biological father would promote the practice of 'zina', or illicit sex.
The Perlis mufti suggested instead that the decree to use the 'bin Abdullah' name for the children promotes 'zina' and at the same time has failed to curb the rising cases of the Shariah offence.
"There are those who state that Perlis fatwa can be a factor promoting 'zina'. I would like to ask, all this while the 'bin Abdullah' fatwa was implemented over the Perlis fatwa, where did the tens or hundreds of thousands of 'zina' cases come from?
"Did the 'bin Abdullah' fatwa fail to reduce 'zina' cases? Why has the number of cases increase over time?" said a post on his official Facebook page, in reply to a question on the matter from the public.
Asri also asked the benefit of having thousands of Muslims branded of 'zina' by their name.
"Isn't that indirectly a promotion and making the 'zina' story public by their name branded with 'bin Abdullah'?" he asked.
Under fire, he explained that the Perlis fatwa is a reasoning made by choosing the opinions of Islamic jurists by taking in the realities and tendencies of the present.
Asri also suggested that using 'bin Abdullah' would destroy the Muslim family institution, since it would turn children disrespectful towards their parents that committed 'zina' when the latter should have been their role models.
"The mentality of the current generation is different from the times when the jurisprudent tomes were written," he said.
The Court of Appeal on July 25 released the written judgment of their landmark decision that the NRD director-general is not obliged to apply and is not bound by fatwa or religious edicts when deciding on whether a Muslim child born out of wedlock could take on his father's name.
It previously ruled that such a Muslim child has the right to bear his father's name.
The NRD is seeking to appeal the judgment and has said it will continue with its current practice until the Federal Court — Malaysia's highest court — rules on the matter.
The naming of Muslim children conceived out of wedlock using 'Abdullah' in place of their father's name in official documents from birth certificates to identity cards risks exposing them to the stigma of being illegitimate.
Yesterday, the Federal Territories mufti Datuk Zulkifli Mohamad said sparing illegitimate Muslim children from name-shame is a short-sighted measure when rooting out 'zina' is the long-term answer to ending the stigma for children conceived outside marriage.
Full report at:
http://www.themalaymailonline.com/malaysia/article/why-are-zina-cases-up-despite-bin-abdullah-policy-perlis-mufti-asks#YJYJFsTyevUxlqSW.97
--------
Philippine Police Watching Muslim Hitmen Ahead of International Gathering
Aug 2, 2017
Manila. Philippine security forces are monitoring a group of former Maoist assassins who joined Islamist militants as a possible threat to this week's 50th anniversary meeting of Southeast Asian foreign ministers, Manila's police chief said on Tuesday (01/08).
Twenty-seven foreign ministers from the Association of South East Asian Nations and its dialogue partners like Japan, the United States, India, Canada and Russia, will gather in Manila from Friday until Tuesday.
Metro Manila's police chief Oscar Albayalde said there was no specific threat so far, but police were monitoring several "Balik-Islam," or Christians who converted to Islam. They were former hitmen of the communist Alex Boncayao Brigade, or ABB, a group of assassins that was active in the 1980s.
He said the men had joined pro-Islamic State militant groups in the Philippines and could be planning to disrupt the upcoming meetings of foreign ministers.
"We are watching several enclaves where there are large numbers of Muslim populations," he said.
Among those is Quiapo, an old commercial district close to the presidential palace area, where a bomb during an Asean leaders' summit in April wounded 14 people. The authorities said the motive was a personal dispute.
Security forces have been on high alert since an alliance of pro-Islamic State fighters laid siege to the southern Marawi City on May 23, a battle that is still ongoing and has killed more than 650 people, mostly rebel fighters.
Albayalde said that although the ABB was small and has long been dormant, the conversion of some of its members to Islam meant it needed to be watched.
Full report at:
http://jakartaglobe.id/international/philippine-police-watching-muslim-hitmen-ahead-international-gathering/
--------
Draft Law to Ensure Rights for Religious Minorities Met With Skepticism
Aug 2, 2017
Jakarta. The head of the Ministry of Religion's Interfaith Harmony Forum said on Monday (31/07) that the government is currently drafting a law that will guarantee the rights of religious minorities across the country.
"The government [currently] only recognizes six religions, while more than four million people who follow religions outside of those six are not served by the government [...] We want to solve this problem," Ferimeldi said during an open forum on interfaith relations in Jakarta.
The government will seek to change the status quo through the new Religious Rights Protection Bill, which is expected to be presented to the House of Representatives before the end of the year, largely because existing regulations are insufficient to allow the government to assist religious minorities.
Muslims make up 87 percent of Indonesia's population of roughly 250 million people, whereas Christians and Catholics – the government classifies both separately – make up 7 and 3 percent of the population, respectively. Other prominent religions found across the archipelago include Hinduism, Buddhism and Confucianism.
Indeed, Confucianism, practiced by many of the country's ethnic Chinese, was originally identified as an official state religion under Indonesia's first president, Soekarno, but was later removed from the Constitution under Soeharto's New Order Regime, which recognized only five religions.
After Soeharto's downfall in 1998, however, President Abdurahman Wahid, known commonly as Gus Dur, threw out a 1978 Home Affairs Ministry decision that previously wiped Confucianism off the list of official state religions.
While Java and Sumatra, two of Indonesia's most populated islands, are largely Muslim, some smaller islands are comprised mostly of religious minorities. Bali, for instance, is over 80 percent Hindu, while North Sulawesi comprises a population that is more than 60 percent Christian.
Dark Side of Democracy
Throughout Indonesia's relatively short history, religious minorities have faced an array of discrimination and prejudice, including being the victims of pogroms and unwarranted imprisonment, most notably during the 1965 anti-Communist killings and the 1998 riots.
Febi Yonesta, chairman of refugee rights advocacy group Suaka, said discrimination against religious minorities contradicts the country's 1945 Constitution, which on paper suggests equality for all citizens regardless of religious background.
"I have observed that such continuous violations [have been] caused by a lack of political will of the government [...] to find durable solutions in upholding the rights of religious minorities," Febi said, labeling this dilemma the "dark side" of Indonesian democracy.
The Suaka chairman noted that religious minorities face difficulties in everyday life, even in basic things such as obtaining government-issued identity cards or birth and death certificates.
For instance, the Ahmadiyya sect, or a branch of Islam found in West Nusa Tenggara, were forced from their ancestral land in Ketapang village, West Lombok regent, in February 2006 due to their unpopular teachings, which many Sunni Muslims view as blasphemous. Many Ahmadiyya followers still do not have access to ID cards or birth certificates.
'Highly Toxic Regulation' Repackaged
Yenny Wahid, executive director of the Jakarta-based Wahid Foundation, said present and future administrations are unlikely to rise up to the challenge of officially recognizing a religion due to "political costs."
She cited the backlash that her father Gus Dur faced after re-declaring Confucianism as the sixth officially recognized religion in Indonesia.
New York-based Human Rights Watch's (HRW) senior Indonesia researcher, Andreas Harsono, referred to the bill as "nothing less than a repackaging of highly toxic regulations against religious minorities in Indonesia."
Full report at:
http://jakartaglobe.id/news/draft-law-ensure-rights-religious-minorities-met-skepticism/
--------
Home Ministry bans seven publications on Islam, and one 'Saucy Seaside Postcards'
August 2, 2017
PUTRAJAYA, Aug 2 ― The Home Ministry (KDN) has gazetted prohibition orders against eight publications whose contents pose a threat on public interest, public peace and morals as well as disturbing the mind of the people.
KDN Secretary-General Datuk Seri Alwi Ibrahim said the gazette on the prohibition order was issued under Section 7(1) of the Printing Presses and Publications Act 1984 (Act 301).
"The order stipulates that the printing, importation, production, reproduction, publishing, sale, issue, circulation, distribution or possession of that publication is absolutely prohibited in Malaysia," he said in a statement today.
Alwi said five publications were found to contain facts that were confusing and contradictory to the teachings of Islam according to the Sunnah Wal Jamaah Sect practised in this country.
"Such publications are also found to be capable of confusing the public and categorised as deviating from the true teachings of Islam," he said.
The publication is titled Isu Semasa Dalam Risalah: Hukum Barat Pun Islam, Isu Semasa Dalam Risalah: Konsep Kebebasan dan Agama, Menuju Reformasi Perundangan Islam, Zainab Srikandi Cucu Baginda Muhammad SAW and Imam Mahdi Yang Ditunggu Dan Malapetaka Akhir Zaman.
Alwi also said that two publications carried elements that insulted the Islamic religion and the country.
"The two publications can give negative implications from the aspect of national security," he said referring to the title of the publication Al-Yahud: Eternal Islamic Enmity & The Jews and From Majapahit to Putrajaya: Searching for Another Malaysia.
Full report at:
http://www.themalaymailonline.com/malaysia/article/home-ministry-bans-seven-publications-on-islam-and-one-saucy-seaside-postca#EfJ2h2JzF2ufU5Yi.97
--------
Arab World
Body Organ Trafficking: Militants Focus on Children Now
Aug 01, 2017
The Kurdish-language Hawar news quoted a local source as saying that a group of mercenaries have embarked on kidnapping children and trading their body organs.
The source told Hawar news that seven children have been kidnapped in the town of Qabaseen near the town of al-Bab in the last seven days, and evidence and proofs indicate that they have been abducted by the same group that operates with Turkey's help.
The report further mentioned that some other children had also been taken earlier in similar cases and no one knows anything about their fate.
The source told Hawar news that the gangs use females to deceive and kidnap children from Kurdish villages and sell their body organs to Turkish traders.
Media sources disclosed in February that body organs of three injured members of Ahrar al-Sham terrorist group were cut out and stolen by the Turkish medical staff.
The Arabic language al-Hadath news website quoted field sources as saying that the body organs of three militants were cut out and stolen at a hospital in Southern Turkey.
The sources said three members of Ahrar al-Sham that had sustained major injures in a suicide operation of the ISIL and had been transferred to a hospital in Gaziantep border town in Southern Turkey, lost their lives in there.
Al-Hadath added that the three hospitalized militants had sustained injuries in their legs and feet but they had gone under an upper body surgical operation at the center, and some of their body organs were cut out and stolen by the medical staff at the hospital.
The news website underlined that it was not the first time that the body organs of injured militants were stolen at the hospitals of Gaziantp, Kilis and Urefa in Turkey.
"Stealing the body organs of injured militants in Turkish hospitals could have been coordinated directly with Ahrar al-Sham commanders as human body organ is now a main source of revenue and an established trade for the terrorist groups in Northern Syria," field sources were quoted by al-Hadath as saying.
A journalist, who has recently paid a visit to a camp of Syrian refugees in the Greek Lisfous island, disclosed in Jun that there had been close cooperation between the Turkish and Israeli gangs in the trafficking of Syrian refugees' body organs, specially their kidneys, to other countries.
The Israeli regime and its citizens had widely been identified in past years as the prime culprit in organ trafficking across the world.
"There are too many corpses floating through the Mediterranean sea, mainly between the Turkish waters and Greek abandoned islands," the journalist said in his investigation.
"Stiches on belly of the Syrian refugees' corpses testify that their kidneys have been taken out before their death," the journalist quoted Greek fishermen of Lisfous island as saying.
"The Syrian refugees go under illegal surgery in Turkish hospitals to take their organs out, and then their bodies are thrown away to the sea," the Greek fishermen went on to say.
"An Israeli citizen, borne in Ukraine, was arrested by the Turkish police last Decembers on charge of purchasing the organs of Syrian refugees from Turkish private clinics. Boris Voker, whose real name was Welfman, had carried out similar operations in Azerbaijan, Seri Lanka and Kosovo between the years 2008 till 2014 and had earned over 70,000 Euros," he said.
"There must be powerful hands and officials behind this process and illegal surgeries of Syrian refugees and rapid transferring of their separated organs to other countries. The separated Kidneys can stay alive only for 48 hours, but costumes formalities in airports and border-crossings last a long time, so their must be very close cooperation between the organ traffickers and relevant official in the host countries of Syrian refugees, including Turkey," the journalist stressed in his investigation.
http://en.farsnews.com/newstext.aspx?nn=13960510001469
--------
Saudi asks US judge to drop lawsuits over 9/11 attacks
Aug 2, 2017
Saudi Arabia has asked a US judge to dismiss the lawsuits that hold Riyadh responsible for the September 11, 2001 attacks and seek damages for the victims.
Lawyers representing Saudi Arabia made the request in papers filed with Manhattan federal court on Tuesday, arguing that the plaintiffs had so far failed to generate sufficient evidence to subject the kingdom to the $100-billion lawsuits.
The plaintiffs' claims are based on thousands of pages of hearsay and speculation, which are "insufficient to support the findings required for jurisdiction over Saudi Arabia," the lawyers said.
Those, who had brought the lawsuits against Riyadh, had reached "grandiose conclusions" that far exaggerate the importance of "threadbare allegations and nonexistent evidence," they added.
Some 3,000 people died in the 9/11 attacks, after four hijacked passenger planes were crashed into the World Trade Center in New York, the Pentagon and a Pennsylvania field. Fifteen of the 19 hijackers were from Saudi Arabia.
In 25 cases, hundreds of victims' relatives and injured survivors, along with insurance companies and businesses say, the Saudi government assisted the attacks through a variety of activities in support of the al-Qaeda militant group over a number of years.
James Kreindler, a lawyer representing the wrongful death claimants, said Tuesday's filing was "expected."
"We have tons of allegations of what many Saudis and the country's alter ego charities did. Saudi Arabia cannot hide from the facts," he added.
Additionally, the 9/11 Families and Survivors United for Justice Against Terrorism, a New Jersey-based group, said there is plenty of evidence against the Riyadh regime.
"It's been almost 16 years since 9/11, and the kingdom of Saudi Arabia continues to do everything possible to duck, dodge and distract from the overwhelming evidence that their government officials and agents aided and abetted these horrific attacks," said Terry Strada, the group's national chair.
In September 2015, US District Judge George Daniels tossed Saudi Arabia out as a defendant.
One year later, however, the US Congress passed legislation, known as the Justice Against Sponsors of Terrorism Act (JASTA), that eliminated some defenses and enabled the 9/11 victims to reassert their claims.
Full report at:
http://www.presstv.ir/Detail/2017/08/02/530454/Saudi-Arabia-US
--------
Syria: More Terrorists Defecting from ISIL in Deir Ezzu
Aug 01, 2017
The sources said that a number of ISIL members in the town of Albu Kamal in Southeastern Deir Ezzur have cut relations with the group and fled the town after the terrorist group ordered them to move to the frontline.
The sources added that ISIL, in a decree, confiscated the properties of those who have escaped, and established several checkpoints to arrest those on the run.
The army's advances in Eastern Homs and in Southeastern Raqqa towards Deir Ezzur have intimidated a large number of ISIL commanders, inciting them to flee the battlefield.
Relevant reports said on Monday that the US fighter jets targeted a medical center in the town of Albu Kamal in Southeastern Deir Ezzur, killing and wounding a number of civilians, including women and children.
Full report at:
http://en.farsnews.com/newstext.aspx?nn=13960510001092
--------
Syrian Army Inches Closer to Last ISIL Bastions in Raqqa Province
Aug 01, 2017
The army men engaged in a fresh round of clashes with ISIL and drove them out of the villages of Arhabi, al-Sharideh, Qabli, al-Sabkheh, Qanem al-Ala, Wadi al-Kharar and al-Sab'eyat.
Meanwhile, a military source said that after the recent advances, the army imposed control over a long chunk of Raqqa-Deir Ezzur road and deployed only 4km away from the town of Ma'adan at Deir Ezzur's border with Raqqa.
In the meantime, the army soldiers laid siege on the ISIL in the village of Zour Shemr.
Also, the army has gained military control over the villages of Abu Hamad and Salim Hama from Wadi al-Kharar direction.
The army units, also, overlook the village of Huweija Ashraf from Qabli direction.
Relevant reports said on Monday that the army troops advanced significantly against ISIL in areas South-East of Raqqa province, laying siege on the terrorist in several regions.
The army continued to clash with ISIL in Southeastern Raqqa near the provincial border with Deir Ezzur and imposed control over Khirbet Abu Matar region Southeast of the village of Salam Alaykom.
A military source confirmed that the army has deployed on the Southern bank of the Euphrates River, and laid siege on ISIL in the regions of Zour Shemr, al-Sabkheh, Shrideh, al-Jebeli, Arhabi, Rajm Haroun and Tal al-Maroud.
Full report at:
http://en.farsnews.com/newstext.aspx?nn=13960510000424
--------
Prisoner exchange between Nusra, Hezbollah militias begins
1 August 2017
An exchange of prisoners between the Lebanese Hezbollah militia and the Nusra Front began on Wednesday with four detainees held by the Lebanese security forces being handed over for three members of the militia.
The exchange deal comes after days of fighting between Hezbollah militias and militants of the Nusra Front in the border area between Lebanon and Syria, which includes Arsal on the Lebanese side and the Qalamun Mountains on the Syrian side.
Under a local ceasefire between the Lebanese Shiiite group and the Sunni militants, the transfer of around 10,000 Syrian militants, their families and other refugees by bus from Lebanon into rebel-held Syria is expected to begin on Wednesday morning, Abbas Ibrahim, head of Lebanon's General Security, told Reuters.
The transfer was agreed under a ceasefire deal between Hezbollah and Nusra last week but delayed by two days while negotiations over the captive exchange took place.
Ibrahim said 120 militants carrying personal weapons would be among the thousands of Syrians set to leave for Syria's rebel-held Idlib province on Wednesday.
Another five captive Hezbollah fighters would then be released once the first convoy reaches its destination in Syria, Ibrahim said.
Ibrahim told Reuters that Lebanese authorities had received the three Hezbollah fighters and had handed over three individuals detained in Lebanon requested by the Nusra Front just before 1 am Beirut time (2200 GMT).
Two of the individuals handed to Nusra Front by Beirut were prisoners and one had finished his prison term.
Last week, Lebanese militia Hezbollah took most of a mountainous area straddling the Syria-Lebanon border, called Jroud Arsal, in a joint offensive with the Syrian army to drive Nusra Front militants from the area.
The Lebanese army, which receives considerable US and British military support, did not take an active part in the Jroud Arsal operation, setting up defensive positions around the town of Arsal.
Hezbollah supports Syrian President Bashar al-Assad in his country's more than six-year-old conflict.
Hezbollah's role in Syria's conflict has been criticized by its Lebanese political opponents, including Prime Minister Saad al-Hariri. Hariri has previously said refugee returns from Lebanon to Syria should be coordinated only through the United Nations.
On Wednesday Ibrahim said Hariri had asked Abbas to make a success of this deal, local media reported.
Full report at:
https://english.alarabiya.net/en/News/middle-east/2017/08/02/Prisoner-exchange-between-Nusra-Hezbollah-militias-begins.html
--------
US-backed Syria force advances in south of ISIS bastion Raqqa
1 August 2017
US-backed forces battling to oust ISIS from its Syrian bastion Raqqa have advanced in the city's south, seizing a new neighborhood, a spokesman and monitor said Tuesday.
The Kurdish-Arab Syrian Democratic Forces militia (SDF) began a campaign to capture Raqqa from ISIS last year, slowly encircling the city before breaking into it for the first time in June.
Backed by US-led coalition air strikes, the alliance now controls more than 50 percent of the city, according to the Syrian Observatory for Human Rights, a Britain-based monitor.
"Overnight, the SDF advanced in the south of the city, after taking control of the Nazlet Shahada neighborhood," said Observatory director Rami Abdel Rahman.
He said SDF fighters also controlled large parts of the adjacent neighborhood of Hisham Bin Abdel Malik, after advancing in the south from both the eastern and western fronts.
"Daesh (ISIS) effectively no longer has a presence in the southern neighborhoods of Raqqa, after SDF forces coming from the eastern front met with those advancing from the western front," he added.
Nuri Mahmud, a spokesman for the Kurdish YPG militia that dominates the SDF, confirmed to AFP that the SDF was advancing in the south."Daesh has been almost completely eliminated from the Nazlet Shahada and Hisham Bin Abdel Malik neighborhoods," he added. Writing on Twitter, the US envoy to the international coalition against IS praised the SDF's advances. "Significant progress in Raqa last 24 hours, with key territory seized by SDF forces & 100s of civilians freed," Brett McGurk wrote.
Abdel Rahman said the fighting was now centred around the area south of the city centre and on the outskirts of the district of Hisham Bin Abdel Malik.
Full report at:
https://english.alarabiya.net/en/News/middle-east/2017/08/01/US-backed-Syria-force-advances-in-south-of-ISIS-bastion-Raqqa.html
--------
UAE says measures against Qatar do not violate global trade agreements
2 August 2017
Economic sanctions imposed on Qatar by three fellow Gulf states do not violate World Trade Organization agreements, a United Arab Emirates official said, after Doha launched a wide-ranging legal complaint at the Geneva-based body this week.
The UAE, Saudi Arabia and Bahrain cut ties with Qatar - a major global gas supplier and host to the biggest U.S. military base in the Middle East - on June 5, accusing it of backing militant groups and arch foe Iran, allegations Doha denies.
Qatar made the formal protest at the WTO on Monday by "requesting consultations" with the three countries, triggering a 60-day deadline for them to settle the complaint or face litigation at the WTO and potential retaliatory trade sanctions.
"The sanctions imposed by the UAE, Saudi Arabia and Bahrain did not contradict the agreements of the WTO," UAE state news agency WAM quoted Juma Mohammed al-Kait, an assistant undersecretary in the Economy Ministry, as saying late on Tuesday.
In what appeared to be the first response to the Qatari move, he said the boycott - which included the severing of diplomatic and travel ties - was in line with articles 21 and article 14 of the General Agreement on Trade in Services (GATS), which allows such moves in the case of security exceptions.
The boycotting countries have previously told the WTO they would cite national security to justify their actions against Qatar, using an almost unprecedented exemption allowed under the WTO rules.
Kait said the agreements did not prevent WTO member states from using economic sanctions to protect basic security interests, or from carrying out the commitments in the United Nations Charter to maintain peace and security, WAM reported.
The WTO suit does not include Egypt, the fourth country involved in the boycott. Western-backed efforts by Gulf state Kuwait to mediate have yielded little progress so far.
Full report at:
https://english.alarabiya.net/en/News/gulf/2017/08/02/UAE-says-measures-against-Qatar-do-not-violate-global-trade-agreements.html
--------
Fateh al-Sham terrorist group releases three Hezbollah captives
Aug 2, 2017
Three members of the Lebanon's Hezbollah resistance movement have been set free by the Jabhat Fateh al-Sham Takfiri terrorist group in exchange of three of its members.
The Hezbollah fighters arrived in Lebanon late on Tuesday as part of a ceasefire agreement between both parties last week.
The first stage of the ceasefire, brokered by the national police and security force of Lebanon – Internal Security Forces Directorate, took effect on Sunday as both sides exchanged the bodies of fighters killed in clashes between them.
The truce was agreed after Hezbollah fighters dealt a heavy blow to the militants in Lebanon's rugged Arsal region bordering Syria. At least 150 militants of the Takfiri group were killed in the Hezbollah operation aimed at preventing the spillover of the Syria war.
The ceasefire agreement involves the departure of all militants of the Jabhat Fateh al-Sham group from the region around Arsal along with any of the civilians, living in Arsal's refugee camps, who wish to leave the border zone with them.
Hezbollah launched a major push on July 21 to clear both sides of Lebanon's border with Syria of "armed terrorists."
In August 2014, the Jabhat Fateh al-Sham and Daesh terrorist groups overran Lebanon's northeastern border town of Arsal , killing a number of Lebanese forces. They took 30 soldiers hostage, most of whom have been released.
Full report at:
http://www.presstv.ir/Detail/2017/08/02/530425/lebanon-syria-hezbollah-fateh
--------
Saudi gets 8 years in jail for urging end to Saudi, Bahraini rule
2 August 2017
JEDDAH: A Saudi court on Monday sentenced a citizen to eight years in prison for participating in the funerals of some of those killed in security clashes, and calling for regime change in the Kingdom and Bahrain.
The Specialized Criminal Court in Riyadh issued its preliminary ruling after the defendant was also found guilty of concealing his brother despite knowing that he was wanted. He also harbored a wanted militant.
The court ordered the confiscation of the mobile phone in his possession, and barred him from using social networking sites and the Internet. After completing his sentence, he will be prevented from leaving the Kingdom.
http://www.arabnews.com/node/1138226/saudi-arabia
--------
South Asia
Drone strike in Afghanistan kills seven ISIS terrorists: local media
Aug 2, 2017
A NATO-operated drone strike in Afghanistan's eastern Kunar province has killed at least seven ISIS terrorists, Arghan media reported, citing local police authorities.
The target of the drone was a terrorist hideout in mountainous Talona area of Watapur district at approximately 11 am local time (06:30 GMT) Monday, killing seven ISIS militants including a commander, the reports said.
Afghanistan has witnessed an increase in terrorist campaign by the resurgent Taliban and the Daesh group, which drew attention to the rising insecurity in the war-torn country since US-led NATO troops ended their combat mission in December 2014.
Afghan security forces have been suffering from killings, desertions and non-existent soldiers on the payroll. All these struggles beset them in beating back the insurgents.
http://nation.com.pk/international/01-Aug-2017/drone-strike-in-afghanistan-kills-seven-daesh-terrorists-local-media
--------
Bangladesh proposes awareness-building among non-Muslim states to protect Palestinians
2017-08-01
He represented Bangladesh at an OIC emergency meeting in Istanbul on Tuesday. Bangladesh is one of the eight members of the OIC Executive Committee.
In this regard, he called the Muslim Ummah for presenting a "united voice" to all relevant international fora including the UN Security Council and UNESCO for protecting the people of the Palestine, as well as its holy places.
The meeting of the OIC Executive Committee was held to discuss "the continuing support of the resilience of the Maqdisites (Jerusalemites) to preserve their identity and the Islamic sacred sites in Al-Quds Al-Sharif in light of recent developments aimed at restricting the entry to Al-Aqsa Mosque".
The meeting also issued a joint communique outlining a list of actions towards the cause of Palestine and Al-Quds Al-Sharif.
The foreign ministry said the state minister was "firm and unequivocal" in conveying that the people of Bangladesh and the government lead by Prime Minister Sheikh Hasina "strongly condemn and reject outright the Israeli violations".
He expressed "unflinching solidarity with the Palestinian brothers and sisters".
He also urged OIC member states for providing all out supports including development and capacity building assistance to empower the Palestinians.
He re-emphasised the universally accepted "two state solutions" in resolving the long standing crisis of Palestine at the meeting.
Turkish Foreign Minister Mevlut Cavusoglu chaired the meeting.
Full report at:
http://bdnews24.com/bangladesh/2017/08/01/bangladesh-proposes-awareness-building-among-non-muslim-states-to-protect-palestinians
--------
Explosion in Gardez city in southeast of Afghanistan, casualties feared
Aug 02 2017
An explosion has taken place in southeastern Paktia province of Afghanistan earlier this morning amid fears that a number of people have been killed or wounded.
The incident has taken place in the vicinity of Gardez city, the provincial capital of Paktia province.
The type of the explosion has not been ascertained so far but preliminary reports indicate the blast was triggered by a magnetic bomb planted to a vehicle.
Reports also indicate that two people lost their lives in the explosion and some were wounded.
The local government and security officials have not commented regarding the report so far.
No group including the Taliban insurgents has claimed responsibility behind the incident yet.
In the meantime, the eyewitnesses are saying that six people including the head of the investigation of the national directorate of security of Paktia were wounded in the explosion.
Full report at:
http://www.khaama.com/explosion-in-gardez-city-in-southeast-of-afghanistan-casualties-feared-03260
--------
Afghan Air Force conducted 112 sorties in the past 24 hours, MoD says
Aug 01 2017
The Afghan Air Force has conducted around one hundred and twelve sorties in the past twenty fours amid soaring violence across the country.
The Ministry of Defense (MoD) said the sorties which included logistics, transportation, and aerial strikes were carried out during the ongoing counter-terrorism operations.
A statement by MoD said the Afghan National Defense and Security Forces (ANDSF) personnel have carried out 21 clearance and 27 special operations in the past 24 during which the Afghan Air Forces have played a key supporting role besides the artillery units continuously pounded the militants positions.
MoD further added that out of the conducted sorties at least twelve of them were airstrikes which were conducted on militants positions in different parts of the country.
According to MoD, a total of 103 militants were killed and 36 others were wounded during the operations.
The operations were conducted jointly in Nangarhar, Kapisa, Paktia, Paktika, Khost, Ghazni, Kandahar, Uruzgan, Zabul, Ghor, Badghis, Faryab, Baghlan, Badakhshan, and Helmand provinces, MoD added.
The ministry of defense did not disclose any information regarding the casualties of the security personnel during the operations.
Full report at:
http://www.khaama.com/afghan-air-force-conducted-112-sorties-in-the-past-24-hours-mod-says-03258
--------
ISIS attack on Iraqi embassy in Kabul widely condemned
Aug 01 2017
The attack by the Islamic State in Iraq and Syria (ISIS) terrorist group on the embassy of Iraq in Kabul has been widely condemned.
The Office of the President, ARG Palace, in a statement said President Mohammad Ashraf Ghani has strongly condemned the attack on the embassy of Iraq, calling it a move in contrast to the international norms and values.
He said the terrorists are attempting to harm the relations of Afghanistan with the other nations by carrying out such attacks on the instructions of outsiders, warning that the terrorist groups will never achieve their goal.
NATO Senior Civilian Representative in Afghanistan Ambassador Cornelius Zimmermann said
"I strongly condemns the attack against the Embassy of the Republic of Iraq in Kabul today. Attacks against diplomatic facilities and staff are against the principles of international law."
"ISIS has once again demonstrated their utter disrespect for civilian lives," he said, adding that "I offer my heartfelt sympathies to all those affected and my solidarity to the entire team of the Iraqi Embassy in these difficult moments, and I commend the Afghan security forces for their swift and decisive action in repelling this attack."
Zimmermann also added that NATO stands firm in its commitment to continue supporting the Afghan security forces and institutions, as they tackle the threats posed by ISIS and other terrorist groups.
The Office of the National Security Council in a statement national security adviser Mohammad Hanif Atmar visited the Iraqi ambassador after the attack.
Atmar said the terror group has been hardly hit in Nangarhar of Afghanistan and Mosul of Iraq and the attack on the embassy compound was carried out in revenge of those losses.
Full report at:
http://www.khaama.com/isis-attack-on-iraqi-embassy-in-kabul-widely-condemned-03255
--------
Taliban group member says regretting for anti-Afghanistan insurgency activities
Aug 01 2017
A Taliban group member who has surrendered to the government in eastern Nangarhar province of Afghanistan says he regrets for the insurgency activities he has conducted against the country.
The provincial government in Nangarhar in a statement said the Taliban group member was previously conducting insurgency under the command of the two senior Taliban commanders Arshad and Sulaiman.
The Nangarhar National Directorate of Security (NDS) said the surrendered Taliban insurgent has been identified as Subhanullah who was involved in destructive activities in Khogyani and Chaparhar districts.
NDS further added that Subhan joined the peace process and handed over a AK-47 rifle after defecting the Taliban ranks.
Subhan said he joined the Taliban group nearly one and half years ago and was conducting insurgency under the command of the named Taliban leaders.
He admitted to have targeted the security posts, security vehicles, government compounds, besides conducting other destructive activities.
Emphasizing that he is regretting for the insurgency activities he has conducted, Subhan said he was encouraged to surrender and join reconciliation process after reaching to an understanding that the violence was being waged on the instructions of the outsiders.
Full report at:
https://www.khaama.com/taliban-group-member-says-regretting-for-anti-afghanistan-insurgency-activities-03257
--------
Mohaqiq slams US for interfering in Dostum and Ishchi case
Aug 01 2017
The deputy chief executive of the government of national unity Mohammad Mohaqiq slammed the United States for interfering in the case of General Abdul Rashid Dostum and Ahmad Khan Ishchi.
Speaking during a gathering in Mazar-e-Sharif city of Balkh, Mohaqiq accused the United States and European Union of interfering in the internal affairs of Afghanistan.
He also called on the Afghan government to refrain from the barring the first vice president Gen. Dostum from returning to Afghanistan.
Efforts to bring back Gen. Dostum to Afghanistan is underway as Mohaqiq and Balkh governor Ata Mohammad Noor have stepped up efforts to formally declare the formation of a new political coalition between Jamiat-e-Islami, Wahdat-e-Islami, and Junbish-e-Millie parties.
Dostum is in Turkey for the treatment with President Ghani earlier saying that the first vice president has left the country after receiving approval and permission from the Attorney General Office.
Reports regarding his return surfaced amid ongoing political issues and differences he has with the government, mainly due to the controversial abuse case of his political rival Ahmad Khan Ishchi.
Full report at:
https://www.khaama.com/mohaqiq-slams-us-for-interfering-in-dostum-and-ishchi-case-03256
--------
Mideast
Zionist regime primary threat to Islamic world: Iran FM
Aug 1, 2017
Iranian Foreign Minister Mohammad Javad Zarif has slammed Israel as the "main threat" to the Muslim world, warning that the regime is trying to Judaize the occupied Palestinian lands.
Zarif made the remarks on Tuesday upon his arrival in the Turkish city of Istanbul, where he is expected to attend an emergency meeting of the Organization of Islamic Cooperation (OIC) on recent developments at the al-Aqsa Mosque compound.
"The main threat to the Islamic world is the Zionist regime," which is fueling other threats to the region such as terrorism and extremism, Zarif said.
He also called on Muslim and regional countries to be vigilant and prevent Israel from distracting the Islamic world's attention from the "main threat" facing the region.
Israel continues its policy of occupation through efforts "to change the identity and the status of the occupied territories and Judaize these areas," Zarif added.
The top Iranian diplomat further expressed hope that the OIC meeting's decisions would help launch a coordinated international move to end the Israeli crimes against the Palestinian people.
In a press release on its website, the OIC said the Istanbul meeting was aimed at sending "a unified message to the international community by the Muslim World, demanding it to commit Israel, the occupying power, to respect the resolutions of the international legitimacy, the Geneva Conventions and all resolutions on the Palestinian issue, especially al-Quds al-Sharif, which is an integral part of the Palestinian territories occupied in 1967."
Tensions erupted in East Jerusalem al-Quds after a deadly shootout on July 14 outside the Haram al-Sharif, which Jews call Temple Mount.
Using the gunfight as a pretext, Israel set up metal detectors and surveillance cameras at entrances to the al-Aqsa compound.
The restrictive measures sparked criticism worldwide, with Palestinians saying that the bans were meant to expand the regime's control over the holy site and change its status quo.
On July 24, Tel Aviv backed down in the face of protests as well as violent clashes and removed all the restrictions at the al-Aqsa compound, but tensions still remain high there.
According to latest figures, 15 Palestinians were killed and about 1,400 others were injured in the al-Aqsa clashes over the past few days.
During his visit, the Iranian foreign minister sat down with his Turkish counterpart, Mevlut Cavusoglu, to discuss issues of bilateral and regional importance, including the Syria peace process which is being mediated by Iran, Russia and Turkey.
They called for the reinforcement of the intra-Syrian talks in the Kazakh capital, Astana.
http://www.presstv.ir/Detail/2017/08/01/530363/Iran-Israel-Zarif
--------
IRGC Official: Iran Has No Military Base in Foreign States
Aug 01, 2017
"Our trainers (military advisors) instruct the (friendly states') voluntary and popular forces like Hashd al-Shaabi (Iraqi popular forces)," Vice-President of the IRGC's Imam Hossein Military University Brigadier General Ahmad Mehraban said on Tuesday.
"Even the IRGC Quds Force doesn't have training centers in other countries and even in Syria, they use the Syrian bases for fulfilling advisory affairs," he added.
Israeli media had claimed in mid July that Iran is not only interested in sending military advisers to Syria, but also is keen on establishing ground and air bases there.
They claimed that Syria has granted Iran's elite military force a base near the Lebanese border for the deployment of intermediate-range missiles.
Last month, the Iranian foreign ministry rejected Israeli media reports that Tehran has purchased a military base in Syria as well as dissidents' claims that Iran is building ballistic missiles in the Arab country in cooperation with Russia and North Korea.
"Experience has shown that the claims raised by the Zionist regime are mostly media warfare and aimed at disturbing the public opinion in the region and the Muslim world," Foreign Ministry Spokesman Bahram Qassemi said.
Full report at:
http://en.farsnews.com/newstext.aspx?nn=13960510000839
--------
500 suspects on trial in Turkey's biggest coup case
Aug 2, 2017
SINCAN - Nearly 500 people appeared in court Tuesday in the biggest trial yet of suspects from Turkey's failed coup, facing charges of conspiring to oust the government from an air base seen as the plotters' hub.
Forty-one of those held were marched into the court outside Ankara one-by-one in a long line in front of television cameras and the public, with each suspect held by two members of the Turkish gendarmerie and flanked by an armed soldier.
People chanted "we want the death penalty!" and some threw nooses towards the suspects. The death penalty has been abolished in Turkey since 2004.
There were also chants of "martyrs don't die, the nation won't be divided". Some people threw water bottles, an AFP reporter said.
Nazan Aytop, who came to court to make sure the blood of the 249 victims of the coup "was not given in vain" said she hoped the "accused will be given the sentence they deserve."
A total of 486 suspects have been indicted in the case and almost all - a total of 461 - are held in custody while seven are still on the run and the remainder charged but not in jail.
During the tense opening hearing, veterans and relatives of those killed on the night of the coup bid booed the suspects' lawyers, Dogan news agency reported.
Some lawyers hit tables to protest the "physical intervention" by some of the victims' families as they walked past them, the agency said.
The suspects are accused of running the coup bid from the Akinci air base northwest of the capital, which the authorities regard as the headquarters of the plotters where orders were sent out for fighter jets to bomb parliament.
They are charged with crimes ranging from murder, violating the constitution and attempting to kill President Recep Tayyip Erdogan.
If convicted, they face life imprisonment.
Among the main suspects named in the indictment but still on the run is US-based Muslim cleric Fethullah Gulen, who is accused of ordering the attempted July 15, 2016 putsch.
Gulen, who is based in a secluded compound in the US state of Pennsylvania, strongly denies the charges.
Those held in custody include former air force chief Akin Ozturk who, like several suspects, is also on trial in another case related to the coup bid.
Another chief suspect is theology lecturer Adil Oksuz, whom Turkish officials accuse of being the so-called "imam" of the plot by coordinating the action on the ground in Turkey with Gulen. Businessman Kemal Batmaz is meanwhile accused of assisting Oksuz. Oksuz was detained following the coup's defeat, but was subsequently released and is now on the run. Batmaz is in custody in Sincan prison outside Ankara.
Batmaz led the line of suspects into court wearing a cream shirt with black trousers followed by Ozturk wearing a grey shirt and black trousers.
Chief of Staff General Hulusi Akar and other senior commanders were held hostage at the base during the coup attempt before they were freed on the morning on July 16.
The base was seen as the coup bid headquarters where commands were given for the F-16 fighter jets to attack and fly them above the capital.
The Turkish parliament was bombed three times by F-16s.
The trial is taking place in Turkey's largest courtroom established inside a prison complex in Sincan to hear coup-related trials and has space for 1,558 people.
The courtroom has previously hosted mass trials related to the coup bid including one which opened in February of 330 suspects accused of murder or attempted murder.
And in May, 221 suspects were put on trial accused of being the ringleaders of the failed coup.
The attempted coup left 249 people dead, the Turkish presidency says, not including 24 coup-plotters killed on the night.
There was heavy security including 1,130 security personnel inside and outside the courtroom, according to state-run news agency Anadolu, as well as snipers, armoured security vehicles and a drone.
The trial is one of several held across Turkey judging coup suspects, in the largest legal process in the country's modern history.
Full report at:
http://nation.com.pk/international/02-Aug-2017/500-suspects-on-trial-in-turkey-s-biggest-coup-case
--------
Muslim states slam 'provocative' Israel actions in Jerusalem
Aug 2, 2017
ISTANBUL - The main grouping of the world's Muslim nations on Tuesday accused Israel of staging provocative actions and inflaming tensions with the Palestinians in a crisis over security measures at a key holy site in Jerusalem.
Turkey hosted an extraordinary meeting in Istanbul of foreign ministers from the Organisation of Islamic Cooperation (OIC) that Ankara called to discuss the tensions in its current capacity as chairman of the body.
Turkey has full diplomatic relations with Israel after resolving last year a crisis in ties but President Recep Tayyip Erdogan remains vehemently critical of the Jewish state's policy towards the Palestinians.
The meeting brought together foreign ministers and top officials from key Muslim nations, including Saudi Foreign Minister Adel al-Jubeir and Iranian counterpart Mohammad Javad Zarif, whose rival nations are locked in a bitter feud. Israel angered the Islamic world by installing metal detectors and security cameras at the Haram al-Sharif holy site in Jerusalem, known to Jews as the Temple Mount, following a July 14 attack in which gunmen killed two policemen.
The move sparked Muslim protests and deadly unrest, and last week the Israeli government removed the detectors and cameras. The site includes the Al-Aqsa Mosque, one of the holiest sites in Islam.
A joint communique issued after the gathering said the meeting "strongly condemns Israel's recent provocative actions" at the holy site. It accused the Jewish state of "employing collective punishment measures and the use of lethal and excessive force against peaceful Palestinian worshippers" at the site.
And despite the Israeli climbdown on the metal detectors, the OIC statement accused the government of "persistent public statements... that incite religious sensitivities, feed tension and incite violence". It urged world powers not to support or encourage Israel's "illegal colonisation and annexation" of East Jerusalem, which Israel occupied in 1967 before later annexing.
Palestinian foreign minister Riyad al-Malki told the meeting that Israel's move to remove the detectors was a "small victory in the long battle for freedom".
But he accused Israeli PM Benjamin Netanyahu of seeking to change the longstanding agreement whereby only Muslims are allowed to pray inside the Al-Aqsa mosque compound, although anyone can visit, including Jews. "Netanyahu will try again to impose his status quo and we should prepare for the next round which could come very soon and be very nasty," he added.
Foreign Minister Mevlut Cavusoglu said it was time Muslim countries started to help the Palestinians "not just with words but with actions". "We must act to protect the Al-Aqsa mosque and Palestine," he said. He reaffirmed a call made by Erdogan on all Muslims to visit Jerusalem.
In its statement, the OIC accused the Israeli government of "neither (being) committed to peace nor interested in the two-state solution", saying its actions were the "most dangerous threat to the prospects of peace".
A senior Palestinian official on Tuesday said silence in US President Donald Trump's administration over settlement growth and its failure to support the two-state solution encouraged "apartheid" Israeli policies.
The criticism by chief negotiator Saeb Erekat came in a statement after the Palestinians had previously been careful not to antagonise the new US leader since his inauguration in January. "The fact the US administration did not declare the final goal of the peace process is to achieve two states on the basis of the 1967 borders, and its silence regarding the intensification of Israeli colonial settlement activities, are interpreted by the Israeli government as an opportunity to destroy the two-state solution and replace it with one state with two systems," Erekat said.
"That is what the Israeli government is doing on the ground through its policies," he said, adding that such a system was tantamount to "apartheid".
Trump's administration, that includes his son-in-law Jared Kushner, has sought to build trust for a new round of direct Israeli-Palestinian peace negotiations.
Erekat, who is also the secretary general of the Palestine Liberation Organization, said the American administration's perceived silence was an "obstacle" to talks.
Settlements in the West Bank and east Jerusalem are among the most controversial issues in the Israeli-Palestinian conflict.
Israel occupied the areas in 1967 in a move never recognised by the international community, and more than 600,000 Israelis now live in settlements.
In December, the United Nations Security Council declared all such settlements to be illegal after outgoing president Barack Obama decided not to veto a resolution.
Since Trump came to power, however, Washington has remained largely quiet as Israel has announced thousands of new homes in settlements.
Trump has also moved away from decades of US support for the two-state solution - the establishment of an independent Palestinian state alongside Israel - saying in February that he was happy with either a one-state or two-state solution if the parties favoured it.
Full report at:
http://nation.com.pk/international/02-Aug-2017/muslim-states-slam-provocative-israel-actions-in-jerusalem
--------
Israel could soon launch new round of 'nasty' actions in Quds: Palestine FM
Aug 2, 2017
The Palestinian foreign minister has warned that Israel could go for another round of "nasty" actions aimed at changing the status quo of the al-Aqsa Mosque compound, which recently witnessed deadly tensions sparked by the regime's restrictive measures there.
Riyad al-Maliki made the remarks in an address to an emergency meeting of the Organization of Islamic Cooperation (OIC) on al-Aqsa in the Turkish city of Istanbul on Tuesday.
Tensions erupted in East Jerusalem al-Quds after a deadly shootout on July 14 outside the Haram al-Sharif, which Jews call Temple Mount.
Using the gunfight as a pretext, Israel set up metal detectors and surveillance cameras at entrances to the al-Aqsa compound.
Palestinians held protests and complained that the bans were meant to expand the regime's control over the highly-sensitive site.
On July 24, Tel Aviv backed down in the face of violent clashes and removed all the restrictions at the al-Aqsa compound, but tensions still remain high there.
Maliki described Israel's decision to remove the devices at the al-Aqsa gates as a "small victory in the long battle for freedom."
"We know that Netanyahu is not going to accept defeat and he will try again and again with different methods and different means to impose his own status-quo over the Haram al-Sharif and al-Quds. We have to be prepared for the next round which could come very soon and could be very nasty," he added.
Turkey urges Palestine state recognition
Meanwhile, Turkish Foreign Minister Mevlut Cavusoglu called on the Muslim world to stand against the Israeli "injustice" and recognize the state of Palestine within the 1967 borders with East Jerusalem al-Quds as its capital.
"We should show our support to the Palestinians, who have been living under Israeli occupation for fifty years, millions of them who had to leave their home, not just with our dry words, but with our actions," he told the OIC meeting.
The top Turkish diplomat further expressed hope that the recent tensions at the al-Aqsa compound won't be repeated, saying, "We should all be very careful against provocations. No bans or limitations, including the age restrictions to the Temple Mount cannot be accepted."
Israel seized East Jerusalem al-Quds in the 1967 Six-Day War. It later annexed the Palestinian territory in a move that has never been recognized internationally.
Al-Quds 'an Arab, Islamic site'
Jordanian Foreign Minister Ayman Safadi, whose country is the custodian of the al-Aqsa Mosque compound, described Jerusalem al-Quds as "an Arab, Islamic holy site," warning Israel against putting regional security at risk through its provocative actions.
"Instead of gambling with the security of the region and with the right of the people to live safely and in stability, Israel should work on achieving peace that leads to the establishment of the independent Palestinian state, with East Jerusalem as its capital," he added
OIC vows to defend al-Aqsa
In its final communiqué issued on Tuesday, the OIC expressed its determination to defend the al-Aqsa Mosque compound from all threats posed by Israel and denounced the premeditated Israeli attempts to alter the site's status quo.
It further stressed "the Palestinian right to full sovereignty over the city of al-Quds al-Sharif as the capital of the state of Palestine."
"The Committee condemns the banning of Palestinian Muslims and Christians from their natural right to worship in the holy sites in al-Quds al-Sharif, through employing collective punishment measures, and the use of lethal and excessive force against peaceful Palestinian worshipers," it pointed out.
Additionally, OIC Secretary General Yousef al-Othaimeen called on OIC member states to provide the necessary international protection to the Palestinian people and assume their responsibility to end Israeli aggressions and infractions in Jerusalem al-Quds.
Full report at:
http://www.presstv.ir/Detail/2017/08/02/530442/Israel-Palestine-OIC
--------
PKK militants kill 2 soldiers in Turkey's east
Aug 1, 2017
At least two Turkish soldiers have been killed in a roadside bomb explosion that targeted their military vehicle in Turkey's southeastern and Kurdish-populated province of Diyarbakir.
Security sources said on Tuesday that militants of the Kurdistan Workers' Party (PKK) detonated an improvised explosive device as the vehicle was passing a road through the troubled province.
Turkish security forces have launched a ground and air operation to hunt down the militants across the region.
Separately, three PKK militants were killed in the southeastern province of Tunceli after being identified by a drone.
Turkey has declared the PKK a terrorist organization and has banned it. The militant group has been seeking an autonomous Kurdish region since 1984.
A shaky ceasefire between the PKK and the Turkish government collapsed in July 2015. Attacks on Turkish security forces have soared ever since.
Over the past few months, Turkish ground and air forces have been carrying out operations against the PKK positions in the country's southeastern border region as well as in northern Iraq and neighboring Syria.
Full report at:
http://www.presstv.ir/Detail/2017/08/01/530393/Turkey-Diyarbakir-PKK
--------
India
Gujarat floods: Muslims' kar seva cleans flood-hit temples
Aug 2, 2017
AHMEDABAD: In times of death and destruction, the lotus of communal harmony has bloomed in the muck of flood-ravaged Dhanera in Banaskantha, a district which has lost 64 lives and is still counting its dead.
In this Hindu-dominated town, some 3,500 Muslims from Dhanera, Deesa, Palanpur and nearby villages trooped in to the aid of the town, cleaning places of worship and residence alike, after waters started receding slowly. The town was submerged under 10ft of flood waters that coursed its way through thousands of homes, leaving behind a trail of destruction, tonnes of earth, sand and scare of an epidemic.
Their first mission was to remove muck from 22 temples and three major mosques in Dhanera town. "In this difficult hour, we felt that people needed hope and spiritual support to help them pull back their lives. This is why we began cleaning the temples first with the help of locals. Floods have brought each one of us together," says Mohammed Rafiq Memon of Jamiat Ulema-e-Hind.
The volunteers under the aegis of JUH cleaned some major temples in Dhanera like the Ganapati, Hanuman, Satimata, Lilashah and Ashapura Mata temples in the first two days itself with the help of a few locals.
Dhanera Nagapalika vice-president Jagdish Thakkar told TOI, "It took our Muslim brothers close to six to eight hours to help us clean temples including the 115-year-old Lord Ganapati temple and three others. The locals joined hands and helped cleaning three mosques, including Khureshi Masjid, not far from the Ganapati temple in Khatkiwad. Besides religious places, volunteers also cleaned the Nagarpalika office, post office and homes," says Thakker.
Abdul Hassan Sewani, a volunteer from Sidhpur, told TOI, "Calamity sees no religion and neither did we. In the end, we are humans, brothers in distress who helped each other. We cleaned temples and mosques so the troubled could find some solace," says Sewani, who continues to camp in Dhanera and is helping authorities with the massive clean-up operations to prevent disease outbreak.
"Floods had swept away everything, including one's home and confidence to put it all together. Together, we realized we could help each other tide over these difficult times," says Memon.
http://timesofindia.indiatimes.com/city/ahmedabad/muslims-kar-seva-cleans-flood-hit-temples/articleshow/59873314.cms
--------
Time to Cripple Our Ungrateful Separatists
02nd August 2017
The recent crackdown on the All-Parties Hurriyat Conference and other separatist and pro-Pakistan outfits active in Kashmir raises one important question: Despite the overwhelming evidence, why was this not done before? In fact, why were these avowedly separatist leaders not just allowed to publicly preach their seditious, virulently anti-India positions, but even protected and fed by various Indian governments?
Let's take just the case of Syed Ali Geelani, the man who calls for regular shutdowns and hartals in protest against the killing of terrorists in Kashmir by Indian forces, and even admits to being funded by Pakistan.
He publicly declared that 'India is a bigger enemy of Islam and Muslims than even Israel.' Yet the same man had no qualms accepting Indian government largesse for his cancer treatment at the Tata Memorial Hospital in 2007. Later, though his passport had been seized by authorities in 1981, former PM Manmohan Singh personally intervened to facilitate the release of his travel documents for travelling to the US for treatment. But ironically, the US refused to grant the man a visa because, as one US official put it, he "has consistently failed to renounce violence as a means of achieving his political goal in Kashmir."
Full report at:
http://www.newindianexpress.com/opinions/editorials/2017/aug/02/time-to-cripple-our-ungrateful-separatists-1637084.html
--------
Jharkhand govt clears bill to ban conversions
Aug 2, 2017
RANCHI: The Jharkhand cabinet approved on Tuesday the draft of a bill that will ban religious conversion by force or allurement. The Jharkhand Religious Independence Bill, 2017, was approved at a meeting of the cabinet chaired by chief minister Raghubar Das.
"Anyone found violating the provisions of the bill will be liable for three years' imprisonment or Rs 50,000 fine or both (sic)," cabinet coordination secretary Surendra Singh Meena told reporters.
The bill provides for tougher action on forced conversions of minor girls and women from the scheduled tribes. "In this case, the perpetrator would face jail term of up to four years and penalty of Rs 1 lakh or both," Meena said.
The bill is likely to be introduced during the monsoon session of the assembly beginning on August 8. If passed, Jharkhand will become the seventh state to have a law against conversion by force or enticement, which already exists in Madhya Pradesh, Chhattisgarh, Odisha, Gujarat, Maharashtra and Himachal Pradesh.
The cabinet's decision to clear the bill seems to have stemmed from the figures of the 2011 census released by the Centre earlier. As per the census, roughly 27% of the state's 3.5 crore population is tribal, 4.3% Christian and 14.53% Muslim. The census report said while the state's Hindu population grew by 21% in the last 10 years, the Christian population grew by 29.7% and Muslims by 28.4%.
In recent months, Das had repeatedly expressed concern over forced religious conversions+ in the state and promised tough action against those behind such acts.
"The innocent people of Jharkhand have been forcibly converted for a long time. Such religious conversions are eroding the society's culture and core values. This is a positive effort," the state BJP said in a statement while welcoming the move.
However, reactions from the opposition and other quarters were mixed. While the church and the Jharkhand Mukti Morcha (JMM) condemned the cabinet decision, the Muslim community welcomed the move.
"Existing laws are enough to prevent any forcible conversion. This bill has a more sinister design — through it, BJP wants to create a divide within the tribal community," JMM general secretary Supriyo Bhattacharya said.
Pointing out that the church does not indulge in religious conversions by force, fraud and allurement, Roman Catholic church leaders said they were saddened by the government's decision. Cardinal Telesphore P Toppo said: "Over the decades, we have been running many schools and colleges, healthcare facilities and hospitals all over the state, serving the poor, the downtrodden and the forgotten. None of the millions of people whom we have served have been converted to Christianity."
Full report at:
http://timesofindia.indiatimes.com/india/jharkhand-govt-clears-bill-to-ban-conversions/articleshow/59871913.cms
--------
86 of 117 terrorists killed in J&K this year were from across the border
Aug 2, 2017
NEW DELHI: As many as 86 of the 117 terrorists killed by the security forces in Jammu and Kashmir so far this year have been "foreign" ones or those who have sneaked across the Line of Control from Pakistan or Pak-occupied-Kashmir like the slain Lashkar commander Abu Dujana.
"This clearly indicates that the flow of intelligence from the `local' population against the foreign terrorists from Laskhar-e-Taiba and Jaish-e-Mohammed has definitely improved. Successful counter-insurgency operations, after all, are a direct result of good and real-time intelligence inputs. There also seems to be a growing schism between foreign and local terrorists," said an official on Tuesday.
Infiltration bids, incidentally, have registered a jump in the first seven months of this year as compared to the same time-frame last year, though the security forces have managed to thwart many of them.
Full report at:
http://timesofindia.indiatimes.com/india/86-of-117-terrorists-killed-in-jk-this-year-were-from-across-the-border/articleshow/59873193.cms
--------
Kashmir cop tried to foil NIA swoop on Hurriyat
Aug 2, 2017
NEW DELHI: The National Investigation Authority's swoop on Hurriyat leaders was not without drama as the NIA team ran into resistance from the local police and had to in one instance threaten a Jammu and Kashmir police officer with arrest to ensure he did not get in the way.
The police officer, perhaps acting on political instructions, sought to prevent the NIA from taking some Hurriyat leaders in their custody with them after raids to nab the separatists. The matter was settled only when the raiding party warned the officer that he was stepping out of line and could face action.
Aware that any leaks would compromise the operation, the NIA team travelled to Srinagar in a staggered manner and used disguise so as not to arouse suspicion. After "trapping and luring" Hurriyat leaders, they overcame a last-minute roadblock by a recalcitrant J&K police officer.
The ground work began a week in advance. While two IG-level officers quietly arrived by the morning flight on the day of the arrests, one SP travelled a couple of days and another around 4-5 days earlier. As for the remaining officers, some were instructed to take the road to Srinagar after landing in Jammu.
"We left no scope for giving away our plans to pick up the six Srinagar-based Hurriyat leaders. While 7-8 members of the NIA team were based in Srinagar itself, around 14-15 arrived from Delhi. The visiting officers were careful not to stay in the same hotel or even the state guest house, lest their presence exposed their arrest plans. In fact, official vehicles normally arranged by the J&K police were junked for private cars to maintain secrecy," said an officer.
Full report at:
http://timesofindia.indiatimes.com/india/kashmir-cop-tried-to-foil-nia-swoop-on-hurriyat/articleshow/59873214.cms
--------
Jama Masjid blast case: Court orders framing of charges against Yasin Bhatkal, 10 others, 3 discharged
by Abhishek Angad
August 2, 2017
Seven years after the Jama Masjid terror attack, a city court Tuesday ordered framing of charges on August 29 against alleged Indian Mujahideen co-founder Yasin Bhatkal and 10 other accused in the case. Additional Sessions Judge Sidharth Sharma said there was prima facie evidence against Bhatkal and the other IM operatives. The court also discharged three other accused in the case over lack of evidence.
The case dates back to September 2010, when two motorcycle-borne persons fired at Taiwanese nationals outside Jama Masjid's gate number 3. Soon after, a bomb fitted on a parked car nearby exploded. A total of 11 people, including Bhatkal, were arrested. In 2015, three others — all of them from Bengaluru — were made accused in the case. The three had been arrested in a separate case in Bengaluru, and had allegedly admitted before police that they had delivered explosives to one of the accused in the Jama Masjid blast case.
However, the court on Tuesday discharged the three men — Syed Ismail Afaaque, Abdus Saboor and Riyaz Ahmad Sayeedi — in the Jama Masjid blast case on the grounds that it did not find "any evidence" against them. They had been charged with criminal conspiracy, destruction of evidence and other offences under the Indian Penal Code, apart from the Unlawful Activities (Prevention) Act and the Arms Act. One of the accused is an MBA graduate, another a homeopathy doctor and the third a student. All three had moved bail applications in the same court last year.
Counsel for these three accused, M S Khan, submitted before court that during the investigation, no material evidence of any nature had been found by police against the three men. "Even in the disclosure statements of the co-accused (in the Jama Masjid case) — Aftab Alam and Ahmed Siddibappa (Yasin Bhatkal) — neither is there any reference to, nor any description of these accused persons," stated the counsel of the three men.
He added that the only material against them is their disclosure statements, allegedly made during their interrogation in Bengaluru in a different case, which is "not admissible". The counsel for the three men cited Section 25 and Section 26 of the Indian Evidence Act, which state that a "confessional statement" made by the accused while in custody cannot be proved against the accused.
Full report at:
http://indianexpress.com/article/india/jama-masjid-blast-case-court-orders-framing-of-charges-against-yasin-bhatkal-10-others-3-discharged-4778179/
--------
North America
US: Qatar spreads terrorist ideology, tolerant of its funding
2 August 2017
A subcommittee of the US House of Representatives along with experts, provided a detailed analysis of the current Qatar crisis.
Most speakers cited contradictions in its policies, describing them as an environment that tolerates and supports terrorism and its financing.
The US House of Representatives subcommittee hearing on the Middle East and North Africa discussed Qatar's foreign policy and Doha's support for terrorism.
The head of the Republican Committee, Ileana Ros-Lehtinen, described Qatar as a tolerant environment with the financing of terrorism. Saying that Doha funded terrorist organizations in the world, as well as many extremist groups in Syria.
Lehtinen quoted Katherine Bauer, a veteran Treasury official that Saudi Arabia and the UAE have sought to push Doha to take action against the financiers of terrorism, but that has not happened.
Democratic Sen. Theodore Deutch described the crisis as a dispute over Qatar's financial support of deeply troubling groups.
Jonathan Schanzer, the vice president of research at the Foundation for Defense of Democracies, said in a written testimony to the subcommittee that Qatar has openly supported terrorist groups.
He added that this support for terrorist groups is worrying with the presence of an American base in Qatar and described this contradiction as crazy.
Matthew Levitt, of the Washington Institute, expressed concern that Doha was providing a platform for extremists to spread their ideology through Al Jazeera.
https://english.alarabiya.net/en/News/middle-east/2017/08/02/US-Qatar-spreads-terrorist-ideology-tolerant-of-its-funding.html
--------
US: Islamic cemetery in suburban Minneapolis is vandalized
Aug 02, 2017
An Islamic cemetery that was initially denied a permit in suburban Minneapolis has now been vandalized.
The Minnesota chapter of the Council on American-Islamic Relations says vandals recently entered the Al Maghfirah cemetery in Castle Rock Township and spray painted profanities and swastikas. CAIR-MN says the vandals also damaged walls, furniture and other property. One spray-painted message apparently says: "Leave, you R dead."
Last year, a court forced Castle Rock Township to issue a conditional use permit for the cemetery, finding that the township's initial decision to deny the permit was arbitrary.
CAIR-MN executive director Jaylani Hussein says the vandalism comes at a time of increasing anti-Muslim incidents nationwide.
Full report at:
http://www.hindustantimes.com/world-news/us-islamic-cemetery-in-suburban-minneapolis-is-vandalized/story-iphempZX8l8c26AUE1gPUP.html
--------
New Campaign Teaches How To Help When A Muslim Is Harassed
August 1, 2017
TOVIA SMITH
Signs are everywhere these days urging Americans "If you see something, say something." Now, in Boston, new posters are going up that urge residents to go a step further and intervene if they see Islamophobic harassment. From a distance, it looks like a cute cartoon, until you read the bold black headline – "What to do if you are witnessing Islamophobic harassment." Below is a giant comic strip showing a young woman watching as a burly guy grimaces at a woman in a long dress and hijab.
"It is a sign of really frightening times," says 59-year-old Diane Shufro, who did a double take as she passed one of the posters on the side of a bus stop in Boston. But she says she's heartened to see city officials encouraging people to be involved. "I hope it gets people thinking," she says.
Step one, the poster implores: "Ignore the attacker." In other words, don't even make eye contact. Instead, the poster instructs, start talking to the person being attacked — about anything.
"You can say something about you like the shoes that someone is wearing or you know, asking them about the weather or things like that," says Faisa Sharif, a mayor's liaison in Boston's Neighborhood Services Office within the Civic Engagement Cabinet. The goal, she says, is to break the tension, and to show residents that even the simple friendly gesture of striking up a casual conversation with a person who is being harassed, will often get an aggressor to back off.
"This whole campaign is about de-escalation in terms of helping resolve a situation like this," says Sharif. "Especially in the age that we live in when we see a different sort of national rhetoric targeted toward certain groups."
Sharif says the posters were designed in France after the terror attacks in 2015, and then went up in San Francisco. A Boston resident suggested the posters be brought here. On a recent afternoon in Boston, the message was already getting through to passersby.
"Oh! I see what they mean now," said 31-year-old Boston resident Damian Benitez. "That makes a lot of sense." Benitez says he's glad to learn that there's something a bystander can do that falls in that huge gap between looking the other way, and confronting a harasser head on, which he says he'd be reluctant to do.
"Just based on how things are nowadays sometimes you've got to mind your own business," says Benitez. "Because you never know how the other person might retaliate."
Another city resident, 60-year-old Robert Powell says he recently found himself in one of those situations, when he says he saw a bunch of kids on a bus harassing a Muslim boy.
"It was at a point where I thought they were about to attack the kid really," says Powell. "So I did say something." Powell says that prompted the kids to start mouthing off to him, using language that includes an offensive slur:
"You could hear them talking ... an n***** sticking up for a sand n***** .. Is how the kid put it," Powell says. Eventually, Powell says, the kids backed off.
Some bystanders in an incident in Portland, Oregon recently weren't so lucky when they stood up to a guy allegedly harassing an African American woman and another wearing a hijab. Two of those good Samaritans ended up stabbed to death.
"You never know. You never know," says Lecia Brooks, outreach director for the Southern Poverty Law Center. "I would never tell anyone that it's without risk to intervene."
Brooks says it'd be useful to add a note of caution to the posters, urging people to first consider safety, and reminding them to call 911 if it looks risky. But Brooks says she applauds the city initiative, and that in most cases people can —and should — intervene.
"We take a greater risk when we just let the sit pass because people then begin to think its OK," says Brooks. "We can't allow harassing behavior to become normalized."
Yusufi Vali, executive director of the Islamic Society of Boston Cultural Center Mosque, calls the posters "phenomenal." He says his wife was recently harassed at a store, and would have loved if someone had stepped in.
"It sends a message to everyone that Muslims are part of Boston," he says. "That they are not the other, that they are just like us, just like any other human being.
Some have questioned why the posters focus only on Islamophobic harassment. Ivan Espinoza-Madrigal at the Lawyers' Committee for Civil Rights says he'd like to see a series of posters — so that other minority groups, such as Latinos, or transgender people, don't feel slighted.
"The bottom line is that the hate crimes are happening to people from a broad range of communities," he says. "We need to make sure that all of them feel safe and included in this effort as well.
Full report at:
http://www.npr.org/2017/08/01/540881411/new-campaign-teaches-how-to-help-when-a-muslim-is-harassed
--------
Despite judicial intervention, Iraqi Christians in the US face uncertain times
2 August 2017
Moayad Barash was very young when he travelled from Baghdad to the United States. But he has spent years building a life in America. All four of his children were born and raised here.
After all these years, he never imagined that after almost 38 years, he would be apprehended by US Immigration and Customs Enforcement (ICE), in front of his seven-year-old daughter on a sunny Sunday morning, while driving home from the beach.
Until recently deporting immigrants to countries in which they may face immediate danger or persecution was not condoned by the US government. However, recent crackdown under the Trump administration have led to negotiations between the US and countries like Iraq that changed this landscape for longstanding immigrants.
In a statement on the recent influx of seizures and detentions, ICE said: "Iraq has recently agreed to accept a number of Iraqi nationals subject to orders of removal."
On the day of Barash's arrest, his wife and three older daughters discovered a driverless car, where the youngest sister still sat in the backseat, scared and confused. The family didn't hear from him for three days.
"It makes me feel unsafe in this country," Barash's 17-year-old daughter, Angelina, said: "This is where we were born."
Cluster of seizures
Barash is one of over 1,400 Iraqi nationals facing deportation from the United States, and he is part of a cluster of seizures that took place that Sunday, 11 June 2017.
ICE claims that all of these, around 30 to 40 individuals, had criminal convictions. While the agency claims that these individuals were given fair immigration proceedings, advocates from the American Civil Liberties Union, say otherwise.
Miriam Aukerman is a senior staff attorney for the ACLU of Michigan, the organization that filed the case to give Iraqi nationals the right to reopen their immigration court cases and prove to a judge that they face grave danger of persecution, torture or death if deported to Iraq.
"They originally were not removed because Iraq would not take them back and it was too dangerous," Aukerman said, "ICE suddenly, after decades, rounded up hundreds of people and put them in detention centers and was planning to immediately deport them."
The obvious question was whether the agency had considered the circumstances of these immigrants, particularly those belonging to Iraq's Chaldean Christian minority and whether they would face the risk of persecution and violence if forced to return. ICE, however, declined to comment.
Safe passage
Mark Arabo, President of the Minority Humanitarian Foundation – which helps provide safe passage and aid to displaced Christian minorities – says that because of persecution by ISIS and other extremist groups, the situation for Christians in Iraq should be considered a modern day genocide.
"We escaped Iraq for a chance at achieving the American dream," Arabo said, "and we will not give up on that dream despite our people being unethically held behind bars."
On 24 July, a federal judge in Michigan ruled in favor of blocking the deportation of these Iraqi nationals. While this court victory grants these immigrants the opportunity to appeal their cases, given the current immigration crackdown, it is likely that detainees like Barash have a long and arduous battle ahead.
Even for Iraqi immigrants who jump through every legal hoop, the prospect of being granted citizenship under this administration seems bleak.
Tameem Alkadhi, his father and brothers, faced direct threats from Iraqi extremists because his family had worked with the US military. He came to America as a refugee seven years ago and is married to an American citizen.
After reaching here, Alkadhi meticulously followed every step in the immigration process. Yet, his application has been indefinitely delayed. He claims that the immigration office even said they lost his file, and that no one can give him a straight answer as to why his application process has come to a halt.
Tearing families apart
When the first iteration of Trump's travel ban was released, it tore Alkadhi's family apart. Hailing from Iraq, other members of Alkadhi's family were barred from traveling to the US. And while legal advocates and organizations continue to fight the ban stateside, Alkadhi still fears that he will face deportation, and that his relatives may never obtain the visas they need.
"I feel sad that people of Iraq coming to the US seeking a safe place to live are sent back to danger," Alkadhi said, "it is not right at all."
For the dozens of Iraqi nationals with alleged prior offenses, fighting decades-old charges for minor crimes will be a key factor in pleading their cases to avoid the dangers of returning to Iraq. And even if those minor offenses are pardoned, there is no guarantee that ICE will release them from indefinite detention.
Full report at:
https://english.alarabiya.net/en/News/middle-east/2017/08/02/Despite-judicial-intervention-Iraqi-Christians-in-US-continue-to-face-uncertainty.html
--------
Tillerson: We aim to avoid civil war in Syria after defeating ISIS
2 August 2017
US Secretary of State Rex Tillerson said on Tuesday that the US aims to avoid a civil war in Syria after defeating ISIS.
He added, America's view that there is no future for Assad's regime in Syria remains, stressing that Iranian fighters should return to their country, reported Al Arabiya.
Tillerson said the US will continue its efforts to resolve Qatar crisis through delegations that will be sent to the Gulf soon.
Rex Tillerson has asked two officials, including retired general and former Middle East envoy Anthony Zinni, to work to end the Gulf diplomatic crisis.
Tillerson told reporters that he had sent senior US diplomat Tim Lenderking to the region to push for progress.
"And I've also asked retired General Anthony Zinni to go with Tim so that we can maintain a constant pressure on the ground because I think that's what it's going to take," he said.
"There's only so much you can do with telephone persuasion."
Full report at:
https://english.alarabiya.net/en/News/middle-east/2017/08/02/Tillerson-We-are-trying-to-avoid-a-civil-war-in-Syria-after-ISIS.html
--------
Pakistan
Pakistan must reject US aid, exit terror war: Imran
August 02, 2017
London - Pakistan must detach itself from American influence and pull out of the so-called war on terror in order to create prosperity and achieve regional peace, Imran Khan has said.
Buoyed by last week's dismissal of prime minister Nawaz Sharif, Imran Khan is eyeing country's highest political office, and said he is ready to change the country's international relations.
"Sadly, our ruling elite took dollars from the Americans and went into this war," Khan told the Guardian. "It has created such hatred in our society. It has created turmoil."
His comments come as the US considers how to approach the conflict in Pakistan and Afghanistan. The White House recently announced it was withholding $50m in military aid to Pakistan for its failure to crack down on jihadi groups.
However, if it were up to Khan, Pakistan would reject US aid entirely. "Aid cripples the country," he said. "It enslaves the country. You are dictated decisions from abroad. I'm completely against this."
Khan, who entered politics 20 years ago after a celebrated cricket career and marriage into British high society, received a boost when the Supreme Court disqualified Sharif for dishonesty.
Though his party occupies a fraction of the seats held by the ruling party, he insists that he stands a fighting chance at next year's election. If he succeeds, he said, he will also strengthen civilian rule. "I firmly believe that the army should not have a role in running the government," he said.
Some analysts have argued that last week's court ruling serves the opposite purpose by toppling Sharif, who feuded with the military for decades. Khan has also been accused of acting as a lackey for the army, beginning with his 126-day mass protests in Islamabad in 2014 over alleged election fraud.
Khan retorted: "Transparency and accountability of leadership strengthens democracy. Free and fair elections strengthen democracy. How is this strengthening the army?"
The Guardian met a buoyant Khan at his estate overlooking the Bani Gala Hills on the outskirts of Islamabad. At 64, he still speaks with a sportsman's boast. Yet, though he soars higher than ever politically, his path to power is long.
His party, Movement for Justice (PTI), holds 33 seats in parliament, against the ruling PLM-N's 188. Even if he takes some of the 47 seats belonging to the largest opposition party, the Pakistan People's Party (PPP), he will need mass defections among government supporters to gain even a hung parliament.
Political blocs in Pakistan tend to be solid, and the popularity of Shehbaz Sharif, who will replace his ousted older brother as prime minister, further complicates the task.
Khan, however, said numbers do not reflect reality, maintaining that the 2013 election was rigged.
At his lavish estate, built when he was still married to Jemima Goldsmith, Khan was accompanied by a large dog, which many Muslims consider unclean.
Steeped in wealth, he says he fights for the common man. Portraying himself as a bulwark against corruption, he is accused in the Supreme Court of not declaring assets, including foreign funding. Khan calls the allegations baseless and vindictive.
With a populist bent and fiercely opposed to American overreach in the region, Khan shares traits with Hamid Karzai, the former Afghan president whom Western allies found obstinate to work with.
Like Karzai, Khan favours negotiations with the Taliban, to the extent that he has earned the moniker Taliban Khan. And, like Karzai, Khan is often, against his own objection, labelled anti-American.
He protested: "Anyone who is a nationalist and cares for his own country, and does not jump at whatever the Americans ask you to, is considered anti-American.
"I will stand up for what I believe is in the interest of Pakistan. It doesn't mean I am anti anyone," he said. But sending troops into the tribal areas to fight fellow Pakistanis on behalf of the US, he added, "is madness".
"Eighty years of British experience in the tribal areas – if you read about that, you would never do this stupidity," he said.
If Khan beats the odds and sweeps into power, he will inherit a decades-long tug-of-war between the military and civilian government.
Last year, tensions came to a head when the Dawn newspaper reported leaked minutes from a showdown between Sharif and intelligence chief Rizwan Akhtar over the military's support for jihadi groups. But Khan said any military would have been angry with such behaviour from a civilian leader.
"You can't do that to your own army who is fighting in FATA, fighting in Balochistan. Without the army it would be in chaos," he said.
Still, Khan insisted he would be able to assert control over the army. "The constitution gives me that power," he said.
http://nation.com.pk/national/02-Aug-2017/pakistan-must-reject-us-aid-exit-terror-war-imran
--------
Democracy progressing, says COAS
August 02, 2017
Islamabad - Army Chief General Qamar Javed Bajwa has said that the democracy is progressing in the country.
General Qamar Javed Bajwa on Tuesday attended the oath-taking ceremony of newly-elected Prime Minister Shahid Khaqan Abbasi at the Aiwan-i-Sadr, where he also interacted with the guests. When asked by a journalist as to how does he see the democratic process, the army chief replied: "Democracy is progressing; it is a good thing."
Politicians, parliamentarians, services chiefs and diplomats attended the oath-taking ceremony.
Among those who attended the ceremony were Speaker National Assembly, Governors of Punjab, Sindh, KP, Balochistan and Gilgit-Baltistan, President and Prime Minister of Azad Jammu & Kashmir, Chief Ministers of Balochistan and Gilgit-Baltistan, Chairman Joint Chiefs of Staff Committee, Services Chiefs, Parliamentarians, senior politicians, diplomats and high level civil officials. The entire swearing-in ceremony of the office of the prime minister was administered in the national language.
http://nation.com.pk/national/02-Aug-2017/democracy-progressing-says-coas
--------
Maryam hails PML-N MNAs for upholding party discipline, ideology
Aug 01 2017
KARACHI: Maryam Nawaz, daughter of former prime minister Nawaz Sharif, on Tuesday paid tribute to Pakistan Muslim League-Nawaz (PML-N) lawmakers for upholding party discipline and ideology.
In her tweet on Tuesday, Maryam said, "Tributes to PML-N MNAs who proved what a party is; what discipline is; what is called an ideology and what a leader is".
She added that a man's character should be such that his opponents would testify for it.
The statement came hours after the ruling PML-N got Shahid Khaqan Abbasi elected as the new prime minister, following Nawaz Sharif's disqualification by the Supreme Court.
Full report at:
https://www.geo.tv/latest/151998-maryam-hails-pml-n-mnas-for-upholding-party-discipline-ideology
--------
NAB probe against Shahid Khaqan Abbasi closed in December
August 02, 2017
ISLAMABAD: The National Accountability Bureau (NAB) wrapped up in December an inquiry conducted for 17 months against Prime Minister Shahid Khaqan Abbasi for his alleged role in awarding a Rs220 billion contract for the import and distribution of liquefied natural gas (LNG) in 2013.
A spokesman for the bureau told Dawn: "NAB, Karachi, closed the case in its regional board meeting held on Dec 19, 2016 on merit."
The inquiry was stopped despite the fact that it had been proved that the contract had been awarded in a 'non-transparent manner'.
See: Shahid Khaqan Abbasi sworn in as prime minister of Pakistan
A document available with Dawn revealed that the Karachi NAB director general remarked in the meeting: "After exhaustive discussion it has been decided that it is an ongoing project and any intervention by NAB at this juncture will jeopardise the efforts of provision of LNG from the project of public/national importance. It is, therefore, decided [to close the] inquiry [at] our end."
However, the document said that in the same meeting it was unveiled that "during the inquiry proceeding it has been established that management of Inter State Gas Systems (ISGS) and Sui Southern Gas Company Limited (SSGCL), in non-transparent manner, selected M/s Engro as a successful bidder for LNG terminal at port Karachi".
The NAB inquiry found that the SSGCL signed the 15-year contract with a subsidiary company of Engro for re-gasification of LNG at fixed daily processing charges.
The government authorised the Pakistan State Oil to procure LNG on behalf of the SSGCL.
Full report at:
https://www.dawn.com/news/1349069/nab-probe-against-shahid-khaqan-abbasi-closed-in-december
--------
Political parties cannot be disqualified over a fake certificate, SC tells PML-N lawyer
August 01, 2017
During the hearing of Pakistan Tehreek-i-Insaf's (PTI) foreign funding case on Tuesday, the chief justice of Pakistan said that there is no law that states that a political party can be disqualified on the basis of a fake certificate.
A three-member bench of the apex court, headed by Chief Justice Saqib Nisar, was hearing a petition submitted by PML-N's Hanif Abbasi seeking the disqualification of PTI Chairman Imran Khan and PTI Secretary General Jahangir Tareen for the non-disclosure of assets, ownership of offshore companies, and for PTI being a foreign-aided party.
Chief Justice Nisar added that neither the Representation of People Act, nor the Political Parties Act mentions that a party must be disqualified for submitting a fake certificate. He was responding to arguments made by Abbasi's lawyer, Akram Sheikh.
Sheikh accused PTI of receiving funds exceeding one million dollars from PTI USA, which is against USA's Foreign Agent Registration Act (FARA). However, the chief justice maintained that American law is not applicable in Pakistan.
Sheikh argued that since the PTI has not disclosed the name of its donors, the party must be disqualified under Articles 62 and 63 of the Constitution. "An MNA can be disqualified even for failing to declare his (or her) assets," said Sheikh, bringing up the recent disqualification of Nawaz Sharif.
"It's written in the law that a person will be disqualified for not declaring his assets," remarked Chief Justice Nisar, adding that the judges would not comment any further on the Panamagate verdict.
Sheikh's claim that PTI received "billions of dollars" as foreign forbidden funds prompted the judges to ask how anyone could determine which funds are illegal.
The lawyer's argument that the PTI chairman's charity projects were also funded by foreign sources was dismissed by the judges, who said "the law does not forbid receiving foreign funds for charity purposes."
Full report at:
https://www.dawn.com/news/1348964/political-parties-cannot-be-disqualified-over-a-fake-certificate-sc-tells-pml-n-lawyer
--------
Africa
Jordan activists celebrate repeal of 'marry the rapist' law
Aug 2, 2017
AMMAN: The repeal of a Jordanian law that allowed a rapist to escape prison by marrying his victim was bittersweet news for a Jordanian woman whose daughter was assaulted when she was just 13 years old.
Tuesday's vote by parliament's lower house came too late for the hairdresser's daughter who was coerced into an abusive marriage to her attacker as a condition for getting out of "protective" state custody.
Her assailant never served a day in jail.
"Today I'm very happy that this law was cancelled," said the 49-year-old mother of the teen, speaking on condition of anonymity to protect her daughter's privacy since victims of sexual assault are still widely stigmatized.
"But at the same time, I'm heart-broken," she said in a phone interview. "Where is my daughter's justice?"
Women's rights activists hailed Tuesday's vote as a major victory after a years-long campaign, but said a long struggle lies ahead.
Despite the country's pro-Western political orientation and cosmopolitan urban elites, many areas of Jordan remain socially conservative, with entrenched notions of "family honor."
This includes the belief that having a rape victim in the family is shameful, and that such "shame" can be expunged through marriage.
Tuesday's decision and another vote earlier this week — to prevent lenient sentences for those who kill in the name of "family honor" — must still be approved by parliament's appointed upper house and by King Abdullah II. Such approval is expected since the royal court and the government backed the reforms.
With final approval, Jordan would join Tunisia, Morocco and Egypt, which have canceled their "marry the rapist" clauses over the years. Tunisia's repeal took place less than one week ago.
The international group Human Rights Watch called Tuesday's vote "impressive" and said other countries should follow Jordan and Tunisia. Lebanon is considering repeal, the group said.
The clause remains on the books in Algeria, Iraq, Kuwait, Libya, the Palestinian territories and Syria, as well as several countries in Latin America, the Philippines and Tajikistan, according to HRW.
Tuesday's vote to scrap Article 308 of the penal code capped an emotional parliament debate, reflecting the schism in Jordanian society.
Parliament's legal committee had proposed amending Article 308 so that girls between the ages of 15 and 18 would be able to marry their rapists. They portrayed the marriage option as a way to protect minors.
When Mustafa Khasawneh, the head of the legal committee, presented those arguments, activists in the spectators' gallery murmured in disagreement.
Dima Barakat, a leading activist, later said that those forcing a girl to marry her rapist "are killing this girl a thousand times a day, at least." The attacker "took away her dignity, her honor and took away her life," Barakat said.
As the vote approached, lawmakers jumped to their feet, beckoning and yelling at others to raise their hands in support of repeal. Shouting broke out across the room while the spectators upstairs held their breath.
After several minutes of chaos, the repeal was announced.
Cheers and applause erupted in the hall. Some of the activists embraced one another, laughing. "This is a victory for the women's movement and human rights movement in Jordan," said Salma Nims, the secretary general of the Jordanian National Commission for Women.
The Islamic Action Front, a group of lawmakers affiliated with the Muslim Brotherhood, voted in favor of repeal, citing religious grounds.
Religious law, or sharia, does not condone protecting rapists, said legislator Dima Tahboub, spokeswoman for the IAF.
She said much work needs to be done in Jordan to protect women from violence. Jordan lacks psychological and social support for victims and their families, she said. Public attitudes stigmatize victims rather than supporting them. Children borne of rape grow up ostracized, with less access to civil rights.
"We need to create an atmosphere where the victim is being supported by the wider community," Tahboub said.
Jordan also lacks safe shelters for women at risk of family attack due to "honor" issues, and often detains women in protective custody, keeping them in prison or in shelters that they cannot leave.
When the hairdresser's daughter became pregnant after being assaulted repeatedly, the state took her to a shelter for underage girls at risk. There, the mother was told that her daughter could not leave unless she married her rapist.
"I accepted the situation in order to protect her," the mother said Tuesday. "They gave me no choice. She did not want to marry him, but she was threatened by everyone. She had no choice."
So-called "honor killings" also remain a problem in Jordan and elsewhere in the region. Last year, Jordan's top criminal court dealt with 36 killings of women, including eight "honor" cases. In 2015, it dealt with 39 slayings of women, including nine labeled "honor crimes."
Earlier this week, parliament closed a legal loophole that had given courts the discretion to impose sentences of as little as six months on those who killed female relatives in the name of "family honor."
Under the new amendment, killing "in a fit of rage" can no longer be considered a mitigating circumstance in such cases.
These two amendments work together to close an escape route for rapists and remove an excuse used by men to get away with killing their female relatives.
"Today is a great victory for women," said Musa Maaytah, minister of Political and Parliamentary Affairs.
http://nation.com.pk/international/02-Aug-2017/jordan-activists-celebrate-repeal-of-marry-the-rapist-law
--------
Nigeria: Does the Sultan Need N700 Million House in Abuja?
1 AUGUST 2017
By Abu Najakku
Alhaji Muhammad Sa'ad Abubakar III, the 19th Sultan of Sokoto, is the President-General of the Supreme Council for Islamic Affairs (SCIA) and the head of the Jama'atul Nasril Islam, which combine to make him Amirul Muminin, or leader of Nigeria's Muslims. He was appointed to the throne on 2nd November, 2006 and succeeded his senior brother, Alhaji Muhammadu Maccido who died in a plane crash in Abuja.
Sultan Sa'ad Abubakar was a member of the 18th Regular Course of Nigeria's foremost military institution, the Nigerian Defence Academy and was commissioned as a Second Lieutenant in 1977; until his appointment as the Sultan, he was a Brigadier General. Since his ascendancy, he has travelled to the United Kingdom, the United States of America, the Middle East and many other countries to speak about Nigeria's Muslims as well as the legacy of piety, scholarship and administrative acumen of his forefathers led by the legendary Sheikh Uthman Dan Fodio.
Here at home, Sultan Sa'ad Abubakar has been a strong advocate of peace, communal harmony and religious tolerance. Lest I forget, he is also the co-chairman of Nigerian Inter-Religious Council which basically fosters continuing dialogue between Christians and Muslims. The Sultan has repeatedly condemned Boko Haram insurgency as anti-Islam and has told all those who kill in the name of religion that they are destined for hell. He has described begging as the trade of lazy persons rather than something encouraged by Islam. The Sultan has also dismissed the false alarm raised by those who continue to claim that there is a grand design to Islamise Nigeria.
However, in recent times, the Sultanate Council has been dogged by poisonous controversies that threaten to tarnish the good name of His Eminence. A couple of months ago, the cohesion and reputation of the Sultanate Council were put to the test by the bad blood generated by the altercation between the Sultan and Alhaji Hassan Danbaba, the Magajin Garin Sokoto, which exposed the Palace as a deal making, fortune seeking conclave. The Sultan had sought to make peace between two highly placed persons, one, his counsellor and the other a politician. The disclosure that a senior counsellor of the Sultanate had been invited by the Economic and Financial Crimes Commission (EFCC) to answer questions on a paid for but unexecuted contract in Taraba drew the attention of the public to some form of sharp practice that people never expected from those in the Palace. Mercifully, the Sultan demonstrated maximum maturity by refusing to offer any public comment on the infantile outbursts of Danbaba.
Nevertheless, the latest acts of skulduggery surrounding the purchase of a so called "befitting accommodation" for the Sultanate Council somewhere in Abuja by the Sokoto State government has horrified many Muslims. Several questions were raised when it was reported a couple of days ago that Alhaji Kabiru Tafida, a well-known fixer for the Sultan, was arrested and interrogated by the EFCC after it discovered that N700 million had been placed in his account by the Sokoto state government "for the purchase of a House for the Sultan in Abuja". The EFCC asked why such a hefty amount of money was placed in the account of Tafida rather than "an estate agent or a contractor buying or building the house for the Sultan". What service did Kabiru Tafida offer Sokoto state government to warrant him being credited with N700 million into his bank account?
If you recall the damaging statement made by Hassan Danbaba, quote: "A Sultan who commoditises Caliphate services with a price tag knows that I know his price, which I can as well afford, if I wanted his intervention (in alleged EFCC case)", and now the allegation by the EFCC that "the suspect (Kabiru Tafida) has also been receiving huge funds from the government of Sokoto on behalf of the Sultan", then we have an Amirul muminin whose reputation is headed for the gutter.
The real question is whether the Sultan really needs a house in Abuja and whether it makes common sense for the Sokoto state government to shell out a whopping N700 million for that purpose. What is it that the Sultan wants to do in private in Abuja that he cannot do in a Presidential guest house, the Sokoto state government house, the Supreme Council for Islamic Affairs or the Jama'atil Nasril Islam facility?
To isolate the Sultan and corner N700 million of tax payers' money to buy a house for his comfort is how not to learn from the revered founder of the Sokoto Caliphate? How about donating the N700 million to the victims of the recent flood in Butuku-Babba in Bodinga, Sokoto, who lost 115 houses, livestock, farmlands and farm produce for whom the governor has "approved some money" for relief, according to Hassan Maccido, the DG of Sokoto Emergency Management Agency? These citizens are not looking for "comfort" houses in Sokoto or Abuja; they just want to reconstruct their old mud houses destroyed by flood! How about bequeathing the N700 million to Nana Asma'u College of Medical Sciences being championed by Sultan Sa'ad Abubakar? How about investing the N700 million in Sokoto state's education sector where an emergency was declared last year? How about using the N700 million to rehabilitate almajirai?
"The sixth principle (of governance) is that the governor should provide public amenities for the PEOPLE of his state for their temporal and religious benefit... ... .He must keep every locality in prosperity, construct fortresses and bridges, maintain markets and roads and realise for them ALL what are of public interest so that the proper order of their world may be maintained.." Sultan Muhammad Bello in Usul al-Siyasa.
Full report at:
http://allafrica.com/stories/201708010536.html
--------
Europe
Germany will become Islamic State-Angela Merkel
Aug 2, 2017
Berlin: Germany's Chancellor Angela Merkel said, Germans have failed to grasp how Muslim immigration has changed their country and there will be a time when it will have more mosques than churches.
"Our country is going to carry on changing, and integration is also a task for the society taking up the task of dealing with immigrants," Ms Merkel told Frankfurter Allgemeine Zeitung daily.
"For years we've been deceiving ourselves about this. Mosques, for example, are going to be a more prominent part of our cities than they were before," she added.
Germany has a population of 4-5 million Muslims, with a higher birth rate. Merkel's remark is the first official acknowledgement that Germany, like other European countries, is destined to become a stronghold of Islam.
In France, 30% of children age 20 years and below are Muslims. The ratio in Paris and Marseille have risen to 45%. In southern France, there are more mosques than churches.
In the last 30 years of United kingdom, the Muslim population has climbed from 82,000 to 2.5 million. At present, there are over 1000 mosques throughout Great Britain, many of which were converted from churches.
In Belgium, 50% of the newborns are Muslims and reportedly its Islamic population hovers around 25%. A similar statistic holds true for The Netherlands. It's the same story in Russia where one in five inhabitants is a Muslim.
http://www.bhatkallys.com/latest-news/germany-will-become-islamic-state-angela-merkel/
--------
UK: Ahmadiyya chief calls on Muslims to reject terrorism
Aug 02, 2017
The head of millions of Ahmadiyya Muslims concluded the largest Islamic convention in the UK with a call to reject all forms of extremism and terrorism.
More than 30,000 members of the Ahmadiyya Muslim Community (AMC) from over 100 countries gathered at the "Jalsa Salana" annual event recently, which took place on a 200-acre farm in Hampshire on the southern coast of England.
"It is up to Muslims to stand up and reject all forms of extremism and terrorism. It is the task of Ahmadi Muslims to show the true teachings of Islam which are of peace love, mercy and compassion," said Mirza Masroor Ahmad at the conclusion of the event on Sunday.
The event began on Friday with the traditional Friday Sermon and the raising of the black and white flag of the Ahmadiyya Muslim Community alongside the flag of the United Kingdom.
On Saturday, the Caliph conducted proceedings from the ladies' marquee where 15,000 Muslim women gathered for a speech on women's rights and empowerment under Islam and an award ceremony for academic achievements.
The group said that the purpose of the three-day international gathering was to promote the "true, peaceful teachings of Islam" and challenge misinterpretations around the world's second-largest religion.
Full report at:
http://www.hindustantimes.com/world-news/uk-ahmadiyya-chief-calls-on-muslims-to-reject-terrorism/story-SNBh9BrkcSF9Kjg38OSuTN.html
--------
Etihad Airways assisting Australian police with plane attack probe
31 July 2017
Abu Dhabi's Etihad Airways said on Tuesday it was helping Australian Federal Police with an investigation that police began into an "ISIS-inspired" plot to bring down a plane and resulted in stricter security screening at Australian airports.
Four men were arrested in raids in several suburbs in Sydney, Australia's largest city, at the weekend and are being held without charge under special terror-related powers.
"The Etihad Airways aviation security team is assisting the Australian Federal Police with its investigation and the matter is ongoing," Etihad said in a statement.
"Etihad is complying fully with the enhanced security measures at airports in Australia and monitoring the situation closely," it said.
Police have not identified the airline that was allegedly targeted in the plot, nor the specific means that were to be used to bring it down, other than to say it involved an "improvised device".
US officials, who spoke to Reuters on condition of anonymity, said a foreign intelligence service had intercepted communications between the plotters in Sydney and members of ISIS in Syria. The officials declined to identify the foreign intelligence service.
Another two US officials familiar with the Australian arrests said a developing plot had been detected. One of them, also speaking on condition of anonymity, said the alleged plot was "fairly well along" when it was disrupted by Australian authorities.
The other official said the target appeared to have been a commercial flight from Sydney to the Gulf.
The arrests have disrupted air travel in Australia, where authorities and airlines have asked travelers to arrive earlier than usual for additional screening.
The houses of the detained men were still being searched on Monday evening, two days after the arrests. A single black police four-wheel-drive vehicle was parked at one of the raided homes in the inner Sydney suburb of Surry Hills.
Full report at:
https://english.alarabiya.net/en/News/middle-east/2017/08/01/Etihad-Airways-assisting-Australian-police-with-plane-attack-probe-.html
--------
URL: https://www.newageislam.com/islamic-world-news/asri-ups-ante-citing-shafii/d/112062
New Age Islam, Islam Online, Islamic Website, African Muslim News, Arab World News, South Asia News, Indian Muslim News, World Muslim News, Women in Islam, Islamic Feminism, Arab Women, Women In Arab, Islamophobia in America, Muslim Women in West, Islam Women and Feminism