New Age Islam News Bureau
13 Jan 2017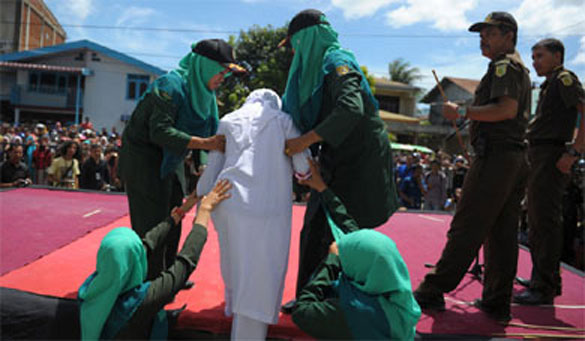 As Shariah Experiment Becomes a Model, Indonesia's Secular Face Slips
----
• As Shariah Experiment Becomes a Model, Indonesia's Secular Face Slips
• Young Muslims Should Be Constructively Critical About Religion To Avoid Falling Into The Trap Of Radicalisation
• If We Don't Tame Religion In Nigeria, It Would Kill Us – Nobel Laureate
• Italy to Teach Muslim Imams About Constitution and Free Speech To Combat Extremism
Southeast Asia
• As Shariah Experiment Becomes a Model, Indonesia's Secular Face Slips
• Govt Must Guard Against Attempts To Propagate Extremism In All Schools: Gerakan
• Refer To Quran, Don't Just Accept Muftis' Words: Zaid Ibrahim
• Indonesia's Minangkabau culture promotes empowered Muslim women
• Malaysia to hold OIC meeting on Rohingya crisis
• Islamic State Supporters Post Video of German Hostage Believed Kidnapped
--------
Arab World
• Young Muslims Should Be Constructively Critical About Religion To Avoid Falling Into The Trap Of Radicalisation
• Syrian Fighter Jets Target Terrorist Commanders' Meeting in Idlib
• Aleppo: Syrian Army Blocks ISIL Relocation from Deir Hafer to Al-Bab
• Intensified Infighting Reported among Terrorists in Wadi Al-Bardi
• Syrian Army Pushes Back ISIL from Regions West of Palmyra
• At Least Seven Killed In Suicide Attack In Syrian Capital: State TV
• Syrian army says Israel fires rockets at air base near Damascus
• US sanctions Syrian officials for chemical weapons attacks
• Bomb attack leaves eight dead in Syrian capital
--------
Africa
• If We Don't Tame Religion In Nigeria, It Would Kill Us – Nobel Laureate
• South Africa: Attacks On Mosques an Attack On Democracy - FW De Klerk Foundation
• Forces loyal to self-declared PM seize Libyan ministries
• Cameroon uses witchcraft to fight Boko Haram
• US confirms airstrike against Al-Shabaab fighters in Somalia
--------
Europe
• Italy to Teach Muslim Imams About Constitution and Free Speech To Combat Extremism
• Czech Anti-Terror Plan: Arm Citizens to Battle Jihadists
• Belgium Charges Pair Over Fake Papers For Jihadist In Paris, Brussels Attacks
• France: Syria talks must convene quickly under UN
• Islamic elementary school in Netherlands attacked
• France on high alert over fears Islamic extremists are 'infiltrating police ranks' as it's claimed 16 police officers have joined ISIS
• Trump's CIA Nominee Lists Russia, IS Among Among Major Threats
--------
Mideast
• Fists Fly As Turkey Moves To Bolster Erdogan Powers
• 'Afro-Palestinians' Forge A Unique Identity In Israel
• Erdogan labels 'terrorists' elements behind plunge in lira value
• Iran appoints the Quds force advisor as Iraq envoy
• Trump's CIA nominee: Iran fueling tensions in the Middle East
• UN envoy to Yemen meets G18 envoys
Closer Tehran-Ankara cooperation secures Middle East peace, stability: Rouhani
--------
North America
• Canada's Trudeau to Defend Muslims, Tout Immigration to Trump
• Thousands Sign George Takei's Petition In Solidarity With Muslim Americans
• Muslim advocates: State lawmakers should represent all Tennesseans
• Trump's Secretary Of State Tillerson Opposes Blanket Ban On Muslims' Entry Into US
• Katy Perry lends her support to pro-Muslim American PSA
• US Secretary of State says 'Islam is great', opposes blanket ban on Muslims
• Sri Lankan Muslim body takes up Muslim issues with US envoy
--------
India
• France Presses For 'Action' Against Let, Jem; Vows To Help India On Azhar Ban
• Pak To Release Indian Soldier Who Strayed Across Loc, Says Junior Defence Minister
• Is haj subsidy viable? Panel to present report
• No Sign Of Rs 10 Crore That Telangana Government Promised For Mecca Masjid
• Army recovers 2 bodies of slain terrorists from LoC in Poonch
• Bangladesh: Indian students protest as medical board fails to register them
--------
Pakistan
• Pakistani Senate Group To Debate How To Prevent Misuse Of Blasphemy Laws
• Centre rejects Sindh's plea for action against 'suspected' seminaries
• JUI-S holds convention for protection of seminaries
• 5 possible reasons why Pakistan's Nawaz Sharif is appeasing Hindus and other minorities
• Pakistani groups note drop in violence, credit the military
• Exchange of expertise between Oman, Pakistan need of hour: PM
--------
South Asia
• Myanmar, Bangladesh Agree To Start Talks On Rohingyas
• Taliban suffer heavy casualties as 2 major IED factories destroyed in Nimroz
• US, Australian hostages appear in Taliban video
• US probe clears forces over civilian deaths in Afghanistan
• Rise in Afghans returning home threatens overstretched resources, UN says
Compiled by New Age Islam News Bureau
URL: https://www.newageislam.com/islamic-world-news/new-age-islam-news-bureau/as-shariah-experiment-becomes-a-model,-indonesia's-secular-face-slips/d/109710
--------
As Shariah Experiment Becomes a Model, Indonesia's Secular Face Slips
By JON EMONT
JAN. 12, 2017
BANDA ACEH, Indonesia — Things were hopping at Redinesh Coffee Roastery in this seaside city one recent evening. Electronic dance music blared from the cafe's speakers as patrons, some in ripped jeans and fashionable spectacles, sat outside drinking locally sourced coffee and smoking cigarettes.
But then the Muslim call to prayer sounded, and a waitress hurriedly ushered everyone back into the cafe. She turned down the music, closed the doors and covered the windows. It was the Maghrib — the second to last of the five daily calls to prayer — and outdoor socializing had to cease.
Aceh Province, on the northern tip of Sumatra island, stands alone in having formally established Shariah law in Indonesia, a Muslim-majority country with a relatively secular Constitution. In Aceh, women are required to dress modestly, alcohol is prohibited, and numerous offenses — from adultery to homosexuality to selling alcohol — are punishable by public whipping.
Aceh (pronounced AH-chay) began its experiment with Shariah in 2001, after receiving special authorization from Indonesia's central government, which was intent on calming separatist sentiment in the deeply conservative region. Now, Shariah police officers roam the province, raiding everything from hotel rooms to beaches in a hunt for immoral activity.
In the decade and a half since, Indonesia as a whole has drifted in a conservative direction, and Aceh, once an outlier, has become a model for other regions of the country seeking to impose their own Shariah-based ordinances, alarming those who worry about the nation's drift from secularism.
"Whenever Aceh issues a law, saying it's the highest order of Shariah, it provokes others to do the same thing," said Andy Yentriani, a former commissioner on Indonesia's National Commission on Violence Against Women, who wants the national government to repeal certain Shariah-based regulations as violations of the Indonesian Constitution.
A recent study found that more than 442 Shariah-based ordinances have been passed throughout the nation since 1999, when Jakarta gave provinces and districts substantial powers to make their own laws. These include regulations concerning female attire, the mixing of the sexes and alcohol.
But for local officials, the spread of Shariah from Aceh is a point of pride, and delegations from areas with a history of embracing conservative Islam regularly visit to see how it has been carried out here.
"They look at how we facilitate an atmosphere of religiosity," said Syahrizal Abbas, the head of Aceh's Department of Shariah, who said he gives visiting delegations advice on how to incorporate Shariah teachings into law. Mr. Syahrizal, who is considered a moderate, said that Aceh's version of Shariah was softer than that of the oft-maligned form in Saudi Arabia, because it welcomed alternative schools of Islamic thought and accepted the role of female leaders.
Indeed, Banda Aceh, the province's capital, is currently led by Illiza Sa'aduddin Djamal, the city's first female mayor. Many activists for women's rights say they supported her candidacy in hopes that she would be a progressive leader. Instead she has proved to be a zealous, hands-on enforcer of Aceh's conservative moral code, issuing a nighttime curfew for women and personally dispersing events deemed to contradict Shariah.
Last February, Ms. Illiza, wearing a black head scarf, strode into the hall where Indonesian Model Hunt, a beauty competition, was underway, interrogating cowering models about the event as news cameras rolled.
"Why aren't you wearing a jilbab?" she asked one, referring to what Indonesians call a head scarf. The Shariah police loaded the competition's trophies into a bag and escorted models out of the building.
"Shariah right now is about what someone's wearing," said Ratna Sari, the head of the Aceh branch of Solidaritas Perempuan, a women's rights organization, who said she longed for a version of Shariah that tackled political corruption and promoted good public services. "Where are all the Islamic hospitals?"
The imposition of Shariah came after Aceh's decades-long struggle for independence with the central government ended in 2005. Scars remain from the war, as well as the aftereffect of the Indian Ocean tsunami that killed 230,000 people here in 2004. Today Aceh is one of Indonesia's poorest provinces, with nearly one in five people believed to be living in poverty.
In February, the Acehnese will go to the polls to select new leaders, but none of the candidates for mayor or governor are willing to challenge the primacy of Shariah law.
Irwan Johan, a vice speaker for the Acehnese Provincial Legislature, said any real debate over Shariah was impossible, even though "a silent majority" thinks the government has gone too far.
"They're not brave enough to say anything," he said about critics of Shariah. "Talk about issues of religion and you could be expelled, or be considered a person who isn't really Acehnese. Everybody became a hypocrite."
Debate over the province's Islamic identity erupted in December when Indonesia unveiled new currency notes featuring a portrait of a female anticolonial fighter from Aceh. A provincial lawmaker protested that the woman, Cut Meutia, was not depicted wearing a head scarf, even though local historians say that Acehnese women of that era did not generally wear them.
"Many say that according to Shariah she must wear a jilbab, but it's a historical fact that she didn't wear one," Mr. Irwan said.
Mr. Irwan remembers a different era in Acehnese history — the 1990s, in his youth, before Aceh gained its special autonomy and instituted Shariah law. "When I was still in high school there were so many discothèques here," he said. "The discothèques would close at 3 a.m. But at 3 a.m. if we weren't satisfied yet, we'd go to the beach, and from 3 a.m. to 7 a.m. we'd play disco music with no problem."
Now, he noted, there are no more discothèques in Banda Aceh, and men and women are told to sit apart during concerts.
"Now Aceh is at its most Islamic," he said. "It used to not be like this."
Islamist leaders from outside the province are hoping to push things further here. In late December, Rizieq Shihab, a firebrand preacher who leads the hard-line Islamic Defenders Front, a national organization that led the campaign to have Jakarta's Christian governor prosecuted on blasphemy charges, gave a fiery speech before a crowd in Banda Aceh.
"When Islam first came to Indonesia it entered through Aceh, correct?" he asked the crowd. "Correct!" the crowd thundered back.
"Aceh is a model for the entire Indonesian nation," the preacher continued. "It must become the locomotive for the movement to apply Shariah law throughout Indonesia. Agreed?" he asked the crowd.
"Agreed!" the crowd shouted back.
https://www.nytimes.com/2017/01/12/world/asia/indonesia-sharia-law-aceh.html?_r=0
--------
Young Muslims Should Be Constructively Critical About Religion To Avoid Falling Into The Trap Of Radicalisation
Caline Malek
January 12, 2017
ABU DHABI // Young Muslims should constantly ask constructive and critical questions about life and religion to avoid falling into the trap of radicalisation, according to the UAE's ambassador to Russia.
Speaking about his book, Letters to a Young Muslim, on the US cable TV programme, The Daily Show, last week, Omar Saif Ghobash said young people should not fear doubt.
"Certainty in matters of religion and life is a privilege so you need to believe you can be constructively critical," he said. The young, he continued, "should continually accept questions."
He said the myth that Islam is incompatible with modernity or with western values should be challenged and not perpetuated.
"There are many values that we share in common, and these are basic human values, values of freedom," he said. "Speak to young Muslims, they feel the same urge for freedom but there is a theological fear of freedom that we really need to work out.
"I'm not asking for reform of Islam but clarifying Islam for the 21st century. What does it mean in today's world to be Muslim and how to we just get on with life?"
Mr Ghobash said young Arabs have long been the target of recruitment by regional extremist groups, such as ISIL and Al Qaeda, with September 11 a tragic turning point that saw radical ideas taking expression physically.
Dr Albadr Al Shateri, politics professor at the National Defence College, read Mr Ghobash's book, which offers advice for young Muslims on how to survive in an age of extremism and Islamophobia.
"He reiterates important points regarding the new generation of Muslims and Arabs specifically," he said. "He warns them to be wary of those who propagate ideologies of hate, whether extremists in Muslim garb or western right wing extremism in nationalist gear.
"I found his claim that Islam is compatible with modernity to be in fact true, given that many Muslim countries including the UAE, Malaysia, Indonesia and Turkey have achieved high level of economic and social development: Almost a truism that needs reemphasis all the same."
He said, however, that on the source of radicalisation, one can point to factors like job opportunities, political oppression and great meddling in regional affairs.
Hessa Mohammed, a 25-year-old Emirati, said a focus on education would lead young Arabs away from terrorism.
"It's sad to see how many of them get recruited by such groups," she said. "But more people are becoming aware of the importance of education and keeping their mind out of such ideas, which go against everything we know about Islam."
cmalek@thenational.ae
http://www.thenational.ae/uae/government/uaes-ambassador-to-russia-young-muslims-should-be-constructively-critical-about-religion
--------
If We Don't Tame Religion In Nigeria, It Would Kill Us – Nobel Laureate
ANUARY 13, 2017
ABUJA — Nobel Laureate, Professor Wole Soyinka, has condemned the manner President Muhammadu Buhari and Governor Nasir el-Rufai of Kaduna State handled the killings in Southern Kaduna. Indigenes of Southern Kaduna claimed that more than 800 people, mostly women, children and the elderly, have been murdered and villages burnt down by suspected herdsmen without the state and Federal governments doing anything to stop them. SOYINKA Meanwhile, the Nigerian Army said it would launch operation Kunama II to completely restore peace in the troubled Southern Kaduna. Soyinka spoke at the launch of the book, Religion and the Making of Nigeria, in Abuja, yesterday. His words: "Religion in the history of this continent has been a disastrous venture, a disaster in many zones and continues to be even so today. In this very nation in Southern Kaduna, over 800 souls were brutally extinguished suddenly. "While the issue of grazing lands versus farming is unquestionably part of the conflict, it is equally undeniable that religious differences have played crucial role in the conflict. "And yet some weeks before the latest outrage, the governor of that state was quoted to have claimed that peace was nigh since he had sent funds to the earlier wave of killers and they had agreed to end their killing spree. "What astonished me was not the admission by the governor, but the astonishment of others at such governmental response to atrocity. There was nothing new about it. Has appeasement to religious forces not become a Nigerian face of justice and equity? "First lethargy and then appeasement. Wasn't Boko Haram's Muhammed Yusuf not a beneficiary of appeasement in a similar fashion? "Southern Kaduna has reminded us once again that the monster is always lying waiting to pounce under the guise of religion. "If you ask why General Buhari did not act fast enough when these events take place, which degrade us as human beings, well it is perhaps he has been waiting for the governor of that state to send money to the killers first for them to stop the killing. "The sitting President of this nation, General Buhari, once said 'If you don't kill corruption in this nation, corruption would kill us'. I would like to transfer that cry from the moral zone to the terrain of religion. If we do not tame religion in this nation, religion would kill us." "I do not say kill religion though I wouldn't mind a bit if that mission could be undertaken surgically, painlessly perhaps under anesthesia effectively spayed all over the nation or perhaps during an induced pouch of religious ecstasy However, one has to be realistic. Only the religiously possessed or committed would deny the obvious. The price that many have paid not just within this society but by humanity in general makes one wonder if the benefits have really been more than the losses." In his own remarks, Vice President Yemi Osinbajo, regretted that those who commit heinous crimes in the name of religion are left unpunished in the country. His words, "Very few people have been prosecuted for religious violence but none has ever been brought to conclusion. Why is it that such cases are never concluded? Too many cases of high profile murders that are not concluded in this country. "National character is very hypocritical. When we are playing football, we all clamour for the best legs because we want to win. We don't ask how many Muslims or Christians are in the team. When you are sick, nobody asks the religion of the doctor. We only ask about competencies. "The manipulation of religion by the elites has led to the problem that we are facing. Nigerian elite will use religion when it is convenient and at other times they may use ethnicity or some other form of identification. "It is that frequent use of religion for manipulative tendencies that has led to our predicament. And this is because we always discuss the issues after conflicts where lives are lost and it thus make such discussions emotive." Also speaking, Catholic Bishop of Sokoto Diocese, Mathew Hassan Kukah, lamented that religion has been used mainly for manipulative tendencies by the northern elite. "Unless we get round to defining what constitutes religion and in this particular case, the way and manner in which the northern ruling class continues to use religion as a cover to perpetuate and subjugate the people, the problem will persist. "We may never prosecute anybody for killing in the name of religion precisely because we have been unable to separate criminality from religion. "But it has been impossible for us to prosecute anybody because we have a feeling that somehow, people can actually genuinely kill in the name of religion. Bishop Kukah said in northern Nigeria, schools that were built by the Catholic in Kaduna have now been given names of Muslim heroes and heroines. "Would anybody take over a school built by Muslims in Nigeria and turn it into either St. Thomas or St. Margaret", he asked. Operation Kunama II in Southern Kaduna Meanwhile, Nigerian Army has said it would launch Operation Kaunama 11 in Southern Kaduna. It also stated that the military exercise in the South-East, code-named Operation Python Dance, would be renamed while still carrying out other engagements across the country. The Chief of Army Staff, Lt-Gen Yusuf Bruntai, made the disclosure while fielding questions from newsmen at the end of the security council meeting presided over by President Muhammadu Buhari in Abuja, yesterday. He said the exercise in Southern Kaduna would be extended to Plateau and Kano states.
http://www.vanguardngr.com/2017/01/dont-tame-religion-nigeria-kill-us-soyinka/
--------
Italy to Teach Muslim Imams About Constitution and Free Speech To Combat Extremism
12 Jan 2017
Muslim imams in Italy will be enrolled onto courses to teach them about the nation's constitution and its values, such as free speech, tolerance, and pluralism.
The new courses will be taught at six universities, including Pisa and Florence, and are part of an £80,000 interior ministry programme to improve integration and prevent extremism in Italy.
Religious leaders from non-EU countries, who plan to work in Italy, will be expected to attend and be taught about the "rights and duties inherent in our democratic societies".
"The purpose is to foster a dialogue between religions and cultures, contributing to the construction of a peaceful social coexistence and non-violence", Professor John Cymbals, director of the courses, told La Repubblica.
The professor of ecclesiastical law said the courses "appeal to all those communities that do not have internal agreements signed with the State".
Islam is the only major religion in Italy that is not officially recognised and has no such agreement with the State.
Such recognition does not merely depend on having a certain number of followers in Italy, but requires the principles of a religion to align with the Constitution.
At the end of last year, the country set up a council of "Italian Islam" in an attempt to bring the religion into compliance with the country's "Christian and humanist tradition".
Various Christian denominations, including Greek Orthodox churches and Jehovah's Witnesses, as well as Hindu and Buddhist temples, receive a certain amount of tax revenue. Islamic institutions currently receive no such benefits.
Throughout Italy, there is also a raft of local legislation that makes it difficult to construct mosques and other new religious buildings, according to the IBTimes.
Italy's estimated 1.6 million Muslims (3.7 per cent of the population) have only a handful of registered mosques to use. Many pray in houses and in some 800 cultural centres and prayer rooms across the country.
The process for setting up a new place of worship will also be taught on the new courses.
http://www.breitbart.com/london/2017/01/12/italy-teach-muslim-imams-constitution-free-speech/
--------
Southeast Asia
Govt Must Guard Against Attempts To Propagate Extremism In All Schools: Gerakan
Sheith Khidhir Bin Abu Bakar
January 12, 2017
KUALA LUMPUR: Gerakan has urged the government to review the policies of government-funded religious schools.
According to Gerakan vice-president Dominic Lau Hoe Chai, it is religious schools and not vernacular schools that are likely to threaten unity in the country.
He based this claim on the government's own education blueprint which stated that government-funded religious schools only had Bumiputera students.
"At least in Chinese schools, we have a 12% non-Chinese student base," he said at a press conference at the Gerakan headquarters here today.
He also claimed religious schools had the tendency to produce people with a more extremist interpretation of Islam.
"Through our own analysis, we have found that while not all the students ended up having extremist views, there is a tendency to produce some with this kind of thinking."
He stressed he was not calling for the abolition of religious schools.
"We need to go back to how the country was originally envisioned to be — a secular country where politics and religion are kept separate.
"The reason we have problems like the unilateral conversion of children in this country is because we've moved away from this vision of a secular country."
http://www.freemalaysiatoday.com/category/nation/2017/01/12/gerakan-review-policies-of-govt-funded-religious-schools/
--------
Refer To Quran, Don't Just Accept Muftis' Words: Zaid Ibrahim
January 12, 2017
PETALING JAYA: Do your own research instead of relying solely on the words of a religious leader, said former de facto law minister Zaid Ibrahim.
He was speaking in support of former prime minister Dr Mahathir Mohamad's comments that any 1MDB-sponsored haj was not "mabrur" (not accepted).
"We don't need to be a mufti to know what is halal and what is haram. We have been taught of this since we were little," said Zaid in an interview with FMT.
"If we do illegal things (for money), if we take money that comes from haram (forbidden) sources, then it doesn't matter if we go to Mecca or Medina, it would not be accepted if the money is haram.
"And that was what Mahathir raised. If we use 1MDB's money to perform haj, then it would not be mabrur ."
1MDB has denied as "baseless and unsubstantiated" the allegation by Mahathir that the state-owned firm had been sponsoring haj pilgrimages for imams and village leaders through its foundation using "stolen" money.
1MDB said it had generated its own funds from its previous energy production facilities, and more recently, in real estate development.
"Funds generated from these business operations are contributed to Yayasan 1MDB, which then uses such funds to sponsor the Program Khas Haji," it added in a statement issued earlier.
Full report at:
http://www.freemalaysiatoday.com/category/nation/2017/01/12/zaid-refer-to-quran-dont-just-accept-muftis-words/
--------
Indonesia's Minangkabau culture promotes empowered Muslim women
January 13, 2017
In most of the Western world, the image of Muslim women is often distorted. Muslim women have been represented as homogeneous, veiled, submissive, helpless, oppressed and powerless victims.
Across Europe, countries are placing bans on veils on the grounds that they are symbols of oppression against Muslim women.
The construction and representation of Muslim women as being in need of saving, according to Lila Abu-Lughod in her book Do Muslim Women Need Saving?, is problematic. Western media often gloss over the wealth of diversity Muslim women possess with regard to cultures, languages, opinions and the spectrum of faith.
There are 1.6 billion Muslims in the world, half of them women. While many would think of oppressive regimes of Middle Eastern countries such as Saudi Arabia when thinking about Muslim communities, the majority of Muslims live in the Asia-Pacific. And here there are places where Muslim women exercise much power, if not more than men.
Anyone visiting West Sumatra, Indonesia, would be amazed – not so much by the beauty of its lakes and mountains, but by the prominent role women play in almost all spheres of life in the Minangkabau community. From the household to the marketplace, Minangkabau women hold pride of place.
The Minangkabau community provides empirical evidence and a case in point to understand the cultural diversity and integrative cultural patterns of Muslim communities.
Woman boss
"In your house, who is the boss?" asked a man while travelling from Jakarta to Padang. I was surprised by the question and paused to think of a response. "You see, I am a Minang and for a Minang woman is the boss," said the man. The man belonged to Minangkabau – an indigenous ethnic group of Indonesia, which is famous for their long-held matrilineal tradition, or matriarchaat (from the Dutch).
The Minangkabau (in short Minang) are also known for their devotion to Islam. A dominant majority of both males and females pray five times a day, fast during the month of Ramadan, and express the desire to make the holy pilgrimage (Hajj) to Mecca at least once in their lifetime.
Each Minangkabau neighbourhood has a Musalla, which means "a temporary place of prayer" in Arabic but in Indonesia simply means a mosque. In the neighbourhood Musalla, men and women pray together, although separated into their respective gender-designated sections. A high percentage of women and girls wear the headscarf but do not wear the veil.
I did research in Padang and visited Batusangkar and Bukittinggi. These are three major cities of West Sumatra province, the home of Minangkabau people.
Minangkabau matriarchaat
Minangkabau matriarchaat is an established social system that appears to be drawn largely from the customary practice (adat) that involves tracing inheritance through the matrilineal line and giving prominent roles to women in public ceremonies.
Minang women uphold these pre-Islamic adat customs, which not only trace ancestry through the female line but also involve a complex social system in which women and men share power and control based on the principle of interdependence and mutual responsibility.
Inheritance – Minang women have the upper hand
In Minangkabau, gender is a major factor in inheritance.
The ownership of property (such as land, house or livestock), for instance, must pass from mother to daughter; however, a father can pass earnings from a business or profession to son. The former follows principles of adat and the latter Islamic law.
Minangkabau King's Palace at Batusangkar, heartland of the Minangkabau people. Sadiq Bhanbhro, Author provided
When couples marry, the groom moves to the bride's house. Nearly all household decisions are made only after being deliberated by both husband and wife.
Since the Minangkabau are also devout Muslims, it is interesting to observe how this community integrates the tenets of adat with those of Islam.
"Adat does not contradict but [rather] complements [the] values of Islam— such as, Islam gives the right of inheritance to women, [the] same [as] does adat," said a woman respondent.
Full report at:
http://theconversation.com/indonesias-minangkabau-culture-promotes-empowered-muslim-women-68077
--------
Malaysia to hold OIC meeting on Rohingya crisis
January 13, 2017
Kuala Lumpur: Foreign ministers from the Organisation of Islamic Cooperation will meet to discuss the Rohingya Muslim crisis next week in Kuala Lumpur, a Malaysian official told AFP Wednesday, as thousands continue to flee Myanmar.
Fifty-six OIC representatives are expected to attend the January 19 meeting which will be led by Malaysian Prime Minister Najib Razak, who recently called on Myanmar to stop the "genocide" of Rohingya Muslims.
Buddhist-majority Myanmar refuses to recognise the Rohingya as one of the country's ethnic minorities, instead describing them as Bengalis — or illegal immigrants from neighbouring Bangladesh — even though many have lived in Myanmar for generations.
There has been a large exodus of Rohingya from northern Myanmar's Rakhine state after the army launched clearance operations while searching for insurgents behind deadly raids on police border posts three months ago.
Escapees from the persecuted Muslim minority in Bangladesh have given harrowing accounts of security forces committing mass rape, murder and arson.
The stories have cast a pall over the young government of Nobel laureate Aung San Suu Kyi, with Muslim-majority Malaysia being especially critical.
Myanmar's government has said the claims of abuse are fabricated and launched a special commission to investigate the allegations.
In November, Kuala Lumpur summoned the Myanmar ambassador while around 500 Malaysians and Rohingya protested outside the embassy.
Full report at:
http://www.siasat.com/news/malaysia-hold-oic-meeting-rohingya-crisis-1107989/
--------
Islamic State Supporters Post Video of German Hostage Believed Kidnapped
Jan 13, 2017
Cairo. Islamic State supporters posted a video on Wednesday (11/01) showing an elderly German man believed to have been kidnapped by Filipino Islamist Abu Sayyaf rebels last November.
The video shows the German man in an orange jumpsuit standing in a freshly dug grave as black-clad. Masked militants behind him held assault rifles and, speaking Arabic, threatened the German government in English while the Islamic State black flag stood in the background.
"To the German government: it seems that you are not paying attention to our demands. Failure to pay the ransom will cause the beheading of this German citizen," one of the masked men can be heard saying.
The German foreign ministry declined to comment on the video, saying it was its policy not to discuss cases involving Germans kidnapped abroad.
Soldiers had found the body of a German woman on an abandoned yacht in the troubled waters of the southern Philippines on Nov. 7 and said they suspected her companion may have been taken captive by Abu Sayyaf rebels.
The body was found naked and with gunshot wounds on the yacht which bore a German flag and was docked on a remote island in the Sulu archipelago, a stronghold of the Abu Sayyaf.
Full report at:
http://jakartaglobe.id/international/islamic-state-supporters-post-video-german-hostage-believed-kidnapped/
--------
Arab World
Syrian Fighter Jets Target Terrorist Commanders' Meeting in Idlib
Jan 12, 2017
The Syrian fighter jets launched airstrikes on a meeting of al-Nusra Front (recently renamed to Fatah al-Sham Front), Jeish al-Islam, Ajnad al-Sham, Soqour al-Sham, al-Jibhat al-Shamiya and Faylaq al-Sham commanders which killed 32 terrorists and wounded 21 others and destroyed several of their military vehicles.
The attack against the meeting which hosted a number of Turkish officers and Saudi Sheikhs too, also killed 11 terrorist commanders, including the Egyptian commander of Jeish al-Fatah, namely Abu Soleiman al-Mesri.
After the operation, the terrorist groups detained a large number of their members and executed 5 of them who were accused of betrayal and disclosing information about the venue and time of the meeting.
The operation was carried out as terrorists of Ahrar al-Sham and al-Nusra Front engaged in rising waves of unprecedented clashes in Idlib countryside, leading to tens of casualties, media sources affiliated to opposition groups disclosed on Tuesday.
The sources said that the most bloody clashes are between Fatah al-Sham and Ahrar al-Sham, adding that Ahrar members accused al-Nusra of assassinating their three commanders in the town of Talmans.
The sources added that widening gaps and harsh disputes between the commanders of Ahrar al-Sham and al-Nusra in Idlib ushered in armed clashes between the two fronts.
"Ahrar al-Sham and al-Nusra assassinate members and commanders of each other in covert operations and without accepting the responsibility, and in a number of more cases they open fire at each other in the public and without any excuse," they continued.
The clashes have inflicted tens of casualties on both Ahrar al-Sham and al-Nusra Front.
http://en.farsnews.com/newstext.aspx?nn=13951023000760
--------
Aleppo: Syrian Army Blocks ISIL Relocation from Deir Hafer to Al-Bab
Jan 12, 2017
The Syrian army forces targeted the ISIL convoy, including 5 military vehicles, in Um al-Mari region in the Southern parts of Deir Hafer which were moving towards al-Bab city to join their comrades, killing tens of terrorists.
Reports said almost 6,000 army soldiers have been deployed near the Kuweires airbase waiting for the Damascus order to start a large-scale operation against the ISIL in the two key regions of al-Bab and Deir Hafer in Aleppo.
The Syrian army aircraft targeted ISIL's bases and gatherings South of the strategic town of al-Bab on Wednesday, killing and wounding a number of militants.
The warplanes and choppers carried out several rounds of joint combat flights over ISIL's concentration centers and positions South of al-Bab, leaving a number of terrorists dead and wounded.
Full report at:
http://en.farsnews.com/newstext.aspx?nn=13951023000477
--------
Intensified Infighting Reported among Terrorists in Wadi Al-Bardi
Jan 12, 2017
Field sources reported that the groups affiliated to al-Nusra have launched offensive against the Syrian army's outposts in Wadi al-Bardi and received harsh responses from the Syrian soldiers.
In response to these attacks, the terrorists' gathering centers and moves in the two towns of Kafar al-Zait and Deir Qanoun were attacked by missile and artillery fire which killed at least 7 militants.
Informed sources disclosed that infighting among al-Nusra militants has created this situation in a way that some of them have rejected and others have accepted the peace agreement and relocation from Wadi al-Bardi.
A Syrian military official said that all villages in Wadi al-Bardi will return to the Syrian government control, warning that the army will intensify its military operations until full liberation of the region if the terrorists don't accept the peace agreement.
The Damascus government granted amnesty to nearly 500 dissidents and ex-militants in the Western countryside of Damascus on Wednesday.
The government officials issued amnesty verdicts for 500 dissidents, among them 60 armed militants, in Wadi al-Bardi region.
Ali Mohamed Yousef, the reconciliation official in Wadi Bardi area, said that around 500 people, including 60 militants and a number of draft dodgers and wanted persons, were granted amnesty on Wednesday.
Full report at:
http://en.farsnews.com/newstext.aspx?nn=13951023000634
--------
Syrian Army Pushes Back ISIL from Regions West of Palmyra
Jan 12, 201
The Syrian soldiers could force the ISIL terrorists to withdraw from more regions in the Southern parts of T4 airbase, West of Palmyra (Tadmur), after heavy clashes with them.
The army units also inflicted 10 losses on the terrorists and destroyed their military hardware.
They also killed 15 militants in the Eastern side of T4 airbase and smashed two ISIL military vehicles.
Earlier today, the Syrian ground and air forces pounded the command centers and hideouts of the ISIL and al-Nusra Front (recently renamed to Fatah al-Sham Front) in the Northern and Eastern parts of Homs, inflicting heavy damages and casualties on them.
The Syrian army forces targeted the ISIL terrorists in the Northern parts of Katiba al-Mahjoura, Be'r al-Fawa'er, and Jahar in West of Palmyra in Eastern Homs, killing a number of terrorists and destroying 10 military vehicles.
Also, the Syrian soldiers attacked the militants' positions in al-Rastan, Talbiseh, and several villages in Northern Homs which smashed their bases and killed tens of them.
Full report at:
http://en.farsnews.com/newstext.aspx?nn=13951023000655
--------
At least seven killed in suicide attack in Syrian capital: state tv
Jan 13, 2017
A powerful blast caused by a suicide bomber hit a heavily policed district of the Syrian capital on Thursday with at least seven killed, a police source told state television.
The source was quoted by state television as saying a suicide bomber blew himself in the Kafr Sousa neighborhood where some of Syria's main security installations are located.
The British-based Syrian Observatory for Human Rights which tracks violence across the country said the death toll was expected to rise with several of the wounded in a critical condition.
Footage on state media showed splattered blood and wreckage of several cars with dozens of heavily armed security personnel at the site of the explosion.
Last July a car bomb also hit Kafr Sousa near an Iranian school in an attack that killed several people in the area, close to the main Umayyad Square that connects the city with several highways.
Full report at:
http://nation.com.pk/international/13-Jan-2017/at-least-seven-killed-in-suicide-attack-in-syrian-capital-state-tv
--------
Syrian army says Israel fires rockets at air base near Damascus
Jan 13, 2017
Syrian army command said on Friday that Israel fired rockets at a major military airbase outside Damascus, and warned Tel Aviv of repercussions of what it called a "flagrant" attack.
The explosions were heard in the capital, and residents in the southwest suburbs saw a large plume of smoke rising from the area, while video footage downloaded on social media showed flames leaping from parts of Mezzah military airport's compound.
Syrian state television quoted the army as saying several rockets were fired from an area near Lake Tiberias in northern Israel just after midnight which landed in the compound of the airbase, used by President Bashar al-Assad's elite Republican Guards.
"Syrian army command and armed forces warn Israel of the repercussions of the flagrant attack and stresses its continued fight against (this) terrorism and amputate the arms of the perpetrators," the army command said in a statement.
The statement did not disclose if there were any casualties, but said the rockets caused a fire. Earlier, state television said several major explosions hit Mezzah military airport's compound and ambulances were rushed to the area.
Government forces had in the past used the base to fire rockets at former rebel-held areas in the capital's suburbs.
The airport, located just a few kilometers from Assad's presidential palace, had been a base used to fire rockets at former rebel-held areas in the suburbs of Damascus.
Israel in the past has targeted positions of Lebanon's powerful Hezbollah group inside Syria where the Iranian-backed group is heavily involved in fighting alongside the Syrian army.
Only last November, the Syrian army said Israeli jets fired two missiles on an area west of the capital, close to the Damascus Beirut-highway, in an attack mounted from Lebanese air space.
Diplomatic sources say Israel has in the past few years targeted advanced weapons systems, including Russian made anti-aircraft and Iranian made missiles and bombed the elite Fourth Armored Division base on Qasioun mountain in the capital.
An air strike in Syria in December 2015 killed a prominent Hezbollah leader, Samir Qantar.
Israel welcomed Qantar's death, saying he was preparing attacks from Syrian soil, but stopped short of confirming responsibility for eliminating him.
Earlier that year, an Israeli air strike in Syria killed six members of Hezbollah, including a commander and the son of the its late military chief Imad Moughniyah near the Golan Heights.
Full report at:
http://nation.com.pk/international/13-Jan-2017/syrian-army-says-israel-fires-rockets-at-air-base-near-damascus
--------
US sanctions Syrian officials for chemical weapons attacks
12 January 2017
The United States on Thursday blacklisted 18 senior Syrian officials it said were connected to the country's weapons of mass destruction program, after an international investigation found Syrian government forces were responsible for chlorine gas attacks against civilians.
The action marked the first time the United States has sanctioned Syrian military officials for the government's use of chemical weapons, according to a Treasury Department statement.
A joint inquiry by the United Nations and the Organization for the Prohibition of Chemical Weapons (OPCW) found that Syrian government forces were responsible for three chlorine gas attacks and that Islamic State militants had used mustard gas, according to reports seen by Reuters in August and October.
Chlorine's use as a weapon is banned under the Chemical Weapons Convention, which Syria joined in 2013. If inhaled, chlorine gas turns into hydrochloric acid in the lungs and can kill by burning lungs and drowning victims in the resulting body fluids.
Syrian President Bashar al-Assad's government has denied its forces have used chemical weapons.
"We condemn in the strongest possible terms the Syrian regime's use of chemical weapons," Ned Price, a White House National Security Council spokesman, said in a statement. "The Assad regime's barbaric continued attacks demonstrate its willingness to defy basic standards of human decency, its international obligations, and longstanding global norms."
Following the reports of the international inquiry, Britain and France circulated a draft resolution to the UN Security Council in December that would ban the sale or supply of helicopters to the Syrian government and blacklist 11 Syrian military commanders and officials over chemical weapons attacks during the nearly six-year war.
A vote on the draft resolution has not yet been set, but diplomats said Syrian ally Russia, one of five council veto powers, has made clear it opposed the measures.
Ten of the individuals sanctioned by the United States on Thursday are listed for designation in the draft resolution, which - if adopted - would subject them to a global travel ban and asset freeze.
Full report at:
https://english.alarabiya.net/en/News/middle-east/2017/01/12/US-sanctions-18-over-Syrian-chemical-weapons-use-.html
--------
Bomb attack leaves eight dead in Syrian capital
Jan 12, 2017
At least eight people have lost their lives when a powerful explosion ripped through a heavily secured district of the Syrian capital Damascus.
A police source, speaking on condition of anonymity, said a bomber blew himself up on Thursday evening in the southwestern Kafr Sousa neighborhood of Damascus, where some of Syria's main security installations are located.
Syria's official news agency SANA reported that a "terrorist" detonated an explosive belt close to a sports club there.
The so-called Syrian Observatory for Human Rights, meanwhile, said the death toll was expected to rise as several of the wounded were in a critical condition.
Footage on state media showed wreckage of several cars and blood splattered everywhere. There were also dozens of heavily armed security personnel at the site of the explosion.
On July 25, 2016, an explosives-laden car blew up close to the main Umayyad Square in the same Damascus neighborhood, leaving several people dead and injured.
The British-based monitoring group said at the time that the blast was near an Iranian school.
Late last year, the Syrian army managed to liberate the eastern sector of Aleppo, the country's second-largest city, which had fallen to Takfiri groups back in 2012.
Government forces later secured the evacuation of remaining civilians and armed groups from the city under a ceasefire deal with the militant groups, brokered by Russia and Turkey.
Full report at:
http://www.presstv.ir/Detail/2017/01/12/505952/Syria-bomb-explosion-Kafr-Sousa-Damascus
--------
Africa
South Africa: Attacks On Mosques an Attack On Democracy - FW De Klerk Foundation
11 JANUARY 2017
The desecration of two Cape Town mosques is an assault on the country's democracy, the FW de Klerk Foundation said on Wednesday.
It believed that most South Africans disagreed with what the vandals had done and that most citizens respected religious freedom.
The organisation referred to Chapter 2 of the Bill of Rights, which states: "Everyone has the right to freedom of conscience, religion, thought, belief, and opinion.
"The foundation stands with the vast majority in expressing outrage at the attack on places of worship and reverence," it said in a statement.
Blood was found spattered on the walls and pulpit of Masjidul Jamiah in Kalk Bay on Monday morning. The vandals damaged property inside the building. The mosque is a heritage site and was founded in 1898. It was renovated last year.
A mosque in Simon's Town was also desecrated on Saturday. A pig snout and blood were left on the doorstep. Pigs are forbidden in Islam.
A few days earlier, Langebaan resident, Liam Ferreira, wrote a Facebook post ranting about the Muslim call to prayer, which takes place five times a day. He later apologised and then joined the chorus of condemnation following the desecration of the Simon's Town mosque.
http://allafrica.com/stories/201701120482.html
--------
Forces loyal to self-declared PM seize Libyan ministries
12 January 2017
A self-declared prime minister in Libya says his forces have seized at least three ministries in the capital and is declaring a return of his government after what he described as a yearlong failure of the current UN-backed premier.
Khalifa Ghwell told The Associated Press over the phone from Tripoli on Thursday that his forces control the ministries of defense, labor and the "martyrs and the wounded."
He said conditions have gone "from bad to worse" in the year since Prime Minister Fayez Serraj became head of a UN-backed government. Serraj is currently visiting Egypt.
Full report at:
https://english.alarabiya.net/en/News/north-africa/2017/01/12/Forces-loyal-to-self-declared-PM-seize-Libyan-ministries.html
--------
Cameroon uses witchcraft to fight Boko Haram
12, 2017
In the war on terror, guns and bombs just haven't been enough. So Cameroon is trying spells and curses too.
About a year ago, Cameroonian President Paul Biya urged citizens to use witchcraft against Boko Haram, the Islamic State-affiliated militants who have terrorized West Africa for years.
"We expect every village to have brilliant actions in this direction," said Midjiyawa Bakari, governor of the Far North region of the country, echoing the president. "We want to hear that this or that village has wiped out or limited the sect's damage through witchcraft. Fight for your country."
Many viewed the move as a sign of Biya's desperation as the jihadists continue their rampage of suicide attacks, pillaging and kidnapping throughout Cameroon, as well as in Chad and Nigeria. The three countries have made headway against the group — some commercial routes between Cameroon and Nigeria that had been closed due to the violence have reopened, and some of the people displaced from villages near the Nigerian border have been able to return home. But there is much more left to do.
And locals in Mora, a remote mountainous district in the Far North province near Nigeria, said they would try anything to end the Islamic State's reign of terror.
Nigeria finds schoolgirl kidnapped by Boko Haram, with baby
Boko Haram leader: "The battle is just beginning"
After Biya's call to employ witchcraft against Boko Haram in January 2016, hundreds of militia fighters rushed to sorcerers, commonly called "marabouts," to obtain lucky charms and talismans to protect them in battle.
"Since I have this gris-gris, I have no problem," said Mohamad Ahmed, a gym teacher and member of a local militia in Mora, referring to a small cloth bag typically worn around the neck or wrist.
Filled with supposedly magic objects and paper inscribed with verses from the Koran, Bible or other holy scriptures, gris-gris originated in Africa but are common among voodoo practitioners in the Caribbean as well. Women often don them for contraception. "It is so powerful," said Ahmed. "I put it on at the moment I go into the field of fighting. The fetish protects its wearer. If someone shoots at you, the bullets have no effect. They fall on the ground like small pebbles."
Ahmed noted that he has not been shot to test the charm, however.
In the past two years, more than 1,500 Cameroonians have died in the war against Boko Haram, while the violence has displaced 155,000 people, according to the government.
"One morning the terrorists entered our house," said a 32-year-old woman who fled Kérawa, a village on the Nigerian border, with her 9-month-old baby.
Nigeria: Boko Haram crushed, forced out of last enclave
The woman, now in Mora, was a farmer in Kérawa. She declined to provide her name out of fear of retribution from Boko Haram militants. "They murdered my husband before our eyes," she said. "Then they raped my neighbor before setting fire to the whole village. Soldiers on patrol saved us."
Ironically, witchcraft is illegal in Cameroon due to its perceived pernicious effects in tribal communities, where believers frequently cast spells in hopes of hurting their enemies. The law imposes fines and prison sentences of as long as 10 years on those convicted of black magic.
However, "it is well known that occult ceremonies are practiced in the political circles of Cameroon at a very high level," said Henriette Ekwe, a Cameroonian political analyst and good government advocate.
She maintains that the call for occult help isn't a good sign.
"When one comes to advocate the practice of witchcraft, it is because one is not sure of one's army," she said. "It is not up to a head of state to advocate practices of black magic in a theater of operations where it is the weapons that must inflict defeat on Boko Haram, not magicians or sorcerers. This is very serious for the morale of the troops."
"What is surprising," she went on, "is that the head of state advocates the practice of witchcraft prohibited in Cameroon. How many times have we thrown old people into cells on the grounds that they are accused of practicing black magic in the villages?" Baba Boukar, a marabout, claimed that he had studied witchcraft for years and could invoke curses and cure the sick. Against Boko Haram, he said his disciples could choose between magic trinkets like Ahmed's, or vampirism.
To locals, there are two types of witchcraft: fetishism, which employs charms to harm or do good, and vampirism, in which incantations replace the physical objects.
"Some members of the vigilance committees now have the ability to mystically eat the hearts of enemies or make them slaves by pronouncing incantations," said Boukar. These would be spiritual, not literal, accomplishments.
Full report at:
http://www.usatoday.com/story/news/world/2017/01/12/cameroon-uses-witchcraft-fight-boko-haram/96480570/
--------
US confirms airstrike against Al-Shabaab fighters in Somalia
January 2017
MOGADISHU: The US Africa Command (AFRICOM) on Thursday confirmed that African Union forces and US Advisors launched an airstrike against Al-Shabaab as part of counter-terrorism exercise on January 7.
AFRICOM said in a statement received on Thursday that the "self-defence strike" was conducted against an Al-Qaida-associated terrorist group in Gaduud, a town in north of Kismayo in southern Somalia, Xinhua news agency reported.
"During a counter-terrorism operation to disrupt Al-Shabaab, the combined partner forces observed Al-Shabaab fighters threatening their safety and security," Africom was quoted as saying.
AFRICOM said Washington conducted a self-defense strike to neutralise the threat but no enemy fighters were killed.
Full report at:
http://www.newindianexpress.com/world/2017/jan/13/us-confirms-airstrike-against-al-shabaab-fighters-in-somalia-1559198.html
--------
Europe
Czech Anti-Terror Plan: Arm Citizens to Battle Jihadists
by Alex Newman
12 January 2017
After witnessing disarmed French civilians cowering before a few Islamists rampaging through Paris with illegal guns, top officials in the Czech Republic are determined to ensure that similar tragedies do not strike in their own country. Following recent comments by Czech President Miloš Zeman urging citizens to arm themselves in preparation for a potential "super-Holocaust" perpetrated by jihadists flooding into Europe, senior government ministers in the Eastern European nation are now proposing a constitutional change authorizing the use of firearms by citizens against terrorists. However, reports suggest the proposal might also be used as a vehicle to comply with unpopular and illegitimate new European Union decrees attacking gun rights and law-abiding gun owners.
The Czech Republic is already home to nearly a million "registered" guns, and has less infringements on gun rights than most European nations despite maintaining a list of gun owners. The right of citizens to defend themselves and their property using a firearm is already protected, too, with the stipulation being that the self-defense measures must be proportional to the threat. If approved, though, the change to the Czech Constitution would expand the authorization for the use of firearms to cover defense of the state as well, something that is included in many state constitutions in America. That would allow citizens to take action against terrorists in the event of an attack, even if the citizens were not directly threatened.
Citing recent jihad attacks in Europe that have produced hundreds of casualties using illegal guns, bombs, and even trucks, Czech officials say the public is rightly concerned. "The terrorist attacks we have seen in Western Europe and elsewhere have increased security concerns among the public," said Czech Interior Minister Milan Chovanec, the man behind the proposed constitutional amendment to authorize citizens' armed defense of the state. "More Czechs are getting firearms licenses and I think that if the situation does not improve in the coming months, then the number of firearms holders will grow." He is hoping for parliamentary approval of the changes ahead of elections in October.
The Czech Republic, like other Eastern European nations, has stood firm against the ongoing tsunami of Islamic migration swamping Western Europe. In fact, the nation is actually home to only a handful of Muslims: Estimates suggest that less than 5,000 Muslims reside in the nation of 10 million. And like several other like-minded governments, Czech authorities have been vehemently opposed to a plot pushed by the EU super-state to force national governments to accept a quota of Islamic refugees and migrants pouring into Europe from Africa and the Middle East.
However, the nation shares a border with Germany, which admitted millions of Muslim migrants just over the last few years, with more continuing to flood in on a daily basis. The Czech Republic also shares a border with Austria, another nation that has been flooded with Islamic migrants in recent years amid what political leaders said was a "treasonous conspiracy" by globalist "fanatics" to undermine Christianity, Western civilization, and the nation-state. And with internationalists having all but abolished borders across the continent, terrorists can and do easily travel throughout the EU bloc unmolested, making all EU member states vulnerable.
The growing danger led Czech President Zeman — a leftist politician and self-styled former communist — to warn that jihadist terrorists could seek to unleash a "super-Holocaust" against Europeans. "The experience of western European countries which have ghettos and excluded localities shows that the integration of the Muslim community is practically impossible," he said in a TV interview, arguing that Muslim migrants needed to be sent home.
He has also compared Muslims to Nazi-era Germans — even if many are decent now, they can quickly be radicalized, he argued, drawing fire from critics. "The radicalization of the — until these times — moderate Muslim population might be like the case of the German population," he argued, saying regular Germans became "Nazis, even fanatic Nazis," in a period of just a few years. "It might be easier than the German population, [because] you have a very radical ideology based on a religion."
While a far cry from the United States, where the inalienable right to keep and bear arms is protected from infringement by the U.S. Constitution and is considered necessary to the security of a free state, the Czech Republic has relatively few infringements on gun rights — at least compared to most of its more totalitarian-minded fellow EU member states. Today, a Czech citizen who is of age, without a criminal record, and who can pass a knowledge test can apply for and receive a "shall issue" firearms license. Hundreds of thousands of licenses are already in circulation, and the number is growing quickly.
Of course, those infringements are far more stringent than in most American states, few of which even require a license to exercise the fundamental human right to own a gun. But by European standards, Czech citizens enjoy a great deal of freedom when it comes to firearms. Following strict gun control imposed by mass-murdering National Socialist (Nazi) and Communist regimes, infringements on gun rights were drastically relaxed, to the point where the Czech Republic today has some of the least restrictions on civilian gun ownership in Europe. Having suffered under so much murderous tyranny, citizens largely understand the benefits of gun rights — though apparently the lesson about gun registration abuse has never sunk in. Like in the United States, gun sales in the nation have been soaring.
Speaking in August after a series of Islamist terror attacks rocked Europe, Zeman explained how his views on the subject of gun ownership had shifted over time. "I really think that citizens should arm themselves against terrorists," he said in an interview, adding that if victims had been armed, they could have fought back. "And I honestly admit that I changed my mind, because previously I was against [citizens] having too many weapons. After these attacks, I don't think so [anymore]." More terror attacks have happened since then, including one in Berlin last month in which a jihadist mowed over shoppers at a Christmas market.
But authorization for citizens to use firearms against terrorists is only part of the solution, according to Zeman and other Czech leaders. They say the Islamic "invasion" must be stopped and reversed. Zeman especially chastised radical German leader Angela Merkel, herself a "former" communist, for seeking to use the EU to coerce other nations into accepting the millions of Muslim migrants she invited in. "My first sentence in the meeting with Madam Chancellor was: If you invite somebody to your homeland, you do not send them for a lunch to your neighbors," Zeman was quoted as saying in the far-left U.K. Guardian. "Very polite sentence, isn't it?"
Despite opposing the German government's bid to export its rapidly growing Muslim population across Europe, Zeman has argued that what he called "an organized invasion" of Europe by the growing number of Muslims — including "moderate Muslims" — poses a major threat to the West. The Czech leader has also claimed that the Muslim Brotherhood, designated even by some hard-line Islamic dictatorships as a terrorist group, was the mastermind behind the "invasion" of Europe.
Zeman has said publicly that the Islamic migrants will never assimilate into European society and that they should be promptly deported, or at least housed on an uninhabited island until they can be returned home. "Let them have their culture in their countries and not take it to Europe, otherwise it will end up like Cologne," he was quoted as saying, a reference to the mass sexual assault of women in the German city on New Year's Eve that authorities tried to cover up.
The seemingly pro-gun rights developments in the Czech Republic run counter to the trend across much of Europe, where governments and the EU have consistently exploited terror attacks and the immigration tsunami to curtail individual rights and liberties across the board. In fact, even the EU super-state, despite its lack of legitimacy and its lack of authority over gun rights, exploited the recent wave of jihad terror attacks to impose further infringements on citizens' rights to privacy, self-defense, and more. The EU has also exploited the attacks to further centralize power in Brussels.
In addition to opening its borders to the Third World under various guises, the EU has also viciously and lawlessly attacked the gun rights of all European citizens. Last month, citing terror attacks perpetrated by terrorists who ignore gun regulations and even murder laws, the unelected EU Commission released new decrees purporting to ban numerous firearms — including many that are in wide circulation in the Czech Republic and other EU nations. The scheme, which the Czech government opposed, also purports to require "psychological evaluations" for all gun owners, with the results entered into an international database.
Unsurprisingly, the EU's latest totalitarian demands are unpopular in the Czech Republic and other firearm-friendly nations. The Czech government voted against the new EU gun-control regime but was overruled by other, more totalitarian-minded governments and bureaucrats. And so, it seems, according to news reports, that certain Czech politicians are hoping to use the proposed constitutional changes authorizing citizens to fight terrorists as a tool to sneak the new EU decrees into law domestically. Whether they will succeed remains to be seen.
But with the explosion of terrorist attacks targeting helpless Europeans disarmed by their own governments, the surging public interest in guns and self-defense is likely to grow. Indeed, having witnessed the pathetic spectacle of hundreds of disarmed victims in Paris cowering in front of a few jihadists with illegal guns, more and more Europeans have been rushing to buy weapons for self-defense. And no matter what the EU decrees, the growing demand for guns, gun rights, and self-government is only going to keep escalating — perhaps culminating in the collapse of the totalitarian EU altogether.
Alex Newman, a foreign correspondent for The New American, is normally based in Europe. He can be reached at anewman@thenewamerican.com. Follow him on Twitter @ALEXNEWMAN_JOU.
http://www.thenewamerican.com/world-news/europe/item/25120-czech-anti-terror-plan-arm-citizens-to-battle-jihadists
--------
Belgium charges pair over fake papers for jihadist in Paris, Brussels attacks
Jan 13, 2017
Belgian authorities have charged two people with supplying fake documents to an Islamic State militant involved in the November 2015 attacks in Paris and who later carried out a suicide bombing on the Brussels metro, prosecutors said on Thursday.
Khalid El Bakraoui was involved in planning the attacks in Paris on the evening of Nov. 13 2015 in which 130 people were killed. He then blew himself up in the Brussels metro last March, as part of coordinated attacks that killed 32 people.
Belgian police detained a man and a woman in a house search on Wednesday, prosecutors said.
The woman, identified as Meryem E. B., was released under strict conditions. The man, named as Farid K., remained in custody. He is also charged with participating in the activities of a terrorist organization.
"They are suspected of having provided Khalid El Bakraoui with the false documents later used in preparation for the Paris attacks," prosecutors said in a statement.
Bakraoui rented, under a false name, an apartment in the city's Forest borough where police hunting Paris suspect Salah Abdeslam killed another suspected militant in a raid weeks before the attacks in Brussels.
Full report at:
http://nation.com.pk/international/12-Jan-2017/belgium-charges-pair-over-fake-papers-for-jihadist-in-paris-brussels-attacks
--------
France: Syria talks must convene quickly under UN
12 January 2017
France said on Thursday Syrian peace talks should resume as quickly as possible under the auspices of the United Nations and appeared to question plans for Russian-backed discussions on the subject in Kazakhstan.
Syria's government and rebel forces started a ceasefire on Dec. 30 as a first step towards face-to face negotiations, backed by Turkey and Russia, and due to take place in the Kazakh capital Astana. The date and its participants remain unclear.
The United Nations had previously led talks in Geneva, but after several fruitless rounds and an escalation of violence in the six-year civil war that has benefited Syrian President Bashar al-Assad and his backers, Moscow and Ankara agreed in December to launch new peace efforts.
"Negotiations have to resume as quickly as possible," President Francois Hollande told the foreign diplomatic corps in a New Year address.
"They have to be led under the auspices of the United Nations within the framework agreed in Geneva in 2012."
Moscow has said the proposed Astana talks would complement the United Nations. However, European diplomats and opposition sources have suggested only some armed groups will be invited with political opposition representation limited despite discussions on aspects such as the constitution.
Hollande, a key backer of the Syrian opposition, said there was no need to go over the framework for talks.
Full report at:
https://english.alarabiya.net/en/News/middle-east/2017/01/12/France-Syria-talks-must-convene-quickly-under-UN.html
--------
Islamic elementary school in Netherlands attacked
Jan 13, 2017
An elementary school attended by Muslim children in the Netherlands was attacked during the semester break. As-Siddieq Islamic School was hit by eight rounds of bullets on the wall. The armed attack was noticed on the day the spring semester began. The police have been investigating the incident. One of the children who had been educated at school said that they had seen bullet holes in the building, saying, "Parents and teachers do not feel safe."
The increasing number of Islamophobic attacks of late and a rise of the extremist right in the Netherlands, previously known for its tolerant and liberal values, have evoked a sense of fear among its Muslim community. The Foundation for Political, Economic and Social Research (SETA) in a 2015 report covered Islamophobia in Europe. The report stated that Holland in 2015 experienced some 279 religion-based discriminatory attacks, out of which 206 were carried out against Muslims, a significant increase from 150 in 2013.
Radio Netherlands Worldwide reported that there were some 117 attacks on mosques in the country between 2005 and 2010, more than any other country. It said that in 2011, only 290 discriminatory comments were detected on the internet however with the rise of social media that number has become uncountable.
Full report at:
http://www.dailysabah.com/europe/2017/01/13/islamic-elementary-school-in-netherlands-attacked
--------
France on high alert over fears Islamic extremists are 'infiltrating police ranks' as it's claimed 16 police officers have joined ISIS
12th January 2017
TOP cops and military chiefs in France have got their internal affairs department's on alert after it emerged Islamists were trying to infiltrate their ranks.
The depth of the concern was revealed in a book published yesterday which claims at least 16 French police officers have joined ISIS.
The book, titled Ou Sont Passes Nos Espions? (Where Have Our Spies Gone?), additionally claims around a dozen soldiers have joined the jihadi group.
It also highlighted the difficulty the country is having imposing its secular policies on the Muslim minority.
Police officers like all public employees are barred from wearing religious symbols while on duty .
This ban prohibits everything from crucifix necklaces to the Islamic veil.
Those who breach this rule are classified as radical extremists.
But routine checks have found extremist views amongst the ranks of the gendarmes.
Full report at:
https://www.thesun.co.uk/news/2594663/france-on-high-alert-over-fears-islamic-extremists-are-infiltrating-police-ranks-as-its-claimed-16-police-officers-have-joined-isis/
--------
Trump's CIA Nominee Lists Russia, IS Among Among Major Threats
January 13, 2017
Washington: President-elect Donald Trump's nominee to head the CIA portrayed multiple challenges facing the United States on Thursday, from an aggressive Russia to a "disruptive" Iran to a China that he said is creating "real tensions."
Diverging from Trump's stated aim of seeking closer ties with Russia, Mike Pompeo said that Russia is "asserting itself aggressively" by invading and occupying Ukraine, threatening Europe, and "doing nearly nothing" to destroy Islamic State.
Pompeo, a Republican member of the House of Representatives and a former US Army officer, was speaking during his confirmation hearing in the US Senate, at a time when Trump, a Republican who takes office on Jan. 20, has openly feuded with US intelligence agencies.
For weeks, the president-elect questioned the intelligence agencies' conclusion that Russia used hacking and other tactics to try to tilt the 2016 presidential election in his favour. Trump said on Wednesday that Russia was behind the hacking but those other countries were hacking the United States as well.
Asked about the hacking, Pompeo said he was very clear about what he called an "aggressive action" ordered by the Russian leadership, and accepted the US intelligence report on the hacking as sound.
Trump this week also furiously denounced intelligence officials for what he said were leaks to the media by intelligence agencies of a dossier that makes unverified, salacious allegations about his contacts within Russia.
By contrast, Pompeo voiced strong support for the agency he has been nominated to lead, saying he has seen staff from the Central Intelligence Agency "walk through fire."
Pompeo signaled he would stand firm if necessary against Trump on the issue of enhanced interrogation techniques for terrorism suspects. Such techniques are widely regarded as torture and their use has been banned by Congress. Trump has said he would bring back tactics such as waterboarding, which simulates drowning.
Asked about this, Pompeo said that he would "absolutely not" restart enhanced interrogation techniques by the CIA if asked by the president-elect. He noted it would take a change in the law for the CIA to use interrogation techniques that go beyond those permitted by the Army, adding he could not imagine that Trump would order the CIA to use illegal methods.
Full report at:
http://www.news18.com/news/world/trumps-cia-nominee-lists-russia-is-among-among-major-threats-1335138.html
--------
Mideast
Fists fly as Turkey moves to bolster Erdogan powers
Jan 13, 2017
ISTANBUL - Turkish lawmakers on Thursday brawled and threw chairs as parliament approved three more articles in a hugely controversial bill bolstering the powers of President Recep Tayyip Erdogan.
Lawmakers have since the start of the week been debating the first reading of the 18-article bill to change the constitution to create an executive presidency.
The articles approved covered lowering the minimum age limit of members of parliament from 25 to 18, stipulating parliamentary elections be held every five years, instead of four, and on the parliament's own powers. Five of the 18 articles have now been approved with the three-fifths majority required for the new constitution to be submitted to a referendum expected in April.
The ruling Justice and Development Party (AKP) has mustered sufficient votes in an alliance with the Nationalist Movement Party (MHP).
But the changes are vehemently opposed by the main opposition Republican People's Party (CHP), whose lawmakers boycotted the vote.
A brawl erupted in the chamber as the voting took place in an overnight session, with lawmakers punching each another and chairs being thrown, television pictures showed. Dozens of lawmakers crowded around the speaker's rostrum with one MP held in a chokehold and another kicked in the shins.
Another was seen being led away, apparently bleeding from the head, while the lectern from which MPs deliver speeches was also badly damaged in the fracas. Female MPs meanwhile shook their heads and waved their hands in despair.
Despite the tensions, all articles have mustered sufficient support so far and Erdogan on Thursday voiced confidence that the draft constitution would be approved by parliament and sent to a referendum.
"Nothing is gained from hindering and delaying the works in the parliament," he said during a meeting with local officials in Ankara. "No matter what you do... I believe (the draft constitution) will be handed to the people," he said. Some commentators had suggested that dissent from within the AKP could give the draft bill a rocky ride in the days to come when votes are made on the most contentious articles.
Other key changes will include giving the president the power to name and fire ministers as well as abolishing the post of premier but creating vice presidents.
The two readings are expected to take two weeks, with parliament working without a break. Three more articles will be voted overnight Thursday.
The CHP blamed the AKP for the fighting and said it would stand its ground by maintaining the boycott. "I am proud of my CHP deputies who showed resistance despite all the attacks from the AKP," the CHP faction's deputy chairman Ozgur Ozel said.
The pro-Kurdish Peoples' Democratic Party (HDP) also boycotted the vote in protest at the arrest of its two co-leaders and several other MPs over alleged links to the outlawed Kurdistan Workers' Party (PKK).
A senior AKP lawmaker, Mustafa Sentop, warned that a failure to pass the draft constitution would push Turkey to a snap election. "It could be in the spring, autumn or whenever. No one can stop the elections," Sentop told Anadolu news agency.
While critics say the move is part of a power grab by Erdogan for a one-man rule, supporters say it will put Turkey in line with France and the US and is needed for efficient government.
Along with a slew of terror attacks, the political uncertainty has been one of the factors pressuring the Turkish lira, which has slid 18 percent against the dollar over the last three months.
Meanwhile, Turkish President Tayyip Erdogan's spokesman lashed out at the US military on Thursday after it re-tweeted a statement by a Kurdish-dominated alliance that Washington backs in Syria saying it had no links to Kurdish militants fighting the Turkish state.
The Syrian Democratic Forces, the main US partner on the ground in Syria in the fight against Islamic State, includes the powerful Kurdish YPG militia.
Turkey views the YPG as an extension of the PKK militant group, which has waged a three-decade insurgency in Turkey and is considered a terrorist organisation by Ankara, the United States and the European Union.
"SDF confirms that it has no affiliation or ties to PKK," US Central Command said on Twitter, re-tweeting a statement by the SDF in which it said it was not part of the PKK and wanted a strong relationship with neighbours including Turkey.
"Is this a joke or @CENTCOM has lost its senses?," Erdogan's spokesman, Ibrahim Kalin, replied.
"Do you believe anyone will buy this? The US must stop trying to legitimize a terrorist group."
US support for the YPG has been a major sticking point between Washington and Turkey, a Nato ally and a member of the US-led coalition against Islamic State.
Turkey is hoping that the incoming US administration under President-elect Donald Trump will re-think its policy in Syria and stop providing support to Kurdish YPG militia fighters, who are affiliated with the PYD political party.
"We hope that Trump and his administration will listen to what Turkey says and correct this mistake," Defence Minister Fikri Isik said in a speech at an ambassadors' conference.
In a Senate confirmation hearing on Wednesday, US Secretary of State nominee Rex Tillerson talked of "recommitting" to the Syrian Kurds and constructing a renewed coalition using the forces already in Syria, "including the Syrian Kurds who have been our greatest allies".
Tillerson also spoke of re-engaging with traditional US allies in the region, saying Russia and Iran were dictating developments in Syria without US participation.
"We have to re-engage with President Erdogan in Turkey, this is a long-standing Nato ally who, in the absence of American leadership, got pretty nervous about his situation and he turned to who was next available," Tillerson said, an apparent reference to Moscow and Tehran.
http://nation.com.pk/international/13-Jan-2017/fists-fly-as-turkey-moves-to-bolster-erdogan-powers
--------
'Afro-Palestinians' forge a unique identity in Israel
Jan 13, 2017
JERUSALEM: In the shadow of the Al-Aqsa Mosque in Jerusalem's Old City lies the "African Quarter" — home to a little-known community of nearly 50 Arab families of African descent.
Descended from Muslim pilgrims from a variety of African countries, they now consider themselves proud Palestinians, despite widespread poverty and occasional discrimination from both Palestinians and Israelis. Several have even participated in violent attacks against Israel.
"We regard ourselves to be Afro-Palestinian," said community leader Ali Jiddah.
Jiddah, a former member of the radical Popular Front for the Liberation of Palestine, spent 17 years in Israeli prison for taking part in a 1968 bombing that wounded nine Israelis before he was freed in a prisoner swap. Jiddah, who long ago renounced violence, is now a well-known tour guide in the Old City, offering what he calls an "alternative" perspective on the conflict with Israel.
Afro-Palestinians reside in various Palestinian cities, with large communities in Jerusalem, Gaza and the West Bank town of Jericho.
Some are the descendants of slaves or soldiers brought in during Ottoman times. The forefathers of Jerusalem's African Quarter are mostly Muslim pilgrims from Chad, Sudan, Nigeria and Senegal who settled here or got stuck during periods of war.
"My father came from Chad, from the Salamat tribe," said Mousa Qous, 55, director of the African Community Society, a grassroots center that serves black Palestinians in Jerusalem.
Standing under posters of the late Palestinian leader Yasser Arafat and Nelson Mandela, he said his father came to Jerusalem on a religious pilgrimage in 1959 and "then decided to stay to fight in the 1967 war."
Others came with The Arab Salvation Army, an army of volunteers that fought on the Arab side in the 1948 war surrounding Israel's creation.
"We are originally Nubians from Aswan," in southern Egypt, said 30 year-old Hanan Bersi.
Some still have their ancestors' identification documents, like Ibrahim Firawi, whose grandfather came from Sudan's western region of Darfur.
Full report at:
http://nation.com.pk/international/12-Jan-2017/afro-palestinians-forge-a-unique-identity-in-israel
--------
Erdogan labels 'terrorists' elements behind plunge in lira value
Jan 12, 2017
Turkey's President Recep Tayyip Erdogan has labeled "terrorists" the elements behind the recent plunge in the value of Turkish currency.
"There is no difference between the terrorist who has a weapon… and the terrorist who is using the dollar… to bring Turkey to its knees," Erdogan said.
The Turkish president explained that the exchange rate was being used "as a weapon."
Erdogan made the remarks in an address to a group of officials in the capital, Ankara, on Thursday.
The Turkish Lira has plunged to record lows in recent weeks against the dollar, something which has led to jitters in the country's economy.
Erdogan, however, did not name specifically the elements behind the 10-percent decline in the value of lira.
Credit rating agencies Standard and Poor's as well as Moody's downgraded Turkey's rating to junk status in 2016.
Moody's recently warned that the current dire politico-economic situation in Turkey was likely to further impact the lira. Turkey might face, Moody's said, a "general worsening of the investment climate."
Analysts say investors are also increasingly worried about Erdogan's interference in the country's monetary policy, repeatedly pressuring the central bank to lower interest rates.
Turkey has been hit by a string of terrorist attacks by Kurdish militants and the Daesh Takfiri terrorists over the past months. The matter has raised doubts about security in the country.
On January 1, a Daesh terrorist attacked a nightclub in the city of Istanbul, killing 39 people, including nearly 30 foreigners.
The photo taken on January 2, 2017, shows members of the Turkish special forces standing guard near the Reina nightclub in Istanbul, where 39 people were gunned down on New Year's eve. (Photo by AFP)
In the political sphere, Erdogan's ruling Justice and Development Party (AKP) is making efforts to expand presidential powers.
Full report at:
http://www.presstv.ir/Detail/2017/01/12/505924/Trukeyelements-behind-lira-plunge
--------
Iran appoints the Quds force advisor as Iraq envoy
12 January 2017
Iran appointed Brigadier Iraj Masjadi, commander adviser of the 'Quds Force' of the Iranian Revolutionary Guards, who is on the list of international terrorists, as an ambassador to Iraq, instead of the current ambassador Hassan Danaii Far, who is also a member of the Revolutionary Guards.
The AsrIran newspaper reported that the choice of Brigadier Masjadi as an ambassador to Tehran in Baghdad was based on a 'consensus' between Gen. Qassim Soleimani (Commander of the Iranian Revolutionary Guards) and Foreign Minister Mohammad Javad Zarif.
The Revolutionary Guards considers the Iranian embassy in Baghdad of strategic importance within the states that are subject to Iranian influence. Since the fall of the former Iraqi regime in 2003, all the ambassadors of Iran to Iraq were members of the Revolutionary Guards.
Masjadi, who serves as the top commander adviser of Gen. Qassim Soleimani, is famed for his comments about the battle of Fallujah against ISIS, where he said in last May that "the involvement of the Iranian Revolutionary Guard in the battle of Fallujah was in order to preserve Iran's status as a Shiite center in the world. We are defending Iran and its borders".
Quds Force rescued Assad
In a statement made in last May, Brigadier Masjadi revealed the role of the Quds Force in maintaining the regime of Bashar al-Assad saying: "Without the interference of the Quds forces in the last moments, the Syrian regime would have fallen in the hands of the Syrian opposition."
While attending a memorial service for the fighters of the Revolutionary Guards who died in Syria, Masjadi maintained that "after the Syrian armed opposition took control of most areas in Damascus and its countryside, Syria was on the verge of completely falling down. We finally intervened at the last minute and saved Damascus and the Syrian President Bashar al-Assad of an inevitable downfall."
The adviser commander of Iran's Quds Force claimed that "all the armed movements in Syria have a unified goal of eliminating Shia, Shiites and Alawites in Syria, in addition to their hostility against the shrine of Zaynab Bent Ali.
This is the indoctrination propagated by Iran and its allies to accuse the Syrian opposition of extremism.
Masjadi explained the importance of the survival of al-Assad's regime for Iran, disclosing: "The fall of the Syrian government in Damascus at the hands of the Syrian armed opposition would mean disrupting the link between Iran and Hezbollah in Lebanon. In this case we believe that Hezbollah will be besieged, its position would be very weak, and will experience hardship in Lebanon. "
Full report at:
https://english.alarabiya.net/en/News/middle-east/2017/01/12/Iran-appoints-the-Quds-force-advisor-as-Iraq-envoy.html
--------
Trump's CIA nominee: Iran fueling tensions in the Middle East
12 January 2017
US President-elect Donald Trump's nominee to head the CIA portrayed multiple challenges facing the United States on Thursday, from an aggressive Russia to a "disruptive" Iran to a China that he said is creating "real tensions."
He called Iran an "emboldened, disruptive player in the Middle East, fueling tensions" with allies of the United States.
Diverging from Trump's stated aim of seeking closer ties with Russia, Pompeo said that Russia is "asserting itself aggressively" by invading and occupying Ukraine, threatening Europe, and "doing nearly nothing" to destroy ISIS.
Mike Pompeo, a Republican member of the House of Representatives and a former US Army officer, was speaking at the start of his confirmation hearing in the US Senate.
In his prepared opening statement, Pompeo noted that the CIA does not make policy on any country, adding, "it is a policy decision as to what to do with Russia, but it will be essential that the Agency provide policymakers with accurate intelligence and clear-eyed analysis of Russian activities."
His testimony came at a time when Trump, a Republican who takes office on Jan. 20, has openly feuded with US intelligence agencies.
For weeks, the president-elect questioned the intelligence agencies' conclusion that Russia used hacking and other tactics to try to tilt the 2016 presidential election in his favor. Trump said on Wednesday that Russia was behind the hacking but that other countries were hacking the United States as well.
This week, Trump furiously denounced intelligence officials for what he said were leaks to the media by intelligence agencies of a dossier that makes unverified, salacious allegations about his contacts in Russia.
Full report at:
https://english.alarabiya.net/en/News/middle-east/2017/01/12/Trump-s-CIA-nominee-Iran-fueling-tensions-in-the-Middle-East.html
--------
UN envoy to Yemen meets G18 envoys
12 January 2017
United Nations envoy to Yemen, Ismail Ould Chiekh Ahmed, met with the ambassadors of the group of states sponsoring the Gulf initiative to resolve the crisis in Yemen on Wednesday. The meeting was held at the headquarters of the General Secretariat of the Gulf Cooperation Council.
Full report at:
https://english.alarabiya.net/en/News/gulf/2017/01/12/Ould-Cheikh-Ahmed-meets-G18-envoys-in-bid-to-resolve-Yemen-crisis.html
--------
Closer Tehran-Ankara cooperation secures Middle East peace, stability: Rouhani
Jan 12, 2017
Iranian President Hassan Rouhani has underlined the need for promotion of cooperation between his country and neighboring Turkey in order to advance the long-term interests of the Middle East.
During a telephone conversation with his Turkish counterpart Recep Tayyip Erdogan on Thursday, Rouhani stated that the Islamic Republic of Iran is content with closer cooperation among Ankara, Tehran and Moscow to bring about peace in the region.
He expressed satisfaction over the Syrian ceasefire agreement brokered by Russia and Turkey, stressing that all should endeavor for the truce to withhold.
The Iranian president also pointed to the forthcoming negotiations between representatives from the Damascus government and foreign-sponsored opposition groups in the Kazakh capital city of Astana on January 23, saying, "We are all determined to fight all terrorist groups in the region. I hope relative stability prevails in Syria and the region through cooperation between Iran and Turkey."
Rouhani then described terrorist groups as the common enemies of regional states and nations, and expressed "hope for the further expansion of bilateral relations and the resolution of major regional issues through mutual cooperation."
He also offered his condolences to the Turkish president on the death of a number of Turkish citizens in recent terrorist attacks, and expressed optimism that in light of cooperation between the two governments, terrorism could be eliminated to assure more tranquility for the people in the region.
Full report at:
http://www.presstv.ir/Detail/2017/01/12/505958/Iran-President-Rouhani-Tehran-Ankara-Middle-East-Erdogan-Rafsanjani
--------
North America
Canada's Trudeau to Defend Muslims, Tout Immigration to Trump
January 13, 2017
Canadian Prime Minister Justin Trudeau says he will speak up in defense of Muslims, immigration and feminism in talks with U.S. President-elect Donald Trump.
Trudeau typically avoids direct critiques of Trump, instead pledging to work with any occupant of the White House. He confirmed early Thursday his officials have met with Trump's team in a bid to boost trade ties.
Later that evening, however, Trudeau went further than usual in speaking about Trump during a town hall session in Belleville, Ont., as he sets out on a campaign-style national tour.
"Canada is a separate country from the United States and there are things we hold dear that the Americans haven't prioritized," Trudeau said to cheers from a packed theater in the community about two hours east of Toronto.
"And I'm never going to shy away from standing up for what I believe in, whether it's proclaiming loudly to the world that I am a feminist, whether it's understanding that immigration is a source of strength for us and Muslim Canadians are an essential part of the success of our country today and into the future."
Trudeau said he purposefully had avoided commenting on the U.S. election because he did not know which candidate would win.
"And now that they've elected President-elect Trump, we will work with him in a thoughtful and constructive way," he said. "Every step of the way, our focus is on making sure that Canadian businesses, Canadians and their families have good jobs, have economic growth, have opportunities. And that is the lens from which I dealt with the possibility of this American election throughout."
Trade Concerns
During an event earlier in the day, Trudeau confirmed senior aides and Canada's ambassador to Washington had held talks with Trump aides in their effort to preserve economic ties. He would not say if the Trump officials indicated their administration planned to proceed with a pledge to renegotiate the North American Free Trade Agreement.
"Obviously Canadians expect us to have a constructive working relationship with the incoming administration and that is exactly what we are focused on doing," he said. He later added "there have been a broad range of discussions on the level of integration of our economies and how to move forward in ways that benefit the middle class that we both got elected to serve."
Earlier this week, Trudeau named a new foreign minister, promoting Trade Minister Chrystia Freeland, who had led his cabinet committee on ties with the U.S., in a move seen as motivated by Trump's looming inauguration.
https://www.bloomberg.com/politics/articles/2017-01-13/canada-s-trudeau-to-defend-muslims-tout-immigration-to-trump
--------
Thousands Sign George Takei's Petition In Solidarity With Muslim Americans
12/01/2017
Cavan Sieczkowski
Thousands of people lent their names to a petition created by George Takei to take a stand against a possible Muslim registry and the overarching Islamaphobia in America.
Takei wrote about his own experience in a Japanese internment camp as a child during World War II in the description of his Care2 petition. His firsthand knowledge shows where bigotry could lead.
I have spent my life trying to ensure something like this never happens again. But dark clouds once more are gathering. A Trump spokesperson recently stated the internment of Japanese Americans during World War II "sets a precedent" for Trump to do the same today. And Trump continues to stand by his plans to establish a Muslim registry and ban immigrants from "certain" Muslim countries from the U.S. It starts with a registry, with restrictions, with irrationally ascribed guilt, and with fear. But we know well where it might lead.
He urged others to sign the petition in solidarity with Muslim Americans. Almost 80,000 had signed as of Thursday afternoon.
Full report at:
http://www.huffingtonpost.in/entry/george-takei-muslim-registry_us_5877a665e4b03c8a02d5c32a
--------
Muslim advocates: State lawmakers should represent all Tennesseans
Jan. 12, 2017
Muslim advocates in Tennessee know how to stand against state legislation they think unfairly targets people of their faith.
It happened in 2011 after lawmakers proposed criminalizing Shariah law. In recent legislative sessions, Muslim advocates raised concerns about legislation that would disrupt so-called "no-go zones," and made sure Muslims' voices were heard on when and how world religion is taught in public school.
But this year, Muslim leaders plan to take a proactive approach to the new legislative session with midday prayers and a community day at War Memorial Auditorium and the Tennessee State Capitol.
The Friday event is organized by the American Muslim Advisory Council, a Nashville-based nonprofit that bridges the gap between the Muslim community and government and other private groups.
They want to send the message that the 110th General Assembly, which convened Tuesday, should represent all Tennesseans, including Muslims, said Paul Galloway, the executive director of the American Muslim Advisory Council.
"We're trying to say that, 'Look we're here, we're engaged in the process,'" Galloway said. "The whole idea is to let the Tennessee Muslim community know that the state capitol is their place just like anyone else's, and they should feel welcome and at home in there just like everyone else."
The event, in part, is a response to President-elect Donald Trump's victory and how that might impact legislation introduced in Tennessee, said Galloway, who also is the executive director for the Nashville-based advocacy organization, American Center for Outreach. He is bracing for an aggressive session.
Donald Trump presidency
"We would be remiss not to increase our civic participation," Galloway said. "The fear that I have as an American is that if one faith community can have its rights and ability to worship freely and freedom of conscience compromised, what's that going to mean for the Constitution down the road and for other faith communities?"
Fear and worry settled over the Muslim community following the November election because of Trump's campaign rhetoric, including talk of a Muslim ban and a Muslim registry. In recent decades, the community also has had to regularly dispel the false narrative linking all peaceful adherents to terror groups.
On Friday, Muslims from across the state, including school groups, are expected to attend the event. It starts with an interfaith prayer, followed by capitol tours and civics lessons. The council invited lawmakers to the event, which falls on an otherwise quiet day at the legislature. A Muslim prayer service caps the day. Yasir Qadhi, the Memphis Islamic Center imam and a Rhodes College professor, will deliver the sermon.
Any person of goodwill is welcome to attend, Galloway said. He hopes the day demystifies the political process for Muslims, and has a similar effect for those who've never attended a Muslim prayer service or interacted with a Tennessean, who believes in Islam.
Stephanie Teatro, co-executive director of the Tennessee Immigrant and Refugee Rights Coalition, said Friday's event, which her nonprofit is not helping organize but still supports, will provide lawmakers an opportunity to directly engage with their constituents.
"Hopefully Friday's event is a reminder as legislators kick off this session that their constituents include Muslims, immigrants and refugees, but also a growing number of U.S. born, non-Muslim Tennesseans who won't stand for hate and bigotry towards other Tennesseans," she said.
Since 2011, a handful of state lawmakers have made a calculation that "scapegoating Muslims specifically was a winning political strategy," Teatro said.
Sen. Bill Ketron, Murfreesboro, who has sponsored several bills some view as anti-Muslim, disagreed.
"That's their opinion…they weren't (attacks on Muslims)," he said.
State legislation
In 2015, Ketron and Rep. Susan Lynn, R-Mt. Juliet, introduced a bill aimed at preventing "no-go zones," a widely disputed idea that some portions of cities or countries are controlled not by the government but by Islamic radicals.
That same year, Ketron and Rep. Judd Matheny, R-Tullahoma, also introduced a bill that some in the Muslim community feared would give state and local investigators the ability to strip the belongings of mosques, even if they hadn't done anything wrong.
There have also been several bills in recent years related to education, including one from Rep. Matthew Hill, R-Jonesborough, that prohibited indoctrination and proselytizing while teaching students about world religion.
The introduction of such bills is what has led to Tennessee's reputation as a "fertile ground" for national groups targeting Muslims, refugees and immigrants to test some of their policies, Teatro said.
She called lawmakers' recent actions to sue the federal government over its refugee resettlement program "thinly veiled Islamophobia."
Sen. Mark Norris, R-Collierville, who has been among the biggest backers of the state's refugee resettlement lawsuit, balked at the notion that Tennessee is an unwelcoming state.
"I understand that there are those groups that are paid to foment that kind of unrest. That's their job," he said. "But that's not our job. We are a welcoming community, provided that those we welcome are here legally and lawfully and intend to work with us toward our common goals."
Ketron said the bills he introduced were coming from "the same angle" as President-elect Donald Trump, which he said is to protect the country from terrorists.
In general, Ketron said he has nothing against the religion of Islam, nor the plan for Friday's event.
"My views are, one of my best friends is a Muslim," he said. "I think we live in a country where our laws allow you to worship and if they want to come here...they're welcome to come here."
Beyond the legislation, there have also been other incidents that have led to Muslims feeling targeted.
Full report at:
http://www.tennessean.com/story/news/religion/2017/01/12/muslim-advocates-state-lawmakers-should-represent-all-tennesseans/96258998/
--------
Trump's secretary of state Tillerson opposes blanket ban on Muslims' entry into US
January 12, 2017
Donald Trump's secretary of state pick Rex Tillerson has said he does not support blanket travel ban against Muslims even as he asserted that the US must win the war against Islamic terrorists not just on the battlefield, but in the war of ideas.
"I think what's important is that we are able to make a judgement about the people that are coming into the country. And so no, I do not support a blanket type rejection of any particular group of people," the 64-year-old former ExxonMobil CEO told the Senate Foreign Relations Committee during his confirmation hearing yesterday.
"But clearly, we have serious challenges to be able to vet people coming into the country particularly, under the current circumstances because of the instability in the parts of the world that it's occurring," he said.
"It's a huge challenge and I don't think we can just close our eyes and ignore that. We have to be very clear-eyed about recognising that threat and developing a means to deal with it," Tillerson said.
President-elect Donald Trump had vowed to temporarily ban Muslim travel and immigration to the country after a wave of terrorist attacks carried out or inspired by the Islamic State in Europe and the US. He has since walked back that promise, instead saying he would ban immigration from countries where terrorism is prevalent.
Tillerson, however, said he would require more information on how the government would approach constructing a registry of Muslims before he would consider lending his support to creating one.
"I would need to have a lot more information around how such an approach would even be constructed. And if it were a tool for vetting, then it probably extends to other people as well — other groups that are threats to the US," he said.
Tillerson said the US must win the war against Islamic terrorists not just on the battlefield, but must triumph in the war of ideas.
Tillerson said that because of his past work, he has travelled extensively to Muslim countries.
"I've gained an appreciation and recognition of this great faith. That's why I made a distinction that we should support those Muslim voices that reject this same radical Islam that we reject," he noted.
Full report at:
http://indianexpress.com/article/world/trumps-tillerson-opposes-blanket-ban-on-muslims-entry-into-us-4470557/
--------
Katy Perry lends her support to pro-Muslim American PSA
Jan 13, 2017
On Jan. 21, Grammy-nominated singer Katy Perry will join a growing number of celebrities and women marching on Washington to oppose President-elect Donald Trump's inauguration. Ahead of the national event she's also lending her star power and her pocketbook to "#DontNormalizeHate" a short-film PSA posted to YouTube that draws parallels between Trump's anti-Muslim rhetoric and the mass incarceration of 120,000 Japanese American citizens during World War II, and asks: Is history repeating itself?
Perry executive-produced the powerful public service announcement, which shares the true story of 89-year-old Haru Kuromiya, a native of Riverside, Calif., who was a girl when her family was forced to leave their homes and submit to mass incarceration by order of the American government — an act of prejudice and fear that remains an ugly stain on U.S. history.
"My entire family was put on a registry," she recalls, before a potent twist lends the PSA an urgent relevance. "Our constitutional rights were taken away from us."
Director Aya Tanimura, a filmmaker of Japanese and Australian descent who's worked with recording artists Charlie Puth ("Dangerously"), Alessia Cara ("How Far I'll Go" from Disney's "Moana") and Perry (directing the lyric videos for "Roar," "Unconditionally" and "Birthday"), had felt a rising sense of panic while watching a Trump presidential campaign punctuated by alarming xenophobic rhetoric toward women, Muslims, minorities and the LGBTQ community.
Promoted stories from TravelChatter.net
Men share the most fun date a girl has ever taken them on
11 places celebs stay while on vacation
Daughter of Russian oil tycoon wears $620,000 dress to wedding
"Trump has created an atmosphere of fear for Muslim Americans in the United States," Tanimura told The Times. "The accountability and responsibility for what you say and do now has been lifted so people feel a little freer to be racist, or act upon racism, because there are not necessarily consequences for it — it's just acceptable behavior. If laws are put in place to back that up, it will be pretty scary."
On the campaign trail, for example, Trump called for "a total and complete shutdown of Muslims entering the United States," inciting fear of a Muslim American population that, he claimed in a statement that remains posted on his website, held "hatred beyond comparison" for the rest of the country. The possibility of Trump ordering a Muslim registry has been looming over the lives of the Muslim American population since, while increased harassment and intimidation of minorities were reported in nearly every state in the days following the election.
The sentiment is not unfamiliar to those with good memories.
"The Japanese race is an enemy race," asserted Lt. Gen. John DeWitt, the U.S. Army general who wasn't alone in loudly advocating to order Japanese Americans into concentration camps on baldly racist grounds. "And while many second- and third-generation Japanese born on United States soil, possessed of United States citizenship, have become 'Americanized,' the racial strains are undiluted."
On Feb. 19, 1942, President Franklin D. Roosevelt, heeding such racist screeds, signed Executive Order 9066 authorizing his war command to round up all people of Japanese ancestry and detain them in military camps bounded by barbed wire and armed guards in the name of national security.
Entire families were unjustly uprooted, losing their homes, possessions and businesses in the process. First they were assigned to "assembly centers" — often recently disused racetracks, forced to live in filthy, whitewashed-over horse stalls — before being sent to internment camps across the country to live in cramped barracks under inhumane conditions, prisoners at home in America. More than 60% of "relocated" Japanese Americans were born in the United States.
Tanimura brainstormed the PSA with Oscar-nominated special effects guru Tony Gardner ("127 Hours," "Adaptation"), who crafted the custom prosthetics makeup out of his Alterian Inc. studio. Together with co-director Tim Nackashi, she partnered with Asian American nonprofit Visual Communications and got crews to donate time to shoot the piece and cast Hina Khan, a Los Angeles-based actress of Pakistani heritage.
"Casting a Muslim actress was non-negotiable," said Tanimura.
Full report at:
http://www.latimes.com/entertainment/movies/la-et-mn-katy-perry-concentration-camp-usa-20170112-story.html
--------
US Secretary of State says 'Islam is great', opposes blanket ban on Muslims
Jan 13, 2017
WASHINGTON: Donald Trump's Secretary of State pick Rex Tillerson has said he does not support blanket travel ban against Muslims even as he asserted that the US must win the war against Islamic terrorists not just on the battlefield, but in the war of ideas.
"I think what's important is that we are able to make a judgement about the people that are coming into the country. And so no, I do not support a blanket type rejection of any particular group of people," the 64-year-old former ExxonMobil CEO told the Senate Foreign Relations Committee during his confirmation hearing yesterday.
"But clearly, we have serious challenges to be able to vet people coming into the country particularly, under the current circumstances because of the instability in the parts of the world that it's occurring," he said.
"It's a huge challenge and I don't think we can just close our eyes and ignore that. We have to be very clear-eyed about recognising that threat and developing a means to deal with it," Tillerson said.
President-elect Donald Trump had vowed to temporarily ban Muslim travel and immigration to the country after a wave of terrorist attacks carried out or inspired by the IS in Europe and the US.
He has since walked back that promise, instead saying he would ban immigration from countries where terrorism is prevalent.
Tillerson, however, said he would require more information on how the government would approach constructing a registry of Muslims before he would consider lending his support to creating one.
"I would need to have a lot more information around how such an approach would even be constructed. And if it were a tool for vetting, then it probably extends to other people as well — other groups that are threats to the US," he said.
Tillerson said the US must win the war against Islamic terrorists not just on the battlefield, but must triumph in the war of ideas.
Tillerson said that because of his past work, he has travelled extensively to Muslim countries.
Full report at:
http://www.bhatkallys.com/world/us-secretary-state-says-islam-great-opposes-blanket-ban-muslims/
--------
Sri Lankan Muslim body takes up Muslim issues with US envoy
12th January 2017
COLOMBO: The Muslim Council of Sri Lanka (MCSL) met the US Ambassador Atul Keshap here on Wednesday and apprised him of the issues facing the Muslim community in the light of a recent resurgence of Sinhala-Buddhist extremism with the tacit support of a section of the government.
Briefing Express on the meeting, MCSL member and media personality Hilmy Ahamed said that the Ambassador was concerned about the fate of the post-war ethnic reconciliation process and said that he, along with some other envoys, was talking to various sections of the government about the need to keep the process on track.
While several incidents involving hate speech were worrying the Muslims, the one which brought all Muslim political leaders together and which led to the MCSL to seek an audience with the American Ambassador, was the Wilpattu Forest Reserve encroachment issue raised by a band of anti-Muslim Buddhist nationalists and "misinformed" environmentalists.
Even as the Muslims were pointing out that they had not encroached on the Wilpattu forest reserve and that the hamlets they were occupying were outside the park and were also lands which they had been cultivating since 1906 with government permits, President Maithripala Sirisena issued a gazette notification on December 30, 2016, extending the land area coming under the Wilpattu National Park nullifying the Muslim settlements.
"This shocked the Muslims who were trying to get back to their own lands to rebuild their shattered lives," wrote Latheef Farook, a well-known commentator on Muslim issues, in The Colombo Telegraph.
The gazette notification covers the villages of Marichichukaddy, Karadikuli and Palaikkuli in the Musali South area of Mannar district, while the Wilpattu National Park is entirely in Puttalam district. The Muslims had lived in these villages for generations with valid title deeds. In 1990, they were expelled from here en masse by the LTTE.
MCSL official Ahamed said that these places look like forests now because no one was living there after the Muslims' expulsion in 1990. But the existence of dilapidated buildings and mosques are a testimony to Muslims having lived there before. There are Muslims peasants with land titled dated 1906. There is a mosque constructed in 1940.
"When the Muslims tried to return to their lands after the war in May 2009, racist elements created many controversies distorting facts and giving an ethnic twist to prevent them from returning to their lands. The Muslims suspect it was under the influence of such elements that President Sirisena may have issued his 30 December 2016 order," Farook writes.
Full report at:
http://www.newindianexpress.com/world/2017/jan/12/sri-lankan-muslim-body-takes-up-muslim-issues-with-us-envoy-1559006.html
--------
India
France presses for 'action' against LeT, JeM; vows to help India on Azhar ban
January 12, 2017
New Delhi: France on Thursday pressed for "decisive action" against Pakistan-based terror groups like LeT, JeM and Hizbul Mujahideen which are "targeting" India and vowed to work with New Delhi to get terrorist Masood Azhar proscribed by the UN Security Council.
Without naming China which has blocked a proposal at the UNSC to sanction JeM chief Azhar, French Foreign Minister Jean-Marc Ayrault said, "The international community's determination to combat terrorism must be the same everywhere, regardless of the threat."
On the cross-LoC surgical strikes carried out by India in September last year after an attack on Uri army camp, Ayrault said a country has a "right to defend itself" in the wake of such threats.
"France has very firmly condemned the terrorist attacks against India, including the recent one in Uri, and reiterated its full solidarity with India in its combat against terrorism," the French Minister, who was on a visit to India, said.
Clearly referring to Pakistan without naming it, he emphasised that all countries should fight effectively against terrorism "originating from their territory or territories under their control".
"We particularly want to see decisive action taken, in keeping with international law, against terrorist groups targeting India, particularly the Lashkar-e-Taiba, the Jaish-e-Mohammad and the Hizb-ul-Mujahideen," he said.
The French Minister, who was on a four-day visit to India primarily to attend the Vibrant Gujarat Summit, was asked about his views on the surgical strikes carried out by Indian Army in September last to target terror camps based across the LoC in Pakistan-occupied Kashmir.
"Nothing can justify terrorism, which must be fought everywhere with equal determination. When a country is faced with a terrorist threat of this nature, it has the right to defend itself," he replied.
With regard to China blocking sanctioning of Azhar, he said, "We regret that, despite our joint efforts and wide support from the Committee, unanimity could not be reached."
He noted that Jaish-e-Mohammad is already included in the Committee's list of terrorist organisations and "therefore, there are very strong arguments in favour of listing its chief, as India has requested".
That's why France not only supported but also co-sponsored this request, he said.
http://www.siasat.com/news/france-presses-action-let-jem-vows-help-india-azhar-ban-1107636/
--------
Pak to release Indian soldier who strayed across LoC, says junior defence minister
Jan 12, 2017
Union minister of state for defence Subhash Bhamre said on Thursday Pakistan has committed it will release the Indian soldier, who inadvertently strayed across the Line of Control in September last year.
Chandu Chavan, a 22-year-old soldier from 37 Rashtriya Rifles, had mistakenly crossed the de-factor border in Kashmir hours after India's surgical strikes on terrorist bases across the LoC. Chavan belongs to Borvihir village in Dhule district of Maharashtra.
Bhamre said Chavan is alive and that the Indian government is in contact with the relevant authority in Pakistan for Chavan's release. He added that he will be released very soon.
The minister was in Mumbai to launch Khanderi - the second of six indigenously-built Scorpene class submarine at Mazagon docks.
The Pakistani army had earlier informed its Indian counterpart that it is not aware of Chavan's whereabouts. Under a bilateral arrangement, soldiers who inadvertently cross the LoC are handed over to their side.
Full report at:
http://www.hindustantimes.com/india-news/pak-to-release-indian-soldier-who-strayed-across-loc-says-junior-defence-minister/story-xXYouFpIH0ro4kiBFdaWkK.html
--------
Is Haj Subsidy Viable? Panel To Present Report
Jan 13, 2017
NEW DELHI: The Union ministry for minority affairs has set-up a six-member committee comprising experts to look into the efficacy and viablity of the haj subsidy given to Muslim haj pilgrims in the form of discounted air fares on Air India. The ministry has clarified that the setting up of this committee does not mean that the government has any plan to scrap the subsidy. The ministry sources affirmed that the intention was to make an assessment and approach the subject accordingly.
The haj subsidy issue has been a matter of debate for long and was dwelt upon by even the Congress-led UPA.
Now, the BJP-led NDA too is looking into the subsidy's viability and how it may be rationalised. Back in 2012, the Supreme Court had directed the government to end the practice. Interestingly , the subisdy is in focus at a time when Saudi Arabia has increased India's annual haj quota by 34,500 to take it to around 1.70 lakh.
Junior minister for minority affairs Mukhtar Abbas Naqvi said the decision was taken during signing of the annual haj agreement. "It is the biggest increase after 1988 in the quota of haj pilgrims from India.About 99,903 people went to Jeddah, Saudi Arabia for haj from 21 embarkation points across India through Haj Committee of India during 2016. Apart from this, about 36,000 haj pilgrims had proceeded for haj through private tour operators," Naqvi said.
Full report at:
http://timesofindia.indiatimes.com/india/is-haj-subsidy-viable-panel-to-present-report/articleshow/56509697.cms
--------
No sign of Rs 10 crore that Telangana government promised for Mecca Masjid
Jan 12, 2017
Even staff has not got salary for 3 months
CHARMINAR: Months after the state government announced that it would spend as much as Rs 10 crore on the historic Mecca Masjid for its conservation and also for providing better facilities for visitors and worshippers, the funds have not been released.
It was in May last year that a group of legislators, including the deputy chief minister Mohammed Mahmood Ali and other officials, visited the Mecca Masjid ahead of the holy month of Ramzan for inspection.
During the visit, they found several issues such as water seepage from the ceiling, which needed to be addressed urgently.
Officials from the masjid who did not wish to be identified said that the same problems continue to plague the historical structure.
"Apart from some toilets being built by the Greater Hyderabad Municipal Corporation, little has been done for the masjid's maintenance. The promised funds have not arrived. The issue has not changed since the time of the Congress government," said an official.
Another official said, "A large number of CCTV cameras are not functioning. The issue was brought to the attention of the Minorities Welfare Department but so far little has changed on the ground. The CCTV system needs an immediate overhaul," the official said.
The source also said that the staff have not received their salaries for three months. The masjid has home guards as well as staff such as sweepers and others. "Similar issues have happened in the past as well. We still hope that the Telangana government will take the necessary actions that were promised," he said.
Full report at:
http://timesofindia.indiatimes.com/india/no-sign-of-rs-10-crore-that-telangana-government-promised-for-mecca-masjid/articleshow/56506307.cms
--------
Army recovers 2 bodies of slain terrorists from LoC in Poonch
January 13, 2017
Army on Thursday recovered bodies of the two terrorists, who were killed by troops while foiling an infiltration bid along Line of Control (LoC) in Poonch district. The troops present along the LoC had detected movement of two terrorists along the Betar Nala on the LoC in the wee hours of Tuesday and engaged them with heavy automatic fire, a Defence Spokesman said.
Full report at:
http://indianexpress.com/article/india/india-pakistanind-pakindian-army-recovers-2-bodies-of-slain-terrorists-from-loc-in-poonch-4471433/
--------
Bangladesh: Indian students protest as medical board fails to register them
Jan 12, 2017
Some 400 Indian students at a university in Chittagong have been staging protests for the past three days as they face an uncertain future since they have not been registered by the Bangladesh Medical and Dental Council (BMDC).
The Indian students drawn from across the country are part of the last three batches, comprising a total of about 1,000 students, at the Institute of Applied Health Sciences of the University of Science and Technology who have not been registered by the BMDC.
Students from Nepal, Sri Lanka and Bangladesh are also part of the affected batches. Some Indian students said the situation is particularly difficult for candidates who have to sit for their final MBBS examination from January 23.
"Even if we appear in the exam and pass it, it will mean nothing without registration from BMDC. We won't be able to sit for the Foreign Medical Graduates Examination of the Medical Council of India," a student, who did not want to be named, told Hindustan Times on phone.
"This means that after five years of hard work and toil, everything will be in vain and we won't be able to practice medicine anywhere," the student said.
The students said they had tried to contact the human resource development and external affairs ministries by email but had not received any response so far.
Pravat Chandra Barua, vice chancellor of the University of Science and Technology, said the university had taken up the issue with the BMDC and the health ministry in Dhaka so that the students could be registered as soon as possible.
"It all now depends on the decision-makers," said Barua. "All our previous batches were registered and passed out and went on to successful careers. The problem is only with the 28th, 29th and 30th batches."
Badrul Amin, the registrar of the university, said the total number of students affected was about 1,000, including a little more than 400 Indians.
Full report at:
http://www.hindustantimes.com/india-news/bangladesh-indian-students-take-to-streets-as-medical-board-fails-to-register-them/story-vcII9wzC4IeKHv7f63KBhN.html
--------
Pakistan
Pakistani Senate group to debate how to prevent misuse of blasphemy laws
January 13, 2017
A Pakistani Senate committee is set to debate how to prevent the country's blasphemy laws being applied unfairly, despite opposition from religious conservatives who support legislation that carries a mandatory death penalty for insulting Islam. Senator Farhatullah Babar told Reuters that the Senate Committee on Human Rights, of which he is a member, will start discussions on blasphemy laws as early as next week, based on recommendations from a 24-year-old report. He said it would be the first time in decades that any parliamentary body had considered a formal proposal to stop the abuse of the blasphemy laws.
According to Babar, the committee would consider a proposal making it binding to investigate complaints before registering a case, to ensure "genuine blasphemy" had been committed and the law was not being used to settle scores, as critics say it is.
He also said the committee would debate whether life imprisonment was an adequate punishment, instead of the mandatory death penalty.
Many conservatives in Pakistan consider even criticising the laws as blasphemy, and in 2011 a Pakistani governor, Salman Taseer, was assassinated by his bodyguard after calling for reform of the laws.
His killer was hailed as a hero by religious hardliners, and tens of thousands of supporters attended his funeral after he was executed last year.
If the committee makes any recommendations, it would be only the first step in a long process to bring about change in how the laws are enforced.
Prime Minister Nawaz Sharif's office declined to comment on the Senate committee's moves.
His party's support would be needed for any measures to move forward, and while legislation protecting women's rights has been passed and Sharif has reached out to minorities, it is unclear if he would risk a backlash over blasphemy.
UNEARTHED REPORT
Hundreds of Pakistanis are on death row for blasphemy convictions, and at least 65 people, including lawyers, defendants and judges, have been murdered over blasphemy allegations since 1990, according to figures from the Center for Research and Security Studies based in the capital Islamabad.
Pakistan's religious and political elites almost universally steer clear of speaking against blasphemy laws, but a small group of lawmakers has been looking for ways to reduce abuses.
Babar said the Human Rights Committee hit a "gold mine" when he discovered a 24-year-old Senate report that called for a more specific definition of blasphemy and said further debate was needed on whether expunging "imprisonment of life" from an earlier law had been correct.
"So we convinced other senators that here we have a chance, we have a starting point, we have this report in hand. Let's debate it and see how we can prevent abuse of this law," Babar said.
However, powerful religious conservatives who have millions of followers strongly support the laws.
Tahir Ashrafi, head of the influential Pakistan Ulema Council of Muslim clerics, said it would oppose any change.
"Make new laws to punish those who abuse blasphemy laws," Ashrafi told Reuters. "But no one can even think about changing this law."
"FIRMER STANCE"
Last week, Pakistani police arrested 150 hardline activists rallying in support of the blasphemy laws on the anniversary of the assassination of Taseer, the Punjab governor shot dead by his bodyguard for calling for reform.
Police have also resisted a demand by hardliners to register a blasphemy case against Shaan Taseer, the slain governor's son, over a Christmas message calling for prayers for those charged under the "inhumane" legislation.
"This government has shown a firmer stance than the government when my father was martyred," Shaan Taseer said. But public opinion remains a major obstacle to reform. On the outskirts of Islamabad, thousands still visit the shrine of Mumtaz Qadri, executed last February for Taseer's murder.
The large shrine, with a glass roof and shiny marble floors, was built over his grave days after the burial.
Taxi driver Waheed Gul says he has come to the shrine every day since it was built: "What better way to spend my days than to pray every day at the grave of someone who sent a blasphemer to hell?"
http://indianexpress.com/article/world/pakistani-senate-group-to-debate-how-to-prevent-misuse-of-blasphemy-laws/
--------
Centre rejects Sindh's plea for action against 'suspected' seminaries
Jan 13, 2017
ISLAMABAD: The federal government has rejected the Sindh government's request for taking action against certain "suspected" seminaries, describing the information provided in this regard by the provincial authorities as "insufficient, ambiguous and without any credible evidence".
Through a letter, the interior ministry has instead asked the Sindh government to inform the federal government of the action the provincial authorities have so far taken against the "suspected" seminaries, if it has any concrete evidence against them because taking action against such elements falls in the domain of the provincial governments.
"If there was any concrete evidence available against the people affiliated with these seminaries, then what action the provincial government, police and other law enforcement agencies have taken against them?" asked the letter whose contents in Urdu were released to the media by the ministry here on Thursday.
Terms information 'incomplete and without concrete evidence'
Talking to reporters in his Parliament House chambers, Interior Minister Chaudhry Nisar Ali Khan had disclosed that the Sindh government, through a letter written to his ministry, had sought proscription of 94 'suspected' religious seminaries.
Terming the provincial government's move "ridiculous", the minister had stated that it was for the provinces to take action against the suspected religious seminaries. He had also regretted that before the letter had reached the interior ministry, the Sindh chief minister had made a statement about it.
In its reply to the provincial government, the interior ministry has alleged that the "incomplete information" and "ambiguous language" of the Sindh government's communication gives the impression that the letter has been written by the provincial authorities "with some political motives and to hide their own lapses" in the implementation of the National Action Plan (NAP) against terrorism.
Through the letter, the interior ministry has regretted that the list provided by the provincial authorities does not have complete addresses of the "suspected seminaries", and even has the names of seminaries in other provinces, including Khyber Pakhtunkhwa, Punjab and Fata.
Full report at:
http://www.dawn.com/news/1308149/centre-rejects-sindhs-plea-for-action-against-suspected-seminaries
--------
JUI-S holds convention for protection of seminaries
January 13, 2017
PESHAWAR - Jamiat-e-Ulama-e-Islam-Sami chief Maulana Sami ul Haq said use of National Action Plan against religious seminaries, its students and religious scholars was unacceptable.
The Jamiat-e-Ulama-e-Islam-Sami (JUI-S) chief was addressing the 'Tahaffuz-e-Ulema-wa-Madaris' convention held at Pardabagh on Thursday. Religious figures along with seminaries' students from across the country attended the event. Maulana Sami ul Haq said on the occasion that restricting religious preaching and arresting religious figures and students under the fourth schedule was inhuman. He demanded that the practice must be stopped and those apprehended should be released immediately.
The existing judicial system can neither eliminate corruption nor provide justice to people. The ruling clique is bent upon making Pakistan a secular and liberal country, Maulana Sami said. He, however, said that JUI-S would protect the country's Islamic identity. The present government, he said, had totally failed in getting Dr Afia Siddique released from US captivity.
In his speech, JUI-S General Secretary Maulana Abdul Rauf Farooqi said his party had struggled for enforcement of Islamic Shariah in the country, and would do so in future as well. He asked party workers to get united to remove hurdles in this way.
Maulana Hamidul Haq Haqqani, JUI-S deputy chief and son of Maulana Samiul Haq, said JUI-S was an ideological party. It had and would protect the Islamic identity of Pakistan. Central Deputy General Secretary Shah Abdul Aziz said their purpose was not to reach the parliament, but they were struggling for implementation of Islamic law in the country.
JUI-S KP Ameer Maulan Yousaf Shah said Pakistan Muslim League-Nawaz (PML-N)-led federal government had kept in dark people of Khyber-Pakhtunkhwa (KP) by not telling them truth about China-Pakistan Economic Corridor (CPEC) project. He said instead of focusing on merger of the Federally Administered Tribal Areas (FATA) with KP, the government should have expedited sending the temporarily displaced people (TDPs) back to their hometowns.
Full report at:
http://nation.com.pk/national/13-Jan-2017/jui-s-holds-convention-for-protection-of-seminaries
--------
5 possible reasons why Pakistan's Nawaz Sharif is appeasing Hindus and other minorities
Jan 12, 2017
Pakistan is not a country known to be kind toward its minorities. A US state department report in 2014 noted that mob violence against minority groups, and police torture of religious dissidents was prevalent across Pakistan. The country's strict blasphemy law, which puts Pakistan's minorities at the receiving end of fundamentalist violence, has a history of causing assassinations and provoking terrorist attacks by hardline groups.
While it does have a terrible record in protecting its minorities, the current Pakistan Muslim League (PML-N) government of Nawaz Sharif is trying to turn the tables on the country's critics.
Full report at:
http://www.inuth.com/world/south-asia/5-possible-reasons-why-pakistan-nawaz-sharif-is-appeasing-hindus-and-other-minorities/
--------
Pakistani groups note drop in violence, credit the military
Jan 11, 2017
SLAMABAD — Two Pakistani research groups have noted that the country saw a significant drop in militant violence last year, crediting the military for the decrease in attacks.
The two Islamabad-based groups say that large-scale military operations in the lawless tribal regions bordering Afghanistan, in the chaotic port city of Karachi and the sparsely populated Baluchistan province are behind the drop. But for the trend to continue, they say, authorities need to disband sectarian and anti-Indian extremists based in the populous Punjab province.
The findings, which are based on the groups' records, were released last week and on Sunday.
One of the groups, the Center for Research and Security Studies, said there was a 45 percent drop in violence-related deaths in 2016, compared to the previous year. The Pakistan Institute for Peace Studies, which tallies violent incidents, registered a 28 percent drop in attacks in 2016, compared to 2015.
Still, both organizations tempered the findings by warning that the trend could be halted unless militant groups are disbanded and called for improving relations with neighboring India and Afghanistan.
Prime Minister Nawaz Sharif echoed some of those sentiments last week, when he told a writers' conference that Pakistan needs to create an effective narrative that promotes tolerance.
"We are forgetting how to speak of mutual love, integrity, compassion and empathy," he said. His government introduced legislation in 2016 outlawing hate speech and denying clerics from rival Islamic sects the right to use their loudspeakers at their mosques.
However, Sharif's government has not succeeded in disbanding outlawed sectarian groups that re-emerge later under a different name.
Also, lawmakers from his own Pakistan Muslim League have been seen on campaign platforms with members of the outlawed Sunni extremist group Sipah-e-Sahabah, which has links to the banned Lashkar-e-Jhangvi, another violent Sunni extremist group that has been blamed for several attacks last year, particularly in southwestern Baluchistan.
"A government that is going into an election next year doesn't want to lose votes," said Imtiaz Gul, executive director of the Center for Research and Security Studies, which authored one of the reports. "The banned outfits have madrassas that still operate, they have sympathies and influence."
A mostly Sunni Muslim country, Pakistan has for years been convulsed by brutal sectarian violence that has killed thousands. Most of the victims have been minority Shiite Muslims.
Asadullah Khan, an analyst with Pakistan's Institute of Strategic Studies says that "it isn't enough to ban" militant groups, which then surface under a new name.
"We have to get rid of them altogether," Khan said.
Prominent on the militant landscape dotting Pakistan are also the Afghan Taliban, Pakistan's own Taliban group and its splinters, as well as the feared Haqqani network. Then there are several anti-Indian groups, labelled terrorists by the United States and India — such as Lashkar-e-Taiba, which was banned but remerged as Jamaat-ud-Daawa and Jaish-e-Mohammed.
Full report at:
http://www.phillytrib.com/ap/international/pakistani-groups-note-drop-in-violence-credit-the-military/article_b86873ac-a203-5797-b01f-c8051c67625e.html
--------
Exchange of expertise between Oman, Pakistan need of hour: PM
January 12, 2017
ISLAMABAD: Prime Minister Muhammad Nawaz Sharif today said that Pakistan and Oman could benefit immensely through mutual exchange of experts in the field of education, science & technology.
Dr. Yahya Mahfoodh Salim Al-Manthri, President of State Council of Oman along with delegation called on Prime Minister Muhammad Nawaz Sharif at PM House Islamabad today.
Prime Minister Muhammad Nawaz Sharif stated that Pakistan and Oman are natural allies due to geographical proximity and the leadership, Government and the people of Pakistan hold His Majesty Sultan Qaboos bin Said Al-Said and the hospitable people of Oman in high esteem.
Prime Minister said that Pakistan is grateful to Oman for its support in connection with Pakistan-GCC Free Trade Agreement. PM stated that Pakistan will welcome Omani brothers to invest in Pakistan, particularly in energy related projects, infrastructure development and consumer based industry as current investment policy of Pakistan has created an investment friendly environment by all sectors for FDI, guaranteeing equal treatment of foreign and domestic investments, protecting foreign investment with high rates of dividends.
Full report at:
http://nation.com.pk/national/12-Jan-2017/pm-for-increasing-exchange-of-expertise-between-oman-and-pakistan
--------
South Asia
Myanmar, Bangladesh Agree To Start Talks On Rohingyas
Jan 13, 2017
YANGON/DHAKA - Myanmar has agreed to begin talks with Bangladesh over an estimated 65,000 Rohingya Muslims who have fled Myanmar's northwestern Rakhine State since attacks on border posts three months ago, a senior Myanmar official said on Thursday.
Myanmar leader Aung San Suu Kyi dispatched a special envoy to Dhaka this week in a thaw in the troubled relations between the neighbors, who each see the stateless Rohingya as the other's problem.
Bangladeshi Prime Minister Sheikh Hasina told Suu Kyi's Deputy Minister of Foreign Affairs Kyaw Tin on Wednesday that Myanmar must accept back all "Myanmar nationals" in Bangladesh, the Bangladeshi premier's spokesman said.
Aye Aye Soe, director general of Myanmar's foreign affairs ministry, said the two countries would start discussions on an "identification and verification process".
"If they find they are from Myanmar, they will be repatriated at the appropriate time," she said, adding there was "no timeline" for the talks.
The agreement marks a rare bright spot in the two countries' bilateral relations, which are complicated by as many as 500,000 Rohingyas living in Bangladesh after fleeing decades of persecution in Myanmar.
The United Nations says about 65,000 more people have fled the Muslim-majority northern part of Rakhine to Bangladesh since attacks that killed nine Myanmar border police on Oct. 9, sparking a heavy-handed security response.
Residents and refugees say Myanmar troops and police have carried out beatings, sexual assaults and extrajudicial killings, arbitrarily arrested villagers and set fire to homes. Myanmar has denied almost all the allegations.
The crisis has raised concerns from diplomats and human rights advocates that Myanmar's military remains unaccountable, despite a Suu Kyi-led civilian government taking power more than nine months ago.
A quick resolution seems unlikely as many in Buddhist-majority Myanmar see the Rohingya - whom they call "Bengalis" - as interlopers not deserving of citizenship, despite some tracing their lineage inside Myanmar's borders back centuries.
Officials in Bangladesh, where the Rohingya are also not accepted, refer to "Muslim nationals of Myanmar".
"If they are Myanmar nationals they will be repatriated here," said Myanmar's Aye Aye Soe.
Asked what the term "Myanmar nationals" referred to, she said: "It could be citizens or it could be people from Myanmar side."
Aye Aye Soe restated Myanmar's position after a previous verification process that only 2,415 of those living in Bangladesh from past exoduses were from Myanmar.
The new talks will focus on those who have arrived in Bangladesh since the recent bout of violence, she added.
Bangladesh Foreign Minister AH Mahmood Ali said that, with the Myanmar delegation's visit, the repatriation process was "heading towards the next step, quite evidently."
While keeping relations with Myanmar "friendly," Bangladesh's government wants the Rohingya out of its border area so tourism can develop there, he told reporters on Thursday.
"We want to see them leave Bangladesh quickly," Mahmood Ali added.
http://nation.com.pk/international/13-Jan-2017/myanmar-bd-agree-to-start-talks-on-rohingyas
--------
Taliban suffer heavy casualties as 2 major IED factories destroyed in Nimroz
Jan 13 2017
The Taliban militants suffered heavy casualties during an operation of the Afghan security forces in western Nimroz province of Afghanistan, the Ministry of Interior (MoI) said Thursday.
According to a statement by MoI, at least 80 Taliban insurgents were killed and two large Improvised Explosive Device (IED) factories were destroyed during the operation.
The statement further added that the militants suffered casualties during the operations which were launched ten days ago in Khashrud district.
According to MoI, a compound used by the shadow district governor of the Taliban was also destroyed during the operations and at least 20 foreign insurgents were killed.
The anti-government armed militant groups including the Taliban insurgents have not commented regarding the report so far.
Taliban militants and insurgents belonging to other militant groups are frequently using Improvised Explosive Device (IED) as the weapon of their choice to target the security forces and government officials.
Full report at:
http://www.khaama.com/taliban-suffer-heavy-casualties-as-2-major-ied-factories-destroyed-in-nimroz-02663
--------
US, Australian hostages appear in Taliban video
January 13, 2017
KABUL - An American and an Australian have appeared in a Taliban hostage video, five months after they were kidnapped from Kabul.
Gunmen wearing police uniforms abducted American Kevin King and Australian Timothy Weekes, both professors at the American University of Afghanistan, on August 7, seizing them from their vehicle after smashing the passenger window.
The 13-minute, 35-second video circulated by Taliban spokesman Zabihullah Mujahid on Wednesday offers the first apparent proof that they were still alive.
Australia said Thursday it "has been working closely with other governments to secure the release" of the hostage, but would not elaborate citing his family's wishes and safety concerns.
The video comes after US Special Operations forces conducted a failed secret raid in August to rescue them.
President Barack Obama authorised the raid in an unspecified area of Afghanistan but the hostages were not there, the Pentagon said in September.
The elite American University of Afghanistan, which opened in 2006 and has attracted a number of faculty members from Western countries, called on the Taliban to release them immediately.
Full report at:
http://nation.com.pk/national/13-Jan-2017/us-australian-hostages-appear-in-taliban-video
--------
US probe clears forces over civilian deaths in Afghanistan
Jan 13, 2017
KABUL - A US military investigation confirmed that dozens of Afghan civilians were killed in a special forces operation near the northern city of Kunduz last year, but found troops had acted in self-defence and decided no action would be taken against them.
The report, published on Thursday, said 33 civilians were killed and 27 wounded last November when a US and Afghan special forces unit returned fire against Taliban fighters in the village of Boz, near Kunduz, and called in air support.
"The investigation concluded that US forces acted in self-defense, in accordance with the Law of Armed Conflict, and in accordance with all applicable regulations and policy," the US military in Afghanistan said in a statement.
The raid, involving both US and Afghan special forces, took place during operations to push back Taliban fighters from the vicinity of Kunduz, the strategic city they had come close to overrunning in October.
The unit came under heavy fire from Taliban fighters using civilian houses as firing positions and suffered several casualties before calling in air support, the military added.
"Regardless of the circumstances, I deeply regret the loss of innocent lives," Gen. John Nicholson, commander of US Forces in Afghanistan said in the statement, adding that "all possible measures" would be taken to protect Afghan civilians.
While the investigation concluded that more than 30 civilians had been killed, it said aircraft providing support had used "the minimum amount of force required to neutralize the various threats from the civilian buildings".
It also found that no civilians were seen or identified, and the dead and wounded were probably inside the buildings used by Taliban fighters. Some of the casualties may also have been caused by a Taliban ammunition dump that exploded.
Two US soldiers and three Afghan army commandos were killed and another four Americans and 11 Afghan commandos wounded, with around 26 Taliban fighters also killed.
Full report at:
http://nation.com.pk/international/13-Jan-2017/us-probe-clears-forces-over-civilian-deaths-in-afghanistan
--------
Rise in Afghans returning home threatens overstretched resources, UN says
Jan 13, 2017
More than 9,400 undocumented Afghans have returned home from Iran and Pakistan in the first week of 2017, raising concerns over how the war-torn Asian nation will cope with the rising influx, the United Nations said Wednesday.
The vast majority were young men crossing the border from Iran.
Although repatriation is not compulsory, the Pakistani government has stepped up pressure to send people back.
The United Nations migration agency — the International Organisation for Migration (IOM) — said most returnees from Iran were young men deported while looking for work, or on the migration route to Europe.
Future patterns were hard to predict. "It can be very unpredictable as there are a lot of factors at play that could push returns up at any day," said Matthew Graydon, a UN spokesman in Afghanistan.
Graydon said unregistered Afghans face greater challenges than returnees who are officially logged as refugees because they are not entitled to cash grants from aid agencies, nor other benefits such as education or government-allocated land.
In the first week of 2017, 1,643 unregistered Afghans chose to return or were deported from Pakistan, and 7,776 returned from Iran, according to the IOM, with more expected as the weather improves in the next two months.
Another half a million undocumented Afghans are expected to be repatriated from Pakistan by the end of 2017. Numbers of returnees have been steadily rising over the past two years, with no letup in sight.
Since January 2016, more than 700,000 unregistered Afghans have returned from Pakistan and Iran, up 50,000 on the year before, the IOM said, stretching limited resources in a country still under threat from the Taliban, al Qaeda and Islamic State.
In 2016, the UN refugee agency, UNHCR, officially repatriated 372,577 registered Afghans. The rise in returnees comes amid a precarious security situation in Afghanistan, which has seen a steady increase in attacks since international troops ended combat operations in 2014, with record numbers of civilian casualties.
Full report at:
http://nation.com.pk/international/12-Jan-2017/rise-in-afghans-returning-home-threatens-overstretched-resources-un-says
--------
URL: https://www.newageislam.com/islamic-world-news/new-age-islam-news-bureau/as-shariah-experiment-becomes-a-model,-indonesia's-secular-face-slips/d/109710
New Age Islam, Islam Online, Islamic Website, African Muslim News, Arab World News, South Asia News, Indian Muslim News, World Muslim News, Womens in Islam, Islamic Feminism, Arab Women, Womens In Arab, Islamphobia in America, Muslim Women in West, Islam Women and Feminism, Moderate Islam, Moderate Muslims, Progressive Islam, Progressive Muslims, Liberal Islam