New Age Islam News Bureau
1 Jul 2015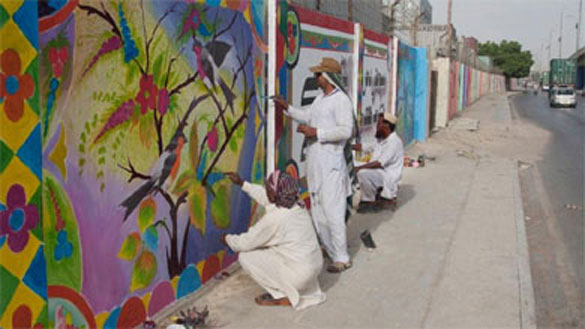 In this photo Pakistani local artists paint over violent graffiti on the wall of an apartment complex and offices after getting permission in Karachi, Pakistan. (AP Photo/Shakil Adil) (The Associated Press)
--------
Pakistan
• Artists in Pakistan Use Comic Books, Wall Murals to Combat Islamic Extremism
• Call for Legislation to Empower Non-Muslim Communities
• FC Kills 13 Suspected Militants in Balochistan's Awaran
• Four militant leaders killed in Quetta
• UN body to monitor Pakistan's financial sanctions on Dawood, Lakhvi
• Sectarianism impeding development of province: Dr Malik
• Tariq Mir's confession document is fake: London police
• VCs help sought in war on terrorism
• PPP gets 'loyalty reassurance' from two ex-ministers
• Imran accuses PML-N, Nadra, ECP of participating in cover-up
• Balochistan minister for ban on MQM
-------------
North America
• Global Support for ISIS Includes Up To 42M Muslims, Group Claims
• World Should Be Ashamed Of Failure to End Syria Conflict, Says UN Chief
• Study: Islam to challenge freedom in the USA
------------
Arab World
• 60 Egyptian Soldiers Killed In Attacks on Army Checkpoints in Sinai
• Saudi Cabinet: Terror Attacks Contrary To All Islamic Principles
• Kuwait Mosque Bomber 'Had No Criminal Record'
• Sisi pledges tougher laws after prosecutor killing
• U.N. envoy to brief council on war in Syria
• Yemen scholars hail Saudi efforts
• Kuwait busts 'terrorist cell' after bombing
• Kurd MP: 7,000 Iraqi Peshmarga Forces Likely to Fight in Syria
• Pakistan Plans to Help Al Khalifa Suppress Bahraini People
• Threat grows as Daesh terror enters second year
• 60 held in Kuwait for terror links
------------
South Asia
• 10 Soldiers Martyred, 44 Militants Killed In Afghanistan Military Operations
• Drone Strikes Kill 14 Militants in Nangarhar
• Taliban wage bloody offensive in Afghanistan
• President Ghani strongly condemns recent Kabul suicide attack
• Latif Siddique's bail irks radical Islamists
• Bangladesh to open new DHC in Guwahati
• Japan beating China in race for Bangladesh's first deep-sea port
• 2 Bangladeshis, 7 Myanmarese held in Malaysia
• 40 Jamaat-Shibir, BNP men charge-sheeted in Dinajpur
-----------
Africa
• Al-Shabaab Jihadists Vow to Attack Christians during Ramadan, Give 'Non-Believers' a 'True Taste of Jihad'
• Internal Displacement Doubles in Libya in Less Than One Year: UN
• Gay Marriage Will Help Us Fight Boko Haram, Isis – Obama's Aide
• Somalia: University of Nairobi Students on Al Shabaab Payroll – Police
------------
Mideast
• Kurdish MP: Iran, Iraq, Syria to Study Strategic Plan for War on ISIL
• ISIS Threatens To Topple Hamas 'Tyrants' In Gaza
'• Ahrar al-Najran' Movement Shoots Down Saudi Military Chopper in South
• Houthi fire kills civilians in Yemen's Aden
• ISIL exists because al-Assad exists: Erdoğan aide
• Saudi strikes hit homes, markets in Yemen, claims HRW
• China upset with Turkey's concern on Ramadan restrictions
• Weddings between expats and Saudis drop 84%
• Al-Qaeda suspects among 1,200 who escaped from Yemen prison
• Millions of Yemeni children at risk of diseases, hunger: UNICEF
• Iranian Diplomat: Timetable for Sanctions Removal Specified
• Iran Deplores Saudi Airstrikes on UN Compound in Aden
------------
Europe
• ADL Poll Shows More than Half of Western European Muslims Harbour Anti-Semitic Beliefs
• Prime Minister David Cameron: British Schools Must Root Out Muslim Extremists
• Russia accuses West of propping up ISIL to topple Syria government
• Islamic leader from Newham says 7/7 terror should be fought with peace
• Sharp rise in German attacks on refugee centres
• Suspect handed preliminary charges over beheading in France
------------
Southeast Asia
• Islam Practises Moderation, Peace, Says Datuk Seri Najib Razak
• Australian Muslim Charity Gives Aid to Indonesian and Rohingyan Refugees
• Thailand Launches App That Guides Muslim Tourists to Prayer Halls And Halal Meat
• Alvin slams Chinese 'boot lickers' for defending Muslims
• Indonesian Police Officer Reportedly Fighting for Islamic State Dies in a Battle
• Orang Asal query Arabic ruling at Mara College
• Inflation picks up in Indonesia during Muslim holy month
• Indonesia military plane crash toll rises to 142
• Bali Court Sentences New Zealander to 15 Years' Jail for Drug Trafficking
------------
India
• India Blocks China's Bid To Save Pakistan on Terror Finance Scrutiny
• Chinese Submarine Docking In Karachi No Threat to India: PLA
• Documentary Film on Assam's Islamic Heritage
• 'Nehru's grandfather was Muslim': Wikipedia pages altered from govt IP address
Compiled by New Age Islam News Bureau
URL: https://www.newageislam.com/islamic-world-news/new-age-islam-news-bureau/artists-in-pakistan-use-comic-books,-wall-murals-to-combat-islamic-extremism/d/103724
-----------
Pakistan
Artists in Pakistan use comic books, wall murals to combat Islamic extremism
July 01, 2015
LAHORE, Pakistan – At a militant training camp in Pakistan, a new recruit asks his instructor why his comrades are attacking churches and mosques rather than enemy bases. "This world is full of sin. It needs to be bathed in blood," the instructor replies, nurturing seeds of doubt that will eventually lead the young man to turn away from violence.
It's a scene from a three-part comic book, titled "The Guardian," that a private group has started to distribute in Pakistani schools to help combat extremism. The author, 31-year-old Gauher Aftab, says it was inspired by his own experience of nearly joining militants fighting in Kashmir as a teenager.
Pakistan has been battling Islamic extremists for more than a decade, but despite $30 billion in U.S. aid and an American drone campaign, the country still hosts powerful armed groups that have killed tens of thousands of people. A growing number of civil society initiatives are aimed at what many see as the source of the problem — indoctrination of youth.
In the southern port city of Karachi, friends of the late Sabeen Mahmud, an activist gunned down in April because of her liberal views, have assembled 300 local artists to paint over violent graffiti. The group says it has created some 2,000 murals depicting historic buildings and nature scenes.
"If you read hatred all the time, it is leaving a mark, especially on young minds," said artist Adeela Suleman, who's taking part in the project.
Aftab recalls his own experience in the late 1990s at Aitchison College, an elite school in the eastern city of Lahore where a former student who had become a well-known jihadi was revered as a cult hero. The militant, Ahmed Omar Saeed Sheikh, would go on to kidnap and kill Wall Street Journal reporter Daniel Pearl in 2002.
Aftab says he was brainwashed at the college by his religious studies instructor, a veteran of Afghanistan's civil war, who convinced him to join militants fighting India in the disputed Himalayan region of Kashmir.
He had worked out a plan with his teacher to travel to Kashmir after the school year ended. But two days before then, his parents showed up unannounced because there had been a death in his family. "Being a 12-year-old or a 13-year-old with limited access, I couldn't leave home and join that particular struggle."
After three months at home with his parents, he reconsidered the decision. He eventually graduated at the top of his class and went on to attend Knox College, a liberal arts school in Illinois.
Now Aftab works with a group called CFXcomics, which aims to counter extremist propaganda. His comic book has been translated into Urdu by a legendary Pakistani playwright, Amjad Islam Amjad. The group has distributed 15,000 copies in Punjab, Pakistan's most populous province, focusing on areas of militant recruitment, says Managing Director Mustafa Hasnain.
CFXcomics has also launched a free app that allows people to read the book on mobile devices, and plans to release another 49 volumes. The project is funded by an NGO called Hope Alive.
The graphic novel follows two idealistic young men, Asim and Munir, who decide to join a militant organization because of its charitable activities. When they find themselves at a militant training camp, Munir embraces the group's violent message while Asim questions it and ultimately leaves.
The two are reunited after Munir is captured in a counterterrorism raid. They then team up and use religious arguments to convince their captured trainer that he was wrong. Eventually the message is carried up the chain to top militant commanders.
Aftab says he began working on the comic book after a mass shooting at a military school in Peshawar in December, in which Taliban militants shot dead 150 people, nearly all of them students.
"People thought that they were protected. They then realized that we have a shared goal. We need to save our children from people who will kill them," he said.
The comic book's message could still prove a tough sell in Pakistan's schools, where much of the curriculum is devoted to the glorification of past Islamic conquests and jihad against Pakistan's enemies.
Many Pakistanis believe America and the West are at war with Islam, thereby justifying attacks, and view militants in Kashmir as freedom fighters battling India, with which Pakistan has fought three wars. Pakistan is at war with homegrown extremists, but analysts say it has long backed Islamic militants in Kashmir and Afghanistan as a way to project power in the region.
Those conflicting impulses were on display during recent visits by CFXcomics to schools in Lahore. One student, 14-year-old Asim Mahmood, said he learned from the comic that terrorism has nothing to do with Islam. But when asked if he would fight to defend Islam, he said he would.
http://www.foxnews.com/world/2015/07/01/artists-in-pakistan-use-comic-books-wall-murals-to-combat-islamic-extremism/
------------
Call for legislation to empower non-Muslim communities
HANEEN RAFI
Jul 1, 2015
KARACHI: A comprehensive plan of action was suggested on Tuesday at a seminar on security of religious minorities to tackle the imbalance of power enjoyed by certain pockets of society.
The seminar titled 'Safety and security of religious minorities: role of state and society' was organised by the Pakistan Institute of Labour Education and Research (Piler).
The speakers highlighted the need to reinforce the importance of empowering minorities in Pakistan, as many instances have shown that this neglect caused widespread losses to both property and human life.
Advocate Kalpana Devi, who has been fighting for the right of minorities for almost two decades, shared her struggle and the threats faced by religious minorities. She said: "The struggle to be recognised as citizens of the country can only be fruitful if the state frames laws that protect us. If we still are following an outdated constitution without any amendments to our status, we will never be given the same opportunities and protection."
She recounted instances where her religion was used as an excuse, even in the courts of law, to deprive her and her clients of their basic rights.
"We need amendments in the manual of the family law and must be recognised as sons of the soils; we are not Indian, but Pakistani."
Shahla Qureshi, the first woman assistant district officer of the Frontier Constabulary, Sindh, outlined the various bills and laws passed by the Sindh government for the protection of religious minorities. From introducing a five per cent quota, to passing a law against forced conversions and cracking down on hate material being taught in schools, "there are many measures in place to provide a safe haven for all religious minorities. What is lacking, however, is implementation," she said.
Social activists and human right advocates have tried to put pressure on the government to rectify this, especially in light of the judgement passed by the Supreme Court of Pakistan for the protection of rights of religious minorities.
Columnist Qazi Sheikh criticised the media for airing content that has the potential of inciting religious intolerance.
"There are many shows being aired on television that pick up contentious topics and have resulted in attacks on religious minorities. Why is no law in place to check such content being aired to millions?" he questioned.
Highlighting the media role to help safeguard minorities, he suggested the need to "dilute the conservative narrative prevalent in the media" to spread the message of tolerance.
Dr Riaz Sheikh of Szabist gave a more theoretical account of why minorities are formed, and how a modern state does not entertain the concept of a minority and majority, and the necessity of Pakistan to adopt this.
"We need to talk about and demand civil law, rather than religious law to prevent marginality and poverty," he said, adding that civil society is an important force that can propel this change.
Sorath Thebo of the Pakistan Muslim League-Nawaz questioned the widely held belief of what a minority is. According to her, women form almost an equal per cent of population in Pakistan as men, and yet are discriminated against.
Speaking of Sindh, she called it the "land of the Sufis which always enjoyed a liberal outlook. However, this is no longer so."
She also criticised the lack of implementation of laws in securing the rights of members of different religions, but was unable to share a more concrete direction to improve the state and security of religious minorities.
Also, Dastageer Project was introduced at the seminar. Functional in almost 13 cities spread over Sindh, Punjab and KPK, the project works towards making justice more accessible to vulnerable populations. It aims to provide legal aid to victims of gender-based violence, and those affected by religious and ethnic discrimination.
Published in Dawn, July 1st, 2015
http://www.dawn.com/news/1191445
------------
FC kills 13 suspected militants in Balochistan's Awaran
Jul 1, 2015
At least 13 suspected militants were killed during an exchange of fire with Frontier Corps (FC) personnel in Balochistan's Awaran district on Tuesday.
FC Spokesman Khan Wasey said security forces launched an operation against miscreants in different areas of Mashkay tehsil of Awaran district during which an exchange of fire took place with suspected militants. Subsequently 13 militants were killed. "Some key commanders were also killed during the action," Wasey said. Security forces also recovered weapons from their possession.
An FC soldier was killed and two security personnel were also injured during the exchange of fire with the militants, the FC spokesman added.
Security forces have intensified their actions in Quetta and other parts of Balochistan after the announcement of National Action Plan to combat terrorism in the country.
http://www.pakistantoday.com.pk/2015/06/30/national/fc-kills-13-suspected-militants-in-balochistans-awaran/
------------
Four militant leaders killed in Quetta
June 30, 2015
QUETTA: At least four militant commanders were killed and two arrested during security forces' search operation in Awaran area of Quetta today.
As per reports, Frontier Corps Balochistan conducted operations in different areas of Awaran. Four militant commanders were killed and two were arrested after a fierce clash.
The terrorists have been shifted to an unknown place and investigation has been launched. A huge cache of arms and ammunition was also recovered from their possession. The militants had affiliation with a banned outfit and were wanted by police being involved in various terrorist activities in the province.
http://nation.com.pk/national/30-Jun-2015/four-militant-leaders-killed-in-quetta
------------
UN body to monitor Pakistan's financial sanctions on Dawood, Lakhvi
NEW DELHI:
Jul 1, 2015
Financial Action Task Force (FATF) will closely be monitoring Pakistan's enforcement of UN financial sanctions against terrorism, through its associate body, after India successfully blocked China's attempt at a recent FATF meet in Brisbane to save non-FATF member Pakistan from such scrutiny, sources stated.
India also pressed for freezing of economic resources and properties of Hafiz Saeed, Dawood Ibrahim and Zaki-ur-Rehman Lakhvi under provisions of the United Nations Security Council (UNSC).
According to the India Today, top Indian government sources said that despite China's intervention stating that Pakistan was not a member of the Financial Action Task Force (FATF) and hence the issue could not be taken up at the forum, India managed to ensure that Islamabad is kept under scrutiny to comply with UNSC provisions under which it should freeze the terror trio's economic resources.
http://www.pakistantoday.com.pk/2015/06/30/national/un-body-to-monitor-pakistans-financial-sanctions-on-dawood-lakhvi/
------------
Sectarianism impeding development of province: Dr Malik
Jul 1, 2015
GWADAR: Balochistan Chief Minister Dr Abdul Malik Baloch has said that extremism, sectarianism and negative trends are being spread in society to cause chaos and destruction in the province and to impede progress and development in the province.
Talking to different delegations of people, who called on him in Turbat, the chief minister said that people of Balochistan were Muslims from generations but some hidden hands were promoting extremism and sectarianism to divide the people on these lines and cause anarchy and destruction to stop development of the province.
Dr Baloch underlined the need for promoting moderate and progressive thoughts to foil scourge of sectarianism and extremism which were impeding progress and prosperity of people.
Full report at:
http://www.dawn.com/news/1191568/sectarianism-impeding-development-of-province-dr-malik
------------
Tariq Mir's confession document is fake: London police
June 30, 2015
LONDON- Britain's Metropolitan Police today disowned confession statement by Muttahida Qaumi Movement leader Tariq Mir, alleging MQM of having links with India's spy agency.
"The document bearing a transcript of a New Scotland Yard interrogation with MQM's Mir is not officially ours," London police spokesman Alan Crockford, told.
Full report at:
http://nation.com.pk/national/30-Jun-2015/tariq-mir-s-confession-document-is-fake-london-police
------------
VCs help sought in war on terrorism
July 01, 2015
LAHORE - Punjab government has required vice chancellors of all universities throughout the province to keep a close eye on the visitors at student hostels and report the authorities and Anti-Terrorism Force (ATF) about the visiting persons who are not students.
The government has decided to conduct screening of the persons who visit the hostels to see the students as their friends or relatives. In a wide range of measures taken to identify and eradicate the suspicious and nefarious elements at varsities and hostels, the government has also sought lecture from only those teachers who have uncontroversial and unquestionable personality and do not have connection with any banned organisation.
Home Minister Col (retd) Shujakhanzada held a meeting with the vice chancellors of universities from all over Punjab here on Tuesday. The meeting was also participated by Home Secretary, IGP Punjab, and top officials of the counter terrorism force, higher education and others.
Addressing the meeting, the home minister asked the university authorities to invite the guests only after getting security clearance from the department concerned and the VC should immediately contact the Anti-terrorisms Force on detecting any suspicious activity in the institution. He also sought monitoring of the mosques situated in the university premises and for strictly restraining overnight stay of anyone in the mosques. He wanted the VCs to report to the authorities if any member of the faculty is related to a banned outfit or the organisation that holds extremism outlooks.
Full report at:
http://nation.com.pk/lahore/01-Jul-2015/vcs-help-sought-in-war-on-terrorism
-------------
PPP gets 'loyalty reassurance' from two ex-ministers
ZULQERNAIN TAHIR
Jul 1, 2015
LAHORE: Alarmed by departure of Ashraf Sohna, the PPP leadership has approached two other former federal ministers, following reports they too have plans to say goodbye to the party for different reasons.
PPP central Punjab president Manzoor Wattoo, on the direction of the party leadership, contacted on Tuesday former federal ministers Nazar Gondal and Sumsam Bokhari and discussed 'rumours' about their plans to quit the party and join the Pakistan Tehreek-i-Insaf (PTI).
"Both Mr Gondal and Mr Bokhari dismissed such reports and reiterated their commitment to the party and its leadership," Mr Wattoo told Dawn.
When asked whether the Gondals' reservations with regard to the PPP leadership included not stopping the PML-N government from "victimising" some of their family members (Zafar Gondal) in EOIB case, Mr Wattoo said: "Reservations are a routine matter and leaders do not quit parties on petty issues."
Former legislator retired Maj Zulfiqar Gondal, a relative of Gondals of Mandi Bahauddin, said that none of them was quitting the party. "Yes we have friends in the PTI who often try to convince us to join them but we have taken no such decision," he said. Replying to a question about the family's differences with the PPP top leadership, Mr Gondal said: "The PML-N government has got registered false cases against Zafar Gondal to politically victimise the Gondal family. It is often asked why PPP Co-Chairman Asif Ali Zardari, who is considered close to Prime Minister Nawaz Sharif, is not asking him about the victimisation and stopping his government from registering false cases against him (Zafar Gondal).
Zulfiqar Gondal deplored that a friend of Asif Ali Zadari, who got clemency from him (during his tenure as president) after his conviction in corruption cases, had held a media trial of Zafar Gondal. "That friend (of Mr Zardari) and his family are still close to the former president," he said.
He alleged that former interior minister Rehman Malik was the only beneficiary of PPP's reconciliation policy and others including former prime ministers Yousuf Raza Giani and Raja Pervaiz Ashraf, were being still "victimised" by the PML-N government.
"Why the Federal Investigation Agency does not take action against Rehman Malik for his alleged involvement in money laundering through model Ayyan Ali. It had been established that it was the money of Mr Malik's brother Khalid Malik which the model was trying to launder to Dubai," Mr Gondal argued.
"But this does not mean we are saying goodbye to the PPP," he added.
Another PPP leader from Punjab told Dawn the party leaders and workers in the largest province were feeling frustrated.
Full report at:
http://www.dawn.com/news/1191559/ppp-gets-loyalty-reassurance-from-two-ex-ministers
------------
Imran accuses PML-N, Nadra, ECP of participating in cover-up
KHAWAR GHUMMAN
Jul 1, 2015
ISLAMABAD: Insisting that his party had presented enough evidence before the inquiry commission to prove their claim that the 2013 general elections were rigging in the favour of the ruling PML-N, PTI chief Imran Khan accused the government, the Election Commission of Pakistan (ECP) and the National Database and Registration Authority (Nadra) of a collective cover-up.
Speaking to mediapersons outside the Supreme Court, which has become a regular part of Mr Khan's routine now, he maintained that these national institutions were responsible for the "farcical elections".
Clad in his signature white shalwar kameez and sunglasses and flanked by key party leaders, the triumphant-looking PTI leader declared that his struggle to bring true democracy to the country was about to be completed and those involved in stealing the people's mandate had been exposed. "In the future, no one will dare to make such a mistake again."
"I am surprised by the recent statements made by the ECP and Nadra, which clearly show whose side the two institutions are standing on at this critical moment," he said.
On one hand, the Nadra chairman said they lacked the technology to read fingerprints because of poor ink quality, but at the same time claimed that all unreadable ballots were also genuine voters.
"I know the Nadra chairman made this statement under pressure from the Prime Minister's Office," Mr Khan said.
In a strong rejoinder issued over the weekend, the ECP had accused PTI of failing to provide evidence proving its claims before the judicial commission, in contrast to its claims that it would prove that the last elections were deliberately rigged in favour of the PML-N.
Mr Khan accused the ECP and Nadra of covering-up for the ruling party, saying both organisations were busy trying their best to hide evidence on behalf of the incumbent government. "This is why, during the sit-in, I had demanded the PM's resignation because I knew that a fair investigation was not possible in his presence," he said.
In his remarks, Mr Khan was particularly harsh on ECP Punjab, who he accused of "giving a free hand to PML-N candidates to manage elections at their will."
Substantiating his argument with examples of how returning officer (ROs) connived with the ruling PML-N, particularly in Punjab, Mr Khan said, "During his appearance before the commission, the baffled RO for NA-125 accepted that he was unaware that additional 50,000 were ballots printed for the constituency he supervised."
Full report at:
http://www.dawn.com/news/1191603/imran-accuses-pml-n-nadra-ecp-of-participating-in-cover-up
------------
Balochistan minister for ban on MQM
July 01, 2015
QUETTA - Balochistan Home Minister Mir Sarfraz Bugti said on Tuesday that the Muttahida Qaumi Movement (MQM) should be labeled a terrorist organisation and banned.
Addressing a press conference in Quetta, he said he always used to say that RAW was involved in the deterioration of law and order in the province. He said the BBC report on MQM had verified his claims.
Sarfraz said Indian intelligence the Research and Analysis Wing (RAW) was sabotaging peace in his province. The minister also claimed that MQM was involved in sabotage activities not only in Karachi, but across Pakistan.
Full report at:
http://nation.com.pk/national/01-Jul-2015/balochistan-minister-for-ban-on-mqm
------------
North America
Global support for ISIS includes up to 42M Muslims, group claims
By Brooke Singman
June 30, 2015
Global support for ISIS may be much bigger than previously known, according to a new report that found as many as 42 million Muslims around the world have positive feelings about the black-clad army of barbarians that established a so-called caliphate in Syria and Iraq last year.
The report from the New York-based research institute Clarion Project crunched numbers from four recent polls surveying Arab public opinion toward ISIS. Clarion found the terror group's supporters are 8.5 million strong, but more than 42 million of the world's estimated 1.5 billion Muslims feel at least somewhat positively about the terror group.
"It means sympathy," Ryan Mauro, Clarion's national security analyst, told FoxNews.com. "There are those who are wholly supportive of the Islamic State, and those who are somewhat supportive."
The study was based on figures from a March 2015 poll by the Iraq-based Independent Institute for Administration and Civil Society Studies, a November 2014 poll by Zogby Research Services, a November 2014 poll by the Doha-based Arab Center for Research and Policy Studies and an October 2014 poll by the Fikra Forum commissioned by the Washington Institute for Near East Policy.
When surveyed, the subjects answered whether or not they viewed ISIS positively, or somewhat positively -- some even admitting their support for the Syrian civil war to end in a victory for the Islamic terror group.
The Council on American-Islamic Relations (CAIR), the nation's largest Muslim advocacy organization, blasted Clarion's analysis.
Full report at:
http://www.foxnews.com/world/2015/06/30/global-support-for-isis-includes-up-to-42m-muslims-group-claims/
------------
World should be ashamed of failure to end Syria conflict, says UN chief
Jul 1, 2015
UNITED NATIONS: Secretary-General Ban Ki-moon says the world should be ashamed that three years after major powers approved a blueprint in Geneva to bring peace to Syria the suffering of its people is reaching new depths.
The UN chief said more than 220,000 Syrians have died in the conflict, now in its fifth year, almost half the population has been forced to flee their homes, and civilians still face attacks by barrel bombs and "horrendous" human rights violations including torture and prolonged detention of tens of thousands.
Full report at:
http://www.dawn.com/news/1191533/world-should-be-ashamed-of-failure-to-end-syria-conflict-says-un-chief
------------
Study: Islam to challenge freedom in the USA
JULY 1, 2015
USA (MNN/BP) — While the amount of persecution against Christians continues to increase around the world, what are Christians in the United States saying about their future?
Baptist Press reports Americans view Islam as a threat to their own nation's religious liberty almost as strongly as they consider it a danger to religious freedom internationally.
Although most persecution occurs overseas, 39% of American adults say Islam threatens religious freedom in the U.S. — almost as many as the 40% who see Islam as a global threat, a survey by Nashville-based LifeWay Research finds.
"Most recent headlines regarding Islam don't paint a picture of religious freedom, so we should not be surprised by the strong minority that consider Islam a threat to religious freedom," Ed Stetzer, executive director of LifeWay Research, said.
"However, it is worth noting less Americans see Islam as a threat to religious freedom than do not. What's of particular interest to me is not people's concern about international religious liberty — which I would expect — but that 40% of Americans see Islam as a threat to religious liberty in the United States."
A slim majority, 52%, believes U.S. religious liberties are not at risk because of Islam.
Religious liberty has been widely discussed recently, but social policy, not Islam, has been the focus of recent religious freedom disputes in the United States. Courts have weighed religious freedom arguments in deciding whether to permit same-sex marriage, allow businesses to turn away gay customers, and require employers to pay for birth control.
On a global scale, Americans are unsettled about the influence of Islam. While 47% think it doesn't endanger religious freedom internationally, almost as many — 40% — believe it does, and 13% are unsure.
Researchers asked 1,000 Americans about their views in a phone survey Sept. 19-28, 2014. Earlier that month, the Islamic militant group ISIS released videos of beheadings of two Americans, prompting President Obama to tell the public the extremist group also known as ISIL is not Islamic. But LifeWay Research found at the time that 48% disagreed with the president's statement while 3 in 10 were unsure.
Religious restrictions on the rise
Global concern about religious freedom is widespread and data shows such concern to be warranted. For example, Pew Research shows more than three-fourths of the world's people live in countries with high religious restrictions, up from about two-thirds in 2007.
In the United States, restrictions are moderate but increasing, according to Pew. Pew's measurement of hostile acts involving religion in America climbed 63% from 2007 to 2013, and its accounting of government restrictions on religion nearly doubled.
Americans perceive the effects, according to previous LifeWay research. More than half of Americans and 70% of Protestant senior pastors say religious liberty is on the decline.
Women are particularly concerned about the potential impact of Islam, with 44% viewing it as a risk to American religious freedom, compared to 34% of men. A similar gender divide emerged in previously released LifeWay research about Sharia law, with more women than men worrying America could come under the Islamic legal and moral code that limits women's rights.
Full report at:
https://www.mnnonline.org/news/study-islam-to-challenge-freedom-in-the-usa/
------------
Arab World
60 Egyptian soldiers killed in attacks on army checkpoints in Sinai
Jul 1, 2015
At least 60 Egyptian soldiers have been killed and scores of others injured in a series of attacks by Takfiri militants against military checkpoints in the country's violence-plagued Sinai Peninsula.
Security sources, speaking on condition of anonymity, said militants detonated a vehicle rigged with explosives south of the town of Sheikh Zuweid, located about 334 kilometers (214 miles) northeast of the capital, Cairo, on Wednesday, killing tens of troopers and injuring several more, Sky News Arabia satellite news network reported.
Assailants also fired several rounds of mortar shells at army check posts in al-Joureh, Abu Refaei and Sedrah districts on the southern outskirts of Sheikh Zuweid.
The projectiles triggered fierce exchanges of gunfire between Egyptian government forces and Takfiri terrorists.
Full report at:
http://www.presstv.in/Detail/2015/07/01/418277/Egyptian-soldiers-Sinai-Sheikh-Zuweid-Rafah--Velayat-Sinai
------------
Saudi cabinet: Terror attacks contrary to all Islamic principles
1 July 2015
Condemning the recent terror attacks in Kuwait, Tunisia and France and the bombing that killed Egyptian attorney general, the Saudi Council of Ministers described the events as contrary to all Islamic values and principles.
It also reaffirmed Kingdom's condemnation and denunciation of all forms of violence and terrorism, and its solidarity and stand with sisterly and friendly countries in confronting terrorist acts to maintain their security and stability.
The Cabinet meeting, presided over by Custodian of the Two Holy Mosques King Salman, also sent condolences to the people of Kuwait over the death of dozens of people in the suicide bomb attack on a mosque on Friday.
Similarly, the Cabinet sympathized with the people of Tunisia where many innocent lives were lost in the terror attack on a hotel in the city of Sousse.
Likewise, the Cabinet condoled deaths in attack on the French city of Lyon. It also expressed its deep sympathies with the people of Egypt and the family of chief prosecutor Hisham Barakat who was killed in a car blast on Monday.
Dr. Adel Bin Zaid Al-Turaifi, minister of culture and information, said the King briefed the cabinet on the contents of his phone call with Kazakhstan President Nursultan Nazarbayev, and his meeting with Dr. Abdul Latif Bin Rashid Al-Zayani, secretary general of the Gulf Cooperation Council (GCC).
The Cabinet expressed the Kingdom's condemnation of the continuing acts of violence, discourse of hatred, incitement and racial discrimination against the Muslim community in Myanmar, stressing that the humanitarian tragedy being experienced by Rohingya Muslims and their exposure to acts of murder, rape, forced eviction, ethnic cleansing campaigns, non-recognition of them as citizens, restriction of their free movement and preventing them from the most basic human rights, including food and health care, require urgent action from the international community. The Cabinet said the government of Myanmar must adopt a transparent and comprehensive policy to stop all practices of persecution and deportation, and to speed up the recognition of Rohingya Muslims without any discrimination or ethnic classification.
Full report at:
https://english.alarabiya.net/en/News/middle-east/2015/07/01/Saudi-cabinet-Terror-attacks-contrary-to-all-Islamic-principles-.html
------------
Kuwait mosque bomber 'had no criminal record'
30 June 2015
JEDDAH: The Saudi man who carried out a suicide bombing at a mosque in Kuwait on Friday had no previous convictions for terrorism, the Interior Ministry said.
The ministry, through its Twitter account, announced that Fahad Suleiman Al-Gabbaa was born in 1992. "The security agencies have never dealt with him in the past for terror-related activities."
Twenty-seven people were killed and 277 injured in Friday's attack on the Imam Al-Sadiq Mosque in the neighborhood of Sawabir in Kuwait City.
Daesh claimed responsibility for the operation, which came on the same day that terror attacks occurred in Tunisia and France.
"Fahd Al-Gabbaa left the Kingdom on Thursday, Ramadan 8, from Riyadh to Manama on Gulf Air flight number 170. There was no record of him traveling in the past," it stated.
The ministry said there was cooperation with Kuwait to determine the dimensions of the crime, including whether other Saudi nationals were involved, a local newspaper reported.
It also said that contact has been made with Bahrain to find out if there is more information on what Al-Gabbaa had done while in Manama.
According to a report, Al-Gabbaa had arrived at Bahrain International Airport from Riyadh on June 25 at 22:40. He left for Kuwait on the Gulf Air flight 211 at 1:10 Friday morning June 26.
Full report at:
http://www.arabnews.com/featured/news/769561
------------
Sisi pledges tougher laws after prosecutor killing
July 01, 2015
CAIRO - A visibly angry Egyptian President Abdel Fattah al-Sisi pledged tougher laws against militants and suggested fast track executions at the funeral on Tuesday of the state prosecutor assassinated in a car bombing.
Hisham Barakat died in hospital after a car bomb tore through his convoy in Cairo on Monday morning, the most senior official killed by Islamist insurgents who have bedevilled the country.Tattack, as Barakat was en route to his office, was a blow to former army chief Sisi, who won elections after ousting Islamist President Mohamed Morsi on July 3, 2013.
Barakat's funeral coincided with the second anniversary of mass protests that preceded Morsi's overthrow. "The arm of justice is chained by the law. We're not going to wait for this. We're going to amend the law to allow us to implement justice as soon as possible," Sisi said.
in a televised speech surrounded by Barakat's mourning relatives.
"Do courts in these circumstances work? Do these laws work? They work with normal people," said Sisi, shaking a clenched fist for emphasis.
Hundreds of policemen and soldiers have been killed since Morsi's ouster by militants based in the sparsely populated Sinai Peninsula. The Islamic State group's affiliate there has claimed responsibility for the deadliest attacks.
At least 1,400 people, most of them Morsi supporters, have been killed in a police crackdown on protests.
Meanwhile, thousands of people, mostly Islamists but also including secular dissidents, have been jailed and hundreds sentenced to death. Morsi himself has been sentenced to death.
Seven have been executed. Most of those sentenced to death are appealing the verdicts, a lengthy and convoluted process, but Sisi suggested it would be fast tracked.
"If there is a death sentence, a death sentence will be implemented," Sisi said. "The law! The law!
"We're not going to wait five or 10 years to try the people killing us," Sisi said.
Outside the mosque where the funeral was held, a crowd of 50 protesters chanted: "The people demand the execution of the Muslim Brotherhood."
Inside, Justice Minister Ahmed al-Zind, a recently appointed hardliner, told judges to avenge Barakat's killing.
"The ball is now in the judges' court. Take your revenge using the law. Effective, swift law that doesn't take five years."
Full report at:
http://nation.com.pk/international/01-Jul-2015/sisi-pledges-tougher-laws-after-prosecutor-killing
------------
U.N. envoy to brief council on war in Syria
30 June 2015
A U.N. envoy who has spent two months meeting with key players in Syria will address the Security Council next week to make recommendations for ending the war.
Staffan de Mistura will be in New York from Monday to meet with Secretary-General Ban Ki-moon and brief the 15-member council, U.N. spokesman Farhan Haq said Tuesday.
The envoy will "discuss what his recommendations are on the way forward in terms of what he has learned as a result of his consultations," said Haq.
After his plan for a freeze in fighting in the city of Aleppo failed, De Mistura on May 5 launched a series of consultations with various parties and regional players including Iran to try to kickstart a political process.
There have been no peace talks on Syria since the so-called Geneva II meetings in early 2014 ended in failure.
News of the envoy's return to New York for the key meetings came as U.N. Secretary-General Ban Ki-moon issued a statement appealing for action to end the war, now in its fifth year.
Ban noted that the parties to the conflict had signed on the first Geneva plan three years ago and that despite this step "the suffering of the Syria people continues to plumb new depths."
"It is time to find an exit from this madness," said Ban.
Full report at:
https://english.alarabiya.net/en/News/middle-east/2015/06/30/U-N-envoy-to-brief-council-on-war-in-Syria-.html
------------
Yemen scholars hail Saudi efforts
1 July 2015
RIYADH: Minister of Islamic Affairs Saleh Al-Asheikh chaired the first meeting with Yemeni scholars to exchange ideas on how to strengthen their role in restoring peace in their country.
The first Saudi-Yemen scholars meeting, dubbed the "outreach scholars program," at the ministry's headquarters here, discussed the tragic events in Yemen and the favorable outcomes of "Decisive Storm" under the leadership of King Salman, supported by the alliance.
Among those present were heads of various Islamic and Yemen Islamic associations.
Speaking on the occasion, Al-Asheikh stressed the scholars' role in guiding people, in reaching out to people to correct misconceptions that are caused by politically motivated conflicts.
He said: "We have had a lot of mentors and teachers in Yemen at the expense of the Ministry of Islamic Affairs, Endowments, Call and Guidance for decades," in addition to a number of Yemeni who have studied in Saudi universities over the years.
"Such a meeting is an important link for cooperation with Yemeni scholars and Saudi Arabia's vision in restoring hope in Yemen that reflects its support of the Yemeni people, and its commitment to the establishment of security," the minister said.
The minister urged the participants to regain their influence, look at challenges and ways of addressing them toward positive resolution.
Full report at:
http://www.arabnews.com/saudi-arabia/news/769991
------------
Kuwait busts 'terrorist cell' after bombing
1 July 2015
KUWAIT CITY: Kuwait's interior minister said on Tuesday that the Gulf state has busted a "terror cell" responsible for the suicide bombing at a Shiite mosque and is hunting for others.
"We are in a state of war. Yes, we have busted this terror cell but there are other cells we are going to strike," Sheikh Mohammad Khaled Al-Sabah told Parliament during a special debate on Friday's bombing.
He said the emirate has revised "all security measures, especially around mosques and all places of worship."
Of an unspecified number of suspects arrested, five have been referred to the public prosecution service, including the driver who took the bomber to the scene of the attack and the owner of the car.
Full report at:
http://www.arabnews.com/middle-east/news/769821
------------
Kurd MP: 7,000 Iraqi Peshmarga Forces Likely to Fight in Syria
Jun 30, 2015
"It was decided that 7,000 Pishmarga forces be sent to Hasaka city to fight against the ISIL," Omar Ousi was quoted as saying by Syria's al-Watan newspaper on Tuesday.
Noting that the Iraqi Kurdistan region's parliament is likely vote for the plan to send Pishmarga forces to Syria, he said implementation of this plan depends on coordination with the Syrian government and the Kurdish People's Protection Units (YPG).
The Syrian government confirmed on Saturday that the army troops had secured the Northeastern city of Hasaka, rejecting reports that the ISIL terrorists are still in control of the main buildings there.
The Syrian government issued a statement, saying that Hasaka is now safe and the army soldiers are cleansing the city from the remnants of the Takfiri militants.
The statement added that the terrorists tried to sneak into the city for several times, but the Syrian forces hunted them down.
Full report at:
http://english.farsnews.com/newstext.aspx?nn=13940409001329
-----------
Pakistan Plans to Help Al Khalifa Suppress Bahraini People
Jun 30, 2015
"Pakistan has agreed with dispatching a group of its nationals to Bahrain to help the Manama regime with repressing people's peaceful protests," informed Bahraini sources told FNA in Manama on Tuesday.
The sources said that Bahrain intends to reinforce its forces by deploying the Pakistani police forces, and added, "Riyadh has played an important role in coordinating and mediating the agreement between Islamabad and Manama."
Bahrain recruited over 2,500 former Pakistani soldiers three years ago for its national guard.
Earlier this month, a Bahraini revolutionary and political activist disclosed that the Al Khalifa regime's security forces have raided the people's houses with poisonous gases to intimidate them.
Full report at:
http://english.farsnews.com/newstext.aspx?nn=13940409001555
------------
Threat grows as Daesh terror enters second year
June 30, 2015
BEIRUT — The Daesh (the so-called IS) group's terror domain entered its second year Monday with the terrorists expanding their territory in Syria and Iraq and their global reach by claiming attacks in Tunisia and Kuwait.
The extremist group headed by Abu Bakr Al-Baghdadi announced on June 29, 2014 that it was form what he termed "caliphate," pledging it would "remain and expand."
In the year since, the group has gained more territory in Syria and Iraq despite an attempted fightback supported by a US-led coalition air campaign.It has also attracted a string of affiliates — in Egypt, Libya, Yemen, Pakistan and elsewhere — and sought to project fear on an international scale.
Last week, the group claimed responsibility for the attack in Tunisia in which 38 people, mostly foreign tourists, were killed at a seaside resort.
And it said it was behind a suicide bomb attack against a Shiite mosque in Kuwait that killed 26 people.
Daesh also appeared to be the inspiration for an attack in France in which a man rammed his van into a gas factory and beheaded his boss.
"It's not clear that these actions are centrally planned or coordinated by IS (Daesh)," said Yezid Sayegh, a senior associate at the Carnegie Middle East Center think tank.
"That said, we may be seeing the start of a long campaign conducted by IS (Daesh) members or sympathizers who have been trained and then sent back home to their countries to take their own initiative in planning and conducting attacks, depending on their abilities, resources, and opportunities."
Already, Daesh has inspired fear and horror with its rule over territory in Syria and Iraq, where mass killings and brutal executions have become its hallmarks.
The group controls about 50 percent of Syria's territory, though much of it is uninhabited, and perhaps a third of Iraq.
In Syria alone, it has executed more than 3,000 people in the year since announcing its so-called "caliphate," the Syrian Observatory for Human Rights monitoring group said on Sunday.
Nearly 1,800 of them were civilians, including 74 children, it said.
They include more than 200 people killed in the Syrian Kurdish town of Kobane during a Daesh attack last week, and over 900 members of the Sunni Muslim Shaitat tribe who were killed in 2014 after opposing the terrorist group.
There are no reliable figures in Iraq, but the group is believed to have executed thousands there, including as many as 1,700 mostly Shiite recruits at the Speicher military base near Tikrit.
Thousands more have died battling Daesh in Syria and Iraq, including Syrian rebels and government forces, Kurdish fighters in both countries, and Iraqi government troops and Shiite militias.
But few of those forces have had much success against the group, with the Iraqi army in particular facing criticism for abandoning territory to Daesh during a push by the terrorist group in mid-2014.
Iraqi government forces have "no clear command structure," said Zaid Al-Ali, author of "The Struggle For Iraq's Future."
Full report at:
http://www.saudigazette.com.sa/index.cfm?method=home.regcon&contentid=20150701249048
------------
60 held in Kuwait for terror links
June 30, 2015
KUWAIT — Kuwait has detained 60 people and closed a local charity for alleged violations in raising funds for Syrians, local media said Tuesday, as part of a crackdown on suspected militant links after the Gulf Arab state's worst ever suicide bombing.
Kuwait has stepped up security after a suicide bomber blew himself up inside a mosque during Friday prayers, killing himself and 26 other people. Kuwaiti officials said the attack was aimed at stirring up sectarian strife.
Arabic-language Al-Qabas newspaper quoted security sources in the major oil exporting state as saying that 60 people, including Kuwaiti citizens and nationals of other Gulf states, were being held for investigation by security services.
Some had been found to have been in contact with militants while others are suspected of belonging to "extremist" groups, Al-Qabas reported.
It also said that five people suspected of involvement in Friday's mosque bombing by Fahd Suliman Abdul-Muhsen Al-Qaba'a had been referred to the public prosecutor. The five, it said, had confessed to receiving financial transfers from abroad to carry out attacks targeting houses of worship.
Al-Qabas newspaper did not name them but Kuwait's Interior Ministry said it had detained the driver of the vehicle that took Al-Qaba'a to the mosque, the owner of the car and the owner of the house where the driver went to hide after the attack.
Full report at:
http://www.saudigazette.com.sa/index.cfm?method=home.regcon&contentid=20150701249033
------------
South Asia
10 Soldiers Martyred, 44 Militants Killed In Afghanistan Military Operations
By KHAAMA PRESS - Wed Jul 01 2015
10 soldiers have embraced martyrdom and 44 militants killed in newest military operations across the country, officials announced on Wednesday.
A statement issued by the Ministry of Defense states that seven Army soldiers lost lives in militant attacks in past 24 hours.
Also, reports from western Herat province suggest that three policemen embraced martyrdom after Taliban attacked Shah Rodak security post in Shindand District this morning.
Full report at:
http://www.khaama.com/10-soldiers-martyred-44-militants-killed-in-military-operations-3579
------------
Drone strikes kill 14 militants in Nangarhar
By KHAAMA PRESS - Wed Jul 01 2015
14 militants have been killed and their hideouts destroyed in U.S. drone strikes in eastern Nangarhar province.
Officials at the police headquarters of Nangarhar said that the drone targeted two insurgent hideouts in Mach Megi area of Lalpur District yesterday.
Hazrat Hussain Mashriqiwal, spokesman for the police headquarters writes in a statement issued on this morning that civilians have not received damages in the attack.
Full report at:
http://www.khaama.com/drone-strike-kills-14-militants-in-nangarhar-3578
------------
Taliban wage bloody offensive in Afghanistan
July 01, 2015
KABUL - Suicide attackers Tuesday targeted NATO troops in Kabul and a police headquarters in restive southern Afghanistan, killing three people and wounding at least 60 as the Taliban's bloody summer offensive showed no signs of letting up.
A powerful blast echoed around the Afghan capital as a suicide car bomber hit a NATO military convoy on the main road to the airport, around 500 metres (550 yards) from the US embassy, killing at least one Afghan civilian and wounding around 20.
Hours earlier at least two civilians were killed when a suicide truck bomb detonated at the gate of the police headquarters in Lashkar Gah, the capital of volatile Helmand province.
Afghan troops and police are battling the Taliban alone in the first "fighting season" since NATO ended its combat mission and left local forces to take charge of security. Tuesday's violence came less than two days after 11 soldiers were killed in a Taliban ambush in the normally relatively peaceful western province of Herat.
"It was a suicide car bomber targeting a convoy of foreign forces in Kabul," interior ministry spokesman Sediq Sediqqi said. "In the aftermath of today's terrorist attack in Kabul, one was killed and 22 more injured, all civilians," he said. A spokeswoman for the NATO mission in Afghanistan, Captain Susan Harrington, confirmed a convoy had been attacked and said two coalition personnel had been wounded.
The Taliban claimed responsibility for the attack in Kabul on their official Twitter account.
In Helmand, provincial police spokesman Farid Ahmad Obaid told AFP the police headquarters attack left at least two civilians dead and 40 wounded.
Provincial police chief Nabi Jan Mullahkhil told reporters three attackers were involved.
"Two attackers were killed in the explosion while the third one was injured and as he tried to escape the police shot him," he said.
Provincial spokesman Omar Zhwak said most of the wounded were hit inside their homes by flying glass.
Full report at:
http://nation.com.pk/international/01-Jul-2015/taliban-wage-bloody-offensive-in-afghanistan
------------
President Ghani strongly condemns recent Kabul suicide attack
By KHAAMA PRESS - Wed Jul 01 2015
President Mohammad Ashraf Ghani has strongly condemned the recent suicide attack in capital Kabul that left over a dozen of civilians killed and wounded.
President Ghani said in a statement that targeting innocent people in the holy month of Ramazan is an act against all of the values of Islam and humanity.
On Tuesday, a suicide bomber driving explosives-laden vehicle carried out a powerful explosion near a NATO convoy in the jurisdiction of the 9th police district of capital Kabul.
Full report at:
http://www.khaama.com/president-ghani-strongly-condemns-recent-kabul-suicide-attack-3576
------------
Latif Siddique's bail irks radical Islamists
july 1, 2015
Since Abdul Latif Siddique's release on bail on Monday a number of extremist Islamist political parties and groups have been expressing anger, saying the sacked minister would have to die for defaming Islam.
The fanatics held processions and rallies, and issued press statements against the court order and demanded that Latif be arrested again and given exemplary punishment for hurting their religious sentiment.
They also criticised the government for giving shelter to the former Awami League Presidium member by granting his bail prayers.
Islami Oikyo Jote, an ally of the BNP-Jamaat-led 20-party combine, has announced protest processions from all mosques across the country on Friday.
Latif had reportedly criticised hajj and also ijtema during a discussion in New York on September 27 last year. A number of cases were filed against him at different places in Bangladesh, he was removed from the cabinet and the party cancelled his primary membership.
He got bail in 17 cases filed against him before being released from the prison cell of Bangabandhu Sheikh Mujib Medical University.
Qawmi madrasa-based Islamist platform Hefazat-e-Islam's leader Maulana Junayed Al Habib said Latif Siddique would not be allowed to move freely in Bangladesh.
"He will be killed wherever he is found. No atheist has been spared since the independence of Bangladesh," Habib, members secretary of Hefazat's city unit, said at an iftar party at Jamia Madania Madrasa.
Members of Islami Oikyo Jote, also a part of Hefazat platform, brought out a procession in Lalbagh. Its Secretary General Mufti Faizullah said: "The atrocious atheists and murtads are being patronised by granting Latif Siddique bail. They will not be allowed to live in this country."
Islami Andolon Bangladesh in a statement, signed by its Secretary General Yunus Samad, echoed the views of Faizullah.
Demanding Latif's arrest, Khelafat Majlish in a statement yesterday termed the government hypocrite. "Infamous Taslima Nasreen, Daud Haider… no one could stay in the country after defaming Islam. The country's pious Muslims will never allow any atheist or murtad on the soil of Bangladesh."
Its leaders alleged that Latif's bail proved that the government arrested him to save him from outrage of the people.
Full report at:
http://www.dhakatribune.com/politics/2015/jul/01/latif-siddiques-bail-irks-radical-islamists
------------
Bangladesh to open new DHC in Guwahati
july 1, 2015
Bangladesh will open new Deputy High Commission (DHC) in Guwahati, India.
With the opening of the new DHC in Guwahati, Bangladesh's diplomatic missions in India would increase to five--in New Delhi, Kolkata, Mumbai, Agartala and Guwahati.
The Government of India has conveyed its concurrence to the request made by the Government of Bangladesh for opening the DHC in Guwahati, said a press release of Indian High Commission Tuesday.
Full report at:
http://www.dhakatribune.com/bangladesh/2015/jul/01/bangladesh-open-new-dhc-guwahati
------------
Japan beating China in race for Bangladesh's first deep-sea port
june 30, 2015
Japan is beating out China in a race to build Bangladesh's first deep-sea port as the region's powers jostle for a foothold in the Indian Ocean.
Construction of the 18-meter-deep port at Matarbari on Bangladesh's southeast coast is set to start by January, Japan International Cooperation Agency said in an e-mailed response to questions from Bloomberg News. That's bad news for a stalled China plan to build a port about 25 kilometers (15 miles) away.
"I'd imagine there's only room for one port," said Krispen Atkinson, a maritime analyst at IHS Inc., citing the cost to build railway lines and approach channels. "There are probably political reasons behind it as well. If you're looking to build a port and want Western support as well, would a port financed by China be the favored option?"
The deal would mark a setback for China in South Asia, where it's seeking to establish economic and military ties in a region that carries about 80 percent of its oil imports. The Bay of Bengal, a body of water bigger than Mexico, lies at the heart of an area where China, Japan and India are investing billions of dollars to secure economic gains for decades to come.
"There's a remarkable scramble going on," said David Brewster, a visiting fellow at the Australian National University in Canberra, who called the bay a "twin" to the South China Sea. "The Japanese clearly see themselves in competition with China, and control over ports is seen as important. I expect the Japanese are very happy about this."
Shallow Ports
Bangladesh's government confirmed that work on the Matarbari port is scheduled to start early in 2016, while saying talks on the China-backed port at Sonadia island are still underway.
Bangladesh hasn't built a new seaport since independence in 1971. It's wanted a deepwater one for more than a decade as the country turned into the world's second-biggest exporter of garments, which account for 15 percent of gross national product.
Waters surrounding Bangladesh's two main ports -- Chittagong and Mongla -- are so shallow that vessels have to wait for an incoming tide to berth and an outgoing one to leave. Bigger ships currently need to transfer their loads to smaller vessels. The longer turnaround can cost an extra $15,000 per day, making Chittagong several times pricier than ports in neighboring countries.
The Matarbari port, at 18 meters (59 feet), would be deep enough to host the largest container vessels, according to IHS's Atkinson.
China Stutters
To pay for a bigger port, Bangladesh needs help. That's where the region's major powers come in.
While a Japanese company in 2009 completed studies for the Bangladesh government for a port at Sonadia, Bangladesh Prime Minister Sheikh Hasina initially sought help to build it from China, which she once called the "most dependable and consistent friend of Bangladesh." Since at least 2012, China has publicly backed the Sonadia project.
Newspapers speculated that the deal would be clinched when Hasina visited Beijing last year. Yet it never happened.
"Although the Sonadia deepwater port project failed to get signed, both sides expressed willingness to have further negotiations," Chinese state media reported at the time.
Months later, a member of her cabinet revealed a key reason for the delay.
Asia Gateway
"Some countries, including India and the United States, are against the Chinese involvement," Planning Minister A.H.M. Mustafa Kamal told reporters in January, according to the Dhaka Tribune. The government is rethinking Sonadia since Matarbari is only 25 kilometers away, he said.
Full report at:
http://www.dhakatribune.com/bangladesh/2015/jun/30/japan-beating-china-race-bangladeshs-first-deep-sea-port
------------
2 Bangladeshis, 7 Myanmarese held in Malaysia
July 01, 2015
Seven Myanmarese and two Bangladeshi men were arrested for their alleged involvement in a regional human trafficking syndicate from Malaysia's Kedah state on Monday, reports Malaysian daily The Star.
The suspects are being investigated, Tan Sri Khalid Abu Bakar, Malaysian police chief, told reporters after the closing ceremony of an anti-human trafficking seminar at the police headquarters in Kuala Lumpur yesterday.
He, however, did not reveal the details about the arrestees.
Full report at:
http://www.thedailystar.net/city/2-bangladeshis-7-myanmarese-held-malaysia-105460
------------
40 Jamaat-Shibir, BNP men charge-sheeted in Dinajpur
July 01, 2015
Police on Sunday pressed charges against 40 Jamaat-Shibir and BNP men in a case for petrol bomb attack on a rice-laden truck in Ghoraghat upazila of the district on the night of January 21 this year.
Sub-Inspector (SI) Dulal Haque of Ghoraghat Police Station submitted a charge sheet to the Senior Judicial Magistrate's Court in the afternoon.
Judge Md Rezaul Bari took the charge sheet into cognisance and fixed July 6 for hearing on it, court sources said.
Dulal Haque, also the investigation officer (IO) of the case, said 10 out of 40 charge-sheeted accused are now in jail while the rest are still at large.
According to the case statement, Jamaat-Shibir and BNP men threw a petrol bomb on a Bogra-bound rice-laden truck from Nawabganj in Dinajpur in front of Khatun Jannat Women's Madrasa in Ghoraghat upazila on the night of January 21, leaving driver Anisul Haque and helper Sobuj Ali injured.
Full report at:
http://www.thedailystar.net/country/40-jamaat-shibir-bnp-men-charge-sheeted-dinajpur-105403
-----------
Africa
Al-Shabaab Jihadists Vow to Attack Christians During Ramadan, Give 'Non-Believers' a 'True Taste of Jihad'
June 30, 2015
The al-Shabaab terror group, which back in April murdered 152 people, mostly Christian students, have vowed to attack "non-believers" throughout the Islamic holy month of Ramadan, a pledge echoing ISIS' threats.
News 24 reported that at least 15 people were killed on Monday in clashes between al-Shabaab and Somali and African Union troops near the southern port of Kismayo, though eight Islamic militants were also killed in the battle.
AFP noted that another 80 soldiers were killed on Friday in a separate attack on the Leego base in southern Somalia, with the jihadists claiming to have brought back 60 of the bodies.
"Al-Shabaab has consistently shown its ability to strike in urban areas and regroup in rural bases. It will take much longer to defeat the group and require Somalia's security services to be significantly improved," Ahmed Soliman, Horn of Africa analyst at the London-based Chatham House, told the Bloomberg news.
The total death toll could still be higher, with reports that some captured troop members have been beheaded.
Earier in June, al-Shabaab's leadership said that the terror group will be attacking non-believers, which includes Christians, throughout Ramadan.
"We are planning to give Kenyan non-believers a true taste of Jihad [the holy war] in the next few days and weeks," a senior al-Shabaab commander said, adding that they will keep "targeting and destroying" Kenya's education sector and business sector."
The terror group's attack on Garissa University College in Kenya made world news headlines back in April, when four al-Shabaab gunmen stormed the college, separated Christian from Muslim students, and murdered the Christians.
The massacre prompted the #147notjustanumber social media campaign, named after the original death toll, aimed at reminding the world that the victims were real people with real hopes and dreams that were taken away.
"I can't even look at pictures of the people killed without crying," 32-year-old Mary Wambui from Nakuru said at the time.
Full report at:
http://www.christianpost.com/news/al-shabaab-jihadists-who-slaughtered-152-christian-kenyan-students-vow-to-attack-non-believers-during-ramadan-give-christians-true-taste-of-jihad-140997/
------------
Internal displacement doubles in Libya in less than one year: UN
Jul 1, 2015
The United Nations (UN) says the number of the internally displaced persons (IDPs) inside the North African country of Libya has doubled since September last year.
UN Refugee Agency (UNHCR) Spokeswoman Melissa Fleming said during a press conference in Geneva on Tuesday that the number of the IDPs had increased from an estimated 230,000 recorded last September to over 434,000.
Fleming said data collected by the office of the UN High Commissioner for refugees showed that the number comprises 83,697 families.
The UN body added that the actual number of the displaced people could be much higher as the agency is faced with limited access to affected areas as a result of violence in the country.
Full report at:
http://www.presstv.in/Detail/2015/07/01/418252/Libya-IDPs-UNHCR-Melissa-Fleming
------------
Gay Marriage Will Help Us Fight Boko Haram, Isis – Obama's Aide
June 30, 2015
Rosa Brooks, a former counselor to the defense undersecretary for policy, and former senior adviser for the State Department, believes sharing images of the gay rights jubilation will help fight ISIS.
The George town university law professor explained that the images of gay jubilation could bring about great difference in tackling the insurgents. Brooks who was a former adviser to Obama believe gay marriage can actually help defeat ISIS.
She said, "Do you want to fight the Islamic State and the forces of Islamic extremist terrorism? I'll tell you the best way to send a message to those masked gunmen in Iraq and Syria and to everyone else who gains power by sowing violence and fear.
Full report at:
https://www.informationng.com/2015/06/gay-marriage-will-help-us-fight-boko-haram-isis-obamas-aide.html
------------
Somalia: University of Nairobi Students On Al Shabaab Payroll - Police
By Maalik Som
30 JUNE 2015
Some University of Nairobi students are paid members of ISIS and al Shabaab, the head of the National Counter Terrorism Center has said.
"We will come for you before you come for us," NCTC Director Isaac Ochieng' told a university audience yesterday.
He said he has"evidence some students are on the payroll" of the two terror groups in Nairobi and elsewhere.
He was addressing a forum on countering violent extremism hosted by the University of Nairobi and the Interior Ministry at the university's Taifa Hall.
He surprised panelists, including Interior PS Monica Juma and Vice Chancellor Peter Mbithi ,when he said ISIS is actively recruiting Kenyans on college and university campuses.
"We have serious evidence some students here in this hall are on the payroll of ISIS in Syria and Iraq," Ochieng said.
The counter terrorism center fallsiunder the spy agency, the National Intelligence Service, headed by Director General Philip Kameru.
He did not elaborate on the "evidence" or say how many students are estimated to be on terror payrolls.
Ochieng also did not say what the government is doing with its "evidence".
"There is a very serious resurgence of homegrown terrorism aimed at establishing an East African Caliphate by al Qaeda and al Shabaab. You think that we don't know. We will come for you before you come for us," Ochieng told the audience that included hundreds of students and experts on international terrorism from around the world.
Addressing student-terrorists, he asked: "Why do you participate in a war that is not yours? Why do you cross borders to join a terrorist group? Leave that thing alone."
Scholars need to debunk the "poisonous" ideology of terror groups, Ochieng said.
"As academics, you must do your part in fighting radicalisation and violent extremism in our learning institutions," he urged.
Interior PS Monica Juma did not address Ochieng's assertion of terrorists recruiting on Kenyan campuses but said terrorism remains "the premier global challenge" today.
"They aim to destroy and perpetuate violence against those they consider the opponent," she said.
Full report at:
http://allafrica.com/stories/201507010504.html
------------
Mideast
Kurdish MP: Iran, Iraq, Syria to Study Strategic Plan for War on ISIL
Jun 30, 2015
"The trilateral meeting to fight terrorism which is due to be held in the presence of the Iraqi, Syrian and Iranian ministers is a strategic plan to permanently get rid of the criminal ISIL group," Majed Shangali was quoted as saying by Kurdpress on Tuesday.
He underlined that the idea of holding the trilateral meeting in such a regional situation is highly important.
Iranian Interior Minister Abdolreza Rahmani Fazli announced earlier this month that Tehran, Damascus and Baghdad would hold a trilateral meeting to discuss ways to intensify campaign on terrorism.
"A trilateral meeting among Iran, Syria and Iraq is due to be held in Baghdad," Rahmani Fazli said in a joint press conference with his Syrian counterpart Mohammad Ibrahim al-Shaar in Tehran.
Noting that the three countries are pioneering in resistance against Israel and fighting against terrorism, violence and extremism, he stressed that they should further expand their cooperation.
"We hope that the trilateral meeting will be a prelude to the joint activities of the regional Islamic states on the issues that they share similar views and we will witness holding multilateral meeting among different Islamic countries," Rahmani Fazli said.
Iranian officials have always called for collective efforts of all countries to help resolve the ongoing crises in Iraq and Syria, and stressed Tehran's continued assistance to these states.
Also this month, Iranian Parliament Speaker Ali Larijani underlined that the country's assistance to the regional states, including Iraq and Syria, in fighting the terrorist groups will save future generations from death and misery.
Full report at:
http://english.farsnews.com/newstext.aspx?nn=13940409001226
------------
ISIS threatens to topple Hamas 'tyrants' in Gaza
1 July 2015
Militants from the Islamic State of Iraq and Syria (ISIS) threatened on Tuesday to turn the Gaza Strip into another of their Middle East fiefdoms, accusing Hamas, the organization that rules the Palestinian territory, of being insufficiently stringent about religious enforcement.
"We will uproot the state of the Jews (Israel) and you and Fatah, and all of the secularists are nothing and you will be over-run by our creeping multitudes," said a masked ISIS member in the message addressed to the "tyrants of Hamas," according to Reuters news agency.
"The rule of sharia (Islamic law) will be implemented in Gaza, in spite of you. We swear that what is happening in the Levant today, and in particular the Yarmouk camp, will happen in Gaza," he said, referring to ISIS's advances in Syria, including in a Damascus district founded by Palestinian refugees.
The terror group has also taken over swathes of Iraq and has claimed attacks in Egypt, Libya, Tunisia and Yemen.
The video statement, issued from an ISIS stronghold in Syria, was a rare public challenge to Hamas, which has been cracking down on militants in Gaza who oppose its truces with Israel and reconciliation with the U.S.-backed rival Palestinian faction Fatah.
Hamas is an Islamist movement that shares the jihadis' hostility to Israel but not their quest for a global religious war, defining itself more within the framework of Palestinian nationalism.
Full report at:
https://english.alarabiya.net/en/News/middle-east/2015/07/01/ISIS-threatens-to-topple-Hamas-in-Gaza-.html
------------
'Ahrar al-Najran' Movement Shoots Down Saudi Military Chopper in South
Jun 30, 2015
The Saudi opposition movement said it shot down the Saudi army's chopper with the help of local tribal forces.
Ahrar al-Najran said that its air defense system hit the Saudi helicopter as it was on a patrolling mission.
Tribal forces and activists in Saudi Arabia's Najran region formed a military and political opposition movement to the Saudi regime, called 'Ahrar al-Najran' after the region declared earlier this month that it had separated from Saudi Arabia and joined Yemen in the war on Riyadh.
Full report at:
http://english.farsnews.com/newstext.aspx?nn=13940409001231
------------
Houthi fire kills civilians in Yemen's Aden
1 July 2015
Houthi militia fire on a residential district of Yemen's battleground second city Aden killed at least 20 civilians and wounded 41 early Wednesday, medical sources said.
The Iranian-backed Houthi militias and their allies pounded the city's loyalist-held Al-Mansura district with 15 Katyusha rockets from their positions in the Dar Saad neighborhood, loyalist forces spokesman Ali al-Ahmadi told Agence France-Presse.
The rocket fire began before dawn when the streets were busy ahead of the daytime fast observed by Muslims during the holy month of Ramadan, Ahmadi said.
A fresh salvo of rockets later in the morning hit mourners burying some of the dead from the earlier fire, the spokesman and witnesses said.
Full report at:
https://english.alarabiya.net/en/News/middle-east/2015/07/01/Houthi-fire-kills-20-civilians-in-Yemen-s-Aden-.html
------------
ISIL exists because al-Assad exists: Erdoğan aide
June/30/2015
A senior spokesperson for Turkish President Recep Tayyip Erdoğan's office has indicated the presence of terrorist organizations such as the Islamic State of Iraq and the Levant (ISIL) was linked to the prevalence of Syrian President Bashar al-Assad's regime in Syria.
"No doubt, destroying this terrorist organization is very important for regional countries and their stability. As long as the al-Assad regime continues its existence, terrorist organizations like Daesh will continue finding a place for themselves in Syria," İbrahim Kalın, a spokesperson for Erdoğan's office, said during a press conference in Ankara on June 30, using the Arabic acronym for ISIL.
"In the past two weeks, there have been attempts to show Turkey in the same framework with Daesh, linked with the attacks in Tal Abyad and Kobane," said Kalın, referring to recent clashes in two Syrian towns by the Turkish border.
"Turkey has no relations with Daesh or a similar terrorist organization and will never have," he said.
Full report at:
http://www.hurriyetdailynews.com/isil-exists-because-al-assad-exists-erdogan-aide.aspx?pageID=238&nID=84758&NewsCatID=510
------------
Saudi strikes hit homes, markets in Yemen, claims HRW
Jul 1, 2015
UNITED NATIONS: Saudi-led coalition air strikes on a rebel stronghold in Yemen have destroyed houses, markets and a school, killing dozens of people in what could amount to war crimes, Human Rights Watch said Tuesday.
The US-based rights group said it had investigated the attacks on the northern city of Saada and found that at least 59 people had died in a month, from April 6 to May 11, including 14 women and 35 children.
Satellite imagery showed over 210 strike sites in the city, a stronghold of the Shia Houthi rebels, damaging or destroying hundreds of buildings, said the report.
Six houses were hit in Saada, as were an empty school, a cultural center, five markets and a petrol station crowded with motorists, according to the report.
In one of the deadliest incidents, a bombing raid on May 6 killed 27 members of one family including 17 children.
Attacks on houses alone have killed 51 people, all of them civilians, according to Human Rights Watch, which dispatched two researchers to the city last month to interview witnesses.
Belkis Wille, one of the researchers, said, "Yemen has been absolutely brought to its knees in this war."
Once a city of about 50,000, Saada has been turned into a "ghost town" as a result of the air war which has seen northern Yemen hit hardest by the bombings, she told a news conference.
Coalition authorities last month declared all of Saada to be a military target and warned its residents to leave.
"You cannot decide that an entire area is fair game," said HRW's crisis advocacy director Philippe Bolopion.
Civilians many not be able to leave, due to fuel shortages, he added.
"Not only were these attacks unlawful because of the apparent absence of any military target, but they contributed to civilian hardship in the city, where people are suffering from shortages of food, water, and fuel," said the report.
Full report at:
http://www.dawn.com/news/1191504/saudi-strikes-hit-homes-markets-in-yemen-claims-hrw
------------
China upset with Turkey's concern on Ramadan restrictions
July/01/2015
China's Foreign Ministry denied restricting religious freedom on July 1 in a sharp response to Turkey for voicing concern over reports that ethnic Uighur muslims had been banned from worship and fasting during Ramadan.
Some local governments in China's far western region of Xinjiang have stepped up controls on the Islamic faith followed by the Turkic Uighur people ahead of and during Ramadan, including restrictions on fasting.
Turkey's foreign ministry said it had been "saddened" by these reports and passed its concern on to the Chinese ambassador in Ankara.
Chinese Foreign Ministry Spokeswoman Hua Chunying said China wanted to have a good relationship with Turkey.
"China has already demanded that Turkey clarify these reports and we have expressed concern about the statement from the Turkish foreign ministry," Hua told a daily news briefing.
"You should know that all the people of Xinjiang enjoy the freedom of religious belief accorded to them by the Chinese constitution," she added.
"We of course hope that the Turkish side can meet China halfway and ensure the smooth development of ties."
The holy month of Ramadan is a sensitive time in Xinjiang following a rise in attacks blamed by Beijing on Islamist militants over the past three years and hundreds have died in the violence.
Full report at:
http://www.hurriyetdailynews.com/china-upset-with-turkeys-concern-on-ramadan-restrictions.aspx?pageID=238&nID=84807&NewsCatID=356
------------
Weddings between expats and Saudis drop 84%
1 July 2015
JEDDAH: The number of marriages between expatriates and Saudis has dropped 84 percent to 1,928 since the start of this Islamic year that began on Oct. 24, compared to the same period the previous year.
The Ministry of Justice said that there were 12,000 marriage contracts between Saudi nationals and foreigners in the Kingdom during the same period the previous year, a local publication reported.
Statistics show the province of Hafr Al-Batin was home to the largest number of officiated marriage contracts in the Kingdom this year, while Makkah led last year with 3,400.
The ministry stated that 700,000 Saudi women are married to foreign nationals, mostly those from other Gulf Cooperation Council countries, or 10 percent of the total number of married Saudi females.
Full report at:
http://www.arabnews.com/saudi-arabia/news/770041
------------
Al-Qaeda suspects among 1,200 who escaped from Yemen prison
1 July 2015
SANAA: Around 1,200 prisoners escaped during clashes at a jail in central Yemen on Tuesday, among them Al-Qaeda suspects, officials and security sources said.
"Groups of Al-Qaeda supporters ... today attacked the central prison in the city of Taiz and more than 1,200 of the dangerous prisoners escaped," state news agency Saba quoted a security official as saying.
Another local official told Reuters some of the escapees were "suspected of belonging to Al-Qaeda" but said they left amid heavy clashes between warring militias in the city.
Meanwhile, an attack on Houthi rebel leaders in Yemen's capital claimed by Daesh killed at least 28 people, medics said Tuesday.
Yemen was previously the preserve of Daesh's rival Al-Qaeda, which controls swathes of the south and east, but since March the group has claimed a string of high-profile attacks.
The car bomb late Monday targeted two brothers, both rebel chiefs, during a gathering to mourn the death of a relative, a security source said. Eight women were among the dead.
Full report at:
http://www.arabnews.com/middle-east/news/769831
------------
Millions of Yemeni children at risk of diseases, hunger: UNICEF
Jul 1, 2015
The current crisis in Yemen, which has aggravated the poor country's health system, is putting millions of children in the Arab nation at risk of diseases and malnutrition, the UN Children's Fund (UNICEF) warns.
A large number of children in war-torn Yemen are exposed to the threat of diseases due to widespread disruptions in vaccination services, UNICEF spokesperson Christophe Boulierac told a press briefing in the Swiss city of Geneva on Tuesday.
Boulierac said some 2.6 million children under the age of 15 are now at risk of contracting measles because the lack of electricity and fuel is impacting health centers' ability to provide children with sanitary services and vaccinations.
He also noted that due to the shortage of vaccinations, the number of children exposed to acute respiratory infections such as pneumonia is also likely to rise to 1.3 million while more than 2.5 million children remain at risk of diarrhoea because of poor hygienic conditions and the lack of safe water.
Over half a million children under five years of age are also at risk of developing malnutrition in the next 12 months if the situation continues to worsen, according to the UNICEF spokesperson.
Full report at:
http://www.presstv.in/Detail/2015/07/01/418253/Yemen-UNICEF-Saudi-Arabia-disease-malnutrition-
------------
Iranian Diplomat: Timetable for Sanctions Removal Specified
Jun 30, 2015
"Iran and the world powers are negotiating on the details of the timetable," the diplomat said, speaking on condition of anonymity.
He underlined that intensive and heavy work is underway to clarify all the dimensions for the removal of the sanctions.
Meantime, the source rejected the news reports that the negotiations between Iran and the world powers have been extended until July 9, and said, "No date has been set as yet and the two sides have only agreed to continue negotiations after June 30."
Iranian Foreign Minister Mohammad Javad Zarif, President's special aide Hossein Fereidoun and Salehi left Tehran for Vienna on Tuesday to attend Iran-powers nuclear talks.
Zarif, who had traveled to Vienna on Saturday to talk with his counterparts from the six world powers, had a pre-planned trip to Tehran on Sunday.
After arriving in Vienna today, the Iranian foreign minister reminded the high sensitivity of Tehran and the world powers' last-ditch efforts to reach a final nuclear deal, and said his country wants a fair and balanced agreement.
Full report at:
http://english.farsnews.com/newstext.aspx?nn=13940409001483
------------
Iran Deplores Saudi Airstrikes on UN Compound in Aden
Jun 30, 2015
"The Saudi attacks on infrastructural facilities and civilian targets as well as killing and injuring civilians (in Yemen) are blatant and continued violations of human rights; as it has been reiterated in international laws, countries should prepare the conditions for the operation of the UN-affiliated relief and aid organizations and their representatives to help the war-stricken people and facilitate the conditions for the delivery of humanitarian consignments," Afkham said, calling for immediate halt to foreign military attacks on Yemen.
Iranian Foreign Ministry Spokeswoman Marziyeh Afkham
The Iranian foreign ministry spokeswoman once again voiced Iran's concern over the deterioration of the conditions in Yemen, and called for serious attention of the UN and UN secretary general's special envoy to Yemen's humanitarian situation and immediate dispatch of humanitarian aids for the Yemeni people.
Afkham also urged the concerned countries to take the necessary measures in this regard.
On Monday, United Nations Secretary-General Ban Ki-moon condemned the Saudi-led airstrikes on the UN compound on Sunday.
"International humanitarian law requires protection by all parties of civilians and civilian facilities, including United Nations staff and United Nations premises," Ban said.
He noted that the inviolability of United Nations premises and the important work of all United Nations staff must be respected at all times.
The UN secretary-general urged a full investigation into this incident and that anyone found to be responsible for any breaches be held to account.
Full report at:
http://english.farsnews.com/newstext.aspx?nn=13940409001435
------------
Europe
ADL Poll Shows More than Half of Western European Muslims Harbour Anti-Semitic Beliefs
JUNE 30, 2015
Though antisemitic attitudes in France, Germany and Belgium have dipped dramatically so far this year, more than half of all Muslims in Western Europe harbor antisemitic beliefs, a survey released by the Anti-Defamation League revealed on Tuesday.
"An average of 55 percent of Western European Muslims harbored antisemitic attitudes. Acceptance of antisemitic stereotypes by Muslims in these countries was substantially higher than among the national population in each country," said the ADL report.
The survey, which ADL said was the first to document antisemitic attitudes among Western European Muslims, revealed Belgian Muslims to be the most antisemitic, with 68 percent harboring antisemitic beliefs. This is compared to 21 percent overall in the country.
In Germany — where an MP recently came under fire for saying Muslim students should not be made to visit concentration camps like the rest of the country's students — the number was lower, but still above half, at 56 percent compared to the country's 16 percent, which was down from 27 percent in 2014.
And in France — where a lone terrorist staged the deadliest attack against Jews this year, at a kosher supermarket — about 49% of Muslims showed antisemitic beliefs, compared to 17 percent of the overall population.
Full report at:
http://www.algemeiner.com/2015/06/30/adl-poll-shows-more-than-half-of-western-european-muslims-harbor-antisemitic-beliefs/#
------------
Prime Minister David Cameron: British Schools Must Root Out Muslim Extremists
30/06/2015
CANTERBURY, England (RNS) Headmasters and teachers at Britain's privately owned and state-run schools have been ordered to be on the lookout for Muslim extremists attempting to "groom" youngsters to their cause.
The new legal requirement comes after terrorists killed some 30 British tourists at Sousse, one of Tunisia's best-known holiday resorts, on Friday (June 26).
It was the worst terrorist attack against Britons since 2005, when 52 people were killed in a series of bomb attacks in London.
In a statement, the British government explained that no military action would be taken without the permission of Parliament.
But Prime Minister David Cameron said another kind of war is underway — one aimed at making the British public "more intolerant of intolerance."
Cameron told MPs on Monday: "We will not give up our way of life or cower in the face of extremism. This is not the war between Islam and the West, which (ISIS) wants people to believe. It is a generational struggle between a minority of extremists, who want hatred to flourish, and the rest of us, who want freedom to prosper."
Full report at:
http://www.huffingtonpost.com/2015/06/30/david-cameron-schools-extremists_n_7698600.html?ir=India&adsSiteOverride=in
------------
Russia accuses West of propping up ISIL to topple Syria government
Jul 1, 2015
The Russian deputy defense minister has accused the West of propping up the ISIL terrorist group in collaboration with its regional allies in a bid to overthrow the government of Syrian President Bashar al-Assad.
"[The ISIL] was created with financial and military assistance from Western countries and their allies to eliminate the Bashar al-Assad government," said Anatoly Antonov in a Tuesday press briefing in St. Petersburg following a summit of defense ministers from member states of the Shanghai Cooperation Organization (SCO).
"We are particularly concerned about the formation of the terrorist quasi-state entity [ISIL] in Iraq and Syria," Interfax news agency quoted him as saying.
He further pointed to the recent terrorist attacks in France and Denmark by the Takfiri terrorists, saying the foreign-backed ISIL militants will take their battle experience in Syria back home when they return to their native countries.
"Now terrorists and extremists got out of control and are promoting their own interests," noted the senior Russian official, insisting that SCO member states are also "directly" influenced by the emerging threat.
File photo of ISIL Takfiri terrorists marching in a Syrian town
"It is no secret that thousands of extremists, including from the SCO member states, gain experience in the Middle East," he said.
Full report at:
http://www.presstv.in/Detail/2015/07/01/418240/Russia-Middle-East-ISIL-West-Syrian-government-deputy-defense-minister-Anatoly-Antonov
------------
Islamic leader from Newham says 7/7 terror should be fought with peace
30 June 2015
Basharat Ahmad, 55, works with other Ahmadiyyas to spread their motto "love for all hatred for none" and believes the attack, which killed Plaistow's Shahara Islam, was not Islamic.
"Islam is a religion of peace, what is happening in the name of Islam is un-Islamic," he said. "Our Ahmadiyya community has been in the UK for 100 years promoting peace. Islam does not have any place in terror, Islam is against all of these things."
Shahara, 20, had been on her way to work at the Co-operative Bank in Islington when a deviation from her usual route due to train bombings resulted in her sitting on the Number 30 bus – across the aisle from terrorist Hasib Hussain.
The suicide bomber's detonation was the fourth of the day, killing 13 of the 52 victims.
Her uncle, 25-year-old Nazmul Hasan, received a call from Shahara's phone at 9.47am, which is when the bus was destroyed.
"I didn't know anything was wrong," he told the Guardian. "There was no voice, just the sound of people talking and a commotion in the street. Then it went dead."
After the bombing, he and Shahara's father, Shamsul, searched eight hospitals for her before the family realised she was dead and released a statement.
"She was an Eastender, a Londoner and British, but above all a true Muslim and proud to be so," it read.
Full report at:
http://www.newhamrecorder.co.uk/news/islamic_leader_from_newham_says_7_7_terror_should_be_fought_with_peace_1_4133190
------------
Sharp rise in German attacks on refugee centres
July 01, 2015
BERLIN - Far-right crime in Germany soared 24 percent last year to the highest level in six years, with a "shameful" surge in attacks on refugee centres, an official report released Tuesday showed.
As the number of asylum seekers in Germany has risen, so has aggression against them, an annual report on politically motivated crime by the domestic security watchdog, the Office for the Protection of the Constitution, found.
"Hatred and violence against refugees and asylum seekers in Germany are shameful," Interior Minister Thomas de Maiziere said as he presented the findings for 2014.
Europe's top economic power "has a responsibility to those who seek protection", he said.
The report found that violent crimes motivated by right-wing extremism soared 24 percent last year to 990.
Far-right attacks and xenophobic campaigns against refugee homes more than tripled during the same period to 170.
Europe is grappling with a large influx of people fleeing war and poverty in the world's crisis zones.
Germany alone took in 200,000 asylum seekers last year and expects as many as 450,000 this year.
Full report at:
http://nation.com.pk/international/01-Jul-2015/sharp-rise-in-german-attacks-on-refugee-centres
------------
Suspect handed preliminary charges over beheading in France
Jul 1, 2015
PARIS (AP) — French investigators on Tuesday handed preliminary murder and terrorism charges to a man accused of beheading his boss at a French gas factory and suspected of ties to Islamic State extremists.
Yassin Salhi was handed a long list of charges Tuesday and ordered to remain in custody, Paris prosecutor's office spokeswoman Agnes Thibault-Lecuivre said. Preliminary charges under French law mean that investigators have a strong reason to suspect involvement in a crime, and give them more time for deeper investigation before deciding whether to send the case to trial.
Salhi was arrested after the attack Friday in southeast France, which also prompted an explosion and two light injuries — and put the country back on high alert after deadly extremist attacks in January.
According to his lawyer, Salhi said he was acting purely for personal reasons after being reprimanded by his employer.
With a long-bladed knife and a gun in hand — as well as two brand new flags emblazoned with the Muslim declaration of faith, Salhi tricked his boss into getting into the van, knocked him unconscious and strangled him, Molins said.
About 500 meters (a quarter-mile) before reaching the plant, he decapitated his victim, and then almost immediately sent two photos of the remains to a friend in Syria: One was a selfie, and the other included an image of the severed head placed carefully on the torso.
Then Salhi, a truck driver with a history of radical Islamic ties dating back to 2003, drove into the plant filled with flammable gas canisters, Molins said.
When he was tackled by firefighters responding to the explosion and blaze, he cried out Allahu akbar, the Arabic phrase for "God is great," Molins said.
In a subsequent message, the friend, a Frenchman identified as Sebastien Younes who has been in Syria since November, indicated he was in contact with Islamic State higher-ups about the images.
"Yassin Salhi beheaded his victim before hanging his head to the factory fence in an effort to give maximum publicity to his act — he admitted to it during his interrogation," Molins said.
"This bears the trademark of the Islamic State group's propaganda which regularly calls for terrorist attacks to be carried out in France and more specifically, to slit unbelievers' throats."
Full report at:
http://news.yahoo.com/prosecutor-beheading-french-factory-attack-trademark-093019537.html
------------
Southeast Asia
Islam Practises Moderation, Peace, Says Datuk Seri Najib Razak
30 June 2015
The Muslim community must adopt the concept of moderation and reject any element of extremism and liberalism and make Islamic values as a daily practice.
Datuk Seri Najib Razak said Islam is a religion of peace which practises the culture of peace and not a religion of violence.
"It focuses on moderation... not too extreme and not too liberal. The ideology of the Isis is rejected because it is opposed to Islamic values, humanitarian and noble values.
"In fact, during war, Muslims are forbidden against killing civilians," he said in his speech at a ceremony on instilling noble values and breaking the fast with the Royal Malaysian Police at the Police Training Centre in Kuala Lumpur tonight.
Full report at:
http://www.themalaysianinsider.com/malaysia/article/islam-practices-moderation-peace-says-najib
------------
Australian Muslim charity gives aid to Indonesian and Rohingyan refugees
June 30, 2015
By: MuslimVillage
Source: MuslimVillage
Human Appeal International Australia's director Bashar Al-Jamal spent the first days of Ramadan in Indonesia supervising the distribution of aid to poor Indonesian families alongside the Rohingyan refugees in Indonesia. The current situation of the Rohingya has forced them to flee their home country of Myanmar, leaving them to the mercy of people smugglers and travelling in ships rife with disease with many deaths resulting from the ships sinking.
The first phase of the distributions took place at Muara Angke in North Jakarta. There were many poor and needy families that would be struggling during Ramadan. 156 families received food parcels and a "Feed the Fasting" Iftar was set up for the families as well. They were highly grateful for the aid they had received.
Full report at:
http://muslimvillage.com/2015/06/30/83319/australian-muslim-charity-gives-aid-indonesian-rohingyan-refugees/
------------
Thailand launches app that guides Muslim tourists to prayer halls and halal meat
By Jayalakshmi K
July 1, 2015
A smartphone app launched in Thailand will help Muslim tourists find hotels and shopping centres with prayer rooms and halal meat.
The new app will be available on Google Inc's Android and Apple Inc's iOS systems, the Tourism Authority of Thailand said in a statement.
ADVERTISING
The search and navigation features cater to the Muslim traveller's needs.
Thailand was ranked the second most popular place for Muslim travellers to visit in the world after Singapore by the Global Muslim Travel Index in 2015. "We believe this is because we have the required range of products and services for Muslim travellers," said the tourism authority spokesperson.
The tourism authority of the country believes the app will boost the industry recovering from the 2014 coup.
Full report at:
http://www.ibtimes.co.uk/thailand-launches-app-that-guides-muslim-tourists-prayer-halls-halal-meat-1508738
------------
Alvin slams Chinese 'boot lickers' for defending Muslims
July 1, 2015
KUALA LUMPUR: Controversial sex-blogger Alvin Tan has labelled the Chinese in the country "traitors without maruah (dignity)" for coming to the defence of Muslim women who wore headscarfs after he posted scathing insults on Facebook about the latter.
"I can understand Malays getting angry over my comments on hijab-wearing Muslim women.
"What I don't understand and cannot tolerate are those Chinese RUNNING DOGS, BOOTLICKERS, BROWN-NOSERS, and PSEUDO-HEROES who just have to comment in defence of the Malays…," he wrote after being told off by many.
"Get off your f*****g moral high horse, okay? You're no better than a lapdog, where is your MARUAH?"
He continued with his tongue-lashing, arguing that the Chinese had been discriminated against for decades yet were still subservient to the Malays.
Full report at:
http://www.freemalaysiatoday.com/category/nation/2015/07/01/alvin-slams-chinese-boot-lickers-for-defending-muslims/
------------
Indonesian Police Officer Reportedly Fighting for Islamic State Dies in a Battle
Jun 30, 2015
Jakarta. An Indonesian police officer has reportedly died in Syria while fighting for the Islamic State.
Quoting Azzammedia.com, CNN Indonesia reported that Syahputra, a Batanghari Police officer from Jambi province, left to Syria in March to join the extremist group.
Azzammedia.com — which has since been blocked by the Ministry of Communication and Information Technology — reported on Monday that Syahputra had changed his name to Abu Azzyn Al Indunisy and died in battle in Tal Tamr, Syria. The website did not mention when the officer was killed.
Full report at:
http://thejakartaglobe.beritasatu.com/news/indonesian-police-officer-reportedly-fighting-islamic-state-dies-battle/
------------
Orang Asal query Arabic ruling at Mara College
William Mangor | July 1, 2015
KUCHING: The Opposition in Sarawak took to the social media to bring to public attention that the Maktab Rendah Sains Mara (MRSM) in Betong for one, where the Orang Asal form 60 per cent of the student population, were told that the Arabic language was compulsory for them just as it was for their non-Muslim college mates.
The students were also told that it was necessary for them to obtain at least a pass in the language in order to graduate.
"The ruling on Arabic caused dismay among Orang Asal students and their parents who see this as another step in the slippery slope of Islamisation in a secular Sarawak," fumed PKR Betong branch chairman Vernon Aji Kedit.
Vernon was the one who made the matter public in Facebook after it was brought to his attention.
He has since learnt that the ruling has been reviewed to offer non-Muslim students Mandarin as an option. If they weren't happy with studying Arabic, they could take Mandarin but again it was a must for them to pass the language in order to graduate. "We don't know whether this was a unilateral decision by MRSM Betong to make Orang Asal students think that Arabic was compulsory for them."
Vernon warned that the review by MRSM Betong had caused further confusion among students and parents.
Full report at:
http://www.freemalaysiatoday.com/category/highlight/2015/07/01/orang-asal-query-arabic-ruling-at-mara-college/
------------
Inflation picks up in Indonesia during Muslim holy month
JUL 1, 2015
[JAKARTA] Inflation rose in Indonesia in June as tens of millions of Muslims observing the Islamic holy month spent extra cash on food, government data showed Wednesday.
The consumer price index rose 7.26 per cent year-on-year, the government's Statistics Agency said. Inflation in May was 7.15 per cent.
"The cause of the inflation is basic food commodities, as demand is high during the fasting month and ahead of the Eid al-Fitr," Suryamin, the agency chief who like many Indonesians goes by one name, told reporters.
Food prices typically rise during Ramadan in Indonesia, the world's most populous Muslim-majority country, as people stockpile food both for the less fortunate and to break their daily fast with lavish meals.
Inflation is expected to pick up further next month as the country of 250 million celebrates Eid al-Fitr, the end of the holy month, which falls in mid July.
Despite inflation being higher than the previous month, the June figure was lower than forecast by economists.
Full report at:
http://www.businesstimes.com.sg/government-economy/inflation-picks-up-in-indonesia-during-muslim-holy-month
------------
Indonesia military plane crash toll rises to 142
Jul 1, 2015
MEDAN: The death toll from the crash of an Indonesian air force plane packed with military personnel and their families rose to 142 Wednesday, as witnesses described people fleeing the disaster zone covered in blood with their clothes alight.
The Hercules C-130 transport plane crashed into a residential area in the city of Medan on Tuesday, shortly after taking off from an airbase in the city on Sumatra island.
Buildings were severely damaged, cars reduced to flaming wrecks and the plane itself was almost completely destroyed, with the mangled tail the only part of the 51-year-old aircraft still recognisable after the disaster.
Many of those on board the flight to an island off Sumatra, which was carrying 122 people, were believed to be servicemen and women and their families. The air force has said no one survived the crash.
It is unclear how many people died on the ground, but a steady stream of bodies has been arriving at a Medan hospital as rescuers pull them from the disaster scene, and police said Wednesday that the total death toll now stood at 142.
New witness accounts emerged of terrifying scenes, with one man describing how the plane flew low and then smashed into a building, producing "flames as high as four storeys".
"Everyone panicked and screamed," Tumpak Naibaho, a 27-year-old tyre repairman, told AFP, adding there were hundreds of people in the area when the crash happened around midday.
"I thought it was a terrorist attack or something... I saw one man whose clothes were on fire, staggering out of the debris. His face was covered in blood, dust and ash."
"I had never felt so scared in my life, I thought I was going to die," he added.
People in the area said several buildings were thought to have been destroyed in the crash, although it was not clear whether there were people inside at the time. The plane hit a massage parlour and hotel when it came down, according to officials.
Buildings ruined, cars destroyed
Rescuers were Wednesday continuing to clear debris, which spread over a large area, helped by two earthmovers, as hundreds looked on.
One end of a three-storey building had been left in ruins, with the walls blown away, leaving only the soot-blackened interior visible. An overturned, destroyed car could also be seen among the debris.
Full report at:
http://www.dawn.com/news/1191631/indonesia-military-plane-crash-toll-rises-to-142
------------
Bali Court Sentences New Zealander to 15 Years' Jail for Drug Trafficking
Jun 30, 2015
Jakarta. A New Zealand man has escaped the death penalty after being found guilty of smuggling crystal methamphetamine into Bali in December last year.
Antony de Malmanche, 52, was sentenced on Tuesday to 15 years' jail fined Rp 4 billion ($300,000), or an additional three months in prison.
Denpasar District Court found him guilty of smuggling 1.7 kilograms of crystal meth inside his backpack from Hong Kong to Bali, where he expected to meet a woman named "Jessie" whom he had been chatting with online.
Prosecutors had demanded 18 years' jail, and the verdict was light given the court could have imposed a maximum sentence of death.
Full report at:
http://thejakartaglobe.beritasatu.com/news/bali-court-sentences-new-zealander-15-years-jail-drug-trafficking/
------------
India
India blocks China's bid to save Pakistan on terror finance scrutiny
TNN | Jun 30, 2015
NEW DELHI: Pakistan's enforcement of UN financial sanctions against terrorism will be closely monitored by Financial Action Task Force (FATF) through its associate body, the Asia Pacific Group on Money Laundering (APG), after India successfully blocked China's attempt at a recent FATF meet in Brisbane to save non-FATF member Pakistan from such scrutiny.
FATF is a policy-making body whose objectives include setting standards to combat money laundering and the financing of terrorism and supporting implementation of these standards. APG on money laundering, somewhat of a mini-FATF of which Pakistan is a member, is committed to the effective implementation and enforcement of standards set by FATF.
According to sources in the government, India, with the support of allies like the US, managed to derail China's bid which was backed by Australia to shield Pakistan on terror financing. The FATF meet agreed with India's argument that Pakistan, despite not being part of FATF, was part of APG which works in close collaboration with FATF, and its enforcement of targeted financial sanctions against terrorism should be subject to monitoring by FATF through the APG.
Full report at:
http://timesofindia.indiatimes.com/india/India-blocks-Chinas-bid-to-save-Pakistan-on-terror-finance-scrutiny/articleshow/47873563.cms
------------
Chinese submarine docking in Karachi no threat to India: PLA
PTI | Jul 1, 2015
BEIJING: Playing down its submarine's docking in Pakistan's Karachi port in May, China has said the movement of Chinese vessels was not directed against any third party and the PLA navy's activities in the Indian Ocean were "open and transparent".
Replying to questions about concerns in India over the docking of Chinese submarines in Colombo last year and in Karachi in May, Chinese defence spokesman senior colonel Yang Yujin said the movement of Chinese vessels was not directed against any third party.
Major Jiang Bin, staff officer of the Asian Affairs Bureau of the Chinese defence ministry, said, "About the PLA navy's activities in the Indian Ocean, they are open and transparent activities. We have clearly stated to India and other countries in the region."
Indian side has already extended the invitation to PLA Navy to attend the international fleet review in India in February 2016. This shows a lot of cooperation at the military level. Now the relationship between the two sides has become much more mature, he told a visiting Indian media delegation.
Chinese military officials also said Pakistan has been expressing concern over growing Sino-India ties and have sought clarification whether it will impact their "all- weather" bilateral ties.
Full report at:
http://timesofindia.indiatimes.com/india/Chinese-submarine-docking-in-Karachi-no-threat-to-India-PLA/articleshow/47892898.cms
------------
Documentary film on Assam's Islamic heritage
June 30, 2015
New Delhi: Key aspects of Islamic heritage in Assam, such as formation of the Muslim community, invasions and post-invasion settlements and migrations during the time of Ahom kings have been showcased in a new documentary.
Directed by Abdul Majid, the film is part of a project by Indira Gandhi National Centre for Arts (IGNCA) under its 'Aqeedat ke Rang series' administered by the Indian Institute of Technology - Guwahati.
The script written by Abu Nasar Saied Ahmed is part of his research entitled "Islamic Heritage in India's North East: Assam and Manipur."
The film looks at the life-cycle events of Sufi saints, Islamic institutions, creative heritage, folk songs and creative traditions in Assam.
Made in English, the film is a shorter version of five episodes, each about 22 minutes duration of a larger documentary which has been arranged in a thematic order.
In addition to the five episodes, a separate documentary has been made on Islamic Heritage in Manipur to cover the Manipuri Meitei Muslims, known as Pangals.
Scriptwriter Ahmed says, "There was a seminar in 2006 by IGNCA under the auspices of Aqidat Ke Rang series where I presented a paper on Azan Faqir, a 17th century Sufi saint, composer of devotional songs, zikirs, in Assamese and also stated that the Assam has a rich Islamic heritage which needed to be explored.
"The academic work was entrusted to me and a few weeks later I got a proposal to make a documentary on the subject," he says.
Ahmed roped in well known director Majid and started the twin tasks of academic project and documentary in November 2010 which was completed in October 2012.
The documentary focuses on Muslims in Assam which through interface and interaction of the community with the local non-Muslims facilitated by inter-marriage, harmonious understanding among communities, and peaceful convergence of Islamic culture added to the folk tradition of Assam.
In addition the liberal Vaishnava tradition in conjunction with the Sufi tradition offered unique opportunities to the Muslims to identify and integrate themselves into local lifestyles and build a harmonious customary and liberal Islamic heritage.
"The film depicts the rich and diverse customary Islamic heritage, which has been shaped by the interface and interaction of the Muslims with the folk tradition of Assam, where two broad streams flowed the Assamese in the Brahmaputra Valley and the Bengali in the Barak Valley.
Full report at:
http://zeenews.india.com/entertainment/movies/documentary-film-on-assams-islamic-heritage_1622466.html
------------
'Nehru's Grandfather Was Muslim': Wikipedia Pages Altered From Govt IP Address
Jul 1, 2015
Tweaking and misinterpreting Indian history in textbooks and public discourse is nothing new for the Indians, and now the practice might be finally catching up with the digital age.
On 26 June, @AnonGoIWPEdits, a Twitter handle which 'tracks all anonymous edits of English Wikipedia (ie, w/o editor being logged in) from a wide range of Govt of India IP addresses,' reported an edit to Jawaharlal Nehru's Wikipedia page.
The revisions, originated from a Government of India IP address, said Nehru's grandfather Gangadhar Nehru was a Muslim, reports the Times of India. Salacious details of his "affair" with Edwina Mountbatten, the wife of India's first governor general, Lord Mountbatten, were also added to his page.
Similar edits were made on the pages of Gangadhar's son Motilal Nehru.
"All this shows that it is an IP address provided by National Informatics Centre (NIC). It doesn't say anything more than that," said Pranesh Prakash, policy director at Centre for Internet and creator of the tracking software in an interview with TOI. When asked if the user could be pinpointed, he said that it would be difficult as it isn't clear as to who all have access to the NIC network.
Full report at:
http://www.firstpost.com/politics/nehrus-grandfather-was-muslim-wikipedia-pages-altered-from-govt-ip-address-2321052.html
------------
URL: https://www.newageislam.com/islamic-world-news/new-age-islam-news-bureau/artists-in-pakistan-use-comic-books,-wall-murals-to-combat-islamic-extremism/d/103724