New Age Islam News Bureau
14 Jan 2014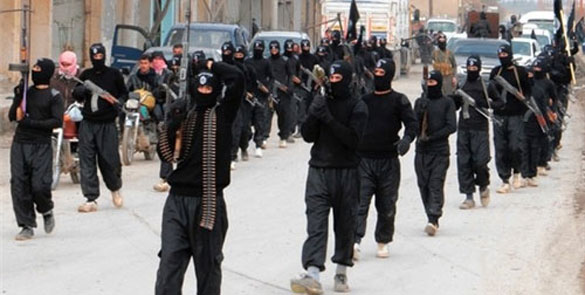 Photo: ISIL Opens Up Office in Aleppo to Recruit Islamic Front's Militants
-----------
Europe
• Armed forces Imam: UK 'not at war with Islam'
• More than 20 Belgian Islamists killed in Syria: Minister
• UN's Ban urges Iraq to address 'root causes' of unrest
• EU election observation delegation arrives in Afghanistan
• Britain grants asylum to Afghan atheist
North America
• Eyes on Silent Democrats as Hawks Push for War with Iran
• US to work with Hasina govt
• Islamophobic 'List' Used to Justify Suspicion of Muslims
• Agreement offers extraordinary opportunities for Iran: Obama
• Jordan Islamists slam US envoy over dabke folk dance
Mideast
• Expert from Jerusalem Says Cultural Role Is Key for West/Islam Understanding
• Zarif: Discord among Islamic schools of thought benefits Zionist regime
• Turkish police detain 25 in anti-al-Qaeda op, raid on İHH office
• Police Raid Turkish Charity Accused of Sending Arms to Syria
Arab world
• ISIL Opens Up Office in Aleppo to Recruit Islamic Front's Militants
• Jihadist car bomb kills 8 rebels at Syria checkpoint
• Saudi drops SMS to guardians when women travel: Report
• Toll from Baghdad area attacks reaches 30: Officials
• Social media allows radical Islamism to spread
• Saudi beheads Pakistanis for drug smuggling
• Syrian opposition risks UK, US support over Geneva: Media
• Lebanon Qaeda loyalists will 'continue striking Iran and Israel'
• Mutahedoon Coalition Calls for following the Spirit of Tolerance of Islam
India
• Kashmiri family seeks support to preserve 'rare Islamic relics'
• 3 Pakistani militants killed in Kashmir
• Muzaffarnagar: SIT asks police to nab 22 rape accused
Southeast Asia
• Allah Used In Sikhs' Holy Book Different Issue from Allah in Al-Kitab!: Gerakan,
• Najib: M'sia to be governed on Islamic principles
• Malaysia: UN rights office urges Government to rethink ban of civil society grou
• Respect Freedom of Religion - Uk Says In Letter On Allah Issue
• Way Out For 'Allah': Declare You Will Stop Converting Each Other, Muslim & Christians Told
Pakistan
• For Pakistan's Dalit Christians, embracing Islam is an escape from stigma
• Lasting peace possible only through Islamic system: Speakers
• 61% of Pakistanis say women should dress as they wish: online survey
• Seven rescued from Pakistan lawmaker's private jail
• Separate explosions in KP kill one policeman, injure three
• NA committee approves draft of anti-terrorism law
• Pakistan needs global support to root out terrorism: Bokhari
South Asia
• 10 militants killed or injured in Afghan forces operations
• Hezb-e-Islami party yet to decide on poll participation
• 20 militants join peace process in Baghlan province
• Over 5000 BNP, Jamaat men sued
• PPM "obstructing" elections: Maldivian Democratic Party
Africa
• Central African Republic leader says chaos is over
• Christians Concerned Over Libya's Sharia Law Decision
• New law in Nigeria bans gay meetings
• South Sudan Nile ferry sinks with more than 200 dead
Compiled by New Age Islam News Bureau
URL: https://www.newageislam.com/islamic-world-news/new-age-islam-news-bureau/armed-forces-imam--uk--not-at-war-with-islam-/d/35275
------------
Europe
Armed forces imam: UK 'not at war with Islam'
Jan 14, 2014
The British armed forces' first Muslim chaplain says there is no conflict between being a Muslim and fighting for Britain.
Imam Asim Hafiz also challenged Muslim extremists who claimed the UK and US were waging a war against Islam.
Referring to people like the men who killed Fusilier Lee Rigby, he said: "These individuals are misled. They are not educated. They haven't necessarily studied the Koran... and have no appreciation of what the faith is about.
"To consider an unarmed individual in a time of peace to be a legitimate target for murder is absolutely unacceptable."
http://www.bbc.co.uk/news/uk-25680658
------------
More than 20 Belgian Islamists killed in Syria: Minister
Jan 14, 2014
More than 20 of the 200 or so Belgian Islamists who have left for Syria to fight President Bashar al-Assad's regime have been killed, Foreign Minister Didier Reynders said Monday.
"More than 200 people have been clearly identified or are being identified... Most have joined the most extremist groups, including the Islamic State of Iraq and the Levant (ISIL)," an Al-Qaeda-linked group, Reynders said in a newspaper interview.
"More than 20 have already died in Syria," he told the daily La Libre Belgique newspaper.
Reynders also reiterated growing concerns among governments across Europe over "how to keep track of these jihadists to see whether they are dangerous once they return here or elsewhere".
"Not only will they be more radicalised in their commitment but also (acquire) techniques and experience enabling them to do almost anything," he added.
Belgium has been working on the problem with France, which believes some 400 youngsters have left to fight with extremist Islamist groups.
Officials from the two countries have also been in contact with Britain, Germany, the Netherlands, Italy, Spain and Denmark to coordinate a response.
http://english.ahram.org.eg/NewsContent/2/8/91486/World/Region/More-than--Belgian-Islamists-killed-in-Syria-Minis.aspx
---------
UN's Ban urges Iraq to address 'root causes' of unrest
014-01-14
BAGHDAD: UN Secretary General Ban Ki-moon urged Iraqi leaders to address the "root causes" of a surge in bloodshed as security forces clashed on Monday with gunmen in violence-racked Anbar province.
But Prime Minister Nuri al-Maliki, standing next to Ban at a joint news conference, insisted the Anbar unrest was not due to internal problems, and that dialogue with militants was not an option.
The UN chief's visit to Baghdad comes just months ahead of general elections, at a time when Iraq is suffering its worst spate of unrest since 2008 and on a day when attacks killed 23 people.
Militants hold an entire city and parts of another on Baghdad's doorstep, the first time they have exercised such open control in major cities since the insurgency that followed the 2003 US-led invasion.
"I would urge the leaders of the country... to address the root causes of the problems," Ban said.
"They should ensure that there is nobody left behind. There should be political cohesion" and "social cohesion, and political dialogue, inclusive dialogue." Ban's remarks echoed US calls for Iraqi officials to focus on political reconciliation in addition to ongoing military operations.
"The security situation in Iraq is undoubtedly a source of great concern,"said Ban, adding he was "deeply concerned by this escalation of violence in Anbar governorate".
But Maliki insisted that "what is happening in Anbar has no relation to Iraqi problems," and ruled out dialogue with jihadists.
Events in the province have united Iraqis, he said, and therefore "today, there is nothing called dialogue".
"Dialogue with whom, with al Qaeda? There is no dialogue with al Qaeda, and the Iraqi national decision is to end al Qaeda," Maliki said, referring to militant group the Islamic State of Iraq and the Levant (ISIL), which has played a major role in nationwide violence.
Ban is on two-day visit to Iraq and was also due to meet parliament speaker Osama al-Nujaifi, lawmakers, Vice-President Khudayr al-Khuzaie and the head of Iraq's election commission.
Highway to Jordan, Syria reopened
Iraq is embroiled in a bloody standoff with militants and anti-government tribes in Anbar, the mostly Sunni desert province in west Iraq which shares a long border with conflict-hit Syria.
The country is also experiencing its wost prolonged period of violence since 2008, when it was just emerging from a bloody Sunni-Shia sectarian war that killed tens of thousands.
Clashes erupted in Anbar on Monday between police and militants in Humairah, an area in provincial capital Ramadi, when security forces attempted to reopen a police station, an AFP journalist said.
Fighting was also still raging in the Albubali and Khaldiyah areas between Ramadi and Fallujah, officials said. Authorities meanwhile reopened a stretch of a highway to Jordan and Syria that had been closed for months by Sunni protesters demonstrating against the alleged mistreatment of their community by the Shia-led government.
Analysts say that widespread Sunni anger towards the government has fuelled the surge of violence in the country.
Militants and anti-government tribes still hold two areas in Ramadi, as well as all of Fallujah, a former insurgent stronghold just 60 kilometres from Baghdad.
Clashes still erupt periodically in Ramadi but civil servants have returned to work in the city, and residents who had fled Fallujah have since begun to come back.
ISIL has been active in the Anbar fighting, but so have anti-government tribesmen.
The army has for the most part stayed outside of Fallujah during the crisis, with analysts warning any assault on the city would likely cause significant civilian casualties.
The Iraqi Red Crescent said it had provided humanitarian assistance to more than 8,000 families across Anbar but that upwards of 13,000 had fled Fallujah.
Fighting erupted in the Ramadi area on December 30, when security forces cleared a year-old Sunni Arab anti-government protest camp.
The violence spread to Fallujah, and militants moved in and seized the city and parts of Ramadi after security forces withdrew.
Iraq was also hit by violence outside Anbar on Monday, with at least 23 people killed nationwide.
http://www.dawn.com/news/1080444/uns-ban-urges-iraq-to-address-root-causes-of-unrest
------------
EU election observation delegation arrives in Afghanistan
Jan 14, 2014
A delegation of the European Union election observation arrived in capital Kabul to discuss the upcoming presidential and provincial council elections with the Afghan officials.
The Foreign Affairs ministry of Afghanistan following a statement said, the 8 member EU delegation met with Ershad Ahmadi, the Deputy Foreign Minister in Political Affairs and discussed measures for the upcoming elections.
The statement further added that the EU delegation will meet with the Afghan officials, presidential candidates, Afghanistan Independent Election Commission, Afghanistan Electoral Complaints Commission and Civil Society officials, during their two week stay in Afghanistan.
Foreign Affairs Ministry also added that the delegtion will visit Kandahar, Balkh, Herat and Nangarhar provinces of Afghanistan to assess the deployment of EU observers for the forthcoming elections.
Deputy Foreign Minister in Political Affairs, Ershad Ahmadi quoted in the statement said, the government of Afghanistan is keen to organize the elections on time.
Mr. Ahmadi also insisted that the government of Afghanistan supports free and fair elections, and emphasized on the importance of EU election observers role.
He said the government of Afghanistan remains committed to provide working facilities for the visiting EU election observation team to Afghanistan.
The visit by EU election observation delegation to Afghanistan comes amid concerns regarding the security issues which threatens the upcoming elections.
Afghan security institutions recently announced that 414 polling stations will remain closed across the country on elections day, due to security threats.
http://www.khaama.com/eu-election-observation-delegation-arrives-in-afghanistan-3293
------------
Britain grants asylum to Afghan atheist
Jan 14, 2014
Britain has granted asylum to an atheist from Afghanistan due to fears he would be prosecuted back home, in what is believed to be the first case of its kind, his lawyers said Tuesday.
The unnamed man was brought up a Muslim but after arriving in Britain in 2007 at the age of 16 gradually lost his faith, according to the university whose law school helped his case.
His leave to remain was due to expire in 2013 but he feared being sent back to Afghanistan, where he risked being prosecuted for abandoning his faith.
The man's case was taken up by Kent Law Clinic, a free service provided by students from the University of Kent in southeast England and supervised by qualified lawyers.
Claire Splawn, the undergraduate law student who prepared his case, said they argued that an atheist should be entitled to protection "in the same way as a religious person is protected." Her supervisor, Sheona York, added that they were "absolutely delighted for our client", who had originally come to Britain after a conflict with his family.
"We believe that this is the first time that a person has been granted asylum in this country on the basis of their atheism," she said.
"The decision represents an important recognition that a lack of religious belief is in itself a thoughtful and seriously-held philosophical position." In a submission to the Home Office, the lawyers included detailed evidence that the man's return to Afghanistan could result in a death sentence for being an apostate unless he remained discreet about his atheist beliefs.
They argued that remaining discreet would be virtually impossible, however, because every aspect of daily life and culture in Afghanistan is permeated by Islam.
A Home Office spokeswoman refused to comment on an individual case, but said Britain had a "proud history" of granting asylum to those who needed it.
Andrew Copson, chief executive of the British Humanist Association, welcomed the government's
action.
"Freedom of belief for humanists, atheists and other non-religious people is as important as freedom of belief for the religious, but it is too often neglected by Western governments who focus too narrowly on the rights of Christians abroad, as we have seen recently," he said.
"It is great to see Britain showing a lead in defending the human rights of the non-religious in the same way."
http://www.hurriyetdailynews.com/britain-grants-asylum-to-afghan-atheist.aspx?pageID=238&nID=61021&NewsCatID=351
------------
North America
Eyes on Silent Democrats as Hawks Push for War with Iran
Jan 14, 2014
A majority of Senate Democrats are refusing to reveal where they stand on a bipartisan Iran sanctions bill that experts warn risks a catastrophic war with Iran.
According to the latest count, 59 senators publicly support the Iran Nuclear Weapon Free Act of 2013 (S. 1881) — 16 of the Democrats. Ten Democratic committee chairs have come out as opposed to the bill, and Harry Reid is said to be against it too. That leaves the positions of almost 30 Democratic Senators unknown, according to the count of Greg Sargent writing for the Washington Post.
The bill would advance further sanctions on Iran and impose near-impossible conditions on a final agreement. It stands in direct violation of an interim agreement reached in late November in Geneva that the U.S. will "refrain from imposing new nuclear-related sanctions" during the six-month period the agreement is in effect, and critics charge it amounts to a call for war.
Full report at:
http://www.commondreams.org/headline/2014/01/13-8
------------
US to work with Hasina govt
Jan 14, 2014
Despite disappointment of the January 5 general election, the US will continue to work with the government of Sheikh Hasina, says US Department of State.
"We continue to work – of course we will, but while at the same time making clear our concerns with the election," said Marie Harf, deputy spokesperson of the US Department of State.
She was replying to a question on the new government of Bangladesh at a press briefing in Washington DC on January 13.
Asked whether the USA will recognise the government, Harf said, "Well, that's not exactly how it works. We obviously work with governments who are elected, but in regards to these elections themselves, we have already made clear our disappointment with the elections."
The election did not credibly reflect the will of the Bangladeshi people since almost all of the seats of the new parliament weren't contested or had only token opposition, she said.
"So we'll make clear our concerns when we have them," Harf said.
http://www.thedailystar.net/us-to-work-with-hasina-govt-6826
------------
Islamophobic 'List' Used to Justify Suspicion of Muslims
Jan 14, 2014
One of the bigoted themes often promoted by the growing cottage industry of Muslim-bashers is that the increasing level of Islamophobia online and in the public arena is merely a legitimate response to the violent actions of Muslims worldwide.
These Islamophobes scour the Internet to highlight every act of violence or political instability that can be tied to Islam and Muslims.
If a Muslim in a remote village in Pakistan violates Islamic beliefs by abusing his wife, we will hear about it and about why Islam should be blamed for his actions. Reports on every crime committed by a Muslim are assigned to the faith, whether or not there is even a remote religious connection.
This leads to a collective "mental list" of outrages committed by Muslims that is used to justify Islamophobia and suspicion of Muslims.
The list grows with each new crime or act of violence committed by a Muslim anywhere in the world.
Full report at:
http://www.cair.com/cair-blog/entry/islamophobic-list-used-to-justify-suspicion-of-muslims.html
------------
Agreement offers extraordinary opportunities for Iran: Obama
Jan 14, 2014
U.S. President Barack Obama has said that the landmark nuclear deal reached between the P5+1 countries and Iran offers extraordinary opportunities for the later and its people.
"If Iran is willing to walk through the door of opportunity that's presented to them, then I have no doubt that it can open up extraordinary opportunities for Iran and their people," Mr. Obama told reporters at the White House.
"If they fail to walk through this door of opportunity, then we are in position to reverse any interim agreement and put in place additional pressure to make sure that Iran does not obtain a nuclear weapon," he warned.
Mr. Obama said the agreement allows them to have the time and space to negotiate the more comprehensive deal that could solve diplomatically what has been the long-running concern around Iran's nuclear program.
Full report at:
http://www.thehindu.com/news/international/world/agreement-offers-extraordinary-opportunities-for-iran-obama/article5576346.ece
---------
Jordan Islamists slam US envoy over dabke folk dance
Jan 14, 2014
Jordan's Islamists on Monday criticised the US ambassador in Amman for taking part in a dabke folk dance at the inauguration of a project, describing it as "shocking behaviour."
Following the opening of a $140 million (100 million euro) US-funded project in the northern governorate of Irbid last Thursday, envoy Stuart E. Jones joined officials and women in dancing a Jordanian dabke.
"It was shocking behaviour for Jordanians who know very well that America and the Zionist entity (Israel) are two sides of the same coin," the opposition Islamic Action Front party, the political arm of the kingdom's Muslim Brotherhood, said in a statement.
"We condemn such actions in our villages, and demand the government make sure diplomats adhere to their roles."
Full report at:
http://www.globalpost.com/dispatch/news/afp/140113/jordan-islamists-slam-us-envoy-over-dabke-folk-dance
------------
Mideast
Expert from Jerusalem Says Cultural Role Is Key for West/Islam Understanding
Jan 14, 2014
Dr. Mordechai Kedar of Israel's Bar-Ilan University came to Lackawanna College on Sunday morning with a mission: to help American citizens grasp the Islamic cultures of the Middle East.
"I'm making myself useful," he said. "There is very little understanding of the Middle East in the United States. People here view it through their own cultural eyes."
Dr. Kedar, director of his university's Centre for the Study of the Middle East and Islam, delivered a lecture called "Islam vs. the West: Is there hope for the future?" which was also hosted by the Jewish Discovery Centre of Waverly Twp.
He explained the virtues of Islamic cultures such as those in Iraq, Iran, Egypt and Syria.
"The Middle East is another culture with different priorities, values and concepts," Dr. Kedar said. "The failures by the (U.S.) government regarding the Middle East are the outcome of low knowledge and a partial understanding of what happens."
Full report at:
http://thetimes-tribune.com/news/expert-from-jerusalem-says-cultural-role-is-key-for-west-islam-understanding-1.1615755
------------
Zarif: Discord among Islamic schools of thought benefits Zionist regime
Jan 14, 2014
IRNA – Foreign Minister Mohammad-Javad Zarif said on Monday that the Zionist regime takes advantage of discord among Islamic schools of thought as well as any tension in the region to its own benefit.
Zarif in a meeting with Lebanese Parliament Speaker Nabih Berri invited him to attend the meeting of the OIC parliament speakers, saying positive developments are in the shaping in Lebanon. Zarif said Berri plays a key role in fostering unity among different political and religions groups in Lebanon.
On the Iran-G5+1 talks, Zarif said the Zionist regime is seriously concerned about developments in the nuclear talks between the two sides.
He also voiced concern about the fate of Imam Moussa Sadr, saying Iran emphasizes the need for determining the fate of Imam Musa Sadr and his companion.
For his part, Berri expressed his opinion about Syria issues and said Iran shoulders a grave role in regional issues.
http://www.irna.ir/en/News/80993544/Politic/Zarif__Discord_among_Islamic_schools_of_thought_benefits_Zionist_regime
------------
Turkish police detain 25 in anti-al-Qaeda op, raid on İHH office
Jan 14, 2014
Turkish police have detained 25 people, including some taken in a raid on the branch of the Humanitarian Relief Foundation (İHH) in the southern province of Kilis, as part of an operation against al-Qaeda.
Anti-terror police coming from the eastern province of Van have searched the main office of the İHH and its depot.
The raid is part of simultaneous operations against al-Qaeda in six provinces including Istanbul, Van, Kilis, Adana, Gaziantep and Kayseri.
Three people have been detained by anti-terror police in Bağcılar, Fatih and Küçükçekmece districts in the Istanbul leg of the operation. The suspects were sent to Van, according to the reports.
Full report at:
http://www.hurriyetdailynews.com/turkish-police-detain-25-in-anti-al-qaeda-op-raid-on-ihh-office.aspx?pageID=238&nID=61000&NewsCatID=341
------------
Police Raid Turkish Charity Accused of Sending Arms to Syria
Jan 14, 2014
Ankara. Turkish anti-terror police on Tuesday raided the offices of an Islamic charity which has been accused of trying to ship arms to neighboring Syria.
Police searched the premises of the Humanitarian Relief Foundation (IHH) in southern town of Kilis near the Syrian border, the charity's vice president Huseyin Oruc told AFP.
"We see this as part of a dirty plot," Oruc said, adding that the police had not given a reason for the action.
On January 1, Turkish media reported that security forces had stopped a truck loaded with arms and ammunition on the Syrian border and arrested three people including a Syrian.
The drivers claimed they were carrying aid on behalf of IHH but the organization denied the allegations as "slanderous."
Full report at:
http://www.thejakartaglobe.com/international/police-raid-turkish-charity-accused-of-sending-arms-to-syria/
------------
Arab world
ISIL Opens Up Office in Aleppo to Recruit Islamic Front's Militants
Jan 14, 2014
TEHRAN (FNA)- The Islamic State of Iraq and the Levant (ISIL) set up an office in Aleppo countryside in Northern Syria to recruit the defected members of the its rival militant group Islamic Front.
The ISIL announced that it has opened up a special office in Haritan in Aleppo countryside to recruit Islamic Front's members who have just separated from the front.
Also in the past 24 hours, media reports said that Saudi Foreign Minister Saud Al-Faisal has held several meetings with his Arab and Turkish counterparts at his residence in Paris to save the opposition Syrian National Coalition (SNC).
The Saudi foreign minister has met with SNC chief Ahmad Jarba and his Qatari, UAE, Egyptian, Jordanian and Turkish counterparts at his home in Paris, the Arabic-language Day Press news website reported.
Full report at:
http://english.farsnews.com/newstext.aspx?nn=13921023000314
------------
Jihadist car bomb kills 8 rebels at Syria checkpoint
Jan 14, 2014
At least eight Syrian rebels were killed overnight when jihadists from the Islamic State of Iraq and the Levant detonated a car bomb in Syria's Idlib province, an NGO said.
The Syrian Observatory for Human Rights said the car bomb targeted a rebel checkpoint near Ram Hamdan, northeast of Idlib city.
"Eight fighters from Islamist and other rebel brigades died after a huge bombing carried out by ISIL fighters," the Observatory said.
Clashes between coalitions of Islamist and moderate rebels, who are fighting to topple President Bashar al-Assad's regime, and their erstwhile allies ISIL erupted nearly two weeks ago, after a spate of accusations of abuses by the jihadist group.
Among those battling ISIL is the Islamic Front, a coalition of Islamist battalions, which issued the group an ultimatum late Monday night.
Full report at:
http://english.ahram.org.eg/NewsContent/2/8/91559/World/Region/Jihadist-car-bomb-kills--rebels-at-Syria-checkpoin.aspx
------------
Saudi drops SMS to guardians when women travel: Report
Jan 14, 2014
Saudi Arabia has suspended a programme that notifies the male guardians of female relatives, who may only travel abroad with their permission, once the women leave the country, a newspaper reported Tuesday.
Since November 2012, Saudi women's male guardians have been sent an SMS message informing them when women under their custody leave, even if they are travelling together.
The programme, which was strongly criticised by women rights activists, "has been suspended due to some observations," passports department spokesman Ahmad al-Laheedan was quoted by Arab News as saying.
"It will undergo amendment," he said, indicating that the system that compounded constraints on women in the ultra-conservative kingdom, could return as optional. Men would only receive an SMS if they requested to be informed.
Full report at:
http://english.ahram.org.eg/NewsContent/2/8/91561/World/Region/Saudi-drops-SMS-to-guardians-when-women-travel-Rep.aspx
------------
Toll from Baghdad area attacks reaches 30: Officials
Jan 14, 2014
A series of attacks in the Baghdad area, including four car bombs targeting civilians, have killed at least 30 people, security and medical officials said Tuesday.
The violence Monday evening was the latest in a months-long surge in bloodshed that, coupled with a deadly weeks-long standoff in Anbar province, has sparked fears Iraq is slipping back into the brutal sectarian war that killed tens of thousands in 2006 and 2007.
Car bombs went off in populated civilian areas, both Sunni and Shiite, across the capital, including the Sunni district of Adhamiyah and the mostly Shiite areas of Shaab and Shuala, from about 6:00 pm (1500 GMT) onwards, the officials said.
Full report at:
http://english.ahram.org.eg/NewsContent/2/9/91530/World/International/Toll-from-Baghdad-area-attacks-reaches--Officials.aspx
------------
Social media allows radical Islamism to spread
Jan 14, 2014
New media tools have evolved into diverse online forms, contributing to a stronger feeling of unity across the Muslim world. Islamist movements have diversified into various orders, such as the Salafists, the Muslim Brotherhood, Al-Qaeda and Hizb ut-Tahrir, which all work to improve their methods of disseminating ideas, expand their programs, and acquire assets.
They also always have an eye on militarizing and expanding recruitment. The means for achieving these goals have been simplified: text, voice, and images are used on the one hand, and debate, dialogue, and interaction are utilized on the other.
These groups have also benefited from instant and cost-free Internet communication among Muslims across the world. This has enabled Islamist organizations to promote their ideas after secular and Western ideas took hold in institutions of culture and information across the world.
Full report at:
http://www.aawsat.net/2014/01/article55327162
------------
Saudi beheads Pakistanis for drug smuggling
2014-01-14
RIYADH: Saudi authorities beheaded Tuesday two Pakistanis for drug smuggling in the ultra-conservative kingdom's first executions of the year, the interior ministry said.
Abrar Hussein Nizar Hussein was executed in the Red Sea city of Jeddah after being convicted of trying to smuggle in heroin hidden in his stomach, the ministry said in a statement carried by SPA state news agency.
Zahid Khan Barakat was beheaded in Qatif, in Eastern Province, over a similar charge, a separate statement said.
Last year, Saudi Arabia executed 78 people, according to an AFP count.
In 2012, Saudi Arabia carried out 76 executions, according to a tally based on official figures. Rights group Amnesty International put 2012's figure at 79.
Rape, murder, apostasy, armed robbery and drug trafficking are all punishable by death under the oil-rich nation's strict version of Islamic sharia law.
http://www.dawn.com/news/1080472/saudi-beheads-pakistanis-for-drug-smuggling
------------
Syrian opposition risks UK, US support over Geneva: Media
Jan 14, 2014
Britain and the United States have told the main Syrian opposition that they will stop their support if it fails to send a delegation to peace talks this month, British media reported on Tuesday.
"The US and UK are telling us you need to go to Geneva," an unnamed senior official in the Syrian National Coalition was quoted as saying by the BBC and the Guardian newspaper.
"They are making it very clear that they will not continue to support us the way they are doing now and that we will lose credibility with the international community if we do not go."
According to the BBC, the official questioned however whether Britain and the US had any choice in who they dealt with, saying: "What is the alternative?
"They have a brutal dictator who used chemical weapons on one side and al-Qaeda on the other, so who will they deal with, if not with us?"
Full report at:
http://english.ahram.org.eg/NewsContent/2/8/91540/World/Region/Syrian-opposition-risks-UK,-US-support-over-Geneva.aspx
------------
Lebanon Qaeda loyalists will 'continue striking Iran and Israel'
Jan 14, 2014
A Lebanese group loyal to Al-Qaeda vowed Tuesday to keep up its attacks against Iran, Hezbollah and Israel, less than a fortnight after the death of its leader, Majid al-Majid.
The Saudi-born Majid, which claimed responsibility for a November attack on the Iranian embassy in Beirut, died after his arrest by Lebanese authorities.
"His project will continue, God willing, in striking Iran, its party (Hezbollah) and the aggressor Jews (Israel), and in defending oppressed Sunnis everywhere," the Abdallah Azzam Brigades said in an online statement.
The statement also lashed out against Lebanon for "arbitrarily detaining" Islamists, and said Lebanese miliary intelligence was under the control of "Iran's party," a reference to Shiite group Hezbollah.
Full report at:
http://english.ahram.org.eg/NewsContent/2/8/91544/World/Region/Lebanon-Qaeda-loyalists-will-continue-striking-Ira.aspx
------------
Mutahedoon Coalition Calls for following the Spirit of Tolerance of Islam
National Iraqi News Agency
Jan 14, 2014
BAGHDAD / NNIA / The Coalition / Mutahedoon for Reform / headed by Osama Nujafi, " called upon all those who are in the authority of the government and outside it, to invest the birth anniversary of Prophet Mohammad, to follow the tolerant spirit of the message of Islam for which his pure family and the righteous got martyrdom, to achieve justice in all its forms all over Iraq .
Full report at:
http://www.ninanews.com/English/News_Details.asp?ar95_VQ=GLMMLL
------------
India
Kashmiri family seeks support to preserve 'rare Islamic relics'
Jan 14, 2014
Muscat: An Indian-Kashmiri family residing in Oman is seeking help from individuals, institutions or governments for preserving and protecting some centuries-old relics which it found in a box that had been lying around in their 130-year-old house in Kashmir.
In 2012, when the Quazi family opened a dust-laden wooden box found in the attic of their ancestral house in Daribal, lying there for 130 years and given up as being "jinxed", little did they know it contained rare relics and manuscripts, many of which date back to Kashmir's early Islamic history.
To the family's utter surprise, when the box was opened, they found a 6x4 feet chadder (blanket); a copy of the Holy Quran scripted on a Chinese paper scroll 25 feet in length and 2.5 inches wide with 99 names of the Almighty (Asma Ul Hussana); a 45 inches x 35 inches white handmade kamaz (shirt) of Haji Ali Murtaza; 26 inch x 17.5 inch paper sanad (certificate) with thin lining of cloth bearing seals of the Mughal period; a 22.5 inch x 14 inch paper sanad with thin lining cloth of Mughal period bearing the seal of Haji Imamuddin Sahib, a cap of Haji Sheikh Hamza Mukdhooni; made of multi-coloured cloth of Central Asian origin; a 58-inch-long leather belt of Haji Sheikh Manza Mukhdoomi and a 44x30 inch chadder.
"All the relics were thoroughly examined by the government authorities in Jammu and Kashmir. Special teams from different departments authorised to certify the relics worked for weeks to authenticate their genuineness.
Full report at:
http://www.timesofoman.com/News/Article-28057.aspx
------------
3 Pakistani militants killed in Kashmir
AHMED ALI FAYYAZ
Jan 14, 2014
Three suspected Pakistani cadres of Jaish-e-Mohammad were killed in a fierce encounter with the police and security forces in the Sopore area of north Kashmir on Monday.
Inspector General Police Abdul Gani Mir said the Special Operations Group of the Sopore District Police and troops from Rashtriya Rifles 22 Battalion launched an operation after learning through reliable sources that a five-member group of Pakistani militants was hiding in Dooru village.
Even as two militants escaped, the rest got trapped in a house at Muqdam Mohalla. All the three died in a four-hour-long gunfight.
http://www.thehindu.com/news/national/other-states/3-pakistani-militants-killed/article5573530.ece
------------
Muzaffarnagar: SIT asks police to nab 22 rape accused
Jan 14, 2014
The Special Investigation Team probing the Muzaffarnagar riots has identified 22 out of 27 accused in six gangrape cases in Phugana village in Muzaffarnagar and asked the local police to arrest them.
Cases were registered against 27 people separately, out of which 22 have been identified by SIT and remaining five are under investigation, police said.
Six women had lodged complaints that they were gangraped during the clashes and their houses were burnt by the rioters, police said.
The rape victims were produced in the court and their statements were recorded, they said.
According to the local police, none of the accused has been arrested so far as they are absconding.
Full report at:
http://indianexpress.com/article/india/muzaffarnagar-sit-asks-police-to-nab-22-rape-accused/#sthash.q1zkVtW0.dpuf
--------
Southeast Asia
Allah Used In Sikhs' Holy Book Different Issue from Allah in Al-Kitab!: Gerakan
Jan 14, 2014
GEORGE TOWN - A Penang-based Gerakan leader has urged politician Karpal Singh not to drag other religions into the controversy surrounding the usage of the word "Allah" in the Malay version of the Bible.
Baljit Singh, who is Gerakan national legal and human rights bureau chief, said Karpal should strive to calm the situation instead of fanning emotions
"There is no need to drag other religions, especially Sikhism, into the issue.
"This is uncalled for because unlike the issue surrounding the usage of the word "Allah" in Malay Bibles, there is only one version of the Sikh holy scriptures and it is the only one used in all Gurdwaras around the world," he said.
Full report at:
http://www.malaysia-chronicle.com/index.php?option=com_k2&view=item&id=213542:to-gerakan-allah-used-in-sikhs-holy-book-different-issue-from-allah-in-al-kitab&Itemid=2#ixzz2rMFUsJ00
----------
Najib: M'sia to be governed on Islamic principles
Jan 14, 2014
KUALA LUMPUR - The government is committed to ensure that Malaysia achieves the developed nation status by the year 2020 and will use the Islamic principles and syari'a as the mould for administration as provided for by the constitution, said Datuk Seri Najib Razak.
The Prime Minister said the country's success in efforts to promote Islam and adopt democracy had been recognised by world leaders, including the Turkish leader during his visit to Malaysia recently.
He said that the government would continue to preserve the sanctity of Islam from being tainted and threatened by certain groups.
"I call upon the people to preserve the harmony and understanding between the various religions that we have built all this while. Have confidence that mutual understanding and tolerance are key to unity of the ummah comprising various races and religions in this country," he said.
Full report at:
http://www.malaysia-chronicle.com/index.php?option=com_k2&view=item&id=213572:najib-msia-to-be-governed-on-islamic-principles&Itemid=2#ixzz2rMEajjSK
------------
Malaysia: UN rights office urges Government to rethink ban of civil society grou
Jan 14, 2014
The United Nations human rights office today expressed concern about a decision by the Malaysian Ministry of Home Affairs to declare illegal a coalition of 54 mainly non-Islamic civil society groups focused on human rights known by the acronym COMANGO.
"We call upon Government of Malaysia to amend the Societies Act 1966, maximize the space for human rights activists and organisations to operate freely, and ensure that they can conduct their legitimate activities without intimidation or harassment," the spokesperson for the UN High Commissioner for Human Rights, Rupert Colville, told journalists in Geneva.
The COMANGO coalition submitted joint reports to both the UN Human Rights Council's 2009 and 2013 Universal Periodic Reviews (UPR) of the situation in Malaysia.
Since its submission to the second cycle of the UPR, which took place on 24 October 2013, the coalition has reportedly been subjected to a series of harassment and threats, allegedly by both State and non-State actors. The coalition has been accused of attacking Islam and of spreading beliefs that do not conform to Islamic teachings.
Full report at:
http://www.menafn.com/b539f1aa-ce07-429d-8d46-33f307871859/Malaysia-UN-rights-office-urges-Government-to-rethink-ban-of-civil-society-group?src=main
------------
Respect Freedom of Religion - Uk Says In Letter On Allah Issue
Jan 14, 2014
The outcome of the raging "Allah" debate is not only being eagerly anticipated by Muslims and non-Muslims here alike, but is also being closely monitored by the United Kingdom.
Human rights group Suaram revealed that British Minister of State Hugo Swire was closely monitoring developments on the "Allah" issue in Malaysia.
"Swire's ministerial portfolio includes oversight for relations with Malaysia," Suaram said in a statement yesterday."In a recent letter to House of Commons MP William Cash, the chairman of the All Party Committee on Malaysia, Swire revealed he was monitoring the development of the 'Allah' issue."
Full report at:
http://www.malaysia-chronicle.com/index.php?option=com_k2&view=item&id=213642:world-watches-disgraceful-msia-respect-freedom-of-religion-uk-says-in-letter-on-allah-issue&Itemid=2#ixzz2rMECVPGr
------------
Way Out For 'Allah': Declare You Will Stop Converting Each Other, Muslim & Christians Told
Jan 14, 2014
PETALING JAYA — A Christian pastor has urged both Muslims and Christians to stop spreading their faith amid deepening tensions over the "Allah" row between the two Abrahamic religions.
Rev Dr Hermen Shastri, general secretary of the Protestant umbrella body, Council of Churches of Malaysia (CCM), said that religious discourse could not continue if non-Muslims are prohibited from propagating their beliefs to Muslims, while the reverse is allowed under the law.
"So it is better for Christians and Muslims to declare 'we don't proselytise anybody', and we'll live in peace," Shastri told a forum on freedom of religion here last night that was mostly attended by non-Malays.
Full report at:
http://www.malaysia-chronicle.com/index.php?option=com_k2&view=item&id=213691:way-out-for-allah-declare-you-will-stop-converting-each-other-muslim-chritisnas-told&Itemid=2#ixzz2rMETfugD
------------
Pakistan
For Pakistan's Dalit Christians, embracing Islam is an escape from stigma
Ajaz Ashraf
Jan 14, 2014
The cartographer's knife slashed the subcontinent into three fragments, but what it failed to surgically remove was caste consciousness from nations not predominantly Hindu. Believe it or not, societal prejudice against dalits was a significant factor behind the decision of former Pakistani cricket star Yousuf Youhana to convert from Christianity to Islam and adopt the name of Mohammad Yousuf. This is the perception of former diplomat Shaharyar M Khan, who has written on Yousuf's controversial apostasy in his book, Cricket Cauldron: The Turbulent Politics of Sport in Pakistan. Khan was the chairman of the Pakistan Cricket Board between 2003 and 2006.
In his book, Khan cites three theories explaining Yousuf's decision that analysts had propounded when he converted to Islam. One, the message of Islam inspired the cricketer and his teammates, particularly Inzamam-ul-Haq, encouraged him to take the leap. Two, Yousuf believed the conversion could secure him the captain's cap. Three, Yousuf converted because he wished to overcome the psychologically debilitating stigma of being a dalit. Yousuf a dalit? Though Christians, his forefathers belonged to the sweeper caste and converted to Christianity in search of dignity and equality, a quest that sometimes failed to liberate them from performing the menial tasks linked to their caste.
Full report at:
http://www.firstpost.com/world/for-pakistans-dalit-christians-embracing-islam-is-an-escape-from-stigma-1338639.html?utm_source=ref_article
------------
Lasting peace possible only through Islamic system: Speakers
Jan 14, 2014
LAHORE (Online): Speakers at a Seerat Conference held at Mansoora on Monday said that lasting peace in the world was possible only through faithful adherence to the golden teachings of Islam. The speakers belonging to different religious parties said that the present unrest in the world was due to the United Nations and the US. They impressed upon the rulers in Islamabad to throw of the yoke of US slavery and instead become true followers of the Holy Prophet (PBUH) in order to free the country from terrorism, lawlessness and other social and economic problems. Those who addressed the moot included JI Secretary General Liaqat Baloch, Jamaat al Da'wa's Maulana Amir Hamza, JUI(F)'s Maulana Amjad Khan, JUI(S), Maulana Abdur Rauf Farooqi, Maulana Abdul Maalik, Pir Syed Haroon Ali Gilani, Hafiz Muhammad Idrees, and others.
Full report at:
http://www.thefrontierpost.com/article/68184/Lasting-peace-possible-only-through-Islamic-system-Speakers/
------------
61% of Pakistanis say women should dress as they wish: online survey
January 14, 2014
In an online poll conducted by The Express Tribune, 61% of Pakistanis voted in favour of the statement that women should dress as they wish.
The questions in the online poll were based on a survey by University of Michigan.
Earlier this month, University of Michigan's Population Studies Center had published the results of a survey in which it had asked respondents from seven Muslim countries to identify an 'appropriate' dress for women to wear publicly.
Respondents were shown six head shots which showed women wearing a shuttlecock burka, a niqab, different forms of headscarves and one without any head covering.
The report revealed that 32% of Pakistanis believe the niqab is the most appropriate dress for women.
Full report at:
http://tribune.com.pk/story/658977/61-of-pakistanis-say-women-should-dress-as-they-wish-online-survey/
------------
Seven rescued from Pakistan lawmaker's private jail
Jan 14, 2014
Seven people, including two women, were rescued during a raid on a "private jail" of a Pakistani provincial lawmaker, a media report said.
The raid was conducted by police and Anti-Terrorist Force (ATF) on the private jail of former provincial education minister and member of Balochistan assembly Sardar Abdul Rehman Khetran on Sunday, according to Dawn newspaper.
Six people were also picked up by the authorities. Police have recovered arms and ammunition from their possession, the report added.
Earlier Sunday, Sardar Abdul Rehman Khetran surrendered before the police after a case of kidnapping was registered against him in Barkhan district. Police had registered cases against him, his son and eight others for kidnapping three policemen and snatching their weapons.
Sardar Khetran is a member of the Balochistan assembly and belongs to Jamiat Ulema Islam (F).
Full report at:
http://www.thehindu.com/news/international/south-asia/seven-rescued-from-pakistan-lawmakers-private-jail/article5573864.ece
------------
Separate explosions in KP kill one policeman, injure three
DAWN.COM and ZAHIR SHAH SHERAZI
2014-01-14
PESHAWAR: Two separate explosions occurred in different parts of the province of Khyber Pakhtunkhwa on Tuesday, leaving one policeman dead and three others injured.
According to the police, security personnel had cordoned off the area near a pull in Regi Model Town when an explosion took place. Subsequently, one policeman was killed whereas another sustained injuries.
Police added that the Bomb Disposal Unit (BDU) personnel defused two bombs worth five kilograms from the site of explosion.
Meanwhile, a huge contingent of police personnel reached the area and a probe into the incident went underway.
Full report at:
http://www.dawn.com/news/1080461/separate-explosions-in-kp-kill-one-policeman-injure-three
------------
NA committee approves draft of anti-terrorism law
2014-01-14
ISLAMABAD: The National Assembly's Standing Committee on Interior and Narcotics Control approved on Monday a draft of the Anti-Terrorism (Amendment) Ordinance (ATO) 2013, with some members expressing reservations and writing dissenting notes.
The committee, however, did not approve the Protection of Pakistan Ordinance (PPO) 2013 which was termed by some members 'a black law' and similar to the Indian law called Protection of Terrorism Act (POTA) 2002.
Under the PPO, no-one can oppose any act of the government and all kinds of demonstrations have been banned, according to critics.
Some members of the committee, including Arif Alvi of the Pakistan Tehreek-i-Insaf (PTI) and Nabeel Gabol of Muttahida Qaumi Movement (MQM), strongly opposed the PPO 2013 and wrote dissenting notes on the ATO 2013.
Full report at:
http://www.dawn.com/news/1080394/na-committee-approves-draft-of-anti-terrorism-law
------------
Pakistan needs global support to root out terrorism: Bokhari
January 14, 2014
ISLAMABAD - Chairman Senate Syed Nayyer Hussain Bokhari has said that post-2014 situation is extremely important for Afghanistan and the whole region, and global community needs to deal with the new emerging scenario cautiously to ensure long-lasting peace in Afghanistan.
He said that Pakistan wanted peace and stability in the region as violent extremism and terrorism had inflicted losses much beyond calculations. He expressed these views while talking to Senator Salma Ataullahjan and Senator Nancy Ruth, members of the Canadian Senate, during a meeting at Parliament House here on Monday.
"We have suffered a lot and we need global support to root out the menace of terrorism from our soil," the chairman remarked during the meeting. He underscored the need for enhanced cooperation between Pakistan and Canada in different sectors including defence and security and to learn from each other's experiences.
Full report at:
http://www.nation.com.pk/islamabad/14-Jan-2014/pakistan-needs-global-support-to-root-out-terrorism-bokhari
------------
South Asia
10 militants killed or injured in Afghan forces operations
Jan 14 2014
At least ten militants were killed or injured following military operations by Afghan security forces in various provinces of Afghanistan during the past 24 hours.
The interior ministry of Afghanistan following a statement said, the operations were conducted jointly by Afghan army, Afghan police and Afghan intelligence operatives.
The statement further added, seven militants were killed and three others were injured during the operations, which were conducted in Baghlan, Zabul, Uruzgan and Farah provinces of Afghanistan.
Full report at:
http://www.khaama.com/10-militants-killed-or-injured-in-afghan-forces-operations-3291
------------
Hezb-e-Islami party yet to decide on poll participation
Jan 14 2014
The Hezb-e-Islami Party officials have rejected reports regarding Gulbuddin Hekmatyar's instructions to his party members to participate in the forthcoming presidential and provincial council elections.
Ghairat Baheer, spokesman and head of the political affairs of Hezb-e-Islami party of Afghanistan, said they have not taken a final decision in this regard so far.
Mr. Baheer rejected media reports regarding Gulbuddin Hekmatyar's letter and said, Hezb-e-Islami party will review the situation carefully and will take a final decision regarding participation in the upcoming elections.
Baheer quoted by Radio Free Europe/Radio Liberty (RFE/RFL) said, negotiations regarding the party's participation in presidential and provincial council elections, are in process but final decision has not been taken yet.
Full report at:
http://www.khaama.com/hezb-e-islami-party-yet-to-decide-on-poll-participation-3290
------------
20 militants join peace process in Baghlan province
Jan 14 2014
According to local authorities in northern Baghlan province of Afghanistan, at least 20 anti-government armed militants joined peace process in Jilga and Banu districts.
Provincial governor spokesman, Mahmood Haqmal said, the militants surrendered their weapons and joined peace process on Tuesday.
Mr. Haqmal further added that the militants were previously conducting anti-government insurgency activities in Jilga and Banu districts.
He said, the surrender of the militants will have a positive impact on the security situation of the two districts.
Full report at:
http://www.khaama.com/20-militants-join-peace-process-in-baghlan-province-3295
------------
Over 5000 BNP, Jamaat men sued
Jan 14, 2014
At least 5,185 BNP and Jamaat-Shibir men have been sued on various charges in Dinajpur and Sherpur districts.
In Faridpur, 66 leaders and activists of the 18-party alliance were sent to jail.
According to our Dinajpur correspondent, at least 5,150 Jamaat-Shibir and BNP men of Parbatipur upazila were sued in 6 separate cases on charge of creating anarchy, setting fire to vote centres and burning electoral materials on January 5.
The presiding officers of the 16 centres in the upazila filed the cases with Parbatipur police station yesterday afternoon.
Earlier, two more cases were filed, police said adding that with yesterday's cases, the number stood at 18.
Full report at:
http://www.thedailystar.net/country/over-5000-bnp-jamaat-men-sued-6743
------------
PPM "obstructing" elections: Maldivian Democratic Party
Jan 14, 2014
The opposition Maldivian Democratic Party (MDP) has alleged that the ruling Progressive Party of the Maldives (PPM) had stopped signing voter lists for the January 18 local council elections to "obstruct" the vote.
The PPM claims the party was not given sufficient time to crosscheck 16 voter lists. According to the Elections Commission (EC), 295 independent candidates had also declined to sign lists, claiming they did not have the funds to travel to and stay in Malé for the approval of the register.
Condemning the ruling party's decision, MDP in a statement today said it believed PPM's "sudden decision to stop signing voters lists on baseless allegations is part of the party's continued agenda to obstruct free and fair elections."
Full report at:
http://minivannews.com/politics/ppm-%E2%80%9Cobstructing%E2%80%9D-elections-mdp-75079
------------
Africa
Central African Republic leader says chaos is over
Jan 14, 2014
Relative calm has returned to the streets of the Central African Republic (CAR) capital Bangui after weeks of sectarian clashes, with banks, offices and markets re-opening.
The country's interim leader said the days of looting and revenge attacks were over.
The city has been riven by sectarian clashes in recent months.
About 20% of the 4.6 million population are said to have fled their homes, amid warnings of a humanitarian catastrophe.
The BBC's Piers Schofield in Bangui says people now feel safe enough to leave their homes across the city.
In recent weeks, there has always been at least one district - whether Muslim or Christian - where violence has meant people stayed at home, he says.
The police have also returned to the streets, while some local residents have said the city is the busiest it has been for a year.
Full report at:
http://www.bbc.co.uk/news/world-africa-25716153
------------
Christians Concerned Over Libya's Sharia Law Decision
Jan 14, 2014
Libya's National Assembly recently voted to make Sharia the foundation of state institutions and all legislation, including the coming constitution. The edict has raised serious concerns over the future of the North African nation's Coptic Christians who are already being persecuted.
"NATO went to war in Libya on the basis of a full democracy," Patrick Sookhdeo, international director for Christian human rights group The Barnabus Fund, told Fox News. "But what we have ended up with is a fractured government in which religious extremism of the worst kind has now taken over the government."
Local Christians of Libya have been facing persecution on the hands of Islamists who have become highly influential after the 2011 revolution toppled dictator Muammar Gaddafi.
The General National Congress decided last month to adopt the Islamic Sharia law. "Islamic law is the source of legislation in Libya," the GNC said in a statement at the time. "All state institutions need to comply with this."
Full report at:
http://www.christianpost.com/news/christians-concerned-over-libyas-sharia-law-decision-112511/
------------
New law in Nigeria bans gay meetings
2014-01-14
LAGOS: A new law in Nigeria, signed by the president without announcement, has made it illegal for gay people to even hold a meeting.
The Same Sex Marriage Prohibition Act also criminalises homosexual clubs, associations and organisations, with penalties of up to 14 years in jail.
The act has drawn international condemnation from countries such as the United States and Britain.
Some Nigerian gays already have fled the country because of intolerance of their sexual persuasion, and more are considering leaving, if the new law is enforced, human rights activist Olumide Makanjuola said recently.
Nigeria's law is not as draconian as a Ugandan bill passed by parliament last month which would punish ''aggravated'' homosexual acts with life in prison. It awaits the president's signature.
Full report at:
http://www.dawn.com/news/1080458/new-law-in-nigeria-bans-gay-meetings
------------
South Sudan Nile ferry sinks with more than 200 dead
Jan 14, 2014
More than 200 civilians in South Sudan have drowned in a Nile ferry accident while fleeing fighting in the town of Malakal, an army spokesman has said.
He said women and children were among the victims in Sunday's disaster.
More than 350,000 people have been displaced by the fighting between the South Sudanese government and rebel forces, according to the UN.
Rebels say they have captured Malakal, which is the gateway to the oilfields of the Upper Nile region.
But there is no independent confirmation of the claim.
"The reports we have are of between 200 to 300 people, including women and children. The boat was overloaded," army spokesman Philip Aguer told the AFP news agency.
"They all drowned. They were fleeing the fighting that broke out again in Malakal," he added.
Malakal is located on the banks of the White Nile - just north of its confluence with the Sobat River.
Full report at:
http://www.bbc.co.uk/news/world-africa-25725266
------------
URL: https://www.newageislam.com/islamic-world-news/new-age-islam-news-bureau/armed-forces-imam--uk--not-at-war-with-islam-/d/35275