New Age Islam News Bureau
15 Jul 2015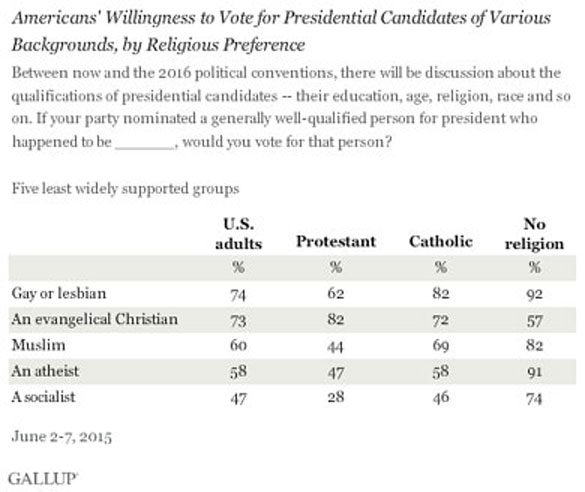 India

• India: Sectarian Clash in Bareilly Ahead Of Eid Creates Tension
• Iftar by the Muslim Wing of the RSS: 'Spiritual, Not Politics'
• Muslim Family Takes a Holy Dip on the First Day of Maha Pushkaram
---------------------
North America
• Are Americans Ready For A Muslim President? New Poll Suggests Maybe
• Muslim Americans Are Split Over the Iran Deal
• US war in Afghanistan costs American taxpayers $4 million every hour: Study
• UNSC to vote on Iran nuclear deal 'next week'
--------
Arab World
• Iraqi Forces Kill Over 200 ISIL Militants in Mop-Up Operations
• Syrian Army Troopers Deal Major Blows to Takfiri Militants
• Iraq seeks 'uninterrupted' Turkish military support against ISIS
• Double suicide bombing kills hard-line rebel leader in Syria
• U.N. Syria envoy meets southern rebels for first time
• Syria's Assad praises Iran deal as 'Great victory'
• Kuwait charges 29 over deadly mosque bombing
------------
South Asia
• Taliban Chief Mullah Omar Vows to Continue Fighting In His Eid Message
• 28 Killed In US Drone Strike in Eastern Afghanistan
• 22 Militants Killed In Afghan Security Operations
• Civil Society activist, policeman gunned down in Zabul
• Khaleda greets Hasina on Eid-ul-Fitr
• 19 Jamaat-Shibir men sued in Nilphamari
---------
Mideast
• Saudi Airstrikes on Yemen Kill 20 Civilians, Injure Dozens
• Yemeni Popular Resistance Forces Retake Aden Airport
• Clinton: 'If I'm president, Iran will never get nuclear weapon'
• Crucial medical supplies arrive in Yemen's Aden
• U.N. expresses concern over LGBT rights in Turkey
• Obama, Rowhani welcome historic nuclear deal
• Israeli court sentences Palestinian rocket engineer to 21 years' jail
• Israel plans to build 800 more settler units in West Bank
------------
Pakistan
• 14 Militants, Including Top Commanders, Killed In NWA Air Strikes: ISPR
• IS Presence Cannot Be Ignored, Says KP Police Chief
• Three terrorists sentenced in Swat
• 3 Pakistanis among 29 charged with Kuwait mosque attack
• Civilian govts, undemocratic forces conspiring to snatch Karachi from MQM: Altaf
• Zardari welcomes Iran nuclear deal
• Track-II means back-channel engagement, says Aziz
• Two policemen gunned down in Quetta
• PTI lodges a complaint against Altaf to British HC
• Iran deal to benefit Pakistan, says Sartaj
---------
Europe
• Russian Dating App Helps Muslim Men to Find Multiple Wives in Islamic Way
• European far-Right parties 'seeking anti-Islam coalition with Jewish groups'
• The "Moroccan Exception": How to Survive the Islamist Undertow?
• Iran agreement helps battle against ISIL: Russian FM
--------
Southeast Asia
• Indonesia Jails 3 Chinese Uighurs for Trying to Join Islamist Militants
• Yogya sees conflicts over houses of worship on the rise
• Indonesia's Transgender Muslims, Known As Waria, Celebrate Ramadan
• Indonesia Vying To Host World Islamic Infrastructure Bank
• Indonesian Muslims in Bali observe Ramadan
----------
Africa
• Boko Haram Slits the Throats of Nigerian Villagers in Latest Attack
• Boko Haram and Threat Of Islamic Extremism In Africa
• Uganda president visits Burundi for crisis talks
• NLC in Anambra appeals for relocation of Boko Haram suspects
--------
Compiled by New Age Islam News Bureau
URL: https://www.newageislam.com/islamic-world-news/new-age-islam-news-bureau/are-americans-ready-for-a-muslim-president?-new-poll-suggests-maybe/d/103911
-------
North America
Are Americans Ready For A Muslim President? New Poll Suggests Maybe
By Julie Poucher Harbin
July 14, 2015
A recently released Gallup poll found "tidal shifts" over the past 60 years in Americans' willingness to support a well-qualified black, female, Catholic or Jewish candidate for president.
But the study also found that 60 percent of Americans would be willing to vote for a president who was a "generally well-qualified person who happened to be Muslim."
Throughout the month of Ramadan, which concludes Thursday (July 16), American Muslims have been serving their communities — including raising more than $80,000 for black churches burned across the South and serving 1,000 homeless on Skid Row in Los Angeles — public service that they are called by their faith to do. But as they look forward to Eid al-Fitr, the three-day celebration beginning Friday, they are also wondering whether Americans are more willing to accept their service.
"If the 60 percent is to be used as a proxy of acceptance of Muslims, I am encouraged by an upward trajectory," wrote Saud Anwar, the mayor of South Windsor, Conn., and that state's first Muslim mayor.
Anwar said he believes that "religious labels are less critical" at the local level, where "people have a better opportunity to know a candidate and thus vote based on capacity to do the job and performance."
In national elections, he said, "the labels may become more important for people."
But Amaney Jamal, a professor of politics at Princeton University who's done significant research on the civic engagement of Muslims and Arabs in the U.S., said the poll also shows how much worse Muslims are doing than other religious and racial groups.
"Sixty percent isn't a bad number on average," she said, but when compared with American support for Catholics, blacks, Jews and Mormons — where there's a 20- to 30-point difference — it's "troubling."
Americans haven't embraced the idea "that a Muslim can be a loyal person to the United States, a Muslim can be a very good president, a dedicated president," said Jamal. "There's a lot of Islamophobia."
The good news is that young people are more willing to vote for a Muslim presidential candidate — 76 percent of 18- to 29-year-olds would, as would 67 percent of 30- to 49-year-olds, according to the poll.
The higher youth numbers she attributes to the likelihood they have had direct daily interactions with a Muslim at work or school.
Salam Al-Marayati, executive director of the Muslim Public Affairs Council, said he was struck that Protestants, according to the poll, would be much less likely to support a Muslim candidate (44 percent) than U.S. adults overall.
"The narrative that we are in a religious war with the Middle East I think has an impact on evangelical communities' views of Muslims," said Al-Marayati.
Detroit native Rashida Tlaib, a former Democratic state legislator who was the first Muslim woman elected to the Michigan Legislature, said that her main takeaway from the poll was that the majority of Americans do respect people of faith. American support for atheists and socialists was lower. (Fifty-eight percent of Americans would support an atheist for president, and 47 percent a socialist.)
A recent workshop convened by the Institute for Social Policy and Understanding and the Prince Alwaleed Bin Talal Islamic Studies Program at Harvard University found that as more American Muslims enter public service sectors, they are "uniquely positioned to elevate the perception and understanding of Islam and Muslims."
Tlaib, who continues to be active in public service in her home state — working as a campaign manager for The Campaign to Take on Hate — said there are "definitely not enough Muslims running for office."
"Some people will go in the military, or be a firefighter or a police officer, or other public service. But I tell you as a public elected official you actually get a much broader blanket of people that you expose your faith to."
She said American Muslims should "never underestimate the human connection," explaining that whatever fears her constituents had of Muslims, working on their behalf on day-to-day issues changed that image.
Like Tlaib, Al-Marayati said people have sometimes asked if he's really Muslim.
"Just because we're Americans doesn't mean we're less Muslim," he said. "In fact, we say the opposite: Being a good American citizen makes me a more devout Muslim. And being a devout Muslim makes me a better American citizen."
In 2008, former Secretary of State Colin Powell criticized elements of his party for allowing comments that "President Obama is a Muslim" to be answered only with "He is not a Muslim, he's a Christian. He's always been Christian."
"The really right answer," said Powell, "is, what if he is? Is there something wrong with being a Muslim in this country?"
Today, the most high-profile Muslim elected officials are U.S. Reps. Andre D. Carson, D-Ind., and Keith Ellison, D-Minn.
But could there be a Muslim president in our lifetime?
"Why not?" said Tlaib, noting that we now have a biracial president.
"If somebody told me 10 years ago ... I'd say, 'Nah, it's never going to happen.' So I'm a true believer."
Al-Maryati said that more important is having a president who demonstrates a commitment to pluralism and who includes Muslims as equal citizens in this country.
"I think if we achieve that, that's a great achievement for America. That will make America stronger and will make the American Muslim community more secure."
Copyright: For copyright information, please check with the distributor of this item, Religion News Service LLC.
http://www.washingtonpost.com/national/religion/are-americans-ready-for-a-muslim-president-new-poll-suggests-maybe/2015/07/14/64a45db0-2a6e-11e5-960f-22c4ba982ed4_story.html
--------
Muslim Americans Are Split Over the Iran Deal
07.15.15
Dean Obeidallah
We have heard from just about everyone on the Iran deal, from President Obama to Donald Trump to Benjamin Netanyahu to many, many in between. But how do Muslim Americans view the deal? I'm sure many non-Muslims are thinking that they are all cheering it because the deal helps Iran. Well, anyone holding that view clearly doesn't know too many Muslim Americans.
On Tuesday, I reached out to a wide cross section of Muslim Americans about their views on the deal with Iran, from community leaders to religious clerics to even a well-known Iranian American comedian. Overall their responses can best be summed up as cautious optimism. But the regional divide we see amongst Muslims in the Middle East was also present in the reactions of these Muslim Americans.
First off, the Iranian-American Muslims I contacted were in general very excited at the prospect of the United States and Iran fostering better relations. Sarah Sakha, a "proud" first generation Iranian American, explained to me via Facebook that the deal "honestly gives Iranians and Iranian-Americans all around the world hope." She added, "And now, under the framework, the U.S. can enjoy Iranian pistachios, the ultimate peace offering!"
Maz Jobrani, the best-known Iranian American comedian in the United States, explained by email that the deal "is a great thing for both the Iran and America. I'm especially happy for the Iranian people because the lifting of the sanctions should be a great relief to them." He added, "It's a good day when diplomacy wins."
However, Iranian American filmmaker Negin Farsad was less embracing, noting that "the nuclear deal is tantamount to Iran submitting to an anal cavity search all the time." Even so, Farsad is generally supportive of the deal and urged Republican lawmakers to "not take a knee-jerk anti-peace stance" and instead "look at Iran as a potential new market to sell American goods, rather than a new war front."
Muslim Americans of South Asian backgrounds were universally supportive of the deal, although some expressed caution. Imam Shamsi Ali, who is based in New York City, was "very happy to hear that there is a hopeful, peaceful solution to the conflict, as opposed to war." Wajahat Ali, a journalist and author, echoed Ali's sentiments, noting that the deal "is a positive step towards reconciliation between the United States and Iran." But, he added, "It will take years for the two nations to trust each after decades of mistrust and fear."
Mansoor Shams, a former U.S. Marine, commented via social media, "This deal proves through mutual respect peace can be achieved." And while supportive of the deal, some others, like journalist Haroon Moghul, were resigned to the fact that "the only other option is war with Iran, and such a war would be far more challenging for us than the wars in Iraq and Afghanistan."
Finally, the African American Muslims I contacted too were supportive. For example, Margari Aziza Hill of the Muslim Anti-Racism Collaborative stated, "I think this is a promising moment and I look forward to cultural and intellectual exchanges between our respective nations and greater stability in the region." (My apologies to the other Muslim American communities I could not include here but there are too many at this point!)
But, and whenever you are dealing with issues in the Middle East, there is always a but, some Muslim Americans deeply questioned how much we could trust Iran and some went further than that. The most vocal opponents to the deal were Syrian Americans. As most are aware, the Iranian government has been supporting Syrian leader Bashar al–Assad in the Syrian civil war where he has slaughtered more than 100,000 Syrian civilians in the past four years.
Sarab Al-Jijakli, president of the Network of Arab American professionals, expressed the sentiment of many Syrian American Muslims: "There is a concern that this deal as a green light for Iran to expand its bloody foreign intervention in Syria to ensure the survival of the Assad regime."
Other Syrian Americans were even more critical. Said one: "This gives the Iranian government a chance to pour even more money into Syria to continue the slaughter they have been backing." And another Syrian American told me, "Ending Iran's human rights abuses against its people and stopping the slaughter of Syrians should have been the first precondition to any deal," adding that, "this deal is good for Iranian people, bad for the greater Middle East and the world."
It should be noted that Assad has publicly applauded the Iran deal, further adding to their concerns this deal with help him stay in power. Hezbollah leader Hassan Nasrallah has done the same.
Finally, I spoke with a Palestinian American who was born and raised in Israel, is an Israeli citizen, and still has a large family in Israel. He clearly didn't trust the Iranians. While he didn't believe Iran would ever launch a nuclear strike at Israel, his concern was that the extra money Iran stands to see with the lifting of sanctions could translate into Iran funding even more terrorism.
My view of the deal is very similar. I say that because I, too, have many Palestinian relatives in the West Bank. And my fiancé is an Israeli citizen (she is Palestinian by heritage). So if Iran ever dropped a nuclear bomb on Israel, many members of my family would be killed. Although I doubt that would happen given that the punishment for Iran truly would be the end of Iran as a nation. But Iran could use the additional revenue when the sanctions are lifted to expand its influence in the region and wreak even more havoc.
We don't know if Iran will live up to its obligations under the new agreement. But if you believe in diplomacy over war, then don't you need to at least give peace a chance?
http://www.thedailybeast.com/articles/2015/07/15/muslim-americans-are-split-over-the-iran-deal.html
--------
US war in Afghanistan costs American taxpayers $4 million every hour: Study
Jul 15, 2015
A new study has revealed that the US-led war in Afghanistan is costing American taxpayers $4 million per hour despite the withdrawal of most American troops from the country at the end of last year.
Nearly $715 billion has been spent on the US invasion of Afghanistan since 2001, including $35 billion in fiscal year 2015, according to figures from the National Priorities Project (NPP), a non-governmental organization that does research on the federal budget and US military spending.
The $715 billion cost for the Afghan war is deceptive, according to NPP, because it does not include a full accounting of all the costs of the war, including future spending on medical care for wounded soldiers and veterans.
Furthermore, the budget does not include interest payments on national debt resulting from war spending.
The cost of deploying just one soldier to Afghanistan is approximately $1 million a year, far higher than the $390,000 congressional researchers estimated in 2006.
The initial budget for the US-led war in Afghanistan was over $20 billion for 2001 and 2002. The budget declined to $14 billion over the next two years as spending was shifted to the war in Iraq.
Spending on the Afghan war took a back seat to Iraq war spending before ballooning to more than $100 billion in 2010 when the cost of the Iraq war began to decline.
Spending in Afghanistan continued to top $100 billion annually until 2013, when it began falling by increments of $10 billion, finally reaching the current budget of $35 billion.
The Afghan and Iraq wars have become "the most expensive wars in the US history," Harvard economist Linda Bilmes calculated in 2013.
Former US president George W. Bush, who was in the White House between 2001 and 2009, has been accused of war crimes for ordering the US invasion of Iraq and Afghanistan under false pretexts.
http://www.presstv.in/Detail/2015/07/15/420313/US-study-afghan-war-invasion
--------
UNSC to vote on Iran nuclear deal 'next week'
15 July 2015
The United Nations Security Council is likely to vote next week on a resolution to endorse the Iran nuclear deal and terminate targeted sanctions, but retain an arms embargo and ballistic missile technology ban, diplomats said.
The United States will circulate the draft resolution to the 15-member Security Council on Wednesday, U.N. diplomats said, speaking on condition of anonymity.
Under a historic deal between Iran and major world powers in Vienna on Tuesday, Iran agreed to long-term curbs on a nuclear program that the West suspected was aimed at creating an atomic bomb. Iran has said its work is purely peaceful.
In return, the United States, European Union and United Nations would lift sanctions on Iran.
Under the agreement, any United Nations sanctions relief would be simultaneous with the International Atomic Energy Agency (IAEA) verifying "implementation of agreed nuclear-related measures by Iran."
The U.N. Security Council resolution would terminate its seven previous resolutions on Iran, but under the Vienna deal it would leave a U.N. weapons embargo in place for five years and a ban on buying missile technology for eight years.
The five permanent veto-wielding members of the U.N. Security Council - the United States, Russia, China, Britain and France - were parties to the deal agreed with Iran in Vienna, along with Germany and the European Union.
The U.N. resolution to endorse the deal would also enshrine a mechanism for all Security Council sanctions to be automatically re-imposed if Iran breaches the deal.
According to the Vienna deal, the six world powers, Iran and the European Union will form a Joint Commission to handle any complaints about breaches. If the complaining state is not satisfied with how the commission addresses its concerns, it could then take its grievance to the U.N. Security Council.
The Security Council would then need to vote on a resolution to continue the lifting of sanctions on Iran.
If such a resolution has not been adopted within 30 days of the council receiving the complaint of a breach, then the sanctions contained in all previous U.N. resolutions would be re-imposed, unless the council decided otherwise.
If the nuclear deal is adhered to, all the provisions and measures of the U.N. resolution would terminate 10 years after its adoption and the Iran nuclear issue would be removed from the Security Council agenda.
https://english.alarabiya.net/en/News/world/2015/07/15/U-N-likely-to-vote-on-Iran-nuclear-deal-next-week.html
--------
Arab World
Iraqi Forces Kill Over 200 ISIL Militants in Mop-Up Operations
Jul 15, 2015
Iraqi government forces backed by allied fighters from Popular Mobilization units have carried out separate operations against Takfiri ISIL militants across Iraq, killing 200 extremists from the group.
The commander of the al-Jazeera and al-Baadia Operations, Major General Ali Ibrahim Daboun, told Arabic-language al-Sumaria satellite television network on Tuesday that Iraqi troopers have managed to kill at least 158 ISIL militants, destroy 27 vehicles, clear 17 booby-trapped houses, defuse 15 improvised explosive devices and confiscated 27 explosive jackets during a series of offensives in the troubled western province of Anbar over the past few days.
Iraqi security personnel also killed 57 ISIL Takfiris, destroyed two tanker bombs as well as a breakdown truck, and seized two vehicles rigged with explosives as they mounted an operation in the city of Husaibah al-Sharqiyah, located more than 110 kilometers (68 miles) west of the capital, Baghdad, on Tuesday.
Iraqi volunteer fighters from Popular Mobilization units guard a position on the northern outskirts of Fallujah, west of the capital, Baghdad, as they prepare to attack ISIL positions in the city, July 9, 2015. (© AFP)
Moreover, Iraqi fighter jets carried out precision strikes against terrorist hideouts in the town of al-Karma, located 48 kilometers (30 miles) west of the capital, killing scores of ISIL terrorists.
A security source, speaking on condition of anonymity, also said pro-government volunteer forces have regained complete control of al-Tash region, located about 120 kilometers (74 miles) west of Baghdad, and killed 27 ISIL militants following fierce exchanges of gunfire with the Takfiris.
Additionally, Popular Mobilization forces have taken back al-Dawajen, Albu Hamdan, and Albu Issa districts north of the strategic western city of Fallujah, located roughly 69 kilometers (43 miles) west of Baghdad, from ISIL militants.
Iraqi fighters from Popular Mobilization units gather on the northern outskirts of Fallujah, west of the capital, Baghdad, as they prepare to attack ISIL positions in the city, July 7, 2015. (© AFP)
ISIL started its campaign of terror in Iraq in early June 2014. The heavily armed militants took control of Mosul before sweeping through parts of the country's heartland.
Iraqi soldiers, police units, Kurdish forces, and Shia and Sunni volunteers are engaged in battles with the terrorists to drive them out of the areas they have under control.
http://www.presstv.in/Detail/2015/07/15/420314/Iraq-army-Popular-Mobilization-Anbar-Karma-ISIL-militants
--------
Syrian Army Troopers Deal Major Blows to Takfiri Militants
Jul 15, 2015
Army forces in Syria have carried out mop-up operations against foreign-backed militants across the conflict-ridden Arab country, inflicting heavy losses on them.
On Tuesday, a total of 36 terrorists were killed during intense clashes with Syrian troops in the different neighbourhoods of the north-western city of Idlib, located roughly 300 kilometers (186 miles) north of the capital, Damascus, Syria's official news agency SANA reported.
Syrian troopers also raided several terrorist hideouts on the outskirts of the city, destroying an unspecified number of vehicles belonging to the al-Qaeda-affiliated al-Nusra Front terrorist group.
In addition, the army engaged foreign-backed militants in the town of Zamalka, about four kilometers (2.5 miles) east of Damascus. Scores of gunmen were killed in the fighting.
Syrian troops also stormed a militant hideout in the southwestern city of al-Zabadani, which lies 30 kilometers (19 miles) northwest of the capital, and killed all the terrorists who had been holed up inside. A large amount of weapons and munitions was destroyed after the operation.
In this file photo, Syrian army troops are seen at al-Habaria Village in the south-western province of Dara'a. (Xinhua photo)
Moreover, Syrian soldiers backed by fighters from the Lebanese Hezbollah resistance movement killed five Takfiri militants on a road leading to al-Zabadani.
A unit of government forces also killed a number of militants near Tal al-Bouthaina district, which lies northeast of Syria's south-western city of Sweida, as the latter sought to infiltrate into the area.
Elsewhere in Syria, army troops clashed with Takfiri terrorists on the outskirts of the south-western city of Dara'a, located about 90 kilometres (56 miles) south of Damascus, killing scores of militants in the process.
Similar clashes broke out in the northern suburbs of Hama, located 213 kilometers (132 miles) north of the capital, where the Syrian forces killed a number of foreign-backed militants.
SANA made no reference to the government forces casualties.
The conflict in Syria, which started in March 2011, has reportedly claimed more than 230,000 lives up until now.
The violence has also forced over 3.8 million Syrians to take refuge in neighboring countries, namely Jordan and Lebanon. More than 7.2 million others have been displaced within Syria, according to the UN.
http://www.presstv.in/Detail/2015/07/15/420334/Syria-army-forces-operations-Takfiris-Idlib-Hama-Daraa-Zabadani
--------
Iraq seeks 'uninterrupted' Turkish military support against ISIS
14 July 2015
Iraq's foreign minister on Tuesday sought "uninterrupted" military support from neighbouring Turkey in its fight against militants from the Islamic State in Iraq and Syria (ISIS).
"The presence of Daesh constitutes a threat not only to Iraq but also to countries in the region as well as Turkey," Ibrahim al-Jaafari told a joint news conference in Ankara with his Turkish counterpart Mevlut Cavusoglu, using a pejorative name for ISIS.
"We expect uninterrupted military support... from brotherly country Turkey," he said. "Cooperation will benefit us all."
Iraq is battling to retake areas of the country overrun by ISIS militants. Authorities announced a major offensive on Monday to "liberate Anbar", a vast province that is largely under ISIS control.
"Daesh must be wiped out," Jaafari said in remarks translated into Turkish.
"In order to do this, we need arms and training ... There is a need for a well-trained soldiers and police," he added.
"A hit-and-run war is taking place right now. You are not fighting a regular army. That's a difficult part of the business."
Cavusoglu pledged Ankara's continuing support, saying the country had trained 1,600 peshmerga fighters from Iraq's autonomous Kurdish region and that there were plans for Iraqi police to be trained in Turkey.
"We have also provided Baghdad with some military assistance," he said, without elaborating.
Turkey has faced international criticism for not doing enough to secure its border with Iraq and Syria, where militants have made large gains.
A vocal critic of Syrian President Bashar al-Assad's regime, Turkey fiercely rejects the accusations, saying it is making every effort to secure a long border.
In turn, it has accused the West of failing to help shoulder the burden of the refugee crisis sparked by the war in Syria. Turkey is currently hosting some 1.8 million Syrian refugees.
Turkish authorities have arrested a number of suspected ISIS militants in recent months.
Turkey -- NATO's only majority Muslim member -- has stayed out of active participation in the anti-ISIS coalition led by its ally the United States assisting Kurdish forces in the fight against the jihadists.
Analysts say Turkey remains reluctant to the U.S.-led campaign out of fears that the growing power of Kurdish forces will embolden its own 15-million strong Kurdish minority, and that militants could launch revenge attacks inside Turkey.
Ankara, which has recently reinforced its military presence on the border with tanks, anti-aircraft missiles and additional troops, wants a wider strategy for Syria that would ultimately bring Assad's downfall.
It has repeatedly called for a buffer zone to be put in place along the border, backed by a no-fly zone.
https://english.alarabiya.net/en/News/middle-east/2015/07/14/Iraq-seeks-Uninterrupted-Turkish-military-support-against-ISIS.html
--------
Double suicide bombing kills hard-line rebel leader in Syria
14 July 2015
A double suicide bombing in northern Syria on Tuesday targeted the headquarters of an ultraconservative Islamic rebel group, killing its leader and several other high ranking members.
The attack marked the second time in less than a year that a bombing takes out the leadership of Ahrar al-Sham, one of the most powerful Islamic groups fighting both President Bashar Assad's forces and its rival, the Islamic State in iraq and Syria (ISIS), which holds wide swaths of territory in Syria and Iraq.
Tuesday's attack struck the headquarters of Ahrar al-Sham northwest of the town of Idlib, killing the group's leader, Abu Abdelrahman Salqeen. The Syrian Observatory for Human Rights said six others Ahrar al-Sham members also died. The Local Coordination Committees and other activists also reported the attack.
There was no immediate claim of responsibility for the bombing.
The attack came few days after a senior member of Ahrar al-Sham published an op-ed piece in the Washington Post in which he denied espousing al-Qaeda's ideology and portrayed his group as the moderate Islamist alternative in Syria, allegedly a key to defeating the ISIS.
In September, Ahrar al-Sham's leader Hassan Abboud was killed along with several other leading members of the group in a similar bombing.
https://english.alarabiya.net/en/News/middle-east/2015/07/14/Double-suicide-bombing-kills-hard-line-rebel-leader-in-Syria.html
--------
U.N. Syria envoy meets southern rebels for first time
14 July 2015
The U.N. envoy for Syria met rebel leaders fighting in southern Syria for the first time on Tuesday, their spokesman said, underlining the growing political role of a group helping contain militants influence in the south.
The Southern Front alliance controls wide areas of the southern border zone after seizing important towns and military bases from President Bashar al-Assad's control.
The alliance, which includes fighting groups that have received support from Western and Arab states opposed to Assad, has the upper hand over militant movements such as the al Qaeda-linked Nusra Front and Islamic State in Syria and Iraq (ISIS) that dominate the insurgency elsewhere.
"We showed him our road map, our vision, how the Southern Front sees the transitional period without Assad," Southern Front spokesman Issam al-Rayyes told Reuters.
A spokeswoman for United Nations Syria envoy Staffan de Mistura said: "We can say that he did meet Syrian opposition figures in Jordan today."
Rayyes said it was not the first time the U.N. envoy had asked to meet the Southern Front, but previous meetings had not taken place for logistical reasons.
https://english.alarabiya.net/en/News/middle-east/2015/07/14/U-N-Syria-envoy-meets-southern-rebels-for-first-time.html
--------
Syria's Assad praises Iran deal as 'Great victory'
14 July 2015
Syrian President Bashar al-Assad congratulated key ally Iran Tuesday on reaching a nuclear deal with world powers, calling the agreement a "great victory".
In a message to supreme leader Ayatollah Ali Khamenei, Assad said he was "happy that the Islamic Republic of Iran has achieved a great victory by reaching an agreement", state news agency SANA reported.
"In the name of the Syrian people, I congratulate you and the people of Iran on this historic achievement," he added in another message addressed to President Hassan Rouhani.
Assad said the deal would be a "major turning point in the history of Iran, the region and the world."
He added that it provided "clear recognition on the part of world powers of the peaceful nature of Iran's nuclear programme, while preserving the national rights of your people and confirming the sovereignty of the Islamic Republic of Iran."
"We are confident Iran will continue, and with greater momentum, to support the peoples' just issues and to work towards establishing peace and stability in the region and the world," Assad said.
Syria's foreign ministry also welcomed the deal, which it said underlined "the importance of adopting diplomacy and political solutions to resolve international disagreements."
Tehran is a longstanding ally of Damascus and has remained so since Syria's uprising began in March 2011.
It has bolstered Assad's government with military and financial support, including a $1 billion (900 million euro) credit line approved by Syria's parliament on July 7.
It is also a key ally of Lebanon's Hezbollah movement, which has dispatched fighters to help Assad's forces battle the uprising.
More than 230,000 people have been killed in Syria since the conflict began with anti-government demonstrations more than four years ago.
https://english.alarabiya.net/en/News/middle-east/2015/07/14/Syria-s-Assad-praises-Iran-deal-as-Great-victory-.html
--------
Kuwait charges 29 over deadly mosque bombing
15 July 2015
Kuwait announced on Tuesday that 29 people, most of them residents of this Gulf Arab country, will face trial for last month's suicide bombing of a Shiite mosque that was claimed by the extremist Islamic State group.
The Kuwait News Agency reported that those facing trial include seven Kuwaitis and 13 "illegal residents" - a reference to Kuwait's "bidoon" community that is made up largely of desert nomads considered stateless by the government. Also facing trial are five Saudis, three Pakistanis and a fugitive whose nationality is not yet known.
They face a range of charges such as illegally possessing explosives, incitement to violence and joining an extremist group.
Kuwaiti officials previously identified the suicide bomber in the attack as Fahad Suleiman Abdulmohsen al-Qabaa, a Saudi man in his early twenties who landed in the country just hours before the attack.
The June 26 bombing killed 27 worshippers and wounded at least 200 people. The bombing struck the Imam Sadiq Mosque in Kuwait's capital as Shiite worshippers were preforming the midday Friday prayers.
Saudi authorities said earlier this month that the kingdom was holding three Saudi brothers in connection with the attack in neighbouring Kuwait.
https://english.alarabiya.net/en/News/middle-east/2015/07/15/Kuwait-charges-29-over-deadly-mosque-bombing.html
--------
South Asia
Taliban Chief Mullah Omar Vows to Continue Fighting In His Eid Message
By MIRWAIS ADEEL - Wed Jul 15 2015,
The Taliban Supreme Leader Mullah Omar has vowed to continue fighting until all foreign forces have left the country while endorsing the reconciliation process.
Mullah Omar through a message issued on the occasion of Eid-ul-Fitr said "Jihad is as obligatory today as it was in the beginning of foreign occupation because our Muslim homeland Afghanistan is still under occupation and both its land and air space are controlled by the invaders."
He insisted on the implementation of a pure Islamic system in the country and claimed that large areas of the country have been liberated by the Taliban fighters.
Mullah also pointed towards the reconciliation efforts and said "Concurrently with armed Jihad, political endeavors and peaceful pathways for achieving these sacred goals is a legitimate Islamic principle and an integral part of Prophetic politics."
He said a 'Political Office' has been established for political affairs, entrusted with the responsibility of monitoring and conducting all political activities.
Rejecting allegations against the group for being agents of Iran and Pakistan, Mullah Omar said the group has "sought cordial relations not only with Pakistan and Iran but also all other neighboring countries."
Mullah Omar also called on group's fighters to refrain from hurting the civilians lives and their properties while planning and exeucting operations and insisted that "legitimate rights of all Afghans including minorities as our religious duty."
The statement by Mullah Omar comes amid speculations he is no more alive or he is in the custody of Pakistani security forces.
The Afghan Intelligence – National Directorate of Security (NDS) said in November last year that Mullah Omar has possibly passed away as major differences have sparked among the Taliban leaders due to the possible death of Mullah Omar.
The officials further added that Mullah Akhtar Mohammad Mansoor has initiated appointment of his friends as group's top figures.
NDS spokesman Hasib Sediqi told reporters during a press conference on 19th November last year that senior Taliban figures have divided into three groups due to the major differences they have.
Sediqi said the first group is led by Mullah Qayum Zakir and Tayeb Agha is a member along with Hafiz Majeed, Amir Khan Haqqani, Mullah Mohammad Esa, Khadim Abdul RAuf, Zia Agha and Torak Agha.
He said the second group is led by Mullah Agha and Mullah Samad Sani, Mawlavi Nani, Sadar Ibrahim, Sheikh Mawlavi Abdul Hakimand Mawlavi Mohibulalh are members.
Sediqi also added that the third group is comprised of neutral Taliban leaders.
http://www.khaama.com/taliban-chief-mullah-omar-vows-to-continue-fighting-in-his-eid-message-9508
--------
28 Killed In US Drone Strike in Eastern Afghanistan
Jul 15, 2015
More than two dozen people have lost their lives in a strike carried out by a US unmanned aerial vehicle (UAV) in Afghanistan's eastern province of Nangarhar.
Provincial governor spokesman Ahmadzia Abdulzai said on Wednesday that the drone attack struck the Haska Mina district of the province situated over 150 kilometres (93 miles) east of the capital, Kabul, late on Tuesday, killing at least 28 people.
He added that the assault targeted a group of Taliban militants and that those killed in the airstrike were members of the terrorist group.
Taliban militants, however, have not yet made any comments on the incident.
An aerial assault in the same province, which lies on the border with Pakistan, reportedly killed at least 12 people on July 12.
On June 30, a US UAV targeted two residential buildings in the Lal Pur district of Nangarhar, killing at least 14 people and injuring more than a dozen others.
The United States has been conducting targeted killings through remotely-controlled armed drones in Afghanistan, Pakistan, Somalia as well as Yemen.
http://www.presstv.in/Detail/2015/07/15/420340/Afghanistan-US-drone-strike-Nangarhar
--------
22 Militants Killed In Afghanistan Security Operations
By KHAAMA PRESS - Wed Jul 15 2015,
22 militants have been killed in joint security operations across the country, Ministry of Interior announced on Wednesday morning.
A statement issued by the ministry states that the operations were carried out in Heart, Nimroz, Maidan Wardak, Paktiya, Takhar, Kunduz, Faryab, Sar-e-Pul, Balkh, Kandahar, Zabul and Oruzgan provinces in past 24 hours.
The statement adds that the operations were jointly conducted by Afghan National Police, Afghan National Army and personnel from the National Directorate of Security (NDS) leaving 22 insurgents killed, nine wounded and three others arrested.
This comes as 25 other rebels were killed in a drone strike in eastern Nangarhar province, also yesterday.
Starting January this year, it has been one of the deadliest periods for militants in Afghanistan.
According to security officials, the militant groups lost more than 2000 fighters during this period and some important commanders.
http://www.khaama.com/22-militants-killed-in-military-operations-3651
--------
Civil Society activist, policeman gunned down in Zabul
By KHAAMA PRESS - Wed Jul 15 2015,
A civil society activist has been unanimously gunned down in southern Zabul province.
Mohammadullah, the police chief for Zabul's Shah Joy District said that Hamidullah Noori was attacked by an armed person in the district capital "Shah Joy Bazaar" Tuesday afternoon.
He said that Noori lost his live in the attack and when police tried to detain the killer a gun battle erupted between the two sides.
According to Mohammadullah, police officials killed the attacker in the skirmish but a policeman also embraced martyrdom in the exchange of fire.
He said another policeman sustained injuries in the clash.
Hamidullah Noori had previously served as an instructor at the University of Kandahar.
Ahmad Wali Sarhadi / Zabul
http://www.khaama.com/civil-society-activist-policeman-gunned-down-in-zabul-3647
--------
Khaleda greets Hasina on Eid-ul-Fitr
july 14, 2015
BNP chairperson and former Prime Minister Begum Khaleda Zia has greeted Prime Minister and Awami League President Sheikh Hasina on the occasion of holy Eid-ul-Fitr.
Khaleda Zia conveyed her greetings to the prime minister sending an Eid greeting card on Tuesday, reports BSS.
A delegation of the BNP led by its assistant office secretaries Krishibid Shamimur Rahman Shamim and Asadul Karim Shaheen carried the party chairperson's Eid greeting card to the Dhanmondi office of the Awami League president.
Awami League leader M Sekandar Ali received Begum Zia's card on behalf of the party president.
http://www.dhakatribune.com/politics/2015/jul/14/khaleda-greets-hasina-holy-eid-ul-fitr
--------
19 Jamaat-Shibir men sued in Nilphamari
Jul 15, 2015
Nineteen Jamaat and Shibir men were sued yesterday following a clash with the local activists of Bangladesh Chhatra League in Dimla upazila town of the district on Monday.
The upazila unit BCL filed the case with Dimla Police Station, said Officer-in-Charge Ruhul Amin Khan.
They also arrested an accused, Opiar Rahman, president of the upazila unit of Shibir, he said.
Police and locals said at least six people were injured in a clash between the activists of BCL and Shibir in the area on Monday noon.
The injured include BCL activists Saiful Islam, 25, Faridul Islam, 23, Masud Rana, 24, and Faruk Hossain, 22.
The clash took place when Shibir activists attacked local BCL activists from a procession in the area, alleged Uttam Kumar Roy, general secretary of Dimla upazila unit of BCL.
They brought out a victory procession following release of Abdus Sattar, ameer of the upazila unit of Jamaat, an accused in arson case, he said.
Sattar was released on bail in the case on Monday after staying in the district jail for over two months.
Contacted, Jamaat upazila ameer Sattar refuted the allegation of attacking the BCL activists.
http://www.thedailystar.net/country/19-jamaat-shibir-men-sued-nilphamari-112840
---------
Mideast
Saudi Airstrikes On Yemen Kill 20 Civilians, Injure Dozens
Jul 15, 2015
At least 20 Yemeni civilians have been killed and dozens of others injured in new airstrikes carried out by Saudi Arabia on different areas across Yemen.
According to local media outlets, six members of a family were killed in a Saudi airstrike on a house in the northwestern Yemeni province of Sa'ada on Wednesday.
Reports say that Saudi jets have conducted at least 21 airstrikes on the city of Sa'ada since early in the morning.
According to local media outlets, Saudi warplanes targeted a gas station and a truck carrying foodstuffs in an airstrike on the Yemen capital, Sana'a, on Wednesday, killing two civilians and injuring tens of others. The Saudi warplanes also pounded a stadium in Sana'a, killing a civilian.
Latest reports from the capital say that the Saudi jets are incessantly bombarding the city.
At least eight Yemeni civilians were also killed and a number of civilians were injured when a Saudi aerial attack targeted an area in the district of Harad in the northwestern Yemeni province of Hajjah.
Another Yemeni was killed and three others sustained injuries in a Saudi airstrike on an area in the district of Kushar in Hajjah.
Saudi jets also pounded areas in the district of al-Sayyani in Yemen's southern province of Ibb, killing two women and injuring a child.
Yemen's southwestern province of Aden was also targeted over 100 times by Saudi jets.
The Yemeni provinces of Sa'ada, Ta'izz, Lahij, and Ma'rib were also bombarded by Saudi fighter jets.
Riyadh launched its military aggression against Yemen on March 26 – without a UN mandate – in a bid to undermine the Houthi Ansarullah movement and to restore power to the country's fugitive former President Abd Rabbuh Mansur Hadi, a staunch ally of Saudi Arabia.
More than 3,000 people, including 1,500 civilians, have been killed over the past three months in Yemen, according to the United Nations. Some local sources put the number of the dead at 4,500.
http://www.presstv.in/Detail/2015/07/15/420322/Yemen-Saudi-Arabia-Hajjah-Sanaa
------------
Yemeni Popular Resistance forces retake Aden airport
14 July 2015
Pro-government fighters in south Yemen seized Aden's airport on Tuesday as they launched a new offensive supported by Saudi-led warplanes and ships against Iran-backed militias, military sources said.
The fighters from the Popular Resistance also pushed back the Houthi militias and their allies from areas within the war-torn port city, the sources said.
Warships off the coast of Aden took part in the battle which a presidential official said was part of a new military campaign to regain control of all of the city.
Exiled President Abedrabbu Mansour Hadi is "personally supervising the operation" dubbed "Operation Golden Arrow for the Liberation of Aden," said his office director Mohammed Marem from Aden.
Soldiers of the 39th Armored Brigade had captured Aden's airport on March 25 after switching allegiance to the Houthi militias.
The Houthi militias and their allies have since gone on to seize the presidential palace and other parts of Aden, the second largest city in Yemen and its main sea port.
Retaking the airport of Aden is the first significant achievement for pro-Hadi fighters since the embattled president fled the port city late March due to an all-out rebel offensive.
The militias overran Sanaa in September unopposed and went on aided by troops loyal to former president Ali Abdullah Saleh to expand their control to several regions.
https://english.alarabiya.net/en/News/middle-east/2015/07/14/Yemeni-Popular-Resistance-forces-retake-Aden-airport.html
--------
Clinton: 'If I'm president, Iran will never get nuclear weapon'
15 July 2015
Democratic presidential contender Hillary Clinton vowed Tuesday that Iran will never be able to acquire atomic weapons if she is elected to the White House.
Clinton's tough words came as critics in the U.S. Congress, as well as sceptical U.S. allies around the globe, criticized an agreement with Tehran as providing a glide path -- albeit a somewhat delayed one -- toward an eventual nuclear weapon.
"As president, I would use every tool in our arsenal to compel rigorous Iranian compliance," Clinton said in a statement.
"The message to Iran should be loud and clear: We will never allow you to acquire a nuclear weapon; not just during the term of this agreement -- never."
A former U.S. secretary of state, Clinton said she is "still studying the details" of the plan, but gave it her qualified backing.
"Based on the briefings I received and a review of the documents, I support the agreement because it can help us prevent Iran from getting a nuclear weapon," the ex-first lady said.
"With vigorous enforcement, unyielding verification and swift consequences for any violations, this agreement can make the United States, Israel and our Arab partners safer."
The deal, hammered out between six world powers and Iran, was finalized in Vienna after marathon talks.
Clinton said, however, that inking the accord is just a first step, and that "effective enforcement" of the deal will be of paramount importance.
"In light of the international community's long history and experience with Iranian behavior, the highest priority must be given to effective enforcement of the agreement," she said.
"Signing is just the beginning. As president, I would use every tool in our arsenal to compel rigorous Iranian compliance."
Full Report at:
https://english.alarabiya.net/en/News/middle-east/2015/07/15/Clinton-If-I-m-president-Iran-will-never-get-nuclear-weapon-.html
--------
Crucial medical supplies arrive in Yemen's Aden
14 July 2015
The World Health Organization (WHO) said on Tuesday it had delivered life-saving medical supplies to the southern city of Aden in Yemen, where most health facilities are "non-functional" due to fighting and critical shortages of supplies.
In a statement, the WHO said it had brought 46.4 tons of assistance including trauma kits, medicines for treating malaria and diarrhoeal diseases, and water and sanitation supplies for more than 84,000 people in six trucks as part of a United Nations convoy.
"Access to health care in Aden is extremely limited due to constant fighting and most of the governorate's 31 health facilities are non-functional due to critical shortages in medical supplies and fuel needed for generators," it said.
Humanitarian pause failing
More than 3,000 people have been killed and over a million displaced in a conflict between Shiite Houthis and forces loyal to President Abd-Rabbu Mansour Hadi, who has fled to Riyadh. The United Nations says 21 million people need help, about 80 percent of the population.
Johannes Van Der Klaauw, the U.N. resident coordinator for Yemen, said that the U.N. convoy arrived in Aden at the weekend, but that rations supplied by the World Food Program (WFP) aboard several dozen trucks had been delayed.
"It took days and days to organize safe passage. It did arrive in Aden last Saturday. It was the first time we got a convoy into Aden for weeks," Van Der Klaauw told reporters in Geneva.
U.N. Secretary-General Ban Ki-moon is "very much disappointed" that a U.N.-brokered humanitarian pause in fighting in Yemen did not take hold over the weekend, his spokesman said on Monday.
"We had wanted to use ports, vessels which try to dock in Aden. But since the pause didn't take place, we still have a big problem that aid is not reachable by sea," Van Der Klaauw said, adding that vessels are diverted to Hodeida port.
https://english.alarabiya.net/en/News/middle-east/2015/07/14/WHO-delivers-urgent-health-supplies-to-Aden.html
--------
U.N. expresses concern over LGBT rights in Turkey
14 July 2015
The U.N. has expressed concern over a spate of violent and discriminatory acts against Turkey's LGBT community and called on the country to combat homophobic acts and uphold gay rights.
The statement from the U.N. High Commissioner for Human Rights on Tuesday follows a violent police crackdown last month on a homosexual parade in Istanbul and the reported rape and assault of a human rights defender. Posters have also appeared in the capital, Ankara, calling for attacks on members of the homosexual, bisexual and transgender community.
The U.N. statement says"we call on the Turkish authorities to take active measures to combat homophobic and transphobic violence and discrimination."
Police in Istanbul fired tear gas, plastic bullets and water cannons to break up the annual homosexual pride parade.
https://english.alarabiya.net/en/News/middle-east/2015/07/14/U-N-expresses-concern-over-LGBT-rights-in-Turkey.html
--------
Obama, Rowhani welcome historic nuclear deal
14 July 2015
U.S. President Barack Obama and his Iranian counterpart Hassan Rowhani welcomed Tuesday's historic agreement between Iran and major world powers that curbs the Islamic republic nuclear program in return for sanctions relief.
In a televised address, Obama said the deal cut off "every pathway" to an Iranian atomic weapon.
"Today, because America negotiated from a position of strength and principle, we have stopped the spread of nuclear weapons in this region," he said in an address from the White House.
Describing a "difficult history" between Iran and the United States that "cannot be ignored," Obama said the diplomatic victory also showed "it is possible to change."
"This deal offers an opportunity to move in a new direction. We should seize it," he said.
As Obama concluded his address – which was aired by Iranian state television – Rowhani began his statement on the diplomatic breakthrough.
The agreement would open a new chapter of cooperation with the outside world after years of sanctions, he said adding the "win-win" result would gradually eliminate mutual mistrust.
Iran would abide by its commitments under the agreement as long as world powers did, Rowhani, seen as a reformer, said.
He asserted the accord protected gains made by Tehran in a nuclear program the West suspects is intended to develop an atomic weapon. Iran says the work is purely peaceful.
Rowhani also urged neighboring countries to ignore what he called propaganda by Israel, saying Iran had a shared interest in the stability of the region.
Israeli Prime Minister Benjamin Netanyahu called the agreement a "historic mistake."
'Good deal'
Both Secretary of State John Kerry and European Union foreign policy chief Federica Mogherini described the agreement as a "good deal."
"This is the good deal that we have sought," Kerry told a news conference after the agreement.
Full Report at:
https://english.alarabiya.net/en/News/middle-east/2015/07/14/Obama-Rowhani-welcome-historic-nuclear-deal.html
--------
Israeli court sentences Palestinian rocket engineer to 21 years' jail
14 July 2015
An Israeli court sentenced a Palestinian engineer on Tuesday to 21 years in prison for helping Gaza's Hamas militant group develop and improve their weapons capabilities.
Dirar Abu Sisi, detained by Israel in 2011, was a director of the Gaza Strip's sole power station. He said he was kidnapped during a visit to Ukraine in February and transferred secretly to Israel.
In a plea-bargain agreement that sealed a court case lasting over four years, Abu Sisi pleaded guilty to five counts which included membership of a militant organisation and building and modifying missiles used against Israel.
"The accused has been found guilty of offences carried out over a number of years against state security that include five specific accusations carried out by him," part of the ruling by a three-judge panel at Beersheba District Court said.
Abu Sisi originally denied wrongdoing and Hamas had said he was not a member of their organization but in the amended indictment which led to the plea bargain and the conviction, he admitted the charges.
"There is no dispute over the severity of the accused's actions. He was one of the top people involved in improving the destructive ability of Hamas's munitions and rockets and he was dominant in facilitating Hamas's ability to strike Israeli soldiers and civilians more effectively," the ruling added.
Islamist militants in the Gaza Strip, a coastal enclave controlled by Hamas, have over years fired thousands of rockets and mortar bombs at Israel but the firing has largely subsided since a 50-day war last year, in which more than 2,100 Gazans and 73 Israelis, mostly soldiers, were killed.
https://english.alarabiya.net/en/News/middle-east/2015/07/14/Israeli-court-sentences-Palestinian-rocket-engineer-to-21-years-jail.html
--------
Israel plans to build 800 more settler units in West Bank
Jul 15, 2015
Israel is planning to build at least 800 more settler units in the occupied West Bank amid an international outcry against the Tel Aviv regime's land grab policies.
The Israeli human rights group Peace Now said Tuesday that Israel's Civil Administration secretly allocated land for 800 housing units inside the Givat Eitam settlement south of Bethlehem.
The planned settler units will reportedly be built on the land belonging to Palestinian residents of the village of al-Nahla south of Bethlehem, and northeast of the Efrat settlement.
The rights group added that the allocation comes as Israeli Prime Minister Benjamin Netanyahu in 2013 announced that plans for more settlement construction are canceled in Give Eitam.
Israel has tried to change the demographic makeup of al-Quds over the past decades by constructing illegal settlements, destroying historical sites and expelling the local Palestinian population.
More than half a million Israelis live in over 120 settlements built since Israel's occupation of the Palestinian territories of the West Bank including East Jerusalem al-Quds in 1967.
Much of the international community, including Israel's close allies such as the United States and the European Union, considers the settlements illegal because the territories were captured by Israel in a war in 1967 and are thus subject to the Geneva Conventions, which forbid construction on occupied lands.
Palestinians are seeking to create an independent state on the territories of the West Bank, East al-Quds, and the besieged Gaza Strip and are demanding that Israel withdraw from the occupied Palestinian territories.
http://www.presstv.in/Detail/2015/07/15/420336/Palestine-Israel-West-Bank-alNahla-Peace-Now-Givat-Eitam
--------
Pakistan
14 Militants, Including Top Commanders, Killed In NWA Air Strikes: ISPR
MATEEN HAIDER
ISLAMABAD: At least 14 militants were killed on Tuesday in air strikes carried out by Pakistan Air Force in North Waziristan's Alwara area, said a statement issued by the Inter Services Public Relations (ISPR).
The statement further said some important militant commanders were among those who were killed, adding that terrorists were seen to be dragging the bodies of some of the deceased while fleeing the area.
This information, however, could not be independently verified as reporters have limited access to the restive agency.
The attack took place in Alwara area of North Waziristan tribal region, where the army has been waging a major offensive to clear militant hideouts since June last year.
The Pakistan Army launched Zarb-i-Azb, a comprehensive operation in 2014, against foreign and local terrorists who were hiding in sanctuaries in the North Waziristan tribal region, a week after the brazen insurgent attack on the country's busiest airport in Karachi.
North Waziristan is one of the seven regions in Pakistan's Federally Administered Tribal Areas (Fata) governed by tribal laws which is situated along the Pak-Afghan border and is rife with Taliban militant activity.
http://www.dawn.com/news/1194425/14-militants-including-top-commanders-killed-in-nwa-air-strikes-ispr
--------
IS presence cannot be ignored, says KP police chief
ALI AKBAR
July 15, 2015
PESHAWAR: Inspector General of Police Khyber Pakhtunkhwa (KP) Nasir Khan Durrani said on Tuesday said presence of the self-styled Islamic State cannot be ignored in KP.
"It is wrong to say IS does not have a presence in KP," said Durrani.
Read: IS-inspired suspected militants arrested in Peshawar
"IS's presence in Pakistan is not a new a phenomenon, members who belonged to the outlawed Tehreek-i-Taliban Pakistan (TTP) have switched sides in some cases," said the top police official of KP.
But Durrani assured that the situation was under control.
"Frequency of terrorist attacks has witnessed a noticeable drop in comparison to the last four years, which is due to concentrated efforts by the army and law enforcement agencies," said Durrani.
Read: Govt to use Daesh, not IS, as terror group's name
Earlier this month, KP police had arrested three suspected militants said to be inspired by IS. The raid was conducted while acting on an intelligence tip-off.
Also read: Islamic State a serious threat to Pakistan, foreign secretary admits
Also in January this year, security forces had arrested a man they believed was the commander of IS in the country as well as two accomplices involved in recruiting and sending fighters to Syria.
Pakistani officials have always denied the existence of the group in the country, but have said they are on alert against its emergence. A number of extremist groups in the country have expressed their loyalty with the group which is trying to establish a foothold in Afghanistan.
The Pakistan Army has killed more than 2,700 militants during Operation Zarb-i-Azb in North Waziristan since June last year, following a deadly attack on Karachi's Jinnah International Airport, destroying more than 800 of their hideouts.
http://www.dawn.com/news/1194429/is-presence-cannot-be-ignored-says-kp-police-chief
--------
Three terrorists sentenced in Swat
July 15, 2015
MINGORA: An anti-terrorism court here on Tuesday sentenced three terrorists including two Afghan nationals to 58 years collective imprisonment in two different cases.
According to a press release issued from the office of the district police office, the court presided over by Judge Mohammad Amin Kundi announced verdicts in two different cases, sentencing the three accused to imprisonment.
It said that the sentenced persons identified as Mohammad Karim, a resident of Hayatabad Mingora and Wahidullah and Hasan Khan alias Sajid of Jalalabad, Afghanistan were involved in terrorist activities in Swat.
They were arrested by Swat police on June 14, 2014 when they were allegedly planning a terrorist attack in Mingora. Hand grenades, weapons, army uniforms and important documents were recovered from their possession, the release said.
The court sentenced Mohammad Karim to 25 years imprisonment in one case and 14 years in another case while Hasan Khan was awarded five years imprisonment and Wahidullah was awarded 14 years imprisonment.
TOY GUNS: The members of civil society and social and cultural activists have welcomed the decision of district administration to impose ban on the sale of toy guns for two months in Swat.
Deputy Commissioner Mahmood Aslam Wazir has imposed Section 144 on sale and purchase of toy weapons across the district for two months. "Legal action under Section 188 of criminal procedure code will be taken against the violators," said a press release issued from his office.
The district administration has also banned firing in the air and one wheeling by youngsters on Chand Raat. It has also warned the shopkeepers against selling petrol in the shops.
"This step, taken by the district administration, was really needed. We have been asking all segments of society to play their role in imposing ban on toy guns. I appreciate the move of the deputy commissioner," said Neelam Chattan, a youth activist, who has been leading Peace for New Generation Movement in the province.
Usman Ulasyar, chairman of Suvastu Arts and Culture Association, termed the decision a victory of progressive and peaceful people. "It is a victory of those children, who were constantly demanding of the authorities to impose ban on toy weapons," he added.
Mr Ulasyar said that there must be a clear policy of the government to stop importing every kind of toy weapons. He added that complete ban on toy guns would bring a bright future for the young generation.
"Our children need creative gadgets and toys so that they can learn good and positive things for better future and peaceful society," said Izhar Alam, a university student and youth activist.
http://www.dawn.com/news/1194582/three-terrorists-sentenced-in-swat
--------
3 Pakistanis among 29 charged with Kuwait mosque attack
July 15, 2015
KUWAIT CITY - Kuwait charged 29 people Tuesday over the suicide bombing of a Shiite mosque last month, claimed by the Islamic State group, that killed 26 people and wounded more than 200.
The attack, carried out by a Saudi, was the worst in Kuwait's history.
Those charged included seven Kuwaitis, five Saudis, three Pakistanis, 13 stateless people known as bidoons, and another person at large, the prosecution said, cited by the official KUNA news agency.
Of them, 24 are detained in Kuwait and the remaining five will be tried in absentia. Among the latter are two Saudi brothers who allegedly transported the explosives to Kuwait and are being held in Saudi Arabia. The prosecution charged two of the suspects with premeditated murder and attempted murder.
Two others were charged with training in the use of explosives, nine with assisting in committing the crime and the rest with knowing of the attack without informing the authorities.
An IS-affiliated group calling itself Najd Province claimed the bombing and also said it carried out suicide attacks at two Shiite mosques in Saudi Arabia in May.
IS considers Shiites to be heretics and has targeted them across the region.
On Monday, the Kuwaiti cabinet decided to set up a permanent committee to "fight against all forms of terrorism... and extremism," and it will coordinate among various bodies in a bid to ensure security.
http://nation.com.pk/national/15-Jul-2015/3-pakistanis-among-29-charged-with-kuwait-mosque-attack
--------
Civilian govts, undemocratic forces conspiring to snatch Karachi from MQM: Altaf
July 15, 2015
LONDON/LAHORE: Muttahida Qaumi Movement chief Altaf Hussain accused "civilian governments and undemocratic forces" of "joining hands to employ legal and illegal tactics to snatch Karachi away from the MQM", according to a statement posted on the party's website.
The remarks were made in a telephonic address to MQM Punjab President Senator Mian Ateeq and the MQM Organising Committee during which Hussain said, "Civilian and non-civilian governments have allied to jointly conduct operations to put an end to the MQM repeatedly."
The MQM supremo said Pakistan's civilian and non-civilian institutions had not learnt any lessons even after the MQM's "historic NA-246 victory" in the by-elections for the hotly-disputed constituency earlier this year.
He added that these institutions had left no stone unturned in order to defeat the MQM during the by-elections, and said, "No one can capture Karachi by means of conspiratorial tactics."
Earlier this week, the MQM supremo accused Director General Sindh Rangers Major General Bilal Akbar of violating the army's code of conduct, following which, multiple First Information Reports were lodged against him ─ for what the government regards as 'inflammatory speech' ─ in various parts of Sindh.
"We are not against the army; we are against the rotten eggs in the institution... Chief of Army Staff General Raheel Sharif should save Pakistan and throw out the rotten eggs who have embezzled billions of rupees like civilians," he had said.
Read more: Nisar slams Altaf for 'intolerable' remarks against security forces
Last week, as the Rangers' stay in the province was set to expire, Altaf demanded a referendum to gauge support for the paramilitary force's presence.
Read more: CM hints at striking a bargain with Rangers for stay extension
The Sindh government extended the special policing powers assigned to Rangers in Karachi for a month, rather than the usual four months. The DG Rangers tweeted that the force would continue the "Karachi Law Enforcement Operation ... till its logical conclusion is achieved."
http://www.dawn.com/news/1194608/civilian-govts-undemocratic-forces-conspiring-to-snatch-karachi-from-mqm-altaf
--------
Track-II means back-channel engagement, says Aziz
July 15, 2015
ISLAMABAD: Surprisingly the governments of Pakistan and India are confusing the planned Track-II dialogue with back-channel contacts.
Adviser to Prime Minister on Foreign Affairs and National Security Sartaj Aziz, while talking to Dawn on Tuesday, confirmed that Track-II dialogue he mentioned in his media briefing a day earlier was actually a plan for back-channel engagement.
Mr Aziz had at a press conference said that Prime Minister Nawaz Sharif and his Indian counterpart Narendra Modi had agreed to revive the Track-II dialogue on longstanding issues bedevilling the ties between the two countries, including the Kashmir dispute.
The adviser clarified that he used the phrase 'Track-II' instead of 'back-channel' because the two sides had in their meeting in Ufa (Russia) agreed on reviving Track-II. But, in essence it would be back-channel.
Back-channel diplomacy is about contending parties secretly negotiating their conflicts mostly in tandem with the front channel. In the back-channel negotiators have official approval. Whereas Track-II is a non-official and people-to-people effort for peace-making.
Defending the recourse to back-channel, Mr Aziz said it was difficult to achieve progress on sensitive issues in the front channel that takes place in the public glare.
The adviser said that the back-channel will be used simultaneously with the front channel official engagement.
http://www.dawn.com/news/1194596/track-ii-means-back-channel-engagement-says-aziz
--------
Two policemen gunned down in Quetta
July 15, 2015
QUETTA: Unidentified armed militants killed two officers of Balochistan Constabulary in Quetta's Satellite Town area Monday evening.
Police sources said armed militants opened fire at the security personnel a few minutes before Itfar, killing two police officials – sub-inspectors Fazalur Rehman and Hafeezullah.
Sub-inspector Fazal ur Rehman was killed on the spot, while Hafeezullah succumbed to his injuries en route the hospital, said police sources. Both officials were attacked while they were riding a motorcycle.
The assailants escaped unhurt from the scene.
The dead bodies were transferred to Civil Hospital Quetta for postmortem.
Police and Frontier Corps personnel rushed to the site, cordoned off the area and began investigations. Police termed the incident an act of targeted killing.
Almost four weeks earlier, eight policemen were killed in two separate incidents of targeted killings.
Four policemen were killed in an attack on their van in Pashtoonabad area on June 11. Five days earlier on June 6, another four policemen were killed in an ambush in the same area.
There was no immediate claim of responsibility for the attack.
http://www.dawn.com/news/1194273/two-policemen-gunned-down-in-quetta
--------
PTI lodges a complaint against Altaf to British HC
July 15, 2015
Karachi: Upping the ante of their political attacks, Pakistan Tehreek-e-Insaf (PTI) late on Wednesday dealt another blow to Muttahida Qaumi Movement (MQM) chief Altaf Hussain after lodging a complaint against him.
According to sources, the PTI has, through an open letter written to British High Commissioner Philip Barton, urged London to take action against Hussain's derogatory remarks against Pakistan's armed forces.
"The MQM chief's 'provocative and hateful' speeches have hurt the sentiments of Pakistanis," PTI Karachi president Ali Zaidi said in the letter.
http://nation.com.pk/national/15-Jul-2015/pti-lodges-a-complaint-against-altaf-to-british-hc
--------
Iran deal to benefit Pakistan, says Sartaj
July 15, 2015
ISLAMABAD - Pakistan on Tuesday welcomed the comprehensive nuclear agreement reached between Iran and the six world powers.
The Foreign Office spokesman in a statement said Pakistan as a neighbouring country has also reiterated that reciprocal confidence-building measures relating to Iran's nuclear programme augur well for peace and security in the region.
The statement said Pakistan has consistently maintained that the Iran nuclear issue should be peacefully resolved through dialogue.
"We look forward to the expeditious and smooth implementation of the provisions of the comprehensive nuclear agreement by all its signatories," the statement said.
Meanwhile, Prime Minister's Adviser on Foreign Affairs and National Security Sartaj Aziz also welcomed the nuclear deal, saying that his country has always emphasised the need for resolution of the nuclear dispute through dialogue.
He expressed the hope that the landmark deal on the Iran nuclear programme will remove all hurdles in building the long-awaited multi-billion gas pipeline.
The Iran-Pakistan (IP) gas pipeline could not be built in spite of a series of agreements because of international sanctions on Iran.
Talking to the media, Aziz expressed the confidence that after lifting of economic sanctions, "Iran would integrate with regional and global economic markets and this would benefit different countries, including Pakistan".
He pointed out that before sanctions bilateral trade between Pakistan and Iran had reached 2 billion dollars which came down to just 300 million dollars. "The lifting of sanctions would also help boost bilateral trade between Pakistan and Iran," he added.
He said there is a great demand for Pakistani goods in Iran but mode of payment is the biggest hurdle because of sanctions on the country.
Sartaj Aziz told a private TV channel that Pakistan was always in favour of resolving Iran's nuclear issue through dialogue.
Aziz said this deal could also signal a new beginning between Iran and Arab countries. "When Iran is integrated in the regional and global economy it will lead to peace and Islamic unity."
http://nation.com.pk/national/15-Jul-2015/iran-deal-to-benefit-pakistan-says-sartaj
-----
Europe
Russian Dating App Helps Muslim Men to Find Multiple Wives In Islamic Way
VASUDEVAN-SRIDHARAN By Vasudevan Sridharan
July 14, 2015
A dating app created in Russia helps Muslim men to find additional wives in an Islamic way which would be considered "haram".
The app, named Mydiaspora, would soon be made available across the world on multiple platforms including iOS and Android. The app is currently available in English, Russian and Farsi.
According to Arsen Kazibekov, the creator of the mobile application, Mydiaspora allows men and women to communicate between them in strict accordance with the Islamic tradition and Shariah law.
"The method of visual sorting, which is used in Western sites, is contrary to Eastern culture and Islamic traditions," Kazibekov told the Russian news site Lenta.ru.
Mydiaspora, which currently claims to have 10,000 registered users, helps the user to find matches based on answers to a given questionnaire. The profiles would also be matched considering their nationality and religion but their names and photographs will initially be kept hidden.
Kazibekov went on to say that the app allows a woman to share chats with her father or elder brother automatically making the app Shariah compliant.
The service is likely to be introduced in countries like Iran, Tunisia, Morocco and Algeria following Russia. Countries where polygamy is not legally prohibited will be the primary targets, added the Russian app creator.
http://www.ibtimes.co.uk/russian-dating-app-helps-muslim-men-find-multiple-wives-islamic-way-1510762
--------
European far-Right parties 'seeking anti-Islam coalition with Jewish groups'
Jul 15, 2015
Right-wing European political parties are seeking to sow religious discord in Europe by approaching Jewish organisations in a bid to form an anti-Islamic alliance.
Speaking to Newsweek on condition of anonymity, a senior figure in one of Europe's largest Jewish organisations has revealed that their group has been approached in the past year by MEPs, including members of the Austrian Freedom Party, seeking to create a coalition to combat the rise of Islam in Europe. They emphasized that all approaches had been flatly refused.
Last week, Marine Le Pen and other far-Right politicians met with Vadim Rabinovich, the chairman of the European Jewish Parliament (EJP), prompting criticism from European Jewish leaders.
Try Newsweek: subscription offers
Now the source says that far-Right's rapprochement with Jewish groups is far from new as politicians from various parties have attempted to court their group, offering to "be friends with Jews" if Jewish groups "help us in our fight against Muslims".
"One of the arguments they used is to say: 'You know, those who try to fight you [Jews], they are the exact same people that we try to fight against, so you have to understand our fight and join us and together we will hate them'. But we have nothing against Muslims," says the Jewish source.
The senior Jewish figure says that far-Right parties are seeking "a certificate of honesty" for their Islamophobic campaigns by attempting to get Jewish organisations on board.
Representatives from the Austrian Freedom Party were unavailable to comment on the allegations.
Full Report at:
http://europe.newsweek.com/european-far-right-parties-seeking-anti-islam-coalition-jewish-groups-330300
--------
The "Moroccan Exception": How to Survive the Islamist Undertow?
Mohamed Chtatou
14 July 2015
The strength of political Islam in the Arab-Muslim world, since the success of the Iranian revolution in 1978, is its ability to stalk the regimes in place, identify their weaknesses and ultimately supplant them in areas such as social services, employment and alleviation of poverty. A good example of that is the Ikhwan in Egypt, who have succeeded in creating a state within a state and by so doing gain the confidence of the have nots, ghalaba in the country and ultimately sway them to its ideology and create out of them potential martyrs shouhadas for its cause. This was the magic recipe of political Islam in most areas of the Muslim world.
This is well explained in Abdellwahab El-Affendi's academic paper entitled "The Ikhwan Re-Evaluated: The Brotherhood and the Challenge of 'Democratising' Religion in Turbulent Times:"[i]
Attempts to explain the surprise success of Ikhwan in the immediate post-Arab Spring era built on that tradition, but attempted to locate new factors. For many, the success mainly reflected the disarray and lack of organisational skill of secular opponents. In a sense, this is a tautology, since one party only wins if the other loses. However, many have argued that Ikhwan in particular has been better organised, with presence in all of Egypt. Islamists were also in tune with the feelings and aspirations of the ordinary voters.
Political Islam, as a result, made notable headway in Africa, Asia and even in Europe. In Europe, most migrants gave up integration to rally Islamism and even accept, in some cases, its jihadist undertones for the so-called recovery of the "glory of Islam." Unable to make the difference with political-religious ideology, political Islam was shoved aside by jihadist Islam conceived by al-Qaeda that sanctified violence against the West and franchised terror worlwide all the way from Chechenia to Boko Haram in Nigeria.
ISIS
Full Report at:
http://www.moroccoworldnews.com/2015/07/163271/the-moroccan-exception-how-to-survive-the-islamist-undertow/
--------
Iran agreement helps battle against ISIL: Russian FM
Jul 14, 2015
The Iranian nuclear accord has opened the way for a "broad" coalition to battle the ISIL Takfiri terrorist group, says Russian Foreign Minister Sergei Lavrov.
"It removes the barriers – largely artificial – on the way to a broad coalition to fight" ISIL and other terrorist groups, said Lavrov in a ministry statement issued on Tuesday.
The conclusion of nuclear talks with Iran will have a "positive influence" on resolving a large number of problems in the region, he noted.
"In particular, it creates added impetus to promote the creation in the Middle East of a zone free of weapons of mass destruction," Lavrov said.
While stressing the need to defeat terrorism threats in the region, Lavrov added that opportunities were now on the rise for Russia and Iran to cooperate in defense technology.
On Tuesday, following 18 days of marathon talks in the Austrian capital city of Vienna, Iran and the P5+1 group of world powers - the United States, Britain, France, China, Russia and Germany - reached a conclusion on the Joint Comprehensive Plan of Action (JCPOA), which will put limits on Iran's nuclear program in exchange for the removal of sanctions against the Islamic Republic.
World leaders welcome conclusion
The United Arab Emirates welcomed the historic conclusion of the talks with an official saying it may lead to a "new page" for the Persian Gulf region.
Syrian President Bashar al-Assad sent a personal letter of congratulations to Leader of the Islamic Revolution Ayatollah Seyyed Ali Khamenei.
"We are confident that the Islamic Republic of Iran will support, with greater drive, just causes of nations and work for peace and stability in the region and the world," Syria's official news agency, SANA, quoted Assad as saying.
Kuwait's Emir Sheikh Sabah al-Ahmed al-Sabah also congratulated Ayatollah Khamenei in a letter.
Pakistan also praised the agreement in a Foreign Ministry statement.
"Pakistan welcomes the nuclear agreement reached between the Islamic Republic of Iran and the P5 + 1," the statement read.
The United Nations, Russia, France and Britain have also lauded the agreement.
http://www.presstv.in/Detail/2015/07/14/420282/Iran-agreement-lavrov-Russia-isil--
--------
India
Sectarian Clash in Bareilly Ahead Of Eid Creates Tension
New Age Islam Edit Desk, July 15, 2015
Followers of two sects of Muslims clashed right in Prem Nagar police station in Bareilly over beating up of the imam of a mosque here on Sunday evening. The police said that the members of both the sects came to the police station to register cases against each other. An altercation between them turned violent and they clashed in the police station. Two FIRs have been registered by the two groups.
The police said that five hundred followers of Rizvi sect came to the police station to register a case against other sect called Saqlain sect alleging that the followers of the sect beat up the imam of Shatrauli mosque, Tayyib Rahman Rizvi. In a short while the members of Saqlain group also reached the police station and an altercation ensued. Additional force had to be called to control the situation. The members of both the groups hurled chairs on each other. A case of beating the imam was registered against Yusuf Saqlain, his elder brother and five others. Another FIR was registered against five hundred people for rioting inside the police station.
……
Iftar by the Muslim Wing of the RSS: 'Spiritual, Not Politics'
By Hamza Khan | Lucknow
July 15, 2015
As about 80 people talk among themselves in a large, old hall on the third floor of Lucknow Municipal Corporation building, which usually hosts LMC meetings, a bearded man in a white kurta and pyjamas goes on the dais. At 10 minutes to 7 pm Tuesday, he picks up the mike and invites clerics and the organisers to the small stage. The event is an iftar party by Muslim Rashtriya Manch, a wing of the RSS. On the wall behind the man in the beard is a small tri-colour hoarding of MRM. "Aapka tahedil se istaqbal (We welcome you from the bottom of our hearts)," it reads. "Taalim, tehzeeb, tarraqi (Education, etiquette, development)", and "Hum Watan Se, Tehzeeb Se Wa Abaao Ajdad Se Ek The, Ek Hain Aur Ek He Rahenge (We are one from nation, culture and ancestor, and will remain one)."
Maulana Syed Hamid Ali, a resident of Lucknow and a Shia cleric, is the first to be invited. He takes his seat after carefully lifting his flowing robe. He is joined by another cleric, who appears to be in his thirties and is wearing a black turban and a black sherwani, and three other organisers. One by one, the clerics chant prayers and speak of communal harmony: "This is Hindustan, and before Hindus or Muslims, we are humans," says the cleric in the black Sherwani. The audience sit on chairs facing the stage while a few organisers, both Hindu and Muslim, help with the arrangements and hand out disposable plates, each with a date (traditional in an iftar), a banana, two namkeen matris, a samosa and a sweet. On the left flank of the stage, near the entrance, are the seating arrangements for journalists. At about five minutes past 7 pm, one of those seated informs the rest that it is time to break the fast, and Sunni Muslims and Hindus start eating from their plates, laid out on the wide wooden tables in front of them, as others pour water and bottled mango juice in their plastic glasses. There is a difference of about 10 minutes between the iftar time of Sunnis and Shias. So Mahirajdhwaj Singh, senior RSS pracharak and national co-convener of MRM, takes to the stage "to fill this space" and starts a speech on communal harmony: "This is not a political gathering, it is a roohani (spiritual) congregation," he says, and calls for unity among religions. At 7:15 pm, the Shias too break their fast. Bharat, an organiser, says they invited 200 people and arranged as many plates but only 130 plates have been handed out. The Muslims then start offering prayers on white sheets spread in the space between the dais and the chairs, as many of the others start to leave. Tushar Kant, another organiser, says that about 40 them were Hindus. Awdhesh Singh, 40, sitting with a tilak on his forehead, says he is a "regular" to MRM events. "The aim is to be able to see the human in one another," he says. Saurabh Rai, 23, sees it as a social cause to help the needy. "I like the Salman Khan concept, rather than go around thanking people, go help three people," he says, though the ones who have attended are mostly associated with MRM. Anees, a software engineer and also one of the organisers, says that such an iftar was organised for the first time in Lucknow and it was an attempt "to bridge the religious differences created by some". Maulana Syed Hamid Ali says that "all religions preach peace, it is just we who distort it into all sorts of hatred". Within minutes, the large hall is empty. "It is just a start," says Mahirajdhwaj Singh. - See more at: http://indianexpress.com/article/india/india-others/iftar-with-the-maulana-and-the-pracharak-spiritual-not-politics/#sthash.Z5ImMcUo.dpuf
http://indianexpress.com/article/india/india-others/iftar-with-the-maulana-and-the-pracharak-spiritual-not-politics/
--------
Muslim Family Takes a Holy Dip on the First Day of Maha Pushkaram
July 15, 2015
A Muslim family came all the way from Nellore to take a holy dip in the Godavari on first day of the Maha Pushkaram on Tuesday.
Kareem Basha, his wife Aisha and sister-in-law Jameela were part of a nine-member group from Nellore.
Mr. Kareem expressed his desire to attend the Pushkarams to his Hindu neighbours, after coming to know about their plans to visit Rajahmundry for the event.
Mr. Basha, a lecturer in a private college in Nellore, said there is nothing wrong in taking a dip in the river. "Rivers are lifeline of mankind. The mythological stories associated with the Pushkarams, fuelled my desire further to be a part of the event," he said.
http://www.thehindu.com/news/national/andhra-pradesh/muslim-family-takes-a-holy-dip/article7424024.ece
----------
Indonesia Jails 3 Chinese Uighurs for Trying to Join Islamist Militants
Jul 14, 2015
Jakarta. An Indonesian court sentenced three men from China's Uighur Muslim minority on Monday to six years in prison for conspiring with militant Islamists in Indonesia, a police spokesman said.
The men were arrested late last year near the restive region of Poso on Sulawesi island while allegedly trying to meet a militant who is on Indonesia's most-wanted list.
"They admitted that they intended to meet Santoso," said national police spokesman Anton Charliyan, referring to the leader of one of the few remaining radical Islamist groups in Indonesia.
The men had been found using Turkish passports. The court found them guilty of violating anti-terrorism and immigration laws.
The lawyer for the three said they would consider appealing against the sentence, according to media reports.
A fourth Uighur man who was arrested with them is being tried separately and is due to be sentenced on July 29.
Hundreds, perhaps thousands, of Uighurs keen to escape unrest in their far western Chinese homeland of Xinjiang have traveled clandestinely via Southeast Asia to Turkey. China says they often end up crossing into Syria and Iraq to fight for Islamic State (IS) militants.
Thailand last week deported 109 Uighurs, sparking concerns among human rights groups that they could be mistreated when back in China.
Indonesia, which has the world's largest Muslim population, has largely stamped out militancy after a series of attacks by a small number of Islamists in the early 2000s.
But security forces have raised concerns recently about a resurgence in homegrown radicalism inspired by the hardline ideology of Islamic State, which has seized swathes of territory in Iraq and Syria over the past year or so.
Officials say up to 500 Indonesians have traveled to Syria to join the ranks of IS, but some experts believe the number could be higher.
The Indonesian government has banned public pledges of allegiance to IS, blocked radical websites and threatened to revoke the citizenship of those attempting to travel to Syria.
http://thejakartaglobe.beritasatu.com/news/indonesia-jails-3-chinese-uighurs-trying-join-islamist-militants/
--------
Yogya sees conflicts over houses of worship on the rise
Bambang Muryanto
July 14 2015
At least five churches and a religious tourism site in Yogyakarta are on the edge of being forced into closure this year following pressure from local Muslim groups, an NGO has said.
Friends of Freedom of Religion and Association (Sobat KBB) activist Agnes Dwi Rusjiyati said that, as of earlier this month, two churches in Bantul regency, two in Sleman regency, one in Yogyakarta municipality and a Catholic shrine in Gunungkidul regency had received warnings from local Muslim groups. These Muslims groups are protesting against the use of the buildings as places of worship.
The groups, according to Agnes, have also claimed that the churches and the religious tourism site were built without proper building permits and that their request to close down the Christian houses of worship had received support from local Muslim residents.
"Among the five regions in Yogyakarta province, only Kulonprogo regency has no public dispute regarding church establishments," Agnes told The Jakarta Post on Sunday.
Efforts to close the churches had also been undertaken during the Islamic fasting month of Ramadhan, which began on June 18 and will last until Thursday, she added.
On July 5, representatives from the Yogyakarta Islamic Congregation Forum (FUI) met with Muslim residents in Saman hamlet, Bangunharjo sub-district, Sewon district, Bantul and asked them to stage protests against the establishment of an Indonesian Baptist Church in the area.
"The hamlet chief said that the building had received a building permit application. However, he was unaware that the building was intended to be used as church," Yogyakarta FUI head Muhammad Fuad said, adding that his organization was ready to help the local Muslims settle the dispute.
Full Report at:
http://www.thejakartapost.com/news/2015/07/14/yogya-sees-conflicts-over-houses-worship-rise.html
----------
Indonesia's Transgender Muslims, Known As Waria, Celebrate Ramadan
Headshot of Carol Kuruvilla
Carol Kuruvilla
Jul 15, 2015
During the holy month of Ramadan, a group of transgender Muslims in Indonesia meets regularly at the Al-Fatah Islamic school on the outskirts of the city of Yogyakarta to practice their faith.
Like millions of Muslims around the world who are also partaking in the fast, they abstain from food and drink during the day and listen in as the Quran is recited, according to Stephen Suleeman, a lecturer at Jakarta Theological Seminary who helps organize programs relating to LGBT issues. They visit the graveyards of relatives and other transgender people who have passed away. When the sun sets, they break their fast together as a family, in one of the few sacred centers in the Muslim-majority country where there is space for people of a "third gender."
The Islamic school, or Pesantren, is a haven for waria -- transgender Indonesians who were assigned male at birth but feel that they have women's souls. The word is a mixture of the Indonesian term "wanita," meaning woman, and "pria," meaning man. Other worship centers in the country strictly separate women and men from each other during prayers, according to Getty, leaving the waria with few options for places to pray.
The Al Fatah Pesantren was established by a waria named Maryani, to help fellow transgender Muslims gather and worship God freely.
Waria are visible in Indonesian pop culture, although they are often the victims of discrimination in the real world.
They haven't yet been accepted by the wider Indonesian society, Suleeman said.
"They appear in the news, in movies, on TV comedies, etc.," Suleeman told HuffPost in an email. "But only as entertainers. People have not yet given them the full status as equal with the other two sexes."
Scroll down for a glimpse into the warias' spiritual life during Ramadan, captured by freelance photographer Ulet Ifansasti.
http://www.huffingtonpost.com/entry/indonesias-transgender-muslims-celebrate-ramadan-photos_55a53543e4b0ecec71bd0ced
--------
Indonesia Vying To Host World Islamic Infrastructure Bank
15 Jul 2015
Jakarta, GIVnews.com – Indonesia is currently competing against Turkey in a bid to host the World Islamic Infrastructure Bank (WIIB), which will act as the infrastructural project-encouraging sector of global Islamic finance.
Jointly started by Indonesia, Turkey, and the Saudi Arabia-based Islamic Development Bank (IDB), WIIB will handle agreements and use sukuk to fund projects in Muslim-majority countries around the world. Indonesia and Turkey is predicted to pledge around USD 300 million (IDR 4 billion) each, while the IDB will stake a starting capital of USD 1 billion. All three entities will then hold the title of founding members, and jointly hold the authority to invite other nations.
Islamic finance prohibits charging and giving interests, the primary source of profit in conventional banking. As such, the concept of sukuk, the Sharia-compliant equivalent of bonds, is used instead. The investors, instead of receiving interests, will have a share of ownership in the project funded from the sukuk money instead and is entitled to a share of income from that project. This is allowed under sharia law, and is also the reason why sukuk in particular, and Islamic finance in general, is ideal for Indonesia – a nation with loads of projects of all kinds to be developed.
(Read more: Islamic Banking – is it Really Different?)
Full Report at:
http://www.globalindonesianvoices.com/21604/indonesia-vying-to-host-world-islamic-infrastructure-bank/
--------
Indonesian Muslims in Bali observe Ramadan
BY FIRDIA LISNAWATI
Jul 15, 2015
BALI, INDONESIA — Surrounded by colourful plastic cups, Sumaria and other Indonesian Muslim women pour sweet tea as they prepare for iftar, the traditional breaking of the dawn-to-dusk fast during the holy month of Ramadan.
Indonesia is the world's most populous Muslim nation. But the island of Bali, where Sumaria has lived since arriving with her family half a century ago, is predominantly Hindu. Growing up in the religious minority, she has held on to her Muslim faith.
Now retired from her work in microfinance that loaned money to poor farmers and entrepreneurs, she travels some distance from her home to the Grand Mosque in Bali's provincial capital of Denpasar to pray.
"We are encouraged to pray in congregation," Sumaria, 58, said.
She also volunteers her time at the mosque during Ramadan, which the devoted believe is the time to do good deeds.
"As a Muslim, every word and deed should reflect Islamic teaching," said Sumaria. "Islam teaches us to be tolerant and kind to one another."
---
Each day this week the Associated Press will focus on a Muslim devotee living in the minority in the Asia-Pacific region, illustrating what the fasting month of Ramadan means to the Muslim community in that country.
http://www.sunherald.com/2015/07/15/6322038_ap-photos-indonesian-muslims-in.html?rh=1
--------
Africa
Boko Haram slits the throats of Nigerian villagers in latest attack
Jul 15, 2015
Kano - Boko Haram gunmen killed dozens of people in four villages in northeast Nigeria, slitting some residents' throats and opening fire on others, one resident and the police said on Tuesday.
"Boko Haram gunmen came into our villages at night, killing 43 people," said Sheriff Kulo, from Kilwa village near Monguno, who escaped to the Borno state capital, Maiduguri.
There was no corroboration of his death toll but the state police commissioner confirmed the raids, which happened late last Friday.
Details have only just emerged because of poor to non-existent phone networks in the remote area.
Villagers slaughtered
Boko Haram has mounted almost daily raids, bombings and suicide attacks in northeast Nigeria since 29 May, when Muhammadu Buhari became president vowing to crush the six-year Islamist uprising.
On Monday, he sacked his entire military high command, who were appointed by his predecessor Goodluck Jonathan, in the latest sign he is making a fresh start in the counter-insurgency.
Kulo said the gunmen seized food and cattle then set villagers homes on fire.
"In Kilwa alone, they killed seven people, including the village head and left one seriously injured with a fracture on his leg," he added.
"They then proceeded to Gwollam, Misala and Magaram, where they did the same thing. In all they killed 43.
"They opened fire on residents and in some cases they used knives to slaughter their victims."
Many women and children fled to Monguno but were living in the open air with little food, he said. Others made it to Maiduguri to raise the alarm.
The Borno state police commissioner, Aderemi Padokun, confirmed the attacks.
"From what we heard, the gunmen raided these villages. They shot dead their victims and in some cases slit their throats. They also carted away foodstuffs and livestock," he said.
"We don't have details of the actual number of people killed in the attack but I can confirm it happened."
Boko Haram mounted a similar raid on a nearby village in the Monguno area on 1 July, killing 48.
The latest deaths take the number of people killed since Buhari's presidency began to more than 625, according to an AFP count.
http://www.news24.com/Africa/News/Boko-Haram-slits-the-throats-of-Nigerian-villagers-in-latest-attack-20150714
--------
Boko Haram and Threat of Islamic Extremism In Africa
July 15, 2015
Today, there is a growing threat of religious fundamentalism in many parts of the globe. Worldly organizations driven by other worldly agenda are on a rampage waging 'holy wars,' killing, maiming, kidnapping, raping in furtherance of their destructive and divine vision of this world. The forces of the Dark Age are trying to push back the tide of enlightenment and intellectual awakening on many fronts.
No incident has brought this fanatical rage closer to the minds and memories of Americans more than the September 11 attacks. This attack by Islamic militants was an awakening experience. It changed the face of America. It changed the discourse of Islam, of religion here in the US.
Following the attack on September 11, a debate started here in the US, the debate on Islam and the West, not on Islam and Christianity, not on the Middle East and the West, but the debate on how to improve the relationship between the religion of Islam and parts of the world where millions of people profess and practise the faith. I mean what kind of debate is that? Instead of focusing on how to tackle the global Islamist agenda, resources have been expended rebranding the acts of Islamic terrorists and framing the violence of September 11, and similar acts of bigotry in London, Madrid as 'a clash of civilization,' a clash of civilization? Due to this mischaracterization, capitulations and concessions have been made. Freedom of thought and expression, critical evaluation of Islamic teachings and other values of enlightenment have been compromised.
But has this concession delivered the goods of tolerance and peaceful co-existence of human beings around the globe? Has it resulted to fewer acts of fanaticism? Has it restrained jihadists? Not at all. Instead, it has emboldened Muslim extremists and their theocratic allies everywhere by canonizing their acts of criminality, and barbarism.
Before our very eyes, Pakistan and other OIC countries sponsored a resolution at the UN seeking a global ban on defamation of religion and Islamophobia, forgetting that religions have emerged and grown by defaming one another and by replacing a set of phobia with another.
Full Report at:
http://www.nigerianobservernews.com/2015/07/15/boko-haram-and-threat-of-islamic-extemism-in-africa/#sthash.AYkDECyx.dpbs
--------
Uganda president visits Burundi for crisis talks
Jul 14, 2015
Ugandan President Yoweri Museveni has arrived in Burundi for crisis talks as President Pierre Nkurunziza is preparing to run for a controversial third consecutive term in office.
Museveni arrived in the Burundian capital Bujumbura on Tuesday to revive stalled talks between President Nkurunziza-led Forces for the Defense of Democracy (CNDD-FDD) party and opposition groups.
The veteran Ugandan leader was appointed as mediator by the five-nation East African Community (EAC) last week.
President Museveni has said in a statement that he would "establish a dialogue among warring political factions" in Burundi to solve the crisis.
The visit comes after Nkurunziza announced on Saturday the postponement of the country's upcoming presidential elections from July 15 to July 21 apparently under international pressure.
Reacting to the visit, Presidential Nkurunziza's communication adviser Willy Nyamitwe said he hoped Museveni would convince the opposition to take part in the upcoming presidential polls next week.
Full Report at:
http://www.presstv.in/Detail/2015/07/14/420235/Ugandan-Burundi-Yoweri-Museveni--Nkurunziza
--------
NLC in Anambra appeals for relocation of Boko Haram suspects
14 July 2015,
Awka - The Nigeria Labour Congress (NLC) in Anambra has urged President Muhammadu Buhari to order the immediate relocation of the Boko Haram detainees transferred to Ekwulobia Prisons.
The NLC Chairman, Mr Jerry Nnubia, made the call at a news briefing at the union's secretariat in Awka on Tuesday.
"We condemn in its entirety the relocation of the suspected terrorists to Ekwulobia Minimum Prison that has no facility for such high profile suspects.
"This period in Anambra, we are breathing the breath of peace and security courtesy of Gov. Willie Obiano.
Also read: Protests in Anambra over Boko Haram relocation
"They should be transferred or relocated to the place where there is maximum security in case of jail break or attack from their sympathisers or where they committed the crime and where they will be tried.''
Full Report at:
http://www.news24.com.ng/National/News/NLC-in-Anambra-appeals-for-relocation-of-Boko-Haram-suspects-20150714
--------
URL: https://www.newageislam.com/islamic-world-news/new-age-islam-news-bureau/are-americans-ready-for-a-muslim-president?-new-poll-suggests-maybe/d/103911