New Age Islam News Bureau
27 March 2015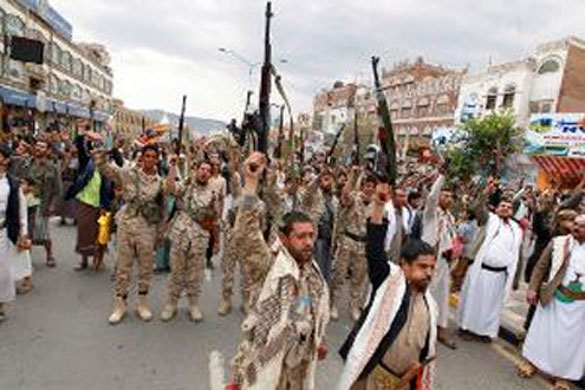 Shia rebels, known as Huthis, hold up their weapons to protest against Saudi-led airstrikes. (AP Photo)
--------------
Arab World
• Arab States Agree To Form Unified Military Force
• Iraqi Forces Kill Several ISIL Terrorists in Southern Parts of Baiji
• Iraqi Sunni Tribe, Al-Jabouri, Wages Costly Battle against ISIS
• Syrian Army Targets Militants in Aleppo
• Yemeni Forces Arrest 40 Saudi Military Men
• Decisive Storm to Continue 'As Long As Needed:' Spokesman
• Egypt's president calls for moderated Islam
• Egypt challenges court ruling on Hamas 'terrorism'
• Assad says Syria open to dialogue with US
• FSA take control of ancient city in southern Syria
• Jordan's role in Yemen part of its commitment to Arab stability: analysts
• Hezbollah Sees Yemen Strikes Causing More Mideast Tension
• OIC supports military action in Yemen
Pakistan
• Loudspeaker Restrictions Curb Hate Speech in Khyber Pakhtunkhwa
• Taliban Attacks in Pakistan Kill 7 Police Officers, Wound 10
• Pakistan Will Not Participate In Conflict That Divides Muslim Ummah: Defence Minister
• Toy Bombs Target Pakistani Children
• Lal Masjid case: Musharraf's arrest warrants sent to Karachi police
• Threat to S Arabia will evoke strong reaction from Pakistan: Nawaz
• Maulana Fazl ur Rehman Says Govt Creating Confusion Over Corridor Route
India
• No Offence in Unfurling Pakistan's Flag: Hurriyat Conference
• No Conspiracy in Mohamed Nasheed Conviction, Maldives Tells India
• Popular Front of India's role in 2011 Mumbai, 2012 Pune, 2013 Hyd blasts found: Intel agencies
North America
• Body Count Report Reveals At Least 1.3 Million Lives Lost to US-Led War on Terror
• Chicago Men Caught Planning ISIL Attack on US Military Post
• Shiite militias 'pulled back' from Tikrit: US
• Islam needs to reform or leave, says Canadian leader of PEGIDA movement
Mideast
• 39 Dead in Saudi-Led Yemen Strikes: Health Officials
• 'Decisive Storm' Targets Houthi Camps In Sanaa
• A deputy, a relative, an ideologue: key Houthi leaders reportedly killed
• Rouhani writes to Obama as Iran talks near deadline
• Israeli court sentences northern Islamic movement leader to 11 months in jail
• Yemen's conflict fuels calls for southern independence
• Turkey says US-led programme to train Syrian opposition experiences 'minor delay'
• Turkish President Erdoğan says can't tolerate Iran bid to dominate Middle East
Africa
• ISIS Strikes Back? Star Wars Sets Safe from Militants, Tunisia Says
• Kenya: Security Agencies on High Alert as Shabaab Sneak Into the Country
• Tunisia signals local al Qaeda links to Bardo museum attack
• Cameroon Hosts Conference on Islamic Fundamentalism
• Benghazi is sixth most dangerous city in world in new crime index
South Asia
• Suspected Afghanistan Terrorists Using Children for Transporting Bombs Arrested
• Bangladesh Stampede: 10 Dead, Dozens Injured Say Police
• Maldives Ex-Minister Found Guilty Of Smuggling Weapons, Sentenced To 11 Years in Jail
Southeast Asia
• Give Muslims Self-Rule or 'Count Body Bags': Philippines' Aquino
• Allowing Hudud in Malaysia a Betrayal of Our Trust, Sabah Churches Say
• Tari Aceh: A dance that breathes the spirit of Islam
• Indonesia, Iran strengthen media interaction
• OPM Commander Committed to Armed Struggle in Papua: Relative
• ISIS Prompts Ministry to Consult on Revision of Anti-Terror Law
• Suspected Uyghur must remain in Thai detention, says court
Europe
• Uzbekistan Takes Steps to Prevent Nuclear and Chemical Terrorism
• Kosovo: Sufi Mystics and a Piercing 200-Year Tradition
• Rights group accuses Palestinians of war crimes in 2014 Gaza conflict
• The WUC Condemns China's Use of the Death Penalty & Opaque Legal Process
• Central Asian Muslim clergy concerned by rise in extremism
• UN chief takes note of Saudi intervention
Compiled by New Age Islam News Bureau
URL: https://newageislam.com/islamic-world-news/new-age-islam-news-bureau/arab-states-agree-to-form-unified-military-force/d/102141
----------
Arab World
Arab States Agree To Form Unified Military Force
27 March 2015
Arab foreign ministers meeting in Egypt on Thursday agreed to establish a unified military force for rapid intervention to deal with security threats to Arab nations.
The ministers "agreed on an important principle, to establish the force," Arab League secretary-general Nabil al-Arabi said at a news conference.
"The ministers all agreed," Egyptian Foreign Minister Sameh Shoukry said, Agence France-Presse reported.
The agreement came after warplanes from Saudi Arabia and Arab allies struck Shiite Muslim Houthi rebels fighting to oust Yemen's president on Thursday, in a major gamble by the world's top oil exporter to check Iranian influence in its backyard without direct military backing from Washington.
The task of the force will be rapid military intervention to deal with security threats to Arab nations, Egyptian TV added. The ministers asked the secretary of the Arab League to coordinate with Arab armies' chiefs of staff within one month to form the unified force.
In the fresh barrage of strikes, Saudi-led coalition warplanes targeted a rebel-held military base in third city Taez, local officials and witnesses said.
The attack hit the Al-Tariq airbase in Taez, located in southwestern Yemen, they said.
Air strikes also targeted arms depots in Malaheez region in the rebels' northern stronghold of Saada, near the border with Saudi Arabia, witnesses said.
Raids also struck the civil airport in Saada, according to the same sources.
http://english.alarabiya.net/en/News/middle-east/2015/03/26/Arab-FMs-agree-to-establish-joint-Arab-force-.html
----------
Iraqi Forces Kill Several ISIL Terrorists in Southern Parts of Baiji
27 March 2015
A military source announced that the Iraqi army, along with populace forces, killed at least 13 members of the ISIL terrorist group and injured too many others in the countryside of Baiji, in Salahuddin province.
"Heavy clashes between the security forces and the ISIL terrorists broke out near the village of al-Mazra'ah, in the Southern countryside of Baiji on Thursday, in which at least 13 terrorists were killed and so many others were injured," the source said.
The ISIL Takfiri terrorists currently control shrinking swathes of Syria and Iraq. They have threatened all communities, including Shiites, Sunnis, Kurds, Christians, Ezadi Kurds and others, as they continue their atrocities in Iraq.
Senior Iraqi officials have blamed Saudi Arabia, Qatar, and some Persian Gulf Arab states for the growing terrorism in their country.
The ISIL has links with Saudi intelligence and is believed to be indirectly supported by the Israeli regime.
http://english.farsnews.com/newstext.aspx?nn=13940107000293
----------
Iraqi Sunni Tribe, Al-Jabouri, Wages Costly Battle against ISIS
27 March 2015
The consequences of the al-Jabouri tribe's decision to ally with Iraq's Shiite-led government against their fellow Sunnis in the Islamic State group are etched on row after row of gravestones in this palm-shaded town by the Tigris River.
As Khamis Daari paces the cemetery he points out the final resting place of his son Ali, killed in December alongside scores of others who battled the IS group. A few plots over lies Yazen al-Abeelah, a playful three-year-old killed when a rocket hit his home. Mahmoud Salama, 80, is said to have battled bravely alongside fighters half his age, only to die in an explosion.
Unclaimed plots may soon be filled. Daari's other son Omar is preparing to join Sunni tribesmen fighting alongside Iraqi troops and Shiite militiamen in the country's Sunni heartland. "If he doesn't fight then he has no future," Daari said, his face creased in distress and his eyes welling up with tears. "These terrorists are destroying Iraq."
Sunni tribes played a key role in driving out al-Qaeda in Iraq - a precursor to ISIS - and are widely seen as the only force capable of securing the country's northwest Sunni heartland. But the few Sunni tribes that have stood up to the IS group have paid a heavy price, and anger at the Shiite-led government runs deep in the areas of northern and western Iraq that now make up the extremist group's self-styled caliphate.
When ISIS fighters reached Duluiyah in June, some 45 miles (75 kilometers) north of Baghdad, they gave the al-Jabouri an ultimatum: join us or die.
Many of Iraq's Sunnis have chosen the former, however reluctantly, but the al-Jabouri elected to fight. They had learned their lesson years earlier, when al-Qaida in Iraq recruited some of the tribesmen to fight the government and the Americans only to turn on the tribe after suffering losses on the battlefield, killing more than 300 al-Jabouris.
"We suffered a lot from al-Qaeda," said Sheikh Eissa al-Dahour, an al-Jabouri tribesman. "We have no tolerance for this organization."
This time around, the al-Jabouris allied with Iraqi troops and Shiite militiamen against the ISIS and drove out the extremists in December. Some 200 al-Jabouris are now taking part in a major offensive in the nearby city of Tikrit, and the government has held them up as an example for other Sunni tribes, hoping to create a non-sectarian national guard.
To do that, the government will have to somehow reverse the centrifugal forces unleashed by the 2003 U.S.-led invasion, which toppled Sunni dictator Saddam Hussein and handed power to the long-oppressed Shiite majority.
Sunni grievances mounted during the long rule of Prime Minister Nouri al-Maliki, who was widely seen as pursuing sectarian policies and who responded to protests with a heavy hand. When ISIS militants swept across Iraq last summer, many Sunnis initially greeted them as liberators and cheered the retreat of the despised security forces.
"The reason so many tribes joined Daesh in the first place is because they saw them as revolutionaries fighting against the government that abandoned them," said Sheikh Amin Ali Hussein of the al-Khazraji, another government-allied tribe in the nearby town of Samarra, using an Arabic acronym for the group. "The government now has a big chance to make up for all the blood that was shed."
The government hopes to somehow revive the Sahwa, or Awakening Councils - Sunni tribes and militias who switched sides starting in 2006 and allied with the Americans to drive out al-Qaeda. But the U.S. and Iraqi commitment to the Sahwa waned once the threat had passed, an experience many Sunnis fear will be repeated.
Sunnis also fear the brutal consequences of confronting ISIS. In November, the extremists killed more than 200 men, women and children from the Sunni Al Bu Nimr tribe in the western Anbar province, apparently viewing it as a threat. The mass killing, and grisly online pictures of bodies displayed in the streets, led the remnants of the tribe to go into hiding, fearing the government could not protect them.
When the al-Jabouri rebelled, ISIS laid siege to Duluiyah for six months and blew up the only nearby bridge across the Tigris. Many homes were destroyed, and those left standing are still pocked and blackened from the fighting.
But the al-Jabouri say if the government helps them rebuild their community then the tribesmen can help sew the country back together.
"The al-Jabouri are trying to make amends with the other tribes that may have supported Daesh in the beginning," said Col. Azzam Abed, a police officer from the al-Jabouri. "But the government needs to show that it is sincere."
http://english.alarabiya.net/en/perspective/features/2015/03/27/Iraqi-Sunni-tribe-wages-costly-battle-against-ISIS.html
----------
Syrian Army Targets Militants in Aleppo
27 March 2015
Syrian army troops continued to make advances against the Takfiri militants in Aleppo, killing a large number of them.
The army killed a large number of terrorists and seized their armored vehicle in the area surrounding Tal Jbeen village to the North of Handarat, which came under the Syrian army's control few days ago.
Meanwhile, the army continued its military operations against al-Nusra Front-affiliated terrorist groups, and killed a large number of the terrorists and destroyed their vehicles, ammunition and weapons in al-Mansoura on the road to Daret Izza in the Western countryside of Aleppo and in Hadadin in Jabal Samaan area to the South of Aleppo.
http://english.farsnews.com/newstext.aspx?nn=13940106000369
----------
Yemeni Forces Arrest 40 Saudi Military Men
27 March 2015
Ansarullah fighters have held scores of Saudi military men captive in heavy clashes in the Southern parts of Yemen, informed sources disclosed.
"The fighters of the Yemeni Ansarullah and popular committees held, at least, 40 Saudi military personnel as captive in heavy clashes in Razeh district of Al-Tawila region," informed sources told FNA on Friday.
Saudi Arabia launched airstrikes against Yemen early Thursday, one day after the US-backed Yemeni president fled the country.
Riyadh claimed that it has bombed the positions of the Ansarullah fighters and launched attacks against the Sana'a airport and the Dulaimi airbase.
Full report at:
http://english.farsnews.com/newstext.aspx?nn=13940107000112
----------
Decisive Storm to Continue 'As Long As Needed:' Spokesman
27 March 2015
A military coalition led by Saudi Arabia against Yemen's Houthi rebels vowed on Thursday to press on with its campaign until goals are reached.
Speaking to reporters in the Saudi capital, spokesman Brig. Gen. Ahmed Assiri vowed that the coalition would not allow any "supplies" to reach the rebels and that no party would be allowed to back the Houthi rebellion.
Iran is the main backer of the Shiite rebels and has supplied them with weapons as they pushed to expand their control over the country.
Full report at:
http://english.alarabiya.net/en/News/middle-east/2015/03/27/Decisive-Storm-to-continue-as-long-as-needed-spokesman.html
----------
Egypt's president calls for moderated Islam
March 25 2015
Erin Roach, Baptist Press
Egypt's president, in a move applauded by conservative Western media, is challenging senior Muslim clerics to reform their teachings rather than fuel extremist ideologies that have led to widespread terrorism in the name of Islam.
Abdel-Fattah al-Sisi, who was elected last spring after the overthrow of Mohammed Morsi, said in a speech at Cairo's Al-Azhar University, a leading intellectual center of Sunni Muslim thought, that Muslim religious scholars "must take a long, hard look" at the role of Islam in violent extremism.
In a feature on al-Sisi March 20, The Wall Street Journal referred to him as "perhaps the world's most significant advocate for Islamic moderation and reform."
"It's impossible to doubt the seriousness of Mr. Sisi's opposition to Islamic extremism, or his aversion to exporting instability," The Journal said. "In late February he ordered the bombing of Islamic State of Iraq and Syria (ISIS) targets in neighboring Libya after ISIS decapitated 21 Egyptian Coptic Christians.
Full report at:
http://www.brnow.org/News/March-2015/Egypt-s-president-calls-for-moderated-Islam
----------
Egypt challenges court ruling on Hamas 'terrorism'
27 March, 2015
Over the last three years, even when Mohammed Morsi was president, Egyptian media outlets have carried out an unprecedented campaign against Hamas. Egyptian hostility toward the movement has grown since July 2014, when many Egyptians held Hamas responsible for the bloodshed in Gaza after Israeli military strikes against the Strip.
The Egyptian media have linked Hamas to several crimes: the storming of Egyptian prisons; killing protesters in Tahrir Square during the January 25 Revolution; the bombings at Karam al-Kawadis military base in November 2014 and in El-Arish in January 2015. The media have also linked the movement to various crises in Egypt, such as the gasoline and diesel fuel shortages and the power outages, prompting media personality Ahmed Moussa to call for Egyptian forces to strike Hamas camps in Gaza on his TV show "Ala Mas'ouliyati."
Egyptian lawyers Samir Sabri and Ashraf Saeed filed a lawsuit against Hamas, teaming up with the State Litigation Authority, which legally represents the Egyptian state, demanding that Egypt consider the group a terrorist organization, in light of its involvement in the aforementioned terrorist acts on Egyptian territory. In February 2015, the Cairo Court for Urgent Matters ruled in favor of deeming the movement a terrorist organization.
Yet the Egyptian government surprised everyone in March 2015 by defending Hamas and challenging the court's ruling. This change of heart was due to the significant damage caused by the decision to Egyptian foreign policy. Egyptians were in a state of astonishment and wonder regarding the contradictory opinions of the Egyptian government.
Full report at:
http://www.al-monitor.com/pulse/originals/2015/03/egypt-hamas-terrorist-palestine-court-ruling-challenge.html#ixzz3Vc6F9CVi
----------
Assad says Syria open to dialogue with US
27 March, 2015
Syrian President Bashar al-Assad is open to dialogue with the United States, the leader said in an interview with US television network CBS Thursday.
Assad said such dialogue would need to be based on "mutual respect," but that so far there has been no contact from the Americans.
"But as principal, in Syria we could say that every dialogue is a positive thing," he told television journalist Charlie Rose, in excerpts of an interview to air Sunday on CBS's "60 Minutes" program.
Full report at:
http://www.middleeasteye.net/news/assad-says-syria-open-dialogue-us-1797069873#sthash.zkky2pvD.dpuf
----------
FSA take control of ancient city in southern Syria
27 March, 2015
BOSRA AL-SHAM, Syria - The Free Syrian Army (FSA) has seized control of the ancient city of Bosra al-Sham after four days of intense fighting.
The city, home to 26,000 Sunnis and 4,000 Shiites before the war, had for four years been a key asset for forces loyal to Syrian President Bashar al-Assad.
Rebel commanders told Middle East Eye the battle was coordinated from one operations room, and included more than a thousand men from the US-backed Southern Front and the local Islamist movement al-Muthanna.
Preparations were extensive, and one rebel commander told MEE they lasted many days.
By fajr prayer - around 5am local time – on Wednesday, rebels claimed they had routed all pro-government forces from the city, including Hezbollah, members of the Iranian Revolutionary Guard, and local Shiites fighting with the loyalist reserve National Defence Forces (NDF).
Full report at:
http://www.middleeasteye.net/news/fsa-take-control-ancient-city-southern-syria-1075763421#sthash.zsn8EBfM.dpuf
----------
Jordan's role in Yemen part of its commitment to Arab stability: analysts
27 March 2015
Jordan is participating in the Saudi-led "Decisive Storm" military operation against Yemen's Iran-backed Shiite Houthi insurgents with the strategic aim, according to analysts, to defend the Arab national security.
The state-owned news agency, Petra, quoted an unnamed Jordanian official on Thursday as confirming his country's participation in the "Operation Decisive Storm" against the Houthi coup in Yemen launched primarily with the aim of supporting the legitimate President Abd-Rabbu Mansour Hadi.
The source also linked the Jordanian participation in the military campaign to supporting legitimacy in Yemen and its security and stability, reiterating that the security of Saudi Arabia and Gulf countries is a strategic interest of Jordan.
Full report at:
http://english.alarabiya.net/en/perspective/analysis/2015/03/27/Jordan-s-role-in-Yemen-part-of-its-commitment-to-Arab-stability-analysts.html
----------
Hezbollah Sees Yemen Strikes Causing More Mideast Tension
27 March 2015
Lebanon's Hezbollah condemned as "unjust aggression" Saudi-led air strikes in Yemen on Thursday, and said it takes the region towards increased tension.
Hezbollah called on Saudi Arabia and its allies to immediately and unconditionally halt the strikes.
"This adventure, (which) lacks wisdom and legal and legitimate justification and which is led by Saudi Arabia, is taking the region towards increased tension and dangers for the future and the present of the region," its statement said according to a Reuters report.
"We see that this aggression secures American interests and offers a great favor for the Zionist enemy," it said, a reference to Israel.
http://english.farsnews.com/newstext.aspx?nn=13940106000641
----------
OIC supports military action in Yemen
27 March 2015
The Organization of Islamic Cooperation (OIC) has backed the military action in Yemen and slammed the Houthis for undermining the country's legitimate government.
Iyad Ameen Madani, secretary general of the OIC, said here Thursday that military action was inevitable to save the country from "the chaos unleashed on it by the Houthi group and its repercussions for the entire region." He said the OIC was following events with great concern.
Madani said the coalition forces would have to ensure that the country's constitutionally mandated institutions are allowed to operate unfettered.
He said the OIC had warned repeatedly that the excesses of the Houthis would plunge the country into civil war, which would force certain groups to seek help from external forces and thus violate the nation's constitution.
Full report at:
http://www.arabnews.com/featured/news/723946
---------
Pakistan
Loudspeaker restrictions curb hate speech in Khyber Pakhtunkhwa
27 March, 2015
PESHAWAR -- Authorities in Khyber Pakhtunkhwa are taking steps to curb hate speech and mitigate sectarian violence caused by the misuse of loudspeakers in mosques.
As a result of the National Action Plan (NAP), enacted shortly after the December 16 Army Public School massacre in Peshawar, mosques and seminaries can only use loudspeakers for Azan (the call to prayer) and Friday sermons.
Prior to the NAP, individuals used the loudspeakers to spread sectarian discord and issue calls for violence. Now such use is prohibited.
"Hate speech on loudspeakers from mosques and seminaries has been the prime cause of violence," KP Information Minister Mushtaq Ahmed Ghani told Central Asia Online.
"We have observed that hate speech from mosques provokes others, which ultimately leads to conflict," he said. "This [move] will create sectarian harmony and will help establish peace."
Police in Pakistan enforcing the NAP recorded 540 cases of hate speech and arrested 2,035 suspects accused of violating the loudspeaker laws, according to a February 16 report presented to Prime Minister Mian Muhammad Nawaz Sharif.
Authorities plan to take action against 1,100 suspects. They released the other 935 after investigators cleared them.
Full report at:
http://centralasiaonline.com/en_GB/articles/caii/features/2015/03/23/feature-01
----------
Taliban Attacks in Pakistan Kill 7 Police Officers, Wound 10
27 March 2015
The Pakistani Taliban killed seven police officers in a rocket attack in country's southwest, authorities and a Taliban spokesman said Friday. Another Taliban attack on a police bus in Pakistan's largest city of Karachi left 10 people wounded.
Militants fired a rocket late Thursday at a vehicle carrying five police officers in the Loralai district of south-western Baluchistan province, killing all of them, provincial home secretary Akbar Durrani said Friday. Loralai is about 200 kilometres (120 miles) north of Quetta, the capital of Baluchistan province.
On Friday, a roadside bomb struck a bus carrying police officers in the port city of Karachi, wounding 10 people, police officer Mohammad Ali said. The attack took place while the bus travelled through city's residential area of Quaid-e-Abad.
Authorities suspect the bomb was attached to a motorcycle and detonated remotely, Ali said. Some of the bombing victims were hospitalized in critical condition.
Pakistani Taliban spokesman Mohammad Khurassani said in statements to reporters that the militant group carried out both attacks.
Prime Minister Nawaz Sharif condemned the attacks, saying in a statement that "such cowardly acts" could not weaken his government's resolve of eliminating terrorism and extremism.
http://english.alarabiya.net/en/News/asia/2015/03/27/Taliban-attacks-in-Pakistan-kill-5-police-officers-wound-10.html
--------
Pakistan will not participate in conflict that divides Muslim Ummah: Defence Minister
27 March, 2015
ISLAMABAD: Federal Defence Minister Khawaja Asif in the National Assembly elucidated Pakistan's role in the Yemen conflict, saying that no decision to participate has been taken and that Pakistan has only pledged to safeguard the territorial integrity of the Kingdom of Saudi Arabia (KSA).
He stressed on Pakistan's role as 'facilitator' to end the conflicts in the Muslim world.
"Instead of aggravating the situation by participating in it, Pakistan should do what it can to prevent it ─ for the alliance and unity of the Muslim world," the defence minister said. "Pakistan is ready to adopt whatever role is needed in order to facilitate the termination of conflicts in the Islamic world."
Overview of Khawaja Asif's address in the National Assembly
Pakistan ready to facilitate end termination of conflicts in Islamic world
Involvement in conflict could aggravate fault-lines in Pakistan
Pakistan refers resolution of issue in a forum where the Muslim world or Arab League are involved
Full report at:
http://www.dawn.com/news/1172229/pakistan-will-not-participate-in-conflict-that-divides-muslim-ummah-khawaja-asif
----------
Toy Bombs Target Pakistani Children
27 March, 2015
PESHAWAR -- The December 16 massacre at Army Public School in Peshawar drew widespread condemnation over the militants' senseless killing of 130 children, but Pakistani militants have a long history of targeting children.
Zohaib Hassan of Peshawar, now 10, is one such victim.
In 2012, while Zohaib's father, Asghar Ghulam of the Frontier Corps (FC), was fighting militants in South Waziristan, his family received a transistor radio.
When Asghar returned from the front lines, he gathered his sons around the radio to listen to a cricket match. They did not know that the radio came from militants who rigged it with a bomb.
Full report at:
http://centralasiaonline.com/en_GB/articles/caii/features/2015/03/26/feature-01
----------
Lal Masjid case: Musharraf's arrest warrants sent to Karachi police
27 March, 2015
ISLAMABAD: Bailable arrest warrants for former president retired General Pervez Musharraf, that were issued by a local court in Islamabad, were delivered to Karachi police by Aabpara police on Friday.
The warrants were issued against the ex-president in the murder case of Lal Masjid cleric Ghazi Abdul Rasheed. The Aabpara police also obtained surety bonds for Musharraf worth Rs100,000.
The next hearing for the Abdul Rashid Ghazi murder case will take place on April 2, chaired by the Additional Sessions Judge Wajid Ali Khan. The court had also ordered Musharraf's appearance in the hearing.
Full report at:
http://www.dawn.com/news/1172233/lal-masjid-case-musharrafs-arrest-warrants-sent-to-karachi-police
----------
Threat to S Arabia will evoke strong reaction from Pakistan: Nawaz
27 March, 2015
ISLAMABAD: Prime Minister Nawaz Sharif asserted that any threat to Saudi Arabia's territorial integrity would evoke a strong response from Pakistan.
This was said by Nawaz while chairing a high-level meeting at the PM House to discuss recent developments in the Middle East and to examine Saudi Arabia's request to join the Gulf-led operation against Houthi rebels in Yemen, said a statement issued by PM House on Thursday.
The meeting was attended by Defence Minister Khawaja Asif, Adviser to Prime Minister on National Security and Foreign Affairs Sartaj Aziz, Army Chief General Raheel Sharif and Air Chief Marshal Sohail Aman.
Nawaz said Pakistan enjoys close and brotherly relations with Saudi Arabia and other Gulf Cooperation Council (GCC) countries and attaches great importance to their security.
The participants of the meeting decided that a high-level delegation will visit Saudi Arabia on Friday to assess the situation. Khawaja Asif, Sartaj Aziz along with senior representatives from the armed forces will be part of the delegation in this regard, the statement added.
Earlier, the Foreign Office said Pakistan was examining Saudi Arabia's request.
Sartaj Aziz confirmed that top Saudi officials had contacted the Pakistani leadership requesting it to join the Yemen operation. A decision has not yet been taken, Aziz said.
He further said that Prime Minister Nawaz Sharif had summoned a high-level meeting this evening to consult his close aides over the matter.
Full report at:
http://www.dawn.com/news/1172016/threat-to-s-arabia-will-evoke-strong-reaction-from-pakistan-nawaz
----------
Maulana Fazlur Rehman says govt creating confusion over corridor route
27 March, 2015
ISLAMABAD: The chief of his own faction of Jamiat Ulema-i-Islam, Maulana Fazlur Rehman, has criticised the government for creating confusion over the route of Pakistan-China Economic Corridor.
Talking to reporters at his official residence here on Thursday, he said the government should not float misleading information that the project might take eight to 10 years to complete. The government should start work on at least 100km route and connect it with the existing road network, he added.
The Maulana, who recently visited China on the invitation of the ruling Communist Party, claimed that the Chinese leadership had supported his point of view regarding the western route of the corridor from Gwadar to Kashgar.
Full report at:
http://www.dawn.com/news/1172122/fazl-says-govt-creating-confusion-over-corridor-route
----------
India
No offence in unfurling Pakistan's flag: Hurriyat Conference
March 27, 2015
A day after police booked woman separatist leader Asiya Andrabi for unfurling Pakistan's flag, the Hurriyat Conference said it is "no offence" to unfurl a flag on Pakistan's national day and called for an immediate withdrawal of the case. It said "if it is an offence to join in its celebrations" on Pakistan Day, New Delhi should also book Union Minister Gen V K Singh, who was chief guest in the celebrations at Pakistan High Commission.
"Registering FIR against Andrabi for unfurling flag on Pakistan day is surprising and unfortunate," said Hurriyat spokesman Ayaz Akbar. "Pakistan supports the right of self determination for J&K people to express joy on its national day is no offence," he said.
http://indianexpress.com/article/india/india-others/no-offence-in-unfurling-pakistans-flag-hurriyat-conference/
----------
No conspiracy in Mohamed Nasheed conviction, Maldives tells India
March 27, 2015 5:01 am
In its first diplomatic outreach to the Indian political establishment, Maldives has reached out to various political parties and conveyed that its government can "neither interfere nor influence" any decision of the Prosecutor General or the judiciary in Maldives under the Constitution of 2008. This comes days after Mohamed Nasheed, former Maldives President, was sent to jail in Maldives and the Indian government cancelled Prime Minister Narendra Modi's visit to the island country earlier this month. South Block had dropped Maldives from PM's itinerary to the Indian Ocean countries, as it felt that the atmosphere was not "conducive."
Maldives government sources told The Indian Express that the initiative has been taken at the behest of Maldives President Yameen Abdullah, who has just sent a new envoy Ahmed Mohamed to India.
Full report at:
http://indianexpress.com/article/india/india-others/no-conspiracy-in-mohamed-nasheed-conviction-maldives-tells-india/
----------
Popular Front of India's role in 2011 Mumbai, 2012 Pune, 2013 Hyd blasts found: Intel agencies
Neeraj Chauhan,TNN | Mar 27, 2015
NEW DELHI: Almost three months after the Bengaluru police busted the 'explosives module' of Indian Mujahideen, agencies have found strong evidence of involvement of Islamic fundamentalist group Popular Front of India (PFI) in 2011 Mumbai bombings, 2012 Pune blasts and 2013 Hyderabad Dilsukhnagar attack. While it is already known that IM's Riyaz Bhatkal, Yasin Bhatkal, Tehsin Akhtar, Assadulah Akhtar and Waqas planned these bombings, the responsibility of procuring explosives was given to PFI.
An old member of SIMI, Syed Ismail Afaque Lanka, arrested in January this year, has disclosed that he had sent PFI members to buy material- ammonium nitrate, gelatin sticks, non-electrical detonators, capacitors etc - which was used by IM members to assemble the deadly bombs that took many lives.
Full report at:
http://timesofindia.indiatimes.com/india/Popular-Front-of-Indias-role-in-2011-Mumbai-2012-Pune-2013-Hyd-blasts-found-Intel-agencies/articleshow/46710055.cms
---------
North America
Body Count Report Reveals At Least 1.3 Million Lives Lost to US-Led War on Terror
27 March, 2015
Although a conservative estimate, physicians' groups say the figure 'is approximately 10 times greater' than typically reported
How do you calculate the human costs of the U.S.-led War on Terror?
On the 12th anniversary of the invasion of Iraq, groups of physicians attempted to arrive at a partial answer to this question by counting the dead.
In their joint report— Body Count: Casualty Figures after 10 Years of the 'War on Terror—Physicians for Social Responsibility, Physicians for Global Survival, and the Nobel Prize-winning International Physicians for the Prevention of Nuclear War concluded that this number is staggering, with at least 1.3 million lives lost in Iraq, Afghanistan, and Pakistan alone since the onset of the war following September 11, 2001.
However, the report notes, this is a conservative estimate, and the total number killed in the three countries "could also be in excess of 2 million, whereas a figure below 1 million is extremely unlikely."
Full report at:
http://www.commondreams.org/news/2015/03/26/body-count-report-reveals-least-13-million-lives-lost-us-led-war-terror
----------
Chicago Men Caught Planning ISIL Attack on US Military Post
27 March, 2015
An Army National Guard soldier and his cousin have been arrested on charges of conspiring to support the Islamic State in Iraq and the Levant (ISIL) and plotting an attack in the United States, the Department of Justice announced Thursday. The two were allegedly caught in an FBI undercover operation.
The Chicago-area men, both U.S. citizens, spoke of using Army uniforms — along with military knowledge and access — to attack an Illinois military installation, according to a statement issued by the DOJ.
Army National Guard Spc. Hasan Edmonds, 22, was arrested at Chicago Midway International Airport while attempting to fly to Egypt, the DOJ said. His cousin Jonas Edmonds, 29, was arrested at his home in Aurora, Illinois.
Full report at:
http://america.aljazeera.com/articles/2015/3/26/pair-arrested-in-plot-to-attack-us-military-base.html
-----------
Shiite militias 'pulled back' from Tikrit: US
27 March 2015
WASHINGTON: Iraq's Shiite militias have withdrawn from the forefront of an offensive to recapture Tikrit from Islamic State fighters, allowing Baghdad government troops to take the lead, a top US general said Thursday.
The Shiite militias "have pulled back from that area" and Iraqi special forces and police are clearing Tikrit, Gen. Lloyd Austin, head of US Central Command, told lawmakers.
Austin confirmed previous comments by officials that a US condition for airstrikes against the IS group in Tikrit was that the Iraqi government be "in charge" of all forces in the assault on the town.
Full report at:
http://www.arabnews.com/middle-east/news/723741
----------
Islam needs to reform or leave, says Canadian leader of PEGIDA movemen
27 March, 2015
MONTREAL—Islam needs to change or it needs to leave.
That's the message from one of the leaders who has brought to Canada a controversial European movement that unites political conservatives, anti-immigration activists and neo-Nazis with the goal of beating back a perceived rising tide of Islamic fundamentalism.
Jean-François Asgard is one of five people to have launched PEGIDA Québec earlier this year, the latest branch of a global anti-Islam movement that was created last fall in the German town of Dresden.
PEGIDA (the name is a German acronym for Patriotic Europeans Against the Islamization of the West) was founded by a convicted burglar-turned-graphic designer who planned a protest against the opening of 14 refugee centres in his city. It has risen rapidly, gathering more than 20,000 people at its peak and provoking warnings and denunciations from German Chancellor Angela Merkel.
Full report at:
http://www.thestar.com/news/canada/2015/03/24/islam-needs-to-reform-or-leave-says-canadian-leader-of-pegida-movement.html
----------
Mideast
39 dead in Saudi-led Yemen strikes: health officials
27 March 2015
At least 39 civilians have been killed in more than 24 hours of Saudi-led air strikes against Shiite rebels in Yemen, health ministry officials said on March 27.
Twelve of the victims died when a raid against a military base north of the capital Sanaa hit surrounding residential areas, officials from the rebel-controlled ministry told AFP.
Witnesses said warplanes targeted Al-Samaa base, which is used by army units believed to take orders from their former commander Ahmed Ali Saleh.
Saleh is the son of ousted president Ali Abdullah Saleh, who is accused of allying with the Huthi rebels against President Abedrabbo Mansour Hadi.
At dawn on Friday, three air strikes hit the presidential compound in south Sanaa which the rebels seized last month, witnesses said.
They also bombed a Huthi-controlled army brigade in Amran province, north of the capital, and arms depots in the rebel stronghold of Saada further north, residents said.
Overnight raids targeted another army brigade loyal to Saleh in the eastern province of Marib, tribal sources said.
Full report at:
http://www.hurriyetdailynews.com/39-dead-in-saudi-led-yemen-strikes-health-officials-.aspx?pageID=238&nID=80260&NewsCatID=352
----------
'Decisive Storm' targets Houthi camps in Sanaa
27 March 2015
Fighter jets of Saudi-led coalition forces pounded a Republican Guard camp in the Yemeni capital of Sanaa as Operation "Decisive Storm" continues for the second day targeting Houthi strongholds and their camps on Friday, Al Arabiya News Channel reported.
The offensive comes after powerful explosions rocked Sanaa Thursday night as the coalition forces carried out air strikes against the Shiite rebels who control Sanaa.
Witnesses said an air raid by the coalition forces targeted both Houthi members and supporters of the former President Ali Abdullah Saleh in Al-Istiqbal military camp west of the capital.
Full report at:
http://english.alarabiya.net/en/News/middle-east/2015/03/27/-Decisive-Storm-targets-Houthi-camps-in-Sanaa-.html
----------
A deputy, a relative, an ideologue: key Houthi leaders reportedly killed
27 March 2015
The Iran-backed Houthi rebels seeking to seize Yemen from its fragile internationally-recognized government suffered a blow on Thursday, as three of its top military commanders were reportedly early victims of an aerial offensive by Operation Decisive Storm.
The deadly strikes led by the Royal Saudi Air Force were responding to a plea made Wednesday by beleaguered President Abd-Rabbo Mansour Hadi, who was holed up in the port city of Aden - the government's last stronghold – as Houthi militias closed in on the city.
The three leaders killed were named as Abdul Khaliq al-Houthi, Yousef al-Madani and Yussef al-Fishi.
Full report at:
http://english.alarabiya.net/en/perspective/profiles/2015/03/27/A-deputy-a-relative-an-ideologue-key-Houthi-leaders-reportedly-killed.html
---------
Rouhani writes to Obama as Iran talks near deadline
27 March, 2015
LAUSANNE, Switzerland - Iran's president appealed to global leaders including Barack Obama on Thursday as negotiators raced against the clock to agree to the outlines of a deal that puts an Iranian nuclear weapon out of reach.
Hassan Rouhani wrote to the American president, US officials confirmed, as well as to the leaders of the five other powers heading efforts to resolve the 12-year standoff over Iran's nuclear programme.
The content of the letters was not known. But Rouhani, whose 2013 election led to the current diplomatic push, also phoned the leaders of Russia, China, Britain and France, his office said.
Full report at:
http://www.middleeasteye.net/news/rouhani-writes-obama-iran-talks-near-deadline-1119760526#sthash.4fkxG99i.dpuf
----------
Israeli court sentences northern Islamic movement leader to 11 months in jail
27 March, 2015
An Israeli court sentenced Sheikh Raed Salah, the leader of the northern branch of the Islamic movement in Israel to 11 months in prison for "inciting violence" during a mosque sermon he gave in 2007.
Salah was also handed a suspended three-month jail sentence. The court decided to postpone the implementation of the resolution against Sheikh Salah for 45 days, to provide an opportunity for his lawyers to appeal the decision.
Dozens of Salah's supporters gathered outside the court as the sentence was read out. A number of Israeli right-wing activists were also outside, chanting against Salah but Israeli authorities did not let the right-wingers get near the Palestinians.
Tawfiq Mohammed, the media coordinator for the Islamic movement, told the Middle East Eye that the Israeli courts pursued Salah as political prosecution for his activism and the influence he wields.
Full report at:
http://www.middleeasteye.net/news/israeli-court-sentences-northern-islamic-movement-leader-11-months-jail-475517436#sthash.LxrNnc4o.dpuf
----------
Yemen's conflict fuels calls for southern independence
27 March, 2015
ADEN: The flag of once-independent South Yemen is visible everywhere around this port city, once the country's capital. The banner — red, white, black and blue with a red star — is painted on walls, flown from homes, and flutters from the vehicles and checkpoints of militiamen in the streets.
"We want freedom," declares an English-language slogan spray-painted on a wall on a main road. Another proclaims: "The Free South."
Calls among southern Yemenis to break away once more are accelerating as the country collapses into conflict. Shiite rebels known as Houthis have taken over the capital, Sanaa, and much of the north, and are storming south in a bid to secure their hold on the country. President Abed Rabbo Mansour Hadi was first driven out of Sanaa, then tried to make a last stand in the southern city of Aden. But on Wednesday, he fled the city — and the country.
On Thursday, Saudi Arabia began launching airstrikes in Yemen in a bid to oust the Houthi rebels from their strongholds.
Full report at:
http://www.dailytimes.com.pk/region/27-Mar-2015/yemen-s-conflict-fuels-calls-for-southern-independence
----------
Turkey says US-led programme to train Syrian opposition experiences 'minor delay'
27 March, 2015
A U.S.-led programme to train Syrian opposition forces to fight hardline Islamic State of Iraq and the Levant (ISIL) militants, which was due to begin earlier this month, has experienced "a minor delay", Turkey's foreign minister said on March 27.
"There is no delay from our side," Mevlut Cavuşoglu said in an interview with Turkey's NTV television. "Because of U.S. [geographic] distance, there has been a minor delay but everything is fine both politically and technically," he said.
U.S. officials have said they plan to train about 5,000 Syrian fighters annually for three years under the programme, which was due to begin in March after Washington signed a deal with Ankara.
Turkey hopes the training will also bolster the weakened and divided Syrian opposition in its war against Syrian President Bashar al-Assad.
Turkey would also be open to contributions from a third country to the programme, Çavusoğlu said, a day after Britain's Defense Minister said London would send around 75 military personnel to join the training.
"No decision has been made on this. But if such a proposal comes from Britain, we would assess this and in principal we would not say 'No' to this, we would be sympathetic," he said.
http://www.hurriyetdailynews.com/turkey-says-us-led-programme-to-train-syrian-opposition-experiences-minor-delay.aspx?pageID=238&nID=80253&NewsCatID=510
----------
Turkish President Erdoğan says can't tolerate Iran bid to dominate Middle East
27 March, 2015
Turkish President Tayyip Erdogan accused Iran on Thursday of trying to dominate the Middle East and said its efforts have begun annoying Ankara, as well as Saudi Arabia and Gulf Arab countries.
Turkey earlier said it supports the Saudi-led military operation against Houthi rebels in Yemen and called on the militia group and its "foreign supporters" to abandon acts which threaten peace and security in the region.
"Iran is trying to dominate the region," said Erdoğan, who is due to visit Tehran in early April. "Could this be allowed? This has begun annoying us, Saudi Arabia and the Gulf countries. This is really not tolerable and Iran has to see this," he added in a press conference.
Warplanes from Saudi Arabia and Arab allies struck at Houthi forces in Yemen, who have taken over much of the country in their campaign to oust President Abd-Rabbu Mansour Hadi.
The Saudi-led intervention marked a major escalation of the Yemen crisis, in which Shi'ite Muslim Iran supports the Shi'ite Houthis, and Sunni Muslim monarchies in the Gulf back Hadi and his fellow Sunni loyalists in Yemen's south.
Full report at:
http://www.hurriyetdailynews.com/turkish-president-erdogan-says-cant-tolerate-iran-bid-to-dominate-middle-east.aspx?pageID=238&nID=80252&NewsCatID=510
----------
Africa
ISIS strikes back? Star Wars sets safe from militants, Tunisia says
27 March 2015
Tunisian officials have sought to dampen down on worries that the sets from the iconic Star Wars movies are under threat from Islamic State of Iraq and Syria (ISIS) militants.
CNN recently suggested that the sets were vulnerable after arrests and discoveries of weapons caches near the town of Tatouine, which lent its name to Luke Skywalker's home planet.
The story was picked up widely even though the main Star Wars sets are on the other side of the country near the western city of Tozeur.
Mohammed Sayem of Tozeur's tourism commission told The Associated Press Thursday that the reports were "without foundation."
Col. Mokhtar Hammami of the National Guard said he had 1,500 men patrolling the area.
Concerns over security have heightened after last week's attack at the national museum that killing 21 people.
http://english.alarabiya.net/en/variety/2015/03/26/ISIS-strikes-back-Star-Wars-sets-safe-from-militants-Tunisia.html
---------
Kenya: Security Agencies on High Alert as Shabaab Sneak Into the Country
27 March 2015
Security agencies are on high alert following reports that a group of al Shabaab returnees have sneaked into Kenya from Somalia.
They are planning attacks to avenge the killing of the group's external operations boss Dan Garar.
Kenyan intelligence operatives have established that the group had been holed up in the port of Kuday in Southern Somalia.
They escaped into Kenya after Amisom and Somalia National Army troops liberated Kuday and islands of Mdoa and Dagazi last week.
The group, most of them of them Kenyan, are believed to be an al Shabaab off shoot that escaped into Boni Forest and is attempting to enter either Lamu, Malindi or Kwale.
The group is led by Luqman Issa, who goes by the aliases Deere and Shirwa. The group is said to be at Lakta Belt in Boni Forest.
Full report at:
http://allafrica.com/stories/201503270207.html
----------
Tunisia signals local al Qaeda links to Bardo museum attack
27 March, 2015
(Reuters) - Tunisia said that an attack on a Tunis museum last week was launched by a cell of 23 militants, including an Algerian and Moroccans, with overlapping allegiances to a number of hardline islamist groups.
Tunisian Interior Minister Najem Gharsalli said 80 percent of the group had already been arrested over the killing of 20 tourists including Japanese, French and Italians in an attack claimed by the Islamic State group.
"This cell is linked to Okba Ibn Nafaa and Al Qaeda in Islamic Maghreb, most of them came originally from Ansar al Sharia," Gharsalli said. "It is a group of 23 people, including two Moroccans and an Algerian, but 80 percent of them are already arrested."
Ansar al Sharia is listed as a terrorist group by Washington. Okba is mainly based in the Chaambi mountains bordering Algeria. That group has been tied to al Qaeda in the Islamic Maghreb's original Algerian leadership. But it has also issued ambiguous statements about the Islamic State..
Full report at:
http://www.reuters.com/article/2015/03/26/us-tunisia-security-idUSKBN0MM1LI20150326
----------
Cameroon Hosts Conference on Islamic Fundamentalism
27 March, 2015
YAOUNDE - Cameroon is hosting a conference on Islamic fundamentalism and extremism. The aim is to educate Muslim clerics in the country about the dangers of ideology espoused by extremist groups like the Islamic State and Boko Haram, the Nigerian terrorist group that has recently declared its allegiance to the self-described Islamic caliphate.
Souleyman Abba, a Muslim cleric and member of Cameroon's Islamic Cultural and Development Association, said the group organized the conference in collaboration with the government to stop supporters of Islamic State ideology from extending their ideas to Cameroon. He said Islamic State ideology basically centers on promoting terrorism, violence and intolerance.
"Islam is against terrorism and Islam is against Boko Haram. Cameroonian Muslims have to defend their country which has been attacked by terrorist. And secondly, fight the lsquo;instrumentalization' of Islam. We have some people who use Islam to reach their own interest. Islam is peace and every Muslim in the world should be an ambassador of peace," said Abba.
Full report at:
http://www.bignewsnetwork.com/index.php/sid/231376367
----------
Benghazi is sixth most dangerous city in world in new crime index
27 March 2015
Only five cities in the world are more dangerous than Benghazi, according to a new crime index post on Numbeo.
Benghazi scored a 84.37 on the index, with only Port Moresby (Papua New Guinea), Rustenburg and Pietermaritzburg (both South Africa), Guatemala City and Caracas (Venezuela) fairing worse. The index covers 448 cities in the world.
According to the Numbeo website, "Crime Index is an estimation of overall level of crime in a given city or a country. Crime levels up to 50 are reasonable, and crime index levels more than 100 are too high."
Benghazi has witnessed increasing levels of violence in the years since the 2011 revolution, with assassinations becoming a somewhat common occurrence. In 2014 there were over 230 assassinations or attempts in the city. Furthermore, violent clashes between the Libyan National Army and Ansar Al-Sharia since May 2014 have driven many from their homes and resulted in numerous civilian casualties.
Tripoli comes in at 177th place out of 448. Derna and Sirte, being too small for the study, are not mentioned.
http://www.libyaherald.com/2015/03/25/benghazi-is-sixth-most-dangerous-city-in-world-in-new-crime-index/#ixzz3VdNX0Qqb
----------
South Asia
Suspected Afghanistan Terrorists Using Children for Transporting Bombs Arrested
27 March, 2015
National Directorate of Security (NDS) – Afghanistan's intelligence agency – has arrested a group of suspected terrorists who were using children to transport bombs and other explosive materials in order to trick security forces.
A statement issued by NDS on Thursday states that Saifullah S/O Hayat Khan, Hikmatullah S/O Shah Malang and Fazal Haq S/O Abdullah Gul were arrested red handed from the jurisdictions of eastern Nangarhar province.
According to the statement, the group was involved in terrorist activities and distributing night letters for Taliban who were arrested with 40 Taliban related night letters, magnetic bomb, pistol, military suit and a motorcycle they were using in destructive actions.
The statement adds that the group was using two children in their terrorist activities.
Statements issued by NDS usually do not contain exact information about the incidents but its statements come after recent activities.
This is not the only time children are being used in terrorist activities. In several other incidents in the past children have become the victims of the terrorism.
http://www.khaama.com/suspected-terrorists-using-children-for-transporting-bombs-arrested-3068
----------
Bangladesh stampede: 10 dead, dozens injured say Police
March 27, 2015
At least 10 people were killed and dozens more injured Friday in a stampede during a Hindu religious gathering in Bangladesh, police said.
Local police chief Mazrul Islam said the accident took place in Langalbandh, a Hindu pilgrimage spot on the banks of the Brahmaputra river, 20 kilometers (12 miles) southeast of capital Dhaka.
The annual religious bathing ritual in Bangladesh's Narayanganj district draws thousands of Hindu devotees from Bangladesh and also neighboring India and Nepal.
Islam said that the bathing ritual continued after police controlled the stampede and helped the injured.
The cause of the stampede was not immediately clear.
http://indianexpress.com/article/world/asia/police-say-10-dead-in-stampede-in-bangladesh/
----------
Maldives Ex-Minister Found Guilty Of Smuggling Weapons, Sentenced To 11 Years In Jail
By Zaheena Rasheed | March 27, 2015
The Criminal Court has found former Defence Minister Mohamed Nazim guilty of smuggling dangerous weapons and sentenced him to 11 years in jail.
At a late night hearing on Thursday, the three-judge panel said Nazim had not been able to demonstrate how he had come to possess a pistol and three bullets found in his apartment during a police raid on January 18.
The weapons did not belong to the state armoury and therefore must have been smuggled into the country, the judges said. Further, since the police had discovered the weapons at Nazim's home in a raid conducted according to the law, they must be considered to belong to the former defence minister, judges concluded.
Full report at:
http://minivannews.com/politics/ex-defence-minister-nazim-found-guilty-of-smuggling-weapons-sentenced-to-11-years-in-jail-94648#sthash.7a1nvrtR.dpuf
--------
Southeast Asia
Give Muslims self-rule or 'count body bags': Philippines' Aquino
27 March 2015
Philippine President Benigno Aquino called on lawmakers Friday to pass a bill endorsing a pact aimed at ending a decades-long Muslim separatist rebellion, warning them they would otherwise start counting "body bags".
Aquino had wanted the bill, which would give autonomy to the majority Catholic nation's Muslim minority in the south, passed this month.
But Congress suspended debates on the proposed law in the face of public outrage over the killings of 44 police commandoes by Muslim guerrillas in a botched anti-terror raid in January.
The Moro Islamic Liberation Front (MILF), which signed a peace deal a year ago Friday, had said its members fired in self-defense at the commandoes, who passed through a rebel camp while going after Islamic militants.
"This is the crossroads we face: we take pains to forge peace today, or we count body bags tomorrow," Aquino said in a nationwide television address.
"Perhaps it is easy for you to push for all-out war," he said, hitting out at critics who have condemned the peace deal with the MILF.
Full report at:
http://english.alarabiya.net/en/News/asia/2015/03/27/Give-Muslims-self-rule-or-count-body-bags-Philippines-Aquino-.html
----------
Allowing hudud in Malaysia a betrayal of our trust, Sabah churches say
27 March, 2015
Allowing hudud to be implemented in Malaysia is a betrayal of the trust placed by Sabah's forefathers in a nation that was meant to be secular, the Sabah Council of Churches said today in response to Kelantan's attempt to enforce the Islamic penal code.
Its president Reverend Datuk Jerry Dusing said it was based on assurances that Malaysia would be a secular nation that Sabah, Sarawak and Singapore had agreed to form the new country in 1963 together with Malaya.
He cited the Commission of Enquiry on North Borneo and Sarawak on June 21, 1962, which said that members of the commission "agreed that Islam should be the national religion for the federation" and that they were "satisfied that the proposal in no way jeopardises freedom of religion in the federation, which in effect would be secular".
"It would be inconsistent, and indeed a betrayal of the trust placed by Sabah's forefathers in the Federation of Malaysia, for laws such as Kelantan's hudud enactment, which will have a huge impact on the public as well as upon the multi-religious Malaysian society as a whole, to find a place in our federation, a nation envisaged to be secular at its formation," Dusing said in a statement today.
Full report at:
http://www.themalaysianinsider.com/malaysia/article/allowing-hudud-in-malaysia-a-betrayal-of-our-trust-sabah-churches-say
----------
Tari Aceh: A dance that breathes the spirit of Islam
27 March, 2015
Rateb Meuseukat is a breathtaking form of Acehnese dance that is rooted in the sacred practices of Sumatran men, but has evolved into a virtuosic expression of female solidarity. The Australian ethnomusicologist Margaret Kartomi describes it as "art that breathes the spirit of Islam".
Acehnese dancer Novirela Minang Sari agrees. "We sing some of the same words during our dances that we use in prayer," she said in an interview at the Asia Society in New York where she and eight other women from Aceh performed Rateb Meuseukat and other dances for a sold out audience.
The day after the performance some of the spectators returned to take a workshop in which they learned how to do the movements they had seen on stage.
The show and the workshop were also presented at Wesleyan University, Holy Cross College and Wellesley College, giving Americans an eye-opening introduction to an aspect of the Muslim world that is rarely seen in the West.
Full report at:
http://www.thejakartapost.com/news/2015/03/26/tari-aceh-a-dance-breathes-spirit-islam.html
----------
Indonesia, Iran strengthen media interaction
27 March, 2015
Jakarta (ANTARA News) - Indonesia and the Islamic Republic of Iran are making every effort to enhance the interaction of media as part of cultural cooperation between the two countries.
The Iranian Embassy in Jakarta on behalf of the Ministry of Culture and Islamic Guidance of Iran recently invited numerous senior Indonesian journalists to the country as part of the cooperation.
During their trip to Iran, the Indonesian journalist delegation visited several government agencies and local media offices including those of Iran Daily, Financial Tribune, the state news agency of Iran News Agency (IRNA) and the private news agency Mehr News Agency (MNA).
Managing Director of Irans Cultural and Press Institute, M.T. Roghaniha, said the meeting between Iranian and Indonesian media is very important in an effort to disseminate current and correct information about the two countries as well as to counter biased stories from the western media.
Full report at:
http://www.antaranews.com/en/news/98269/indonesia-iran-strengthen-media-interaction
----------
OPM Commander Committed to Armed Struggle in Papua: Relative
27 March, 2015
Jayapura. A leader of the Free Papua Movement has not "surrendered" to the Indonesian military and remains committed to armed struggled over Jakarta's occupation of Papua, a relative of Goliath Tabuni told the Jakarta Globe.
"[Thursday] afternoon when I was in Nabire, Goliath Tabuni called me and reiterated that he and followers have not surrendered to join the Republic of Indonesia," Deerd Tabuni, a Papuan politician and relative of Goliath told the Jakarta Globe.
"[Goliath] is still consistent with his fight for an independent Papua," Deerd said.
Deerd said that Goliath had rejected that 23 OPM members had turned themselves in to the Indonesian military or police.
Full report at:
http://thejakartaglobe.beritasatu.com/news/opm-commander-committed-armed-struggle-papua-relative/
----------
ISIS Prompts Ministry to Consult on Revision of Anti-Terror Law
27 March, 2015
Jakarta. The Home Affairs Ministry will start the process to revise Indonesia's anti-terrorism law in a bid to enable authorities to keep a closer eye on suspicious international travel.
"There is going to be a team providing me with suggested changes to the anti-terrorism law," Home Affairs Minister Tjahjo Kumolo said on Thursday, as quoted by news portal Tribunnews.com.
Tjahjo said the revised law would require more rigorous checks on, among others, any group claiming to head to the Middle East for the minor hajj, also known as umroh in Indonesian.
"One common reason to go there is for the umroh but we can't forbid anyone from going on pilgrimage," Tjahjo said. "However, we must be suspicious if the pilgrim is traveling on a one-way ticket. Immigration and police will be able to prevent such people from going."
Tjahjo also said he would ask the team to discuss the idea of revoking the citizenship of Indonesians who violated the new terms of the law, although he underlined the government's commitment to the rule of law.
Full report at:
http://thejakartaglobe.beritasatu.com/news/anti-terrorism-law-to-be-revised-to-help-scrutinize-suspicious-travel-abroad/
----------
Suspected Uyghur must remain in Thai detention, says court
27 March, 2015
A family of suspected Uyghur Muslims at the centre of a diplomatic tussle between China and Turkey must remain in detention until their true nationalities are proven, a Thai court ruled today.
The case is being closely monitored because any eventual outcome could have an impact on hundreds of suspected Uighurs held by immigration authorities in Thailand since last year.
Those detained have said they are from Turkey and want to return there.
But Beijing claims they are Uighurs from its restive northwest region of Xinjiang and is seeking their repatriation, something human rights groups say could leave them open to abuse.
Uyghurs, who number around 10 million in Xinjiang, are a Turkic-speaking ethnic minority who have long chafed under Chinese control.
The family at the centre of the case, who use the surname Teklimakan, were detained by Thai police in March 2014 after illegally entering the country along its eastern border with Cambodia.
Full report at:
http://www.themalaysianinsider.com/world/article/suspected-uighurs-must-remain-in-thai-detention-says-court#sthash.o0PwUIZG.dpuf
---------
Europe
Uzbekistan takes steps to prevent nuclear and chemical terrorism
27 March, 2015
TASHKENT -- Uzbekistan is committed to preventing the trafficking of chemical, biological, radiological and nuclear (CBRN) material, officials say.
The government recently announced plans to open an anti-CBRN material-trafficking centre in Tashkent in early June.
The decision to open the CBRN Centre of Excellence in Tashkent was approved March 11 during the EU-Central Asia High Level Security Dialogue in Dushanbe, Uzbek Foreign Ministry spokesman Dilmurod Tillayev said.
"Specialists from Kazakhstan, Kyrgyzstan, Tajikistan, Turkmenistan and Uzbekistan will participate in the centre's work," he said. "We plan to involve Afghanistan, whose representatives attended the dialogue meeting."
Such a centre will help prevent terrorist acts involving the use of CBRN material, the Central Asian countries' governments agree.
The first such EU-Central Asian dialogue took place in June 2013 in Brussels. A meeting on fighting terrorism and extremism is scheduled for Bishkek in May.
The EU committed about US $1.1 billion to support Central Asian development in 2014-2020, then-European Commissioner for Development Andris Piebalgs said in November 2013, citing regional security as one of the priorities.
Sharing expertise
Full report at:
http://centralasiaonline.com/en_GB/articles/caii/features/2015/03/26/feature-02
----------
Kosovo: Sufi Mystics and a Piercing 200-Year Tradition
27 March, 2015
Prizren, Kosovo - For a group of Sufi mystics, the advent of spring erupts in a clash of cymbals, guttural chanting, and a trickle of blood.
For hours several dozen men in the congregation have been chanting, swaying, and singing songs in Albanian, Turkish and Arabic. As the pace of the music quickens, Sheikh Adrihusein Shehu removes a small iron skewer known as a zarf from the mihrab behind him, blesses it with his lips, and inserts it slowly into the cheek of his 12-year-old son, Sejjid Emir. Several more children follow.
The annual ritual is a celebration of the birth of Ali ibn Abi Talib, the first male to accept Islam. Held annually on the spring equinox, it is also a celebration of Nowruz, the Persian new year.
"We as believers each year turn toward love in this day, and continue our road to Allah, to live together, to respect all creation which he made, and to love one another," said Sheikh Shehu as he opened the ceremony, surrounded by visiting religious figures from around the region, from Turkey, and the United States.
Full report at:
http://www.aljazeera.com/indepth/features/2015/03/kosovo-sufi-mystics-piercing-200-year-tradition-150325112816684.html
----------
Rights group accuses Palestinians of war crimes in 2014 Gaza conflict
27 March, 2015
Amnesty International said in a report Thursday that Palestinian organizations had committed war crimes during the 2014 Gaza-Israel conflict, by killing both Israeli and Palestinian civilians using indiscriminate projectiles.
The report from the human rights group comes after two other reports issued in late 2014 that accused Israel of war crimes for attacks on multistory civilian buildings and attacks on Palestinian residential homes during the war.
The 50-day Gaza war left more than 2,100 Palestinians dead, mostly civilians, according to Palestinian and U.N. officials. On the Israeli side, 66 soldiers and six civilians were killed.
Palestinian fighters, including the armed wing of Hamas, launched unguided rockets and mortars which cannot be aimed at a specific target and are a breach of international law, the human rights group said.
Full report at:
http://america.aljazeera.com/articles/2015/3/25/amnesty-palestinian-fighters-committed-war-crimes-in-2014-war.html
----------
The WUC Condemns China's Use of the Death Penalty & Opaque Legal Process
27 March, 2015
The World Uyghur Congress condemns the recent execution of three Uyghurs from East Turkestan who were allegedly associated with four men and one woman involved in an attack outside a train station in Kunming one year ago. As is typically the case, very little information has been released by the state about the nature of their relationship, or if there are legitimate grounds for punishment. Although justice must be done for those who choose violence as a means of recourse to state repression, the WUC is consistent in its opposition to the use of the death penalty and calls for its abolition.
On March 1, 2014, four men and one woman killed 31 and injured another 141 in an attack outside a train station in Kunming, Yunnan Province. On Tuesday, March 24, three men, Iskandar Ehet, Turgun Tohtunyaz and Hasayn Muhammad, were put to death after China's Supreme Court upheld their convictions for the crimes of murder and "organizing and leading a terrorist organization".
Full report at:
----------
Central Asian Muslim clergy concerned by rise in extremism
27 March, 2015
BISHKEK -- Islamic scholars from Central Asia gathered recently, for the first time, to discuss ways to fight extremism and terrorism.
Kyrgyz clergy initiated the March 11 forum in Bishkek as Central Asian countries discuss the hundreds of their citizens who have gone to Syria and Iraq to join insurgent movements .
It has become more urgent than ever to discuss extremism and security, said Kadyr Malikov, director of the Bishkek-based think tank Religion, Law and Politics.
"Judging by countries such as Syria, Iraq and Afghanistan, we know that destabilisation threatens Central Asia and that there are outside forces interested in bringing it to the region," he told Central Asia Online. "One contributing factor is religious extremism."
"That's why all of us convened from various countries -- to join forces to preserve stability and peace in our region," he said. "We also are here to protect Islamic values."
During the forum, participants criticised the concept of "takfir", namely, Muslims calling other Muslims apostates.
Full report at:
http://centralasiaonline.com/en_GB/articles/caii/features/2015/03/25/feature-02
----------
UN chief takes note of Saudi intervention
27 March, 2015
UNITED NATIONS: UN chief Ban Ki-moon on Thursday noted that Saudi Arabia was carrying out air strikes in Yemen but steered clear of asserting whether the military action was in line with international law.
Ban recalled that the Saudi intervention was at the request of President Abedrabbo Mansour Hadi, who is considered the legitimate head of state by the UN Security Council.
The secretary general recalled that the Security Council has called on countries to refrain from external interference and to support the political transition in Yemen.
In a statement, Ban "notes that, despite the escalation, negotiations remain the only option for ultimately resolving the Yemeni crisis. "Ban spoke with Saudi Foreign Minister Prince Saud al-Faisal earlier in the day, spokesman Farhan Haq told reporters.
Warplanes from a Saudi-led coalition bombed Huthi rebels on Thursday in support of Hadi, who headed to an Arab summit to garner support.
Yemen has been sliding deeper into turmoil since the Huthis launched a power takeover in Sanaa in February, forcing Hadi to flee to the port city of Aden.
http://www.dawn.com/news/1172143/un-chief-takes-note-of-saudi-intervention
----------
URL: https://newageislam.com/islamic-world-news/new-age-islam-news-bureau/arab-states-agree-to-form-unified-military-force/d/102141