New Age Islam News Bureau
12 Aug 2013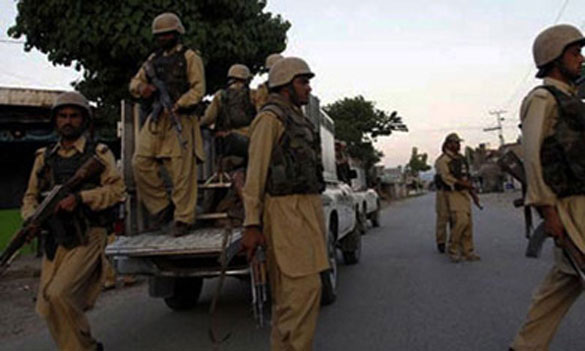 Four suspected militants killed in Bolan operation — File photo
-------------
Arab World
• Arab Muftis Issue Syria Jihad Fatwas In Exchange For Money
• Seven of Syria's Thirteen Palestinian Camps Now Controlled by Salafi- Jihadists
• The next generation of UAE space engineers set sights on the stars
• Al-Qaeda claims deadly Eid attacks in Iraq
• Eid Extravagance Is 'UnIslamic', Say Islamic Scholars
• Gunmen shoot Lebanese mayor as Syria war ignites local rivalries
• Rebels launch new offensive near Syria's border with Iraq
• Iftar volunteers at Sheikh Zayed Grand Mosque put in 5,600 hours of work
• Saudi to ban airliners who ditch pilgrims
North America
• US repeats offer of $10m for head of Al-Qaeda in Iraq
• US concerned over mosque attack in Sri Lanka
• Speaker draws criticism from national Muslim advocacy group
• Metro Detroit chaplain program graduating more Muslims to fill needs for every faith
• Republican candidates for mayor Courts Muslim Votes
Europe
• Murder of Leading Dagestani Cleric Signals Deepening Crisis in Sufi Hierarchy
• France arrests 'radical' soldier accused of mosque plot in Lyon
• Influence of Chechen Leader of North Caucasian Fighters in Syria Grows
• British PM feels the need to tackle surging violence against Muslims
Pakistan
• Four suspected militants killed in Bolan operation
• Maulana Fazl ur Rehman's politics based on corruption: KP Chief Minister
• Border volatility: Amidst escalating tensions, Pakistan weighs its options
• Back in the fray: 'Peace talks with the Taliban are a must'
• False alert: Bomb scare at Bari Imam, Islamabad creates panic
• Minorities Day: President, PM call for inter-faith tolerance
• Balochistan violence on SC's radar; top brass summoned
• Anti-terror war now a battle for survival: interior minister
• Mastermind behind Bara Kahu suicide attack attempt captured in Faisalabad
• Pakistan summons Indian deputy high commissioner over LoC incidents
• Major General Amir Riaz appointed new DGMO
India
• Jamaat-ud-Dawa denies Hafiz Saeed's threats of terror strikes in Delhi
• Pakistan violates ceasefire again; nightlong firing from across LoC in Poonch
• Kishtwar violence: Omar rakes up Gujarat riots as J&K Minister quits
South Asia
• Kabul proposes Taliban offices in Riyadh, Ankara
• DRP denies holding coalition talks with President Waheed's election rivals
• Eid brings little joy to people of 80 villages of Bangladesh
Mideast
• We will try to free Guantanamo inmates: al-Qaeda
• Turkish authority introduces 'Alcohol is not your friend' tag on bottles
• Kurds discuss conflict on Turkey-Syria border
Africa
• Ramadan charity cash filched from Benghazi mosque
• Nigeria backlash against Boko Haram spurs risky vigilante war
• SOMALIA:FBI: Al-Shabaab Released Video To Recruit Minn. Men For Jihad
• Tripoli awash with weapons in absence of state
Southeast Asia
• Anwar confirms Najib proposed unity government
• Malaysia mulls return of 'detention without trial' law, but with checks
• Ahmadiyah Determined to Not Let Hard-liners Ruin Id ul Fitr
Compiled by New Age Islam News Bureau
URL: https://www.newageislam.com/islamic-world-news/new-age-islam-news-bureau/arab-muftis-issue-syria-jihad-fatwas-in-exchange-for-money/d/12995
-----------
Arab World
Arab Muftis Issue Syria Jihad Fatwas In Exchange For Money
August 12, 2013
TEHRAN (FNA)- An Emirati cleric accused certain Muftis in Arab countries of issuing "false" Jihad Fatwas for sending militants to Syria in exchange for money.
"Sedulous Muftis in Arab countries issue Fatwas for Jihad in Syria after receiving millions of dollars," said Sheikh Wassem Yousef in an address posted on the internet.
"They (Muftis) sign contract worth millions (of dollars) in order to preach Islam to people. Then they meet in an Arabian country and call on the youth to set out on Jihad (in Syria)," Sheikh Yousef said.
"All they care about is politics," he said, al-Alam reported.
The conflict in Syria started in March 2011, when pro-reform protests turned into a massive insurgency following the intervention of Western and regional states.
According to the reports, the West and its regional allies - especially Qatar, Saudi Arabia, and Turkey - are supporting the militants in Syria.
On July 25, UN Secretary-General Ban Ki-moon said more than 100,000 people have been killed in Syria since the outbreak of foreign-sponsored militancy in the country. Millions of others have been also displaced in the violence.
http://english.farsnews.com/newstext.aspx?nn=13920518000352
-----------
Seven of Syria's Thirteen Palestinian Camps Now Controlled by Salafi- Jihadists
August 12, 2013
Homs Palestinian Camp, Syria: Jihadists are entering Syria at an accelerating pace, according to Syrian, UNWRA, and Palestinian officials as well as residents in the refugee camps here. For the now-estimated 7000 imported foreign fighters, Palestinian camps are seen as optimal locales for setting up bases across Syria.
"Syria's Palestinian camps have become theaters of war," said UNWRA Commissioner Filippo Grandi.
The Syrian people compassionately host 10 official, UN-mandated Palestinian camps, along with three unofficial ones, whose populations total at least 230,000. Eight of these are "Nakba ("catastrophe") camps," organized soon after Palestinians were expelled from their homes in 1948, while two, Qabr Essit and Dera'a (emergency camp), are "Naksa ("day of setback") camps." The latter were set up in 1967 as a result of the internationally condemned Zionist-colonial aggression against the two sister-Arab-nationalist regions—Palestine's West Bank and Syria's Golan Heights.
And it was on the Ides of March of the year 2011 we saw an explosion of violence near one of these camps, the Dera'a camp established in 1950, in the south near the Jordanian border.
But first, perhaps a simple listing of the camps, along with their populations and dates of establishment, would be in order here:
1950, Dera'a, 5,916
1967, Dera'a (Emergency), 5,536
1950, Hama, 7,597
1949, Homs, 13,825
1948, Jaramana, 5,007
1950, Khan Dunoun, 8,603
1949, Khan Eshieh, 15,731
1948, Neirab, 17,994
1967, Qabr Essit, 16,016
1948, Sbeineh, 19,624
1955-6, Latakia camp, 6,534 registered refugees
1957, Yarmouk Camp, 112,550 registered refugees
1962, Ein Al-Tal, 4,329 registered refugees
As of 8/8/13, seven of the camps—two in the north and five in the Damascus area and in the south of Syria—are presently with their throats under the jackboot of foreign Salafi-Jihadists. These jihadist cells moved against the camps early in the current crisis for purposes of forced recruitment, to benefit from a supply of noncombatant human shields, to shakedown the residents and take over UNWRA facilities, and to make use of the erstwhile "refugee camp security zones." All these steps were precursory to the setting up of military bases from which to launch operations aimed at toppling the current government of the Syrian Arab Republic.
How do the jihadists infiltrate the camps?
How is it possible that more than half of the Palestinian camps in Syria not only fell, but did so, regrettably, without all that much resistance, to the point at which we see them now—dominated by largely foreign jihadists who continue to impose their unwanted extremist religious beliefs on a largely progressive secular Palestinian community? It is a subject currently much discussed here.
This observer has deduced from a number of conversations—with former and current camp residents, as well as members of the Democratic Front for the Liberation of Palestine, the Popular Front for the Liberation of Palestine, and the Popular Front for the Liberation of Palestine-General Command, Palestinian NGO's, and also with academics—that there is a 'model of occupation' metastasizing in Syria in a manner strikingly similar to what we saw six years ago at Nahr al Bared Palestinian camp near Tripoli Lebanon. The stories we hear today are quite similar to those from among the nearly 30,000 refugees at Nahr al Bared who were forced to flee to the nearby Badawi camp or to Lebanon's ten other camps—reports related to this observer in visits to Nahr al Bared in May of 2007.
What we hear today in Syria bears an almost uncanny likeness. For instance one lady, whose family is from Safad in occupied Palestine explained: "First they (the intruders) appeared only a few in number. We noticed them and that some had 'foreign' accents and wore conservative clothes, most had beards. They were polite and friendly. Then more arrived, a few followed by women and children. They stayed to themselves at first and they began using the local mosque—even being welcomed at first by local sheiks who sometimes expressed admiration for the sincerity and devoutness. Then some of them began to preach their versions of the Koran, and at some point their gentle teaching became more strident, and soon these men were commenting on how some of the Palestinian women dressed in an un-Islamic fashion and even lectured young women about modesty and that they must change their ways, including stop smoking, and to leave public meetings if they were the only women present, and wear a full hijab."
The lady's sister interrupted: "Then guns appeared and some of the men appeared to be very skilled when they would use, for example, a school or playground to train. They were so serious and seemed to be in a trance of some kind. There was no possibility to talk or reason with them. All they seemed to want was martyrdom! Some actually believe that Syria was Palestine and they were here to liberate Al Quds!"
Upon some in the camps it began to dawn that the newcomers intended imposing their ideas, and that they fully intended that camp residents should submit to "pure Islam," as they view it. Some resistance began to jell from camp residents, but the camp popular committees did not have the power to confront them, and a few actually joined them. The fighting with Syrian government troops accelerated the takeover process, and soon the camp residents were presented with a demand: join the gunmen and "liberate" the camps.
With respect to Ahmad Jibril's Popular Front for the Liberation of Palestine-General Command—and no offense meant to them and their officials, with whom this observer met in July and early August—but several of their best Palestinian patriot commanders jumped ship in protest against the plan to "liberate" Yarmouk. At the same time many of the PFLP-GC rank-and-file fighters split and joined the opposition for various reasons, including better pay and wanting to be on the presumed winning side. That being said, however, camp residents overwhelmingly rejected the PFLP-GC "defense" project, and insisted that their camp was neutral, that it was to be maintained as a safe zone for its residents, who were guests in Syria pending their return to still-occupied Palestine.
Again, this chain of events is singularly similar to what we saw (too late as it turned out) in Lebanon's Nahr al Bared, a process which, like the one unfolding now in Syria, was accelerated by the civil war raging here.
There is fear that the Syrian army will sooner or later attack and destroy the camps in order to confront the rebel militias—similar to what the Lebanese army did during the 75 days of shelling in 2007. At that time it took vengeance on the camp and demolished it in an unjustifiable frenzy of shelling for the criminal attack and killing of some Lebanese troops, an attack that had been carried out by camp invaders, not Palestinians. For Palestinians in Syria, it is the all too familiar fate of outsiders entering and seeking to control their camps, coupled with the threat of a host army attacking them to confront the invaders. The residents are once more killed or forced to flee and their homes are destroyed.
Here once more comes to mind the cliché: "Where is the Arab League, the Organization of Islamic Council, the EU or the UN? Where's Waldo?
In order to gain control of the camps in Syria, two main processes appear to be made use of by the al Qaeda affiliates. One is what this observer labels the 'Nahr al Bared model". A Popular Committee member from Yarmouk, who just barely escaped the camp before his home was destroyed by a direct hit mortar round, put it this way:
"Some come bearing gifts. They usually set up small problem solving centers. Maybe a little cash, offers of medical aid, bread distribution, pledges of camp security, these sorts of currently absent social services."
But the camps quickly become petri dishes, and the explosive growth of the foreign implantations is sometimes dazzling. By the time government supporters report the camp invaders it's too late. And what can the government do anyhow? Guns appear everywhere, and suddenly it's no longer 'nicely nicely' polite treatment from the Islamic brothers. Residents are told they must help liberate the camp from the Assad regime or face the wrath of Allah. Consequently, fleeing for one's life becomes an utmost urgency, often literally as the snipers arrive and intense fighting, and rooftop targeting, ensues.
Dodging the snipers
So what happens next to the Palestinian camps in Syria? Is a hopeful, positive or peaceful resolution possible? This observer's 2-cents worth of analysis suggests that the answer is no. The camps will stay largely under the domination, militarily and socially, of the jihadist elements that continue building fortifications and 'digging in.' What is happening is a God-awful calamity, one being foisted upon those whose only prayers and wishes are to leave Syria and return home to reclaim their stolen lands.
A central question is the precarious situation in Yarmouk and the fate of the 18-20 percent of its population still remaining. These are people risking their lives daily trying to avoid snipers from both sides. One can hear speculation on the prospects that the Syrian Army, aided by Hezbollah, will move on Yarmouk to try and expel the rebel militia. Some PLO officials with offices inside the Yarmouk neighborhood claim that Ahmad Jibril's PFLP-GC is being beefed up and armed by the government with more than just AK47's and RPG's. Last winter, some of Jibril's forces were expelled when they tried to eject the foreign militia, while others, as mentioned above, went over to the opposite side. At the same time, three PFLP-GC commanders quit over tactics while questioning Jibril's decision to violate the camp's neutrality, a decision leading to the destruction of parts of Yarmouk.
As to speculation on the possibility of the Syrian government and/or Hezbollah moving to eject the foreign forces from Yarmouk, this observer does not give the reports much credit. The Syrian Army has more urgent and prioritized battles being waged today, with others being planned. Hezbollah, likewise, is facing challenges at present, and fighting in Yarmouk against unknown numbers of rebel militia would surely add to them. Moreover, any force invading a Palestinian camp faces being roundly condemned over violations of the Cairo agreement forbidding host governments from entering UNRWA refugee camps.
This observer and contacts in the Palestinian community cannot verify the recent report for a foreign media source that al Nusra has fled Yarmouk and is on the run. On the run from whom? Currently they are not being seriously challenged. On the contrary, the al-Qeada affiliates are busy digging more tunnels under the camps to store weapons and move freely. Their ranks are growing not dwindling.
Grim as it sounds, they who reside in Syria's camps, along with the 12 million Palestinian refugees worldwide, will continue to be at the mercy of events they had no part in creating. It is a fate they share at this moment with much of the rest of Syria's population, and things are not likely to improve in the immediate term.
But on a more positive note, the Palestinians of Syria persist in their resistance and opposition to the illegal occupation of their country. Theirs is a determination to return to their homeland that simply will not fade or wither, and speaking with Palestinian refugees these past several days in Damascus and Homs has convinced this observer more than ever that on this they will not retreat a single inch—and that in time they will liberate their country.
Franklin Lamb is doing research in Syria and Lebanon and can be reached c/o fplamb@gmail.com
http://www.countercurrents.org/lamb100813.htm
-----------
The next generation of UAE space engineers set sights on the stars
Colin Simpson
Aug 12, 2013
DUBAI // The next generation of space engineers are having a taste of the challenges they will face thanks to a new initiative by the team behind Dubai's satellite programme.
The scheme involves the use of CanSats - devices small enough to fit inside a soft-drink can that carry scaled-down versions of the technology used on satellites that orbit the Earth.
Members of the all-Emirati team at the Emirates Institution for Advanced Science and Technology (Eiast) are giving high school pupils hands-on experience of operating the mini-satellites.
They hope this will act as an investment in the future of scientific research by encouraging more youngsters to follow in their footsteps.
"We feel there is a huge need for science, technology, engineering and maths graduates in the UAE," said the project manager, Ibrahim Al Qasimi.
"We are hoping this will convince the next generation to look at these technical fields."
Pupils from grades 9 to 11 have taken part in two pilot sessions at Eiast's headquarters in Al Khawaneej. Twenty-five boys from Omar bin Al Khattab Model School attended the first session, with 30 pupils from Al Sufouh Girls' School at the second.
The CanSats were lifted 150 metres into the air suspended from weather balloons. They were then released on a parachute and, as they drifted downwards, they transmitted data and images to a laptop ground station.
"The idea of CanSat is to simplify what we do here at Eiast and simulate an actual satellite mission," Mr Al Qasimi said. "We had the students operate the CanSats to show them what to expect after they graduate.
"The students looked at the data that came from the CanSats, which includes temperature, humidity, pressure, altitude and GPS locations.
"They tried to make sense of it and work out why the information was changing throughout the experiment."
A CanSat is divided into a number of layers, known as ports, each of which contains a particular piece of equipment.
Khalid Al Suwaidi, an assistant researcher, said: "The first port has a mechanism to release the CanSat from the balloon and release the parachute.
"The next port has the GPS and the third has the on-board computer, the CPU set which is the mastermind for the whole CanSat.
"There is a power system which regulates the flow of electricity, and the next port calculates the internal and external temperatures, the humidity and the pressure."
The other ports contain a transmitter connected to an antenna and a camera.
Hessa Al Matroushi, an assistant researcher, said: "I sat with the students and explained how the ground station operates. There is an antenna attached to the computer so we can gather the date from the CanSat while it is up in the air.
"We have software which displays the information - we can monitor the temperature, the humidity and the pressure and we can even see the altitude and the orientation of the CanSat."
Some of the images from the CanSat were unclear because interference disrupted the signal.
"We showed that to the students and explained to them what is happening and why the images were not received well, and how to rectify it," Ms Al Matroushi said.
"I am from the image-processing department and that is what we do in reality."
Mr Al Qasimi said the pilot sessions were intended to assess the level of the pupils and that a much larger event involving more schools would be held in the winter.
The use of balloons as launch vehicles proved problematic because of the gusting winds that blew in from the desert, so in future a remote-controlled model helicopter will be used instead.
The CanSats were bought off-the-shelf from a specialist supplier but the team plans to design and build its own.
"We are happy with the ones we started off with but there are a lot of things we could improve," Mr Al Qasimi said. "The camera could be better and we would like to see video instead of still images."
He said the institute hoped to obtain sponsorship so that eventually it could supply every public school with its own CanSat.
"We are hoping to develop the students' skills and problem-solving abilities. Things do go wrong with satellites, and then you have to have a backup plan.
"Once they get to university, they'll be working with research-class satellites that are slightly bigger than CanSat and perform valid missions.
"So we prepare them for university and then the real research will happen."
Eiast was formed by the Dubai Government in 2006 and its first Earth-imaging satellite, DubaiSat-1, blasted into orbit three years later. DubaiSat-2 is due to be launched later this year.
newsdesk@thenational.ae
http://www.thenational.ae/news/uae-news/technology/the-next-generation-of-uae-space-engineers-set-sights-on-the-stars#ixzz2bjU1Kc28
-----------
Al-Qaeda claims deadly Eid attacks in Iraq
August 12, 2013
Al-Qaeda front group the Islamic State of Iraq and the Levant has claimed a wave of attacks that killed 91 people and injured hundreds during the Eid al-Fitr holiday on Saturday.
"The Islamic State mobilised... in Baghdad and the southern states and others to convey a quick message of deterrence on the third day of Eid al-Fitr" in response to security forces' operations, a statement posted on forums late on Sunday said.
Iraqis have angrily blamed the authorities for failing to prevent a series of deadly bombings and other attacks on Saturday, which came as the country marked the end of the Muslim holy month of Ramadan, its deadliest in years.
The attacks came just weeks after assaults on prisons near Baghdad, also claimed by the al-Qaeda front group, freed hundreds of prisoners including leading fighters, prompting warnings of a surge in violence.
Continued assaults
Nine people were killed in fresh violence around the country on Sunday.
Gunmen opened fire at a checkpoint manned by Sunni armed group, killing two and wounding two in the town of Buhriz, about 60km northeast of Baghdad, police said.
Further north, gunmen attacked a busy park in the town of Balad, killing two and wounding three, police said.
Three anti-terrorism squad officers were killed and nine wounded by a roadside bomb in the town of Mahaweel, according to police sources.
The United States condemned Saturday's string of car bombings that targeted markets, cafes and parks crowded with people celebrating Eid al-Fitr holidays.
The State Department said Saturday's attacks bore the hallmarks of al-Qaeda's Iraqi (AQI) branch.
It reiterated that it was offering a $10 million reward for information leading to the killing or capture of Abu Bakr al-Baghdadi, the AQI leader.
Last month al-Qaeda claimed responsibility for simultaneous raids on two Iraqi prisons and said more than 500 inmates had escaped in the brazen operation.
http://www.aljazeera.com/news/middleeast/2013/08/2013811214511140106.html
-----------
Eid Extravagance Is 'UnIslamic', Say Islamic Scholars
JEDDAH: FADIA JIFFRY
12 August 2013
Scholars have condemned the lavish spending by some Muslims to celebrate Eid and during the weeks following the holidays, noting that it is forbidden in Islam. They said that spending activities during the past three days have gone "beyond the limits."
"Running behind materialism is Haram in Islam," said Musaddeq Al-Amri, an Islamic scholar. "On special occasions, especially during the Eid festival in Saudi Arabia, the rich spend lavishly on expensive clothes, food, gifts and so on to show off their wealth. This is unacceptable in Islam."
Full report at:
http://www.arabnews.com/news/460999
-----------
Gunmen shoot Lebanese mayor as Syria war ignites local rivalries
August 12, 2013
BEIRUT, Aug 11 (Reuters) - Gunmen shot the mayor of a town in Lebanon and killed two of his companions only hours after he oversaw a hostage swap with a rival clan in an area increasingly riven by sectarian divisions, security sources said on Sunday.
The attack near the border with Syria highlights how the civil war there has worsened enmity between Lebanese Shi'ite and Sunni Muslim militias that support opposing sides of the two-year-old conflict.
Full report at:
http://www.trust.org/item/20130811134727-nw4w8/?source=hpbreaking
--------
Rebels launch new offensive near Syria's border with Iraq
Associated Press
Aug 12, 2013
BEIRUT // Syrian rebels yesterday launched an offensive in an eastern city near the border with Iraq, activists said.
Syrian army jets conducted several air raids against rebel positions in Deir El Zour, where rebels killed seven soldiers and captured several others in a city that has been contested since last year, the Britain-based Syrian Observatory for Human Rights and the Local Coordination Committees said.
Rebels have been on the offensive in north Syria and the president Bashar Al Assad's stronghold in the coastal province of Latakia.
Unrest in Syria began in March 2011 and later exploded into a civil war. More than 100,000 people have been killed in the conflict that has spilt across borders.
Gunmen shot the mayor of a town in Lebanon and killed two of his companions only hours after he oversaw a hostage swap with a rival clan in an area increasingly riven by sectarian divisions caused by Syria's war.
Full report at:
http://www.thenational.ae/news/world/middle-east/rebels-launch-new-offensive-near-syrias-border-with-iraq#ixzz2bjToNEBk
-----------
Iftar volunteers at Sheikh Zayed Grand Mosque put in 5,600 hours of work
Ola Salem
Aug 12, 2013
ABU DHABI // More than 100 volunteers for the Emirates Red Crescent spent 5,600 hours serving iftar meals during Ramadan.
Dr Mohammed Ateeq Al Falahi, the charity's secretary general, said 137 helpers served guests at its iftar banquets at Sheikh Zayed Grand Mosque each day. Volunteers also helped worshippers and visitors to the mosque, the state news agency Wam reported.
Volunteers also assisted people with special needs, children and women who visited the mosque.
Full report at:
http://www.thenational.ae/news/uae-news/iftar-volunteers-at-sheikh-zayed-grand-mosque-put-in-5-600-hours-of-work#ixzz2bjTulwWQ
-----------
Saudi to ban airliners who ditch pilgrims
August 12, 2013
The General Authority of Civil Aviation (GACA) will ban airliners not committed to returning pilgrims to their original countries within the specified time schedule, sources have said. The companies must submit a regular manifest, a list of the names of the pilgrims coming to the Kingdom ahead of time; otherwise fines will be imposed on them.
For purposes of assessment and the evaluation of Haj operations and services, and in view of past experiences, all instructions and regulations of airliners should guarantee the return of pilgrims to their original countries, said a GACA memo distributed among all national and international carriers operating in the Kingdom. The memo was also distributed to travel and tourism agencies and service providers at Jeddah and Madinah airports.
Full report at:
http://www.albawaba.com/editorchoice/saudi-ban-airliners-who-ditch-pilgrims-512967
-------
North America
US repeats offer of $10m for head of Al-Qaeda in Iraq
August 12, 2013
BAGHDAD: Shootings and a bombing killed at least seven more people in Iraq on Sunday, after a day of carnage as sectarian tensions rise across the country.
The United States condemned a wave of car bombings which killed nearly 80 people across Iraq on Saturday, saying those who had attacked civilians during celebrations marking the end of Ramadan were "enemies of Islam."
Bombs ripped through markets, shopping streets and parks late on Saturday as Iraqis were out celebrating Eid Al-Fitr, the end of the Muslim fasting month.
Eighteen months since the last US troops withdrew, militants have been regaining momentum in their insurgency against Iraq's Shiite-led government.
Saturday's attacks targeted mainly Shiite districts and the renewed violence has raised fears Iraq could relapse into the sectarian bloodbath of 2006-2007.
Full report at:
http://www.arabnews.com/news/460987
-----------
US concerned over mosque attack in Sri Lanka
Aug 12 2013
The United States has asked Sri Lanka to prosecute attackers who threw rocks at a mosque Colombo and to work to end religious-based violence.
Police imposed a curfew in a part of Colombo over the weekend to prevent possible religious clashes after a Buddhist mob hurled stones and vandalised a mosque on Saturday night, injuring at least seven worshippers.
A US embassy statement said "This incident is particularly troubling in light of a large number of recent attacks against the Muslim community."
http://www.thehindu.com/news/international/south-asia/us-concerned-over-mosque-attack-in-sri-lanka/article5015149.ece
---------
Speaker draws criticism from national Muslim advocacy group
August 12, 2013
A national Muslim advocacy group is calling on Brevard County officials to block the use of a county building next week for a meeting that will feature a controversial University of Central Florida professor whose lectures they have criticized as anti-Islamic.
Associate Professor Jonathan Matusitz is scheduled to address an ACT! For Space Coast Florida meeting Tuesday in the Brevard County Commission meeting room in Viera. The group, which meets to discuss issues such as terrorism and geopolitics and Islam, regularly holds meetings there, drawing on average about 50 people. Tuesday's meeting topic was advertised as "The Islamic Threat to America."
Full report at:
http://www.floridatoday.com/article/20130809/NEWS01/308090035/Speaker-draws-criticism-from-national-Muslim-advocacy-group
-----------
Metro Detroit chaplain program graduating more Muslims to fill needs for every faith
August 12, 2013
While still in a Muslim chaplain training program at the Ecumenical Theological Seminary in Detroit and volunteering at a local hospital early last year, Hajj Reyad Mallad was asked to fill a challenging role many others face gaining similar experience: visit the family of a dying patient.
When the Canton Township man entered the room, he found a group of relatives gathered around the bed with Bibles, praying. They asked him to recite a prayer, which is typical of the chaplains — often Christians — who offer spiritual support during difficult times.
Full report at:
http://www.detroitnews.com/article/20130810/METRO/308100021#ixzz2bjWAvGVQ
-----------
Republican candidates for mayor Courts Muslim Votes
By MONA EL-NAGGAR
August 12, 2013
Prayer mats, pointing in the direction of Mecca, lined a pedestrian plaza and an entire block on 73rd Street in Jackson Heights, Queens, early on Thursday to mark the end of a month of fasting for Muslims and the beginning of a three-day feast that is traditionally spent in the company of close family and friends. Colored flag streamers hung along the sides of the streets, recycled boxes were circulated through the crowd to collect donations and hundreds of men took their shoes off and stood side by side to pray.
Full report at:
http://www.nytimes.com/2013/08/09/nyregion/lhota-courts-muslim-votes.html?_r=0
-----------
Europe
Murder of Leading Dagestani Cleric Signals Deepening Crisis in Sufi Hierarchy
By: Mairbek Vatchagaev
August 12, 2013
Yet another Sufi sheikh has been added to the list of those killed in Dagestan. On August 3, Sheikh Ilyas-Haji Ilyasov, of the branch of Islamic teaching known as the Naqshbandiyya-Khalidiyya, was murdered. The sheikh had an estimated 500–1,000 Murids (followers). Ilyasov was an ethnic Kumyk and the imam of the mosque in Alburikent, a suburb of Makhachkala. The cleric was killed as he was getting into a car to take him to the mosque for his evening sermon. Unidentified people in a black car fired from a handgun at Ilyasov and his driver, killing him on the spot. The driver died later in the hospital.
Earlier, two of Dagestan's most famous and popular sheikhs were killed. Sheikh Said-Efendi Chirkeiski was killed nearly a year ago this August 28. Chirkeiski was an ethnic Avar and one of the most prominent figures in the Sufi hierarchy of Dagestan (http://nusra.info/index.php/news/298-v-dagestane-ubit-sufijskij-shejkh-said-afandi). In October 2011, the most influential Sufi sheikh in southern Dagestan, Sirazhutdin Khurikski, was killed (www.kavkaz-uzel.ru/articles/194885/). The difference between the two sheikhs was substantial. Sheikh Said-Efendi had close ties to the authorities and was considered practically their man, as nearly all the republic's bureaucrats were followers of his brotherhood. Sheikh Sirazhutdin Khurikski was an ethnic Tabasaran who was opposed to the central government of Dagestan and did not allow residents of southern Dagestan to become followers of Chirkeiski. So, Khurikski was in opposition to both the republican government and Sheikh Said-Efendi.
Full report at:
http://www.jamestown.org/programs/edm/single/?tx_ttnews[tt_news]=41243&cHash=0b39613888b37c30c80282b60133ae67#.UgiHj9Ip8qM
-----------
France arrests 'radical' soldier accused of mosque plot in Lyon
12 August 2013
French police have arrested a young soldier on suspicion of planning to fire shots at a mosque near the eastern city of Lyon, the interior ministry said Sunday.
The 23-year-old man, who investigators say is "close to the radical far-right," was detained at his airbase near Lyon.
He was remanded in custody on Wednesday and charged with the possession of ammunition and plans to damage a place of worship "in connection with a terrorist enterprise."
Judicial officials said he told investigators that he planned to fire the shots at the Minguettes mosque at Venissieux, a Lyon suburb, on Thursday at the end of the Ramadan holy month.
Full report at:
http://english.alarabiya.net/en/News/world/2013/08/12/French-police-arrest-soldier-over-Lyon-mosque-attack-plan-.html
-------
Influence of Chechen Leader of North Caucasian Fighters in Syria Grows
By: Mairbek Vatchagaev
August 12, 2013
The situation in Syria this past week developed in now typical fashion, with each of the conflicting sides claiming victories. Two events that occurred, however, should be noted. First, the armed Syrian opposition took over the strategically important Minakh military airport in the area of the city of Aleppo. Second, there was news of a split in the Chechen jamaat, Jaish al-Muhajireen wal-Ansar (The Army of Emigrants and Helpers).
The siege of the airport lasted for three months and finally succeeded on August 5 after it was attacked by suicide bombers (http://ummanews.com/news/last-news/11008-2013-08-06-09-35-13.html).
Full report at:
http://www.jamestown.org/programs/edm/single/?tx_ttnews[tt_news]=41255&cHash=6064341042faf32e0598caec5cd67720#.UgiH0NIp8qM
-----------
British PM feels the need to tackle surging violence against Muslims
August 12, 2013
British Prime Minister David Cameron says a high-level taskforce set up in the wake of an off-duty soldier's murder in May would take on Islamophobia and violence against Muslims, local media reported.
Cameron boasted that he will focus on violence against Muslims at the next meeting of the high-level taskforce established to tackle extremism, British media reported.
It appears that the unprecedented surge in the attacks on mosques and Islamic centers following the murder of Lee Rigby in Woolwich, has finally caught the attention of the prime minister.
Full report at:
http://www.presstv.ir/detail/2013/08/11/318159/islam/
-----------
Pakistan
Four suspected militants killed in Bolan operation
Aug 12 2013
BOLAN: At least four armed men were killed Monday during a search operation carried out by Frontier Corps (FC) personnel in Balochistan's Bolan district, DawnNews reported.
Upon receiving information on the whereabouts of suspected militants, FC personnel conducted the operation in Bolan during which 10 men were also arrested.
During the raid, an exchange of fire took place between militants and security personnel. Subsequently, four militants were killed, according to FC sources.
Moreover, 22 kilograms of explosives, ammunition and other weapons were recovered during the operation.
Full report at:
http://dawn.com/news/1035415/four-suspected-militants-killed-in-bolan-operation
-----------
Maulana Fazl ur Rehman's politics based on corruption: KP Chief Minister
Aug 12 2013
PESHAWAR: Khyber Pakhtunkhwa Chief Minister Pervez Khattak has alleged that Jamiat Ulema-i-Islam-Fazl chief Maulana Fazl ur Rehman was involved in corruption and had nothing to do with Islam.
"Maulana's (Fazl) politics is based on corruption and plunder and he is not interested in Islam," he said in a handout issued here on Sunday.
The chief minister said Maulana sahib should tell the nation how he had amassed wealth, including property and vehicles.
He said JUI-F could never come to power and had missed the bus. "People of Khyber Pakhtunkhwa are politically mature and they have understood intentions of the Maulana," he said.
Full report at:
http://dawn.com/news/1035324/fazls-politics-based-on-corruption-khattak
-----------
Border volatility: Amidst escalating tensions, Pakistan weighs its options
August 12, 2013
ISLAMABAD: As India continues to seethe with anger over the August 6 ambush on the Line of Control (LoC), Pakistan has started examining several options, including scaling down its diplomatic staff in New Delhi and shifting troops from its border with Afghanistan to the eastern frontier, The Express Tribune has learnt.
This coincides with a message by Indian army chief General Bikram Singh to his troops to be "aggressive when it comes to dealing with the Pakistani forces" and comes five days after protesters tried to storm Pakistan's diplomatic mission in New Delhi.
Full report at:
http://tribune.com.pk/story/589039/border-volatility-amidst-escalating-tensions-pakistan-weighs-its-options/
-----------
Back in the fray: 'Peace talks with the Taliban are a must'
August 11, 2013
CHARSADDA: Awami National Party leader Asfandyar Wali Khan asserted it was important to initiate peace talks with the Taliban in order to establish peace in the war-torn province.
While talking to the Charsadda Union of Journalists, Asfandyar claimed militants were patrolling the outskirts of Peshawar. He pointed out after the DI Khan jailbreak it had become even more necessary for the government to hold talks with the Taliban.
Asfandyar had returned to his hometown after a period of five years to celebrate Eid. During his three-day stay in Wali Bagh, party leaders, MNAs, MPAs and workers met him amidst tight security arrangements.
Full report at:
http://tribune.com.pk/story/588926/back-in-the-fray-peace-talks-with-the-taliban-are-a-must/
-----------
False alert: Bomb scare at Bari Imam, Islamabad creates panic
August 12, 2013
ISLAMABAD: A false alert regarding the presence of a bomb at Bari Imam created panic at the shrine on Saturday, the second day of Eid ul Fitr.
According to the police, the bomb rumour spread around 4pm at a food distribution centre for the needy at the shrine where mostly women and children were gathered.
The rumour resulted in an immediate frenzy among the crowd and people started shouting and fleeing the scene.
Full report at:
http://tribune.com.pk/story/588980/false-alert-bomb-scare-at-bari-imam-creates-panic/
-----------
Minorities Day: President, PM call for inter-faith tolerance
August 12, 2013
ISLAMABAD: President Asif Ali Zardari and Prime Minister Nawaz Sharif on Sunday sent out their separate messages on the occasion of "Minorities Day".
President Zardari stressed that this day serves as a reminder to all for the need to fulfil promises to the minorities made by the founder of our Nation, Quaid-e-Azam Mohammed Ali Jinnah.
The President highlighted and appreciated the important role played by the minorities during the nation building process and stressed on the need to focus on issues faced by these minorities every day.
Full report at:
http://tribune.com.pk/story/589030/minorities-day-president-pm-call-for-inter-faith-tolerance/
-----------
Balochistan violence on SC's radar; top brass summoned
Aug 12 2013
ISLAMABAD: Chief Justice Iftikhar Muhammad Chaudhry on Saturday took suo motu notice of the violence in Balochistan and summoned the top officials of the province.
The chief justice took the notice on a note of the registrar on the recent incidents of terrorism that occurred in Balochistan and caused death of several innocent citizens as well as personnel of law enforcement agencies, said a press release issued by the Supreme Court. The chief justice directed that the case of law and order situation in Balochistan and other relevant cases pending before the Supreme Court be fixed for hearing on August 15 at the Full report at:
http://www.dailytimes.com.pk/default.asp?page=2013\08\12\story_12-8-2013_pg1_2
-----------
Anti-terror war now a battle for survival: interior minister
SALEEM SHAHID
August 12, 2013
QUETTA, Aug 11: Although the "war against terror" was imposed on the country after the attacks in the United States in Sept 2001, it had now turned into "a battle for survival of Pakistan", the interior minister said in Quetta on Sunday.
"The entire nation should be on the same page in the `war against terror' as it has now become a battle for survival of Pakistan even though it was imposed on us," Chaudhry Nisar Ali Khan said at a press conference after chairing a meeting on law and order.
He said the fight against terrorists would continue under a "comprehensive national security policy" to be unveiled soon.
Full report at:
http://dawn.com/news/1035305/anti-terror-war-now-a-battle-for-survival-nisar
-----------
Mastermind behind Bara Kahu suicide attack attempt captured in Faisalabad
August 12, 2013
FAISALABAD: A four member team of the federal police apprehended the mastermind behind the Bara Kahu suicide attack during a raid in Faisalabad, Express News reported on Monday.
His identity has not been exposed but the police have revealed that he was around 30 years old.
Despite 'heavy deployment' of security personnel for Eid, a suicide bomber successfully entered a mosque in Islamabad but failed to explode before being gunned down on Friday.
The suspect entered the Jamia Mosque Ali Ibn-e-Abi Talib while prayers were in progress.
As he neared the mosque, he took out a pistol and started firing, forcing people to flee the area. The bomber then ran through the narrow streets leading up to the mosque while brandishing the weapon.
Full report at:
http://tribune.com.pk/story/589137/mastermind-behind-bara-kahu-suicide-attack-attempt-captured-in-faisalabad/
--------
Pakistan summons Indian deputy high commissioner over LoC incidents
PTI | Aug 12, 2013
ISLAMABAD: Pakistan on Monday summoned the Indian deputy high commissioner to protest "ceasefire violations" by the BSF along the LoC, claiming that it resulted in the death of a civilian at Rawalakot in PoK.
Pakistan also asked India to uphold the 2003 ceasefire agreement while committing itself to a "constructive, sustained and result-oriented process of engagement" between the two countries.
Full report at:
http://timesofindia.indiatimes.com/world/pakistan/Pakistan-summons-Indian-deputy-high-commissioner-over-LoC-incidents/articleshow/21778779.cms
----------
Major General Amir Riaz appointed new DGMO
August 12, 2013
RAWALPINDI: Major General Amir Riaz has been appointed as the new Director General of Military Operations of Pakistan Army, Dawn News reported.
Riaz's predecessor Major General Ashfaq Nadeem served on the said post from April 2011 until recently. Nadeem was lately promoted to the rank of lieutenant general during a recent shuffle in the army top brass. Major General Riaz, formerly a head of the 111 Brigade, was also among the witnesses against Brigadier (retd) Ali Khan who was convicted for having links with banned organisation Hizbut Tahrir.
Full report at:
http://dawn.com/news/1035427/major-general-amir-riaz-appointed-new-dgmo/print
----------
India
Jamaat-ud-Dawa denies Hafiz Saeed's threats of terror strikes in Delhi
Bharti Jain, TNN | Aug 11, 2013
NEW DELHI: Jamaat-ud-Dawa (JuD) has formally denied that its chairman Hafiz Muhammad Saeed threatened terror strikes in Delhi, making security experts here wonder if the 26/11 mastermind was having second thoughts about terror-mongering at a time when the Nawaz Sharif government in Pakistan is aiming for peace talks with India.
According to a former Research & Analysis Wing (R&AW) official, it is a known fact that Saeed shares good ties with Nawaz Sharif. "Anti-India elements in Pakistan and ISI have been using Saeed for propaganda on Kashmir, allowing him to make hate speeches from public platforms in Pakistan. However, his propagation of terror acts has the potential of embarrassing the Sharif regime as it would be seized upon by India to nail Islamabad on its failure to rein in terror perpetrators on its soil," the official pointed out.
Full report at:
http://timesofindia.indiatimes.com/india/Jamaat-ud-Dawa-denies-Hafiz-Saeeds-threats-of-terror-strikes-in-Delhi/articleshow/21764271.cms
-----------
Pakistan violates ceasefire again; nightlong firing from across LoC in Poonch
PTI | Aug 12, 2013
JAMMU: Escalating border tension, Pakistani troops on Monday violated the ceasefire for the fifth time in the last three days by targeting forward Indian posts along the LoC in Poonch district with mortar shells, rockets and small arms firing.
Indian troops, guarding the borderline, took positions and retaliated resulting in heavy exchanges.
"Pakistan troops opened heavy firing with small arms, mortar shells and rockets on Indian forward posts along LoC in Poonch and Durga Battalion areas around 0150 hours", defence spokesman S N Acharya said today.
"It was yet another ceasefire violation by Pakistan", the Spokesman said, adding the firing took place from 0150 hours till 0600 hours.
There was no loss of life or injury to anyone in the Pakistani firing, Acharya said.
Pakistani troops fired at 11 posts in Digwar, Mankote and Durga Battalion areas along the LoC in Poonch.
Full report at:
http://timesofindia.indiatimes.com/india/Pakistan-violates-ceasefire-again-nightlong-firing-from-across-LoC-in-Poonch/articleshow/21772502.cms?
-----------
Kishtwar violence: Omar rakes up Gujarat riots as J&K Minister quits
Aug 12 2013
Jammu : In a setback for the Jammu and Kashmir government, Minister of State for Home Sajjad Ahmed Kitchloo has resigned in the wake of communal violence in Kishtwar. However, before going to Chief Minister Omar Abdullah for tendering his resignation, Kitchloo decried attempts to malign his image in the matter.
Confirming the development, Abdullah on Monday posted a tweet: "I have received Sajaad Kitchloo's resignation asking to be relieved of his responsibilities pending the outcome of the judicial inquiry."
Full report at:
http://www.indianexpress.com/news/kishtwar-violence-omar-rakes-up-gujarat-riots-as-j-k-minister-quits/1154290/
--------
South Asia
Kabul proposes Taliban offices in Riyadh, Ankara
August 12, 2013
ISLAMABAD: The Afghan government on Sunday proposed the opening of the Taliban offices in Saudi Arabia and Turkey following closure of the militia's offices in Qatar, foreign ministry spokesman Janan Musazai said.
As key Muslim countries, Turkey and Saudi Arabia can take important steps as they are also on friendly relations with Afghanistan. "They can play a considerable role in the area of the peace process in Afghanistan," the spokesman said.
Musazai neither denied nor confirmed reports of Taliban talks with members of the Afghan peace council in Dubai and said Afghan government wants direct talks with the Taliban.
Eid greetings
Afghan President Hamid Karzai telephoned President Asif Ali Zardari to wish him Eid. Spokesperson to the President, senator Farhatullah Babar said that President Zardari thanked his Afghan counterpart for the call and conveyed Eid greetings to him and to the people of Afghanistan.
Full report at:
http://tribune.com.pk/story/589032/peacemaking-efforts-kabul-proposes-taliban-offices-in-riyadh-ankara/
-----------
DRP denies holding coalition talks with President Waheed's election rivals
By Neil Merrett | August 11th, 2013
The government-aligned Dhivehi Rayyithunge Party (DRP) has rejected allegations it ever considered forming a coalition to back a candidate other than President Dr Mohamed Waheed.
Local media quoted senior figures in the Jumhoree Party (JP) of accusing DRP Leader Ahmed Thasmeen Ali of unsuccessfully trying to become the running mate of its presidential candidate MP Gasim Ibrahim, before opting to side with the incumbent in May this year.
JP candidate Gasim, one of the country's highest-profile business figures, has since formed his own coalition with the religious conservative Adhaalath Party (AP) and Dhivehi Qaumee Party (DQP) after they both defected from President Waheed's 'Forward with the nation' coalition in July.
Full report at:
http://minivannews.com/politics/drp-denies-holding-coalition-talks-with-president-waheeds-election-rivals-62178
-----------
Eid brings little joy to people of 80 villages of Bangladesh
Aug 12 2013
The joy of Eid-ul-Fitr eluded the people of 80 villages in Teesta and Dharla river basin char (landmass emerged from river) areas in five Upazila under the district, as they were not able to buy common delicacies like vermicelli, let alone new dresses.
After losing their shelters, croplands and domestic animals during the recent floods and erosion, the poor people living in the areas turned poorer still, struggling to make two ends meet.
Talking with this correspondent, several flood victims said they were waiting for help from the government and non-government organisations to buy food and other things to celebrate Eid with their family but they did not get any support from any corner for the purpose.
Full report at:
http://www.thedailystar.net/beta2/news/eid-brings-little-joy-to-people-of-80-villages/
-----------
Mideast
We will try to free Guantanamo inmates: al-Qaeda
August 12, 2013
Al-Qaeda's leader said in remarks posted Wednesday that a prisoners' hunger strike in Guantanamo Bay has revealed the "odious" face of America and claims that the terror network will spare no effort to free prisoners held at the US military-run detention center in Cuba. Ayman al-Zawahri
spoke in a 22-minute audio message posted on the Internet.
"The strike by our brothers in Guantanamo reveals the real odious and ugly face of America," he said. Some of the 166 prisoners there began a hunger strike earlier this year to protest conditions and their indefinite confinement.
"We pledge God that we will spare no efforts to set them free along with all our prisoners, on top of them Omar Abdel Rahman, Aafia Siddiqui, Khalid Sheikh Mohammed and every oppressed Muslim everywhere," he said.
Full report at:
http://www.hindustantimes.com/world-news/RestOfAsia/We-will-try-to-free-Guantanamo-inmates-al-Qaeda--/Article1-1106906.aspx
---------
Turkish authority introduces 'Alcohol is not your friend' tag on bottles
12 August 2013
Signs warning about the possible harms of alcohol consumption will be placed on the bottles of alcoholic beverages within 10 months, according to a statement published in the Official Gazette Aug. 11.
The statement about the warning labels to be put on alcoholic beverage packages, which was released by the Tobacco and Alcohol Market Regulatory Authority (TAPDK), specified three graphic warning signs and a written message to be placed on bottles containing alcohol.
Pictures will involve warnings against consumption under the age of 18, before driving and during pregnancy, while the written message will read, "Alcohol is not your friend."
Full report at:
http://www.hurriyetdailynews.com/turkish-authority-introduces-alcohol-is-not-your-friend-tag-on-bottles-.aspx?pageID=238&nID=52372&NewsCatID=341
---------
Kurds discuss conflict on Turkey-Syria border
12 August 2013
Senior Iraqi Kurdish officials have met with the outlawed Kurdish Communities Union (KCK) in the Kandil Mountains as the leader of northern Iraq threatened to intervene in neighboring Syria to defend Kurds there from al-Qaeda-linked fighters.
In a letter posted online on Aug. 10, Kurdistan Regional Government (KRG) President Masoud Barzani said he had directed Kurdish representatives to go to neighboring Syria to investigate news reports that the "terrorists of al-Qaeda are attacking the civilian population and slaughtering innocent Kurdish women and children."
The statement follows weeks of clashes in predominantly Kurdish parts of northeastern Syrian near the Iraqi border between the al-Nusra Front and the Democratic Union Party (PYD), the Syrian affiliate of the outlawed Kurdistan Workers' Party (PKK). The fighting has killed dozens on both sides.
Full report at:
http://www.hurriyetdailynews.com/kurds-discuss-conflict-on-turkey-syria-border.aspx?pageID=238&nID=52351&NewsCatID=352
---------
Africa
Ramadan charity cash filched from Benghazi mosque
August 12, 2013
TRIPOLI – The entire Ramadan charity collection has been stolen a Benghazi mosque.
Five collection boxes, in which worshippers had been placing their Zakat offerings throughout the holy month, were smashed open at the Abdullah bin Jaafar Mosque in Abuhadeema.
Mosque officials said that it was impossible to know how much was taken by the thieves, who are thought to have broken into the building at around about 2am yesterday. All Libyans have been urged to give a minimum of LD 2 for each member of their family, these charitable donations then being distributed to the poor. All Zakat offerings should have be made before the start of Eid. – Libya Herald
http://www.saudigazette.com.sa/index.cfm?method=home.regcon&contentid=20130812176587
-----------
Nigeria backlash against Boko Haram spurs risky vigilante war
By Tim Cocks and Lanre Ola
August 12, 2013
ABUJA/MAIDUGURI, Aug 11 (Reuters) - Nigerian ironworker Ba Kaka initially felt sympathy for Boko Haram's violent uprising against a state he and many others saw as corrupt, un-Islamic and kowtowing to Western ideology.
But as deaths mounted in the Islamist sect's bloody campaign against state institutions, security services, Christians and even school children in northeast Nigeria, he began to see them as a threat to his life and livelihood.
"We thought they were doing God's work at the beginning, but over time, we realised they were just a cult," said Kaka, who was forced to close his shop in the northeast's main city of Maiduguri after a spate of Boko Haram attacks in his area.
Full report at:
http://www.trust.org/item/20130811091445-v43zb/?source=hptop
-----------
SOMALIA: FBI: Al-Shabaab Released Video To Recruit Minn. Men For Jihad
August 12, 2013
MINNEAPOLIS (WCCO) – It's well documented that foreign terror groups have been working to bring in new recruits. In fact, more than two-dozen young Somali-Americans from the Twin Cities have already been lured to training camps overseas, mostly in Somalia.
Now, there's growing concern over a propaganda video just released that's trying to attract more young men to do the same.
The FBI believes Al-Shabaab is responsible for producing and releasing a 40-minute video that follows three Twin Cities men on the path to martyrdom.
For the past seven years, federal agents have been investigating and prosecuting Minnesota's so-called "terror pipeline."
Full report at:
http://www.midnimo.com/2013/08/10/somaliafbi-al-shabaab-released-video-to-recruit-minn-men-for-jihad/
-----------
Tripoli awash with weapons in absence of state
August 12, 2013
TRIPOLI, Lebanon: Weapons have become a part of the daily lives of Tripoli's residents, as their possession is no longer limited to the armed groups active in the flashpoint neighborhoods of Bab al-Tabbaneh and Jabal Mohsen. Tripoli has traditionally been known as an economic center, famous for its Old City souks. But after more than a dozen rounds of brutal fighting, usually centered on the Bab al-Tabbaneh-Jabal Mohsen fault line, the city has now become a booming market for weapons. The trade in arms is now seeing residents buy their own guns, pistols and even hand grenades.
Full report at:
http://www.dailystar.com.lb/News/Lebanon-News/2013/Aug-12/227006-tripoli-awash-with-weapons-in-absence-of-state.ashx#ixzz2bkpRIMPF
--------
Southeast Asia
Anwar confirms Najib proposed unity government, reports Asia Sentinel
AUGUST 12, 2013
Prime Minister Datuk Seri Najib Razak (pic) has been reaching out to opposition chief Datuk Seri Anwar Ibrahim to explore the possibility of a ground-breaking unity government, a long shot possibility at best given the zero sum game climate in Malaysian politics.
In an interview with the Asia Sentinel, Anwar said that the peace moves were initiated by Najib, but he had sent word through intermediaries that attacks by Utusan Malaysia on the Chinese and Indian communities would have to cease, before any progress could be made.
He also wanted as a condition the lowering of the racial temperature in Malaysia.
"I said the fundamental issues must be addressed, ending the racial stuff, there has to be a clear understanding and commitment to reform and change, " he said.
Full report at:
http://www.themalaysianinsider.com/malaysia/article/anwar-confirms-najib-proposed-unity-government-reports-asia-sentinel
-----------
Malaysia mulls return of 'detention without trial' law, but with checks
Aug 12 2013
Under pressure to end the spate of almost-daily killings that have hit the country recently, the Malaysian government is seeking to bring back detention without trial, but with wider oversight.
Home Minister Ahmad Zahid Hamidi, in the first such announcement, said the powers of his office to order detention without trial might be transferred to a panel of professionals to check abuses of power.
The panel, he told Mingguan Malaysia, the Sunday edition of the Malay-language Utusan Malaysia daily, would be made up of police officers, judges and public prosecutors. It would not include politicians.
Full report at:
http://www.thejakartapost.com/news/2013/08/12/malaysia-mulls-return-detention-without-trial-law-with-checks.html
-----------
Ahmadiyah Determined to Not Let Hard-liners Ruin Idul Fitri
By Camelia Pasandaran
August 12, 2013
As millions of Muslims flocked to mosques across Indonesia on the morning of Idul Fitri last Thursday, a small group braved the early morning chill, considerable distance and narrow alleyways to get to the Al-Misbah mosque in Bekasi.
After the sermon and prayer, group members spilled out of the mosque's back door with glowing faces. The children ran around, shouting with joy, while the adults exchanged smiles and greetings. The heavy police presence outside the mosque didn't seem to dampen their festive spirit.
Full report at:
http://www.thejakartaglobe.com/news/ahmadiyah-determined-to-not-let-hard-liners-ruin-idul-fitri/
--------
URL: https://www.newageislam.com/islamic-world-news/new-age-islam-news-bureau/arab-muftis-issue-syria-jihad-fatwas-in-exchange-for-money/d/12995