New Age Islam News Bureau
21 March 2010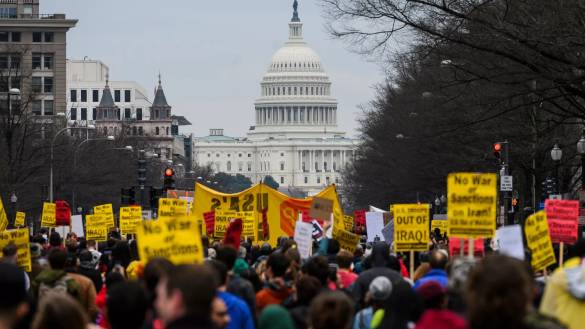 Anti-war protests across U.S., the world against Iran action — Axios
----------------
• ISI pressing Babbar Khalsa to revive terror
• Pak to US: Terror bill worth $35 billion, nuke deal
• Osama bin Laden's son slams Qaida, says family doing well in Iran
• Crude bomb found on Kingfisher flight
• Terror SMS from your cell phone number? Possible
• Indians in Afghanistan are soft targets: Krishna
• Pak PM goes to US seeking economic and military aid
• Doubts grow on chances of peace in Somalia
• Holbrooke pats U.S. on Baradar
• Blast rocks Athens
• Quartet 'strongly supports' aim for Palestinian state: Ban
• UN chief arrives in West Bank
• Jihad as American as apple pie, says US-born cleric
• Israeli Raid on Ghaza airport, 11 injured
• Islamic finance hurt by its day in UK court
• Egyptian actor Omar Sharif, the 'pride of Arabia
• Trouble Strikes Afghan Peace Talks
• UN Food Aid Used To Nourish War In Somalia
• 'Children of Dust,' tells story of a devout Muslim's life in the Bible Belt
• Dozens arrested as anti-Muslim English Defence League protestors battle rivals
• Islamic cartoon row is latest case of libel tourism
• Three Taliban militants arrested
• US Lawmakers Stand Up Against Obama for Israel
• Muslim spiritual leader calls for peaceful co-existence among Nigerians
• Living as a Muslim in North America; balancing a two winged education
• In northern Iraq, Kurds warn: "Beware the Arabs"
• Afghanistan blast 'kills 10' in Helmand province
• Somali Islamist al-Shabab commander assassinated
• Bomber Attacks Afghan Army Patrol
• The battle for Al-Azhar
• AIMPLB now more representative, Rabey Nadvi president for third term
• British MPs join campaign against anti-Muslim right-wing extremists
• International Halal Conference to focus on Quality Assurance
• Philippines hunts Indonesian training militants
Compiled by New Age Islam News Bureau
URL: https://www.newageislam.com/islamic-world-news/anti-war-protest-in-us/d/2604
-----
Anti-war protest in U.S.
Narayan Lakshman
Washington DC: On the seventh anniversary of the invasion of Iraq, thousands of people from across the United States on Saturday converged on Lafayette Square, opposite the White House in Washington DC. The rally then marched through downtown DC, halting en route at the premises of military contractor Halliburton, the Mortgage Bankers Association and The Washington Post offices.
While the protest drew a smaller crowd than the tens of thousands who marched during the final years of the Bush administration, the ANSWER coalition, the main organiser, said momentum was building due to disenchantment with President Obama's troop surge decision for Afghanistan. Other participating groups included Veterans for Peace, Military Families Speak Out and the National Council of Arab Americans and activists such as Ralph Nader and Cindy Sheehan.
In a statement the ANSWER coalition said,
"People from all over the country are organising to converge on Washington, D.C., and on the West Coast to demand the immediate and unconditional withdrawal of all U.S. and NATO forces from Afghanistan and Iraq."
Instead of war, we will demand funds so that every person can have a job, free and universal health care, decent schools, and affordable housing, said the coalition statement.
According to some reports the rally could prove to be significant as it was the "first massive, nationally coordinated effort to challenge U.S. foreign policy since President Obama took office." Though the costs and scope of U.S. military engagements have expanded under Mr. Obama, the anti-war movement has thus far been largely silent since January 2008.
However with Saturday's protest march, the movement signalled that it had revived and was capable of challenging the Obama administration on its foreign policy strategies.
The ANSWER coalition said though "the enthusiasm and desire for change after eight years of the Bush regime was the dominant cause that led to election of a big Democratic Party majority in both Houses of Congress and the election of Barack Obama to the White House… [it was now] obvious to all that waiting for politicians to bring real change… is simply a prescription for passivity by progressives and an invitation to the array of corporate interests from military contractors to the banks, to big oil, to the health insurance giants that dominate the political life of the country."
http://www.hindu.com/2010/03/21/stories/2010032156731600.htm
-----
ISI pressing Babbar Khalsa to revive terror
Mar 21, 2010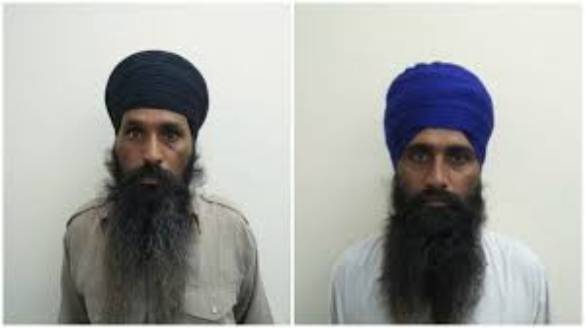 Arrested Babbar Khalsa men were planning targeted murd
-------------
MOHALI/NEW DELHI: Hot on the heels of the Mumbai and Ahmedabad arrests of terrorists suspected of plotting terror attacks, a joint police team from Punjab and Delhi police busted a module of Babbar Khalsa International (BKI), an outfit backed by Pakistan's ISI. Three men were arrested.
Two alleged BKI terrorists, identified as Daljit Kumar alias Deepak of Baltana in Mohali district and Purshotam Singh alias Bunty from Rajoura in Patiala district, were arrested from the Zirakpur-Patiala road near Zirakpur in an operation conducted by the Mohali Police and the Special Cell of Delhi Police on Thursday night. The third member of the outfit, Karwinder Singh, a native of Ropar, was held in Delhi on Friday.
This comes just six months after Punjab police discovered a BKI cell. That the arrests coincide with those in Mumbai and Ahmedabad confirms fears about the ISI-Lashkar combine's urgency about launching a wave of terrorist attacks in the run-up to the Commonwealth Games. The BKI comprises Khalistanis sheltered by the ISI in Rawalpindi and Lahore.
The leader of BKI, Paramjit Singh Raj, who is holed up in Pakistan figures in the dossier submitted to Pakistan last month.
The arrests show that BKI is being pressured, just like Indian Mujahideen terrorists hosted by Pakistan, by its ISI handlers to revive terror activities.
SSP, Mohali, Gurpreet Singh Bhullar said that two France-based terrorists identified as Purshotam Singh of Matheri and Goldy of Ghel, both from Ambala district, were funding the terrorists activities. Rs 1 lakh recovered from the two accused was sent by them. Police also recovered a .455 bore revolver with three cartridges from the two accused.
Purshottam Singh, a proclaimed offender, is one of the accused involved in the assassination of former Punjab CM Beant Singh, but could not be arrested. He had also tried to eliminate former Haryana CM Bhajan Lal before Benat Singh's assassination.
The arrest shows that BKI is trying hard to set up base in the region. The cops said that the money recovered from the arrested men was to be used to fund terror activities in the region. They were moving in an isolated area under suspicious circumstances. After getting a tip-off, a trap was laid with the help of the Delhi Police.
Preliminary interrogation of the accused revealed that they were planning to carry out blasts in the region to create terror, the cops said, adding that more revelations are expected in the coming days.
A case against them was registered at the Zirakpur police station and they were produced in the Derabassi court from where they were sent to police remand till March 21.
In September last year, the seizure of explosives in Rajasthan and arrest of BKI activists from Mohali and Fatehgarh Sahib had led to the fear that the banned terror outfit was trying to establish its base to revive terrorism in the state.
The intelligence wing of the Punjab police had also sent a three-page communication to the SSPs of all districts cautioning them about the renewed efforts by ISI of Pakistan and Pakistan-based Punjab terrorists to send consignments of arms, explosives, fake currency and drugs for reviving terror activities in the state, disrupting the economy and spreading the drug menace.
Investigations conducted so far have revealed a multi-layered conspiracy with persons sitting in Pakistan setting operational goals, UK-based masterminds and local modules acting in an organized and well directed manner.
According to sources, terrorist collaborators based in European countries, the US and Canada are active in sending funds and acting as co-ordinators.
http://timesofindia.indiatimes.com/india/ISI-pressing-Babbar-Khalsa-to-revive-terror/articleshow/5707000.cms
-----
Pak to US: Terror bill worth $35 billion, nuke deal
Chidanand Rajghatta,
WASHINGTON: Pakistan is coming up with a bill of $ 35 billion for its efforts in the war on terror and a wish-list that includes a nuclear deal similar to the US-India agreement as it prepares to engage Washington this coming week in what officials from both sides say is the most comprehensive dialogue in their bilateral history.
Turning the US mantra that Pakistan should "do more" in the war on terror, Pakistani officials, in an aggressive turnaround, have said Pakistan has done enough and it is now the United States turn to do more, as they set off to Washington for talks on the heels of what they claim is unprecedented success against the Taliban.
Pakistan has "captured" nearly half the top Taliban leadership, including the organisation's No.2 Mullah Baradar, in recent weeks in the run-up to the talks. Although U.N and Afghan officials accuse the Pakistanis, who were hosting the Taliban leadership, took them in to sabotage peace talks being held outside Islamabad's patronage, U.S officials said on Friday that they were "gratified" by the arrests.
"We are extremely gratified... he is where he belongs," the Obama administration's Af-Pak envoy Richard Holbrooke said about Baradar's arrest by Pakistan as he previewed the upcoming talks with reporters at the State Department on Friday, adding, "And many other people have been picked up or eliminated, and this is putting much more pressure on the Taliban. And this is a good thing for the simplest of reasons: It is good for the military efforts that are underway in Afghanistan."
Full report at: /timesofindia.indiatimes.com/world/us/Pak-to-US-Terror-bill-worth-35-billion-nuke-deal/articleshow/5706539.cms
-----
Osama bin Laden's son slams Qaida, says family doing well in Iran
Mar 21, 2010
RIYADH: Osama bin Laden's son Omar said on Saturday that al-Qaida's North Africa branch should keep out of his family's affairs, after it accused Iran of mistreating his siblings stranded in Tehran.
The al-Qaida chief's fourth son also confirmed that his sister Iman bin Laden together with their mother Najwa al-Ghanem had been allowed to leave Iran on Thursday after months of trying, and they were now in Damascus.
"We confirm that Iman left Iran with her mother three days ago," Omar told AFP by telephone from Britain.
On Friday, the Saudi-financed daily Asharq Al-Awsat said Iman, who took refuge in the Saudi embassy in Tehran in November after evading her Iranian minders, and Ghanem who is of Syrian origin had been allowed to leave Iran.
Omar bin Laden criticised charges by both his half-brother Khalid and from the North African branch of Al-Qaeda that Iran had mistreated Bin Laden family members living in Tehran under house arrest since fleeing Afghanistan in 2001.
Full report at: timesofindia.indiatimes.com/world/middle-east/Osama-bin-Ladens-son-slams-Qaida-says-family-doing-well-in-Iran-/articleshow/5707317.cms
-----
Crude bomb found on Kingfisher flight
THIRUVANANTHAPURAM: In what could raise security concerns, a low intensity explosive was on Sunday found in a cargo compartment of Kingfisher flight IT-4731 that arrived from Bangalore.
The Kingfisher flight from Bangalore arrived at 8.25 am and a Central Industrial Security Force (CISF) official found the suspected explosive, which is the size of a cricket ball, wrapped in a newspaper, said city police commissioner MR Ajith Kumar, IANS reported.
"We are investigating into how this happened. Certainly this is a security lapse. The suspected explosive is now in the possession of experts and investigations will reveal what exactly it is," Kumar added.
According to Times now, the plane has been taken to the remote bay area of the Thiruvananthapuram airport and is being checked by security personnel.
The bomb disposal squad (BDS) has been rushed to the airport to check the nature of the crude bomb found in the flight, after the passengers were deplaned.
According to the police, the crude bomb or high power hand cracker was found wrapped in a newspaper at the cargo section, while the crew was clearing that section of the plane.
Reports suggested that investigations are on to ascertain how this object landed in the cargo of the plane, which also hints a security lapse on the part of the Bangalore airport authorities.
Full report at: timesofindia.indiatimes.com/city/thirupuram/Crude-bomb-found-on-Kingfisher-flight/articleshow/5707774.cms
-----
Terror SMS from your cell phone number? Possible
By V Narayan
Mar 21, 2010,
MUMBAI: Imagine getting a lewd SMS from a number you know, going to police with a complaint and then finding out that the supposed sender is clueless about what happened.
Two such cases have been reported to Mumbai police in the past month. Though they are yet to track down the sender, they have managed to unearth a bizarre truth, that of the 'masked SMS'. The user has to register on a website (for as little as $10) and can send text messages to and from any mobile number on the planet without being identified.
Mumbai police have managed to track down two or three websites that are used to send masked messages and are collaborating with IT experts to get to the bottom of the matter. "We have received two complaints in the last one month where the sender's number was camouflaged," joint commissioner of police (crime) Rakesh Maria told TOI on Saturday.
IT industry sources said, "It's rare for the real miscreant to be caught in such a situation because people might register under false identities and also commit credit card fraud to pay the small registration fee," says IT expert Vijay Mukhi.
If caught, can the culprit be charged under our laws? "Yes," says IT expert Vijay Mukhi. "Section 66 A of the IT Act talks about sending offensive messages using any communication device, Section 66 C is the identity theft section and Section 66 D the cheating by impersonation section." A pornographic message will be charged under Section 66 E, while Section 66 F is quoted in the case of cyber terrorism.
Full report at: timesofindia.indiatimes.com/india/Terror-SMS-from-your-cell-phone-number-Possible/articleshow/5707029.cms
-----
Indians in Afghanistan are soft targets: Krishna
External Affairs Minister SM Krishna says that Indian aid workers in Kabul have become "soft targets" for terrorists who want to derail India-Afghan relations.
"I think (the Feb 26 Kabul attack that killed seven Indians) has been the handiwork of those forces who are out to see that the relationship between India and Afghanistan is jeopardized," Krishna told a TV channel.
Asked if the US had agreed that the attack Pakistan-based Lashkar-e-Taiba outfit masterminded that attack, the minister told CNN-IBN that America "cannot come to any other conclusion other than to accept that it was the handiwork of these terrorist organisations".
He said the US "certainly" does understand that as it is "a close observer of these developments both in India and in Pakistan and in Afghanistan, because they have so much at stake in Afghanistan".
The minister said there was a warning that Indian missions and volunteers on humanitarian work in the war-torn country "are going to be under attack because what India has been doing in Afghanistan is the visible symbol of what India intends to do in building up Afghanistan.
Full report at: www.hindustantimes.com/Indians-in-Afghanistan-are-soft-targets-Krishna/H1-Article1-521567.aspx
-----
Pak PM goes to US seeking economic and military aid
Pakistan Prime Minister Yousuf Raza Gilani on Saturday identified strengthening the capacity of law enforcement agencies and fast-tracking of economic and military aid and power generation as areas in which progress can be made in the next round of the Pakistan-US Strategic Dialogue.
Gilani made the remarks during a meeting with US Ambassador Anne Patterson ahead of the fourth round of the Strategic Dialogue to be held in Washington on March 24.
Foreign Minister Shah Mehmood Qureshi will head the delegation. He has said the issue of strategic stability between Pakistan and India will be taken up.
Gilani expressed the hope that the parleys would be successful in achieving "concrete results and tangible goals set by both sides".
He identified power generation, water conservation,
education, strengthening the capacity of Pakistan's law enforcement agencies through training and provision of equipment and fast-tracking of economic assistance committed
Full report at: www.hindustantimes.com/world-news/pakistan/Pak-PM-goes-to-US-seeking-economic-and-military-aid/Article1-521494.aspx
-----
Doubts grow on chances of peace in Somalia
NAIROBI: Problems including corrupt officials and a lack of supplies have delayed Somalia's military offensive against Islamist insurgents, but even before the first shot has been fired new warnings have emerged that blood may be spilled for little or no gain.
In signs the offensive is approaching, close to 1,000 additional troops arrived from Uganda last week to support the African Union's forces in Mogadishu, and the Islamists have been digging trenches across the capital's streets to impede AU armoured cars. The AU backs the beleaguered Somali government and has more than 5,000 troops stationed in the country.
But Somalia's government, whose forces are weak and poorly trained and equipped, has not described how it would consolidate any gains made in the offensive or win the support of the people, who are splintered into hundreds of clans.
Experts say the government does not appear to have a political plan ready to deploy after the end of the fighting, which is likely to kill scores of civilians.
The Somali government, for its part, says it is committed but needs more international support.
http://www.hindu.com/2010/03/21/stories/2010032157311600.htm
-----
Holbrooke pats U.S. on Baradar
Narayan Lakshman
Washington DC: At a press briefing on the coming Strategic Dialogue with Pakistan, Richard Holbrooke, Special Representative for Afghanistan and Pakistan, said the U.S. was "extremely gratified that the Pakistani Government has apprehended the number two person in the Taliban".
His reaction comes shortly on the back of revelations by former U.N. staff that secret negotiations with the Taliban for greater peace in Afghanistan might have slowed down due to the arrest of Mullah Abdul Ghani Baradar, Afghan Taliban's number two commander.
Mr. Holbrooke said many militants and groups had been picked up or eliminated, and this was increasing the pressure on the Taliban. He said this was "a good thing for the simplest of reasons: It is good for the military efforts that are under way in Afghanistan."
Revelation
Mr. Holbrooke was asked about the revelation by the former U.N. Representative in Afghanistan, Kai Eide, that he (Mr. Eide) was in talks with Taliban leaders since last spring and that those talks were shut down after the Pakistani authorities began arresting senior Afghan Taliban leaders like Baradar.
Reacting to the question about revelations by the former U.N. Representative in Afghanistan, Kai Eide, that he (Mr. Eide) was in talks with senior Taliban leaders since last spring and that those talks were shut down after the Pakistan arrested Baradar, he said, the arrest "is not related to the issue that you're addressing". President Karzai has said he wanted a reconciliation programme with all Afghans, including people fighting with the Taliban and President Obama has said we support Afghan-led reconciliation, said Mr. Holbrooke.
Clarifying the intention behind the Strategic Dialogue, Mr. Holbrooke said "This strategic dialogue with Pakistan is not at the expense of any other country in the region."
-----
Blast rocks Athens
Athens: A bomb exploded outside a police detention centre in Athens on Saturday, though no one was injured, Greek radio reported.
It was the third bomb attack in two days in the Greek capital, which has been rocked in recent weeks by strikes and protests over austerity cuts aimed at controlling the debt crisis.
Earlier on Saturday a bomb exploded outside the residence of the president of the Greek-Pakistani Association. On Friday a bomb went off outside the offices of the far-right organisation Golden Dawn in central Athens.
Officials reported varying degrees of damage after the explosions but no injuries.
The third bomb was planted at a bus stop in front of the detention centre. Its explosion shattered a number windows in the immediate vicinity.
It was not yet clear who was behind Saturday's attacks. But police suspected that one of the country's many autonomous left-wing groups may be responsible for Friday's blast. — DPA
http://www.hindu.com/2010/03/21/stories/2010032157641600.htm
-----
Quartet 'strongly supports' aim for Palestinian state: Ban
UN chief Ban Ki-moon on Saturday said that the Middle East Quartet "strongly supports" Palestinian efforts to establishing their own state.
"The Quartet has sent a clear and strong message: we are strongly supporting your efforts to establish an independent and viable Palestinian state," the visiting Ban told Palestinian prime minister Salam Fayyad.
Before their formal talks, Fayyad had taken Ban to a vantage point above Ramallah to show him a large swathe of West Bank territory under exclusive Israeli control and off limits to Palestinian development.
Ban "will see for himself how difficult it is," Fayyad said before the UN secretary general arrived, "but he will also see how determined we are to create positive facts on the ground."
Fayyad claims that 60 per cent of the West Bank consists of land in so-called Area C, under Israeli control, and that 70,000 Palestinians live there.
http://www.indianexpress.com/news/quartet-strongly-supports-aim-for-palestinian-state-ban/593417/
-----
UN chief arrives in West Bank
IANS | Ramallah
UN Secretary General Ban Ki-moon arrived in the West Bank city of Ramallah on Saturday to push for talks that would eventually lead to direct negotiations between Israel and Palestine.
Upon arrival, Palestinian Prime Minister Salam Fayyad took Ban on a tour of the concrete barrier Israel is building on the occupied territory to secure its settlements, Xinhua reported.
Ban said the Jewish settlements made the situation difficult and called on Israel to take more steps to ease the life of Palestinians, especially in the blockaded Gaza Strip.
Later, Ban will go to Israel to talk to President Shimon Peres and Prime Minister Benjamin Netanyahu, besides other senior Israeli officials to clarify the UN's stance on Middle East peace.
Ban will visit the Hamas-controlled Gaza Strip Sunday and also address a press conference.
The UN chief's second visit to the Palestinian territories comes a day after he joined a Middle East Quartet meeting which brought together US Secretary of State Hillary Clinton, Russian Foreign Minister Sergei Lavrov, EU foreign policy chief Catherine Ashton and Quartet representative Tony Blair to assess the stalled peace process between Israel and the Palestinian National Authority (PNA).
Full report at: http://www.dailypioneer.com/243569/UN-chief-arrives-in-West-Bank.html
-----
Jihad as American as apple pie, says US-born cleric
March 19, 2010
Violent jihad, or Islamic holy war, is "becoming as American as apple pie," US-born fugitive cleric Anwar Al-Awlaqi said in an unauthenticated message released Friday.
"Western jihad is here to stay," warned Awlaqi as he commented on a blonde American who dubbed herself "JihadJane" and has pleaded not guilty to trying to recruit Islamist militants to murder a Swedish cartoonist.
"Jihad is becoming as American as apple pie and as British as afternoon tea," the US-Yemeni cleric said in an English-language message posted on militant forums and released by the US-based SITE monitoring agency.
Western attempts to stop the spread of violent jihad to people who do not fit the usual profile of a potential extremist have failed, he argued, amid a rash of home-grown terrorism cases in the United States.
"Eight years after 9/11 and the declaration of war against terrorism, jihad is still reaching the shores of Europe and America. Not from the outside, but from within. Jihad is not being imported but is being homegrown," read the message attributed to Awlaqi.
He also referred to Christmas Day bomber Umar Farouk Abdulmutallab and to Colleen LaRose, the 46-year-old Pennsylvania resident who dubbed herself "JihadJane."
Full report at: rawstory.com/news/afp/Jihad_as_American_as_apple_pie_says_03192010.html
-----
Israeli Raid on Ghaza airport, 11 injured
20 March, 2010
JERUSALEM - Israeli warplanes carried out in the Friday night raid on Ghaza airport, injuring eleven people, including two seriously, according to Palestinian doctors and witnesses.
Four missiles hit the airport, witnesses said.
Those who were injured were all in the vicinity of the airport near the town of Rafah, the sources said.
The airport was closed long ago.
The Israeli army announced in a statement the raid on the airport, she called a "site of terrorism", the pilots, she said, confirmed that the target had been reached.
Friday morning, Israeli aircraft had bombed several targets in the Ghaza Strip, causing two injuries, said Palestinian security services officials and witnesses.
These strikes had taken place some hours after Palestinian rocket fire from Ghaza into southern Israel, killing a Thai farm worker.
Israeli planes had targeted a workshop in Ghaza City and three tunnels under the border with Egypt.
Full report at: http://www.ennaharonline.com/en/international/3442.html
-----
Islamic finance hurt by its day in UK court
March 21. 2010
When the Islamic scholar Taqi Usmani in early 2008 questioned a large number of sukuk, his remarks caused a backlash across the Islamic finance industry and harmed the reputation of Sharia-compliant bonds.
Two years on, it looks like a little noticed ruling by the high court in London could inflict more harm on Sharia-compliant loans and other financial deals.
This month an English judge ruled that The Investment Dar (TID), the troubled Kuwaiti investment house, did not have to stick to the terms of an Islamic loan because the contract did not comply with Sharia law, thus ultimately rendering it void.
Scholars, lawyers and other experts say the ruling damages the reputation of Islamic finance.
"The agreements put forward by Investment Dar's legal counsel could have a negative impact on the Islamic finance sector and increase so-called Sharia risk by several degrees," says Michael Rainey, a lawyer at King and Spalding, an international law firm. "The willingness [of the judge] to make such an argument damages the credibility of Islamic financial institutions generally."
The English court ruled that TID had made an "arguable case" that the Wakala agreement – effectively a type of loan for US$10 million (Dh36.72m) it entered with the Lebanon-based Blom Bank – was not in line with Sharia law. As a result, TID must repay only the principal, but not the profit, which is paid to the lender instead of interest under Sharia law.
Full report at: www.thenational.ae/apps/pbcs.dll/article?AID=/20100321/BUSINESS/703209950/1005
-----
Egyptian actor Omar Sharif, the 'pride of Arabia
By Ourouba Hussein
21 March, 2010
Egyptian actor Omar Sharif, who starred in many Hollywood films, yesterday claimed he was the luckiest man in the world because he was able to become an international actor and achieve "the best positive publicity for Islam."
The actor, who is in Doha for the first screening of his 2003 film Mr Ibrahim and the Flowers of the Koran today as part of the "Doha, Capital of Arab Culture 2010", will also participate in a seminar after the screening.
In an exclusive interview with Gulf Times, Sharif spoke about his film career since 1967, when he acted in Lawrence of Arabia.
This performance earned him a Best Supporting Actor Oscar nomination, a Golden Globe Award for Best Supporting Actor - Motion Picture, a Most Promising Newcomer award and worldwide fame as the world's leading Arab actor.
Sharif also played the title role in the 1965 film Doctor Zhivago by David Lean. His decision to star in William Wyler's Funny Girl with Barbra Streisand reportedly angered Egypt's government due to Streisand's support for the state of Israel.
However, Sharif slashed Arab critics saying "I have never participated in a movie that would upset Muslims, a lot of things have been said."
He stressed that he was the only Arab actor who has done so much for Muslims, in the international movie arena.
Full report at: times.com/site/topics/article.asp?cu_no=2&item_no=350053&version=1&template_id=36&parent_id=16
-----
Trouble Strikes Afghan Peace Talks
By Jean MacKenzie
20 March 2010
Kabul, Afghanistan - Former Taliban leader Mullah Abdul Salaam Zaeef is not an optimist when it comes to reconciliation with the Afghan government. Among the many reasons to be skeptical about the positive outcome of talks, he sees last month's arrest in Pakistan of a former brother-in-arms, Mullah Abdul Ghani Baradar.
"The arrest of Mullah Baradar will not harm peace negotiations," he said with a wry smile. "It will halt them altogether."
Zaeef's gloomy assessment was borne out this week by former U.N. Special Representative to Afghanistan Kai Eide, who told the BBC that Baradar's detention was most likely a carefully designed ploy by Pakistan to scupper secret peace talks that the mullah, who was second only to Mullah Omar in the Taliban hierarchy, was conducting with the Afghan government.
"The effect of [the arrests], in total, certainly, was negative on our possibilities to continue the political process that we saw as so necessary," Eide said in an interview aired Friday. "The Pakistanis did not play the role that they should have played."
If it was a deliberate slap in the face to peace talks, it worked: meaningful dialogue has all but ceased, and there will be very few representatives of the Taliban at the widely heralded Peace Jirga scheduled for late April in Kabul.
Full report at: http://www.truthout.org/trouble-strikes-afghan-peace-talks57847
-----
UN Food Aid Used To Nourish War In Somalia
By Babukar Kashka
NAIROBI (IDN) – The news is scaring: part of UN food aid to war-torn Somalia ends in the hands of 'war-lords' and local contractors who deliver their profits – or the aid itself – to armed factions, thus fueling the armed conflict.
"A handful of Somali contractors for aid agencies have formed a cartel and become important power-brokers, some of whom channel their profits, or the aid itself, directly to armed opposition groups," Security Council's Monitoring Group on Somalia reported.
In its report, released on March 17, 2010, the UN group of experts points out the Adaani family, one of the three largest contractors for the World Food Programme (WFP) in Somalia, which has "long been a financier of armed groups," and which has ties with Hassan Dahir Aweys, the leader of the militia coalition Hizbul Islam.
CORRUPTION
For its part, the UN Office for the Coordination of Humanitarian Affairs (OCHA) reported on March 12 that insurgents disrupted food aid deliveries bound for five sites in Mogadishu as part of a WFP feeding scheme.
"Two trucks were seized on March 6, but were released the next day, thanks to the intervention of elders. Three out of the five sites received their rations, and once the security situation improves, it is hoped that the remaining two sites – feeding 10,000 people – will be able to carry out their work," OCHA reported.
Full report at: www.indepthnews.net/news/news.php?key1=2010-03-21%2003:40:38&key2=1
-----
'Children of Dust,' tells story of a devout Muslim's life in the Bible Belt and eventual return to his native Pakistan
By Sandip Roy
03/20/2010
The first sentence is unforgettably delightful: "My mother, Ammi, had just returned from Koh-e-Qaf, where women went when they were annoyed with their husbands."
That sentence sets the tone, in many ways, for Ali Eteraz's memoir about his journeys within Islam. Knowledgeable, humorous and personable, Eteraz is an engaging storyteller. He also brings a certain street cred to his struggles with his faith. He was born in Pakistan, went to an Islamic school, or madrasah, and grew up deeply religious. In America, he lived in a strict Muslim household in the Bible Belt. (His parents thought Alabama must be good place for Muslims since it sounded like Allah-bama!) He headed his school's Islamic association. After the Sept. 11 terrorist attacks, he became an urgent voice calling for reform in Islam.
His background makes him an appealing character, the poster boy for reform — moving from the dark side of Salafi fundamentalism to liberal reformer. That is the danger of the book. It can be cast in a sort of bad-Muslim-goes-good narrative that could reinforce the very stereotypes it seeks to destroy.
It is, instead, a much more complex story of a young man's journey into the heart of his own faith. The names he has (or takes) at different phases of his life are the markers of that journey.
His father pledged him as a baby to become a servant of Islam on a trip to Mecca. Named Abir ul Islam (or the perfume of Islam), he grows up trying to
Full report at: http://www.mercurynews.com/books/ci_14679558?nclick_check=1
-----
Dozens arrested as anti-Muslim English Defence League protestors battle rivals
March 20, 2010
Riot police battled to control thousands of rival demonstrators taking part in an ill-tempered city centre protest organised by a controversial right-wing group.
Hundreds of officers, some horse-mounted and armed with batons, separated supporters of the English Defence League (EDL) and members of Unite Against Fascism (UAF).
Two officers were injured following ugly clashes: one fractured a finger, the other was bitten by a police dog. A police helicopter was also dispatched to assist the officers on the ground. There was a total of 67 arrests, 55 of which were UAF supporters and the remaining 12 EDL, police said.
The EDL organised the rally in Bolton, Lancashire, to protest against "radical Muslims" and Sharia law. At its height there were some 2,000 EDL and a further 1,500 UAF protestors.
The main protest took place in front of the town hall, which was boarded up to prevent any damage. Many local pubs and shops closed and taxi firms pulled their drivers off the roads.
Council leaders had met with Home Secretary Alan Johnson earlier this week in a bid to ban the demonstration, but were told there was no power to do so unless it took place on private property.
Full report at: http://www.timesonline.co.uk/tol/news/uk/crime/article7069609.ece
-----
Islamic cartoon row is latest case of libel tourism
March 21, 2010
UP TO 95,000 descendants of the prophet Muhammad are planning to bring a libel action in Britain over "blasphemous" cartoons of the founder of Islam, even though they were published in the Danish press.
The defamation case is being prepared by Faisal Yamani, a Saudi lawyer acting for the descendants, who live in the Middle East, north Africa and as far afield as Australia.
Mark Stephens, a British lawyer who has seen a "pre-action" letter sent by Yamani to 10 Danish newspapers, said it "specifically says" he will launch proceedings in London.
Yamani is expected to justify the action by claiming that the cartoons, including one of Muhammad wearing a bomb-shaped turban, were accessible in Britain on the internet.
Critics say the case is a political stunt and yet another example of how England has become the leading destination for "libel tourism". The English defamation laws make it easier to bring and win libel cases here than in jurisdictions such as America that place greater emphasis on freedom of speech.
Stephens said the descendants could argue that the cartoons — which first appeared in the Jyllands-Posten newspaper in 2005, sparking violent protests around the world — were a direct slur on them.
Full report at: http://www.timesonline.co.uk/tol/news/uk/article7069734.ece
-----
Three Taliban militants arrested
Sunday, 21 Mar, 2010
Police arrested on Saturday three Taliban militants planning "big attacks", officials said.
"The three men, who belong to Tehrik-i-Taliban Pakistan (TTP) were arrested from the Site industrial area during a police encounter on Saturday morning," a senior police official, Raja Omar Khittab, said.
"We are interrogating the three TTP militants," Khittab said, adding: "We also seized a bomb-making laboratory in the nearby Qaim Khan Colony on the basis of information provided by the rebels."
He said the arrested men were planning "big terror attacks" in Karachi, adding that police recovered a huge quantity of explosives, detonators and other equipment from the laboratory. Intelligence officials confirmed the arrests and said Subhan Ghani was leader of the trio.—AFP
http://www.dawn.com/wps/wcm/connect/dawn-content-library/dawn/the-newspaper/front-page/three-taliban-militants-arrested-130
-----
US Lawmakers Stand Up Against Obama for Israel
By Hana Levi Julian
March 20. 2010
U.S. Congressional lawmakers have flooded the White House and the media with letters and news releases complaining about the Obama administration's unprecedented scolding of Prime Minister Binyamin Netanyahu. This, following an Israeli announcement last week that a routine housing project was proceeding apace in eastern Jerusalem.
Politicians from across the political spectrum called on President Barack Obama and his aides to tone down their attacks on Israel and start using a more even-handed approach when dealing with the Palestinian Authority.
Many pointed out the lopsided double standard used by U.S. Secretary of State Hillary Clinton and Vice President Joseph Biden in harshly condemning Israel's routine announcement of a zoning approval for new housing in the Ramat Shlomo neighborhood in northwestern (mistakenly called east by most of the media) Jerusalem – a three-year-old project.
Their criticism was delivered as the PA government dedicated a public square to the memory of a brutal murderer who in 1979 led the worst terrorist attack in Israel's history, slaughtering 37 innocent civilians, including children.
Neither Biden nor Clinton came out with any public statement condemning the PA's decision to go ahead with the ceremony naming a public square in the terrorist's honor, nor the PA decision to follow up with a public study day in her memory two days later.
Full report at: http://www.informationclearinghouse.info/article25036.htm
-----
Muslim spiritual leader calls for peaceful co-existence among Nigerians
March 21. 2010
APA - Lagos (Nigeria) The Sultan of Sokoto and the spiritual head of Nigerian Muslims, Alhaji Muhammad Sa'ad Abubakar III, has advocated for a peaceful co-existence among the various ethnic and religious groups in the country.
Abubakar said this during the launching of a N500 million (about US$3.3 million) mosque development fund on Saturday at Tudun Wada, Kaduna State in northern Nigeria that this would bring progress and development to the country.
He enjoined Nigerians to live by the tenets of their religions, saying that no religion preached crisis or mayhem but peace.
The religious leader further admonished both Muslims and Christians to ensure unity and avoid sectarian crisis and antagonism.
Speaking at the occasion, the Governor of Kaduna State, Mr Namadi Sambo, said that divisions created more misunderstanding, intolerance and crisis among believers, thus endangering the peace and stability needed for development.
He said the state government had introduced a pilot Integrated Almajiri System of Education to empower the youth with literacy in both Islamic and Western education.
http://www.apanews.net/apa.php?page=show_article_eng&id_article=120534
-----
Living as a Muslim in North America; balancing a two winged education
By Hadeer Nagah
March 21, 2010
One of the main challenges facing Muslim parents in North America ( or almost anywhere else), is to raise their children as good practicing Muslims. Balancing the two wings of their identity is a major concern when it comes to making choices of schooling and others as well. While melting in the American society and losing one's connectedness and belonging may be the biggest nightmare, a total separation from the society is not a successful result either. Us versus them, philosophy is a double edged weapon. Meeting the other half ways is probably a more preferred choice to many.
Islamic schools in North America that are following the American curricula while teaching Islamic and Arabic subjects concurrently represent the hope to many parents to achieve such balance.
I remember the hardships we had to go through to start one in Huntsville Alabama almost twenty years ago, I hear positive news about it now and sincerely wish the best to all of them.
Many of them are good examples to be followed, and should get the support of their communities and the Muslim communities at large.
I like to hear more about successful examples and experiences.
Hers is a good one, you can read about it at :
http://blog.timesunion.com/muslimwomen/living-as-a-muslim-in-north-america-balancing-a-two-winged-education/878/
-----
In northern Iraq, Kurds warn: "Beware the Arabs"
21 March 2010
Sunni Arab Muslim politicians are using elections to push for renewed control over Kurdish-majority, oil-rich frontier lands, raising tensions with other groups.
Just off the Mosul road that runs through the vivid green plains of Iraq's Nineveh Province, a Kurdish security officer - a peshmerga - checks our documents, though we are several miles outside Kurdistan Regional Government (KRG) borders. "Careful," he says, gesturing at the road ahead. "There are Arabs."
The checkpoint, manned by Kurdish forces, is on the country's "trigger line", a 300-mile unofficial boundary between the areas run by the KRG and the Iraqi central government - a border that some fear will be the setting for the country's next civil war. The KRG claims that areas of northern Iraq with a large Kurdish population ought to be part of its jurisdiction, and says its peshmergas were invited across the official green line by US forces to help protect the local people. Arab nationalist parties accuse the KRG of occupying disputed land.
The governance of these areas, particularly the oil-rich city of Kirkuk, is a focal point for post-election bargaining over the make-up of the ruling coalition. US forces have begun to play an important role in managing Arab-Kurd tensions, but they are scheduled to withdraw by the end of the year, leaving little time to cut a deal.
Full report at: http://www.newstatesman.com/2010/03/arab-kurdish-kiki-iraq-talkeef
-----
Afghanistan blast 'kills 10' in Helmand province
21 March 2010
Ten people have been killed in an explosion in southern Afghanistan's Helmand province, officials say.
The victims were civilians, killed as a suicide bomber targeted an Afghan army convoy on a bridge, a spokesman for the provincial government said.
Seven people were also injured in the explosion in Geresh district, spokesman Daud Ahmadi told news agencies.
Helmand province is the focus of a major Nato-led offensive against Taliban insurgents.
"An explosion by a three-wheeled motorcycle targeting an Afghan army convoy killed at least 10 civilians in a crowded area of Gereshk district," AFP news agency quoted Mr Ahmadi as saying.
He said the bomb went off at a bridge after the convoy had passed.
The area was reportedly busy with roadside merchants and people celebrating the Nowruz new year festival.
In a separate attack in Khost province, in eastern Afghanistan, police said two civilians were killed and four wounded when a roadside bomb exploded.
http://news.bbc.co.uk/2/hi/south_asia/8578637.stm
-----
Somali Islamist al-Shabab commander assassinated
20 March 2010
A senior commander of the Somali Islamist group, al-Shabab, has been shot dead at close range as he left a mosque in the city of Kismayo.
Unidentified gunmen shot Sheikh Daud Ali Hasan several times, inside an area of Somalia held by his own forces.
Sheikh Hasan was in charge of front-line operations in the town of Dhobley, near the Kenyan border.
Al-Shabab said it arrested several people and would bring them before a court, but did not identify them.
Rival Islamist groups in the vicinity, including Hizbul-Islam, have not said whether they were behind the killing.
A witness, Ahmed Daud, said: "At least three masked men armed with pistols shot Sheikh Daud Ali Hasan several times in the head and the chest as he was coming out of a mosque in Kismayo."
The BBC's Mohamed Olad Hassan in Mogadishu says Hizbul-Islam fighters launched an attack in Dhobly hours after the assassination - and claimed they had killed number of al-Shabab militants.
Full report at: http://news.bbc.co.uk/2/hi/africa/8577986.stm
-----
Bomber Attacks Afghan Army Patrol
March 21, 2010
A suicide bomber killed 10 civilians Sunday and wounded seven others in an attack on an Afghan army patrol at a bridge in the southern province of Helmand, an Afghan official said.
Separately, two other civilians died and four were wounded when a roadside bomb went off near a crowd of people celebrating the Afghan New Year at a mountaintop shrine in eastern Afghanistan, a police commander said.
The suicide attack occurred as the army patrol was crossing a bridge in Gereshk, a town just north of the provincial capital of Lashkar Gah. Provincial spokesman Dawood Ahmadi said all the victims were civilians, most of them vendors selling goods along the highway.
Helmand province has been the scene of some of the heaviest fighting in recent weeks, including last month's operation by U.S., NATO and Afghan forces to take control of the Taliban-controlled town of Marjah which is south of Lashkar Gah.
Taliban forces in Marjah scattered in the face of the massive allied assault but are fighting back with ambushes and hidden bombs. Local residents have said the Taliban remain strong throughout the province despite the allied takeover of Marjah.
Full report at: www.nytimes.com/aponline/2010/03/21/world/AP-AS-Afghanistan.html?_r=1&hp
-----
The battle for Al-Azhar
Alaa Bayoumi's
2010-03-21
To prevent what he says is another unqualified scholar to head Al-Azhar, Qaradawi suggested that the coming sheikh should be elected by the Muslim scholars themselves instead of being selected by the Egyptian government in line with current Egyptian law, notes Alaa Bayoumi.
The controversy surrounding the legacy of Sheikh Mohammed Sayed Tantawi, the head of the Al-Azhar mosque and university who died last week, is more complex than many would expect.
Some of his critics viewed him as the theological functionary through which the state marketed not only its brand of Islam, but also other government-sanctioned social and political policies. His supporters championed him as a reformist, particularly for women's rights. But most crucially, his sudden death has reignited the centuries-old battle over the independence of Al-Azhar, regarded as Sunni Islam's highest seat of learning.
Unlike Catholicism and Shia Islam, Sunni Islam was established and maintained through decentralised governance.
It knows no clergy and reveres no saints; in essence, Sunni Islam has maintained that there is no interlocutor between man and the divine.
Grand Sheikh
Full report at: http://www.middle-east-online.com/english/?id=37951
-----
AIMPLB now more representative, Rabey Nadvi president for third term
March 21, 2010
The All India Muslim Personal Law Board (AIMPLB) in its 21st annual convention held at Nadwatul Uloom unanimously re-elected Maulana Rabey Hasan Nadwi as president in Lucknow on Saturday.
The board also directly elected Deputy Chairperson, Rajya Sabha, K Rehman Khan and Justice (retd.) Shah Mohammad Qadri as its founder members on Saturday.
Earlier the outgoing Vice-President (V-P) and shia cleric Maulana Kalbe Sadiq conducted the election proceedings and declared Maulana Rabey Hasan as president as no other name was proposed. It is his third term as president of the AIMPLB.
Briefing the results, Zafaryab Jilani stated that K Rehman Khan was associated with board as special invitee while Justice (retd.) Qadri who had retired from Supreme Court was presently engaged in translation of board's book in english. "Due to their association and service for the board they have been elected as founder member," he said.
Full report at: www.ummid.com/news/2010/March/21.03.2010/rabe_nadvi_aimplb.htm
-----
British MPs join campaign against anti-Muslim right-wing extremists
20 March 2010
London, March 19, IRNA – MPs, including former ministers, have joined trade unions and numerous organisations in condemning the latest anti-Muslim protest being held by the right-wing English Defence League (EDL) on Saturday.
Stop the War Coalition, Britain's main peace group network, is also leading a counter-demonstration against the provocative march planned in Bolton, north-west England.
"The EDL is a group of racists and football hooligans with close links to the fascist British National Party," the MPs said in a joint statement obtained by IRNA.
"Islamophobia – bigotry against Muslims – is as unacceptable as any other form of racism. Its aim is to divide us by making scapegoats of one community, as the Nazis did with the Jews in the 1930s," the statement warned.
"Today they threaten mosques, tomorrow it could be a synagogue, temple or church. Today they threaten Muslims, tomorrow it could be Jews, Hindus, Sikhs, black, Asian or Eastern European people, travellers or lesbian, gay and transgender people," it said.
Full report at: www.twocircles.net/2010mar20/british_mps_join_campaign_against_anti_muslim_right_wing_extremists.html
-----
International Halal Conference to focus on Quality Assurance
21 March 2010
Brussels (Belgium): The global halal market is worth an estimated $632 billion annually and is growing. From Chicago to Canberra and beyond, halal foods now have a presence in most countries. The expanding market offers immense potential for businesses to produce products geared towards the Muslim consumer. However, the lack of universal standards makes the market vulnerable to fraud.
Recent press reports claim that as much as 75% of poultry sold in the UK as halal is falsely labeled. In an effort to overcome this problem an international conference is being organized by the the Islamic Food Council of Europe (IFCE) on March 26, 2010 in Brussels, Belgium.
The 4th International Halal Food Conference's theme for this year is 'Establishing a Halal Quality Assurance System.' The conference is being supported by prominent halal organizations including the Department of Islamic Development Malaysia (JAKIM) and the Islamic Religious Council of Singapore (MUIS).
IFCE Chairman, Prof. Dr. Mohamed Sadek, said the conference's main aim is to develop global convergence on halal assurance systems so that an estimated 1.5 billion Muslims can consume halal labeled products with confidence. The conference will feature a variety of speakers ranging from food scientists to Islamic scholars, he added.
Full report at: twocircles.net/2010mar21/international_halal_conference_focus_quality_assurance.html
-----
Philippines hunts Indonesian training militants
03/21/2010
Indonesian officials have asked Philippine authorities to track down an Indonesian fugitive wanted in connection with several beheadings who is now helping to train militants in an insurgency-wracked Philippine region, security officials said on Sunday.
Sanusi, who like many Indonesians uses only one name, has been monitored in Mindanao's marshy heartland, two Philippine intelligence officials said. He fled to the region after being accused of ordering militants in 2007 to behead three people in the eastern Indonesian town of Poso, where Islamist militants had launched a series of bloody attacks on Christians and government workers.
An Indonesian Embassy official said his government has asked Philippine authorities to capture Sanusi, who was spotted at a mosque near southern Cotabato city during the holy month of Ramadan last fall. The official spoke on condition of anonymity because he was not authorized to talk to the media.
A senior Philippine military intelligence official said Sanusi has emerged as a key operative of Jemaah Islamiyah, a Southeast Asian terror group linked to al-Qaida. He is believed to have helped fund and organize religious and combat training for new Indonesian militant recruits in Mindanao, where local guerrillas are fighting to create an independent Muslim state.
Sanusi has not been implicated in any attack in the Philippines and is not on any terrorist backlist because authorities are only just beginning to uncover his activities and the role he plays, according to the military intelligence official, who spoke on customary condition of anonymity because of the sensitivity of his post.
Full report at: www.gmanews.tv/story/186669/philippines-hunts-indonesian-training-militants
URL: https://www.newageislam.com/islamic-world-news/anti-war-protest-in-us/d/2604