New Age Islam News Bureau
06 March 2021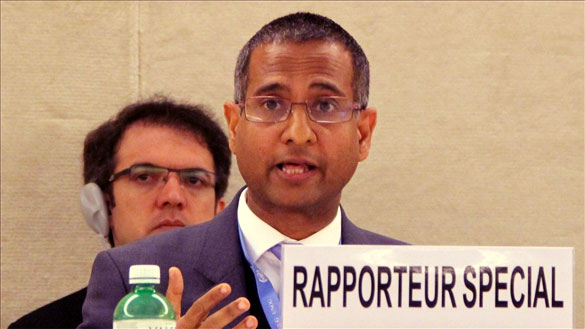 UN freedom of religion special rapporteur says widespread negative representations of Islam target Muslims since 9/11
------
• Landmark Moment in Modern Religious History, Pope Francis Met Top Shiite Cleric Grand Ayatollah Ali Sistani in Iraq
• Islamic Teachings Turned Gang War Fiefdom, Manenberg, South Africa, Into Peace Zone
• Following Kashmir Situation Very Closely: US
• Kashmir Youth Activists Hold Conference to Revive Sufism and Promote Peace and Coexistence in the Union Territory
• Afghan Women Play 'Crucial' Role in Taliban Talks, Politician And Negotiator Fawzia Koofi Tells WION
• US Lawmakers Eye Legislation to Boost Uighur Refugee Status
• Iran Blasts IAEA Passivity in Face of Israel's N. Threats
Europe
• Anti-Muslim Hatred at 'Epidemic' Proportions: Leading UN Expert on Freedom of Religion Said
• Turkey, EU mark 10th year of Civil Society Dialogue
• Turkey, Turkish Cyprus sign financial cooperation pact
• Three terror plots foiled in Britain during pandemic, say police
• Five More Jehovah's Witnesses Accused Of Extremism In Russia
--------
Arab World
• Landmark Moment in Modern Religious History, Pope Francis Met Top Shiite Cleric Grand Ayatollah Ali Sistani in Iraq
• Muslim Council of Elders on Pope Francis' visit to Iraq
• Explosions in north Syria near Turkish border: State TV
• Saudi Arabia intercepts another two explosive Houthi drones, totaling 8 in 24 hours
• Saudi Arabia: Child, civilian injured due to debris from latest Houthi drone attacks
• Arab Coalition intercepts six explosive drones fired at Saudi's Khamis Mushait
• Belgium to repatriate children and some mothers held in Syria
• Reports of sanctions on Lebanon central bank chief are 'untrue': State Department
--------
Africa
• Islamic Teachings Turned Gang War Fiefdom, Manenberg, South Africa, Into Peace Zone
• Libya's Prime Minister-designate names large unity Cabinet
• At least 20 killed by suicide car bomb near restaurant in Somalia capital
• Mogadishu attack leaves at least 10 dead, over 30 wounded
--------
North America
• Following Kashmir Situation Very Closely: US
• Accused Terrorist Found With Makeshift ISIS Flag In His Jail Cell: Prosecutors
• Biden inducts third Pakistani-American into his team
• US still waiting for Iran weeks after Biden voiced interest in direct talks
• US puts 'onus' for ending Tigray suffering on Ethiopia
• Colombia learning Turkish model on protecting migrants
• Security tight at U.S. Capitol after terror threat
--------
India
• Kashmir Youth Activists Hold Conference to Revive Sufism and Promote Peace and Coexistence in the Union Territory
• Man Hammers To Death Wife, Two Daughters in UP's Bulandshahr
• People Offer Friday Prayers in Srinagar Mosque Carrying Photos Of Detained Mirwaiz, Demand His Release
• Gujarat Govt to Enact Strict Law to Deal with Love Jihad: Jadeja
• NIA probes Jamaat-e-Islami's Jammu and Kashmir chapter
• Hyderabad: Islamic preacher Ilyas Sharfuddin booked for alleged hate video
• West Bengal Polls: Mamata Gives Tickets to 42 Muslim Candidates
• BJP Candidate in Malappuram Promises Quality 'Halal Beef' If Elected
--------
South Asia
• Afghan Women Play 'Crucial' Role in Taliban Talks, Politician And Negotiator Fawzia Koofi Tells WION
• UN Security Council: Taliban continues to patronize Central Asian Jihadists
• President Ghani: Pakistan must choose a right path
• Taliban just seeking prisoner release, foreign troop exit: ex-U.S. security adviser
• Dhaka Catholics mark Lent with prayer, sacrifice, solidarity
• 3 HuJI militants remanded in Dhaka
--------
Southeast Asia
• US Lawmakers Eye Legislation to Boost Uighur Refugee Status
• Malaysian authorities urged to take death threats against trans Muslim entrepreneur seriously
--------
Mideast
• Iran Blasts IAEA Passivity in Face of Israel's N. Threats
• Ireland's foreign minister to meet Iran's Rouhani on nuclear deal
• Iran's Top Diplomat Says Will Soon Present 'Concrete Plan of Action' On Nuclear Deal
• India seeks to start full operations at Iran's Chabahar port by May end
• Iran casts long shadow over Pentagon nominee's Senate hearing
• UN condemns up to 23 killings in Iran's border area with Pakistan over fuel smuggling
• UN rights office calls on Iran to restore internet in disrupted areas
• Yemeni intelligence agency details terror activities of Qaeda leaders, operatives in Ma'rib
• Turkey deals heavy blow to Daesh terrorists in February
--------
Pakistan
• Pak PM Imran Khan Threatens Party Lawmakers Ahead Of Vote Of Confidence
• Pak's Army, ISI chiefs meet PM Khan after he suffers key defeat in Senate polls; Oppn cries foul
• Pakistan urges close monitoring of India's state terrorism in Kashmir targeting women
• COAS visits exercise area in Cholistan, lauds troop performance
• Swat college to probe harassment charge against staffers
Compiled by New Age Islam News Bureau
URL: https://www.newageislam.com/islamic-world-news/anti-muslim-hatred-epidemic-proportions/d/124476
--------
Anti-Muslim Hatred at 'Epidemic' Proportions: Leading UN Expert On Freedom Of Religion Said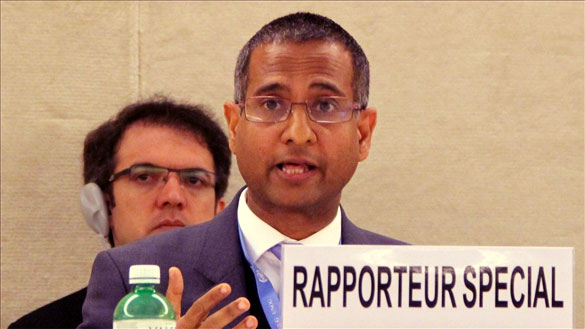 UN freedom of religion special rapporteur says widespread negative representations of Islam target Muslims since 9/11
------
Peter Kenny
04.03.2021
GENEVA
In response to security threats due to horrific acts purportedly carried out in the name of Islam, some states have responded by adopting measures that disproportionately target Muslims, the leading UN expert on freedom of religion said Thursday.
Ahmed Shaheed, the UN Special Rapporteur on freedom of religion or belief, in a report to the Human Rights Council, referred to widespread negative representations of Islam, fear of Muslims generally, and security and counterterrorism policies.
He said these have served to perpetuate, validate, and normalize discrimination, hostility, and violence towards Muslim individuals and communities.
"Islamophobia builds imaginary constructs around Muslims that are used to justify state-sponsored discrimination, hostility, and violence against Muslims with stark consequences for the enjoyment of human rights including freedom of religion or belief," said Shaheed, also a former foreign minister of the Maldives.
The UN expert said that following the 9/11 terrorist attacks in the US in 2001 and "other horrific acts of terrorism purportedly carried out in the name of Islam," institutional suspicion of Muslims and those perceived to be Muslim have escalated to "epidemic proportions."
"In such climates of exclusion, fear, and distrust, Muslims report that they often feel stigma, shame, and a sense that they are 'suspect communities' that are being forced to bear collective responsibility for the actions of a small minority," he said, without naming specific countries.
The report cites European surveys in 2018 and 2019 showing that 37% of the population held unfavourable views of Muslims.
In 2017, some 30% of Americans surveyed viewed Muslims in a negative light.
Shaheed said Islamophobic discrimination in both the public and private sphere often makes it difficult for Muslims to practice their religion.
Disproportionate restrictions on Muslims' ability to manifest their beliefs, the securitization of religious communities, limits on access to citizenship, socioeconomic exclusion, and pervasive stigmatization of Muslim communities are among the pressing concerns noted in the report.
In Muslim minority states, he added, Muslims are frequently targeted based on visible "Muslim" characteristics, such as their names, skin color, and clothing, including religious attire like headscarves.
Shaheed also said Islamophobic discrimination and hostility could often show where "Muslim women may face a 'triple penalty' as women, minority ethnic and Muslim."
He noted: "Harmful stereotypes and tropes about Muslims and Islam are chronically reinforced by mainstream media, powerful politicians, influencers of popular culture and in academic discourse."
The report emphasized that critiques of Islam should never be conflated with Islamophobia, adding that international human rights law protects individuals, not religions.
"The criticism of Islam's ideas, leaders, symbols, or practices is not Islamophobic per se; unless it is accompanied by hatred or bias towards Muslims in general," Shaheed said.
"I strongly encourage states to take all necessary measures to combat direct and indirect forms of discrimination against Muslims and prohibit any advocacy of religious hatred that constitutes incitement to violence," the UN expert added.
https://www.aa.com.tr/en/europe/anti-muslim-hatred-at-epidemic-proportions-un-expert/2164891
--------
Landmark Moment in Modern Religious History, Pope Francis Met Top Shiite Cleric Grand Ayatollah Ali Sistani in Iraq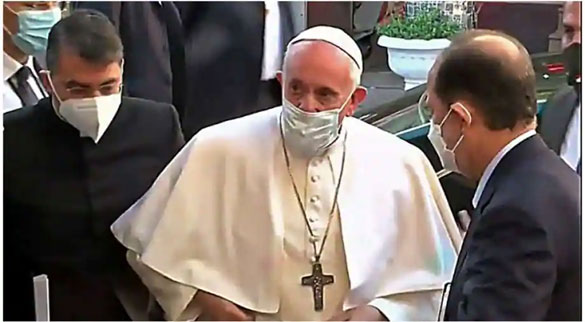 This grab from the official Iraqiya TV footage shows Pope Francis (C) arriving to meet Iraq's top Shiite cleric Grand Ayatollah Ali al-Sistani and is welcomed by his son Mohammad Reza Sistani (R) Photograph:( AFP )
-----
Mar 06, 2021
In a landmark moment in modern religious history, Pope Francis met top Shiite cleric Grand Ayatollah Ali Sistani in Iraq on Saturday. The two leaders met at the latter's home in the shrine city of Najaf. The meeting came on the second day of first-ever papal visit to Iraq.
When Pope Francis landed at the Najaf airport, posters had been set up featuring a famous saying by Ali, the fourth caliph and the Prophet Mohammed's relative, who is buried in the holy city.
"People are of two kinds, either your brothers in faith or your equals in humanity," read the banners.
A convoy of cars took the Pope into the Old City. Extremely tight security measures were in place.
No press were allowed inside the meeting as the 90-year-old grand ayatollah is highly reclusive and almost never seen in public.
The visit is one of the highlights of Francis's four-day trip to war-scarred Iraq, where Sistani has played a key role in tamping down tensions in recent decades.
It took months of careful negotiations between Najaf and the Vatican to secure the one-on-one meeting.
"We feel proud of what this visit represents and we thank those who made it possible," said Mohamed Ali Bahr al-Ulum, a senior cleric in Najaf.
'High moral authority'
Pope Francis, a strong proponent of interfaith efforts, has met top Sunni clerics in several Muslim-majority countries, including Bangladesh, Morocco, Turkey and the United Arab Emirates.
Sistani, meanwhile, is followed by most of the world's 200 million Shiites -- a minority among Muslims but the majority in Iraq -- and is a national figure for Iraqis.
"Ali Sistani is a religious leader with a high moral authority," said Cardinal Miguel Angel Ayuso Guixot, the head of the Pontifical Council for Interreligious Dialogue and a specialist in Islamic studies.
Sistani began his religious studies at the age of five, climbing through the ranks of Shiite clergy to grand ayatollah in the 1990s.
While Saddam Hussein was in power, he languished under house arrest for years, but emerged after the US-led invasion toppled the repressive regime in 2003 to play an unprecedented public role.
In 2019, he stood with Iraqi protesters demanding better public services and rejecting external interference in Iraq's domestic affairs.
https://www.wionews.com/world/historic-moment-pope-francis-meets-top-shiite-religious-leader-grand-ayatollah-ali-sistani-in-iraq-368394
--------
Islamic Teachings Turned Gang War Fiefdom, Manenberg, South Africa, Into Peace Zone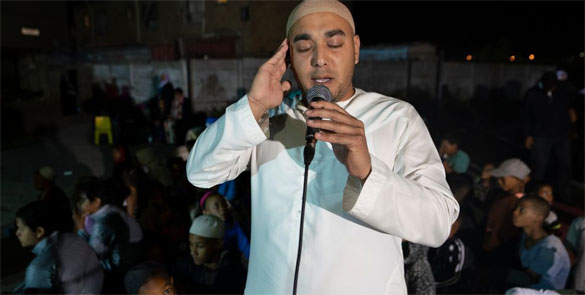 A team of Islamic scholars in South Africa has been on a mission for the past three years to bring peace to Manenberg and other areas of Cape Town with gang and drug problems.
-----
By Mohammed Hussain Ahmed
5th March 2021
Cape Town: Manenberg is a town known for its incessant gang wars, drug dealings, and other crimes. But as per a BBC report an Islamic scholar Shaikh Maqdam Ishaque Salek is turning this place into a peace zone during his "Mehfil-e-Zikar" every Thursday for the last three years.
About 100 to 400 people attend this Mehfil-e-Zikar every week. But according to Shaik Salek, the significant thing is that as soon as the congregation starts the incessant firing of the ganglords stops.
According to a report, the population of Manenberg is mixed or "colored" people. Colored is the term used by the past apartheid Government of the whites in South Africa to describe the non-whites and non-blacks population of Indians, Pakistanis, Malays, and other Asians.
Manenberg is overpopulated
Manenberg is a thickly populated area with many civic issues which needed to be redressed. Its overpopulation needs better housing and civic amenities.
The colored population of Menenberg is 52 thousand with Christians forming the majority. Poverty and unemployment are the main reasons for crime and gang wars here.
Most of those holding Mehfil-e-Zikar is Malays or Malaysian Muslims who are living in this area since generations. In Zikar, this community repeats the names of Allah in a distinctly soulful way. After the Zikar, the congregation is served with hot meal.
Rate of crime decreased due to Mehfil-e-Zikar
According to BBC report, Manenberg was declared a "Red Zone" in 2015. However, since the commencement of Mehfil-e-Zikar, the rate of crime decreased in many areas of the town.
Many ganglords respect Mehfil-e-Zikar and ensure peace throughout the congregation.
Noticing the peace during the past three years, the Local police has awarded the organisers of the congregation with "Peace Award".
Christians too attend this congregation and Christian religious leaders are invited to address this congregation.
The topic of discourse by the Muslim scholars is mostly social subjects like peace, love and respect of familial ties.
Shaikh Salek said due to the Zikar of Allah, peace is returning to Menenberg. "We wishs to conduct this congregation every day but due to the financial constraints we cannot do so. However, we are trying to bring peace and harmony between various communities of the town. We would try to end the menace of drugs and crime in cooperation with the local government agencies," said Shaikh Salek.
https://www.siasat.com/islamic-teachings-turned-gang-war-fiefdom-into-peace-zone-2102884/
--------
Following Kashmir situation very closely: US
Anwar Iqbal
March 6, 2021
WASHINGTON: The United States has assured the international community that it's following the developments in Jammu and Kashmir very closely and continues to support direct talks between India and Pakistan on the issue.
The Kashmir issue has been raised regularly in the daily news briefings of the US State Department since the Biden administration came to power on Jan 20. Journalists, including those in the American media, seem eager to know how the new administration intends to deal with the age-old dispute between South Asia's two nuclear powers, India and Pakistan.
At the Thursday afternoon news briefing, a journalist reminded State Department spokesman Ned Price that India and Pakistan renewed their pledge to maintain peace along the Line of Control (LoC) in Kashmir late last month. Since then, both have avoided violations of a ceasefire agreement they signed in 2003 but peace remains tenuous.
"What the US Secretary of State Antony Blinken is going to do to ensure that the ceasefire maintains?" the journalist asked.
"It is true that we have continued to follow very closely developments in Jammu and Kashmir. Our policy towards the region has not changed," Mr Price replied.
"We call on all parties to reduce tensions along the Line of Control by returning to the 2003 ceasefire commitments. We condemn terrorists who seek to infiltrate across the Line of Control."
Explaining how Washington would ensure both sides respect the ceasefire agreement, Mr Price said: "We continue to support direct dialogue between India and Pakistan on Kashmir and other areas of concern."
The journalist then pointed out that the emphasis on direct talks between India and Pakistan has had a negative impact on Kashmiri leaders who feel voiceless in the process. "Is the United States going to do anything to actually engage, not just Indian and Pakistani officials, but Kashmiri leaders as well?" the journalist asked.
"I don't have anything for you on that. If there's anything we can add, we will," the US official replied.
At a similar briefing on Wednes­day, Mr Price used the term "union territory" while referring to India-occupied Jammu and Kashmir, but it emphasised at the same time that Washington's Kashmir policy remained unchanged.
The United States has consistently recognised Jammu and Kashmir as an area disputed between India and Pakistan, urging both to resolve this issue through bilateral talks. But last month, while welcoming the resumption of high-speed internet in the occupied valley, a State Department tweet referred to the disputed territory as "India's Jammu & Kashmir".
Islamabad responded promptly to the omission, reminding Washington that the tweet was "inconsistent" with the disputed status of the region.
Also, on Thursday, a report by a US government-funded think-tank, Freedom House, regretted India's fall from the ranks of free nations after the country's status was downgraded to "partly free".
"Under (Prime Minister Narendra) Modi, India appears to have abandoned its potential to serve as a global democratic leader, elevating narrow Hindu nationalist interests at the expense of its founding values of inclusion and equal rights for all," warned the Freedom in the World 2021 report.
Reviewing the global situation in 2021, the report regretted "the fall of India from the upper ranks of free nations" which, it warned, "could have a particularly damaging impact on global democratic standards".
https://www.dawn.com/news/1610934/following-kashmir-situation-very-closely-us
--------
Kashmir Youth Activists Hold Conference To Revive Sufism And Promote Peace And Coexistence In The Union Territory
6th March 2021
By Hitesh Tikoo
Jammu, March 5: Young activists from the Union Territory of Jammu and Kashmir on Friday held a conference to revive Sufism and promote peace and coexistence in the Union Territory.
The event which took place in North Kashmir's Ganderbal district, was conducted by Jammu and Kashmir Youth Development Forum (JKYDF), an organisation comprising young activists from Kashmir. Hundreds of people from all sections of the society attended the event, including writers, journalists, scholars, lawyers and several other Kashmiri activists.
One of the scholars in the audience said, "People of Kashmir, whether Muslims, Pandits and Sikhs or of any other religion, believe in coexistence. This was the reason that Kashmiri Pandits and Sikhs would visit Muslim shrines, and similarly Muslims would throng shrines like Mata Kheer Bhawani temple in Ganderbal."
The JKYDF plans to reach out to the people at Muslim shrines, and are expected to cover several Hindu and Sikh places of worship as well, calling it a need and a subsequent attempt to re-establish a common syncretic society, where Hindus, Muslims, Sikhs and all others can again thrive, just as it was before the advent of Pakistan's proxy war in Kashmir.
Speaking on the occasion, JKYDF Chairman, Farooq Ganderbali said, "We plan to hold such conferences in other parts of Kashmir in the coming months. Like today's conference, we will rope in Sufi preachers in future conferences as our aim is to reach out to as many people as possible, especially youth, with the message of peace and coexistence."
Peace in Jammu and Kashmir has been a top priority for successive Indian governments, however, Pakistan's repeated attempts to disturb peace efforts have kept both the countries at loggerheads since decades.
Last week, in a ceasefire agreement, the armies of India and Pakistan both announced that they would stop the cross border firing from February 24 midnight in order to bring peace along the border areas. The announcement was made by the Defence Ministry.
"Both sides agreed for strict observance of all agreements, understandings and cease firing along the Line of Control and all other sectors with effect from midnight 24-25 Feb 2021," the ministry said in a statement.
https://www.siasat.com/kashmir-youth-activists-hold-conference-to-revive-sufism-2104141/
--------
Afghan women play 'crucial' role in Taliban talks, politician and negotiator Fawzia Koofi tells WION
Mar 05, 2021
Three female media workers were shot and killed in Afghanistan on Wednesday in what appeared to be the latest targeted killing to rock the country.
The murders came as the US special envoy to Afghanistan Zalmay Khalilzad returned to Kabul this week for meetings with Afghan leaders, in a bid to revive a flagging peace process as a deadline for US troop withdrawal draws closer.
The United States and the Taliban reached a peace deal in February, but many Afghan women worry that it does not include adequate safeguards for their rights.
They fear a US troop withdrawal, the winding down of international engagement and the re-emergence of the Taliban in politics could destroy hard-won gains women have made since 200, from education to freedom of movement.
Lawmaker Fawzia Koofi, a vocal critic of the Taliban, survived an assassination attempt in August, shortly before she flew to Doha to take part in peace talks.
Koofi is one of five women on the 21-member team announced by the government to hold historic talks with the Islamist terrorist group that once banished women from public life. She became the country's first female deputy of the lower house of parliament.
In an exclusive interview with WION's executive editor-in-chief Palki Sharma Upadhyaya, Koofi talks about the latest wave of violence in Afghanistan amid the withdrawal of the US troops from the country.
''Unfortunately, Afghanistan has been in a war for 40 years. Some of us have grown up during the war. Women of the country have been the main victim,'' Koofi said.
''At the end of the day, no one takes responsibility. By silencing women, they think they can get more power,'' she added.
On being questioned regarding the negotiation with the Taliban, Koofi said ''it is an extremely challenging job for any woman as the Taliban does not recognise equal rights for them.''
However, she added that ''We try to demonstrate power and now negotiate real business with them.''
Koofi said that although ''Its a very stressful, difficult task, the aim to end the war keeps me going.''
Women have made huge strides in the conservative country since a ban during Taliban rule of 1996 to 2001 from school, work, politics and going outside without a male relative.
Women occupy a particularly precarious place, as they face cultural barriers and hostility - not just from conservative family members, but also hardline Islamist groups - for pursuing financial independence and greater equality.
When the Afghan government has announced a new council to safeguard women's rights and interests, amid fears peace talks with the Taliban could lead to the loss of hard-won gains, politician and negotiator Koofi, who has been involved in the peace process, said the council would help drive gender equality.
In her interview with WION, Koofi said ''Issue of women rights was on Taliban's agenda during their negotiation in the peace deal even though their interpretation is very different.''
Koofi added she hopes to preserve the rights of the people.
Even an assassination attempt failed to deter Koofi. She shared her inspiring story during the interview.
Koofi is the 19th out of 23 children in her family. She said during the interview that ''my mother has gone through so much as a woman that didn't want another girl to suffer.''
''Our lives, what we experience is also a product of war,'' she added.
Koofi was left out to die in the sun in one of the attempts to kill her.
On being questioned about her inspiration to join politics, Koofi said that it is in her blood since she comes from a political background.
''I come from a political family. My father was a member of parliament, he was killed.''
Koofi experienced injustice and discrimination as a woman when Taliban was in power. This gave her the motivation and determination to change things.
''We have laws to protect women now. There are more women in the peace negotiation and are now unavoidable.''
Koofi said that she gets a chance she will definitely run for the presidency in Afghanistan.
Talking about the meaning of International Women's Day for Afghan women, Koofi said that ''Afghan women have demonstrated resilience, strength and never give up attitude but there are still a lot of women's issues which are off the radar.
https://www.wionews.com/world/afghan-women-play-crucial-role-in-taliban-talks-politician-and-negotiator-fawzia-koofi-tells-wion-368325
--------
US lawmakers eye legislation to boost Uighur refugee status
March 6, 2021
WASHINGTON: A bipartisan pair of US congressmen are writing a bill that would expedite refugee applications from Uighurs, the first such legislative effort to support immigration of the largely Muslim ethnic group facing persecution in China.
The Florida congressmen, Democrat Ted Deutch and Republican Mario Diaz-Balart, aim to introduce the Uighur Human Rights Protection Act as soon as next week, which if passed would raise Uighurs' applications to "Priority 2" in the US refugee system.
It is unclear how much Republican backing the bill will get, but its drafters say they believe they have the support of moderate Republicans in Congress who are eager to confront China.
The upgrade would allow applicants to forego a UN referral and apply directly as refugees to the US government, reducing concerns that Beijing could be notified by a third country and seek their deportation back to China.
In recent years, China has successfully sought the return of Uighurs from countries on its periphery despite criticism from human rights groups and other governments that they could be subjected to further persecution.
Deutch told Reuters in an email that the effort was "a continuation of the best traditions of US foreign policy and humanitarianism".
According to a draft of the bill, it would apply to Uighurs in China, and also those "not firmly resettled in third countries", such as Turkey, where thousands of Uighurs now reside after having left China.
UN experts and human rights groups estimate that more than one million Uighurs and other Muslim minorities have been detained in harsh conditions in China's Xinjiang region as part of what Beijing calls a vocational training campaign to combat terrorism.
China denies abuses, but the US under the Trump Administration declared that Beijing was perpetrating a genocide, a designation upheld by President Joe Biden's administration.
Omer Kanat, the executive director of the Washington-based Uighur Human Rights Project, welcomed the bill, noting that Uighurs were "very hesitant" to apply through the UN High Commissioner for Refugees.
"If they apply through UNHCR, it has to inform the government of the state that they are in, and if they have strong relations with China, they fear these governments will inform the Chinese authorities," Kanat said.
Biden plans to raise the refugee cap for the current fiscal year to 62,500, a sharp increase from the 15,000 set by former president Donald Trump, Reuters reported in February, but has not yet taken that step.
His refugee proposal sent to Congress mentioned Uighurs as a group that could be prioritised.
"It encourages the administration to do it, and if they don't do it, we have the ability to do it ourselves in Congress," said a House aide who helped draft the bill.
https://www.freemalaysiatoday.com/category/world/2021/03/06/us-lawmakers-eye-legislation-to-boost-uighur-refugee-status/
--------
Iran Blasts IAEA Passivity in Face of Israel's N. Threats
2021-March-6
Israel enjoys more preferential advantages compared to the nuclear-armed states because the latter are NPT members and have special commitments, while Israel is out of it, is free of any commitments, and enjoys all the advantages of the Agency which are relevant to the NPT, Qaribabadi said on Friday.
He said that all regional countries are members of the NPT and have committed themselves to accept the IAEA's safeguards, adding, "Developing a secret nuclear weapon program by the Zionist regime is a serious persisting threat not only to the security and stability of the region and the world, but also for the effectiveness of NPT and the Agency's safeguards."
"Needless to mention, the Zionist regime is not a member of any of the other disarmament and WMD non-proliferation treaties," the envoy noted, adding, "the nuclear capabilities of the Zionist regime and its threats have been put on the agenda of the UN General Assembly while the IAEA has issued several resolutions in this regard."
"But the Zionist regime has neglected the international community by ignoring the NPT, avoiding to join it, and refusing to put its facilities and nuclear activities under IAEA's safeguards inspections," Qaribabadi stated.
He warned that such conditions have emboldened Israel to ridicule the IAEA authority and the mission for preventing deviation of materials and nuclear activities.
"Most importantly, it has been so emboldened that it distorts realities and criticizes some of the NPT members, while they are committed but it is not," the diplomat added.
He termed it ironic that the IAEA, its secretariat, Board of Governors, and general conferences all focus on NPT members, while ignoring the materials and the activities of the Zionist regime in the volatile West Asian region is a chronic strategic mistake.
"In such a condition, what is the advantage of being a NPT member and implementing the safeguards? How can the global community see the IAEA as a serious, professional, impartial partner while the comprehensive safeguards regime is not applied to its members identically and justly and it doesn't even seriously discuss the necessity of verification and inspections of Israel's nuclear activities? Does the silence about the Israeli nuclear deal not send a message to the NPT members that membership means accepting the strongest verification and monitoring systems and staying out of it means freedom of any commitments and even receiving bonuses?" he asked the IAEA.
The seasonal meeting of the IAEA Board of Governors started on Monday and finished on Friday.
In relevant remarks in February, Iran's Foreign Minister Mohammad Javad Zarif deplored the leaders of Britain, France, Germany and the US, and the UN nuclear watchdog for keeping mum about Israel's effort to enhance its lethal nuclear facilities, and warned against Tel Aviv's measure to expand Dimona, the only nuclear bomb factory in the region.
"Israel is expanding Dimona, the region's only nuclear bomb factory, Zarif wrote on his Twitter page on Saturday in an ironic address to the US president Joe Biden, French President Emmanuel Macron, German Chancellor Angela Merkel, UK Prime Minister Boris Johnson, and the International Atomic Energy Agency.
"Gravely concerned? Concerned? A little? Care to comment? I thought so," he went on to write.
https://www.farsnews.ir/en/news/13991216000372/Iran-Blass-IAEA-Passiviy-in-Face-f-Israel%E2%80%99s-N-Threas
--------
Europe
Turkey, EU mark 10th year of Civil Society Dialogue
Nazli Yuzbasioglu
05.03.2021
Co-financed by Turkey and the EU and implemented by the Turkish Foreign Ministry, the Civil Society Program provides a platform in which civil society groups from both sides share information and experience with each other and have the chance to forge lasting dialogue.
The 10th anniversary of the program, funded under the Instrument for Pre-accession Assistance (IPA), will be celebrated next Tuesday through an online program including a panel, exhibition, and concert.
The event, titled "10 Years of Dialogue," boasts a variety of speakers including Deputy Foreign Minister and Director of EU Affairs Faruk Kaymakci, Head of the Delegation of the EU to Turkey Nikolaus Meyer-Landrut, and other top officials along with journalists.
Panels will feature stories from benefactors about projects carried out since the start of the program.
The online event will have a virtual exhibit showing photos of projects related to the dialogue program, and pianist Gulsin Onay will perform in a brief concert.
The Civil Society Dialogue program brings together civil society bodies in both Turkey and the EU, and it brings EU norms along with good practice examples to Turkey, which is a candidate for EU accession.
As part of the program, nearly €50 million ($60 million) in funds has been allocated to about 400 projects and more than 650 partnerships aimed at dialogue.
https://www.aa.com.tr/en/europe/turkey-eu-mark-10th-year-of-civil-society-dialogue/2165964
--------
Turkey, Turkish Cyprus sign financial cooperation pact
Abdullah Yasin Guler, Muhammet Ikbal Arslan
04.03.2021
Turkey and the Turkish Republic of Northern Cyprus (TRNC) signed a financial cooperation agreement Wednesday.
The signing ceremony for the Turkey-TRNC 2021 Economic and Monetary Cooperation Agreement was held after Turkish Vice President Fuat Oktay received TRNC Prime Minister Ersan Saner and his commission.
Oktay said the agreement is a significant outcome of the close contact maintained with the TRNC.
"Our main goal in this agreement is investments. Our aim is to contribute to the formation of a self-sufficient TRNC economy by strengthening the areas with a high multiplier effect in the TRNC. With this agreement, we allocate 2.5 billion liras ($336.83 million) of new resources to the TRNC this year. We anticipate total support of 3.25 billion liras ($437.88 million) with the amount transferred from last year," he said during a joint press conference following the meeting.
Underlining that solidarity, sincerity and brotherhood comprise the basis of the agreement, Oktay said: "In many fields, we will provide support which is sustainable and which transforms the aspects that hamper and hinder the society in the TRNC, and we have already determined these fields. The 2021 Turkey-TRNC Economic and Monetary Cooperation Agreement, with its investment-oriented structure, consists of actions that will strengthen the current infrastructure in especially transportation, communication, trade, industry and youth and sports as well as the field of local administrations. In the coming days, our Trade Minister Ruhsar Pekcan will pay a working visit to the TRNC to clarify the factors that we can turn into opportunities."
The agreement covers investments in infrastructure in the field of health, main road projects and the establishment of a new industrial zone in the TRNC as well as providing support for the industrial zone.
Cooperation on electronic access to government for reducing bureaucracy and a data center project, cooperation in distance education programming, strengthening local administrations as well as youth, sports, tourism and cultural projects are also among the topics included in the agreement.
"We, as the mother country and guarantor country, will continue to do our best for the Turkish Cypriots to continue living in peace, tranquility and prosperity and looking at the future with confidence," Oktay said.
Success of development move
Reminding that it is extremely crucial to eliminate the artificial obstacles unrightfully placed before the TRNC in the international field, Oktay said "the success of the development move is our ultimate goal."
He said they do not accept when prejudices forestall the truth in the conscience of the international community.
Oktay said the Greek side of the island has never taken any concrete steps relevant to the solution of the Cyprus issue, while "the TRNC was left alone with embargoes and ignoring, simply abandoned to its fate even in an issue like the fight against COVID."
"The EU has managed to send the TRNC a small amount of vaccines, which is not even worth mentioning. We, as the mother and guarantor country, certainly did not stand by this, and we will not. This week, we are sending 20,000 doses of COVID-19 vaccine to the TRNC. Thus, our total vaccine aid reaches 100,000 doses," he said.
"Our approach to the unofficial 5+UN meeting, which will take place at the end of April, is also clear. The only way to find a solution is the two-state model, sovereign equality. The European Union, which is the reason why the Cyprus issue has become almost gangrenous, expects to take part at the negotiation table in Geneva. We do not see that the European Union as a party has much to contribute to this process, and we share the same opinion as the TRNC on this issue," Oktay said.
"With our belief in the national cause, we will continue the struggle for rights and equity until the legitimate rights of the Turkish Cypriots are acknowledged and the political equality of our brothers on the island is settled," he added.
Oktay emphasized that the unjust embargoes imposed on the TRNC will not be put up with.
"Turkey and the TRNC will win together, succeed together and walk together," he said.
"Hereby, with Mr. Saner, we declare to the whole world once again: Our unity of ideas is intact. We will not give up on our decision to revive the Maras region. We will not back down from our will for a solution with two sovereign states. Regardless of the conditions, we will continue to stand by the TRNC and stand shoulder to shoulder with the Turkish Cypriots. Those who expect the contrary are doomed to be disappointed as always."
https://www.aa.com.tr/en/europe/turkey-turkish-cyprus-sign-financial-cooperation-pact/2164021
--------
Three terror plots foiled in Britain during pandemic, say police
4 Mar 2021
Three terror plots have been foiled during the coronavirus pandemic in the UK, counter-terrorism chiefs revealed, despite a drop in arrests during the period.
Two Islamist plots and one rightwing terror plot were thwarted, bringing the total number of foiled attacks since March 2017 to 28, said the counter-terrorism policing network.
The revelation was made as official figures from the Home Office showed the number of arrests for terrorism-related activity fell by 34% in 2020, the lowest level in nine years, although this was pinned on an overall reduction in crime during the pandemic.
The statistics also reveal that one in five people behind bars for terrorism offences in Britain last year were rightwing extremists, the highest proportion since records began, while a rise in arrests was only recorded for the under-18s category.
Dean Haydon, a deputy assistant commissioner and senior national coordinator for counter-terrorism policing, said: "These statistics tell me two things. Firstly, that despite facing unprecedented challenges brought about by the pandemic, counter-terrorism policing continued to keep the public safe by making 185 arrests across more than 800 live investigations – stopping three possible terror attacks in the process.
"And secondly, that while the rest of us have been focused on protecting ourselves and our families from this terrible disease, terrorists have not stopped planning attacks or radicalising vulnerable people online."
Since March 2017, counter-terrorism police and UK intelligence services have stopped 28 attacks; 18 were Islamist related, nine were classed as rightwing terrorism, and one was labelled "left, anarchist or single-issue terrorism".
The number of arrests for terrorism-related activity fell from 282 to 185 in the year to December, the lowest since 2011.
Haydon said it was "worrying" that children under 18 were the only age category where an increase was recorded – rising from 11 to 17 cases. That is a total of 10% of all arrests, a rise from 4% in the previous 12 months.
The number of white people arrested was 89, compared with 63 people of Asian appearance and 15 people of black appearance, the report said.
There were 209 prisoners in 2020 of whom 42 were classed as holding "extreme rightwing" views, up from 18% the previous year.
While 75% of prisoners were classed as having Islamist extremist views, the number of inmates recorded as holding this ideology fell from 177 to 156 in the 12-month period.
In all 31 convicted terrorists were released from jail as well as 11 suspects who had been held in custody but not sentenced in the year to September, according to the data. Figures to December are not yet available.
Of the 185 arrested in 2020, 56 (30%) led to a charge, 48 of which were terrorism related. And 73 suspects (39%) were released on bail or released under investigation, meaning they were not subject to any restrictions while police inquiries continued.
A further 13 (7%) faced other action such as a caution or being recalled to prison, while 40 suspects (22%) were released without charge.
https://www.theguardian.com/uk-news/2021/mar/04/three-terror-plots-foiled-in-britain-during-pandemic-say-police?utm_source=iterable&utm_medium=email&utm_campaign=2069039_
--------
Five More Jehovah's Witnesses Accused Of Extremism In Russia
March 04, 2021
Five Jehovah's Witnesses in Russia's Komi Republic have been accused of organizing and taking part in the activities of an extremist group amid a continued crackdown on the religious group, which has been banned in the country since 2017.
Russia's Investigative Committee said on March 4 that a court in the city of Syktyvkar ordered one suspect in the case to be placed in pretrial detention. Two Jehovah's Witnesses were placed under house arrest and another two were ordered not to leave the city while an investigation in the case takes place.
Jehovah's Witnesses said a day earlier that police searched at least 14 homes of members of their congregation in Syktyvkar.
The announcement came days after a court in Russia's Republic of Khakassia sentenced two Jehovah's Witnesses -- 69-year-old Valentina Baranovskaya and her son Roman Baranovsky -- to two and six years in prison respectively.
The United States has condemned Russia's continued crackdown on Jehovah's Witnesses and other peaceful religious minorities.
For decades, the Jehovah's Witnesses have been viewed with suspicion in Russia, where the dominant Orthodox Church is championed by President Vladimir Putin.
The Christian group is known for door-to-door preaching, close Bible study, rejection of military service, and not celebrating national and religious holidays or birthdays.
Since the faith was outlawed in Russia, many Jehovah's Witnesses have been imprisoned in Russia and the Russia-annexed Ukrainian peninsula of Crimea on the Black Sea.
According to the group, dozens of Jehovah's Witnesses have either been convicted of extremism or are in pretrial detention.
In September 2019, Washington banned two high-ranking regional officers from Russia's Investigative Committee from entering the United States over the alleged torture of seven detainees who were Jehovah's Witnesses.
The Moscow-based Memorial Human Rights Center has recognized dozens of Jehovah's Witnesses who've been charged with or convicted of extremism as political prisoners.
https://www.rferl.org/a/russia-jehovah-witnesses-extremism-charges-kimi/31133652.html?utm_source=iterable&utm_medium=email&utm_campaign=2069039_
--------
Arab World
Muslim Council of Elders on Pope Francis' visit to Iraq
Mar 06, 2021
BAGHDAD: The statement reads, "Pope Francis' visit to Iraq serves as a great opportunity to promote peace and is a message of solidarity with victims of violence in the region and around the world. After years of destruction and war, we believe that the historic visit will help heal the wounds of the Iraqi people, while offering hope for a brighter future for Iraq and the region, one which will be filled with tolerance and coexistence."The Council's statement continues with, "Pope Francis' insistence on conducting the visit, despite the many challenges, is a reflection of his complete faith in human fraternity as well as his willingness to uphold equality in the face of hatred, sectarianism and conflict."The statement concludes saying, "Pope Francis' continued efforts in promoting peace are consistent with the Muslim Council Elders' vision and goals of spreading peace, coexistence and communal respect while countering hate and extremism."The Secretary General of the Muslim Council of Elders, Dr. Sultan Al Remeithi says, "Pope Francis' various visits in the Muslim world have only served to strengthen dialogue and friendship between East and West. The same could be said of the of His Eminence Dr. Ahmed El-Tayeb, the Grand Imam of Al-Azhar and Chairman of the Muslim Council of Elders, who has tirelessly travelled the globe for the same noble purpose. Both these great men and religious symbols would go on to meet in the United Arab Emirates in February 2019 to sign the Human Fraternity Document."––Vatican News
http://www.heraldmalaysia.com/news/muslim-council-of-elders-on-pope-francis-visit-to-iraq/58388/2
--------
Explosions in north Syria near Turkish border: State TV
Tuqa Khalid
05 March ,2021
Explosions were heard in northern Syria near the towns of al-Bab and Jarablus, close to the Turkish border, state-run Ikhbariya TV reported on Friday.
The blasts hit local oil refineries in the area, which is controlled by Turkey and allied rebel groups opposed to Syrian President Bashar al-Assad.
The Syrian Observatory for Human Rights monitoring group said missile strikes caused the blasts and at least one person was killed and 10 others injured.
The White Helmets rescue workers, known officially as Syria Civil Defence, said rocket shelling caused a fire in Jarablus and shared footage of flames and black smoke rising around the cameraman.
There was no official Turkish comment on the incident so far.
Earlier, Syrian state news agency SANA reported Turkish forces and allied fighters shelled houses in Aleppo's northern countryside.
Turkish forces and their Syrian insurgent allies seized territory in the region in an offensive in 2019 against the Kurdish YPG militia which holds swathes of north and east Syria.
Turkey regards the YPG as a terrorist group tied to the PKK inside its own borders.
The YPG forms the military backbone of the Syrian Democratic Forces (SDF) alliance which defeated ISIS in northeast Syria with the help of US air power.
https://english.alarabiya.net/News/middle-east/2021/03/05/Explosions-in-north-Syria-near-Turkish-border-State-TV
--------
Saudi Arabia intercepts another two explosive Houthi drones, totaling 8 in 24 hours
06 March ,2021
Tuqa Khalid
The Arab Coalition intercepted two explosive-laden drones launched by Yemen's Houthis towards Saudi Arabia's Jazan and Khamis Mushait, raising the number of such drone attacks to eight over the past 24 hours.
The Houthi's explosive-laden unmanned aerial vehicles (UAV) were the latest in a series of escalated cross-border aerial attacks on the Kingdom by the Iran-backed militia in Yemen. This week's attacks have injured at least seven civilians, according the Saudi authorities.
Debris from intercepting six explosive drones injured ten-year-old child and a Saudi civilian who was wounded while driving his car, the civil defense said earlier on Friday.
Saudi Arabia said on Thursday the Houthis launched a ballistic missile towards the southern Jazan region. On Tuesday, a Houthi military projectile fell in Jazan, injuring at least five civilians.
The attacks on Jazan came days after the Coalition said it had thwarted a ballistic missile attack by the Houthis on the Saudi capital Riyadh and destroyed six armed drones launched towards cities in the Kingdom's south.
Riyadh had also said a Houthi drone attack caused a fire in a civilian aircraft at an airport in Abha mid-February.
Coalition Spokesperson Colonel Turki al-Maliki said: "The Houthi militia deliberately escalates hostile and terrorist targeting of civilians and civilian objects systematically using ballistic missiles… Those actions constitute war crimes."
https://english.alarabiya.net/News/gulf/2021/03/06/Saudi-Arabia-intercepts-another-two-explosive-Houthi-drones-totaling-8-in-24-hours
--------
Saudi Arabia: Child, civilian injured due to debris from latest Houthi drone attacks
Tuqa Khalid
05 March ,2021
Saudi Arabia's civil defense said on Friday a child and a civilian were injured due to the debris of the latest drone attacks on the Kingdom's Khamis Mushait and Ahad Rafidah by Yemen's Iran-backed Houthi militia.
The debris of intercepting the Houthi's explosive-laden unmanned aerial vehicles (UAV) launched by the Houthis towards the Kingdom fell into residential areas in the provinces of Khamis Mushait and Ahad Rafidah, the General Directorate of Saudi Civil Defense said in a statement.
For all the latest headlines follow our Google News channel online or via the app.
A ten-year-old child was injured and was treated by the Saudi Red Crescent, and a Saudi civilian was also wounded while driving his car, was taken to the hospital and is in stable condition, the authorities said.
The Arab Coalition said it intercepted and destroyed six explosive-laden UAVs launched by the Houthis towards Saudi Arabia on Friday.
The Arab Coalition has reported in recent weeks increased aerial attacks launched by Houthis in Yemen towards civilian areas in the Kingdom.
Saudi Arabia said on Thursday the Houthis launched a ballistic missile towards the southern Jazan region. On Tuesday, a Houthi military projectile fell in Jazan, injuring at least five civilians.
The attacks on Jazan came days after the Coalition said it had thwarted a ballistic missile attack by the Houthis on the Saudi capital Riyadh and destroyed six armed drones launched towards cities in the Kingdom's south.
Riyadh had also said a Houthi drone attack caused a fire in a civilian aircraft at an airport in Abha mid-February.
https://english.alarabiya.net/News/gulf/2021/03/05/Saudi-Arabia-Child-civilian-injured-due-to-debris-from-latest-Houthi-drone-attack
--------
Arab Coalition intercepts six explosive drones fired at Saudi's Khamis Mushait
05 March ,2021
Joanne Serrieh
The Arab Coalition said it had destroyed six explosive drones fired towards Saudi Arabia on Friday, with Yemen's Iran-backed Houthi militia claiming to have launched an attack into southern Saudi Arabia at dawn.
The Houthis fired the intercepted drones towards Khamis Mushait near the Yemen border in attacks at dawn and during the morning, the Coalition said in a statement carried by state news agency SPA. The six drones were intercepted and destroyed.
Yemen's Houthi movement regularly launches drones and missiles into Saudi Arabia, many of which Riyadh says it intercepts.
On Thursday, the Coalition destroyed a ballistic missile launched into the Kingdom's Jazan region, injuring at least five civilians.
Some attacks have previously hit Abha International Airport which is about 120 kilometer (75 miles) from the border with Yemen.
In February, the Houthis claimed an attack on the Abha airport which caused a civilian plane to catch fire. The militia said the airport was a military target, according to AFP.
On Tuesday, the US Treasury Department imposed new sanctions on two Houthi military leaders.
https://english.alarabiya.net/News/gulf/2021/03/05/Arab-Coalition-intercepts-second-explosive-drone-fired-at-Saudi-s-Khamis-Mushait
--------
Belgium to repatriate children and some mothers held in Syria
05 March ,2021
Belgium will repatriate children detained in a Syrian refugee camp to meet a 2019 court order, along with some mothers on a case by case basis, Belgian Prime Minister Alexander de Croo said on Thursday.
Like the United States, Europe has repeatedly said it is ready to take custody of some minors whose families went to fight for ISIS in Syria, fearing the camps may breed a new generation of militants.
But governments are still reluctant as there is little sympathy for militants' families in Europe after the trauma of militant attacks on the continent over the past decade.
A Brussels court ordered the Belgian government in December 2019 to help bring to Belgium 10 children who were born in Syria to ISIS fighters of Belgian nationality, but Belgium has so far not taken them back.
The children are in the Al-Hol refugee camp in northeastern Syria which is under Kurdish control.
"The reality is that the situation in the camp has seriously deteriorated", Prime Minister Alexander De Croo told the Belgian parliament on Thursday.
Around 20 Belgian minors and 11 other women are in the smaller camp of Roj, near the Iraqi border.
Speaking of the risk of seeing the children in the camps becoming radicalized, De Croo said Belgium should do everything to get them out of the camps.
"The National Council of Security yesterday confirmed the process of repatriation of the children, the age limit being set at 12 years old," he said.
There are also 13 Belgian mothers in the camp - nine convicted and four subject to international arrest warrants. Bringing them back to Belgium will be decided on a case-by-base basis, with the only criteria being national security. It was not clear if they were related to the children being brought to Belgium.
"If they distanced themselves from (ISIS), they could be repatriated," De Croo said.
https://english.alarabiya.net/News/middle-east/2021/03/05/Syria-crisis-Belgium-to-repatriate-children-and-some-mothers-held-in-Syria
--------
Reports of sanctions on Lebanon central bank chief are 'untrue': State Department
Joseph Haboush
05 March ,2021
The US State Department Friday denied reports that Washington was looking to sanction Lebanon's central bank chief Riad Salameh.
"We have seen reports about possible sanctions of Riad Salameh. They are untrue," a State Department spokesperson told Al Arabiya English.
Bloomberg first reported that the US was considering sanctions against Salameh over the alleged embezzlement of public funds.
The report surprised several former and current US officials as Salameh has been seen as a key partner in enforcing US economic sanctions against clients using Lebanese banks.
Following the State Department denial, Salameh released a statement saying he would sue Bloomberg for the report.
Salameh is one of the world's longest-serving central bank governors.
A former Merrill Lynch banker, Salameh was appointed to his current role in 1993.
But he has been faced with criticism in Lebanon after the local currency tumbled to record lows and depositors became unable to access their money in Lebanese banks.
https://english.alarabiya.net/News/middle-east/2021/03/05/US-foreign-policy-Reports-of-sanctions-on-Lebanon-central-bank-chief-are-untrue-State-Department
--------
Africa
Libya's Prime Minister-designate names large unity Cabinet
06 March ,2021
Libya's designated prime minister Abdelhamid Dbeibeh has proposed a large unity cabinet with 35 members, his office said on Friday, ahead of a planned parliament meeting on Monday to debate ratifying his government.
The Cabinet list has been subject to intense negotiation among Libya's warring factions and powerful regional and political leaders, but an official said talks continued over whether to reduce the number of ministers.
Two slightly different versions of the list shown to Reuters by Libyan officials named a former culture minister, Lamia Bosidera, as foreign minister and Khaled Mazen as interior minister.
Dbeibeh would act as defence minister according to the lists. The names also include two deputy prime ministers from the east and west of Libya.
Dbeibeh was selected via a U.N. talks process in Geneva early last month to head an interim unity government to oversee the run-up to a planned election at the end of this year.
Libya has been split for years between the Government of National Accord (GNA) in Tripoli and Khalifa Haftar's eastern-based Libyan National Army (LNA).
The divided parliament aims to meet on Monday in the frontline city of Sirte, held by the LNA. However, some western-based members of parliament have cast doubt on attending, citing the presence of Russian mercenaries there.
A LNA source said the mercenaries had pulled back from the frontlines and the airport. The main coast road across the frontline at Sirte has not yet opened, though some members of parliament had said they expected it would be on Saturday.
https://english.alarabiya.net/News/north-africa/2021/03/06/Libya-s-Prime-Minister-designate-names-large-unity-Cabinet-
--------
At least 20 killed by suicide car bomb near restaurant in Somalia capital
05 March ,2021
At least 20 people were killed and 30 wounded by a suicide car bomb just outside a restaurant near the port in Somalia's capital Mogadishu late on Friday, an emergency services official said.
The blast sent plumes of smoke into the sky and triggered gunfire, witnesses and state-owned media reported.
"So far we have carried 20 dead people and 30 injured from the blast scene," Dr. Abdulkadir Aden, founder of AAMIN Ambulance services told Reuters.
The blast occurred at the Luul Yemeni restaurant near the port, witnesses said.
"A speeding car exploded at Luul Yemeni restaurant. I was going to the restaurant but ran back when the blast shook and covered the area with smoke," resident Ahmed Abdullahi, who lives near the site, told Reuters.
Somalia's state-controlled Radio Mogadishu reported there was also destruction of property and that police had cordoned off the area.
No one claimed responsibility for the blast.
Islamist group al Shabaab frequently carries out such bombings in Somalia and elsewhere as part of its campaign to topple the Horn of African country's central government and establish its own rule based on its strict interpretation of Islamic sharia law.
https://english.alarabiya.net/News/world/2021/03/06/Terrorism-At-least-20-killed-by-suicide-car-bomb-near-restaurant-in-Somalia-capital
--------
Mogadishu attack leaves at least 10 dead, over 30 wounded
06 March 2021
A car packed with explosives rammed into a popular restaurant in Somalia's capital on Friday night, and police said at least 10 people were killed and more than 30 wounded.
Police spokesman Sadiq Ali Adan blamed the attack on the local al-Shabab extremist group, which is linked to al-Qaida and often targets Mogadishu with bombings.
The Luul Yamani restaurant also was attacked last year.
At least one building near the restaurant collapsed after the blast, and people were feared to be trapped in the rubble.
The blast occurred at dinner time when the restaurant was full.
Security in Mogadishu had been especially heavy, with thousands of government forces deployed in anticipation of a planned demonstration on Saturday by an alliance of opposition leaders over the country's delayed national election.
The demonstration was later postponed.
https://www.presstv.com/Detail/2021/03/06/646654/Wounded-hospital-after-deadly-Mogadishu-attack
--------
North America
Accused terrorist found with makeshift ISIS flag in his jail cell: prosecutors
By NOAH GOLDBERG
MAR 04, 2021
A Brooklynite who served as a sniper for ISIS was caught in his jail cell with a homemade flag that resembled the terrorist organization's logo, federal prosecutors said Wednesday.
Ruslan Asainov, 44, charged in 2019 with working for the Islamic State and trying to recruit others to join the fight as well, was caught in his cell at Manhattan's Metropolitan Correctional Center with a small item that he had fashioned to look like the ISIS flag, the feds said Wednesday in papers in his Brooklyn Federal Court case.
The incident occurred on Sep. 17, 2020, but was just disclosed as part of the discovery process in the case.
Prosecutors turned over to Asainov's defense attorney video footage of them raiding the cell and discovering the flag, though the video is not publicly available.
While prosecutors will not bring new charges based on the flag, it will help strengthen their case connecting Asainov to ISIS.
Asainov did not show up to a Thursday video hearing in his case, likely because he does not recognize the sovereignty of the United States justice system.
"The defendant has stated directly to the court in a prior appearance … that he considers himself a citizen of the Islamic State," said Assistant U.S. Attorney Saritha Komatireddy. "He does not consider any legal system legitimate — including the U.S. legal system — other than Sharia law."
Asainov, originally from Kazakhstan, lived in Brooklyn for 15 years until 2013, when he traveled to Turkey and joined ISIS, according to federal prosecutors.
He corresponded with a confidential informant in 2015, asking for nearly $3,000 so he could buy a rifle scope, according to the feds.
He sent photos of himself holding a gun to the informant.
In another note to an associate, Asainov called ISIS "the worst terrorist organization in the world that has ever existed" and said he wanted to die on the battlefield.
He has been held in jail since his extradition to the United States in 2019.
Asainov's lawyer, Susan Kellman, declined to comment on the case, but told Judge Nicholas Garaufis on Thursday that her client refuses to speak with her despite numerous phone calls and letters to him in jail.
https://www.nydailynews.com/new-york/nyc-crime/ny-accused-isis-flag-sniper-nyc-20210304-cvzyaouesrd7tmuqx3oqp7c44e-story.html?utm_source=iterable&utm_medium=email&utm_campaign=2069039_
--------
Biden inducts third Pakistani-American into his team
March 6, 2021
WASHINGTON: US President Joe Biden has inducted a third Pakistani-American, Dilawar Syed, into his team, says a White House media statement.
Mr Syed will serve as the deputy administrator of the Small Business Admini­stration (SBA), if confirmed by the US Senate. Confirming his nomination on Twitter, Mr Syed said he was "deeply humbled & honored" and will "put my heart and soul into helping small businesses everywhere" as the "grit of small businesses" made America strong.
On Tuesday, President Joe Biden was forced to withdraw the nomination of Neera Tanden as his budget chief at her request after it became obvious that the Senate would not confirm her.
Mr Syed holds an MBA from The Wharton School of the University of Pennsylvania and earned a BA in Economics and Computer Science from The University of Texas at Austin. He immigrated to the US from Pakistan as a freshman student to attend The College of Wooster in Ohio, the White House statement said.
Mr Syed currently serves as the president and chief executive officer of Lumiata, a firm that focuses on "reducing healthcare costs and improving patient outcomes". He was previously the president at Freshworks, scaling the software company's products to thousands of small and medium-scale businesses.
The White House statement noted that Mr Syed had a history of furthering civic efforts "at the federal, state, and local level focusing on economic growth and entrepreneurship".
He also served on Pre­sident Obama's White House Commission on Asian Amer­icans and Pacific Islanders (AAPIs) and chaired the White House Initiative on AAPIs' Economic Growth Committee.
President Biden has already taken two Pakistani Americans, Salman Ahmed and Ali Zaidi into his team. Mr Ahmed is a national security and foreign policy adviser who is now the director of policy planning in the Biden administration. Mr Zaidi is a lawyer and political adviser who joined the administration as the first deputy White House National Climate Adviser.
Before joining the Biden administration, Mr Ahmed was chief of staff of the US Mission to the United Nations and senior policy adviser to the US Permanent Representative to the United Nations.
Mr Zaidi, who played a key role in drafting and implementing the Obama administration's climate action plan, works directly under former Secretary of State John Kerry who is now Mr Biden's special envoy for climate. He also helped negotiate the Paris Climate Agreement.
President Biden has also inducted two women from the Indian-occupied Kashmir into his team.
Sameera Fazili is the deputy director of the National Economic Council (NEC) and Aisha Shah is a partnership manager at the White House Digital Strategy team.
Uzra Zeya, another Ind­ian Muslim, has been appointed Undersecretary of State for arms control, democracy and human rights.
https://www.dawn.com/news/1610962/biden-inducts-third-pakistani-american-into-his-team
--------
US still waiting for Iran weeks after Biden voiced interest in direct talks
Joseph Haboush
05 March ,2021
The United States is still waiting for Iran to accept its offer to negotiate the now-defunct nuclear deal, weeks after Washington and US President Joe Biden expressed willingness to sit down with officials from Tehran.
"What we have said, and the offer that we have put on the table, together with our European partners still stands. It's been a couple of weeks now that we indicated our willingness to accept an invitation on the part of the EU to engage in direct diplomacy," State Department Spokesman Ned Price told Al Arabiya English.
"On our part, it would be clear-eyed, principled direct diplomacy with Iran, in the context of the P5+1. That's where believe these issues need to … be discussed if we are to make progress in a mutual return to compliance with the JCPOA commitment," he added during the phone call with reporters.
The JCPOA, an acronym for the 2015 nuclear deal, has been the center of focus between renewed efforts by the US to re-engage Iran after former President Donald Trump withdrew from it in 2018.
Asked for comment on claims by Iranian President Hassan Rouhani that the Trump-era sanctions cost Iran's economy around $200 billion, Price remained tight-lipped.
Price's comments come after Iran's top diplomat, Mohammad Javad Zarif, said he would soon present a constructive plan of action on the nuclear deal.
https://english.alarabiya.net/News/middle-east/2021/03/05/Iran-nuclear-deal-US-still-waiting-for-Iran-weeks-after-Biden-voiced-interest-in-direct-talks
--------
US puts 'onus' for ending Tigray suffering on Ethiopia
Michael Hernandez
04.03.2021
WASHINGTON
The "onus" for tamping down the humanitarian suffering in Ethiopia's restive Tigray region lays squarely with the government, the US said on Thursday.
Linda Thomas-Greenfield, Washington's UN envoy, continued to voice alarm at the situation while addressing reporters at the UN's New York headquarters, saying it "has had, and will continue to have, devastating consequences for thousands of innocent people," and threatens regional stability.
"We urge the Ethiopian government to support an immediate end to the fighting in Tigray, and to that end the prompt withdrawal of Eritrean forces and Amhara regional forces from Tigray are essential steps. And we urge the broader region to work fast and together toward a peaceful solution," she added.
The Tigray region has been the scene of fighting since November when Ethiopian Prime Minister Abiy Ahmed announced military operations against the Tigray People's Liberation Front (TPLF), who he accused of attacking federal army camps.
Government troops took control of the regional capital, Mekele, in late November, but the TPLF vowed to fight, and clashes have persisted in the Horn of Africa country, hampering efforts to deliver humanitarian aid.
UN High Commissioner for Human Rights Michelle Bachelet said earlier on Thursday her office received information about ongoing fighting across the region, particularly in the center of Tigray region, as well as incidents of looting by "various armed actors."
Bachelet's office said it has information about the killing of eight protestors by security forces on Feb. 9-10 in Adigrat, Mekelle, Shire and Wukro.
More than 136 cases of rape have also been reported in hospitals in Mekelle, Ayder, Adigrat and Wukro in eastern Tigray region between December and January, said the office.
Thomas-Greenfield said the US has deployed a disaster assistance response team to Ethiopia to bolster the humanitarian response, "and our hope is that others will join us in this urgent, necessary life-saving effort."
https://www.aa.com.tr/en/americas/us-puts-onus-for-ending-tigray-suffering-on-ethiopia/2165245
--------
Colombia learning Turkish model on protecting migrants
Daniel Salgar Antolínez and Santiago Serna Duque
04.03.2021
BOGOTA, Colombia
During the last five years, the arrival of more than 1.7 million Venezuelans made Colombia the second largest recipient of forcibly displaced people in the world, after Turkey with approximately 4 million Syrians.
The exoduses affect the demographic and socioeconomic realities of Turkey and Colombia which share another phenomenon: extensive borders with the presence of illegal armed groups.
To host civilians fleeing the war in Syria, Turkey implemented a temporary protection mechanism that provides stability and access to rights and services.
The model is a benchmark for the Temporary Protection Statute for Venezuelan Migrants that Colombia officially implemented March 1.
Ankara and Bogota are urged to work together to offer responses to migratory dynamics that seem to have no end.
Why temporary protection and not shelter?
More than a receiver, Colombia has been characterized as an ejector of migrants. The armed conflict with the Revolutionary Armed Forces of Colombia (FARC) has left 262,000 people dead in six decades and almost 8 million displaced from 1985 to Dec. 31, 2019, according to the Single Registry of Victims (RUV).
Without a robust reception structure and shaken by internal violence that seems entrenched, in the last five years Colombia began to host an unprecedented number of Venezuelans who left their country for various reasons. With several setbacks, it designed a migration policy that aims to align with international standards and good practices.
Due to its location between Asia, Africa, and Europe, Turkey instead witnessed great human mobilizations throughout history.
In recent years, it received refugees from Afghanistan, Iran, Iraq and Somalia; and others from the Middle East and the Caucasus. When the civil war broke out in Syria in 2011, Turkey already had an idea about migration.
However, facing the magnitude of the Syrian exodus, Turkey adjusted policies and since 2014 has implemented the temporary protection status for the vulnerable population. Due to a reservation made by Turkey to the 1951 Geneva Convention, the country can only grant refugee status to those from Europe and the temporary protection model emerged as a lifeline for millions of Syrians who were adrift.
Despite the frequent talk of the "Syrian refugee" crisis in Turkey, Syrians are under temporary protection and not refugee status. Also, "refugee camps" have been centers for migrants under temporary protection, where they are given free access to health services, education, labor market and social assistance, among others. Some centers have closed as Syrians integrate or decide to return to their country.
Colombia, unlike Turkey, could grant refugee status to Venezuelans. So why does the government opt for temporary protection?
Victor Bautista, secretary of the border in the Colombian department of Norte de Santander, points out that it is because of the need to speed up the management of mass migration.
In general terms, the shelter is studied according to the particular conditions of each person and the processing of an application takes a long time.
It is a long and expensive process not only for Colombia but for developed countries such as Germany.
On the other hand, the protection statute gives them the possibility of residing in Colombia for up to 10 years and having a closer relationship with state institutions.
In addition, applying the refugee status would be inconsistent with the reality of the Colombian-Venezuelan border where many come and go daily, the so-called pendular migration. The figure of refugee implies the principle of non-refoulment, so one cannot return to their country because his life is in danger because of a specific cause.
Bautista explains that in Venezuela there is not a warlike situation like in Syria, but a complex mix of poverty, lack of job opportunities and access to health, education, food security as well as some cases of political persecution.
It is difficult to determine how many people are stating each reason and it would be unwise to assume that they are all stating the same reason.
"The Protection Statute includes the generality of the problem and offers Venezuelans stability in Colombia," said Bautista. "What is convenient for all of us is that they find stability, integrate into the communities, and be productive, not that they are in a constant rambling on the roads facing all kinds of needs."
Keys to orderly, safe entry of migrants
International experiences on migration show the main success factor is guaranteeing safety, reception and identification for those who arrive in another country.
To learn about these mechanisms, Bautista was, in 2017, with a delegation from the Colombian government on the Turkish-Syrian border. He recalls that in the Turkish city of Gaziantep they saw Syrians always enter through regular border crossings and obey established processes to obtain protection and benefits.
"In Colombia, as President Ivan Duque said, we must also understand that it is inconvenient to enter through unofficial border crossings because, in that way, they will not have the Temporary Protection Statute. We invite you to enter through the door, not through the window," he said.
Along the 2,200-kilometer (1,367-mile) border with Venezuela, state control and registration capacity are precarious.
This allows Venezuelans to cross daily through unofficial crossings, the so-called trails, which are invisible to the state and expose themselves to illegal armed groups.
Along the 911-kilometer (566-mile) border between Turkey and Syria, there are walls, security fences and an infrastructure that prevents the irregular passage of people.
These barriers are not there to undermine the rights of Syrians and keep them out. On the contrary, they are intended to guarantee a safe, orderly migration, following established routes. With a strong state presence and clear migration policies, Turkey combined its fight against terror groups such as Daesh/ISIS and the PKK along the border area.
Ankara's Ambassador to Bogota Ece Ozturk Cil reiterated the importance of investing in infrastructure and having registration systems to attend to migration, in addition to improving cooperation with the international community and promoting labor insertion of migrants.
"While many countries turn a blind eye and hide behind barbed wire and walls, we have opened our doors to millions of Syrians. We provide a wide range of services, including free health care and education, vocational training, and social services. We have spent more than $40 billion for the well-being of Syrians. We fully respect the principle of non-refoulment by virtue of our international and national obligations," she said.
In the Turkish case, Cil explains that the state also provides "comprehensive aid" to camps on the Syrian side of the border, in areas controlled by Turkey. In addition, the voluntary repatriation of Syrians is carried out in cooperation with the United Nations High Commissioner for Refugees (UNHCR) and non-governmental organizations. A total of "399,087 Syrians have voluntarily returned to the regions that our country has cleared of terrorism in Syria.
Cil pointed out that the Turkish biometric registration system allows each migrant to be granted an identity card, with which they can obtain services and the temporary protection regime. This process involves the migration agency, local authorities, local communities and civil society.
Under this registration system, Turkey has developed policies that allow it to effectively serve the migrant population. "We know that there are more than 1 million Syrian school-age children in Turkey. Thanks to our efforts, around 643,000 of them attend school. We increased the school enrollment rate from 30% in 2014 to 61% in 2018. While the overall school enrollment rate is 1% for young adult immigrants (age 18-25), this rate is five times higher in Turkey (5%)," said the ambassador.
Furthermore, Cil highlighted that the cost of treating Syrians outside of temporary accommodation centers is covered in state hospitals. "Families can be moved to Temporary Health Centers created exclusively for them. The number of Syrian children born in Turkey in the last nine years exceeds 500,000, more than two million Syrians benefit from hospital treatment and nearly 1.8 million surgeries have been performed. The legal basis for granting work permits was implemented in 2016 and today more than 120,000 Syrians have received this kind of authorization," she said.
Looking at the Turkish example, many expectations are generated about how the Temporary Protection Statute will work in Colombia, particularly in border areas such as Norte de Santander, which supports the greatest rigor of migration.
Bautista points out that big changes could happen with the statute. For example, each migrant who accesses an emergency area in a hospital will pay an average of 1.8 million Colombian pesos ($505), but if they were affiliated with the health system, it would cost around 800,000 pesos ($224), because they would have a medical history with disease control and prevention.
From Gaziantep to Norte de Santander
The dynamics of migration in Colombia could reach or even surpass the Turkish case. That is why the exchange of experiences and cooperation is now more important than ever. As Bautista points out, Gaziantep has already been thought of as a model for migration management on the Norte de Santander border.
"Gaziantep has been serving migrants for longer, so it is a benchmark in integration processes and economies of positive impact. It also has a dynamic of important cross-border relations. Many Turks have families or activities in provinces in Syrian territory. The same happens between Norte de Santander and the Venezuelan state of Táchira," said Bautista.
In addition, Norte de Santander has been a pioneer in the transitory care centers that emerged in the framework of the coronavirus pandemic. The department has two of these spaces in addition to those that operate in Yopal (Casanare) and Maicao (La Guajira). "We would like them to work as well as the ones we saw in Gaziantep," said Bautista.
Progress has already been made on this path. Cil said that since 2017 there has been close cooperation and that year a visit to Gaziantep by a delegation from the Colombian government took place.
In 2018, experts from the Turkish Emergency and Disaster Department (AFAD) visited Cucuta to share with the Joint Strategic Center for Migration Analysis (CECAM) their experience on the creation of the biometric database system.
The Turkish Cooperation and Development Agency (TİKA) also completed several production and technology projects, particularly in Cucuta and La Guajira.
"Migration management is one of the key areas in which we can continue to develop our bilateral relations. Colombia can count on Turkey as a permanent ally in migration matters," said Cil.
https://www.aa.com.tr/en/americas/colombia-learning-turkish-model-on-protecting-migrants/2165053
--------
Security tight at U.S. Capitol after terror threat
5 March 2021
Security was tight on Thursday at the U.S. Capitol, the scene of a deadly siege in January, after police warned that a U.S. militia group might try to attack it again to mark a key date on the calendar connected to the baseless QAnon conspiracy theory.
A bulletin issued earlier this week by the Department of Homeland Security and the FBI said an unidentified group of "militia violent extremists" discussed plans in February to "take control of the U.S. Capitol and remove Democratic lawmakers on or about March 4th."
March 4th is the day when adherents to the QAnon theory believe that former President Donald Trump, who was defeated by President Joe Biden in the November 3rd election, would be sworn in for a second term in office. Up until 1933, March 4th was the date of the inauguration.
House Speaker Nancy Pelosi, whose chamber canceled its afternoon session after the warning, still appeared at the Capitol Thursday for her weekly press conference, dismissing any significance the date may hold.
"The silliness of this being inauguration day falls into the realm of… let's not waste our time on it."
Still, Capitol police have asked the Pentagon to extend the presence of the National Guard, who have been there since the insurrection, for at least another two months.
[HOUSE SPEAKER NANCY PELOSI:] "We should have them here as long as they are needed."
There are currently about 5,200 National Guard troops around the building.
The Senate remained open Thursday with Biden's coronavirus relief package on the docket.
Long-term security improvements to the Capitol are being drafted, funding for which Congress would have to approve.
White House press secretary Jen Psaki said Thursday that the FBI and DHS both warned that the threat (quote), "did not begin or end on January 6th" and that Biden's national security team has been vigilant… in part because we are witnessing a year-long trend of false narratives fueling violence."
Federal prosecutors have charged more than 300 people for involvement in the January 6th attack. Those arrested include members of armed militia groups such as the Oath Keepers and the Three Percenters.
https://nz.finance.yahoo.com/finance/video/security-tight-u-capitol-terror-213112870.html?utm_source=iterable&utm_medium=email&utm_campaign=2069039_
--------
India
Man Hammers To Death Wife, Two Daughters in UP's Bulandshahr
By Srawan Shukla
March 3, 2021
Lucknow: A dejected man hammered to death his wife and two daughters while the third daughter has been admitted with serious head injuries in the hospital in Bulandshahr district of Uttar Pradesh.
The incident was reported from Majra Ambedkar Nagar in Shikarpur Dehat village of Bulandshahr district. A man bludgeoned to death with a hammer his wife two daughter while the third daughter is battling for life in the hospital. After committing the crime, man escaped from the village.
Neighbours came to know about the triple murder when the injured daughter gained consciousness and shouted for help. When villagers peeped inside the house they were shocked to find entire family in a pool of blood which was splattered all over the room.
The police was called in and the girl was rushed to a hospital. While she has survived the attack by her own father, her condition was stated to be serious due to head injuries. Bodies of the woman and her two daughters were sent for the post mortem examination.
The police said that all of them were beaten with a hammer by the man till they died. Dog squad and Forensic team have been called at the crime scene to find some clues which led to the triple murder.
A case has been registered and the police are waiting to record girl's statement to ascertain what led the father to kill his wife and two daughters. Villagers told the police that the man often used to beat his wife and three daughters without any reason.
The police said that the man has been identified as Syed Mental (60) who hammered to death his wife Safeela (50), and daughters Rajia (20) and Shabana (15) while the third daughter Sultana (18) is admitted in hospital where her condition is stable.
Cops added that Syed was mentally unsound and it was due to this that villagers had added the word Mental to his name. He had suspicion that his wife was having an affair with someone. He has two married sons also who were living in the same house in separate portions due to their father's unsound mind and violent behaviour. His wife and daughters were working as labourers to run the family.
Syed is on the run and the police have formed teams to arrest him.
https://www.freepressjournal.in/india/man-hammers-to-death-wife-two-daughters-in-ups-bulandshahr
--------
People Offer Friday Prayers In Srinagar Mosque Carrying Photos Of Detained Mirwaiz, Demand His Release
March 6, 2021
People offered Friday prayers in Srinagar's Jamia Masjid today carrying photos of detained Mirwaiz Umar Farooq and demanded his immediate release.
A group of youth indulged in pelting stones at security forces outside the mosque in the downtown.
Devotees were expecting the Mirwaiz to give sermons in the mosque after the Friday prayers as a word had spread on Thursday that the chief priest was no longer under detection.
The Mirwaiz is among several of leaders — both separatists and mainstream — who were taken into custody or placed under house arrest as the Centre revoked Jammu and Kashmir's special status under Article 370 of the Constitution on 5 August 2019.
While most leaders have been released Mirwaiz continues to be under detention.
The moderate Hurriyat Conference on Friday claimed that the Jammu and Kashmir authorities have gone back on their decision to release the Mirwaiz from detention.
On Thursday, a close aide of Mirwaiz had claimed that curbs on the movement of the Mirwaiz had been lifted. The administration, however, neither confirmed nor denied it.
"Hurriyat Conference expresses strong resentment and regret that after announcing the release of it's chairman and Mirwaiz-e-Kashmir Umar Farooq from a 20-month-long house detention since August 2019, government authorities went back on their decision," a Hurriyat spokesperson said.
https://www.thestatesman.com/india/people-offer-friday-prayers-srinagar-mosque-carrying-photos-detained-mirwaiz-demand-release-1502955780.html
--------
Gujarat Govt to Enact Strict Law To Deal With Love Jihad: Jadeja
Mar 6, 2021
Gandhinagar: Minister of state for home Pradipsinh Jadeja said in the Gujarat assembly on Friday that after the remarkable victory for his party in the local body polls, the BJP is now in power in 90% of Gujarat's geographical area. He was speaking on the motion of thanks to the governor's address in the assembly. The minister also spoke about Aisha, who committed suicide at the Sabarmati riverfront. "The girl lived in my constituency. Her father stays at Vatva. I called and spoke to him. I also spoke to police officers and asked them to take strictest possible action against the culprits," said Jadeja. Commenting on stringent laws being enforced, he said, "Whether it is Aisha or Asha, the government will enact strict laws to deal with love jihad and check crimes against women."
Jadeja said the people have been repeatedly endorsing the BJP's development plank, and have been rejecting the Congress party's policy of appeasement. He said the discerning voters of Gujarat have given a sharp rebuff to the Congress' attempt to incite youth and disturb peace in the guise of reservation stir in 2015. "If this trend continues, it will be difficult for the Congress to survive in Gujarat," he said.
Commenting on renaming of the world's largest cricket stadium after PM Narendra Modi, Jadeja said the cricket stadium is only a part of the proposed 215-acre Sardar Vallabhbhai Patel Sports Enclave. "The Congress neglected Sardar Patel. It was under the leadership of PM Modi that the world's tallest statue of Sardar Patel was built. Today more people visit the Statue of Unity than the Taj Mahal," he said.
https://timesofindia.indiatimes.com/city/ahmedabad/govt-to-enact-strict-law-to-deal-with-love-jihad-jadeja/articleshow/81356588.cms
--------
NIA probes Jamaat-e-Islami's Jammu and Kashmir chapter
By Neeraj Chauhan
MAR 06, 2021
The National Investigation Agency (NIA) has launched an investigation against the Jamaat-e-Islami (JeI), Jammu & Kashmir, and its office-bearers on allegations that they support terror activities in the Valley in association with the Hizbul Mujahideen and other terror outfits at the behest of Pakistan, people familiar with the matter said.
In its first FIR registered against JeI, J&K a few weeks ago, the central anti-terror probe agency invoked terror charges on specific information that the organisation was funding and supporting anti-India activities with an ultimate goal of secession of J&K from India, the people cited above added.
The Cabinet Committee on Security (CCS) banned JeI after the Pulwama terror attack in 2019, in which 40 Indian troopers were killed and which brought India and Pakistan to the brink of war. Over 100 JeI, J&K members, including its chief Abdul Hameed Fayaz were arrested by the J&K Police at that time. Fayaz continues to be behind bars.
An NIA officer, who asked not to be named, said they will "examine the funding of Jamaat-e-Islami [J&K] over the years, its properties, its links with separatist leaders and terror outfits – particularly Hizbul Mujahideen, since several members of the Hizb's cadre at some point were JeI members".
JeI, J&K is intrinsically linked with United Jehad Council (based in Pakistan) which is the "umbrella organisation" of all major terrorist outfits, he added.
When JeI, J&K was banned under the Unlawful Activities Prevention Act (UAPA) on February 28, 2019, the Centre said: "JeI [J&K] stands for securing right of self-determination/independence from Indian dominion. However, its militant wing headed by Mohammad Yousuf Shah alias Syed Shah-ud-Din (formerly Ruken JeI) stands for merger of J&K with Pakistan. In order to achieve its goal, JeI is operating through Kashmir Centre at Lahore, for giving International publicity drive to the ongoing movement where one Mohammad Sofi alias Safi (Ruken JeI) having clandestinely exfiltrated is co-ordinating the activities of JeI related militant groups as well."
The government added: "At the international level, its activists like Ghulam Nabi Fai, Executive Director, Kashmir American Council USA and Syed Nazir Geelani (London based) are spearheading the anti-Indian campaign aimed at secession of the Jammu & Kashmir from Union of India. These people and their organizations issue press statement about baseless alleged human rights violations in order to malign the Indian forces combating terrorism in Jammu & Kashmir."
The Jamaat-e-Islami came into existence in 1941, spearheaded by Moulana Abul Alla Madoodi and with its headquarters at Lahore. After Partition, JeI Hindi separated from this body and established its headquarters in Rampur, Uttar Pradesh.
A branch was established in Jammu & Kashmir in 1945 and Pir Saad-ud-Din as its Amir (chief).
The Jamaat-e-Islami was formed in 1941, with its headquarters in Lahore, under the leadership of Moulana Abul Alla Madoodi. After the partition, the outfit was split into three separate independent organisations based in India, Pakistan and Bangladesh, each.
According to Indian agencies, the JeI has maintained that J&K is a disputed territory.
JeI Hind, headquartered at Uttar Pradesh's Rampur, advocates for the righteous way for peace and abiding well-being.
"The aims and objectives of the party at the time of its inception were to propagate Islamic teachings and creation of an Islamic State with life based on Shariat. However, after the accession of Jammu & Kashmir with India, JeI, J&K started to follow the instructions and directions imparted by JeI of Pakistan and began to question the accession of the J&K with Union of India," according to a ministry of home affairs document seen by HT.
The document added that the Hizbul Mujahideen, constituted in 1989, is the military wing of JeI, J&K.
"With the aforesaid political ideology, this militant outfit has been indulging in acts of armed violence for more than two decades now and is the biggest subversive group spearheading the current secessionist movement in the valley, with Pak/POK support in terms of arms training, supply of arms and ammunition and guidance. Both JeI and Hizb-ul-Mujahedeen (HM) are currently engaged in increasing their influence through vicious means including merger of smaller militant groups with it," the document added.
https://www.hindustantimes.com/india-news/nia-probes-jamaat-e-islami-s-j-k-chapter-101614973701557.html
--------
Hyderabad: Islamic preacher Ilyas Sharfuddin booked for alleged hate video
6th March 2021
By SM Bilal
Hyderabad: The Hussainialam police have registered a suo-moto case against Islamic preacher Ilyas Sharfuddin for allegedly making and circulating provocative statement over social media.
According to the sources Y.K.Prasad, Sub-Inspector of police Hussainilam police station has filed a complaint with the same police station alleging that Iliyas Sharfuddin has posted a video on social media abetting the public to eat cow.
The FIR registered under IPC sections 153(A), 295(A) and 505(2) says 2.37 minutes duration video posted on the face book account Ilyas sharfuddin slave-of-Allah is aimed at promoting disharmony, enmity or feelings of a particular religion, though abetting to eat cow is prohibited under "The Telangana Prohibition of Cow Slaughter and Animal Preservation Act-1977".
He allegedly offended the feelings of Hindus which is likely to promote communal commotion between the communities says the FIR.
The complainant sub-inspector also alleged that with an intention of malicious he insulted the religious beliefs of class of people and he also did the act with deliberate malicious intention of outraging the religious feelings of other class and promoted the feeling of enmity hatred by circulating the video containing the feeling of enmity and hatred.
https://www.siasat.com/hyderabad-islamic-preacher-ilyas-sharfuddin-booked-for-alleged-hate-video-2104027/
--------
West Bengal polls: Mamata gives tickets to 42 Muslim candidates
5th March 2021
Kolkata: Trinamool Congress supremo Mamata Banerjee has given tickets to as many as 42 Muslim candidates out of the 291 seats in which the ruling formation has fielded its candidates for the forthcoming Assembly elections in West Bengal, to be held in eight phases from March 27 to April 29.
The Bharatiya Janata Party (BJP) has repeatedly attacked the Banerjee-led Trinamool Congress for its 'appeasement' politics in the past.
Besides giving importance to candidates from the minority community, Banerjee has also given tickets to 50 women candidates, 79 SC nominees and 17 ST candidates.
Retired IPS officer and former top cop Humayun Kabir has been fielded from West Midnapore's Debra constituency, while Siddikullah Chowdhury will be contesting from Monteswar in East Burdwan on a Trinamool ticket.
"I'm confident about Trinamool's win. I joined the party from the police force to save the democratic fabric of Bengal," Kabir said.
On the other hand, a section Trinamool activists staged an agitation at Bhangar in Kolkata's adjoining South 24 Parganas district as local Trinamool old gun and ex-MLA Arabul Islam was not given a ticket to contest the Assembly polls. Arabul also broke down in tears in public after the list of candidates was announced on Friday.
Md Rezaul Karim will contest from Bhangar on a Trinamool ticket.
"It seems that the party does not need me any more. I have always been with the Trinamool Congress, but that need is now over. I have always tried to stand by the people of Bhangar. Now I will only do what they will ask me to do," Arabul said.
His supporters even set things on fire in the locality and put up road blockades. Arabul himself ransacked his own party office in the area.
Similar incidents took place elsewhere too, with dissenting Trinamool activists taking out protest rallies in different districts as soon as the party released its candidates' list for the high-voltage Assembly polls.
One such agitation took place in Amdanga where two-time legislator from the seat, Rafikul Ahmed, was not considered for a ticket. Instead, the ticket was given to an outsider, the agitators claimed.
Meanwhile, Banerjee said that as many as 23-24 existing Trinamool legislators were dropped from the candidates' list owing to their age-related issues and other reasons.
Announcements for the remaining three constituencies in Darjeeling have been put on hold as they would be contested by Trinamool allies.
https://www.siasat.com/trinamool-gives-tickets-to-42-muslim-candidates-2103934/
--------
BJP candidate in Malappuram promises quality 'halal beef' if elected
By Sruthi Vibhavari
6th March 2021
Malappuram: While the central government pushes for nationwide ban and cow vigilantes lynch people for consuming beef, a Bharatiya Janata Party (BJP) candidate for the by-election to Kerala's Malappuram promised quality 'halal beef' for the people if they elect him.
"I will ensure quality beef and standard abattoirs in my constituency. In Kerala, there is no ban on beef so that question (of ban) doesn't arise here. My opponents are citing beef ban just to portray my party in bad light," N Sreeprakash said.
He will represent BJP in Malappuram by-election, a Muslim-dominated constituency.
The central government announced a nationwide ban on cow slaughter in May 2017. In fact, a day before Sreeparakash made his remarks, Chhattisgarh chief minister Raman Singh proposed the death sentence for cow killers.
Beef consumption, however, is still legal in Kerala, West Bengal, Arunachal Pradesh, Mizoram, Meghalaya, Nagaland, Tripura and Sikkim. Earlier, BJP had been called out several times when it did not impose a beef ban in states like Goa and Arunachal Pradesh during respective elections.
Malappuram is recording a stiff contest between Muslim League's PK Kunahlikutty, CPM's MB Faisal and Sreeprakash of the BJP.
https://www.siasat.com/bjp-candidate-in-malappuram-promises-quality-halal-beef-if-elected-2104461/
--------
South Asia
UN Security Council: Taliban continues to patronize Central Asian Jihadists
March 6, 2021
By Uran Botobekov
On February 3, 2021, the UN Security Council published its twenty-seventh report on threats and challenges of global terrorist organizations such as ISIS and al Qaeda as well as and associated groups around the globe. The report drew a clear picture of proximity between Central Asian Salafi-Jihadi groups with the Taliban and al Qaeda, although they currently abstain from publicizing their mutually beneficial relationships.
The UN's monitoring team stated that "the security situation in Central Asia is influenced by developments in Afghanistan" and "success in the peace process (meaning Doha accord) would have a positive impact on five post-Soviet nations". In part, this is related to the fact that Uzbek Islamist groups have taken shelter in Afghanistan since the late 90s and are participating in the Taliban-led insurgency.
During this time, Central Asian Jihadi groups swore allegiance (bayat) to both the Taliban and alQaeda, joined the global jihad, and in 1999-2000 made several efforts to attack the densely populated Fergana Valley, sandwiched between Kyrgyzstan, Uzbekistan and Tajikistan.
Despite the Doha agreement with the U.S, the report of the UN Security Council monitoring team confirms that the Taliban still maintain close ties to Uzbek and Tajik Salafi-Jihadi movements. It may be recalled that according to the Doha accord, the Taliban was expected to sever ties with al Qaeda and other Muhajireen (foreign fighters) armed groups and ensure Afghan soil is not used for attacks on US interests. While on the other hand, Taliban leaders insist they do not have ties with any foreign armed group.
The UN monitoring group found little evidence of significant changes in relations between al Qaeda and the Taliban, and, accordingly, both maintain close ties to its' Central Asian subsidiaries. The report further notes that the «alQaeda assesses that its future in Afghanistan depends upon its close ties to the Taliban, as well as the success of Taliban military operations in the country».
The authors of the new UN report predicted that "success in the Afghan peace process would have a positive impact on Central Asia». Further, analysts of the UN monitoring body turned their emphasis on the activities of the Islamic Movement of Uzbekistan (IMU), one of the veterans of the Central Asian Salafi-jihad groups created in the Uzbek city of Namangan in the mid-1990s by the famous radical Islamist Tahir Yuldash. The UN Security Council's monitoring team estimates that the IMU's Afghan wing "consists of up to 700 people, including family members and approximately 70 Central Asians who left the Islamic State's Khorasan Province (ISIS-K) and joined IMU."
The monitoring team's report also highlighted the long-standing and strong links of two other Uzbek jihadist groups – Katibat Imam al-Bukhari (KIB) and the Islamic Jihad Group (IJG) – with the Taliban, who plays the role of ideological and military mentor for them. The report also noted that the "KIB has approximately 150 fighters, mostly in Badghis Province," while "IJG has approximately 100 fighters active in the northern Afghan provinces of Kunduz and Faryab under Taliban shelter and control".
The UN Security Council's monitoring team revealed some sort of conspiracy in the Taliban's relations with Central Asian Salafi-Jihadi groups after the conclusion of the US-Taliban agreement."The Taliban, which continues to deny the presence of foreign terrorist fighters in Afghanistan, has forbidden these [Uzbek and Tajik] groups from launching independent operations against the Afghan National Defence and Security Forces (ANDSF), and this has resulted in a reduction of their income", the Monitoring team notes.
According to the UN monitoring team's analysts, "the position of these groups has been further complicated by the killing of the IMU leader, Abdulaziz Yuldash, in Ghormach district, Faryab Province." It should be pointed out that the leader of the Uzbek militant group was killed during a special operation by the Afghan National Directorate of Security (NDS) Special Forces in the northern province of Faryab against the Taliban in November 2020.After neutralizing him, the Afghan Ministry of Defense stated that "Abdulaziz Yuldash had been involved in terrorist attacks and killing of Afghans in the northern provinces". Abdulaziz was the son of IMU founder and fabled Uzbek militant commander Tahir Yuldash who fought alongside the Taliban and had a close relationship with al Qaeda's leader Osama bin Laden. Tahir Yuldash was killed by a U.S. drone strike on August 27, 2009, in Pakistan's South Waziristan region, after which his two sons, Mohammad and Abdulaziz, continued their father's Jihadi legacy.
However, it must be stressed that the relationships between the Taliban and the Islamic Movement of Uzbekistan have not always been cloudless. The IMU was hit hard by the Taliban in late 2015 as punishment for its "betrayal" of the Taliban and al Qaeda when the then-leader of IMU Usman Ghazi, Tahir Yuldash's successor and his son-in-law, announced his allegiance (bayat) to the ISIS leader Abu Bakr al-Baghdadi. As punishment for this betrayal, in late 2015 the Taliban killed Usman Ghazi and more than 100 IMU members at a base in Zabul Province.
After the physical liquidation of the pro-ISIS "traitors", most of the Uzbek jihadists of IMU in Badakhshan,Faryab, Jowzjan, Helmand and Zabul returned to the Taliban's fold.In its eleventh report, dated May 27, 2020, the UN Security Council's Monitoring Team on Taliban Sanctions stated that "the IMU has not demonstrated any independent operational activity for some years and remains under the command and financial control of the Taliban" (see UN report, para. 85).Abdulaziz Yuldash's charisma, decisive character and the glorious name of his slain father helped him gather scattered IMU members around him and restore loyalty to the Taliban and al Qaeda again. But amid the rise of other Central Asian militant groups, the IMU is unable to regain its former glory as of the most powerful insurgent movements with a long history of Jihad.
So, the report of the UN Security Council's Monitoring Team clearly illustrated that the IMU considers Afghanistan as its permanent safe haven, relying on its long-standing and strong relationship with the Taliban leadership. Taliban's recent ban on Central Asian Islamist groups from conducting independent Jihadi operations against Afghan government forces is intended to disguise their presence in Afghanistan. Following the signing of the Doha Peace Agreement with Washington, the Taliban also banned Central Asian Salafi-Jihadi groups from posting photos, videos, and other information on social media indicating their close ties to the Taliban and al Qaeda.
For example, in April 2020, following the Doha deal, the leader of the KIB's Syrian wing Abu Yusuf Muhajir was forced to delete his poem congratulating the Taliban on its "victory over the US aggressors" in Afghanistan from his Telegram channel. Also in July 2020, after clear discontent and pressure of the Taliban, Abu Yusuf removed his second post on joint successful military operations of Uzbek jihadists with the Taliban against the Afghan army from his Telegram page.
Uzbek jihadists of the KIB have pledged allegiance (bayat) to the Taliban and jealously considered themselves, in comparison with other Central Asian groups, the most loyal allies of the Taliban. Indeed, the coat of arms and the official name of the group "Islamic Emirate of Afghanistan – Katibat Imam al-Bukhari" were taken over from the Taliban. In its reports, the UN Security Council's Monitoring team constantly emphasized that KIB, a splinter of the former Islamic Movement of Uzbekistan, "participates actively in hostilities against Afghan government forces under the leadership of the Taliban."In that way, KIB portrays itself as part of the "Islamic Emirate of Afghanistan", the official name of Afghanistan in 1996-2001 under the Taliban regime.
The UN Security Council's report also stated that Central Asian groups IMU, KIB and IJG have faced financial difficulties due to the Taliban's ban on independent attacks and raids on the territory controlled by the Afghan government."The Taliban, which continues to deny the presence of foreign terrorist fighters in Afghanistan, has forbidden these [Central Asian] groups from launching independent operations against ANDSF, and this has resulted in a reduction of their income" the report reads.
According to the UN's monitoring team, "financial support from Uzbek groups in the Syrian Arab Republic to their Afghan branches has declined."This happened "because of the feud between HTS (Hayat Tahrir al-Sham) and HAD (Hurras al-Din) over the leadership in Idlib Province and control over foreign terrorist fighters, including Central Asians", the report said.
The UN's monitoring team also detailed an incident with the former KTJ leader Abu Saloh al-Uzbeki, who suffered because of his staunch loyalty to al Qaeda.We analyzed in detail the causes and consequences of the scandal around him, which alarmed the Salafi circles of the post-Soviet countries leading Jihad in Syria and Afghanistan."The KTJ founder Abu Saloh, who had initiated online propaganda in favour of HAD, was detained by HTS and accused of stealing money belonging to HTS fighters," the report reads.The fate of the famous ideologue of global jihad Abu Saloh, who challenged the powerful HTS, is still unknown. But his supporters on social media daily spread his religious audio and video messages inspiring the Fergana Valley's youth to holly jihad.
Conclusion
Thus, the UN Security Council's latest report once again refutes the Taliban's assertion that al Qaeda and its Central Asian Salafi-Jihadi subsidiaries are not present in Afghanistan. Today, the Taliban, which gives the appearance of compliance with the Doha deal, is trying to put "diplomatic pressure" on the US that its military forces to leave the country by May 1.In unison with the Taliban, the Central Asian jihadists on their Telegram pages "threaten" the West that after the expiration of the "peace accord" the whole world will turn upside down for the enemies of Allah in Afghanistan.
The Biden administration is facing an extraordinarily tough challenge, which poses a question of how to achieve a real severing of ties between al Qaeda and the Taliban, as stipulated in the Doha Agreement?
It is common knowledge that bayat (pledge of allegiance) in Islam has a deep sacred Quranic value, the meaning of which boils down to giving an oath of allegiance to Allah Almighty and His prophet Muhammad. Therefore, from an Islamic perspective, it is difficult to achieve the abolition of the al Qaeda's bayat to the Taliban, and to sever their ties with the help of external pressure from their infidel "common enemies".
The Taliban signed the Doha Agreement pursuing only two goals: to achieve the withdrawal of the U.S. military troop from the country and to restore the Islamic Emirate of Afghanistan, with its emir, Mullah Haibatullah Akhunzadaas the leader. Consequently, the Taliban pretend to be extending an olive branch to the US with one hand, while with the other covering and defending al Qaeda and Central Asian Salafi-Jihadi groups, keeping up its offensive all across Afghanistan.
https://moderndiplomacy.eu/2021/03/06/un-security-council-taliban-continues-to-patronize-central-asian-jihadists/
--------
President Ghani: Pakistan must choose a right path
06 Mar 2021
President Ghani during the inauguration of the third year of the 17th legislative term of the National Assembly said Pakistan should choose the "right path" and added that "let's accept each other as two independent countries".
He added that Constitution decides the future leaders of Afghanistan and that the transfer of power through elections is an uncompromisable principle.
President Ghani said that "we are ready to talk about a free, transparent and countrywide election under the management of the international community".
He also assured that no decision will be taken in the absence without direct role and approval of all layers of Afghanistan, he said peace efforts require proper management and planning.
According to President Ghani, past experience showed that achieving peace is not a mere dream, achieving peace requires durability, an end to violence, and insurance of political, economic, and social stability.
Peace requires sacrifice Ghani said that he is ready to sacrifice for peace but for a peace that is not jeopardizing the achievements of the past decades and People's interests should be seen as the sacred goal.
Ghani reiterated that no one could decide on dissolving Afghanistan's institutions that are approved in the constitution.
Afghans demand an end to the 42 years of war and they want peace but not peace of the graveyard, President Ghani added, that he will not let the efforts for freedom, democracy, and preservation of the system be wasted.
President Ghani also condemned the Targeted attacks and called it violence against Afghanistan's children and bright future and they are aimed to create fear among people.
This comes as the European parliament in a statement condemned Targeted killings of innocent human rights defenders, civil society activists, journalists, and continuous violence in Afghanistan.
European parliament called for an immediate cease of violence and an end to the violence in the country in order to preserve the fundamental rights and principles of Afghanistan's tomorrow.
Chair of the Delegation for relations with Afghanistan Petras Austrevicius stated, that "During the last months, we have seen an eruption of violence. It is very worrisome that this violence targets systematically those who contribute to an open and free society and who ensure the freedom of speech and media. Women are very often victims of these targeted attacks."
"On behalf of the European Parliament, we condemn in the strongest terms the targeted assassinations of journalists, human rights defenders, and civil society representatives," Austrevicius said.
"The European Parliament urges all sides to stop the violence and put in place an immediate and permanent ceasefire. We call all sides to continue the peace negotiations," he stated.
EU parliament "insists that whatever the outcome of peace negotiations will be, a future constitution must guarantee the fundamental rights and principles of a free and open society, built upon the political, economic and social achievements of the people of Afghanistan".
A call for a transparent and thorough investigation of targeted killings was also made in the statement.
https://www.khaama.com/president-ghani-pakistan-must-choose-the-right-path-435355/
--------
Taliban just seeking prisoner release, foreign troop exit: ex-U.S. security adviser
March 5, 2021
"The position of the Taliban has been consistent from the beginning of the period in which the topic of negotiations surfaced. The Taliban has never been willing to negotiate except on two points. First, how can it secure the release of Taliban prisoners held by Afghan government forces? Second, the terms of a U.S. exit from Afghanistan," James P. Farwell tells the Tehran Times.
Farwell says the Taliban "has never shown serious interest in negotiating about any other topics."
The former adviser to the U.S. Special Operations Command also notes that the Taliban's "position is actually more tenuous than it appears to believe."
He adds, "There are many, many stakeholders in Afghanistan and most of them are anti-Taliban. Without a realistic accord that takes broad stakeholder interests into account, the Taliban's strategy seems likely to backfire in its face, miring it in a long-term civil war."
He also tries to portray the Taliban as the enemy of Iran, while Iran has been holding talks with the Taliban representatives in Tehran and has been encouraging intra-Afghan dialogue to settle the decades-long conflict in the country.
"From Tehran's viewpoint, it should bear in mind that the Taliban is Sunni and no friend of Iran. A Taliban-run Afghanistan would likely damage, not help Iran," he claimed.
"A Taliban-run Afghanistan would likely damage, not help Iran," he adds.
Contrary to claims by the former military advisor, Iran has been hosting millions of Afghan refugees since the Soviet invasion of Afghanistan in 1979 and they have assimilated into the Iranian society and there is no talk of who is Sunni or Shia.
In February 2020, the United States reached an agreement with the Taliban and signed a declaration with the government of Afghanistan to encourage an intra-Afghan peace process.
However, analysts firmly believe that the dialogue with the Taliban, which started during the Trump administration, was primarily aimed at finding a face-saving exit by the U.S. from Afghanistan.
Analysts and politicians are asking why the United States, which considered the Taliban as a terrorist group and rejected talks with them, is now begging them to stop attacks on foreign forces.
Many observers believe that the agreement faces serious challenges that would undercut efforts to end the United States' longest war.
Though the Vietnam War will continue to haunt Americans and the U.S. lost more than 58,000 troops in the country, its war against the Taliban is the longest of all U.S. wars overseas.
Analysts say U.S. negotiations with the Taliban show Washington's hypocrisy.
When asked if the Taliban are terrorists, why is the U.S. negotiating them, and if they are not, why did America wage war against them, he just said, "This is a civil war."
The American expert says that "there is no reason" that Iran and the U.S. "should have an adversarial relationship as to Yemen."
On what fuels the engine of the Taliban insurgency in Afghanistan and Pakistan, he says, "That is too broad a question to answer in a short interview. It draws upon a combination of Pashtun ad anti-foreigner sentiment, and its finances have been fueled by drug smuggling."
The former military advisor also refused to elaborate on the Biden administration's decision to change policy toward Saudi Arabia, just saying, "The Biden policy towards Saudi Arabia is evolving. We'll see how it unfolds."
Also, on the release of an intelligence report by the U.S. that directly implicates Saudi de facto leader Mohammed bin Salman for killing Jamal Khashoggi and the repercussion of the report on the future relationship between Washington and Riyad, he said, "The report speaks for itself."
Some say the release of the intelligence report on the Khashoggi killing may put the fate of MBS in disarray.
"It's not clear in the opaque dynamics of Saudi politics who will succeed the current king," Farwell says.
Sustainable peace in Afghanistan, Yemen, and West Asia in general needs comprehensive cooperation between the U.S. and regional actors, including Iran, but on the ground, they have mostly adversary relations.
The former adviser to the U.S. Special Operations Command also sees room for a common understanding between Iran and the United States on the crisis in Yemen, saying, "There is no reason that the two should have an adversarial relationship as to Yemen. That serves no one, least of all the people of Yemen."
Before Biden came to power, the U.S. was providing logistical and intelligence reports for the Saudi-led war in Yemen.
The war has also taken a heavy toll on the country's infrastructure, destroying hospitals, schools, and factories. The UN says over 24 million Yemenis are in dire need of humanitarian aid, including 10 million suffering from extreme levels of hunger.
In the early days of the Saudi-led war on Yemen, Iran presented a four-point plan to then UN Secretary-General Ban Ki-moon proposing cession of war and formation of an inclusive government, among other things.
https://www.tehrantimes.com/news/458766/Taliban-just-seeking-prisoner-release-foreign-troop-exit-ex-U-S
--------
Dhaka Catholics mark Lent with prayer, sacrifice, solidarity
by Sumon Corraya
03/05/2021
Dhaka (AsiaNews) - In Bangladesh Catholics live Lent with great solemnity, prayers, sacrifices and good deeds.
"As a disciple of Christ, I try deeply to realise the meaning of Lent. In this period every week I attend the Way of the Cross and Sunday Mass, practising fasting and sacrifices", said Margarate Gomes, a Catholic nurse who works in a public hospital.
In this Muslim-majority country, Christians make up only 0.4 pe cent of the population.
Gomes says that she comes from a devoted Catholic family and learnt from her parents the importance of Lent; for this reason, she lives this time of purification with great intensity.
"In childhood, I saw my parents fasting, praying and helping those in need. Now I do it too and from this I draw spiritual strength," Gomes explained.
As a nurse Margarate has the opportunity to bear witness to her faith through love and care. "I do my best at my work with smiles, helping patients become stronger," she noted. "From my sincere service people recognise that I am Christian".
Aknon Rozario also shares his story about Lent. "I like the sermons of priests and I want to follow their teachings," said the young man who works as an electrician in a factory.
"Once I was too busy playing with my mobile phone instead of praying or talking to my parents and siblings," said the 22-year-old, "but now I pray and dedicate time to my relatives. I was encouraged to do so listening to sermons in church during Lent."
Paul Palma is a retiree. He gave up drinking during Lent. "I earned a lot in my life," he explained. "I had a good time. Now I feel that I should do something for others."
" instead of having fun, I like to give. I Give money to needy people who need treatment. I get pleasure from giving to others and Lent helps me do so," he added.
In this period, with fasting, giving up one meal, thousands of Catholics donate offerings to the Church, which are used to build new churches for new worshippers in remote areas. Every year hundreds of people become Christian.
http://www.asianews.it/news-en/Dhaka-Catholics-mark-Lent-with-prayer,-sacrifice,-solidarity-52517.html
--------
3 HuJI militants remanded in Dhaka
6th March 2021
By Sumi Khan
Dhaka, March 6 : A Dhaka court on Saturday placed three members of the banned militant outfit, Harkat-ul-Jihad-al Islami Bangladesh (HuJI-B), on a three-day remand.
The three members include Mainul Islam, the group's former chief operations coordinator who had planned a major sabotage in Dhaka. He was arrested in 2015.
The other two, Sheikh Sohan Swad and Murad Hossain Kabir, were arrested by a team of Counterterrorism and Transnational Crime (CTTC) from Dhaka's Saidabad area on Thursday evening.
Five litres of acid, a personal vehicle, five mobile phones, a machete, two knives, 10 detonators, 180 bearing iron balls, a scotch tape, three ID cards and some other harmful items were recovered from the arrested members, CTTC officials confirmed to IANS on Saturday morning.
The trio were trying to revive the militant outfit form its Shura (executive) committee, ensure funds, recruit members, collect arms and ammunitions, ensure bail for its jailed members and setting up training facilities in Bandarban-Naikhongchari by taking land on lease.
According to the CTTC, the organisation was being reorganised in 64 districts under Mainul's leadership, full Shura committees were formed, funding was secured, members were procured, weapons were procured, bomb-making equipment was procured, and bail arrangements were made for imprisoned members.
Mainul was working under the direction of another top millitant Abu Saeed, who was sentenced to life imprisonment in the case of the 2004 Dhaka grenade attack, and Mehedi Hasan, who was sentenced to life imprisonment in the 2000 attempted assassination of Prime Minister Sheikh Hasina.
A case has been filed against the three under the anti-terrorism law at Jatrabari police station in the capital.
https://www.siasat.com/3-huji-militants-remanded-in-dhaka-2104292/
--------
Southeast Asia
Malaysian authorities urged to take death threats against trans Muslim entrepreneur seriously
Kate Ng
March 6, 2021
Threats against a prominent trans Muslim entrepreneur in Malaysia must be taken seriously by the authorities and religious leaders, activists have said.
It comes after Nur Sajat, who owns a cosmetics business, hinted she was considering converting out of Islam during a livestream on her now-deactivated Instagram account.
Prior to the livestream on 1 March, the state of Selangor's Islamic Religious Department (JAIS) said it deployed around 122 personnel and enforcement officers to find and arrest Ms Sajat after she failed to attend a sharia court hearing.
She was charged three years ago with the offence of insulting Islam by dressing as a woman, and was due to appear at the Syariah High Court on 16 February. The court later issued a warrant of arrest against Ms Sajat, who is believed to have gone into hiding.
The mobilisation of a large group of officers to find Ms Sajat has alarmed activists and members of the public, and labelled a "witch hunt".
Justice for Sisters, a trans rights group, said the efforts were "overzealous" and called on JAIS to end all prosecution against Ms Sajat immediately.
The group said in a statement: "We are astonished by the financial and human resources that are being allocated for this search and arrest operation against Sajat.
"All these actions by JAIS are extreme and demonstrate their overzealousness in arresting and detaining Sajat at all costs for merely expressing herself and her gender identity."
Ms Sajat's suggestion about converting to a different religion also earned her intense backlash from other Muslims, prompting the former minister for Islamic affairs to caution against overreacting.
People took to social media to insult Ms Sajat and make threats of violence against her, even threatening to kill her for hinting she may convert.
Mujahid Yusof Rawa told English-language newspaper Free Malaysia Today that Malaysian Muslims should "not overreact", adding: "Who are we to judge her? Instead of punishing her, we should continue to persuade her nicely not to convert to another religion. That is the proper reaction."
However, he chastised Ms Sajat for using the weakness of religious institutions handling her case "as an excuse to convert", saying it "is not fair" on Islam.
Sister in Islam (SIS), an advocacy group for the rights of women within Islam, condemned the death threats levelled against Ms Sajat and said the LGBTQ community are "often victims of violence, threats and negative statements by various parties, including the general public".
Death threats are a crime under Section 506 of Malaysia's Penal Code, warned the group, and should be taken seriously by the authorities and religious leaders.
"It is deeply saddening when religious leaders and authorities choose to remain silent on the issue of death threats like this," it added. "SIS urges the public to remain calm, not to spread hatred, not to threaten and not to encourage acts of violence against Nur Sajat or the transgender community in general."
Islam is the majority religion in Malaysia, which is constitutionally a secular state. Federal laws criminalise same-sex relations and state religious officials frequently persecute LGBTQ people.
https://www.independent.co.uk/news/world/asia/malaysia-trans-muslim-nur-sajat-death-threats-b1813031.html
--------
Mideast
Ireland's foreign minister to meet Iran's Rouhani on nuclear deal
06 March ,2021
Ireland's Foreign Minister Simon Coveney is to meet Iranian President Hassan Rouhani in Tehran on Sunday in his role as a U.N. Security Council facilitator of the nuclear deal agreed in 2015 between Iran and major world powers.
Iran has so far refused to take part in a meeting brokered by the European Union between world powers and the United States on reviving its 2015 JCPOA nuclear deal.
But European sources this week said that Tehran had given positive signs about opening informal talks after European powers scrapped plans to criticise Tehran at the U.N. nuclear watchdog.
Iranian Foreign Minister Mohammad Javad Zarif, who is also due to meet Coveney during the trip, on Friday said Iran would soon present a "constructive" plan of action.
"Ireland is a strong supporter of the JCPOA. In our role as facilitator, Ireland is keen to maintain a close dialogue with all actors, and encourage all parties to return to full compliance with the agreement," Coveney said in a statement.
European Union member Ireland in January took up its seat as one of 15 members of the United Nations Security Council and the country has been appointed a facilitator of the 2015 deal for the Security Council.
Tehran and Washington have emerged from former U.S. President Donald Trump's attempts to wreck Iran's nuclear deal locked in a standoff over who should move first to save it. Trump pulled out of the deal in 2018.
Britain, France and Germany decided to pause the submission of a resolution critical of Iran at the International Atomic Energy Agency on Thursday to not harm the prospects for diplomacy after what they said were concessions gained from Iran to deal with outstanding nuclear issues.
Iran's nuclear policy is decided by the country's top authority, supreme leader Ayatollah Ali Khamenei, and not the president or the government.
Coveney's visit comes after his ministry this week announced plans to reopen Ireland's embassy in Tehran by 2023. The embassy was closed in 2012 as part of budget cuts.
https://english.alarabiya.net/News/world/2021/03/06/Iran-nuclear-deal-Ireland-s-foreign-minister-to-meet-Iran-s-Rouhani-on-nuclear-deal
--------
Iran's top diplomat says will soon present 'concrete plan of action' on nuclear deal
Tuqa Khalid
05 March ,2021
Iran will soon present a "constructive" plan of action on the nuclear deal, the Foreign Minister said on Friday, after European countries scrapped a plan to submit a resolution criticizing Tehran at a meeting of the UN's International Atomic Energy Agency
"As Iran's FM [foreign minister] and chief nuclear negotiator, I will shortly present our constructive concrete plan of action—through proper diplomatic channels," Mohammad Javad Zarif said on Twitter.
The nuclear deal, known formally as the Joint Comprehensive Plan of Action, has been unravelling since former US president Donald Trump pulled the United States out of the agreement in 2018.
President Joe Biden's administration has signaled to Iran its willingness to return to talks to revive the nuclear deal. He reversed Trump's determination that all UN sanctions against Iran had been restored and the State Department eased stringent restrictions on the domestic travel of Iranian diplomats in New York.
Yet, Tehran demanded that all Trump-era sanctions on Iran be lifted before taking any real action to return to the deal.
Iran said earlier this week it did not consider the time to be "suitable" for an informal meeting on reviving the deal. However, diplomatic sources told Reuters on Thursday Tehran has given encouraging signs in recent days about opening informal talks.
"Things are moving in the right direction and we have had positive signals this week and especially in last few days," the source told reporters. "We are seeing movements we weren't seeing last weekend," he said.
The US maintained its stance as ready to meet with Iran without being "dogmatic" about how.
https://english.alarabiya.net/News/middle-east/2021/03/05/Iran-nuclear-deal-Iran-s-top-diplomat-says-will-soon-present-concrete-plan-of-action-on-nuclear-deal
--------
India seeks to start full operations at Iran's Chabahar port by May end
05 March ,2021
India expects to start full-scale operations at Iran's Chabahar general cargo port it has built by the end of May, the country's shipping minister said in a boost for regional trade.
India has been developing a part of the port on Iran's south-eastern coast along the Gulf of Oman as a way to transport goods to Iran, but also Afghanistan and central Asian countries, and avoiding rival Pakistan.
For all the latest headlines follow our Google News channel online or via the app.
But US sanctions on Iran slowed down the port's development and Indian officials are now counting on a thaw in relations between Washington and Tehran under President Joe Biden to move forward with near $500 million of investments.
"I am expecting to visit Iran in April or May for the inauguration of full operations," Mansukh Mandaviya, India's ports and shipping minister, told Reuters.
India is developing two terminals at the port including the Shahid Beheshti complex and under an agreement signed with the Iran, it would run the terminal for 10 years.
Mandaviya said the port had already commenced operations in a limited way and the growth potential was evident.
Chabahar port had handled 123 vessels and 1.8 million tonnes of bulk and general cargoes from February 2019 to January 2021, he said.
"This is much higher than our expectations. Imagine the scale of operations and freight saving once it is fully operational," he said.
Last year amid the pandemic, India used the Chabahar port to send 75,000 tonnes of wheat as humanitarian assistance to Afghanistan and 25 tonnes of the pesticide malathion to Iran to deal with a locust invasion.
The second batch of 25 tonnes has recently reached Chabahar.
As part of the agreement with Iran, India would provide six cranes and other equipment worth $85 million to equip and operationalize the Shahid Beheshti terminal.
So far, India has supplied two of these Mobile Harbor Cranes (MHC) and four others will be delivered over the next few weeks.
"Chabahar Port has emerged as the connecting point for the region to deliver humanitarian assistance during the COVID pandemic," Mandaviya said.
India also plans to set up an around 600 km railway line from Chabahar port to Zahedan, the provincial capital of Sistan-Baluchestan in Iran close to the Afghan border, at a cost of $1.6 billion to facilitate the movement of goods to Afghanistan.
New Delhi has also proposed inclusion of Chabahar port in the International North-South Transport Corridor (INSTC) -- connecting Mumbai with Moscow, the minister said, referring to discussions at a virtual summit on Chabahar port on Thursday.
The INSTC project, proposed by India, Russia and Iran in 2000, and later supported by 10 other central Asian countries, envisions a 7,200 km-long multi-mode network of ship, rail and road for freight transport, aiming to cut carriage costs by about 30 percent and transit time from 40 days to about 20 days.
https://english.alarabiya.net/business/economy/2021/03/05/India-seeks-to-start-full-operations-at-Iran-s-Chabahar-port-by-May-end
--------
Iran casts long shadow over Pentagon nominee's Senate hearing
05 March ,2021
President Joe Biden's nominee to become the Pentagon's top policy adviser faced relentless Republican criticism on Thursday over his support for the Iran nuclear deal, in a confirmation hearing that could foreshadow bigger fights over Biden's national security agenda.
Colin Kahl, who was a top aide to Biden during the Obama administration, reaffirmed his views on the 2015 Iran nuclear deal, strong defense ties with Israel and the U.S. military's so-called "triad" of nuclear missiles, submarines and bombers.
But Republicans including their most senior member on the Senate Armed Services Committee, Jim Inhofe, lambasted Kahl over his past remarks about Iran and social media posts that were sharply critical of Donald Trump's policies as president.
"How can you reassure this committee that your hyper-partisan advocacy would not drive Pentagon decisions?" asked the senator from Oklahoma.
Inhofe added that if he sounded a little upset, it was because "frankly, I am."
The Iran nuclear deal, aimed at preventing Tehran from acquiring nuclear weapons, was fiercely opposed by Republicans and some Democrats, and Trump withdrew from it in 2018. Biden wants to revive the deal, which was agreed by Tehran and six major powers.
Biden's bid for diplomacy has been overshadowed in recent weeks by rocket attacks by Iran-backed militia on U.S. forces in Iraq that have triggered concerns about escalation.
Kahl suggested he would favor strong responses to such attacks.
"When Iran takes actions against our own forces, we should defend ourselves and punch back," Kahl said.
'PROXY WAR'
Tensions in Kahl's confirmation hearing echoed concerns raised on Wednesday, when a different Senate panel grilled Wendy Sherman over her nomination to be No. 2 official at the State Department. Sherman helped negotiate the 2015 Iran deal, and so is also likely to lose Republican votes.
During Thursday's hearing, Kahl defended his concerns about Trump's 2018 pullout from the Iran deal and the decision to pile pressure on Tehran, including round after round of economic sanctions. Kahl at the time worried it would encourage Iran to increase its provocations and accelerate its nuclear program.
"Both of those things have happened in the last three years. Iran is a lot closer to the fissile material required for a nuclear weapon than they were at the end of the Obama administration," Kahl said. "And we've seen more attacks."
Republican Senator Joni Ernst from Iowa said she would not support Kahl's nomination and that members of the U.S. military "deserve someone that will take a serious outlook to policy."
Democratic Senator Tim Kaine said Kahl's hearing was being used by critics to re-litigate the 2015 agreement.
"I really believe that the controversy over your nomination is essentially a proxy war," Kaine said. "Republicans didn't like the Iran deal."
Republican Senator Tom Cotton said Kahl had warned on Twitter of the risk of conflict with Iran after the Trump administration killed top Iranian General Qassem Soleimani last year. He said Kahl had spent "the last four years warning about impending wars that never happened."
He also pointed to a tweet by Kahl describing Republicans as "the party of ethnic cleansing" after Trump abruptly ordered a Syria withdrawal in 2019 in a move that many said put at risk America's Kurdish allies.
Kahl apologized and said the last several years had been "pretty polarizing on social media."
"I'm sure there are times that I got swept up in that," he said.
https://english.alarabiya.net/News/world/2021/03/05/Iran-casts-long-shadow-over-Pentagon-nominee-s-Senate-hearing
--------
UN condemns up to 23 killings in Iran's border area with Pakistan over fuel smuggling
05 March ,2021
At least a dozen people and possibly up to 23 have been killed in Iran's Sistan-Baluchistan province where Revolutionary Guards and security forces have used lethal force against fuel couriers from ethnic minorities and protesters, the United Nations said on Friday.
Iran is investigating an incident in which at least two Iranians were shot dead this week at the border with Pakistan, and Islamabad has handed over the body of one of the victims, the Iranian foreign ministry said a week ago.
The shooting of people carrying fuel across the border led to protests that spread from the city of Saravan to other areas in the southeastern province of Sistan-Baluchistan, including the capital, Zahedan.
"The series of violent events and unrest began on 22 February, when Revolutionary Guards are alleged to have shot and killed at least 10 fuel couriers, known as sookhtbar, in Sistan and Baluchistan Province at the border with Pakistan, after a two-day stand-off triggered by the Islamic Revolutionary Guard Corps blocking the road to the city of Saravan," UN human rights spokesman Rupert Colville told a news briefing in Geneva.
The killings had triggered demonstrations in several cities across the province, during which the revolutionary guard and security forces fired lethal ammunition at protesters and bystanders, he said.
Colville said that it has been difficult to verify the death toll due to disruptions of local mobile data networks, but some unconfirmed reports have estimated that as many as 23 people may have been killed.
Sistan-Baluchistan's population is predominantly Sunni Muslim, while most Iranians are Shiite. Iran has some of the lowest fuel prices in the world and has been fighting smuggling to neighboring countries.
https://english.alarabiya.net/News/world/2021/03/05/UN-condemns-up-to-23-killings-in-Iran-s-border-area-with-Pakistan-over-fuel-smuggling
--------
UN rights office calls on Iran to restore internet in disrupted areas
05 March ,2021
The UN rights office on Friday called on Iranian authorities to restore internet in areas where it was apparently disrupted after protesters took to the streets following the killing of at least a dozen people, and possibly up to 23, in Iran's Sistan-Baluchistan province, according to Reuters.
Revolutionary Guards and security forces have used lethal force against fuel couriers from ethnic minorities and protesters in the area, the UN said on Friday.
The killings had triggered demonstrations in several cities across the province, during which the revolutionary guard and security forces fired lethal ammunition at protesters and bystanders, UN human rights spokesman Rupert Colville told a news briefing in Geneva.
He also said that it has been difficult to verify the death toll due to disruptions of local mobile data networks, but some unconfirmed reports have estimated that as many as 23 people may have been killed.
"We call on the authorities to immediately restore Internet access in areas that remain disconnected," he said.
Sistan-Baluchistan's population is predominantly Sunni Muslim, while most Iranians are Shia. Iran has some of the lowest fuel prices in the world and has been fighting smuggling to neighboring countries.
https://english.alarabiya.net/News/middle-east/2021/03/05/UN-rights-office-calls-on-Iran-to-restore-internet-in-disrupted-areas
--------
Yemeni intelligence agency details terror activities of Qaeda leaders, operatives in Ma'rib
06 March 2021
Yemen's Security and Intelligence Service has published a report, detailing the activities of terrorists and senior commanders affiliated with al-Qaeda in the country's strategic central province of Ma'rib as Yemeni forces and allied continue to make territorial gains there.
The intelligence agency, in the report released on Friday, exposed the hideouts and whereabouts of the Takfiris in Ma'rib, situated some 120 kilometers (75 miles) east of the capital Sana'a, the hotels where they hold their meetings as well as their arms depots and supply warehouses, the Arabic-language al-Masirah television network reported.
The report revealed the locations of training and rehabilitation camps belonging to al-Qaeda terrorists, and shed light on the terrorists' relations with Saudi-backed militants loyal to Yemen's former president Abd Rabbuh Mansur Hadi besides their presence on battle fronts.
The agency indicated that, by presenting the report, it seeks to inform the public about the extent of conspiracies being devised against the Yemeni nation, as well as the amount of support that the terrorists receive from the coalition of aggression – particularly the United States which claims to be engaged in a war on terrorism.
The Yemeni intelligence agency further noted that it will circulate its detailed report, which includes maps and coordinates, among various local and foreign media outlets.
Back on February 23, Yemeni officials said members of the Takfiri al-Qaeda and Daesh terrorist groups are using Ma'rib province to launch attacks on other regions in the war-ravaged country, and that the militants are receiving training from Saudi military officers.
"Al-Qaeda and Daesh [terrorist] groups have turned Ma'rib into a launching pad for attacks on entire Yemeni regions. They are under the auspices of a Saudi officer, and sending car bombs and death squads across the country," Director of Yemen's Presidency Office Ahmed Hamed said at a ceremony in Sana'a at the time.
He added, "Those who are now crying foul at the ongoing battle in Ma'rib kept mum when Sana'a was under threat by [the al-Qaeda-affiliated Salafist] Islah Party, al-Qaeda and Daesh [terrorists]."
Chairman of the Comprehensive National Reconciliation and Political Solution Team Yousef Abdullah al-Fishi also said Yemeni and foreign militants from Islah Party as well as al-Qaeda and Daesh terror groups have come together in Ma'rib, displaced locals and usurped their residences.
Over the past few weeks, Ma'rib has been the scene of large-scale operations by the Yemeni troops and allied Popular Committees fighters, who are pushing against Saudi-sponsored pro-Hadi militants.
'Saudi friendly fire kills, injures allied Yemeni militants in Ma'rib'
Separately, scores of Saudi-paid militants have been killed and wounded when the Saudi-led coalition mistakenly struck their position in Ma'rib.
A Yemeni military source, speaking on condition of anonymity, said a senior commander was among the casualties of the Saudi airstrike on Kassara front.
Anis Mansour, an activist with Salafist Islah Party, said Saudi warplanes have bombed pro-Hadi forces over the past few days, but the information has been concealed in order to maintain the morale of the Hadi loyalists.
Saudi warplanes conduct over two dozen airstrikes in Ma'rib
Saudi-led coalition fighter jets launched more than two dozen airstrikes against various regions in Ma'rib province on Friday.
Yemen's official Saba news agency reported that the aircraft carried out 19 air raids against the Sirwah district.
Another seven strikes were mounted against the Medghal district, whilst the Majzar district was pounded on five occasions.
There were no immediate reports about the extent of damage caused and possible casualties.
Saudi Arabia and a number of its regional allies launched the war on Yemen in March 2015 with the goal of bringing the former Riyadh-friendly regime back to power.
The UN said in December that over 230,000 people have been killed in Yemen since the onset of the Saudi war.
According to the world body, 80 percent of Yemen's 30 million people need some form of aid or protection, and about 13.5 million Yemenis currently face acute food insecurity.
https://www.presstv.com/Detail/2021/03/06/646649/Yemeni-intelligence-agency-details-terror-activities-of-Qaeda-leaders,-operatives-in-Ma%E2%80%99rib
--------
Turkey deals heavy blow to Daesh terrorists in February
MAR 04, 2021
Turkey dealt a heavy blow to the Daesh terrorist group in nationwide operations in February and prevented potential terror attacks.
The security forces thwarted attacks in many cities, especially in Istanbul, the capital Ankara and the southern Adana province.
A total of 165 suspects were detained in operations against Daesh last month, 55 terror group members were remanded and documents, arms and ammunition belonging to the group were seized, according to information compiled by Anadolu Agency.
Daesh assassin arrested
An alleged assassin linked to the Daesh terror group was arrested in the northwestern Yalova province, Interior Minister Suleyman Soylu announced on Feb. 1.
In a statement, local police later announced that a total of 14 suspects – 12 Iraqi nationals, one Moroccan and one Turkish national – including the alleged assassin, had been arrested in the Yalova-based operation, of whom eight had been remanded in custody and another six suspects were released on bail.
The suspected assassin, who was identified as A.Y., is also thought to have been in charge of smuggling militants whose Daesh links have been exposed to and from Turkey and Europe. The statement said another suspect, identified as A.G., who had been caught, was thought to be a high-profile member of the terror group.
A.Y., according to the statement, was caught while planning to flee Turkey for Iraq.
Authorities confiscated firearms during the operations, as well as 433 fake passports and 346 fake IDs, along with equipment used to make fake passports and numerous other documents.
So-called "deputy education minister" nabbed
A foreign national Daesh terror suspect was nabbed by Turkish police teams on Feb. 3 in northwestern Turkey.
The Jordanian suspect, identified only with initials A.Z.A.A.D., was arrested in an anti-terror operation in the Sakarya province, according to the Interior Ministry.
It noted that the suspect was "the group's so-called deputy education minister in charge of all educational institutions" in areas Daesh invaded in Iraq and Syria between 2014-2017.
The ministry also said the terror suspect brutally murdered people he took prisoner in the same areas and published footage of the acts on social media.
Finance chief arrested
A suspect, who was determined to be the so-called head of "financial affairs" of the terror group in Syria's Raqqa, was arrested in the southern Mersin province, the local gendarmerie command said in a statement on Feb. 17.
He was nabbed in an operation at his address.
A mobile phone and digital materials were also seized during the search of his premises.
Terrorists wanted with Red, Blue Notices captured
Six people, including a Libyan and five Russian nationals, attempting to illegally enter Turkey from Syria, were nabbed by the Turkish security forces near the border, the Turkish National Defense Ministry said on Feb. 17.
It was found that the woman, a Russian national and wanted Daesh terrorist sought by Interpol with Red Notice, was among those captured.
After prosecutors' interrogations, one Russian and one Libyan national were taken to the criminal judge of peace on duty and arrested for "being a member of an armed terrorist organization", while the other suspects were deported.
Additionally, French citizen Sarah Talib, who was wanted by Interpol with Red Notice on the grounds of being a Daesh member, was detained by police teams in Ankara.
Separately, Turkish security forces caught three New Zealand nationals, including a wanted Daesh terrorist, near the border with Syria when they were trying to enter the country illegally, the National Defense Ministry said on Feb. 15.
"Three New Zealand nationals trying to enter our country illegally from Syria were caught by our border guards in Hatay's Reyhanlı district," the ministry said on Twitter.
Among those captured was a Daesh terrorist, a 26-year-old woman only identified by the initials S.A. She was wanted by Interpol with Blue Notice, a status issued to collect additional information about a person's identity, location or activities in relation to a crime.
Turkey was one of the first countries to declare Daesh as a terror group in 2013.
The country has since been attacked by Daesh terrorists multiple times. The terror group has carried out at least 10 suicide bombings, seven bomb attacks and four armed attacks, killing over 300 people and injuring hundreds more.
In response, Turkey launched anti-terror operations at home and abroad to prevent further attacks.
https://www.dailysabah.com/politics/war-on-terror/turkey-deals-heavy-blow-to-daesh-terrorists-in-february?utm_source=iterable&utm_medium=email&utm_campaign=2069039_
--------
Pakistan
Pak PM Imran Khan threatens party lawmakers ahead of Vote of Confidence
Mar 6, 2021
ISLAMABAD: After suffering a massive setback in the Senate election, Pakistan Prime Minister Imran Khan, who is set to face a vote of confidence in the National Assembly has threatened his party lawmakers to follow the party line or face action.
This comes after Khan said that he will sit on "Opposition benches" if lawmakers said they have no confidence in him. "Raise your hand and send me out of the government and I will go to the opposition," he said adding, "I will sit on the opposition benches if I lose the vote."
Khan's party Pakistan -- Tehreek-e-Insaf (PTI) -- has 157 members in the 342-member National Assembly. Opposition Pakistan Muslim Leauge-Nawaz and Pakistan Peoples' Party have 84 and 54 members, respectively.
In a letter addressed to "All Members of the Parliamentary Party Pakistan Tehreek-e-Insaaf in the National Assembly of Pakistan" regarding the "Vote of Confidence", Khan wrote, "You are required to take part in the voting on the resolution for a vote of confidence in the Prime Minister as per the directions of the party."
"The party head may declare any member to have defected from the political party and forward a copy of such declaration to the election commission in case he or she votes or abstains from voting contrary to the direction issued by the party in the vote of confidence in the Prime Minister under paragraph ii of clause b of Article 63A of the constitution of the Islamic Republic of Pakistan," he added.
The President of Pakistan has summoned the National Assembly on March 6, 2021, at 12.15 pm in the Parliament House, in the country's capital for the purpose of requiring Khan to obtain the vote of confidence from the National Assembly under clause 7 of the Article 91 of the Constitution of the Islamic Republic of Pakistan.
The decision to go for a trust vote came after a candidate from Imran Khan's party lost a crucial Islamabad senate seat to Pakistan People's Party (PPP) leader and former Prime Minister Yousuf Raza Gilani by a slim margin of five votes.
Khan is not the first Pakistani Prime Minister to face a vote of confidence in the National Assembly.
In fact, under the Eighth Amendment to the Constitution, all prime ministers of Pakistan, from 1985 to 2008, received a vote of confidence from the National Assembly. These included the late Benazir Bhutto, Nawaz Sharif, Mir Zafarullah Jamali, Chaudhry Shujaat, Shaukat Aziz, and Yousuf Raza Gilani, reported Geo News.
But Imran Khan is also the second in the history of Pakistan who has sought for a 'voluntary' vote of confidence.
Muhammad Khan Junejo was the first prime minister in the parliamentary history of the country to receive a vote of confidence from the National Assembly, which he received on March 24, 1985, under General Zia-ul-Haq's Revival of Constitution of 1973 Order (RCO), reported Geo News.
Under the RCO, the president appoints the prime minister at their discretion and the prime minister must obtain a vote of confidence from the National Assembly within 60 days of their appointment.
Pakistan's Constitution states that if the president feels that the prime minister has lost the confidence of the majority of the parliament's members, then he will direct him to seek a vote of confidence and this vote is taken through an open ballot.
Imran Khan, under all circumstances, must have the support of a simple majority of 172 lawmakers in the National Assembly, according to Article 91(7) of the Constitution. However, since the NA-75 seat lies vacant after its by-election results were nullified by the Election Commission of Pakistan, he will need the support of 171, reported The News International.
https://timesofindia.indiatimes.com/world/pakistan/pak-pm-imran-khan-threatens-party-lawmakers-ahead-of-vote-of-confidence/articleshow/81361118.cms
--------
Pak's Army, ISI chiefs meet PM Khan after he suffers key defeat in Senate polls; Oppn cries foul
Mar 5, 2021
ISLAMABAD: The chiefs of Pakistan Army and powerful spy agency Inter-Services Intelligence (ISI) met Prime Minister Imran Khan to review national issues, a day after his Pakistan Tehreek-e-Insaf party suffered a humiliating defeat in a closely-contested Senate election, according to a media report.
Army chief Gen. Qamar Javed Bajwa on Thursday met Prime Minister Khan as part of the interactions between the civilian and military leadership on national issues. ISI director general Lt Gen Faiz Hameed was also present during the meeting, the Dawn newspaper reported.
An official source said the meeting was held to review the "internal and external situation". However, no statement was issued by the Prime Minister's Office, which usually issues press releases on such meetings, the report noted.
According to the report, people were quick to link the meeting to the latest political developments in the country following the Senate elections.
Pakistan Democratic Movement (PDM) candidate and former prime minister Yusuf Raza Gilani defeated ruling Pakistan Tehreek-e-Insaf (PTI) candidate Abdul Hafeez Shaikh on Wednesday, in a major blow to Khan, who had personally campaigned for his Cabinet colleague.
The defeat of the finance minister in the elections to the upper house prompted calls for resignation of Khan by the Opposition leaders.
Khan hit back by announcing to seek a vote of confidence from the National Assembly on Saturday. Shaikh was defeated by a margin of 5 votes.
Criticising the meeting between Khan, the Army chief and the ISI chief, Maryam Nawaz, vice president of the main Oppostion party Pakistan Muslim League-Nawaz said the military leadership "should not have been seen" with Prime Minister Khan after the developments in the Senate polls.
She said that the Prime Minister had called and met the heads of institutions in the lawns of PM House "on the day he suffered a humiliating defeat (and) his members expressed a lack of confidence in him and voted against him".
"Is he not dragging the institutions into politics?" she was quoted as saying in the report.
She said that the meeting at this juncture does not send out good visuals.
"Institutions" should end backing of Prime Minister Khan, if they have not done so far and should restrict themselves to the constitutional and lawful role, she said.
Addressing the military leadership, she said, "you should not have been seen sitting with Imran Khan at any cost a day after he suffered a battering (and) faced the people's and public representatives' wrath, when he (Imran) was busy in machinations and rigging."
https://timesofindia.indiatimes.com/world/pakistan/paks-army-isi-chiefs-meet-pm-khan-after-he-suffers-key-defeat-in-senate-polls-oppn-cries-foul/articleshow/81354314.cms
--------
Pakistan urges close monitoring of India's state terrorism in Kashmir targeting women
Mar 6, 2021
Geneva, March 06 (KMS): Pakistan has called for keeping a close watch on India's state-directed "tools of terror" in Jammu and Kashmir where women and girls are among the primary victims of it's deadly counter-terrorism measures, saying their plight must be addressed.
"We wish to draw attention towards the Occupied Jammu & Kashmir where India has long employed rape, torture, and killings of Kashmiri women as instruments of its state terrorism under the cover of draconian security laws," Ambassador Khalil Hashmi said in an interactive dialogue with the Special Rapporteur on the Promotion and Protection of Human Rights and Fundamental Freedoms While Countering Terrorism, Ms. Fionnuala Ní Aoláin, as part of the ongoing session of the Human Rights Council.
The Pakistani envoy said since India's illegal annexation of Jammu and Kashmir violence against Kashmiri women, girls and families had intensified.
"Body searches, ill-treatment and molestation of young women during fake 'CT (counter-terrorism) operations' are the tools of state repression to stifle dissent against India's demographic engineering of the disputed territory," he said.
"Night raids, arbitrary abduction, detention and enforced disappearance of their male family members have also exposed Kashmiri women to a heightened level of physical and psychological torture."
In his remarks, Ambassador Khalil backed the Special Rapporteur's call for upholding rights of women and girls, especially hailing from Muslim communities, while states administer laws and policies in the name of counter terrorism and "violent" extremism.
"Mass surveillance, ban on wearing Hijab, arbitrary deprivation of citizenship rights, police harassment, surveillance and efforts by some states to take over control of religious schools and mosques continue to trample upon fundamental rights and freedoms of Muslims women and girls," he said.
Later, Ambassador Hashmi participated in an other interactive dialogue — this time with Special Rapporteur on Freedom of Religion or Belief, Ahmed Shaheed.
In a report to the 47-member Council, Shaheed said that following the 9/11 terrorist attacks and other horrific acts of terrorism purportedly carried out in the name of Islam, institutional suspicion of Muslims and those perceived to be Muslim has escalated to "epidemic" proportions.
"We thank the Special Rapporteur for his well researched report that further unpacks the drivers as well as manifestations of growing Islamophobia worldwide," the Pakistani envoy said, adding that it revalidates the facts about the on-going institutionalized bias, pervasive hostility and systemic discrimination against Muslim communities and individuals.
"The essentialization of Muslims as cultural 'others' lay the ground for laws and policies, which in turn have led to securitization and perpetuated stereotypes, tropes and stigmatization of Muslims," he added.
"We are particularly alarmed by the complicity of some States, powerful politicians and officials in promoting, perpetrating or tolerating acts of discrimination, hatred and in some cases violence against Muslims, both offline and increasingly through social media platforms," Ambassador Khalil said.
"Tropes such as Love Jihad, Corona Jihad, Cow Vigilantism and Termites are just a few examples of state driven anti-Muslim animus and violence," he said in an obvious reference to the language used in India
Ambassador Khalil underscored the need for countering Islamophobia, saying, "We must confront the inconvenient truths, acknowledge facts, call out impunity and hold those accountable who aid and abet anti-Muslim hatred, hostility and violence."
https://kmsnews.org/news/2021/03/06/pakistan-urges-close-monitoring-of-indias-state-terrorism-in-kashmir-targeting-women/
--------
COAS visits exercise area in Cholistan, lauds troop performance
March 6, 2021
KARACHI: Chief of the Army Staff (COAS) General Qamar Javed Bajwa on Friday visited the field training area in Cholistan Desert where he was briefed about corps-level exercise, Zarb-i-Hadeed.
While appreciating dedication and professionalism of the participating troops, the army chief expressed complete satisfaction over combat readiness and training standards of Bahawalpur Corps.
He said excellent training and commitment enhance the operational capability for effective response to all threats and challenges, according to a statement issued by Inter-Services Public Relations (ISPR).
The two-week-long exercise is aimed at enhancing operational preparedness of formations by creating synergy among infantry, mechanised forces, combat aviation, surveillance platforms, army air defence and artillery while operating within defensive operation cycle of a corps.
The troops and units participating in the exercise displayed great degree of professionalism and synergy while conducting offensive and defensive maneuvers in different phases of the exercise.
Later, the COAS visited logistic installations of Bahawalpur Corps and lauded the engineering skills and maintenance standards achieved.
Earlier, Bahawalpur Corps Com­mander Lieutenant General Khalid Zia received the army chief on his arrival at the exercise area in the desert.
https://www.dawn.com/news/1610940/coas-visits-exercise-area-in-cholistan-lauds-troop-performance
--------
Swat college to probe harassment charge against staffers
March 6, 2021
SWAT: Government Postgraduate Jahanzeb College Swat Principal Syed Mumtaz Ali Shah has said an inquiry has been initiated into harassment allegations raised in an anonymous letter against some the staff members.
He stated this while presiding over a meeting participated by the teaching staff, according to a statement issued by the college administration on Friday.
Mr Shah said college was a prestigious educational institute established during the former Swat state, providing quality education to students of the region, but some elements were trying to defame its reputation.
He said the issue of anonymous letter against some of the staff members was taken up by social and mainstream media in a wrong way. He said content of the letter was analysed and an enquiry was already initiated. He said strict legal action would be taken against those found guilty.
"A proper anti-harassment cell exists in the college, but this particular issue was not brought to it," he regretted.
The college principal said if unverified news was spread the college administration had the right to take legal action against those responsible.
The administration has also asked those who wrote the anonymous letter to meet the management to convey their grievances. "The administration will resolve their issues without showing their names," the statement said.
At the meeting, the teaching staff of the BS programme said that harassment allegations in the letter were made against the staff of the intermediate section, but media attempted to attach the matter to the BS faculty. They asked the media outlets to refrain from such practice.
https://www.dawn.com/news/1610908/swat-college-to-probe-harassment-charge-against-staffers
--------
URL: https://www.newageislam.com/islamic-world-news/anti-muslim-hatred-epidemic-proportions/d/124476
New Age Islam, Islam Online, Islamic Website, African Muslim News, Arab World News, South Asia News, Indian Muslim News, World Muslim News, Women in Islam, Islamic Feminism, Arab Women, Women In Arab, Islamophobia in America, Muslim Women in West, Islam Women and Feminism