New Age Islam News Bureau
5 May 2012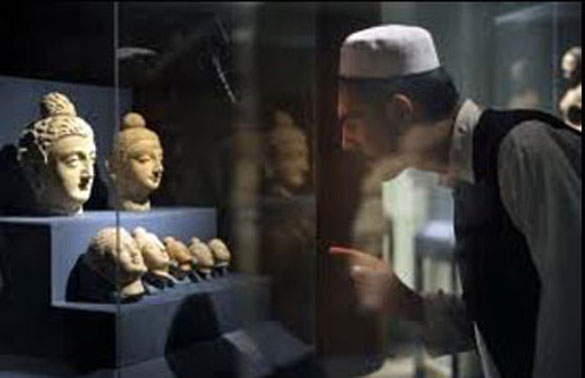 • Afghan museum highlights country's Buddhist heritage
• Pakistan, a failed state: US lawmaker to PM Yousuf Raza Gilani
• US drone strike kills 10 in Pakistan
• West testing Muslim sensitivity by burning Quran
• OIC chief: Global action to fight Islamophobia needed
• 36 Taliban militants killed in Afghanistan
• 12 'Qaeda' terrorists killed in Yemen
• 2 NATO men killed in Afghanistan
• Victims of Bajaur suicide attack buried; toll rises to 29
• Syrian violence leaves 10 civilians dead
• Ahead of elections, French Muslims feel like scapegoats for nation's problems
• Indonesian Muslims rethink sex in new book
• 9/11 'mastermind' back in Guantanamo court
• Indian Supreme Court to hear Babri demolition case on July 25
• 'Jihad Jane' accomplice pleads guilty to terror charges
• Saudi Arabia to reopen Egypt embassy after protests
• Breivik trial hears how Norway massacre victims died
• Hundreds held after Egypt defense ministry clash
• British publisher to issue Taliban poetry collection
• Google Map's missing Gulf angers Iranians
• Iran dismisses Western demand to close nuclear bunker
• Bangladesh: 309 jawans jailed for mutiny at Pilkhana
• Balochistan shut in anger over Lyari operation
• Use money saved from Afghan war to pay debt: Barack Obama
• Siachen thaw? Pak stokes Line of Control fire
• France jails 'Big Bang' scientist for Qaida terror plot
• At least 2 killed, nearly 300 wounded in Cairo clashes
• Two Hizbul Mujaheedin terrorists killed in Jammu and Kashmir
• Defence Ministry, the new frontline in Egypt's protests
• NCTC will work as combined efforts to curb terrorism: PM Manmohan Singh
• Hang me before Afzal & Kasab, says frustrated ex-spy
• Al-Qaeda papers highlight tense dealings with Iran
• Hillary Clinton never said a word about Osama kill to hubby Bill
• JEDDAH: Imams' role in development underlined
• Syrian expats fear infiltration by Assad agents
• Clashes in Turkey kill 3 soldiers, 2 PKK militants
• Riyadh: Indian's 10-year ordeal ends
• Annan plan for Syria "on track," spokesman says
• Israel: Brother of Rabin's Killer Is Freed After Serving His Sentence
• Roadside blast in eastern Afghanistan kills five policemen
• Castro slams Obama as Bin Laden judge and executioner
• In northern Nigeria, Islamic police play matchmaker
• US intelligence, military at odds on Afghanistan: congressman
• Besieged Afghan media appeals to Karzai for protection
• Kenyan forces abuse civilians to avenge attacks
• Bangladeshi NGO official killed in 'Taliban attack' in Afghanistan
• Pak court adjourns 26/11 trial till May 19
• 'Offending' God, Quran or Muhammad Could Mean Death for Kuwait's Muslims
Complied by New Age Islam News Bureau
Photo: Afghan museum highlights country's Buddhist heritage
URL: https://newageislam.com/islamic-world-news/new-age-islam-news-bureau/anti-islam-wilders-calls-on-muslims-to-leave-islam/d/7234
----------
Anti-Islam Wilders Calls on Muslims to Leave Islam
05/05/2012
(Ahlul Bayt News Agency) - Controversial PVV leader Geert Wilders has called on Muslims throughout the world to leave Islam. He made his call in a speech in New York, to promote his English-language book Marked for Death.
Extremist Wilders claims that his book explains that Islam is a "totalitarian ideology" and is an encouragement to freedom-loving Muslims to turn their back on Islam. "I support those who fight for freedom in the Islamic world completely. The Arab, Turkish, Iranian, Pakistani and Indonesian peoples have enormous potential. If they could free themselves of the yoke of Islam, if they could stop seeing [Prophet] Mohamed as their role model and if they could break away from the (...) Koran, then they could achieve amazing things," Wilders said in his speech.
With reporters, Wilders went into the political situation in the Netherlands last week when he caused the collapse of government by pulling out of the budget negotiations with the conservatives (VVD) and Christian democrats (CDA). Wilders calls this a difficult decision, but says he had no other choice.
''We are now concentrating on elections on 12 September. Our campaign will be on the need to revive our national sovereignty, as without this we cannot defend our identity and fight against Islamisation."
Wilders said he was not planning to move to the United States. "I am really staying in the Netherlands and will campaign for the elections with very much enthusiasm and very much good sense," he said yesterday on Radio 1.
A number of media suggested last week that Wilders might be considering an international career because his role in the Loer Hose appears to have been played out for the coming period. Former VVD MP Ayaan Hirsi Ali, also a fighter against Islam, moved to the US in 2005 and was subsequently named by Time Magazine as one of the 100 most influential persons.
http://abna.ir/data.asp?lang=3&id=313114
----------
Afghan museum highlights country's Buddhist heritage
05/05/2012
KABUL: Afghanistan, which achieved global notoriety for cultural barbarism when the Taliban blew up the ancient Bamiyan Buddhas, this week opened an exhibition highlighting the country's rich Buddhist heritage.
In sharp contrast to the religious intolerance behind the destruction of the Buddhas 11 years ago, the immaculate exhibition is on display in the National Museum, itself rebuilt with international aid after being destroyed by civil war.
Overlooked by living history represented by the ruins of the neoclassical Darulaman Palace on a neighbouring hill – also a victim of war – the interior of the museum is a sanctuary of quiet arches and marble floors in a violent land.
In the entrance hall is a replica of the Great Buddha of Bamiyan, one of two giant standing statues carved into Bamiyan cliffs in Afghanistan's central highlands in the sixth century.
But the polyurethane copy is a poor substitute, unlike the surviving treasures dating from the second century AD that dedicated museum staff managed to hide and protect through 30 years of conflict and turmoil.
One statue shows a lean-torsoed Buddha, reflecting the art of the ancient Greeks introduced by Alexander the Great, who staged one of the many invasions of Afghanistan over the centuries, said museum curator Surkh Kotal.
Others show damage inflicted by Taliban, who destroyed many of the museum's artefacts before their regime was overthrown by US-led troops in 2001 for harbouring al Qaeda leader Osama bin Laden.
Among the items spared – many hidden in secret vaults outside the museum – are relief carvings depicting the Buddha's life and other artefacts from former Buddhist monasteries in Afghanistan, mainly south of the Hindu Kush Mountains.
One of those behind the protection of the treasures is museum director Omarakhan Massoudi, who joined the museum 34 years ago.
"I'm happy we preserved some masterpieces through a difficult time in our country," Massoudi told AFP, recounting how a decision was made to move major works to secret locations in 1989 as Soviet forces withdrew and civil war loomed.
"During that war, some 70 percent of the museum's artefacts were looted and smuggled into neighbouring countries to find their way onto the black market," he said.
The museum, along with the palace on the hill, was largely destroyed as rival warlords unleashed artillery and rocket fire on the capital in a brutal struggle for power.
Then came the Taliban, who swept to power in 1996. Towards the end of their rule they destroyed more than 2,000 artefacts, Massoudi said, and blew up the Bamiyan Buddhas as "idols" in March 2001.
"We have repaired more than 300 statues. Some are on display and we will continue this activity in the future," said Massoudi.
The destruction of the Bamiyan Buddhas was "a big tragedy because they were a part of our history, a part of our culture", he said.
Afghanistan, lying on the famed Silk Road trading route connecting east and west, absorbed Buddhism from India and the religion flourished for hundreds of years before the arrival of Islam in the eighth century.
Now, the practice of Buddhism has virtually disappeared from a country where more than 99 percent of the population proclaim themselves to be Muslim. But the museum is dedicated to keeping the nation's history alive.
"We have to be proud about this very rich heritage of Afghanistan, and we need to transfer it to the next generations," said Massoudi.
In a country still at war, with 130,000 US-led Nato troops helping the government of President Hamid Karzai fight a Taliban insurgency, it is still unsafe for the museum to display some of its most important possessions.
The famed and priceless 2,000 year-old Bactrian Gold collection of more than 20,000 gold ornaments, hidden by museum staff during the civil war, has been touring the world since 2006.
But closer to home, the ruined grandeur of the Darulaman Palace – clearly visible from the museum – stands as an enormous exhibit reflecting a less than glorious period in the nation's history.
http://tribune.com.pk/story/373541/afghan-museum-highlights-countrys-buddhist-heritage/
----------
Pakistan, a failed state: US lawmaker to PM Yousuf Raza Gilani
May 5, 2012
WASHINGTON:Influential American Congressman Dana Rohrabacher has told Pakistani Prime Minister Yousuf Gilani that his country is a failed state and no amount of US aid money will ever change that.
"It is becoming increasingly clear to Members of the US Congress that Pakistan is a failed state and no amount of US aid money will ever change that," Rohrabacher wrote in a letter to Gilani.
In his letter, Rohrabacher condemned a recent police action that resulted in the death of four Baluchi men.
"Pakistan's future will remain bleak and marred by political violence as long as the Pakistani government and military continue to deny ethnic groups within Pakistan a right to self-determination," he wrote.
"American aid money for Pakistan will dry up. It is clear that the Pakistani military and intelligence services have for years diverted money intended to help the people of Balochistan, and the other provinces of Pakistan, into funding terrorism and buying weapons to repress their own people," Rohrabacher said.
Rohrabacher is Chairman of the House Foreign Affairs Oversight and Investigations Subcommittee.
He along with Congressman Steve King and Louie Gohmert, introduced legislation on February 17, 2012 expressing the sense of Congress that the people of Balochistan have a "right to self-determination and to their own sovereign country."
http://timesofindia.indiatimes.com/world/pakistan/Pakistan-a-failed-state-US-lawmaker-to-PM-Yousuf-Raza-Gilani/articleshow/13007478.cms
----------
US drone strike kills 10 in Pakistan
May 05 2012
Peshawar : An American drone fired a volley of missiles into a house close to the Afghan border on Saturday, killing 10 suspected militants and indicating US resolve to continue with the attacks despite renewed Pakistani opposition, officials said.
The strike in North Waziristan was the second American drone operation in Pakistan this week.
The attacks come amid American efforts to rebuild its relationship with Pakistan, which in November blocked the passage of US and NATO war supplies to neighboring Afghanistan. The country's parliament has called for an end to the drone strikes, which many here regard as an unacceptable violation of sovereignty.
Up to eight missiles were fired at a house in the Dra Nishtar area of North Waziristan early Saturday, Pakistani intelligence officials said. They didn't give their names because they were not authorized to be named in the media.
America is unwilling to stop the drone attacks because they have weakened al-Qaeda and associated groups in Pakistan's tribal regions, large parts of which are not under the control of the Pakistani state. In the past, Pakistan's intelligence agency has cooperated with the attacks, but the government has not publicly acknowledged this.
North Waziristan is a haven for Islamist militants from many parts of the world. It is also believed to be a key command and control center for insurgents fighting American troops in neighboring Afghanistan. The identities and affiliations of those killed Saturday were not immediately known.
Civilians have also been killed in the drone attacks, but the United States doesn't publicly investigate or apologize for any mistakes it makes. The frequency of the strikes has significantly dropped this year.
http://www.indianexpress.com/news/us-drone-strike-kills-10-in-pakistan/945781/
----------
West testing Muslim sensitivity by burning Quran
05/05/2012
(Ahlul Bayt News Agency) - Had the US government reprimanded Jones in March 2011 when he first set fire to the Muslim holy book, he would not have repeated this heinous act again, Tehran's interim Friday Prayers Leader Ayatollah Seyyed Ahmad Khatami said.
The senior Iranian cleric further criticized European countries for their silence on the incident.
"What was Europe's reaction to this corrupt pastor? How is it that the Europe, which cannot tolerate any comments about the Holocaust, remains silent on the desecration of the [holy] book of one and a half billion Muslims?"
Ayatollah Khatami further addressed Iranian Majlis candidates and said, "The people expect [campaign] rivalries to turn into camaraderie after the elections."
He added that the country's most important issue is currently "national production," and urged the Iranian better authorities pursue this cause.
http://abna.ir/data.asp?lang=3&Id=313038
----------
OIC chief: Global action to fight Islamophobia needed
May 5, 2012
The secretary-general of the 57-member Organization of Islamic Cooperation has urged the international community to take effective action to prevent growing Islamophobia or enmity toward Islam and Muslims all over the world.
"Islamophobia is on the rise. In fact, it has entered the third phase," said Ekmeleddin Ihsanoglu in a statement on the occasion of the publication of Amnesty International's report titled "Choice and Prejudice: Discrimination Against Muslims in Europe."
The OIC chief also blamed Muslim extremists for the growing hatred against Islam and Muslims. "These extremists present a wrong picture of Islam through their negative practices that have nothing to do with noble Islamic values and teachings," he said.
Speaking about the various phases of Islamophobia, Ihsanoglu said in the first phase, enemies used freedom of expression as a pretext to attack Islam and Muslims and it appeared in the form of cartoons denigrating the Prophet Muhammad (peace be upon him).
"During the second phase, there were attempts to institutionalize hatred against Islam and Muslims. In Switzerland, for example, the government conducted a referendum on constructing minarets on mosques, which resulted in banning minarets."
Full report at:
http://arabnews.com/saudiarabia/article625038.ece
----------
36 Taliban militants killed in Afghanistan
May 05, 2012
As many as 36 Taliban militants have been killed, three injured and 28 captured by Afghan police backed by NATO-led troops, the interior ministry said on Saturday.
It said eight joint operations were launched in Kunduz, Helmand, Ghazni, Khost and Farah provinces in the past 24.
http://www.asianage.com/international/36-taliban-militants-killed-afghanistan-169
----------
12 'Qaeda' terrorists killed in Yemen
May 5, 2012
ADEN: Pro-government gunmen fighting al Qaeda alongside the Yemeni army have killed 12 suspected terrorists as jihadists attacked the southern town of Loder, one of the fighters said on Friday. "Two vehicles were destroyed and 12 fighters killed" late on Thursday by the gunmen, he told AFP, adding the terrorists had attacked the southern entrance to the town in restive Abyan province. The gunmen, who belong to the so-called Popular Resistance Committees, were supported by army artillery as they pushed the terrorists back, the fighter said. He added that four civilians were wounded when two mortars fired by al Qaeda suspects struck Loder. Al Qaeda seized Loder in August 2010, but the army eventually drove it out. Loder lies 150 kilometres northeast of Zinjibar, capital of Abyan province, which was overrun last May by the Partisans of Shariah (Islamic law), an affiliate of al Qaeda in the Arabic Peninsula.
http://www.dailytimes.com.pk/default.asp?page=2012\05\05\story_5-5-2012_pg7_7
----------
2 NATO men killed in Afghanistan
May 5, 2012
KABUL: NATO said that two coalition service members had been killed in an insurgent attack in Afghanistan on Friday. NATO said the two were killed in the country's south, but the coalition's statement did not provide details about the attack or the nationality of the service members killed.
http://www.dailytimes.com.pk/default.asp?page=2012\05\05\story_5-5-2012_pg7_8
----------
Victims of Bajaur suicide attack buried; toll rises to 29
May 5, 2012
KHAR: Tribesmen in northwest Pakistan's Bajaur district on Saturday buried the victims of a deadly suicide attack as the death toll rose to 29, officials said.
Government offices and private markets in Bajaur remained closed to mourn the deaths as local tribesmen held funerals in different parts of the district, witnesses said.
A teenage suicide bomber blew himself up on Friday in a bustling square in Khar, the main town of Bajaur.
Paramilitary troops and tribal police were seen patrolling the streets and bazaars on Saturday while roads and markets were deserted with educational institutions closed.
"Five critically injured succumbed to their injuries overnight in hospitals. The death toll has now risen to 29," Jahanzeb Dawar, a senior hospital official in Khar, told AFP.
It was the deadliest bombing in Pakistan since February 17, when 31 people were killed by a suicide attack on Shia Muslims in the Kurram tribal region.
Bajaur has been one of the toughest battlegrounds in Pakistan's fight against a Taliban insurgency in the northwest of the country.
Among the dead were the local chief and deputy of a tribal police force recruited by the government to help defeat the militants. Such forces are frequently targeted by insurgents linked to the Taliban and al Qaeda.
According to an AFP tally, around 5,000 people have been killed in militant attacks across the country since July 2007.
The military conducted major anti-Taliban offensives in Bajaur in August 2008 and February 2009, and has repeatedly declared the district secure.
But militants have still proved able to strike.
Pakistan has lost more than 3,000 soldiers in the fight against homegrown insurgents.
http://dawn.com/2012/05/05/victims-of-bajaur-suicide-attack-buried-toll-rises-to-
----------
Syrian violence leaves 10 civilians dead
May 5, 2012
Violence across Syria killed at least 10 civilians on Friday, a rights watchdog said, as anti-regime demonstrators prepared to take to the streets after weekly prayers.
Three people died when troops opened fire on their vehicle near an intersection in central Hama province, and three others died in the nearby region of Homs, said the Syrian Observatory for Human Rights.
A couple and their child were killed when they were struck by gunfire in the northern city of Aleppo, the Britain-based watchdog said, adding regime forces killed another civilian in eastern Deir Ezzor province.
Activists in the area said the family was killed by pro-regime gunmen. Opposition activists have called for protests across the country after the weekly Muslim prayers under the slogan "Our loyalty (to the revolution) is our salvation".
Anti-regime demonstrations have been staged after prayers each Friday since the revolt against President Bashar al-Assad's iron-fisted rule broke out in March 2011.
The violence has killed more than 11,000 people, according to the watchdog. on Thursday, 23 people died, including four students when regime troops stormed the campus at Aleppo University, in northern Syria, following anti-regime protests.
The killings marked a serious escalation in Syria's second city and commercial hub, largely spared the violence shaking the country for nearly 14 months. The unrest has persisted despite a tenuous UN-backed ceasefire that went into effect on April 12 and the presence of UN observers monitoring the truce.
http://www.dailypioneer.com/world/62794-syrian-violence-leaves-10-civilians-dead.html
----------
Ahead of elections, French Muslims feel like scapegoats for nation's problems
By Richard Allen Greene
05/05/2012
Clichy-sous-Bois, France (CNN) - There's no doubt in university student Ouissem Satouri's mind about who he is. He's Muslim. And he's French. And there's no contradiction between the two.
"I'm sitting here with you in a French cafe, wearing French clothes and having a French book in my bag, and I'm never asking myself if I am French or not," says Satouri, who's studying politics in Paris. "I am speaking French, I am living in France, I am dreaming in French, I want to live in France. I am French. But I am Muslim also."
"You don't have to ask yourself if you are Muslim or French," he says. "You don't have to take a position."
Though France is home to Western Europe's largest Muslim population, the question of whether someone could be both has surfaced here recently, ahead of a cliffhanger presidential election on Sunday. Many French politicians refer to Muslims as "immigrants" even though many, like Satouri, are the French-born kids of immigrants.
Full report at:
http://religion.blogs.cnn.com/2012/05/04/ahead-of-elections-french-muslims-feel-like-scapegoats-for-nations-problems/
----------
Indonesian Muslims rethink sex in new book
05-05-2012
The Indonesian Family Planning Association (PKBI) has taken an unusual step to promote population control by releasing a book exploring the Koran's position on sexual issues.
The book, launched yesterday in Jakarta, was titled Fiqh Seksualitas, (Islamic Sexual Jurisprudence), and was written by Muslim scholars.
The book explores many topics, including the importance of sexual rights, the right to enjoy one's sexuality and masturbation — all considered taboo topics by conservatives in the nation's largest Muslim-majority nation.
The PKBI's operations chief, Sarsanto Wibisono Sarwono, said the organisation often faced difficulties in introducing family planning programs to the public due to ignorance and the mistaken perception that family planning contradicted the tenets of Islam.
Sarsanto said that birth-control programs were important, considering that the nation's population has grown at an alarming rate.
According to the Central Statistics Agency (BPS), the population of Indonesia was 237 million in 2010.
Only 32 million people had participated in government-sponsored family-planning programs in 2011, according to the latest data from the National Family Planning Board (BKKBN).
Full report at:
http://www.asianewsnet.net/home/news.php?id=30257
----------
9/11 'mastermind' back in Guantanamo court
May 5, 2012
GUANTANAMO BAY NAVAL BASE, CUBA: The self-proclaimed mastermind of the Sept. 11 attacks and four accused co-conspirators will appear in public for the first time in more than three years Saturday, when U.S. officials start a second attempt at what is likely to be a drawn out legal battle that could lead to the men's executions.
Khalid Sheikh Mohammed and his co-defendants are to be arraigned at a military tribunal at Guantanamo Bay on charges that include that include 2,976 counts of murder, one for each person killed in the worst terrorist attack on U.S. soil.
In the past, during the failed first effort to prosecute them at the U.S. base in Cuba, Mohammed has mocked the tribunal and said he and his co-defendants would plead guilty and welcome execution. But there were signs that at least some of the defense teams were preparing for lengthy fight, planning challenges of the military tribunals and the secrecy that shrouds the case.
The arraignment is "only the beginning of a trial that will take years to complete, followed by years of appellate review," attorney James Connell, who represents defendant Ali Abd al-Aziz Ali, told reporters gathered at the base to observe the hearing.
Full report at:
http://timesofindia.indiatimes.com/world/us/9/11-mastermind-back-in-Guantanamo-court/articleshow/13006793.cms
----------
Indian Supreme Court to hear Babri demolition case on July 25
May 04, 2012
The Supreme Court will hear on July 25 the CBI application seeking revival of criminal conspiracy charges in Babri Masjid demolition case against top leaders including LK Advani and Shiv Sena chief Bal Thackerey. The CBI in its application has challenged the Allahabad high court
order dropping the charges of criminal conspiracy against leaders including MM Joshi, Sadhvi Ritambara, Vinay Katiyar, Ashok Singhal, Praveen Togadia, Uma Bharti and others.
According to the CBI, the Masjid was demolished on December 6, 1992, by karsevaks following inflammatory speeches delivered by these leaders and the entire operation was pre-planned.
The then Uttar Pradesh chief minister Kalyan Singh was given a symbolic sentence of one day by the Supreme Court after his government failed to protect the Masjid in Ayodhya despite the assurances given by the UP government that the structure would be protected at all costs.
A bench comprising Justices HL Dattu and CK Prasad fixed the date after hearing the counsel for CBI.
http://www.hindustantimes.com/India-news/NewDelhi/SC-to-hear-Babri-demolition-case-on-July-25/Article1-850569.aspx
----------
'Jihad Jane' accomplice pleads guilty to terror charges
NARAYAN LAKSHMAN
May 5, 2012
Mohammad Hassan Khalid, 18, a Pakistani citizen and legal permanent resident in the U.S. State of Maryland, on Friday pleaded guilty to conspiring with the now-infamous home-grown terror suspect "Jihad Jane," to wage violent jihad in major European cities and also in parts of South Asia.
According to officials in the U.S. Department of Justice (DoJ) Khalid sought to team up with "Jane," whose real name is Colleen LaRose, and Ali Charaf Damache, 46, an Algerian man residing in Ireland, to set up an organisation consisting of individuals from Europe and the U.S. who would travel to South Asia for explosives training and return to Europe to wage violent jihad.
Their planning was meticulous, authorities suggested, and it revealed that the terror outfit would be divided into a planning team, a research team, an action team, a recruitment team and a finance team. Khalid had embarked on his fundraising venture even by July 2009 when he posted or caused to be posted an online solicitation for funds to support terrorism on behalf of LaRose.
Full report at:
http://www.thehindu.com/news/international/article3386837.ece
----------
Saudi Arabia to reopen Egypt embassy after protests
05-05-2012
Saudi Arabia has announced it will reopen its embassy in Cairo after it was shut last week following protests.
The Saudi ambassador was recalled after protesters gathered to demand the release of an Egyptian human rights lawyer being held in the kingdom.
According to state news agency SPA, Saudi King Abdullah ordered the reopening of the embassy and consulates in Alexandria and Suez from Sunday.
A high-level Egyptian delegation had visited the kingdom to defuse tensions.
Egyptian human rights lawyer Ahmed al-Gizawi was detained on arrival in Saudi Arabia in early April and accused of insulting King Abdullah.
His family says he had gone to perform a pilgrimage, but Saudi authorities say Mr Gizawi was found by airport officials to be carrying drugs - allegedly more than 20,000 anti-anxiety pills - in his luggage.
Full report at:
http://www.bbc.co.uk/news/world-middle-east-17960084
----------
Breivik trial hears how Norway massacre victims died
05-05-2012
The court in the trial of Anders Behring Breivik has begun hearing coroners' reports for the 69 people killed in a youth camp massacre on Norway's Utoeya Island.
Coroner Torleiv Ole Rognum said the average age of the victims was 18.
Breivik listened impassively throughout as details of the deaths of the first nine victims were read out.
Lawyers for their families read out descriptions of those who died and showed pictures to the Oslo court.
One young girl, sitting just metres away from Breivik in the courtroom, listened to how her mother died.
Breivik 'unmoved'
Many of the relatives sobbed as the details were read out but reporters in court said Breivik remained aloof and apparently unmoved throughout as the coroner demonstrated how the bullets penetrated each body on a life-size doll.
Fighting back tears, the lawyer for the family of 17-year-old Lejla Selaci described her as much-loved by everyone.
"She spread laughter and happiness every day. She was known for fighting for fairness, solidarity and democracy. Her motto was: 'Be to others what you want others to be to you'," Thomas Benestad said.
Of the 69 people who died on the small island on 22 July last year, 67 were shot to death, one died in a fall and another drowned.
Most were hit by two or three bullets, though up to eight bullets had been found in one body.
Full report at:
http://www.bbc.co.uk/news/world-europe-17952940
----------
Hundreds held after Egypt defense ministry clash
May 5, 2012
CAIRO: Military prosecutors have detained over 300 Egyptian protesters following clashes outside the country's Defense Ministry who face accusations including attacking troops and disrupting public order, lawyers said Saturday.
Lawyer Ragia Omran said that the roundup is one of the largest mass arrests to follow violent protests during the country's troubled transition. The detainees, who include 18 women, are being interrogated by military prosecutors and could face military trials, she said.
The clashes broke out Friday during an attempt by protesters to march on the Defense Ministry. One soldier was reported killed and over 300 people injured by tear gas, rocks, and live fire. Security officials said 140 soldiers were injured.
The violence followed the first sustained large-scale protests near the ruling generals' headquarters since the ouster of Hosni Mubarak in an uprising last year. The military council had warned the demonstrators before the march that deadly force would be used against them if they approached the ministry. One warned protesters they would be approaching the ``lion's den.''
Full report at:
http://timesofindia.indiatimes.com/world/rest-of-world/Hundreds-held-after-Egypt-defense-ministry-clash/articleshow/13010291.cms
----------
British publisher to issue Taliban poetry collection
May 5, 2012
LONDON: A London publisher is to issue a collection of translated poems by members of the Afghan Taliban, despite criticism that it is promoting propaganda by Britain's enemies in the ten-year Afghan war.
Poetry of the Taliban, to be issued by Hurst and Co on May 17, brings together over 200 poems, most of them published on the Afghan militia's website over the last decade.
The book's editors say it will "provide a fascinating insight into the minds and hearts of these deeply emotional people", covering subjects such as love and family as well as warlike topics including drones and night raids.
The anthology taps into a "rich and ancient tradition of epic poetry celebrating resistance to foreign invasion and occupation", according to the Scottish author William Dalrymple, who has endorsed the book.
But a former commander of British forces in Afghanistan told the Guardian newspaper on Friday it would "give the oxygen of publicity to an extremist group which is the enemy of this country".
Full report at:
http://dawn.com/2012/05/04/british-publisher-to-issue-taliban-poetry-collection/
----------
Google Map's missing Gulf angers Iranians
By Sebastian Usher
05-05-2012
Iranians have been complaining that Google Maps now has no name on the body of water they call the Persian Gulf and is also known as the Arabian Gulf.
The issue has stirred controversy in recent years between Iranians and Arabs, who each say their name is the only one that should be used.
A Google representative told the BBC it did not name every place in the world.
He said the company also did not want to take any political stance in response to the angry Iranian reaction.
He was unable to provide an example of a similar case of a missing landmark.
'No historical justification'
Full report at:
http://www.bbc.co.uk/news/world-middle-east-17959145
----------
Iran dismisses Western demand to close nuclear bunker
May 5, 2012
VIENNA: Iran said on Friday it will never suspend its uranium enrichment program and sees no reason to close the Fordow underground site, making clear Tehran's red lines in nuclear talks with world powers later this month.
Last month a senior US official said the United States and its allies would demand that Iran halt higher-grade enrichment and immediately close the Fordow facility at talks over Tehran's nuclear standoff with the West.
The New York Times reported that negotiators for Western countries would press Iran to ultimately dismantle the site near the city of Qom, which has been used to expand the higher-grade enrichment the Islamic Republic began just over two years ago.
But Iran's ambassador to the International Atomic Energy Agency, Ali Asghar Soltanieh, told Reuters he saw "no justification" for closing Fordow, which he said was under IAEA surveillance.
Full report at:
http://arabnews.com/middleeast/article624892.ece
----------
Bangladesh: 309 jawans jailed for mutiny at Pilkhana
May 5, 2012
Three hundred and nine jawans of 36 rifles battalion of BDR (now Border Guard Bangladesh) were sentenced to rigorous imprisonment ranging from seven years to four months for their involvement in a mutiny at Pilkhana headquarters in 2009.
In addition to jail terms, the court also fined each of the convicts Tk 100.
The Special Court-10 led by director (admin) of BGB headquarters Col Khandakar Obaidul Ahsan also acquitted a jawan as charge brought out against him was not proved.
The court sat at the Darbar Hall in the Pilkhana headquarters started delivering the judgement at 10:15am, which continued for two and a half hours.
Of the convicts, 52 were jailed for seven years, two for six years and six months, 13 for six years, 31 for five years, 53 for four years, five for three years and six months, 58 for three years, three for two years and two months, 50 for two years, 37 for one year, three for six months and two for four months.
A total of 73 people, including 57 army officers, were killed during the murderous mutiny at Pilkhana on February 25-26 in 2009.
A court pressed charges against the 310 jawans on February 22 last year.
The accused were alleged of leaving Darbar Hall, showing solidarity with mutineers, revolting with firearms, staying inactive to prevent mutiny and failing to control unruly colleagues.
http://www.thedailystar.net/newDesign/latest_news.php?nid=37505
----------
Balochistan shut in anger over Lyari operation
May 5, 2012
QUETTA: A shutter-down strike was observed in major cities of Balochistan on Friday to condemn the ongoing security operation in Lyari, a Baloch-dominated area of Karachi. The strike call was given by the Baloch Republican Party (BRP) and supported by Baloch student organisations. The strike paralysed businesses and trade in Turbat, Panjgur, Pasni, Hub, Gwadar, Khuzdar, Naushki, Mand, Tump and other parts of Balochistan. Streets wore a deserted look as shops, business centres and schools were closed for the day. There was also thin attendance observed in government offices. BRP spokesman Sher Muhammad Bugti said, "The people of Lyari are trapped indoors for the past one week, running short of food, potable water and other essential needs of life." He said it seemed that it had been decided to "punish" the Baloch in the country and deny them their basic rights. Bugti alleged that forces had jammed all cable and Internet services in many parts of Balochistan when a special interview of Baloch national leader Nawabzada Brahamdagh Bugti was being telecast on a Balochi news channel. Balochistan National Party (BNP) workers also staged a protest demonstration outside the Quetta Press Club and raised slogans against the government and police for their "brutal policies against the Baloch". Addressing the protesters, BNP Information Secretary Agha Hassan said the ongoing operation in Lyari was part of "genocide of the Baloch". "The excessive use of force against the Baloch, which had started from Balochistan, has now been extended to Karachi." Agha Hassan criticised the Pakistan People's Party (PPP), saying the party was "appeasing the MQM by killing the innocent Baloch".
http://www.dailytimes.com.pk/default.asp?page=2012\05\05\story_5-5-2012_pg1_6
----------
Use money saved from Afghan war to pay debt: Barack Obama
05/05/2012
Washington: US President Barack Obama on Saturday said that the money saved from early pull back of forces from Afghanistan should be used to pay down the debt and rebuild the economy.
In his weekly address to the nation, Obama, who early this week made a surprise trip to this war torn country, said the tide of war has turned in Afghanistan.
"Because of the progress we have made, I was able to sign an historic agreement between the United States and Afghanistan that defines a new kind of relationship between our countries, a future in which Afghans are responsible for the security of their nation, and we build an equal partnership between two sovereign states; a future in which the war ends, and a new chapter begins," he said.
Obama said as the American troops returns from Afghanistan, the country should spend the money thus saved in rebuilding the economy and paying its huge debts.
"I've called on Congress to take the money we're no longer spending at war, use half of it to pay down our debt, and use the other half to rebuild America," he said.
"Because we've got more jobs to create, more students to educate, more clean energy to generate, more entrepreneurs with the next great idea, just looking for their shot at success. We've got to invest in things like education and medical research," Obama said.
"We've got to build newer, faster transportation and communication networks. And we've got to secure the care and benefits our veterans have earned, so that we serve them as well as they have served us," he said.
"Every time I have the privilege of meeting with our troops, I'm struck by their courage, their commitment, their selflessness, and their teamwork. They have something to teach us. Recovering from the worst economic crisis since the Great Depression is a work in progress? but if we follow their example, then I have no doubt we will preserve the promise of this country, protect the freedoms we cherish, and leave for our children an America that's built to last," Obama said.
http://zeenews.india.com/news/world/use-money-saved-from-afghan-war-to-pay-debt-obama_773410.html
----------
Siachen thaw? Pak stokes Line of Control fire
May 5, 2012
NEW DELHI: Has India toughened its stand on Siachen? Pakistani army chief General Ashfaq Kayani has been quoted as saying that India was now asking for a "demarcation" of the Line of Control. This, he said, was a more "hardened" version of India's traditional stand of "authentication in the area north of NJ 9842" - the northernmost point of the LoC, beyond which is the Siachen glacier.
Kayani appeared to suggest that it was India that was shifting goalposts on a Siachen agreement. He also seemed to suggest that while Pakistan was agreeable to an agreement, the onus was on India to work it out.
Indian officials involved in the Siachen negotiations stressed that there was no change in India's position. India wants both countries to authenticate their current positions on the AGPL (actual ground position line). This would establish the respective positions of the two armies. This is necessary because of a prevalent trust deficit on both sides.
India says demilitarization from the heights of Saltoro Ridge can only happen afterwards. India continues to maintain this position, sources said. "Authentication" is when each country signs off on its respective position. "Demarcation" is an agreed border which is first "delineated" on the map and then marked on the ground. The truth, as former DGMO Gen V R Raghavan said, is that Pakistan does not occupy the Siachen glacier. Its positions are much lower down the mountainside. Pakistan has been reluctant to authenticate its positions because it would reveal that it does not actually sit on the glacier. Indian troops occupy the watershed heights which is the reason for India's insistence on authentication.
Besides, given the history of Pakistani army trying to find ways to change the ground position in Siachen, most recently during the Kargil conflict in 1999, the Indian Army is wary of Pakistani suggestions of demilitarization.
http://timesofindia.indiatimes.com/world/pakistan/Siachen-thaw-Pak-stokes-Line-of-Control-fire/articleshow/13004105.cms
----------
France jails 'Big Bang' scientist for Qaida terror plot
May 5, 2012
PARIS: A Paris court sentenced a Franco-Algerian nuclear physicist to four years in jail on Friday after he was convicted of plotting with al-Qaida's north African branch to carry out terror attacks.
Police arrested Adlene Hicheur, a researcher studying the Big Bang at the birth of the universe at the European Organisation for Nuclear Research (CERN), in October 2009 after intercepting emails to an alleged contact in al-Qaida.
Hicheur, 35, who has been behind bars since his arrest, admitted at the start of his trial in late March that he was going through a "turbulent" time when he wrote the emails but denied he intended to carry out any attacks.
His father embraced him in the Paris courtroom before he was taken off to serve his term. His lawyer said the verdict was "a legal scandal" because his client had been convicted merely on "words exchanged on the Internet".
Hicheur's trial on a charge of "criminal association as part of a terrorist enterprise" began a week after police shot dead Franco-Algerian gunman Mohamed Merah who killed seven people in and around the city of Toulouse.
When Hicheur was arrested at his parents' home near CERN, the research institute which lies on the Franco-Swiss border near Geneva, police discovered a trove of al-Qaida and militant Islamist literature.
Full report at:
http://timesofindia.indiatimes.com/world/europe/France-jails-Big-Bang-scientist-for-Qaida-terror-plot/articleshow/13005340.cms
----------
At least 2 killed, nearly 300 wounded in Cairo clashes
May 5, 2012
CAIRO: At least two people were killed on Friday in fierce clashes between anti-military protesters and soldiers in Cairo and nearly 300 others wounded, hospital officials and medics said.
Egypt's military rulers imposed an overnight curfew around the defence ministry in central Cairo where the skirmishes occurred and the military prosecution announced that 170 people were arrested.
The clashes erupted just three weeks ahead Egypt's first post-revolution presidential election as protesters took to the streets of Cairo and Alexandria to denounce the country's military rulers.
Officials at the Al-Zahra University hospital said they received two people who died in the skirmishes outside the defence ministry. A frontline medic group said the two died of gunshot wounds.
The health ministry reported one death and said he was a conscript soldier.
At least 296 people were also hurt in the clashes, the health ministry said in a statement, including 131 treated in hospital.
The Supreme Council of the Armed Forces (SCAF) that has ruled Egypt since president Hosni Mubarak was ousted from power in last year's revolt also warned against violating the curfew.
Full report at:
http://timesofindia.indiatimes.com/world/middle-east/At-least-2-killed-nearly-300-wounded-in-Cairo-clashes/articleshow/13003288.cms
----------
Two Hizbul Mujaheedin terrorists killed in Jammu and Kashmir
May 5, 2012
Two militants were on Saturday killed in an encounter with security forces in the Pattan area of northern Kashmir's Baramulla district.
The gunbattle broke out between militants, hiding in Nihalpora village of Pattan, and security forces in the wee hours of Saturday.
"Two militants have been gunned down and two AK rifles recovered from the spot," a senior police officer said.
http://www.thehindu.com/news/national/article3386959.ece
----------
Defence Ministry, the new frontline in Egypt's protests
ATUL ANEJA
May 5, 2012
The anger against the military that has been simmering since Wednesday exploded on Friday, with protesters in Cairo marching on the Defence Ministry — an act that predictably provoked a harsh response from the security forces.
The military police made heavy use of water cannons to disperse the melee of protesters after some among the thousands that had assembled there surged ahead to breach the barbed wire fence separating them from the main building. Nile TV captured telling images of the police using clubs and batons to beat people, who responded with a barrage of stones. It also showed individuals throwing stones from the safety of the nearby Ain Shams University.
Reuters is reporting injuries to protesters, some of whom, with wounds to the face were seen being ferried on motorcycles from the scene of the violence.
Amid the intensifying clashes, it became apparent that a concerted attempt was underway to advance the frontline of the Egyptian uprising. With Tahrir Square possibly as the rear base, several groups of protesters wanted the rebellion to pulsate on the fringes of the Defence Ministry.
These protests, ahead of the upcoming May 23 presidential polls, seemed to sharpen the focus on the military as the chief impediment in Egypt's unfinished quest for democracy.
Full report at:
http://www.thehindu.com/news/international/article3384528.ece
----------
NCTC will work as combined efforts to curb terrorism: PM Manmohan Singh
May 05, 2012
NEW DELHI: Making a strong pitch for formation of an anti-terror hub, Prime Minister Manmohan Singh today said the establishment of NCTC is not a State versus Centre issue but will work as a vehicle of country's combined efforts to curb terrorism.
Stressing that NCTC will supplement the counter-terrorism capabilities of the states and not supplant them, Singh asked the state governments to work with the Centre in dealing with terrorism.
"Terrorism is today one of the most potent threats to our national security. There can be no disagreement on putting an effective counter terrorism regime with efficient mechanism and response systems both at the national level and at the state level," the Prime Minister said in his inaugural speech at a conference of Chief Ministers called to discuss NCTC.
The meeting was called specially after 12 chief ministers opposed formation of NCTC.
Full report at:
http://economictimes.indiatimes.com/news/politics/nation/nctc-isnt-state-versus-centre-issue-prime-minister/articleshow/13006398.cms
----------
Hang me before Afzal & Kasab, says frustrated ex-spy
May 5, 2012
Agent Vinod's patience is running thin. On Friday he appealed to the Government of India to hang him ahead of Mohd Afzal Guru and Ajmal Amir Kasab without wasting time.
"As a true solider of Mother India I have failed to get justice from the highest offices in India now I want to appeal to the same Government to hang me. I am a traitor. I deserve strict punishment. After walking free from the Pakistani jail in 1988 I have been demanding the successive Governments to rehabilitate me but none have come forward to help me. It is better they hang me ahead of those who have already received capital punishment including Afzal Guru and Ajmal Kasab", Agent Vinod told The Pioneer.
Sahni, sitting on fast unto death outside the Jammu Press club for last four days was readmitted in emergency ward of the Government medical college hospital on Thursday night after his condition deteriorated. He started his fast on April 20.
Doctors attending him are a worried lot. Fifteen (15) day long continuous fast has taken a heavy toll on his health. His vital organs are not even performing optimally. His heart is growing weak, his blood pressure is below normal, his kidneys are under lot of stress. He has lost several kilograms in the last two weeks but the indifferent State/Centre Government and senior officials dealing the case are still busy passing the buck.
Full report at:
http://www.dailypioneer.com/nation/62815-hang-me-before-afzal-a-kasab-says-frustrated-ex-spy.html
----------
Al-Qaeda papers highlight tense dealings with Iran
May 05 2012
Dubai : In the rigid enemy-or-ally world view of Osama bin Laden and his chief lieutenants, Iran occupied a spot somewhere in between -- a state seen as arrogant, enigmatic and driven by self interest, according to newly released al-Qaeda documents.
Yet there is also a sense that al-Qaeda recognizes the importance of Iran's role in the region and the need to keep some level of dialogue.
The papers – seized in last year's raid on bin Laden's Pakistan hide-out and posted online Thursday by the US Army's Combating Terrorism Center – portray al-Qaeda's relations with Iran as clouded by deep mutual distrust and sharply divergent interests.
A June 2009 al-Qaeda memo – possibly to bin Laden – refers to the Iranian government as "criminals'' in a no-holds bashing of its opaque and unpredictable policies.
"The criminals did not send us any letter,'' wrote al-Qaeda's top Afghanistan commander, Atiyah Abd al-Rahman, about the earlier kidnapping of an Iranian diplomat in Pakistan that was believed to have been carried out by militants linked to al-Qaeda.
"Such behavior is, of course, not unusual for (the Iranians); indeed it is typical of their mindset and methods,'' continued al-Rahman, who was killed the following year in a CIA drone strike in the Waziristan region of Pakistan. "They do not wish to appear to be negotiating with us or responding to our pressures.''
In one narrow sense, al-Qaeda and the West share this much: exasperation over Tehran's shifting and often contradictory messages that extend all the way to talks over its nuclear program.
Full report at:
http://www.indianexpress.com/news/alqaeda-papers-highlight-tense-dealings-with-iran/945773/
----------
Hillary Clinton never said a word about Osama kill to hubby Bill
May 5, 2012
The former president of United States Bill Clinton has said that he had learned about America's mission to kill Osama bin Laden from the White House and not from Secretary of State and wife Hillary Clinton.
"I''m pretty sure that I was notified by the White House, not the State Department, which is exactly the right thing," New York Daily News quoted Clinton as saying.
"She (Hillary Clinton) never said a word to me about this," he added.
Clinton said that since his wife became America's top diplomat he had been passed the daily intelligence briefings the Central Intelligence Agency offers to former presidents.
Hillary confirming her husband's claim said: "Bill didn't know anything. I hadn't talked to anybody about it, so the first he heard was when President Obama called him."
The news "was deeply personally emotional, and because I''m a New Yorker, I knew people who died on 9/11," she said.
http://www.asianage.com/international/hillary-clinton-never-said-word-about-osama-kill-hubby-bill-960
----------
JEDDAH: Imams' role in development underlined
May 5, 2012
More than 100 imams, who attended a workshop in Makkah, have stressed the role of mosques in development and called for spreading the Islamic culture and values for moderation and tolerance.
The workshop, "The Mosque and Friday Sermon: Responsibility and Contribution to the Building of Man," was organized by the Ministry of Islamic Affairs, Endowments, Dawa and Guidance under the directives of Makkah Gov. Prince Khaled Al-Faisal.
The workshop made 47 recommendations aimed at making Makkans good Muslims capable of contributing to the development of the country in general and to the uplift of Makkah region in particular.
The workshop underlined the important role imams play in propagating Islamic values and noble principles. One of the recommendations urged imams to highlight the fact that Islam is a religion of progress and civilization and should also focus on the values of honesty, integrity and straightforwardness. "The imams should emphasize that Islam prohibits corruption and aggression against the properties of others, especially government land," the recommendations said.
The workshop asked the imams to highlight in their Friday sermons the blessings of security, stability and progress being enjoyed by the Kingdom through its application of Shariah and its adherence to the teachings of the Qur'an and Sunnah.
It asked the imams to stress the fact that Islam is a religion, which is suitable to all times and places and that it is a moderate religion, which is against extremism and fanaticism.
Full report at:
http://arabnews.com/saudiarabia/article625033.ece
----------
Syrian expats fear infiltration by Assad agents
May 5, 2012
Amid mixed feelings of worry, anxiety and sadness, members of the Syrian community in the Kingdom are closely following news from home about their relatives who take part in the revolution against President Bashar Assad and those who have deserted the regular army to join the Syria Free Army (SFA).
The worries of the Syrian residents for their relatives and loved ones back in Syria were further aggravated by the regime's current escalation of violence, despite the presence of UN monitors.
A large number of the Syrian expatriates have expressed fear that spies might infiltrate their country's embassy in Riyadh or the consulate in Jeddah to obtain information about the whereabouts of relatives who are active in the revolution against the regime.
Syrian activist Muhammad Mazied Al-Turkawi, who is a member of the Syrian National Council (SNC), regularly receives his compatriots from the city of Homs in his Jeddah residence to talk about the destruction of their city and the situation in Syria in general.
Full report at:
http://arabnews.com/saudiarabia/article625041.ece
----------
Clashes in Turkey kill 3 soldiers, 2 PKK militants
May 5, 2012
TUNCELI, Turkey: Turkish security forces fought with Kurdish militants in clashes that killed three soldiers and two separatist fighters in eastern Turkey, security officials said on Friday.
The soldiers were killed when Kurdistan Workers Party (PKK) fighters opened fire on Turkish troops raiding suspected militant hideouts in the mountainous Tunceli province, the officials said.
A group of around 15-20 PKK militants had been planning attacks on the Tunceli town center, they said. Army helicopters ferried special forces teams to the area at dawn on Friday, but their operations were hindered by heavy fog and rain.
There was no immediate information on PKK casualties.
In separate clashes in Sirnak province, further south near the border with Iraq, security forces killed two PKK militants after they ambushed an armored police vehicle on Thursday night, wounding a special forces chief and a police officer, the officials said.
Spring generally sees an upsurge in clashes between the Turkish army and the PKK as the militants emerge from their winter shelters.
More than 40,000 people have been killed in the conflict between the PKK and the Turkish state since the militants took up arms in 1984 with the aim of creating an independent Kurdish state.
The PKK is considered a terrorist organization by Turkey, the United States and the European Union.
http://arabnews.com/middleeast/article624897.ece
----------
Riyadh: Indian's 10-year ordeal ends
May 5, 2012
Riyadh: An Indian domestic worker, stranded in the Kingdom following his sponsor's death 10 years ago, was repatriated together with his family members yesterday, the Indian Consulate General's Office in Jeddah told Arab News yesterday.
Kunhalavi Muthanakkatu Adiparambil came to Jeddah to work as a family driver in 1999. Upon his sponsor's death two years after his arrival in the Kingdom, his Iqama was not renewed and he started doing odd jobs to make ends meet. During that period, he became diabetic and developed serious medical complications which restricted his movements.
S.D. Moorthy, consul — community welfare of the Indian Consulate General's Office in Jeddah told Arab News that Adiparambil and his family had undergone untold hardships during the last 10 years while living in the Kingdom.
The diplomat recalled that Adiparambil's wife and two children, who came for Umrah in 2008 stayed back in the Kingdom following their pilgrimage to look after their breadwinner.
Full report at:
http://arabnews.com/saudiarabia/article625083.ece
----------
Annan plan for Syria "on track," spokesman says
May 5, 2012
GENEVA: A peace plan for Syria brokered by international mediator Kofi Annan is on track despite reports of violations of the cease-fire, Annan's spokesman Ahmad Fawzi said on Friday.
Annan will brief the United Nations Security Council on the Syria situation next Tuesday by video link from Geneva, he said.
"I would say that the Annan plan is on track and a crisis that has been going on for over a year is not going to be resolved in a day or a week," Fawzi said.
"I agree with you that there are no big signs of compliance on the ground. There are small signs of compliance."
Annan's six-point plan includes a cease-fire, deployment of observers and free access for journalists and humanitarian aid.
About 50 observers and civilian staff have been deployed in Syria, but violence has continued since an April 12 truce.
"Some heavy weapons have been withdrawn, some heavy weapons remain. Some violence has receded, some violence remains," Fawzi said. "I'm not saying that is satisfactory."
Full report at:
http://arabnews.com/middleeast/article624884.ece
----------
Israel: Brother of Rabin's Killer Is Freed After Serving His Sentence
By ISABEL KERSHNER
May 5, 2012
Hagai Amir, 43, the brother of the killer of Prime Minister Yitzhak Rabin, was released from prison on Friday after serving 16 years for helping to plan the 1995 assassination. Mr. Amir emerged from the prison in central Israel raising his fingers in a V sign. He told reporters that he had no regrets, adding, "I am proud of what I did." For some Israelis, the release opened old wounds of one of the most traumatic events in recent Israeli history. Dozens of leftists waiting outside the prison shouted "Disgrace!" as Mr. Amir was driven away in a van. The killer, Yigal Amir, a right-wing Jewish extremist, is serving a life sentence for shooting Mr. Rabin after a peace rally in Tel Aviv.
http://www.nytimes.com/2012/05/05/world/middleeast/israel-hagai-amir-brother-of-rabins-killer-is-freed.html?ref=middleeast&gwh=396C577E20180D9364BA8C3BFFF66E19
----------
Roadside blast in eastern Afghanistan kills five policemen
May 5, 2012
KABUL: Five border policemen were killed when a roadside bomb ripped through their patrol vehicle in eastern Afghanistan, an official said on Saturday.
The bomb struck their pick-up truck in the Dur Baba district of Nangarhar province, near the Pakistan border, late Friday, the provincial governor's spokesman told AFP.
"Yesterday evening, a border police vehicle was hit by a roadside bomb that unfortunately left all five border policemen dead," said spokesman Ahmad Zia Abdulzai.
There was no immediate claim of responsibility, but roadside bombs are regularly planted by Taliban insurgents fighting a decade-long war against Nato-led foreign troops and Afghan government forces.
Afghan security forces are particular targets of the Taliban, as the country prepares to take over full responsibility for security from some 130,000 foreign troops by 2014.
Roadside bombs also take a high toll among civilians.
Around 80 per cent of the 3,000 Afghan civilians killed in 2011 were victims of attacks by the Taliban, who were toppled in late 2001 by a US-led invasion, according to an annual UN report released in February.
http://dawn.com/2012/05/05/roadside-blast-in-eastern-afghanistan-kills-five-policemen/
----------
Castro slams Obama as Bin Laden judge and executioner
May 5, 2012
HAVANA: Cuba's Fidel Castro criticised US President Barack Obama on Friday for assuming the role of judge and executioner in the slaying of Osama Bin Laden, a year after the al Qaeda leader's demise.
Writing in the official Communist Party newspaper Granma, Castro said Obama was competing with Republican challenger Mitt Romney to justify the raid that killed bin Laden in Pakistan, a US ally.
"But does the president of the United States have the right to judge and the right to kill; to become the court and at the same time the executioner and to carry out such crimes in a country and against a people on the other side of the planet?" he wrote.
He also criticised Obama for his brief trip to Afghanistan on the May 2 anniversary of Bin Laden's death.
He said the US president was acting "as if the world is not aware of the massive murders, the burning of books holy to Muslims and the outrages with the bodies of murdered people."
Castro, 85, stepped down from the Cuban presidency in 2006 after being sidelined by illness, but he remains active with visits by foreign dignitaries and a weekly column in the state-controlled Cuban press.
http://dawn.com/2012/05/04/castro-slams-obama-as-bin-laden-judge-and-executioner/
----------
In northern Nigeria, Islamic police play matchmaker
May 5, 2012
KANO: A line of women wait their turn at a building in northern Nigeria, ready to participate in a program local officials hope will bring two results: marriage and peace. Love might have to come later.
The program run by the Islamic sharia police in Kano, the largest city in Nigeria's mainly Muslim north, aims to match widows and divorcees with available men.
Officials hope it will in part help curb unrest in the north, which has been hit by deadly violence blamed on Islamist group Boko Haram, as well as reduce other social problems by providing a stable home for children.
Such a program has the potential to raise obvious red flags, but local officials say the women participate strictly on a voluntary basis.
"With the current security situation in Kano, children with no proper parental guide and care are more likely to be influenced and fed with these extremist tendencies," said Nabahani Usman, deputy head of the Hisbah, as the sharia police are known.
"It is very important they are saved from these destructive elements through this program, where they can have stable family life with their mothers and step-fathers looking after them."
Analysts say unemployment and frustration among young people has helped feed the violence blamed on Islamists which has rocked Nigeria's north, leaving more than 1,000 dead since mid-2009.
Full report at:
http://dawn.com/2012/05/05/in-northern-nigeria-islamic-police-play-matchmaker/
----------
US intelligence, military at odds on Afghanistan: congressman
May 5, 2012
WASHINGTON: US military and intelligence officials are at odds about how the 11-year war in Afghanistan is faring as President Barack Obama presses ahead with a gradual withdrawal of US troops out of the country, a leading Republican lawmaker said Friday.
The US military is more optimistic about the state of the battle against Taliban insurgents than are intelligence officials on the ground in Afghanistan, said House intelligence committee Chairman Mike Rogers, who returned this week from a visit to the country.
"My biggest take away from the trip was the huge difference between what the military says…they believe the state of affairs is or our intelligence community believes the state of affairs is," said Rogers, referring to officials he met during his visit to Afghanistan.
His comments came days after Obama made a surprise trip to Afghanistan to sign a strategic pact with Kabul and deliver an election-year message to Americans on the anniversary of al Qaeda leader Osama bin Laden's death.
The partnership pact sets out a long-term role for the United States in Afghanistan beyond 2014, when most Nato combat troops are scheduled to leave. The war started in the month after the September 11, 2001, attacks.
But Rogers said Afghanistan's fate after 2014 is far from clear.
"There is still a lot of uncertainty. There is no certain plan yet about what it looks like when the drawdown happens," he said.
"Nobody knows…the military didn't know, the intelligence folks didn't know, nobody had a good feeling about what happens next," he added.
Other US and counterterrorism officials have said that counterinsurgency operations in Afghanistan have recently showed success in pacifying swaths of territory where American and allied troops maintain a significant presence.
Full report at:
http://dawn.com/2012/05/05/us-intelligence-military-at-odds-on-afghanistan-congressman/
----------
Besieged Afghan media appeals to Karzai for protection
May 5, 2012
KABUL: Afghanistan's media representatives are appealing to the government to protect the rights of journalists who are facing a growing number of violent threats in what they see as an undeclared campaign against media freedom.
War and an atmosphere of impunity make Afghanistan one of the most dangerous places in the world to be a journalist. The Taliban often regard reporters as their enemies and many officials are suspicious of a prying press.
Despite media freedom being protected by the constitution, the relatively large, often Western-backed press corps can face intimidation, abduction or even death for reporting on issues such as corruption and other government failings.
"Day by day, it is getting worse. No one is here to support reporters," Sediq Zalique, head of investigative reporting at national daily "8 am", told on Friday. Zalique said he had received several threatening phone calls from unidentified men in what he believes was a response to his articles revealing corruption and drug-running by officials.
Full report at:
http://www.dailytimes.com.pk/default.asp?page=2012\05\05\story_5-5-2012_pg14_6
----------
Kenyan forces abuse civilians to avenge attacks
May 5, 2012
NAIROBI: Kenyan security forces randomly detained, beat and humiliated ethnic Somalis living in Kenya's northeast in response to attacks blamed on Somali militants and their sympathisers, Human Rights Watch said on Friday.
Kenya's military incursion into southern Somalia in October triggered a wave of grenade attacks and low-level bomb blasts in the remote region, some of which targeted military and police personnel. The security forces reacted with a violent crackdown on local communities, the rights group said.
"Rather than doing what they ought to do which is investigate...what has happened is an arbitrary round up of residents, some of whom have been severely beaten, some of whom have been raped," HRW researcher Neela Ghoshal told reporters. "The response by the police has also included efforts to humiliate the local population, activities which have nothing to do with policing, nothing to do with intelligence, but seem solely designed as a form of collective punishment."
HRW wrote to the defence and internal security ministries in March, detailing the allegations and seeking a response, but received no reply. In the eastern town of Garissa, about 150 miles (240 km) from the Somali border, residents told HRW the security forces reacted to a November grenade attack with door-to-door raids, hauling people out of their houses and assaulting some of them.
Full report at:
http://www.dailytimes.com.pk/default.asp?page=2012\05\05\story_5-5-2012_pg4_6
----------
Bangladeshi NGO official killed in 'Taliban attack' in Afghanistan
05-05-2012
An official of Bangladesh's non-government organisation Brac was shot dead during an attack on a Brac provincial office in Ghor of Afghanistan yesterday.
Deceased Mohammad Mohiuddin, 41, hailed from Fulbaria of Mymensingh and was working as Brac's area manager in Chaghcharan, the provincial capital, according to a Brac official statement.
He left behind his wife Parveen Akhter, son Ishfaq, daughter Mohana and a host of relatives. His body is likely to arrive tomorrow morning.
Mohiuddin was killed when a gang of criminals launched an attack on the office early on Thursday, said Khandaker Ariful Islam, country representative of Brac Afghanistan chapter, a non-government organisation.
However, Pajhwok Afghan News, quoting the acting police chief Col Murtaza Musleh, said Mohiuddin was killed when the Taliban stormed the office just before dawn.
Another Bangladeshi Samiul Haq managed to escape, said the policeman. Murtaza said a wounded attacker was arrested and the detainee told police that five insurgents involved in the attack wanted to kidnap the Bangladeshis.
Samiul told Pajhwok Afghan News that the militants wanted foreigners so that they could get their men held by the Afghan government released through exchange. He said, "The office chief was killed on the spot but I succeeded in fleeing soon after the assailants entered the building."
Full report at:
http://www.asianewsnet.net/home/news.php?id=30263
----------
Pak court adjourns 26/11 trial till May 19
May 5, 2012
ISLAMABAD: The trial of LeT commander Zakiur Rehman Lakhvi and six other Pakistani suspects charged with involvement in the Mumbai attacks was today adjourned till May 19, even as defence lawyers filed an application raising objections to the report of a judicial panel that recently visited India.
The defence lawyers had filed an application with their preliminary objections to the commission's report at the last hearing on April 28.
During today's hearing behind closed doors at Adiala Jail in Rawalpindi, the defence filed an additional application with its objections to the report.
Judge Shahid Rafique of the anti-terrorism court said he would allow arguments on the matter at the next hearing on May 19, sources told PTI.
After the hearing, Lakhvi's counsel Khwaja Haris Ahmed told PTI that defence lawyers had raised several objections to the report.
He objected to certain sections of the report related to the members of the Pakistani judicial commission and claimed that the authorities in India appeared more interested in "facilitating" Indian lawyers than the visiting Pakistani members.
Ahmed further said the defence lawyers had raised objections to the agreement between India and Pakistan that barred cross-examination of witnesses during the judicial commission's visit to Mumbai.
"Without cross-examination, the whole exercise turned out to be futile," he contended.
Full report at:
http://timesofindia.indiatimes.com/world/pakistan/Pak-court-adjourns-26/11-trial-till-May-19/articleshow/13010370.cms
----------
'Offending' God, Quran or Muhammad Could Mean Death for Kuwait's Muslims
By Stoyan Zaimov
05/05/2012
The Parliament of Kuwait approved a law on Thursday that stipulates capital punishment for Muslims in the country who mock Allah, the Quran, any of Islam's prophets and the wives of the faith's founder, the prophet Muhammad.
The move, approved by 40 members of Parliament and opposed by six lawmakers, is seen as an attempt to counter the rising cases of blasphemy in the Asian country.
"We do not want to execute people with opinions or thought because Islam respects these people ... But we need this legislation because incidents of cursing God have increased. We need to deter them," explained MP Ali al-Deqbasi, KUNA reported.
Although Kuwait's constitution calls for "absolute freedom" of religion and religion practice, the stipulation is that it does not conflict with public policy or morals. Islam is the official state religion, and Sharia, or Islamic law, is the main source of legislation, which prohibits Muslims from blaspheming against their religion.
Full report at:
http://global.christianpost.com/news/offending-god-quran-or-muhammad-could-mean-death-for-kuwaits-muslims-74372/
----------
URL: https://newageislam.com/islamic-world-news/new-age-islam-news-bureau/anti-islam-wilders-calls-on-muslims-to-leave-islam/d/7234