New Age Islam News Bureau
9 Nov 2018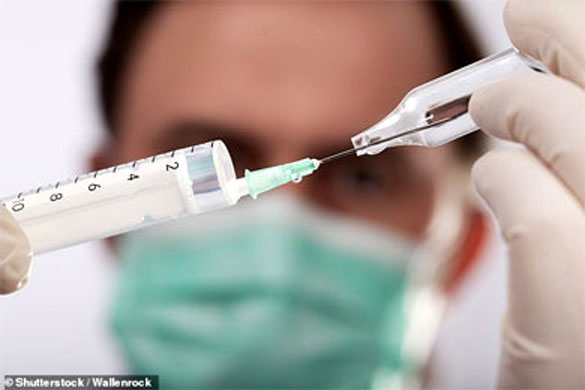 Measles is set to spike in Indonesia after Islamic clerics declared the MR vaccine sinful due to it containing pork gelatine. This has caused vaccination rates against measles and rubella to plummet from the recommended 95 per cent to as low as just eight per cent (stock)
------
• Anti-Dowry Drive: Thousands of Indian Muslims Return Millions to Bride Families
• Indonesian Muslim Clerics Declare the Measles Vaccination 'Sinful', It Contains Pork Gelatine
• Khashoggi Killed For Disclosing Saudi Funding Of Anti-Iran TV Channel: Guardian
• US War on Terror Kills 500,000 in Afghanistan, Iraq and Pakistan
India
• Anti-Dowry Drive: Thousands of Indian Muslims Return Millions to Bride Families
• Religious Tourism Still On Agenda As India Allows Pak Pilgrims To Visit Punjab
• Taliban at Afghanistan talks table today, Delhi sending 'non-officials'
--------
Southeast Asia
• Indonesian Muslim Clerics Declare the Measles Vaccination 'Sinful', It Contains Pork Gelatine
• Terrorism Is Foe of Islam: Indonesian Defence Minister
• Islamic groups, Suhakam agree ICERD shouldn't affect constitution
• Saifuddin: Human rights arena not right venue to be 'Malay hero'
• Saudi authorities question Rizieq over 'extremist' flag at his house in Mecca
--------
Arab World
• Khashoggi Killed For Disclosing Saudi Funding Of Anti-Iran TV Channel: Guardian
• Dialog With Sunni Mps Key To Formation Of Lebanese Govt.: Hezbollah
• Tens of SDF Militants Flee Possible Battle with Turkish Army in Eastern Euphrates
• US-Backed Militia Send More Convoys to Deir Ezzur as People's Protests Heighten
• Infighting Intensifies among Terrorists in Aleppo's Afrin, Insecurity Rising
• Syrian Army Sends More Military Convoys to Sweida Desert to Counter ISIL
• Egypt court jails 65 suspected ISIS extremists
• Car bomb blast kills 3, wounds 12 in Iraq's Mosul
--------
North America
• US War on Terror Kills 500,000 in Afghanistan, Iraq and Pakistan
• Brazil's Bolsonaro Says Embassy Move To Al-Quds 'Not Decided Yet'
• Nation of Islam Leader Warns Trump Not To Trigger War in Middle East 'At the Insistence of Israel'
• Trump's policies to bring about death of US, Muslim leader Farrakhan warns
• Muslim Group Sues Troy over Mosque Denial
--------
Pakistan
• Pakistan President Urges Need to Understand Real Spirit of Islam
• Taliban leader Baradar released at US request for political settlement in Afghanistan: Pakistan
• Opposition activists behind violence during TLP protest: Afridi
• Fazl-led five-party alliance holds big rally, criticises govt
• US peace envoy to visit Afghanistan, Qatar, Pakistan, UAE
• Iqbal Day: PM stresses need to understand Poet of the East's philosophy
--------
South Asia
• Rohingya Fleeing Myanmar and Bangladesh Camps by Boat, Evoking Memories of 2015 Tragedy
• Bangladesh Silent on Canadian Offer to Take Rohingya Refugees: Officials
• Taliban, army soldiers suffer heavy casualties in Takhar clash
• Police thwart militants bid to detonate a large oil tanker in Kabul
• Afghan official: Taliban attacks kill 10 troops, 7 policemen
• 23 BNP, Jamaat Men Held, 79 Sued Across Country
--------
Mideast
• Muslim Family Will Not Give Up Keys to Iconic Jerusalem Church despite Pressure
• US Considers Designating Yemen's Houthi Militias As Terrorist Group
• Amnesty accuses Yemen's Houthi militias of militarizing hospital
• Zarif: US accountable for crimes against Iran, Yemen
• Israeli forces shoot dead Palestinian youth on Gaza border
• Fresh Saudi airstrikes leave father, five children dead in Yemen's Hudaydah
--------
Africa
• Sudan: U.S. Willing to Lift Sudan from Terror Blacklist If Further Reforms
• Boko Haram terrorists attack Yobe community, army location
• Car bombing kills lawmaker in Somali capital
• Tunisian president accepts new ministers, easing high-level standoff
• UN envoy: Libya should start process for elections in spring
• Jordan says in talks with US and Russia to dismantle Syria camp
--------
Europe
• Labour Slammed for Inviting Notorious Islamic Extremist to 'Anti-Racism' Rally
• Muslims In Xinjiang Face Repression: German Parliament
• Palestinian FM, EU foreign policy head meet in Brussels
• UK knew key Qaeda captive was tortured by US in 2001: Report
• German shipyard halts production after Saudi arms ban as Riyadh turns to Spain, S Africa
• Russia should let Israel attack Iranians in Syria: US envoy
• Prison riot leaves 27 dead in northern Tajikistan
Compiled by New Age Islam News Bureau
URL: https://www.newageislam.com/islamic-world-news/anti-dowry-drive-thousands-indian/d/116836
--------
Anti-Dowry Drive: Thousands of Indian Muslims Return Millions to Bride Families
By Manoj Chaurasia
8 November 2018
A man in India has launched a massive campaign against dowry, one of the biggest social evils claiming hundreds of lives every year in the country. Such is the impact of the campaign that close to 1,000 Muslim families have now returned dowry to the bride families, expressing regret over their conduct in public and vowing not to repeat it in future.
The credit to this unique campaign straightway goes to Haji Mumtaz Ali who has launched the campaign in the eastern Indian state of Jharkhand. The success of the campaign is underlined from the fact that villages after villages are joining it every day, openly taking an oath not to accept dowry in future.
Initially, the campaign was started in Palamu district but now it has gone beyond its boundary and spread to several others districts as well. But what's further fascinating about it is that the campaign is not limited to any particular community only as the Hindus too have lent a wholehearted support to this campaign, joining the anti-dowry rallies in large numbers.
"I am happy to inform you that what started as a silent campaign against this social evil two years back has now turned out to be the mass movement. Now it's not limited to any particular area or the community only but Hindus too are joining us in large numbers," said Ali who happens to be the brainchild of the campaign.
Rs 60 million returned
The peak of the campaign was when the Muslim villagers began returning dowries years after they had taken them at the time of their son's wedding. According to Ali, close to 1,000 Muslim families have returned dowries worth Rs 60 million to the brides' families so far, impressed by his appeals to give up dowry.
One of them was Nizamuddin Ansari who returned Rs 40,000 to the bride families. "I regret about taking dowry from my daughter-in-law's families but feel proud to return it now," Ansari told an anti-dowry meeting held in Palamu recently.
However, the campaign didn't reach at this level all of a sudden. Ali had to work hard, day and nights for months during which he held more than 100 such meetings and rallies in entire Palamu division to convince his community members not to take dowry, braving sweltering heat and chilling winter.
But what compelled him to launch the campaign? "I saw many families getting destroyed under the impact of dowry although it was not initially prevalent in Muslim families. I came across many poor families selling their ancestral properties or taking loans on high interest to arrange money to solemnize wedding of their daughters".
"What was terrible this money was being wasted on arranging decoration, DJ, orchestra and various types of dishes; it was not being used for important works! So I decided to launch a campaign in the society, sooner the better," Ali said, in a telephonic interview on Thursday.
"I was aware of the economic status of my co-villagers. I knew their financial background just wouldn't permit them for lavish wedding. They were doing so just because they had taken dowry from the brides' families. So it was necessary to alert them," he said.
Crowds of villagers
Eventually, Ali launched the campaign in April 2016 but got encouraged to focus on it after seeing huge crowds of villagers attending his each rally and meeting.
"I told the Muslim villagers to fear from the almighty and swear in the name of Allah not to take dowry in future and this ultimately clicked," Ali revealed, describing his campaign as a "huge success". Recently, Ali was honored by Jharkhand chief minister Raghubar Das for his campaign against dowry.
Ali is happy to tell that villagers are now opting for "dowry-less" marriages. "Now, the general masses have taken over my campaign. This indicates the success of my campaign, Ali remarked, with his voice exhibiting satisfaction and delight.
Dowry has been claimed hundreds of lives every year in India. As per an official report, a total of 24,771 dowry deaths were reported in India in between 2012 and 2014 with Uttar Pradesh taking the lead with a maximum of 7,048 deaths. This information was given to the Lok Sabha in a written reply by federal minister for Women and Child Development Ministry Maneka Gandhi in April 2016.
The minister further told the House that India recorded 348,000 cases of cruelty by husband or his relatives during this period with the West Bengal topping the chart with 61,259 such cases, followed by Rajasthan (44,3111) and Andhra Pradesh (34,835), as per the National Crime Records Bureau data.
https://english.alarabiya.net/en/features/2018/11/08/Anti-dowry-drive-Thousands-of-Indian-Muslims-return-millions-to-bride-families.html
--------
Indonesian Muslim Clerics Declare the Measles Vaccination 'Sinful', It Contains Pork Gelatine
8 November 2018
Measles and rubella vaccination rates have plummeted in Indonesia after Islamic clerics declared the jab is sinful due to it containing pork gelatine.
Rates in the Southeast Asian country have dropped from the recommended 95 per cent to as low as just eight per cent in some areas.
Health experts fear the world's largest Muslim country may suffer an outbreak of either disease. Rubella can cause birth defects if pregnant women catch the virus, while one in 15 cases of measles can turn life-threatening.
Gelatine is added as a stabiliser to many vaccines and medicines to prevent them degrading during transportation.
Until recently, Indonesia had one of the highest rates of measles in the world, according to the World Health Organization.
Although it produced its own jab against the infection as part of its childhood vaccination scheme, administration of the vaccine was patchy.
The Southeast Asian country switched to a combined MR jab last year as part of the WHO-led plan to eliminate measles and rubella globally by 2020.
Indonesia's ministry of health aimed to play 'catch-up' by vaccinating 67million children aged between nine months and 15 years old against both conditions.
The campaign started on the island of Java, where 95 per cent vaccine coverage was achieved, which caused rubella rates to drop by more than 90 per cent.
But the roll-out to the rest of the country, scheduled for August or September, was put on hold when the Islamic body Indonesian Ulama Council stated it had not certified the jab as halal.
Parents were immediately put off, with just six out of 38 students at a primary school in the province of North Sumatra receiving the MR jab.
Some parents even gathered outside the school to ensure their youngsters were not vaccinated, with some claiming their children had to miss out on the jab due to them being 'ill' at home.
With parents being put off, Indonesia's health ministry lobbied for the Indonesian Ulama Council to rule 'fatwa' on the vaccine, which would declare it as halal (permissible by Islamic law), last August.
Instead, the council declared it haram, or sinful, due to the jab containing gelatin from pigs' skin as a stabiliser.
The vaccine also has the pig protein trypsin, which prevents the components of the jab from sticking to its glass container while it is being manufactured.
The Indonesian Ulama Council stressed it was not blocking the vaccination campaign, with parents having the choice to vaccinate their children if they wish.
A message put out by the body at a public consultation on September 18 read: 'Trusted experts have explained the dangers posed by not being immunized.'
But the damage was already done with just 68 per cent of children being vaccinated on islands surrounding Java to date, according to the health ministry.
And in Aceh, which is ruled by Islamic law, vaccination rates are just eight per cent.
A spokesperson for the WHO's office in the capital Jakarta stated vaccination rates are poor in many countries.
Although the fatwa 'has caused some confusion at local levels, it is in fact clear in its directive and ultimately supportive' of vaccination, a spokesperson said.
The WHO remains positive about its plans to immunize 95 per cent of children in Indonesia and has extended the deadline to December.
Elizabeth Jane Soepardi, an independent public health expert, told Science 'we can't play' with vaccinating children against measles or rubella.
Ms Soepardi, who was director of disease surveillance and quarantine at Indonesia's health ministry until January, warned low vaccination rates 'could mean a boomerang for us'.
There is no certified halal alternative to the MR vaccine.
However, many Muslim clerics argue pork products in jabs are chemically purified, which makes them acceptable under Islamic law.
And in 2013, the Islamic Religious Council of Singapore declared a rotavirus vaccine, which protects against childhood diarrhoea, halal - despite the use of trypsin.
It ruled the enzyme was made pure by dilution and the addition of other pure compounds.
Jewish groups have previously said the use of gelatine in medicines does not violate their religious beliefs because it is not ingested.
If parents still refuse to vaccinate their children, manufacturing a halal jab may be the only option, according to Art Reingold, an epidemiologist at the University of California, Berkeley.
Cow gelatine has been suggested as an alternative, however, studies proving its safety and effectiveness may take up to 10 years.
In response to the development of halal vaccines, the WHO said: 'WHO works with regulatory authorities and manufacturers to ensure vaccines have the highest standards of safety and efficacy.
'We don't assess vaccines on other criteria.'
This comes after vegetarians claimed last month that the use of pork gelatine in vaccines and medicines is putting people off using them.
Lynne Elliot, chief executive of the Vegetarian Society, said it was 'disappointing' so many still contain animal ingredients.
MMR vaccination rates are currently poor in the UK, which has been blamed on the disgraced gastroenterologist Andrew Wakefield's discredited claims that the jab causes autism and bowel disease.
Only 91.9 per cent of children were vaccinated against measles between 2015 and 2016 compared to 94.2 per cent in 2014/2015 and 94.3 per cent in 2013/2014, according to NHS immunisation statistics.
https://www.dailymail.co.uk/health/article-6367491/Indonesia-set-face-measles-epidemic-Muslim-clerics-declared-vaccine-sinful.html
--------
Khashoggi killed for disclosing Saudi funding of anti-Iran TV channel: Guardian
Nov 9, 2018
Saudi dissident journalist Jamal Khashoggi, who was killed on October 2 in the Saudi consulate in Istanbul, might have lost his life for disclosing Riyadh's funding of an anti-Iran UK-based TV channel, the British daily Guardian suggests.
In a report on Oct. 2, the Guardian cited a source close to the Saudi government as saying that the anti-Iran London-based TV channel Iran International received an estimated $250m (£192m) from the Saudi royal court each year.
Now the Guardian correspondent, in a Friday tweet, has revealed that his source was Khashoggi, the Washington Post columnist who was assassinated on the same day as the report was published in a premeditated murder in Turkey blamed on Saudi Crown Prince Mohammed bin Salman also known as MBS.
The Guardian later quoted the same source as saying that the Iran International was being funded through a secretive offshore entity and a company whose director was a Saudi Arabian businessman with close links to bin Salman.
The source told the Guardian that Saud al-Qahtani, who served as media adviser to MBS and was among several senior officials removed in connection with Khashoggi's murder, was involved in the funding of Iran International.
"It is money coming from the royal court," the source – now revealed to be Khashoggi – said, when speaking about the Saudi crown prince.
Earlier this summer, the station came under fire for praising a terrorist attack in Iran's Ahvaz and broadcasting live coverage of a rally by the anti-Iran terrorist group Mujahedin Khalq Organization (MKO).
Khashoggi, an outspoken critic of bin Salman, entered the Saudi consulate in Istanbul on Oct. 2, but never came back.
The Saudi kingdom, after denying the murder for several days, finally admitted that Khashoggi had been murdered in the consulate during an interrogation by rogue operatives that had gone wrong after diplomatic pressure grew tremendously on Riyadh to give an account on the mysterious fate of its national.
However, Saudi Arabia said that it did not know the whereabouts of the body, which is widely believed to have been dismembered.
Turkish President Recep Tayyip Erdogan later announced the assassination had been ordered at the "highest levels" of the Saudi government.
https://www.presstv.com/Detail/2018/11/09/579493/Khashoggi-murder-Saudi-funding-Iran-International-Guardian
--------
US War on Terror Kills 500,000 in Afghanistan, Iraq and Pakistan
Nov 9, 2018
A study has revealed that the so-called US war on terror has killed about half a million people in Iraq, Afghanistan and Pakistan over the past 17 years.
The United States -- under Republican George W. Bush's presidency – launched the war on terror by invading Afghanistan on October 7, 2001 following the September 11, 2001 terrorist attacks which killed nearly 3,000 people in New York.
US officials assert that the attacks were carried out by 19 al-Qaeda terrorists but many experts have raised questions about the official account. They believe that rogue elements within the US government, such as former Vice President Dick Cheney, orchestrated the 9/11 attacks in order to accelerate the US war machine and advance the Zionist agenda.
Following the 9/11 attacks, the US and its allies invaded and occupied Afghanistan, and Washington also started intermittent drone strikes inside neighboring Pakistan. In early 2003, the US invaded Iraq under the pretext that the regime of Saddam Hussein possessed weapons of mass destruction. No such weapons, however, were ever found in Iraq.
According to the study by Brown University's Watson Institute for International and Public Affairs, the war on terrorism has killed about 507,000 people in Iraq, Afghanistan and Pakistan.
The study, released on Thursday, stated that many of the victims have been civilians. It added that the actual death toll is likely higher.
The study said the new toll has shown an 110,000 increase compared with the last count which was carried out in 2016.
The death toll in Afghanistan, as of October 2018, stood at about 147,000 people, including Afghan security forces, civilians and Taliban fighters. The figure also included the 6,334 American fatalities.
The war on terrorism also left 65,000 people dead in Pakistan, including 90 American contractors, nearly 9,000 local security personnel and more than 23,000 civilians. The rest of the casualties were militants, according to the study.
From 268,000 to 295,000 people died in Iraq following the US-led invasion and occupation, the study said.
"Though the war on terror is often overlooked by the American public, press and lawmakers, the increased body count signals that, far from diminishing, this war remains intense," the report said.
"This update just scratches the surface of the human consequences of 17 years of war," the study concluded.
https://www.presstv.com/Detail/2018/11/09/579486/US-war-on-terror-kills-500000-in-Afghanistan-Iraq-Pakistan
--------
India
Religious tourism still on agenda as India allows Pak pilgrims to visit Punjab
Nov 8, 2018
NEW DELHI: Despite the bitterness in ties, which saw the government recently calling off a proposed meeting between the foreign ministers, India seeks to keep religious tourism going with Pakistan. The government on Thursday issued visas to 170 Pakistan pilgrims, allowing them to visit Punjab later this month.
India had in 2015 agreed to promote religious tourism as one of the ways of improving relations with Pakistan.
Pakistani pilgrims will visit Sirhind in Punjab for the 3-day Rouza Sharif urs which is held annually at the tomb of Sufi saint Sheikh Farooqi.
India has in fact also released Pakistan prisoners after it cancelled the meeting between foreign minister Sushma Swaraj and her Pakistan counterpart Shah Mehmood Qureshi. Despite the nasty exchanges which followed the cancellation, the two countries seem keen on addressing humanitarian issues and focusing on religious tourism.
One of the issues which Swaraj and Qureshi were expected to address in their aborted meeting on the sidelines of UNGA was the opening of the Kartarpur corridor. The Sikhs in India's Punjab are keen that Pakistan allow them to visit Darbar Sahib in the Pakistani town of Kartarpur.
While the Imran Khan government had said that it was considering opening the corridor, Indian officials say this was never communicated officially by Islamabad to any Indian authority.
"They know our position on the issue. They've to first inform us if they are genuinely interested in facilitating Darbar Sahib visit," said a source here.
Pakistan sees opening of the Kartarpur border as a major concession to India and is unlikely to open the gate for Sikh pilgrims in the present circumstances when there is practically no engagement between the countries.
India is currently also considering visa applications from the Pakistan National hockey team for the World Cup starting November 28 in Bhubaneswar. Official sources said visas will most likely be given keeping in mind the importance of the event.
The Pakistan team had last played in India in 2014.
Participation in sporting events has been another area of contention between the two countries.
Islamabad has on several occasions accused India of delaying, if not denying altogether, visas to Pakistani athletes. It could not participate in the junior hockey world cup in 2016 over similar issues. On that occasion though, the international hockey federation had made it clear that the Pakistani team had applied for visas well after the official deadline.
https://timesofindia.indiatimes.com/india/religious-tourism-still-on-agenda-as-india-allows-pak-pilgrims-to-visit-punjab/articleshow/66548680.cms
--------
Taliban at Afghanistan talks table today, Delhi sending 'non-officials'
November 9, 2018
by Shubhajit Roy
India on Thursday said it would participate, at a "non-official level", in the Moscow format meeting on Afghanistan, which will be attended by a Taliban delegation. While the Afghan Foreign Ministry won't participate in the meeting on Friday, the Afghan High Peace Council — a government-appointed body tasked to talk to Taliban on the reconciliation process — will be there. This is a significant development, and a major departure, since New Delhi has not participated in a multilateral meeting involving Taliban in the past. At the last meeting on Afghanistan hosted by Russia, India had sent Deepak Mittal, Joint Secretary in charge of Pakistan, Afghanistan and Iran. But that meeting was not attended by Taliban representatives.
"We are aware that the Russian Federation is hosting a meeting in Moscow on November 9 on Afghanistan… Our participation at the meeting will be at the non-official level," Ministry of External Affairs' official spokesperson, Raveesh Kumar, said.
While New Delhi has taken a considered decision to join the meeting, it will not send a government official. Sources told The Indian Express that former Indian Ambassador to Afghanistan, Amar Sinha, and former Indian High Commissioner to Pakistan, T C A Raghavan, will attend the meeting as India's representatives.
Both Sinha and Raghavan, who are associated with government-funded think-tanks, have expertise and experience in dealing with the region. Sinha is a fellow with the Research and Information System for Developing Countries (a think-tank funded by MEA), and Raghavan is the director general of the Indian Council of World Affairs (another MEA-funded think-tank). Raghavan has also served as Joint Secretary
Sources said the Indian government took the decision to send former diplomats in consultation with the Afghan government. According to sources, India has participated in the multilateral meetings on Afghanistan in the past, aimed at providing security and stability in the conflict-torn country.
Moscow has said that the aim of the upcoming meeting is to help narrow the gaps in the approaches taken by the Afghan government and the Taliban to holding a direct intra-Afghan dialogue.
Maintaining that India supports "Afghan-led" reconciliation process, the MEA spokesperson said, "India supports all efforts at peace and reconciliation in Afghanistan that will preserve unity and plurality, and bring security, stability and prosperity to the country. India's consistent policy has been that such efforts should be Afghan-led, Afghan-owned, and Afghan-controlled, and with the participation of the government of Afghanistan."
While a five-member Taliban delegation led by Sher Mohammad Abbas Stanakzai, head of the Taliban's political council in Qatar, will attend the meeting, the US has also confirmed its participation. Regional players like Pakistan, China and Iran are among the participants of the meeting hosted by Russia.
The first round of the Moscow format was held on April 14 last year, when India was represented by Mittal, along with deputy foreign ministers and senior officials from Afghanistan, China, Iran, Kazakhstan, Kyrgyzstan, Pakistan, Russia, Tajikistan, Turkmenistan and Uzbekistan. The US had declined to attend the discussions.
According to the Russian foreign ministry, the main issue on the agenda is the coordination of regional efforts to assist the process of national reconciliation, in the interest of restoring peace in Afghanistan. This format has given Moscow a leadership position in the Afghanistan situation, at a time when the US is ceding the space.
The second round, which was to be held on September 4 this year, was postponed. After the Afghan government cancelled its participation, India too followed suit on the pretext that it would be untenable for New Delhi's representatives to share the table with a Taliban delegation — when Afghanistan's democratically-elected government would be staying away. New Delhi has always maintained that it will engage with the elected government of Afghanistan, and participating in the meeting would have given legitimacy to the Taliban.
Full report at:
https://indianexpress.com/article/india/taliban-at-afghanistan-talks-table-today-delhi-sending-non-officials-5438521/
--------
Southeast Asia
Terrorism Is Foe of Islam: Indonesian Defence Minister
November 09, 2018
Jakarta (ANTARA News) - Acts of terrorism are absolutely a foe of Islam, and they have nothing to do with the religion, currently embraced by more than two billion people across the globe, Indonesian Defense Minister Ryamizard Ryacudu stated.
"Acts of terrorists do not represent Islam at all. Islam is not like that. Instead, what they do have is indeed tarnished the image of Islam. Hence, they are actually the real enemy of Islam," he emphasized here on Thursday.
Speaking to journalists on the sidelines of a seminar titled "Ensuring Regional Stability Through Cooperation on Counter Terrorism" held as part of the 2018 Indo Defense and Forum, he noted that Islam is "rahmatan lil alamin," or blessing for the universe.
In halting the spread of terrorism and countering the threats of this crime against humanity, multilateral cooperation and collaboration involving all elements of community members within a nation are deemed necessary, Ryacudu remarked.
Speaking in connection with the ideology and acts of terrorism, General President of the Grand Mosque in Mecca and Prophet`s Mosque in Medina Sheikh Abdurrahman As-Sudais stressed that they run contrary to the teachings of Islam that promote compassion and tolerance.
"Terrorism has no religion and culture. However, several parties are attempting to change the image of Islam," Sheikh As-Sudais noted in a recent statement via a short message service received by Antara.
Indonesia has become the target of attacks by terrorists since 2000, and the spread of radicalism and terrorism continue to threaten the country until now.
Antara noted that last May, a church in the East Java city of Surabaya was attacked. Two years ago, the ISIS supporters in Indonesia had launched a suicide bombing and shooting attack in Jakarta on January 14, 2016, which led to the deaths of eight people, including three innocent civilians.
The incident has added to the list of deadly assaults carried out by terrorist cells in Indonesia. From 2000 to 2012, more than a dozen attacks took place in the capital city, including the Australian embassy bombing on September 9, 2004, and the JW Marriott and Ritz-Carlton hotel bombings on July 17, 2009.
One of the best ways to free Indonesia from the vicious circle of radicalism and terrorism is empowering women in the country, as they can actively contribute to the rescue of Indonesian children from being misled by terrorist recruiters.
https://en.antaranews.com/news/120298/terrorism-is-foe-of-islam-indonesian-defense-minister
--------
Islamic groups, Suhakam agree ICERD shouldn't affect constitution
8 Nov 2018
TALKS between Islamic civil society organisations, the Human Rights Commission of Malaysia (Suhakam) and other stakeholders on the International Convention on the Elimination of All Forms of Racial Discrimination (ICERD) have reached one conclusion: to not let it affect what is enshrined in the federal constitution.
Minister in the Prime Minister's Department Dr Mujahid Yusof Rawa said the discussions went on "harmoniously", and no party touched on the rights of Malays and rulers, and the special position of Islam.
https://www.themalaysianinsight.com/s/110070
--------
Saifuddin: Human rights arena not right venue to be 'Malay hero'
09 November 2018
PUTRAJAYA, Nov 9 — Datuk Saifuddin Abdullah advised proponents of racial and religious politics to pick better arenas to burnish their "Malay hero" credentials than to act gung-ho in the field of human rights.
The foreign affairs minister said last night Putrajaya will no longer act as a "village champion", but instead will play a more pro-active role in its bid to become a respected name in human rights globally.
"If you really want to protect the interest of Malays, the arena is not here. The arena is to strengthen the institutions and systems that can develop areas where the Malays are weak, that is education, economy," he said at a viewing session of Malaysia's Universal Periodic Review (UPR) of human rights in Wisma Putra here.
"If you want to be a Malay hero, this is not the place. You be a Malay hero by increasing the performance of Malay children's education, increasing their entrepreneurship, economic productivity, then you'll be a Malay hero.
"There are elements of Malay, Islam and the Constitution in human rights. We are confident we will bring this to a higher stage," he added.
Saifuddin previously lamented that segments of society either opposed to the promotion or implementation of human rights were hypocritical about discrimination and held a siege mentality that propagated undue fear of human rights.
Amid accusations that the Malays' "special position" would be lost if Putrajaya ratifies international human rights conventions, Saifuddin said the argument is used by some, such as Opposition party Umno, in a bid to remain relevant.
"They take the opportunity to defend themselves. Umno has failed to take care of the Malays' special rights in the economy. So, this is their last chance to prove their relevance," he said.
The minister said Malaysia has much to offer the world in terms of ideas and opinions when it comes human rights, democracy and freedoms.
"We're playing in the international arena for world peace and prosperity We have to jump and play in the arena, not shouting outside, including human rights issues. We must ratify the international conventions and other matters," he said.
"When we play football, we play to become World Cup champions. Not just as merely village champions. That is the same with human rights We have to play a role, and pro-actively with wisdom, taking care of culture and religion. But not doing it is not the way."
Full report at:
https://www.malaymail.com/s/1691537/minister-govt-will-continue-defending-fundamental-constitutional-principles
--------
Saudi authorities question Rizieq over 'extremist' flag at his house in Mecca
November 7, 2018
Saudi Arabian security authorities have questioned Rizieq Shihab, a firebrand cleric who has been on the run in the country, over reports of the installation of an Islamist flag at his house in Mecca, the Foreign Ministry has said.
Indonesian Ambassador to Saudi Arabia Agus Maftuh Abegebriel said he received a report on the detention of the cleric on Monday.
"Our staff eventually informed that Mecca police went to Rizieq's house on Monday morning to investigate the allegation of the installation of a black flag that resembles the flag of Islamist extremist groups, on the rear side of his house," Agus said in a statement on Wednesday.
Later that afternoon, Mecca Police and Saudi Arabia's General Investigation Directorate took Rizieq in for questioning at a nearby police station, where he was eventually detained.
Indonesia's representative office in Jeddah dispatched staff to provide legal assistance to Rizieq. Saudi authorities released Rizieq on bail at around 8 p.m. local time on Tuesday.
Saudi Arabia has been banning the installation of flags and other materials resembling those used by extremist groups, including the Islamic State group.
The firebrand cleric and leader of the Islam Defenders Front (FPI) has been in Saudi Arabia for more than a year. In September, the Indonesian Embassy in Riyadh said Rizieq had overstayed his visa in the country, according to a statement issued responding to complaints from his supporters who claimed that restrictions had been imposed on the activities of the FPI leader in Mecca.
Full report at:
http://www.thejakartapost.com/news/2018/11/07/saudi-authorities-question-rizieq-over-extremist-flag-at-his-house-in-mecca.html
--------
Arab World
Dialog with Sunni MPs key to formation of Lebanese govt.: Hezbollah
Nov 8, 2018
Lebanon's Hezbollah resistance movement has urged Prime Minister-designate Saad Hariri to start dialog with Sunni lawmakers in order to remove remaining barriers to the formation of a new government in the Arab country.
Six months after a parliamentary election in Lebanon, a row over Sunni representation has obstructed the formation of a national unity government that is expected to group most of Lebanon's political parties.
"We believe that the key to the solution is in the hands of the prime minister designate," said Hezbollah Deputy Secretary General Sheikh Naim Qassem.
"He is the one who can accomplish the government tomorrow, and he is the one who can postpone the government to another time," he said in comments broadcast by al-Manar TV.
A deal looked close last week when the Christian Lebanese Forces Party ceded ground to President Michel Aoun and his Free Patriotic Movement, sparking a row over Christian representation that had been seen as the main obstacle.
However, PM-designate has yet to resolve a row over the Sunni representation.
Lebanon is in dire need of a government able to implement the economic reforms that the International Monetary Fund (IMF) says are needed to put its public debt on a sustainable path. Lebanon has the world's third largest public debt as a proportion of the economy, and growth is stagnant.
Lebanon's first parliamentary vote in nine years was held on May 6, with over 500 candidates vying for seats. Turnout was 49.2 percent, according to officials.
Hezbollah and its political allies secured over half the seats.
Hezbollah as well as groups and individuals affiliated to it won at least 67 seats, according to the results cited by politicians and campaigns and reported in Lebanese media.
Hezbollah's allies include the Amal Movement led by Nabih Berri and the Christian Free Patriotic Movement founded by Aoun.
https://www.presstv.com/Detail/2018/11/08/579473/Hezbollah-Lebanon-Hariri-Sunni-government-formation
--------
Tens of SDF Militants Flee Possible Battle with Turkish Army in Eastern Euphrates
Nov 08, 2018
"A sum of 130 SDF militants defected en mass the Kurdish-dominated militia group in al-Houl town in Southeastern Hasaka," the Arabic-language al-Manar news network reported.
Media activists also said that the SDF military patrols are looking for the defected members in Eastern Hasaka.
Meantime, the Kurdish-language Hawar news reported the Turkish army pounded the two villages of Jagherli and Salib Koran in Kobani region North-East of Aleppo province.
Also, the village of Susk to the West of Tal Abyadh city came under heavy machine-gun attack by the Turkish army.
The SDF military positions in Hasaka, Raqqa and Aleppo provinces have come under attack by the Turkish army over the past week as reports a growing number of reports are surfacing the media on Turkey's preparations for starting battle with the Kurds in Eastern Euphrates.
In a relevant development, the US and Kurdish forces patrolled Syria's regions bordering Turkey, including Hasaka and Aleppo.
Meantime, the Turkish army's troops launched mortar attacks on Tal Jeyhan village in Torbeh Sibeh region East of Qameshli.
The Turkish army troops also attacked al-Mahta district of Ra'as al-Ain border town in Hasaka province.
Lebanese media outlet reported on Monday that the Turkish warplanes were carrying out an increasing number of flights over the border with Syria's Hasaka as Ankara ground troops were preparing to launch a large-scale operation against Kurds on the Eastern banks of the Euphrates River.
The Arabic-language al-Manar TV Channel reported that the Turkish fighter jets were flying in large numbers over the border region with Hasaka province in Northeastern Syria.
It further said that the US-led coalition forces and the Syrian Democratic Forces (SDF) held joint patrol along Syria-Turkey border between the two small towns of al-Darbasiyah in Northern Hasaka, and Ra'as al-Ein in Northwestern Hasaka.
The TV channel went on to say that a large number of Turkish troops and Ankara-backed militants have been put on alert along the contact lines with the SDF in Northern Syria to be used in a military operation on the Eastern banks of the Euphrates River.
Full report at:
http://en.farsnews.com/newstext.aspx?nn=13970817000534
--------
US-Backed Militia Send More Convoys to Deir Ezzur as People's Protests Heighten
Nov 08, 2018
The SDF forwarded long convoys of militants and equipment to the village of Tayb al-Fal East of Deir Ezzur province.
The SDF also sent another military convoy from its base in Hasaka province to the village of al-Takihi as well as towns of al-Shahil and Ziban in the Southeastern parts of Deir Ezzur province.
Meantime, field sources said that the SDF deployed its military equipment in five schools that they had formerly declared as military zones, and underlined that the deployment of the equipment has taken place after unrests in the region and intensified attacks by unknown assailants on SDF military positions.
The sources noted that an SDF militant has been killed by an unknown assailant in the village of al-Jameh in Southeastern Deir Ezzur, adding that a new wave of arrests has started in the town of Zabian.
Meantime, residents of Hamar al-Ala village in Northwestern Deir Ezzur staged protest against corruption of the local council of the SDF in the village.
In a relevant development last month, a large convoy of US supplied military vehicles made their way to the Southeastern countryside of Deir Ezzur province, the Syrian Observatory for Human Rights (SOHR) reported.
According to the SOHR report, more than 50 armored vehicles of the US-led Coalition entered Southeastern Deir Ezzur, the AMN reported.
Full report at:
http://en.farsnews.com/newstext.aspx?nn=13970817000500
--------
Infighting Intensifies among Terrorists in Aleppo's Afrin, Insecurity Rising
Nov 08, 2018
The Kurdish-language Hawar news reported that infighting among terrorists of Ahrar al-Sharqiyeh and other elements of Jeish al-Islam intensified in al-Sanaeh district and Kaveh square in central Afrin in Western Aleppo when they disagreed over their share of people's plundered properties.
Tens of terrorists have been killed and wounded from both sides, the news outlet said.
Hawar news also reported heavy clashes among Ankara-backed militants on the road to Amara village in Mubata region and Joqeh village in the Center of Afrin as well as clashes on Qatal Jundo road.
Meantime, all shops and businesses were closes and people refrained from leaving their houses.
The Turkish army and their allied militants have occupied Afrin for several months now and infighting among them over the share of people's seized properties has risen.
In a relevant development on Wednesday, heavy clashes erupted among terrorists of Jeish al-Islam and Ahrar al-Sharqiyeh in Afrin region in Western Aleppo, leaving a large number of militants dead and many more injured from both sides.
Jeish al-Islam terrorists and militants of Ahrar al-Sharqieh heavily clashed near Kaveh al-Hadad in Afrin in Western Aleppo, local sources reported.
The sources noted that fierce clashes left many terrorists dead and many others wounded form both sides. Meantime, several civilians were also killed in the infighting between the two terrorist groups.
"The clashes took place over the deployment of the militants in the region, while the militants' so-called Police Forces were sent to the region to put an end to the clashes," the local sources said.
In a relevant development on Sunday, Ankara-backed terrorists engaged in fresh round of clashes in the towns of Azaz and Afrin in Northern and Northwestern Aleppo.
Gunmen of Liwa al-Shamal and their rival terrorists known as Police Forces, both backed up by the Turkish army, engaged in heavy fighting in the town of Azaz in Northern Aleppo.
The infighting came after the Police Forces arrested 2 Liwa al-Shamal militants.
The infighting inflicted several casualties on both sides.
Local sources, meantime, said that al-Shamiyah Front sent its gunmen from Afrin to Azaz following the infighting.
Other sources in Afrin reported that militants of Sultan Murad clashed fiercely with other rival militants in the village of Kafr Janah in Afrin, adding that several terrorists were killed and at least 10 more were wounded in the infighting between the two Ankara-backed militant groups.
The Kurdish-language Hawar News reported on Thursday that Ferqat al-Hamzeh, Sultan Murad, Faylaq al-Sham, Ahrar al-Sham and other terrorist groups in Afrin cut the forest trees in the villages and jungles.
It added that a large number of the trees were sent to Turkey, while several other cargoes were sold to the Syrian dealers.
The terrorists also cut off and stole olive trees in different parts of Afrin after harvesting them.
According to the report, militants started imposing their rule over new regions in Afrin, including Tal Haloubiyeh in Shara region and a hill between the village of Marateh and Bablit in Central Afrin, starting measures to extract artifacts and crops.
Turkey-backed militants have intensified plundering historical artifact in occupied Afrin region.
Full report at:
http://en.farsnews.com/newstext.aspx?nn=13970817000520
--------
Syrian Army Sends More Military Convoys to Sweida Desert to Counter ISIL
Nov 08, 2018
Battlefield sources said that the Syrian army dispatched hundreds of soldiers, tens of military and armored vehicles and heavy equipment from Hazar town in Quneitra province to the surrounding areas of Toloul al-Safa region in the Eastern desert of Sweida.
The sources noted that a large number of Syrian army's units and military equipment have been dispatched to Toloul al-Safa in the past week.
The Syrian Army's Special Forces who have participated in different battles of Damascus, Quneitra and Dara'a are also taking part in the anti-ISIL military operation in Sweida.
Last month, the army, led by their elite 4th Armored Division and 5th Corps, began their push up the steep cliffs of Toloul al-Safa region, striking several sites controlled by the ISIL terrorists.
Not long after launching their large-scale assault, the Syrian Army found themselves involved in a tough battle with the ISIL terrorists at one of several rocky cliffs in Toloul al-Safa region.
According to a military source in the provincial capital of Sweida, the Syrian army managed to advance up one of the highest peak in Toloul al-Safa region, leaving them only a short distance from imposing fire control over much of the area.
The military source said that the Syrian army did suffer over ten casualties trying to make this advance; they would also inflict heavy losses in the ISIL ranks.
Full report at:
http://en.farsnews.com/newstext.aspx?nn=13970817000203
--------
Egypt court jails 65 suspected ISIS extremists
8 November 2018
An Egyptian court on Thursday sentenced 65 suspected ISIS extremist group members to between five years and life in prison for setting up a "terrorist cell", a court official said.
The alleged cell had members in various parts of impoverished Upper Egypt and was led by an "emir" Mostafa Ahmed Abdelaal
The militants, charged in 2017, had "set up a terrorist cell in Upper Egypt which declared allegiance to (ISIS leader) Abu Bakr al-Baghdadi", the court official said.
The court sentenced 18 of the defendants to life terms (25 years) and another 41 to 15-year prison terms. It also handed six minors five years each in jail and acquitted two suspects.
The sentences can be appealed.
Since 2014, the government and security forces have cracked down hard on extremists.
The Egyptian branch of ISIS has led an insurgency in North Sinai and carried out attacks across the country.
Egypt's army launched a major offensive in February dubbed "Sinai 2018" to dislodge the insurgents from the peninsula.
More than 450 suspected extremists and around 30 Egyptian soldiers have been killed since the offensive began, the army said in October.
Extremist attacks in recent years have killed hundreds of police, soldiers and civilians.
ISIS claimed responsibility for an attack last week against Egyptian Christians in Minya province, which killed six Copts and one Anglican.
Full report at:
https://english.alarabiya.net/en/News/middle-east/2018/11/08/Egypt-court-jails-65-suspected-ISIS-extremists.html
--------
Car bomb blast kills 3, wounds 12 in Iraq's Mosul
Nov 8, 2018
At least three people have been killed and a dozen others wounded Thursday after a car bomb exploded near a restaurant in the Iraqi city of Mosul in a rare terrorist attack since Daesh militants were flushed out last year.
The car bomb went off around dinner time at a restaurant in Iraq's second biggest city, Iraq's security services said in a statement.
It is not yet clear whether the victims were civilians or combatants, but witnesses in Mosul said the restaurant is known to be frequented by security personnel.
There was no immediate claim of responsibility for the blast, but Daesh terrorists have continued to wage guerrilla-like attacks across Iraq after losing their control over large swathes of lands in the Arab country.
On July 2017, then Iraqi prime minister, Haider al-Abadi, formally declared victory over Daesh in Mosul, which served as the terrorists' main urban stronghold in Iraq.
In the run-up to Mosul's liberation, Iraqi army soldiers and volunteer Hashd al-Sha'abi fighters had made sweeping gains against Daesh.
Full report at:
https://www.presstv.com/Detail/2018/11/08/579481/Terrorist-attack-Mosul-Iraq-Daesh
--------
North America
Brazil's Bolsonaro says embassy move to al-Quds 'not decided yet'
Nov 7, 2018
Brazil's far-right President-elect Jair Bolsonaro has hinted he may not go ahead with his controversial plan to move his country's embassy from Tel Aviv to the occupied Jerusalem al-Quds, saying such a transfer "hasn't yet been decided yet."
Bolsonaro's apparent wavering came in remarks on Tuesday, during his first visit to the capital Brasilia since his election victory late last month, and in response to a reporter's question about Egypt's decision to postpone a planned visit to the African country by Brazil's Foreign Minister Aloysio Nunes apparently over the embassy plans.
"From what I know, it's due to a calendar problem," Bolsonaro claimed. "It would be premature for a country to take retaliatory measures against something that hasn't yet been decided."
Bolsonaro — who is due to take office on January 1, 2019 after winning Brazil's presidential election on October 28 — reiterated a campaign pledge last week to follow the lead of US President Donald Trump in moving his country's embassy to Jerusalem al-Quds.
That remark triggered anger across the Muslim world. A senior Palestinian Authority official blasted the plan as "provocative and illegal" and a spokesman for the Hamas resistance movement described it as "hostile."
If Brazil's president-elect does decide to act on the election promise, it will potentially prove costly for the country, since it is a major exporter of halal meat to the Muslim world.
It will also make the largest Latin American state the third nation — after the US and its client state of Guatemala — to make the controversial transfer.
Israeli regime forces occupied Jerusalem al-Quds in 1967 in a move never recognized by the international community. The Palestinians want the city as the capital of a future state for themselves.
Tensions have been running high in the occupied Palestinian territories and the Gaza Strip — administered by Hamas but blockaded by Israel — since last December, when Trump decided to unilaterally recognize Jerusalem al-Quds as Israel's "capital" and relocate Washington's embassy from Tel Aviv to the occupied city.
On December 21 last year, the United Nations General Assembly overwhelmingly voted in favor of a resolution that calls on the US to reverse its controversial policy shift.
Despite the vote, the US went ahead with the embassy transfer on May 14.
https://www.presstv.com/Detail/2018/11/07/579342/Brazil-presidentelect-Bolsonaro-Israel-embassy-move-Tel-Aviv-Jerusalem-not-decided-yet
--------
Nation of Islam leader warns Trump not to trigger war in Middle East 'at the insistence of Israel'
November 8, 2018
DUBAI, United Arab Emirates — Minister Louis Farrakhan, the leader of the Nation of Islam, warned President Donald Trump not to pull "the trigger of war in the Middle East at the insistence of Israel," speaking Thursday while on a visit to Iran.
The 85-year-old Farrakhan, long known for provocative comments widely considered anti-Semitic, criticized the economic sanctions levelled by Trump against Iran after America's pullout from the nuclear deal between Tehran and world powers.
Farrakhan told journalists in Tehran that he is "begging our president and the government that supports him to be very, very careful."
"The war will trigger another kind of war which will bring China, Russia, all of the nations into a war," he said. "The war will end America as you know it."
Farrakhan leads the Nation of Islam, a black separatist religious movement. The Nation has been largely closed off to outsiders, making it impossible even for those who follow the movement closely to gauge its strength.
For Farrakhan, the height of his prominence came when he organized the 1995 Million Man March in Washington, a symbol of black pride and empowerment.
Earlier on his trip to Iran, state television published a short video clip of Farrakhan trying to say "Death to Israel" in Farsi, a common chant at rallies in the decades after Iran's 1979 Islamic Revolution. He began to repeat it, but the crowd at Tehran University sitting at Farrakhan's event then substituted "America" for "Israel," drawing laughter.
After the video clip spread online, Farrakhan issued a statement saying: "I never led a chant calling for death to America."
"I asked a question about how to pronounce the chant in Farsi during my meeting with Iranian students and an examination of the video shows just that," he said.
On Thursday, Farrakhan reacted angrily to an Iranian state television's request to repeat the chant. However, he kept his harshest words for Trump.
Full report at:
https://nationalpost.com/news/world/louis-farrakhan-in-iran-warns-trump-a-mideast-war-possible
--------
Trump's policies to bring about death of US, Muslim leader Farrakhan warns
Nov 8, 2018
Leader of the US-based Nation of Islam Movement Louis Farrakhan has warned that President Donald Trump's policies may result in the death of America.
Speaking in a Thursday press conference held at Press TV headquarters in Tehran, Farrakhan said Trump's policies are eroding trust in the US across the world.
He warned that the Trump administration's policies, including its new sanctions on the Iranian nation, will "bring about the death" of the United States.
"The policies of our government would bring about a war in the Middle East that would be a trigger to the greatest war that has ever been; the war of Armageddon spoken of in the Bible," Farrakhan said, quoting his "teacher" Elijah Muhammad, the former leader of the Nation of Islam.
"If the trigger of war in the Middle East is pulled by you using your surrogates at the insistence of Israel, then the war will trigger another kind of war, which will bring China, Russia, all of the nations into a war," Farrakhan said, addressing Trump.
"The war will end America as you know it," he said, adding "if you do not heed the warning and correct your path, death will come."
Farrakhan lashed out at the Trump administration for reimposing sanctions on Iran, saying the bans are "hurting the people of Iran," not the Iranian government, as claimed by American officials.
He said Iran fulfilled what it had signed to do on the Joint Comprehensive Plan of Action (JCPOA), but America did not.
"In America they said that they gave Iran billions of dollars, but they never said that they were holding over 150 billion dollars of Iranian money and they were supposed to give it back during the treaty arrangement."
The Muslim leader pointed to the "Death to America" slogan chanted by Iranian people to condemn hostile US policies, and argued that "they have a right to chant it."
He also blasted Trump's policies in the Middle East, saying the US is trying to create further division between Shias and Sunnis in the region.
"President Trump … asked Saudi King Salman to call all the Sunni nations to gather in Riyadh and he would come and address them. And when Trump went to Riyadh, I saw him with pictures of new jet fighter planes, showing them to the king, and then they announced a $110 billion sale of weapons to Saudi, [and] the UAE; billions of dollars for weapons."
"But if you listen carefully to his speech, he was making … division between Sunni and Shia, and aiming those weapons subtly toward Iran, and then openly saying to all those nations they should reject their brother Iran," he said.
Farrakhan condemned US arms sales to Saudi Arabia, which are being used to slaughter the innocent people of Yemen, saying, "What is going on in Yemen is a crime against humanity with American planes, American bombs used."
Full report at:
https://www.presstv.com/Detail/2018/11/08/579456/Farrakhan-Trump-policies-death-Iran-sanctions
--------
Muslim Group Sues Troy over Mosque Denial
Nov. 8, 2018
The city of Troy discriminated against a Muslim community group by rejecting plans to build an Islamic centre, according to a federal court lawsuit filed Thursday.
The non-profit Adam Community Center sued the city council, planning commission and members of Troy's zoning board of appeals. The group has tried unsuccessfully to build a community center in Troy, which has approximately 53 places of worship within its 33.6-square-mile border but not one for Muslims, according to the Michigan chapter of Council on American-Islamic Relations.
The lawsuit alleges Troy officials purposely and unconstitutionally tried to block the Muslim community from building a mosque along Rochester Road, north of Big Beaver Road, by unfairly and illegally applying zoning ordinances.
Adam Community Center sued five months after the Troy Zoning Board of Appeals indicated there was no acceptable place in the city left for the group to build a mosque. The decision prompted a Justice Department investigation into the city's zoning board of appeals practices, which is ongoing, according to the Council on American-Islamic Relations.
"Freedom of religion is a benchmark of American civil rights and is a beacon of freedom that shines across the globe," Amy Doukoure, staff attorney for the Council on American-Islamic Relations, said in a statement Thursday. "When public officials are apparently guided by Islamophobia in their decision-making, we have an obligation to fight back to preserve our religious freedoms."
Troy officials "will aggressively defend this lawsuit," City Attorney Lori Grigg Bluhm wrote in an email to The News.
"The city articulated several reasons for its denial of Adam's multiple and significant variance requests for a retrofit of an existing building on Rochester Road that abuts residential properties," she wrote.
The center could not have been built without parking and other variances, Grigg Bluhm added.
"Some of these requested variances were significant," she wrote. "Through the variance process, (Adam) was required to demonstrate that they could not develop the property in accordance with Troy's zoning ordinances because of hardships that related to the land itself."
The lawsuit is the latest legal fight involving a Metro Detroit municipality and Muslim groups trying to build places of worship.
The Islamic council and the Justice Department settled a similar case in 2016 after Pittsfield Township denied zoning for an Islamic school. Last year, the city of Sterling Heights paid a financial settlement to the Muslim community stemming from a zoning denial for an Islamic center.
Full report at:
https://www.detroitnews.com/story/news/local/oakland-county/2018/11/08/muslim-group-sues-troy-over-mosque-denial/1929628002/
--------
Pakistan
Pakistan President Urges Need To Understand Real Spirit Of Islam
November 9, 20186
President Dr Arif Alvi Thursday called for understanding the real spirit of Islam and practically following in the footsteps of Islam by emulating teachings of peace, harmony and forgiveness for a tolerant and cohesive society.
Addressing the inaugural session of a Sufi Conference here at the Bahauddin Zakariya University, he said the challenges being faced by the country could only be addressed by pursuing a policy of tolerance and understanding.
The president expressed confidence that the new government would fulfil its pledge to end poverty from the country and ensure provision of shelter for all.
He said it would be the real service to the people of Pakistan and help them stand on their own feet by providing them the basic necessities of life.
He said during the forthcoming month of Rabbiul Awwal, Aiwan-e-Sadr would welcome Ulema and Mashaikh and said a special Mehfil-e-Milad would be held and attended by children from the orphanages.
Foreign Minister Shah Mehmood Qureshi, addressing the conference, called for mainstreaming of the madaris – schools dedicated to religious teaching, so that their students could attain knowledge in all spheres of life. He said there was a need to learn from Sufism.
He said Sufis were the flag-bearers in spreading Islam in the sub-continent and there was a need to emulate their examples of tolerance, to counter the threats of extremism and terrorism.
He said the Sufis had always spread a message of peace and love, aimed at building a stronger society.
He said Pakistan was at a critical stage and required cohesion and unity amongst all ranks and files. He also stressed the need for interfaith harmony and said its importance had risen all the more in a polarized world.
He said the Bahauddin Zakariya University was playing a key role in bringing people from all over Pakistan together and building harmony and brotherhood.—APP
https://pakobserver.net/president-urges-need-to-understand-real-spirit-of-islam/
--------
Taliban leader Baradar released at US request for political settlement in Afghanistan: Pakistan
Nov 8, 2018
ISLAMABAD: Pakistan on Thursday said the Afghan Taliban's former deputy chief Mullah Abdul Ghani Baradar was released from jail at the request of the US as part of efforts to pursue a political settlement in war-torn Afghanistan.
"Baradar was released to provide impetus to the peace and reconciliation efforts in Afghanistan. Pakistan will continue to pursue reconciliatory efforts to expedite and facilitate the process to our fullest ability," said Pakistan's Foreign Office spokesperson Mohammad Faisal.
Baradar's release was facilitated by Pakistan at the US request in order to move forward on the shared objective of pursuing a political settlement in Afghanistan, he said.
The Taliban leader was in custody for the last many years after his capture by Pakistani authorities in a search operation.
"This decision was taken following the visit of the US Special Envoy on Afghan Reconciliation, Ambassador Zalmay Khalilzad to the region and his meetings with Taliban representatives in Doha," Faisal said.
In recent months, the Trump administration has increased pressure on Pakistan to limit the freedom of Taliban leaders, forcing them to join Afghan peace talks.
Last month, senior American diplomat Khalilzad, tasked with helping find a way to end the war in Afghanistan, met with Taliban representatives in Qatar.
Baradar, one of the four top commanders who formed the Afghan Taliban in 1994, was captured by Pakistani security agencies in Karachi in 2010.
He was finally released from jail on the solicitation of the government of Qatar, a Pakistani media report said last month.
Baradar, who is in his 50s, is believed to be the highest ranking Afghan Taliban prisoner freed so far.
He had held several senior positions in Afghanistan's Taliban government before its fall in 2001. He was once considered the most influential Taliban leader after Mullah Muhammad Omar.
Born in the southern Afghan province of Uruzgan, Baradar fought in the war to expel Soviet troops from Afghanistan in the 1980s. When the Taliban came to power in 1996, Baradar became deputy defence minister.
After the Taliban regime was toppled by US-led forces in 2001, hundreds of Taliban hardliners fled over the border to Pakistan.
Baradar was among them.
Recently, a high-level delegation from Qatar also visited Islamabad and met the senior Pakistani leadership, the report said.
It did not give any details of Baradar's whereabouts after his release. It was also not clear whether he was handed over to Afghanistan or stayed in Pakistan.
It was reported a few times that Baradar had been released in Pakistan to negotiate with the Afghan Taliban but he could not be freed due to unacceptable conditions imposed by the Afghanistan government, the report said.
Faisal said Pakistan has always been emphasising the need for seeking a negotiated settlement of the Afghan issue with the participation of all stakeholders.
Responding to a question about the proposed peace talks in Moscow on Afghan peace efforts, the spokesperson said a Pakistani delegation led by an additional secretary will attend the dialogue.
He said a trilateral meeting of Pak-China-Afghan foreign ministers will be held in Kabul. "We expect that the meeting can be a step towards lasting peace and stability in Afghanistan," he said.
Full report at:
https://timesofindia.indiatimes.com/world/pakistan/taliban-leader-baradar-released-at-us-request-for-political-settlement-in-afghanistan-pakistan/articleshow/66547621.cms
--------
Opposition activists behind violence during TLP protest: Afridi
Iftikhar A. Khan
November 09, 2018
ISLAMABAD: Minister of State for Interior Shehryar Afridi on Thursday said that activists of some political parties, including the Pakistan Muslim League-Nawaz (PML-N), were behind the incidents of violence across the country during the recent three-day protest against acquittal of Christian woman Aasia Bibi in a blasphemy case.
Speaking in the Senate, he said Shahbaz Sharif, Bilawal Bhutto-Zardari and other leaders of opposition parties had suggested that force should not be used against the protesters, but regretted that workers of the parties giving such advice were involved in violence.
Mr Afridi said investigations were under way and made it clear that those who had taken the law into their own hands and were involved in damaging and torching public and private properties would not be spared and a strict action would be taken against them. He said there would be no compromise with the people who challenged the writ of the state.
"We showed Tehreek-i-Labbaik Pakistan (TLP) the footage of the people being violent on the streets and they disowned them," he said, adding that he would shortly brief Prime Minister Imran Khan on the meeting with the TLP leadership.
About the agreement between the government and the TLP leadership to end the protest against Aasia's acquittal by the Supreme Court, Mr Afridi said the state had signed the document because 'Naya Pakistan' did not believe in bloodshed.
Shortly after the apex court's verdict on Oct 31, the TLP had blocked roads in major cities of the country for three days, condemning the prime minister, the army chief and the judges who had acquitted Aasia Bibi.
The TLP had called off the protests after striking a deal with the government. Under the five-point agreement, the government said it would not object to the review petition filed against the acquittal of the woman.
Claiming that not a single drop of blood was spilled during the protests, Mr Afridi said the state would not use the stick against the TLP leadership but embrace and engage them in dialogue.
He chided those criticising the TLP leaders for using derogatory language against the judiciary, military and government and said they had apologised for it in the agreement. It was the right of every citizen to move a review petition against a court verdict, he added.
He called for drawing red lines for lawmakers as well, saying that national interest should not be damaged at any cost. "God forbid, if Pakistan is placed on the FATF blacklist on the grounds of the violence footage and the speeches made in parliament, who will be responsible?" he asked. He said no one should act in a manner that damaged the country's interests and made it a laughing stock.
Minister for Science and Technology Azam Swati defended the Supreme Court judgement in the Aasia Bibi case, saying the FIR in the case had been lodged five days after the incident and the eyewitnesses did not record their statements. He said there were contradictions in the statements about the basis for quarrel between Aasia and other women, as well as the number of persons present in the jirga where the Christian woman was said to have confessed to committing blasphemy.
Mr Swati was on his feet when PML-N Senator Mushahidullah Khan pointed out lack of quorum.
Senate Chairman Sadiq Sanjrani, who appears to have his own rules to follow, ordered quorum bells to be rung for three minutes, instead of five minutes as mentioned in Rule 5 of Rules of the Procedure and Conduct of Business in Senate 2012. A count was made again after the bells stopped ringing and after finding that less than one-fourth members were present in the house, the chairman read out the prorogation order.
At the outset of proceedings, the opposition protested and staged a walkout from the house against the absence of ministers. When Leader of the House in the Senate Syed Shibli Faraz said they were attending a cabinet meeting, Chairman Sanjrani observed that the house proceedings were more important than the cabinet.
Senator Mir Hasil Bizenjo of the National Party said that the remarks made during the recent TLP sit-in were a challenge not only for the government, but also for the state. He regretted that a group had taken control of the federal capital.
Full report at:
https://www.dawn.com/news/1444489
--------
Fazl-led five-party alliance holds big rally, criticises govt
November 09, 2018
KARACHI: The Muttahida Majlis-i-Amal staged a huge rally on Shahrah-i-Quaideen on Thursday where leaders of the five-party alliance vowed to continue their struggle across the country for the "protection of the blasphemy law".
Chief of his own faction of the Jamiat Ulema-i-Islam (JUI-F) Maulana Fazlur Rahman, who is the MMA president, criticised the Supreme Court's verdict to acquit Aasia Bibi in a blasphemy case, saying that the decision was taken "only under pressure of international forces". He, however, took the opportunity to target more the government of his rival Pakistan Tehreek-i-Insaf for the final verdict in the Aasia Bibi case.
"The incumbent rulers were brought in power under a set agenda," he said. "They have been brought to power to weaken Pakistan's sovereignty and ideological identity. But we are here to counter every such move which is against Islamic guidance and the ideology of Pakistan. We are not afraid of any state action and would continue our struggle to achieve our target."
Without naming any individual or organisation, he said "the agents of Jews" had brought a planned agenda, but warned that he and his party would never let anyone "hoist Israeli flag in Pakistan". The MMA chief also announced that they would hold rallies and protest demonstrations across the country on Friday [today] against the release of Aasia Bibi and gave a roadmap of activities from the platform of the alliance for the next few weeks.
"After this successful rally, we would be gathering in Lahore on Nov 15 for a million march and then on Nov 25, the MMA would organise a Khatm-i-Nubuwwat conference in Sukkur. We would not compromise when it comes to respect of Prophet Muhammad [PBUH] and use our every legal and constitutional right for peaceful protests," added the maulana.
The rally was also addressed by Karachi chief of the Jamaat-i-Islami and MMA Hafiz Naeemur Rahman, who warned that the people of Pakistan would not accept Aasia Bibi's flight from the country and the government would have to pay a heavy price for any such move.
Full report at:
https://www.dawn.com/news/1444426/fazl-led-five-party-alliance-holds-big-rally-criticises-govt
--------
US peace envoy to visit Afghanistan, Qatar, Pakistan, UAE
November 09, 2018
WASHINGTON: US special envoy for peace in Afghanistan, Zalmay Khalilzad, will visit Afghanistan, Pakistan, the United Arab Emirates (UAE) and Qatar from November 8 to 20 to push for peace negotiations with the Afghan Taliban, the State Department said on Thursday.
Khalilzad met Taliban leaders in Qatar last month as part of efforts to find a way to end the 17-year-long war in Afghanistan, according to the Islamist group that was ousted from power by US-led forces in 2001.
"On his last trip to the region in October, Special Representative Khalilzad called on the Afghan Government and the Taliban to organize authoritative negotiating teams, and has been encouraged to see that both parties are taking steps in that direction," the State Department said in a statement.
"The United States remains committed to a political settlement that results in an end to the war and to the terrorist threat posed to the United States and the world."
The Taliban are fighting the US-backed Kabul government to re-impose strict Islamic law and have stepped up attacks in strategic provinces.
A senior Taliban official said after last month's talks that Khalilzad had asked the Taliban leadership, based in the Qatari capital Doha, to declare a ceasefire in Afghanistan for six months.
In exchange, the Taliban want the Afghan government to release fighters from jails and the swift removal of foreign forces fighting alongside Afghan troops.
Full report at:
https://www.pakistantoday.com.pk/2018/11/09/us-peace-envoy-to-visit-afghanistan-qatar-pakistan-uae/
--------
Iqbal Day: PM stresses need to understand Poet of the East's philosophy
November 09, 2018
ISLAMABAD: Prime Minister Imran Khan has said that Pakistan can achieve a respectable place among the comity of nations by understanding the concept of "Shaheen" and philosophy of "Khudi" enunciated in the works of Dr Allama Muhammad Iqbal and adopting the same in practical life.
"Adopting Iqbal's vision is the need of the hour to enlighten the world through our deeds and introduce Pakistan as a developed and Islamic welfare state," the prime minister said in his message on the Iqbal Day, being observed across the country today.
He said Iqbal guided Muslims of the Indian Sub-Continent at a time when they had lost their destination in the darkness of slavery. "Iqbal's thoughts illuminated a candle of hope that not only identified the destination, but also the way of life for the Muslims of the sub-continent.
PM Khan said the creation of Pakistan was the realisation of Iqbal's dream and his poetry was read and taught in the entire world.
"He [Iqbal] always advised the Muslims to remain united and be practical. It was farsightedness of the Poet of the East that he predicted problems of today's world decades ago."
The prime minister said that Iqbal's approach on sectarianism, ideological extremism and creation of new communal groups was a guiding light for us and added that it was need of the hour to understand not only his philosophy but also apply it to make Pakistan the state Iqbal envisioned.
The prime minister said that keeping in view the importance of the day, he had directed to arrange special programmes at government-level to highlight the vision of the great philosopher instead of announcing a public holiday.
Full report at:
https://www.pakistantoday.com.pk/2018/11/09/iqbal-day-pm-stresses-need-to-understand-poet-of-the-easts-philosophy/
--------
South Asia
Rohingya fleeing Myanmar and Bangladesh camps by boat, evoking memories of 2015 tragedy
NOVEMBER 8, 2018
Dozens of Rohingya Muslims in Myanmar and Bangladesh have boarded boats to try to reach Malaysia, officials and aid workers said on Thursday, raising fears of a fresh wave of such dangerous voyages after a 2015 crackdown on human smugglers.
One boat attempted to set sail from the southern coast of Bangladesh on Wednesday, the coast guard said, while several vessels left Rakhine state in western Myanmar, according to Rohingya leaders, aid workers and a monitoring group.
Officials detained 33 Rohingya and six Bangladeshis aboard a fishing boat bound for Malaysia in the southeastern part of the Bay of Bengal, said Foyezul Islam Mondol, the head of the coast guard in the southeastern county, or upazila, of Teknaf.
A Myanmar government spokesman could not be reached for comment. Kyaw Swar Tun, deputy director of the Rakhine state government, said he was unaware of any boats leaving.
More than 700,000 Rohingya, members of a persecuted Muslim minority, fled Rakhine following an army-led crackdown in August last year, settling in sprawling Bangladeshi refugee camps, according to UN agency figures, while hundreds of thousands remain inside the country in internal displacement camps and villages.
Refugees said soldiers and local Buddhists carried out mass killings and rape during the violence last year, while the UN has accused the military of "genocidal intent." Myanmar has denied almost all the allegations.
'TRAPPED'
For years, Rohingya on both sides of the Myanmar-Bangladesh border have boarded boats organized by smugglers in the dry months between November and March, when the sea is calm. The perilous journey to Thailand and Malaysia, often undertaken in overcrowded, rickety vessels, has taken many lives.
Thailand cracked down on the trade after discovering a series of mass graves in 2015, leading to a crisis when smugglers abandoned their human cargo and left boats adrift in the Andaman Sea.
The new departures come as Myanmar prepares to take some of the refugees back after agreeing with Bangladesh to start repatriation on Nov. 15, despite widespread opposition from Rohingya, who say they will not return without guarantees of basic rights, including citizenship and freedom of movement.
The UN has said conditions in Rakhine, where Buddhists have protested against the repatriation, are not conducive for returns and the special envoy on human rights, Yanghee Lee, on Thursday urged a halt to the "rushed plans."
Chris Lewa, director of the Arakan Project, which has a network of sources across Rohingya communities, said the threat of being sent back to Myanmar could be pushing refugees to turn to smugglers.
"The Rohingya are trapped," she said when contacted by Reuters over the phone. "They have nowhere to go. No one wants them and now they face, on top of that, the threat of repatriation."
On the other side of the border in Sittwe, the capital of Rakhine, tens of thousands of Rohingya have been languishing in internal-displacement camps since a previous wave of violence in 2012.
Accounts of how many boats had left Myanmar differed. A high level of secrecy surrounds the smuggling operations.
An aid worker in Sittwe said they had received information that at least four boats had departed since the start of October, and some of them had already arrived in Malaysia. Some of those boarding the boats were women and children joining other family members, the aid worker said.
"The living conditions in the camp are very bad and there's not enough food to survive," said Kyaw Hla, a Rohingya leader from the Thae Chaung camp outside Sittwe, where he said one boat carrying approximately 80 people left last week.
"People are not able to stand against all these troubles, so they are deciding to leave," he said. "There's no hope for us here."
https://www.theglobeandmail.com/world/article-rohingya-flee-myanmar-and-bangladesh-camps-by-boat-evoking-memories/
--------
Bangladesh silent on Canadian offer to take Rohingya refugees: Officials
November 09, 2018
Bangladesh did not accept an offer by Canada to take in Rohingya refugees, including women who were raped, Canadian officials said, as the South Asian country pushes ahead with controversial plans to repatriate the displaced to neighbouring Myanmar.
Several requests for comment were made to government officials in Bangladesh. A foreign affairs ministry spokesman and the Refugee Relief and Repatriation Commissioner declined to comment.
Canada offered to take in a limited number of vulnerable refugees, including victims of sexual violence, in May when Foreign Minister Chrystia Freeland visited Bangladesh, according to Canadian officials, adding that the proposal still stands.
"Freeland said Canada was willing to discuss cases with Bangladesh," a Canadian official involved in the response to the Rohingya crisis, speaking anonymously due to the sensitivity of the issue, told the Thomson Reuters Foundation.
"(Bangladesh Prime Minister) sheik Hasina said officials would look into it," he said, adding that discussions between the two government were ongoing, facilitated by the U.N. refugee agency (UNHCR).
The U.N. human rights investigator on Myanmar urged Bangladesh on Tuesday to drop plans to start repatriating hundreds of thousands of Rohingya refugees to Rakhine state this month, warning they would face a "high risk of persecution".
More than 700,000 Muslim Rohingya crossed into Bangladesh from Buddhist-majority Myanmar, U.N. agencies say, after Rohingya insurgent attacks on Myanmar security forces in August 2017 were followed by a sweeping military response.
Experts working to protect Rohingya refugees said traumatized women who had been raped by Myanmar soldiers – some of whom have been ostracized after giving birth in the sprawling Bangladesh camps – would benefit from resettlement in Canada.
"It is the humanitarian thing to do," said Laetitia van den Assum, a former Dutch diplomat who served on an international panel headed by former U.N. Secretary-General Kofi Annan to advise on the crisis in Rakhine state.
"If limited resettlement opportunities are available for this particular group, Bangladesh should think again and issue exit visas."
The U.N. has documented a "frenzy of sexual violence" by Myanmar soldiers against Rohingya women and mass killings, calling for senior generals to face genocide charges. Myanmar rejected the findings as "one-sided".
Bangladesh is home to the world's largest refugee settlement, providing sanctuary to about 900,000 Rohingya, U.N. figures show, some of whom fled earlier waves of military violence in Myanmar in 1978, 1991 and 1992.
It has consistently pursued repatriation, rather than permanent settlement in Bangladesh or third countries, undertaking large-scale returns whose "voluntariness was seriously questioned", UNHCR said in a 2011 report.
Prime Minister Hasina said in September that the Rohingya must return to their own country because Bangladesh does not have any policy of local integration. She also called on Myanmar to abolish laws that discriminate against the minority.
Myanmar does not consider the Rohingya a native ethnic group, with many calling the Rohingya "Bengalis", suggesting they belong in Bangladesh.
Canada was one of the top providers of asylum to Rohingya refugees until Bangladesh stopped the program, saying it could encourage more people from Myanmar to leave their homes to seek asylum in the West.
Canada resettled more than 300 people from camps in Bangladesh between 2006 and 2010, Shannon Ker, a spokeswoman for Immigration, Refugees and Citizenship Canada, said.
Bangladesh has not issued exit permits for the resettlement of Rohingya refugees to other countries since 2010, she said.
The UNHCR asked Bangladesh in February to allow it to negotiate with Canada, the United States and some European countries to resettle around 1,000 Rohingya refugees.
Guillaume Berube, a spokesman for Canada's foreign affairs ministry, confirmed that "the offer was made" to accept a number of Rohingya refugees, but declined to comment on Bangladesh's response as it was "confidential".
Beatrice Fenelon, a spokeswoman for Immigration, Refugees and Citizenship Canada, said Canada's latest Rohingya plan was similar to a 2017 initiative to resettle 1,200 Iraqi Yazidis – particularly rape victims – targeted by Islamic State, or Daesh.
"As we did with the resettlement of survivors of Daesh, our intent is not to resettle large portions of these communities, but rather to focus on the small number of people for whom resettlement is the best option," she said.
But Bangladesh "is not issuing exit permits", she said.
Rohingya refugees are still arriving in Bangladesh and rape survivors are a priority for overseas resettlement, said UNHCR spokeswoman Caroline Gluck.
"Repatriation or permanence in the country of asylum may result in additional risk and further traumatization," she said.
Full report at:
https://www.theglobeandmail.com/world/article-bangladesh-silent-on-canadian-offer-to-take-rohingya-refugees/
--------
Taliban, army soldiers suffer heavy casualties in Takhar clash
Nov 08 2018
The Taliban militants and Afghan army soldiers suffered heavy casualties during a clash in Northeastern Takhar province of Afghanistan.
According to the local security officials, the incident took place late on Wednesday night in the vicinity of Khwajah Ghar district, between Takhar and Kunduz provinces.
The officials further added that a group of Taliban militants launched a coordinated attack on an army base, leaving at least twelve soldiers and eight others wounded.
The provincial police chief Gen. Abdul Rashid Bashir confirmed the incident and casualties toll of the Afghan soldiers.
However, another security source says at least fourteen army soldiers lost their lives in the attack and at least seven more sustained injuries.
In the meantime, Gen. Bashir said at least twenty Taliban militants were also killed or wounded during the clash with the armed forces.
Full report at:
https://www.khaama.com/taliban-army-soldiers-suffer-heavy-casualties-in-takhar-clash-02705/
--------
Police thwart militants bid to detonate a large oil tanker in Kabul
Nov 08 2018
The Afghan National Police (ANP) forces thwarted militants bid to detonate a large oil tanker in Kabul city, the Kabul Security Commandment said.
According to a statement released by Kabul Police Commandment, the police discovered and defused a magnetic bomb planted in an oil tanker in the vicinity of the 9th police district of the city.
The statement further added that the oil tanker was carrying 30 tons of fuel and the militants were looking to detonate it using the magnetic bomb with an aim to inflict massive casualties and losses on ordinary civilians of Kabul.
However, the Security Commandment said the explosives were defused by the Explosives Ordnance Disposal team of the police forces before the militants manage to execute their plan.
Full report at:
https://www.khaama.com/police-thwart-militants-bid-to-detonate-a-large-oil-tanker-in-kabul-02704/
--------
Afghan official: Taliban attacks kill 10 troops, 7 policemen
November 09, 2018
KABUL: Afghan officials say Taliban attacks have killed at least 10 soldiers and seven policemen.
In northern Takhar province, provincial police chief Abdul Rashid Bashir says the Taliban targeted an army outpost in Khwaja Ghar district early on Friday, triggering an hours-long gunbattle before they were repulsed.
Bashir says at least 10 soldiers were killed and 12 were wounded. He says the Taliban suffered "heavy casualties" but didn't elaborate.
Taliban spokesman Zabihullah Mujahid claimed responsibility for that attack.
In western Farah province, the Taliban targeted police forces in the provincial capital, Farah city, late on Thursday. Provincial council member, Abdul Samad Salehi, says seven policemen died and three were wounded there.
Full report at:
http://www.arabnews.com/node/1401851/world
--------
23 BNP, Jamaat men held, 79 sued across country
November 8th, 2018
More than 23 BNP and Jamaat-e-Islami men were arrested and 79 were sued in several districts across the country on Wednesday night and Thursday
Anisur Rahman Swapan, Barisal, Tajul Isal Reza, Gaibandha, Abdullah Al Numan, Tangail, Suman Sikder, Barguna, Dulal Abdullah, Rajshahi, Nazmul Huda Nasim, Bogra
More than 23 BNP and Jamaat-e-Islami men were arrested and 79 were sued in several districts across the country on Wednesday night and Thursday.
In Barisal, the Jatiyatabadi Chhatra Dal (JCD) Government Barisal College unit president and central committee member Musfiqul Hassan and his associate Sabuj Islam Shaheen were arrested on Wednesday night.
They were picked up by the Detective Branch of police at night from Muslim Gorsthan Road of Barisal city.
Police also recovered 257 bottles of phensedyl.
Later, both were sent to Jail.
In Gaibandha, in a drive on Wednesday night, police arrested the Nakaihat Union Parishad unit Jamaat Vice-President Professor Anisur Rahman for vandalism.
Gobindaganj police station Officer-in-Charge AKM Mehedi Hasan said Anisur was wanted in three cases including vandalism.
In Tangail, police arrested three BNP leaders in the Basail upazila of the district on Thursday morning.
The arrested are the upazila unit Jubo Dal General Secretary Arzu Khan Uzil, Kashil Union Parishad Jubo Dal Secretary Abdur Rouf and local BNP leader Ainal Haque.
Sub –Inspector Sekander Hossain of the Basail police station said a case of vandalism was filed against the accused on October 13.
The arrested were sent to jail, he said.
In Barguna, at least 11 BNP men were arrested in several areas of the district on Wednesday night.
Barguna Superintendent of Police Maruf Hasan said police arrested two BNP men from the Barguna Sadar, three from Amtoli, two from Patharghata, and three from Bamna and one from the Betagi upazila.
They were accused of several cases, he added.
In Rajshahi, a leader of Jamaat-e-Islami was arrested in a sabotage case from his house at the Mumdumala market in the Tanor upazila of Rajshahi on Wednesday night.
The arrested is Anisur Rahman, 45, Amir of Mumdumala municipal Jamaat unit of the upazila.
On the other hand, police arrested four BNP leaders in the Bagha upazila of Rajshahi on Thursday evening and sent to jail.
They are the upazila BNP leader Jewel Rana, Anisur Rahman, Mukul and Abdus Salam.
Bagha police station Officer-in-Charge Mohosin Ali said the accused were wanted in several cases including vandalism.
The police also arrested Godagari municipality's ward councilor Mamun Rashid on Wednesday.
BNP leader and Rajshahi city's former mayor Mizanur Rahman Minu alleged police had been conducting drives at the houses of BNP leaders without any notice and, meanwhile arrested innumerable leaders and activists.
In Bogra, a case has been filed against 79 BNP leaders and activists over a bomb attack in the Sariakandi upazila Awami League office on Wednesday night.
According to Awami League office sources, a group of people hurled 5-6 bombs at Awami League office chanting slogans in favor of Khaleda Zia at 10pm.
Full report at:
https://www.dhakatribune.com/bangladesh/nation/2018/11/08/23-bnp-jamaat-men-held-79-sued-across-country
--------
Mideast
Muslim family will not give up keys to iconic Jerusalem church despite pressure
Daoud Kuttab
November 8, 2018
A Jerusalem family that holds the keys to the Church of the Holy Sepulcher is resisting community and political pressure to relinquish them. Adeeb Joudeh al-Husseini, who says his family was granted the keys in the 12th century, told Al-Monitor there is no reason he should give them up. The key holder says his family's custodianship dates back to the time of Saladin, the Muslim leader who liberated Jerusalem.
Reuters ran a long article late in 2017 explaining that the key was given to the Joudeh family after the city was liberated from the Crusaders in 1187. Another of the city's oldest Muslim families, the Nusseibehs, was entrusted with the duty of opening and closing the church doors, a task they perform to this day.
But if local Palestinian politicians have their way, the keys will be stripped from Adeeb and given to another member of the Joudeh family. Minister of Jerusalem Affairs in the Palestinian government Adnan Husseini told Al-Monitor that considering problems involving Adeeb's home, it would be best if the symbolic keys to the church were no longer with him. "What happened with his family home can't be ignored," he said.
Adeeb, whose family home in the Old City of Jerusalem ended up in the hands of the extremist Jewish organization Attert Cohanim Oct. 3, told Al-Monitor that he should not be blamed for it.
Adeeb, 55, said he was honored to have received the keys from previous generations of his family and would never give them up. "My father had the keys and his father before him, and I will gladly turn over the keys to my oldest son in due time, as has been the tradition in our family."
But at the same time, Adeeb is adamant about his innocence of the accusations leveled against him, saying, "I sold our family home to a respected Palestinian businessman who was recommended by officials from the Palestinian Authority and local leaders."
Records do in fact show that the house was sold to a Palestinian banker named Khaled Attari who has since disappeared, but it is unclear how the house ended up in the hands of the extremist Jewish group. Palestinian Prime Minister Rami Hamdallah has set up a committee to look into what happened.
Hanna Issa, the head of the Islamic-Christian Commission in Support of Jerusalem and Holy Sites, told Al-Monitor that he would prefer if the keys of the holy church were transferred to another member of the Joudeh family but he doesn't agree to any change in the status quo, in which the current understandings of who owns or administers these holy sites continue as they have been for decades.
Amira Hanania, who is the director general of the Palestinian government's Higher Committee for Church Affairs, told Al-Monitor that the issue of transferring Palestinian homes to settlers is very worrisome. "While we don't want to change the status quo regarding holy places in Jerusalem, we can't sit idle as these issues happen in the Old City. The public is very angry about what happened to the Joudeh home."
A petition signed by 15 members of the Joudeh tribe Oct. 28 called for the transfer of the keys to another member, Loai Said Joudeh.
But Adeeb's brother Sari Joudeh, a systems analyst working in Qatar, said that the petition comes from a Jaffa-based family who has the same name but is not related to his. Speaking to Al-Monitor by phone, Sari explained that his family comes from the Ghadieh tribe of Joudehs. "The Joudeh Ghadieh family supports Adeeb and we will not accept any change to who possesses the keys to the church."
Sari added that the other family has coveted the historic key for years and is using the current circumstances to try to get possession of it. "But we have documents and fermans [an Ottoman term for official edicts] that prove that our particular family is the proud owners of the key which we have the honor to keep."
Historians have made much of the fact that a Muslim family has the keys to the Christian church and see the situation as reflective of the churches' trust in their fellow Jerusalem Muslims.
Palestinians praised Adeeb when, in December 2017, he refused to open the Church of the Holy Sepulcher in Jerusalem for US Vice President Mike Pence after the United States moved its embassy from Tel Aviv to Jerusalem.
The current controversy over the key to the Christian church betrays the lack of political leadership in Jerusalem and the absence of a real Palestinian strategy for the holy city that Palestinians want to become their capital. Israeli apathy and the absence of any executive power on the ground have left the 330,000 Palestinians in this important holy city political orphans without any unifying leadership.
https://www.al-monitor.com/pulse/originals/2018/11/jerusalem-church-keys-muslim-family-joudeh.html
--------
US considers designating Yemen's Houthi militias as terrorist group
9 November 2018
In an effort to place pressure on Yemen's Houthi militias, which are aligned with Iran, the US is considering designating them as a terrorist organization, sources close to the matter told The Washington Post.
The sources spoke to the newspaper on the condition of anonymity, and added that lesser punishments were discussed with regard to the Houthis at the White House, but no decision has been made yet.
The newspaper reported that many individuals stated that the issue was discussed several times since 2016, but was revisited in recent months at the White House as tougher sanctions on Iran take place, and as the US prioritizes a tougher stance on Tehran and militias linked to it in the region.
Amnesty International had accused Yemen's Houthis on Thursday of "deliberate militarization of hospitals" in the battleground city of Hodeidah and called for the protection of civilians.
The human rights group said the Houthi militias recently stationed militiamen on the roof of a hospital in the May 22 district of the Red Sea port city, calling the action a "stomach-churning development".
The internationally recognized Yemeni government had repeatedly reported human rights violations committed by the Houthis in Yemen, including the intentional blocking of aid and supplies, and firing Iranian-made ballistic missiles at Saudi Arabia.
Full report at:
https://english.alarabiya.net/en/News/gulf/2018/11/09/US-to-consider-designating-Yemen-s-Houthi-militias-as-terrorist-group.html
--------
Amnesty accuses Yemen's Houthi militias of militarizing hospital
8 November 2018
Amnesty International accused Yemen's Houthis on Thursday of "deliberate militarization of hospitals" in the battleground city of Hodeidah and called for the protection of civilians.
The human rights group said the Houthi militias recently stationed militiamen on the roof of a hospital in the May 22 district of the Red Sea port city, calling the action a "stomach-churning development".
It said the move risked "devastating consequences" for the hospital's staff and patients as it puts them in direct danger.
"The presence of Houthi fighters on the hospital's roof violates international humanitarian law," Samah Hadid, Amnesty's Middle East campaigns director Samah Hadid said.
"Anyone attacking a hospital under these conditions risks responsibility for war crimes."
A medical source told AFP on Wednesday that the militiamen had forced medical staff out of the May 22 Hospital -- one of Hodeidah's main medical facilities -- and posted snipers on the roof.
Pro-government forces pressed closer to the heart of Hodeidah, whose port serves as the entry point for nearly 80 per cent of commercial imports and nearly all UN-supervised humanitarian aid.
The Yemeni army had taken control of the May 22 Hospital in Hodeidah and recaptured surrounding areas amid fierce clashes as the Houthi militias continue to lose ground in the strategic port city.
Full report at:
https://english.alarabiya.net/en/News/gulf/2018/11/08/Amnesty-accuses-Yemen-s-Houthi-militias-of-militarizing-hospital.html
--------
Zarif: US accountable for crimes against Iran, Yemen
Nov 9, 2018
Iran's Foreign Minister Mohammad Javad Zarif said the United States should be held responsible for "crimes against humanity" it is committing against the Iranians as well as the Yemenis.
"The US is to be held accountable for crimes against humanity re Iran & Yemen," Zarif tweeted on Thursday. He was referring to America's sanctions against Iran and its support for the Saudi Arabia-led war on Yemen.
US Secretary of State Mike Pompeo had earlier told BBC Persian, "We have provided, we have accommodated the Iranian people with our sanctions, and it's now the Iranian government's responsibility to make sure that they do the right thing…It's their job to do the right thing for their people."
In his interview with BBC Persian, Pompeo had claimed that "the challenge in Yemen is in large part the responsibility of the Iranian leadership," repeating Washington's allegation against Tehran of arming Yemen's popular fighters, which the Islamic Republic roundly denies.
Saudi Arabia and its allies, including the United Arab Emirates, invaded Yemen in 2015 with the support of the US and its major European allies.
According to Yemen's Health Ministry, more than 15,000 have died since the onset of the warfare. However, Patrick Cockburn, an award-winning columnist for The Independent, recently cited a toll of 56,000 by a nonprofit conflict-research organization.
"Just as with Yemen, Secretary Pompeo blames Iran for unlawful US sanctions preventing Iranians' access to financial services for food and medicine," Zarif said, adding, "Naturally, we will provide them for our people in spite of US efforts."
Pompeo had, however, claimed that none of US sanctions prevented humanitarian assistance to the Iranian people.
Asked about Saudi Arabia's role in causing thousands of casualties in the impoverished country, Pompeo had alleged, "The Saudis have provided millions and millions of dollars of humanitarian relief."
'Have you no shame?'
Zarif reacted by ironically tweeting, "You know what Secretary Pompeo? It's the Yemenis themselves who're responsible for famine they're facing. They should've simply allowed your butcher clients -- who spend billions on bombing school buses & "millions to mitigate this risk"-- to annihilate them without resisting."
On August 9, a Saudi air raid hit a school bus as it drove through a market in the town of Dhahyan in the northwestern Yemeni Sa'ada Province, killing a total of 51 people, among them 40 children, and injuring 79 others, mostly kids.
Full report at:
https://www.presstv.com/Detail/2018/11/09/579501/Iran-United-States-sanctions-Yemen-Saudi-Arabia-Zarif-Pompeo
--------
Israeli forces shoot dead Palestinian youth on Gaza border
Nov 8, 2018
Israeli forces have shot dead a Palestinian during clashes with protesters participating in anti-occupation rallies along the fence between the besieged Gaza Strip and Israeli-occupied territories.
A spokesman from the Gaza Ministry of Health said in a statement on Thursday that the shooting took place east of Deir al-Balah in central Gaza. The ministry named the victim as 'Alaa Abu Sherbin, a teenage boy.
Witnesses and local residents said that three others also sustained injuries as heavily-armed Israeli soldiers used live ammunition to disperse the peaceful protesters.
On Wednesday evening, a Palestinian youth succumbed to the injuries he had sustained when Israeli military forces opened fire on an anti-occupation protest near the fence separating Gaza from the Israeli-occupied territories.
Ahmed Khaled al-Najjar, 21, from the Gazan city of Khan Younis died at the Ahli hospital in the West Bank city of al-Khalil (Hebron).
Tensions have been running high near the fence since March 30, which marked the start of a series of protests dubbed "The Great March of Return." Palestinian protesters demand the right to return for those driven out of their homeland.
At least 219 Palestinians have been killed by Israeli forces since late March. Nearly 22,000 Palestinians have also sustained injuries.
The Gaza clashes reached their peak on May 14, on the eve of the 70th anniversary of Nakba Day (Day of Catastrophe), which coincided this year with the US embassy relocation from Tel Aviv to occupied East Jerusalem al-Quds.
Israel's crackdown in Gaza left over 60 protesters dead in the impoverished coastal enclave on that day alone.
Angered by Trump's move, Palestinian President Mahmoud Abbas boycotted his administration, saying Washington is no longer qualified to serve as the sole mediator in the decades-long conflict with Israel, and that an international mechanism should be devised to replace the US in the so-called peace process.
The Gaza Strip has been under an Israeli siege since June 2007. The blockade has caused a decline in the standards of living as well as unprecedented levels of unemployment and unrelenting poverty.
The Israeli regime denies about 1.8 million people in Gaza their basic rights, such as freedom of movement, jobs with proper wages as well as adequate healthcare and education.
Full report at:
https://www.presstv.com/Detail/2018/11/08/579470/Palestine-Israel-Gaza-Alaa-Abu-Sherbin-Trump-US
--------
Fresh Saudi airstrikes leave father, five children dead in Yemen's Hudaydah
Nov 8, 2018
At least six civilians have been killed when Saudi military aircraft carried out airstrikes against a residential area in Yemen's strategic western province of Hudaydah as the Riyadh regime presses ahead with its atrocious bombardment campaign against its southern neighbor.
Saudi fighter jets conducted aerial assaults against al-Jabaliyah area in al-Tuhayat district on Thursday afternoon, an unnamed local source told Yemen's Arabic-language al-Masirah television network.
The source added that the airstrikes claimed the lives of a father and his five children.
Earlier in the day, Yemeni army soldiers and allied fighters from Popular Committees targeted the positions of Saudi-backed militiamen loyal to Yemen's former president Abd Rabbuh Mansur Hadi in the al-Matun district of the northern Yemeni province of al-Jawf, killing and injuring tens of them.
Army soldiers and their allies also managed to take control of a number of areas in Saudi Arabia's southwestern border region of Jizan, where Saudi mercenaries had been stationed.
An unnamed Yemeni military source said a domestically-manufactured Zelzal-1 (Earthquake-1) ballistic missile was also fired at the mercenaries, which left more than 20 of them, including commanders, dead.
Saudi Arabia and a number of its regional allies launched a devastating military campaign against Yemen in March 2015, with the aim of bringing the government of Hadi back to power and crushing the country's popular Houthi Ansarullah movement.
According to a new report by the Armed Conflict Location and Event Data Project (ACLED), a nonprofit conflict-research organization, the Saudi-led war has so far claimed the lives of around 56,000 Yemenis.
The Saudi-led war has also taken a heavy toll on the country's infrastructure, destroying hospitals, schools, and factories. The UN has already said that a record 22.2 million Yemenis are in dire need of food, including 8.4 million threatened by severe hunger. According to the world body, Yemen is suffering from the most severe famine in more than 100 years.
Full report at:
https://www.presstv.com/Detail/2018/11/08/579459/Fresh-Saudi-airstrikes-leave-father-five-children-dead-in-Yemens-Hudaydah
--------
Africa
Sudan: U.S. Willing to Lift Sudan From Terror Blacklist If Further Reforms
8 NOVEMBER 2018
The United States said Wednesday it was willing to remove Sudan from its blacklist of state sponsors of terrorism if the country undertakes further reforms.
In a statement after talks in Washington, the State Department offered the prospect of a formal process to delist Sudan as it called for further anti-terrorism cooperation and improvements in human rights.
President Donald Trump's administration lifted decades-old sanctions on Sudan last year but investment is still blocked by the terror designation, which carries legal ramifications in the United States.
Deputy Secretary of State John Sullivan discussed items of concern during the talks Tuesday with Sudanese Foreign Minister Al-Dierdiry Ahmed, the State Department said.
"The United States welcomes Sudan's commitment to making progress in key areas," a State Department statement said.
"As part of this process, the United States is prepared to initiate the process of rescinding Sudan's designation as a state sponsor of terrorism if the determination is made that all of the relevant statutory criteria have been met, and if Sudan makes progress in addressing each of the six key areas of mutual concern," it said.
Besides counterterrorism cooperation and human rights, the United States asked Sudan to move forward in resolving its myriad internal conflicts -- including by giving better access to humanitarian workers.
The United States also wants Sudan to act on outstanding claims related to terrorism, the State Department said.
"The United States is ready to cooperate with Sudan and to monitor progress as we seek meaningful developments for the benefit of the Sudanese people and the region," it said.
Despite uneasy relations, Sudan has increasingly been seen as working with the United States in key areas including containing the turbulence in neighboring Libya.
Wide repercussions from listing
Designation as a state sponsor of terrorism severely curtails access to international financing and makes it difficult for US citizens to do business with the countries.
Trump has also used the terror blacklist as his basis for a controversial order to deny entry into the United States of ordinary people from the mostly Muslim countries.
In a recent interview in Khartoum, the head of the Dal Group, Sudan's biggest conglomerate, said there were "lots of funds looking for good projects to support" but that they were restricted due to the US designation.
Only three other countries are on the blacklist -- Iran, North Korea and Syria.
The United States placed Sudan on the list in 1993 when Al-Qaeda and its chief Osama bin Laden found refuge in the country, whose longtime ruler Omar al-Bashir had embraced a hardline brand of political Islam.
After Al-Qaeda blew up US embassies in Kenya and Tanzania in 1998, the United States responded with a cruise missile strike inside Sudan on a pharmaceutical factory, whose link to Al-Qaeda turned out to be shaky.
Sudan's relationship further deteriorated when the government in 2003 began to put down a rebellion in the western region of Darfur, in a ruthless campaign that the United States characterized as genocide.
But relations began to improve under former president Barack Obama, whose administration welcomed Khartoum's acceptance of the independence of South Sudan in 2011 after a decades of devastating war.
https://allafrica.com/stories/201811080730.html
--------
Boko Haram terrorists attack Yobe community, army location
November 9, 2018
Boko Haram insurgents have invaded Katarko community in the Gujba Local Government Area of Yobe State, and attacked a base of the Nigerian Army, belonging to the 120 Battalion.
Our correspondent learnt that the troops of the battalion, who are also on Operation Lafiya Dole, had several hours of gun battle with the insurgents, who reportedly escaped into bushes with injuries while some were reportedly killed.
The terrorists, said to be loyal to the Islamic State fighters, have a culture of attacking military bases and stealing ammunition. They had on Tuesday attacked a military base in Kukawa in the Lake Chad area of Borno State.
After the Kukawa attack, 16 soldiers were reported missing.
The Director, Army Public Relations, Brig Gen Texas Chukwu, confirmed the attack in Katarko, Yobe, saying the troops were making efforts to arrest fleeing members of the group, while normalcy in the community had been restored.
The army spokesman said, "The situation has been brought under control by the troops who are currently embarking on clearance patrol. Residents of Katarko and Yobe State in general are advised to go about their legitimate business and to report any suspicious activity or movement in their area to the law enforcement agents for prompt action."
Chukwu told our correspondent that he had yet to get any information on the missing soldiers after the Boko Haram attack on Kukawa.
Full report at:
https://punchng.com/bharam-terrorists-attack-yobe-community-army-location/
--------
Car bombing kills lawmaker in Somali capital
08.11.2018
A car bombing in the Somali capital killed two people, including a lawmaker, and wounded another on Thursday, officials said.
The bombing near London Gate restaurant in Hamarwayne district of Mogadishu killed Abdiweli Ibrahim Mohamed, a local parliamentarian.
Abdiqadar Hassan, a police officer, told Anadolu Agency over the phone: "The lawmaker and other person were killed after a bomb planted under his car exploded near London Gate."
The wounded civilian has been rushed to the hospital and an investigation into the incident is underway, he added.
Somali-based insurgent group al-Shabaab claimed responsibility for the attack.
https://www.aa.com.tr/en/africa/car-bombing-kills-lawmaker-in-somali-capital/1306476
--------
Tunisian president accepts new ministers, easing high-level standoff
8 November 2018
Tunisian President Beji Caid Essebsi said on Thursday he was ready to swear in ten new ministers named in a reshuffle that he had originally rejected, easing a high-level political standoff that has alarmed donors.
Prime Minister Youssef Chahed announced the reshuffle on Monday- but Essebsi quickly rejected it, saying he had not been consulted.
On Thursday, he relented and told reporters he would swear in the ministers if parliament approved the changes. "I have no problem with the prime minister but I dislike the handling of his reshuffle," he said.
He also stressed that there is no personal dispute between him and the Prime Minister, adding, "I am the head of state and he has to respect the position."
"The prime minister has to inform the head of state of his decisions, but what happened on the issue of the government's reshuffle was not the case."
The dispute highlighted tensions at the highest levels of Tunisian politics that have been exacerbated by an economic crisis.
Chahed leads a government dominated by the ruling Nidaa Tounes party and backed by moderate Islamists.
But the prime minister has been caught up in a dispute with the leader of the party, Hafedh Caid Essebsi, who is also the president's son and has accused Chahed of failing to tackle high inflation, unemployment and other problems.
The political wrangling has alarmed donors which have kept the country afloat with loans granted in exchange for a promise of reforms such as cutting a bloated public service.
Tunisia's economy has been in crisis since the North African state kicked off the Muslim World's "Arab Spring" uprisings by toppling autocrat Zine El-Abidine Ben Ali in 2011.
Chahed's reshuffle announced on Monday is the 10th major cabinet overhaul since then. He said it would "make the work of government more effective and to put an end to the political and economic crisis".
Chahed kept the leadership of finance, foreign and the interior ministries unchanged.
He named Jewish businessman Rene Trabelsi as minister of tourism in the Muslim Arab country, just the third member of the small minority to enter the cabinet since Tunisia's independence
in 1956.
Full report at:
https://english.alarabiya.net/en/News/north-africa/2018/11/08/Tunisian-president-accepts-new-ministers-easing-high-level-standoff.html
--------
UN envoy: Libya should start process for elections in spring
9 November 2018
Libya should start the process to hold a national vote in spring 2019 after a national conference to discuss the country's conflict, the UN Libya envoy said on Thursday.
Western powers and the United Nations had originally hoped to hold national elections on Dec. 10 but violence and a deadlock between rival administrations had made that goal unrealistic.
"The National Conference is to be held in the first weeks of 2019. The subsequent electoral process should commence in the spring of 2019," Ghassan Salame told the UN Security Council, without being more specific.
https://english.alarabiya.net/en/views/news/africa/2018/11/09/UN-envoy-Libya-should-start-process-for-elections-in-spring.html
--------
Jordan says in talks with US and Russia to dismantle Syria camp
November 08, 2018
AMMAN: Jordan said on Thursday it was in talks with Washington and Moscow to empty a desert camp used by 50,000 displaced Syrians, a move aimed at defusing security tensions near a potential military flashpoint on its northeast border with Syria.
Jordan's foreign ministry said the kingdom backed a Russian plan to arrange the voluntary return of the inhabitants of Rukban camp to their home areas in eastern Syria following their recapture by the Syrian government from Daesh.
"Jordanian-US-Russian talks have begun with the aim of finding a fundamental solution to Rukban by ensuring the right conditions of their voluntary return to their cities and towns," Foreign Ministry spokesman Majed al Qatarneh said.
"Jordan supports the Russian plan to create the conditions that allow the emptying of the camp," he said in a statement.
He did not elaborate.
Intelligence sources say the Russian plan entails negotiating with Syrian tribal leaders and former Western-backed rebels sheltering in the camp area to provide safe passage for returnees to go to opposition areas in northern Syria, and to help those who want to go their homes in state-held areas.
Many camp inhabitants are not ready to go back to homes in state-held areas for fear of being drafted for conscription, tribal figures in the camp say.
Developments at Rukban are watched closely around the region because it is near a US garrison in southeastern Syria at Tanf on the Iraq-Syria border. The camp falls within a so-called deconfliction zone set up by the Pentagon to try to shield the Tanf garrison from attacks by pro-government forces.
Damascus says the US forces are occupying Syrian territory and providing a safe-haven in that area for rebels it deems terrorists.
Jordan officials have repeatedly said they suspect the camp is infiltrated with Daesh sleeper cells, a security nightmare that has haunted Amman since a Daesh militant in 2016 drove a car bomb into a Jordanian military border post, killing seven guards.
In the last three years, tens of thousands of Syrians trekked to the camp where the borders of Syria, Jordan and Iraq meet. They fled expanded Russian and US-led coalition air strikes against Daesh-held areas in central and eastern Syria.
Intelligence sources say a siege of the camp last month by the Syrian army that depleted food stores in the compound and raised the spectre of starvation was aimed at piling pressure on Washington.
Russia's defense ministry in August repeated an accusation that Washington has been harboring Daesh militants within the zone.
Washington however responded to growing Russian pressure by conducting rare military exercises in the base last month, and General Joseph Votel, head of US Central Command, made an unannounced visit to Tanf.
Full report at:
http://www.arabnews.com/node/1401651/middle-east
--------
Europe
Labour Slammed for Inviting Notorious Islamic Extremist to 'Anti-Racism' Rally
8 Nov 2018
Labour has defended inviting a notorious Islamist preacher to appear at a party event, claiming that collaboration with "faith groups" is an "essential part of the fight against the scourge of racism".
Shakeel Begg was listed as a speaker along with two of the party's MPs, Janet Daby and Vicky Foxcroft at a Lewisham Labour Against Racism event Tuesday night, where activists discussed plans to "oppose Islamophobia and anti-Semitism", "stop Tommy Robinson", and to "challenge" government policies which make it harder for illegal immigrants to thrive in Britain.
An imam at the Lewisham Islamic Centre, which was attended by the terrorist killers of Fusilier Lee Rigby, Begg lost a libel case against the BBC in 2016 when a judge ruled he "clearly promotes and encourages violence in support of Islam and espouses a series of extremist Islamic positions".
Begg had sought damages from the public broadcaster for describing him as an extremist during a Sunday Politics episode presented by Andrew Neil, who informed viewers that the Lewisham preacher had "hailed jihad as 'the greatest of deeds'" while speaking at the East London Mosque.
According to Mr Justice Haddon-Cave, Begg is a "Jekyll and Hyde character" who "appears to present one face to the general, local and inter-faith community and another to particular Muslim and other receptive audiences".
"The former face is benign, tolerant and ecumenical; the latter face is ideologically extreme and intolerant.," he said of the imam, who according to the court documents "works closely with police … [as a member of] the Independent Advisory Group to Lewisham Police which advises the police on local issues, especially those relating to the Muslim community. He represents the LIC in the Safer Neighbourhood Team and the Hate Crime Working Group."
Ahead of the meeting, which was reportedly attended by a large number of prominent south London Labour officials, anti-extremist experts had warned the party there would be "no excuse" for giving Begg a platform at the event given the imam's history of extremist views.
"There is no debate to be had — Shakeel Begg was found in the High Court to be an Islamic extremist," asserted the Henry Jackson Society's Tom Wilson, adding: "There can be no excuse for any political party working with Begg."
David Toube of the Quilliam anti-extremism think tank told The Sun that "the presence of a Labour MP on a platform which includes a cleric who has been found by a British court to be an extremist plays into the hands of anti-Muslim bigots."
A spokesman for the party told the newspaper: "Communities and faith groups coming together is an essential part of the fight against the scourge of racism."
https://www.breitbart.com/europe/2018/11/08/labour-islamic-extremist-racism-rally/
--------
Muslims in Xinjiang face repression: German parliament
09.11.2018
BERLIN
Government and opposition lawmakers urged China on Thursday to end repressive policies against Uighur Muslims in northwestern Xinjiang, an autonomous region of the country.
The opposition Green Party accused Chinese authorities of severe human rights violations, forced political indoctrination and massive surveillance in the region.
"An estimated one million people have been arbitrarily detained in internment camps in China's northwestern Xinjiang region," Green lawmaker Margarete Bause said during a parliamentary debate on the human rights situation in Xinjiang.
She heavily criticized authorities for their clampdown on freedom of religion.
"Praying is prohibited, mosques are demolished. The goal of all these measures is to systematically eliminate the culture and identity of the Muslim minority in Xinjiang," she said.
Stefan Liebich from the opposition Left Party said the detention of around one million people in internment camps in Xinjiang was "unacceptable".
Liebich acknowledged that China's concerns over stability and the threat of terrorism were understandable.
"But these cannot justify mass surveillance, spying, internment camps and torture," he stressed.
Michael Brand, a senior lawmaker from Chancellor Angela Merkel's Christian Democratic Union, promised that the government would continue to raise human rights issues in talks with Chinese officials.
"Under the pretext of the fight against terrorism, brutal repression and human rights violations continue in Xinjiang," he said.
Brand criticized Chinese authorities for claiming that the internment camps were in fact "vocational education centers" and stressed that such explanations were far from being plausible.
Chancellor Merkel's coalition partner the Social Democrat Party (SPD) backed calls on China to close the camps.
"When we read the reports of Human Rights Watch, we get the impression that Xinjiang has become an open-air prison," SPD lawmaker Frank Schwabe said.
Full report at:
https://www.aa.com.tr/en/asia-pacific/muslims-in-xinjiang-face-repression-german-parliament/1306571
--------
Palestinian FM, EU foreign policy head meet in Brussels
08.11.2018
By Yusuf Hatip
BRUSSELS
EU Foreign Policy Chief on Thursday met with Palestinian foreign minister in Brussels for bilateral and regional talks, according to an EU statement.
Federica Mogherini and Riyad al-Maliki exchanged views on relations between the EU and the Palestinian Authority as well as the current political and humanitarian situation in Gaza.
Mogherini reiterated the EU's continued support to the Palestinians and to the UN Relief and Works Agency (UNRWA) for Palestine Refugees in the Near East.
She also stressed the "unwavering commitment of the EU to a negotiated two-state solution as the only viable and realistic way to end the Israeli-Palestinian conflict."
The EU foreign policy chief recalled the EU's "firm support to the efforts of the United Nations and Egypt and encouraged the Palestinian Authority to continue to engage towards improving the humanitarian situation of the people in Gaza, preventing renewed escalation and reuniting Gaza and the West Bank under one single and legitimate Palestinian Authority."
Al-Maliki also held talks with Belgium's Deputy Prime Minister and Foreign Affairs Minister Didier Reynders.
Full report at:
https://www.aa.com.tr/en/europe/palestinian-fm-eu-foreign-policy-head-meet-in-brussels/1306336
--------
UK knew key Qaeda captive was tortured by US in 2001: Report
Nov 8, 2018
British intelligence agencies, both the MI6 and the MI5, were aware that a captured member of al-Qaeda was tortured and placed inside a sealed coffin at a US-run prison in Afghanistan.
Through a close analysis of redacted official documents, the Middle East Eye website established that an MI6 officer was aware that CIA staff had placed Ibn al-Sheikh al-Libi inside a coffin before being loaded onto a truck and driven to an aircraft that was waiting to fly to Egypt.
In an incident report sent to MI6 headquarters in London, the officer and his colleagues reported that "we were tempted to speak out" at the treatment of Libi, but did not.
"The event reinforced the uneasy feeling of operating in a legal wilderness," they said.
Ali Mohamed Abdul Aziz al-Fakheri was a Libyan national captured in Afghanistan in November 2001 after the fall of the Taliban. He was interrogated by the American and Egyptian forces.
Despite being aware that Libi had been flown to Egypt inside a coffin, and despite that country's well-documented record of human rights abuses, both MI6 and MI5 decided to allow questions to be put to him and continued to receive reports about what he was saying.
The information he gave under torture to Egyptian authorities was cited by the government of former US President George W. Bush in the months preceding its 2003 invasion of Iraq as evidence of a connection between Saddam Hussein and al-Qaeda.
That information was frequently repeated by members of the Bush administration, although reports from both the Central Intelligence Agency (CIA) and the Defense Intelligence Agency (DIA) strongly questioned its credibility, suggesting that al-Libi was "intentionally misleading" interrogators.
Under torture, Libi told his Egyptian interrogators that there were links between al-Qaeda and Iraqi President Saddam Hussein's nuclear weapons program. Three members of the militant organization had been sent to Iraq for training, he said.
Justifying Iraq invasion
On his eventual transfer back into CIA custody, Libi said that he had fabricated the account in order to avoid further torture.
By that time, however, his statements had been used to justify the invasion of Iraq.
Some had been included in a speech that former US Secretary of State Colin Powell gave to the United Nations Security Council on February 5, 2003, just weeks before the US-led invasion, while on the same day, the then British Prime Minister Tony Blair told parliament that there were "unquestionably" links between al-Qaeda and Iraq.
"It would be wrong to say that there is no evidence of any links between al-Qaeda and the Iraqi regime," Blair said.
"There is evidence of such links. Exactly how far they go is uncertain. However… there is intelligence coming through to us the entire time about this," Blair said.
The former British premier added that the case for war against Iraq was not based upon the links with al-Qaeda, but Saddam Hussein's weapons of mass destruction program.
"I believe that our case on weapons of mass destruction is very clear indeed. It is perfectly obvious that Saddam has them," Blair had said at the time.
After the invasion of Iraq, it was soon obvious that Saddam's WMD program had long been dismantled. It also became clear that there had been no link between Iraq and al-Qaeda.
Full report at:
https://www.presstv.com/Detail/2018/11/08/579452/UK-Iraq-war-Qaeda-suspect-torture
--------
German shipyard halts production after Saudi arms ban as Riyadh turns to Spain, S Africa
Nov 9, 2018
German shipbuilder Luerssen has put on hold the production of coastguard vessels ordered by Saudi Arabia due to the uncertainty surrounding the future of Berlin's arms deals with Riyadh.
German Chancellor Angela Merkel announced last month that Berlin would no longer issue weapons exports licenses until Riyadh comes up with satisfactory explanation about dissident Saudi journalist Jamal Khasoggi's murder at the kingdom's consulate in the Turkish city of Istanbul.
The decision affected Luerssen, a privately-owned firm commissioned five years ago to build coastal patrol vessels for Saudi Arabia.
The company announced Thursday that construction at its Peene Shipyard had been brought to a halt nearly two years into the project and nearly all of the shipyard's 300 workers had been put on short hours.
"Suspending construction and cutting working hours as a direct consequence is a heavy blow to us," shipyard official Harald Jaekel said in a statement.
The uncertainty made production planning impossible, the company said.
Saudi Arabia has been one of the major buyers of German weapons and military services.
This year alone, Berlin has approved 400 million euros of exports to the oil-rich country which makes Saudi Arabia the second-biggest purchaser of German arms after Algeria.
Saudi makes $1bn bid for S Africa military partnership
It was also reported Thursday that Saudi Arabia had made a $1 billion bid for a broad partnership with South African state-owned defense group Denel.
The deal would include acquisition of a minority stake in a joint venture with Germany's Rheinmetall. Unnamed sources told Reuters that Saudi Arabia was targeting Denel's 49-percent stake in Rheinmetall Denel Munition (RDM).
Formed in 2008, RDM specializes in the development, design and manufacture of medium and large-caliber ammunition including artillery shells.
The offer also allows Saudi Arabia to invest in Denel Dynamics, which develops tactical missiles and precision guided weapons.
The bid is part of Saudi Arabia's plans to develop its own domestic defense industry with the goal of localizing half of its military spending by 2030. The country is currently the world's third largest military spender.
Riyadh begins joint warship production with Spain
Earlier this week, Saudi Arabia and Spain signed an agreement to launch a joint venture to produce five Avante 2200 corvettes complete with Combat Management System for the Saudi military.
The $2.2 billion deal was signed during Saudi Crown Prince Muhammad Bin Salman's visit to Spain in April last year, where he met with the Spanish Defense Minister Margarita Robles.
Spain has continued military ties with the Riyadh regime in the wake of Khashoggi's murder.
Back in September, however, Madrid said it was halting a 2015 deal to sell 400 laser-guided precision bombs to Saudi Arabia due to Riyadh's role in the Yemen war, which has killed tens of thousands of Yemenis since its beginning in 2015.
The move enraged Saudi officials, who reportedly threatened to scrap the corvette deal with the Spanish state-owned military shipbuilder Navantia, endangering as many as 6,000 jobs in a country with one of Europe's highest unemployment rates.
Spain backed off as a result, saying that it will proceed to deliver the bombs.
Full report at:
https://www.presstv.com/Detail/2018/11/09/579491/Saudi-Germany-merkel-arms-ban-spain-South-Africa-Denel
--------
Russia should let Israel attack Iranians in Syria: US envoy
Nov 8, 2018
The United States wants Russia to allow Israeli warplanes to continue attacking Iranian advisors in Syria, as Israel fears it can no longer enter the Arab country's airspace after Moscow supplied Damascus with advanced S-300 air defense systems.
"Russia has been permissive, in consultation with the Israelis, about Israeli strikes against Iranian targets inside Syria. We certainly hope that that permissive approach will continue," James Jeffrey, Washington's special representative to Syria said in a conference call with reporters on Wednesday.
Both Iran and Russia have been supporting Syrian President Bashar al-Assad's government purging foreign-backed terrorist groups from the country.
Israel, however, views the Islamic republic's advisors in Syria as a threat and has openly pledged to target them out until they leave the country.
The Israeli air force has staged repeated air raids against Syrian military bases that it claims are used by Iranian military advisors.
"Israel has an existential interest in blocking Iran from deploying long-range power projection systems ... inside Syria to be used against Israel. We understand the existential interest and we support Israel," Jeffrey said.
In October, Moscow equipped Damascus with the advanced S-300 surface-to-air missiles, days after Israeli fighter jets attacking Syrian targets used a Russian surveillance plane flying nearby as a shield and misled the Syrian air defenses to shoot it down. The incident in September strained ties between Russia and Israel. According to some reports, Moscow has repeatedly turned down requests by Israeli Prime Minister Benjamin Netanyahu for a meeting with Russian President Vladimir Putin.
"Our immediate effort is to try to calm that situation down and then move on to a long-term solution," the US envoy said with regards to the fallout between Moscow and Tel Aviv.
The diplomat said Washington was working to ensure that all Iranian military advisors leave Syria.
"The Russians, having been there before, would not in fact withdraw, but you've got four other outside military forces - the Israelis, the Turkish, the Iranian and the American - all operating inside Syria right now. It's a dangerous situation," Jeffrey said.
Turkey has staged two incursions into northern Syria since 2016 with a declared aim of curbing Kurdish militant groups. Jeffery said Washington took Ankara's concerns seriously.
Iran has made it clear that it would stay in Syria as long as Damascus requests.
Full report at:
https://www.presstv.com/Detail/2018/11/08/579438/US-Jeffrey-Israel-attack-Iran-Syria-s300
--------
Prison riot leaves 27 dead in northern Tajikistan
Nov 8, 2018
At least 25 inmates and two security officers have been killed when a riot broke out overnight at a high-security prison in Tajikistan's northern city of Khujand, security sources say.
According to an Interior Ministry official, who was speaking on the condition of anonymity, the riot began late on Wednesday when one inmate regarded by the authorities as a member of the Takfiri Desh terrorist group attacked a prison guard and seized his assault rifle.
An unnamed security official said police restored order hours later with the help of reinforcements.
The prison in Khujand, which lies around 300 kilometers (186 miles) north of the Tajik capital Dushanbe, is known for housing people convicted of extremism.
The two sources said at least 25 inmates were killed, as well as one warder and one policeman. The third source, also a security official, said three guards were killed.
Local officials confirmed there had been a riot, but provided no other information.
Local residents, however, said gunshots were heard from the prison area. They said police cordoned off all roads and highways connecting the city with neighboring Uzbekistan and Kyrgyzstan.
The Khujand directorate for penitentiary services denied that firearms were discharged in the prison but confirmed the extraordinary situation.
Full report at:
https://www.presstv.com/Detail/2018/11/08/579437/Tajikistan-prison-riot-Khujand-Daesh
--------
URL: https://www.newageislam.com/islamic-world-news/anti-dowry-drive-thousands-indian/d/116836
New Age Islam, Islam Online, Islamic Website, African Muslim News, Arab World News, South Asia News, Indian Muslim News, World Muslim News, Women in Islam, Islamic Feminism, Arab Women, Women In Arab, Islamophobia in America, Muslim Women in West, Islam Women and Feminism