New Age Islam News Bureau
27 Dec 2019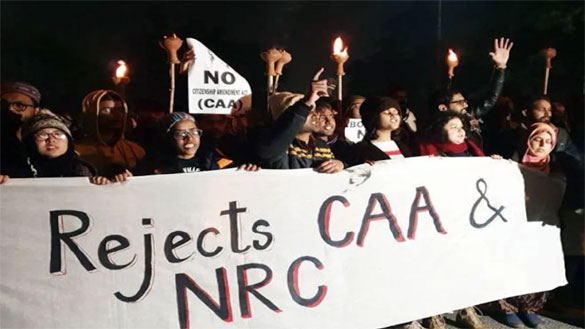 The amended Citizenship law coupled with NRC could affect the Status of Muslim minority in India
--------
• Anti-CAA Carols: Christmas Celebrations in Kerala at Some Places Witnessed Some Colours of the Anti-Citizenship Act Protest
• CAA Coupled With NRC Could Affect the Condition Of Muslim Minority, Says US Congress Think Tank
• Viral Tweet Showing Request for All-Muslim Restaurant In Bali Sparks Debate On Open-Mindedness
• Riyadh Plans Organisation of Islamic Cooperation FMs Meeting On Kashmir
• Young Muslims Conduct Winter Campaign To Help Vulnerable In South Yorkshire Over The Festive Season
• Imam Khamenei Warns Of Plot to Consign Revolution Symbols to Oblivion
• Muslims Would Continue to Fight for their Rights Peacefully, Sultan Assures Nigerians
• Christchurch Mosque Attack: NZ Police Treat Young Victims To Adventure Holiday
Compiled By New Age Islam News Bureau
URL: https://www.newageislam.com/islamic-world-news/anti-caa-carols-christmas-celebrations/d/120642
------
India
• No Harm in Backtracking On Citizenship Law: Cardinal Gracias, Head Of The Catholic Church In India
• Sikh Family Donates Land for Mosque in Moga Village after Nearly 200-Year-Old Mosque Started Demolished For A Highway Widening Project
• UP minister refuses to meet Muslim families
• No criminal record, no protest, yet Muslim men made to sign bonds in Uttar Pradesh villages
• 'Videos posted by police have made Muslims insecure
• Will File Petition In Top Court For Babri Debris: Muslim Body
• CAA ignores Muslims, won't implement it in Puducherry, says CM Narayanasamy
• UP government scared of Hindu-Muslim unity: Akhilesh Yadav
• 6 soldiers reportedly killed in border fire exchange in Kashmir
• Congress in Kerala calls meeting with Muslim bodies over Citizenship (Amendment) Act
• CAA protests: Security upped, prohibitory orders imposed in parts of Delhi
• Police urge protesters to clear Kalindi Kunj road
------
Southeast Asia
• Panasonic, Sharp fine-tune goods to conform to Islamic teachings
• Muslim nations consider gold, barter trade to beat sanctions
• Muslims perform prayers during solar eclipse
• China Cables: When will the Muslim world speak up for persecuted Uighurs?
• DAP Youth: Muslim students' group Gamis abusing freedom of speech with May 13 reference
------
Arab World
• Egypt's leading Islamic figures visit Pope Tawadros ahead of Christmas celebrations
• Saudi Arabia's Hajj ministry signs agreements with Somalia, Syria
• Saudi rights body trains police on anti-human trafficking methods
• Arab coalition in Yemen completes review procedure
• Saudi graffiti adds colour to MDL Beast music festival
------
Europe
• Leuven University to train Belgium's first home-grown imams
• Russian authorities raid opposition leader Navalny's offices
• UK Times pays libel damages to imam
• Navalny aide who wanted to see US tanks in Moscow is conscripted into military service, sent to Artic
------
Mideast
• Poet Of Turkish National Anthem Beacon For Muslim World
• Iraq president won't name Iran-backed bloc's nominee as PM
• Commander: Iranian Naval, Ground Forces' Power Deters Enemies from Military Aggression
• Iranian Security Forces Seize US-Made Weapons Smuggled to Kill People during Riots
• Iraqi President Tenders Resignation to Parliament
• Abdullah Abdullah Describes Iran as Afghanistan's Strategic Partner
• Syrian Army Regains Full Control over 40 Towns, Villages in Idlib Province, Sets Free 320sq/km
------
Africa
• 14 dead in Niger after Islamic militants attack convoy
• 'We need a Nigeria where Muslims are allowed to wear hijab anywhere' – Sultan of Sokoto
• Islam Encourages Peaceful Co-existence Regardless Of Faith –Miyetti Allah
------
Australia and New Zealand
• Radical Islamic extremists pose the biggest terror risk to Australia despite 'small but significant' far right threat, ASIO says
------
South Asia
• Taliban Releases Afghan Peace Marchers without Harm
• 6 Afghan soldiers killed in suicide car bombing
• Iranian press review: Iran accuses US of flying Islamic State fighters to Afghanistan
• US to facilitate $85m funds for the strategic Chabahar port equipment purchase
• American University of Afghanistan could close in 2020 due to funding issues
• Several rare antelopes of Salang mountains killed, police in search of hunters
------
Pakistan
• Pakistan Govt Files Review Plea In Army Chief Case
• Musharraf Files Petition in LHC Challenging Special Court's Verdict in High Treason Case
• Pakistani cricketer Danish Kaneria ill-treated by teammates because he was Hindu: Shoaib Akhtar
• PM Imran Khan takes Saudi FM into confidence on IOK, anti-Muslim law
• Two Pakistani soldiers martyred in Indian firing from across LoC
------
North America
• Trump accuses Russia, Syria, Iran for increased violence in Idlib province
• Trump calls for end to killing in Syria rebel bastion
• I Might Still Be Married if Trump Wasn't President
• Philippines bans two U.S. senators, mulls new visa rules for Americans
------
Anti-CAA Carols: Christmas Celebrations In Kerala At Some Places Witnessed Some Colours Of The Anti-Citizenship Act Protest
December 27, 2019
Matters India
Thiruvananthapuram, Dec 27, 2019: The Christmas celebrations in Kerala at some places witnessed some colours of the anti-Citizenship Act protest, but none could take away the merry cheers that the day brings.
Kerala has been one of the states at the forefront of the anti-Citizenship Amendment Act (CAA) protests. This theme was used by a musical troupe in the St Thomas Marthoma Church in Kozhencherry.
The group sang Carols in Muslim style and costumes, expressing solidarity with the Muslim community, who have been protesting against the CAA and the National Citizen Register (NRC).
Early Wednesday morning, Churches across the state were crowded as young and old waited patiently for the Christmas wine and cake.
The devout Christians across the various sections in the Christian community, while observing a holy lent by giving up all non-vegetarian dishes for 25 days, ended the lent when the wine was poured into their mouth by the priests conducting the mass.
The wine was followed by a piece of cake, after which a sumptuous breakfast is relished.
The traditional Syrian Christian breakfast includes, appom, stew (chicken or mutton) fish molly, duck, beef, egg roast and steamed banana.
One change from the yesteryears is with the fresh toddy, which when added to the rice dough, gives the appom a unique taste. However, toddy has become a scarce commodity and, today most homes use the yeast today.
In some homes, the lunch is the major meal and unlike the traditional "Onam Sadya" which is always eaten from a plantain leaf, the Christmas lunch is eaten from the plate.
The menu includes varieties of fish and meat and of late, in some homes it is the mouth watering "biriyani" or fried rice.
With Christmas now turning more a less a secular event, it"s the bakeries which make the biggest killing as presenting a Christmas cake among friends and relatives, has become the order of the day.
And cakes, especially the ones coated with icing sugar costs anything from Rs 600 upwards and the most exquisite ones cost as high as Rs 2,500 per kg.
Christians in Kerala number around 62 lakh of the 3.34 crores population.
https://www.outlookindia.com/newsscroll/anticaa-carols-mark-christmas-in-kerala/1693742
http://mattersindia.com/2019/12/anti-caa-carols-mark-christmas-in-kerala/
------
CAA coupled with NRC could affect the condition of Muslim minority, says US Congress think tank
December 27, 2019
The amended Citizenship law along with a National Register of Citizens (NRC) being planned by the Narendra Modi government "may affect the status" of Muslim minority in India, a report by the Congressional Research Service (CRS) has said.
The December 18 report also said that for the first time in independent India's history, a religious criterion has been added to the country's naturalization process.
The CRS is an independent research wing of the US Congress which prepares reports periodically on issues of domestic and global importance for the lawmakers to take informed decision. These are not considered as official reports of the US Congress."In tandem with a National Register of Citizens (NRC) planned by the federal government, the CAA (Citizenship Amendment Act) may affect the status of India's large Muslim minority of roughly 200 million," said the CRS in its first ever report on the amended Citizenship law.
According to the Citizenship (Amendment) Act, non-Muslim refugees who came to India till December 31, 2014, to escape religious persecution in Pakistan, Bangladesh and Afghanistan will be given Indian citizenship. Since both houses of Parliament approved amendments to the citizenship law earlier this month, protests - sometimes violent - have taken place across the country during which many protesters have died, especially in Uttar Pradesh and Karnataka.
"India's Citizenship Act of 1955 prohibited illegal immigrants from becoming citizens. Among numerous amendments to the act since 1955, none contained a religious aspect," the CRS said in its two-page report. The changes sparked significant controversy, including large-scale and sometimes violent protests. Opponents of the CAA warn that Prime Minister Narendra Modi and his Bharatiya Janata Party (BJP) are pursuing a Hindu majoritarian, anti-Muslim agenda that threatens India's status as an officially secular republic and violates international human rights norms, it said.
The CRS claims that the amendment's key provisions allowing immigrants of six religions from three countries a path to citizenship while excluding Muslims may violate certain Articles of the Indian Constitution, in particular Articles 14 and 15. The Citizenship (Amendment) Act was immediately challenged in the Supreme Court by scores of petitioners, but the court has refused to issue a stay on implementation and is deferring hearing petitions until January 22, it notes, adding that the government argues that the three specified countries have a state religion -- Islam -- resulting in persecution of religious minorities.
"Proponents say that Muslims do not face persecution in Pakistan, Bangladesh, or Afghanistan, and that the CAA is constitutional because it addresses migrants rather than Indian citizens," it said.
"Yet it is not clear why migrants from other neighbouring countries with state (or favoured) religions, such as Sri Lanka (where Buddhism is the official religion and Tamil Hindus face persecution) and Burma (where Buddhism enjoys primacy and Rohingya Muslims are persecuted), are excluded from a path to citizenship. In addition, oppressed Muslim minority communities such as Pakistan's Ahmadis and Shias enjoy no protection under the CAA," the CRS said. "The New Delhi government maintains that the NRC update is a fair and non-discriminatory process driven by the Supreme Court that does not impose a religious test or render any persons 'stateless'," it said adding that the United Nations, the US Commission for International Religious Freedom, and independent human rights groups have expressed concerns about NRC
https://www.businesstoday.in/current/economy-politics/caa-coupled-with-nrc-could-affect-the-condition-of-muslim-minority-says-us-congress-think-tank/story/392683.html
------
Viral tweet showing request for all-Muslim restaurant in Bali sparks debate on open-mindedness
Dec 27, 2019
Indonesians are no stranger to debates surrounding the issue of halal certification, which seems to be increasingly common over the past few years. While determining whether food is permissible for consumption by Muslims is one thing, a recent viral tweet brings to light how some people, while on a trip to Bali, seem to have taken the idea way too far.
Last Sunday, Twitter user @vabyo shared a screenshot of his message exchange in which a friend is asking for a rather disconcerting restaurant recommendation.
"Vabyo, are you in Ubud? I'm taking some people with me … [they're] a bit fussy. Is there a halal restaurant where all the staff and customers are Muslims?" the friend wrote.
The user, whose real name is Valiant Budi Yogi, gave the unidentified friend a cheeky reply: "There is, head on to Ngurah Rai and buy a ticket home."
Ever the space for controversial debates, the tweet went viral on the Indonesian twitterverse, with over 6,000 retweets and 5,500 likes at the time of writing. It garnered a multitude of reaction from netizens, many of whom criticized the questionable request.
"Religions are supposed to ease, not complicate [things]," one user wrote.
"Here's the thing, not all food in Bali contain pork. There are many Javanese dishes sold by Javanese people. Or Balinese who sells chicken dishes. I'm so frustrated with these types of tourists who fuss over food. If you are concerned with whether certain meals are halal or haram, maybe it's better you stay home."
"Maybe they should be recommended to travel to Aceh."
Bali is currently swarming with many tourists from all over Muslim-majority Indonesia, what with this being the holiday season and all. The Island of the Gods, of course, is certainly used to accommodating a diverse array of tourists, which is why it bothered Budi so much to see such a religiously exclusive request.
"I think the request is just too much. Bali has always been friendly to all kinds of tourists, especially Muslims. When Nyepi coincided with Eid al-Fitr, we were allowed to leave our homes for Eid prayer. Mosques? They have it. Halal restaurants? They have it," Budi told Coconuts.
"A halal restaurant with an all-Muslim staff? We can certainly look for one, but why is that necessary? A halal restaurant with an all-Muslim staff and customers? Why, this is completely uncalled for; why must it be so exclusive?"
Budi said he is from Bandung, West Java but has been living in Bali for five years. He said the interaction has prompted him to contemplate on how much tourism should influence the local way of life.
"Ten years ago, I worked at a café in Saudi Arabia, where the staff are non-Muslims and the customers are expatriates whose religions are not known – maybe they don't even adhere to any religion," Budi said, drawing a connection from his experience in the birth country of Islam.
Budi, who is a Muslim himself, hopes that the tweet going viral will encourage people to be more open-minded and respectful to others.
Though around 90 percent of Indonesians identify as Muslims, the fourth most populous country in the world is home to other religions as well. Indonesia's constitution guarantees freedom of religion and the government officially recognizes six religions: Islam, Protestantism, Roman Catholicism, Hinduism, Buddhism and Confucianism.
Bali, of course, is a Hindu-majority province, where Hindus make up more than 80 percent of the province's population. However, as anyone who's lived in Bali knows – it's not hard to find a mosque or a halal restaurant on the island, especially in touristy areas.
"Hopefully, whatever religion we practice, we would be willing to socialize and mingle with all kinds of people, so we can be more understanding and respectful," Budi said.
https://coconuts.co/bali/news/viral-tweet-showing-request-for-all-muslim-restaurant-in-bali-sparks-debate-on-open-mindedness/
------
Riyadh Plans Organisation Of Islamic Cooperation Fms Meeting On Kashmir
Baqir Sajjad Syed
December 27, 2019
ISLAMABAD: Saudi Arabia is planning to convene a meeting of the foreign ministers of member states of the Organisation of Islamic Cooperation (OIC) for a discussion on the situation in Indian-occupied Kashmir, according to a diplomatic source.
This was conveyed by Saudi Foreign Minister Prince Faisal bin Farhan Al-Saud during a meeting with Foreign Minister Shah Mehmood Qureshi at the Foreign Office.
Prince Faisal was on a day-long visit to Pakistan to convey the Saudi leadership's gratitude for not participating in the recently held Kuala Lumpur summit in view of the kingdom's reservations and dispelling the impression that Riyadh's attitude towards Islamabad was patronising.
Prince Faisal also called on Prime Minister Imran Khan. The meeting was also attended by Foreign Minister Qureshi, Foreign Secretary Sohail Mahmood, ISI Director General Lt Gen Faiz Hameed and other senior officials.
Saudi foreign minister meets Imran and Qureshi, describes relations with Pakistan as 'fraternal and strategic'
The KL summit had found strong support in Pakistan because of Saudi Arabia's growing trade ties with India and OIC's failure to take strong stance on Muslim causes.
"The two foreign ministers discussed OIC's role in the advancement of the cause of Kashmir," the FO said in a statement. Mr Qureshi briefed Mr Saud on the situation in occupied Kashmir in the aftermath of India's Aug 5 move to annex the disputed region and the developing humanitarian crisis there.
He also spoke about the Indian government's Hindu nationalist agenda as manifested by the recently enacted Citizenship Amendment Act and National Register of Citizens and the systematic targeting of minorities in India, particularly Muslims.
PM Khan, meanwhile in his meeting with the Saudi foreign minister, said that ceasefire violations by India along the LoC were stoking tensions and imperiling regional peace and security. He urged the international community to play its role in ensuring respect for the rights and freedom of the Kashmiri people, facilitating a just solution of the Jammu and Kashmir dispute and taking steps for the protection of minorities in India.
The Saudi foreign minister described relations with Pakistan as "fraternal and strategic" and conveyed the Saudi leadership's appreciation for "the role played by Pakistan in maintaining regional peace and stability". He reaffirmed the Saudi support for issues of core interest for Pakistan and desire for cementing ties with Pakistan in all fields.
Mr Saud said Riyadh remained committed to "core relationship" between the two countries and would further deepen the multi-faceted cooperation between the two countries.
According to the FO statement, Mr Qureshi, during his conversation, underscored the significance of bilateral trade and economic cooperation, security and defence cooperation, parliamentary exchanges and increased trade relations for strengthening the bilateral ties. He recalled Saudi investments, particularly in the petrochemical, mining and minerals and energy sectors, and asked for expanding the Road-to-Makkah project to other cities of Pakistan for facilitating greater number of pilgrims.
Road-to-Makkah is a pre-departure immigration facility, which is currently available at Islamabad International Airport, as a pilot project for easing arrival procedures for the pilgrims.
Prime Minister Khan, meanwhile, reminded about the Saudi commitment for investment in various sectors, particularly petrochemical, mining and renewable energy, and hoped that the Saudi team for development of the tourism sector would visit Pakistan soon.
Crown Prince Mohammad bin Salman had during PM Khan's recent visit to Saudi Arabia promised to assist in development of Pakistan's tourism sector.
https://www.dawn.com/news/1524607/riyadh-plans-oic-fms-meeting-on-kashmir
------
Young Muslims conduct winter campaign to help vulnerable in South Yorkshire over the festive season
By Alana Roberts
Thursday, 26th December 2019
The volunteers from the Ahmadiyya Muslim Muslim Youth Association (AMYA) organised various hospital and care home visits, a meal sharing session with the homeless and a free taxi service for the elderly on Christmas Day to spread the festive cheer to those living in both Sheffield and Rotherham this holiday season.
Over 50 members of the AMYA South Yorkshire branch visited Hallamshire Care Home and Heeley Bank Care Home, in Sheffield, as well as Broom Lane Care Home, in Rotherham, to meet with over 100 residents and distribute gifts as well as flowers, fruit and chocolate, and Christmas cards.
The group also took a trip to Sheffield Children's Hospital, the Northern General Hospital and Rotherham General Hospital to hand out toys and chocolates to all the young patients and nurses working on Christmas Eve.
Nadeem Ahmad Regional Youth Leader for Yorkshire said: "Islam urges every person to partake in charitable giving, and that even an act of kindness towards another is charity. AMYA has and continues to instil young people with a sense of civil responsibility, and a desire to promote harmony within our local communities.
"Our members have enjoyed living in Yorkshire for decades and so any opportunity to help our local community is a much welcomed one"
Apart from the gift giving activities, the young people donated various items to food banks across the region and over 70 food packets were distributed to the homeless in Sheffield as part of the winter seasonal campaign which also saw those living on the streets receive necessities such as sleeping bags and pillows.
They also responded to the Hallam FM Cash for Kids charity toys appeal by giving 60 toys to the cause which will then be forwarded to those children who may otherwise go without at Christmas.
https://www.thestar.co.uk/news/people/young-muslims-conduct-winter-campaign-help-vulnerable-south-yorkshire-over-festive-season-1349408
------
Imam Khamenei warns of plot to consign Revolution symbols to oblivion
December 26, 2019
AhlulBayt News Agency (ABNA): Leader of the Islamic Revolution Ayatollah Seyed Ali Khamenei warned about a hostile and sinister plot to consign the symbols of the Islamic Revolution to oblivion.
In a Thursday meeting with members of a committee tasked with holding a congress to commemorate martyrs of the southern province of Hormozgan, Ayatollah Khamenei said virtues like courage and defending the righteousness have been institutionalized in the province.
"Commemorating martyrs is a necessary job and a duty of all of us, because a villainous policy and move is underway with the purpose of consigning the symbols of the Revolution, particularly jihad and martyrdom, to oblivion, and such a policy must be countered," Ayatollah Khamenei stressed.
Martyrs, regardless of their age or education, are symbols of devotion and preparedness to sacrifice their lives for defending the truth, the Leader added, calling for efforts to familiarize the youth with such precious symbols and role models.
In December 2018, Ayatollah Khamenei cautioned about the enemy's plots to damage spiritual values in Iran, saying, "The enemies' onslaught at the spiritual level is much more dangerous and troubling than the ones at the level of ordinary issues, hard attacks and the like."
The Leader underscored, though, that the hostile attempts to damage the spiritual values will end in failure in the same way that the "hard war and hard pressures" against Iran resulted in failure.
In January 2018, Ayatollah Khamenei warned that the enemies have mobilized all efforts to harm the Islamic Republic, saying the fact is that the enemy has been always seeking to find an opportunity to infiltrate into Iran and harm the Iranian nation.
The Leader described the Iranian nation's courage, devotion and faith as the main factors in warding off the hostile moves.
https://en.abna24.com/news//imam-khamenei-warns-of-plot-to-consign-revolution-symbols-to-oblivion_996654.html
------
Muslims Would Continue to Fight for their Rights Peacefully, Sultan Assures Nigerians
December 27, 2019
Sanusi urges Muslims to adopt family planning
Kemi Olaitan in Ibadan
The Sultan of Sokoto, Alhaji Sa'ad Abubakar, yesterday said Muslims in the country would continue to fight for their rights under the constitution, but would not be provoked to be violent to achieve this.
The Sultan who spoke at the opening of the 108th Islamic Vocation Course (IVC) organised by the Muslim Students' Society of Nigeria (MSSN) Zone B held at IVC Permanent Camp, along Lagos-Ibadan expressway, called on Muslims to always be law- abiding.
Present at the programme, which has as its theme, "The Unification," include the Deputy Governor of Oyo State, Mr. Rauf Olaniyan; the Emir of Kano, Alhaji Muhammadu Sanusi II; the Resident Electoral Commissioners in Oyo and Ogun state, Mutiu Agboke and Professor Abdulganiy Raji, former and Present Executive Secretary of Muslim Ummah of South West Nigeria (MUSWEN), Prof. Daud Noibi and Prof. Muslih Yahyah.
Others are Aare Musulumi of Yoruba land, Edo and Delta, Alhaji Daud Makanjuola; Baba Adini of Yoruba land, Edo and Delta, Alhaji Sharafadeen Tunji Ishola; Iya Adini of Yoruba land, Edo and Delta, Alhaja Sekinah Adekola; National President (Amir) of MSSN, Dr. Taofeek Yekeen; MSSN Zone B Amir, Qaasim Odedeji and Chairman, Muslim Community of Oyo State, Alhaji Isiaq Kunle Sanni and Prof. Abideen Olaiya.
While throwing his weight behind the Chief Justice of Nigeria (CJN)'s call for more review of the Shariah laws, the Sultan stated that the rights of Muslims such as wearing of Hijab by women and girls are sacrosanct, urging the Muslim Ummah in the country to always see themselves as agents of unity.
According to him, "My appeal to Muslims in the country is that they should not be provoked by any utterances from either any political or religious leaders but continued to be law-abiding. Muslims will not work to divide Nigeria by taking up arms to fight for their rights but should continue to be agents of unity of the country."
The Emir of Kano, Muhammadu Sanusi, in his own contributions implored Nigerians, especially Muslims to give birth to only the number of children they can cater for.
Sanusi while speaking on the array of social problems bedeviling the country, insisted that the issue of Almajri syndrome is not a religious issue but a social issue that needs urgent attention.
While maintaining that there is a need to get all out-of -school children back to the school, he maintained that men should imbibe the habit of marrying the number of women they can cater for, urging Nigerians, especially Muslims to give birth to the only children they can cater for.
According to him, "If we continued this way, about 40 per cent extremely poor people will be in Nigeria. It is 20 per cent in the South-west, North it is 80 per cent, Lagos is eight per cent and Zamfara, it is 91 per cent.
"We have been talking about Almajri for over 30 years. Why are people having family that they cannot maintain? Why are people marrying wife that they cannot maintain? The condition is that you are able to provide for your family.
"Instead of having many children, why not having the ones you can cater for? These are the fundamental questions we should ask ourselves."
Most of these children roaming about the streets will be adult in the next 20 years and they will be the ones they will recruit as political thugs by the politicians if we don't take good care of them now.
"This is my own advice that we must look at. These are not religion; they are social issues that need to be addressed".
https://www.thisdaylive.com/index.php/2019/12/27/muslims-would-continue-to-fight-for-their-rights-peacefully-sultan-assures-nigerians/
------
Christchurch mosque attack: NZ Police treat young victims to adventure holiday
Sarah Templeton
A group of young men impacted by the March 15 Christchurch terror attack have been treated to an adventure holiday up north, including zorbing, luging and a day out at Rainbow's End.
The group of 20 teens, aged between 12 and 18, were either worshipping at the Christchurch mosques when they were attacked, or lost family and friends in the shooting.
Earlier this month they enjoyed an adventure holiday in Auckland, Rotorua and Taupō, organised by Christchurch Police, Muslim youth workers and police charity Blue Light.
The boys played mini-golf in Auckland before being hosted by the south Auckland Mosque Masjid Al Mustafa. They visited SkyCity then headed to Rotorua and Taupō, where they went zorbing, luging, visited the Tāmaki Māori Village, whitewater rafting, mountain biking and jet boating.
The trip ended in Auckland with a day out at Rainbow's End theme park and a visit to the Counties Manukau police hub.
"Many of the boys have never been out of Christchurch and we wanted to give them a fun week away in the North Island, creating new, positive memories," says Const Bruce Ward, who was behind the trip.
"This trip was a chance to build relationships with police and for us to give something special back. It was also a real opportunity for the police staff to understand the richness of Muslim culture."
Youth worker Hesham Jones, from Nawawi Centre in Christchurch, says "it wasn't long before we saw them all as friends first before police officers."
"These boys have shown tremendous resilience and I have never seen them so excited when they were preparing for this trip. The amount of engagement we had with the boys during the camp was priceless.
"I genuinely believe that we will look back on this experience as a major milestone in the recovery of our community."
https://www.newshub.co.nz/home/new-zealand/2019/12/christchurch-mosque-attack-nz-police-treat-young-victims-to-adventure-holiday.html
------
India
No Harm In Backtracking On Citizenship Law: Cardinal Gracias, Head Of The Catholic Church In India
December 26, 2019
Matters India
Mumbai, Dec 26, 2019: There is no harm in backtracking if the government thinks it has erred in amending citizenship laws, says Cardinal Oswald Gracias, head of the Catholic Church in India.
"Religion should never be made a dividing factor," asserted the cardinal when asked about the political turmoil in India over the controversial Citizenship Amendment Act 2019 (CAA) and the implementation of the National Register of Citizens (NRC).
However, the prelate disapproved people indulging in violence to get their voices heard. "Violence is not right. A continuous discussion must take place," the Bombay archbishop told friends and well-wishers who on December 24 greeted him on his 75th birthday.
Cardinal Gracias, president of the Catholic Bishops' Conference of India and an adviser of Pope Francis, says he is "very keen" on inter-religious dialogue between people of different faiths. "This will knock off any prejudices and eventually help to understand and appreciate each other. I want the Catholic community to be at the forefront of this… to build bridges," he added.
The Indian Church leader termed the love for the nation as an important trait of citizens. "If we truly feel strongly about India, then we must work for the country, to the point of being ready to sacrifice for it," the cardinal asserted.
To foster patriotism, the cardinal suggests people engage in reflection and exchange of ideas. "Reading and knowing the thoughts of others helps one's own thoughts to mature and conceptualize a better India, in which everyone is like one big family. This is what should be our priority," Cardinal Gracias explained.
He urged students protesting against the CAA to come forward and discuss their difficulties with the authorities. "The government should be willing to engage. The government wants a better India, and if after reflection, they feel that they have made some mistake, then there is no harm in backtracking. We need to look at the larger picture," he added.
The cardinal celebrated his birthday at the Archbishop's House in Colaba amid followers, friends, well-wishers and parishioners.
After the blessing ceremony in the courtyard at 12 noon, some friends of the cardinalsaid a few words inside the main hall. This was followed by a chorus of "Happy birthday to you" while the cardinal cut the cake, and some fun activities and games between staffers.
Speaking to Mid-Day amid the celebrations, Cardinal Gracias stressed the importance of having an inter-religious dialogue, and the responsibilities that come with being "men of service."
"I have held multiple offices (he is also the president of the Catholic Bishops Conference of India) and I have realized that it is important to be men of service and have faith in God, no matter which religion you belong to," he said.
"There are many challenges…in some circumstances, one might be pressured to do the wrong thing, but in these cases, it is even more important to do what is right. If you appease people, then you will repent later."
Source: Mid-Day
http://mattersindia.com/2019/12/no-harm-in-backtracking-on-citizenship-law-cardinal-gracias/
------
Sikh Family Donates Land for Mosque in Moga Village after Nearly 200-Year-Old Mosque Started Demolished For A Highway Widening Project
Dec 27, 2019
BATHINDA: A Sikh family has donated 16 marlas (484 sq yards) of land for the building of a mosque in Machhike village, in Punjab's Moga district, near the Barnala-Moga highway.
The village already has a nearly 200-year-old mosque situated right on the edge of the highway, but it is on the verge of being demolished for a highway widening project. The cost of the donated land is estimated at over Rs 8 lakh, with one marla fetching over Rs 50,000 in the village.
Over a year ago, when the highway widening project was launched, Muslim families in Machhike village, under the banner of the Muslim Welfare Society, tried to urge the authorities to spare the mosque at the edge of the highway.
However, after structures adjacent to the mosque or those situated almost on the edge of the highway started being demolished, they began to look for an alternative spot for a mosque and even approached the village panchayat, but with no success.
We were worried for our place of worship. With only 14-15 Muslim families in the village, which has a population of over 7,000, we did not have the resources to purchase land and at the same time did not want to lose the only place of paying obeisance. It is at this point that the family of Darshan Singh came as angels and donated the land to construct a mosque and a dharamsala." Muslim Welfare Society president Roop Mohammad said.
https://timesofindia.indiatimes.com/city/amritsar/village-mosque-to-make-way-for-road-sikh-family-gives-land-for-a-new-one/articleshow/72987374.cms
------
UP minister refuses to meet Muslim families
DEC 27 2019
An Uttar Pradesh minister on a visit here on Thursday refused to meet the families of the two Muslim men who died in the recent protests against the new citizenship law, terming them "upadravi" (vandals).
"Why should I go to vandals' place? How can those who are involved in vandalism and put the entire country and state in arson be social," minister Kapil Dev Agarwal posed, defending his decision to not visit the homes of the two Muslim families.
"Why should I visit those who want to put Nahtaur/Bijnor in flames?" the minister in-charge of the district shot back when asked by reporters to justify his decision.
Congress leader Priyanka Gandhi Vadra on Sunday met the families of those dead in the violence in Bijnor.
When a media person confronted the UP minister by asking him specifically whether it did not amount to discrimination, Agarwal retorted saying, "Why should I go to the homes of vandals? Listen to me. Those who are doing vandalism and want to inflame ...
https://www.deccanherald.com/national/north-and-central/up-minister-refuses-to-meet-muslim-families-789035.html
------
No criminal record, no protest, yet Muslim men made to sign bonds in Uttar Pradesh villages
The clampdown of the Uttar Pradesh police against the Muslim community has now extended to those who have not taken part in the ongoing protests. In three villages located less than 30 km from Lucknow, at least 100 Muslim men have been made to furnish a bond of Rs 50,000 each under Section 107/116 of the Criminal Procedure Code, which virtually serves as an assurance that they will not participate in any protest. They will have to appear in court every fortnight or so for at least the next six months.
The section is meant to be a preventive measure: it is invoked by an Executive Magistrate against anyone under his jurisdiction who could pose a reasonable threat to the peace. He is supposed to do this after receiving information and forming an opinion that there is substantial ground for proceeding against the individual. Its invocation on a mass scale against those who have never violated the law in the past has come as a shock to the residents of these villages.
"Please don't reveal our names but can you find out why the Muslims of this village are being treated like criminals," asked a man in his early twenties, a resident of Kamlabad Badhauli vllage, who has been made to furnish a bond. He is preparing for the state public service commission exams. He pointed to a picture of the former governor of Uttar Pradesh, Ram Naik, awarding honours to his elder brother, a university topper – the brother too has been charged.
It is yet unclear how widespread the application of this section has been against the rural Muslim population of the state.
No one spared, from old to young
In the village of Kamlabad Badhauli, 20 km from Lucknow, it was bitterly cold at 7 pm on Thursday. A group of men sat huddled around the fire, too scared to speak to a journalist, yet desperate to be heard.
Among them were daily wagers, educated youth preparing for various entrance exams, a man employed in a shoe shop, two old men nearing seventy, and a young boy. All of them had been served notices under Section 107/116 of the CrPC. Thirty-seven men from 20 of the 25 Muslim families in the village had been issued these notices, in some cases all the male members of a family.
The residents of Kamlabad Badhauli told Scroll.in that on December 19, even as protests broke out in Lucknow to be followed by a brutal police crackdown, the day passed off normally in the village. No one from the village had gone for the protests, at least none of the 37 who have been served notices.
According to them, the first they heard of these notices was when on December 23, Vishnu Kumar, a chowkidar, was ordered by the local police station to go door to door with a list of names and addresses of the men charged under Section 107/116 of CrPC. They were asked to sign against their names but none of them realised what had transpired until December 26 when they were told they had to appear in court. It is then that they consulted a lawyer.
To make matters worse, it is not clear whether these charges will result in a criminal record being entered against their name. For many of the young men preparing for examinations and looking for government jobs, this has become an additional source of anxiety.
While charges under preventive sections do not amount to a conviction, and ordinarily should not amount to a criminal record, there are conflicting legal opinions about this. A judgement of the Chhattisgarh High Court has held that proceedings under Section 107 of CrPC make a person unfit for government employment.
Even without a criminal record, the men who have been served notices as potential troublemakers could become easy suspects, even fodder, for the next time the police wanted to pick up anyone for any perceived crime or breach of peace, said a lawyer.
Worse, notices under Section 107 of the Criminal Procedure Code allow a magistrate to order the arrest of an individual if he is convinced that only an arrest could avoid breach of peace. In the past, the Supreme Court and several High Courts have admonished the police for keeping people in jail for months using Section 107 and without registering any criminal case.
'Marked for life'
At Chatta Meel Chauraha, a market at a crossroad near the village, most of the hand-cart vendors and shopkeepers had also been served the same notice. Two brothers who for the past 20 years have been selling peanuts from their make-shift stall broke down as they recounted how they had to spend the whole day in court. "We barely earn enough to feed our families, how will we fight cases?" they asked.
The young man who was preparing for the state public service commission exams said other than him and his elder brother, two other men from their family have also been charged. The youngest of them will turn eighteen next month.
"They haven't arrested us or beaten us, and they couldn't recover damages from us, but they have marked us for life," he said. "All of us will have a criminal record for no other reason that being Muslim."
The fear in this village is compounded by bewilderment. The villagers repeatedly pointed out that Kamlabad Badhauli, with its 30% Muslim population, has never seen communal tension.
The group of Muslim men speaking to this reporter were subsequently joined by two other residents – Himanshu Shukla and Harsh Mishra – who had no fear of their names being cited. They were equally unsure about why this village had been targeted.
Shukla said: "Our history is different. There was no trouble over Ayodhya [dispute] and very close to our village at Bakshi ka Talab, the Ramlila always makes news because in it Ram is always played by a Muslim."
Kamlabad Badhauli, though, is not the only village to be targeted. A kilometre away similar stories emerged at Muslim Nagar, a larger Muslim-dominated village. Here, 20 men have been charged under Section 107/116 of the CrPC. Many of them had gathered at a barber shop run by a man in his early thirties. Two of his brothers are also facing the same charges.
"There is no case against any of us," he said. "On the day of the protests, there is CCTV footage of my brother and I at the electricity board office paying our bills, then we were at the Vodaphone store to sort out our mobile issues. There is a camera there too which would have recorded our visit."
He went on to detail the whereabouts of the others in the village who have also been charged: one man who was at the hospital, accompanying his brother for his chemotherapy, another man who was in Bombay, a third who was on duty at the Trauma Centre at KGMC hospital in Lucknow.
"We are innocent, but that's not the point. We are Muslims and that's the real issue," he said in conclusion.
'Is this revenge?'
The lawyer representing many of the men in Muslim Nagar, Mayank Shukla, a man in his thirties, said he had grown up with them. "This is the work of mukhbirs (police informants). They have been encouraged by the administration to name Muslims they don't like," he said.
Shukla did not have any other explanation for the notices but said he would do all he can to defend his childhood friends. Unfortunately, he added, many of them may not be able to save themselves from a "black mark against their name", which could haunt them all their lives, making it difficult for them to get employment.
Another four kilometers from Muslim Nagar, at Madhion village, residents said as many as 150 Muslim men had been charged under Section 107/116 of the CrPC. Three Muslim men told Scroll.in that at first they were so terrified that they thought of fleeing the village but then a lawyer in the village told them this would aggravate the charges against them.
"We have no choice but to live with this torture," one of them, employed as a tailor, said.
Scroll.in was able to confirm that the Muslim men in two other villages – Shervani Nagar and Bholapura – had also been charged under the section. However, with both the local police and administration unwilling to provide details of the number of people charged under this section, it was not possible to ascertain how many other villages and residents have been impacted.
As this reporter turned to leave for Lucknow, one of the men in Muslim Nagar said: "This could destroy our lives forever. Is this the badla [revenge] that the chief minister was talking about?"
https://scroll.in/article/947992/no-criminal-record-no-protest-yet-muslim-men-made-to-sign-bonds-in-uttar-pradesh-villages
------
'Videos posted by police have made Muslims insecure
DEC 26 2019
Udupi-Chikmagalur-Hassan Khazi P M Ibrahim Musliyaar Bekal on Thursday said the video clippings, posted on social media by police and telecast on some TV channels, have made Muslims look like terrorists. Read more at: https://www.deccanherald.com/st...
"The police are looking at us with suspicion," revealed the Khazi, who is widely respected by his community.
"After the Golibar incident, Muslims are feeling insecure," SYS Karnataka secretary AMSM Zaini Kamil said quoting the Justice Sachar Committee report on the conditions of Indian muslims.
Kamil told media persons in Mangaluru that the Muslim congregations in the past, which had exceeded a lakh, has been disciplined and peaceful.
Leaders from half a dozen Muslim organisations, including SJU, SMA, SSF, SYS, said Muslims feel unsafe even in the presence of policemen.
The leaders said the golibar was not warranted as the violence was not a Hindu-Muslim conflict. The leaders, displaying a video clipping of cops preventing a Muslim father from going with his wailing wife and daughter, said those behind the "police e...
They wondered why the police were selectively uploading video clippings of the violence. "Why are they not showing the video footage of protesters entering Bunder police station? Why are they not showing video clippings with police lobbing tear gas s...
"In order to gain the community's confidence, the government should initiate Judicial Enquiry into the Golibar incident," the leaders urged.
https://www.deccanherald.com/state/top-karnataka-stories/videos-posted-by-police-have-made-muslims-insecure-788964.html
------
Will File Petition In Top Court For Babri Debris: Muslim Body
December 26, 2019
Ayodhya: The All-India Babri Masjid Action Committee would move the Supreme Court seeking rubble of the demolished Babri mosque in Ayodhya, said AIBMAC convener Zafaryab Jilani here on Thursday.
The matter would also be discussed with the All-India Muslim Personal Law Board (AIMPLB), he added
The AIBMAC is also preparing to file a curative petition in the Supreme Court after its review petition was dismissed earlier this month.
"We could have raised the rubble issue during the review petition's hearing, but the plea was dismissed. According to the shariat, a mosque's debris can't be used in any other construction. The apex court has not given any direction on the mosque's debris," he said.
Jilani said the Supreme Court stated that the demolition of the mosque was illegal and unlawful. "The pillars, stones and other wreckage of the demolished mosque should be handed over to Muslims. We will soon file a petition for this," he said.
https://www.ndtv.com/india-news/will-file-petition-in-top-court-for-babri-debris-muslim-body-2154908
------
CAA ignores Muslims, won't implement it in Puducherry, says CM Narayanasamy
Akshaya Nath
December 26, 2019
Puducherry on Thursday witnessed a massive rally against the Citizenship Amendment Act (CAA) and the National Register of Citizens (NRC) led by Puducherry Chief Minister V Narayanasamy. Addressing the rally, Narayanaswamy said there won't be any place for the CAA or NRC in Puducherry.
CM Narayanasamy along with the Dravida Munnetra Kazhagam (DMK), Viduthalai Chiruthaigal Katchi (VCK) and other political party leaders from the union territory marched to show their solidarity against the CAA and the NRC.
V Narayanasamy claimed the Citizenship Amendment Act "ignores" Muslims and that he will not implement the newly enacted law, as well as the NRC, in the Union Territory "come what may".
The Puducherry chief minister claimed the CAA and the NRC were "ill-conceived" and aimed at achieving the goal of "Hindutva, as championed by the BJP".
He said the Congress-ruled state governments have decided to not implement the CAA and the NRC and "I will also do so in Puducherry".
"Even Tamils from Sri Lanka residing in India as refugees were persecuted in the Island country. Why you have left them out? Similar is the case with the Rohingyas," Narayanswamy was quoted as saying by PTI.
He alleged that the CAA "ignores" Indian Muslims.
"It cannot be done in a partisan way. You have to include people of all religions. You can't do it selectively for the people of some religions. Come what may, I will not implement CAA and NRC in Puducherry," he said.
More than 3000 gathered in this massive protest and marched a distance of 3km. The rally also witnessed people dressed up like Mahatma Gandhi, Periyar, Jawaharlal Nehru, Ambedkar, Subash Chandra Bose, and several other leaders, marching in the rally.
https://www.indiatoday.in/india/story/happy-birthday-boss-social-media-post-on-dawood-ibrahim-s-birthday-draws-ire-people-demand-action-1631891-2019-12-27
------
UP government scared of Hindu-Muslim unity: Akhilesh Yadav
Dec 26, 2019
LUCKNOW: Samajwadi Party national president Akhilesh Yadav on Thursday said that the Yogi government was scared of Hindu-Muslim unity and sought to know when the "brutality" by the police during Citizen Amendment Act protests would be investigated. He alleged that police were not lodging FIRs and post mortem reports of deceased in the clashes were not being released.
Akhilesh alleged, "Police had damaged the vehicles, looted houses during protests. They are also not writing FIR and giving postmortem reports. The opposition parties are not allowed to visit the met the family members of affected families."
In a tweet, Akhilesh said, "Hindu Mislim ekta se dari hui hai ye sarkar. Janta par apradhi hone ka aarop laga rahi, garib logon ki sampatti jabt karna chah rahi hai, logon ke pehnave par tippani dey rahi hai, nagrikon se badla lene ki dhamki de rahi hai. Par sarkar ye bataye ki police dwara failai barbarta par kab tak jaanch hogi. (This government is scared of Hindu-Muslim unity. It is accusing people of being criminals...is trying to seize the property of poor people. It is commenting on people's dress and is threatening to take revenge from the citizens. The government should also tell when the vandalism by the police will be investigated."
He said every person had the right to dissent in a democracy and this should be respected at all costs.
"The attitude of the government towards people of the state could be gauged from the fact that UP has received maximum notices by the human right commission," he said, adding that the party would form the government without any alliance in 2022 and would start collecting fine for the loss of property in 2007 Gorakhpur riots as well.
https://timesofindia.indiatimes.com/city/lucknow/up-government-scared-of-hindu-muslim-unity-akhilesh-yadav/articleshow/72983350.cms
------
6 soldiers reportedly killed in border fire exchange in Kashmir
December 26, 2019
AhlulBayt News Agency (ABNA): Troops from India and Pakistan have exchanged heavy fire and mortar shelling along the restive Line of Control (LoC) that divides Kashmir between the two countries, with a total of six soldiers reportedly killed from both sides.
The Pakistani armed forces said two of their soldiers were killed and one wounded when Indian forces started unprovoked firing in Dewa Sector on the volatile border early on Thursday.
Accusing India of ceasefire violations, Pakistan's Inter Services Public Relations (ISPR) — the media wing of the Pakistani armed forces — said the soldiers had been killed while responding to cross-border fire from the "enemy" and that the forces had damaged an Indian post, killing three Indian soldiers.
Major General Asif Ghafoor, the director general of ISPR, confirmed the report in a tweet and identified the two Pakistani soldiers killed in the incident.
The Indian army said on Wednesday that one Indian soldier and a civilian had been killed as Pakistan violated a ceasefire agreement and opened fire in north Kashmir's Baramulla district.
The Indian army added that Pakistan had resorted to heavy firing from small arms and "also fired mortars and used artillery fire."
Kashmir has been split between India and Pakistan since their partition in 1947. Both countries claim all of Kashmir and have fought three wars over the territory.
The two nuclear-armed neighbors have accused each other of violating the 2003 ceasefire agreement over 3,000 times to date this year.
Tensions escalated between the two nuclear-armed countries after February 14, when 40 Indian security personnel were killed in a bombing attack in Kashmir.
A Pakistan-based terror group claimed responsibility for the attack.
India recently scrapped the semi-autonomy of its part of Kashmir, sparking a new wave of tensions over the region.
https://en.abna24.com/news//6-soldiers-reportedly-killed-in-border-fire-exchange-in-kashmir_996657.html
------
Congress in Kerala calls meeting with Muslim bodies over Citizenship (Amendment) Act
26th December 2019
THIRUVANANTHAPURAM: Leader of opposition in the Kerala Assembly Ramesh Chennithala has called a meeting of leaders of about two dozen Muslim organisations in the state to discuss implications of the Citizenship (Amendment) Act (CAA).
Chennithala will chair the meeting at his residence on Sunday, according to an official statement here on Thursday. Of the 3.34 crore Keralites, around 88 lakh are Muslims and account for 27 per cent of the population. Hindus account for 55 per cent of the population.
The meeting with leaders of Muslim religious organisations will be held soon after the all-party meeting called by Chief Minister Pinarayi Vijayan. Top Muslim leaders and clerics are expected to take part in the meeting called by Chennithala.
Earlier, a large number of Muslims had attended the anti-CAA rally, organised by the Congress at Malappuram, a thickly populated Muslim district, last week, indicating the community's anger over the CAA.
Only in Kerala, the ruling combine, led by the CPI-M, and the opposition alliance, led by the Congress, have come together to oppose the CAA.
https://www.newindianexpress.com/states/kerala/2019/dec/26/congress-in-kerala-calls-meeting-with-muslim-bodies-over-citizenship-amendment-act-2081241.html
------
CAA protests: Security upped, prohibitory orders imposed in parts of Delhi
Dec 27, 2019
NEW DELHI: Delhi Police have made elaborate arrangements to check and deal with any untoward situation in the national capital and prohibitory orders have been imposed in several sensitive areas of the city.
Restrictions under section 144 of the CrPC have been imposed in the area near Lal Quila, a large part of North East Delhi district and around UP Bhawan in anticipation of the protests.
In Seelampur where protests turned violent on December 17 but remained peaceful last Friday, section 144 has been imposed and about 15 companies of police force have been deployed. The police also carried out a flag march in the morning and urged local Muslim clerics to appeal for peace and tranquillity.
According to the police, section 144 has been put in place in 12 police station areas in northeast Delhi.
Heavy police deployment has also been made around the Jama Masjid area where thousands joined protesters to march to Darya Ganj area where stones were pelted at cops and properties were vandalized.
"Delhi Police is ready to deal with any situation. As a precautionary measure, police have deployed several companies of force in some areas," said Delhi Police PRO MS Randhawa.
He also appealed people not to believe in rumours on social media and maintain peace.
"Police is also monitoring social networking sites to check rumours," he said.
Security has also been beefed up in the Jamia Nagar, another major flashpoint in the city that saw violent protests against the Citizenship Amendment Act (CAA).
Several people and policemen had sustained injuries in the violent protests in parts of the city.
https://timesofindia.indiatimes.com/city/delhi/caa-protests-security-upped-prohibitory-orders-imposed-in-parts-of-delhi/articleshow/72990588.cms
------
Police urge protesters to clear Kalindi Kunj road
Dec 26, 2019
New Delhi: Delhi Police has roped in religious leaders and members of the local community to convince a group of women to move their site of protest. The women have blocked a part of Kalindi Kunj road for over 10 days now, forcing the cops to shut down the GD Birla Marg.
Traffic movement in entire south Delhi region has been affected due to the protests against the Citizenship Amendment Act and National Register of Citizens. The cops are wary about removing the protesters by force after rumours about impending police actions sparked tensions in the last few days.
On Thursday, a team of cops met the representatives of the protesters and asked them to shift the agitation elsewhere. An alternative site too has been suggested.
The women, who are residents of Shaheen Bagh, have erected a stage on the service lane at the GD Birla Marg. With photographs of Mahatma Gandhi, they have been staging a 'civil disobedience movement' against the Union government since December 15. The cops had to shut down shops along the stretch as a precautionary measure. Police said that more 500 people are found to be present at the protest site at any time of the day.
Sources say that police are consulting locals and religious leaders before the protesters are again asked to move. The cops have even asked the maulvis from the local mosques to convince the women.
Police would give the protesters an ultimatum after which legal actions will be initiated against them for obstructing movement along the arterial road. The cops added that no permissions were given for protests.
Meanwhile, vehicles were diverted towards Mathura Road to reach Ashram and then take the DND flyway on Thursday as well, as the road was blocked near the Sarita Vihar underpass.
Commuters alleged that no traffic personnel were deployed to control the movement of vehicles at Ashram or Noida Link Road, leading to confusion. Kalindi Kunj-Mithapur Road, which was opened for traffic going towards Noida, was choked on Thursday also due to the heavy volume of vehicles .
Police expect the mayhem to continue till the end of this week. A security assessment of the area will be conducted again and a report given to senior officers to decide the future course of action.
The cops said that the stretch was shut down to prevent protesters to gather in large numbers from the neighbouring states and the nearby areas.
https://timesofindia.indiatimes.com/city/delhi/police-urge-protesters-to-clear-kalindi-kunj-road/articleshow/72986395.cms
------
Southeast Asia
Panasonic, Sharp fine-tune goods to conform to Islamic teachings
By YOSHIKATSU NAKAJIMA
December 27, 2019
Two of the biggest names in Japanese home appliances were awarded what must rank as one of the oddest of halal certifications: for products.
In guaranteeing that their goods have not come into contact with pork or alcohol, Panasonic Corp. and Sharp Corp. are moving to gain a foothold in the growing, more affluent Muslim market.
But obtaining the prized credential was no easy feat.
To get it, the companies must pass screenings to meet strict halal standards that even covered the materials of the gloves worn by workers.
Panasonic obtained certification for its water purifiers and water ionizers for the Malaysian market.
The company said it was the first Japanese home appliance maker to secure halal certification under the Malaysian government-affiliated system.
Sharp also gained certification for its refrigerators manufactured at plants in Indonesia and Thailand last year.
More than 200 halal certification organizations are said to exist worldwide, yet there are no unified standards for the certification.
Though certification screeners found no problems with Panasonic's home appliance parts at its plant in Hikone, Shiga Prefecture, they asked the company to review certain manufacturing procedures.
To conform to standards considered halal, "workers must remove their wristwatches because (according to Islamic law) they could be regarded as unpure," a Panasonic representative said.
This is done to ensure any traces of pork or alcohol that workers may have come in contact with outside the plant are not transferred to products being manufactured.
Panasonic introduced a halal production line at its Hikone plant and carefully examined the ingredients of gloves and brushes to confirm they were not derived from pork products.
The company also replaced the plant's cleaning tools and asked staff to wash their hands seven times a day to abide by Islamic law, using a halal cleaning agent.
In November, Panasonic started shipping alkaline ionized water conditioners and water purifiers with halal labels to Malaysia, where Muslims account for two-thirds of the population, and local consumers have become more health-conscious.
Panasonic does brisk sales among Malaysia's non-Muslim population, and is hoping that by tweaking its goods to attract Muslim customers it can double Malaysian sales within five years.
The move to gain certification by Japanese businesses first spread among restaurant operators to better respond to the recent influx of foreign visitors to Japan.
Japan's medical and cosmetics companies then jumped on the bandwagon, fine-tuning their products toward the Muslim market, making it impossible for electronics makers to ignore the trend as their products dovetail on diet-related issues such as water purifiers and refrigerators.
The aggressive pursuit of halal certification by rival South Korean companies is another major factor behind the race by Japanese manufacturers to gain certification.
To expand its business in ASEAN member states, Sharp got rid of materials associated with pork or alcohol from materials and production processes at its refrigerator plants.
Both of Sharp's factories are targeting consumers in Indonesia, where 90 percent of the population are Muslim, making it the world's largest Muslim nation.
"The certification offers another reason for consumers to choose our fridge," said a Sharp representative.
The official said certification has paid off in higher fridge sales for the company.
http://www.asahi.com/ajw/articles/AJ201912270004.html
------
Muslim nations consider gold, barter trade to beat sanctions
December 27, 2019
Kuala Lumpur
Iran, Malaysia, Turkey and Qatar are considering trading among themselves in gold and through a barter system as a hedge against any future economic sanctions on them, Malaysian Prime Minister Mahathir Mohamad said on Saturday.
At the end of an Islamic summit in Malaysia, Mahathir praised Iran and Qatar for withstanding economic embargoes and said it was important for the Muslim world to be self-reliant to face future threats.
"With the world witnessing nations making unilateral decisions to impose such punitive measures, Malaysia and other nations must always bear in mind that it can be imposed on any of us," Mahathir said.
U.S.-allied Arab states Saudi Arabia, the United Arab Emirates, Bahrain and Egypt cut diplomatic and trade links with Qatar about 2-1/2-years ago over allegations it backs terrorism, a charge Doha denies. Iran, meanwhile, has been hit badly after the United States reimposed sanctions on it last year.
"I have suggested that we re-visit the idea of trading using the gold dinar and barter trade among us," Mahathir said, referring to the Islamic medieval gold coin.
"We are seriously looking into this and we hope that we will be able to find a mechanism to put it into effect." The leaders agreed they needed do more business among themselves and trade in each other's currencies.
The summit, which was snubbed by Saudi Arabia, was criticized for undermining the Saudi-based Organisation of Islamic Cooperation (OIC), which represents 57 Muslim-majority nations. Malaysia said all the OIC members had been invited to the Kuala Lumpur summit but only about 20 showed up.
By the fourth and final day of the summit, no joint statement had been released. The summit had been expected to discuss major issues affecting Muslims, including Palestine, Kashmir and the plight of Rohingya Muslims in Myanmar and China's camps for Uighur Muslims in its western Xinjiang region.
Without naming any country, Mahathir said there was concern that Muslims in non-Muslim countries were forced to undergo assimilation.
Iranian President Hassan Rouhani, Qatar's Emir Sheikh Tamim bin Hamad Al Thani, Malaysia's Prime Minister Mahathir Mohamad, Malaysia's King Sultan Abdullah Sultan Ahmad Shah, Malaysia's Queen Tunku Azizah Aminah Maimunah Iskandariah, Malaysia's First Lady Siti Hasmah Mohamad Ali, Turkey's First Lady Emine Erdogan and Turkey's President Recep Tayyip Erdogan pose for a photograph during Kuala Lumpur Summit in Kuala Lumpur, Malaysia December 19, 2019.
We support integration but assimilation to the extent of shedding our religion is unacceptable," he said. At a news conference, he said the summit participants had been told that Uighurs were being detained in China.
"We have to hear the state, we have to hear the people who complain, then only it will be fair," he said.
He called India's new citizenship act unfortunate. The act facilitates for faster naturalization of non-Muslims from Afghanistan, Bangladesh and Pakistan who had settled in India prior to 2015.—Arab News
https://pakobserver.net/muslim-nations-consider-gold-barter-trade-to-beat-sanctions-2/?utm_source=rss&utm_medium=rss&utm_campaign=muslim-nations-consider-gold-barter-trade-to-beat-sanctions-2
------
Muslims perform prayers during solar eclipse
27/12/2019
KUALA LUMPUR, Dec 26 -- Muslims all over the country offered the solat sunat gerhana matahari or solat sunat kusuf (eclipse prayers) in mosques and suraus as skywatchers observed the annular solar eclipse in Malaysia today.
Most of them performed the two rakaah prayers in congregation after zuhur prayers.
The amazing natural phenomenon was last witnessed in Malaysia 21 years ago in Mersing, Johor.
Today, Malaysians were given the opportunity to catch the fullest extent of the eclipse at two locations - in Tanjung Piai, Johor and Serian, Sarawak - while elsewhere a partial solar eclipse was seen.
In SELANGOR, some 2,000 Muslims performed the solar eclipse prayers at the Sultan Salahuddin Abdul Aziz Shah Mosque in Shah Alam, led by chief imam Muhammad Farhan Wijaya.
Muhammad Farhan when met by Bernama said: "The prayer is recited as a divine reminder of the greatness of Allah, His power and great ability. It consists of two rakaah with four rukuk and is followed by a sermon."
In PUTRAJAYA, about 500 worshippers offered the special prayers at the Putra Mosque led by Ustaz Shamsul Bahari Dahalan.
After the prayers Shamsul Bahari delivered a sermon entitled 'Discovering the Secrets of the Glory of Allah' which among others touched on the occurrence of the eclipse as a sign in the greatness of Allah.
"The solar eclipse serves as a reminder to mankind that we are weak and small before Allah. Observing the eclipse also strengthens our faith and renews our covenant with God," he said.
In addition, several civil servants also took advantage of their lunch break to observe the annular solar eclipse around their offices.
In JOHOR, about 450 worshippers performed the prayers at the Sultan Abu Bakar Mosque in Johor Bahru.
The prayers held at 11.50am was led by imam Mohd Zaidi Saman.
"Alhamdulillah both men and women joined in the prayers which was followed by a sermon enjoining people towards righteousness," he said.
In Negeri Sembilan, State Mosque executive imam Ustaz Hazmi Adb Kadir in his sermon said Islam encouraged its followers to continue praising the greatness and power of Allah and that the solar eclipse prayer is in compliance with the command of Prophet Mohammed (PBUH).
"The Prophet (PBUH) had indeed commanded us to hasten in doing good deeds including performing zikir, prayers of supplication, seeking forgiveness and giving charity.
"Avoid sins and disobedience which lead to syirik. Hopefully this eclipse phenomenon will turn you in repentance to Allah, increase your faith and righteous deeds," he told 200 worshippers after the solar eclipse prayers here today.
In PERAK, State Mosque chief imam, Abd Farid Salleh led some 500 worshippers in the prayers which was held at the Sultan Idris Shah II Mosque in Ipoh after zuhur prayers.
Members of the public who observed the partial solar eclipse at Dataran Selera Dato' Sagor here, were provided with frame solar eclipse filters, courtesy of Ungku Omar Polytechnic Civil Engineering students from the Geometric Unit.
In KANGAR, Perlis mufti Datuk Dr Mohd Asri Zainal Abidin called on Muslims to repent and keep seeking forgiveness from Allah as the rare phenomenon is a sign that the world is coming to an end.
He delivered the sermon to about 700 worshippers who had gathered to perform the prayers led by Kolej Universiti Islam Perlis (KUIPs) lecturer Sheikh Soleh Abdul Naser, at the Alwi Mosque here.
Over in ALOR SETAR, about 300 worshippers who were at the State Mosque offered the prayers after zuhur led by Zahir Mosque chief imam Mohd Isa Abd Rahman.
Mohd Isa in his sermon said, the solar eclipse phenomenon was a time to reflect and thank Allah for HIs greatness and wonderful creation.
"Regard this phenomenon as Allah's greatness as the solar eclipse has been accurately calculated with the earth, the sun and the moon forming a system," he said adding that praying during the solar eclipse is a reminder to Muslims that Allah alone has power over all things in the heavens and on earth.
http://www.bernama.com/en/general/news.php?id=1802704
------
China Cables: When will the Muslim world speak up for persecuted Uighurs?
CJ Werleman
26 December 2019
The China Cables, a trove of more than 400 pages of leaked internal Chinese government documents, prove beyond all doubt that China is working to systematically erase and annihilate millions of ethnic Uighur Muslims - the largest industrial-scale persecution of a religious minority since the Holocaust.
The revelations have blown an elephant-sized hole in Beijing's efforts to quell international condemnation with its stubborn denials and perverse propaganda.
'Stronger sense of happiness'
Until this moment, the international community has been divided into two camps over China's criminalisation of Islam and detainment of hundreds of thousands of Uighurs in its network of Muslim concentration camps. Western democracies express outrage and Middle Eastern states tacitly approve Beijing's "counterterrorism measures", while even praising the Communist Party for its mythical "vocational and training camps".
Beyond the economic realm, it's likely that authoritarian regimes in the Middle East will remain silent towards China's human rights violations against Uighur Muslims
In July, more than a dozen Muslim-majority countries - including Algeria, Bahrain, Egypt, Kuwait, Saudi Arabia, Oman, Pakistan, Qatar, Somalia, Sudan, Syria, Tajikistan, Turkmenistan and the United Arab Emirates - co-signed a letter to the United Nations that unconscionably applauded China for bringing a "stronger sense of happiness, fulfillment, and security" to Xinjiang. Qatar has since removed its signature, saying it wants to pursue a "neutral stance".
But now that the cloak of plausible deniability has been pulled back, revealing the full gamut of China's crimes against humanity - including executions, torture, rape, forced indoctrination to atheism, forced family separations, forced marriages, forced adoptions, forced sterilisations, and even credible accusations of live organ-harvesting programmes - how will the Middle East respond?
How will leaders of Muslim-majority countries, particularly those who boastfully proclaim to be the guardians of Islam and protectors of the Ummah, respond to what is now smoking-gun evidence of Beijing's efforts to wipe millions of Muslims and scores of mosques off the map in northwestern China?
Business as usual
If the Syrian government's welcoming of Beijing's invitation to join its trillion-dollar Belt and Road Initiative this week is any indication, then it will surely be a case of business as usual for relations between China and other Middle Eastern countries.
In attempting to secure Chinese investment in Syria's reconstruction, Syrian President Bashar al-Assad has presented Beijing with a number of proposed infrastructure projects.
"We have proposed around six projects to the Chinese government in line with the Belt and Road methodology and we are waiting to hear which project, or projects, is in line with their thinking. I think when this infrastructure is developed, with time, the [Belt and Road Initiative] passing through Syria becomes a foregone conclusion," Assad told a Chinese television network.
Workers take down a panel advertising China's Belt and Road Initiative outside a forum in Beijing on 27 April (AFP)
Workers take down a panel advertising China's Belt and Road Initiative outside a forum in Beijing on 27 April (AFP)
Given that the Assad regime is responsible for the killing of half a million Syrians and the displacement of millions more, turning the last remaining opposition stronghold of Idlib into something akin to an open-air concentration camp, it's easy to see why the Syrian regime has no moral concern over China's persecution of its pesky Muslim population.
As for the other aforementioned Middle Eastern states, they're awash in Chinese investment, with China replacing the US as the largest source of foreign investment in the region. These countries are seeking to lure even bigger and better bilateral trade deals with the Asian economic superpower. Since 2005, the Middle East and North Africa region has received around $190bn in Chinese investments, according to the American Enterprise Institute's China Global Investment Tracker.
Enhancing regional power
According to Jonathon Fulton, an assistant professor of political science at Zayed University in Abu Dhabi: "China's economic presence in the Middle East represents a strategic approach to enhancing its regional power and influence. For their part, leaders in the Middle East are responsive. Economic relations with China do not come with the same type of conditionality that tend to accompany Western states and institutions; political reform and human rights are not part of the package with Beijing."
Beyond the economic realm, it's likely that authoritarian regimes in the Middle East will remain silent towards China's human rights violations against Uighur Muslims, given these governments are also habitual violators of basic human rights. Saudi Arabia and Egypt routinely incarcerate and execute political prisoners.
If were they to condemn China for doing the same, it would only invite the international community to mingle in their affairs - a paralysing fear of many governments in the region.
Many of these governments also hold the same panic level towards political Islam as senior officials within China's Communist Party, as evidenced by the punishing Saudi-led blockade against Qatar for its ties to Iran and the Muslim Brotherhood. Middle Eastern governments seek to parrot China's propaganda, not denounce it.
Ultimately, the China Cables expose not only Beijing's craven policies towards its Muslim citizens, but also the shameless duplicity of Middle Eastern states. We can expect a continuation of their platitudes towards the impoverished and persecuted Palestinian people, but nothing for those crushed under the heel of China.
From the view of those who hold thrones, palaces and mansions in Riyadh, Dubai, Damascus and Cairo, might is right, money talks, and the rest is a conversation, apparently.
https://www.middleeasteye.net/opinion/china-cables-when-will-muslim-world-speak-persecuted-uighurs
------
DAP Youth: Muslim students' group Gamis abusing freedom of speech with May 13 reference
Thursday, 26 Dec 2019
KUALA LUMPUR, Dec 26 — DAP Socialist Youth (Dapsy) has today condemned the Malaysian Muslim Students Coalition (Gamis) for abusing freedom of speech, after the latter warned that the bloody May 13 riots may return as long as Chinese educationist Dong Zong still exists.
The wing's chief Howard Lee said Gamis should have instead taken a more moderate approach like the Malaysian Muslim Youth Movement (Abim), by recently hosting a joint event with Dong Zong in order to understand each other better.
"Instead, Gamis chose to be trapped by a narrow political narrative that only sees this from one perspective. The freedom of speech that students today enjoy should have been used wisely and intelligently," Lee said in a statement.
"As a student body, Gamis must take responsibility for its statement. The freedom of speech must adhere to the nation's laws, and I hope the police will investigate such seditious remarks."
Lee expressed regret that Gamis used such a provocative headline, mentioning May 13, to attract the public to read its statement.
Although unsurprising, he added such attitudes are the cause of accusations that youths are unfit and incapable of political maturity.
"Furthermore, their message implied or otherwise is clearly seditious and threatens national tranquillity. A repeat of the May 13 incident has never and will not profit any parties.
"Gamis can refer back to the official government reports and newspaper clippings in the National Archive. The loss of life and damage to property has scarred racial harmony in the country," he said.
Earlier today, DAPSY members filed simultaneous police reports against Gamis in nine locations in seven states across the peninsula and in Sabah, after the student group said on Tuesday that the May 13 racial riots could happen again as long as Dong Zong remains in existence.
Earlier this week, Gamis president Saifullah Baiduri had urged the Home Ministry and police to ban the group, on grounds of being an obstacle towards unity and nation-building.
Following backlash on social media, Gamis amended its article which initially could have been taken as a call for the May 13 riots to be repeated.
Gamis' remarks followed in the wake of Dong Zong organising the Chinese Organisation Congress together with several other Chinese education groups, which will be held this Saturday as part of efforts to convince the government to reconsider introducing jawi script lessons in vernacular schools.
https://www.malaymail.com/news/malaysia/2019/12/26/dap-youth-muslim-students-group-gamis-abusing-freedom-of-speech-with-may-13/1822394
------
Arab World
Egypt's leading Islamic figures visit Pope Tawadros ahead of Christmas celebrations
Thursday 26 Dec 2019
A high-level delegation of Egypt's top Islamic institutions Al-Azhar and Dar Al-Iftaa visited Cairo's Coptic Orthodox Cathedral on Thursday to offer Christmas greetings to Coptic Pope Tawadros II, Pope of Alexandria and Patriarch of St. Mark Diocese.
Al-Azhar Grand Imam Sheikh Ahmed El-Tayeb and ُُEgypt's Grand Mufti Shawki Allam headed the delegation that comprised a number of senior Muslim clerics.
El-Tayeb said that the mutual feelings of compassion, cordiality, and visits between Muslims and Christians stem from religious teachings that commanded people to get along with each other, according to a statement by Al-Azhar sent to Ahram Online.
"All prophets' recommendations stressed the necessity of spreading the spirit of brotherhood among people of different religious and ethnic backgrounds," he said.
Coptic Orthodox Christians, who comprise the majority of Egypt's Christians, celebrate Christmas on 7 January, following the Julian calendar. This is almost two weeks after most Western denominations, including Catholics and Protestants, hold their celebrations on 25 December.
Christians make up around 10 percent of Egypt's population.
Tawadros said holidays are "bridges that connect all of us as loved ones living on the same land and with common history and homeland."
During the visit, El-Tayeb warned against "black clouds" of Western traditions that are "uprooting Eastern women... destroying families and dismantling Eastern society," Al-Azhar said in a statement on Thursday.
Also on Thursday, the Minister of Religious Endowments Mohamed Mokhtar Gomaa and a ministry delegation visited the pope to extend Christmas felicitations.
http://english.ahram.org.eg/NewsContent/1/64/358432/Egypt/Politics-/Egypts-leading-Islamic-figures-visit-Pope-Tawadros.aspx
------
Saudi Arabia's Hajj ministry signs agreements with Somalia, Syria
December 27, 2019
MAKKAH: Hajj and Umrah Minister Mohammed Saleh bin Taher Benten received at his office in Makkah the Somali Minister of Endowment and Religious Affairs Nur Mohamed Hassan to discuss early preparations for this year's Hajj season.
Later on, Deputy Minister of Hajj and Umrah Abdulfattah bin Sulaiman Mashat received at his office in Makkah Secretary-General of the Syrian National Coalition and Head of the Syrian Pilgrims' Affairs Abdul Basit Abdul Latif.
Deputy Minister of Hajj and Umrah Abdulfattah bin Sulaiman Mashat receives the Syrian delegation. (SPA)
Both meetings looked into a number of topics related to Somali and Syrian pilgrims' affairs, before an official meeting was held to discuss arrangements and preparations to serve pilgrims in the 2020 season.
An agreement to arrange affairs for the 2020 Hajj season was signed with both countries, aiming to organize the arrival of pilgrims from Somalia and Syria and provide all their needs through the many service authorities.
Both the Somali and Syrian delegations expressed their gratitude to the Saudi government for the services and facilitations it offers to pilgrims.
https://www.arabnews.com/node/1604691/saudi-arabia
------
Saudi rights body trains police on anti-human trafficking methods
December 27, 2019
JEDDAH: The Saudi Human Rights Commission (HRC) concluded a four-day training program in Riyadh titled "Research and investigation procedures in trafficking cases."
The aim was to strengthen the capacity of security and police personnel involved in combating human trafficking.
The program reviewed special and financial investigations, the basic rules of collecting criminal evidence, methods of interviewing victims, and measures to protect victims and witnesses during criminal justice proceedings.
The program was part of the Kingdom's efforts to combat human trafficking by building a systematic and institutional framework that ensures the protection of people from such crimes, promotes the prosecution and conviction of perpetrators and the issuance of harsh sentences, and provides medical, psychological and legal assistance to victims.
The HRC plans to implement the program in the Makkah region on Jan. 12, and in the Eastern Province on Jan. 26.
https://www.arabnews.com/node/1604651/saudi-arabia
------
Arab coalition in Yemen completes review procedure
December 27, 2019
RIYADH: The Arab coalition fighting to restore the internationally recognized government in Yemen has finished reviewing post-work procedures in the operational area, the Saudi Press Agency reported. The Arab coalition referred one of the results of targeting in the operational area to the Coalition's Joint Incidents' Assessment Team to consider the possibility of accidental losses and collateral damage, to evaluate the incidents and to announce its results, coalition spokesman Col. Turki Al-Maliki said.
Based on what was revealed by the review and the operational audit, in addition to what was clarified by the coalition's ground forces during the clash with hostile forces, there was a possibility of accidental losses and collateral damage during the targeting process of Houthi militia troops in Monabbih District, Saadah Governorate, Yemen.
Al-Maliki repeated the commitment of the coalition's joint leadership to apply the highest targeting standards, as well as the application of principles and customary rules of international humanitarian law in military operations, and to take all measures regarding accidental incidents to achieve the highest levels of responsibility and transparency.
https://www.arabnews.com/node/1604641/saudi-arabia
------
Saudi graffiti adds color to MDL Beast music festival
December 27, 2019
JEDDAH: The mesmerizing eyes of an Arabian girl on large shipping containers met thousands of fans as they entered the MDL Beast festival, for what would be a weekend of superb musical entertainment from the world's top DJs. Noura Binsaidan, the graffiti artist behind the mural, has been painting Arabic faces internationally. In London and Barcelona, there are Arabian faces gracing the walls and standing out among other murals and paintings.
"I mostly paint Arabic faces using Arabic calligraphy, which people have loved," she told Arab News.
When Binsaidan was given the chance to decorate the MDL Beast festival, she was beyond happy to be representing her style to the world. Her murals stood out at an event that invited Western cultural influences. The contrast between the local and modern made it an attraction where visitors flocked to take pictures.
She told Arab News that Saudi artists are messengers of the country. "I feel like we are basically messengers, I have to develop my skills and work carefully because as someone who is presenting Saudi Arabia I need to show everyone my best. I am trying to do something for my city and the country."
She launched her path into graffiti painting three years ago, starting from home covering whatever surfaces she could paint.
Graffiti cannot be confined to art galleries, it is made for the outside.
"Graffiti is a good tool to let the people who are coming from different countries see our culture and roots via different means. That is why I always keep in mind that a lot of people are going to see my work and that makes me responsible.
"It was difficult for me in the beginning because I cannot paint when someone is watching. Now I have learned how to block out the people and just focus on my artwork," she said.
Just like all art forms, graffiti presents its own challenges such as weather, with Binsaidan preferring the cold over the scalding sun.
Stereotypically, graffiti is often thought of as a crime and a property offense. However, Binsaidan is utilizing her skills as an artist to change this misconception.
"You can't change history, unfortunately, but in my case the government asked me to do this because they understood that they needed a different touch of art in the streets and events."
She added: "It isn't necessary for the artists to do graffiti on the walls and break the law, it can be done on absolutely anything like we did here at MDL Beast using shipping containers as our walls.
"I draw inspiration from my culture by drawing women of my area with covered faces accompanied by metaphoric objects such as flowers to show our culture and how proud we are of it."
https://www.arabnews.com/node/1604601/saudi-arabia
------
Europe
Leuven University to train Belgium's first home-grown imams
Colin Clapson
Thu 26 Dec
Imams who successfully complete the course will receive recognition and will be able to count on remuneration from the Belgian state. The Belgian authorities are keen to reduce foreign influence in our mosques.
The course in Leuven starts in February. Leuven is working together with the not-for-profit organisation AFOR, the Academy For Islamic Studies that has been set up in co-operation with Belgium's Moslem executive, the faith's official interlocutor with the Belgian authorities. AFOR will be responsible for theological studies including study of the holy book, the Koran.
First students will tackle general studies at Leuven including law, political sciences, psychology of religion and sociology, Arab philosophy, ethics and history of the Middle East. Francophones will be able to take courses at the UCL.
It was the Belgian parliamentary commission of enquiry set up following the Brussels attacks that recommended imams should be trained in Belgium. "It's important that we know what they are studying" Belgian justice minister Geens said.
https://www.vrt.be/vrtnws/en/2019/12/26/leuven-university-to-train-belgiums-first-home-grown-imams/
------
Russian authorities raid opposition leader Navalny's offices
Dec 26, 2019
MOSCOW: Security officers in Moscow raided the offices of Alexei Navalny, the most prominent foe of President Vladimir Putin and the governing United Russia party.
Navalny has been jailed repeatedly in recent years for organizing or participating in unsanctioned protests. His Foundation for Fighting Corruption organization has produced reports alleging corruption by top figures including Prime Minister Dmitry Medvedev.
Navalny was taken from the office by officers of the federal court bailiffs' service that forced their way into the officie. But the service later said he hadn'f been detained.
Lyubov Sobol, an attorney with Navalny's foundation, said the officers claimed to be searching for evidence connected to a case against the foundation's director, Ivan Zhdanov.
A criminal case was opened against Zhdanov in August for failing to follow an order to remove a video version of a report claiming corruption by Medvedev.
https://timesofindia.indiatimes.com/world/europe/russian-authorities-raid-opposition-leader-navalnys-offices/articleshow/72983807.cms
------
UK Times pays libel damages to imam
by Sydney Smith
December 26, 2019
Th UK Times reported that Imam Abdullah Patel "blamed the West and Israel" after a British policeman was killed.
Now, the Times is acknowledging the imam never said that and corrected other errors about him, as part of a libel settlement. The Times is also paying Patel damages.
Patel's lawyer told iMediaEthics that the comments the Times said Patel made about the policeman were made by someone else and that Patel was only nine years old at the time of the incident.
Patel was in the news because he asked UK politicians during a BBC debate about Islamophobia. After his appearance during the debate, Patel was suspended from his job as a schoolteacher in Gloucester over his tweets about Israel and that women should "be smarter" to avoid assault and to not be "alone with a man," according to the Guardian. Patel's lawyer told iMediaEthics, "He was suspended as a matter of standard practice over the whole fiasco however, he then returned to work and remains there still."
In a statement on his lawyer's website, Patel is quoted as saying in part, "I will continue holding anyone, including politicians to task for stoking the flames of anti-Muslim sentiment".
In a Dec. 11 correction, the Times said:
"In articles published in The Times on 20 June 2019 concerning Abdullah Patel, an Imam and teacher in Gloucester who appeared on a televised Conservative Party hustings, we stated that Mr Patel made a comment which blamed the West and Israel following the murder of a British policeman by a terror suspect. This gave the impression that he had expressed views which excused or explained acts of terrorism. We accept that he did not make any such comment. We also incorrectly stated that Mr Patel had taught at a Deobandi seminary in Bury and that the school at which he worked in Gloucester had been the subject of criticism by Ofsted for segregating parents at events. In fact, Ofsted's criticism predated Mr Patel's time working at the primary school. We apologise to Mr Patel for the distress caused and have agreed to pay him damages and costs."
Patel's lawyer, Zillur Rahman, told iMediaEthics by e-mail, " The offending article suggested that our client had posted comments with respect to the death of PC Oake in Manchester in 2003 who was killed by a terrorist. The posts that were being relied on sought to condone the killing of the officer. These posts were of course not from our client and he was 9 years of age at the time. This shows just how shoddy the article was."
https://www.imediaethics.org/uk-times-pays-libel-damages-to-imam/
------
Navalny aide who wanted to see US tanks in Moscow is conscripted into military service, sent to Artic
26 Dec, 2019
An ally of Russian opposition figure Aleksey Navalny has been drafted into military service and deployed to a desolate Arctic island. Navalny has called the move an act of kidnaping orchestrated by the Russian president himself.
Ruslan Shaveddinov is part of Navalny's extended 'inner circle', working as an organizer and a host at the opposition activist's web-based TV channel. On Tuesday his boss announced he'd gone missing. Shortly afterwards Shaveddinov's whereabouts became known – he has been conscripted into military service and sent to the Novaya Zemlya archipelago.
The development was hardly a surprise. The Russian military announced its intention to conscript the 23-year-old two months ago after his paperwork got processed as part of a brief police detention. Shaveddinov challenged this in court, saying that the medical commission that found him eligible for service had failed to properly examine him.
Two courts sided with the military, with his appeal rejected just before he was taken from his home in Moscow. Supporters claim the military turned a blind eye to his second appeal – which would have likely protracted his case beyond the December 31 deadline – and drafted him illegally. The military denies any wrongdoing.
Navalny claims that Shaveddinov's conscription was part of a plot to isolate the activist and that it comes from the top echelons of the Russian government. "Looks like Putin himself drafted the plan to isolate our Ruslan," he wrote on Twitter. The Kremlin distanced itself from the affair, saying that conscription decisions were the prerogative of the defense ministry.
Novaya Zemlya is certainly no seaside resort. It's quite isolated and cold, and service members have to take extra precautions when going outside, so as not to run into a stray polar bear. Shaveddinov is one of a hundred or so conscripts deployed there each year.
The archipelago's traditional defense role is to host a radar station to keep an eye on NATO aircraft that may intrude across the North Pole. Over the past years the military has been rapidly developing infrastructure there.
Whether his deployment there had anything to do with Shaveddinov's opposition work is up for debate. The man has a history of controversial statements. For instance, in one of his tweets in 2014 he mused that if John McCain had won the US presidency "we would be certainly celebrating [US] tanks in Moscow." He was also a vocal supporter of Ukraine's right-wing paramilitary groups and cheered the mass killings of pro-Russia activists in Odessa in May 2014.
Navalny's foundation is currently being investigated for alleged financial misconduct. The Russian authorities believe he and his people have been hiding funding from foreign governments by recording it as private donations by Russian citizens, to avoid registering as a foreign agent.
https://www.rt.com/russia/476853-navalny-aide-military-draft/
------
Mideast
Poet of Turkish national anthem beacon for Muslim world
26.12.2019
Zehra Nur Duz
Mehmet Akif Ersoy, the revered Turkish poet and the author of the Turkish national anthem, still shines a light for the entire Muslim world 83 years after his demise.
Ersoy became one of the most well-known figures in Turkish literature worldwide in early 1900s, Necmettin Turinay, teaching at TOBB University of Economics and Technology in the capital Ankara, told Anadolu Agency.
Turinay, an expert on Ersoy's literary works and currently working on the latest edition of Ersoy's 1911 work entitled "Safahat", spoke to Anadolu Agency in an exclusive interview at the Museum House of Mehmet Akif Ersoy in Turkey's capital Ankara.
His famous work Safahat is a collection of 44 poems in various lengths, including Phases (1911), Lecturing at Suleymaniye (1912), Voices of God (1913), Lecturing at Fatih (1914), Memoirs (1917), Asim (1924), and Shadows (1933).
His poems were themed with social problems, philosophical, religious, political and ethical issues.
Ersoy's house, in one of Ankara's older districts Altindag, was once used as a dervish convent. The "Selamlik" -- a part of a house only men can enter -- was assigned to Ersoy during the Turkish War of Independence.
Moving from Istanbul to Ankara to live in the dervish convent in 1920s, now converted into a museum, Ersoy arrived there during the most painful and troubled years of foreign occupation in the country, Turinay said.
Spiritual leader of Turkish national struggle
When Ersoy came to Ankara, the Turkish people had to achieve mainly two things to win the War of Independence, Turinay stressed.
The first was to form a new army as the Turkish armies were dissolved with the agreements of World War I, and the second was to encourage the people to join the national struggle with a hope for independence, he stressed.
During his speeches at various mosques of Central Anatolian cities, Ersoy gave voice to the faith and spirit necessary for the national struggle, Turinay added.
In 1920, Ersoy was also elected the deputy of the northwestern Burdur province and entered the parliament.
'Free since beginning, to be so forever'
The dervish convent was also the place where Ersoy wrote the lyrics of Turkish National Anthem -- the March of Independence -- Turinay said.
On March 12, 1921, the Turkish Grand National Assembly officially declared Ersoy's poem as the national anthem.
In the march, Ersoy immortalized his nation's battle for survival, in the wake of World War I, crowning its national liberation in 1921 during the Turkish War of Independence against foreign occupation.
After World War I, the Ottoman Empire, one of the greatest empires in history, was destroyed.
The British, French and allied forces had shattered the Ottoman Empire, and every part of the country was in captivity.
Under those conditions, the national anthem's first words were "Fear not!".
Ersoy began his poem with such a call to give hope to the Turkish and Muslim people against foreign occupation that they can regain their independence, he said.
"The Turkish nation has been free since the beginning of history," said Turinay referring to the two verses of the anthem.
"I have been free since the beginning and forever will be so."
What madman shall put me in chains! I defy the very idea!"
The phrase of "since the beginning" had special significance expressing that the Turkish people have always lived in independence, founding great empires, Turinay said.
Through these verses, Ersoy warned Turkish people that the negative conditions were temporary and urged to struggle together to overcome the captivity, Turinay added.
Universal character, historical depth of national anthem
Turinay stressed that the national anthem soon began to evoke significant repercussions in the Muslim and Turkic worlds in the wake of official recognition by the Turkish Parliament.
"The national anthem, 'the symbol of the Turkish nation', has a universal character appealing to both the Turkish and Islamic worlds," he highlighted.
It was translated into the local languages of various countries, including Pakistan, Syria and Iraq, although the people of these countries were living under captivity of the French and British at that time.
"Ersoy, who depicted the most painful years of Turkey during World War I and Balkan Wars in his works, gained a high reputation within and outside of the Ottoman Empire," Turinay underlined.
He was a well known poet and author in a wide range of countries extending from Azerbaijan, Pakistan, India, Egypt, Syria, Iraq, North Africa, Crimea to Balkans, he added.
"Mehmet Akif's understanding of poetry was not limited to our national borders, rather he addressed the whole Turkish and Muslim world," Turinay stressed.
History through art, literature
Turinay described Ersoy as "one of the geniuses of Turkish poetry, and said: "If there is an awareness today in Turkey about World War I and the Battle of Canakkale [Gallipoli], thanks to Ersoy's poem To the Gallipoli Martyrs".
"Turkish people remember the pain, grief and destruction of these years through this poem," he added.
Ersoy not only tells the pain and memory of the martyrs of Gallipoli with this poem, but he also describes the withdrawal of an empire from the stage of history and the closing of an era, Turinay stressed.
The Battle of Canakkale, which took place in the northwestern Turkish province of Canakkale's Gelibolu (Gallipoli) district in 1915, marked a turnaround in favor of the Turks against the Allied forces during World War I.
Tens of thousands of Turkish nationals and soldiers died, along with tens of thousands of Europeans, as well as around 7,000-8,000 Australians and nearly 3,000 New Zealanders, referred together as Anzac troops.
https://www.aa.com.tr/en/culture/poet-of-turkish-national-anthem-beacon-for-muslim-world/1684606
------
Iraq president won't name Iran-backed bloc's nominee as PM
Dec 26, 2019
BAGHDAD: Iraq's president refused Thursday to designate the Iran-backed parliamentary bloc's nominee for the post of prime minister after he was rejected by anti-government protesters and said he was ready to submit his resignation to Parliament.
Barham Saleh said in a statement issued by his office that he would not name the governor of the southern Basra province, Asaad al-Eidani, as the country's next prime minister "to avoid more bloodshed and in order to safeguard civil peace."Al-Eidani's name was proposed Wednesday by the Fatah bloc, which includes leaders associated with the Iran-supported paramilitary Popular Mobilization Forces.
His name was promptly rejected by Iraqi protesters, who poured into the streets calling for an independent candidate.
According to Iraq's constitution, the largest bloc in parliament is required to nominate the prime minister, who is then designated by the president. A deadline to name a new prime minister has been missed twice over disagreements on which is the largest bloc in the parliament following last year's elections.
Saleh, in his statement, said his refusal to desginate al-Eidani could be construed as a violation of the constitution and therefore said he was putting his resignation at the disposal of Parliament. He stopped short of actually submitting his resignation.
https://timesofindia.indiatimes.com/world/middle-east/iraq-president-wont-name-iran-backed-blocs-nominee-as-pm/articleshow/72983257.cms
------
Commander: Iranian Naval, Ground Forces' Power Deters Enemies from Military Aggression
Thu Dec 26, 2019
TEHRAN (FNA)- Iranian Navy Commander Rear Admiral Hossein Khanzadi underlined that high deterrence power of the country's Armed Forces has discouraged enemies at military aggression.
The enemy never dares to attack Iran thanks to combat readiness of the Iranian forces at sea and on the ground, Rear Admiral Khanzadi said, addressing a meeting in the Northeastern city of Mashhad on Thursday.
The Americans are well-known as aggressors with records of aggression on several states and they have killed 800,000 native people in their civil war, he added.
Rear Admiral Khanzadi said that the United States is the only country in the world which has used nuclear weapon, encouraged the Iraqi dictator Saddam Hussein to invade Iran, created ISIL terrorist group to cause bloodbath and never hesitates to ignite conflict across the world.
During eight years of sacred defense with Iraq, many countries backed Saddam Hussein, but, in the end it was Iran that won the battle and that the role of the Iranian Navy was very significant, the commander said.
He said that the enemy is now exerting economic pressure to break the people's unity, but to no avail.
In relevant remarks in May, Rear Admiral Khanzadi underscored his country's high deterrence power, saying that enemies did not dare to launch war against Iran.
"If we look at the today's complicated security atmosphere and days, we observe that the enemy has lined up all its instruments near the Islamic Republic borders, but the Supreme Leader of the Islamic Revolution (Ayatollah Seyed Ali Khamenei) firmly says that there will be no war," Rear Admiral Khanzadi said in the Northern city of Anzali.
"This shows the Leader's upper hand in information and awareness about the Islamic Republic's deterrent power against enemies, and the Islamic Republic Armed Forces play a pioneering role in this deterrence," he added.
Rear Admiral Khanzadi also said the US military buildup in Northern Indian Ocean is only meant to play an act of horror and intimidation, but to no avail.
https://en.farsnews.com/newstext.aspx?nn=13981005000517
------
Iranian Security Forces Seize US-Made Weapons Smuggled to Kill People during Riots
Thu Dec 26, 2019
TEHRAN (FNA)- The Iranian intelligence ministry discovered and seized a large number of US-made arms smuggled into the country to kill people during the riots and blame the government for the deaths.
"The weapons had been imported to Iran from Western borders, and were confiscated by members of the Intelligence Ministry in Isfahan province," General Prosecutor of Isfahan Ali Esfahani said, adding that five people were arrested on charge of smuggling the weapons, and will face trial.
He said that the consignment consists of over 126 riot (pellet) guns, firearms, and AK-47 as well as 900 live rounds.
Esfahani also noted that the province's security experts believe the weapons had been smuggled for potential use in the recent riots in the country.
The official said the enemies were plotting to trigger an armed conflict using the firearms and kill civilians in a bid to tarnish the image of the Islamic establishment.
In mid-November, the Iranian government raised gasoline prices in order to moderate the national consumption rate.
The move prompted protests in a number of cities that went largely peaceful but turned violent when armed riotous individuals took advantage of the situation to vandalize public and state property, and attack civilians and security forces alike.
Shortly after the riots broke out, Supreme Leader of the Islamic Revolution Ayatollah Seyed Ali Khamenei tasked the Supreme National Security Council with compiling a report detailing the reasons behind the riots and immediate attending of the families of the victims.
Last Thursday, Secretary of Iran's Supreme National Security Council (SNSC) Ali Shamkhani said enemies had plotted to increase the number of fatalities during the recent riots in several cities, adding that most of the people killed in Tehran province were not even involved in any protest gatherings.
"More than 85 percent of the victims of the recent incidents in towns of Tehran Province had not taken part in any gathering and were killed with non-organizational firearms and cold weapons in a very suspicious manner," said Shamkhani in a meeting with families of some of the victims of the riots in the Western towns of the province.
He noted that there was certainly a plot hatched by the "adversaries" to cause as many fatalities as possible and pin the blame on Iran's security forces for the killings.
https://en.farsnews.com/newstext.aspx?nn=13981005000097
------
Iraqi President Tenders Resignation to Parliament
Thu Dec 26, 2019
TEHRAN (FNA)- Iraqi President Barham Salih sent a letter to the parliament on Thursday to voice his readiness to resign in a bid to open up for public choice after protests over unemployment and low-quality public services.
Arabic-language TV channel Al-Mayadin reported on Thursday that Barham Salih has declared his decision to resign from his post as Iraq's president.
Refusing to name prime minister, Salih has sent the letter from the Presidency to the Iraqi parliament, but it is not yet clear whether the parliament will accept his resignation.
"By submitting my resignation, I affirm that the political and parliamentary movement must reflect popular will," the Iraqi president wrote in his letter.
It came just weeks after Iraq's parliament had approved the resignation of Iraqi Prime Minister Adel Abdul-Mahdi.
Demonstrations have rocked primarily the capital Baghdad and other areas in Iraq in recent months over the failing economy and a demand for anti-corruption reforms. The rallies have, however, turned into violent confrontations on numerous occasions, with reports alleging that certain foreign-backed elements have been seeking to wreak havoc on the country, as the country's officials are trying to meet public demands.
https://en.farsnews.com/newstext.aspx?nn=13981005000528
------
Abdullah Abdullah Describes Iran as Afghanistan's Strategic Partner
Thu Dec 26, 2019
TEHRAN (FNA)- Afghan Chief Executive Abdullah Abdullah appreciated Tehran for its cooperation with Kabul in different arenas, describing Iran as a strategic partner of his country.
Abdullah made the remarks in a meeting with new Iranian Ambassador to Afghanistan Bahador Aminian in Kabul.
Aminian, for his part, said that Afghanistan is a close friend of Iran, and added that Iran regards the development and security of Afghanistan as its own security and development.
"Relations between the two countries are based on common values and historical-cultural ties," he said.
The two sides also exchanged views over presidential elections in Afghanistan and steps to reach peace as well as development of bilateral relations between Iran and Afghanistan.
Aminian had on December 14 submitted his credentials to Afghan President Ashraf Ghani.
Iran has always tried to help the Afghan government to establish peace in the country.
Iranian Foreign Minister Mohammad Javad Zarif and Afghan President Ashraf Ghani in a meeting in Kabul earlier this month reviewed peace talks among Afghan groups in the war-torn country.
Zarif and President Ghani met on the sidelines of the 8th Ministerial Conference of the Heart of Asia-Istanbul Process.
During the meeting in the Afghan capital, both sides discussed current political developments in Afghanistan.
The conference held in Istanbul is themed "Peace, Partnership, Prosperity" and is aimed at bolstering regional cooperation as well as dialogue towards Afghanistan.
The Heart of Asia-Istanbul Process discussed peace, regional participation, and cooperation for the future of Afghanistan.
https://en.farsnews.com/newstext.aspx?nn=13981005000243
------
Syrian Army Regains Full Control over 40 Towns, Villages in Idlib Province, Sets Free 320sq/km
Wed Dec 25, 2019
TEHRAN (FNA)- General Command of the Syrian Army announced that it has cleared up more than 320 square kilometers of land and liberated more than 40 towns and villages in South and Southeastern Idlib after pushing back Tahir al-Sham al-Hay'at (the Levant Liberation Board or the Al-Nusra Front) from their military positions in the region.
"Units of the Syrian Army continued their attack South and Southeastern Idlib amid a state of successive collapse among the armed terrorist organizations, inflicting heavy losses and casualties on them," a statement by the army General command said on Tuesday.
The statement noted that the Syrian army managed to clean up more than 320 square kilometers of land and set free over 40 towns and villages in the South and Southeastern countryside of Idlib.
Um Tina, Abu Sharqi, Sha'ara, Farwan, Hraki, Abu Dafnah, Tal Haran, Jirjanaz and Tal Assayed are among the villages and towns liberated by the Syrian Army in Idlib.
In a relevant development on Monday, The Syrian Army troops continued their advances in Idlib countryside, and liberated two strategic towns after fierce clashes with the terrorists.
The Syrian Army managed to take control of Jorjnaz and al-Tah towns in Southeastern Idlib after pushing back the Tahrir al-Sham from their military positions.
The Syrian Army troops took full control of al-Tah region in the Southern countryside of Idlib.
A battlefield source pointed to the importance of al-Tah town as one of the most important bases of Al-Nusra Front in Idlib countryside.
The source told the Arabic-language service of the Russian Sputnik news agency that al-Tah is the first defense line of Al-Nusra terrorists in Ma'arat al-No'eman and is located adjacent to Jorjnaz.
The Syrian Army kicked off its fresh military operations in Southern and Southeastern Idlib province on December 19 and it is engaged in fierce clashes with Al-Nusra Front in Idlib province.
In a relevant development on Monday, the Syrian army continued operations against the terrorist groups stationed in Southeastern Idlib, and regained control over several new regions.
A Syrian military source told the Arabic-language service of Sputnik news agency that three other villages had been freed from the terrorists in the Eastern and Southeastern parts of the town of Ma'arat al-No'eman in Idlib.
"Seyedi Ali and Ja'afar regions and the two towns of Fa'aloul and Kharbat Ma'arat in Eastern Idlib were recaptured by the Syrian army on Monday," the source said.
Meantime, reports from Southern Idlib said that militants have blocked efforts to open a safe corridor for the evacuation of civilians in Southern Idlib in a move to take people hostage and use them as a shield against army attacks as Ma'arat al-No'eman, one of the terrorists' main strongholds in the region, could fall to the government troops fast.
"Certain measures are underway to deliver control of Ma'arat al-No'eman and nearby villages in Southern Idlib to the Syrian army without any clashes through contacts with influential local figures in the region," Member of Syria's National Reconciliation Committee Omar Rahmoun told the Arabic-language al-Watan newspaper on Monday.
https://en.farsnews.com/newstext.aspx?nn=13981004000415
------
Africa
14 dead in Niger after Islamic militants attack convoy
NIAMEY, Niger — Islamic militants on motorcycles killed 14 security force members who were escorting election officials in the West African nation of Niger, the first large attack there since 71 soldiers were killed in a massive ambush earlier this month, authorities said Thursday.
The attack took place Wednesday night near Sanam, which is about 125 miles from the capital of Niamey, according to a government statement. Officials from the national electoral commission were in the area to conduct a census before next year's vote.
The victims were seven military police officers and seven national guard members, the statement said.
Niger has long been vulnerable to Islamic attacks because it shares a border with Nigeria, where Boko Haram insurgents have been carrying out attacks for a decade.
But now Niger is increasingly threatened by militants from the Islamic State in the Greater Sahara group, which carried out a 2017 attack that left four U.S. service members dead in Niger. Those same militants who are active along the Niger-Mali border also claimed the unprecedented massacre at the army camp earlier this month that left 71 dead.
Niger's military has undergone training for years from both American and French forces, but the Dec. 10 attack near the town of Inates underscored the threat militants still pose. French President Emmanuel Macron has postponed a meeting with Niger's president and other regional leaders until January.
Niger is also a member of the G5 Sahel regional military force — along with Burkina Faso, Chad, Mali and Mauritania — which has unsuccessfully tried to drive jihadis out of the vast region south of the Sahara desert. The cross-border joint force was launched in July 2017, but has been beset by financial shortfalls and other challenges.
The crisis across the Sahel has deepened over the past year, particularly in Mali and Burkina Faso. Jihadi attacks on military outposts became so frequent that Mali's president shut down the most remote and vulnerable as part of a military reorganization.
https://www.stripes.com/news/africa/14-dead-in-niger-after-islamic-militants-attack-convoy-1.612582
------
'We need a Nigeria where Muslims are allowed to wear hijab anywhere' – Sultan of Sokoto
December 27, 2019
By Wale Odunsi
Muhammad Sa'ad Abubakar III, the Sultan of Sokoto, has asked Muslims to be peaceful and must not to take up arms to fight any one or group over any issue, comment or happenings in Nigeria.
He, however, said he's looking forward to a better Nigeria where Muslims are allowed to wear hijab anywhere without restriction.
The News Agency of Nigeria (NAN) reports that Abubakar III made the appeal at the opening ceremony of the 108th edition of Islamic Vacation Course (IVC) at IVC permanent site in Ogun State.
The Sultan, who spoke on Islamic law and the Nigerian constitution, said: "We must not take up arm over any issue or anybody.
"We must never try to fight, we must not enforce our rights on anything. But we as a leader, all of us as leaders, we will look at ways of getting our rights from the government.
"So never be provoked; don't let any comment or any report from anywhere provoke you into taking up arms to fight.
"Why because that is what they want us to do to destabilise Nigeria. We will not destabilise Nigeria as Muslims. We will walk as Islamic orders us to do.
"And In-shaa Allah we will build a better Nigeria where Muslims are allowed to wear hijab anywhere and at any time."
Abubakar emphasised the need for Muslims to remain calm over any issue concerning their faith.
"Like I said, Almighty Allah will protect His religion, He will protect the Qur'an, His book. We will do our own part by remaining peaceful, by always abiding by the laws of our land.
"We are always talking to our leaders, especially the political leaders, on what should be done and what ought not to be done," the Sultan said.
https://dailypost.ng/2019/12/27/we-need-a-nigeria-where-muslims-are-allowed-to-wear-hijab-anywhere-sultan-of-sokoto/
------
Islam Encourages Peaceful Co-existence Regardless Of Faith –Miyetti Allah
DEC 26, 2019
Zonal Chairman of Miyetti Allah Cattle Breeders' Association of Nigeria, Gidado Siddiki, has said that Islam as a religion encourages peaceful co-existence of people regardless of their faith.
He said, "While thanking God for His mercies on this day, we immensely appreciate the governors of the five South-East states of Abia, Anambra, Ebonyi, Enugu and Imo for the bold expressions of their belief in one Nigeria.
"We also appreciate the governors for individually and collectively accommodating our members in their states and for listening to them, particularly at very trying moments this year when the unruly activities of criminals tended to lead to a blanket demonisation of herdsmen."
Siddiki asked members and other Muslims to extend Christmas greetings to Christians in their host communities and to always maintain cordial relationship with them.
He said identifying with non-Muslims during their ceremonies was in keeping with the noble ideals and teaching of Prophet Muhammed.
He added, "Islam has acknowledged the principle of peaceful coexistence with all people, regardless of their faith. Islam instructs Muslims all over the world to love their neighbours."
http://saharareporters.com/2019/12/26/islam-encourages-peaceful-co-existence-regardless-faith-%E2%80%93miyetti-allah
------
Australia and New Zealand
Radical Islamic extremists pose the biggest terror risk to Australia despite 'small but significant' far right threat, ASIO says
26 December 2019
Islamic extremists pose the biggest terror risk to Australia despite the 'small but significant' threat from far right-wing groups remaining on ASIO's radar.
ASIO director-­general Mike Burgess maintained Sunni Islamist extremism 'remains the primary source of domestic terrorist threat' in Australia.
'Individuals who adhere to an extreme right-wing ideology currently constitute a small but significant proportion of ASIO's counter-terrorism investigative cohort,' he told The Australian.
Mr Burgess said ASIO doesn't focus solely on a potential terror group's particular ideology, but the threat they pose.
'ASIO has been focused on (right-wing extremism) for many decades and has maintained continuous and dedicated resources to this area,' he said.
In the wake of the Christchurch mosque massacre - where Brenton Tarrant allegedly killed 51 Muslim worshippers during Friday prayers - Australia's security agencies have turned their attention towards monitoring right-wing radicals.
Questions were raised over whether police and ASIO were previously putting too much focus on Islamic extremism.
Just weeks after March's terror attack, Victoria Police Chief Commissioner Graham Ashton said right-wing groups tend to avoid violence and prefer 'rhetoric and ideology' to get their message across.
Mr Ashton said a few right-wing groups in Victoria actively decided to shy away from brutality to avoid hampering their cause.
'Fortunately, the approach groups have taken in Australia to date has been not to engage in acts of violence, preferring a more rhetorical and ideological-based approach,' Mr Ashton said.
While the bulk of Australia's terror threats aren't affiliated with right-wing groups, ASIO warned right-wing extremists have become more organised.
'Any future extreme right-wing-inspired attack in Australia would most likely be low-capability and conducted by a small actor or small group,' the agency said.
'Although a sophisticated weapons attack is possible.'
https://www.dailymail.co.uk/news/article-7827859/Radical-Islamic-extremists-pose-biggest-terror-risk-Australia-according-ASIO.html
------
South Asia
Taliban releases Afghan peace marchers without harm
Thursday, 26 Dec 2019
Taliban has released 27 abducted members of peace marches group who were kidnapped while traveling to western parts of Afghanistan.
Bismillah Watan Dost, a spokesman for the People's Peace Movement (PPM), said the 27 members abducted while traveling to Farah on Tuesday were held by the Taliban for 45 hours and released without harm.
The People's Peace Movement (PPM) disappeared after entering Farah province two days ago while they were on march demanding a ceasefire.
The people peace movement had started a march from western Herat province two weeks ago. They were traveling in six cars, when they were stopped by Taliban militants on a main road in Farah province on Tuesday.
According to officials at PPM, it has been four times the Taliban has kidnapped their members.
The People's Peace Movement (PPM) started its marches in early 2018 from Helmand province and have traveled to almost all parts of the country.
Interestingly, members of this group ave walked several provinces with bear feet demanding for peace initiatives from all involved parties mainly the Taliban.
This comes as the U.S government is mediating Afghanistan's peace process which started last year in February.
Zalmay Khalizad, US peace envoy is currently said to be in Qatar, waiting for the Taliban peace delegation to return back to Doha, following consultations on peace agreement terms with their leadership.
https://www.khaama.com/taliban-releases-afghan-peace-marchers-without-harm-7875/
------
6 Afghan soldiers killed in suicide car bombing
December 26, 2019
AhlulBayt News Agency (ABNA): At least six Afghan soldiers were killed in a Taliban-claimed suicide car bombing in the northern Balkh province on Thursday, an official statement confirmed.
The country's Defense Ministry said in a statement that the militants blew-up a car packed with explosives near an Afghan National Army base at around 4:30 a.m. local time (2400GMT). Confirming the death toll, it said three soldiers were wounded in the early morning assault.
Claiming responsibility for the deadly assault, Taliban spokesman Zabihullah Mujahid tweeted that the base was completely overrun in this attack.
Earlier this week, the Taliban claimed killing an American soldier in neighboring Kunduz province with which the number of U.S. soldiers killed in Afghanistan this year surged to 20.
This comes amid ongoing rejuvenated yet fragile peace talks between the Taliban and the U.S. in the Qatari capital, Doha.
https://en.abna24.com/news//6-afghan-soldiers-killed-in-suicide-car-bombing_996663.html
------
Iranian press review: Iran accuses US of flying Islamic State fighters to Afghanistan
26 December 2019
Iran accuses US of ferrying IS fighters to Afghanistan
Iran's top security chief has accused the US of attempting to relocate Islamic State (IS) fighters and their operational focus from Iraq and Syria to Afghanistan, Iran's official news agency IRNA has reported.
The secretary of Iran's Supreme National Security Council Ali Shamkhani claimed 5,000 IS fighters are now operating in enclaves inside Afghanistan and across the border with Iran.
Speaking to reporters in Tehran, he claimed IS cells had been flown into Afghanistan on charter flights, without elaborating further about the time or place of the stated relocation.
"Our assessment of the Daesh (IS) members' move to Afghanistan confirms that they [Americans] are planning to create insecurity across Afghanistan's borders with Iran, China and Russia," he was quoted by IRNA as saying.
He also rejected claims that Iran provided military aid and logistical support to the Taliban in Afghanistan.
"We don't hide it, if we provided military assistance [to other countries]," Shamkhani said. "We have provided advisory support in Iraq, Syria and Yemen, but there is no need for that in Afghanistan."
Iranian journalists urge authorities to reveal November protest death toll
Iranian journalists asked the authorities to announce the official death toll from week-long protests in November, after the Reuters news agency reported that 1,500 were killed.
On Monday, the Arman daily warned that if officials do not announce the exact number of casualties, foreign news agencies and human rights organisations will keep raising the figures.
In response to journalists' question about the death toll, the Iranian government stressed that Iran's attorney-general is the only official institution which has the exact numbers.
However, Attorney-General Mohammad Jafar Montazeri has so far avoided answering the question. "God bless you," was the only response by Montazeri when a journalist asked about the figures, the Arman daily reported.
In response to another journalist who said "people want to know why the number of the dead is not being announced", Montazeri asked: "Have people chosen you as their representative?"
"I don't have any exact information about this and I can't say anything," he was quoted by the daily as saying. "All I can say is that the figures provided by foreign news agencies are so different from reality."
Famous reformist politicians barred from 2020 parliamentary elections
President Hassan Rouhani's interior ministry has disqualified prominent reformist figures from entering February's parliamentary elections, Khabar Online reported.
Iran's pro-conservative Interior Minister Abdolreza Rahmani Fazli is supported by Iran's supreme leader and the Islamic Revolutionary Guard Corps (IRGC).
Since November, Fazli has been under fire by reformist lawmakers for last month's brutal crackdown on protestors, leading to reformist legislators moving to remove him from office.
However Ilna news agency reported on Tuesday that the office of Iran's supreme leader asked the MPs to postpone the process until after February's elections.
Ali Shakouri Rad, the Secretary-General of Union of Islamic Iran People Party; Azar Mansouri, reformist politician and women's rights activist; and well known political activists such as Emad Bahavar, Javad Emam, and Ali Bagheri are among the reformists disqualified as candidates for February's elections.
Bahram Parsaei, a serving MP from the city of Shiraz, was also barred from defending his seat. The interior ministry informed Parsaei that he was banned because of his "lack of practical commitment to Islam", Etemad Online reported.
To be eligible to run in elections in Iran, candidates must go through another vetting process, which is carried out by the conservative Guardian Council.
Iran, Houthis officially sign military cooperation deal
Representative for Yemen's Houthi militia and Iran's defence minister signed the first official military cooperation agreement between Iran and the Houthis, in Tehran on Monday.
The Kayhan daily reported that during a ceremony after signing the agreement, Defense Minister Brigadier General Amir Hatami reaffirmed Iran's support for a peaceful solution to the political deadlock and civil war in Yemen.
"The entire world is surprised to see [Houthi's] military development. They can now hit targets as far as 1,000km away," he said.
On the same day, Houthi spokesperson Mohammed Abdul-Salam and Iran's Foreign Minister Mohammad Javad Zarif met in the Jordanian capital Amman. Iran's Khorasan daily reported that this meeting was aimed at reaching an agreement between Saudi Arabia and Yemeni Houthis.
Yemen's Houthi rebels, who have been at war with a Saudi-led coalition since 2015, are supported by the Iranian government.
https://www.middleeasteye.net/news/iranian-press-review-iran-accuses-us-flying-islamic-state-fighters-afghanistan
------
US to facilitate $85m funds for the strategic Chabahar port equipment purchase
Friday, 27 Dec 2019
United States has given a 'written' assurance to India that will help facilitate global banks to fund the purchase of equipment worth $85 million to be erected at Chabahar port which India is developing in Iran, the Hindu BusinessLine reported.
Chabahar is of great strategic importance for the development of regional maritime transit traffic to Afghanistan and Central Asia.
In November 2018, the United States granted a waiver to the port from the sanctions it has imposed on the Persian Gulf nation.
"We have to procure equipment for running the port, but because of the US sanctions, we are not able to procure," a government official briefed on the issue said.
"We have placed the orders for equipment, some as long as two years ago, but we are not able to open a letter of credit (LCs). Banks are not coming forward. The US had earlier given verbal assurances (on the waiver fine print) but were very reluctant to give anything in writing, and the banks insist on the document. Now, after the recent visit of Foreign Minister S Jaishankar, they have given us something in writing, and we are trying to go ahead," the official stated.
"The payments are in dollars. We need some banks which deal in dollars or euros, so we have to hit the international banking system and there if the word Iran comes, no bank is prepared to stick its neck out," he stated.
India Ports Global (a 60:40 joint venture between Jawaharlal Port Trust and Deendayal Port Trust) and Aria Banader Iranian Port signed a deal in May 2016 to equip and operate the container and multi-purpose terminals at Shahid Beheshti – Chabahar Port Phase-I with capital investment of $85.21 million and annual revenue expenditure of $ 22.95 million on a 10-year lease. Cargo revenues collected will be shared by India and Iran as per an agreed formula.
Located in the Sistan-Baluchistan Province on Iran's South-eastern coast (outside the Persian Gulf), Chabahar port is of great strategic importance for the development of regional maritime transit traffic to Afghanistan and Central Asia.
India Ports Global has ordered four rail-mounted quay cranes (RMQCs) for a combined $29.8 million from Chinese port crane maker Shanghai Zhenhua Heavy Industries Co Ltd (ZPMC) and 14 rubber-tyred gantry cranes or RTGCs for about $18 million from Finnish crane maker Cargotec OYJ for erecting at Chabahar port. It had also placed orders for purchasing mobile harbour cranes at Italy's Italgru SRL.
"The payments for the equipment can only be made when LCs are opened. Once you open the LC, the other party knows that the bank assures the money. And then, they start making the equipment. That is the whole purpose of LC. Then, the bank releases the money as per the stages/timelines specified in the contract," the official said.
Because of the delay in opening the LCs, the equipment delivery will also be delayed, he added.
The delay in installing the equipment has, in turn, delayed India's plans to hire an Indian manage, operate and maintain (MOM) contractor for the port.
"If the equipment is not there what will we do by having an Indian MOM operator; that is for the full ten-year contract. Currently, we are making short contracts until the issues are sorted out. Because of the sanctions, everything has been spoiled," he added.
India-Iran-Afghanistan partnership
In 2016, India signed a deal with Iran entailing $8 billion investment in Chabahar port and industries in Chabar Special Economic Zone, including an aluminium smelter and a urea making facility, at Chabahar port is being developed was a transit route to Afghanistan and central Asia. India has already built a 240-km road connecting Afghanistan with Iran. Also in planning is a rail route connecting Chabahar with the India-promoted $11-billion Hajigak iron and steel mining project in central Afghanistan, as seven Indian companies in 2011 acquired rights to mine central Afghanistan's Hajigak region, which contain Asia's largest deposit of iron ore. The Government of India has pledged to Afghanistan to spend $2bn in developing supporting infrastructure including Chabahar to Hajigaj railway. All this will bring cargo to Bandar Abbas port and Chabahar port, and free Kabul from its dependence on Pakistan to reach the outer world, giving India access to Afghanistan and beyond to Turkmenistan, Uzbekistan, Tajikistan, Kyrgyzstan, Kazakhstan, Russia and Europe via 7,200-km-long multi-modal North–South Transport Corridor (INSTC).
During the 1990s Iran and India, along with Russia, collaborated in backing the Northern Alliance in Afghanistan against the Pakistan-backed Taliban. At this time, Iran invited India to develop the Chabahar port to obtain ready access to Afghanistan. In 1997, a trilateral agreement was signed with Turkmenistan to expand trade into Central Asia and, in 2000, another agreement with Russia to provide seamless transport between India and Europe via an International North-South Transport Corridor.
After the American presence in Afghanistan, India, Iran and Afghanistan got together in January 2003, agreeing on a joint development of transportation links to Afghanistan. India agreed to expand the Chabahar port and to lay a railway track between Chabahar and Zaranj. Iran has completed 70 percent of the first phase of the Chabahar project at a cost of $340 million. India has spent $134 million during 2005–2009 to construct a road from Delaram in Afghanistan to Zaranj at the Iran-Afghanistan border. Iran has also built a roadway between Milak, close to Zaranj, and Chabahar passing through Zahedan and Iranshahr. Through Milak, Zaranj and Deleram, connectivity has been established to the Afghan `garland road', which connects the major Afghan cities Herat, Kandahar, Kabul and Mazar-e-Sharif. In March 2012, ships from India docked at Chabahar carrying 100,000 tonnes of wheat under humanitarian aid to Afghanistan. The Afghan businesses have begun to shift from the Karachi port to Chabahar port for transit.
However, without further development of the Chabahar port, these road links would remain underutilized. Despite intentions, India's involvement in the infrastructure development within Iran has been minimal, possibly due to the western pressure to apply sanctions. Iran is also believed to have a shown a preference for Iranian contractors instead of Indians. The initiative was restarted in August 2012 in a trilateral meeting on the sidelines of a Non-Aligned Summit.
https://www.khaama.com/us-to-facilitate-85m-funds-for-the-strategic-chabahar-port-equipment-purchase-202095/
------
American University of Afghanistan could close in 2020 due to funding issues
Friday, 27 Dec 2019
The American university of Afghanistan is drawing plans to close next year, as there are fear of 'federal funding' stoppage by US Agency for International Development (USAID), sources told CNN.
The annual budget of the university is around 28 million US dollars, over 60% of which is directly funded by the US Agency for International Development.
"We have a fiduciary responsibility to the faculty, our students and our donors," said a source familiar with the planning for the possible closure. "It is really important that we address what could be the worst-case scenario.", the university's president, David Sedney, told CNN
In recent weeks, USAID had a close-out meeting with university personnel at the US Embassy in Kabul, sources told CNN. They covered the procedures for closing a project. The USAID administrator, Mark Green, had a meeting with members of the university's board of trustees in Washington earlier this month and made no firm commitments to renew funding.
As the funding stands now, the year's courses will finish, but the university will have to activate its plan to shut down after graduation.
"In March, international staff will start looking for new jobs. If we are not able to offer contracts by April they will take other jobs," said a source familiar with the university's planning for a possible shutdown.
The education of more than 800 Afghan students, who expected to finish their undergraduate or graduate degrees at the university, would also be upended if the doors closed in May. While the university is seeking out ways to help its students find other places to finish their education should that be necessary, it is a complex and cumbersome process.
"There is no university in Afghanistan like AUAF," said another source familiar with the planning. "We are trying to create a plan [for students] but it would be a highly irresponsible thing for USAID to withdraw funding."
The precise reason that USAID has made no formal funding commitment to the university remains unclear to those involved. News of the potential closing of the university comes as the Trump administration is preparing to announce a drawdown of US troops in Afghanistan.
"In many ways it is a mystery, other than the fact that we know that the Trump administration wants to spend less money abroad and be less involved in Afghanistan," said one source familiar with the school's position. "We are working to make the changes they have asked for."
AUAF established in 2006 is one of the leading and popular private university in Afghanistan with a wester-style education system.
Former first lady Laura Bush launched the university five years after the Afghanistan War began.
The university has not escaped the plague of the country's long war. Fifteen people were killed, according to the school, and the university was closed for seven months after a Taliban attack on the school in 2016. Two staff members were kidnapped outside the university and held for more than three years before being freed in a swap this fall.
Students who were attacked by the Taliban in the 2016 assault have graduated in recent years.
Initially, the university was entirely funded by the US government. The institution has developed additional funding streams in recent years, but it has also faced scrutiny its handling of finances.
The special inspector general for Afghanistan reconstruction put out a report earlier this year to Congress that found the university had "lost more than $63 million since 2012."
University officials see an uphill battle before them.
"We have not given up hope. The closure would be a huge political symbol. The American University of Afghanistan is the single best thing that the US has done in terms of a positive legacy in Afghanistan," said Sedney. "It represents hope for a peaceful future. We provide the highest quality education available in Afghanistan, and our students are already in leadership positions in government and in the nonprofit sector."
The US National Defense Authorization Act, signed into law last week, included continued support to coeducational "institutions of higher education in Kabul, Afghanistan." Some congressional aides pointed to the language as an indicator that the support for the university would be legally obliged to continue.
A USAID spokesperson said they would work with Congress to implement the law and also "review the landscape of higher-education institutions in Afghanistan eligible for support."
https://www.khaama.com/american-university-of-afghanistan-could-close-in-2020-due-to-funding-issues-67548/
------
Several rare antelopes of Salang mountains killed, police in search of hunters
Thursday, 26 Dec 2019
Unknown hunters have killed several rare antelopes of Salang mountains on Wednesday, said officials.
Four rare antelopes of Afghanistan have been killed by some residents of Parwan province in the mountains of Salang, a Parwan provincial official said.
Mohammad Mahfoz Kohistani, the head of Parwan's environmental agency, said that the hunters were from the villages Kokalami and Alocha Kham in Salang district.
"Parwan police and security forces are in search of the hunters," official said.
Hunting rare animals are forbidden by the law and decrees in Afghanistan.
Over 40 years of recent wars in Afghanistan, have caused the flee of wild animals from the mountains of this country.
Afghanistan mountains used to have different types of wild animals including types of deers, leopards and wolves.
https://www.khaama.com/several-rare-antelopes-of-salang-mountains-killed-police-in-search-of-hunters-9087/
------
Pakistan
Pakistan govt files review plea in army chief case
Dec 27, 2019
ISLAMABAD: PM Imran Khanled Pakistan Tehreek-e-Insaf government on Thursday filed a review petition against the Supreme Court's decision about legislation on the extension of service of Pakistan army chief General Qamar Javed Bajwa.
In August, PM Khan had given a three-year extension to Gen Bajwa, a decision that was challenged in the SC. The SC on November 28 had allowed the government to grant a six-month extension Gen Bajwa. The court had also directed the government to legislate and remove lacunae in the re-appointment/extension of tenure of an army chief within six months. In the review petition filed by Attorney General Anwar Mansoor, the government has urged the apex court to form a larger bench to hear the case again.
Firdous Ashiq Awan, the special adviser to the PM for information and broadcasting, said the review petition was filed "because our legal team thoroughly reviewed all aspects of the decision and concluded that there are several legal gaps in the verdict... the government... thus decided to file the review petition." In the petition, the government has also tried to justify its decision of giving extension to Bajwa in the context of the country's frosty relations with India.
https://timesofindia.indiatimes.com/world/pakistan/pakistan-govt-files-review-plea-in-army-chief-case/articleshow/72987765.cms
------
Musharraf files petition in LHC challenging special court's verdict in high treason case
Rana Bilal
December 27, 2019
General retired Pervez Musharraf filed a petition with the Lahore High Court on Friday challenging the verdict by a special court in Islamabad in the high treason case against the former dictator for suspending the Constitution on November 3, 2007.
On December 17, a special court in Islamabad found Musharraf guilty of high treason and handed him a death sentence under Article 6 of the Constitution.
The verdict marked the first time in Pakistan's history that a military chief was declared guilty of high treason and handed a death sentence.
The 86 page-long petition, filed by Advocate Azhar Siddique on Musharraf's behalf, named the federal government and others as respondents.
A full bench, chaired by Justice Mazahir Ali Akbar Naqvi, will hear the petition on January 9, 2020.
The petition highlighted that the "judgement contained a mix of anomalies and contradictory statements". It added that the special court "rapidly and hurriedly wrapped up the trial which was far from conclusion".
"The special court […] announced an award of capital punishment to the applicant without examining the accused under Section 342 of the Criminal Procedure Code (power to examine the accused). The importance of examining the accused in a criminal trial is enormous and any lapse, failure or omission to fulfill this requirement adversely affects the prosecution case.
"A criminal trial cannot simply [be] complete without adhering to this mandatory legal requirement."
The petition stated that the special court "has not taken into consideration that no actions detrimental to national interest were taken by the applicant" as "no offence of high treason is made out from the evidence presented against him [Musharraf] before the special court".
The petition also challenged the verdict's graphic paragraph 66 which read: "We direct the law enforcement agencies to strive their level best to apprehend the fugitive/convict [Pervez Musharraf] and to ensure that the punishment is inflicted as per law and if found dead, his corpse be dragged to the D-Chowk [in front of the Parliament House], Islamabad, Pakistan, and be hanged for three days".
The petition states: "The Honourable respective president of the special court has crossed all religious moral, civil and constitutional limits, while ruthlessly, irreligiously, unlawfully, unrealistically awarding a debilitating, humiliating, unprecedented and against the dignity of a person sentence […] through para 66."
Earlier this month, Musharraf had filed an application in the LHC, urging it to halt the special court from sentencing him in absentia. In the petition, the former dictator had challenged the formation of the special court holding his trial under charges of high treason and legal flaws committed in the procedure.
Three days after he had filed the petition, Musharraf, who is currently abroad, was handed the death penalty by the special court in Islamabad after the three-member bench convicted him in the treason case.
A day after the special court handed him death sentence, Musharraf expressed his gratitude to the armed forces and the people of Pakistan "for remembering his services for the nation".
In a video that showed him lying on a medical bed, Musharraf said he had "faith in Pakistan's judiciary that they will provide me justice and keep in view the supremacy of law".
https://www.dawn.com/news/1524710/musharraf-files-petition-in-lhc-challenging-special-courts-verdict-in-high-treason-case
------
Pakistani cricketer Danish Kaneria ill-treated by teammates because he was Hindu: Shoaib Akhtar
December 27, 2019
Karachi: Former Pakistani pacer Shoaib Akhtar has said cricketer Danish Kaneria was treated differently in the team because he was a Hindu during their playing days.
"In my career, the number of times I have had to argue with people regarding the issues of Karachi, Punjab, Peshawar is outrageous. People used to ask questions like, 'Why are you eating (with us) here?' to Hindu players like Danish Kaneria," Akhtar said at a show titled "Game on Hai".
"I used to reply to those players, 'How would you feel if I took your food from your house and forced to make you eat outside?'" he said.
Akhtar added that he used to be enraged by his teammates' behaviour when they refused to break bread with Kaneria because of his religion and did not give him due credit for his performances.
"I used to get very angry when anyone was discriminated on the basis of region or religion. A Hindu born in Pakistan is entitled to represent his country. When that Hindu (Kaneria) won us the Test series against England (in 2005), I was upset with my teammates for mistreating him," said the celebrated former pacer.
Kaneria is fourth in the list of bowlers who have taken most Test wickets for Pakistan, behind only fast bowlers Wasim Akram, Waqar Younis, and Imran Khan.
He was handed a lifetime ban by the England and Wales Cricket Board (ECB) after allegations of him being involved in match fixing surfaced.
I will soon reveal their names: Kaneria
Danish Kaneria on Tuesday lauded Pakistan pacer, Shoaib Akhtar, for his comment regarding the treatment faced by Kaneria and said that whatever Akhtar said was true and he is very thankful to him for taking such a brave stand.
"I am very thankful to Shoaib Akhtar bhai for his remarks. Whatever he said was true. I have never said anything to him although he came for my support," Kaneria told ANI.
The 39-year-old Kaneria, who played 61 Tests for Pakistan, is the second Hindu to feature in the Pakistani cricket team after Anil Dalpat.
The spinner, who had 261 Test wickets and 15 ODI scalps, said that he did not have the courage to speak about that but after Akhtar's statement he will soon name players who have issues with him during his cricketing days.
"The players who didn't like to talk to me just because I was a Hindu. Soon I will reveal their names. I did not have the courage to speak in this regard, but now I got the courage to speak on this issue when I heard Shoaib's statement," Kaneria said.
Kaneria said there were players like Younis Khan, Inzamam-ul-Haq, Mohammad Yousuf, and Akhtar who were nice to him irrespective of his religion.
https://gulfnews.com/sport/cricket/pakistani-cricketer-danish-kaneria-ill-treated-by-teammates-because-he-was-hindu-shoaib-akhtar-1.1577431492345
------
PM Imran Khan takes Saudi FM into confidence on IOK, anti-Muslim law
December 27, 2019
ISLAMABAD: Pakistan has taken Saudi Arabia into confidence on the worsening humanitarian situation in the Indian Occupied Kashmir (IOK) and discriminatory legislation in India troubling Muslims.
Prime Minister Imran Khan told the visiting Saudi Foreign Minister Prince Faisal bin Farhan Al Saud that the Muslim population in India was suffering at the hands of extremist Modi government in the worst manner.
He highlighted in detail the worst situation in the IOK, India's discriminatory Citizenship Amendment Act (CAA) and the National Register of Citizens (NRC) and underscored that the Indian government was engaged in systematic efforts to marginalise and disenfranchise minorities, particularly Muslims.
He said, in addition, India's belligerent actions on the LoC were stoking further tensions and imperiling regional peace and security.
He stressed that the international community had to play its role in ensuring respect for the rights and freedoms of the Kashmiri people, facilitate a just solution of the Jammu & Kashmir dispute, and take steps for the protection of minorities in India.
Saudi Ambassador Admiral Nawaf bin Sai Almaliki was also present in the meeting, while Foreign Secretary Sohail Mahmood and DGISI Lieutenant General Faiz Hameed assisted the prime minister.
Views were exchanged on bilateral relations as well as regional developments in the course of meeting.
Welcoming the Saudi foreign minister, the prime minister underscored the special significance of Pakistan-Saudi Arabia relationship --based on close fraternal ties, historic links, and support at the gross-roots level.
He recalled the visit of HRH Crown Prince Mohammed bin Salman to Pakistan in February 2019 and the depth and substance that it imparted to bilateral cooperation in diverse fields.
Imran appreciated the growing economic ties between the two countries and Saudi commitment for investment in various sectors, particularly petrochemicals, mining and renewable energy.
The prime minister expressed hope that the Saudi team for extending support in the development of tourism sector will visit Pakistan soon, as agreed with HRH the Crown Prince during the prime minister's recent visit to Saudi Arabia.
The Saudi foreign minister conveyed the most cordial greetings of King Salman bin Abdulaziz Al Saud and of Crown Prince Mohammed Bin Salman to the leadership and people of Pakistan as well as their deep appreciation for the role being played by Pakistan for regional peace and stability.
Underscoring the key importance of the "core relationship" between Saudi Arabia and Pakistan, the Saudi foreign minister conveyed the firm commitment of the Saudi leadership to the further deepening of fraternal ties and multi-faceted cooperation between the two countries.
Prince Faisal also reaffirmed the resolve to deepen bilateral collaboration in all fields, including trade, investments, energy, and tourism sectors.
The Saudi foreign minister also reiterated Saudi Arabia's steadfast support for Pakistan's core national issues. The enhanced role of the OIC in the context of Jammu & Kashmir dispute was discussed. This was the maiden visit of Foreign Minister Faisal bin Farhan Al Saud to Pakistan since assuming the office.
Both sides affirmed their commitment to maintain frequent high-level contacts and forge closer collaboration on bilateral matters and regional issues.
Meanwhile, the current situation in the Indian Occupied Kashmir was raised at the Foreign Office when the visiting Saudi Foreign Minister Prince Faisal bin Farhan Al Saud called on his Pakistani counterpart Foreign Minister Shah Mahmood Qureshi.
Prince Faisal was in Islamabad for a day long visit, his first since he took the office of Foreign Minister.
He was in Islamabad for a day-long visit — his first since he took the office of foreign minister.
Thursday was the 144th straight day of lockdown in (IOJ&K) and voices have been raised demanding a more active OIC role on Kashmir.
The two leaders focused on the situation in the Indian Occupied Kashmir (IOK) and discussed ways and means to see how the OIC could play a more robust role to further advance the cause of Kashmir.
"Foreign Minister Shah Mehmood Qureshi dilated in detail on the situation in the IOK in the aftermath of India's unilateral and illegal actions of August 5, 2019," said the Foreign Office after the meetings.
Qureshi thanked the Kingdom's support in the OIC Contact Group on the IOK and both sides agreed to hold further bilateral meetings on Kashmir.
During the detailed deliberations, the entire gamut of bilateral relations was covered and views were exchanged on regional developments.
There was one round of delegation level talks followed by a one on one meeting between the two foreign ministers. A lunch was also hosted for the visiting dignitary.
"Prince Faisal conveyed the Saudi leadership's deep appreciation of the role played by Pakistan in maintaining regional peace and stability," said the Foreign Office.
Qureshi also "highlighted the Indian government's actions with regard to CAA (Citizenship Amendment Act 2019) and NRC (National Register of Citizens) and the systematic targeting of minorities in India, particularly Muslims".
However, the statement from the Foreign Office did not reveal the reaction from Prince Faisal regarding the Indian CAA and NRC which has seen massive protests all over India leading to the deaths of over 25 Indians.
Though it is believed that the Malaysian Islamic Summit also came under discussion, this was not reflected in the official statements from the two sides.
Instead on Thursday Prince Faisal took the opportunity to once again underscore the importance that Saudi Arabia attached to its fraternal and strategic relationship with Pakistan.
"Saudi Arabia is committed to a strong, prosperous and successful Pakistan, the Saudi foreign minister was quoted as saying.
The deliberations also focused on issues of mutual interest including bilateral trade and economic cooperation, security and defence cooperation, parliamentary exchanges and increased trade relations.
Qureshi underscored that the relationship between Pakistan and Saudi Arabia was deep-rooted and long-standing. He also highlighted the importance of Saudi investments, particularly in the petrochemical, mining & minerals and energy sectors.
https://www.thenews.com.pk/print/589438-pm-imran-khan-takes-saudi-fm-into-confidence-on-iok-anti-muslim-law
------
Two Pakistani soldiers martyred in Indian firing from across LoC
Tariq Naqash
December 27, 2019
MUZAFFARABAD: Two Pakistan Army's soldiers were martyred and two civilians injured along the Line of Control (LoC) in Azad Jammu and Kashmir (AJK) in unrelenting ceasefire violations by Indian troops, officials said on Thursday.
A befitting response by Pakistani troops had left at least three Indian soldiers dead and some others injured, added the officials.
"Indian CFVs (ceasefire violations) along [the] LoC [continued] during the last 36 hours. Responding to CFVs, in Haji Pir Sector Pakistan Army troops damaged [an] Indian post, killing 3 Indian soldiers including a Subedar, and injuring few others," said Maj Gen Asif Ghafoor, director general of the Inter-Services Public Relations (ISPR), military's media affairs wing, in a tweet posted at 9.25am.
"In Dewa Sector, Naib Subedar Kandero and Sepoy Muhammad Ehsan of Pakis­tan Army [had] embraced shahadat," he added.
Dewa and Haji Pir sectors are located in AJK's Bhimber and Haveli districts, respectively.
On Thursday, Indian shelling was reported from many areas in AJK.
In Battal sector of Poonch district, 56-year-old Mohammad Mirza, who was standing outside his house, and nine-year-old Tayyiba Yousuf, who was returning home from a masjid school, were injured after being hit by splinters from the mortar shells fired by Indian troops, said Mohammad Hayat, a police official in the area.
Imran warns of looming risk of Muslims' genocide in India by RSS
The shelling in Battal sector began at 3pm and continued for at least two hours, he said, adding that it was heavy but fortunately there were only two casualties.
Civilian and military officials were unanimous that the escalations along the LoC were intended to divert attention from India's internal situation that was going from bad to worse with each passing day in the wake of a highly controversial citizenship law.
In a statement from Saudi Arabia, AJK Prime Minister Raja Farooq Haider also vehemently condemned unrelenting aggression by the Indian army along the bloody dividing line and paid tribute to the valiant forces for sacrificing their lives in the line of duty.
Nazi-inspired RSS
Also on Thursday, Prime Minister Imran Khan warned of a looming risk of genocide of Muslims in India by the Nazi-inspired extremist Hindu group Rashtriya Swayamsevak Sangh (RSS).
"The international community should wake up before RSS on the move leads to genocide of Muslims that will dwarf other genocides. When­ever militias like Hitler's Brown Shirts or RSS are formed, based upon hatred of a certain community, it always ends in genocide," PM Khan said in a tweet.
He was reacting to reports of a massive show of power by baton-wielding RSS activists in Indian Hyderabad, who were wearing the group's Khaki uniforms. The RSS rally was held against the backdrop of countrywide protests against the Citizenship Amendment Act (CAA). The rally, held despite a government ban on gatherings, was seen as an attempt to browbeat the participants of anti-CAA rallies.
The RSS, which advocates Hindu nationalist agenda, is the ideological fountainhead of PM Narendra Modi's BJP.
Mr Khan had after the annexation of occupied Kashmir by India in August likened the Modi government to that of Nazis and said that world's silence on Delhi's action would be equivalent to appeasing Hitler.
Foreign Minister Shah Mehmood Qureshi, meanwhile, asked the international community to take note of India's war hysteria.
He said this in a statement on Thursday's ceasefire violations by Indian forces in which two soldiers of the Pakistan Army were martyred. He said the violations were committed by Indian forces for distracting people from the continuing agitation against the controversial citizenship law which has spread across India.
The foreign minister said that the BJP government in India was bent upon disturbing the peace of the region.
Indians, he maintained, have rejected the extremist ideology of the BJP government. He warned India against undertaking any military misadventure. "India should not be mistaken. Today the entire nation is united for the defence of the country. Our people are standing shoulder to shoulder with our troops," he maintained.
"The entire nation is proud of the sacrifices of our armed forces," he added.
Mr Qureshi had written a letter to the president of the United Nations Security Council, drawing the attention of the top international security forum towards the aggravating situation at LoC.
In the letter, the foreign minister had pointed out over 3,000 ceasefire violations by India, partial removal of the fence at the LoC by India in five sectors, deployment of the Brahmos Missile, anti-tank guided missiles and Spike missiles, and conduct of numerous missile tests since August.
He had contended that these Indian actions constituted threat to peace and security.
China had on the basis of Mr Qureshi's letter sought a briefing by the UN military observers group in India and Pakistan on the situation at LoC. The military observers, however, did not give the requested briefing, saying they were not ready for it.
Baqir Sajjad Syed in Islamabad also contributed to this report
http://www.dawn.com/news/1524620/two-pakistani-soldiers-martyred-in-indian-firing-from-across-loc?preview
------
North America
Trump accuses Russia, Syria, Iran for increased violence in Idlib province
Dec 26, 2019
WASHINGTON: Accusing Russia, Syria and Iran of increased violence in Idlib province, US President Donald Trump on Thursday claimed Turkey is working hard to stop the "carnage".
"Russia, Syria, and Iran are killing, or on their way to killing, thousands of innocent civilians in Idlib Province. Don't do it! Turkey is working hard to stop this carnage," Trump tweeted.
Trump's tweet come as Idlib region in recent times has seen an escalation in violence as Syrian government forces supported by Russian air attacks launched a fresh assault to capture the province.
Syrian Bashar al-Assad regime, backed by Russia and Iran, has reportedly promised to take back the rebel-controlled area and broke a ceasefire that was announced in August.
On Tuesday, at least eight people, including five children, were reportedly killed as missiles hit a school in northwest Syria sheltering displaced civilians.
A delegation, led by Deputy Foreign Minister Sedat Onal, travelled to Moscow on Monday to discuss the situation in Syria, where thousands of civilians are escaping to Turkey following an increased assault by government and Moscow.
Turkey is pushing for a new ceasefire. On Tuesday, Turkish presidential spokesman Ibrahim Kalin told a televised news conference, "We are closely following the process for an end to the attacks, and these attacks should come to an end immediately and implemented under a new ceasefire".
https://timesofindia.indiatimes.com/world/us/trump-accuses-russia-syria-iran-for-increased-violence-in-idlib-province/articleshow/72984144.cms
------
Trump calls for end to killing in Syria rebel bastion
Dec 26, 2019
WASHINGTON: US President Donald Trump on Thursday called for the governments in Moscow, Damascus and Tehran to stop the violence in Syria's rebel-held province of Idlib.
"Russia, Syria, and Iran are killing, or on their way to killing, thousands" of civilians in the northwestern province, Trump tweeted, adding: "Don't do it!" Heightened regime and Russian bombardment has hit jihadist-held Idlib — the country's last major opposition bastion — since mid-December, as regime forces make steady advances on the ground despite an August ceasefire and UN calls for a de-escalation.
Nearly 80 civilians have been killed by air strikes and artillery attacks over the same period, according to the Syrian Observatory for Human Rights, which estimates that more than 40,000 people have been displaced in recent weeks.
Turkey called Tuesday for the attacks to "come to an end immediately," after sending a delegation to Moscow to discuss the flare-up.
Presidential spokesman Ibrahim Kalin said Ankara was pressing for a new ceasefire to replace the August agreement.
Trump on Thursday praised Turkey's efforts, tweeting that Ankara "is working hard to stop this carnage."
https://timesofindia.indiatimes.com/world/us/trump-calls-for-end-to-killing-in-syria-rebel-bastion/articleshow/72983605.cms
------
I Might Still Be Married if Trump Wasn't President
December 24, 2019
By Dora Mekouar
Her husband's steady shift to the political right during their 24-year marriage was a source of frustration and embarrassment for liberal Jennifer Merrill, but it wasn't until the election of Donald Trump — and her husband's support for the president — that she'd finally had enough.
Merrill moved out and filed for divorce.
"I just couldn't see sharing a bed with somebody that agreed with what Trump was doing when I was so against everything that Trump represented," says Merrill, a book editor for a trade association, and the mother of three children. "He had no sensitivity for how I felt, that I felt so strongly about it, especially when I was going out and doing protests ... and he would just laugh about it and continue to defend [Trump]. So that just made me very, very angry."
Merrill is among 11% of Americans who have ended a serious relationship due to political differences, according to a 2017 poll. One in 5 Americans say they know a couple whose marriage or relationship has been negatively affected by President Trump's election.
"Among Americans in a committed relationship who voted differently in 2016 than their significant other, 41% say they and their partner disagree or argue about politics more than ever," says Nathan Richter of Wakefield Research, a self-described nonpartisan firm that conducted the study.
Various polls show the country is deeply divided when it comes to President Trump and whether he should have been impeached. The study results suggest there is a very real human toll to the divisiveness and rancor that has gripped the nation since the president's election.
Virginia attorney Anita Jo Shifflett, who voted for Trump, says she and her husband, Douglas Williams, a committed Democrat, argue over politics pretty much every time they watch the news together. The couple married in 2015.
"He was aware that I was a Trump supporter, that I voted for Trump, and I was aware he was a Democrat to the core when we were dating, so it's kind of something we just knew about each other and accepted. It hasn't really been a big issue for us," Shifflett says.
But that doesn't mean their political differences don't cause friction.
"He likes to bash Trump. You know, he likes to call him names and all that stuff," Shifflett says. "He's really angry about it. When he criticizes Trump I feel like I've heard it before. Again and again, and I heard it the first time. You don't need to keep repeating it to me."
Shifflett's experience isn't unique, according to Wakefield's research, which finds that 1 in 5 couples now argue more about Trump than they do about money. Finances are traditionally the biggest cause of strife in a relationship.
"To see that is superseded by disagreements over views on President Trump is very notable," says Richter of Wakefield Research. "That's a way to sort of put this trend in context, to show just how passionate that 21 percent is on that issue."
The so-called Trump effect seems to hit millennials the hardest. The Wakefield study found that 22% of people in their 20s and 30s report breaking up with someone over political differences. That's double the rate of the general population. And almost 1 in 3 millennials say they know a couple whose marriage has been negatively affected by President Trump's election.
J.D. Dobson was a Republican staffer working on Capitol Hill when he met his future wife, Katie Dobson, a Democrat. The St. Louis, Missouri, couple used to argue over gun control. After 11 years of marriage and two children, J.D. says his political views have shifted somewhat. Although he still considers himself a conservative, he is not a supporter of President Trump.
"I think our general outlook on the world was pretty similar even though our partisan affiliation was different," J.D. says. "But I will tell you with certainty that if I woke up tomorrow and decided that I was pro-Trump, it would threaten our marriage."
"The kids would be in the car," Kate says with a laugh. "I mean, should I leave a note or would you know what it was?"
Merrill, the woman who left her husband after Trump's election, maintains a good relationship with her ex — as long as they don't discuss politics, religion or gun control. Merrill says there were other issues in her marriage. She'd had a growing sense that she and her partner of 24 years weren't particularly compatible.
But would she still be married if Donald Trump hadn't been elected president?
"If Hillary [Clinton] had won, maybe we would still be married. Maybe we'd still be together," Merrill says. "That's hard to say because we did have other problems, and I feel like Trump was just the last piece that made me go. So if he wasn't president, maybe I would still be there, but I'm not 100% sure."
https://www.voanews.com/usa/all-about-america/i-might-still-be-married-if-trump-wasnt-president
------
Philippines bans two U.S. senators, mulls new visa rules for Americans
December 27, 2019
MANILA (Reuters) - The Philippines has banned two U.S. lawmakers from visiting and will introduce tighter entry restrictions for U.S. citizens should Washington enforce sanctions over the detention of a top government critic, the president's spokesman said on Friday.
President Rodrigo Duterte will impose a requirement on U.S. nationals to get visas should any Philippine officials involved in the incarceration of Senator Leila de Lima be denied entry to the United States, as sought by U.S. senators Richard Durbin and Patrick Leahy.
Duterte's move comes after the U.S. Congress approved a 2020 budget that contains a provision introduced by the senators against anyone involved in holding de Lima, who was charged with drug offences in early 2017 after she led an investigation into mass killings during Duterte's notorious anti-drugs crackdown.
"We will not sit idly if they continue to interfere with our processes as a sovereign state," Philippine presidential spokesman Salvador Panelo told a regular news conference.
The Philippines grants visa-free entry for up to 30 days to Americans, 792,000 of whom visited in the first nine months of 2019, nearly 13% of foreign arrivals, government data showed.
The U.S. embassy in Manila did not immediately respond to a request for comment.
Panelo said travel restrictions over de Lima's detention were nonsense because she was not wrongfully imprisoned but detained pending trial for crimes.
"The case of Senator de Lima is not one of persecution but of prosecution," he said.
Duterte makes no secret of his disdain for the United States and what he considers its hypocrisy and interference, though he admits that most Filipinos and his military have high regard for their country's former colonial ruler.
The United States is the Philippines biggest defense ally and its main source of Western influence. Millions of Filipinos have relatives who are U.S. citizens.
De Lima, a justice minister in a former administration, on Wednesday expressed what she described as overwhelming gratitude to the U.S. Congress for its help.
She has won numerous awards from human rights groups, who consider her a prisoner of conscience.
https://www.yahoo.com/news/philippines-bans-two-u-senators-074457468.html
------
URL: https://www.newageislam.com/islamic-world-news/anti-caa-carols-christmas-celebrations/d/120642
New Age Islam, Islam Online, Islamic Website, African Muslim News, Arab World News, South Asia News, Indian Muslim News, World Muslim News, Women in Islam, Islamic Feminism, Arab Women, Women In Arab, Islamophobia in America, Muslim Women in West, Islam Women and Feminism