New Age Islam News Bureau
30 Jun 2015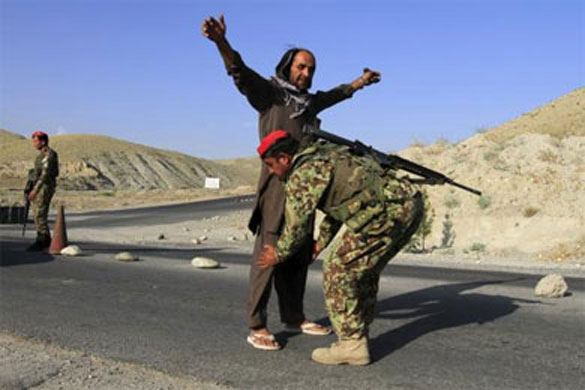 An Afghan National Army soldier (ANA) inspects passengers at a checkpoint on the outskirts of Jalalabad province June 29, 2015.Reuters/Parwiz
----------------
Mideast
• Ansarullah Readying to Go to Hague to Make Saudi Regime Stand Trial
• Over 60 Takfiri Militants Killed in Baiji's Clean-Up Operations
• 28 Dead In IS-Claimed Attack on Yemen Houthis
• 15 Dead in Latest Saudi Airstrikes on Yemen's Ma'rib
• ISIS Car Bombing Left Dozens of Casualties in Yemeni Capital
• Yemeni Scud Missiles Target Saudi Base in Riyadh
• A nuclear deal could sharpen political tensions in Iran
• West Bank shooting latest in violence uptick
• Israeli-Palestinian conflict can explode at any time: France
• Israel claims asked Syrian rebels not to harm Druze
• Palestinian to end hunger strike in exchange of freedom
• Parliamentary official Informs of Obama's Secret Message to Iran
• Military intervention in Syria to cost Turkey dearly: Opposition leader
• ISIL claims responsibility for bombing in Yemeni capital
------------
Arab World
• Iraqi Forces Cleansing Oil-Rich City from ISIL Terrorists
• Syria: Popular Protests against Terrorists Continue in Eastern Ghouta
• Syria in Last 24 Hours: Army Regains Control of Strategic District in Hasaka City
• Kuwait considers laws expanding security after Shiite mosque attack
• IS seen as potent force a year after caliphate declaration: Pentagon
• Saudi Arabia welcomes U.N. report on Israeli crimes in Gaza
• U.N. condemns fighting by Syria and rebels in Golan Heights
• Array of combatantsdeepens complexity of Syria's civil war
• Haia launches 20 initiatives to fine-tune its functioning
• Car bomb kills Egypt's top public prosecutor
• Survey: Piety ultimate goal for Saudis in Ramadan
• Holy Haram is cleaned of 143 ton of garbage daily
• Security tightened in Egypt ahead of opposition protests
-------------
South Asia
• Taliban Ambush Kills 11 Afghan Soldiers
• In Turf War with Afghan Taliban, Is Loyalists Gain Ground
• Military operation launched against militants in Takhar's Khwaja Ghar District
• Suicide car bomb rocks Helmand's capital Lashkargah
• Bahrain to legalise 40,000 Bangladeshis
------------
Europe
• British PM: Name 'Islamic State' is Offensive to Muslims
• French Attacker Denies Religious Aim
• Grateful Cardiff Teachers Fast Ramadan Day
• Cameron warns BBC: say ISIL!
• UK school, mosque evacuated after bomb threat
• Cameron warns on ISIL attacks in Britain
-------------
Africa
• Nigeria: Niger Region Struggles to Cope With Boko Haram Exodus
• South Sudan's Rival Leaders Meet as Fighting Continues
• '603 Civilian JTF Killed By Boko Haram'
• Obama offers condolences to Tunisian leader
• Seven arrests made over Tunisia attack
• UN envoy optimistic about Libya unity government deal
• Al Shabaab-trained Mungiki returns to terrorise nation
------------
Pakistan
• Three Terrorists Killed, One Blows Self Up
• MQM minus Altaf will mean war on streets, says Altaf
• Model Town tragedy planned at PM's House: Dr Tahir ul Quadri
• Dead Militants Were Qaeda Affiliates
• 2013 polls did not reflect true will of people: PTI
• Time has come for accountability of plunderers, says president
• Govt to restrict Qadri if dharna episode repeated: Pervaiz
------------
India
• BJP Attempts to Turn Muslim Burial Ground in Srinagar into Wrestling Arena
• Congress Plans Iftar to Win Back Muslims
• India, US discuss cooperation on trade to terrorism
• Home ministry preparing plan of action to check radicalisation of Jammu & Kashmir youth
-----------
Southeast Asia
• Stop the Hypocrisy over Shariah Law, IDEAS Tells MCA
• Jakarta Police Chief Calls for Caution over Ramadhan Jihad
• Military plane crash leaves 38 dead in Indonesia: Sources
• Malaysia Muslims Dare Summer Ramadan
• Malaysian police request to question Justo in Thailand
• Malaysia apologizes for breaching Indonesia's border
-------------
North America
• A Ramadan Plea to Overcome Muslim Stereotypes in America
• Mississauga Muslims Help Vandalized Church
• US Shrugs Off Recognition of Hadi's Envoy to Washington
Compiled by New Age Islam News Bureau
URL: https://www.newageislam.com/islamic-world-news/new-age-islam-news-bureau/ansarullah-readying-to-go-to-hague-to-make-saudi-regime-stand-trial/d/103710
------------
Mideast
Ansarullah Readying to Go to Hague to Make Saudi Regime Stand Trial
Jun 29, 2015
"Ansarullah will submit its first complaint to the International Criminal Court at the Hague against the Saudi savage aggression against Yemen, including massacre of the Yemeni women and children as well as other instances of human rights violations," Majid Zarqam told FNA on Monday.
He noted that the lawsuit against Saudi Arabia has grown into a thick dossier with tens of documents that include substantiating evidence of the Saudi regime's crimes in Yemen.
Meantime, the Ansarullah official indicated that this will be Yemen's first complaint to be lodged with the Hague against the Saudi regime that will deal with the airstrikes, adding that Riyadh should wait for several more complaints for its other crimes. Saudi Arabia has been bombing Yemen in the last 96 days to bring its ally, fugitive president Mansour Hadi, back to power.
The airstrikes have so far claimed the lives of more than 4,739 civilians, mostly women and children.
According to a recent report by Freedom House Foundation, most of the victims of the deadly Al Saud campaign are civilians, including a large number of women and children.
http://english.farsnews.com/newstext.aspx?nn=13940408001410
-----------
Over 60 Takfiri Militants Killed in Baiji's Clean-Up Operations
Jun 30, 2015
According to local media reports, the commander of the rapid intervention forces in Iraq's Salahuddin province, Brigadier General Naser al-Qartousi, said the army troops claimed the lives of at least 60 Takfiri terrorists in Baiji's mop-up operations.
He added that the Iraqi forces also captured five foreign Takfiri militants following the operations.
The Iraqi army, backed by volunteer forces, has started a series of clean-up operations in Baiji in Salahuddin province with the aim of clearing the oil-rich city of the remnants of the ISIL terrorists.
Ahmed al-Asadi, a spokesman for the Popular Mobilization forces, said that the army troops are defusing IEDs and cleansing the Northern city from the Takfiri terrorists, after establishing full control over the key city.
He added that the main streets of Baiji are now safe and the army troops are fortifying themselves.
The Baiji refinery, which once produced some 300,000 barrels of refined petroleum products per day, was under the siege ISIL militants for months.
The ISIL Takfiri terrorists currently control shrinking swathes of Syria and Iraq. They have threatened all communities, including Shiites, Sunnis, Kurds, Christians, Ezadi Kurds and others, as they continue their atrocities in Iraq.
Senior Iraqi officials have blamed Saudi Arabia, Qatar, and some Persian Gulf Arab states for the growing terrorism in their country.
The ISIL has links with Saudi intelligence and is believed to be indirectly supported by the Israeli regime.
http://english.farsnews.com/newstext.aspx?nn=13940409000576
-----------
28 dead in IS-claimed attack on Yemen Houthis
June 30, 2015
SANAA: The Islamic State group claimed an attack on two Houthi rebel leaders in Sanaa on Monday night that medics said had killed at least 28 people, including eight women.
The car bomb targeted Houthi rebel chief brothers Faysal and Hamid Jayache during a gathering to mourn the death of a family member, a security source said.
Houthi rebels closed down the surrounding area in the centre of the city after the attack, only allowing through emergency services to help evacuate the victims, witnesses said.
The explosion blew a crater in the road, took chunks out of nearby walls and left debris strewn across the street.
In a statement posted online, the Islamic State group said it had organised the attack on what it called a "Shia nest" in the Yemeni capital.
The extremist Sunni jihadist group has frequently targeted them in attacks in several countries.
The latest of these, a suicide bombing by a Saudi national on Friday in a Shia mosque in Kuwait killed 26 people and wounded 227 others.
Read more: Suicide bombing at Kuwait Shia mosque kills 13
IS has also claimed a car bombing on June 20 against a Shia mosque in Sanaa that killed two and wounded 16 and another series of attacks in the Yemeni capital four days earlier that killed 31.
The jihadist group, which marked the first anniversary of the declaration of its "caliphate" in Iraq and Syria on Monday, has been ramping up its deadly campaign in Yemen since March.
Houthi rebels have seized vast swathes of the country since launching an offensive in July 2014, forcing President Abd Rabbu Mansour Hadi to flee to Saudi Arabia.
Neither peace talks in Geneva nor a Saudi-led air campaign begun in March have driven them from power and they remain locked in battle with pro-government fighters, Sunni tribesmen and southern separatists.
Yemen's official Saba news agency, which is controlled by the Houthis, reported early Tuesday that the rebels had launched a scud missile at the Al Salil military base, near the Saudi capital Riyadh.
"The missile is in response to the aggression of Saudi Arabia, which is increasing its criminal air raids against our country," Saba reported, citing a military spokesman.
"This is another message to the forces of oppression," he added, promising "new surprises in the coming days."
Saudi Arabia did not immediately confirm or deny the missile attack.
http://www.dawn.com/news/1191394/28-dead-in-is-claimed-attack-on-yemen-houthis
-----------
15 Dead in Latest Saudi Airstrikes on Yemen's Ma'rib
Jun 30, 2015
According to Yemeni media outlets, the kingdom's warplanes carried out several airstrikes against a residential area in Sarwah district of Yemen's central province of Ma'rib on Monday, leaving more than 15 people dead and several others injured.
Nine members of a family lost their lives and three others sustained injuries in the strikes.
Saudi Arabia has been bombing Yemen in the last 97 days to bring its ally, fugitive president Mansour Hadi, back to power.
The airstrikes have so far claimed the lives of more than 4,777 civilians, mostly women and children.
According to a recent report by Freedom House Foundation, most of the victims of the deadly Al Saud campaign are civilians, including a large number of women and children.
http://english.farsnews.com/newstext.aspx?nn=13940409000474
-----------
ISIS car bombing left dozens of casualties in Yemeni capital
By ZABIHULLAH MOOSAKHAIL - Tue Jun 30 2015,
An ISIS or the Islamic State-claimed car bomb attack has left dozens of Shia Huthis killed and wounded in Yemeni capital of Sanaa.
Security officials say that the car bomb was parked behind a military hospital and exploded on Monday leaving several people killed and wounded including civilians.
Security officials close to Houthis said that the explosion targeted homes of Houthi leaders but did not provide exact number of the casualties.
However, medics have said at least 28 people, including women have been killed in last night's bombing.
Soon after the blast Houthis cordoned off the area and ambulances were seen transporting the casualties for treatment.
According to the SITE Intel Group, which monitors terrorist groups, The Islamic State's Sanaa Division claimed responsibility on a Twitter account, attributed to the group.
Yesterday's bombing came as Saudi-led airstrikes on Houthi positions continued.
On Monday Saudi-led coalition airstrikes targeted the Houthi stronghold of Saada. Aden and Shabwa were also hit by the coalition airstrikes.
Saudi formed a coalition against Houthis in March and since them the Houthi positions in Yemen are bombed by the coalition. The coalition was formed after the advancement of Houthis in Yemen.
http://www.khaama.com/isis-car-bombing-left-dozens-of-casualties-in-yemeni-capital-3570
-----------
Yemeni Scud Missiles Target Saudi Base in Riyadh
Jun 30, 2015
According to reports, the Yemeni troops fired Scud missiles into a missile base in the district of al-Sulayyil in the Saudi province on Monday, leaving a large group of people dead and injured.
The attack came in response to a Saudi-backed terrorist attack in which nearly 20 Yemenis lost their lives after a car bomb detonated near the military hospital in the Yemeni capital, Sana'a, on Monday.
Also, the monarchy's warplanes targeted residential areas in the Sarwah district of Yemen's central province of Ma'rib on Monday, leaving 15 people dead.
Earlier in the day, six civilians, including two women and three children, were also killed as Saudi warplanes struck Shibam Kawkaban district in the Western province of al-Mahwit, Northwest of the capital.
Saudi Arabia has been bombing Yemen in the last 97 days to bring its ally, fugitive president Mansour Hadi, back to power.
The airstrikes have so far claimed the lives of more than 4,777 civilians, mostly women and children.
According to a recent report by Freedom House Foundation, most of the victims of the deadly Al Saud campaign are civilians, including a large number of women and children.
http://english.farsnews.com/newstext.aspx?nn=13940409000455
-----------
A nuclear deal could sharpen political tensions in Iran
June 30, 2015
Parisa Hafezi - A final deal to resolve the Iranian nuclear dispute could heighten domestic political tensions with two major elections looming in the Islamic Republic, analysts and officials said.
Easing economic sanctions if a deal is reached will bolster President Hassan Rouhani's position within Iran's complex power structure bringing a political boost for liberal candidates in 2016 elections for parliament and for the Assembly of Experts, a clerical body with nominal power over the supreme leader.
Supreme Leader Ayatollah Ali Khamenei, who has the final say on all matters of state, has backed Rouhani's efforts to pursue a nuclear settlement and his dealings with the United States so as to improve the parlous state of Iran's economy.
But Khamenei, who took over in 1989 from the founder of the Islamic Republic late Ayatollah Ruhollah Khomeini, has also worked to ensure that no group, including among his own hardline allies, gains enough power to challenge him.
Khamenei will not want pragmatist President Rouhani to gain too much power and influence ahead of the important elections, an Iranian official said.
"The leader has always made sure not to give too much authority to any official because it will damage the political establishment," said the official, who asked not to be named.
"He is above all political factions and only acts based on Iran's interests.
"
Iran, the United States, Russia, China, France, Britain and Germany are trying to end a more than 12-year standoff over Tehran's nuclear programme by striking an agreement to halt Iranian nuclear work in return for sanctions relief.
The West says Iran is seeking to build weapons but Iran says its nuclear programme is to produce power.
Negotiators from all sides are gathering in Vienna in the hopes of striking a deal by a self-imposed deadline of Tuesday.
Rouhani, who represented Khamenei on the Supreme National Security Council for over two decades, will continue to enjoy Khamenei's blessing as long as his growing prestige at home and abroad does not threaten Khamenei's authority, analysts say.
An economic dividend could tip the balance of power in favour of Rouhani, whose allies could well be rewarded at the ballot box, to the detriment of other groups, including security hawks close to Khamenei.
Full report at:
http://nation.com.pk/international/30-Jun-2015/a-nuclear-deal-could-sharpen-political-tensions-in-iran
-----------
West Bank shooting latest in violence uptick
30 June 2015
A gunman opened fire at a group of Israelis near a Jewish settlement in the occupied West Bank on Monday, the Israeli military said, in a suspected Palestinian drive-by attack.
A spokesman for Israel's ambulance service Magen David Adom said medics were treating four people in their twenties, one of them badly wounded. A military spokesman said forces were searching the area for suspected Palestinian assailants.
There has been an uptick of violence in the area in recent weeks.
Earlier on Monday, police said a Palestinian woman stabbed and wounded an Israeli soldier at a crossing between Jerusalem and Bethlehem. On Friday Israeli soldiers shot and killed a Palestinian gunman in the West Bank after he opened fire on them at a checkpoint.
Earlier this month a Palestinian stabbed and wounded an Israeli paramilitary policeman outside the walled Old City of Jerusalem. The policeman shot back and wounded him and in the West Bank a suspected Palestinian gunman shot at two Israeli hikers and killed one. The assailant escaped.
Full report at:
https://english.alarabiya.net/en/News/middle-east/2015/06/30/West-Bank-shooting-latest-in-violence-uptick.html
-----------
Israeli-Palestinian conflict can explode at any time: France
29 June 2015
France's foreign minister is warning that the Israeli-Palestinian conflict can explode "at any moment" and the Islamic State of Iraq and Syria (ISIS) extremist group can interfere at any time.
Laurent Fabius told a group of reporters Monday that "if and when it explodes, it's very, very, very problematic for the whole region and for the world."
He said that "every radical group," especially in Gaza, can take advantage of the deadlocked peace process, and it would be lamentable if the Islamic State [ISIS] group - "the most radical of the radicals" - used this as a pretext for violence.
Full report at:
https://english.alarabiya.net/en/News/middle-east/2015/06/29/Israeli-Palestinian-conflict-can-explode-at-any-time-France-.html
-----------
Israel claims asked Syrian rebels not to harm Druze
29 June 2015
Israel said on Monday it had conditioned humanitarian aid to select Syrian rebel groups on its border on their undertaking not to harm the Druze minority in the country's civil war.
Druze Arabs in Syria have long been loyal to President Bashar al-Assad, and their brethren in Israel and the Golan Heights, which Israeli forces captured in 1967, have been lobbying the Netanyahu government to safeguard the community.
The Israelis, however, have sought to keep out of the more than four-year-old insurgency against Assad, an old foe who, they fear, may be toppled by more hostile Islamist militants.
But in a rare spillover of Syria's sectarian conflict into the Golan, a Druze mob last week beat to death a civil war casualty who was being taken by ambulance to Israel, where hundreds of Syrian wounded have received treatment during the conflict.
Israel has said it has also sent food and water across the frontier.
Briefing reporters on Monday, Defense Minister Moshe Yaalon said that, from the outset, Israel knew there were rebels among those it was helping and "placed two conditions on this aid - that terrorist groups not approach the fence, and that the Druze not be touched."
He was referring to the southern Syrian Druze village of Hader on which rebels have encroached, setting off solidarity protests in the Golan and Israel where the Druze are an Arab minority with influence in the military and government.
Another Israeli defense official said that while Israel has not refused medical treatment to any Syrian approaching its lines, "later, when it became clear that they were rebels, we made sure that they understood we expected our conditions to be kept."
The official said he knew of no cases of Israel helping members of Nusra Front, an Al-Qaeda offshoot in Syria which has beset the Druze. Rather, the official said, Israel has engaged mainly with non-jihadist rebels like the Free Syrian Army.
Full report at:
https://english.alarabiya.net/en/News/middle-east/2015/06/29/Israel-claims-asked-Syrian-rebels-not-to-harm-Druze.html
-----------
Palestinian to end hunger strike in exchange of freedom
June 29, 2015
RAMALLAH — A Palestinian held without charges by Israel for the past year is ending a 55-day hunger strike and in exchange will be released in two weeks, his wife and an advocacy group for prisoners said Monday.
Rights groups have warned that Khader Adnan, 36, a senior activist in the Islamic Jihad group, is near death.
His wife Randa said Monday, after visiting her husband in an Israeli hospital, that he lost a lot of weight and "looked like a small child."
She said he was unable to hold their 15-month-old son. Sivan Weizman of Israel's Prison Authority confirmed that Adnan agreed to end his hunger strike as part of a deal, but had no details.
The Israeli military, which would be involved in any agreement to release him, had no comment. It marked the second hunger strike for Adnan whose protests have trained a spotlight on so-called administrative detention, a practice under which Israel holds Palestinians without trial or charges.
In a previous stint in administrative detention in 2012, Adnan went on a 66-day fast to press for his freedom, sparking weeks-long hunger strikes by hundreds of Palestinian detainees.
Under a deal reached late Sunday, Adnan ends his hunger strike and will be released July 12, said Kadoura Fares of the Palestinian Prisoners' Club, an advocacy group.
Last July, Adnan was given six months of administrative detention, followed by a four-month extension.
Full report at:
http://www.saudigazette.com.sa/index.cfm?method=home.regcon&contentid=20150630248865
-----------
Parliamentary official Informs of Obama's Secret Message to Iran
Jun 29, 2015
"An official of one of the neighboring countries has recently brought a message from the US president to our country's officials," member of the parliament's presiding board Mehrdad Bazrpash told FNA on Monday.
A different source later revealed that the letter has been delivered to Iran by Iraqi Prime Minister Haidar Al-Abadi during his recent visit.
Stressing that Washington and Obama, himself, need a nuclear agreement with Iran, Bazrpash said Washington is in a more dire need of an agreement than Iran.
He further pointed out that the US hypocrisy in its secret messages and in the public has ruined the wall of trust between the two countries. "The contents of the United States' private messages to Iran are different from what the American officials say in the public".
"In their private messages, they respectfully demand the Islamic Republic of Iran to come to the negotiating table and make an agreement but they threaten Iran in their media and before the eyes of their own and other countries' people," Bazrpash said.
His remarks came as media reports said on Sunday that the US is still raising more demands a few days before a July 1 deadline comes to an end, and evades endorsing fulfillment of the undertakings it accepted under the April 2 Lausanne agreement.
Three months after the Lausanne statement was issued by Tehran and the Group 5+1 (the US, Russia, China, Britain and France plus Germany) to specify a framework agreement, the Americans are still asking Iran to make more concessions and are bringing up more excuses to avoid lifting the sanctions altogether as enshrined in the Lausanne agreement and even their own factsheet, western media reports showed.
While not much detail has been released on the behind-closed-door negotiations between the two sides, reports in the western media and sources in Vienna said that the US has reneged on its Laussane undertakings and has once again demanded modifications in the number of Iran's operating centrifuges, timetable for Research and Development (R&D), prolonged removal of the sanctions and the places and people that the International Atomic Energy Agency (IAEA) should get access to.
Analysts blame the US low-balling for the prolonged talks despite three months of intensive negotiations, warning that Washington and Paris stonewalling moves could endanger the negotiations.
In relevant remarks on Saturday, Iranian Foreign Minister Mohammad Javad Zarif underlined that Iran and the world powers can reach a final nuclear agreement if the western parties to the negotiations recognize and respect Tehran's rights and remove the sanctions against the country.
Full report at:
http://english.farsnews.com/newstext.aspx?nn=13940408000889
-----------
Military intervention in Syria to cost Turkey dearly: Opposition leader
Jun 30, 2015
Turkey's main opposition Republican People's Party (CHP) has warned the government against any military intervention in neighboring Syria, saying such a move would cost Ankara dearly.
"I am warning them (government officials) not to drag Turkey into an adventure; it would have a high cost," said CHP leader Kemal Kilicdaroglu said on Monday, the Turkish Hurriyet daily reported.
The senior opposition figure said that it is ordinary Turkish people and not the politicians who would face the consequences of a potential military action against neighboring Syria.
Kilicdaroglu's comments came a day after several Turkish media outlets reported that Ankara may be considering a ground incursion into Syria.
According to the unconfirmed reports, the government has ordered the army to deploy forces to the border areas in a bid to prevent potential significant gains by Kurdish forces fighting against the Takfiri ISIL terrorists inside Syria.
On Friday, Turkish President Recep Tayyip Erdogan accused Syrian Kurds of trying to establish a state in the crisis-hit country's north, saying Ankara will leave no stone unturned to prevent such an establishment near its borders.
Kilicdaroglu, the Turkish opposition leader, further said he has always criticized the government over its policy toward Syria, rejecting claims that Turkey could be a "playmaker" in the Middle East.
Full report at:
http://www.presstv.in/Detail/2015/06/30/418111/Turkey-Syria-CHP-Kemal-Kilicdaroglu
-----------
ISIL claims responsibility for bombing in Yemeni capital
Jun 30, 2015
The Takfiri ISIL terrorist group has claimed responsibility for the recent bombing in the Yemeni capital, Sana'a, which reportedly killed 28 people.
The terrorist group claimed in an online statement that it was behind the deadly bomb attack that targeted the residence of two leaders of the Houthi Ansarullah movement in Sana'a on Monday night.
Security officials close to the Houthis said the car bomb went off behind a military hospital in Sana'a, and targeted Ansarullah leaders Faisal and Hamid Jayash during a gathering to mourn the death of a family member.
The bombing targeted the residence of Faisal and Hamid Jayash, two Houthi Ansarullah leaders. (© AFP)
Full report at:
http://www.presstv.in/Detail/2015/06/30/418097/Yemen-Sanaa-bombing-ISIL-responsibility
------------
Arab World
Iraqi Forces Cleansing Oil-Rich City from ISIL Terrorists
Jun 30, 2015
Ahmed al-Asadi, a spokesman for the Popular Mobilization forces, said that the army troops are defusing IEDs and cleansing the Northern city from the Takfiri terrorists, after they managed to establish full control over the city.
He added that the main streets of Baiji are now safe and the army troops are fortifying themselves.
The Baiji refinery, which once produced some 300,000 barrels of refined petroleum products per day, was under the siege ISIL militants for months.
The ISIL Takfiri terrorists currently control shrinking swathes of Syria and Iraq. They have threatened all communities, including Shiites, Sunnis, Kurds, Christians, Ezadi Kurds and others, as they continue their atrocities in Iraq.
Full report at:
http://english.farsnews.com/newstext.aspx?nn=13940409000468
-----------
Syria: Popular Protests against Terrorists Continue in Eastern Ghouta
Jun 30, 2015
People continued their protests against the Takfiri terrorists in Eastern Ghouta for the fourth consecutive day on Tuesday.
On Friday, People poured to the streets of the town of Hamouriya in Eastern Ghouta and rallied against the presence of terrorist groups in their town.
Similar protests have also been held in other parts of Syria over past few days.
Also the cities of Idlib, Bensh and Kafroumeh in the province of Idlib were the scenes of popular protests against the foreign-backed terrorists on Friday.
On Monday, the terrorist-held areas in Reqqa province were the scenes of protests against the presence of Takfiri terrorists.
Full report at:
http://english.farsnews.com/newstext.aspx?nn=13940409000578
-----------
Syria in Last 24 Hours: Army Regains Control of Strategic District in Hasaka City
Jun 30, 2015
The army units regained control of Sakina district in Hasaka city. Sakina was considered an important stronghold of the terrorists in Hasaka.
Also in the past 24 hours, the Syrian army confirmed that its forces took full control over a main residential quarter in the strategically located Northeastern city of Hasaka.
The city had been captured several days ago by the ISIL militants.
The army "cleansed" militants from the Southern district of Nashwa in the city.
On Sunday, the Syrian government confirmed that the army troops have secured the Northeastern city of Hasaka, rejecting reports that the ISIL terrorists are still in control of the main buildings there.
Meantime, a senior ISIL Takfiri terrorist commander was executed by the rival terrorist group, the Al-Nusra Front, in Eastern Lebanon.
Al-Nusra Front terrorists executed Hesam Tarrad nicknamed Abu Bakr in al-Malahi district in the border town of Arsal in Eastern Lebanon, al-Ahd news website reported.
Tarrad's execution comes while the infighting between the ISIL and Al-Nusra Front has entered a new phase in the Western parts of Syria and Eastern Lebanon.
The al-Nusra Front and the ISIL overran the Eastern Lebanese town of Arsal, situated 124 kilometers (77 miles) Northeast of the capital, Beirut, last August, killing and capturing more than three dozen soldiers and security forces.
Also, former Commander of the Turkish Armed Forces Mehmet Ilker Basbug called on Ankara to revise its policies and support President Bashar al-Assad's government in settling the crisis in Northern Syria.
"Fighting the ISIL in Northern Syria should be pursued by the Syrian government forces," Basbug said.
Full report at:
Muallem accused Washington of allocating $1 billion to supports terrorists fighting in Syria.
http://english.farsnews.com/newstext.aspx?nn=13940409000550
-----------
Kuwait considers laws expanding security after Shiite mosque attack
30 June 2015
Following Friday's deadly attack on a Shiite mosque, the Kuwaiti cabinet is expected to adopt a package of laws that would provide security services wider abilities to conduct investigations into the incident, Al Arabiya News Channel reported on Monday.
A supporter of the Islamic State of Iraq and Syria (ISIS) detonated a bomb midway Friday prayers in Kuwait City killing 27 people. The bombing marked the third attack on a Shiite community claimed by ISIS in a GCC state in two months.
"This is a novel challenge for security authorities in Kuwait," Member of Parliament Khalil Ibrahim Al Saleh, who was in the mosque when the suicide bomber struck, told Al Arabiya News from Kuwait City.
"The Shiite community has a wide base in Kuwait, in mosques, houses of worships, and they are in all parts of Kuwait, therefore, we need to reassess our [security policy.]"
Fahd Suliman Abdul-Muhsen al-Qabaa flew into Kuwait's airport hours before he detonated explosives at the mosque. (KUNA)
There are no specific contingency plans set in place to protect these areas, he said.
"A camera may capture a suicide bomber, but the suicide bomber does not care about being caught on video."
Bulking up security
Additionally, the attack sends an "important signal to the government that more security should be in place in all religious sites, also in shopping malls, where people gather," Muhammed Al Wuhaib, professor of political philosophy at Kuwait University, told Al Arabiya News.
"There was a lack of using technology from the part of the ministry of interior," he said, adding: "It's easy to have a metal detector when people enter such sites… and having a security officer in the mosque, they could have done that but they didn't."
In addition to immediately responding to the security threats posed by the attack by pursuing collaborators, Al Saleh said the Ministry of Interior must make use of the information it has collected and continue to monitor suspects.
"Are extremists being monitored? That is a direct question to the government," he said.
"…Punishments must be carried out. This should act as a message to members of society, carrying out these trials and punishments, and broadcasting them, should act as a message to those with Takfirist ideology," he added.
On Saturday, Kuwaiti police arrested the driver who transported the suicide bomber and the owner of the house where the attacker was staying, the official KUNA news agency said.
While "we blame the ministry of interior," for its shortcomings, the arrests are "an achievement they should take credit for," Al Wuhaib said.
Dealing with extremist ideology
Al Saleh said the new security challenges need to be dealt with using a two-pronged approach: one that directly confronts the issues at hand and one that deals with the ideology from which the drive to carry out these attacks stems.
"The source of these extremist and demonic ideology, are coming out of books that preach Takfirist ideology, there needs to be a real campaign which preaches tolerance," he said.
Tensions between the Shiite and Sunni communities have grown in past decades in Kuwait, a phenomenon Al Saleh attributes to what he said was "extremist Salafist ideologies."
"This talk of 'you're a Shiite, I'm a Sunni' did not exist in the 50s and 60s, or during the days of the invasion," he told Al Arabiya News.
"Today, they [extremist preachers] have barred [Sunnis] from entering Shiite mosques, or paying condolences at a Shiite funeral."
Full report at:
https://english.alarabiya.net/en/perspective/analysis/2015/06/30/Kuwait-considers-laws-expanding-security-after-Shiite-mosque-attack.html
-----------
IS seen as potent force a year after caliphate declaration: Pentagon
June 30, 2015
WASHINGTON: A year after Islamic State declared a caliphate on territory seized in Iraq and Syria, the Al Qaeda splinter group faces military pressure from a US-led coalition but remains a potent force holding key cities, the Pentagon said on Monday.
Army Colonel Steve Warren, a Defense Department spokesman, said the militant group has lost a quarter of the land it controlled at the height of its expansion and has broken and run on several occasions in northern Syria in the face of an offensive by Kurdish-led forces.
But Islamic State militants still control the Iraqi city of Mosul, where leader Abu Bakr al-Baghdadi appeared last July to declare himself the head of the new caliphate, which had been proclaimed on June 29, 2014. The group recently captured the key Sunni city of Ramadi, the capital of Iraq's vast western province of Anbar.
"It's a tough fight. We said a year ago that we expected this fight to expel ISIL from Iraq to be a fight that takes years, with an 's'. Years," Warren said, using an alternate acronym for the extremist group.
"ISIL has lost well over 25 per cent of the territory that they held at the height of their incursion into Iraq. We have destroyed thousands of pieces of equipment," he added. "We believe that we are having impact."
But he also noted the group is still capable of mustering enough combat power to create the kind of destructive havoc seen last week in the Syrian city of Kobani, where hundreds of civilians were killed by vehicle bombs or shot.
Warren described the Kobani attack as a "limited incursion," noting the militants had been "beaten out of there" by local forces and US-led air strikes.
Full report at:
http://www.dawn.com/news/1191251/is-seen-as-potent-force-a-year-after-caliphate-declaration-pentagon
-----------
Saudi Arabia welcomes U.N. report on Israeli crimes in Gaza
30 June 2015
Saudi Arabia welcomed the report of the U.N. Independent Commission of Inquiry into the 2014 Gaza blitzkrieg by Israel.
Saudi Ambassador and Permanent Representative to U.N. in Geneva, Faisal Al-Tarad highlighted what has been mentioned by U.S. judge Mary McGowan Davis, chairperson of the U.N. Committee, that the extent of the devastation and human suffering in Gaza Strip following the Israeli aggression is unprecedented and will affect the next generations.
McGowan also said that the Israeli blitzkrieg reflects the policy of the most terrible bloody racist regime in the world and confirms that the racist regime does not respect international conventions, it neglects all U.N. resolutions, and ignores humanitarian, ethical, legal rights.
In his speech at the Human Rights Council, Ambassador Al-Tarad said the report proves once again that Israel is the world's leading violator of human rights, and that the international community, specially the U.N. Council Security and Human Rights Council, bears international responsibility to stop these violations.
According to the report's findings, the 2014 hostilities saw a "huge increase" in the firepower used in Gaza with Israeli forces conducting more than 6,000 airstrikes and firing approximately 50,000 tank and artillery shells at targets within the enclave.
The explosion of force used by Israel ultimately resulted in 1,462 Palestinian civilian casualties, a third of which were children.
Full report at:
https://english.alarabiya.net/en/News/middle-east/2015/06/30/Saudi-Arabia-welcomes-U-N-report-on-Israeli-crimes-in-Gaza.html
-----------
U.N. condemns fighting by Syria and rebels in Golan Heights
30 June 2015
The U.N. Security Council is condemning the fighting and use of heavy weapons by Syrian armed forces and opposition fighters in the area that has separated Syrian and Israel forces since 1974.
A resolution co-sponsored by Russia and the United States and adopted unanimously by the council on Monday calls on parties to the Syrian conflict to halt all military action in the area of separation. It warns that military activities in the zone can escalate Syrian-Israeli tensions.
The resolution extends the mandate of the 750-strong peacekeeping force on the Golan Heights until Dec. 31.
Full report at:
https://english.alarabiya.net/en/News/middle-east/2015/06/30/U-N-condemns-fighting-by-Syria-and-rebels-in-Golan-Heights.html
-----------
Array of combatants deepens complexity of Syria's civil war
29 June 2015
More than four years into Syria's war, the country is ever more divided into a patchwork of areas controlled by the government or armed groups including Islamist insurgents, Kurdish militia, the ultra-hardline Islamic State, and rebels who profess a more moderate vision for Syria.
The array of combatants with competing agendas is one of the factors complicating diplomatic efforts to end a war has killed more than 220,000 and driven half of Syria's population from their homes. Following are the main combatants in the war:
Islamic State of Iraq and Syria
The group is made up of many thousands of fighters. Leader Abu Bakr al-Baghdadi declared a caliphate a year ago in Syria and Iraq. It split from al Qaeda's Syria wing in 2013 and established a de facto capital in Syria's Raqqa city.
Recent estimates suggest it controls around half of Syrian territory, mainly in less populated areas in the east, as well as in parts of central Syria and in the north. It has a small presence just outside Damascus in the west of the country.
ISIS is made up of many thousands of fighters. (File Photo: AP)
Thousands of foreign fighters, including Westerners, have joined. Most of the land it holds in Syria was captured from other insurgent groups. Its more recent offensives have targeted government-held territory, such as the central city of Palmyra.
It is the target of a U.S.-led bombing campaign that started last August in Iraq, and in Syria in September.
Nusra Front
Al-Qaeda's official Syrian arm is perhaps the second most powerful armed group in Syria. It is part of a recently formed rebel alliance called "The Army of Fatah," or Islamic conquest that has driven Assad from nearly all of Idlib in northwestern Syria since late March. It also has a presence in the south.
Nusra Front fighters standing on their vehicles and waving their group's flags as they tour the streets of Jisr al-Shughour, Idlib province, Syria. (File Photo: AP)
It is estimated to have many thousands of fighters and its Syrian leader Abu Mohamad al-Golani has said around 30 percent are foreign. Golani fought with Islamic State in Iraq and was sent by Baghdadi to establish the group in Syria. As Nusra grew, he refused to bow to Baghdadi's leadership and the groups have fought each other. The United States has struck some Nusra targets. The U.S. military says it has been bombing militants it calls the "Khorasan Group."
The Southern Front - Free Syrian Army
While Islamists have eclipsed more secular-minded Syrians in much of the country, the south is a stronghold for an alliance still fighting under the banner of the "Free Syrian Army" that emerged in the early days of the conflict.
The Southern Front groups profess a vision for Syria that would guarantee the rights of its minorities including President Bashar al-Assad's Alawite sect, Christians, and others who see the jihadists as an existential threat.
Free Syrian Army fighters prepare their ammunition during what they said was an offensive against forces loyal to Syria's President Bashar al-Assad in the southern city of Deraa, Syria June 25, 2015. (Reuters)
Full report at:
https://english.alarabiya.net/en/perspective/analysis/2015/06/29/Array-of-combatants-deepens-complexity-of-Syria-s-civil-war.html
-----------
Haia launches 20 initiatives to fine-tune its functioning
30 June 2015
JEDDAH: The Commission of the Promotion of Virtue and Prevention of Vice (Haia) has launched 20 initiatives aimed at improving the professionalism of employees and limiting individual interpretations and actions while carrying out duties.
Sheikh Abdul Rahman bin Abdullah Al-Sanad, head of the commission, has told local media that Haia's work is to implement rules and regulations of worship as per the Islamic Shariah.
"This is done in accordance with Haia's four basic pillars — mercy, justice, interest and wisdom."
Full report at:
http://www.arabnews.com/saudi-arabia/news/769486
-----------
Car bomb kills Egypt's top public prosecutor
30 June 2015
CAIRO: Egypt's top public prosecutor died on Monday of wounds sustained in a car bomb attack on his convoy as it was leaving his Cairo home on Monday in a marked escalation of militant attacks on the judiciary.
Judges and other state officials have increasingly been targeted by radicals opposed to President Abdel Fattah El-Sissi and angered by hefty prison sentences imposed on members of the now-outlawed Muslim Brotherhood.
Monday's attack claimed the most senior state official since El-Sissi, a former army chief, ousted President Muhammad Mursi in 2013 after mass protests against his rule. Mursi was sentenced this month to death over a mass jailbreak in 2011.
State media, medical and judicial sources confirmed the death of chief prosecutor Hisham Barakat at a hospital in the residential district of Heliopolis where he had undergone surgery hours earlier.
Health ministry spokesman Hossam Abdel Ghaffar had earlier said that Barakat suffered a dislocated shoulder and a deep cut and may have fractured his nose.
Full report at:
http://www.arabnews.com/world/news/769436
-----------
Survey: Piety ultimate goal for Saudis in Ramadan
June 29, 2015
JEDDAH — Over 51% of residents in Saudi Arabia claim increasing 'Taqwa' (God consciousness/ fear of God) is their primary Ramadan goal, according to new findings by global market research company YouGov.
The study, conducted among over 1,200 residents in the Kingdom, also shows that close to one-third (31%) indicate increased spirituality and soul purification is what residents want to achieve most during the holy month, which is slightly more prevalent among women (34% v 30% of men).
In line with Taqwa — the top activities for Saudis during Ramadan are reading the Quran more often according to over three-quarters of respondents (77%), and praying more (66%).
The intention to be generous to the needy is also notable (44%), pronounced more among men (49% v 33% of women).
Two-thirds (67%) of residents in Saudi Arabia claim Zakat is their primary charitable activity. The giving act, one of the five pillars of Islam, is mostly driven by men (70% v 61% of women), and older age groups (30-39 years, 69% and 40+ years, 77%) during the holy month.
At a time of spiritual and religious focus for Muslims the world over, respondents claim the second priority when it comes to charitable activities is attaining good manners and behavior (61%), followed by kindness to relatives, according to 55% of Saudis.
Arranging Iftars for the needy (45%), respecting elders (39%) and helping neighbors (34%) are also high on the priority list. Interestingly, respecting elders and helping neighbors is more pronounced among men, rather than women.
"As the birth place of Islam, Saudi Arabia holds a unique position among Muslims worldwide which is reflected by the attitudes and behaviors we are seeing amongst Saudis during Ramadan," says Mir Ahmed Ali, associate research director at YouGov. "These findings reinforce the importance residents place on using the holy month to strengthen spirituality through Quran and prayers as well as offering Zakat."
Full report at:
http://www.saudigazette.com.sa/index.cfm?method=home.regcon&contentid=20150630248851
-----------
Holy Haram is cleaned of 143 ton of garbage daily
June 29, 2015
More than 2,500 cleaners armed with 2,542 cleaning tools and equipment are daily removing about 143 tons of garbage from the Grand Mosque.
Maher Al-Zahrani, director of the department of cleaning and furnishing the Grand Mosque, told Makkah daily that the workers are doing the cleaning while pilgrims are doing their tawaf (circumambulation) and sa'i (hastening seven times between Safa and Marwa hillocks).
"The department is determined to keep the Grand Mosque ever clean and tidy for the comfort of the guests of God.
Full report at:
http://www.saudigazette.com.sa/index.cfm?method=home.regcon&contentid=20150630248835
-----------
Security tightened in Egypt ahead of opposition protests
Jun 30, 201
Egyptian army and police are beefing up security across the country ahead of opposition protest rallies planned to commemorate the second anniversary of the overthrow of Egypt's first democratically-elected President Mohamed Morsi, Press TV reports.
Plans for the demonstrations, which are set to be held on Tuesday, have prompted the Egyptian armed forces to deploy 120,000 troops around the country. Police have sent 190,000 units.
This comes as the Muslim Brotherhood movement, with which Morsi is affiliated, has urged people to pour onto the streets on June 30, with its spokesperson Mohamed Montasser saying that the day "saw Egypt turn from a scene of a promising democratic experience to one of mass killings, violence, and blood."
The so-called Anti-coup Alliance has also called for "a new revolutionary wave until victory, and retribution are achieved." The call for protests in Cairo's main Liberation and Rabia squares as well as in sites in other provinces has been echoed by several other groups.
Egyptian riot police in Liberation Square in the capital, Cairo (file photo)
Morsi was toppled in a July 2013 military coup led by Abdel Fattah el-Sisi, the current president and the then head of the armed forces.
The Sisi government has been cracking down on opposition since Morsi was ousted, banning the Muslim Brotherhood movement.
According to Human Rights Watch, hundreds of people have been killed and more than 40,000 others are being kept in custody.
Full report at:
http://www.presstv.in/Detail/2015/06/30/418115/Egypt-Morsi-Muslim-Brotherhood-Opposition-protest
-------------
South Asia
Taliban ambush kills 11 Afghan soldiers
June 30, 2015
HEART - At least 11 Afghan soldiers have been killed in a Taliban ambush in western Afghanistan, officials said Monday, as troops face their first fighting season without NATO combat support.
The militants launched their annual spring-summer offensive in late April, vowing nationwide attacks in what is expected to be the bloodiest summer for a decade.
Afghan troops and police, stretched on multiple fronts and facing record casualties, are struggling to rein in the militants even as the government makes repeated efforts to jump-start peace negotiations.
"The Taliban ambushed a convoy of soldiers in Karukh district of Herat, killing 11 Afghan army soldiers last evening.
The soldiers were riding in pickup trucks," Ehsanullah Hayat, spokesman for the governor of the western province of Herat, told AFP.
Najibullah Najibi, a spokesman for the army in western Afghanistan, confirmed the attack and said four soldiers were wounded.
The Taliban have stepped up their attacks on Afghan security forces since the start of their spring offensive, named "Azm" (Determination) this year.
NATO's combat mission formally ended in December after 13 years, but a small follow-up foreign force named Resolute Support has stayed on to train and support local security forces.
In a separate incident dozens of protesters took to the streets in Charikar, the capital of Parwan province north of Kabul, on Monday to complain about an operation by foreign forces overnight.
They were unhappy that a house was raided and an ammunition cache destroyed in the Bayaan district of the province.
The NATO mission confirmed the operation by US forces.
Its aim was "to destroy a cache of munitions that could be used to conduct attacks against Afghans and coalition forces", a spokesman told AFP.
Protesters set tyres on fire in the main market and chanted anti-American slogans, according to local TV reports.
"The people got angry because they (foreign forces) detonated the cache at midnight while they were sleeping," said provincial police chief General Mohammad Zaman Mamoozai.
He said the cache dated back to the struggle against the Soviet occupation in the 1980s, complaining that local authorities were not warned about the raid which caused no casualties.
Full report at:
http://nation.com.pk/national/30-Jun-2015/taliban-ambush-kills-11-afghan-soldiers
-----------
In turf war with Afghan Taliban, IS loyalists gain ground
June 30, 2015
Hamid Shalizi - Fighters loyal to Islamic State have seized substantial territory in Afghanistan for the first time, witnesses and officials said, wresting areas in the east from rival Taliban insurgents in a new threat to stability.
Witnesses who fled fighting in Nangarhar province told Reuters that hundreds of insurgents pledging allegiance to Islamic State pushed out the Taliban, scorching opium poppy fields that help to fund the Taliban's campaign to overthrow the Afghan government.
They also distributed directives purportedly from Islamic State's Middle East-based chief Abu Bakr al-Baghdadi, although it was not clear whether he issued them for the Afghan theatre or if previous edicts may have been translated.
"They (IS loyalists) came in on many white pickup trucks mounted with big machine guns and fought the Taliban.
The Taliban could not resist and fled," said Haji Abdul Jan, a tribal elder from Achin district.
Jan, who saw the early June clashes before fleeing to the provincial capital of Jalalabad, said some villagers welcomed the new arrivals.
"Unlike the Taliban, they (IS) don't force villagers to feed and house them.
Instead, they have lots of cash in their pockets and spend it on food and luring young villagers to join them."
Their accounts are the clearest sign yet that, beyond a few defections by low-level Taliban leaders and sporadic attacks, Islamic State sympathisers pose a more persistent threat.
IS loyalists, mostly former Taliban disillusioned by the movement's unsuccessful bid to return to power in Kabul, are accompanied by dozens of foreign fighters, witnesses said.
The IS' black flag has been hoisted in some areas, and foreign fighters preach in mosques through translators.
The identity of the non-Afghan insurgents is not known.
Hundreds of militants from around the world already hide out along the Afghan-Pakistan border.
Full report at:
http://nation.com.pk/international/30-Jun-2015/in-turf-war-with-afghan-taliban-is-loyalists-gain-ground
-----------
Military operation launched against militants in Takhar's Khwaja Ghar District
By KHAAMA PRESS - Tue Jun 30 2015
Afghan National Security Forces have launched a large-scale operation against Taliban in Khwaja Ghar District of northeastern Takhar province.
Local officials say heavy clashes erupted between security forces and insurgents after the start of the operation this morning. However, no detail of the possible casualties was issued by the time this report was filed.
Full report at:
http://www.khaama.com/military-operation-launched-against-militants-in-takhars-khwaja-ghar-district-3573
-----------
Suicide car bomb rocks Helmand's capital Lashkargah
By ZABIHULLAH MOOSAKHAIL - Tue Jun 30 2015
A suicide car bomb rocked Lashkargah the provincial capital of southern Helmand province on Tuesday.
The bomber detonated his explosives-laden vehicle close to the provincial police headquarters around 09:15 am this morning.
Omar Zwak, spokesman for the governor of Helmand province confirmed the explosion but provided no further details.
Full report at:
http://www.khaama.com/breaking-news-explosion-heard-in-helmands-capital-lashkargah-3571
-----------
Bahrain to legalise 40,000 Bangladeshis
Adil Sakhawat
june 30, 2015
The Labour Market Regulatory Authority (LMRA) of Bahrain has announced a general amnesty period for the illegal expatriates, including Bangladeshis, living there to become legalised to live and work in Bahrain.
The announcement was published on the LMRA's website on Sunday.
Labour Councillor at Bangladesh Embassy in Bahrain Mohidul Islam confirmed the matter over phone as well.
"I was present at the meeting of the LMRA. This is the first and the last time that the Bahrain government is offering such opportunity to the illegal migrants, free of cost," he told the Dhaka Tribune yesterday.
There are around 40,000 Bangladeshis currently living illegally in Bahrain, among a total of 150,000 Bangladeshi migrants in the country.
According to the LMRA announcement, the six-month amnesty period will commence on July 1, aimed at allowing illegal workers to either legalise their presence in Bahrain through obtaining employment legally or by returning to their home countries without penalties or being blacklisted, allowing the workers who choose to leave Bahrain during the amnesty period to return in future without any obstacles.
"We offer this opportunity to all those who may have found themselves on the wrong side of the law to rectify their situation without having to pay penalties or face legal procedures," the website quoted LMRA Chief Executive Officer Ausamah Bin Abdulla Alabsi.
Once the amnesty period ends on December 31, mass arrest will resume against the illegal migrants who failed to legalise themselves, Mohidul Islam said.
"The Bangladeshi migrants who have lost their passports can come to the embassy as we have already opened four counters to provide service to them. Those who want to leave can collect a temporary token, and then go back to Bangladesh to return legally after finding a new employer."
Full report at:
http://www.dhakatribune.com/bangladesh/2015/jun/30/bahrain-legalise-40000-bangladeshis
-----------
Europe
British PM: Name 'Islamic State' is Offensive to Muslims
6/29/2015
British Prime Minister David Cameron has called on the BBC not to use the term "Islamic State" for the extremist group in Iraq and Syria, according to the Daily Mail, arguing that the reference to Islam perpetuates a "perversion of a great religion."
"I wish the BBC would stop calling it Islamic State because it's not an Islamic State; what it is is an appalling, barbarous regime," Cameron said, during an interview on a BBC morning show.
"It is a perversion of the religion of Islam and many Muslims listening to this program will recoil every time they hear the words 'Islamic State.
Cameron used the alternative term "ISIL," or Islamic State of Iraq and the Levant, during the show.
Full report at:
http://www.israelnationalnews.com/News/News.aspx/197457#.VZJoJRuqqko
--------------
French attacker denies religious aim
June 30, 2015
PARIS - A man who beheaded his boss in France has denied any religious motivation, investigative sources said Monday, muddying efforts to pin down the reasons for an attack which bore the hallmarks of a militant act.
Yassin Salhi, 35, on Sunday confessed to decapitating his employer and pinning his severed head to the fence of a gas factory in eastern France in a macabre display that included two Islamic flags.
However according to a source close to the investigation, Salhi, who was known to security services for radicalisation, "denies any religious motivation to his act".
"He hasn't explained" why he attached the head to the fence, or shouted out "Allahu Akbar"(God is the Greatest) as firefighters overpowered him as he attempted to open bottles of acetone in a warehouse at the factory, said the source on condition of anonymity.
Salhi drove his delivery van into the Air Products warehouse on Friday, causing an explosion and alerting firefighters who made the grisly discovery of the decapitated corpse of 54-year-old Herve Cornara.
Investigative sources told AFP that a fellow employee had reported a quarrel between Salhi and Cornara two days before the murder, after the employee dropped a crate containing expensive goods.
While the attacker apparently denies any Islamist motivation, police discovered he had sent a gruesome selfie with the severed head to a number in Canada believed to belong to a French militant thought to be in Syria.
The militant, named Yunes-Sebastien, belonged to the same radical movement from the eastern Franche-Comte region as Salhi, said sources close to the case.
French Interior Minister Bernard Cazeneuve said Salhi had been on a national security watchlist from 2006 to 2008 and later raised red flags for his links to radical movements between 2001 and 2014.
Salhi's mother and sister, who were questioned by police and later released, said Salhi had been to Syria in 2009, before conflict broke out in that country or the Islamic State group began seizing territory.
But this is "declarative" and police have no evidence to back up the statement, said the source.
Full report at:
http://nation.com.pk/international/30-Jun-2015/french-attacker-denies-religious-aim
-----------
Grateful Cardiff Teachers Fast Ramadan Day
29 June 2015
CAIRO – Motivated by Muslims' plan to feed the homeless for the thirty days of Ramadan, Cardiff teachers have announced plans to fast for one day during the holy month to raise awareness of Islam and appreciate Muslim efforts in the city.
"We are doing this as a way to connect with our Muslim students and to raise money for the food bank," Andrew Bodgin, a teacher at the Celtic English Academy in Park Place, told Wales Online.
"Many of our international students are Muslim. By participating in the fast, we hope to show solidarity with them as well as those in our local community.
"Many of our Muslim students are from the Middle East. Seeing the efforts they make to study while doing Ramadan, we wanted to show we empathise and want to show that there is community support within the community here when Muslims are sometimes needlessly vilified," he added.
Bodgin, like other Cardiff teachers, was inspired to fast for a day after hearing plans of the city's Dar Ul-Isra Mosque to feed 400 people, including homeless people, every night throughout the 30 days of the religious festival.
Joining Muslim efforts, teachers hope to raise £500 for Cardiff Foodbank as well as to share the holy month with their Muslim students.
"I want to show the people and their culture are nothing to be afraid of. The more we can connect with different peoples and their cultures the better," Bodgin said.
Bodgin, 33, admitted he would find it hard to go without food or drink for 19 hours.
"I will miss my morning French pastry from Allen's Bakery in Roath. I will miss the cake which is always in the staff room and I will miss my morning coffee. But I'm sure I can manage for a day," he added.
Full report at:
http://www.onislam.net/english/news/europe/488479-grateful-cardiff-teachers-fast-ramadan-day.html
-----------
Cameron warns BBC: say ISIL!
30 June 2015
British Prime Minister David Cameron has criticized Monday the use of the term "Islamic State" by the BBC when referring to ISIL.
Speaking to BBC Radio 4, Cameron said he preferred the terms "so-called" or "ISIL".
"I wish the BBC would stop calling it 'Islamic State' because it is not an Islamic state," said Cameron in an interview, three days after the Tunisia attack.
"What it is is an appalling barbarous regime that is a perversion of the religion of Islam and many Muslims will recoil every time they hear the words," said the British prime minister.
Cameron said "so-called" could be used or "ISIL" (for Islamic State of Iraq and the Levant).
In his remarks, stressing importance of fighting ISIL in every sense, Cameron said: "The fight against the barbaric terrorist organization [is] the struggle of our generation."
"We have to fight it with everything we can," said Cameron, adding that the strategy was to build local armies in fighting against the armed group.
http://www.worldbulletin.net/europe/161451/cameron-warns-bbc-say-isil
-----------
UK school, mosque evacuated after bomb threat
30 June 2015
A primary school and mosque were evacuated today after two suspicious devices were discovered.
A large part of the city centre in Exeter, Devon, was cordoned off while emergency services dealt with the devices.
One suspicious bag was found outside St Sidwell's Primary School just before 7am by a caretaker who noticed that wires were coming out of it.
A second package was found a short while later at the nearby King William Street car park.
The two suspicious packages were found in large suitcases but a rumour of a third has been dismissed as a false alarm.
Full report at:
http://www.worldbulletin.net/europe/161427/uk-school-mosque-evacuated-after-bomb-threat
-----------
Cameron warns on ISIL attacks in Britain
29 June 2015
Prime Minister David Cameron warned on Monday that ISIL was planning specific attacks against Britain, saying they posed an existential threat to the West.
'There are people in Iraq and Syria who are plotting to carry out terrible acts in Britain and elsewhere and as long as ISIL exists in those two countries we are at threat', said Cameron.
Cameron was speaking after a gunman killed up to 30 British tourists in an attack on Friday that British politicians have described as the single worst assault on their nationals since the bombing of the London underground in 2005.
http://www.worldbulletin.net/europe/161378/cameron-warns-on-isil-attacks-in-britain
-----------
Africa
Nigeria: Niger Region Struggles to Cope With Boko Haram Exodus
29 JUNE 2015
By Boureima Balima and Jennifer Lazuta
Niamey/Dakar — Boko Haram came to 25-year-old Fanna Liman Mustafa's home in Baga in northeastern Nigeria in November and burnt it to the ground. She took her four children and fled across the border into Niger. As fate has it, she is one of the lucky ones. The Islamist militants returned in January and massacred hundreds if not thousands of civilians.
"We lost everything in the fire caused by the attacks," 25-year-old Mustafa told IRIN, explaining how they'd arrived in Niger's southeastern Diffa region with the clothes they were wearing and little else.
Nigerian families first began seeking refuge in Niger in 2013, but Boko Haram-related violence in the region has spiked in recent months, causing the number of refugees to balloon and leading to a fast-growing humanitarian crisis that garners little international media attention.
An estimated 150,000 displaced people in Diffa are in "urgent need" of greater humanitarian assistance, including food, aid agencies say. Boko Haram attacks have now reached Diffa town itself, meaning those who had been hosting refugees are now becoming displaced themselves.
"They (refugees) have been coming and they keep coming on a continuous basis to Diffa," said Akébou Sawadogo, director of Save the Children in Niger. "The influx has really increased the burden on local host communities, whose vulnerability was already at a high level."
Most refugees have little to no access to health care or education and are still short of basic necessities, including water and shelter.
Food security assessments are still being completed, but at least 65 percent of the displaced people, including refugees, returnees and internally displaced people (IDPs), say they don't have adequate access to food, according to Save the Children.
Like Mustafa, the majority of Nigerian refugees settled within host communities as there were no official camps until the first opened on 30 December.
The UN's refugee agency, UNHCR, has helped to relocate a few hundred people to the camps, but an estimated 60 percent of the displaced remain "homeless," living in makeshift shelters built around trees, according to the latest assessment by the International Red Cross.
Not enough to go around
People in Diffa, where nearly half the population live on less than $1.25 a day and malnutrition rates are among the highest in Africa, were already struggling to survive. Now, local families are sharing their limited food stocks with the refugees.
The UN humanitarian coordination agency, OCHA, has reported that each local family is hosting an average of 17 people.
Adding to that burden, many households were unable to go to their fields to plant last year because of the security situation.
This means that the Diffa region produced just 55 percent of the cereal crops needed to meet its annual food needs and now faces a cereal deficit of more than 80,000 tons, according to OCHA.
Full report at:
http://allafrica.com/stories/201506300151.html
-----------
South Sudan's rival leaders meet as fighting continues
June 30, 2015
NAIROBI — South Sudan's warring rival leaders held face-to-face talks in Kenya but failed to make progress as fighting continued on the ground this weekend.
President Salva Kiir and his sacked deputy Riek Machar met in Nairobi as part of the latest peace push led by Kenyan President Uhuru Kenyatta, after previous efforts in Addis Ababa, Ethiopia, and Arusha, Tanzania, failed.
"My two brothers held five hours of face-to-face talks," Kenyatta said in a statement, adding it was an important step to "build confidence and trust between them."
Kenyatta sought to put a positive spin on the direct meeting, the first in more than four months. He said "important issues" had been "identified and isolated" and that Kiir and Machar "reaffirmed their commitment to security peace for their people".At least seven cease-fires have been signed and broken during successive rounds of bad-faith talks that began soon after the new civil war started in December 2013.
There were no concrete outcomes or commitments from the weekend's talks, and rebel spokesman Mabior Garang said the talks "failed to bear any tangible results."
Even as the Nairobi talks were underway, a key regional capital in South Sudan reportedly changed hands once again as a renegade tribal warlord attacked the town of Malakal and declared his allegiance to Machar's rebels.
Full report at:
http://www.saudigazette.com.sa/index.cfm?method=home.regcon&contentid=20150630248926
-----------
'603 Civilian JTF Killed By Boko Haram'
By CHIKA OTUCHIKERE
— Jun 30, 2015
Facts have emerged on how 603 Civilian Joint Task Force (CJTF) members in Borno State were killed while attempting to prevent bomb strapped Boko Haram insurgents from detonating their bombs in large crowds.
According to the legal adviser of the CJTF, Barr Jubril Gunda who spoke yesterday during a two day summit on Security and Governance in the North East organised by the CLEEN Foundation, when the CJTF members identified a Boko Haram suicide bomber they wrestle with the suicide bomber and in the process, the bomb explodes killing the suicide bomber alongside the CJTF.
Gunda who lamented that only the Borno State government and the military have been assisting the CJTF, disclosed that 360 CJTF members have been integrated into the conventional security agencies including 200 in the Nigerian Army, 120 into the Department of State Service, DSS and 40 about to be recruited into the Air force.
The legal adviser gave the population of the CJTF in Borno as 25,000 and disclosed that the government has concluded plans to set up a commission which would ensure the integration of all the CJTF members into the security agencies.
Full report at:
http://leadership.ng/news/443646/603-civilian-jtf-killed-by-boko-haram
-----------
Obama offers condolences to Tunisian leader
30 June 2015
U.S. President Barack Obama offered condolences to Tunisian leader Beji Caid Essebsi Monday, after a jihadist attack that killed 38 people and left the future of the vital tourism sector in doubt.
The White House said Obama spoke to the Tunisian president, offering "condolences and support," including an offer to help investigate the devastating June 26 beach resort attack.
"The President commended the Tunisian people for their commitment to standing strong and united to reject terrorism," a statement said.
Obama welcomed Essebsi to the White House last month, offering tighter security ties to ensure jihadists do not extinguish the brightest democratic light to emerge from the Arab Spring.
Essebsi in December became the first democratically elected leader in Tunisia's 60-year history.
Full report at:
https://english.alarabiya.net/en/News/middle-east/2015/06/30/Obama-offers-condolences-to-Tunisian-leader-.html
-----------
Seven arrests made over Tunisia attack
Jun 29, 2015
Tunisia has arrested seven people in connection with Friday's seaside terrorist attack that left 38 people dead.
The seven suspects are currently being interrogated in the capital city, Tunis, according to a source with knowledge of the investigation.
The unnamed source said four of the suspects were arrested on Monday; two in the resort town of Sousse, where the attack occurred, one in Tunis, and one in the city of Kasserine. Three others had been taken into custody a day before.
The source spoke on condition of anonymity because he was not authorized to be publicly named.
Earlier, Interior Minister Mohamed Najem Gharsalli said those arrested were members of a network that was behind the assault, but provided no more details.
Gharsalli made the comment in a meeting with British, French, German and Belgian interior ministers who were in Tunisia to pay tribute to victims of the attack.
The minister went on to say that Tunis was determined to fight terrorism in all its forms.
On Friday, a Tunisian student disguised as a tourist used an MK 47 assault rifle to kill tourists at a hotel in Port El Kantaoui, near Sousse to the south of Tunis.
Eyewitnesses said the gunman was mowing down screaming tourists as they ran for their lives.
The gunman, who was shot dead by police, yelled to locals to stay away, adding, "I didn't come for you."
Among the 38 victims there are tourists from Germany, Belgium and Portugal; however, most of the tourists killed were from the UK.
"Eighteen British nationals were killed, but we are expecting this number to rise further and that will be around 30," the UK prime minister's spokesperson said on Monday, adding that all the 25 injured Britons would be evacuated "within 24 hours".
Three months ago, another terrorist attack claimed the lives of 21 tourists and a policeman at the Bardo National Museum in Tunis.
Full report at:
http://www.presstv.in/Detail/2015/06/29/418067/Tunisia-Tunis-Gharsalli-Sousse
-----------
UN envoy optimistic about Libya unity government deal
Jun 29, 2015
The head of the UN Support Mission in Libya has expressed optimism that the North African country's two rival parliaments would endorse his plan for a unity government later this week.
Speaking to a press briefing on early Monday after late-night talks in Morocco, Bernardino Leon said he is convinced that a solution to the Libyan crisis could be reached soon.
He noted that there were only two or three remaining stumbling blocks in the way of nailing down a preliminary deal as unity talks are set to resume in Morocco on Thursday.
"After all these nine months of work we just have two, three issues and this is what the parties are going to discuss tomorrow and after tomorrow," Leon said, adding, "The idea is to be back on Wednesday and to have our next meeting on Thursday. And on Thursday we will try to initialize the agreement."
However, Ashoh Ashraf, a delegation spokesman from the Tripoli-based parliament, has complained that he had not been consulted by UN mediators about changes they had made to an initial draft. "Three key points of the UN draft agreement had been modified without our consultation."
United Nations special envoy to Libya Bernardino Leon (L) attends a meeting with members of the Libyan General National Congress, the parallel parliament backed by the Fajr Libya militia, on March 2, 2015 in Tripoli. (AFP photo)
In mid-June, the UN Security Council had underlined the "urgency for the Libyan parties to agree on a Government of National Accord."
Full report at:
http://www.presstv.in/Detail/2015/06/29/418056/Libya-UN-Bernardino-Leon-Morocco-Tripoli-Tobruk
-----------
Al Shabaab-trained Mungiki returns to terrorise nation
June 29, 2015
Several members of the outlawed Mungiki sect members in Central region, who escaped vigilante group and police crackdown joined al Shabaab, and have now returned to torment the country, the People Daily can reveal.
Most of them are from Kirinyaga, Nyeri, Murang'a and Kiambu counties and had escaped to Mombasa where they were later lured with money to join the group after converting to Islam. Already one of the former members of Mungiki, who was arrested in connection with the June 2014 killings in Mpeketoni has confessed how he was recruited into al Shabaab and on his involvement in the attack.
Gituge Ngamau alias Mohamed Ali, who was sentenced to hang on June 17 was arrested after the Mpeketoni killings. He confessed before Mombasa judge Martin Muya that he was a member of the outlawed Mungiki sect before being recruited into al Shabaab. Ali who had sought refugee at Lamu after police started cracking down on Mungiki adherents, said he converted to Islam after being wooed by his co- accused Swaleh Said to join Islam so that he could easily travel to Somalia and access well-paying jobs in the war torn-country.
It is these confessions by Ali that have turned that spotlight on the murderous Mungiki fugitives. Coast region police commandant Robert Kitur said they had already begun tracking down movement of former Mungiki men who escaped their homes in 2010. "We already have men on the ground probing the matter to know the truth behind the movement of Mungiki adherents from the Central region to Coast," he said.
Several youths are believed to have fled Mt Kenya region in the wake of Mungiki clampdown by the then Internal Security minister, the late John Michuki, which left hundreds of them killed by police or armed vigilante groups. Another such escapee, 20-year-old James Kariuki when he fled home in Kirinyaga to Ruiru after armed police raided their home and arrested two of his brothers.
His stay at Ruiru was short-lived and in 2010 after police intensified and widened their crackdown on the sect members to Ruiru, Kariuki and five of his other friends left for Mombasa, where a friend would play host to them. On their arrival at the coastal town, they were met by their long time friend who also a Mungiki escapee from Murang'a.
The five men were housed in a single muddy room in the vast Junda area of Mshmoroni, for three months as they earned their living as touts. "The host whom we used to call "Kama" was a driver, in a matatu that plied Mshomoromi-town route. He would connect us to work in the matatu for several shifts where we would earn our daily bread and cost share for the single room that we used to live in," he said.
Here, Kariuki and his colleagues continued to live in fear, prompting them to convert to Islam to hide their tribal identity. "We converted to Islam, to conceal our identities and avoid persecution by the State. We had to change our names, way of dressing, to confuse police who were looking for us at all corners," said Kariuki.
Full report at:
http://www.mediamaxnetwork.co.ke/news/152316/al-shabaab-trained-mungiki-returns-to-terrorise-nation/
------------
Pakistan
Three Terrorists Killed, One Blows Self Up
June 30, 2015
SHEIKHUPURA
Three terrorists were killed and another blew himself up when personnel of the Law Enforcement Agencies raided their hideout in Pathan Kot locality on GT Road near Kala Shah Kaku in the wee hours of Monday
An LEA personal and nine passersby also sustained gunshot wounds while two terrorists were also captured in injured condition.
As per details, acting on a tip-off about the presence of a strong network of terrorists, the LEAs personnel in dozens of vehicle carried out a raid in Pathan Kot locality on GT Road near Kala Shah Kaku. The LEAs personnel cordoned off the entire area, however, the terrorists hiding in an under-construction house opened fire on the law enforcers.
In exchange of firing, three terrorists were shot dead and their fourth accomplice blew himself up while two others sustained injuries and were captured by the LEAs personnel. On the other hand, a law enforcer and nine passers-by also suffered bullet injuries.
Full report at:
http://nation.com.pk/national/30-Jun-2015/three-terrorists-killed-one-blows-self-up
-----------
MQM minus Altaf will mean war on streets, says Altaf
Jun 29, 2015
KARACHI: Muttahida Qaumi Movement (MQM) chief Altaf Hussain on Monday termed recent allegations against his party a nefarious plan, warning that attempts to remove him as MQM chief would result in "war in every nook and corner".
In a telephonic address from London to party loyalists in Karachi, Altaf categorically denied all allegations that MQM has connections with the Indian intelligence agency Research and Analysis Wing (RAW) and the party received funding from Indian authorities, as claimed by a a startling report published by the BBC.
"I swear by God...there is no connection with RAW," he said.
Take a look: Arrested suspects affiliated with MQM, trained by RAW: SSP
Altaf also asked party workers to "prepare themselves for sit-ins". He said if Imran Khan could organise a sit-in for three months then "we will organise sit-ins for six months".
Altaf said the MQM has had no association with RAW and party workers were "ready to sacrifice their lives in the fight against RAW", if time calls for it.
Examine: India provided funds to MQM, claims BBC report
The MQM supremo linked accusations of receiving Indian funding and affiliation with RAW to the "minus Altaf formula" saying there will be bloodshed on streets if he were removed by any means.
Full report at:
http://www.dawn.com/news/1191204/mqm-minus-altaf-will-mean-war-on-streets-says-altaf
-----------
Model Town tragedy planned at PM's House: Dr Tahir ul Quadri
June 30, 2015
LAHORE - Pakistan Awami Tehreek (PAT) Chairman Dr Tahirul Qadri on Monday alleged the Model Town massacre was planned at Prime Minister's House, Islamabad.
Addressing a press conference at the party head office after arriving from London, Dr Qadri again rejected the JIT report on the incident.
"Media personnel and the people of the whole country are eyewitnesses to the torture and atrocities committed in Model Town.
No joint investigation team is acceptable to probe the incident under the PML-N government," he said and added it was now the responsibility of the courts to provide justice to the families of the victims.
He offered to extend his party's cooperation in case an impartial JIT was formed.
Qadri also sought Pakistan Army's intervention to get justice for the Pakistan Awami Tehreek victims.
Addressing the military forces, he said 14 dead bodies lying in Lahore were waiting for justice.
He claimed the Sharifs planned to kill innocent workers of PAT and issued instructions to the Punjab police for this purpose.
"We will not rest until the culprits are sent to the gallows.
Sharifs will not be allowed to go scot-free.
"
To a question, Qadri said he and Chaudhry brothers had not any differences.
He rejected the rumours of deal between PAT and the government on the Model Town incident.
Qadri lamented the deaths caused by heatwave in Karachi.
"Almost 1,500 people have died in Karachi while the blame game is going on between the provincial government and the Centre.
Full report at:
http://nation.com.pk/national/30-Jun-2015/model-town-tragedy-planned-at-pm-s-house
-----------
Dead militants were Qaeda affiliates
June 30, 2015
LAHORE - The four Taliban militants, shot dead by police and intelligence operatives in a pre-dawn operation in a Pushtuns-dominated locality in the suburb of Lahore, have been identified as Al Qaeda affiliates.
Two suspects were also arrested with bullet injuries.
A police constable sustained bullet wounds during the operation launched in Khan Colony near Ferozwala in Sheikhupura district in the wee hours of Monday.
Officials said the militants were planning attacks on a senior politician in Lahore while a market and a sensitive building were also their targets.
The bullet-riddled bodies were moved to the morgue.
Punjab Home Minister Shuja Khanzada told reporters the Counter-Terrorism Department (CTD), Lahore police and intelligence agencies raided a house situated on Kala Shah Kaku Road on a tip-off.
One of the militants detonated a suicide vest, wrapped to his chest, during the crossfire while three others were killed in the shootout, the minister confirmed.
"After initial investigations, we can confirm that they belonged to Tehreek-i-Taliban Pakistan (TTP), an offshoot of the Al-Qaeda having sanctuaries in the northwest.
"
The security personnel also seized three suicide jackets, one rocket launcher, at least five automatic assault rifles and a large cache of bullets besides maps of important buildings from the crime scene, police sources claimed.
According to the minister, the intelligence agencies had prior information about the presence of suspected militants in a house.
"As the police vehicles moved close to the site, the militants opened fire on them, using heavy and automatic weapons," he disclosed.
When asked about the identities of the suspects, the minister said that two of the four militants who were shot dead during the operation belonged to North Waziristan.
Khanzada, however, did not share any details about the injured militants who were arrested from the hideout.
"The security and intelligence agencies are investigating the matter.
This is a very sensitive issue and we cannot share details at this stage because of security concerns," he held.
He further said that raids are underway in different parts of the province to hunt down the accomplices of the terrorists.
A duty officer at Ferozwala police station confirmed the raid and killings.
He said they had no knowledge about the whereabouts of the militants caught with bullet injuries.
The intelligence agencies had already been put on high alert since they had received secret information that Waziristan-based militants had entered Lahore to launch terror strikes, officials said.
Full report at:
http://nation.com.pk/lahore/30-Jun-2015/dead-militants-were-qaeda-affiliates
------------
2013 polls did not reflect true will of people: PTI
Jun 29, 2015
ISLAMABAD: The Pakistan Tehreek-i-Insaf (PTI) claimed before the poll inquiry commission on Monday that it had discharged its burden by providing documents and evidence to prove that the 2013 general elections did not reflect the true will of the people and were thus doubtful.
"We have produced the ocular testimony, documents, articles of newspapers, compact discs (CD) and now the identification of the material and evidence was the responsibility of the commission," PTI's counsel Abdul Hafeez Pirzada argued before the three-judge commission after the closing of the recording of testimonies of witnesses.
At the same time, the PTI accused the Election Commission of Pakistan (ECP) of suppressing the record, material and documents when it should have provided these on the first day of investigation by the inquiry commission.
Mr Pirzada alleged that the ECP had taken every step to resist the production of material before the commission. The ECP was duty-bound to do it, but utterly failed to discharge its duty as a result of which the entire burden had now shifted on it, the counsel said, adding that the ECP remained non-cooperative and did not produce the documents which the PTI intended to present as evidence before the inquiry commission.
Referring to the role of the armed forces in the conduct of the 2013 elections as cited by a number of witnesses during their testimonies, Mr Pirzada said their role was only to provide security to the people engaged in the elections. The armed forces were not supposed to sign inventories and had nothing to do with the making of invoices or the audit of ballot papers printed for different constituencies, he said, adding that the printing and accounting of ballot papers were the sole responsibility of the ECP.
Mr Pirzada said the inquiry commission was empowered to give its findings on the conduct of the 2013 elections, adding that it was not that the previous elections were not flawed but two wrongs did not make one right.
"The scope of the commission is wider than Article 218 of the Constitution to prove whether efforts and design were made for systematic rigging in the elections," he argued. He said the circumstantial evidence that led to the constitution of the commission against the background of the signing of a memorandum of understanding between the PTI and the PML-N after 12 sittings also needed to be looked at by the commission.
The counsel said the ECP had left Form-15 in the possession of returning officers (ROs), adding that despite the commission's decision to call for the Form-15 by order to open the sealed election bags, the Forms-15 were materially not available before the commission; rather these fell short of despite efforts that too without giving any explanation to it. Even five to 10 per cent of the forms were found to be defective, incomplete or missing, the counsel said.
Full report at:
http://www.dawn.com/news/1191304/2013-polls-did-not-reflect-true-will-of-people-pti
-----------
Time has come for accountability of plunderers, says president
Jun 29, 2015
ISLAMABAD: President Mam­noon Hussain said on Monday that law was taking its course against plunderers of national resources and time had come to ensure effective accountability.
Addressing a seminar at the Presidency on 'Accountability and Good Governance', he called for exemplary punishment for people involved in corrupt practices irrespective of their status in order to eradicate corruption from the country. "For this purpose all related departments should expedite their anti-corruption activities to meet the public expectations," he said.
The president's statement came at a time when Sindh Rangers and the National Accountability Bureau are investigating alleged corruption in different departments of Sindh.
"State institutions should ensure corruption-free good governance as per aspirations of the people for putting the country on the track of sustainable growth and development," the president said.
The seminar was organised by the Prime Minister's Inspection Commission (PMIC). The president also inaugurated PMIC's helpline 1818 and expressed hope that it would further contribute to curbing corruption and addressing people's grievances.
'All related departments should expedite their anti-corruption activities'
He said the country faced humiliation in the world because of corruption and bad governance in the past. "The reason is that some important public offices were occupied by those people who neither focused on good governance nor tried to eradicate corruption from society. Had it not happened, many national and peoples' problems would have been solved," he said.
President Hussain said uniformity in state departments regarding accountability and good governance was a healthy development which indicated that the country had a bright future.
He stressed the need for strengthening the resolve at political, executive and judicial level for ensuring effective accountability and good governance as per international standards so that Pakistani nation and institutions could compete with developed nations.
Full report at:
http://www.dawn.com/news/1191262/time-has-come-for-accountability-of-plunderers-says-president
-----------
Govt to restrict Qadri if dharna episode repeated: Pervaiz
June 30, 2015
LAHORE - The government is likely to restrict activity of PAT chief Tahirul Qadri if he ventured to repeat the dharna episode of the last year.
"The elements exist which can threaten life of Dr Tahirul Qadri and the government meeting its obligations, will adopt every measure to protect him," said Minister for Information and Broadcasting Senator Pervaiz Rashid while talking to this scribe on Monday.
The minister said Dr Qadri has the knack of making such speeches that provoke these elements.
Federal Minister Pervaiz Rashid to a question whether Dr Tahirul Qadri will be permitted take to political activity in Pakistan, said that what line of action is adopted depends on the course Tahirul Qadri will pursue during his stay in Pakistan.
He said previously Dr Qadri was twice used (by others), let's see who does so this time round.
Neither he succeeded previously nor he will be this time, he added.
Meanwhile, a reliable source in the Punjab government says situation in the country does not allow any activity which provides opportunity to the non-State actors to play their game.
As such, the law will take its course if Qadri provoked the people against the government or he risked security of the State by his action, he said ,adding, after killing of four terrorists in Lahore on Sunday, the government is extra careful to protect life of the citizens including Dr Tahir.
Dr Qadri, a Canadian citizen, reached the City on Monday after he flew to London for medical treatment on October 27 last hurriedly wrapping up a 70-day long protest dharna at Red Zone, Islamabad, against the government and the killing of 14 PAT workers at Model Town.
After initial medical checkup of his health, he went to America for second opinion following which he went to Canada where he stayed and remained in touch the PAT workers through video links.
During his absence, Joint Investigation Team (JIT) cleared the names of PM, CM, Ministers and other public functionaries about their involvement in the Model Town incident frustrating demand of the PAT chief for holding them all responsible for the killing.
On arriving here from Dubai where he reached from London on Sunday, Dr Tahirul Qadri addressed media during which he vowed to continue chasing the 'Sharifs' on the Model Town killings.
So far the activity of Dr Tahir is limited to his addresses at Shahre Aitefaq and public meeting in Islamabad and no plan to stage protest has been unveiled.
To a question on the JIT report which stands rejected by Dr Tahir, Senator Pervaiz Rashid said that the JIT comprised the persons who had experience of up to 35 years of investigations, good track record and strong credibility.
Contrary to that Dr Tahirul Qadri has long track record of telling a lie and duping the masses, he added.
Full report at:
http://nation.com.pk/national/30-Jun-2015/govt-to-restrict-qadri-if-dharna-episode-repeated-pervaiz
-----------
India
BJP Attempts to Turn Muslim Burial Ground in Srinagar Into Wrestling Arena
30th June 2015
SRINAGAR: With the BJP now part of the coalition government in Jammu and Kashmir, the saffron parties are allegedly attempting to convert a burial ground belonging to Muslim community in Jammu province into a wrestling arena for staging a 'dangal'(wrestling match) scheduled for July 3.
According to Muslim residents of Bagh Jogian village of Bishnah area in Jammu district, saffron organisations like the Shiv Sena backed by the BJP have been mobilising people to convert a portion of the 150-year-old burial ground into a wrestling arena. The burial ground spread across 25 kanal, 13 marlas of land, they said, belongs to Auqaf Islamia and has been notified under SRO.
The10 Muslim families presently living in the area say the burial ground belongs to them. And they said in the past, the dangal used to be organised jointly by Hindu and Muslim communities.
"It used to be held somewhere else and not on the burial ground," the families said. Further, it was alleged that with the BJP now jointly in power in the state, the saffron parties are hellbent on staging the dangal at the burial ground on Friday.
"In fact on Sunday, about 100 tippers dumped soil in the burial ground for levelling it for conducting the dangal. This is a clear interference in our religious affairs," the Muslims alleged. It was also alleged that under the garb of organising the dangal, the saffron parties wanted to encroach on the burial ground land.
Tensions, they said, were rising in the area and warned that if the state government failed to take corrective measures some untoward incident might take place. "We had to seek police protection to take up the repair works following threats from the saffron parties," the families said.
Full report at:
http://www.newindianexpress.com/nation/BJP-Attempts-to-Turn-Muslim-Burial-Ground-in-Srinagar-Into-Wrestling-Arena/2015/06/30/article2894102.ece
-----------
Congress Plans Iftar to Win Back Muslims
30th June 2015
HYDERABAD: Continuing its efforts to win back Muslim voters, the Congress party is planning to hold a grand meeting and an 'Iftar' party in the Old City. The meeting would most likely be held before the end of Ramzan, in view of the GHMC elections.
According to sources in the TPCC, AICC general secretary Digvijaya Singh will attend the meeting and 'Iftar' party. The state leadership discussed the need to woo the Muslim voters during the recent visit of Digvijaya Singh to Hyderabad.
The TPCC, in its analysis of the results of the 2014 elections, has come to the conclusion that it lost the elections due to the alienation of three sections - Andhra settlers, students and youth and Muslims. The party, which has pinned its hopes on GHMC elections as an opportunity to regain its voter base, is focusing on these sections.
Full report at:
http://www.newindianexpress.com/states/telangana/Congress-Plans-Iftar-to-Win-Back-Muslims/2015/06/30/article2894250.ece
-----------
India, US discuss cooperation on trade to terrorism
IANS | Jun 30, 2015
WASHINGTON: Indian foreign secretary Subrahmanyam Jaishankar had a series of interactions with interlocutors in the US government on issues ranging from ease of doing business to cooperation on terrorism and climate change.
On a short visit to Washington, Jaishankar met, among others, US national security advisor Susan E. Rice, US deputy secretary of state Antony Blinken and US trade representative (USTR) Michael Froman Monday.
At his meeting with Rice in the White House, they reviewed the implementation of initiatives taken during the two summits between Prime Minister Narendra Modi and President Barack Obama in the past one year, the Indian Embassy said.
They also discussed India's role in South Asia and the Indian Ocean Region, including for promotion of connectivity and economic integration and relief and reconstruction in Nepal after the earthquake of April 2015.
Blinken, who hosted a luncheon in honour of the foreign secretary, discussed with him a range of bilateral, regional and global issues of topical relevance.
They also explored deeper collaboration and engagement to address emerging global challenges like terrorism, climate change and cyber issues and policy coordination on internet governance and other matters.
Jaishankar's meeting with Froman covered the ground of India-US economic and commercial engagement.
Full report at:
http://timesofindia.indiatimes.com/india/India-US-discuss-cooperation-on-trade-to-terrorism/articleshow/47876157.cms
-----------
Home ministry preparing plan of action to check radicalisation of Jammu & Kashmir youth
Jun 30, 2015
NEW DELHI: The home ministry has taken serious note of the possibility of youths in Jammu & Kashmir getting attracted to the ISIS and has initiated preparation of a "plan of action" to prevent such radicalisation through both overt and covert measures.
Home secretary LC Goyal wrote a note to special secretary (internal security) Ashok Prasad on June 20 saying radicalisation of youth is increasingly becoming an issue of serious concern in the government, officials said.
Goyal said in his note that radicalisation is being seen across the world and the issue has become even more serious in the context of the ISIS.
He impressed upon Prasad the urgent need to put in place measures to prevent such radicalisation in J&K and other parts of the country.
The home ministry is in the process of consulting experts in this field before preparing a plan of action which is expected to be implemented in the states concerned.
Full report at:
http://timesofindia.indiatimes.com/india/Home-ministry-preparing-plan-of-action-to-check-radicalisation-of-Jammu-Kashmir-youth/articleshow/47875805.cms
-----------
Southeast Asia
Stop the Hypocrisy over Shariah Law, IDEAS Tells MCA
Tarrence Tan | June 30, 2015
KUALA LUMPUR: MCA should not behave like hypocrites by demanding DAP sever ties with PKR over the issue of Shariah law, when it was Barisan Nasional, a coalition they are a part of, that introduced the Islamic law to all states in the country, said the chief executive officer of IDEAS Wan Saiful Wan Jan in a statement today.
"The MCA is behaving like political hypocrites. Have they forgotten that the Syariah law in all states in Malaysia was initiated by Barisan Nasional and MCA is part of BN too?" he asked, adding that if the Chinese party was so opposed to the idea of Islamic law, they should leave the ruling coalition.
He said this in response to MCA's religious harmony bureau deputy chairman Ng Chok Sin's statement yesterday that DAP sever ties with PKR as Opposition leader Wan Azizah Ismail had inadvertently proved she supported Hudud by filing a qazaf report (false accusation) on behalf of her incarcerated husband, Anwar Ibrahim against Umno lawyer Muhammad Shafee Abdullah.
He pointed out that PAS had so far only been talking about hudud, but it was MCA that had made it possible for Shariah law to be implemented for decades.
"They seem happy to remain in the same government until today," he commented about MCA.
Full report at:
http://www.freemalaysiatoday.com/category/nation/2015/06/30/stop-the-hypocrisy-over-syariah-law-ideas-tells-mca/
-----------
Jakarta Police chief calls for caution over Ramadhan jihad
June 30 2015
Jakarta Police chief Insp. Gen. Tito Karnavian has called for caution in connection with a call or edict from the Islamic State (IS) movement for jihad.
"I do not want to name the groups (networks in Indonesia) that are loyal to the group that gives the fatwa," he said in Jakarta on Monday as quoted by Antara news agency.
Tito explained that on June 23 IS spokesman Abu Muhammad Adhnani called for jihad during Ramadhan following the same call from IS leader Abu Umar Al-Baghdadi.
He said that IS loyalist groups in Indonesia have developed in Jakarta, West Java, Central Java and Banten.
He said the jihad call was connected with recent terrorist attacks in France, Tunisia and Kuwait.
He said the Indonesian police had watched certain groups that have the potential to conduct terrorist attacks in the country.
"Networks there have connections with networks in Indonesia and so we must be alert," he said.
In view of that he said he had given directives to police chiefs at resorts regarding steps to deal with potential threats from the groups.
The police have already worked to monitor the movement of the groups and so people need not worry, he said.
Full report at:
http://www.thejakartapost.com/news/2015/06/30/jakarta-police-chief-calls-caution-over-ramadhan-jihad.html
-------------
Military plane crash leaves 38 dead in Indonesia : Sources
Jun 30, 2015
At least 38 people have lost their lives when a military transport plane crashed in the city of Medan on Indonesia's western island of Sumatra, sources say.
The Hercules C-130 plane with 12 crew members on board crashed into houses and cars and burst into flames a few minutes after take-off at 12:08 p.m. local time (0508 GMT) on Tuesday, local TV reported.
The plane was on its way from Soewondo air base in Medan to the remote Natuna islands.
People look at a military plane crash in the Indonesian city of Medan on June 30, 2015. (© AFP)
The aircraft, in service since 1964, might have come down due to a technical problem, air force chief, Air Marshal Agus Priatna, told Indonesia's Metro TV, adding that the pilot had asked to return to Soewondo before the accident.
Full report at:
http://www.presstv.in/Detail/2015/06/30/418143/Indonesia-plane-crash-Medan-Sumatra
-----------
Malaysia Muslims Dare Summer Ramadan
29 June 2015
JOHOR BARU – Witnessing soaring temperatures this summer, Malaysian Muslims are daring a "scorching" Ramadan as many parts of the country will be in grip of blistering heatwaves.
"I was diligently fasting for the first few days of Ramadan until my doctor advised me to break the fast to ensure the health of my child," seven months' pregnant Siti Nur Aqilla Omar, 27, told Agence France Presse (AFP) on Monday, June 29
"This is my first pregnancy and the heat has been quite a test for me," she said.
Ramadan, the holiest month in Islamic calendar, kicked off in Malaysia on June 18.
In Ramadan, adult Muslims, save the sick and those traveling, abstain from food, drink, smoking and sex between dawn and sunset.
Fasting for long hours in summer days, many Malaysians said they were keen on drinking a lot of water during sahur [pre-dawn meal], to face the hot weather.
"It can be very challenging at times, as I have to stand under the scorching sun but I have not let this affect my job," senior construction site supervisor Kamarul Shamsul Zahari, 35, said.
"I just drink more water during sahur and after breaking fast in the evening," he said, adding that his two primary school going children, however, could not bear the heat and sometimes broke their fast earlier than they should.
Hot summer was not affecting workers only.
Teacher P. Megana, 46, said that many of her students had been complaining of the humid weather.
In Petaling Jaya, a man who wished to be known only as Nizam, 27, said the thirst was hard to bear because of the heat.
Nizam, who was with his wife and child at a park to cool down said it was slightly cooler in his home state of Pahang.
Indian national Swaraj Dube, 20, who has been in Malaysia for five years, said people should not head straight to an air-conditioned area to escape the heat.
"I used to do that and fall sick quite often," he said.
Full report at:
http://www.onislam.net/english/news/asia-pacific/488459-malaysia-muslims-dare-summer-ramadan.html
-----------
Malaysian police request to question Justo in Thailand
June 30, 2015
KUALA LUMPUR: Malaysia's police force has submitted a request to its Thai counterpart seeking access to Swiss national Xavier Andre Justo to interview him presumably in connection with the affairs of 1Malaysia Development Berhad (1MDB).
"We are working closely with Thai authorities on the matter," Thai newspaper The Nation quoted Inspector General Khalid Abu Bakar as saying. "We have to wait for them to conclude their investigations."
The report had also cited Colonel Akaradej Pimonsri, acting commander of Thailand's Crime Suppression Police, as saying yesterday that Britain had already dispatched officers to Bangkok in a bid to question Justro who they claim is suspected of having also committed an offence in their country.
It was not immediately clear whether that alleged crime had anything to do with transactions involving 1MDB.
Justo, 49, was arrested in Koh Samui, Thailand, last week accused of attempting to blackmail PetroSaudi International into paying 2.5 million Swiss francs in exchange for not disclosing confidential information.
Government authorities in Malaysia have been quick to use his arrest to exonerate 1MDB from the scandals surrounding it.
"Prior to this 1MDB was seen as a fragile company, with scandals and accusations by the online media," Second Finance Minister Ahmad Husni Hanadzalah was reported by Bernama as saying yesterday.
Full report at:
http://www.freemalaysiatoday.com/category/nation/2015/06/30/malaysian-police-request-to-question-justo-in-thailand/
-----------
Malaysia apologizes for breaching Indonesia's border
June 30 2015
The Indonesian Military (TNI) said on Tuesday that Malaysia had apologized for an illegal crossing carried out by one of its helicopters on Sebatik Island, North Kalimantan.
TNI spokesman Maj. Gen. Fuad Basya said that the neighboring country had sent an apology letter after the Indonesian Foreign Ministry asked for clarification from the Malaysian government.
Fuad said that the letter explained that the pilot, who was carrying a Malaysian minister as a passenger, did not see clearly the border between the two countries.
"He [the pilot] wanted to avoid landing in a wet field, so instead he flew the helicopter into our territory," Fuad said as quoted by tempo.co on Tuesday.
Despite the apology, TNI plans to file a protest with the Coordinating Political, Legal and Security Affairs Ministry.
Full report at:
http://www.thejakartapost.com/news/2015/06/30/malaysia-apologizes-breaching-indonesia-s-border.html
-----------
North America
A Ramadan Plea to Overcome Muslim Stereotypes in America
une 29, 2015
Margari Aziza Hill
A multi-ethnic community puts Muslims in North America in a unique position to build bridges
As we honor Ramadan, the holiest month in the Muslim calendar, it's important to look back at the history of Muslims in America to guide the context of fighting increased anti-Muslim bigotry in the U.S. today.
Anti-Muslim hate crimes are five times more common today than they were before 9/11. In 2014, we saw the chilling murder of 15-year-old Abdisamad Sheikh-Hussein, who was run down outside his mosque in Kansas City, Mo., by a man who had expressed his hatred for Muslims. In February 2015, the Chapel Hill shooting took the lives of three American-Muslim college students and shook the entire Muslim community. Last month there was an armed protest in Arizona outside of a mosque, and a Muslim community in New York was targeted by a man who plotted to burn down a school and mosque. The media is also filled with negative stereotypes about Muslims.
My concerns mirror those of so many Americans: As a parent to a rambunctious 3-year-old girl, I am concerned with her getting a quality education in a safe school, and I want her to live to her fullest potential and to have a positive self-identity. Yet when I taught an anti-racism workshop to 11-year-old girls last fall and asked about stereotypes, almost all of them answered that they faced some level of anti-Muslim bias. This reflects a recent survey from Muslim ARC, an organization that I co-founded, in which 82% of respondents said that they experienced racial, ethnic, or religious discrimination from society at large.
American Muslims with roots in Africa, the Middle East, and Asia face anti-Muslim bias mixed with a heavy dose of xenophobia. African American Muslims are often judged on two fronts: on the basis of religion and on the basis of race. But this native Muslim population has historical roots that go back hundreds of years. Around the time of the American Revolution, a large community of Moroccan Muslims lived and thrived in Charleston, S.C. Slaves in the Antebellum United States—nearly 15% to 30% of whom were Muslim—celebrated Ramadan in the South. From Thomas Jefferson owning a Quran to the mass adoration of Muhammad Ali to the reverberating social impact of Malcolm X, African American Muslims have always been a part of the American tapestry. The latest spate of hate crimes—both from white supremacists and from Islamophobes—belies this history.
Full report at:
http://time.com/3934756/ramadan-anti-muslim-sentiment/
------------
Mississauga Muslims Help Vandalized Church
28 June 2015
CAIRO – Moved by the desecration of a Catholic church the Muslim community in Mississauga donated thousands of dollars to help the church clean up, in a shining example of interfaith unity in the city.
"It was a very bad scene. The guy who did it ripped pages out of the Bible. He broke the altar. He threw the cross," Hamid Slimi, imam of the Sayeda Khadija Centre in Mississauga, told Toronto Star,
"When I saw this, I thought it was pure injustice. It was just wrong."
The Catholic church of St. Catherine of Siena was vandalized last month with a spat of vulgar statements sprayed on its walls.
Hearing the news, imam Slimi paid a visit to the nearby church. He was shocked after Father Camillo Lando showed him some of the vandal's behavior caught on security video.
Slimi returned to his congregation, telling them about the shocking incident and asking them to donate. They raised almost $5,000 in one day.
"I told my community, there is nothing we can do now. But the church needs funds," said Slimi.
"We believe there is no discrimination in charity. It is the act that is rewarded. It doesn't matter who is the recipient."
Last Wednesday, Slimi presented Lando and the church board with the cheque, offering his congregation condolences.
"I told them, this is what any Muslim would do," he said.
Lando plans to inform his congregation about the donation this weekend at mass.
"I will tell my congregation that it was really a beautiful and generous gesture on their part," he said.
Full report at:
http://www.onislam.net/english/news/americas/488403-mississauga-muslims-help-vandalized-church.html
-----------
US Shrugs Off Recognition of Hadi's Envoy to Washington
Jun 29, 2015
The US Department of State has decided to delay accepting the credentials of Hadi's ambassador for an unspecified period, the al-Arabi al-Jadid newspaper quoted a diplomat in Yemen's embassy in Washington as saying.
The unnamed source said that Hadi has threatened that he would seek political asylum in the US if Washington refrains from accepting his designated ambassador.
Last week, informed sources revealed Saudi Arabia's attempts to change Yemen's currency after Eid al-Fitr to start an economic war against Ansarullah and the Yemeni army.
Yemen Press and al-Hayad news websites quoted informed sources as saying that the fugitive Yemeni officials in Saudi Arabia and senior officials of the Persian Gulf littoral states have studied a plot to change Yemen's currency after Eid al-Fitr, the end of the holy month of Ramadan celebrated by Muslims.
Full report at:
ttp://english.farsnews.com/newstext.aspx?nn=13940408001435
-----------
URL: https://www.newageislam.com/islamic-world-news/new-age-islam-news-bureau/ansarullah-readying-to-go-to-hague-to-make-saudi-regime-stand-trial/d/103710