New Age Islam News Bureau
19 Apr 2017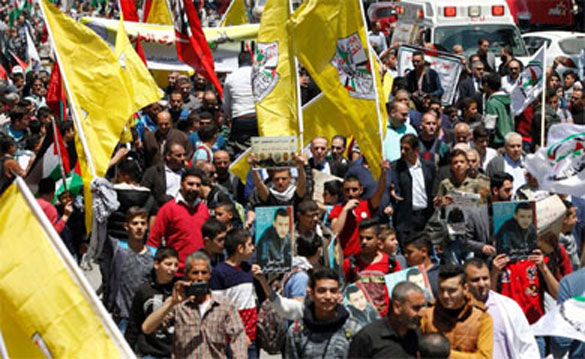 A support protest in Hebron for the prisoners who have gone on hunger strike Getty Images
----
• Another Member of Minority Religious Sect Slain in Pakistan
• Hanging of Mufti Hannan May Not Mean The End of HuJI in Bangladesh
• Hundreds Of Palestinian Prisoners In Israel Go On Hunger Strike
• French Muslim Party To Run In Parliamentary Elections
• Indonesia's Capital Votes, Muslim Hardliner In The Fray
----
Pakistan
• Another Member of Minority Religious Sect Slain in Pakistan
• National Assembly Approves Compulsory Teaching Of Quran In Schools
• We are victim of state-sponsored terrorism, COAS tells US
• Why is Pak mute to China's repression of Muslims?
• Thar officials stop sharing data of children's deaths with media
• Pakistan ready to work with US for Afghan peace
• Pakistan military rejects employment of proxies from its soil
--------
South Asia
• Hanging of Mufti Hannan May Not Mean The End of HuJI in Bangladesh
• Taliban's Shadow Governor Among 16 Killed In Kunduz Airstrike
• 67 militants killed during counter-terrorism operation in past 24 hours: MoD
• Dhaka, Thimphu ink five instruments to strengthen cooperation
• Inu: Hefazat has nothing to do with AL-led alliance
• Taliban's shadow governor for Baghlan and 4 senior commanders killed
• Taliban leader killed in Afghan police ambush in Nuristan
--------
Mideast
• Hundreds Of Palestinian Prisoners In Israel Go On Hunger Strike
• Saudi Military Helicopter Crashes In Yemen, Killing 12 Officers
• Trump administration to review Iran sanctions relief: State Dept
• US says Iran complies with nuke deal, but orders review on lifting sanctions
• Mattis visits Saudi Arabia, promises to put an end to 'Iranian' Houthi rockets
• Iran presidential hopeful Raeisi vows strong economic management
• UN says closely monitoring mass hunger strike in Israeli jails
• Israel not to engage in talks with Palestinians on hunger strike: Minister
--------
Europe
• French Muslim Party To Run In Parliamentary Elections
• Islamic Lender Shows UK Appeal Of Sharia Finance
• Russia's Putin congratulates Erdogan over referendum outcome
• Growing anti-Muslim rhetoric permeates French presidential election campaign
--------
Southeast Asia
• Indonesia's Capital Votes, Muslim Hardliner In The Fray
• DAP: Explain Zakir Naik's PR Status And Why It Was Given
• Philippine Muslim religious leaders combat extremism
• On-the-run Muslim cleric has been a Malaysian PR for five years
• IGP: We'll arrest Zakir Naik if he breaks our laws
• Jakarta voters head to polls amid sectarian tension
--------
Arab World
• Over 50 Civilians Killed, Injured in US-Led Coalition Airstrikes in Eastern Syria
• Syria: Evacuated Gunmen, Family Members from al-Wa'er Exceed 2,000
• Turkish Soldiers, Kurdish Fighters Exchange Heavy Fire in Northern Syria
• Only six districts still held by Daesh in western Mosul: Cmdr.
• Trapped Mosul civilians could face worst catastrophe of Iraq conflict, UN warns
• Islamic militants kill policeman in attack near Sinai monastery
• In Mosul, Iraqi snipers track jihadists around the clock
• Britain Conducts Heliborne Operations in Eastern Deir Ezzur
• Syrian Army Dispatches Fresh Forces to Dara'a
• Syria: Terrorists in Northern Hama Beg for Help from Comrades
• US Continues to Airdrop More Aid Packages to ISIL Terrorists in Northwestern Iraq
• ISIS claims deadly attack near Egypt's St. Catherine's Monastery in Sinai
• US-Backed Syria Forces Set Up Post-ISIS Raqqa Council
• More camps needed for those fleeing Daesh in Mosul: Iraqi official
--------
North America
• More Canadians View Different Religions Positively
• California Gunman Kills Three 'In Race Attack' In Fresno - BBC News
• Trump's Pakistani Muslim supporter says fake scholars bringing extremist thought to US
• 'This is my America!': Taoist man takes photo of Jewish couple sitting next to Muslim mother and child
--------
India
• Sonu Nigam Azaan Row: Priyanka Chopra's Video Praising Azaan Goes Viral As Sonu Defends Self
• Law panel examining Kerala High Court verdict that repudiated practice of Triple Talaq
• Muslim yoga guru invited to Germany
• No Space For Discrimination Here, Says Muslim Principal Of College Set Up By Yogi Adityanath
• Caught with guns, defence attaché in Afghanistan repatriated
--------
Africa
• Police Fire 'Live Bullets' At Nigerians Urging Zakzaky's Release
• Kenya Rushes to Tap Sh234trn Global Halal Gold Mine
• Uganda: Schools Suspend Meals As Food Prices Increase
Compiled by New Age Islam News Bureau
URL: https://www.newageislam.com/islamic-world-news/another-member-minority-religious-sect/d/110826
--------
Another Member of Minority Religious Sect Ahmadi Muslim Slain in Pakistan
April 18, 2017
ISLAMABAD —
Unknown assailants in Pakistan have stabbed to death a university professor who was an Ahmadi Muslim, a minority group often considered the country's most persecuted religious sect.
Police in the eastern city of Lahore said Tuesday that they had found the body of Tahira Abdullah, 61, in the residential colony of the University of Punjab. She lay in a pool of blood, with stab wounds on her face and neck, officers said.
The microbiology professor was retired but continued to teach at the university, one of Pakistan's oldest and most prestigious institutions.
Jamaatul Ahrar, an offshoot of the extremist Pakistani Taliban, claimed responsibility for Abdullah's death. The same group had said it was behind the recent deaths of two other high-profile members of Pakistan's Ahmadi community: A doctor of veterinary medicine was killed earlier this month in Lahore, while gunmen in Nankana shot dead a prominent Ahmadi community member late last month.
Counterterrorism experts joined police investigating the latest case.
Founded in 19th century
The Ahmadi (or Ahmadiyyah) Muslim community was founded in Punjab near the end of the 19th century. It has millions of members worldwide, but is reviled by the overwhelming majority of Pakistani Muslims because of doctrinal differences.
The followers of the Ahmadi sect believe its founding leader, Mirza Ghulam Ahmad, was the second coming of the Messiah.
This belief is a departure from that of mainstream Muslims, who consider Muhammad to be the last prophet of God. In 1974, the Pakistani parliament declared the Ahmadi sect as "non-Muslim."
The Ahmadi community has long been a target of sectarian violence in Pakistan. In 2010, attacks on two separate Ahmadi mosques in Pakistan killed 94 people and wounded over 150.
The Ahmadi community recently released its annual report, which noted an increase in violence against Ahmadis and their mosques across Pakistan in 2016.
Government criticized
Ahmadi leaders have criticized the government for inaction over targeted killings.
"The government is not courageous enough to take a stand for minorities publicly," political scientist Hasan Askari told VOA.
The lawyer killed in Nankana was a relative of professor Abdus Salam, a renowned theoretical physicist who was Pakistan's first Nobel laureate.
Salam fled from Pakistan in 1974, five years before his Nobel award, to protest enactment of the constitutional amendment declaring members of the Ahmadi community to be non-Muslims. He lived in Britain until his death in 1996.
https://www.voanews.com/a/another-member-minority-religious-sect-slain-pakistan/3816279.html
--------
Hanging of Mufti Hannan may not mean the end of HuJI in Bangladesh
Anand Kumar
April 19, 2017
At one time, the terror outfit Harkat-ul Jihad al-Islami (Movement of the Islamic Holy War) was one of the strongest extremist outfits in Bangladesh and its aspiration was the implementation of Shariat rule both in Bangladesh and Myanmar. It was headed by Mufti Hannan, who has now been executed for his involvement in a number of terror activities. His hanging is likely to give a serious blow to the outfit, although this may not necessarily mean its end. Nevertheless, this is an important development in a country which has been battling Islamist extremism and trying to put it under check.
Mufti Hannan had an Islamist background. At the time of Bangladesh's Liberation War, his father, Noor Uddin Munshi, was a leader of the Muslim League in Gopalganj's Kotalipara sub-district. Noor was shot dead for committing atrocities against Bangladeshi people during the Liberation War. His house had hoisted a Pakistani flag even after Bangladesh was created.
After his initial madrasa education in Bangladesh, Mufti Hannan went to both India and Pakistan for higher Islamic studies. In India, he studied at a Deoband madrasa and was later a student of the Islamic Studies Department at Aligarh University from where he obtained a Master's degree in 1987. In 1988, he got enrolled at Jamiya Yusuf Bin Nuriya Madrasa in Karachi from where, during the during the Ramadan break in 1990, he moved to Afghanistan to fight the Afghan jihad. It is believed that his indoctrination into militancy took place while studying Fiqh or Islamic jurisprudence in Karachi. Before joining the Afghan jihad, he was given 15 days training in Afghanistan in bomb-making and carrying out military assaults. He also provided other recruits to the Afghan jihad and got injured while participating in it.
It was also around this time that the notorious outfit HuJI Bangladesh was born, though its origins are somewhat obscure. Some claim that Moulana Abdur Rahman Faruki from Manirampur in Jessore, along with other Bangladeshi mujahids, founded HuJI in 1989 while they were still fighting in Afghanistan. Faruki was killed in the Afghan jihad while trying to defuse a mine in Khost. Hannan returned to Bangladesh in 1993 and started leading a group of Afghan jihad returnees.
Others say that the Afghan jihad returnees formally launched HuJI at a press conference held in Dhaka on April 30, 1992, after the end of the Afghan jihad. According to them, Moulana Abdus Salam was made its chief. He is presently in jail for his role in the August 21, 2004 grenade attack. Mufti Hannan had also participated in this attack and the prime target was the current Prime Minister of Bangladesh, Sheikh Hasina. Though Sheikh Hasina suffered only some serious injuries, 23 members of the Awami League including Ivy Rahman, the then women's affairs secretary of the party, were killed and nearly 150 others injured.
Soon after its formation, HuJI Bangladesh had split into several factions over the method to be adopted in waging armed jihad. Mufti Hannan became chief of one such faction. He developed a close relationship with some leaders of the Bangladesh Nationalist Party (BNP) and Jamaat-e-Islami, Bangladesh. His proximity also grew with other militant groups including the Jama'atul Mujahideen Bangladesh (JMB) and Rohingya-based outfits active in the Chittagong region.
Hannan was the face of terror in Bangladesh and his outfit HuJI introduced militancy in the country through a bomb attack on a programme of Udichi Shilpigosthi in Jessore in 1999. He created terror across Bangladesh by launching over a dozen grenade attacks on Awami League rallies in his failed attempts to assassinate Sheikh Hasina and other top leaders. He also targeted the former British High Commissioner Anwar Choudhury at Hazrat Shahjalal Shrine in Sylhet, religious institutions and cultural programmes including Pohela Boishakh celebrations.
Mufti Hannan was arrested along with his wife and children from a house in Dhaka on October 1, 2005. Subsequently, HuJI(B) claimed responsibility for nearly a dozen attacks between 1999 and October 17, 2005, after which the BNP-Jamaat government was forced to ban the outfit. Speaking to the media after his arrest, an indignant Mufti Hannan had claimed that law enforcers were not supposed to arrest him since some influential ministers of the BNP-led government had assured him that he would be exempted from the August 21, 2004 grenade attack case.
There are at least 17 cases filed against Mufti Hannan for masterminding various terror attacks. Of these, he has been sentenced to death for killing three people and injuring then UK envoy Anwar Choudhury at Shahjalal shrine in 2004. He was hanged after his death sentence was cleared by the apex court and his request for presidential clemency was rejected on April 8, 2017.
Mufti Hannan's appeal against another death sentence handed down in the Ramna Batamul blast case is currently pending with the High Court. He also faced trial for the failed August 21, 2004 grenade attack on Sheikh Hasina who was then the opposition leader. He was given life-term imprisonment in 2003 for plotting to kill Hasina at Kotalipara in 2000 when she was the prime minister.
At one time, HuJI was quite active in India and its involvement was suspected in a number of terror incidents. The US had branded HuJI as an international terror outfit and banned it. But in recent times, the outfit has been less active in Bangladesh after a number of other terror outfits emerged in that country. The most prominent among them has been Jumatul Mujahedeen Bangladesh (JMB). A faction of JMB, now called neo-JMB, has even proclaimed its allegiance to the ISIS.
Mufti Hannan was hanged few days before the Pohela Boishakh, the Bengali New Year festival. This festival is celebrated with a great deal of fervour in Bangladesh and in West Bengal. But this festival is also opposed by the Islamists of Bangladesh who see in it a reflection of their Hindu past. The hanging of Mufti Hannan on the eve of Pohela Boishakh might send an important message to the terror outfit that the government of the day in Bangladesh is committed to protect the country's cultural traditions. It would also boost its confidence in the fight against radical Islamists who have expanded their grip in recent years by targeting and killing atheist bloggers, writers, foreigners and minority groups. But the attempt made by his sympathisers to free Mufti Hannan from a prison van on March 6, 2017 while he was being brought back to Gazipur's Kashimpur prison from the court indicates that there are still some free and active people who are either part of HuJI or support its ideology. Thus, his hanging may not mean the end of the terror outfit and definitely not the end of radical ideology in Bangladesh.
http://www.idsa.in/idsacomments/hanging-mufti-hannan-may-not-mean-end-huji-bangladesh_akumar_190417
--------
Hundreds of Palestinian prisoners in Israel go on hunger strike
17 April 2017
Hundreds of Palestinian prisoners held in Israeli jails have gone on hunger strike over conditions of captivity, with more expected to join on Monday, in one of the biggest protests in recent years.
Led by the high-profile Fatah prisoner and leader Marwan Barghouti, seen by some as a potential successor to Palestinian president Mahmoud Abbas, 700 prisoners initially joined the strike, announced on Sunday evening.
The protest includes members of Fatah as well as prisoners from Hamas and Islamic Jihad.
The strike, long planned, is seen as having widespread political support – not least in the year marking the 50th anniversary of the Israel occupation of the Palestinian territories, captured during the six day war in 1967. Palestinian Prime Minister Rami Hamdallah, as well as Hamas leaders in Gaza, have announced their backing.
The Palestinian National Council , the legislative body of the Palestine Liberation Organisation, also expressed its support for the strike on Sunday.
In a statement from Hamas the group said: "We warn the Israel Prison Service against bringing any harm to the hunger strikers. Any delay in answering their just demands will explode the situation inside all prisons. All prisoners will unite in the face of all those who might harm prisoners and their dignity."
The number of prisoners going on hunger strike was expected to expand to 2,000 of the Palestinian prisoners being held in Israeli jails.
The hunger strike was announced to coincide with Palestinian prisoners' day which is marked on Monday.
Prisoners' demands include improved visitation rights from family members and easier access to telephones.
The visitation rights are a case of particular concern. While Israeli Prison Service regulations stipulate that all prisoners are entitled to family visits once every two weeks, in reality Palestinians from the occupied Palestinian territories are required to apply for permits to enter Israel in the first place – permits which are often denied.
The announced strike began at Hadarim prison, where Barghouti is serving a prison sentence handed down by an Israeli court for his conviction for five murders.
Barghouti's key role is seen by both Israelis and some members of his own Fatah party as significant in the midst of efforts by an ageing Abbas to centralise power around himself and a small circle of close associates.
In a comment piece written from prison for the New York Times on Monday, Barghouti said that the hunger strike was "the most peaceful form of resistance available".
"Decades of experience have proved that Israel's inhumane system of colonial and military occupation aims to break the spirit of prisoners and the nation to which they belong, by inflicting suffering on their bodies, separating them from their families and communities, using humiliating measures to compel subjugation," he wrote.
A largescale hunger strike – not least in the year marking the 50th anniversary of the occupation and the 100th anniversary of the Balfour Declaration, which is regarded as highly significant by Palestinians – has the potential to raise tensions again. They have only recently subsided after the 2014 Gaza war and a wave of Palestinian attacks that has declined only in recent months.
In a measure of Israeli concern over the strike, the security minister, Gilad Erdan, held meetings with security officials from the prison service, the military and Shin Bet internal security service on Sunday.
In a statement issued by Erdan, the minister accused Barghouti of using the hunger strike for internal Palestinian political aims. "The strike led by Barghouti is motivated by internal Palestinian politics and therefore includes unreasonable demands concerning the conditions in the prisons," he said. "I have instructed the prison service to act in any way to contain the strike within the walls of the prisons and the Israel police to prepare and provide any help needed to the prison service for any scenario that is likely to develop."
Barghouti is serving five life sentences after being convicted in an Israeli court of directing lethal attacks during the Second Intifada, in a trial in which he refused to offer a defence, maintaining the court was illegitimate. He was sentenced to 40 years in prison in 2004.
A report issued by Amnesty last week, containing interviews with prisoners' family members highlighted the difficulties many complain of in seeing imprisoned relatives, with some saying they have been prevented from seeing relatives for many years.
It quoted "Ahmed", a 32-year-old from Hebron held in administrative detention in Ketziot prison in the Negev desert, whose name has been changed to protect his identity. He said he has had only one family visit despite spending five-and-a-half years in an Israeli prison between 2005 and 2017.
He told Amnesty he was joining the hunger strike in the hope it would pressure the authorities to allow his 70-year-old mother, who has been repeatedly denied a permit, to visit him.
He said he had been arrested seven times in total. His administrative detention order is up for renewal on 29 July.
"I have had one family visit while in jail. In 2006, my mother and father were able to visit me because my father was sick. He was 75 then, it was the last time I saw him. He died while I was in prison," he said.
https://www.theguardian.com/world/2017/apr/17/palestinian-prisoners-israel-hunger-strike
--------
French Muslim Party To Run In Parliamentary Elections
Apr 19, 2017
The Turkish-Muslim Equality and Justice Party (PEJ), which mainly consists of young immigrants, will participate in France's June parliamentary elections.
The party was founded in January 2015, however some of its members had previously run in Municipal elections as independents. The party leader, Şakir Çolak, told Anadolu Agency that some of the members of the PEJ underwent their political formations within more "classical" parties like the Socialist Party (PS) or the Union for a Popular Movement (UMP), but came to find those parties to be too rigid.
Çolak, who took over the role of the party chairman from PEJ founder Hikmet Hüseyinbaş in 2016, said that the principal aim of the party was to combat inequality and injustice. The party endeavors to alter stereotypes and to allow young people from a migrant background to become more active participants in political life.
The party's chairman stressed that PEJ members did not want to turn politics into a profession, but rather hoped to use the newly founded party as a vehicle for widening the room for debate in the country.
Çolak added that the existing political system in France did not approve of difference and thus it had become necessary to found a new party that accepted and promoted diversity. PEJ will have to compete in a political arena in which extremist parties are in vogue.
PEJ, which is likened to the DENK party in Holland, has been confronted with accusations of being Turkey's "arm" in France since it was founded. In view of these charges, Çolak stressed that PEJ is a French political party and that the parties considered "normal" are the ones responsible for the current political situation in France.
https://www.dailysabah.com/europe/2017/04/18/french-muslim-party-to-run-in-parliamentary-elections
--------
Indonesia's capital votes, Muslim hardliner in the fray
April 19, 2017
Millions of Indonesians in the capital Jakarta are electing a governor Wednesday after a polarizing campaign that undermined the country's reputation for practicing a tolerant form of Islam.
The runoff election pits the minority Christian incumbent, Basuki "Ahok" Tjahaja Purnama, against a former Cabinet minister, Anies Baswedan, who has courted the support of conservative clerics who oppose electing a non-Muslim.
The Jakarta election battle has cracked open religious and ethnic fault-lines and highlighted the growing strength of hard-line Islamic groups in the world's most populous Muslim nation. Massive protests against Ahok, who is on trial for blaspheming the Quran, shook the centrist minded government of his ally President Joko "Jokowi" Widodo. More than 13,000 polling places were open Wednesday for Jakarta's 7.1 million eligible voters.
National police chief Tito Karnavian has said thousands of police and military personnel would be deployed to secure the vote from intimidation. After voting, Jokowi called for unity. "Whatever the outcome, whoever is elected, it must be accepted gracefully," he said.
In the west Jakarta neighborhood of Kebon Jeruk, polling station No. 49 was guarded by two police officers, a soldier and several public order officers from the city administration. "I voted for Anies not just because I would sin if choosing a non-Muslim leader, but because I'm sure Jakarta will be better without Ahok," said Annisa Karolina, a 29-year-old restaurant cashier.
A couple standing near her nodded in agreement. "Yes, we need a new governor, a well-mannered Muslim governor who isn't pro-tycoons and businessmen, but who is also helping the poor," one of them, Faturrachman, said. Baswedan and Ahok were neck in neck in opinion polls released earlier this week. So called "quick count" results by research companies, which give a reliable indicator of voting, will be available within hours of the polls closing at 1 p.m. Ahok, who is Jakarta's first ethnic Chinese governor and first Christian in half a century, has been popular with middle-class Jakartans for his efforts to stamp out corruption in the city administration and make the overflowing polluted capital more livable.
But his brash manner and evictions of slum communities alienated many in the city of 10 million. Opponents seized their moment last year when a video surfaced of Ahok telling voters they were being deceived if they believed a specific verse in the Quran prohibited Muslims from electing a non-Muslim as leader. Hundreds of thousands flocked to protests against Ahok in Jakarta that derided his Chinese heritage and called for him to be imprisoned or killed.
After voting early Wednesday in his north Jakarta neighborhood, Ahok urged people to vote and said there was no need to be afraid as polling stations were guarded. Baswedan, who voted in south Jakarta, said he was optimistic of victory. Sulistyo Nugraha, a bank employee who voted in west Jakarta, said he was not influenced by Islamic preachers who said voting for a Christian would be a sin.
"I'm Muslim but I don't believe that any other candidate will be better than Ahok to lead Jakarta," he said. "We should think more realistically in choosing a leader for our city. Ahok has proved to us that he has made Jakarta a lot better, both in administrative services and infrastructure, and most importantly, he is clean, that's all we need." On Thursday, prosecutors will make their sentencing demand in Ahok's trial. Blasphemy is a criminal offense in Indonesia and punishable by up to five years in prison.
http://indianexpress.com/article/world/indonesias-capital-votes-muslim-hardliner-in-the-fray-4619106/
--------
Pakistan
National Assembly Approves Compulsory Teaching Of Quran In Schools
MUHAMMAD BILAL: 19 April 2017
The National Assembly on Wednesday approved the Compulsory Teaching of the Holy Quran Bill 2017, which will make Quranic education compulsory for Grade 1 through Grade 12 in all federal educational institutions in the country.
The bill is not only applicable to all institutes owned and controlled by the federal government, but also to all schools in Islamabad.
The bill is only applicable to Muslim students enrolled in the educational institutions.
The bill will need President Mamnoon Hussain's signature to become law. It was tabled before the house by State Minister for Federal Education and Professional Training Engr Balighur Rehman.
Under the new bill, Naazrah Quran will be taught in Grades 1 through Grade 5, while the Holy Quran will be taught from Grades 6 through Grade 12 with a simple translation and according to a schedule.
Five per cent of the Quran will be taught in class six, 9pc in class seven, 12pc in class eight, 17pc in class nine, 25pc in class 10 while 15pc and 17pc of the Quran will be taught in first and second year. The Surahs taught in the first and second year will be those revealed in Madina.
"It will make the divine message understood; ensure the repose of society; peace and tranquillity; Promote the supreme human values of truth, honesty, integrity, character building, tolerance, understanding others' point of view and way of life. It will lead towards spreading goodness and auspiciousness and towards ending chaos and uncertainty," read the bill.
According to the bill, it will also help the state discharge its constitutional responsibility. The bill also says there will be no additional expenses for books and teachers as translations will be donated to all federal government schools and all the educational institutions already have teachers who can easily teach the Quran and its translation.
https://www.dawn.com/news/1327958/na-approves-compulsory-teaching-of-quran-in-schools
--------
We are victim of state-sponsored terrorism, COAS tells US
19-Apr-17
ISLAMABAD: Pakistan itself is a victim of state-sponsored terrorism and it strongly rejects allegations of employing proxies from its soil, Chief of Army Staff (COAS) General Qamar Javed Bajwa told United States (US) National Security Adviser Gen HR McMaster during a meeting, according to the Inter-Services Public Relations (ISPR).
In a video of McMaster's subsequent meeting with Gen Bajwa, tweeted by ISPR Director General (DG) Maj Gen Asif Ghafoor on Tuesday, visiting dignitary was briefed on Pakistan's war on terror and its contributions to regional and global stability.
The ISPR DG said that during the meeting, "It was highlighted that distinguished feature of Pakistan's counter-terrorism effort is focused against terrorists of all hues and colours."
Maj Gen Ghafoor added that the US NSA had acknowledged the army's efforts towards elimination of terrorists and their infrastructure, and had assured "US support to bring peace and stability in the region and globe".
A day earlier, McMaster had held meetings with top civilian and military officials, during which he was apprised of Pakistan's counter-terrorism efforts and initiatives, which have resulted in a marked improvement in the overall security situation.
Before his meetings in Pakistan, McMaster had visited Afghanistan, where he hinted at the US taking a tougher line on Islamabad. In an interview with Afghan news agency TOLO, McMaster said, "As all of us have hoped for many, many years, we have hoped that Pakistani leaders will understand that it is in their interest to go after these [militant] groups less selectively than they have in the past and the best way to pursue their interest in Afghanistan and elsewhere is through diplomacy not through the use of proxies that engage in violence."
Full report at:
http://dailytimes.com.pk/pakistan/19-Apr-17/we-are-victim-of-state-sponsored-terrorism-coas-tells-us
--------
Why is Pak mute to China's repression of Muslims?
Naved Ahmad
April 19, 2017
The Pakistan leadership, which never tires of extolling the virtues of befriending China, is acting like a dead duck when it comes to the repression unleashed on Muslims by the Chinese authorities. The jihadis like Hafiz Saeed, who built their career and empire allegedly on protecting the interests of Muslims, are equally dumbstruck. No one, of course, expects the Pakistan Army to make any noise against their corporate allies, China. The media too is looking the other way.
But the people of Pakistan must question their leadership, and their self-appointed guardians, for this deeply disturbing silence on the continuous repression of Muslims in China.
Muslims in China have not had an easy life under the repressive Communist regime for decades but their litany of woes has increased dramatically in the last few years after Uighur Muslims, at least some of them, decided to challenge Beijing's diktats on their religious beliefs and traditions. The Chinese assault on the fundamental rights of faith and life has been so relentless and brutal that there have been persistent violent attacks on symbols of Chinese authority in Xinjiang, which has a sizeable population of Uighur Muslims.
First the Chinese, uncomfortable with any religious groups, began changing the demography of Xinjiang by settling non-Muslim Chinese from the mainland. Then, in the name of anti-terrorism, began repressing, often brutally, even a whimper of a protest from the local Muslim communities. All this while, Pakistan, the self-acclaimed torchbearer of Islam, not only kept looking the other way but also embraced the Chinese lock, stock and barrel.
Although the Chinese, past masters at fudging facts and manufacturing perceptions, boast about granting religious freedom to the minorities in the country, in practice they have been brutally suppressing traditional beliefs, practices and traditions of Muslims. The Chinese justify the repressive measures as necessary for countering terrorism but various human rights groups have blamed China for creating an atmosphere of fear and betrayal which have led to the eruption of violence in Xinjiang.
In fact, the military crackdowns on the otherwise peaceful Muslim communities in Xinjiang have been so brutal that several countries and international organisations, including human rights organisations, have roundly condemned Beijing's actions and called for an inclusive approach to dealing with the minorities. Pakistan of course has been silent on the brutal killing of Muslims in Xinjiang.
Now, Beijing has come out with a list of new diktats which every Muslim must follow in Xinjiang. This includes keep smaller beards, not wearing veils in public places and refusal to watch state television.
The new rules, which came into effect from April 1 this year, have given powers to government employees to stop anyone wearing a veil or sporting a long beard from entering any public space, including railway stations, bus depots and airports. The ``offenders`` must be reported to the police. The police either would force theses ``offenders`` to take off their veils or trim their beards or lock them up.
Similar punishments await those who ``reject or refuse radio, television and other public facilities and services". In simpler terms, if you happen to be a Muslim in Xinjiang and refuse to watch whatever was dished out on the state television, you will end up in prison. A Muslim cannot refer to Halal in any manner because "using the name of Halal to meddle in the secular life of others" is a crime in China.
Not only this, the Muslims now cannot marry as per their religious traditions and customs. All of them will have to submit themselves to the Chinese courts and marriage registrars. Anyone doing otherwise is once again guilty of a crime and punished accordingly. You cannot give names to your children which ``exaggerate religious fervour ``. Needless to state that all Muslims must follow family planning measures, or else!
The Muslim parents have to follow another set of rules for themselves and their children. This is what the new rules state: "Parents should use good moral conduct to influence their children, educate them to revere science, pursue culture, uphold ethnic unity and refuse and oppose extremism``. The Muslim children cannot go to a madrasa but a regular school and cannot be allowed "abnormal growing of beards".
On top of these diktats, thrice a day, in Kashgar, the capital city of Xinjiang, every Muslim trader must rush out into the street with a government-issued wooden club on hearing a hooter---to fight terrorism. These wooden-club Muslim traders then fight off imaginary terrorists in the streets, all watched by Chinese policemen in armoured vehicles. Besides taking part in these mock drills, the traders must, at their own expense, install password-activated security doors, "panic buttons" and cameras that film not just the street outside but also inside their stores, and all the feeds to be sent directly to the police.
The police is everywhere now. China has set up thousands of police stations across the province—they call these "convenience police stations". Over 30,000 new officers were recently recruited to man them. They are present at every intersection, barely hundred metres from each other.
Full report at:
http://dailykashmirimages.com/Details/137657/why-is-pak-mute-to-chinas-repression-of-muslims
--------
Thar officials stop sharing data of children's deaths with media
April 19, 2017
MITHI: Two days after the Supreme Court took suo motu notice of unabated deaths of children in Tharparkar district due to malnutrition and unavailability of proper and adequate health facilities over the past couple of years, relevant officials have stopped sharing details of such cases with the media.
After failing to get the data of fresh cases reported at various health facilities of different towns, this correspondent contacted Thar district health officer (DHO) Dr Mohammad Akhlaq Khan, who said that he was strictly forbidden to share such details with the media. "My high-ups have told me to report all such cases only to them and no one else," he said.
The health department and its officials in the district believe that the media reporting over the past few years regarding the drought-like situation and position of medical facilities at hospitals and other healthcare centres etc has been 'irresponsible' and the number of deaths exaggerated. They also disagree that the cause of mortality among the children, as well as expectant mothers, who died at government hospitals and health centres happened to be malnutrition, unavailability of proper medical support or official negligence.
DHO Khan preferred to say "no comment" when he was asked whether he received the directive in the context of the apex court's suo motu notice.
Only recently, Dr Khan, sharing official data with Dawn, had put children's reported death toll in the district up to April 16 this year at 99.
Full report at:
https://www.dawn.com/news/1327833/thar-officials-stop-sharing-data-of-childrens-deaths-with-media
--------
Pakistan ready to work with US for Afghan peace
April 19, 2017
ISLAMABAD - Special Assistant to the Prime Minister on Foreign Affairs Syed Tariq Fatemi on Tuesday said that Pakistan was ready to work with the United States for peace in Afghanistan.
In a meeting here with Laurel Miller, US Acting Special Representative for Afghanistan and Pakistan, the SAPM noted that the visit by US National Security Advisor Lt General H R McMaster provided a good opportunity for both sides to reaffirm their commitment to strengthen the bilateral relationship and to engage in a meaningful conversation on exploring ways and means to promote peace and stability in the region and beyond.
Fatemi was assisted by Tehmina Janjua, foreign secretary and senior officials of the Ministry of Foreign Affairs.
The SAPM underscored the important role that the strategic dialogue has played in facilitating mutually-beneficial cooperation between the US and Pakistan.
He also elaborated on the policies and initiatives taken by the government to create a better security environment and to achieve economic turnaround in Pakistan.
On terrorism, the SAPM noted that the successful counter-terrorism operations, as part of the National Action Plan (NAP), represented the national resolve to fight terrorism without discrimination, had resulted in tangible, across the board results.
He reiterated Pakistan's concern over the deteriorating security situation in Afghanistan, and conveyed Pakistan's readiness to work with the US to support efforts for peace and reconciliation in Afghanistan.
Meanwhile, on Tuesday, Adviser to the Prime Minister on Foreign Affairs Sartaj Aziz met a delegation of the European Parliament's Committee on Foreign Affairs here.
The multi-party delegation, comprising eight members of the European Parliament was led by David McAllister, who is the chair of the committee, and included Arnaud Danjean, Željana Zovko, Neena Gill, Andrejs Mamikins, JozoRadoš, Amjad Bashir and Jean Lambert.
Aziz, while welcoming the delegation, expressed satisfaction at the positive growth in the overall Pakistan-EU relations.
He underscored the significant progress made by Pakistan during the last four years particularly in the areas of democratic consolidation, counterterrorism and economic development.
Aziz also briefed the MEPs about the evolving regional geo-politics and explained Pakistan's approach towards promoting regional stability and prosperity through connectivity.
Full report at:
http://nation.com.pk/national/19-Apr-2017/pakistan-ready-to-work-with-us-for-afghan-peace
--------
Pakistan military rejects employment of proxies from its soil
Apr 19 2017
The Pakistani military has rejected employment of proxies as the country is facing criticisms for allowing the terrorist groups, including the notorious Haqqani terrorist network to use its soil for the attacks in Afghanistan.
"Gen. H . R McMaster, US NSA called on COAS at GHQ on 17 April 2017. The visiting dignitary was briefed about Pakistan's war on terror and its contributions to regional and global stability. It was highlighted that distinguished feature of Pakistan's counter terrorist effort is focused against terrorists of all hue and color," a statement by the Pakistani military said.
The source further added that "COAS said that while Pakistan itself is victim of state sponsored terrorism it strongly rejects allegations of employing proxies from its soil."
"US NSA acknowledged Pakistan Army's efforts in eliminating terrorists and their infrastructure, assuring US support to bring peace and stability in the region and globe," the statement said.
This comes as the Afghan officials have long been criticizing Pakistan for remaining reckless to act against the leadership councils of the Afghan militants based in the country from where they plot and coordinate attacks in Afghanistan.
Full report at:
http://www.khaama.com/pakistan-military-rejects-employment-of-proxies-from-its-soil-02599
--------
South Asia
Taliban's shadow governor among 16 killed in Kunduz airstrike
Apr 18 2017
At least sixteen Taliban insurgents including the shadow governor of the group for northeastern Takhar province were killed in an airstrike in northern Kunduz province.
The Kunduz police commandment in a statement said the airstrike was carried out late on Monday afternoon in the vicinity of Dasht-e-Archi district.
The statement further added that the insurgents were targeted in Pul-e-Moman area of Dasht-e-Archi, leaving Taliban's shadow governor Qari Tayeb dead along with at least 15 insurgents.
The police commandment did not elaborate further regarding the airstrike and it is year not clear if the airstrike was carried out by the Afghan Air Force or the US forces based in Afghanistan.
Kunduz is among the relatively volatile provinces in northern Afghanistan where the Taliban insurgents are actively operating in its various districts and often conduct insurgency activities.
Taliban launched numerous attacks on Kunduz city since they announced their spring offensive earlier last year.
Full report at:
http://www.khaama.com/talibans-shadow-governor-among-16-killed-in-kunduz-airstrike-02595
--------
67 militants killed during counter-terrorism operation in past 24 hours: MoD
Apr 18 2017
At least sixty seven militants were killed during the counter-terrorism operations in various provincesof the country in the past 24 hours, the Ministry of Defense (MoD) said Tuesday.
A statement by MoD said the operations were conducted in Nangarhar, Kapisa, Khost, Ghazni, Kandahar, Uruzgan, Farah, Faryab, Herat, Kunduz, Kabul, Sar-e-Pul and Helmand provinces.
The statement further added that 17 of the insurgents were killed in Dasht-e-Archi district of Kunduz, 12 others were killed in Bala Murghab district of Badghis, and 12 others were killed in Nawa district of Helmand.
A senior commander of the group was also among those during the operations in Helmand, MoD said, adding that 60 Improvised Explosive Devices (IEDs) were also destroyed.
According to MoD, the senior Taliban leader wounded during the Helmand operations has been identified as Mullah Shahwali.
The Ministry of Defense also added that 9 insurgents were killed and 11 others were wounded during a separate operation conducted in Khakriz district of Kandahar.
At least 11 Taliban insurgents were killed during a separate operation conducted in southern Uruzgan province, MoD added.
Full report at:
http://www.khaama.com/67-militants-killed-during-counter-terrorism-operation-in-past-24-hours-mod-02597
--------
Dhaka, Thimphu ink five instruments to strengthen cooperation
April 18, 2017
Sheikh Hasina is on a three-day visit to Bhutan
Bangladesh and Bhutan have signed five instruments – three memorandums of understanding (MoUs) and two agreements – to boost cooperation between the two countries in agriculture, trade and commerce and culture.
The MoUs and agreements were signed at the Royal Banquet Hall of Gyalyong Tshogkhang after a meeting between Bangladesh Prime Minister Sheikh Hasina and Bhutanese Prime Minister Dasho Tshering Tobgay on Tuesday.
Both the prime ministers witnessed the signing of the instruments.
Sheikh Hasina is on a three-day visit to Bhutan to attend the International Conference on Autism and Neurodevelopmental Disorders.
The MoU between Bhutan's Agriculture and Food Regulatory Authority and Bangladesh's Department of Agriculture Extension was signed by Namgay Wangchuk, director general of the Agriculture and Food Regulatory Authority.
The Avoidance of Double Taxation and Prevention of Fiscal Evasion with respect to Taxes on Income agreement was inked by Nim Dorji, secretary of Bhutan's Ministry of Finance.
The Cultural Cooperation agreement was signed by Bhutan's Foreign Secretary Sonam Tshong.
Another MoU was signed on the use of inland waterways for transportation of bilateral trade and transit cargoes.
The third MoU was signed between Bhutan Standards Bureau and Bangladesh Standard and Testing Institute. Sonam Phuntsho, director general of Bhutan Standards Bureau, signed it on behalf of Bhutan.
Full report at:
http://www.dhakatribune.com/bangladesh/foreign-affairs/2017/04/18/dhaka-thimphu-strengthen-cooperation/
--------
Inu: Hefazat has nothing to do with AL-led alliance
April 18, 2017
The minister says Hefazat actually consists of religion-based political opportunists
Information Minister Hasanul Haq Inu on Tuesday said that vested interests led by Hefazat-e-Islam were loyal to anti-liberation forces, Pakistan and religious extremists, and had nothing to do with the ruling grand alliance.
Inu, also the president of a faction of Jatiya Samajtantrik Dal, made the remarks while talking to reporters after a meeting with the party men at Kushtia Circuit House.
The minister's comments criticising the chief of Qawmi madrasa-based group Hefazat, Allama Ahmad Shah Shafi, came after the BNP alleged that the government was hatching a conspiracy colluding with the quarters.
Hefazat was formed in 2010 to wage a movement for the establishment of Shariah-based rule in the country. They staged violent demonstrations in 2013 to counter the Shahbagh movement and have been professing that atheists should be killed.
Inu said that radical Islamist group Hefazat and its allies were not preaching the true form of Islam.
"This group actually consists of religion-based political opportunists. So, there is no possibility of the grand alliance getting engaged with it," he added.
The government has been facing severe criticism from the BNP and left parties, and liberal groups and secularists after Prime Minister Sheikh Hasina recently supported Hefazat's demand of shifting the modified statue of Goddess Themis from the Supreme Court premises.
The premier also agreed to recognise the highest degree of Qawmi madrasas, Dawra-e-Hadith, as equivalent to the Master's degree of the mainstream education system in Islamic studies or Arabic.
Full report at:
http://www.dhakatribune.com/bangladesh/nation/2017/04/18/inu-hefazat-nothing-al-led-alliance/
--------
Taliban's shadow governor for Baghlan and 4 senior commanders killed
Apr 19 2017
The shadow governor of the Taliban group for northern Baghlan province was killed along with four other senior commanders of the group during a night operation conducted by the Afghan army commandos.
The acting head of the Ministry of Interior (MoI) media department, Najib Danish, said the operation was conducted around 11 pm local time in the vicinity of Joi Naw and other areas of Dand-e-Ghori.
He said the militants killed during the operation have been identified as Mawlavi Lal and four Taliban commanders identified as Haji Sher Alam, Qari Janbaz, Qari Shahabuddin, and Qari Ismail.
According to the group, the five senior Taliban leaders were playing a key role in leading the insurgency of the group in Baghlan province.
He also added that a number of other militants were also killed during the operation but did not disclose the exact number.
This comes as the Ministry of Interior (MoI) said Tuesday that the military commission of the group for Baghlan was arrested during a special operation.
MoI further added that the detained Taliban leader was identified as Mawlavi Abdul Hai Haqyar.
Full report at:
http://www.khaama.com/talibans-shadow-governor-for-baghlan-and-4-senior-commanders-killed-02598
--------
Taliban leader killed in Afghan police ambush in Nuristan
Apr 18 2017
A local leader of the Taliban group was killed in an ambush of the Afghan National Police (ANP) forces in eastern Nuristan province.
According to the local government officials, the Taliban insurgents were ambushed late on Monday afternoon in the vicinity of Wanat Waigal district.
Provincial governor Hafiz Abdul Qayum confirmed the ambush against the Taliban insurgents and said a local leader of the group was killed.
He said another two Taliban insurgents who were accompanying the Taliban leader were also wounded in the ambush.
Qayum further added that the Taliban insurgents managed to take away the two wounded militants but their leader's body was left behind.
The Taliban insurgents group has not commented regarding the report so far.
Nuristan is among the relatively volatile provinces in eastern Afghanistan where anti-government armed militants are actively operating in a number of its remote districts and often carry out insurgency activities.
Full report at:
http://www.khaama.com/taliban-leader-killed-in-afghan-police-ambush-in-nuristan-02596
--------
Mideast
Saudi military helicopter crashes in Yemen, killing 12 officers
19 April 2017
A Saudi Blackhawk chopper crash in Yemen's Marib on Tuesday killed 12 officers who were aboard.
The death toll was one of the largest in a single incident involving Saudi forces since a Arab coalition intervened in Yemen's war in 2015 to try to roll back Houthi militias and restore President Abd-Rabu Mansour Hadi to power.
The official Saudi news agency SPA quoted a statement from the Arab coalition as saying the Blackhawk came down in Marib province, east of the Houthi-controlled capital Sanaa.
"As a result, four officers and eight non-commissioned officers from the Saudi armed forces were martyred," it said, adding the possible cause of the crash was under investigation.
Among the dead were the pilot, Captain Turki al-Houyrani, the co-pilot, First Lieutenant Rayan al-Shahrani, Lieutenant Colonel Abdulrahman al-Shahrani and Lieutenant Colonel Faisal al-Subai.
The soldiers killed were First Class Sergeant Ali al-Sheikhi, Corporal Maeed al-Qahtani, Corporal Mahl al-Rashidi, Soldier Mohammed al-Souairi, Sergeant Ali al-Hellafi, Sergeant Moussa al-Shahri, Sergeant First Class Nayef Mouwad and First Class Soldier Mohammed Oqaili.
Some Twitter users shared photos which the martyrs' families posted on social media and voiced their pride in the victims' "sacrifices for their homeland and its security and stability."
https://english.alarabiya.net/en/News/middle-east/2017/04/19/PHOTOS-Victims-of-Saudi-army-helicopter-crash-in-Yemen-revealed.html
--------
Trump administration to review Iran sanctions relief: State Dept
April 19, 2017
US Secretary of State Rex Tillerson said on Tuesday he has told Congress of plans to review whether sanctions relief given to Iran as part of the 2015 nuclear deal was in US national security interests.
The notification came as the White House certified that Iran was complying with its commitments under the deal negotiated by former President Barack Obama, which is known as the Joint Comprehensive Plan of Action.
"Iran remains a leading state sponsor of terror through many platforms and methods," Tillerson wrote in a letter to Republican House Speaker Paul Ryan.
"President Donald J. Trump has directed a National Security Council-led interagency review of the Joint Comprehensive Plan of Action that will evaluate whether suspension of sanctions related to Iran pursuant to the JCPOA is vital to the national security interests of the United States."
The certification of Iran's compliance with the terms of the deal must be issued to Congress every 90 days. The latest notification was the first issued by the Trump administration.
The deal placed curbs on Tehran's nuclear program in exchange for the lifting of international sanctions. Trump has repeatedly denounced the agreement, and in a January interview with the Times of London and Bild newspaper called it "one of the worst deals ever made". But he declined to say whether he intended to "renegotiate" the deal, as he asserted regularly during the presidential campaign.
The pact was signed in July 2015 by Iran and six major powers — the United States, China, Russia, Britain, France and Germany.
Full report at:
https://www.dawn.com/news/1327947/trump-administration-to-review-iran-sanctions-relief-state-dept
--------
US says Iran complies with nuke deal, but orders review on lifting sanctions
19 April 2017
The Trump administration said on Tuesday it was launching an inter-agency review of whether the lifting of sanctions against Iran was in the United States' national security interests, while acknowledging that Tehran was complying with a deal to rein in its nuclear program.
In a letter to U.S. House of Representatives Speaker Paul Ryan, the top Republican in Congress, on Tuesday U.S. Secretary of State Rex Tillerson said Iran remained compliant with the 2015 deal, but said there were concerns about its role as a state sponsor of terrorism.
Under the deal, the State Department must notify Congress every 90 days on Iran's compliance under the so-called Joint Comprehensive Plan of Action (JCPOA). It is the first such notification under U.S. President Donald Trump.
"The U.S. Department of State certified to U.S. House Speaker Paul Ryan today that Iran is compliant through April 18 with its commitments under the Joint Comprehensive Plan of Action," Tillerson said in a statement.
"President Donald J. Trump has directed a National Security Council-led interagency review of the Joint Comprehensive Plan of Action that will evaluate whether suspension of sanctions related to Iran pursuant to the JCPOA is vital to the national security interests of the United States," Tillerson added.
He did not say how long the review would take but said in the letter to Ryan that the administration looked forward to working with Congress on the issue.
During his presidential campaign, Trump called the agreement "the worst deal ever negotiated," raising questions over whether he would rip up the agreement once he took office.
The historic deal between Iran and six major powers restricts Tehran's nuclear program in exchange for the lifting of international oil and financial sanctions against the Islamic Republic.
Iran denies ever having considered developing atomic weapons although nuclear experts have warned that any U.S. violation of the nuclear deal would allow Iran also to pull back from its commitments to curb nuclear development.
Those commitments include reducing the number of its centrifuges by two-thirds, capping its level of uranium enrichment well below the level needed for bomb-grade material, reducing its enriched uranium stockpile from around 10,000 kg to 300 kg for 15 years, and submitting to international inspections to verify its compliance.
Last month Trump's Defense Secretary James Mattis said Iran continued to behave as an exporter of terrorism and still sponsors militant activity.
Full report at:
https://english.alarabiya.net/en/News/middle-east/2017/04/19/US-says-Iran-complies-with-nuke-deal-but-orders-review-on-lifting-sanctions.html
--------
Mattis visits Saudi Arabia, promises to put an end to 'Iranian' Houthi rockets
18 April 2017
US Secretary of Defense James Mattis announced on Tuesday that his country is pushing for UN-sponsored negotiations to put an end to the conflict in Yemen "as soon as possible."
Mattis was speaking to reporters on the plane that took him to Saudi Arabia, where he will embark in a regional tour on Wednesday to Egypt, Qatar, Israel and Djibouti.
"Regarding the conflict, our main objective... is to reach negotiations sponsored by the United Nations to find a political solution as soon as possible," he stated.
Adding that, "we will collaborate with our allies and our partners to reach the negotiating table under the auspices of the United Nations."
Mattis said that the rockets fired by the Houthis targeting Saudi Arabia and often leading to the death of people have all the Iranian touchstones on it, adding that "it must stop."
Full report at:
https://english.alarabiya.net/en/News/gulf/2017/04/18/Mattis-visits-Saudi-Arabia-promises-to-put-an-end-to-Iranian-Houthi-rockets.html
--------
Iran presidential hopeful Raeisi vows strong economic management
Apr 18, 2017
A hopeful of the forthcoming presidential election has criticized the ongoing economic situation in the country and "unacceptable" living standards of the people, vowing strong economic management if elected president.
"If our economy is not fragile, structures would be amended and we would become resistant against sanctions and threats and people's business would boom. A strong economic management has the first word in this regard," Hojjatoleslam Seyyed Ebrahim Raeisi said in a meeting with a number of entrepreneurs and representatives of private sectors in Tehran on Tuesday.
He added that the levels of efficiency, economic growth, production rise and job creation are currently not acceptable in the country.
The presidential hopeful stressed that the competent Iranian youth can solve many of the country's problems, saying all strategies must focus on job creation in order to "witness economic growth."
Raeisi further criticized the performance of the current administration, saying that it has only used "30 percent of the capacity of the country's experts" and failed to make use of a capacity that would lead to independence.
It is possible to change the situation and conditions in favor of the Iranian people in the economic and social sectors and "save the country's management and economy," he said.
Also on Tuesday, Raeisi sent separate letters to incumbent president, Hassan Rouhani, and the head of the Islamic Republic of Iran Broadcasting (IRIB), Abdolali Ali Askari, criticizing what he described as the extensive coverage given to the Iranian president on national television.
Raeisi, the current custodian of the Holy Shrine of Imam Reza (PBUH) in the northeastern Iranian city of Mashhad, on Friday threw his hat in the ring for the 12th presidential contest, scheduled to be held on May 19.
Full report at:
http://www.presstv.ir/Detail/2017/04/18/518534/Iran-Hojjatoleslam-Seyyed-Ebrahim-Raeisi-election-economy
--------
UN says closely monitoring mass hunger strike in Israeli jails
Apr 19, 2017
The United Nations says it is keeping a close eye on the situation of more than a thousand Palestinian prisoners, who have gone on hunger strike honoring a call by a fellow inmate.
Unprecedented in scale, the protest action involves a reported number of 1,500 prisoners. It started on Monday to force Israeli prison authorities to provide more humane conditions for the inmates.
"We are obviously aware of the situation and following the developments closely," UN spokesman Stephane Dujarric said on Tuesday. He said "as a matter of principle, wherever it may be, we always call for prisoners to be treated in a humane way."
The protest leader, Marwan Barghouti, who has been given four life terms for allegedly masterminding anti-Israeli attacks, was placed in solitary confinement following the initiation of the strike.
The Israel Prisons Service spokesman Assaf Librati said Barghouti had been transferred from Hadarim Prison to the Kishon Prison, near Haifa.
The move came after he published an opinion piece in The New York Times on the hunger strike.
Israeli authorities have ruled out negotiating with the striking Palestinian prisoners.
s Public Security Minister Gilad Erdan said the hunger strikers "are terrorists and incarcerated murderers who are getting what they deserve and we have no reason to negotiate with them."
Palestinians have rallied in the occupied West Bank in support of the hunger strikers. The protests led to clashes with Israeli forces.
The UN official further said the world body takes cognizance of the confrontations and added, "We call on all parties to exercise maximum restraint."
'No surrender'
In The New York Times opinion peace, Barghouti vowed that Palestinians would not surrender in the face of Israel's "inhumane" occupation.
"Decades of experience have proved that Israel's inhumane system of colonial and military occupation aims to break the spirit of prisoners and the nation to which they belong, by inflicting suffering on their bodies, separating them from their families and communities, using humiliating measures to compel subjugation," Barghouti wrote. "In spite of such treatment, we will not surrender to it."
In a show of solidarity with their loved ones, the families and relatives of the protesting inmates launched a hunger strike in the West Bank on Tuesday, the Palestinian Ma'an news agency reported.
Full report at:
http://www.presstv.ir/Detail/2017/04/19/518607/UN-Palestinian-Israel-Barghouti
--------
Israel not to engage in talks with Palestinians on hunger strike: Minister
Apr 18, 2017
A senior Israeli official says the regime will not enter negotiations with Palestinian prisoners who have launched an open-ended hunger strike in protest at harsh prison conditions and restrictions on family visits.
Minister of Public Security Gilad Erdan said on Tuesday that he believes the strike is politically motivated, and that he sees no legitimacy for the prisoners' action.
"My policy is that you can't negotiate with prisoners such as these... There is no reason to give them additional conditions in addition to what they already receive," he told Israel's Army Radio.
'Strike leader sent to solitary'
Erdan said the Palestinian prisoners' hunger strike leader, Marwan Barghouti, has been transferred to another prison in northern Israeli-occupied territories and placed in solitary confinement.
"It doesn't have to do with publishing the article (in The New York Times) but rather that he is instigating mutiny and leading the hunger strike and that is a severe violation of the rules of the prison," the Israeli minister claimed.
In an opinion piece published in The New York Times earlier this week, Barghouti wrote that Palestinian prisoners and inmates in Israel "have suffered from torture, inhumane and degrading treatment, and medical negligence." He said he organized the hunger strike to fight back after all other options failed to produce results.
In this January 25, 2012 file photo, jailed senior Fatah leader Marwan Barghouti appears at a court in the occupied Jerusalem al-Quds. (Photo by AP)
Family visits suspended
Meanwhile, the International Committee of the Red Cross (ICRC) says the Israel Prison Service (IPS) has suspended family visitation rights to hunger striking Palestinian prisoners.
An unnamed source from the ICRC said the Geneva-based humanitarian institution had been notified that visits for Palestinian prisoners would be forbidden until further notice in response to the strike.
Palestine's official Palestinian news agency Wafa reported on Tuesday that some 1,500 prisoners from all Palestinian political factions are taking part in the open-ended hunger strike.
On April 13, the London-based prominent rights group Amnesty International called on the Tel Aviv regime to end "unlawful and cruel" policies towards Palestinian prisoners.
"Israel's ruthless policy of holding Palestinian prisoners arrested in the Occupied Palestinian Territories in prisons … is a flagrant violation of the Fourth Geneva Convention," said Magdalena Mughrabi, Deputy Regional Director for the Middle East and North Africa at Amnesty International.
"It is unlawful and cruel and the consequences for the imprisoned person and their loved ones, who are often deprived from seeing them for months, and at times for years on end, can be devastating," Mughrabi added.
Israel to get tougher with Palestinian inmates: Analyst
Meanwhile, a Middle East political pundit has warned that the ongoing hunger strike by some 1,500 Palestinian prisoners will push the Tel Aviv regime to treat the inmates more savagely as Israeli authorities are afraid of the political alertness of those leading the action.
"These prisoners of wars, they understood correctly what the Zionist entity is aiming for in Palestine and in the region. Israel is billing itself as a new local source of superpower, which the United States of America can use to enslave the whole region," Saeb Shaath told PressTV in an exclusive interview on Tuesday.
He noted that the elimination of the Palestinian resistance would be a real boon to the Zionist regime of Israel to swallow the rest of Palestinian lands, and even parts of Sinai Peninsula in Egypt and southern Lebanon.
Full report at:
http://www.presstv.ir/Detail/2017/04/18/518549/Israel-not-negotiations-Palestinian-prisoners-hunger-strike
--------
Europe
Islamic lender shows UK appeal of Sharia finance
Alicia Buller
April 18, 2017
LONDON // In a brightly lit and typically English period building on the outskirts of Birmingham lies the centre for much of Britain's Islamic finance activity.
On the top floor of these quaint headquarters is the roomy corner office of Sultan Choudhury, the fresh-faced chief executive of Al Rayan, the UK's first fully Sharia-compliant retail bank.
"Before we came along, a whole generation of Muslims used to stuff their cash under their mattresses," he says. "There wasn't anywhere for people to bank that allowed them to act in line with their beliefs. So they just didn't."
The global market for Islamic finance is growing apace. In 2014 the sector climbed 12 per cent to US$2 trillion, according to financial industry advocacy group TheCityUK. The size of the market has more than tripled since the onset of the financial crisis in 2007 and shows little sign of abating. The Islamic financial services sector could be worth as much as $3tn over the next decade, according to Standard & Poor's.
There are a number of factors catalysing this growth. In October 2013, the then UK prime minister David Cameron announced that London would assume a position of significance in the Islamic finance market. Mr Cameron said he wanted "London to stand alongside Dubai as one of the great capitals of Islamic finance anywhere in the world".
These efforts have already borne fruit. Today the number of institutions in the United Kingdom offering Islamic finance is double that of similar institutions located in the United States, and far outstrips other western countries.
"Islamic finance has become systemically important in the UK, more so than continental Europe," says Imam Qazi, a partner at the UK's Foot Anstey law firm. "There are currently six Islamic banks in Britain, while another 20 lenders currently offer Islamic financial and wealth products and services, more than any other western country," he tells Citywealth.com.
The UK's sizeable Muslim population has also played a role in helping to establish London as the focal point of Islamic financial services in the West. About 4.5 per cent of the UK population is Muslim, according to the 2011 census. More than a million of the UK's 2.8 million Muslims live in London.
_______________
What: The Sharia-compliant lender Al Rayan is expanding along with the Islamic banking sector across the UK.
Why: Its better-yielding products appeal to Muslims and non-Muslims alike.
_______________
Today Mr Choudhury finds himself at the fulcrum of these trends. With 70,000 customers and 13 offices and branches, six in the UK capital, Al Rayan is Britain's largest Sharia-compliant bank. Since being established in 2004 the bank (then known as Islamic Bank of Britain) has offered a range of Sharia-compliant savings accounts, Islamic savings accounts (ISA) and home-purchase plans (HPP).
A Bangladeshi Briton, Mr Choudhury has been at the bank since it was founded by a small but savvy group of Middle East investors with a start-up fund of £14 million (Dh64.3m). The UK's financial services authority granted the licence, Mr Choudhury says, partly on the grounds of enabling financial inclusion for the thousands of Muslims who remained unbanked.
Al Rayan Bank underwent a major overhaul in 2014 when it was acquired by its Qatari parent, Masraf Al Rayan, the country's second-largest bank and the fifth-largest Islamic bank in the world. "That's when we changed our image," says Mr Choudhury. "We deliberately made our brand more accessible. Our imagery is no longer just Arabic; it's about inclusiveness. We use British imagery because we're targeting all Brits. If you track the moment we changed our brand, which was the culmination of all the work we've done, you'll see that we've made profits ever since."
http://www.thenational.ae/business/banking/islamic-lender-shows-uk-appeal-of-sharia-finance
--------
Russia's Putin congratulates Erdogan over referendum outcome
Apr 18, 2017
Russian President Vladimir Putin has congratulated his Turkish counterpart Recep Tayyip Erdogan over his victory in a referendum to boost the Turkish presidency.
"Vladimir Putin congratulated Recep Tayyip Erdogan on the successful outcome of a referendum on constitutional changes in Turkey," said a statement released by the Kremlin on Tuesday.
The two presidents also stressed the importance of normalizing ties which have somewhat deteriorated following an incident in which Turkish fighter planes downed a Russia jet over the Syrian border in 2015.
They also emphasized the importance of stabilizing the ceasefire in Syria which was brokered by both countries plus Iran.
"They once again pointed out that an impartial international investigation into the alleged chemical attack in Syria's Idlib Governorate was important," added the statement.
On Monday, US President Donald Trump also contacted Erdogan to congratulate him on the victory in the referendum.
Trump made the call to "congratulate him on his recent referendum victory and to discuss the United States' action in response to the Syrian regime's use of chemical weapons," said a White House press release.
In Sunday's referendum, the 'Yes' campaign won over 51 percent of the votes, while the 'No' campaign gained nearly 49 percent.
The reforms will change Turkey's parliamentary system into a presidential one; the office of the prime minister will be abolished; the president will appoint the cabinet and an undefined number of vice-presidents, and will be able to select and remove senior civil servants without parliamentary approval.
Meanwhile, Turkey's two main opposition parties officially submitted an appeal against the referendum results.
Full report at:
http://www.presstv.ir/Detail/2017/04/18/518577/turkey-russia-referendum-congratulations
--------
Growing anti-Muslim rhetoric permeates French presidential election campaign
By James McAuley
April 18
PARIS — For some, the French presidential election will alter the course of a troubled nation steeped in economic and social turmoil. For others, it will alter the course of a troubled continent, challenging the very existence of European integration.
But in France itself, something far less abstract and far more intimate is at stake. In a country that remains under an official "state of emergency" following an unprecedented spate of terrorist violence in the past two years, the election also has become a referendum on Muslims and their place in what is probably Europe's most anxious multicultural society.
Before the election's first round of voting Sunday, each of the five leading contenders — from across the ideological spectrum — has felt compelled to address an apparently pressing "Muslim question" about what to do with the country's largest religious minority.
Marine Le Pen, the leader of the far-right National Front, has made her answer crystal clear. In February, in the same speech in which she declared her candidacy for president, she decried "Islamist globalization," which she called an "ideology that wants to bring France to its knees."
While Le Pen's diverse array of opponents do not all share her extremity or conviction, each seems to agree that, when it comes to Muslims, something needs to be done.
"I want strict administrative control of the Muslim faith," announced François Fillon, the now-disgraced mainstream conservative candidate, in a January campaign speech.
By contrast, Emmanuel Macron, the popular independent candidate, has spoken frequently of what he considers the urgent need to "help Muslims restructure the Islam of France."
The far-left Jean-Luc Mélenchon, who has condemned Islamophobia, ultimately wants to stamp out "all communitarianisms" and has reiterated what he calls the "urgent" need to "put an end to the misappropriation of public funds attributed to private denominational education."
Only Benoît Hamon, the Socialist candidate, has regularly defended the community interests of French Muslims, insisting — in the year of the "burkini" scandal — that French law protect "both the girl in shorts and the one who wants to wear the scarf."
[School shooting, letter bomb at IMF put France on alert]
With many of the devastating terrorist attacks perpetrated by French or European passport-holding militants affiliated with or inspired by the Islamic State, public opinion has grown increasingly suspicious of the Muslim population that has existed in this country for centuries.
Despite the intricate diversity of that population, there is widespread anxiety that if either Le Pen or Fillon is elected, things could get significantly worse. Both candidates probably would move quickly to advance crackdowns on veils, mosques and Muslim community organizations in the name of state secularism.
The alternatives also leave a profound sense of bitter resignation: Few French Muslims see a candidate in the running who would change a status quo that many view as unsustainable.
"There is no campaign for us — no one who understands our situation," said Laorla Loub, 56, a fifth-generation French citizen and professor of Arabic literature in Clichy, a Paris suburb. She was waiting to enter the Annual Meeting of French Muslims, a large-scale community event held in several warehouses next to the tarmac of Paris-Le Bourget Airport.
As a result, voter abstention among French Muslims is rising, said Hakim El Karoui, the author of a widely circulated 2016 report on Islam in France published by the Institut Montaigne, a Paris-based think tank.
[E.U. court says employers can ban Muslim headscarf in workplace]
A principal reason, he said, is that the strict anti-terrorist stance adopted by the Socialist administration of President François Hollande — especially by his former prime minister, Manuel Valls, who famously persecuted the "burkini" last summer — has undercut the desire among French Muslims to support the left in the 2017 election, as many normally do.
"The right has always been against Muslims and immigrants," El Karoui said. "But with Valls, it's as if he gave up the left's image of neutrality among Muslims. He gave it a toxic name."
Chief among the concerns many Muslims harbor is over the so-called state of emergency, a security regime imposed by Hollande the day after the November 2015 Paris attacks, nominally to fight terrorism. The period of heightened scrutiny technically is slated to end this summer, but it already has continued for more than 16 months. Only one of the candidates — Mélenchon — has proposed ending it.
Since its imposition, French authorities have been permitted to carry out upward of 4,000 warrantless searches on French homes, and likewise have placed more than 700 people under house arrest.
But many Muslims say they have been targeted unlawfully. According to France's Collective Against Islamophobia (in French, CCIF), an advocacy organization committed to fighting discrimination, more than 400 French Muslims reported having their homes searched for no clear reason in 2016. Approximately 100 of those also were placed under house arrest, while nearly 30 were asked to leave the country.
For some, the consequences have been dire.
On December 3, 2015, for example, Drissia — a Muslim resident of the French Alps who declined to give her last name for fear of professional reprisal — sat up in bed at 4:30 a.m. to the sound of 10 French police officers banging on her door, three wearing face masks. They searched her apartment until 6 a.m., she said, telling her and her 7-year-old daughter that everything was fine.
"But it was only the beginning of the nightmare," she said, recounting how six days later she was fired from her job after 15 years as a traffic security regulator. The reason, she later learned through her lawyer, came from the regional prefect, who, in Drissia's telling, had "confidential information proving that some of my close relatives were a threat to the security and staff of the Mont Blanc transit authority."
"I had no idea who those 'close relatives' were," she said.
She ultimately won her appeal in court, but her legal exoneration did little to overturn the harsh sentence she received in the court of public opinion.
"I've read horrible and hurtful things in the press about myself," she said. "One headline was, 'The ATMB fired a radicalized employee,' " a reference to her employer.
[A mosque is at the center of a raw debate in the South of France]
As central as French Muslims have become to the presidential campaign, they have rarely been included in the frequent debates among the non-Muslim candidates vying to be their president about how they should interpret their faith and live their lives.
If they are focal points of public discourse, they are also somehow absent from public view — and, some say, entirely unknown.
When presidential candidates pitch ideas such as "university training programs in the values of the Republic" for imams — as Emmanuel Macron did recently — many bristle at the suggestion that these are somehow values they do not already know.
Ludovic-Mohamed Zahed, 40, is an openly gay imam and the founder of Europe's first LGBT-inclusive mosque, which he runs weekly in a rented room in Marseille, the sprawling metropolis on France's Mediterranean coast.
"If you think it's not possible to be both of those things, then good for you," he said of the apparent separation between "French" and "Muslim" identities. "But I have never felt the need to convince you otherwise."
Full report at:
https://www.washingtonpost.com/world/europe/growing-anti-muslim-rhetoric-permeates-french-presidential-election-campaign/2017/04/18/1049c928-1ef8-11e7-bb59-a74ccaf1d02f_story.html?utm_term=.3821c7f1ad55
--------
Southeast Asia
DAP: Explain Zakir Naik's PR status and why it was given
Minderjeet Kaur
April 18, 2017
PETALING JAYA: Following news that controversial preacher Zakir Naik, from India, holds permanent residency in Malaysia, the DAP's M Kulasegaran wants the government to explain why it withheld such "crucial information".
The Ipoh Barat MP also wants the government to state its criteria for giving Naik the PR status.
He said the home ministry should not have held back such information from the Malaysian public.
"They are releasing bits and pieces of information. Why didn't they release the information when they were asked earlier if Naik had been given Malaysian citizenship? The onus was on them to say he was a PR holder and not a citizen. They should have been open (about the issue)," he told FMT.
Kulasegaran also asked what special circumstances had warranted the government's decision to grant him permanent residency.
"What criteria was used to grant him the PR status? Can he converse in Malay, and how long has he been in the country that he has been given permanent resident status?"
He said the government should state the number of other preachers given "safe sanctuary" in the country, urging it to come clean on the matter.
Earlier today, Deputy Prime Minister Ahmad Zahid Hamidi admitted that Naik had been given permanent residency in Malaysia more than five years ago, adding that it was issued before his time in charge of the ministry.
Last November, though, Zahid's deputy Nur Jazlan Mohamed dismissed a news report that Naik had been granted Malaysian citizenship and that he was hiding in the country.
Nur Jazlan said then that becoming a Malaysian citizen was a lengthy process, and that any report saying the preacher was a citizen was just an allegation.
He defended his answer today when asked why he had not mentioned Naik's PR status then.
"PR is not citizenship," he told FMT. "The question asked at that time was on citizenship."
Zakir Naik is wanted for questioning in India for alleged money laundering and other unlawful activities.
http://www.freemalaysiatoday.com/category/nation/2017/04/18/dap-explain-zakir-naiks-pr-status-and-why-it-was-given/
--------
Philippine Muslim religious leaders combat extremism
April 18, 2017
Muslim religious leaders in the southern Philippines are initiating reforms in the teaching of Islam, especially in remote communities, to prevent the spread of extremism.
Alih Sakaluran Aiyub, secretary-general of the Ulama Council of the Philippines, said efforts are underway to start reforms among religious leaders themselves.
"We unite the Ulama and then we will sit down with them to analyze how to prevent violent extremism and counter violent extremism," Aiyub told ucanews.com in an interview.
He said the "menace" of radicalism "must be seriously addressed by the Ulama, not only by political leaders."
The Ulama [plural for Alim] are Muslim scholars recognized by the community as authoritative in Islamic law and teachings.
Aiyub said religious leaders in Mindanao acknowledge the threat of armed groups like Abu Sayyaf and the Maute that have claimed allegiance to the so-called Islamic State.
He said reaching out to Ulama in conflict areas is necessary to correct a "misguided understanding" of Islam.
Abdulmuhmin Alyakanie Mujahid, head of the Darul Ifta or Fatwa Council in the Autonomous Region in Muslim Mindanao, admitted that some areas in the region remain vulnerable to extremist groups.
He said politics, economics, and lack of education in Muslim communities are factors to be addressed in fighting the spread of radicalism.
"Extremism is not borne out of a single reason," said Mujahid, adding that many Abu Sayyaf fighters in Basilan and Sulu provinces are orphans.
"These children are the sons and daughters of [rebel] fighters. They were left behind without parents," he said.
In other parts of Mindanao Mujahid said "indoctrination of the wrong ideology" was done by Muslims who went to the Middle East to study.
"Some extremist group leaders come from well-off families," he said.
Aiyub and Muhajid agreed that Muslim leaders around the world should unite to address the issue of Islamic extremism and radicalism.
"We relayed the problem to Muslim clerics in the Middle East," said Mujahid who attended a meeting of the Muslim World League in Saudi Arabia last month.
Full report at:
http://www.ucanews.com/news/philippine-muslim-religious-leaders-combat-extremism/78971
--------
On-the-run Muslim cleric has been a Malaysian PR for five years
April 19, 2017
KUALA LUMPUR — Controversial Muslim preacher Zakir Naik, currently on the run from Indian authorities, who are investigating him for terrorism, has had permanent residence (PR) status in Malaysia for five years, Malaysian Deputy Prime Minister Ahmad Zahid Hamidi said yesterday.
"Zakir Naik has a Malaysian PR but he is not a citizen, and he stays in other countries, I reckon," Mr Zahid told reporters, adding that Malaysia would cooperate with India on any investigations involving Dr Zakir through the two countries' Mutual Legal Assistance (MLA) agreement.
If India requests our help, we will do so. It is not a matter of surrendering him, but it is about the investigations (into the alleged case against Dr Zakir)," he said, adding that the investigations cannot be carried out by Malaysia.
Malaysian Attorney-General Mohamed Apandi Ali had previously said that both Malaysia and India would help serve summonses issued by the other government under a 2012 MLA treaty over criminal matters, but the treaty did not cover the execution of arrest warrants.
Last Sunday, Dr Zakir had challenged the Indian authorities to locate him in Malaysia, following New Delhi's plans to seek Interpol assistance in a terrorism investigation against him.
He said he was unwilling to present himself before India's National Investigation Agency, claiming that instances of abuse of Muslim activists are rife. He allegedly fled to Saudi Arabia after Indian authorities started investigations on him and his non-governmental organisation, Islamic Research Foundation, for terror propaganda.
An opposition lawmaker has criticised Putrajaya for providing a safe haven for Dr Zakir.
Full report at:
http://www.todayonline.com/world/asia/run-muslim-cleric-has-been-malaysian-pr-five-years
--------
IGP: We'll arrest Zakir Naik if he breaks our laws
Adam Abu Bakar
April 18, 2017
KUALA LUMPUR: The police today promised to take action against fugitive Indian preacher Zakir Naik if he breaks any law, following confirmation that he has been given permanent residency (PR) by the government.
Inspector-General of Police Khalid Abu Bakar today said no one, including the Islamic evangelist who is accused of money laundering in India, would be given special treatment in Malaysia.
"Permanent residents and foreign citizens who enter the country must obey the laws of Malaysia," he said.
"The same rule applies when we travel to other countries. We must obey their laws," he told a press conference in Bukit Aman today.
Deputy Prime Minister Ahmad Zahid Hamidi had earlier today disclosed to reporters that Naik holds PR in Malaysia.
Naik, who founded the Mumbai-based Islamic Research Foundation (IRF) which has been declared unlawful in India, obtained his PR more than five years ago, Zahid said.
He added that it was before he became the home minister in May 2013.
The government awarded Naik the 'Tokoh Maal Hijrah' award in Nov 2013.
On March 1 this year, 19 individuals filed a suit against the government at the Kuala Lumpur High Court registry for allegedly harbouring him.
They claimed that he encouraged terrorism in public and that his presence in Malaysia was a serious threat to the country's safety.
Naik told a press conference yesterday that he did not want to return to India to be questioned by the authorities, claiming that he would be tortured.
India's National Investigation Agency is seeking a Red Notice from Interpol after Naik had defied repeated summons to join in the probe into his affairs in India.
Full report at:
http://www.freemalaysiatoday.com/category/nation/2017/04/18/igp-well-arrest-zakir-naik-if-he-breaks-our-laws/
--------
Jakarta voters head to polls amid sectarian tension
April 19, 2017
Voters are expected to head to the polls on Wednesday in the second round of the gubernatorial election amid heightened sectarian tension that has been simmering since campaigning started late last year.
Analysts have predicted voter turnout will likely be much higher than the 77.1 percent reported by the Jakarta General Elections Commission (KPU Jakarta) in the first round of the election in February.
With pollsters showing that incumbent Jakarta Governor Basuki "Ahok" Thahaja Purnama and former culture and education minister Anies Baswedan are in a statistical dead heat, supporters from both candidates are expected to show up in droves at polling stations, hoping to deliver a win for their preferred ticket.
The final result from the first round of the election on Feb. 15 showed that Ahok got 42.91 percent of the vote, while Anies received 40.05 percent. Third candidate Agus Harimurti Yudhoyono got 17.05 percent of the vote.
Anies appeared to have gained momentum and seemed likely to catch up with Ahok over the last few weeks. Four out of five surveys released last week showed Anies was in the lead, albeit by a small margin.
With a message tailored to woo voters from Muslim groups, Anies attracted voters who in the first round of the election voted for Agus, who also reached out to Muslim voters.
Those who support Ahok, meanwhile, have diverse religious and ethnic backgrounds as well as social status, mostly the middle-income segment, said Sirajuddin Abbas, program director of the Jakartabased pollster, Sjaiful Mujani Research and Consulting (SMRC).
"In terms of social class, Ahok [and his running mate Djarot Sjaiful Hidayat] have won support from people with at least a senior high school diploma with an income above the UMR [regional minimum wage]," Sirajuddin told The Jakarta Post. Jakarta's minimum wage is Rp 3.35 million (US$251.8) per month.
Ahok's reputation has taken a hit on account of policies deemed as not pro-people, such as evictions and the reclamation projects, which activists said benefitted only the business community.
Anies and his running mate Sandiaga Uno have attacked Ahok by capitalizing on the poor's frustration over Ahok's eviction policy, with efforts including the former minister touring areas targeted by Ahok's eviction policy.
Other than the eviction issue, sectarianism has also taken center stage in the election, especially after Ahok was filmed making a statement that some Muslim organizations deemed as blasphemous.
Following protests from conservative Muslim groups, prosecutors charged Ahok with blasphemy and he is standing trial for allegedly violating articles 156 and 156a of the Criminal Code (KUHP) on blasphemy, which carry a maximum prison sentence of four and five years.
The attacks on Ahok, who is a Christian of Chinese descent, intensified as the city headed toward the first round of election in February, with members of conservative Muslim groups attacking his supporters.
In recent weeks, banners popped up in dozens of mosques in Jakarta, calling for Muslims not to facilitate the proper burial of fellow Muslims who supported Ahok in the election.
The campaign against Ahok reached a new height with conservative Muslim groups planning to deploy their members to descend on polling stations on election day in a movement called Tamasya Al-Maidah (Al-Maidah Tour), prompting the National Police to dispatch more than 60,000 personnel to secure voting.
On Tuesday, Anies' camp called on his supporters to refrain from resorting to violence and urged them not to submit to provocation or intimidation.
Spokesperson for Anies camp, former Corruption Eradication Commission (KPK) commissioner Bambang Widjojanto, called on Anies' supporters to pray for a victory for their candidate, especially amid rumors of vote-buying.
Bambang also said Anies' supporters should keep a close eye on polling stations in their neighborhoods and move to file a report and collect evidence if they suspected foul play had taken place.
"Collect evidence before you take these violators to the law enforcement agencies" he said on Wednesday.
Ahok's campaign team said it expected a fair and peaceful election despite plans from the Al Maidah Tour and suspicions that KPU Jakarta would not remain neutral.
Hasto Kristiyanto, secretarygeneral of the Indonesian Democratic Party of Struggle (PDI-P), said his camp would rely on the police to safeguard voting.
"We fully support what has been done by the authorities to safeguard the election process and prevent any form of intimidation. Therefore, we hope residents can exercise their voting rights," Hasto said.
Meanwhile, Muhammad Qodari, executive director of Jakarta pollster Indo Barometer, said the election could foretell the country's future.
"[If things go wrong] what happens in Jakarta can serve as an ugly precedent for the simultaneous regional elections in 2018 and the presidential election in 2019," he said.
Polling day in the fierce and noisy Jakarta gubernatorial election has arrived and the Election Supervisory Agency (Bawaslu) has warned voters and election organizers to be very careful about potential violations, given the growing number of reports of smear campaigns and vote-buying attempts.
Since last week, Bawaslu has received 41 reports of violations, nine of which are still under investigation by the election integrated law enforcement center (Sentra Gakkumdu). The violations related to both incumbent candidate pair Basuki "Ahok" Tjahaja Purnama-Djarot Syaiful Hidayat and the rival Anies Baswedan-Sandiaga Uno ticket.
With less than a week left until the second round of Jakarta's elections, tensions are simmering, while the political winds begin to blow in many different directions.(JP/Budhi Button)
Bawaslu commissioner Fritz Edward Siregar claimed a Bawaslu team caught red-handed several groups of people attempting to distribute sembako (staple foods), which the agency believed was part of efforts to woo voters to vote for a certain ticket.
But the agency has indicated violations could still be rampant on voting day, as a result of Polling Station Working Committees (KPPS) officials' lack of professionalism and partisanship, as well as poorly informed voters. Election watchdogs are vigilant over potential vote-buying in the form of bribery prior to voting, locally known as serangan fajar, or dawn attacks.
Intimidation by certain groups could also occur, he added. "If voters feel intimidated, feel free to report to Bawaslu or the police immediately," he added.
Information regarding the C6 form, which sets out where and when a voter should vote, for example, can be manipulated to bar voters from exercising their voting rights. "The forms are not a requirement for a person to be able to vote. As long as the voters are listed on the DPT [final voter list], they only need to show their IDs to the KPPS," Fritz said.
In the first round, KPPS officials in many polling stations did not allow voters to vote because they did not bring their C6 forms, while voters complained they did not receive the forms beforehand.
The 2016 Regional Election Law stipulates that election violations carry between 12 and 72 months in prison.
Indonesia Corruption Watch researcher Donal Fariz said many people still regard the sembako as sedekah (alms-giving). "Votebuying is not sedekah, it's a crime. People should understand that they can be sanctioned [for accepting bribes]," he said.
The General Elections Commission (KPU), meanwhile, has warned all KPPS officials to fully understand the voting mechanism. "For example, it is only those who come after 1 p.m. that are not allowed to vote. This is crucial because it can cause misunderstandings," KPU commissioner Ilham Saputra said.
Association for Elections and Democracy (Perludem) director Titi Anggraini said members of civil society groups would help monitor the voting. "The organizers have limitations in terms of human resources and information, thus [independent observers] can help monitor and report violations. We'll also continue monitoring after voting finishes," Titi said.
Around 13,034 polling stations will operate across the city for the runoff election, 11 more than the first round given the increase in the number of voters according to the latest DPT.
Full report at:
http://www.thejakartapost.com/news/2017/04/19/jakarta-voters-head-to-polls-amid-sectarian-tension.html
--------
Arab World
Over 50 Civilians Killed, Injured in US-Led Coalition Airstrikes in Eastern Syria
Apr 18, 2017
The sources reported that the coalition's fighter jets targeted residential units in Dawar al-Mesriyeh region in the town of Albu Kamal, in the town of al-Sukriyeh and in al-Ahmar oilfield in Albu Kamal's surrounding regions, killing 16 civilians, including women and children that were Iraqi refugees, and injuring 40 others.
Syrian security sources also reported on Monday that the coalition fighter jets targeted residential units of Aleppo's refugees in al-Sukriyeh settlement in Albu Kamal region, killing eight members of a Syrian family.
A number of civilians were also injured in the attack, the sources said, adding that they were transferred to Albu Kamal's hospitals.
Reports said on Sunday that a number of civilians were killed and many more were wounded in the US-led coalition air raid on a village in the Western countryside of Raqqa city.
The coalition's fighter jets stormed the village of Mazra'a Ya'arab near al-Mansoureh, killing a number of civilians, including the entire members of a family.
http://en.farsnews.com/newstext.aspx?nn=13960129000960
--------
Syria: Evacuated Gunmen, Family Members from al-Wa'er Exceed 2,000
Apr 18, 2017
The sources added that 510 gunmen that had refused the government's peace offer have left al-Wa'er for the border town of Jarabulus in Northern Aleppo on 55 buses, adding that the number of the gunmen and their family members evacuating al-Wa'er for Northern Syria iwthin the fifth phase of the plan now stands at 2,010 .
Local officials informed earlier today that over 170 gunmen left al-Wa'er district on Tuesday.
The officials said that in line with the implementation of the reconciliation plan in al-Wa'er district, 170 gunmen that had refused to join the peace agreement with Damascus left the district along with 680 of their family members for the border town of Jarabulus in Northern Aleppo on 21 buses.
The officials added that 544 militants that intended to stay in al-Wa'er handed over their arms to relevant officials and applied for government amnesty.
Full report at:
http://en.farsnews.com/newstext.aspx?nn=13960129001466
--------
Turkish Soldiers, Kurdish Fighters Exchange Heavy Fire in Northern Syria
Apr 18, 2017
Artillery and mortar units and tanks of the Turkish army and Ankara-backed militants of the Euphrates Shield Operation shelled Kurdish combatants' concentration centers and defense lines in the villages of al-Shahba, al-Samouqeh, Zouyan, al-Hasiyeh and Um Hawsh in around the towns of Ezaz and Afrin in Northern Hama.
The Kurdish fighters in return opened heavy fire at the Euphrates Shield forces' positions. In the meantime, the Kurdish fighters engaged in heavy fighting with the Turkish army men and their allied militants in the village of Qastal Jandou.
Earlier this month, the predominately Kurdish Syrian Democratic Forces (SDF) warded off an offensive of the Ankara-backed militants of the Euphrates Shield Operation in the Northern part of Aleppo province, killing a number of militants.
The SDF's Jeish al-Thawar engaged in fierce clashes with the Turkey-backed militants of the Euphrates Shield Operation and fended off their massive attack on the villages of Tal Maziq, Qolsarouj, Samouqeh, Sheikh Issa, Harbal and Um Hush in Northern Aleppo, killing a number of militants and destroying their military vehicles.
Full report at:
http://en.farsnews.com/newstext.aspx?nn=13960129000781
--------
Only six districts still held by Daesh in western Mosul: Cmdr.
Apr 18, 2017
A high-ranking Iraqi military figure says Daesh Takfiri terrorists are only in control of six neighborhoods in the western part of Mosul as government forces, backed by volunteer fighters from Popular Mobilization Units, are battling to expel the extremists out of the country' second largest city.
The commander of the Counter-Terrorism Service (CTS), Lieutenant General Talib Shaghati, said on Tuesday that military forces continue to gain ground against Daesh militants, and are steadily liberating the remaining militant-held areas in western Mosul, Arabic-language and official al-Sabaah (The Morning) daily newspaper reported.
Shaghati added that Iraqi forces and their allies have already purged the Takfiris from 32 districts out of the total 38 in addition to the strategic Mosul International Airport and Ghazlani military base.
The remarks came a day after Hossam al-Abbar, a member of the Nineveh provincial council, also said in a statement that security forces had been in control of 75 percent of the western side of Mosul.
He said battles were concentrated around the centuries-old Grand al-Nuri Mosque, and troops were preparing to storm the area with snipers, hand grenades and assault rifles.
Abbar stressed that government forces would not use artillery units and airstrikes during the forthcoming offensive in order to prevent civilian casualties.
Earlier on Tuesday, an unnamed spokesman for CTS forces said the troops were advancing in al-Thawra and al-Tanak districts of western Mosul.
The media bureau of the Iraqi Joint Operations Command also announced in a statement that armed CASC Rainbow drones of the Iraqi army had targeted and destroyed a militant position and a fuel station for Daesh terrorists in al-Ba'aj town west of Mosul.
The statement noted that the precision strikes were launched based on information from the Directorate General for Intelligence and Security.
The United Nations says nearly half a million civilians had fled fighting since the offensive to retake Mosul from Daesh terrorists started on October 17, 2016.
The UN Office for the Coordination of Humanitarian Affairs said on Monday that 493,000 people had been displaced from the city, located some 400 kilometers north of the capital, Baghdad.
As many as 500,000 civilians are still trapped in Daesh-controlled neighborhoods of western Mosul.
Iraqi army soldiers and pro-government fighters from Popular Mobilization Units, commonly known by the Arabic word Hashd al-Sha'abi, have made sweeping gains against the Takfiri elements since launching the operation to retake Mosul.
Full report at:
http://www.presstv.ir/Detail/2017/04/18/518529/Daesh-militants-control-six-districts-western-Mosul-Takfiri-Daesh-militants
--------
Trapped Mosul civilians could face worst catastrophe of Iraq conflict, UN warns
18 April 2017
The battle to dislodge ISIS from the Old City of Mosul, where hundreds of thousands of Iraqi civilians are trapped, could turn into the worst humanitarian catastrophe in the war against the militants, the United Nations warned on Tuesday.
About 400,000 civilians, or a quarter of Mosul's pre-war population, are trapped in the Old City, according to UN estimates. As many as half a million are estimated to remain overall in neighborhoods still under ISIS control in western Mosul.
"If there is a siege and hundreds of thousands of people don't have water and don't have food, they will be at enormous risk," UN humanitarian coordinator for Iraq Lise Grande told Reuters in a telephone interview.
"We could be facing a humanitarian catastrophe, perhaps the worst in the entire conflict."
Mosul, the largest city in northern Iraq, was captured by the extremist militants in mid-2014. Iraqi government forces have taken back most of it in a US-backed offensive launched in October, including the half that lies east of the Tigris River.
The militants are now surrounded in the northwestern quarter including the historic Old City, countering the offensive with booby traps, suicide motorbike attacks, sniper and mortar fire, occasionally using shells filled with toxic gas.
"It is a deteriorating situation, we fear for the lives of the 400,000 people in the old city," said Grande.
"Families ... tell us that they are being shot at as they are escaping. It's terrifying."
Residents who have managed to escape from the Old City have said there is almost nothing to eat but flour mixed with water and boiled wheat grain. What little food remains is too expensive for most residents to afford, or kept for ISIS members and their supporters.
Government forces are trying to capture the Grand al-Nuri Mosque in the Old City, from where ISIS leader Abu Bakr al-Baghdadi declared a "caliphate" spanning parts of Iraq and Syria nearly three years ago.
Troops have had the mosque, with its leaning minaret, in their sights since last month. But their progress has been painstakingly slow as the militants are dug in among civilians.
The narrow alleyways of the Old City restrict the use of suicide cars by the militants and tanks, armoured personnel carriers and Humvees by the government forces.
The fighting has killed several thousands among civilians and fighters on both sides, according to aid organizations. More than 327,000 have fled in the past six months.
Full report at:
https://english.alarabiya.net/en/News/middle-east/2017/04/18/Trapped-Mosul-civilians-could-face-worst-catastrophe-of-Iraq-conflict-UN-warns.html
--------
Islamic militants kill policeman in attack near Sinai monastery
April 19, 2017
Reports state that an exchange of gunfire erupted late Tuesday after a group of gunmen opened fire on the police at the checkpoint.
An Egyptian policeman was killed and four others injured after Islamic State (IS) militants attacked a checkpoint leading to the internationally famous Mount Saint Catherine monastery in the restive Sinai Peninsula.
A statement released by the Egyptian foreign ministry said an exchange of gunfire erupted late Tuesday after a group of gunmen opened fire on the police at the checkpoint, Egypt's Al Ahram newspaper reported.
The four injured policemen were transferred to Sharm El Sheikh's international hospital on the peninsula, while the body of the policeman who was killed was transferred to Saint Catherine Hospital.
Saint Catherine monastery is one of the oldest Christian monasteries in Egypt and a major tourist attraction.
The attack followed the bombing two weeks ago of two Christian Coptic Churches, one in the Mediterranean coastal city of Alexandria and the other in the Nile Delta area north of Cairo, which killed 45 people on Palm Sunday, one of the holiest Christian days on the calendar.
IS-affiliated militants in Egypt claimed responsibility for the twin attacks.
Egypt has been fighting an Islamist insurgency which has targeted Christians and Egyptian security forces on both the mainland and in the Sinai.
The fighting intensified in 2013 after the military coup which overthrew the country's first-ever democratically elected president, Mohammed Morsi from the Muslim Brotherhood.
A battle for hearts and minds has accompanied the military campaign with Cairo's Al Azhar University – one of the oldest universities in the Islamic world, built in 970, and considered a seat of Islamic scholarly learning – fighting off accusations that it has been encouraging extremism.
Al Azhar's Council of Senior Scholars defended its teachings on Tuesday amid criticism in Egypt that its curriculums foster extremism and sectarianism.
In an official statement released following a meeting presided over by the grand imam of Al Azhar, Ahmed El Tayyeb, the council described itself as "the only ones mandated to teach righteous Islamic dogma that spreads peace and stability between Muslims themselves and between Muslims and others".
The statement added that the council stood with the country's minority Coptic Christians and condemned the attacks on their churches.
The criticism of Al Azhar has risen in conjunction with the increase in attacks carried out by IS militants.
Full report at:
http://citizen.co.za/news/news-africa/1490938/islamic-militants-kill-policeman-attack-near-sinai-monastery/
--------
In Mosul, Iraqi snipers track jihadists around the clock
April 19, 2017
A few hundred metres from an iconic mosque in west Mosul, Iraqi sniper Salah al-Zuheiri has his eye glued to his scope as he searches for Islamic State group jihadists. Iraqi forces are battling to retake Mosul from IS, after the group overran the city in 2014 and its leader proclaimed a "caliphate" from the mosque in its Old City.
IS "fighters are within range. We're tracking them day and night," says Zuheiri, a sniper with the Iraqi federal police who has taken up position some 300 metres (yards) from the Al-Nuri Mosque.
Inside a darkened room in a four-storey building retaken from the jihadists, Zuheiri tries to steady his rifle on sandbags.
A map of the surrounding neighbourhood, hand-drawn in red, hangs on the wall in front of him.
Zuheiri and his colleagues stay in the same positions for up to 12 hours a day, he says, for two weeks straight.
They "get food three times a day", he adds, and leave their positions "only when it's really necessary, like to go to the bathroom".
"We kill between three and five jihadists a day," he says.
Nearby, Murtada al-Lami lies on his stomach, the end of his barrel jutting out through a tiny hole in the wall in the direction of the Al-Nuri Mosque and the adjacent "Hadba", a leaning minaret that has long been Mosul's most recognisable landmark.
IS leader Abu Bakr al-Baghdadi made his only public appearance at the mosque in July 2014 to declare a self-styled "caliphate" in parts of Iraq and neighbouring Syria.
To help the snipers find their targets, in a nearby room Iraqi soldiers take turns tracking IS fighters through binoculars.
And on a screen, members of a special unit survey thermal footage sent in from aircraft above the city.
"We're the ones who decide to shoot or not. We also have thermal binoculars, but we check the data with our colleagues to avoid an error," says Lami.
An officer in the group, who asks to remain anonymous, says snipers recently killed an IS emir, or leader, in west Mosul.
"Our snipers killed an IS emir on the west bank, creating great confusion in the Old City," he says, referring to the west bank of the River Tigris, which divides the city.
Fearing air strikes, jihadists went to the leader's funeral unarmed, the officer says, "but forced civilians to attend to act as human shields".
The presence of civilians in the Old City is a major obstacle for Iraqi forces fighting to retake west Mosul after seizing the east in January.
The United Nations says some 600,000 civilians remain in IS-held sectors, which include two thirds of the Old City, a warren of narrow streets.
Full report at:
http://indianexpress.com/article/world/in-mosul-iraqi-snipers-track-jihadists-around-the-clock-4619153/
--------
Britain Conducts Heliborne Operations in Eastern Deir Ezzur
Apr 18, 2017
According to al-Hadath news website, the British helicopters have conducted heliborne operations in al-Marjeh region in the Southern parts of Salehiyeh Bu Kamal village in a region between the Southern parts of Granich and Ma'eizliyeh villages.
The Arabic-language website reported that the US halted all airstrikes in the region during the British operation.
According to the report, the operation has been conducted at al-Tanaf passageway which hosts the British forces.
Meantime, special sources told al-Hadath that the British troops are highly likely to launch a ground offensive from the same passageway towards the Eastern parts of Deir Ezzur to occupy al-Hamdan airbase and turn it into a military base for the British forces.
"Other phases of these operations may also include an offensive to win control over the oilfields in Eastern Deir Ezzur, including al-Amar and al-Tonk, and Koinko gas plant before occupying other cities in the region like Bu Kamal, al-Mayadeen, al-Asharah and al-Qouriyeh," it continued.
According to al-Hadath, such a move by the British would cut off the road from Iraq to Eastern Syria and block any possible Hashd al-Shaabi (Iraqi Volunteer Forces) advance towards the Syrian territories which was aimed at establishing security in Western Iraq in the interest of both nations.
Local sources disclosed on Monday that the US-led coalition aircraft have carried out another heliborne operation in regions controlled by ISIL terrorists in Southeastern Deir Ezzur near Syria's border with Iraq.
The Arabic-language desk of Sky news quoted local sources as saying that several aircraft of the US-led coalition carried out heliborne operations near T2 Station in desert regions South of the town of al-Mayadeen.
Sky news further added that the aircraft landed near the T2 station where tens of the coalition forces left them and entered the station, adding the region on which the aircraft landed is one of the military supplying-rescue bases of the ISIL and there are a number of arms depots and fighters in the region.
The coalition's operation lasted for 20 minutes and the US-led forces left the region, Sky news said, adding that the ISIL, meantime, dispatched more forces and military equipment to Koinko oilfields, Jafrah and al-Tonk regions and set up tens of checkpoints in the towns of al-Mayadeen, al-Sho'eitat, Albu Kamal and its surroundings.
Sources said in early January that 6 helicopters took part an unprecedented heliborne operation in areas West of Deir Ezzur city to relocate ISIL's foreign fighters from the region.
There were two helicopters that carried a number of soldiers and Arabic translators in a region near al-Kebr station.
The source said the US troops left the helicopters and staged a raid on the terrorists at a water pump station, killing a number of them. "Then they took several ISIL terrorists captive, in an action that more seemed like a theatrical move".
"It looked like a drill and our suspicions grew when we came to realize that they only took captive those ISIL members who were foreigners," he added.
Full report at:
http://en.farsnews.com/newstext.aspx?nn=13960129001611
--------
Syrian Army Dispatches Fresh Forces to Dara'a
Apr 18, 2017
The sources confirmed that the army has forwarded fresh units of military forces to al-Manshiyeh neighborhood in the Southern part of Dara'a city to take part in an imminent operation against Al-Nusra Front (also known as Fatah al-Sham Front or the Levant Liberation Board).
Other sources in Southern Syria reported that the army's artillery and missile units heavily pounded the movements and positions of Al-Nusra in Tariq al-Saad (way to dam) neighborhood, South of Khazan (Makhzan) al-Karak neighborhood, East of al-Masri square and in al-Feren neighborhood, killing several terrorists and destroying their positions equipped with machineguns and snipers.
Reports said on Monday that the army forces engaged in fierce clashes with Al-Nusra Front in different neighborhoods of the Southern city of Dara'a, killing 40 of them and injuring several more.
Full report at:
http://en.farsnews.com/newstext.aspx?nn=13960129001583
--------
Syria: Terrorists in Northern Hama Beg for Help from Comrades
Apr 18, 2017
The sources said that the terrorists' front in Northern Hama is on the verge of collapse after the army captured several key towns and villages, adding that the terrorist groups are accusing each other of treason, while their leadership has been calling on allied militants in other regions to assist them to slow down the devastating advances of the army soldiers.
A field source said that bugged radio exchanges of the terrorists in Northern Hama display that the militants now acknowledge defeat, adding that terrorist groups are accusing each other of inaction and believe that only six from a hundred groups have engaged in battle with the army.
The source further added that the bugged exchanges also show that the terrorist groups in Northern Hama have called on their allies to open a new front in other regions to decrease the pressure of the army attacks on them.
Well-informed sources said earlier today that the army troops are getting ready to kick off a fresh round of operation in Northern Hama to drive the Al-Nusra Front (also known as Fatah al-Sham Front or the Levant Liberation Board) out of one of its main strongholds in Northern Hama,
The sources reported that a massive operation is to be launched by the army soldiers with the back up of the country's Air Force to push back al-Nusra from the strategic town of Taybat al-Imam.
They added that army warplanes have launched heavy airstrikes on the positions of al-Nusra in the towns of Taybat al-Imam, Ma'arkabeh, al-Latamina, Kafr Zita, Morek, Latmin and Atshan to pave the way for the ground force operation.
In the meantime, the army's artillery and missile units shelled terrorists' gathering centers in the towns of Halfaya and al-Latamina.
Full report at:
http://en.farsnews.com/newstext.aspx?nn=13960129001193
--------
US Continues to Airdrop More Aid Packages to ISIL Terrorists in Northwestern Iraq
Apr 18, 2017
Javad al-Talaybawi said that a US airplane has airdropped supplies and aid to the ISIL terrorist group West of the town of Tal Afar.
He further underscored that the US forces are sending aid to ISIL to prolong their so-called war on the terrorist group.
Al-Talaybawi added that the US move to provide ISIL with aid testifies that Washington's claims about war on terrorism are sheer lies.
Al-Talaybawi said in early March that the US forces carried out a rapid heliborne operation and evacuated two commanders of ISIL terrorists from Western Mosul in Northern Iraq.
Al-Talaybawi said that the US forces carried out the heliborne operation in one of the Western neighborhoods of Western Mosul, evacuating two senior ISIL commanders to an unknown location after the commanders came under siege by Iraqi government forces in intensified clashes in Western Mosul.
"Americans' support and assistance to the ISIL is done openly to save their regional plan in a desperately attempt," al-Talaybawi underlined.
Al-Talaybawi had warned late in February that the US forces tried hard to evacuate ISIL commanders from the besieged city of Tal Afar West of Mosul.
After photos surfaced in the media displaying US forces assisting ISIL terrorists, al-Talaybawi said that the Americans were planning to take ISIL commanders away from Tal Afar that is under the Iraqi forces' siege.
In the meantime, member of Iraqi Parliament's Security and Defense Commission Iskandar Watut called for a probe into photos and footages displaying US planes airdropping aid packages over ISIL-held regions.
Watut further added that we witnessed several times that US planes dropped packages of food stuff, arms and other necessary items over ISIL-held regions, and called on Iraq's air defense to watch out the US-led coalition planes.
Eyewitnesses disclosed at the time that the US military planes helped the ISIL terrorists in Tal Afar region West of Mosul.
Full report at:
http://en.farsnews.com/newstext.aspx?nn=13960129000900
--------
ISIS claims deadly attack near Egypt's St. Catherine's Monastery in Sinai
19 April 2017
Gunmen attacked security forces near St. Catherine's Monastery in Egypt's south Sinai on Tuesday, killing at least one police officer and injuring four others, the Health Ministry said, just a week after two deadly church bombings killed 45.
ISIS claimed responsibility for the attack on a police checkpoint about 800 meters (yards) from the entrance to the monastery, one of the world's most important Christian sites.
The attack comes just 10 days before Pope Francis is scheduled to visit Egypt and just over a week after two deadly suicide bombings on Christian churches, also claimed by Islamic State, plunged the country into mourning and marked one of the bloodiest days for the country's Christian minority in decades.
St. Catherine's, founded in the 6th century and located at the foot of Mount Sinai, is one of the oldest Christian monasteries in the world and a UNESCO world heritage site. It is part of the Eastern Orthodox church.
Egypt's Christian minority, which makes up about 10 percent of the country's 92 million people, has increasingly been targeted by Islamist militants, with three deadly church attacks in the span of four months.
In February, scores of Christian families and students fled North Sinai province after a spate of targeted killings.
A successful assault on St. Catherine's would be the latest challenge to President Abdel Fattah al-Sisi, who has pledged to protect the religious minority as part of his campaign against extremism.
Egypt has for years been battling an Islamist insurgency in the rugged and thinly populated northern Sinai, which gained pace after the military overthrew President Mohamed Mursi of the Muslim Brotherhood in 2013 following mass protests against his rule.
Attacks in Egypt's southern Sinai, a popular destination for tourists dotted with Red Sea resorts, are by contrast rare.
Security sources told Reuters that security had been put on high alert at tourist facilities across southern Sinai after the attack.
The attack in southern Sinai comes as Russia is expected to make a long-awaited decision on whether to restore flights to the Sharm el-Sheikh resort after a Russian airliner was downed in 2015, dealing a serious blow to the area's tourism industry, which relies heavily on Russian visitors.
Full report at:
https://english.alarabiya.net/en/News/middle-east/2017/04/19/ISIS-claims-attack-near-Egypt-s-St-Catherine-s-Monastery.html
--------
US-Backed Syria Forces Set Up Post-ISIS Raqqa Council
18 April 2017
The US-backed Kurdish-Arab force leading the fight for the ISIS's Syrian bastion Raqqa announced Tuesday the creation of a "civilian council" to administer the city after its capture.
"The civilian council of Raqqa will be charged with administering Raqqa and the surrounding province after liberation," the Syrian Democratic Forces said in a statement.
The council was announced during a meeting in Ain Issa, a former ISIS stronghold some 50 kilometers (30 miles) north of Raqqa, in northern Syria.
The SDF launched an offensive to capture Raqqa, ISIS's de facto Syrian capital, in November with support from the US-led coalition.
But a key question has been who will administer the city after its capture.
"The council is made up of people originally from Raqqa province. (The SDF) will entrust it with the running of the city once ISIS has been pushed out," said Jihan Sheikh Ahmed, a spokeswoman for the Raqqa campaign.
Several tribal chiefs and local dignitaries from Raqqa participated in the meeting establishing the council, which mirrors others set up in towns captured from ISIS by the Kurdish-Arab force.
A military council will also be formed "soon," according to SDF spokesman Talal Sello, and charged with security in the city after ISIS is expelled.
"The SDF will train people originally from Raqqa in cooperation with the international coalition to ensure the city's security after it is freed," Sello told AFP.
On Saturday, the SDF reached the outskirts of the key ISIS-held town of Tabqa, which they surrounded earlier this month.
Tabqa and the vast nearby Tabqa dam are considered key prizes in the broader offensive for Raqqa city, about 55 kilometers to the east.
The SDF has led the fight against IS in large swathes of north and northeast Syria, with support from the US-led coalition.
But its advances have angered neighboring Turkey, which views the Kurdish component of the alliance as an affiliate of the banned Kurdistan Workers' Party (PKK).
Full report at:
https://english.alarabiya.net/en/News/middle-east/2017/04/18/US-backed-Syria-forces-set-up-post-ISIS-Raqqa-council-.html
--------
More camps needed for those fleeing Daesh in Mosul: Iraqi official
Apr 19, 2017
An Iraqi official says that more camps are required to accommodate the flow of people fleeing Daesh in west Mosul.
"Food is available and medical services are being offered by the organizations, but what we really need is more camps. We call for a quick opening of the new camps currently under construction in Salamiya, Bartella and other areas to accommodate more people," said Iraqi Army Brigadier General Jabbar Hassona on Tuesday.
According to the United Nations, nearly half a million civilians had fled the area since the offensive to retake Mosul from Daesh terrorists started on October 17, 2016.
Hassona added that the flow of displaced persons goes up and down in accordance with the military operations in the city. "(It is) going up and down in accordance with the military operation and advancement made by our troops and the opening of safe passages for them," he said.
Meanwhile, the UN has warned that the civilian situation in west Mosul could become the worst during the entire conflict.
The barrel of a machine gun lies on a hole in the wall of a house used by the Iraqi Federal Police to fight Daesh in western Mosul, Iraq, April 18, 2017.
"If there is a siege and hundreds of thousands of people don't have water and don't have food, they will be at enormous risk," said Lisa Grande, the deputy special representative of the United Nations Assistance Mission for Iraq (UNAMI). "We could be facing a humanitarian catastrophe, perhaps the worst in the entire conflict," she added.
Full report at:
http://www.presstv.ir/Detail/2017/04/19/518587/iraq-mosul-camps-daesh
--------
North America
More Canadians view different religions positively
APRIL, 18 2017
Canadians are growing more comfortable with a range of different faiths, according to a February 2017 Angus Reid Institute opinion poll on six major religions.
The three religions most favourably viewed by Canadians are Christianity, Judaism and Buddhism, while Islam is more often viewed skeptically, though increasingly less so.
The Angus Reid Institute conducted the national online survey in a representative sample of 1,515 adult members of the Angus Reid Forum, a web-based market research community consisting of nearly 130,000 Canadian households. Although this was not a scientific telephone-based poll, a probability sample of this size in a scientific poll would carry a margin of error of +/- 2.5 percentage points, 19 times out of 20.
In 2017, 68% of Canadians hold a favourable opinion of Christianity, while 58% and 53% view Buddhism and Judaism, respectively, in a positive light. Approval for Hinduism is 49% and for Sikhism 38%. Islam is viewed positively by 34%, up from 24% in 2013 and 31% in 2009. And in Quebec—the province that saw lethal shootings at a Quebec City Islamic cultural centre in January—32% view the Muslim faith favourably, an increase from 16% in 2013 and 17% in 2009.
"The most surprising aspect of the study was the uptick in favourability within Quebec," said Dave Korzinski, an Angus Reid research associate, in an interview with the Anglican Journal. "Amid discussions of Islamophobia in Parliament and the shootings in Sainte Foy, Quebec, it was hard to predict how public opinion would react."
Despite that positive note, perhaps in the context of contemporary geopolitical conflicts, almost half (46%) of Canadians view Islam negatively. "The lower levels of favourability are likely the result of the fact that Islam is almost the exclusive focus of media attention in Canada and internationally," said Paul Bramadat, PhD, a professor at the Centre for Studies in Religion and Society and in the history department at the University of Victoria, B.C., in an interview with the Journal.
To some degree, he added, this reflects actual conflicts within the Islamic world and between the Islamic and the non-Islamic world. "However, this focus also reflects the fact that in Europe, especially, Muslim newcomers are perceived by many otherwise rational people to represent an existential threat to European liberal democratic values, and some people in Canada have picked up on this anxiety."
Outward Symbols
As for visible symbols associated with religions, only 29% of poll respondents support the wearing of the Islam-associated burka, and 32% the niqab. In contrast, strong majorities approve of the Christian nun's habit (88%), the Jewish kippah (85%), the Sikh turban (77%) and the Islamic hijab (75%). And while approval is 90% for public displays of the crucifix and 87% for the Star of David, just 33% approve of the kirpan, the ceremonial sword worn by Sikhs.
"I would say that clothing identified with Muslims has come to be identified with separateness, as though what a Muslim wears is the most important aspect of an individual's religious identity and as though the main purpose of this clothing is to make non-Muslims feel spurned," said Bramadat. "We don't assume that a Jew's kippah is the most important part of what it means for that person to be a Jew."
In particular, Bramadat called out the obsession with Muslim garb for women. "What is it about North American or European societies that makes their majority populations so interested in the ways Muslim women dress themselves?" he said.
Age and opinion
Not surprisingly, a generational divide emerges in the poll. Canadians age 55 and older show the highest approval for both Christianity and Judaism at 77% and 64%, respectively, but that support drops to 62% and 52% in millennials ages 18 to 34. Millennials also show higher support than older Canadians for non-Judeo-Christian belief systems: Buddhism (61%), Hinduism (54%), Sikhism (45%) and Islam (40%).
Interestingly, middle-aged people 35 to 54 years show the least support for any of the six religions studied.
Intermarriage
In another area explored by the poll, Canadians appear to be getting more comfortable with interfaith marriage. More than eight in 10 (85%) would find it acceptable for a child of theirs to marry a practitioner of Christianity, 64% a follower of Buddhism and 62% an adherent of Judaism. Acceptance for intermarriage, however, falls to 54% for followers of Hinduism, 48% for adherents of Sikhism and 43% for practitioners of Islam.
But Canadians age 44 and younger are more likely to see intermarriage with a Muslim as acceptable, with 62% of those 18 to 24 approving. Of those age 65 and older, 42% oppose the idea.
And interestingly, across all six religions, more respondents seem to approve of the concept of interfaith marriage than hold favourable views of the specific religions themselves: 85% versus 68% for Christianity, for example, and 48% versus 38% for Sikhism.
To Bramadat, these data suggest that despite general concerns about particular religious groups, people are becoming more accepting of particular individuals within them. "So, some people might be concerned, in a general sense, with Sikhism, but then they think to themselves, 'Well, I do like my dentist or my workmate Amarjit, and so if my son and Amarjit fell in love, perhaps that would be okay,' " he said.
Bramadat is struck at how well Buddhism almost always fares in such studies. "Here I think we see the impact of celebrity Buddhists, such as the Dalai Lama, Uma Thurman and Richard Gere, as well as the success of mindfulness practices that are linked loosely with a Buddhist sensibility but that do not ask practitioners to adopt many formal Buddhist beliefs or practices." The fairly high approval rate for Hinduism may also reflect the influence of famous musicians such as George Harrison, Ravi Shankar and Jerry Garcia.
Politics
Political leanings help shape views, with past Conservative Party voters less favourable to faiths other than Christianity (80% approve) and Judaism (62% approve). Liberal- and NDP-aligned Canadians are almost twice as likely as Conservatives to hold a favourable view of Islam: 45% and 42%, respectively, versus 24% of Conservatives.
NDP supporters hold the least favourable view of Christianity at 67%. Liberals, perhaps echoing the party's name, are the most likely to have a positive view of faiths other than Judaism and Christianity: Buddhism 67%, Islam 45%, Sikhism 48% and Hinduism 57%.
Calling the data set "interesting and rich," Bramadat said it suggests that in the context of Canada's growing religious diversity, our increasing experience of particular individuals may be helping to shape our general perspectives on other faiths. "To see a bump in positive opinions of all religions outside of Christianity, where the number was steady, was surprising on this end," said Korzinski. "And it's tough to surprise us over here!"
http://www.anglicanjournal.com/articles/more-canadians-view-different-religions-positively
--------
California gunman kills three 'in race attack' in Fresno - BBC News
Apr 19, 2017
Three white men were killed and another wounded when a black gunman opened fire in Fresno, California, in a suspected race attack, police have said.
Kori Ali Muhammad shot 16 rounds in 90 seconds in the shooting spree on Tuesday, said Police Chief Jerry Dyer.
He shouted "God is greatest" in Arabic when arrested but this was a hate crime not terrorism, Mr Dyer believed.
Mr Muhammad, 39, was also wanted for the murder of a security guard outside a motel in the city last week.
He now faces four counts of murder and two counts of attempted murder.
A Muslim leader in the city said Mr Muhammad did not represent Islam.
Why America remains segregated
All four victims were white men, and one of them was shot sitting in a car. Media in the city named him as Zackary Randalls, a 34-year-old father of two who was on his first day in his new job as a utility worker.
The suspect had indicated on social media that he hated white people and expressed anti-government views, police said.
"He wanted to kill as many people as he could and that's what he set out to do," said Mr Dyer.
"This was a random act of violence. These were unprovoked attacks by an individual who was intent on carrying out homicides today."
Mr Dyer added that Tuesday's attack "has nothing to do with terrorism in spite of the statements that he [Kori Ali Muhammad] made".
"He did clarify that the reason he had made that statement was that in the event that anything did happen to him that he was in fact pledging his allegiance to God for protection."
Grey line
How Fresno's Muslim community reacted
The most recent statistics compiled by the University of Southern California's Center for Religion and Civic Culture showed that Fresno, a city of just over 500,000 people, had a Muslim population of just over 1,800 in 2000.
In a statement on Facebook, the Islamic Cultural Center of Fresno condemned the attack, saying: "The phrase Allahu Akbar, or God is Great, is a prayer of peace for 1.8 billion Muslims around the world."
The centre's Imam, Seyed Ali Ghazvini, said Mr Muhammad was not known to them.
"This individual does not represent our faith or our community," he told the Fresno Bee newspaper. "This individual does not represent your Muslim neighbour, your Muslim classmate or your co-worker. The Muslim community in the Valley are working hard for the well-being of our society and country."
Grey line
The shooting began around 10:45 local time near the headquarters for Catholic Charities.
Witnesses said they saw a man carrying a large handgun, which he reloaded several times between shots.
Full report at:
http://www.bbc.com/news/world-us-canada-39636104
--------
Trump's Pakistani Muslim supporter says fake scholars bringing extremist thought to US
ByJahanzaib Ali
April 18, 2017
WASHINGTON: Founder of 'American Muslims for Trump' and a prominent Pakistani supporter for US President-elect Donald Trump, Sajid Tarar fears that few religious leaders are bringing the extremist thought to America.
During an exclusive chat with the ARY News Washington correspondent Jahanzaib Ali, Tarar said that (such) people are establishing mosques in every state and city of America and are spreading their message of intolerance and hate.
"Few Pakistani Muslims are opening 'fear shops' in our community; they are even importing fake Molvis/Imams from Pakistan by getting thousands of dollars for facilitating their American visas. These fake and uneducated Molvis/Imams are brainwashing our second generation," said Tarar.
He maintained that he personally met some of these fake Imams and urged them to stop dividing the communities in the country.
"Few Imams right now are taking advantage of the situation being faced by Muslims in America by telling them who are the friends and who are the enemies."
No one is the enemy here," Tarar said. "What I believe is that it has to stop, you cannot open the fear shops here."
Full report at:
https://arynews.tv/en/trumps-pakistani-muslim-supporter-fears-radicalisation-us-muslims/
--------
'This is my America!': Taoist man takes photo of Jewish couple sitting next to Muslim mother and child
Apr 19, 2017
A busy Sunday on New York's subway. Who wouldn't give up their seat for the couple travelling together?
But it was only after Jackie Summers got to his feet, that he realised he was front and centre of a scene that rather wonderfully encapsulated the diversity of New York, and indeed, the diversity of America.
Mr Summers, who is Taoist and works as a model, clicked the image in front of him - an orthodox Jewish couple, and a Muslim mother bottle-feeding her baby.
"A Taoist (me) gives up his seat so a Hasidic couple could sit together. They scoot over so a Muslim mother could sit and nurse her baby, on Easter Sunday," Mr Summers wrote beneath the image, which he posted on Facebook.
He added: "This is my America: people letting people be people."
Mr Summers told The Independent the moment had played out very ordinarily. "I did not think about giving up my seat for the couple; the couple did not think about moving along to make room for the mother with her child," he said.
"We live in a time when race, sexuality and religion have become divisive...But we have more important things to worry about than the colour of someone's skin, or how they worship God."
Full report at:
http://www.independent.co.uk/news/world/americas/viral-subway-photo-new-york-muslim-woman-jewish-couple-taoist-man-picture-a7689251.html
--------
India
Sonu Nigam Azaan row: Priyanka Chopra's video praising Azaan goes viral as Sonu defends self
April 19, 2017
For Sonu Nigam, the morning Azaan or anything blaring over loudspeakers in the morning is 'gundagardi' and 'forced religiousness'. But there are some in the industry who have a contrasting view. On Tuesday, Pooja Bhatt took to her Twitter handle to let the world know how blissful is the sound of church bells and Azaan is to her ears and now it is Bollywood's international superstar, Priyanka Chopra, who agrees with her.
Amidst all the criticism pouring in from across the country after Sonu Nigam went on a rant about being woken up by the noise of the Azaan early in the morning, an old video of Priyanka Chopra is going viral on the internet. In the video, Priyanka is heard talking about how much she likes listening to Azaan every morning. The video which has found its way on the internet is from the last year when PeeCee was in Bhopal for the shooting of her film Gangaajal 2. "In Bhopal, the most interesting time of the day is evening when one could hear to the divine Azaan. After pack up, at sunset, I sit on my terrace here where I can listen to Azaan which probably comes from six Masjids. Those five minutes have a strange peace in it. That time of the day is my favourite and the sound of Azaan is like music to my ears," said Priyanka in the video.
For Sonu Nigam, the morning Azaan or anything blaring over loudspeakers in the morning is 'gundagardi' and 'forced religiousness'. But there are some in the industry who have a contrasting view. On Tuesday, Pooja Bhatt took to her Twitter handle to let the world know how blissful is the sound of church bells and Azaan is to her ears and now it is Bollywood's international superstar, Priyanka Chopra, who agrees with her.
Amidst all the criticism pouring in from across the country after Sonu Nigam went on a rant about being woken up by the noise of the Azaan early in the morning, an old video of Priyanka Chopra is going viral on the internet. In the video, Priyanka is heard talking about how much she likes listening to Azaan every morning. The video which has found its way on the internet is from the last year when PeeCee was in Bhopal for the shooting of her film Gangaajal 2. "In Bhopal, the most interesting time of the day is evening when one could hear to the divine Azaan. After pack up, at sunset, I sit on my terrace here where I can listen to Azaan which probably comes from six Masjids. Those five minutes have a strange peace in it. That time of the day is my favourite and the sound of Azaan is like music to my ears," said Priyanka in the video.
His tweets that started the controversy and trolling were, "God bless everyone. I'm not a Muslim and I have to be woken up by the Azaan in the morning. When will this forced religiousness end in India. And by the way Mohammed did not have electricity when he made Islam.. Why do I have to have this cacophony after Edison? I don't believe in any temple or gurudwara using electricity To wake up people who don't follow the religion . Why then..? Honest? True? Gundagardi hai bus…"
But unlike many, there are some from the industry who support Sonu Nigam. Filmmaker Vivek Agnihotri, Apurva Asrani and singer Richa Chadha are some who are on Sonu's side.
http://indianexpress.com/article/entertainment/bollywood/sonu-nigam-azaan-row-priyanka-chopra-video-praising-azaan-goes-viral-as-sonu-defends-self-4619086/
--------
Law panel examining Kerala High Court verdict that repudiated practice of Triple Talaq
APR 19, 2017
NEW DELHI: India's law commission is examining a judgement delivered on the issue of triple talaq by Kerala High Court that explicitly called for legislative reform to mitigate sufferings of Muslim women.
Prime Minister Narendra Modi has pitched banning of the practice allowed under Muslim Personal Law.
Delivered by a Muslim Judge, the judgement strongly repudiates the practise of triple talaq and underlines the need for law­makers to ensure Muslim women are treated justly. The judgement was recently forwarded by the Kerala HC to the law ministry and the law panel on the directions of Justice Mohammed Mushtaq.
Law Commission of India, which is entrusted with the task of examining the implementation of uniform civil code, including the issue of triple talaq, is studying the judgement.
"The judgement makes a strong case for justice to Muslim women and codification of law of divorce" a senior official of the Commission told ET on the condition of anonymity. He added that the Commission is likely to rely on the judgement of Justice Mushtaq while finalising its report on triple talaq.
Currently, the Commission is awaiting the decision of the Supreme Court which is hearing multiple petitions challenging triple talaq in the summer break.
The All Indian Muslim Personal Law Board (AIMPLB) has struck a defiant note on the contentious issue asserting it has the "Constitutional" right to implement Muslim personal law. The board, in its first meeting with the law commission last week, claimed it has nearly 4 crore signatures of Muslims favouring Shariah laws to govern marital relations in the community.
"Justice has become elusive to Muslim women and remedy lies in codification of law of ivorce," Justice Mushtaq observed in his 60­page judgement. "It is for the lawmakers to formulate the law relating to divorce through the process of legislation."
"The state is committed to respect the promise of dignity before law and it cannot shirk its responsibility by remaining mute spectator of malady suffered by Muslim women in the name of religion," the judgement observed. Emphasising the need to come up with a legislation to regulate triple talaq, the judge added "the Quran nowhere approves triple talaq in one utterance and on the other hand promotes conciliation as best method to resolve marital discord."
Commenting on the topic of uniform civil code, the Court ruled "the need for common civil code, though it is debated at different levels, still remains a mirage for want of agreement among different groups. It is possible to have a common code at least for marriage laws in India".
Quoting verses from the Quran, the Judge said "it is for the state to consider formulation of codified law to govern the matter. Therefore, I conclude drawing attention of those who resist any form of reform of the divorce law of Muslim community to the following verses of Holy Quran".
Full report at:
http://economictimes.indiatimes.com/news/politics-and-nation/law-panel-examining-kerala-high-court-verdict-that-repudiates-practice-of-triple-talaq/articleshow/58249908.cms
--------
Muslim yoga guru invited to Germany
Apr 19, 2017
Jodhpur : Germany based Academy of Culture NWR has invited a Muslim Yog Guru Nayeem Khan to deliver lectures and hold workshops on Indian Yoga and Spirituality under an International Cultural Exchange Program. Biggest center of culture in entire Europe, the Academy has been inviting artists and experts of diverse fields since 1990.
For the year 2017, Khan has been invited to hold workshops on Indian Yog practices, specially the therapeutic, its principles, meditation and Chakra healing with focus on healthy living.
"This was a proud moment for me that this center recognized my knowledge and invited me for spreading the Indian Yog concept in the Europe", said Khan, who trained himself in the yoga principles of the leading Yoga practitioner of the country B K S Iyengar.
These workshops and lectures will be held at different locations in Germany, France and Italy and interdisciplinary procedures will be developed for healing of the body and mind combining yoga, music, mantras and healing sounds.
Khan will also be participating in a grand International Yog Festival "Festa Core" in Italy as the chief guest. Over 4500 yoga enthusiasts have registered for this festival from entire Europe and other countries. Khan is the only healing expert from India and one of the 7 invited from all across the globe.
Khan will also be offering services for a brief period at various Yoga Centers of Europe and hold workshop on Ayurveda also at Bordeaux in France.
Full report at:
http://timesofindia.indiatimes.com/city/jaipur/muslim-yoga-guru-invited-to-germany/articleshow/58250103.cms
--------
No Space For Discrimination Here, Says Muslim Principal Of College Set Up By Yogi Adityanath
Shivani Azad
Apr 19, 2017
YAMKESHWAR (PAURI): Yogi Adityanath may be known for his firebrand version of Hindutva politics but in neighbouring Uttarakhand, the Muslim principal of a degree college set up by the UP CM says that the institution is a symbol of "fairness, tolerance and humanity".
Set up by Yogi in his home district of Pauri in 1999, the Mahayogi Gurugorakhnath Degree College in Bithyani in Yamkeshwar block has been added to the list of government-aided schools in the state after the BJP came to power in Uttarakhand.
"The beauty of the college is that it is free from discrimination based on caste, religion or colour. It is as pure as the environment of the hills," principal Aftab Ahmad told TOI as he sat in his one-room office which has pictures of various freedom fighters and various Hindu gods hanging on the wall.
Ahmad, who hails from Dehradun, said that the college, which has 150 students, most of them girls, got affiliation from HNB Garhwal University in 2005 and employs NET-qualified teachers from across the country. There is no other degree college in the district. The closest degree college is in Rishikesh, 50 km away.
Ahmad, who was appointed as the head of the institution in 2014, said, "The idea here is to give the best of education to these young minds and promote values of humanity and tolerance."
Yogi's younger brother, Mahender Singh Bisht, who is the administrator of the college, said that the college has zero-tolerance for discrimination. "The college is not furthering any ideology. It is run by a Muslim principal who is the first one to play Holi with me each year and lights the earthen lamp on auspicious occasions," Bisht said.
Mukesh Tyagi, who has been teaching history in the college for eight years, added, "Whatever the personal ideology of the UP CM may be, it does not affect this institution. The purpose here is to impart education. The place has always been free from communal tensions or any kind of discrimination."
Full report at:
http://timesofindia.indiatimes.com/city/dehradun/no-space-for-discrimination-here-says-muslim-principal-of-college-set-up-by-yogi/articleshow/58247432.cms
--------
Caught with guns, defence attaché in Afghanistan repatriated
Apr 19, 2017
NEW DELHI: An Army Colonel posted as the defence attache in Afghanistan is now facing a probe after being repatriated a few months after two pistols were allegedly found in his possession during a security check at the Kabul airport.
Officials from the external affairs and defence ministries were tight-lipped about the curious case, but sources said the Colonel (name being withheld) has been "attached" to the Delhi Area while preliminary investigations are in progress.
"The charges levelled against the Colonel have not been substantiated yet," said a source.
Interestingly, the Colonel's brother, along with former Army chief General Dalbir Singh Suhag, had earlier faced a frontal attack by former Army chief V K Singh, now a minister of state for external affairs.
Just before he retired as Army chief in May 2012, Singh had imposed a discipline and vigilance (DV) promotion ban on Suhag, then a Lt-General commanding the 3 Corps at Dimapur.
Singh had charged Suhag with "abdicating responsibility" in handling a botched operation by an intelligence and surveillance unit led by the Colonel's elder brother.
But after General Bikram Singh (Retd) took over as Army chief from V K Singh, he lifted the ban on Suhag, paving the way for his eventual appointment as chief in July 2014.
The Colonel was allegedly carrying the pistols in his hand-baggage when they were detected during the security check at the Kabul airport in August 2016.
Full report at:
http://timesofindia.indiatimes.com/india/caught-with-guns-defence-attache-in-afghanistan-repatriated/articleshow/58250900.cms
--------
Africa
Police fire 'live bullets' at Nigerians urging Zakzaky's release
Apr 18, 2017
Nigerian police have reportedly used live bullets to disperse protesters demanding the release of Sheikh Ibrahim Zakzaky, the revered leader of the Islamic Movement in Nigeria (IMN).
Local media in Kaduna state said a peaceful protest held on Tuesday for the release of Zakzaky turned violent after police and accomplices fired live bullets at the demonstrators.
The protest came as people in northern Nigeria, where the IMN is based, continue to hold marches to demand the release of Zakzaky based on a court order.
Reports said hundreds of thousands of IMN supporters attended peaceful rallies in cities such as Katsina, Bauchi, Gombe, Minna and other places on Tuesday to urge Zakzaky's immediate release.
Eyewitnesses said a group of "thugs" were assisting police in the crackdown on protesters in Kaduna. They said people marched peacefully from a highway, but police and accomplices fired at them when they reached Bakinruwa junction. A woman was wounded and was transferred to the hospital. Organizers of the protest then decided to end the procession to prevent further casualties, witnesses said.
This file photo taken on August 11, 2016 in the northern Nigerian city of Kano shows protesters from the Islamic Movement in Nigeria (IMN) shouting into the microphone to press for the release of their leader Ibrahim Zakzaky and his wife Zeenat. (Photo by AFP)
Officials in the IMN say police have recruited more criminals over the past months to attack IMN supporters. They say use of excessive force by police in Kaduna was not acceptable as officials in other cities allowed protests for Zakzaky's release to go on without any problem.
Sheikh Zakzaky, who leads the IMN, was arrested more than a year ago during raids by the Nigerian army on peaceful gatherings of IMN members in the northern city of Zaria.
Human rights groups have fiercely criticized the government in Abuja over the crackdown on Zakzaky's followers. They say nearly 350 IMN members have been killed in the army raids on the gathering of Shias over the past year.
Human Rights Watch called on Nigeria late last year to end the crackdown on IMN supporters and release Zakzaky from prison.
Amnesty International also issued a statement in January and urged the government to comply with the court ruling that calls for an end to the "unlawful" detention of Zakzaky.
A deadline for the release of Zakzaky and IMN supporters expired in January as the government ignored calls to end the illegal imprisonment.
'International community shows no proper response'
Arzu Merali, a political analyst from London, said some governments have financial and geopolitical interests in Nigeria and that has forced them to remain silent in the face of Abuja's crackdown on movements for justice.
"Ultimately these crimes are not properly chased up by the international community because of their (some governments') various interests (in Nigeria) of various types," Merali told Press TV on Tuesday.
Commenting on the excessive force used by police and security forces to deal with protesters in Kaduna, Merali said the violence shows that the Nigerian government and the military have become emboldened as Western governments keep silent on the crackdown.
"Because there has not been a proper response from the international community, this of course is going to embolden the security services to take even more violent measures," she said.
http://www.presstv.ir/Detail/2017/04/18/518562/Nigeria-rally-Zakzaky-release
--------
Kenya Rushes to Tap Sh234trn Global Halal Gold Mine
18 APRIL 2017
By James Ngunjiri
A push to have Kenya tap into the Halal economy goldmine is gaining steam on the back of legal and regulatory reforms initiated by the various government agencies.
Halal, an Arabic word, means lawful or permissible. With regard to food, it is the Islamic dietary standards, as prescribed in the Quran. It also encompasses non-food items such as cosmetics, banking and other financial services as well as logistics.
These principles guide a Muslim's economic and commercial decision-making, from buying property to investing and purchasing goods and services.
Worth an estimated $2.3 trillion (Sh236.9 trillion), the global Halal market has grown beyond the food sector to include pharmaceuticals, cosmetics and health products.
Others are toiletries and medical devices, travel and tourism, fashion, as well as service sector components such as logistics, marketing, print and electronic media, packaging, branding and financing.
These new sectors, combined with the power of the growing Muslim population (1.8 billion and counting), make the Halal market a global force to be reckoned with.
Food and personal care products must be approved or processed as Halal, for instance. Animals are slaughtered according to Islamic law to meet these standards.
Experts say countries such as Kenya must move with speed to tap the gold mine that is the sector.
And now in a bid to get a piece of the pie, the Tourism Regulatory Authority and Halal Certification Bureau have developed a robust legal framework for hospitality industry setting grounds for Kenya to tap into the multi-billion-shilling global Islamic products market.
Currently, the country lacks a regulatory framework for Halal food and facilities and this has seen Kenya miss out on the growing Halal tourism, which has a global worth of about $219 billion (Sh22.557 trillion).
"We are developing these classifications and very soon we will gazette them so that those who want to offer the service can have standards," said Tourism Cabinet Secretary Najib Balala during the East Africa Islamic Economy Summit (EAIES) held in Nairobi last week.
"We have realised that it is not just about food, it is a big market and we need to learn and put the standards in place so that we can go and inform the hotels and restaurants what is required by a Halal client when they come in. We want to capture that market," said Mr Balala.
To get a Halal certification, a company's products have to undergo thorough inspection and once found to have conformed to the Islamic dietary laws, are certified.
Having met these stringent certification criteria, a Halal permit and logo are issued to successful firm.
The symbol can be imprinted on the packaging material of the certified product or used in any form of advertisement.Muslim-friendly travel has also evolved in recent years to become a fundamental market.
Niche market
With the rising availability of prayer facilities, Halal restaurants and Islamic hospitality products, Muslim travellers are continuously exploring new destinations.
According to EAIES, Halal travel in Africa offers significant growth potential for the tourism industry.
The Muslim tourists globally represent a major niche market, a market that has a young demographic, is growing in affluence and is increasingly asserting its unique needs on the travel, tourism and hospitality market. Tanzania, Zanzibar and South Africa are currently the most popular destinations and the best equipped for Halal market.
Participants at the EAIES said that Kenya, one of Africa's tourism destinations must tap into Halal travel to boost its tourism industry which has struggled to pick up in the last five years.
Full report at:
http://allafrica.com/stories/201704180709.html
--------
Uganda: Schools Suspend Meals As Food Prices Increase
19 APRIL 2017
By Moses Muwulya
Masaka — Many schools in Masaka District have suspended breakfast due to the rising prices of maize flour in the area.
This has been blamed on the dry spells, which affected crop yields thus leading to high prices of beans and maize.
Although this has affected households too, schools are more hit since many administrators feed learners on both posho and beans.
Speaking to Daily Monitor, Mr Joseph Balikuddembe, the head teacher Nyendo Progressive Primary School, confirmed that they stopped serving porridge to pupils in the boarding section early morning and only provide it at break time.
"We currently give them porridge at 10:30 am as they wait for lunch. We found it un sustainable to serve them porridge at 7am given the high cost of maize flour, as a school, we hope to engage parents and see if we charge them an extra amount of money next term," he said.
Some primary schools outside Masaka Town have resorted to providing mid-day lunch to learners for only three days a week.
Mr Ronald Kaweesi, the head teacher King Fahad Muslim Primary School in Mukungwe Sub-county, said they have substituted posho with sweet potatoes, which are a bit cheaper.
issues
Diversion. Mr William Juuko, the director, Kasaana Junior School and Villa Road Primary School in Nyendo Town , explained that the high food prices have forced them to halt some planned activities and divert funds to buy food.
Prices. According to Mr Jjuko, a sack 50 kilogrammes of maize flour, which was costing Shs60,000 three months ago currently cost Shs115, 000.
Full report at:
http://allafrica.com/stories/201704190032.html
--------
URL: https://www.newageislam.com/islamic-world-news/another-member-minority-religious-sect/d/110826
New Age Islam, Islam Online, Islamic Website, African Muslim News, Arab World News, South Asia News, Indian Muslim News, World Muslim News, Women in Islam, Islamic Feminism, Arab Women, Women In Arab, Islamophobia in America, Muslim Women in West, Islam Women and Feminism