New Age Islam News Bureau
25 Apr 2014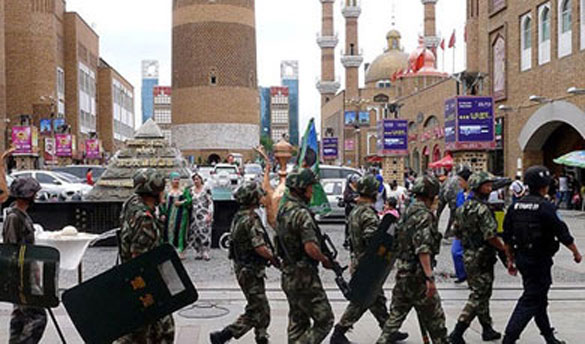 Photo: China to reward spying on Uighurs in East Turkestan
------------
Africa
• Angry Muslims in Central African Republic Call for Partition
• Muslim Clerics Recruiting Boko Haram Members - Cameroon Govt
• Boko Haram Threatens to Kill Abducted Schoolgirls If Search Is Not Stopped
• Jihadists now control secretive U.S. base in Libya
• Mali's Peace Train 'Cannot Be Turned Back,' Senior UN Official Tells Security Council
• Kenya police kill Shabaab suspect
Arab World
• Approximately 11,000 Foreign Jihadis in Syria, Recruited Through Social Media and Skype
• 71 killed in separate car bombs and battles between the Syrian army and rebels
• Al-Qaida branch, other Islamist groups take Syrian army post near Golan
• Iraqi fighter: Hizbullah lied about protecting Syrian shrines
• Arab League, Gulf states hail Palestinian reconciliation deal
• ISIL rebels open Fallujah floodgates, 1700 families flee
• Syrian regime under siege near Israel's border
• US to give Egypt $650 million in military aid
Europe
• 'Russia Wants to Start World War Three', Ukrainian Prime Minister Warns
'• Al-Qaeda's librarian' denies recruiting jihadists in Spain
• Islamic party functionary held in Tajikistan
• Ukraine says no let-up in "anti-terrorist" operation
• UN rights monitor criticizes Bahrain over Shiite expulsion
• U.N. says rape persists in Syrian conflict
• Make friends with Putin to fight Islamic extremists, says Blair
North America
• 'Carloads' Of Terrorists Turned Oregon Ranch into Training Camp
• American Muslims to sue US gov't over no-fly list
• US deports Pakistani Muslim for supporting jihad terrorism
• Kerry urges compromises to advance Mideast peace talks
• FBI informant linked to hacking of Pakistan govt websites
• Obama says Abbas unity push with Hamas 'unhelpful'
India
• Gujarat Cops Wake Up After 10 Yrs, Arrest Hyderabad Maulana for 'Role' In Terror
• Abu Azmi explains his 'punish women too' remarks to Maharashtra women's commission
Southeast Asia
• Malaysia: Obama to "honour Islam" by visiting triumphal mosque built on site of church
• Muslims should avoid saying 'Rest in Peace', says Jakim
• Indonesian Maid Allegedly Tortured in Hong Kong Listed on Time's Top 100
• Leave Pakatan if you are adamant on implementing Hudud, DAP tells PAS
• Pahang Islamic authorities draw more flak for Bible ban, this time from an NGO
Pakistan
• Foreign militants seeking 'safe passage' from in and around North Waziristan
• Terrorists are our open enemies: Bilawal
• Blast in Karachi's Delhi Colony kills four, wounds more than 20
• One-sided media trial against armed forces should end, says Nisar
• Govt to seek release of 4 dozen captives from TTP
• Four policemen killed in Balochistan's Naseerabad district
Mideast
• 'Pact with Hamas kills peace,' Netanyahu says
• Number of Kurdish publications in Turkey quadruples in six years
• Christian leaders tell youth to 'tear up' Israel army forms
• Istanbul court accepts graft indictment against Fatih Municipality
• Palestinians to consider 'all options' in response to Israel
• Azerbaijan's tolerance can be model for all countries - Israeli ambassador
South Asia
• Two Held, Imam Removed in Raids on Xinjiang Mosque
• 'West won't buy Bangladeshi workers blood stained clothes': Robert Menendez
• China believes arms firm did not violate rules in Syria
• Yameen concedes that GMR is owed some compensation
Compiled by New Age Islam News Bureau
URL: https://newageislam.com/islamic-world-news/new-age-islam-news-bureau/angry-muslims-in-central-african-republic-call-for-partition/d/76747
-----------
Africa
Angry Muslims in Central African Republic Call for Partition
By Emmanuel Braun
Apr 25, 2014
BAMBARI, Central African Republic (Reuters) - In this dusty town at the heart of the Central African Republic, many angry Muslims advocate a simple solution to the threat of religious violence from Christian militias terrorising the country's south: partition.
Bambari lies near the dividing line separating Central African Republic's Christian south - where mobs have lynched hundreds of Muslims and torn down their homes - from a northern region controlled by the mostly Muslim Seleka rebels.
Seleka seized power last year, saying they had been excluded by southern tribes from the country's oil, gold and diamond wealth. But their 10 months in power - a murderous orgy of looting and extortion - sparked a sectarian backlash that is driving Muslims from the south despite the presence of French and African Union peacekeepers.
Many people in Bambari say the savagery of the violence, which has displaced nearly a quarter of the country's 4.5 million people, has brought about a turning point. Young Muslims here are circulating by cellphone a design for the flag of what they dub the 'Republic of Northern Central Africa'.
"The partition itself has already been done. Now there only remains the declaration of independence," said Abdel Nasser Mahamat Youssouf, member of a youth group lobbying for the secession of the north, as he pointed to the flag of what he said would be a secular republic.
It is a familiar story in Africa, where borders from the colonial era ignored ethnic boundaries, storing up tensions for independence. The secessionist calls here echo other African conflicts, notably in neighbouring South Sudan, an oil producer that split from Sudan to become the world's newest nation three years ago.
Nigeria, Africa's largest economy and oil producer, has also seen its unity strained by an uprising in its oil-rich Delta region, an Islamist insurgency in the northeast and violence in its Middle Belt, where clashes over land are exacerbated by ethnic and religious enmities.
SAFE HAVEN FOR MUSLIMS
Bambari's red-earth streets have become a haven for Muslims fleeing persecution in the south. A convoy of French peacekeepers escorted some 100 Muslims here on Monday from violence in the PK12 neighbourhood of the capital Bangui, 300 kilometres (186 miles) southwest.
Two more convoys are due in the coming days, completing what one human rights organisation has dubbed the 'religious cleansing' of one of Bangui's main Muslim areas. Reconciliation Minister Antoinette Montaigne decries the evacuation missions as tantamount to accepting partition.
Many in Bambari say there is no alternative. After Seleka seized power in Bangui in March last year, 'Muslim' became synonymous with the northern insurgents, giving a religious hue to the battle for resources.
When Seleka was forced to cede power under international pressure in January, Christian militias called 'anti-Balaka' set about systematically driving Muslims from the south.
"They don't want any Muslims. Rather than calling their country the Central African Republic, they can call it the Central African Catholic Republic," said Oumar Tidiane, from the same secessionist youth group as Youssouf.
Residents say Bambari, a bustling market town of 65,000 people, is a place where Christians and Muslims live in harmony. Though its mud-brick houses attest to its poverty, the town has long been a cosmopolitan crossroads for traders and a starting point for the northward journey to Chad and Cameroon.
"I ask people in Bangui to note the example of Bambari, where Christians and Muslims live side by side. We don't understand what's going on there," said Paulain Kossikako, a market trader who is a Christian.
CHRONICALLY WEAK
Central African Republic has suffered five coups and numerous rebellions since independence from France in 1960. That, and spillover from conflicts in Democratic Republic of Congo, Sudan and Chad, made it a chronically weak state even before this crisis.
But there are many powerful voices ranged against partition, not just the vehemently opposed interim government in Bangui. France has said it will do everything to prevent it, and U.N. Secretary General Ban Ki-Moon has warned of its dangers.
Other African governments are also no supporters, conscious of the implications of separatist movements on a continent where many borders were arbitrarily drawn.
And the evidence from elsewhere shows that partition is no guarantee of peace. South Sudan is now threatened by civil war between troops backing President Salva Kiir and soldiers loyal to his sacked deputy, Riek Machar. The fighting has worsened ethnic tensions between the Dinka and Nuer peoples, sparking a massacre in the oil town of Bentiu.
Within Seleka, its leaders are divided on whether to push for independence. Hardliners like General Abakar Sabone - who controls the far north Vakaga region - has said partition is inevitable if Muslims are denied a role in government.
In Bambari, Seleka commander General Ali Darassa said the country had to rise above religious differences. "Here we treat everyone equally, the same. Everybody has their right. We can't accept what the anti-Balaka are doing." (Writing by Matthew Mpoke Bigg and Daniel Flynn; Editing by Will Waterman)
http://in.reuters.com/article/2014/04/25/centralafrica-partition-idINL6N0NG5ZF20140425
-----------
Muslim Clerics Recruiting Boko Haram Members - Cameroon Govt
Apr 25, 2014
Nigerian Muslim clerics living in the border towns of Cameroon and Nigeria are recruiting Boko Haram members in their mosques, the government of Cameroon has alleged. Worse still, government officials in the North East states of Yobe, Borno and Adamawa collaborate with the terrorists and take bribes from them, thereby, hindering the fight against the terrorists. Governors of these states also capitalise on their civilian fears to berate the army and the federal government.
These allegations were published in a report, yesterday, by US-based online military news agency, StrategyPage. The magazine explains that the army wants governors in the affected states removed because "many officials in those states are cooperating with Boko Haram (to avoid attack) and are taking bribes from the Islamic terrorists.
"Some of these officials are covering themselves in case Boko Haram should gain power and the governors are often just responding to civilian fears of army misconduct," it noted.
The magazine said: "Cameroon is also concerned about pro-Boko Haram clerics from Nigeria quietly preaching and recruiting for Boko Haram in Cameroon mosques.
"Islamic conservative clergy are not unusual on either side of the border, but those who do not denounce Boko Haram are suspected of quietly recruiting young men to join the "jihad" (struggle) and fight (and often die) in Nigeria. These preachers have to recruit quietly because otherwise police in Cameroon will arrest and deport them, sometimes after a vigorous interrogation. Evidence of this recruiting is showing up when some of the recruits return from Nigeria with tales of disillusionment and adversity while with Boko Haram," the report said.
The magazine said that the Cameroonian government is "being criticized because recent claims of large (over 5,000 weapons) arms seizures near the Nigerian border could not be verified by reporters. Civilians living in villages near where the government said the seizures took place said they saw nothing. The government responded that the smugglers operated in remote areas and avoided civilians as well as security forces. There are also concerns that even if weapons were seized they would, as often happens, be sold back to black market arms dealers so that government officials could keep the cash."
On the military, the report said: "Residents of those three states have justifiable complaints about the army, in particular the casual attitude of the military towards the safety of civilians and their property.
"The army is also unreliable when it comes to sharing information on casualties. Thus Boko Haram related deaths so far this year are believed to be (based on local reports) at least 1,500, which is 50 per cent more than what the army reports. Boko Haram related deaths from 2010 to 2013 were about 3,600, so the violence is not declining.
"The government has been saying, for several years, that Boko Haram would be crushed within a year and never happens. More insightful observers point out that the problem is mainly one of corruption and poverty, as well as the appeal of Islamic radicalism as a magical cure. All of Nigeria suffers from corruption.
"Poverty is more prevalent in the Muslim north, in part because of climate. That's because the semi-desert Sahel region south of the Sahara Desert is found in the north. Another problem is the more conservative nature of Islamic populations and the lower education levels."
http://allafrica.com/stories/201404230422.html?aa_source=acrdn-f0
----------
Boko Haram Threatens to Kill Abducted Schoolgirls If Search Is Not Stopped
Apr 25, 2014
NOBEL Laureate, Professor Wole Soyinka, yesterday, called on the Federal Government to ensure the release of 230 students of Government Girls Secondary School, Chibok, Borno State, who were abducted by members of the Islamic sect, Boko Haram.
Professor Soyinka made the call on a day a coalition of women's rights in Borno expressed their readiness to mobilise thousands of women to embark on a voluntary search and rescue mission into the notorious Sambisa forest, to ensure the release of the abducted students.
Senate President, David Mark, on his part described the abduction of the girls as sacrilegious.
Meanwhile, members of the Islamist sect, Boko Haram, have threatened to kill the abducted students, should the search to recover them continue.
Soyinka tasks FG
Professor Soyinka, who gave the keynote address in Port Harcourt at the opening ceremony of declaration of Port Harcourt as UNESCO World Book Capital 2014, said the focus of the event was for the Federal Government to ensure the safe release of the students.
He said he had expected President Goodluck Jonathan to convene an emergency security meeting over the ugly development in the school after the abduction of the students.
He noted that the ongoing book fair in Port Harcourt was a national rejection of Boko Haram, adding that the Islamic sect does not reflect the teachings and values of Islam.
Minutes after his address, former Minister of Education, Dr. Oby Ezekwesili and the Project Director, Rainbow Book Club, Mrs Koko Kalango led the gathering to make a collective demand for the girls' release.
Storming Sambisa forest
The Borno women, under the auspices of BAOBAB Women's Right, have said they were ready to storm the major hide out of the insurgents in Sambisa forest, where the abducted girls were believed to be held.
Spokesperson for the group, Professor Hauwa Biu, told newsmen that they resolved to embark on the rescue mission when it was evident that no reasonable progress was being achieved in the rescue efforts.
Biu said: "We are ready to go into the forest and search for the girls. In fact, we are prepared to risk our lives and get up to Boko Haram camp and appeal to them to release the children to us so that they can re unite with their parents.
"There is nothing extraordinary in our quest to enter the dangerous forest. We learnt that some men in Chibok had earlier embarked on such mission, which later turned out to be fruitless.
"We felt that as mothers, we are in a better position to have the sympathy and concern over the fate of the missing girls.
"Our target is not to fight the abductors, but we want to beg them to release the girls in the name of the God that we all worship."
The group urged security forces to expedite action in their search and rescue mission of the students so that their parents can have rest of mind.
Biu appealed to security agents to make use of sophisticated weapons in detecting the location of the abductors for easy rescue operation.
She described the abduction of the school girls as inhuman, abuse of human rights, capable of scuttling efforts for enhanced girl child education in the state and the country at large.
She said: "The abduction of the innocent girls violates their human rights, and it is a crime against humanity and prohibited under international humanitarian law.
"Women in Borno strongly condemn this act in its totality as it deprives children their right to learn in a safe environment, thereby jeopardising their future."
Appeal
Biu also appealed to the insurgents to lay down their arms and hold dialogue with the government.
She said: "We wish to appeal to the insurgents to lay down their arms and embrace dialogue. We assure them of our motherly support toward rehabilitating them when the need arises
"We condemn all other attacks in form of bomb blasts and serial killings all over the country and commiserate with the families of those who lost their relations during the unfortunate incidents.
"We commend the efforts of Borno and Federal governments as well as youths and vigilantes in addressing the current insurgency in the country.
"However, bearing in mind the continuous attacks on schools, we appeal for the provision of adequate security to all schools so as to have a safe learning environment for our children."
It's sacrilegious--Mark
Meanwhile, Senate President, Senator David Mark has described as sacrilegious the abduction of the female students and called for their release.
The Senate President, in a statement by his Press Secretary, Paul Mumeh, in Abuja, yesterday, said the abduction was embarrassing and that no nation that had the desire to develop would indulge in such dastardly act.
He pleaded with the captors to listen to the voices of reason and release the teenagers.
According to the statement, "Senator Mark imagined the harrowing experience the students had been subjected to by their captors and the mental and psychological torture parents and guardians of the students had faced."
He said no nation could justify the abduction of the children whose only offence was that they chose to go to school to better their lots and contribute to the socio economic and political development of their fatherland.
Mark said: "It is a sad commentary and a terrible assault on our psyche as a people. In the good old days of Nigeria this was a taboo and unarguably unheard of."
The Senate President canvassed for synergy between and among security agencies, especially in the area of information gathering and sharing to facilitate their rescue, stressing that the deteriorating situation was making a mockery of the nation.
http://allafrica.com/stories/201404240355.html?viewall=1
----------
Jihadists now control secretive U.S. base in Libya
Apr 25, 2014
A camp on the Libyan coastline meant to train terror-hunters has instead become a haven for terrorists and al Qaeda.
A key jihadist leader and longtime member of al Qaeda has taken control of a secretive training facility set up by U.S. special operations forces on the Libyan coastline to help hunt down Islamic militants, according to local media reports, Jihadist web forums, and U.S. officials.
In the summer of 2012, American Green Berets began refurbishing a Libyan military base 27 kilometers west of Tripoli in order to hone the skills of Libya's first Western-trained special operations counter-terrorism fighters. Less than two years later, that training camp is now being used by groups with direct links to al Qaeda to foment chaos in post-Qaddafi Libya.
Last week, the Libyan press reported that the camp (named "27" for the kilometer marker on the road between Tripoli and Tunis) was now under the command of Ibrahim Ali Abu Bakr Tantoush, a veteran associate of Osama bin Laden who was first designated as part of al Qaeda's support network in 2002 by the United States and the United Nations. The report said he was heading a group of Salifist fighters from the former Libyan base.
In other words, Tantoush is now the chief of a training camp the U.S. and Libyan governments had hoped would train Libyan special operations forces to catch militants like Tantoush.
One U.S. defense official told The Daily Beast that the media report matched U.S. intelligence reporting from Libya. Another U.S. official in Washington said intelligence analysts were aware of the reports but had yet to corroborate them, however. A spokesman for Africa Command declined to comment for the story.
Tantoush himself on Tuesday evening gave an interview to Libyan television where he confirmed that he was in the country but also said he had not direct or indirect link to the camp. In the interview, Tantoush, who was indicted in 2000 for his role in the 1998 al-Qaeda bombings of two U.S. embassies in Africa, also claimed he has never participated in terror attacks for al Qaeda, and boasted of traveling to Libya on a fake passport.
According to one U.S. official who is read into the training program, the camp today is considered a "denied area," or a place where U.S. forces would have to fight their way in to gain access. Until now, the Western press has not reported that the base used to train Libyan special operations forces was seized by the militants those troops were supposed to find, fix and finish.
The fact that the one-time training base for Libyan counter-terrorism teams is now the domain of terrorists is a poignant reminder the United States has yet to win its war with al Qaeda, despite the successful 2011 raid that killed its founder and leader.
This is particularly true for Libya. Since the 9/11 anniversary attack on the U.S. diplomatic mission in Benghazi, jihadist groups and al Qaeda's regional affiliates have been gaining territory throughout Libya. News that a veteran like Tantoush is now in charge of a military base only 27 kilometers from Libya's capital shows just how much the security in Libya has deteriorated.
Seth Jones, an al Qaeda expert at the Rand Corporation, said Libya is now a haven for many of al Qaeda's North African affiliates. "There are a number of training camps for a wide range of al Qaeda and jihadist groups that have surfaced in southwest Libya, northwest Libya in and around Tripoli and northeast Libya in and around Benghazi," he said.
Daveed Gartenstein Ross, a senior fellow at the Foundation for the Defense of Democracies, added that "We've known for some time that Jihadist groups have established training camps throughout Libya. But this is significant because of the camp's proximity to Tripoli and because rather than creating camps in remote locations they took over a base used by the Libyan government."
"I suspect they will not keep this camp for very long. It's close to Tripoli and its location is known by the Libyan government," he said.
One U.S. official who worked on the program said the U.S. Special Forces began to refurbish the base in the summer of 2012, before the 9/11 anniversary attack in Benghazi. The actual training, however, did not begin until the fall of 2012. One U.S. defense official noted the initial program at Camp 27 endeavored to train 100 Libyan special operations soldiers. But even this modest goal was never really in reach.
"The program has not achieved the outcomes that we hoped that it would and the Libyans hoped it would," said Carter Ham, the now-retired four-star general who led U.S. Africa Command when the initial training program was established. While Ham said he was not aware of the latest reports that the base was now in the hands of an al Qaeda figure, he nonetheless acknowledged that myriad challenges—from the uncertainty in the leadership of the Libyan military to security on the ground—made it difficult to sustain the special operation forces training.
"The selection process for what Libyan unit and what Libyan soldiers would participate was probably not as rigorous as we would have liked it to have been," Ham continued. "But this was a Libyan decision and they had to decide what unit and what individuals to enroll in the program."
Ham said he remembered meeting with a small group singled out by the trainers as the emerging leaders. "That was promising," he said. "It was not as widespread as we would have liked. The militia these guys came from, they did not have significant military experience and certainly not in a hierarchical organization."
Things went downhill for Camp 27 in June of 2013 when two rival militias stormed the training facility and seized the equipment therein. At the time, no U.S. personnel were on the base, according to two U.S. officials who spoke to The Daily Beast on condition of anonymity. The only soldiers protecting the base were local Libyans.
Nonetheless, the base itself had a number of American weapons that wound up in the hands of the raiding militias. Those raids were first reported by Fox News. The U.S. defense official confirmed these reports and said the militias were able to seize night vision equipment, M-4 rifles, pistols, military vehicles, and ammunition.
The emergence of Tantoush is particularly troubling to American officials. He is considered one of the original members of al Qaeda's network. In 2000, he was indicted for his role in helping plan the 1998 attacks on U.S. embassies in Kenya and Tanzania. According to his designation by the United Nations, Tantoush was the head of an al Qaeda support group based in Peshawar known as the Revival of Islamic Heritage Society. In the interview Tuesday with Libyan television, Tantoush said his work in Peshawar was entirely humanitarian.
Jones said, "Tantoush has a long history from the Peshawar days of associating with senior al Qaeda leaders including Osama bin Laden. He has been involved in financing and facilitating al Qaeda activities and he has had a long-standing relationship with Libyan jihadist groups." Tantoush was also a senior member of al Qaeda's one-time franchise in Libya known as the Libya Islamic Fighting Group. In the 2000s, former Libyan dictator Muammar Qaddafi largely decimated that organization, leading some of its leaders to turn on al Qaeda itself. (Tantoush was not one of those turncoats.) Nonetheless, the group was able to assist al Qaeda's affiliate in Iraq by using the port city of Dernaa to funnel volunteer fighters to al Qaeda's jihad in Iraq in the last decade. Today, Dernaa is a key transit point for volunteers to join al Qaeda's holy war in Syria.
Things were not supposed to turn out this way. The training program for Libya's special operations fighters was authorized under section 1208 of the National Defense Authorization Act. 1208 programs differ from other special operations training missions because the funding is specifically for reimbursing foreign governments for assisting with counter-terrorism missions. Other special operations training missions—sometimes known as "white" programs—are meant only to build up another country's military. These programs are designed to produce combat-ready special operators to join U.S. SEALs and Delta Force teams on missions.
"This means in practice that these guys were expected to conduct missions with our guys," the U.S. defense official said. "But of course that never happened."
The raid in June was enough to effectively kill the training effort. The U.S. ambassador canceled the program in Libya until the security of U.S. personnel and equipment could be guaranteed. Those guarantees have not yet been provided. A spokesman for the U.S. embassy in Tripoli did not respond to queries. One U.S. official said the Pentagon was now considering a plan to conduct the special operations training for Libyans in an eastern European country.
For now, Libya looks like it could use as much help as it can get. Since a mix of local and foreign terrorists over-ran a U.S. diplomatic post and CIA base in Benghazi in 2012, jihadist groups have won key gains throughout Libya—and used this territory to help funnel fighters across the region. "Libya in general is a major thoroughfare, the I-95 for foreign fighters into Syria from Africa," the U.S. defense official said.
In March, Gen. David Rodriguez—Ham's successor as head of U.S. Africa Command—estimated in testimony before the Senate Armed Services Committee that a couple thousand foreign fighters had transited through northwest Africa to Syria. Rodriguez also said al Qaeda continued to coordinate activities by sharing expertise and resources throughout that region.
And now these militants have a base close to Tripoli, and an array of advanced tactical gear. "The biggest challenge we have is all the arms ammunition and explosives from Libya that continue to move throughout the region to northwest Africa," he told the committee. When asked if those arms have aided al Qaeda in Africa, Rodriguez answered, "It continues to support them throughout northwest Africa."
http://www.thedailybeast.com/articles/2014/04/23/jihadists-now-control-secretive-u-s-base-in-libya.html
----------
Mali's Peace Train 'Cannot Be Turned Back,' Senior UN Official Tells Security Council
Apr 25, 2014
Calling for continued cooperation with regional organizations to support Mali's steady efforts towards peace and stability through inclusive talks, a senior United Nations official today told the Security Council that despite progress, the security situation in the country's restive north remains "very fragile" with increased activity by terrorist groups.
"The window of opportunity to consolidate and sustain peace and stability in Mali stands wide open, but may also close unless sustained commitment by all stakeholders is upheld, with the support of the international community," Special Representative of the Secretary-General Bert Koenders told the 15-member Council.
The head of the UN Multidimensional Integrated Stabilization Mission in Mali (MINUSMA) noted the importance of creating synergies between the UN, the African Union (AU), the European Union (EU), the Economic Community of West African States (ECOWAS), and other key partners.
Mr. Koenders' briefing follows Mali's establishment of a new National Assembly, as well as the gradual return of public administration to the northern part of the country, where recent shellings in Gao, Timbuktu and Kidal have nevertheless raised security concerns.
Rooting out extremism, he said, relies on winning the hearts and minds of the local population through internationally supported national efforts "to ensure the establishment of an effective and efficient administration to implement critical rule of law, human rights and recovery programs that foster reconciliation and community cohesion."
Referring to UN Secretary-General Ban Ki-moon's latest report on the situation in the West African nation, Mr. Koenders noted the importance of active participation in the peace efforts by all sectors of Malian society, among them women, young people and civil society.
"The peace train has finally left and the station and it cannot turn back," the senior UN official said.
Addressing journalists after the briefing, Mr. Koenders said the Security Council had noted the political progress made in the past months, including informal UN-facilitated discussions between the Government and armed groups, which are contributing to preparing the ground for an inclusive political dialogue.
He noted that during today's briefing, the Council, as Mr. Ban had done in the report, underlined that the inclusive political process should start as soon as possible based on a consensual roadmap and timeline.
"With this roadmap, all parties must sit together now without preconditions," he said. "It is also important that the armed groups rise to the occasion and participate."
Speaking after a full morning of meetings and closed-door consultations, Ambassador U. Joy Ogwu of Nigeria, Council President for the month of April, echoed Mr. Koenders, calling on the Malian Government and the armed groups in northern Mali to urgently agree on the roadmap.
Reading a presidential statement, Ms. Ogwu said the negotiation process must be "inclusive, credible" and "open to all communities of the north of Mali" with the goal of securing a political solution to the crisis and long-term peace and stability, while respecting the sovereignty of the Malian state.
She and the other members of the Council welcomed the Government's recent appointment of a high-level representative to participate in the negotiations.
The Council also noted that authorities have officially started the process of cantonment, ultimately leading to a veritable disarmament, demobilization and reintegration process.
"Malians have a historic chance to overcome the crisis and to achieve a lasting, social and political contract with the north," Mr. Koenders said referencing Mr. Ban. "They must grasp this opportunity with both hands and the UN will accompany them all the way."
Returning to the security situation in the country, Mr. Koenders strongly condemned the reported killing of French hostage, Gilberto Rodrigues Leal, who had been kidnapped by armed men in November 2012.
The senior UN official also reiterated his call against the use of improvised explosive devices (IED) after initial reports today that a vehicle operated by MINUSMA personnel hit an IED, leaving the staff injured in a level 2 hospital in the country.
To combat the insecurity, the UN Mission has taken a series of measures, including strengthening its military patrols to 800 a month, Mr. Koenders said, as well as deployment of five new helicopters which will serve as "the ears and the eyes" of the Mission.
In the northern regions where inter-community clashes have been recorded involving Tuareg and Peuhl communities, UN human rights teams are also being deployed to establish the facts and dissuade further violence.
On a wider scale, the challenges in Mali are parts of the problems faced by the Sahel region and require regional support. IN that regard, Mr. Koenders noted the importance of the UN Integrated Strategy put forward by Romano Prodi, the Secretary-General's Special Envoy for the Sahel.
It aims to bolster governance, security, humanitarian requirements and development, while enhancing coordination in four spheres between the Governments of the region, between members of the international community, reaching out and listening to the people of the Sahel, and within the UN system.
These topics are likely to be included on the agenda for next week's international conference on Mali, due to be held in Bamako.
The conference is a follow-up to last year's Brussels meeting where the UN had stressed the importance of a dual trek political and military solution to stabilize the country.
http://allafrica.com/stories/201404241447.html?viewall=1
----------
Kenya police kill Shabaab suspect
World Bulletin / News Desk
Apr 25, 2014
Kenyan police on Friday shot dead a suspected Al-Shabaab rebel believed to be behind a spate of recent attacks in the East African country.
Rashid Tumbo Kufungwa was killed at a hideout in the coastal town of Diani after opening fire on police after refusing to obey orders to surrender, local Police Chief Joseph Omijah said.
"We were able to recover a G3 rifle, a pistol and several rounds of ammunition, which were stolen from police some time back," Omijah told Anadolu Agency.
Kufungwa is suspected of involvement in last month's church attack in Kwale County, which left six people dead.
Full report at:
http://www.worldbulletin.net/todays-news/134725/kenya-police-kill-shabaab-suspect
--------------
Arab World
Approximately 11,000 Foreign Jihadis in Syria, Recruited Through Social Media and Skype
Apr 25, 2014
According to the well-read Russian newspaper Nezavisimaya Gazeta, and as relayed on Arabic media, "the civil war in Syria appears to be in need of more victims, so that the jihadis are making use of the social networks to recruit fighters from among the Muslims of Britain."
Adds the report: "A new wave of recruitment of fighters has begun through social Internet networks, whereby there are approximately 11,000 foreign fighters among the ranks of the Islamic State in Iraq and Syria and the Nusra Front, 1,900 of whom are from Europe, 366 from Britain, 269 from Belgium, 412 from France, and 249 from Germany and Scandinavian countries."
As "enticement," the Russian paper states that "thousands of pictures of boys carrying weapons and calling on their friends and peers to join them in Syria have been deployed on social networks," pointing out that "Skype is also used to exchange experiences between old and new fighters."
Accordingly, "the Syrian crisis has become history's first battleground to recruit fighters across its social networking."
http://bharatpress.com/2014/04/24/approximately-11000-foreign-jihadis-in-syria-recruited-through-social-media-and-skype/
-----------
71 killed in separate car bombs and battles between the Syrian army and rebels
Apr 25, 2014
Damascus, April 25 (IANS) At least 71 people were reportedly killed in separate car bombs and battles between the Syrian army and rebels across the country, the media reported.
At least seven people were killed and many others wounded on Thursday when two rebel car bombs exploded in the countryside of Syria's northeastern province of Hasaka, which is largely populated by Kurds, Xinhua reported citing Syria's SANA news agency.
The first car went off near a school at the entrance of the town of Ras al-Ein, north of Hasaka, killing two people and injuring some others. The second car bomb simultaneously exploded at the al-Khamis marketplace in the town of Tal Halaf, west of Ras al-Ein, killing five people.
Full report at:
http://news.yahoo.com/71-killed-syria-conflict-015420078.html
-----------
Al-Qaida branch, other Islamist groups take Syrian army post near Golan
Apr 25, 2014
The Nusra Front, al-Qaida's branch in Syria, released a video showing the group taking over an important Syrian army post near the Golan Heights earlier this month.
The Nusra Front and various other Islamist groups are seen in the video, released on Wednesday, taking over Tal al-Ahmar ("The Red Hill"), a Syrian military post located in the Quneitra Governorate, according to an exclusive report on the video by the Jihad and Terrorism Threat Monitor of MEMRI (the Middle East Media Research Institute).
"It is indeed the first time that they [Islamist groups] took over an outpost of such importance and at this proximity to the Israeli border," Rafael Green, director of the Jihad and Terrorism Threat Monitor, told The Jerusalem Post on Thursday.
"According to other reports in the Arabic press, Assad forces are preparing an attempt to retake it, due to its value," he said.
Full report at:
http://english.alarabiya.net/en/media/digital/2014/04/25/Saudi-regulator-cyber-criminals-to-face-jail-time-and-pay-fines.html
-----------
Iraqi fighter: Hizbullah lied about protecting Syrian shrines
Apr 25, 2014
BAGHDAD – Baghdad resident Ali Nagy has been receiving a steady stream of visitors since he returned from Syria earlier in April. Many believed him dead.
Nagy, 33, is telling family and friends of the 20 days he spent in Syria, hoping they learn from his ordeal.
"I sold mobile telephone recharge cards in ... eastern Baghdad for two years," he told Mawtani. "Some of my not-so-good friends introduced me to a Hizbullah militia member."
"[He] told me about Syria, efforts by armed groups to destroy the sacred shrines and individuals ... who returned [from Syria] with enough money to buy their own houses," Nagy said. "He told me that I ... could be an asset ... in protecting the [shrine of] Sayyida Zainab."
The man offered him $5,000 to go to Syria, Nagy said. He also offered Nagy a salary four times higher than his present one and a chance for employment upon his return, Nagy said.
"Two days later, he gave me $2,000 and ... said that my wife would get the rest of the money when I arrived in Syria," Nagy said. She never did.
Full report at:
http://centralasiaonline.com/en_GB/articles/caii/features/main/2014/04/23/feature-01
---------
Arab League, Gulf states hail Palestinian reconciliation deal
World Bulletin / News Desk
Apr 25, 2014
The Arab League said on Thursday that it backs Palestinian President Mahmoud Abbas in the face of Israeli pressures following the signing of a reconciliation deal with the Palestinian resistance movement Hamas.
An Arab League statement quoted Secretary-General Nabil al-Arabi as telling Abbas in a phone conversation that the pan-Arab body welcomes the reconciliation agreement between his Fatah movement, which rules the occupied West Bank, and Hamas, which rules the Gaza Strip.
"This achievement [the agreement] will boost the Palestinian unity in the face of the serious challenges that face the Palestinian cause at this critical juncture," the statement quoted al-Arabi as telling Abbas in the conversation.
Full report at:
http://www.worldbulletin.net/headlines/134666/arab-league-gulf-states-hail-palestinian-reconciliation-deal
------------
ISIL rebels open Fallujah floodgates, 1700 families flee
World Bulletin / News Desk
Apr 25, 2014
At least 1700 Iraqi families have fled their homes in Fallujah's Abu Gharib district in the restive Anbar province after rebels in control of a local dam opened its floodgates and inundated the area with water.
The Ministry of Migration and Displaced Persons has registered 700 families from Abu Gharib whose homes have been submerged. It is currently registering 1000 more who fled to neighboring areas, especially Baghdad, ministry official Haidar Aday told Anadolu Agency.
The Fallujah dam was recently seized by the Islamic State of Iraq and Levant (ISIL) group, which took control of large swathes of the city last December.
The rebels had closed off the dam for days, temporarily halting the water supply to most southern provinces, Anbar local authority chief Sabah Karhout had told Anadolu Agency earlier.
Full report at:
http://www.worldbulletin.net/headlines/134662/isil-rebels-open-fallujah-floodgates-1700-families-flee
------------
Syrian regime under siege near Israel's border
Apr 25, 2014
Assad regime loyalist military forces have been under siege in the border area near Israel for many months, and attempts by the Syrian army to reverse rebel victories in the region have so far been a failure.
According to assessments by IDF Northern Command, the Syrian army controls just two locations along the border with Israel – the town of Quneitra and the Druse region of Khader – with all remaining border areas under the control of a myriad of rebel groups, which include radical jihadi organizations like Nusra Front.
Fierce battles have been raging at Tel Kudna, near the central Golan Heights, with inconclusive results thus far, according to army sources in northern Israel.
The IDF watches closely as rebels and Syrian army forces attack one another every day. It continues to make preparations for the day when jihadi gunmen turn their sights southward, toward the Israeli border.
Full report at:
http://www.jpost.com/Defense/Syrian-regime-under-siege-near-Israels-border-350412
------------
US to give Egypt $650 million in military aid
World Bulletin / News Desk
Apr 25, 2014
Around $650 million in foreign military financing will be released to Egypt pending congressional notification and approval, according to the U.S. State Department.
"The $650 million from FY2014 FMF will be the first of this funding to move forward," said State Deparment Spokeswoman Jen Psaki in a statement delivered Thursday.
The Egypt bilateral foreign assistance budget for fiscal year 2014 is approximately $1.5 billion, including $1.3 billion in foreign military financing.
Some $200 million is earmarked as economic support funds, $7 million for other security assistance programs, including International military education and training, international narcotics control and law enforcement, and nonproliferation, antiterrorism, demining and related programs.
http://www.worldbulletin.net/headlines/134667/us-to-give-egypt-650-million-in-military-aid
------------
Europe
'Russia Wants to Start World War Three', Ukrainian Prime Minister Warns
Apr 25, 2014
The Ukrainian Prime Minster Arseny Yatsenyuk has accused Russia of wanting to start World War Three by occupying Ukraine both "militarily and politically", creating a conflict that he said would spread to the rest of Europe.
"Attempts at military conflict in Ukraine will lead to a military conflict in Europe," Mr Yatsenyuk told the interim cabinet in remarks broadcast live. "The world has not yet forgotten World War Two, but Russia already wants to start World War Three."
His comments came as Ukraine's defence minister Mykhailo Koval said a column of Russian troops conducting exercises close to the Ukrainian frontier came within one kilometre of the border, but did not cross.
He cautioned:"Ukraine's armed forces are ready to repel any aggression."
Russian Foreign Minister Sergei Lavrov wared today Kiev's interim government would face justice for a "bloody crime" in eastern Ukraine and accused Washington of distorting an agreement designed to defuse the crisis.
Full report at:
http://www.independent.co.uk/news/world/europe/ukraine-crisis-russia-wants-to-start-world-war-three-prime-minister-warns-9285978.html
-----------
'Al-Qaeda's librarian' denies recruiting jihadists in Spain
Apr 25, 2014
A Saudi man dubbed "Al-Qaeda's librarian" on Thursday denied belonging to the organisation and recruiting jihadists for the group over the Internet during a Madrid court appearance.
Police detained Mudhar Hussein Almalki in March 2012 in the eastern city of Valencia where he had been living, accusing him of running an online forum dedicated to "recruiting and indoctrinating 'terrorists'."
Spanish public prosecutors accuse the Jordanian-born Saudi national of belonging to the Ansar al Mujahideen Network, which follows orders from Al-Qaeda, and are seeking a jail sentence of eight years.
They allege he drew up a list of targets which included former British prime minister Tony Blair, former Spanish prime minister Jose Maria Aznar and former US presidents George Bush and Bill Clinton, who he called "war criminals".
Almalki, 52, acknowledged calling the former leaders "war criminals" but denied having identified them as targets.
Full report at:
http://english.ahram.org.eg/NewsContent/2/9/99769/World/International/AlQaedas-librarian-denies-recruiting-jihadists-in-.aspx
-----------
Islamic party functionary held in Tajikistan
Apr 25, 2014
Dushanbe, April 25, Interfax - The Gorno-Badakhshan regional leader of the opposition Islamic Renaissance Party of Tajikistan (PIVT) has been arrested on suspicion of extremism, a spokesperson for the National Security Committee said.
"A criminal case has been opened with respect to the arrested Saodatsho Adolatov, a resident of the Gorno-Badakhshan Autonomous Region, under Article 189 (inciting national, racial or religious hatred) of the Republic of Tajikistan Criminal Code," the spokesperson said.
If found guilty, the opposition member faces from five to 12 years imprisonment. The majority of those arrested on suspicion of membership in the banned religious party Hizb ut-Tahrir classified as extremist in Russia and Central Asia are tried under Article 189.
"On several occasions the arrested individual publicly insulted local residents and created an atmosphere of mutual hatred. Thirty local residents complained about Adolatov's illegal actions to the appropriate authorities," the spokesperson said.
Full report at:
http://www.interfax-religion.com/?act=news&div=11223
-----------
Ukraine says no let-up in "anti-terrorist" operation
Apr 25, 2014
Ukraine is pressing on with its operation against pro-Russian rebels in the east and has ample military resources to keep up the offensive round the clock, the interior minister said on Friday.
Arsen Avakov dismissed talk that Kiev suspended its "anti-terrorist operation" (ATO) in the face of threats from Moscow after Ukrainian troops closed in on the rebel stronghold.
"There has been no suspension of the ATO in connection to the threat of invasion by Russia's armed forces," he wrote on his Facebook page. "The ATO goes on. The terrorists should be on their guard around the clock. Civilians have nothing to fear."
Full report at:
http://english.ahram.org.eg/NewsContent/2/9/99778/World/International/Ukraine-says-no-letup-in-antiterrorist-operation.aspx
----------
UN rights monitor criticizes Bahrain over Shiite expulsion
Apr 25, 2014
The UN's religious freedom monitor on Thursday urged Sunni-ruled Bahrain to halt discrimination against its Shiite majority and its spiritual leader, who was expelled from the Gulf kingdom this week.
The case of Sheikh Hussein al-Najati was a stark illustration of the broader mistreatment of Shiites in Bahrain, UN expert Heiner Bielefeldt said in a statement.
He said that he had contacted Bahrain's government to press his "grave concerns" over what he said appeared to be "religiously motivated discrimination" against Najati.
"Targeting the most senior and influential Shia religious figure in Bahrain may amount to intimidating and thus discriminating against the entire Shia Muslim community in the country because of its religious beliefs," he said.
Full report at:
http://english.ahram.org.eg/NewsContent/2/8/99768/World/Region/UN-rights-monitor-criticizes-Bahrain-over-Shiite-e.aspx
-----------
U.N. says rape persists in Syrian conflict
25 April 2014
Rape and sexual violence has been a "persistent feature" of the three-year Syrian civil war, a U.N. report has claiming, citing information from civilians who have fled the country.
U.N. Secretary-General Ban Ki-moon's report named 21 conflict-wracked countries, including Libya, Somalia, Sudan and Afghanistan, where rape and sexual violence have been a distinctive occurance.
The report details reported sexual violence in countries including Bosnia, Angola, Cambodia, Colombia, Guinea, Liberia, Nepal, Sierra Leone, Sri Lanka and Myanmar.
'Fear of rape'
In Syria, "the fear of rape served as a driving motivation indicates that sexual violence has been a persistent feature for families fleeing the violence," Zainab Hawa Bangura, the secretary-general's special representative on sexual violence in conflict told a news conference.
Full report at:
http://english.alarabiya.net/en/News/middle-east/2014/04/25/U-N-rape-sexual-violence-a-persistent-feature-in-Syria-crisis.html
-----------
Make friends with Putin to fight Islamic extremists, says Blair
Apr 25, 2014
Tony Blair was accused of an 'embarrassingly simple-minded analysis' yesterday after urging Britain to set aside its differences with Russia to fight radical Islam.
The former prime minister insisted tensions with President Vladimir Putin over his annexation of Crimea should not prevent cooperation to address religious extremism in the Middle East.
Mr Blair said the West's failure to send troops to Syria – a move violently opposed by his successor Ed Miliband – was a historic mistake for which Britain and its allies would pay a 'heavy price'
He also insisted further Nato action is needed in Libya as part of a 'titanic' struggle against radical Islam, that seeks to thwart democracy.
Mr Blair, now the West's 'envoy' to the Middle East, used a speech in London to argue that the rise of political Islam is a common thread running throughout the region, from Libya to Iran.
Full report at:
http://www.dailymail.co.uk/news/article-2611735/Make-friends-Putin-fight-Islamic-extremists-says-Blair-Former-PM-accused-simple-minded-analysis-comments-annexation-Crimea-not-prevent-cooperation-issue.html#ixzz2ztldm0b9
-----------
North America
'Carloads' Of Terrorists Turned Oregon Ranch into Training Camp
Apr 25, 2014
An Oregon woman says she thought she was opening up her family's ranch to local Muslims to teach them how to grow and can veggies — and that her husband was even expecting a tax write-off.
But US-born Muslim convert Eva Hatley testified in Manhattan federal court Tuesday that after the "carloads'' of fellow Muslims she met through her mosque arrived at the 160-acre ranch in Bly in 1999, the couple watched helplessly as their home was turned into an al Qaeda training camp.
"It wasn't anything like I envisioned for the property," insisted Hatley, testifying at the trial of one-eyed, hook-handed hate preacher Abu Hamza al-Masri.
Hatley, a two-time witness-protection-program flunky who prefers going by her Muslim name, Ayat Hakimah, said other Muslims from London would soon arrive on al-Masri's orders.
Hatley's then-husband, Ivan Rule, was temporarily out of town "shepherding" while his longtime ranch was being overrun with terrorists-in-training, she said.
Full report at:
http://nypost.com/2014/04/23/woman-says-terrorists-turned-her-ranch-into-training-camp/
----------
American Muslims to sue US gov't over no-fly list
World Bulletin / News Desk
Apr 25, 2014
Naveed Shinwari and three other American Muslims are suing the US government after claiming that they have been put on the no-fly list in a bid to coerce them into working for the FBI and spy on other Muslims.
Speaking to Juan Gonzales from Democracy Now!, Shinwari said that he had no idea how he got onto the list, which according to the New York Times includes 700,000 people, or how to get off it.
Shinwari was due to return to the US from Afghanistan in February 2012 where he had gone to get married. His return journey with his mother included a stop-off at Dubai, where he was denied a boarding pass to the US. He was then taken to a room where he was interrogated by two FBI agents for four hours, in which he was asked if he had attended any training camps.
After being stuck in Dubai for a total of five days, he was finally granted a boarding pass to the US, only to be interrogated against by FBI agents on his arrival in Washington as well as several visits to his house by agents. A month later he was told he was on the no-fly list. For this reason, he has been unable to visit his wife for 26 months.
Full report at:
http://www.worldbulletin.net/headlines/134706/american-muslims-to-sue-us-govt-over-no-fly-list
--------
US deports Pakistani Muslim for supporting jihad terrorism
Apr 25, 2014
WASHINGTON: The US has deported a Pakistani national sentenced to three years in prison for providing material support to a foreign terrorist organisation. Zahid Yousaf, 45, was put on a Karachi-bound commercial plane on April 16th and was handed over to Pakistani law-enforcement agencies two days later, the US Immigration and Customs Enforcement said in a statement. Yousaf pleaded guilty to a felony count of conspiracy for providing material support to a designated foreign terrorist organisation in federal court in September 2011.
The US District Court for the District of Columbia subsequently sentenced Yousaf to 36 months in federal prison in December 2011 and ordered his removal from the country, following the completion of his sentence. The convict was taken into immigration custody on October 22, 2013 after his release from prison by the Immigration and Custom Enforcement (ICE). "ICE will continue to focus its enforcement operations on identifying, arresting and removing dangerous criminals who pose the greatest risk to our communities," said ICE's Acting Field Office Director Michael W Meade. In fiscal year 2013, ICE conducted 368,644 removals nationwide.
http://www.nation.com.pk/national/25-Apr-2014/us-deports-pak-national-for-supporting-terrorism
-----------
Kerry urges compromises to advance Mideast peace talks
Apr 25, 2014
US Secretary of State John Kerry on Thursday called on the Israelis and Palestinians to make compromises so as to forward the stalled peace talks.
The fresh appeal from the top American envoy came as Israel's security cabinet decided to suspend the negotiations in response to ongoing reconciliation efforts between rival Palestinian factions of Fatah and Hamas, Xinhua reported.
"There's always a way forward, but leaders have to make the compromises necessary to do that," Mr. Kerry told reporters before meeting with Norwegian Foreign Minister Borge Brende at the State Department.
"We may see a way forward, but if they're not willing to make the compromises necessary, it becomes very elusive."
Washington is trying its best to extend the negotiations that were restarted in late July last year and supposed to end by April 29 with an agreement on all the core issues like security, border, the status of Jerusalem and refugees.
Full report at:
http://www.thehindu.com/news/international/world/kerry-urges-compromises-to-advance-mideast-peace-talks/article5946270.ece
-----------
FBI informant linked to hacking of Pakistan govt websites
Apr 25, 2014
WASHINGTON: A hacker who became an informant for the FBI directed hundreds of cyber attacks against the websites of foreign governments, including Brazil, Iran, Pakistan, Syria and Turkey, the New York Times reported Thursday.
It was unclear whether the FBI explicitly ordered the digital attacks, but court documents and interviews suggest "that the government may have used hackers to gather intelligence overseas," the Times wrote.
The figure at the center of the case is Hector Xavier Monsegur, who had become a prominent hacker with the activist group Anonymous, which has staged cyber assaults on MasterCard, PayPal and other commercial and government targets.
Monsegur was arrested by the Federal Bureau of Investigation and became an informant, helping the law enforcement agency identify other members of Anonymous.
Monsegur instructed a fellow hacker, Jeremy Hammond, to extract data from a long list of foreign government websites. And then that information – which included bank records and login details – was uploaded to a server "monitored" by the FBI, the Times reported, citing court papers.
Full report at:
http://www.dawn.com/news/1102060/fbi-informant-linked-to-hacking-of-pakistan-govt-websites
-----------
Obama says Abbas unity push with Hamas 'unhelpful'
Apr 25, 2014
Israelis and the Palestinians were back to square one in the peace process on Friday after Israel torpedoed US-sponsored talks in response to a Fatah-Hamas reconciliation deal.
Israeli Prime Minister Benjamin Netanyahu set the tone, telling the BBC that Palestinian president Mahmud Abbas could "have peace with Israel or a pact with Hamas (but) he can't have both".
"As long as I'm prime minister of Israel, I will never negotiate with a Palestinian government that is backed by Hamas terrorists that are calling for our liquidation," he added.
US President Barack Obama, whose administration dragged the two sides back to the negotiating table in July after a three-year hiatus, said Friday the Palestinian unity deal was "unhelpful".
Full report at:
http://english.ahram.org.eg/NewsContent/2/8/99783/World/Region/Obama-says-Abbas-unity-push-with-Hamas-unhelpful.aspx
-----------
India
Gujarat Cops Wake Up After 10 Yrs, Arrest Hyderabad Maulana for 'Role' In Terror
Written by Muzamil Jaleel | New Delhi | April 25, 2014
In the election heat and dust, a controversial arrest made by the Gujarat Police passed unnoticed last month. On March 23, the police picked up Maulana Mohammad Abdul Kavi, a well known religious scholar of Hyderabad, from Delhi airport and took him to Ahmedabad.
The case against Kavi is over 10 years old. It names him as an accused in a conspiracy to organise "revenge for 2002 communal riots in Gujarat" where "the Muslims had suffered heavy loss".
According to the Gujarat Police, a case was filed on April 4, 2003, a day after "five boys from Ahmedabad" were arrested. The Crime Branch invoked POTA — the harsh anti-terror law that was repealed the following year — and named 39 accused and 43 absconding accused in the chargesheet filed on September 10, 2003.
Kavi's name was not among them. The Crime Branch filed a second chargesheet on January 21, 2004, with another 53 names. Kavi was named in this chargesheet as an "absconding accused".
Full report at:
http://indianexpress.com/article/india/india-others/gujarat-cops-wake-up-after-10-yrs-arrest-hyderabad-Maulana-for-role-in-terror/2/
-----------
Abu Azmi explains his 'punish women too' remarks to Maharashtra women's commission
Swati Deshpande,TNN | Apr 25, 2014
MUMBAI: Samajwadi Party leader Abu Azmi, a day after Mumbai went to polls, was present before Susieben Shah, chief of the Maharashtra State Commission for Women to explain his alleged controversial remarks that women who have sex outside their marriage must be punished too.
Azmi came personally on Friday as summoned by the commission and said that he had expressed his opinion as an individual. He gave his submissions in writing too.
There was a brief hearing and Azmi left. The commission will now decide on the issue.
The commission had, suo motu, issued a show-cause notice to the political leader after his alleged remarks. Bharatiya Muslim Mahila Andolan had made a representation of protest too, against the remarks, which they said must be condemned as being anti-women.
Azmi had, in an interview to a tabloid, said that if any woman who goes out with a man, with or without her consent, should be punished too. Flavia Agnes women's right advocate had called his remark, "preposterous and senseless".
http://timesofindia.indiatimes.com/india/SP-leader-Abu-Azmi-explains-his-punish-women-too-remarks-to-Maharashtra-womens-commission/articleshow/34194078.cms
-----------
Southeast Asia
Malaysia: Obama to "honor Islam" by visiting triumphal mosque built on site of church
Apr 25, 2014
PUTRAJAYA: US President Barack Obama will be knocking on the doors of one of Malaysia's most iconic landmarks – Masjid Negara.
The visit to the mosque, built in 1922 on the site of a church, is being greatly anticipated, with Muslim scholars here saying it would further emphasise the president's commitment to reach out to the Muslim world.
Religious Adviser to Prime Minister Tan Sri Dr Abdullah Md Zin said it was "not common" for a leader of a superpower to include a visit to a mosque in their itinerary.
"There can be no better way for Obama to honour Islam than by visiting Masjid Negara. It will be interesting to know what he has to say about the mosque and Islam," he added yesterday.
Johor Islamic Council adviser Datuk Nooh Gadut said that although Obama was not compelled to visit the mosque, his choice to do so meant a lot to Muslims in Malaysia and around the world.
Full report at:
http://www.thestar.com.my/News/Nation/2014/04/24/Obama-to-visit-Masjid-Negara-Best-way-for-US-president-to-honour-Islam/
-----------
Muslims should avoid saying 'Rest in Peace', says Jakim
Apr 25, 2014
Muslims are not encouraged to say "rest in peace" to a non-Muslim upon the latter's death, the Department of Islamic Development Malaysia (Jakim) said today.
Datuk Othman Mustapha, director-general of Jakim, said saying those words had implications on a Muslim's faith if the real meaning was not understood, as saying "rest in peace" was a practice of non-Muslims that should not be followed by Muslims.
"The words 'rest in peace' is usually uttered by the Christians, especially Catholics, since the 18th century. These words are also often inscribed on the grave stones of demised Christians.
"The full version which originates from the Latin language goes, 'May his soul and the souls of all the departed faithful by God's mercy rest in peace'," he said today.
Othman was explaining the Fatwa Malaysia posting on his Facebook page on April 17 relating to the issue, which has caused dissatisfaction among certain quarters.
Full report at:
http://www.themalaysianinsider.com/malaysia/article/muslims-should-avoid-saying-rest-in-peace-says-jakim-bernama
-----------
Indonesian Maid Allegedly Tortured in Hong Kong Listed on Time's Top 100
Apr 25, 2014
Hong Kong. Time magazine has named an Indonesian maid allegedly tortured by her Hong Kong employer as one of the world's 100 most influential people, putting the spotlight on the city's treatment of its migrant workers.
Erwiana Sulistyaningsih, 23, reportedly suffered months of abuse in a case which has renewed concerns over the treatment of domestic helpers in the southern Chinese city and sparked angry protests.
Time magazine hailed Erwiana's bravery in speaking out against her employer and pushing for laws that better protect maids in Hong Kong.
"It is brave women like her who speak up for the voiceless who will create lasting change," Cambodian activist Somaly Mam said of Erwiana in the list published on Thursday. "Erwiana is advocating for better laws to protect others who may share her fate, placing a spotlight on the plight of a vulnerable and often invisible population."
Full report at:
http://www.thejakartaglobe.com/news/indonesian-maid-allegedly-tortured-hong-kong-listed-times-top-100/
-----------
Leave Pakatan if you are adamant on implementing hudud, DAP tells PAS
Apr 25, 2014
If PAS is determined to go ahead with its plans to implement hudud in Kelantan, then the Islamist party should pull out of the Pakatan Rakyat (PR) coalition, said DAP's Anthony Loke.
The DAP organising secretary said the PR consensus was clear and it did not include hudud.
"As a political party which is principled and responsible, PAS should respect and abide by the consensus it agreed to when the party joined PR.
"If PAS is determined to go ahead with its plans, it should do the respectable thing and withdraw from PR," Loke (pic, top right) said.
In a statement, Loke said PAS had clearly disrespected the consensus agreed on by its coalition partners, PKR and DAP, when it submitted a private members bill in Parliament with the clear intention of introducing hudud law in Kelantan, where the Islamist party is the ruling government.
Full report at:
http://www.themalaysianinsider.com/malaysia/article/leave-pakatan-if-you-are-adamant-on-implementing-hudud-dap-tells-pas
-----------
Pahang Islamic authorities draw more flak for Bible ban, this time from an NGO
Apr 25, 2014
A new group that promotes moderation and good governance has joined the chorus of condemnation of the Pahang Islamic authorities' ban on non-Muslim religious materials in hotels, saying that the move is against freedom of choice.
The non-governmental organisation, Centre For A Better Tomorrow (Cenbet), which was set up this month, said the state's Islamic and Malay Customs Council's (Muip) has no jurisdiction over non-Muslims and as such, its "directive" which prohibits the placement of Bibles and other non-Muslim religious materials has no legal compulsion against the hotels.
"It is the freedom of choice of the hotels to supply such materials in its rooms. Conversely, it is the freedom of choice of anyone not to stay in such hotels if they disagree with the hotel policy," said its co-presidents Lim Chee Wee and Gan Ping Sieu in a statement today.
Lim was a former Bar Council president while Gan was the ex-deputy Youth and Sports minister and former MCA vice-president. Both are lawyers, with Gan holding a diploma in Shariah law.
Full report at:
http://www.themalaysianinsider.com/malaysia/article/pahang-islamic-authorities-draw-more-flak-for-bible-ban-this-time-from-an-n
-----------
South Asia
Two Held, Imam Removed in Raids on Xinjiang Mosque
Apr 25, 2014
Chinese authorities in the restive northwestern region of Xinjiang have dismissed the imam of a local mosque, and are investigating two Muslim Uyghurs who worked there for listening to "illegal religious" audio materials, an exile Uyghur group said on Wednesday.
The move came as police and religious affairs bureau officials raided the mosque in Toksun county near eastern Xinjiang's Turpan city last week, confiscating audio CDs banned by the ruling Chinese Communist Party.
"The authorities removed the imam of the mosque from his position because they were listening to religious audio disks, and at least two people from this mosque were detained," Dilxat Raxit, spokesman for the Munich-based World Uyghur Congress (WUC), said in an interview on Wednesday.
The crackdown then spread beyond the mosque to encompass the mostly Muslim ethnic Uyghurs living in nearby Gulboyi village, he said.
"At least 100 people were detained for a short period of time; young men for wearing beards and woman for wearing veils," he said. "They were temporarily detained and sent for "education or issued with fines."
Full report at:
http://www.uyghurcongress.org/en/?p=22347%20Two%20Held,%20Imam%20Removed%20in%20Raids%20on%20Xinjiang%20Mosque
----------
China to reward spying on Uighurs in East Turkestan
World Bulletin / News Desk
Apr 25, 2014
Authorities in China are offering cash rewards for everything from "violent terrorism training" to "growing long beards," the latest regulations in the targeting Uighur Muslims in East Turkestan (Xinjiang province).
The rewards are part of a social stability campaign in a troubled region in which the government has been cracking down on native Uighur Turks who want to establish an independent state.
Many Uighurs complain of Chinese controls on their culture and religion, with sporadic clashes between them and Han Chinese settlers resulting in more than 100 deaths in the region in the past year.
Uighur exiles and many rights groups trace the cause of unrest to government policies, including curbs on Islam and the Uighur people's culture and language.
Members of the public can earn rewards by reporting on a range of more than 50 activities, according to a notice published on a government website for Shaya county in mid-April and carried in state media this week.
Full report at:
http://www.worldbulletin.net/headlines/134717/china-to-reward-spying-on-uighurs-in-east-turkestan
--------------
'West won't buy Bangladeshi workers blood stained clothes': Robert Menendez
Apr 25, 2014
US Senate Foreign Relations Committee Chairman Robert Menendez has said western consumers will not buy clothes that are stained with the blood of Bangladeshi workers.
"The BGMEA and the government of Bangladesh must understand this simple message," Menendez said in a statement issued regarding the anniversary of the Rana Plaza tragedy in Bangladesh.
He also urged Bangladesh government and BGMEA to take immediate and concerted steps to end the suppression of fledgling trade unions by the garment workers.
"If the BGMEA and the government of Bangladesh do not take immediate steps to end the suppression of fledgling unions, it is only a matter of time before another large-scale tragedy hits Bangladesh's garments industry and the 'made in Bangladesh' brand is tarnished beyond repair," he said.
Full report at:
http://www.dhakatribune.com/bangladesh/2014/apr/25/menendez-calls-allowing-trade-unions#sthash.dvnQqE33.dpuf
-----------
China believes arms firm did not violate rules in Syria
25 April 2014
China's foreign ministry said on Friday that it did not believe that the country's biggest arms maker had violated any international conventions, after a canister bearing its name was shown in footage believed to document a gas attack in Syria.
Attacks this month in several areas in Syria share characteristics that have led analysts to believe that there is a coordinated chlorine bomb campaign, with growing evidence that it is the government side using chemical weapons.
In the rebel-held village of Kfar Zeita in the central province of Hama, 125 miles (200 km) north of Damascus, opposition activists uploaded video of people choking and being fed oxygen following what they said were bombs dropped from helicopters on April 11 and 12.
Further footage showed a partially exploded canister with the chemical symbol for chlorine along with the name of Chinese arms manufacturer Norinco.
Full report at:
http://english.alarabiya.net/en/News/asia/2014/04/25/China-believes-arms-firm-did-not-violate-rules-in-Syria.html
-----------
Yameen concedes that GMR is owed some compensation
By Ahmed Nazeer | April 24th, 2014
President Abdulla Yameen has today said the government was sure it would have to pay some compensation for cancelling the agreement made with the Indian infrastructure giant GMR to lease Ibrahim Nasir International Airport (INIA).
"The truth we should accept is that a government with all its sovereignty has given permission to a foreign party under an agreement," said the president.
"So we believe some sort of financial compensation must be paid to them. A compensation must be given for taking the airport [from them]. What we are trying to make sure this compensation is not big but average."
Yameen was speaking to the press before leaving for Singapore to take part in the Maldives Investment Forum – an event he described as "the first step taken towards a fresh start for the Maldives in today's world economy".
In November 2012, President Dr Mohamed Waheed's cabinet declared the GMR agreement void ab initio – invalid from the outset – and ordered the developer to leave, just two years into its 25 year concession agreement.
President Yameen explained to the press today that his advisors believed that, if the arbitration panel could be persuaded that the deal had been anulled due to the airport's national importance, the compensation would be small.
Full report at:
http://minivannews.com/politics/yameen-concedes-that-gmr-is-owed-some-compensation-83451
----------
Pakistan
Foreign militants seeking 'safe passage' from in and around North Waziristan
Apr 25, 2014
MIRAMSHAH: As the government team prepares for another meeting with the Tehreek-i-Taliban Pakistan (TTP), many of the foreign militants based in and around North Waziristan feel they are facing an uncertain future and are not only seeking assurances from their hosts but are also weighing options for moving out to others places, like Afghanistan and Syria, to continue their 'jihad'.
This emerged during a series of interviews conducted by this correspondent with scores of foreign militants, mainly around North Waziristan, on getting exclusive access to various groups and to some of the most wanted fugitives in the country.
"Most of us do not think that the talks would succeed. But if there is give and take from both sides then we fear the government would try to isolate us. Our hosts did take us into confidence before the talks started, but we feel the government would put them in a tight spot and their options may be limited," said Azzaam, a senior member of the Islamic Movement of Uzbekistan (IMU).
Full report at:
http://www.dawn.com/news/1102154/foreign-militants-seeking-safe-passage
-----------
Terrorists are our open enemies: Bilawal
Apr 25, 2014
KARACHI: Strongly condemning the terror attack on police personnel in Karachi on Thursday, Pakistan People's Party Patron-in-Chief Bilawal Bhutto Zardari has said that terrorists are the open enemies of the country. In a statement, Bilawal said that the sacrifices being offered by the armed forces, security forces and the general public in the fight against terrorism would not be wasted, as the entire nation was united against the menace.
He said that the attack on police personnel was an attack on the security of the country. He said that terrorists should be brought to book and given exemplary punishment. He also sympathised with the grieving families and prayed for the eternal peace of the departed souls. Several police officials, including Shafiq Tanoli, lost their lives in Thursday's attack, while many others got injured.
http://www.dailytimes.com.pk/national/25-Apr-2014/terrorists-are-our-open-enemies-bilawal
---------
Blast in Karachi's Delhi Colony kills four, wounds more than 20
Apr 25, 2014
KARACHI: An explosion took place near a mosque in Delhi colony area of Karachi killing at least four persons, including a woman, and injuring more than 20 others, DawnNews reported.
Provincial Information Minister Sharjeel Memon talking to media persons at the blast site confirmed that four persons had died in the explosion.
He also said that three government vehicles were damaged in the attack and that these vehicles were the apparent target of the blast.
The information minister said that there had been an escalation in such incidents after the expiry of ceasefire announced by the Tehreek-i-Taliban Pakistan (TTP).
Full report at:
http://www.dawn.com/news/1102241/blast-in-karachis-delhi-colony-kills-four-wounds-more-than-20
-----------
One-sided media trial against armed forces should end, says Nisar
Apr 25, 2014
ISLAMABAD: Interior Minister Chaudhry Nisar Ali Khan said Friday that a one-sided media trial against Pakistan's armed forces and defence establishments should end, DawnNews reported.
Speaking to media representatives outside the Parliament House in the federal capital, Nisar said it was the federal government's constitutional and legal responsibility to protect the dignity of the Pakistan Army and other intelligence agencies, adding that there should be no ambiguity or fallacy in that respect.
The interior minister said Jang group would have to retract its steps in the greater national interests of Pakistan, adding that the media trial over senior journalist Hamid Mir's attack would have to end otherwise anti-state elements would take advantage of the situation.
The minister said he was personally trying to ensure that the situation would not be aggravated from either of the sides.
Full report at:
http://www.dawn.com/news/1102245/one-sided-media-trial-against-armed-forces-should-end-says-nisar
-----------
Govt to seek release of 4 dozen captives from TTP
April 25, 2014
LAHORE - The government committee has prepared a list of captives in Taliban incarceration to present it to peace negotiators to secure their release, The Nation has learnt.
Well-placed sources told this correspondent on Thursday that the peace committee, with the help of intelligence agencies – ISI, M1 and IB – has prepared the list of more than four dozen captives being held by outlawed Tehreek-i-Taliban Pakistan (TTP) and it will be forwarded to TTP shura during the next round of direct talks.
When asked about the profile of the captives on that list, a source informed that the captives include members of irregular forces, local tribesmen assisting the government in campaign against the TTP and low cadre members of political administration, besides some men who are part of secret services' private information network.
Full report at:
http://www.nation.com.pk/national/25-Apr-2014/govt-to-seek-release-of-4-dozen-captives-from-ttp
-----------
Four policemen killed in Balochistan's Naseerabad district
Apr 25, 2014
QUETTA: Suspected militants killed four policemen in Balochistan's troubled Naseerabad district on Thursday evening, police said.
A police official who requested anonymity since he was not authorised to speak to media told Dawn that suspected militants opened indiscriminate fire on a patrolling police van in Chahtar area of Naseerabad district.
"All four policemen received multiple bullet wounds and died on the spot", he said.
The militants sped away on their motorcycles after the attack.
A huge contingent of police was called from Dera Murad Jamali, the head quarter of Naseerabad district to launch a search operation against the assailants.
Full report at:
http://www.dawn.com/news/1102054/four-policemen-killed-in-balochistans-naseerabad-district
-----------
Mideast
'Pact with Hamas kills peace,' Netanyahu says
Apr 25, 2014
Israeli Prime Minister Benjamin Netanyahu said Thursday that Palestinian moves to form a unity government with Hamas were "a giant leap backwards" for the peace process.
"The pact with Hamas kills peace," the Israeli leader told NBC television shortly after the Israeli cabinet announced it was halting the US-led peace process.
http://english.ahram.org.eg/NewsContent/2/8/99760/World/Region/Pact-with-Hamas-kills-peace,-Netanyahu-says.aspx
-----------
Number of Kurdish publications in Turkey quadruples in six years
Apr 25, 2014
The number of Kurdish language publications has quadrupled in Turkey over the last six years, with a majority being in the genre of fiction for adults.
According to data released by the Turkish Statistical Agency (TÜİK), the total number of Kurdish language publications increased from 101 in 2008 to 413 in 2013.
A total of 196 Kurdish language publications were in the adult fiction category in 2013, while the second largest category in Kurdish was adult culture with 105 publications. The lowest number of Kurdish language publications was in the category of religion, with 19 books.
The TÜİK said 42,655 books were published in all languages in 2013, an increase of 11.1 percent compared with 2012.
The highest increase - of 537 percent - was in electronic books (DVDs, VCDs, and CDs), which totaled 1,981 last year.
Full report at:
http://www.hurriyetdailynews.com/number-of-kurdish-publications-in-turkey-quadruples-in-six-years.aspx?pageID=238&nID=65557&NewsCatID=339
-----------
Christian leaders tell youth to 'tear up' Israel army forms
Apr 25, 2014
JERUSALEM (Ma'an) -- Orthodox Archbishop Atallah Hanna and former Latin Patriarch Michel Sabbah on Friday urged Christian youth not to enlist in the Israeli military and to ignore Israeli "propaganda" encouraging them to do so.
The statement came after a meeting between the two religious figures on Friday, which followed reports on Tuesday that Israeli authorities would distribute military enlistment papers to Palestinian Christian youth who are citizens of Israel in order to encourage them to voluntarily sign up for military service.
The leaders called upon Christian youth who have received the enrollment papers to "tear them up and throw them away and not to engage with them in any way."
The leaders also stressed the "firm national position of the Christians in refusing to join a military that exercises violence against the rights of the Palestinian people."
Full report at:
http://www.maannews.net/eng/ViewDetails.aspx?ID=692816
-----------
Istanbul court accepts graft indictment against Fatih Municipality
Apr 25, 2014
The Istanbul 20th High Criminal Court has accepted an indictment prepared by public prosecutor Ekrem Aydıner regarding allegations of tender rigging and bribery at Fatih Municipality.
Aydıner had to rewrite the indictment after the court rejected the first one, citing shortcomings in evidence for some actions stated in the files. Aydıner submitted an objection to the court's decision, but a higher court, the Istanbul 21st High Criminal Court, turned down this appeal.
The major difference between old and new indictments is in the number of suspects, which has gone down to 21 from 31. Nine incidents are also cited in the new indictment, while the former one cited 14.
Full report at:
http://www.hurriyetdailynews.com/istanbul-court-accepts-graft-indictment-against-fatih-municipality.aspx?pageID=238&nID=65517&NewsCatID=338
-----------
Palestinians to consider 'all options' in response to Israel
Apr 25, 2014
The Palestinians are considering "all options" in response to Israel's decision to halt peace talks and punish the Palestinian Authority over its unity deal with Hamas, an official said Thursday.
"The Palestinian leadership will look into all options to respond to Israeli government decisions against the PA," senior Palestinian official Saeb Erakat told AFP.
"The priority now for the Palestinians is reconciliation and national unity," he added.
On Wednesday, the Palestine Liberation Organisation (PLO) -- internationally recognised as the sole representative of the Palestinian people -- and Islamist rulers of the Gaza Strip Hamas signed a reconciliation agreement.
Full report at:
http://english.ahram.org.eg/NewsContent/2/8/99765/World/Region/Palestinians-to-consider-all-options-in-response-t.aspx
-----------
Azerbaijan's tolerance can be model for all countries - Israeli ambassador
Apr 25, 2014
The atmosphere of tolerance and philanthropy in Azerbaijan can be an example for all world countries, Israel's ambassador in Azerbaijan, Rafael Harpaz told journalists in Baku on April 25.
The ambassador said the fact that Jews have been residing in Azerbaijan for a long time can be an example of such tolerance.
Harpaz stressed that work is currently underway to expand bilateral relations between Azerbaijan and Israel.
"Azerbaijan and Israel have strong and good ties in many areas," Harpaz added.
The ambassador also said the fact that the memory of Albert Aragunov, an Azerbaijani national hero of Jewish ancestry, is honoured in Azerbaijan at a high level, says a lot.
The diplomat also underscored that many Jews who left Azerbaijan still retain their ties with the country.
http://en.trend.az/news/politics/2267234.html
----------
URL: https://newageislam.com/islamic-world-news/new-age-islam-news-bureau/angry-muslims-in-central-african-republic-call-for-partition/d/76747