New Age Islam News Bureau
18 Jul 2015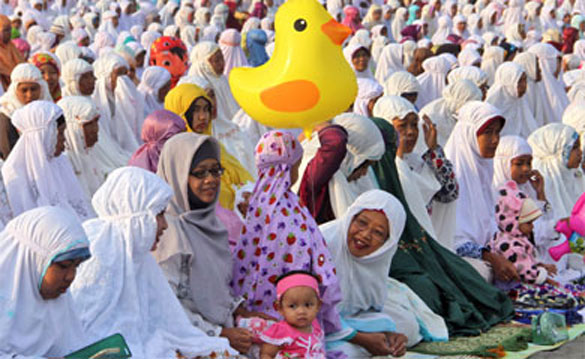 Muslims around the world celebrate Eid ul Fitr. Women attend Eid al-Fitr prayers at Parangkusumo beach in Yogyakarta. (Slamet Riyadi/AP Photo)
----------
Arab World
• Anger in Iraq after suicide attack on marketplace kills 115
• Kurdish-US alliance against IS stokes resentment in Syria
• Syria Kurds say IS used chemical weapons against them
• Senior Saudi prince accuses his cousin of arranging for him to be drugged and abducted
• Nuclear deal: Saudis signal they'll act before Iran gets the money
• Muslims around the world celebrate Eid al-Fitr
• Syria frees political prisoners in Eid gesture
-------
Africa
• Ahead of Eid, multiple blasts kill 64 in Nigeria
• Niger army kills 30 suspected Boko Haram insurgents -sources
• Suicide bombers kill nine at Eid al-Fitr prayers in northeastern Nigeria
• Somalia's Shebab head outlines plans for E. Africa terror expansion
-------
South Asia
• Jamaat member sentenced to death in Bangladesh for war crimes
• Drone shot down in Pakistan made in China: Chinese state media
• We are not meek lambs: Chinese daily on terror threats
• Roadside bomb kills six Afghan policemen: Officials
• NATO condemns explosion near a mosque that left 3 killed, 14 wounded in Balkh
• Explosion in Herat claims lives of 6 policemen in first day of Eid
• Car bomb explosion foiled in capital Kabul
• Gen. Dostum: Ready to go to front line if Taliban insurgency persists
--------
India
• Pakistan refuses to accept sweets offered by India on Eid at Wagah border
• Sri Sri Ravi Shankar receives threat from Tehreek-e-Taliban, MHA reviews security
• Tehran urges Modi to invest in Iranian port to open up access to Central Asia
• Pakistan violates ceasefire twice in 24 hours, targets Indian Army posts along LoC
• Let's forget our differences on Eid: President
-------
Mideast
• Yemen government says it is consolidating control of Aden
• Anti-Houthi forces advance in Yemen amid heavy Arab air strikes
• Iran's Ayatollah Ali Khamenei says policy against 'arrogant' US won't change
-----
Pakistan
• Armed attack, Suicide bombing left three killed including senior police officer in Pakistan
• Indian BSF fires at LoC on Eid day: ISPR
-------
South Asia
• Rights group slams China state TV report on repatriated Uighurs
------
North America
• Sanctions regime would collapse if Congress 'kills' Iran deal: White House
------
Europe
• UN condemns terrorist attacks in Nigeria
--------
Compiled by New Age Islam News Bureau
URL: https://www.newageislam.com/islamic-world-news/new-age-islam-news-bureau/anger-in-iraq-after-suicide-attack-on-marketplace-kills-115/d/103941
-------
Arab World
Anger In Iraq After Suicide Attack On Marketplace Kills 115
Associated Press By QASSIM ABDUL-ZAHRA
BAGHDAD (AP) — An attack by the Islamic State group on a crowded marketplace in Iraq's eastern Diyala province has killed 115 people, including women and children, in one of the deadliest single attacks in the country in the past decade.
The mostly-Shiite victims were gathered to mark the end of the Islamic holy month of Ramadan, which ended Friday for Iraqi Shiites and a day earlier for Iraqi Sunni Muslims.
Police said a small truck detonated in a crowded marketplace in the town of Khan Beni Saad Friday night in what quickly turned celebrations into a scene of horror, with body parts scattered across the market. At least 170 people were injured in the attack, police officials said, speaking anonymously because they are not authorized to brief the media.
Men quickly emptied boxes of tomatoes to use them for carrying the bodies of small children, witnesses said, while adult victims lay scattered around the attack scene waiting for medical assistance.
"Khan Bani Saad has become a disaster area because of this huge explosion," Diyala resident Sayif Ali said. "This is the first day of Eid, hundreds of people got killed, many injured, and we are still searching for more bodies."
The Islamic State group claimed responsibility for the attack in a statement posted on Twitter accounts associated with the militant group.
View galleryCivilians inspect a crater caused by a suicide car …
Civilians inspect a crater caused by a suicide car bombing at a busy market in Khan Bani Saad in the …
Iraq's speaker of parliament, Salim al-Jabouri, said Saturday that the attack has struck an "ugly sectarian chord," and added that government is making "attempts to regulate Daesh's terror from destabilizing Diyala security," referring to the militant group by its Arabic acronym. But anger is rife in the volatile province, where a number of towns were captured by the Islamic State group last year. Iraqi forces and Kurdish fighters have since retaken those areas, but clashes between the militants and security forces continue.
"We went out to the market for shopping and preparations for the holiday Eid in order to receive holiday cheer," said another resident, who spoke anonymously for fear of retribution. "But this joy has turned to grief and we have lost family, friends and relatives, all because of this government's failure to provide us with security."
Security forces were out in full force across Diyala on Saturday, with dozens of new checkpoints and security protocols immediately implemented in the wake of Friday's attack.
The Sunni militant group has been behind several similar large-scale attacks on civilians or military checkpoints as it seeks to expand its territory. The group currently controls about a third of Iraq and Syria in a self-declared caliphate.
In August last year, at least 64 people were killed in an attack on a Sunni mosque in Diyala in what locals believed was a retaliatory attack against Diyala tribes that refused to proclaim loyalty to the Islamic State group.
The United States has spent billions arming and training the Iraqi military, but it performed poorly last year when Islamic State militants swept across western and northern Iraq, routing four divisions. The U.S. and a coalition of nations have been conducting airstrikes on Islamic State positions in Iraq and Syria since last year, but it has not stopped the group from making advances. The militants recently captured the city of Ramadi, in Iraq's western Anbar province, and the ancient city of Palmyra in Syria.
Diyala, which borders Iran, is the only province in Iraq where Iranian jets are known to have conducted airstrikes against the Islamic State group earlier this year.
Meanwhile, reports emerged Saturday that the Islamic State group used projectile-delivered poison gas against Kurdish forces in Iraq and Syria on several occasions last month.
Joint, on-site investigations by two U.K.-based organizations — Conflict Armament Research (CAR) and Sahan Research — concluded that IS forces used chemical agents to attack Iraqi peshmerga forces and Syrian Kurdish People's Protection Units (YPG) on June 21, 22 and 28.
In the Syria attacks, IS militants launched 17 artillery projectiles against YPG forces stationed to the south of the village of Tell Brak in Hassakeh province. The projectiles released a chemical agent which induced in some cases loss of consciousness and temporary, localized paralysis. Twelve YPG personnel were hospitalized. Another seven projectiles were also launched into civilian residential areas in Hassakeh.
View galleryCivilians clean up at the scene of a suicide car bombing …
Civilians clean up at the scene of a suicide car bombing at a busy market in Khan Bani Saad in the D …
In the Iraq attack, IS forces fired a projectile containing a liquid chemical agent at a peshmerga checkpoint near the Mosul Dam, triggering symptoms among the Iraqi forces that included headaches, nausea and light burns to the skin.
The findings on the attacks in Syria were confirmed by an YPG statement issued Saturday. The type of chemical used is not known. The British-based Syrian Observatory for Human Rights also reported an apparent IS chemical attack on June 28.
There have been several allegations that the Islamic State group has used chlorine previously in both Iraq and Syria.
The Islamic State group, which controls a third of Syria and Iraq in its self-declared caliphate, has not commented on the claims.
Associated Press writers Vivian Salama in Baghdad and Zeina Karam in Beirut contributed to this report.
http://news.yahoo.com/iraqi-speaker-says-attack-diyala-marketplace-sectarian-080611488.html
--------
Kurdish-US alliance against IS stokes resentment in Syria
July 18, 2015 - 08:12
Beirut: A close alliance between the US-led coalition battling the Islamic State jihadist group and Syrian Kurdish fighters has racked up successes, but also stirred resentments that could hamper the campaign.
Analysts warn that IS can only be defeated in Syria with support from Sunni Arabs, many of whom are being alienated by what they see as US favouritism towards the Kurdish minority.
In recent months, fighters from the Kurdish People`s Protection Units (YPG) have repelled several IS attacks and deprived the group of its key border bastion of Tal Abyad.
US-led air strikes have been key to these advances, and Washington has praised the Kurds as a reliable ally.
But in areas where ties between Kurds and Arabs are already tense, the alliance is viewed with suspicion and anger.
Osama Abu Zeid, a legal adviser to rebel groups under the Free Syrian Army banner, slammed Washington for playing favourites.
"We reject this policy of supporting parties based on ethnic or sectarian affiliation," he said, accusing the US-led coalition of sowing mistrust.
The Kurds "are seen as the darlings of the West," said Emile Hokayem, a senior fellow and Syria expert at the International Institute for Strategic Studies.
"They get intelligence, military support and weaponry, they get the media attention, while the Arabs would say they are suffering more, they are fighting IS and they are fighting (President Bashar al-) Assad."
"The US coalition strategy has favoured the Kurds and, in the process, has alienated important Arab constituencies," Hokayem said. Suspicion and tensions between Kurds and Arabs in parts of northern Syria have deep roots.
From the 1970s, the Damascus regime resettled Sunni Arabs in traditionally Kurdish areas in a bid to dilute Kurdish nationalist sentiment and win support from Arab tribes.
Fierce competition for resources also created tensions between ethnic groups, particularly during the drought years that preceded the Syrian uprising.
More recently, the Syrian opposition has been angered by the Kurds` failure to join the uprising.
Instead, Kurds have maintained a tacit deal with the regime to stay neutral and focused on securing Kurdish-majority areas and building local governance as part of a dream of self-administration.
That policy has strained ties between the main exiled opposition National Coalition and the largest Kurdish group, the YPG`s political wing, the Democratic Union Party.
Relations have deteriorated further in recent weeks as the Kurds have clawed back large swathes of territory from IS, sparking a furious war of words.
The exiled opposition has accused YPG fighters of "terrorism" and "widespread violations" against civilians, including looting and the ethnic cleansing of Arabs and Turkmen from captured villages.
Such allegations are angrily rejected by the YPG, particularly after a spate of atrocities against Kurdish civilians by IS.
"Daesh (IS)... is committing the most heinous crimes against humanity. And when we expel them, the Coalition comes out against us with false allegations," it complained.
Human rights groups are still investigating the allegations, although the small, mostly Arab Burkan al-Furat rebel force that fights alongside the Kurds says the claims are "politicised".
Kurdish affairs analyst Mutlu Civiroglu noted that the Coalition issued no similar condemnation when IS fighters killed more than 200 Kurds during a recent incursion into the border town of Kobane.Charles Lister, a visiting fellow at the Brookings Doha Centre think-tank, said ties between the Sunni Arab opposition and the Kurds were at a "new low."
"Since US-led coalition strikes began... the Kurdish YPG has been the clear benefactor, while Sunni Arab rebels have been placed under tough vetting procedures before even being considered viable partners," he said.
On the ground, Sunni Arab residents of Tal Abyad minced no words about the Kurdish fighters who seized the city.
Seyh Deham Haseki, 60, described IS as a "much lesser evil compared to the Kurdish militants".
"We won`t accept the Kurds because this isn`t their land. It has always been the Arabs` land. We will stand against them until the very end."
Hokayem said the exclusive coordination between the US-led coalition and the Kurds was playing into a potentially dangerous Sunni Arab narrative in Syria.
They feel "that Arab suffering, and Sunni Arab suffering particularly, is second to that of all other communities," he said.
Eventually, that may undermine the war against IS because Kurdish forces will not fight to capture non-Kurdish areas like the jihadists` de facto Syrian capital Raqa, and Sunni Arab participation will be needed.
"We are reaching the limits of the US strategy," Hokayem said, urging Washington to "define, articulate and implement a serious anti-Assad policy".
"Only when Arab Sunnis feel that their own grievances are recognised, acknowledged and addressed will they be able to see the Kurds as potential partners in the anti-IS fight." , AFP
http://zeenews.india.com/news/world/kurdish-us-alliance-against-is-stokes-resentment-in-syria_1632018.html
-----
Syria Kurds say IS used chemical weapons against them
By AFP | 18 Jul, 2015
BEIRUT: Islamic State group fighters fired missiles containing toxic gas at Kurdish forces in Syria last month, the forces and a monitoring group said.
The Kurdish People's Protection Units (YPG) and the Syrian Observatory for Human Rights both reported the late June attacks in Hasakeh province in northeastern Syria.
The YPG said the attacks occurred on June 28 and targeted the Kurdish-held Salhiya district of Hasakeh city and Kurdish positions south of the town of Tel Brak. < ..
http://economictimes.indiatimes.com/articleshow/48123173.cms?utm_source=contentofinterest&utm_medium=text&utm_campaign=cppst
------
Senior Saudi prince accuses his cousin of arranging for him to be drugged and abducted
By FLORA DRURY FOR MAILONLINE
18 July 2015
A simmering feud at the heart of the Saudi royal family is poised to break into the open after one senior prince accused another of orchestrating his abduction, sedation and forcible repatriation from Switzerland.
In an unprecedented move, Prince Sultan bin Turki has filed a criminal complaint in Switzerland against his cousin Prince Abdulaziz bin Fahd, as well as the current Saudi minister of Islamic affairs, Saleh al-Sheikh, claiming he was seriously injured as a result of a kidnapping that took place in June 2003.
According to Prince Sultan's lawyers, the Swiss prosecutor Stéphane Grodecki has ordered a criminal investigation into the case. "A complaint has been filed on behalf of Prince Sultan in Geneva," said the prince's lawyer, Pierre de Preux. "A criminal investigation has started and is going on." Swiss prosecutors refuse to confirm or deny whether an investigation is taking place.
The feuding princes are grandsons of the founder of Saudi Arabia, Abdulaziz Al Saud.
The Guardian made repeated attempts to contact Prince Abdulaziz and Saleh al-Sheikh, sending requests for comment to Saudi embassies in London and Geneva, and to Prince Abdulaziz's suite at the George V hotel in Paris. Reporters also left messages at the embassies, at government ministries in Riyadh and at the Paris hotel.
The only response came from a media adviser to the embassy in London, who said: "I have sent your request on to the appropriate people, as requested, but this is really not a UK embassy issue. It is also a private matter between these gentlemen, not a foreign ministry matter."
The row pits two wings of the Saudi establishment against one another. At the turn of the century, Prince Sultan was a rare voice within the Saudi royal family calling for reform. Prince Abdulaziz is the son of the late King Fahd, who ruled the country from 1995-2005.
Prince Sultan's claim relates to a chain of events stretching back to January 2002, when he began accusing the defence and interior ministries of corruption.
In May 2003 he announced he would hold a public seminar in Geneva to reveal the full extent of corruption at the ministry of defence. A month later he attended an event at a palace owned by members of the Saudi royal family in the Swiss municipality of Collonge-Bellerive, just outside Geneva, along with the two accused.
Full Report at:
http://www.theguardian.com/world/2015/jul/17/senior-saudi-prince-accuses-cousin-over-alleged-drugging-and-abduction
--------
Nuclear deal: Saudis signal they'll act before Iran gets the money
July 17, 2015
The nuclear deal that will lift tough sanctions on Iran is mobilizing Saudi Arabia to turn the tide against its regional rival in Yemen and Syria before it makes an economic recovery, military officials and analysts say.
According to the sources, the military component of the Saudi offensive will include the use of special forces on the ground in Yemen, and a potentially widened use of Saudi and allied Sunni air power in Syria.
The Saudis have signaled their intent to employ ground forces in Yemen previously, but have not done so. But the potential military initiatives, coupled with signs that the Saudis are cultivating better diplomatic ties with Russia and China, would be a strong indication of how the Iran nuclear deal could impact the regional order in the Middle East.
While many Arab leaders, including UAE President Sheikh Khalifa, were quick to welcome Tuesday's historic deal bringing Iran back into the international fold, Saudi Arabia's silence spoke volumes.
Rather than reporting remarks from King Salman, the state-run Saudi Press Agency carried a short statement attributed to an "official source" maintaining that Saudi Arabia was "always in favor of an agreement between Iran and the P5+1 group [the US, France, China, Russia, the UK, and Germany]" but stressing the need to continue "the sanctions on Iran for its support of terrorism."
Full Report at:
http://news.yahoo.com/nuclear-deal-saudis-signal-theyll-act-iran-gets-110003003.html
------
Muslims around the world celebrate Eid al-Fitr
18 Jul 2015
Muslims around the world are celebrating the three-day Eid al-Fitr festival, which marks the end of the fasting month of Ramadan.
The beginning and end of Islamic months are determined by the sighting of the new moon.
Most Arab countries and Indonesia declared Friday the first day of Eid. In countries including Oman, Morocco, India and Iran, the holiday started on Saturday.
Eid celebrations begin with a special prayer in mosques and open-air areas.
http://www.aljazeera.com/indepth/inpictures/2015/07/muslims-celebrate-eid-al-fitr-150717081318564.html
-------
Syria frees political prisoners in Eid gesture
July 18, 2015 - 13:32
Damascus: Syrian authorities have released more than 200 prisoners, many of whom were detained under "anti-terror" laws, to mark the Muslim Eid al-Fitr holiday, a lawyer told AFP.
Dozens of women were among 240 detainees who were released on Friday, said attorney and leading human rights activist Michel Shammas.
Most of the prisoners in Syrian jails being prosecuted under "anti-terror" laws are opponents of the Syrian government or those who have taken part in the uprising that began in March 2011.
The Syrian Observatory for Human Rights, a Britain-based monitor, also reported the releases, but put the number of freed detainees at around 350.
The monitor said most of them were people who had been arrested at anti-government demonstrations.
"Syrian authorities released more than 240 prisoners from Adra prison (near Damascus), most of whom were tried before what is known as the anti-terrorism court," Shammas told AFP late Friday.
Among those freed was prominent Syrian blogger Hussein Ghreir, who was arrested in February 2012 along with fellow activists Mazen Darwish and Hani Zaitani and accused of "promoting terrorist acts."
A friend of Ghreir`s, who spoke on condition of anonymity, confirmed that the blogger was "at his home in Damascus and is in good health".
According to the Observatory, some 200,000 people are being detained by government forces in Syria in detention centres, prisons and security facilities.
Among them are thousands of people who have effectively disappeared since being detained, with their families unsure where they are being held.
According to the Observatory, nearly 13,000 Syrians, including dozens of children, have been tortured to death in government prisons since March 2011.
Last year, President Bashar al-Assad signed an amnesty that was supposed to see tens of thousands of political prisoners freed, but rights activists say that only several hundred were actually released. AFP
http://zeenews.india.com/news/world/syria-frees-political-prisoners-in-eid-gesture_1632155.html
------
Africa
Ahead Of Eid, Multiple Blasts Kill 64 In Nigeria
AP | Jul 18, 2015
DAMATURU, Nigeria: Suicide bombs killed at least 64 people in multiple blasts in the northeastern towns of Gombe and Damaturu, officials said on Friday, scaring people into staying home during the Muslim Eid-ul-Fitr celebration.
Police say two women suicide bombers killed 12 people at two prayer grounds in Damaturu on Friday morning as people were preparing to celebrate the end of Ramzan, the Muslim holy month of fasting.
Hours earlier two bombs killed 50 people buying goods for the holiday at the market in Gombe, according to National Emergency Management Agency spokesman Sani Datti.
Another 75 wounded are being treated in two hospitals there, he said.
The blasts are blamed on Nigeria's home-grown Boko Haram Islamic extremist group which has launched a string of attacks that have killed hundreds during the Muslim holy month of Ramzan, which ended on Friday.
The upsurge in attacks followed a directive to create more mayhem during Ramzan from the Islamic State group, to which Boko Haram has sworn allegiance. It also followed the May 29 inauguration of President Muhammadu Buhari, who has sworn to defeat the insurgents.
Nigeria's new army chief, major general Tukur Buratai, was in Damaturu on a visit to boost troops' morale on Friday. He was appointed last week when Buhari fired the entire top echelon of the military accusing them of corruption.
http://timesofindia.indiatimes.com/world/rest-of-world/Ahead-of-Eid-multiple-blasts-kill-64-in-Nigeria/articleshow/48120826.cms
------
Niger Army Kills 30 Suspected Boko Haram Insurgents -Sources
Reuters | Jul 17, 2015
NIAMEY: Niger's army killed at least 30 suspected Boko Haram fighters as it searched for militants in villages just over the border with Nigeria, security sources said.
The army launched the operation on Thursday, a day after gunmen thought to be from Boko Haram crossed over from Nigeria and killed at least a dozen villagers on the Niger side of the border.
Boko Haram has fought a six-year insurgency to carve out an Islamist state in northeast Nigeria, and continues to carry out cross-border attacks, in the face of a military campaign bolstered by Nigeria's neighbours Niger, Cameroon and Chad.
"Our defence forces who are engaged in the operation inside Nigeria between the towns of Malam Fatori and Damasak, killed the insurgents on Thursday," a security source said, requesting not to be named.
Boko Haram has started calling itself the Islamic State's "West Africa Province" since pledging allegiance in March to the hardline militant group which controls large areas of Syria and Iraq.
Early on Friday, two suicide bombers, an elderly woman and a 10-year-old girl, killed at least nine people in the north-eastern Nigerian city of Damaturu as worshippers gathered to mark the Muslim Eid al-Fitr holiday, a military spokesman said.
Boko Haram has targeted security forces, schools and other Muslim communities who do not share its hard-line version of Islam.
http://timesofindia.indiatimes.com/world/rest-of-world/Niger-army-kills-30-suspected-Boko-Haram-insurgents-sources/articleshow/48115742.cms
-------
Suicide Bombers Kill Nine at Eid Al-Fitr Prayers In North-Eastern Nigeria
July 17, 2015 REUTERS / DAMATURU
Two suicide bombers, an elderly woman and a 10-year-old girl, killed at least nine people in the city of Damaturu in north-eastern Nigeria on Friday morning as worshippers gathered to mark the Muslim Eid al-Fitr holiday, a military spokesman said.
They detonated their bombs at around 7.40 a.m. (0640 GMT) as worshippers queued for security screening to enter an open-air praying area in Layin Gwange, Damaturu, Colonel Sani Usman said.
"Four persons died in the first explosion and seven people were injured. While in the second explosion, five people lost their lives and 11 people were wounded," he said.
There was no immediate claim of responsibility but such incidents are usually blamed on Islamist group Boko Haram. On Thursday, some 50 people were killed in bomb attacks at a market in Gombe, about 200 kilometers (120 miles) from Damaturu.
Boko Haram has killed thousands of people and left about 1.5 million others displaced during a six-year insurgency in which it has tried to set up a state adhering to strict Sharia law in the northeast of Africa's most populous country.
President Muhammadu Buhari has made defeating the insurgents his top priority but since he was inaugurated on May 29 hundreds have been killed in bombings and attacks concentrated in the northeast of Africa's top oil producer.
Buhari replaced his defense chiefs on Monday as part of an attempt to step up the campaign against the militant group and the insurgency is likely to be high on the agenda when he meets US President Barack Obama for talks in Washington on Monday.
Boko Haram controlled territory around the size of Belgium at the end of 2014. Nigeria has managed to push the militants out of most of that with the help of troops from neighboring Chad, Niger and Cameroon.
However, the militants have dispersed and in recent weeks have carried out a string of attacks on targets in northern Nigeria and the countries with which it shares borders.
http://www.todayszaman.com/world_suicide-bombers-kill-nine-at-eid-al-fitr-prayers-in-northeastern-nigeria_393932.html
-------
Somalia's Shebab head outlines plans for E. Africa terror expansion
July 18, 2015
Mogadishu (AFP) - The leader of Somalia's Al-Qaeda-affiliated Shebab rebels on Friday issued an Eid message calling for a wave of new recruits in order to "lift the pain of Muslims" across East Africa.
In a statement that underscored the group's ambition to expand its operations, Shebab leader Ahmed Diriye, also known as Ahmed Umar Abu Ubaidah, took aim at Kenya, Ethiopia, Djibouti and Uganda.
"The sword of the Mujahedeen is drawn and attacks against the enemy are ongoing countrywide and we are calling them to increase their attacks on the infidels," he said in a statement posted on an Islamist website.
"We say to our beloved brothers living in territories under Kenyan colonisation that your brothers will never stop coming to your assistance," he said.
"You have to know that Jihad is the only way you can free yourselves from the oppression and humiliation you are now facing, so rush and join in the Jihad... and liberate your territories from the Christians."
Diriye praised the April massacre at Garissa university in northeastern Kenya, in which four Shebab gunmen killed 148 people, most of them students. The attackers were mostly Muslims from Kenya.
"We congratulate you and the rest of the Muslims in the world on the heroic Garissa university operation," the Shebab leader said, saying the massacre was retaliation for "organised extrajudicial killings against clerics and kidnappings of Islamic youth" along Kenya's Muslim-majority coastline.
"The time for the Christians to engage in atrocities without accountability is over," he said. "We pray to God to lift the pain of the Muslims in the whole of eastern Africa -- Ethiopia, Uganda and Djibouti."
"We will not spare any effort to assist you, and the doors of our training camps are open to receive you and our houses are open to welcome you."
The Shebab, meaning "youth" in Arabic, emerged out of a bitter insurgency against Ethiopia, whose troops entered Somalia in a 2006 US-backed invasion to topple the Islamic Courts Union that was then controlling the capital Mogadishu.
Shebab rebels continue to stage frequent attacks, seeking to counter claims that they are close to defeat after losing territory in the face of an African Union and Somali government offensive, regular US drone strikes against their leaders and defections.
Currently affiliated to the Al-Qaeda franchise, there has been mounting speculation that the group could shift its allegiance to the Islamic State group.
The Shebab were once a magnet for foreign volunteers, but their capacity to recruit has in recent years been eclipsed by the rise of Islamic State militants in Syria and Iraq, while several foreign Shebab members have fallen victim to in-fighting and purges.
http://news.yahoo.com/somalias-shebab-head-outlines-plans-e-africa-terror-144026593.html
------
South Asia
Jamaat member sentenced to death in Bangladesh for war crimes
PTI | Jul 16, 2015
DHAKA: A leader of fundamentalist Jamaat-e-Islami party was sentenced to death today by a special war crimes tribunal in Bangladesh for commiting murders and rapes, including that of Hindu women, during the independence war against Pakistan in 1971.
Forkan Mallik, 65, was given death on two charges: rape and murder of a Hindu woman, and abduction and rape of a woman and murder of three including the father of the victim.
Forkan was given prison until death for rape of two Hindu girls in Subidkhali Bazar and deportation of their family including the victims.
The tribunal acquitted him in killing of four, including two Awami League leaders, and forceful religious conversion and subsequent deportation of three Hindu brothers in Subidkhali Bazar, Dhaka Tribune reported.
The three-member tribunal concluded the proceedings of the case against Forkan on June 14 and tabled his judgment.
Sabina Yasmin Munni, a member of the tribunal's prosecution team, said that the verdict reflected the wish of the nation and that she and her colleages were satisfied with the court's order.
Since Bangladesh launched the war crimes trial, the two special tribunals, set up by Prime Minister Sheikh Hasina's secular government in 2010, have handed down death penalties to over 15 people.
About three million people were killed by the Pakistani army and their Bengali-speaking collaborators during the liberation war when Jamaat was opposed to Bangladesh's independence siding with the Pakistani junta.
JI had earlier has rejected the verdicts, saying they are politically motivated.
http://timesofindia.indiatimes.com/world/south-asia/Jamaat-member-sentenced-to-death-in-Bangladesh-for-war-crimes/articleshow/48101112.cms
------
Drone shot down in Pakistan made in China: Chinese state media
PTI | Jul 18, 2015
BEIJING: In an embarrassing disclosure for Pakistan, Chinese official media on Saturday reported that the "spy" drone Pakistani army shot down along the LoC, claiming it belonged to Indian security forces, was made in China.
The drone was "recognised in Beijing as the Chinese made DJI phantom 3," the ruling Communist Party of China (CPC)-run People's Daily said in a report on its website.
Quoting Shanghai-based Observer website, the report said that the Phantom 3 advanced drone represents the most intelligent, most powerful, and most accessible drone to date.
Observer says the drone sells for USD 1,200 each. DJI is a Chinese technology company founded in 2006 by Frank Wang and headquartered in Shenzhen, Guangdong.
The firm manufactures commercial and recreational unmanned aerial vehicles for aerial photography and videography, it said.
The People's Daily report confirming the Chinese identity of the drone may put Pakistan military in a spot considering the close and strategic ties between Islamabad and Beijing.
The Indian Army and the Indian Air Force (IAF) had already denied the allegations.
Questioning the Pakistani allegations, foreign secretary S Jaishankar had said the "photograph of the drone in question indicates that it's not of Indian design, nor of any UAV (unmanned aerial vehicle) category held in the inventory of the Indian armed forces.
"It appears to be of Chinese design, and is commercially available off-the-shelf."
India's rebuttal came as tension escalated along the LoC, following firing and mortar shelling by Pakistani forces. Indian forces have responded to the Pakistani action.
http://timesofindia.indiatimes.com/world/china/Drone-shot-down-in-Pakistan-made-in-China-Chinese-state-media/articleshow/48122658.cms
------
We are not meek lambs: Chinese daily on terror threats
July 18, 2015
Beijing: If terrorists "dare to continue doing evil things, they will be doomed", a state-run daily warned Saturday, noting that the Chinese were not "meek lambs".
An editorial in the Global Times quoted the authorities in Shenyang city as saying on July 13 that police "shot dead three terrorists and wounded one who waved knives to resist arrest on the same day, and the suspects were from the Xinjiang Uyghur Autonomous Region".
The daily said that the arrest of 16 terrorist suspects and fatal shooting of knife-wielders has protected the citizens` security and won applause.
The editorial wondered whether "law-abiding citizens wield knives to resist arrest? If they did not try to use force to resist arrest, how could they be shot dead on-site?"
The West never admits they support terrorist forces in Xinjiang. "The terrorists in Xinjiang have been counting on Western support and believe their use of terrorism is justified."
"Chinese people are clear that some Western forces are pushing the terrorist activities in Xinjiang. Although there is not much China can do to counter their influence in this area, China will not give up to such Western forces," it said.
The daily noted: "Some said people from northeastern China are not meek lambs. Actually as anti-terrorism efforts have been mobilized nationwide, police and citizens across the country are no longer meek lambs."
"The potential terrorists have to watch out, since if they dare to continue doing evil things, they will be doomed," it added.
http://zeenews.india.com/news/world/we-are-not-meek-lambs-chinese-daily-on-terror-threats_1632113.html
-------
Roadside bomb kills six Afghan policemen: Officials
July 18, 2015
Kabul: A roadside bomb killed six policemen in western Afghanistan on Saturday, as they were patrolling on the first day of the Muslim holiday of Eid al-Fitr, officials said.
The bomb tore through a police vehicle in Herat, a relatively peaceful province, provincial police spokesman Abdul Rauf Ahmadi told a news agency.
"A mine planted by the terrorists hit a police vehicle in Guzara district yesterday morning, leaving six policeman dead and three more wounded," Ahmadi said.
The toll was confirmed by the provincial governor`s spokesman Ehsanullah Hayat.
There was no immediate claim of responsibility but roadside bombs have been the Taliban`s weapon of choice in their war against foreign and Afghan security forces.
Civilians often fall victim to such attacks with almost 1,000 Afghan civilians killed during the first four months of the year, according to the UN mission in Afghanistan.
The blast comes days after Afghan Taliban leader Mullah Omar issued a statement endorsing as "legitimate" a nascent negotiation with the Afghan government representatives aimed at ending the conflict.
Earlier in the month, neighbouring Pakistan hosted the first face-to-face talks between the Afghan government and the Taliban, reportedly supervised by US and Chinese representatives.
The meeting was said to have made progress, with the two sides agreeing to work on trust-building measures and hold more such sessions after Eid.
Afghan authorities have repeatedly tried to jumpstart talks with the Taliban in the hope of ending the 13-year conflict, but the militants have set tough conditions, including the withdrawal of all foreign troops in Afghanistan.
NATO ended its combat mission in Afghanistan in December, leaving local forces to battle the Taliban alone, but a residual force remains for training and counter-terrorism operations. AFP
http://zeenews.india.com/news/south-asia/roadside-bomb-kills-six-afghan-policemen-officials_1632197.html
--------
NATO condemns explosion near a mosque that left 3 killed, 14 wounded in Balkh
By ZABIHULLAH MOOSAKHAIL - Sat Jul 18 201
Explosion-in-BalkhNATO's Resolute Support mission has condemned the explosion that left three killed and fourteen others wounded on the first day of Eid-ul-Fitr in northern Balkh province.
Brig. Gen. Wilson Shoffner, Deputy Chief of Staff for RS's Communications says in the statement that: "Once again, insurgents have chosen to target innocent civilians."
"Their lack of respect for human life is despicable." He added.
The explosion took place in front of Kangori mosque in Guzara District when prayers were leaving the mosque after offering Eid prayers on Friday morning.
It left two children and a man killed and fourteen others wounded.
There is no claim of responsibility but officials say an investigation has been initiated into the incident.
http://www.khaama.com/nato-condemns-explosion-near-a-mosque-that-left-3-killed-14-wounded-in-balkh-3653
-------
Explosion in Herat claims lives of 6 policemen in first day of Eid
By KHAAMA PRESS - Fri Jul 17 2015
Explosion in HeratAt least six policemen lost their lives in an explosion in western Herat province of Afghanistan in the first day of Eid al-Fitr.
According to the local government officials, the incident took place in Gozara district after a vehicle of the Afghan police forces struck an Improvised Explosive Device (IED).
The provincial governor spokesman Ehsanullah Hayat said the policemen were returning from a mission when their vehicle was targeted in the blast.
He said the incident took place in Zeyarat Jahi village leaving at least six policemen dead.
No group including the Taliban militants has so far claimed responsibility behind the incident.
Herat is among the relatively volatile provinces in western Afghanistan where anti-government armed militant groups are actively operating in a number of its districts and often carry out insurgency activities.
http://www.khaama.com/explosion-in-herat-claims-lives-of-6-policemen-in-first-day-of-eid-1299
------
Car bomb explosion foiled in capital Kabul
By KHAAMA PRESS - Sat Jul 18 2015
explosion foiled in KabulThe Afghan security forces thwarted a plot by the militant groups to carry out an attack in capital Kabul by detonating a Vehicle-borne Improvised Explosive Device (VBIED).
Officials in Kabul police department said the VBIED was confiscated by police forces from the vicinity of 15th police district.
The officials further added that the militants were looking to carry out an attack during the Eid days using the vehicle packed with explosives.
Some weapons including Rocket Propelled Grenade (RPG) launchers were also confiscated by the police forces, the officials added.
This comes as the Taliban-led insurgency has been rampant since the group announced its summer offensive earlier this year and since then launched numerous attacks across the country including capital Kabul.
The Taliban militants launched coordinated suicide attack on NATO troops convoy and the Afghan intelligence compound in capital Kabul nearly two weeks ago.
According to the security officials at least three people were injured in the attack on NATO troops convoy while a security guard of the NDS compound was killed along with three suicide bombers in the second attack on the intelligence compound.
http://www.khaama.com/car-bomb-explosion-foiled-in-capital-kabul-1303
------
Gen. Dostum: Ready to go to front line if Taliban insurgency persists
By MIRWAIS ADEEL - Sat Jul 18 2015
The first Afghan vice President Gen. Abdul Rashid Dostum said Friday he is personally ready to go to the front line to fight the Taliban militants if the insurgency activities by the Taliban group persist.
During a trip to northern Faryab province of Afghanistan on the occasion of first day of Eid al-Fitr, Gen. Dostum promised to stand with the people of Faryab amid ongoing violence by the insurgents.
He said the previous policies of the Taliban group is not acceptable he said he is hopeful regarding the ongoing peace efforts by the government.
This comes as the acting provincial governor for northern Balkh province of Afghanistan Ata Mohammad Noor said Friday that joint operations will be launched to clear northern parts of the country from the militants.
Speaking during a ceremony to mark the first day of Eid al-Fitr in Mazar-e-Sharif city, Noor said the operations would be launched based on an agreement reached with First Vice President Gen. Abdul Rashid Dostum and First Deputy CEO Haji Mohammad Mohaqiq.
The Taliban-led insurgency has been rampant since the group launched its summer offensive earlier this year and since then launched numerous deadly attacks across the country including capital Kabul.
At least six policemen and three civilians were killed and several others were injured during the first day of Eid al-Fitr in western Herat and northern Balkh province of Afghanistan.
http://www.khaama.com/gen-dostum-ready-to-go-to-front-line-if-taliban-insurgency-persists-1302
-------
India
Pakistan refuses to accept sweets offered by India on Eid at Wagah border
July 18, 2015
Zee Media Bureau
Amritsar/Jammu: With ceasefire violations increasing tensions between India and Pakistan along the Line of Control and International Border, the Pakistan Rangers on Saturday refused to accept sweets from Border Security Force (BSF) officials on the occasion of Eid at the border checkpost at Wagah in Punjab.
Border guarding forces of the two countries have been following a tradition of exchanging sweets on festivals at the International Border in Jammu and along the Attari-Wagah border in Amritsar in Punjab.
BSF Deputy Inspector General in Amritsar, MF Farooqui, told reporters that their gesture of giving sweets on the occasion of Eid was not reciprocated from the other side along the Attari-Wagah border.
"We give sweets on Eid every time. The Rangers have not accepted it today. We always want to maintain peace and tranquillity on the border," he said.
However, the BSF did not offer any sweets to their counterparts along the IB.
A senior BSF commander at its headquarters in Delhi told a news agency that the force did not "offer" Eid sweets along the IB to Rangers as a mark of protest against the ongoing spate of ceasefire violations along this frontier and also the Line of Control (LoC) which have claimed few lives and injured many in the last few days.
Officials said the exchange of sweets along the Indo-Pak border during big festivals on either side takes place at about 18-20 locations and at about 5-6 places the exchange did take place today.
"While along all the iconic and big meeting points along the border there was no exchange of sweets, at some small locations in places like Gurdaspur (Punjab), Rajasthan and Gujarat the exchange did happen," officials said.
Meanwhile, the Pakistani troops once again violated ceasefire by targeting several Indian positions in Naushera sector of Rajouri district of Jammu and Kashmir.
The Pakistani Army started "unprovoked" firing on Indian positions at 9:25 pm and the firing lasted till 11:45 pm on Friday, a defence spokesman said today.
He said no loss of life or injury was reported from the Indian side when the reports last came in.
There has seen a sudden spurt of ceasefire violations from across the border this month.
A woman was killed and six others, including two BSF jawans, were injured on July 15 in firing and mortar shelling in Jammu district by Pakistan Rangers.
On July 9, Pakistani troops had fired at a forward border post in North Kashmir killing a BSF jawan.
On July 5, a BSF jawan was killed in Pakistani firing along LoC in Nougam sector in (With Agency inputs)
http://zeenews.india.com/news/india/pakistan-refuses-to-accept-sweets-offered-by-india-on-eid-at-wagah-border_1632147.html
--------
Sri Sri Ravi Shankar receives threat from Tehreek-e-Taliban, MHA reviews security
July 17, 2015 - 17:46
Zee Media Bureau
New Delhi: Renowned spiritual guru and the Art of Living founder Sri Sri Ravi Shankar is facing major threat from the Pakistan-based Tehreek-e-Taliban (TTP), media reports said on Friday.
According to reports, the TTP has issued two letters to the Art of Living centre in which the terrorist outfit has warned of a blast targeting Ravi Shankar and his followers.
The United States Department of State has informed the Art of Living Foundation, founded by Sri Sri Ravi Shankar, of threats from extremist organizations like the Tehreek-e-Taliban, said ANI.
The organisation's spokesperson Nakul Dhawan had said the content of the letter read that if they go ahead with the programme there would be consequences.
An Art of Living centre located on the outskirts of the Pakistan's capital Islamabad was set afire allegedly by the Taliban last year.
In view of the threat, the Home Ministry has directed the authorities to review security of Sri Sri Ravi Shankar and asked the intelligence agencies to verify the letters purportedly sent by the TTP.
Sri Sri, as the spiritual guru is commonly known, had visited Pakistan in 2012 and inaugurated the centre for his Art of Living movement. He had also offered to hold talks with the Taliban to usher in peace in the region, saying it would help foster understanding among people with divergent views.
In March this year, Sri Sri Ravi Shankar received death threats from the terror group ISIS while he was touring in Malaysia.
With ANI inputs
http://zeenews.india.com/news/india/sri-sri-ravi-shankar-receives-threat-from-tehreek-e-taliban-mha-reviews-security_1631766.html
------
Tehran urges Modi to invest in Iranian port to open up access to Central Asia
By REUTERS, 17 July 2015
Iranian President Hassan Rouhani has asked India to invest in infrastructure projects worth $8 billion, including an expanded role in developing a strategic port that will open up access to Central Asia, Iran's envoy to New Delhi said on Friday.
"The port of Chabahar in southeast Iran is central to India's efforts to circumvent arch-rival Pakistan and open up a route to landlocked Afghanistan where it has developed close security ties and economic interests. Rouhani suggested the larger role for India during a meeting with Prime Minister Narendra Modi on the sidelines of a summit in Russia days before the historic nuclear deal between Iran and world powers," Iran's ambassador to India said.
"The potential between Iran and India is great but we were just facing such a wall of sanctions, wall of American pressure," ambassador Gholamreza Ansari said.
Iranian President Hassan Rouhani (right) had met Prime Minister Narendra Modi in Russia before the nuclear deal
Ansari said that with sanctions likely to be lifted soon it was a "golden time" for India to seize investment opportunities because of the two countries' close trade ties and shared interest in improving Central Asian transport links.
"Connectivity is the main policy of Modi that coincides with Iran's government policy," Ansari said. "We have offered them in connectivity $8 billion of projects," Ansari added.
The Indian prime minister's meeting with Rouhani was part of a tour of Central Asia focused on increasing India's role in the region.
It was not immediately clear how Prime Minister Narendra Modi responded to Rouhani's offer.
India's foreign ministry did not respond to a request for comment.
Iran and six world powers reached a nuclear deal on Tuesday, clearing the way for an easing of sanctions on Tehran.
India and Iran agreed in 2003 to develop Chabahar on the Gulf of Oman near Iran's border with Pakistan but the venture has moved slowly because of the sanctions over Iran's atomic programme.
The two countries maintained a close relationship despite the US-led trade restrictions that halved their oil trade to 2,20,000 barrels per day last year.
In May, India's Shipping Minister Nitin Gadkari and his Iranian counterpart Abbas Ahmad Akhoundi signed a $85 million deal for India to lease two existing berths at the port and use them as multi-purpose cargo terminals.
"Under the new proposal, India could help build second and third terminals at the port as well as railway connections into the rest of Iran," Ansari said.
"India has moved slowly on opportunities in Iran in the past, including the giant Farzad B gas field," Ansari added.
Ansari said India was the "first priority to develop Farzad B" but urged New Delhi to move fast.
"If they drag their feet, the market will not wait," Ansari said.
http://www.dailymail.co.uk/indiahome/indianews/article-3165696/Iran-casts-lifting-U-S-sanctions-golden-chance-India-invest-strategic-port.html#ixzz3gEelpOt1
------
Pakistan violates ceasefire twice in 24 hours, targets Indian Army posts along LoC
July 18, 2015 - 15:54
Zee Media Bureau
Srinagar: Not paying heed to the Indian warning, Pakistan violated ceasefire along the Line of Control (LoC) twice in a span of 24 hours – first, late on Friday night and then again on Saturday afternoon.
As per reports, Pakistan Army troops opened small arms fire from across the LoC in Naushera sector of Jammu and Kashmir's Rajouri district last night.
No casualties were reported in the Naushera ceasefire violation in which several Indian Army posts were targeted.
Pakistani Army started "unprovoked" firing on Indian positions at 9:25 pm last night and the firing lasted till 11:45 pm, a defence spokesman said today.
"Our troops effectively retaliated to the unprovoked firing from across the border," the spokesman said.
Hours later, Pakistani troops again opened unprovoked fire at Indian positions along the LoC in Poonch district.
Defence Ministry spokesman Colonel Manish Mehta said: "The Pakistan Army opened to unprovoked firing on our positions on the Line of Control today afternoon in Poonch district."
"They are using small arms and automatic weapons. Our troops have retaliated using same calibre weapons. Firing exchanges are still going on in the area," Mehta added.
There has seen a sudden spurt of ceasefire violations from across the border this month.
On July 16, Pakistani troops pounded a number of places along the International Border and Line of Control in Jammu region with heavy firing and mortars, leaving four persons injured and triggering fear among the villagers.
India lodged a protest with Pakistan while the Indian troops retaliated "effectively" to the cross-border firing which came ahead of Prime Minister Narendra Modi's scheduled visit to Jammu on Friday.
A woman was killed and six others, including two BSF jawans, were injured on July 15 in firing and mortar shelling in Jammu district by Pakistan Rangers.
On July 9, Pakistani troops had fired at a forward border post in North Kashmir killing a BSF jawan.
On July 5, a BSF jawan was killed in Pakistani firing along LoC in Nougam sector in Kashmir Valley.
Amid the rising instances of ceasefire violation, the Indian Army has warned Pakistan of a firm response.
Indian troops will respond firmly and effectively to Pakistani provocations as they feel fit and where they deem fit, a top Army commander said earlier this week .
"We have seen over last two weeks or so that the number of incidents have increased," said Northern Army Commander Lt Gen D S Hooda said.
"The response has to be firm," the General Officer Commanding in Chief (GoC-in-C) of Northern Command said.
Asked about instructions to the troops, he said "they will carry out firm response and retaliate effectively as they feel fit where they deemed fit. Nobody has to look over the shoulder to higher headquarter that this is what I need I need to do." (With PTI inputs)
http://zeenews.india.com/news/india/pakistan-violates-ceasefire-twice-in-24-hours-targets-indian-army-posts-along-loc_1632057.html
--------
Let's forget our differences on Eid: President
July 18, 2015
New Delhi: President Pranab Mukherjee greeted citizens on the occasion of Eid-ul-Fitr on Saturday and said "on this day let us forgive and forget our differences".
"On the joyous occasion of Eid-ul-Fitr, I convey warm greetings and good wishes to my fellow citizens, particularly to all Muslim brothers and sisters," he said in his message.
"May this auspicious day reinforce in each one of us the spirit of generosity and compassion. Let us on this day forgive and forget our differences," he added.
"May Eid-ul-Fitr unite people of all faiths in harmony, solidarity and brotherhood and re-affirm our pride in the composite culture of our great nation," the president said.
http://zeenews.india.com/news/india/lets-forget-our-differences-on-eid-president_1632112.html
--------
Mideast
Yemen government says it is consolidating control of Aden
AP | Jul 17, 2015
CAIRO: Yemeni government troops were consolidating control of the southern port city of Aden on Friday, with only a few "terrorist pockets'' of Shia rebels remaining to be cleared out, according to a Yemeni government spokesman.
Ragah Badie said Friday that Aden was under a security lockdown as troops try to capture a senior rebel leader, Abdul-Khaliq al-Houthi. Aden's port, he said, will be opened today to receive humanitarian aid ships that are much needed in the conflict-torn nation, where over 80 percent of the population needs assistance, according to the United Nations.
Some Yemenis who have fled the fighting, which intensified in March when the Saudi-led coalition launched its campaign against the rebels, are now returning to their homes in Mualla and Crater, according to security officials and eye witnesses.
Meanwhile, an exiled official in Saudi Arabia denied reports that exiled Yemeni ministers had landed in Aden, adding that the situation is still ``too fragile'' to set a return date for them now.
Military officials also said government forces will begin pushing north within two days into territory controlled by the Shiite rebels, known as Houthis. Thus far into the Saudi-backed Yemeni government offensive known as Golden Arrow, at least 150 people have been killed, according to medical sources and government and Houthi officials.
The officials all spoke on condition of anonymity because they are not authorized to speak to reporters.
Yemen's conflict pits the Iran-allied Houthis and troops loyal to former president Ali Abdullah Saleh against an array of forces, including southern separatists, local and tribal militias, Sunni Islamic militants as well as loyalists of exiled president Abed Rabbo Mansour Hadi, who is backed internationally.
The United Nations said Tuesday that the civilian death toll in more than three months of violence has risen to 1,670.
http://timesofindia.indiatimes.com/world/middle-east/Yemen-government-says-it-is-consolidating-control-of-Aden/articleshow/48116248.cms
-------
Anti-Houthi forces advance in Yemen amid heavy Arab air strikes
July 18, 2015
Aden: Local fighters and army forces in Yemen have wrested two military bases from Houthi forces overnight, residents and officials said, building on a week of gains against the country`s dominant faction.
The advances come a day after Yemen`s government in exile declared the key southern city of Aden "liberated," in their biggest victory yet in a Saudi-led air campaign and civil war that has raged almost four months and killed more than 3,500 people.
Saudi-backed Yemeni forces backed up by air strikes seized the Labuza army base in Lahj province north of the port city and the headquarters of the 117th armoured division in eastern Shabwa province some 230km (145 miles) away.
Officials in the anti-Houthi forces say the offensive was planned for weeks and benefited from training and arms deliveries from Saudi Arabia and the United Arab Emirates.
The war in Yemen has pitted the Sunni Muslim Gulf states, which support the exiled government, against the Shi`ite Houthis allied to Iran, in a conflict that has further raised the stakes as the Middles East grapples with regional rivalries and sectarian strife.
But power struggles have simmered for years in the impoverished and conflict-wracked country, and fighters in Yemen`s south -- the setting for most of the recent battles -- have long sought independence from the North, the Houthis` home.
Residents said Houthi forces and their allies in Yemen`s army made an attempt to regroup and take back northern fringes of Aden on Friday, firing rockets at the Khor Maksar district.
Their push was repelled, anti-Houthi fighters said, and an offensive backed by air strikes is underway to take Anad air base, one of Yemen`s largest, 60 km (40 miles) north of Aden.
http://zeenews.india.com/news/world/anti-houthi-forces-advance-in-yemen-amid-heavy-arab-air-strikes_1632171.html
-------
Iran's Ayatollah Ali Khamenei says policy against 'arrogant' US won't change
JULY 18, 2015 Gulf News,AFP
Tehran: Iran's supreme leader Ayatollah Ali Khamenei said on Saturday that a landmark nuclear deal with world powers "won't change" the country's stance toward the "arrogant" United States government.
The remarks were greeted by chants of "Death to America" at a ceremony in Tehran marking the end of the Muslim fasting month of Ramadan, which was broadcast live on state television.
Khamenei also said Tuesday's nuclear agreement would not alter Iran's support for the governments of Syria and Iraq nor its backing of "oppressed people" in Yemen and Bahrain, and the Palestinians.
The comments reflected the supreme leader's longstanding position that Iran's engagement with the six powers was solely to reach a nuclear deal that was in its national interest.
The agreement, within a few months, stands to give Iran relief from US, UN and European sanctions that have ravaged its economy.
In return, Iran has pledged to place curbs on its nuclear programme for at least a decade to assuage western concerns that the Islamic republic has sought to develop an atomic bomb.
Iran has always denied seeking a nuclear weapon, insisting its atomic programme is for peaceful energy and medical purposes only.
Khamenei restated that position Saturday, mentioning a fatwa he himself issued against any action seeking the bomb.
He also stressed that the agreement with Britain, China, France, Russia and the United States plus Germany was not yet law and would have to be carefully scrutinised.
But he praised President Hassan Rouhani and Iran's negotiators.
"They really took pains and worked hard," Khamenei said of the team led by Foreign Minister Mohammad Javad Zarif.
"The text that has been prepared, whether it is approved or not, they have done their part and they should have their reward," he added.
As Iran's supreme leader, Khamenei has the final word on all policy matters, foreign and domestic, including on the nuclear deal.
In numerous speeches before this week's accord, he appeared ambiguous about the talks, consistently talking down the chances of success but at the same time hailing Iran's negotiators as trustworthy and brave.
Under a law passed last month, Iran's parliament must approve the nuclear deal but questions of whether the West's side of the bargain has been met rests with the Supreme National Security Council, rather than lawmakers themselves.
The SNSC is headed by Rouhani and the powerful committee reports directly to Khamenei.
The speaker of Iran's parliament, Ali Larijani, has said its members will not stand in the way of any deal that is supported by the supreme leaders.
However, the recently passed act came about after critics of the government's nuclear policy, including members of the conservative-dominated legislature, said they wanted a bigger say over the negotiations with the West.
http://gulfnews.com/news/mena/iran/iran-s-ayatollah-ali-khamenei-says-policy-against-arrogant-us-won-t-change-1.1552108
--------
Pakistan
Armed attack, Suicide bombing left three killed including senior police officer in Pakistan
By ZABIHULLAH MOOSAKHAIL - Sat Jul 18 2015
Unidentified gunmen shot dead a senior police officer in Khyber Pakhtunkhwa province of Pakistan this morning.
Officials say Hairul Haseeb the Superintendent of Police (SP) Elite Force Bannu was on his way home after offering Eid-ul-Fitr prayers at the mosque when unknown gunmen opened indiscriminate fire at him in Saleem Khan Area of Swabi district on Saturday morning.
The gunmen fled the area before security forces arrive at the area.
According to another report, at least two people were killed after a suicide bomber detonated his explosives near a shopping mall in Pakistan's Balochistan province.
Officials say the suicide bomber was wearing a veil (Burqa) and was trying to enter the shopping mall to target shoppers during shopping for Eid-ul-Fitr near Hazara Town in Quetta city, the provincial capital of Baluchistan.
When stopped by the guards, the suicide bomber detonated his explosives leaving two people killed on Saturday morning.
Officials said that the bomber aged was between 18-20 years of age and was carrying around eight kilograms of explosives.
This comes as Pakistan is celebrating its first day of Eid-ul-Fitr.
http://www.khaama.com/suicide-bombing-left-two-killed-in-pakistans-quetta-3655
---------
Indian BSF fires at LoC on Eid day: ISPR
DAWN.COM 18 07 2015
ISLAMABAD: Indian Border Security Forces (BSF) resorted to firing along with the Line of Control (LoC) at Jammu and Kashmir sector on Saturday morning, the Inter Services Public Relations (ISPR) said.
The incident was reported on the first day of Eidul Fitr at Neza Pir sector. However no casualties have been reported so far.
Director General ISPR Major-General Asim Bajwa in a tweet said, "Indians fire across LoC at Nezapir again. Pattern shows they resort to such violations every festive occasion. Ironic they violate and also accuse."
The recent spree of firing at LoC has been started earlier this week. Pakistan claimed that three people were killed and five others injured in Sialkot's Chaprar sector, whereas another person was killed in firing across the LoC in Rawalakot's Neza Pir sector in separate instances of unprovoked firing by Indian BSF personnel.
Both Pakistan and India had accused each other of ceasefire violations.
Indian Border Security Force (BSF) had also claimed that Pakistani troops fired heavy mortar shells on Wednesday, adding that one woman was killed and three civilians injured when one of the shells exploded near a border village.
http://www.dawn.com/news/1195242/indian-bsf-fires-at-loc-on-eid-day-ispr?utm_source=feedburner&utm_medium=feed&utm_campaign=Feed%3A+dawn-news+%28Dawn+News%29
------
South Asia
Rights group slams China state TV report on repatriated Uighurs
BEIJING
An exiled minority rights group slammed a Chinese state television report on Saturday that suggested ethnic Uighurs who had been forcibly repatriated after fleeing the country had returned to a "heaven on earth".
The report came as China makes efforts to keep its ethnic Uighurs from leaving the country. Hundreds, perhaps thousands of members of the largely Muslim ethnic minority have left China in recent years, clandestinely crossing into southeast Asia before making their way to Turkey.
Friday's China Central Television report showed two Uighur farmers in the far-west region of Xinjiang returning to a peaceful life in China. One, a fruit farmer shown tending his orchard, says he only fled the country because he was "confused" and "muddleheaded".
"Religious extremism affected me," said the farmer, whose name was given as Mexmut. "The government approves our legal religious activities very much."
Local police found he had been coerced into leaving and cheated, the report said.
Dilxat Raxit, a spokesman for the exiled World Uyghur Congress, called the report a propaganda tool.
"(The government is) using television to incite the Chinese people to antagonize the Uighurs because their own policies have led to the reality of people fleeing," he said by email.
Xinjiang's government could not be immediately reached by phone for comment.
Rights groups say such migrants are mostly fleeing ethnic violence in Xinjiang and Chinese controls on their religion and culture. Hundreds have died in unrest in Xinjiang in the last three years, blamed by Beijing on Islamist militants.
Beijing says many of those fleeing are extremists hoping to join up with other militants in Iraq and Syria. It denies any repression in Xinjiang.
China has claimed that some of the 109 Uighurs deported from Thailand back to China last week posed a security threat.
(Reporting by Megha Rajagopalan; Editing by David Holmes)
http://www.reuters.com/article/2015/07/18/us-china-xinjiang-idUSKCN0PS0BM20150718
------
North America
Sanctions regime would collapse if Congress 'kills' Iran deal: White House
July 18, 2015 - 09:17
Washington: The sanctions regime against Iran would collapse if the Republican-majority Congress were to "kill" the historic nuclear deal with the Islamic Republic, as countries such as India, Japan and South Korea would no longer support any such move, the White House has warned.
"The sanctions regime would collapse if Congress were to kill this deal. What that means is that the international leverage that we have previously used to reach this agreement would vanish," White House press secretary Josh Earnest said.
"The key to the success of this latest round of sanctions has been the aggressive enforcement of countries around the world, including countries that aren't even a party to this particular agreement -- countries like India, Japan, South Korea, and others that previously relied heavily on the importation of Iranian oil -- and by scaling back their oil purchases that had a negative impact on Iran's economy but also had a negative impact on the domestic economy of those individual countries," he told reporters yesterday.
Earnest said Iran would still obtain financial benefits of sanctions relief. "The problem is, Iran is going to get all of that money and the US doesn't get anything for it."
The nuclear accord was reached in Vienna this week after almost two years of negotiations which ended in a final 18-day stretch of virtually round-the-clock talks.
Because of the sanctions relief that's being offered, Iran is taking a number of significant steps to curtail their nuclear programme, he said.
"They're going to dramatically reduce their stockpile of enriched uranium. They're going to remove 13,000 centrifuges. They're going to overhaul and essentially dismantle, or all but dismantle, their plutonium reactor at Arak. And Iran has committed to cooperating with the most intrusive set of inspections that has ever been imposed on a country's nuclear programme," Earnest said.
"But if the US Congress votes to kill this deal, Iran will get all the benefits of this deal without having to give up anything," he said.
Based on the conclusion that's been reached by "99 percent of the international community, Iran at some point will begin to receive sanctions relief after they have taken demonstrable verified steps to significantly curtail their nuclear programme," and to make a public commitment that they will not obtain a nuclear weapon.
"Or Congress can vote to allow Iran to get off scot-free, and to get all the sanctions relief," the spokesperson said in response to a question.
Iran has always denied charges that it was seeking to build a nuclear bomb, insisting its nuclear programme was for peaceful purposes only.
Earnest said India along with other major countries have supported this deal. PTI
http://zeenews.india.com/news/world/sanctions-regime-would-collapse-if-congress-kills-iran-deal-white-house_1632036.html
-------
Europe
UN condemns terrorist attacks in Nigeria
July 18, 2015
New York: UN Secretary-General Ban Ki-moon on Saturday condemned the terrorist attacks which killed more than 60 people across Nigeria during the past week.
Ban reiterated the UN`s support for the Nigerian government in its fight against terrorism.
Fifty people were killed on Friday when local residents gathered for prayers on the Eid, which marks the end of the Muslim holy month of Ramadan.
http://zeenews.india.com/news/world/un-condemns-terrorist-attacks-in-nigeria_1632136.html
-------
URL: https://www.newageislam.com/islamic-world-news/new-age-islam-news-bureau/anger-in-iraq-after-suicide-attack-on-marketplace-kills-115/d/103941