New Age Islam News Bureau
11 May 2020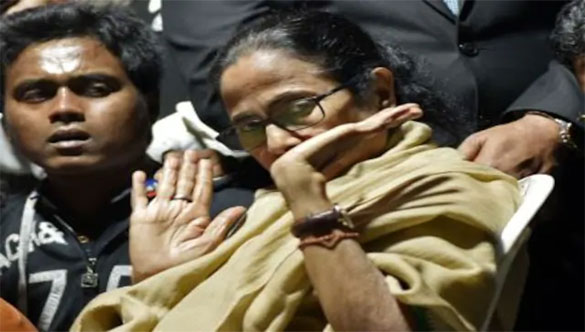 • An Outfit of Imams Has Urged the Bengal Government to Extend Lockdown, Eid Revelry Can Wait
• In Mamata Banerji's Bengal, Muslims Being Tortured And Harassed By Communal Elements In The Name Of Covid-19
• Hamas MP Says Israeli Annexation 'Violates Allah's Will'
• Omantel's Ramadan Campaign Shows People Can Be Together While Being Apart
• London Mosques Broadcast Adhan Publicly for Ramadan During Coronavirus Lockdown
• Arizona Professor Receives Death Threats for Connecting Islam To Terrorism
• Lagos Catholic Bishop Seeks Gradual Reopening of Churches, Mosques
• CID Arrests Hajjiyar Who Provided Land in Trincomalee For Arms Training of Muslim Youth
• Muslim Marketin Bangkok Gets Back on FeetRelying on Community Spirit to Prevent Covid-19 Transmissions
• Pakistan's Punjab Assembly Deputy Speaker Dost Mazari Tests Positive for Coronavirus
--------
India
• An Outfit of Imams: Has Urged the Bengal Government to Extend Lockdown, Eid Revelry Can Wait
• In Mamata Banerji's Bengal, Muslims Being Tortured And Harassed By Communal Elements In The Name Of Covid-19
• Saifullah Mir aka Ghazi Haider, 26, is Hizbul's new face of terror in Kashmir
• ISIS Magazine Tries to Instigate Indian Muslims on CAA-NRC
• Isolated migrants go on rampage at Covid-19 quarantine centre in Bihar's Muzaffarpur
-----
Mideast
• Hamas MP Says Israeli Annexation 'Violates Allah's Will'
• Norwegian Parties Urge End to Israeli Siege of Gaza Amid Coronavirus
• Facebook Content Oversight Member Reportedly Linked to Muslim Brotherhood
• Imam Khamenei: US, Europe failed in fight against Corona at three areas
• Iran naval vessel sunk by 'friendly fire' in Gulf of Oman
------
Arab world
• Omantel's Ramadan Campaign Shows People Can Be Together While Being Apart
• In Pandemic Times the Rites at Muslim Funerals Adhere to Safety First
• Abu Dhabi Islamic Bank first-quarter profit plunges 55% as credit provisions and impairments soar
• Custodian of the Two Holy Mosques directs disbursement of 1850 million riyals of Ramadan aid to social security beneficiaries
• Ehsan launches awareness and entertainment activities on Ramadan
• Egyptian Islamic chanter Mahmoud El-Tohamy performs 'Harmonies of the Heart' concert
• Amid the coronavirus, bailing out mosques is essential
------
Europe
• London Mosques Broadcast Adhan Publicly for Ramadan During Coronavirus Lockdown
• Italian Volunteer Romano Converted To Islam While In Captivity - Reports
• Celebrate the breaking of the fast with Bedford Muslim community's virtual Iftar
Jihad Jane
• Children's Hospice Supporting Families Across East London Launches £20k Ramadan Appeal
• BBC Wales uses picture of historic house in Ramadan report
• Fire burns olive and pine trees near Shia village
• Mosque, social centre in Germany's Cologne attacked
• Over 100 UK mosques ask Labour leader to withdraw occupied Kashmir comments
------
North America
• Arizona Professor Receives Death Threats for Connecting Islam To Terrorism
• Facebook Puts Soros, Muslim Brotherhood, Activists in Charge of Censorship
• 'Justice is Indivisible': Placing Palestine Back at the Centre of Muslim Discourse in the West
• COVID-19: The challenges for imprisoned journalists observing Ramadan
• Trump culpable in deaths of thousands of Americans: Prof. Chomsky
------
Africa
• Lagos Catholic Bishop Seeks Gradual Reopening of Churches, Mosques
• Islamic foundation distributes bags of rice to indigent in Lagos
• Liberia To Ease Lockdown on Churches, Mosques
-------
South Asia
• CID Arrests Hajjiyar Who Provided Land in Trincomalee For Arms Training of Muslim Youth
• Taliban claim to have released 28 prisoners in Herat province
• Sri Lankan Authorities Cremate Muslim Woman Who Didn't Have COVID
• 4 explosions go off in Kabul city, wounding 4 people including a child
• Over 100 Taliban militants during a 16-day operation in Ghazni province
• An overview of Child's Rights in Afghanistan: Legislation and Restrictions of Implementation
• DSCC to distribute food among 1 lakh poor families in Ramadan
• Bangladesh repatriates more than 100 stranded citizens from UK amid pandemic
• 4 soldiers lost their lives, 7 go missing following Taliban attack in Balkh
• Outbreak on North Korea border with China raises doubts over its coronavirus toll
------
Southeast Asia
• Muslim Marketin Bangkok Gets Back on FeetRelying on Community Spirit to Prevent Covid-19 Transmissions
• Putrajaya set to get third mosque, says Annuar Musa
• Axiata secures RM3.5b Islamic sustainability-linked syndicated financing
• Decision on prayers at mosques to be known this week, says deputy minister of religious affairs
• CMCO: Mosque, surau activities in Penang still not allowed, says mufti
------
Pakistan
• Pakistan's Punjab Assembly Deputy Speaker Dost Mazari Tests Positive for Coronavirus
• KP Special Secretary Tests Positive for Coronavirus
• 'Ritual' NA session on Covid-19 impact gets under way today
• Punjab's doctors urge govt not to lift restrictions
• Lack of precautionary measures at ATCs in Karachi exposes staff, lawyers to coronavirus
• Charred body of PTI councillor found in Dadu graveyard
• Capital admin extends lockdown till May end
Compiled by New Age Islam News Bureau
URL; https://www.newageislam.com/islamic-world-news/an-outfit-imams-urged-bengal/d/121816
------
An Outfit of Imams: Has Urged the Bengal Government to Extend Lockdown, Eid Revelry Can Wait
May 11, 2020
KOLKATA: An outfit of imams with thousands of members has urged the Bengal government to extend the lockdown till the end of May saying "Eid celebrations can wait" even as other Muslim religious leaders and members of civil society have urged the community to tone down celebrations by staying at home, not crowding markets and increasing the amount of zakat (an Islamic levy).
The Calcutta Khilafat Committee is also scheduled to meet this week to decide if prayers on Red Road, which is attended by over 3 lakh people, will be held. Sources said it was just a formality before an official announcement.
Eid, the most important Muslim festival, is to be celebrated in the fourth week of May. But owing to the pandemic, mosques are shut during Ramzan, special evening prayers have been cancelled and there are no iftar congre-gations at local mosques for the poor. People are offering namaz at home.
In a letter addressed to chief minister Mamata Banerjee, the Bengal Imams' Association, a body of several imams and muezzins from mosques across the state, has appealed that the current lockdown should be extended till the end of May to achieve the "desired result" of containing the virus.
"Eid celebrations can wait. We have sacrificed a lot till now and don't want our efforts to go waste by lifting the lockdown prematurely. We will not question the government for reopening other shops or not allowing Eid markets in pockets of the city. The government should not withdraw the lockdown prematurely at any cost,' said Mohammad Yahya, chairman of the association.
"The coronavirus pandemic has forced all of us to change our customs and traditions and Muslims in the state have been quick to adapt by observing Ramzan and offering namaz at home. We must celebrate the festival of Eid, too, in a similar manner respecting the lockdown rules and social-distancing guidelines," said Qari Fazlur Rahman, who leads the Eid prayers on Red Road every year.
"There are two aspects that we have to remember this Eid. First, any negligence will not only put our lives but even of those close to us in danger. It is important to follow social-distancing if we want to stop the transmission of this virus so avoid crowding in the markets. Second, there are people who have lost their livelihoods and are struggling to make ends meet. Let us celebrate by coming to their help," he added.
Several Muslim youths have also taken to social media to urge the community to stay home and not splurge on new clothes and food. "Instead increase the amount of zakat so that we can help more people who have either lost their jobs or can't open their shops due to the lockdown," said Salena Ahmed, an advertisement and communications professional.
https://timesofindia.indiatimes.com/city/kolkata/extend-lockdown-eid-revelry-can-wait-imams/articleshowprint/75665899.cms
------
In Mamata Banerji's Bengal, Muslims Being Tortured And Harassed By Communal Elements In The Name Of Covid-19
New Age Islam News Bureau
11-05-2020
The Muslims of Telnipara Jute Mills quarters, in district Hooghly in West Bengal are facing social boycott and harassment at the hands of communal and antisocial elements in the name of Covid-19 for the last few days. Muslims living in the Jute Mills quarters have been barred from using common toilets and bathrooms. The common road to the colony has also been blocked causing them inconvenience. Rumour was spread about a person called Peer Mohammad that he had contracted Covid-19 and the Hindus were told to keep distance from all the Muslims. Peer Mohammed was harassed in various ways. Therefore, he went to the Municipality Testing camp where he tested negative. Still communal forces are harassing and torturing the men and women of the colony. The local boys harass and tease Muslim women calling 'Corona Begam is coming'. Muslim women are not allowed to share common toilets or bathrooms because they are believed to be Covid-19 carriers.Muslims are being threatened to be driven away from the area. Local Muslims have filed FIRs against some miscreants. They have even named the miscreants in the FIR as Suraj Pandey, Sanjay Shaw and Akshay Kumar along with others. But the police has also demonstrated communal bias and has not made any arrests or prevented the harassment and social boycott of Muslims. The local Muslims allege that the communal forces in the area have been harassing them for the last few months at different pretexts. It should be noted that the people working in Jute Mills in Hooghly and 24 Parganas are mostly Hindi speaking Hindus from Bihar and UP called Biharis. A few months ago, these people shouted Jai Shri Ram to tease CM Mamata Banerji when she passed through the Jute Mills area of Bhat Para and several people were later arrested. But the intriguing part of the episode is that the Bengal police is silently backing these communal elements by not taking strict action against them.
https://www.firstpost.com/health/deep-rot-in-west-bengal-during-covid-19-lockdown-mamata-banerjee-has-good-reasons-to-be-so-touchy-over-centres-fact-finding-attempts-8288111.html
-----
Hamas MP says Israeli annexation 'violates Allah's will'
05-11-2020
Hamas Parliament member and cleric Yunis al-Astal said in a parliament session last week that Israeli annexation of parts of Judea and Samaria would constitute a crime against the will of Allah, and called for the parliament to recommend the murder of Jews "wherever they may be found."
In the May 6 session, which aired on Hamas' Al-Aqsa TV, al-Astal said that the Jews were "the most corrupt of Allah's creatures," and that annexation went against Allah's will for them, which was that they suffer "humiliation, misery and wrath."
The Jews, he said, are more dangerous than the coronavirus, and are planning to eventually occupy parts of the Arabian Peninsula, including Medina.
The solution, he said, "was that the Jews should be treated according to Allah's decree about them. Allah decrees [in the Quran]: Kill them wherever you may find them, and drive them away from wherever they drove you away."
https://www.israelhayom.com/2020/05/11/hamas-mp-says-israeli-annexation-violates-allahs-will/
------
Omantel's Ramadan campaign shows people can be together while being apart
11-05-2020
The blessed month of Ramadan has arrived. However, this year it comes to us in the most challenging of circumstances. As we all adjust to this new and ever-shifting situation, Omantel's commitment has always been to be with you, for you and for Oman. Through its Ramadan campaign, it wanted to bring to life a faithful message that this too shall pass and that the power of Oman's people will help celebrate the values and traditions that make Ramadan so special to us all. Omantel's message is clear: though we may not be able to gather with our loved ones to celebrate the Holy Month, we can still come together virtually to make this month a truly blessed one, because together we share the same fate #تشاركنا_المصيرOmantel's campaign aims to spread hope and positivity across the country and the entire region, reassuring people that even the most challenging times will come to pass. The hero film is a song which reminds every Omani that we have the power to unite, comfort and support each other, to break our fast together, laugh, love and live together, despite the distance between us. Client: Omantel Agency: Leo Burnett - MEA Media: Zenith Production House: 35Films
https://campaignme.com/24426-2/
-----
London mosques broadcast adhan publicly for Ramadan during coronavirus lockdown
May 10, 2020
Mosques in the east London have started broadcasting the adhan (call to prayer) publicly during Ramadan to help Muslims stay connected to their places of worship during the coronavirus lockdown.
Waltham Forest Council gave mosques in the east London borough of Waltham Forest permission to broadcast the adhan from their roofs or minarets during Ramadan at sunset every day and on Friday afternoons at around 1 p.m., when the Friday prayer would usually take place.
The first adhan to be broadcast publicly in the borough took place at sunset on Monday, and was followed by a one-line message in Arabic encouraging Muslims to "pray in your homes."
The initiative, which nine mosques have participated in so far, aims to keep Muslims spiritually connected to their places of worship at a time when they are unable to attend them due to restrictions that aim to curb the spread of coronavirus in the UK.
Observing Ramadan during the pandemic is proving challenging for Muslims not only in the UK but across the world as they stay at home during the holy month, when they would usually take part in communal Taraweeh prayers, have iftar at their local mosque and generally frequent it more.
The initiative has been organized by the Waltham Forest Council of Mosques (WFCOM), which says it represents more than 70,000 Muslims.
Said Looch, the secretary of WFCOM, said the organization was inspired by Al-Manaar Mosque in west London broadcasting the adhan publicly at sunset during Ramadan, after it received permission to do so on a trial basis from the Royal Borough of Kensington and Chelsea.
The East London Mosque & London Muslim Centre in the district of Whitechapel was the first in the UK to broadcast the adhan publicly when it opened in 1985. It can be heard in public from the mosque for any prayers that fall between 7 a.m. and 7 p.m. all year round.
https://en.abna24.com/news//london-mosques-broadcast-adhan-publicly-for-ramadan-during-coronavirus-lockdown_1035517.html
-----
Arizona Professor Receives Death Threats For Connecting Islam To Terrorism
May 10, 2020
Huey Freeman
A political science professor with 24 years of teaching experience at Scottsdale Community College has received numerous online death threats addressed to himself and his family, after a student complained about the contents of a test addressing the issue of Islamic terrorism.
When officials demanded that Professor Nicholas Damask apologize to the student — and he refused on the grounds of academic freedom — the college went ahead and apologized for him.
Since national news stories have recently been published about Damask's predicament, there has been a firestorm of backlash against the college's treatment of the professor.
Damask, a tenured faculty member who wrote his doctoral dissertation on terrorism, earned his Ph.D. from the University of Cincinnati and Master's from American University in Washington, D.C.
In an interview with Robert Spencer for Front Page Magazine, Damask asserted that the answers to his quiz questions were accurate, based on specific Islamic sources, including the Qu'ran and the hadiths.
A student, who previously said he had been enjoying the course, complained in an email to Damask that those questions offended him, because they were "in distaste of Islam," Damask told Spencer. Damask sent a couple of emails in response to the student's complaint, but the student did not respond to him.
The next thing Damask knew, the college's Instagram page was bombarded with angry, threatening messages about Damask, the college and the content of the quiz. Online comments included: "if he is still around I suggest the student take action to make sure he isn't," "F—— Die!," and "I hope one day some kid shoots up the school." There was also a threat to burn down the school.
It is believed that the student posted the quiz questions on the Instagram account of a well-known Muslim comedian, who has about 125,000 followers. That apparently led to the large number of threatening and derogatory posts on the college's page.
The college responded to those threats by siding with the student. College officials asserted on Instagram that the student was correct and the professor was wrong, Damask said in his interview with Spencer. No complaint had been filed by the student and there was no due process for the professor.
After Damask refused to make any kind of apology to the student or anyone – during a conference call with school officials on May 1 — the officials went ahead and posted an apology to the student and the Islamic community. That post said that Damask would be required to apologize to the student for the quiz questions, and that the questions would be removed from future tests — because they were inaccurate and inappropriate.
The officials wrote that Damask's questions were Islamophobic, and he would likely need to meet with an Islamic religious leader to go over the content of his quizzes, and take a class from a Muslim before teaching about Islamic terrorism.
Damask has had a stellar record at the college, with a 100 percent rating, of 27 students who were asked if they would take his class again, according to the ratemyprofessors.com website. The overall quality of his classes were rated at 4.54 out of 5. Comments from students included: "This guy is the only professor that I've actually learned from"; "I love that the lectures are very clear and straight to the point" and "Dr. Damask is my favorite professor of all time! He makes every POS professor at ASU seem boring."
Kathleen Winn, governing board member of Maricopa Community College District, said it was hypocritical of the school officials to ask Damask to apologize. Although the professor was soundly criticized for offending Muslims, another professor at Mesa Community College, within the same district, was firmly supported by officials after he showed a pornographic movie to his students which denigrated Jesus and offended a Christian student.
A political science professor at Phoenix College was supported after he offended some students when he brought a blow-up doll of President Donald Trump to class in 2018, adorned with swastikas.
"The people who complained in those cases were told nothing could be done because of academic freedom," Winn said in a phone interview, adding that Damask has been treated under a different set of rules. "If you say you have academic freedom for your professors that means you have it for all of your professors. You don't get to pick winners and losers. They've gone from academic freedom to censorship."
Winn said that Damask's parents, who are in their 80s, and his 9-year-old grandchild have also been threatened. They went into hiding.
"You have death threats and they are not taking precautions to protect the professor. They have thrown him under the bus. We put him at risk by not backing him up."
Winn said there is no good reason for the college officials to apologize for the acceptable actions of a professor, who has had an exemplary record for 24 years. Instead, they should have backed him — if they really believed in academic freedom.
"If you say you are an educational institution, you want students to think for themselves and draw their own conclusions," Winn said. "If you are telling them how to think and what they should think you are not allowing for the whole process of education to occur."
Winn said school officials have violated their own guidelines, because they chose political correctness instead of academic freedom. As a result, there has been a big backlash from people nationwide, who are standing with the professor since it became a national news story.
"And they're asking the professor to apologize," Winn said. "That is the definition of hypocrisy. His questions showed Islamic terrorists are dangerous. Guess what, the people he upset threatened to kill him. He was not wrong."
------
Lagos Catholic Bishop Seeks Gradual Reopening of Churches, Mosques
May 10, 2020
By Peter Uzoho
The Catholic Archbishop of Lagos, Alfred Martins, on Sunday, appealed to the federal government to set out guidelines for the gradual reopening of churches and mosques in some states in the country, due to the fact that, "many are suffering spiritually, emotionally and psychologically."
Martins, said this while delivering his homily monitored on DSTV. He stressed the need for the government to consult with stakeholders to set out guidelines for such gatherings, which he said must be strictly adhered to.
According to the Lagos Archbishop, "If transportation, banking and other sectors would reopen and yet would be safe, we need to follow guidelines.
"Our leaders in government took this step-in dialogue with stakeholders because those sectors are very important for the lives of people.
"Let me say dear brothers and sisters that the religious lives of people are also important. Many are truly suffering, spiritually, emotionally and psychologically.
"I believe it is important for our government to engage leaders of religious groups so that guidelines can be established for gradually unlocking our mosques and churches' gates.
"Of course, no one wants to put the lives and well-being of anyone in danger. After all, when the pandemic is over, it is people that would come to worship.
"I believe that religious leaders would be responsible in this matter and would ensure that guidelines for reopening that are mutually agreed are strictly adhered to.
"That is why I believe it is not enough to simply say religious bodies remain banned. It is important rather to say the situation would continue to be reviewed. These are difficult decisions to make, but we do believe that when we think and talk together, great things can happen for God and for the nation.
"We pray that the Lord will heal our land and guide our leaders in the difficult decisions they have to make with regards to this present situation."
Martins, pointed out that Sunday marks the eight Sunday that Catholics in Lagos had been unable to gather together physically for mass, a situation he said was sad.
"The number of infections is rising and also the number of deaths is also rising. We are seeing an increase in community infections.
"However, our leaders in government have been able to recognise the fact that once a rat gets inside a house, the best thing to do is to set a trap for the rat, while you go about your life.
"I believe that, that was why they chose to relax the lockdown. But, not just simply relaxing, but by setting out guidelines that must be followed if we are to remain safe and if the economy will be gradually reopened," he added.
https://www.thisdaylive.com/index.php/2020/05/10/catholic-bishop-seeks-gradual-reopening-of-churches-mosques/
-----
CID arrests Hajjiyar who provided land in Trincomalee for arms training of Muslim youth
May 11, 2020
May 11, Colombo: A special team of the Criminal Investigations Department (CID) of Police on Saturday (09) has arrested a Hajjiyar who had given a land in Trincomalee for providing firearms training to Muslim youths.
It has been revealed that five youths from Mawanella have been given firearms training in 2017 in the land given by the suspect Mohamed HanifaHaja Mohamed.
The Criminal Investigations Department (CID) has revealed that the Hajjiyar had also provided the T-56 weapon for the training, according to a report in local Sinhala daily Dinamina.
The CID has revealed that the suspect had served as an informant attached to the security forces during the war and was later involved in politics.
The CID says that the land at Thoppur is run as a livestock farm and a person identified as Sadiq, who is a key disciple of the suicide bomber and NTJ leader Saharan, has given weapons training to the youths in the premises.
According to the CID, Sadiq, one of the main accused of damaging Buddha statues at Mawanella, has gone to Syria and received training from ISIS. Upon his return from Syria, he had run the training camp at Thoppur on the instructions of Saharan. He has told the Mawanella youths about his terrorist activities in Syria and was preparing to launch a second series of attacks after the Easter Sunday attacks last year, the CID investigation shave revealed.
The Criminal Investigation Department following Eater Sunday attack arrested five youth from Mawanella who had undergone arms training at the Thoppur training camp in connection with attack.
http://www.colombopage.com/archive_20A/May11_1589170795CH.php
-----
Muslim Market In Bangkok Gets Back On Feet Relying On Community Spirit To Prevent Covid-19 Transmissions
11 MAY 2020
A local Muslim fresh market in Bangkok is relying on community spirit to prevent Covid-19 transmissions since the government eased the lockdown.
Talat IamSombat is a medium-sized market in SuanLuang district, in the vicinity of Sukhumvit Soi 77 (Soi On Nut) and Srinakarin Road.
Although not well known to people outside the community, Talat IamSombat is well-regarded among locals and is one of the few markets in the capital that caters specifically to Muslims.
The market opened nearly 40 years ago and has 118 vendors, most of whom are old faces and have been plying their trade on the premises since before the turn of the century.
Many vendors and customers have reported that going back to the market has been like attending a reunion with old friends. Although everyone is wearing masks, the sense of excitement has been palpable as this thriving community has begun to get back on its feet.
One of the main reasons customers visit the market is to buy the famous Muslim dishes on sale, such as stewed-beef noodles, saffron rice with chicken, and various curries and other spicy dishes.
Similarly, grocery shops also supply ingredients such as beef, chilli paste, coconut milk, vegetables, rice grains and eggs for restaurant owners and home cooks alike.
SamseahSayorwan, 50, the city official who oversees Talat IamSombat told the Bangkok Post during a specially arranged visit that the vendors and shoppers have complied with public health measures and have shown a willingness to adapt to the city's "new normal".
At two main entry gates, market staff use thermal scan equipment to measure the temperature of visitors. Bottles of hand sanitation gel have been provided.
Vendors and customers at Talat IamSombat in SuanLuang district, in the vicinity of Sukhumvit Soi 77 (Soi On Nut) and Srinakarin Road, are going all out to comply with sanitary rules to prevent transmission of the Covid-19. photos VaruthHirunyatheb
The fact that most people here are part of the same community could also be a useful factor in keeping any infections from breaking out into the wider city, she added.
"So far, we have not had to ask anyone to leave the market. In fact, I haven't had to issue any formal warnings at all since the start of the Covid-19 outbreak. I think everyone just wants to do their bit to help and if that means minor convenience, then so be it. The vendors just want to return to making a living," Ms Samseah said.
The city official said she was pleased to see community members were acting as each other's eyes and ears in terms of making sure that regulations were being followed and hygiene standards met under the government's new sanitary guidelines.
Since April 19, the Bangkok Metropolitan Administration has required vendors in fresh markets to have their health checked regularly. Any who show signs of a fever or infection are required to stop work immediately and return home to self-isolate.
"I believe local people love and want to protect this market as it is one of only a few Muslim markets in Bangkok and it is part of the community. So we try to do best. We all wear masks and wash our hands regularly," she said.
https://www.bangkokpost.com/thailand/general/1915748/
-------
Pakistan's Punjab Assembly Deputy Speaker Dost Mazari tests positive for coronavirus
May 11, 2020
LAHORE: Punjab Assembly Deputy Speaker Sardar Dost Mohammad Mazari has tested positive for coronavirus.
In a video message on Sunday, Mazari said he had tested negative on April 28 but the result was positive when he went for fresh screening a week later.
The politician from Rajanpur had returned from Dubai by a special PIA flight along with his two cousins just over a week ago. After landing at the Multan airport, they reportedly left for Lahore without being quarantined there.
As their departure was against the official SOPs in wake of coronavirus spread, Mazari had told a joint team of administration and CAA that they would isolate themselves.
https://www.dawn.com/news/1556187/punjab-assembly-deputy-speaker-dost-mazari-tests-positive-for-coronavirus
------
India
Saifullah Mir aka Ghazi Haider, 26, is Hizbul's new face of terror in Kashmir
May 11, 2020
Saifullah Mir aka Ghazi Haider, the 26-year-old who was radicalised to join the Hizbul Mujahideen by Riyaz Naikoo six years ago, will be the Hizbul Mujahideen's new face of terror in Jammu and Kashmir, a senior security official said on Sunday evening. The official said Saifullah Mir's appointment to lead the Hizbul in Jammu and Kashmir had been announced by Saleem Hashmi, the spokesperson for the terror group headquartered in Pakistan-occupied Kashmir's Muzaffarabad.
Hashmi also named Zafarul Islam as the so-called deputy chief operational commander in jammu and Kashmir and another terrorist, Abu Tariq Bhai, as his chief military adviser.
Naikoo along with his associate Adil Ahmed was killed in an operation carried out by Jammu and Kashmir police and troopers from the 21 Rashtriya Rifles. Naikoo was hiding in a secret bunker in his village.
Saifullah Mir, who is also known as Musaib and 'Doctor Saif' because he treated terrorists injured in police encounters, is a class 12 pass out from Malangpora in south Kashmir's Pulwama district unlike his mentor and predecessor Riyaz Naikoo who had completed his graduation. Saifullah Mir opted for vocational training after school.
Once he was through with the bio medical course at the government-run ITI in Pulwama, Saifullah got himself a job at Srinagar's National Institute of Electronics and Information Technology as a technician, according to security officials.
Security officials said Saifullah had been classified as an 'A category' terrorist and had mostly been active in south Kashmir districts of Pulwama, Kulgam and Shopian. He is also said to be completely familiar with Riyaz Naikoo's network and activities to raise funds by looting orchard owners and get cuts from illicit cultivation of opium in south Kashmir.
Investigators had recently busted a Hizbul Mujahideen terror funding module with the arrest of Hilal Ahmad Wagay, a resident of Nowgam, Awantipora, Jammu and Kashmir. Wagay was caught with Rs 29 lakh cash in Amritsar, by Punjab Police on April 25.
"This money was being transported to the Kashmir valley to be handed over to Riyaz Naikoo (now killed), Chief operational commander of Hizbul Mujahideen. This case has been taken over by NIA," the National Investigation Agency had said.
https://www.hindustantimes.com/india-news/saifullah-mir-aka-ghazi-haider-26-is-hizbul-s-new-face-of-terror-in-kashmir/story-NOgRn012nF6Ks752QxvjJL.html
------
ISIS magazine tries to instigate Indian Muslims on CAA-NRC
May 10, 2020
New Delhi: The terror group ISIS has stepped up its India-specific propaganda aimed at stoking a sense of injustice among Indian Muslims in the context of recent issues and instigating them to pick up weapons.
In the latest edition of its online magazine `Voice of Hind', a magazine specifically aimed at Muslims in India, ISIS has tried to make a case out of the unrest over the Citizenship Amendment Act (CAA), National Register of Citizens (NRC) and highlighted the atrocities against Muslims by vigilante groups in recent months.
While ISIS has vast plans in South Asian region, it has thus far not had much influence in India except for a few stray individual cases of radicalization and formation of some modules, which were quickly busted by the security agencies. However, this is the first time that an online ISIS publication with specific focus on India has surfaced, for which an organization called Al-Qitaal Media Centre by JunudulKhilafaah al-Hind, identifying itself as a pro-ISIS group, has taken credit. The propaganda has been tracked by security agencies on various platforms like Rocket Chat, pdfhost, Internet Archive, Mediafire and Nextcloud.
"Indian Muslims are the target audience for Voice of Hind magazine, of which there are currently three issues. The magazine attempts to appeal to Indian Muslims by trying to make a case for ISIS, comparing violence against Muslims in India to the losses suffered by ISIS in Iraq and Syria, and portraying Indian governmental policy as anti-Muslim. The magazine seeks to inculcate a sense of injustice that can be rectified through violence," a researcher at the Counter Extremism Project which tracks extremists in South Asia told this newspaper.
The first two issues of Voice of Hind, released on February 24 and March 25, had focused on the Jammu & Kashmir issue and violence against Muslims in other parts of India.
The third issue of the magazine, uploaded on April 22, contains an article headlined 'Call towards Tawheed and Jihad' which states that recent constitutional changes in India are meant to deprive Muslims of their rights. It says the only purpose of the CAA was to make Muslims understand that things are working towards making India a Hindu nation.
"They (Hindus) wanted to show you the police are for them, the courts are for their benefit and they are only there to torture and persecute the Muslim community. Did the methods of voting and protests (anti-CAA) work for you? Have the courts and legislators (from) whom (you) seek help besides Allah done you any good," the magazine asks. The pro-ISIS group encourages attacks using knives, axe, hammers, heavy objects, petrol bombs, choking through rope or belts or using vehicles as weapons to cause fatality.
http://www.asianage.com/india/all-india/100520/isis-magazine-tries-to-instigate-indian-muslims-on-caa-nrc.html
------
Isolated migrants go on rampage at Covid-19 quarantine centre in Bihar's Muzaffarpur
May 11, 2020
Migrant workers isolated at Women Polytechnic College in the Musahari block in Bihar's Muzaffarpur went on rampage on Sunday demanding proper lodging and boarding facilities at the centre.
The migrants had been put up at the isolation centre since Thursday. After three of the inmates tested positive on Saturday evening, the migrants demanded to undertake Covid-19 test. Sources said some of them even tried to escape from the vicinity, but officials foiled their attempt using mild force.
A senior officer from Musahari block, requesting anonymity said, "A few inmates tried to create ruckus demanding proper food, facilities of safe drinking water and mosquito nets among other facilities."
The sub-divisional officer of east sub-division of Muzaffarpur Kundan Kumar feigned ignorance about any such incident. "I have neither been informed by any officer from Musahari block nor the local police officials. So, I am not aware of it," he said, adding, that at least 107 migrants, from different parts of the country, have been kept there.
"They are being provided proper food, including two meals a day and breakfast. Even other facilities are being made available to them. If any shortfall will be come to our notice, we will get it redressed at the earliest," said the SDO (east).
https://www.hindustantimes.com/india-news/isolated-migrants-go-on-rampage-at-covid-19-quarantine-centre-in-bihar-s-muzaffarpur/story-cIJSg5V92dw0lScdwJNbdP.html
------
Mideast
Norwegian parties urge end to Israeli siege of Gaza amid coronavirus
May 10, 2020
As many as 58 Norwegian organizations and political parties have appealed to Foreign Minister Ine Marie Eriksen Søreide to urge Israel to end the Gaza Strip blockade amidst the coronavirus outbreak.
"While governments worldwide are making efforts to fight the coronavirus pandemic and stabilize their economy, the Palestinian nation is at high risk, struggling under occupation and siege, hence, becoming more vulnerable to the pandemic," they said in a letter.
Israeli authorities, the letter said, had torn down 69 buildings, including seven water, hygiene and sanitation structures, in the West Bank and East Jerusalem al-Quds since the first COVID-19 case in the territories was confirmed.
In particular, they cited a United Nations Office for the Coordination of Humanitarian Assistance (OCHA) report, indicating increased attacks and disproportionate use of violence by Israeli soldiers.
"Overcrowded areas and refugees camps in the West Bank and Gaza are especially vulnerable to the pandemic. For the two million people living in Gaza, the situation is catastrophic."
Palestinians in Gaza, it said, are living with a weak public health sector, extreme poverty, high levels of unemployment, dysfunctional infrastructure, aid-dependency and terrible conditions to grow up in for children and youth.
The Norwegian letter said restrictions set by the Israeli siege seriously impede the import of goods, trade, and economic activity as well as stable access to electricity and fuel.
It demanded the country's foreign minister to take the lead in the international stage to end hostilities and the war crimes against Palestinians.
Recently, Norway called for more aid from the United Nations and non-governmental organizations in an attempt to assist Palestine with the struggling economy in the face of the coronavirus outbreak.
https://en.abna24.com/news//norwegian-parties-urge-end-to-israeli-siege-of-gaza-amid-coronavirus_1035504.html
-------
Facebook content oversight member reportedly linked to Muslim Brotherhood
11-05-2020
A member of Facebook's new oversight board, which will have control of the content moderation process for the social media platform, has in the past expressed support for the Muslim Brotherhood, according to the Middle East Media Research Institute (MEMRI) and media reports.
On Wednesday, Facebook announced the first 20 members of its oversight board, which has been handed the final say on what user-generated content the platform removes. Among the members are Yemeni Nobel Peace Prize Laureate Tawakkol Karman, who was awarded the accolade for her role in the Arab Spring.
However, she also appears to have links to the Muslim Brotherhood, which has been proscribed as a terror organization by several countries including Saudi Arabia, Russia and Bahrain. The Muslim Brotherhood has stated that its aim is the establishment of a state run under Sharia law. It is also the precursor to Hamas.
When Karman won the peace prize in 2011, the Muslim Brotherhood's official website, Ihkwanweb, put out a statement congratulating her and recognizing her as a member of a Muslim Brotherhood branch.
The statement, dated October 9, 2011, read: "Dr. Abdul-Rahman Ba-Fadel, president of the parliamentary bloc of the Yemeni Congregation for Reform (YCR), Yemen's Muslim Brotherhood, congratulated the Yemeni political activist Tawakkul Karman, member of the YCR, for winning the Nobel Peace Prize."
A report by MEMRI noted that in an interview on BBC Arabic TV on September 15, 2013, Karman said, "The most important achievement of the January [2011] Revolution [in Egypt] was the abolishment of the emergency law. Unfortunately, the July 3 [2013] coup reinstated that law. The Muslim Brotherhood and its supporters, who oppose the military rule, are engaged in a legendary struggle, which they are waging with their blood, their resolute steadfastness, and their belief that they will restore the revolution to its true path."
The interviewer asked whether she supported the Muslim Brotherhood, and she replied: "You can hear it from me: Yes, at this stage, I am partial towards the Muslim Brotherhood..."
Facebook's oversight board members have been handed considerable powers regarding what content may be shared on the platform.
In an op-ed published by the New York Times on Wednesday, the four co-chairs of the group, who were involved in hand-picking the 16 others members, including Karman, explained that the board has been awarded a $130 million trust fund to carry out its work completely independent of Facebook, and that its decisions cannot be revoked by Facebook unless they are found to violate the law.
The board members will contract directly with the board, and will serve fixed terms of three years, up to a maximum of three terms.
"We cannot be removed by Facebook," they wrote. "Facebook's chief executive, Mark Zuckerberg, has also personally committed to this arrangement."
Defining the mission of the board, they wrote, "We know that social media can spread speech that is hateful, harmful and deceitful. In recent years, the question of what content should stay up or come down on platforms like Facebook, and who should decide this, has become increasingly urgent.
"The oversight board will focus on the most challenging content issues for Facebook, including in areas such as hate speech, harassment and protecting people's safety and privacy," the statement continued. "It will make final and binding decisions on whether specific content should be allowed or removed from Facebook and Instagram."
"The members announced today reflect a wide range of views and experiences," Facebook said in a statement. "They have lived in over 27 countries, speak at least 29 languages and are all committed to the mission of the Oversight Board. We expect them to make some decisions that we, at Facebook, will not always agree with – but that's the point: they are truly autonomous in their exercise of independent judgment. We also expect that the board's membership itself will face criticism. But its long-term success depends on it having members who bring different perspectives and expertise to bear."
https://www.jpost.com/international/facebook-content-oversight-member-reportedly-linked-to-muslim-brotherhood-627597
------
Imam Khamenei: US, Europe failed in fight against Corona at three areas
May 10, 2020
Imam Khamenei met with the National Committee on Combating Coronavirus via video conference on Sunday, May 10, 2020. The President, Ministers, Governors and members of the Committee were present in this meeting.
In his statements, Imam Khamenei compared the behavior of people and officials in Iran with those in Western countries in the fight against the Coronavirus. He believes the three areas of being capable of managing, social philosophy and ethics to be three areas in which the U.S. and Europe failed in the battle against the Coronavirus.
"My purpose for this meeting was to, first of all, thank those active in fighting Corona, those who are working day and night. Secondly, I would like to thank God, the Exalted, due to the great success of the Iranian nation and the officials in combating this disease."
"I give my condolences to all those who have lost their dear ones due to Corona anywhere in the world. We pray for all those afflicted by this disease and ask God to grant elevated ranks to the health professionals who were martyred fighting this virus."
"The occurrence of an incident like the Corona outbreak has led to certain behaviors, which have been seen in some countries where people are rushing to stores and panic shopping. Such behavior is not seen in Iran at all and our people have truly shone with their calmness."
"Western civilization's failure in the global trial of combating Corona is obvious and quite visible. The West and westernized people don't want this failure to be seen; however, it is necessary to study and speak about the various dimensions and reasons for this failure."
"Since the Corona outbreak started later in the U.S. and in Europe, they had time to prepare themselves for confronting this virus, but they failed to do so. The high numbers of those afflicted by this virus and deaths in the U.S. and in some European countries confirm this fact."
"In Western countries, health institutions ignore the elderly, the poor, people with Down syndrome and so on, because these people don't have the ability to earn money and create profits. This exposes the realities of the failure of the Western social philosophy."
"A "Health Care Network" is very essential. If as some people guess and repeatedly say, we may have a resurgence of the Coronavirus in the country, such a network can offer great help for that situation."
"About praying in sacred sites during Ramadan, I believe the National Committee on Combatting Corona's opinion is valid, but this analysis should be done by those who understand the truths and need of praying. Then, whatever decision they make, I and everyone else will submit to it."
"Praying and supplicating God, especially during Ramadan, the Nights of Qadr, and important events is a basic human need. Of course, I believe that if the restrictions on visiting sacred sites continue, the faithful will observe these restrictions more than others."
https://en.abna24.com/news//imam-khamenei-us-europe-failed-in-fight-against-corona-at-three-areas_1035501.html
------
Iran naval vessel sunk by 'friendly fire' in Gulf of Oman
18 minutes ago
One sailor has been killed and others have been wounded in a "friendly fire" incident involving two Iranian naval vessels, Iranian state TV has said.
A new anti-ship missile being tested by the frigate Jamaran hit the logistical ship Konarak. Initial reports said dozens of sailors were killed.
The "Konarak vessel was struck with a missile yesterday [Sunday] afternoon during a military exercise in the waters of Bandar-e Jask" off Iran's south coast, state TV said on its website.
"The vessel was hit after moving a practice target to its destination and not creating enough distance between itself and the target," it added.
The incident happened near the port of Jask, some 1,270km (790 miles) south-east of Tehran, in the Gulf of Oman, state TV said.
The Jamaran and Konarak are said to belong to naval forces of the Iranian army.
https://www.bbc.com/news/world-middle-east-52612511
-----
Arab world
In pandemic times the rites at Muslim funerals adhere to safety first
H A Hellyer
May 10, 2020
The Covid-19 pandemic has affected many facets of life. It has interrupted work, daily routines, gatherings with family and friends and much of the usual hustle and bustle of life. It has also affected matters of death, and how we honour the rights of our departed loved ones in this time.
For Muslim communities of the West, the latter has been particularly challenging, though they have been able to make adjustments accordingly.
Muslim funeral rites are relatively straightforward, and quick compared to many other religious traditions. The departed is washed in accordance with Islamic traditions; prayers are recited over the body, which is then buried. This usually takes place within a day of death.
In a time of pandemic, when the death toll has overtaken the ability of funeral parlours to cope, those parlours in the West which specialise in Muslim funerals have been finding it particularly challenging.
Islamic tradition holds that the sooner the body is laid to rest, the better. Perhaps partly due to the speed called upon in such situations, there haven't been any serious suggestions in European Muslim communities that funerals be suspended as a result of government directives. Rather, the political authorities in these countries have been clear that funerals may continue, with social distancing measures observed.
If modifications are made to traditional rituals, they are being done in ways that are entirely in keeping with the principles of faith, while also upholding the requirements of public health. Communities of religious leaders, such as the British Board of Scholars and Imams, have gone to great lengths to publicly draw attention to how such rituals can and should continue, even if certain precautions are taken.
Yet there are obstacles in this particular time. Take the ritual of cleansing; many fear that infection could spread to those washing the body, if the deceased died due to coronavirus.
Generally speaking, however, health authorities have said that little risk exists, provided certain precautions are taken. These include wearing protective gear and ensuring that people engaged in ritual washing are properly trained. If so, the full rites can be done.
The British Islamic Medical Association for instance, has called on burial teams to consult with medical personnel with regards to the use of body bags. Considering that British public health authorities have not made it a requirement for coronavirus victims to be sealed in a body bag, this is only prudent.
When it comes to the passing of loved ones, it is not only the custom of shrouding that family and friends are involved in. It is the funeral itself where men and women, young and old, conduct a special prayer, usually in a mosque.
Again, Western Muslim religious authorities, such as Seekers Guidance, have reminded their followers that the current time of social distancing calls for minimums to be upheld, in accordance with the traditions of their religious heritage. This means is best for only a few – even just one person – to pray over the deceased, in all likelihood at the cemetery.
It is perhaps telling of the flexibility of Islamic tradition that it allows for such burials, when a need arises. This has happened in London over recent weeks, where 40 burial plots side by size were built in one operation, and a mass funeral took place.
There have been smaller funerals, certainly. But as of yet, there are no reports of funerals taking place with the bare minimum of one or two people. Muslims are conducting prayers from a distance – including the performance of a specific prayer called the 'funeral prayer in absentia', known in Arabic as 'salat al-janaza 'ala al-gha'ibin', which they have done in their homes and elsewhere.
Indeed, recently, when the celebrated Muslim British activist and journalist, Fuad Nahdi, passed away due to Covid-19 – his funeral was livestreamed for hundreds of people who were unable to attend the funeral in person. In their homes, many of them conducted this particular 'funeral prayer in absentia'.
It is a difficult time for families as they cannot come together with their loved ones in a way that is usual and expected. No doubt, following the raising of restrictions and following of bringing the pandemic under control, there will be memorials a plenty for those who lost their lives during this time.
This is an adjustment but the tradition has many resources within it that are being used to put Muslims at ease, whether they be in majority Muslim societies, or living as minority communities elsewhere. In so doing, they are not doing away with the Islamic tradition at all – rather, they are making the best of it.
https://www.thenational.ae/opinion/comment/in-pandemic-times-the-rites-at-muslim-funerals-adhere-to-safety-first-1.1016994
------
Abu Dhabi Islamic Bank first-quarter profit plunges 55% as credit provisions and impairments soar
11 MAY 2020
Abu Dhabi Islamic Bank on Sunday (May 10) reported first-quarter Group net profit of 269.69 million dirhams ($73.44 million) compared to 600.34 million dirhams for the same period last year, a plunge of 55.08%.
The bank said in a filing with the Abu Dhabi Securities Exchange the drop was driven by an increase in provisioning "due to the challenging operating environment, as well as the result of lower revenues, given unprecedented market conditions."
"Our profits in the first quarter of 2020 have been impacted by the challenging macro-economic environment caused by the COVID-19 pandemic and lower revenue due to rate cuts. Given the uncertain economic outlook we increased our impairment allowances and our provisioning in anticipation of a potential deterioration in credit quality," said Group CEO Mazin Manna in a statement.
Credit provisions and impairments for the three months ending Mar 31 increased to 387.1 million dirhams versus 186.4 million dirhams for the same quarter in 2019. This represents an increase of 107.67%.
Net customer financing climbed by a marginal 1.6% to 79.4 billion dirhams versus 78.1 billion dirhams at the end of the first quarter of 2019. The bank said this was led by growth in corporate banking financing.
ADIB announced in the first quarter measures in response to the COVID-19 pandemic following the UAE central bank's and Abu Dhabi government's economic support schemes for banking customers. The financial relief measures include refinancing, loan repayment deferrals or lower payments where required.
The bank said it saw a 17% increase in average daily downloads for its app and a 20% increase in daily digital transactions amid the COVID-19 movement restrictions in the UAE.
https://www.salaamgateway.com/story/abu-dhabi-islamic-bank-first-quarter-profit-plunges-55-as-credit-provisions-and-impairments-soar
------
Custodian of the Two Holy Mosques directs disbursement of 1850 million riyals of Ramadan aid to social security beneficiaries
2020/05/11
Riyadh,SPA -- Custodian of the Two Holy Mosques, King Salman bin Abdulaziz Al Saud has directed the disbursement of 1850 million riyals as Ramadan aid for social security beneficiaries at the amount of 1,000 riyals for a head of family and 500 riyals for a dependent, provided that the aid is not from an account of zakat funds.
This generous gesture reflects keenness of the Custodian of the Two Holy Mosques to provide a decent life for citizens.
https://www.spa.gov.sa/viewfullstory.php?lang=en&newsid=2084878
-----
Ehsan launches awareness and entertainment activities on Ramadan
May 10 2020
Ehsan, the Elderly Empowerment and Care Centre continues the activities of its Ramadan campaign, which was launched under the slogan "God cares for you," on social media.
The campaign which will continue throughout Ramadan includes a number of programmes for the elderly that enhances the empowerment and care offered by Ehsan.
Ehsan executive director Mubarak bin Abdulaziz al-Khalifa explained that the campaign was implemented in co-operation with a number of specialists in religious, psychological and physiotherapy fields, in addition to poetry.
The Centre co-operated with Sheikh YussifAshir, who presents the religious "Khawatir" programme. The Centre also communicates virtually with female members of various Ehsan Day Clubs to present the "Our Mothers Cook" programme to encourage them to practice their hobbies and remain in touch with them. He pointed out that the episodes were produced remotely using smart phones.
Ehsan co-operated with the researcher and poet Ali bin Abdullah al-Fayyad in a programme titled, From Qatari Old Poetry. He talks about a group of late Qatari poets who are alive in the collective memory, such as the nation's founder Sheikh Jassim bin Mohamed al-Thani and al-Faihani and others. Five episodes of the programme were produced and filmed in al-Fayyad's library that's full of history, valuable books and pictures of the oldest Qatari poets.
The Center also allocated a space for publishing and displaying handicrafts that elderly mothers prepared during the past months in accordance with the empowerment programmes prepared for them. A programme called "Their creations" was produced to show their work.
Ehsan produced a programme titled "Being active is a Blessing". Physiotherapists at the Home Care Department of Ehsan participated in producing this programme, which showed a set of physical exercises that the elderly can perform from home.
The Centre hosted a programme titled Psychological Whispers, presented by Dr Aisha Salman al-Thani, a specialist in psychological counselling, to help strengthen the mental health of the elderly in these exceptional circumstances. It also considers that the policies of social distancing because of the Covid-19 pandemic could be difficult for the elderly, especially during the holy month of Ramadan.
Ehsan is also hosting a weekly Ramadan quiz on its social media platforms. Al-Khalifa added that the Centre is keen to continue communicating with the elderly in light of the Covid-19 pandemic and provide support in all health and psychological aspects.
https://www.gulf-times.com/story/662846/Ehsan-launches-awareness-and-entertainment-activit
------
Egyptian Islamic chanter Mahmoud El-Tohamy performs 'Harmonies of the Heart' concert
10 May 2020
The Abu Dhabi Music and Arts Foundation (ADMAF) online platforms hosted on Saturday famous Egyptian Islamic chanter Sheikh Mahmoud El-Tohamy and his team of musicians and chanters in a concert entitled 'Harmonies of the Heart' amid their Ramadan programme.
Opening his performance with 'Al-Burda', by Al-Busiri of the 13th century, El-Tohamy sang a set of his traditional praying and praising poems with a modern music approach.
With a repertoire of over 300 poems, the head and founder of the Egyptian Islamic Chanters Syndicate is tremendously active and always keen to renew the folkloric art.
Born in 1979, El-Tohamy, the son of pioneer Sufi chanter Shiekh Yassin El-Tohamy, started his career early in boyhood following in the footsteps of his father, performing Sufi poetry chants in traditional Islamic Sunni events across the country and abroad for crowds that sometimes numbered in the hundreds of thousands in big moulid events in Cairo's Al-Hussein and Al-Saida Zeinab districts.
Other activities of the ADMAF's 'Culture Is Humanity, In Solidarity: Ramadan Series' program will include opera singer Hiba Al Kawas (11 May) and Islamic star singer and songwriter Sami Yusuf (13 May).
http://english.ahram.org.eg/NewsContent/5/33/369025/-.aspx
-----
Amid the coronavirus, bailing out mosques is essential
by Harris Iqbal
24 hours ago
This Ramadan, mosques in the UK and across much of Europe and North America are going through a financial crisis due to coronavirus lockdown restrictions. We have a duty to help these essential places of worship, which often simultaneously function as community hubs, charities and education centres, to protect the spiritual, social and physical wellbeing of Muslim communities and the wider society.
Muslim-led charities, which offer important support for the most vulnerable members of various communities, have also been hit hard by the pandemic. While all charities experienced some reduction in income since the beginning of the crisis, because the lockdowns coincided with the month of Ramadan, the economic toll of this public health emergency has been particularly high on Muslim charities. Many Muslim charities receive a significant portion of their donations - perhaps 35 percent or more - during the month of Ramadan. Much of this fundraising is now impossible due to social distancing measures.
Some of these charities, particularly the larger ones, may emerge relatively unscathed from the crisis. They have large reserves, as well as automated residual donations, much of which will continue.
In the UK, for example, it can cost around $2,500 a month (£2,000) to keep the smallest of mosques open. For the bigger mosques that serve tens of thousands of congregants, monthly costs often exceed $125,000.
Most mosques have little to no cash reserves, and survive simply on collection bucket donations from one Friday prayer to the next. Others rely on larger, one-off donations they receive during the month of Ramadan to stay afloat throughout the year. With lockdowns and other restrictions continuing with no end in sight, however, many of these places of worship are now facing the prospect of closing their doors for good.
This would be a tragedy and not just for practising Muslims. Mosques are much more than just places of worship. They provide much-needed community services like supplementary education, welfare and aid, counselling and even career and legal advice. They help children with out-of-school clubs and classes. They support women and the elderly, and are hubs for charity and interfaith work.
Despite the odds being stacked against them, many mosques across Europe and beyond also joined the front-line fight against COVID-19. In the UK, for example, mosques swiftly transformed their facilities to serve as morgues, hospices and food distribution centres during this time of crisis. Some mosques even directly made PPE donations to local hospitals.
The services offered by mosques are essential for the economic wellbeing of not only the communities they serve but society at large.
In the UK, 50 percent of the Muslim population is facing poverty and deprivation. Any service - delivered through or by a mosque - that helps these communities to be economically productive and self-reliant, without using government resources, benefits not only Muslims but all taxpayers. What this means is that if the pandemic takes away British Muslims' places of worship, socialising and support - as well as a disproportionate number of their lives - there will be dire consequences for all communities.
Just like businesses, charities and the self-employed, mosques need a lifeline. Large Muslim-led charities, which have built the necessary safety nets to ride out this crisis thanks to the generosity of Muslim communities, now need to do everything they can to support mosques that are essential for the survival of the communities they care for.
My charity, Penny Appeal has already issued tens of thousands of pounds to various mosques at this difficult time, and is setting up a special COVID-19 mosque bailout fund, as we expect demand to increase in the coming weeks and months as mosques burn through their limited reserves.
But these are just short-term solutions. In the long term, we should work to make mosques - and all places of worship and assistance - financially independent and sustainable.
In Muslim-majority countries, most mosques are supported by "waqfs" or inalienable charitable endowments. The waqf system, which was built over many centuries, has protected faith-based institutions through times of war, famine, and yes, even pandemic.
Combined with sound financial management and investments, these endowments can ensure that mosques can weather any storm, and continue to provide the support that Muslims and people of all faiths and none receive from these places of worship.
This is not a model limited to Muslim-majority countries: similar to the waqf model, the Church of England is sitting on a combination of ancient endowments and investments worth £8.3bn, making it the UK's biggest charity (its income is more than three times that of Oxfam's). British Muslim communities have just not had the relative time to develop these strong financial safety nets.
We need to develop similar systems to protect mosques in Europe and North America. But until then, charities, organisations and individuals who have the necessary financial means should do everything they can to help these essential places of worship, support and solidarity.
Since the beginning of this pandemic, mosques have been on the front line of the fight against COVID-19, encouraging social distancing, distributing key health information, and offering support to people from all backgrounds and faiths. Just as they have stood by our society at its darkest hour, we must do the same for them.
https://www.aljazeera.com/indepth/opinion/coronavirus-bailing-mosques-essential-200505124520195.html
-----
Europe
Italian Volunteer Romano Converted To Islam While In Captivity - Reports
11 May 2020
After one and a half years in captivity, Italian volunteer Silvia Romano, 25, is free.
Romano was kidnapped by gunmen at Chakama village in Kilifi county on November 20, 2018, while she prepared to sleep at her guesthouse.
"Silvia Romano has been freed! I thank the women and men of the external intelligence services. Silvia, we are waiting for you in Italy!" Conte wrote on Twitter.
"And this is where the volunteer is now, safely in the compound of international forces. She will return to Italy tomorrow with an Aise plane that will land in Ciampino at 2pm," Italian newspaper la Repubblica wrote.
Intelligence reports indicate the kidnappers, local militia, later sold her to the al Shabaab terror group after combing through dense Boni forest for days.
She was reportedly dressed in traditional Somali attire when she was rescued by the External Information and Security Agency (EISA), the foreign intelligence service of Italy before being taken to Italy Embassy in Mogadishu.
"The group's emissaries indicate the Bay area in the village of BuuloFulaay as the site of the prison. They say she was locked up in a cave with other hostages for a while. They fix the final price, after the money paid to pay the various contacts," Corriere Della Sera, Italy's most-read newspaper wrote.
During the kidnapping in 2018, gunmen fired indiscriminately injuring other five people including three children, promoting ground and air search for the Milan native.
The operation was initially so robust National Police Service released images of three suspects connected with the kidnapping with a bounty of sh1 million each, four days after the abduction.
In June last year, the Star reported that Italian intelligence troops under the Ros of the Carabinieri were dispatched to Nairobi to take over investigations into the kidnapping of the staffer at Italian humanitarian group Africa Milele.
Observers fronted many theories with some saying it was an ivory smuggling deals gone sour with many pointing fingers at al Shabaab arm — the Jaysh al-Ayman insurgents based in Boni Forest.
Three people have so far been charged with the kidnapping including Moses Luwali, Abdulla GababaWario and Ibrahim Adan Omar who was said to be a key suspect.
Other foreigners kidnapped on Kenyan soil and remain in captivity are two Cuban doctors surgeon Landy Rodríguez and general medicine specialist Assel Herrera.
In April, it was exactly one year since the two were kidnapped by suspected al Shabaab militants in Mandera who would later demand a ransom of $1.5 million for their release.
Although with rare abduction, al Shabaab has continued its bloody attacks in Kenya with Northern and Coastal parts bearing the brunt of the attacks.
https://www.the-star.co.ke/news/2020-05-11-romano-converted-to-islam-while-in-captivity-reports/
-----
Celebrate the breaking of the fast with Bedford Muslim community's virtual Iftar
11th May 2020
Bedford's Muslim community is keeping the spirit of Ramadan alive with an online Iftar to bring people together – and everyone is invited.
Iftar is served at sunset during each day of Ramadan. The other meal during Ramadan, which is taken in the morning (pre-dawn), is called suhoor. At the moment people will be getting up at 4pm to pray and eat.
This meal is very important as fasters need to make sure they eat enough to ensure that they have sustained energy for the day ahead, especially for those who are still working during Ramadan.
Iftar, then, marks the end of each day's fast and often celebrates and brings together the community. Ramadan also emphasizes a renewed commitment to generosity and charity, and Iftar is connected to that.
Providing food for others to break their fast is considered an important part of observance; many Muslims across the world help provide Iftar meals to the poor and in-need through communities and mosques.
Those of any faith or none are invited to take part in the special event organised with lockdown measures to prevent the spread of coronavirus in mind.
The community Iftar marking the breaking of the daily fast of Ramadan will take place from 6-9pm on Saturday, May 16 via the Queen's Park Community Orchard Facebook page (@QPCOBedford).
A video made by the community, explaining how they will be marking Ramadan differently this year, will also premier live on Facebook on the night.
From 8.10 pm a series of speakers – including those from the Muslim, Christian and Jewish faiths – will take to the stage as well as special guests Susan Lousada, High Sheriff of Bedfordshire and Cllr Lucy Bywater.
"We all want to do our bit to adhere to the government's guidelines around social distancing and keeping shopping trips to a minimum, after all, these restrictions are helping to keep our communities and keyworkers safe. But there's no reason we can't find ways to celebrate together.
"We would like to invite everyone to join us in marking this important time in the Muslim calendar by coming online to enjoy the breaking of the fast."
Joe Mankowitz, a member of the Bedford Jewish community who has helped to organise the event, said, "This event is about people coming together to share a meal and celebrate as a community.
"It may sound like a small, simple gesture but after weeks of social distancing the need to reach out and connect with both old friends and new is greater than ever.
Lila Begum, member of Queen's Park Community Orchard, which helped to get the event off the ground four years ago, said, "We are incredibly proud of the way the Queen's Park community has pulled together at this difficult and unprecedented time.
"Our own volunteers have been involved in delivering food parcels to some of our most vulnerable neighbours, but we know many acts of kindness are taking place across the community every day.
"Iftar simply means 'breaking the fast', and this event is a celebration of Ramadan and an opportunity to share awareness about the Muslim faith.
Queen's Park Community Orchard launched the first Community Iftar in Bedford four years ago. Partners include Rosebuds, Friends of Refugees, Islam Bedford, Bedford Borough strategic partnership, Jamia Masjid HanfiaGhousia Mosque and Jamia
https://www.bedfordindependent.co.uk/celebrate-the-breaking-of-the-fast-with-bedford-muslim-communitys-virtual-iftar/
------
Jihad Jane
JAMES HUMPHREY
11 MAY 2020
In March 2010, the Washington Post ran the headline: "'Jihad Jane', a new kind of threat". It joined the growing US media frenzy over a white, blonde-haired, blue-eyed woman from Pittsburgh, Pennsylvania called Colleen LaRose. In 2008, LaRose had converted to Islam, taken up the moniker "Jihad Jane" online, and then left America to prepare to answer a fatwa against controversial Swedish artist Lars Vilks. When LaRose eventually handed herself in to US federal authorities after the "mission" hit a dead end in Waterford, Ireland, she never realised she'd become the "new threat" in America's domestic war on terror.
Ten years on, director Ciaran Cassidy attempts to go behind the "new faces of terrorism", also covering the connected case of Jamie Paulin-Ramirez (given the name "Jihad Jamie" by the media). Utilising both formal and informal interviews with the two women, their families and defence attorneys, Cassidy tries to provide intimacy with the causes, actions and consequences of these cases.
The director's pared-down style and John Murphy's sensitive editing is often juxtaposed with the news media's loud hysterics and racist profiling in coverage at the time. Ross McDonnell's cinematography (evocative wide, brooding landscapes or small details of economic hardship) might be typical of the aesthetic popularised by Netflix's Making A Murderer, but it lets the detail sink in and its subjects' conflicted feelings percolate.
Outside the composed interview backdrops, Cassidy pushes his hand-held camera into close proximity. The director captures quiet, candid moments rife with unresolved tensions and contradictions. Witnessing the impact of the women's decision on their families or partners, especially Paulin-Ramirez's mother, stepfather and teenage son, is a particularly difficult, raw watch. It is clear that trying to build a future after these events is by no means assured, despite the two renouncing terrorism and serving jail time. The pain they cause reverberates sharply in the present. There are also shades of nuance given to others in this case: Mohammed Khalid Hassan (dubbed "America's youngest jihadist"), Jane's co-conspirator, is presented as a victim of social isolation, while Vilks comes across as an aloof, clumsy provocateur.
Cassidy's most salient insight comes from the psychological trauma in the women's respective backgrounds. The documentary strongly implies that the women's personal histories of emotional and sexual abuse, leading to a desperate desire for recognition, dependency and belonging, seeded their susceptibility to exploitation online. In doing so, the director moves away from any narrative of religion and ideology as the primary cause of radicalisation. As LaRose baldly states to leave the viewer in no doubt of her actions: "Islam didn't do this to me – I did this to me."
But Cassidy isn't letting LaRose or Paulin-Ramirez bear all the responsibility. Instead, Jihad Jane probes further than the sensationalistic headlines or even the incongruent, ambivalent remarks of its subjects ("Now, I'm somebody. I'm Jihad Jane, I'm somebody," LaRose proclaims, while also saying she'd vote for Trump) to thoughtful effect.
https://www.theupcoming.co.uk/2020/05/11/jihad-jane-movie-review/
-----
Children's hospice supporting families across east London launches £20k Ramadan appeal
11 May 2020
Richard House launched its Ramadan Appeal to support youngsters who face a daily fight with Covid-19 due to life-limiting or life-threatening illness as Muslims around the world observe the holy month.
The charity serves one of the most diverse communities in the country, with supported families living in Barking and Dagenham, Havering, Newham and Tower Hamlets. This year, the charity's Ramadan Appeal hopes to raise £20,000 for the most vulnerable children in our community.
Chris Williams, head of community and events at Richard House, said: "Our community is instrumental to our work – without them, we would not be able to provide free care for so many children in need across east London. Those living with a life-limited or life-threatening condition face not only physical complications, but are often subjected to severe isolation.
"By joining our appeal this blessed month, our community can help us reach these children and, through first class care, help them to live the life they deserve."
Richard House is remaining open to provide vital support to the NHS during the coronavirus crisis. As hospitals focus on Covid-19 patients it will be taking children with long term conditions from hospitals, both to provide more beds in hospitals for the NHS effort and to provide a safer environment for children with long term conditions.
Richard House's appeal to raise money to fund 250 hours' worth of care should benefit hundreds of children and their families through vital respite and holistic care throughout the pandemic.
Richard House has welcomed emergency government funding for hospices, but expects the pandemic to have a serious effect on fundraising for longer than first anticipated. This will mean a large gap in income, leading the hospice back to the threat of closure.
Richard House provides palliative care to children with life-limiting and life-threatening conditions across London. Its staff look after children and support families, offering residential clinical care, music therapy, end of life care as well as bereavement support.
https://www.eastlondonadvertiser.co.uk/news/richard-house-ramadan-appeal-1-6643014
-----
BBC Wales uses picture of historic house in Ramadan report
May 10, 2020
BBC Wales used a photo of Brighton Pavilion with a news story on Ramadan, as if the building were a mosque.
According to the Brighton Museums website, the pavilion was "Built as a seaside pleasure palace for King George IV, this historic house mixes Regency grandeur with the visual style of India and China."
"The gaffe took place during a live broadcast on Friday and was instantly spotted by eagle-eyed viewers," the Mail Online reported.
https://www.imediaethics.org/bbc-wales-uses-picture-of-historic-house-in-ramadan-report/
-----
Fire burns olive and pine trees near Shia village
May 10, 2020
The forestry department on Sunday said it put out a fire in Shia village in the Nicosia district, not far from the state forest, which burned around 2,000 square metres of private land with olive and pine trees.
The fire is believed to have been caused by human negligence, the forestry department said. Police are investigating the exact causes.
The fire erupted at around 12.45pm on private land, around 300 metres from the state forest. It was put out less than an hour later by staff of the forestry department and 16 firemen with seven engines and Shia residents with their farming vehicles.
https://cyprus-mail.com/2020/05/10/fire-burns-olive-and-pine-trees-near-shia-village/
------
Mosque, social center in Germany's Cologne attacked
MAY 10, 2020
Several people attacked a mosque and a social center of the Turkish-Islamic Union for Religious Affairs (DİTİB) in Germany's Cologne Saturday morning – a day before places of worship were planned to be reopened in light of the easing of measures to fight the spread of the novel coronavirus.
The assailants threw stones at the two institutions and damaged several windows. The Turkish Embassy in Cologne slammed the attack on Twitter calling for the attackers to be sought out and brought to justice.
CCTV footage shows that the perpetrators hurled the stones at around 1 a.m. The imam was still in the mosque during the attack, but no one got hurt.
DİTİB General Secretary Abdurrahman Atasoy said the attack overshadows the gradual opening of the mosques. He pointed out that a connection to this could not be ruled out. Even in Ramadan, the holy month for millions of Muslims around the world, and under these special circumstances, Muslims do not appear to be spared of Islamophobia, Atasoy said.
Attacks on mosques in Germany are not a rarity. Another attack happened at the beginning of May where a mosque in western Gelsenkirchen was subject to Islamophobic slander on their walls. In the previous year a total of 184 mosque attacks were recorded, meaning that every other day an Islamic place of worship was targeted.
Due to the rise of Islamophobic attacks in recent years the Federation against Injustice and Racism (FAIR) came up with an initiative against the rising numbers of such attacks, named "Brandeilig." They state that many attacks went unreported and their aim is to bring attention to this issue as the states tend to overlook these attacks.
https://www.dailysabah.com/politics/mosque-social-center-in-germanys-cologne-attacked/news
-----
Over 100 UK mosques ask Labour leader to withdraw occupied Kashmir comments
May 11 2020
LONDON: Labour leader Sir Keir Satrmer has come under renewed pressure over his Indian-occupied Kashmir comments following a meeting with over 50 MPs of his party on the issue and a letter he issued previously in relation to the occupied valley.
The Muslim community has responded to the letter with one of their own, signed by more than 100 mosques and community centres, threatening to withdraw support from Labour if the leader didn't withdraw his factually wrong comments on occupied Kashmir.
The letter threatens that mosques and Islamic organisations would withdraw their support for Labour and urge the community to do the same if he didn't withdraw his comments. The letter also asks the leader to express support for the Kashmiri right to self-determination.
On Thursday night, the Labour leader issued a letter offering to meet parliamentarians from Labour Friends of Kashmir and insisted that Labour's Kashmir policy remains consistent and that he would like India and Pakistan to work together.
However, the letter by Sir Keir Starmer was described as "weak" and "meaningless" by two MPs who spoke to this correspondent. The MPs said they are under pressure from their own constituencies where calls for Labour leader to withdraw his comments and condemn India's human rights violations have grown.
The new Labour leader, who took over from Jeremy Corbyn, had said in a letter written to Hindu Forum of Britain that Indian occupied Kashmir was a "bilateral issue" between India and Pakistan and that UK will stay away from it. His comments have angered more than 1.5 million British Muslims who are strongly attached to the cause of Kashmir.
The letter written by over 100 organisations affiliated with over 100 mosques across the UK have told Labour leader that they have been shocked to learn about his comments at a time "when the very same Indian Government is engaging in anti-Muslim rhetoric".
"Muslim coronavirus patients are being turned away from hospitals. Kashmir itself has been in lockdown for more than eight months now. India, under the premiership of Narendra Modi, is stepping away from being one of the world's largest democracies," the letter states.
"We wish to remind you that Kashmir is not a bilateral issue, evidenced by the 11 UN Security Council Resolutions which declare Kashmir a disputed territory and that the people of Kashmir have the right to self-determination, something which was enshrined in India's constitution."
"It is one of the world's oldest unresolved territorial conflicts that has the potential to lead India and Pakistan into a devastating nuclear war which would have global repercussions," it further notes.
The letter tells Sir Starmer that he has completely disregarded the international element of the conflict but have also pointedly ignored the Labour Party's own resolution, voted in at the 2019 conference, which states that Kashmir is a disputed territory.
"As a former barrister, you will clearly be aware of the seriousness of India's violation of UN resolutions. As the new leader of the Labour Party, you ought to shoulder greater responsibility on this issue given that the partition was overseen by a Labour government," the letter adds.
"It seems to us that there is an ingrained view that the British Muslim vote has and always will be a secure one for the Labour Party, to be taken for granted with little consideration of the issues and concerns which matter to us as British Muslim communities," it further reads.
"We hereby state in no uncertain terms that should you fail to modify your position on the issue of Kashmir and by extension, the plight and oppression of the large Indian Muslim minority within India, then we will consider the Party to have taken advantage of the Muslim community."
"We will, therefore, have no option but to support a call for the Muslim community to abstain from voting for Labour at all upcoming elections. We hope that this will not be necessary and that the Labour Party will continue to stand against human rights abuses wherever they may be."
https://www.geo.tv/latest/287391-over-100-mosques-ask-labour-leader-to-withdraw-kashmir-comments
------
North America
Facebook Puts Soros, Muslim Brotherhood, Activists in Charge of Censorship
May 11, 2020
Facebook controls as much as 80% of social media traffic. That means that it has the power to erase conversations, shift narratives, and control how people speak to one another.
With 190 million users in the United States, the social network monopoly has more control over what people see than all of the media giants combined do. And now Facebook is putting some very troubling political activists in charge of its Oversight Board who will decide how it censors.
"You can imagine some sort of structure, almost like a Supreme Court, that is made up of independent folks who don't work for Facebook, who ultimately make the final judgment call on what should be acceptable speech in a community that reflects the social norms and values of people all around the world," Facebook boss Mark Zuckerberg had described the Board.
Only a quarter of the Oversight Board originates from the United States. That means three quarters of the censorship court comes from countries with no First Amendment. While people from outside the United States may believe in certain kinds of free speech, political speech in this country will be determined by a majority Third World board of left-leaning political activists.
3 members of the 20 member board are Muslim or come from Muslim countries. Only one board member is Hindu. Considering that there are approximately 1.1 billion Hindus and 1.8 billion Muslims, the Facebook Oversight Board favors Muslim countries at the expense of Hindus.
Considering the pressure by Islamists and their allies to censor India's Hindu political movements and civil rights organizations combating Islamic violence, this is troubling.
Of the 3 Muslim nationals, Kyle Shideler of the Center for Security Policy has noted that Tawakkol Karman was a top leader in a Muslim Brotherhood linked group with ties to Al Qaeda.
"The Brotherhood is a movement fighting for freedom," Karman wrote of the organization whose leaders have called for the murder of Jews and whose history includes Nazi collaboration.
Facebook has added an Islamist who believes that a theocracy will rule the region, and put her in charge of determining content moderation policies for the entire planet. A member aligned with a violently bigoted organization will help Facebook police "hate speech".
These numbers make it clear that the Board is not proportional by population, and despite its international makeup, reflects the political agendas of Facebook's left-leaning leadership.
The first member, in alphabetical order, is a program manager at the Open Society Initiative, a part of the George Soros global political empire of NGOs. There is no indication that the Soros employee will be stepping down from her role so that, despite previous clashes with the radical billionaire, George Soros will effectively control a seat on Facebook's Oversight Board.
Andras Sajo has held positions in Open Society organizations, including on the Board of Directors of the Open Society Justice Initiative and is allegedly an old friend of Soros.
Helle Thorning-Schmidt sits on the Board of Trustees of Soros' International Crisis Group along with the extremist billionaire and his son.
Sudhir Krishnaswamy also appears to have benefited from an Open Society grant. This is not unusual considering that the Oversight Board is weighed heavily toward NGOs with members from Human Rights Watch and Amnesty International. Even dismissing members who have only appeared at Soros events or made use of grants from Soros organizations, four Oversight Board members are deeply involved in Soros organizations. And Soros has made his hostility to free speech, and his conviction that conservatives must be censored, abundantly clear.
Soros has demanded that Facebook "should be held accountable for the content that appears on its site" and complained that the company "fails to adequately punish those who spread false information." Will Oversight Board members who work for Soros or sit on the boards of his organizations protect free speech or support the billionaire's crusade to censor the opposition?
If the Oversight Board is going to be the final determinative body for Facebook censorship, why stack it with so many professional human rights activists who are not lawyers or professors? Courts don't invite in activists to issue rulings. That's because activists come with agendas. And their agendas may involve empowerment, but usually for a small and narrowly defined group.
Nicolas Suzor had written that "neutrality" on social media platforms is "causing problems" and that "neutral tools that do not actively take inequality into account will almost inevitably contribute to the amplification of inequality." He even suggested that dissent from the Left's global warming positions could also be viewed as dangerous. "Racism, misogyny, and bigotry, anti-vaccination content, misinformation, self-harm, and climate change denial — all require difficult judgments about when one person's speech is harmful to others."
In a Twitter exchange, a prof argued that, "many of the most controversial content moderation decisions are about leave-ups. Think: Pelosi video, hate speech in Myanmar, Alex Jones... not having this in scope for the Board from the start is a huge… Oversight." Suzor replied that, "totally agree that expanding the scope as soon as we can is really important."
Dubious claims that some form of speech is dangerous have been used to justify crackdowns by social media giants on everything from pro-life views to support for conservative candidates. The current wave of censorship has been justified by insisting that conservative speech is either a product of foreign disinformation (the Russia hoax), that it's medically dangerous (suppression of political protests, dissent on coronavirus policy, or opposition to abortion), or that any speech offensive to an identity politics group causes inequality and psychological harm.
And, as Michael Moore's censorship by environmentalists shows, not even career leftists are immune from the Orwellian political orthodoxy that brands some views anathema overnight.
(That is why leftists might want to reconsider their abandonment of liberalism before it's too late. History shows that the ideology most likely to purge lefties for ideological dissent is the Left.)
Facebook set up the Oversight Board to outsource its censorship while evading responsibility for its repression. The dot com giant wants to be a monopoly that has a stranglehold on the marketplace of ideas, but it doesn't want to be open to the marketplace's diversity of ideas.
Stacking the board with Soros cronies and assorted human rights activists, digital experts, and the other sorts of people who spend all their time appearing on panels and giving TED talks, is how Big Tech companies have their censorship cake and eat it too. After this, when conservatives complain about Facebook censorship, it won't be Mark Zuckerberg's fault.
The Oversight Board, like most Facebook initiatives, is rigged from the ground up. It contains a few token libertarians, but is tilted toward lefties. It contains an Islamist, but hardly anyone likely to advocate for the values of traditional Christians and Jews. Behind the facade of international diversity, the Supreme Court of Censorship has very little intellectual or religious diversity.
Two libertarian/conservative establishment figures don't balance out eight lefties just as bringing in an Israeli leftist does not balance out a Yemeni Muslim Brotherhood figure. Giving Soros four seats and Koch one is not only rigging the game, but failing to address the real issues at stake.
The social media giant is responding to pressure to censor conservative views, especially in the US, the UK, Israel, Latin America, Myanmar, and India, yet has no representatives of the sorts of people who are likely to be censored. Instead it stacked the deck with those likely to censor.
Where are the Trump supporters, the Modi backers, the Bolsonaro fans, the Zionists, the Buddhist monks of Myanmar, or any group that dissents from the Left on any major issue?
Facebook has assembled a grab bag of globalist personalities that wouldn't be out of place at a UN conference (and a number have worked at or for the UN in some capacity) and put them in charge of determining what can be said by billions of people around the world.
The United States is tasked with protecting the essential freedoms of its citizens from interference by its government, by foreign governments, or by any force so powerful that it can singly blot out any of the Bill of Rights. The Big Tech monopolies like Google, Amazon, and Facebook pose a unique threat to the unalienable rights among which are, "Life, Liberty and the pursuit of Happiness", for whose protection, "Governments are instituted among Men."
Governments wield power by the "consent of the governed" who can vote and remove any government. Facebook would like us to think that its powers to censor will derive from a bunch of globalist NGO activists and lefty law professors. No individual or group has the power to stop Facebook's monopoly over social media. It has become too rich and powerful.
Otherwise all political speech that is not of the Left will be erased from the public square. If there were any doubt about that, Facebook's Supreme Court of Censorship has settled it.
http://www.frontpagemag.com/fpm/2020/05/facebook-puts-soros-muslim-brotherhood-activists-daniel-greenfield/
-----
'Justice is Indivisible': Placing Palestine Back at the Center of Muslim Discourse in the West
by RAMZY BAROUD
MAY 11, 2020
It was nearly twenty years ago at a Muslim conference in Washington D.C. that I heard the distressing argument that Palestine should not be made a central topic in the American Muslim political agenda.
The point, which took many by surprise, was enunciated by a young American Pakistani Muslim academic, whose name is not important for my purpose here.
What I found reassuring then, however, was that almost everyone at the gathering shook their head in disagreement. The young academic was clearly an intellectual pariah. It was clear that Muslims, at least the attendees of that specific conference, will not be abandoning their advocacy for the freedom of the Palestinian people anytime soon.
A few months later, the September 11 attacks took place, unleashing a Pandora's Box of violence, racism, orientalism, and Islamophobia, the outcome of which would continue to be felt for years to come.
A less discussed portion of the American war on Islam and Muslims in the last twenty years is the systematic and centralized attempt at breaking down the American Muslim society. The same can, of course, be said of the anti-Muslim sentiment that flourished in Europe during the West's wars on Afghanistan and Iraq, and other Muslim countries.
Since then and till today, American Muslims found themselves forced to make bleak choices to avoid media demonization and government persecution.
Some chose to toe the line, in fact, to become an advocate of the very colonial, savage powers that were unleashed against Muslims everywhere – killing, torturing, imprisoning and sanctioning with no regard whatsoever for the very international law that the West itself had fashioned following World War II.
The likes of Hamza Yusuf, formally known as Mark Hanson, was and, perhaps, remains the best example of the so-called 'pet Muslim', as he became known due to his collaboration with the George W. Bush regime during the genocidal wars in Iraq and Afghanistan.
The likes of Yusuf became immensely crucial to the American-Western designs in Muslim countries, being the ideal amalgamation between the 'native informer' – as a supposedly learned Muslim, although a white person himself – and the typical orientalist – the Western scholar that can be trusted in deciphering and dissecting the Muslim 'Orient' to the colonialist West.
According to the Guardian newspaper, Yusuf once told Muslim political dissidents, "If you hate the west, emigrate to a Muslim country", thus displaying the same racist sentiment often lobbed by far-right chauvinists to anyone who dares question government policies on war, immigration, or anything else.
This very sentiment was repeated by US President, Donald Trump, when he tweeted last July, "In America, if you hate our Country, you are free to leave."
According to the infinite wisdom of Yusuf and Trump, one can only earn the right to be a fully bonified citizen if one fully abandons one's right to display any disagreement with one's government's policies.
In Yusuf's shameful thinking, it also follows that a Muslim can never truly be a permanent citizen in any western polity, a sentiment embraced by the very neo-fascist movements that are currently plaguing Europe.
It should come as no surprise, then, that when US Secretary of State and well-known anti-Muslim bigot, Mike Pompeo, announced the formation of the Commission on Unalienable Rights – another platform for political and religious prejudices targeting Trump's enemies around the world – Yusuf was immediately handpicked to be a member of that commission.
The problem, however, is bigger than a single orientalist. It has become clear that the terrible consequences of September 11 – the bloody wars that followed, and the tragic but predictable backlash of anti-Western militancy in the US, Europe and elsewhere – have, sadly, emasculated mainstream Muslim discourse in Western countries, the US especially.
Once upon a time, every Friday, hundreds of Imams throughout American mosques would breach solidarity with Palestine, Kashmir, Afghanistan, Chechnya, and so on. Money would be raised for various organizations that provided aid for victims of wars throughout the Muslim world. In fact, unity around Palestine seemed to bring millions of Muslims together despite their vastly different cultures, classes, and even their very own interpretations of Islam itself.
The outcome of September 11, namely the so-called 'war on terror', has changed all of that, imposing a new paradigm and a stark choice on Muslim communities all across the country.
The shutting down of the Holy Land Foundation, because of its support of Palestinian and other victims of Israeli violence, was only the tip of the iceberg. The accounts of many Muslim charities and organizations were drained, while hundreds, if not thousands of well-educated and outspoken Muslim intellectuals were either detained, deported, fired from their jobs or forced into silence by other means.
Sadly, it was the dawn of a new and tragic era where the self-loathing, self-seeking and opportunistic Muslim intellectual peddlers reigned supreme.
It is through this compromising bunch, that Western governments managed to tailor their own version of the 'good Muslim', to be juxtaposed with the radical, God-forbid, free-thinking Muslim, unfairly but incessantly seen as a terrorist sympathizer.
I had the displeasure of knowing or learning about many of these 'good Muslims' in the last twenty years, who are so keen at claiming the spots at phony 'interfaith dialogue' conferences, giddily serving the role of the well-behaved Muslim whenever demanded of them.
For this odd breed of Muslims, Palestine is an obstacle and Kashmir is a forgotten, wasteland, for their mission is not to advocate on behalf of the oppressed. Instead, they are often used as middlemen who convey the official diktats of governments, states, and city councils to their fellow Muslims. In other words, they become the 'official' Muslims, whose agenda is not that of their own community – helping to mobilize, organize and advocate while building solidarity with other marginalized groups – but, as in the case of Yusuf, embracing the agenda of Trump himself.
The problem with these spiritual charlatans is that they feed the misguided view that Muslims can only be either quisling hacks or potential terrorists; that Muslims must be subdued or they become a danger to society; and that Muslims cannot be part of a larger collective of political dissidents who advocate justice and equality in their own society, and the world over.
Currently, at many mosques across the US, Palestine, Kashmir, Afghanistan, and other places of great and perpetual injustice are hardly mentioned. Many shy away even from political advocacy and intersectionality within their own communities. Perhaps, they fear that doing so would place them at the radar of the FBI or local enforcement agencies.
In one Quranic verse (5:8), God says, "O you who have believed, be persistently standing firm for God, witnesses in justice, and do not let the hatred of a people prevent you from being just. Be just; that is nearer to righteousness".
The emphasis on justice, and the building of communities and nations that stand for what is right is at the core of Islamic values, and neither Mark Hansen nor any other self-proclaimed Muslims can possibly change that.
As for governments that are constantly caricaturing Muslims and Islam to fit their own agendas, they are not doing themselves any favors either, for a strong society is predicated on the freedom of individuals and groups to operate within a legal and democratic framework, with the overriding goal of advancing the interests of the entire nation.
Freedom for Palestine, Kashmir, Afghanistan, as well as the rights of minorities, social justice, gender and racial equality, all go hand–in-hand. No sincere justice advocate, self-respecting scholar, and needless to say, true Muslim, would disagree with the notion that justice is indivisible, a moral doctrine has defined Islam and Muslims for fifteen centuries.
https://www.counterpunch.org/2020/05/11/justice-is-indivisible-placing-palestine-back-at-the-center-of-muslim-discourse-in-the-west/
------
COVID-19: The challenges for imprisoned journalists observing Ramadan
10 May 2020
In many countries, prisoners rely on their families for food and medicine while behind bars. But this year, as families have been barred from visiting their loved ones due to COVID-19, jailed Muslim journalists have to cope with fasting on even fewer resources than before.
This year, the Islamic month of Ramadan, which started on April 24 and will continue through May 23, is particularly challenging for Muslim journalists in jail to observe safely, their family members and friends told CPJ.
In many countries, prisoners rely on their families for food and medicine while behind bars. But this year, as families have been barred from visiting their loved ones due to COVID-19 lockdowns, jailed Muslim journalists have to cope with fasting on even fewer resources than before.
CPJ spoke to four people close to Muslim journalists imprisoned in Europe and Central Asia over messaging apps since Ramadan began. Their statements have been lightly edited for length and clarity.
Askarov is an investigative journalist and human rights activist who has been serving a life sentence on retaliatory charges since June 2010. He has suffered from multiple health issues during his imprisonment.
I spoke to Azimjon recently. It was one of the two phone calls he is allowed to make every year from prison. He has been fasting. He fasts every year during Ramadan and even at other times, as Muslims ought to.
https://ifex.org/covid-19-the-challenges-for-imprisoned-journalists-observing-ramadan/
-----
Trump culpable in deaths of thousands of Americans: Prof. Chomsky
11 May 2020
Professor Noam Chomsky believes that Donald Trump is to blame for the deaths of thousands of Americans as he says the Republican president is using the coronavirus pandemic to improve his electoral prospects and line the pockets of big business.
Speaking in an interview with The Guardian, the leading American political analyst and philosopher said Trump is pretending to be the US' savior during the coronavirus crisis while at the same time he is stabbing average Americans in the back.
He argued that Trump had slashed government funding for healthcare and research into the fatal disease so that wealthy corporations could benefit.
"That's something that Trump has been doing every year of his term, cutting it back more. So [his plan is] let's continue to cut it back, let's continue to make sure that the population is as vulnerable as we can make it, that it can suffer as much as possible, but will of course increase profits for his primary constituents in wealth and corporate power."
Chomsky also said Trump has shirked his duties through making individual state governors to shoulder responsibility for fighting the virus.
An American analyst describes President Trump's handling of the coronavirus crisis as "scandalous," saying the measures taken to combat the virus have been inconsistent.
When asked if Trump was culpable in the deaths of Americans, Chomskey said, "Yes but it's much worse than that, because the same is true internationally. To try and cover up his criminal attacks against the American people, which have been going on all of this time, he's flailing about to try and find scapegoats."
The Trump administration has been under harsh criticism over mishandling of the coronavirus pandemic which has so far infected over 1,367,900 and killed more than 80,700 people across the United States.
Chomsky also said that Trump's decision to halt payments to the World Health Organization would result in deaths in Yemen and across the African continent.
US President Donald Trump has halted funding to the World Health Organization (WHO) as the new coronavirus pandemic continues to take a heavy toll across the globe, accusing the international body of mishandling the deadly flu-like pathogen.
On April 14, Trump announced that the US will no longer provide funding to the WHO, accusing the international body of mishandling the deadly flu-like pathogen.
Trump said the government's review of the Geneva-based agency would take somewhere between "60 to 90 days."
https://www.presstv.com/Detail/2020/05/11/625095/US-Donald-Trump-Noam-Chomsky-coronavirus-
----
Africa
Islamic foundation distributes bags of rice to indigent in Lagos
May 10, 2020
The President of the Foundation, Mr Ishaq Alabi, told newsmen at the event that the relief packages were to ease the discomfort the COVID-19 pandemic had brought on the poor and the less-privileged, especially those observing Ramadan fast.
"The foundation came to the conclusion to support members of Islamic groups by providing the less privileged among them with food items.
"The food distribution to the vulnerable is to complement the effort of the government in cushioning the effect of the lockdown on the masses during this Ramadan.
The foundation's president, who commended his members for the sacrifice, appreciated the Executive Chairman of Agboyi- Ketu LCDA, Mr Dele Oshinowo and the President, Succour Foundation, Mr Samuel Adebayo for their donations.
Also speaking, Mr Idowu Sharadeen, the Chairman, Board of Trustees of the foundation noted that group needed to do more, considering the poverty and hunger in the land.
Sharadeen, who was represented by Mr AbdulwaheedOdunuga, the founder of the Foundation, said: "More grounds need to be covered, we appeal for more support from corporate organisations and the wealthy individuals.
"There is no better time to show we are concerned and we care for humanity in this most trying time of a pandemic that has crippled life and economy."
"It has not been easy making ends meet these days as foodstuffs are quite expensive, not to talk of the lockdown that affected us negatively.
The News Agency of Nigeria (NAN) reports that the beneficiaries defied the early morning rain to grab the 5kg bags of rice.
https://www.nta.ng/news/20200510-islamic-foundation-distributes-bags-of-rice-to-indigent-in-lagos/
-------
Liberia To Ease Lockdown On Churches, Mosques
MAY 10, 2020
Liberia is set to excuse religious centres from the lockdown in the country.
President George Weah announced that he would partially allow churches and mosques to hold prayer programmes, as lockdown will be extended in other parts of the country.
In a statement, the former footballer said emergency measures to curb the virus would be extended for two weeks but churches and mosques would be open with guidelines put in place for their programmes.
Weah stated that from Friday, May 15, mosques will reopen and from Sunday, May 17, churches will reopen.
Capacity at the places of worship will be limited to 25 per cent and social distancing measures will apply.
There remains a ban on all movement between the country's 15 counties, the closure of non-essential businesses, and stay-at-home orders for Monrovia's roughly one million inhabitants.
Among other restrictions remaining in effect are a daily curfew from 15:00 to 06:00 (local time), a ban on movement between counties, and the closure of all non-essential businesses.
http://saharareporters.com/2020/05/10/liberia-ease-lockdown-churches-mosques
------
South Asia
Taliban claim to have released 28 prisoners in Herat province
10 May 2020
The Taliban group has claimed it has released 28 more prisoners as part of the efforts to expedite the process for the release of prisoners.
Suhail Shaheen, a spokesperson for the political office of Taliban in Doha, said the Taliban group released the 28 prisoners in Herat province on Saturday.
Shaheen further added that the group also handed over clothes and 5,000 Afghanis to each of the prisoners to cover their transportation cost.
Javid Faisal, a spokesperson for the Office of National Security Council said Saturday that the Afghan government has so far released 1,000 Taliban prisoners in a bid to help the process and prevent the spread of the novel coronavirus.
Faisal further added that the Taliban group should not expedite the release of prisoners, refrain from killing the Afghans and launch direct talks as soon as possible.
https://www.khaama.com/taliban-claim-to-have-released-28-prisoners-in-herat-province-07797/
-----
Sri Lankan authorities cremate Muslim woman who didn't have COVID
15 hours ago
The family of a 44 year old Muslim woman who thought she was cremated because she had COVID-19 are in a state of shock after they learned she didn't have the virus at all.
The lady was cremated on Tuesday in Colombo as part of Sri Lanka's controversial policy of cremating all coronavirus victims, irrespective of religion.
Muslim groups have appealed to the government to reverse the decision on the grounds that cremation is not required by the World Health Organization and the fact that Islam prohibits cremations – but to no avail.
According to the ex MP Ali ZahirMoulana, who has spoken with the family, the victim's family received a call on Tuesday saying that their mother had been infected with COVID-19.
The military, police and health authorities then locked down their area and, according to the victim's son, the family were subjected to harsh interrogation "threatening bodily harm, disrespecting and abusing them derogatorily, all in the presence of several young children for the purposes of contact-tracing." The family said they felt as if they were treated like murderers or terrorists.
Ali ZahirMoulana said: "Thereafter, they were taken outside where they underwent PCR tests and were disinfected, along with their children including a 2 month old infant, in full view of the several media cameras aimed at their faces. They were then put into a bus under military escort, and were not informed where they were being taken. Moreover, all this while they were never told that their mother had already passed away that morning."
According to the family, they were then given documents to sign to consent to cremation and organ testing which they signed under duress. They were then allowed to see the body and even approach it closely and say a prayer with no precautions being taken.
But two days later the son heard through media that his mother had not succumbed to COVID after all and that they could return home. The victim had originally entered hospital with nothing more than a cold.
"The family are in grief and are at a loss, as not only were they not allowed to mourn their mother and give her a proper burial according to their collective wishes, but also they were subject to humiliation at the hands of the authorities and the media in the process," Ali ZahirMoulana said.
"As recalled to me by the husband, he said he can come to terms that she has lost her life, but not the fact that she was cremated. They are desperate for closure, and have several unanswered questions on the death and cremation in itself."
Concerns for the safety and security of Sri Lanka's Muslim community have increased since the outbreak of COVID-19. On April 12, Sri Lankan Muslim organisations wrote to the inspector general of police reporting an upsurge in hate speech, including calls to boycott Muslim businesses and accusations that Muslims are deliberately spreading coronavirus. Senior government figures have made public remarks associating the Muslim community with COVID-19 infection.
Sri Lankan officials have justified the policy of cremating all coronavirus victims by saying that burials take longer than cremations, and the country's groundwater levels are too high thereby heightening the risk of infection spreading.
Tensions between Muslims and the majority Buddhist Sinhalese population came to a head in Easter 2019 after local "jihadists" were accused of suicide bombings at three hotels and three churches that killed 279 people.
Weeks later, Sinhalese mobs attacked Muslims, killing one and wounded dozens more. Hundreds of homes and vehicles were destroyed and the authorities were accused of failing to stop the violence – a charge denied by Colombo.
https://5pillarsuk.com/2020/05/10/sri-lankan-authorities-cremate-muslim-woman-who-didnt-have-covid/
------
4 explosions go off in Kabul city, wounding 4 people including a child
11 May 2020
Four explosions went off in Kabul city earlier today which left at least four people wounded including a child, the security officials confirmed.
FerdawsFaramurz, a spokesperson for Kabul Police, confirmed the explosions and added that four magnetic bombs went off in 17th district of the city earlier today.
According to Faramurz, the magnetic bombs went off in Tahia-e Maskan area of the city which wounded four people including a child.
Faramurz further added that the authorities shifted the victims to the hospital where they are receiving medical care.
No individual or group including Taliban has so far claimed responsibility for the attack.
https://www.khaama.com/4-explosions-go-off-in-kabul-city-wounding-4-people-including-a-child-07801/
----
Over 100 Taliban militants during a 16-day operation in Ghazni province
11 May 2020
The Afghan forces killed more than 100 Taliban militants during a 16-day operation which ended on Saturday night in South-eastern Ghazni province.
The 203rd Thunder Corps in a statement said the joint operation, Thunder3 (2), was conducted in the outskirts of Ghazni city and Andar district.
The statement further added that the Afghan forces conducted the operation to clear the Highway#2 from Taliban militants.
The security forces cleared several villages including Nawbabad, ArzooKhord, Arzoo Kalan, Shaliz and Kala Ghach in the outskirts of Ghazni city as well as the villages of AlamQala, Shah Khook, Nazar Khan and Camp Sani in Andar district.
According to 203rd Thunder Corps, the security forces killed more than 100 Taliban militants and wounded more than 30 others during the operation.
The security forces esablished five bases along the highway to ensure the security of the route which links Ghazni with Paktiya and Paktika provinces, the 203rd Thunder Corps said, adding that the security forces also discovered and defused 85 landmines during the operation.
Meanwhile, the 203rd Thunder Corps said two security personnel also lost their lives during the operation and five others sustained injuries.
https://www.khaama.com/over-100-taliban-militants-during-a-16-day-operation-in-ghazni-province-07799/
-----
An overview of Child's Rights in Afghanistan: Legislation and Restrictions of Implementation
11 May 2020
Afghanistan is among 196 state parties to the United Nations Convention on the Rights of the Child (UNCRC). In essence, the treaty is an insignia of Human Rights particularly focused on that of a child's. The main components of the treaty revolve around the welfare of Children. It also sets out the framework that protects the civil, political, economical, social, health and cultural rights of children. The convention also defines a child as any human being who is under the age of eighteen[1], unless the age of majority is attained earlier under national legislation.[2]
The Government of Afghanistan ratified the UNCRC in 1994 and in pursuance made significant amelioration towards improving access to health services and education for girls and boys in the span of 15 years and developed the general welfare of children. Although the constitution of Afghanistan adopted in 2004 protects and guarantees progressive international Human Rights standards, there is not much direct reference to specific rights of children.
There has been constant unrest that has had a negative impact on families and communities. This resulted in children being in situations where they face an increased risk of abuse, neglect, exploitation and being subjected to child labor. Furthermore, according to a press release by UNICEF[3], in Afghanistan, one in five children die before reaching their fifth birthday and five million children are not in school, three million of which are girls. Only six percent of children are registered at birth which means the majority are without legal protection that would allow them to seek educational and health services. There was a dire need for a law specially designed for protecting the rights of children within the country.
In March 2019, a major step was taken and Afghanistan's parliament had approved and adopted the "The Children Protection Act". The act consists of 16 chapters and 108 articles. The act was a response to the imperative need of legislation that was in line with the UNCRC for ensuring that the fundamental rights of every child in Afghanistan were protected and that the law would come to aid any child whose rights have been breached. This allowed the government to effectively strategize and oversee its implementation through government agencies and saw the creation of a "Technical Committee" on the protection of Child Rights that was in charge of ensuring legal compliance. The act had laid down and paved the road for the betterment of children in the long run, and is constantly monitoring the situation of children around the country to see that their needs are being met.
The Child Protection Act supports and strengthens structures and mechanisms with an aim to institutionalize Child Rights governance. It paved the way for creating awareness, knowledge and skills among government and civil agencies with an overall focus
The main objectives of the enactment are undoubtedly the securement of children's rights in Afghanistan. However, to secure those rights, a series of actions ought to be taken by the government and relevant agencies. These have been highlighted by the act. It is clear that legislative and policy frameworks alone will not guarantee the absolute protection of child rights.
Awareness is an important element that needs to be used by the government to ensure the maximum effectiveness of the act. This would allow the government to employ preventive measures such as designing public awareness campaigns on the fundamental rights of children to increase public literacy on child rights. This is particularly important as not many are aware of the rights of children and not many take the issue very seriously.
The creation of coordination among the relevant governmental and non-governmental organizations activities to ensure children's rights are protected in accordance with the provisions of this law is another fundamental objective of the act. This is very important has inorder for its proper implementation, it is of utmost importance that resources and intelligence are put together. In addition, it is vital that there be specific training for all relevant professionals with a duty of care towards children, including all law enforcement officials, national security forces, and education and health personnel.
To better understand the situation on the ground, the law requests that information on juvenile cases from social organizations, the police authorities, attorney office, the courts and the child protection network of the Ministry of Labour and Social Affairs be made known to the Technical Committee and Governmental agencies that work to ensure the law is properly implemented. Relevant statistics and figures of the vulnerable, displaced, labor, disabled, children who are not protected by the law and those without guardians must be collected so that working agencies may take action and reach out to them.
The main rights of a child are enshrined under Chapter 3, Article 12 (1) of the Child Protection Act. it is universal and in harmony with UNHCR requirements. It covers everything from mental rights to physical rights. The first rights of a child are with regards to the identity of the child, the law requires that every child must be given a name, a nationality, identity and parentage and that they must be registered at birth. Registration will equip every child with legal protection and will allow them to seek state services. Every child must also be breastfed by the Child's mother and there can be no discrimination in this matter.
With regards to access of state health services, it is the right of every child to have unobstructed access to health services unless this obstruction is caused by factors beyond governmental control, in addition, the right to proper vaccination against diseases such as Polio and other preventive health services related to the health and wellbeing of the child. The child must also be given sufficient amounts of entertainment such as playing outdoors and recreation services.
The child must also be protected from all forms of violence mentally and physically, including all forms of sexual exploitation and it is the duty of the police and the attorney general to make sure that the ones engaged in violence against children are brought before the law and tried accordingly. The law also allocated for the child access to a child fund when there is a need for it in order to assist the child in securing his basic needs in the case whereby the child is poor and unable to get his essential necessities.
The child has a right to have access to learning facilities and schools, hence why it is important that every child is registered at birth so that he may legally have access to education. Many children in Afghanistan are without birth certificates and hence are not enrolled in public schools. According to a Human Rights Watch report, in 2015 the Afghan government report stated that more than 8 million children were in school, 39 percent of whom were girls. In December 2016, the minister of education announced that the real number of children in school was 6 million.[4] It is important that children make it to school as this will allow them to develop their mental and intellectual capabilities.
The child has a right to be protected against all forms of economic exploitation and protected against forced and heavy labor. The reality is however that the majority of children are forced to work due to extreme poverty in dangerous conditions, one that puts the child's life in danger. Many are employed in jobs that can result in illness, injury, or even death due to hazardous working conditions and poor enforcement of safety and health standards.[5] At least a quarter of Afghan children between ages 5 and 14 work for a living or to help their families[6] as the sole breadwinner. The Afghan government has made a legal obligation under international law to take immediate action to eradicate hazardous child labor by enacting Child Labour Laws.
With regard to recruitment in the military, the law prohibits such for a child. Military forces and personnel target children to be trained as soldiers for a variety of reasons. Firstly, in terms of psychology, children are easy to manipulate, scare, and torment into committing acts of grave violence. Many children are seduced by armed forces into joining the military, with tales of adventure and glamourize violence circling Afghan communities. Moreover, many children in Afghanistan are orphans and, in turn, are lacking economic opportunities. Some are motivated by the payment incentives provided by the military and, in turn, voluntarily join the military. However, the fact remains that many children are kidnapped and forced at gunpoint into taking up arms.
Afghanistan has a population of approximately 30 million and half of which are below the age of 18. Most of them are exposed to a situation of violence and abuse amidst the ongoing fighting coupled with a poor economy. Although there is a law that protects children in the country as discussed earlier, the government still faces numerous challenges that restrict the full implementation of the law.
Poor economic conditions and lack of security are causing many children to run away from the country. Large numbers of Afghan children as young as 12 escape abroad to Europe in search of a better life. Most of them are unaccompanied and this makes them vulnerable. If they are detained and deported back to Afghanistan, it makes it difficult for them to be reunited with their families and hence they become easy targets for smugglers and human traffickers.
Corruption in Afghanistan is another major obstacle that prevents children from getting legal protection. Many in the country do not trust law enforcement officers. Most of the families of these victims complained to the police but never had their cases referred to the attorney's office. According to child rights activists in the country, when reports are made, local police units generally fail to pursue these reports, preferring to refer them to tribal mediation instead. As a result, he said, only ten to 15 cases were registered each year. Many claims that the police were reluctant to pursue cases and that widespread corruption had made it difficult to get access to justice.
Lack of transparency on government revenues and finances means that law agencies do not receive appropriate funding. Reports from the World Bank show that the Central government of Afghanistan is making progress on revenue but there is a lack of evidence to suggest that it is using these funds effectively or with less corruption. Hence, there is a lack of financial support for the enforcement of law and training of personnel who are involved in its implementation effectively or with less corruption.
Afghanistan's fragile Justice system is another major obstacle to the enforcement of the law. This means that not everyone is treated fairly. The majority of Afghans do not have access to judicial institutions and lack of justice has caused destabilization. Political influence in judicial proceedings has impaired the Afghans trust in the justice system. Most of the time, the accused gets away and is not brought before the court for trial. Many of Afghanistan's courts are not functional and this has impacted law enforcement severely.
And finally the ongoing war with the Taliban. Although the United States and the Taliban signed a peace deal, the Taliban continues causing chaos within the country. The fight has caused a drastic and traumatizing effect on the lives of children and has destroyed family institutions. This makes it difficult for the children to seek help from enforcement agencies as they are stopped by several obstacles such as being in a remote area and lack of communication with authorities.
In conclusion, considering the numerous challenges of implementing the act, Afghanistan has overcome many obstacles and has made significant progress. It is strongly suggested that one of the main ways for creating awareness on Child Rights is that Afghanistan incorporates within its school system a subject that teaches children the basic rights they have under the law. This would go a long way in preventing children from being abused and forced into labor. If the children are aware of the fact that what is being done to them is contrary to the law, they are better equipped to refuse and object the act and this will allow them to respond quickly to the relevant authorities.
https://www.khaama.com/an-overview-of-childs-rights-in-afghanistan-legislation-and-restrictions-of-implementation-8790876/
------
DSCC to distribute food among 1 lakh poor families in Ramadan
May 10, 2020
DHAKA, (BSS) – On the occasion of the holy month of Ramadan,
Dhaka South City Corporation (DSCC) authorities have taken an initiative to
distribute food items among 1 lakh destitute families in the city.
In the first phase of the initiative, food items will be delivered to
25,000 poor and destitute families and for that purpose a total of 30 trucks
loaded with concerned food items have reached the Nagar Bhaban in the capital
today, said Uttam Kumar Roy, public relations officer of DSCC.
https://www.bssnews.net/?p=388177
-----
Bangladesh repatriates more than 100 stranded citizens from UK amid pandemic
11 May 2020
They arrived in Dhaka on a special chartered flight of Biman Bangladesh Airlines from London at 9:45 am Monday.
Most of the returning passengers are students, the High Commission of Bangladesh in the UK said in a statement.
Bangladesh High Commissioner to the UK Saida Muna Tasneem saw off the returnees at the London airport.
Earlier, the government, at the request of the Bangladesh High Commission in London, arranged for a special flight operated by Biman and chartered by the Bangladesh Air Force Welfare Trust to repatriate its stranded citizens.
The High Commission facilitated their return by forming a COVID-19 Emergency Repatriation Committee. Initially, more than 200 Bangladeshi nationals, including students, had booked seats on the flight but many of them later cancelled their bookings.
All passengers carried medical clearance certificates so that they could be guided into 'home quarantine' upon their return to Bangladesh, the High Commission said.
"We are grateful to the government, especially Prime Minister Sheikh Hasina and the Ministry of Foreign Affairs for their initiative and the Bangladesh Air Force in particular for chartering this flight," said the high commissioner.
"We are humbly gratified that we could reunite the Bangladeshi citizens, in particular students, stranded in the UK with their families in Bangladesh before the Eid-ul-Fitr festival."
https://bdnews24.com/bangladesh/2020/05/11/bangladesh-brings-back-125-stranded-citizens-from-uk-amid-pandemic
------
4 soldiers lost their lives, 7 go missing following Taliban attack in Balkh
10 May 2020
At least four soldiers lost their lives and seven others went missing following an attack by Taliban militants in northern Balkh province of Afghanistan.
Adel Shah Adil, a spokesperson for Balkh Police Headquarters, confirmed that the incident took place late on Saturday night in Balkh district.
Adil further added that the Taliban militants attacked a security check post at around 9 pm local time which claimed the lives of 4 soldiers.
He also added that 7 other soldiers went missing following the attack who are believed to have been kidnapped by Taliban militants following the 3-hour clash.
According to Adil, the Taliban militants also sustained casualties during the clash but did not elaborate further.
https://www.khaama.com/4-soldiers-lost-their-lives-7-go-missing-following-taliban-attack-in-balkh-07798/
------
Outbreak on North Korea border with China raises doubts over its coronavirus toll
3 HOURS AGO
BEIJING (BLOOMBERG) - China's move to put a city near the North Korea border under lockdown due to an increase in coronavirus infections, have raised more questions about an outbreak in the isolated country.
Chinese authorities banned all non-essential transportation in the city of Shulan in the north-eastern province of Jilin, while residential compounds and villages were closed, the official China Central Television reported on Sunday (May 10).
Students who had already returned to schools were required to study from home. The city raised its virus threat alert level to high risk from medium, Jilin province said.
North Korea shut its borders in January when cases surged in China, and has yet to confirm any Covid-19 infections. Yet the US military said it suspects North Korea has cases, and Kim Jong Un's regime has accepted help from other nations to fight the virus.
President Xi Jinping over the weekend expressed his willingness to provide support to North Korea in fighting the pandemic in reply to a verbal message from North Korea's leader, state-run Xinhua News Agency reported Saturday, without offering details.
China has sent an unspecified number of Covid-19 test kits to its neighbour, according to NK News, which specialises in reporting on North Korea. Russia has also offered help, in addition to aid organisations who have brought in medical supplies.
Last week Kim sent his first formal message to China since reemerging from an almost three-week public absence that raised questions about his health, with some reports saying that he was social distancing to avoid catching Covid-19. In his visit to a fertiliser plant on May 1, a few of his guards could be seen wearing protective masks.
Kim praised Xi Jinping for his "success" in managing the coronavirus, saying the Chinese leader was "seizing a chance of victory in the war against the unprecedented epidemic." North Korea's state media reported Sunday that its leader Kim received a message from Xi, pledging cooperation in "combating the pandemic."
North Korea's state media over the weekend said Kim sent a message to Russian President Vladimir Putin to mark the end of its World War Two fight in Europe, and he wished the Russian leader victory in his fight against the virus.
While little is known about North Korea's efforts to combat Covid-19, some signs have emerged over the months. North Korea has reported that more than 5,400 people were released from quarantine as of March. In late April consumers in Pyongyang were "panic buying" food staples, causing some store shelves to empty, according to NK News, which said the purchases may be due to stricter coronavirus measures.
A crumbling medical system, trade sanctions and decades of economic mismanagement have left more than 40 per cent of North Korea's population chronically undernourished and vulnerable to disease. That risks any wider coronavirus outbreak turning into a humanitarian disaster that could lead to mass deaths: In the 1990s, a famine killed an estimated 240,000 to 3.5 million people.
Unlike North Korea's heavily militarised border with South Korea, the country's 1,420km border with China is porous - and the black-market traders who have crossed for years from both sides could be a source bringing the virus into North Korea. The confirmed case count in the two biggest Chinese provinces bordering North Korea - Liaoning and Jilin - have been relatively low so far to total less than 300.
On Sunday, China reported an increase in both new and asymptomatic cases. There were 14 new coronavirus cases on May 9, including those in Shulan, the largest daily increase this month for the nation, according to Bloomberg calculations based on official data.
As of Saturday, Jilin province has reported a total of 105 locally transmitted Covid-19 cases and 19 imported ones. There were 11 new coronavirus cases in Shulan on Saturday, local health authorities said.
https://www.straitstimes.com/asia/east-asia/outbreak-on-north-korea-border-with-china-raises-doubts-over-its-coronavirus-toll
------
Southeast Asia
Putrajaya set to get third mosque, says Annuar Musa
10 May 2020
PUTRAJAYA, May 10 — Putrajaya is set to get a third mosque as the population in the area is expected to increase from the current 120,000 to 300,000 in five years' time, said Federal Territories Minister Tan Sri Annuar Musa.
He said Precinct 14 had been identified as the site for the third mosque and that they were considering building it based on the concept of 'Al-Quran'.
"We are also considering building a Quran Village at the same site in a bid to empower the Islamic culture and knowledge of al-Quran, especially among foreign tourists," he said after launching the Al-Quran Al-Karim Mushaf Putrajaya here today.
He said the ministry was also trying to encourage more people, not just civil servants, to buy properties in Putrajaya, which currently has two mosques — the TuankuMizan Zainal Abidin Mosque and Putra Mosque.
The ministry today launched the publication of the Al-Quran Al-Karim Mushaf Putrajaya in conjunction with the 2020 Putrajaya Silver Jubilee and Nuzul Al-Quran 1441H celebrations.
Annuar said the publication of the al-Quran with its own identity was a joint effort by Putrajaya Corporation, Restu Foundation and Nasyrul Quran Putrajaya with support from the ministry to promote Quranic culture among the people as well as create an al-Quran generation throughout the ages.
"It will be published in the MUFIQ (Easy To Understand contents of the Quran) version in the Malay language. The target is to print 25,000 copies for distribution to all mosques, schools and libraries around Putrajaya and with an early print of 5,000 copies," he said.
Annuar said the total cost for the whole project was RM2 million, with RM1 million coming from the ministry and the remainder being contributions from various parties.
https://www.malaymail.com/news/malaysia/2020/05/10/putrajaya-set-to-get-third-mosque-says-annuar-musa/1864910
------
Axiata secures RM3.5b Islamic sustainability-linked syndicated financing
11 May 2020
KUALA LUMPUR, May 11 — Axiata Group Bhd has completed the first-of-its-kind syndicated multi-currency shariah-compliant sustainability-linked financing facilities of US$800 million (about RM3.5 billion)(syndicated financing).
In a statement, the regional telecommunications company said the syndicated financing is the first sustainability-linked Islamic syndicated financing effort undertaken in Malaysia and globally.
Axiata president and group chief executive officer Tan Sri Jamaludin Ibrahim said: "Our commitment towards compliance and sustainability is now further incentivised by direct contribution towards our bottom-line through this innovative financing mechanism that recognises and rewards Axiata for meeting sustainability performance targets."
"It demonstrates our approach towards business operations and financing avenues to deliver long-term growth and sustainable performance. As a company that works to create value across all our markets, we will continue to be guided by international best practices and sustainability principles," he said.
The combination of Islamic financing principles coupled with sustainability parametres and the multi-currency feature breaks new ground in both local and international financing markets.
"It also underscores Axiata's commitment towards ensuring the alignment of its business strategies and sustainability framework," he said.
Apart from the diversification of funding options, he said the innovative financing mechanism offered through a shariah-compliant sustainability financing structure serves to enhance Axiata's liquidity position, particularly during these uncertain times while enabling the company to reap the benefits of optimal financing cost.
As such, Axiata will benefit from lower financing costs should it continue to exceed the stringent criteria the company has set for itself under the said framework.
He said the completion of the syndicated financing further demonstrates the strong support and confidence of the banking fraternity towards Axiata's long-term business sustainability and direction, backed by its well-established regional presence in 11 markets throughout Asean and South Asia.
The digital signing ceremony was conducted between Axiata and OCBC Al-Amin Bank Bhd which acted as the lead coordinator and sustainability structuring and shariah adviser, together with the other mandated lead arrangers and financiers, Oversea-Chinese Banking Corporation Ltd, Labuan Branch; Maybank Islamic Bank Bhd; and MUFG Bank (Malaysia) Bhd.
https://www.malaymail.com/news/money/2020/05/11/axiata-secures-rm3.5b-islamic-sustainability-linked-syndicated-financing/1865104
-----
Decision on prayers at mosques to be known this week, says deputy minister of religious affairs
11 May 2020
TANAH MERAH, May 11 — The decision on whether to allow Muslims to pray at mosques will be known this week, said Deputy Minister in the Prime Minister's Department (Religious Affairs) Ahmad MarzukShaary.
He said the National Council for Islamic Religious Affairs, which held a special meeting last Friday, had sought the views of the Ministry of Health (MOH), medical experts, religious scholars, mufti and the chairmen of the respective state religious affairs committees on the matter.
"We have concluded that there are certain approaches that can be implemented, but there are procedures to be observed before it can be announced.
"The matter has to go through the National Security Council and then presented to the Cabinet to be refined before it is brought to the respective state religious authorities and the Conference of Rulers," he told reporters at a "Musa'adahCovid" programme involving the presentation of essential food items to the poor in Kampung Bukit Tebu here today.
However, Ahmad Marzuk said he expected an announcement on the matter to made by Prime Minister Tan Sri Muhyiddin Yassin this week
https://www.malaymail.com/news/malaysia/2020/05/11/decision-on-prayers-at-mosques-to-be-known-this-week-says-deputy-minister-o/1865082
-----
CMCO: Mosque, surau activities in Penang still not allowed, says mufti
10 May 2020
GEORGE TOWN, May 10 — Penang is still prohibiting all activities in mosques and surau in the state throughout the conditional movement control order (CMCO) until a final decision on the matter is made.
Penang Mufti Datuk Seri Dr Wan Salim Wan Mohd Noor, when contacted by Bernama, said this includes Friday prayers, tarawih and other congregational prayers.
Wan Salim said while waiting for the final decision to be announced, this prohibition remains and members of the public are advised to adhere to the regulations.
The special Muzakarah (discussion) Committee Meeting of the National Council for Islamic Religious Affairs (MKI) on May 8 had discussed the guidelines for Friday prayers during the CMCO period and the resolution was submitted to the Conference of Rulers as an opinion for consideration of the state Islamic religious councils in making their decisions. — Bernama
https://www.malaymail.com/news/malaysia/2020/05/10/cmco-mosque-surau-activities-in-penang-still-not-allowed-says-mufti/1864927
-----
Pakistan
KP special secretary tests positive for coronavirus
May 11, 2020
SWABI: Khyber Pakhtunkhwa special secretary for local government Mutasim Billah tested positive for coronavirus here the other day.
Mr Billah belongs to Yar Hussain region of the district and soon after confirmation of his test he had quarantined himself in his hujra (common guest house).
The district health officials said that he would be treated by the doctors at his guesthouse. "I will remain aloof from my family till full recovery from coronavirus," the secretary was quoted as saying by the officials.
CYLINDER BLAST: Two members of a family suffered serious burn injuries when a gas cylinder exploded in a house in Gar Munara village of ChotaLahor tehsil here the other day.
The injured, identified as Inamullah Khan and Ihsaullah Khan, were taken to a local hospital and then referred to Peshawar as there was no burns centre in the entire district. Meanwhile, district police officer Imran Shahid claimed here the other day that a woman had been arrested for killing her niece in SpeenKani village of Razaar four days ago.
Addressing a press conference here, he said a joint investigation team led by SP investigations Banaras Khan traced the blind murder.
He said during investigations, Gul Raj Bibi, the aunt of the victim, Wajeeha Khan, told police that after grabbing the victim in her arms she hit her in the head with a meat chopper, and soon she became unconscious and started bleeding.
The woman told the police that as the entire family was sleeping in the afternoon, she took her to a local water channel and threw her there. She said Wajeeha was still alive when she threw her in the channel. The woman said she remained there until the girl breathed her last.
DPO Shahid said a day before the incident, the woman clashed with Wajeeha's mother, which had resulted in injuries to Gul Raj's son, and she wanted to take the revenge.
Wearing burqa, the victim's mother said the accused should be meted out the punishment she deserved for committing the grisly incident.
https://www.dawn.com/news/1556144/kp-special-secretary-tests-positive-for-coronavirus
-----
'Ritual' NA session on Covid-19 impact gets under way today
Amir Wasim
May 11, 2020
ISLAMABAD: The National Assembly is all set to meet on Monday (today) after a gap of nearly two months merely to complete a formality of holding a debate on the prevailing situation in the country due to spread of Covid-19 as the government and the opposition have already reached an understanding that no other routine business, including legislation, will be carried out in the current session.
The government has convened the physical session of the assembly on the demand of the opposition parties which will be held under strict adherence of health guidelines and standard operating procedures (SOPs) for ensuring safety of the members and the staff.
The visitors' galleries will remain closed during the sittings and only journalists will be allowed to sit in the Press Gallery and Press Lounge.
Senate Chairman Sadiq Sanjrani has convened the session of the upper house of the parliament on Tuesday (tomorrow) on the requisition of the opposition parties.
The NA session is being held at a time when Speaker AsadQaiser has quarantined himself after he tested positive for coronavirus on April 28. Besides the speaker, a couple of MNAs and a number of staff members of the National Assembly and the Senate secretariats have tested positive for Covid-19 in the last two days, raising fears among lawmakers, who were already divided over the issue of convening the sessions of the assembly and the Senate at a time when the country is witnessing a sharp rise in the confirmed cases of Covid-19.
It was due to different viewpoints on the issue within the parties that the leadership had told their respective legislators that attendance in the upcoming sessions of both the houses of the parliament was not mandatory.
Interestingly, Deputy Senate Chairman Saleem Mandviwala, who belongs to the opposition Pakistan Peoples Party (PPP), on Sunday issued a statement suggesting that the session requisitioned by his own party should be deferred after detection of coronavirus in some legislators and the staff of the Senate Secretariat.
In his statement, Mr Mandviwala also demanded that the NA session also be postponed as, according to him, "coronavirus has reached corridors of the Parliament House building".
On the other hand, when contacted, PPP Parliamentary Leader in the Senate Sherry Rehman said though her party was also concerned over the coronavirus situation, but they believed that there was no other option but to make and keep the parliament functional. She was of the view that the session would provide them an opportunity to devise a strategy for the upcoming budget sessions, expected to be held in the first week of June.
The National Assembly Secretariat on Sunday issued a four-point agenda for the Monday's sitting which included Question Hour and two call attention notices. However, the sources said that as per agreement between the government and the opposition, the whole agenda would be suspended and the members would only be allowed to take part in the debate on the Covid-19 situation.
The agenda includes a calling attention notice of Pakistan Muslim League-Nawaz's (PML-N) members "regarding non-provision of sufficient relief to the public in spite of extraordinary decline in global oil prices".
It was after a meeting of the special NA committee on May 5 that Foreign Minister Shah Mehmood Qureshi had disclosed that the government and the opposition had reached an understanding for convening the physical session of the assembly.
https://www.dawn.com/news/1556225/ritual-na-session-on-covid-19-impact-gets-under-way-today
------
Punjab's doctors urge govt not to lift restrictions
May 11, 2020
LAHORE: Various associations of doctors have expressed serious concern over the fast spread of coronavirus, saying the situation may go out of control if standard operating procedures (SOPs) are not followed during lockdown in Punjab.
Pakistan Islamic Medical Association, Pakistan Medical Association, Pakistan Academy of Family Physicians and Young Doctors Association Punjab issued a joint declaration, saying the Covid-19 cases had increased threefold while deaths five times during the last two weeks in Punjab.
The medics called this sudden spike alarming and disturbing, saying the number might go up further in the coming weeks. They suggested the Punjab government take the situation serious.
The medics said the Punjab government had exempted over a hundred businesses across the province from the lockdown and the crowd in bazaars and other public places had set alarm bells ringing for health professionals.
The doctors said they were aware of the problems the poor were faced with, but coronavirus required equal importance and the Punjab government should take all measures to ensure implementation of social distancing and other SOPs in the best interest of the public.
They warned of an "alarming acceleration" of cases in the future if the government continued to lift restrictions so quickly. The government would have to learn and redefine its strategies. Any premature ease in lockdown could lead to disastrous consequences as the virus was heading to its peak, the medical experts said.
https://www.dawn.com/news/1556185/punjabs-doctors-urge-govt-not-to-lift-restrictions
-----
Lack of precautionary measures at ATCs in Karachi exposes staff, lawyers to coronavirus
Naeem Sahoutara
May 11, 2020
KARACHI: The judicial officers, staffers and lawyers at the anti-terrorism courts are exposed to risks of getting infected with Covid-19 owing to lack of precautionary measures there.
The latest case is of a 38-year-old staffer of the ATC-XIII, whose test was found positive for the deadly virus, said judicial staffers.
Therefore, the judge of the relevant court had asked the health authorities to ensure tests were conducted of other staffers who remained in close contact with the infected person.
"Their test results are awaited," a staffer told Dawn on Saturday. The judicial staff and state prosecutors of the ATCs — 18 operating in the judicial complex inside the central prison and two in Clifton — complained that no preventive measures or facilities had been provided to them by the government despite the number of infected staffers was increasing.
The judge of the relevant court had also asked the medical superintendent of the Services Hospital Karachi to ensure tests of other court staffers were conducted. Their tests results were awaited.
He said the judges had instructed everyone entering the courtrooms — including staffers, prosecutors, the investigating officers, lawyers and the inmates — to use sanitisers and have their mouths and noses covered.
"The judges, as well as the staff members and prosecutors, have purchased face masks and hand-sanitisers for themselves from their own pockets since the government has provided nothing to them," another staffer said.
He deplored that while the government was aggressively implementing the ban regarding social distancing at public places, it was ignoring its own departments despite the number of patients at the ATCs.
The judicial and prosecution officials said that the judges, their staff and the special public prosecutor were duty-bound to the courts to conduct daily judicial work (in criminal cases) under the directives of the Sindh High Court.
"Every day the judges, their staff and the prosecutors come to the courts despite the fact that the investigating officers and the lawyers representing the parties in the cases mostly remain absent under the pretext of the ongoing lockdown in the city," a prosecutor said.
He urged the authorities concerned to ensure that preventive arrangements were made at the ATCs judicial complex to save the lives of the judges, staff, the lawyers and the inmates.
https://www.dawn.com/news/1556117/lack-of-precautionary-measures-at-atcs-in-karachi-exposes-staff-lawyers-to-coronavirus
------
Charred body of PTI councillor found in Dadu graveyard
May 11, 2020
DADU: The charred body of a councillor belonging to the Pakistan Tehreek-i-Insaf, Imtiaz Ali Shahani, was found lying in the graveyard, located some two kilometres away from his house, on Sunday.
His brother, Pyar Ali Shahani, told the area police and relatives visiting the bereaved family in Moundar village that Imtiaz had left home telling him that he had a piece of work outside and would be returning soon. He said after a few hours, he was informed by some villagers that they had found the charred boy of Imtiaz lying in the graveyard. He said he rushed to the specified spot and saw the body totally burnt out.
SHO Mohammed Siddique Mallah of the Moundar police station said police took the body into custody upon receiving the information and transported it to the Dadu Civil Hospital for a post-mortem examination before it was handed over to the heirs.
He said apparently it seemed to be a suicide case but could be a murder case. Police would investigate the matter from different angles to reach a conclusion, he said, and noted that petrol was used in the incident.
Dadu SSP Dr Farrukh Raza Malik said an inquiry into the circumstances leading to the councillor's death would be held.
https://www.dawn.com/news/1556098/charred-body-of-pti-councillor-found-in-dadu-graveyard
------
Capital admin extends lockdown till May end
May 11, 2020
Ikram Junaidi
ISLAMABAD/RAWALPINDI: The capital administration has extended the lockdown to prevent the spread of the coronavirus until May 31, but with a number of new exemptions.
Some shops and businesses are now allowed to open five days a week from 8am to 5pm, but must close on Saturday and Sunday. However, larger markets in residential sectors and commercial areas such as Blue Area, Aabpara, Karachi Company, Super Market, Jinnah Super and MelodyMarketwill remain closed.
The capital administration'snotification, which is available with Dawn, said after advice from the federal government, stores selling steel and PVC pipes, electric appliances, steel and aluminium equipment manufacturers, ceramic and paint industries, sanitaryfittings, paints, steel and aluminium works and hardware stores have been opened. All these establishments must adopt the guidelines issued for industrial units and points of sales.
Factories are also allowed to resume operations, but a detailed notification in this regard will be issued separately by the appropriate authorities.
Retail shops other than large shopping malls,I&Tcentres, community markets and small markets in the rural areas may open five days a week subject to the implementation of standard operating procedures (SOP).
Parks, hiking trails, golf courses, polo clubs, tennis courts and other such facilities are open but public gatherings are not allowed, and visitors in parks must practice social distancing and wear masks.
Some businesses are exempt from the limitations of operating five days a week and within the aforementioned timings. Grocery stores, general stores,karyanastores, bakeries,attachakkies, milk and dairy shops, meat, poultry and seafood shops, fruit and vegetable shops and all kinds of mandis - grain, fruit, vegetable and cattle - tandoors and automobile workshops can operate throughout the week from 9am to 5pm.
Tyre repair shops, spare parts shops,driver hotels, petrol stations and oil depots andrestaurant takeaway and delivery servicesmay run 24/7.
Postal and courier services that offer home pick-ups and deliveries can operate between 9am and 5pm all week, and courier services are also permitted inter-city and inter-provincial movement.
The notification said that owners and stakeholders are responsible for ensuring SOPs are implemented andthat social distancing and the wearing of masks inside, upon entry and outside their businesses. An outlet will be sealed with fines and criminal proceedings in the event of any violations.
The main markazes of all sectors - Blue Area, Aabpara, Karachi Company, Super Market, Jinnah Super Market, Melody, F-10, F-11, I-10 and I-8 - will not open, and neither will the markazes and commercial centres in private and cooperative housing societies.
All educational institutions, restaurants other than takeaway or delivery services, marquees, wedding halls, cinemas, hair and beauty salons, gyms and playing areas in parks will also stay closed, and public processions, congregations of any nature and organised sports events are prohibited.
The administration's notification said thatTigerForcevolunteers are authorised to inspect and report SOP violations to the concerned subdivisional magistrate.
Deputy Commissioner Hamza Shafqaat told Dawn that all sorts of shops, including jewellers and property dealers, can open in sector markets, community centres, I&T centres and class three shopping centres.
"At the moment, we cannot allow people to buy clothing and shoes from main markets. We want [shoppers] to be divided between sector markets, and after that some businesses will be opened in the main markets step by step," he said.
Mr Shafqaat added: "On Sunday, I held a meeting with traders and we are preparing SOPs for the main markets. Hopefully, they will be opened in a few days. We have also been training the Tiger Force to ensure SOPs are implemented."
A person died of Covid-19 in Rawalpindi on Sunday, while 52 people were discharged from hospitals after recovering from the disease and 17 new patients were reported.
Girja Road in Chak Jalal Din was brought to Benazir Bhutto Hospital on Saturdays with symptoms of Covid-19, including difficulty breathing. His condition worsened overnight, and he died Sunday morning.
Commissioner retired Capt Mohammad Mehmood told Dawn one person died and 57 people were discharged from hospitals in Rawalpindi division, of which 52 were in Rawalpindi.
Sunday's new cases were reported from various parts of the district, and Rescue 1122 personnel took patients to the Rawalpindi Institute of Urology and Benazir Bhutto Hospital for treatment.
There have now been at least 1,150 Covid-19 patients reported in Rawalpindi, of which 283 have recovered and 47 have died. At present, 820 patients are being treated in local hospitals and 311 are isolated in their homes.
Another 428 suspected patients remain admitted on the city's three hospitals, and their samples have been sent to the National Institute of Health and BBH; the results will take three to four days.
District health authority officials said 265 people have tested positive for the disease in the last three days and 880 tested positive.
Local administrations have quarantined 1,833 people who were close contacts of confirmed patients, of which 1,528 are at home, 302 are in hospitals and three are in quarantine centres.
Mr Mehmood told Dawn that the government has allowed small shops to open, but all markets and shopping malls will remain closed. The traders union is responsible for social distancing and sanitising in small shops, which will be closed if these guidelines are not implemented.
https://www.dawn.com/news/1556139/capital-admin-extends-lockdown-till-may-end
------
URL: https://www.newageislam.com/islamic-world-news/an-outfit-imams-urged-bengal/d/121816
New Age Islam, Islam Online, Islamic Website, African Muslim News, Arab World News, South Asia News, Indian Muslim News, World Muslim News, Women in Islam, Islamic Feminism, Arab Women, Women In Arab, Islamophobia in America, Muslim Women in West, Islam Women and Feminism