New Age Islam News Bureau
24 Jul 2014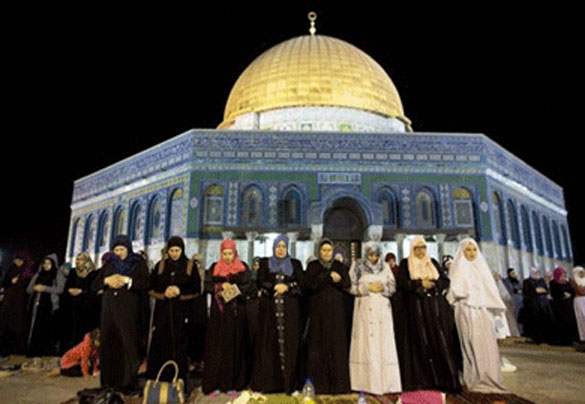 Palestinians women hold night prayers in front of the Dome of the Rock at the Al-Aqusa Mosque in support of Palestinians in Gaza on July 23, 2014, Photo: AFP
-----------
Arab World
• An Iraqi-German Woman Qurtuba Adnan Al-Thahir Bids to Be Iraq's President
• Dozens of ISIL Terrorists Killed in Dhuluiya, Iraq
• Militants 'kill 60' in ambush on Iraq prison convoy
• Syrian Army Kills Scores of Militants in Several Provinces
• Two suspected militants killed in Sinai, 15 arrested
• Shiite Militias call for US, Turkish and Saudi embassy closure in Iraq
• Iranian forces leave Daquq and move to Kirkuk
• Abdullah Ocalan: We will fight ISIS until the end
• IS gunmen kill female former parliamentary candidate and wound rights activist
• Baath Party declares war against ISIS
• Mosul Christians Persecuted By ISIS, Muslims Rally alongside Christians in Baghdad
Africa
• Bombs in northern Nigerian city kill 82
• Saiqa Special Forces Commander calls for reinforcements, wages war against Ansar Al-Sharia
• 3 killed and 3 in critical condition following Benghazi double suicide bombing
• The price of freedom – Libyans are not getting value for money from their militias
India
• Fasting Muslim Worker 'Force-Fed': Sena Defiant, Says Issue Politicised
• Muslims in India should unite against subjugation: Hafiz Saeed
• Two Indians killed in Taliban suicide attack near Kabul airport
• In Kerala, Ramzan dates leave bitter taste
• India votes in support of UNHRC resolution on Gaza
• India, Pak foreign secys to meet on Aug 25
• India rescues 58 more nurses from troubled Iraq
• Hizb supremo against protected zones for Pandits
Europe
• UN Chief outraged at weapons found in UN school in Gaza
• Young Islamic State robs al-Qaida of militant prestige
• UK Muslim charities shift focus to local aid
• UN's Navi Pillay warns of Israel Gaza 'war crimes'
• West, Muslim rulers criticised over silence
Mideast
• Turkey welcomes UN's panel decision to probe Israel's war crimes
• Hamas rejects Gaza truce despite Turkey's fresh bid
• PM Erdoğan: No concessions made during Kurdish peace process
• Gaza reporters' tweets: Hamas using human shields
• Iran's supreme leader calls for end to "murderous" Israeli regime
• Family of six, including two children, killed in Gaza: Medics
• IAF hits 35 targets overnight; ground forces kill several Hamas operatives, take prisoners
• Palestinian Islamic Jihad member: Egypt should back Hamas, end media incitement
• Israeli President says Qatar 'world's largest financer of terrorism'
• 56 mosques, 7 hospitals hit in Israeli offensive
Pakistan
• Clerics Continue To Use Unauthorised FM Transmissions to Spread Their Message
• Suspected Links with Militants: Hunt for Suspects Disguising As Displaced Persons
• Pakistan seeks UNSC resolution against Israeli offensive
• Zarb-e-Azb: Over billion rupees distributed among IDPs
• Former CJ Chaudhry Iftikhar sends defamation notice to Imran Khan
South Asia
• Taliban kills the abducted religious cleric in Helmand
• Envoy to Saudi Arabia: 21m Chinese Muslims fast in Ramadan
• PM: Bangladesh to stop child marriage by 2021
• Students of the SUB stages human chain protesting Gaza 'genocide'
• Afghanistan blames Pakistan for militant attacks
• Maldives MPs clash over amendments to Human Rights Commission Act
• Afghan policeman sentenced to death for killing foreign journalist
North America
• As Much of the World Frowns on Israel, Americans Hold Out Support
• US, Pakistan review operation against Taliban
• Wartime unity conceals political differences among American Jews
• U.S. lawmakers ask FIBA to review its policy on Sikh turbans
• Pakistani American scholar traverses through Europe with team of experts to forge peace
Southeast Asia
• Say no to a 'liberal democratic' country, Isma tells Malaysians
• In congratulatory message, DAP urges Jokowi to end Indonesia's slash-and-burn
• Thailand demands Israel relocate Thai workers from near Gaza
• Putrajaya offers special grave site for MH17 Muslim victims
• The Battle against Child Abuse in Indonesia's Homes, Schools a Collective Effort
Compiled by New Age Islam News Bureau
URL: https://www.newageislam.com/islamic-world-news/new-age-islam-news-bureau/an-iraqi-german-woman-qurtuba-adnan-al-thahir-bids-to-be-iraq's-president/d/98281
----------
Arab World
An Iraqi-German Woman Qurtuba Adnan Al-Thahir Bids to Be Iraq's President
24 July 2014
An Iraqi-German woman is vying to become the embattled country's next president after the parliament speaker opened last week the doors for potential candidates to bid for the top post that has been reserved for Kurds ever since the fall of dictator Saddam Hussein.
Qurtuba Adnan al-Thahir, who is currently based in Germany, said in an interview with Elaph news website Monday that the biggest hurdles for the political process in Iraq were the "parties with power and worshipers of political statues in parliament."
"We have noticed political extremism and the holding onto stances without wisdom or realizing the regional and international situation," Thahir, who has a master's degree in political science and is running as an independent, said.
Al-Thahir, the daughter of a Germany-based Iraqi chemist, also condemned the military escalation in Iraq, where "innocent people are being killed and Iraq's infrastructure is being destroyed."
Due to political wrangling, Iraq did not form a government after its April parliamentary elections and the lightening offensive by the Islamic State of Iraq and Syria in June only exacerbated the situation. Iraq is currently suffering from a protracted government formation.
As citizens in the ISIS-held northern and western regions suffer from the radical group's extremist policies, civilians are also stuck in conflict areas from clashes between the militants and Iraqi troops.
U.N. envoy to Iraq Nickolay Mladenov warned on Wednesday that the situation in the country remained grim, adding that the "solution to the crisis cannot be found in the toolbox of military operations," AFP reported.
Urging 'moderate behaviour'
During the interview, al-Thahir urged politicians to exercise a "moderate behavior" and criticized the lack of a "real role for the president."
"There needs to be a president with an affirmative role … and to remind politicians of the needed moderate behaviour which can be done through brave honest dialogue."
Iraq has been without a president since Kurdish leader Jalal Talabani suffered a stroke two years ago. Talabani recently returned to Iraq after months of treatment in Germany.
Iraq's senior political posts are reserved to the country's different sects – a Sunni holds the post of speaker; a Kurd the post of president; a Shiite the post of prime minister.
Al-Thahir rejected that the post of president be exclusively held by the Kurds, noting that there was no mention of the custom in Iraq's constitution, and called on women to play a bigger role in political life.
"There should be no monopoly for any political figure," she said.
Iraq's parliament, which had been due to elect the country's president on Wednesday, postponed the vote by a day, delaying the formation of a power-sharing government urgently needed to confront the Sunni insurgency, Reuters reported.
The Sunni speaker, Salim al-Jubouri, told parliament that the Kurds had asked for a one-day delay on the vote so that they could agree on a candidate.
Thahir also said she regarded women as Iraq's best hope.
"History has proved that women can handle political issues with patience and bravery … Iraq needs a mother who can listen to her children venting about the hurdles of life and hubris of politicians," she told Elaph.
"Iraq needs women who play an international, regional role to mitigate that situation and create peace," she said, adding that "women will inevitably take their role in governing sooner or later because they are the majority now. It is a new period for Iraqi women."
Willing to give up German passport
Meanwhile, al-Thahir told the Iraqi-based Kurdish News Network Channel (KNNC) on Monday that female Iraqi deputies would not be able to vote for her because they had to follow the decision of their respective political blocs.
She also told KNNC that she was willing to give up her German nationality.
Al-Thahir said she considers running for the presidency her "national duty" as people in the embattled country are continuing to suffer.
Parliament has until the end of the month to choose a president who will then have 15 days to nominate a prime minister.
In the 2010 parliamentary elections, al-Thahir attempted to run as parliamentarian for the secular Ahrar party with no success. She speaks Arabic, German, English and French.
In her interviews, Thahir does not mention her age or marital status. She has worked as an activist for children and women's rights. Professionally, she has worked eight years in Information Technology.
http://english.alarabiya.net/en/News/middle-east/2014/07/24/Qurtuba-Adnan-al-Thahir-bids-to-be-Iraq-s-first-president.html
----------
Dozens of ISIL Terrorists Killed in Dhuluiya, Iraq
Jul 24, 2014
Iraqi forces killed dozens of the terrorists of the Islamic State of Iraq and the Levant in Dhuluiya district.
Spokesman of the anti-terrorism department Sabah Numan announced that the Iraqi air force in coordination with the anti-terrorism department managed to destroy 14 vehicles belonging to the ISIL terrorists in Dhuluiya district, 80 km South of Tikrit, center of Salahuddin province.
"The security forces managed to kill dozens of ISIL terrorists through bombarding their vehicles," Noman said.
http://english.farsnews.com/newstext.aspx?nn=13930501001425
--------
Militants 'kill 60' in ambush on Iraq prison convoy
Jul 24, 2014
Suicide attackers have mounted a bomb and gun attack on a prison convoy in Iraq, killing 51 prisoners and nine police officers, security sources say.
Roadside bombs exploded as the convoy was taking the prisoners from the town of Taji to the capital Baghdad 24km (15 miles) away, justice ministry and medical sources told Reuters.
Gunmen opened fire and a battle ensued with security forces, AFP reports.
It is thought the prisoners were being evacuated at the time.
The prisoners, who were suspected militants, were put in a convoy after mortar rounds hit military bases in Taji at dawn on Thursday, Iraqi officials told AP, speaking on condition of anonymity.
As the convoy travelled through a remote area, roadside bombs went off and the militants opened fire.
There were no immediate figures for casualties among the attackers and it is unclear who was behind the attack.
It is almost a year to the day since gunmen stormed prisons in Taji and Abu Ghraib, also in the Baghdad area, freeing hundreds of inmates. Other prisons have been attacked this year.
'Summary executions'
Security forces were accused this month of summarily executing prisoners, possibly in retaliation for mass public executions carried out by Sunni Islamist militants, who seized cities in the north-west and threatened to sweep south to Baghdad.
Human Rights Watch (HRW) said on 11 July that security forces and militias loyal to the government, which is dominated by Shia Muslims, had executed at least 255 prisoners since 9 June.
In some cases, prisoners may have been executed as security forces retreated, to prevent them from rejoining the rebels.
The prisoners were all Sunni Muslims, while the majority of security forces and militia were Shia, HRW said in its report.
A more recent HRW report accused the Sunni militants led by the Islamic State in Iraq and the Levant (Isis) group of killing, kidnapping and threatening religious and ethnic minorities in the Mosul area of northern Iraq.
A suicide bomber killed at least 21 people in Baghdad on Tuesday, attacking a police checkpoint at the entrance to the Kadhimiya district as people travelled to a Shia Muslim shrine in the area.
http://www.bbc.co.uk/news/world-middle-east-28459360
----------
Syrian Army Kills Scores of Militants in Several Provinces
Jul 24, 2014
The Syrian army continued its campaign against the armed groups in different areas, killing and inuring scores of militants.
The Syrian army targeted the militants' concentration centers and encountered militant infiltrations in Damascus Countryside, Daraa, Quneitra Countryside, Aleppo, Idlib, Homs, and Deir Ezzur, SANA reported Tuesday.
Terrorist Attacks
Five civilians were killed and 38 others were injured in terrorist attacks in many areas across the country.
http://english.farsnews.com/newstext.aspx?nn=13930501000428
--------
Two suspected militants killed in Sinai, 15 arrested
Jul 24, 2014
The Egyptian army has raided suspected militant hideouts in the restive Sinai Peninsula, killing two and arresting 15, a military spokesman announced via Facebook.
Brigadier General Mohamed Samir said the raid on Tuesday night was in Al-Arish in northern Sinai. It targeted homes and vehicles used by the suspects.
Sinai, a desert province in north-eastern Egypt, has suffered a security vacuum for years, particularly since the ouster of Islamist president Mohamed Morsi last summer.
Suspected Islamist militants based in the peninsula have waged a high-level insurgency against the security forces, to which the army have responded with counter-insurgency operations.
A brazen attack on Egyptian border guards on Saturday killed 22 troops at a military checkpoint in Al-Wadi Al-Gedid governorate, 630km west of Cairo.
http://english.ahram.org.eg/NewsContent/1/64/106912/Egypt/Politics-/Two-suspected-militants-killed-in-Sinai,--arrested.aspx
----------
Shiite Militias call for US, Turkish and Saudi embassy closure in Iraq
Jul 24, 2014
In a public statement made on Wednesday, Iraqi Shiite Militias have given the federal Iraqi government five days to close the embassies of the United States, Saudi Arabia and Turkey as a penalty for allegedly supporting extremist groups in Iraq.
According to a statement that has been released by all Shiite groups and militias in Iraq, the groups are pressuring Iraqi Prime Minister Nouri al-Maliki to close the embassies in Baghdad or face the risk of having them attacked and destroyed.
"If the federal government of Iraq does not close the embassies of the US, Turkey and Saudi Arabia in Baghdad, we will shell their buildings and kill all the diplomats", said the statement.
According to the statement, it has alleged that the mentioned countries are involved in supporting the Islamic State of Iraq and Sham (ISIS) militants in their attacks against the Iraqi Army.
Since the beginning of the current situation in Iraq, Shiite Militias have begun forming groups in Baghdad to fight against ISIS insurgents. They have their presence in different cities in Iraq such as Baghdad, Karbala and Kirkuk.
http://basnews.com/en/News/Details/Shiite-Militias-call-for-US--Turkish-and-Saudi-embassy-closure-in-Iraq/27972
----------
Iranian forces leave Daquq and move to Kirkuk
Jul 24, 2014
After the Islamic State of Iraq and Sham (ISIS) militants threatened residents of Daquq, giving them 48 hours to push out the approximately 200 Iranian soldiers who were there to protect Shia religious site, the Iranians force left and moved to Kirkuk.
The Security Director of Daquq, Polla Mohammed told BasNews: "On Tuesday morning at 11:30am, about 200 Iranian soldiers left the town."
"They're leaving was due to the pressure of Daquq residents, who asked the city's security to push the Iranian forces out," said Mohammed.
In the town there are a number of holy Shiite sites and every year, a large number of people from other parts od Iraq, Iran and other religious countries visit there, but according to the KDP Security, these forces came to the town to destabilize the area and they have heavy weapons with themselves.
According to a source in Kurdish security who asked to remain anonymous, those Iranian soldiers and commanders from Sulaimaniyah entered Daquq, in southern Kirkuk province, in civilians clothing claiming to protect Shiite religious places.
http://basnews.com/en/News/Details/Iranian-forces-leave-Daquq-and-move-to-Kirkuk/27899
----------
Abdullah Ocalan: We will fight ISIS until the end
Jul 24, 2014
A brother of the Kurdistan Workers' Party (PKK) jailed leader Abdullah Ocalan has vowed to continue fighting extremist groups in the region, especially the Islamic State of Iraq and Sham (ISIS).
Muhammad Ocalan the brother of PKK leader, along with one of Ocalan's lawyers, went to Imrali Island and met with Abdullah Ocalan. After the meeting Muhammad said that Ocalan had promised to fight ISIS as well as those who support ISIS.
"Ocalan spoke about ISIS and said that we will fight them and those who support ISIS as well," said Muhammad.
"He also said that ISIS' actions are not in anyone's advantage and those who are supporting them today, will find out in the near future that ISIS will hurt them as well," added Ocalan.
However, Muhammad said that his brother didn't talk about the Turkish presidential elections, scheduled to take place next month, in which pro-Kurdish politician Selahattin Demirtas is one of the candidates.
http://basnews.com/en/News/Details/Ocalan--We-will-fight-ISIS-until-the-end/27836
----------
IS gunmen kill female former parliamentary candidate and wound rights activist
Jul 24, 2014
GUNMEN have killed a female former candidate for Iraq's parliament and wounded a women's rights activist, in attacks that underscore the deteriorating conditions for Iraqi women.
Insurgents from the Islamic State (IS) jihadist group killed Sanaa al-Juburi and wounded Khawla al-Juburi in Sharqat, some 300km northwest of Baghdad, tribal and military sources said.
The motive for the attacks was unclear, but IS espouses a puritanical form of Sunni Islam that severely restricts women's freedom.
"The absence of laws, and the rule of law, has led extremists to violate the law as they want," said Shedha Naji of the Women for Peace rights group in Iraq.
"We're seeing and hearing these days that the old traditions are coming back, honour killings, violence within the family."
Full report at:
http://www.theaustralian.com.au/news/world/is-gunmen-kill-former-parliamentary-candidate-and-wound-rights-activist/story-e6frg6so-1226999832562
--------
Baath Party declares war against ISIS
Jul 24, 2014
The banned Iraq Baath party has declared war against the Islamic State of Iraq and Sham (ISIS) group due to their violent dismissal of the Christians of Mosul.
In a statement released by the Baath party this week, claims are made that the crimes of ISIS are becoming far too numerous and there should be a limit put on them, especially after they threatened and forced Christians in Mosul to leave the city.
On 18 July, ISIS called on all the Christians to make a choice: to remain in the city, they would have to either convert to Islam or pay high taxes to remain as recognized Christians. Otherwise they were to leave Mosul within 24 hours. Most of the Christian families left the city and fled to the Kurdistan Region.
Full report at:
http://basnews.com/en/News/Details/Baath-Party-declares-war-against-ISIS/27964
----------
Mosul Christians Persecuted By ISIS, Muslims Rally alongside Christians in Baghdad
Jul 24, 2014
The plight of Christians and other minority groups in northern Iraq has taken a turn for the worse, according to reports, as thousands fleeing regions controlled by the Islamic State of Iraq and Syria, have been robbed of their possessions at ISIS checkpoints.
ISIS, a Sunni extremist group that advocates Islamic Shariah law, is reportedly persecuting Christians in Iraq, forcing them to flee their homes in Mosul, Iraq's second-largest city, even as Muslims in Baghdad showed solidarity with persecuted Christians by joining them in symbolic protests across the city. Mosul is one of the holiest cities of Christianity in the Middle East and the ancient churches of Mosul are some of Christianity's oldest.
At a rally in Baghdad, many Christians who arrived in the city after fleeing the violence of ISIS in the north held up signs that read, "I am Iraqi, I am Christian." They were joined by Muslims expressing solidarity with the Christian community, also holding up the same signs, a report said.
Full report at:
http://www.ibtimes.com/iraqi-christians-fleeing-mosul-persecuted-isis-while-muslims-rally-alongside-protesting-1636322
----------
Africa
Bombs in northern Nigerian city kill 82
Jul 24, 2014
Kaduna, Nigeria - At least 82 people were killed on Wednesday in two bombings in the northern Nigerian city of Kaduna targeting opposition leader and former president Muhammadu Buhari at a busy market and a moderate Muslim cleric about to lead a crowd in prayer.
The attacks bore the hallmarks of Islamist group Boko Haram but may also have been linked to politics ahead of 2015's elections.
The deadlier blast targeted Buhari's convoy at the crowded Kawo market, his son told Reuters on the scene. A Red Cross official said at least 50 people were killed there.
Buhari was the main opposition party contender against President Goodluck Jonathan in the 2011 election and remains a key figure in the opposition alliance. He was riding in an armour plated sports utility vehicle and was not wounded.
A crowd gathered at the scene of the incident, until the military dispersed them by firing shots in the air. Smoke rose from another vehicle destroyed in the blast.
Earlier, a suicide bomber targeting a moderate cleric killed at least 32 of his congregation on a busy commercial road.
Thousands were gathered for prayers with Sheikh Dahiru Bauchi in Murtala Muhammed square, and when his convoy pulled up, the bomber lunged at him before being stopped by his private security, witnesses and police commissioner Shehu Umar Ambursa said.
Kaduna's governor Mukhtar Yero declared a 24 hour curfew on the city until further notice and condemned the bombs as "the height of cowardice".
Full report at:
http://www.iol.co.za/news/africa/bombs-in-kaduna-kill-82-1.1724632#.U9FnAeNdU4U
----------
Saiqa Special Forces Commander calls for reinforcements, wages war against Ansar Al-Sharia
Jul 24, 2014
Saiqa Special Forces Commander, Wanis Bukhamada, has demanded that reinforcements be sent to Benghazi to help crush Ansar Al-Sharia after the attack on the 316 Brigade's headquarters two days ago.
In a statement last night, Bukhamada demanded that all Libyan military forces in the east as well as the Commander-in-Chief of the Libyan Army go to Benghazi to defend it against what he called "terrorists".
He also announced that all Special Forces soldiers were on alert and that they would react strongly to any assault on its camps or on Benghazi.
Full report at:
http://www.libyaherald.com/2014/07/23/bukhamada-calls-for-reinforcements-wages-war-against-ansar-al-sharia/#ixzz38QjYAcMZ
---------
3 killed and 3 in critical condition following Benghazi double suicide bombing
Jul 24, 2014
Three members of Saiqa Special Forces were killed in Benghazi yesterday evening and three others critically injured after a double suicide bombing at their camp in Buatni.
Head of Saiqa Special Forces Investigations Unit Fadel Al-Hassi told the Libya Herald two cars laden with explosives had stormed the gates at Saiqa's main base, a separate premises to the 319 Brigade camp which was attacked by Ansar Al-Sharia on Monday. He said perimeter guards managed to shoot one of the bombers who continued driving some 200 metres into the camp before exploding his device on a football pitch used for recreation. Hassi estimated that the bombs would have been around nine kilograms each in weight.
Full report at:
http://www.libyaherald.com/2014/07/23/three-killed-and-three-in-critical-condition-following-benghazi-double-suicide-bombing/#ixzz38Qjl7WCY
---------
The price of freedom – Libyans are not getting value for money from their militias
By Sami Zaptia
Jul 24, 2014
Under the shadow of militias clashing in various parts of Tripoli, last Monday (21 July) the final results for the House of Representatives' June elections were announced by Libya's High National Election Commission (HNEC).
Today, the outgoing General National Council (GNC) announced that the date for the official handover of power to the newly elected House of Representatives will be Monday 4 August.
Meanwhile, at Thursday's (17 June) meeting in Tripoli between Libya's Caretaker Prime Minister Abdullah Thinni and US ambassador Deborah Jones, both sides stressed the need to hasten . . .
http://www.libyaherald.com/2014/07/23/analysis-the-price-of-freedom-libyans-are-not-getting-value-for-money-from-their-militias/#ixzz38Qjdab2O
---------
India
Fasting Muslim Worker 'Force-Fed': Sena Defiant, Says Issue Politicised
PTI | Jul 24, 2014
MUMBAI: Under fire for a party MP allegedly forcing a fasting Muslim worker to eat, Shiv Sena on Thursday said it was a "protest against mismanagement" at Maharashtra Sadan and held that the entire issue was given a "communal colour only to derive "political mileage" and to "malign" the party's image.
"Shiv Sena respects all religions but will not tolerate if anyone tries to flaunt his religious affiliation for intimidation. One should keep his religion in his heart and in his house. But if someone wears it on sleeve and tries to malign Shiv Sena by playing politics over it, we will not tolerate it," an editorial in party mouthpiece 'Saamana' said.
The editorial launched a scathing attack on the "poor quality of service being rendered at Maharashtra Sadan by the management".
Without naming its MP Rajan Vichare who was seen in a video footage purportedly force-feeding a Muslim caterer, who is fasting during Ramzan, at Sadan during the protest, the editorial said, "Was it wrong to question the injustice?. Was it wrong to question the catering contractor on quality of food served there?
"What is wrong if the Chapati is taken to the mouth of the contractor and he was asked to eat it. It was not written on his face that he was a Muslim. It was just a coincidence. The contractor serves such Chapatis that are difficult to break. How is one supposed to eat such food?" it said.
Full report at:
http://timesofindia.indiatimes.com/india/Muslim-worker-force-fed-Sena-defiant-says-issue-politicized/articleshow/38965756.cms
----------
Muslims in India should unite against subjugation: Hafiz Saeed
TNN | Jul 24, 2014
NEW DELHI: Reacting to the Maharashtra Sadan incident where Shiv Sena MPs force-fed a staffer fasting for Ramzan, Jamaat-ud-Dawa chief Hafiz Muhammad Saeed on Wednesday termed it an "attack on Muslim values" and called for Indian Muslims to "stand up, organize & unite against subjugation". The leader of the Pakistan-based terror outfit issued a series of five tweets with the hashtag #ForcedToBreakFast from his account @HafizSaeedJUD, strongly criticizing the Indian government over the incident.
The alleged mastermind of the 26/11 Mumbai terror attack posted: "#ForcedToBreakFast incident by Shiv Sena MPs is a disgrace to humanity and a direct attack on core Islamic Values. In Modi's govt, these incidents are not a surprise. This 'face' of India resulted in the creation of Pakistan."
Full report at:
http://timesofindia.indiatimes.com/india/Muslims-in-India-should-unite-against-subjugation-Hafiz-Saeed/articleshow/38945393.cms
----------
Two Indians killed in Taliban suicide attack near Kabul airport
Express News Service | New Delhi | July 24, 2014
A day after a Taliban suicide bomber killed five foreign guards in Kabul, it has emerged that two of the victims were Indian nationals. Both were employed as security guards with American company DynCorp in the Afghan capital, official sources confirmed on Wednesday.
The two belonged to Kerala and arrangements were being made to bring back their bodies, the sources said. They were identified as Ponnappan, 52, from Kaduthuruthy village in Kottayam district, and Raveendran from Kozhikode.
Full report at:
http://indianexpress.com/article/world/asia/two-indians-killed-in-taliban-suicide-attack-near-kabul-airport/
----------
In Kerala, Ramzan dates leave bitter taste
K R Rajeev,TNN | Jul 24, 2014
KOZHIKODE: Many families breaking the Ramzan fast with the customary dates may be unwittingly consuming the fruit grown in Israel. The large, succulent Medjool dates, received enthusiastically by rozadars in the belief these are from Jordan, in fact come from Israel, a country hated in the Islamic world for its conflict with Palestinian Arabs. In the past week, Kozhikode has protests over Israel's ground invasion of Gaza.
"The costly Medjool dates come from Israel but these are marketed as produce of Jordan. Last year, the packets had 'Tel Aviv' printed on them and we had to remove these labels. Products from Israel won't be touched here due to popular sentiment against cruelties perpetrated by them against the Palestinians in Gaza," said Mohammed Ashraf, a veteran trader whose family has been importing west Asian dates for several decades.
Full report at:
http://timesofindia.indiatimes.com/india/In-Kerala-Ramzan-dates-leave-bitter-taste/articleshow/38950671.cms
----------
India votes in support of UNHRC resolution on Gaza
Jul 24, 2014
India along with BRICS countries on Wednesday voted in support of a UN Human Rights Council resolution to launch a probe into Israel's offensive on Gaza.
India joined Brazil, Russia, China and South Africa to vote for a Palestinian-drafted resolution on "Ensuring Respect for international law in The Occupied Palestinian Territories, including East Jersusalem".
In the 47-member council, 29 countries voted in support of the resolution while 17 nations abstained.
The U.S. was the only nation to vote against the resolution. European countries abstained.
The voting came as bloodbath in the Gaza Strip continued unabated today with Israel and Hamas refusing to back down in the 16-day conflict that has killed over 680 Palestinians and 31 Israelis.
Full report at:
http://www.thehindu.com/news/national/india-votes-in-support-of-unhrc-resolution-on-gaza/article6243013.ece
----------
India, Pak foreign secys to meet on Aug 25
SUHASINI HAIDAR
Jul 24, 2014
In telephone chat with her counterpart, Foreign Secretary Sujatha Singh calls LoC firing by Pakistan "an impediment to peace."
The Foreign Secretaries of India and Pakistan will meet on August 25 to discuss a road map for dialogue, two years after the Secretary-level bilateral talks.
The date was agreed on when Foreign Secretary Sujatha Singh spoke to her counterpart, Aizaz Ahmad Chaudhury, over the phone on Wednesday afternoon.
The talks, which will be held in Islamabad, are expected to take place a month before Prime Minister Narendra Modi attends the United Nations General Assembly session in New York, where he is expected to meet his Pakistani counterpart, Nawaz Sharif, on the sidelines.
Full report at:
http://www.thehindu.com/news/national/india-pak-foreign-secys-to-meet-on-aug-25/article6242148.ece
----------
India rescues 58 more nurses from troubled Iraq
Jul 24, 2014
India has rescued 58 Indian nurses from violence-hit Iraq in an "extremely difficult" operation, days after rescuing 46 Indian nurses who were in the control of the Sunni jihadists in Tikrit.
Indian external affairs ministry spokesperson Syed Akbaruddin said the 58 nurses were "brought out through the land route" in batches over the last three weeks. The rescue operation was undertaken in "extremely difficult circumstances through friends in Iraq", the spokesperson said.
Full report at:
http://www.thehindu.com/news/national/india-rescues-58-more-nurses-from-troubled-iraq/article6244650.ece
----------
Hizb supremo against protected zones for Pandits
AHMED ALI FAYYAZ
Jul 24, 2014
"We welcome them but they should settle in their native villages and their own homes"
Hizb-ul-Mujahideen's "supreme commander" and Pakistan-based Kashmiri head of the United Jihad Council Syed Salahuddin has opposed the idea of the Kashmiri migrant Pandits' settlement in the Valley's protected enclaves.
Many of the Kashmiri leaders, including Mufti Bashiruddin and the ruling National Conference stalwart Sheikh Nazir Ahmad, have in the recent past issued statements, categorically rejecting the proposal of the displaced Pandits' rehabilitation in protected zones.
"Big conspiracy"
Full report at:
http://www.thehindu.com/news/national/hizb-supremo-against-protected-zones-for-pandits/article6244247.ece
----------
Europe
UN Chief outraged at weapons found in UN school in Gaza
Press Trust of India | United Nations | July 24, 2014
UN Secretary General Ban Ki-moon has expressed his outrage over rockets found in a UN-administered school in Gaza, calling for a full review of the incident which he said could turn schools into "potential military targets" and endanger lives of innocent children.
Rockets, found in a United Nations Relief and Works Agency for Palestine Refugees in the Near East (UNRWA) school in Gaza subsequently went missing. Ban demanded that militants groups, who are responsible must stop such actions and should be held accountable for endangering the lives of civilians.
The Secretary-General is "alarmed to hear that rockets were placed in an UNRWA school in Gaza and that subsequently these have gone missing. He expresses his outrage, and regret, at the placing of weapons in a UN-administered school," a statement issued by his spokesperson said.
Full report at:
http://indianexpress.com/article/world/middle-east-africa/un-chief-outraged-at-weapons-found-in-un-school-in-gaza/
---------
Young Islamic State robs al-Qaida of militant prestige
Jul 24, 2014
DUBAI – In hiding, targeted by drone strikes and unable to land a blow in the West, al-Qaida's aging leaders are losing a power struggle with ultra-radical young militants in Iraq and Syria who see themselves as the true successors to Osama bin Laden.
The shadowy network that targeted the West and its Arab allies for almost a generation is increasingly seen as stale, tired and ineffectual on the hardcore jihadi social media forums and Twitter accounts that incubate potential militant recruits.
Western officials insist the network is still a top threat, in part because turmoil in Arab states gives it scope to organize: Its affiliates in Syria and Yemen include experienced guerrillas and expert bomb makers.
But many young Islamists who were of school age at the time of the Sept. 11 2001 attacks on the United States now look for inspiration not to al-Qaida, whose leader, Ayman al-Zawahri, is in his mid-60s, but to a Sunni Muslim group styling itself a caliphate.
Full report at:
http://www.nytimes.com/reuters/2014/07/23/world/middleeast/23reuters-iraq-security-qaeda.html
----------
UK Muslim charities shift focus to local aid
Jul 24, 2014
London, UK - Austerity policies that have worsened poverty in the UK are fuelling a fundamental shift in the activity of Muslim philanthropic organisations for whom charity, increasingly, begins at home. The traditional focus on giving to international causes is now being matched by growing attention to helping the needy within Britain itself.
One outcome of this pioneering change - which also reflects how a younger generation of charity leaders interpret Islamic obligations - is that the recipients are increasingly likely to be non-Muslims.
"We are finding that we are getting a lot more requests for food drives that support food banks," said Sughra Ahmed, president of the Islamic Society of Britain (ISB). "While there are regular activities collecting non-perishable items, we're now being asked much more now by food banks if we can support them over and above what we are already doing, especially during Ramadan."
Full report at:
http://www.aljazeera.com/indepth/features/2014/07/uk-muslim-charities-shift-focus-local-aid-20147229022190995.html
----------
UN's Navi Pillay warns of Israel Gaza 'war crimes'
Jul 24, 2014
The UN's top human rights official has condemned Israel's military actions in the Gaza Strip, saying that war crimes may have been committed.
Navi Pillay told an emergency debate at the UN Human Rights Council in Geneva that Israel's military offensive had not done enough to protect civilians.
She also condemned Hamas for "indiscriminate attacks" on Israel.
Israel launched its offensive on 8 July with the declared objective of stopping rocket fire from Gaza.
"There seems to be a strong possibility that international law has been violated, in a manner that could amount to war crimes," Ms Pillay said.
However Israel, which claims the UN Human Rights Council is biased, is unlikely to co-operate with any authorised UN investigation, the BBC's Imogen Foulkes in Geneva reports.
Israel's Justice Minister, Tzipi Livni, said her country was acting according to international law.
Full report at:
http://www.bbc.co.uk/news/world-middle-east-28437626
----------
West, Muslim rulers criticised over silence
Jul 24, 2014
LAHORE: Speakers at a seminar warned that the US policy of rewarding Tel Aviv for massacring unarmed Palestinian civilians would lead the world to a human and security disaster.
Despite the fact that Tel Aviv occupied Palestine in violation of international laws and had been driving the natives out of their land to achieve total occupation of the Arab territory, the US and other Western countries were extending full backing to its unabashed terrorism, they said while addressing a seminar titled 'Problems of Muslim Ummah' held under the aegis of Mir Khalilur Rehman Memorial Society (MKRMS) and Imamia Organisation on Wednesday.
They also called for observing the Al-Quds day on Jumatul Wida (last Friday in the month of Ramazan) with traditional zeal and spirit to highlight the Palestine issue of its occupation by Zionists and the need to liberate it back in order to realise the Muslim honour.
Full report at:
http://www.thenews.com.pk/Todays-News-13-31816-West-Muslim-rulers-criticised-over-silence
----------
Mideast
Turkey welcomes UN's panel decision to probe Israel's war crimes
Jul 24, 2014
Turkish Foreign Minister Ahmet Davutoğlu has welcomed a U.N. Human Rights Council decision to investigate possible war crimes committed by Israel in Gaza, repeating his call upon Israel to stop its "inhumane attacks" in Gaza.
"We welcome the decision taken by the U.N. Human Rights Council to investigate Israel's war crimes in Gaza," Davutoğlu said on his Twitter account July 24.
Davutoğlu said the process at the U.N. panel was launched upon Turkey's initiative and that Turkey was determined to pursue the process.
"Israel's atrocities in Gaza should be immediately investigated and the results should be shared with the international community," he said. "We call upon Israel once again to stop its inhumane attacks in Gaza."
The U.N. Human Rights Council investigated Israel's attacks on Gaza in 2009 and accused both Israel and Hamas of committing war crimes.
http://www.hurriyetdailynews.com/turkey-welcomes-uns-panel-decision-to-probe-israels-war-crimes.aspx?pageID=238&nID=69545&NewsCatID=510
----------
Hamas rejects Gaza truce despite Turkey's fresh bid
Jul 24, 2014
Turkey has been working behind the scenes to bring a cessation to hostilities to the conflict between Hamas and Israel in Gaza, leaning on the Hamas leader to agree to a truce pending negotiations on a more thorough settlement, before the Palestinian group rejected the latest bid.
In a visit to Ankara last week, Palestinian President Mahmoud Abbas asked Turkish Prime Minister Recep Tayyip Erdoğan to convince Hamas' Khaled Mashaal to accept an immediate cease-fire deal with Israel, Palestinian Ambassador to Turkey Nabil Maarouf told the Hürriyet Daily News on July 23.
Maarouf added that Erdoğan discussed the matter with Mashaal by phone on the same night.
"Erdoğan, at midnight Sahur time, talked with Mashaal to convince him. On the second day, someone from here went to Doha to meet Mashaal for the same purpose," he said, noting that Turkish leaders agreed with Abbas' suggestion that Hamas should first agree to an immediate truce before negotiating the terms of the deal.
Full report at:
http://www.hurriyetdailynews.com/hamas-rejects-gaza-truce-despite-turkeys-fresh-bid.aspx?pageID=238&nID=69536&NewsCatID=510
----------
PM Erdoğan: No concessions made during Kurdish peace process
Jul 24, 2014
Prime Minister Recep Tayyip Erdoğan said July 22 he had never made concessions during the ongoing process to find a solution to the Kurdish problem, addressing the relatives of fallen soldiers at an iftar dinner in Ankara.
"We have made significant progress in the resolution process so far. We have not had any fallen soldiers recently as a result. I want to emphasize this once again: No concessions have been made in any way. We have never shaken hands with the leader of the terror [a phrase widely used for Abdullah Öcalan, the imprisoned leader of the outlawed Kurdistan Workers' Party] or terrorists, unlike some politicians have claimed," Erdoğan said.
Full report at:
http://www.hurriyetdailynews.com/pm-erdogan-no-concessions-made-during-kurdish-peace-process.aspx?pageID=238&nID=69513&NewsCatID=338
----------
Gaza reporters' tweets: Hamas using human shields
Jul 24, 2014
Several journalists from around the world reported seeing rockets fired from civilian areas in Gaza in recent days, and received threatening tweets in return accusing them of "informing" the IDF.
On Wednesday, Peter Stefanovic of Australia's Channel Nine News tweeted: "Hamas rockets just launched over our hotel from a site about two hundred metres away. So a missile launch site is basically next door."
An account called @ThisIsGaza said this was Stefanovic's fourth time "passing and fabricating information to Israel... from GAZA" and threatened to sue him.
Another account, @longitude0 wrote: "You are a cretin. Are you working for the IDF" and "in WWII spies got shot."
Full report at:
http://www.jpost.com/Operation-Protective-Edge/Gaza-reporters-tweets-Hamas-using-human-shields-368689
----------
Iran's supreme leader calls for end to "murderous" Israeli regime
Jul 24, 2014
Iran's supreme leader Ayatollah Ali Khamenei called for a referendum canvassing the Arabs and Jews that live in Israel in order to end the "Zionist state", but said until such a vote could be held, armed resistance was necessary.
Khamenei and his predecessor the Ayatollah Rouhollah Khomeini have called repeatedly over the years for an end to Israel, including through a referendum in the region, where Palestinians are in the majority.
In his first official comments on Israel since the start of its offensive on the Gaza Strip on July 8, Khamenei reiterated the call.
"There are logical and practical means to this end, which is for people who live and belong there to pick the government of their choice through a referendum. That would be the end of a usurping fake regime," Khamenei, who has the last word in all matters in Shi'te Muslim Iran, said in a speech to university students in Tehran on Wednesday.
Full report at:
http://english.ahram.org.eg/NewsContent/2/8/106949/World/Region/Irans-supreme-leader-calls-for-end-to-murderous-Is.aspx
----------
Family of six, including two children, killed in Gaza: Medics
July 24, 2014
GAZA CITY: A family of six, including two young children, was killed on Thursday in an Israeli air strike in the south of the Gaza Strip, Palestinian emergency services said.
"Six members of the Al-Aftal family, including a five-year-old girl and a boy of three, were killed," said emergency services spokesperson Ashraf al-Qudra, bringing the number killed Thursday to 18.
http://tribune.com.pk/story/740305/family-of-six-including-two-children-killed-in-gaza-medics/
----------
IAF hits 35 targets overnight; ground forces kill several Hamas operatives, take prisoners
Jul 24, 2014
As Operation Protective Edge entered its 17th day on Thursday, the IDF saw significant gains but stated that more time is needed to achieve its mission objectives in Gaza.
Overnight operations saw the IDF take at least 150 terror suspects prisoner after they surrendered to Israeli forces in the neighborhoods of Khan Younis and Rafah in the Gaza Strip.
The prisoners will be transferred to the Shin Bet for questioning regarding the movements and operations of Hamas in Gaza, said IDF Spokesman Brig.-Gen. Moti Almoz. Army Radio reported that some of the prisoners have already been released after questioning.
Renewing operations after a lull that allowed for the Red Cross to carry out humanitarian activities, the IAF destroyed 35 targets overnight while ground forces discovered several more tunnels.
Full report at:
http://www.jpost.com/Operation-Protective-Edge/IAF-hits-35-targets-overnight-ground-forces-kill-several-Hamas-operatives-take-prisoners-368709
----------
Palestinian Islamic Jihad member: Egypt should back Hamas, end media incitement
Jul 24, 2014
A leading member in the Palestinian Islamic Jihad movement has demanded that the Egyptian regime back Hamas and the Islamic Jihad movement, saying it has been always embraced national liberation movements in the past.
"Maybe Hamas made a mistake when it did not fully understand the crisis of the Muslim Brotherhood and the Egyptian regime after 30 June 2013. [But] it is important to understand that Hamas is a national liberation movement whose main cause is to liberate the occupied Palestinian territories," Khaled El-Batash told Al-Ahram Arabic news website Wednesday.
The relationship between Hamas and the Egyptian regime after 30 June went from bad to worse, particularly after the designation of Muslim Brotherhood as a terrorist organisation.
Ousted Islamist president Mohamed Morsi is currently standing trial on charges of espionage and collaborating with foreign parties, including Hamas. In March, the Cairo Court for Urgent Matters ordered the temporary closure of Hamas's offices and the banning of its activities in the country.
Full report at:
http://english.ahram.org.eg/NewsContent/1/64/106916/Egypt/Politics-/Leading-Palestinian-Islamic-Jihad-member-Egypt-sho.aspx
----------
Israeli President says Qatar 'world's largest financer of terrorism'
Jul 24, 2014
Israeli President Shimon Peres said on Wednesday that Qatar had become the "world's largest financer of terrorism", during a meeting with UN Secretary-General Ban Ki-moon, currently in Israel leading international efforts to secure a ceasefire, Israeli media reported.
He added that Qatar does not have the right to finance missiles that "hooligans [Hamas]" direct towards "innocent civilians".
The Israeli president called on the UN Human Rights Council to denounce terrorism in its emergency meeting held early Wednesday.
On the other hand, UN Human Rights Council chief Navi Pillay said that Israel may be committing war crimes in Gaza.
Citing Israeli air strikes on the coastal enclave, she said: "These are just a few examples where there seems to be a strong possibility that international humanitarian law has been violated, in a manner that could amount to war crimes.
Full report at:
http://english.ahram.org.eg/NewsContent/2/8/106897/World/Region/Peres-says-Qatar-worlds-largest-financer-of-terror.aspx
----------
56 mosques, 7 hospitals hit in Israeli offensive
Jul 24, 2014
Defying mounting calls for restraint and a UN vote to investigate its deadly offensive in Gaza, Israel pushed on with its air strikes early Thursday, killing at least 18 more mostly civilians and raising the Palestinian death toll to more than 700.
Palestinian emergency services said the latest casualties include a family of six, including two young children, who were killed in an Israeli air strike in the south of the Gaza Strip.
"Six members of the Al-Aftal family, including a five-year-old girl and a boy of three, were killed," said emergency services spokesman Ashraf Al-Qudra, bringing the number killed Thursday to 18.
Israeli forces have also succeeded in destroying at least 475 houses and 2,644 have been partially damaged. Some 46 schools, 56 mosques and seven hospitals had also suffered varying degrees of destruction, say Palestinian officials.
Full report at:
http://www.arabnews.com/news/606821
--------
Pakistan
Clerics continue to use unauthorised FM transmissions to spread their message
July 24, 2014
PESHAWAR: The trend of running FM radio stations from mosques and madrassahs — a status symbol for the clergy in Khyber-Pakhtunkhwa — did not come to an end after Maulana Fazlullah went off air and west of Swat. Illegal FM stations continue, albeit on a small scale, without inviting much attention from authorities.
City FM
There are at least three such stations in Mattani village; two regularly air wa'az (sermons) during Ramazan. Often the airplay includes a daras (lecture) or Quranic tafseer.
"There are three rival madrassahs in our village which have an FM radio station of their own since 2004 and they regularly preach their own viewpoint on air," an elder from Mattani village told The Express Tribune. In most cases, the sermon is aired in the evening. However, one enthused madrassah runs a morning show from 9am to noon during Ramazan.
"There is an influential cleric who started this practice in 2004 but it's rumoured that security forces directed him to keep his channel off air, threatening strict action otherwise," he added. The cleric's brother still operates his own FM channel while a rival Barelvi madrassah also has a station which is not frequently on air but does run the odd Ramazan broadcast.
Full report at:
http://tribune.com.pk/story/740003/clerics-continue-to-use-unauthorised-fm-transmissions-to-spread-their-message/
----------
Suspected links with militants: Hunt for suspects disguising as displaced persons
July 24, 2014
PESHAWAR: Law-enforcing and intelligence agencies are hunting for tribesmen registered as internally displaced persons (IDPs) but suspected to have links with militants, including Tehreek-e-Taliban Pakistan (TTP), The Express Tribune has learnt.
The tribesmen, picked up from different areas of Bannu, belong to North Waziristan Agency where Operation Zarb-e-Azb has been under way since mid-June. "Now these people are being interrogated by various government officials," said an official, requesting not to be named.
Most of the detained men belong to Mirali area, while some of them are from Data Khel, an area considered a stronghold of militant commander Hafiz Gul Bahadur, who had signed an agreement with the government through tribal elders on September 5, 2006.
According to information collected so far, around 10 tribesmen belonging to Mirali have been picked up and shifted to undisclosed locations by personnel of secret and law-enforcing agencies from different parts of Bannu.
Full report at:
http://tribune.com.pk/story/740176/suspected-links-with-militants-hunt-for-suspects-disguising-as-displaced-persons/
----------
Pakistan seeks UNSC resolution against Israeli offensive
Jul 24, 2014
UNITED NATIONS: Lamenting inaction by UN Security Council on Gaza, Pakistan asked it to act by adopting a resolution that would call for an immediate and unconditional ceasefire, halt Israeli air, ground and naval offensive and remove Israeli forces from Gaza.
"People all around the world wonder why on Gaza it (UN Security Council) has been able to produce only a press statement or just elements for the press and not a resolution", Pakistan's UN Ambassador Masood Khan said.
Participating in a debate on "Situation in the Middle East, including the Palestinian Question", Mr Khan urged the Security Council to play its role in ending the blockade of Gaza, opening its border, and release of Palestinian prisoners.
Ambassador Khan said that the people in Pakistan have expressed their solidarity with the entrapped and embattled people of Gaza through protests, rallies and resolutions.
http://www.dawn.com/news/1121200/pakistan-seeks-unsc-resolution-against-israeli-offensive
----------
Zarb-e-Azb: Over billion rupees distributed among IDPs
July 24, 2014
Islamabad- The federal government has disbursed over 1,047 million rupees among the IDPs of North Waziristan Agency.
According to FATA Disaster Management Authority, 22,941 IDPs families have received cash assistance.
16,114 fresh SMSs have been sent to the IDPs to collect their cash assistance through mobile SIMs.
Meanwhile, the Khyber Pakhtunkhwa government under its Eesaar Programme has given cash assistance of 102.5 million rupees to the IDPs. The IDPs have been advised to contact Provincial Disaster Management Authority Office Peshawar through toll free number if they face any difficulty in receiving the cash assistance. The toll free number is 0800-80045.
http://www.nation.com.pk/national/24-Jul-2014/zarb-e-azb-over-billion-rupees-distributed-among-idps
----------
Former CJ Chaudhry Iftikhar sends defamation notice to Imran Khan
July 24, 2014
Islamabad- Former Chief Justice Supreme Court, Iftikhar Muhammad Chaudhry, has send defamation notice of Rs. 15 billion to PTI Chief Imran Khan for leveling allegations against him.
Talking to media, lawyers representing Ex-CJ said the defamation notice being served to Imran Khan, seeking to apologize within 15 days and withdraw his statement against Iftikhar Chaudhry. PTI chief had accused former chief justice of poll rigging in the 2013 general election.
http://www.nation.com.pk/national/24-Jul-2014/former-cj-chaudhry-iftikhar-sends-defamation-notice-to-imran-khan
----------
South Asia
Taliban kills the abducted religious cleric in Helmand
Jul 24, 2014
Taliban militants killed a religious cleric in southern Helmand province of Afghanistan, on charges of having links and cooperation with the government.
The provincial government media office said Wednesday that the religious cleric – Mawlavi Hashim was initially abducted by Taliban militants on Monday night.
A statement released by provincial government media office said Mawlavi was later shot dead by Taliban after accusing him of having relations with the government.
The statement further added that Mawlavi Hashim was an ordinary civilian and did not have any link with the government.
The Taliban militants group has not commented regarding the report so far.
Helmand is among the volatile provinces in southern Afghanistan where anti-government armed militant groups are actively operating and frequently carry out insurgency activities.
http://www.khaama.com/taliban-kills-the-abducted-religious-cleric-in-helmand-6461
----------
Envoy to Saudi Arabia: 21m Chinese Muslims fast in Ramadan
Jul 24, 2014
An estimated 21 million Chinese Muslims fast during the holy month of Ramadan and are allowed under the country's constitution to freely practice other Islamic rituals, according to the Chinese ambassador to Saudi Arabia.
Li Chengwen told Arab News here recently that these Muslims are from 10 ethnic minorities in the country.
He was speaking to congratulate Muslims here ahead of upcoming Eid Al-Fitr celebrations.
"Freedom of faith is the legitimate right of citizens and explicitly protected by the constitution and other laws in China," Li said.
He said that he understands the importance of Ramadan for Muslims, who fast to empathize with the plight of the poor, and engage in prayers and charitable acts to increase their spirituality.
Full report at:
http://www.arabnews.com/news/saudi-arabia/606751
--------
PM: Bangladesh to stop child marriage by 2021
Jul 24, 2014
The government has taken up the target to eliminate child marriage from the country by 2021, Prime Minister Sheikh Hasina has said.
In an interview to the BBC Bangla, she said her government had already taken different steps to stop child marriage, and plans for enacting a law that would prevent marriages of children under the age of 15.
The rate of child marriage had been brought down to 17% from 52%, the premier claimed, adding that efforts to build better awareness as well as "focusing more on female education has brought the number down." She also urged all parents to provide education to their children, irrespective of their gender.
Full report at http://www.dhakatribune.com/bangladesh/2014/jul/24/pm-bangladesh-stop-child-marriage-2021#sthash.Ec1Npdd8.dpuf
----------
Students of the State University of Bangladesh stages human chain protesting Gaza 'genocide'
Jul 24, 2014
The students of the State University of Bangladesh(SUB) have staged a human chain, protesting "Israeli genocide in Gaza to eliminate Palestinians."
The students of the department of Journalism, Communication & Media Studies (JCMS) poured down in front of Bijoy Campus in Kalabagan with protest banners and placards, demanding 'stop genocide' in Gaza.
Dean of Business Studies Professor Dr Ashraful Islam Chowdhury, Professor & Advisor of JCMS Robaet Ferdous; faculty members, officials participated in the protest chain.
The human chain was presided over by JCMS chairman Sajeeb Sarker.
During the protest, Professor Robaet Ferdous said: "Meanwhile, Israel has murdered more than 500 innocent civilians and 70% of them were children. This is not acceptable. We protest against it and world leaders must ask Israel to stop doing all these killings."
http://www.dhakatribune.com/bangladesh/2014/jul/23/sub-stages-human-chain-protesting-gaza-genocide#sthash.xKe6x0PN.dpuf
----------
Afghanistan blames Pakistan for militant attacks
Jul 24, 2014
KABUL: The Afghan intelligence service accused Pakistan on Wednesday of stoking instability in the country by backing militants who stage attacks in Afghanistan.
Spokesman Hasib Sediqi of the National Directorate for Security charged that recent attacks in Afghanistan were planned in Pakistan, allegedly with the support of Inter-Services Intelligence.
Pakistan has denied such accusations in the past.
Mr Sediqi offered no evidence for his claims.
He alleged that Pakistan's military campaign against militants in the North Waziristan border region had made no progress because the ISI had warned the area's Haqqani militants ahead of launching the campaign.
The Haqqani network is an Al Qaeda-affiliated Taliban group active in Afghanistan and based in North Waziristan.
Full report at http://www.dawn.com/news/1121203/afghanistan-blames-pakistan-for-militant-attacks
----------
Afghan policeman sentenced to death for killing foreign journalist
Jul 24, 2014
An Afghan policeman who shot dead a foreign female journalist, was sentenced to jail by a court in capital Kabul on Wednesday.
The policeman, Naqibullah opened fire on Associated Press (AP) photographer Anja Niedringhaus in eastern Afghanistan during the first round of election.
Another AP correspondent Kathy Gannon was also critically injured following the incident which took place in eastern Khost province earlier in April this year.
The first verdict was announced by Kabul District Court where Naqibullah was found guilty of murder and treason over the attack.
Naqibullah was also sentenced to fours in prison for critically injuring the AP reporter Kathy Gannon.
Full report at http://www.khaama.com/afghan-policeman-sentenced-to-death-for-killing-foreign-journalist-6463
----------
Maldives MPs clash over amendments to Human Rights Commission Act
By Ahmed Naish | July 23rd, 2014
Pro-government MPs clashed with MPs of former coalition partner Jumhooree Party (JP) and opposition Maldivian Democratic Party (MDP) today over amendments proposed to the Human Rights Commission of Maldives (HRCM) Act of 2006.
During debate on the government-sponsored amendments, JP MP for Dhagethi, Ilham Ahmed, objected to giving powers to the HRCM to suspend employees of state institutions for two weeks for not complying with the commission's orders.
The proposed amendment to Article 26(b) of the HRCM Act also confers the authority to impose a fine of between MVR3, 000 (US$195) and MVR25,000 (US$1,621) for non-compliance.
The JP deputy leader contended that the powers could be misused to either arbitrarily fine or "bring into disrepute" a state employee over "simple matters," adding that HRCM members would be "under the control" of the majority party in parliament.
Full report at http://minivannews.com/politics/mps-clash-over-amendments-to-human-rights-commission-act-88840
----------
North America
As Much of the World Frowns on Israel, Americans Hold Out Support
Jul 24, 2014
WASHINGTON — As Israel's incursion into Gaza enters its third week and Palestinian civilian deaths mount, reaction in the United States has been muted, with polls through last weekend showing most Americans still supportive — in part, analysts say, because of the failures of the Arab Spring to spread democracy in the Middle East. But in a situation long familiar, Israel is losing the public relations war outside the United States.
On Wednesday, the United Nations Human Rights Council voted to authorize a commission of inquiry into alleged war crimes in Gaza. (The United States was the sole "no" vote.) The United Nations' top human rights official raised what she called the "strong possibility" that Israel and Hamas have committed war crimes with indiscriminate attacks on civilians, and the drumbeat from world leaders and demonstrators pointed to the lopsided number of Palestinian casualties — more than 650, most of them civilians — versus 32 Israeli casualties, most of them soldiers.
On Tuesday, Prime Minister Recep Tayyip Erdogan of Turkey donned Palestinian garb and denounced Israel as "cruel" for its attacks on Gaza. Pro-Palestinian demonstrations are continuing in Paris, Berlin, Vienna, Amsterdam and other European cities, some of them assuming an anti-Semitic tinge. An anonymous cartoon of President Obama shielding Israel from world criticism as it stomped on Gaza was making the rounds on social media networks.
Full report at
http://www.nytimes.com/2014/07/24/world/middleeast/as-much-of-the-world-frowns-on-israel-americans-hold-out-support.html
----------
US, Pakistan review operation against Taliban
Jul 24, 2014
WASHINGTON: Senior US and Pakistani officials reviewed the military operation against militants in North Waziristan during a visit to the State Department by a top official representing the government.
At the meeting between Special Assistant to the Prime Minister on Foreign Affairs Syed Tariq Fatemi and US Deputy Secretary of State Bill Burns, Pakistan's commitment to targeting all Taliban militants, including those of the Haqqani network, was also discussed.
The Americans complain that Pakistan allowed Haqqani militants to escape to Afghanistan before it launched the operation. Mr Fatemi assured the Americans that the military was targeting all Taliban militants, "irrespective of their nationality, ethnicity or group affiliation".
While talking to the media, Mr Fatemi pointed out that Operation Zarb-i-Azb involved more than 175,000 troops and such a huge operation could not be launched quietly. The troop movement and other preparations, he said, might have alerted some militants and they might have left North Waziristan before the operation started.
Full report at
http://www.dawn.com/news/1121206/us-pakistan-review-operation-against-taliban
----------
U.S. lawmakers ask FIBA to review its policy on Sikh turbans
Jul 24, 2014
Appalled by reports that Sikh players from India were asked to remove their turbans at an international basketball match, top U.S. lawmakers have launched a campaign asking FIBA to review the discriminatory policy.
"We are concerned about recent reports indicating that Sikhs are not able to participate in International Basketball Federation (FIBA) games while wearing a turban, which is essential to their faith, and ask you to change this discriminatory policy," said a letter addressed to Yvan Mainini, FIBA president.
Led by Congressman Joe Crowley, the letter began circulating at the U.S. Congress on Wednesday. Indian-American Congressman Ami Bera has signed the letter as co-lead.
"We hope that you will carefully re-examine the existing policy with respect to Sikh turbans and support a change when FIBA's Central Board next meets," the letter said. It would soon be sent to FIBA headquarters in Switzerland.
Full report at
http://www.thehindu.com/news/international/world/us-lawmakers-ask-fiba-to-review-its-policy-on-sikh-turbans/article6244505.ece
----------
Pakistani American scholar traverses through Europe with team of experts to forge peace
Jul 24, 2014
HEIDELBERG, GERMANY: Ibn Khaldun, Ibn Batuta, Al-Ghazali and others are but a few of the great scholars who sat on their transports and left the comforts of their homes to travel the world, armed only with the bare essentials, a notebook and pen.
This journey is founded on and progressing in line with a similar philosophy – to seek knowledge and increase understanding. This research endeavor is called Journey into Europe and it is part of a longitudinal study based on a quartet (the first being Journey into Islam, the second, Journey into America, the third, the award winning, The Thistle and the Drone and this being the fourth research project). The leader and principal investigator of these projects is very appropriately the Ibn Khaldun Chair of Islamic Studies at the American University in Washington DC, Ambassador Akbar S. Ahmed.
Full report at
http://www.americanbazaaronline.com/2014/07/22/pakistani-american-scholar-akbar-ahmed-traverses-europe-team-muslim-experts-forge-peace/
----------
Wartime unity conceals political differences among American Jews
Jul 24, 2014
Political differences among the main American Jewish denominations and organizations have been put on the back burner during Israel's Gaza incursion, indicating the emergence of a rare consensus.
"There is across the board solidarity," Malcolm Hoenlein, the executive vice chairman of the Conference of Presidents of Major American Jewish Organizations, told The Jerusalem Post on Wednesday.
Over the past several days, a number of US Jewish organizations, including a number of traditionally liberal and dovish groups, have issued statements of unqualified support for Israel's invasion of the coastal territory.
Groups such as B'nai B'rith and the Anti-Defamation League have publicly endorsed Operation Protective Edge, while Rabbi William Gershon, the president of the Conservative movement's Rabbinical Assembly, called for Hamas to be "isolated, removed from power and structurally dismantled."
Full report at
http://www.jpost.com/Jewish-World/Jewish-Features/Wartime-unity-conceals-political-differences-among-American-Jews-368695
---------
Southeast Asia
Say no to a 'liberal democratic' country, Isma tells Malaysians
JULY 24, 2014
KUALA LUMPUR, July 24 — Islamist group Ikatan Muslimin Malaysia (Isma) Malaysians must stop the country from becoming a "liberal democratic" nation, alleging that it is a plot by the so-called global Zionist movement.
The group's president Abdullah Zaik Abd Rahman said Malaysia must remain a country with a "Malay identity" since the Malays are allegedly the original settlers, and must remain with Islam in paramount position.
"As long as Malaysia has not become a liberal democratic country, it will be pressured through various channels. When Malaysia becomes liberal democratic, it will be as if the citizens will get their power back and can choose their own future," Abdullah was quoted in the group's website.
"But in reality, those in power will seize the profit from the situation by adopting agenda which will transform the Malay-Muslim identity of this country."
He also stressed that the Zionists will use their agents and the media to dilute Malaysia's Islamic identity.
Full report at
http://www.themalaymailonline.com/malaysia/article/say-no-to-a-liberal-democratic-country-isma-tells-malaysians#sthash.9w3zUtTX.dpuf
----------
In congratulatory message, DAP urges Jokowi to end Indonesia's slash-and-burn
JULY 24, 2014
KUALA LUMPUR, July 24 — Malaysia's opposition DAP is looking to Indonesia's newly-elected president Joko "Jokowi" Widodo to stop the illegal open-burning to clear land in the republic which leads to the annual haze plaguing Southeast Asia.
In a statement today, Lim Guan Eng congratulated Jokowi on his victory in the hotly-contested Indonesian presidential polls, calling the latter a "reformist" who could show Malaysian leaders how to win an election and regain market confidence with his commitment to fight corruption.
"For Malaysia, the immediate consideration is for Jokowi to adopt effective and concrete measures to stop the haze pollution coming in from Indonesia as a result of illegal forest burnings in Sumatera and Kalimantan by unscrupulous businessmen clearing land for oil palm estates," the DAP secretary-general said.
Full report at
http://www.themalaymailonline.com/malaysia/article/in-congratulatory-message-dap-urges-jokowi-to-end-indonesias-slash-and-burn#sthash.K56VnQE7.dpuf
----------
Thailand demands Israel relocate Thai workers from near Gaza
Jul 24, 2014
The government in Thailand urged Israel on Thursday to relocate the 4,000 Thai nationals currently employed in southern Israel near the Gaza border, according to a report by AFP.
The demand comes a day after a Thai national was killed by shrapnel from a mortar shell launched by Hamas in Gaza. The mortar exploded in a greenhouse and a shrapnel fragment fatally wounded the man in his neck.
The Thai man became the third civilian fatality in Israel since Operation Protective Edge began.
"The Thai Embassy has contacted the Israeli Foreign Ministry and employers to ask them to relocate 4,000 Thai workers in agriculture estates near the Gaza strip immediately and unconditionally to safe areas 10 to 20 kilometers away," AFP quoted Thailand's Foreign Ministry Spokesman Sek Wannamethee as telling reporters in Bangkok.
Full report at
http://www.jpost.com/Operation-Protective-Edge/Thailand-demands-Israel-relocate-Thai-workers-from-near-Gaza-368717
----------
Putrajaya offers special grave site for MH17 Muslim victims
Jul 24, 2014
KUALA LUMPUR, July 24 — The Malaysian government will be providing a special grave site in Putrajaya for Muslim victims of the downed Malaysia Airlines (MAS) flight MH17, Minister in the Prime Minister's Department Datuk Seri Jamil Khir Baharom said.
The special site has been identified at the burial ground, and victims' families will then have a choice whether to have the bodies buried in Putrajaya or in their respective hometowns.
"Putrajaya Corporation is also prepared to allocate graves at the burial ground in Presint 20 for the victims if there are requests from their families," Jamil Khir was quoted saying today by news portal The Star Online.
The minister in charge of Islamic religious affairs said the remains of the victims will be flown back to Malaysia and the appropriate funeral arrangements made once the forensic teams in the Netherlands complete the identification process.
Full report at
http://www.themalaymailonline.com/malaysia/article/putrajaya-offers-special-grave-site-for-mh17-muslim-victims#sthash.JovHbHfY.dpuf
----------
The Battle Against Child Abuse in Indonesia's Homes, Schools a Collective Effort
Jul 24, 2014
Thirteen-year old Tedi, a junior high school student in the village of Tobelo on the Maluku Island's North Halmahera, could not help but notice the alarmingly common practice of physical abuse toward children happening within school areas, regardless the mistake made by its students.
"Why should children be victims of abuse?" he asked during an Inspiring Friends (SSI) workshop at the school aimed at raising awareness about child protection. The local institution has been a vocal advocate of the sensitive issue, providing consultation, organizing forums and educating the community on matters concerning the well-being of children.
Upon hearing the question, five young participants aged between 12 and 15 years old, fell silent as a petrified look crossed their faces. Finally one gathered the courage to speak up: "We don't know either. Maybe [those children] have been bad at home and at school."
The explanation sparked a new question.
Full report at
http://www.thejakartaglobe.com/news/battle-child-abuse-indonesias-homes-schools-collective-effort/
----------
URL: https://www.newageislam.com/islamic-world-news/new-age-islam-news-bureau/an-iraqi-german-woman-qurtuba-adnan-al-thahir-bids-to-be-iraq's-president/d/98281