New Age Islam News Bureau
29 Nov 2018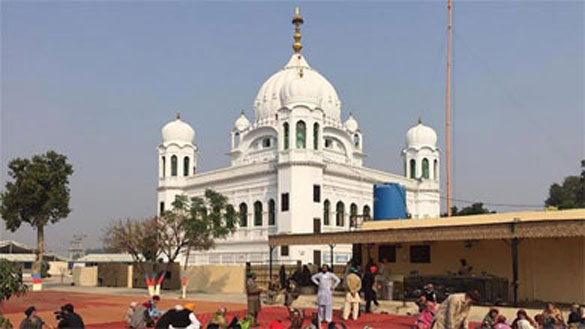 Sikh Pilgrims sit in front of Kartarpur Gurdwara Sahib before the groundbreaking ceremony of the Kartarpur
-----
• Amid Tense Bilateral Ties, India and Pakistan Agree To Provide a Visa-Free Corridor for Sikh Pilgrims
• Let's Give Peace a Chance, Pakistan Tells India
• Stop Jamaat, Shibir, Hefazat: US Congressman to Bangladesh
• Muslim World League Chief Receives Egyptian Coptic Bishop
• UN Secretary General Willing To Meet Saudi Crown Prince at G20 Summit
India
• Amid Tense Bilateral Ties, India and Pakistan Agree To Provide a Visa-Free Corridor for Sikh Pilgrims
• AMU's Character Is Not Minority but Democratic: Salman Khurshid
• J-K: Two Hizbul militants killed in encounter in Awantipora
• LeT commander behind Shujaat Bukhari's murder killed near Srinagar
• India slams Imran Khan for 'politicising' Kartarpur event by raking up Kashmir
• Pak Army chief's handshake with pro-Khalistan leader at Kartarpur corridor event triggers row
• Terrorism in India can be tackled if Pakistan leadership works sincerely: Rajnath Singh
--------
Pakistan
• Let's Give Peace a Chance, Pakistan Tells India
• US Eases Fears Pakistan Will Use IMF Loans to Clear China Debt
• ANP hails opening of Kartarpur Corridor
• Plea against Rizvi's detention dismissed as withdrawn
• Kartarpur corridor to pave way for Indo-Pak talks, says Qureshi
• Kartarpur corridor 'a step towards peace': COAS
• Pakistani foreign ministry releases statement after High Commission in Dhaka burgled
--------
North America
• Stop Jamaat, Shibir, Hefazat: US Congressman to Bangladesh
• Israel 'One Reason' For US Troops to Remain In Region: Trump
• Virginia man pleads guilty in Muslim teen's death, will carry life sentence
• Pompeo: US-Saudi partnership is vital in rooting out Iranian regime, ISIS
• Senate agrees to debate US Role in Yemen war
• US asks UN to hold off UK-drafted resolution on Yemen truce
--------
Arab World
• Muslim World League Chief Receives Egyptian Coptic Bishop
• Saudi Arabia Pledges $50 mln to UN Palestinian Refugee Agency
• Iraqi Artillery Units Pound ISIL's Positions in Syria
• Saudis Furious at Sudan for Decision to Withdraw from Yemen
• Tens of Civilians Leave Terrorist-Held Regions Via Humanitarian Corridor in Idlib
• United Nations wants Syria to account for war dead, detainees
• Kremlin says Putin scheduled to meet Saudi crown prince at G20 summit
• 11th round of talks on Syria crisis begins in Astana
• Syria must account for detainees who died in custody: UN
• Security experts discuss terror threat in Mideast, Africa at Lebanon conference
--------
Europe
• UN Secretary General Willing To Meet Saudi Crown Prince at G20 Summit
• British Court Rejects Turkey's Extradition Request for Top Gulenists
• Germany seeks dialogue with country's 4.5 million Muslims
• Khashoggi case: French historian Adler poses questions about Turkey, Qatar
• Future of nuclear deal hinges on Europe's efforts to ease US pressures: Iran
• Syrian refugee family under racist attack in UK
• UK: Parliamentary group defines Islamophobia
• UK: Teen to be charged over Syrian refugee boy assault
• EU offers to act as guarantor in Afghan peace process
• Thousands raised for Syrian refugee waterboarded by school bully
--------
Africa
• Saudi Arabia Pledges $500 Mln Finance Projects for Tunisia
• Nigeria: 39 Soldiers Killed In Boko Haram Attacks
• West Africa: Is Islamic State in West Africa Becoming More Hardline?
• Nigeria's Buhari says Boko Haram fight 'a must-win war'
• West African leaders meet to tackle Boko Haram upsurge
--------
South Asia
• 30 Civilians Killed In Battle with Taliban in Afghanistan
• At Least 10 Killed, 29 Wounded in Attack At UK Security Firm's Kabul Compound
• Ghani Forms 12-Member Team to Negotiate With Taliban
• Experts: No coordination in Bangladesh govt de-radicalization programs
• 25 Jamaat men awarded BNP nominations
• Nepal Should Raise Rohingya Issue with Suu Kyi: Rights Groups
• Ghani encourages Afghan and International investors to invest in Afghanistan
• Rohingya take risky route to flee restive Myanmar state
• Afghan president forms team to talk peace with Taliban
--------
Southeast Asia
• All Houses of Worship Must Be Revered, Regardless Of Religion, Says Minister for Islamic Affairs in PMO
• Stop All Provocation Over Temple Fracas – FT Mufti
• Prabowo Touts Indonesia as Moderate Muslim Country
• Clashes break out and cars are torched after Muslims sent against Hindu temple
• Selangor exco says sorry over 'Muslim group' remarks
--------
Mideast
• Houthis Use Civilians as Human Shields In Hodeidah — Yemen Prime Minister
• EU Reiterates Commitment to Iran Nuclear Deal in Talks with Zarif
• Houthi Al Masirah channel suspended due to sectarian programming
• Yemeni govt: Handing Hodeidah Port to UN with Houthi conditions is a violation
• Yemen government calls for block on Houthi TV channel
Compiled by New Age Islam News Bureau
URL: https://www.newageislam.com/islamic-world-news/amid-tense-bilateral-ties-india/d/117016
--------
Amid Tense Bilateral Ties, India and Pakistan Agree To Provide a Visa-Free Corridor for Sikh Pilgrims
By Asad Hashim & Zeenat Saberin
Nov 29, 2018
Islamabad/New Delhi - Nestled in the verdant green rice fields of Pakistan's eastern Narowal district, the white domes of the Sri Kartarpur Sahib Gurdwara offer a striking contrast.
Centuries ago, it is said, Guru Nanak, the founder of Sikhism, spent his final days in this small village, farming the fields and formalising many of the practices of what would become a religion followed by more than 25 million people around the world.
When he died in 1539, the legend goes that he was so revered by both Hindus and Muslims that there was a dispute over how his remains should be treated: Should he be buried, in the Islamic tradition, or cremated, as Hindus wished?
Today, at the Sikh gurdwara, or place of worship, built over his final resting place, there is both a Muslim grave and a Hindu samadhi (shrine) marking his passing.
A few kilometres away, Sikhs gather at a podium to view one of the most sacred sites in their religion, lining up to pay tribute to Guru Nanak by viewing the gurdwara through a set of binoculars.
They are unable to access the site, just five kilometres away, because between the two gurdwaras lies an obstacle that has been almost insurmountable for most: The international border between India and Pakistan.
All that, however, is about to change.
Starting a new era
On Wednesday, Pakistani Prime Minister Imran Khan inaugurated a new visa-free corridor between the gurdwara at Kartarpur and the Indian town of Dera Baba Nanak, about six kilometres away.
Sikh pilgrims will be able to travel freely between the two holy sites without visas for the first time since the border was established here in 1947 when India and Pakistan gained independence from Britain.
Khan, inaugurating the project, which will see the construction of a new road and bridge that would link the two sites, spoke of wanting to open a new era of relations between India and Pakistan.
"There have been mistakes on both sides [in the past], but we will not be able to move forward until we break the chains of the past," said Khan. "The past is there only to teach us, not for us to live in."
Also present on the occasion were Indian federal ministers Harsimrat Kaur Badal and Hardeep Singh Puri, and provincial Punjab minister Navjot Singh Sidhu.
The inauguration in Pakistan follows a similar event on the Indian side of the border earlier this week, attended by the chief minister of India's Punjab province and the country's vice president. The corridor will formally open next year, in time for the 550th birth anniversary celebrations for Guru Nanak.
It marks a rare moment of positivity in relations between the two South Asian nations, who have fought three wars since gaining independence and between whom dialogue has been stalled for years.
Earlier this year, India cancelled planned foreign minister-level talks on the sidelines of the United Nations General Assembly following the killing of Indian security forces personnel in the disputed region of Kashmir by armed separatists.
India accuses Pakistan of supporting the armed separatist movement in Kashmir, which both countries claim in full but administer separate portions of. Pakistan denies the charge and alleges that India foments instability by supporting separatists in Balochistan province.
With the opening of the corridor - a long-standing demand of the Sikh community and one which Pakistan proposed to be followed through with earlier this year - the Pakistani government says it is showing that it is prepared to take concrete steps to ease tensions.
"The story of Kartarpur is as old as the history of Pakistan and India's independence itself," Fawad Chaudhry, Pakistan's information minister, told Al Jazeera.
"We have groups on both sides of the border, some who are pro-peace, and many who do not want [talks] to occur. It is for the government to decide who to support. With this step, we have shown where we stand."
For Sikhs in the area, the opening of the corridor is the culmination of a long-held dream.
"We have been asking for this for years," said Ramesh Singh Arora, a Sikh community leader in Narowal who tends to the gurdwara. "It will make it a lot easier for people to come from India and then return to their country."
With the inaugurations this week, work will now begin on a fenced-off road between the gurdwara at Kartarpur and the gurdwaras on the Indian side of the border, which will allow Sikhs to access both sites without a visa.
Previously, Arora says, pilgrims were forced to cross the border at the Wagah/Attari crossing, a journey of more than 200km that involved dealing with a restrictive visa regime and travelling by road for hours.
"It's a sense of homecoming. This is an emotional moment for the community," says Bhabishan Singh Goraya, 67, a Sikh resident of nearby Amritsar, in India's Punjab province. "We have been demanding this for so long."
Political pressures
Analysts say the Indian government, led by right-wing Prime Minister Narendra Modi, was pressured into opening the corridor due to domestic political pressures.
"Politics did play a factor, with general elections in India less than six months away," Krishan Pratap Singh, a New-Delhi based analyst, told Al Jazeera. "The Akali Dal, a coalition partner of the ruling Bharatiya Janata Party (BJP) government, is struggling in Punjab with internal strife and the Kartarpur corridor is being seen as an attempt to provide them a much-needed fillip."
It is a point that has been made in Pakistan, too.
"The reaction from Delhi [to the Kartarpur proposal] was always very negative," said Pakistani Information Minister Chaudhry. "But now that they have elections in Punjab, so the Indian government has changed its position because of that. Internal public pressure has changed it."
One of the sources of opposition to the corridor within India has been security concerns regarding the free movement of citizens between the two countries, even in the controlled environment of the corridor.
"There are apprehensions that some left-over elements of the [Sikh separatist] Khalistan movement still operate from Pakistani territory," said Sreeram Chaulia, dean of New Delhi's Jindal School of International Affairs.
"They are still capable of appealing to vulnerable Sikh youth, recruiting and mobilising them. India has no way of monitoring once they are inside Pakistani soil."
Sikh separatists in India began agitating for a separate homeland in the 1970s, but the movement petered out two decades later. India believes there has been an attempt to revive separatist groups in the recent past.
Pakistani analysts, too, warn that while the corridor may be a rare success story, the prospect of any resumption of dialogue between the countries remains dim.
"This is a good move in a situation where there is little hope of any improvement in the relations between the two countries," said Zahid Hussain, an Islamabad-based security analyst.
"But I don't think it will change the overall atmosphere that prevails right now. It's more for public consumption rather than a move that could change the politics of the region," he added.
Hussain points out that the opening of the corridor could not have occurred without backing from Pakistan's powerful military, which has ruled the country for roughly half of its 71-year history.
Pakistan's Chief of Army Staff General Qamar Bajwa has publicly supported the project and first discussed it with Indian legislator Sidhu at Prime Minister Khan's inauguration in August. General Bajwa was also in attendance at the ground-breaking on Wednesday.
Pakistan's government is planning further confidence-building measures, Information Minister Chaudhry said, including the easing of visa restrictions on Indian journalists.
"Pakistan has shown a bigger heart," he said. "We had the attack on the Chinese consulate [last week] and we still didn't stop this initiative [on Kartarpur] - the Indian support for the Baloch Liberation Army is not a secret."
Chaudhry was referring to an attack on the Chinese diplomatic mission in the southern Pakistani city of Karachi by Baloch separatists on Friday, which killed two policemen.
Regardless of the tension in the relationship between the states, the Sikh community remains jubilant about the opening of the corridor.
"There are lots of relations on either side. When partition happened, most of our relatives went to India from Pakistan," said Arora. "We decided to stay. We are Pakistani, but we are one people."
https://www.aljazeera.com/news/2018/11/pakistan-india-break-ground-visa-free-kartarpur-corridor-181128111752755.html
--------
Let's give peace a chance, Pakistan tells India
Nov 29, 2018
NAROWAL: Prime Minister Imran Khan on Wednesday performed the groundbreaking of a four-kilometre-long Kartarpur corridor amid much fanfare in a ceremony attended by a number of dignitaries, including Pakistan Army chief General Qamar Javed Bajwa and Indian Punjab minister Navjot Singh Sidhu.
The corridor will connect Dera Baba Nanak in Gurdaspur, India, with Gurdwara Kartarpur Darbar Sahib on the banks of River Ravi in Narowal district to allow visa-free access to Sikh pilgrims for visiting their holy site.
A Rangers contingent received the Indian delegation, comprising ministers, as they crossed into Pakistan.
Indian Minister for Food Harsimrat Kaur Badal described the ceremony as "emotional moment" for her, while India's Minister for Housing Hardeep S. Puri described the visit as "the most momentous journey" in his life.
Furthermore, senior officials from both countries and a number of foreign diplomats were also present at the occasion.
PM SEEKS PEACE:
Addressing the ceremony that included a large number Sikh pilgrims, PM Khan welcomed all "the guests, our Sikh brothers and sisters who have come from all around the world" and renewed Pakistan's peace offer to India.
"Pakistan will take two steps if India takes one toward peace," he reiterated.
He appreciated the joy on the faces of the pilgrims as he likened their Gurdwara visits to Muslims' pilgrimage to Makkah.
"The happiness I see in you today, if I were to explain to my Muslim brother and sisters, is that imagine that you are standing 4km outside Madina and cannot go in, and you are then given the chance to go. That is the happiness I see here."
"We will keep improving Kartarpur corridor and next year you will see all facilities will be available there," he assured the pilgrims.
The PM said that people from both sides want peace and leaderships of the two countries should respect their wishes.
"War is not an option between nuclear-armed states," the PM said, adding that all issues, including that of Kashmir, can be resolved through "political will and determination".
"It's time to move on, else we will remain stuck in the past," he said, adding that both sides needed to "stop blaming each other as there had been mistakes on both sides". Instead of sulking about them, we need to learn from our mistakes, he said, adding that if Germany and France could do it despite a number of wars, then so can India and Pakistan.
The PM ruled out the possibility of Pakistani Army's disinclination to peace overtures with India, saying: "I am saying today, that our political leaders, our army, and all other institutions are all on one page. We wish to move forward, we want a civilised relationship. We have just one problem, Kashmir. If man can walk on the moon, what problems are there that we cannot resolve?" he asked.
He said he wanted better relations with India to overcome poverty by trade. "If we want to end poverty borders should be opened."
The PM also mentioned Sidhu in his speech, who has visited Pakistan twice since Pakistan Tehreek-e-Insaf's (PTI) ascent to the top.
"I don't know why Sidhu is being criticised for coming to Pakistan," Imran wondered.
The premier joked that Sidhu had accumulated such a large fan following in Pakistan's Punjab that if he ran in elections here, he would win. "I hope we don't wait for him to become the prime minister for there to be peace between the two countries," he hoped.
'STEP TOWARDS PEACE':
According to Gen Bajwa, the Kartarpur corridor is a step towards peace which our region needs.
"Corridors and Gates are for legal peaceful visitors. So is the case for all our neighbours," the Inter-Services Public Relations (ISPR) quoted the army chief as saying.
Navjot Sidhu took the stage amid loud applause and cheering.
In a speech delivered mostly in Punjabi, the cricketer-turned-politician said there has been enough bad blood, it is time peace prevails.
"India's Constitution says there will be no discrimination on the basis of caste or creed. Baba Guru Nanak said this 549 years ago," he said.
Sidhu said that if the borders between both countries opened, it would be possible to transport goods to different parts of Pakistan and even to others countries.
"This is my hope, this is my dream … While there is blood in my veins, I will continue to thank both governments," he said.
'DREAM COMES TRUE':
An emotional Indian Minister for Food Harsimrat Kaur Badal said, "After 70 years, the dream of devotees has come true. So close, yet so far. Millions of Sikhs like me now have got an opportunity to be invited here to Gurdwara".
"It is a historic day for Sikhs. History is being written. I had never imagined in my life that I will be a part of this historic moment. Distances are being erased today." "If the Berlin wall can fall, then the wall of hate between India and Pakistan can also be taken down," Badal said.
"Imran Khan's government did what didn't happen for 70 years," she said, adding that the corridor will increase love between India and Pakistan.
'FREE TO GO TO YOUR TEMPLES':
"Today, we are standing where Baba Guru Nanak spent the last 18 years of his life. Baba Guru Nanak spread a message of love and peace and I don't think it is appropriate to associate him with any community or region," said FM Qureshi in his address.
"You are free; you are free to go to your temples. You are free to go to your mosques or to any other places of worship in this State of Pakistan. You may belong to any religion, caste or creed — that has nothing to do with the business of the state," FM Qureshi quoted Muhammad Ali Jinnah's August 11 speech.
"For a peaceful South Asia, we have to take more steps such as the Kartarpur corridor. The whole world welcomed the decision to construct the corridor," he said.
FACILITIES:
In a briefing to the attendees about the facilities which would be provided at the corridor, the government announced that it aimed to open the visa-free corridor on Baba Guru Nanak's 550th birth anniversary next year.
In the first phase of the project, set to be completed before Nov 2019, a boarding terminal will be set up near the border besides arrangement of accommodation facilities for 10,000 pilgrims.
Transportation will be arranged to shuttle pilgrims possessing a special permit to the Gurdwara. An 800-metre-long bridge will also be built across River Ravi for this purpose.
Hotels and other accommodation facilities will be constructed to house pilgrims arriving with visas in the second phase.
A 300-metre track starting from the border will be built for pilgrims carrying special permits, after which a 4.5km road will also be constructed from the border terminal to the Gurdwara.
After receiving their permits, special transport will take the pilgrims to a parking area near the Gurdwara. Security posts will be set up to ensure the safety of pilgrims.
When the pilgrims reach the parking, biometric verification of their identities will be conducted, and then they will be able to enter the Gurdwara premises and worship freely within the specified time.
Pakistani Sikhs will need to carry travel documents and identification in order to enter the Gurdwara premises.
RENEWED PROPOSAL BY PAKISTAN:
Lying dormant due to the tense relations between the two countries since 1988, the proposal to construct the corridor providing visa-free access to Sikh pilgrims had been renewed by General Bajwa in August when Sidhu had visited Islamabad for Imran's swearing-in.
As India agreed to open the corridor, Pakistan subsequently extended an invitation to Sushma Swaraj and others. However, Swaraj refused to join the event due to some "prior commitments".
https://www.pakistantoday.com.pk/2018/11/28/pm-imran-lays-foundation-of-kartarpur-corridor-renews-talks-offer/
--------
Stop Jamaat, Shibir, Hefazat: US Congressman to Bangladesh
NOVEMBER 29, 2018
Dhaka, Nov 28 (UNB) - United States Congressman Jim Banks has placed a resolution in the House of Representatives expressing concern about the threat posed to democracy and the democratic process by theocratic groups operating in Bangladesh.
The resolution, placed on November 20, also called on the government of Bangladesh to stop radical organizations, such as Jamaat-e-Islami, Islami Chhatra Shibir, and Hefazat-e-Islam, who pose an ongoing threat to the country's stability and secular democracy.
The resolution submitted by Banks was referred to the Committee on Foreign Affairs.
On January 3, 2017, Congressman Banks began representing Indiana's Third Congressional District in the U.S. House of Representatives.
Banks currently serves on the House Armed Services; Veterans Affairs; and Education and the Workforce Committees.
The resolution called on the United States Agency for International Development and the State Department to halt all partnerships and funding arrangements with groups affiliated with Jamaat-e-Islami, Islami Chhatra Shibir, and Hefazat-e-Islam.
It called on the government of Bangladesh to heed the Bangladesh Election Commission's request to ensure security for minorities and maintain communal harmony for a peaceful election.
The national election in Bangladesh will be held on December 30.
The resolution acknowledged the victims of the 1971 War of Independence and the spirit of secular democracy on which Bangladesh was founded.
It mentioned that Bangladesh achieved independence in 1971 and established a secular democratic state, which is home to over 163,000,000 Muslims, Hindus, Buddhists, Christians, and atheists.
The freedom was won at the cost of approximately 3,000,000 deaths, more than 10,000,000 displaced, and 200,000 women raped, many at the hands of Islamist militants led by Jamaat-e-Islami, the resolution reads.
It also mentioned that Bangladesh plays a critical role in the safe and voluntary repatriation of over 800,000 Rohingya Muslims who have taken refuge in Bangladesh from religious and political persecution in Myanmar.
The resolution mentioned said religious minorities were targeted by the Bangladesh Nationalist Party, Jamaat-e-Islami, and Islami Chhatra Shibir, during previous elections, as a result of which 495 Hindu homes were damaged, 585 shops were attacked or looted, and 169 temples were vandalized between November 2013 and January 2014, according to the Bangladesh Hindu Buddhist Christian Unity Council.
It also mentioned that Jamaat-e-Islami activists have been involved in recent attacks on religious minorities in Bangladesh.
Religious extremists have also attacked Buddhists, Christians, and Ahmadi Muslims and the extremist group Hefazat-e-Islam is organizing a movement to fundamentally transform Bangladesh from a secular democracy into a totalitarian theocracy, it said.
It said Jamaat-e-Islami, Hefazat-e-Islam, and other theocratic extremist groups pose an immediate and ongoing threat to Bangladesh's stability and secular democracy, and religious minorities remain at grave risk of continuing violence.
http://unb.com.bd/category/Bangladesh/stop-jamaat-shibir-hefazat-us-congressman/7423
--------
Muslim World League chief receives Egyptian Coptic bishop
November 28, 2018
JEDDAH: The secretary-general of the Muslim World League (MWL), Sheikh Dr. Mohammed bin Abdulkarim Al-Issa, received in Riyadh on Wednesday Egypt's Coptic Bishop Morcos.
During the meeting, the two sides discussed a number of issues of common interest.
The meeting was attended by members of the Egyptian Embassy in Saudi Arabia.
On Monday, Al-Issa received a Lebanese Druze delegation led by Sheikh Ghassan Al-Halaby.
Both sides discussed unifying Islamic efforts to confront conflicts and strife, saying Muslim unity serves the interests of all parties, and consolidates the values of tolerance and cooperation.
Earlier, the MWL has condemned all attempts to target Saudi Arabia's international and Islamic leading position through suggesting economic sanctions, political pressure, and false accusations.
The league stressed that the Kingdom has a long history in international peace and cooperation, confirming its leading position in many fields that serve international peace.
The Supreme Council of the MWL also said that the Kingdom's stability and security are a red line for the Muslim world.
Al-Issa stressed that the MWL focuses on fostering understanding and a culture of cooperation, tolerance and civilized communication.
http://www.arabnews.com/node/1412701/saudi-arabia
--------
UN Secretary General willing to meet Saudi crown prince at G20 summit
28 November 2018
UN Secretary General Antonio Guterres is willing to meet with Saudi Crown Prince Mohammed bin Salman when he attends the Group of 20 summit in Argentina, Guterres said on Wednesday, as the UN chief seeks an end to the war in Yemen.
"I think we are close to (creating) the conditions for the possibility for (Yemen) peace talks to start. And of course Saudi Arabia is absolutely crucial for that purpose, and I'm ready to discuss it with the crown prince or with any other Saudi officials because I believe it is a very important objective at the present moment," Guterres told reporters.
https://english.alarabiya.net/en/News/world/2018/11/28/UN-Secretary-General-willing-to-meet-Saudi-crown-prince-at-G20-summit.html
--------
India
AMU's character is not minority but democratic: Salman Khurshid
November 28, 2018
"Aligarh's character is more important than the minority status of AMU. The country has to understand AMU's character, which is not a minority character but a democratic one. AMU has never discriminated on the lines of religion," said senior Congress leader Salman Khurshid on the occasion of Aligarh Muslim University's Founder's Day, which was celebrated in the United Arab Emirates recently.
Speaking further on the issue of minority status to AMU, Khurshid said: "We have to understand that these institutions were set up with the aim to help the disadvantaged, and at that time the founder of the university set it up after looking at the education system of British so as to provide the best education to this disadvantaged lot. We have to respect that thought process because our Constitution has given that right to the minority and minority has the right to run its institute the way they want. No one can take away that right from them and if it is taken away then it will not be as if we will take away something from Muslims but we will let go of a very important part of the Constitution."
The function in Sharjah, UAE, was organised by AMU Alumni Forum UAE and saw an attendance of around 900 former students. Khurshid was the chief Guest and Lt Gen (retired) Zameer Uddin Shah, former Vice Chancellor of AMU, was the guest of honour present among other dignitaries at the function.
https://indianexpress.com/article/india/amus-character-is-not-minority-but-democratic-salman-khurshid-5469305/
--------
J-K: Two Hizbul militants killed in encounter in Awantipora
November 29, 2018
Two militants from the Hizbul Mujahideen (HM) outfit were killed in an encounter with security forces in Khrew area of Awantipora in South Kashmir early on Thursday morning. A Jammu and Kashmir police spokesperson, confirming the encounter, said no collateral damage took place in the crossfire. The slain militants have been identified as Adnan Ahmad Lone alias Uqaab and Adil Bilal Bhat alias Umair Al Hizbi.
"Both were affiliated with proscribed terror outfit HM. As per police records, Adnan Lone was known as district commander of Pulwama for HM, " the police said in a statement.
Based on inputs, the police had launched a cordon and search operation at predawn hours. "As the searches were going on, the search party was fired upon by the terrorists. The fire was retaliated leading to a gunfight, " the police statement said.
According to the police, Lone was a close associate of Hizbul Mujahideen's operations chief Riyaz Naikoo.
Full report at:
https://indianexpress.com/article/india/jk-two-militants-killed-in-an-encounter-in-awantipora-5469927/
--------
LeT commander behind Shujaat Bukhari's murder killed near Srinagar
November 29, 2018
Lashkar-e-Taiba commander Naveed Jatt alias Abu Hanzulla, a prime suspect in the murder of journalist Shujaat Bukhari, was killed in a gunfight in Chattergam village, on the outskirts of Srinagar, on Wednesday morning. Jatt, who hailed from Multan in Pakistan, had escaped from police custody in February this year.
Announcing his death, J&K Director General of Police (DGP) Dilbagh Singh said they would ask Pakistan to take back his body. "In this case (Bukhari's killing), he was a prime suspect… We will write to the Government of India to offer his body to Pakistan, through its competent authority," he said.
According to J&K Police sources, Jatt, who was arrested in June 2014, had told his interrogators that he had "seen Ajmal Kasab in a madrasa run by the LeT sometime in 2006-2007". A senior police officer said this was the first time that a Pakistani militant had admitted to knowing Kasab, the lone terrorist captured alive during the 26/11 Mumbai attack.
Giving details of the operation on Wednesday, police said a joint team of J&K Police, army and paramilitary forces cordoned off Chattergam village early in the morning, following a tip-off on the presence of militants there. Three security personnel were injured as the militants, who were hiding inside a house, opened fire.
Two militants, including Jatt, were killed in the gunfight which lasted for several hours. A third militant is reported to have escaped.
Police had named Jatt and two local militants, Azad Ahmad Malik and Muzaffar Ahmad, as the prime suspects behind Bukhari murder's on June 14 this year. Malik was killed in a gunfight at Bijbehara on Friday.
Trained at the LeT's Muridke headquarters in Pakistan, Jatt is reported to have entered Kashmir in 2012, through Kupwara sector. After spending some months in North Kashmir, he shifted to South Kashmir, where he was said to be involved in a string of militant attacks on security forces.
On June 14, 2014, Jatt was arrested from a hideout in Sharmpora village of Kulgam district. At the time of his arrest, police had said he was the Lashkar's district commander and a close associate of Abu Qasim and Abu Dujana — two of the Lashkar's chiefs in the Valley who were later killed.
On February 6 this year, Jatt escaped from police custody during a militant attack at the Shri Maharaja Hari Singh (SMHS) Hospital, where he had been taken for a check-up. Two policemen were killed in the attack.
While Jatt was a Lashkar operative, his escape was reported to have been planned and executed by the Hizbul Mujahideen, on the instructions of its chief Riyaz Naikoo. After his escape, Jatt is reported to have made his way to South Kashmir, where he took charge of the militant outfit. He worked in close coordination with Hizbul Mujahideen militants, and would often be seen in videos released by them.
He would also often appear at funerals of militants. Since February, he is reported to have escaped from the sites of gunfights at least six times.
A police statement on Tuesday said Jatt was also "involved in the killing of an ASI in Pulwama in May 2013, a series of grenade attacks on security forces, and in killing of CRPF personnel at Awneera, Shopian in 2013".
"He was also involved in conspiring and executing several bank robberies and terror attacks in South Kashmir, including the attack in the court complex in Pulwama in which two policemen were killed, the attack on a polling party in Shopian in which a presiding officer was killed, the attack on police party at Bongam, Shopian," said the statement.
Full report at:
https://indianexpress.com/article/india/shujaat-bukhari-murder-naveed-jatt-let-jammu-and-kashmir-5469889/
--------
India slams Imran Khan for 'politicising' Kartarpur event by raking up Kashmir
November 28, 2018
India on Wednesday expressed its displeasure over Pakistan Prime Minister Imran Khan raising the issue of Kashmir in his speech during the ground-breaking ceremony for the development of the Kartarpur Corridor. Hitting out at Khan for politicising the "pious occasion", the Ministry of External Affairs said Kashmir was an integral and inalienable part of India.
"Deeply regrettable that Pakistan PM chose to politicise the pious occasion meant to realise the long pending demand of Sikh community to develop Kartarpur Corridor by making unwarranted reference to J&K, which is integral and inalienable part of India," ANI quoted the MEA as saying.
The MEA further asked Pakistan to stop supporting cross-border terrorism and letting its soil be used for cessationist activities. "Pakistan is reminded that it must fulfil its international obligations and take effective and credible action to stop providing shelter and all kind of support to cross-border terrorism from territories under its control," the ministry said.
After laying the foundation stone for the corridor, will connect Darbar Sahib in Kartarpur – the final resting place of Sikh faith's founder Guru Nanak Dev – with Dera Baba Nanak shrine in India's Gurdaspur district, Khan said Pakistan wanted a "strong" and "civilised" relationship with India and both the countries could resolve all issues, including Kashmir, with determination.
"I am saying today, that our political leaders, our army, and all other institutions are all on one page. We wish to move forward, we want a civilised relationship. We have just one problem, Kashmir. If a man can walk on the moon, what problems are there that we cannot resolve?" Khan said at the ceremony that was graced by Union ministers Harsimrat Kaur Badal, Hardeep Singh Puri and Punjab minister Navjot Singh Sidhu.
Asserted that the two sides should not live in the past, Khan stressed the need for determination at the leadership level to solve the issues between the two nations. "I assure you that we can solve this problem. But determination and big dreams are necessary. Imagine, once trade begins, once our relationship is fixed, how much both nations could benefit," he said.
Meanwhile, Union Minister Prakash Javadekar came down heavily on Sidhu for praising Khan, saying at a time when Pakistan was indulging in terror activities, one required to be cautious about the choice of words. "The most objectionable thing in Sidhu's Pakistan trip is that he referred to various domestic issues which are not done in any diplomatic relations. He praised Imran Khan more than what was due and praised him to the hilt," ANI quoted Javadekar as saying.
"When Pakistan is indulging in all kinds of terror activities & cross-border terrorism, one needs to be very cautious about it. It is not an enthusiasm or a laughter challenge from Sidhu," the minister said. Sidhu has also coughed up criticism from BJP and SAD for "disobeying" Punjab Chief Minister Amarinder Singh, who has said he had asked the former cricketer to reconsider his decision on going to Pakistan.
Full report at:
https://indianexpress.com/article/india/imran-khan-kartarpur-corridor-kashmir-india-navjot-sidhu-5469452/
--------
Pak Army chief's handshake with pro-Khalistan leader at Kartarpur corridor event triggers row
Nov 29, 2018
Pakistan on Wednesday justified its army chief Gen Qamar Javed Bajwa greeting pro-Khalistan leader Gopal Singh Chawla on the sidelines of the Kartarpur corridor groundbreaking ceremony after a video emerged of the two men shaking hands.
Chawla, known to be one of the main propagators of the Sikh movement that seeks a separate homeland for the community, has earlier stopped Indian diplomats from visiting a gurudwara in Lahore. He is believed to have ties to terrorist Hafiz Saeed, who is wanted in India.
A spokesperson for the Pakistan army said Bajwa "met all guests at the venue irrespective of identity".
On Twitter, the military's media wing spokesperson, Major General Asif Ghafoor, said: "Indian media taking a myopic view is selectively showing Mr Gopal Chawla meeting COAS. Army Chief met all guests at the venue irrespective of identity. A peace initiative should not be subjected to propaganda."
Chawla is a senior leader of the Pakistan Sikh Gurudwara Prabhandak Committee (PSGPC), and he was invited to all events involving the Sikh community, a Pakistani official told news agency Press Trust of India.
The groundbreaking ceremony in Pakistan's Punjab province was attended by federal and provincial ministers and foreign dignitaries.
In Canada, the pro-Khalistan group, Sikhs for Justice (SFJ), has announced that it plans to hold a convention to espouse the secessionist 2020 Referendum campaign, announced in London in August this year, at Kartarpur Sahib in Pakistan if the proposed corridor for Sikh pilgrims between India and Pakistan is functional by then.
While the original plan was to hold a major event at Nankana Sahib, the birthplace of Guru Nanak, the founder of Sikhism, SFJ's legal advisor Gurpatwant Pannun told Hindustan Times that the opening of the corridor will allow the group access to a much larger number of pilgrims from India at Kartarpur Sahib than would be possible at the more distant Nankana Sahib.
"Because now they have given access, people will come to Kartarpur Sahib. They will not be allowed to visit Nankana Sahib so we will have to do the convention at Kartarpur Sahib," Pannun said. In case the corridor is not open, SFJ will revert to the original plan of holding the convention at Nanakana Sahib.
The convention is being timed to coincide with the 550th birth anniversary celebrations of Guru Nanak.
Indian officials refused to formally comment on this latest provocative move by SFJ, but said this was part of a game being played by Pakistan and rued that a religious occasion of such significance was being "manipulated" for such a purpose.
SFJ's office in Lahore will "coordinate" registration of "voters" for the non-binding referendum on creating a separate nation of Khalistan. SFJ also plans to sponsor and host 10,000 Sikhs from Punjab at the convention to "be educated and informed about Sikhs' right to self-determination under the UN Charter and Conventions" and to serve as "ambassadors" for the separatist referendum.
Full report at:
https://www.hindustantimes.com/india-news/pak-army-chief-s-handshake-at-kartarpur-corridor-event-triggers-row/story-KHJPaeL9SWQEy3P4EQPo2O.html
--------
Terrorism in India can be tackled if Pakistan leadership works sincerely: Rajnath Singh
Nov 28, 2018
Union home minister Rajnath Singh Wednesday criticised Pakistan for sponsoring terrorism in India, saying the menace can be tackled if the leadership in that country works sincerely towards it.
Addressing a 'panna pramukh sammelan', a meeting of BJP workers, in Himachal Pradesh's Mandi parliamentary constituency, Singh said Maoist in the country has reduced from 90 districts to just nine.
"Similarly, incidents of terrorism have also confined to only three-four districts in the country during the current BJP government at the Centre," he said.
The country is rapidly developing under the leadership of Prime Minister Narendra Modi, Singh said. He said, "Former prime minister Indira Gandhi had nationalised the banks in the country saying it would bring banking services to the rural public, but desired results were not received".
"The present government at the Centre has brought banking services to the doorstep of the people and 33 crore bank accounts of general public have been opened".
Praising Himachal Pradesh chief minister Jai Ram Thakur, Singh said he had brought many Centre-aided schemes to the state.
Full report at:
https://www.hindustantimes.com/india-news/terrorism-in-india-can-be-tackled-if-pakistan-leadership-works-sincerely-rajnath-singh/story-ve47n7hxgXSeHG1egWTxHO.html
--------
Pakistan
US eases fears Pakistan will use IMF loans to clear China debt
Anwar Iqbal
November 29, 2018
WASHINGTON: The US Treasury Department has informed Congress that Pakistan will pay off an International Monetary Fund (IMF) bailout before its loans from China become due.
"We think the maturity of the Chinese debt comes after the IMF would have been repaid," the Treasury's undersecretary for international affairs, David Malpass, told a US Senate Foreign Relations subcommittee on Tuesday.
"From the standpoint of IMF money being used to pay Chinese money," that was not the main US concern, he said. "A challenge is to find the programme that would cause a substantial economic reform in Pakistan" and allow it to "survive the financial terms" attached to it.
The assurance from a senior US Treasury official eases concerns that Pak­istan may use the IMF loan to repay China and Chinese banks.
While informing the panel that an IMF team had just returned from Pakistan after talks on a possible bailout package, Malpass also gave a rare insight into the negotiations.
"One of the things we are pushing hard for is full transparency of the debt," he said. "One of the challenges is that ... in many cases they haven't disclosed the terms of the debt — that means the interest rates, the maturity, and when it would have to be repaid," he said.
US, he said, was "pushing back on very hard" to change this practice and had raised its concern at various international financial platforms. Pakistan is negotiating with the IMF the terms of its second bailout since 2013, a loan package valued at somewhere between $6 billion to $12 billion — according to reports in the Pakistani and international media. Pakistan expects the deal to be finalised by mid January.
Finance Minister Asad Umar, however, told reporters on Wednesday that Pakistan was no more in a rush to finalise the deal as it can now afford a two-month delay. "We aren't in hurry," he said. "We are covered even if it delays for two months."
https://www.dawn.com/news/1448329/us-eases-fears-pakistan-will-use-imf-loans-to-clear-china-debt
--------
ANP hails opening of Kartarpur Corridor
November 29, 2018
PESHAWAR: Welcoming opening of Kartarpur Corridor, Awami National Party president Asfandyar Wali Khan has said that Islamabad should show same gesture to the Pakistan-Afghanistan border to end sense of deprivation among Pakhtuns.
In a statement here on Wednesday, he said that opening of the corridor would not only facilitate cross-border movement of Sikh community, but would also improve bilateral trade and tourism in the region.
He said that one person should not take credit for establishing corridor at Kartarpur.
The ANP leader said that former prime ministers Benazir Bhutto and Nawaz Sharif had made efforts for setting up corridor on the eastern border to ease movement of Sikh pilgrims.
He said that opening of the corridor at Kartarpur after seven decades would improve strained relations between the two neighbours.
"Our government should show same gesture to the Pak-Afghan border to facilitate movement of the people living on the two sides of the border who have same culture, tradition, language and religion," said Mr Khan. He added that Pakhtuns were being used as a fuel in the four decades long war.
He said that soft border and opening of corridors would end sense of derivation among Pakhtuns. He said that ANP supported the policy of soft border and committed opening of 10 corridors to promote peace and improve trade activities in the region.
The ANP leader said that element of mistrust was major irritant in the Pak-Afghan relations. Relations between Pakistan and Afghanistan could not be improved without confidence building measures, he said, adding that better ties between Islamabad and Kabul were prerequisite for durable peace and economic progress in the region.
Full report at:
https://www.dawn.com/news/1448298/anp-hails-opening-of-kartarpur-corridor
--------
Plea against Rizvi's detention dismissed as withdrawn
November 29, 2018
LAHORE: The Lahore High Court on Wednesday dismissed as withdrawn a habeas corpus petition challenging the detention of Tehreek-i-Labbaik Pakistan (TLP) chief Maulana Khadim Hussain Rizvi, his son Saad Rizvi and TLP patron-in-chief Pir Afzal Qadri.
As the court resumed hearing, a provincial law officer presented a notification issued under Section 3 of the Maintenance of Public Order Ordinance 1960 for a 30-day detention of the TLP leaders.
Justice Syed Mazahar Ali Akbar Naqvi observed that the habeas corpus petition stood infructuous in the presence of the government notification.
At this, petitioner's counsel Nabeel Javed Kahloon sought court's permission to withdraw the petition, which was duly granted.
The judge dismissed the petition as withdrawn.
Advocate Kahloon told media persons that a fresh petition would be filed soon challenging the notification issued by the government for the detention of the TLP leaders.
Syed Zafar Hussain Gilani, a member of the TLP, had assailed the detention of his leaders in a habeas corpus petition. He contended that the police barged in the houses of the TLP leaders, arrested them unlawfully and shifted them to undisclosed places.
He stated that the home department and the police, despite repeated requests, had not issued any grounds for their detention nor informed about their whereabouts.
Full report at:
https://www.dawn.com/news/1448262/plea-against-rizvis-detention-dismissed-as-withdrawn
--------
Kartarpur corridor to pave way for Indo-Pak talks, says Qureshi
Nov 29, 2018
Foreign Minister Shah Mahmood Qureshi on Wednesday said the Kartarpur corridor is a path to dialogue between India and Pakistan.
In an interview with British TV channel ahead of the groundbreaking ceremony of the Kartarpur corridor, the foreign minister said, "The corridor is a path for dialogue, sitting together and for removing differences and distances between India and Pakistan."
Stating that "there was no pressure on Pakistan to construct the Kartarpur corridor," FM Qureshi said, "From day one, it was Prime Minister Imran Khan's desire that there should be peace in our region."
"It is his thinking that fine, we have conflicts with India, we have historical conflicts but what is the solution? War is not a solution. Both the countries are nuclear powers and war would be synonymous to suicide. There is no room for war, so then what is the way forward?" Qureshi asserted.
BRIDGING DISTANCES:
The foreign minister added, "The Kartarpur corridor is an extraordinary effort to remove distances."
"People used to visit Pakistan through Wagah Border, it was a 400 kilometre route which we are bringing to four kilometres so distances have been reduced," he said. "When distances are reduced and visits are frequent then relations will improve," FM Qureshi continued.
"When people-to-people contacts are increased then perceptions change. This region is gripped by poverty and ignorance and we have to bring change," he said while adding that change comes through mindsets and attitudes.
"Hence, the Kartarpur corridor decision is a change in mindset and thinking which reduces distances and strengthens relationships while asking people to come sit together," the foreign minister said.
Speaking about the reaction of the Sikh community, FM Qureshi said, "Their reaction proves that this decision is popular and fruitful".
"Sikh community in Pakistan, India and South Asia is extremely pleased with this decision. They are celebrating like it is Eid," he added.
"The corridor will bring a pleasing change and I believe that wise people live on both sides of the border," the foreign minister said.
Stating that it is the priority of PM Imran's government to strengthen the country economically and financially and fighting corruption and governance, FM Qureshi said, "This can only be achieved if there is peace and our eastern and western borders are secure which is why we have been asking New Delhi and Kabul to talk to resolve issues".
'INDIA SHOULDN'T POLITICISE KARTARPUR CORRIDOR':
Regarding Indian Minister for External Affairs Sushma Swaraj and Indian Punjab Chief Minister Amarinder Singh declining the invitation to attend the groundbreaking ceremony, Qureshi said, "We invited but they could have been busy."
Further, Qureshi commented on the Indian Punjab chief minister's statement and regretted that "his attitude was not as it should have been".
"It is easy to exchange harsh words but we do not want this matter to become political," he concluded.
The foreign minister said to ensure security the corridor will be fenced from both sides. "We want that whoever visits, enters and leaves safely," he said.
"There will be no need for passports or visas and people will be granted permits upon arrival after payment of a minimum fee," FM Qureshi added.
Full report at:
https://www.pakistantoday.com.pk/2018/11/28/kartarpur-corridor-path-to-dialogue-between-india-pakistan-fm-qureshi/
--------
Kartarpur corridor 'a step towards peace': COAS
NOVEMBER 29, 2018
Chief of Army Staff (COAS) General Qamar Javed Bajwa Wednesday termed the opening of Kartarpur corridor a 'step towards peace', according to a statement issued by the Inter-Services Public Relations (ISPR).
"It's a step towards peace which our region needs," he was quoted as saying by ISPR Director General Maj Gen Asif Ghafoor. "Barbed wire at borders is a measure by a sovereign state to check or deny illegal crossings. Corridors and gates are for legal peaceful visitors. So is the case for all our neighbours."
Prime Minister Imran Khan Wednesday laid the foundation stone of the corridor connecting Gurdwara Darbar Sahib in Kartarpur area of Narowal district with Dera Baba Nanak in India's Gurdaspur district. Army Chief General Qamar Javed Bajwa also attended the ceremony. The initiative, however, did not apparently go down well with certain quarters of the Indian media. The DG ISPR shared images of an Indian channel purporting a Khalistan activist meeting General Bajwa at the groundbreaking ceremony. The channel flashed the images with incendiary captions, "Pakistan provokes India at Kartarpur ceremony" and "Khalistani extremist Gopal Chawla with Pakistan army chief."
Full report at:
https://dailytimes.com.pk/327453/kartarpur-corridor-a-step-towards-peace-coas/
--------
Pakistani foreign ministry releases statement after High Commission in Dhaka burgled
November 28, 2018
DHAKA: Following a burglary in the Pakistani High Commission in Dhaka, Pakistan's Foreign Ministry on Tuesday said it is the Bangladeshi government's responsibility to ensure the security of staff and items on the premises.
Unidentified burglars broke into the consular section of the facility on Nov. 22, stealing computers that contained "official records and sensitive data," officials at the commission said. The matter was reported to Bangladeshi police.
Islamabad also informed Bangladesh's Foreign Ministry of the incident, and asked for security to be tightened on the premises, Pakistan's Foreign Ministry said in a statement.
"It has been underscored that as a host, it is the responsibility of the Bangladesh government to provide full security to the Pakistan High Commission premises," the statement read.
"Authorities in Bangladesh have been requested to carry out a thorough investigation, share a detailed report with us and bring the culprits to justice."
Muhammad Aurangzeb Haral, the commission's press counselor, told Arab News that the burglary occurred "just after the official closing, and the next two days were public holidays in Dhaka, so we noticed the incident on Sunday morning when we resumed work."
CCTV footage showed that soon after the incident, a cyclist informed police guards on duty of the thief's suspicious movements. "But they didn't take any action. What does this mean?" Haral said.
The burglary, which took place in the highly sensitive diplomatic zone, was "regrettable and a matter of grave concern for diplomatic missions," he added: "It wasn't an ordinary incident."
On Wednesday, police arrested six people, three of them for direct involvement in the burglary, and the others for involvement in trading the stolen goods.
"Our law enforcers took the matter very seriously, and we recovered the stolen goods within 48 hours of the case being filed," Hayatul Islam Khan, deputy commissioner of the diplomatic security division of the Bangladeshi police, told Arab News.
Full report at:
http://www.arabnews.com/node/1412691/world
--------
North America
Israel 'one reason' for US troops to remain in region: Trump
Nov 28, 2018
President Donald Trump says US military forces will stay in the Middle East to ensure the security of its close ally, Israel, days after he suggested that the occupying entity will have to "leave" the region without Riyadh's support.
"We have reached a point where we don't have to stay in the Middle East. One reason to stay is Israel," Trump said in an exclusive interview with The Washington Post published on Wednesday.
Trump said that oil production was no longer a reason to stay in the region as lower oil prices lead to reduced reliance on Saudi Arabia.
"Oil is becoming less and less of a reason because we're producing more oil now than we've ever produced. So, you know, all of a sudden it gets to a point where you don't have to stay there," he explained.
Last week, Trump said the US would "remain a steadfast partner of Saudi Arabia to ensure the interests of our country, Israel and all other partners in the region."
He stressed that the stability of Saudi Arabia benefits Tel Aviv, saying "Israel would be in big trouble without Saudi Arabia."
"So what does that mean, Israel is going to leave? You want Israel to leave? We have a very strong ally in Saudi Arabia," Trump said after a Thanksgiving Day telephone call with military personnel from his Mar-a-Lago resort home in Florida on Thursday.
The US president also said the Saudis were "tremendously helpful" in the region as they also helped keep oil prices down.
Trump's comments came after he was harshly criticized for deciding not to punish the kingdom for the assassination of dissident Saudi journalist Jamal Khashoggi at Riyadh's consulate in the Turkish city of Istanbul in early October.
The US president has also been accused of ignoring human rights and giving Saudi Arabia a pass for economic reasons, including its influence on the world oil market.
Despite international calls for the US to put pressure on Riyadh, Trump said last week that Washington intends "to remain a steadfast partner of Saudi Arabia to ensure the interests of our country, Israel and all other partners in the region."
He also suggested that Israel would be forced to leave the region without Saudi Arabia.
"If you look at Israel, Israel would be in big trouble without Saudi Arabia," Trump said. "So what does that mean, Israel is going to leave? You want Israel to leave? We have a very strong ally in Saudi Arabia," Trump said.
Israel has no diplomatic ties with Saudi Arabia, but the two sides are widely known to have secret contacts and have recently stepped up their push towards normalization.
Critics say Saudi Arabia's flirtation with Israel would undermine global efforts to isolate Tel Aviv and harm the Palestinian cause.
https://www.presstv.com/Detail/2018/11/28/581371/US-President-Trump-Middle-East-Israel-oil-prices-Saudi-Arabia
--------
Virginia man pleads guilty in Muslim teen's death, will carry life sentence
Nov. 28, 2018
FAIRFAX, VA.—A Northern Virginia man pleaded guilty Wednesday to raping and killing a Muslim teenager last year in a case that drew national attention for its brutality on a young victim who had been walking with friends to early-morning religious services.
The plea deal allows Darwin Martinez-Torres, 25, of Sterling to avoid a potential death penalty for the June 2017 murder of 17-year-old Nabra Hassanen of Reston.
She had been out with a group of friends eating a pre-dawn meal at a fast-food restaurant ahead of Ramadan services. Martinez-Torres was driving by and got into an altercation with the group.
Wednesday's plea deal will mean Martinez-Torres gets life without parole when he is formally sentenced in March.
Nabra's death attracted widespread attention, and thousands of mourners attended her funeral. There were concerns that her slaying was motivated by anti-Muslim sentiment, but police have said repeatedly they have no evidence of a hate crime.
Instead, police called it an incident of road rage.
In court Wednesday, prosecutor Casey Lingan said the attack began when Martinez-Torres drove by and honked his horn at one of Nabra's friends who had been riding his bicycle in the road as they walked back to their mosque. The friend yelled back at Martinez-Torres, who started chasing the group, first in his car and then on foot.
Lingan said Nabra, who was wearing sandals, couldn't run as fast the others, and Martinez-Torres caught up with her, wielding a baseball bat. A friend of Nabra's described hearing a "thud and a metal ping" when she looked back. Some friends started to go back to help Nabra, but Lingan said Martinez-Torres scared them off with his bat.
Martinez-Torres, a native of El Salvador who federal immigration authorities have said is in the country illegally, was caught shortly after the attack. He initially denied attacking Nabra but quickly confessed under questioning from detectives. He told them that he "got out of control" and that after he first struck Nabra with the bat he "just kept thinking ugly things."
He raped her while she lay unconscious and dumped her body in a pond.
Fairfax County Commonwealth's Attorney Raymond Morrogh brought capital murder charges last year, and said he only agreed to take the death penalty off the table in Wednesday's plea after consulting with the family, which indicated it would be satisfied with a life sentence.
Martinez-Torres' lawyer, Joseph Flood, said his client has intellectual disabilities, and that his IQ is below 68. Morrogh acknowledged that if evidence of a severe intellectual disability were confirmed by an independent examiner, Martinez-Torres may well have been ineligible for a death sentence.
The plea deal carries an unusual provision that requires Martinez-Torres to answer any questions posed of him by the victim's family over the next year. Nabra's father, Mahmoud Hassanen, has been outspoken about his concerns that Nabra's death may have been a hate crime. Gadeir Abbas, a lawyer with the Council on American-Islamic Relations, which provided legal assistance to the Hassanen family, said the provision is in place to allow the family to ask Martinez-Torres directly why he killed her.
Morrogh said after the hearing that he has only rarely included such a provision in a plea agreement, and he did so in this case because he understood the Hassanen family's bewilderment at what could motivate such a crime.
"This is just such a random crime on such a loving, young person practicing her religion," Morrogh said. "I hope something comes out of that part of the agreement."
Full report at:
https://www.thestar.com/news/world/2018/11/28/virginia-man-pleads-guilty-in-muslim-teens-death-will-carry-life-sentence.html
--------
Pompeo: US-Saudi partnership is vital in rooting out Iranian regime, ISIS
28 November 2018
US Secretary of State Mike Pompeo stressed that the kingdom of Saudi Arabia is a powerful force for stability in the Middle East.
Pompeo's comment came in an article he penned in The Wall Street Journal on Tuesday, in which he added that Saudi Arabia is working to "secure Iraq's fragile democracy and keep Baghdad tethered to the West's interests, not Tehran's."
The US Secretary of State emphasized the role of Saudi Arabia in the Middle East and its stability, saying that Riyadh is helping manage the flood of refugees fleeing Syria's civil war by working with host countries, cooperating closely with Egypt, and establishing stronger ties with Israel.
He wrote that the Saudi kingdom also contributed millions of dollars to the US-led effort to fight ISIS and other terrorist organizations.
Regarding oil prices and market stability, Pompeo said that Saudi oil production and economic stability are key to regional prosperity and global energy security.
Iran's threat in the region
In his article, the US Secretary of State also criticized those who are using "the Khashoggi murder" for ulterior motives, saying: "Is it any coincidence that the people using the Khashoggi murder as a cudgel against President Trump's Saudi Arabia policy are the same people who supported Barack Obama's rapprochement with Iran—a regime that has killed thousands world-wide, including hundreds of Americans, and brutalizes its own people? Where was this echo chamber, where were these avatars of human rights, when Mr. Obama gave the mullahs pallets of cash to carry out their work as the world's largest state sponsor of terrorism?"
As for the "Khashoggi killing," Pompeo confirmed the US administration stance saying that 21 Saudi suspects have been deemed ineligible to enter the US, and had their visas revoked. He adding that: "Trump administration will consider further punitive measures if more facts about Khashoggi's murder come to light."
Pompeo also said that the US and Saudi Arabia recognize the immense threat of Iran.
He wrote that: " Modern-day Iran is, in Henry Kissinger's term, a cause, not a nation. Its objectives are to spread the Islamic revolution from Tehran to Damascus, to destroy Israel, and to subjugate anyone who refuses to submit, starting with the Iranian people. An emboldened Iran would spread even more death and destruction in the Middle East, spark a regional nuclear-arms race, threaten trade routes, and foment terrorism around the world."
As for the Yemeni crisis and Iranian meddling through its pro-militias, Pompeo said: "One of Mohammed bin Salman's first acts as Saudi crown prince was an effort to root out Iran's destabilizing influence in Yemen, where the Tehran-backed Houthi rebels seized power in 2015."
Pompeo warned that: "Tehran is establishing a Hezbollah-like entity on the Arabian Peninsula: a militant group with political power that can hold Saudi population centers hostage, as Hezbollah's missiles in southern Lebanon threaten Israel."
He added that: "Houthis have occupied Saudi territory, seized a major port, and, with Iranian help, improved their ballistic-missile targeting so that they can shoot at Riyadh's international airport, through which tens of thousands of Americans travel. Meanwhile, Tehran has shown no genuine interest in a diplomatic solution to the Yemen conflict."
US administration pledging $131 mln to Yemen
Pompeo revealed that the Trump administration has also taken many steps to mitigate Yemen's suffering from war, saying: "The US is pleased to announce it is providing nearly $131 million in additional food assistance for Yemen, bringing total humanitarian aid to more than $697 million over the past 14 months. The funds are being provided to the World Food Program and other organizations working to feed the Yemeni people."
"Iran has no interest in easing Yemeni suffering; the mullahs don't even care for ordinary Iranians. The Kingdom of Saudi Arabia has invested billions to relieve suffering in Yemen. Iran has invested zero," he added.
Pompeo wrote that: "Yemen is also an important front in the war on terror, and has remained so across presidential administrations of both parties. The group now known as Al Qaeda in the Arabian Peninsula launched its first major attack on Americans in October 2000, when its operatives bombed the USS Cole while the destroyer was berthed in Yemen's Aden harbor. The attack left 17 sailors dead and 39 wounded."
He added that: "AQAP has since attempted multiple attacks on the US homeland and allied interests, from Nigerian terrorist Umar Farouk Abdulmutallab's attempted bombing of Northwest Airlines Flight 253, en route from Amsterdam to Detroit on Christmas 2009, to the 2015 massacre at Charlie Hebdo's offices in Paris. ISIS also maintains a presence in Yemen, from which it seeks to attack the US and our allies."
Full report at:
https://english.alarabiya.net/en/News/gulf/2018/11/28/Pompeo-US-Saudi-partnership-is-vital-in-rooting-out-Iran-ISIS.html
--------
Senate agrees to debate US Role in Yemen war
Joyce Karam
November 29, 2018
The US Senate delivered a symbolic rebuff to the Trump administration on Wednesday, voting to advance the debate on the War Powers Authorization Act that could block the US role in the Yemen war in a later vote.
In a 63 to 37 vote, senators agreed to support an open debate on the Yemen war and US role.
The procedural vote received more Republican support than had been expected after the resolution, sponsored by Republican Sen. Mike Lee of Utah and Independent Sen. Bernie Sanders of Vermont, fell six votes short of passage earlier this year.
The outcome showed a significant number of Republicans were willing to break with President Donald Trump to express their deep dissatisfaction with Saudi Arabia and with the US response to Khashoggi's brutal killing in Turkey last month.
The vote came just a few hours after Secretaries of State and Defense, Mike Pompeo and James Mattis, briefed the Senate in a closed session and urged them to reject the bid.
While Wednesday's vote does not block the administration's role in Yemen, it sets up a debate about it and would require another vote to sanction it.
The bill gained 19 more supporters since it was last introduced in March. All 49 Democrats voted to advance the debate while 14 Republicans agreed.
"The suffering in Yemen grieves me, but if the United States of America was not involved in Yemen, it would be a hell of a lot worse. What would happen if the US withdrew from the Yemen effort? Guess what: the war wouldn't end," Mr Pompeo told the Senate. US involvement in Yemen, he added, is central to the Trump administration's broader goal of containing Iranian influence in the Middle East.
US defense chief Mr Mattis said: "Tragedies occur in war, we assess restraint and improved tactical judgment by Arab coalition pilots has reduced the risk of civilian casualties".
Mr Mattis was also to make the case against a vote on a measure to invoke the War Powers Resolution, an act that could end US involvement in Yemen, since Washington's role in the war is not operational. The US stopped the refueling of Arab Coalition planes last month.
Full report at:
https://www.thenational.ae/world/the-americas/senate-agrees-to-debate-us-role-in-yemen-war-1.797006
--------
US asks UN to hold off UK-drafted resolution on Yemen truce
Nov 28, 2018
The US has urged the UN Security Council to put on hold a draft resolution demanding an immediate truce in Yemen, in what is viewed as an attempt to hinder international efforts aimed at ending the Washington-backed Saudi war on the impoverished country.
In a message sent to other council members on Tuesday, the US mission signaled that it was reluctant to act on the UK-drafted resolution until after the talks had taken place in Stockholm in early December.
"We look forward to offering more substantive comments to the draft once we have more information on the outcomes of the upcoming consultations," the message said.
Britain circulated the draft text to the 15-member council a week ago and called on parties involved in Yemen's crisis to restart peace negotiations.
The draft sets a two-week deadline for warring Yemeni parties to remove all barriers to humanitarian aid, halt attacks on civilian areas and allow unhindered access to the strategic port city of Hudaydah.
Negotiations on the proposed resolution -- the first to be discussed by the council on Yemen since 2015 -- began last week, but no decision has been made on when the draft should be put to a vote.
The truce would take effect on the day of the adoption of the resolution.
Additionally, the Security Council has demanded that the warring sides in Yemen engage with the UN special envoy for the impoverished country, Martin Griffiths.
UN diplomats said that Griffiths was hoping to bring the warring sides to Sweden for negotiations that could begin as early as December 3.
The diplomats, however, said they did not expect a vote this week on the measure due to the US's reluctance to put pressure on the Saudi-led coalition, which has Washington's firm support in the bloody war against Yemen.
The United States made a surprise call for a truce in the war-ravaged country last month and threw its weight behind the UN-led effort to hold peace talks.
That call came as the war became the focus of attention amid international outrage over the assassination of Saudi dissident journalist Jamal Khashoggi at Riyadh's consulate in Istanbul, Turkey, early in October.
Yemen was grappling with a domestic political conflict when the Saudi regime and its allies intervened in March 2015 and unleashed the military campaign in favor of the government of ex-president Abd Rabbuh Mansur Hadi, a close Riyadh ally who had earlier resigned and fled to the Saudi capital.
Another party to the conflict is Yemen's Houthi Ansarullah movement which has been running state affairs from Sana'a in the absence of an effective government besides defending the country against the Saudi aggression.
The offensive initially consisted of a bombing campaign but was later coupled with a naval blockade and the deployment of ground forces to Yemen.
Over the past few months, Saudi-backed militiamen loyal to Hadi and foreign mercenaries have been fighting Houthi Ansarullah for the control of the port city of Hudaydah, a vital conduit and lifeline for the delivery of humanitarian aid to millions of Yemeni people.
During a meeting with Griffiths in Sana'a on Thursday, the leader of the Houthi Ansarullah movement praised positive initiatives and practical steps, which seek to ensure a political solution to the Yemeni conflict.
Abdul-Malik al-Houthi then demanded an immediate end to the Saudi-led aggression, the removal of the blockade and humanitarian aid deliveries to war-stricken people.
Last week, the administration of Hadi announced that it would take part in the proposed peace talks in Sweden, hours after the chairman of the Supreme Revolutionary Committee of Yemen, Mohammed Ali al-Houthi, said Ansarullah fighters were halting their retaliatory attacks as a goodwill measure to speed up the "peace" process.
Griffiths says that he has received "firm assurances" that the warring Yemeni parties would attend talks in the Swedish city of Stockholm.
The Saudi-backed side has, however, stepped up the raids aimed at seizing Hudaydah despite the peace efforts.
Full report at:
https://www.presstv.com/Detail/2018/11/28/581353/UN-resolution-US-Yemen-truce-Saudiled-coalition
--------
Arab World
Saudi Arabia pledges $50 mln to UN Palestinian refugee agency
28 November 2018
Saudi Arabia pledged $50 million in aid on Wednesday to the UN agency for Palestinian refugees (UNRWA), which has been hit by the withdrawal of all US funding.
The announcement was made at a news conference in the Saudi capital by the director of the King Salman Humanitarian Aid and Relief Centre, Abdullah al-Rabeea.
UNRWA commissioner general Pierre Krahenbuhl told the news conference that the agency had succeeded in containing spending following the decision by the administration of President Donald Trump in August to end all funding.
The United States had been by far the biggest contributor to the UN Relief and Works Agency for Palestine refugees and the move dealt a massive blow to its already stretched finances.
Krahenbuhl said in Jordan last week that new funding pledges from Europe and other Gulf Arab states had allowed the agency to dramatically reduce the resulting budget shortfall, to just $21 million from $446 million at the start of the year.
More than five million registered Palestinian refugees are eligible to receive support from UNRWA, which was set up after Israe's creation in 1948.
The Trump administration has backed Israel in accusing the agency of perpetuating the Middle East conflict by maintaining the idea that millions of Palestinians are refugees with a right to return to homes in what is now Israel.
The Palestinians severed all ties with the administration after Trump's decision last December to move the US embassy in Israel to Jerusalem and declare the disputed city Israel's capital in a break with a decades-old bipartisan policy.
https://english.alarabiya.net/en/News/middle-east/2018/11/28/Saudi-Arabia-pledges-50-mln-to-UN-Palestinian-refugee-agency.html
--------
Iraqi Artillery Units Pound ISIL's Positions in Syria
Nov 28, 2018
Al Sumeriyah news quoted Farhan Mohammad al-Deilami, a member of Anbar province's council, as reporting that the artillery units shelled ISIL's strongholds in Syria that left a number of the terrorists dead.
It went on to say that most of ISIL commanders that had already left Iraq to Syria were killed in the attack.
Al-Deilami told al-Sumeriyah that the artillery attack was done in coordination with the Damascus government in order to prevent infiltration of ISIL from Syria to Iraq.
Earlier this month, the Iraqi Air Force pounded a key base and a large arms depot of the ISIL terrorists in Eastern Syria near the border, inflicting tens of casualties on the terrorists.
The Joint Operation Command said in a statement that the Iraqi F-16 fighter jets targeted ISIL's bases on Syria's soil at the order of Iraq's General Command of the Armed Forces and under the supervision of the Joint Operation Command.
The statement said that the warplanes bombed an arms and ammunition depot of ISIL-affiliated Fayalq al-Farouq in al-Souseh region in Southeastern Deir Ezzur, adding that the depot contained a large number of missiles and explosives.
It added that a sum of 10 terrorists were killed in the raid.
Full report at:
http://en.farsnews.com/newstext.aspx?nn=13970907000931
--------
Saudis Furious at Sudan for Decision to Withdraw from Yemen
Nov 28, 2018
The Arabic-language al-Araby al-Jadid daily quoted diplomatic Sudanese and Egyptian sources as saying on Wednesday that the Sudanese officials have told their Saudi counterparts that they are under the opposition's pressures to withdraw their forces from Yemen, calling on Riyadh to find a way as soon as possible to end the military operations and crisis in the war-torn country.
According to the sources, the Saudi officials have expressed anger at Sudan's demands, stressing the need for them to delay withdrawal of their forces from Yemen until regional conditions improve.
Saudi Arabia and a number of its regional allies, including Sudan, launched a devastating campaign against Yemen in March 2015, with the aim of bringing the government of former Yemeni President Abd Rabbuh Mansur Hadi back to power and crushing the Ansarullah movement.
Official UN figures say that more than 10,000 people have been killed in Yemen since the Saudi-led bombing campaign began in March 2015. But the Armed Conflict Location & Event Data Project (ACLED) believes that at least 56,000 people have lost their lives in the war. The violence has also left around two-thirds of Yemen's population of 27 million relying on aid amid an ongoing strict naval and aerial blockade. According to the world body, Yemen is suffering from the most severe famine in more than 100 years.
Save the Children, a charity, has reported that more than 84,700 children under the age of five may have starved to death in Yemen since the Saudi regime and a coalition of its allies launched the brutal war on the already-impoverished nation.
Yemen is the world's largest humanitarian crisis with more than 22 million people in need and is seeing a spike in needs, fuelled by ongoing conflict, a collapsing economy and diminished social services and livelihoods.
A number of Western countries, the US, the UK, and France in particular, are accused of being complicit in the ongoing aggression as they supply the Riyadh regime with advanced weapons and military equipment as well as logistical and intelligence assistance.
an Oxfam representative stated that the US, UK, and French governments are behind millions of people starving in Yemen because they are "supporting this war".
"We have 14 million people starving," Richard Stanforth, Oxfam UK's regional policy officer for the Middle East, told RT, adding that "British, French, American governments are all behind this, they are all supporting this war".
Full report at:
http://en.farsnews.com/newstext.aspx?nn=13970907000354
--------
Tens of Civilians Leave Terrorist-Held Regions Via Humanitarian Corridor in Idlib
Nov 28, 2018
The sources reported that the army reopened Abu al-Dhohour corridor after heavy fighting with Tahrir al-Sham Hay'at (the Levant Liberation Board or the Al-Nusra Front) on Tuesday to pave the ground for civilians' relocation from militant-held regions in Idlib province to regions that are under the army's control.
In the meantime, Russian sources said that reopening of the corridor has been carried out in coordination between the Syrian and Russian forces, adding that the corridor will be open till December 2nd.
It further said that a large number of people have flocked to Southeastern Idlib to leave the region via the corridor for safer regions under the army's control.
Meanwhile, SANA reported that tens of families have exited Idlib via the corridor, adding that the fleeing people will be resettled in their former residential regions in Hama, Aleppo and Idlib.
It went on to say that the Syrian authorities have provided the fleeing people with food, medical care, suitable clothes and other necessary facilities.
The terrorists' refusal to implement the Sochi Agreement to establish a demilitarized zone is pushing the army to initiate its long-waited assault on militants in Idlib that had been put on hold due to the Sochi Agreement.
Colonel Mar'ei Hamdan, a Syrian military expert, was quoted by the Arabic-language website of Sputnik news agency as saying earlier this month that Tahrir al-Sham is in control of nearly 70% of towns and villages in Idlib province and makes provocative moves against the Syrian army, adding that the army's commitment to decrease tensions is not lasting forever.
He added that the Syrian army has so far repelled all attacks by terrorists against its positions and inflicted heavy damages on them, noting that the army is now necessitated to come out of the defensive mood to retake control of Idlib.
Hamdan said that Tahrir al-Sham will resort to a full-scale military operation against the Syrian and Russian armies soon, after rejecting the Sochi agreement last October, which leaves no room for ceasefire or disarmament anymore, and underlined that the Syrian army's battle against Tahrir al-Sham is inevitable.
Meantime, the Turkey-backed Ahrar al-Sham and National Liberation Front (NLF) terrorist groups has also dismissed the Russian-Turkish Sochi agreement and is preparing for military operations against the army in Northern Syria, calling for a coalition with Tahrir al-Sham.
Tahrir al-Sham and other allied terrorist groups have not left the demilitarized zone two months after the Sochi agreement and have instead reinvigorated their strongholds and targeted the army positions every day.
Relevant reports said that the Turkey-backed NLF had put its gunmen on alert to launch a heavy offensive against the Syrian army in the demilitarized zone in Idlib province.
Full report at:
http://en.farsnews.com/newstext.aspx?nn=13970907000905
--------
United Nations wants Syria to account for war dead, detainees
29 November 2018
The UN Commission of Inquiry on Syria urged the Security Council on Wednesday to press the Syrian government to provide information to families about the fate of those missing or detained during the seven-year war.
Following a closed-door informal meeting with council members, the commission chairman said it was crucial to push the government to give a full account after it began in May to release death notifications.
"The issues of the detainees and the disappeared should not be dealt after peace, but now is the time to consider this," said Paulo Pinheiro, who heads the commission set up to investigate human rights violations in the war.
In May, the military police and army provided for the first time information to government civil registry offices on the deceased, allowing families to finally learn the fate of their loved ones.
"The state is beginning to put out that information, but little else," said commission member Hanny Megally. "The families have a right to know what happened, where the bodies are, to get information about them."
An international independent body must be given access to all places of detention to confirm who is still alive in detention, he added.
The commission hopes council members including Russia, Syria's ally, can encourage the Damascus government to take steps to address demands from the families of lost or missing loved ones. Syria's war has killed more than 360,000 people and displaced millions.
Full report at:
https://english.alarabiya.net/en/News/middle-east/2018/11/29/United-Nations-wants-Syria-to-account-for-war-dead-detainees.html
--------
Kremlin says Putin scheduled to meet Saudi crown prince at G20 summit
28 November 2018
A meeting with Saudi Crown Prince Mohammed bin Salman is scheduled in Russian President Vladimir Putin's agenda at the G20 summit in Argentina, the Kremlin said on Wednesday.
the Kremlin added that President Putin will discuss with Saudi Crown Prince the Syria file and oil markets, at G20 summit in Argentina.
The development of bilateral relations is a priority in the meeting between Putin and Saudi Crown Prince, said the Kremlin.
In the meantime, Russian President Vladimir Putin credited on Wednesday, Saudi Crown Prince for the commitment of OPEC and its allies to the oil production agreement.
US President Donald Trump had also stated that he would be willing to meet with the crown prince at the summit.
Saudi Energy Minister Khalid Al-Falih had confirmed the news last week that the crown prince will be attending the summit, and said that the participation of the crown prince at the G20 summit is part of his foreign tour where he has already visited the UAE, Egypt, Bahrain and Tunisia.
Climate change, steel and migration have emerged as sticking points in the final communique that world leaders will issue at the end of the Group of 20 summit in Argentina later this month, an Argentine government official said earlier last week.
The Kremlin also said it still expects a meeting between President Vladimir Putin and US President Donald Trump to go ahead as planned.
Trump, in an interview with The Washington Post on Tuesday, said he may cancel his planned sit-down with Putin in Argentina following Russia's seizure of three Ukrainian naval ships last weekend.
Kremlin spokesman Dmitry Peskov told reporters on Wednesday that the meeting is on and that Russia has not received "any other information from our US counterparts."
Full report at:
https://english.alarabiya.net/en/News/gulf/2018/11/28/Kremlin-says-Putin-scheduled-to-meet-Saudi-crown-prince-at-G20-summit.html
--------
11th round of talks on Syria crisis begins in Astana
Nov 28, 2018
The 11th round of talks on the Syria crisis has kicked off in the Kazakh capital, with the presence of representatives from the Damascus government and opposition as well as the three guarantor states of the Astana peace process.
The discussions, which began on Wednesday, will mainly focus on the situation in the de-escalation zone set up in Syria's northwestern Idlib Province and the creation of a constitutional committee in the war-torn country.
Moreover, issues such as confidence-building measures between Syria's opposite sides, fight against terrorist outfits and the return of Syrian refugees to their homes would be raised during the two-day negotiations.
In addition to representatives from the Syrian government and opposition groups, delegations from Iran, Russia and Turkey, which are acting as the guarantors of an all-Syria ceasefire, as well as international observers - the UN and Jordan - will attend the talks.
The Astana talks have so far resulted in the return of a succession of militant bastions to the government fold, the establishment of safe zones across Syria and the movement of civilians to those regions.
The Syrian government's delegation, headed by the country's UN Ambassador Bashar al-Ja'afari, arrived in the Kazakh capital on Tuesday for the Astana negotiations.
Hossein Jaberi Ansari, senior assistant to the Iranian foreign minister on special political affairs, Russian Special Envoy for Syria Alexander Lavrentiev and Turkish Deputy Foreign Minister Sedat Onal will also lead the delegations of the guarantor states to the talks.
Heydar Beck Tomatov, director of Asia and Africa department at the Kazakh Foreign Ministry, said in a statement that bilateral and tripartite consultations will be held in the first day of the Astana meeting and that the second day will feature the general session.
Kazakh Foreign Ministry spokesman Aybek Smadiyarov also said journalists from more than 200 media outlets had been accredited to cover the event.
The 10th round of talks in the Astana format took place in the Russian Black Sea resort of Sochi on July 30-31.
A Tuesday UN statement said Staffan de Mistura, the international body's special envoy for Syria, will join the 11th round of the Astana talks.
Full report at:
https://www.presstv.com/Detail/2018/11/28/581357/Syria-Kazakhstan-Astana
--------
Syria must account for detainees who died in custody: UN
November 29, 2018
GENEVA: UN war crimes investigators called on Syria on Wednesday to tell families what happened to their relatives who disappeared and provide the medical records and remains of those who died or were executed in custody.
No progress can be made toward a lasting peace to end the nearly eight-year-old war without justice, the International Commission of Inquiry on Syria said.
After years of government silence, Syrian authorities this year released "thousands or tens of thousands" of names of detainees alleged to have died, mostly between 2011 and 2014, it said in a report released before delivery to the UN Security Council.
"Most custodial deaths are thought to have occurred in places of detention run by Syrian intelligence or military agencies. The Commission has not documented any instance, however, where bodies or personal belongings of the deceased were returned," it said.
In nearly every case, death certificates for prisoners that were provided to families recorded the cause of death as a "heart attack" or "stroke," the independent panel led by Paulo Pinheiro said.
"Some individuals from the same geographic area share common death dates, possibly indicating group executions," it said.
In most cases, the place of death was stated as Tishreen military hospital or Mujtahid hospital, both near Damascus, but the place of detention was not named, it said.
"Pro-government forces and primarily the Syrian state should reveal publicly the fates of those detained, disappeared and/or missing without delay," the report said, noting this meant Syrian government forces, Russian forces and affiliated militia.
Families had the right to know the truth about their loved one's deaths and be able to retrieve their remains, it said.
In a 2016 report, the panel found that the scale of deaths in prisons indicated that the government of President Bashar Assad was responsible for "extermination as a crime against humanity."
In Syria, a family member must register a death within a month after receiving a death notification, the report said. Failure to do so results in a fine which grows after a year.
But given that there are millions of Syrian refugees abroad and internally displaced, many are not in a position to meet deadlines, it said.
Full report at:
http://www.arabnews.com/node/1412751/middle-east
--------
Security experts discuss terror threat in Mideast, Africa at Lebanon conference
November 28, 2018
BEIRUT: "Why is terrorism becoming more widespread and complex?" That was the question posed by Maj. Gen. Abbas Ibrahim, the general director of Lebanese General Security, to security experts from a dozen African nations during a conference organized by the Lebanese General Security Directorate in Beirut early this week.
The two-day event, titled "Defeat of Terrorism in the Region and its Impact on Africa," was attended by representatives of the security services in the Congo, Burkina Faso, Zambia, Tunisia, Angola, Nigeria, Tanzania, Central Africa, Cameroon, Togo, Niger and Benin, as well Lebanese officials and a number of diplomats, including the ambassadors of Russia, Tunisia, Oman and Egypt.
"There are more than 40 terrorist organizations and groups" in Africa, according to Brig. Gen. Riad Taha, the head of the conference's organizing committee.
"About 600,000 Lebanese are present in the African continent, and through our work in the security services, we found out that there are terrorist networks in Lebanon that have links with terrorist organizations in Africa," he told Arab News. "They are trying to infiltrate the communities of their countries, in addition to the movement of armed terrorists to this continent in an attempt to form a large arch linking the Middle East to the west coast of Africa through the Horn of Africa in the east of the continent."
Delegates at the conference discussed the direct and indirect causes of the development of terrorism in the Middle East, the environment in which it incubates, the circumstances surrounding the emergence of terrorist movements and their aims, funding and directions. It also discussed the fall of Daesh and the fate of members of terrorist movements.
"The international community is called upon to stop giving instructions remotely and to move toward serious and equal engagement in the open battle which, if we do not win, the whole world will lose, not just a single nation or a single state," said Maj. Gen. Ibrahim.
"The geographic location of the African countries helped transform their lands into a backyard for many terrorist groups that have settled in northern Africa. As they developed, they sought allies and followers in the east and west coast of Africa. They transferred their ideas and tools to the whole continent until terrorist groups, such as Boko Haram, Ansar Al-Din, Jihad and Tawhid, Mujahideen Youth Movement, Ansar Al-Muslimeen, Ansar Al-Islam, and the Lord's Resistance Army, along with Daesh and Al-Qaeda, settled in it."
He said that the spread of terrorism on the African continent was due to "the qualitative change in the nature of the activities of terrorist groups, which have come to transcend the borders of countries and continents, and the success of these terrorist movements in employing the electronic industry in the service of its terrorist purposes at the levels of recruitment, media, electronic piracy and training."
Maj. Gen. Ibrahim said the spread of terrorist groups to Africa was not unconnected to "factors of political and economic marginalization and tribal and ethnic conflicts in many African countries, which allowed the formation of 'hybrid terrorism' as a result of tribal hegemony with organized crime, and the intermingling of religious violence with tribal extremism."
He said that "political will must be combined with the security administration to combat terrorism," and added: "Our information indicates that terrorism, though weakened, has not faded and is still flexible. It is still capable of arming itself, acquiring technologies, using electronic platforms to recruit fighters and suicide bombers, planting extremist and violent ideas and launching attacks with simple weapons that are easy to get, including vehicle-ramming or individual attacks against commercial and tourist gatherings, to inflict the largest number of casualties. These operations are known as 'lone wolf' operations."
He called for "the adoption of unified procedures for the exchange of intelligence, data, experiences and knowledge to achieve security and stability."
Lebanese academic Jinane El-Khoury focused on "the transformation of terrorism from traditional terrorism to classic terrorism, then ballistic terrorism and recently to cyberterrorism." She drew a distinction between "those who carry out terrorism and those who finance them; they are usually organized criminal groups, and the funding for that is the proceeds of cross-border crimes."
She said "there is no single objective definition of terrorism" and talked about "the adoption of terrorism as a way to solve disputes and political differences." She noted that "terrorism might also be financed in a legitimate way" and that "the Boko Haram group is on Twitter now and is being followed by thousands."
El-Khoury also spoke about the use of "electronic means by terrorist groups, providing them with recruitment platforms, identifying potential targets, postal cooperation, collecting donations and destroying websites."
Judge Jean Fahed, the head of Lebanon's Higher Judicial Council, discussed the experiences of the Lebanese judiciary with terrorism and the development of legislation to confront it since 1923.
"Terrorist acts were carried out by conventional means and developed into proactive actions," he said. Fahed revealed that 577 terrorism cases were presented to the Lebanese judiciary in 2017, compared with 27 in 2007. He pointed out that terrorists on trial refuse to hire lawyers to defend them, prolonging the legal process in the hope of taking advantage of a general amnesty. He also stressed that laws must be enacted to help protect witnesses.
Malik Al-Asta, a Lebanese banker, explained the ways in which banks can help to combat terrorism by preventing the spread of funding for terrorist acts and money laundering. As a result, he said, "charities are classified by banks as 'highly risky' clients until proven otherwise."
The audience at the event raised many questions for the speakers. Some stressed the need to strike a balance in protecting human rights while fighting terrorism, while others asked about websites in the "deep web" which are not blocked despite being very dangerous, while more public sites in the "surface web" are pursued and blocked. The danger posed by the "dark web" was also stressed because "no one knows what is in it."
Internal cohesion is a necessity to prevent the disintegration of states, said Masoud Al-Dahir, a professor of history at the Lebanese University.
"We may have entered into the era of barbaric globalization, because the element of power and domination is overwhelming," he told Arab News. "There are countries that are able to protect themselves, while other countries have their economies and systems destroyed.
"In today's world, there is no independent state or nation capable of confronting huge financial monopolies. The middle class has declined all over the world, except for internally cohesive countries."
Al-Dahir said there he is unaware of any example in history of anything similar to what is happening now.
"In the past, the system of values ruled people," he said. "Today, it is governed by the law of the jungle. Production is no longer competing with production. Where are the ideas of the French Revolution and sustainable development?
Full report at:
http://www.arabnews.com/node/1412481/middle-east
--------
Europe
British court rejects Turkey's extradition request for top Gulenists
Nov 28, 2018
A court in the United Kingdom has turned down a request by Turkish officials to extradite two senior members of a movement led by US-based opposition cleric Fethullah Gulen, whom the Ankara government accuses of having masterminded the July 2016 coup attempt against President Recep Tayyip Erdogan.
On Wednesday, the Westminster Magistrates Court dismissed the plea against Turkish businessman Hamdi Akin Ipek, religious scholar Talip Buyuk and banker Ali Celik.
The court ruled that probation conditions for the defendants, including seizure of their passports, will resume during the appeal period and they were ordered to stay in London during the process.
The most distinguished defendant of the trio is Akin Ipek, who once run a business empire in Turkey. Buyuk was a high-ranking members of the Gulenist Terror Group (FETO), and Celik was the director of the now-defunct Bank Asya.
Ipek was detained on May 23 after Turkey demanded his extradition.
Turkey issues arrest warrants for 27 over Gulen links
Meanwhile, Turkish prosecutors have issued arrest warrants for more than two dozen people on suspicion of affiliation to FETO.
The Chief Prosecutor's Office in the capital Ankara issued the arrest warrants for 23 former and four on-duty civili servants for using the ByLock, an encrypted mobile messaging application that was allegedly used by Gulen's supporters for communication. Among the suspects were 15 personnel of the Agriculture and Forestry Ministry, five personnel of the Energy Ministry and eight personnel from other public institutions.
Police have rounded up 11 of the suspects so far in simultaneous operations in seven provinces across Turkey.
During the 2016 botched putsch, a faction of the Turkish military declared that it had seized control of the country and the government of Erdogan was no more in charge. The attempt was, however, suppressed a few hours later.
Ankara has since accused Gulen of having orchestrated the coup. The opposition figure is also accused of being behind a long-running campaign to topple the government via infiltrating the country's institutions, particularly the army, police and the judiciary.
Gulen has denounced the "despicable putsch" and reiterated that he had no role in it.
"Accusations against me related to the coup attempt are baseless and politically-motivated slanders," he said in a statement.
The 77-year-old cleric has also called on Ankara to end its "witch hunt" of his followers, a move he says is aimed at "weeding out anyone it deems disloyal to President Erdogan and his regime."
Turkish officials have frequently called on their US counterparts to extradite Gulen, but their demands have not been taken heed of.
Turkey has been engaged in suppressing the media and opposition groups suspected to have played a role in the failed coup.
Tens of thousands of people have been arrested in Turkey on suspicion of having links to Gulen and the failed coup. More than 110,000 others, including military staff, civil servants and journalists, have been sacked or suspended from work over the same accusations.
The international community and rights groups have been highly critical of the Turkish president over the massive dismissals and the crackdown.
https://www.presstv.com/Detail/2018/11/28/581396/Britain-Turkey-extradition-Gulenists
--------
Germany seeks dialogue with country's 4.5 million Muslims
November 28
BERLIN — The German government is reaching out to the country's 4.5 million Muslims by sitting down with community leaders, experts and imams to talk about improving their integration in the country.
German Interior Minister Horst Seehofer opened the "German Islam Conference" Wednesday saying the dialogue with Germany's Muslims will tackle their "beliefs, convictions and traditions ... and how they can be put in line with the culture and values rooted in German society."
Seehofer says training imams in Germany and ending financial support of mosques from abroad are two important goals.
Full report at:
https://www.washingtonpost.com/world/europe/germany-seeks-dialogue-with-countrys-45-million-muslims/2018/11/28/c029946e-f317-11e8-99c2-cfca6fcf610c_story.html
--------
Khashoggi case: French historian Adler poses questions about Turkey, Qatar
28 November 2018
Writing in the French newspaper 'Le Figaro', French author and historian Alexandre Adler criticized the developments in the Jamal Khashoggi case.
The French writer began his article by stating: "There is a Latin saying that reads 'Audiatur et alterapars' which means that 'you have to always listen to the opposing party', yet this was not applied in the case of Khashoggi's killing.
Turkish intelligence
He continued: "First and foremost, there is the problem of the 'one witness is not a useful one'. All the detailed information revealed about Khashoggi's murder within the Saudi Consulate in Istanbul came from a single source - the Turkish intelligence service.
"We are talking here about a security service that has been purged three times in the recent past and is fully subjected to the instructions of its commander Hakan Fidan. The latter was among those who organized the fake coup which led in just one day to the arrest of hundreds."
The French journalist added: "It is evident that the credibility of the Turkish authorities' immediate testimonies, and their deployment is an elaborate device that operates outside and within the Saudi consulate."
In contrast, Saudi Crown Prince Mohammed bin Salman chose not to further delay and recognize the responsibility of the Saudi state in the killing of Khashoggi and to publicly apologize to one of the victim's brothers.
He proceeded: "It remains for us to see whether the Crown Prince, who is presented by some media without any evidence as the mastermind behind the killing, although it is irrational to order a crime to be committed by the State that would permanently harm the image of the Kingdom of Saudi Arabia, especially at a time when the fruits of the Kingdom's strategy to isolate Qatar without violence are ripe for the taking, including the beginning of Doha's retreat about terrorist organizations."
The plot
The French writer recalls the scenario of Khashoggi's case, skeptically stating: "An improvisational style leading to the point of committing murder, without even thinking of the horrific question about getting rid of the body - all of it under Turkish Camera surveillance - and of course, the dramatic scenario of dismembering the victim's body."
As we know, Istanbul is a very busy and bustling city which makes it a potential place to commit and conceal a murder either by poisoning or a hit-and-run, away from the consulate, which leads to suspicions.
"Everything here points to a plot. We can even feel that that the real killing's perpetrators have searched for all the fake assassination methods in the Islamic world to find the precedent in the 1966 case of the unfortunate Ibn Baraka."
All the movements of Khashoggi in Istanbul were known to Saudi Arabia as well as to those who had every reason to seek revenge from Mohammed bin Salman like in an Agatha Christie novel.
"We are not talking here about the leaders of Qatar, who have started to seriously negotiate about a useful truce with Saudi Arabia."
Do the Turks know more?
Alexandre Adler added: "Everything happened as if Istanbul knew at least that something was going to happen at the Saudi consulate in Istanbul."
It is not necessary to assume that the Turks knew more about the motivations that led them to an intense vigilance in the three previous days.
Full report at:
https://english.alarabiya.net/en/features/2018/11/28/Khashoggi-case-French-historian-Adler-poses-questions-about-Turkey-Qatar.html
--------
Future of nuclear deal hinges on Europe's efforts to ease US pressures: Iran
Nov 28, 2018
A top Iranian official says the 2015 nuclear deal between Tehran and world powers will be in danger if European countries fail to fulfill their pledge to ease the US' pressures and let Iran reap the economic benefits of the deal.
The US' withdrawal from the Iran nuclear deal in May and its "illegal" move to increase pressure on Tehran upset the balance between the Islamic Republic's commitments under the deal and the benefits it gained from it, Deputy Foreign Minister for Political Affairs Seyyed Abbas Araqchi said on Wednesday.
Under such circumstances, the failure of Europeans and other parties to ease the pressures, as they had promised to, has increased concerns about the future of the nuclear deal, Araqchi said in a meeting with his Belgian counterpart in Brussels.
Despite Washington's withdrawal from the Joint Comprehensive Plan of Action (JCPOA) in May and re-imposition of sanctions on Tehran in November, the Europeans have reaffirmed their commitment to the JCPOA, as have Russia and China.
The EU is trying to create a special payment mechanism, known as Special Vehicle Purpose (SPV), in order to facilitate doing business with Tehran in the face of the US sanctions. However, the process has taken too long and this has sparked Iran's protest. Araqchi on Wednesday urged the Europeans and other parties to the nuclear deal to implement the mechanism as soon as possible in order to guarantee Iran's economic benefits under the deal.
For his part, Belgian Deputy Foreign Minister Bruno van der Pluijm said the Europeans are hopeful they would be able to develop the SPV soon.
"We are seeking to preserve the Iran nuclear deal and believe that the JCPOA must remain intact irrespective of the US' pullout… as there is no alternative to the accord," he noted.
He also reaffirmed the permanent commitment of his country and other European states to defending the nuclear deal and said the JCPOA plays a key role in international peace and security.
Later in the day, European Commission President Jean-Claude Juncker reiterated the bloc's strong support for the JCPOA, highlighting its contribution to global peace and security.
Speaking in an exclusive interview with Treffpunkt Europa, Juncker said the European Union "is working – in close coordination with the member states and other partners – on concrete measures to maintain cooperation with Iran in crucial economic sectors." "Reliability is what makes global stability. That is why Europe has to adhere to its position even when the US unilaterally withdraws from the Iran deal," the top European official said.
"The deal may not be perfect but it was an important step toward peace in the region and worldwide. As long as Iran is compliant, the European Union as one of the architects of the agreement is devoted to this arrangement for the sake of peace and security," he added.
He said the EU wants to maintain trade and economic relations with Iran which had already normalized as a consequence of the agreement.
Full report at:
https://www.presstv.com/Detail/2018/11/28/581436/Araqchi-JCPOA-danger-US-pressures-SPV
--------
Syrian refugee family under racist attack in UK
29.11.2018
By Ahmet Gurhan Kartal
LONDON
A Syrian refugee family has come under focus following reports of bullying and racially aggravated assault of its members since they took refuge in the UK.
The systematic bullying came to light after a video surfaced online showing one of the family members -- a 15-year-old identified only as Jamal -- being racially abused, grabbed, shoved to the ground and held down by the throat as water is poured over his face at Almondbury Community School. It went viral this week as millions of social media users shared it worldwide.
A 16-year-old youth has been interviewed and reported for summons for an offence of assault that took place on Oct. 25, the West Yorkshire Police Department said in a statement Wednesday.
The identity of the assailant, who has shared far-right material on his social media accounts on many occasions, has been largely circulated on social media, but he is not being named for legal reasons.
Victim's sister bullied at same school
However, a new video appeared online late Wednesday showing a female student with a headscarf also being bullied, racially abused and pushed to the ground by a group of female students. Local media say she is Jamal's sister.
The local police force immediately launched an investigation and is appealing for information on the incident.
"We have been made aware of a video showing a girl being assaulted at Almondbury Community School [on Tuesday]," the West Yorkshire Police Department said.
"The incident had not previously been reported to the police, but we are now liaising with the girl's family, who we are continuing to support," the statement added.
Traumatized family
Jamal, who cannot be fully identified for legal reasons, described how he has been targeted by bullies for the past two years in an exclusive interview with ITV News.
"I was feeling unsafe everywhere - even to go to the shop," he said.
"I was feeling like I couldn't study or do my homework. I woke up at night and just started crying because of this problem.
"When I saw everyone looking at this video, I felt ashamed of myself and why it happened. I was really upset about that."
Jamal and his family had fled their war-torn town of Homs in 2016.
He said the bullying and racism have been so bad since he came to the UK through a UN refugee program that he didn't want to go to school.
"I don't feel safe at school. Sometimes I say to my dad I don't want to go to school anymore," he said.
"I was disappointed when I came to the UK because I was thinking my life is going to be good, my future is going to be really good if I study at school. And I didn't achieve any of that."
The teenager also said he tried to report the never-ending bullying and racism to local authorities, but he failed to make his voice heard by them.
Reporting for ITV News from Huddersfield, Ben Chapman, the reporter who interviewed Jamal, said Jamal's father told him the family feels "very vulnerable" at home since all of this has come about.
Chapman reported the father as having told him that the family members have had threats outside the school as well and all of it means that they don't feel confident to continue living in Huddersfield.
Tasnime Akunjee a solicitor representing the family, said they were considering moving away from the area and had received offers to be rehomed in Oxford, according to The Guardian newspaper.
Akunjee said the couple's daughter, who attends the same school, had been bullied by another group of pupils and last week someone forcibly removed her hijab.
He said the family also contacted their local MP, Barry Sheerman, about a month ago.
"The family had concerns about their children and the environment their children were in at school. They weren't sure how to engage assistance because of the language barrier. We were so concerned about these children that we contacted the school, council and the local police."
Islamophobia
The latest incidents have received wide attention from millions of social media users across the country and globe.
A crowdfunding page set up online to assist the bullied teenager and his family has raised more than £115,000 ($147,571) only 24 hours since it was launched.
The Muslim Council of Britain reacted to the incident.
"The distressing video of a young Syrian refugee from a school in Huddersfield being physically assaulted shows how far Islamophobia has manifested in society," it said.
"It is promising to hear the perpetrator has been charged. Islamophobia must be rooted out and dealt with in all cases."
Full report at:
https://www.aa.com.tr/en/europe/syrian-refugee-family-under-racist-attack-in-uk/1324540
--------
UK: Parliamentary group defines Islamophobia
28.11.2018
By Muhammad Mussa
LONDON
A parliamentary group on British Muslims has published a report outlining the definition of Islamophobia which has been endorsed by MPs, community activists and inter-faith organizations.
The report co-autored by MPs Dominic Grieve, Anna Soubry and Wes Streeting was published on Tuesday in an event at the House of Lords.
The reports says: "Islamophobia is rooted in racism and is a type of racism that targets expressions of Muslimness or perceived Muslimness."
The group launched a project in April to define Islamophobia in a way acceptable to all British Muslim communities and one that could "operate across governmental, public, community and private sector organizations".
During data gathering, members collected accounts of many Islamophobic experiences faced by Muslims.
They included a fire cracker thrown in a family's letter box forcing them to move out, verbal abuse of young Muslim girls for wearing hijab and a Muslim who was spat at and had an egg thrown at.
The report highlights that there has been no attempt made by the government to adopt a definition of Islamophobia despite its recognition of the negative impact on British Muslim communities.
"The detectable shift from overt to subtler or respectable, manifestations of Islamophobia -- the normalization of the prejudice to the extent it is rendered almost invisible to many -- warrants a definition that can arrest and reverse its present trajectory," the report added.
In a separate article written in the Independent, Soubry said: "Islamophobia is a form of racism -- like antisemitism it's time it got its own definition".
"It has become so normalized in our society yet we struggle to define it," she added.
The report also gives in-depth analysis on how Muslims living in the U.K. strongly identify themselves as being British, show loyalty to the U.K., and believe that Islam and its way of life is compatible to British values and way of life.
The All Party Parliamentary Group on British Muslims was founded in 2017 and co-chaired by Soubry and Streeting.
Full report at:
https://www.aa.com.tr/en/europe/uk-parliamentary-group-defines-islamophobia/1324430
--------
UK: Teen to be charged over Syrian refugee boy assault
28.11.2018
By Ahmet Gurhan Kartal
LONDON
A 16-year-old teenager will be charged with assault over a "recorded" attack on a Syrian refugee at a school in the U.K.'s Huddersfield town, British police said Wednesday.
"Regarding the assault on a 15-year-old youth in Almondbury, which featured in a video posted on social media yesterday and has been widely reported in the media, a 16-year-old youth has been interviewed and reported for summons, for an offence of assault," a statement from West Yorkshire Police said.
British media focused on the incident after a video showing the assault in a playground in Almondbury Community School went viral this week.
The teenager accused of assaulting the 15-year-old Syrian "will appear at Youth Court in due course," it added.
The police said the incident took place last month and it "has been subject to thorough investigation since it was reported to us the day after."
Safeguarding measures have been put in place for the victim and his family, according to the police.
Almondbury Community School head teacher Trevor Bowen sent a letter to parents and said "the safety and welfare of students is our number one priority" and that the school did not tolerate "unacceptable behaviour of any sort".
"I can assure you that this situation is being taken extremely seriously," he wrote.
"A previous unconnected incident on 7 October, in which the victim suffered a wrist injury, was also fully investigated at the time," the police added, confirming that the Syrian teenager took constant abuse.
"Three youths were interviewed. There was no further police action and the matter was referred to the school," the police said.
Full report at:
https://www.aa.com.tr/en/europe/uk-teen-to-be-charged-over-syrian-refugee-boy-assault/1324291
--------
EU offers to act as guarantor in Afghan peace process
28.11.2018
EU is prepared to act as a guarantor of the Afghan peace process, the EU's foreign policy chief said on Wednesday at a two-day ministerial conference in Geneva.
Speaking at the Geneva Conference on Afghanistan co-hosted by the Afghan government and the United Nations, Federica Mogherini underlined that the time had come for "concrete" peace talks to commence in the war-torn country.
"As the European Union, we are here to offer our concrete contribution, with all our instruments, to accompany a meaningful peace process and a peace deal," Mogherini said during the conference which hosted 70 countries.
She highlighted that the amount pledged by the bloc for Afghanistan had reached €13.6 billion, adding that the country was at a "critical moment in its history".
https://www.aa.com.tr/en/europe/eu-offers-to-act-as-guarantor-in-afghan-peace-process/1324171
--------
Thousands raised for Syrian refugee waterboarded by school bully
November 28, 2018
A Syrian refugee in the UK who was caught on camera being bullied has received a huge outpouring of support, with online campaigners raising more than £50,000 to support his family.
The video shows the 15-year-old boy – a student at Almondbury Community School in Huddersfield - being held down and 'waterboarded' by a bully. The attacker threatens to drown Jamal, before forcefully pouring water down his neck.
The video of the incident, which reportedly took place on the 25th October, was retweeted more than 65,000 times, with the bully receiving widespread condemnation from an array of public figures.
The victim, who cannot be named for legal reasons, said the bullying has kept him awake at night and made him feel "unsafe".
"When I saw everyone looking at this video I felt ashamed of myself and why it happened. I was really upset about that," he told ITV News.
He also said he had tried to contact the authorities about his predicament. "I was following the law, trying to be safe, and none of that happened," he said.
"I was trying to call our council to help us, but they didn't. I was trying to tell the police, they didn't listen to me either."
West Yorkshire Police said a youth had been called to the police station on suspicion of the attack. "A 16-year-old youth has been interviewed and reported for summons, for an offence of assault. He will appear at Youth Court in due course," a statement read.
They had previously confirmed they were looking into the incident, a racially-aggravated assault of a 15-year-old boy which occurred on playing fields at Almondbury Community School at about 1pm on October 25.
The public outcry attracted the attention of Mohammed Tahir, who set up a crowdfunding account on the website GoFundMe. As of Wednesday morning, the account has raised more than £50,000 from more than 3,000 donors.
Mr Tahir said: "I'm overwhelmed by the support that we've received and I can't thank everyone enough for the generous donations they have made.
"I am working alongside GoFundMe so we can make sure every last penny gets to the family and I want to thank them for their support.
"I hope we can improve the quality of their life and put a smile on their faces.
"Bullying will not be tolerated, and I firmly stand against it. It has no place in our society, our love will always overcome hate. We are far more united and have far more in common with each other than things that divide us."
Reports indicate that Jamal arrived in Britain from Syria around two years ago.
Conservative MP Tobias Ellwood labelled the incident an "absolute disgrace".
He added, "This bully, his parents, the school where this occurs and the onlookers who fail to step in, all have big questions to answer.
"To the Syrian refugee - I say sorry. It's not the welcoming, friendly Britain we are supposed to be."
Local MP Barry Sherman said that the local council had informed him that the school had taken strong action against the perpetrator.
"Video of assault against one of my constituents absolutely shocking.
"Have been supporting the family since it was first brought to my attention," he added.
Full report at:
https://www.thenational.ae/world/europe/thousands-raised-for-syrian-refugee-waterboarded-by-school-bully-1.796805
--------
Africa
Saudi Arabia pledges $500 mln finance projects for Tunisia
29 November 2018
Saudi Arabia will lend Tunisia $500 mln at a favorable interest rate and will finance two projects worth $140 mln, two sources told Reuters on Wednesday, a day after a visit from the Saudi crown prince to Tunisia.
Saudi Crown Prince Mohammed Bin Salman was received by President Beji Caid Essebsi, who awarded him the republic's medal, the highest official award.
"Tunisia will announce in a few days important deals with Saudi, including a loan with low interest rate, agreements on investment and other important details," Nourredine Ben Ticha, an advisor to the president, told state television.
Two Tunisian sources- an official and a source close to the discussions between Prince Mohammed and Essebsi- told Reuters that the loan would be worth $500 mln. They said that the Saudi Development Fund will also finance two projects worth about $140 mln, but did not give more details.
Tunisia is struggling to cut its budget deficit, stabilize falling foreign currency reserves and manage expectations of international lenders demanding reforms such as trimming the public wage bill.
Tunisia's economy has been in turmoil since Zine al-Abidine Ben Ali was toppled in a 2011 uprising sparked by anger at unemployment, poverty and record levels of inflation.
Under pressure from the International Monetary Fund, Prime Minister Youssef Chahed has aimed to cut the budget deficit to about 4.9 percent of GDP this year from 6.2 percent last year.
The crown prince told Tunisian state television that Saudi Arabia has long had good relations with Tunisia: "I cannot come to North Africa without visiting Tunisia...Tunisia's president is like my father."
https://english.alarabiya.net/en/News/north-africa/2018/11/29/Saudi-Arabia-pledges-500-mln-finance-projects-for-Tunisia.html
--------
Nigeria: 39 soldiers killed in Boko Haram attacks
29.11.2018
Nigerian chief of army staff on Wednesday confirmed 39 were killed by recent Boko Haram attacks in the country's northeast.
Yusuf Buratai's remarks followed the calls of the local media -- which claimed over 100 soldiers had died -- for full disclosures on the incident.
In a statement issued late Wednesday, Buratai said a total of 16 soldiers were killed and 12 others were injured when the troops came under heavy militant attacks between Nov. 2-17 in Kukawa, Ngoshe, Kareto and Gajiram -- all in the restive Borno state where Boko Haram has been ultra-active.
The army chief said Nigerian troops of the 157 Task Force battalion deployed for the regional Multinational Joint Task Force in Metele were also attacked on Nov. 18, leading to abrupt withdrawals and multiple deaths on their part.
"... 23 personnel were killed in action and 31 personnel were wounded in action and have been evacuated to several medical hospitals within Borno State," according to the statement, refuting claims that over 100 soldiers had been killed in the Metele rout.
"The Nigerian Army commiserates with the MNJTF [Multinational Joint Task Force] at this difficult time and wishes to state that all necessary support will be rendered to the MNJTF to reverse this resurgence of the Boko Haram Terrorists."
Buratai also confirmed for the first time that Boko Haram now uses drones to launch attacks against the troops.
He added: "Since 2015, the Nigerian Army in cooperation with sister services and other security agencies have systematically degraded the capabilities and capacity of Boko Haram terrorists and many successes were achieved.
"However, in the last two-three months, we have noticed daring moves by the terrorists, increased use of drones against our defensive positions and infusion of foreign fighters in their ranks. These potent threats require us to continually review our operations.
The recent attacks have provoked intense criticism of the military top brass and the ruling All Progressives Congress, with the parliament now set to probe defense spendings before and since 2015 when President Muhammadu Buhari assumed office.
Full report at:
https://www.aa.com.tr/en/africa/nigeria-39-soldiers-killed-in-boko-haram-attacks/1324618
--------
West Africa: Is Islamic State in West Africa Becoming More Hardline?
28 NOVEMBER 2018
By Omar S Mahmood
Recent activities by Islamic State in West Africa (ISWA), the Boko Haram faction that replaced Abubakar Shekau as leader in 2016, have raised questions regarding its position and whether it is becoming more hardened. A few key developments regarding leadership and operations suggest such a shift in outlook for an organisation that is becoming an increasing threat in the Lake Chad Basin region.
Although it hasn't been officially confirmed, it is generally accepted that Mamman Nur, a key ISWA leader, was killed in August by his own commanders. Nur was considered by many to be the real power in the faction, given his status as a veteran jihadist with international connections.
One explanation of Nur's assassination has been internal discontent with his policies, including the release of about 100 schoolgirls kidnapped from Dapchi earlier this year (the group still holds one Christian student).
The Nigerian government claimed the release was part of ongoing negotiations with the faction - negotiations that thus far have not demonstrated any other visible signs of progress. In this sense, Nur may have been seen as relatively moderate, or more willing to engage with the Nigerian government than others in his movement were comfortable with.
It is generally accepted that Mamman Nur, a key ISWA leader, was killed in August by his own commanders
This raises major questions as to the status of Abu Musab al-Barnawi, the Islamic State-appointed governor of ISWA. It also leads to questions regarding ISWA's relationship with Islamic State, given that this is the second major leader in two years that group members have moved on from.
Yet the Islamic State-ISWA linkages appear intact, at least regarding messaging. ISWA messaging on Islamic State social media channels has actually increased since around the time of Nur's reported death.
Since August, 23 attack claims from ISWA have been promoted by Islamic State messaging outlets such as Amaq News. The contrast to messaging patterns before in 2018 is striking, as only four similar attack claims were broadcast before July. Messaging shifts in the past have preceded major changes within the group, and the increased publicity of ISWA activities demonstrates at the least that virtual relations with Islamic State appear uninterrupted by Nur's reported demise.
The attack claims have included a worrying string of incidents targeting Nigerian military bases in northern Borno State. Many of the assaults have resulted in the flight of security personnel, at least until the arrival of reinforcements or use of airpower. These attacks show no signs of slowing, as is clear from last week's assault in Metele and another in Kangarwa just days later.
The attacks put ISWA on an increased offensive, allowing the militants to loot weapons during raids. While the faction hasn't occupied any of the areas for long, the ability to dictate the pace of the war is a worrying sign of their capabilities in this part of Borno State. This suggests that the group is no weaker in the wake of Nur's reported death.
ISWA has also demonstrated changes in its stance towards hostages. Previously, ISWA's track record with high-profile kidnap victims generally resulted in positive outcomes - a team of geologists abducted in July 2017 was released in February, as were all but one of the Dapchi schoolgirls.
The attacks put ISWA on an increased offensive, allowing the militants to loot weapons during raids
Lately, however, ISWA has been less patient regarding hostage negotiations. In mid-September 2018, ISWA executed one of three aid workers in its possession, claiming the Nigerian government had ignored their demands. A 30-day deadline to respond expired in mid-October, resulting in the execution of another.
ISWA justified these executions in a way they didn't with previous hostages. Both executed aid workers were female Muslim civilians, but after their death the narrative revolved around how they were considered apostates, as they had abandoned Islam by working for an international organisation.
But the Dapchi schoolgirls weren't condemned in this way, despite attending a government-run school and being warned on their release not to continue this education. The abducted geologists were also treated differently despite working with the University of Maiduguri and travelling in a military-protected convoy. They were even told they could resume their work after being released. In this sense, ISWA's operational approach to hostage-taking has shown a shift over the past few months, resulting in harsher outcomes.
Combined, the reported demise of Nur, the increased promotion of ISWA activities on Islamic State messaging channels, the frequency of attacks on military outposts in northern Borno State and the different hostage outcomes signal a more hardline outlook for ISWA. Given the timing, this appears related to Nur's demise.
The insurgency in the Lake Chad Basin region has undergone some subtle shifts which may portend a new stage
Such shifts also raise questions as to ISWA's relationship with the Shekau faction. As ISWA has increased its frequency of attacks, the Shekau faction has done the opposite - at least with its controversial suicide attacks on soft civilian targets.
Previously a hallmark of operations, the last successful attack came in mid-August (though there have been reports of other attempts, and the Nigerian army arrested a female bomber in November). Given the unpopularity of these attacks with ISWA, the reduction could also be interpreted as a means of Shekau reaching out during a time of internal turmoil.
Any sort of reconciliation would be difficult, however, given Barnawi's messaging denouncing Shekau's ideology as recently as June. Yet the status of Barnawi within his own faction is now unclear in the wake of Nur's reported demise. It is possible that a new group of militants who retain linkages to Islamic State, but differ from Nur's less confrontational approach and Shekau's excesses, will emerge.
Full report at:
https://allafrica.com/stories/201811290035.html
--------
Nigeria's Buhari says Boko Haram fight 'a must-win war'
2018-11-28
Nigeria's Muhammadu Buhari urged troops to show more commitment in fighting Boko Haram despite scores of losses in a recent assault as he visited the northeastern city of Maiduguri on Wednesday.
The visit came a day before Buhari heads to N'Djamena to hold talks on the Boko Haram conflict with his counterparts from Niger and Chad, his office said.
Addressing delegates at an army conference in Maiduguri, the epicentre of the jihadist insurgency, Buhari acknowledged the military had done a lot to secure the volatile region.
"There has been a remarkable improvement in the security situation in the northeast since 2015 when this administration came to power and you are part of it," he said.
But defeating Boko Haram was "a must-win war," insisted the 75-year-old retired general who will seek a second four-year term in February's elections.
"Our troops must not be distracted. They should be committed to the task of eliminating Boko Haram from the face of the earth."
The conference had initially been due to take place in Benin City in the south, but it was moved to Maiduguri to honour the soldiers that were killed 10 days ago in an attack on a nearby military base, he said.
There has been an upsurge in deadly attacks on both military and civilian targets in recent months, despite government claims the jihadists are on the verge of defeat.
AFP has reported at least 17 attempts to overrun army bases since July.
Many of the attacks have been claimed by the Islamic State West Africa Province (ISWAP), a faction of Boko Haram.
In the latest attack on November 18, at least 43 soldiers were killed in Metele, although troops who survived put the death toll at more than 100.
Buhari praised the fallen soldiers for their "heroic sacrifices" and pledged work with partners in the Multinational Joint Task Force (MNJT) to end the conflict.
The MNJT comprising Nigeria, Cameroon, Chad, Niger and Benin was set up to fight the Islamists in Lake Chad.
Nigerian Defence Minister Mansur Dan-Ali said he was in Chad and Niger this week for talks with his counterparts on the Boko Haram issue.
"My recent visit to Niger and Chad... was to meet with their defence ministers on how to strengthen the operational capabilities of the MNJT to achieve peace and security of the countries in Lake Chad," he said in Maiduguri.
Dan-Ali said the MNJT would address the circumstances that led to the attack in Metele and come up with "new ideas and strategies" to prevent a recurrence.
Security analysts say there must be a change of tactics if the fight against the jihadists is to succeed.
They believe Nigeria's regional partners are not doing enough to secure their common frontiers against the insurgents.
Full report at:
https://www.news24.com/Africa/News/nigerias-buhari-says-boko-haram-fight-a-must-win-war-20181128
--------
West African leaders meet to tackle Boko Haram upsurge
2018-11-28
Leaders of three West African nations will meet in Chad on Thursday to discuss how to tackle a recent increase in activity by Boko Haram jihadist fighters in the region, the Chadian presidency told AFP.
Nigerian President Muhammadu Buhari and Niger's Mahamadou Issoufou will meet behind closed doors with their Chadian counterpart Idriss Deby for a "mini summit" after which a statement will be issued.
The armies of the three countries, along with Cameroon's, are operating in the Lake Chad region in the Multinational Joint Task Force ( MNJTF) to counter the Islamic State-affiliated Boko Haram,
More than 27 000 people have died since the start of the Boko Haram insurgency, which began in Nigeria's remote northeast in 2009. Some 1.8 million people are still homeless after fleeing the violence.
"The increase in activities by Boko Haram elements in Nigeria and Niger in recent days is a concern for the heads of state who must decide on a rigorous plan of action," a Chadian diplomatic source said.
Since July there have been at least 17 attacks against military bases. almost all of them in the region around Lake Chad, according to an AFP count.
Full report at:
https://www.news24.com/Africa/News/west-african-leaders-meet-to-tackle-boko-haram-upsurge-20181128
--------
South Asia
30 civilians killed in battle with Taliban in Afghanistan
28 November 2018
An Afghan official said on Wednesday that at least 30 civilians have been killed, along with 16 Taliban fighters, as government forces battled the insurgents in Helmand province overnight.
Attahullah Afghan, who heads the provincial council, said that most of the casualties- including men, women and children - incurred in an airstrike that hit a house on Tuesday night during military operations there.
A statement from governor's office in Helmand confirmed that 16 Taliban insurgents were killed and said an investigation was underway to determine civilian casualties.
It says the militants had stockpiled ammunition in the area of the operation, which could have caused civilian casualties. There was also a car packed with explosives that ignited during the strike.
Qari Yusouf Ahmadi, a Taliban spokesman, claimed all the victims were civilians.
On the political level, Afghanistan President Ashraf Ghani has formed a 12-strong negotiating team to seek a peace agreement that would include the Taliban in a democratic and inclusive society that respects the rights of women, he told a UN conference on Wednesday.
https://english.alarabiya.net/en/News/world/2018/11/28/30-civilians-killed-in-battle-with-Taliban-in-Afghanistan.html
--------
At Least 10 Killed, 29 Wounded in Attack At UK Security Firm's Kabul Compound
NOVEMBER 29, 2018
KABUL: At least 10 people were killed after a massive blast outside a British security company´s compound in Kabul late Wednesday, officials said, with the attack claimed by the Taliban in the latest violence to target the Afghan capital.
The interior ministry and police both said the blast had been a car bomb targeting a compound which houses G4S, a private British security company, in east Kabul.
"We can confirm that there has been an incident at one of our locations in Kabul. The situation is ongoing and we are coordinating with the Afghan authorities to bring it to a conclusion," a G4S spokesman told AFP in London.
Afghan authorities also said they were conducting a clearing operation at the site.
"10 dead, 19 wounded have been evacuated from site," health ministry spokesman Wahid Majroh told AFP, without giving the victims´ nationalities.
Interior Ministry deputy spokesman Nasrat Rahimi confirmed the toll but warned it could yet change.
Earlier, sources had said the blast was followed by gunfire. Rahimi said no gunfire had been heard for some time, however.
According to its website, G4S provides security for the UK Foreign Office in Kabul.
The attack was claimed by the Taliban in a tweet.
It came just hours after Afghan President Ashraf Ghani announced the formation of a team for prospective peace talks with the militant group, as the United Nations renewed calls for direct negotiations between Kabul and the insurgents.
The Afghan government, Western diplomats and UN officials have in recent weeks raised hopes of finally reaching a deal to end the 17-year war.
At an international conference on Afghanistan in Geneva, Ghani said the 12-person negotiating team includes both men and women and will be led by his chief of staff Abdul Salam Rahimi.
Rahimi, a former humanitarian worker and ex-deputy Afghan finance minister, is considered one of Ghani´s closest aides.
Wave of violence
Wednesday´s assault on G4S is the second high-profile attack claimed by the Taliban on foreigners in as many days.
On Tuesday, three US soldiers were killed in a blast near Ghazni city in central Afghanistan that was also claimed by the militant group.
The attacks follow a wave of bloody violence across the war-torn country in recent weeks that has killed hundreds of people as militants step up their attacks.
Earlier Wednesday, NATO said it was investigating an airstrike in southeastern Afghanistan that might have killed civilians, with unverified reports of women and children among the dead.
On November 20, at least 55 people were killed when a bomber blew himself up in the middle of a banquet hall in one of the deadliest attacks in Afghanistan this year.
The violence comes as the Taliban intensify pressure on Afghan security forces, even as the international community ramps up efforts towards talks.
US envoy Zalmay Khalilzad has expressed hopes that a peace deal to end the war could be struck before the Afghan presidential election, scheduled for April.
Full report at:
https://dailytimes.com.pk/327587/at-least-10-killed-in-attack-at-uk-security-firms-kabul-compound/
--------
Ghani forms 12-member team to negotiate with Taliban
November 29, 2018
GENEVA: Afghan Pre­sident Ashraf Ghani has formed a 12-strong team to negotiate peace with the Taliban, but implementation of any deal will take at least five years, he said on Wednesday.
He was speaking at a UN conference on the 17-year-old war between Afghan security forces and an increasingly confident Taliban, who are fighting to drive out international forces and establish their version of Islamic law.
The Taliban are not at the Geneva talks but will be closely monitoring the gathering of Afghan leaders and international diplomats, which coincides with efforts by US President Donald Trump's administration to push for peace with the group.
"We seek a peace agreement in which the Afghan Taliban would be included in a democratic and inclusive society," Mr Ghani said, adding that any deal must fulfil certain conditions, including respecting the constitutional rights of women.
The president, facing a war-weary public back home, called upon Afghans to back his peace push in an election next April. "Presidential elections in the spring are key to successful peace negotiations. The Afghan people need an elected government with a mandate to obtain ratification [and] implement the peace agreement and lead the societal reconciliation process," he said.
"Implementation will take a minimum of five years to reintegrate six million refugees and internally displaced people," he said.
The two-day Geneva gathering is intended to help resolve the quagmire created by the war, a development that would pave way for the withdrawal of foreign troops.
Mr Ghani said his chief of staff would lead a negotiating team, including women as well as men, and an advisory board, comprising nine diverse and representative committees, would provide input into the negotiations.
US Under Secretary of State David Hale urged the Taliban to commit to a ceasefire and appoint their own negotiating team, but also warned that the presidential election needed to be managed better than parliamentary elections last month.
"Afghans and donors alike will watch to see if the technical flaws are corrected in next year's presidential election," Hale said.
Full report at:
https://www.dawn.com/news/1448307/ghani-forms-12-member-team-to-negotiate-with-taliban
--------
Experts: No coordination in Bangladesh govt de-radicalization programs
November 29th, 2018
Although a number of ad hoc de-radicalization and rehabilitation programs have been taken up by the law enforcement agencies and the government, many of them have been discontinued due to a lack of coordination among agencies.
Thirteen years ago, synchronized bomb blasts in 63 districts rocked the whole of Bangladesh, waking the nation up to the menace of rampant radicalization.
The series of detonations on August 17, 2005 targeted every district of the country except Munshiganj, hit 513 places in total, and killed two people while injuring over 200 more.
Around 1,500 suspects were subsequently arrested in 273 cases filed over the blasts, which were orchestrated by the banned outfit Jama'atul Mujahideen Bangladesh (JMB).
They included a militant named Tariqul Islam Tariq, who served five years in prison before being set free to strike again.
In October 2015, Tariq was re-arrested for the murder of Khijir Khan - a former chairman of the Power Development Board (PDB), a freedom fighter, and a religious preacher in Dhaka.
During interrogation, Tariq said he had become more radicalized in prison because he was in the company of other radicalized people.
The Inspector General (IG) of Prisons, Brig Gen Syed Iftekhar Uddin, said there could be many more reoffenders like Tariq.
"We lack the manpower or expertise required for de-radicalizing militant suspects in custody," he said. "However, we do keep them separate from other general inmates to keep them away from militant ideologies."
Responding to the rise in attacks, over 100,000 Islamic scholars, legal experts, and clerics signed a fatwa against militancy in June 2016, declaring terrorism and suicide attacks as "haram" – forbidden under Islamic law.
However, the pressing need to counter radicalization re-entered the limelight in the wake of the Holey Artisan attack in July 2016, when five youths stormed a café in the upmarket Gulshan area of Dhaka and murdered 20 hostages, mostly foreigners, plus two police officers.
Following the attack - the worst in Bangladesh's history - the government earned praise at home and from abroad for its strong efforts to wipe out homegrown militancy.According to Police Headquarters, as of October 2017 a total of 920 cases had been filed and 3,676 people arrested in connection with militancy, while over 500 suspected militants have been released on bail.
Once they are out, however, these militants either go into hiding or reengage in extremist activities.
Police headquarter officials say that if this worrying trend continues, militancy cannot be wiped out from Bangladesh.
How is Bangladesh countering radicalization?
With the militant groups mostly neutralized, the government is now focusing on de-radicalization and rehabilitation schemes for previously convicted militants.
However, while a number of ad hoc programs have been taken up by the law enforcement agencies and the government, many of them have been discontinued due to a lack of coordination among agencies.
Such initiatives include a 60-second anti-militant television commercial produced by Rapid Action Battalion (RAB), which has not been broadcast for months after receiving a lot of air-time initially.
In April 2017 the elite force also published a book titled "Misinterpretation of Verses by Militants and the Right Interpretation of the Qur'an and Hadith". Four thousand copies were distributed to different places including madrasas, but the initiative was discontinued.
Bangladesh Islamic Foundation (BIF) worked with Imams of all mosques to ensure they delivered a pre-sermon speech during Friday congregational prayers but this practice, too, was abandoned.
There are ongoing initiatives yielding positive results in the fight against radicalization.
The Education Ministry has engaged educational institutions in building awareness of extremism and terrorism among teachers, students, and parents. Madrasa textbooks have been revised and the government has directed the ministry to continue its scrutiny of the madrasa curriculum.
For controlling extremism-related messaging on the internet, particularly on social media, initiatives have been taken to further strengthen the National Telecommunication Monitoring Centre (NTMC) to help it detect websites that circulate radicalizing messages.
The Religious Affairs Ministry in July took up a two-year project, with a a budget of Tk46 crore, to create anti-militancy awareness by conducting nationwide publicity campaigns using ICT.
As part of new ways of integrating suspected militants into mainstream society, the government is also planning to engage youths in sports, culture, and other activities.
'Gaps may hamper sustainability'
Analysts have said Bangladesh can still do more to combat the radicalization of its young people.
Iftekharul Bashar, an associate research fellow at the International Centre for Political Violence and Terrorism Research (ICPVTR) at Nanyang Technological University, Singapore, said the government's efforts are being hindered by a disjointed approach which focuses only on Dhaka.
"The response to countering violent extremism (CVE) initiatives remains weak in Bangladesh because of lack of coordination and information sharing among the various security agencies," he said.
"(There is) a lack of framework to assess the implementation and effectiveness of the CVE programs, lack of detection and countering of extremist trends on social media platforms, and lack of holistic plan to rehabilitate violent extremist offenders."
In his paper titled "Countering Violent Extremism in Bangladesh", Iftekharul said militants due for release in the next few years will fail to reintegrate into society and will continue to pose a security threat, unless they go through a comprehensive rehabilitation program.
Formal project in the pipeline
One such program is being introduced by the Counter-Terrorism and Transnational Crime Unit (CTTC) of police.
They want to rehabilitate militants into mainstream society through a formal de-radicalization program set to begin in January.
"There has been no formal government initiative for de-radicalizing militants in the country, though many informal initiatives were taken earlier," CTTC Chief and Dhaka Metropolitan Police Additional Commissioner Monirul Islam told the Dhaka Tribune.
"Now, an official project has been approved and will be implemented from January. There are several stakeholders and the government has already allotted some funds to implement the plan."
Celebrities will help in the process by holding dialogues with affected youths about de-radicalization, psychological disengagement and counter-radicalization.
Will the initiatives last?
Human rights activist Nur Khan Liton told the Dhaka Tribune that the effort to suppress militants through operational drives remains high, with less importance placed on de-radicalization schemes.
"Some programs were undertaken for building awareness, but no follow-up initiative was taken in line with their effectiveness," he said.
Nur Khan said that the de-radicalization program has to be run not only in prisons but also at different levels of society, especially among youths.
"Schools, college and madrasas have to be linked with this program to create social awareness," he said.
Islamic scholar Fariduddin Masud said militancy cannot be wiped out only through arresting the suspects.
"What is more important is to convince them and help them return to a normal life, which should begin from prisons," he said.
"Suspected militants can become more dangerous upon release or securing bail so there is a need to work with them in prisons.
Full report at:
https://www.dhakatribune.com/bangladesh/militancy/2018/11/29/experts-no-coordination-in-bangladesh-govt-de-radicalization-programs
--------
25 Jamaat men awarded BNP nominations
November 29, 2018
The BNP has nominated 25 leaders of Jamaat-e-Islami, a key component of the 20-party alliance, to contest the upcoming parliamentary polls.
It has handed out nomination letters, signed by BNP Secretary General Mirza Fakhrul Islam Alamgir, to Jamaat men. The letters attached to their nomination papers were submitted to the offices of returning officers and assistant returning officers, said insiders in both parties.
"We have received 25 nomination letters from the BNP," Matiur Rahman Akand, organising secretary of Jamaat, told The Daily Star yesterday.
Of the 25 Jamaat aspirants, Shamim Sayedee, second son of convicted war criminal Delawar Hossain Sayedee, submitted nomination papers for Pirojpur-1.
On October 29, the Election Commission scrapped the registration of Jamaat in line with a High Court verdict that declared Jamaat's registration illegal.
The EC's move made it clear that the party would not be able to contest the upcoming national election.
Therefore, Jamaat men were initially preparing to run as independents. If they participate in the polls as independents, they may not get a common symbol, said party sources.
According to the electoral law, the Jamaat leaders vying for the parliamentary seats on BNP tickets and with its symbol -- "sheaf of paddy"-- will be considered BNP candidates.
Meanwhile, Nazibur Rahman, son of former Jamaat ameer and executed war criminal Motiur Rahman Nizami, filed nomination papers for Pabna-1 as an independent.
The EC has set December 2 for scrutinising nomination papers and December 9 as the last date for withdrawing them.
The government of independent Bangladesh in its first decision had banned five communal outfits, including Jamaat, which not only opposed the nation's independence but also actively helped Pakistan occupation forces commit genocide and other war crimes.
The parties were allowed to engage in politics during the rule of late president Ziaur Rahman after the assassination of Bangabandhu Sheikh Mujibur Rahman in 1975.
According to Jamaat, those who submitted nomination papers as BNP candidates are: Abdul Hakim for Thakurgaon-2, Mohammad Hanif for Dinajpur-1, Mohammad Anwarul Islam for Dinajpur-6, Moniruzzaman Montu for Nilphamary-2, Mohammad Azizul Islam for Nilphamary-3, Prof Golam Rabbani for Rangpur-5, Majedur Rahman Sarker for Gaibandha-1, Rafiqul Islam Khan for Sirajganj-4, Iqbal Hossain for Pabna-5, Prof Motiur Rahman for Jhenidah-3, former MP Abu Sayed Mohammad Sahadat Hossain for Jashore-2, Abdul Wadud for Bagerhat-3, Prof Abdul Alim for Bagerhat-4, former MP Prof Mia Golam Parwar for Khulna-5, Abul Kalam Azad for Khulna-6, Abdul Khaleque for Satkhira-2, Robiul Bashar for Satkhira-3, Gazi Nazrul Islam for Satkhira-4, Shamim Sayedee for Pirojpur-1, Shafiqur Rahman for Dhaka-15, former MP Farid Uddin Chowdhury for Sylhet-5, Habibur Rahman for Sylhet-6, former MP Syed Abdullah Md Taher for Cumilla-11, former MP ANM Shamsul Islam for Chattogram-15, and former MP Hamidur Rahman Azad for Cox's Bazar-2.
Jamaat also kept back-up candidates in most of the seats where its leaders filed nomination papers. The back-up candidates submitted nomination papers as independents.
Full report at:
https://www.thedailystar.net/politics/jamaat-leader-shafiqur-rahman-become-bnp-candidates-national-general-election-1666312
--------
Nepal should raise Rohingya issue with Suu Kyi: Rights groups
November 29, 2018
As Myanmar State Counsellor and Minister for Foreign Affairs Aung San Suu Kyi commences her two-day Nepal visit today, the Nepalese government should draw her attention to ensure safe return of the Rohingya Muslim minorities and have a fair investigation into the alleged abuses, said human rights agencies.
More than 700,000 Rohingya Muslims are taking refuge in different countries, mainly in Bangladesh, having fled a brutal military crackdown that began in August 2017. UN reports said that during the campaign, Myanmar's military burnt the houses of the Muslim minorities in Rakhine State, carried out killings and gang rapes.
Suu Kyi, a Nobel peace prize winner, holds a crucial portfolio in the present government which has been accused of colluding with the military in repressing the Muslim minorities. Her visit comes at a time when the repatriation process has been halted in the lack of assurance from the Myanmar government for the Rohingya's safe return.
Mohna Ansari, spokesperson for the National Human Rights Commission, said the Nepali authorities should clearly talk to Suu Kyi for the safe return of the displaced people and fair investigation into the matter.
"The geo-political factors should not affect the human rights issue. The Nepal government must present its clear position on the matter," Ansari said. Suu Kyi, who is here to attend 'The Asia Pacific Summit 2018-Nepal' taking place in the Capital from November 30 to December 3, is scheduled to meet President Bidya Devi Bhandari, Prime Minister KP Sharma Oli and Foreign Minister Pradeep Gyawali among other leaders.
Ansari said it is important that Nepal raise the issue of the human rights violations under its international obligation as it is a member of the UN Human Rights Council at present. Nepal was elected as the member of the council for the first time in October last year. Though a majority of Rohingya Muslims are taking refuge in Bangladesh, hundreds have entered Nepal via India. There are around 400 such refugees in Kathmandu's Kapan area. Nirajan Thapaliya, director at Amnesty International, said Nepali authorities should take up the issue with Suu Kyi.
"Nepal should exert pressure on the Myanmar government through international collaboration for the safe return of the oppressed," he said. Thapaliya said Suu Kyi colluded with the military crackdown and is reluctant in ensuring justice to the victims.
Full report at:
https://www.thedailystar.net/rohingya-crisis/news/nepal-should-raise-rohingya-issue-suu-kyi-rights-groups-1666786
--------
Ghani encourages Afghan and International investors to invest in Afghanistan
Nov 28 2018
President Mohammad Ashraf Ghani met with the representatives of the private sector in Geneva of Switzerland on Tuesday to brief the investors regarding the available opportunities and capacities existing in Afghanistan.
The Office of the President, ARG Palace, in a statement said President Ghani briefed the participants of the meeting regarding the available opportunities and capacities existing in mining, electricity, agriculture, water, and other areas.
Calling the private sector the government's partner, President Ghani said the government is prepared to provide the required facilities for partnership, investment, and operations in Afghanistan.
President Ghani further added that agriculture is the key for instability in Afghanistan and emphasized on required assistance to farmers besides providing information and training regarding the modern farming and agriculture.
Full report at:
https://www.khaama.com/ghani-encourages-afghan-and-international-investors-to-invest-in-afghanistan-02808/
--------
Rohingya take risky route to flee restive Myanmar state
28.11.2018
By Kyaw Ye Lynn
YANGON
Nearly 300 Rohingya Muslims, who attempted to flee Myanmar's restive Rakhine state, were temporarily detained and returned to refugee camps this month, according to local media and local government officials.
A boat carrying 93 Rohingya Muslims, who left camps in Rakhine state's capital Sittwe in hope of reaching Malaysia through the sea route, was seized by Myanmar authorities near Dawei, a coastal town in southern Tanintharyi region on Nov. 25, reported Radio Free Asia, a local online media.
"That is the third boat being seized in the sea by authorities," Col. Sein Win of the Tanintharyi Regional Police Force was quoted as saying on Monday.
"Of the 93 people aboard, 33 are women and 32 are children under 15," he said.
These people left Rakhine state on Nov. 18, and had paid human traffickers around $300 each to take them to Malaysia, according to the police officer.
A navy ship has taken them back to Rakhine, he added.
The authorities also rescued a boat with 106 Rohingya Muslims aboard near Yangon's Kyauk Tan Township on Nov. 16, as the boat got stuck at Adaman Sea after the boat engine failed, a regional lawmaker said.
A young girl died of fever on the boat, according to local police.
Call for improving situation in camps
Thet Thet Mu, Kyauk Tan's regional lawmaker, told Anadolu Agency that 31 women and 25 children were among those aboard.
"Frankly, the authorities need to stop this. They need to prevent these people from leaving for the sea migration," she said.
"They said they were leaving the camps because they can't stand the situation there anymore. So improving the situation is also vital to prevent such further accidents," she added.
It was the first time that Rohingya attempted to reach Malaysia by boat since the end of rainy season this year.
Last week, the authorities stopped a boat with 94 aboard, who were from a camp in Sittwe, shortly after setting sail.
A senior official at the Rakhine regional government, however, said six boats were believed to be bound for Malaysia since last month when the monsoon began to subside.
Three days after the first accident, police went to a camp in Sittwe claimed to have arrested alleged human traffickers. However it turned into a riot in the camp in which four Rohingya men were shot and injured. Of them, police claimed, two were human traffickers who charged 109 Rohingya around $300 each.
'No hope of getting better life'
"According to police investigation, at least 500 people already left the camps, and headed for Malaysia by boat," an officer, who asked not to be named due to the sensitivity of the issue, told Anadolu Agency.
The three boats apprehended by Myanmar authorities in the sea this month were among six boats bound for Malaysia, he added.
He admitted that the situation in the camps is not so good, but said that sailing to Malaysia is a bad option.
"We are trying to crackdown the human traffickers to stop further departures," he said by phone on Monday.
Tens of thousands of people, mostly Rohingya Muslims, have been sheltering in camps since mid-2012 when communal violence erupted in the Rakhine state.
A Rohingya man, identified as Maung Maung, was one of them. He and his family members were placed in Narzi camp on the outskirts of Sittwe after their home was torched during the communal violence in 2012.
He told Anadolu Agency by phone that many of his friends already left for Malaysia last year, and he is thinking to follow the route this year.
"We have no hope of getting better life staying in the camp," he said on Wednesday, adding he however don't have enough money for the whole family.
He didn't joined his friends last year because he thought the growing international pressure would bring some changes to them, but said he was wrong.
"Nothing improves, and we have to do something ourselves," he said.
Rohingya plight
The Rohingya, described by the UN as the world's most persecuted people, have faced heightened fears of attack since dozens were killed in communal violence in 2012.
According to Amnesty International, more than 750,000 Rohingya refugees, mostly children and women, fled Myanmar and crossed into Bangladesh after Myanmar forces launched a crackdown on the minority Muslim community.
Since Aug. 25, 2017, nearly 24,000 Rohingya Muslims have been killed by Myanmar's state forces, according to a report by the Ontario International Development Agency (OIDA).
More than 34,000 Rohingya were also thrown into fires, while over 114,000 others were beaten, said the OIDA report, titled "Forced Migration of Rohingya: The Untold Experience."
Some 18,000 Rohingya women and girls were raped by Myanmar's army and police and over 115,000 Rohingya homes were burned down and 113,000 others vandalized, it added.
Full report at:
https://www.aa.com.tr/en/asia-pacific/rohingya-take-risky-route-to-flee-restive-myanmar-state-/1323878
--------
Afghan president forms team to talk peace with Taliban
28 November 2018
Afghanistan President Ashraf Ghani has formed a 12-strong team to negotiate peace with the Taliban, but implementation of any deal will take at least five years, he said on Wednesday.
Ghani was speaking at a UN conference on the 17-year-old war between Afghan security forces and an increasingly confident Taliban, which is fighting to drive out international forces and establish their version of strict Islamic law.
The Taliban are not at the Geneva talks but will be closely monitoring the gathering of Afghan leaders and international diplomats, which coincides with efforts by US President Donald Trump's administration to push for peace with the group.
"We seek a peace agreement in which the Afghan Taliban would be included in a democratic and inclusive society," Ghani said, adding that any deal must fulfil certain conditions, including respecting the constitutional rights of women.
Ghani, facing a war-weary public back home, called on Afghans to back his peace push in an election next April.
"Presidential elections in the spring are key to successful peace negotiations. The Afghan people need an elected government with a mandate to obtain ratification (and) implement the peace agreement and lead the societal reconciliation process," he said.
"Implementation will take a minimum of five years to reintegrate six million refugees and internally displaced people," he said.
The two-day Geneva gathering is intended to help resolve the quagmire created by the war, a development that would pave way for the withdrawal of foreign troops.
Technical flaws
Ghani said his chief of staff would lead a negotiating team including women as well as men, and an advisory board, comprising nine diverse and representative committees, would provide input into the negotiations.
US Under Secretary of State David Hale said he was encouraged by the plan for peace talks and the formation of a negotiating team.
"The time has come to plan for an Afghanistan of peace," Hale told the conference.
Hale urged the Taliban to commit to a ceasefire and appoint their own negotiating team, but also warned that the presidential election needed to be run better than parliamentary elections last month.
"Afghans and donors alike will watch to see if the technical flaws are corrected in next year's presidential election," Hale said.
Russian Foreign Minister Sergei Lavrov echoed the concerns about the elections and called for a broad intra-Afghan dialogue, saying Russia was worried about the worsening military and political situation.
There should be closer cooperation against the Afghan wing of ISIS extremist group, which threatened the whole region, Lavrov said.
Iranian Foreign Minister Mohammad Javad Zarif said ISIS presence and radicalization of local groups was a new challenge, but a foreign military presence always caused instability and served as a recruiting ground for extremists.
He warned that nobody would gain from introducing extremists into Afghanistan as they had in Syria and Iraq.
"This horrific trend needs to be arrested before it reaches catastrophic proportions," Zarif said.
Afghanistan's chief executive Abdullah Abdullah said the five-phased peace process would start with an intra-Afghan dialogue, followed by discussions with Pakistan and the United States, then regional actors, the Arab Islamic world and finally NATO and non-NATO countries.
Full report at:
https://english.alarabiya.net/en/News/world/2018/11/28/Afghan-president-forms-team-to-negotiate-peace-with-Taliban.html
--------
Southeast Asia
All Houses of Worship Must Be Revered, Regardless Of Religion, Says Minister for Islamic Affairs in PMO
28 Nov 2018
SUBANG JAYA: All houses of worship must be revered; regardless of religion says Datuk Seri Dr Mujahid Yusof Rawa
The Minister (for Islamic affairs) in the Prime Minister's Department said, "Even though I oversee the wellbeing of Islam, I also see myself responsible to take care of principles in Islam. One of those is that all houses of worship need to be revered.
"Doesnt matter if it is a mosque, temple, or church. They are holy places for devotees," he said after visiting the Seafield Sri Maha Mariamman Temple here on Wednesday (Nov 28).
He said Muslims respect the freedom of religion (for non-Muslims) and are also responsible to maintain the reverence for their holy places.
"The incident that took place recently is against that principle.
"I came here to say that those actions did not represent any race, but it is a small group of individuals who do not understand this principle and trespassed and caused an uneasy situation," he said.
He added that he met with the temple committee and heard of many unpleasant things that occured that night.
He said threatening the safety and lives of people praying in their houses of worship is against the teachings of Islam.
"I hope there isn't a repetition of this incident in any place of worship.
"Those responsible must be brought to justice in accordance with the laws in place," he said.
He also said that Pakatan Harapan will ensure such an incident doesn't happen again.
https://www.thestar.com.my/news/nation/2018/11/28/all-houses-of-worship-must-be-revered-regardless-of-religion-says-mujahid/
--------
Stop all provocation over temple fracas – FT mufti
November 28, 2018
KUALA LUMPUR: Federal Territory mufti, Datuk Seri Dr Zulkifli Mohamad Al-Bakri has called for an end to all forms of provocation over the rioting incident at the Sri Maha Mariamman temple in USJ 25, Subang Jaya, on Monday as it could cause tension.
He said his office was following the developments of the case and expressed sympathy for the victims in the incident.
Zulkifli said all parties should remain calm and not act in any way that could worsen the conflict.
"A reminder to all not to 'pour oil into the fire' as this could cause much greater damage. This issue needs to be handled very carefully.
"As Malaysians, we should not be willing to gamble our future together, over an issue which could actually be resolved amicably," he said in a statement, here, today.
Zulkifli said racial harmony could be enjoyed by holding strongly to the Rukun Negara (National Principles).
"Our friends, the Indians, Chinese, Malays and others as Malaysians should be mature enough in evaluating the temple incident which did not at all involve racial or religious issues.
"Peace talks among the parties involved should commence immediately so that the tension could be resolved amicably," he added.
Zulkifli also congratulated the Royal Malaysian Police, Fire and Rescue Department and the Selangor state government for their quick action in handling the incident.
He also prayed for the recovery of fireman Muhammad Adib Muhammad Kassim, 24, who was seriously injured in the incident.
Meanwhile, the Malaysian Muslim Consumers Association (PPIM) also called on all parties to be calm and stop spreading lies that could arouse racial sentiments over the rioting incident at the Sri Maha Mariamman temple.
Its chief activist, Datuk Nadzim Johan said they should instead make safeguarding harmony and respecting the beliefs and religious sensitivities of other communities a priority.
"Those who instigate have evil intentions and have managed to make some people act irrationally," he said in a statement.
Nadzim said PPIM believed in the principle of solidarity in society and stressed that no PPIM member was involved in the temple fracas.
Full report at:
https://www.nst.com.my/news/nation/2018/11/435388/stop-all-provocation-over-temple-fracas-%E2%80%93-ft-mufti
--------
Prabowo touts Indonesia as moderate Muslim country
Nurul Fitri Ramadhani
November 29, 2018
Presidential candidate Prabowo Subianto promoted Indonesia as a safe destination to the Singaporean business community on Tuesday, claiming it is a moderate Muslim nation despite recent developments that might suggest otherwise.
"I am sure the majority of Muslims in Indonesia are moderate," Prabowo said in his keynote speech at the World 2019 gala dinner organized by The Economist in Singapore on Tuesday evening.
Prabowo explained that a lot of ulema had been labeled radical even though most of them condemn radicalism and teach peace.
"They are so tired of being accused of [being in a] radical political group, but this should be the responsibility of the country's leader: to educate the people and embrace the ulema so they won't turn radical," said the Gerindra Party chairman.
"But I am optimistic because I saw a lot of religious leaders in Indonesia condemning radicalism and Islamic teaching has emphasized this."
Prabowo suggested that a good leader was one who could eradicate all forms of radicalism. One way to do that, according to the former military general, was by creating jobs for young people.
"If young people lose hope and are frustrated, feeling pessimistic about their future, then religious demagogues can easily influence them," he said.
Prabowo is known for his close ties to conservative Muslims. He has gained support from Islamic parties, namely the Prosperous Justice Party (PKS) and National Mandate Party (PAN), and also from the so-called 212 Alumni, an umbrella group for participants of a series of rallies held to demand the prosecution of then Jakarta governor Basuki "Ahok" Tjahaja Purnama, a Christian of Chinese descent, for blasphemy in 2016. Ahok was eventually sentenced to two years in prison. He is to be released early next year.
The country's struggle to rebuild its moderate image has been marred by other such radical actions, like the bomb attacks against three Surabaya churches in East Java in May, which were planned and carried out by radicalized Muslim families.
Political communications observer Hendri Satrio of Paramadina University in Jakarta said Prabowo aimed to paint himself as a moderate leader while insinuating that the current administration led by his rival President Joko "Jokowi" Widodo had failed to maintain religious harmony.
"He wants to show that he is open to all Muslim groups, that he is different from Jokowi because he will be able to embrace both conservative and moderate Muslims," he said.
Jokowi has been using similar rhetoric, particularly in global forums, he said.
"Jokowi has emphasized moderation and pluralism all the time, probably trying to embrace all Muslim groups. Whether he has succeeded is another question," Hendri said.
Political expert Adi Prayitno of the Islamic State University (UIN) Syarif Hidayatullah Jakarta said through his speech Prabowo wanted to show he is a moderate Muslim and was not related to hard-line groups, as many of his critics suggest. "Prabowo is widely supported by hard-line Muslim groups, so his remarks were a paradox," Adi said.
Recent events also suggest that Prabowo has close ties with Rizieq Shihab, an influential leader of the hard-line Islam Defenders Front (FPI), as well as with ulema and activists grouped under the National Movement to Safeguard Ulama (GNPF-Ulama). The GNPF-Ulama was actively involved in the anti-Ahok rallies. Prabowo once met with Rizieq in Mecca, Saudi Arabia, where he now resides to avoid prosecution in Indonesia after being charged with violating the 2008 Pornography Law in May 2017.
Full report at:
http://www.thejakartapost.com/news/2018/11/29/prabowo-subianto-touts-indonesia-moderate-muslim-country.html
--------
Clashes break out and cars are torched after Muslims sent against Hindu temple
11/28/2018
Kuala Lumpur (AsiaNews/Agencies) – Clashes broke out among Hindus over the fate of the Seafield temple Sri Maha Mariamman Temple in Subang Jaya, Selangor. The row saw people beat and hurl insults at each other with cars torched.
Tensions between the two factions were made worse by the intervention of 50 Malay Muslims sent to seize the temple. Following its intervention, police arrested 21 people, Malaysia's Home Affairs Minister Muhyiddin Yassin said today.
Built over a century ago, the temple is at the centre of a dispute over ownership. The case has pitted the temple administration and One City Development, a real estate company.
In 2014, the Shah Alam High Court ruled that the real estate developer was the legal owner of the land. However, the eviction order that followed has not yet been carried out because one faction in the Hindu community reject the ruling, whilst another accepts it.
After some failed negotiations, the company tried to take over the temple on 22 November, but had to give up due to presence of protesters at the site.
One City Development then turned to police to evict protesters at 7 am Monday. When agents arrived, they found that the company's lawyers had paid 150,000 ringgits (US$ 35,500) to 50 Muslim men to seize the temple ahead of time.
What is more, the latter's arrival had led to a confrontation with Hindu devotees, which turned into clashes that saw 18 cars and two motorcycles torched. A police patrol car was also damaged by stones and windows were broken at a nearby shopping mall.
Some 700 agents were deployed, including members of the Federal Reserve Unit (FRU), a riot control force and special response team.
Full report at:
http://www.asianews.it/news-en/Clashes-break-out-and-cars-are-torched-after-Muslims-sent-against-Hindu-temple-45603.html
--------
Selangor exco says sorry over 'Muslim group' remarks
November 28, 2018
SHAH ALAM: Selangor State Executive Councilor V Ganabatirau today apologised for blaming a "Muslim group" over Monday's attack on the Sri Maha Mariamman Temple in Seafield.
"I would like to apologise if I had offended anyone," he told the Selangor State Legislative Assembly today.
Ganabatirau in condemning the attack had initially said it was the work of a "Muslim group", but later amended his statement by replacing the phrase with "gangsters", following advice from both sides of the political divide.
The Kota Kemuning assemblyman said it must be made known that the violence which erupted on Monday morning stemmed from these thugs.
Meanwhile, state opposition leader Rizam Ismail welcomed the apology and expressed hope that "such mistakes" would not be repeated.
"This is an isolated case, one between the developer and the temple committee, but due to an oversight it led to chaos, one which saw damage to property and people injured in the process," the Sungai Air Tawar assemblyman told reporters at the lobby of the state assembly.
Rizal urged the state government to ensure such incidents did not re-occur.
The state government, he said, should play mediator to resolve such issues.
"We also hope the police will take action against the instigator."
Home Minister Muhyiddin Yassin had revealed that police investigations showed Monday's attack on the temple was the work of "a group of Malays" hired by One City.
Muhyiddin said police discovered that the lawyer for One City had paid the guards RM150,000 to "control" the situation at the temple on Monday. Describing the move as an "illegal and irresponsible act of intrusion", he said this had provoked the Hindus in the area, leading to chaos and destruction of property.
Today, however, One City issued a statement denying it had any links to the troublemakers.
On Monday, a group intruded into the temple, causing a disturbance in which several people were injured. The temple was also damaged while a number of vehicles were torched.
Early Tuesday morning, a protest to oppose the temple's relocation turned unruly as protesters set fire to vehicles and attacked a firefighter. The office of the land developer was also vandalised.
The temple is supposed to be relocated as part of a win-win court solution involving the developer One City, the Selangor state government and two claimants to the temple management, K Chellappa and M Nagaraju.
Both Chellappa and Nagaraju, who were involved in a separate suit over the control of the temple management, agreed to hand back the land to One City after it agreed to donate RM1.5 million to build a new temple on one of two plots of land given to the temple by One City.
Full report at:
https://www.freemalaysiatoday.com/category/nation/2018/11/28/selangor-exco-says-sorry-over-muslim-group-remarks/
--------
Mideast
Houthis use civilians as human shields in Hodeidah — Yemen prime minister
November 28, 2018
DUBAI: Houthi militias are using civilians as human shields in Hodeidah, Prime Minister Maeen Abdulmalik Saeed told the UN humanitarian coordinator in Yemen during their meeting on Tuesday.
"The Iranian-backed Houthi militia controls the city, takes civilians as human shields, deprives them of humanitarian aid and sells it in the market for their personal gain and to finance their wars," the Yemeni prime minister said.
At the meeting in the interim capital of Aden with Lise Grande, the prime minister discussed the efforts and projects of the United Nations in Yemen during the last period and the situation in Hodeidah.
He urged the UN and international organizations to provide more assistance to those affected in Yemen, suffering from the humanitarian crisis that has resulted from the war being waged by the militia against Yemeni people.
The prime minister urged aid organizations to open their offices in the Aden to ensure delivery of projects and supplies to Yemenis affected by the war in all areas.
Meanwhile, Yemeni Minister of Endowments and Guidance, Ahmad Attiya said that reinstating political leadership to the internationally recognized government and liberating Hodeidah from the Houthis was inevitable.
"The Houthi militias do not believe in peace and co-existence because they are a militia that receives its guidance from Iran and is trying to change the identity of Yemen and extract it from its Arab surroundings," he said at a lecture given at the University of Saba in the Yemeni province of Marib.
Attiya claimed that the Houthi militias manipulate young people and recruit them into their wars, violating international human rights laws.
http://www.arabnews.com/node/1412416/middle-east
--------
EU reiterates commitment to Iran nuclear deal in talks with Zarif
28 November 2018
European Union foreign policy chief Federica Mogherini met Iranian foreign minister Mohammad Javad Zarif in Geneva on Wednesday and reiterated the bloc's determination to preserve the multilateral nuclear deal, an EU statement said.
Mogherini underlined need for continued full and effective implementation of the Iran nuclear deal by all parties, "including the economic benefits arising from it", it said.
Mogherini and Zarif meeting came on the sidelines of a UN conference on Afghanistan held Wednesday in Geneva.
On November 19, British Foreign Secretary Jeremy Hunt arrived in Tehran for the first time since taking office to hold talks with Iranian authorities on issues including the future of the 2015 nuclear deal, Iranian media reported.
Full report at:
https://english.alarabiya.net/en/News/middle-east/2018/11/28/EU-reiterates-commitment-to-Iran-nuclear-deal-in-talks-with-Zarif-.html
--------
Houthi Al Masirah channel suspended due to sectarian programming
29 November 2018
Yemeni Information Minister Muammar al-Eryani confirmed that Al Masirah channel belonging to the Houthi militias has been suspended from broadcasting on Nilesat over accusations of running sectarian programming.
The minister said that the suspension of the channel from broadcasting came after the efforts exerted by the legitimate government represented by the Ministry of Information and supported by the Arab coalition.
The minister said in a statement to the Yemeni news agency SABA that the ministry is also seeking to stop previously official channels that have been hijacked by the Houthis militia in Sanaa, which include the Yemen, Aden and Sheba outlets. "These are false copies of government channels that broadcast their sectarian poison and incite violence and hatred among Yemeni society," the ministry said.
The information minister said that the world recognizes only one government and one leadership of the Yemen people represented by President Abdurbo Mansour Hadi.
Full report at:
https://english.alarabiya.net/en/News/gulf/2018/11/29/Houthi-Al-Masirah-channel-suspended-due-to-sectarian-programming.html
--------
Yemeni govt: Handing Hodeidah Port to UN with Houthi conditions is a violation
28 November 2018
The Yemeni government rejected the Houthi militias' proposal of handing over the supervision of the Hodeidah Port to the UN, adding that by doing this, the Houthis only aim to mislead and re-position themselves.
The Houthis have agreed to hand over supervision of the port to the UN under the condition that the port's revenues be handed over to the Central Bank in Sanaa, controlled by the militias.
"Handing over the port of Hodeidah to anyone other than the legitimacy is a violation of sovereignty," the government said in a statement.
Minister of State Mohammed al-Amiri said the Houthis have been looting the state's revenues through the port for four years and practiced piracy, threatened international navigation, committed crimes and thwarted humanitarian aid.
Negotiations over the Hodeidah Port came amid violent clashes in Al-Khamseen Street where national army forces and Houthi militias exchanged artillery shelling. Meanwhile, the coalition's air force targeted Houthi posts and military vehicles in several areas in Hodeidah.
Meanwhile, Saudi Arabia's Ambassador to the United States Prince Khalid bin Salman has said that only consistent pressure on the Iran-backed Houthi militias would eventually lead to a political solution in Yemen.
"After stalling for months, the Houthis agreed to talk about handing some control of Hodeidah port to the UN," Prince Khalid tweeted on Tuesday.
Full report at:
https://english.alarabiya.net/en/News/gulf/2018/11/28/Yemeni-govt-Handing-Hodeidah-Port-to-UN-with-Houthi-conditions-is-a-violation.html
--------
Yemen government calls for block on Houthi TV channel
November 29, 2018
DUBAI: Yemen's internationally recognised government has called for a block on the broadcast of a Houthi television channel from the country.
Information Minister Moammer Al-Eryani said the Houthi-run Al-Masirah television was "generating poisonous sectarianism and inciting violence and hatred", Saba news agency reported.
He added that Arab satellite operator Nilesat - which is based in Cairo - had stopped broadcasting the rebel outlet.
The Houthi rebels condemned the calls.
Full report at:
http://www.arabnews.com/node/1412736/middle-east
--------
URL: https://www.newageislam.com/islamic-world-news/amid-tense-bilateral-ties-india/d/117016
New Age Islam, Islam Online, Islamic Website, African Muslim News, Arab World News, South Asia News, Indian Muslim News, World Muslim News, Women in Islam, Islamic Feminism, Arab Women, Women In Arab, Islamophobia in America, Muslim Women in West, Islam Women and Feminism