New Age Islam News Bureau
14 Dec 2014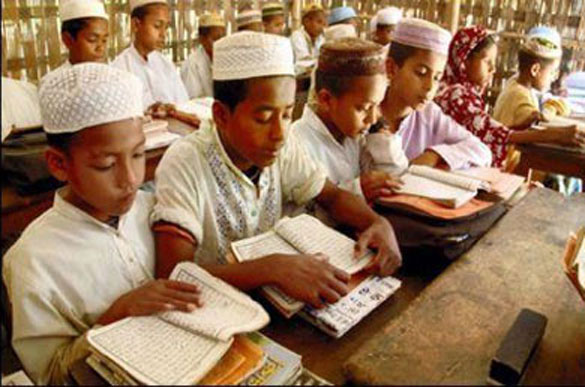 Photo: Madrasa Education Needs Urgent Reforms
---------
North America
• America Is Building a Sunni Army In Iraq To Take On The Islamic State
• U.S. Political Scientist: U.S. 'Got It Wrong' On the Middle East
• Saudi Arabia, Us Revamp Strategy Against Is Terror
• US Congress removes Iraqi Kurdish parties from terrorist list: Official
• US Congress approves defence bill, CSF for Pakistan
• Iran hackers may target U.S. energy, defence firms, FBI warns
Arab World
• Iraqi Forces Retake Regions from ISIL Kill 135 Militants
• Syrian Troops Claim Lives of over 50 Militants in Daraa
• Iraq's Western Sunni Tribes Are Organizing Into Militias to Fight Isis
• Iraqi Kurdish Official Urges Regional Rule for Iraqi Sunnis
• Syrian Army Repels ISIL Attack on Deir Ezzur Airport, Kills Scores of Terrorists
• Kurdish Forces Kill 16 ISIL Terrorists in Syria
• ISIS storms town in western Iraq kills 19 police
• Iraqi Forces Kill Saddam's Cousin in Salahuddin
• Egypt sends 439 to military trials over violence
• Shoura Council criticizes monopolies
• Non-Saudis can own hospitals
• Egypt bars entry of U.S. scholar critical of govt
Pakistan
• 23 Khateebs Booked For Violating Loudspeaker Ban in Islamabad
• Extremism Is Biggest Threat to State, Society: Pakistan Ulema Council
• Maulana Fazl Ur Rehman Seeks World Help to Resolve Kashmir Issue
• Lal Masjid cleric files petition against police 'harassment'
• Sharifs for 'avoiding' face-off between PML-N, PTI tomorrow
• Jamat-e-Islami says talks only option to resolve political crisis
• Imran asks people to stand up against oppression
India
• Conversions by Hindu Outfits an Attempt to Lure Muslims: AIMPLB
• Madrasa Education Needs Urgent Reforms
Southeast Asia
• Attacks against Pluralism Bad for Islam, Say Malaysian Scholars
• Johor Catholic priest detained, 30 hymn books with 'Allah' seized
• Penang Chief Minister says attack over 'Allah' remark misplaced
Europe
• Tajikistan's President Dubs ISIL as "Plaque of New Century"
• Attackers Torch Rights Group's Office in Chechen Capital
• German not in favour of swift end to NATO mission in Afghanistan
• UK to send hundreds of troops to Iraq
• ICC Collecting Information over ISIL War Crimes in Syria, Iraq
Mideast
• Turkish Police Raid Newspaper Close To US-Based Cleric Gülen
• Houthis Expand Territory in Yemeni Capital
• Yemen troops kill Saudi-bound Qaeda suspects dressed as women
• Turkish Deputy PM see thaw in ties with Middle East
• Iran extends visas for 450,000 Afghan refugees
South Asia
• China offers to help Iraq defeat Sunni extremists
• Afghan President calls on Nation to stand together against terrorism
• PM Sheikh Hasina: Poverty to be reduced to 10% within 4 years
• Bangladesh Minister: Government Returning To Non-Communal Secular Spirit
• Maldives Majlis removes Chief Justice and Justice Adnan from Supreme Court
Africa
• Boko Haram Violence Killed as Many People as ISIS in Iraq, New Figures Say
• Libyan forces repel Islamist attack on oil region
• Muslims Mark Arbaeen in Nigeria
• Bashir claims victory after ICC shelves probe
Compiled by New Age Islam News Bureau
URL: https://www.newageislam.com/islamic-world-news/new-age-islam-news-bureau/america-is-building-a-sunni-army-in-iraq-to-take-on-the-islamic-state/d/100478
----------
North America
America Is Building a Sunni Army in Iraq to Take On the Islamic State
Dec 14, 2014
BASHIQA, Iraq — At a small military base just outside of Mosul, a few hundred Iraqi troops stand at attention in three neat rows.
Within a prefab office nearby, a group of US officials is sitting down with some local commanders. They make introductions and exchange pleasantries, before the Americans ask the question they came all this way to ask: "How can we help?"
When the US announced its intention to support Iraq in its fight against the Islamic State (IS), it did so on the condition that the government undergo serious reforms to reach out to the country's Sunni population, who were severely marginalized under the sectarian rule of former Prime Minister Nouri al-Maliki.
US-backed legislation to create an Iraqi "national guard" — first proposed in September — was aimed at diluting Sunni support for IS by promising Sunni fighters, including tribal forces, weapons and supplies from Iraq's central government. A former Iraqi National Guard force was absorbed into the army a decade ago.
It was hoped that these groups would recapture the Sunni areas held by IS, also known as ISIS or ISIL, in western Iraq.
But with the Iraqi government failing to make headway in the fight, and the national guard legislation languishing in parliament, the US has begun to work behind the scenes to train and prepare to arm Iraq's Sunnis on its own.
Enter General Khaled al-Hamdani's fighters — all of whom are Sunni.
"They asked me 'what do you want exactly,'" Gen. Hamdani said shortly after his meeting earlier this month with the Americans, one of whom Iraqi officials identified as belonging to the CIA.
When an offensive begins to take back Mosul from IS, says Hamdani — formerly the province's chief of police — it will be these men who lead the way.
"[The Americans] asked: 'How can we help you with weapons, with supplies, with life here in this camp?'"
A State Department official described US involvement with groups like Hamdani's as "encouraging and facilitating the outreach that has been underway by the Iraqi government to Sunni communities across Iraq."
The official told GlobalPost that the national guard legislation is "a longer-term goal," but stated that arming other Sunni groups including tribal elements "will be a 'bridge' to the [Iraqi] National Guard with these tribal forces eventually subsumed into the national guard once established."
We'll take it back in a month'
Dobardan Base, about 10 kilometers from the front lines with IS, houses a division of more than 6,000, mostly former Nineveh province security forces, including a 250-man "SWAT" or special forces unit.
At the compound, the unit jogged in formation from one side of the base to the other while the US officials were taken on a tour of the facilities. The US officials declined to comment, but one confirmed they were there to assess the needs of Hamdani's men.
"Once we get all the training and the weapons we need," General Hamdani said flatly, "we'll take back Mosul in just one month." The clutch of bodyguards and assistants hovering around the general nodded and murmured in agreement.
But despite Hamdani's resolve, the means to launch his envisioned counter-attack have not been forthcoming until recently. That has a lot to do with the distrust between Iraq's different sects — which has deepened since the Islamic State's rise.
Many of Iraq's Shia, the sect that dominates the central government and the country's most effective fighting forces, partially blame Sunnis for the rapid IS sweep across the country's north and steady progress in Iraq's western Anbar province.
When IS fighters first advanced on Mosul in June, four entire divisions of the Iraqi army collapsed. Thousands of troops fled, thousands more were killed or captured. Many of the city's majority Sunni residents, at the time chafing under the brutal rule of then-Prime Minister Maliki's Shia dominated security forces, welcomed the extremist group.
According to a Reuters special report on the fall of Mosul, top generals in the city, short-staffed and undersupplied to begin with, anticipated the June IS attack and called for reinforcements. Their requests were ultimately denied by the central government.
Since the fall of Iraq's second largest city in June, Hamdani's men, looking for a way to join the fight to reclaim it, have been largely ignored. Distrusted by both Iraq's central government in Baghdad and authorities in the autonomous Kurdish region directly on their border, the men were denied the weapons and training they say they need to fight back against IS.
Things began to change this past week. On Dec. 7, a small shipment of weapons that was being held up at Erbil's international airport by a tangle of politics and bureaucracy was delivered to the base.
Analysts and Iraqi officials say this follows a weeks-long US campaign to pressure Baghdad to facilitate the arming of the country's Sunnis as part of an effort to retake territory from IS in the majority Sunni provinces of Anbar and Nineveh.
Outside Mosul, Hamdani's men received 30 heavy machine guns and 2,000 kalashnikov rifles, just a fraction of what Iraqi officials at the base say was promised to them from the Ministry of Interior.
"For six months we had been asking our government [for help]," explains the general, "and they gave us nothing, just tents and beds." Hamdani says despite the initial shipment from Baghdad, he hopes the US will bypass the central government and arm his men directly.
"I always thought we will get weapons from the Americans before we get anything from [the central government], because the Americans, they are serious."
Asked if last week's shipment of arms shows the government in Baghdad is serious, General Hamdani simply replied: "No."
There are dangers to the strategy being pursued by the US.
Arming Sunni groups without also incorporating them into the country's armed forces, could, some analysts warn, further fracture the country by militarizing sectarian rifts.
"If there's going to be a unified Iraq of any kind coming out of this war with Daash [the Arabic acronym for IS], this national guard concept is an absolutely critical element of it," said Ken Pollack, an Iraq analyst with the Brookings Institution.
"For the Sunni community, this is it … if they are going to move forward and be part of a new Iraq it is going to have to be a highly federalized system, one in which [the Sunnis] have their own security forces."
Relatively small arms shipments like those made to Hamdani's men outside of formal legislation appear to just be "paying lip service" to US demands for a more inclusive security force, Pollack said. In order to forge a longer lasting solution, he argues, agreements need to be formalized through law.
"Someone is going to have to help the Iraqis forge a new power sharing arrangement," he said. "There's just no evidence to suggest that the Iraqis are going to do it by themselves."
'We just talk about guns'
As the visit last week wound down and US officials along with their security detail drove off in a fleet of GMCs, the Iraqi troops stopped jogging. The general's bodyguards, shadowing him moments before, put down their weapons and lit cigarettes. The rest of the troops dispersed, some to lie down in the sun; others returned to their bunks in the neat rows of tents along the camp's edge.
"The Americans, yeah they visit, but all they do is talk," explains Colonel Ibrahim al-Hamdani, another commander at the base, leaning back in a plastic chair. "The US has been very slow," he adds.
Like many of the men here, Col. Hamdani — no direct relation to the general — wants the US to play a larger role in retaking Mosul, to commit more trainers and directly arm the Sunni fighters.
In the meantime, Hamdani says the men spend most of their day preparing for the eventual Mosul offensive.
"We do physical training every morning," the Colonel said between drags on a cigarette. "We run for one kilometer, you know, about 30 minutes, then we do stretching for 15 minutes and then we rest."
When asked what the men do for the remainder of the day, the colonel replied: "Weapons training." But when asked to elaborate, he reluctantly explained that because until recently the men had no weapons, "for weapons training we just talk about the guns."
At a peshmerga checkpoint just down the road from the base, Kurdish fighters skeptically eye their Sunni counterparts. While both forces are fighting against IS, there is very little coordination between the two due just as much to decades of animosity as to tensions recently inflamed by IS advances.
"Even I wouldn't give them weapons," said one low-ranking peshmerga fighter, of the men from Mosul based just up the road from him. "Half of them, their brothers are still in Mosul and fighting on the side of [IS]," he said, speaking on condition of anonymity because he is not authorized to speak to the press. "Giving them weapons is just like arming the enemy."
Many of Iraq's Kurdish armed forces share this fighter's opinion, blaming Iraq's military and security forces stationed in Mosul not only for facilitating the IS sweep across the country's north, but also for directly aiding the group by abandoning weapons that IS later pocketed. Many of the men at Dobardan camp openly admit to abandoning their posts in June, leaving behind weapons and supplies.
Camped out in a temporary office above a hair salon in the nearby city of Dohuk, the deputy governor of Mosul becomes visibly frustrated when asked about the lack of weapons for men at bases like Dobardan and slow progress in developing an operation to take back Mosul.
"[The central government] says it's because they don't have the capability to send us arms," Nuraddin Kaplan says from behind a sparse desk. "But I cannot say if that is true or not," he adds, smiling.
Then he turns serious, and shrugs. "Honestly, it's because Baghdad doesn't trust us."
http://www.globalpost.com/dispatch/news/regions/middle-east/iraq/141212/america-quietly-builds-sunni-army-iraq-take-the-islami
------------
U.S. political scientist: U.S. 'got it wrong' on the Middle East
Dec 14, 2014
The U.S. has made the mistake of believing Middle Eastern states "can't get their acts together" without American help, U.S. political scientist Francis Fukuyama said during a session at the Arab Strategy Forum in Dubai on Sunday.
Because of this belief, the U.S. has sought to intervene in Middle Eastern states in turmoil without allowing internal institutional institutions to solidify, the top academic said.
Fukuyama - best known for his 1992 book "The End of History" and the "Last Man" – spoke at a panel discussion hosted by Al Arabiya News Channel General Manager Dr. Adel Al-Toraifi on the Middle East's upcoming challenges and changes in 2015.
"The Americans need to understand that before you introduce democracy and the rule of law to limit power in foreign countries, you need to create power" within weak states, Fukuyama said.
"Cogently, Obama has argued that no state in this region is going to get its act together in terms of state building and creating a coherent political unit that can deploy a monopoly of legitimate power if the United States plays too large a role in this region.
"This was a mistake that American foreign policy has made over and over again; If the U.S. military is working with an ally, the temptation is to do the job for them. This mistake has been made in Afghanistan, Iraq and even in Vietnam. "
'Overplayed threat'
Fukuyama said the Islamic State of Iraq and Syria (ISIS) militant group, believed to hold about a third of Iraq and neighboring Syria in its self-styled caliphate, has been largely "overplayed" by the U.S. government and the media.
The U.S. has led a coalition of Arab and European countries to strike Iraq and Syria militant targets since August.
"I do not believe ISIS is a long-term powerful geopolitical actor in this region. The reason it appears powerful is because everyone around it is weak. ISIS has no overt supporters on the outside, geographically it is not in a favorable position in the deserts of Syria and Iraq.
"It has access to oil resources but cannot sell them legally and I believe it has grown so rapidly that it has become more vulnerable to air power," Fukuyama added.
On Friday, the U.S. Congress authorized a massive U.S. annual defense policy bill which included $5 billion in emergency funding for military operations and training for Iraqi and Syrian forces fighting ISIS, as President Barack Obama had requested.
'Islam not an obstacle'
When asked about this surge in radical Islam in the Middle East, Fukuyama said he was "not convinced religion or Islam is an obstacle to democracy" in the region.
UAE-based political commentator Sultan al-Qassemi commended Fukuyama for noting the West "should not do all the work in eliminating the threat of ISIS."
On the sidelines of the Forum, Qassemi told Al Arabiya News: "Without building the institutions that ultimately combat the militants, the region will not be able to face up to the challenges that ISIS present.
"Yes, the U.S. should help, but it should also be the regional states that take a front seat in the fight. If not, this will be a recurring problem. ISIS' power comes because the regional states are weak," Qassemi added.
Launched in 2001, the Forum focuses on foreseeing the future and gaining a deeper understanding of major political and financial issues that affect the Arab world and the international community. Previous distinguished speakers include former U.S. president Bill Clinton and former prime minister of Lebanon, the late Rafik Hariri.
http://english.alarabiya.net/en/News/middle-east/2014/12/14/Fukuyama-U-S-got-it-wrong-on-the-Middle-East.html
---------
Saudi Arabia, US revamp strategy against IS terror
Dec 14, 2014
The ongoing battle against Islamic State militants figured high during the talks between US President Barack Obama and Interior Minister Prince Muhammad bin Naif in the Oval Office on Friday.
They discussed regional issues including the Syrian crisis, Iran and Al-Qaeda attacks in Yemen at the White House meeting.
Also came under discussion the strong relations and permanent partnership between the Kingdom and the US.
US Vice President John Biden and Saudi Ambassador to the US Adel Jubeir were also present.
The prince, who is on an official tour, conveyed the greetings of Custodian of the Two Holy Mosques King Abdullah to Obama.
According to a White House statement, the officials discussed a joint "approach to strategic messaging to counter extremism." The meeting was closed to the press.
http://www.arabnews.com/featured/news/674196
----------
US Congress removes Iraqi Kurdish parties from terrorist list: Official
Dec 14, 2014
The two leading Iraqi Kurdish parties have been removed from the United States terrorist list, a senior U.S. official has announced.
The Kurdistan Democratic Union (KDP) and the Patriotic Union of Kurdistan (PUK) have been recognized as Tier III terrorist group under the Patriot Act of the U.S. since 2001, although both organizations are long-time U.S. allies.
"Congress has passed the NDAA [The National Defense Authorization Act] w/a provision removing PUK & KDP from the list of designated organizations under U.S. immigration laws," Ambassador Brett McGurk, the U.S. Deputy Assistant Secretary of State for Near Eastern Affairs, tweeted on Dec. 13.
"This unfair designation complicated visa processing for many Kurds wishing to visit the US. We are pleased to see it fixed," McGurk, who is also the deputy special presidential envoy for the global coalition to counter the Islamic State of Iraq and the Levant (ISIL), added in another tweet that also carried the hashtag #TwitterKurds.
In February, Kurdistan Regional Government (KRG) President Massoud Barzani refused to travel to the U.S. and meet President Barack Obama until Washington removed the region's two main parties from its designated terrorist list.
In April, two prominent U.S. Senators, Robert Menendez and John McCain, introduced a bill to remove the Kurdish political parties from the U.S. terror list.
Fuad Hussein, Chief of Staff to the Presidency of the KRG, said that U.S. officials have informed their Kurdish counterparts about the Congress decision. "The bill is now sent to President Barack Obama. We hope that he will sign it," Turkey's semi-official Anadolu Agency quoted Hussein as saying.
http://www.hurriyetdailynews.com/us-congress-removes-iraqi-kurdish-parties-from-terrorist-list-official.aspx?pageID=238&nID=75584&NewsCatID=359
----------
US Congress approves defence bill, CSF for Pakistan
Dec 14, 2014
WASHINGTON: The US Congress has approved a massive defence spending bill for 2015, including a provision that extends the Coalition Support Fund (CSF) for Pakistan for a year.
The provision is part of an attached bill known as `S. 2410' and includes some new conditions on releasing CSF reimbursements to Pakistan.
The final approval for the $584.2 billion bill came on Friday evening, when the US Senate also approved it.
The House of Representatives has already passed the bill, which now goes to the White House for President Barack Obama to sign it into a law.
The bill, now known as the National Defence Authorisation Act, 2015, includes $63.7bn in overseas contingency operations, which was previously called the US-led war against terror. Support to countries like Afghanistan, Pakistan and Iraq come from this provision.
Despite opposition from President Obama, the bill renewed a ban on transferring detainees from the US military prison in Guantanamo Bay, Cuba, to the mainland.
The provision that concerns Pakistan, however, is included in S. 2410, which was attached to the original bill by the US Senate.
Full report at:
http://www.dawn.com/news/1150775/congress-approves-defence-bill-csf-for-pakistan
----------
Iran hackers may target U.S. energy, defense firms, FBI warns
Dec 14, 2014
The Federal Bureau of Investigation has warned U.S. businesses to be on the alert for a sophisticated Iranian hacking operation whose targets include defense contractors, energy firms and educational institutions, according to a confidential agency document.
The operation is the same as one flagged last week by cyber security firm Cylance Inc as targeting critical infrastructure organizations worldwide, cyber security experts said. Cylance has said it uncovered more than 50 victims from what it dubbed Operation Cleaver, in 16 countries, including the United States.
The FBI's confidential "Flash" report, seen by Reuters on Friday, provides technical details about malicious software and techniques used in the attacks, along with advice on thwarting the hackers. It asked businesses to contact the FBI if they believed they were victims.
Cylance Chief Executive Stuart McClure said the FBI warning suggested that the Iranian hacking campaign may have been larger than its own research revealed. "It underscores Iran's determination and fixation on large-scale compromise of critical infrastructure," he said.
The FBI's technical document said the hackers typically launch their attacks from two IP addresses that are in Iran, but did not attribute the attacks to the Tehran government. Cylance has said it believes Iran's government is behind the campaign, a claim Iran has vehemently denied.
Full report at:
http://english.alarabiya.net/en/perspective/features/2014/12/13/Iran-hackers-may-target-U-S-energy-defense-firms-FBI-warns.html
----------
Arab World
Iraqi Forces Retake Regions from ISIL Kill 135 Militants
Dec 14, 2014
The Iraqi Ministry of Defence announced that it has retaken two regions in the North and West of Iraq from the ISIL Takfiri group, killing over 135 militants.
The areas which were controlled by the ISIL Takfiri group only a few days ago are now liberated, with around 135 ISIL militants being killed during clashes, according to a statement released by the Iraqi Ministry of Defence, World Bulletin reported.
In the Northern Province of Salahuddin, 15 ISIL militants were killed. The fighting took place in the Saayweiya district located in the South of the governate's largest city, Samarra.
"The Iraqi army and Al-Hashd Al-Shabii -- a pro-government Shiite militia -- killed around 60 ISIL fighters during the clashes and managed to force the militants to retreat entirely from the Motasim region," Khaled Al-Jassam, a member of the security committee in Salahuddin governorate's council said.
"Iraqi forces are completely in control of the Motasim region and Samarra city is not under threat from ISIL," he added.
Full report at:
http://english.farsnews.com/newstext.aspx?nn=13930922000186
----------
Syrian Troops Claim Lives of over 50 Militants in Daraa
Dec 14, 2014
Syrian Troops continued to make more advances in their confrontation with armed groups in Daraa province, leaving more than 50 Takfiri militants dead and wounded.
The army soldiers inflicted heavy losses on the rebels in the towns of al-Sheikh Miskeen, Eastern al-Mleha, and al-Hrak in the Southern province of Daraa, killing dozens of them.
The gathering centers of the militants were also raided in the areas of Bosra al-Cham, Deir al-Adas, Samlin, and al-Fakae, as the army made more gains in the nearby areas of the province.
A number of vehicles belonging to the Takfiri group were also targeted during the operations.
The conflict in Syria started in March 2011, when sporadic pro-reform protests turned into a massive insurgency following the intervention of western and regional states.
The unrest, which took in terrorist groups from across Europe, the Middle-East and North Africa, has transpired as one of the bloodiest conflicts in recent history.
As the foreign-backed insurgency in Syria continues without an end in sight, the US government has boosted its political and military support to Takfiri extremists.
Washington has remained indifferent to warnings by Russia and other world powers about the consequences of arming militant groups.
http://english.farsnews.com/newstext.aspx?nn=13930923000352
----------
Iraq's Western Sunni Tribes Are Organizing Into Militias To Fight ISIS
14 December 2014
Sunni tribesmen in Iraq are forming their own militias, with U.S. support, to fight the Islamic State group in the western part of the country. The development is reminiscent of the so-called Sunni Awakening that helped U.S. troops fight al Qaeda in Iraq during the American occupation.
The central government has relied heavily on Shiite militias to defend Baghdad, but the Sunni militias that are forming are becoming increasingly important to the defense of the capital. They are fighting to keep control of their lands, so they are stopping the Islamic State from taking over Anbar, the province west of Baghdad that leads directly to territory in Syria controlled by the group also known as ISIS or ISIL.
The Sunni tribes have for the most part armed themselves, buying weapons and ammunition from Iraqi soldiers and Shiite militia fighters. They have received a few small shipments from the central government. A source close to one of the largest new Sunni militias in Anbar, who requested to remain anonymous for security purposes, said the Sunni militias are "being systematically armed" by the U.S. and Iraqi governments.
Full report at:
http://www.ibtimes.com/iraqs-western-sunni-tribes-are-organizing-militias-fight-isis-1749565
-------------
Iraqi Kurdish official urges regional rule for Iraqi Sunnis
14 December 2014
Iraq's central government in Baghdad must give up much of its authority to local power centers - and potentially permit the creation of an autonomous Sunni Muslim region - if the nation is to survive the fight against Islamic State of Iraq and Levant (ISIL) militants, a senior Iraqi Kurdish official said Tuesday.
In a wide-ranging interview with The Associated Press, Kurdistan regional Deputy Prime Minister Qubad Talabani said giving Sunnis broad political control within their own population may be the one way to keep them from joining the ISIL.
Both Baghdad and the United States have resisted partitioning Iraq along ethnic or sectarian lines, although Vice President Joe Biden advocated for doing so as a senator in 2006.
Talabani acknowledged that partitioning Iraq now would require "a major culture shift" and was unsure himself if it would ever happen. But the idea has been pushed by Sunnis since US combat troops left Iraq in 2011, and has recently picked up support among military and diplomatic experts.
Full report at:
http://www.todayszaman.com/latest-news_iraqi-kurdish-official-urges-regional-rule-for-iraqi-sunnis_366545.html
-------------
Syrian Army Repels ISIL Attack on Deir Ezzur Airport, Kills Scores of Terrorists
14 December 2014
The Syrian army repelled an ISIL attack against Deir Ezzur military Airport and killed scores of terrorists, including a Libyan and a Tunisian commanders.
The Syrian army also targeted a terrorist meeting at Zamrani crossing in Qalamoun between one of the brigades of the so-called Free Syrian Army (FSA) and ISIL, killing and injuring a number of militants, including commanders, Al-Manar reported Saturday.
In a different context, ISIL terrorists executed 21 youths in the city of Jarablus in Aleppo Northern countryside, without identifying the reasons.
http://english.farsnews.com/newstext.aspx?nn=13930923000414
-------------
Kurdish Forces Kill 16 ISIL Terrorists in Syria
Dec 14, 2014
Kurdish forces killed at least 16 ISIL terrorists in an attack in Northeast Syria near the border with Turkey, the UK-based opposing Syrian Observatory said.
The assault targeted ISIL positions South of the town of Ras al-Ain in Hasakeh province, the group added, Al-Manar reported Saturday.
Ras al-Ain was the scene of fierce fighting last year before Kurdish forces ousted the terrorists from the border town.
The Observatory also reported clashes at the terrorist-besieged border town of Kobani, some 100 kilometers (60 miles) away.
http://english.farsnews.com/newstext.aspx?nn=13930923000431
----------
ISIS storms town in western Iraq, kills 19 police
Dec 14, 2014
Islamic State of Iraq and Syria (ISIS) fighters stormed a town in Iraq's western Anbar province, killing at least 19 policemen and trapping others inside their headquarters, in the latest attack in the desert region where it controls large amounts of territory, officials said.
ISIS seized the town of al-Wafa, 45 km west of Anbar's capital Ramadi on Saturday after starting its assault early on Friday.
With the capture of al-Wafa, ISIS now controls three major towns to the west of Ramadi, including Hit and Kubaisa. ISIS and government forces have been bogged down in a months-long battle for Ramadi.
Al-Wafa fell in a surprise attack that drew fresh attention to the Iraqi government's struggle to arm Sunni tribes in western Iraq who are fighting ISIS.
"Police forces have been fighting ISIS fighters since Friday, but lack of ammunition forced it to retreat and losing the town. I'm frustrated because we were left alone without support," said Hussain Kassar, the town's mayor.
Full report at:
http://english.alarabiya.net/en/News/middle-east/2014/12/13/ISIS-storms-town-in-western-Iraq-kills-19-police.html
----------
Dozens of ISIL Militants Killed in Iraq's Samarra
Dec 14, 2014
Hundreds of Iraqi troops backed by warplanes, launched a major offensive against the ISIL Takfiri group in the city of Samaraa, Salahuddin province, killing dozens of militants.
The Iraqi forces stormed the positions of the Takfiri group in the areas of al-Saoyawia and Mutassim, South of Samarra, and managed to kill more than 15 ISIL militants.
A number of vehicles belonging to the group were also targeted during the operation.
The crisis in Iraq escalated after the ISIL militants took control of Mosul in a lightning advance on June 10, which was followed by the fall of Tikrit, located 140 kilometers (87 miles) Northwest of the capital, Baghdad.
Soldiers of the Iraqi army and Peshmarga have been engaged in heavy fighting with the militants on different fronts and have so far been able to push them back in several areas.
http://english.farsnews.com/newstext.aspx?nn=13930922000245
----------
Iraqi Forces Kill Saddam's Cousin in Salahuddin
Dec 14, 2014
Iraqi security forces killed a cousin of the former dictator of Iraq, Saddam Hussein, in Salahuddin province.
"The security forces killed Firas Hassan al-Tikriti, Saddam's cousin, who is responsible for killing the Iraqi Soldiers in Speicher Camp few months ago," a security source said Saturday.
http://english.farsnews.com/newstext.aspx?nn=13930923000646
--------
Egypt sends 439 to military trials over violence
14 December 2014
Egypt's top prosecutor referred 439 people to military tribunals for acts of violence including the killing of three policemen last year, while authorities denied entry to a prominent American scholar arriving at Cairo's international airport, the latest incidents in the country's sweeping crackdown on dissent.
Security officials said that one group was 139 men he described as Islamists from the southern province of Minya, while another was comprised of 300 from the Nile Delta province of Beheira. The cases involve last year's wave of violence that came in retaliation to a bloody police dispersal of an Islamist sit-in.
The officials spoke on condition of anonymity because they were not authorized to speak to the press.
Full report at:
http://english.alarabiya.net/en/News/middle-east/2014/12/14/Egypt-sends-439-to-military-trials-over-violence.html
----------
Shoura Council criticizes monopolies
Dec 14, 2014
Members of the Shoura Council have strongly criticized merchants who monopolize the retail, real estate and food sectors. They warned against such practices, which make citizens' lives harder, and oust small investors from the market.
According to the council, such monopolies reduce prices to grab market share for themselves, even if they face short term losses. The majority of the Shoura members approved a proposal to demand the Saudi Competition Council thoroughly study monopolistic practices that affect fair competition.
During the discussion, Shoura members demanded to turn the Competition Council into a public commission, directly linked with the Council of Ministers. Shoura members also called on the government to provide the body with the necessary financial and technical support, while urging the parties concerned to spread the culture of competition and raise public awareness on its importance.
Full report at:
http://www.arabnews.com/saudi-arabia/news/674176
----------
Non-Saudis can own hospitals
Dec 14, 2014
New regulations governing private health institutions will allow non-Saudis to own hospitals in the Kingdom. However, a foreign investor's application to set up a health establishment should be cleared first by the Saudi Arabia General Investment Authority (SAGIA), Aleqtesadiah daily reported.
A committee of medical and economic experts set up by the Ministry of Health is the competent authority to approve a new establishment, and will review all applications made by foreigners wishing to open such institutions.
While the application fee to open a 50-bed hospital is SR5,000, the fee for a hospital with 51 to 100 beds is SR10,000, and SR15,000 for more 100 beds. A general and specialist medical and laboratory complex with a single-day surgery facility will have to pay an application fee of SR2,000.
Full report at:
http://www.arabnews.com/saudi-arabia/news/674156
----------
Egypt bars entry of U.S. scholar critical of govt
14 December 2014
U.S. scholar and former diplomat Michele Dunne, known for her staunch criticism of Egypt's authorities, said she was barred from entering Egypt Saturday.
Dunne told AFP in an email she had been invited to be a panelist at a conference organized by the pro-government Egyptian Council for Foreign Affairs (ECFA).
She arrived overnight at Cairo airport but her name was on a list of people banned by the department of state security, and she was put on a plane to Frankfurt, an airport official said.
"Authorities have no reason whatsoever for refusing me entry. I have visited several times per year for more than a decade now," she said.
"Some Egyptians complain I don't list enough to pro govt views. When I accept invite to conf of pro govt group they deny me entry. Go figure," she said on Twitter.
An interior ministry spokesman was unable to comment on why Dunne, who once served at the US embassy in Cairo, was turned back.
Full report at:
http://english.alarabiya.net/en/News/middle-east/2014/12/14/Egypt-bars-entry-of-U-S-scholar-critical-of-government-176.html
----------
Pakistan
23 Khateebs Booked For Hate Sermons in Islamabad
Dec 14, 2014
ISLAMABAD: About 23 cases were registered against Khateebs of different worship places for violating ban on the use of loudspeakers while delivering speeches during Friday prayers.
A senior police officer said cases were registered against those who delivered sermons before the Friday prayers.
In view of the prevailing situation, vigilance was mounted around all worship places in the capital in connection with security measures for Chehlum of Hazrat Imam Hussain.
During vigilance, the police noted hate sermons delivered in the 23 worship places which led to the registration of cases against the Khateebs.
There are over 614 worship places in the city and majority of them did not violate the ban, the police officer said.
Use of loudspeakers has been banned on the direction of the district magistrate. He said during Muharram, 150 Khateebs of different worship places were booked for violating the ban and delivering hatred sermons.
Before the start of Muharram, the police had taken undertakings from all Khateebs that they would not violate the ban, the officer said.
However, no arrest was made in connection with the cases registered against the Khateebs, the police officer said.
The police said five cases were registered with Shahzad Town police, four each with Sabzi Mandi and Loi Bher police, two each with Shalimar, Tarnol, Kural and Sihala police and one each with the Industrial Area and Bani Gala police.
http://www.dawn.com/news/1150771/23-khateebs-booked-for-violating-loudspeaker-ban-in-islamabad
----------
Extremism is biggest threat to state, society: Pakistan Ulema Council
Dec 14, 2014
ISLAMABAD: Speakers said that intolerance and extremism was the biggest threat to the existence of the state and a civilised society and without tolerance, peace could not be ensured in any society.
The speakers expressed these views during a national conference titled "Peace and Tolerance", organised by South Asia Partnership-Pakistan at a local hotel. "The presence of tolerance at the state and public level is needed more than ever before," a speaker said. It was shared that the brunt of this trend had been born by the vulnerable sections of society including religious minorities.
Pakistan Ulema Council (PUC) Chairman Tahir Mehmood Ashrafi said that not any particular section of society was responsible for the present state of affairs of intolerance, militancy and extremism, adding that the code of conduct prepared by the Ulema Council was not implemented, which prohibited the use of the loudspeakers in mosques.
Full report at:
http://www.dailytimes.com.pk/islamabad/14-Dec-2014/extremism-is-biggest-threat-to-state-society-moot-told
----------
Maulana Fazlur Rehman seeks world help to resolve Kashmir issue
Dec 14, 2014
BERLIN: The chairman of the National Assembly's Special Committee on Kashmir, Maulana Fazlur Rehman, visited on Saturday head offices of
the Konrad Adenauer Foundation and Koerber Foundation where he called for the international community's support for early resolution of the Kashmir issue.
According to a press statement, he briefed the two organisations' heads of international and Asian affairs on the genesis of the Kashmir dispute and said the international community should facilitate its early resolution because durable peace in South Asia depended on good relations between India and Pakistan.
Talking to Marc Frings, head for South and Central Asian affairs at the Konrad Adenauer Foundation, a think tank of the German ruling party (CDU), Maulana Fazl said that apprehensions about a proxy war between India and Pakistan in Afghanistan after the withdrawal of the US and Nato forces from there could be traced back to many unresolved issues between the two nuclear-armed countries, the Kashmir dispute being the most important one.
Full report at:
http://www.dawn.com/news/1150777/fazl-seeks-world-help-to-resolve-kashmir-issue
----------
Lal Masjid cleric files petition against police 'harassment'
Dec 14, 2014
ISLAMABAD: A cleric of Lal Masjid filed a petition with Islamabad High Court (IHC) against alleged police harassment.
The petitioner, Ihtashamul Haq, one of the trustees of Lal Masjid Shuhada Foundation, in the petition claimed that following the release of a video message by students of Jamia Hafsa, the capital police have started harassing him.
In the video message, students expressed their support to the militants of Islamic State of Iraq and Syria (ISIS).
The petition, filed through advocate Tariq Asad, contended that despite a clarification by Mr Haq that the foundation had nothing to do with the video message, the local police had issued his detention order.
It said the petitioner was a law abiding citizen and had also been pursuing the murder case of cleric Abdul Rashid Ghazi in which former president retired General Pervez Musharraf was an accused.
The petition claimed that the government had issued detention orders of Haq as it wants to sabotage the proceedings of that case.
The petition requested the court to restrain the local police from harassing the petitioner and other members of the Shuhada Foundation.
http://www.dawn.com/news/1150795/lal-masjid-cleric-files-petition-against-police-harassment
----------
Sharifs for 'avoiding' face-off between PML-N, PTI tomorrow
Dec 14, 2014
LAHORE: In an apparent bid to avoid repetition of a Faisalabad-like situation, the PML-N leadership has asked party MNAs, MPAs and officer-bearers from Lahore to stop its workers from coming out on roads on Monday, when the PTI will be holding its protest in the city.
"I don't want repeat of Faisalabad incident. Make sure no party worker is on road to have a face-off with the PTI (activists) on Monday," a senior PML-N leader quoted Chief Minister Shahbaz Sharif as having directed to the party lawmakers and office-bearers from Lahore here on Saturday.
The PML-N leader told Dawn that the party leadership was not happy the way the PTI protest was handled in Faisalabad.
"The PML-N workers in Faisalabad were charged up by their local leadership, especially Rana Sanaullah, two days prior to the PTI protest. No party leader in Lahore is supposed to do so," he said.
Full report at:
http://www.dawn.com/news/1150714/sharifs-for-avoiding-face-off-between-pml-n-pti-tomorrow
----------
Jamat-e-Islami says talks only option to resolve political crisis
Dec 14, 2014
KARACHI: Jamat-e-Islami Amir Sirajul Haq said that there was no option for political parties other than talks to resolve prevailing crisis.
Speaking at a ceremony on Sunday he said "They (political forces) will have to go to people if issues are not resolved through talks".
He said that Pakistan was facing more threat from foreign enemies than domestic one.
Haq called for concerted efforts for establishment of Islamic Pakistan. He said that dismemberment of Pakistan was the biggest event of terrorism.
http://www.thenews.com.pk/article-168681-Siraj-says-talks-only-option-to-resolve-political-crisis-
----------
Imran asks people to stand up against oppression
Dec 14, 2014
MIANWALI: Pakistan Tehreek-e-Insaf chairman Imran Khan on Sunday told the students of Namal University that the only way to attain happiness is to live for others.
Speaking at a ceremony, he said amassing fortune and chasing wealth is not a purpose of a happy life. He said happiness comes when one lives for others.
Recalling his past, Khan said that he had set his goals for the future and worked hard to achieve them.
Khan said that he could have lived a happy life if he had thought money was happiness. The PTI chairman said: "We have done a great deal of cruelty to people by imposing three parallel educational systems"
"I want to wake up people so that they can raise voice against oppression and show intolerance to injustice and excesses," he said, adding that society benefits when a man stands up against oppression and excess. Khan said that to him politics was like waging a Jihad.
The PTI chief, who is also the founder of the educational institute in Mianwali district, asked the students not to give up in any circumstances as "nothing is impossible…. nobody can defeat you unless you accept defeat,"
http://www.thenews.com.pk/article-168682-Imran-asks-people-to-stand-up-against-oppression-
----------
India
Conversions by Hindu Outfits an Attempt to Lure Muslims: AIMPLB
Dec 14, 2014
Amid a raging row over alleged forced re-conversion in Agra, All India Muslim Personal Law Board on Sunday accused the VHP and other Hindu outfits of initiating the conversion campaign to "lure" poor Muslims.
Asking the government to take stern steps to check such incidents which polarise people on religious lines, the board at the same time said the design of communal forces could be defeated if well-to-do Muslims unite and help their brothers.
"In Agra it was seen that communal organisations resorted to conversion of Muslims by promising them Aadhar and ration cards. VHP and other Hindu organisations have launched conversion campaign to take advantage of poverty of Muslims," General Secretary, AIMPLB, General Secretary, Maulana Nizamuddin said.
"If well-to-do Muslims unite and help their brothers of weaker section socially and economically, the designs of communal forces involved in conversion campaign could be defeated," Nizamuddin said.
Full report at:
http://indianexpress.com/article/india/india-others/conversions-by-hindu-outfits-an-attempt-to-lure-muslims-all-india-muslim-personal-law-board/
------------
Madrasa Education Needs Urgent Reforms
Mir Ayoob Ali Khan,TNN | Dec 14, 2014
Hyderabad, which has witnessed at least four major terrorist attacks in the last 10 years or so, has become an interesting case study for the State and national intelligence agencies. In fact, some western countries too are now showing interest in analyzing Hyderabad's history, culture and demography; and digging deep into the social, economic, political and religious issues faced by people here.
The latest incident that intrigued many was when about two dozen youth were found by the police to be "actively watching" on the internet the activities of the terrorist group in Iraq and Syria __ ISIS.
Against such a backdrop, even the functioning of madrasas has become a point of interest, despite none from Hyderabad (with a madrasa background) still found involved in militant activity anywhere in the country or outside. Yet, they remain under watch.
"No madrasa is teaching extremism or militancy. They are in fact supplementing the main education system that has failed to reach out to the entire population," Hafiz Peer Shabbir, Member of the Legislative Council, said, while speaking of the change in the way madrasas function. They are now more in line with the requirement of time, he added.
A case in point is the 140-year-old and arguably the biggest Islamic seminary in Hyderabad, Jamia Nizamia. Ensconced in the densely populated area of Shibli Ganj near Hussaini Alam police station, this institution has 1,500 students on roll. Of these, 800 are day scholars and 700 boarders. But that's not all. The Jamia also runs an exclusive school for girls in Shah Ali Banda where 400 students study as boarders. A large number of these students do not pay any fee for education or food. The Jamia has also extended affiliation to about 200 schools across Full report at:
http://timesofindia.indiatimes.com/city/hyderabad/Madrassa-education-needs-urgent-reforms/articleshow/45508393.cms
----------
Southeast Asia
Attacks Against Pluralism Bad For Islam, Say Malaysian Scholars
Dec 14, 2014
More prominent scholars on Islam have criticised the attacks on pluralism by Malaysian religious authorities, saying that such a trend was dangerous for Muslims as a whole.
At the same time, they also said that the whole concept of having religious authorities, such as the Islamic Affairs Department, is not originally Muslim.
The concept is actually part of a Western political system where the powers of the state were fused with the Christian church.
Islam, said Professor James Piscatori of Durham University, endorses diversity in different religions and differences within the faith itself when it comes to interpretation of the Quran.
Piscatori added that classical Muslim scholars and rulers – who the religious authorities looked up to – have never "bureaucratised" Islam by creating an arm of government that policed Muslim behaviour.
"The question is, who gives them the right to speak on behalf of Islam? They argue that there is a standard of Islam and this is very dangerous," Piscatori told a forum on political Islam yesterday.
"Regimes that promote the bureaucratisation of Islam actually undermine the larger Muslim community," said Piscatori, whose field of expertise is political Islam.
Piscatori's comments follow that of another eminent Muslim scholar Professor Ebrahim Moosa, who spoke up against a recent trend by religious authorities to demonise pluralism and liberalism.
Full report at:
http://www.themalaysianinsider.com/malaysia/article/attacks-against-pluralism-bad-for-islam-say-scholars#sthash.op0vA9Hx.dpuf
----------
Johor Catholic priest detained, 30 hymn books with 'Allah' seized
Dec 14, 2014
Barely has the dust settled on the issue of the seized Bibles in Selangor, a Catholic priest in Muar, Johor, was detained for having 30 copies of a hymn book with the word Allah which were meant for his Orang Asli parishioners.
Father Cyril Mannayagam (pic), 44, said although the police later decided not to pursue the case against him, the hymn books, titled "Kepujian Kepada Tuhan Allah" (Praise be to God) were seized and had yet to be returned to him.
"I repeatedly told them that the song books were only for my own people in my church and that I wanted to use them for the service with the Orang Asli parishioners in Bekok, Tangkak," the parist priest of the Church of St Andrew in Muar told The Malaysian Insider.
"However, the police told me that they were waiting for orders from the higher authorities before they could decide on what to do with the books."
Cyril, who has been a priest for five years, said he had sent the hymn book for copying at about 1pm on December 5 at a shop in Tangkak and went back about four hours later to collect them.
Full report at:
http://www.themalaysianinsider.com/malaysia/article/johor-catholic-priest-detained-30-hymn-books-with-allah-seized#sthash.li64nM2y.dpuf
----------
Penang Chief Minister says attack over 'Allah' remark misplaced
Dec 14, 2014
Penang Chief Minister Lim Guan Eng, under fire over his "Allah" statement, has accused Umno of bullying him with lies to distract attention from controversy surrounding 1Malaysia Development Bhd (1MDB).
Lim also slammed Umno vice-president and Home Minister Datuk Seri Ahmad Zahid Hamidi for distorting the issue for political gain.
"I regret that Zahid has either been misinformed or is deliberately trying to distort the issue for political gain to raise hatred and threaten me for interfering in Islamic affairs when I have not done so.
"Zahid should be training his guns on MCA for demanding that the Penang government repeal the Administration of the Religion of Islam (State of Penang) Enactment 2004 to allow the use of 'Allah' by Christians," he said in a statement today.
Lim on Friday gave assurance that there was no prohibition on non-Muslims using the word "Allah" in Penang.
Full report at:
http://www.themalaysianinsider.com/malaysia/article/guan-eng-says-attack-over-allah-remark-misplaced#sthash.tfpJdvd4.dpuf
----------
Europe
Tajikistan's President Dubs ISIL as "Plaque of New Century"
Dec 14, 2014
Tajikistan's President Emomali Rakhmon sharply criticized the Islamic State of Iraq and the Levant (ISIL) terrorist group at a congress of the People's Democratic Party, calling it "a plaque of the new century and a global danger".
At the congress the president-led party put forward candidates for the elections to the national parliament scheduled for March 1, 2015, Itar-Tass reported Saturday.
"Emomali Rakhmon voiced his serious concern over the situation in the region and the world, over activity of terrorist and extremist groups in Iraq and Syria, in particular, of the Islamic State (of Iraq and the Levant)," the presidential press service said adding that "he named the Islamic State (of Iraq and the Levant) as a plaque of the new century and a global danger".
Rakhmon believes "Taliban, Al-Qaeda and the Islamic State (of Iraq and the Levant) have the one goal, which is to destroy states and wreak havoc in the settled world order."
"The negative impact of the Islamic State (of Iraq and the Levant) on Tajikistan must not be underestimated," he said underscoring that over 200 citizens were fighting in the ranks of this organization against governmental forces in Syria and Iraq, according to Tajikistan's special services.
The president called on the compatriots "not to stay indifferent and put a barrier to this global threat".
The People's Democratic Party of this Central Asian republic leads the troika of political 'heavyweights,' along with the Islamic Renaissance and the Communist Parties.
http://english.farsnews.com/newstext.aspx?nn=13930923000341
----------
Attackers torch rights group's office in Chechen capital
Dec 14, 2014
Attackers set alight the office of a prominent rights group in Chechnya after its activists criticised Chechen strongman Ramzan Kadyrov for saying that relatives of Islamist insurgents would be punished.
The office of the Joint Mobile Group, one of the few human rights groups active in Chechnya, was set on fire late Saturday, its leader Igor Kalyapin wrote on Facebook.
"The office of the Joint Mobile Group is on fire in Grozny. None of the staff were injured," Kalyapin said.
Kalyapin said that earlier in the evening two men had tried to break into the office and that activists had been followed by armed men.
The apparent arson attack targeted rights activists who have taken a stand against Kadyrov, the North Caucasus region's ardently pro-Putin leader, after his chilling statement that relatives of insurgents will be punished for their crimes.
Full report at:
http://english.ahram.org.eg/NewsContent/2/9/117878/World/International/Attackers-torch-rights-groups-office-in-Chechen-ca.aspx
---------
German not in favor of swift end to NATO mission in Afghanistan
Dec 14 2014
Ursula von der Leyen, defense minister of Germany who is on a surprise visit in Afghanistan said her country is not in favor of "abrupt end" of the current mission or future withdrawal of international forces from Afghanistan.
She said even though Afghan Security Forces have positive achievements and are more capable of the security but Afghanistan is in a fragile situation and an abrupt end to the assignment of the international forces may create a gap.
She made these comments on Saturday while visiting her soldiers in Camp Marmal near mazar-i-Sharif.
She said international forces should consider ending their assignment gradually.
German now has about 1200 soldier in Afghanistan and for the new NATO mission expected to start next year, 850 soldiers will stay behind.
http://www.khaama.com/german-not-in-favor-of-swift-end-to-nato-mission-in-afghanistan
----------
UK to send hundreds of troops to Iraq
Dec 14, 2014
Britain will send hundreds of troops to train Iraqi and Kurdish forces in Iraq, Defence Secretary Michael Fallon told The Daily Telegraph newspaper on Saturday, in a bid to step up the battle against Islamic State of Iraq and Syria (ISIS) fighters.
U.S President Barack Obama has already authorized the deployment of over 3,000 troops to the country and the top U.S
commander guiding the coalition effort said earlier this week that allies would send about 1,500 additional troops.
Fallon said troops in the "very low hundreds" would be sent next month.
He said that following air strikes by U.S.-led forces including Britain, ISIS had changed its methods, moving away from use of large formations in open space.
"They are increasingly tucked away in towns and villages. That means they have got to be rooted out by ground troops.
"This has to be done by an own-grown army, not by western groups."
Continued gains
Full report at:
http://english.alarabiya.net/en/News/middle-east/2014/12/13/UK-to-send-hundreds-of-troops-to-Iraq.html
----------
ICC Collecting Information over ISIL War Crimes in Syria, Iraq
Dec 14, 2014
International Criminal Court (ICC) lawyers are gathering evidence on the ISIL extremist fighters from Jordan, Tunisia and European countries, ahead of a potential war crimes probe, ICC prosecutor Fatou Bensouda announced.
"It's not an investigation, it's not a prosecution, it's just collecting information," Bensouda told Sputnik Thursday evening, on the sidelines of an event at the Council on Foreign Relations, a New York-based think tank.
The chief prosecutor stressed that the information needs to be assessed carefully before any prosecutions can be launched.
"Already we had the policy of (prosecuting those) most responsible (for war crimes). So you would assume that we only have to look at the most responsible amongst the ranks of ISIL. But the recent strategic plan of looking at notorious and mid-level and then moving up gradually to the most responsible is possible," Bensouda explained.
Full report at:
http://english.farsnews.com/newstext.aspx?nn=13930921000076
----------
Mideast
Turkish Police Raid Newspaper Close To US-Based Cleric Gülen
Dec 14, 2014
Turkish police raided the offices of a newspaper close to US-based Muslim cleric Fethullah Gulen on Sunday, the paper's editor said, two days after President Tayyip Erdogan signalled a fresh campaign against Gulen's supporters.
"The free press cannot be silenced," a crowd chanted at the offices of Zaman as editor Ekrem Dumanli made a speech to them broadcast live on television, defiantly calling on police to detain him.
It was not immediately clear on what grounds the police raided the offices or whether they had detained people.
http://english.ahram.org.eg/NewsContent/2/8/117873/World/Region/Turkish-police-raid-newspaper-close-to-USbased-cle.aspx
----------
Houthis expand territory in Yemeni capital
14 December 2014
Yemen's Shiite rebels defeated rival tribesmen and took control of a northern district of the capital on Saturday, expanding their control of the city, their spokesman said.
Mohammed Abdel-Salam, spokesman of the rebels known as Houthis, said the forces took control of Arhab, a district of greater Sanaa. The group already controls most of the capital and several other cities.
Military and tribal officials said the Houthis used tanks and artillery to shell houses and neighborhoods of rival tribes. The fighting left dozens dead, including 12 tribesmen, they added. Houthis usually refrain from announcing deaths among their ranks. All officials spoke on condition of anonymity because they were not authorized to speak to the press.
Meanwhile the north, a Yemeni border guard shot and killed three suspected militants wearing women's veils as they tried to cross into Saudi Arabia with a male driver, security officials said.
Full report at:
http://english.alarabiya.net/en/News/middle-east/2014/12/14/Houthis-expand-territory-in-Yemeni-capital-.html
----------
Yemen troops kill Saudi-bound Qaeda suspects dressed as women
Dec 14, 2014
Yemeni troops shot dead five Al-Qaeda suspects disguised as women who fired at a soldier during a checkpoint inspection of their Saudi-bound bus, officials said.
Another suspect was wounded along with the driver in the shooting at Harad, a town 15 kilometers (nine miles) from the Saudi border, the officials said, adding two of those killed were Saudis.
"As one of the soldiers climbed on board the bus for an inspection, one of the suspects opened fire and wounded him, prompting shooting from other soldiers at the checkpoint," said a government official who gave the casualty toll.
Full report at:
http://english.alarabiya.net/en/News/middle-east/2014/12/13/Yemen-troops-kill-Saudi-bound-Qaeda-suspects-dressed-as-women--153.html
----------
Turkish Deputy PM see thaw in ties with Middle East
Dec 14, 2014
Turkey has moved to revive broken ties with Middle Eastern countries, including Syria, Egypt and the Gulf states, according to Deputy Prime Minister Bülent Arınç, who stressed the "friendship and brotherhood" amid the ongoing crises in bilateral relations.
Speaking at the 5th Bosphorus Summit of Turkish Exporters Assembly (TİM) on Dec. 12, Arınç named Syria and Iran as "neighbors," while mentioning Saudi Arabia, Kuwait, the United Arab Emirates, as well as Egypt and Jordan, as "traditional friends who we have been acting together as allies."
Turkey's policy regarding Syria had changed radically as a result of the ongoing war, leading to an era of hostility between Ankara and Damascus, who previously enjoyed a decade of cooperation and close ties.
Full report at:
http://www.hurriyetdailynews.com/turkish-deputy-pm-see-thaw-in-ties-with-middle-east.aspx?pageID=238&nID=75581&NewsCatID=510
----------
Iran extends visas for 450,000 Afghan refugees
Dec 14, 2014
Iran said it had agreed to extend temporary visas for 450,000 Afghan refugees for six months, lifting a threat to send them back home to a country facing attacks by resurgent militants.
Afghanistan -- struggling to cope with hundreds of thousands of people left homeless inside its own borders by a wave of violence -- this month asked its neighbor not to expel the Afghan refugees who did not have the right documents.
Kabul said 760,000 refugees were at risk and it was not immediately clear what would happen to those who did not receive extensions.
"(Temporary visas) have been extended for six months based on the brotherly relations between our two countries," Iran's foreign ministry said in a statement released late on Friday.
Afghanistan had agreed to come up with a plan on how to help the refugees within two months, the ministry added.
Full report at:
http://english.alarabiya.net/en/News/middle-east/2014/12/13/Iran-extends-visas-for-450-000-Afghan-refugees.html
----------
South Asia
China offers to help Iraq defeat Sunni extremists
Dec 14 2014
China has offered to help Iraq defeat Sunni extremists with support for air strikes, according to Ibrahim Jafari, Iraq's foreign minister.
Wang Yi, Mr Jafari's Chinese counterpart, made the offer to help defeat the Islamic State of Iraq and the Levant, known as Isis, when the two men met in New York at September's UN antiterrorism meeting, Mr Jafari said.
Any Chinese assistance would be outside the US-led coalition. "[Mr Wang] said, our policy does not allow us to get involved in the international coalition," Mr Jafari told the Financial Times in Tehran, where he was attending an anti-extremism conference this week.
"I welcomed this initiative. I told him we are ready to deal with the coalition and also co-operate with countries outside this coalition."
China's official policy is of non-interference in other countries' internal affairs. Although it does sell weapons to many other countries since abandoning the Maoist goal of "exporting revolution" decades ago China has avoided direct military involvement beyond its borders.
Growing economic and strategic interests have tested that policy. China's navy began escorting ship convoys around the Horn of Africa after Somali piracy threatened oil and ore cargoes. Last year for the first time it contributed troops to a UN peacekeeping operation in Mali. A battalion of 700 Chinese troops is now joining UN Peacekeepers in South Sudan, with a mandate to guard Chinese-invested oilfields there.
Full report at:
http://www.ft.com/intl/cms/s/0/3f4dc794-8141-11e4-b956-00144feabdc0.html#axzz3LvVQtQ1T
-----------
Afghan President calls on Nation to stand together against terrorism
Dec 14 2014
Afghan president Mohammad Ashraf Ghani who was attending International Human Rights Day in Kabul on Sunday said that terrorism is against Islam and humanity and therefore the nation specifically religious scholars, civil society and human rights activists should loudly call "End to Terrorism".
The president further said that those who want an insecured Afghanistan need to know that this can affect them as well, adding that peace is a need of the society and Afghans need to receive that.
"With their terrorist acts if they are trying to weaken our intentions they need to know that the people of this country are not the people to scare or give up", Ghani said
In regards to the latest violence against women, Mohammad Ashraf Ghani said every citizen of Afghanistan should condemn the violence and brutal acts against their brothers and sisters and should fulfill their brotherly responsibility in preventing such acts.
http://www.khaama.com/ghani-calls-on-nation-to-stand-together-against-terrorism-889
----------
PM Sheikh Hasina: Poverty to be reduced to 10% within 4 years
Dec 14, 2014
Prime Minister Sheikh Hasina yesterday said the government had reduced the country's poverty rate to 24.4% in the last six years and would bring it down to 10% within the next four years.
Describing agriculture as a major source of income, Hasina said Bangladesh would become a middle-income country if more agricultural products could be developed, adding that the country would be able to get out of poverty by 2041.
"To improve the country's agricultural sector, we have increased subsidy for agriculture products ignoring numerous obstacles from donors. The government is also providing incentives and small loans for farmers in order to increase agricultural products," the prime minister said while addressing the Bangabandh National Agricultural Award ceremony at Osmani Memorial Auditorium in the capital.
Full report at:
http://www.dhakatribune.com/bangladesh/2014/dec/14/pm-poverty-be-reduced-10-within-4-years#sthash.Zi0pfGTm.dpuf
----------
Bangladesh Minister: Government Returning To Non-Communal Secular Spirit
Dec 14, 2014
The Prime Minister Sheikh Hasina-led coalition government is cleaning up the garbage that has piled up during the regimes of military dictators and communal forces, Information Minister Hasanul Haq Inu said yesterday.
He said the people of the country were accustomed to live with military dictatorship, autocracy, and communalism.
No one imagined that the Razakars and war criminals could ever be tried, punished and executed, the minister said. When these events happened, it came as surprise to the people of the country. They also witness some other abnormal things happening.
Also chief of a faction of Jatiya Samajtantrik Dal, Inu said during this tenure, when people have been asked to stay away from these elements they are surprised.
He was speaking at the inaugural programme of a workshop titled "Government's Public Relations and Mass Media" at the Bangladesh Press Institute (PIB).
Addressing as chief guest, the minister termed the ruling government of Hasina a "phase of return" to the non-communal secular spirit which had been present in the original constitution of the country to determine the fundamental character of the newly-born Bangladesh.
Full report at:
http://www.dhakatribune.com/politics/2014/dec/14/inu-government-returning-non-communal-secular-spirit#sthash.iMMqXMuf.dpuf
----------
Maldives Majlis removes Chief Justice and Justice Adnan from Supreme Court
By Zaheena Rasheed | December 14th, 2014
The People's Majlis has today removed Chief Justice Ahmed Faiz and Justice Muthasim Adnan from the Supreme Court bench.
Of the 75 MPs who were present and voting at today's extraordinary sitting, 53 MPs voted in favor, while 23 MPs voted against the move. One MP abstained.
The dismissal comes after the judicial watchdog, the Judicial Services Commission (JSC), found the judges guilty of gross misconduct and incompetence at an emergency meeting on Thursday.
The ruling has not been made available to MPs or made public.
"Today marks the darkest day in the constitutional history of Maldives," opposition leader and former President Mohamed Nasheed said prior to the vote, claiming President Abdulla Yameen was attempting to fashion the Supreme Court "into a coat to fit his shoulders."
Six opposition Maldivian Democratic Party (MDP) MPs – Yamin Rasheed, Abdul Bari Abulla, Ismail Naseer, Mohamed Nazim, Ahmed Marzooq, and Reeko Moosa Manik -did not attend today's sitting despite a three-whip line ordering all 23 MPs to be present and vote against the judges' dismissal. Nasheed has suggested the MPs were offered bribes for their absence.
Speaking to the press after the vote, MDP Chairperson Ali Waheed said he has asked the part's disciplinary committee to take action against the six MPs for breaking the whip line.
Full report at:
http://minivannews.com/politics/majlis-removes-chief-justice-ahmed-faiz-justice-muthasim-adnan-from-supreme-court-91600
-----------
Africa
Boko Haram Violence Killed as Many People as ISIS in Iraq, New Figures Say
Dec 14, 2014
Deaths related to violence caused by Nigeria's Islamist terror group Boko Haram is now comparable with the number of civilians killed by the Islamic State, or ISIS, group in Iraq, according to new figures.
Between November 2013 and November 2014, at least 10,340 violent deaths related to Boko Haram-related violence were reported, according to data compiled by the Council for Foreign Relations.
According to the United Nations figures, 10,733 civilians were violently killed by ISIS in Iraq in the same period.
Boko Haram, which translates as "Western education is sin," is designated as a foreign terrorist organization in the United States and the European Union. It was formed by an Islamic cleric, Mohammad Yusuf, about a decade ago to fight Western education, which he claimed was behind moral and political corruption in the country. Yusuf was from the Salafi movement, which has promoted jihadist terrorism in several countries.
"The state security services claim that everybody it kills is a member of Boko Haram, and Boko Haram claims that everyone they kill deserves to die," writes John Campbell, a senior fellow at CFR. "Most of these people, however, are likely to have been innocent," adds Campbell, former U.S. ambassador to Nigeria.
Full report at:
http://www.christianpost.com/news/nigerias-boko-haram-violence-killed-as-many-people-as-isis-in-iraq-new-figures-say-131151/
----------
Libyan forces repel Islamist attack on oil region
Dec 14, 2014
Islamist fighters launched a three-pronged attack on a key oil region in eastern Libya but were pushed back by pro-government forces, military officials said.
Fighters from Fajr Libya, an anti-government Islamist coalition, staged an assault on the region of Al-Hilal from three sides but the air force repelled them, said Brigadier General Saqr Jarushi.
"Air force jets and helicopters struck the fighters as they advanced on Al-Sidra oil terminal," he said, adding that the air raids had caused "a large number of casualties".
Earlier a statement from Fajr Libya said the Islamist coalition had launched a military operation to "liberate oil fields and terminals".
Jarushi said that after the army fended off the attack, clashes broke out between soldiers and Islamist fighters.
Full report at:
http://english.alarabiya.net/en/News/middle-east/2014/12/13/Libyan-forces-repel-Islamist-attack-on-oil-region-.html
----------
Muslims Mark Arbaeen in Nigeria
Dec 14, 2014
Muslims in Nigeria held the annual Arbaeen (40 days of mourning for Imam Hossein after he was martyred on the day of Ahoura over 13 centuries ago) mourning rituals.
Shiite Muslims on Saturday gathered in the city of Zaria to hold processions along with fellow countrymen, press TV reported.
Sheikh Ibrahim Zakzaky, the leader of the Islamic Movement in Nigeria, said that attendance was considerably remarkable.
According to Sheik Zakzaky, Imam Hossein (PBUH) wanted to bring change in the Muslim Ummah at a time when Islam was in need of being purified.
"It ended up with those in power killing him and members of his household and his companions. And he called for help, nobody helped him. That call for help did not die. It is still being raised today," he said.
Full report at:
http://english.farsnews.com/newstext.aspx?nn=13930923000571
----------
Bashir claims victory after ICC shelves probe
Dec 14, 2014
Sudan's President Omar al-Bashir claimed victory over the International Criminal Court on Saturday after it shelved further investigation of war crimes in Darfur, and reaffirmed his hard line on the rebel region.
The Hague-based court indicted Bashir in 2009 for war crimes, crimes against humanity and genocide in suppressing the Darfur revolt.
But the court's prosecutor Fatou Bensouda said on Friday she was shelving the Darfur investigation for lack of support from the Security Council, the U.N. body able to take coercive measures that could compel Bashir and co-defendants to face the court.
"They wanted us to kneel before the International Criminal Court but the ICC raised its hands and admitted that it had failed," Bashir said in a defiant speech.
"The Sudanese people have defeated the ICC and have refused to hand over any Sudanese to the colonialist courts."
The ICC has also charged Bashir's defense minister, interior minister and a militia leader.
None has been arrested and Sudan has been shielded from further action at the 15-member Security Council by China, a veto-wielding permanent member.
Prosecutor Bensouda said on Friday the Council's inaction would only "embolden perpetrators to continue their brutality."
Full report at:
http://english.alarabiya.net/en/News/africa/2014/12/13/Bashir-claims-victory-after-ICC-shelves-Darfur-probe.html
----------
URL: https://www.newageislam.com/islamic-world-news/new-age-islam-news-bureau/america-is-building-a-sunni-army-in-iraq-to-take-on-the-islamic-state/d/100478