New Age Islam News Bureau
2 Nov 2013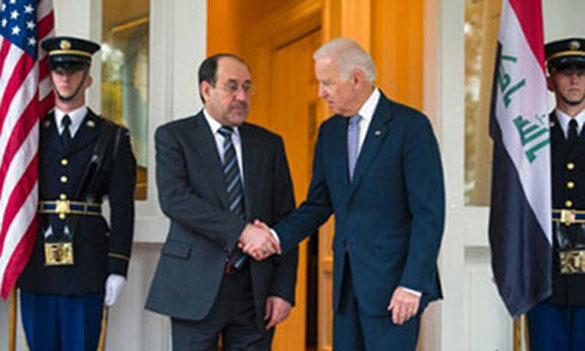 Joe Biden welcomes Nouri al-Maliki to the vice-president's residence on Wednesday. (Photo: Cliff Owen/AP)
----------
South Asia
• Ameer of Hefazat-e-Islam: Govt Cannot Be Allowed To Destroy Qaumi Madrasas
• Armed clashes between Taliban and Afghan security kill 13
• Waheed disappointed with "ill-informed and irresponsible allegations" by UNHRC
• Other religions will not be allowed under MDP government, says Nasheed
• Hasina urges Khaleda not to spoil students' lives
• ISI links of Khaleda Zia's son a cause of worry for India
Arab World
• Syrian regime kills 51across Syria
• Saudi men quietly help campaign to lift women driving ban
• As Iraq's Maliki Asks Obama for New Weapons, Critics Say No More Arms
• Officials: Shootings kill 4 in north-central Iraq
• Bahrain summons head of Shi'ite opposition for questioning
• Saudi-Linked Leader Consolidates Influence over Damascus' Most Powerful Rebel Faction
• Envoy pushes Syria peace talks as UN warns of child hunger
• A dream ends; illegals rush to leave Saudi El Dorado
• Egypt's Sisi says army role to continue for a decade
• In midst of Syrian war, giant Jesus statue arises
Pakistan
• Khan Syed Mehsud Alias Sajna: New TTP Chief Known for His Bravery in Battle
• Sectarian violence: Six Hazaras slain in Mach
• Latest US drone an attack on Taliban talks: Pervaiz Rasheed
• Karachi raids: Five alleged target killers among 57 arrested
• Tribesmen open fire on US drone after Taliban chief killed
• Pakistan may hand over Baradar to Middle Eastern Kingdom
• Security high alert in KP after TTP chief's killing
India
• Won't allow Hindu version of Taliban to succeed: Cong General Secretary
• Tempers flare at Jat panchayat after fresh Muzaffarnagar violence
Southeast Asia
• PAS lawmaker says Allah issue only an Umno issue, not worldwide one
• Muslims, Christians come together in show of "Sarawak's religious harmony"
• Muslim lawyers warn Bar Council not to support Herald's Allah appeal
North America
• Obama meets PM Nouri al-Maliki, says al-Qaida now more active in Iraq
• American focus on Iraq allowed a 'defeated' Taliban to re-emerge - top US diplomat
• US closely following Pakistan's talks with TTP
• Kerry to visit Egypt as tensions rise before Morsi trial
• Hagel says US 'clear-eyed' on Iranian support for terror
Mideast
• Jewish convert to Islam pleads guilty to incitement
• Israel Vows to Deny Hezbollah Weapons as Details of Syria Raid Emerge
• Settlement construction proves Israel prefers to stay an occupying power
• Erdogan praises Turkey MPs for headscarves in parliament
• Yemen Sunni Islamists, Shiite rebels cease fire: Official
Africa
• Tunisia ruling Islamists, opposition deadlocked over PM
• Ugandan Military Accuses Militant Salafist Leader of Complicity in Nairobi Mall Attacks
• Somalia: Six Killed in Battle near Galkayo, Federal Govt Accused of 'Arming Militia'
• Niger orders closure of migrant camps after Sahara deaths
Europe
• Syrian chemical weapons likely to be destroyed abroad - Russia
• WUC Urges the International Community to Express Concern as China Targets Uyghur
• UN fears for safety of Muslims fleeing Myanmar
Compiled by New Age Islam News Bureau
URL: https://newageislam.com/islamic-world-news/new-age-islam-news-bureau/ameer-of-hefazat-e-islam--govt-cannot-be-allowed-to-destroy-qasmi-madrasas/d/14263
-----------
South Asia
Ameer of Hefazat-e-Islam: Govt Cannot Be Allowed To Destroy Qaumi Madrasas
Nov 2, 2013
Shah Ahmed Shafi, Ameer of radical Islamist group Hefazat-e-Islam, has said the Qaumi madrasas cannot be allowed to be destroyed by the government's intervention, as it would eliminate the principle and ideology of Islam from the country.
In a statement issued on Friday, he also said the Muslim nation had faced damages for decades, caused by the disunity created by a section of betraying Islamic scholars, who have again revealed themselves in the recent times.
"A certain quarter of Islamic scholars have been creating confusion by delivering misinterpretations and conducting propaganda," Shafi said, adding that no one would be able to harm the Qaumi madrasas if the teachers and students stayed united.
Meanwhile, the Islamist organization is scheduled to hold a rally at Hathazari college ground today, protesting the government move to regulate Qaumi madrasas and for pressing home their 13-point demand.
Shah Ahmed Shafi will be present at the rally as the chief guest, while Hefazat Secretary General Junaid Babunagari will be the special guest.
At a press conference held at the Hathazari Press Club, Mir Idrish, convener of the rally preparation committee, said tougher programmes would be called if the government interrupted the rally.
http://www.dhakatribune.com/bangladesh/2013/nov/02/shafi-govt-cannot-be-allowed-destroy-qawmi-madrasas#sthash.BpK1zVwG.dpuf
-----------
Armed clashes between Taliban and Afghan security kill 13
November 02, 2013
Armed clashes between Taliban fighters and Afghan security forces killed 13 people and wounded 15 others in the northern province of Faryab on Friday.
The violence ensued after security forces staged an attack on the Taliban fighters as they were organizing an attack, according to a security command centre spokesman Muhammed Reza.
Noting that four important Taliban commanders were among the dead, Reza said seven Taliban, three soldiers and three civilians had been killed.
He added that the nearly one hundred Taliban members in the area were trying to gain control of Almar town.
On the other hand, Taliban spokesman Qari Yusuf Ahmadi claimed 23 soldiers, two Taliban and 13 civilians had been killed and another 35 soldiers wounded.
http://www.worldbulletin.net/?aType=haber&ArticleID=122007
-----------
Waheed disappointed with "ill-informed and irresponsible allegations" by UNHRC
By Daniel Bosley | November 2nd, 2013
President Dr Mohamed Waheed has expressed disappointment with the "ill-informed and irresponsible allegations by the United Nations High Commissioner for Human Rights Navi Pillay".
Pillay last week blamed the Supreme Court's repeated interventions in the presidential election process for what she described as "the dangerous drift in the democratic process in the Maldives".
"The government of Maldives rejects the claim that the Supreme Court and the Government are subverting the democratic process," read a President's Office statement.
"The United Nations must try to better understand the difficulties facing Maldives in their early phase of democracy, and provide support to find solutions rather than issue damaging statements from a distance," the statement added.
The High Commissioner's comment "undermines efforts of Maldives Supreme Court and the government to strengthen the Rule of Law in the country."
Waheed's rejection of Pillay's criticism follows the response of the court's Chief Justice, Ahmed Faiz, who quickly labelled the High Commissioner's statements "irresponsible" and "poorly researched".
"I harshly condemn UN High Commissioner for Human Rights Navi Pillay's false allegations regarding the Maldives Supreme Court's work to uphold its constitutional duties and responsibilities. I do not believe she has any authority to speak in such terms," stated Faiz soon after Pillay's statement on Wednesday (October 30).
Following allegations of voter fraud following an otherwise-applauded September 7 poll, the Supreme Court annulled the vote after ruling that over 5,600 ineligible votes had been cast.
The ruling was based on a confidential police report, kept secret from both the public and the Elections Commission's defence lawyers. A leaked copy of this report has emerged this week (English).
After a second election date had been scheduled for October 19, polling was again delayed after police argued that the court's 16 point guideline had not been followed when two of the three candidates refused to assign their names to the new voter lists.
Pillay's statement last week described the 16 point guidelines as "onerous". She also pointed to the international community's longstanding concerns over judicial independence in the Maldives.
In the context of such criticism, the UK Bar Human Rights Committee has described the decision to annul the election as "troubling".
The latest date set for the first round of the election is November 9, with a potential re-run scheduled for seven days later.
President Waheed – whose constitutionally mandated term expires on November 11 – returned to the country on Thursday night following "a private visit to Singapore and Hong Kong."
The People's Majlis has approved a motion for presidential power to pass to the Speaker of the House Abdulla Shahid during this interim period, although government-aligned politicians have continued to suggest that the opinion of the Supreme Court should be sought on this matter.
In its initial election annulment verdict, the court the court had ruled that Waheed would be able to remain in power even after the expiry of his presidential term, citing the continuity of government principle.
Waheed has meanwhile claimed that he has no interest in remaining president "even a day beyond November 11″.
http://minivannews.com/politics/president-disappointment-with-ill-informed-and-irresponsible-allegations-by-un-human-rights-chief-70549
-----------
Other religions will not be allowed under MDP government, says Nasheed
By Ahmed Naish | November 1st, 2013
Religions other than Islam will not be allowed in the Maldives under a Maldivian Democratic Party (MDP) government, former President Mohamed Nasheed reiterated on Friday (November 1).
Speaking at a campaign event in the island of Velidhoo in Noonu atoll, the MDP presidential candidate said Islam has always been accorded "the highest place" in the hearts of the Maldivian people who "hold sacred the noble principles of Islam."
"There will be no room for another religion in this country under an MDP government. This is very clear," Nasheed asserted.
Allegations suggesting otherwise by rival political parties "to play with the hearts and minds" of the public were sowing "discord and division" in Maldivian society, Nasheed added.
Last week, a group of local religious scholars from the Maldives Society for Islamic Research released a 48-page book titled "The word of religious scholars concerning Nasheed," calling on the former president to "repent" and "return to the true path."
The scholars claimed that Nasheed demeaned the Prophet's Sunnah (way of life prescribed as normative for Muslims on the basis of the teachings and practices of Prophet Mohammed), rejected tenets of Islamic Shariah, and tried to foster public debate over the enforcement of compulsory Shariah punishments.
Regardless of the winner in the upcoming presidential election, Nasheed assured that there was no possibility of other religions being introduced to the Maldives.
"That is not something that we should doubt. But the doubt is created because our rivals are constantly using these words. Something that does not exist will exist when you continually talk about it. A lie becomes the truth when you keep repeating it. It enters our hearts as the truth," he said.
The religious faith of Maldivians was actually threatened by the MDP's political opponents, Nasheed contended, because they were "creating suspicion and doubt."
Addressing the people of Hinnavaru in Lhaviyani atoll earlier in the day, Nasheed reportedly said faith should not be "shaken so easily" because of what one hears or sees, adding that it was the five pillars rather than "backbiting" (gheeba), spreading rumours, and defaming others that were needed to uphold Islam.
Nasheed's remarks follow persistent accusations by the MDP's political opponents concerning the party's alleged "securalisation agenda" and anti-Islamic policies, contending that the 100 percent Muslim status of Maldives would be threatened under an MDP administration.
Political record
Among Nasheed's alleged transgressions, the scholars listed the "idolatrous" monuments placed in Addu City, efforts to legalise sale of alcohol in inhabited islands, remarks suggesting addicts should be able to use drugs, and a speech in Denmark in which he allegedly criticised the Sunnah.
On December 23, 2011, a coalition of eight political parties and an alliance of NGOs rallied at a mass gathering to "defend Islam" from Nasheed's allegedly liberal policies and conveyed five demands to the then-MDP government.
The mass gathering followed the release of a pamphlet titled "President Nasheed's devious plot to destroy the Islamic faith of Maldivians" alleging that the MDP was working with "Jews and Christian priests."
Meanwhile, the religious conservative Adhaalath Party – presently allied with the Jumhooree Party and backing its presidential candidate business tycoon Gasim Ibrahim – released a press statement on Thursday (October 31) claiming that the MDP would amend the constitution to allow religious freedom if the party gained a majority in parliament.
The Adhaalath Party referred to an amendment to the Drug Act recently proposed by an MDP MP to shorten the jail sentence for the offence of refusing to provide a urine sample to police from one year to 15 days.
"Therefore, in the 'Other Maldives' that Nasheed wants to bring, the punishment for a person caught redhanded using drugs is only a 15-day detention. Drug use cannot be encouraged any more than this," the press release read.
The Adhaalath Party contended that, with a larger majority in parliament, the MDP would not hesitate to "decimate" Islam in the Maldives and "open up the country to other religions."
With the provisional support of nine Dhivehi Rayyithunge Party MPs, the MDP currently has a simple majority of 39 votes in parliament. However, a two-thirds majority or 52 MPs is needed to amend the constitution.
In the face of religion-based attacks, the MDP has maintained that rival parties were using Islam as "a political weapon to sow discord."
In a press statement in September, the MDP reiterated that the party would not allow other religions to be introduced in the Maldives.
The statement referred to the MDP's achievements in government: establishing a Ministry of Islamic Affairs, allowing freedom to preach for local scholars, building 42 mosques as well as a number of prayer rooms in schools, training 150 Islamic teachers, strengthening the National University's faculty of Shariah and law with foreign assistance, opening of an Islamic Bank and the construction of a new government-funded building for Arabiyya School in Male'.
The party's 2013 manifesto meanwhile includes the construction of an "Islamic Knowledge Centre" in Male' for MVR 200 million (US$13 million) that would include a library, lecture halls and a mosque with a capacity 5,000 worshippers.
Among other policies for the next five years include conducting an international Islamic conference in the Maldives at an estimated cost of MVR 25 million (US$1.6 million) with the participation of renowned foreign scholars, training 300 Quran teachers to first degree level, and allocating MVR 36 million (US$2.3 million) for renovating mosques across the country.
"We note that all these projects are costed and budgeted and the manifesto includes details for implementation," the press release stated.
http://minivannews.com/politics/other-religions-will-not-be-allowed-under-mdp-government-says-nasheed-70489
-----------
Hasina urges Khaleda not to spoil students' lives
November 2, 2013
Prime Minister Sheikh Hasina has urged the opposition leader Khaleda Zia not to enforce any agitation programme that harms the academic life of students.
"I'll request her not to enforce such agitation programmes that harm the academic life of innocent students," she said referring to the opposition's next possible hartal that might begin on Monday.
Sheikh Hasina said the junior school certificate examination will start on Monday when the opposition is going to enforce their further agitation programme.
The Prime Minister was addressing a mammoth rally organised on Thursday by Gazipur Awami League at Bhawal Badre Alam University College with its president AKM Mozammel Haque, MP in the chair.
About the last 60-hour hartal, Sheikh Hasina said, "Had she (Khaleda) responded to my request and sat with me then these 20 people wouldn't have lost their lives. So, she's responsible for these killings."
Hasina, also the President of the ruling Awami League, said the opposition leader has got crazy to save her 'intimate companions' war criminals who had killed innocent unarmed people, raped women, made arson attacks and collaborated with the Pakistan occupation forces during the Liberation War.
Lambasting Khaleda Zia for frequently enforcing hartals, the Prime Minister said the opposition leader is shattering the economy with her destructive agitation programmes.
"She (Khaleda) had looted the country when she was in power and is now destroying the country by enforcing hartals and affecting the academic life of students," she told the rally.
Terming the young students the future leaders of the country, Hasina said this is simply a mindless act to ruin their future through imposing destructive political programmes like hartal.
"I don't know whether the BNP leader will entertain my request or not as she always says no, but I'll request her to refrain from giving any sort of destructive programmes during their examinations," she said.
In this connection, the AL chief said the opposition leader hardly wants to allow the people of the country to get educated as she is an 'under metric' person.
She said that the opposition leader once sat for SSC examinations (then called metric). But she got pass mark in only three subjects - Bengali, math and Urdu.
Giving a short description of various elections that held under the present government, Hasina said all the polls were free, fair and peaceful, and no one could raise any question about any election.
Hasina categorically said that the next general election will be held as per the Constitution. "Inshallah, the Election Commission will be able to hold the election in free, neutral and fair manner," she said.
About Khaleda Zia's demand for the restoration of the caretaker government, the premier said the High Court gave its verdict scrapping the system.
"She is demanding for the caretaker government, but the High Court in its verdict scrapped the system. The MPs in Parliament accepted the verdict. The government amended the Constitution to establish the parliamentary democracy in the country," she said.
The Awami League President said the people of the country will cast their votes freely as there is a voter list with photos and also there are transparent ballot boxes.
She urged people to cast their votes in favour of Awami League in the next election to continue the ongoing development programmes of the country.
AL Advisory Council members Amir Hossain Amu, Tofail Ahmed, Agriculture Minister Begum Matia Chowdhury, Communications Minister Obaidul Quader, State Minister for Women and Children Affairs Meher Afroz Chumki, Gazipur District Council Administrator Akhtaruzzaman, former state minister Alhaj Rahmat Ali, MP, Jubo League chairman Omar Faruk Chowdhury, general secretary Harunur Rashid, Swechchasebak League general secretary Pankaj Devnath, Enamul Haque Shamim, organising secretary Ahmad Hossain, Jahanara Begum, MP, Zahid Ahsan Russell, MP and Simin Hossain Rimi, MP also spoke at the rally.
http://www.dhakatribune.com/politics/2013/nov/01/hasina-urges-khaleda-not-spoil-students%E2%80%99-lives#sthash.oZqX8Tcd.dpuf
-------------
ISI links of Khaleda Zia's son a cause of worry for India
Nov 1, 2013
Even as India termed the political crisis in neighbouring Bangladesh an internal affair and declined comment, privately there is rising concern over the activities of the opposition BNP chief and former prime minister Khaleda Zia's son Tarique Rahman and his "close contact" with fundamentalists and Pakistan's ISI.
Rahman, 46, who is living in self-imposed exile in London because of corruption charges he faces in his country, is believed to be in close touch with fundamentalist elements in the subcontinent and is also getting help from Pakistan's spy agency Inter Services Intelligence (ISI), according to intelligence inputs here.
Though he moved to London after the Awami League government came to power, he is known to be in close touch with Bangladesh Nationalist Party (BNP) senior cadre.
Rahman, who is senior vice president of the BNP, has a Facebook page with 198,362 likes with a bold banner saying "Hasina Must Go" and a recent posting from the Dhaner Shishe, or paddy sheaf, the BNP party symbol, terming India as the "number one enemy of Bangladesh".
This fanning of hatred against India is something that New Delhi would not like to encounter again after having established friendly ties with the Sheikh Hasina government.
Elections are due in Bangladesh in January 2014. The country has voted Hasina and Zia alternatively to power. India would be keen to maintain friendly and close ties with whichever side wins, but past memories of the BNP in power are not pleasant.
During the previous tenure of the BNP-Jamaat government, Bangladesh had become a free hunting ground for fundamentalists of various hues who had the direct support and funding of the ISI. Some anti-India militant groups also set up their base in Bangladesh, to India's worry.
India has tried to mend fences with Zia. During her visit to India last year, the BNP chief had held meetings with both President Pranab Mukherjee and Prime Minister Manmohan Singh.
But during Mukherjee's Dhaka visit this March, Zia, in a snub, declined to meet the Indian president. Her party in fact, along with the Jamaat, held dawn to dusk strikes to coincide with Mukherjee's visit.
India is watching the situation as the BNP and its 18-party alliance have decided on fresh street agitations after ending Tuesday their three-day nationwide shutdown that saw much violence.
India and the US have also discussed the situation in Bangladesh with US ambassador to Dhaka, Dan Mozena, having visited South Block and interacted with Indian officials, including Foreign Secretary Sujatha Singh. Mozena had also met Indian envoy in Bangladesh Pankaj Saran.
Saran met Sheikh Hasina Wednesday and discussed the latest political situation in Bangladesh.
Voicing concern over the rising violence by the BNP and Jamaat, Sheikh Hasina's son Sajeeb Wazed Joy, 42, a tech consultant, who arrived in Dhaka from the US earlier this week said the "BNP-Jamaat unleashed a regime of violence and terrorism when they ruled. Now they are doing the same. This is the real face and character of our opposition".
He said if the BNP-Jamaat is voted to power again "they will kill Awami League activists, minorities, civil society members, and progressive intellectuals".
To Tarique Rahman's reported ISI links, Joy said: "This is not surprising. There were news reports in the past that he (Tarique) had links with terrorist like Dawood Ibrahim."
During strikes, Jamaat cadres have been attacking the homes and temples of Hindus in Bangladesh.
The protests by the opposition is to demand that Hasina quit and order polls under a caretaker government. She has instead proposed an all-party interim government led by her to oversee the January polls, a provision that is unconstitutional after the 15th amendment that arose after a court judgement pronouncing the caretaker administration system as "unconstitutional".
http://www.dnaindia.com/world/report-isi-links-of-khaleda-zia-s-son-a-cause-of-worry-for-india-1912402
-------------
Arab world
Syrian regime kills 51across Syria
November 02, 2013
At least 51 people, including six children and three women, were killed on Friday in attacks staged by the Assad forces in several cities across Syria, activists said.
Assad forces killed 11 in Aleppo, 10 in Daraa, 9 in Syrian capital Damascus, 8 in Hama, 5 in Homs, 4 in Deir-ez Zor, 2 in Raqqah, one in each Idlib and Quneitra, according to the Syrian Network for Human Rights (SNHR), a London-based group newwhich tracks civilian and dissident casualties.
Full report at:
http://www.worldbulletin.net/?aType=haber&ArticleID=122005
----------
Saudi men quietly help campaign to lift women driving ban
November 02, 2013
DUBAI, United Arab Emirates: A growing number of men are quietly helping to steer a campaign to end Saudi Arabia's ban on allowing women to drive, risking both their jobs and social condemnation in the conservative Gulf kingdom. Some of the men have even been questioned by authorities, and one was detained by a branch of the Saudi Interior Ministry – a move that sent a chill through some of the activists working to put women behind the wheel.
More than 60 women said they defied the ban Saturday, although they faced little action from police.
Full report at:
http://www.dailystar.com.lb/News/Middle-East/2013/Nov-02/236595-saudi-men-quietly-help-campaign-to-lift-women-driving-ban.ashx#ixzz2jXztIvWR
----------
As Iraq's Maliki Asks Obama for New Weapons, Critics Say No More Arms
Nov 2, 2013
As Iraqi Prime Minister Nouri al-Maliki meets with President Barack Obama Friday to plea for a fresh influx of military weapons and spying technology, many are demanding that not one more deadly arm be sent to this war-torn country.
"If this is heeded, it will add to the crimes committed by the US against Iraqis since the invasion of 2003, as weapons and equipment made available to the regime have, to date, been used only against Iraqi people," writes Haifa Zangana, a Kurdish-Iraqi novelist and former prisoner of Saddam Hussein's regime, in an op-ed for the Guardian.
Full report at:
http://www.commondreams.org/headline/2013/11/01-1
-----------
Officials: Shootings kill 4 in north-central Iraq
Associated Press
Nov 02 2013
Bhagdad : Authorities in Iraq say shootings have killed four security members, including two anti-al-Qaida militiamen, in north-central Iraq.
Police officials say the first attack took place early Saturday when gunmen in a speeding car killed two fighters and wounded four at a security checkpoint manned by Sunni Sahwa militiamen in the city of Samarra.
Full report at:
http://www.indianexpress.com/news/officials-shootings-kill-4-in-northcentral-iraq/1190359/
--------
Bahrain summons head of Shi'ite opposition for questioning
Nov 02 2013
Bahrain police have summoned the head of the main Shi'ite Muslim opposition group al-Wefaq for questioning on Sunday, a source at the interior ministry said on Saturday.
Unrest has dogged Bahrain, a Western ally which hosts the U.S. Fifth Fleet, since the 2011 uprising led by majority Shi'ites demanding reforms and more share in running the kingdom ruled by the Sunni Muslim al-Khalifa dynasty.
Full report at:
http://www.reuters.com/article/2013/11/02/us-bahrain-wefaq-idUSBRE9A104U20131102
--------
Saudi-Linked Leader Consolidates Influence over Damascus' Most Powerful Rebel Faction
Nicholas A. Heras
Nov 2, 2013
Shaykh Muhammad Zahran Alloush (a.k.a. Abu Abdullah) is one of the founders and the head military commander of the Syrian armed opposition group Jaysh al-Islam (Islamic Army). Alloush was declared the General Commander of Liwa al-Islam (Islamic Brigades) in a large ceremony on September 29. [1] Liwa al-Islam, which dominates the Jaysh al-Islam, is reported to have approximately 50 constituent battalions and is estimated to possess 9,000-10,000 well-armed fighters, a majority of whom are concentrated in Damascus' eastern suburbs of Ghouta and Douma (Zamanalwsl.net, September 20; BBC, October 17). The group is believed to receive significant financial support from Saudi Arabia through Alloush and his father, Muhammad Alloush, a famous Syrian Salafist religious figure currently resident in Saudi Arabia (Reuters, October 1).
Full report at:
http://www.jamestown.org/single/?no_cache=1&tx_ttnews%5Btt_news%5D=41561&tx_ttnews%5BbackPid%5D=7&cHash=6017a9b5074c7a06ec54236007cf43cf#.UnVs_HC-rXB
-----------
Envoy pushes Syria peace talks as UN warns of child hunger
November 2, 2013
DAMASCUS: The UN-Arab League envoy to Syria has said no peace conference will be possible without the Syrian opposition, as the United Nations warned of rising malnutrition among children trapped in battle zones.
Hoping to build on the momentum of last month's US-Russia accord to destroy Syria's chemical arsenal by mid-2014, envoy Lakhdar Brahimi has been criss-crossing the region to rally support for the so-called Geneva II talks.
Syria's opposition has refused to attend unless President Bashar al-Assad's resignation is on the table- a demand rejected by Damascus. Rebel groups have warned that participants would be considered traitors.
Full report at:
http://tribune.com.pk/story/626178/envoy-pushes-syria-peace-talks-as-un-warns-of-child-hunger/
-----------
A dream ends, illegals rush to leave Saudi El Dorado
AFP | Nov 2, 2013
RIYADH: Thousands of illegal foreigners, mostly unskilled workers from Asia, are rushing to leave Saudi Arabia before an amnesty expires on Sunday as they risk being fined or even jailed.
Nearly a million Bangladeshis, Filipinos, Indians, Nepalis, Pakistanis and Yemenis, among others, have taken advantage of the three-month amnesty — announced on April 3 and then extended for four months — and left the country.
Another roughly four million have legalised their situation by finding employers to sponsor them, a must to reside in most Gulf monarchies.
Full report at:
http://timesofindia.indiatimes.com/world/middle-east/A-dream-ends-illegals-rush-to-leave-Saudi-El-Dorado/articleshow/25127526.cms
-----------
Egypt's Sisi says army role to continue for a decade
November 02, 2013
A leaked audio recording purportedly by Egyptian army chief and Defense Minister Abdel-Fattah al-Sisi has showed the top general saying that the military will maintain its role in Egypt's affairs for about a decade.
The Jazeera Mubasher Misr released the audio recording of comments said to have been made by al-Sisi during a recent interview with Yasser Rizk, editor-in-chief of prominent Egyptian daily Al-Masry al-Youm.
In the leaked recording, the army chief allegedly defends efforts to provide a constitutional immunity for the military establishment in Egypt's amended charter.
Full report at:
http://www.worldbulletin.net/?aType=haber&ArticleID=122015
-----------
In midst of Syrian war, giant Jesus statue arises
AP | Nov 2, 2013
BEIRUT: In the midst of a conflict rife with sectarianism, a giant bronze statue of Jesus has gone up on a Syrian mountain, apparently under cover of a truce among three factions in the country's civil war.
Jesus stands, arms outstretched, on the Cherubim mountain, overlooking a route pilgrims took from Constantinople to Jerusalem in ancient times. The statue is 12.3 meters (40 feet) tall and stands on a base that brings its height to 32 meters (105 feet), organizers of the project estimate.
Full report at:
http://timesofindia.indiatimes.com/world/middle-east/In-midst-of-Syrian-war-giant-Jesus-statue-arises/articleshow/25134509.cms
--------
Pakistan
Khan Syed Mehsud Alias Sajna: New TTP Chief Known for His Bravery in Battle
November 2, 2013
Khan Syed Mehsud, alias Sajna, replaced Hakimullah Mehsud as the chief of Tehreek-e-Taliban Pakistan (TTP) on Saturday.
Hakimullah Mehsud was killed in a drone strike on November 1 in North Waziristan Agency.
Earlier, Sajna had replaced Wali ur Rehman Mehsud as TTP's second-in-command after he was killed by a drone strike in North Waziristan on May 29, 2013.
Khan Syed, 37, who has not received modern or religious education, is revered in the TTP because of his bravery in the battlefield. He was a close associate of Baitullah Mehsud.
He was born in Zangara in Sararogh, a sub-division of South Waziristan, and belongs to Shabi Khel, a sub-tribe of Mehsud. The founder of TTP, Baitullah Mehsud had also belonged to the same tribe.
Sajna was a close friend of Hakimullah. He is said to have been a key figure behind many deadly attacks that took place across the tribal belt of Pakistan.
http://tribune.com.pk/story/626187/khan-syed-mehsud-new-ttp-chief-known-for-his-bravery-in-battle/
-----------
Sectarian violence: Six Hazaras slain in Mach
November 2, 2013
"The victims were Hazara labourers and Shia Muslims, it is clearly a targeted killing on sectarian basis," says Waheed Shah, deputy commissioner in Kach district. PHOTO: FILE
QUETTA: Gunmen mowed down six coal miners on Friday in a sectarian motivated attack in Mach town, about 90 kilometres from Quetta. Another miner was seriously wounded in the assault.
The coal miners were members of the Hazara community.
Waheed Shah, deputy commissioner in Kach district, said that the seven men were on their way back from Mach bazaar when they were attacked by unidentified assailants on a motorcycle.
Full report at:
http://tribune.com.pk/story/626085/sectarian-violence-six-hazaras-slain-in-mach/
-----------
Latest US drone an attack on Taliban talks: Pervaiz Rasheed
November 2, 2013
LAHORE: Minister for Information and Broadcasting Pervaiz Rasheed stated on Saturday that the US drone attack on November 1 that killed Hakimullah Mehsud was an attack on the peace negotiations with the Taliban, Express News reported.
He said this while talking to the press in Lahore and further stated, "Stopping Nato supplies will not stop the drone attacks from happening."
He also remarked that "peace talks should not stop as peace will only come through these negotiations."
Full report at:
http://tribune.com.pk/story/626202/latest-us-drone-an-attack-on-taliban-talks-pervaiz-rasheed/
-----------
Karachi raids: Five alleged target killers among 57 arrested
2013-11-02
KARACHI: Police conducted targeted operations in different parts of Karachi and claimed to arrest 57 suspects, including five alleged target killers, on Saturday, DawnNews reported.
Police carried out raids in the city's Lyari area and arrested five target killers belonging to gangster Wasiullah Lakho's group.
According to the police, a huge cache of weapons was recovered from the suspects' possession.
Meanwhile, the city's East Zone police arrested 57 suspects during raids in different parts of the metropolis, along with seizing drugs and weapons from the accused men.
Full report at:
http://www.dawn.com/news/1053609/karachi-raids-five-alleged-target-killers-among-57-arrested
-----------
Tribesmen open fire on US drone after Taliban chief killed
November 2, 2013
MIRANSHAH: Tribesmen opened fire on a US drone over Pakistan's troubled tribal belt Saturday where Taliban commander Hakimullah Mehsud was killed by a drone strike a day earlier, residents and officials said.
Mehsud, who had a $5 million US government bounty on him, died along with four others on November 1 when a US drone fired two missiles at a vehicle in a compound in the village of Dandey Darpakhel, five kilometres north of Miranshah, the main town of North Waziristan.
His death came as a major blow to the militant network and cast doubt over proposed peace talks, with fears of reprisals.
Full report at:
http://tribune.com.pk/story/626158/tribesmen-open-fire-on-us-drone-after-taliban-chief-killed/
-----------
Pakistan may hand over Baradar to Middle Eastern Kingdom
November 02, 2013
ISLAMABAD - Pakistani security establishment is contemplating three options regarding the safe repatriation of Afghan Taliban second in command Mullah Abdul Ghani Bradar who was released from detention in Pakistan in September last, but is languishing in some safe house at some undisclosed location inside the country, since then.
"Fearful of the dangers that might pose to the life of this high profile Afghan Taliban leader, his safe handing over to some middle eastern kingdom, friendly country in the region, or prolonged stay inside Pakistan is being considered a viable option for now. But handing him over to Afghan Karzai government, which is planning to send a delegation to meet Mullah Baradar within weeks, seems a far cry," a security official told The Nation.
Full report at:
http://www.nation.com.pk/pakistan-news-newspaper-daily-english-online/national/02-Nov-2013/pakistan-may-hand-over-baradar-to-middle-eastern-kingdom
-----------
Pakistan may hand over Baradar to Middle Eastern Kingdom
November 02, 2013
ISLAMABAD - Pakistani security establishment is contemplating three options regarding the safe repatriation of Afghan Taliban second in command Mullah Abdul Ghani Bradar who was released from detention in Pakistan in September last, but is languishing in some safe house at some undisclosed location inside the country, since then.
"Fearful of the dangers that might pose to the life of this high profile Afghan Taliban leader, his safe handing over to some middle eastern kingdom, friendly country in the region, or prolonged stay inside Pakistan is being considered a viable option for now. But handing him over to Afghan Karzai government, which is planning to send a delegation to meet Mullah Baradar within weeks, seems a far cry," a security official told The Nation.
Full report at:
http://www.nation.com.pk/pakistan-news-newspaper-daily-english-online/national/02-Nov-2013/pakistan-may-hand-over-baradar-to-middle-eastern-kingdom
-----------
Security high alert in KP after TTP chief's killing
Nov 2, 2013
PESHAWAR: Security in Khyber Pakhtunkhwa was put on high alert hours after the chief of banned militant group Tehrik-i-Taliban Pakistan, Hakimullah Mehsud, was killed in a US drone strike in North Waziristan, DawnNews reported.
In an attempt to prevent a possible backlash from Taliban militants, security was increased at all sensitive government installations in the provincial capital of Peshawar, including in its Cantonment areas and the localities adjacent to tribal regions.
Blockades were also set up at all entry and exit points of the city where searches of passers-by were underway. There was also a step up in random snap checkings being conducted in Peshawar.
Full report at:
http://www.dawn.com/news/1053607/security-high-alert-in-kp-after-ttp-chiefs-killing
-----------
India
Won't allow Hindu version of Taliban to succeed: Cong General Secretary
PTI | Nov 2, 2013
NEW DELHI: Mounting a fresh attack on Narendra Modi and BJP, Congress general secretary Digvijaya Singh on Saturday said he won't allow "Hindu version of Taliban" to succeed in India.
"I hate all those who advocate ideology of hate including Taliban and I won't allow the Hindu version of Taliban to succeed in India," Singh said on Twitter.
Taking a dig at Modi for attempting to "hijack" the legacy of Sardar Patel, the senior Congress leader said he was expecting that BJP's prime ministerial candidate will someday proclaim Chandrashekhar Azad and Bhagat Singh "as RSS Pracharaks".
Full report at:
http://timesofindia.indiatimes.com/india/Wont-allow-Hindu-version-of-Taliban-to-succeed-Digvijaya/articleshow/25125331.cms
-----------
Tempers flare at Jat panchayat after fresh Muzaffarnagar violence
MOHAMMAD ALI
Nov 2, 2013
Two days after three people were killed in a fresh round of communal violence in Muzaffarnagar, a Jat panchayat in Muhammadpur Raisingh and a meeting of Muslims before Friday prayer in the adjacent village of Hussainpur, have added fears of new tension in the region.
Three victims, identified as Afroz, 20, Meherban, 21, and Ajmal, 22 from Hussainpur were allegedly beaten to death in clashes between members of Jat community and Muslims belonging to the two villages.
Full report at:
http://www.thehindu.com/news/national/other-states/tempers-flare-at-jat-panchayat-after-fresh-muzaffarnagar-violence/article5305995.ece
----------
Southeast Asia
PAS lawmaker says Allah issue only an Umno issue, not worldwide one
Nov 2, 2013
The use of the word Allah has never been an issue anywhere else in the world as "Umno does not exist" in those areas, a PAS lawmaker told an interfaith forum today.
Shah Alam MP Khalid Samad (pic), who was a panellist in the Interfaith Forum for Peace and Sustainability, told the participants that in Malaysia, Islam has been "Malay-nised".
"People ask me why isn't the Allah word a problem everywhere else. I tell them it's because Umno doesn't exist everywhere else," he said, drawing laughter and applause from participants at the forum held at the Maha Vihara temple in Brickfields, Kuala Lumpur.
"The problem with Malaysian Muslims is that Islam here has been Malay-nised."
Full report at:
http://www.themalaysianinsider.com/malaysia/article/pas-lawmaker-says-allah-issue-only-an-umno-issue-not-worldwide-one
-----------
Muslims, Christians come together in show of "Sarawak's religious harmony"
Nov 2, 2013
It was a show of religious harmony by Christians and Muslims in Sarawak yesterday even as the debate over the October 14 court ruling on the word Allah raged on.
The Borneo Post reported that non-governmental organisation Angkatan Zaman Mansang Sarawak and the Islamic Information Centre organised a forum called "Tweeting Up Unity: Social Cohesion Through Social Media", under the Soul2Soul 2.0 interfaith forum series, at the Christian Ecumenical Worship Centre in Kuching.
Full report at:
http://www.themalaysianinsider.com/malaysia/article/muslims-christians-come-together-in-kuching-church-in-show-of-sarawaks-reli
-----------
Muslim lawyers warn Bar Council not to support Herald's Allah appeal
Nov 2, 2013
The Malaysian Bar appears split over the Allah court decision.
The Muslim Lawyers Association said today it strongly opposes any move by the Bar Council to throw its support behind the Herald's decision to appeal the ban on the use of the word Allah.
The Muslim lawyers were referring to an article in The Sun dated October 30 where it was reported that the Bar Council was considering following in the footsteps of the Sabah Lawyers Association (SLA) and throwing its weight behind the Catholic weekly in the appeal process.
In the report, Bar Council Human Rights Committee chairman Andrew Khoo noted that the Bar Council had yet to make a decision, but would consider it.
Full report at:
http://www.themalaysianinsider.com/malaysia/article/muslim-lawyers-warn-bar-council-not-to-support-heralds-allah-appeal
-----------
North America
Obama meets PM Nouri al-Maliki, says al-Qaida now more active in Iraq
AP | Nov 2, 2013
WASHINGTON: President Barack Obama and Iraqi Prime Minister Nouri al-Maliki on Friday discussed ways they can work together to stop the threat of an increasingly active al-Qaida in Iraq, although Obama stopped short of announcing any new commitments of assistance as Baghdad was seeking.
Al-Maliki came to the White House seeking more American aid to combat the violence ravaging his country, including additional weapons and help with intelligence. Bloodshed brought on by insurgents in Iraq has spiked since American troops left in 2011.
Obama said at the end of his roughly two-hour meeting with al-Maliki that the best way to honour lives lost during the Iraq war would be to bring about a functioning democracy. Neither leader discussed al-Maliki's request for help before reporters, although Obama indicated the United States has self-interest in helping Iraq fight terrorism.
Full report at:
http://timesofindia.indiatimes.com/world/us/Obama-meets-PM-Nouri-al-Maliki-says-al-Qaida-now-more-active-in-Iraq/articleshow/25082629.cms
--------
American focus on Iraq allowed a 'defeated' Taliban to re-emerge - top US diplomat
Nov 2, 2013
Mistakes in the United States' strategy in and outside of Afghanistan in 2002 led to a resurgence of the Taliban there, as well as many more civilian and NATO deaths than necessary, the US special representative to Afghanistan and Pakistan said.
James Dobbins, a long-time US diplomat, said that turning to Iraq fractured international support and coalition momentum in securing Afghanistan. He added that the delay in setting up a reconciliation process gave the Taliban the opportunity to recuperate.
"I think we made several mistakes back in 2002," he said, according to The Telegraph. "I think it was probably a mistake to delay a serious attempt at reconciliation until 2011."
He said that changing focus to operations in Iraq - which demanded resources and attention - severely hindered coalition ability to seal post-9/11 efforts in Afghanistan.
Full report at:
http://rt.com/usa/us-mistakes-taliban-resurgence-105/
-----------
US closely following Pakistan's talks with TTP
Nov 2, 2013
WASHINGTON: The United States was closely following reported talks between the Pakistani government and the TTP but would let Islamabad define those negotiations, the State Department said on Friday.
"We are, of course, following it closely as you would expect … but this is an internal matter for Pakistan," the department's spokesperson Jen Psaki told a briefing in Washington.
The official reminded the media that this was not a dialogue and discussion that the US would be involved in.
Full report at:
http://www.dawn.com/news/1053567/us-closely-following-pakistans-talks-with-ttp
-----------
Kerry to visit Egypt as tensions rise before Morsi trial
2013-11-02
CAIRO, Nov 1: US Secretary of State John Kerry will visit Egypt a day before deposed President Mohamed Morsi goes on trial, the next likely flashpoint in the struggle between his Muslim Brotherhood and the army-backed interim government.
Several hundred Islamists protested in a few cities on Friday, responding to a call from a pro-Morsi alliance for daily protests until the ousted president stands trial on Monday. In Alexandria, seven people were wounded after residents clashed with Morsi supporters before security forces intervened, a security official said. Forty-five Morsi supporters were arrested.
Fighting also erupted in the Gisr al-Suez district of Cairo.
Full report at:
http://www.dawn.com/news/1053520/kerry-to-visit-egypt-as-tensions-rise-before-morsi-trial
-----------
Hagel says US 'clear-eyed' on Iranian support for terror as Washington tests Tehran's intentions
Nov 2, 2013
NEW YORK — The United States is testing Iran's diplomatic intentions but remains "clear-eyed" on Iran's role as a state-sponsor of terror and exporter of extremism, said US Secretary of Defense Chuck Hagel.
"But foreign policy is not a zero-sum game," he said. "If we can find ways to resolve disputes peacefully, we are wise to explore them."
Hagel's comments on Iranian nuclear negotiations came Thursday at the Anti-Defamation League's centennial conference in New York.
Hagel went on to introduce his predecessor, former Defense Secretary Leon Panetta, also a former CIA director, who called for negotiations to determine Iran's seriousness, while maintaining "healthy skepticism."
Full report at:
http://www.jpost.com/Iranian-Threat/News/Hagel-says-US-clear-eyed-on-Irans-support-of-terror-as-Washington-tests-Tehrans-intentions-330389
-----------
Mideast
Jewish convert to Islam pleads guilty to incitement
Jewish Telegraphic Agency
Nov 2, 2013
WASHINGTON (JTA) — A Jewish convert to Islam pleaded guilty to inciting violence, including a call to leave Chabad headquarters in New York "a message from Islam."
"Yousef Mohamid Al-Khattab (a.k.a. Joseph Cohen), 45, of Atlantic City, New Jersey, pleaded guilty yesterday to using his position as a leader of the 'Revolution Muslim' websites to use the Internet to place others in fear of serious bodily injury," said an Oct. 31 statement from the Alexandria, Va., office of the FBI.
Full report at:
http://www.jta.org/2013/11/01/news-opinion/united-states/jewish-convert-to-islam-pleads-guilty-to-incitement#ixzz2jWd3nxvj
-----------
Israel Vows to Deny Hezbollah Weapons as Details of Syria Raid Emerge
Nov 2, 2013
Jerusalem. Israel said it would not allow advanced weapons to fall into the hands of Hezbollah, after a raid on Syria that opposition sources said had hit an air force garrison believed to be holding Russian-made missiles destined for the militant group.
Israel has a clear policy on Syria and will continue to enforce it, officials said on Friday, after US and European sources said Israel had launched a new attack on its warring neighbor.
Israel declined to comment on leaks to US media that its planes had hit a Syrian base near the port of Latakia, targeting missiles that it thought were destined for its Lebanese enemy, Hezbollah.
Full report at:
http://www.thejakartaglobe.com/international/israel-vows-to-deny-hezbollah-weapons-as-details-of-syria-raid-emerge/
-----------
Settlement construction proves Israel prefers to stay an occupying power
Nov 2, 2013
Continued settlement construction proves that Israel "would rather stay an occupying power" to being a partner for peace, Palestinian UN observer Riyad Mansour said, Palestinian news agency Ma'an reported on Saturday.
"Israel continues construction of its illegal settlements, including seizing and looting land, as well as forced displacement of Palestinian families, while building thousands of housing units," Mansour wrote in a letter to UN Secretary-General Ban Ki-moon, the Presidency of the Security Council and the President of the General Assembly.
Full report at:
http://www.jpost.com/Diplomacy-and-Politics/PA-UN-envoy-Settlement-construction-proves-Israel-prefers-to-stay-an-occupying-power-330413
----------
Erdogan praises Turkey MPs for headscarves in parliament
2 November 2013
Turkey's Prime Minister Recep Tayyip Erdogan said Friday the "will of the people had prevailed" after four female lawmakers wore headscarves in parliament for the first time in years, breaking a taboo in the staunchly secular country.
The ruling Justice and Development Party (AKP) lifted in September a decades-old ban on headscarves in the civil service as part of a package of reforms meant to improve democracy and freedoms.
"The will of the people has prevailed in parliament," said Erdogan, evoking a "historical atmosphere" when the MPs from the AKP entered wearing the headscarf on Thursday.
He also sought a more reassuring tone in his statements quoted in Turkish newspapers on Friday. "Women who do wear headscarves and women who do not are all full members of this republic," he said.
Full report at:
http://english.alarabiya.net/en/News/middle-east/2013/11/02/Erdogan-praises-Turkey-MPs-for-headscarves-in-parliament-.html
----------
Yemen Sunni Islamists, Shiite rebels cease fire: Official
2 November 2013
Shiite rebels and Sunni Islamists have stopped fighting in northern Yemeni town after reaching a ceasefire that was urged by the Red Cross, a military official said Saturday.
Three days of clashes that killed at least 11 people ended at 5:00 pm (14:00 GMT) on Friday, the official said according to the defence ministry news website 26sep.net.
Troops have been deployed in areas evacuated by the two sides, he added.
The fighting with mortar and rocket fire had been concentrated on the Mazraa mosque and a Koranic school held by the Islamists in the village of Dammaj in Saada province and surrounded by Zaidi rebels, also known as Huthis.
Full report at:
http://english.ahram.org.eg/NewsContent/2/8/85395/World/Region/Yemen-Sunni-Islamists,-Shiite-rebels-cease-fire-Of.aspx
----------
Africa
Tunisia ruling Islamists, opposition deadlocked over PM
2 November 2013
Tunisia's ruling Islamist party Ennahda and the opposition were deadlocked in talks Saturday to choose a new prime minister tasked with steering the country out of a months-long political crisis.
Tensions have gripped the country since the 2011 uprising that toppled veteran dictator Zine El Abidine Ben Ali and were exacerbated with the murder this year of two opposition politicians by suspected radical Islamists.
Ennahda, a moderate Islamist party whose resignation has been demanded by the opposition, has pledged to step down and allow the creation of a government of independents as part of a roadmap.
Full report at:
http://english.ahram.org.eg/NewsContent/2/8/85391/World/Region/Tunisia-ruling-Islamists,-opposition-deadlocked-ov.aspx
-----------
Ugandan Military Accuses Militant Salafist Leader of Complicity in Nairobi Mall Attacks
Nicholas A. Heras
Nov 2, 2013
General Edward Katumba Wamala, the Chief of Uganda's Defense Forces, stated in September that the Ugandan militant Salafist leader Jamil Mukulu (a.k.a. Professor Musharraf) could have assisted the Somali militant Salafist organization al-Shabaab in planning and executing the September 21-24 attack on the Westgate shopping mall in Nairobi, Kenya that killed 62 and wounded 175 (Uganda Radio Network [Kampala], September 24). Mukulu is the Supreme Commander of the Ugandan militant group the Allied Democratic Forces (ADF), which has established bases in the north-eastern Democratic Republic of the Congo (DRC) province of North Kivu (for more information on the ADF and its east African presence see Terrorism Monitor, July 25). His assets were frozen by the U.S. Department of the Treasury's Office of Foreign Assets Control for contributing to the conflict in the DRC pursuant to Executive Order 13413 on October 5, 2011 and the United Nations Security Council imposed a travel ban upon him on April 12. [1]
Full report at:
http://www.jamestown.org/single/?no_cache=1&tx_ttnews%5Btt_news%5D=41561&tx_ttnews%5BbackPid%5D=7&cHash=6017a9b5074c7a06ec54236007cf43cf#.UnVs_HC-rXB
-----------
Somalia: Six Killed in Battle Near Galkayo, Federal Govt Accused of 'Arming Militia'
Nov 2, 2013
At least six persons were killed Friday in a village in Puntland State in northern Somalia as fighting erupted between Puntland government forces and a militia from neighboring Galmudug area, with Puntland officials accusing Somali Federal Government of arming the militia "to destabilize Puntland", Garowe Online reports.
Puntland Deputy Security Minister Abdiaziz Said (Badugaye) told a press conference in the capital Garowe that the fighting erupted at 12:00pm and continued for one hour.
Full report at:
http://allafrica.com/stories/201311020007.html?viewall=1
-----------
Niger orders closure of migrant camps after Sahara deaths
AFP | Nov 2, 2013
NIAMEY: Niger on Friday ordered the "immediate" closure of migrant camps in the north of the country after 92 people, mostly women and children, died of thirst trying to cross the harsh Sahara desert.
In a statement read on public television, the government also announced that all those involved in trafficking migrants, many of whom pass through northern Niger on their way to Algeria or Libya, would be identified and "severely punished".
Full report at:
http://timesofindia.indiatimes.com/world/rest-of-world/Niger-orders-closure-of-migrant-camps-after-Sahara-deaths/articleshow/25083029.cms
---------
Europe
Syrian chemical weapons likely to be destroyed abroad - Russia
Nov 2, 2013
The majority of Syria's chemical weapons arsenal will likely be taken abroad for destruction, Russia's deputy foreign minister said after talks with the special coordinator of the UN-OPCW mission in Syria.
"There are many arguments in favor of taking the vast majority of the poisonous substances outside of the country's borders," Sergey Ryabkov said.
Ryabkov met with Sigrid Kaag, who leads the Organisation for the Prohibition of Chemical Weapons (OPCW) mission to eliminate Syria's chemical weapons, to discuss "technological and legal aspects" of the project.
Full report at:
http://rt.com/news/syria-weapons-destroyed-abroad-106/
-----------
WUC Urges the International Community to Express Concern as China Targets Uyghur Communities
1 November 2013
Nov 2, 2013
The World Uyghur Congress (WUC) is extremely concerned that Uyghurs in East Turkestan and across China are about to enter into a period of unprecedented repression. In the wake of the car crash near Tiananmen Square on 28 October 2013, security in East Turkestan has been stepped up and official media has hinted at repercussions for the Uyghur people. Furthermore, the WUC, in addition to skepticism over the official account of events on Monday, is unconvinced by claims made by Chinese officials that the East Turkestan Islamic Movement (ETIM) was behind the incident. The WUC asks the international community to reject such allegations until verifiable evidence is available.
Full report at:
-----------
UN fears for safety of Muslims fleeing Myanmar
World Bulletin/News Desk
November 02, 2013
A spokesperson for the UN chief on Friday warned against a dramatic increase in the number of Muslims who are forced to leave Myanmar after last year's deadly attacks by Buddhists against the country's Rohingya community in Rakhine.
"We will watch the situation very closely, and will be guided by what the UN Refugee Agency would advise, since they are most directly involved in tracking this and also how to help the people," Martin Nesirky told Anadolu Agency on Friday.
Full report at:
http://www.worldbulletin.net/?aType=haber&ArticleID=121999
-------------
URL: https://newageislam.com/islamic-world-news/new-age-islam-news-bureau/ameer-of-hefazat-e-islam--govt-cannot-be-allowed-to-destroy-qasmi-madrasas/d/14263