New Age Islam News Bureau
29 Jan 2020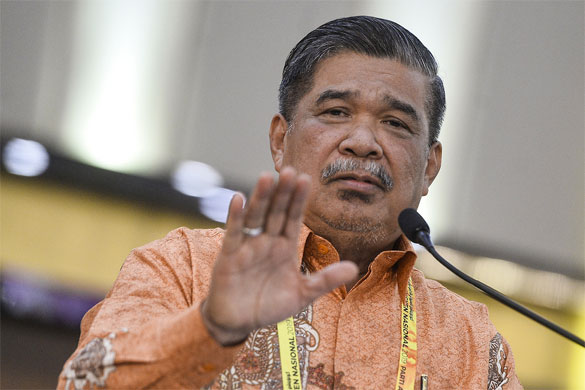 Mohamad Sabu said all parties should help curtail the culture of 'takfiri' or calling each other infidels among the Malay Muslims which has become viral in this country. — Picture by Miera Zulyana
--------
• 17 Convicts of anti-Muslim 2002 Massacre Get Bail from Supreme Cout of India
• Kerala Governor Arif Mohammad Khan Reads Out Anti-CAA Para in Assembly
• Islamic State Urges Attacks against Jews in Effort to Thwart Trump Plan: Recording
• Kushner Says Palestinians Have To Show the World It Is 'Ready To Be a State'
• Jewish, Muslim Leaders Praise Muslim World League Interfaith Visit to Auschwitz
• London Based Experts Want Afghan Peace Talks To Get More Inclusive
• Libyan Officers Trained On Tackling Online Activities of Terrorist Targets
Southeast Asia
• Amanah President: Culture of Calling Each Other Infidels among Muslims Must Stop
• 'Meth Not Prohibited In Islam': East Java Preacher Arrested For Selling Drugs
• Coronavirus: Malaysia Orders All Mosques to Hold Special Prayers
• Muslim-Majority Malaysia's Arab Script School Drive Riles Minorities
• Wuhan virus: Uproar in Malaysia over outbreak takes on racial, xenophobic tones
• University cancels students' programmes in China, HK
--------
India
• 17 Convicts of anti-Muslim 2002 Massacre Get Bail from Supreme Cout of India
• Kerala Governor Arif Mohammad Khan Reads Out Anti-CAA Para in Assembly
• Any Fear of 'Muslim Takeover In India' Baseless: Nobel Laureate Abhijit Banerjee
• Angry Indians Question Silence of Muslim Bollywood Stars after SRK Comments
• Shaheen Bagh Protesters Will Rape and Kill, Says BJP MP
• Judge Shreds Bijnor Police Claims: No Proof of Protesters Firing or Bullet Injuries to Cops
• Another Shaheen Bagh brews in Omnagar area of Surat city
• CRPF screens its 3 lakh staff after Jammu and Kashmir DSP's terror expose
• Terrorist killed, another arrested in separate J&K operations
• Rahul, Mamata, Kejriwal words are like those of Pakistanis, says Amit Shah
• India won't take more than 10 days to make Pakistan bite dust: PM Narendra Modi
--------
Arab World
• Islamic State Urges Attacks against Jews in Effort to Thwart Trump Plan: Recording
• Arab League to convene urgent meeting on Trump's Middle East plan
• Saudi Arabia encourages direct talks between Israel and Palestinians under US patronage
• Violence Escalates in Iraq as Government Pushes to End Protests
• Arab countries and world leaders react to Middle East peace plan
• Egypt sentences 37 to jail for joining Islamic State: judicial sources
• Saudi Arabia's King Salman affirms 'steadfast' support for Palestinian rights
• UAE says Barakah nuclear plant ready for operation phase
• International community unlikely to bailout Lebanon: experts
• Qatar ruler appoints top aide as prime minister
• Iraq weighs larger NATO role to replace US-led coalition
• Islamic development fund aims to get extra 28 million kids in schools by 2030
• Prince Khalid bin Salman meets top US military commander in Middle East
• Saudi human rights chief: Electronic link project to help fight human trafficking
• Protest coverage: Iraqi channel faces month-long ban
• UN criticizes Iraq trials of Daesh 'members', including human shields
--------
North America
• Kushner Says Palestinians Have To Show the World It Is 'Ready To Be a State'
• Republicans to honor US service members responsible for Soleimani's killing
• 50 US soldiers diagnosed with brain injury after Iran strike: Pentagon
• Trump takes credit for quitting Iran deal as 'most important' thing he did for Israel
-------
Mideast
• Jewish, Muslim Leaders Praise Muslim World League Interfaith Visit to Auschwitz
• Hamas to join Palestinian leadership meeting against Trump plan: Officials
• Iranians mourn martyrdom anniversary of Prophet's daughter
• Turkey vows to retaliate if army posts in Idlib threatened
• Palestinian president dismisses Trump's plan as 'conspiracy'
• Hundreds protest against Trump's plan outside US missions in Turkey
• Yemeni forces intercept, shoot down Saudi-led reconnaissance drone in Jizan
• Yemen president dismisses army commander after battlefield setbacks
--------
South Asia
• London Based Experts Want Afghan Peace Talks To Get More Inclusive
• European Union Increases Schengen Visa Fees, Affects Afghans And Other Nationals
• Afghan Security Forces Fail To Reach 'Taliban-Mined' Site Of Us Military Plane Crash
• U.S. military recovers remains from Afghanistan plane crash
• Afghan Vice President apologizes for photo forgery
• Insider Attack Kills 11 Afghan Security Forces in Baghlan
--------
Africa
• Libyan Officers Trained On Tackling Online Activities of Terrorist Targets
• Terror as jihadists target key northeast Nigeria road
• Nigeria: 'Military Committed to Ending Terrorism'
• Violence in Sudan's Darfur forced 57,000 to flee: UNHCR
• Libyan warlord Haftar is 'mercenary': Turkish president
• Libya: Haftar forces shell school, 2 children killed
--------
Europe
• New Figures On Extremism In German Military 'Tip Of The Iceberg'
• German police probe Nazi-style beer brand
• EU to assess Trump's Middle East peace plan
• Turkey criticizes Swiss media outlet
• Russia urges Libyan military committee to convene soon
--------
Pakistan
• Musharraf Conviction: Pak Court Says Trial in Absentia Not Justice
• Hope EU resolutions against held Kashmir clampdown, CAB followed by sanctions: Mufti
• Second civil rights leader critical of army detained in Pakistan
• PR audit report a slap on govt's face: Zubair
• Counsel terms case against Justice Isa outcome of personal grudges
• PTM lawmaker Mohsin Dawar says released from jail, others remain in custody
• Pakistan has made significant progress to get off FATF grey list: SBP chief
• PM Khan orders speedy completion of CPEC projects
• Pakistan organising two-day trade conference in Kenya
• Two 'terrorists' killed in gun battle were TTP members: Langove
• PM didn't meet MQM-P because he has nothing for Karachi: Siddiqui
• PM says 'injection made nurses look like hoors'
Compiled By New Age Islam News Bureau
URL: https://www.newageislam.com/islamic-world-news/amanah-president-culture-calling-each/d/120924
--------
Amanah President: Culture of Calling Each Other Infidels among Muslims Must Stop
28 Jan 2020
KUALA LUMPUR, Jan 28 — All parties should help curtail the culture of 'takfiri' or calling each other infidels among the Malay Muslims which has become viral in this country, said Parti Amanah Negara (Amanah) president, Mohamad Sabu.
He said Amanah viewed this development as serious.
"Amanah feels that if this culture of 'takfiri' is not stopped fast, it could mar the image of Islam," he said, adding that it could also destroy the harmony in Malaysia, as seen happening in a number of Middle Eastern countries.
In a statement today, he said such a culture could sow extremist attitude and thinking to the point of becoming a threat to national security.
"Amanah calls on all parties to play a role in curtailing this unhealthy culture and which is contrary to Islamic teachings," said Mohamad, who is also Defence Minister.
He said reports should be lodged with the authorities for action to be taken to prevent a recurrence of this misdeed.
Mohamad was referring to the action of a Facebook user, said to have posted a content with 'takfiri' elements and making Amanah vice-president, Datuk Seri Dr Mujahid Yusof, the target. — Bernama
https://www.malaymail.com/news/malaysia/2020/01/28/mat-sabu-culture-of-calling-each-other-infidels-among-muslims-must-stop/1832177
--------
17 Convicts of anti-Muslim 2002 Massacre Get Bail from Supreme Cout of India
Riyaz ul Khaliq
28.01.2020
India's top court on Tuesday released on bail at least 17 convicts jailed for life for taking part in an anti-Muslim pogrom, local media reported.
The Supreme Court of India issued bail orders for the convicts who were found guilty for the 2002 Sardarpura massacre in which 33 Muslims were burned alive in the western province of Gujarat.
According to Press Trust of India news agency, the country's apex court ruled to send the convicts in two groups to the neighboring central Madhya Pradesh province for "community service."
At least 33 Muslims, including 22 women, were burned alive in Sardarpura on the night of Feb. 28, 2002, following the infamous Godhra train riots a day earlier. Some 59 people who were returning from Ayodhya, Uttar Pradesh were killed in the incident.
The bail order was passed by Chief Justice S A Bobde along with justices B R Gavai and Surya Kant.
All the released convicts were ordered to undertake community service for six hours a week, aside from reporting to the local police station on a weekly basis.
Earlier, the Supreme Court had ordered a Special Investigation Team to probe the Sardarpura massacre, which then arrested 76 people.
However, a special fast track court convicted only 31 people in 2012, 10 years after the massacre. Four years later, Gujarat High Court acquitted 14 of these 31.
The court had ruled that the prosecution did not comply with the "two-witness" principle prescribed by the Supreme Court.
The convicts have, however, appealed against the order of Gujarat High Court convicting them.
https://www.aa.com.tr/en/asia-pacific/-india-convicts-of-anti-muslim-massacre-get-bail/1717029
--------
Kerala Governor Arif Mohammad Khan Reads Out Anti-CAA Para in Assembly
India Today Web Desk
Thiruvananthapuram
January 29, 2020
Kerala Governor Arif Mohammed Khan read out a paragraph containing criticism of the amended citizenship law during a policy speech he delivered Wednesday in the state assembly.
Governor Khan has previously criticised Kerala's opposition to the Citizenship Amendment Act -- it recently passed a near-unanimous assembly resolution and challenged the law in the Supreme Court -- but he said he was reading out the paragraph to honour Chief Minister Pinarayi Vijayan's wish.
"I'm going to read this para because the Honourable Chief Minister wants me to read this, although I hold the view that this does not come under the definition of policy or programme," Governor Arif Mohammad Khan said.
The paragraph in question mentions both the anti-CAA resolution passed by the Kerala assembly and the suit before the Supreme Court.
It says citizenship cannot be based on religion, "as this goes against the grain of secularism, which is part of the basic structure of our Constitution".
ANI
✔
@ANI
#WATCH Kerala Governor in state assembly: I'm going to read this para (against CAA) because CM wants me to read this, although I hold the view this doesn't come under policy or programme. CM has said this is the view of government, & to honor his wish I'm going to read this para.
4,182
9:44 AM - Jan 29, 2020
Twitter Ads info and privacy
1,487 people are talking about this
Opponents of the CAA feel it deliberately excludes Muslims while offering fast-track citizenship for Pakistani, Afghan and Bangladeshi illegal immigrants from six minority religious groups, including Hindus -- provided they entered India on or before December 31, 2014.
Meanwhile, Congress-led Opposition MLAs protested Governor Arif Mohammed Khan visit to the state assembly; they attempted to block his speech, and later boycotted it. Here's our full report on their demonstration.
https://www.indiatoday.in/india/story/arif-mohammad-khan-pinarayi-vijayan-anti-caa-para-kerala-governor-assembly-speech-watch-video-1641130-2020-01-29
--------
Islamic State urges attacks against Jews in effort to thwart Trump plan: recording
JANUARY 27, 2020
CAIRO (Reuters) - The Islamic State militant group urged its fighters and other Muslims to attack Jews in a purported audio recording released on Monday in an attempt to thwart U.S. President Donald Trump's Israeli-Palestinian peace plan.
The message was said to feature the voice of IS spokesman Abu Hamzah al-Quraishi but Reuters could not verify the speaker's identity.
Islamic State has not been a player in the Israeli-Palestinian conflict. But the comments appeared to be an attempt by the group to stay relevant and resonate with Muslims by sounding concerned about the issue, said H.A. Hellyer of the Carnegie Endowment for International Peace.
"We are urging you to join the Caliphate (Islamic State) soldiers who are seeking to remove borders and dams that prevent them from fighting Jews," Quraishi said.
He especially called on IS fighters in its Sinai branch in Egypt as well those in Syria to mount cross-border raids to attack Israeli targets.
"Be the spearhead in fighting Jews and making their plots fail like their 'Deal of the Century'," he said.
Trump is due to meet Israeli Prime Minister Benjamin Netanyahu and opposition leader Benny Gantz in Washington on Monday to present his peace plan, which Palestinians fear will dash their hopes for an independent state.
The Sunni Muslim IS has struggled to regroup and develop a new strategy since the killing of its leader Abu Bakr al-Baghdadi by U.S. forces in October. It lost its last significant piece of territory in Syria last year after already being defeated in Iraq.
https://www.reuters.com/article/us-israel-palestinians-plan-militants/islamic-state-urges-attacks-against-jews-in-effort-to-thwart-trump-plan-recording-idUSKBN1ZQ1O2
--------
Kushner says Palestinians have to show the world it is 'ready to be a state'
29 January 2020
US President Donald Trump's senior adviser and son-in-law, Jared Kushner, said the Palestinians could have an independent state tomorrow if its leadership is "willing to abide by the conditions of what a normal state will be like."
"Nobody is entitled to just become a state because you want to be. You have to show the world that you're ready to be a state. So, if they're willing to abide by the conditions of what a normal state will be like, and they want to go and do that, the world is ready to help them do that and they can start tomorrow but it's really up to their leadership to take that path," Kushner said in an interview with Al Arabiya.
Trump announced his plan for Israeli-Palestinian peace at a White House event with embattled Israeli Prime Minister Benjamin Netanyahu standing at his side. It includes what Trump called a four-year freeze by Israel on new settlement activity.
The Palestinians have so far refused to deal with the Trump administration in protest at pro-Israel policies such as moving the US Embassy from Tel Aviv to Jerusalem, the eastern part of which is sought by the Palestinians.
Trump set in motion a four-year timeline for Palestinians to agree to a security arrangement with Israel, halt attacks by the Islamist militant group Hamas and set up governing institutions in order to establish a Palestinian state with its capital in Abu Dis, a part of east Jerusalem.
"We were able to sit with Israel and get them to agree to freeze settlement for four years. That has never been done before. And get them to agree to a Palestinian state and get them to agree to a map," Kushner said.
"So, we have done a lot of hard work to make this opportunity possible. The question comes down to, what will the Palestinian leadership do," he added.
Kushner criticized the current Palestinian leadership, saying that it was not doing a good job "if people are still stuck where they are."
"They missed every opportunity to make a deal. So, if they screw this up, which is a very high chance that they will, then we'll be in a position where hopefully we have four years to work this out. I do hope that all the Arab leaders and Arab people throughout the region who care about the Palestinians will come together and tell them that this is an opportunity, don't blow that like you've blown every opportunity you've have had," Kushner said.
https://english.alarabiya.net/en/News/middle-east/2020/01/29/Kushner-says-Palestinians-have-to-show-the-world-it-is-ready-to-be-a-state-.html
--------
Jewish, Muslim leaders praise Muslim World League interfaith visit to Auschwitz
28 January 2020
On the 75th anniversary of the liberation of Auschwitz, Jewish and Muslim leaders praised a senior Muslim delegation's visit to the former Nazi German death camp in Poland.
Dr. Mohammad al-Issa, Secretary General of the Muslim World League, led an interfaith delegation to Auschwitz last week, a trip commended by Ilja Sichrovsky, founder and co-director of the international organization The Muslim Jewish Conference.
"Is it a good idea to bring the leader of the Muslim World League to Auschwitz? Martin Luther King Jr. once said, 'The time is always right to do what is right.' I agree. We must remember. Equally we must not stand by today in the face of racism, discrimination, or anti-semitism. History taught us, if this is to end in light, we have to fight darkness together, wherever that may be," said Sichrovsky in an interview with Al Arabiya English.
The visit was a "huge step in the right direction," according to Imam Abdullah Antepli, a professor of interfaith relations at Duke Divinity School.
"It was an incredibly, courageous, brave, praiseworthy initiative by the secretary general right before the anniversary of Holocaust Remembrance Day," said Antepli in an interview with Al Arabiya English.
Antepli, who visited Auschwitz with seven other Muslim American leaders in 2010, said the experience was like a "slap in the face."
"I didn't realize until I visited Auschwitz what this meant for the Jewish community to lose one third of its population in six years. I thought, what would this look like – God forbid – if this happened to Muslims?" said Antepli, adding that the Holocaust is the "darkest period in human history."
"I don't think a lot of non-Jews process what this would look like if it happened to their own communities," said Antepli.
Al-Issa, who became the most senior Islamic leader in history to visit Auschwitz, said "Islamic values" prompted him to make the trip and that he "would oppose anyone who denies" the Holocaust.
"This high-level delegation of Muslim scholars has come to say that our religion is one of peace, one of mercy, and one which fights evil," al-Issa, who served as Saudi Arabia's Minister of Justice until 2015, said during the visit.
The Muslim delegation also visited the POLIN Museum of the History of Polish Jews, the first and only museum dedicated to restoring the memory of the civilization created by Polish Jews.
The visit came just days before Holocaust Rememebrance Day, which also marked 75 years since the Nazi German death camp at Auschwitz was liberated.
More than 1.1 million men, women, and children lost their lives at Auschwitz, built by the Nazis in occupied Poland as the largest of their concentration camps and extermination centers.
Over six million Jewish people were killed in the Holocaust.
https://english.alarabiya.net/en/features/2020/01/28/Jewish-Muslim-leaders-praise-Muslim-World-League-interfaith-visit-to-Auschwitz.html
--------
London based experts want Afghan peace talks to get more inclusive
29 Jan 2020
Afghanistan and Central Asian Association (ACAA), a British charity supporting the welfare and integration of Afghan refugees in the U.K. discussed the ongoing Afghan peace talks in London on Monday.
"These peace talks need to be more inclusive of the Afghan civil society. Through the skills and knowledge it has acquired, the Afghan diaspora has an important role to play in ensuring a more open process", Dr. Nooralhaq Nasimi, Founder and Director of the ACAA said.
Baroness D'Souza member of the House of Lords and former Lord Speaker stressed that any solution to the ongoing conflict should be decided by Afghans themselves. She continued by underscoring how food aid had slashed local food prices, pushing farmers towards opium poppy production and swelling the ranks of the Taliban.
Murad Qureshi, Chairman of the Stop the War Coalition called for a swift withdrawal of international forces from Afghanistan.
Reacting to the crash of a U.S. military aircraft, Mr. Qureshi argued such developments could stall, if not reverse, the recent progress in the Doha peace talks.
Lynne O'Donnell, an award-winning journalist and former Bureau Chief of The Associated Press discussed how the Afghan media had blossomed since 2001, whilst also emphasizing how an agreement with the Taliban could harm freedom of the press in Afghanistan. This comes as the one-year-old long peace negotiations between the Taliban and the United States have not yet ended in order to enter into the second phase which is the intra-Afghan talks where the Afghanistan leaders and government get involved in talks. US peace envoy Zalmay Khalilzad traveled to Brussels on Tuesday to meet the NATO leaders and the US allies.
The NATO chief, Jens Stoltenberg said in a tweet that NATO will remain committed to supporting Afghanistan & creating the conditions for peace.
https://www.khaama.com/london-based-experts-want-afghan-peace-talks-to-get-more-inclusive-768965/
--------
Libyan Officers Trained On Tackling Online Activities Of Terrorist Targets
January 27, 2020
With abuse of the Internet and social media channels by terrorist organizations a growing concern for police, INTERPOL said it has conducted a training course for Libyan law enforcement officers on how best to exploit the Internet and specific social media sites in counter-terrorism investigations.
Held in Tunisia from January 20 to 24, the course was attended by 20 law enforcement professionals from the Criminal Investigation Department (CID) and General Investigation Department (GID) in Tripoli, Libya.
Terrorists use the Internet and social media channels for radicalization, recruitment, funding, planning and execution of terror activities, making it vital for law enforcement to collect, analyse and share data gathered from online sources, INTERPOL noted.
The course provided participants with recommendations on how to employ intelligence techniques to leverage online resources in compliance with human rights, the Libyan data protection mechanism, and international privacy and data protection standards.
Focused on boosting the operational and analytical skills of Libyan law enforcement officers, the course is part of ongoing cooperation between INTERPOL and Libya in this domain, which includes the provision of technical equipment.
At least three of the best-performing participants will be selected for further training and to take on additional responsibilities, in order to fully embed these investigation techniques into Libya's counter-terrorism activities.
Supporting the implementation of INTERPOL's Global Counter-terrorism Strategy, this initiative was funded by the Canadian Government (Global Affairs Canada) and attended by a representative from the Royal Canadian Mounted Police.
https://www.eurasiareview.com/27012020-libyan-officers-trained-on-tackling-online-activities-of-terrorist-targets/
--------
Southeast Asia
'Meth Not Prohibited In Islam': East Java Preacher Arrested For Selling Drugs
January 29, 2020
An Islamic preacher in Kwanyar, Bangkalan regency in East Java, who was arrested last week for allegedly selling methamphetamine to his students, apparently tried to justify his actions by claiming that crystal meth was not prohibited in Islam.
The preacher was identified only as AM, a 46-year-old Islamic studies teacher at an Islamic boarding school in Surabaya, East Java. The Bangkalan Police had searched for him for the past two months after they reportedly caught two people they accuse of consuming meth in his house.
Bangkalan Police chief Sr. Comm. Rama Samtama Putra said that his team temporarily lost track of AM after they traced his movements from Mojokerto, East Java to Bekasi, West Java.
Upon being arrested, police claim AM tried to justify his actions by saying that meth consumption was not prohibited by the Quran.
"The suspect believes that consuming meth will help increase [his students'] motivation to read the Quran," he said.
During a press conference in the Bangkalan Police station, AM told Rama that the police had an incorrect perception about meth since he claimed meth was not haram.
"The country might prohibit it, but I think it's only a wrong perception. Islam didn't say anything about it," AM said as quoted by tribunnews.com. He allegedly also confessed that he had consumed it for 10 years.
AM reportedly told similar things to his students, leading to some of them purchasing meth from him and consuming it at his house.
The police said that AM would be charged under Article 114 of the Criminal Code that carried a maximum sentence of 20 years' imprisonment upon conviction.
"He [allegedly] obtained the meth from a dealer who operates in Sokobanah district, Sampang," Rama added. (dpk)
https://www.thejakartapost.com/news/2020/01/28/meth-not-prohibited-in-islam-preacher-arrested-for-selling-drugs.html
--------
Coronavirus: Malaysia orders all mosques to hold special prayers
JANUARY 28, 2020
KUALA LUMPUR: Closeness to Allah is another way to prevent from Coronavirus outbreaks therefore mosques in Muslim-majority Malaysia were instructed to hold "Salatul Hajat" (prayer of need) and "Dua-e-Salamat."
According to Malaysian media reports, all the 913 mosques in the Johor state have been ordered to again hold the congregational prayers after the Friday prayer on January 31 to protect the country and the people from 2019 Novel Coronavirus (2019-nCoV) outbreak.
Director of the Johor Islamic Religion Department (JAINJ), Datuk Md Rofiki Shamsudin conveyed the information saying that the "public is also advised to pray for Allah (SWT)'s protection against all epidemics and infectious diseases."
Efforts are being made to prevent the spread of the newly identified virus because these terrible disease are quickly transmitting.
Malaysia has so far reported four confirmed cases of coronavirus. All are Chinese nationals on holiday from Wuhan who arrived in the country from Singapore.
A 66-year-old woman and two boys, aged two and 11, are in a stable condition and are being kept in an isolation ward at a public hospital, Malaysia's health minister said.
Full report at:
https://www.siasat.com/coronavirus-malaysia-orders-all-mosques-hold-special-prayers-1807269/
--------
Muslim-Majority Malaysia's Arab Script School Drive Riles Minorities
By Zsombor Peter
January 28, 2020
KUALA LUMPUR, MALAYSIA - A push by the Malaysian government to revive an archaic Arabic script in Chinese- and Tamil-language primary schools this year is kindling old ethnic and religious fault lines long held at a slow but steady boil in the Muslim-majority country.
Last year, Education Minister Maszlee Malik said that starting this month, Malaysia's 1,700-odd vernacular schools — those that teach in Chinese or Tamil — would have to introduce their 10-year-olds to a bit of Jawi in their lessons on Bahasa Malayu, the Malay language. The sinuous, Arabic-based script was the main method of writing Malay until the language was romanized by the British in the early 20th century, and is little practiced today outside of mosques and madrassas.
The ministry scaled back its plans following an outcry from Chinese school groups, paring down the pages to be taught on Jawi from six to three and making even that conditional on approval from more than half the students' parents at each school.
The concession did not come before tempers had flared, though.
Critics complained that local school boards were being sidestepped or raised alarms about creeping Islamization. Prime Minister Mahathir Mohamad called pushback from Chinese school association Dong Zong "racist" and warned that it might spark calls from the majority ethnic Malays to close the vernacular schools down. The Malaysian Muslim Students Coalition said Dong Zong was tempting a repeat of Malaysia's bloody 1969 race riots and on January 1 organized a rally of hundreds against the group in central Kuala Lumpur, the capital. The following day, Maszlee stepped down as education minister at Mahathir's request, citing the Jawi dustup as one reason.
The Education Ministry, Malaysian Muslim Students Coalition and Dong Zong all refused requests for an interview.
Outside a Chinese-language school in the city's Pudu neighborhood last week, laminated signs hung from a tin awning in English, Chinese characters and romanized Malay: "Life is wonderful," "Believe in yourself," "Smile is joyful." Parents crowded the front gate waiting for the sound of a shrill bell to let their children out of class.
"This is a Chinese school. They're already learning too many languages," said a Chinese parent who did not want Jawi instruction in the curriculum and declined to give her name because of the sensitivity of the topic.
"We don't agree, so they say we are racist. Now we fight between two races," she said. "If they need to study [Jawi], we cannot do anything, we need to accept."
Jalahudin bin Rahim, another parent, of mixed Chinese and Malay heritage, welcomed the ministry's push for Jawi.
"The government is doing the right thing. They hope the next generation can [have] more knowledge, know another language. Better for the children," he said.
"Don't think about race or religion," he added, dismissing claims of Islamization.
The school won't be teaching Jawi for now, though. A school official not authorized to address the press and speaking on condition of anonymity told VOA that the parents of the school's 10-year-olds had overwhelmingly rejected the three-page introduction. The Malaysian Chinese Association, a political party, said most Chinese-language schools have followed suit.
MCA Secretary General Chong Sin Woon said the ministry's moves to introduce Jawi in vernacular schools subverts the traditional authority of local school boards and, like Dong Zong, believes it should be up to each student and parent to decide whether to learn it as an elective.
He said the three pages the government has settled on did not amount to Islamization but feared that they could be just the start. The government has plans to introduce Jawi to 11- and 12-year-olds in coming years.
"We have nothing against Jawi; that's a very clear stand of MCA. But there ... shouldn't be any forced learning," he said.
"With this teaching of Jawi ... put into the curriculum, [it] means it's part of the curriculum in learning bahasa. So in future the ministry at any time can enhance that teaching, can introduce more pages, or even to make it part of the exam."
The Malaysian Islamic Party supports the government's plans for Jawi. Its youth wing joined the protest against Dong Zong on January 1.
"Bahasa Malayu is the official language in Malaysia and it is protected under the ... official language act, so it should be an element that brings all the races together," said party spokesman Kamaruzaman Mohamad. "And Jawi is a part of Bahasa Malayu, so it is overboard to fight against Jawi since Jawi is protected under law, under [the] constitution."
The constitution says Malay "shall be in such script as Parliament may by law provide." The National Language Act says the Malay script "shall be" Roman but adds that the provision "shall not prohibit" the use of Jawi.
Kamaruzaman accused those worried about Islamization in turn of Islamophobia.
"It is three pages. All the three pages are just [to] learn a few items that [are] related to the Malaysia symbol," he said, referring to the national emblem of Malaysia, which includes a few lines of Jawi. "Why [are] you really afraid of learning that?"
Shamsul Amri Baharuddin, who heads the National University of Malaysia's Institute of Ethnic Studies, said Jawi played a key role in unifying Malay Muslims starting in the 13th century by introducing a standardized script for their language for the first time.
While the script is little-used today outside of Islamic education, and most Malays no longer know how to read or write it, he added, it remains the writ of record for Malay Muslim culture.
"The corpus of knowledge on Malay civilization is still in Jawi," he said.
Shamsul said he expected the dispute over teaching Jawi in vernacular schools to blow over with time but also that such flare-ups would continue to wax and wane.
Full report at:
https://www.voanews.com/east-asia-pacific/muslim-majority-malaysias-arab-script-school-drive-riles-minorities
--------
Wuhan virus: Uproar in Malaysia over outbreak takes on racial, xenophobic tones
January 29, 2020
The uproar in multiracial Malaysia over the perceived mishandling of the Wuhan coronavirus outbreak points to growing racial and xenophobic sentiments, especially among the country's Malay-Muslim majority.
No new cases have surfaced since four Chinese nationals, all from Wuhan, tested positive for the virus last Saturday, and no local transmissions have been reported.
https://www.straitstimes.com/asia/se-asia/uproar-in-malaysia-over-outbreak-takes-on-racial-xenophobic-tones
--------
University cancels students' programmes in China, HK
January 28, 2020
NILAI: Universiti Sains Islam Malaysia (USIM) has cancelled its internationalisation programme to China and Hong Kong in the wake of the novel coronavirus outbreak.
Its deputy vice-chancellor (student affairs and alumni), Mohd Rushdan Mohd Jailani, said the cancellation would be in place until further notice.
He said 14 Global Islamic Student Outreach programmes had been approved from January to August, five of which are scheduled for February.
Rushdan said the decision is also in line with the travel advisory issued by the Malaysian embassy in Beijing for all Malaysians to postpone their travel to 13 cities in China.
Full report at:
https://www.freemalaysiatoday.com/category/nation/2020/01/28/university-cancels-students-programmes-in-china-hk/
--------
India
Any Fear Of 'Muslim Takeover In India' Baseless: Nobel Laureate Abhijit Banerjee
JANUARY 28, 2020
NEW DELHI: The talk from the "fringes of the ruling party" about the demographics of the Muslim population is just a way to 'demonise' a community, Nobel Laureate Abhijit Banerjee said here, asserting that there is no real fear of Muslim takeover in India.
"India and the US are similar in one very important way. The minorities are actually minorities. They are not anywhere close to being dominant," Banerjee said at the epilogue session of the Tata Steel Kolkata Literary Meet on Monday evening.
"So the sense that we need to be mindful of the minorities – this talk about that you hear at least from the fringes of the ruling party about the demographics of the Muslim population – this is really just ways to demonise a population," he said during the session, that centred around the book 'Good Economics for Hard Times', which the eminent economist has co-authored with fellow Nobel laureate and his wife Esther Duflo.
Banerjee said like the African Americans and Mexicans in the US, the minorities – "you can say the entire group of minorities – they are relatively economically and educationally deprived, and small group, with a very powerful and economically much better-of majority".
The Ford Foundation International Professor of Economics at the Massachusetts Institute of Technology said whenever these fears are stoked, one could imagine a context where these are two equal groups.
"An you worry about the other group becoming too powerful. But this is just not realistic here. And in that sense I feel that all the reference to that is a bit of a… it is constructing a narrative that has no basis in reality. I don't think there is any real fear that there is going to be a Muslim takeover of India," he said during the interaction on the Grand Steps of the iconic Victoria Memorial Hall.
Ruling out any future political role that he sees for himself, Banerjee said Abdul Latif Jameel Poverty Action Lab (J-PAL) – the organisation he has set up with Esther and Sendhil Mullainathan – was committed to work with anybody who wanted to do something useful.
Becoming political wouldn't be helpful in that context, he remarked.
"I think I believe that what is most useful is the work that our organisation Poverty Action Lab does. We are mostly committed to working with anyone who wants to do something useful.
"People react to things… We are better off mostly putting our head down, try to help the poorest people. That is still a very real option," he said.
According to Banerjee, despite bad politics in both countries, "that you may worry about", state governments, including those of the BJP, have worked with their organisation.
"We have often found them very responsive to sensible things," he said, referring to the project on reducing industrial pollutants in which J-PAL worked with the Gujarat government when current prime minister Narendra Modi was the chief minister of the state.
"We did it with Modi in Gujarat. It is now a policy in Gujarat," he said.
https://www.siasat.com/any-fear-muslim-takeover-india-baseless-banerjee-1807317/
--------
Angry Indians question silence of Muslim Bollywood stars after SRK comments
January 28, 2020
After comments made by Bollywood legend Shah Rukh Khan about religion in India sparked outrage across the subcontinent, Indians are questioning why other Muslim movie stars have opted to remain silent on the ruling party's divisive citizenship law.
Bollywood stars such as Salman Khan and Aamir Khan have refrained from commenting on the hot button issue, leading some to speculate whether it was driven by fear of retribution from ultra-nationalist BJP supporters.
Social media users were quick to point the finger at the Muslim stars, accusing them of "money worship" and prioritizing their careers over the future of Muslims in India.
Shah Rukh Khan's comments did little to calm the outrage, in fact it seemed to have further inflamed the rage as people took offense with the actor's views on family and religion.
khan
✔
@SameeraKhan
WTF does SRK's first statement "My kids are Hindustan" even mean? It's utterly meaningless.
SRK to daughter: "We are Indian. We don't have a religion, nor should we have one."
This is a slap in the face to all Indian Muslims suffering under Hindutva.
Embedded video
1,369
7:08 PM - Jan 26, 2020
Twitter Ads info and privacy
761 people are talking about this
Sehrish Khan
@Sehrish23645739
This is how #ShahRukhKhan is trying to save his film career....
''My wife is a Hindu, I am a Muslim and my kids are Hindustan''...
Height of Hypocrisy...
View image on Twitter
31
12:56 PM - Jan 28, 2020
Twitter Ads info and privacy
See Sehrish Khan's other Tweets
IsrarUddin Baig.official
@IsrarUddinBaig3
Salman khan & shahruk khan should be ashamed. They can't speak one word against modi... These are pseudo Muslims.#shameonkhans#SalmanKhan #ShahRukhKhan #amirkhan
1
1:57 AM - Jan 12, 2020
Twitter Ads info and privacy
See IsrarUddin Baig.official's other Tweets
In an appearance on the dance reality show Dance Plus, Khan said his family doesn't discuss religion at home.
"We never talked about Hindu and Muslims. My wife is Hindu. I'm Muslim and my children are India," Khan says in the viral video.
Khan had previously said that every religion is welcome in his household, noting that his family celebrates all festivals.
"I gave my son and daughter names that could pass for generic (pan-India and pan-religious) ones - Aryan and Suhana. The name 'Khan' has been bequeathed by me so they can't really escape it."
Some 300 prominent personalities from India have written an open letter to express their solidarity with student-led demonstrations against a controversial citizenship law.
"Our vision for this nation demands that we speak up now, in the name of our democracy and the constitution that protects it. We are aware that we have not always lived up to that promise, and many of us have too often remained silent in the face of injustice," the letter said.
The signatories of the letter include filmmakers Mira Nair and Nandita Das and actors Naseeruddin Shah, Ratna Pathak Shah and Jaaved Jafferi.
India has been witnessing massive protest against the Citizenship Amendment Act (CAA) which guarantees citizenship to non-Muslims of three neighboring countries Pakistan, Afghanistan, and Bangladesh. Critics see the new law as unconstitutional and discriminating against Muslims.
Full report at:
https://www.yenisafak.com/en/news/angry-indians-question-silence-of-muslim-bollywood-stars-after-srk-comments-3510656
--------
Shaheen Bagh protesters will rape and kill, says BJP MP
Jan 29, 2020
NEW DELHI: Bharatiya Janata Party's (BJP) campaign for the February 8 assembly polls has turned vitriolic with West Delhi MP Parvesh Sahib Singh Verma warning people in the Capital that those gathering at southeast Delhi's Shaheen Bagh for the anti-CAA protest will "enter your houses, rape sisters and daughters and kill them".
In an interview to a news agency, he added that the protesters would be cleared in an hour if the BJP comes to office in Delhi.
The statement followed controversies in which junior finance minister Anurag Thakur and BJP's Model Town candidate Kapil Mishra find themselves embroiled.
BJP's campaign makes Shaheen Bagh focal point, links it with security threat
With just 10 days to go for the assembly polls, these statements by BJP functionaries are being seen as an attempt to polarise voters. The Shaheen Bagh protest is now being referred to by every party functionary addressing public meetings or press conferences in Delhi.
A large number of women have been protesting against the Citizenship Amendment Act — which promises citizenship to non-Muslim refugees from Pakistan, Afghanistan and Bangladesh — demanding a rollback. An arterial road, which connects Noida with south Delhi, is now blocked due to the protest, causing a lot of hardship to commuters.
Shaheen
Verma alleged that attempts were being made to spread 'jihaad' in all parts of the city. "Lakhs of people gather there (Shaheen Bagh)...They will enter your houses, rape your sisters and daughters, kill them. There's time today (Prime Minister Narendra) Modi ji and Amit Shah won't come to save you tomorrow," Verma told the news agency.
Speaking at an election rally a day before, he had emphasised that if BJP comes to office on February 11, the protesters would be cleared within an hour and all mosques built on government land would be razed. Defending his statement, Verma later told Times Now that the protesters were being supported by the AAP government and they will immediately vacate the stretch once the saffron party assumes office. He also drew a parallel between the Shaheen Bagh protest and the exodus of Kashmiri Pandits from the Valley in the late 1980s and early 1990s. Verma said he feared that a similar "fire" may soon spread in the capital.
Earlier, Union home minister Amit Shah, who kicked off the party's poll campaign with a public meeting in southwest Delhi's Matiala on January 23, connected the protest with the security of Delhi, alleging that it was being supported by AAP in Delhi. On Monday, his cabinet colleague, Ravi Shankar Prasad, said the protest was a "textbook case of a few hundred people trying to suppress the silent majority". He also claimed that the protest was against Prime Minister Modi and those who were trying to "fragment" India were getting cover there.
A senior party functionary confirmed that BJP's poll campaign in the next few days will revolve around "nationalism" and turn more "hardline". He said CAA, Ram Temple and abrogation of Article 370 will feature in all election rallies with special focus on Shaheen Bagh.
Days earlier, Kapil Mishra had drawn a parallel between the Delhi assembly polls and India-Pakistan contest. "Pakistan is entering through Shaheen Bagh, and mini-Pakistans are being created in Delhi...Shaheen Bagh, Chand Bagh, Inderlok," he had tweeted in Hindi but later deleted it following a rap from the Election Commission.
Speaking to TOI on Tuesday, Mishra alleged that Shaheen Bagh was a "creation" of AAP and Congress. "When BJP reacted to it, it backfired on them. BJP ran a massive campaign on local Delhi issues — pollution, contaminated water, poor public transport — but it was forced to react to it. Public sentiment on this issue was very high and people were really angry about it (Shaheen Bagh protest)," he said, adding that this election was being fought on a 20% (Muslim) vote bank and 80% (Hindu majority). "AAP and Congress were doing politics of 20% vote bank and taking 80% population for granted," he added.
Full report at:
https://timesofindia.indiatimes.com/city/delhi/shaheen-bagh-protesters-will-rape-and-kill-says-bjp-mp/articleshow/73723566.cms
--------
Judge Shreds Bijnor Police Claims: No Proof of Protesters Firing or Bullet Injuries to Cops
by Kaunain Sheriff M
January 29, 2020
Granting bail to two persons accused of rioting and attempt to murder during the anti-CAA protests last month, a sessions court in Bijnor, one of the worst affected districts in Uttar Pradesh, has torn into police claims, saying they produced no evidence to show that the accused indulged in firing and arson, that weapons were seized from the accused, or that police personnel sustained any bullet injury.
Court records accessed by The Indian Express show that Additional Sessions Judge Sanjiv Pandey, in the bail order on January 24, pointed out these glaring discrepancies in the police version. "Without making any observation on the merits of the case, in my view, looking at the circumstances and the natures of offences, bail has to be granted to the accused," he said.
The observations made in the bail order are significant. Bijnor police arrested over 100 people and lodged multiple FIRs, claiming they indulged in violence at Nahtaur, Najibabad and Nagina in Bijnor. Police also admitted that a 20-year-old, Mohammad Suleman, died after he was shot by a constable, Mohit Kumar, in "self-defence". The family has filed an FIR against six police personnel.
The January 24 bail order relates to the FIR lodged at the Najibabad police station against Shafique Ahmed and Imran, accused of rioting and attempt to murder. The FIR stated "we received information that 100-150 people from Jalalabad had created jam at the NH-74 while protesting against CAA-NRC… the crowd was led by Shafique Ahmed and Imran. The police explained to the crowd. However, the crowd threatened to kill and sat on the National Highway. Imran was arrested on the spot and the other accused person fled".
Court records show that police claimed they used "minimum force" to control protesters on December 20. "The prosecution, opposing the bail, has argued that the accused has been named in the FIR. There was firing and stone-pelting from the crowd due to which police officials were injured. The police used minimum force to control the crowd. The police also seized .315 bullets from the spot. The accused is facing serious charges and that the bail plea has to be rejected," the court said while recording the prosecution argument.
The order then records the discrepancies: "I have heard arguments from both sides and have also perused the case diary… only Imran, named in the FIR, has been arrested from the spot. No other accused have been arrested from the spot. The prosecution has also argued that the police official was injured during stone-pelting."
On the evidence produced by police, it said: "However, no such evidence has been placed by the prosecution, which shows that the accused persons indulged in vandalising shops or setting houses on fire… The police has shown that it has seized .315 bore bullets. However, it has not shown any seizure of weapons from any of the accused persons."
"According to the prosecution itself, no police official has received any bullet injury. It has shown that police officials have received injuries due to stone-pelting. However, no evidence has been produced that proves that anyone received serious injuries," it said.
On December 28, an FIR was lodged against six police personnel, including the then Station House Officer of Nahtaur police station, Rajesh Singh Solanki, over the death of Mohammad Suleman. It was filed following police admission that Suleman died after he was shot by police in "self-defence".
Full report at:
https://indianexpress.com/article/india/citizenship-act-protests-up-bijnor-police-court-6240169/
--------
Another Shaheen Bagh brews in Omnagar area of Surat city
January 29, 2020
Another Shaheen Bagh-like protest is brewing in Limbayat, Surat, where a large number of people, including women and children, are protesting since Monday against the Citizenship Amendment Act (CAA) and National Register of Citizens (NRC).
In a temporary tent put up on an open ground in Omnagar area, the protesters seen with a black band on their head said that they would continue with their agitation till the "black Act" is withdrawn. Majority of the women are housewives and belong to poor economic background. They were seen carrying the Tricolour and banners with slogans, including 'Fight Fascist legislation', 'Save democracy save India', 'Stop dividing India, boycott CAA and NPR', 'Say no to divide and rule', 'Save humanity save country', 'We demand NBR (National Berojgar Register)' and 'We stand for peace, harmony and fraternity'.
Passers-by stopped at the site and took pictures of the protesters that were widely shared on social media. Residents from other areas also joined to extend their support. Verses from holy books were recited, while speakers gave motivational speeches at the venue.
Najma Shaikh, who stays in a shanty in Omnagar area and was among the protesters, said, "We are illiterate and the government needs documents of our citizenship. We have made Aadhaar card of our family members but we don't have other proofs. We have seen the Shaheen Bagh protest in news channels and are carrying out similar protests here. I have changed my daily routine to participate in the protest… I wake up early to finish all household chores."
She was at the venue whole day after sending her children to school and preparing lunch for her husband, Irshad Shaikh, who works in a textile factory. She carried a small tiffin box for herself when she went to the protest venue.
On Monday night, a police team reached the site and told the protesting women to leave the spot as they did not have the required permission. However, the women and children gathered on the spot again on Tuesday morning.
Nationalist Congress Party (NCP) leader Akram Ansari who was at the venue arranging for water and snacks for the protesters, told The Indian Express, "Majority of the people staying in Limbayat area are poor and illiterate and they don't have documents. Once CAA is implemented, where will they go? Last night police turned up and warned us not to protest without permission. Today we applied for permission and will not budge under any pressure to withdraw our protest."
Ruksana Khan, a social worker, who was at the venue with her husband and children, said, "The CAA is unconstitutional and we were inspired by the protest in Delhi's Shaheen Bagh. We will continue with this till the government withdraw CAA and NRC. My husband Basharat and two children also have joined the protest. We are carrying out the protest peacefully and are ready to court arrest if needed."
Full report at:
https://indianexpress.com/article/india/another-shaheen-bagh-brews-in-omnagar-area-of-surat-city-6240068/
--------
CRPF screens its 3 lakh staff after Jammu and Kashmir DSP's terror expose
Jan 29, 2020
GURGAON: The CRPF has carried out a mega audit of its over three lakh personnel to check for any possible "subversive" elements in the wake of a Jammu & Kashmir Police officer being caught with terrorists recently, the chief of the paramilitary force said here on Tuesday.
CRPF Director General (DG) A P Maheshwari said the incident involving Deputy Superintendent of Police Davinder Singh was "grave" and an "area of extreme concern" for the security forces, adding that all should see that these things don't occur.
So it was "common sense" to carry out such an audit of its manpower, deployed as the lead force for counter-terrorist and anti-Naxal operations across the country, when any incident like this take place, he said.
A senior official said the counter-intelligence units of the force were recently asked to check the credentials of the personnel after obtaining data from all available sources and they have been asked to be kept on "active mode" for some more time.
"No security grid should be allowed to be weakened by such episodes. So, all forces have to keep an internal watch," he said on the arrest of DSP Singh.
J&K Police had arrested Singh in J&K's Kulgam district along with Hizbul Mujahideen terrorists Naveed Baba and Altaf, besides a lawyer who was operating as an overground worker for terror outfits, on January 11.
Maheshwari said that somebody from a security force trying to collaborate with adversaries is a "serious matter". However, he added that a lone incident cannot be used to "brand" the entire force which has done onerous work in the past.
Full report at:
https://timesofindia.indiatimes.com/india/crpf-screens-its-3-lakh-staff-after-jammu-and-kashmir-dsps-terror-expose/articleshow/73716104.cms
--------
Terrorist killed, another arrested in separate J&K operations
Jan 28, 2020
SRINAGAR: A Hizbul Mujahideen (HM) terrorist was killed while a 19-year-old Lashkar-e-Taiba (LeT) affiliate was arrested in separate anti-terror operations across Kashmir in the past 24 hours.
Late on Monday, security forces had launched a cordon-and-search operation in Bijbehara area of south Kashmir's Anantnag district, based on intelligence inputs. The holed-up terrorists opened fire at the search party, triggering an encounter in which one terrorist was killed.
Police identified the slain terrorist as Shahid Ahmad, affiliated to the proscribed HM outfit and involved in several terror crimes. Arms and ammunition were also recovered from the encounter site, J&K Police confirmed in a tweet.
In another operation in north Kashmir's Baramulla district on Tuesday, a joint team of Army and J&K Police arrested LeT operative Sajid Farooq Dar alias Adnan from Andergam area of Pattan. A resident of Gund Prang in Hajin area of Bandipora district, Adnan had recently cleared his class 12 exams and picked up arms only three days ago. He had come to meet his associate in Pattan when he was apprehended by security forces, SSP Baramulla Abdul Qayoom said.
"A preliminary investigation revealed that Adnan was in Andergam to meet a friend who, too, was planning to join militancy. He was, however, arrested on his way there," SSP Qayoom said, adding that a grenade was also recovered from the teenager's possession.
The SSP said Adnan was inspired to take up arms after his terrorist friend Saqib Bilal was killed in an encounter in December 2018. "After seeing hundreds of people thronging Bilal's funeral, Adnan was influenced to join militancy. Being of tender age, he could be easily brainwashed. He wasn't involved in any attack yet as he had joined terror ranks barely three days ago," he said.
Full report at:
https://timesofindia.indiatimes.com/india/terrorist-killed-another-arrested-in-separate-jk-operations/articleshow/73709136.cms
--------
Rahul, Mamata, Kejriwal words are like those of Pakistanis, says Amit Shah
January 29, 2020
The Citizenship (Amendment) Act (CAA) is meant to provide nationality, not take anyone's nationality away, Union Home Minister and former BJP chief Amit Shah said in Raipur on Tuesday.
Addressing Chhattisgarh BJP leaders at an event after attending a meeting with Chief Ministers of Uttarakhand, Uttar Pradesh and Chhattisgarh, Shah said the state BJP will soon start a door-to-door awareness campaign on CAA.
Accusing the Congress of "scaring and spreading misinformation among the minority community", Shah said, "I want to ask Rahul Gandhi. Which part of the amendment talks about taking away any citizenship? Prime Minister Narendra Modi has taken this humanitarian decision (of enacting CAA) to help people who have been facing persecution (in neighbouring countries)."
Shah also took potshots at Delhi Chief Minister Arvind Kejriwal, his West Bengal counterpart Mamata Banerjee and "Kanhaiya Kumar and company", referring to the CPI leader who is also leading a campaign against the Centre. "Their statements match those of Pakistani leaders… no one tells me what their relationship is (with Pakistanis). Are they long-lost siblings?"
Full report at:
https://indianexpress.com/article/india/rahul-mamata-kejriwal-words-are-like-those-of-pakistanis-says-amit-shah-6240148/
--------
India won't take more than 10 days to make Pakistan bite dust: PM Narendra Modi
January 29, 2020
Maintaining that Pakistan has lost three wars but continues to wage proxy wars against India, Prime Minister Narendra Modi on Tuesday said the country's armed forces will "not take more than a week to 10 days to make Pakistan bite the dust".
Targeting "inaction" of previous governments, Modi said they treated the proxy war by Pakistan as a law and order problem, but "even when our forces asked for action they would not go ahead".
Addressing the annual PM's National Cadet Corps rally, Modi said some parties are opposing the Citizenship (Amendment) Act [CAA] for vote-bank politics, and indicated that by opposing the new law, these parties are opposing Dalits and other marginalised sections, who are persecuted in Pakistan. "Some of these people (political leaders opposing CAA) are pretending to be the voice of the downtrodden. But they can't see the downtrodden in Pakistan — most of those who have come from Pakistan are from such communities."
He said the Pakistan army had published an advertisement in that country's newspapers to announce vacancies for safai karmacharis. "You know what the advertisement said? It said only non-Muslims could apply for the job. Who are these people? They are these exploited people. That's how they are treated in Pakistan," he said.
"We brought CAA to correct this historical wrong but some political parties are competing for their vote-bank in this. Whose benefit are they working for? Can't they see the atrocities being heaped on minorities in Pakistan," the Prime Minister asked.
Attacking the Congress, Modi said if that opposition party's leaders read the "right kind of books" written by "unbiased historians", they would know the truth about Partition. "When the country attained Independence, whose advice led to its Partition? Whose self-interest was behind it? How did those who took the reins of the country agree to Partition? If you read the right books — books written by historians without prejudice — you will come to know the truth," he said.
Modi said a lot of misinformation is being spread about CAA but the truth is that Mahatma Gandhi wanted this. "After Independence, India had promised Hindus, Sikhs and other minorities that if they came to India it would shelter them and stand by them. This is what Mahatma Gandhi wanted, and that was the spirit of the 1950 Nehru-Liyaqat agreement. It was India's duty to shelter people in these countries who faced religious persecution. But people (an ostensible reference to previous Congress governments) turned their head away from these thousands of (persecuted) people."
He maintained that India could have taken over Kartarpur — in Pakistan, where Guru Nanak spent the last years of his life — but did not. "…Pakistan's 90,000 soldiers were in our custody. Why were they not exchanged for Kartarpur," Modi asked.
Full report at:
https://indianexpress.com/article/india/india-wont-take-more-than-10-days-to-make-pakistan-bite-dust-pm-narendra-modi-6240127/
--------
Arab World
Arab League to convene urgent meeting on Trump's Middle East plan
28 January 2020
The Arab League said it will convene an urgent meeting on Saturday in response to US President Donald Trump's Israeli-Palestinian peace plan.
Hossam Zaki, the pan-Arab body's deputy secretary, told reporters Tuesday that Palestinian president Mahmoud Abbas would attend to discuss the "so-called Deal of the Century."
The extraordinary meeting comes on the back of a Palestinian request to the League, which is headquartered in Cairo.
The controversial plan will be unveiled jointly by Trump and visiting Israeli Prime Minister Benjamin Netanyahu at the White House on Tuesday.
The grand imam of Egypt's prestigious Al-Azhar mosque and university lambasted the plan at a conference in Cairo in the presence of many of the Sunni world's leading religious scholars.
"Our identity as Arabs and Muslims is over... I felt totally ashamed watching Trump with the Israeli leader," Sheikh Ahmed al-Tayeb said.
"They're the ones planning, talking, controlling and solving problems for us and there's no Arab or Muslim," Tayeb added.
No Palestinian leaders have been invited to the much-touted White House event.
Analysts expect Trump's initiative will reaffirm many of his administration's policies, which already align closely with Israeli objectives.
https://english.alarabiya.net/en/News/middle-east/2020/01/28/Arab-League-to-convene-urgent-meeting-on-Trump-s-Middle-East-plan.html
--------
Saudi Arabia encourages direct talks between Israel and Palestinians under US patronage
January 29, 2020
RIYADH: Saudi Arabia has encouraged Israel and the Palestinians to start direct peace negotiations overseen by the United States, after Donald Trump announced his long awaited peace plan.
King Salman reassured the Kingdom's commitment to the Palestinian issue and Palestinian rights, in a phone call with Palestinian president Mahmoud Abbas.
The Kingdom's foreign ministry said it reiterates support for all efforts aimed at reaching a just and comprehensive resolution to the Palestinian cause.
"The kingdom appreciates the efforts of President Trump's Administration to develop a comprehensive peace plan between the Palestinian and the Israeli sides," the ministry said.
Full report at:
https://www.arabnews.com/node/1619606/saudi-arabia
--------
Violence Escalates in Iraq as Government Pushes to End Protests
27 January, 2020
Gunmen shot dead two protesters in Iraq's southern city of Nassiriya overnight and a Baghdad district became a battlefield on the third day of a drive by security forces to end months of demonstrations against the largely Iran-backed ruling elite.
Clashes over the weekend had already killed at least five protesters. Rockets also hit the US embassy compound in Baghdad's fortified Green Zone housing government buildings.
Ambassadors of 16 countries in Baghdad including the US, France and Britain condemned the use of live fire by Iraqi security forces and called for a credible investigation into the deaths of more than 500 protesters since October.
Security sources said three people were wounded when at least one rocket landed in the US embassy compound, the first time in years that an attack on the Green Zone - a regular occurrence - had actually hurt staff there.
The Iraqi military said five Katyusha rockets had hit the Green Zone late on Sunday, without reporting casualties. The US embassy was not immediately available for comment.
Authorities began the pushback on Saturday to try to end protests that began in the capital on Oct. 1 and in other southern cities. Demonstrators are demanding the removal of all politicians, free elections and an end to corruption.
In Nassiriya, at least 75 protesters were wounded, mainly by live bullets, in overnight clashes when security forces tried to move them away from bridges in the city, police and health sources said.
Unknown gunmen in four pickup trucks had attacked the main protest camp there, shooting dead the two people and setting fire to demonstrators' tents before fleeing the scene, the sources said.
Some protesters began building more permanent structures using bricks, Reuters witnesses said, while others broke into a police office on Monday and set fire to at least five police vehicles parked inside.
The leaderless movement is an unprecedented challenge to Iraq's largely Iran-backed ruling elite, which emerged after a US-led invasion toppled Saddam Hussein in 2003.
'Revolution'
Pitched battles raged in the Khilani area of central Baghdad near Tahrir Square, on Monday with protesters throwing stones and Molotov cocktails at security forces using tear gas, live rounds in the air and slingshots to push them back.
Some of the demonstrators danced on the protest frontline while others shielded themselves behind concrete blocks and trees or by using metal sheets.
"This revolution is peaceful. They use various kinds of fire against us, live ammunition, bullets and teargas canisters. I got injured in my face," said Allawi, a hooded protester who gave only his first name, reported Reuters.
Tuk tuks darted through the crowd to help the wounded and carried away protesters suffering from teargas inhalation.
Demonstrations continued in other southern cities, despite repeated attempts by security forces to clear up their camps.
Nearly 500 people have been killed in the unrest, with both security forces and unidentified gunmen shooting people dead.
After a lull earlier this month, demonstrations resumed; protesters have controlled three key bridges in Baghdad and maintain camps and road blocks in several cities in the south.
The government has responded with violence and piecemeal reform. The international community has condemned the violence but not intervened to stop it.
Saturday's push by the authorities began after populist cleric Moqtada al-Sadr said on Friday that he would halt the involvement of his supporters in the demonstrations.
Sadr had backed the demands of protesters for the removal of corrupt politicians and for the provision of services and jobs soon after the demonstrations began in October, but stopped short of calling on all his followers to join in.
Full report at:
https://aawsat.com/english/home/article/2102051/violence-escalates-iraq-government-pushes-end-protests
--------
Arab countries and world leaders react to Middle East peace plan
January 28, 2020
As the world digested the details from the Middle East peace plan announced by Donald Trump on Tuesday, responses from the region ranged from optimism to outright anger.
Here are the key responses to the plan:
JORDAN
"Jordan supports every genuine effort aimed at achieving just and comprehensive peace that people will accept," Foreign Minister Ayman Safadi said, adding that the only path to a comprehensive and lasting peace was the establishment of an independent Palestinian state based on 1967 lines and with East Jerusalem as its capital.
EGYPT
The Egyptian Foreign Ministry issued a statement favoring a solution that restores "all the legitimate rights" of the Palestinian people through establishing an "independent and sovereign state on the occupied Palestinian territories." Egypt said it appreciates US efforts to resolve the conflict, and urged Israelis and Palestinians to "carefully study" the Mideast peace plan.
UAE
The UAE's Ambassador to Washington issued a statement affirming the belief in the possibility of a "lasting peace and genuine coexistence", stating that "the peace plan announced today offers an important starting point for a return to negotiations within a U.S-led international framework."
UNITED NATIONS:
U.N. Secretary-General Antonio Guterres says the United Nations remains committed to realizing the vision of two states "living side by side in peace and security." A spokesperson reaffirmed the UN position on the illegality of Israeli settlements in the West Bank and called for a solution based on the pre-1967 borders.
EUROPEAN UNION:
High Representative Josep Borrell said the EU will "study and assess the proposals", adding that this will be done on the basis of the established EU position. This position respects all relevant UN resolutions and takes into account the legitimate aspirations of both the Palestinians and the Israelis. Most European capitals have expressed support for the negotiated solution.
UK
"Only the leaders of Israel and the Palestinian territories can determine whether these proposals can meet the needs and aspirations of the people they represent," Foreign Secretary Dominic Raab said. "We encourage them to give these plans genuine and fair consideration, and explore whether they might prove a first step on the road back to negotiations."
RUSSIA
"We must enter direct negotiations to reach a mutually acceptable compromise. We do not know if the American proposal is mutually acceptable or not. We must wait for the reaction of the parties," Deputy Foreign Minister Mikhail Bogdanov said.
IRAN
The shameful peace plan imposed by America on the Palestinians is the treason of the century and doomed to fail," the foreign ministry said.
Full report at:
https://www.arabnews.com/node/1619536/middle-east
--------
Egypt sentences 37 to jail for joining Islamic State: judicial sources
JANUARY 27, 2020
Militants loyal to Islamic State have been waging an insurgency in the north of the Sinai Peninsula and other parts of the country that has killed hundreds of soldiers, police and residents.
A Cairo criminal court sentenced eight defendants to life terms and 29 to terms ranging from one to 15 years, after prosecutors accused them of planning attacks, promoting the group's ideology in prisons and financing its cells, the judicial sources said. Seven were acquitted.
The defendants, all of whom pleaded not guilty, can appeal against the sentence at the court of cassation, Egypt's top civilian court.
Separately, another Cairo criminal court referred the cases of three men accused over a 2018 failed assassination attempt against Alexandria's security chief to Egypt's top religious authority, paving the way for possible death sentences, judicial sources said.
Full report at:
https://www.reuters.com/article/us-egypt-court/egypt-sentences-37-to-jail-for-joining-islamic-state-judicial-sources-idUSKBN1ZQ1HQ
--------
Saudi Arabia's King Salman affirms 'steadfast' support for Palestinian rights
29 January 2020
Saudi Arabia's King Salman affirmed the kingdom's steadfast support for Palestinian rights in a phone call with Palestinian President Mahmoud Abbas, according to a statement by the Saudi Press Agency.
King Salman said he stands by the Palestinian people and supports "their options and what achieves their hopes and aspirations," according to the SPA report.
Another statement from Saudi Arabia's foreign ministry voiced appreciation for the new US peace plan for the Mideast.
Full report at:
https://english.alarabiya.net/en/News/gulf/2020/01/29/Saudi-Arabia-s-King-Salman-affirms-steadfast-support-for-Palestinian-rights.html
--------
UAE says Barakah nuclear plant ready for operation phase
28 January 2020
The United Arab Emirates' delayed Barakah nuclear power plant is fit to start its operation phase, state news agency WAM reported on Tuesday.
An operational readiness assessment performed by the Atlanta Center of the World Association of Nuclear Operators (WANO) concluded that the first of four planned reactors was ready to start up, WAM reported.
Operator Nawah Energy Company is concluding the final requirements before "commencing the loading of the first fuel assemblies safely into Unit 1 of the Barakah plant, scheduled for first quarter of 2020," WAM said.
Once the fuel assemblies are loaded into the reactor, Nawah will raise power generation levels over a number of months before commercial operation begins.
The UAE's nuclear regulator was in the final stages of issuing a license for Barakah's first reactor, the Emirates Nuclear Energy Corporation (ENEC) said last month.
Full report at:
https://english.alarabiya.net/en/News/gulf/2020/01/28/UAE-says-Barakah-nuclear-plant-ready-for-operation-phase.html
--------
International community unlikely to bailout Lebanon: experts
28 January 2020
Lebanon faces further economic disaster and is unlikely to secure international help due to the new government's links with Hezbollah and inability to enact reforms, experts say.
The country, mired in economic crisis, needs $20 – 24 billion in external financing to save the country, according to the Institute of International Finance (IIF) report from January 24. The new government, headed by new Prime Minister Hassan Diab, needs to implement crucial reforms to attract foreign funding that previous governments have failed to make.
But Lebanese analysts see little reason for optimism.
"Help seems unlikely to come," said Sami Atallah, executive director at the Lebanese Center for Policy Studies. "I don't see it happening unless we're forced into an IMF program."
In December, former Prime Minister Saad Hariri approached the International Monetary Fund (IMF) to discuss receiving technical assistance from the fund, but Lebanon has not yet formally sought a bailout.
Lebanon, which has been mired in corruption for decades, exports few goods and services, and few international corporations have headquarters in the country. While the small country is of geostrategic importance to Western nations that want to curb the influence Iranian-backed Hezbollah in the country, there is little financial incentive for potential Western donors to help bail out Lebanon.
And Hezbollah's preeminent position in the new government – it has two seats in cabinet and is said to have had a heavy say in the other positions – is deterring potential donors, according to some analysts. In Washington, there is a schism between those in the Trump administration over whether to provide US aid to Lebanon, the Washington Free Beacon reported.
In the absence of international help, Lebanon must help itself, said Dr. Nassib Ghobril, Head of the Economic Research and Analysis Department at Byblos Bank in Lebanon.
"We need to have our own priorities in order, our own reform plan, our own economic recovery plan, and priorities for reforms, and then take [the plan] to the various stakeholders in the international community, whether it's countries in the region GCC countries or multilateral organizations," he said.
Lebanon's fiscal deficit stands at 11.6 percent of GDP and public debt has hit 166 percent of GDP, according to the IIF. As the economic situation worsens, layoffs have increased, wage cuts are becoming more commonplace, and as the lira – which is pegged 1,500 to $1, officially – slips further upwards of 2,000, the cost of living has gone up.
The IIF report points to reforming the ailing electricity sector, continuing to reduce interest rates, recapitalizing banks, and privatization as items that should be part of the new government's economic plan.
Dr. Louis Hobeika, who holds a PhD in economics, echoed the report's findings, adding that approving the 2020 budget, now nearly four months late, is key. The budget was passed Monday, despite objections from civil society and protesters.
"The challenge for the new government is to show they're willing to reform," said Hobeika. "They need to fight corruption and to reform infrastructure and social services."
However, past governments, like Hariri's, have failed to make progress in any of these areas, including electricity, as the country still suffers from daily scheduled power cuts.
To fix these long-term problems requires international aid dependent on reforms, which successive governments have been unable to push through, and an integrated plan with a debt restructuring program, said Atallah.
Many protesters fear this new government will be unable and unwilling to make the painful reforms necessary to turn the economy around and save it from full-on financial meltdown.
One painful decision the government must make is whether to impose capital controls. So far, capital controls have been enforced in an ad hoc manner and often decided at the bank branch level.
The IIF says the country must enforce uniformly capital controls to prevent capital flight, which has already begun, and maintain the peg in the short term.
Beyond capital controls, Dan Azzi, who is an Advanced Leadership Fellow at Harvard, adds that a haircut on deposits is necessary.
"Effectively it's not really taking the money, because the money's already gone," he said. "It's really just simply informing them the money is gone."
Full report at:
https://english.alarabiya.net/en/features/2020/01/28/International-community-unlikely-to-bailout-Lebanon-experts.html
--------
Qatar ruler appoints top aide as prime minister
28 January 2020
Qatar's ruler has appointed a new prime minister, the office of Emir Sheikh Tamim bin Hamad Al Thani said on Tuesday, choosing a close associate for an influential role that seeks to ensure the emir's writ runs throughout the Persian Gulf state's administration.
Sheikh Khalid bin Khalifa bin Abdelaziz Al Thani will take on the role of prime minister after Sheikh Abdullah bin Nasser Al Thani, who was also Qatar's interior minister, submitted his resignation to the emir.
The new premier Sheikh Khalid, who will also take on the post of interior minister, had been the head of the Amiri Diwan, the emir's office.
Sheikh Abdullah on Twitter thanked the emir for his guidance during his time as prime minister.
Key cabinet positions such as foreign, energy, finance, defense and trade ministries remained unchanged.
Full report at:
https://www.presstv.com/Detail/2020/01/28/617287/Qatar-new-PM-Sheikh-Khalid-bin-Khalifa-bin-Abdelaziz-Al-Thani
--------
Iraq weighs larger NATO role to replace US-led coalition
January 29, 2020
BAGHDAD: Iraq is considering a larger role for NATO at the expense of the US-led coalition, Iraqi and Western officials told AFP, after an American drone strike on Baghdad that sparked outrage.
The January 3 strike which killed Iranian General Qassem Soleimani and a top Iraqi commander was condemned by Baghdad as a breach of its sovereignty and of the coalition's mandate, which focuses on fighting Daesh.
Iraq's parliament swiftly voted in favor of ousting all foreign troops — including the 5,200 US soldiers — and the coalition's anti-Daesh operations were indefinitely suspended.
Fearing a swift withdrawal could be destabilising, Iraqi and Western officials have begun discussing changes to the coalition's role, according to local officials and diplomats.
"We are talking to the coalition countries — France, the UK, Canada — about a range of scenarios," said Abdelkarim Khalaf, spokesman for Prime Minister Adel Abdel Mahdi.
"The essential thing is that no combat troops are present and our airspace is no longer used," Khalaf told AFP.
Two Western officials said the premier had asked them to "draft some options" on a path forward for the coalition.
These options had been submitted directly to the premier.
They included a coalition not led by the US, an amended mandate with limits to coalition activities or an expanded role for NATO's separate mission in Iraq.
The Canadian-led NATO mission was set up in 2018 and has around 500 forces training Iraqi troops, although its operations have also been on hold since the US strike.
By comparison, the US-led coalition established in 2014 has up to 8,000 troops in Iraq, the bulk of them American forces.
Khalaf told AFP that a larger role for NATO was one of several options being discussed.
One of the Western officials said "the NATO option" has won initial nods of approval from the prime minister, the military and even anti-US elements of the powerful Hashed Al-Shaabi military network.
"I expect it will end with some sort of compromise — a smaller presence under a different title," he said.
"The Americans will still be able to fight IS and the Iraqis can claim they kicked (the US) out."
The various options are expected to be laid out at a meeting Wednesday between Iraq and NATO in Amman and again next month by NATO's defense ministers.
"But there is recognition among the Europeans that there needs to be US buy-in to whatever happens next," the Western official said.
Following parliament's vote, Abdel Mahdi invited the US to send a delegation to Baghdad to discuss a withdrawal, but the State Department declined.
US President Donald Trump himself has said he wants NATO to play a larger role in the region.
His special envoy to the coalition, James Jeffrey, hinted at a shift last week although he said talks were in "a very early stage."
"So there may be a shift between — at some point, hypothetically — between the number of forces under the NATO rubric and the number of forces under the coalition," he told reporters on January 23.
NATO, whose mandate in Iraq is renewed yearly, has insisted any broader role would only involve training and an official from the alliance said there was "no discussion" of a combat role.
"There have been discussions between allies, and a lot of contact between NATO and the government of Iraq in the last couple of weeks," a NATO official told AFP.
Since Iraq declared Daesh defeated in late 2017, coalition forces have focused on conducting air strikes and surveillance to rout militant sleeper cells.
Beginning last year, the coalition prepared plans for a troop drawdown in Iraq, two senior US defense officials said, adding that a smaller footprint would "absolutely" still be able to keep pressure on Daesh.
It was forced to "speed up that plan" in the wake of escalating Iran-US tensions, one of the officials said.
Since October, nearly 20 rocket attacks have targeted the US embassy in Baghdad or Iraqi bases hosting American forces, killing one US contractor and an Iraqi soldier.
While no one has claimed responsibility, Washington has blamed Iran-aligned factions.
Both the coalition and NATO paused operations and pulled hundreds of personnel from bases across Iraq earlier this month.
Iraqi forces have filled the gap left by the force relocation, conducting surveillance missions and air strikes on their own after years of the coalition taking the lead.
"It's a de facto downsizing. It's a trial run," the first US official said.
Full report at:
https://www.arabnews.com/node/1619746/middle-east
--------
Islamic development fund aims to get extra 28 million kids in schools by 2030
January 28, 2020
RIYADH: The Islamic Solidarity Fund for Development aims to ensure that an additional 28 million children who are currently denied a proper education can go to school by 2030. In addition, it will support educational projects for refugees in conflict zones such as Syria and Burma.
The plans were announced by Bandar Mohammed Hajjar, president of the Islamic Development Bank Group, during its celebrations marking World Education Day.
He said that more than 258 million young people are out of school around the world, two thirds of them in the group's member states. Statistics suggest that 39 percent of them will start school late, 20 percent will drop out and 41 percent will never get the chance to go to school at all, he added.
The bank recently approved its education policy, Hajjar said, based on a desire to improve the provision of basic education and higher education, along with support services and technical consulting for national education policies in member countries. The bank has signed memoranda of understanding and cooperation agreements with educational institutions in Saudi Arabia, he added.
The bank has raised the level of partnerships and cooperation with several education authorities and related organizations, including the Global Partnership for Education, UNESCO, the German development agency GIZ, the Education Above All Foundation and the nonprofit Save the Children.
"The bank presented an innovative program aimed at enabling NGOs to improve the social and economic well-being of societies that are difficult to reach, through refugee education, job creation, and community-based livelihood development," Hajjar said. "The bank also has a plan to increase the number of refugees holding scholarships in higher-education programs, to support their access to better economic opportunities and contribute to efforts to rebuild their countries once they return to them."
The bank recently launched the "Sabeel" fund in partnership with the Global Fund to Fight AIDS, Tuberculosis and Malaria, he added, and it also aims to support refugees and displaced persons in Organization of Islamic Cooperation countries and host countries.
Full report at:
https://www.arabnews.com/node/1619351/world
--------
Prince Khalid bin Salman meets top US military commander in Middle East
January 29, 2020
RIYADH: Saudi Arabia's Deputy Defense Minister Prince Khalid bin Salman met with America's top military commander in the Middle East on Tuesday.
Prince Khalid and Gen. Kenneth McKenzie, commander of US Central Command, discussed cooperation between the two countries "particularly in the defense field, and the importance of strengthening security and military cooperation," Saudi Press Agency reported.
They also discussed the latest developments in the region and the "joint efforts made towards them to serves international peace and security."
https://www.arabnews.com/node/1619646/saudi-arabia
--------
Saudi human rights chief: Electronic link project to help fight human trafficking
January 29, 2020
RIYADH: Awwad bin Saleh Al-Awwad, president of the Kingdom's Human Rights Commission (HRC), stressed the importance of concerted efforts between various authorities to combat and eliminate the crime of human trafficking at a meeting of the Committee for Combating Trafficking in Persons, where he praised the electronic link project between different sections of the HRC.
Al-Awwad presented the Kingdom's achievements in this preventing human trafficking through the regulations that it had imposed, international agreements and protocols it had adhered to, and memorandums of understanding (MoU) signed between it and relevant international organizations and bodies. All these, he said, had contributed to building a regulatory and institutional framework ensuring the protection of all persons from human trafficking, and enforced prosecution against perpetrators.
During a meeting with the executive director of the UN Office on Drugs and Crime (UNODC), Judge Hatim Ali, officials from the International Organization for Migration (IOM) and a number of government agencies, Al-Awwad noted that the electronic link project was a step in the right direction to combat the crime of human trafficking by aiding coordination between various government authorities.
Full report at:
https://www.arabnews.com/node/1619721/saudi-arabia
--------
Protest coverage: Iraqi channel faces month-long ban
January 29, 2020
BAGHDAD: Iraqi authorities have ordered the closure for a month of Al-Dijla television, which has aired intensive coverage of anti-government protests in recent months, media and police sources said on Tuesday.
"Interior Ministry forces fully shut down Al-Dijla's offices in Baghdad last night and respectfully asked the staff to leave," a source from the broadcaster said.
An Interior Ministry official confirmed that security forces had stormed the offices in the Jadiriyah neighborhood of east Baghdad late on Monday.
At least 80 employees work at the Baghdad bureau and another 50 work at the station's headquarters in Amman, from where it broadcasts.
The Al-Dijla employee, speaking on condition of anonymity because he was not authorized to speak to the press, said the main office had been ordered by Jordanian authorities to stop broadcasting for a month.
"The Iraqi government requested from Jordan that it halt the station's broadcasting for a month based on an Iraqi complaint," the source said.
Starting on Monday, the frequency on which Al-Dijla typically broadcasts has showed a still image of its logo.
Al-Dijla has provided daily coverage of the anti-government protests sweeping Baghdad and the Shiite-majority south since Oct. 1, despite pressure on its staff.
Its Baghdad office was raided in the first week of rallies and on Jan. 10, one of its correspondents and his cameraman were gunned down in the southern city of Basra.
Before he was killed, correspondent Ahmad Abdessamad, 37, said he had been threatened by Iraqi armed groups because he criticized powerful neighbour Iran in his coverage.
On Jan. 20, Al-Dijla's leading anchorman Nabil Jassem got into an on-air dispute with the prime minister's spokesman for military issues, Abdelkarim Khalaf.
Khalaf refused to respond to a question from Jassem about the number of casualties in protest-related violence, and the two accused each other of being disrespectful before Khalaf walked off the set.
In reaction to the shutdown, Al-Dijla administrative head Jamal Al-Karbuli tweeted: "Al-Dijla pays the price for truth."
Haidar Al-Maytham, a member of the Iraqi National Syndicate for Journalists, said on Tuesday that authorities had taken issue with Al-Dijla's "politics."
"There are political disagreements and differences of opinion between the channel's administration and Iraqi officials, which led to the decision (to shut it down)," Maytham said.
Full report at:
https://www.arabnews.com/node/1619596/middle-east
--------
UN criticizes Iraq trials of Daesh 'members', including human shields
January 28, 2020
GENEVA: The United Nations raised "serious concerns" on Tuesday about the trials of hundreds of alleged Daesh members in Iraq, some of whom merely prepared meals, offered medical services or even acted as human shields for the extremist group.
Iraq has processed thousands of cases under its anti-terrorism law — including of detainees from outside the Middle East transferred from neighboring Syria — in the aftermath of a 2014-17 war against Daesh militants.
The joint report by the United Nations Human Rights Office in Iraq (UNAMI) and the Office of the UN High Commissioner for Human Rights (OHCHR) covers 794 trials carried out between May 1, 2018 and Oct. 31, 2019, OHCHR spokesman Jeremy Laurence told a news briefing in Geneva.
"(The report) raises serious concerns about unfair trials placing defendants at a serious disadvantage," he said, adding that 28 of the cases in the UN report involved foreign defendants from 11 different countries.
These were from: France, Iran, Egypt, Belgium, Russia, Sweden, Turkey, Syria, Armenia, Tajikistan and Kyrgyzstan.
In some cases, the individuals had provided basic support services, such as selling vegetables or preparing meals for members of the ultra-hard-line extremist group, the report said.
One young man, a 14-year-old at the time, was sentenced by the Karkh juvenile court in Baghdad to 15 years in prison for admitting that he acted as a human shield, along with other family members, to protect fighters from an air strike, it said.
In another case, the defendant, who was a pharmacist, was given a life sentence in Mosul for providing wounded Daesh members with medical services.
"Prosecutions under the anti-terrorism legal framework... focused on 'membership' of a terrorist organization without sufficiently distinguishing between those who participated in serious crimes and those who joined ISIL Daesh out of perceived necessities of survival or under coercion," the report said.
In 109 of the cases studied by the United Nations, death sentences were handed down, Laurence said. In one of those cases, the defense lawyer was appointed on the day of the trial, had not met his client beforehand and stayed silent throughout.
Defendants or defense lawyers alleged torture or ill-treatment during interrogation in 260 hearings, the report said, including of women and children. The report said that judges did not generally question confessions that appeared to have been obtained in this way.
Full report at:
https://www.arabnews.com/node/1619531/middle-east
--------
North America
Republicans to honor US service members responsible for Soleimani's killing
28 January 2020
A group of 43 United States Republican senators put forth a resolution to honor the members of military and intelligence community responsible for the strikes that killed Iran's Islamic Revolutionary Guards Corps (IRGC) – Quds Force commander Qassem Soleimani on January 2.
Republican senator Ted Cruz of Texas posted the resolution on his Twitter profile.
Senator Ted Cruz
✔
@SenTedCruz
JUST INTRODUCED w 42 fellow GOP senators resolution to honor members of military & intel community who carried out mission to take out Soleimani, a terrorist responsible for the deaths of hundreds of thousands of people across the Middle East, including 603 US service members.
View image on TwitterView image on TwitterView image on Twitter
4,919
2:54 AM - Jan 10, 2020
Twitter Ads info and privacy
1,874 people are talking about this
The resolution identified Soleimani as "the architect of terrorist attacks in Iraq, Afghanistan and elsewhere that killed hundreds of United States personnel, including with weapons and improvised explosives provided directly by the IRGC-QF."
The US killed Soleimani in a drone strike in Baghdad on January 2. The Pentagon said in a statement the strike was aimed at deterring future Iranian attack plans, adding that the US would continue to take necessary action to protect Americans and interests around the world.
Soleimani helped Iran fight proxy wars across the Middle East by inspiring and training militias on the battlefield and negotiating with political leaders.
https://english.alarabiya.net/en/News/world/2020/01/28/Republicans-to-honor-US-service-members-responsible-for-Soleimani-s-killing.html
--------
50 US soldiers diagnosed with brain injury after Iran strike: Pentagon
29 January 2020
The Pentagon says 50 American soldiers have been diagnosed with traumatic brain injury following Iran's retaliatory strikes on US bases in Iraq earlier this month, 16 more than the military previously announced.
"As of today, 50 US service members have been diagnosed" with traumatic brain injury, Pentagon spokesman Lieutenant Colonel Thomas Campbell said in a statement on Tuesday.
Thirty-one of the 50 were treated in Iraq and returned to duty, including 15 of those diagnosed most recently, according to Campbell.
Eighteen of the total were to Germany for further evaluation and treatment, and one was sent to Kuwait and has since returned to duty, he added.
In its previous update on Friday, the Pentagon put the number of those injured after the Iranian strikes at 34.
On January 8, Iran's Islamic Revolution Guards Corps (IRGC) fired volleys of ballistic missiles at Ain al-Asad, a large airbase hosting about 1,500 US troops in the western Iraqi province of Anbar, and another outpost in Erbil, the capital of the semi-autonomous Iraqi Kurdistan.
The missile operation was in response to Washington's January 3 assassination of top Iranian anti-terror commander Lieutenant General Qassem Soleimani, who led the IRGC's Quds Force.
The assassination also resulted in the death of Abu Mahdi al-Muhandis, who was the second-in-command of Iraq's Popular Mobilization Units (PMU).
Both commanders enjoyed deep reverence among Muslim nations over their endeavors in ending Daesh's territorial rule in Iraq and Syria.
Speaking on the morning following Iran's reciprocal military operation, US President Donald Trump had said that "no Americans were harmed in last night's attack."
Full report at:
https://www.presstv.com/Detail/2020/01/29/617347/Pentagon-US-soldiers-traumatic-brain-injury-
--------
Trump takes credit for quitting Iran deal as 'most important' thing he did for Israel
28 January 2020
US President Donald Trump admits he quit the Iran nuclear deal for the sake of Israel, asserting that the move was "perhaps the most important" thing he has done for the Zionist regime.
In a joint press conference with Israeli Prime Minister Benjamin Netanyahu in Washington, DC, on Tuesday, Trump enumerated his pro-Israeli moves, branding withdrawal from the internationally backed deal as the most significant thing he has done for the regime.
"As everyone knows I have done a lot for Israel; moving the United States embassy to Jerusalem [al-Quds], recognizing the Golan Heights, and frankly perhaps most importantly, getting out of the terrible Iran nuclear deal," said the US president to a roaring pro-Israel audience at the White House.
Pulling the US out of the Iran nuclear agreement in 2018 is has led to more tensions and instability in West Asia.
Trump's also move originates from his animosity with former President Barrack Obama who was in office, when the Joint Comprehensive Plan of Action (JCPOA) was clinched.
Trump took credit for quitting the Iran deal and turning his back to other US allies such as Britain, France and Germany, while unveiling his long awaited "peace plan" for the Israeli-Palestinian conflict.
Full report at:
https://www.presstv.com/Detail/2020/01/28/617338/Trump-talks-of-his-%E2%80%98most-important%E2%80%99-pro-Israel-move-quitting-Iran-nuclear-deal
--------
Mideast
Hamas to join Palestinian leadership meeting against Trump plan: Officials
28 January 2020
Rival Palestinian factions Hamas and Fatah will join forces Tuesday in a rare meeting in West Bank city Ramallah against US President Donald Trump's long-awaited peace plan, officials said.
"We invited the Hamas movement to attend the emergency meeting of the leadership and they will take part in the meeting," senior Palestinian official Azzam al-Ahmed said.
Hamas official Nasser al-Din al-Shaar confirmed he would attend the meeting, which all Palestinian factions were invited to.
"The meeting will discuss the position that must be taken (against) Trump's plan," Shaar said.
The Hamas organization, based in Gaza, have been at odds with President Mahmud Abbas's Fatah movement for years, with Hamas representatives rarely taking part in meetings of the West Bank-based Palestinian leadership.
Later in the day, Trump was set to unveil a peace plan he hoped would solve the Israeli-Palestinian conflict.
The Palestinians reject the secret plan, accusing Trump of pro-Israel bias.
A series of protests are planned in both the West Bank and Gaza on Tuesday and Wednesday.
https://english.alarabiya.net/en/News/middle-east/2020/01/28/Hamas-to-join-Palestinian-leadership-meeting-against-trump-plan-Officials.html
--------
Iranians mourn martyrdom anniversary of Prophet's daughter
29 January 2020
Ghanbar Naderi
Iranians are commemorating the martyrdom anniversary of Hazrat Fatima Zahra (AS), the revered daughter of Prophet Muhammad (PBUH). Some mourners also give away food to people in need to mark the occasion.
People from all walks of life are attending mourning ceremonies like this across the country to pay tribute to Hazrat Fatima, the wife of Imam Ali (AS), the first Shia Imam.
Several other Muslim countries, including Iraq, Lebanon and Pakistan, are also marking the occasion, which falls on the third day of the lunar Islamic month of Jamadi al-Thani.
Hazrat Fatima is the mother of the second and third Shia Imams.
https://www.presstv.com/Detail/2020/01/29/617344/Iranians-Martyrdom-Anniversary-Hazrat-Fatima-Zahra
--------
Turkey vows to retaliate if army posts in Idlib threatened
28 January 2020
Turkey warned on Tuesday it will retaliate "in self-defense" if any of its army posts in northwest Syria are threatened amid increasing attacks by regime forces on the country's last major opposition bastion.
Ankara established 12 observation posts under a September 2018 deal with Russia, a major ally of Syrian President Bashar al-Assad, to prevent any onslaught in Idlib.
The city is home to some three million people, around half of whom have been displaced by violence in other areas.
But despite a ceasefire arranged by Damascus ally Moscow and Ankara, which backs the rebels, the regime's deadly offensive has sparked an exodus of thousands of civilians toward the Turkish border.
"The regime's attacks on Idlib are massacring innocent civilians and causing humanitarian tragedy," the Turkish defense ministry said on Twitter.
"A response will be given in self-defense to any attempts that would jeopardize the security of our observation and control posts in the region," the ministry added.
In December, al-Assad's forces surrounded one of the Turkish posts in Idlib.
On an official visit to African country of Senegal, President Recep Tayyip Erdogan said civilians were fleeing toward the Turkish border.
Full report at:
https://english.alarabiya.net/en/News/middle-east/2020/01/28/Turkey-vows-to-retaliate-if-army-posts-in-Idlib-threatened-.html
--------
Palestinian president dismisses Trump's plan as 'conspiracy'
29 January 2020
Palestinian President Mahmoud Abbas has adamantly dismissed as a "conspiracy" the Washington's so-called peace plan for the Israeli-Palestinian conflict.
Abbas made the remark on Tuesday as he warned US President Donald Trump and Israeli Prime Minister Benjamin Netanyahu that the Palestinian people's rights were "not for sale."
"I say to Trump and Netanyahu: Jerusalem is not for sale, all our rights are not for sale and are not for bargain. And your deal, the conspiracy, will not pass," Abbas said in a televised address in the occupied West Bank city of Ramallah.
The Palestinian president also warned that the people of Palestine would never accept Trump's proposal, saying, "What should I wait for? If Jerusalem is not part of it (a Palestinian state) will we accept a State without Jerusalem? It is impossible for any Palestinian, Muslim or Christian child to accept this. Therefore, we told them from the beginning, No!"
Abbas's remarks in Ramallah came after a meeting with Palestinian factions including the resistance movements of Fatah and Hamas, which both rejected the plan.
Hamas said it would confront Trump's "aggressive" proposals and accused him of talking "nonsense" about Jerusalem al-Quds.
"This is our land and this is our capital, we will not accept any alternative, we will not accept only part of it nor part out of it. Jerusalem is Palestine's capital and we don't care about Trump. Jerusalem will stay ours with all its churches, al-Aqsa mosque and all the sacred sites," said Khalil al-Hayya, a senior member of the Hamas political bureau.
Earlier in the day, Trump repeated his highly controversial endorsement of occupied Jerusalem al-Quds as Israel's "undivided capital" as he outlined his administration's self-styled plan for the Palestinian-Israeli conflict, which Palestinians have already dismissed.
Defying international outcry, Trump announced the general provisions of the plan he calls "the deal of century" at the White House with the Israeli premier at his side.
He endorsed his contentious recognition in December 2017 of Jerusalem al-Quds as Israel's "capital," a move he took in the face of Palestinian demands that the holy city should serve as the capital of their future state. He said the plan envisages the city as the Israeli regime's "undivided capital."
The so-called peace plan is widely expected to take the US's pro-Israeli brinksmanship to a whole new level, with various reports warning that it seeks to lay the groundwork for Israel's annexation of about half of the West Bank, which the regime occupied in 1967, including most of the Jordan Valley.
Thousands of Palestinians protested in Gaza, and people across the West Bank and Jerusalem voiced their objection and anger over the contentious plan.
Local reports said 13 Palestinians had been injured by Israeli forces during protests against the US president's so-called peace plan in the occupied West Bank.
One person was taken to the hospital after being hit with a rubber bullet in the city of Ramallah and 12 others suffered exposure to tear gas.
US 'deal of shame' dangerous for West Asia: Hezbollah
The Lebanese Resistance Movement of Hezbollah also on Tuesday said Trump's so-called peace plan is a means to destroy Palestinians' rights.
Hezbollah said Arab courtiers are complicit in a "deal of shame" that bodes ill for the region.
"The settlement project under this deal is one of the biggest dangers and aims to do away with the right of return...and to create social and demographic tension and sedition that only serve the enemy's interests and expansionist goals," the movement said in a statement.
"Hezbollah condemns and rejects the deal of shame that the savage Trump administration launched against the Palestinian people, their land, their holy sites and their legitimate and natural rights," it added. "This deal would not have happened without the complicity and betrayal of several Arab regimes who are secret and public partners in this conspiracy," without naming the countries.
Moreover, Yemen's Houthi Ansarullah movement denounced the US-proposed plan as a blatant act of aggression against Palestinians.
Israeli PM to ask for annexation approval
Meanwhile, Netanyahu is reportedly due to call on his cabinet to approve on Sunday Israel's annexation of parts of the West Bank.
The annexation would include the occupied Jordan Valley and the illegal Israeli settlements in the occupied West Bank.
Full report at:
https://www.presstv.com/Detail/2020/01/29/617346/Palestinine-Mahmoud-Abbas-conspiracy-US-Donald-Trump-peace-plan
--------
Hundreds protest against Trump's plan outside US missions in Turkey
29 January 2020
Hundreds of Turks gathered in front of US embassy and consulate in Turkish cities on Wednesday to protest the new Middle East plan announced by US President Donald Trump.
Police took high security measures around the US consulate in Istanbul as some 600 protesters chanted slogans against US and President Trump. Another protest was held in US embassy in Turkish capital Ankara where some 200 hundred protested the plan.
US President Donald Trump on Tuesday proposed creation of a Palestinian state with a capital in eastern Jerusalem, dependent on Palestinians taking steps to become self-governing, in an effort to achieve a peace breakthrough in their decades of conflict with Israel.
https://www.presstv.com/Detail/2020/01/29/617343/Turkey-Protest-US-Missions-Trump-Plan
--------
Yemeni forces intercept, shoot down Saudi-led reconnaissance drone in Jizan
28 January 2020
Yemeni army forces, supported by allied fighters from Popular Committees, have intercepted and targeted an unmanned aerial vehicle belonging to the Saudi-led military coalition as it was flying in the skies over a mountainous region in the kingdom's southwestern border region of Jizan.
An unnamed Yemeni military source said Yemeni air defense forces and their allies shot down the drone as it was on a reconnaissance mission over the al-Malahit district in Jizan, situated 966 kilometers south of the capital Riyadh, with a surface-to-air missile on Tuesday afternoon, Arabic-language al-Masirah television network reported.
Separately, two school girls sustained gunshot wounds when Saudi snipers fired shots at a school in the Sabir al-Mawadim district in Yemen's southwestern province of Ta'iz.
They were taken to a hospital in the neighboring province of Ibb to receive necessary treatment.
Elsewhere in the western coastal city of Hudaydah, Saudi artillery units shelled residential neighborhoods near 50 Street. There were no immediate reports about possible casualties and the extent of damage caused.
Moreover, Yemeni soldiers and Popular Committees fighters scored more territorial gains east of the capital Sana'a following clashes with Saudi-backed militiamen loyal to former President Abd Rabbuh Mansur Hadi.
A Yemeni military source, speaking on condition of anonymity, said Yemeni troops and their allies have managed to establish control over al-Jawf crossing, and seized several positions close to a strategic military base in Yemen's central province of Ma'rib.
Saudi-led airstrike "mistakenly" kills 9 pro-Hadi militiamen
Meanwhile, nine Saudi-backed pro-Hadi militiamen were killed on Tuesday in an airstrike launched by the Saudi-led coalition in Yemen's northern provinces of Ma'rib.
A Yemeni military source said on condition of anonymity that warplanes of the alliance mistakenly targeted a military site of Hadi loyalists in Jafra area.
He added that the airstrike occurred while fighting was taking place between Saudi-sponsored militiamen and Yemeni forces in the same area.
Saudi Arabia and a number of its regional allies launched a devastating campaign against Yemen in March 2015, with the goal of bringing the government of Hadi back to power and crushing the Ansarullah movement.
The US-based Armed Conflict Location and Event Data Project (ACLED), a nonprofit conflict-research organization, estimates that the war has claimed more than 100,000 lives over the past nearly five years.
Full report at:
https://www.presstv.com/Detail/2020/01/28/617302/Yemeni-forces-intercept,-shoot-down-Saudi-led-reconnaissance-drone-in-Jizan
--------
Yemen president dismisses army commander after battlefield setbacks
January 29, 2020
AL-MUKALLA: Yemen's President Abed Rabbo Mansour Hadi has dismissed an army general following a series of military setbacks in Nehim district, near Houthi-held Sanaa.
The official Saba News agency reported on Monday that Hadi had appointed Maj. Gen. Ahmad Hassan Jebran as the commander of the 7th Military Region, replacing Maj. Gen. Mohsen Al-Khubi.
Al-Khubi has been commanding government forces in Nehim and neighboring battlefields since August 2018. The Nehim battlefield has endured a military stalemate as government forces could not make major gains.
The dismissal comes amid reports that the Iranian-backed Houthis have seized control of Fardhat Nehim military base, a large swathe of the mountainous district and a strategic road that links Marib city with the northern province of Jawf.
The rebels expanded in Nehim following heavy clashes with government forces, backed by air support from Saudi-led coalition warplanes.
Last week, Yemen's minister of defense said that army troops carried out a "tactical retreat" in Nehim to allow forces to regroup before pushing back into the battlefield. Fighting in Nehim escalated on Jan. 19, a day after a Houthi missile and drone attack killed more than 110 soldiers and civilians at a military base mosque in the city of Marib.
The attack prompted senior government officials to threaten to pull out of the Stockholm Agreement, which largely ended hostilities in the western province of Hodeida. Dozens of Houthis and loyalist forces, including commanders, have been killed since the Marib attack.
Saba reported on Monday that Hadi telephoned the minister of defense and the governors of Marib, Jawf and Sana'a, hailing "victories" on the battlefields and ordering his forces to escalate military activities until they purged the Houthis from areas under their control.
Fighting also continued in Abyan's Lawder district when the Houthis attacked government forces.
Similar clashes were also reported in Jawf, Marib's Serwah and Taiz. UN envoy to Yemen urges recommitment to Stockholm Agreement
The UN envoy to Yemen, Martin Griffiths, has urged the Houthis and the internationally recognized government to adhere to the Stockholm Agreement and to stop hostilities on the battlefields as the Yemeni government reiterated threats to pull out of the deal.
"The parties in Yemen must de-escalate violence and renew their commitment to a peaceful resolution of the conflict. The Yemeni people deserve better than a life of perpetual war," he said on Tuesday, urging both sides to commit to keeping Hodeida safe and releasing detainees.
"More than a year ago in Stockholm, the parties promised the Yemeni people to keep Hodeida safe, to use port revenues to pay salaries and to return detainees to their loved ones. They must fulfill these promises and build a conducive environment for the peace process," he added.
Full report at:
https://www.arabnews.com/node/1619706/middle-east
--------
South Asia
European Union increases Schengen visa fees, affects Afghans and other nationals
28 Jan 2020
As of February 2020, Afghanistan citizens will need to pay a fee of €80 instead of €60 as they did so far when applying for a Schengen Visa from Afghanistan.
Children too will have to pay €40 instead of €35, as it is currently.
Afghans will be subject to several changes in terms of visa application procedures, rules and benefits, starting from February 2, 2020.
Due to the implementation of the Updated Schengen Visa Code, adopted by the EU Council in June 2019, all representative missions of the Schengen Countries located abroad are obliged to apply the new rules, including the ones in Afghanistan.
"Since Regulation (EU) 2019/1155 of the European Parliament and of the Council of 20 June 2019 amending Regulation (EC) No 810/2009 establishing a Community Code on Visas (Visa Code) is binding in its entirety, and is directly applicable in all EU Member States in accordance with the Treaties, all Schengen countries, including Lithuania, will apply it from 2 February 2020," an official from the Information Monitoring and Media Division of Lithuania explained for schengenvisainfo.com.
The new rules also permit Afghans to submit an application up to six months in advance of their trip, instead of three as it is now and foresee a harmonized approach to the issuing of multiple-entry visas with lengthier validity to regular travelers with a positive visa history.
According to SchengenVisaInfo.com, the Member States that are not represented in Afghanistan in terms of visa admission, are now obliged to cooperate with external service providers, in order to facilitate visa application for travelers.
The external service providers are allowed to charge a service fee, which cannot be higher than the visa fee. This means Afghans applying at an external visa service provider may have to pay up to €160 per visa application if the external service providers set the maximum service fee permitted, which is €80.
In addition, the updated Visa Code introduces a mechanism that assesses whether the visa fees should change, every three years. Another mechanism that will use visa processing as leverage will be introduced, in a bid to improve cooperation with third countries on readmission.
According to Gent Ukëhajdaraj from SchengenVisaInfo.com, due to this mechanism, the fees may increase even to €160, if the EU authorities see it necessary.
"A visa fee of €120 or €160 will apply to non-cooperative third-countries, in cases when the EU Commission considers that action is needed in order to improve the level of cooperation of the third country concerned and the Union's overall relations with that third country," Ukëhajdaraj explains, adding that this provision shall not apply to children under 12 years old.
The mechanism may also shorten visa validity, and introduce prolonged visa processing periods.
Statistics by SchengenVisaInfo.com show that in 2018, Schengen embassies and consulates in Afghanistan processed 1,350 visa applications, only 18 of which were rejected at a rejection rate of 1.3%.
France was the top favorite country for visa submission, as 677 of the applications submitted in Afghanistan were for Schengen visas to France, followed by the Netherlands with 218 and Italy with 128 applications.
In terms of expenditures, in 2018, Afghans spent €81,000 in visa applications to Europe, €1,080 of which money was spent by applicants who had their visas rejected.
https://www.khaama.com/european-union-increases-schengen-visa-fees-affects-all-nationals-including-afghans-78979608/
--------
Afghan security forces fail to reach 'Taliban-mined' site of US military plane crash
SAYED SALAHUDDIN
January 28, 2020
KABUL: Afghan security forces have so far been unable to reach the crash site of a US military aircraft which went down during a mission on Monday in a Taliban-controlled area of the country.
An investigation is underway to determine what caused the Bombardier E-11A plane to crash in the Deh Yak district of Ghazni province, about 120 km southwest of Kabul, although the Taliban have claimed responsibility for shooting it down.
"The Taliban have mined the area, and security forces could not make it to the site to retrieve the bodies and recover the aircraft last evening. The Taliban had laid an ambush as security forces tried to reach the site," Nasir Ahmad Faqiri, head of Ghazni's provincial council, told Arab News.
He added that other US aircraft had attempted to land in the area overnight but were forced back due to bad weather.
Aref Noori, a spokesman for Ghanzi's governor, said: "Afghan and foreign forces are preparing a joint plan to go to the site to see what they can do."
Authorities have yet to determine how many passengers and crew were on board.
Several members of the provincial council said they had heard from locals that four people on board the plane had escaped the site of the crash soon after it came down. However, the reports could not be confirmed by the US military or other officials.
Full report at:
https://www.arabnews.com/node/1619521/world
--------
U.S. military recovers remains from Afghanistan plane crash
JANUARY 28, 2020
Idrees Ali, Abdul Qadir Sediqi
WASHINGTON/KABUL (Reuters) - The United States on Tuesday recovered the remains of two personnel from a U.S. military aircraft that crashed in Afghanistan, American and Afghan officials told Reuters.
On Monday, the U.S. military said an E-11A aircraft had crashed in the province of Ghazni, but disputed claims by the Taliban militant group that they had brought it down.
Earlier on Tuesday, Afghan forces and Taliban fighters clashed in a central region where the U.S. military plane crashed as the government tried to reach the wreckage site in a Taliban stronghold.
"U.S. forces recovered the remains of two personnel from the site where a U.S. Bombardier E-11A aircraft crashed in Ghazni Province, Afghanistan," a U.S. military statement said.
The statement said that the remains were "treated with dignity and respect by the local Afghan community."
The forces recovered what is believed to be the flight data recorder and the destroyed remnants of the plane.
"The cause of the crash remains under investigation, however there are no indications the crash was caused by enemy fire," the statement added.
A U.S. defense official, speaking on condition of anonymity, said multiple attempts had been made to recover the remains but they had been hampered by the terrain and weather.
The official said the aircraft had been carrying no other individuals apart from the two service members.
Ghazni provincial police chief, Khalid Wardak, told Reuters that two bodies were airlifted by U.S. forces from the crash site on Tuesday.
The incident came as the Taliban and the United States have been in talks to end the 18-year war in Afghanistan.
Trump has long called for an end to U.S. involvement in Afghanistan, which began with an American invasion triggered by the Sept. 11, 2001, attacks that al Qaeda launched from then-Taliban-ruled Afghanistan.
Negotiations between the two sides began last year in Doha but have been interrupted at least twice after Taliban attacks on U.S. military personnel in September and December.
Last week, another round of talks kicked off with U.S. Special Representative on Afghanistan Zalmay Khalilzad meeting repeatedly with the Taliban's chief negotiator, Mullah Abdul Ghani Baradar.
Zabiullah Mujahid, a Taliban spokesman, said Afghan forces backed by U.S. military support had tried to capture the area around the crashed aircraft and clashed with fighters of the Islamist militant group.
The attempt was repelled, he told Reuters, but the Taliban would allow a rescue team access to recover bodies from the crash site.
"Taliban fighters on the ground counted six bodies at the site of the U.S. airplane crash," he said, adding that while there could have been more, the militant group could not be certain, as fire had reduced everything to ashes.
Full report at:
https://www.reuters.com/article/us-afghanistan-airplane-crash/taliban-repel-afghan-forces-bid-to-reach-u-s-plane-crash-site-idUSKBN1ZR0OU
--------
Afghan Vice President apologizes for photo forgery
28 Jan 2020
Afghan Vice-President Sarwar Danesh apologized over forgery of a group photo on Tuesday.
A group photo taken on Monday at Sedarat Palace in Kabul was published on the second vice president's official Facebook page, wherein 1st Vice-President, General Abdul Rashid Dostum's portrait was removed from the background with photo editing software.
"It was a technical error from our office for which I apologize and we have republished the original version of the photo", Danesh said in a statement published on his Facebook wall.
"Undoubtedly, the first Vice-President is one of the most respected and well-respected personalities in Afghanistan, and we deeply respect him", the statement said.
Full report at:
https://www.khaama.com/afghan-vice-president-apologizes-for-photo-forgery-87987904/
--------
Insider Attack Kills 11 Afghan Security Forces in Baghlan
28 Jan 2020
According to local government officials, Taliban fighters managed to storm a police base in the northern Baghlan province, killed at least 11 police officers, possibly with the help of one of the police inside on Tuesday.
Reports say that insurgents first attacked a checkpoint near the base, and then infiltrated inside the compound with ease due to the assumed connection they had inside the base.
Mabobullah Ghafari, a provincial councilman in Baghlan province, provided the details where the attack took place. The same report was briefed by a local police officer, who spoke about the attack on condition of anonymity.
An insider attack is not a new tactic of targeting Afghan security forces. Over the last 18 years, insurgent groups have used this coward strategy killing Afghan national forces, US servicemen as well as NATO forces across the country.
As of now, no group has claimed responsibility for Monday's attack on the outskirts of Puli Khumri, the provincial city of Baghlan. However, the Taliban militants have a prominent presence in the area and frequently target the Afghan security forces.
Full report at:
https://www.khaama.com/insider-attack-kills-11-afghan-security-forces-in-baghlan-6876895/
--------
Africa
Terror as jihadists target key northeast Nigeria road
28/01/2020
The bus driver sensed straight away that he and his six passengers were in trouble when the gunmen, dressed in Nigerian army uniforms, stopped their vehicle at a checkpoint.
They were on the main road connecting the city of Maiduguri in volatile northeast Nigeria with the rest of the country.
For weeks there had been reports of jihadists disguised as soldiers abducting travellers.
Now his own luck had run out.
"They took us at gunpoint into the bush," the driver told AFP, asking that his name not be used for his own safety.
"I spent four days in detention. I have never in my life felt the fear and trauma that I passed through in those four days."
The kidnapping around two weeks ago was part of a wave of identical attacks targeting the key Damaturu road -- the main lifeline linking Maiduguri and its roughly two million people to the outside world.
Since early December jihadists disguised as soldiers have been setting up checkpoints to snare and abduct unsuspecting passengers.
They appear to focus on Christians, aid workers and military personnel.
Some of those seized were executed on the spot. Others were taken as captives.
In late December the jihadists released a gruesome video showing them shooting and slitting the throats of 11 abducted Christians.
- 'Shot at any moment' -
The bus driver and his passengers were kept in cells in a camp ringed with iron railings.
"The psychological torture was indescribable. I was living by the minute because I felt I would be taken and shot at any moment," he said.
A "judge" would come to hear the cases of those being held and deliver a verdict within minutes.
When he ordered a hostage be dressed in an orange jumpsuit it meant they were sentenced to die.
After a few days it was the turn of the driver to be heard.
He was asked what crime he had committed but said he did not know; he had just been driving along the road when he was stopped.
This time the judge chose leniency. The driver -- a Muslim -- was ordered released, handed back the keys to his vehicle and escorted away.
"I don't know what befell my six passengers. I left them awaiting judgement at the camp," he said.
- Upsurge in attacks -
International aid agencies have sounded the alarm about the rising threat on the roads which is making tackling the vast humanitarian crisis in the region even harder.
The UN says recent weeks have seen an upsurge in violent attacks across northeast Nigeria and "an increasing trend of illegal checkpoints on major supply and commercial routes".
The terror on the roads has shaken residents of Maiduguri, a place that has already lived through 10 years of brutal insurgency.
The conflict has killed over 36,000 and seen hundreds of thousands of displaced people flood into the city.
The army has told those using the road not to stop at unofficial checkpoints and insists it has already re-established control of the main route.
But traffic on the road to Damaturu has dropped off dramatically and drivers wait for other vehicles so they can form convoys to travel.
Those who make the journey admit they are taking their lives in their hands.
As she boarded a bus to leave, Hauwa Musa told AFP that relatives had warned her off travelling on the road.
"But I told them whatever happens to me, it is destined by God," she said.
Another passenger, Mohammed Adam, insisted he had no choice but to make the trip for work.
"We have to go as we are struggling to feed ourselves and our families," he said.
https://www.france24.com/en/20200128-terror-as-jihadists-target-key-northeast-nigeria-road
--------
Nigeria: 'Military Committed to Ending Terrorism'
27 JANUARY 2020
By Victor Ogunyinka
The Coalition against Terrorism and Extremism (CATE) has applauded Nigeria's military and Service Chiefs for displaying unwavering commitment to end insurgency.
The coalition made this known at a press conference on Monday on "the war against terrorism and the laudable efforts of the Nigerian military in the preservation of the territorial integrity against Boko Haram and other militant groups".
In a statement signed by National Coordinator, Gabriel Onoja, CATE commended President Muhammadu Buhari under whose leadership the military recorded tremendous gains in the fight against terrorism.
The troops' doggedness and high fighting spirit, committed with the onerous task of keeping Nigeria safe and secured within the ambit particularly impressed the group.
CATE, therefore, said it is "proud of the great exploits of the Nigerian troops for the numerous sacrifices they have made in the pursuant of peace all over the country".
The coalition further hailed the Service Chiefs for the provision of sound strategic and policy direction for implementation in the war against terrorism.
CATE, thus, expressed "unalloyed confidence in the President Buhari, the Service Chiefs, as well as the officers and soldiers of the Armed Forces of the Federal Republic of Nigeria".
Read full statement below:
As a first, the Coalition against Terrorism and Extremism in Nigeria wishes to use this medium to commend President Muhammadu Buhari, under whose leadership the Nigerian Military has been able to record tremendous gains in the fight against terrorism.
This fact was evident in the quality of appointments in this critical sector that has seen to the injection of renewed vigour and commitment in the quest towards preserving the territorial integrity of Nigeria.
The Coalition against terrorism and extremism must not fail to appreciate the doggedness and high fighting sprits of our loyal and gallant troops in the theatre of operations in North-East Nigeria with the way and manner they have carried on with the war against terrorism even though the Boko Haram group have been receiving external support from countries and individuals against the interest of Nigeria.
Our fighting troops have remained committed and have carried on with the onerous task of keeping Nigeria safe and secured within the ambits of the rules of engagement in warfare.
We wish to state that there are abounding examples of how our fighting troops have come to the rescue of unarmed women and children, as well as elderly Nigerians, who have been affected in one way or the other by the crisis in North-East Nigeria.
A good example is the foiling of an attempt by the Boko Haram/ISWAP terrorist group to carry out a suicide bombing attack in an Internally Displaced Peoples (IDP) camp in Gwoza, Borno State, which would have left no fewer than 10,000 women and children dead.
This example is indeed one out of the numerous foiled suicide bombing attempts of the Boko Haram/ISWAP group by the proactive Nigerian troops at the battlefront in North-East Nigeria.
The Coalition against terrorism and extremism is ever proud of the great exploits of the Nigerian troops for the numerous sacrifices they have made in the pursuant of peace all over the country. At this point, our vote of confidence in the administration of President Muhammadu Buhari, as well as the leadership of the Armed Forces, is revered and unflinching.
Full report at:
https://allafrica.com/stories/202001270466.html
--------
Violence in Sudan's Darfur forced 57,000 to flee: UNHCR
28 January 2020
Violence in Sudan's West Darfur region has forced 57,000 people to flee their homes over the past month, including 11,000 who have crossed into Chad, the UN refugee agency said on Tuesday.
In Chad, UNHCR spokesman Babar Baloch said the refugees were scattered in several villages along the border.
"The conditions are dire. Most are staying in the open or under makeshift shelters, with little protection from the elements. Food and water are urgently needed," he said.
Baloch said that UNHCR and other organizations were providing some humanitarian assistance but added: "The rate of refugee arrivals risks outpacing our capacity."
UNHCR estimates that the number of refugees fleeing to Chad from West Darfur "could reach 30,000 in the coming weeks as tensions persist," he said.
The latest fighting in West Darfur was between an African tribe called Masalit and an Arab tribe called Rizeigat -- two groups which have often fought over the years since the Darfur conflict first erupted in 2003.
The violence, which left dozens dead, is the latest example of fighting in Darfur between peasant farming tribes, which are mostly non-Arab, and nomadic pastoralists, who are mostly Arab.
"UNHCR teams on the ground are hearing accounts of people fleeing after their villages, houses and properties were attacked, many burnt to the ground," Baloch said.
He said UNHCR wanted "the international community's support for the transitional government of Sudan in addressing the root causes of the conflict in Darfur."
Darfur - made up of five states - spiraled into conflict in 2003.
The Darfur fighting broke out when ethnic minority rebels took up arms against the Arab-dominated government of now ousted president Omar al-Bashir, whom they accused of marginalizing the region.
The conflict left around 300,000 people dead and displaced 2.5 million others, the UN says.
Full report at:
https://english.alarabiya.net/en/News/middle-east/2020/01/28/Violence-in-Sudan-s-Darfu-forces-thousands-to-flee-UN-.html
--------
Libyan warlord Haftar is 'mercenary': Turkish president
Ali Murat Alhas
28.01.2020
Turkey's president on Tuesday said Libyan warlord Khalifa Haftar has no official recognition either in the war-weary country or the international community.
"Haftar is a mercenary, a paid soldier," Recep Tayyip Erdogan told a press conference in Senegal with his counterpart Macky Sall, adding that Haftar took refuge in the U.S. in the 1990s following his betrayal of then-leader Muammar Qaddafi.
He went on to say that Libyan Prime Minister Fayez al-Sarraj of the UN-recognized Government of National Accord (GNA) is recognized by the UN Security Council and should not be grouped in with the warlord Haftar.
Since the ouster of late ruler Muammar Gaddafi in 2011, two seats of power have emerged in Libya: Haftar'S in eastern Libya, supported mainly by Egypt and the UAE, and the Government of National Accord (GNA) in Tripoli, which enjoys UN and international recognition.
Haftar is taking military steps with financial support provided by the United Arab Emirates and Egypt, Erdogan added.
Haftar has not sought to reach a political agreement to resolve the Libya dispute and he enjoys the support of Russian paramilitaries the Wagner Group, he said, calling them "mercenaries."
Erdogan said claims the crisis in Libya will be quickly resolved are misguided, decrying how Haftar did not even attend peace meetings held by regional and international actors in Tunisia, Moscow, and Germany, where he "hid in a hotel room."
It would be better if the crisis in Libya moved towards a political process instead of a military one and Libyans determine their own future, he said.
Ties with Senegal
On Turkey's ties with Senegal, Erdogan said after they successfully met a previous trade goal of $400 million, now the countries have set a trade volume goal of a $1 billion, and both countries have great potential.
"With its 2025 goal, Senegal sets an example for other regional countries," he said, adding that Turkish firms help this by providing support in fields such as construction, transportation, health, and infrastructure.
Praising Senegal for "understanding" Turkey's fight against the Fetullah Terrorist Organization (FETO), he said 13 schools in the country previously run by the terror group now operate under Turkey's Maarif Foundation while the Turkish Cooperation and Coordination Agency extends a helping hand to sustainable development activities.
FETO and its U.S.-based leader Fetullah Gulen orchestrated the defeated coup of July 15, 2016, which left 251 people martyred and nearly 2,200 injured.
Ankara also accuses FETO of being behind a long-running campaign to overthrow the state through the infiltration of Turkish institutions, particularly the military, police and judiciary.
FETO has a considerable presence abroad, including private schools which serve as a revenue stream for the terror group.
The Maarif Foundation was founded to take over former FETO schools and establish new schools.
"We have historical and cultural ties; drawing inspiration from our common past, we want to build a future," said Erdogan, adding that Senegal has importance in Turkey's vision of Africa.
Under the government's African outreach, Erdogan said he had visited the continent a total of 28 times since coming to power in 2002.
"We see African peoples as our brothers," he said. "We view the sufferings of Africa from a humanitarian and conscious lens, not through a political, strategic or interest-based approach."
Erdogan said Turkey would "never forsake Senegal" in helping its defense industry, as both sides are determined to take steps in the tourism and energy sectors and strengthen relations.
Erdogan said the Africa continent will shine in the 21st century and Turkey is willing to boost its collaboration in the region with common projects.
U.S. President Donald Trump telephoned him to offer condolences in the wake of last week's deadly quake, he said, and they discussed developments in both Libya and Idlib, northwestern Syria, which has been subjected to heavy attacks by the Syrian regime and its allies.
The Turkish president said Ankara was aware of the move towards its borderline from Idlib city amid forced migration of locals due to regime and allies' aggression, adding: "We have taken our precautions."
Remarks by Senegalese president
Senegalese President Macky Sall, for his part, said Turkish companies played a vital role in the infrastructure and development projects of the country and both countries' relations have deepened in the past few years in line with policies based on friendship and collaboration.
The president went on to say that Turkish companies were present in projects including Dakar Blaise Diagne International Airport, an international conference center, Dakar Area sports hall, exhibition center and railway construction.
Sall said countries' cooperation in construction would continue as the foundation of a large Olympic stadium would be laid in February.
A total of seven agreements were signed during Erdogan's trip to Senegal, he said, but added that countries have not fully reached their potential yet.
Full report at:
https://www.aa.com.tr/en/africa/libyan-warlord-haftar-is-mercenary-turkish-president/1716744
--------
Libya: Haftar forces shell school, 2 children killed
Alı H. M. Abo Rezeg
28.01.2020
TRIPOLI
At least two children were killed and two others injured on Tuesday when forces loyal to renegade commander Khalifa Haftar targeted a school compound in the capital Tripoli, according to the UN-recognized government.
The wounded children have sustained threatening injuries, said a statement by forces loyal to Libya's Government of National Accord (GNA).
"The tragedy occurred due to the fall of indiscriminate shells fired by the war criminal Khalifa Haftar, one of which landed in the backyard of a school in the Al-Hadba Badri area," said an earlier GNA statement.
Tuesday's attack is another violation by Haftar's forces of the outcomes of the Berlin Ccnference which called for a permanent cease-fire in the war-torn country.
Since the ouster of late ruler Muammar Gaddafi in 2011, two seats of power have emerged in Libya: Haftar in eastern Libya, supported mainly by Egypt and the UAE, and the GNA in Tripoli, which enjoys the UN and international recognition.
Libya's legitimate government had been under attack by Haftar since last April, claiming the lives of more than 1,000 people.
On Jan. 12, the conflict parties announced a cease-fire in response to a joint call by the Turkish and Russian leaders. But talks for a permanent cease-fire deal ended without an agreement after Haftar left Moscow on Jan. 14 without signing the deal.
On Jan. 19, Haftar accepted at the Berlin conference on Libya to designate members to a UN-proposed military commission with five members from each side to monitor implementation of the cease-fire.
Full report at:
https://www.aa.com.tr/en/africa/libya-haftar-forces-shell-school-2-children-killed/1716567
--------
Europe
New figures on extremism in German military 'tip of the iceberg'
27.01.2020
Author Austin Davis
Germany's top military intelligence agency is currently investigating over 500 cases of suspected right-wing extremism within the country's armed forces, the Bundeswehr. That number marks an uptick of 30% from the previous year, according to the agency's director.
Those figures are likely just the "tip of the iceberg," Caroline Walter, co-author of "Extreme Security" (Extreme Sicherheit), a book on right-wing extremism within Germany's military and its law enforcement agencies, told DW.
"The problem in the Bundeswehr is that whoever points out right-wing extremism is still a backstabber who's violating the spirit of the brigade," she said.
Glaring blind spots
A number of cases over the past five years have revealed German authorities' blind spots to extremism.
The most prominent case involved a German soldier known as Franco A., who in 2017 reportedly posed as a Syrian refugee in order to infiltrate immigrant communities and carry out a terror attack.
Years later, as Franco A. stands trial, German government figures continue to indicate the prevalence of extremism within the military, law enforcement agencies and society at large.
Read more: Opinion: A Bundeswehr with moral courage
Some 360 new cases of right-wing extremism in the military cropped up in 2019 alone, bringing the total number of investigations to 550, Christof Gram, president of Germany's Military Counterintelligence Service (MAD), told the Welt am Sonntag newspaper. That figure includes 20 investigations into Germany's elite special commandos, Gramm said.
In total, authorities identified over 24,000 active right-wing extremists in 2018, with over half considered capable of violent attacks. They estimate that number will have increased by one-third in 2019, in large part due to new scrutiny on affiliate groups of Germany's anti-immigration Alternative for Germany (AfD), the nation's largest opposition party in the Bundestag.
German police and military officers already harboring negative views about immigrants and refugees are particularly susceptible to radicalization and extremism, the Federal Office for the Protection of the Constitution, Germany's domestic security agency, announced in an April 2019 report.
Increased violence
New revelations about the scope of extremism in the German military comes as the nation continues to grapple with increasing right-wing and anti-Semitic violence, and amid the backdrop of this week's 75th anniversary of the liberation of the Auschwitz death camp, where over 1 million people, mostly Jews, were murdered by the Nazi regime.
"In our opinion, there are clear cases of anti-Semitism which the judiciary still can't recognize as anti-Semitism," Josef Schuster, president of the Central Council of Jews in Germany, told the Tagesspiegel newspaper on Sunday.
Crimes motivated by anti-Semitism increased nearly 20% in 2018, the last year for which police statistics are available. Such peaks are in line with nearly two decades of increasing right-wing and anti-Semitic criminality in Germany, despite sinking crime rates overall, statistics show.
2019, however, was seen as a watershed moment for authorities. In June, a leading politician in the city of Kassel, Walter Lübcke, was gunned down in his home by a suspected right-wing sympathizer. And in October, an avowed white supremist killed two passersby in the eastern German city of Halle, after failing to gain entry into a synagogue to commit a massacre on the Jewish holy day of Yom Kippur.
Read more: Right-wing extremists in Germany to face amped up intelligence
In December, German Interior Minister Horst Seehofer cited both cases as catalysts for sweeping plans to restructure domestic intelligence and law enforcement agencies in 2020 to fight extremism, including the creation of 600 new intelligence positions.
"I'll never forget a young citizen in Halle calling through the silence that 'you all can't protect us," Seehofer told reporters at the time. "As a consequence of Halle, we want to confirm to the public: Many steps are being taken."
Calls for action
Speaking to reporters on Monday, Arne Collatz, a spokesperson for Germany's Ministry of Defense, said military intelligence had reformed mechanisms to report suspected extremists and strengthened background checks on new recruits.
"It's important for us to say that there is no tolerance for extremism in our organization," he said.
Even so, Tobias Lindner, a politician with Germany's Green Party, who serves in the Bundestag's Defense Committee, told DW that a culture of "looking away and downplaying" extremism within the military is so entrenched, that more systemic reform is needed.
Author Caroline Walter shares that sentiment, especially when considering the tactics of Germany's "new right," which practices subtler forms of extremism on the internet not easily recognizable to authorities. "It's much more difficult to weed them out," she said.
If left to fester, such extremist thoughts can turn into a "bitter reality," especially for particularly vulnerable groups like immigrants and Jews, German Foreign Minister Heiko Maas wrote in an op-ed for magazine Der Spiegel.
"It doesn't surprise me that nearly every second Jew in Germany has thought about leaving the country," he said. "We must urgently take countermeasures so that such thoughts don't turn into bitter reality and it doesn't come to a massive exodus of Jews from Germany."
"That people of Jewish faith no longer feel at home here is a real nightmare — and a disgrace, 75 years after the liberation of Auschwitz," he added.
https://www.dw.com/en/bundeswehr-extremism-antisemitism-auschwitz/a-52165548
--------
German police probe Nazi-style beer brand
27 January 2020
German police are investigating the sale of beer with a Nazi-style label, seen as scandalous in Germany as the world remembers Holocaust victims.
Photos of the "German Reich Brewery" beer were posted on Facebook by Götz Ulrich, a district chief in eastern Germany, who expressed outrage.
"I feel so ashamed," he said, accusing neo-Nazis of staging a provocation exactly 75 years after Soviet troops liberated the Auschwitz death camp.
Nazi symbols are banned in Germany.
Their use is illegal if there is a clear link to Nazi or other far-right ideology. In some cultural contexts, however, their use is tolerated.
Commemorations are being held at the site of Auschwitz-Birkenau in southern Poland, where Nazi Germany murdered about 1.1 million people - nearly a million of them Jews.
Mr Ulrich said the Deutsches Reichsbräu beer was being sold on Friday in Bad Bibra, his home town, and "the worst thing is that the beer has been flying off the shelves and is sold out!"
The label is brown - reminiscent of the Nazis' brown uniforms - and the Nazi eagle symbol is reproduced, except that the Iron Cross is shown inside a wreath, instead of a swastika.
The Gothic script lettering - harking back to German tradition - is also standard for neo-Nazi propaganda.
The shop selling the beer was part of the retail chain Getränke-Quelle, but the chain has now distanced itself from the sale, saying it was an independent franchisee's decision. Getränke-Quelle told the local manager to withdraw the beer and said it would remove its branding from the shop.
German media report that the beer first went on sale earlier this month via the internet, advertised by Tommy Frenck, a known neo-Nazi activist. He runs a pub near Themar, a small town south-west of Jena, and Themar is the venue for an annual neo-Nazi festival.
German media note that neo-Nazi "code" numbers were used for the price of a crate of Deutsches Reichsbräu: €18.88.
Neo-Nazis find the number 18 significant: they treat the first and eighth letters of the alphabet, AH, as code for Adolf Hitler. And 88, for them, stands for "Heil Hitler".
German law does not ban use of the Reich eagle or Iron Cross if they are not combined with a swastika and if there is no obvious neo-Nazi connection.
Full report at:
https://www.bbc.com/news/world-europe-51265269
--------
EU to assess Trump's Middle East peace plan
Fatih Hafiz Mehmet
29.01.2020
The European Union plans to assess the Middle East peace plan unveiled by U.S. President Donald Trump, its foreign policy chief said Tuesday.
"The European Union will study and assess the proposals put forward. This will be done on the basis of the EU's established position and its firm and united commitment to a negotiated and viable two-state solution that takes into account the legitimate aspirations of both the Palestinians and the Israelis, respecting all relevant UN resolutions and internationally agreed parameters," Josep Borrell said in a statement.
Borrell said the U.S. initiative provides an opportunity to re-launch urgently needed efforts towards a negotiated and viable solution to the Israeli-Palestinian conflict.
The statement said the EU reaffirms its readiness to work towards the resumption of meaningful negotiations to resolve all permanent status issues and to achieve a just and lasting peace.
"It urges both sides to demonstrate, through policies and actions, a genuine commitment to the two-state solution as the only realistic way to end the conflict," Borrell added.
His statement came after Trump released his oft-delayed plan to end the Israeli-Palestinian dispute during a press conference at the White House, where he was hosting Israeli Prime Minister Benjamin Netanyahu. Palestinian authorities were not represented. During the news conference, Trump referred to Jerusalem as "Israel's undivided capital".
The so-called peace plan unilaterally annuls previous UN resolutions on the Palestinian issue and gives Israel pretty much everything they have been demanding.
Full report at:
https://www.aa.com.tr/en/europe/eu-to-assess-trumps-middle-east-peace-plan/1717451
--------
Turkey criticizes Swiss media outlet
Bayram Altug
29.01.2020
GENEVA, Switzerland
Turkish Deputy Foreign Minister and Director of EU Affairs Faruk Kaymakci criticized a French-language newspaper Tuesday for publishing an interview about terrorist group ringleader Fetullah Gulen.
"It is sad to see that a newspaper like yours has given a terrorist ringleader the opportunity to spread his false thoughts and mislead the truth, albeit in the name of press freedom," Kaymakci said in an interview with La Tribune de Geneve, a prominent newspaper in the French-speaking area of Switzerland.
"Fetullah Gulen is a ringleader of a terrorist organization that attempted a coup on July 15, 2016 and cost 251 people's lives and injured thousands."
He underlined that FETO is a sneaky network that has been trying to infiltrate schools, police forces, the justice system, diplomacy and banks for 50 years and has people's blood on its hands.
He went on to say that FETO, which is masterminded by Gulen, is the main threat to Turkey's democracy.
Kaymakci also emphasized that intelligence services including in the U.S. used FETO's international network, in particular, schools.
'80% of Turkish people want EU membership'
Full report at:
https://www.aa.com.tr/en/europe/turkey-criticizes-swiss-media-outlet/1717405
--------
Russia urges Libyan military committee to convene soon
Elena Teslova
28.01.2020
MOSCOW
Russia has urged to convene the Libyan military committee at the earliest to address the issue of cease-fire.
Deputy Foreign Minister Mikhail Bogdanov said on Tuesday he expects a dialogue within the format in Geneva will pave the way for lasting peace in the region.
"We urge that they convene as soon as possible. [...] The main thing is to stop the fighting and establish an inclusive, inter-Libyan dialogue. The main and primary task is to initiate contacts between Libyans so that they reach a consensus on all these proposals," Bogdanov told reporters in Moscow.
He added that the cease-fire in Libya following the call of the Russian and Turkish leaders is widely respected although there are minor violations.
Asked if east-Libya based commander Khalifa Haftar is expected to come to Moscow in the near future, Bogdanov said the possibility could not be ruled out.
Since the ouster of late ruler Muammar Gaddafi in 2011, two seats of power have emerged in Libya: Haftar in eastern Libya, supported mainly by Egypt and the UAE, and the Government of National Accord (GNA) in Tripoli, which enjoys the UN and international recognition.
Libya's legitimate government had been under attack by Haftar since last April, claiming the lives of more than 1,000 people.
On Jan. 12, the conflict parties announced a cease-fire in response to a joint call by the Turkish and Russian leaders. But talks last week for a permanent cease-fire deal ended without an agreement after Haftar left Moscow without signing the deal.
On Jan. 19, Haftar accepted at the Berlin conference on Libya to designate members to a UN-proposed military commission with five members from each side to monitor implementation of the cease-fire.
Full report at:
https://www.aa.com.tr/en/africa/russia-urges-libyan-military-committee-to-convene-soon/1716463
--------
Pakistan
Musharraf Conviction: Pak Court Says Trial in Absentia Not Justice
January 29, 2020
A Pakistani court has ruled that the concept of trial in absentia is against the golden principles of natural justice as well as Islamic justice as it issued a detailed judgment on self-exiled former President Pervez Musharraf's petition challenging his death sentence on charges of high treason.
A special court in Islamabad on 17 December last year handed down the death penalty to the 74-year-old retired general, now based in Dubai, after six years of hearing the high-profile treason case against him.
His trial was declared as "unconstitutional" by the Lahore High Court through a short order on 13 January, leading to the annulment of the death sentence against the ex-Pakistan Army chief.
'The Very Constitution of the Special Court Was Squarely Illegal'
The detailed judgement, authored by Justice Syed Mazahar Ali Akbar Naqvi, found the process for the establishment of the special court in consultation with the then chief justice of Pakistan and chief justices of five high courts alien to the Constitution, Dawn newspaper reported.
"It is established without any doubt that the very constitution of the special court was squarely illegal/improper and without jurisdiction," ruled the bench on Monday.
The full bench of the LHC observed that the interior secretary was competent to file a complaint against the accused of "high treason" only on the recommendations of the federal government, whereas the federal government was to operate in the spirit of Article 90(1) of the Constitution which includes the prime minister and the Cabinet, Dawn newspaper reported.
"However, the requisite requirement of the Constitution was totally ignored," the LHC said in the verdict.
The Pakistan Muslim League-Nawaz (PML-N) government led by former prime minister Nawaz Sharif had filed the treason case against the former army chief in 2013 over the imposition of an extra-constitutional emergency in November 2007, which led to the confinement of a number of superior court judges in their houses and sacking of over 100 judges.
In a huge reprieve for Musharraf, the LHC declared that the formation of the special court was "unconstitutional" and that the treason case against the former president was not prepared in accordance with the law.
On 18 January, Pakistan's Supreme Court returned the petition against his conviction and sentencing by a special tribunal with objection that he is not allowed to appeal without surrendering to the law.
Musharraf, who has been living in Dubai since March 2016, left Pakistan for medical treatment and has not returned since, citing security and health reasons.
Dr Muhammad Amjad, Musharraf's close aide and the ex-chairperson of his All Pakistan Muslim League (APML) party, has said that the former president was rapidly becoming weaker due to an unknown disease, which is why he was unable to return to Pakistan to face the treason case.
It was the first time in Pakistan's history that a former army chief was tried and sentenced under Article 6 of the Constitution.
https://www.thequint.com/news/world/musharraf-conviction-pak-court-says-trial-in-absentia-against-golden-principles-of-natural-justice-2
--------
Hope EU resolutions against held Kashmir clampdown, CAB followed by sanctions: Mufti
January 29, 2020
Jammu and Kashmir Peoples Democratic Party President Mehbooba Mufti on Tuesday expressed hope that resolutions tabled in the European parliament against state clampdown in Indian held Kashmir and the controversial Citizenship Amendment Act (CAA) will be followed up with sanctions on India.
In a series of tweets, the former J&K chief minister wrote: "Relieved to see the EU parliament pass resolutions against communal CAB & brutal lockdown in Kashmir. [I] hope it's followed up with sanctions. GOI's actions are frittering away all of India's assiduously earned soft power."
Mehbooba Mufti
✔
@MehboobaMufti
Relieved to see EU parliament pass resolutions against communal CAB & brutal lockdown in Kashmir. Hope it's followed up with sanctions. GOIs actions are frittering away all of India's assiduously earned soft power.
1,408
14:54 - 27 Jan 2020
Twitter Ads information and privacy
429 people are talking about this
Meanwhile, the National Conference (NC), while reacting to the Indian government's latest decision regarding the change in the nomenclature of Sher-i-Kashmir police medals, said it depicts the mindset of the present ruling dispensation in Delhi which "is out to bruise whatever is dear to the people of J&K and whatever is important in history."
Full report at:
https://www.pakistantoday.com.pk/2020/01/28/hope-eu-resolutions-against-held-kashmir-clampdown-cab-followed-by-sanctions-mufti/
--------
Second civil rights leader critical of army detained in Pakistan
28 January 2020
Pakistani authorities on Tuesday detained a senior member of a civil rights movement as he protested the detention of his group's charismatic leader one day earlier, a police official said.
Mohsin Dawar, a sitting parliamentarian, was leading a demonstration in Islamabad of around 100 members of the Pashtun Protection Movement (PTM), which accuses the army of abuses.
He along with around 25 of those with him "were taken into the custody," a spokesman for the Islamabad police, Zia Bajwa, told AFP.
Amnesty International issued a statement calling for them to be freed. "Everyone has the right to freedom of peaceful assembly, as recognized in Pakistan's constitution and international law," the group's South Asia arm tweeted.
The PTM had been protesting the arrest of Manzoor Pashteen, the former veterinary student who now leads the protest movement.
In videos posted on social media police can be seen apparently dragging Dawar into a van outside the Islamabad Press Club.
Dawar was also detained for months last year for allegedly inciting violent clashes with security forces during another protest.
The PTM have pressured the military since 2018 with calls to end alleged abuses by security forces targeting ethnic Pashtuns in the restive tribal areas along the border with Afghanistan.
The area, once plagued by militancy and unrest, is where Washington believes Pakistan is providing safe haven to militant groups including the Afghan Taliban and Haqqani Network.
The army has carried out many operations in the region, and security across Pakistan has dramatically improved in recent years.
Full report at:
https://english.alarabiya.net/en/News/world/2020/01/28/Second-civil-rights-leader-critical-of-army-detained-in-Pakistan-.html
--------
PR audit report a slap on govt's face: Zubair
January 29, 2020
KARACHI - Pakistan Muslim League-Nawaz (PML-N) leader Mohammad Zubair has on Tuesday said that the audit report of Pakistan Railways is a slap on the government's face.
The PML-N leader stressed that the audit report has exposed the National Accountability Bureau-Niazi nexus.
He said all allegations that were leveled against former prime minister Nawaz Sharif and his team are being proven false. PM Imran Khan should apologize from the nation and PML-N Member National Assembly (MNA) Khawaja Saad Rafique.
It has been proven that Khawaja Saad Rafique has been victimized to take political revenge and his honesty has unfolded before the world as he increased the revenue of the Pakistan Railways from Rs 18 billion to Rs 40 billion. NNI
https://nation.com.pk/29-Jan-2020/pr-audit-report-a-slap-on-govt-s-face-zubair
--------
Counsel terms case against Justice Isa outcome of personal grudges
Nasir Iqbal
January 29, 2020
ISLAMABAD: The code of conduct for judges portrays a picture showing that judges live in a glass house, observed Justice Umar Ata Bandial, a member of the 10-judge Supreme Court full court hearing challenges to the filing of a presidential reference against Justice Qazi Faez Isa of the apex court.
"But this glass house should be bulletproof," replied senior counsel Rasheed A. Razvi, who is representing the Sindh High Court Bar Association and the Pakistan Federal Union of Journalists, the petitioners, during the hearing of the case on Tuesday.
"Therefore, the conduct of judges should be above board and open to public scrutiny," Justice Bandial asked, wondering whether the counsel was calling for complete immunity for judges.
"What you are emphasising is that the protection available to judges under Article 209 of the Constitution should be effective," the judge asked the counsel and urged him to elucidate what were the red lines they could not cross.
Mr Razvi argued that every provision of the Constitution provided protection to judges.
Justice Syed Mansoor Ali Shah, another member of the bench, observed that judges should be accountable, but whatever be done to make them accountable should be strictly in accordance with the law. "Any short-circuiting in this regard is not permissible," he said.
The counsel argued that the entire summary or proceedings for the filing of the reference against Justice Isa was conducted by the Ministry of Law, wondering what provision of law empowered the ministry to do so.
At this, Justice Bandial observed that the rules of business determined the functions of the federal government.
The counsel argued that the process of removing judges was the most cumbersome in neighbouring India, but on the contrary it was the easiest in Pakistan.
At this Justice Bandial wondered whether the counsel was criticising the Constitution which determines the process of removing a judge.
He said the 1973 Constitution represents certain consensus and the mechanism provided by the Constitution should be applied at all cost. "Let's not go into criticising the Constitution," he further said.
The counsel alleged that the presidential reference against Justice Isa was the outcome of personal grudges only to settle scores. He claimed that Justice Isa and Law Minister Farogh Naseem had a long rift over the May 12, 2007, massacre in Karachi as the latter belonged to the party which was blamed for the incident.
He said the current mayor of Karachi, Waseem Akhtar, who also belonged to Mr Naseem's party, had admitted that Karachi's Shahrea Faisal was blocked on his instructions on May 12, 2007, which reportedly led to a gun battle between armed groups.
Mr Razvi said that he himself saw high court judges were climbing the walls of the Sindh High Court's building on that fateful day. "My heart bled when I witnessed all this."
When Justice Bandial asked the counsel what had happened on Nov 3, 2007, when former president Pervez Musharraf imposed a state of emergency in the country, the counsel retorted promptly that the same what had happened with the people of Karachi on May 12.
Gathering of information
Later, Advocate Salman Akram Raja, appearing on behalf of the Pakistan Bar Council (PBC), listed nine formulations. He said that the so-called gathering of information by the Asset Recovery Unit (ARU) prior to its placement before the president was without lawful executive authority. No doctrine of inherent or residuary executive authority or Rule 4(5) of the Rules of Business, 1973 can provide the basis for the invasive authority exercised by the ARU, he said, adding this had violated protections available to Justice Isa and his family.
Obtaining information in the stage prior to its placement before the president, the counsel argued, could only have been through recourse to the normal flow of information under different statutes like Nadra laws or property registration laws.
The illegal exercise of so-called executive authority by the ARU without basis in any statute continued even after the placement of information before the president since the gathering of information at this stage could only be with the sanction of the president and by duly constituted bodies, he said.
The opinion by the president for the purposes of Article 209 is to be formed on the basis of lawfully collected information, the counsel emphasised, saying that the opinion envisaged by Article 209(5) was to be formed by the president independently without being bound by the advice of the prime minister or the cabinet in terms of Article 48 of the Constitution.
According to him, such independence is inherent in the very idea and the conception of an opinion. He said the dictated opinion was no opinion since the president was not a mere rubber stamp. Also, the referral to the SJC is not an executive function in terms of Article 97 read with the Fourth Schedule to the Constitution, the counsel reminded.
The opinion of the president should also ensure protection of the due process rights of the judge and his family, the counsel argued.
These due process rights can only be protected if the petitioner judge and his family are subjected, like any other citizens, to the procedures and processes of the applicable law, including the Income Tax Ordinance, 2001, he said.
The alleged non-compliance of Section 116 can only attract notice and further action under the Income tax law. Patently wrong reading of Section 116(1) has been made by the president, the counsel said, adding in this case no notice to this day had been issued under Section 116(1) or any other provision of the income tax law to the family of the judge or the judge himself.
He said the SJC could not function as the first tier of income tax administration because such action would violate not only initial due process, but also deny the multiple rights of appeal under the law.
In the alternative, even if the opinion in terms of Article 209(5) is to be formed by the prime minister and the cabinet, the opinion must satisfy the requirements of honouring due process for it to be considered reasonable.
Full report at:
https://www.dawn.com/news/1531175/counsel-terms-case-against-justice-isa-outcome-of-personal-grudges
--------
PTM lawmaker Mohsin Dawar says released from jail, others remain in custody
Shakeel Qarar
January 29, 2020
Pashtun Tahaffuz Movement (PTM) leader and MNA Mohsin Dawar early on Wednesday morning confirmed that he had been released, adding that other protesters remained in custody, a day after they were arrested outside the National Press Club in Islamabad.
Meanwhile, a case was registered against attendees of the protests on various charges including sedition. Dawar was not included in the first information report (FIR), a copy of which is available with Dawn.com.
Dawn.com has reached out to police for a comment and awaits their response on the development.
On Tuesday, Islamabad police had arrested Dawar and 28 other PTM workers from outside the press club where they had gathered to stage a protest against the arrest of the group's chief, Manzoor Pashteen, who was shifted to Dera Ismail Khan jail in a sedition case after he had been remanded to Peshawar jail for two weeks.
In a post on Twitter, Dawar said the PTM was protesting against the arrest of Pashteen during which they were arrested.
"There wasn't a single report of violence by protesters from around the world. I attended the protest in Islamabad and the protesters here were as peaceful as in the other places," he said.
In a subsequent tweet, he added: "However, the state reminded us once again that our rights don't mean much as they didn't bother to create even flimsy grounds for our arrests. I was dragged along with other comrades of PTM and [Awami Workers Party] AWP including Ismat Shahjahan, Ammar Rashid and many others."
The MNA said that following the arrests they were distributed to various police stations.
"I was told by the police that they were setting me free. I told them that I will not go until all the others are set free as well. Then they came back again, telling me that they will set all free so I decided to leave," he wrote.
Dawar, however, said he had since found out that some of the protesters were still in jail, adding that after getting a full idea of the number of protesters still in custody, they would protest until all were released.
"As our freedoms are shrinking silence is not an option. The fight to win back our right to dissent, is a common cause that transcends ethnicities and beliefs. Speak up and be counted, your life means nothing if you don't have the freedom to disagree," he concluded.
FIR registered
Meanwhile, a First Information Report (FIR) was registered at Islamabad's Kohsar Police Station against the protesters under Section 188 (disobedience to order duly promulgated by public servant), 353 (assault on public servant), 147 (rioting),149 (every member of unlawful assembly guilty of offence committed in prosecution of common object), 505-A (defaming army), 505-B (statements conducing to public mischief), 124-A (sedition), 341 (punishment for wrongful restraint), 186 (obstructing public servant from discharging duties) of the Pakistan Penal Code.
The case, registered on Tuesday, named 23 individuals but did not include Dawar.
As per the FIR, registered by City Magistrate Ghulam Murtaza Chandio, the protesters were informed that Section 144 of the Criminal Procedure Code (CrPC) was imposed in the Islamabad territory as a result of which five or more than five people are not allowed to gather. It stated, however, the protesters had chanted slogans against the Pakistan Army and the state and had chanted slogans in favour of Pashteen. They had also blocked a road.
The protests were held a day after Pashteen was arrested on Monday from Peshawar's Shaheen Town and was sent to the city's central jail on a 14-day judicial remand. He was shifted to Dera Ismail Khan on the orders of a local court on Tuesday.
PTM movement
PTM is a rights-based alliance that, besides calling for the de-mining of the former tribal areas and greater freedom of movement in the latter, has insisted on an end to the practices of extrajudicial killings, enforced disappearances and unlawful detentions, and for their practitioners to be held to account within a truth and reconciliation framework.
The party has been critical of the state's policies in the country's tribal belt, where a massive operation against terrorists was conducted in recent times leading to large-scale displacement and enforced disappearances.
PTM's leaders, in particular its elected members to the National Assembly, have come under fire for pursuing the release of individuals detained by authorities without due process. The army alleges the party of running an anti-national agenda and for playing into the hands of the state's enemies.
Full report at:
https://www.dawn.com/news/1531237/ptm-lawmaker-mohsin-dawar-says-released-from-jail-others-remain-in-custody
--------
Pakistan has made significant progress to get off FATF grey list: SBP chief
Shahid Iqbal
January 29, 2020
KARACHI: The State Bank said on Tuesday that Pakistan had made significant progress to get off the grey list of the Financial Action Task Force (FATF) while the central bank had been making all-out efforts to curb money laundering and terror financing.
Announcing the monetary policy with unchanged interest rate of 13.25 per cent, State Bank of Pakistan (SBP) Governor Dr Reza Baqir said that the last two reviews in May and September showed that Pakistan had made significant progress in most of the 27 points raised by the FATF. However, he said, the FATF was the final authority to decide if the progress was enough to pull Pakistan out of the grey list, adding that the country would have to continue making progress in this direction.
The State Bank, he said, had been constantly playing a role in curbing money laundering and terror financing which was in favour of the country.
Speaking about inflation and its impact on the interest rate, Dr Baqir said the SBP had decided to keep the rate unchanged at 13.25pc since inflation was expected to remain 11-12pc during the current fiscal year (FY20).
He expressed the confidence that the inflation target of 5-7pc would be achieved in the medium term — over the next six to eight months.
"It is a transitional period for inflation and short supply shocks will be over soon. The real interest rate is in the range of one to two per cent which is much lower than many economies [of the world] and this is a positive sign," he claimed.
The SBP governor said GDP growth for the current fiscal was expected to be 3.5pc, but it might slightly come down due to lower than expected performance of the agriculture sector. "Primarily on account of adverse supply side shocks to cotton production as well as contraction in LSM (large-scale manufacturing) to date, SBP's projection for real GDP growth for FY20 is likely to be revised downward," he added.
Cotton production has been revised downward due to adverse supply side shocks. LSM indicates that economic activity is strengthening in export-oriented and import-competing industries, while inward-oriented industries continue to slow down, he said.
The SBP governor said the export sector had so far emerged as the best performer for the economy. He announced plans to enhance the amount for long-term export financing and export finance scheme collectively by Rs200 billion.
He said the export scheme was not for all exporters but with the enhancement of incentives, all kinds of exporters had been added to it to diversify exports, adding that the limit had also been increased from Rs2.5bn to Rs5bn for an exporter.
Dr Baqir said a policy would soon be announced for small exporters. He said that three positive changes were noted since the announcement of the last monetary policy — substantial reduction in current account deficit along with a stable exchange rate which is market-based, improvement in business confidence (as per IBA-SBP survey) and fiscal developments which remained on track and in line with the commitments made under the IMF-supported programme.
He said revenue collection during the first half of the current fiscal had increased by 16pc, non-interest current expenditure was strictly controlled and Rs300bn [as compared to Rs187bn during the same period last year] was released under the Public Sector Development Programme, indicating that fiscal consolidation remained on track.
Dr Baqir rejected a perception that 'hot money' — foreign investment in treasury bills — was the real factor behind the increase in State Bank's foreign exchange reserves and that it could cause a serious problem. He said the bulk of SBP's reserves adequacy stemmed from the improvement in current account, and not portfolio inflows, while current inflows comprised only 3.8pc of total marketable government debt.
Full report at:
https://www.dawn.com/news/1531163/pakistan-has-made-significant-progress-to-get-off-fatf-grey-list-sbp-chief
--------
PM Khan orders speedy completion of CPEC projects
January 29, 2020
ISLAMABAD: Prime Minister Imran Khan on Tuesday said the ongoing development projects under the China-Pakistan Economic Corridor (CPEC) should be completed on a fast-track basis and directed to give final shape to the consultation process of the future plans on priority.
Lauding the time-tested friendship with the northern neighbour, he said China had always supported Pakistan during the difficult times and CPEC was a manifestation of the multi-dimensional partnership between the two countries.
He also observed that Chinese experiences in the social sector, especially for the eradication of poverty and promotion of agriculture, must be fully explored, Prime Minister Office Media Wing in a press release said.
The prime minister was chairing a high-level review meeting to ascertain progress on different CPEC projects. Revenue Minister Hammad Azhar, Planning Minister Asad Umar, Finance Adviser Dr Abdul Hafeez Shaikh, Maritime Minister Syed Ali Haider Zaidi, CPEC Authority Chairman Lt Gen (retd) Asim Saleem Bajwa, Naya Pakistan Housing Programme Chairman Lt Gen (retd) Anwar Ali Haider and other senior officials also attended.
The premier directed the CPEC Authority to accelerate implementation pace on different projects under the second phase on priority.
Giving direction for early finalisation and completion of the projects, Khan asked the relevant ministries to set completion period and emphasised upon making the inter-ministerial coordination more effective to achieve desired results within the appointed time frame.
He also directed to brief him in the upcoming review meeting on the projects falling under the CPEC second phase, including their completion period, implementation, removal of hurdles and the future mechanism.
The prime minister was briefed in detail over the progress on the short, medium and long-term CPEC projects.
The meeting was apprised about the first phase of CPEC projects in energy, road and rail networks and Gwadar Port, and the second phase schemes, including industrialisation cooperation, promotion of agriculture, social and economic progress, tourism and others.
It was informed that majority of the projects in the energy and road networks had been completed whereas work on the Gwadar Port and airport was under progress phase-wise.
The Orange Line project was completed while consultation process over feasibility of Quetta railway was underway.
Khan had already laid the foundation stone of the Allama Iqbal Special Economic Zone while Rashakai's was expected in the next month.
The bidding process for Dhabeji Economic Zone would be completed soon, it was further informed.
Full report at:
https://www.dawn.com/news/1531192/pm-khan-orders-speedy-completion-of-cpec-projects
--------
Pakistan organising two-day trade conference in Kenya
Baqir Sajjad Syed
January 29, 2020
ISLAMABAD: The Pakistan government will organise a two-day trade conference in Kenya in a major trade outreach to Africa.
The first Pakistan-Africa Trade Development Conference, hosted jointly by the ministries of commerce and foreign affairs would be held in Nairobi on Jan 30-31, the Foreign Office announced on Tuesday.
Foreign Minister Shah Mehmood Qureshi and the adviser for commerce, textiles, industry, production and investments, Abdul Razzak Dawood, will speak at the inaugural session of the conference.
Mr Qureshi departed for Kenya on Tuesday. His visit will include meetings with Kenyan officials, besides participation in the conference.
The Foreign Office said the minister would meet Kenyan cabinet secretaries for foreign affairs and international trade, African community, Northern Corridor Development, transport and ports, and trade, industry and cooperatives.
A large Pakistani business contingent would also participate in the conference and meet their African counterparts.
"Africa's increasing integration and growth momentum together with Pakistan's potential as a connectivity hub have opened multiple avenues for win-win collaboration," the FO said.
"The conference will provide a platform for G2G and B2B interaction. It will be an important opportunity for Pakistani and African businesses to interface and identify areas for enhanced engagement, and develop proposals for customised economic collaboration," it added.
Prime Minister Imran Khan at a conference of Pakistani envoys in Africa in November had said that promotion of relations with African countries would be the new focus of foreign policy operations.
He had said that special emphasis would be placed on developing trade ties.
Mr Khan believes that there is a tremendous opportunity for Pakistani goods and services in view of the growing middle-class consumer market in Africa.
Africa is the second largest continent of the world with 20 per cent of the world's land mass and 54 sovereign states, and boasting 1.2 billion people and the largest youth population on the globe.
Full report at:
https://www.dawn.com/news/1531171/pakistan-organising-two-day-trade-conference-in-kenya
--------
Two 'terrorists' killed in gun battle were TTP members: Langove
January 29, 2020
QUETTA: The two suspected terrorists who were killed in a gun battle with the personnel of Counter Terrorism Department (CTD) in the Surkhab area of Pishin district on Monday night belonged to the outlawed Tehreek-i-Taliban Pakistan (TTP), announced Balochistan's Home Minister Mir Ziaullah Langove on Tuesday.
Giving details about the suspects at a press conference along with DIG CTD Aitezaz Goraya and DIG Quetta Abdul Razzaq Cheema, he said they were identified as Pir Shazaduddin and Zakirullah and were involved in many bomb blasts and cases of kidnapping for ransom, including the kidnapping of a son of a member of the Balochistan Assembly.
He further alleged that the suspects were involved in many attacks on security forces.
He added that during the search operation of the terrorists' hideout, security personnel came upon several explosive-laden jackets, locally assembled bombs and other weapons.
Full report at:
https://www.dawn.com/news/1531177/two-terrorists-killed-in-gun-battle-were-ttp-members-langove
--------
PM didn't meet MQM-P because he has nothing for Karachi: Siddiqui
January 29, 2020
Muttahida Qaumi Movement-Pakistan (MQM-P) Convener Dr Khalid Maqbool Siddiqui on Tuesday said Prime Minister Imran Khan had left Karachi without meeting members of his party because the federal government has nothing to give to the financial hub of the country.
PM Imran arrived in Karachi early Monday. He met the Sindh chief minister, Grand Democratic Alliance leaders and members of the business community during the one-day visit. However, the premier didn't have any interaction with the MQM-P.
Talking to reporters at Liaqatabad, Siddiqui said, "Prime Minister Imran Khan will meet the MQM-P leadership when he will have something for Karachi and its people."
The MQM-P convener said his party could serve Karachiites without ministries in the federal or provincial governments.
"Karachi contributes 95% of the total revenue in Sindh and 65% in the centre," he said. "But the city is deprived of basic facilities."
Full report at:
https://www.pakistantoday.com.pk/2020/01/28/pm-didnt-meet-mqm-p-because-he-has-nothing-for-karachi-siddiqui/
--------
PM says 'injection made nurses look like hoors'
January 29, 2020
Prime Minister Imran Khan has said that nurses at Shaukat Khanum Hospital, who looked after him after he fell from the stage in 2013 during an election rally, looked like hoors (virgins) following painkillers.
"I was in deep pain due to injuries after I fell from the stage. The injection by Shaukat Khanum Hospital not only removed the pain but enabled me to make a speech as well. The nurses who made my pain go away looked like hoors at that time," Imran can be heard as saying in a video making rounds on the internet.
It merits mention here that such painkillers often induce hallucinations.
Imran also said he repeatedly asked the doctor to give him more of that painkiller injection but he the doctor refused. At one point the premier recalled threatening the doctor to do his bidding but he did not allow another injection.
Pakistan Tehreek-e-Insaf (PTI) chief Imran Khan had in May 2013 sustained serious injuries on his head and back after falling from a lifter while climbing up the stage installed for an election rally in Lahore.
The remarks did not go down well with Twitter.
In a tweet, Pakistan People's Party (PPP) lawmaker Nafisa Shah said: "It is offensive and unbecoming of a prime minister of a country to refer to nurses who were treating him as objects of heavenly desire. His statement is highly controversial and mocks the dignified profession of nursing generally."
A journalist, Arshad Sharif, shared the video of these remarks and said: "Which injection makes nurses look like "Hoors" to #PMIK ? Is PM sending a message that Nurses are objects of sexual desire? The noble profession of "Sisters" who follow the tradition of #FlorenceNightingale to treat sick & wounded rebranded as "Hoors" by #Pakistan's PM?"
Arshad Sharif
✔
@arsched
Which injection makes nurses look like "Hoors" to #PMIK ?
Is PM sending a message that Nurses are objects of sexual desire? The noble profession of "Sisters" who follow the tradition of #FlorenceNightingale to treat sick & wounded rebranded as "Hoors" by #Pakistan 's PM?
Embedded video
4,617
10:31 - 28 Jan 2020
Twitter Ads information and privacy
4,098 people are talking about this
https://www.pakistantoday.com.pk/2020/01/28/pm-says-injection-made-nurses-look-like-hoors/
--------
URL: https://www.newageislam.com/islamic-world-news/amanah-president-culture-calling-each/d/120924
New Age Islam, Islam Online, Islamic Website, African Muslim News, Arab World News, South Asia News, Indian Muslim News, World Muslim News, Women in Islam, Islamic Feminism, Arab Women, Women In Arab, Islamophobia in America, Muslim Women in West, Islam Women and Feminism