New Age Islam News Bureau
21 March 2016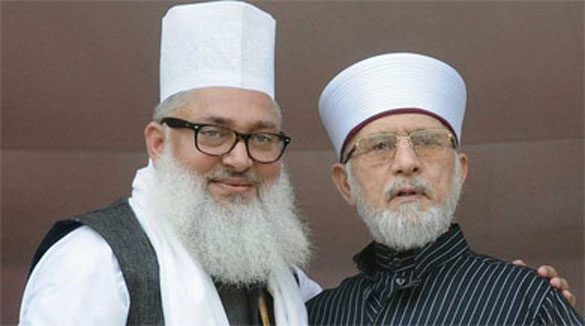 President of All India Ulama & Mashaikh Board (AIUMB) Syed Mohammad Kachhuchvi with Muhammad Tahir-ul-Qadri in Pakistani politician and Islamic scholar of Sufism, during International Sufi Conference at Ramlila Grounds in New Delhi. (Source: PTI)
-----------
India
• Alleviate Sense of Fear among Muslims Due To Riots: Sufi Outfit Tells Modi Govt
• Muslim Man Chooses Cows over Wife in Etawah
----
Africa
• The Re-Emergence of Al-Qaeda in the Islamic Maghreb in Africa
• KDF Kills 34 Militants, Seizes Al-Shabaab Leader
------
Europe
• Hardline Muslims Banned From Practising Bloody Ritual in London Mosque
• Paris Fugitive Helped More by Friends and Neighbours than Islamic State
------
South Asia
• 23 Militants Killed In Latest Air and Ground Operations of Afghan Forces: MoD
• 6 Afghan Soldiers Martyred Amid Surging Violence across the Country
• Six Suicide Bombers among 17 Killed In A Military Raid On Taliban Prison In Helmand
• Air strike leaves three Daesh militants killed in Nangarhar
• ISIS loyalists suffer casualties after ambushing Afghan forces in Nangarhar
• Zahir Qadir voice concerns on cross-border incursions by Pakistan
• 10 Pakistani nationals arrested in Nangarhar
• Ghani, Rouhani stress enhancement of ties and cooperation
• Karzai questions US security pact in the wake of border violations by Pakistan
------
Mideast
• Islamic State Link Probed In Istanbul Suicide Blast
• Turkey Says Istanbul Suicide Bomber Was Member Of Islamic State
• Police on Alert To Find Three ISIL Militants Across Turkey After Attacks
• Israel 'rescues' 19 Jews from war-torn Yemen in covert operation
• Erdogan Condoles Rouhani on Death of Iranian National in Istanbul, Urges Anti-Terrorism Cooperation
• Iranian Embassy Issues Turkey Travel Warning
• Ankara hosts task force meet aimed at building trust among EU, Russia, and Turkey
• Police identifies Istanbul bomber as ISIL member
• Istanbul deserted after suicide attack: Four looks around the city
• World leaders condemn Istanbul terror attack
-----
Pakistan
• Two 'Key Commanders' Among 12 'Militants' Killed By FC
• Rangers Arrest MQM Deputy Convener Shahid Pasha
• Shafqat defends anthem rendition, blames Eden audio
• Two schoolchildren killed, nine missing in Chitral avalanche
• 12 directors from Pakistan and India come together in poem for peace
• Eliminating terrorism: Electronic surveillance of terror suspects delayed
----
Arab World
• Syrian Army Captures More Regions in Lattakia
• Syrian Troops Push Back ISIL Further Toward Palmyra
• Ayman Al Zawahiri's Brother Released From Egyptian Prison
• ISIL Gatherings Razed by Syrian Jets in Deir Ezzur
• Syrian Army Repels ISIL Attack Northeast of Aleppo
• Iranian Scientists Synthesize Nano composite Surfaces to Eliminate Air Polluting Gases
• Iraqi Hezbollah Blasts Deployment of Marines as US Plot to Help ISIL
• 8 Iranian Nationals Freed from UAE Jails
• Iranian President Felicitates Supreme Leader on Nowruz
• Russian Military: Al-Nusra Mobilizes Fighters in Northwestern Hama
• Iraqi Security Forces Destroy 2 ISIL Booby-Trapped Vehicles West of Ramadi
-----
Southeast Asia
• Maldives Pres Says Death Penalty Only Way for Stability
• Maldives Prosecutors Defend Death Sentence on MP Murderer
• WHO to declare Maldives as Filariasis-free
H• elicopter crash not related to terrorists: Authorities
----------
Compiled by New Age Islam News Bureau
URL: https://www.newageislam.com/islamic-world-news/new-age-islam-news-bureau/alleviate-sense-of-fear-among-muslims-due-to-riots--sufi-outfit-tells-modi-govt/d/106723
-----
India
Alleviate Sense of Fear among Muslims Due To Riots: Sufi Outfit Tells Modi Govt
By: Express News Service March 21, 2016
A charter of demands unveiled during the World Sufi Forum organised by the All India Ulema and Mashaikh Board (AIUMB) has asked the government to alleviate the "sense of fear" among Muslims over riots and urged PM Narendra Modi to rectify "historical blunders" in India that brought in extremist ideologies.
"There is a sense of fear among Muslims due to riots. The government should alleviate this fear and Union Home Ministry should spell out what steps have been taken with regard to all small or big communal incidents and riots that have taken place so far in different parts of the country," the AIUMB said in the 25-point charter, which was released on the concluding day of the event at a packed Ramlila Maidan Sunday.
World Sufi Forum to spread Islamic message of peace, PM Modi to attend event in Delhi He (Modi) does not look at everything with an eye on votes, says Sufi cleric Sufi body sacks member for taking up govt post Muslim body to promote peace, modern education Critical of Jamiat and Deoband, Muslim body plans meetings across UPAIUMB wants Bill to modernise madrasas World Sufi Forum to spread Islamic message of peace, PM Modi to attend event in Delhi He (Modi) does not look at everything with an eye on votes, says Sufi cleric Sufi body sacks member for taking up govt post Muslim body to promote peace, modern education Critical of Jamiat and Deoband, Muslim body plans meetings across UPAIUMB wants Bill to modernise madrasas World Sufi Forum to spread Islamic message of peace, PM Modi to attend event in Delhi He (Modi) does not look at everything with an eye on votes, says Sufi cleric Sufi body sacks member for taking up govt post Muslim body to promote peace, modern education Critical of Jamiat and Deoband, Muslim body plans meetings across UPAIUMB wants Bill to modernise madrasas
Speaking at the venue, AIUMB founder president Syed Muhammad Ashraf said: "We are hopeful that the government will pay heed to our requests and keep in mind the interests of Indian Muslims…. Over the last few decades, there have been concerted efforts to weaken Sufism in India and replace it with an extremist and radical ideology. This recent phenomenon is dangerous not just for the Muslim community, but also for the country itself. We now request our honourable Prime Minister to rectify these historical blunders and kindly meet the demands of millions of Sufi followers in India."
The charter called for establishing a central Sufi centre in Delhi and in all other capital cities. It also demanded establishment of a Khwaja Garib Nawaz University, creation of "Sufi Corridors", a review of the Waqf Amendment Bill and a decision to set up a national corporation for development of Waqf properties.
indianexpress.com/article/india/india-news-india/pm-modi-urged-to-rectify-historical-blunders-world-sufi-forum/#sthash.vCfnQodH.dpuf
-----
Muslim Man Chooses Cows over Wife In Etawah
Mar 21, 2016
Kanpur: A Muslim man in Etawah left his wife over his love for a herd of 14 cows.
Afaq Ali alias Munna in Etawah district said that when his wife asked him to choose between her and his 14 cows, he went for the latter.
The story is 13 years old, but the man is sharing its details at a time when some vigilante cow-protection groups have in recent times targeted Muslims in some states over allegations of cow slaughter and beef consumption.
After Afaq made his choice in his cows, Afroz Jahan, who had married him in 2001, left his house at Bais Khwaja locality immediately. People in the village said that the panchayat tried to encourage the couple to reach a compromise, but Afaq felt that his love for bovine companions was greater.
"I am separated from my wife, not because of another woman but because of my cows," Afaq, now 55, told TOI with a smile on his face. Family members said Afaq purchased his first cow at the age of 15. "Now, he has 14," his cousin Anwar said.
Afaq, a non-vegetarian, starts his day early. After milking the cows, he takes out his pushcart to purchase feed. "I also collect fresh green fodder from nearby forests for the cows," he said.
"I am very particular about their health. I go for periodic checks. I know home remedies to cure common diseases," he said.
Afaq, who originally belongs to Kanpur Dehat district, said, "Though it (keeping cows) is a business for me, I am lucky to have been able to be serving the sacred animals for the last 30 years."
"Villagers praises me for my love and devotion. But some relatives criticise me for what I did to my wife. She used to quarrel with me every day for my obsession, asking me to sell the cows. My inner voice never allowed me to do so. I never regret my decision. I am at peace," he said.
Animal activist Rajiv Chauhan said Afaq was an inspiration. "His love for cows is inspirational for us. At the age of 55, he serves cows with missionary zeal," Chauhan said.
http://timesofindia.indiatimes.com/city/kanpur/Muslim-man-chooses-cows-over-wife-in-Etawah/articleshow/51488505.cms
------
Africa
The re-emergence of Al-Qaeda in the Islamic Maghreb in Africa
20 Mar 2016
On March 13, Al-Qaeda in the Islamic Maghreb (AQIM) terrorists stormed the beach of Grand Bassam in the Ivory Coast and killed 19 people. This should not have come as a surprise because in January, France had warned the Ivory Coast of possible jihadist attacks against beaches popular with foreigners. On March 18, AQIM attacked an oil and gas facility in southern Algeria with rockets. These attacks prove once again the re-emergence of AQIM as a terror force to be reckoned with.
One of Al-Qaeda's remaining affiliates, AQIM was officially created in 2007 from the Algerian Salafist Group for Call and Combat (GSPC). AQIM has followed a multi-pronged strategy including kidnappings, narco-terrorism and alliances with various criminal and terror organisations around the world.
Ivory Coast raises security alert to highest level after attack
Although it pulled off terrorist attacks in Algeria, Morocco, Tunisia, Mali and Mauritania in the past few years, it has remained focused on Algeria. This stance pushed some members led by its leader in the Sahara, Mokhtar Belmokhtar, to break away from AQIM in December 2011. Indeed, Belmokhtar wanted to spread jihad beyond North African deserts and establish a foothold in Sub-Saharan West Africa.
Since then AQIM has lost a fair amount of its capabilities, while Belmokhtar's new group was behind the 2013 bloody attack on a gas facility in In Amenas that killed dozens of foreigners and one Algerian.
Meanwhile, Belmokhtar has become a high-value target. Although his death has been announced so many times, lately with the United States claiming they killed him in Libya in June 2015, there are signs that he is certainly very much alive.
In December 2015, right after carrying out the deadly attack on the Radisson Blu Hotel in Bamako, Mali, Belmokhtar's group - al-Mourabitoun, or The Sentinels - joined AQIM.
Actually in this merger of sorts, AQIM is the one gaining much more, and this is clearly a game-changer. In the course of just four months, three deadly attacks against foreigners in three West African countries, Mali, Burkina Faso and Ivory Coast, have proven Belmokhtar's "added value".
AQIM has shown resilience and an ability to adapt to new situations, making it a dangerous and resourceful adversary.
The group's method of using gunmen rather than suicide bombers has been its hallmark. To target a hotel and foreigners in a former French colony is the AQIM's preferred method of carrying out high-profile attacks. The group considers France its number-one enemy on a par with Algeria.
Since its inception, AQIM knew it had to perpetrate spectacular attacks on international targets for wider exposure. Therefore, it made no secret that turning to soft targets by targeting foreign nationals had become one of their priorities.
AQIM relied on kidnapping foreign nationals as its primary method for funding and it gained expertise in that domain. With the influx of a new round of Western European soldiers from Germany, Belgium and Sweden to Mali, the instances for more kidnappings by AQIM are highly likely.
Recently, AQIM has also shifted its focus on Libya - a country where it had shown quite a presence in the south in the past few years. Warning of a Western military intervention in Libya, AQIM claimed in a video that an Italian general is the real ruler of the country.
It calls for Libyans to take up arms against the foreign invaders that include Italy, France, the United Kingdom and the US. Back in 2013, AQIM threatened Morocco in a video showing King Mohamed VI engulfed in flames. However, so far it has not succeeded in targeting the kingdom.
Since it is very difficult for AQIM to target either Morocco or Algeria because both countries have extremely strong and well-funded counterterrorism programmes, it is likely to continue focusing attacks in West Africa, with Senegal probably next on the list. In light of this, it makes total sense for AQIM to recruit locals, and not remain Algeria-centric. As a result, Algerians do not represent the first nationality among fighters. Now Malians do.
AQIM has regained credibility in the jihadist world with these three attacks in the past four months targeting France and its African allies. It also sends a message to the world that Sunni jihadists do not belong to the Islamic State of Iraq and the Levant (ISIL, also known as ISIS), but that Al-Qaeda is alive and kicking.
In fact, when it comes to competition with ISIL, AQIM has a competitive edge in that part of the world. For now, it is the uncontested big dog in North and West Africa.
AQIM has shown resilience and an ability to adapt to new situations, making it a dangerous and resourceful adversary. With al-Mourabitoun's inclusion, it has become even more dangerous, but it remains to be seen how long Belmokhtar and AQIM's leader Abdelmalek Droukdel will be able to work together before their egos get in the way.
For that reason, al-Qaeda's leader Ayman al-Zawahiri allegedly ordered a regional division with Droukdel in charge of Algeria, Belmokhtar of Libya and Djamel Okacha of West Africa.
Last but not least, AQIM may try to go for the "grand prize", which would be an attack on European soil soon.
http://www.aljazeera.com/indepth/opinion/2016/03/emergence-aqim-africa-160320090928469.html
-----
KDF Kills 34 Militants, Seizes Al-Shabaab Leader
Mar 20, 2016
The soldiers were on their way to Afmadow when they engaged Al-Shabaab militants who had laid an ambush in the Lower Juba Region.
During the fierce engagement the overpowered Al-Shabaab militants resorted to the use of improvised explosive devices (IED), damaging one of the KDF vehicles.
On Wednesday last week, the KDF also killed 19 Al-Shabaab militants in Afmadow.
A US drone strike last week killed more than 150 Al-Shabaab militants at a training camp where a large scale attack was being planned.
Kenyan troops in Somalia have killed 34 Al-Shabaab militants, captured a middle-level commander and seized 27 AK47 rifles in two separate battles in the past two days.
The Kenya Defence Forces, however lost two soldiers in the attacks, said military spokesman David Obonyo.
On Saturday afternoon, 21 militants were shot dead and 21 AK47 rifles and three rocket-propelled grenades impounded.
On Sunday, 13 terrorists were killed in Sarira, Lacta Belt, 30 kilometres north of Ras Kamboni, and eight AK47 rifles, two PKM (light machine guns) and two RPGs found.
Col Obonyo said that, in the first attack, a convoy of KDF soldiers under Amisom heading to Afmadhow engaged the militants, who had laid an ambush in the Lower Juba region.
"Regrettably, KDF suffered two fatalities and five injuries," said Col Obonyo.
SOLDIERS INJURED
The overpowered militants resorted to improvised explosive devices, damaging one of the KDF vehicles.
Five soldiers were injured and evacuated.
On Wednesday, the KDF killed 19 militants in Afmadhow and seized a vehicle, 10 AK47 rifles and three RPGs. The militants were planning to attack a camp occupied by the Amisom and Somali National Army (SNA) troops in Afmadhow.
"The Al-Shabaab terrorists had approached the camp at night with the intention to attack and cut off the SNA from Amisom (KDF) camp," said Col Obonyo.
"KDF soldiers on patrol identified the militants and engaged them in a fierce battle."
Wednesday's shootout came just two weeks after a US strike killed more than 150 militants at a training camp where a large-scale attack was being planned.
"We knew they would be departing the camp and they posed an imminent threat to US and African Union forces," said US Captain Jeff Davis.
http://www.nation.co.ke/news/KDF-kill-21-Al-Shabaab/-/1056/3125368/-/pmoo49/-/index.html
----
Europe
Hardline Shia Muslims Banned From Practising Bloody Ritual in London Mosque
Mar 20, 2016
'Barbaric' ritual at London mosque leads to bans for hard-line Muslims
It may resemble a scene from Fight Club, but these images are disturbingly real – and they were taken in Britain.
A group of 14 people have been banned from taking part in the ritual self-flagellation, known as Zanjeer Zani, within a mile of the Idara-e-Jaaferiya mosque in Tooting, South London.
The practice – so brutal that it has been banned in Iran – involves men thrashing their own backs with whips carrying five sharp blades.
Violent scenes from inside the Shia mosque have been captured in these images from 2013, discovered by The Mail on Sunday.
They show a group of hardline Muslims, their backs covered in blood from the ritual.
According to the mosque's authorities, a breakaway group staged the ritual each year without permission – leading to the court action and eventual banning order.
Massoud Shadjareh, of the Islamic Human Rights Commission, said: 'This is a barbaric practice and should not be allowed for all kinds of reasons, not least health-and-safety grounds because of the blood that is flying around and the danger of cross-infection from the implements.
'The committee running the mosque had been trying to get this stopped for years, but no one would help them, as they were always told it was on private premises and a religious matter. Everyone treats it with kid gloves because of the sensitivities.
'But the truth is there is no obligation upon Muslims to do this. In 2011, Wandsworth even let them erect a tent next to the mosque over council parking spaces.'
The zanjeer zani mourns the anniversary of the death of Imam Hussein, the Prophet Mohammed's grandson, who was killed in a battle in the 7th century.
The practice is controversial among Shias, who make up less than ten per cent of the world's 1.5 billion Muslims. In Britain, the Shia population is believed to be about five per cent of Muslims.
A Wandsworth Council spokesman said: 'We would be concerned about the public-health implications if this form of worship were to take place, and if so, we would want to work with the local community, the police and other agencies to ensure that the risk to public health was minimised.'
http://metro.co.uk/2016/03/20/hardline-muslims-banned-from-practising-bloody-ritual-in-london-mosque-5763828/
------
Paris Fugitive Helped More by Friends and Neighbours than Islamic State
BY ROBIN EMMOTT
BRUSSELS (Reuters) - After the Paris attacks, security forces searched far and wide for prime suspect Salah Abdeslam, who vanished after returning to Brussels, believing Islamic State could have spirited him away to Turkey, Syria or Morocco.
It appears Europe's most wanted man never left the Belgian capital. And it was family, friends and petty criminals who helped him evade a manhunt for four months before he was arrested on Friday in the neighbourhood he grew up in, not far from his parents' home.
As security services seek to understand how Islamic State operates in Europe to prevent more attacks, Abdeslam's case highlights the difficulty of tracking suspects who can rely on the protection of community networks, many of which do not involve religious radicals and are not on the police radar.
"Abdeslam relied on a large network of friends and relatives that already existed for drug dealing and petty crime to keep him in hiding," Belgium's federal prosecutor Frederic Van Leeuw said of the only surviving suspect of the Nov. 13 attacks that killed 130 people in Paris.
"This was about the solidarity of neighbours, families," Van Leeuw told public broadcaster RTBF, speaking about Abdeslam's ability to hide for so long despite 24,000 calls from the public to a Belgian police hotline seeking information about the suspected attackers.
Abdeslam may have been hidden in the basement of an apartment of the mother of a friend with no links to militants, Belgian newspaper La Libre Belgique reported on Sunday.
Such friendships, not Islamic State operatives, proved crucial from the start for Abdeslam, who ran a bar in Molenbeek with his brother, which was a nexus of social life for young Arab men with little interest in the mosque but was shut down shortly before the attacks for being a hub for drug dealing.
Abdeslam relied on two friends to drive him back to Brussels after his brother Brahim blew himself up at a Paris cafe. Others drove him around Molenbeek and its environs between safe houses.
Police, who were eventually able to move in to seize him at a house in the rundown North African neighbourhood of Molenbeek, have charged a man and a women whom they suspect of being part of a family who harboured the fugitive.
While Abdeslam's networks were not infallible - his call to an acquaintance for help looking for a new hiding place let police finally locate him - they were formidable.
'IT'S NOT OVER'
Few residents would talk to Reuters about Abdeslam, a 26-year-old French citizen raised by Moroccan-born parents in Molenbeek, on the poorer side of the city's industrial-era canal.
Most of those that did said he was a likeable guy who was known in the area.
Dominique, who ran a newsagent close to where Abdeslam was arrested, described him as "a very nice boy" who showed no signs of becoming a radical. Abdeslam did not fight in Syria.
"I won't say he was normal because everyone always say that, but he had a nice manner, he wasn't aggressive," said Molenbeek resident Pierre, in his 50s.
But another Molenbeek resident, Henri, meanwhile warned that Abdeslam was not the only one attracted by radicalism in the area. "It's not over," he said. "There are a lot of them."
Western fighters in Syria and Iraq have found some of their most willing recruits in Belgium, partly because of the frustration many jobless young men feel in the marginalised quarters of Brussels - just a few kilometres from the wealth and power of the headquarters of NATO and the European Union, but effectively a world away.
Belgium has supplied the highest per capita number of fighters to Syria of any European nation. More than 300 Belgians have gone to take up arms in Syria and Iraq, according to an estimate from the Brussels-based Egmont think-tank.
Radicals such as another Molenbeek man Abdelhamid Abaaoud, the suspected planner of the Paris attacks who was killed by French police late last year, posted internet videos of his exploits as a foreign fighter in Syria.
'PEOPLE WORK FREELANCE'
But while three of the Paris attacks suspects grew up in Brussels, not all radicalised Belgian militants head for Syria.
They are part of "networks and accomplices" who have not attracted police attention, according to Belgian Foreign Minister Didier Reynders and who vowed to extend surveillance.
Some sell drugs and weapons in an area where locals have a reputation for not cooperating with police, doing only part-time work for Islamic State such as recruiting fighters to go to Syria and helping to plan attacks, Belgian prosecutors said.
That would suggest police work cannot be focussed simply on city mosques or monitoring social media and intercepting intelligence from militants in Syria and Iraq.
"I don't think Daesh is giving orders 24 hours a day. That would make it too easy for us," said prosecutor Van Leeuw, referring to the militant group by its Arabic acronym. "People work freelance."
Such complexity has prompted European police chiefs to urge governments to focus on the links between political militants and organised crime - noting, for example, that financing for militant groups has often come from drug dealing and racketeering while established crime gangs probably supplied the Kalashnikovs favoured in recent IS attacks.
Counter-terrorism expert Rik Coolsaet said that spotting Islamic State recruits in Europe was also becoming more difficult because, unlike in the past, youngsters were less likely to be pious conservatives but rather secular rebels who feel they have no part in society and are disillusioned by a perceived lack of opportunity.
Following the worst financial crisis in a generation and with few of the lower-skilled jobs their parents' generation enjoyed in Belgian car factories and coal mines remaining, there is a "no-future atmosphere" said Coolsaet, from the Egmont think-tank.
"Joining Islamic State opens a thrilling, bigger-than-life dimension to their way of life. For most of them it is akin to street gangs, drug trafficking, juvenile delinquency," he said.
"A journey to Utopia."
(Additional reporting by Alastair Macdonald; Editing by Pravin Char)
http://www.thestar.com.my/news/world/2016/03/21/paris-fugitive-helped-more-by-friends-and-neighbours-than-islamic-state/
-----
South Asia
23 Militants Killed In Latest Air and Ground Operations of Afghan Forces: MoD
Mar 21 2016
Afghan Air Force MD-530 warriors
At least 23 anti-government armed militants were killed in the latest counter-terrorism operations conducted by the Afghan national security forces in the past 24 hours.
The Ministry of Defense (MoD) said at least 3 militants affiliated with the Islamic State of Iraq and Syria (ISIS) terrorist group were also killed in the raids.
According to an operational update by the Ministry of Defense (MoD), the Afghan Air Force (AAF) also participated in the raids as part of the ongoing counter-terrorism operations.
At least three ISIS loyalists were killed in eastern Nangarhar province while 5 others were killed in air and ground operations in Nad-e-Ali district of Helmand, the operational udpate said.
At least 4 others were killed in a separate operation in Sangin district of Helmand, MoD said, adding that 2 others were killed in Paktia and Khost provinces.
MoD also added that 7 militants were killed during an operation in Shindand district of western Herat province of Afghanistan.
The anti-government armed militant groups have not commented regarding the reports so far.
http://www.khaama.com/23-militants-killed-in-latest-air-and-ground-operations-of-afghan-forces-mod-0397
-----
6 Afghan soldiers martyred amid surging violence across the country
Mar 21 2016
Afghan soldiersAt least eight Afghan National Army (ANA) soldiers lost their lives in the latest counter-terrorism operations across the country, the Ministry of Defense (MoD) said.
"The Afghan National Army (ANA) forces are prepared for all kinds of devotion and with all force to maintain security and comfort for the people of Afghanistan," a statement by MoD said, adding that 6 Afghan soldiers were martyred during counter-terrorism operations against the internal and foreign terrorists.
The statement by MoD further added that 23 militants were killed, 5 militants were wounded during the clearance operations conducted in Nangarhar, Helmand, Herat, Paktia, and Khost provinces.
There has been a sharp rise in the casualties of the Afghan national security forces since they took full control of the security responsibilities from the coalition forces at the start of last year.
According to the earlier estimates by security officials, the Afghan army deaths stood at 4 service members daily on average which is mainly caused due to improvised explosive device (IED) attacks.
The Afghan armed forces have stepped up counter-terrorism operations amid rampant Taliban-led insurgency during the past several months which has been unprecedented as the militants group was usually reducing insurgency activities during the winter time.
This comes despite ongoing efforts to end the violence through reconciliation process but the Taliban group has not shown a positive sign to participate in the talks so far.
http://www.khaama.com/6-afghan-soldiers-martyred-amid-surging-violence-across-the-country-0398
------
Six suicide bombers among 17 killed in a military raid on Taliban prison in Helmand
Mar 21 2016
ANA with sniperMilitary personnel have raided a Taliban prison in southern Helmand province of Afghanistan and released everybody kept inside as hostages, the Ministry of Defense announced on Monday.
A statement released by the ministry states that the prison belonging to Mullah Abdul Bari Zakir in Shoraki area of Nahr-e-Siraj district was raided last night.
The statement adds that 16 civilians were released from the detention but their identities would be shared with media later.
17 militants, including six suicide bombers, were killed in the raid, the press release states, adding that there was no harm to the military forces.
Taliban have not yet commented on the report.
However, the group runs prisons in various parts of the country where they keep security personnel or others they have held on suspicion of being government employees or supporting government.
http://www.khaama.com/six-suicide-bombers-among-17-killed-as-security-force-raid-taliban-prison-in-helmand-4755
--------
Air strike leaves three Daesh militants killed in Nangarhar
Mar 21 2016
Three militants belonging to the outlawed armed group of Islamic State (IS) which is also known by its Arabic name Daesh have been killed in an air strike in eastern Nangarhar province, spokesperson for Nangarhar Police Headquarters said on Monday.
According to Colonel Hazrat Hussain Mashriqiwal, the air strike was carried out in Mamond area of Achin district around 03:30 pm on Sunday.
With its epicenter being Achin district, Nangarhar is the stronghold of Daesh in the eastern part of the country, where the group is trying to establish a base of operations in its rugged mountains.
Coalition officials estimate between 1,000 to 3,000 Islamic State fighters are stationed in eastern Afghanistan.
http://www.khaama.com/air-strike-kiss-three-daesh-militants-in-nangarhar-4754
-----
ISIS loyalists suffer casualties after ambushing Afghan forces in Nangarhar
Mar 20 2016
ISIS militants killed in AfghanistanThe loyalists of the Islamic State of Iraq and Syria (ISIS) terrorist group suffered casualties after ambushing the Afghan security forces in eastern Nangarhar province.
According to the local government officials, the incident took place late on Saturday afternoon in Batikot district.
Provincial police spokesman Hazrat Hussain Mashriqwal confirmed that the ISIS loyalists the Afghan forces as they were patrolling in the area.
He said the ambush triggered a gun battle that lasted for almost half an hour which led to death of 2 ISIS loyalists while 4 other militants were wounded.
Mashriqwal further added that the Afghan security forces and the local residents did not suffer any casualties during the gun battle.
Nangarhar is among the relatively volatile provinces in eastern Afghanistan where anti-government armed militants including the Taliban insurgents and ISIS loyalists are actively operating in a number of its remote districts.
The ISIS loyalists continue to their insurgency activities on occasional basis despite they received major blows as a result of the military operations and US airstrikes during the recent months.
The Afghan security forces launched a major operation in Achin districts of Nangarhar last month amid concerns that the ISIS loyalists are attempting to establish a regional basis in this province.
The operations continued for a period of at least 21 days in Achin district which was mostly cleared of the insurgents with the local officials saying nearly 300 militants affiliated with the terror group were killed or wounded.
http://www.khaama.com/isis-loyalists-suffer-casualties-after-ambushing-afghan-forces-in-nangarhar-0393
----
Zahir Qadir voice concerns on cross-border incursions by Pakistan
Mar 21 2016
QadirThe deputy house speaker of the Lower House of the Parliament, Wolesi Jirga, Zahir Qadir voiced concerns regarding cross-border incursions by the Pakistani military, saying such violations harms the national sovereignty of Afghanistan.
Speaking during a press conference in Kabul, Qadir also noted other provocative moves by the Pakistani military, including establishment of military installations inside the Afghan soil.
The remarks by Qadir comes as the Pakistani military has stepped up cross-border incursions during the recent months which comes after considerable reduction in indiscriminate shelling during the past one year.
Meanwhile, the former Afghan President Hamid Karzai slammed the United States for remaining silent regarding the cross-border incursions by Pakistan, saying Washington should jointly act against such incursions based on a bilateral security agreement signed with the Afghan government.
In a statement issued on the occasion of Nowruz, Karzai said Afghanistan witnessed cross-border incursions by the Pakistani military during the last solar year as they boldly continue to their invasions on the Afghan soil.
Karzai further added that he is raising the issue considering his duty and responsibility as an Afghan to protest against such incursions.
The Pakistani air force helicopters violated the Afghan air space by entering the Afghan soil and dropping several bombs in eastern Kunar province of Afghanistan earlier this month.
The violation by the Pakistani air force followed two days after the Afghan and Pakistani forces exchanged fire along the Durand Line in Goshta district of eastern Nangarhar province.
http://www.khaama.com/zahir-qadir-voice-concerns-on-cross-border-incursions-by-pakistan-0396
-----
10 Pakistani nationals arrested in Nangarhar
Mar 21 2016
Nangarhar-PHQ10 Pakistani nationals have been arrested by police in Rodat district of eastern Nangarhar province, an official said on Monday.
Colonel Hazrat Hussain Mashriqiwal, spokesperson for Nangarhar Police Headquarters said these people who had been residing in Afghanistan without official documents were arrested during a search operation on Sunday.
An investigation is underway from them to find out if they have links with any militant group but if they had not been involved in any wrong doings, they would be sent back to their country
http://www.khaama.com/10-pakistani-nationals-arrested-in-nangarhar-4754
--------
Ghani, Rouhani stress enhancement of ties and cooperation
Mar 21 2016
ghani-rohaniPresident Mohammad Ashraf Ghani and his Iranian counterpart Hassan Rouhani have stressed enhancement of ties and cooperation between the two countries.
While congratulating the New Year (Solar Year-1395 which began on 20 March) to Iranian President and nation, President Ghani highlighted the importance of Iran's role in the region and urged his counterpart for further strengthening ties between Kabul and Tehran.
In return, President Rouhani also congratulated the New Year to Afghan President and nation.
He emphasized strengthening ties between Kabul and Tehran and Iran's cooperation with Afghanistan on regional and international levels.
Iran which is on the border with Afghanistan hails core importance for Kabul in different areas such as economic development and security.
Afghanistan does not have sea-port and therefore relying on Pakistan and Iran for bringing its commercial goods or sending them abroad.
The landlocked country has been using Pakistan's Karachi Port but it is expansive for Afghan traders and sometimes they are even not allowed to transport their goods when political situation is tense between Kabul and Islamabad.
Therefore, Afghanistan is working with Iran for using its Chahbahar Port.
http://www.khaama.com/ghani-rouhani-stress-enhancement-of-ties-and-cooperation-4754
-----
Karzai questions US security pact in the wake of border violations by Pakistan
Sun Mar 20 2016
KarzaiThe former Afghan President Hamid Karzai has raised questions regarding the bilateral security agreement between Kabul and Washington in the wake of cross-border incursions by Pakistan.
In a statement issued on the occasion of Nowruz, Afghanistan witnessed cross-border incursions by the Pakistani military during the last solar year as they boldly continue to their invasions on the Afghan soil.
Karzai further added that the Pakistani military helicopters violated the Afghan air space in eastern parts of the country, criticizing the United States for remaining silent despite commitments to jointly respond to such invasions as per the bilateral security pact in place between the two nations.
He also called on the Taliban group to respond positively to the peace talks and cooperate in bring peace, stability and development in the country by joining peace process.
The remarks by Karzai come as he refused to sign the bilateral security agreement between Kabul and Washington and remained firm on his demands before inking the agreement.
However, the agreement was signed immediately after President Mohammad Ashraf Ghani succeeded Karzai as the newly-elected president of Afghanistan.
----
Mideast
Islamic State Link Probed In Istanbul Suicide Blast
MAR 20, 2016
ISTANBUL (AFP) - Turkish investigators were scrambling Sunday (March 20) to identify the bomber who blew himself up in the heart of Istanbul, killing four foreigners in the latest bloodshed to rock the country.
No group has yet claimed responsibility for Saturday's blast, which killed three Israelis and an Iranian. The attack came six days after a suicide car bombing at a busy square in the capital Ankara that killed 35 people and was claimed by Kurdish rebels.
But local media said Islamic State jihadists were suspected of being behind the latest attack which targeted Istiklal Caddesi, a bustling pedestrian street in central Istanbul that is lined with shops and cafes.
The suspected bomber was named by pro-government media as Savas Yildiz, a 33-year-old Turkish national. Dogan news agency said DNA samples had been taken from the suspect's father to try to obtain a match with the attacker.
But Istanbul governor Vasip Sahin refused to give details on the tests, saying only: "Our investigation into this question is continuing."
Of the 39 people wounded in the attack, 24 were foreigners. By Sunday morning, 19 people were still being treated in hospital, eight of whom were in critical condition, the health ministry said.
The three Israeli victims, two of whom also held US citizenship, were part of a group which was on a gastronomic tour of Turkey, Israeli media said. Their bodies were to be repatriated Sunday aboard an Israeli military jet, according to military sources.
Five injured Israelis were flown home for treatment on Saturday night, Israel's emergency services said. Turkey has suffered six bombings since July that have killed more than 200 people around the country.
The only attack in Istanbul during that time, outside the Blue Mosque in January, had targeted a tourist quarter. That suicide bombing, which claimed the lives of 12 German tourists, was blamed on IS.
The jihadist group was also held responsible for Turkey's worst ever attack, which killed 103 people in October at a rally in support of Kurds - arch-enemies of IS across the border in Syria.
Yildiz, named as a suspect in Saturday's attack in Istanbul, was also suspected of two bombings on offices of the pro-Kurdish Democratic Peoples' Party last May in the southern cities of Adana and Mersin.
On Sunday morning, the two-kilometre Istiklal Caddesi street and nearby Taksim Square, the city's main rallying point, were eerily quiet, reflecting the growing nervousness of Turks over the seemingly indiscriminate nature of the attacks.
"You never know here it can happen. It's terrifying," said Ismail, a chef from a restaurant near the scene of Saturday's attack.
Prime Minister Ahmet Davutoglu vowed to track down those responsible, while NATO allies the US and Europe said they stood by Turkey.
"We will fight with determination and perseverance until all forms of terrorism are eradicated," Davutoglu said Saturday.
Turks are reeling from the increased frequency of attacks that risk dealing a knockout blow to the country's vital tourism trade.
"Tourism is over, because of the bombs," Imdat, a disconsolate taxi driver with greying hair and a black leather jacket, told AFP as he waited for customers at a rank in Istanbul's Beyoglu district.
A Kurdish rebel group, the Kurdistan Freedom Falcons (TAK), had claimed responsibility for the March 13 suicide car bombing on a busy transport hub in Ankara.
TAK, which also claimed a February attack targeting troops in Ankara that killed 29 people, has ties to the outlawed Kurdistan Workers' Party (PKK) against which the Turkish army is fighting in a major offensive.
In July, the PKK resumed its three-decade-long insurgency for autonomy for the Kurdish minority, following the collapse of a shaky two-year ceasefire.
The conflict, which has been concentrated in the mainly Kurdish southeast of the country, has claimed some 40,000 lives.
http://www.straitstimes.com/world/europe/islamic-state-link-probed-in-istanbul-suicide-blast
-------
Turkey Says Istanbul Suicide Bomber Was Member of Islamic State
Mar 2016
ISTANBUL: A Turkish member of the Islamic State militant group was responsible for Saturday's suicide bombing in Istanbul that killed three Israelis and an Iranian, Turkey's interior minister said.
The attack in Istiklal Street, Istanbul's most popular shopping distict, is the fourth such bombing in Turkey this year and the second one by Islamist militants. In January a suicide bomber blew himself up in Istanbul's historic heart, killing 12 German tourists.
NATO-member Turkey is on heightened alert after the bombings, which have killed more than 80 people. A soccer match between Istanbul rivals Fenerbahce and Galatasaray was cancelled on Sunday and the stadium evacuated on what appeared to be a security threat.
Interior Minister Efkan Ala identified Saturday's bomber as a man from a southern Turkish province, adding that five people had been detained so far in connection with the blast.
"We have determined that Mehmet Ozturk, born in 1992 in Gaziantep, has carried out the heinous attack on Saturday in Istanbul. It has been established that he is a member of Daesh," Ala told a news conference broadcast live on television, using an Arabic acronym for Islamic State.
Israel has confirmed that three of its citizens died in the blast. Two of them held dual citizenship with the United States. An Iranian was also killed, Turkish officials have said.
Israeli Prime Minister Benjamin Netanyahu has said Israel is trying to determine whether its citizens were deliberately targeted. Eleven of the 36 wounded were Israelis.
In his first public appearance since the bombing, President Tayyip Erdogan said Turkey would not give in to militants.
"We will never surrender to the agenda of terror. We will defeat the terrorist organisations and the powers behind them by looking after the unity of our nation," he said.
SPATE OF BOMBINGS
As part of a U.S.-led coalition, Turkey is fighting Islamic State in neighbouring Syria and Iraq. It is also battling Kurdish militants in its southeast, where a 2-1/2-year ceasefire collapsed last July, triggering the worst violence since the 1990s.
The spate of bombings has raised questions about its ability to protect itself from a spillover of both the Syria and Kurdish conflicts.
An offshoot of the militant Kurdistan Workers Party (PKK) claimed responsibility for two recent car bomb attacks in the capital Ankara that killed a total of 66 people. Turkey sees the Kurdish insurgency as fuelled by the territorial gains of Kurdish militia fighters in northern Syria.
Police were questioning the father and brother of the alleged bomber Ozturk and had determined his identity by checking a DNA sample from the blast scene against one taken from his father, security sources said.
Ozturk's family reported him missing after he went to Istanbul in 2013, the security sources said.
Police were on also on alert due to concerns about potential clashes between security forces and Kurdish militants during a spring festival this weekend that is widely celebrated by Kurds.
The United States and some European embassies had warned their citizens to be vigilant before the Newroz celebrations.
Interior Minister Ala said authorities had put 200,000 members of the police and gendarmerie on duty, some of whom would set up checkpoints. Hundreds of bomb control devices had also been dispatched.
But he acknowledged the difficulty of catching lone suicide bombers.
"We have to take all measures to prevent any terrorist acts," he said. "But sometimes there are suicide bombings that are hard to prevent."
'WE ARE HERE'
Streets across the city, usually bustling with traffic and pedestrians on Sundays, were eerily quiet apart from the sound of police helicopters buzzing overhead.
Although Istiklal was quiet earlier in the day it was no longer deserted by afternoon. Crowds gathered at a makeshift memorial at the site of the bombing, where mourners laid carnations next to handwritten signs that read: "We are here. We are not afraid."
Ahmet Merkit, who was carrying a Turkish flag near the site of the blast, described the bombing as an attack against all Turks. "Those who did this cannot call themselves Muslims. They have no religion," he said. "We must remain a democratic society. We are a nation that has never surrendered, we will not surrender now to terrorism."
Dutch Consul General Robert Schuddeboom, who had come to lay flowers at the site, said there could be more such attacks.
"With terrorism, even the best of security agencies and the best of information cannot prevent it from happening... The general analysis is that we can expect more attacks," he said.
Social media sites such as Twitter and Facebook were not readily accessible, local users reported. Authorities have blocked access after past bombings, usually because graphic images have been shared online.
It was not immediately clear whether Germany, which closed its diplomatic missions and German schools last week citing a security threat, would open them on Monday. A foreign ministry spokeswoman said the decision would be made at short notice.
(Additional reporting by Humeyra Pamuk, Murad Sezer, Osman Orsal and Can Sezer in Turkey; Ari Rabinovitch in Jerusalem and Hans-Edzard Busemann in Berlin; Writing by David Dolan; Editing by Mark Trevelyan) - Reuters
http://www.channelnewsasia.com/news/world/turkish-police-on-high-al/2620658.html
------
Police on alert to find three ISIL militants across Turkey after attacks
ISTANBUL – Doğan News Agency
March 21, 2016
Police on alert to find three ISIL militants across Turkey after attacks
Counter-terrorism and intelligence police units in Turkey have acted following a tip-off that three militants of the Islamic State of Iraq and the Levant (ISIL) were recently ordered to conduct attacks across Turkey in crowded places, especially in Istanbul.
Police have shared pictures of three ISIL militants - Hacı Ali Dumaz, codenamed Mervan; Savaş Yıldız, codenamed Ebu Cihat; and Yunus Durmaz, who uses the codenames Abdüllatif Efe, Sarı Yunus and Muhammed Ali.
Yıldız was already being sought over bomb attacks targeting Peoples' Democratic Party (HDP) district offices in Adana and Mersin in May 2015. In one of the photos he is shown as having infiltrated an HDP rally, holding a party flag.
Turkey is on alert following recent suicide bomb attacks in the capital Ankara and Istanbul. The latest terror attack hit central Istanbul's İstiklal Avenue on March 19, killing five and wounding 39 people.
http://www.hurriyetdailynews.com/police-on-alert-to-find-three-isil-militants-across-turkey-after-attacks.aspx?pageID=238&nID=96708&NewsCatID=341
-----
Israel 'rescues' 19 Jews from war-torn Yemen in covert operation
March 21, 2016
JERUSALEM: Israel has extracted 19 Jews from Yemen in a "complex, covert operation," officials said on Monday, noting they were among the last remaining in the war-torn country.
The Jewish Agency, responsible for Jewish immigration to Israel, said around 50 Jews are still in Yemen and have chosen to remain there. Yemenite Jews are considered one of the oldest Jewish communities in the world.
"Nineteen individuals arrived in Israel in recent days, including 14 from the town of Raydah and a family of five from Sanaa," the agency said in a statement.
"The group from Raydah included the community's rabbi, who brought a Torah scroll believed to be between 500 and 600 years old."
Yemen has been gripped by violence since September 2014, when Houthi rebels, who had long complained of marginalisation, stormed Sanaa and forced the internationally recognised government to flee south.
A Saudi-led coalition began bombing raids on Houthi positions across Yemen in March last year but the insurgents still control swathes of the country including the capital.
Al Qaeda and the millitant Islamic State group have gained ground in southern Yemen since the coalition launched its air campaign.
The Jewish Agency says more than 51,000 Yemenite Jews have immigrated to Israel since the country was founded in 1948.
Nearly 50,000 were brought over in 1949 and 1950 in a secret operation known as Operation Magic Carpet.
http://www.dawn.com/news/1247063/israel-rescues-19-jews-from-war-torn-yemen-in-covert-operation
----
Erdogan Condoles Rouhani on Death of Iranian National in Istanbul, Urges Anti-Terrorism Cooperation
March 21, 2016
TEHRAN (FNA)- Turkish President Recep Tayyip Erdogan extended condolences to his counterpart President Hassan Rouhani over the death of an Iranian national in the Saturday suicide attack in Istanbul, calling for mutual cooperation in fighting terrorism.
"Killing of an Iranian national in Istanbul's March 19 terrorist attack deeply saddened me," Erdogan wrote in a letter to President Rouhani, calling him as "brother".
"We will undoubtedly continue campaign on all forms of terrorism and I want to inform you that Turkey is ready to cooperate with Iran in this regard," he added.
A suicide bomber killed four people, including an Iranian, on Saturday in a busy shopping district in the heart of Istanbul, pushing the death toll from four separate suicide attacks in Turkey this year to more than 80.
On Saturday, Iranian Foreign Minister Mohammad Javad Zarif deplored the terrorist blast in Istanbul.
He also extended his condolences to the Turkish people and bereaved families of the victims.
The Iranian foreign minister, who was visiting Istanbul at the time of the blast, sympathized with the Turkish government and nation on the sad occasion during a press conference with his Turkish counterpart.
Prime Minister Ahmet Davutoglu said the blast was "inhumane" and would not stop Turkey from fighting "centers of terrorism".
Israel said two of its citizens died in the attack, Washington said two Americans had been killed and a Turkish official said one victim was Iranian, suggesting that some of the dead may have had dual nationality.
The blast, which also wounded at least 36 people, was a few hundred meters from an area where police buses are often stationed. It sent panicked shoppers scurrying into alleys off Istiklal Street, a long pedestrian avenue lined with international stores and foreign consulates.
http://en.farsnews.com/newstext.aspx?nn=13950102000105
----
Iranian Embassy Issues Turkey Travel Warning
March 21, 2016
TEHRAN (FNA)- The Iranian embassy in Ankara issued a warning to the country's nationals traveling to Turkey.
The Iranian mission in a statement on Sunday called on Iranians on Nowruz holiday visit to Turkey not to go to the crowded areas.
The Iranian Embassy released a statement to express condolence on the death of an Iranian tourist and injuries of several others in a suicide attack in Istanbul on Saturday.
It said that Iranians visiting Ankara, Istanbul, Trabzon and Erzurum not to go to crowded areas during their stay.
A suicide bomber killed four people, including an Iranian, on Saturday in a busy shopping district in the heart of Istanbul, pushing the death toll from four separate suicide attacks in Turkey this year to more than 80.
On Saturday, Iranian Foreign Minister Mohammad Javad Zarif deplored terrorist blast in Istanbul which killed and wounded innocent people, including foreign tourists.
He condemned Saturday's bomb blast in Istanbul, and extended his condolences to the Turkish people and bereaved families of the victims.
The Iranian foreign minister who was visiting Istanbul at the time of the blast, sympathized with the Turkish government and nation on the sad occasion during a press conference with his Turkish counterpart.
Turkish Prime Minister Ahmet Davutoglu said the blast was "inhumane" and would not stop Turkey from fighting "centers of terrorism".
Israel said two of its citizens died in the attack, Washington said two Americans had been killed and a Turkish official said one victim was Iranian, suggesting that some of the dead may have had dual nationality.
The blast, which also wounded at least 36 people, was a few hundred meters from an area where police buses are often stationed. It sent panicked shoppers scurrying into alleys off Istiklal Street, a long pedestrian avenue lined with international stores and foreign consulates.
http://en.farsnews.com/newstext.aspx?nn=13950102000050
----
Ankara hosts task force meet aimed at building trust among EU, Russia, Turkey
Emine Kart - ANKARA
March 21, 2016
Ankara hosts task force meet aimed at building trust among EU, Russia, Turkey
Officials from a number of countries have noted the need to build trust among the European Union, Russia and Turkey amid the conflict in Syria following a conference in Syria last week.
The timeliness of the European Leadership Network (ELN) meeting was not totally "coincidence" even though it had been scheduled for a long time, according to participant Lord Des Browne, a former U.K. defense secretary.
A Pan-European Task Force on Cooperation in Greater Europe, including former foreign and defense ministers from the United Kingdom, Poland, Russia, Germany, Turkey and France, is supported by analytical work by the ELN, the Russian International Affairs Council (RIAC), the Polish Institute of International Affairs (PISM) and the International Strategic Research Organization (USAK).
Based in Ankara, USAK hosted last week's meeting with the participation of Director Özdem Sanberk, the former permanent undersecretary at the Foreign Ministry and former chief foreign policy adviser to the prime minister.
"The whole practice of partnership for the task force focuses on generating a forum in which people that are knowledgeable on these issues and are influential can discuss relevant, complex and challenging issues that are a manifestation of the lack of trust that we have in each other," Browne told the Hürriyet Daily News on the sidelines of the meeting, adding that part of building trust involves addressing difficult issues.
"Although we did not plan to be here at this very precise time in terms of the geopolitics of the regional politics, it is more than a coincidence that addressing issues that are relevant today," he said.
The meeting coincided with the partial Russian withdrawal from Syria, U.N.-led Syrian talks in Geneva and a shaky cessation of hostilities in Syria as well as a special Brussels summit between Turkey and the EU on the growing migration crisis.
Browne also described the Turkey-EU summit as the "beginning of the end of the migration crisis."
"We try to keep things relevant to today and from our point of view; we face a challenge to maintain relevance in a changing environment. We hope to make a contribution," he said, noting that they would come up with a common position paper that would be presented to the capitals of the participants in upcoming weeks.
Browne said the world had become a better place compared to the post-World War II era of his childhood, while admitting that today "in this part of the world, we have our own arc of crisis."
"We have to recognize that we all have a shared interest in dealing with it," he said, recalling that countries managed to build several mechanisms which have been useful in the post-Cold War era such as the Organization for Security and Co-operation in Europe (OSCE).
"We should understand that we absorb a lot of resources in order to address this lack of trust collectively, by being honest with each other. But if we are to do that, we need to share information and we need to be conscious that these things can escalate," he said, citing the Turkish downing of a Russian military aircraft in November 2015 as an example when asked about prior elements of rebuilding that trust. "People need to back off these things in order to prevent conflict."
Human error in bilateral relations
Alexey Gromyko, director of the Institute of Europe of the Russian Academy of Sciences (IE RAS), also referred to Turkey's downing of the jet.
Recalling that before the plane was shot down, bilateral relations between Ankara and Moscow were defined as "strategic" by many politicians and specialists despite their differences on a number of issues, Gromyko told the Daily News that this definition was "the true reflection of affairs between the two countries."
"Of course we know from history that mistakes which are not a result of some fundamental matters but which are made because of tactical politics or just because of human error can have disastrous consequences. In history, some wars happened not because states were enemies from the point of their national interest but because their political classes were not wise or reasonable to prevent this cause of events. That is why I hope very much and strongly believe that due to the fact that our cultures share much more strategic goals and they share a lot of similarities, I am sure that a period for repairing this will start, but it is impossible to repair the damage overnight; it is going to be quite a long process of rapprochement," Gromyko said, recalling a famous quote from Winston Churchill, and separately echoing the same approach as Browne from a different point of view.
"Now this is not the end. It is not even the beginning of the end. But it is, perhaps, the end of the beginning," Gromyko quoted Churchill as saying in 1942 at a time of British victories in North Africa.
'Hostages of fragility'
Another participant from Russia, Ivan Timofeev, program director at the Russian International Affairs Council, used "a chicken and the egg" metaphor to describe the course of events in Russian-Turkish bilateral relations.
"One of key problems on lack of trust is to hold a discussion on what goes first, the chicken or the egg," Timofeev told the Daily News.
"They often say we don't cooperate because of a lack of trust, but trust does not emerge from nothing. Trust emerges from the results of common interests and from the results of joint actions," said Timofeev.
"An example between Russia and Turkey is very illustrative; they have been partners for more than two decades and this partnership was very dynamic. There were also disagreements but we respected these disagreements, but the plane crash ruined almost all of these. This is a very non-linear process when one action may have very big consequences – bigger than we expect. The only remedy to this lack of trust is the cooperation in spheres where we have common interest," Timofeev said, while referring to Russian President Vladimir Putin's swift offer of condolences to the people of Turkey following a March 13 suicide bomb attack in Ankara as a positive beginning.
"I must say that the experience of partnership we had in the past is an asset for the future. Because it will help to overcome the negative legacy ease and help to revive trust; we do not have to need to start from a blank sheet, not a tabula rasa," he said.
Yet, he admitted: "The situation on Syria-Turkey border and everything is very fragile so we are very vulnerable. In fact, Russia, Turkey and Western countries are the hostages of this fragility. We are limited by this chaos."
http://www.hurriyetdailynews.com/ankara-hosts-task-force-meet-aimed-at-building-trust-among-eu-russia-turkey.aspx?pageID=238&nID=96675&NewsCatID=510
----
Police identifies Istanbul bomber as ISIL member
ANKARA
March 21, 2016
The Turkish interior minister has said the Istanbul bomber, which killed four people and wounded 39 in a suicide attack on central Istanbul's İstiklal Avenue, had links with the Islamic State of Iraq and the Levant (ISIL), as the country experienced the jihadist group's second terror attack in the city since January.
"The identity of terrorist who carried out this wretched suicide attack has been determined. This person, this terrorist is Mehmet Öztürk, born in 1992 and registered from the Gaziantep province. Current findings show that the terrorist has links to the DAEŞ terror organization," Interior Minister Efkan Ala has said, using the Arabic acronym for ISIL.
Ala also emphasized that other connections in the attack had been meticulously researched, adding that an all-around investigation into the incident has been ongoing.
The interior minister added that all countries should cooperate and stand against terror attacks carried out all around the world.
Five suspects, including Öztürk's father Nahsen Öztürk and his brother, were detained after the attack.
Nahsen Öztürk said that his son left home in 2013 for Istanbul and they had connectedly rarely since, daily Hürriyet reported. Police surveilled that Öztürk had joined ISIL and he was being sought for his ISIL membership.
Öztürk reportedly went to Syria the same year he disappeared from home and stayed there until 2015, before illegally re-entering Turkey from the Elbeyi district of the southeastern province of Kilis and later set out for Gaziantep.
It has also been reported that Öztürk stayed at a hotel in the Beşiktaş district of Istanbul on March 18 and received assistance from a person who was from Adıyaman province. Police have begun to seek the person who helped Öztürk.
The identity of Öztürk was confirmed following DNA tests. Police and intelligence units had also focused its search on another ISIL suspect along with Öztürk, named Savaş Yıldız who was among four ISIL members currently being sought in Turkey.
Five people were killed and 39 others were injured in a suicide bomb attack on March 19 in central Istanbul, on the busy İstiklal Avenue in Taksim.
All victims of the attack except the attacker were foreign nationals, three of which were Israeli and the other an Iranian citizen.
Turkish Health Ministry said in a statement on March 20 that a total of 12 people were receiving treatment at various hospitals in Istanbul, with four currently in intensive care units.
Istikal Avenue is Istanbul's one of the top social spots for locals as well as tourists, as it hosts a number of shopping malls, clubs, bars, restaurants and consular buildings including the Greek Consulate, which was very close to the scene of attack.
A number of locals and tourists have visited the scene of the attack since March 19 and laid carnations for those who were killed in the attack. Placards and notes reading "We are not afraid" in Turkish, English and Hebrew were placed on the scene along with Turkish flags.
Security forces also stepped up their security controls on the major thoroughfare in general with continuous ID checks. However, many shops on Istiklal continued to remain closed the day after the attack as the neighborhood was abnormally empty.
Turkey has been experiencing a steady stream of terror attacks since July 2014, with the latest Istanbul attack marking the country's fourth attack since January. It came less than a week after a suicide car bomb attack in the heart of the capital city of Ankara, which killed 37 people. The Kurdistan Freedom Hawks (TAK), a terror group linked to the outlawed Kurdistan Worker's Party (PKK), claimed responsibility for the attack.
The group described the car bombing, which occurred on March 13, as "vengeful action" for security operations against PKK militants and locals in town centers in the southeast that have been underway since July. TAK previously claimed responsibility for a separate car bombing in Ankara last month that killed 29 people. In January, a suicide bomber killed around 10 people, most of them German tourists, in Istanbul's historic heart, an attack the government blamed on ISIL.
http://www.hurriyetdailynews.com/police-identifies-istanbul-bomber-as-isil-member.aspx?pageID=238&nID=96674&NewsCatID=509
-----
Istanbul deserted after suicide attack: Four looks around the city
March 21, 2016
Istanbul has fallen into silence after the deadly suicide attack in one of the city's most lively spots, Istiklal Avenue, on March 19, which killed five and left at least 39 wounded. Police closed Taksim and its environs to both vehicle and pedestrian traffic after the attack. Many tourists opted to stay in their hotels during day while other shopping and entertainment spots of the city experienced an unusual Saturday night.
Here are four impressions from Istanbul's top spots in the aftermath of the suicide attack.
1. Beşiktaş
After reports about one suicide bomber escaping after the attack on Istiklal Avenue surfaced, the streets of Beşiktaş were immediately emptied. However, even after the reports were proved to be false, many spots in Beşiktaş were empty throughout the day as many reservations were canceled in entertainment spots in the district.
"Normally Beşiktaş would be jam-packed on Saturdays. However, today it is so silent and tranquil. People are afraid of going out. Our regular customers did not come today. Many customers have canceled their reservations for today," one shopkeeper said adding that it was an unusual Saturday for the district.
One taxi driver in the district also said that the main roads of the city were empty compared to the normal rush one usually sees in Istanbul.
"Normally we could not even move due to traffic at this hour. However, I drove to Sultanahmet, Eminönü, Kabataş and Beşiktaş within a half an hour. Everywhere is empty."
2. Nişantaşı
Another false report on a bomb attack in the city's elite neighborhood of Nişantaşı at the same time as the Taksim bombing caused the area to fall silent.
A shopkeeper in the neighborhood said that it was the first time he had seen Nişantaşı this deserted.
"I have been a tradesman here for 20 years. This is the first time I see Nişantaşı so deserted. A number of tourist groups, especially Iranians, have been shopping here before Taksim attack. Tourists retreated to their hotels right after the attack and Nişantaşı was evacuated in an instant. People have already been holding back from touring and shopping in Nişantaşı for a while. They have become to be afraid to go out after today's attack."
3. Kadıköy
The suicide attack has also showed its unfortunate effect on the Asian side of the city. One of the disctrict's main transportation arteries, Ayrılık Çeşmesi metro station, was quite deserted around 7 p.m. as well as ferry piers, which are always crowded with passengers bound for Beşiktaş, Karaköy and Eminönü.
Some shops in central Kadıköy were also closed early and usually crowded coffee shops were empty.
One employee at a local coffee shop in the district said the crowded streets had already gradually began to be emptied after the March 13 attack in Ankara and with the most recent attack, it became almost empty.
One grocery owner also said that he could not sell much since 10 a.m. and believed that the situation would go like this for a while.
4. Eminönü
The historical side of the city was also emptier compared to the regular crowd usually found in front of the historic Yeni Camii and Spice Bazaaar on March 20. The overall traffic density in Istanbul also decreased as never before after the attack, measuring only at six percent according to figures from the Istanbul Metropolitan Municipality.
http://www.hurriyetdailynews.com/istanbul-deserted-after-suicide-attack-four-looks-around-the-city.aspx?pageID=238&nID=96683&NewsCatID=341
-----
World leaders condemn Istanbul terror attack
ANKARA
March 21 2016
World leaders from around the globe have expressed their outrage at yet another terrorist attack in Turkey, this time on Istanbul's famous Istiklal Street, which has left at least five people dead, including the bomber.
The attack killed three Israelis and one Iranian, while the bomber was identified as a Turk with Islamic State of Iraq and Levant (ISIL) links. Two of the Israeli victims were also U.S. citizens.
"Two American citizens were among those killed in this heinous attack," a statement issued by the National Security Council spokesperson Ned Price said, while condemning the attack which also wounded 39 others in central Istanbul.
The U.S. Department of State has also strongly condemned the attack.
"The United States strongly condemns the terrorist attack today on Istanbul's Istiklal Avenue. We extend our deepest condolences to the families of those killed and our hopes for a quick recovery for those wounded. We will remain in close touch with Turkish authorities during the investigation," U.S. State spokesperson John Kirby said in a statement, showing solidarity with their NATO ally.
"Saddened, shocked by explosion on İstiklal. We mourn with families of the lost, and we wish the injured a speedy recovery," the official site of the U.S. consulate in Istanbul twitted.
British Consul-General in Istanbul Leigh Turner tweeted: "Shocked and saddened by news of #Istiklal bombing today. My thoughts are with all those affected and their families."
The Dutch Consul General in Istanbul, Robert Schuddeboom, shared a picture of an empty İstiklal Avenue late March 19 after the bombing.
NATO Secretary-General Jens Stoltenberg said in a statement that he condemned the terrorist attack in Istanbul.
"I strongly condemn this morning's terrorist attack on a pedestrian avenue in central Istanbul, [which is] yet another terrorist outrage targeting innocent civilians and our ally Turkey," Stoltenberg said.
EU Commissioner for European Neighborhood Policy and Enlargement Negotiations Johannes Hahn raised concerns. "Extremely concerned about today's suicide bombing in Istanbul, another horrible act of terrorism in a series of violent attacks in Turkey. My thoughts and my sympathy are with the families of victims and all people affected. [I] condemn these acts of violence in the strongest term," he said in a tweet.
European Parliament President Martin Schulz also extended his condolences to the families of the victims and wished the injured a quick recovery.
EU Commissioner for Migration, Home Affairs and Citizenship Dimitris Avramopoulos said, "Another terrorist attack in Turkey. More innocent victims. I condemn it unequivocally. Our common fight against terrorism will continue."
"I strongly condemn this heinous and cowardly act, which caused the death of several people," French Foreign Minister Jean-Marc Ayrault said in a statement.
"I express my condolences to the families of the victims and solidarity of France with Turkey and the Turkish people in the fight against terrorism," he said.
Georgian Prime Minister Giorgi Kvirikashvili also condemned the attack, while calling the latest terror attacks in Turkey "very worrying."
Albanian Foreign Ministry said in a statement, "We express our most sincere condolences for the lives lost as a result of recent repeated barbaric acts in Turkey."
Meanwhile, Kosovo President-elect Hashim Thaci tweeted, "I'm shocked by yet another attack against Turkey in Istanbul. We express deepest sympathy and resolve to be by the side of the Turkish people."
Pakistan and a number of Arab states also condemned the attack.
"Qatar condemns these criminal acts, which are incompatible with the principles of Islam, human values and international law," the Qatari Foreign Ministry said in a statement
http://www.hurriyetdailynews.com/world-leaders-condemn-istanbul-terror-attack--.aspx?pageID=238&nID=96689&NewsCatID=341
-----
Pakistan
Two 'Key Commanders' Among 12 'Militants' Killed By FC
Mar 21, 2016
QUETTA: Frontier Corps personnel claimed to have killed at least 12 suspected militants, including two key commanders, in Balochistan's Kohlu district on Monday.
The miscreants in Kohli's Nasau area were killed in exchange of fire during a security forces' operation in the area, and a large cache of arms and ammunition was recovered from their possession, spokesman Frontier Corps Khan Wasey said.
The miscreants were involved in attacks on security forces and vital national installations in the area, he added.
The miscreant commanders were identified as Jamir and Baloch Khan, Wasey said, adding that the dead miscreants belonged to a banned militant organisation operating in the area.
"Exchange of fire is still underway", Wasey said.
Security forces have intensified their actions in Balochistan after the announcement of National Action Plan to combat terrorism in the country
http://www.dawn.com/news/1247064/two-key-commanders-among-12-militants-killed-by-fc
----
Rangers arrest MQM Deputy Convener Shahid Pasha
Mar 21, 2016
KARACHI: Rangers personnel arrested Muttahida Qaumi Movement's (MQM) Rabita Committee (Coordination Committee) Deputy Convener Shahid Pasha in a raid early on Monday morning.
MQM spokesperson Wasay Jalil confirmed that Pasha was taken by Rangers into their custody during a raid at his apartment in the Gulistan-i-Jauhar area of the metropolis.
The arrest was condemned by MQM's leadership.
The arrested suspected was presented in an Anti-Terrorism Court (ATC) where the administrative judge was informed regarding Pasha's preventive detention for three months.
The court also ordered the formation of a joint investigation team to probe the charges against the MQM leader.
Pasha was made deputy convener of the coordination committee a year ago, and is believed to be an important figure in MQM's organisational structure and has held various posts with the political party.
The arrest comes after MQM leader Dr Farooq Sattar, in an earlier press conference, had accused the Rangers of torturing and interrogating "40 under-trial prisoners" belonging to the MQM imprisoned at Karachi Central Jail, and "pressuring the workers to leave the party".
He alleged the workers were being forced to fill out a pro forma and told that they would be allotted every facility in prison, cases against them would be withdrawn and they would be released only if they changed their loyalty.
MQM lawmakers staged a walk out from the Sindh Assembly in protest against Pasha's arrest.
Notices to DG Rangers, IG Sindh
The Sindh High Court (SHC) on Monday issued notices to DG Rangers Maj Gen Bilal Akbar, Inspector General of police Sindh A. D. Khawaja and Sindh home secretary seeking their comments on a petition filed by the family of Shahid Pasha.
The petition stated that law-enforcement agencies personnel picked Pasha up from his Karachi residence early on Monday. However, even after the passage of several hours, he could not be located nor was his arrest made public.
A two-judge bench of SHC after hearing the petition issued notices to Rangers and Sindh police, directing them to file their comments by April 11.
The hearing was subsequently adjourned.
http://www.dawn.com/news/1246997/rangers-arrest-mqm-deputy-convener-shahid-pasha
-----
Shafqat defends anthem rendition, blames Eden audio
Mar 21, 2016
KOLKATA: A day after his rendition of 'Qaumi Tarana', the Pakistani national anthem — before the start of the India-Pakistan clash at the Eden Gardens — was criticized on social media; Shafqat Amanat Ali on Sunday rendered an "apology". The Pakistani singer, in a tweet, however, denied any mistake on his part, blaming "a few audio & technical glitches".
On Saturday, the singer's performance had drawn angry responses from Pakistanis. Some accused him of getting the lyrics wrong, while others felt he should be "deported if he steps in the country again".
Before leaving Kolkata on Sunday evening, Shafqat told TOI: "Since some people wanted me to tender an apology, they have one for me. This apology was for not being able to win their praise. But I neither forgot the lyrics nor got my tune wrong."
So, what exactly did go wrong? According to the 'Mitwa' singer, it happened because the weather had denied him a chance to conduct a sound check. Consequently, he took a big risk to sing live in front of such a large — and charged — audience, he said. "Because of the rain, we didn't get a chance to do a sound check. We went straight into the performance. There was one air-monitor in my right ear which was playing the track a little earlier (out of sync). There was a speaker right in front of me. There, the sound was coming with a little delay," he told TOI.
It was this time lapse, Shafqat claimed, that was the problem. "I was also trying to not go out of tempo. Many told me that the overall sound of my performance was a little low and that some words might have sounded different. The original words are 'Parcham-e-Sitara'. Due to sound problems, people heard it as 'Parcham-o-Sitara'. But that's incorrect. By no means had I forgotten our beloved 'Qaumi Tarana'," he said.
While Amitabh Bachchan got a thundering response for his rendition of 'Jana Gana Mana' from both sides of the border, even Pakistani fans were harsh on Shafqat, saying he was at his "poorest and weakest" during a "pathetic rendition". When asked about the divergent reactions to these two performances, Shafqat said: "I respect him (Amitabh) immensely. Yes, he gave a great performance."
Some of Shafqat's online baiters had hinted that the enormity of the occassion had got to the singer — perhaps it was a bad case of stage fright singing to a 67,000-strong crowd at the Eden, more so because it came before such a crucial match. Shafqat, however, dismissed this allegation. "Not at all. I didn't even want to sing on minus one track (a system of singing along a studio-recorded accompanying track). Had I wanted to do so, I could have easily gone to a studio, recorded the song and lip-synced. But I wanted to sing live, though this wasn't exactly a singing show. Besides, we also lost the match."
Does he think his countrymen would have reacted differently had Pakistan won the match? "Maybe," he offered.
Shafqat is thankful to Sourav Ganguly for offering him the chance to perform at Eden. "I want to thank him for the hospitality that he provided. It was heart-warming," Shafqat said. Virat Kohli, too, received compliments. "He too had been criticized once for not performing well. It was a great comeback for him and I wish him all the best," Shafqat said.
http://timesofindia.indiatimes.com/india/Shafqat-defends-anthem-rendition-blames-Eden-audio/articleshow/51486142.cms
------
Two schoolchildren killed, nine missing in Chitral avalanche
Mar 21, 2016
CHITRAL: Rescuers on Sunday found the bodies of two schoolchildren hit by an avalanche in the Khyber Pakhtunkhwa's Chitral district, while nine more remain buried beneath the snow.
The disaster struck on Saturday afternoon near the village of Susom, some 40 kilometres north of the town of Chitral when the schoolchildren were returning home, local police station chief Sultan Baig told AFP.
Worried parents and authorities began searching for the ninth graders when they did not return from school.
The local administration and rescue teams have suspended the search operation for the missing schoolchildren due to bad weather condition, official and police said.
"The chances of finding any survivors are very low," said local deputy mayor Mohammad Ali.
"But you never know, people have been found alive buried under snow for nearly 20 hours."
An official of Chitral police said the rescue teams were facing problems due to heavy snow and rain in the area. "The area has so far received over three feet snow," he added.
Heavy rains have killed at least 79 people, injured 101 others and damaged 240 houses since March 9 across Pakistan, according to the National Disaster Management Authority.
It said landslides and collapsed roofs caused most of the fatalities.
Poorly-built homes, particularly in rural areas, are most prone to collapse.
Severe weather hits the country every year, with hundreds killed and huge tracts of prime farmland destroyed in recent years.
http://www.dawn.com/news/1246863/two-schoolchildren-killed-nine-missing-in-chitral-avalanche
-------
12 directors from Pakistan and India come together in poem for peace
March 21, 2016
12 directors from Pakistan and India have come together for a groundbreaking project. In a momentous step towards creating peace between the two nations, an initiative launched at the Wagah border has brought together celebrated directors from the neighbouring countries to create 12 different films.
Before releasing their respective films, however, these directors have treated us to a poem about fostering peace.
Aparna Sen, Bejoy Nambiar, Ketan Mehta, Nikkhil Advani, Tanuja Chandra and Tigmanshu Dhulia from India; and Khalid Ahmed, Mehreen Jabbar, Meenu-Farjad, Sabiha Sumar, Shahbaz Sumar and Siraj ul Haque from Pakistan have banded together to narrate the poem written by Kausar Munir.
Indian poet pens tear-jerking message for Pakistanis
Directed by Chinni Nihalani, the poem stresses on the need for both sides to make an effort towards building bridges, with the constant reminder "It takes two."
Pakistani director Khalid Ahmed starts off with"Salam Karun ya Namaste kahun, aik hee baat hai."
The poem inspires us to take a step towards building a positive relationship. Through her words, Kausar Munir drives home the point that actions need to be taken to foster peace now — once and for all.
"Haath mein haath do. Rishta banay ga."
Both sides hold equally responsibility in ridding the countries of their history of animosity.
"Haath milao. It takes two. Galay lag jao. It takes two."
Kalki pens poem on brutality faced by women in India
http://tribune.com.pk/story/1069804/12-directors-from-pakistan-and-india-come-together-in-poem-for-peace/
-------
Arab World
Syrian Army Captures More Regions in Lattakia
March 21, 2016
TEHRAN (FNA)- Syrian Army forces and their allies forced terrorists to retreat from a number of points in the Northwestern province of Lattakia, and established control over more regions in the Northern parts of the province.
The pro-government forces captured Rawisa Rashou and Jourata an-Nahlah and several more points in the Northern regions of Lattakia province inflicting heavy casualties on the terrorists and damage on their military grid.
Yesterday also the Syrian Army and National Defense Forces (NDF) managed to liberate more areas in the Northern regions of Lattakia province, military sources said.
The pro-government forces kept on their advances against the al-Nusra terrorists' positions, and forced them to retreat from points 278, 397, and 409 in the Northern parts of Lattakia province,
In a relevant development, the Syrian Army in cooperation with popular forces vehemently repulsed several al-Nusra assaults on the al-Soucha village in the Northern parts of Lattakia and killed a number of the terrorists, a military source said on Sunday.
Also on Sunday, the al-Nusra terrorists attempted to capture the army positions in Tal al-Qala and Ain al-Baida regions, but were pushed back by the army after losing several militants," the source said.
http://en.farsnews.com/newstext.aspx?nn=13950102000290
-----
Syrian Troops Push Back ISIL Further Toward Palmyra
March 21, 2016
TEHRAN (FNA)- The Syrian Army and its allies pushed their way further into militant-held areas in Homs province and came closer in different directions to the key city of Palmyra (Tadmur) in the Eastern part of province, imposing heavy casualties on the terrorists in the region, military sources said on Monday.
The military sources said pro-government forces took dozens of hilltops, from the hill 900 up to hill 700, in heavy clashes with ISIL terrorists.
They also managed to advance further from al-Bayarat to Palmyra Triangle and from Tal al-Matar to al-Dowah and al-Tar Mountain.
The Syrian army also made several advances in rugged areas overlooking the city of Palmyra and liberated areas just across Palmyra's ancient Citadel, Northeast of the city.
Yesterday, the Syrian Army Forces and Hezbollah fighters managed to advance further towards the city of Palmyra (Tadmur) in Homs province, liberating another important mountain-top that overlooks the ancient city's Western suburbs.
According to a battlefield correspondent embedded with the government forces near Palmyra, the Syrian Army and Hezbollah imposed full control over Jabal Musharraf after a late night battle with the ISIL militants.
The Syrian Army's Tiger Forces, backed by Hezbollah fighters and other Syrian army's allies, carried out a night assault on ISIL's lines near Palmyra's Western suburbs, killing several terrorists and confiscating a large cache of weapons from the terrorist group.
Earlier reports said that Syrian Army forces and their allies were pushing their way to advance further into the Eastern parts of Homs province, and established their control over more areas after fierce clashes with militants in the region.
http://en.farsnews.com/newstext.aspx?nn=13950102000316
-----
Ayman al Zawahiri's brother released from Egyptian prison
BY THOMAS JOSCELYN | March 19, 2016
Mohammed al Zawahiri, the younger brother of al Qaeda's emir, was released from an Egyptian prison on Mar. 17. He had been charged with establishing a terrorist group linked to al Qaeda and plotting attacks against various targets inside Egypt, but a court dropped the charges and let him go.
"My father has been released. He reached home early this morning [Mar. 18]," Abdelrahman Zawahiri, Mohammed's son, told Agence France-Presse in an interview.
Jihadists celebrated in February when an Egyptian court ordered Mohammed freed. In the sixth issue of its Al Masra newsletter, which was posted online on Mar. 5, Al Qaeda in the Arabian Peninsula (AQAP) published a short blurb highlighting Mohammed's pending release. (A screen shot of the notice in Al Masra can be seen on the right.)
Mohammed al Zawahiri was imprisoned in Egypt in 1999, after first being detained in the United Arab Emirates. During the 1990s, he served as a senior figure in Egyptian Islamic Jihad (EIJ), which was headed by his brother and merged with Osama bin Laden's organization prior to the Sept. 11, 2001 terrorist attacks.
Mohammed was released from prison following the Egyptian uprisings in 2011. He quickly became a prolific advocate for al Qaeda's jihadist ideology. He publicly denounced Western democracy and espoused al Qaeda's supposed virtues while preaching in Tahrir Square, as well as during appearances on Egyptian television and radio programs. He also did interviews with Western journalists.
Mohammed's activities garnered additional scrutiny following the protest outside of the US Embassy in Cairo on Sept. 11, 2012. The previous day, Sept. 10, Ayman al Zawahiri released a video that included a clip of Mohammed proselytizing in Egypt. The al Qaeda emir also called on Libyan jihadists to avenge the death of Abu Yahya al Libi, who was killed in a US drone strike in June 2012.
Mohammed and several other al Qaeda-linked jihadists helped instigate the protest outside the US Embassy in Cairo the following day. The pro-al Qaeda event led to the embassy's walls being breached. The American flag was torn down and replaced with an al Qaeda-style black banner as protesters chanted, "Obama, Obama, we're all Osama [bin Laden]!" Several al Qaeda groups, including Ansar al Sharia Libya, raided the State Department's Mission and the CIA's Annex in Benghazi, Libya hours later. Four Americans, including US Ambassador Christopher Stevens, were killed during the assault.
In January 2013, Mohammed orchestrated a less eventful protest outside of the French Embassy in Cairo. Banners of Osama bin Laden and Ayman al Zawahiri were flown outside of the embassy as protesters objected to France's intervention in Mali. The younger Zawahiri brother repeatedly threatened France and the West during the rally.
Despite his overt support for al Qaeda, Mohammed claimed he was not really a member of his brother's organization. Evidence collected by Western intelligence officials told a different story. US intelligence officials connected him to jihadists across al Qaeda's international network, and he reportedly helped Egyptian terrorists contact his older brother. One of his followers was also killed during an attack on Malian soldiers in May 2013.
During his time free from prison, Mohammed was a prominent speaker at events hosted by Ansar al Sharia Egypt, an organization that advocated the imposition of al Qaeda-style sharia law. Ansar al Sharia Egypt was founded by a longtime comrade of the Zawahiri brothers.
Mohammed was rearrested by Egyptian authorities in August 2013. But he continued to be referenced in al Qaeda propaganda in the years since.
In October 2014, for instance, AQAP released a short biography for Mustafa Ali (a.k.a. Humam al Masri), a jihadist who served in the group's media department before he was killed in a US drone strike in late 2013.
AQAP's biography of Ali contained an interesting note concerning his imprisonment in Egypt. "He invested his time in prison in seeking knowledge and meeting with the experienced mujahideen such as sheikhs Mohammed al Zawahiri and Abdul Hakim Hasaan, may Allah preserve both of them and release them," according to a translation by SITE Intelligence Group.
Mohammed was a leading figure in Ansar al Sharia Egypt. Therefore, it is not surprising that Mustafa Ali would be drawn to Ansar al Sharia in Yemen, where al Qaeda first used the Ansar al Sharia brand in the post-Arab Spring world.
Egypt has changed drastically since President Mohamed Morsi was overthrown in 2013. Mohammed al Zawahiri enjoyed a relatively permissive environment during Morsi's reign. It remains to be seen what the longtime jihadist does now.
Thomas Joscelyn is a Senior Fellow at the Foundation for Defense of Democracies and the Senior Editor for The Long War Journal.
http://www.longwarjournal.org/archives/2016/03/ayman-al-zawahiris-brother-released-from-an-egyptian-prison.php?utm
-----
ISIL Gatherings Razed by Syrian Jets in Deir Ezzur
March 21, 2016
TEHRAN (FNA)- The Syrian air force on Monday targeted and destroyed several ISIL gatherings in the Northern part of Deir Ezzur province, a military source reported.
The source said the Syrian fighter jets struck the ISIL positions and gathering centers near agricultural lands and their nearby wheat silos just outside the al-Hosseiniyeh town, North of the city of Deir Ezzur, which ended in the destruction of a number of ISIL vehicles and heavy casualties among the terrorists.
In a separate development, terrorists' gatherings in al-Aza'a region near the town of Ayyash in the Western part of Deir Ezzur province were razed by the Syrian warplanes, resulting in the death of a number of terrorists and injury of many more.
Yesterday, over 100 ISIL fighters were killed during the terrorist group's offensive in Deir Ezzur.
ISIL conducted simultaneous assaults on both the Northern and Southern districts of Deir Ezzur City on Sunday, sending nearly 10 bombed vehicles fully laden with improvised explosive devices against the Syrian Army's defenses in the Al-Harabesh and Al-Haweija districts, but all the bomb laden vehicles failed to reach their targets, battlefield reports said.
The ISIL assault on the Harabesh School District facility was the first to be repelled by the Syrian Armed Forces after a two hour long battle that ended with the terrorist group retreating to nearby Saker Island (Haweija Saker).
According to a military source, the Syrian Army forces killed just over 30 enemy combatants in ISIL's failed offensive to capture this district on the Western bank of the Euphrates River.
http://en.farsnews.com/newstext.aspx?nn=13950102000245
-----
Syrian Army Repels ISIL Attack Northeast of Aleppo
March 21, 2016
TEHRAN (FNA)- The Syrian army repulsed an ISIL attack on areas around the industrial zone Northeast of Aleppo and inflicted more casualties on the terrorists, battlefield sources said on Monday.
"The terrorists attempted to open their way into the areas East of Kafr Sakeer village located Northeast of Aleppo's al-Sheikh Najjar Industrial Zone but were pushed back by the Syrian army troops after sustaining a number of losses and injuries," a military source said.
"The Syrian Army, for its part, carried out a counter attack to win back more regions from the terrorist and managed to kill more militants and destroy a number of ISIL vehicles including Pick-up trucks equipped with heavy guns," the source said.
According to the source, during the operation to repel ISIL offensive in Western areas just outside Kefr Sakeer village, an ISIL suicide attacker was identified and targeted by the Syrian soldiers before he could detonate his explosive belt.
Yesterday, the Syrian Army and its allies fended off a massive assault by the ISIL terrorists on the government forces' positions in two key villages in Northern Aleppo province and forced the militants to retreat back to their positions.
The ISIL attempts to prevail over the government forces' lines of defense in the villages of Kafr Sakeer and Babbenes near the al-Sheikh Najjar industrial zone were thwarted by the Syrian soldiers who claimed the lives of dozens of terrorists.
A military source said at least 50 ISIL militants lost their lives in subsequent clashes with the Syrian army in the two villages.
Most parts of Aleppo province have been purged of terrorists who are now engaged in increasing internal clashes in the limited stretches of lands that are still under their control.
Earlier in Aleppo province, the Ahrar al-Sham and Jund al-Aqsa terrorist groups operating in the Northern province of Aleppo engaged in fierce clashes with each other after the death of a senior ISIL ringleader.
http://en.farsnews.com/newstext.aspx?nn=13950102000197
-----
Iranian Scientists Synthesize Nanocomposite Surfaces to Eliminate Air Polluting Gases
March 21, 2016
TEHRAN (FNA)- Iranian researchers from Amirkabir University of Technology produced nanocomposite surfaces that can adsorb air polluting gases, including carbon monoxide and nitrogen oxides.
Nanocomposite materials with photocatalytic activities were synthesized in this research. The materials produced in this research are at laboratorial scale, and they can be used in the outlet gas convertors in vehicle exhausts.
The aim of the research was to produce photocatalytic nanocomposites containing graphene, which are able to degrade toxic gases such as carbon monoxide and nitrogen oxides with high efficiency.
According to the researchers, it is very difficult to oxidize carbon monoxide and nitrogen oxides. Air purification by using photocatalysts produced in this research can be a good replacement for other air purification methods due to its reasonable price, high efficiency, non-toxicity and production of harmless bi-products due to the oxidization of polluting gases.
Materials produced in this research are in form of a nanocomposite containing titanium oxide and graphene functionalized with cobalt. These materials have photocatalytic properties of titanium oxide and ability to form complex due to the presence of functionalized graphene at the same time. Therefore, the product has a higher efficiency in comparison with similar products.
Results showed degradation of nitrogen oxide and carbon monoxide up to 51% and 46%, respectively. Although photocatalysts have already been used in air purification purposes, the combination of this method with a material able to form complex with pollutants is the innovation in this research, which significantly increases the activity of the photocatalyst.
Results of the research have been published in RCS Advances, vol. 5, issue 114, 2015, pp. 93706-93716.
http://en.farsnews.com/newstext.aspx?nn=13950102000278
-----
Iraqi Hezbollah Blasts Deployment of Marines as US Plot to Help ISIL
March 21, 2016
TEHRAN (FNA)- The Hezbollah movement in Iraq warned that the US deployment of its marines in the country is meant to help the ISIL terrorist group.
According to al-Mayadeen news channel, the Hezbollah battalions underlined that the US has sent its forces to Iraq to further assist the ISIL, stressing its resistance against Washington's occupation of the regional states.
The US announced on Sunday it will put more troops on the ground in Iraq after a marine was killed in an ISIL rocket barrage.
Troops from the 26th Marine Expeditionary Unit will add to American forces, the Pentagon said, despite the Iraqi government's emphasis that it doesn't need foreign forces to fight against the terrorists.
It was unclear exactly how many marines would be deployed, but the move was made to bolster security at a coalition base near Makhmur in Northern Iraq.
A US Marine was killed in an ISIL rocket attack at the base on Saturday, the Pentagon said.
http://en.farsnews.com/newstext.aspx?nn=13950102000169
-------
8 Iranian Nationals Freed from UAE Jails
March 21, 2016
TEHRAN (FNA)- The UAE government freed 8 Iranian inmates, detained on various charges, on the advent of the New Year in Iran.
Simultaneously with the Iranian New Year (which started on March 20) and following efforts of the Iranian Consulate General in Dubai, eight Iranian inmates, including four women were released, officials announced on Monday.
The Iranian prisoners had been detained on various charges.
Over 110 Iranian inmates were released from prisons in the United Arab Emirates (UAE) last year.
Iran attaches importance to strengthening ties with the Middle-East countries, specially neighbors, in a bid to maintain security in the region.
Tehran and Abu Dhabi have had friendly relations for years with their trade exchanges strengthening bilateral ties.
http://en.farsnews.com/newstext.aspx?nn=13950102000241
-------
Iranian President Felicitates Supreme Leader on Nowruz
March 21, 2016
TEHRAN (FNA)- Iranian President Hassan Rouhani congratulated Supreme Leader of the Islamic Revolution Ayatollah Seyed Ali Khamenei on the occasion of Nowruz, the beginning of the new Iranian year (started on March 20).
During the conversation on Monday, President Rouhai whished health and long life for the Supreme Leader, and said his government spares no efforts in building Iran and implementation of the Constitution under the wise guidelines of Supreme Leader.
Ayatollah Khamenei, for his part, congratulated President Rouhani and the Iranian people on the occasion, and prayed for success of the government in rendering services to the nation.
Nowruz, which coincides with the first day of spring on the solar calendar, is mostly celebrated in Iran, Afghanistan, Azerbaijan, India, Kyrgyzstan, Tajikistan, Pakistan, Turkey and Uzbekistan.
The International Day of Nowruz was registered on the UNESCO List of the Intangible Cultural Heritage of Humanity on February 23, 2010.
For Iranians, Nowruz is a celebration of renewal and change, a time to visit relatives and friends, and pay respect to senior family members.
Iranians welcome the New Year by wearing new clothes and setting the Haft Seen, a table containing seven items starting with the letter 'S'; Sabzeh (freshly grown greens), Samanu (sweet wheat paste), Senjed (jujube), Seeb (apple), Seer (garlic), Serkeh (vinegar) and Somaq (sumac).
http://en.farsnews.com/newstext.aspx?nn=13950102000199
-----
Russian Military: Al-Nusra Mobilizes Fighters in Northwestern Hama
March 21, 2016
TEHRAN (FNA)- The Russian military said on Monday that the Al-Nusra terrorist group has begun to amass a large number of fighters in the Hama Province.
According to the latest reports released by the Russian military at the Hmeimim Airfields, military sources in the Latakia province believe that the al-Nusra is planning a large-scale offensive to reclaim much of the Hama province's Northwestern regions from the Syrian Army forces.
In the past, they have had limited success, especially in their storms on the Christian towns of Suqaylabiyah and Mhardeh.
Since al-Nusra retreated from most of the territory they controlled inside Latakia province in the last 6 months, they have been able to preserve a lot of fighters along the Idlib and Hama areas bordering with Jabal Al-Akrad (Kurdish Mountains).
http://en.farsnews.com/newstext.aspx?nn=13950102000156
----
Iraqi Security Forces Destroy 2 ISIL Booby-Trapped Vehicles West of Ramadi
March 21, 2016
TEHRAN (FNA)- The Iraqi army's Seventh Division managed to detonate two booby-trapped vehicles of the ISIL terrorist group West of Ramadi, a security source in Anbar province said.
"A force from the armored brigade of the army's Seventh Division had managed to detonate two booby-trapped vehicles driven by two ISIL suicide bombers in an attempt to target the army forces south of Heet (70 km west of Ramadi), resulting in the destruction of [the vehicles] and killing the two suicide bombers," the source said.
"The security forces, backed by tribal forces, are continuing their military operations to liberate Heet from ISIL," the source said, adding that "the resistance of ISIL is weak and limited to some of the detachments that are handled by the security forces and aviation."
http://en.farsnews.com/newstext.aspx?nn=13950102000060
-----
Southeast Asia
Maldives Pres Says Death Penalty Only Way for Stability
Ali Naafiz, Haveeru Online
Mar 20, 2016
Implementing death penalty will only bring stability and harmony to the Maldives, President Abdulla Yameen Abdul Gayoom said Saturday.
At the closing ceremony of the third symposium on training campaign leaders for his re-election, President Yameen said his government's aim is to bring peace and harmony to the society. That cannot be achieved only through legislation, he added.
"Why are some people so fond of taking the life of another person? Why should there be space for that? We don't want that to happen," the president said, at the ceremony held at the Dharubaaruge convention centre in capital Male.
The president's comments follow a series of new rules and regulations adopted by the authorities to implement capital punishment and is currently drafting a law on death penalty.
High Court had in November annulled the clause giving the president power to grant clemency to convicts on death row.
The Supreme Court had issued new guidelines recently allowing death sentences and public lashing rulings issued by lower courts to be appealed automatically at the High Court.
In a circular, the Supreme Court said if the defendant fails to appeal death sentences and public lashing verdicts within 10 days, the court that had initially issued the verdict should forward the relevant documents to the High Court. The appellate court would have seven days to notify both the defendant and the prosecution of the appeal and during that period should take the necessary steps to begin appeal proceedings, it added.
The new rules follow similar guidelines issued by the apex court in November.
The Supreme Court issued new guidelines on November 8 giving a month-long window for the last chance to appeal death sentences and public lashings backed by High Court.
According to the guidelines, if a defendant fails to appeal a High Court verdict in favour of death sentences and public lashing rulings within a 30-day period, the appeal can then only be filed at the Supreme Court by the prosecution.
The guidelines, included in a circular signed by Chief Justice Abdulla Saeed, did not specifically mention sentences of death and public lashing. However, it says that High Court rulings that need to be reconfirmed by the Supreme Court had to be appealed within 30 days, including public holidays.
Under local laws, the only sentences that need to be reconfirmed by the Supreme Court are death sentences and public lashing verdicts.
Judicature Act earlier granted a 90-day period, excluding public holidays, to appeal rulings by any court.
However, the Supreme Court had in January 2015 annulled that clause and issued new guidelines under which rulings issued by lower courts had to be appealed at the High Court within 10 days and appeal over High Court verdicts needed to be filed at the Supreme Court within 60 days.
Meanwhile, the government has included funds in the state budget for this year to establish an execution chamber at the country's main prison to carry out the death penalty.
Government had, meanwhile, adopted a new regulation in 2014 under which lethal injection would be used to implement the death penalty.
However, over mounting pressure from human rights bodies, companies have been refusing to supply the fatal dose to countries still carrying out capital punishment.
Home minister Umar Naseer had earlier said the correctional service would be ready to implement the death penalty by the time a death sentence is upheld by the Supreme Court.
Meanwhile, the government announced on November 16 that it was in the process of drafting legislation on implementing death penalty.
Attorney General Mohamed Anil told reporters that the bill being drafted by his office would expand on the already existing regulations on death penalty. The bill would include procedures on conducting murder investigations, filing charges in such cases and conducting proceedings in murder cases, he added.
There are around 10 people on death row at present, but none of whom has exhausted the appeal process thus far.
http://www.haveeru.com.mv/president_yamin/67453
------
Maldives Prosecutors Defend Death Sentence on MP Murderer
Muizzu Ibrahim and Ali Naafiz, Haveeru Online
Mar 21, 2016
Prosecutors defended the death sentence handed to Hussain Humam over the brutal murder of former Ungoofaru MP Dr Afrasheem Ali, as the Supreme Court began Monday the last stage of appeal in the high profile murder case.
Humam was found guilty of the MP's murder and sentenced to death in January 2015. He later appealed the sentence.
High Court had on September 7 upheld the death sentence handed to Humam.
The prosecutor general's (PG) office had in November forwarded the case to the Supreme Court to initiate the final stage of appeal after Humam failed to appeal the sentence against him within the appeal window.
Regulations on death penalty that came into effect in 2014 require the prosecution to exhaust the appeal process -- the High Court and Supreme Court -- even if the convict wishes to not file for appeal.
In the first appeal hearing Monday, prosecutors told the Supreme Court that sentence is in line with all the requirements of the death penalty under Islamic sharia law.
The court asked the prosecution to provide a point-by-point detail of their argument, but gave time till the next hearing to prepare it.
Defence lawyer Abdulla Haseen, meanwhile, told the court that he had not yet received the full report of the verdict from the High Court.
Chief justice Abdulla Saeed, who is heading the bench presiding over the first case of its kind, told Haseen that it was his responsibility to obtain the report from the High Court.
A request by Haseen for more time to prepare his defence was also denied.
Humam, clad in prison uniform, was escorted to Monday's hearing by prison guards. He, however, did not speak.
Afrasheem was found brutally stabbed to death on the stairway of his apartment building in October 2012.
Criminal Court had acquitted Ali Shan of Hicoast in Henveyru district of Afrasheem's murder.
There are around 10 people on death row at present, but none of whom has exhausted the appeal process thus far. If Humam's sentence is upheld by the apex court, he would be the first of the inmates on death row to have completed all the two stages of appeal.
Authorities had pledged to implement the death penalty after the exhaustion of the appeal process.
http://www.haveeru.com.mv/news/67505
-----
WHO to declare Maldives as Filariasis-free
Fathmath Shaahunaz and Aminath Shifleen, Haveeru Online
Mar 20, 2016 - 01:30
The eradication of the parasitic disease Filariasis from the Maldives will soon be announced by World Health Organisation (WHO), said the health ministry.
Health minister Iruthisham Adam stated that WHO will declare that Filariasis has been entirely eradicated and eliminated from the Maldives in June or July.
It will mark the Maldives as the first country to be declared as completely Filariasis-free in the South Asian region. WHO had already declared the eradication of Malaria from the Maldives last year.
Filariasis, which is caused by infections with roundworms and spread via mosquitoes, had been common in the Maldives before the eradication programme was commenced in the 1950's. The last known case of Filariasis in the island nation had been in 2004.
The Health Protection Agency (HPA) reported that most cases of Filariasis in the Maldives had been severe due to lack of easy treatments. Outbreak of Filariasis had prompted the first specific disease elimination programme in the Maldives.
Meanwhile, tests to detect Filariasis are still being carried out across the Maldives. HPA had tested children in grades 1 – 2 in 12 atolls for the disease, but none had tested positive.
It remains unknown whether the contagious disease had directly caused the death of a victim. However, people had died from other diseases contracted after being infected with Filariasis.
http://www.haveeru.com.mv/news/67471
-----
Helicopter crash not related to terrorists: Authorities
Mar 21, 2016
Ruslan Sangadji & Callistasia Anggun Wijaya, thejakartapost.com, Palu & Jakarta | National | Mon, March 21 2016, 5:14 PM
This Army helicopter was used by Central Sulawesi Tadulako 132 Military Commander Col. Saiful Anwar and his entourage when they coordinated with troops in the field at Napu Valley to discuss the pursuit of Indonesia's most wanted terrorist Santoso, aka Abu Wardah. The helicopter was reportedly struck by lightning when flying from Napu back to Poso and crashed in Pattiro Bajo village in Poso Pesisir Selatan subdistrict on Sunday. All 13 people on board the helicopter died at the scene. (thejakartapost.com/Ruslan Sangadji)
National News
Govt urged to revoke political rights of ex-graft convicts, corruption suspects
Lecturer blames 'lack of knowledge' for rising fanatism, misguided beliefs
TNI starts probe of fatal helicopter crash
Authorities say that a fatal helicopter crash in Poso, Central Sulawesi, in which 13 soldiers were killed, was purely an accident and had no relation to a terrorist group lead by terror fugitive Santoso, whom security officers are pursuing.
It was impossible that the Bell 412 Army helicopter crashed in Pattiro Bajo village, Poso Pesisir Selatan district, on Sunday due to a terrorists attack, Central Sulawesi Governor Longki Djanggola said on Monday.
Suspicions rose that Santoso, aka Abu Wardah, was behind the crash as the joint personnel of Indonesian Military (TNI) and National Police were pursuing him and his followers in the East Indonesia Mujahidin terrorist group in Poso.
"There was no such thing. There is no need to fabricate the cause of the incident as if it was shot down," he told thejakartapost.com.
The crash site is located far from the location believed to be the hiding place of Santoso, Longki added.
The helicopter carrying 13 TNI officers and soldiers crashed in bad weather on Sunday, killing everyone on board, including Central Sulawesi Tadulako 132 Military Commander Col. Saiful Anwar and his entourage. The accident occurred when the helicopter attempted to land at Kasiguncu Airport in Poso after flying in from Napu Valley.
Saiful was monitoring Poso as part of his duty as commander of the Operation Tinombala task force, which was assigned to track down Santoso. He went to Napu Valley to discuss the pursuit of Santoso with troops in the field.
The military commander [Saiful] and other soldiers died while carrying out their duty to protect the state's integrity," Longki said.
Separately, National Police chief Gen. Badrodin Haiti also asserted that the crash was not related to terrorism.
"There was no attack. We assure that it was not an attack because it was not a terrorism prone area. The accident took place in a residential area close to the airport," he told journalists at the National Police headquarters on Monday.
The helicopter was being used in Operation Tinombala. The TNI is investigating the cause of the accident, he said.
Tinombala, which was launched on Jan. 10, was to end on March 9 but was extended for another two months as Santoso had not been captured, Badrodin said, adding that the accident would not halt the operation.
Poso landscape
Newly installed National Counterterrorism Agency (BNPT) chief Insp. Gen Tito Karnavian said Poso's mountainous and forested terrain had hampered the hunt for Santoso, which had resulted in the operation being extended.
Besides carrying out the operation by deploying armed soldiers and police personnel, the government is also focusing on a soft approach with Santoso's alleged supporters in Poso to help capture the notorious terrorist.
He expressed confidence that the joint operation would succeed in the hunt for Santoso and his followers in the East Indonesia Mujahidin group.
"I believe [the personnel] are competent as they have sufficient mapping of the locations and have mastered the area," Tito said, adding that the Santoso group had shrunk to around 30 people.
http://www.thejakartapost.com/news/2016/03/21/helicopter-crash-not-related-terrorists-authorities.html
-------
URL: https://www.newageislam.com/islamic-world-news/new-age-islam-news-bureau/alleviate-sense-of-fear-among-muslims-due-to-riots--sufi-outfit-tells-modi-govt/d/106723