New Age Islam News Bureau
30 Dec 2013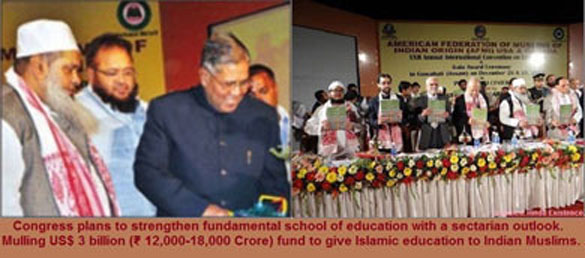 Africa
• Allah Says We Must Decapitate, Mutilate But No Cannibalism: Nigerian Extremist Leader
• Eight killed in Boko Haram members attack
• OIC helps Niger overcome its food shortage crisis
• Gunmen attack state TV, airport in Democratic Republic of Congo
Arab World
• Brotherhood groups to be banned from monitoring referendum
• Saudi prince faces execution for murder
• Terrorists in Syria Destroy Shrine of Prophet Ayub's Wife
• 18 dead in Iraq attacks, including army general
• International agencies give Islamic Development Bank top rating
• Syria regime claims evacuation of 5,000 near Damascus
• Lebanon in $3 billion Saudi military aid pledge
• Campaign launched in Makkah for an AIDS-free generation
• Iraq police dismantling 'Qaeda' protest site: State TV
• Anti-Hezbollah coalition wants Lebanon 'freed' from group's arms
India
• Centre mulls US$ 3bn fund to give education to Muslims
• "India's understanding of Bangladesh will help U.S."
• Most Indians in South Sudan want to stay on
• Exchange programme facilitates dialogue between Indian and Pakistani students
Europe
• 14 killed, 30 injured in second bomb attack in Russia
• 'More than 4,000 European jihadists fighting against Assad'
• Muslims mark Arbaeen in London
• UK failed to resettle vulnerable Syrian refugees: Amnesty International
• Islam to be Ireland's second religion by 2043
• Suspected Militants Killed In Separate N. Caucasus Incidents
South Asia
• Chinese police shoot dead eight after Xinjiang 'terrorist attack
• Bangladesh's war veteran lashes at Jamaat-e-Islami, lauds execution of Molla
• MDP will empower local councils: Nasheed
• Two killed as fresh clashes erupt in Bangladesh
• 200 crude bombs hauled, 3 Shibir men held
North America
• Muslim restaurant staff wins over $80,000 in discrimination lawsuit -Canada
• US will cling to mass surveillance like nuclear weapons - Assange to RT
• US condemns terrorist attack in Volgograd
• US defence chief voices concern in call to Egypt army head
Pakistan
• Peace building measure: Govt plans to disarm militias in Balochistan
• Jamaat-i-Islami condemns torture on PTI workers
• Sanaullah for Ulema's role in eliminating religious hatred
• New Mandela: Qadri promises revolution, demands social justice
• At least three killed in Charsadda blast
• 2 police officers killed outside Imambargah in Rawalpindi
• Twelve people killed in separate incidents in Karachi
• Govt believes in freedom of expression: Mamnoon
Mideast
• Israel OKs legislation to annex part of West Bank
• Eight dead in attack on troops in south Yemen: Military
• New round of Iran-P5+1 negotiation to begin in Geneva
• 15 Palestinians dead from hunger in Syria camp: UNRWA
• Turkey: Political Islam's "Night of St. Bartholomew"
• Yemen court condemns Qaeda suspect to death
• Netanyahu says Lebanese rocket attack constitutes 'double war crime'
Southeast Asia
• Home Ministry Says Ruling on Civil Servant Prayer Obligation Unlawful
• BN leaders hit out at Umno politician for 'leave the country' remark
Compiled by New Age Islam News Bureau
For Details and More Headlines from All Regions, Please click, 'More'
URL: https://newageislam.com/islamic-world-news/allah-says-decapitate,-mutilate-no/d/35059
----------
Africa
Allah Says We Must Decapitate, Mutilate But No Cannibalism: Nigerian Extremist Leader
Dec 30 2013
MAIDUGURI, NIGERIA – An Islamic extremist leader in northeastern Nigeria says the bloody insurgency will continue because Allah says they must decapitate and mutilate.
In a video newly released Saturday, Abubakar Shekau claims responsibility for the Dec. 20 attack on a tank battalion barracks and says his men would have eaten their enemies, but Allah forbids cannibalism. Witnesses said insurgents put soldiers to flight and set the complex ablaze before they were driven off by a jetfighter.
Shekau warns Christians not to go to churches in this holy month, though Christmas passed in Nigeria with none of the feared terrorist attacks. Five churches were bombed Christmas Day 2011 and dozens of people died.
The extremist leader scoffs at bounties on his head — $7 million from the United States and $312,500 from Nigeria.
http://www.foxnews.com/world/2013/12/28/nigerian-islamic-extremist-leader-allah-says-must-decapitate-mutilate-but-no/
----------
Eight killed in Boko Haram members attack
Dec 30 2013
Eight people have been killed and several others injured in an attack by members of the militant group Boko Haram in northeastern Nigeria.
Witnesses said on Sunday that the attack took place on Tashan Alade village a day before when the militants opened fire on a party, Reuters reported.
"Three Boko Haram members came on motorcycles at about 11 yesterday night," said one of the witnesses after escaping the deadly assault. "They were shooting indiscriminately."
On December 2, hundreds of Boko Haram militants attacked army barracks, an air force base and several other areas of the northeastern Nigeria city of Maiduguri.
Violence has intensified in northeastern Nigeria since President Goodluck Jonathan ordered security forces in May to crush the four-year-old Boko Haram rebellion.
The Nigerian forces have been raiding militant camps and launching air and ground attacks on suspected hideouts of the militants over the past two months.
Boko Haram says its aim is to topple the Nigerian government, which it accuses of being pro-Western.
The group has claimed responsibility for a number of deadly gun and bomb attacks in various parts of Nigeria since 2009.
http://www.presstv.ir/detail/2013/12/30/342679/8-killed-in-boko-haram-members-attack/
---------
OIC helps Niger overcome its food shortage crisis
Dec 30 2013
On his last trip as Secretary General of the Organization of Islamic Cooperation (OIC), Ekmeleddin Ihsanoglu traveled to Niger last week to inaugurate crucial humanitarian and developmental projects there. Located in West Africa, the landlocked country has suffered from severe drought in 2005 that resulted in food shortage and famine.
At the request of Niger to explore ways of mobilizing the Muslim world to help the people of Niger, the OIC organized its first donors' conference in Doha, Qatar, in 2007 to promote food self-sufficiency in Niger. The conference had outstanding results where OIC member states and other participants pledged $370 million.
In his speech at the inaugural session of the conference, Ihsanoglu said: "This conference is the starting point of the OIC's humanitarian action as recommended by the OIC 10-Year Program of Action."
The 10-Year Program of Action was adopted in Makkah in 2005 at the start of Ihsanoglu's term. As such, his visit to Niger during his last month in office is like witnessing what he has harvested, and his joy and pride was palpable.
Since 2007, the OIC implemented a number of developmental projects in Niger to provide drinking water, irrigation for 240 hectares and sources of food and income for many villages. It opened a humanitarian office in Niamey to follow up on the projects.
Visible from the plane, vast arid land expands in the horizon with little greenery except on the banks of the River Niger. Arriving in the capital Niamey on Dec. 23, 2013, Ihsanoglu and his delegation rode in SUVs for several kilometers along unpaved dusty and bumpy roads to villages that seem to have fallen off the transcripts of time.
Small clay homes and wooden cone-shaped huts dot the road while skinny goats and cows graze the dry bushes and trees. The River Niger, which is supposed to be one of the biggest rivers in Africa, is far below its water level, but when it rains floods cause human loss and damage.
Ihsanoglu toured on foot some of the villages where the OIC projects were implemented and officially inaugurated several of them. The villagers, young and old, women, men and children greeted him with joy, clapping and singing and eager to shake hands with him.
The OIC completed the third stage of projects consisting of 21 wells, 11 agricultural farms and 10 boreholes, which benefited tens of thousands of people. It also completed five fish farming projects in five villages. These simple projects completely transformed the lives of the people in these villages and neighboring villages who also come for the water and buy food and animal stock.
During his meeting with President Issoufou Mahamadou, the secretary-general urged him to follow up on the outcome of the OIC donors' conference, which has been stalled due to some incidents of instability in the country.
http://www.arabnews.com/news/500256
----------
Gunmen attack state TV, airport in Democratic Republic of Congo
Dec 30 2013
Gunfire has been heard at several locations in Democratic Republic of Congo's capital, including the state TV and radio headquarters and the airport.
Youths armed with machetes and guns had taken reporters hostage, a police spokesman told the AFP news agency.
A customs official told Reuters that gunmen began shooting at the international airport shortly after the attack on RTNC's headquarters.
The information minister says the situation was now under control.
Lambert Mende told BBC Africa at about 11.00 local time (10:00 GMT) that several arrests had been made.
The cause of the attacks was not clear, he said.
Earlier, there were also reports of gunfire from a military base in the city.
A taxi driver told AFP he heard about "six or seven shots" from heavy weapons fired at the Tshatshi camp. The shots were heard between 09:00 and 09:30 local time.
The Ndjili airport customs official told the Reuters news agency: "Shooting has started here. They are shooting everywhere. We are all hiding."
Congolese security forces were reported to be at the scene at the state media headquarters.
Before the channels went off air, two gunmen appeared on camera to deliver what appeared to be a political message against President Joseph Kabila's government, Reuters reports.
"Gideon Mukungubila has come to free you from the slavery of the Rwandan," said the message, according to Reuters.
In 1997, Rwandan-backed troops ousted DR Congo's long-serving ruler Mobutu Sese Seko and installed Laurent Kabila - the father of incumbent leader Joseph Kabila - as president.
President Joseph Kabila won his second term in office two years ago.
http://www.bbc.co.uk/news/world-africa-25547424
----------
Arab World
Brotherhood groups to be banned from monitoring referendum
Dec 30 2013
The Egyptian government is building a list of organisations affiliated with the Muslim Brotherhood in order to ban them from monitoring the referendum on the newly-drafted constitution.
Deputy Minister of Social Solidarity Hany Mehenna announced on Sunday that the list will be submitted to the Supreme Electoral Commission (SEC) by the end of the week.
Earlier on Sunday, a source from the SEC told Al-Ahram Arabic news website that the committee has given the ministry until 10 January to send an official list of Muslim Brotherhood organisations.
Full report at:
http://english.ahram.org.eg/NewsContent/1/64/90333/Egypt/Politics-/Brotherhood-groups-to-be-banned-from-monitoring-re.aspx
----------
Saudi prince faces execution for murder
December 29, 2013
An anonymous Saudi prince faces beheading after he killed a local man, the Gulf state's crown prince declared on Sunday as reported by local media.
"Sharia [Islamic law] must be enforced on all without any exception because there is no differentiation between the strong and the weak in Islam," Deputy Premier and Defense Minister of Saudi Arabia, Crown Prince Salman bin Abdul Aziz Al Saud, said as he demanded the anonymous prince's execution.
He underscored the importance of the law in a letter labeled 'very urgent' - a copy of which was publicly published in the English-language, Arab News.
The name of the prince has not been disclosed.
He recalled that, according to Islamic law, a convicted person may avoid the penalty if the relatives of his victims agreed to accept the 'diya' - a ransom paid for the death of their relative.
Full report at:
http://www.rt.com/news/saudi-prince-murder-execution-945/
----------
Terrorists in Syria Destroy Shrine of Prophet Ayub's Wife
December 30, 2013
TEHRAN (FNA)- Al-Qaeda-linked Islamic State of Iraq and the Levant (ISIl) terrorists destroyed the shrine of Prophet Ayub (Job)'s wife in Northwestern Syria.
The militants blasted the tomb of Setti Rahmah in Balshoun village in Jabal al-Zaviyah, Idlib countryside, in Northwestern Syria on Monday by blasting a number of Improvised Explosive Devices (IED) in the shrine.
The Wahhabi Salafi and Takfiri Jihadists fighting against the Syrian government are notorious for destroying religious shrines and historical monuments. On December 2, a Takfiri terrorist group attacked the archeological city of Maaloula in Damascus Countryside and perpetrated sabotage acts in the city. The group broke into Thecla convent and kidnapped the Mother Superior and 12 nuns.
Full report at:
http://english.farsnews.com/newstext.aspx?nn=13921009000592
--------------
18 dead in Iraq attacks, including army general
December 30, 2013
At least 18 people died in attacks across Iraq on Sunday, including a military general, according to police and medics.
RT has been following the deadly violence that swept the country in 2013 in a special project.
A suicide bomber blew himself up in the northern city of Mosul, killing at least eight soldiers, along with a brigadier general and three other officers, Reuters cited police and medical sources as saying.
Full report at:
http://rt.com/news/iraq-attacks-army-general-956/
----------
Syria regime claims evacuation of 5,000 near Damascus
AFP | Dec 30, 2013
DAMASCUS: Syria's government said it evacuated 5,000 residents of the town of Adra near the capital Damascus over the weekend, Syrian state news agency SANA reported.
"Thanks to the efforts of the Syrian army, the ministry of social affairs evacuated more than 5,000 residents of the town of Adra," SANA said late Sunday, saying the operation was on Saturday.
"They were trapped by terrorist groups and are now in a safe place," the agency added.
A military source cited by SANA said the army "was able to evacuate a large number of residents of Adra who had been trapped by armed terrorist groups who had terrorized them."
The Syrian government uses the term "terrorists" to refer to those seeking its overthrow.
It was not clear how the civilians had been trapped in the town.
Full report at:
http://timesofindia.indiatimes.com/world/middle-east/Syria-regime-claims-evacuation-of-5000-near-Damascus/articleshow/28142892.cms
-----------
Lebanon in $3 billion Saudi military aid pledge
Dec 30 2013
Lebanon announced a Saudi pledge of $3 billion (RM9.87 billion) yesterday to buy military equipment from France, as it buried leading Sunni politician Mohammad Chatah, killed in a Beirut car bombing.
Friday's killing of Chatah, a prominent critic of the Syrian regime, revived painful memories of political assassinations and came as the conflict in Lebanon's larger neighbour stoked sectarian tensions.
Saudi Arabia is a leading backer of the rebels battling to overthrow Syrian President Bashar al-Assad, who enjoy widespread sympathy among Lebanese Sunnis.
Lebanon's Shiite Hezbollah movement and its backer Iran are Assad's main regional allies.
Saudi Arabia "decided to provide generous assistance to Lebanon in the form of $3 billion for the Lebanese army to strengthen its capabilities," President Michel Sleiman announced, adding that it was the largest assistance provided in Lebanon's history.
Full report at:
http://www.themalaysianinsider.com/world/article/lebanon-in-3-billion-rm9.87-billion-saudi-military-aid-pledge
----------
Campaign launched in Makkah for an AIDS-free generation
Dec 30 2013
The Maternity and Pediatrics Hospital in Makkah has launched an awareness campaign under the slogan "AIDS-free generation" to enlighten the public about AIDS, including means infection, symptoms and protective measures to be taken.
Dr. Ameera Al-Sharif, head of the infection control department, said the campaign was organized under the strategic framework adopted by the Ministry of Health to mark World AIDS Day and combat the disease.
Huda Felimban, head of the healthy marital center, delivered a presentation at the Makkah Chamber of Commerce, to explain to attendees the center's role and its programs.
The center, which was established in 2003, strives to make the Kingdom a model for premarital medical check-ups through a number of accredited medical centers, consulting clinics and labs Kingdom-wide.
Full report at:
http://www.arabnews.com/news/500656
----------
Iraq police dismantling 'Qaeda' protest site: State TV
Dec 30 2013
Police were on Monday dismantling Iraq's main anti-government protest site, which the country's prime minister has termed a "headquarters for the leadership of Al-Qaeda", Iraqiya state TV said.
"Local police are removing the tents from the protest site in Anbar" province, Iraqiya said in a text alert that was followed by another saying the move came after an agreement between security forces, religious leaders and tribal sheikhs.
http://english.ahram.org.eg/NewsContent/2/8/90372/World/Region/Iraq-police-dismantling-Qaeda-protest-site-State-T.aspx
----------
Anti-Hezbollah coalition wants Lebanon 'freed' from group's arms
Dec 30 2013
A Lebanese coalition opposed to the powerful Shiite movement Hezbollah said Sunday the country should be freed from the group's weapons, as they buried a member assassinated in a bombing.
"We have decided to liberate the country of the occupation of illegitimate weapons to preserve its independence, its sovereignty and its civil peace," said March 14 coalition member Fuad Siniora.
The former prime minister was speaking at the burial of Mohammad Chatah, another member of the coalition known for its opposition to Hezbollah and criticism of the Syrian regime.
Chatah was killed in a Friday bombing in central Beirut, along with six others, in an attack that March 14 members have indirectly accused Hezbollah and Syria of carrying out.
"We have decided to engage with the Lebanese people in peaceful, civil and democratic resistance," said Siniora, adding the "peaceful battle" would begin soon but without giving any details.
Full report at:
http://english.ahram.org.eg/NewsContent/2/8/90305/World/Region/AntiHezbollah-coalition-wants-Lebanon-freed-from-g.aspx
--------
India
Centre Mulls US$ 3bn Fund to Give Education to Muslims
Dec 29 2013
Guwahati: The Centre on Sunday said it will soon announce a special fund to the tune of US$ 3 billion for upliftment of the Muslim people by providing infrastructure, mainly for education.
"We need infrastructure. Indian Muslims need education and for that we need infrastructure. Currently we lack in infrastructure," Union Minister for Minority Affairs K Rahman Khan said in Guwahati.
"We are working on to create a fund of US$ 2-3 billion, which will be around Rs 10,000-15,000 crore. Even if only one per cent of Indian Muslims donate, we will be able to generate this amount," Khan said while delivering the keynote address during a function of American Federation of Muslims of India origin.
He said Muslim people in India have the resources but only need the mechanism to generate and manage the fund.
Full report at:
http://www.indianexpress.com/news/centre-mulls-us--3bn-fund-to-give-education-to-muslims/1213049/
-----------
"India's understanding of Bangladesh will help U.S."
SANDEEP DIKSHIT
Dec 30 2013
While U.S. is at some distance from Bangladesh, India is right next to it: Khurshid
As the political situation in Bangladesh becomes increasingly volatile, India has hinted at the need for a united approach between India and the United States.
"We don't discuss democracy in third countries but we do hope the U.S. … there were obviously some differences of perception [with respect to Bangladesh] that I noticed last time I was there [Washington], particularly in the dealing of the present government with some of their own internal institutions," External Affairs Minister Salman Khurshid told The Hindu.
Officials in the Ministry of External Affairs said they have been trying to close this difference of approach between India and the U.S. for quite some time.
Full report at:
http://www.thehindu.com/news/national/indias-understanding-of-bangladesh-will-help-us/article5516435.ece
----------
Most Indians in South Sudan want to stay on
Dec 30 2013
The Indian Mission in Juba is in regular touch with Indian nationals and their employers in South Sudan hit by a civil war between two ethnic groups. Going by the latest reports coming in from Juba, most Indians left there, including 68 from Tamil Nadu, have decided to ride out the conflict, according to the Ministry of External Affairs (MEA).
India has lost peacekeepers in the conflict as have some other nations amidst a growing debate over the inability to arrest the killers as well as the tendency to keep major troop contributing countries such as India, Pakistan and Bangladesh, out of the decision making loop when deciding on the kind of mandate that will be employed an affected area.
The Indian workforce at Palouge, where most are from Tamil Nadu, continues to remain deployed in the most critical area of oil production at the oil field. The contracting company and South Sudan's Ministry of Petroleum has told Indian Ambassador Pramod Bajaj that they will look after the safety and security of these Indians and their evacuation, if the need be. Full report at:
http://www.thehindu.com/news/national/most-indians-in-south-sudan-want-to-stay-on/article5518877.ece
----------
Exchange programme facilitates dialogue between Indian and Pakistani students
MEENA MENON
Dec 30, 2013
"I really want to get to know much more about India," said a young student who took part in the Exchange for Change programme by the Citizens Archive of Pakistan (CAP), a non-profit organisation dedicated to cultural and historic preservation. When asked at a recent orientation session here if they wanted to visit India, the excitement was palpable. "India is a nice place and there were nice people like Gandhi, besides my grandparents were born in India," said one student who was part of the programme earlier.
Indian students said they found a lot of similarities between the two countries, not the least of them being gajar (carrot) halwa and rossogollas. They too were keen on visiting Pakistan. The programme envisages a series of exchanges between school students from India and Pakistan who write letters to each other, share cards and collages and eventually visit each other in small groups.
Full report at:
http://www.thehindu.com/news/international/south-asia/exchange-programme-facilitates-dialogue-between-indian-and-pakistani-students/article5515557.ece
------------
Europe
14 killed, 30 injured in second bomb attack in Russia
Dec 30, 2013
A second deadly bomb attack in less than 24 hours hit the Russian city of Volgograd on Monday killing 14 people and injuring nearly 30 others.
A powerful blast tore through a trolleybus around 8:30 a.m. during the morning rush hours. Video footage and pictures posted online showed the trolleybus, which can carry up to 80 people, literally ripped apart, its roof blown out and bodies strewn on the road.
Security officials said the blast could be linked with a terror attack staged by a suicide bomber 19 hours earlier at the main railway station of Volgograd. Sunday's attack killed 17 people and injured more than 40.
"According to preliminary information, the bomb in the trolleybus was set off by a male suicide bomber," said Vladimir Markin, spokesman for Russia's Investigation Committee. "Both bombs were filled with identical shrapnel and were probably made by the same terrorist group."
Full report at:
http://www.thehindu.com/news/international/world/14-killed-30-injured-in-second-bomb-attack-in-russia/article5518007.ece
---------
'More than 4,000 European jihadists fighting against Assad'
Dec 30 2013
BERLIN – The Syrian civil war continues to serve as a magnet for radical foreign jihadists to oust President Bashar Assad's regime.
The French-language Belgian daily La Libre Belgique on Friday cited a Belgian security source saying that "four to five thousand" European jihadists were waging war in Syria. This number far exceeds the figure in a late November study by Norwegian counterterrorism specialist Thomas Hegghammer, which said that "at least 1,200 European Muslims have gone to Syria since the start of the war."
John R. Schindler, a professor of national security affairs at the US Naval War College and a prominent counterterrorism expert, drew attention to the Belgian figure on his widely respected and popular intelligence blog The XX Committee.
Full report at:
http://www.jpost.com/Middle-East/More-than-4000-European-jihadists-fighting-against-Assad-336501
----------
Muslims mark Arbaeen in London
Dec 30 2013
Thousands of Muslims from across Britain have taken part in ceremonies commemorating Arbaeen, which marks the 40th day after the martyrdom anniversary of the third Shia Imam, Imam Hussein.
Several thousand Shia Muslims, including people from Scotland and Ireland, came to Marble Arch in central London on Sunday, December 29 for the 33rd annual Arbaeen procession in London.
The mourners, dressed in black, carried banners reading "yes to justice, no to tyranny", "Hussein and inspiration in every age", and "1300 years later and his legacy remains".
"If you do not believe in religion and do not believe the hereafter at least be free from tyranny and arrogance," another banner quoted Imam Hussein.
Full report at:
http://www.presstv.ir/detail/2013/12/30/342747/muslims-mark-arbaeen-in-london/
----------
UK failed to resettle vulnerable Syrian refugees: Amnesty International
Dec 30 2013
European leaders should hang their heads in shame over the pitifully low numbers of refugees from Syria they are prepared to resettle, said Amnesty International today (13 December, [2003]).
In a new 18-page briefing - An international failure: The Syrian refugee crisis - Amnesty details how European Union countries have only offered to open their doors to around 12,000 of the most vulnerable refugees from Syria, or just 0.5% of the 2.3 million people who have fled the country.
The closest European capital - Nicosia - lies a mere 200 miles from Damascus. Yet collectively, EU member states have pledged to resettle just a very small proportion of Syria's most vulnerable refugees.
Full report at:
http://www.presstv.ir/detail/2013/12/30/342772/uk-fails-to-resettle-syrian-refugees/
----------
Islam to be Ireland's second religion by 2043
World Bulletin / News Desk
As construction work begins on Ireland's biggest mosque in the capital Dublin, statistics have shown that Islam will become Ireland's second biggest religion after Catholicism by the year 2043.
The Central Statistics Office confirmed that Islam is currently the fastest growing religion in Ireland, noting a 10-fold increase between 1991 and 2011 in which the Muslim population increased from 0.1% to 1.1% of the overall population.
Not including conversions to the religion, the census claimed that just based on birth rate and immigration alone, the population of Muslims in Ireland will rise from 49,000 to 100,000 by 2020.
Full report at:
http://www.worldbulletin.net/?aType=haber&ArticleID=125936
---------
Suspected Militants Killed In Separate N. Caucasus Incidents
December 30, 2013
Security forces and police say they have killed several suspected militants in incidents across Russia's volatile North Caucasus region.
Authorities said two armed men were killed in Daghestan's Khasavyurt district overnight after they opened fire on police.
The incident took place shortly after an unknown man shot and killed a cafe owner along the Makhachkala-Khasavyurt highway in Daghestan on December 29.
Full report at:
http://www.rferl.org/content/caucasus-security-militants/25216277.html
-----------
South Asia
Chinese police shoot dead eight after Xinjiang 'terrorist attack
Dec 30 2013
Police in China's restive far western region of Xinjiang shot dead eight people during a "terrorist attack" on Monday, the regional government said, the second outbreak of violent unrest this month in a region that has a substantial Muslim population.
The attack happened in Yarkand county close to the old Silk Road city of Kashgar in Xinjiang's far south, the Xinjiang government said in a statement on its official news website (www.ts.cn).
"At around 6:30 am, nine thugs carrying knives attacked a police station in Kashgar's Yarkand county, throwing explosive devices and setting police cars on fire," the brief statement said.
"The police took decisive measures, shooting dead eight and capturing one," it added, labeling the incident a "violent terrorist attack" which was being investigated further.
Earlier this month, police shot and killed 14 people during a riot near Kashgar in which two policemen were also killed.
Full report at:
http://english.ahram.org.eg/NewsContent/2/9/90353/World/International/Chinese-police-shoot-dead-eight-after-Xinjiang-ter.aspx
----------
Bangladesh's war veteran lashes at Jamaat-e-Islami, lauds execution of Abdul Quader Molla
Dec 30 2013
Bangladeshi war veteran, Syed Shahidul Haque Mama who was also the second prosecution witness in the war crimes case against Islamist leader, Abdul Quader Molla hailed the decision to execute him for war crimes committed during the 1971 war of independence from Pakistan. Molla was hanged on December 12, in the first war crimes execution in Bangladesh. He was accused of collaborating with Pakistani forces, who were eventually defeated with India's help. Mama stressed that Jamaat-e-Islami should be abolished from Bangladesh.
http://ph.news.yahoo.com/video/bangladeshs-war-veteran-lashes-jamaat-030300672.html
----------
MDP will empower local councils: Nasheed
By Ahmed Rilwan | December 29th, 2013
Former president Mohamed Nasheed has said the opposition Maldivian Democratic Party (MDP) will not allow the Maldives to become a "unitary state" and will empower local councils.
Speaking at an MDP rally held last night at Alimas Carnival area in Male', Nasheed said that if MDP wins majority of the seats in the parliament, the party will arrange an uninhabited island for every council and provide councils with the means of making an income.
He said MDP will work within the parliament to ensure councils are given the authority to utilize land, and with that councils will fulfill the pledge of providing citizens with housing.
He noted the importance of allowing the councils to have the funds they earn in their own accounts.
Full report at:
http://minivannews.com/politics/mdp-will-empower-local-councils-nasheed-74244
----------
Two killed as fresh clashes erupt in Bangladesh
Dec 30 201
Dhaka : Two persons were killed on Sunday as fresh clashes erupted in the Bangladeshi capital between opposition supporters and security forces, who used water cannons and tear gas to foil attempts by BNP activists to conduct a seige of government offices to derail the upcoming January 5 polls.
Around 11,000 policemen patrolled the city as hundreds of demonstrators defied a government ban and took to the streets to stage the main opposition Bangladesh Nationalist Party's "march for democracy".
Authorities have detained over 1,000 opposition activists, trying to gather in the capital, after raiding homes of opposition supporters and trains.
Meanwhile, the BNP on Sunday announced that it would stage non-stop sit-in protests like Mahatma Gandhi's Satyagraha across the country until the general election scheduled for January 5 was not scrapped.
Full report at:
http://www.indianexpress.com/news/two-killed-as-fresh-clashes-erupt-in-bangladesh/1213173/
----------
200 crude bombs hauled, 3 Shibir men held
Dec 30 2013
Three activists of Islami Chhatra Shibir, a student wing of Jamaat-e-Islami, were held with 200 crude bombs in the capital's Mohammadpur area in the early hours of Monday. The haul was made during an on-going crackdown in the capital in view of the continuing agitation programme of the main opposition BNP. Police said the raid began at 1:30 and continued till Monday morning. During this time, 200 crude bombs, huge publication materials and small-sized national flags were seized from a mess on Razia Sultana road of Mohammadpur. Three Shibir activists were held from the mess. However, details identities of the arrestees could not be confirmed in initial reports. Mohammadpur police station Officer-in-Charge Azizul Haque told the Dhaka Tribune on Monday morning.
http://www.dhakatribune.com/crime/2013/dec/30/200-crude-bombs-hauled-3-shibir-men-held#sthash.bDqJOwa8.dpuf
----------
North America
Muslim restaurant staff wins over $80,000 in discrimination lawsuit -Canada
Dec 30 2013
Three Muslim workers at a well-known eatery in a suburb of Toronto, Canada have been awarded around $93,000 in a discrimination case. The men claim they were forced to eat pork, which is prohibited for them to consume due to their religious practices. The Human Rights Tribunal of Ontario made it clear that it thought the allegations were "really shocking".
The tribunal said that the owners of Le Papillon restaurant "made the workplace intolerable" for three of its Muslim employees, including being forced to eat pork, mocked for speaking Bengali, being verbally abused and threatened with replacement by "white" staff.
Full report at:
http://voiceofrussia.com/2013_12_30/Muslim-restaurant-staff-wins-over-80-000-in-discrimination-lawsuit-Canada-2588/
----------
US will cling to mass surveillance like nuclear weapons - Assange to RT
Dec 30 2013
Julian Assange said there is "no hope" that mass strategic interception – as it is termed by the US – will go away. The whistleblower then drew a historical analogy with how the US has retained nuclear weapons in the past.
Assange's comments were made during a panel discussion of the documentary film 'Mediastan' on RT. The panel also included director Johannes Wahlstrom and Afghan journalist Enayat Najafizada, who participated in the movie. The film depicts different stages in undercover WikiLeaks journalists' trips across Central Asia.
"These powers do not give up voluntarily any significant ability to control the world like that," Assange told RT. He compared any US compulsion to cling onto such abilities as a form of need for global control, pointing out that after the end of the Cold War, the US retained excessive nuclear weapons, despite an enormous anti-nuclear lobby. "Many movies were critical of it – it was a very expensive system to maintain," he said.
Full report at:
http://rt.com/news/assange-wikileaks-mediastan-surveillance-950/
----------
US condemns terrorist attack in Volgograd
Dec 30 2013
The US State Department on Sunday condemned an attack by a suicide bomber at the main railway station in the southern Russian city of Volgograd.
The United States condemned the attack "in the strongest terms," a statement issued by State Department spokeswoman Jen Psaki.
"We send our sincere condolences to the families of the victims and stand in solidarity with the Russian people against terrorism of any kind," the statement said.
http://voiceofrussia.com/news/2013_12_30/US-condemns-terrorist-attack-in-Volgograd-9829/
----------
US defence chief voices concern in call to Egypt army head
Dec 30 2013
The top US defence official expressed "concern" about recent developments in Egypt in a call on Sunday to Egyptian army chief General Abdel Fattah El-Sisi, the Pentagon said.
Defence Secretary Chuck Hagel expressed his condolences for the victims of a spate of recent bomb attacks in Egypt, and offered US assistance to investigate the incidents, a Pentagon spokesman said in a statement.
A bomb exploded outside an Egyptian army building in Egypt's Delta on Sunday, the latest in a series of violent incidents in Egypt.
The Egyptian Army labeled the incident a terrorist attack, but did not name the Muslim Brotherhood, the Islamist group it declared a terrorist organization last week.
Full report at:
http://english.ahram.org.eg/NewsContent/1/64/90354/Egypt/Politics-/US-defence-chief-voices-concern-in-call-to-Egypt-a.aspx
----------
Pakistan
Peace building measure: Govt plans to disarm militias in Balochistan
December 30, 2013
ISLAMABAD: Following a meeting in the capital, the government has resolved to disarm all armed groups in Balochistan, as part of a 'smart and effective security policy' outlined by Balochistan's Chief Minister Dr Abdul Malik and Interior Minister Nisar Ali Khan.
The policy was devised as a counter-measure to the previous government's move to allow groups to arm themselves as a form of protection against militants.
Balochistan Home Secretary Asad Gilani explained that political and separatist groups 'have been told to either prepare for political dialogue or face a response'. The inability to carry weapons, according to Gilani, would help 'establish peace in the troubled province'.
Senator Mir Hasil Bizenjo said the interior minister and chief minister had agreed that those who were allowed to carry arms to fight against militants will be asked to surrender these weapons. Some local sardars, including Shafiq Mengal, were allowed to possess weapons in Kalat, Khuzdar, Makran and some other adjacent districts of the province between 2008 and 2009, said Bizenjo. "I am convinced that this step will build peace in Balochistan – the province's peace could be linked with peace in Afghanistan," Bizenjo said. "If we go for fresh operations against separatist groups, our security forces will hunt down those hiding in the mountains," he added.
Full report at:
http://tribune.com.pk/story/652497/peace-building-measure-govt-plans-to-disarm-militias-in-balochistan/
----------
Jamaat-i-Islami condemns torture on PTI workers
December 30, 2013
KARACHI - Jamaat-i-Islami Karachi General Secretary Abdul Wahab has strongly condemned the torture and baton-charge by police on the workers of Pakistan Tehreek-e-Insaf (PTI), who staged their peaceful protest against the illegal closure of road adjacent to Bilawal House Chowrangi. In a statement issued on Sunday, Abdul Wahab said that if the provincial government of PPP had implemented the court order, then the situation would not have been created. Criticising the PPP govt, he said that staging protests and demos was a democratic and Constitutional right of any party, adding, that the attack on the workers of PTI by the police and PPP activists had reflected the feudal mindset of the PPP govt.
Full report at:
http://www.nation.com.pk/karachi/30-Dec-2013/ji-condemns-torture-on-pti-workers
----------
Sanaullah for ulema's role in eliminating religious hatred
December 30, 2013
LAHORE - Provincial Minister for Law and Local Government Rana Sanaullah Khan said that an ulema council will be set up to eliminate religious hatred in the province.
This was stated by the Law Minister while chairing a meeting to review progress into investigation of Rawalpindi tragedy and promotion of religious tolerance here Sunday.
The Law Minister said that the ulema council would be set up soon after Local Government (LG) polls comprising religious leaders from all schools of thought which would formulate recommendations to resolve differences among various sects and end religious hatred, adding that the ulema council would be functional before the next Moharramul Haram.
Full report at:
http://www.nation.com.pk/lahore/30-Dec-2013/sanaullah-for-ulema-s-role-in-eliminating-religious-hatred
----------
New Mandela: Qadri promises revolution, demands social justice
December 30, 2013
LAHORE: The government must provide people their constitutional rights or they would not only seize their rights but also political power, Pakistan Awami Tehreek leader Dr Tahirul Qadri said on Sunday.
He was addressing a large rally on The Mall through a video link from Canada. The rally was held ostensibly to protest against price hike, corruption, unrest, unemployment and the absence of rule of law. The participants, including a large number of women, walked from Nasser Bagh to Charing Cross. LEDs were installed at several locations to facilitate the participants.
Full report at:
http://tribune.com.pk/story/652423/new-mandela-qadri-promises-revolution-demands-social-justice/
----------
At least three killed in Charsadda blast
2013-12-30
PESHAWAR: A bomb planted outside a house in Charsadda exploded on Monday and killed at least three people, including a woman and two children, DawnNews reported.
According to police, unknown miscreants planted the bomb outside the home of a local, which exploded causing a nearby house to collapse.
In the blast, a woman died along with two children while her husband and another child were receiving treatment at a hospital.
Full report at:
http://www.dawn.com/news/1077305/at-least-three-killed-in-charsadda-blast
----------
2 police officers killed outside imambargah in Rawalpindi
2013-12-30
RAWALPINDI: At least two policemen were killed and another was injured along with a passerby as unknown persons opened fire near an imambargah in Dhoke Syedan area of Rawalpindi on Monday, DawnNews reported.
The policemen were posted near an imambargah in Rawalpindi's Dhoke Syedan area where they were performing their duties when they came under attack from unknown motorcycle-riding gunmen.
Full report at:
http://www.dawn.com/news/1077316/cops-killed-in-attack-near-imambargah-in-rawalpindi
----------
Twelve people killed in separate incidents in Karachi
2013-12-29
KARACHI: Twelve people including three members of Majlis-i-Wahdat-i-Muslimeen (MWM) and four of a family were killed and two young girls were allegedly assaulted sexually in separate incidents in the city, DawnNews reported.
Firing on a taxi near Dalmia resulted in the death of three MWM workers and left another two injured. Two of the deceased have been identified as Safdar Abbas and Aleem.
According to details, all men were residents of Hussain Hazara Goth and were returning to the colony after submitting their nomination papers for the local bodies elections when they were attacked by unidentified gunmen.
Full report at:
http://www.dawn.com/news/1077146/twelve-people-killed-in-separate-incidents-in-karachi
----------
Govt believes in freedom of expression: Mamnoon
Dec 30 2013
President Mamnoon Hussain on Sunday urged media to play its role in guiding people and guarding national interests.
Addressing South Asia Free Media Association's sixth National Conference in Bhurban' the President said the government firmly believes in freedom of expression and free press because no society can make progress without freedom of expression and access to information.
Mamnoon Hussain said the Pakistani media is playing a vital role in development of the country.
He said a responsible government cannot ensure transparency and accountability without independent' functioning and responsible media.
Full report at:
http://www.nation.com.pk/national/29-Dec-2013/govt-believes-in-freedom-of-expression-mamnoon
----------
Mideast
Israel OKs legislation to annex part of West Bank
December 30, 2013
OCCUPIED JERUSALEM – A panel of Israeli cabinet ministers endorsed proposed legislation on Sunday to annex an area of the occupied West Bank likely to be the eastern border of a future Palestinian state.
The move, pushed by far-right members of Prime Minister Benjamin Netanyahu's Likud party, could weigh on troubled US-brokered peace negotiations several days before another visit to the region by Secretary of State John Kerry.
But centrist Justice Minister Tzipi Livni, who also heads Israel's negotiations with the Palestinians, immediately challenged the motion, and said she would use her powers to block the legislation from being voted on in Parliament.
Full report at:
http://www.saudigazette.com.sa/index.cfm?method=home.regcon&contentid=20131230190923
----------
Eight dead in attack on troops in south Yemen: Military
Dec 30 2013
Five soldiers and three militants were killed Monday during an attack on an army position in southern Yemen, a military source said.
The source said the attack was carried out by southern secessionists, but secessionist leaders denied the accusation.
Southern Yemen is also home to a powerful Al-Qaeda affiliate suspected of carrying out a string of attacks on security forces.
http://english.ahram.org.eg/NewsContent/2/8/90375/World/Region/Eight-dead-in-attack-on-troops-in-south-Yemen-Mili.aspx
----------
New round of Iran-P5+1 negotiations to begin in Geneva
Dec 30 2013
Iran and the P5+1 group are due to begin a new round of negotiations regarding the Iranian nuclear problem in Geneva on Monday. A source from the Russian Foreign Ministry confirmed media reports about the upcoming meeting to Interfax and said Russia would be represented by experts.
The P5+1 group dealing with the Iranian nuclear problem consists of Russia, the United States, France, the United Kingdom, China and Germany.
Iranian Deputy Foreign Minister Abbas Araghchi told reporters the sides would confer on the implementation of the earlier agreements reached between political directors and foreign ministers of Iran and the P5+1 countries.
Full report at:
http://voiceofrussia.com/news/2013_12_30/New-round-of-Iran-P5-1-negotiations-to-begin-in-Geneva-3327/
----------
15 Palestinians dead from hunger in Syria camp: UNRWA
Dec 30 2013
At least 15 Palestinians have died of hunger since September in a besieged refugee camp in the Syrian capital Damascus, the UN agency for Palestinian refugees told AFP on Monday.
"Reports have come in over the weekend that at least five Palestinian refugees in the besieged refugee camp of Yarmuk in Damascus have died because of malnutrition, bringing the total number of reported cases to 15," UN Relief and Works Agency spokesman Chris Gunness told AFP.
He warned of a deteriorating situation in the camp, where some 20,000 Palestinians are trapped, with limited food and medical supplies.
"Since September 2013 we have been unable to enter the area to deliver desperately needed relief supplies," Gunness said.
Full report at:
http://www.hurriyetdailynews.com/15-palestinians-dead-from-hunger-in-syria-camp-unrwa.aspx?pageID=238&nID=60316&NewsCatID=352
----------
Turkey: Political Islam's "Night of St. Bartholomew"
December 30, 2013
Istanbul (AsiaNews) - A Night of St. Bartholomew has erupted within Turkish political Islam and pits the followers of Prime Minister Recep Tayyip Erdogan and those of the founder of the community Hizmet ( Offer ) , Imam Fethullah Gulen against each other.
The former stem from Milli Gorus (religious nationalists) now known as Necmetin Erbakan. In 1969 Erbakan founded Pasrtisi Milli Nizam ( National Order Party), then Refah Partisi ( the Welfare Party ), Virtue Partisi ( Virtue Party ), through whose ranks Erdogan rose, before founding together with the current President of the Republic, Abdullah Gul and the current Deputy Prime Minister Bulent Arinc , the AKP Party. Headed by Erdogan and in power since 2002, it has succeeded in freezing out the successors of Kemal Ataturk.
Full report at:
http://www.asianews.it/news-en/Turkey:-Political-Islam%E2%80%99s-Night-of-St.-Bartholomew-29917.html
----------
Yemen court condemns Qaeda suspect to death
December 30, 2013 0
SANAA : A Sanaa court on Sunday sentenced to death a Yemeni Al-Qaeda suspect for his role in a deadly attack on a security headquarters in Aden in 2011, an official said.
Al-Qaeda in the Arabian Peninsula, a franchise of the global jihadist network, is active in Yemen and is seen by the United States as its most dangerous branch. The court convicted Ahmad Kadiri Ahmad Turki of belonging to AQAP and setting up the cell that planned and launched the attack in the southern city, the judicial official said.
Full report at:
http://www.nation.com.pk/international/30-Dec-2013/yemen-court-condemns-qaeda-suspect-to-death
----------
Netanyahu says Lebanese rocket attack constitutes 'double war crime'
Dec 30 2013
UNIFIL vows to locate launching site of 2 Katyusha rockets that landed near Kiryat Shmona Sunday morning; IDF responds to projectiles with artillery fire into south Lebanon.
The rocket fire from Lebanon into Israel early Sunday morning was a double war crime because it endangered innocent civilians on both sides of the border, Prime Minister Binyamin Netanyahu told the cabinet Sunday morning.
Netanyahu, speaking shortly after a terrorist organization in Lebanon fired five Katyusha rockets at Israel around 7:30 a.m., said the IDF had retaliated strongly to the attack. Two of the rockets crossed the border and landed near Kiryat Shmona, though army sources said it was not immediately clear who fired them.
Full report at:
http://www.jpost.com/Defense/Two-Katyusha-rockets-fired-at-Kiryat-Shmona-336438
----------
Southeast Asia
Home Ministry Says Ruling on Civil Servant Prayer Obligation Unlawful
Dec 30 2013
The Home Affairs Ministry said it disagrees with a ruling issued by the head of the Rokan Hulu district in Riau that requires all male Muslim public servants there to perform two daily prayers, according to a report issued Monday.
"This is clearly a strange ruling, because a matter for God has become a matter for the district head," Djohermanyah Djohan, the Home Affairs Ministry's director general for regional autonomy, said according to the Republika news website.
Ahmad, the head of the Rokan Hulu district, in a 2011 ruling required all male civil servants who are Muslim to take part in mass prayers at the main mosque at the Islamic Center at Pasir Pengaraian, the capital of the district, for Zuhur and Ashar, two of the five daily prayers for Muslims.
Full report at:
http://www.thejakartaglobe.com/news/home-ministry-says-ruling-on-civil-servant-prayer-obligation-unlawful/
-----------
BN leaders hit out at Umno politician for 'leave the country' remark
Dec 30 2013
Several Barisan Nasional leaders have spoken out against a Wanita Umno division leader for telling critics of the government to leave Malaysia.
They said the remarks by Kuantan Wanita Umno division head Datuk Zaiton Mat (pic) were "silly" and "uncalled for", adding that voicing out grievances is neither unpatriotic nor disloyal.
"What's wrong with that, it is not tantamount to betraying the country," newly-elected MCA deputy president Datuk Wee Ka Siong told The Malaysian Insider.
Wee said it was normal for people in a democratic society to voice out unhappiness over matters such as the rising cost of living.
Full report at:
http://www.themalaysianinsider.com/malaysia/article/bn-leaders-hit-out-at-umno-politician-for-leave-the-country-remark
----------
URL: https://newageislam.com/islamic-world-news/allah-says-decapitate,-mutilate-no/d/35059