New Age Islam News Bureau
22 Nov 2018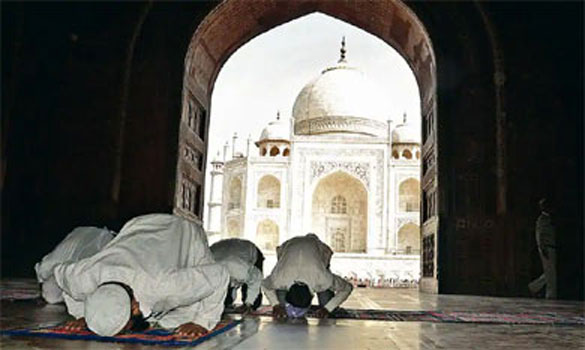 'Namaz' being offered at the mosque on Taj premises(Raju Tomat/ HT photo)
------
• All Love Lost As Religious Row Plays Out At Taj Mahal
• 'Communal' Jamaat-e-Islami Not an Internal Issue of Bangladesh, Says India
• In Terror-Struck Pakistan Village, Home Is Where the Cave Is
• Muslim Teacher Cleaning Egypt Church Says: 'I Did It for My Daughters'
• Welcome Muslim Congresswomen by Dropping Ban On Headwear
India
• All Love Lost As Religious Row Plays Out At Taj Mahal
• Eid-e-Milad Processions Cause Tension In Agra; Muslim Leaders Intervene To Check Violence
• Hindu, Muslim litigants call for peace, harmony
• Jammu-Kashmir: New alliance is a combination of terror-friendly parties, says BJP
• Amritsar Attack: Youth Held, CM Says Pakistan Bid To Disturb Peace
--------
South Asia
• 'Communal' Jamaat-e-Islami Not an Internal Issue of Bangladesh, Says India
• Taliban Ambush Afghan Military Convoy, 4 Dead
• Afghan Taliban not serious about peace, says govt chief
• Myanmar Court Allows Jailed Journalists to Appeal Convictions
• Pakistan condemns deadly attack on religious scholars in Kabul
• President Ghani Talks about The Circles Involved In Recent Kabul Bombing
• Rohingya Repatriation, Relocation Plans Set to Be Pushed Back to 2019: Govt Official
--------
Pakistan
• In Terror-Struck Pakistan Village, Home Is Where the Cave Is
• Pakistan to Propose Int'l Convention on Religious Defamation
• Malaysian First Lady Asks PM Imran If She Could Hold His Hand
• 7 injured in blast at mosque in southwest Pakistan
• Over 3,000 Sikh pilgrims in Pakistan for Guru Nanak Jayanti
• PM Khan unveils 4-pronged strategy to pull nation out of 'quagmire of loans'
• Two killed in roadside IED blast in Bajaur
• 9 injured in IED blast at mosque in Balochistan's Chaman
--------
Arab World
• Muslim Teacher Cleaning Egypt Church Says: 'I Did It for My Daughters'
• Will Northern Sinai's New Cultural Centres Promote Moderate Islam?
• US-led coalition strikes eastern Syrian town with white phosphorus bombs
• US puts aide to Islamic State leader Baghdadi on terror blacklist
• Turkey Gives New Warning to Terrorists to Leave Demilitarized Zone in Northern Syria
• Turkish-Backed Militants Suffer Several Casualties in Kurdish Attacks in Northern Syria
• Civilians Capture Kurdish Militias following Intensified Tensions in Northeastern Syria
--------
North America
• Welcome Muslim Congresswomen by Dropping Ban On Headwear
• US Congress Urged to Probe Trump, Kushner Ties to Saudi after Khashoggi's Death
• US: Corker, Menendez demand determination on Khashoggi
• US Senators blast Trump's statement on Khashoggi
• Trump thanks Saudi Arabia for lower oil prices
• Pompeo tells Khamenei: Iran should spend on its people, not terrorists
• Mattis: I do not think CIA identified those responsible for Khashoggi's killing
• US imposes new sanctions on entities, individuals for Syria oil sales
• US, Pakistan ties plunge with new war of words
--------
Europe
• Drunken Racists Beat Up Italian Barman Because They Thought He Was Muslim
• Was The Jewish-Muslim 'Chicken Soup Challenge' Cooked Up By UK's Home Office?
• UK: Bill to recognize Palestine submitted to parliament
• UK arms sold to Saudis must follow humanitarian law
• Russia and Iran angered by new US sanctions targeting Iranian oil exports to Syria
• Pope Francis thanks Lebanon for welcoming refugees
--------
Mideast
• French Rights Group Sues Abu Dhabi Crown Prince Over War Crimes In Yemen
• Israeli High School Grooming Students To Become Iran Spies
• Gaza Leader's Days Are Numbered, Vows Israeli Minister
• Prince Khalid: Houthi violations consistent with their Iranian masters' playbook
• Israel demolishes about 20 shops, petrol stations in East Jerusalem al-Quds
• Turkish court gives life sentences to dozens over 2016 botched putsch
--------
Africa
• Is There A Parallel Security Ministry Run By Islamists In Tunisia?
• Boko Haram: 156 Former Insurgents Declare Allegiance To Nigeria
• Somalia: Two US Air Strikes Kill 37 Al-Shabaab In Somalia
• Libya forcibly evicts stranded refugees from cargo ship
• Nigeria: Has Religion Improved Growth and Development of Nigeria?
• Malawi Muslims Want Prophet Muhammad's Day National Holiday - Eid Miladun-Nabi
--------
Southeast Asia
• Finns Held In Muslim Malaysia over 'Christian Pamphlets'
• 'Third Force' Blogger Joins Forces with Malay Groups To 'Destroy DAP'
• UUM lecturer apologises for defaming Mujahid
--------
Australia
• Australian PM to Be At Unveiling Of Gandhi Statue amidst Muslim Boycott Of Meeting
• Australia proposes stripping native-born extremists of citizenship
Compiled by New Age Islam News Bureau
URL: https://www.newageislam.com/islamic-world-news/all-love-lost-religious-row/d/116952
--------
All Love Lost As Religious Row Plays Out At Taj Mahal
Nov 22, 2018
Renowned world over as the monument of love, Taj Mahal is again in the throes of controversy, with fringe elements clashing over their "right" to perform 'Namaz' on all days / 'Aarti' on its premises. Stakeholders in the city's tourism sector have raised an alarm over this spiralling conflict, which on one side has some Muslims demanding 'Namaz' at Taj on days other than Friday, and on the other has right wing activists stressing on organising 'Aarti' at the monument they insist is in fact a Shiva temple.
A video that went viral on Saturday showed some activists performing 'Aarti' at the Taj, which opens up every Friday -- its weekly closure day -- for allowing local Muslims to offer 'Namaz'.
While the Archaeological Survey of India (ASI) and the Central Industrial Security Force (CISF) officials said they were verifying the contents of the video, people have voiced concerns against the dangers of letting a communal tug-of-war play out at the globally famed structure that draws numerous tourists to India.
Recent controversial developments
The latest controversy began on November 3, said Ibrahim Zaidi, president of the Taj Mahal Mosque Management Committee. "The ASI locked up the railing around the 'Wuhu' tank (for performing ablution) near the mosque on the premises of the monument," he alleged.
"This was done on the pretext of security concerns although the central tank, which is visited by tourists of all ages, also remains filled with water," he said, adding that it was a "planned design" to stop 'namaz' at the Taj mosque -- a tradition older than the monument itself. "The mosque came into existence before the Taj Mahal," claimed Zaidi.
Meanwhile, ASI officials said the step was taken after it was found that 'namaz' was being offered at the Taj on days other than Friday. According to rules, 'namaz' can be offered at the structure only on Fridays -- from 12 pm to 2 pm, they said.
An ASI official placed a gazette notification at both the eastern and western gates of the Taj Mahal, detailing the provisions for offering Friday 'namaz' at the monument. The notification mentioned no permission for any other day. "We are just complying with orders. The prevailing directives find no sanction for 'namaz' on any other day. We had asked those offering 'namaz' at the mosque last week not to do so, but no heed was paid," said Ankit Namdev, conservation assistant, ASI.
On the other hand, Zaidi accused the ASI of pressuring the Imam Sayyad Sadiq Ali, deputed at the mosque, to disallow 'namaz' at Taj on all days barring Friday. "This is unacceptable. The forefathers of the present imam have been conducting 'namaz' here for 400 years without any hindrance regarding the day of the week. There is no rule saying that 'namaz' can be offered here only on Friday -- an assertion that ASI is making without proof or document," said Zaidi.
He said the recent act of performing 'Aarti' at the Taj was an "additional complication" that had been introduced in a "planned manner" to stop the 'Namaz'.
'Aarti' at taj
Govind Parashar, who is heading the Rashtriya Bajrang Dal (RBD) unit in Agra, said, "Who started all this? Why are some people going unpunished despite offering 'namaz' at Taj on days other than Friday? I was sent to jail for seven months when I gave the call to offer 'aarti' at the monument, which is in fact the Shiva temple 'Tejo Mahalaya'. A suit is pending in court regarding declaring Taj a Shiva temple and banning 'Namaz' on its premises."
"Why are we alone being blamed for turning a tourism destination into a centre of controversies? None can be above law. We did not raise the issue of 'aarti' for a long time, but then they (Muslims) began offering 'Namaz' on weekdays and more than a thousand turned up for the Friday 'Namaz' at Taj last week. Earlier, only a handful used to come," he added.
RBD women's wing district president Meena Diwakar said her group entered the Taj Mahal with 'dhoopbatti' (incense sticks), Gangajal and a match box and performed 'aarti' at the mosque there.
"We 'purified' the location as it is our 'Shiv Temple', the sanctity of which was damaged by 'namaz'. The identity of the Taj Mahal is because of Tejo Mahalaya, the Shiva Temple. Permission was granted for offering namaz once on Friday but it has been offered on other days too. So we also offered 'aarti'. We are prepared to face action if those violating the norms by offering 'Namaz' on weekdays are punished," she said. Meanwhile, the Vishwa Hindu Parishad also offered support to Diwakar for performing 'Aarti' at the Taj. Sunil Parashar, Braj region vice president of the VHP called the move "justified".
Historian-Speak
Historian Raj Kishore Raje, who moved an application under the Right to Information Act seeking clarity on the status of 'Namaz' being offered at the Taj mosque, said, "The publication department of the ASI at Delhi and the Information Officer of the ASI circle office in Agra deny there is any order or precedence for offering 'Namaz' at the Taj mosque on any day other than Friday. Otherwise also there are various mosques where 'Namaz' is not offered. These include the Nagina Masjid, the Meena Masjid and the Moti Masjid on the premises of Agra Fort."
Raje, who has served as the head of a museum in Agra and has penned books on the city's history, added, "There seems to be no documentation of 'namaz' at the Taj mosque during the Mughal regime or the British period or in free India. The idea of 'namaz' on weekdays seems to be an afterthought. This has given rise to demands for 'aarti' at the monument. Both 'namaz' and 'aarti' demands by fringe groups are damaging for Taj." He said Mughal emperor Shah Jahan bought the land for building the Taj Mahal in exchange of land he offered to Maharaja Jai Singh of Jaipur through a 'Shahi Farman' (royal order).
Tourism sector fears
Arun Dang, a veteran of tourism trade in Taj city and founder-patron, Tourism Guild of Agra, said, "Taj Mahal's popularity is fast becoming its curse. People are looking at short-cuts to fame by using the monument for their vested interests."
"Taj stands for 'Ganga-Jamuni Tahzeeb' (composite culture). Such controversies are not only damaging for tourism, but also bring bad name to the city and the country," said Dang, adding that authorities needed to handle the "problem causing elements" with toughness.
Let Taj be: tourists
Several tourists visiting the Taj Mahal said that "such issues" should be kept away from the world-famous heritage site. "Taj is an epitome of beauty and controversies on religious lines do not go with its ethos. No one should be allowed to harm its reputation. Many in the west know our country because of the Taj. So, the government should be sensible and sensitive while protecting the sanctity of a key tourism destination," said a tourist who was visiting the monument with his family.
Built over a period of more than two decades, the 17th century monument stands on the southern bank of Yamuna.
It is widely believed that Mughal emperor Shah Jahan got the Taj Mahal constructed it in the memory of his departed wife Mumtaz Mahal.
The white marble mausoleum is flanked by a 'mehmankhana' on the east and a mosque on the west, where 'Namaz' has traditionally been offered on Eid, Bakrid and Fridays. Till the 1970s, the monument remained open throughout the week without any entry charge.
This changed with security threats emerging in the 80s. The gates of the Taj closed at night and a ticket had to be bought to visit it during the day. However, entry remained free on Fridays when 'Namaz' was offered at the mosque on the premises.
In the 90s, the Supreme Court said that the monument should be closed for a day in the week for maintenance and conservation. Monday was chosen as the weekly closure. But, about a decade later, it was moved to Friday -- the day when the crowd of visitors swelled up, as there were no entry charges.
On January 15, 2001, a government order stated that the Taj gates were to remain open for 'Namazis' for two hours on Friday afternoon.
There remained the issue
of Muslim tourists making
visits on Friday, although entry was barred for non-Muslims. The matter reached the Supreme Court that ordered in July this year that only local Muslims were to be allowed inside Taj on Fridays for
offering 'Namaz'.
The 'Namaz'/ 'Aarti' controversy is the latest to dog the Taj Mahal. Earlier, right wing activists had asserted that the monument should be recognised as 'Tejo Mahalaya', a Shiva temple that was converted into a mausoleum.
The issue of Taj Mahal building being harmed by pollutants is also a sensitive one. Industries in Agra have faced closure, as the government took steps to check the effect of pollution on the monument.
Taj premises have also been a favourite destination of protesters, especially lawyers seeking a high court bench in western UP who have gatecrashed the monument to get a wide audience for their demand. The Supreme Court had to intervene and ban all publicity seeking gatherings or protests on the Taj premises and its vicinity.
https://www.hindustantimes.com/lucknow/all-love-lost-as-religious-row-plays-out-at-taj-mahal/story-m5fTbVEbuUSITMFZFfQKzJ.html
--------
'Communal' Jamaat-e-Islami not an internal issue of Bangladesh, says India
2018-11-21
India insists the "communal" politics of Jamaat-e-Islami which sided with Pakistan in 1971 is not an internal issue of Bangladesh and that the "ideological battle has not been fully resolved yet".
"That is why today you have a situation where you are either for Bangladesh or anti-Bangladesh," said an Indian diplomat ahead of the general elections in Bangladesh.
"We were directly involved in 1971. Our people shed blood. So we cannot just say it does not matter. It's not an internal issue (of Bangladesh). It's a fundamental issue that we cannot compromise."
"This is the party (Jamaat) that has opposed the liberation of Bangladesh. They represent those who collaborated with the government of Pakistan. They represent those who oppose the very fundamental interest of Bangladesh," the diplomat who cannot be named in media told bdnews24.com.
Indian High Commission in Dhaka Harsh Vardhan Shringla like other diplomats is meeting political parties and their leaders ahead of the Dec 30 elections.
The Jamaat-e-Islami, which was against Bangladesh's birth in 1971, has lost its registration to run as a political party and contest in elections.
But its leaders are seen active with their ally BNP. Some of them are also going to contest in the elections with the BNP symbol 'paddy sheaf'.
Asked about India's position, the diplomat, who has knowledge about Bangladesh and India's policy regarding the country, said who is allying with whom is internal in nature.
"You are secular but work hand in hand with Jamaat. This is contradiction. But that's not for us to judge. It is the people of Bangladesh who will decide. Our position is consistent that we cannot compromise with fundamental forces."
"Let them change their constitution first. They even don't recognise the constitution of Bangladesh. They oppose the independence of Bangladesh," he continued.
"Indian troops came here to Bangladesh and fought and shed their blood. We were directly involved in 1971. Many of our people have died and shed their blood on the soil of Bangladesh. So it's not a small thing for us.
"The whole idea was to ensure that you are liberated. This is your country. But we cannot compromise with those who fought against the ideology. They believe in caliphate, not in democracy," added the diplomat.
The India-Bangladesh relations are termed "far beyond the strategic level" by the two prime ministers – Narendra Modi and Sheikh Hasina.
The two countries in the last three years signed a record number of 92 agreements touching almost all areas of cooperation from high-tech to space technology.
Modi has written to Hasina at least 24 letters on different occasions and both of them jointly inaugurated at least 19 development projects through video-conferencing.
India has also extended $8 billion line of credit for Bangladesh's development projects.
"We want this momentum of cooperation continues," the Indian diplomat said.
"For us Bangladesh, as our external affairs minister made it clear, is the top priority country when it comes to 'neighbourhood first' policy of our prime minister. We want a stable and peaceful Bangladesh which is good for both of us.
"Any instability in Bangladesh will trigger instability in India. Our relation is not zero-sum game," explained the diplomat.
https://bdnews24.com/politics/2018/11/21/communal-jamaat-e-islami-not-an-internal-issue-of-bangladesh-says-india
--------
In terror-struck Pakistan village, home is where the cave is
Nov 22, 2018
NEW DELHI: Bomb-proof, earthquakeresistant and cheap: thousands of people in Pakistan are choosing to hunker down in caves northwest of Islamabad, snapping up the hobbit-like homes amid a nationwide housing shortage.
Located around 60km from Pakistan's capital, nearly 3,000 people live in caves in the village of Hasan Abdal, according to councilor Haji Abdul Rasheed — whose own home is among the dwellings carved into the hillside embankments.
His cave — or "buray" as it is locally known — consists of a few minimally furnished rooms and a veranda.
The caves are usually dug by hand, with residents using clay to plaster the walls — a practice which serves as a bulwark against landslides, they say. "If you build a mud house, it collapses during the rains. This does not collapse," says Rasheed. "It's earthquakeproof and bomb-proof."
Although locals have been living in caves for at least five centuries since the area was settled, a surge in housing prices has renewed the appetite for these homes. "We bought this because it's cheaper," says resident Ameer Ullah Khan.
People also recommend the structures as suited to Pakistan's weather — staying cool as summertime temperature soar past 40°C and providing a warm cocoon during winters. Life is not easy however: lacking sufficient natural light, the caves rely on electricity cabled in from outside to power TV sets, while indoor plumbing is a rare luxury.
But with cave prices averaging around about Rs 40,000 ($300) compared to brick homes that start around Rs 2,50,000, locals and property experts say they are more affordable than other options.
https://timesofindia.indiatimes.com/world/pakistan/in-terror-struck-pakistan-village-home-is-where-the-cave-is/articleshow/66743742.cms
--------
Muslim Teacher Cleaning Egypt Church Says: 'I Did It for My Daughters'
21 November 2018
After her initiative to clean a church with the help of her Muslim girl students was met with a lot of praise, the teacher Eng. Heba Saad Hashash revealed the details and motivation for her action.
In an interview with Al-Arabiya.net, the teacher disclosed that she had cleaned the church, despite objections from some people, in order to promote a loving and tolerant homeland where she and her daughters could feel safe, in addition to her other 2,400 students in the city of Mallawi in Minya in southern Egypt, whom she considers her children as well.
She added that she did it for her country and for her fellow Copts who live in the city and who were under difficult and harsh circumstances following the recent terrorist incident on the Monastery of St. Samuel the Confessor, which resulted in the deaths of seven people.
Heba Hashash noted that it was her duty as an educator, teacher and school director, to set a good example of peace and coexistence between religions and to educate this generation and the future ones that for one to be a good Muslim he needs to believe in Allah, his prophets and their messages, in accordance with the words of God Almighty.
"The Messenger believeth in what hath been revealed to him from his Lord, as do the men of faith. Each one (of them) believeth in Allah, His angels, His books, and His messengers.
"We make no distinction (they say) between one and another of His messengers."
And they say: "We hear, and we obey: (We seek) Thy forgiveness, our Lord, and to Thee is the end of all journeys."
Heba Hashash said that she brought together a group of 15 students, all of whom received the approval of their families, and went to the church.
She herself cleaned the church with a broom as did her students. They also cleaned the library and every inch of the church. She stated that she was surprised that the images taken by some have been widely shared on social media sites.
Heba Hashash said that she had received praise from the Muslims and Copts of the city for what she had done, revealing her happiness and stressing that the feelings of love and affection between Muslims and Copts in Egypt are real and deep, not just a slogan expressed only in front of the media.
She said that she believed in her initiative because it was the embodiment of the real religion and a reflection of her feelings as well as the feelings of all the residents of the city who suffered from the destruction and burning of houses of worship after the revolution of June 2013, adding that she will seek to develop such actions in the hearts of her students because they will be mothers in the future and they ought to raise and nurture the next generation based on love and tolerance.
Social media sites in Egypt praised the photos of Muslim girls cleaning the church in Mallawi. The initiative received praise which expressed the spirit of love, tolerance and unity between Muslims and Copts in Egypt.
Egyptians welcomed the initiative, stressing that the most prominent feature of it was that it emerged from the heart of Minya province, which recently witnessed a terror attack targeting the Copts during their visit to the monastery of Samuel the confessor, killing seven people.
The city of Mallawi was the theatre of many attacks orchestrated by the Brotherhood and its members after the outbreak of the June 30 revolution of 2013 and the overthrow of the deposed President Mohamed Morsi.
The comments on the images and the initiative were positive, constructive and supportive, stressing that the Muslims of Egypt and Copts are one fabric and one people that cannot be divided or exploited to cause strife and sectarian divisions and disrupt the stability of the country.
https://english.alarabiya.net/en/features/2018/11/21/Muslim-teacher-cleaning-Egypt-church-says-I-did-it-for-my-daughters-.html
--------
Welcome Muslim congresswomen by dropping ban on headwear
November 20, 2018
This month, for the first time in history, Americans elected two Muslim women to the U.S. Congress.
Rashida Tlaib, a Democrat who will represent Michigan's 13th Congressional District, is the first Palestinian-American woman elected to Congress. Ilhan Omar, elected to represent Minnesota's 5th District, is the first Somali-American woman, the first Minnesotan of color and the first refugee elected to Congress.
Given that Muslim women have been in the United States since before the nation's founding, we can cheer the progress represented by the breaking of these glass ceilings, even if it's upsetting that it has taken this long.
One way to celebrate is to change rules and customs that implicitly marginalize or exclude those who represent us. Omar is not even in office yet, but she is already making this a priority. Omar, who wears hijab, is pushing to allow religious headwear, such as Muslim hijabs, Jewish kippas and Sikh turbans.
Headwear of any kind has been banned from the House chamber since 1837. The rule, designed to outlaw the wearing of hats, was written at a time and by people who likely never imagined religious minorities rising up to help lead this nation. At Omar's urging, Democratic leaders have proposed in their draft rules for the incoming Congress that religious headwear be permitted on the House floor.
To many Americans, it will seem like a no-brainer to update the headwear policy held by Congress and to uphold Omar's constitutional right to practice her sincerely held religious beliefs. Rules like this were not likely intended to be malicious or exclusionary; it seems more likely that they were simply written without certain people in mind.
At the same time, policies like this — what we often refer to as structural discrimination – are pervasive in this country. I know because I've personally encountered them. Growing up in Texas, for instance, my brothers and I encountered many situations where basketball referees and coaches told us we couldn't play with our turbans.
It was only last year that the international governing body for basketball – FIBA – updated its rules to allow players, who had been forced to choose between their love for sport and faith, to hit the court with their heads covered. The rule, the authorities had explained, was in place to ensure the safety of all competitors.
As someone who has grown up playing basketball all his life, I promise you that the cloth on my head poses no more of a threat than any other article of clothing on my body.
If Congress is guilty of maintaining outdated policies that infringe on religious freedoms, how can Americans expect to change these discriminatory policies in everyday life?
When the House of Representatives, our most democratic institution, has rules in place that discriminate against religious minorities, it sends the message that it's OK to discriminate everywhere against people based on how they look or what they believe. It's particularly ironic that a rule bars religious freedom in the halls of Congress given that the First Amendment specifically states that "Congress shall make no law respecting an establishment of religion, or prohibiting the free exercise thereof … "
On the other hand, Congress could send the opposite message by updating its policies and showing that it will not tolerate wrongful discrimination anywhere on the basis of religious identity.
By adjusting a rule that never intended to discriminate, Congress could teach a crucial less about discrimination: that intention is not the measure of justice. Justice must also account for how our customs and routines affect everyone. As we rid ourselves of rules that represent our blind mistreatment and oppression of entire communities, we all become better citizens.
The ascendance of leaders like Omar from historically marginalized communities offers us a tremendous opportunity to learn, reflect, grow and do better. Let's make sure that we recognize this blessing and make the most of these opportunities.
https://religionnews.com/2018/11/20/us-house-has-a-chance-to-welcome-muslim-congresswomen-by-dropping-ban-on-headwear/
--------
India
Eid-e-Milad Processions Cause Tension In Agra; Muslim Leaders Intervene To Check Violence
Siraj Qureshi
November 21, 2018
Muslim groups celebrating Prophet Mohammed's birth anniversary on Wednesday (November 21) in Agra were met with some resistance in Agra, causing tension in the city.
A few localities in Agra objected to the processions brandishing weapons and Islamic flags.
In Nai Ki Mandi, Jama Masjid, Loha Mandi, Fulatti Bazar and Shahganj areas, these groups were stopped and urged not to carry weapon. A few Muslims, too, joined the others in asking the processions to not wield weapons. The tension doused down with the efforts of some local Muslim leaders.
Haji Jamiluddin Qureshi, president of Sarvdaleey Muslim Action Committee said that he personally asked the groups passing through the Hospital Road area to desist from carrying weapons. He said that this is a very dangerous precedent and carrying weapons openly could spiral down into communal violence in case there is a mishap.
He also said that it is being seen that tolerance has been slipping away among both the Hindu and the Muslim communities these days despite the fact that this country has always thrived on the principle of tolerance.
He observed that the literal meaning of tolerance is "to bear" and this is the basic principle of Islam. It means accepting the fact that human beings, naturally distinct in their appearance, situation, speech, behaviour and values and have the right to live in peace. It also means that one's views are not to be imposed on others. He said that we have to tolerate others and respect their point of view.
Mufti Mudassar Qadri said that such processions are good and are a part of the display of faith among Muslims for the Prophet. However, carrying weapons should be avoided at any cost as it sends out a wrong message, making Islam look like a martial religion, when it is in fact, a religion of peace.
Syed Irfan Slim of the Sarvdaleey Muslim Action Committee, who took the initiative to bring representatives of all religions on one stage in the city to welcome these processions of devout Muslims, said that the religion of Islam revolves around hope and fear of the one and only creator. So the believer is one who has hope and fear.
He said, "From the life of the Prophet we can learn many lessons of tolerance as the Prophet did with all mankind whether it was a believer or non-believer. He said that the whole personality of Prophet Mohammed demonstrates the implication of tolerance towards other minorities."
https://www.indiatoday.in/india/uttar-pradesh/story/eid-e-milad-processions-cause-tension-in-agra-muslim-leaders-intervene-to-check-violence-1393410-2018-11-21
--------
Hindu, Muslim litigants call for peace, harmony
Nov 21, 2018
FAIZABAD: Hindu seers and Muslim clerics held a peace meeting in Ayodhya on Tuesday conveying the message of brotherhood and communal harmony ahead of VHP's Dharm Sabha.
The litigants in Ramjanmabhoomi-Babri Masjid title suit, Mahant Dharam Das and Iqbal Ansari also attended the meeting. The speakers emphasised on maintaining communal harmony and brotherhood in the city and nation.
Mahant Dharam Das said, "VHP has claimed that over one lakh devotees will attend the Dharm Sabha in Ayodhya. Such a huge gathering must have created some feeling of insecurity among Muslims, but they need not worry. It is our duty to maintain peace in Ayodhya.
The sadhus of Ayodhya will not let any one harm any Muslim citizen of Ayodhya."
Dr Yusuf Khan, a social activist, said, "Saffron forces are creating a hype and giving an impression that Muslims are blocking the construction of Ram temple, whereas the fact is that the matter is sub judice and the disputed site as well as the adjoining land is in custody of the Supreme Court. Muslims are not any where in the scene, and are not creating hurdles in way of the temple, we want peace and harmony," he added.
Senior Muslim leader Iqbal Mustafa said, "The gathering is taking place in the name of construction of Ram temple at Ramjanmabhoomi. We have no objection to Ram temple as we consider Lord Ram as Imam-e-Hind. Leaving the disputed area,
Full report at:
https://timesofindia.indiatimes.com/city/lucknow/hindu-muslim-litigants-call-for-peace-harmony/articleshow/66731363.cms
--------
Jammu-Kashmir: New alliance is a combination of terror-friendly parties, says BJP
November 22, 2018
As Jammu and Kashmir Governor dissolved the Assembly hours after the Peoples Democratic Party staked claim saying it had the support of the National Conference and Congress, the BJP, in series of tweets, called the alliance a coming together of "terror-friendly parties".
The party, a partner of PDP until a few months ago, supported the Governor's decision and tweeted, "J&K needs a firm administration to deal with terrorism and not a combination of terror-friendly parties." In another tweet it asked if "keeping the security scenario of J&K in mind, can it afford horse-trading and instability?" Further, in one more tweet it commented, that "the best option in such a scenario is to go in for a fresh election at the earliest. This Assembly cannot produce a stable government."
In Jammu, the BJP unit saw Pakistan's hand behind the Opposition's moves to have an alliance. Senior BJP leader and former Deputy Chief Minister Kavinder Gupta said: "It had been on Pakistan's instructions that the PDP and National Conference earlier decided to boycott the local body elections…now, they are making efforts to forge an alliance for government formation not on their own, but again on directions of Pakistan.''
The BJP leader, who was also accompanied by BJP state vice president Yudvir Sethi and general secretary Narinder Singh, claimed that some of these people, being backed by Pakistan, recently had meetings in Dubai and London.
Claiming that people in Jammu and Ladakh will oppose these parties as 90 per cent of their support base is only in Kashmir, Gupta said that this move will prove to be "the last nail in their coffin." Gupta said these parties, rattled by the BJP's gains in the recent urban local body elections, were coming together to quell an ongoing rebellion in their ranks and to counter their dwindling mass base.
Full report at:
https://indianexpress.com/article/india/jammu-kashmir-assembly-dissolved-bjp-pdp-nc-congress-alliance-5458240/
--------
Amritsar attack: Youth held, CM says Pakistan bid to disturb peace
November 22, 2018
Police in Punjab arrested a 26-year-old on Wednesday and searched for a registered medical practitioner for allegedly carrying out a grenade attack on a Nirankari congregation last Sunday that left three persons dead and over 20 injured at Raja Sansi in Amritsar.
Announcing the arrest of Bikramjit Singh alias Bikram who hails from Dhariwal, Chief Minister Amarinder Singh told reporters that the terror attack was carried out in active collaboration with the Pakistani establishment and the ISI with a motive to disturb the peace in Punjab.
He said Bikram is an operative of the Khalistan Liberation Force (KLF) and carried out the attack for money. Bikram's associate Avtar Singh Khalsa (32), from Chak Mishri Khan village in Ajnala, is on the run.
According to the Chief Minister, Bikram used his motorcycle in the attack with Avtar riding pillion. It was Avtar who lobbed the grenade, Singh said. "It is just a matter of time that we catch him."
He said Bikram told his interrogators that the grenade was provided by one Happy in Pakistan. "Happy is suspected to be the Pak-based KLF chief Harmeet Singh Happy alias PhD, also the mastermind behind the targeted killings of RSS, Shiv Sena members, a pastor in Ludhiana and Dera Sacha Sauda workers Jalandhar in 2016-17."
Ruling out any communal angle to the attack, Singh said it is "purely a terror attack, with people chosen as soft targets. In this case, women, children and those who had come to be a part of the congregation were chosen as soft targets. A disturbed border is Pakistan's internal security."
He said preliminary investigations and examination of CCTV footage led to the arrest of Bikram who identified his accomplice as Avtar Singh Khalsa.
In a statement later, Punjab DGP Suresh Arora said Bikram was riding a TVS motorcycle at the time of his arrest. Bikram's black Bajaj Pulsar motorcycle, which he used in the attack, had also been recovered.
The Chief Minister showed reporters a photograph of a tree from where Bikram and Avtar had retrieved the hand grenade, buried in a pit. He said attempts by the Pakistan establishment and ISI to forge linkages between Punjab and Kashmir terror groups is a matter of concern for Punjab. He said the state police is working with central agencies to check the spread of such forces.
In Chak Mishri Khan, over 20 km from the Nirankari Bhawan, is the home of Avtar where he runs a clinic and is known as Dr Avtar. His house was deserted Wednesday evening.
Full report at:
https://indianexpress.com/article/india/amritsar-grenade-attack-youth-held-cm-amarinder-says-pak-disturb-peace-5458278/
--------
South Asia
Taliban ambush Afghan military convoy, 4 dead
November 22, 2018
KABUL, Afghanistan: Afghan officials say a Taliban assault on a military convoy in southwestern Badghis province left four Afghan soldiers dead.
Mohammad Nasir Nazari, a member of the Badghis provincial council, says the ambush by the Taliban insurgents on the convoy traveling early on Thursday through the provincial capital of Qalay-e-Now, also wounded seven soldiers.
Separately, Afghan special forces called in a NATO airstrike during an operation late on Wednesday against Taliban fighters in eastern Logar province.
Provincial council chief Mohammad Nasir Ghyrat says 10 died in that airstrike but that it isn't immediately how many civilians were among the dead.
The Logar governor's spokesman Khalid Safai says an investigation was underway.
NATO did not immediately comment on the strike.
A resurgent Taliban stage near-daily attacks on Afghan forces, leaving many casualties.
http://www.arabnews.com/node/1409096/world
--------
Afghan Taliban not serious about peace, says government chief
November 22, 2018
PARIS: The Taliban in Afghanistan have not yet shown any sign they are serious about ending their 17-year insurgency despite US efforts to push a fresh peace process, the country's de facto prime minister said.
Abdullah Abdullah, who serves as "chief executive" of the unity government in Kabul, struck a far more skeptical tone about the prospects of a deal than his political rival, President Ashraf Ghani, and his Western counterparts.
Ghani said earlier this month it was "not a question of if, but when" an agreement would be reached with the Taliban, while the US envoy to the country even raised the possibility of a breakthrough before presidential elections in April.
"Recently there are renewed efforts in terms of the international community and especially the US," Abdullah said during a wide-ranging interview in Paris that also covered his own political ambitions.
"We are not judging it too prematurely, but I would say that our experience as of now has been that they (the Taliban) have not shown any intention to get seriously engaged in the peace negotiations," he added.
The comment on Wednesday came after the latest atrocity targeting civilians in Kabul when a bomber killed 55 people at a banquet hall at a ceremony to mark the birthday of the Prophet Muhammad.
Abdullah, a political veteran of the fight against Soviet forces in the 1980s and Taliban rule in the 90s, called it "beyond comprehension."
Beleaguered Afghan security forces are also suffering an unprecedented level of casualties across the country where the Taliban and the Daesh group are stepping up attacks.
Returning to Kabul on Thursday after a three-day trip to France, Abdullah said he expected to be briefed fully about the latest round of talks between US envoy Zalmay Khalilzad and the Taliban, which are believed to have taken place in Qatar last week.
Whatever the outcome, he argued that Afghanistan should hold its presidential election as scheduled next April despite a recent upsurge in violence and suggestions from some that it should be delayed.
"My idea is to stick to the timing, make it work, because it's part of the system and legitimacy of the system depends on the elections," he said. "At the same time, continue the efforts on peace with full vigor."
He downplayed any suggestion of a pre-election breakthrough with the Taliban.
"It will be very surprising if that happens, but should it happen ... that would be welcomed by the people of Afghanistan," he added.
Abdullah has kept up suspense about his own political ambitions after twice running for president in 2009 and 2014 in campaigns that ended bitterly amid accusations of fraud.
After being beaten in 2014 by Ghani, Abdullah agreed to become prime minister of the unity government in a US-brokered deal — but the rivalry between the two men continues.
"I will actively be involved one way or another, but I have not made that final decision," Abdullah said when asked if he would run in 2019.
Looking ahead to next April's vote, Abdullah was candid about the lack of progress made in correcting the weaknesses in Afghanistan's fraud-plagued electoral system.
He said he was "disappointed" by parliamentary elections in October, which were marred by a shambolic rollout of new biometric polling technology and missing or incomplete voter lists.
"Our expectations for the parliamentary elections and the conduct of them was much higher, and the people's expectations were much higher," he said.
There were thousands of complaints lodged against the Independent Electoral Commission, although four million voters did defy the security worries to turn out and cast a ballot.
The unity government had pledged to tackle problems that have repeatedly undermined faith in Afghan elections since the US-led invasion in 2001 overthrew the Taliban government in Kabul.
But Abdullah suggested that these efforts, like in other areas, have been hit by the fractious nature of decision-making in the multi-party government.
"It was the commitment of the unity government in 2014... that we will start implementing reforms. We started very late. Why did we do that?" he asked.
Abdullah's defeats in 2009 and then again in 2014 — when he won the first round but slumped to a surprise defeat in the second — led to political crises which threatened to unravel the country's fragile political system.
Should observers fear another tainted poll?
Full report at:
http://www.arabnews.com/node/1409046/world
--------
Myanmar Court Allows Jailed Journalists to Appeal Convictions
November 21, 2018
Myanmar's High Court has ruled that two jailed Reuters reporters can appeal their convictions on charges of violating the country's law that prohibits the gathering of secret documents to help an enemy, defense lawyers said.
The appeal cited evidence police framed the journalists and a lack of proof of a crime.
Legal advisor of the Norway-based Asian Human Rights Commission, U Min Lwin Oo, said in an interview with VOA Burmese the journalists will attend another hearing at which the judge will likely acquit them or reduce their sentences, which would probably trigger another appeal.
Defense attorney L. Khun Ring Pan said, "We hope that the high court will finally provide justice for Wa Lone and Kyaw Soe Oo and declare them innocent."
The reporters were found guilty in September in a landmark case that has raised questions about Myanmar's progress towards democracy and sparked complaints from human rights proponents.
The journalists were covering the massacre of 10 Muslim Rohingya men and boys by security forces and local Buddhists in the western Rakhine state when they were arrested in December.
The massacre was part of the wider broader crackdown that began in August 2017, an operation that forced more than 700,000 Rohingya Muslims to flee to neighboring Bangladesh.
Committee to Protect Journalists Director Steve Butler told VOA Burmese, "We are pleased that the case is moving forward", but noted it is still "very difficult to report from Myanmar."
Full report at:
https://www.voanews.com/a/myanmar-court-allows-jailed-journalists-to-appeal-their-convictions/4668058.html
--------
Pakistan condemns deadly attack on religious scholars in Kabul
Nov 21 2018
The government of Pakistan has condemned the deadly attack on religious scholars in Kabul that left scores of people dead or wounded.
"Pakistan strongly condemns the terrorist attack on a wedding hall in Kabul that has killed more than 40 people celebrating the birth anniversary of the Holy Prophet peace be upon him," the Ministry of Foreign Affairs of Pakistan said in a statement.
The statement further added "Perpetrators are condemnable for this heinous attack by all religious and human standards. We condemn terrorism in all its forms and manifestations."
"We fully stand with and share the grief of the people of Afghanistan at this sad moment," the statement said.
According to the security and public health officials, more than 50 people have died and at least 83 others have sustained injuries in the attack.
Full report at:
https://www.khaama.com/pakistan-condemns-deadly-attack-on-religious-scholars-in-kabul-02782/
--------
President Ghani Talks about The Circles Involved In Recent Kabul Bombing
Nov 22 2018
President Mohammad Ashraf Ghani has said the recent bombing in Kabul has been carried out by the circles which for the first time conducted suicide attack and explosion in Afghanistan.
In his speech during a visit to Emergency Hospital in Kabul late on Wednesday evening, President Ghani said such a ruthless and cowardly attack has never been carried out in the history of Afghanistan to target the religious scholars, Milad Nabi, and holy Quran, emphasizing that the enemies have violated all moral and religious boundaries by attacking the political and traditional setup and national identity of the country, vowing that the attack would not remain unanswered.
Pointing towards the involved circles in the attack, President Ghani said the attack in Kabul was carried out by those who for the first time conducted suicide attack in Afghanistan.
President Ghani further added that the Taliban cannot free themselves from the burden of responsibilities by condemning the attack only but should practically work for peace to end the killing of humans, Afghans, and Muslims.
Full report at:
https://www.khaama.com/president-ghani-talks-about-the-circles-involved-in-recent-kabul-bombing-02786/
--------
Rohingya Repatriation, Relocation Plans Set to Be Pushed Back to 2019: Govt Official
November 21, 2018
Cox's Bazar, Bangladesh. Bangladesh's plans to tackle the Rohingya refugee crisis are set to be stalled until the new year with repatriation and relocation programs only likely be revisited after year-end general elections, a top Bangladeshi official said on Sunday.
Abul Kalam, Bangladesh's refugee relief and repatriation commissioner, told Reuters "a new course of action" needed to be adopted on repatriation that took into account refugees' key demands. He later clarified these were his own personal views and not those of the government.
More than 720,000 Rohingya fled a sweeping army crackdown in Myanmar's Rakhine state in 2017, according to UN agencies. The crackdown was launched in response to insurgent Rohingya attacks on security forces.
Rohingya refugees say soldiers and Buddhist civilians killed families, burned many villages and carried out gang rapes. UN-mandated investigators have accused Myanmar's army of "genocidal intent" and ethnic cleansing. Myanmar has denied almost all the accusations, saying its forces engaged in a counter-insurgency operation against "terrorists."
In late October, Bangladesh and Myanmar agreed to begin to repatriate hundreds of thousands of Rohingya Muslim refugees who fled, but the plan has been opposed by the Rohingya refugees in Bangladesh and the UN refugee agency and aid groups, who fear for the safety of Rohingya in Myanmar.
The repatriation of the first batch of 2,200 refugees was to begin officially on Nov. 15, but it stalled amid protests at the refugee camps. None of those on the list agreed to return if their demands for justice, citizenship and the ability to go back to their original villages and lands were not met.
"I don't think anyone's agreeing to go back without these," said Kalam, who last week called on the international community to pressure Myanmar to accept certain "logical and acceptable" demands in order for any repatriation to take place.
Myanmar does not consider the Rohingya a native ethnic group and calls them "Bengalis," suggesting they belong in Bangladesh. It has agreed to take the Rohingya back and said they would need to accept the National Verification Card, which it says would allow Rohingya to apply for citizenship. The Rohingya reject the card, saying it brands them foreigners.
Kalam said he believed Myanmar needed to propose a "clearer path" to citizenship for the Rohingya if any returns were to take place, adding he would raise the matter at the next bilateral meeting on repatriation, likely to take place next month.
Myanmar government spokesman Zaw Htay was not reachable on Sunday for comment.
With Bangladesh now set to go to the polls on Dec. 30, any decision either to repatriate people, or relocate refugees from the crowded camps to Bangladesh's Bhasan Char island will not proceed until 2019, Kalam said, adding later a final decision had not been taken and it would be the government's call.
"Elections are coming up now, so the government will only finalize a future course of action after the elections," said Kalam.
Bangladesh has vowed not to force anyone to return and has asked the UN High Commissioner for Refugees (UNHCR) to ensure those shortlisted to return really want to go back.
A UNHCR spokesman said it was not clear when repatriations could begin. "At this moment it's unclear, perhaps we can get clarity in the next few days."
Some Rohingya refugee leaders in Bangladesh said they were relieved Bangladesh had not forced refugees to return and called for the repatriation plan to be revised.
Kalam said construction work on alternative housing on Bhasan Char was "nearly complete." He said he was hopeful some refugees would agree to move, given the island's "livelihood opportunities" such as fishing and farming. Aid agencies express caution as the island is prone to flooding.
Full report at:
https://jakartaglobe.id/international/rohingya-repatriation-relocation-plans-set-pushed-back-2019-govt-official/
--------
Pakistan
Pakistan to propose int'l convention on religious defamation
NOVEMBER 21, 2018
ISLAMABAD: Prime Minister Imran Khan has said that the government is intending to propose an international convention on defamation of religions to protect the sentiments of 1.25 billion Muslims across the world.
Addressing the opening session of a two-day conference titled 'Finality of the Prophethood and Responsibilities of Muslims in the light of teachings of the Holy Prophet (Peace Be Upon Him)' at the Convention Centre on Tuesday, Prime Minister Imran Khan said that the government would set up a 'special chair' at the country's three universities under High Education Commission (HEC) to study the life of Prophet Muhammad (PBUH). "There is a need to study how the State of Madina converted into a super power in 11 years," he said. He added that Ahmer Bilal Sufi, an expert on international law, would be made PM's special envoy to visit various countries and seek their support for the proposed convention, adding that Pakistan would spearhead this convention so that there was an international law to deal with the sensitive issue.
The prime minister spoke at length about the way of life and strong character of Holy Prophet Muhammad (PBUH) and said Almighty Allah, Who is 'Rabbul Alamin', Himself described Prophet Muhammad (PBUH) as Rehmatul-lil-Alamin (PBUH). He said there was a need to study the life of Holy Prophet Muhammad (PBUH) as to how he made the poor Arabs to rule world and reach India and Central Asia from Morocco in just 30 years.
"History has no example of a person except Prophet Muhammad (PBUH) who created a state which lasted for 700 years," he maintained. He regretted that after every few years there was a condemnable trend of blasphemous acts in the West under the garb of freedom of expression, which causes strong protests in the Muslim world, including Pakistan.
The prime minister recalled that after such an incident in Holland, his government took up the issue with the Holland authorities and succeeded in the cancellation of a blasphemous cartoon competition. Later, Pakistan also raised this issue at the OIC and the UN levels, which led to a declaration by the EU Court of Human Rights forbidding religious defamation under the guise of expression of freedom, he added.
https://dailytimes.com.pk/324588/pakistan-to-propose-intl-convention-on-religious-defamation/
--------
Malaysian first lady asks PM Imran if she could hold his hand
Nov 22, 2018
As Prime Minister Imran Khan's visit to Malaysia came to an end late Wednesday night, the premier found his newest fan in the Malaysian first lady.
Khan had unveiled his government's four-pronged strategy to pull the country out of its "quagmire of loans" in Malaysia but with all the talks regarding the country's failing economy, a lighter moment emerged when Malaysian first lady Siti Hasmah Mohamad Ali asked Khan during a photo op: "Prime minister, can I hold your hand?"
PM Khan amusingly replied: "Sure!", which drew laughter from the audience and a hearty chuckle from his Malaysian counterpart Mahathir Mohamad.
https://www.pakistantoday.com.pk/2018/11/22/malaysian-first-lady-asks-pm-imran-if-she-could-hold-his-hand/
--------
7 injured in blast at mosque in southwest Pakistan
Nov 21, 2018
KARACHI: A powerful blast at a mosque in Pakistan's troubled Balochistan province's Chaman area on Wednesday injured at least seven people, including the prayer leader, according to police.
The blast occurred at the time of evening prayers in the mosque, which is located on Taj Road in Chaman, bordering Afghanistan.
At least seven people, including the mosque's prayer leader, have been injured as a result of the blast, which rocked the entire neighbourhood, Dawn reported.
The injured were rushed to a nearby hospital where a state of emergency has been declared.
A video shared on Twitter appears to show the damage caused by the explosion in the mosque.
Authorities have cordoned off the site of the explosion.
No group has claimed responsibility for the blast so far.
Chaman is considered a sensitive town in Balochistan as it shares a border with Afghanistan's volatile Kandahar province.
Security was tightened on Wednesday across the country to avert any tragedy on the occasion of the Eid Milad-un Nabi, marking the birth anniversary of the Prophet.
Full report at:
https://timesofindia.indiatimes.com/world/pakistan/7-injured-in-blast-at-mosque-in-southwest-pakistan/articleshow/66738093.cms
--------
Over 3,000 Sikh pilgrims in Pakistan for Guru Nanak Jayanti
Nov 21, 2018
LAHORE: Over 3,000 Sikh pilgrims from India arrived in this Pakistani city on Wednesday to take part in festivities ahead of the birth anniversary of Guru Nanak.
On their arrival in Lahore, the Sikh pilgrims left for Gurudwara Janamesthan in Nankana Sahib, the birthplace of Guru Nanak, where the main function will be held on Friday on the occasion of Guru Nanak Jayanti.
Minorities Senator Anwar Lal, Evacuee Trust Property Board (ETPB) chairman Tahir Ehsan and secretary Tariq Wazir, and Pakistan Sikh Gurdwara Parbandhak Committee president Tara Singh were among the Pakistani officials who greeted the Sikh 'yatris' at the Wagah Railway station.
"As many as 3,080 Sikh pilgrims arrived here today on two special trains. The third train is expected to arrive here to bring another 700 or so yatris," ETPB spokesman Amir Hashmi told PTI. He said the Pakistan government had issued 3,800 visas to Indian Sikhs.
Sikh group leader Amerjeet Singh congratulated Pakistanis on the birth anniversary of Prophet Muhammad on Eid Milad-un Nabi.
He said Sikh pilgrims get love from Pakistanis and urged the Pakistan government to issue at least 10,000 visas for Sikhs for next year's 550th birth anniversary of Guru Nanak.
He thanked the Pakistan government for the proposed opening of the Gurudwara Kartarpur in Narowal for pilgrims. He hoped there would be no hurdles in its opening for Indian Sikhs.
ETPB chairman Ehsan said the Pakistan government has made foolproof security arrangements for the pilgrims.
Rangers and elite force personnel have been deployed along with police for the security of the visiting pilgrims.
He said the board has better boarding arrangements at the gurudwaras where the pilgrims would stay during their visit.
Full report at:
https://timesofindia.indiatimes.com/world/pakistan/over-3000-sikh-pilgrims-in-pakistan-for-guru-nanak-jayanti/articleshow/66736390.cms
--------
PM Khan unveils 4-pronged strategy to pull nation out of 'quagmire of loans'
November 21, 2018
Prime Minister Imran Khan on Wednesday unveiled his government's four-pronged strategy to pull Pakistan out of its "quagmire of loans".
The prime minister, while addressing the Pakistani community in Malaysia where he is currently on a two-day official visit, said that the government was committed to uplift the living standard of poor and downtrodden segments of society by improving governance and ending corruption.
The premier said that the PTI-government was working on four areas on priority basis.
Increasing exports
The first step towards ridding the country of its chronic loan cycle is to increase exports, said Khan.
"If Malaysia, with a population of 30 million people, has exports worth $220 billion, and we, with a population of 201 million people have exports worth $24bn, then clearly we are doing something wrong," Prime Minister Khan said, adding that his team was working on a "programme to increase exports".
Sending remittances through legal channels
The second step, the premier said, was to create legal channels for overseas Pakistanis to send their remittances through. He said that the finance minister was working on an incentive programme to make routing of remittances easier.
Take a look: PM Khan approves incentives to facilitate remittances from overseas Pakistanis
"Currently, we receive $20bn in remittances," the premier said. "We (the government) think that if all the money sent in remittances [is sent via legal channels], then we will receive at least $10-12bn in addition.
"Right now, we are facing a shortfall of $12bn. If we start receiving all our remittances [through legal channels] then this problem will be solved."
Attracting investments
The prime minister also emphasised the importance of attracting investments, particularly from foreign businesses. "We will continue to face a shortfall of dollars if we do not attract foreign investments," he warned.
He, however, lauded "the overseas Pakistanis' craze" to invest in the country and vowed to facilitate them by fixing the governance system in Pakistan. He also promised to create an "ease of doing business" for investors — both foreign and domestic.
"There will be a designated office within the PM Office and its sole purpose will be to solve any problems being faced by investors," he said.
He claimed that past authorities had impeded investors by stopping them from earning profits. "Why would anyone invest in [the country] if they don't earn profit?" he asked.
"We should help them (investors) to make money," the premier said, reminding that wealth creation helps a country grow. "Mahathir Mohammad (Malaysian prime minister) told me this 20 years ago, when I met him soon after entering politics."
Putting an end to money laundering
The last of his quartet of measures to drag the country out of the economic mess was ending the practice of money laundering. He said that Rs10bn was sent abroad through money laundering every year but assured that every agency in Pakistan is now working diligently to make it hard for people to move funds abroad illegally.
"We have signed MoUs (Memorandums of Understanding) with different countries," he said. "And gradually, we are also getting details of the money that has been sent abroad illegally."
Imran Khan said that the recent aid packages acquired by his administration through "friendly countries" was just a temporary solution to Pakistan's economic woes.
"We have acquired loans from friendly countries in order to repay instalments of loans that were borrowed earlier," he said. "Even now we are trying that we have to borrow the least amount of money possible from the IMF (International Monetary Fund), with whom we are in negotiations right now. But this is temporary. This is like treating cancer with Disprin."
Imran promises wide-ranging reforms: 'All policies for the people'
The prime minister also took a jibe at opposition parties, claiming that they were waiting to see the new government fail from the first day.
"That is what they are hoping for," he said. "They are scared because they know that as long as I am in power, they will be in danger. They know that they will have to go to jail in a few days.
"This is why everyone is coming together to save democracy. It is not democracy that they are trying to save. They are uniting to save their thievery.
"But you will see, for the first time [in Pakistan history], the government will not give anyone an NRO or make a deal in the name of Charter of Democracy. We will throw each one of them in jail."
Full report at:
https://www.dawn.com/news/1446984/pm-khan-unveils-4-pronged-strategy-to-pull-nation-out-of-quagmire-of-loans
--------
Two killed in roadside IED blast in Bajaur
Ali Akbar
November 21, 2018
At least two people were killed when a roadside bomb exploded near a vehicle in Bajaur tribal district of Khyber Pakhtunkhwa on Wednesday evening, a district official said.
An improvised explosive device (IED) planted along the road by unidentified miscreants went off as the vehicle passed through the Charmang area of Bajaur's Nawagai tehsil, an official in the district's political administration told DawnNewsTV.
Two people riding the vehicle, identified as Amanullah and Gul Badin, died as a result of the explosion. Their vehicle was also totalled by the impact.
Security forces sealed the area — which lies close to the Pakistan-Afghanistan border — after the blast and started a search operation.
This is the second reported incident of violence today, when Eid Miladun Nabi is being celebrated across the country. An IED explosion at a mosque in Balochistan's Chaman area left nine people injured, also in the evening.
The blast in Bajaur comes days after a tribal elder was seriously wounded in a roadside bomb blast in Nawagai tehsil.
Fencing of hundreds of kilometres of border areas along with Afghanistan's Kunar province has been underway in Bajaur to secure Pakistan from cross-border terror attacks.
Full report at:
https://www.dawn.com/news/1446989/two-killed-in-roadside-ied-blast-in-bajaur
--------
9 injured in IED blast at mosque in Balochistan's Chaman
Syed Ali Shah
November 21, 2018
At least nine people were injured in an explosion inside a mosque in Balochistan's Chaman area on Wednesday evening, DawnNewsTV reported.
The prayer leader (khateeb) of the mosque was among those injured in the blast that took place during maghrib prayers, police sources said. The mosque is located on Taj Road in Chaman, which lies near the Pakistan-Afghanistan border.
The explosion was caused by an improvised explosive device (IED) hidden inside the mosque, police sources told DawnNewsTV. The blast was so powerful that it was heard far and wide.
The injured were rushed to Civil Hospital Chaman for medical treatment where a state of emergency was imposed to treat the injured.
TV footage following the blast showed smoke inside the mosque and shattered glass lying on carpets.
Police, Levies and Frontier Corps officials cordoned off the site of the explosion. No group has claimed responsibility for the blast so far.
The incident comes on a day when Eid Miladun Nabi is being celebrated across the country. Strict security measures have been taken in connection with the processions being carried out today.
Chaman is considered a sensitive town in Balochistan as it shares a border with Afghanistan's volatile Kandahar province.
Full report at:
https://www.dawn.com/news/1446987/9-injured-in-ied-blast-at-mosque-in-balochistans-chaman
--------
Arab World
Will Northern Sinai's New Cultural Centres Promote Moderate Islam?
Reham Mokbel
November 21, 2018
CAIRO — The high demand for Islamic cultural centers in the conservative northern Sinai Peninsula prompted the Egyptian Ministry of Religious Endowments (Awqaf) to open more centers to teach moderate Islam in this volatile governorate, a high-level ministry official told Al-Monitor.
Gaber Taye, head of the religion sector in the Ministry of Religious Endowments, told Al-Monitor that the opening of three Islamic cultural centers at the beginning of the school year was "an unprecedented step in North Sinai," a governorate where the Egyptian army and security forces struggle to purge the area of the Islamic State and its affiliates.
"It is also the first time that three Islamic cultural centers open in a single governorate. The centers are located in the cities of el-Arish, Bir al-Abed and Hasna," Taye said, adding that the ministry had planned for 30 students for each center. "But we have had [a total of ] 300 requests for enrollment in the governorate," he added.
Northern Sinai is seen as a hub of violent religious extremist groups, which prompted the Ministry of Religious Endowments to open the Islamic cultural centers — also known as Awqaf centers — to offer a curriculum based on moderate Islamic teachings. The centers opened on Sept. 22, at the beginning of the school year. The opening of the three cultural centers — and promise of new ones — when there is only one center in each governorate shows the government's intensified efforts to counter radicalism in northern Sinai. Classes at the centers are free of charge and admission is easier compared to the cultural centers in other governorates. The move comes at the same time as major development projects in the region and an intensified military operation.against terrorism.
Minister of Religious Endowments Mohamed Mokhtar Gomaa confirmed that the centers for Islamic culture in northern Sinai are in demand, underlining that this demonstrates the locals' rejection of religious extremism. In an Oct. 23 press statement, Gomaa said, "There has been a high turnout of people for the cultural centers since day one, which is further proof that life is returning back to normal in Sinai and that the residents renounce extremism, violence and terrorism. Scholars and imams from the ministry will instruct the students on the teachings of Islam."
Taye noted, "Admission to the centers usually requires high academic credentials but we make an exception in northern Sinai where applicants with average grades are admitted. The students' attendance of classes should not be less than 60%. Unlike centers in other governorates, people in northern Sinai are exempted from tuition fees."
He said that the teachers are graduates from Al-Azhar University, the renowned seat of Islamic education. "They were selected among many applicants after taking different tests," he noted.
Taye added that the centers are local alternatives to Al-Azhar University, since there are no branches of the university in northern Sinai. "It is a great opportunity for citizens to learn the basics of Sharia, Islamic jurisprudence and study the Al-Azhar curricula," he said.
After two years of study, the center's students — both male and female — will obtain a certificate, which would allow them to work as a religious leader in a mosque. Alternatively, according to Taye, they could use their acquired knowledge to educate family, friends and the younger generation.
Taye also stressed the role of the cultural centers in combating extremism, creating an open dialogue between students and teachers on Islam and reject radicalization of Islamic principles. He noted, "This [teaching of moderate Islam] is done through the curricula and direct contact with moderate Al-Azhar scholars, as well as through intellectual discussions that help refute terrorists' ideas [that make use of Islam for their own means] and extremist rhetoric that does not accept pluralism."
The idea of opening Islamic cultural centers was first introduced in 1989, with a large cultural center in Cairo and affiliated centers all over Egypt. The goal was to raise a new generation of imams and religious leaders who would address the public on the principles of Islam and provide guidance on daily issues.
There are presently 28 Islamic cultural centers in Egypt. The latest one opened Nov. 8 in Hurghada in the Red Sea governorate. Unlike the others, the center in Hurghada also admits foreigners who would like to learn the Islamic teachings, with courses taught in English, French and German.
Layla Mohammed, a second-year student at the Islamic cultural center in Giza governorate, told Al-Monitor that she is satisfied with the education and that the teachers are "excellent." She said, "It is the first time I study Islamic studies." Mohammed wants to work as a religious leader in the center, which has a section for female preachers.
Fatima al-Zahraa, who graduated from the center in Cairo, told Al-Monitor that she enrolled in classes because of her passion for the fundamentals of religion. However, she believes that two years is not enough for her to become a good preacher. She said that she does not want to preach, but instead would try to educate and influence her family and friends.
The Ministry of Religious Endowments has recently launched several other initiatives to combat radicalism. On Nov. 9, "Messenger of Humanity" was launched with the aim to spread the teachings of the Prophet Muhammad through sermons and lessons via satellite TV channels, public forums, workshops and book clubs. The project also aims to establish an international academy for training imams and preachers from different countries.
Another initiative, launched Oct 28, aims to create working groups with adherents and representatives of different religions in Egypt, who would discuss ways to combat prejudices and teach tolerance in their respective communities.
The ministry's "Homeland Without Addiction" campaign launched Oct. 6, which, according to Gomaa, aims to fight drug addiction and shed light on the link between the agriculture of substances used for drugs, terrorism and the recruitment of the youth.
Georges Fahmi, an Egyptian researcher at the European University Institute in Italy, praised the Ministry of Endowment's efforts in combating extremism. But, speaking to Al-Monitor, he also underlined that the best way is not to wait for citizens to join such centers. Direct communication with the people must be ongoing, he said, stressing the need to use "local networks, in cooperation with imams, preachers, educational institutions and tribal leaders."
He added, "This is why it is very important to train scholars and preachers in every area in the country, given the mindset and tribal composition in the country."
https://www.al-monitor.com/pulse/originals/2018/11/islamic-cultural-centers-in-north-sinai.html
--------
US-led coalition strikes eastern Syrian town with white phosphorus bombs
Nov 21, 2018
The so-called US-led coalition purportedly fighting the Daesh Takfiri terrorist group has used white phosphorus bombs in a bombing raid against an area in Syria's eastern province of Dayr al-Zawr.
Local sources, requesting not to be named, told Syria's official news agency SANA that US-led military aircraft carried out a bombing attack on the town of Hajin, located some 110 kilometers east of the provincial capital city of Dayr al-Zawr, on Wednesday afternoon, using the internationally-banned munitions.
Late last month, Syrian Ambassador to the United Nations Bashar al-Ja'afari confirmed at a UN Security Council meeting that the US-led alliance had used white phosphorus bombs against the same Syrian town.
On October 13, SANA also reported that the US-led coalition had dropped internationally-banned white phosphorus bombs on Hajin.
On September 8, two F-15 warplanes of the US Air Force targeted the same Syrian town with white phosphorous bombs.
In June last year, Human Rights Watch warned that the US-led coalition was deploying white phosphorous bombs in both Iraq and Syria.
The US-led coalition has been conducting airstrikes against what are said to be Daesh targets inside Syria since September 2014 without any authorization from the Damascus government or a UN mandate.
The military alliance has repeatedly been accused of targeting and killing civilians. It has also been largely incapable of achieving its declared goal of destroying Daesh.
On November 13, the Syrian Ministry of Foreign Affairs and Expatriates condemned a recent airstrike by the US-led coalition against the eastern town of al-Shaafah, which left more than 60 people dead and injured, arguing that the massacre clearly pointed to the fact that members of the military alliance had no respect for moral values, international rules and regulations besides the lives of innocent civilians.
The ministry, in two separate letters, addressed to United Nations Secretary General Antonio Guterres and the rotating president of the UN Security Council Ma Zhaoxu, called on the Security Council to fulfill its responsibilities and stop US-led aerial assaults.
It also asked the world body to propose an international, independent and impartial mechanism to investigate the crimes being perpetrated by the US-led coalition.
The letters noted that the coalition was deliberately targeting Syria civilians and making use of internationally banned weapons, including white phosphorus bombs, in Syria.
Full report at:
https://www.presstv.com/Detail/2018/11/21/580696/US-coalition-Syria-white-phosphorus-bombs
--------
US puts aide to Islamic State leader Baghdadi on terror blacklist
November 21, 2018
The United States on Tuesday put a confidant of Islamic State leader Abu Bakr al-Baghdadi, on its terror blacklist.
"ISIS is down but not out," Nathan Sales, the State Department's point man on counterterrorism, said in announcing that Haji Abdel Nasir had been named a "Specially Designated Global Terrorist."
"As ISIS continues to lose ground on the battlefield, we must starve it of the resources it uses to commit terrorism around the world," Sales said in a statement.
The State Department said the decision was made in conjunction with the UN Security Council, which on Monday put Abdel Nasir on its own sanctions list.
The twin listings mean that Abdel Nasir is subject to an international asset freeze, travel ban and arms embargo. US citizens and entities are prohibited from doing business with him.
Nasir "has held several leadership positions in the Islamic State of Iraq and Syria," including heading the group's "Delegated Committee," which reports to Baghdadi and "exercises administrative control of the terrorist organisation's affairs," the State Department said.
It said the committee Abdel Nasir chaired was "responsible for planning and issuing orders related to ISIS's military operations, tax collections, religious police, and commercial and security operations."
Full report at:
https://nation.com.pk/21-Nov-2018/us-puts-aide-to-islamic-state-leader-baghdadi-on-terror-blacklist
--------
Turkey Gives New Warning to Terrorists to Leave Demilitarized Zone in Northern Syria
Nov 21, 2018
Syria's state-owned al-Watan daily quoted militant-affiliated sources as disclosing that the Turkish authorities, including army generals, held a meeting with commanders of Ankara-backed National Liberation Front, Tahrir al-Sham Hay'at (the Levant Liberation Board or the Al-Nusra Front) and other terrorist groups in Northern Idlib near the border with Turkey.
The daily went on to say that the Turkish authorities have stated in the meeting that there could be no further delay in the establishment of the demilitarized zone mentioned in the Sochi Agreement.
It further said that the Turkish authorities have demanded the terrorist groups to halt attacking the army positons, especially from inside the demilitarized zone.
The daily said that Ankara's new warning to the terrorists might be linked to a visit to Russia's Sochi by Turkish Defense Minister Hulusi Akar and Head of the country's Intelligence Hakan Vidan and their meeting with the Russian Defense Minister Sergei Shoigu.
Al-Watan said that the meeting was demanded by Russia to object at the Turkish side's lack of pressure on Ankara-backed terrorists to implement the Sochi Agreement.
The terrorists' refusal to implement the Sochi Agreement is pushing the army to initiate its long-waited assault on militants in Idlib that had been put on hold due to the Sochi Agreement.
Colonel Mar'ei Hamdan, a Syrian military expert, was quoted by the Arabic-language website of Sputnik news agency as saying earlier this month that Tahrir al-Sham is in control of nearly 70% of towns and villages in Idlib province and makes provocative moves against the Syrian army, adding that the army's commitment to decrease tensions is not lasting forever.
He added that the Syrian army has so far repelled all attacks by terrorists against its positions and inflicted heavy damages on them, noting that the army is now necessitated to come out of the defensive mood to retake control of Idlib.
Hamdan said that Tahrir al-Sham will resort to a full-scale military operation against the Syrian and Russian armies soon, after rejecting the Sochi agreement last October, which leaves no room for ceasefire or disarmament anymore, and underlined that the Syrian army's battle against Tahrir al-Sham is inevitable.
Meantime, the Turkey-backed Ahrar al-Sham and National Liberation Front (NLF) terrorist groups has also dismissed the Russian-Turkish Sochi agreement and is preparing for military operations against the army in Northern Syria, calling for a coalition with Tahrir al-Sham.
Tahrir al-Sham and other allied terrorist groups have not left the demilitarized zone two months after the Sochi agreement and have instead reinvigorated their strongholds and targeted the army positions every day.
Relevant reports said last week that the Turkey-backed NLF had put its gunmen on alert to launch a heavy offensive against the Syrian army in the demilitarized zone in Idlib province.
Full report at:
http://en.farsnews.com/newstext.aspx?nn=13970830000887
--------
Turkish-Backed Militants Suffer Several Casualties in Kurdish Attacks in Northern Syria
Nov 21, 2018
The sources said that one of the bases of the Turkey-backed Military Police in Central Afrin came under attack by the Kurdish militias on Tuesday, adding that 3 members of the Police were killed and 6 more were wounded severely in the attack.
On Monday, an Ankara-backed militant group known as the National Army looted civilians' assets in residential areas and trade centers in the occupied town of Afrin as Turkish army troops and some of their allied militants exchanged fire with Tajamo'a al-Sharqiyah, another Ankara-backed militant group that recently was defying orders issued by the Turkish army.
A local source said that people's assets were looted in al-Vilat and al-Mahmoudiyah neighborhoods, where infighting is underway.
The source further said that a number of people, including civilians, were killed and injured in blasts and heavy exchange of fire between the two sides, including a bomb-laden motorcycle explosion in Afrin.
Full report at:
http://en.farsnews.com/newstext.aspx?nn=13970830000914
--------
Civilians Capture Kurdish Militias following Intensified Tensions in Northeastern Syria
Nov 21, 2018
A number of young men from al-Jobour tribe, in a move to show their support for uprising against the SDF in the town of al-Shadadi in Southern Hasaka, attacked a patrol of the Kurdish militia in al-Aziziyah neighborhood in Hasaka city and arrested 6 gunmen and their commander.
The remaining pockets of the patrolling group of SDF escaped from the neighborhood.
In the meantime, a field source reported that a number of people in al-Shadadi have been killed or injured in clashes with the Kurdish militia, adding that the US forces have embarked on laying siege on the small town of al-Sowarah near al-Shadadi.
A militant-affiliated website said on Tuesday that clashes were reported in Southern Hasaka after protesters from various Arab tribes took to the streets and called for the expulsion of the US army men and the SDF from Northeastern Syria.
Baladi news website reported that protesters, mainly from the Arab al-Mahasen tribe, clashed with the US soldiers in al-Aam street in the town of al-Shadadi in Southern Hasaka after the US artillery attack killed the entire members of a family from the same tribe.
Baladi further said that a large number of civilians in al-Shadadi and in the villages of al-Hana Sharqi, al-Sarab and Saleh al-Leil in Southern Hasaka took to the streets, protesting against the US-backed SDF and SDF-affiliated security forces of Asayesh.
In the meantime, field sources reported that the protestors attacked 2 bases of Asayesh and set fire at their flags and their leaders' photos, calling for their expulsion from their region.
Full report at:
http://en.farsnews.com/newstext.aspx?nn=13970830000670
--------
North America
US Congress urged to probe Trump, Kushner ties to Saudi after Khashoggi's death
Nov 21, 2018
The United States Congress has been urged to investigate President Donald Trump and his son-in-law Jared Kushner for ties to Saudi Arabia in the wake of Jamal Khashoggi's death.
Karen Attiah, the editor for slain journalist, called on US lawmakers Wednesday to take action over the president's siding with the monarchy.
"It's easy to get lost in the grief and outrage over Trump siding [with] Saudi regime that thinks nothing of butchering peaceful journalists in consulates," Attiah wrote on Twitter on Wednesday. "But hope is not all lost. Congress must act, and the American people can still help."
Trump threw his support behind the monarchy and Saudi Crown Prince Mohammed bin Salman, who reportedly ordered the assassination of the former Washington Post columnist at the Saudi consulate in Turkey last month.
Trump's statement came despite the CIA's reported conclusion that the prince ordered it.
Attiah called Trump's statement "full of lies and a blatant disregard for his own intelligence agencies," adding that "It also shows an unforgivable disregard for the lives of Saudis who dare criticize the regime. This is a new low."
The president, who is in a $110 billion arms deal with the kingdom, has been under pressure from US lawmakers for his support for MbS.
US lawmakers and Turkish President Recep Tayyip Erdoğan maintain that the crown prince and other top Saudi leaders should be held accountable for Khashoggi's assassination,
Saudi Arabia has acknowledged the murder, yet left many questions unanswered.
Turkish intelligence intercepts reportedly show that Khashoggi, who was last seen entering the Saudi mission in Istanbul on October 2, was murdered on a direct order from the Saudi de facto ruler.
Khashoggi had been there to obtain a document certifying he divorced his ex-wife.
https://www.presstv.com/Detail/2018/11/21/580742/Probe-Trump-Kushner-ties-to-Saudi-over-Khashoggis-death
--------
US: Corker, Menendez demand determination on Khashoggi
21.11.2018
Two prominent Senators are demanding that U.S. President Donald Trump specifically determine whether Saudi Crown Prince Mohammed bin Salman was responsible for the killing of Jamal Khashoggi.
In a letter Tuesday addressed to Trump, Republican Sen. Bob Corker and Democratic Sen. Bob Menendez, the chairman and ranking member of the Senate Foreign Relations Committee, respectively, asked for an investigation under the Global Magnitsky Human Rights Accountability Act.
The act requires the president to determine whether a foreign person is responsible for an extrajudicial killing, torture or other gross violation of internationally recognized human rights against an individual exercising freedom of expression.
It also requires the president to report to the Committee within 120 days with a determination and a decision on the imposition of sanctions on that foreign person or persons.
Khashoggi, a Saudi journalist and columnist for The Washington Post, went missing after entering the Saudi Consulate in Istanbul on Oct. 2.
After initially saying he left the consulate alive, the Saudi administration admitted weeks later that he was killed there.
Tuesday's letter came after Trump's remarks that defended relations with Saudi Arabia despite the killing of the journalist amid reports that the CIA concluded with high confidence that bin Salman ordered Khashoggi's murder.
However, the president said the U.S. may "never know all of the facts" and the country will continue its relations with Saudi Arabia in order to pursue American interests.
"Our intelligence agencies continue to assess all information, but it could very well be that the Crown Prince had knowledge of this tragic event – maybe he did and maybe he didn't!" Trump said in the statement, which was released by the White House.
Full report at:
https://www.aa.com.tr/en/americas/us-corker-menendez-demand-determination-on-khashoggi/1317116
--------
US Senators blast Trump's statement on Khashoggi
21.11.2018
By Umar Farooq
WASHINGTON
Prominent senators lashed out at U.S. President Donald Trump on Tuesday for his statement on the killing of journalist Jamal Khashoggi, saying they disagree with the decision not to punish Saudi Arabia.
Trump's statement came after the CIA released a report in which it concluded with high confidence that Saudi Crown Prince Mohammed bin Salman ordered Khashoggi's murder.
However, the president said the U.S. may "never know all of the facts" and the country will maintain its relations with Saudi Arabia in order to pursue American interests.
"Our intelligence agencies continue to assess all information, but it could very well be that the Crown Prince had knowledge of this tragic event – maybe he did and maybe he didn't!" Trump said in the statement, which was released by the White House.
Khashoggi, a Saudi journalist and columnist for The Washington Post, went missing after entering the Saudi Consulate in Istanbul on Oct. 2.
After initially saying he left the consulate alive, the Saudi administration admitted weeks later that he was killed there.
"You can't just throw in some exclamations (!!!!), yell that the world is dangerous, and call it a press release," Senate Minority Leader Chuck Schumer said on Twitter. "That's not how a U.S. President responds to the murder of a journalist and American resident."
Senator Dianne Feinstein also voiced opposition to Trump's statement, saying the U.S. should be "standing up and condemning a brazen murder by a foreign government" and that all individuals involved should be held accountable.
Trump spoke to reporters in front of the White House later Tuesday and defended his statement by saying "It's America first for me".
"I'm not going to destroy the world economy and I'm not going to destroy the economy for our country by being foolish with Saudi Arabia," he said.
In his statement, Trump also called the Kingdom an ally against Iran, who the U.S. calls a sponsor of terrorism.
However, Senator Rand Paul took to Twitter to voice his disagreement, saying Saudi Arabia should be punished.
"The President indicates that Saudi Arabia is the lesser of two evils compared to Iran and so the US won't punish Saudi Arabia for the brutal killing and dismemberment of a dissident journalist in their consulate. I disagree."
Senator Mark Warner noted that Trump's failure to hold Saudi Arabia accountable shows his retreat from leadership.
"It's hard to imagine that the Saudis would have taken this action under a Reagan, Bush, Clinton or Obama Administration without facing serious repercussions," he said in a statement.
"Once again, our President proves that you can't buy a moral compass," Ilhan Omar, one of the first Muslim women to be elected to Congress, said on Twitter.
"And Saudi Arabia proves that you can, on the other hand, buy a President," she added.
Full report at:
https://www.aa.com.tr/en/americas/us-senators-blast-trumps-statement-on-khashoggi/1317105
--------
Trump thanks Saudi Arabia for lower oil prices
NOVEMBER 22, 2018
US President Donald Trump on Wednesday ignored criticism that he gave Saudi Arabia a free pass on the murder of a dissident journalist, instead praising the Islamic kingdom for keeping oil prices low.
Trump, on holiday at his Florida Mar-a-Lago Club, doubled down on an unusually worded statement from Tuesday that he was essentially ignoring the killing of Jamal Khashoggi because of what he said were more important US strategic and commercial interests. "Oil prices getting lower. Great! Like a big Tax Cut for America and the World. Enjoy! $54, was just $82," he tweeted. "Thank you to Saudi Arabia, but let's go lower!"
The fulsome praise for Saudi Arabia's help in maintaining cheap oil built on comments he made Tuesday at the White House, saying that "if we broke with them, I think your oil prices would go through the roof."
"They've helped me keep them down," he said.
Guns and money
The focus on oil prices is one strand of Trump's argument against punishing the US ally for Khashoggi's death, even though the CIA reportedly found strong evidence that de facto Saudi leader, Crown Prince Mohammed bin Salman, was involved.
Khashoggi, a US resident who wrote for The Washington Post and had been critical of Prince Mohammed, was lured to the Saudi consulate in Istanbul on October 2, killed and reportedly dismembered.
After lengthy denials, Saudi authorities admitted responsibility and said 21 people had been taken into custody. However, a CIA analysis leaked to the US media went further, reportedly pointing the finger at Prince Mohammed, who has especially close contacts with the Trump White House.
In a formal statement Tuesday — released just after nearly the entire White House press corps had left to cover the lighthearted annual ritual of the president sparing a turkey from the Thanksgiving table — Trump said the prince "could very well be" in on the crime.
But he then went on to flatly reject any suggestion of punishing the Saudi leader, saying Washington "intends to remain a steadfast partner."
Trump's reasoning was that Saudi Arabia and the United States are partners in opposing Iran and the Saudis have committed to $450 billion in weapons contracts and other investments, as well as being a major oil producer.
"Very simply it is called America first!" Trump concluded.
This was in contrast to previously stated positions where Trump promised a tough response, warning in an October interview with The Wall Street Journal, for example, that the US-Saudi relationship "would take a while to rebuild."
Trump's posture has provoked rare dissension among the ranks of senior Republicans.
Senator Lindsey Graham said on Fox News that Prince Mohammed is "crazy."
"It's not too much to ask an ally not to butcher a guy in a consulate," he said.
And Senator Bob Corker, the Republican leader of the foreign relations committee, tweeted scathingly: "I never thought I'd see the day a White House would moonlight as a public relations firm for the Crown Prince of Saudi Arabia."
Corker and the senior Democrat on the committee, Bob Menendez, demanded that the Trump administration issue a clear statement on whether Prince Mohammed was involved.
Another prominent Republican, Senator Rand Paul, added "Let's put America first, not Saudi Arabia," while Khashoggi's old employer the Post said in an editorial that Trump's position meant "a world where dictators know they can murder their critics and suffer no consequences."
Secretary of State Mike Pompeo pushed back in a radio interview Wednesday, saying: "We are going to make sure that America always stands for human rights. We've watched the Saudis actually move in that direction during our time in office as well.
Full report at:
https://dailytimes.com.pk/324778/trump-thanks-saudi-arabia-for-lower-oil-prices/
--------
Pompeo tells Khamenei: Iran should spend on its people, not terrorists
21 November 2018
United States Secretary of State Mike Pompeo took to twitter to directly challenge Iran's supreme leader Ali Khamenei to spend on Iranian people, not terrorists.
"Iran should decide if spending the Iranian people's money on the Iranian people is more important than inventing schemes to fund Assad, Hezballah, Hamas, and other terrorists," Pompeo wrote.
His response came after the US moved to disrupt an Iranian-Russian network that sent millions of barrels of oil to Syria and hundreds of millions of dollars to indirectly fund militant groups Hamas and Hezbollah.
"The US Treasury sends a clear message: There are grave consequences for anyone shipping oil to Syria, or trying to evade US sanctions on the Islamic Republic's terrorist activities," he added in another tweet.
Full report at:
https://english.alarabiya.net/en/News/middle-east/2018/11/21/Pompeo-tells-Khamenei-Iran-should-spend-on-its-people-not-terrorists.html
--------
Mattis: I do not think CIA identified those responsible for Khashoggi's killing
22 November 2018
US Defense Secretary James Mattis said he does not think the CIA had identified those responsible for Jamal Khashoggi's killing and that his country looks forward to turn this page.
Speaking to reporters at the Pentagon Wednesday, Mattis added, "I do not think they have been fully identified either by the CIA or the Saudi government."
James Mattis says just as the U.S. should never apologize for "its support for human rights, it should not have to apologize for working with Saudi Arabia for what the good of innocent people."
US experts question anonymous sources, leaks in Khashoggi case
Mattis said that while believes the U.S. should hold accountable the individual Saudis who were involved in killing journalist Jamal Khashoggi, he also thinks it would be a mistake to cut ties with the Saudi government.
There's two primary thrust lines. One is accountability for anyone involved …on the other hand, if we're going to stop a war in Yemen, we're going to have to deal with Saudi Arabia. There's no way not to."
US expert: Leaks by Washington Post regarding Khashoggi case 'not final say'
Mattis credited the Saudi government with making humanitarian gestures, including allowing some wounded Houthi rebels to be moved to hospitals, and putting up $500 million, along with the United Arab Emirates, to feed Yemeni's starving population.
Full report at:
https://english.alarabiya.net/en/News/world/2018/11/22/Mattis-I-do-not-think-CIA-identified-those-responsible-for-Khashoggi-s-killing.html
--------
US imposes new sanctions on entities, individuals for Syria oil sales
Nov 21, 2018
The US has imposed new sanctions on Iranian and Russian companies for shipping oil to Syria. Five individuals, including a Lebanese national, have also been targeted with the new sanctions. Our correspondent Rana Aladdin reports from Beirut.
https://www.presstv.com/Detail/2018/11/21/580724/US-sanctions-Russia-Iran-Syria-oil-sales-
--------
US, Pakistan ties plunge with new war of words
22.11.2018
U.S. President Donald Trump's recent comments and tweets against Pakistan have renewed tensions between the two countries, analysts said.
"The bilateral relationship between U.S. and Pakistan is already a mess and what Trump said didn't represent anything new, however his latest tirade will further complicate efforts to restore much-needed trust in bilateral relations," Michael Kugelman, a Washington-based analysts and a senior program associate for South Asia in The Wilson Centre, told Anadolu Agency in an email.
Kugelman said the U.S. needs Pakistan all the more to pitch peace talks with the Afghan Taliban.
"This process [peace talks with Taliban] can't succeed unless Pakistan is on board," he added.
On Monday, a war of words erupted between Trump and Pakistani Prime Minister Imran Khan on Twitter after the U.S. president's recent statement saying Pakistan has not done "a damn thing" for the U.S.
"We no longer pay Pakistan the $Billions because they would take our money and do nothing for us, Bin Laden being a prime example, Afghanistan being another. They were just one of many countries that take from the United States without giving anything in return. That's ENDING!" Trump tweeted.
Responding to Trump, Khan said: "Trump's false assertions add insult to the injury Pak has suffered in US WoT [War on Terror] in terms of lives lost & destabilised & economic costs. He needs to be informed abt [about] historical facts. Pak has suffered enough fighting US's war. Now we will do what is best for our people & our interests."
'US still wants to avoid complete breakdown'
Ijaz Khan, an Islamabad-based analyst, said: "Exchange of these tweets show the ties between Washington and Islamabad are worsening, however the statement released by Pentagon a day after Trump's tweets calling Pakistan an ally means U.S. still wants to avoid complete breakdown and wants Pakistan's cooperation on Afghan issue."
Trump's new statement against Pakistan came a day after his top diplomat for Afghanistan reconciliation, Zalmay Khalilzad, reportedly met for the second time during the last two months with Afghan Taliban leaders in Qatar.
Islamabad-based defense analyst retired Brig. Said Nazeer said: "Trump's trying to pressurize Pakistan to 'do more' but this policy could damage the cooperation between both countries and Washington could lose existing Pakistani support."
According to Pakistani authorities, last month they released Mullah Baradar, a senior Taliban leader along with two others on U.S. request.
Historically Pakistan and U.S. relations have never remained exemplary.
However after 9/11, Pakistan assumed an important position in Washington circles and became the main ally in the U.S. war against terrorism in 2001.
According to Pakistani authorities, the country suffered 75,000 casualties and over $123 billion in losses to their economy in the war against terror, but Washington has never acknowledged their sacrifices.
Full report at:
https://www.aa.com.tr/en/americas/us-pakistan-ties-plunge-with-new-war-of-words/1318144
--------
Europe
Drunken racists beat up Italian barman because they thought he was Muslim
Nov 22, 2018
A trio of drunken racists attacked an Italian barman and told him to "go back to your own country" because they incorrectly assumed he was Muslim, a court has heard.
Shouting "f***ing Muslim" and "Muslim go home" Joshua O'Leary, 23, and Alfred Young, 19, set upon Dario Antonioni in the in Surrey Quays area of east London on 10 June.
He told Inner London crown court that he that he had a beard at the time.
"Due to your prejudice and ignorance and because he had a small beard you all thought he was a Muslim and shouted abuse at him," Judge Benedict Kelleher said as he sentenced the pair to community service and curfew instead of jail, the Evening Standard reported. "He put up a spirited defence to your completely unjustified attack late at night while under the influence of alcohol."
He added that a third man, who was not caught, appeared to be the leader in the attack.
Mr Antonioni said he started walking quickly to get away and began to run when a bottle was thrown at him after he exited the Canada Water tube station.
He said: "The three of them surrounded me. I fell to the ground and I was struck everywhere by all three of them. I said: 'What are you doing? Why are you doing this?' and I was speaking to them in Italian, but they increased the shouting. They wanted to beat me up … All three of them hit me, kicks and punches, and when I was on the floor there were more kicks and punches."
He escaped with bruises on his elbows and knees and grazes on his face.
O'Leary denied taking part in the attack but was found guilty by a jury of religiously aggravated assault. He was sentenced to a 12-month community order, 180 hours of community services, 20 days rehabilitation and a night-time curfew for 12 weeks.
Young admitted to the same charge and was handed a 12-month community order with 80 hours community service and a six-week night-time curfew.
They were both ordered to pay compensation to the victim.
https://www.independent.co.uk/news/uk/crime/italian-barman-muslim-racist-attack-drunk-dario-antonioni-london-crown-court-trial-a8644541.html
--------
Was the Jewish-Muslim 'chicken soup challenge' cooked up by UK's Home Office?
21 November 2018
Last Sunday, the East London Mosque hosted an event called "Chicken Soup Challenge", in which members of Jewish and Muslim community groups came together to cook chicken soup for the homeless.
Jews and Muslims from youth groups, mosques and synagogues attempted to cook a thousand portions of the traditional Jewish dish as part of a programme organised by Mitzvah Day, a charity that promotes a day of social action led by the Jewish community.
But the Chicken Soup Challenge was also backed by the UK Home Office, through a programme that provides funding and support for counter-extremism projects, a detail that went unmentioned in reports produced by BBC News and The Guardian.
Other organisations supporting the event included Muslim Aid, one of the UK's best known Islamic charities, and pro-Israel Jewish groups that organise and send their members on controversial Birthright tours. These tours to Israel seek to foster support for the state among young Jews in the diaspora, with critics saying they legitimise Israel's illegal occupation of Palestinian lands.
Home Office support for Mitzvah Day is provided through "Building a Stronger Britain Together", a counter-extremism programme that provides "in-kind support and grant funding" to "civil society and community organisations who work to create more resilient communities and stand up to extremism in all its forms".
The programme was set up as part of a counter-extremism strategy launched by the Home Office in 2015 that aimed to counter "all forms of extremism, violent and nonviolent, Islamist and the neo-Nazi".
'Basic training style experience'
The "in-kind support" referred to by the Home Office includes social media training, technical assistance on building and improving websites, and capacity building to help groups protect individuals considered vulnerable to extremism. Organisations can apply for grants of up to £50,000, according to guidance for applicants.
Another organisation involved in the event was BBYO, a Jewish youth organisation that organises "Israel Journey" summer experiences in which participants visit locations including Jerusalem, Tel Aviv, the Dead Sea, Galilee, the occupied Golan Heights and the Negev desert.
The trips aim to create a strengthened sense of Jewish identity and a lasting connection to the state of Israel, according to the BBYO website.
The trips have private transport and travel with security escorts. One of the activities organised under the Israel Journey Plus programmes is done in partnership with the Israeli Defence Forces and located on a specialised army educational base, where attendees can take part in a "basic training style experience".
BBYO says the trips are about "exploring what it means to be Jewish from an Israeli point of view". Its website also maintains a "commitment to Israel", where participants are challenged to consider different ways of interpreting the contemporary meaning of Zionism and tie all debate and discussion to the support of Israel and Israeli people.
"Teens will leave our Tour with the confidence to define their own sense of Zionism," the website says.
Mitzvah Day and the BBYO are both also backed by the United Jewish Israel Appeal (UJIA), the London-based partner for the Birthright programme and the UK's biggest pro-Israel charity. The UJIA seeks to build "meaningful connections between the UK Jewish community and the people of Israel" and says it has been doing this for "nearly 100 years".
'Entitled brats'
Earlier this year, Michael Wegier, the UJIA's chief executive, criticised a group of American participants in Birthright trips who had left the tours in protest at Israel's treatment of Palestinians following the killing by Israel of scores of people and injuring of thousands more in Gaza in May.
"I think people who leave a Birthright group are behaving like entitled brats," Wegier said.
"I can't promise it will never happen in the UK, but I hope it doesn't. They are offered a major opportunity, at the expense of the Israeli government and the Jewish people, to go to Israel for a 10-day free trip."
East London Mosque told Middle East Eye that they were not aware at the time of the event that Mitzvah Day was backed by the Home Office, or that other organisations involved organised youth trips to Israel and the occupied Palestinian territories.
"Muslim Aid partnered with Mitzvah Day, we just hosted the event so were not aware of all of the details," a spokesperson said.
"We like to do our due diligence and do things that benefit our community. We work with many Jewish groups, we see no harm in working together for a common good.
"Even though Britain had a significant role in forming modern day Israel, I don't think we should have an isolationist approach or a boycotting attitude."
Jehangir Malik, the chief executive of Muslim Aid, told MEE it was important for young Muslim and Jewish people to know that they have more in common with each other than not.
"Social action is also a priority for the Muslim faith, Jews and Muslims have very similar charitable values… it was very moving to see young people talking to each other, working together, engaging with each other, from different walks of life and different backgrounds", he told MEE.
Muslim Aid did not respond to requests for comment about whether it was aware that Mitzvah Day was supported by the Home Office, and the involvement of Jewish organisations promoting Birthright tours.
In May, the charity issued a press statement in which it called for the "immediate end to the killing of innocent civilians" in Gaza. It said that donations would pay for medical equipment that was being used to treat hundreds of wounded people at al-Awda hospital in Jebaliya, northern Gaza.
Another fundraising effort this year aimed to raise money to support neonatal intensive care in Gaza.
Full report at:
https://www.middleeasteye.net/news/home-office-backs-mitzvah-day-event-muslims-and-jews-part-counter-terrorism-strategy-2049474165
--------
UK: Bill to recognize Palestine submitted to parliament
21.11.2018
By Ahmet Gurhan Kartal
LONDON
A bill to officially recognize Palestinian state has been submitted to the House of Commons by the first British Palestinian MP on Wednesday.
Layla Moran, a Liberal Democrat MP, said in a video she shared before submitting the bill that she is very proud for being elected as the first Palestinian MP in the U.K. "but it remains the fact that Britain has not officially recognized the Palestinian as a state and I believe that is something that should change."
"Since I was elected I have been dismayed at the progress the Conservative Government has made towards recognising the state of Palestine," Moran said in a statement issued to Anadolu Agency.
"I am in favour of a two-state solution, but until the state of Palestine is recognised, the two actors can't come to the table as equal partners," she said.
She said: "Given the U.K.'s role in the Balfour declaration it is vital that Britain recognises the role it has played and the role is has to play in re-igniting the peace talks.
"Whilst I appreciate that the U.K. recognizing the state of Palestine alone won't be a solution, doing it would go some way to reigniting the spark of hope that has gone out in the heart of Palestinians across the world."
The bill will be published in the next few days or weeks and it will, if passed into law, require the Government to formally recognise the state of Palestine within 3 months of the Bill being passed, a statement from Moran's parliamentary office said.
"I don't believe that we should be waiting some sort of fictitious moment in the future with undefined goals where this is given as a reward for Palestine and Palestinian leaders' going back to negotiating table," Moran said in the video she shared earlier on YouTube.
"I encourage anyone who believes in peace between Israel and Palestine, who believes in the two-state solution to back this bill and back Britain recognizing Palestine as a state as soon as possible," she said.
Palestine embarked on a strategy to seek international recognition as an independent state in 1988 with its declaration of independence. Between 2009 and 2010, a second phase began, during which many countries decided to recognize it as an independent state.
In 2012, the United Nations General Assembly granted Palestine the status of non-member observer state.
Full report at:
https://www.aa.com.tr/en/europe/uk-bill-to-recognize-palestine-submitted-to-parliament-/1317888
--------
UK arms sold to Saudis must follow humanitarian law
21.11.2018
By Ahmet Gurhan Kartal
LONDON
The U.K. expects all arm sales to Saudi Arabia to comply with international humanitarian law, British Foreign Secretary Jeremy Hunt said Wednesday.
Hunt's remarks came during an urgent session on the situation in Yemen after a question from Alison Thewliss, a Scottish National Party MP.
There were "160 air raids" in Yemen only in October and "60 per cent of those raids targeted civilian infrastructure including hospitals, food storage facilities, water and electricity sites and civilian transport," Thewliss said.
"How does he expect the Saudis used weapons sold to them this month?" she asked.
"We expect all arm sales to comply with international humanitarian law and we have processes in place to make sure there are thorough investigations if we think they have not," Hunt responded.
Hunt said there is a strategic partnership between the U.K. and Saudi Arabia, but "we are very clear that we are only able to supply them arms… if we are confident that it is in compliance with the international humanitarian law."
He also said "the entire humanitarian situation in Yemen is totally unacceptable".
"I agree with the shadow foreign secretary [Emily Thornberry] that there needs to be a full investigation for all crimes that had happened," Hunt said.
The urgent question on Yemen was granted to Labour's shadow foreign secretary Emily Thornberry Wednesday afternoon.
The U.K.'s arm sales to Saudi Arabia has been under scrutiny and has recently come under focus again after the murder of journalist Jamal Khashoggi in Saudi Arabia's Istanbul consulate.
Thornberry previously called the killing a "disgraceful murder" and said the Saudi crown prince Mohammed bin Salman "takes his allies for fools," mentioning some of the alleged crimes attributed to him.
Urging the U.K. government to use the Magnitsky powers for anyone involved in the murder, including those who ordered it, Thornberry asked for financial penalties on those responsible and the suspension of U.K.'s sales of arms to this country.
Hunt had said the reports about Khashoggi's death, if they prove true, "are not compatible with our values".
According to the United Nations, Yemen is the world's worst humanitarian crisis. As the conflict enters its fourth year, around 14 million people in Yemen, or half the total population of the country, are at risk of famine, the UN says.
Full report at:
https://www.aa.com.tr/en/europe/uk-arms-sold-to-saudis-must-follow-humanitarian-law/1317849
--------
Russia and Iran angered by new US sanctions targeting Iranian oil exports to Syria
November 21, 2018
Moscow and Tehran accused Washington on Wednesday of seeking to hamper reconstruction efforts in war-torn Syria, following the announcement of new sanctions targeting Russian companies and Syrian intermediaries which allegedly sent millions of barrels of oil to Syria.
On Tuesday, the US Treasury accused Russia of facilitating the shipment of Iranian oil to Syria, alleging that a Syrian citizen used his Russia-based company to ship Iranian oil to Syria with the aid of a Russian state-owned company.
The announcement of sanctions comes less than a month after the director of Syria's state-owned petroleum company said that the oil ministry has a direct credit line with Iran, which provides millions of barrels of oil to Syria every month.
The Russian-Iranian network identified by the Treasury on Tuesday reveals one of the ways "Russia and Iran cooperate tactically for the sake of the survival of the Assad regime," Anton Mardasov, an expert at the Russian International Affairs Council (RIAC), told The National.
The new sanctions also underscore how Russia and Iran are coming under increasing pressure from US officials, who are seeking to curb Iranian influence in the region and undermine Russia on the global stage.
Those targeted by Tuesday's sanctions include Syrian Mohammad Amer Alchwiki and his Russia-based company Global Vision Group, which were central to the delivery of Iranian oil to Syria and the transfer of funds to the Islamic Revolutionary Guard Corps' Quds Force's "lethal proxies", the Treasury Department said.
Others sanctioned include state-owned Russian company Promsyrioimport, a subsidiary of the Russian Energy Ministry, which the US Treasury alleges facilitated shipments of Iranian oil to Syria, as well as Mir Business Bank and Iran-based Tadbir Kish Medical and Pharmaceutical Company.
Other targets include Syrian national Hajji Abd Al Nasir, Lebanese national Muhammad Qasim Al Bazzal and Russian national Andrey Dogaev, as well as Iranian nationals Rasoul Sajjad and Hossein Yaghoubi Miab. Messrs Sajjad and Yaghoubi, both officials at the Central Bank of Iran, worked to facilitate Mr Alchwiki's transfers, the Treasury said.
Secretary of State Mike Pompeo warned on Twitter that there were "grave consequences for anyone shipping oil to Syria, or trying to evade US sanctions on the Islamic Republic's terrorist activities."
The Russian foreign ministry responded on Wednesday saying the move only served to harm attempts to defeat "terrorists" in Syria, describing the step as a "clumsy" decision.
"Accusations concerning oil supplies to Syria – a country whose armed forces have been fighting terrorist aggression for over seven years – look like a statement of support for terrorists and also show a desire to prevent the reconstruction of the war-torn country, where many people live without electricity and heating. Is it what the United States really wants?" the Russian ministry asked.
Earlier in October, the director of Syria's state-run oil company, Moustafa Haswiya, said that Syria's current oil production of 23,000 barrels of oil per day was only enough to cover 10 per cent of market demand, with some of the deficit imported from Iran. He said at least two shipments arrived monthly, carrying a total of 2 million barrels of oil.
Russia will continue supplying oil to Syria in line with its agreement with Damascus despite pressure from the United States, RIA news agency quoted Oleg Morozov, a member of the Russian Federation Council, as saying late on Tuesday.
"The political defeat in Syria apparently prompts the United States to return to the idea of regime change in Damascus. Therefore, economic pressure through oil supply shutdown becomes a tool of the new economic war with [Syrian President] Bashar Al Assad and indirectly with Moscow and Iran," he said.
Mr Morozov said Russia acts with "absolutely legally".
"We have an agreement with Syria and therefore it's up to us to decide what we supply and to whom. This will be our answer, [it is] much more effective than counter-sanctions," he added.
An Iranian Foreign Ministry spokesman called the sanctions "fruitless, illogical and inefficient".
"Those who designed and implemented these sanctions will understand sooner or later that they will not achieve their goals," Bahram Qasemi was quoted as saying by state news agency IRNA on Wednesday.
Syria's oil ministry and state-run petroleum company were not immediately available for comment.
Full report at:
https://www.thenational.ae/world/mena/russia-and-iran-angered-by-new-us-sanctions-targeting-iranian-oil-exports-to-syria-1.794191
--------
Pope Francis thanks Lebanon for welcoming refugees
November 21, 2018
Vatican City, Nov. 20, 2018: Speaking to a delegation from the Maronite Catholic Church, Pope Francis thanks Lebanon for welcoming over a million refugees and for maintaining a balance between Christians and Muslims.
Pope Francis addressed the Maronite Foundation and a delegation of Authorities from Lebanon on Nov.19.
In brief remarks, Pope Francis jokingly compared the numerous group of people visiting to the "multiplication of the loaves", as they were more than he had anticipated.
The visit came on the same day as the Pope met with the bishops of the Maronite Catholic Church, who are in Rome for their "ad Limina Apostolorum" visit.
Balance and generosity
Pope Francis thanked the Lebanese people for two things.
First, the Pope thanked them for "maintaining a creative balance, as strong as the cedar tree," between Christians and Muslims.
Second, he expressed his appreciation for their "generosity and welcoming hearts", referring to their attitude towards refugees.
Pope Francis acknowledged that Lebanon has welcomed over one million refugees fleeing violence.
Full report at:
http://mattersindia.com/2018/11/pope-francis-thanks-lebanon-for-welcoming-refugees/
--------
Mideast
French rights group sues Abu Dhabi crown prince over war crimes in Yemen
Nov 21, 2018
A rights group based in France has filed a lawsuit against Abu Dhabi Crown Prince Mohammed bin Zayed al-Nahyan during his visit to Paris over his complicity in war crimes committed in Yemen.
The complaint filed by the International Alliance for the Defense of Rights and Freedoms (AIDL) on Wednesday accused Prince Mohammed, who is Deputy Supreme Commander of the UAE Armed Forces, of war crimes, complicity in torture and inhumane treatment in Yemen.
"He is the supreme leader of the United Arab Emirates' armed forces, and with (Saudi crown prince) Mohammed Bin Salman, he is also the instigator of the whole war that is now taking place in Yemen and the methods used for this war, meaning massive and indiscriminate bombardment," lawyer Joseph Breham, who represents the AIDL in filing the suit, said.
He added that a number of Yemenis have joined the lawsuit filed in a Paris court.
The complaint cited a report by UN experts that said airstrikes conducted by a military coalition led by Saudi Arabia and the UAE on Yemen may amount to war crimes and that torture was carried out in two centers run by Emirati troops.
The complaint made reference to aerial attacks that targeted a crowded funeral ceremony in the capital Sana'a in October 2016 and killed more than 140 people.
Saudi Arabia and a number of its regional allies launched a devastating campaign against Yemen in March 2015, with the aim of bringing the government of former Yemeni President Abd Rabbuh Mansur Hadi back to power and crushing the country's Houthi Ansarullah movement.
According to a new report by the Armed Conflict Location and Event Data Project (ACLED), a nonprofit conflict-research organization, the Saudi-led war has so far claimed the lives of around 56,000 Yemenis.
Save the Children, a UK-based charity, said on Tuesday that more than 84,700 children under the age of five may have starved to death in Yemen since the Saudi regime and a coalition of its allies launched the brutal war on the already-impoverished nation. AIDL also referenced documents from Human Rights Watch, Amnesty International and Oxfam on arbitrary detentions and the use of illegal cluster bombs in the lawsuit.
Prince Mohammed arrived in Paris on Wednesday to meet President Emmanuel Macron and Prime Minister Edouard Philippe amid calls for the suspension of France's arms sales to Saudi Arabia and the UAE.
French prosecutors are already studying a lawsuit filed in April against Saudi Arabia's Crown Prince Mohammed bin Salman on similar charges.
https://www.presstv.com/Detail/2018/11/21/580729/uae-prince-yemen-war-france-
--------
Israeli high school grooming students to become Iran spies
Nov 21, 2018
Israel's only high school teaching Farsi language is using the course to help the regime's intelligence agencies train agents who can spy on Iran.
Developed by retired Israeli general Pini Shmilovich, the "Iran, Security and Intelligence" program at Ben Gurion High School in the central city of Petah Tikva offers specialized courses in understanding Iranian culture and government system, according to a report by Voice Of America (VOA).
The course also indoctrinates the 16- and 17-year-old teens with propaganda about how Iran is supporting groups that are "hostile" to Israel and the Islamic Republic's role in sectarian conflicts across the Middle East region.
The government-approved project began in 2014 and has so far trained some 50 certified Farsi-speaking students, 20 of whom have made it to the Israel's military intelligence community after being handpicked during their mandatory military service.
Israeli high schools usually only teach Arabic as their only optional foreign language while English is mandatory for all students.
Shmilovich, who served in Shin Beth — the Israeli regime's internal security agency specializing in counter espionage — said the course helps Israeli spies to be "proactive" with regards to Iran.
"I think it's important that in Israel, there will be enough people who know what Iran is, and who can influence and be pro-active in the issue of the relationship between Iran and Israel,"
The students told VOA Persian that they took the voluntary course because they thought doing intelligence work, specially against Tehran, was prestigious.
"I have a better knowledge about languages, and I'm serious about what I'm doing," said a male student. "You have to be honest and know to keep a secret when you are going into intelligence. And I think I am able to do it."
Hanna Jahanforooz, an Iranian-born Israeli singer and educator who teaches the Farsi course, said she thought "it's OK" that her work was being used to groom spies who would go on to work against her own country of origin.
Israel's Mossad and other spying agencies are heavily invested in carrying out espionage operations against Iran.
Iran's intelligence organizations have been increasingly foiling espionage and terrorist operations inside the country over the past several years. Many of the suspects detained in such operations admit to having received Israeli support in form of money, arms or intelligence equipment.
However, the battle goes both ways as earlier this year, Israel arrested a cabinet minister charged with high-profile spying for Iran.
According to Shin Bet, Gonen Segev had been working for Iranian intelligence services from 2012, handing over "dozens" of sensitive reports during meetings in a number of countries.
In response to the news, Iranian Intelligence Minister Mahmoud Alavi said in August that Tehran had "brought under our control a member of a cabinet of a hostile country" without elaborating.
Full report at:
https://www.presstv.com/Detail/2018/11/21/580732/Iran-Israel-Shin-bet-high-school-Farsi--spy-training-program
--------
Gaza leader's days are numbered, vows Israeli minister
21 November 2018
A senior Israeli Cabinet minister is threatening to kill the leader of the militant Hamas movement ruling Gaza.
Yoav Gallant says Wednesday that "Yehiyeh Sinwar's time is limited" and "he will not end his life in an old folks' home."
Speaking at the Jerusalem Post Diplomatic Conference, Gallant vowed there would be another Israeli campaign in Gaza and said Sinwar better "recalculate his route."
Israel and Hamas recently stepped back from the brink of their fourth war in a decade, thanks to an Egyptian cease-fire.
Palestinian militants had fired 460 rockets and mortar shells into Israel, while the Israeli military carried out airstrikes on 160 Gaza targets. Fourteen Palestinians, including 12 militants, were killed, while a Palestinian laborer working in Israel was killed by a Gaza rocket.
https://english.alarabiya.net/en/News/middle-east/2018/11/21/Gaza-leader-s-days-are-numbered-vows-Israeli-minister.html
--------
Prince Khalid: Houthi violations consistent with their Iranian masters' playbook
21 November 2018
Saudi Arabia's Ambassador to the United States Prince Khalid bin Salman has said that the recent actions taken by "the Houthi militias in Yemen are consistent with their Iranian masters' playbook".
"The Iranian-backed Houthis announced a ceasefire in which they said they will halt all missile attacks against Coalition countries and Yemeni forces. 13 hours later, they launched a missile targeting Midi. This is consistent with their pattern of lying and violating commitments," Prince Khalid tweeted.
"This is after all consistent with their Iranian masters' playbook. On Yemen, while the Iranian Foreign Minister denies any involvement, the IRGC Deputy Commander Hossein Salami boasts of 'new bases from the Mediterranean to the Red Sea'," he added.
Houthi militias broke an agreed-upon ceasefire on Tuesday after firing a missile targeting Saudi territories just hours after saying that they were halting drone and missile attacks on Saudi Arabia, the United Arab Emirates and their Yemeni allies.
Full report at:
https://english.alarabiya.net/en/News/gulf/2018/11/21/Prince-Khalid-Houthi-violations-consistent-with-their-Iranian-masters-playbook.html
--------
Israel demolishes about 20 shops, petrol stations in East Jerusalem al-Quds
Nov 21, 2018
Israel has launched a demolition campaign in Shuafat refugee camp in East Jerusalem al-Quds, leaving about 20 businesses and petrol stations destroyed under the pretext of lacking building permits.
The Palestinian Ma'an news agency reported that 16 shops and three petrol stations were demolished during the campaign on Wednesday.
Israeli excavators entered the camp early on Wednesday to destroy the structures amid the presence of the regime's police forces.
Israeli police said in a statement that "18 illegal businesses and three illegal petrol stations" were demolished in the camp, which is surrounded by Israel's controversial separation barrier and is the only refugee camp within Jerusalem al-Quds.
Heavy clashes erupted between the Israeli troops and Palestinian youths in the camp after the demolition of the shops, according to the Palestinian Information Center.
Palestinian sources also said that Israeli forces arrested three Palestinian children.
The demolitions drew condemnation from Palestinian officials.
Ahmad Abu Holy, head of the Palestine Liberation Organization's refugee department, said the demolitions were "under the illegal pretext of building without a permit".
Palestinians in East Jerusalem al-Quds and in parts of the West Bank say it is nearly impossible for them to get approvals for buildings.
Khader Dibs, an official from the camp, also denounced the demolitions, saying the shops had been built in 2007.
Israel occupied the West Bank and East Jerusalem al-Quds during the Six Day War in 1967. It later annexed East Jerusalem al-Quds in a move not recognized by the international community.
About 600,000 Israelis live in over 230 illegal settlements built since the 1967 Israeli occupation of the Palestinian territories of the West Bank and East Jerusalem al-Quds.
Full report at:
https://www.presstv.com/Detail/2018/11/21/580739/Israel-demolishes-shops-Jerusalem-alQuds
--------
Turkish court gives life sentences to dozens over 2016 botched putsch
Nov 21, 2018
A court in Turkey has handed down aggravated life sentences to dozens of people on charges of involvement in the failed July 2016 coup attempt against President Recep Tayyip Erdogan, which the Ankara government accuses to have been masterminded by US-based opposition cleric Fethullah Gulen.
Judicial sources, speaking on condition of anonymity, said Ankara's 20th High Criminal Court passed the rulings against 74 defendants on Wednesday after they were charged with "attempting to disrupt the constitutional order."
During the botched putsch, a faction of the Turkish military declared that it had seized control of the country and the government of Erdogan was no more in charge. The attempt was, however, suppressed a few hours later.
Ankara has since accused Gulen of having orchestrated the coup. The opposition figure is also accused of being behind a long-running campaign to topple the government via infiltrating the country's institutions, particularly the army, police and the judiciary.
Gulen has denounced the "despicable putsch" and reiterated that he had no role in it.
"Accusations against me related to the coup attempt are baseless and politically-motivated slanders," he said in a statement.
The 77-year-old cleric has also called on Ankara to end its "witch hunt" of his followers, a move he says is aimed at "weeding out anyone it deems disloyal to President Erdogan and his regime."
Turkish officials have frequently called on their US counterparts to extradite Gulen, but their demands have not been taken heed of.
Turkey, which remains in a state of emergency since the coup, has been engaged in suppressing the media and opposition groups suspected to have played a role in the failed coup.
Tens of thousands of people have been arrested in Turkey on suspicion of having links to Gulen and the failed coup. More than 110,000 others, including military staff, civil servants and journalists, have been sacked or suspended from work over the same accusations.
Full report at:
https://www.presstv.com/Detail/2018/11/21/580719/Turkish-court-2016-botched-putsch-life-sentnce
--------
Africa
Is there a parallel security ministry run by Islamists in Tunisia?
21 November 2018
Some of the members of the Tunisian parliament destroyed fire detectors under the dome a few days ago. However, they later brought ladders and climbed up to the fire detectors, as they were afraid they might have been spotted by surveillance cameras hidden in these detectors. This shows how scared the members of parliaments are of the very idea that there were surveillance cameras spying on them.
This incident is linked to a controversy that broke out a few weeks ago. A left-wing party claimed that there was a parallel security force operating within the Ministry of the Interior and spoke about a "black room" operating from behind the building.
The powerful interior ministry
The Tunisian interior ministry with its many departments had been a source of terror for the Tunisian people for many decades. Traditionally, the ministry has been linked to secret torture activities, spying on citizens as well as monitoring their movements and their houses. While passing under the dense trees on the pavement to the Interior Ministry building, in one of the capital's prominent Habib Bourguiba Street, one is confronted by the images of the executioners, the stench of dark rooms emitting the smell of cigarette smoke and blood, mostly of the many detainees to have officially disappeared.
The Interior ministry has been a symbol of the power of the regime and its eventual fall. It witnessed the largest demonstration on 14 January 2011, against former President Zine El Abidine Ben Ali, and demanded his departure.
The presence of thousands of demonstrators in front of the Interior Ministry building raising all the anti-regime slogans led to the fall of Ben Ali. The event sent a powerful message to the palace in Carthage that the people were no longer afraid of the oppression of the interior ministry. In fact, Ben Ali initially "belonged to the Interior Ministry". He was the security director before getting promoted in the security services, until he became the president in 1987 coup.
It has been seven years since the departure of the former President Zine El Abidine Ben Ali, who had ruled Tunisia for a quarter of a century. However, the torture cases are still under investigation, which were conducted by erstwhile security services since 1956 independence. Even the elderly dug up records of espionage by the Tunisian Information Department over its people for about 60 years, and brought it to the Truth and Dignity Commission, that opened the files of the human rights violations. However, the image of the interior ministry has still not improved, even among members of parliament elected after the revolution.
On 16 November, the office manager of President of the Tunisian Parliament, Hamdi Quzqez revealed that the PMs had deliberately destroyed fire detectors, thinking that they were surveillance cameras, following a controversy raging within the parliament over the existence of smaller security and spying cameras. He stressed that the surveillance cameras are located only at the entrances of the parliament building and not inside the hearing rooms, denying the existence of eavesdropping devices.
A "dark room" with hidden documents
By the end of October this year, the Popular Front (a leftist party) confirmed the presence of a "dark room" on a property located behind the Ministry of the Interior on Avenue Bourguiba in the capital (in other words an officially undeclared secret room) in which documents were hidden that relate to the 2013 assassinations which targeted left-wing opposition figures, including Chokri Belaid and Mohammed Brahmi. This claim was a direct accusation against the Ministry of Interior over their concealment of "dangerous" documents.
The Popular Front's claims related to the secret activities of the Ministry of the Interior was looked into by the defense committee of the martyrs on Belaid and Brahmi, but the Ministry denied the existence of any 'dark room' on two occasions.
The Executive branch with its two poles: President Beji Caid Essebsi and Prime Minister Youssef Chahed , called upon the judicial system to investigate these allegations in order to reassure the public. Essebsi declared that the judicial branch alone is capable of unveiling the truth on this subject, but he also stressed the necessity of not exploiting the demand to disclose the reality around the "dark room" in order to put pressure on the "independent" judiciary.
In turn, Prime Minister Youssed Chahed stated last Monday that the investigating judge turned to the location, which the Popular Front had identified as the 'dark room' and had changed the locks, as if to tell the people, "We have closed the dreaded cave".
However, this talk in relation to the existence of a secret chamber allocated to the Ministry of the Interior with the task of spying on Tunisians is not a recent matter. In January 2017, the National Assembly had questioned former interior minister Hadi Majdoub on this particular subject.
Security leaks
Majdoub was then interrogated about a leaked security document in relation to the wiretapping of a businessman in an apartment on Avenue Habib Bourguiba, which dates back to 2014. The minister did not deny the document's validity and affirmed that the tenants of the apartment were being held for questioning by the Public Prosecutor.
At the time, Majdoub disclosed in a hearing at the National Assembly's Security and Defense Committee that the leaked security document was regarding the wiretapping of a businessman in connection with the leader of the Libyan National Party, Abdul Hakim Belhaj. There were reports concerning the intention of the Libyan Party's officials to come to Tunisia. This prompted a unit of the Ministry of the Interior to track their calls.
Since that time the minister left office and was succeeded by a new one, but since the reemergence of the story of the secret room in recent days, the Ministry denied on two occasions the existence of bugging and spying devices on the Tunisian people.
However, lawyer Ridha AlRadawi has confirmed the discovery of 33 bags and documents related to the Brahmi case, cardboard boxes containing books as well as a box with inoperative mobile phones, in the above mentioned property. He stated that these documents represent clear evidence over the existence of a 'secret room' at the headquarters of the Ministry of the Interior.
Two months ago, on September 4th , Nidaa Tounis (President Beji's Party) declared that a number of security officials in civilian uniform demanded of the guards in charge of protecting a building, where members of the party were meeting some ministerial figures, to provide them with the names of those present at the meeting including the attending ministers. The party condemned this behavior which recalled the former regime's practices prior to the revolution.
The party called on the Minister of the Interior to open an investigation into the matter, but the Ministry defended the 'operation' carried out by the security apparatus in civilian attire affirming that it was "within their tasks".
https://english.alarabiya.net/en/features/2018/11/21/Is-there-a-parallel-security-ministry-run-by-Islamists-in-Tunisia-.html
--------
Boko Haram: 156 former insurgents declare allegiance to Nigeria
November 22, 2018
By Ameh Comrade Godwin
No fewer than 156 repentant and surrendered members of the Boko Haram on Wednesday swore allegiance to the Nigerian government after undergoing a De-radicalisation, Rehabilitation and Reintegration (DDR) programme, coded Operation Safe Corridor.
The repentant insurgents took the oath of allegiance before Justice Nehizena Idemudia Afolabi of the Federal High Court, Gombe at the DDR rehabilitation camp in Gombe.
The former Boko Haram members dropped their weapons and surrendered to the Nigerian Army, after which they were enlisted into the de-radicalisation programme of the federal government.
The Commandant of the DDR camp, Colonel Gurama Martins, said majority of the repentant members of the sect were victims of circumstances who were forced into the war.
Full report at:
http://dailypost.ng/2018/11/22/boko-haram-156-former-insurgents-declare-allegiance-nigeria/
--------
Libya forcibly evicts stranded refugees from cargo ship
Nov 21, 2018
Libyan coast guards have raided a cargo ship and forcibly evicted dozens of desperate refugees from the vessel, which had rescued them off the Libyan coast ten days ago.
Coast guards used robber bullets and tear gas on Tuesday to remove 90 refugees from a Panama-flagged "Nivin" vehicles carrier that had rescued them as their boat began sinking and docked in the port of Misrata.
The refugees, mostly from sub-Saharan Africa and South Asia, who sought to reach Europe via the Mediterranean Sea, were refusing to leave the ship.
"A joint force raided the cargo ship and used rubber bullets and tear gas to force [them off the ship]," Reuters quoted the commander of the central region coastguards, Tawfiq Esskair, as saying on Tuesday.
The commander said some of them had been wounded during the eviction but were now "in good condition" after treatment in hospital.
They have now been taken to a detention center in the city, according to Esskair.
Rights groups had already warned against taking the refugees to detention centers, where they are reportedly held in dire conditions.
Stranded on the cargo ship, refugees were pleading to be taken to Europe.
Libya's western coast is the main departure point for asylum seekers attempting to reach Europe. Many refugees have crossed the central Mediterranean to Italy over the past four years as human traffickers took advantage of a security vacuum in Libya after the toppling of its long-time ruler Muammar Gaddafi.
While some of the refugees complained that they were tortured by human traffickers in the North African country, others said they had been through serious abuses in official detention centers.
"How come you want me to leave the ship and stay in Libya?" said a 17 year-old Sudanese asylum seeker earlier this week, according to Reuters. "We agree to go to any place but not Libya."
He said his brother and friend had both died at the hands of smugglers in a smuggling center south of the Libyan capital, Tripoli.
The United Nations (UN) condemned Libya's forced eviction of the refugees, saying in a statement, "The humanitarian community is saddened by the turn of events."
Separately, Human Rights Watch (HRW) called for an investigation into whether "unlawful force" had been used against asylum seekers.
"This is the worst possible conclusion to the desperate plea of the people on board the Nivin to avoid inhuman detention in Libya," said Judith Sunderland, acting deputy director for Europe and Central Asia at HRW.
Amnesty International had on Friday warned against forcing those rescued "to disembark to be taken to a Libyan detention center where they could face torture and other abuse."
The rights organization further explained that "under international law, no-one should be sent to a place where their life is at risk."
Full report at:
https://www.presstv.com/Detail/2018/11/21/580659/Libya-evict-refugees-cargo-ship
--------
Nigeria: Has Religion Improved Growth and Development of Nigeria?
22 NOVEMBER 2018
By Sam Ohuabunwa
There has been this argument as to whether Nigeria is a secular or non-secular state, religious or non-religious nation. A secular state is a state which purports to be officially neutral in matters of religion, supporting neither religion nor irreligion. A secular state also claims to treat all its citizens equally regardless of religion and claims to avoid preferential treatment for a citizen from a particular religion/ non religion over other religions/ non religion. Secular states do not have a state religion.
Some states become secular upon creation of the state, for example, the USA or upon secularisation of the state (e.g. France and Nepal). Historically, the process of secularizing states, typically involves granting religious freedoms, disestablishing state religion, stopping public funds being used for religion, freeing the legal system from religious control, freeing up educational system, tolerating citizens who change religion or abstain from religion and allowing political leadership to come to power, regardless of their religious beliefs.
Ordinarily secular means worldly, non religious or not spiritual while non-secular will then refer to be spiritual or religious. But it does not always work out that way in real practice. Some non-secular states actually do not subscribe to any spirituality. Indeed some of the greatest atheist nations are regarded as non-secular, such states as China, Japan, Czech Republic, France, Australia and Iceland. But many non-secular states truly have state religions - that is they recognize a special religion in their constitution. Some Christian nations include Costa Rica, Malta, Monaco, Vatican City (Catholicism); England, Jersey and Tuvalu (Anglicanism); Denmark, Norway, Greenland, Finland (Lutheranism).
Zambia is one of the few Christian states in Africa. Many of the predominantly Muslim-dominated states have Islam as the official state religion, countries such as Afghanistan, Algeria, Bangladesh, Bahrain, Saudi Arabia, Egypt, Iran, Iraq, Malaysia, Pakistan and Morocco. Some other states have Buddhism or Hinduism as their state religion. Some countries have transformed political ideology into some kind of religion. China in the days of Mao Zedong and North Korea even as at today adopt their political ideology as religion and very much resist any true religious influence.
So what is Nigeria - secular on non-secular? My answer is both. Secular because, Nigerian constitution does not recognize any official religion yet some states in Nigeria have adopted the Sharia legal system. It is also non-secular, because Nigeria as a country invests in religious activities and is essentially a religious nation. Every year the tax payers' money is spent to pay for or subsidize religious trips to Israel and Mecca called pilgrimage. The government of Nigeria funds the offices that organise the pilgrimages and governments at all levels, donate money directly to religious bodies and for religious purposes. Is Nigeria religious or non-religious.
The answer as shown above is affirmative. The country is not only religious, it is essentially multi-religious. It officially allows freedom of religion or worship and often starts many official functions with prayers. The second verse of the National Anthem is actually a prayer. But certain sects have developed in Nigeria overtime that have tended to abridge the freedom or rights of other religious adherents. The current Boko Haram insurgents first fought against the Christian churches, claiming that western education was bad, which of course has the Christian imprint, before turning full circle to fight those who they believed did not practise their model of Islam.
That Nigeria is a deeply religious country is well established and well expressed. Truly I believe that Nigeria is among the most religious nations in the whole world. It is believed that Nigeria has the highest number of church denominations and highest the number of churches in the world. I may not speak authoritatively for Islam but I can see mosques everywhere more that I see in many of the nations that I have visited. I have not visited Saudi Arabia but I am prepared to place a bet that there are more mosques in Nigeria than in Saudi Arabia. Even in the traditional religious practices, every hamlet in Nigeria has shrines and coves where traditional worship takes place. At some point, especially in my part of the country, there was a time it looked like Christian Religion was displacing traditional religion but there has a recent resurgence in traditional worship centres and even some so called Christians who are "tired" of waiting for God to act now take their matters to deities and shrines.
Now my question is, has religion helped the growth and development of Nigeria? Indeed has it helped the growth and development of other countries? One way to begin to address this question is to see if there is any difference in the rate of growth of religious nations - where religion is practised and those nations that prohibit or limit freedom of worship. America, Israel, Germany, Norway, Denmark and the UK are good examples of where liberal Christian religion is fundamental to their way of life, though many now have growing populations of Muslims and Asian religions like Buddhism, Hinduism, Sikhism, Taoism, Confucianism and Shintoism. These countries represent the gold standard in economic growth and development.
There is ample evidence that their religious practices have been positive to their economic growth and orderly development of their societies. You can say similar things about Saudi Arabia, Bahrain, Dubai, Turkey, Egypt and a few of such countries that have adopted Islam as state religion, even within the context of belonging largely to developing nations' categorisation. countries with restricted religious freedom like Russia, Japan and China have shown mixed results. Japan had delayed economic growth but shot up in the 20th century with massive technological breakthroughs. Russia has been mixed. It has not shown forth like other countries of its age. Communism which was a political ideology that more or less replaced religion for a long time in my opinion may have undermined economic growth and development.
The slow pace of economic development in North Korea as different from the exceptionally rapid growth in South Korea (with one of the largest churches in the world) may derive in some part from their opposing religious orientations. One area of clear distinction in my view is that those countries that allowed religious freedoms have a higher moral tone and overall better quality of life. Though China has become a recent economic miracle, its economic liberalisation which mimicked the western course of development, happened because of toning down of communism and some better religious tolerance. The violence predominant in the Middle East and the terror that have been exported from that axis - Osama Bin Ladan's alqueda, and its metamorphosis - ISIS may be difficult to explain along religious lines. But there is no gain saying that there is some impact of religion, perhaps misguided extremist religious ideologies that say that God would reward anyone who kills in His defence, such as has been exported to Somalia's Elshabab and West Africa's Boko Haram.
In Nigeria, there is certainly no gain saying that the multi-religious practices in Nigeria have played more positive roles in its growth and development than the negative consequences of some of the religious practices. That is to say that in my view religion has helped the growth and development of Nigeria. Early education in Nigeria was influenced by both Christian and Islamic religions. Many of the Mission Schools and healthcare centers in Nigeria established by the missionaries especially the Christian genre provided much of the educational and healthcare needs of Nigerians in the years after independence. And even today, they still represent the gold standards as Nigerian governments with few exceptions over the years haven shown a chronic inability to provide or manage efficiently public educational and health institutions.
The major paradox in Nigeria is that it looks like the more religious institutions we build in Nigeria, the more denominations and sects we create, the worse we become morally. Corruption in Nigeria, for example, which is preached against by most (if not all) religious groups, seems to be growing in tandem with our religious expansion. And endemic corruption has severely compromised Nigeria's growth and development. Violence and all forms of criminality have been growing as our churches and mosques grow. Poor work-ethic and consequent low productivity continue to doug our economic land space. Poor governance and poverty have increased along the same scale as the growth in worship centres in Nigeria. In fact, in Nigeria, people are now stealing and killing in the name of their "gods". This development has led many to begin to query the impact of religion on our moral tone and economic well being. They seem to be pointing to atheistic nations as Japan, China and Australia as having better moral tone and registering better growth and development than Nigeria where most people practise one form of religion or another.
As I was discussing this bewildering situation over this weekend with a friend of mine, he raised two reasons why he thinks religion is not making as much positive impact as it made in the colonial or immediate post colonial eras in Nigeria. First is, that many false religions or false variants of true religions have proliferated in Nigeria in the guise of freedom of worship. The prayers and activities of these false religions are cancelling out or neutralising the effect of the true religious groups.
The second is that chronic poor governance in Nigeria has driven many Nigerians into poverty and the only religion that interests many now is the religion of " stomach infrastructure" and many Nigerians are now compelled to worship any 'god' that will guarantee regular meals. So how do we deal with these two problems? For the first one, he suggested vigilance and some form of censorship by the major religious groups. Which is to say that CAN, for example, should find ways to expose the false prophets and the lions in sheep's clothing within the Christian religious groups while the JNI should do same for Muslim religious groups. What of the traditional religious groups? He could proffer no solution.
Full report at:
https://allafrica.com/stories/201811220038.html
--------
Malawi Muslims Want Prophet Muhammad's Day National Holiday - Eid Miladun-Nabi
21 NOVEMBER 2018
Muslims in the country wants government to declare birth of Holy Prophet Muhammed (Peace Be Upon Him) on the third month (Rabiul Awal) of the Islamic lunar calendar a public holiday as it is the case with other 51 countries in the world.
The Muslims renewed their request on Tuesday during this year's Ziyarah Parade which marks the birthday of Prophet Muhamma known as Miladun-nabi.
Sheik Mathew Kawinga asked government President to consider declaring this day a national public holiday for the sake of about five million Muslims in Malawi.
"Muslism should be given more time to pray and trasact their business without being isturbed," he said.
Thousands of Muslims took to the streets of Blantyre, Malawi's second largest city and the country's finance and commerce center, to celebrate the occasion.
Executive director for Al-Traq Qadeia Sunni Association Faizal Aboo also made the request during the previous Ziyarah Parade .
"Malawi as a democratic country needs to consider us, Muslims, to celebrate this birthday while at home and that those working should be given a full day of celebrations," said Aboo.
"Those working should be given a full day off for these celebrations," he added.
Milad-un-Nabi i is a national holiday in Muslim countries.
Full report at:
https://allafrica.com/stories/201811210837.html
--------
Southeast Asia
Finns held in Muslim Malaysia over 'Christian pamphlets'
November 21, 2018
Four Finns have been arrested on a holiday island in Muslim-majority Malaysia for allegedly distributing pamphlets about Christianity, police said Wednesday, and may face up to five years in jail.
Religion is a deeply sensitive issue in Malaysia, where more than 60 percent of the populaton is Muslim, and critics say rising conservatism has chipped away at a traditionally tolerant brand of Islam in recent years.
Authorities detained the two men and two women on Tuesday after receiving complaints from members of the public that they were handing out Christian materials on the popular resort island of Langkawi, said local police chief Mohamad Iqbal Ibrahim.
"Police have arrested four Finnish nationals in Langkawi for allegedly distributing religious material in a public place," he told AFP.
"They were distributing pamphlets related to Christianity."
The Finns, aged between 27 and 60, were arrested at a hotel and police seized pens, notebooks and a bag.
They are accused of breaking laws that forbid people from disturbing religious harmony. If found guilty, they could be jailed for between two and five years.
The suspects have been remanded in custody while police investigate.
Langkawi, a jungle-clad island in northwest Malaysia, attracts millions of tourists to its palm-fringed beaches every year.
Malaysia, home to about 32 million people, has sizeable ethnic Chinese and Indian communities who have long complained about rising Islamisation.
In 2010, three churches were attacked with firebombs, causing major damage to one, as Muslims sought to prevent Christians from using the word "Allah".
Issues related to race, religion and language are considered sensitive in Malaysia, which witnessed deadly riots between members of the majority Malay community and ethnic Chinese in 1969.
http://www.thejakartapost.com/seasia/2018/11/21/finns-held-in-muslim-malaysia-over-christian-pamphlets.html
--------
'Third Force' blogger joins forces with Malay groups to 'destroy DAP'
21 November 2018
By Danial Dzulkifly
AMPANG, Nov 21 — A new coalition, calling itself Gabungan 3, announced its formation today, with the sole intention of "declaring war" on Pakatan Harapan (PH) component, DAP, claiming the latter is the dominant voice in Putrajaya.
The coalition is headed by Raggie Jessy, a blogger known for his controversial Third Force blog. His deputy is Amran Ahmad Nor, reportedly a disgruntled former DAP publicity unit employee.
Its adviser is Datuk Azwanddin Hamzah from Malay rights group Jaringan Melayu Malaysia, who had most recently accused Deputy Defence Minister Liew Chin Tong of wearing "Communist attire" when, in actual fact, he was wearing his ministry's formal corporate uniform.
"We want to give a stern warning to the 'DAP nation' and its ministers that they cannot simply throw away the rights of other races.
"We would also like to warn them that they should not belittle the Federal Constitution," said Raggie in a press conference here, where coalition members chanted "Hancur DAP" ("Destroy DAP").
"We are also acting as the third force for those who are disenchanted with political parties on both sides. We intend to fight DAP and anyone who seeks to challenge the rights of the Malays, Islam and the Malay Rulers," Raggie said.
Azwanddin said the coalition currently has 53 NGOs as its members, and intends to proceed with a nationwide roadshow to gather more support.
Full report at:
https://www.malaymail.com/s/1695675/third-force-blogger-joins-forces-with-malay-groups-to-destroy-dap
--------
UUM lecturer apologises for defaming Mujahid
November 21, 2018
KUALA LUMPUR: A defamation suit brought by Parit Buntar MP Mujahid Yusof Rawa against Universiti Utara Malaysia (UUM) lecturer Kamarul Zaman Yusoff was settled without a trial in the High Court.
In a consent judgment, Mujahid, who is now Minister in the Prime Minister's Department, withdrew his statement of claim while Kamarul retracted his counter-claim.
Kamarul later read his statement of apology in open court before judge Nik Hasmat Nik Mohamad.
Mujahid was also present in court today.
The lecturer will also publish his expression of regret in his personal Facebook account today.
Nik Hasmat did not order costs to Mujahid, who was represented by Mohd Fitri Asmuni.
The judge thanked both parties for settling the matter without having to go through a protracted legal battle.
"The defendant has been sincere in expressing his apologies and this is a significant development," she said, adding that both had saved the court's time and resources in coming to an amicable solution.
Last year, Mujahid had filed the suit claiming Kamarul had defamed him through a Facebook posting.
Mujahid had also applied to the court for an injunction to stop Kamarul from republishing the statement.
The Amanah leader had sought RM5 million in general damages as well as compensatory, aggravated and exemplary damages.
Kamarul, who is also the former director of UUM's Institute for Political Studies, in his Facebook post on May 25, accused Mujahid of being a "kuda tunggangan terbaik parti DAP" (the best tool of DAP).
He made the allegation after Mujahid was quoted by news portal Malaysiakini on May 24, 2017 as defending then Selangor state assembly speaker Hannah Yeoh against attacks by Kamarul over her autobiography entitled "Becoming Hannah – A Personal Journey".
Kamarul claimed the book had tried to proselytise Muslims.
"The accusation against Mujahid was made with ill intention to damage his reputation and character.
"It also jeopardised the image, standing and career of the plaintiff as a Muslim, MP and leader in his party and community," said Fitri.
Full report at:
https://www.freemalaysiatoday.com/category/nation/2018/11/21/uum-lecturer-apologises-for-defaming-mujahid/
--------
Australia
Australian PM to be at unveiling of Gandhi statue amidst Muslim boycott of meeting
22nd November 2018
SYNDEY: Australian Prime Minister Scott Morrison shot off a series of tweets on Wednesday criticising some leaders of the Muslim community for boycotting a meeting that he called on Thursday to find ways of de-radicalising members of the Muslim community. Morrison's strategic presence instead at the unveiling of the Gandhi statue today is sure to make great optics. He met with President Ramnath Kovind this morning which again was not the first engagement in the president's initial schedule for the day. Morrison will accompany the Indian President at three events today. Besides his first bilateral delegation level meeting, Morrison will be in Paramatta, a Sydney suburb, for the unveiling of the statue of Mahatma Gandhi and then in the evening he will attend the Australian Financial Review India Business Summit.
President Kovind's earlier schedule had him inaugurating the statue on Wednesday but with Morrison deciding to participate as well, the unveiling was pushed to Thursday. Coincidentally, perhaps, it was also to be the day that Morrison was to extend the olive branch to the Muslim community whose leaders have been smarting after Australian Prime Minister's blunt comments after the Melbourne terror attack.
After visiting Pellegrini's cafe in Melbourne where the owner Sisto Malaspina was stabbed to death last week allegedly by Islamic terrorists, Morrison called for Imams and other members of the Muslim community to be better at identifying radicalised people in their congregations and alerting the authorities.
"I won't cop the excuses," Morrison warned. "For those who want to stick their head in the sand, for those who want to make excuses for those who stick their head in the sand, you are not making Australia safer. You are giving people an excuse to look the other way and not deal with things right in front of you," he said.
"If there are people in a religious community, an Islamic community, that are bringing in hateful, violent, extremist ideologies into your community, you've got to call it out," the Australian Prime Minister added.
A group of nine, including the Grand Mufti, have now told him they're deeply disappointed by his comments and want the meeting deferred until their concerns have been addressed.
The Imams called for a boycott of the Thursday peace meeting, criticising Morrison's comments. "These statements have achieved nothing to address underlying issues, but rather, have alienated large segments of the Muslim community," the group wrote.
But the war of words continued late on Wednesday with the Prime Minister tweeting sharply.
In such a charged atmosphere, Morrison's presence at the unveiling of a statue of a man of peace and non-violence who dedicated his life to integrating people of all faiths will send out a strong signal to his people that he is for inclusiveness in Australian society and polity.
http://www.newindianexpress.com/world/2018/nov/22/australian-pm-to-be-at-unveiling-of-gandhi-statue-amidst-muslim-boycott-of-meeting-1901722.html
--------
Australia proposes stripping native-born extremists of citizenship
November 22, 2018
SYDNEY: Australia unveiled a radical plan on Thursday to strip convicted terrorists of their citizenship even if they are native-born Australians.
Acting after a series of militant-inspired plots and attacks in the country, Prime Minister Scott Morrison said his government needed expanded powers to withdraw citizenship from anyone found guilty of terrorist activity.
"People who commit acts of terrorism have rejected absolutely everything that this country stands for," Morrison told a hastily organized press conference.
"This is something that can't be tolerated, and for those who would engage in this sort of activity, and they have citizenship elsewhere, or we have reason to believe they do, they can go."
Australia's current Citizenship Act allows authorities to revoke citizenship from people jailed for six years or more for terrorist activities, but only if they are already dual nationals.
Morrison called these limits "unrealistic" and said the law should be broadened so that anyone convicted of a terrorist offense, even native-born Australians, could be expelled if they could "reasonably" be expected to gain citizenship in another country through their parents or grandparents.
The conservative government will submit legislation to amend the Citizenship Act to enshrine these new powers by the end of the year, he said.
The legislation will also seek the power to impose "temporary exclusion orders" on so-called "returned foreign fighters" — Australian citizens who travel to conflict zones to fight alongside extremist groups.
Modelled on a British law, the provision would allow Australia to bar the return of a citizen for up to two years, and to impose strict conditions on their activities once they come home.
Morrison's action came two days after police in Melbourne arrested three Australian-born men of Turkish descent for allegedly plotting a mass shooting in the city.
Less than two weeks earlier, another man who was born in Somalia but came to Australia with his family as a child, went on a stabbing rampage in Melbourne, killing one man and wounding two others before being fatally shot by police.
Authorities said all four men were inspired by militant propaganda from the Daesh group, even though none had any direct links to an extremist organization.
Home Affairs Minister Peter Dutton said there had been seven terror-related attacks in Australia since 2014, while authorities had thwarted 15 other plots.
Nine convicted terrorists have already had their citizenship revoked under existing law, he added.
"We assess there are around 50 Australian dual citizens who may be eligible to lose citizenship under the current provisions, and even more with the changes we are announcing today," Dutton said.
The government's proposed citizenship crackdown is certain to worsen tensions with parts of Australia's large Muslim community.
Full report at:
http://www.arabnews.com/node/1409091/world
--------
URL: https://www.newageislam.com/islamic-world-news/all-love-lost-religious-row/d/116952
New Age Islam, Islam Online, Islamic Website, African Muslim News, Arab World News, South Asia News, Indian Muslim News, World Muslim News, Women in Islam, Islamic Feminism, Arab Women, Women In Arab, Islamophobia in America, Muslim Women in West, Islam Women and Feminism