New Age Islam News Bureau
02 December 2021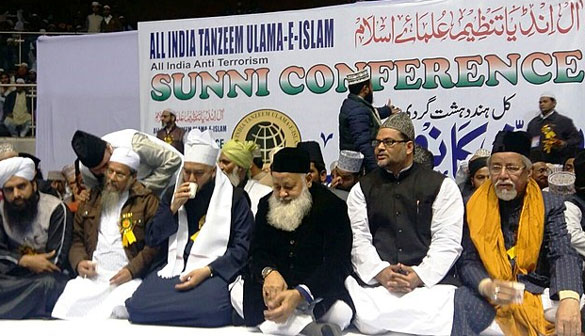 Source: Wikimedia Commons
-----
• "Ramlila Artists from Indonesia Who Performed During Deepotsav Were All Muslims: UP CM
• French Far-Right Presidential Hopeful, Eric Zemmour, Calls for Muslims' Assimilation
• Sikh from US Reveres Pakistani Muslim Couple Who Defended His Family during Independence
• Al-Azhar Denounces 'Zionist Storming' Of Ibrahimi Mosque in Hebron as 'Assault on Islamic Sanctities'
• 150 Extremist Jewish Settlers Defile Aqsa Mosque in Morning Tours
India
• Civil Society Organisations, Labour Unions and Left-Wing Groups Protest Disruption of Namaz in Gurugram
• Ladakh Buddhist Association Action Sought Against Muslim Youth for Marrying Buddhist Girl
• CBSE Asks Who Was in Govt during 2002 Gujarat Anti-Muslim Violence, Then Calls it 'Error'
• After remarks against BJP, AIADMK removes last known Muslim leader
• Terror violence in J&K down by 41% post-Article 370
------
Europe
• Turkish foreign minister meets Belarusian, EU top diplomats in Sweden
• Turkish parliament speaker meets president, counterpart in Poland
• French media slam far-right presidential hopeful for illegal use of imagery, logos
• Italian ambassador hails 'excellent' relations with Turkey
--------
Pakistan
• Pakistani Shia cleric: Imran Khan bowed down before terrorists
• Minority students are stressed out in Pakistan
• JI chief for adopting 'interest-free' Islamic banking system
--------
Arab World
• UAE leaders crown country's Golden Jubilee, usher in next 50 years
• Massive blasts heard as Saudi-led war coalition attacks Yemen's Sana'a, Sa'ada
• Army forces, allies shoot down intruding Saudi-led spy drone in northwestern Yemen
• Roadside bomb explosion hits US military supply convoy in Syria's Hasakah
--------
Mideast
• Atomic watchdog says Iran making nuclear advance despite talks to salvage 2015 deal
• Western Diplomats, Media Launch Psychological Operations against Vienna Talks
• Iran's Chief Negotiator, EU's Mora Discuss Future Talks in Vienna
--------
South Asia
• World Bank to Unfreeze $280M Of Afghanistan's Reserves
• Mayor Arrested For Opposing Depiction of Sheikh Mujib in Mural In Bangladesh's Rajshahi
• Clashes between Taliban and Iranian forces under control: Mujahid
• Blast heard in Afghan capital Kabul: Report
• 16 countries pledge to provide Afghans with humanitarian aids
• Taliban hide drug trade revenue detail amid Afghan financial crisis: Report
--------
Southeast Asia
• Federal Court Rules That Muslim Individual Cannot Be Made Party In Legal Marital Dispute Involving Non-Muslim Couple
• China's Crackdown on Uyghur Muslims Revealed By German Academic
• PAS rep heckled after asking Penang to limit alcohol sales
--------
Africa
• Sudan's PM Hamdok Would Quit If Post-Coup Deal Not Implemented: Source
• Libya court upholds presidential bid of PM Dbeibah
• Fewer Libya arms embargo breaches but foreign fighters 'presence' remain: UN panel
• Ethiopia needs no foreign interference to end internal conflict: Top Chinese diplomat
• 4 West African countries launch joint anti-terror operation
--------
North America
• 'Racist Demagoguery': GOP Asked To Discipline Boebert for Islamophobic Remarks
• US Republicans in a letter to Biden vow to block any sanctions relief for Iran
• Muslim group protests alleged hate crime in Maryland public school
• Top Turkish, US officials discuss bilateral, regional issues
• Taliban demand unfreezing of Afghan assets in talks with US
Compiled by New Age Islam News Bureau
URL: https://www.newageislam.com/islamic-world-news/india-tanzeem-ulama-barelvi-akhand-bharat/d/125886
--------
All India Tanzeem Ulama-e-Islam, an Organisation of the Barelvi Sect to Start Akhand Bharat Movement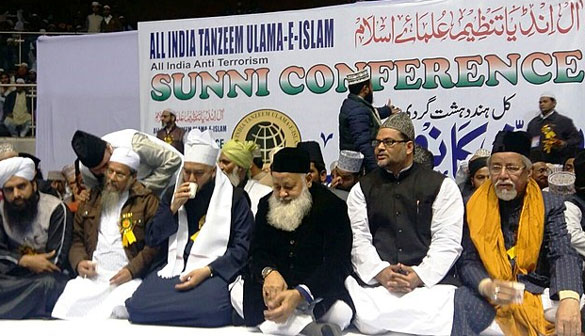 Source: Wikimedia Commons
-----
1st December 2021
New Delhi: Muslim organisation All India Tanzeem Ulama-e-Islam which claims to be the prominent organisation of the Barelvi sect of Muslims, has said that it will start a movement for Akhand Bharat (Undivided India), which means India should be again geographically as it was in the pre-Independence era.
The organisation's general secretary Maulana Shahabuddin Razvi, who is based in Bareilly while the organisation is headquartered in Delhi, told IANS, "It's our intention that India should attain Akhand Bharat status with merger of Pakistan and Bangladesh as it was before partition."
He said that when Germany can unite why not India, which has the same culture as Pakistan and Bangladesh. We should move forward, it will make India a strong country.
India was partitioned in 1947 when Pakistan came into existence and in 1971 Bangladesh was liberated from Pakistan, forming three separate nations.
When asked if he associates himself with the RSS, which has propagated the Akhand Bharat theory, he said, "We are with a good cause, whichever organisation does it," but claimed he has no idea if the RSS is running any such movement.
Rashtriya Swayamsevak Sangh (RSS) chief Mohan Bhagwat had on November 26 said that the country had witnessed a major stumble at the time of partition and it cannot be forgotten, and thus will not be repeated again.
Launching a book – "Vibhajan Kaleen Bharat Ke Sakshi" (The Witness of Partition of India) – written by Krishnanand Sagar, the Sangh chief said that this is India of 2021, not 1947. Once the country was divided and now it will not happen again.
Bhagwat also advocated for 'Akhand Bharat' (united India) at the event. He termed the partition as an unforgettable event and asserted that the pain of division will only end when the partition would be revoked.
Bhagwat said that a conspiracy was hatched for the partition of India, which continues even today. Partition took place for peace but even after that, there were riots in the country, he asserted.
He said that the identity of India is Hindu, so what is the harm in accepting it.
Source: Daily Siasat
Please click the following URL to read the text of the original story:
https://www.siasat.com/muslim-barelvi-sect-to-start-akhand-bharat-movement-2233962/
--------
"Ramlila Artists from Indonesia Who Performed During Deepotsav Were All Muslims": UP CM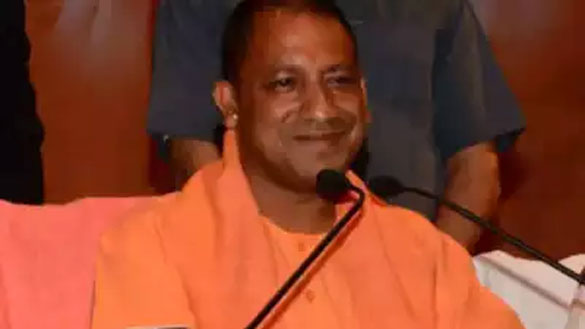 UP CM Yogi Adityanath
----
Dec 2, 2021
AYODHYA: Talking about the universal appeal of Lord Ram, chief minister Yogi Adityanath said, "Ramlila artists from Indonesia who performed during Deepotsav were all Muslims.
A country with the world's largest Muslim population still has a close relationship with Ram. Indonesians may have changed their way of worship, but they believe Ram was their ancestor.
And it's a moment of pride that the capital of Suryavansh, Ayodhya, is touching new heights of development." The chief minister was speaking on Wednesday at the concluding ceremony of Vishnu Shanti Mahayagya for progress and peace of the nation, organized by Maharishi Ved Vigyan Vidyapeeth in the temple town.
He said, Lord Ram is an incarnation of Vishnu and all Indians take pride in the tradition of Ayodhya, which is the nerve center of Suryavansh. "Everyone wants to be associated with this tradition and Ramlilas from many countries performed during Deepotsav at Ayodhya," he said.
BJP's Rajya Sabha MP and spokesperson Sudhanshu Trivedi, who also participated in the rituals, said the historic development of Ayodhya will realize the vision of Ram Rajya.
Later, CM Yogi shared his statement on Koo social media platform, where he wrote "Lord Rama never committed or tolerated injustice. And we will not commit any irreligious act or tolerate such acts. Previous governments pretended to be secular and turned away from India and Indianness. And it was Maharishi Mahesh Yogi who dared to put India's point before the world. His work is commendable."
In another post on Koo, he said, "When there was a false propaganda about the Vedas, Maharishi Mahesh Yogi boldly presented the real teachings of Vedas, episodes of Ramayana and quotes from Mahabharata on global forums."
Source: Times of India
Please click the following URL to read the text of the original story:
https://timesofindia.indiatimes.com/city/lucknow/lord-ram-has-universal-appeal-ramlila-artists-from-indonesia-were-all-muslim-yogi/articleshow/88038778.cms
--------
French Far-Right Presidential Hopeful, Eric Zemmour, Calls for Muslims' Assimilation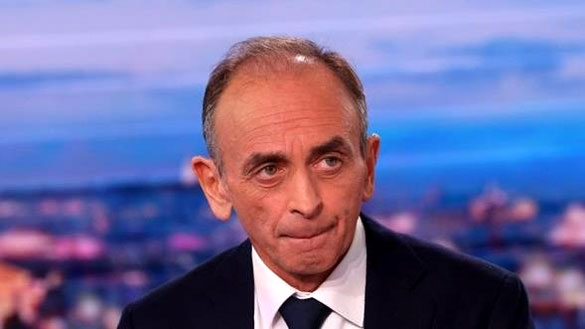 Eric Zemmour, ar-right presidential candidate in France
-----
Ahmet Gencturk
01.12.2021
A far-right presidential candidate in France has called for the assimilation of French Muslims.
In an interview aired on the TF1 television channel, Eric Zemmour vowed to be "the president of all French people" including French Muslims, if he wins the election to be held slated for April 2022.
Underlining that he does not "distinguish between Islamism and Islam" but rather between Islam and individual Muslims, Zemmour argued that French Muslims should assimilate and "renounce" the practice of the religion that he said "imposes a legal and political code" on them.
Dismissing earlier remarks he made on women during his years as a journalist, he said he was the best candidate for female voters, as well, and that women today were not threatened by a "hypothetical white patriarchy."
Zemmour has made highly divisive remarks with ultraconservative views on national identity including against Muslims, Islam, migrants, Black people, and other minorities.
He has also faced legal action for racist remarks and religious hate speech, including a 2010 sentence for saying that most drug dealers were "Blacks and Arabs."
In September 2019, he was fined €3,000 ($3,500) for a hateful rant against Muslims during a television appearance.
Zemmour was born in Paris in 1958 to a Jewish family of Algerian origin that came to France during the Algerian War of Independence.
The 63-year-old started a career in journalism at Quotidien de Paris in 1994, joining right-wing newspaper Le Figaro in 1996.
He was fired from Le Figaro in 2009 for his controversial remarks but started writing a weekly column for Le Figaro Magazine in 2013.
Zemmour has authored books and has been a part of several television programs since the 2000s, giving him a platform to disseminate his contentious views and to gain a large following in France.
Source: Anadolu Agency
Please click the following URL to read the text of the original story:
https://www.aa.com.tr/en/europe/french-far-right-presidential-hopeful-calls-for-muslims-assimilation/2435918
--------
Sikh from US Reveres Pakistani Muslim Couple Who Defended His Family during Independence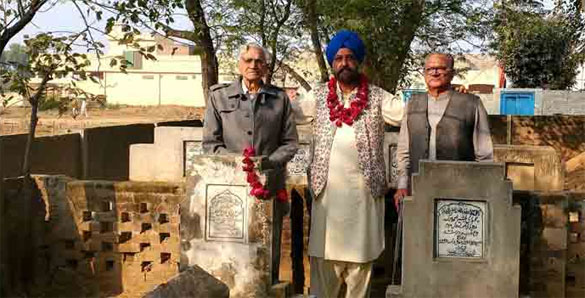 Dr Tarunjit Singh Butalia during Pakistan visit.
-----
By Sher Ali Khalti
December 02, 2021
LAHORE: After 75 years, a Sikh, Dr Tarunjit Singh Butalia, is on a visit to Pakistan to visit the graves of a Pakistani couple who had saved the lives and honour of his family during the bloody Partition of India in 1947 when hundreds of thousands of souls were lost to the senseless, mindless violence.
Talking to The News, Tarunjit Singh, the Executive Director of Religions for Peace, USA, said, "I came here to pay homage and The long overdue gratitude to the Muslim family of Bashir Ahmed Virk and Amna Bibi, who provided protection to my Sikh grandparents, Captain Ajit Singh Butalia and Sardarni Narinder Kaur, in Lahore during the deeply distressing period."
Butaila visited their graves and in a gesture of offering his deep abiding love, he kissed the graves. "They were great souls who saved the lives and honour of my grandparents and two uncles during the deeply dreadful period," said Tarunjit Singh. "While Bashir Ahmed Virk and Amna Bibi are no more in this world but their goodness lives on and we cherish that in our hearts every day."
He declared: "As I bid farewell to the graves, I knelt down to kiss them. And that was when the words of gratitude exhausted and the tide of tears overflowed."
Singh said he was told by his grandmother that Bashir Ahmed Virk, the father of current MNA of Gujranwala Mehmood Bashir Virk, swore upon the Holy Quran that he would not let any harm come to the family of his grandfather, and took him in as his brother. "Amna Bibi stitched new clothes for my grandparents and took care of my two uncles as her very own, one of whom was about three-month baby at the time."
At the chaotic times when trust and confidence in friends and neighbours was lost in the cries of murdering hordes and smouldering homes, there were several lofty human souls who endured all to uphold human dignity by protecting others on both sides of the newly-drawn borders (Pak-India) in the face of existential threat.
His family was in mortal danger, uprooted and haunted when Bashir Ahmed Virk protected his grandparents, Captain Ajit Singh Butalia and Sardarni Narinder Kaur.
He said that he wanted to tell the world of the magnificent heroes on both sides of the borders, who came to the protection of people caught in the harms way. Those were tumultuous and chaotic times and entrusting someone with the lives of their dear ones was waning in the blood and smoke.
"The late Virks had won the trust of my grandparents which we cherish to this day. The time offers to heal the deepest of scars, 75 years have now passed. Now it is time to march ahead, forego the past, defeat the hatred that is holding the region hostage in the interest of larger humanity. It is in the interest of people of Pakistan and India to allow peace to prevail on both sides of the border," said Dr Butalia, suggesting to the South Asian nations to minimize their differences, so that enmity could be transformed into friendship for the prosperity and well-being of their peoples.
Talking to The News, Mehmood Bashir Virk, PMLN MNA from Gujranwala, said his parents had abiding love for the fellow human irrespective of caste or creed and as an influential of the area, they ensured no harm comes to anyone in the village.
"During that challenging period, no Hindu or Sikh was killed or even slightly harmed in the village," he claimed. "My father protected the life and honor of the entire village from troublemakers."
Source: The News Pakistan
Please click the following URL to read the text of the original story:
https://www.thenews.com.pk/print/913420-sikh-reveres-muslim-couple-who-defended-his-family-during-independence
--------
Al-Azhar Denounces 'Zionist Storming' Of Ibrahimi Mosque In Hebron As 'Assault On Islamic Sanctities'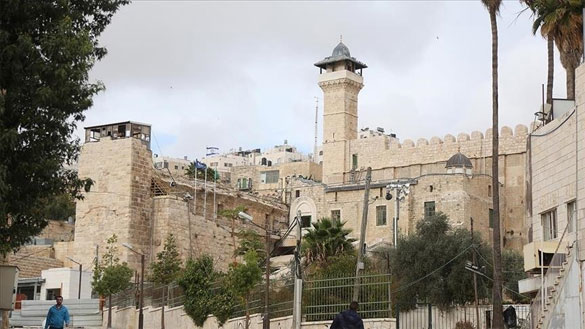 Harrison Jacobs/Business Insider
Tour guide Eliyahu McLean in front of the building known as the Cave of the Patriarchs to Jews and Ibrahimi Mosque to Muslims.
-----
1 Dec 2021
Al-Azhar, the world's leading Sunni Muslim religious institution, condemned the Sunday storming of the sacred Ibrahimi Mosque in the Palestinian city of Al-Khalil (Hebron) by the Israeli president and Jewish settlers, describing it as "a blatant aggressive act" and "an assault on Islamic sanctities."
"Al-Azhar strongly condemns the storming of the Ibrahimi Mosque in the occupied West Bank by the president of the Zionist entity with the aid of security forces from the Zionist enemy army," according to a statement released on Tuesday.
On Sunday, Israeli President Isaac Herzog — accompanied by security forces, Jewish settler leaders, and Knesset members — stormed the mosque to "light a candle" to celebrate the Jewish holiday of Hanukkah.
Muslims attach great value to the Ibrahimi Mosque that was built in 1320 AD, as they believe that it was built over the caves containing the tombs of Prophet Abraham and his family.
According to the Palestinian WAFA news agency, the Israeli army closed the mosque's gates and prevented Palestinian residents from praying or standing nearby. They also closed shops as well as obstructed and assaulted press crews that were trying to document the attack.
"Al-Azhar affirms that these blatant aggressive practices are an assault on Islamic sanctities and a miserable attempt to create a new reality in the occupied Arab Palestinian lands and will only increase the Palestinian people's steadfastness and strength and adherence to their rights, land, and religious sanctities."
Hebron is the largest city in the occupied West Bank with a population of over 215,000 Palestinians.
Several hundred heavily armed Jewish settlers are concentrated in the centre of the city and regularly attack Palestinians and storm the mosque.
In 2017, the UNESCO recognised the West Bank's Hebron as a world heritage site.
The world heritage body's decision has been hailed by Palestinian officials as a diplomatic victory against pressure from Israel and the US to derail the vote.
Al-Azhar called on the international community and all governments worldwide to assume their responsibilities to put an end to such violations and provocations and to respect the feelings of nearly two billion Muslims around the world.
On Tuesday, the Organisation of Islamic Cooperation (OIC) also condemned the storming, describing it as part of a plan to take control of the city.
The OIC said the storming of the mosque is "a provocation of Muslims' sensibilities and a continuation of Israeli aggression against the Palestinian people's rights, land, and holy sites."
Please click the following URL to read the text of the original story:
Source: Ahram Online
https://english.ahram.org.eg/News/443621.aspx
--------
150 Extremist Jewish Settlers Defile Aqsa Mosque In Morning Tours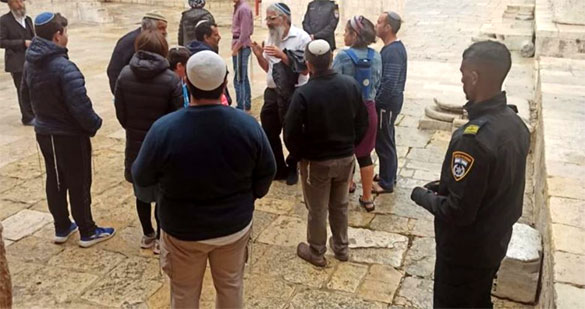 Dozens of extremist Jewish settlers escorted by police forces on Wednesday morning desecrated the Aqsa Mosque in Occupied al-Quds (Jerusalem).
-----
December 2, 2021
Dozens of extremist Jewish settlers escorted by police forces on Wednesday morning desecrated the Aqsa Mosque in Occupied al-Quds (Jerusalem).
According to local sources, at least 150 settlers entered the Mosque in different groups through its Maghariba Gate and toured its courtyards under tight police protection.
During their tours at the Islamic holy site, the settlers received lectures from rabbis about the alleged temple mount and a number of them provocatively performed Talmudic prayers.
Meanwhile, the Israeli occupation police imposed movement restrictions on Muslim worshipers, and searched and maltreated many of them in the Old City and on the roads leading to the Aqsa Mosque.
The Aqsa Mosque is exposed to daily desecration by Jewish settlers and police forces in the morning and the afternoon except on Fridays and Saturdays.
The Israeli police close al-Maghariba Gate, which is used by Jews to enter the Mosque, at 10:30 am after the settlers complete their morning tours at the holy site. Later in the afternoon, the same gate is reopened for evening tours by settlers.
During the presence of settlers inside the Mosque compound, entry restrictions are imposed on Muslim worshipers at the entrances leading to the Mosque and their IDs could be seized until they leave the holy place.
Source: ABNA24
Please click the following URL to read the text of the original story:
https://en.abna24.com/news//150-extremist-jewish-settlers-defile-aqsa-mosque-in-morning-tours_1204318.html
--------
India
Civil Society Organisations, Labour Unions and Left-Wing Groups Protest Disruption of Namaz in Gurugram
Dec 02, 2021
By Abhishek Behl
Civil society organisations, labour unions and left-wing groups on Wednesday held a protest against the demand of right-wing entities to stop the offering of namaz in designated public spaces that has led to the disruption of Friday prayers in the city over the past couple of months.
The protesters staged a Dharna on Wednesday at Civil Lines and also submitted a memorandum to the government demanding action against individuals and organisations disrupting Friday Namaz in the city.
SL Prajapati, secretary, Democracy Forum, a group of civil society organisations, said that they sat on a daylong Dharna to protest against the activities of right-wing groups that were harassing members of the Muslim community offering prayers at designated public spaces peacefully.
"We have asked the administration to take stringent action against these groups that are trying to polarise the city on communal lines. The administration and police should register cases against the antisocial elements who are harassing Muslims praying peacefully," he said.
The protesters, who staged a sit-in at the camp office of the divisional commissioner, Gurugram, said that there was a need to ensure that the Muslim community felt safe in the city and was able to offer prayers at the sites designated by the administration.
Altaf Ahmad, founder, Gurugram Nagrik Ekta Manch, said, "We have demanded that action be taken at the earliest against individuals against whom complaints have been submitted," he said. Members of Muslim community on Tuesday submitted a complaint against three right-wing members who have been leading the protest against namaz on designated public land.
Members of the Centre of Indian Trade Unions (CITU), a left-aligned trade union, also supported the dharna. "The right-wing groups want to create deep divisions in the society. The purpose is to divide the people and reap benefits but we won't let it happen," said Satbir Singh, vice-president, CITU.
The other groups which participated in the dharna included Loktantrik Manch, Janwadi Mahila Samiti, Students Federation of India, and Sarv Karmchari Sangh, Haryana.
Darpan Kumar Kamboj, tehsildar, Gurugram, who accepted the memorandum on behalf of the divisional commissioner said that the protesting groups had raised concern about problems being faced by members of the Muslim community in offering namaz and harassment by a few individuals. "The protesters were assured that an impartial probe will be conducted and none will be allowed to take the law in their hands," he said.
Source: Hindustan Times
Please click the following URL to read the full text of the original story:
https://www.hindustantimes.com/cities/gurugram-news/gurugram-groups-protest-disruption-of-namaz-101638383595740.html
--------
Ladakh Buddhist Association Action Sought Against Muslim Youth for Marrying Buddhist Girl
Ashraf Wani
December 2, 2021
Ladakh Buddhist Association has sought action against a Muslim youth for marrying a Buddhist girl. The association has threatened to create a stir in the region if the alleged conversion of the Buddhist girl to Islam is not stopped.
The Association has written to Ladakh Lieutenant Governor Radha Krishna Mathur alleging that a Muslim youth from Padum Zanskar has "forcibly" married a Buddhist girl. The Association has demanded that the girl should be recovered and handed back to the family.
A local from Zanskar said that interfaith marriages are not new in Ladakh region, but unfortunately, such issues have started attracting attention from past few years. He said several years back, dozens of Buddhist willingly embraced Islam, though the action of those Buddhists had invited sharp reaction from the Association.
In a communique to L-G Radha Krishna Mathur, the Ladakh Buddhist Association has alleged that the sole motive of interfaith marriage is forceful conversion. The association further added that inter-community forceful conversion through 'allured' marriages in Ladakh have always triggered ill-fated communal riots in the past, causing extensive damages to the private and public properties.
Source: India Today
Please click the following URL to read the full text of the original story:
https://www.indiatoday.in/india/story/ladakh-action-sought-against-muslim-youth-for-marrying-buddhist-girl-1883140-2021-12-02
--------
CBSE Asks Who Was in Govt During 2002 Gujarat Anti-Muslim Violence, Then Calls it 'Error'
Dec 2, 2021
New Delhi: The Central Board for Secondary Education (CBSE) recently included a question asking which political party was in power when the "anti-Muslim violence in Gujarat in 2002 took place".
The question, which was included in the CBSE's Term 1 sociology test for Class 12 students, was shared to social media by several users. It read: "The unprecedented scale and spread of anti-Muslim violence in Gujarat in 2002 took place under which government?"
The question is a reference to the anti-Muslim violence that tore through Gujarat in February 2002 following the burning of two coaches of the Sabarmati Express populated with Hindu pilgrims returning from Ayodhya in the Muslim-majority town of Godhra.
What followed was retaliatory violence against the Muslim community in the state where, reportedly, thousands of Muslims lost their lives.
The Union government at the time had been formed by the BJP with Atal Bihari Vajpayee serving as the Prime Minister. In Gujarat, now Prime Minister Narendra Modi was serving as the chief minister.
After images of the question surfaced online, the CBSE's official Twitter handle posted on the social media platform, noting that a question in the December 1 sociology paper was "inappropriate and in violation of CBSE guidelines", without making any specific reference to the question about the anti-Muslim violence in Gujarat in 2002.
In a statement, a CBSE official said the board's statement referred to this particular question, the Indian Express reported. The newspaper also reported that the question seems to have come from the chapter, 'The Challenges of Cultural Diversity' included in the NCERT sociology textbook for Class 12, Indian Society.
Source: The Wire
Please click the following URL to read the full text of the original story:
https://thewire.in/education/cbse-asks-who-was-in-govt-during-2002-gujarat-anti-muslim-violence-then-calls-it-error
--------
After remarks against BJP, AIADMK removes last known Muslim leader
by Arun Janardhanan
December 2, 2021
Senior AIADMK leader A Anwar Raajhaa, the minority face of the party from Ramanathapuram, was Tuesday night removed from the party's primary membership following remarks critical of its alliance with the BJP. Raajhaa, who had been with the AIADMK since its formation by M G Ramachandran, has been backing V K Sasikala, the ousted AIADMK general secretary, to take over as leader of the party.
A joint statement from AIADMK coordinator O Panneeraselvam and joint coordinator Edappadi K Palaniswami said Raajhaa was removed from the party and all responsibilities for "anti-party activities".
Raajhaa joined the DMK in the 1960s, and moved to the AIADMK when it was formed.
Speaking to The Indian Express, senior AIADMK leaders regretted that it had become a party without Muslims with the removal of Raajhaa. "He criticised Palaniswami in district leaders' meetings, but above all, it was his staunch opposition to the alliance with the BJP that invited this action. He blamed the alliance for the party's defeat in the Assembly elections."
Earlier, in May this year, the AIADMK had taken action against party leader Nilofer Kafeel. A third senior Muslim year, Mohammed Jan, died last March.
"These were leaders who ensured the minorities backed the AIADMK when Jayalalithaa was alive. However, things have changed since Palaniswami became CM," said a leader, known to be a Raajhaa supporter.
Under Palaniswami, who has gradually acquired supremacy in the AIADMK since Jayalithaa's death, the party has grown closer to the BJP. In fact, this association with the Centre was one of the reasons blamed for the AIADMK's loss in the recent Assembly elections.
The Palaniswami group is rivalled by Paneerselvam's, who is believed to be more aligned with Sasikala, Jayalithaa's close confidante who has been trying to retake control of the AIADMK since her release from jail. Sources said Paneerselvam had opposed the action against Raajhaa, taken ahead of the AIADMK executive council meeting Wednesday.
At the meeting, the AIADMK announced the appointment of Tamil Magan Hussain, a Muslim leader who was part of the MGR Mandram, as the interim presidium chairman of the party.
Source: Indian Express
Please click the following URL to read the full text of the original story:
https://indianexpress.com/article/cities/chennai/anwar-raajhaa-aiadmk-bjp-7650755/
--------
Terror violence in J&K down by 41% post-Article 370
Dec 2, 2021
NEW DELHI: Terrorist violence in J&K since the abrogation of Article 370 dipped by 41% — to 496 incidents from August 5, 2019 to November 22, 2021 from 843 in the same time span before the move was taken — the home ministry informed the Rajya Sabha on Wednesday.
Also, 79 civilians and 45 security personnel were killed in the 841 days post-abrogation, against 86 and 78, respectively, in the same time span prior to Article 370 abrogation, junior home minister Nityanand Rai.
Source: Times of India
Please click the following URL to read the full text of the original story:
https://timesofindia.indiatimes.com/india/terror-violence-in-jk-down-by-41-post-article-370/articleshow/88039985.cms
--------
Europe
Turkish foreign minister meets Belarusian, EU top diplomats in Sweden
Dilan Pamuk
02.12.2021
The Turkish foreign minister met his Belarussian counterpart and the EU foreign policy chief in the Swedish capital on Wednesday for talks on foreign policy issues and bilateral relations.
The top diplomats held separate meetings in Stockholm where they have gathered for the 28th meeting of the Organization for Security and Co-operation in Europe (OSCE) Ministerial Council, Turkish Foreign Minister Mevlut Cavusoglu said on Twitter.
Cavusoglu and EU's Josep Borrell discussed foreign policy issues including Afghanistan, Libya, Ukraine, and Cyprus during their meeting.
Turkey-Belarus relations, regional development, and irregular migrants made the headlines of the bilateral meeting between Cavusoglu and his Belarusian counterpart Vladimir Makei.
Source: Anadolu Agency
Please click the following URL to read the full text of the original story:
https://www.aa.com.tr/en/europe/turkish-foreign-minister-meets-belarusian-eu-top-diplomats-in-sweden/2436273
--------
Turkish parliament speaker meets president, counterpart in Poland
Ahmet Alp Ozden
01.12.2021
WARSAW, Poland
The visiting Turkish parliament speaker met the Polish president and counterpart in Warsaw on Wednesday.
"Turkish-Polish friendship and alliance have deep and historical roots for six centuries," Mustafa Sentop told reporters following his meeting with Polish President Andrzej Duda.
He said the two countries have taken important steps recently to further improve bilateral relations.
Sentop also stated that they want to strengthen the tripartite mechanism between Turkey, Poland and Romania by adding cooperation on the level of parliament speakers.
Underlining that EU membership is still a strategic goal for Turkey, he praised Poland's support in this context.
Referring to the current migrant crisis on the Poland-Belarus border, Sentop reiterated that Turkey is in full solidarity with Poland.
Duda, on his part, mentioned the Polish purchase of Turkish-made Bayraktar TB2 unmanned aerial vehicles and said more steps would be taken in security cooperation.
Source: Anadolu Agency
Please click the following URL to read the full text of the original story:
https://www.aa.com.tr/en/europe/turkish-parliament-speaker-meets-president-counterpart-in-poland/2436269
--------
French media slam far-right presidential hopeful for illegal use of imagery, logos
Cindi Cook
01.12.2021
PARIS
French media outlets slammed far-right presidential contender Eric Zemmour on Wednesday with some threatening legal action for his unauthorized use of logos and images in a video announcing his candidacy.
Zemmour utilized a wide array of imagery and logos from prominent news channels, including BFM TV, France24, and their sister channel Radio France International (RFI) in a YouTube video published Tuesday, without first obtaining permission.
"France24 demands the immediate withdrawal of these images … and if our demands are not met, we will examine our legal options," the station said in a statement.
Zemmour's team quickly rushed to defend the decision with National Events Director Olivier Ubeda saying in a statement to BFM TV: "The clip was scrutinized by our legal team. 95% of the images are ours or in the public domain … most of the images are perfectly usable."
The video interlaces a constant barrage of images with Zemmour sitting at a desk in a hushed, dark library setting, reading from pages in front of him.
Zemmour's team also utilized imagery from the television station for the Senate, Public Senat. The channel's spokesperson said there were "five seconds of images with its logo which was not its property because it belonged to President Emmanuel Macron's political party, La Republique En Marche."
The elections will be held in April and Zemmour, who will run as an independent, faces stiff competition from incumbent President Emmanuel Macron but is said to be posing a stiff challenge to far-right competitor Marine Le Pen.
The independent candidate is a highly controversial figure in France. A Jew of Algerian descent, he is widely known for his inflammatory and often bigoted remarks and has been convicted twice in French courts for racist statements, once in 2011 and a second time in 2018.
The 2018 case is pending review before the European Court of Human Rights. Since 2008, he has been acquitted six times of other charges.
Source: Anadolu Agency
Please click the following URL to read the full text of the original story:
https://www.aa.com.tr/en/europe/french-media-slam-far-right-presidential-hopeful-for-illegal-use-of-imagery-logos/2436256
--------
Italian ambassador hails 'excellent' relations with Turkey
Ahmet Gencturk
01.12.2021
Italy's ambassador to Turkey has reiterated the excellent, historical and multi-faceted relations between the two countries.
"Relations between and Turkey and Italy are excellent, both in political and economic level," Massimo Gaiani said in webinar organized by the Jean Monnet Chair at Istanbul 29 Mayis University on Tuesday, adding that Turkey is an important partner not only for his country but also for the European Union.
He consequently drew attention to the high-level communication between senior Italian and Turkish officials of various state institutions.
Regarding Turkish-EU relations, Gaiani said Turkey's membership to the union, fervently and continuously supported by Italy, would be mutually beneficial for both the parties.
This is so even when Italy, Turkey and the EU disagree on many things, he said, adding that Turkey is a crucial actor in the struggle against crime, irregular migration, terrorism and many other regional problems.
Asked by Anadolu Agency about the recent Italian-French rapprochement and its possible effect on Italian-Turkish relations considering France's warm relations with Greece, Gaiani said Turkey's relations with France and the EU would benefit from this.
"We will make the case of Turkey to our French friends," he said.
Gaiani reiterated that Italy attributes significant importance to Turkey and has shown this on various occasions.
He specifically mentioned the East Mediterranean Gas Forum (EMGF), of which Italy is a member, and pointed out that his country blocked some elements of the forum, which could be perceived as anti-Turkish.
The EMGF is an international organization founded by Egypt, Palestine, Jordan, Greece, Italy, Israel and the Greek Cypriot administration of Southern Cyprus.
The EastMed project is a 1,900-kilometer (1,180-mile) undersea natural gas pipeline extending from Israel to Greece and then on to Italy.
Critics say it will not be possible to fill the pipeline with the current known gas reserves off Israel's Eastern Mediterranean coast, and even if Egypt is added to the project, the project's feasibility banks on potential discoveries of reserves in the region.
Remarking that Turkey and Italy are important partners to each other and Italy is one of the most prominent foreign investors in Turkey, Gaiani also praised the bilateral economic ties.
"Trade flow between the two countries is balanced and growing more sophisticated day by day," he said.
Source: Anadolu Agency
Please click the following URL to read the full text of the original story:
https://www.aa.com.tr/en/europe/italian-ambassador-hails-excellent-relations-with-turkey/2435425
--------
Pakistan
Pakistani Shia cleric: Imran Khan bowed down before terrorists
December 2, 2021
Well-known Pakistani Shia cleric and Secretary General of MWM, Allama Waheed Kazimi, said "The Government of Imran Khan has bowed down before terrorists of TTP and miscreants of TLP", He added that "the Government should take strict action against the terrorist rather than opting for negotiation".
Allama Kazimi stated "Our party has started contacts with other political organizations on this National issue. In this regard, the Head of MWM Allama Raja Nasir Abbas Jafferi is meeting with Political figures to unite them on this grave issue".
He further said that Oil diplomacy with Saudi Arabia is fatal for Pakistan because Saudi country supports our country just to impose its ideology here. It wants to urge sectarianism in our beloved homeland and looking to make us its colony.
Source: ABNA24
Please click the following URL to read the full text of the original story:
https://en.abna24.com/news//pakistani-shia-cleric-imran-khan-bowed-down-before-terrorists_1204317.html
--------
Minority students are stressed out in Pakistan
Kamran Chaudhry
December 01, 2021
Lack of interest in studies, an increased sense of inferiority and exclusion, discrimination in educational and professional lives, diminishing interaction with Muslims and fear of hate are common concerns shared by minority Christian, Hindu and Sikh students in Pakistan.
When a Catholic human rights body conducted a survey of about 400 students, parents and educators across 12 cities last year, all of them chose to speak on condition of anonymity.
"When one of my classmates, a Muslim girl, learned that I was Christian, she said 'Your complexion is fair. You look like one of us and not at all like a Christian. You are my best friend. You should convert to Islam,'" recalled a female student from Faisalabad in Punjab province.
"My parents keep reminding me to be vigilant while engaging in discussions with followers of the majority religion on any sensitive or religious topic. I understand that they fear for our safety," said a college student from Khyber Pakhtunkhwa province in the north.
Similar comments keep appearing in a study titled "On the Same Page? Perceptions on religious content in curricula and textbooks: impact on harmony and tolerance" published by the National Commission for Justice and Peace (NCJP) in Lahore on Nov. 26.
The NCJP has been monitoring Pakistan's education policy, curriculum and textbooks, sharing its analysis since 2012. The commission joins educationists in pointing out that Islamic content at the expense of learning is equally harmful to both majority and minority faiths.
"A few students spoke of instances where the curriculum itself contained made-up things about their religion and the teacher appeared to reinforce it. At other times, when a Muslim student posed an insensitive comment or question about a minority religion, some teachers sided with or encouraged such students," claimed the study.
On several occasions, students claimed their class fellows were transferred to another section after teachers discovered their religious identity.
"Persuasion by fellow students to change religion adds to the distress of the family of a female student. Early marriages are common because the family is afraid that their daughter might marry someone from another religion," the study stated while narrating the psychological and social impact of religious content in the curriculum.
The study further noted that the threat of involuntary conversions and forced marriages of young girls from religious minorities, especially Hindu girls in Sindh province, adds to the anxiety.
All 21 Sikh respondents said their religion was inadequately represented in the public curriculum. As many as 78.5 percent of Hindu respondents believed that religious references had a negative impact on them. A clear majority believed its effects to be long-lasting.
Most of the Sikhs believed that families of students are also affected. The highest ratio of very worried respondents was noted in Balochistan province. All of them rejected a positive outlook. Eighty four percent questioned their standing/place in society.
Christians had the highest ratio of reporting a lack of support to the dangerous impacts of the curriculum.
Church officials in Pakistan often complain about hate material in the curriculum and an overemphasis on Islam in the education system, often with a bias against non-Muslims. Article 22 (1) of the constitution prohibits the teaching of religion to students other than their own.
Saqib Nisar, a former chief justice of Pakistan, created a one-man commission with Dr. Shoaib Suddle as its member in 2019 to push the federal and provincial ministries and departments to implement the Supreme Court's 2014 landmark judgment on religious minorities.
A key recommendation was to reform the curriculum.
Prime Minister Imran Khan introduced a uniform education system — the Single National Curriculum (SNC) — which was criticized for the overtly Islamic content in compulsory subjects. Educationists fear that Khan's inclination toward madrasas (schools for Islamic instruction) might lead to the loss of students' ability to think and reason independently from the dictates of Islamic thought.
The Federal Ministry for Education and Professional Training has already completed the first phase of the SNC for grades one to five. The National Curriculum Council is now seeking recommendations from civil society to revise the Education Policy Framework 2018 while preparing the second phase of SNC for grades six to eight, to be launched next year.
"The important findings derived from the research provide an insight that can meaningfully inform the government and the relevant stakeholders in SNC development on human rights concerns," said Naeem Yousaf Gill, NCJP executive director.
NCJP research is the first to share such findings, observed Riaz Ahmed Sheikh, dean of the faculty of social science and education at the Shaheed Zulfikar Ali Bhutto Institute of Science and Technology at the University of Karachi.
Source: UCA News
Please click the following URL to read the full text of the original story:
https://www.ucanews.com/news/minority-students-are-stressed-out-in-pakistan/95176
--------
JI chief for adopting 'interest-free' Islamic banking system
Abdul Rasheed Azad
02 Dec 2021
ISLAMABAD: Jamaat-e-Islami (JI) Pakistan Chief Sirajul Haq, Wednesday, while advocating for adopting interest-free Islamic banking system has said the interest-based financial and banking systems have plagued the national economy.
Talking to media men along with JI emir Professor Ibrahim, Mian Aslam, and the legal team of the JI here outside the Federal Shariat Court, he said that interest-based financial system is one of the major reasons behind the inflation, unemployment, and miseries of the people.
He demanded the government introduce model of Islamic economy to put the country on track.
He earlier presented arguments on the hearing of JI appeal seeking elimination of riba.
Informing the judges that he as the finance minister of the KP (2002-2007) had introduced a successful model of interest-free economy, Siraj requested the court to issue order to the government to take steps to eliminate un-Islamic economy in the country achieved in the name of Islam.
The court, he said, had already announce the decision in this regard in 1991 but the governments remained reluctant. If a country like Japan was implementing the model of interest-free economy then what were the hurdles in Pakistan for it, he said.
He demanded the government to end interest of agriculture and house-building loans. He said it was not less than an irony that the prime minister on the one hand was making claims to transform Pakistan into a Madina state, while on the other hand the country's entire economy was running on riba.
Source: Brecorder
Please click the following URL to read the full text of the original story:
https://www.brecorder.com/news/40137325/ji-chief-for-adopting-interest-free-islamic-banking-system
--------
Arab World
UAE leaders crown country's Golden Jubilee, usher in next 50 years
01 December ,2021
Leaders of the United Arab Emirates have heralded key milestones marked in the nation over the past 50 years ahead of the Golden Jubilee National Day celebrations, as they ushered in a new era of growth for the country.
In statements to the Nation Shield, the UAE Armed Forces' magazine, the country's leaders spoke of their highlights over the past half-a-century ahead of the anniversary of the historic unification, to be marked across the country on Thursday.
For all the latest headlines follow our Google News channel online or via the app.
President Sheikh Khalifa bin Zayed al-Nahyan said the UAE will continue to steadily pursue a solid ecosystem of well-established values and principles, with human capital lying at the heart of the 'UAE Strategy for the Future'.
"It's this resilient set of legislation that's enabled our nation to establish a coherent society with a knowledge-based, innovation-driven economy, a world-class healthcare system, an advanced education sector, an integrated modern infrastructure, environmental sustainability, and an enviable status in global competitiveness rankings," added the President.
In his statement, the President shed light on the key milestones achieved over the recent period: "We have come a long way in empowering women and youth, and developing a diversified economy. The outer space welcomed our first Emirati astronaut and our Hope Probe in historic milestones that have made our nation the first in this sphere in the Arab region and the fifth worldwide."
"We launched the Arab region's first multi-unit nuclear plant that turned the UAE into a regional hub for renewable and clean energy. We've adopted a national strategy to retain and attract talent in a way that further reinforces the UAE's stature on the Gulf, Arab, Islamic and global levels. And under the theme "Connecting Minds, Creating the Future", we're hosting Expo 2020 Dubai, the world's Greatest Show' for the first time in the region's history."
The past fifty years of the country's history, he continued, have fructified into a myriad of achievements, including sustainable development, political stability and security, a government that is among the most efficient in the world, and a private sector that has played a significant role in stimulating the domestic economy and enhancing its competitiveness and productivity.
"We have introduced to the world an inspiring development success story, which has rendered our country a leading regional and international financial center, and a sought-after place to live, work, invest and travel."
"In so doing, we have surpassed others in terms of wellbeing, service excellence, corporate governance, trade openness, quality of life and entrepreneurship. We have successfully weathered the repercussions of the COVID-19 pandemic and restored normalcy while observing full compliance with preventative measures in place.''
"Thanks to this enviable track record of achievements, we're ushering in the next 50 years of our history with a comprehensive, long-term, and well-thought-out strategic vision, based on meticulous pursuance of excellence to secure a brighter future for future generations, who, by the time they will be celebrating our Centennial 2071, will see their nation amongst the best in the world thanks to a sustainable and vibrant economy."
"We are proud of all UAE residents, and their vital contributions to development and nation-building."
Dubai's ruler Sheikh Mohammed bin Rashid al-Maktoum also gave a statement, with a warm tribute to the UAE's founding father the late Sheikh Zayed bin Sultan al-Nahyan.
"As we celebrate the achievements of the country's first 50 years and appreciate our progress, we commemorate our fathers who established the country and the foundations of its development and prosperity.
"We commemorate our father, the late Sheikh Zayed bin Sultan Al Nahyan, and words cannot express our appreciation of his leadership and wisdom. Without him, the UAE would have never become a reality.
"With gratitude and appreciation, we commemorate the late Sheikh Rashid bin Saeed Al Maktoum, Sheikh Zayed's partner in establishing the country's foundations on 18th February, 1968.
"We also remember their brothers, the Rulers of the Emirates, who supported them and joined them in consolidating the Union."
"On this day, we remember the first generation of Emiratis who built the country and worked hard, with loyalty and devotion, to establish the state's institutions."
"Even though 17 years have passed since the death of Sheikh Zayed, he is alive in our hearts, and every 2nd December, his presence is consolidated in my own heart. I have worked under his leadership since the formation of the UAE. I have learnt a lot from his values and principles, as well as his decisions and stances. He always aimed to achieve our nation's interests, make our people happy and strengthen the Union."
"The late Sheikh Zayed always worked to reinforce the Union and helped establish the Gulf Cooperation Council (GCC) and helped lead the efforts aimed at strengthening the Arab cooperation."
"The legacy of the late Sheikh Zayed in terms of leadership and governance is valuable for this country's generations. It is a lesson in establishing relations with others, reconciliation, crisis management and facing challenges.
"Challenges never deterred us from pursuing our path, and our major challenge was to challenge ourselves. We had to prove our ability to establish an efficient country and an ambitious development model.
"Over the past 50 years, we have faced different challenges in security, politics and economy. Nonetheless, we handled these challenges with the belief that our national worth is about confidently facing them with faith and optimism. Therefore, we were able to address challenges during the stages of the formation of the country and during the global economic recession, the first Gulf war, Kuwait's invasion, the occupation of Iraq, and the so-called Arab Spring."
Fellow citizens, On this day, we must think about where we were 50 years ago and what we "have become.
"Tomorrow, we begin our next 50 in our journey for development, guided by the UAE Centennial 2071 vision plan, the Principles of the 50 and the 10 principles approved by President His Highness Sheikh Khalifa bin Zayed Al Nahyan as guidelines for all UAE's institutions to strengthen the Union, build a sustainable economy, harness all possible resources to build a more prosperous society, foster positive regional and global relations to achieve national goals, and support peace and stability across the world."
For his part, Sheikh Mohamed bin Zayed al-Nahyan, Crown Prince of Abu Dhabi and Deputy Supreme Commander of the Armed Forces, said" "Our celebration of National Day this year is of special importance, as our beloved nation completes 50 years of its rich history. It is an occasion full of important lessons and great significance for the present and the future."
"The UAE is striding towards the future, determined to excel in many fields and to create a bright future. Our country derives strength and confidence from its major achievements and relies on its wisdom, values, and the teachings of the late Sheikh Zayed bin Sultan Al Nahyan to guide us today and into the future. Our nation looks to the martyrs' sacrifices as a beacon that lights the way as it aims to contribute to the history of humanity and write a new chapter in its economic and development story."
Sheikh Sultan bin Muhammad al-Qasimi, Supreme Council Member and Ruler of Sharjah, said the UAE Founding Fathers had worked hard to develop human capital by supporting education and qualifying Emirati citizens to contribute to the country's development and its achievements.
This year's UAE National Day celebration is distinctive as the country celebrates the UAE's Golden Jubilee that marks its 50-year development journey, he added.
"Each time we mark this very special occasion, we must remember the endless efforts made by the late Founding Fathers to pave the way for such progress. Their strong will to achieve unity and futuristic visions made them role models of success."
Sheikh Humaid bin Rashid al-Nuaimi, Supreme Council Member and Ruler of Ajman, stated that the journey of the Union went from success to success thanks to the strong solidarity of the country's leadership tireless efforts, and their deep belief in the value of unity as a basis for building a modern state.
''On 2nd December, 1971, the world witnessed the birth of the state of the United Arab Emirates, the day will be remembered in history and remain alive in the conscience of the Emirati and Arab citizens.
No matter how many years pass, the Union will remain an immortal memory in our hearts, dear to our souls, which generations pass through. It is a reality we witness and the good we live in under the shadow of a lofty homeland in which human beings advance, their dignity preserved, and people enjoy security and prosperity."
Sheikh Saud bin Saqr aal-Qasimi, Ruler of Ras Al Khaimah, said that 50 years have made the UAE a global oasis of tolerance and coexistence, and a destination that attracts people of different cultures and backgrounds.
"In the UAE, we are proud to be the pioneers of one of the most successful experiences of the Union at the regional level, an experience that paved the way for establishing a modern state, which turns challenges into opportunities, and created the conditions and reasons that make it a major player on the global map.
"What we have achieved in fifty years is an exceptional model that is unique to the UAE. We know our strength, that we are capable of defining our goals and ambitions, and the keenest to create a better tomorrow for our future generations."
Source: Al Arabiya
Please click the following URL to read the full text of the original story:
https://english.alarabiya.net/News/gulf/2021/12/01/UAE-leaders-crown-country-s-Golden-Jubilee-usher-in-next-50-years
--------
Massive blasts heard as Saudi-led war coalition attacks Yemen's Sana'a, Sa'ada
02 December 2021
The Saudi-led military campaign has carried out airstrikes against the Yemeni provinces of Sana'a and Sa'ada, with reports of massive explosions in the capital.
The Saudi-led coalition said it carried out the air raids on Thursday morning, claiming that it targeted one of the main stores of weapons and other supplies in the capital, Sana'a.
"In the east of Sana'a, we destroyed two sites under construction as warehouses for military use," the war coalition said.
It also claimed that it destroyed workshops that store ballistic missiles and drones in Sa'ada.
The Ansarullah resistance movement, which runs the Yemeni government from Sana'a, has not responded to the Saudi side's narrative, but Yemen's Masirah news network and local sources confirmed that the attacks occurred.
Massive explosions were reportedly heard in the capital.
According to the reports, three airstrikes targeted Sana'a, after which Saudi jets continued to fly over the Yemeni capital for some time.
Back in March 2015, Saudi Arabia and its regional allies launched what they called Operation Decisive Storm to crush the Ansarullah movement and return to power the former Riyadh-backed regime of Abd Rabbuh Mansur Hadi.
Having failed to reach its goals and live up to its name, the operation was declared over a month later, only to be replaced by Operation Restoring Hope, under which the gruesome onslaught on Yemen raged on with full support from the United States.
Source: Press TV
Please click the following URL to read the full text of the original story:
https://www.presstv.ir/Detail/2021/12/02/671808/Saudi-led-war-coalition-airstrikes-Yemen-Sanaa-Saada
--------
Army forces, allies shoot down intruding Saudi-led spy drone in northwestern Yemen
01 December 2021
Yemeni army forces, supported by allied fighters from the Popular Committees, have intercepted and targeted an unmanned aerial vehicle belonging to the Saudi-led military coalition as it was flying in the skies over Yemen's northwestern province of 'Amran.
The spokesman for Yemeni Armed Forces, Brigadier General Yahya Saree, said in a post published on his Twitter page that Yemeni air defense forces shot down the Chinese-made CH-4 combat drone with a surface-to-air missile as it was carrying out hostilities over al-'Amshiyah area of the Harf Sufyan district in the early hours of Wednesday.
The CH-4 drone has a 3,500- to 5,000-kilometer range and a 30- to 40-hour endurance. It is also capable of carrying six missiles and a payload of up to 250 to 345 kilogram.
The unmanned aerial vehicle can fire air-to-ground missile from altitude of 5,000 meters, therefore it can stay outside of effective range of most anti-aircraft guns.
Back on November 13, Saree said on Twitter that Yemeni air defense units had used a "suitable" domestically-developed surface-to-air missile to shoot down a US-built Boeing Insitu ScanEagle spy drone belonging to the invading alliance as it was carrying out hostile acts over the al-Jubah district in Yemen's oil-producing province of Ma'rib.
On November 9, Yemeni army forces and their allies shot down a Saudi ScanEagle reconnaissance drone as the aircraft was flying over the same district of Ma'rib province.
'Saudi-led military campaign has come to a dead end'
Separately, a high-ranking official from the administration of Yemen's fugitive former president, Abd Rabbuh Mansur Hadi, says the atrocious Saudi-led military campaign to crush the popular Ansarullah resistance movement had come to a dead end, and the Riyadh regime and its allies were about to call it off and declare it a failure.
"It is no longer a secret to anyone what has happened in the aftermath of the Houthi revolt, and the point to which the attempt to restore power in Yemen has come. Things are clearer now. The military campaign has reached a dead end and it is expected to be declared a failure," former Yemeni prime minister and current Speaker of Shura Council, Ahmed Obaid bin Dagher, wrote in a series of posts published on his Twitter page on Tuesday.
He added, "We have in front of us a torn homeland, which is bleeding. A homeland destroyed by war and almost disintegrated into states and societies."
'Yemeni forces were confident of Saudi-led coalition defeat'
In response to Dagher's remarks, the spokesman for the Ansarullah movement said Yemeni army troops and Popular Committees fighters were fairly confident from the start that the Riyadh regime and its allies were bound to fail in their military onslaught against Yemen and would obtain none of their objectives.
"Praise be to God! We were quite certain from the onset of the Saudi-led aggression that it was doomed to failure. We informed the Yemeni nation of the fact. We declared that the invasion is not only wicked, but will also make use of proxies to achieve its own goals. We also stated that it would be more in Yemen's best interests to confront foreign intervention than to encourage it," Mohammed Abdul-Salam tweeted on Wednesday.
He added, "Years of war proved the rightness of what the Yemeni people went towards. Yemenis will continue to tread the path. It is necessary to stand up against the Saud-led aggression and siege in order to prevent Yemen from being subjugated to foreign powers. We overtly and covertly invited them to hold negotiations. Our offers, however, fell on deaf ears as they insisted on the war."
Saudi Arabia, backed by the US and other key Western powers, launched the war on Yemen in March 2015, with the goal of bringing Hadi's government back to power and crushing the Ansarullah movement.
Having failed to reach its professed goals, the war has left hundreds of thousands of Yemenis dead and displaced millions more. It has also destroyed Yemen's infrastructure and spread famine and infectious diseases there.
Despite heavily-armed Saudi Arabia's continuous bombardment of the impoverished country, Yemeni armed forces and the Popular Committees have grown steadily in strength against the Saudi invaders and left Riyadh and its allies bogged down in the country.
Last week, international weekly magazine The Economist wrote in a report that Saudi Arabia was growing desperate to end its disastrous war on its southern neighbor.
The report said while the Yemen conflict has become a "quagmire" for the Riyadh regime, and cost the kingdom untold billions and damaged its relations with key partners, the Yemeni forces think they are winning the conflict.
Source: Press TV
Please click the following URL to read the full text of the original story:
https://www.presstv.ir/Detail/2021/12/01/671749/Army-forces,-allies-shoot-down-intruding-Saudi-led-spy-drone-in-northwestern-Yemen
--------
Roadside bomb explosion hits US military supply convoy in Syria's Hasakah
01 December 2021
A roadside bomb has reportedly struck a convoy of trucks carrying military equipment and logistic supplies for US troops in Syria's northeastern province of Hasakah.
Syria's official news agency SANA, citing local sources, reported that the blast took place on Wednesday when the convoy of vehicles was passing near Semalka border crossing.
The sources added that two vehicles went up in flames after the attack.
There is no immediate report of casualties so far.
Back on November 22, a convoy of three US armored vehicles was forced to turn around and head back in the directions it came from after locals intercepted it in the village of Hamou, which lies on the southern outskirts of Qamishli city. The villagers threw stones at the convoy.
SANA reported at the time that the convoy was accompanied by a car belonging to US-sponsored and Kurdish-led militants affiliated with the so-called Syrian Democratic Forces (SDF).
The US military has stationed forces and equipment in eastern and northeastern Syria, with the Pentagon claiming that the deployment is aimed at preventing the oilfields in the area from falling into the hands of Daesh terrorists.
Damascus, however, says the unlawful deployment is meant to plunder the country's resources.
Source: Press TV
Please click the following URL to read the full text of the original story:
https://www.presstv.ir/Detail/2021/12/01/671760/Roadside-bomb-explosion-hits-US-military-supply-convoy-in-Syria%E2%80%99s-Hasakah
--------
Mideast
Atomic watchdog says Iran making nuclear advance despite talks to salvage 2015 deal
December 2, 2021
Iran has started producing enriched uranium with more efficient advanced centrifuges at its Fordow plant dug into a mountain, the UN atomic watchdog said on Wednesday, further eroding the 2015 Iran nuclear deal during talks with the West on saving it.
The announcement appeared to undercut indirect talks between Iran and the United States on bringing both fully back into the battered deal that resumed this week after a five-month break prompted by the election of hardline President Ebrahim Raisi.
Western negotiators fear Iran is creating facts on the ground to gain leverage in the talks.
On the third day of this round of talks, the International Atomic Energy Agency (IAEA) said Iran had started the process of enriching uranium to up to 20 per cent purity with one cascade, or cluster, of 166 advanced IR-6 machines at Fordow. Those machines are far more efficient than the first-generation IR-1.
Underlining how badly eroded the deal is, that pact does not allow Iran to enrich uranium at Fordow at all. Until now Iran had been producing enriched uranium there with IR-1 machines and had enriched with some IR-6s without keeping the product.
It has 94 IR-6 machines installed in a cascade at Fordow that is not yet operating, the IAEA said in a statement.
A more comprehensive IAEA report circulated to member states and seen by Reuters said that as a result of Iran's move the nuclear watchdog planned to step up inspections at the Fordow Fuel Enrichment Plant that houses the centrifuges, but the details still need to be ironed out.
Iran played down the report as routine despite the fact that the IAEA, which does not explicitly give a reason for such reports, typically issues them only for significant developments such as fresh breaches of the deal's nuclear restrictions.
"The recent report of the IAEA on Iran's nuclear activities, is an ordinary update in line with regular verification in Iran," Iran's permanent mission to the UN organisations in Vienna said on Twitter.
However, IAEA Director General Rafael Grossi made clear he viewed the development with concern.
"This redoubles the alert. It is not banal. Iran can do it, but if you have such an ambition you need to accept inspections. It's necessary," Grossi told French broadcaster France 24.
Iran and major powers are trying to revive the 2015 deal under which Tehran limited its nuclear programme in exchange for relief from US, EU and UN economic sanctions.
US then-President Donald Trump abandoned the deal in 2018 and reimposed harsh US sanctions, angering Iran and dismaying the other parties: Britain, China, France, Germany and Russia.
This week's indirect talks between Tehran and Washington — with others shuttling between them because Iran refuses to meet US officials — have made no visible progress.
Iran's foreign ministry spokesperson on Wednesday accused Israel of "trumpeting lies to poison" the talks.
Source: Dawn
Please click the following URL to read the full text of the original story:
https://www.dawn.com/news/1661514/atomic-watchdog-says-iran-making-nuclear-advance-despite-talks-to-salvage-2015-deal
--------
Western Diplomats, Media Launch Psychological Operations against Vienna Talks
2021-December-1
Reuters quoted European diplomats as claiming that 70 to 80 percent of the draft agreement has been written in the last two days in Vienna.
Informed sources close to the Iranian negotiating team dismissed the report, saying that such remarks are not supported at all by facts and a long way still remains until resolution of the remaining issues.
Deputy foreign policy chief of the European Union Enrique Mora had also said that the current talks in Vienna are continuation of the previous 6 rounds of negotiations.
His comments were dismissed immediately by Iran's top negotiator Ali Baqeri Kani.
The previous rounds of Vienna talks were only a "draft", Baqeri Kani told reporters after the first meeting with representatives of the Group 4+1 (China, Russia, Britain and France plus Germany) in Vienna on Monday.
"Nothing is agreed on unless everything has been agreed on," he added.
"The drafts are subject to negotiation. Therefore nothing is agreed on unless everything has been agreed upon."
It seems that the western media and diplomats have united to create a psychological atmosphere which would blame Iran in case of failure in reaching an agreement in Vienna.
Observers believe that this is a masterminded plan to increase pressure on the Iranian negotiating team to give up its main demand of removing the cruel sanctions and accept demands raised by the European allies of the US in a short period of time.
The Iranian delegation participating in the Vienna talks underlined on Tuesday that the removal of all sanctions is a prerequisite for Washington to return to the nuclear deal, adding that Iran is not in an emergency situation to accept any agreement.
Meantime, the Iranian delegation is trying to keep a positive atmosphere prevailing over the talks, despite the opposite parties' blame-game efforts.
A source in the negotiating team said the opening session of talks between Iran and the Group 4+1 on lifting sanctions was held in a "constructive, professional and straight" atmosphere.
The Iranian delegation stressed that until a decision on the sanctions, it will not be possible to decide on other issues.
It was emphasized that as long as the sanctions red list is in place, the green light for the US return to the agreement will not be turned on.
Sources in the talks said Russia and China fully supported the positions of the Islamic Republic of Iran.
Regarding the documents resulted from the previous 6 rounds of negotiations, the representative of the Islamic Republic of Iran stressed that these documents are only a draft and although Iran does not stand in rejection of all of them, the draft is basically changeable and negotiable; therefore the delegation of the Islamic Republic Iran intends to submit its views and proposals on previous texts and put new drafts on the table too.
It was emphasized that until everything is agreed, nothing will be agreed upon.
The former US president discarded a complete and final agreement. The current president is expected to be at least as bold as his predecessor in accepting the country's undertakings.
It was emphasized that only the complete removal of sanctions and end of maximum pressure with all its means can lead to the US return to the agreement.
It was stressed that the negotiations should determine the fate of the sanctions removal in a "sufficient, accurate and clear" way and that Iran will continue its compensatory measures until the removal of sanctions.
The Islamic Republic of Iran has always carefully and obsessively demonstrated adherence to its undertakings in practice, and is now fully prepared and determined to reach a "fair agreement that guarantees the legitimate rights of the Iranian people". But if the US wants to play a sanctions game with Iran, the Islamic Republic of Iran will respond appropriately to this game.
It was noted that throughout the years of oppressive sanctions, the Islamic Republic of Iran has learned how to confront the sanctions and does not see itself in a time urgency to reach an agreement.
The US unilaterally abandoned the multilateral nuclear deal in 2018 despite Iran's full compliance with its nuclear undertakings, as repeatedly certified by the UN nuclear agency. The US then unleashed a "maximum pressure" campaign against Iran, which practically deprived the country of all of the deal's economic benefits.
Envoys from Iran and the remaining signatories to the JCPOA – Britain, France, Germany, Russia and China – ended the first meeting of the seventh round of discussions in Vienna on Monday. The negotiations were paused in June, when Iran held its presidential election. Since then, the new Iranian administration has been reviewing the details of the six rounds of discussions held under the previous administration.
Source: Fars News Agency
Please click the following URL to read the full text of the original story:
https://www.farsnews.ir/en/news/14000910000464/Wesern-Diplmas-Media-Lanch-Psychlgical-Operains-agains-Vienna-Talks
--------
Iran's Chief Negotiator, EU's Mora Discuss Future Talks in Vienna
2021-December-1
Baqeri Kani, also Iran's deputy foreign minister for political affairs, and Mora discussed the coordinating arrangements for future Vienna talks in the coming days.
The meeting between Baqeri Kani and Mora came a day after Iran and the Group 4+1 (China, Russia, Britain and France plus Germany) held the first round of the new talks in the Austrian capital to discuss the removal of the US unlawful sanctions imposed against the Iranian nation.
In relevant remarks on Monday, Iran's top negotiator said that the parties had agreed that the removal of the sanctions should be the focus of future talks.
He told reporters in Vienna that he was optimistic after the first meetings, adding that all parties agreed that focus of the talks should be lifting of sanctions imposed on Iran after the US unilateral withdrawal from the landmark 2015 nuclear deal, officially known as the Joint Comprehensive Plan of Action (JCPOA).
He added that the participants also agreed that a special working group should start its work on Tuesday to discuss "the removal of illegal and brutal sanctions" imposed on the Iranian nation.
"I believe that this is a great achievement that all member states of the G4+1 group accepted Iran's rightful request and emphasized that the state of the US regime's illegal sanctions against our people must be clarified first and then other issues be discussed," Baqeri Kani said.
He added that guarantees should be given to Tehran that no new sanctions would be imposed on the country.
"During the meeting, we emphasized that the main factor behind the current conditions is actions taken by a country, which left the agreement in violation of the accord and the United Nations Security Council resolution [that upheld it], and also reinstated past sanctions [on Iran] in contravention of international laws and regulations while imposing new sanctions as well," Baqeri Kani said.
Baqeri Kani said that issues discussed in the previous six rounds of talks between Tehran and the world powers will be reviewed in the new round of negotiations.
The previous rounds of Vienna talks were only a "draft", Baqeri Kani told reporters after the first meeting with representatives of the Group 4+1 in Vienna on Monday.
"Nothing is agreed on unless everything has been agreed on," he added.
"The drafts are subject to negotiation. Therefore nothing is agreed on unless everything has been agreed upon."
"Accordingly, all the discussions that were concluded in the previous six rounds are subject to negotiations and this was agreed by all parties in today's meeting as well,"Baqeri Kani said.
In response to a question about what guarantees Iran seeks from the European and American sides, the negotiator said that it will be discussed in Tuesday's working group on the removal of sanctions.
The situation of cruel and illegal sanctions will be on the agenda of today's working group on the removal of sanctions, Baqeri Kani noted.
"As the Iranian negotiation team enjoys a serious will and practical readiness to reach an agreement, we are optimistic about the future", he added, stating that "because we do not trust the other side, we are not too optimistic".
The US unilaterally abandoned the multilateral nuclear deal in 2018 despite Iran's full compliance with its nuclear undertakings, as repeatedly certified by the UN nuclear agency. The US then unleashed a "maximum pressure" campaign against Iran, which practically deprived the country of all of the deal's economic benefits.
Source: Fars News Agency
Please click the following URL to read the full text of the original story:
https://www.farsnews.ir/en/news/14000910000424/Iran's-Chief-Negiar-EU's-Mra-Discss-Fre-Talks-in-Vienna
--------
South Asia
World Bank to unfreeze $280M of Afghanistan's reserves
02 Dec 2021
The World Bank's Board has decided to release $280 million of Afghanistan's frozen fund to help tackle the country's deepening humanitarian crisis.
The World Bank is intended to be transferring the money to two aid agencies-World Food Program (WFP) and UNICEF, told a familiar source to the matter.
The sources have told Reuters that, the 31 donors to the World Bank-administered Afghanistan Reconstruction Trust Fund (ARTF) must approve the transfer before the money flow to the two aid agencies.
The donors are reportedly expected to be meeting on Friday, December 2.
The move will be one of the greatest news for the people of Afghanistan after the Taliban takeover.
World Bank conducted an informal meeting on Tuesday to consider releasing $500 million of the $1.5 billion funds aided in the ARTF to humanitarian aid agencies.
The White House and Treasury Department have not immediately commented on the issue but the department has previously confirmed that banks can conduct money transactions for humanitarian purposes to Afghanistan.
Source: Khaama Press
Please click the following URL to read the full text of the original story:
https://www.khaama.com/world-bank-to-unfreeze-280m-of-afghanistans-reserves-4357457/
--------
Mayor arrested for opposing depiction of Sheikh Mujib in mural in Bangladesh's Rajshahi
December 2, 2021
DHAKA: Mayor of a city in Bangladesh who refused to permit a mural depicting Prime Minister Sheikh Hasina's father on religious grounds was arrested on Wednesday, police said.
Sheikh Mujibur Rahman was Bangladesh's first leader and since his daughter took power in 2009, authorities have erected more than 1,000 murals and monuments to venerate him. Scores of people have been charged for defaming him under the country's notorious internet laws, which rights groups say have been used by Hasina to silence dissent.
Abbas Ali, the mayor of western Rajshahi city, found himself in the spotlight last month after an audio clip of his comments against a proposed Mujib mural went viral. "This is not correct according to Islamic Sharia," he had said. "That's why I won't keep it. I will build everything as it's planned, except for this last part."
Islamic traditions forbid depictions of people in murals or statues. His comments triggered protests in his hometown. The mayor initially claimed the clip was fake, but later apologised on Facebook and fled town.
Police arrested Ali from a hotel in the capital Dhaka on Wednesday, spokesman Khandaker Al Moin said.
"He admitted he made the comment. He was absconding in different hotels in Dhaka since November 23. We had information that he's planning to flee the country," he added.
The case follows last month's sacking by Hasina of Zahagir Alam, the mayor of the industrial city of Gazipur, after he allegedly defamed Mujib.
Both Alam and Ali are members of Hasina's ruling Awami League party. Mujib led his country to independence in 1971 after a horrific nine-month war. He was assassinated four years later along with most of his family members.
Source: Dawn
Please click the following URL to read the full text of the original story:
https://www.dawn.com/news/1661429/mayor-arrested-for-opposing-depiction-of-sheikh-mujib-in-mural-in-bangladeshs-rajshahi
--------
Clashes between Taliban and Iranian forces under control: Mujahid
02 Dec 2021
Spokesperson and deputy minister of information and culture of the Islamic Emirate of Afghanistan Zabiullah Mujahid said that Wednesday's skirmish between the Taliban fighters and Iran's border guards has been under control now.
Zabiullah Mujahid said that there was a local argument between the Taliban fighters and Iranian border guards in the Keng district of Western Nimroz province that have been resolved.
"There was a misunderstanding between the fighters of the Islamic Emirate of Afghanistan and Iranian forces that have been directed to be resolved through negotiations." Said Zabiullah Mujahid in a statement.
In the meantime, Iranian mainstream media have also reported that there was a misunderstanding at the border between Afghanistan and Iran that has been settled now.
As per the Iranian media, an Iranian former was shot at by unknown gunmen after he reportedly crossed a wall that is erected by Iran to prevent smuggling and trafficking.
The Taliban fighters misunderstood the wall as the official border between two countries.
Unverified reports say that Taliban fighters have captured a number of outposts in Iran and have entered the territory but IEA has not commented on the claim yet.
Iranian embassy in Kabul has also confirmed the issue to have been settled between Iran and Afghanistan.
Source: Khaama Press
Please click the following URL to read the full text of the original story:
https://www.khaama.com/clashes-between-taliban-and-iranian-forces-under-control-mujahid-789756/
--------
Blast heard in Afghan capital Kabul: Report
Dec 2, 2021
KABUL: A blast was heard in Afghanistan's capital Kabul on Thursday, Xinhua News Agency reported.
No casualties have been reported so far, according to the news agency.
Source: Times of India
https://timesofindia.indiatimes.com/world/south-asia/blast-heard-in-afghan-capital-kabul-report/articleshow/88045890.cms
--------
16 countries pledge to provide Afghans with humanitarian aids
01 Dec 2021
Afghanistan Ministry of Foreign Affairs has said that an Afghan delegation led by the acting foreign minister Amir Khan Motaqi met with representatives and ambassadors of 16 countries on Wednesday, December 1 in Doha.
The countries include,
Germany, Canada, Finland, New Zealand, Italy, South Korea, EU, Spain, US, Norway, Sweden, Netherland, Australia, England, and Japan.
A statement released by the Afghan foreign ministry reads that the meeting was concentrated over security, humanitarian, economic, political and health-related issues.
"In the meeting, developments in the areas of security and politics by the Islamic Emirate of Afghanistan were applauded and asked for urgent humanitarian aids to the people of Afghanistan." Reads the statement.
The Afghan delegation assured the representatives of providing security while delivering aids to the Afghan people and asked the countries to reopen their embassies in Afghanistan.
Please click the following URL to read the full text of the original story:
Source: Khaama Press
https://www.khaama.com/16-countries-pledge-to-provide-afghans-with-humanitarian-aids-5745756/
--------
Taliban hide drug trade revenue detail amid Afghan financial crisis: Report
December 2, 2021
Taliban which was always suspected to be one of the wealthiest militant groups in the world, has never let out the details about the volume and revenue of the drug trade, as Afghanistan going through grave financial crisis.
Despite involvement in the drug trade was never a secret for the Taliban, its dimension was never completely understood. Though they were always suspected to be one of the wealthiest groups in the world, the Taliban never let out the details about the volume and revenue of drug trade which was powering after two-decade, the Portal Plus said in a new piece.
According to Portal Plus, Afghanistan is the world's largest producer of opium, which can be refined to make heroin. With an estimated annual export value of 1.5-3 billion dollars, it is a vast business, making the country a supplier of the majority of heroin worldwide.
As per a UN estimate, opium harvesting provided almost 120,000 jobs in Afghanistan in 2019. These volumes act as a cash cow for the Taliban in the form of several kinds of taxes and levies.
Ten per cent tax on the harvests of irrigated land used for opium poppy cultivation contributes the lion's share when it comes to revenue from drugs, according to Portal Plus.
Reports suggested that the Taliban's total annual income was around 1.5 billion dollars, to which drug trade is estimated to be contributing around 420 million dollars a year, while according to other sources the drug trade accounts for up to 60 per cent of the total revenue, reported Portal Plus.
While the drug trade acted as a lifeline for the Taliban during the past twenty years, the ruins it brought to Afghanistan's ordinary citizens cannot be overstated.
According to 2017 study by European Foundation for South Asian Studies (EFSAS) reflects upon the extent of illicit drug industry involvement in civilian life. It said that the interwovenness of drug trade within Afghanistan shows its deep anchoring in society and in the lives of civilians.
Approximately one out of ten Afghans are engaged in the drugs business. The employment, however, often results in dependency and debt traps particularly for individuals in rural communities. The effects can be felt in the form of volatile incomes for families and lack of formal alternatives, as per Portal Plus.
Source: Business Standard
Please click the following URL to read the full text of the original story:
https://www.business-standard.com/article/international/taliban-hide-drug-trade-revenue-detail-amid-afghan-financial-crisis-report-121120200388_1.html
--------
Southeast Asia
Federal Court rules that Muslim individual cannot be made party in legal marital dispute involving non-Muslim couple
Wednesday, 01 Dec 2021
PUTRAJAYA, Dec 1 — The Federal Court, in a 2-1 majority decision, ruled that a Muslim individual cannot be cited as party in legal marital dispute involving non-Muslim married couple in the civil court.
In delivering the majority decision by a three-member bench, Chief Justice Tun Tengku Maimun Tuan Mat said Section 3 (3) of the Law Reforms (Marriage and Divorce) Act 1976 (LRA) clearly provided that Muslims are excluded from the application of LRA.
Justice Tengku Maimun, however, said the law is applicable against Muslim converts in cases where his/her non-Muslim spouse files a petition after the former converted to Islam after their civil marriage.
She said the object of the LRA is not only to govern non-Muslims marriages and divorces, but it is also to demarcate the separate personal laws applicable to Muslims and non Muslims in the country.
She said this was in the light of Article 121 (A) of the Federal Constitution on the separation of jurisdiction between civil courts and Syariah Court.
With the majority decision, supported by Federal Court judge Datuk Seri Mohd Zawawi Salleh, the court dismissed the appeal brought by a woman whose identity is withheld.
The other judge on the bench, Federal Court judge Datuk Nallini Pathmanathan dissented.
The case today is pertaining to an appeal by the woman over her legal bid to include a Muslim woman as co-respondent in her judicial separation petition filed in July last year in the High Court against her husband, claiming that her marriage broke down due to an alleged affair between her husband and a Muslim woman.
The High Court ruled that a Muslim can be named as co-respondent in a divorce petition and not in judicial separation and as such the court has no jurisdiction to condemn the co-respondent for damages under Section 58 of the LRA.
In a divorce, a marriage contract is annulled, whereas in cases of judicial separation, the marriage continues to exist but the couple is permitted to live separately.
The Court of Appeal, in allowing the Muslim woman's appeal, ruled that the law is not applicable to Muslim.
Source: Malay Mail
Please click the following URL to read the full text of the original story:
https://www.malaymail.com/news/malaysia/2021/12/01/federal-court-rules-that-muslim-individual-cannot-be-made-party-in-legal-ma/2025165
--------
China's crackdown on Uyghur Muslims revealed by German academic
December 1, 2021
German academic, Adrian Zenz, revealed unpublished documents on linking China's crackdown on Uyghur Muslims, the Twitter report says.
According to the report, the documents show China's racist policies against Uyghur Muslims, including mass internment in re-education camps, coercive labour transfers and optimising the ethnic population by increasing Han population shares.
Dr Adrian Zenz, the German academic who was asked by the tribunal to authenticate the documents, said the top secret and confidential papers are significant because they show multiple links between the demands of the Chinese leadership of 2014 and what subsequently happened in Xinjiang.
China has come under increased criticism as a result of its treatment of Uyghur Muslims. In August 2018, a United Nations Human Rights Committee reported that China is holding nearly one million Uyghur Muslims in secret "re-education" camps in East Turkistan. Many return to their families weak, unable to walk and talk and showing signs of abuse.
Source: Middle East Monitor
Please click the following URL to read the full text of the original story:
https://www.middleeastmonitor.com/20211201-chinas-crackdown-on-uyghur-muslims-revealed-by-german-academic/
--------
PAS rep heckled after asking Penang to limit alcohol sales
Predeep Nambiar
December 1, 2021
GEORGE TOWN: A PAS assemblyman who sang praises about the curbs on the sale of alcohol imposed by Kuala Lumpur and Kedah was heckled by backbenchers at the Penang assembly today.
It began when Mohd Yusni Mat Piah (PN-Penaga) said Penang should emulate what DBKL and Kedah were doing in limiting alcohol sales.
He said it was an approach taken by the PAS-led Kelantan in 1990 and was well-received by non-Muslims there.
Yusni said drink-driving fatalities were on the rise and the restriction in alcohol sales would be timely.
He narrated incidents where a city council worker and a nasi lemak seller were killed and their children orphaned because of drunk drivers.
Yusni said Penang should also follow in Kedah's footsteps by banning 4D outlets.
He thanked the Penang government for assuring him in a written reply that the number of 4D outlets will be reduced in the future. He did not give further details.
"An average of 115 arrests were made every year in Penang from 2015 to 2019 involving drunk drivers. This is a very high number," he said in debating the 2022 state supply bill.
Weighing in, Dr Afif Bahardin (PN-Seberang Jaya) said curbs on alcohol sales were appropriate, stating that many developed countries had done so.
He agreed that drink-driving accidents were on the rise.
Satees Muniandy (PH-Bagan Dalam) said while alcohol consumption is haram (forbidden) in Islam, such a restriction should not be extended to non-Muslims.
"The relevant Islamic enforcement agencies should take action against Muslims who drink or place bets at 4D outlets.
"In countries such as Bahrain, alcohol is sold in the open. But yet, they do not impose such strict rules which go against the rights of non-Muslims.
"We don't need PAS to be the country's moral police. Given the chance, PAS will take us back to the Stone Age.
"This is a question of fundamental liberties of all Malaysians. If a person wants to drink, it is his personal choice.
Source: Free Malaysia Today
Please click the following URL to read the full text of the original story:
https://www.freemalaysiatoday.com/category/nation/2021/12/01/pas-rep-heckled-after-asking-penang-to-limit-alcohol-sales/?__cf_chl_jschl_tk__=GbxJ.XOUlbZCiBPQWT.M1l.fQKRnQHqbaiQKrjx6fmw-1638431516-0-gaNycGzNDVE
--------
Africa
Sudan's PM Hamdok would quit if post-coup deal not implemented: Source
01 December ,2021
Sudanese Prime Minister Abdalla Hamdok will quit if a political agreement he signed with the military last week is not implemented or fails to receive backing from political factions, a source close to him said on Wednesday.
Hamdok was released from house arrest and restored to his job under the deal reached on Nov. 21, four weeks after he was removed in a military takeover.
For all the latest headlines follow our Google News channel online or via the app.
The takeover ended a 2019 power-sharing agreement between the military and political groups involved in toppling former leader Omar al-Bashir.
Those groups have rejected the agreement, as have resistance committees that have organized a campaign of protests.
The latest of those protests, on Tuesday, drew tens of thousands of people to central Khartoum under the slogan "No partnership, no negotiation, no compromise."
Further protests are planned for December on key anniversaries from the 2018 start of protests against al-Bashir.
Opponents say the post-coup agreement favors the military by leaving the army chief in charge of a body, the Sovereign Council, that was meant to pass to civilian control.
The agreement lets Hamdok appoint a new technocratic cabinet, and calls for the release of political detainees and investigations into crackdowns on protests in which medics say 43 people died.
Hamdok has said he signed the agreement to stop bloodshed and preserve much-needed international financial support.
On Wednesday Hamdok issued a decree replacing most of a group of caretaker deputy ministers that had been installed by the military after the coup. The decree did not include the finance, federal rule, and information ministries.
The Central Committee of Sudanese Doctors said on Wednesday 98 people had been injured the previous day, mainly from tear gas canisters and stun grenades. The group, which is aligned with the protest movement, also said that doctors had noticed stronger reactions to the tear gas used on the day.
Source: Al Arabiya
Please click the following URL to read the full text of the original story:
https://english.alarabiya.net/News/middle-east/2021/12/01/Sudan-s-PM-Hamdok-would-quit-if-post-coup-deal-not-implemented-Sources
--------
Libya court upholds presidential bid of PM Dbeibah
01 December ,2021
A Libyan appeals court on Wednesday rejected two petitions against interim prime minister Abdulhamid Dbeibah's candidacy in this month's presidential election, Libyan media reported.
The cases argued that Dbeibah was not eligible as he had not quit his post three months before the December 24 vote as required by a controversial electoral law passed in September.
For all the latest headlines follow our Google News channel online or via the app.
The Tripoli appeals court had agreed to examine the petitions, filed by rival candidates including influential former interior minister Fathi Bashagha.
But on Wednesday, Dbeibah's "appeal was accepted, allowing (him) to take part in the election," his lawyer Abdulraouf Qanbij told journalists at the court.
He added the ruling was "final and cannot be appealed."
Dbeibah, a billionaire tycoon from the western port city of Misrata, was appointed head of a transitional administration in February with a mandate to lead the North African country into parliamentary and presidential elections, part of a United Nations-led peace process aimed at ending a decade of conflict.
The elections have been beset by disputes over their legal basis and deep divisions between prominent candidates including Dbeibah, eastern military chief Khalifa Haftar and Seif al-Islam Gaddafi, son of former ruler Muammar Gaddafi, whose ouster in a 2011 revolt plunged the country into a decade of violence.
An electoral law signed in September by the speaker of the eastern-based parliament, Aguila Saleh, has sparked anger in the country's west, where many accuse him of bypassing protocol and pushing through legislation favoring a run by his ally Haftar.
Source: Al Arabiya
Please click the following URL to read the full text of the original story:
https://english.alarabiya.net/News/north-africa/2021/12/01/Libya-court-upholds-presidential-bid-of-PM-Dbeibah-
--------
Fewer Libya arms embargo breaches but foreign fighters 'presence' remain: UN panel
01 December ,2021
Fewer violations of the arms embargo on Libya have occurred this year as compared with 2020, but the "continuing presence" of foreign fighters is "still a serious threat," UN experts said in a confidential report.
Nonetheless, while the "intense pace of delivery" of banned weapons has abated, "the arms embargo remains totally ineffective," the experts tasked with monitoring the embargo said in an interim confidential report recently given to the Security Council and seen Tuesday by AFP.
For all the latest headlines follow our Google News channel online or via the app.
For the study, which covers January to November 2021, the experts traveled twice to the north African country, in April and again in September.
For the first time since 2017, they were able to go to the eastern city of Benghazi, the stronghold of Khalifa Haftar, who is running for president in the election set for December 24.
The elections come as part of a push to end a decade of violence in oil-rich Libya following a NATO-backed uprising that toppled and killed former ruler Muammar Gaddafi in 2011.
An October 2020 ceasefire brought to an end a fierce year-long battle sparked by Haftar's bid to seize the capital Tripoli.
It also led to a fragile unity government taking office in March, with a mandate to take the country to elections.
But the UN experts, who said they also traveled to France, Italy, Spain, Switzerland and Tunisia to complete their work, note that the majority of Libya is still controlled by armed groups.
"Based on the 2020 transfers, arms stockpiles remain high and sufficient to sustain any future conflict," the experts said.
"The control of the supply chains by some member states continues, thus significantly hindering detection, disruption, or interdiction" of arms deliveries, they added, without naming any offending countries.
Source: Al Arabiya
Please click the following URL to read the full text of the original story:
https://english.alarabiya.net/News/north-africa/2021/12/01/Fewer-Libya-arms-embargo-breaches-but-foreign-fighters-presence-remain-UN-panel
--------
Ethiopia needs no foreign interference to end internal conflict: Top Chinese diplomat
Addis Getachew
01.12.2021
ADDIS ABABA, Ethiopia
Ethiopia needs no foreign interference to resolve its internal conflict, said China's foreign minister on Wednesday.
Wang Yi made the remarks during his meeting with Ethiopian Foreign Minister Demeke Mekonnen in the capital Addis Ababa, according to local broadcaster FANA.
Wang said China is closely following the situation in Ethiopia and is opposed what he described as attempts by external forces to impose their political interest on the domestic affairs of Ethiopia.
China, together with Russia and India, last month opposed sanctions on Ethiopia proposed to the UN Security Council by Ireland – a move seconded by the US and other Western countries.
Ethiopia has been fighting the forces of the Tigray People's Liberation Front (TPLF) after the group attacked federal army bases stationed across Tigray last November, according to the Ethiopian government.
Nearly 3 million people have been displaced, while close to 10 million need food aid due to the armed conflict, now in its 13th month.
Demeke briefed his Chinese counterpart on developments in the conflict, saying TPLF forces are now on the defensive as Prime Minister Abiy Ahmed went to the front last week to lead his army in person – a move that triggered mixed reactions at home while it trended on social media.
Source: Anadolu Agency
Please click the following URL to read the full text of the original story:
https://www.aa.com.tr/en/africa/ethiopia-needs-no-foreign-interference-to-end-internal-conflict-top-chinese-diplomat/2436030
--------
4 West African countries launch joint anti-terror operation
Fatma Esma Arslan
01.12.2021
DAKAR
The West African countries of Burkina Faso, Ghana, Ivory Coast, and Togo jointly conducted an anti-terror operation, a top security official said on Wednesday.
Burkina Faso Security Minister Maxime Kone said that 5,720 troops were deployed to common borders under a security agreement signed in 2017.
More than 300 suspects were caught and large caches of weapons, ammunition, drugs, and bomb equipment were seized as part of the Koudanlgou 4 Zone 2 operation on Nov. 21-27, Kone said.
In the Sahel region, south of the Sahara Desert, Burkina Faso, Mali, and Niger have been attacked by terrorist groups al-Qaeda and Daesh/ISIS.
As these groups have expanded their sphere of influence to Togo and Ivory Coast by moving south in recent years, the countries of the region are trying to combat them with joint operations.
The fight against terrorism remains a top issue for Sahel countries despite the French military operation Barkhane, the European Task Force Takuba, and the UN Financial Multidimensional Integrated Stabilization Mission (MINUSMA) in the region.
The Burkina Faso government came under severe criticism after the death of 58 soldiers in two terrorist attacks in November.
The attacks led to protests calling for the resignation of President Roch Kabore and accusing the government of failure in the fight against terrorism.
Source: Anadolu Agency
Please click the following URL to read the full text of the original story:
https://www.aa.com.tr/en/africa/4-west-african-countries-launch-joint-anti-terror-operation/2435634
--------
North America
'Racist Demagoguery': GOP asked to discipline Boebert for Islamophobic remarks
01 December 2021'
The recent Islamophobic remarks made by a notorious Republican Congress member against a Democratic House colleague is fast snowballing into a major political controversy in the US.
The US House Majority Leader Steny Hoyer on Tuesday called on GOP leaders to discipline Lauren Boebert, a House representative from Colorado, for her hate-filled comments against Ilhan Omar, a representative for Minnesota's 5th congressional district.
Hoyer said Boebert's suggestion that Omar poses a dangerous threat fits a larger "pattern" of racist demagoguery within the Republican ranks, urging the Minority Leader Kevin McCarthy to rein in such rhetoric that could inspire acts of violence, particularly against minorities.
"It's a pattern, and so that makes it even more concerning. It's particularly concerning because it inflames ... the passions of people who then convert words into dangerous, threatening and harmful actions. And that's why this conduct is so reprehensible and dangerous," Hoyer said on a press call.
"Hopefully, the Republican Party and its leadership itself would take direct action to cleanse itself from this toxic kind of conduct that its members are pursuing," he hastened to add.
He further said that Boebert's comments "should be sanctioned, not only by the Republican leadership, but by Republicans in general and by the American people".
Boebert stirred a controversy recently when a video leaked of her telling a crowd in her district that a ride in an elevator with Omar "should be fine" because Omar "doesn't have a backpack."
In the viral video, shared by a Twitter account called PatriotTakes, Boebert recounted her encounter with Omar at the US Capitol, referring to Omar as a member of the "Jihad Squad" and claimed that a Capitol Police officer thought she was a terrorist.
So the other night on the House floor was not my first jihad squad moment. So I was getting into an elevator with one of my staffers. And he and I are - we're leaving the Capitol. We're going back to my office and we get in the elevator, and I see a Capitol Police officer running hurriedly to the elevator," Boebert said in the video.
"I see fret all over his face, and he's reaching… The door's shutting, like I can't - I can't open it - like, what's happening? I look to my left, and there she is. Ilhan Omar. I said, 'Well she doesn't have a backpack, we should be fine,'" she added, with audience heard laughing over it.
The Minnesota Representative dismissed the story as fiction, calling her a "buffoon".
"Fact, this buffoon looks down when she sees me at the Capitol, this whole story is made up. Sad she thinks bigotry gets her clout," Omar said on Twitter.
She said anti-Muslim bigotry "isn't funny and shouldn't be normalized", adding that the Congress "can't be a place where hateful and dangerous Muslims tropes get no condemnation"
The two warring lawmakers spoke over phone on Monday, which ended with both of them accusing the other of incivility.
Omar claimed in a statement that Boebert "doubled down on her hurtful and dangerous comments," which led her to "end the unproductive call."
Hoyer on Tuesday said that McCarthy had called him to facilitate the call, but after talking to Omar, Hoyer had advised against it.
Hoyer went on to say that there appears to be a financial incentive for lawmakers to invoke racist or violent imagery — a strategy which he said "raises them money because it's confrontational and demeaning to others".
"It's sad that that raises them money, but I think that's what their MO apparently appears to be."
The three Muslim Democratic lawmakers — Omar and Representatives Rashida Tlaib of Michigan and André Carson of Indiana, have said that their party is looking at options to sanction Boebert.
Source: Press TV
Please click the following URL to read the full text of the original story:
https://www.presstv.ir/Detail/2021/12/01/671781/US-Islamophobia-Hate-Speech-Ilhan-Omar-Lauren-Boebert-US-House-Sanction
--------
US Republicans in a letter to Biden vow to block any sanctions relief for Iran
01 December 2021
With Iran and the remaining parties to the 2015 nuclear deal resuming the stalled talks in Vienna aimed at lifting cruel sanctions on Iran, Republicans in the US have vowed to block any sanctions relief for Iran.
According to a report in The National, a group of 25 Republican Congress members, in a letter to the US President Joe Biden this week, accused the White House of "withholding information" from Congress about the nature of negotiations with Tehran.
"Despite over a dozen letters by members of the Republican Study Committee asking for information on Iran sanctions enforcement, your administration has continued to leave Congress in the dark regarding its plans to weaken sanctions enforcement and provide sanctions relief to Iran," the letter read.
The Republican Study Committee has 150 members, who have been the vocal advocates of former US President Donald Trump's 'maximum pressure' campaign against Iran.
In the letter, the signatories remind the Biden administration of the power of Congress to re-impose sanctions on Iran, which again points to the duality of US stance on Vienna talks.
"We are writing to remind you that the power to regulate commerce with foreign nations and hence the ability to enact economic sanctions resides in Congress," the letter adds.
The seventh round of talks between Iran and the P4+1 grouping — Britain, France, Russia, and China plus Germany — aimed at lifting the draconian sanctions imposed on Iran by the previous US administration resumed in the Austrian capital on Monday.
Ali Baqeri-Kani, who is leading the Iranian delegation at the talks, made a strong case for lifting the US sanctions before moving on to discussion of nuclear-related issues.
He asserted that Iran has confirmed its full compliance with obligations under the deal and underlined his country's determination to reach an agreement that is acceptable to the people of Iran.
Enrique Mora, the top EU representative at the talks, said there is a sense of urgency of putting the deal back on track, but pointed out many difficult political and technical issues to be sorted out.
Mikhail Ulyanov, Russian envoy to the UN nuclear agency, said participants agreed on "further immediate steps" during the fresh round of negotiations which he said "started quite successfully".
On Tuesday, participants held expert-level meetings of the working group formed exclusively to deal with the removal of US sanctions against Iran.
On Wednesday, another working group dealing with nuclear issues is expected to hold meetings.
While reports coming from Vienna inspire hope that the remaining signatories to the nuclear deal are willing to discuss with the seriousness it deserves, news coming from the US is far from assuring.
The Republican signatories to the letter threatened to block any relief if they win a majority in the US House of Representatives in next year's midterm elections.
"When Republicans return to the majority soon, we look forward to re-asserting Congress's authority over economic sanctions by passing the Maximum Pressure Act and circumscribing the ability of your administration, like the Obama administration before it, to lift sanctions and abuse waiver and license authorities to provide sanctions relief to Iran," the letter said.
In a tweet on Tuesday, US Senator from state of Arkansas, Tom Cotton also warned that the deal will be "torn up when Republicans take power again".
"President Biden has sent his team to Vienna to negotiate an American surrender to the ayatollahs. This administration is unwilling to hold the Iranian regime accountable for its nuclear blackmail efforts, support for terrorism, and attacks on American troops and our allies," Cotton wrote.
"A Biden-Iran nuclear deal will be even worse than what came before it—and will be torn up when Republicans take power again," he added.
White House press secretary Jen Psaki told reporters on Monday that the US "objective has not changed".
Source: Press TV
Please click the following URL to read the full text of the original story:
https://www.presstv.ir/Detail/2021/12/01/671769/US-Iran-JCPOA-Vienna-Talks-Republicans-Letter-Biden-Sanctions-Relief
--------
Muslim group protests alleged hate crime in Maryland public school
By Sean Salai
December 1, 2021
A Muslim advocacy group is urging Baltimore County Public Schools to immediately notify parents and guardians of alleged hate crimes after a sixth-grade girl said another student tried to yank off her hijab between classes last month.
Zainab Chaudry, Maryland chapter director of the Council on American-Islamic Relations (CAIR), called on the district to implement "systemwide written policy changes that require school officials to immediately notify parents or guardians" of alleged hate crimes after a mother complained that Franklin Middle School failed to call her about the Nov. 19 incident in Reisterstown.
"This investigation is definitely not complete," Ms. Chaudry told The Washington Times.
The school system's communications office emailed a statement to The Times on behalf of Franklin Middle School.
"Baltimore County Public Schools does not condone or tolerate bullying, harassment, or intimidation by any student in any of its schools," the statement reads in part. "The incident in question was reported to the school on Friday, Nov. 19, and as per school and system policy, an investigation was begun immediately. That investigation has continued into this week."
Annie Torres, a mother of six, said a female student wearing a full-face balaclava mask tried to yank off her sixth-grade daughter's headscarf between classes on the Friday afternoon before Thanksgiving.
"This is bigger than a school incident; it was an attack on her identity as a Muslim," Mrs. Torres told The Times.
Source: Washington Times
Please click the following URL to read the full text of the original story:
https://www.washingtontimes.com/news/2021/dec/1/muslim-group-protests-alleged-hate-crime-maryland-/
--------
Top Turkish, US officials discuss bilateral, regional issues
Omer Tugrul Cam
01.12.2021
RIGA, Latvia
Turkish Foreign Minister Mevlut Cavusoglu and US Secretary of State Antony Blinken discussed bilateral and regional issues on Wednesday.
Cavusoglu and Blinken met on the second day of a NATO foreign ministers' meeting in Latvia's capital Riga.
Speaking to reporters before the meeting, Cavusoglu expressed his pleasure to meet with Blinken again.
Cavusoglu stressed that they have many issues to discuss, adding that they will hold a follow-up meeting on the issues discussed and decisions taken during the Rome meeting on Oct. 31 between Turkey's President Recep Tayyip Erdogan and his US counterpart Joe Biden.
He also noted that as two NATO allies, they will exchange views on bilateral relations and regional issues such as Ukraine, Libya, Syria, and Afghanistan.
Blinken also expressed his pleasure to meet with Cavusoglu again and said they also discussed the situation in Ukraine, the Western Balkans, and the Caucasus during the two days of the meeting in Riga.
Source: Anadolu Agency
Please click the following URL to read the full text of the original story:
https://www.aa.com.tr/en/americas/top-turkish-us-officials-discuss-bilateral-regional-issues/2435970
--------
Taliban demand unfreezing of Afghan assets in talks with US
01 December 2021
Representatives from the Taliban interim government and the United States have concluded a second round of talks in the Qatari capital, Doha.
The two-day dialog, which took place amid growing calls for immediate foreign assistance to Afghanistan, ended on Tuesday, with the Taliban urging US officials to unfreeze Afghan state assets and remove sanctions and Washington pledging to continue to support the United Nations' efforts to address the situation.
US special representative for Afghanistan Thomas West and the Taliban's acting Foreign Minister Amir Khan Muttaqi led their respective delegations at the talks. A first session between the two sides had been held in Doha in October.
In a post on Twitter, Taliban Foreign Ministry spokesman Abdul Qahar Balkhi described the discussions as "positive," saying the two sides exchanged views on political, economic, health, education, security and humanitarian issues.
"The Afghan side assured them about security, urged immediate unconditional unfreezing of Afghan reserves, ending of sanctions and blacklists, and disconnecting humanitarian issues from political considerations," Balkhi said. "Overall the sessions were positive and both sides agreed to continue such meetings moving forward."
US State Department spokesperson Ned Price said Washington "remains committed to ensuring that US sanctions do not limit the ability of Afghan civilians to receive humanitarian support from the US government and international community while denying assets to sanctioned entities and individuals."
He said the US Treasury Department "has issued general licenses to support the continued flow of humanitarian assistance to the people of Afghanistan and other activities that support basic human needs."
Price said the US delegation had emphasized the importance of the Taliban fulfilling their public commitment not to allow anyone to pose a threat to any country from Afghan soil, as well as safe passage for US citizens and at-risk Afghans.
The US officials also urged the Taliban to protect the rights of all Afghans, implement a commitment to provide countrywide access to education at all levels for women and girls, and take additional steps to form an inclusive and representative government, according to the US State Department.
The Taliban, who had previously ruled Afghanistan from 1996 to 2001, took power again on August 15 as the US was in the middle of a chaotic troop withdrawal. The group announced the formation of a caretaker government on September 7. No country has yet recognized their rule. Since then, the Taliban have been struggling to contain a deepening economic crisis.
Most of the international forums stopped their aid and assistance to Afghanistan after the Taliban returned to power. Besides, the United States also seized nearly $9.5 billion in assets belonging to the Afghan central bank. The Taliban have repeatedly called for the release of the assets, but Washington has rebuffed the call, saying the new government in Kabul must "earn" international legitimacy first.
War-ravaged Afghanistan also needs urgent international action to support millions of people struggling with rising hunger and the collapse of services. The Taliban's efforts to stabilize the situation have been undermined by international sanctions, as banks are running out of cash and civil servants are going unpaid.
Source: Press TV
Please click the following URL to read the full text of the original story:
https://www.presstv.ir/Detail/2021/12/01/671742/Taliban-demand-unfreezing-of-Afghan-assets-in-talks-with-US
--------
URL: https://www.newageislam.com/islamic-world-news/india-tanzeem-ulama-barelvi-akhand-bharat/d/125886
New Age Islam, Islam Online, Islamic Website, African Muslim News, Arab World News, South Asia News, Indian Muslim News, World Muslim News, Women in Islam, Islamic Feminism, Arab Women, Women In Arab, Islamophobia in America, Muslim Women in West, Islam Women and Feminis