New Age Islam News Bureau
08 June 2022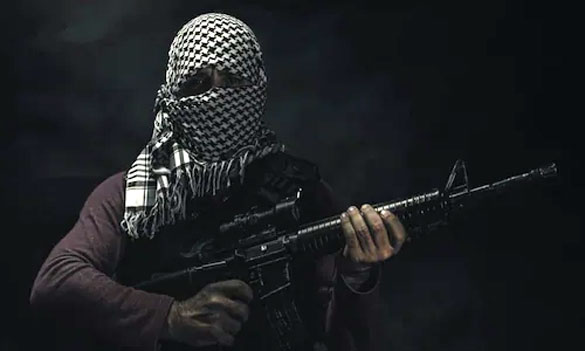 Representative Image/ Photo: CNBC
----
• UK Cinema Chain All Screenings of a Film, "The Lady of Heaven", About the Daughter of the Prophet Muhammad, After Muslims Protest
• Extreme Right-Winger Dutch Lawmaker Geert Wilders Supports Nupur Sharma
• The Taliban Arrests Afghan YouTuber, Ajmal Haqiqi, and Colleagues on Charges of Blasphemy
• White House Lauds Saudi Arabia as 'Strategic Partner'
India
• UP CM Yogi Adityanath visits samadhi of Krishna's Muslim devotee in Mathura
• RSS' Ram Madhav says Muslims 'need to give up 3 concepts': 'Kafir, Ummah, jihad to kill'
• BJP set to become 'Muslim-free' in Parliament when RS terms of Naqvi, Islam, Akbar end
• Gyanvapi mosque row: PIL seeks panel to unravel truth of structure
• 4 terrorists, including 2 Pakistanis, killed in J&K since Monday
--------
Europe
• 7 out of 10 Muslims in UK experience Islamophobia at work: Survey
• UN body rebukes Israel for seeking 'complete control' over Occupied Palestinian Territory
• Ukraine presses to buy Israel's Iron Dome
• Türkiye rejects 'biased, unrealistic' report by European Parliament
--------
South Asia
• Unidentified Men Abduct a Businessman in Mazar-e-Sharif
• SIGAR: Allegations of Former President Ghani's Escape with $169M Are "Unlikely to Be True"
• Former Afghan minister returns to Kabul at Taliban invitation
--------
North America
• Canada's Muslims Renew Calls to Tackle Islamophobia One Year After Deadly Attack
• US says Iran's demands to lift IRGC sanctions behind failure to revive nuclear deal
• US mediator to visit Lebanon for talks on Israel border dispute
--------
Pakistan
• Pakistani Senators Call For Boycotting Indian Trade Following Insult to Prophet Muhammad (PBUH)
• For Pakistan, peace with TTP jihadists can prove as bloody as war
• Pakistanis held in Italy over suspected links to Charlie Hebdo attack
• Four terrorists killed in North Waziristan, Noshki: ISPR
• How Pakistan turned its back on Afghan musicians who fled Taliban rule
--------
Southeast Asia
• Indonesia, Malaysia Protest to India Over Anti-Islam Remarks
• Muslim Group Leader Arrested in Lampung for Promoting Caliphate
• Hold Firm to Islamic Principles Prohibiting Insults against Others, Says Religious Affairs Minister
• Tengku Zafrul's political ambitions distract from ministerial duties
--------
Arab World
• Saudi Arabia Adds 16 Individuals, Entities to Its Terror List
• Syrian refugees vow to take part in retaking areas from YPG/PKK terror groups
• Turkish forces 'neutralize' 18 PKK terrorists in northern Iraq, Syria
• Gulf States blacklist terror financiers linked to Iran, Islamic State, Syrian regime
• No dialogue with the Muslim Brotherhood
• Saudi Arabia readies for its first-ever Islamic Arts Biennale
• Syrian and Russian air forces conduct joint drill over Syria
• Turkey tells Russia it will respond to destabilizing moves in northern Syria
• US-backed Syrian Kurds to turn to Damascus if Turkey attacks
• Syrian, Russian forces boosted after Turkey signals operation: Officials
--------
Mideast
• Israeli-Palestinian "Flag War" Brews As Violence Flares
• Iran Sentences Man to Death over Deadly Shia Shrine Attack
• Iranian Army Commander Underlines Liberation of Israeli-Occupied Territories
• Iran Demands Shielding IAEA against Political Influence
• Iran Deplores Church Attack in Nigeria
• Qatar Licenses Operation of Iran's Trade Centre
• Turkey urges Greece to demilitarize Aegean islands
• Yemen's warring parties agree to establish joint coordination mechanism
--------
Africa
• At Least 27 Killed, Dozens Wounded In Sudan Ethnic Clashes: Witnesses
• Algeria media figure sentenced to six months in prison
• 3 killed in live-fire exercise in Libya's Tarhuna
• Tunisian judges continue their strike to protest purge
• Race against time to avert famine in Somalia: UN agencies
• Sudan's army chief says dialogue historic opportunity for transition
Compiled by New Age Islam News Bureau
URL: https://newageislam.com/islamic-world-news/qaida-india-prophet-saffron-terrorists/d/127198
--------
Al-Qaida Threatens Suicide Attacks in India Over Controversial Remarks Concerning Prophet; It Says, "Saffron Terrorists Should Now Await Their End In Delhi, Bombay, UP And Gujarat"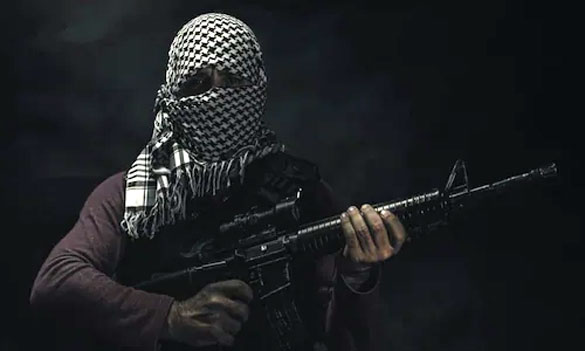 Representative Image/ Photo: CNBC
----
ANI / Jun 7, 2022
Jun 7, 2022
NEW DELHI: Terrorist organisation al-Qaida in the Subcontinent (AQIS) has issued a threat relating to India saying that they are ready to blow themselves up in Gujarat, UP, Bombay and Delhi to "fight for the dignity of our Prophet".
The threat statement said, "saffron terrorists should now await their end in Delhi and Bombay and in UP and Gujarat".
"They shall find refuge neither in their homes nor in their fortified army cantonments. May our mothers be bereaved of us if we do not avenge our beloved Prophet."
"We shall kill those who affront our Prophet and we shall bind explosives with our bodies and the bodies of our children to blow away the ranks of those who dare to dishonour our Prophet... [They] shall find no amnesty or clemency, no peace and security will save them and this matter will not close with any words of condemnation or sorrow," it added.
The threat statement mentioned "Hindutva terrorists occupying India" and said "we shall fight for the dignity of our Prophet, we shall urge others to fight and die for the honour of our Prophet,"
The threat statement, shared by some social media users, referred to controversial remarks of a BJP office-bearer against whom the party has taken action.
Source: Times Of India
Please click the following URL to read the text of the original story:
https://timesofindia.indiatimes.com/india/al-qaida-threatens-suicide-attacks-in-india-over-controversial-remarks-concerning-prophet/articleshow/92066852.cms
--------
UK Cinema Chain All Screenings of a Film, "The Lady of Heaven", About the Daughter of the Prophet Muhammad, After Muslims Protest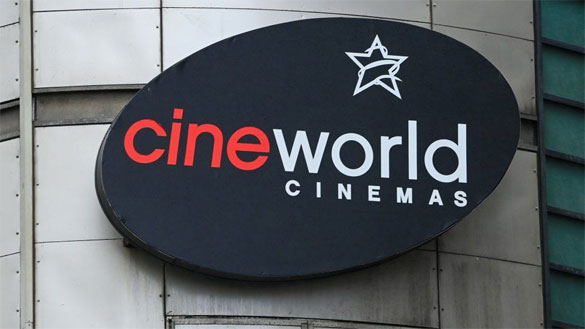 Getty Images
----
June 8, 2022
LONDON: UK cinema chain Cineworld has pulled all screenings of a film about the daughter of the Prophet Muhammad after Muslim groups protested outside theatres, calling the movie "blasphemous".
Cineworld, the world's second-largest cinema chain, said it will cancel all showings of "The Lady of Heaven" due to safety concerns.
"Due to recent incidents related to screenings of 'The Lady of Heaven', we have made the decision to cancel upcoming screenings of the film nationwide to ensure the safety of our staff and customers," said a spokesman.
Videos online showed the manager of Sheffield Cineworld in northern England telling a group of protestors on Sunday night that the screening had been cancelled.
A similar protest targeted Cineworld theatres in the central city of Birmingham and in the northern town of Bolton.
All three places have sizeable Muslim populations.
The historical drama film calls itself the first movie on the life of the Prophet Muhammad's daughter Fatimah and draws links between Islamic State in the 21st century with historical figures of Sunni Islam.
Malik Shlibak, executive producer of the film, told The Guardian that cinema chains should "stand up and defend their right to show films that people want to see".
"I think cinemas are crumbling to the pressure, and taking these decisions to quell the noise," he said.
Source: Free Malaysia Today
Please click the following URL to read the text of the original story:
https://www.freemalaysiatoday.com/category/business/2022/06/08/uk-cinema-chain-pulls-film-after-muslims-protest/
--------
Extreme Right-Winger Dutch Lawmaker Geert Wilders Supports Nupur Sharma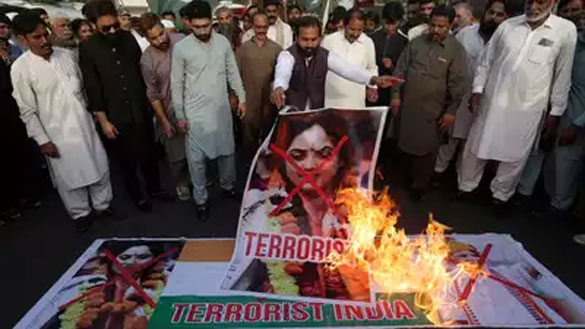 Pictures of Nupur Sharma were burnt in a Karachi protest on Tuesday to condemn the derogatory references to Islam and the Prophet (AP)
-----
J.P. Yadav
08.06.22
Some Right-wingers have reached out all the way to the Netherlands to find a role model after the BJP sought shelter in the Constitution to weather the West Asian storm after its erstwhile "fringe" spokespersons denigrated Prophet Mohammed.
The great white hope of the disenchanted Bhakts comes in the shape of Dutch lawmaker Geert Wilders, the silver-haired politician labelled as "extreme Right" although he considers himself to be a "Right-wing liberal". Known for his anti-Islam statements, Wilders was once banned from entering Britain (the bar was overturned later) and is under armed protection because of threats to his life.
In India, several Right-wingers have found solace in Wilders, grabbing his tweet in support of Nupur Sharma and asking Indians not to be "intimidated by Islamic countries".
"Dutch lawmaker defends Nupur Sharma's comments, says appeasement only makes things worse. Clear indication of the alarming situation in Europe," tweeted Prafulla Ketkar, editor of the Organiser weekly magazine that echoes the views of the RSS.
"The kind of courage the Dutch parliamentarian has shown, the BJP should have shown the same," tweeted one Devendra Jatav, who claimed to be a RSS supporter.
The hashtags #ShameOnBJP and #NupurSharma trended on Twitter on Tuesday, too, although some BJP-bashers contributed to the trend by using the same hashtags.
Among those who slammed the Modi government and demanded revocation of Sharma's suspension, one name stood out.
Author and commentator Anand Ranganathan, known for his pro-Right-wing stand, tweeted: "Dear @narendramodi. You will listen to the Arabs because 5 million Indians are employed in their countries, but you will not listen to the 500 million Indians employed in your country."
"Reinstate Nupur. Or declare that no one from now on is allowed to quote from the Hadiths," he added in his tweet, referring to the collection of sayings that constitute a key source of guidance for Muslims.
Some trolls uploaded posters saying "I support Nupur Sharma" with the picture of the suspended spokesperson and demanded the arrest of Mohammed Zubair of Alt News, the fact-checking website.
Zubair had tweeted the clip of Nupur Sharma's derogatory comments on Prophet Mohammed and criticised the anchor of the TV show.
The rush to let off steam online may not mean much but it offers a frightening insight into the deep inroads hate, fed and nourished by those in high places, has made in the country and how it can take a life of its own once unbolted.
Amid this storm on the social media, the BJP continued with the silence it had chosen after suspending Sharma and her colleague Navin Jindal.
A media conference was held at the BJP headquarters but it focused on targeting Delhi chief minister and AAP leader Arvind Kejriwal over the Enforcement Directorate raids on his arrested minister Satyendra Jain.
Asked about reports that strict guidelines had been issued for spokespersons, BJP leaders denied the claim. They said that orally people had been asked to focus only on the good and pro-poor work of the Modi government and not to pass unnecessary comments.
"Modiji in his address to party office-bearers had asked everyone to stick to development and national interest and not fall in the trap of our rivals trying to divert focus. This is the line to be followed by spokespersons," a BJP general secretary said.
Privately, party leaders acknowledged that the suspension of Sharma had caused some unrest among their cadres and supporters but at the same time claimed that in the long run, it would go in their favour.
"The people of Bharat are witnessing everything. Now the same yardstick will be applied when Hindu deities are abused," one leader said.
PTI on Tuesday quoted Sharma as saying that she "accepts and respects" the party's decision. "I have practically grown up in the organisation. I respect and accept their decision," Sharma said, asked about the BJP's action against her.
Source: Telegraph India
Please click the following URL to read the text of the original story:
https://www.telegraphindia.com/india/right-wingers-silver-haired-hope-comes-in-the-shape-of-dutch-lawmaker-geert-wilders/cid/1868859
--------
The Taliban Arrests Afghan YouTuber, Ajmal Haqiqi, and Colleagues on Charges of Blasphemy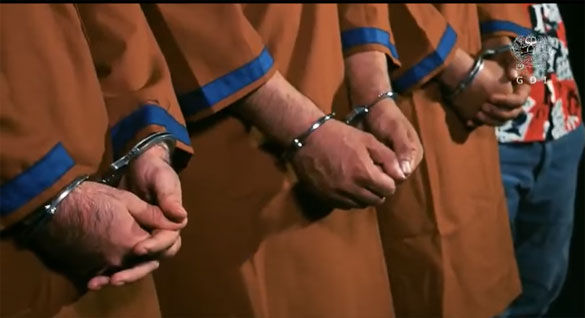 Representative Image/ Photo: Khaama Press
----
By Saqalain Eqbal
08 Jun 2022
The Taliban's General Directorate of Intelligence has arrested Ajmal Haqiqi, a YouTuber from Afghanistan, and three of his colleagues on charges of "insulting Islamic sacred values."
Four of the young activists are handcuffed in a video released on the Taliban's intelligence agency's Twitter handle, with Ajmal Haqiqi confessing to "promoting indecency and lewdness, and insulting Quran verses."
One of Haqiqi's colleagues, Gholam Sakhi, who was once addicted to drugs and claimed to have a "mental condition," recited verses from the Qur'an in a humorous voice in a video posted by Haqiqi's YouTube channel, where Sakhi sings and dances.
Haqiqi laughs in that widely shared video as Sakhi mimics recitations in a humorous voice. Sakhi's conversational style is noted for being funny and amusing.
Ajmal Haqiqi and Gholam Sakhi appeared in a second video two days later, apologizing for his colleague's actions and calling it a mistake, claiming that he had a "mental disorder," and that "the mistake is not going to happen again."
"No one is allowed to insult or ridicule the verses of the Qur'an, the Prophet's hadiths, or Islamic sanctities under the rule of the Islamic system," the Taliban intelligence agency wrote on Twitter. Those who have recently insulted and disrespected the Qur'an's holy verses; "They are arrested."
Ajmal Haqiqi, an Afghan model, stated in the confession that the previous administration supported him to promote indecencies and foreign culture.
He says in his video that he insulted the holy values and sacred, and is ready to accept any judgment of the Taliban court. He appears to read his confession from the script.
He also says to have marketed and promoted his YouTube profile using a mentally ill person named Gholam Sakhi.
The Taliban has detained journalists and critics of the group, including human rights activists, since regaining control of Afghanistan.
The Taliban had previously released a video of a number of detained protester women's confessions, which sparked outrage.
The Taliban has been accused of imposing harsh censorship on free media, as well as arrest and torture of journalists.
Source: Khaama Press
Please click the following URL to read the text of the original story:
https://www.khaama.com/the-taliban-arrests-afghan-youtuber-and-colleagues-on-charges-of-blasphemy-46485/
--------
White House Lauds Saudi Arabia As 'Strategic Partner'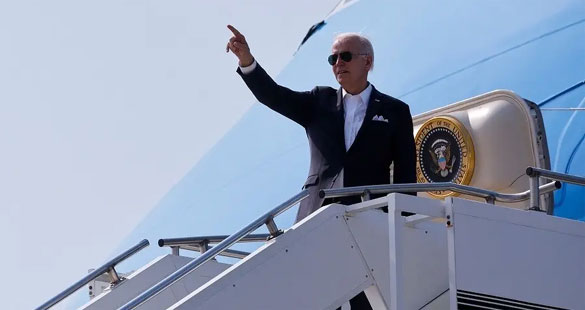 US President Joe Biden gestures as he leaves the Osan Air Base in Pyeongtaek, South Korea, on May 22, 2022. (Reuters)
-----
07 June, 2022
The White House spoke highly of Saudi Arabia on Tuesday in a tone that was noticeably more amicable than previous comments by Biden administration officials over the last year.
Ties between Washington and Riyadh have soured since the election of US President Joe Biden in January 2021. But the Russian invasion of Ukraine and other geopolitical developments have seen Biden administration officials look to ease the relationship, especially after Saudi Arabia rebuffed US calls to increase their oil output.
"Saudi Arabia has been a strategic partner of the United States for eight decades. Every president since FDR [Franklin Delano Roosevelt] has met with Saudi leaders and the president [Biden] considers Saudi Arabia an important partner on a host of regional and global strategies," White House Press Secretary Karine Jean-Pierre said.
Speaking during a White House press briefing, Jean-Pierre cited Saudi Arabia's help in efforts US efforts to end the war in Yemen, contain Iran and counter terrorism.
"Saudi pilots flew with ours in the war against ISIS, its navy patrols with ours in the Red Sea and the Gulf, and the US military personnel are based in Saudi Arabia," she said.
Biden was expected to travel to Saudi Arabia later this month to meet with top Saudi officials, including King Salman and Crown Prince Mohammed bin Salman. But his schedule was never finalized and it is now anticipated that he will make the trip in July along with a stop in Israel.
Mostly progressive Democrats have pushed back against attempts to repair frayed ties between the US and Saudi Arabia, but Jean-Pierre said that Biden would meet with any leader if it served the interests of the American people. "He believes that engagement with Saudi leaders clearly meets that test, as has every president before," she said.
Source: Al Arabiya
Please click the following URL to read the text of the original story:
https://english.alarabiya.net/News/gulf/2022/06/07/White-House-lauds-Saudi-Arabia-as-strategic-partner-
--------
India
UP CM Yogi Adityanath visits samadhi of Krishna's Muslim devotee in Mathura
TNN | Jun 8, 2022
AGRA: Amid the Kanpur violence over anti-Prophet statements by two senior BJP leaders and widespread furore across the globe, UP chief minister Yogi Adityanath on Tuesday visited the shrine of a Muslim devotee of lord Krishna Syed Ibrahim Khan -- known by his pen name Raskhan -- in Mathura.
During his visit, Yogi said, "Bhakti jati-pati nahi dekhti" (there is no caste nor religion in devotion). After offering flowers at the samadhi, the CM directed officials concerned to organise weekly cultural programmes at the samadhi to attract more visitors.
In the visitors' diary at the samadhi of Raskhan, an Indian Sufi poet, Yogi praised the initiative of Braj Vikas Parishad to renovate and beautify the samadhis of lord Krishna's Muslim devotees -- Raskhan and Taj Bibi (wife of Mughal emperor Akbar).
Raskhan is a widely acknowledged poet, having dedicated most of his creations to lord Krishna. In his early years, he became a follower of lord Krishna, learned bhakti yoga and began living in Vrindavan, where he spent the rest of his life. He accepted lord Krishna as the supreme god and became a vaishnava.
Source: Times Of India
Please click the following URL to read the full text of the original story:
https://timesofindia.indiatimes.com/city/agra/devotion-doesnt-see-caste-faith-yogi-at-samadhi-of-krishnas-muslim-devotee/articleshow/92068977.cms
--------
RSS' Ram Madhav says Muslims 'need to give up 3 concepts': 'Kafir, ummah, jihad to kill'
MADHUPARNA DAS
8 June, 2022
New Delhi: The three concepts of kafir ('unbeliever'), ummah (a supra-national community tied by religion) and jihad ('struggle', often used in the sense of 'holy war') are hindering the assimilation of Muslims into Indian society at large, senior Rashtriya Swayamsevak Sangh (RSS) functionary Ram Madhav has said.
Once Indian Muslims "accept" that their roots predate the Islamic invasions of the country and forsake the "iconoclastic" mediaeval history of Islam, Hindus will also stop talking about the "destruction that happened hundreds of years ago", Madhav, a member of the RSS's national executive committee, said in an exclusive interview with ThePrint.
Madhav also came out in support of the "aggrieved" Kashmiri Pandits amid protests over targeted killings in the Valley. He said that although the prime minister's employment package provided returning Pandits with jobs, "Where is the security?" The RSS leader said that local stakeholders should be involved in Kashmir-related discussions. "When killings are happening, there is no political leadership to reach out to; they are sitting idle. We need to bring them back into action."
Discussing the Hindu-Muslim legal tussle over the Gyanvapi mosque in Varanasi, he said,"Gyanvapi is offering a very good opportunity to all of us. In the case of Ram Janmabhoomi, we (Hindus and Muslims) could not come together and negotiate an acceptable settlement. We left it to the court. Gyanvapi, Kashi Viswanath and Mathura are very important cases. We could have come together in 1990 and resolved the Babri Masjid issue. But we could not come together and an unfortunate incident (the demolition of the Babri Masjid on 6 December 1992) happened."
Referring to RSS chief Mohan Bhagwat's comments on the Gyanvapi case, and his averment about not needing to find "a Shivling in every mosque", Madhav said "Now, Bhagwat ji was very clear about the present issue (of Gyanvapi). Neither the RSS nor any affiliate demanded anything with regard to the Gyanvapi case, rather the demand came from people. It is now pending before the court, and the judiciary may take another decade. Can we come together and solve it? But for coming together, Muslims have to accept that this happened during the mediaeval Islamic invasion. We need to appreciate each other's religious sentiments. Once that happens, Hindus won't need to dig up old issues, and also won't need to see a Shivling in every mosque."
Muslims need to give up three things, and the most important of them is giving up the idea of calling non-Muslims kafir, he said.
"Islam has five pillars — loyalty to the religion, namaz five times a day, zakat or donation for the welfare of the people, fasting during Ramadan and taking a pilgrimage to Mecca or Medina. Follow that, nobody will stop you (the Muslims) in this country. There are three other things that come in the way of the large issue of inclusivity in national society.
"The concept of ummah which means, 'we are a separate nation, because we are Muslims'. They have to give this up. They have to stop believing in the whole concept of kafir. According to them, non-Muslims are kafir, or sinners. In day-to-day parlance, nobody is a kafir. They have to stop using that. And then they have to sacrifice their way of jihad. If it is jihad, it has to be internal. Many Muslim scholars say 'jihad has to be internal.' Jihad does not mean you kill people of other religions," Madhav said.
'Be Indian, stop relating to Islamic invaders'
Indian Muslims have to "understand and accept" they are part of this land, and condemn the "wrongdoings" of Islamic aggressors or invaders, Madhav said.
"Islam came through invaders. Iconoclasm was an integral part of mediaeval Islam. They not only did that with the Hindus in India, but also with the Christians in Europe and with the Jews in Israel. The forefathers of Indian Muslims were probably not even Muslims. They might have converted later, but that part of Islamic history remained like an albatross around their neck. Indian Muslims need to understand that they don't need to carry (this history)," Madhav asserted.
Giving the example of the Indonesian model of Islam, he said Indonesians had built a temple complex "…and here Muslims are debating over history. Indian Muslims should come forward and accept the mediaeval iconoclasm of the invaders. When that happens, half of our problems will be solved," Madhav said.
"Let me draw a parallel, We have a large number of Christians. Christianity came with the British and it is called Anglo culture. But do the Christians align themselves with the British? Do they insist on the British legacy being owned? No, they don't. The religion continues, but nobody supports the acts of the British."
"Why doesn't the same thing happen to the Muslims? Why don't they stand up and say that they don't support this history of invasion? Once that happens, as Bhagwat ji rightly said, the Hindus will also stop talking about the destruction that happened hundreds of years ago. But, they expect the Hindus to remain silent and devoid of any religious sentiment, while they continue to relate themselves to the iconoclastic mediaeval history of Islam," he said, adding, "That way harmony is very difficult to achieve."
In this context, Madhav mentioned a "general awakening" in the Hindu society, saying that Hindus have now started taking pride in their civilisation. "That is why politicians like Rahul Gandhi or Mamata Banerjee reiterate their Hindu identity. A large number of Hindus are standing up for their rights. This is not about vengeance, but about a bigger question. Are we part of the same society or would some of us relate to the Britishers, or relate to the Mughals? Is this the way we should live?"
He added, "We can live in harmony too; that is why Bhagwat ji was so emphatic about sitting together and initiating a dialogue. That will not happen through political parties or the government. We have to initiate it. But the pre-condition is an acceptance from Muslims. They have to say their ancestors are from this country, and give up the ancestry of mediaeval Islamic invaders."
'Involve locals in J&K'
In order to bring peace in Jammu and Kashmir (J&K), Madhav argued that the government must involve local people and stakeholders.
"All (in government) who are putting their heads together to discuss Kashmir have no local person. The Home minister, the NSA (national security advisor), the LG (Lieutenant governor) are in charge of things, but where is the local representation? Where are the (local) stakeholders? Sooner or later, we have to include them in the process," the Sangh functionary said.
"I know the state substantially well, and with understanding I can say that it is not only development that will bring peace in J&K, but the involvement of local people," he added.
In his previous role as the BJP's general secretary (organisation), Madhav was in charge of J&K, and is credited with stitching up the BJP-People's Democratic Party alliance government in 2015. The BJP, however, pulled out of the Mehbooba Mufti-led coalition government in August 2018.
"The situation in the Kashmir Valley — and I must admit that it has spilled over to Jammu too — needs greater attention from the Government of India. Terrorists have changed their ways. Earlier, they used to attack the police or the Army in an organised way; now they are into lone wolf attacks. They are more into targeted killings. There is a need for greater vigilance and certain acts from the government," said Madhav.
"Some work was done till 2018 as we had our government. If Yasin Malik was brought to book that is because we had our government. Had the BJP government not come in J&K, the NIA (National Investigation Agency) would never have had the opportunity to continue with the investigation," he added, referring to the separatist leader's arrest in a terror funding case.
Source: The Print
Please click the following URL to read the full text of the original story:
https://theprint.in/politics/rss-ram-madhav-says-muslims-need-to-give-up-3-concepts-kafir-ummah-jihad-to-kill/986903/
--------
BJP set to become 'Muslim-free' in Parliament when RS terms of Naqvi, Islam, Akbar end
UNNATI SHARMA
8 June, 2022
New Delhi: The BJP will have no Muslim representative in Parliament after the terms of three incumbent Rajya Sabha MPs — Mukhtar Abbas Naqvi, Syed Zafar Islam and M.J. Akbar — end in June and July.
The ruling party has 301 members in the Lok Sabha, but none of them is Muslim.
Naqvi, the Union Minority Affairs Minister, will bid adieu to the Upper House of Parliament on 7 July. Islam's tenure ends on 4 July, while Akbar will retire on 29 June. While 57 seats across 15 states are up for grabs on 10 June, no Muslim figures in the BJP's list of Rajya Sabha candidates.
BJP's Minority Morcha chief Jamal Siddiqui sought to put the onus for the poor representation on Muslims, saying they have chosen the wrong platforms to represent the community electorally.
"Naqvi sahab, Zafar sahab and other Muslim leaders were in the Rajya Sabha because of their own merit, and not because of their faith. Naqvi sahab is among the top leaders of the party. (Former Deutsche Bank managing director) Zafar sahab knows finance in and out, and we all know how renowned M.J. Akbar is as a journalist," Siddiqui said.
"The BJP has never sent anyone to the House, or removed them, on the basis of religion. It is not true that the party doesn't have representation of Muslims, but, as a community, we need to introspect. Muslims have considered wrong people their heroes."
Siddiqui said the party may have had its reasons not to re-nominate Naqvi and Zafar. "The party might have more important roles for them," he added.
Political analysts believe the low representation will eventually be a cause of concern for the BJP.
Ahead of the 2022 Uttar Pradesh election, Siddiqui had said in an interview with ThePrint that the BJP should field at least 20 Muslim candidates as the morcha had "identified 100 seats that have 30 per cent minority population, 140 with 20 per cent minority vote and 40 with 60-70 per cent".
But the BJP repeated its 2017 pattern of not fielding Muslims in Uttar Pradesh. Its ally, the Apna Dal (Sonelal), fielded Haider Ali, but he lost from Suar to Samajwadi Party veteran Azam Khan's son Abdullah Azam Khan.
While Mohsin Raza was the lone Muslim face in the Yogi Adityanath government in 2017, Danish Azad Ansari replaced him as the minorities welfare minister in the second edition. Like Raza, Ansari is also likely to take the Legislative Council route to continue as minister.
"It is true that there is no dearth of potential talented leaders in the community, but, unfortunately, they have been using the wrong platform. That is why the community could not progress much . If Muslims connect with us, and are willing to join the BJP, they will surely be given the platform and opportunity to grow in the party," Siddiqui told ThePrint.
No Muslims in Lok Sabha, assemblies from BJP
In the 17th Lok Sabha, Lok Janshakti Party's Choudhary Mehboob Ali Kaiser from Bihar's Khagaria constituency is the only Muslim MP from the BJP-led National Democratic Alliance (NDA).
The BJP fielded 6 Muslim candidates in the 2019 general elections, but all of them lost. The party's 7 candidates in 2014 faced the same outcome.
The BJP's Muslim representation is poor at the level of states and Union territories as well. Syed Shahnawaz Hussain in Bihar and Mohsin Raza and Bukkal Nawab in Uttar Pradesh — all members of the legislative councils — constitute its Muslim representation in states.
In Assam, where 31 MLAs are Muslim, none belongs to the BJP or its allies.
The number of Muslim MLAs in Uttar Pradesh rose to 34 in 2022, but none is from the BJP. Danish Azad Ansari is the lone Muslim face in the Yogi Adityanath government but he did not contest the 2022 assembly election.
In West Bengal, which has the highest number of Muslim legislators at 44, 43 are from the Trinamool Congress and one from the Indian Secular Front. In the 2021 West Bengal assembly election, the BJP fielded 9 Muslim candidates but all of them lost.
Former Rajasthan minister Yunus Khan, the BJP's sole Muslim minister in the Vasundhara Raje government formed in 2018, said the decisions about whom to field are taken by the party's parliamentary board, which is the highest decision-making body of the party.
He refused to comment further on queries about how he sees the representation of Muslim community in the BJP.
Political analyst Rasheed Kidwai asserted that the issue is far more complex.
"It takes two to tango. Normally, in a democracy, two sides have a mutual interest and it works fine for both. But unfortunately it has been a problem between the BJP and the Muslims since the time of the Jana Sangh. It is a bit unfortunate, but it is not a simplistic equation that blame may be put on the BJP's doorstep because they also need diversity and representation considering vote-bank politics," Kidwai told ThePrint.
The Muslims are also not drawn towards the BJP, he said. "But in a democracy, it is all about numbers, So if a community is 16-18 per cent of the total population, it must reflect in the party and political positions, and, therefore, it is a cause of concern for the BJP."
Arvind Kumar, political analyst and scholar at University of London, said it "is one of the important strategies of the BJP that it has tried to project marginalisation of Muslims in politics — but not much in the economic or social sphere".
Source: The Print
Please click the following URL to read the full text of the original story:
https://theprint.in/politics/bjp-set-to-become-muslim-free-in-parliament-when-rs-terms-of-naqvi-islam-akbar-end/987467/
--------
Gyanvapi mosque row: PIL seeks panel to unravel truth of structure
Jun 7, 2022
LUCKNOW: A Public Interest Litigation ( PIL) seeking constitution of a committee to be headed by a Supreme Court or high court judge to ascertain the truth regarding the recently found structure in Gyanvapi mosque in Varanasi has been filed in the registry of the Lucknow bench of Allahabad high court on Tuesday.
The PIL is likely to come up for hearing before a vacation bench of justice Rajesh Singh Chauhan and justice Subhash Vidyarthi on June 9.
The PIL has been filed by six persons – Sudhir Singh, Ravi Mishra, Mahant Balak Das, Shivendra Pratap Singh, Markendey Tiwari, Rajiv Rai and Atul Kumar – claiming to be devotees of Lord Shiva.
The petitioners have made the central government, state government and Archaeological Survey of India (ASI) the opposite parties in the case.
In their plea, the petitioners have said that recently a structure emerged on the Gyanvyapi mosque premises in Varanasi, which Hindus claim to be a shivling while Muslims insist that it is a fountain.
Source: Times Of India
Please click the following URL to read the full text of the original story:
https://timesofindia.indiatimes.com/city/lucknow/gyanvapi-mosque-row-pil-seeks-panel-to-unravel-truth-of-structure/articleshow/92066733.cms
--------
4 terrorists, including 2 Pakistanis, killed in J&K since Monday
Jun 7, 2022
NEW DELHI: Four terrorists, including two Pakistanis, were killed in joint operations by the Jammu and Kashmir Police and central security forces in the restive valley in the last two days, officials said on Tuesday.
The action followed Union home minister Amit Shah's directive to security forces to eliminate those involved in the recent series of violent incidents in Kashmir at the two high-level meetings he held in a fortnight.
The Jammu and Kashmir Police, the Army and the Central Armed Police Forces have killed four terrorists since Monday in three different encounters, officials said.
Of the slain terrorists, three belonged to the banned Lashkar-e-Taiba and one was affiliated to the Hizbul Mujahideen. Two of the slain terrorists were Pakistanis and the other two locals, they said.
While Hanzula and Tufail were from Lahore, Ishtiaq Lone was from Tral and Nadeem a native of Kulgam in Jammu and Kashmir.
AK-56 rifles, grenades and a huge quantity of ammunition have been recovered from these terrorists, officials said.
In his meeting on June 3, the home minister had categorically instructed all agencies involved in counterterrorism operations to hunt down terrorists who disturbed the peace in Jammu and Kashmir, they said.
Source: Times Of India
Please click the following URL to read the full text of the original story:
https://timesofindia.indiatimes.com/india/4-terrorists-including-2-pakistanis-killed-in-jk-since-monday/articleshow/92066325.cms
--------
Europe
7 out of 10 Muslims in UK experience Islamophobia at work: Survey
Muhammad Mussa
07.06.2022
LONDON
Seven in 10 British Muslims have experienced some form of Islamophobia in the workplace, according to a new poll released on Tuesday.
The survey showed some 69% of Muslims currently employed in the UK faced some sort of Islamophobic behavior during work-related engagements.
These included interactions with customers, clients, and other people (44%), during work-related social events (42%), and when seeking promotions (40%).
The survey was commissioned by Hyphen, "a new online publication focusing on issues important to Muslims across the UK and Europe," and conducted by polling company Savanta ComRes.
A total of 1,503 British Muslims were interviewed between April 22 and May 10 to collect data that, according to the pollsters, is representative of UK Muslims by age, gender, ethnicity, and region.
Black Muslims were found to have experienced higher levels of Islamophobia compared to other Muslims.
While 37% of all Muslims reported instances of discrimination at the recruitment stage, the figure spike to 58% for Black Muslims.
The Muslim community in the UK has also felt the brunt of the cost of living crisis, with 54% of respondents saying that affording basic household expenses – water, gas and electricity bills, food, and fuel – is a greater challenge than five years ago.
Still hopeful
Despite rising Islamophobia and discrimination, as well as the financial crunch, there is optimism among UK Muslims over broader participation in society, according to a report detailing the poll results.
Just over 50% said their lives have improved over the past five years, 68% felt participation of Muslims in society has increased, while 53% were of the view that Muslims today enjoy more acceptance in the UK.
Additionally, 55% said there are better opportunities for Muslims to be successful in the UK and 58% agreed that young Muslims now have more role models to look up to in the UK.
Source: Anadolu Agency
Please click the following URL to read the full text of the original story:
https://www.aa.com.tr/en/europe/7-out-of-10-muslims-in-uk-experience-islamophobia-at-work-survey/2607871
--------
UN body rebukes Israel for seeking 'complete control' over Occupied Palestinian Territory
June 8, 2022
GENEVA: An independent commission of inquiry set up by the UN Human Rights Council after last year's Gaza conflict said Israel must do more than end the occupation of land Palestinians want for a state, according to a report released on Tuesday.
Israel's ministry of foreign affairs called the report "a waste of money and effort" that amounted to a witch-hunt. Israel boycotted the inquiry, accusing it of bias and barred entry to its investigators.
While prompted by the 11-day May 2021 conflict in which 250 Gaza Palestinians and 13 people in Israel died, the inquiry mandate includes alleged human rights abuses before and after that and seeks to investigate the "root causes" of the tensions.
It cites evidence saying Israel has "no intention of ending the occupation" and is pursuing "complete control" over what it calls the Occupied Palestinian Territory, including East Jerusalem, which was taken by Israel in 1967.
"Ending the occupation alone will not be sufficient," the report says, urging additional action to ensure the equal enjoyment of human rights.
Citing an Israeli law denying naturalisation to Palestinians married to Israelis, the report accuses the country of affording "different civil status, rights and legal protection" for Arab minorities. Israel says such measures safeguard national security and the country's Jewish character.
The Israel ministry added: "It is a biased and one-sided report tainted with hatred for the state of Israel and based on a long series of previous one-sided and biased reports." Israel withdrew from Gaza in 2005 but, with the help of Egypt, clamps down on the borders of the enclave now governed by Hamas. Palestinian authorities have limited self-rule in the West Bank, which is dotted with Israeli settlements.
Source: Dawn
Please click the following URL to read the full text of the original story:
https://www.dawn.com/news/1693717/un-body-rebukes-israel-for-seeking-complete-control-over-occupied-palestinian-territory
--------
Ukraine presses to buy Israel's Iron Dome
08 June, 2022
Ukraine's ambassador is urging Israel to sell its Iron Dome rocket interception system and provide anti-tank missiles to defend civilians against Russia's invasion.
Yevgen Korniychuk on Tuesday stopped short of accusing Israel of blocking the sale of the missile defense system. But he wants the Israeli government to back up its verbal support for Ukraine with military assistance. At a news conference in Tel Aviv, he said Ukraine wants to buy the Iron Dome system, contending that the US would not oppose such a sale.
The US has been financially supporting Israel's Iron Dome for about a decade, providing about $1.6 billion for its production and maintenance, according to the Congressional Research Service. The system is designed to intercept and destroy short-range rockets fired into Israel.
Korniychuk also said Israel last week declined a US request for Germany to deliver Israeli-licensed "Spike" anti-tank missiles to Ukraine.
Source: Al Arabiya
Please click the following URL to read the full text of the original story:
https://english.alarabiya.net/News/world/2022/06/08/Ukraine-presses-to-buy-Israel-s-Iron-Dome
--------
Türkiye rejects 'biased, unrealistic' report by European Parliament
Beyza Binnur Donmez
07.06.2022
Türkiye on Tuesday rejected "biased and unrealistic assessments" from the European Parliament with a "shallow and visionless approach" in its 2021 report on the country.
Releasing a statement after the legislative body's General Assembly approved the report earlier in the day, the Turkish Foreign Ministry said Ankara does not accept the report which ignores the need to strengthen relations between Türkiye and the EU through mutual efforts.
Türkiye primarily expects the European Parliament not to become a tool for "narrow-minded circles," as well as to have an encouraging attitude towards EU institutions for the revival of the accession talks, it added.
However, it has so far taken the "opposite stance," the statement asserted, adding that this attitude is "not surprising" from the European Parliament, which tolerates members of terrorist groups making terrorist propaganda.
The EU parliament had lost its credibility in the eyes of the Turkish public, the ministry said and stressed that the "baseless views" in the report reflecting claims on democracy, the rule of law, and human rights in Türkiye and the "narrow-minded" efforts of some EU members relating to the Aegean, Eastern Mediterranean, and Cyprus issues were "of no use to us."
Türkiye expects the EU and all EU institutions to fulfill their obligations towards Ankara, revitalize the accession process, accelerate dialogue on visa liberalization, start talks to update the Customs Union, increase cooperation in the fight against terrorism, and, especially, implement the 2016 voluntary humanitarian admission scheme within the scope of migration cooperation, it said.
Source: Anadolu Agency
Please click the following URL to read the full text of the original story:
https://www.aa.com.tr/en/europe/turkiye-rejects-biased-unrealistic-report-by-european-parliament/2608081
--------
South Asia
Unidentified Men Abduct a Businessman in Mazar-e-Sharif
By Saqalain Eqbal
07 Jun 2022
Unknown men abducted a businessman in Mazar-e-Sharif, according to Taliban security authorities in Balkh province.
Khwaja Siddiq Siddiqui, the President of the Taj Telayee Company, which deals in importing and producing chicken meat, was kidnapped before noon on Monday, 6th of June, according to local sources.
Khwaja Siddiq Siddiqui was abducted on Monday morning near the Baba Yadgar checkpoint in Mazar-e-Sharif's fourth district while driving his daughter to school, said to Mohammad Asif Waziri, a spokesman for the Taliban's chief of police in Balkh province.
This businessman's fate remains unknown even after several hours.
According to the Taliban's Balkh police office, efforts to secure his release have begun.
According to provincial officials and dealers, traders and businesses in the northern Balkh Province are increasingly investing in the growing poultry sector, which employs over 3,000 people.
Source: Khaama Press
Please click the following URL to read the full text of the original story:
https://www.khaama.com/unidentified-men-abduct-a-businessman-in-mazar-e-sharif-45758/
--------
SIGAR: Allegations of Former President Ghani's Escape with $169M Are "Unlikely to Be True"
By Saqalain Eqbal
07 Jun 2022
The US Special Inspector General for Afghanistan Reconstruction (SIGAR) says the claim that former Afghan President Mohammad Ashraf Ghani transferred $169 million while fleeing the country is "unlikely to be true".
According to a recent report provided by the SIGAR, the interim findings by indicate that on the day of the former Afghan government's collapse, tens of millions of dollars had vanished from various departments of the previous administration, particularly the National Directorate of Security.
The interim findings of SIGAR indicate although that some cash was stolen from the palace grounds and carried onboard the helicopters carrying Ashraf Ghani, evidence suggests that the total amount did not surpass $1 million and was likely closer to $500,000.
Following the collapse of the Afghan government, numerous media outlets stated that former President Ashraf Ghani and his senior advisers escaped Afghanistan with millions of dollars in cash loaded onto helicopters that flew them from the presidential palace to Termez, Uzbekistan, on August 15, 2021.
The Russian embassy in Kabul claimed in the press that the helicopters contained $169 million, and the Afghan ambassador to Tajikistan, Zahir Aghbar, reiterated these assertions in a news conference two days later.
Ambassador Aghbar also vowed to seek President Ghani's arrest from Interpol. Aghbar, on the other hand, refused to speak with SIGAR or provide any evidence to support his claims.
John Sopko, the Special Inspector General for Afghanistan Reconstruction, wrote to the US House of Representatives and the US Senate that "Although SIGAR found that some cash was taken from the grounds of the palace and loaded onto these helicopters, evidence indicates that this number did not exceed $1 million and may have been closer in value to $500,000".
According to SIGAR's report, $5 million in cash was allegedly left behind at the presidential palace and was supposedly split by members of the Presidential Protective Service (PPS) after the helicopters had left but before the Taliban seized the palace.
According to SIGAR, personnel of the PPS Office placed the money in multiple bags and attempted to transport it out of the palace's main gate, which leads to the Ariana crossroads, using the previous president's special motorcade.
When the guards of the palace at the Ariana crossroads stopped these PPS personnel, they claimed that they had been assigned to provide security and transfer Hamid Karzai, Afghanistan's former president.
This $5 million, according to multiple former senior officials, was the president's personal money, which was reported in his assets. In an interview with SIGAR, a former senior official asserted that this was the case, claiming that the president spent the money to help displaced Afghans even in the final days before the collapse.
Former government officials said that around $70 million in operational funding from the Afghan National Directorate of Security (NDS) was used to arm and fund anti-Taliban militias, according to the report.
The official claimed that a group had threatened him to designate a person of their choice as the financial manager of the department. He said that he was offered an amount of 20 million, which is the half of the department's budget, if he complied with their demands.
SIGAR investigation reveals that a substantial amount of money was lost on the day of Kabul's fall, including $5 million at the presidential palace and tens of millions in National Directorate of Security. However, SIGAR is unable to determine the exact amount of money stolen.
Source: Khaama Press
Please click the following URL to read the full text of the original story:
https://www.khaama.com/sigar-allegations-of-former-president-ghanis-escape-with-169m-are-unlikely-to-be-true-67655/
--------
Former Afghan minister returns to Kabul at Taliban invitation
June 08, 2022
KABUL: A former Afghan minister, who fled as the Taliban took over Afghanistan last year, returned on Wednesday, officials said, following security assurances given as part of the hard-line group's initiative to woo back high-profile individuals.
Ghulam Farooq Wardak, a member of the cabinets of former presidents Hamid Karzai and Ashraf Ghani, is the latest in a string of returning officials, said Taliban officials looking to shore up a government yet to win international recognition.
Wardak had returned from Turkey, said Ahmad Wasiq, the spokesman of a body set up by the Taliban to negotiate the return of high-profile Afghans abroad.
Other officials to return included a former spokesman for the defense ministry, the former head of Afghanistan's national power company, and some military officials, he told Reuters.
While Reuters could not immediately verify the return of the others, Wardak spoke to state-run media after landing in Afghanistan.
"Most authorities are thinking about returning," the former education minister said, adding that he felt respect and happiness in his home, although he cautioned that a small group might not want to come back.
Most high-profile officials fled Afghanistan as the Taliban took over last August, including Ghani, the president at the time, who is now in the UAE. Karzai remains in Kabul, the capital.
The Taliban set up the high-powered panel to negotiate the returns a few weeks ago, with nine members, including the intelligence and military chiefs.
It has the power to ensure amnesty, and provide security to returning officials, as well as ensuring work in the private sector.
Since last year, former government personalities, especially security officials have faced reprisals nationwide, say international bodies and media.
Source: Arab News
Please click the following URL to read the full text of the original story:
https://www.arabnews.com/node/2099166/world
--------
North America
Canada's Muslims renew calls to tackle Islamophobia one year after deadly attack
7 June 2022
On the one-year anniversary of a deadly attack that killed four members of the Afzaal family in London, Ontario, Muslim community leaders are renewing calls for the Canadian government to tackle Islamophobia in the country.
On Monday, delegates met with parliament members in the capital, Ottawa, demanding concrete action to address Islamophobia and hate crimes, reaching all the way up to Prime Minister Justin Trudeau, who tweeted a photo of a meeting with delegates from the National Council of Canadian Muslims (NCCM).
The meetings between Muslim advocates and parliament members came a day after thousands took to the streets of London for a march to commemorate the anniversary of last year's killing of four members of the Afzaal family.
Last June, Nathaniel Veltman, 20, deliberately slammed his pick-up truck into Salman Afzaal, 46; his wife Madiha, 44; his 74-year old mother Talat; and their 15-year-old daughter Yumna as they were waiting to cross the road. All four family members were killed, with the only survivor being the couple's nine-year-old son Faez.
The Toronto police chief said at the time that the victims were "targeted because of their Islamic faith".
The attack placed the Muslim community in Canada in a state of fear, grief and anxiety, renewing the same sorrow many held in the aftermath of a deadly 2017 assault on a Quebec mosque that left six worshippers dead, and a fatal stabbing at another mosque in Toronto in 2020.
The attack, however, did not take place in a vacuum, according to members of London's Muslim community. In 2020, researchers found the number of hate groups operating in the country had tripled in recent years. Trudeau vowed to tackle the problem and held a national summit on Islamophobia in July 2021.
"This afternoon in London, thousands of people showed up to honour the Afzaal family; to be there for Fayez, who survived; and to march against Islamophobia," Trudeau tweeted on Sunday. The prime minister attended Sunday's march.
"In memory of #OurLondonFamily, we must keep working together and using every tool we have to combat this hatred."
Canada opens call for Islamophobia envoy
In response to calls from Muslim community leaders, the Canadian government has opened up applications for an envoy for combating Islamophobia, a role that would reach out to communities and advise the prime minister and the government on the best ways to fight hate against Muslims in Canada.
"It is impacting Muslim Canadians from across the country," Minister for Diversity and Inclusion Ahmed Hussen said.
"The application process is open for anyone interested to fulfill the role," he continued. "They will issue recommendations and they will work tirelessly to promote work to combat Islamophobia."
Fatema Abdalla of the NCCM said the announcement is a step in the right direction, but added that more needs to be done to ensure better protection of Muslim communities.
"It's about time that we see action," she told CityNews.
"Security infrastructure program funding that allows for mosques and places of worship to better protect themselves."
The group is also calling for more action to tackle online hate, a national public education campaign on Islamophobia, as well as changes to the criminal code.
Last year, NCCM put forward a list of 61 recommendations to tackle Islamophobia in the country, including putting a pause on "Countering Violent Extremism" programmes that have been found to target Muslim communities.
The recommendations also include the development of a federal anti-Islamophobia strategy that includes a clear definition of Islamophobia by the end of the year and funding to help support victims of hate-motivated crimes.
Source: Middle East Eye
Please click the following URL to read the full text of the original story:
https://www.middleeasteye.net/news/canada-muslims-renew-calls-tackle-islamophobia-one-year-after-london-attack
--------
US says Iran's demands to lift IRGC sanctions behind failure to revive nuclear deal
07 June, 2022
The US told the International Atomic Energy Agency (IAEA) on Tuesday that Iran's demands to lift sanctions off their Revolutionary Guards were behind the failure to revive the abandoned 2015 nuclear deal.
"We have made clear we stand ready to quickly implement a mutual return to the JCPOA. What we need is a willing partner in Iran. In particular, Iran would need to drop demands for sanctions lifting that clearly go beyond the JCPOA and that are now preventing us from concluding a deal," the US said, referring to the nuclear deal by its technical name, the Joint Comprehensive Plan of Action (JCPOA).
Months of negotiations to revive the nuclear pact, under which Iran restricts its nuclear program in return for relief from economic sanctions, have stalled.
In addition to lifting economic sanctions imposed on it under the deal, Tehran has demanded that its Islamic Revolutionary Guard Corps (IRGC) be removed from the US foreign terrorist organizations (FTO) blacklist.
The IRGC is a powerful military force in Iran that has a foreign espionage arm – the Quds Force – which Washington accuses of conducting a global terrorist campaign.
Many US lawmakers oppose removing the IRGC designation and have urged President Joe Biden against yielding to Iran's demands.
Source: Al Arabiya
Please click the following URL to read the full text of the original story:
https://english.alarabiya.net/News/world/2022/06/07/US-says-Iran-s-demands-to-lift-IRGC-sanctions-behind-failure-to-revive-nuclear-deal
--------
US mediator to visit Lebanon for talks on Israel border dispute
Wassim Seif El Din
07.06.2022
BEIRUT, Lebanon
US mediator Amos Hochstein will visit Lebanon next week for talks on a maritime border dispute with Israel, the Lebanese parliament speaker said on Tuesday.
Nabih Berri told a parliamentary session that Hochstein will arrive in Beirut on Sunday or Monday.
Tension rose between Lebanon and Israel earlier this week following the entry of a ship called Energean Power into a disputed maritime area.
On Monday, Israeli Defense Minister Benny Gantz said the dispute with Lebanon over natural gas will be solved within the framework of indirect negotiations under US mediation.
Lebanon and Israel are engaged in a dispute over a maritime area that is 860 square kilometers (332 square miles), according to maps sent by both counties to the UN in 2011.
Source: Anadolu Agency
Please click the following URL to read the full text of the original story:
https://www.aa.com.tr/en/middle-east/us-mediator-to-visit-lebanon-for-talks-on-israel-border-dispute/2607618
--------
Pakistan
Pakistani Senators Call For Boycotting Indian Trade Following Insult to Prophet Muhammad (PBUH)
June 8, 2022
Pakistani lawmakers on Monday condemned the derogatory remarks of two BJP officials against Prophet Muhammad (PBUH), asking for boycotting trade with India.
Lawmakers from both sides of the aisle came together in the upper house of the Parliament on Monday to demand an immediate trade boycott of India by banning all Indian products in Pakistani markets as Senate unanimously passed a resolution that condemned the "highly derogatory and sacrilegious remarks" made by two senior members of India's ruling Bharatiya Janata Party (BJP) against the Holy Prophet Hazrat Muhammad (Peace Be Upon Him).
"These derogatory remarks reflect the fascist face of Indian government which deeply hurt the sentiments of the people of Pakistan, Muslims and respectful people across the world," read the resolution moved by former deputy chairman Senate Saleem Mandviwalla from Pakistan People's Party (PPP).
The Senate, in the resolution, stated that it was deeply concerned at the rising communal violence and hatred against Muslims in India.
"Muslims are being systematically stigmatised, marginalised and subjected to a well-orchestrated state-sponsored physical, economic, social and religious assault from radical mentality in India," it said.
The Senate expressed its strong commitment towards defending Namoos-e-Risaalat of the last Prophet Hazrat Muhammad (PBUH) at national, regional and international fora.
The house reaffirmed its resolution, passed on May 30, against the spreading Islamophobia in Sweden and across the world.
The house unanimously demanded of the federal government to take the following actions: (i) Summon an emergency OIC (Organisation of Islamic Cooperation) conference for recording strong condemnation and protest against the "state-sponsored anti-Islam and sacrilegious acts in India and call upon all Muslim states to carry out diplomatic, economic and political boycott of India." (ii) Record strong condemnation and protest at United Nations against the spreading Islamophobia, "anti-Muslim, anti-Islamic and fascist state-sponsored policies in India and other states." (iii) Mobilise all sources of internal and external publicity for protection of Namoos-e-Risaalat (PBUH) in Pakistan and across the world. (iv) Carry out immediate trade boycott of India by banning all Indian products in Pakistani markets.
Apart from this resolution, Chairman Senate, in a ruling, decided that senators would march, after Juma prayer (June 10), towards the Indian Embassy to record their protest by handing over the unanimous resolution to the high officials of the Indian High Commission.
A three-member delegation will also be sent to the OIC to record protest against the "scathing remarks which have hurt the sentiment of Muslims worldwide," Sanjrani decided.
"We urge the Muslim community and world Parliaments to raise this issue and the matter of Islamophobia on all platforms," the Senate chief remarked, presiding over the house sitting.
Earlier, Leader of the Opposition in Senate Dr Shahzad Waseem demanded that the routine agenda of the house be suspended to take up the issue of blasphemous remarks by the two BJP officials. He demanded that a joint resolution be moved in the house in condemnation of this blasphemy. He also demanded that Indian products be boycotted across the globe.
Mushtaq Ahmed from Jamaat-e-Islami demanded that OIC session be convened to take up the issue of blasphemy by BJP office-bearers. "Holy Prophet is our redline. Whosoever will try to cross this redline will have to pay through the nose," he said. The JI senator also demanded that Indian products be boycotted worldwide.
Source: ABNA24
Please click the following URL to read the full text of the original story:
https://en.abna24.com/news//pakistani-senators-call-for-boycotting-indian-trade-following-insult-to-prophet_1264973.html
--------
For Pakistan, peace with TTP jihadists can prove as bloody as war
PRAVEEN SWAMI
8 June, 2022
Either kill me or stop it now," Chand Bibi whimpered in between screams of pain. As the men of the village watched, she had been pinned to the ground by two men, one her brother. Then, with metronomic precision, a black-turbaned cleric took his lash to her body. Early in 2009, Pakistan had signed a peace deal with jihadists of the Tehreek-e-Taliban Pakistan (TTP), ceding them control of the Swat valley's judicial system. The video was widely circulated, an education on life in the shade of the Sharia.
She came out of her house with another guy who was not her husband," a TTP spokesperson said, "so we must punish her." "There are boundaries you cannot cross."
Last month, that spokesperson—jihadist commander Muslim Khan—was secretly flown out of death row at a military prison in Pakistan, into the custody of the Afghan Taliban in Kabul. The release is key to a series of complex steps to secure a deal with the TTP. Led by Lieutenant-General Faiz Hameed, former chief of the Inter-Services Intelligence and now commanding officer of the Peshawar-headquartered XI corps.
Even as the TTP and the Pakistan Army have ostensibly been observing a ceasefire, jihadist attacks have continued. Just this week, a soldier was killed in an attack on a military post in North Waziristan, and eight more died in an assault across the Afghan border last month. Escalating TTP violence since its Taliban patrons took power in Kabul—the worst in years, according to scholars Amira Jadoon and Abdul Sayeed—gives Islamabad excellent reason to make do a deal.
Yet, the forgotten video of Chand Bibi's punishment and the massive surge in violence of which it was just a small part are reminders that peace with the jihadists might prove as bloody as war.
The rise of Muslim Khan
From interviews conducted by the journalist Imtiaz Ali, it is clear Muslim Khan's story mirrors those of many jihadist leadership from Pakistan's north-west. Educated at a government-run school in Koza Banda, the village where he was born, Khan is believed to have gone on to study at Jahanzeb Government Graduate College, in the town of Mingora, in 1972. He marked the rise of a new, educated class which hoped to sweep aside feudal tribal leadership—and discovered the Kalashnikov just the tool for the cause.
The period was the high-noon of Zulfikar Ali Bhutto, the charismatic prime minister who melded socialism with Islam. Led by the cleric Kausar Niazi—who preached a kind of liberation theology, casting Sharia as the key to social justice— Muslim Khan dropped out of postgraduate studies to become a full-time Pakistan's People Party activist.
By Muslim Khan's own account of events, he was passionately committed to the cause: On one occasion, he kidnapped two government officials after a PPP student activist was killed, and ended up serving almost a month in prison for the crime.
Like millions of other young radicals, though, Muslim Khan's early political career ended in disillusion. From the early 1980s, Khan told journalist Abdul Hai Kakar, he left Swat to work with a British shipping company. There are accounts, somewhat opaque, that the jihad commander also worked in the United States, first with a house-painting company in Boston, and at a petrol pump.
Then, after the first Gulf War broke out, Muslim Khan returned home and set up a pharmaceutical store in Mingora. The diaspora dream was in sight—but Khan hadn't quite given up on politics.
Fighting for Sharia
From early in the 1990s, Muslim Khan became active in the Tehreek-e-Nafaz-e-Shariat-e-Mohammadi (TNSM), or the Movement for Implementing the Prophet Muhammad's Law. Led by the former Jamaat-e-Islami politician Sufi Muhammad Bin Hassan, the movement called for the implementation of the Sharia in Swat. The TNSM mobilised against prime minister Benazir Bhutto's government in 1994, drawing tens of thousands into its crusade against a woman ruling.
And following 9/11, Sufi Muhammad raised thousands of volunteers to fight along the Afghan Taliban. Imprisoned for this crime until 2008, the TNSM left control to his son-in-law Fazal Hayat—and a generation of jihadists who would go on to found the TTP five years later.
Like so many of the TNSM's rank-and-file, Muslim Khan became impatient with Sufi Muhammad's calls for political struggle against the Pakistani state. In one interview, he called the TNSM a party of "old men who can do nothing."
In interviews, Muslim Khan laid out an expansive view of his aims. "Initially we want implementation of Sharia in our own region," he declared, "and then we would like the same in the North-West Frontier Province and then ultimately the whole of Pakistan. He called on Muslims to unite in a single nation, "and form a single army and single currency." "The concept of the Western form of democracy," Khan insisted, "is against Sharia."
Arrested in 2009, in the course of a Pakistan Army offensive into Swat, Muslim Khan was eventually convicted by a military court for the killings of 34 people, including four soldiers. He was also found guilty, a Pakistan Army press release said, of kidnapping two Chinese nationals for ransom. General Qamar Javed Bajwa, Pakistan's army chief, personally signed off on the sentence.
The appointment with the hangman never came, though. Last year, when Lieutenant-General Faiz began negotiating with the TTP in Kabul—using community elders as go-betweens—Muslim Khan's name was among those of over 100 prisoners the jihadist group sought released. The death-row convict's release would have caused deep embarrassment to the Pakistan army, though.
Eventually, Taliban interior minister, Sirajuddin Haqqani, and intelligence chief, Abdul Haq Wasiq, brokered a deal to hand key prisoners over to Kabul, while a final peace deal is hammered out.
Islamabad's perilous peace deals
Following the surge of jihadist violence after 9/11, Daud Khattak has recorded, military ruler General Pervez Musharraf signed a peace agreement with commander Nek Muhammad Wazir. The agreement unravelled inside days. In 2005, there was another deal with jihadist warlord Baitullah Mehsud; the third in Swat; several more, written or informal, in 2008-2009. Finally, in 2014, Pakistan's army was forced to go to war against the jihadists, after the collapse of talks under prime minister Nawaz Sharif.
Each peace deal saw jihadists resiling on their promises to sever ties with transnational groups like al-Qaeda—and step-up attacks on civilians opposed to them. Even the ideologically-sympathetic prime minister Imran Khan—who "preached for understanding for the arsonist", scholar Ahsan Butt has wryly observed—failed to secure peace.
Islamabad had hoped that the rise of the Taliban would see the TTP evicted from its safe-havens in Afghanistan. Instead, thousands of TTP prisoners were released, making their way home.
Faced with an economic meltdown, as well as political chaos, the Pakistan army likely believes going to war is not now a viable choice. Even though the Pakistan army cannot publicly concede the TTP's demands—among them, the withdrawal of the military from the tribal areas of the north-west, and the imposition of Sharia across the region—it's seeking to buy time.
Chand Bibi disappeared from the news seven years after she was tortured. Summoned to the Supreme Court of Pakistan, she—wisely—testified that nothing had happened. Three judges, led by chief justice Mian Saqib Nisar, concluded that the video was fake. Exactly who might have made it, or why, was never made clear.
Source: The Print
Please click the following URL to read the full text of the original story:
https://theprint.in/opinion/security-code/for-pakistan-peace-with-ttp-jihadists-can-prove-as-bloody-as-war/987282/
--------
Pakistanis held in Italy over suspected links to Charlie Hebdo attack
June 8, 2022
ROME: Italy's anti-terrorism police and Europol on Tuesday arrested Pakistanis suspected of links to the man who attacked France's Charlie Hebdo magazine in 2020.
The sting led to "arrests in Italy and abroad of Pakis­tani citizens with direct ties" to Zaheer Hassan Mahmood, a Pakistani man accused of attacking two people with a meat cleaver weeks after the magazine republished controversial cartoons of the Holy Prophet (peace be upon him), Italian police said.
It did not say how many were arrested.
Europol's European Counter Terrorism Centre coordinated the operation along with anti-terrorism police in France and Spain, according to police in Genoa in north-western Italy, where a judge signed 14 arrest warrants concerning offences related to "international terrorism".
Genoa's Il Secolo XIX daily said eight of the arrest warrants had been carried out in Italy against people belonging to "a network of Islamic extremists... who were plotting attacks".
The probe began in Genoa because one of the suspects lives in the area, but months of "wiretaps, stakeouts, tailing suspects and comparing numerous data with police in other countries" revealed other members of the gang in other parts of Italy, France and Spain, it said.
The investigation continues into others with alleged ties to those targeted in Tuesday's sting, it added.
Source: Dawn
Please click the following URL to read the full text of the original story:
https://www.dawn.com/news/1693728/pakistanis-held-in-italy-over-suspected-links-to-charlie-hebdo-attack
--------
Four terrorists killed in North Waziristan, Noshki: ISPR
June 8, 2022
PESHAWAR/QUETTA: Security forces killed four suspected terrorists during operations in North Waziristan tribal district and Balochistan's Noshki district on Tuesday.
According to the Inter-Services Public Relations (ISPR), two terrorists were killed during an exchange of fire with the security forces in the Hassankhel area of Mirali tehsil in North Waziristan. Arms and ammunition were seized from the possession of the dead terrorists who, according to the ISPR statement, were involved in subversive activities.
According to the ISPR, two terrorists were killed during an operation in the Parodh area of Noshki district. Sources said the terrorists tried to escape from their hideout and opened fire on security forces. During the exchange of fire, two terrorists allegedly belonging to the banned Baloch Republic Army were killed.
Source: Dawn
Please click the following URL to read the full text of the original story:
https://www.dawn.com/news/1693697/four-terrorists-killed-in-north-waziristan-noshki-ispr
--------
How Pakistan turned its back on Afghan musicians who fled Taliban rule
7 June, 2022
Afghan musicians who fled the country in search of a better life have landed directly into the fire in Pakistan. Over the last couple of days, many have been arrested and deported back to Taliban-ruled Afghanistan under the Foreigners Act, 1946.
At a protest in Khyber Pakhtunkhwa, the musicians told The Express Tribune that the police bring deportation charges as soon as they learn they are artists.
"I have a large household, including an ailing father, to take care of… I had no source of income; therefore, I came to Peshawar," one of the musicians told Dawn without giving his real name.
About 150 Afghan artists have been living in Peshawar since August 2021. For these artists, whether to flee Afghanistan or not was not a choice. "Taliban will not leave us if we don't quit our profession," singer Pasun Munawar said. Another singer Ajmal reportedly changed his attire before arriving in Peshawar.
Taliban's ban
The Taliban's takeover of Afghanistan on 15 August 2021 put an unofficial ban on music, sports, education (the latter two mainly for women). Many have either fled the country or stopped performing at all.
With the US invasion, Afghanistan saw a return of its strong musical tradition, influenced by Iranian and Indian classical music. In the last 20 years, before Joe Biden ordered withdrawal of US troops, a thriving pop music scene had also developed in Afghanistan.
Afghanistan National Institute of Music had done the unthinkable by being home to the country's first all-female orchestra. Zohra used to perform to huge audiences both nationally and internationally.
Now, videos of the Taliban smashing and burning instruments are all over social media.
In October 2021, Taliban members shot dead two people and injured two others over music being played at a wedding in Surkh Rod, Nangarhar province.
Pakistan's law
Four Afghan musicians spent a week in a jail in Khyber Pakhtunkhwa before social media uproar led to a local court granting them bail. They had been arrested after a performance on 28 May. Opposition leaders in the Khyber Pakhtunkhwa assembly, including Awami National Party MP Sardar Hussain Babak and Pakistan Muslim League-Nawaz member Ikhtiar Wali Khan had also joined the protest
Dawn reported that judicial magistrate Sher Hassan Khan accepted bail petition of the musicians on condition of two sureties of Rs 90,000 each.
The advocate appearing for Naveedullah, Nadeem Shad, Saeedullah, and Ajmal argued that deportation would mean sending the musicians to a life of threat. He added that Islamabad should consider letting them stay in the country on humanitarian grounds.
"We arrived in this country to look for asylum out of desperation," Hafta Gul, a singer, told BBC Pashto. "We have nowhere else to go."
The Khyber Pakhtunkhwa police, however, is not keen on letting them stay. Dawn newspaper reported that there have been 1,900 arrests so far, citing police sources, with no clarity yet on how many have been deported. An officer said the police have arrested those who came over illegally and do not have valid documents. Musicians say getting a Pakistani visa can cost up to $600 (about 1.2 lakh Pakistani rupees).
"The Afghan artists who have arrived here live in fear and great misery," musician Zaryali told RFE/RL's Radio Mashaal.
Uncertain future
Afghans started fleeing to various countries once it became clear that the Taliban rule would reverse everything that changed in the last 20 years. One musician said that his son went missing and was later found in Turkey. He is worried that if Turkish officials get hold of him, he will also be deported back to Afghanistan.
For many, the post-Soviet invasion fears of an uncertain future have returned. Many Afghans had fled to Pakistan and returned to their homeland after Hamid Karzai took as president in 2001.
Source: The Print
Please click the following URL to read the full text of the original story:
https://theprint.in/go-to-pakistan/how-pakistan-turned-its-back-on-afghan-musicians-who-fled-taliban-rule/986631/
--------
Southeast Asia
Indonesia, Malaysia protest to India over anti-Islam remarks
June 8, 2022
Jakarta/Kuala Lumpur: Indonesia and Malaysia summoned India's envoys on Tuesday to protest over derogatory remarks made about the Holy Prophet (peace be upon him) by two members of the Bharatiya Janata Party.
The move came as anger spread across the Muslim world, with various Middle Eastern nations summoning New Delhi's envoys and a Kuwaiti supermarket removing Indian products.
Remarks by a spokeswoman for Bharatiya Janata Party (BJP), who has since been suspended, sparked the furore.
Another official, the party's media chief for Delhi, posted a tweet last week about the Holy Prophet (peace be upon him) that was later deleted.
Indonesian foreign ministry spokesperson Teuku Faizasyah said India's ambassador in Jakarta, Manoj Kumar Bharti, was summoned, with the government lodging a complaint about anti-Muslim rhetoric.
BJP members asked to exercise caution
In a statement posted on Twitter, the ministry said Indonesia -- the world's most populous Muslim-majority country -- "strongly condemns unacceptable derogatory rely marks" made by two Indian politicians against the Holy Prophet (peace be upon him).
The tweet did not mention the officials by name, but was an apparent reference to BJP spokeswoman Nupur Sharma and the party's Delhi media chief Naveen Jindal, who was expelled from the BJP, according to Indian media reports.
Malaysia's foreign ministry said it "unreservedly condemns the derogatory remarks" by Indian politicians, adding that it had conveyed its "total repudiation" to the Indian ambassador.
"Malaysia calls upon India to work together in ending Islamophobia and cease any provocative acts in the interest of peace and stability," it said.
BJP admonishes members
The Bharatiya Janata Party (BJP) has instructed its members to be "extremely cautious" when talking about religion on public platforms after derogatory remarks about the Holy Prophet (peace be upon him) drew protests from Muslim nations.
Muslims across India have felt more pressure on everything from freedom of worship to hijab during Prime Minister Narendra Modi's rule. There were Hindu-Muslim clashes during processions recently, following deadly riots in 2019-20.
Two BJP leaders said the verbal instructions were given to over 30 senior officials and some federal ministers who are authorised to take part in debates hosted by Indian news channels.
"We don't want party officials to speak in a way that hurts the religious sentiments of any community...They must ensure the party's doctrine gets shared in a sophisticated manner," said a senior BJP leader and federal minister in New Delhi.
With about 110 million members, mainly Hindus, the BJP is the world's largest political party, while Muslims comprise around 13 per cent of India's 1.35 billion population.
Last week the BJP suspended the spokeswoman and expelled another official after Muslim nations sought apologies from the Indian government and summoned diplomats to protest remarks made during a TV debate.
Source: Dawn
Please click the following URL to read the full text of the original story:
https://www.dawn.com/news/1693715/indonesia-malaysia-protest-to-india-over-anti-islam-remarks
--------
Muslim Group Leader Arrested in Lampung for Promoting Caliphate
BY: THE JAKARTA GLOBE
JUNE 07, 2022
Jakarta. An elderly man believed to be the leader of Muslim group Khilafatul Muslimin was arrested in the province of Lampung early on Tuesday after group members staged a rally in Jakarta promoting a caliphate.
Abdul Qodir Baraja was flown to Jakarta for questioning related to the May 29 motorcycle convoy in which his followers carried banners in support of the Islamic caliphate, Jakarta Police spokesman Chief Comr. Endra Zulpan said.
Videos circulating on social media accounts show one banner that reads: "Embrace the rise of the Islamic caliphate."
Abdul was arrested at the group's headquarters in the provincial capital Bandar Lampung by a team from the Jakarta Police.
The officer said earlier that the group was being investigated for a potential violation of the 1945 Constitution because they incited hatred towards the legitimate government and intended to introduce a new government system.
A similar rally was held in the Central Java town of Brebes, leading to the arrest of three suspects on Monday.
Central Java Police spokesman Chief Comr. Iqbal Alqudusy told the Antara news agency the group's actions could amount to treason for promoting the establishment of an Islamic state in Indonesia.
He also said Khilafatul Muslimin is the core of Hizbut Tahrir Indonesia, another caliphate-inspired group that has been officially banned.
Denial
In an interview with Jakarta Globe's sister publication Beritasatu at his Lampung residence last week, Abdul denied that his group was against the constitution and the national ideology Pancasila.
"The Khilafatul Muslimin was founded to unite Muslims and non-Muslims to defend NKRI," Abdul said, using the acronym that stands for the Unitary State of the Republic of Indonesia.
"There is no intention to divide this nation whatsoever."
The motorcycle convoy is part of a religious campaign to promote unity as prescribed by the Koran, he added.
"We have thousands of followers in Lampung and they live in harmony and peace [with other communities]," Abdul said.
He claimed that since its establishment in 1997, the group has drawn millions of followers across the globe.
Terrorism Links
A counter-terrorism official said Abdul was a repeat terror convict who has spent 16 years in prison for bomb attacks, including the one at the Borobudur Temple in Central Java in 1985.
Abdul is also a co-founder of Al Mukmin Islamic Boarding School in Ngruki, Central Java, together with Abu Bakar Baasyir, the spiritual leader of terror group Jemaah Islamiyah, according to Ahmad Nurwakhid, a director with the National Counterterrorism Agency, or BNPT.
"They may say that they have no problem with Pancasila, but their ideology perceives anything other than their own belief as an infidel system," Ahmad told Detikcom news website.
Source: Jakarta Globe
Please click the following URL to read the full text of the original story:
https://jakartaglobe.id/news/muslim-group-leader-arrested-in-lampung-for-promoting-caliphate
--------
Hold firm to Islamic principles prohibiting insults against others, says religious affairs minister
07 Jun 2022
KUALA LUMPUR, June 7 — Muslims in this country must adhere to the principles and teachings of Islam which prohibit its worshippers from insulting and sowing the seeds of hatred against other religions.
Minister in the Prime Minister's Department (Religious Affairs) Datuk Idris Ahmad said as such, Muslims should refrain from reacting to any attempts to insult the religion.
"It is not good for us to behave like that (insulting other religions). It should have not happened to any religion at all," he told reporters after the launch of books published by Yayasan Dakwah Islamiah Malaysia (YADIM) in conjunction with the Kuala Lumpur International Book Fair (PBAKL) 2022 here today.
Idris was asked to comment on the recent remarks by officials from India's ruling party Bharatiya Janata Party (BJP) that insulted Prophet Muhammad SAW and his wife Saidatina Aisyah RA.
The controversial remarks have sparked outrage among Muslims around the world, especially in West Asia, who condemned the act, while some shopping malls have even removed India's products from their shelves.
When asked whether Malaysia would follow the steps of other countries in boycotting products from India, Idris said the matter would be discussed later.
On the alleged superstitious practices which went viral on social media recently, he urged the local authorities to investigate and take appropriate action as any matter involving religion is under the jurisdiction of the state government.
Source: Malay Mail
Please click the following URL to read the full text of the original story:
https://www.malaymail.com/news/malaysia/2022/06/07/hold-firm-to-islamic-principles-prohibiting-insults-against-others-says-religious-affairs-minister/11067
--------
Tengku Zafrul's political ambitions distract from ministerial duties
June 8, 2022
He claimed not to be a politician when sworn in as senator prior to being named finance minister in Muhyiddin Yassin's government on March 9, 2020.
"The thinking was (that) they wanted a technocrat," Tengku Zafrul Aziz was quoted as saying in another interview three months later.
At the time, it seemed to show bold, courageous and out-of-the-box thinking on the part of the then prime minister. Such a change from a country so used to one man occupying both the roles of premier and finance minister, which left the treasury prone to abuse.
With the pandemic just unfolding, it appeared that Muhyiddin was prepared to put aside the partisan politics by which he was appointed to install a technocrat with specialised knowledge to a key portfolio.
Two years on, however, it appears that Tengku Zafrul lacks the requisite attributes to steer the country out of the muck it languishes in.
Yes, the economy grew by 5% in Q1 of 2022, but this was largely on the back of rising domestic demand driven in no small part by a staggering net EPF withdrawal of RM58.2 billion in 2021 and other cash handouts given to the public.
On the other hand, government debt has risen by RM320 billion, the ringgit's value is plummeting, inflation is on the rise again, prices for food and consumer goods are climbing steeply, wages are declining, unemployment is high, and the rakyat is falling deeper into debt.
Despite this, we have yet to hear Tengku Zafrul articulate any viable fiscal policy to reverse these trends.
Come October, this government will almost certainly have to fall back on cash handouts to stimulate the economy. Surely two years on the job is long enough for Tengku Zafrul to advise the prime minister that a policy of cash handouts premised on borrowings is unsustainable.
Properly, the finance minister should train his mind on more fundamental questions. For example:
How can the government pare down its RM1.2 trillion debt?
What strategies can be put in place to reduce household debt?
How do we reverse declining private and public investments?
Do not hold your breath, though. Our finance minister has yet to explain why he agreed to settle the 1MDB-Goldman Sachs scandal for US$2.5 billion in July 2020 despite the country being cheated of more than US$6.5 billion!
Instead of putting his technocratic mind to these matters, he appears to be harbouring political ambitions, with rumours rife that he will emerge as an Umno candidate to contest a seat in GE15.
Rather than quash such talk, Tengku Zafrul appears busy trying to secure the safest seat available, presumably in the hope of retaining his ministerial position if Umno/BN is returned to power.
Those machinations seem to have caused him to set his sights on Kuala Selangor, either attracted to fireflies or the prospect of an easy open race after sitting Amanah MP Dzulkefly Ahmad announced his retirement from politics early this month.
Why else would Tengku Zafrul announce out of the blue at the beginning of the week the finance ministry's adoption of Kuala Selangor for development as well as the building of an East Coast Rail Link (ECRL) station in Puncak Alam?
At best, that announcement showed an abject failure on his part to comprehend the limits of his job responsibility.
First and foremost, ECRL alignment, construction and management are matters within the purview of the Land Public Transport Agency, which falls under the transport ministry, not the treasury.
As finance minister, Tengku Zafrul ought to concern himself with explaining to the public the viability of the project, in particular how much it will cost, how it will be financed and how much debt the government will incur.
That aside, who has ever heard of any ministry singling out a particular district for development?
How can the finance ministry play foster parent to any particular district or town? Tax dollars are drawn from all over the country and, as a general rule, development must be carried out evenly across its length and breath.
Tengku Zafrul must immediately explain to the public how the decision was arrived at. What were the criteria used?
Perhaps, in particular instances, development expenditure may be necessary to lift the rakyat from a certain geographical area out of poverty.
Source: Free Malaysia Today
Please click the following URL to read the full text of the original story:
https://www.freemalaysiatoday.com/category/opinion/2022/06/08/tengku-zafruls-political-ambitions-distract-from-ministerial-duties/
--------
Arab World
Saudi Arabia Adds 16 Individuals, Entities To Its Terror List
07 June, 2022
Member countries of the Terrorist Financing Targeting Centre (TFTC), which include Saudi Arabia, designated 16 individuals, entities and groups as terrorists, the official Saudi Press Agency (SPA) reported on Monday.
Established in 2017, the TFTC includes the US, Bahrain, Kuwait, Oman, Qatar, Saudi Arabia, the UAE, and aims to strengthen efforts to confront regional money laundering and terrorist financing networks.
The individuals and entities, which have all been previously designated by the US, include three individuals and two groups affiliated with Iran's Revolutionary Guard Corps-Quds Force (IRGC-QF), four individuals and one company associated with ISIS, and six financiers affiliated with Boko Haram.
Affiliated with the IRGC
A Lebanese identified as Ali Qasir and two Iranians, Meghdad Amini and Morteza Hashemi, have been designated for being associated with the IRGC-QF and Lebanon's "terrorist" Hezbollah party.
According to the US Treasury, Amini and Qasir supervise a network of around 20 people and front companies in several countries for the purpose of financing Hezbollah and the IRGC-QF by facilitating "the sale of tens of millions of dollars' worth of gold, electronics and foreign currency."
Hashemi directs multiple companies based out of Hong Kong and mainland China and has exploited his "access to the international financial system to launder vast sums of money for the IRGC-QF and Hezbollah."
The two groups designated for their affiliation with the IRGC are Saraya al-Mukhtar and Saraya al-Ashtar which targeted Bahrain and received financial, military, and logistical support from the IRGC.
According to the US Treasury, Saraya al-Mukhtar planned attacks targeting US personnel in Bahrain while Saraya al-Ashtar targeted security forces in Bahrain and also encouraged violence against the government of Britain, Saudi Arabia and the US via social media.
Affiliated with ISIS and its branches
A company as well four individuals were designated over their ties with ISIS and its branches.
They were identified as Ismatullah Khalozai, an Afghan citizen linked to ISIS-Khorsan Province, and Alaa Khanfurah, Baraa al-Qatirji and Hussam al-Qatirji, Syrian citizens affiliated with ISIS.
Baraa al-Qatirji and Hussam al-Qatirji are the founders of al-Qatirji Company which was also designated for facilitating the sale of oil to ISIS and for cooperating with the IRGC-QF.
According to the US Treasury, al-Qatirji Company, which is based in Syria, has also delivered weapons to Syria from Iraq. In 2016, it provided supplies to ISIS-controlled territories.
"In a 2016 trade deal between the Government of Syria and ISIS, al-Qatirji Company was identified as the exclusive agent for providing supplies to ISIS-controlled areas, including oil and other commodities," the US Treasury said.
Source: Al Arabiya
Please click the following URL to read the full text of the original story:
https://english.alarabiya.net/News/gulf/2022/06/07/Saudi-Arabia-adds-16-individuals-entities-to-its-terror-list
--------
Syrian refugees vow to take part in retaking areas from YPG/PKK terror groups
Omer Koparan, Mehmet Burak Karacaoglu and Esref Musa
07.06.2022
JARABLUS, Syria
Residents of the northern Syrian district of Manbij, who were forced to flee their homes owing to the YPG/PKK terror group's coercive measures, applauded a statement issued by Turkey's top leader and vowed to play their part in liberating their land from the outfit.
The YPG/PKK terror group forced tens of thousands of civilians to migrate to areas near the Turkish border from the Manbij district of Aleppo, which they took with US support six years ago under the guise of battling Daesh/ISIS terrorists.
Abdullah Shilash, the leader of Manbij's Bani Said tribe, told Anadolu Agency that his tribe is willing to play its part to clean out their district of terrorists.
"We want to free the district as quickly as possible. We have been displaced for many years now. We fully support President Recep Tayyip Erdogan's words," Silas remarked, alluding to the president's statement about clearing YPG/PKK terrorists from Manbij and Tel Rifat.
He also noted that the YPG/PKK is detaining Arab youth under the guise of compulsory military service.
Earlier, Turkish President Erdogan said Türkiye is set to clear two areas of northern Syria, near the Turkish border, of terrorist elements in a bid to eliminate the terror threat from the region.
"We are entering a new phase of our decision to establish a safe zone 30 kilometers (18.6 miles) deep south (of the Turkish-Syrian border). We are clearing Tel Rifat and Manbij of terrorists," Erdogan stated this recently at a gathering of his Justice and Development (AK) Party in the capital Ankara.
In Manbij, where 99% of the population is Arab, the terrorist group is driving people to migrate by utilizing coercive measures such as forcibly recruiting young people to its armed group under the cover of "compulsory military service."
The displaced people from Manbij have been living away from their homes for about six years in makeshift tents set up with their own means around Bab and Jarablus districts along the Turkish border.
'We are counting the days to regain our lands'
Ali Suleiman, a camp resident from the same district, told Anadolu Agency that the terrorist group's compulsory military service practice pushed thousands of young people from Manbij to migrate.
Waiting for the Turkish Armed Forces (TSK) and the Syrian National Army (SMO) to take action and help the refugees return to their district, Suleiman said, "We are counting the days to regain our lands."
Gomaa Khatib, another displaced person, expressed support for all types of military operations to return displaced civilians to their homes and lands after fleeing YPG/PKK terror group's persecution.
Situation in Manbij
The YPG/PKK terror group has maintained their coercive tactics, harassing civilians with "compulsory military service" and other subjugation measures.
People in Manbij who oppose the YPG/PKK terror group's coercive actions hold protests from time to time to express their dissatisfaction and rejection of such illegal practice.
To penalize the local population, the terror group has monopolized patrol in the district and has been depriving people of much-needed gasoline. Before the civil war, the district had a population of about one million people.
Moreover, after being chased out of the territories by Turkish forces, terrorists in Manbij periodically target Jarablus and Bab districts in the safe zone.
The YPG/PKK terror group often mounts attacks on Jarabulus, Afrin, and Azaz from the Manbij and Tal Rifat areas in Syria.
The YPG/PKK terror group also target Turkish forces who provide security in the operations Euphrates Shield, Olive Branch and Peace Spring areas, and try to infiltrate the positions of Syrian opposition fighters from regions where the terror group was supposed to withdraw under the agreements with the US and Russia.
Since 2016, Ankara has launched a trio of successful anti-terror operations across its border in northern Syria to prevent the formation of a terror corridor and enable the peaceful settlement of residents: Euphrates Shield (2016), Olive Branch (2018), and Peace Spring (2019).
Source: Anadolu Agency
Please click the following URL to read the full text of the original story:
https://www.aa.com.tr/en/middle-east/syrian-refugees-vow-to-take-part-in-retaking-areas-from-ypg-pkk-terror-groups/2607859
--------
Turkish forces 'neutralize' 18 PKK terrorists in northern Iraq, Syria
Faruk Zorlu and Merve Berker
07.06.2022
Turkish forces "neutralized" 18 PKK terrorists in northern regions of Iraq and Syria, the National Defense Ministry said on Tuesday.
Ten terrorists were targeted in northern Iraq in the Operation Claw-Lock zone, the ministry said on Twitter.
It also said the Turkish soldiers have seized numerous arms, ammunition, caves, and shelters that the terrorists used in northern Iraq as part of the cross-border anti-terror operation.
Türkiye launched Operation Claw-Lock in April to target PKK hideouts in Iraq's northern Metina, Zap, and Avasin-Basyan regions.
It was preceded by Operations Claw-Tiger and Claw-Eagle, which were launched in 2020 to root out terrorists hiding in northern Iraq and plotting cross-border attacks in Türkiye.
Turkish authorities use the term "neutralize" to imply the terrorists in question surrendered or were killed or captured.
Separately, eight PKK terrorists were neutralized in northern Syria in areas of Operation Euphrates Shield, Olive Branch and Peace Spring.
"There is no escape from the end waiting for the terrorists themselves," said the ministry, adding: "Our operations will continue unabated."
The YPG/PKK terrorists often target Turkish security forces who provide security in the areas of Operation Euphrates Shield, Olive Branch and Peace Spring, and try to infiltrate the positions of Syrian opposition fighters from regions which the terror group was supposed to withdraw from under agreements with the US and Russia.
Since 2016, Ankara has launched a trio of successful anti-terror operations across its border in northern Syria to prevent the formation of a terror corridor and enable the peaceful settlement of residents: Euphrates Shield (2016), Olive Branch (2018), and Peace Spring (2019).
Source: Anadolu Agency
Please click the following URL to read the full text of the original story:
https://www.aa.com.tr/en/middle-east/turkish-forces-neutralize-18-pkk-terrorists-in-northern-iraq-syria/2607846
--------
Gulf states blacklist terror financiers linked to Iran, Islamic State, Syrian regime
June 7, 2022
Members of the Riyadh-based Terrorist Financing Targeting Center (TFTC), which includes the United States, Saudi Arabia, the United Arab Emirates, Qatar, Kuwait, Bahrain and Oman, blacklisted 13 individuals and three organizations for financing terrorism on Monday.
Among them were Hossam and Muhammad al-Qatarji, lead members of the Syrian regime's oil trade network with the Islamic State (IS) who were previously sanctioned by the United States in 2018.
Other targets included:
Three men — Ali Qasir, Meghdad Amini and Morteza Hashemi — accused of helping Iran's Islamic Revolutionary Guard Corps (IRGC) Quds Force and Hezbollah move and launder tens of millions of dollars, including via institutions in the UAE, and establish IRGC front companies in China.
Bahrain-based Shia militant groups Saraya al-Mukhtar and Saraya al-Ashtar (also known as al-Ashtar Brigades) that received IRGC training and explosives and plotted attacks against Bahraini and US officials. Both are US-designated terrorist groups.
Six members of a Boko Haram financing cell convicted in the United Arab Emirates in 2019.
Two additional IS financiers: Ismatullah Khalozai, accused of aiding the group's branch in Afghanistan from Turkey, and Alaa Khanfurah, who facilitated financial transfers between IS leaders in Syria via his Turkey-based money service business.
Why it matters: Washington has long pressed GCC states to crack down on terror funding networks that use their institutions, with mixed success.
All of these entities were previously sanctioned by the United States, but the TFTC's marks a sign of some progress in recent years' efforts.
"Over the past five years, TFTC member states have addressed a broad range of terrorist financing activity in the Arabian Peninsula, with the goal of strengthening regional defenses and capabilities to counter terrorist financing," US Undersecretary of the Treasury for terrorism and financial intelligence Brian Nelson said in a statement released following yesterday's meeting in Riyadh.
"The TFTC's actions today signal the determination and commitment of TFTC member states to continue to work toward these goals, as well as unity in the commitment to root out the full scope of terrorist financing activity," Nelson said.
The move comes just three months after the world's leading financial watchdog, the Brussels-based Financial Action Task Force (FATF), downgraded the UAE to a grey list for failing to adequately crack down on terrorist funds flowing through the Gulf country.
The Biden administration raised no objection to the FATF's decision, a US official told Al-Monitor.
Source: Al Monitor
Please click the following URL to read the full text of the original story:
https://www.al-monitor.com/originals/2022/06/gulf-states-blacklist-terror-financiers-linked-iran-islamic-state-syrian-regime
--------
No dialogue with the Muslim Brotherhood
Gamal Essam El-Din
7 Jun 2022
Political forces preparing themselves for the national dialogue proposed by President Abdel-Fattah Al-Sisi on 26 April reject any participation by Islamists, particularly the outlawed Muslim Brotherhood.
The rejection followed a series of statements issued in recent days by a number of Islamists and Muslim Brotherhood officials living in Turkey and some European capitals.
The first statement came from Youssef Nada, a Muslim Brotherhood millionaire living in Switzerland. Nada said "the door of the Muslim Brotherhood group is open for dialogue with the regime in Egypt… We are ready for the possibility of dialogue with the Egyptian presidency and to forgive injustice without pre-conditions."
Nada is a loyalist to the Muslim Brotherhood's wing in London, led by the group's de-facto supreme leader Ibrahim Mounir. In October 2021, the Muslim Brotherhood leadership split into two factions, one based in London and led by Mounir, the second based in Istanbul and led by the group's secretary-general Mahmoud Hussein.
Political analyst Abdallah Al-Sennawi said in a recent TV interview that the Brotherhood's London-based faction's approval of the national dialogue shows that its leaders recognised the group has lost enormous amounts of ground and sees the dialogue as a way of regaining the spotlight. He argued that Nada's statement was intended to test the waters and determined whether dialogue presents an opportunity for the Brotherhood to regain a toehold in Egypt' political life.
Al-Sennawi concluded that any invitation to Brotherhood representatives to participate in the dialogue was at best improbable, and any hopes the Brotherhood has of reaching some kind of deal hopelessly misplaced.
Fattouh Heikal, a political consultant with the London-based Trend Centre for Research and Consultations, pointed out that "this is not the first time the Brotherhood's London-based faction directs a message of reconciliation to the ruling regime in Egypt."
The Istanbul-based faction issued its own statement welcoming the dialogue as "a good political tool" while noting "confidence-building measures are a pre-condition for the success of the dialogue."
Heikal views both factions' responses as symptomatic of the severe crisis affecting the Brotherhood. "Not only have they split into two warring factions, but they have been facing intense financial pressure over the last two years. Some of their leaders have been expelled from Turkey and their Istanbul-based TV channels have been closed, while Qatar, which used to be a safe haven for the Brotherhood in the past, has chosen to mend fences with Egypt," says Heikal.
A third statement, from the Islamist party Building and Development, the political arm of Al-Gamaa Al-Islamiya, saw the party's former chairman Tarek Al-Zomor say he welcomed participation in the proposed dialogue "with the stipulation it should be serious and leads to tangible political reforms."
Al-Zomor was a member of Islamic Jihad which carried out the assassination of president Anwar Al-Sadat in October 1981. Al-Zomor and his brother Abboud were sentenced to life in prison following the assassination of president Sadat only to be released after the 2011 January Revolution. In July 2013, when millions took to the streets to protest against the Brotherhood rule of Mohamed Morsi, he fled to Qatar.
A fourth statement came from secular politician and manager of the Istanbul-based Al-Sharq TV channel Ayman Nour. The 58-year-old, who has been living in Istanbul since 2013, said "all politicians should welcome the idea of a national dialogue but as chairman of the Union of Egyptian National Forces I should stipulate that pre-conditions are needed for the dialogue to be a success."
Al-Sennawi revealed in his interview that "Ayman Nour has sent a secret message to officials in Egypt asking them to allow him to return from Turkey and participate in the dialogue" and that Nour "is a sympathiser and confidante of the Muslim Brotherhood and wants to act as the group's front man" for them in the dialogue.
Nour dismissed any suggestion that he had engaged in secret contacts with Egyptian officials, though he added that he was "a friend of the Muslim Brotherhood and the elected chairman of the Egyptian National Forces which includes the Brotherhood as a major member".
Groups across the political spectrum in Egypt have voiced their rejection of any participation in the dialogue by Islamist figures.
Farid Zahran, chairman of the Egyptian Socialist Democratic Party and an appointed senator, said that "when President Al-Sisi issued his call for the national dialogue and said that political forces would attend he meant civilian and secular opposition forces based in Egypt which have never been involved in violence or have blood on their hands."
Tarek Radwan, chairman of parliament's Human Rights Committee, agrees that President Al-Sisi's call for dialogue was directed to political forces representing the left, the right, and the centre, but not to groups which have been designated as terrorist or involved in violence.
"When you call for dialogue, you are addressing forces which want to build the country, not those who want to disrupt it," he said.
Sayed Abdel-Aal, chairman of the Tagammu Party, told Al-Ahram Weekly that he had been taken aback by Muslim Brotherhood leaders living in Istanbul and London issuing statements. "How can they square their descriptions of President Al-Sisi's regime as dictatorial and the result of a military coup and at the same time welcome the dialogue," he asked.
Abdel-Aal also argued secular figures like Nour who have chosen to live outside the country and obtain money from hostile forces in return for attacking the regime should be excluded.
Mohamed Abul-Ela, chairman of the Arab Nasserist Party, told the Weekly that the call for national dialogue should be limited to civilian forces that participated in the anti-Muslim Brotherhood 30 June Revolution in 2013.
"These forces revolted against political Islam in general and rejected any attempts to turn Egypt into a religious state," he said.
Khaled Okasha, head of the Egyptian Centre for Strategic Studies, told Abu Dhabi-based Al-Ain website that the Muslim Brotherhood has been heavily involved in terrorist activities via military offshoots like Hasm and Lewaa Al-Thawra, and is responsible for the murder of many soldiers and police personnel since 2013, a fact that "precludes the opening of political channels to the outlawed group".
Okasha attributed the group's welcoming of the dialogue to "internal crises and strife and the desire of its leaders to show Western media that it is a political force that rejects violence".
At an event held to mark Eid Al-Fitr on 2 May, President Al-Sisi said that the Muslim Brotherhood had repeatedly threatened to target the army and sow chaos across Egypt. He mentioned that the Brotherhood's deputy supreme guide Khairat Al-Shater had threatened him personally when the group ruled the country.
Source: Ahram
Please click the following URL to read the full text of the original story:
https://english.ahram.org.eg/News/467579.aspx
--------
Saudi Arabia readies for its first-ever Islamic Arts Biennale
7 Jun 2022
Taking place at the Hajj Terminal, known as the Canopy Terminal, the inaugural biennale will carry a theme of Awwal Bayt (First House).
Awwal Bayt is a term derived from the Quran and refers to the Muslims' sacred site, the Kaaba, the Black Stone of Mecca at center of Islam's most important mosque, the Masjid Al-Haram (The Great Mosque), and the Qiblah, which is the direction of prayer to the Kaaba.
The aim of the biennale is to showcase and celebrate the riches of the Islamic arts while creating an emphasis on a strong connection between all Muslims around the world as well as underscoring the links between the spiritual and the artistic aesthetics.
The details about the participating artists and the works are yet to be revealed.
Built in 1981, and located at the at the King Abdulaziz International Airport, the Hajj Termina receives millions of pilgrims coming to Saudi Arabia to take part in the rituals associated with the annual Hajj. In 1983, the building was awarded the Aga Khan Award for Architecture.
The 70,000 square-metre location will host a large exhibition space in addition to spaces for creative workshops, theatre, and dining venues, the Islamic Arts Biennale will also extend to other locations
The event is organised by the Diriyah Biennale Foundation, the same entity that organised the Diriyah Contemporary Art Biennale, the Kingdom's first international contemporary art biennale which took place between 11 December 2021 and 11 March 2022 at the outskirts of Riyadh.
Source: Ahram
Please click the following URL to read the full text of the original story:
https://english.ahram.org.eg/News/467534.aspx
--------
Syrian and Russian air forces conduct joint drill over Syria
07 June, 2022
Syria's Defense Ministry on Tuesday released footage of its airforce conducting a joint drill with Russia, the first since that country's invasion of Ukraine began more than three months ago,
The ministry said two Russian SU-35 fighter jets and six Syrian MiG-23 and MiG-29 aircraft simulated facing "hostile" warplanes and drones.
Syrian pilots dealt with them with cover and support from the Russian warplanes, it said.
"All illusive targets were monitored and completely destroyed while aerial targets were hit at night for the first time," the Syrian Defense Ministry said in a statement.
It also released a video of the warplanes that it said took part in the drill.
Source: Al Arabiya
Please click the following URL to read the full text of the original story:
https://english.alarabiya.net/News/middle-east/2022/06/08/Syrian-and-Russian-air-forces-conduct-joint-drill-over-Syria
--------
Turkey tells Russia it will respond to destabilizing moves in northern Syria
07 June, 2022
Turkish Defense Minister Hulusi Akar told his Russian counterpart Sergei Shoigu in a call on Tuesday that Turkey would respond to moves aimed at disrupting stability in northern Syria, his office said, as Ankara gears for talks with Moscow ahead of an expected offensive in the region.
President Recep Tayyip Erdogan announced two weeks ago that Turkey would soon be launching new military offensives into northern Syria against the Kurdish YPG militia, which Ankara considers a terrorist organization.
Russian and Turkish foreign ministers will hold talks in Ankara on Wednesday.
Akar told Shoigu that "the necessary response will be given to actions aimed at disrupting the stability achieved in the region and the presence of terrorists in the region is not acceptable," Turkey's Defense Ministry said in a statement.
Source: Al Arabiya
Please click the following URL to read the full text of the original story:
https://english.alarabiya.net/News/middle-east/2022/06/07/Turkey-tells-Russia-it-will-respond-to-destabilizing-moves-in-northern-Syria
--------
US-backed Syrian Kurds to turn to Damascus if Turkey attacks
07 June, 2022
Erdogan has repeatedly said over the past weeks that he's planning a major military operation to create a 30-kilometer (19 mile) deep buffer zone inside Syria along Turkey's border, through a cross-border incursion against US-allied Syrian Kurdish fighters - an attempt that failed in 2019.
Analysts have said Erdogan is taking advantage of the war in Ukraine to push his own goals in Syria - even using Turkey's ability as a NATO member to veto alliance membership by Finland and Sweden as potential leverage.
On the ground, the situation has been tense with near daily exchanges of fire and shelling between the US-backed Syrian Kurdish fighters on one side and Turkish forces and Turkey-backed Syrian opposition gunmen on the other.
The Turkey-backed Syrian opposition fighters have been preparing for weeks to take part in the expected operation against Syrian Kurdish-led forces, seeking to expand their area of influence inside Syria.
On the other hand, relations between the Kurdish-led fighters who control large parts of northern and eastern Syria - including the towns of Tel Rifaat and Manbij that Erdogan has named as possible targets - with the Syrian President Bashar al-Assad's forces have been mostly frosty over the past years.
But faced with Erdogan's threat, Syrian Kurdish fighters may want those ties to thaw.
"The meeting confirmed the readiness of (SDF) forces to coordinate with forces of the Damascus government to confront any possible Turkish incursion and to protect Syrian territories against occupation," the statement said and added that a "possible Turkish invasion will affect the stability and unity of Syria's territories."
The statement did not elaborate on what such a coordination entailed - and whether an alliance with al-Assad's government in Damascus would translate into joint forces on the ground. Syrian Kurdish officials could not immediately be reached for comment.
Since 2016, Turkey has launched three major operations inside Syria, targeting Syria's main Kurdish militia - the People's Protection Units or YPG - which Turkey considers to be a terrorist organization and an extension of Turkey's outlawed Kurdistan Workers' Party, or PKK. The PKK has for decades waged an insurgency within Turkey against the government in Ankara.
Source: Al Arabiya
Please click the following URL to read the full text of the original story:
https://english.alarabiya.net/News/middle-east/2022/06/07/US-backed-Syrian-Kurds-to-turn-to-Damascus-if-Turkey-attacks
--------
Syrian, Russian forces boosted after Turkey signals operation: Officials
07 June, 2022
Russia and Syrian government forces have been bolstered in northern Syria where Turkey may soon launch an offensive against Kurdish fighters, Turkish and rebel Syrian officials said, as Ankara prepares for talks with Moscow.
President Recep Tayyip Erdogan said two weeks ago Turkey would launch new military operations in Syria to extend 30-km (20-mile) deep "safe zones" along the border, aiming at the Tel Rifaat and Manbij regions and other areas further east.
Russia, which warned at the weekend against military escalation in northern Syria, is sending Foreign Minister Sergey Lavrov for talks in Ankara on Wednesday.
The two countries have close ties and Ankara has sought to mediate talks over Russia's war in Ukraine, but their support for opposing sides in Syria may test President Vladimir Putin's relations with the only NATO member not to impose sanctions on Moscow over the invasion.
The stakes are also high for Erdogan. Without at least tacit approval from Russia, President Bashar al-Assad's powerful ally in the Syria conflict, a Turkish offensive would carry additional risk of casualties. Russia and Turkey have checked each other's military ambitions at various points in Syria's war, at times bringing them close to direct confrontation.
There have not yet been signs of a significant Turkish military build-up in the border region, but reports of rocket and artillery exchanges have become more frequent in the past two weeks.
Any Turkish operation would attack the Kurdish YPG militia, a key part of the US-backed Syrian Democratic Forces (SDF) that controls large parts of north Syria and is regarded by Washington as an important ally against ISIS. Ankara sees it as a terrorist group and extension of the militant Kurdistan Workers Party (PKK).
A spokesman for the Turkey-backed Syrian National Army (SNA) said Russia was reinforcing positions near Tel Rifaat, Manbij, the southern outskirts of Kobani, and Ain Issa - all towns within 40 km (25 miles) of the Turkish border.
"Since the announcement of the operation, the Syrian regime and its Iranian militias have mobilized and (are) sending reinforcements to the YPG," Major Youssef Hammoud told Reuters.
Their intelligence had spotted Russian helicopters landing at an air base close to Tel Rifaat, he added.
Turkey's state-owned Anadolu news agency cited local sources on Saturday as saying Russia was making deployments in north Syria to "consolidate its control", flying reconnaissance flights over Tel Rifaat and setting up Pantsir-S1 air defense systems in Qamishli, a border town nearly 400 km further east.
SDF commander Mazloum Abdi told Reuters on Sunday Damascus should use its air defense systems against Turkish planes and his forces were "open" to working with Syrian troops to fight off Turkey, but said there was no need to send more forces.
Talks with Lavrov
Ankara says it must act because Washington and Moscow broke promises to push the YPG 30 km (18 miles) from the border after a 2019 Turkish offensive. With both powers seeking Turkey's support over Ukraine, the conflict may offer it a degree of leverage.
Washington, whose backing for the SDF has long been a source of strain in ties with Turkey, has voiced concern, saying any new operation would put at risk US troops - which have a presence in Syria - and undermine regional stability.
Russia also said last week it hoped Turkey "refrains from actions which could lead to a dangerous deterioration of the already difficult situation in Syria."
A senior Turkish official said Lavrov would be asked about intelligence that he said pointed to Syrian government and Iran-backed forces either arriving at Tal Rifaat or heading there.
"Turkey will do this operation one way or another," the official said, speaking on condition of anonymity.
Asked whether Russia was strengthening positions in northern Syria, Kremlin spokesman Dmitry Peskov told reporters it was the Syrian armed forces that "are reinforcing, to a greater or lesser extent, certain facilities on their territory."
The Syrian government does not comment on troop movements, but the pro-government newspaper al-Watan on Monday cited sources in northern Raqqa - near the Turkish border - as saying Syrian troops, tanks and heavy weaponry deployed over the weekend in response to Turkish moves.
Source: Al Arabiya
Please click the following URL to read the full text of the original story:
https://english.alarabiya.net/News/middle-east/2022/06/07/Syrian-Russian-forces-boosted-after-Turkey-signals-operation-Officials
--------
Mideast
Israeli-Palestinian "flag war" brews as violence flares
07 June, 2022
Following weeks of violence in different parts of Israel and the West Bank, Israeli nationalists have targeted the red, green, black and white Palestinian colors in an escalating "flag war" that underscores a struggle over status and identity.
The conflict reached a high last week, when a bill banning the display of the Palestinian flag at state-funded institutions, including universities, passed a preliminary reading in the Israeli parliament.
For the latest headlines, follow our Google News channel online or via the app.
To supporters of the bill, raising the Palestinian flag - which to some Jewish Israelis represents an "enemy" entity - is a provocation. To many Palestinians in Israel, the bill is an extension of what they see as Israeli attempts to erase their identity.
"Whoever wants to live in the State of Israel, the only democracy in the Middle East, must respect its symbols," said Eli Cohen, a member of parliament for the right-wing Likud party, who submitted the bill.
"Those who want to be Palestinian can move to Gaza or Jordan," he said.
Israel's Arab minority is mostly descended from Palestinians who remained in what became Israel when the country was created in 1948.
Making up about 21 percent of the population, they generally value Israeli citizenship because it affords them more benefits than Palestinians living in the occupied West Bank or Gaza.
But many also identify as Palestinian - especially since Israel passed the nation-state law in 2018, which declared that only Jews have a right to self-determination between the Jordan River and the Mediterranean Sea.
Ahmad Tibi, a member of parliament for the Joint List, a coalition of Arab parties, said the aim of the bill was "to target Palestinian nationalism".
The flag "represents the Palestinian people wherever they are," he told Reuters.
"Trying to erase us"
Israeli law does not outlaw Palestinian flags but police and soldiers have the right to remove them in cases where they deem there is a threat to public order.
Last month, police attacked pallbearers at the funeral of well-known Palestinian journalist Shireen Abu Akleh to yank the flag off the coffin during a highly charged event that took place amid deep anger over her killing.
Days later, tens of thousands of nationalists marched with Israeli flags outside Jerusalem's Damascus Gate, a predominantly Arab area of the Old City, in what many Palestinians saw as a blatant provocation and attack on their identity.
Suspicions between Jewish and Palestinian citizens of Israel peaked last May during an 11-day war between Israel and the Palestinian militant group Hamas that saw violent incidents across the country.
In the run-up to last week's vote, students organized vigils in Israeli universities to commemorate what Arabs call the Nakba, when hundreds of thousands of Palestinians were forced from their homes or fled in the 1948 war that accompanied the foundation of Israel.
Source: Al Arabiya
Please click the following URL to read the full text of the original story:
https://english.alarabiya.net/News/middle-east/2022/06/07/Israeli-Palestinian-flag-war-brews-as-violence-flares
--------
Iran sentences man to death over deadly Shia shrine attack
07 June, 2022
An Iranian court sentenced a man to death over an April shrine attack in the Shia holy city of Mashhad that killed two clerics, the judiciary said on Tuesday.
The April 5 attack on the Imam Reza shrine, where pilgrims had gathered to worship during the Muslim holy month of Ramadan, killed two clerics and injured a third.
Local media at the time identified the assailant as Abdolatif Moradi, a 21-year-old Sunni extremist and ethnic Uzbek who had entered Iran illegally via the Pakistani border a year earlier.
"The person who stabbed two clerics in the Imam Reza shrine at Mashhad was sentenced to death," judiciary spokesman Massoud Setayeshi told a news conference in the capital Tehran.
The defense has appealed the verdict at the Supreme Court, which will review the case, the spokesman added.
One of the clerics, Mohammad Aslani, died immediately while the death of the second, Sadegh Darai, was announced two days later.
The attack came days after two Sunni clerics were shot dead outside a seminary in the northern town of Gonbad-e Kavus.
The three suspects, also Sunnis, were arrested in late April, but were said to have "no connection with terrorist groups," state media reported at the time.
Source: Al Arabiya
Please click the following URL to read the full text of the original story:
https://english.alarabiya.net/News/middle-east/2022/06/07/Iran-sentences-man-to-death-over-deadly-Shia-shrine-attack
--------
Iranian Army Commander Underlines Liberation of Israeli-Occupied Territories
2022-June-7
"Upon an order of the Supreme Leader of the [Islamic] Revolution, we will raze Tel Aviv and Haifa to the ground for any mistake made by the enemy (Israel)," General Heidari said on Tuesday.
He added that the Israeli-occupied territories will be liberated in less than 25 years.
General Heidari underlined Iran's progress in military and defense fields, and said, "Today, the military and defense achievements of the army of the Islamic Republic of Iran are a thorn in the enemies' eyes."
He added that "the range of drones and operational missiles of the Army's Ground Force has increased".
General Heidari referred to the Army's strategic drone base 313, saying that all such equipment is aimed at responding to any foolish attack by the country's enemies.
He said that the light weapons of the Iranian ground forces are also being "changed, updated, and localized".
Iranian politicians and military officials have repeatedly warned Israel against any adventurism against the Islamic Republic, warning of a crushing response to any act of aggression.
In relevant remarks in April, Commander of the Islamic Revolution Guards Corps (IRGC) Major General Hossein Salami warned Israel that Iran's response to any mischiefs by the regime would be painful and crushing.
"We are men of our words. Our response will be painful for the Zionist regime," General Salami said.
He warned Israel that its vicious acts will bring about severe consequences.
"The Zionist regime was created under international conspiracies. God willing, we will see the eradication of Israel off the face of the Earth," General Salami said.
He described the creation of the Tel Aviv regime as a non-healing wound and a dagger in the back of all Muslims, stressing that Palestinians have realized that the so-called Abraham Accords and similar normalization agreements will neither bring them security nor peace.
"The enemy only understands the language of force. The roadmap for Iran is to become stronger as it is the way to emerge victorious."
"The Zionist regime has not won a war against Palestinians in recent years. Zionists have reached a point, where inflicting injuries on a Palestinian will bring them repercussions," the IRGC chief said.
Source: Fars News Agency
Please click the following URL to read the full text of the original story:
https://www.farsnews.ir/en/news/14010317000772/Iranian-Army-Cmmander-Underlines-Liberain-f-Israeli-Occpied-Terriries
--------
Iran Demands Shielding IAEA against Political Influence
2022-June-7
Eslami told Qatar's Al Jazeera news channel that the answers the Islamic Republic has so far given to the International Atomic Energy Agency (IAEA) have been accurate.
He added that despite that the agency's director-general lacks serious determination to consider Iran's answers as persuasive, noting that the IAEA invokes intelligence provided by Iran's enemies, notably the Israeli regime, and it has failed to condemn terrorist attacks on Iran's atomic facilities, which raises a big question.
The Iranian nuclear chief also said the resolution that the US and the European troika are trying to get approved at the IAEA's board of governors will not create a new situation.
Eslami underlined that the IAEA must stop political influence within itself and stick to its own rules.
Asked about Iran's nuclear activities, he said that a decision to enrich uranium to 90% purity lies with relevant officials.
"We wouldn't make a decision to enrich [uranium] with the aim of doing acts of provocation", Eslami noted.
He further suggested that the fate of the Iran nuclear deal will have no impact on the country's atomic program, saying, "We will continue our peaceful nuclear activities irrespective of the JCPOA."
Eslami once again stressed that the IAEA will have no access to the contents of surveillance cameras at an Iranian centrifuge production site without Iran and the other sides reaching a deal in Vienna.
The AEOI's head said Tehran is ready to comply with all the provisions of the JCPOA if the other parties do the same.
Iranian Foreign Minister Hossein Amir Abdollahian warned on Sunday that those who support or sponsor adoption of a resolution against Iran at the International Atomic Energy Agency (IAEA) will account for its consequences.
"Those who push for anti-Iran resolution at IAEA will be responsible for all the consequences," Amir Abdollahian wrote on his twitter page.
"We welcome a good, strong and lasting agreement," he added.
"It's within reach if US/E3 (Washington and the European trio) are realistic," Amir Abdollahian said.
Iran has also repeatedly cautioned in the past that adoption of an anti-Iranian resolution was counterproductive to ongoing talks aimed at reviving a 2015 nuclear deal between Iran and world powers.
The remarks came a day before a meeting of the IAEA's Board of Governors. The event is reportedly set to adopt an anti-Iran resolution, drafted by Britain, France, Germany, and the US, to accuse the Islamic Republic of withholding cooperation with the agency.
The expected adoption of the resolution also comes following a trip by IAEA Director-General Rafael Grossi to the Israeli-occupied territories.
Iran has previously cautioned the IAEA against allowing the Israeli regime—which is leading a constant bid aimed at incriminating Iran's nuclear work—against allowing Tel Aviv to influence the agency's independent mandate and decision-making.
Source: Fars News Agency
Please click the following URL to read the full text of the original story:
https://www.farsnews.ir/en/news/14010317000265/Iran-Demands-Shielding-IAEA-agains-Pliical-Inflence
--------
Iran Deplores Church Attack in Nigeria
2022-June-7
Iranian Foreign Ministry Spokesman Saeed Khatibzadeh expressed deep regret over the death of a number of people in an armed attack on a church in Nigeria.
He condemned the attack, and sympathized with the government and people of Nigeria as well as the families of those who lost their loved ones in the incident.
Khatibzadeh noted that such acts are aimed at sowing sedition among followers of divine faiths, which he rejected as "absolutely unacceptable".
Attackers targeted the St Francis Xavier Catholic Church in the town of Owo as the worshippers gathered on Pentecost Sunday. They gunned down parishioners and detonated an explosive device, local media reported.
Source: Fars News Agency
Please click the following URL to read the full text of the original story:
https://www.farsnews.ir/en/news/14010317000524/Iran-Deplres-Chrch-Aack-in-Nigeria
--------
Qatar Licenses Operation of Iran's Trade Centre
2022-June-7
Mehrabian said on Monday that the Iranian trade center will be launched in a prestigious building in one of Doha's top neighborhoods.
"The permit for this center was issued today and one of the best buildings in central Doha, in a very good location, was allocated to the center," he added.
Mehrabian arrived in Doha on Sunday to co-chair the eight round of intergovernmental committee meetings between Iran and Qatar. His trip marks a major breakthrough in the growing economic ties between the two countries
A senior trade and business delegation accompany Mehrabian and other government officials during the visit to Doha.
Iran and Qatar held the eighth meeting of the Joint Commission for Economic Cooperation, and signed a memorandum of understanding to increase bilateral economic and trade cooperation on Monday.
An Iranian delegation headed by Mehrabian attended the eighth meeting of the Joint Commission for Economic Cooperation between Iran and Qatar in Doha on Monday.
At the end of the joint commission meeting, Iran and Qatar inked a Memorandum of Understanding (MoU).
The MoU is in the fields of transit, transportation, industry and trade, energy, customs and free zones, tourism, cultural heritage, agriculture, sports, etc.
The Iranian energy minister, who chaired the meeting of the joint commission, said that the 13th administration in Iran has focused on expanding relations with the world and regional countries, and expressed the hope for a significant increase in bilateral relations between Tehran and Doha after the meeting.
"One of the most important goals of the meeting is to support the Iranian and Qatari private sectors, and we are happy to see that a large conference with the participation of Iranian businessmen is being held in Doha at the same time as the meeting of the joint commission," Mehrabian said
"During the day, eight very important memoranda of understanding on food, medical industry, knowledge-based companies, etc. have been signed between businessmen of the two countries, which indicates the existence of a suitable market for the two countries," he added.
The Iranian energy minister continued that Iran and Qatar have set financial goals for 2023 and hope to see doubled economic relations and trade balance between the two countries.
Referring to the 2022 World Cup in Qatar, Mehrabian said that the Qatar World Cup is definitely one of the golden opportunities for business people, which can enhance economic and trade relations between the two countries in various ways.
Mehrabian and Head of Qatar Petroleum Saad Sherida al-Kaabi in a meeting in Doha on Monday called for strengthening Tehran-Doha cooperation.
During the meeting in the Qatari capital, Mehrabian and al-Kaabi explored avenues for bolstering and reinvigorating bilateral relations in different fields.
"Iran is interested to further expand relations between the two countries in various fields," Mehrabian said during his meeting with al-Kaabi.
Source: Fars News Agency
Please click the following URL to read the full text of the original story:
https://www.farsnews.ir/en/news/14010317000407/Qaar-Licenses-Operain-f-Iran's-Trade-Cener
--------
Turkey urges Greece to demilitarize Aegean islands
07 June, 2022
Turkey's Foreign Minister Mevlut Cavusoglu on Tuesday called on Greece to withdraw its armed forces from Aegean islands, warning that his country would challenge the status of the islands if it fails to demilitarize them.
Cavusoglu said during a joint news conference with his North Macedonian counterpart, that Greece has been building a military presence on Aegean islands in violation of the 1923 Treaty of Lausanne and the 1947 Paris Treaty.
He said the islands were ceded to Greece on condition that they be kept demilitarized.
For the latest headlines, follow our Google News channel online or via the app.
The minister's comments come amid a new escalation in tensions between the NATO members that have a history of disputes over a range of issues such as mineral exploration in the eastern Mediterranean and rival claims in the Aegean Sea.
Last month, Turkish President Recep Tayyip Erdogan said he would stop talking to Greek Prime Minister Kyriakos Mitsotakis, voicing displeasure at comments the Greek leader made during a recent US trip, including suggestions that Congress should block Turkey's acquisition of F-16 fighter jets.
Greece argues that Turkey has deliberately misinterpreted the treaties regarding armed forces on its eastern islands and says it has legal grounds to defend itself following hostile actions by Ankara including a long-standing threat of war if it extends its territorial waters.
Source: Al Arabiya
Please click the following URL to read the full text of the original story:
https://english.alarabiya.net/News/middle-east/2022/06/07/Turkey-urges-Greece-to-demilitarize-Aegean-islands
--------
Yemen's warring parties agree to establish joint coordination mechanism
Burak Bir
07.06.2022
Yemen's warring sides agreed to launch a joint coordination room Monday to help pave the way for bringing the country's seven-year war to a close.
"The military coordination committee agreed to set up a joint coordination room to address main issues of concern in a timely manner," the office of the UN envoy to Yemen, Hans Grundberg, said in a statement.
Military representatives from the Yemeni government, the Coalition Joint Forces Command and the Houthis were gathered in Jordan's capital Amman by the Office of the Special Envoy for Yemen as part of the second meeting of the parties' military coordination committee.
"The meeting was held in a good atmosphere with the participants engaging constructively on a number of technical issues related to the parties' commitment to implementing the truce," added in the statement.
In addition to establishing a joint coordination mechanism, the parties also agreed to nominate focal points for the coordination room within a week to ensure regular communication.
Extension of truce
On Thursday, Grundberg said Yemen's warring rivals agreed to extend the current truce for two additional months.
Under the truce, which was first reached on April 2, all military operations were halted. The agreement also allowed the operation of commercial flights from rebel-held Sanaa Airport in the Yemeni capital.
Yemen has been engulfed by violence and instability since September 2014, when Iranian-aligned Houthi rebels captured much of the country, including the capital Sanaa.
The Saudi-led coalition entered the war in early 2015 to restore the Yemeni government to power.
Source: Anadolu Agency
Please click the following URL to read the full text of the original story:
https://www.aa.com.tr/en/middle-east/yemen-s-warring-parties-agree-to-establish-joint-coordination-mechanism/2607318
--------
Africa
At least 27 killed, dozens wounded in Sudan ethnic clashes: Witnesses
07 June, 2022
Heavy fighting in Sudan's west and south has killed at least 27 people and left dozens wounded, residents said Tuesday, with the United Nations envoy saying he was "deeply concerned."
In separate incidents, clashes broke out in the restive Darfur region in a bitter land dispute, leaving 16 dead, as well as in South Kordofan state, where 11 people died after an argument between two people reportedly escalated into wider gun battles.
The latest violence comes as Sudan grapples with the fallout from a coup in October last year led by army chief Abdel Fattah al-Burhan.
In West Darfur, the arid region of Sudan bordering Chad, fighting took place near Kolbus, some 160 kilometers (100 miles) from the state capital El Geneina. Attackers set fire to villages leaving them burned to the ground.
It is the latest in several rounds of clashes pitting largely settled farmers against semi-nomadic Arab pastoralist groups.
"Fighting erupted over a land dispute between member of an Arab tribe and a farmer from a non-Arab one," said a leader from the non-Arab Gimir people. "The clashes killed eight people from Gimir, and three villages were burned."
A leader from the Arab Rizeigat community said fighting began over a dispute over land.
"Eight of our people were killed," he said. "Clashes are ongoing."
In South Kordofan, fighting erupted between rival Arab groups – the Hawazma and Kenana groups – near Abu Jebeiha.
"At least 11 people were killed and 35 wounded in fighting," said one resident, who is involved in mediation efforts between the rivals.
He said fighting began as a dispute between two people, but spread into clashes between the groups.
"I am deeply concerned about inter-communal clashes," UN special representative Volker Perthes said Tuesday, over the fighting in South Kordofan.
"I call on security forces to secure the area and ensure the protection of civilians, and urge local leaders to undertake mediation efforts."
Both Darfur and South Kordofan suffered heavily during decades of civil war during the three-decade rule of president Omar al-Bashir, who armed some Arab groups to fight ethnic minority rebels demanding an end to marginalization by his Arab-dominated regime.
The scorched-earth campaign left 300,000 people dead and displaced 2.5 million, according to the United Nations.
While key rebel groups signed a 2020 peace deal, deadly clashes still erupt over land, livestock, access to water and grazing.
The regions remain awash with weapons, and have seen a renewed spike in deadly violence in recent months, fanned in some areas by intense droughts and creeping desertification.
In April, more than 200 people were killed in clashes between Arab and non-Arab groups in West Darfur.
In another development, a coalition of tribes in East Sudan announced on Tuesday the end of a sit-in which blocked roads to the crucial Red Sea port, after the governor announced his resignation.
The Port Sudan sit-in protested a 2020 peace deal the country's Beja tribes say made too many concessions at the expense of their group, which has long complained of marginalization.
Hundreds of protesters demanded the parts of the deal relating to their eastern region be scrapped and the dismissal of Red Sea state governor Ali Abdullah Adroub, whom they accused of supporting the deal.
The governor announced his resignation in a statement Tuesday.
The coalition of Beja tribes then released their own statement declaring an end to "all the sit-ins in eastern Sudan, after the resignation of the Red Sea State governor was confirmed," without reference to other demands.
The 2020 Juba Agreement was a landmark accord between rebel groups and a military-civilian transition government which came to power shortly after the April 2019 ouster of al-Bashir.
But Sudan's eastern Beja people, who number more than 4.5 million, have criticized the fragile peace agreement for not representing them, and intermittent protests have demanded parts relating to their impoverished region be scrapped.
In September last year, protesters from eastern communities led similar demonstrations against the same agreement.
The ensuing six-week blockade worsened Sudan's already struggling economy by exacerbating fuel and wheat shortages, heaping pressure on the transitional government of then-prime minister Abdalla Hamdok.
Port Sudan, the country's main seaport and vital trade hub, was reopened in November following a coup by army chief Abdel Fattah al-Burhan which upended Sudan's fragile transition to civilian rule.
Source: Al Arabiya
Please click the following URL to read the full text of the original story:
https://english.alarabiya.net/News/middle-east/2022/06/07/At-least-27-killed-dozens-wounded-in-Sudan-ethnic-clashes-Witnesses
--------
Algeria media figure sentenced to six months in prison
07 June, 2022
The director of an Algerian radio station and news website was sentenced to six months in prison Tuesday for reopening the wounds of the country's devastating 1990s conflict, a rights group said.
Several journalists are in prison or facing trial in Algeria, which ranks 134th out of 180 countries on the Reporters Without Borders (RSF) Press Freedom Index.
Ihsane El-Kadi, director of Radio M and news website Maghreb Emergent, was also fined 50,000 dinars (322 euros), Algerian League for the Defense of Human Rights vice president Said Salhi told AFP.
He remains at liberty as the court in Algiers did not issue a warrant for his arrest, Salhi added.
El-Kadi was found guilty of "publishing false information likely to damage national unity" and "reopening the issue of the national tragedy," Algerian media reported.
He was prosecuted following a complaint from the then communications minister Amar Belhimer over an article he published on the banned Islamist movement Rachad and the pro-democracy protests that have swept Algeria in recent years.
Source: Al Arabiya
Please click the following URL to read the full text of the original story:
https://english.alarabiya.net/News/north-africa/2022/06/07/Algeria-media-figure-sentenced-to-six-months-in-prison
--------
3 killed in live-fire exercise in Libya's Tarhuna
Ebu Bekir Askin
07.06.2022
TRIPOLI, Libya
Three members of Libya's western forces were killed during a military training in Tarhuna city, according to local media on Tuesday.
The fatalities occurred during a live-fire exercise on Monday by the Tripoli-based Rada Forces, also known as the Special Deterrent Forces, the local Ean Libya news portal reported.
Source: Anadolu Agency
Please click the following URL to read the full text of the original story:
https://www.aa.com.tr/en/africa/3-killed-in-live-fire-exercise-in-libya-s-tarhuna/2607715
--------
Tunisian judges continue their strike to protest purge
Adel Thabeti
07.06.2022
TUNIS, Tunisia
Tunisian judges continued their strike for the second day on Tuesday to protest President Kais Saied's decision to sack dozens of their colleagues.
In a statement, the Association of Judges said 99% of the judges and judicial staff suspended their work as part of the strike.
Tunisian judges started a week-long strike on Monday to pressure on Saied to reverse his decision of sack 57 judges, whom the Tunisian president accused of corruption and supporting terrorists.
Saied, however, vowed to cut the wages of the striking judges amid rising tensions with the judiciary.
The sacking of judges by the Tunisian president has drawn widespread condemnations from political parties across the North African nation as well as from the United States and Amnesty International rights group.
Source: Anadolu Agency
Please click the following URL to read the full text of the original story:
https://www.aa.com.tr/en/middle-east/tunisian-judges-continue-their-strike-to-protest-purge/2608120
--------
Race against time to avert famine in Somalia: UN agencies
07 June, 2022
The United Nations warned Monday of a race against time to prevent famine in Somalia, with more than 200,000 people on the brink of starvation amid a record-breaking drought.
Some 7.1 million people - nearly half the population - were going hungry but the situation for 213,000 of the worst affected was catastrophic and urgent, a new assessment by UN agencies showed.
Four consecutive rainy seasons have failed in the Horn of Africa, with a fifth expected on the way, causing the worst drought in 40 years and a major hunger crisis spanning Kenya, Ethiopia and Somalia.
But the level of need in Somalia is so great - and so underfunded - that aid groups are dedicating what resources they have to averting a repeat of a 2011 famine that killed 260,000 people.
"We must act immediately to prevent a humanitarian catastrophe," El-Khidir Daloum, the World Food Program's country director in Somalia, said in a statement.
"The lives of the most vulnerable are already at risk from malnutrition and hunger, and we cannot wait for a declaration of famine to act. It's a race against time to prevent famine."
The number of people facing "catastrophic hunger and starvation" had surged 160 percent since April, said the Food and Agriculture Organization (FAO) and the US-funded Famine Early Warning Network.
More parts of Somalia were at risk of famine, particularly in the south where the presence of extremists from the al-Shabaab group makes humanitarian access a challenge.
Three million livestock had died because of drought since the middle of 2021, a terrible toll in a largely pastoral country where families rely on their herds for meat, milk and trade.
Food prices are also soaring, spurred by failed harvests locally and surging costs for imports caused in part by the war in Ukraine.
Less than 20 percent of the money needed to avoid a famine had been raised putting hundreds of thousands "at a very real risk of starvation and death," said the FAO's representative in Somalia, Etienne Peterschmitt.
"We're calling on the international community to act fast while we still have some hope of preventing... widespread famine in Somalia," he said.
East Africa endured a harrowing drought in 2017 but early humanitarian action averted a famine in Somalia.
Source: Al Arabiya
Please click the following URL to read the full text of the original story:
https://english.alarabiya.net/News/world/2022/06/07/Race-against-time-to-avert-famine-in-Somalia-UN-agencies
--------
Sudan's army chief says dialogue historic opportunity for transition
Ahmed Osama Satti
08.06.2022
KHARTOUM, Sudan
Sudan's army chief said Tuesday the dialogue that will be launched Wednesday is a historic opportunity to end the transition period.
In his statement aired on state television, Gen. Abdel Fattah al-Burhan noted that they have sworn to work with all segments of Sudan since April 2019 to realize the dream of the Sudanese people to establish a state of freedom, peace and justice.
Saying he supports the process called for by the tripartite mechanism, al-Burhan added that the Sudanese Sovereign Council, which he chairs, will continue to provide the necessary facilities to create an environment for dialogue.
The tripartite mechanism consists of the African Union, the UN Integrated Transition Assistance Mission in Sudan (UNITAMS) and the Intergovernmental Authority on Development (IGAD).
Calling on all parties in the country to participate in this process and not to stand in the way of the democratic transition, he went on to say that they will stick to the results of the dialogue and when there is a consensus or an election, the military will withdraw from the political scene.
Source: Anadolu Agency
Please click the following URL to read the full text of the original story:
https://www.aa.com.tr/en/africa/sudan-s-army-chief-says-dialogue-historic-opportunity-for-transition/2608193
--------
URL: https://newageislam.com/islamic-world-news/qaida-india-prophet-saffron-terrorists/d/127198
New Age Islam Islam Online, Islamic Website, African Muslim News, Arab World News, South Asia News, Indian Muslim News, World Muslim News, Women in Islam, Islamic Feminism, Arab Women, Women In Arab, Islamophobia in America, Muslim Women in West, Islam Women and Feminism