New Age Islam News Bureau
11 May 2013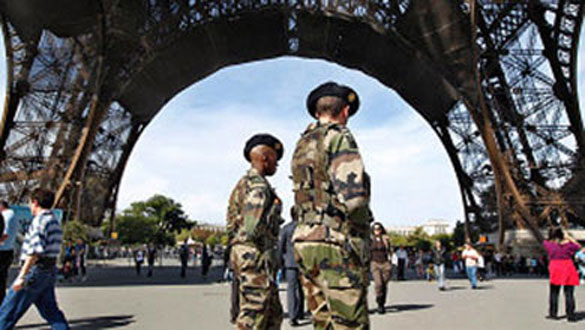 Al-Qaida affiliate in North Africa has renewed its terrorist threats against France
------------
India
• There is nothing wrong in singing Vande Mataram: Shia Imam
• Court asks UP not to free Harkat-ul-Jihad-al-Islami (HuJI) men
• Karnataka expats in Saudi Arabia hail poll results
• Muslim youth get help from social organisations to gear up for cop test
• India does not retaliate against Pak due to nukes: US expert
------------
Pakistan
• On Eve of Pivotal Election, Pakistan Orders Times Reporter to Leave
• Sixteen killed and dozens injured in multiple bombings in Pakistan's historic elections
• Malala appeals to Pakistani people to vote for change
• Khan gains in Pakistan vote, haggling over govt expected
• Pakistan: Sharif Favourite As Polls Targeted
• No favourite in Pak polls: US
• Eight injured in Peshawar blast
• Five reasons the Pakistan vote is unpredictable
• Effective security plan for polls, says Sethi
• Liberal forces asked to stand against terrorism
• Bombings kill one, injure seven in Balochistan
• Neighbourhood watch: Karzai's remarks fuel Pak-Afghan tensions
• Pakistanis in Saudi Arabia hope to see a 'Naya Pakistan'
• Pakistani Christians register with Islamic party
• Pakistanis Vote as Violence Mars End of Vibrant Campaign
• Pakistan orders expulsion of Irish journalist
------------
Africa
• Five suicide bombers die in attacks on troops in Mali
• Mali seeks $2.6bn in financial aid from EU
• Muslim cleric sets terms for return to Jordan
• Tunisian denies charges of plotting New York terror cell
• Two police stations in Benghazi bombed
• UK withdraws some embassy staff from Libya
------------
Southeast Asia
• Massive nationwide manhunt in Indonesia results in killing of several terrorists
• After Malaysia Election, Political Attacks Continue as Opposition Calls for Protests
• Islamic People's Association Raided over Alcoholic Beverages
• Four more terror suspects arrested in Lampung
• Police raid shop rented by terrorist suspect
• Jakarta Deputy Governor Denies Violation of Human Rights
------------
Arab world
• Egypt's New Anti-Muslim Brotherhood Militia
• 3 Lebanese fighters killed in Syria, 36 others missing
• Saudi threatens illegal workers with prison
• Mubarak appears in Cairo court for retrial
• Syria peace conference unlikely in May: Russian source
• 62 registration stations established for illegal Pak workers
------------
Mideast
• Hundreds protest against terrorism in Tunis
• Gibraltar deports Turkish Al-Qaeda suspect: officials
• Turkey 'will support' Syria no-fly zone
• Wounded Syrians show signs of chemical attack, Turkey says
------------
North America
• U.N. Rights Chief Urges Faster Action to End Fighting in Syria
• Young Muslims struggle to define themselves in US
• US forces in Europe on alert due to Libya unrest
• Muslims of America, Christian Action Network square off in NY libel suit over book on terror
------------
South Asia
• Sri Lanka frees Muslim leader held under anti-terror law
• Arsonists were Hefazat, Jamaat, BNP men
• 11 Afghan landmine clearers abducted
• Senior US, Afghan diplomats meet in Kabul to tackle details of 2012 security pact
• Recognition to Jharna Dhara Chowdhury will strengthen Indo-Bangla ties
------------
Europe
• Oman helps free three Europeans from Yemen
Compiled by New Age Islam News Bureau
URL: https://www.newageislam.com/islamic-world-news/new-age-islam-news-bureau/al-qaida-in-the-islamic-maghreb--new-terror-threats-against-france/d/11526
------------
Al-Qaida in the Islamic Maghreb: New Terror Threats against France
May 10, 2013
Al-Qaida affiliate in North Africa has renewed its terrorist threats against France and all countries taking part in the French-led military campaign in Mali where the Islamist radical groups have tried to impose the Islamic Sharia law in the northern region of the impoverished African country.
In a message posted on YouTube, Abu Obeida Yussef Al-Annabi, a leader of Al-Qaida in the Islamic Maghreb (AQIM) said the "crusade" led by France in Mali makes its interests "legitimate targets," and that "Muslims must take revenge."
French president Francois Hollande said his country takes seriously the threats made by AQIM. "We have inflicted tremendous loss to AQIM via the intervention in Mali. But AQIM networks exist outside Mali," he stressed, affirming that the military operation against the Islamist militants in Mali will continue as long as necessary.
France has nearly 4000 troops in Mali. Backed up by African forces, the French soldiers have flushed AQIM and other jihadists from Mali's main northern cities, including Timbuktu, killing or dispersing Islamist fighters. French special units and other troops are now in a clean-up phase, searching for scattered fighters and their caches after they seized some 200 tons of munitions and arms.
The military intervention in Mali has been approved by the UN Security Council last December to dislodge the Islamist extremist groups that seized northern Mali in the wake of a coup in Bamako. The jihadists were intending to set up the "emirate of the Sahara" in Northern Mali. Their scheme had been frustrated by the French army intervention.
The Islamist groups of AQMI, which fought the Algerian regime during the 1990s (first the FIS, then the GIA and finally the GSPC), have long criticized France's colonial policies, accusing Paris of participating in a "Christian crusade" to dominate the Muslim world.
AQIM is a Salafi-jihadist group active in Algeria, Mauritania, Mali, and Niger. This terrorist group carried out attacks in the vast Sahel strip south of the Sahara, targeting both government troops and civilians. Its militants have been involved in kidnappings, particularly of Westerners, demanding ransoms to fund terrorists' activities. AQMI fighters also engage in weapons, drugs and human trafficking.
According to some analysts, Al Qaeda thrives in the isolated desert regions as well as in countries with weak governments and areas hit by political unrest which helps creating a permissive environment for the extremists to flourish and grow unnoticeably before unveiling their appalling true face and agendas to the world. And when that happens, it is often too late for damage control.
http://northafricapost.com/3605-aqmi-new-terror-threats-against-france.html
------------
India
There is nothing wrong in singing Vande Mataram: Shia Imam
New Age Islam News Bureau,
May 11, 2013
The controversy over Member Parliament Mr Barque walking out of Parliament without taking part in singing of Vande Mataram on Wednesday refuses to die down. Last Wednesday, the BSP MP from Sambhal, Shafiqur Rehman Barque walked out of Parliament when the national song, Vande Mataram was played. Mr Barque defended himself saying that he did not do anything against the constitution.
Some Hindu organisations have condemned Burque's act as anti-national and anti-constitution. Renowned Shia imam and the vice president of All India Muslim Personal Law Board, Maulana Kalb-e-Sadique does not see anything wrong in singing Vande Mataram because it is not tantamount to worship of the land. However, he said that no one should be forced to sing it. Muslims are loyal to the country and they need not give proof of it. Maulana said, 'I consulted some dictionaries and found many meanings of the word 'Vande' and 'worship' is one of them. Islam forbids worship anyone other than God. Even a prophet cannot be worshipped, he said.
Another religious scholar Maulana Khalid Rashid Firangi Mahl agrees to him. He said that in democracy when something hurts the religious sentiments of a religious community, it should not be made the symbol of patriotism. However, he said that no one has any problem with the national song.
It is to be noted that that when in 1998, the state government had made the singing of vande Mataram obligatory in schools; Maulana Abul Hasan Ali Nadvi was the first to oppose it. Some Muslim scholars have also issued fatwa against Vande Mataram as un-Islamic.
Vande Mataram is a part of Bankim Chandra Chatterjee's novel Anand Math. The first two stanzas of the song was adopted by the Indian government as its national song.
------------
Court asks UP not to free Harkat-ul-Jihad-al-Islami (HuJI) men
May 11, 2013
In a major setback to the Samajwadi Party government, the district and sessions court of Barabanki on Friday rejected the withdrawal of cases of terrorism against two alleged terrorists.
The court turned down the public prosecutor's plea for withdrawal of charges pertaining to serial blasts in UP against Tariq Qasmi and Khalid Mujahid.
The two were involved in serial blasts in courts in three districts in November 2007 in which as many as 15 people were killed and about 60 injured. They were also involved in engineering a blast in Gorakhpur in May 2007 in which six people were injured.
On December 22, 2007 Mohammad Tariq Qasmi and Khalid Mujahid were arrested from Barabanki along with explosives. The UP ATS had described Qasmi, a qualified Unani doctor, as the "area commander" of Harkat-ul-Jihad-al-Islami (HuJI) in UP, and Khalid Mujahid as the "head of the action group" of HuJI. The Barabanki court relied on the comprehensive evidence filed before it by the UP ATS while passing the order.
The SP had promised in its election manifesto that innocents jailed on terror charges would be freed once the party came to power. The Akhilesh Yadav regime has been under great pressure from clerics and Muslim organisations to honour its promise.
Soon after the court's verdict on Friday, senior minister Azam Khan said the SP regime would continue its efforts to free innocents put behind bars in framed up cases of terrorism. "The government and the courts have separate jurisdictions. The court has done its job and we will continue to do ours," he told reporters. "A lot of innocents are still in jails and its our duty to get them justice," he added.
BJP spokesperson Vijay Pathak hailed the court order, saying: "This order will send out a good message that courts cannot be used for playing votebank politics." Congress leader Vivek Singh also welcomed the court's decision, and said the SP regime should desist from playing the "dangerous game" of shielding terrorists to gain minorities' votes.
http://www.dnaindia.com/india/1833142/report-court-asks-up-not-to-free-harkat-ul-jihad-al-islami-huji-men
------------
Karnataka expats in Saudi Arabia hail poll results
11 May 2013
Dubai, May 11 (IANS) Expatriates in Saudi Arabia have hailed the results in the recently concluded assembly elections in the Indian state of Karnataka.
The Congress party had stormed back to power in the state, replacing the Bharatiya Janata Party (BJP).
In 2008, the BJP had managed to come to power in a south Indian state for the first time by winning the Karnataka assembly elections.
Hailing the results, Abdul Majeed Neha and Rasheed Kolatra, president and general secretary of the Jeddah chapter of Congress-affiliated Overseas Indian Cultural Congress (OICC) said that the people of Karnataka have voted out corrupt and communal governments from power, the Arab News reported.
According to Naser Khurseed, a representative of the Karnataka NRI Forum, the people of the state had shown good sense by ousting communal politics from the state.
A large number of expatriates from Karnataka in Saudi Arabia come from places like Bamgalore, Mangalore, Gulbarga and Bidar.
http://www.newstrackindia.com/newsdetails/2013/05/11/205--Karnataka-expats-in-Saudi-Arabia-hail-poll-results-.html
------------
Muslim youth get help from social organisations to gear up for cop test
May 11, 2013
HYDERABAD: More than 400 Muslim youth from various private training stables in the city are busy preparing for the police constable recruitment exams scheduled on May 19.
With a large number of youngsters expressing their desire to don the khaki uniform in the past couple of years, both social welfare organisations as well as political outfits have come forward to train them.
The youth will be competing not only with each other but also with candidates belonging to different communities for filling up more than 5,000 vacant constable posts in the state.
While the Millat Fund (MF), which is the community development wing of the Siasat Urdu daily, has been training hopefuls for the last 10 years, the Majslis-e-Ittehadul Muslimeen (MIM) jumped into the foray only last year and began arming hopefuls with the requisite skills to get through both the physical and written tests.
"There are 19 girls who have made it through the physical test this year and will appear for the written test. Of this number, 13 are Hindu and 6 are Muslim. A total of 150 students are being trained at the Abid Ali Khan Eye Hospital for the written test," MF trustee and managing editor of Siasat Zaheeruddin Ali Khan told TOI on Monday.
He added that of the 2,500 beneficiaries who were trained since 2003, 935 have been placed thus far.
Explaining the rationale behind imparting training to Muslim youth, Khan said that there was little representation of Muslims in the police force. "The Sachar Committee report pegs their representation in the force at a meagre four percent," he said. Meanwhile, the MIM is also busy training 250 youth at the Quli Qutub Shah Stadium in Old City. According to training in-charge Manzoor Khan, the MIM has prepared a 500-page question bank for their trainees.
"The free of charge study material we provide includes questions from class X and intermediate. Around 85 percent of the 250 have qualified for the written test out of which 20 are women," Khan said.Members from both training camps admit that morale among trainees was low in the beginning on account of last year's pass percentage of 19.34 per cent which was due to negative marking. Though there were 2,643 vacant posts in the city last year, only 286 had qualified.
"MIM MLA Akbaruddin Owaisi had made a representation to the government to do away with negative marking as of the 1.26 lakh candidates who had appeared last year, only 24,500 had qualified," Khan added.
http://timesofindia.indiatimes.com/city/hyderabad/Muslim-youth-get-help-to-gear-up-for-cop-test/articleshow/19994913.cms
------------
India does not retaliate against Pak due to nukes: US expert
May 11, 2013
WASHINGTON: India does not retaliate despite Pakistan-backed terrorist attacks against it because of the deterrence of nuclear weapons that the two countries possess, an American defence expert has said.
"All the terrorism that Pakistan has supported against India has been carried out, secure in the knowledge that India cannot retaliate," Stephen Blank, Research Professor of National Security Affairs at the Army War College, said.
"If Pakistan had no nukes, if there were no nukes on the South Indian peninsula, India could retaliate and probably would. But their hand is stayed by the threat of nuclear war," Blank told a meeting of National Defense Industrial Association in response to a question.
Similarly, nuclear weapons act as a deterrent for many countries, as was the case during the cold war between the US and China, he noted.
"If you look at the map, the Russian Far East, which directly adjoins China, is what we call an economy of force theatre. It is a theatre that can only survive by sustaining itself," Blank said.
"If a war broke out between Russia and China -- and now and then Russian military and political officials actually allude to the possibility of a Chinese threat -- probably within a day the Chinese could take out the Trans-Siberian Railway and essentially isolate the area from the rest of continental Russia," he said.
"Therefore, the only recourse that the Russian military has in a contingency with China is nuclear," he added.
During the Cold War, at the strategic level of nuclear weapons, the Russians could at any time they wanted destroy all of Europe.
"In return, we threatened to destroy all of the Soviet Union. That was basically the mutual hostage relationship. Then the US also became as well a target of enhanced Soviet.
Full report at:
http://timesofindia.indiatimes.com/india/India-does-not-retaliate-against-Pak-due-to-nukes-US-expert/articleshow/20001617.cms
------------
Pakistan
On Eve of Pivotal Election, Pakistan Orders Times Reporter to Leave
By RICK GLADSTONE
May 10, 2013
Pakistan's Interior Ministry has ordered the expulsion of the Islamabad bureau chief for The New York Times on the eve of national elections, the newspaper said Friday. The Times has strongly protested the move and is seeking his reinstatement.
The ministry did not give any detailed explanation for the expulsion order, which was delivered by police officers in the form of a two-sentence letter to the bureau chief, Declan Walsh, at 12:30 a.m. Thursday local time at his home.
"It is informed that your visa is hereby canceled in view of your undesirable activities," the order stated. "You are therefore advised to leave the country within 72 hours."
The timing of the order means that Mr. Walsh must exit Pakistan on the night of the elections, the first in the country's history in which one elected civilian government completes its term and hands over power to another elected government.
Mr. Walsh, 39, is a veteran correspondent who has lived and worked in Pakistan for nine years, most of it for The Guardian newspaper of Britain. He was hired by The Times in January 2012 and has written extensively about the country's violent political convulsions, Islamist insurgency and sometimes tense relations with the United States, which has been conducting drone attacks on militants in Pakistan's border areas with Afghanistan.
Jill Abramson, the newspaper's executive editor, expressed concern about the order in a letter of protest to Pakistan's interior minister, Malik Muhammad Habib Khan, describing Mr. Walsh as a "reporter of integrity who has at all times offered balanced, nuanced and factual reporting on Pakistan." She asked the minister to reinstate Mr. Walsh's visa.
The accusation of undesirable activities, she wrote, "is vague and unsupported, and Mr. Walsh has received no further explanation of any alleged wrongdoing." The timing of the order was also a surprise, she wrote, coming as Pakistan is holding national elections that are regarded as an important democratic milestone.
"The expulsion of an established journalist, on the day of the voting, contradicts that impression," she wrote.
Pakistani officials did not respond to repeated requests for details over the past two days.
The period leading up to the elections has been particularly violent, with suicide bombings and other attacks by militants impairing the ability of several parties to campaign effectively.
The Pakistani Taliban and other extremist groups have threatened many candidates, particularly members of liberal and secular parties. On Thursday, unidentified gunmen kidnapped a candidate who is a son of former Prime Minister Yousaf Raza Gilani, throwing the election into more turmoil.
Mr. Walsh said the circumstances of the expulsion order's delivery were highly unusual. He had been on a social visit Thursday evening, he said, when he received a phone call from an unrecognized number advising him to "come home now."
Mr. Walsh arrived to find a half-dozen police officers and a plainclothes officer waiting outside. The plainclothes officer approached his front gate, handed him the letter and asked him to sign for it.
"I opened the letter in front of him because I knew it was something serious," he said. "This was a complete bolt from the blue. I had no inclination that anything of this sort was coming."
Free-press advocates expressed anger at the news, saying that it reinforced Pakistan's reputation as one of the most inhospitable countries for journalists.
"The expulsion of Declan Walsh shows just how much the authorities fear independent media coverage," Bob Dietz, the Asia program coordinator of the Committee to Protect Journalists, said in a statement on the group's Web site. "The vagueness and the late-night delivery of the expulsion order smack of a need to intimidate foreign and local journalists on the eve of historic elections that could herald the growth of democracy in Pakistan."
Full report at:
http://www.nytimes.com/2013/05/11/world/asia/pakistan-orders-new-york-times-reporter-declan-walsh-to-leave.html?_r=0&gwh=BAB1F8C8BA3B10838BB630357B65BC1F
------------
Sixteen killed and dozens injured in multiple bombings in Pakistan's historic elections
MUNIR AHMED, ATIF RAZA
11 MAY 2013
Defying the danger of militant attacks, Pakistanis streamed to the polls today for a historic vote pitting a former cricket star against a two-time prime minister and an unpopular incumbent.
But bombings that killed sixteen people and wounded dozens more underlined the risks many people took just casting their ballots.
The blasts are a continuation of what has been a brutal election season with more than 130 people killed in bombings and shootings. Some are calling this one of the deadliest votes in the country's history.
But despite the violence, many see the election - the country's first transition between elected governments fulfilling its term to another - as a key step to solidify civilian rule for a country that has experienced three military coups.
Twin blasts in the port city of Karachi targeted the political offices of the Awami National Party, one of three secular liberal parties that have been targeted by Taliban militants during the run-up to the election, said police officer Shabir Hussain. Nine people died in the attack and 30 were wounded.
In the northwestern city of Peshawar a bomb exploded outside a polling station, killing at least one person and wounding 10 others, said police officer Mukhtiar Khan.
The threats are such that the government has deployed an estimated 600,000 security personnel across the country to protect polling sites and voters. But many Pakistanis still seemed determined to cast their ballots.
"Yes, there are fears. But what should we do? Either we sit in our house and let the terrorism go on, or we come out of our homes, cast our vote, and bring in a government that can solve this problem of terrorism," said Ali Khan. He was waiting to vote in the city of Peshawar where one of the blasts took place today.
Former cricket star Imran Khan, who has almost mythical status in Pakistan, has challenged the dominance of the country's two main political parties, making the outcome of the election very hard to call. He is facing off against the Pakistan Muslim League-N, headed by two-time former Prime Minister Nawaz Sharif and the Pakistan People's Party, led by President Asif Ali Zardari.
While Sharif has billed himself as the candidate of experience, Khan is trying to tap into the frustrations of millions of Pakistanis who want a change from the traditional politicians who have dominated Pakistani politics for years.
"I never voted for anyone in the past, but today my sons asked me to go to polling station, and I am here to vote," said Mohammed Akbar, speaking from the northwestern city of Khar. "Imran Khan is promising to bring a good change, and we will support him."
Khan's mythical status grew even larger this week after he survived a horrific fall off a forklift during a campaign event in the eastern city of Lahore that sent him to the hospital with three broken vertebrae and a broken rib. He is not expected to vote because he can't travel to his polling place.
Nobody is sure how effective he will be in translating his widespread popularity into votes, especially considering he boycotted the 2008 election and only got one seat in 2002. Turnout will be critical, especially among the youth. Almost half of Pakistan's more than 80 million registered voters are under the age of 35, but young people have often stayed away from the polls in the past.
It is likely in the province of Punjab, Pakistan's most populous, that this election will be decided. Sharif and Khan have been battling intensely for support of people across the province in a series of large rallies and campaign events.
There is concern that the violence could benefit Islamist parties and those who take a softer line toward the militants, including Khan and Sharif, because they were able to campaign more freely.
Full report at:
http://www.independent.co.uk/news/world/asia/sixteen-killed-and-dozens-injured-in-multiple-bombings-as-pakistanis-go-to-polls-in-historic-elections-8612042.html
------------
Malala appeals to Pakistani people to vote for change
May 11, 2013
ISLAMABAD: Malala Yousufzai, teenage rights activist who was shot in the head by the Taliban, today appealed to people to exercise their franchise, saying "one vote can change" Pakistan's future.
"It's an honour for me to share some words with my sisters and brothers in my country," Malala said in a letter carried by the Dawn newspaper.
"If we want education, electricity and natural gas in our country, we must take a step," the 15-year-old said.
"Let's vote for our country. We never realised how much powerful our vote is. One vote can change our future," she said.
Pakistan's landmark polls set in motion the first democratic transition of power in the country's 66-year history.
"It's our vote that chooses which politicians will govern our motherland. I request all my sisters and mothers to move forward, go to polling station and vote. It's our right," Malala appealed to the people.
"And one day, a change will come. All girls and boys will be going to schools and there will be peace everywhere," she said.
Full report at:
http://timesofindia.indiatimes.com/world/pakistan/Malala-appeals-to-Pakistani-people-to-vote-for-change/articleshow/20003420.cms
------------
Khan gains in Pakistan vote, haggling over govt expected
May 11, 2013
ISLAMABAD: Former cricket star Imran Khan's party was enjoying a late surge of support on Friday, the eve of a landmark election, raising the prospect of a fragmented parliament that could lead to weeks of haggling to form a coalition government.
The failure of the major parties to capture a commanding lead raises the risk a weak government will emerge, clouding optimism over the first transition between civilian governments in a country that has been ruled by the military for more than half its history.
The party of former Prime Minister Nawaz Sharif looks set to win the most seats, returning Sharif to power 14 years after he was ousted in a military coup, imprisoned and later exiled.
But Khan could end up holding the balance of power if there is no clear-cut winner. In a sign of his popularity, 35,000 supporters turned up on Thursday at a rally in Islamabad that he didn't even attend.
The 60-year-old is in hospital after suffering injuries in a fall from a mechanical lift at a rally this week, which may also win him sympathy votes.
"While Khan was initially handicapped by the lack of party organisation and the absence of a formal presence at the provincial level, he managed to overcome these challenges by establishing a network of volunteers who have campaigned frenetically and held massive public rallies in recent weeks," said Shamila Chaudhary, senior editor at Eurasia Group.
Khan, Pakistan's most well-known sportsmen who led a playboy lifestyle in his younger days, has emerged as a tough challenger to dynastic politicians who have relied heavily on a patronage system to win votes and are often accused of corruption.
Campaigning officially ended at midnight on Thursday. Election-related violence that has killed more than 110 people continued on the eve of the vote.
Five people were killed in bomb attacks on party offices on Friday, one in Quetta, capital of the southwestern province of Baluchistan, and the other in the northwestern city of Peshawar.
The al Qaeda-linked Pakistan Taliban, which regards the elections as un-Islamic, are responsible for the attacks that have made this the country's bloodiest election yet, and on Thursday they revealed plans for suicide bombings on polling day.
The militants have mostly targeted the more secular-leaning parties in the outgoing coalition led by the Pakistan People's Party (PPP), severely restricting their ability to campaign.
The bombers have largely spared the more conservative parties that have voiced doubts about Pakistan's participation in the US-led campaign against militancy, including those of both Khan and Sharif.
Pakistanis say they will still vote, despite the bloodshed.
"I will vote for Imran Khan because he is a symbol of change," said student Waqas Ali. "We have tested other leaders several times but they are useless. I will go to the polling station despite serious threats of terrorism."
Voters will elect 272 members of the National Assembly and to win a simple majority, a party would have to take 137 seats.
However, the election is complicated by the fact that a further 70 seats, most reserved for women and members of non- Muslim minorities, are allocated to parties on the basis of their performance in the contested constituencies. To have a majority of the total of 342, a party would need 172.
Khan, who appeals mostly to young, urban voters, has won support by calling for an end to corruption, a new political landscape and a halt to US drone strikes on Pakistani soil.
Early opinion polls had put the share of votes for Khan's Tehrik-i-Insaf (PTI) party as low as single figures.
However, a survey released on Wednesday showed 24.98 percent of voters nationally planned to vote for his party, just a whisker behind Sharif's Pakistan Muslim League (PML-N).
The Herald magazine poll showed Sharif's party remained the front-runner in Punjab, which, with the largest share of parliamentary seats, usually dictates the outcome of elections.
It also pointed to an upset for the PPP placing it in third place. Politics have long been dominated by the PML-N and the PPP, whose co-chairman is President Asif Ali Zardari, widower of assassinated former Prime Minister Benazir Bhutto.
"The PPP didn't take care of the poor masses and always engages in corrupt practices whenever they come to power," said Sher Nabi, a banker from Peshawar.
"So we've decided to vote for the PTI candidate this time and test Imran Khan to see if proves as honest as he claims."
The army has vowed to stay out of politics but has never enjoyed warm relations with the PPP, which has a long record of opposition to military involvement in government.
Some analysts say the preferred election outcome for the army would be a parliament where no one party holds a majority, with the balance of power held by Khan. Analysts say the military see Khan as a useful foil to the main parties.
Full report at:
http://www.dailytimes.com.pk/default.asp?page=2013\05\11\story_11-5-2013_pg7_4
------------
Pakistan: Sharif Favourite As Polls Targeted
Lisa Holland
May 10 2013
The run-up to Pakistan's elections this weekend has been marred by violent attacks which have left more than 100 dead.
Three parties - the PPP, the ANP and the MQM - have been targeted for being secular.
It has meant they have had to dramatically curtail what might be viewed as normal electioneering - reducing their profile and their efforts to get their electoral messages across.
Nawaz Sharif supporters at a rally
The three parties were called 'legitimate targets' by the Pakistani Taliban who have pledged to carry out attacks at polling stations on the day of the election.
To counter that threat the Pakistani military has said it will deploy tens of thousands of troops to polling stations.
The favourite to become Prime Minister is Nawaz Sharif, leader of the Pakistan Muslim League (PML-N), not one of the groups targeted by the Pakistani Taliban.
If he wins he has pledged to end the country's involvement in the US-led war against militants.
Pakistan has been part of the US-led fight against Islamist militancy in the region since the September 11 attacks in 2001.
His remarks will set alarm bells ringing amongst western leaders even though he has stopped short of saying whether he will stop military operations against the Taliban and al Qaeda.
Mr Sharif is no stranger to Pakistani politics - having twice been PM before. He will know how worrying and how loaded his comments are.
Some analysts say the 63-year-old has been mellowed after his fall from power in a 1999 military coup, a humiliating stint in prison and several years in exile.
The country's voters will go to the polls on May 11
If his party wins the most seats and he becomes premier again he is likely to maintain cordial relations with Washington.
Full report at:
http://news.sky.com/story/1088932/pakistan-sharif-favourite-as-polls-targeted
------------
No favourite in Pak polls: US
May 11, 2013
WASHINGTON - The United States has condemned the threats by militant groups to disrupt May 11 national election in Pakistan, while voicing hope that eligible voters would exercise their franchise in a free and fair atmosphere.
"The United States condemns the recent violence that has targeted politicians and their supporters during the electoral campaign in Pakistan. We condemn recent statements by militant groups indicating their intent to disrupt Pakistan's democratic process," State Department spokesman Patrick Ventrell told the daily press briefing on Thursday.
"So we support the right of the Pakistani people to participate fully in the election of their representatives and their ability to fulfill their aspirations for a peaceful, prosperous, and democratic nation," the spokesman added.
The United States, in coordination with European Union partners, plans to participate in election observation efforts.
Full report at:
http://www.nation.com.pk/pakistan-news-newspaper-daily-english-online/national/11-May-2013/no-favourite-in-pak-polls-us
------------
Eight injured in Peshawar blast
May 11, 2013
A bomb attack targeting female voters in Peshawar wounded eight people as historic elections got underway, according to police.
"The bomb was planted on a motorcycle. Several people including police have been injured. Full report at:
http://www.nation.com.pk/pakistan-news-newspaper-daily-english-online/national/11-May-2013/eight-injured-in-peshawar-blast
------------
Five reasons the Pakistan vote is unpredictable
May 11, 2013
Owen Bennett-Jones
The May 11 (today) elections will be different from any that have been held inPakistanbefore. And it's not only because for the first time an elected government will finish its term and hand over power to a democratically elected successor.
For decades Pakistani politics has consisted of a series of military regimes interspersed with governments run by two parties: the Bhuttos' Pakistan People's Party (PPP) and the Sharifs' Pakistan Muslim League (PML-N).
And as millions of Pakistanis have repeatedly complained, the PPP and the PML-N have been little more than family businesses generating vast fortunes for a tiny and fabulously rich ruling elite. But this election contains new, unpredictable elements.
1. Imran Khan
The cricketer-turned-politician, long dismissed as a political no-hoper, has mounted a serious challenge. Before he fell off a lift and injured his back, he was storming around the country, holding as many as seven mass rallies in a single day.
Privately, government officials say that their internal polling suggests that Mr Khan's PTI will win a significant number of seats.
As the change candidate, Imran Khan draws significant support from disparate groups. His most vocal support comes from young people, many of them vowing to vote differently from their parents.
He also appeals to liberals who hope that, at heart, his days as a Westernised, high-living 'playboy' are not really over. But equally significant is his appeal to the middle classes, many of whom have tended not to vote in recent elections.
The economic growth of the Musharraf years increased the number of property-owning Pakistanis. They tend to be conservative, anti-American, pious, nationalistic and infuriated by the venal upper classes. Imran Khan's campaign speeches have reflected all their attitudes.
2. New voters
A new electoral roll has injected another element of unpredictability. A reinvigorated Electoral Commission has overhauled the lists of those eligible to vote.
There are now 85 million verified voters. Since the last election, the commission has removed 37 million bogus names and added 36 million new ones. Of course some things remain the same.
In many parts of Pakistan such as interior Sindh, Balochistan, southern Punjab and parts of the north-west, traditional feudal and tribal structures remain in place and the electorate there is expected to follow traditional voting patterns.
It means the election will be decided in the country's richest province, Punjab. In many Punjabi constituencies there are now three way contests between the PTI, the PPP and the PML-N, making the results highly uncertain.
There is a widespread expectation that nationally no one party will win an overall majority and whoever emerges as the leader of the biggest party will have to put together a coalition.
3. Taliban threat
Whilst the country's major politicians slug it out on the campaign trail, there are also deeper trends affecting these elections. The Taliban insurgents are more confident than ever before.
During the last election campaign, in 2008, they observed a ceasefire. This year they are openly calling for the overthrow of the democratic system and attacking politicians from the parties which criticize them. So far bombings and shootings have killed more than 100 people in election-related violence.
4. A resilient judiciary
In the past Pakistan's judiciary tended to acquiesce to whoever was in power.
Although judges are still intimidated by religious extremists, they are increasingly willing to confront the politicians. And there are signs they are even daring to stand firm against the army.
General Musharraf's decision to return to the country has caused deep frustration in the military leadership. It is nervous that the Musharraf case might set a precedent in which senior officers face trials in civilian courts.
Behind the scenes the army is pressuring the courts to allow Gen Musharraf to leave the country on the grounds that he needs to see his ailing mother in Dubai. So far the judges have refused to comply.
If the judges stand firm they could establish a significant disincentive for future coups.
5. Media power
It's not just the judges who are flexing their muscles. With sensational minute-by-minute news coverage, the satellite TV stations have emerged as a major power in the land.
With the ability to deploy journalists and camera crews all over the country and to go live to cover even the smallest incident at a moment's notice, they should make it much harder for anyone to fix the election results.
Pakistanis are now using their mobile phones to film abuses by the ruling elite. In a recent by-election one politician was filmed slapping the election officials counting the vote. The clip was repeatedly played on news channels, provoking demands for the politician to be disqualified from sitting in any assembly.
Full report at:
http://www.nation.com.pk/pakistan-news-newspaper-daily-english-online/international/11-May-2013/five-reasons-the-pakistan-vote-is-unpredictable
------------
Effective security plan for polls, says Sethi
May 11, 2013
LAHORE - Caretaker Punjab Chief Minister Najam Sethi has said that a comprehensive security plan is being implemented to ensure free, fair and peaceful elections in the province on May 11th.
He said effective security arrangements have been made at every polling station. He was presiding over a high-level meeting at Chief Minister's Secretariat. Provincial Ministers, Chief Secretary, Home Secretary, Inspector General Police Punjab, Additional IGs and concerned officers were present.
He said that necessary arrangements have also been made for transportation of the ballot papers from polling stations back to the District Returning Officers.
He said that all necessary measures are being taken for further improving security arrangements throughout the province.
The meeting reviewed law and order situation and security arrangements for general elections.
Addressing the meeting, Najam Sethi said that in view of the national and international situation, security arrangements have been further tightened in the province and caretaker government is strictly implementing the security plan.
Full report at:
http://www.nation.com.pk/pakistan-news-newspaper-daily-english-online/lahore/11-May-2013/effective-security-plan-for-polls-says-sethi
------------
Liberal forces asked to stand against terrorism
May 10, 2013
KARACHI - The ANP and PPP leaders have said the terrorists and extremists have announced battle against the country's liberal forces. They said it is need of the hour that all the liberal forces should unite against the elements those are harming the democratic process in the country.
ANP leader Senator Shahi Syed and PPP`s Taj Haider expressed these views while addressing a joint press conference here at Mardan House Thursday. Shahi said the ANP has always supported the democratic and development process in the province. He said, "The ANP has decided to withdraw its candidates in favour of the PPP form three of the National Assembly constituencies of Karachi including NA-240, NA-250 and NA-258, while eight candidates has been withdrawn from the Sindh Assembly constituencies of Karachi including PS-90, PS-92, PS-94, PS-113, PS-114, PS-126, PS-129 and PS-130."
Full report at:
http://www.nation.com.pk/pakistan-news-newspaper-daily-english-online/karachi/10-May-2013/liberal-forces-asked-to-stand-against-terrorism
------------
Bombings kill one, injure seven in Balochistan
May 11, 2013
QUETTA: At least one person was killed and seven injured in two different bomb explosions in Balochistan's insurgency hit Naseerabad district on Saturday as people visited polling stations to cast their votes.One person was killed and three injured in a remote controlled blast in Naseerabad district's Haft Wali area, police said.Police said militants targeted voters who were returning from casting their votes in Haft Wali. A remote-controlled device was used in the explosion.One voter was killed and another three injured during the attack.
Full report at:
http://dawn.com/2013/05/11/bombings-kill-one-injure-seven-in-balochistan/
------------
Neighbourhood watch: Karzai's remarks fuel Pak-Afghan tensions
By Tahir Khan
May 11, 2013
ISLAMABAD: Afghan President Hamid Karzai's recent verbal onslaught has sparked anti-Pakistan sentiments in Afghanistan. People took to the streets in Kabul and other major cities and burned the Pakistani flag over the Afghan government's claim that Pakistani forces have constructed four check posts in Afghanistan's Nangarhar and Kunar provinces in the east.
The allegation has been rejected by the Pakistani military and the Ministry of Foreign Affairs.
On Thursday, Afghanistan's state television quoted President Karzai advising the Pakistani government and military to "reform themselves."
"We make a distinction between their (Pakistan) nation and their government. Their government and military should reform themselves," said Karzai, speaking at a ceremony marking the 80th anniversary of Kabul University, the state television reported.
On May 4, the Afghan president lashed out at Islamabad during a press conference in Kabul, accusing Pakistan of the recent border clashes in an attempt to probably get the Durand Line recognised as the official border between the two countries. In a veiled reference to Pakistan, Karzai said the Taliban should use their guns not against Afghan forces but against "the place that is hostile to Afghanistan."
Karzai said his government has ordered the removal of the "checkpoints set up by the Pakistani military" on the Afghan side of the Durand Line. The president's ministers and close aides also jumped on the Pakistan-bashing bandwagon and issued threatening statements. Afghan Interior Minister Mujtaba Patang visited Afghan border police officials in Kunar province, which borders Pakistan, and also announced to send regular troops to strengthen the border force.
Quoting the interior minister's speech to Afghan border police officials in Kunar's Naari district, Afghan journalist Nematullah Karyab said Patang did not rule out a possible war with Pakistan over the dispute.
"I have come here to say that you will sacrifice your lives in case of a possible war and would not step back," Karyab said, quoting Patang.
Last week, Afghan authorities paraded the body of Mohammad Qasem, an Afghan border police official, in Jalalabad. They claimed Qasem was killed in clashes with Pakistani forces, sparking more anti-Pakistan protests in the city.
Afghan news channel Tolo reported Fazel Hadi Muslimyar, speaker of the Afghan Senate, saying the Afghan nation wants the security forces to get ready to join their brethren in Nangarhar province to defend their soil.
Karzai declared his country will never recognise the Durand Line as the international border, knowing well that this stance is not new. The issue is being pressed by the president despite other key issues that need urgent attention.
Pakistan's foreign ministry swiftly rebutted Karzai's statement and said the Durand line issue was "settled."
Afghan analysts expressed doubts over Karzai's sincerity to deal with the issue. The pro-opposition daily, Mandegar, criticised the president for raising the issue and termed it an attempt to win Pukhtun support ahead of the upcoming presidential elections.
"The president knows that elections are approaching at a time when a large proportion of Pukhtuns are unhappy with him for certain reasons," read an article published in Mandegar. It also claimed Karzai was attempting to divert public attention from the recent disclosure of the US Central Intelligence Agency (CIA) providing 'bags of cash' to his administration.
Following Karzai's remarks on the Durand Line, some analysts suggested Afghanistan should recognise it as the international border. Former Herat governor and political analyst Engineer Yunas Fakur said in a debate on Shamshad, a private TV channel, that the Afghan government should officially recognise the border to obtain access to the Indian Ocean, free transit and enjoy peace and other privileges from Pakistan in return.
The Afghan opposition is encouraging a diplomatic solution to the tensions. Dr Abdullah Abdullah, head of the National Coalition of Afghanistan (NCA), said Afghanistan's problems are piling up without much public support.
Full report at:
http://tribune.com.pk/story/547118/neighbourhood-watch-karzais-remarks-fuel-pak-afghan-tensions/
------------
Pakistanis in Saudi Arabia hope to see a 'Naya Pakistan'
By SAMAN ALI ABBASI
May 10, 2013
RIYADH: Saudi Arabia, the oil rich country with an estimated population of 16 million people, has around 9 million registered expatriates, 1.5 million of which are Pakistanis who are anxious about which way the elections swing on May 11.
Expats are fed up with the situation in their native land and are looking forward to the forthcoming elections. Hope is finally in the air. Despite the bomb blasts shaking the nation, people are anticipating a positive change after the elections.
The Pakistani diaspora across the globe was disappointed on April 29 when the Election Commission informed the apex court that overseas Pakistanis could not vote this time around. Some say it is a deliberate move to deter those who wanted to vote for the charismatic Imran Khan, chief of Pakistan Tehreek-i-Insaf (PTI).
Manzur, who runs a small transport company, said that many of his Pakistani students have informed him that their parents are travelling to Pakistan simply to vote. He regrets that he had to come back before May 11 or he would have certainly given his vote to the PTI.
Malik, a taxi driver and a staunch supporter of Pakistan Muslim League-Nawaz (PML-N), has changed his opinion about the Sharif brothers after the power shortages in Punjab.
Similarly, another Malik, married and settled here with his family, confided that he has converted at least three PML-N supporters into PTI adherents.
In the same vein, Zahra, a young house wife residing in Riyadh said that her vote would definitely have gone to Imran, has she been allowed to vote from overseas.
Seemingly, all candidates and old political horses know that this year the voters' attitude is different. People are more aware of their problems and might cast their ballot in a different way. With the power outages, lack of law and order and inflation, empty rhetoric may fall short this time around.
Full report at:
http://tribune.com.pk/story/546999/pakistanis-in-ksa-hope-to-see-a-naya-pakistan/
------------
Pakistani Christians register with Islamic party
Taimur Khan
May 11, 2013
KARACHI // Punjabi songs blared as hundreds of men and boys crowded into a narrow street in Karachi's Azam Basti neighbourhood for a rally by an alliance of conservative and Islamist politicians who exhorted them to vote in today's national elections.
Dozens of party flags fluttered on the makeshift stage, which was guarded by two glowing red plastic lions, the symbol of front-runner Nawaz Sharif's Pakistan Muslim League, as the speakers took turns denouncing the secular ethnic-based party that rules Karachi.
"If you vote for us, the MQM [Muttahida Qaumi Movement] will be over!" a candidate for the Jamaat Islami roared to the crowd on Thursday night.
Among the onlookers stood Elvin Gill, leader of the minority wing of Jamiat Ulema-e-Islam-Fazlur (JUI-F), Pakistan's largest Islamic party. Mr Gill is also a Pentecostal minister and lives in Azam Basti, home to Karachi's largest Christian community. With 23,000 people, it could prove a crucial swing demographic in this constituency.
While the JUI-F gives full-throated support to Pakistan's controversial blasphemy laws, which have been used as a justification for violence against Christians in Pakistan, it has also cast itself as a champion of minority rights and is courting Christian voters across the country.
It was one of the few parties to send supplies and workers to help rebuild a Christian neighbourhood in Lahore that was recently burned to the ground by a mob who claimed one of its residents had blasphemed against Islam.
Rights groups say religious minorities, already denied the full benefits of citizenship by the constitution, are increasingly vulnerable in Pakistan.
Mr Gill, who spent most of the night holding corner meetings with prospective Christian voters, said he joined the party for pragmatic rather than ideological reasons.
"I tell people in my church that if you are in our mullah party, nobody can say you are involved in blasphemy," he said. "It is protection."
In the last parliament, Aasia Nasir, a Christian MP with the party, dared to give a stern denunciation of the laws' misuse with no repercussions. When the Punjab governor Salman Taseer made similar statements in 2011 he was assassinated.
Mr Gill said Christians, who make up just 1.6 per cent of the population, would have a better chance of changing perceptions about their community if they became involved in the party.
"You must join with them to change the mullahs' feelings, to teach that hatred is not part of Islam," he said. "If they come to make good relations with Muslims, the religious people especially, their life will be better than before."
Full report at:
http://www.thenational.ae/news/world/south-asia/pakistani-christians-register-with-islamic-party
------------
Pakistanis Vote as Violence Mars End of Vibrant Campaign
By DECLAN WALSH
May 11, 2013
LAHORE, Pakistan – Pakistanis went to the polls for a historic election on Saturday, their excitement mingled with trepidation as the country marked a democratic milestone with a riveting electoral contest that was threatened by fresh violence from Taliban insurgents.
A bomb in the southern port of Karachi killed at least 11 people, doctors said, offering an ominous start to the day following Taliban threats to dispatch suicide bombers to selected targets across the country.
The attack appeared directed at a candidate from the Awami National Party, one of three secular-leaning parties that have borne the brunt of Taliban attacks in the last month that have killed at least 110 people.
But in several cities the early turnout was strong, supporting predictions of unusually high voter participation in a triangular contest that is dominated by the battle between Nawaz Sharif, a former prime minister, and Imran Khan, a sports star turned political phenomenon.
The election is Pakistan's 10th since 1970 but only the first where a civilian government has served a full five-year term and is poised to peacefully hand power to another political administration.
It is also the election that has seen the least amount of interference from the country's military. While army generals have ruled Pakistan directly for more than half its 66-year history, and indirectly most of the rest of the time, this time the military has largely steered clear of getting involved in the election.
There have been few allegations of manipulation by the military's Inter Services-Intelligence Directorate, which in previous elections had bribed or intimidated candidates to obtain a result favorable to the military leadership.
Instead the country has been gripped by election fever in recent weeks, most of it driven by the contest between Mr. Sharif and Mr. Khan. Although Mr. Sharif's Pakistan Muslim League-N party is favored to win the highest number of seats, it is unlikely to gain a majority thanks to an aggressive challenge from Mr. Khan in Punjab province.
Mr. Khan electrified the campaign in recent weeks with a series of mass rallies that tapped into a deep vein of support among young and middle-class Pakistanis in urban areas. Public sympathy for the former cricket star rose after he fell nearly 15 feet during a rally on Tuesday night, injuring his back.
Two nights later Mr. Khan delivered his final campaign address, speaking from his hospital bed via video link, to a crowd of frenzied supporters in central Islamabad. His success in today's poll will depend partly on his ability to persuade young voters - 25 million Pakistanis under the age of 30 are eligible to vote - to stand in line in the summer heat and cast their votes.
The election results will also have implications for the United States, which is enjoying a lull in its previously stormy relationship with Pakistan in recent years.
Mr. Sharif, a conservative and a steel baron, came to American attention in 1999 during a tense, confrontation with India that averted the possibility of a nuclear conflict thanks to mediation by President Bill Clinton.
A nationalist by inclination, on the campaign trail Mr. Sharif hinted that he would seek to redraw Pakistan's relationship with America and negotiate with Taliban rebels, but offered few specifics.
Mr. Khan, however, has more defined ideas: he has vowed to end C.I.A. drone strikes in Pakistan's tribal belt by ordering the Pakistani military to shoot down American aircraft if necessary, and he believes that the state should negotiate with Taliban insurgents, not fight them.
The election has evoked a rare sense of enthusiasm for politics in Pakistan. Some 4,670 candidates are fighting for 272 directly elected seats in the national parliament, while almost 11,000 people are battling for the four provincial assemblies. Aside from more traditional politicians, candidates included astrologers, transgenders, former models and the first female candidates in the tribal belt along the Afghan border.
Also standing for election are dozens of candidates from Sunni sectarian groups, some with links to violent attacks on minority Shiites.
But the sense of a vibrant, if imperfect, democracy has been tempered by Taliban attacks throughout the campaigning, which suggest that the Islamist movement has moved beyond its image as a nihilistic guerrilla movement, based principally in the mountainous northwest, to a political insurgent group with firmly shaped objectives to upend western-style democracy in Pakistan.
In a statement on Friday, the Taliban leader Hakimullah Mehsud ordered his commanders to attack the "infidel system" of democracy, warning that teams of suicide bombers would hit targets across the country.
The police established new checkposts and military helicopters patrolled the skies in Peshawar, the northwestern city that has been worst hit by militant violence. Hospital staff were put on alert while billboard signs across the city asked citizens to be vigilant in watching for suspicious activity.
But after a slow start to polling, large numbers of voters emerged by mid morning, including many women. About 300 burka-clad women stood in line outside the Lady Griffith High School, where policemen warned photographers not to take their picture.
One of the women, Saba Iqbal, a 35-year-old doctor, said she was going to vote for Mr. Khan's Pakistan Tehrik-i-Insaaf party.
"I never voted before but this time I want to be part of Imran Khan's change," she said.
Campaigning was further marred on Thursday when Ali Haider Gilani, the 27-year-old son of former prime minister Yousaf Raza Gilani, was shot and kidnapped by unidentified gunmen as he addressed a campaign event in the city of Multan, in southern Punjab Province.
Two guards who tried to protect Mr. Gilani were shot dead; the candidate was reportedly left bleeding from a gunshot wound as he was dragged into a vehicle and driven away.
President Asif Ali Zardari's Pakistan Peoples Party, which led the last government, has found itself badly overshadowed in the race following a lackluster and leaderless campaign that was further marred by the Taliban threats.
Full report at:
http://www.nytimes.com/2013/05/12/world/asia/pakistan-election.html?pagewanted=all&_r=0&gwh=8FBECBE236C62DB443D3F3E52BA3C34E
------------
Pakistan orders explusion of Irish journalist
May 11, 2013
Pakistan's interior ministry has ordered the expulsion of a prominent Irish journalist.
Declan Walsh, the Islamabad bureau chief for The New York Times, was issued with the order on Thursday ahead today's national elections.
Orginally from Ballina, Co Mayo, Mr Walsh (39) started his career in The Sunday Business Post.
For the past nine years, however, he has lived and worked in Pakistan, writing on the country's violent political upheavals, mostly for The Guardian newspaper of Britain.
He was hired by The New York Times in January 2012.
The US newspaper reported that the Pakistani ministry did not give any explanation for the expulsion order, which was delivered by police officers in the form of a two-sentence letter to Mr Walsh at his home on Thursday.
Full report at:
http://www.irishtimes.com/news/world/asia-pacific/pakistan-orders-explusion-of-irish-journalist-1.1390214
------------
Africa
Five suicide bombers die in attacks on troops in Mali
May 11, 2013
BAMAKO: Suicide bombers targeted troops in two towns in war-torn northernMalion Friday, leaving five of the attackers dead and two Malian soldiers wounded, military sources said.
The first attack was against soldiers from neighbouringNigerstationed in Menaka, a Saharan desert commune 300 kilometres (185 miles) east of Gao, with only the bomber being killed, Nigerien and Malian military sources on the ground told AFP.
"Around 5:00 am (0500 GMT), a kamikaze in a car busted through the entrance to our military camp at Menaka. We fired our weapons and the kamikaze blew himself up," a Nigerien military source said.
"He is dead, but there were no victims among our ranks," the source added, stating that the Nigerien troops had gone on to "a state of alert".
Nigeris among several countries that sent troops toMalito fight Islamists who seized control of the desert north of the west African nation for several months last year, following a coup that caused turmoil in the capitalBamako.
A Malian military source in Menaka confirmed the attack, saying: "Early today, a light-skinned kamikaze managed to get inside the camp for Nigerien troops at Menaka.
"The kamikaze blew himself up at the wheel of his vehicle and the Nigerien army hit back."
Four suicide bombers were then killed and two Malian soldiers wounded in a second attack in the lakeside market town of Gossi, in the Timbuktu region, about 185 miles southwest of Gao, the source told AFP.
"On Friday morning, three suicide bombers blew themselves up in Gossi. They wounded two Malian soldiers. This is a provisional toll," he said.
A separate military source announced later that a fourth bomber wounded in the attack had died later in hospital.
Full report at:
http://www.nation.com.pk/pakistan-news-newspaper-daily-english-online/international/11-May-2013/five-suicide-bombers-die-in-attacks-on-troops-in-mali
------------
Mali seeks $2.6bn in financial aid from EU
10 May 2013
Mali will ask international donors for nearly two billion euros ($2.6 billion) to help rebuild the country and try to halt a resurgence of fighters who were driven out of the major northern towns by a French-led offensive.
A draft request for funds released on Friday coincided with the announcement by French President Francois Hollande and his Niger counterpart, Mahamadou Issoufou, to push for a nationwide elections in Mali by the end of July. France and Niger have troops in Mali.
According to the document drafted for the conference, to be held in Brussels on Wednesday, the Malian government said it could only raise slightly over half the proposed $5.6bn budget needed for recovery for 2013 and 2014.
The draft said it needed help from its European Union donors to finance the remaining part. The conference is organised jointly by France and the European Union.
In a document posted on the website of the conference, the international community was strongly solicited to finance and implement the plan.
To overcome the crisis and begin a sustainable development, Mali needs and depends on the technical and financial support of the international community, the document said.
According to diplomatic sources, the conference will seek to raise at least $600m to $700m.
The plan sets twelve priorities for the country, including peacekeeping, the fight against corruption, and organising credible elections
Military victory
In Paris, Hollande and Issoufou portrayed the French-led intervention as a military victory.
The French, helped by troops from neighbouring African countries including Niger, launched a military operation to take back the north of Mali on January 11.
"I've always said that there are still armed groups in Mali," Hollande told reporters. He reiterated that for this reason 1,000 French soldiers will remain until the end of the year "who can in any event intervene if ... there were terrorist actions".
The initial offensive led by the French succeeded in freeing the major towns in the north from the grips of the fighters, who occupied a France-sized territory a year ago, imposing Shariah law and opening terrorist training camps.
However, the northern provincial capital of Kidal was quickly retaken by a Tuareg rebel group, known as the National Movement for the Liberation of the Azawad.
The fighters fled into the surrounding desert and there have been repeated suicide attacks, including at least four in Gao, and two each in Timbuktu and Kidal.
Simultaneous attacks
Back in Mali, five suicide bombers have carried out two simultaneous attacks on soldiers in another indication of the growing coordination of operations by militants against African and French forces.
Full report at:
http://www.aljazeera.com/news/africa/2013/05/201351017303236929.html
------------
Muslim cleric sets terms for return to Jordan
10 May 2013
Muslim cleric Abu Qatada has said he will return to Jordan voluntarily after Amman ratifies a deal with London that ensures he will receive a fair trial, the cleric's lawyer told a London court.
Abu Qatada's pledge is a victory for the British government after nearly eight years of unsuccessful attempts to deport the cleric, who is accused of spreading "extremist" ideas that once inspired one of the September 11, 2001 hijackers.
Courts have repeatedly blocked deportation on the grounds that a trial in Jordan of Abu Qatada, whose real name is Mohammed Othman, risked being tainted by the use of evidence obtained using torture.
Britain last month announced it had signed a new treaty with Jordan aimed at addressing those concerns.
"If and when the Jordanian parliament ratifies that treaty, Mr Othman will voluntarily return to Jordan," Edward Fitzgerald, a lawyer representing him, told a special immigration tribunal.
That would be a relief to Home Secretary Theresa May, the British interior minister, who has faced media pressure over repeated failures to deport Abu Qatada.
"The Home Secretary's focus remains on seeing Abu Qatada returned to Jordan at the earliest opportunity," Security Minister James Brokenshire said in a statement issued by the Home Office shortly after the news from court emerged.
"We continue to pursue this case before the courts and to work with the Jordanian government to achieve this."
Yvette Cooper, the opposition Labour Party's spokeswoman for interior affairs, said: "This could be very good news if it means Abu Qatada returns to Jordan as soon as possible".
'Bin Laden's right-hand man'
Once described by a Spanish judge as "Osama bin Laden's right-hand man in Europe", Abu Qatada is seen as a security risk in Britain but has never been charged with any offence there.
Jordan convicted Qatada in his absence of encouraging fighters there who planned bomb attacks in 1999 and 2000, but under a 2005 agreement between Amman and London he will be retried if he eventually returns.
Full report at:
http://www.aljazeera.com/news/europe/2013/05/2013510151929260705.html
------------
Tunisian denies charges of plotting New York terror cell
May 11, 2013
NEW YORK: A Tunisian man linked to a plot to derail a train bound for Canada was charged with trying to stay in the United States illegally to build a cell for international acts of terror, authorities said Thursday.
Law enforcement authorities had watched Ahmad Abassi since he arrived in the United States from Canada in mid-March and arrested him on April 22 at John F. Kennedy International Airport, authorities said. Abassi met regularly with an undercover FBI agent and met with another Tunisian citizen who later was arrested in Canada in the plot to derail the train, they said.
"As alleged, Ahmad Abassi had an evil purpose for seeking to remain in the United States – to commit acts of terror and develop a network of terrorists here and to use this country as a base to support the efforts of terrorists internationally," U.S. Attorney Preet Bharara said in a release issued after the federal indictment against Abassi was unsealed Thursday.
The head of the FBI's New York office, George Venizelos, said: "Mr. Abassi came to the United States to pursue terrorist activity and support others in the same shameful pursuit. What Mr. Abassi didn't know was that one of his associates, privy to the details of his plan, was an undercover FBI agent."
Prosecutors, in a letter submitted to a U.S. District Court judge in Manhattan, said Abassi had radicalized Chiheb Esseghaier, who is charged in Toronto with conspiring with Al-Qaeda members in Iran to derail a train that runs between New York City and Montreal. Esseghaier appeared briefly in court on April 24 and made a statement suggesting he did not recognize the court's jurisdiction.
Prosecutors said Abassi told an undercover FBI agent that Esseghaier's plans were good but the time was not right.
"The defendant noted that he had suggested an alternative plot – contaminating the air or water with bacteria in order to kill up to 100,000 people – but that Esseghaier was dismissive of that plan," the government said.
It said Abassi also proposed they help Muslims fighting in Syria by sending money or weapons.
"He also stated that he wanted to remain in the United States and that if he was living in the United States he would be willing to carry out terrorist operations in the United States," prosecutors wrote. "In reality, the defendant made clear that his true purpose for obtaining immigration documents that would allow him to remain in the United States was to engage in 'projects' relating to future terrorist activities, including recruitment."
The indictment charges Abassi with two counts of lying on two immigration forms for a green card and work visa. Each count carries a maximum term of 25 years in prison upon conviction.
Abassi denied the immigration fraud charges during a secret arraignment a week ago, telling the judge, "Your honor, I am not guilty." His lawyer Sabrina Shroff said he "flatly denies the accusations in the indictment."
Full report at:
http://www.dailystar.com.lb/News/International/2013/May-11/216648-tunisian-denies-charges-of-plotting-new-york-terror-cell.ashx#axzz2SFVyHEbM
------------
Two police stations in Benghazi bombed
11 May 2013
BENGHAZI: Bomb attacks targeted two police stations in the eastern Libyan city of Benghazi yesterday, causing extensive material damage but no casualties, a security official said.
"Unknown individuals threw explosive devices at the police stations in Ras Obeida and Al-Madina," the official told AFP.
The attacks damaged the police stations and several cars parked nearby, he said.
Benghazi, Libya's second city and cradle of the 2011 uprising that toppled the regime of now slain dictator Muammar Qaddafi, is the scene of frequent attacks and assassinations targeting security officials.
Authorities blame radicals for the violence, including a deadly attack in September against the US Consulate in Benghazi that killed Ambassador Chris Stevens and four other Americans. On Thursday, the US State Department issued a travel warning, saying it "strongly advises against all but essential travel to Tripoli and all travel to Benghazi, Bani Walid and southern Libya, including border areas and the regions of Sabha and Kufra."
And yesterday, Britain announced it was temporarily withdrawing some staff from its embassy in Tripoli due to security concerns over recent political unrest.
Full report at:
http://www.arabnews.com/news/451107
------------
UK withdraws some embassy staff from Libya
MAY 11, 2013
The UK yesterday withdrew some embassy staff in Libya in response to "ongoing political uncertainty", the Foreign Office says.
It said it was temporarily withdrawing a "small number" who work with Libyan ministries.
Armed militias have recently been blocking access to ministry buildings to push their political demands.
However, the UK embassy remains "open as usual", including for consular and visa services.
Last month a car bomb exploded outside the French embassy in Tripoli, wounding two French guards and several residents.
Full report at:
http://www.thedailystar.net/beta2/news/uk-withdraws-some-embassy-staff-from-libya/
------------
Southeast Asia
Massive nationwide manhunt in Indonesia results in killing of several terrorists
2013-05-11
By Abu Hanifah
JAKARTA, May 11 (Xinhua) -- The Indonesian police's anti-terror squad Densus 88 has conducted a massive nationwide manhunt against those suspected of being involved in terrorist activities, arresting some and killing those who fought it out with the authorities.
The squad launched the manhunt operations in known terrorist hideouts in West Java, Central Java, Banten and Lampung provinces following the recent arrest of a person linked to a terror group in Jakarta that allegedly planned an attack against the Myanmar embassy in retaliation for the Yangon government's crackdown on the minority ethnic Muslims of Rohingya in Myanmar.
On Wednesday, in West Java province's Bandung regency, the anti- terror squad had a shootout with terrorists that lasted for more than nine hours resulting in the death of three terror suspects and the arrest of one.
In a raid conducted in the house of the slain terrorists, the police recovered assault guns and improvised bombs made from pipes and scrap metals.
On Thursday the anti-terror squad also conducted a manhunt in Kebumen and Kendal in Central Java province where three terrorists were killed and four others arrested.
Around the same time, members of the anti-terror squad also arrested four suspected terrorists in Pondok Aren, Ciputat, Serpong and Tangerang in Banten province.
The squad also killed a terrorist and arrested two others in Batang, Kendal regency.
On Friday, the police arrested four more terror suspects in Lampung province, Sumatra. Police said that those arrested in Lampung were linked to the ones arrested in Kebumen.
Indonesian police headquarters Spokesman Brig. Gen. Boy Rafli Amar said that the terrorists recently killed and arrested by anti- terror squad were members of a well-organized terror group. They were skilled in using guns, assembling explosives and getting funds to finance their operations.
Amar said the terror syndicate robbed banks to finance their operations. The banks that the syndicate robbed included the state banks BRI in Lampung, Batang and Grobogan.
The syndicate carted hundreds of millions of Indonesian rupiah from the banks that they robbed.
Full report at:
http://mysinchew.com/node/86302?tid=37
------------
After Malaysia Election, Political Attacks Continue as Opposition Calls for Protests
By JOE COCHRANE
May 10, 2013
JAKARTA, Indonesia — If there was a moment after the nail-biting national election on Sunday when Malaysians could envision a respite from five years of political turmoil, it did not last long.
Within hours of the election commission's announcement early Monday that Prime Minister Najib Razak's governing National Front coalition had won a majority in Parliament, Anwar Ibrahim, the opposition leader, declared that the voting was rigged, said he would contest the results and called for nationwide protests.
The prime minister's office countered that Mr. Anwar was a poor loser stirring up unrest, while the police warned that the opposition leader and dozens of other people who spoke at a protest rally in a packed soccer stadium just outside the capital, Kuala Lumpur, on Wednesday night could be charged with sedition.
Such tit-for-tat exchanges between the government and the opposition were commonplace after the 2008 election and in the campaign for the vote last Sunday. But analysts say that the continuing political attacks and threats of protest this time are raising the specter of a potentially explosive showdown fueled by ethnic tensions laid bare again in the vote and longstanding animosity between Mr. Najib and Mr. Anwar.
"In a way, it's escalated things," said Simon Tay, the chairman of the Singapore Institute of International Affairs. "And with an escalation, you're not sure of what the results will be."
The election was itself something of a referendum on the ethnic-based politics that has prevailed under the National Front, which has led the country since its independence from Britain in 1957. Under that system, ethnic Malays have been given preferences in land purchases, bank loans and university admissions.
Voters were essentially given a choice between a semiauthoritarian government that has delivered economic development, albeit through ethnic-based political and economic policies, or a total change in leadership to a combative but untested opposition.
With a record 80 percent of registered voters turning out, the National Front won 133 of the 222 seats in the federal Parliament. But the tally represented a loss of seven seats compared with 2008 and, for the first time since 1969, the governing coalition took less than 50 percent of the popular vote.
While rural Malay Muslims tipped the balance to Mr. Najib, a higher-than-anticipated number of Chinese-Malaysians voted for the opposition.
Mr. Najib, 59, said at a nationally televised news conference early Monday that he was surprised by the voting pattern, which he called a "Chinese tsunami." This was repeated in comments in Malay-language newspapers that implied that Chinese voters had betrayed Mr. Najib's party, the United Malays National Organization, or UMNO, which many Chinese supported in the past.
Analysts said that Chinese voters were upset that the government had not made more progress in rolling back official preferences for ethnic Malays.
While Mr. Najib has urged national reconciliation and called ethnic-based campaign politics "unhealthy," some analysts said his "tsunami" comment only magnified the ethnic debate in Malaysia and exacerbated post-election tensions.
"The political divide in Malaysia is poisonous," said Karim Raslan, a Malaysian newspaper columnist and political observer.
The weeks before the election featured vociferous attacks in the strongly pro-government mainstream news media, in which Mr. Anwar, 65, was labeled a divisive, pro-American agent, while another senior opposition leader was rumored to be gay. (Spreading such rumors has become a not-uncommon political tactic in a country where homosexuality remains illegal.) A number of sex tapes purporting to be of opposition candidates, including Nurul Izzah Anwar, 32 — the opposition leader's daughter, who successfully defended her seat in Parliament — were anonymously posted on the Internet.
The governing coalition "hasn't learned anything from the voter backlash," Ms. Nurul said. "I foresee the continuation of gutter, racist and hate politics."
The opposition's campaign platform included allegations that the governing coalition perpetuated widespread official corruption and would expand the state affirmative action programs that favor Malay Muslims, who account for 60 percent of Malaysia's 29 million people. The government has rejected such claims.
The roots of the current dispute are also extremely personal and date back to 1998, when Mr. Anwar, who at the time was a senior UMNO leader and deputy prime minister, was ousted in an internal party struggle with Mahathir Mohamad, 87, the country's prime minister at the time. Mr. Mahathir retains significant influence within the party.
Full report at:
http://www.nytimes.com/2013/05/11/world/asia/after-malaysia-election-political-attacks-continue.html?gwh=5B435DBA83FDC9B723AC65D2257A7215
------------
Islamic People's Association Raided over Alcoholic Beverages
May 11, 2013
Dozens of members of the Tangjungduren Islamic People's Association raided two minimarts in Grogol Petamburan, West Jakarta, on Friday for selling alcoholic beverages.
The mob, who failed to meet the owners of the two establishments, a 7-Eleven and an Indomaret, decided to enter and confiscate all of the minimarts' alcoholic beverages from their refrigerators.
"We have since March warned them not to sell alcoholic drinks. But these stores kept on selling the beverages freely," Khalid, the coordinator of the mob, said as quoted by Beritajakarta.com.
Members of the Jakarta Public Order Agency (Satpol PP) were on location, but they remained on the sidelines during the incident, which caused a traffic jam along Jalan Tanjung Duren Raya.
Full report at:
http://www.thejakartaglobe.com/news/7-eleven-indomaret-raided-over-alcoholic-beverages/
------------
Four more terror suspects arrested in Lampung
May 10 2013
Police have arrested four more suspected terrorists in three different regencies in Lampung, an official on Friday.
National Police spokesman Brig. Gen. Boy Rafli Amar said that two of the four suspects were arrested in Panjang, South Lampung, on Thursday evening. The next morning police apprehended another suspect in Karang Anyar, while the last suspect was taken in Pringsewu.
"The four are believed to be involved in the robbery of Bank Rakyat Indonesia [BRI] branch office in Pringsewu," said Boy as quoted by tempo.co.
On April 22, six armed men broke into the BRI office in Pringsewu and took Rp 466 million (US$48,000) in cash.
Full report at:
http://www.thejakartapost.com/news/2013/05/10/four-more-terror-suspects-arrested-lampung.html
------------
Police raid shop rented by terrorist suspect
May 10 2013
The National Police counter-terrorism unit, Densus 88, raided a shop allegedly rented by a terrorist suspect at Cimahi, West Java, on Friday, as a follow-up investigation after an earlier raid in Bandung regency where three alleged terrorists were shot dead.
West Java Police spokesman Sr. Comr. Martinus Sitompul said that the raided shop was believed to be operated by Budi Syarif alias Angga, one of the terrorists who was killed during the raid. "We raided [the shop] to look for evidence," said Martinus, as quoted by kompas.com.
Cimahi Police detective chief Adj. Comr. Sudjana said a box and three commando knives were confiscated from the shop that was used to provide air-conditioner maintenance service. "The dangerous materials were taken directly by the West Java Police.... I only know about the commando knives," Sudjana said without giving details.
Previously on Wednesday, Densus 88 raided a house in Cigondewah, Bandung regency and killed the three terrorist suspects after a gunfight. Another suspect, identified as HR, surrendered and was arrested by the police.
Full report at:
http://www.thejakartapost.com/news/2013/05/10/police-raid-shop-rented-terrorist-suspect.html
------------
Jakarta Deputy Governor Denies Violation of Human Rights
May 11, 2013
The National Commission on Human Rights doesn't understand the true meaning of justice, according to outspoken Jakarta Deputy Governor Basuki Tjahaja Purnama.
The body known as Komnas HAM had criticized Jakarta Governor Joko Widodo and his deputy for evicting residents of North Jakarta's Muara Baru, saying that the Jakarta leaders did not discuss the plan with the residents ahead of time. Instead Komnas HAM claimed they just sent heavy equipment to work on the Pluit dam, which burst in January, causing heavy flooding in the area.
Basuki labeled Komnas HAM's criticism unfair, saying the work on the Pluit dam had to be done to overcome flooding problems.
"If that's considered violating human rights, go ahead and take over Monas [the National Monument]. If I sent people from Belitung Island to take over Monas and then they got evicted, could I report that to Komnas HAM? Wouldn't that also be considered a violation of human rights to evict them? After eviction, the [Belitung] people would demand compensation and also ask for profit sharing. How do you explain that?" Basuki said at City Hall on Friday.
The deputy governor also denied an accusation that said he had earlier labelled the Muara Baru residents as communists, saying that the media had exaggerated his statement.
"I didn't call the residents communists. It was taken out of context. I only said that the group's insistence for the state's land to be given away is a communist way. That reminds us of communist ideals," he said.
Basuki said he did not understand Komnas HAM's reasoning in declaring the eviction of Muara Baru residents a human rights violation. He countered that the residents were inhabiting land owned by the state and, therefore, did not have the right to be there.
"If you consider that as a human rights violation, will I also be accused of violating human rights if I reported the people who rented the state's land [to the Muara Baru residents]? We would be violating human rights if we didn't provide them shelter. The fact is that some of them refused to be relocated. Now, how could poor people afford to buy steel truss for their roofs. We have all the evidence. Are those the people that they [Komnas HAM] wants to defend?" he asked.
Full report at:
http://www.thejakartaglobe.com/news/deputy-governor-denies-violation-of-human-rights/
------------
Arab world
Egypt's New Anti-Muslim Brotherhood Militia
May 10, 2013
Ashraf Ramelah
Egypt's Black Bloc grew out of a struggle for liberation from an authoritarian system, only after non-violent civil efforts had failed. Not to be confused with America's Black Bloc, which is friend to likes of the Muslim Brotherhood, Egypt's Black Bloc is an enemy to their country's new Islamist rulers and fights for democracy and legitimate government.
Clad in black garb and ski masks, the faceless and nameless Black Bloc soldiers lock arms to create a human shield in defense of pro-freedom protesters -- the Black Bloc's number-one priority -- in the streets and squares of Egypt. Experts in martial arts and ostensibly military-trained, Black Bloc warriors only recently surfaced in Egypt to safeguard fellow freedom-fighters from their arch-enemies, the foes of democracy: President Mohammed Morsi and his Muslim Brotherhood-Hamas gangs.
Originating out of a plan to protect women protesters from sexual assault, this huge band of men and women numbering in the thousands (the exact number is not known) form a dedicated and determined corps of combatants divided into local groups of 30-50 individuals.
The secret members of the "elite" Black Bloc guard first appeared in the streets of Cairo this January, when revolutionaries commemorated their two-year anniversary with protests in Tahrir Square. Now everywhere the Egyptian opposition stages protests, the rank-and-file Black Bloc, whose leaders remain unknown to them, dutifully move in to police the area on behalf of fellow protesters.
Deemed "terrorists" and "outlaws" by the Morsi regime, the shadowy Zorro-like heroes refer to their network as the "United Ghosts Revolution" and represent a just cause in the ongoing rebellion against Egypt's Islamist government. The Black Bloc mission is to ensure that no more assaults, kidnappings, and torture occur from Morsi's security forces [the Muslim Brotherhood militia] and so-called law enforcement. Many Black Bloc members carry firearms, most likely acquired through the illegal networks smuggling weapons from Libya and Gaza.
If the best defense is a good offense, the forceful Black Bloc has aggressively expanded its scope beyond the scene of gathered protesters and their protection. With a physical presence in more than eight cities across Egypt, the anonymous soldiers have claimed responsibility for ransacking at least eight separate Muslim Brotherhood Freedom and Justice Party offices.
At first, the shrouded Black Bloc raised fears; the public saw them as terrorists. This wrong impression, however, was soon dispelled as their image as guardians took shape. Appearing first in the social media, the Black Bloc now has the moral support of more than 57,000 Facebook members for the purpose of countering Islamic supremacy and brutality.
Their core concern is to facilitate the pursuit of Western-style democracy. Its members claim no affiliation with existing political parties, as the group states that it "aims only to stand against the Muslim Brotherhood and any group exploiting religion to achieve political goals." Their challenge to the Muslim Brotherhood has prompted a new crackdown by President Morsi and his Prime Minister, Hasham Kandil. The state now targets opposition protesters who wear black, tracking those who do and conducting investigations. By mid-February, Morsi began arresting members of Black Bloc and its sympathizers.
Full report at: http://www.israeltoday.co.il/NewsItem/tabid/178/nid/23841/Default.aspx?hp=article_title
------------
3 Lebanese fighters killed in Syria, 36 others missing
May 10, 2013
By Misbah al-Ali
TRIPOLI, Lebanon: Three fighters from the northern city of Tripoli were killed in Syria and the status of 36 other Lebanese fighters remain unknown, a security source told The Daily Star Friday.
The source identified the victims as Hani Barakat, Hussein al-Mansour and Issam Maarabani. The three men were buried in Syria, added the source who spoke on the condition of anonymity.
Families of 36 men from Tripoli also reported they had lost all contact with their sons, who are in their twenties, since they left to fight in Syria some two weeks ago, the security source said.
It wasn't clear when or where the men were killed. Numbers of Salafist fighters from north Lebanon have joined Syrian rebels in their fight against Syrian President Bashar Assad. Fighting has recently raged near border towns with reports of Lebanese parties participating.
Recent fighting in the border town of Qusayr, with reports of Hezbollah participating, prompted a number of calls for militant jihad by radical Sunni preachers in Lebanon. The preachers called for young men to fight against the regime in Syria and they held enlistment drives. Many other parties are also now publicly supporting their favored side in Syria as the conflict has worn on.
Late last year a group of more than 20 Lebanese men were killed in an ambush by regime forces in the Syrian town of Tal Kalakh, near the border with Lebanon.
Full report at:
http://www.dailystar.com.lb/News/Politics/2013/May-10/216606-3-lebanese-fighters-killed-in-syria-36-others-missing.ashx#axzz2SFVyHEbM
------------
Saudi threatens illegal workers with prison
10 May 2013
The Saudi government has warned that illegal foreign workers risk being slapped with prison sentences and fines after a three-month grace period runs out on July 3.
Employers or those who shelter illegal workers will also be liable to up to two years in prison, the interior and labour ministries said in a joint statement on Friday.
It urged those whose work and residency permits have expired to take advantage of the amnesty without penalty, including "special measures" that would allow a change of employer under certain conditions.
The amnesty does not cover those who entered the oil-rich Gulf state illegally.
Saudi Arabia hosts eight million foreign workers, mostly in very low-paid jobs, according to official figures, but economists say there are another two million unregistered non-Saudi workers in the kingdom.
Full report at: http://www.aljazeera.com/news/middleeast/2013/05/2013510171352145722.html
------------
Mubarak appears in Cairo court for retrial
11 May 2013
A retrial of Hosni Mubarak, Egypt's former president, over his role in the deaths of protesters during the country's uprising is underway in Cairo.
Mubarak, his interior minister Habib al-Adly, and six security chiefs are facing court again over their role in the murder and attempted murder of hundreds of peaceful demonstrators between January 25 and January 31, 2011.
The fresh retrial was originally scheduled on April 13, but Judge Mostafa Hassan Abdallah excused himself from proceedings in an opening session that lasted just seconds.
Mubarak's sons Gamal and Alaa are being retried on corruption charges along with their father. Businessman Hussein Salem is being tried in absentia.
Al Jazeera's Rawya Rageh, reporting from outside the courthouse in Cairo, said that Saturday's hearing is a procedural session where the prosecutor is expected to list out the charges followed by the defence entering their pleas. All defendants have denied the accusations addressed to them by the public prosecutor in the session.
Rageh added that public interest in the trial seems to be waning as the number of opponents and supporters attending appear to be fewer than the previous hearing.
She said that the new judge seems to be taking a softer and kinder approach to the case and has allowed new evidence to be submitted.
The ousted leader was found guilty and sentenced to life in prison in June last year over his involvement in the deaths of 846 people during the country's revolution.
But Egypt's highest court ordered a retrial after it accepted Mubarak's appeal on grounds of procedural failings.
Egyptians divided
Egyptians remain polarised by the former leader who was deposed in 2011, as the country struggles to move forward under the new government of President Mohamed Morsi, elected in June.
The country remains in disarray, with Morsi's tenure marked by political polarisation, repeated violence between political opponents and a crippling economic crisis.
Umm Moaz, who lost her son during the uprising, sees Mubarak's new trial as a sham and has given up on justice ever being served.
Full report at:
strong and defiant and waving at supporters in court had stunned and angered many.
http://www.aljazeera.com/news/middleeast/2013/05/201351173415592499.html
------------
Syria peace conference unlikely in May: Russian source
11 May 2013
A high-ranking Russian diplomatic source said on Saturday it is was highly unlikely that a proposed international peace conference on Syria could be held this month because of differences over who should take part.
"It is unlikely before the end of May," said the source who participated in talks between Russian President Vladimir Putin and visiting British Prime Minister David Cameron on Friday.
"This is a very complicated matter," he was quoted as saying by Russian news agencies. "It's unrealistic to set some kind of a tight timeframe."
Earlier this week, Russian Foreign Minister Sergei Lavrov and US Secretary of State John Kerry offered to hold a new international conference in search of peace in Syria after 26 months of deadly conflict.
The source said Putin and Cameron had discussed "a number of preparatory concrete steps on the way to convening some kind of format".
Full report at:
http://english.ahram.org.eg/NewsContent/2/8/71176/World/Region/Syria-peace-conference-unlikely-in-May-Russian-sou.aspx
------------
62 registration stations established for illegal Pak workers
FOUZIA KHAN
Saturday 11 May 2013
JEDDAH: Pakistan Embassy in Riyadh and the Consulate in Jeddah announced that 62 stations for registration forms are open throughout the kingdom for illegal Pakistani workers to register their status.
The form is free and can be submitted at the same station, via fax at 00966-2-6606275 or e-mailed at cwa1@pakconsulatejeddah.gov.pk or cwa2@pakconsulatejeddah.gov.pk.
The embassy and consulate made the form available at different locations for illegal Pakistani workers to register with the consulate and embassy to seek relief during the grace period.
Pakistan Ambassador Mohammed Naeem and Consul Genral Aftab Khokhar urged Pakistani workers to correct their illegal status with the help of consulate and embassy within the time period.
"Till now almost 6,000 people have registered themselves with us; we always urge our nationals to live in the Kingdom within the law of the country and change their legal status," said Khokar. "Even if we can't change their status at least we will help them go back with respect."
He also said many expatriates don't know the labor laws or their rights in Saudi Arabia.
"Our laborers do not know the law here," Khokar said. "We have it in English on our website but we are translating it into Urdu so all our people can read and be aware of the laws of Labor Ministry."
The aim of the registration program is to collect the data of the Pakistani workers who came under the jurisdiction of the three-month grace period and are looking to return home.
The consulate will also help expats who want to transfer their iqama and comply with the requirements under the Saudi law.
Full report at:
http://www.arabnews.com/news/451186
------------
Mideast
Hundreds protest against terrorism in Tunis
10 May 2013
Hundreds of Tunisians, including police, human rights activists and political party representatives, protested on Friday against "terrorism" after the government said two wanted jihadist groups had ties with al-Qaeda.
Several hundred protesters gathered outside the national assembly shouting "Tunisia is free, terrorism out!" and waving placards with slogans including: "We support the security forces and the army in the war against terrorism."
A delegation of unionists representing the armed forces was received in parliament, where they demanded that a special compensation fund be set up for members wounded or killed in the line of duty, an AFP journalist reported.
The army intensified its search last week for two groups of jihadists hiding in the remote Kef and Mount Chaambi regions along the Algerian border, who the authorities say have al-Qaeda links and are veterans of the Islamist rebellion in northern Mali.
Full report at:
http://english.alarabiya.net/en/News/africa/2013/05/10/Hundreds-protest-against-terrorism-in-Tunis-.html
------------
Gibraltar deports Turkish Al-Qaeda suspect: officials
May 10, 2013
MADRID: Police in Gibraltar deported to Spain Friday a Turkish suspected Al-Qaeda member accused of plotting bombing attacks, who entered the British territory illegally, an official said.
Cengiz Yalcin had been arrested in August in Spain along with two Chechen suspects who the Spanish interior ministry said were Al-Qaeda members plotting an attack in Europe.
The three were released on bail by a judge in Madrid in March pending terrorism charges. Yalcin was arrested in Gibraltar Wednesday, authorities said.
Spanish media at the time cited police sources saying the three were suspected of plotting to drop explosives on a shopping mall in Gibraltar during the 2012 London Olympics.
The governor's office in Gibraltar, a British-ruled enclave on the southern tip of Spain, said in a statement that Yalcin was arrested on Wednesday as a "prohibited immigrant".
A police spokesman who asked not to be named told AFP that Yalcin was deported to Spain Friday as an undocumented immigrant - not due to any arrest warrant.
Full report at:
http://www.dailystar.com.lb/News/International/2013/May-10/216630-gibraltar-deports-turkish-al-qaeda-suspect-officials.ashx#axzz2SFVyHEbM
------------
Turkey 'will support' Syria no-fly zone
10 May 2013
Turkey will support a US-enforced no-fly zone in Syria, Recep Tayyip Erdogan has told a US television station.
In an interview with NBC News on Thursday, the Turkish prime minister said that President Bashar al-Assad's alleged use of chemical weapons against his opponents meant that the Syrian regime had already crossed US President Barack Obama's so-called red line "a long time ago".
"Right from the beginning ... we would say 'yes'," Erdogan told NBC when asked if Turkey, a NATO member that shares its longest border with Syria, would support a no-fly zone or American soldiers on the ground.
A no-fly zone to prohibit Syrian military aircraft from hitting rebel targets has been previously mentioned by US politicians as one of the options the US could utilise in a bid to put pressure on Assad.
But setting up a no-fly zone would require US air raids and possibly ground forces, heightening the risk of casualties.
There is little chance the US would undertake that anytime soon, US security officials have said.
Erdogan's comments are likely to add further pressure on the US to take action in a nearly two-year conflict that has already killed more than 70,000 people and further destabilised a volatile region.
Wary of the false intelligence used to justify the 2003 war in Iraq, the US says it wants proof before taking any action.
"It is clear that the regime has used chemical weapons and missiles. They used about 200 missiles, according to our intelligence," Erdogan said.
He did not make clear whether his country believed that all 200 missiles carried chemical weapons, adding his government had not determined whether sarin gas was used.
"There are different sizes missiles. And then there are deaths caused by these missiles. And there are burns, you know, serious burns and chemical reactions," Erdogan said when asked what evidence Turkey had.
"And there are patients who are brought to our hospitals who were wounded by these chemical weapons."
"You can see who is affected by chemical missiles by their burns."
Full report at:
http://www.aljazeera.com/news/europe/2013/05/201351076615828.html
------------
Wounded Syrians show signs of chemical attack, Turkey says
11 May 2013
Syrian casualties treated in Turkey show signs of being victims of chemical weapons, the Turkish foreign minister said on Friday, adding to indications that President Barack Obama's "red line" on the use of such arms may have been crossed.
Wary of the false intelligence used to justify the 2003 war in Iraq, the United States says it wants proof that chemical weapons have been used before taking any action in Syria.
But if the evidence is confirmed it would increase the possibility of Western intervention against Syrian President Bashar al-Assad to stop the two-year civil war, even as the United States and Russia try to bring the sides to peace talks.
Turkey confirmed last week it was testing blood samples from Syrian casualties brought over the border to determine whether they had suffered a chemical weapons attack.
"We have been making tests and we have some indications regarding chemical weapons being used, but in order to make sure and verify we are continuing these tests and will be sharing these tests with U.N. agencies," Foreign Minister Ahmet Davutoglu said in the Jordanian capital Amman on Friday.
"We know the Syrian regime has stocks .. And everybody knows the Syrian regime has this capacity," Davutoglu said. "Of course this has been one of our major concerns because chemical weapons are a threat against humanity and a crime."
Obama said in August he viewed the use of chemical weapons in Syria as a "red line". Turkish Prime Minister Tayyip Erdogan said that line had been crossed a "long time ago".
"There are patients who are brought to our hospitals who were wounded by these chemical weapons," he told NBC television. "You can see who is affected by chemical missiles by their burns."
Erdogan is due to meet Obama in Washington on May 16.
The U.S. president this week did not rule out action, military or otherwise, against Assad's government, but repeatedly stressed he would not be pressured prematurely into deeper intervention in Syria.
While Syria denies using chemical weapons, U.S. government sources said blood and soil samples indicate the use of the banned nerve agent sarin. It was not clear yet though whether local commanders or the government had ordered its use.
Fear As Assad Mounts Offensive
As the outside world deliberates, the conflict which has killed 70,000 people rages on unabated.
Twenty-five people were killed when the army shelled the central Syrian town of Halfayeh on Friday, opposition activists said. Video posted on the Internet showed panic-stricken residents attempting to cross a river to escape the bombardment.
What started as a series of peaceful protests against Assad spiralled into civil war pitting mainly Sunni Muslim insurgents against members of Assad's Alawite sect and other minorities.
Insurgents have seized many rural parts of Syria, most of the northern city of Aleppo and are pressing in on the capital Damascus, but Assad's forces have launched a fierce counter offensive in the past few weeks.
U.N. High Commissioner for Human Rights Navi Pillay said on Friday she was concerned by reports of a major military build-up by army and pro-Assad militia around the town of Qusair, near the Lebanese border.
Pillay said residents in Qusair feared a possible repeat of last week's events in the coastal village of Baida and the town of Banias in which activists said more than 100 people, including small children, were killed in a government advance.
Full report at:
http://english.ahram.org.eg/NewsContent/2/8/71177/World/Region/Wounded-Syrians-show-signs-of-chemical-attack,-Tur.aspx
------------
U.N. Rights Chief Urges Faster Action to End Fighting in Syria
By NICK CUMMING-BRUCE
May 10, 2013
GENEVA — Navi Pillay, the top United Nations human rights official, called Friday for "much greater urgency" in efforts to end the conflict in Syria, saying massacres carried out in recent days should spur international action.
"The increasingly brutal nature of the conflict makes international efforts to halt the bloodshed imperative," Ms. Pillay, the high commissioner for human rights, said in a statement in Geneva. Efforts by the United States and Russia to convene an international conference on ending the two-year civil war announced this week are welcome, Ms. Pillay said, "but we need a much greater sense of urgency."
Ms. Pillay drew attention to images of piles of bodies, including infants and small children, that purport to show the killing of dozens of civilians by pro-government militiamen in the village of Bayda and elsewhere in the Baniyas area this month. She said she believed that war crimes and crimes against humanity had been committed.
She also warned that a buildup of government forces and militia troops in the western Qusayr area near the border with Lebanon appeared to presage a government offensive and that residents were fleeing. "We're worried, too," said Rupert Colville, a spokesman for Ms. Pillay. "These kind of killings have not been a one-off; they've been repeated very savagely."
Ms. Pillay's statement reflected concern that the tepid international response to reports of the Bayda massacre showed that outrage outside Syria was fading.
"There needs to be a careful investigation of each and every incident like this," Ms. Pillay said. "We should not reach the point in this conflict where people become numb to the atrocious killing of civilians."
United Nations investigators are receiving consistent testimony that government forces are targeting hospitals, bakeries, schools and other sources of life-sustaining support, and that they are shelling and rocketing civilian areas regardless of whether they have a minimal or heavy rebel presence, she said.
"But the disgraceful disregard for the protection of civilians is not restricted to the government side," she added. "The scope of violations by antigovernment armed groups has also increased alarmingly." Opposition attacks in Damascus, the Syrian capital, have killed and wounded dozens of civilians, she said, and abductions by the radical Nusra Front appear to be increasing.
The British prime minister, David Cameron, echoed some of Ms. Pillay's sense of urgency after meeting with President Vladimir V. Putin of Russia on Friday.
"We urgently have to do more for the sake of people in Syria to break the vicious cycle that threatens to destroy Syria and that threatens to export violence and extremism around the world," Mr. Cameron said after the talks in Sochi, Russia, the site of next year's Winter Olympics.
He suggested that there had been progress toward a reconciliation with Russia on how to secure an end to the bloodshed.
Full report at:
http://www.nytimes.com/2013/05/11/world/middleeast/syria-human-rights.html?gwh=ABD413D1587F9A725B220F00479604D7
------------
Young Muslims struggle to define themselves in US
By Michelle Boorstein and Farah MohamedP
May 10, 2013
WASHINGTON: In 2001, Sami Al Xaharna was a 14-year-old in Saudi Arabia and not very religious. Four years later, he moved to Maryland and was immediately hit by a wave of questions about his identity and beliefs.
After hearing so much criticism of US foreign policy, what was he to make of US flags flying in front of mosques? How could he balance his affection for American culture with the stereotyping of Islam he saw all over the television news? Were the rituals and clothing he grew up with actually more cultural than religious? What did he believe about Islam?
"I was playing catch-up. People who come here young are playing catch-up in terms of exploring who they are and where they are now," said Al Zaharna, 26, now a married software developer and observant Muslim.
In its turn towards radicalisation and violence, the story of the Muslim brothers accused in the Boston bombings was an aberration. But its theme of immigration followed by a complex search for identity in post-9/11 America echoes a process familiar to many young Muslims.
These newcomers must simultaneously navigate moving to another country, growing up and determining what Islam means in a culture in which it has become a heated topic everywhere from presidential debates to late-night talk shows.
Fortunately, the attacks of 2001 also gave birth to a broad infrastructure of youth imams, sports leagues, scouting groups and other forums to assist Muslim youths in their quest for identity.
Some of these young Muslims come from homelands where Islam was more about culture and are startled to be asked to define their theological beliefs.
Some feel their entire identity is being shaped by anti-Muslim rhetoric, while others struggle to make sense of the narrative that Muslims are under siege while what they see are Muslim immigrants around them thriving.
Secular trend
Responses vary, too, from becoming more traditionally observant to helping to build a more secular Islamic scene focused on such issues as human rights advocacy.
Where will it all lead? That's open to debate. There are experts on Muslim youths who believe America is en route to a pluralistic, accepting brand of Islam. Others point to data indicating that young Muslims — immigrant and US-born — are far more likely than other age groups to see their faith as in conflict with modern life.
Muslims in Russia warned Dina Abkairova before she came to Boston, in 2004: Don't say you're a Muslim. But when she arrived at age 22, Abkairova found many Americans friendly. She also felt judged by some fellow Muslims, who criticised her for not praying enough. "I started questioning if I had the right to call myself a Muslim," she said.
Then she connected with a group of more progressive Muslims. Their attitude was that "you're Muslim if you say you're Muslim. What really matters is to be open-minded and open-minded to other people's choices. That really helped me to take a breath and say, 'Phew, I'm normal.'"
Edina Skaljic came to Boston in 2000 as a 15-year-old refugee from Bosnia, where many Muslims were displaced or killed during the conflicts after the break-up of Yugoslavia in the early 1990s. Before 9/11, Skaljic was relieved to be in a peaceful environment for the first time in her life.
Full report at:
http://gulfnews.com/news/world/usa/quest-for-an-identity-young-muslims-struggle-to-define-themselves-in-us-1.1181810
------------
US forces in Europe on alert due to Libya unrest
10 May 2013
U.S. forces in Europe are on a heightened state of alert in response to a deteriorating security situation in the Libyan capital of Tripoli, a U.S. military official said Friday.
Hundreds of Libyan activists protested Friday in Tripoli, Benghazi and Tobrouk. They denounced the use of force by the country's unruly militias.
The protesters accuse the Muslim Brotherhood of trying to seize power by pushing through a contentious law that would prevent officials who had served under former dictator Moammar Gadhafi from working in government. Heavily armed militias have surrounded government buildings in Tripoli over the past month, blocking access to ministries to push the parliament to pass the Brotherhood-supported law.
The alert order applies to a U.S. special operations team based in Stuttgart, Germany, as well as a Marine group of air and ground forces based in Moron, Spain, according to the official, who was not authorized to discuss the matter publicly and spoke on condition of anonymity.
The forces are under the U.S. Africa Command, which acquired the special operations team in the fall. It did not have a similar team available last September for possible use in response to the deadly attack on the US diplomatic facilities in the Libyan city of Benghazi. The U.S. ambassador was killed in that attack.
The U.S. has a contingent of dozens of Marines at the U.S. Embassy in Tripoli.
The military official said there is no plan to use any of the forces under current circumstances, but a portion of the approximately 500 Marines in Spain have been notified they might be repositioned for a quicker potential response to trouble in Tripoli. One of the missions for which Marines train is the emergency evacuation of U.S. embassy compounds.
No extra U.S. naval or air forces are being moved into the region in response to the unrest in Libya, the official said.
Full report at:
http://english.ahram.org.eg/NewsContent/2/8/71155/World/Region/US-forces-in-Europe-on-alert-due-to-Libya-unrest.aspx
------------
Muslims of America, Christian Action Network square off in NY libel suit over book on terror
May 10, 2013
ALBANY, N.Y. — A Muslim group is accusing a Christian organization of defamation for publishing a book that accuses the Muslim collective of holding terrorist training in its enclaves.
The Christian Action Network refuses to back down, challenging Muslims of America Inc. to prove the allegations wrong in an upstate New York court.
The Muslim group has a community in Hancock, near Binghamton, N.Y., and others around the U.S. It calls the network's accusations deliberate and damaging lies.
Attorney Tahirah Amatul-Wadud said the Muslim group is seeking retractions and $18 million in damages, and a halt to further publication of network founder Martin Mawyer's 2012 book, "Twilight in America: the Untold Story of Terrorist Training Camps Inside America."
The group's residential communities are peaceful, Amatul-Wadud said.
"The property upstate has farms; it has gardens; it has buildings for work; it has little stores," she said. "It's a community of families and of individuals who are just trying to get by day to day."
Their common denominator is their faith, she said. "Everyone believes in one God and the Prophet Mohammed as his messenger."
The Christian group has denied the defamation allegations and asked U.S. District Judge Thomas McAvoy to dismiss the complaint. It hasn't withdrawn the book and continues to promote it on its website.
"The defendants intend vigorously defend this case in order to protect their right to free speech under the First Amendment," attorney Michael Grygiel said.
The Lynchburg, Va.-based network was founded in 1990 by Mawyer, former editor of the Rev. Jerry Falwell's "Moral Majority Report."
A scheduling conference is set for May 17 in Binghamton before a magistrate. Trial is expected next year.
The book claims both state and federal authorities "turn a blind eye" to the Islamic extremists trying to convert U.S. citizens in the communities, that Muslims of America is a front for the radical group Jamaat Al Fuqras and that it has held terrorist training at the rural enclaves.
In court papers, Muslims of America said it was founded around 1985 as a New York religious corporation whose principal place of worship is Hancock, where it bought 60 acres of rural property to provide a safe haven for inner city families. It now also has communities in Georgia, Michigan, South Carolina, Virginia, Tennessee, Texas, Canada and Trinidad.
Full report at:
http://www.washingtonpost.com/entertainment/muslims-of-america-christian-action-network-square-off-in-ny-libel-suit-over-book-on-terror/2013/05/10/f367ae16-b97e-11e2-b568-6917f6ac6d9d_story.html
------------
South Asia
Sri Lanka frees Muslim leader held under anti-terror law
May 11, 2013
COLOMBO: Sri Lanka freed an opposition Muslim political leader from jail without charge after detaining him earlier in the week under a tough anti-terrorism law, his lawyer said on Saturday.
Azath Sally, 49, the former deputy mayor of Colombo, was arrested on Sunday and detained in police custody in what the minority Muslim community described as the latest attack on them in the Buddhist-dominated island nation.
Sally, leader of the Muslim National Unity Alliance, was released on Friday after authorities revoked a 90-day detention ordered by President Mahinda Rajapaksa, who is also the minister of defence, his lawyer Shiraz Noordeen said.
"No charges have been pressed and he was released after negotiations with the defence ministry," Noordeen said.
A vocal critic of Rajapaksa, Sally is now in hospital following a hunger strike he launched in protest over his arrest under the Prevention of Terrorism Act.
The United States, which moved a censure motion against Sri Lanka at the March UN Human Rights Council sessions in Geneva, earlier asked Colombo to ensure the opposition leader had access to lawyers.
Local media reports quoted unnamed officials as saying Sally was accused of inciting Muslims to take up arms against the state — a claim his lawyer denied.
Police did not comment on the politician's release, but the state-run Daily News paper said he had requested a "pardon" from Rajapaksa.
Full report at:
http://timesofindia.indiatimes.com/world/south-asia/Sri-Lanka-frees-Muslim-leader-held-under-anti-terror-law/articleshow/20002466.cms
------------
Arsonists were Hefazat, Jamaat, BNP men
MAY 11, 2013
Hefazat-e Islam, Jamaat-e-Islami, pro-Jamaat Islami Chhatra Shibir and BNP activists torched makeshift bookstalls before Baitul Mukarram Mosque's south gate in the capital even though they knew that the books were based on religion, said an eyewitness yesterday.
"I told them to stop as the stalls contained religious books. But they did not pay heed," the eyewitness, Atiar Rahman Miah, told a press conference on the second floor of the market adjacent to the mosque.
National Mosque Baitul Mukarram Musolli Committee organised the press conference protesting the mayhem by Hefajat activists on May 5 and demanding punishment of those behind it.
Full report at:
http://www.thedailystar.net/beta2/news/arsonists-were-hefajat-jamaat-bnp-men/
------------
11 Afghan landmine clearers abducted
May 11, 2013
KABUL, Afghanistan -- Unidentified kidnappers have abducted 11 Afghans working in a U.N.-affiliated landmine clearing program in the east of the country, officials said Saturday.
The 11 were taken Thursday in a remote part of Nangarhar province, said Hazrat Hussain Mashreqiwal, provincial police spokesman. He did not name the abductors but said local officials and tribal elders were trying to negotiate the mine clearers' freedom.
According to the United Nations there are an estimated 10 million mines scattered throughout 150 of Afghanistan's 400 districts, a legacy of 30 years of war. Children and farmers face the most serious threats from the discarded explosive devices. On Friday three children in central Ghazni province were killed when they tried to dismantle an old bomb.
Also Saturday, a bomb killed an intelligence officer at his home in a remote northeastern corner of the country, officials said.
Full report at:
http://www.miamiherald.com/2013/05/11/3392381/bomb-kills-afghan-intelligence.html#storylink=cpy
------------
Senior US, Afghan diplomats meet in Kabul to tackle details of 2012 security pact
May 11, 2013
KABUL, Afghanistan — Senior American and Afghan officials held talks Saturday to try to iron out the details of a key pact signed a year ago that defines the future of the United States' commitment to Afghanistan.
The Strategic Partnership Agreement outlines a set of principles and general commitments for relations between Washington and Kabul after 2014, when foreign combat troops are to withdraw from Afghanistan. But there is lingering uncertainty over whether either party will be willing or able to stick to the provisions of the pact, which includes several loopholes for both nations.
The meeting Saturday in Kabul between U.S. Deputy Secretary of State William Burns and Afghan Foreign Minister Zalmai Rasoul is the second round of negotiations over how to implement the agreement, which was signed in May 2012 by President Barak Obama and Afghan President Hamid Karzai.
The deal spells out Washington's commitment to Afghanistan over the next 10 years as well as its expectations of Kabul, including free and fair presidential elections next year, pledges to fight corruption, improve efficiency and protect human rights, including women's rights.
Sticking points may include the amount of funds the U.S. provides to Afghan security forces. The two countries are also still squabbling over a separate agreement that would protect from prosecution a residual force of as many as 10,000 U.S. troops who would stay behind after the final withdrawal.
In remarks before Saturday's talks, Burns promised that Washington would stick by Afghanistan and its nascent national security forces after 2014 and the end to the international combat mission.
But the deal allows either country to opt out with a one year's notice, which means that Karzai's successor in next year's presidential elections could scuttle the agreement.
Karzai's election in 2009 was marred by widespread allegations of corruption, vote tampering and election fraud. He denied the charges but the acrimonious aftermath tainted his relationship with the West, which was the most vocal of his critics.
The pact emphasizes a free, fair and transparent election in 2014. Karzai however has been relentless in his criticism of U.S. involvement in Afghanistan's political process, alleging Washington was maneuvering secretly to strengthen his political opposition even though he cannot run for a third term.
Burns denied that Washington was backing any candidate to replace Karzai.
"We are supporting the process and not any particular candidate," he said, adding the elections next year should be "transparent, credible and inclusive."
Burns also repeated Washington's support for the opening of an office for the Taliban in Qatar to provide a venue where Karzai's High Peace Council could meet Taliban representatives to try to find a peaceful end to the 12-year war.
The Taliban have met representatives of about 30 countries, participated in international forums in Tokyo and France, and held backdoor talks with Afghanistan's opposition politicians. But they have steadfastly refused to meet Karzai's representatives including the High Peace Council, calling his government a "puppet."
Karzai recently accused the United States of trying to bring his political opponents and the Taliban together, an allegation the U.S. denied and Burns tried also to dispel in his opening remarks.
"We reaffirm our support for the office in Doha for the purpose of negotiation between the High Peace Council and the Taliban," Burns said.
The U.S. diplomat added that on the security front, Washington is on track to transfer full control of Afghanistan's security to Afghan forces by the end of the year.
There are 350,000 Afghan National Security Forces deployed throughout the country, although there has been criticism that the training, which was rarely more than two months, was inadequate and Karzai has often complained of a lack of military equipment to outfit his forces. NATO officials nonetheless say that this spring, when the weather allows more military activity, is the first of the 12-year war in which Afghan forces have done the majority of the fighting.
The next meeting is scheduled for Washington in October. Rasoul at the last meeting said he expected a conclusion of the talks within eight to 10 months but US is not giving a time frame.
Full report at:
http://www.washingtonpost.com/world/asia_pacific/senior-us-afghan-diplomats-meet-in-kabul-to-tackle-details-of-2012-security-pact/2013/05/11/82e37450-ba1d-11e2-b568-6917f6ac6d9d_story.html
---------------
Recognition to Jharna Dhara Chowdhury will strengthen Indo-Bangla ties
MAY 11, 2013
Indian High Commissioner to Bangladesh Pankaj Saran hoped that Indian government's recognition to Jharna Dhara Chowdhury would enhance the friendly relation between Bangladesh and India and encourage the young generation to be better citizens.
Saran was addressing a function organised by Bangladesh India Sampriti Parishad at Dhaka University yesterday to honour Jharna Dhara Chowdhury.
Full report at:
http://www.thedailystar.net/beta2/news/it-will-strengthen-indo-bangla-ties/
------------
Europe
Oman helps free three Europeans from Yemen
May 10, 2013
Muscat: Three Europeans, who were held hostage in Yemen since December last year, transited through Muscat on their way to Austria on Thursday night after Oman negotiated their release.
An Austrian and a Finnish couple were freed by their captors after the Omani Foreign Affairs Ministry with Yemeni officials intervened.
The efforts to seek release of the European trio followed the Royal Directives of Sultan Qaboos Bin Saeed to provide all support to meet the requests of the governments of Austria and Finland on the missing people, a Foreign Ministry was quoted by the government-owned Oman News Agency.
Dominik Neubauer from Austria expressed his gratitude to the Sultan for his humanitarian gesture. Neubauer told ONA at the Muscat International Airport that his release was due to the great efforts made by Sultan Qaboos's government.
He also thanked his government for its cooperation extended to the Sultanate's government to free him.
The Finnish couple, Atte Kaleva and Layla Kaleva, expressed happiness for being in Oman after being freed.
Austria's foreign ministry said the three had flown to Austria on Thursday and were receiving medical and psychological treatment.
The Austrian, language student Dominik Neubauer, was in good health considering the circumstances, the ministry said. Austrian Vice-Chancellor Michael Spindelegger thanked His Majesty for his "personal support".
Full report at:
http://gulfnews.com/news/gulf/oman/oman-helps-free-three-europeans-from-yemen-1.1181700
------------
URL: https://www.newageislam.com/islamic-world-news/new-age-islam-news-bureau/al-qaida-in-the-islamic-maghreb--new-terror-threats-against-france/d/11526