New Age Islam News Bureau
14 Jul 2017
• Al-Qaida in Indian Subcontinent Getting More Active: US Experts
• 150 Saudi Intelligence Officers Joined Daesh in Mosul Battle: Report
• Michigan Official Refuses To Apologise For Calling to 'Kill All Muslims'
• Horror of Terror Attack Mutes Bastille Day Celebrations in Nice
• Israel Freezes Plan to Give Palestinian City Land to Expand
India
• Al-Qaida in Indian Subcontinent Getting More Active: US Experts
• Muslim Perform Last Rites of Kashmiri Pandit in Pulwama Village
• Explosive Recovered From UP Assembly, Yogi Adityanath Claims 'Terror Conspiracy'
• Hindu Youth's Heart Transplanted to Muslim Man in Ahmedabad
• India, Pakistan should resolve Kashmir issue through talks: UN chief
• MEA starts process to revoke passport of Zakir Naik
• Kashmir: In a First, Terrorist's Body Wrapped In IS Flag
• Majority of Active Terrorists in Jammu and Kashmir Are Pakistanis, Says MHA Official
• Sandeep Sharma Converted to Islam, Joined Lashkar-e-Taiba to Marry Kashmiri Girl: Report
• Muslim Man Beaten Up By Cow Vigilantes for 'Carrying Beef' In Maharashtra Is A BJP Leader
• Pakistan considering visa request of Kulbhushan Jadhav's mother
--------
Arab World
• 150 Saudi Intelligence Officers Joined Daesh in Mosul Battle: Report
• Scores of Terrorists Killed, Wounded in Tahrir Al-Sham Base Blast in Idlib
• Saudi forces kill 20 Houthis aiming to cross the border
• Russia Sends 'Devastating Monster' to Syria
• Several ISIL Commanders Killed in Popular Uprising in Deir Ezzur
• Suicide bomber kills and injures scores in Syria's Idlib province
• Hashd al-Sha'abi to participate in liberation of Hawijah, Daesh-held areas
• Syrian Troops Advance in Extensive Areas in Badiyeh
• Syria's Special Forces Start Operations to Capture Last ISIL Stronghold in Homs
• Syrian Army Advances in Damascus to Separate Eastern Ghouta from Capital
• Russia Sends Military Vehicles, Soldiers for Anti-ISIL Mission in Hama Province
• Syrian, Russian Fighter Jets Blow Up ISIL Ammunition Cache in Deir Ezzur
--------
North America
• Michigan Official Refuses To Apologise For Calling to 'Kill All Muslims'
• Trump: We Face Threats from Systems That Support And Finance Terrorism
• How a US judge's take on 'close family relationship' may narrow Trump travel ban
• Trump hails Syria ceasefire deal with Russia, to invite Putin for state visit
• US: Muslim Americans mourn the death of Dr. Jack Shaheen
• Five CSIS employees are accusing the spy agency of Islamophobia, racism and homophobia in a $35-million lawsuit
--------
Europe
• Horror of Terror Attack Mutes Bastille Day Celebrations in Nice
• Latino Muslims Find Home at Mosque Led by Cambodian Refugees
• Britain First Deputy Chief and Muslim Stallholder Embroiled In "Heated" Street Row During 'Confrontation' With Islamic Recruiters
• Germany Jails Kurdish militant amid tensions with Turkey
--------
Mideast
• Israel Freezes Plan to Give Palestinian City Land to Expand
• Israeli Municipality Oks 800 Settler Homes in Jerusalem Al-Quds
• Spate of executions in Iran since the beginning of July, says Rajavi
• Palestinian MP Khalida Jarrar gets six months in Israel jail without trial
• US not fully compliant with spirit of nuclear deal: Zarif
• 3 Palestinians killed in Jerusalem al-Quds shooting
• Two Israeli police shot in Jerusalem attack die: police
--------
Southeast Asia
• Muslim ID Proposal Sparks Anger in Philippines Marawi
• Public Caning in Malaysia's Kelantan State 'Only for Muslims': Deputy PM
• China Frequently Cracking Down On Expressions of Muslim Identity over Terror Fears
• Youth movement once led by Anwar 'benefitted' from controversial Saudi outfit
• Public caning: Zaid says PAS, Umno leaders are hypocrites
--------
Africa
• US, Somalia Forces Raid Al-Shabab, Kill Several: Official
• 14 Killed, 30 Injured In Cameroon Bomb Attack
• Islamic group proffers leeway to national development
• Liberia: Chief Imam Clarifies Voting On Religious Line
--------
South Asia
• Halal Cosmetics: The Latest Trend in Cosmetics Now Reaching Bangladesh
• Pakistanis and Uzbeks among Several ISIS Militants Killed In Nangarhar
• Bangladeshi Muslim Entrepreneur Launches Trump Cafe in Dhaka
• Haqqani network members arrested before attacking Orgun in Paktika
• Vice President Dostum to appear in next court hearing, says Ishchi
--------
Pakistan
• Opposition United For PM's Resignation, Says Shah Mehmood
• 2 Militants Killed As FC Personnel Foil Bid To Attack Their Camp in Khyber
• Congress tightening screws on US aid to Pakistan
• Nawaz tries to establish 'urgent contact' with UAE counterpart
• Three suspected terrorists killed in Quetta 'encounter'
Compiled by New Age Islam News Bureau
URL: https://www.newageislam.com/islamic-world-news/al-qaida-indian-subcontinent-getting/d/111829
--------
Al-Qaida In Indian Subcontinent Getting More Active: US Experts
Jul 14, 2017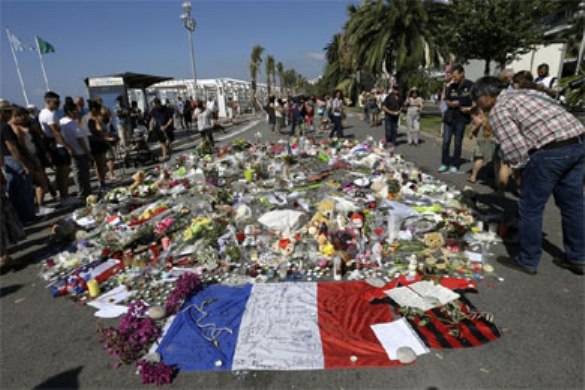 Flowers were placed on the Promenade des Anglais last year at the scene of the truck attack in Nice that killed 86 people celebrating France's Bastille Day. The massacre was a kind of watershed moment that was followed by a macabre wave of similar low-tech terrorist strikes in several Western European nations. (Associated Press/File)
WASHINGTON: Al-Qaida is getting more active in the Indian subcontinent and by 2017, it boasted several hundred members, with its cells mostly in Afghanistan and its operatives flourishing in Bangladesh, counter-terrorism experts have told the US lawmakers.
"By 2017, al-Qaida in the Indian Subcontinent boasted several hundred members and had cells in Afghanistan's Helmand, Kandahar, Zabul, Paktika, Ghazni, and Nuristan Provinces. Al-Qaida's presence in Afghanistan was almost certainly larger and more expansive than five or even ten years before," said Seth G Jones, a strategic expert.
He was speaking during his Congressional testimony before the House Homeland Security Subcommittee on Counterterrorism and Intelligence on Thursday.
This expansion, Jones said, may have been partly due to Taliban advances in Afghanistan and al-Qaida's relationship with operatives from the Taliban and other groups, such as Tehreek-e-Taliban Pakistan and Lashkar-e Jhangvi.
"Al-Qaida operatives in Bangladesh were particularly active, conducting a range of attacks. In addition, al-Qaida in the Indian subcontinent conducted a steady propaganda campaign from its media arm As-Sahab," he said.
However, the group conducted few attacks in Afghanistan or Pakistan and was largely irrelevant in the Taliban-led insurgency, Jones said.
In September 2014, al-Qaida leader Ayman al-Zawahiri had announced the creation of regional affiliate al-Qaida in the Indian subcontinent, taking advantage of sanctuaries in Afghanistan, Pakistan, and Bangladesh.
"A new branch of al-Qaida was established - Qaida al-Jihad in the Indian subcontinent, seeking to raise the flag of jihad,...and return the Islamic rule across the Indian subcontinent," al-Zawahiri had said.
The group was led by Asim Umar-- an Indian and former member of Harkat-ul-Jihad al-Islami - a Pakistan-based terrorist group with branches across the Indian subcontinent. Umar was flanked by Abu Zar, his first deputy.
In October 2015, US and Afghan forces targeted a large training camp in Kandahar Province, killing over one hundred operatives linked to al-Qaida in the Indian Subcontinent, Rhodes said.
According to Katherine Zimmerman, research fellow, American Enterprise Institute, the al-Qaida presence in the Indian subcontinent remains weak after Ayman al-Zawahiri announced the launch of a new affiliate in September 2014.
Al-Qaida divides the Pakistani theatre by ethnic group, he said. The Pashtun are part of its Khorasan theater, which includes Afghanistan and Iran, and the Punjab is under al-Qaida in the Indian Subcontinent (AQIS), which works through the Indian Punjab and Bangladesh, Zimmerman said.
"A recent surge in propaganda from AQIS leadership may indicate an attempt to revive the group," Zimmerman told the lawmakers.
Zimmerman said al-Qaida never fully lost its sanctuary in Pakistan and used this base to project forward into Afghanistan again as the US drew down militarily.
"By 2015, al-Qaida was running large training camps inside Afghanistan. The US began revising its assessments of al-Qaida's strength in Afghanistan based on the discovery of these training camps," he said.
"The US killed senior al-Qaida leaders operating in Afghanistan in an October 2016 air strike, their presence a telling indicator that al-Qaida had returned to the country," he added.
http://timesofindia.indiatimes.com/india/al-qaida-in-indian-subcontinent-getting-more-active-us-experts/articleshow/59589994.cms
--------
150 Saudi intelligence officers joined Daesh in Mosul battle: Report
Jul 14, 2017
Saudi Arabia had dispatched more than 100 intelligence officers to Mosul to join the Takfiri Daesh militants and direct them in battles against Iraqi government forces and allied fighters from Popular Mobilization Units, a recent report has revealed.
Lebanon-based Arabic-language al-Manar television network, citing a report published by Qatari al-Sharq newspaper, revealed that 150 Saudi intelligence agents were fighting alongside Daesh members in Mosul, and working hard to extend the battle.
The paper added that Iraqi government forces confiscated important documents certifying Saudi intelligence officers' assistance to Daesh terrorists once they liberated Mosul from the clutches of the Takfiris.
On Monday, Iraqi Prime Minister Haider al-Abadi formally declared victory over Daesh extremists in Mosul, which served as the extremists' main urban stronghold in the conflict-ridden Arab country.
In the run-up to Mosul's liberation, Iraqi army soldiers and volunteer fighters from the Popular Mobilization Units had made sweeping gains against Daesh since launching the operation on October 17, 2016.
The Iraqi forces took control of eastern Mosul in January after 100 days of fighting, and launched the battle in the west on February 19.
An estimated 862,000 people have been displaced from Mosul ever since the battle to retake the city began eight months ago. A total of 195,000 civilians have also returned, mainly to the liberated areas of eastern Mosul.
Twenty-eight aid groups working in Iraq have issued a statement, calling for international support for the reconstruction of Mosul and urged Iraqi authorities not to press civilians to return.
They have also expressed deep concerns for Iraqis trapped in Daesh-controlled areas in Iraq, namely Tal Afar, Hawijah district in the oil-rich northern province of Kirkuk and the troubled western province of Anbar.
Iraqi troops find Daesh terrorists hiding in Mosul tunnels
Meanwhile, Iraqi security forces have found a large number of Daesh militants, who were hiding in tunnels dug beneath the Old City of Mosul.
Pictures published on a number of social networking websites show Iraqi security personnel standing by as Daesh terrorists walk out of the rubble of destroyed buildings.
http://www.presstv.ir/Detail/2017/07/14/528389/Saudi-intelligence-officers-Daesh-Takfiri-militants-assistance-Mosul-Iraqi-army-soldiers
--------
Michigan official refuses to apologise for calling to 'kill all Muslims'
13 JULY 2017
A Michigan government official who posted a call on Facebook to kill all Muslims has said he "owe[s] nobody an apology".
Jeff Sieting, the president of a small village in northern Michigan, was recently discovered to have posted anti-Muslim messages on his Facebook page.
One post, which appears to be copy and pasted from a North Carolina-based blog called "NC Renegade," is titled "Kill them all, every last one". The post calls Muslims "dangerously destructive to society" and compares Islam to a "flesh-eating bacteria" and a "death cult."
Mr Sieting's previous posts have called being transgender a mental illness and suggested "thin[ning] the herd" of the Black Lives Matter Movement, according to Michigan Live.
The President declined to apologise for his posts at a recent village meeting,
"I owe nobody an apology for exercising my First Amendment rights," he said, adding later: "I don't expect everyone to see things the way I do."
Mr Sieting also argued that Muslims are evil, and that America has been fighting them for hundreds of years, according to the Traverse City Record Eagle.
The President's posts were brought to light by local real estate broker Cindy Anderson, the Record Eagle reports. Ms Anderson has since sought Mr Sieting's apology at two town meetings. Both times, he has declined.
Last month, residents staged a demonstration in downtown Kalkaska to protest the "disturbing, hateful and Islamophobic rants" of the village President – and to demand his resignation.
Ms Anderson says the group of protesters is looking for someone to run against Mr Seiting in 2018. He has been village president since 2010.
Mr Sieting maintains the effort to remove him is a result of non-residents' outrage at the pro-Donald Trump sign displayed in his hotel.
The FBI reports that anti-Muslim hate crimes increased by 67 per cent in 2015 – the year Mr Trump declared his candidacy, and the last year for which statistics are available. The number of anti-Muslim hate crimes that year were the highest they had been since 2001.
In Kalkaska, however, several residents are standing by their village president.
"If you don't want to read it, get off of [his Facebook page]," resident Joyce Gold said at the town meeting. "From what I do know, you are a very honest, faithful, hardworking man and I thank you for that."
She added: "I hope you continue and stand your ground for your beliefs."
The Independent has reached out to Mr Sieting for comment.
http://www.independent.co.uk/news/world/americas/us-politics/kill-all-muslims-michigan-official-jeff-sieting-facebook-post-no-apology-a7839541.html
--------
Horror of terror attack mutes Bastille Day celebrations in Nice
By Guy Taylor
July 13, 2017
NICE, France — It was almost a year before Emilie Petitjean had the courage to return to the spot where her 10-year-old son Romain was hit and killed by the large white truck that an Islamic State-inspired terrorist drove into Bastille Day revelers on the vast beachside promenade here last July 14.
On what would have been Romain's 11th birthday this May, Ms. Petitjean says she finally built up the nerve to walk along the sun-drenched stretch of pavement — the same stretch where she'd once taught her boy to ride a bicycle, just as she'd been taught there as a girl.
"It was too painful. Too many images would come back to me every time I got close," Ms. Petijean said in an interview this week as she and others here prepared to pass the first anniversary of the senseless horror that stole the lives of 86 people and injured more than 400 one year ago.
"I saw a lot of bodies that night. I saw a crowd, screaming, crying, covered with blood and firemen panicking because there were too many victims," she said. But just as this southern French city will attempt on Friday, Ms. Petijean says she found some closure when she finally stood in the spot where Romain died.
The pain is still deep though and it courses beneath the surface here, just as it does in other French towns and cities, including Paris, that have been the targets attacks orchestrated by the Islamic State or, as was the case in Nice, inspired by the terror group also known as ISIS and ISIL.
While France was rocked in November 2015 by a coordinated assault that killed 130 people in the heart of Paris, authorities say the Nice massacre was a kind of watershed moment that began what has since been macabre wave of simplified terror strikes in several Western European nations.
The attack's timing also cut uniquely deep into the collective French psyche because it occurred on Bastille Day — France's equivalent to America's Fourth of July, when the whole nation gathers to celebrate the ideals of the republic: liberty, equality and fraternity.
Islamic State operatives claimed responsibility for the attack, but authorities never pinned down an explicit connection to the group and Mohamed Lahouaiej-Bouhlel, the 31-year-old Tunisian resident of France who rented and plowed a 19-ton cargo truck into crowds of families just after the annual fireworks over Nice's Promenade des Anglais.
Lahouaiej-Bouhlel was killed in a hail of police gunfire, leaving several questions lingering about around the massacre. Officials said he had a history of mental illness and was "radicalized" only recently before the attack. The questions cast a pall over this year's more muted festivities.
"Maybe next year," Nice Mayor Philippe Pradal told The Washington Times, suggesting fireworks just wouldn't fit with the sadness that will grip the city on Friday night, when all but small sections of the promenade will be closed.
Visitors will place plaques on the ground in remembrance of the victims. The Nice orchestra will play, and a moment of silence will be held at 10:34 p.m., the exact time of the attack.
Nice may be the most vibrant Cote d'Azur city, known for its beaches, its colorful and dense architecture and the diverse ethnic mix of its 340,000 residents and seasonal visitors from around the globe.
The attack touched that diversity at its core, said Mr. Pradal, who noted that the victims were from 18 nations other than France, including the United States, and spanned a variety of religious backgrounds. Many were Muslims or from predominantly Muslim countries.
"It wasn't by chance this happened on July 14th. It was meant as an attack on the values of the republic, and amongst those values is fraternity," the deputy mayor said, adding that the city has since scrambled to hold public events aimed at preventing the incident from fueling social divisions.
Alienated Muslims?
Roughly 8 percent of France's 67 million people are Muslim. But in Nice, where many are of North African descent, the number is reported to be closer to 40 percent.
Public condemnations of terrorism from Muslim leaders in Nice and other French cities have done little to alleviate societal friction spurred by the nation's slow-burning internal war against Islamic State and tensions between religious practice and the relentlessly secular nature of the French state.
The French government has long been criticized for failing to integrate Muslims into society. The result is what authorities fear is a cohort of alienated Muslim youths open the lure of extremist propaganda.
In interviews with The Times last year, several moderate French Muslims worried that the situation was being made worse by harsh government crackdowns in the wake of the Nice and Paris attacks. Undercover French police prowl the streets of major cities, and authorities have carried out thousands of home raids under an ongoing "state of emergency" decree that allows searches without court warrants.
The government says the moves are necessary to contain the Islamic State threat. Muslim rights groups say the crackdown, coupled with "Islamophobic" rhetoric from some political leaders, plays directly into the hands of extremists by further alienating the largest population of Muslims in Europe.
Some security analysts say the government's approach is flawed — that not enough is being done to confront Salafi, Wahhabi and Muslim Brotherhood-associated imams preaching at mosques in France.
"If you want to be efficient when fighting terrorism, you should dry the Islamic tank," said Eric Denece, who heads the French Center for Intelligence Studies, a Paris-based think tank.
"We need a new law to declare those three specific Islamic groups as illegal," said Mr. Denece, adding that the government's inaction on the matter fuels frustration among French nationalists and explains the rise in popularity of far-right, nationalist political leaders such as Marine Le Pen.
'Hit in our flesh'
Mr. Pradal said Nice has expanded anti-extremism programs in schools with the aim of making children of all backgrounds "more sensitive" to the indicators of radicalization.
While he also touted efforts to bring the region's religious leaders together to promote peace, the mayor was more cautious on the question of whether the government should press Muslim leaders to join in public condemnations of terrorism.
"It is not our responsibility to ask the Muslim communities to condemn such actions," he said.
Nice, he said, has added 130 officers to its 750-strong police force and pumped more than $20 million into various upgrades, including new camera systems at schools and "panic buttons" that administrators can press to alert authorities in the event of an attack.
Hundreds of fresh steel bollards now line beachside promenades to guard against vehicles plowing into pedestrians again, said Mr. Pradal, who defended the national government's state of emergency decree on grounds that terrorists "have decided to declare war against us."
During the French Revolution, there was "a phrase that said, 'No freedom for the opponents of freedom,'" Mr. Pradal said. "We're not there yet, but one must accept that when you are in war, you have to accept certain restrictions to your freedoms to be able to restore those freedoms."
"We have been hit in our flesh," he said.
Roughly half of those killed in the Bastille Day attack were from Nice or nearby towns, such as La Trinite, where Ms. Petitjean said her son Romain once came home from elementary school in 2015 asking about terrorism after teachers led a discussion about the Islamic State attacks in Paris.
The boy, whose last name was Knetch — his parents were separated and he he had the name of his father — was "was worried that something could happen to his little brother or to his family," Ms. Petitjean said. "I told him we did not have to worry about that because we lived in a little town — that something like that might happen one day in Nice, a city, but not where we lived."
"He was worried that something could happen to his little brother or to his family," Ms. Petitjean said. "I told him we did not have to worry about that because we lived in a little town — that something like that might happen one day in Nice, a city, but not where we lived."
"I have this feeling now that I never should have told him that," she said.
While she now seeks to help others through a victims organization she runs called Promenade Des Anges, Ms. Petitjean said her own sense of loss is no less crushing than it was a year ago. "Now it is more difficult every day," she said, "because I miss him very much, and I miss him every day a little bit more."
http://www.washingtontimes.com/news/2017/jul/13/nices-bastille-day-muted-by-terror-attack-memories/
--------
Israel freezes plan to give Palestinian city land to expand
13 July 2017
Israel's cabinet has frozen a plan to expand the West Bank's most densely populated Palestinian city by ceding military control over a parcel of land, a proposed concession that has outraged settler leaders.
A spokesman from Prime Minister Benjamin Netanyahu's office said Wednesday that the government will deliberate the issue of Palestinian development in Israeli military controlled areas of the West Bank later this month.
Until then, the proposal to grant a part of Area C to allow the expansion of the city of Qalqiliya will be on hold.
Last year, Netanyahu's government quietly passed the eagerly awaited plan to allow the Palestinian city to double its size by expanding into off-limits land in Area C. Since then, settler leaders have railed against the move, calling it a "reward for terror."
https://english.alarabiya.net/en/News/middle-east/2017/07/13/Israel-freezes-plan-to-give-Palestinian-city-land-to-expand.html
--------
India
Muslim Perform Last Rites of Kashmiri Pandit in Pulwama Village
Jul 14 2017
Setting an example of communal harmony Muslims in Pulwama village today performed the last rites of a Kashmiri Pandit who died after a brief illness in his native village Trichal Pulwama on Thursday. They also managed the cremation.
Tej Kishan Pandit died at 50 after a brief illness in his home at Trichal Pulwama this morning. Soon after his death, local Muslims rushed to his house to mourn his death. The Muslims managed all the works like bringing the wood for cremation etc.
Though some Pandits were also managing the works but the Muslims helped their Pandit brethren to perform the last rites.
"We are very thankful to our Muslim brothers. They have showed their love. We cannot forget their passion of brotherhood" some Pabdits who were present there said.
"The Pandits are our brethren. Propagandas won't push us away from each other," some Muslims said.
http://www.greaterkashmir.com/news/kashmir/muslim-perform-last-rites-of-kashmiri-pandit/254694.html
--------
Explosive Recovered From UP Assembly, Yogi Adityanath Claims 'Terror Conspiracy'
Jul 14, 2017
NEW DELHI: Uttar Pradesh chief minister Yogi Adityanath said on Friday that the "white powder" recovered from the state Legislative Assembly on July 12 was an explosive substance and claimed there may be a "terror conspiracy" afoot.
Citing a forensic report which confirmed that the white powder was the extremely powerful plastic explosive Pentaerythritol Tetranitrate or PETN, Yogi Adityanath called the incident a major security lapse and demanded an National Intelligence Agency (NIA) probe into the matter.
"This is PETN, a higly explosive substance was found in the assembly. Action must be taken against those involved. How can we allow anyone to compromise the security of 403 MLAs? NIA must investigate this," the chief minister said in the state assembly on Friday.
"Strong security system must be established as this could be a terror conspiracy," he said.
Earlier, Yogi Adityanath had called a high level meeting to review the security measures in the assembly in light of Thursday's incident. He told all MLAs present that everyone needs to be cautious and make sure to follow security guidelines. He also said that police should carry out background checks for all workers in the state assembly.
"Everyone needs to be cautious related to security matters. Police verification needs to be done for workers in assembly... Security guidelines must be issued and everyone must follow them," Yogi said.
60 grams of suspicious white powder was found in the Uttar Pradesh Assembly close to the seat of the Leader of the Opposition Ram Govind Choudhry during a routine security sweep on Thursday. As soon as the material was found, security officials reached the assembly and recovered it, before sending it to a forensic lab for analysis.
Additional security has been deployed in and around the Assembly premises in Lucknow.
Full report at:
http://timesofindia.indiatimes.com/india/explosive-recovered-from-up-assembly-yogi-adityanath-claims-terror-conspiracy/articleshow/59590886.cms
--------
Hindu youth's heart transplanted to Muslim man in Ahmedabad
July 13, 2017
A heart of brain dead Hindu youth of Navsri district, was transplanted on a Muslim man in a private hospital Ahmedabad. While his kidney, Liver, Pancreas were donated to different persons in Ahmedabad.
As per details, 21 year old Amit Halpati, a resident of Gandevi taluka in Navsari district, whose parents are farm labourers, was on his way to neighbouring Billimora town on his bike with his friend Vikram, on July 8 at 8 pm. On the way, vikram was driving the bike and suddenly a stray dog came on the road and both of them fell down and Amit suffered severe head injuries. Vikram had minor injuries. Amit was shifted to government hospital in Kharel and was later shifted to Surat at New civil hospital (NCH) for further treatment.
The doctors of NCH carried out various tests found a blood clot in his brain which was later removed. On July, 12 Neurophysician Dr. Paresh Janjmera and Neurosurgeon Dr. Mehul Modi, had declared him brain dead. Amit's family members, his mother Ukiben Raman halpati (50), his brother Ajay (30), and his sister Daxa halpati (23), present in hospital in Surat, were shocked to hear the news.
A team of counsellors from Donate life, an NGO working for organ donation reached NCH, after getting information about the brain dead patient from NCH ICU ward resident Dr. Nilesh Kachhadia. The team explained to the family members of Amit Halpati to donate his organs. After taking consent from the family members, Amit who was in NCH hospital was taken into operation theatre at 3.45 am on Thursday where his heart, Kidneys, Pancreas, and Liver were removed.
Through green corridor, the heart was taken to Surat airport and by a chartered plane it reached Ahmedabad at CIMS hospital, where the heart was successfully transplanted to a patient name Sohel Vohra (36), a resident of Anand taluka in Kheda district in central Gujarat, on Thursday morning. Few hours later, when Sohel regained consciousness, the doctors checked his heart beats and found it to be normal.
The kidneys and Liver were donated to different persons through Institute of Kidney Diseases and Research Centre (IKDRC) of Ahmedabad, while his eyes were donated to NCH.
One kidney and pancreas, was transplanted to Ritika Bhatt (42), while another kidney was transplanted to one Hitesh Goyal (49), in Ahmedabad. The lever was transplanted to Bhautiak Patel (36), a resident of Surat. The transplantation of organs was done by the team of IKDRC Dr. Pranjal Modi, Dr. Jamal Rizvi of IKDRC.
Talking to the Indian Express Donate life president Nilesh Mandlewala said, "After the consent of the family members of deceased, we took donation of the body organs from the body of brain dead Amit Halpati. We contacted CIMS hospital in Ahmedabad and they told us that they had a pending patient named Sohel Vohra who is resident of Anand. Sohel's heart was pumping 15 percent to 20 percent. He was in the waiting list since November 2016."
Full report at:
http://indianexpress.com/article/india/heart-of-hindu-youth-of-navsari-transplanted-to-muslim-man-in-ahmedabad-4749291/
--------
India, Pakistan should resolve Kashmir issue through talks: UN chief
Jul 14, 2017
UNITED NATIONS: UN chief Antonio Guterres has reiterated the need for India and Pakistan to find a peaceful solution to the Kashmir issue through engagement and dialogue, his spokesperson said.
Guterres' spokesperson Stephane Dujarric's remarks came when he was asked if the Secretary-General is paying attention to the situation in the region or "we are just waiting for some sort of big tragedy to occur for the Secretary-General to take attention."
"...we reiterate the need for the parties to find a peaceful solution through engagement and dialogue," Dujarric said at a daily press briefing here on Thursday.
He said that "in terms of paying attention, I think the Secretary-General answered in his own words that question during the press conference."
Dujarric was referring to Guterres' first press conference at the world body's headquarters in June when he was asked whether he is engaged in bringing about dialogue between India and Pakistan to resolve the Kashmir dispute.
"Why do you think I met three times the Prime Minister of Pakistan and two times the Prime Minister of India," Guterres had said.
Full report at:
http://timesofindia.indiatimes.com/india/india-pakistan-should-resolve-kashmir-issue-through-talks-un-chief/articleshow/59590676.cms
--------
MEA starts process to revoke passport of Zakir Naik
July 13, 2017
The external affairs ministry said on Thursday it has started the process to revoke the passport of Zakir Naik, the controversial Islamic preacher who is wanted in connection with alleged terror-funding cases. "We have received a request from the agency concerned a few days ago. We have taken action on that request to revoke the passport. There is a process for such steps which need to be complied with under the provisions of the law and we have taken action," external affairs ministry spokesperson Gopal Baglay said in reply to a question.
Naik is being probed for terror and money laundering charges by the National Investigation Agency (NIA). He fled from India on July 1, 2016 after terrorists in neighbouring Bangladesh claimed that they were inspired by his speeches on waging 'jihad'. Naik had his passport renewed in January last year and it has a validity for 10 years, according to security agencies.
The NIA, on November 18, 2016, had registered a criminal case against Naik at its Mumbai branch under various sections of the Indian Penal Code and the Unlawful Activities (Prevention) Act. His organisation, Islamic Research Foundation (IRF), has already been declared as an unlawful association by the government.
The controversial preacher is accused of spreading hatred by his provocative speeches, funding terrorists and laundering several crores of rupees over the years. He has been served with a show cause notice by the passport authorities asking him as to why his travel document should not be revoked.
Full report at:
http://indianexpress.com/article/india/mea-starts-process-to-revoke-passport-of-zakir-naik-4749487/
--------
Kashmir: In a first, terrorist's body wrapped in IS flag
M Saleem Pandit
Jul 14, 2017
SRINAGAR: In a first, the corpse of a terrorist was wrapped in the flag of the Islamic State terror group as hundreds of supporters joined his funeral in Srinagar on Wednesday. They waved flags with pictures of slain Hizbul Mujahideen commander Burhan Wani and his protege Zakir Rashid Bhat alias Musa.
This was a departure from previous instances when the bodies of slain terrorists used to be covered with Pakistani flags. Sajad Gilkar, a resident of downtown Srinagar, was killed along with two other Hizbul terrorists in an encounter on Wednesday. Police said Gilkar had played a key role in the lynching of DSP Mohammad Ayub Pandith. Gikar's funeral prayers were held in the premises of Jamia Masjid where Pandith was lynched by a mob on June 22.
Though police named Gilkar for Pandith's lynching, the SIT is yet to submit its report. Police said Gilkar went underground after June 22 and joined Hizbul. Gilkar was also involved in the grenade attacks on CRPF at Nowhatta on April 2, 2017, CRPF camp Safa Kadal on June 11, 2017 and on a police party at Khanyar on April 30, 2017.
Full report at:
http://timesofindia.indiatimes.com/india/kashmir-in-a-first-terrorists-body-wrapped-in-is-flag/articleshow/59586873.cms
--------
Majority of active terrorists in Jammu and Kashmir are Pakistanis, says MHA Official
July 13, 2017
More than 50 per cent of around 220 active terrorists in Kashmir are Pakistan nationals, a home ministry official said on Thursday. He also said that infiltration bids have seen a rise in last five months. Around 220 terrorists are active in the Kashmir Valley and majority of them are Pakistanis, the official said. At least 120 attempts of infiltration have been made till May, with 30 militants having been successful at the attempt, he said. In 2016, there were 370 attempts of infiltration in Jammu and Kashmir, the official said, adding as many as 119 terrorists had sneaked into the country that year. According to data compiled by the home ministry, 88 Kashmiri youths had joined militancy in 2016, the highest in last six years. In 2014, 222 terrorists tried to enter the country, but only 65 could make it, and in 2015, 121 ultras attempted to cross the border, but 33 of them were successful.
Besides, there has been a steady increase in the number of youths taking up arms in the Valley from 2014 onwards as compared to ones between 2010 and 2013, the data said.
Full report at:
http://indianexpress.com/article/india/majority-of-active-terrorists-in-jammu-and-kashmir-are-pakistanis-says-mha-official-4749362/
--------
Sandeep Sharma Converted to Islam, Joined Lashkar-e-Taiba to Marry Kashmiri Girl: Report
July 13, 2017
Lucknow, July 13: Sandeep Sharma, who was arrested by Jammu and Kashmir police on Monday, joined terror group Lashkar-e-Taiba after falling in love with a Kashmiri girl. During the interrogation, sleuths from anti-terror squad (ATS) of UP police found out that Sandeep Sharma was involved romantically with many Kashmiri girls and wanted to marry one of them 'at any cost'. To marry the girl, Sandeep had converted to Islam and named himself Adil, revealed Uttar Pradesh police.
According to a report of Times of India, Sandeep Sharma was given arms training by lashkar-e-Taiba. Having a driving licence in his original name, Sharma was used as a driver by terror operatives in the Valley to move weapons from one location to the other, stated the report quoting the interrogation report. The Uttar Pradesh cops, who went to question Sandeep, reportedly said male members of the girl's family encouraged him to him to take up arms.
"He converted to Islam and named himself Adil to fulfil the condition set by girl's family about a year back. He also underwent arms training in Kulgam last year in November and December," ATS inspector general Asim Arun was quoted as saying. Sandeep is believed to have come in contact with some mischievous Kashmiri youths in Patiala, where he moved from his hometown Muzaffarnagar six years back.
"A lot of young men from Kashmir shift to Himachal Pradesh, Punjab and other parts of the country during winters. He came in contact with some mischievous Kashmiri youths in Patiala. He started going to Kashmir during summer season there after for odd jobs along with them," Asim Arun added. Sandeep started his criminal activities Kashmir with thefts and later joined a group for ATM heists. On June 16, when terrorists killed six policemen in Achabal area of Anantnag district, it was Sandeep who drove the motor vehicle ferrying the militants.
Full report at:
http://www.india.com/news/india/sandeep-sharma-converted-to-islam-joined-lashkar-e-taiba-to-marry-kashmiri-girl-report-2317254/
--------
Muslim man beaten up by cow vigilantes for 'carrying beef' in Maharashtra is a BJP leader
Jul 14, 2017
When self-styled cow protectors thrashed a Muslim man on allegations of possessing beef at Jalalkheda town in Maharashtra on Wednesday afternoon, they were probably unaware that their target was affiliated to the ruling Bharatiya Janata Party (BJP).
The man – 36-year-old Katol resident Salim Ismail Shah – was hospitalised after the incident. Nagpur police have arrested four men for the assault, the latest in a series of violent incidents involving cow vigilante groups.
Shah claims to be the general secretary of the BJP's Katol taluka minority cell.
According to reports, the incident occurred while the victim was returning from Amner village in Amravati district to Katol by two-wheeler after purchasing meat for a function. Somewhere along the way, the cow protection activists waylaid Shah and began beating him up for allegedly transporting beef.
Shah said he kept trying to convince his attackers that the meat in his possession was mutton and not beef, but they wouldn't listen to him. He received no assistance from the passersby, though a few did take videos of the incident on their cellphone cameras. Finally, one of the accused threw Shah's vehicle at him – knocking him out.
A police team soon rushed to the spot and admitted Shah to a local medical centre. He was later shifted to the Katol civil hospital, where doctors declared him out of danger.
Police filed two cases, one naming Ashwin Uike, Janardan Chowdhury, Rameshwar Tayde and Moreshwar Tandulkar as the attackers and the other against Shah for alleged possession of beef. They have been sent to five-day police remand.
Shah's wife – Zarin Ismail – denied the allegations, stating that they do not trade in beef. "My husband is a cotton trader. He was transporting mutton for an event organised by the local mosque committee," she said.
Nagpur (rural) superintendent of police Shailesh Balkawde said the meat was packaged in the presence of veterinary doctors and sent to a laboratory for "beef testing". We will take strict action against the people involved to ensure that such incidents do not recur, he added.
This incident comes two weeks after Prime Minister Narendra Modi publicly declared that "killing people in the name of protecting cows is not acceptable". However, many still claim that enough is not being done by his government to deter cow vigilante groups.
A Delhi youth was stabbed in a train last month after an argument over seat-sharing, even as an angry mob accused him and his brothers of being "beef eaters".
Full report at:
http://www.hindustantimes.com/india-news/muslim-man-beaten-up-for-carrying-beef-in-maharashtra-is-a-bjp-leader/story-y2EcNJwfgXqofMbhlGjmkM.html
--------
Pakistan considering visa request of Kulbhushan Jadhav's mother
14-Jul-17
ISLAMABAD: Foreign Office Spokesperson Nafees Zakaria on Thursday said that Pakistan is considering India's request for the grant of visa to the mother of Indian spy Kulbhushan Jadhav.
India had requested Pakistan to allow Avantika Jadhav to meet her son, who was sentenced to death by a military court on the charges of espionage and terrorism.
India's External Affairs Minister Sushma Swaraj claimed she had written a "personal letter" to Adviser to Prime Minister on Foreign Affairs Sartaj Aziz asking for the approval of Avantika's visa application so that she may travel to Pakistan.
However, addressing the weekly news briefing in Islamabad, the FO spokesperson said that asking for recommendations from Aziz to grant visas was against diplomatic norms.
He also regretted that India had imposed strict restrictions on the grant of visa to Pakistani patients. "India's belligerence poses threat to regional peace and security."
He expressed serious concerns over frequent ceasefire violations by Indian forces on the Line of Control (LoC) and the Working Boundary. He also remarked that India had continuously been violating the ceasefire agreement, adding that innocent Kashmiris, including children, were being targeted by Indian troops.
"The Indian side is deliberately heightening tension in order to divert world attention from its atrocities in occupied Kashmir. Indian forces committed 542 ceasefire violations in the current year in which 18 civilians embraced martyrdom."
It may be mentioned here that on July 10, five innocent people, including four women, were martyred in unprovoked firing by Indian troops along the LoC, according to Inter-Services Public Relations (ISPR).
Four others, including three girls, were injured due to the firing, which occurred in Rawalakot sector, Satwal, Manwal and Tatrinote areas along the LoC.
Before this, back-to-back violations occurred on July 8 and July 9 after which at least two civilians were killed due to unprovoked Indian firing.
The FO spokesman said that Pakistani forces gave befitting response to the Indian aggression but they were demonstrating utmost restraint, as Pakistan had no desire to escalate the tension. "The world community and the United Nations have also expressed concerns over the LoC situation."
The spokesperson said, "The 44th session of the Organisation of Islamic Cooperation (OIC) Council of Foreign Ministers (CFM), which was held in Abidjan, Republic of Cote d'Ivoire, on July 10-11, 2017, condemned the state terrorism in the IHK and called upon India to implement the United Nations Security Council resolutions on IHK."
Nafees Zakaria said that the resolution, which was unanimously adopted by the 56-member council, noted that Jammu and Kashmir remains the core dispute between India and Pakistan, and its early resolution is imperative for bringing peace to South Asia.
"The council expressed its support to the widespread indigenous movement of the people of Indian occupied Jammu and Kashmir for their promised right to self-determination and observed that the just struggle of Kashmiris cannot be equated with terrorism." The spokesperson said that the council also called upon the United Nations and the international community to play their due role in stopping the continuing bloodshed in IHK and for the implementation of the UN Security Council's resolutions on Jammu and Kashmir, which guarantee Kashmiris' right to self-determination through a UN supervised plebiscite.
"Pakistan believes in resolution of all issues through dialogue. It is time that the international community takes concrete measures to stop the bloodshed in the valley."
He said that the Kashmir dispute's reflection in the UK's Labour Party's election manifesto, and in the January 19 debate in the House of Commons of the UK, represented increasing concern over the current unacceptable human rights situation in IHK.
Zakaria said, "The Kashmiris observed 'Youm-i-Shuhdah' to commemorate the unprecedented sacrifices rendered by Kashmiris in 1931. We pay tribute to shuhdah (martyrs) and express solidarity with Kashmiris in their struggle against Indian unlawful occupation of their territory."
Full report at:
http://dailytimes.com.pk/pakistan/14-Jul-17/pakistan-considering-visa-request-of-kulbhushan-jadhavs-mother
--------
Arab World
Scores of Terrorists Killed, Wounded in Tahrir Al-Sham Base Blast in Idlib
Jul 13, 2017
Two successive blasts occurred after a suicide bomber blew up a bomb-laden motorcycle near Tahrir al-Sham base near the spinning factory in Idlib.
The blasts inflicted 12 tolls on the terrorists and wounded over 14 others.
Field sources confirmed on Tuesday that another militant group has defected Tahrir al-Sham Hay'at after Ansar al-Shariyah and Ajnad al-Sham terrorist groups also cut ties with the al-Qaeda-affiliated group.
The sources reported that the al-Tamkeen Brigade, one of the largest factions within Tahrir Al-Sham Hay'at, announced that it would not fight for the al-Qaeda-affiliated group before infighting between rival militant groups is halted for an indefinite period of time.
Ansar al-Shari'a and Ajnad al-Sham terrorist groups had defected Ahrar al-Sham and joined Tahrir Al-Sham but after a while they cut relations with the al-Qaeda-affiliated group too.
Tahrir al-Sham has been engaged in severe tensions and clashes with Ahrar al-Sham in Idlib and Jeish al-Islam in Eastern Ghouta, and reports from the region said the battle has inflicted hundreds of casualties on both sides.
Late in June, Tahrir al-Sham Hay'at suffered another setback, as a large faction defected the terrorist coalition and joined rival Ahrar Al-Sham Movement.
Ansar Al-Shariyah Regiment released a statement, confirming defection from Tahrir al-Sham Hay'at to Ahrar Al-Sham Movement.
http://en.farsnews.com/newstext.aspx?nn=13960422000463
--------
Saudi forces kill 20 Houthis aiming to cross the border
13 July 2017
The Saudi forces in Jazan area carried out military operations on sites occupied by the Houthi militias and the guards of ousted Saleh in the province of Harad, which is about 9 km from the Saudi border.
The Saudi forces began targeting militants with their artillery, after detecting them via thermal cameras.
The militants' approach towards the Saudi border was an attempt to open a new military front to launch the missiles towards the Saudi provinces.
Al Arabiya correspondent reported that the militias fired several shells at uninhabited areas before moving towards the Saudi border.
Military sources confirmed that Saudi forces were able to kill more than 20 insurgents and injure others, as well as destroying strongholds where the militias were hiding.
https://english.alarabiya.net/en/News/gulf/2017/07/13/Saudi-forces-kill-20-Houthis-aiming-to-cross-the-border.html
--------
Russia Sends 'Devastating Monster' to Syria
Jul 13, 2017
According to the Arabic desk of Sputnik news agency, the 'devastating monster' was shown to Syrian President Bashar al-Assad last week when he visited the Russian base at Humeimim.
The Terminator 2 is a tank that is designed to protect other tanks, specially in urban areas. It's built from refurbished hulls from the venerable T-72 main battle tank. But instead of mounting a big 125-millimeter cannon, the BMPT-72 is armed a remarkably diverse suite of weapons that includes two thirty-millimeter cannon, four Ataka-T antitank missiles and a heavy machine gun. This gives the Terminator 2 the capability to engage infantry and light armored vehicles with its cannon, and tanks and buildings with its guided antitank missiles.
The first version of the Terminator was designed in the late 1990s. It was a five-man vehicle based on the chassis of the T-90 tank, according to Russian media.
It was armed with two hull-mounted thirty-millimeter automatic grenade launchers in addition to the other weapons, notes Jane's 360. The Terminator 2, first unveiled in 2013, subtracted the grenade launchers and reduced the crew size to three.
The concept of the "tank support combat vehicle" arose after Russian experiences in Afghanistan and Chechnya.
Russia's initial response was to escort its tanks with ZSU-23-4 Shilka self-propelled antiaircraft guns, which could rapidly pump out cannon fire to suppress hostile antitank teams. However, the ZSU-23-4 was lightly armored and not equipped to detect ground targets.
Hence the BMPT was designed as a "versatile and mobile weapon for protecting tanks," explained Sputnik News. "According to the initial conception, vehicles of this type should be used alongside tanks on the battlefield and destroy any potentially dangerous target."
Media sources reported last week observing a number of advanced Terminator tanks in the Russian-run Humeimim airbase during President al-Assad's visit to the base.
The Arabic-language Sputnik reported that a number of very strong Russia-made Terminator Tanks have been seen in images of Assad's visit to Humeimim military airport in Lattakia province, adding that Russia had never declared anything about deploying this kind of tank in Syria.
According to report, Terminator is similar to T-72 but is equipped with stronger weapons, adding that the tank's main mission is providing support for friendly tanks in the battlefields and destroying enemy tanks by missile fire.
Terminator is capable of targeting and destroying other tanks and armored vehicles from a 6km distance.
According to a military source, Terminator tanks that had not been used in battle against terrorists will be present in the upcoming war on ISIL in Syrian Desert.
Photos and images of the recent visit by Syrian President to Humeimim airbase also showed that the Russian Air Force has also deployed more modern warplanes and missiles in Syria recently.
The photos showed that Russia has deployed its Su-27 SM3 in Humeimim airbase which is the last model of Su-27 had not been previously seen in Syria.
In the meantime, RVV-SD missiles, a version of the Jojo guided missiles, were seen in the footages of Humeimim air field.
The first visit of Assad to the Humeimim came after the recent statements of the White House spokesperson about an alleged impending gas attack by the Syrian government.
The Spokesperson accused Syria of preparing to stage a chemical attack in the country, threatening that Washington would make Damascus pay "a heavy price."
Full report at:
http://en.farsnews.com/newstext.aspx?nn=13960422000364
--------
Several ISIL Commanders Killed in Popular Uprising in Deir Ezzur
Jul 13, 2017
The sources said that the people's uprising in al-Mayadeen city in Deir Ezzur killed several ISIL leaders, including Amir Zakat al-Mayadeen nom de guerre Abu Maryam and the preacher of ISIL mosques in Deir Ezzur named Abu Fatemeh Maqrebi.
Meantime, the Syrian army units launched artillery and missile attacks on ISIL positions and moves in al-Sana'a district near the passageway of the village of al-Jafrah, destroying a military vehicle and killing and wounding all terrorists inside.
Also, the army forces deployed in Deir Ezzur airbase blew up a BMP vehicle of the ISIL near al-Tharda mountain by missile and artillery fire.
Local sources said on Monday that a large number of civilians took to the streets in a town near Deir Ezzur Province's border with Iraq and clashed with the ISIL terrorists as the Syrian Army troops and Hezbollah fighters are rapidly advancing against ISIL in Eastern Homs to lift the siege on Deir Ezzur.
Local sources in the town of Albu Kamal reported that a group of young men have burned 2 ISIL vehicles and a bus in the town and killed one of the terrorists.
The development came a day after three other terrorists were killed and their car was burned at the hands of locals of al-Kataf area on the outskirts of Albu Kamal.
The sources also announced that a state of turmoil and confusion still prevails among ISIL terrorists, where clashes erupted among ISIL groups in the area of al-Souar, which led to the injury of ISIL commanders, including Abu Mosaab al-Falastini and Abu Omar al-Australi.
Full report at:
http://en.farsnews.com/newstext.aspx?nn=13960422000285
--------
Suicide bomber kills and injures scores in Syria's Idlib province
13 July 2017
A suicide bomber rammed a car laden with explosives into a gathering of rebels near the rebel-held northwestern Syrian city of Idlib on Wednesday, killing and injuring scores, rebel sources said.
They said the blast ripped a textile factory where members of Hayat Tahrir al-Sham, an alliance of rebel groups whose backbone is the former al-Qaeda affiliate Nusra Front, had been using as their quarters. At least 12 were killed, one rebel source said.
The militant alliance has been waging in the last few days a major sweep to round up ultra-hard-line ISIS sleeper cells in Idlib province. They say they have arrested at least 100 people, including who the group says are senior operatives blamed for a string of recent assassination and blasts in the province.
Idlib province is dominated mainly by militant groups although there is some presence of the moderate Western-vetted Free Syrian Army groups.
The province, which borders Turkey, has long witnessed infighting between the main militant groups vying for power.
Full report at:
https://english.alarabiya.net/en/News/middle-east/2017/07/13/Suicide-bomber-kills-and-injures-scores-in-Syria-s-Idlib-province.html
--------
Hashd al-Sha'abi to participate in liberation of Hawijah, Daesh-held areas
Jul 13, 2017
The spokesman for pro-government Popular Mobilization Units, commonly by the Arabic name Hashd al-Sha'abi, says the volunteer fighters will join army soldiers in counter-terrorism operations to liberate the last remaining areas in Iraq still controlled by the Takfiri Daesh terrorists.
Ahmed al-Assadi stated on Thursday that his fellow fighters "will be a main partner in liberating Hawijah and all other militant-controlled regions."
The town of Hawijah, located 45 kilometers west of the oil-rich northern city of Kirkuk, has been under the control of Daesh militants since June 2014, when the extremists' leader Ibrahim al-Samarrai aka Abu Bakr al-Baghdadi declared his self-styled "caliphate."
Assadi's remarks came only three days after Iraqi Prime Minister Haider al-Abadi formally declared victory over Daesh extremists in Mosul, which served as the terrorists' main urban stronghold in the conflict-ridden Arab country.
In the run-up to Mosul liberation, Iraqi army soldiers and volunteer fighters from the Popular Mobilization Units had made sweeping gains against Daesh since launching the Mosul operation on October 17, 2016.
The Iraqi forces took control of eastern Mosul in January after 100 days of fighting, and launched the battle in the west on February 19.
An estimated 862,000 people have been displaced from Mosul ever since the battle to retake the city began eight months ago. A total of 195,000 civilians have also returned, mainly to the liberated areas of eastern Mosul.
Twenty-eight aid groups working in Iraq issued a statement on Monday, calling for international support for the reconstruction of Mosul and urged Iraqi authorities not to press civilians to return.
They also expressed deep concerns for Iraqis trapped in Daesh-controlled areas in Iraq, namely Tal Afar, Hawijah and the troubled western province of Anbar.
"For the expected offensives in Hawijah, Tal Afar and western Anbar, where approximately 150,000 civilians are thought to still be trapped, it is vital that lessons are learnt from past offensives," the aid groups said, demanding access to safety and assistance be prioritized.
'90,000 Izadi Kurds have fled Iraq since Daesh emergence'
Meanwhile, director of Izadi Affairs at Ministry of Endowment and Religious Affairs of the Kurdistan Region, Khairi Bouzani, said on Thursday that around 90,000 Izadis out of a total of 550,000 had emigrated from Iraq to Europe in the wake of Daesh atrocities in the Arab country.
Bouzani said 350,000 Izadi Kurds were displaced after their cities in northwestern Iraq were overrun by Daesh Takfiris, noting that 1,293 Izadis were also killed at the hands of the terrorists.
The Kurdish official further underlined that 43 mass graves with remains of Izadi victims were discovered, and scores of religious sites belonging to the minority were destroyed by Daesh members as well.
Back in August 2014, Daesh terrorists overran Sinjar, killing, raping, and enslaving large numbers of Izadis. The town was later recaptured on November 13, 2015, during a two-day operation by Peshmerga forces and Izadi fighters.
Full report at:
http://www.presstv.ir/Detail/2017/07/13/528382/Iraqi-Hashd-alShaabi-fighters-liberation-operations-Hawijah-Anbar-Tal-Afar
--------
Syrian Troops Advance in Extensive Areas in Badiyeh
Jul 13, 2017
The Syrian soldiers continued military operations from their positions in a checkpoint named France in al-Zalaf region in the Southeastern parts of Damascus towards East, and they could advance 21km towards al-Jarin mountain.
A military source said that the Syrian army units retook control of a 200-sq/km area, adding that a number of terrorists were killed and wounded in the clashes with the army.
The Syrian army forces continued the second phase of al-Fajr al-Kobra (the Grand Dawn) anti-terrorism operation in Badiyeh (desert) on Monday and managed to impose control over several heights in regions near al-Seen military airport.
The army men kicked off the second phase of al-Fajar al-Kobra operation South of the road that connects al-Seen airbase to Zaza region and managed to advance against terrorists from Tal 9hill Deco towards Tal Roqeileh, Tal al-Baqar and Tal al-A'saf and the regions of Khirbet al-Ambashi and al-Kera'ah.
The army soldiers further drove terrorists out of the mountain between Tal Deco and Tal Roqeileh up to Tal Risheh.
The army units also won back Tal Risheh Dam, Jabal (mount) Mahkoul, Baer Makhour and Jabal Sis South of al-Seen airbase.
The Army had managed to secure over 5,000 square kilometers of the Syrian Desert from the clutches of ISIL during the first stage of al-Fajr al-Kobra operation that is the largest swathes of land won back from ISIL since 2011 and includes Southern Homs.
Full report at:
http://en.farsnews.com/newstext.aspx?nn=13960422000812
--------
Syria's Special Forces Start Operations to Capture Last ISIL Stronghold in Homs
Jul 13, 2017
The special forces started their military operations from the Southern parts of Raqqa.
Syrian special troops plan to expand Southward from the key town of Resafa in order to press ISIL's positions as far South as Sukhnah in the Eastern parts of Homs province.
As the Tiger Forces are pushing South to Homs province, it will allow their allies from the Desert Hawks Brigade to blitz the ISIL's positions in the Eastern parts of Hama province.
Meantime, the Syrian army forces continue massive operations from Western al-Sukhnah – the Eastern parts of the ancient city of Palmyra (Tadmur) - towards the last ISIL stronghold in Homs.
The Syrian army units and Hezbollah fighters also continued their operations to reach the strategic town of al-Sukhnah, the Takfiri terrorist group's last defense lines directly West of the city of Deir Ezzur, deploying their forces just a few kilometer away from the vital bastion.
A field source announced the Syrian troops' massive operation in Eastern Homs and Hama, saying that driving the ISIL out of Aqayrabat and al-Sukhnah means the end of the terrorist group's presence in Central Syria.
According to earlier reports, the Syrian Special forces deployed in Southern Raqqa and the Army soldiers deployed in Eastern Homs were preparing to launch a joint anti-ISIL operation to drive terrorists out of the strategic town of al-Sukhnah that is considered as the main gate to Deir Ezzur city.
A battlefield source said the Syrian Special Forces are not looking to increase their presence in Raqqa province; "instead, they have plans to push South from the town of al-Rasafeh in Southern Raqqa towards al-Sukhnah in Eastern Homs".
The source added that the Syrian Armed Forces plan to launch their offensive from two different fronts in order to force the ISIL to retreat from the key town near the Deir Ezzur border.
The source went on to say that the second front of the army operation starts from the Eastern direction of the ancient city of Palmyra toward West of al-Sukhnah, adding that the army forces are now advancing rapidly against terrorists in the front.
Another source said that the army has dispatched more heavy equipment to Arak region in Eastern Homs to intensify attacks on ISIL's defense lines in al-Sukhnah.
The source further added that following ISIL's defeats in Aleppo and Raqqa provinces, the fresh army operation that will cover Eastern Hama and Homs and the entire Deir Ezzur province is so important that the army would dispatch more forces and equipment to advance towards Deir Ezzur with the back up of the Russian Air Force.
Full report at:
http://en.farsnews.com/newstext.aspx?nn=13960422000769
--------
Syrian Army Advances in Damascus to Separate Eastern Ghouta from Capital
Jul 13, 2017
The army forces continued clashes with the terrorists near the meat packaging company and al-Khair Markets, regaining control of several points.
A military source said that the Syrian troops have rapidly advanced in the region, and added that a number of terrorists were killed in clashes.
The source stressed that the army wants to separate Jobar district from Eastern Ghouta by advancing in regions parallel to al-Moltahlaq al-Janoubi, between Eastern Damascus and the Western parts of Eastern Ghouta.
Meantime, the Syrian army could retake control of houses in the Eastern parts of the Marble Factory.
The Syrian army units also advanced along the Southern bypass of the highway that runs between Zmelka and Jobar, capturing several buildings in the course of their offensive.
In a relevant development on Wednesday, the Syrian army forces, backed up by the country's Air Force, continued to hit the defense lines of Faylaq al-Rahman and Al-Nusra Front (also known as Fatah al-Sham Front or the Levant Liberation Board) in Eastern Ghouta and managed to impose control over another key position.
The army men engaged in fierce clashes with Faylaq al-Rahman and Al-Nusra Front in the meat-packing company in Ein Terma-Jobar and Zmelka triangle and pushed the terrorists back from the company.
In the meantime, the army aircraft pounded terrorists' positions in the triangle several times.
Full report at:
http://en.farsnews.com/newstext.aspx?nn=13960422000687
--------
Russia Sends Military Vehicles, Soldiers for Anti-ISIL Mission in Hama Province
Jul 13, 2017
According to reports, armored personnel carriers and Russian troops have been sent to Hama battlefield as the Syrian army troops are trying to oust ISIL militants from Eastern Salamiyah.
According to AMN, the Russian special forces operate alongside the Syrian soldiers in the fight against the ISIL, as Moscow forces serve as battlefield advisors and in combat support roles ranging from tactical reconnaissance, sniper cover, forward air control and anti-tank over-watch.
Armed Toyota picks, trucks and buses full of infantry, lorries carrying supplies and trucks towing light field howitzers have been sent to Eastern Hama. The entire convoy offers a detailed cross-section of the forces which have now been deployed against the ISIL.
Meantime, the Syrian army forces launched fierce attacks on ISIL positions inside the Qaleb al-Thawr city in Eastern Hama and regained control of a big part of the city after hours of heavy clashes.
A military source, meanwhile, said that the Syrian soldiers were forced to withdraw from some parts of their positions in the city, adding that the army will start a new phase of attacks to recapture the entire city soon.
The Russian strategic bombers conducted strikes on ISIL targets in Syria on Wednesday, using modern X-101 strategic cruise missiles. Several weapon stockpiles and a terrorist command center were destroyed in the strike.
Russian Air Force Tu-95MS strategic bombers conducted strikes on ISIL positions near the border of Syrian Hama and Homs provinces on Wednesday, the Russian military said in a statement.
"Three large weapon and ammunition stockpiles alongside with a command center near the town of Aqayrabat were destroyed in the strike, which was confirmed by objective control measures," the statement added.
The Syrian army has also dispatched a large number of its special forces and state-of-the-art military equipment to accelerate anti-ISIL operations in Eastern Hama.
A large convoy of reinforcements comprised of Desert Hawks arrived days ago in the Eastern territories of Hama province to take part in the anti-ISIL military operation in Eastern Salamiyah.
Also, a number of T-90 tanks have also been sent to Hama to be used for anti-ISIL operations.
The Syrian and Russian forces, backed by the two countries' warplanes, have started a new phase of military operations to expel the ISIL from Eastern Hama in bid to secure the strategic city of Salamiyeh.
Based on reports, the Russian Special Forces, backed by Moscow Air Force, also participated in the military operations in Eastern Hama.
Aqayrabat region includes tens of villages and towns as the ISIL's main base in the province and is used by the terrorists to attack the army positions in Salamiyeh.
According to earlier reports, the fresh troops of the Syrian army along with Russian marines were dispatched to Eastern Hama for this large-scale operation.
Weeks ago, the Syrian army dispatched a large number of fresh forces to Hama as Damascus troops started a new phase of military operation to drive ISIL out of the province.
Full report at:
http://en.farsnews.com/newstext.aspx?nn=13960422000537
--------
Syrian, Russian Fighter Jets Blow Up ISIL Ammunition Cache in Deir Ezzur
Jul 13, 2017
The airstrikes also targeted ISIL positions in al-Sana'a, al-Arafi and al-Kanamat districts in Deir Ezzur as well as the power company and al-Tharda mountain in the Southern parts of the city.
Also, the ISIL bases near Deir Ezzur airbase, the cemetery and al-Jabileh regions were attacked, resulting in the full destruction of an ammunition cache.
The Syrian warplanes also bombed ISIL positions in the two villages of Ayash and Shamitiyeh in Northwestern Deir Ezzur and the village of Marat in Eastern Deir Ezzur, destroying the terrorists' base and killing a number of them.
The Syrian and Russian air forces also launched several airstrikes on regions near Deir Ezzur airbase, areas near al-Tharda mountain in Southwestern Deir Ezzur and districts near the Brigade 137 base in the Western parts of the city, inflicting toll and damage on the terrorists.
In a relevant development on Wednesday, two command centers of ISIL were destroyed in the Syrian Air Force's combat flights over ISIL's positions in Deir Ezzur province, military sources confirmed, adding that the raids inflicted major losses on the terrorists.
The army aircraft struck ISIL's defense lines and movements in al-Huweiqa region, al-Maqaber (cemetery) region, al-Tayem region, in the town of al-Mouhassan, the neighborhood of al-Hosseiniyeh, the village of al-Baqalilyeh, Panorama base, Hatlah neighborhood, and the regions of Mart and Mazloum, destroying a command center known as ISIL's military base in the village of Bou Omar in Eastern Deir Ezzur and another command center in al-Jabileh neighborhood containing arms and ammunition.
A military source said that tens of ISIL terrorists, including two senior commanders, were killed in the attacks.
Full report at:
http://en.farsnews.com/newstext.aspx?nn=13960422000209
--------
North America
Trump: We face threats from systems that support and finance terrorism
13 July 2017
"We face threats from leaders and regimes in the world who finance and support terrorism," US President Donald Trump told a news conference on Thursday in Paris with French President Emmanuel Macron.
Trump added that America's relationship with France is stronger than ever.
The US president pointed out that Washington confirms its commitment to defeat terrorism.
Trump pointed to the support of the Iraqi government to preserve what has been achieved. "We are seeking a comprehensive cease-fire in Syria," Trump said.
For his part, the French President Emmanuel Macron confirmed that he held lengthy talks with Trump, including the fight against terrorism.
"We agreed to pursue joint action in Syria and Iraq," Macron said, referring to the agreement to form a contact group to create a post-war international road map in Syria.
Macron confirmed that there is no disagreement with Washington on the fight against terrorism. "We changed France's doctrine on Syria to reach a comprehensive political solution," he said.
"On the Iraq-Syria situation, we have agreed to continue working together, in particular on the building of a roadmap for the post-war period," Macron said in a joint news conference during Trump's visit to Paris.
"We have asked our diplomats to work in that direction, so in the next few weeks a concrete initiative can be taken and managed by the P5," Macron said, referring to the five permanent members of the United Nations Security Council.
Macron said France would not place the departure of Bashar al-Assad as a condition for reaching a political solution.
US President Donald Trump, arrived in Paris on Thursday morning to meet with his French counterpart . Weeks after Macron hosted Russian President Vladimir Putin at the Palace of Versailles, Trump will bask in the trappings of the Bastille Day military parade on Friday and commemorations of the entry 100 years ago of US troops into World War One.
Macron welcomed Trump with a warm handshake and smiles, a contrast to the clenched-jaw greeting they shared at their first encounter in May.
"Emmanuel, nice to see you. This is so beautiful," the USpresident told Macron as they met at the Hotel des Invalides where Napoleon Bonaparte and other French war heroes are buried.
Syria cooperation
For the 39-year-old Macron, France's youngest leader since Napoleon two centuries ago, the visit is a chance to use soft diplomacy to win Trump's confidence and set about influencing US foreign policy, which European leaders say lacks direction.
Macron views it as counter-productive to isolate the United States on the world stage, and said he and Trump had asked diplomats to draw up in the coming weeks a concrete initiative aimed at preparing the future of Syria.
Trump said work was underway to negotiate a ceasefire in a second region of Syria.
On Friday, Trump will be guest of honor at France's July 14 celebrations, a year after a Tunisian man loyal to ISIS ploughed a truck through revellers on a seafront promenade in Nice, killing more than 80.
In bringing Trump to Paris, Macron has stolen a march on Britain's embattled Prime Minister Theresa May.
London's offer of a state visit for Trump met fierce domestic criticism and warnings that he would be greeted by mass protests.
Full report at:
https://english.alarabiya.net/en/News/world/2017/07/13/Trump-We-face-threats-from-systems-that-support-and-finance-terrorism.html
--------
How a US judge's take on 'close family relationship' may narrow Trump travel ban
14 July 2017
A US judge on Thursday granted the state of Hawaii's bid to exempt grandparents and other relatives from President Donald Trump's temporary travel ban on residents from six Muslim-majority countries and refugees.
US District Judge Derrick Watson in Honolulu had been asked to narrowly interpret a US Supreme Court ruling that revived parts of Trump's March 6 executive order banning people from those countries for 90 days. Watson on Thursday declined to put on hold his ruling exempting grandparents from the ban.
A Justice Department representative could not immediately be reached for comment. The US Supreme Court last month let the ban on travel from the six countries go forward with a limited scope, saying it could not apply to anyone with a credible "bona fide relationship" with a US person or entity.
The Trump administration then decided that spouses, parents, children, fiancés and siblings would be exempt from the ban, while grandparents and other family members traveling from Iran, Libya, Somalia, Sudan, Syria and Yemen would be barred.
Close family tie
The Trump administration also said that all refugees without a close family tie would be blocked from the country for four months.
Trump said the measure was necessary to prevent attacks. However, opponents including states and refugee advocacy groups, sued to stop it, disputing its security rationale and saying it discriminated against Muslims.
Hawaii's attorney general Douglas Chin asked Watson to issue an injunction allowing grandparents and other family members to travel to the United States. Hawaii and refugee groups argue that resettlement agencies have a "bona fide" relationship with the refugees they help, sometimes over the course of years.
The Justice Department said its rules were properly grounded in immigration law. In his ruling, Watson said the government had an "unduly restrictive reading" of what constituted a close family relationship.
Full report at:
https://english.alarabiya.net/en/perspective/features/2017/07/14/How-a-US-judge-s-take-on-close-family-relationship-may-narrow-Trump-travel-ban.html
--------
Trump hails Syria ceasefire deal with Russia, to invite Putin for state visit
Jul 13, 2017
US President Donald Trump says a recent Syria ceasefire deal brokered by the US and Russia shows his meeting with Russian President Vladimir Putin was a success.
"By having dialogue we were able to have a ceasefire. It's going to go on for a while and frankly we're working on a second ceasefire in a very rough part of Syria," Trump said at a joint press conference with his French counterpart Emmanuel Macron at the Elysee Palace in Paris on Wednesday.
"And if we get that and a few more, all of a sudden you're going to have no bullets being fired in Syria. And that would be a wonderful thing," he added.
The ceasefire in southwestern Syria was the main outcome of Trump and Putin's highly-anticipated first meeting on the sidelines of the annual G20 summit in Hamburg, Germany, last week.
Jordan was also involved in the trilateral agreement on the ceasefire, which went into force at noon Damascus time (0900 GMT) on Sunday.
Trump has been speaking proudly of the deal, touting it as an example of "working constructively" with Russia to address serious global issues.
'Fools won't invite Putin to White House'
The American head of state was so pleased with the meeting that he said he would invite his Russian counterpart over to the White House in future but only "at the right time."
He also took a jab at those who criticized him for cooperating with Russia, saying it would be foolish not to do so.
"Let's be the smart people not the stupid people. The easiest thing for me to tell you is that I would never invite him, we will never ever talk to Russia; that all of my friends in Congress will say, 'oh he's so wonderful, he's so wonderful'," he said. "If you don't have dialogue, you have to be fools. Fools."
The United Nations has hailed the partial truce in Syria, calling it a "positive" step that could help efforts to reach permanent peace in the Arab country, which has been grappling with foreign-backed militancy since 2011.
The agreement was the first of its kind between the Kremlin and the White House, who remain on the opposing sides over the fate of Syrian President Bashar al-Assad.
While Russia has been helping the government of Syrian President Bashar al-Assad to defeat terror groups across his conflict-ridden country, the US has been openly aiding militant groups fighting to oust him.
Macron: Assad's ouster no longer a 'pre-requisite'
The French head of state also weighed in on the situation in Syria and said the West's "new approach" on the Arab country no longer pushed for Assad's ouster and was rather focused on "eradicating terror."
Full report at:
http://www.presstv.ir/Detail/2017/07/13/528383/US-Trump-Russia-Putin-France-Macron-Syria-Assad-terror
--------
US: Muslim Americans mourn the death of Dr. Jack Shaheen
Jul 14, 2017
The seven-million-strong American Muslim Community Sunday (July 9) mourned the death of Dr. Jack G. Shaheen, a prolific author and professor whose career centered on dismantling stereotypes of Muslims and Arabs in the US media. He was perhaps most famous for his book "Reel Bad Arabs," where he chronicled over 900 movies where Arabs were represented negatively.
In addition to Reel Bad Arabs, Dr. Shaheen authored four other books, Guilty: Hollywood's Verdict on Arabs After 9/11, Arab and Muslim Stereotyping in American Popular Culture; Nuclear War Films, and The TV Arab. His methodical study of the media and depictions of Arabs has been critical in helping to re-shape the narratives on Arabs and Muslims.
Shaheen was born in September 1935 in Clairton, Pennsylvania to Lebanese immigrants. In 1964, he received a Master's degree from Pennsylvania State University and in 1969, he received a PhD from the University of Missouri. He died on July 9, 2017 at the age of 81.
Dr. Shaheen was an internationally-respected author, academic and media analyst who was the nation's leading authority on depictions of Arabs, Arab-Americans and Muslims in the media and in American popular culture. His work was instrumental in promoting accurate portrayals of Arabs, Islam and Muslims.
He was an internationally acclaimed author, lecturer and media critic considered to be the foremost authority on media images of Arabs and Muslims in American Popular Culture.
Dr. Shaheen authored five books, the award-winning Reel Bad Arabs: How Hollywood Vilifies a People; Guilty: Hollywood's Verdict on Arabs After 9/11, Arab and Muslim Stereotyping in American Popular Culture; Nuclear War Films, and The TV Arab.
His writings include more than 300 essays in publications such as Newsweek, The Wall Street Journal and The Washington Post, as well as chapters on media stereotypes in 40-plus college textbooks.
His work focused on racism and Orientalism, particularly in popular culture such as Hollywood films. He has given over 1,000 lectures on the issue across the United States and on three continents. Dr. Shaheen was also a former CBS News consultant on Middle East affairs, and professor emeritus of Mass Communications at Southern Illinois University at Edwardsville.
Regularly discussing media stereotypes on national programs and networks such as CNN, MSNBC, National Public Radio, Nightline, Good Morning America, 48 Hours, and The Today Show, Dr. Shaheen gave lectures in nearly all 50 states. Oxford, Amherst, Harvard, Kenyon, the University of Southern California, Emory and Northwestern, are among those universities which welcomed him, as well as the Carnegie Endowment for International Peace.
The American-Arab Anti-Discrimination Committee(ADC) President Samer Khalaf, in his condolence message said:
"Dr. Shaheen worked passionately and tirelessly to shed light on the common media stereotypes of Arabs in Western film, providing invaluable resources to the academic community at large. His work started a conversation about the representation of Arabs in Hollywood and the need for more nuanced depictions of the community. Dr. Shaheen will be greatly missed."
Dr. Shaheed was instrumental in ADC's efforts to change the original song lyrics that served to characterize the Arab world as alien, exotic, and "other" in the film Aladdin. His positive impact in the Arab-American community will be felt for generations to come.
Dr. Shaheen created the Jack G. Shaheen Mass Communications Scholarship, which awards annual scholarships to Arab American college students studying journalism and mass communications through the ADC.
Among Dr. Shaheen's many awards, the ADC recognized him for "his lifelong commitment to bring a better understanding towards peace for all mankind" with ADC's Lifetime Achievement Award.
The Islamic Scholarship Fund (ISF)Board Member, Dr. Hatem Bazian said Dr. Jack Shaheen was a giant public intellectual and one of the pioneers of media criticism that developed and extended the theoretical framework of Edward Said's Orientalism with evidence, research and attentive scholarship.
Dr. Bazian pointed out that Dr. Shaheen confronted anti-Muslim racism, Islamophobia, before even Muslims had engaged in the field or knew the type of scholarship needed to confront this racist scourge. "More importantly, as a scholar, Jack took care and paid attention to his students, was down to earth, humble in his approach and was never the arrogant type of intellectual, which made it possible to influence a generation of young scholars in the field."
As an organization that focuses on empowering Muslim students to pursue careers in media, in order to do what Dr. Shaheen did - that is to challenge stereotypes of Islam and Muslims, we could not think of any better way to honor his legacy than to create a media scholarship in his name, Dr. Bazian said adding: "We can only hope to build a cadre of Muslims in the media who show Dr. Shaheen's courage, intelligence, and dedication to correcting so many problematic stereotypes of our community. We hope to keep Dr. Shaheen's legacy alive through our work and we hope you will join us in celebrating his life and contributions and continuing the work that he did so valiantly."
In his condolence message, Ibrahim Hooper, the Communications Director of the Council on American-Islamic Relations (CAIR), nation's largest Muslim civil advocacy group said: "Dr. Shaheen was a scholar and teacher dedicated to challenging bigotry and stereotyping in all its forms. He was a tremendous friend of the American Muslim community and will be greatly missed."
Full report at:
http://www.milligazette.com/news/15738-us-muslim-americans-mourn-the-death-of-dr-jack-shaheen
--------
Five CSIS employees are accusing the spy agency of Islamophobia, racism and homophobia in a $35-million lawsuit
By MICHELLE SHEPHARD
July 13, 2017
Five intelligence officers and analysts with Canada's spy service have launched a $35-million lawsuit against their employer, claiming the Canadian Security Intelligence Service is a toxic workplace with managers who openly espouse Islamophobic, racist and homophobic views and discriminate against Muslim, Black and gay employees.
The allegations contained in a 54-page statement of claim — filed in Federal Court and obtained by the Toronto Star — provide detailed accusations from inside one of the country's most secretive organizations.
One of the complainants, a Toronto intelligence officer with more than a decade of service and identified in the claim by the pseudonym "Alex," is gay and has a Muslim partner.
According to the statement of claim, an October 2015 email sent to him by his manager "Simon" stated: "Careful your Muslim in-laws don't behead you in your sleep for being homo." Another boss, given the pseudonym "Joe," allegedly wrote: "You're just a fag hiding in your little corner sobbing."
None of the allegations contained in the claim, which was filed Thursday morning, has been proven in court.
CSIS Director David Vigneault issued a statement responding to the Star's questions about the claim. Vigneault, who was appointed as the spy agency's director last month, said CSIS "takes any allegations of inappropriate behaviour very seriously."
"I would like to reinforce that, as an organization, CSIS does not tolerate harassment, discrimination or bullying under any circumstances. The Service's values and ethics must be reflected in all of our behaviours and decision-making, and reflect the CSIS Employee Code of Conduct principles of respect for democracy, respect for people, integrity, stewardship, and professional excellence."
He also wrote that employees are encouraged to report "real, potential or perceived incidents of harassment, without fear of reprisal, to their supervisor or senior management."
Toronto lawyer John Phillips, who is representing the five employees, said in an email to the Star, "I am not in a position to provide a comment at this time."
The lawsuit follows three scathing reports on RCMP harassment, including the May federal auditor general report on the police force's failure to manage the mental health needs of its employees.
While CSIS has come under scrutiny for past intelligence operations, this lawsuit is a rare public airing of internal complaints for an organization that was recognized as one of Canada's top 100 employers for 2017.
Among the criteria cited by Mediacorp Canada Inc., which manages the competition, is the spy agency's attempt to "help employees find a balance between work and their personal lives." CSIS was given a B+ for "work atmosphere and communications," and commended for "summer golf and softball tournaments, winter hockey tournament (with time off for players and fans) to raise money for the United Way, annual spy BBQ, summer parties across the organization, long service awards celebrations and a special Christmas party for employees' children."
The five intelligence officers and analysts are identified by pseudonyms the claim states, "because they have been warned by their employer, CSIS, that they are forbidden from publicly identifying themselves, or any colleagues." The Star does not know the identity of the complainants, nor have they been interviewed.
Under Canada's Security of Information Act identifying a spy can be considered an offence. All of the complainants are CSIS employees but are on medical leave due to stress and other mental and physical conditions that they claim were caused by the alleged abuse.
Managers mentioned in the claim are also identified by fake names.
In addition to Alex, the CSIS employees making the allegations are a Muslim analyst with more than 20 years at the agency who alleges he was told he should "complain to Allah;" a multilingual Muslim analyst who was allegedly called a "sand monkey" by his boss; a female intelligence officer, also Muslim and multilingual, who claims she faced constant suspicion after deciding to wear a hijab in 2004; and the service's first female Black intelligence officer who claims she was told, "it's people like you the Service likes to promote."
All five allege in the claim when they tried to report the abuse, their circumstances got worse and their complaints resulted in no action.
"Bahira," who says she was discriminated against as a Muslim woman, alleges, "CSIS has a culture of secrecy which does not accept whistle-blowing or complaints, regardless of the underlying harm."
A 'gay boy who wanted to take gay selfies with VIPs'
Alex, described in the claim as a highly decorated employee who was in an elite management program, alleges that in addition to being called a "fag" or "gay boy," a manager reportedly joked to the service's Toronto office during a 2014 Town Hall meeting that Alex "(took) it from behind."
According to the statement of claim, one email concerning Alex states: "OT for the homo is approved."
"Simon," the manager who allegedly wrote some of the most offensive emails, often teased Alex about "getting fat," and allegedly posted an unflattering photo of him in a staff elevator. When a colleague removed it and complained to her director, she was allegedly told to "mind her own business."
Alex also allegedly clashed with Simon when he tried to get information about an ongoing operation during a mid-afternoon Christmas party he did not attend. His attempts to reach Simon and others at the Toronto office — calls, texts and emails — were ignored, Alex claims.
The following day, Alex alleges Simon confronted him about being friends with someone who was a terrorist. (They were connected on Facebook). The claim states the accusation was "unfounded and maliciously motivated" and when Alex mentioned that the individual in question was gay, Simon went on a tirade about "gay men always having their shirts off."
"Alex then used the meeting to complain that Simon had let down the team the day before by refusing to take a call on an operational matter during a party. Simon responded that Alex was just a 'gay boy who wanted to take gay selfies with VIPs.'"
According to the statement of claim, Alex left the meeting in tears.
'All Muslims are terrorists'
Bahira is described as an intelligence officer with more than a decade of experience. In 2004, she decided to wear a hijab, which she alleges caused "an uproar, and a stirring of suspicion so intense that it exists today."
She alleges her managers, "William" and "Charles," told her to report all activities connected with the Muslim community.
"She reported attending the mosque biweekly, and making donations randomly. Bahira was told that her security clearance could be revoked for associating with organizations or individuals in the Muslim community who could be perceived as antithetical to CSIS."
During a foreign posting with the service's counterterrorism unit Bahira claims that she was treated differently due to her faith. "She was embarrassingly underworked relative to her colleagues, who were overburdened. When this circumstance became a matter of contention in her group, Bahira went to her supervisor who admitted to Bahira that he had been instructed not to give her access to any source files due to her involvement with a Muslim organization," the claim states.
When she complained, she alleges that rather than deal with the issue a director general asked her if she was frustrated being a second-generation Canadian Muslim. "With tears in her eyes, Bahira listened to the Director General explain that he perceived security threats emanating from second and third generation Canadian Muslims — clearly referring to her — despite the fact that she was a CSIS Intelligence Officer and subject to the same rigorous security clearances as non-Muslim officers."
Bahira claims she remained dedicated to CSIS, but "the loyalty was not returned," and that she eventually became withdrawn and "began having her lunch in her office and crying in the stairwell."
By contrast, when Bahira was seconded to help an ally's intelligence service she was praised for her communication skills and knowledge of Islamic and Arabic culture, according to the statement of claim. She alleges Anne McLellan, one of Canada's former deputy prime ministers, also received thanks from the foreign government for Bahira's service. "However, Bahira's work was not even acknowledged by CSIS," the statement claims.
Ignorant and discriminating behaviour among managers was not contained to one region, according to the claim. Bahira moved to a different unit and was allegedly goaded by one manager with comments such as, "Muslim women are inferior." The same boss allegedly "went on at length about how then-President Barack Obama was a member of the Muslim Brotherhood."
"Cemal," an analyst who has worked for CSIS for more than 20 years, is also Muslim. He claims: "The culture of CSIS is hostile to Muslims, and this is more than just an unfriendly work environment — it is deeply ingrained prejudice of distrust for Muslims which has meant that Muslims are used and managed as needed, but are not part of the team."
Cemal alleges a poster of the Twin Towers burning on Sept. 11, 2001, with the words "Ninety-Nine Names of Allah" once hung in the Toronto office.
In the claim, Cemal says Alex told him that senior managers would call Cemal "Muslim Brotherhood," "Sheikh" or "Imam," when referring to him at social events or "drinking sessions."
"Through participation in these group sessions, Alex learned that anti-Muslim sentiment was pervasive within the group. There existed a deep-seated distrust and contempt for all Muslims, which manifested in conversations ranging from terrorism to human resources," the statement of claim alleges.
Alex's Muslim partner accompanied him to one social event where his boss Simon allegedly declared, "all Muslims are terrorists." Alex's partner left the room, uncomfortable, after which Simon reportedly yelled, "All Muslims are terrorists."
The complainant called "Emran" in the statement of claim is a Canadian citizen who has worked as an analyst for CSIS for more than 10 years. He is fluent in five languages and worked in Canada except for a two-year international posting.
During a training session for that overseas assignment, Emran claims a colleague would single him out as being Muslim, making comments such as "Muslims and armed weapons are a bad mix."
"The attacks were relentless, and clearly made some participants in the group uncomfortable, but nobody spoke out, including the trainers," the claim states.
'It's people like you the Service likes to promote'
Emran worked abroad for two years, but says the abuse followed. He alleges his boss "Jeff" had a problem with Arabs.
"I want you to take care of the liaison with the 'Sand Monkeys' because you are one of theirs and you speak their language," Jeff allegedly told Emran.
When he returned to Canada in 2013, Emran says he faced a smear campaign where he was called "a sexual deviant" and "dangerous." He alleges another rumour circulated that he was "being sought by the Arabs and they were out to get him."
"The threats and rumour-mongering were part of the craft of manipulation and deceit that was stock and trade of CSIS agents, and Emran recognized these techniques being used against him, to undermine his mental well-being and career."
In its most recent public report, CSIS, with more than 3,000 employees, is described as a "unique workplace" that is "flexible and innovative." As of March 31, 2016, 52 per cent of the workforce was male and 15 per cent were visible minorities. Although 69 per cent spoke both French and English, only 18 per cent were fluent in another language. Those employees spoke more than 105 languages, the report states.
In 2014, the Canadian Human Rights Commission conducted an "employment equity audit report" of CSIS. The internal report concluded that visible minorities were under-represented in management and "faced barriers to advancement."
Dina, who joined the service in 2001, seemed to be the exception. She was the first female black intelligence officer at CSIS, according to the claim, and rose through the ranks, becoming a "level 9 Supervisor."
Yet Dina claims she was often made to feel as a "token black woman (who) was promoted without merit."
Fed up by the discrimination, which she claims was tolerated by management, she decided in 2016 to bring a harassment complaint against one colleague directly to the Staff Relations chief, the director general and her boss, Simon.
She claims she was given a runaround — told by Staff Relations that Simon had decided to personally investigate. A few weeks later, the director general told her that the complaint was "unfounded." He assured her that Staff Relations had properly investigated, after she had been told they weren't. The claim alleges she then went to her boss Simon, who told her "he wasn't involved."
'The public would be shocked about this if they only knew'
All five complainants allege they raised objections and made claims of harassment — formally and informally — to managers and representatives of CSIS's employee association over the years but say "management was simply indifferent."
Often colleagues or managers told them to just tolerate the alleged abuse.
"We do what's asked of us and keep our heads down and don't cause trouble," wrote one colleague, according to the claim. Another email to Alex stated that if he complained, "there will be no turning back."
Alex claims he was "overwhelmed by a sense of betrayal," and by 2016 could no longer stay quiet.
Two months after he formally complained in April 2016, according to the claim, several colleagues wrote a joint email supporting him, saying the managers often yelled at him for speaking out. "None of these things are professional and this is not how (we) expect managers to act," the email stated, adding that they can attest Alex "is NOT making any of this up."
Full report at:
https://www.thestar.com/news/canada/2017/07/13/five-employees-accuse-canadas-spy-agency-of-islamophobia-racism-and-homophobia-in-35-million-lawsuit.html
--------
Europe
Latino Muslims Find Home at Mosque Led by Cambodian Refugees
JUL 13 2017
SANTA ANA, Calif. — When César Domínguez converted to Islam 12 years ago, he had one reservation.
"The first thing I said to myself was, 'How am I going to become part of this Muslim community if my language is Spanish, and I go to the mosque and I interact with people in English, and the language of prayer is in Arabic?'" Domínguez, who was born in California but spent most of his life in Mexico, told NBC News.
"That situation creates a problem."
Domínguez, a teacher with the Los Angeles-based La Asociacíon Latino Musulmana de América, said that while it's impossible to know exactly how many Spanish-speaking Muslims live in Southern California, the number is growing quickly — so hundreds, if not thousands, of Muslims are now looking for resources in Spanish.
But after years of struggling to find religious texts, classes, and services in their native tongue, this minority within a minority has helped to organize what they believe to be one of Southern California's first-ever Friday prayer sermons in Spanish, thanks to a collaboration with an unlikely source — a small mosque in Orange County run by Cambodian refugees.
The Islamic Center of Santa Ana (ICSA) opened its doors only two months ago, but its community has a decades-long history in the area, dating back to the early 1980s, when hundreds of thousands of Cambodians — including Muslims from the Cham ethnic group — fled their country as refugees.
Fifteen Cham Muslim families resettled in the Southern California city of Santa Ana and formed the Indo-Chinese Muslim Refugee Association of the United States, a modest prayer space in a one-bedroom apartment, Sean Tu, president of the Islamic center, told NBC News. (The families also rented the other apartments in the same complex.) The community steadily grew over the years as other Cham Muslim refugees re-located to Santa Ana to be closer to those of the same linguistic, cultural, and religious heritage.
After 35 years of praying in apartments, the community scraped together the funds to buy an old mortuary in Santa Ana last year that would become their mosque.
Being in a city that is 78 percent Latino according to the 2010 U.S. Census, the Cham Muslims decided to reach out to their Spanish-speaking neighbors — and to have one of their sermons at the weekly prayer service, known as a khutbah, delivered in Spanish.
"It's an opportunity to serve the community that you're located in," Issa Edah-Tally, an advisor to ICSA, told NBC News. "About 78 percent of those who live in Santa Ana are Latino, and if word spread out to that 78 percent of the population that there's an Islamic Center here, maybe more of them will gravitate here."
The Islamic Center of Santa Ana also organized a food pantry for its neighbors and hosted a taco truck iftar, or breaking of the fast meal during Ramadan, as part of the national "taco truck at every mosque" campaign to promote Muslim-Latino unity.
As minorities within a minority, the Cham Muslims understand the difficulties Spanish-speaking Muslims face, Tu explained, since they also had sermons delivered in their native tongue when they first arrived in California. For about ten years, the community conducted the Friday prayer in the Cham language — with the ritual aspects in Arabic — then moved to Cham and English, and now, it is completely in English.
"The collaboration with the Spanish Muslim community is natural for us," said Tu.
For Lucy Silva, who was born in Mexico and became Muslim 19 years ago after moving to Orange County, Spanish sermons are a welcome first step towards connecting Latino Muslims with traditional Islamic knowledge and the broader Muslim community.
"There was nothing at all," she said of local religious resources in Spanish, adding that even going a mosque has been difficult for many Latino Muslims.
"A regular person wouldn't walk into a place of worship without knowing the language," she said. As a result, she added, many Latino Muslims felt excluded from communal activities at the mosque and end up getting all their information about the religion online.
In June, Domínguez delivered the mosque's first sermon in Spanish, calling the experience "very beautiful for me and for the people who attended."
"Even if you speak English and you understand the language, it's very beautiful to be able to listen to the Friday sermon in Spanish," he said. "Religion is such a personal experience. For some people, me included, it's always much more enriching to explore these paths from my culture or my language."
"It has a special effect."
http://www.nbcnews.com/news/asian-america/latino-muslims-find-home-mosque-led-cambodian-refugees-n782381
--------
Britain First deputy chief and Muslim stallholder embroiled in "heated" street row during 'confrontation' with Islamic recruiters
JUL 13 2017
Britain First deputy chief Jayda Fransen was caught on camera embroiled in a "heated" street row with a Muslim stallholder during a confrontation with Islamic recruiters.
Witnesses said around 70 people gathered to watch the far-right politician as she locked horns with a man in traditional Islamic dress outside the Bullring shopping centre in Birmingham.
Footage taken of the dispute shows Ms Fransen say "listen to me, listen to me, while I explain to you," though the nature of the row is unclear, the Birmingham Mail reports.
A female passer-by said: "It was a heated argument but whilst they were there, more and more people were gathering around and there were 60 to 70 people there."
According to Britain First, the second-in-command to leader Paul Golding visited Birmingham to confront Islamic Dawah stalls.
The Dawah is known as the invitation to Islam. Religious stalls are regularly set up in the city centre near the Bullring.
A statement, which appeared on the party's Facebook and Twitter accounts, read: "Well done to our activists led by Deputy Leader Jayda Fransen on confronting Islamic Dawah stalls in Birmingham today!"
Britain First was formed in 2011 by anti-abortion campaigner Jim Dowson and campaigns against multiculturalism, Islam, immigration and abortion.
Today's visit to Birmingham was the latest in a line of incidents in the city involving far right activists.
Chaos erupted when two hundred Britain First supporters took to the streets to protest and were met by united anti-fascist groups on June 24.
Chants of 'shame on diversity' broke out and anti-leftist songs were aired as Britain First members handed out Union flags.
Around 100 members of the public came together in Centenary Square to protest against the marchers, with police setting up barriers to keep the two groups apart.
In April, Britain First members were pelted with eggs as they visited Sparkbrook.
The group were being filmed by former English Defence Leader leader Tommy Robinson who was forced to flee the scene in a van.
Stars of TV's Extremely British Muslims had challenged Robinson in Sparkbrook and filmed the group as they scurried off.
Full report at:
http://www.mirror.co.uk/news/uk-news/britain-first-deputy-chief-muslim-10794405
--------
Germany Jails Kurdish militant amid tensions with Turkey
Jul 13, 2017
A court in Germany has imprisoned a member of Turkey's outlawed Kurdistan Workers' Party (PKK), a rare move amid rising diplomatic tensions between Ankara and Berlin.
The superior regional court in the southwestern city of Stuttgart ruled on Thursday that the man was a PKK functionary in Germany for 30 months.
The court called the PKK, a group listed as terrorist by the European Union and the United States, as "an especially dangerous terrorist organization."
It sentenced the unidentified 47-year-old man to three years and three months in jail for his execution of PKK leadership orders on fundraising, propaganda and recruitment.
Turkey has been critical of Germany's alleged support for Kurdish militants and has raised the issue several times over the past months. The quarrel is one of a series of disputes, which have badly marred diplomatic relations between the two countries since a failed coup in Turkey in July last year.
Germany continues to criticize Turkey for a massive post-coup crackdown, which has seen more than 40,000 people jailed and over 100,000 relieved from their jobs.
Turkey says Germany has never thought twice in allowing demonstrations and activities by members and sympathizers of the PKK in Germany while it has been soft on Turkish coup plotters. Ankara says the policy sharply contrasts with Berlin's unwillingness to allow similar rallies among Germany's large Turkish diaspora.
Germany has denied that any bias has existed in favor of the Kurds, saying police and security forces have always been tough on Kurdish militants.
Full report at:
http://www.presstv.ir/Detail/2017/07/13/528358/Germany-Turkey-PKK-militant
--------
Mideast
Israeli municipality OKs 800 settler homes in Jerusalem al-Quds
Jul 14, 2017
The Israeli municipality in Jerusalem al-Quds has reportedly approved a plan to construct 800 settler units in the city's eastern part, which has been occupied by Tel Aviv since 1967.
According to a Thursday report by Israeli newspaper Maariv, the plan includes the building of 276 units in the Israeli settlement of Pisgat Ze'ev, 120 in Neve Ya'akov, 200 in Ramot and 202 in Gilo.
Since the 1967 occupation of the West Bank and East Jerusalem al-Quds, Israel has been crowding the Palestinian territories with settlements, each of which comprise hundreds of settler units.
The unlawful move defies the international bans against construction upon occupied land.
The new decision now has to clear the regional committee for planning and construction as well as the Israeli Interior Ministry.
"The construction in Jerusalem is necessary and important," said the city's Israeli-appointed Mayor Nir Barkat, adding that the work "will strongly continue" to get as many Israeli youths as possible to live in "the capital."
Israel lays claim to the entirety of al-Quds, while Palestinians want East Jerusalem al-Quds as the capital of their future state.
The Israeli regime has been building more and more settlements on the occupied territories, a move which has been a major reason behind the collapse of previous Israeli-Palestinian negotiations.
Tel Aviv has been more assertively pursuing its claim to al-Quds since the January inauguration of US President Donald Trump, who has hinted he would order the American Embassy to be moved from Tel Aviv to the city.
http://www.presstv.ir/Detail/2017/07/14/528405/Israel-Palestine-Jerusalem-alQuds
--------
Spate of executions in Iran since the beginning of July, says Rajavi
13 July 2017
Mass executions have become the new reality and the growing trend in Iran under the regime led by the clerics. Since the beginning of July, there has been 57 executions so far, revealed Maryam Rajavi, President-elect of the National Council of Resistance of Iran.
Rajavi stated that these executions are "a desperate attempt by the clerical regime to counter the rising wave of public discontent and prevent the spread of popular upheavals by creating an atmosphere of fear and terror."
She called on the nation, particularly Iranian youths, to voice their protest against such arbitrary executions and express their support for and solidarity with the families of the victims.
International action urged
Rajavi emphasized the need for urgent international action to condemn such criminal killings, conditioning continuation of their relations with the regime on the end to the death penalty.
She further called on the world community to reject the religious fascist regime ruling Iran.
Ten prisoners were executed in Gohardasht prison, the central prison of Orumiyeh, and Hamedan's prison on Wednesday, July 12, 2017.
Borzou Sheikhi, who was executed in Orumiyeh, was a professor at the University of Orumiyeh.
On July 11, two prisoners were executed in the prison of Semnan. The day before, on July 10, another two prisoners were executed in the prison of Gorgan. Another man was executed in Mahabad.
On July 9, 10 prisoners were executed in the prison of Taybad in the northeastern Razavi Khorassan Province, and another inmate was executed in the prison of Arak, Central Province.
In another criminal undertaking last week, four prisoners were executed in the Central Prison of Orumiyeh and a 32-year-old man was hanged in the Central Prison of Rasht on July 8.
Full report at:
https://english.alarabiya.net/en/News/middle-east/2017/07/13/Spate-of-executions-in-Iran-since-the-beginning-of-July-says-Rajavi.html
--------
Palestinian MP Khalida Jarrar gets six months in Israel jail without trial
14 July 2017
Prominent Palestinian politician and rights campaigner Khalida Jarrar has been ordered detained for six months without trial by Israeli authorities, a rights group said. Jarrar was arrested earlier this month over her membership of a movement that Israel considers a terrorist organization.
She had been released from prison only a year before. A legislator in the largely defunct Palestinian parliament, she was given a six-month administrative detention order, said the Addameer rights NGO that she used to head.
A confirmation hearing will be held at Ofer military court in the Israeli-occupied West Bank on July 17, Addameer said in a statement issued late Wednesday. The detention "constitutes an attack against Palestinian civil society leaders", the movement said.
The Israeli army said Jarrar was arrested on July 2 and that a six-month administrative detention order was issued against her because of her activities "as an important official of the Popular Front for the Liberation of Palestine, a terrorist organization".
'Threat to security'
In a statement it said such orders are issued as a preventive measure of last resort in cases where detainees represent "a serious and concrete threat to security". Jarrar is a senior figure in the PFLP, a Marxist party considered a terrorist organization by Israel, the United States and the European Union.
Many of its leaders are in custody and Jarrar has been jailed multiple times.
The 54-year-old had only been released in June 2016 after 14 months in an Israeli jail for allegedly encouraging attacks against Israelis. Israel's controversial administrative detention policy allows imprisonment without trial for six-month periods, renewable indefinitely.
Israel says the policy is intended to allow authorities to hold suspects while continuing to gather evidence, with the aim of preventing attacks in the meantime. But the system has been criticised by Palestinians, human rights groups and members of the international community who say Israel abuses the measure.
Full report at:
https://english.alarabiya.net/en/News/middle-east/2017/07/14/Palestinian-MP-Khalida-Jarrar-gets-six-months-in-Israel-jail-without-trial.html
--------
US not fully compliant with spirit of nuclear deal: Zarif
Jul 14, 2017
The Iranian foreign minister has lashed out at the US for its failure to completely observe its obligations under the 2015 nuclear deal by occasionally preventing the Islamic Republic from enjoying the full benefits of the agreement.
Speaking to reporters upon his arrival in New York, Mohammad Javad Zarif stressed that all parties to the deal, officially called the Joint Comprehensive Plan of Action (JCPOA), must remain committed to the terms of the agreement.
Zarif is in New York to attend the UN high-level political forum on sustainable development on Friday.
"Unfortunately up until now, the United States, while remaining at the very least possible level compliant with the agreement, has failed to observe, in times, the letter and mostly the spirit of the agreement by not allowing Iran to enjoy the full benefits of the nuclear deal. We believe they need to reconsider that position, because it is not conducive to the sustainability of the agreement," Zarif said.
Zarif argued that the West's policy of pressure against Iran has proved to be ineffective, adding, "The JCPOA is a multilateral agreement that was the result of many years of negotiation."
"It was also the result of many years of pressure. After all those pressures failed to bring about the results that were expected from those who were imposing pressure on the Iranian people, there was no other choice but to reach a negotiated settlement," added the Iranian minister.
"I think at the end of the day, everybody will see that the agreement will represent an outcome that was the best possibility for all concerned [parties]," he pointed out.
Zarif's comments come on the second anniversary of the landmark deal, which was inked on July 14, 2017, between Tehran and the five permanent members of the United Nations Security Council - the United States, Britain, France, China and Russia - plus Germany. The JCPOA was later endorsed by a UN Security Council resolution.
Since January 2016, when the JCPOA took effect, the International Atomic Energy Organization, which monitors the technical implementation of the deal, has in numerous reports confirmed Iran's compliance.
During his presidential campaign, US President Donald Trump described the nuclear accord with Iran as a "disaster" and vowed to unilaterally scrap it.
While he has not carried out that threat, his administration is conducting a "review" to see whether the provision of sanctions relief to Iran - a US commitment under the deal - is in America's "national interest."
On Tuesday, the European Union's foreign affairs chief Federica Mogherini described the historic nuclear deal with Iran as an international agreement that "does not belong to one country," noting that all the parties to the deal "have the responsibility to make sure that this continues to be implemented."
In response to a question by the Press TV correspondent about the possibility of any meeting between Iranian and American officials during the New York visit, Zarif said, "For this visit, no meetings have been planned. I plan to meet not with US officials, but with members of the wider intellectual community that have impact on US policy-making."
Battling terror in Mideast
Zarif pointed to the ongoing campaign against terrorism and extremism across the Middle East, particularly in Iraq and Syria, and noted that the current crisis is mainly caused by the US interventionist policies in the region.
"The nightmare that we are facing in the region is a consequence of many years of intervention and short-sighted policies by the US in the region which has resulted, as expected, in the exacerbation of extremism and terrorism in our region," he said.
The foreign minister said Iran has been "in the forefront of fighting terrorism and extremism in the region" and expressed satisfaction over the fact that the people and governments of Iraq and Syria have succeeded in retaking their territories.
"This menace … has been the result of short-sighted policies from the outside and unfortunately, negative policies by countries in the region who continue to sponsor, to support and provide arms and money to terrorists and extremist organizations and unfortunately provide the ideology of hatred and exclusion which lies at the heart of these extremist movements," Zarif noted.
The remarks come after Iraqi Prime Minister Haider al-Abadi formally declared victory of the country's forces over the Daesh Takfiri terrorist group on Monday, one day after the country's military and Popular Mobilization Forces took full control of the strategic city of Mosul.
Zarif underlined Iran's determination to help end violence in Syria through a negotiated settlement at Astana peace talks, adding, "We support a comprehensive ceasefire throughout Syria, excluding obviously terrorist and extremist organizations, particularly Daesh and al-Nusra."
"We have been in consultation with Russia and Turkey in the Astana process and outside the Astana process in order to make sure that successful implementation of our agreements would continue and would further be enhanced in order to make sure that the suffering of the Syrian people is reduced and hopefully move forward to humanitarian assistance to all Syrians throughout Syria," the top diplomat pointed out.
Full report at:
http://www.presstv.ir/Detail/2017/07/14/528408/Iran-zarif-nuclear-deal
--------
3 Palestinians killed in Jerusalem al-Quds shooting
Jul 14, 2017
A shooting incident in the Old City of Jerusalem al-Quds has left at least three Palestinians dead, besides leaving other casualties.
The incident took place on Friday morning close to Haram al-Sharif (Temple Mount), Reuters reported, citing the Israeli police.
The Israeli police claimed the Palestinian fatalities comprised "attackers," who had fired at its forces before being shot themselves.
There have been conflicting reports of casualties on the Israeli side.
Israeli police said three of its forces have been wounded, two of them critically, but Palestinian media reported the deaths of two Israeli forces.
Sources also reported the apprehension of four Palestinian females at Bab al-Asbat (Lions' Gates) in al-Quds' Old City Walls, without characterizing the nature of the arrests.
The police announced the closure of the al-Aqsa Mosque compound in East al-Quds and prohibition of Friday prayers amid the tensions.
Haram al-Sharif is home to the al-Aqsa Mosque and the Dome of the Rock. The site is holy to both Muslims and Jews.
According to an agreement signed between the Tel Aviv regime and the Jordanian government — which administers Al-Aqsa Mosque — after Israel's occupation of East Jerusalem al-Quds in 1967, visits to the compound by Israelis are permitted but non-Muslim worship is prohibited.
The occupied territories have already been the scene of increased tensions ever since Israeli forces imposed restrictions on the entry of Palestinian worshipers into the al-Aqsa Mosque compound in East Jerusalem al-Quds in August 2015.
Over 300 Palestinians have been killed by Israeli force since October that year, when the clashes intensified.
Full report at:
Palestinian sources said the confrontation had also injured two other Palestinians.
http://www.presstv.ir/Detail/2017/07/14/528407/Israel-Palestine-Jerusalem-alQuds-Old-City
--------
Two Israeli police shot in Jerusalem attack die: police
14 July 2017
JERUSALEM: Two Israeli police officers shot when Arab assailants opened fire in Jerusalem's Old City on Friday have died from their wounds, authorities said.
Police confirmed the deaths, with the three Arab Israeli attackers also shot dead by security forces after fleeing to an ultra-sensitive holy site in Jerusalem's Old City.
Police spokesman Micky Rosenfeld said the two officers died in hospital.
The incident was among the most serious in recent years in Jerusalem and was likely to heighten Israeli-Palestinian tensions.
No details were immediately available on the identity of the attackers.
The three were killed at the site known to Muslims as the Haram Al-Sharif and to Jews as the Temple Mount, the location of regular clashes between Palestinians and Israeli police, but gunfire rarely occurs there.
The site includes the Al-Aqsa mosque and the Dome of the Rock.
A number of attacks have occurred around Jerusalem's Old City in recent months, but they have often involved knives.
Police locked down the area and the Al-Aqsa compound at the holy site was closed for Friday prayers. Gates leading to the site were sealed off.
Video being shared on social media appeared to show gunshots ringing out at the holy site.
"I was standing here and then I heard the shooting. I thought it was fireworks," Basem Badawi, a 60-year-old water seller in the Old City, told AFP.
"But then I saw the police coming from everywhere."
The Haram Al-Sharif/Temple Mount is considered the third-holiest site in Islam and the most sacred in Judaism.
It is central to the Israeli-Palestinian conflict, with Palestinians fearing Israel may one day seek to assert further control over it.
It is located in east Jerusalem, occupied by Israel in the 1967 Six Day War and later annexed in a move never recognized by the international community.
Jews are allowed to visit, but not pray there to avoid provoking tensions. The site is administered by the Islamic Waqf organization.
Waqf officials said its guards at the site had been detained by Israeli police following the attack.
A wave of unrest that broke out in October 2015 has claimed the lives of at least 277 Palestinians, 42 Israelis, two Americans, two Jordanians, an Eritrean, a Sudanese and a Briton, according to an AFP toll.
Israeli authorities say most of the Palestinians killed were carrying out knife, gun or car-ramming attacks.
Full report at:
The violence has greatly subsided in recent months.
http://www.arabnews.com/node/1129276/middle-east
--------
Southeast Asia
Muslim ID proposal sparks anger in Philippines Marawi
In May, Marawi, the main Muslim city in the predominantly Catholic Philippines, was partially seized by hundreds of Islamist militants flying the flag of the so-called "Islamic State" (IS) group.
Subsequently, government troops launched an air and ground offensive, but have so far failed to dislodge fighters who remain entrenched at various points in the city, 800 kilometers (500 miles) from the capital, Manila.
Most of the 200,000 residents of the now heavily damaged city have fled, but the military said some 500 civilians remained trapped in areas where fighting is going on. More than 300 militants and 67 soldiers have been killed in the battles, according to official figures. Dozens of civilians are also feared dead.
Now Philippine authorities have proposed that Marawi Muslims be issued a special ID as a counter-terrorism measure.
"The timing of this proposal is not good," Hamza Lucman, a Marawi resident, told DW.
Lucman says that "Islamophobia" has risen in the Philippines since the IS-affiliated Maure terror group overran the southern city. He alleged that his friends and relatives, who have been displaced due to fighting, have not found a place to rent because of their Muslim identity.
"They have been told that Muslims are not welcome. This is blatant discrimination. And now the authorities wants to issue a Muslim ID," Lucman complained.
'Divisive'
The Muslim identification proposal reportedly came through a dialogue between Muslims and security forces in Pampanga, a province in the country's north.
"We conducted a dialogue with Muslim leaders to address the security issues. We also discussed how we could work together to protect the communities," Aaron Aquino, a senior police official, told DW.
"One of the Muslim leaders told us they had rolled out an ID system in their village to identify suspicious newcomers looking for hideouts. They say the system has been quite effective," Aquino added.
Aquino insisted that police did not propose the "Muslim ID system," either in Marawi or anywhere else in the country.
"We did not propose it. It is discriminatory," said Aquino.
But Muslim groups say it is not important who actually proposed the idea.
"The idea of a separate identification card for Muslims is a human rights violation. These kinds of proposals are divisive. They tend to justify the fear and irrational prejudice against Muslims," Amir Mawallil, executive director of the Bangsamoro Youth Affairs group, told DW.
In a speech last month, President Rodrigo Duterte blamed Muslims for giving space to terrorists.
'Ineffective and counter-productive'
The ID proposal has sparked a fierce debate in the country, with many rights activists saying it underscores the discrimination felt by the country's Muslim minority.
"Muslims have always experienced subtle forms of discrimination… We have always had to prove that we are good, educated, and civilized," Laisa Alamia, executive secretary of the Autonomous Region in Muslim Mindanao, wrote on Facebook.
The Muslim hijab issue is already controversial in the Philippines.
"We wear our religion on our face. We don't need an ID to be identified," Samira Gutoc, a prominent women's rights activist, said sarcastically.
"What we do need is an evacuee ID so that the displaced people could receive aid faster," she added.
Some experts say that counter-extremism efforts should be focused on effective intelligence mechanisms and working with moderate Muslim groups.
http://www.dw.com/en/muslim-id-proposal-sparks-anger-in-philippines-marawi/a-39680383
--------
Public Caning in Malaysia's Kelantan State 'Only for Muslims': Deputy PM
2017-07-13
A Malaysian state's decision to amend its Islamic laws to allow public caning drew a backlash from civil rights groups and lawmakers on Thursday, but a senior government official said it would be applicable only for Muslims in that state.
Lawmakers in Kelantan, which is governed by the Pan-Malaysian Islamic Party (PAS), on Wednesday amended the state's penal code and approved, among other changes, caning in public for punishments required by Sharia courts.
"I have not received details on the tabling of the bill and of the amendments, but I feel what they've done should be seen in the context of this law being only for Muslims in Kelantan," Deputy Prime Minister and Home Minister Ahmad Zahid Hamidi told journalists Thursday.
He said the amendments would require the consent of Sultan Muhammad V, the state's 47-year-old constitutional head.
Kelantan, the only one of Malaysia's 13 states and three federal territories ruled by the faith-based PAS, is 436 km (272 miles) northeast of the nation's capital, Kuala Lumpur. About 97 percent of its 1.68 million residents are Muslims and PAS has controlled the state government for 43 years, with an uninterrupted rule since 1990.
PAS-led amendments are testing Malaysia's secular constitution, human rights advocates and leaders of minority groups said in reacting to the news out of Kelantan.
"PAS is setting a very dangerous trend of riding rough over the laws of the land by disregarding the federal Constitution as the supreme law of the land," Ti Lian Ker, the chairman of the religious harmony bureau at the Malaysian Chinese Association, an ethnic Chinese party in the ruling coalition, said in a statement.
Siti Kassim, a leading human rights lawyer, told BenarNews that PAS-led amendments would not stop at state level.
"This is their next big push … it's now under way," she said, referring to the Islamic faith-based party's push last year to introduce a tough Islamic penal code.
'In accordance with the religion'
Malaysia's constitution provides a unique dual justice system – with criminal cases dealt with under federal law and Islamic courts handling religious issues and family-related cases, such as divorce, custody and adultery.
In predominantly Islamic and religiously conservative Kelantan, where there are no movie theaters, Muslim women are required to cover their entire body when appearing in public – except for the face and hands up to the wrists.
Officials there announced in July 2016 a new statewide regulation that took effect in January and requires female employees at commercial establishments, such as fast-food outlets, supermarkets and stores, to cover themselves in the workplace.
Malaysia, a multiracial country of 32 million people, about 60 percent of whom are Muslims, already practices canings for Sharia matters, but only in prisons, never in public.
"However, with this amendment, the sentencing can be carried out in public or prison depending on the court's decision," the New Straits Times quoted the state's deputy chief minister, Mohd Amar Nik Abdullah, as saying on Wednesday. "This is in accordance with the religion, as in Islam the sentencing must be done in public."
The current Sharia law allows six strokes of the cane for illicit sex, alcohol consumption and sodomy – and three for intent for illicit sex. It is not clear what crimes would lead to public caning, but legal experts said it likely would include adultery and other crimes, depending on the court's decision.
Last year, PAS raised tensions nationwide when it introduced a bill proposing to increase the punishments meted out by Sharia courts throughout the country, allowing judges to impose whipping of 80 to 100 strokes for those found guilty of drinking alcohol and engaging in illicit sex.
Only Muslims are subject to Sharia laws and officials, including Prime Minister Najib Razak, had emphasized that non-Muslims would not be affected by the proposed measure, which is expected to be debated in parliament when it reconvenes later this month.
But the bill angered civil rights groups and lawmakers who expressed fears it would contradict the country's secular Constitution.
Degrading, undignified
Sisters in Islam, a civil movement that promotes women's rights within the religious framework, condemned the latest amendments passed in Kelantan, saying public canings would be tantamount to "degradation of human dignity and stigmatization, rather than rehabilitation."
"The Kelantan State government's decision to enforce public caning in the state is a deplorable form of humiliation and shaming," Sisters in Islam said in a statement.
Former Information Minister Zainuddin Maidin also slammed the amendments, saying Malaysia would now have a new tourist attraction: public caning.
"This would be Malaysia's latest tourism product to be marketed overseas … to allow non-Muslims especially those from developed countries to witness such ancient and barbaric punishment meted out in a democratic and modern country like Malaysia," he said in a blog post on Thursday.
However, an official from Aceh, the westernmost province in neighboring Indonesia where Sharia law is in force and frequent public canings have taken place near mosques since 2005, supported Kelantan's move.
"The essence of public caning is for the people who are watching it, so that they do not commit acts prohibited by the religion," Teungku Faisal Ali, director of the Acehnese chapter of one of Indonesia's largest and most influential Muslim organizations, Nahdlatul Ulama, told BenarNews.
He said representatives from the Kelantan state government had visited Aceh to witness public canings.
Full report at:
http://www.benarnews.org/english/news/malaysian/public-caning-07132017161832.html
--------
China frequently cracking down on expressions of Muslim identity over terror fears
Jul 14, 2017
July 14 (ANI): A more than decade-long study on anti-Muslim sentiment in China has found that a majority of Chinese view Islam, minority groups and particularly Muslim groups residing in the country's Xinjiang province with suspicion because of concerns and fears of terrorist activities. Researchers Rose Luqiu, a doctoral candidate at the College of Communications at Pennsylvania State University and Fan Yang an assistant professor in the Department of Communication at the University at Albany-SUNY, have come out with a joint study on rising anti-Muslim sentiment in China in which they claim that Beijing's cracking down on expressions of Muslim sentiment has become more frequent of late in the wake of the political leadership being warned about terrorist activities destabilizing China. They say in their article, which appears on the website of Cambridge Community Television (www.cctvcambridge.org) that the authorities have introduced new security-related measures in the Xinjiang Uighur Autonomous Region, a Muslim-majority area in northwest China, out of concern over these reported terrorist activities. For instance, in February this year, car owners in Xinjiang were asked to install GPS devices to ascertain movement of their respective vehicles. Xinjiang provincial authorities also banned wearing of burqas and veils, and preventing males from having what they referred to as "abnormal beards" on the ground of combatting "extremism" among the Uighur ethnic minority. China has an estimated 23 million Muslims, 10 million of whom live in Xinjiang. They make up less than two percent of the Chinese population. The majority Han form about 92 percent of the population, according to China's 2010 Census. Analyzing over 10,000 news reports and internet posts on the status of Islam and Muslims in China between 2005 and 2015, both Luqiu and Yang have concluded that government censorship rules related to China's minority groups, including Muslim groups in Xinjiang and other parts of China, have been tightened to ensure what Beijing refers to as maintenance of "social harmony." "Domestic news coverage of the daily life of Muslims in China tends to be scant. Many of the news stories are government propaganda pieces about how much Chinese Muslims have benefited from the government's preferential policies toward racial minorities," both researchers claim in their study. They crtically believe that "this type of journalism effectively undermines relations between the Han and Muslim minority groups in China, as the Han tend to view these preferential policies as unfair." They, however, admit that China allows more freedom to the media to report on international news, which is heavily reliant on Western news agencies, which focus primarily on terrorism and conflicts when reporting on Islam and/or Muslims. Their study says, "International news accounted for 44.2 percent of the total 15,427 CCTV news stories on Islam or Muslims we analyzed, covering about 10 Muslim countries over 10 years. We also found that 84 percent of this coverage involved conflict, terrorism or extremism." Coverage of domestic terrorism too has increased, and most of this coverage was primarily related to Xinjiang and the Uighur people. Intensive reporting by state media has focused on rewards granted to military policemen fighting what China identifies as separatist forces in Kashgar, a Xinjiang provincial city near China's border with Kyrgyzstan. Reporting concentrating on the violence and how the forces have been able to quell dissidence effectively. "The stories were simple and one-sided, consisting only of official statements; most of these stories contained only basic information, such as the number of suspects or victims and when and where the event occurred. The violence was routinely described as terrorist attacks organized by Xinjiang separatist groups," Luqiu and Yang claim in their study. They say that the analysis of more than 10,000 posts related to Islam and Muslims on Weibo (China's version of Twitter) clearly reveals anti-Islam and anti-Muslim sentiment, and is generally negative in content. Interviews with active Chinese Muslim Weibo users shows that social media is being used to fight Islamophobia in China and to exert influence on public policies that affect the lives of China's Muslims. Chinese Muslims says they receive comments, sometimes with hostile and hateful rhetoric from Han users - and respond to posts that are critical of Muslims. "The pain of ethnic or racial discrimination is not generally well understood among the majority Han population in China, as they never encounter the same treatment by the government. Han-centric culture is deeply rooted in Chinese society," Luqiu and Yang said.
Full report at:
http://www.sify.com/news/china-frequently-cracking-down-on-expressions-of-muslim-identity-over-terror-fears-news-international-rhojJQacehecd.html
--------
Youth movement once led by Anwar 'benefitted' from controversial Saudi outfit
Minderjeet Kaur
July 14, 2017
KUALA LUMPUR: A local Muslim youth movement ended its ties with a Saudi-sponsored organisation whose name surfaced recently following the Malaysian government's announcement to establish a new counter terrorism centre in Putrajaya to be named after the present Saudi king.
A former president of the Malaysian Islamic Youth Movement (Abim) founded by jailed opposition leader Anwar Ibrahim, admitted that the once influential group had close links with the World Assembly of Muslim Youth (WAMY), a Saudi-based group which alongside the Muslim World League (MWL) have been recently linked to extremist ideologies behind such militant groups as Al Qaeda, Taliban and Islamic State (IS).
But the 9/11 terrorist attacks in the United States in 2001 forced Abim to end its ties with WAMY, said Muhammad Nur Manuty.
"We had minimised our relationship with them after they became weak from the attacks," said Nur, who led Abim until 1997, just a year before Anwar's dramatic sacking from the government that sparked Malaysia's worst political crisis in recent history.
Anwar, a firebrand student leader in the seventies, had once led Abim when it wielded influence among the youths, mobilising thousands of university students in large-scale anti-government protests.
That was until he was roped in by newly installed prime minister Dr Mahathir Mohamad to join the ruling Umno in 1981, quickly rising to become Mahathir's deputy, before the two fell out in 1998.
Following Anwar's entry into the government, Abim had largely remained apolitical, and concentrated on educational and socio-religious activities, including building Islamic schools and welfare centres.
'We benefitted previously'
Nur, an academic trained in Islamic and comparative studies from the renowned Temple University in the US, said WAMY largely consisted of Muslim intellectuals at that time.
But some two decades ago, Abim decided not to be "caught in the Saudi and Middle East political agenda".
"We want to keep links with those that will benefit us," he told FMT.
The Dewan Negara senator however stopped short of saying whether Abim had received monetary help from its association with the group.
He said the relationship "benefitted us previously" in the field of Islamic scholarship.
It was recently reported that MWL was among parties involved in the establishment of the King Salman Centre for International Peace (KSCIP), a Saudi "counter terrorism" outfit to be hosted by the Malaysian government.
Prime Minister Najib Razak recently announced that the government had allocated 16ha of land for KSCIP in Putrajaya, but little else is known about the centre.
A report by a British think tank had named MWL and WAMY of promoting extremism and hate.
The report, "Foreign Funded Extremism in the U.K.", released early this month by Henry Jackson Society, said WAMY "has had a long history of involvement with the promotion of violent Islamist extremism and the distribution of hateful literature" in Britain.
"Equally, MWL has had officials and member organisations linked to both Al-Qaeda and the Taliban," it added.
MWL has for years acted as Riyadh's chief mouthpiece in the Muslim world, helped by Saudi petro-dollars which enabled it to construct large-scale Islamic centres in major cities in Europe, Asia and Africa.
Claims 'inaccurate'
After Saudi Arabia and several Arab countries announced an all-out embargo against Qatar, MWL swiftly announced it was cutting all ties with prominent Islamic scholar Yusuf al-Qaradawi.
Riyadh said the Qatar-based cleric, a recipient of the Malaysian government's Maal Hijrah Award for contributions to Islam, had links to terrorism, a now-familiar accusation by the Saudis against those who sympathise with the Muslim Brotherhood movement.
Meanwhile, Abim's current president Mohamad Raimi Abd Rahim refused to comment on allegations of MWL's links to extremism.
"Most of the contentions were based on intelligence sources which must be further clarified," he told FMT.
Referring to US claims of the presence of dangerous weapons in Iraq in 2003, which later proved wrong, Raimy said it showed such reports could be "inaccurate, if not political".
"Since Muslim World League is not in the list of banned organisations, we would assume that the organisation has been verified by the security apparatus as not being linked to terrorism. It is beyond our resources to suggest otherwise," Raimy added.
Full report at:
http://www.freemalaysiatoday.com/category/nation/2017/07/14/youth-movement-once-led-by-anwar-benefitted-from-controversial-saudi-outfit/
--------
Public caning: Zaid says PAS, Umno leaders are hypocrites
Sheith Khidhir Bin Abu Bakar
July 13, 2017
PETALING JAYA: Zaid Ibrahim has branded Umno and PAS leaders as "desperate hypocrites" who are willing to sacrifice the welfare of the Malays for more votes, following the deputy prime minister's reaction to public caning for shariah offences in Kelantan. "All I can say is that PAS and Umno leaders don't give a damn about the welfare of Muslims, so long as their politics survive," the DAP politician said in a series of tweets.
The former minister was responding to Deputy Prime Minister Ahmad Zahid Hamidi's statement today that the Kelantan government had the right to table the enactment amendment bill that allows for criminals in the state to be caned in public.
Zahid, who is also the acting Umno deputy president, said the amended enactment only had implications for Muslims in Kelantan and did not involve non-Muslims there.
"I have not received details on the tabling of the bill and of the amendments but I feel what they've done should be seen in the context of this law being only for Muslims in Kelantan," he was quoted by Bernama as saying.
But Zaid said that everyone, including those in PAS and Umno, knew the move was politically motivated by individuals who wanted to show that they are better Muslim leaders.
He claimed these leaders had nothing better to offer those who were suffering and were only interested in talking about punishing Muslims.
"So, for that reason, I think this whole reaction from both Umno and PAS leaders is almost nauseating and I don't have words to describe it," the former Kota Bharu MP said when contacted.
Zaid said these Muslim leaders were capitalising on Muslims' fear of violating God's law, which he added was defined by these parties.
He pointed out that there were many Muslim countries that did not implement flogging.
Unfortunately, Malaysia's leaders were irresponsible and this gave the country a bad name, he said.
Full report at:
http://www.freemalaysiatoday.com/category/nation/2017/07/13/public-caning-zaid-says-pas-umno-leaders-are-hypocrites/
--------
Africa
US, Somalia forces raid Al-Shabab, kill several: Official
14 July 2017
SOMALIA: United States and Somali military forces raided a rebel-held village in southern Somalia and killed several Al-Shabab fighters early Thursday, a senior Somali intelligence official said, as both countries step up efforts against Africa's deadliest Islamic extremist group.
Somali commandos accompanied by US forces in two helicopters raided two locations, the official said. They included a detention center run by Al-Shabab in Kunya-Barrow village in Lower Shabelle region, and an unknown number of detainees were freed.
Troops engaged a small number of extremist fighters, said the official, who spoke on condition of anonymity because he was not authorized to speak to the press.
US Africa Command spokesman Mark Cheadle said US forces conducted an "advise and assist mission" against Al-Shabab with members of the Somali National Army in Kunya-Barrow. He gave no further details.
There were no US casualties, AFRICOM spokeswoman Jennifer Dyrcz added Friday morning.
The Al-Qaeda-linked Al-Shabab said via its Andalus radio arm that its fighters foiled an attempted raid by US and African forces.
Earlier this month, the US military said it carried out an airstrike against Al-Shabab in Somalia and was assessing the results. The airstrike followed another last month that the US said killed eight extremists at a rebel command and logistics camp in the country's south. Somalia President Mohamed Abdullahi Mohamed said a training camp near Sakow in the Middle Juba region had been destroyed.
President Donald Trump has approved expanded military operations against Al-Shabab, including more aggressive airstrikes and considering parts of southern Somalia areas of active hostilities. The US in April announced it was sending dozens of regular troops in the largest such deployment to Somalia in roughly two decades, saying it was for logistics training of the country's army.
The Horn of Africa nation is trying to rebuild after more than two decades as a failed state, and its chaos helped in Al-Shabab's rise. Now a new threat has emerged in the country's north with some fighters claiming alliance to the Daesh group.
Al-Shabab last year became Africa's deadliest Islamic extremist group, with more than 4,200 people killed in 2016, according to the Pentagon-supported Africa Center for Strategic Studies. The extremist group has vowed to step up attacks against the recently elected government and has carried out numerous deadly attacks in the capital, Mogadishu.
Pressure is growing on Somalia's military to assume full responsibility for the country's security. The 22,000-strong African Union multinational force, AMISOM, which has been supporting the fragile central government, plans to start withdrawing in 2018 and leave by the end of 2020.
The US military has been among those expressing concern that Somalia's forces are not yet ready.
http://www.arabnews.com/node/1129286/world
--------
14 killed, 30 injured in Cameroon bomb attack
Jul 13, 2017
Two bombers blew themselves up in northeastern Cameroon, killing 14 people and injuring 30 in an attack likely staged by Boko Haram terrorists, security sources said Thursday.
The bombings, which took place on Wednesday evening in Waza near the Nigerian border, targeted a busy area in the market town, the sources said.
The bombers struck an area with "restaurants, telephone cabins and kiosks," a local official said.
"The town has been sealed off. Nobody can enter and nobody can leave," the source said, adding that some of the wounded were in "quite serious" conditions.
Though Boko Haram was born in Nigeria, the Daesh-affiliated group has carried out frequent attacks in Cameroon, Chad, and Niger, prompting the formation of a regional force to fight back.
Cameroon's Far North region, which borders Nigeria, has seen a resurgence in attacks blamed on Boko Haram after months of relative calm.
Six civilians were killed in mid-June in a double suicide attack in Kolofata, and two others died in Limani at the start of last month when a female bomber blew herself up near the town's public school.
Full report at:
http://www.presstv.ir/Detail/2017/07/13/528333/Cameroon-Waza-bomb-blast-Boko-Haram
--------
Islamic group proffers leeway to national development
14 July 2017
By Sulaimon Salau and Shakirah Adunola
The Muslim Congress (TMC) has proffered solution to some factors that are militating against the unity and development of Nigeria. Chairman, TMC Committee on Social Mobility, the Economy & Politics, Dr. Luqman AbdurRaheem, recently revealed a report of the committee examining the state of the nation.
The report, urged the Federal Government to tread cautiously on the issue of restructuring saiying, "Regionalism is not desirable at this time and it could be a ploy by some agitators to first consolidate power before eventually seceding from the country once there is enough ethnic political cohesion and the control of their resources is firmly in their grip.
"Since diversity has worked, and continues to work as a great source of strength, in many other countries like America, Britain, China and India, just to name a few, it can also work in Nigeria. What the government needs to do is to devolve more power to the states in three phases of four years each making a total of twelve years. This is the gradual long-term restructuring.
"Restructuring would focus on the critical areas that would allow the states to improve on revenue generation, to improve on protection of lives and properties, and to improve on building critical infrastructure. In the first phase of four years, the Federal Government would need to allow state policing, greater control of the education, health and transportation systems, and the generation and distribution of power by the states.
"In the second phase, the Federal Government would need to free the local government from the apron-strings of the states by granting them autonomy. There would have to be an upward review of the revenue-sharing formula to 65 per cent in favour of the states. The exclusive list should be drastically reduced while increasing the concurrent list. The third phase should be the time to stop federal ownership of inter-state roads and the federal character principle. Full resource control should be the last item on the agenda when it is crystal clear that there is maturity and level-headedness on the part of the administrators of the states,"
AbdurRaheem added: "We must realize that restructuring alone will not solve our problems. What we must take cognizance of is the fact that our mindset as a people remains our greatest resource because what we think and act upon eventually become our reality, our politics, our economy and our prosperity or poverty. We need to positively activate our mindset and move away from all negative actions and utterances that have held the nation down for so long. It is only then that the nation can have a new lease of life for the development, peace, prosperity and unity that we so much desire,"
However, AbdurRaheem, cautioned the youth on hate speeches, which he said, is capable of disintegrating the nation.
He said: "The circulation of hate speeches by various ethnic groupings is something that does not benefit anyone but rather serves to create more enmity and further division which are not needed by the country at this time. Irrespective of our feelings of grievances, we must comport ourselves with proper decorum so that we do not engage in actions that will further jeopardize our collective integrity as a people. This is the only country we can call our own and we must therefore protect it from anarchy which is the only thing that hate speeches can bring.
"The elders in each ethnic grouping must rise and condemn the ethnic speeches that are being circulated in their areas especially by the exuberant youths. The leaders should not allow the youths to hijack the reins of leadership especially when they have not learnt the art of wisdom, patience, endurance, insightful thoughts and political inclusiveness. Let the youths be properly guided so that they do not complicate an already bad situation.," he said.
The TMC scholar berates the bill proposing amnesty for public fund looter which is currently before the National Assembly.
He said: "The provisions of this bill run counter to common sense and all ethics of spiritual and moral decency. It is also in dissonance with Nigeria's justice system and her commitment to international obligations relating to prosecuting and punishing corrupt people through just and fair trials in the court of law.
"We urge the Speaker of the House of Representatives to immediately discontinue with this anti-people bill that also negates the principles of justice and accountability. While the executive is trying to curtail corruption by going after corrupt people, the House of Representatives should also be seen to provide the legislative framework that will make it more and more difficult for anybody to steal public funds," he said.
Full report at:
https://guardian.ng/features/islamic-group-proffers-leeway-to-national-development/
--------
Liberia: Chief Imam Clarifies Voting On Religious Line
13 JULY 2017
By Ethel A. Tweh
The head of the Muslim Congress in Liberia Imam Ali Krayee has clarified that he has in no way called on Muslims not to vote for Christians that are aspiring for elected offices in the pending October elections.
He told UNMIL Radio on Wednesday, 12 July that Muslims must however prioritize Islam in whatever they do, including the upcoming elections. The Liberian Chief Imam clarifies that he is not telling his people to stay back in the elections process on grounds of having no Muslim candidate in the race. Instead, he says "it would be ridiculous and unpatriotic to make statement of such.
"We are not ignorant to make our people to stay back from the elections, we just want them to prioritize Islam", he says, and notes that Liberia is at the cross road and "we" have reached a point where those who are voting in the various communities should vote wisely.
"I told the people of Grand Cape Mount County at the end of Ramadan that they should vote for someone that they [are] sure will stand by them and also someone that will protect the rights of Muslims against proposition 21 that calls for Liberia to be a Christian Nation", he adds.
Full report at:
http://allafrica.com/stories/201707130448.html
--------
South Asia
Halal cosmetics: The latest trend in cosmetics now reaching Bangladesh
July 11, 2017
People in Muslim-majority Bangladesh have become more brand conscious and are following global trends, particularly in fashion and cosmetics.
Last year, Bangladeshis spent $2.5 billion on cosmetics alone, according to a report by the State of the Global Islamic Economy, making it the sixth largest buyer of cosmetics in the Muslim world.
One of the trends taking the Muslim world by storm is "modest fashion" – a certain way of dressing that incorporates the latest taste, style and trend, but within the boundaries of Islam.
With modest fashion comes the newest label of cosmetics – "halal" cosmetics. The halal here refers to ingredients used in products permissible in Islam.
Bithi Haq, a university student, said she wanted to follow the latest trends without ignoring the Islamic code. "I wanted to follow the trends my friends followed by dressing modestly," she said. "I started wearing a hijab when I turned 18 and I think I look good in it."
She said she used halal cosmetics but lamented that the Bangladeshi market was not ready to manufacture halal products for local consumers.
Another modest wear fashionista, Tasnima Tarannum Karishma, a doctor at Chittagong Agrabad Maa-O-Shishu Hospital, told The Dhaka Tribune, "I use halal cosmetics following the global modest fashion trend.
"I used to use imported halal cosmetics for three years. But with the advent of Indonesian cosmetics company 'Wardah', I can now buy the cosmetics here."
She added that she believed that all the halal products were free of animal fat and alcohol.
East West University teacher Laila Zaman said she strictly tried to maintain "halal" and "haram". "Most perfumes have alcohol in them but I had to resort to using them," she said. "But times have changed and now I can use halal perfumes."
Laila is also a regular client of "Wardah". She said she used Wardah products as they were laballed "halal".
Bangladesh Beauty Parlour Owners Association chief Mustakima Rubi told the Dhaka Tribune that people started going for herbal products around five years ago. "The trend changed and in the last two years, consumers have been going for halal products."
She said: "The demand for halal cosmetics is increasing in the country. The halal products are not meant for Muslims only; others can use them too."
Rubi said although Unilever produced some halal products, Bangladesh needed a company that would produce only halal cosmetics.
In Bangladesh, "Symon AnMi" is the official business partner for Wardah, an authentic full range halal cosmetics company.
Wardah officials say Symon AnMi is a promising growing venture that deals with multinational businesses. It is the first introducer of halal cosmetics in Bangladesh.
Symon Imran Hyder, the chairman of Symon AnMi, said they started their business six months ago with the motto of building a proper halal cosmetics line that will consist of the best brands.
"We hope that people will able to buy authentic and premium quality products whenever they want," he said. "Bangladesh has a few modest fashionistas and they have started demanding halal cosmetics. We intend to meet their demands."
The company now offers over 300 items. Malaysia, Indonesia and Bangladesh are the only countries with official business partners of Wardah.
Founded in 1985, Wardah is one of the most popular cosmetic brands in Indonesia. The company is certified with GMP (Good Manufacturing Practice) and HAS (Halal Assurance System).
Consumers can now find halal products from two stores of "Symon AnMi" at Gulshan Police Plaza Shopping mall and Dhanmondi Plaza AR.
http://www.dhakatribune.com/feature/fashion/2017/07/11/halal-cosmetics-latest-trend-bangladesh/
--------
Pakistanis and Uzbeks among several ISIS militants killed in Nangarhar
Jul 13 2017
Several militants affiliated with the Islamic State of Iraq and Syria (ISIS) terrorist group including Pakistanis and citizens of Uzbekistan were killed during the operations in eastern Nangarhar province of Afghanistan.
According to the local government officials, the militants were killed in Pacher Agam and Chaparhar districts during the operations since Tuesday.
The provincial government media office in a statement said Wednesday that six insurgents including three Pakistanis and two Uzbekistanis were killed in Mar Khanai area of Pacher Agam district.
The statement further added that a local leader of the terror group identified as Esmatulalh was also among those killed.
In a separate statement released earlier today, the provincial government said at least 19 insurgents of the terror group were killed during the separate operations in Pacher Agam and Chaparhar districts.
According to the provincial government, the operations were conducted with the support of the air forces and artillery unit of the Afghan army.
A member of the Taliban group identified as Muslim Agha was also arrested during another operation conducted in Khogyani district, the provincial government added.
Full report at:
http://www.khaama.com/pakistanis-and-uzbeks-among-several-isis-militants-killed-in-nangarhar-03047
--------
Bangladeshi Muslim Entrepreneur Launches Trump Cafe in Dhaka
Jul 14 2017
DHAKA – After fighting with the Bangladeshi authorities to convince them that US President Donald Trump had nothing to do with the business, a local entrepreneur has decided to use the name of Trump for his coffee shop in Dhaka.
Despite formally opening more than two months ago, Saiful Islam, the owner, told EFE he still had to prepare a proper inauguration that would reach his expectations.
"I have still some refurbishing works left. Once I complete them, I would re-launch it in a grand fashion. I would also invite (the local) US Ambassador here then," said Saiful, who declares himself a follower of the controversial US President, in a country where almost 90 percent of the population of 163 million is Muslim.
Inside the cafe, little distinguishes it from other coffee shops, except for a large cardboard image of the American president at the front door and photos of the businessman by the windows.
Saiful said that he was inspired by the Bellville Cafe, in Texas, whose owner decided to rename it as Trump Cafe during the tycoon's electoral campaign.
"I was looking for a name as well. When I chose Trump Cafe, my friends laughed at me, but I was determined to start my business under the name of Trump. I think he's a great businessman," Saiful explained.
But bringing his idea to fruition was not easy, and first Saiful had to prove to the administrative authorities that he was the real owner of the business.
"I had to convince them that President Trump has no direct interest in Bangladesh. They finally gave me the license on Jan. 17, three days before Trump took office," he said.
The Trump Cafe menu features a Trump cocktail – made with strawberry syrup, soda, lemon juice and ice – and a non-alcoholic green apple Trump cocktail, a drink that Saiful claimed he learned of from an uncle who worked in one of Trump's restaurants in New York.
Hungry customers can eat the Trump Subway sandwich, composed of chicken, red cabbage, carrot, cucumber and four types of mayonnaise; and for vegetarians, there is Trump cashew salad as well as Trump Chopsuey.
With every dish and drink he offers, Saiful hopes to convince his customers that Trump is not a bad guy, nor anti-Muslim.
"The travel ban is for citizens from troubled countries. I don't think it affects Bangladesh," said Saiful, who added that since Trump became president, "he has not made any anti-Muslim movement."
"His first trip was to a Muslim country, people now understand that he's not a bad guy," he said.
Trump's reputation didn't stop Priyanka Nandi from visiting the cafe, who told EFE she was excited to see images of the American president everywhere inside.
Fariah Jahan even took a selfie with the poster of Trump at the entrance.
"It's not just about Trump, the food price is reasonable," he explained.
Full report at:
http://www.laht.com/article.asp?ArticleId=2440004&CategoryId=13003
--------
Haqqani network members arrested before attacking Orgun in Paktika
Jul 13 2017
Two Haqqani terrorist network members were arrested before they manage to carry out attacks in southeastern Paktika province of Afghanistan.
The Afghan Intelligence, National Directorate of Security (NDS), said the two members of the terrorist network were arrested during an operation in Orgun district.
A statement by NDS said the militants were looking to carry out attacks based on the instructions of the network in Orgun district before they were arrested by the intelligence operatives.
Identified as Nader Khan and Rahmatullah, the Haqqani network members confessed that they had recently visited Paktika after receiving instructions from the Haqqani network commanders from the other side of the Durand Line to carry out attacks, NDS added. The anti-government armed militant groups have not commented regarding the report so far.
This comes as the Afghan intelligence operatives foiled a plot by the Haqqani terrorist network to carry out a coordinated attack in Gardez city, the provincial capital of southeastern Paktia province.
The National Directorate of Security (NDS) in a statement said Wednesday that a group of eight insurgents were arrested in connection to the attack plot.
The statement further added that the suspects were arrested during an operation of the intelligence operatives in the vicinity of Gardez city.
Full report at:
http://www.khaama.com/haqqani-network-members-arrested-before-attacking-orgun-in-paktika-03140
--------
Vice President Dostum to appear in next court hearing, says Ishchi
Jul 13 2017
The former governor of northern Jawzjan province Ahmad Khan Ishchi has said Vice President Dostum will appear in the next court hearing.
Speaking to RFE/RL, Ishchi said neither Dostum nor his representative was present as the case was being reviewed by the primary court.
He said the primacy court of the second police district has ordered that the vice president and his men should appear before the court in the next hearing.
This comes as Dostum is in Turkey for the treatment with President Ghani earlier saying that the first vice president has left the country after receiving approval and permission from the Attorney General Office.
However, the Attorney General Office said Wednesday that the case of the first vice president has been referred to the court.
The US embassy Charge d'Affaires has also called for thorough investigation in the torture and sexual abuse case of Ahmad Khan Ishchi involving the first vice president General Abdul Rashid Dostum.
He said Tuesday that the allegations against the Vice President, including charges of rape and assault, are extremely serious and warrant close legal review by the Attorney General and other judicial authorities of the Islamic Republic of Afghanistan.
Full report at:
http://www.khaama.com/vice-president-dostum-to-appear-in-next-court-hearing-says-ishchi-03141
--------
Pakistan
Opposition united for PM's resignation, says Shah Mehmood
Jul 13 2017
ISLAMABAD: All opposition parties on the same page when it comes to the premier's resignation, said Pakistan Tehreek-e-Insaf (PTI) leader Shah Mehmood Qureshi during a press conference on Thursday.
Qureshi revealed that a joint meeting of all the opposition parties will be held on Friday.
He said a session of the Senate has been called at 4pm on July 17, the day the Supreme Court's special bench will hold its next hearing in the Panama case.
Qureshi said he is in touch with all opposition parties, adding that the PTI and Pakistan Peoples Party have signed the application calling for a session of the National Assembly.
The PTI leader said he is also in touch with the Muttahida Qaumi Movement, Pakistan Muslim League-Q and Jamaat-e-Islami.
Qureshi claimed the premier was forced to summon a cabinet meeting today to reassure members that 'all is well' following the Panama case JIT report.
The political impact of the JIT is that even members of the cabinet are not convinced when it comes to refuting the report, he said. "They do not seem to be on the same page", he added.
There is a difference of opinion inside the PML-N, claimed Qureshi.
https://www.geo.tv/latest/149255-nawaz-sharif-is-worried-pti-leader
--------
2 militants killed as FC personnel foil bid to attack their camp in Khyber
Ali Akbar
July 14, 2017
Security personnel foiled an attempt by two suicide bombers to storm a camp of the Frontier Constabulary (FC) in Khyber Agency on Friday, security sources told DawnNews.
"Terrorists including two suicide bombers from across the border" targeted the Misthara post, 2 kilometres north-west of Jarobi area near the Pak-Afghan border, read an Inter-Services Public Relations press release.
FC personnel engaged with the attackers as they tried to enter the camp, shooting dead one suicide bomber at the gate.
The second attacker blew himself up at the entrance of the camp when security forces opened retaliatory fire, security sources said.
At least two FC personnel also sustained injuries during the episode, and they were shifted to Combined Military Hospital (CMH) Peshawar.
Asad Mansoor, a spokesman for the Jamaat-ul-Ahrar militant group, in a statement claimed responsibility for the attack but he gave no further details, the Associated Press reported.
Security forces cordoned off the area after the incident and started a search operation.
Khyber Agency is among Pakistan's seven semi-autonomous tribal districts near the Afghan border, rife with homegrown insurgents and foreign militants.
A Fata Research Centre report said earlier this year that the incidence of terrorist attacks in the Federally Administered Tribal Areas increased by 72 per cent in the first quarter of 2017 compared to the last quarter of 2016.
The Pakistan Army had launched Operation Raddul Fasaad in February following a spate of terror attacks in the country, which claimed more than a hundred lives and left hundreds others injured.
The operation seeks to eliminate the "residual/latent threat of terrorism", consolidating the gains made in other military operations, and further ensuring the security of Pakistan's borders.
Full report at:
https://www.dawn.com/news/1345283/2-militants-killed-as-fc-personnel-foil-bid-to-attack-their-camp-in-khyber
--------
Congress tightening screws on US aid to Pakistan
July 14, 2017
WASHINGTON: A key Congressional panel started hearing a proposal on Thursday to make US civil and military aid to Pakistan conditional to Islamabad's support to the fight against the Afghan Taliban.
The tougher language on Pakistan forms part of the 2018 State and Foreign Operations Appropriations draft bill, which was distributed among the members of the House Appropriations Committee on Wednesday.
The draft continues current requirements regarding assistance for Pakistan but prevents the Secretary of State from giving a full national-interest waiver. The secretary can now only issue a waiver for 85 per cent of the funds appropriated under the Foreign Military Financing (FMF).
Examine: Pakistan's anxiety
The bill underlines the US concerns about Pakistan's commitment to combating terrorism in the Pak-Afghan region, saying: "The committee remains concerned with the commitment by Pakistan to US strategic objectives in the region, including combating terrorism".
In recent days, senior US officials and lawmakers have both sent clear messages to Pakistan, urging it to help the United States and the Afghan government defeat the Taliban militants. They also said that the failure to do so would force the United States to reconsider its relationship with Pakistan.
The bill also suggests withholding $33,000,000 of funds until the Secretary of State reports to the Committee that Dr Shakil Afridi has been released from prison and cleared of all charges related to the assistance he provided to the United States in locating Osama bin Laden.
The committee recommends $642.2 million as assistance for Pakistan. Carryover funds for assistance for Pakistan are projected to total about $1.371 billion.
The committee also recommends $115-542m for diplomatic operations in Pakistan.
The bill provides $47.4bn in both regular discretionary and Overseas Contingency Operations (OCO) funding. This is $10bn below the fiscal year 2017 enacted level.
The Secretary of State is asked to certify that Pakistan is cooperating with the United States in counter-terrorism efforts against the Haqqani network, the Quetta Shura Taliban, Lashkar-e-Taiba, Jaish-e-Mohammed, Al Qaeda, and other domestic and foreign terrorist organisations, including taking effective steps to end support for such groups and prevent them from basing and operating in Pakistan and carrying out cross-border attacks into neighbouring countries.
The secretary of state is also required to certify that Pakistan is not supporting terrorist activities against the United States or coalition forces in Afghanistan, and Pakistan's military and intelligence agencies are not intervening extra-judicially into political and judicial processes in Pakistan.
The certification needs to include that Pakistan is not financing or otherwise supporting schools supported by, affiliated with, or run by the Taliban or any designated foreign terrorist organisation and that Islamabad is preventing the proliferation of nuclear-related material and expertise.
Full report at:
https://www.dawn.com/news/1345205/congress-tightening-screws-on-us-aid-to-pakistan
--------
Nawaz tries to establish 'urgent contact' with UAE counterpart
July 13, 2017
The Ministry of Foreign Affairs on Wednesday wrote a letter to the Embassy of United Arab Emirates (UAE) in Islamabad, a copy of which is available with DawnNews, seeking an arrangement for urgent telephonic contact between Prime Minister Nawaz Sharif and the Vice President and Prime Minister of the UAE, Sheikh Mohammed bin Rashid Al Maktoum.
"Prime Minister Nawaz Sharif wishes to urgently speak to Sheikh Mohammad bin Rashid Al Maktoum over the telephone," read the letter.
The diplomatic cable surfaced at a time when the prime minister is already in hot water over the Panamagate scandal.
A report on his family's financial history, submitted to the apex court by a joint investigation team tasked with probing the first family, suggested that a reference should be filed with the National Accountability Bureau (NAB) against PM Sharif and his three children in connection with their offshore assets.
Opposition parties have also been mounting pressure upon the ruling party for the resignation of the premier. However, the prime minister has vowed that he will not bow down before any such demand.
The letter also highlighted that the Embassy of Pakistan in Abu Dhabi has already contacted UAE authorities in this regard.
A credible source told DawnNews that the letter, drafted on July 12, was handed over to a UAE envoy by the Foreign Office's DG Middle East in person on Thursday. The letter was written after failed attempts by Pakistani diplomatic channels in the UAE to establish contact, the source said.
The diplomatic letter sought the assistance of the embassy for the "earliest confirmation of a convenient time slot to make this telephone call today." However, the source informed DawnNews that no such contact had been made till Thursday evening.
Full report at:
https://www.dawn.com/news/1345093/nawaz-tries-to-establish-urgent-contact-with-uae-counterpart
--------
Three suspected terrorists killed in Quetta 'encounter'
Syed Ali Shah
July 14, 2017
Three suspected terrorists were killed in an "encounter" with police and security forces in Quetta's Essa Nagri area on Friday night, DawnNews reported.
Police officials said that armed terrorists opened fire on a police patrolling party in the area. In response, the policemen engaged the suspected terrorists, whereas, a heavy contingent of police and other law enforcement agencies immediately reached the spot.
After the encounter, the three suspected terrorists were found killed, said police officials. Their bodies were shifted to Civil Hospital Quetta.
The encounter was reported hours after four policemen were shot dead by unidentified assailants in Quetta's Killi Deba area.
The gunmen opened indiscriminate fire at the police mobile while it was patrolling the area, Deputy Inspector General of Police Abdul Razzak Cheema had said.
Full report at:
https://www.dawn.com/news/1345105/three-suspected-terrorists-killed-in-quetta-encounter
--------
URL: https://www.newageislam.com/islamic-world-news/al-qaida-indian-subcontinent-getting/d/111829
New Age Islam, Islam Online, Islamic Website, African Muslim News, Arab World News, South Asia News, Indian Muslim News, World Muslim News, Women in Islam, Islamic Feminism, Arab Women, Women In Arab, Islamophobia in America, Muslim Women in West, Islam Women and Feminism