New Age Islam News Bureau
2 Jun 2018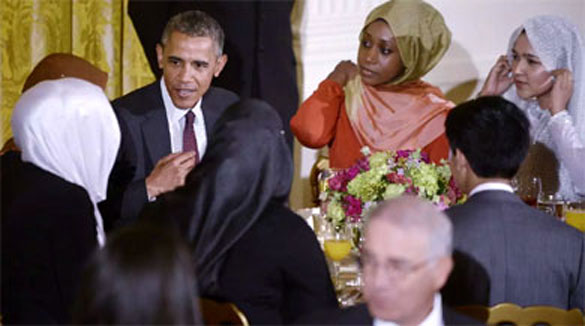 Former U.S. President Barack Obama hosts the annual Iftar dinner celebrating the Muslim holy month of Ramadan in the East Room of the White House on July 22, 2015.
----------
OLIVIER DOULIERY-POOL/GETTY IMAGES
-----
• Al Qaeda Warns Saudi Crown Prince Over 'Sinful Projects'
• A White House Iftar Won't Mask Trump's Contempt for Muslims
• Mosque Vandalised In Haryana's Karnal, Protesting Against the Volume of the Loud-Speaker during Namaz
• Maulana Abdul Aziz Addresses Friday Congregation In Lal Masjid After Three Years
• Myanmar and World Religious Leaders for Peace in Rakhine
Arab World
• Al Qaeda Warns Saudi Crown Prince Over 'Sinful Projects'
• Anger in the US Over Qatari Documentary Glorifying Bin Laden
• Saudi Arabia establishes Royal Commission for Mecca City and Holy Sites
• Imam of Prophet's Holy Mosque named Islamic Personality of the Year
• Syrian Army Opens Heavy Fire at Terrorists' Positions in Dara'a Province
• 4,500 Kurdish Militias Killed, Held Captive in Turkish Forces' Operation in Northern Syria
• Iraqi Popular Forces Storm ISIL's Positions in Eastern Syria
• Russia, UAE call for a broad international coalition to combat terror
--------
North America
• A White House Iftar Won't Mask Trump's Contempt for Muslims
• US Vetoes UN Resolution Denouncing Violence against Palestinians
• Webber Academy To Get New Human Rights Hearing In Dispute Over Muslim Prayer
• US lists Tahrir al-Sham (HTS) as foreign terrorist organization
• Anti-Muslim US Police Trainers Thrive In Unregulated Industry
• Alberta court orders new human rights hearing for Calgary school prayer space dispute
• Detainment of activists brings Saudi-Canadian relationship into question
--------
India
• Mosque Vandalised In Haryana's Karnal, Protesting Against the Volume of the Loud-Speaker during Namaz
• Muslim Groups to Boycott RSS Iftar Party in Mumbai
• Kerala HC Allows Muslim Teenage Couple to Stay Together
• NIA registers case against 8 'ISIS sympathisers' from Kerala
• Karsevaks Demolished Structure in Ayodhya Where Hindus Offered Prayers: Digvijaya Singh
• 2013 Bodh Gaya blasts: Special NIA court sentences five convicts to life imprisonment
• No Final Decision on Holding Iftar: Pejawar Seer
• High Alert In Kashmir over 'Militant Plot' To Target Security Installations
• India to discuss ways out of Iran sanctions with EU
--------
Pakistan
• Maulana Abdul Aziz Addresses Friday Congregation In Lal Masjid After Three Years
• Despite Deep Roots, Pakistani Sikh Community Faces Fresh Wave Of Taliban Attacks
• Pakistani Catholics Spread Joy to Disabled Muslims
• Balochistan High Court declares 8 provincial constituencies in Quetta null and void
• Gunmen kill official, wound 3 guards in Pakistan tribal area
--------
South Asia
• Myanmar and World Religious Leaders for Peace in Rakhine
• 9 ISIS-K Militants Killed In Nangarhar Artillery Strikes
• Archaeologists among 4 dead, wounded in Kabul city blast
• UN and Myanmar Agree Outline of Rohingya Return Deal, No Details
• Kabul hopes dialogue with Pakistan will help in Taliban peace
--------
Southeast Asia
• Integrate Moral, Religious Values in Education System: Malaysian Minister
• Firm's Care for Muslim Migrant Workers during Ramadan Wins Praise
• Malaysia Arrests 15 for Jihad Weapons Hoarding Plot
• UKM academic calls for intellectual freedom
• Jakarta seeks Catholic ally in fight against radicalism
• PKR: To reform Jakim, fortify National Islamic Affairs Council
--------
Europe
• German Muslims Accuse Bavaria of Double Standards over Crucifix Order
• Muslim Spiderman's French Fairy Tale Sparks Migrant Pride and Envy
• Italy Vows To 'Send Home' Half A Million Undocumented Immigrants
• Russian pilot found alive 30 years after shot down in Afghanistan
• EU making progress on protecting Iran trade: French FM
--------
Africa
• How Mozambique's Smuggling Barons Nurtured Jihadists
• US says air strike kills 12 militants in Somalia
• Traffickers shoot dead 12 fleeing refugees in Libya: UN
• Boko Haram: What Global Amnesty Watch Said About Activities Of Nigerian Troops, Idps In North East
--------
Mideast
• International Treaty on Counter-Terrorism Comes Into Effect in Turkey
• Abu Dhabi within Range Of Yemeni Missiles: Army Spokesman
• Yemeni army creates plan to liberate Hodeidah
• Israeli forces fatally shoot Palestinian nurse in anti-occupation rally
• Police arrest over 60 suspects across Turkey over Gulen network affiliation
• Over 400 Palestinian prisoners to go on hunger strike in Israeli jails
• Yemeni army continues push against Houthis in Hajjah
• Netanyahu to push hard line on Iran during Europe trip
• Greek court rules to extradite suspected terrorist to Turkey
Compiled by New Age Islam News Bureau
URL: https://www.newageislam.com/islamic-world-news/al-qaeda-warns-saudi-crown/d/115431
--------
Al Qaeda warns Saudi crown prince over 'sinful projects'
June 02, 2018
DUBAI: Al Qaeda in the Arabian Peninsula has warned Saudi Arabia's reformist Crown Prince Mohammed bin Salman over his "sinful projects", in a bulletin released on Friday.
Prince Mohammed has spearheaded a string of policy changes in ultraconservative Saudi Arabia, including reinstating cinemas and allowing women to drive.
"The new era of Bin Salman replaced mosques with movie theatres," the Yemen-based militant group said in its Madad news bulletin, picked up by the SITE Intelligence Group.
He "substituted books that belonged to the imams... with absurdities of the atheists and secularists from the east and the west and opened the door wide for corruption and moral degradation," it said.
The militant group AQAP has flourished amid a complex war in Yemen, where Saudi Arabia heads a military alliance battling Houthi rebels.
In its statement, AQAP slammed April's WWE Royal Rumble event in the Saudi coastal city of Jeddah, near Makkah.
"(Foreign) disbelieving wrestlers exposed their privates and on most of them was the sign of the cross, in front of a mixed gathering of young Muslim men and women," it said.
"The corruptors did not stop at that, for every night musical concerts are being announced, as well as movies and circus shows," SITE quoted it as saying.
AQAP in southern Yemen is the target of a long-running drone campaign by the United States, which regards it as the most dangerous branch of the extremist group.
Yemen's conflict has left nearly 10,000 people dead, tens of thousands wounded, and millions on the brink of famine. The United Nations has called Yemen world's worst humanitarian crisis.
Saudi Arabia and its allies intervened in the war between Yemen's Houthi rebels and the government of now-exiled President Abd-Rabbu Mansour Hadi in 2015.
They have landed on a United Nations blacklist over the killing and maiming of children.
The Houthi rebels, linked to Iran, have also come under fire for neglecting to protect civilians and targeting the press and minorities. The rebels have controlled the capital Sanaa since 2014.
https://www.dawn.com/news/1411518/al-qaeda-warns-saudi-crown-prince-over-sinful-projects
--------
A White House Iftar Won't Mask Trump's Contempt for Muslims
By Tasmiha Khan
6/1/18
As many of the millions of Muslims observing Ramadan in the U.S. could tell you, a key aspect of the holy month is reflecting on the morality of actions by examining the intentions that inspired them.
When it comes to President Trump, we know his intent regarding Americans who are Muslim: Scapegoating the community in order to stir up fear and anxiety among his base. Even before he took office, his approach to the American Muslim community has always been abundantly clear.
Now, as his "Muslim Ban" is reviewed by the Supreme Court, Trump may be trying to change his tune. But some context is needed. Last year, President Trump decided not to celebrate Eid al-Fitr (the Muslim holiday marking the end of Ramadan) at the White House, which is the first time in two decades that a president did not commemorate the Islamic holy month of fasting with an Iftar. Instead, Trump issued a statement focused on terrorism during Ramadan.
But this year, as the Supreme Court decides whether the Travel Ban is rooted in anti-Muslim bigotry, Trump decided to recognize Ramadan by issuing a statement acknowledging Muslims humanely. This turn of events is hardly coincidental.
The Washington Post reports that The White House may hold a relatively small iftar on June 6, with a few dozen people invited. The hypocrisy is clear: How can Trump appear friendly to the Muslim community after calling for "a total and complete shutdown of Muslims entering the United States"?
His actions go beyond rhetoric: He's tried three times to follow through on his campaign promise. The president cannot praise the Constitution as a document that "fosters religious liberty and respects religious practice" while he actively undermines both.
The Supreme Court is currently reviewing Trump v Hawaii, the Muslim Ban case––and like lower courts, the Supreme Court Justices are deciding whether to hold Trump's anti-Muslim statements against him.
At the end of April, the president declined to walk back or apologize for past biased remarks about Muslims. Now, we see a perfectly-timed attempt to dilute Trump's clear history of anti-Muslim bigotry by "connecting" with Muslims over an iftar.
It would be naive to view this apparent change of heart toward Muslim Americans as anything other than an attempt to divert attention from his previous anti-Muslim statements.
President Trump's anti-Muslim agenda extends beyond his attempts to enact a Muslim ban. The cabinet and West Wing are chock-full of officials who hold anti-Muslim views. This climate of fear and bigotry has resulted in a rise in hate crimes targeting Muslim Americans based on how they pray and the color of their skin .
As a Muslim woman myself, I do not want to live in a constant state of fear because I wear hijab. Knowing that we have a leader who promotes hateful rhetoric is harmful to my people, and that rhetoric directly jeopardizes the safety of our home here in the United States.
Nobody should fear for their safety because of their religion, and the president has a responsibility to protect religious freedom, not stoke these fires of religious animus.
While the White House's possible Iftar is concerning, the Trump administration should withdraw his hateful statements and follow them up with apologies. His actions should align with his words, and only then can there be connection with the local Muslim community.
http://www.newsweek.com/white-house-iftar-wont-mask-trumps-anti-muslim-agenda-opinion-942512
--------
Mosque Vandalised In Haryana's Karnal, Protesting Against the Volume of the Loud-Speaker during Namaz
JUNE 01, 2018
Around half-a-dozen Muslim men were allegedly beaten up and a mosque was vandalised by the locals protesting against the volume of the loud-speaker during Namaz in Haryana's Karnal district on Wednesday. A case has been registered under different sections of the Indian Penal Code in this connection.
A group of young men in Karnal's Newal village allegedly barged inside the mosque around 9 p.m., beat up the people offering Namaz and also destroyed the loud speakers. The young men also issued threats to the the ones offering prayer. "Those offering Namaz were beaten up without any provocation. It is not the first incident in Karnal. Many such incidents of attack on Muslim community have happened in the past. We don't get much help from the police on several occasions," said local leader Inaam Khan.
Station House Officer, Kunjpura Police Station, Inspector Raj Kumar, said that a case was registered on charges of voluntarily causing hurt, criminal intimidation, unlawful assembly and rioting. He said that it was a "minor altercation" over loud speaker and that no arrests were made so far.
http://www.thehindu.com/news/national/other-states/mosque-vandalised-in-haryanas-karnal/article24054933.ece
--------
Maulana Abdul Aziz addresses Friday congregation in Lal Masjid after three years
June 2, 2018
Despite being on the fourth schedule of the Anti-Terrorism Act, Maulana Abdul Aziz addressed the Friday congregation at Lal Masjid after more than three years when he was removed from the mosque in a bid to curb elements spreading hate speech.
During his address, the Lal Masjid cleric questioned why the authorities barred him from approaching Lal Masjid saying he and his followers were not violating any law. He also called for implementing Sharia law in the country. Though Aziz addressed the congregation, the prayers were led by Siddique, according to a media report.
The last time he led Friday prayers at the mosque was on December 24, 2014. He was then barred from leading Friday prayers at the mosque due to law and order concerns as civil society members gathered outside the mosque to protest against him and the terrorist attack on APS that killed over 150 people, mostly school children in 2014.
"Today, the PML-N government is gone and we also did not announce it beforehand," the spokesman said. He confirmed that Aziz was still placed under observation as his name was included in fourth schedule but insisted that it did not bar him from leading prayers and delivering sermons.
https://www.pakistantoday.com.pk/2018/06/01/maulana-abdul-aziz-addresses-friday-congregation-in-lal-masjid-after-three-years/
--------
Myanmar and world religious leaders for peace in Rakhine
Jun 02, 2018
Major national and international religious leaders are calling for peaceful reconciliation of the various groups involved in Myanmar's ethnoreligious strife.A few days ago, Card Charles Maung Bo, archbishop of Yangon, led a delegation representing Religions for Peace (RFP) to Rakhine State in western Myanmar.Between May 26 and 28, top members of the world's largest and most representative interfaith organisation visited the areas around the cities of Sittwe, the capital of Rakhine, and Maundaw.Violence broke in the area in August 2017, following a series of attacks by the Arakan Rohingya Salvation Army (ARSA) and the consequent response by Myanmar's security forces.The delegation arrived in Maung Taw on the first day accompanied by top government officials, such as Religious Affairs Minister Thura U Aung Ko and Rakhine Chief Minister U Kyaw Aye Thein.The city is on the border with Bangladesh, where some 700,000 Muslims and hundreds of Hindus found refuge in the Hla Hpo Khaung Kya camp after fleeing violence. This is one of the newly built facilities to accommodate returning refugees.The visitors were welcomed by U Khin Maung Tin, deputy minister of the State Counsellor Office, which is headed by Aung San Suu Kyi.Project engineer and Maung Taw district administrator U Ye Htut briefed the delegation about the plan to host the refugees, how the camp is being built and how refugees will be received. He answered their questions. At the end of meeting, the delegation drove around to see things closer.The group then headed to the Taung Pyo Lat Wae camp, where they were briefed by its administrators, deputy director U Soe Tun and director U Ko Thaw of the Ministry of Labour, population and immigration. The latter provided information about the camp, the registration process, and the issuance of RV cards.The delegation later visited the friendship bridge between Myanmar and Bangladesh and some government offices where officials provided information about immigration, biometric data collection and healthcare for refugees.The religious leaders met with Hindu victims of ARSA at Maung Taw district General Administration Department (GAD) meeting hall.They heard the former hostages tell their stories about their captivity and the conditions in the camp. RFP president U Myint Swe gave them a cash donation.Afterwards, Card Bo and the other members of the delegation left for Pan Taw Myae, a recently rebuilt Muslim majority village where the local administrator briefed them about local social and economic conditions. The visitors also quizzed the local official about primary and Islamic education in the village.Finally, the RFP delegation visited two other villages, inhabited by ethnic Myo and Kain Gyi.At the start of the crisis, the terrorists attacked the Myo population, which thanks to government support was able to rebuild its settlement. The meeting focused on food security, education and peaceful coexistence between the two communities.After this meeting, the interfaith group returned to Sittwe.The Rakhine visit by the RFP shows the commitment of religious leaders to the difficult path of reconciliation in Myanmar. On 25 May, Aung San Suu Kyi and Myanmar's Foreign Minister received Card Bo and the other 18 members of the RFP delegation (pictures 2 and 3).The latter handed over a 'Letter to the Peoples of Myanmar' to State Counsellor Suu Kyi – it contains a joint appeal for peace and development in the country.Earlier in the week, between 22 and 25 may, Card Bo hosted Buddhist, Christian, Hindu and Muslim leaders in Yangon for a meeting centred on understanding the religious, cultural, political and socio-economic challenges that await the nation and to find a shared response, convinced that only dialogue and common action can open the path to peace.--Asia News
http://www.heraldmalaysia.com/news/myanmar-and-world-religious-leaders-for-peace-in-rakhine/42535/2
--------
Arab World
Anger in the US over Qatari documentary glorifying Bin Laden
June 2, 2018
THE announcement related to repeat telecast of a Qatari documentary on Osama Bin Laden is meeting anger and condemnation in the United States with questions being raised about Doha's position on terrorism.
On Thursday, social media team at Al Jazeera English promoted the controversial network's hagiographic documentary about 9/11 mastermind and Al-Qaeda chief Osama Bin Laden.
The 2011 production, which was released just months after the US raid that killed the Al-Qaeda leader, focuses on Bin Laden's life "through the eyes of the people who knew him." Some US outlets and sites said that Al Jazeera's promotion of Bin Laden "serves to remind readers of Qatar's long, shadowy history of pro-terrorist activity."
Ideological and financial support
The Conservative Review site said: "Fast-forward to present day, and Al Jazeera's state sponsor still engages in endless amounts of nefarious activity. While Doha claims to be a US ally, the country's leaders simultaneously continue to provide ideological and financial support to terrorist organizations, such as the Muslim Brotherhood, Al-Qaeda, the Iranian regime, Hamas, and countless more jihadi outfits."
Al Jazeera's media and security experts have also come in for criticism as they have been accused of misrepresenting information under the pretext of freedom of expression and accuracy.
They warn that this is part of a master plan, since it is not just about broadcasting inaccurate information through its television channel, but also through its other platforms, most notably under Al Jazeera Arabic's "encyclopedia" section on their website.
Al Jazeera encyclopedia identifies the founder of Al-Qaeda terrorist organization Osama Bin Laden as a "Saudi jihadist". Although his page on the encyclopedia refers to his "involvement" in terrorist acts, the predominant picture that is depicted points to a person with a cause to defend which may earn some level of sympathy.
Al Jazeera anchorwoman
Just months ago, users on Twitter have been sharing a two-minute video from Sept. 11, 2001, showing prominent Al Jazeera anchorwoman Khadija Benguenna justifying the attacks on New York's Twin Towers as a result of US foreign policy.
"Think that these operations and attacks that happened today are considered what we can call a result of America's foreign policy," Benguenna said while she anchored rolling coverage of the attacks in September 2001.
Benguenna is a longtime news presenter with Al Jazeera and was anchoring the rolling coverage of the attacks on Sept. 11, 2001, at the time.
Also, in the days following the attacks, the New York Times dispatched the late Fouad Ajami to Qatar to get to the bottom of what was going on with bin Laden's preferred network.
Osama 'fan zone'
What Ajami found was stunning — the Qataris practically worshipped the AlQaeda leader, turning the Doha headquarters of Al Jazeera into an Osama Bin Laden fan zone, according to the report.
"The channel's graphics assign him a lead role: there is Bin Laden seated on a mat, his submachine gun on his lap; there is Bin Laden on horseback in Afghanistan, the brave knight of the Arab world," Ajami wrote.
"A huge, glamorous poster of Bin Laden's silhouette hangs in the background of the main studio set at Al Jazeera's headquarters in Doha, the capital city of Qatar." Bin Laden was just as enchanted with Al Jazeera's coverage, pointing to the Qatari network as the future for Islamist advocacy.
In his notebook that was recovered by US troops during the raid on Bin Laden's Abbottabad compound, the Al-Qaeda leader wrote: "Al Jazeera, thank God, carriers the banner of revolutions." — Al Arabiya English
http://saudigazette.com.sa/article/536053/World/Mena/Anger-in-the-US-over-Qatari-documentary-glorifying-Bin-Laden
--------
Saudi Arabia establishes Royal Commission for Mecca City and Holy Sites
2 June 2018
Saudi Arabia's King Salman bin bin Abdulaziz Al Saud issued a royal order establishing a Royal Commission for Mecca City and Holy Sites, where the Commission shall have a board of directors under the chairmanship of the Vice President of the Council of Ministers and the Commission's members shall be appointed by an order issued by the President of the Council of Ministers.
Another royal order issued stipulated that the appointment of members of the Board of Directors of the Royal Commission for Mecca City and Holy Sites. The members are Governor of Makkah Region, Minister of Interior, Deputy Governor of Makkah Region, Dr. Majid bin Abdullah Al-Qassabi, Minister of Hajj and Umrah, Minister of Economy and Planning, Yasser bin Othman Al-Rumyan, Eng. Ibrahim bin Mohammed Al-Sultan and Dr. Fahd bin Abdullah Tunisi.
Full report at:
https://english.alarabiya.net/en/News/gulf/2018/06/02/Saudi-Arabia-establishes-Royal-Commission-for-Mecca-City-and-Holy-Sites.html
--------
Imam of Prophet's Holy Mosque named Islamic Personality of the Year
Ahmed Shaaban
June 1, 2018
Al Huzaifi has been leading Muslims in prayers and teaching them Islam in one of the most sacred spots on earth.
The imam and preacher of the Prophet's Holy Mosque, Sheikh Dr. Ali bin Abdurrahman Al Huzaifi is the Islamic Personality of the Year of the 22nd edition of the Dubai International Holy Quran Award (DIHQA), 1439H/2018.
Ibrahim Mohamed Bu Melha, Adviser to the Ruler of Dubai for Cultural and Humanitarian Affairs and Head of DIHQA Organising Committee, made the announcement in a press conference late Thursday evening at the Dubai Chamber.
"The Award has honoured a long list of esteemed Islamic characters and entities over its 22 years in appreciation to their records in serving Islam, Muslims and holy Quran worldwide."
The Imam and Preacher of the Prophet's Holy Mosque, Sheikh Dr. Ali bin Abdurrahman Al Huzaifi has been leading Muslims in prayers and teaching them Islam in one of the most sacred spots on earth, the Prophet's Holy Mosque.
"He has been leading prayers and preaching at the Prophet's Mosque for years that his name has been attached with these great services in the hearts and minds of Muslims everywhere."
His beautiful, slow and deep recitation of the holy Quran is so appealing and inspiring that worshippers listen carefully, think deeply, and spiritually interact with the verses he recites, Bu Melha added.
"He is one of leading imams of the Prophet's Holy Mosque and his name is always remembered when talking about this holy mosque. His smooth and humble recitation of the holy Quran touches the hearts and souls of Muslims everywhere."
Sheikh Dr. Al Huzaifi has a PhD from Al Azhar University. "He teaches several Sharia sciences, mainly the Qiraat 'Schools of Quran recitation' at the Islamic University in Madinah."
He also chairs the scientific committee that revises the Quran copy of the Madinah Mus'haf, Bu Melha said. "He is also a member of committee in charge of recording the recited Mus'hafs at the King Fahd Holy Quran Printing Complex."
Full report at:
https://www.khaleejtimes.com/nation/dubai/imam-of-prophets-holy-mosque-named-islamic-personality-of-the-year
--------
Syrian Army Opens Heavy Fire at Terrorists' Positions in Dara'a Province
Jun 01, 2018
The army's artillery and missile units shelled the defenses of the Free Syrian Army (FSA) and Tahrir al-Sham Hay'at (the Levant Liberation Board or the Al-Nusra Front) in the Al-Lijat region for the first time in several weeks.
Furthermore, the Syrian Army's attack was meant to fracture the front-lines of the militants before they launch their long-awaited offensive in Southern Syria.
The Syrian Army has already mobilized thousands of soldiers to participate in the upcoming Southern Syria offensive; however, the majority of these troops have deployed to Quneitra and Sheikh Meskeen region of Dara'a.
Terrorist groups in the Southern provinces of Dara'a and Quneitra formed a new coalition on Sunday amid the Syrian Army's preparedness to launch an imminent large-scale operation to end militancy in the Southern part of the country.
The army dispatched a large number of fresh forces and a large volume of military hardware to Dara'a city and its countryside and Quneitra province in recent days as a prelude for kicking off an imminent operation against the terrorist groups in Southern Syria.
In the meantime, the army issued last warnings to the terrorists, calling on them to lay down arms and join reconciliation plan.
Full report at:
http://en.farsnews.com/newstext.aspx?nn=13970311000435
--------
4,500 Kurdish Militias Killed, Held Captive in Turkish Forces' Operation in Northern Syria
Jun 01, 2018
Erdogan announced on Thursday that a sum of 4,500 Kurdish militias have been killed or held captive in the Ankara forces' Operation Olive Branch in Afrin.
Operation Euphrates Shield took place from August 2016 to March 2017 in Northern Syria along the Turkish border.
Hawar news quoted a well-informed source as reporting on Monday that the Police Academy in Sivas province embarked on training a sum of 3,000 terrorists from different parts of Syria.
It further said that the Turkish army planned to deploy the militants under the name of the Free Police in Afrin region.
In the meantime, field sources reported that the Turkish army appointed Rami Talas, one of the commanders of Jeish al-Islam, as the chief of the new group also called as the Afrin police.
Full report at:
http://en.farsnews.com/newstext.aspx?nn=13970311000261
--------
Iraqi Popular Forces Storm ISIL's Positions in Eastern Syria
Jun 01, 2018
Hashd al-Shaabi, for the third time in the last two weeks, scored direct hits on the ISIL inside the Syrian town of al-Dashayshah, which borders Iraq's Anbar province.
The terrorists were attempting to take advantage of the poor weather to cross over into Iraqi territory.
The Iraqi Armed Forces have repeatedly targeted ISIL's positions along the Syrian-Iraqi border lately, killing and wounding a large number of the terrorist group's combatants.
Iraq's Joint Operation Command announced in a statement earlier last month that the Iraqi fighter jets bombed and destroyed an ISIL command base in Dashisha region in Southern Hasaka.
The statement further said that the air raid was ordered by Commander-in-Chief of the Armed Forces Haydar al-Ebadi and coordinated by Joint Operation Command, adding that Iraqi F16 jets struck ISIL's base in Southern Hasaka, destroying it completely.
Full report at:
http://en.farsnews.com/newstext.aspx?nn=13970311000408
--------
Russia, UAE call for a broad international coalition to combat terror
1 June 2018
Russia and the United Arab Emirates called on Friday for the formation of a broad international coalition against terrorism and agreed to strengthen political and defense cooperation and to turn the Middle East into a zone free of weapons of mass destruction.
Following bilateral talks in Moscow, Russian President Vladimir Putin and Abu Dhabi Crown Prince Sheikh Mohammed bin Zayed al-Nahyan, signed the Declaration of the Strategic Partnership between Russia and the United Arab Emirates: "Both sides are convinced that the unprecedented proliferation of terrorism and extremism as well as structures and organizations that threaten the security of States and their sovereignty requires the entire world community to take resolute and collective measures away from the exercise of double standards and the principle of selectivity and in conformity with international law and the Charter of the United Nations."
The document stressed that Russia and the UAE call for "the formation of a broad international coalition to combat terrorism and extremism based on respect for the sovereignty of States, which suffered directly from terrorist operations."
Russia and the UAE stressed that countries and institutions should play a leading role in countering terrorism and extremism and preventing their spread regionally and internationally, while adhering to the principle of sovereign equality of all countries.
Cyberspace security
Russia and the UAE also pledged that they would "contribute to ensuring the security, integrity and prevention of cyberspace for the purposes of disseminating the ideology of extremism."
"The two sides express their determination to promote and develop political cooperation on bilateral, regional and international issues, including within the framework of the Russia-GCC strategic dialogue, the Russian-Arab cooperation forum and other platforms," the statement said.
The document pointed out that Russia and the UAE will encourage the exchange of visits between heads of state, rrime ministers, members of parliament, as well as periodic consultations between the two foreign ministries, arranging contacts and relations between their regions and coordination within the framework of the United Nations.
Full report at:
https://english.alarabiya.net/en/News/middle-east/2018/06/01/Russia-UAE-call-for-a-broad-International-coalition-to-combat-terror.html
--------
North America
US vetoes UN resolution denouncing violence against Palestinians
June 02, 2018
NEW YORK: The United States vetoed on Friday a Kuwaiti-drafted United Nations Security Council (UNSC) resolution that condemned Israel's use of force against Palestinian civilians, underlining Washington's differences with friends and foes alike over the Israeli-Palestinian issue.
Later, a second, US-drafted resolution that blamed Hamas for the violence and upheld Israel's right to defend itself failed to attract any other country's support when it was put to vote in the 15-member council.
Blasting the council majority, US Ambassador to the United Nations Nikki Haley said the two votes showed it was willing to blame Israel and unwilling to blame Hamas, the group that dominates Gaza.
"It is now completely clear that the UN is hopelessly biased against Israel," she said in a statement.
France, Russia, China, Ivory Coast, Kazakhstan, Bolivia, Peru, Sweden, and Equatorial Guinea joined Kuwait in voting in favour of the first draft. Britain, the Netherlands, Poland, and Ethiopia abstained. Only the United States voted against.
To be adopted, a Security Council resolution needs to receive at least nine votes in favour and no vetoes by any of the permanent members - the United States, Britain, France, Russia and China.
Only the United States voted in favour of the second draft resolution, while there were three negative votes and 11 abstentions.
At least 116 Palestinians have been killed by Israeli forces in Gaza border protests since March 30. The largest number of killings occurred on May 14, the day the United States moved its embassy in Israel to Jerusalem from Tel Aviv.
Amid international condemnation of its use of lethal force, Israel said many of the dead were militants and that the Israeli army was repelling attacks on the border fence between Israel and Gaza. Washington has maintained Israel's right to defend itself and refrained from joining calls for Israeli restraint.
Palestinians and their supporters said most of the protesters were unarmed civilians and Israel was using excessive force against them.
Over the years, the United States has vetoed a number of Security Council resolutions critical of Israel. In December, it vetoed an Egyptian-drafted resolution calling on President Donald Trump's administration to reverse its decision to recognize Jerusalem as Israel's capital.
https://nation.com.pk/02-Jun-2018/us-vetoes-un-resolution-denouncing-violence-against-palestinians
--------
Webber Academy to get new human rights hearing in dispute over Muslim prayer
Jun 01, 2018
A complaint by two Muslim students who were not allowed to pray at a non-denominational private school in Calgary is headed back to the Alberta Human Rights Commission.
The Court of Appeal of Alberta ruled Friday the original decision five years ago by a commission tribunal, which ordered Webber Academy to pay a $26,000 fine for discriminatory behaviour, included a number of errors.
One error the tribunal made was in assessing the level of accommodation that was being asked of the school.
"The tribunal began its decision by determining the issue was not a request for 'prayer space,"' reads the 15-page Appeal Court decision released Friday. "Clearly, the students required space to pray and Webber Academy was being asked to provide space, whether dedicated or not."
The two students — Sarmad Amir and Naman Siddiqui — were in grades 9 and 10 in 2011 and told the tribunal that praying is mandatory in their Sunni religion. They said the school told them their praying, which requires bowing and kneeling, was too obvious and went against the non-denominational nature of the academy.
The human rights tribunal ruled the school's policy was too rigid and it could have accommodated the students without going against its secular status.
That decision was upheld by the Alberta Court of Queen's Bench. The school then took the matter to the Court of Appeal.
School says no space for prayer
The Court of Appeal said a new hearing is also required because Webber Academy has raised new issues under the Charter of Rights and Freedoms which should be examined.
The school's president, Neil Webber, was happy with the ruling and said he hopes to preserve the secular nature of the school, which has about 1,000 students.
"We welcome students and families of all faiths and beliefs, but we think it's fundamental to our families and students that this be an educational institution where no religious practices are allowed," Webber said.
Webber said Friday the school has always made it clear to incoming students and their parents that there is no space in the school for praying.
"And in our 21 years of operations, we have had two requests for prayer space — one from a Catholic family which we denied and the other from a Muslim family which we denied."
No date has been set for the new hearing.
Full report at:
http://www.cbc.ca/news/canada/calgary/alberta-human-rights-private-school-webber-academy-wins-court-1.4688161
--------
US lists Tahrir al-Sham (HTS) as foreign terrorist organization
June 01 2018
The U.S. Department of State has amended the designation of al-Nusrah Front, an al-Qaida affiliate in Syria, to include Hay'at Tahrir al-Sham (HTS) and other aliases.
"These aliases have been added to al-Nusrah Front's designations as a Foreign Terrorist Organization [FTO] under Section 219 of the Immigration and Nationality Act, and as a Specially Designated Global Terrorist [SDGT] under Executive Order 13224," the State Department said in a written statement on May 31.
In January 2017, al-Nusrah Front launched the creation of HTS as a vehicle to advance its position in the Syrian uprising and to further its own goals as an al-Qaida affiliate, said the State Department, adding that since January 2017, the group has continued to operate through HTS in pursuit of these objectives.
The Coordinator for Counterterrorism Ambassador Nathan A. Sales noted that "today's designation serves notice that the United States is not fooled by this al-Qaida affiliate's attempt to rebrand itself. Whatever name Nusrah chooses, we will continue to deny it the resources it seeks to further its violent cause."
Full report at:
http://www.hurriyetdailynews.com/us-lists-tahrir-al-sham-as-foreign-terrorist-organization-132688
--------
Anti-Muslim US police trainers thrive in unregulated industry
1 June 2018
In early May, a former FBI agent named John Guandolo travelled to a Baptist church on the outskirts of the Texas city of San Angelo to teach local law enforcement officers a course on Islam and militant threats to the United States.
Such courses are routine. Across the country, American cops take classes on everything from knife defence and tactical entry to LGBT awareness, impartial policing and de-escalation techniques. These courses fulfill yearly training hour requirements officers need to meet and help them better serve the public.
But wherever Guandolo goes, controversy often follows. Civil rights groups consider him to be a propagator of anti-Muslim conspiracy theories whose goal is not to educate, but to promote distrust of Muslim Americans.
He has called Islam "barbaric and evil". On his Twitter account, he posts images of airport security staff he believes to be Muslims, calling them terrorists, and of American mosques he believes to be part of a vast, subversive and secret Islamic conquest of the United States. These views dominate his classes.
"He shouldn't be training any cops with his beliefs," said Heidi Beirich, the director the Southern Poverty Law Center's Intelligence Project, which monitors hate groups in the US. "He shouldn't be training anybody."
After complaints about Guandolo, the Texas Commission on Law Enforcement, the body responsible for overseeing police training programmes, refused to issue training credit for the course, saying it "provided no training value for law enforcement attendees" and was an "overly broad characterisation of an entire subset of the population".
One of many
Guandolo is only the most visible member of a cottage industry that spreads anti-Islam sentiment among law enforcement officers under the guise of counter-terrorism training.
With law enforcement officers around the country required to meet state requirements on training hours every year, there is great demand for private companies and individuals that offer such courses.
That demand, coupled with a lack of oversight on the federal and state level, has created room for Guandolo and similar figures to operate and prosper.
In March, the Georgia Association of Chiefs of Police pulled support for a similar training course instructed by former police chief David Bores that the American Civil Liberties Union called "inflammatory, hateful and potentially unconstitutional".
A group called Sharia Crime Stoppers offers "certified law enforcement training" sessions that teach that the Muslim Brotherhood has infiltrated the US government and that mosques in America are a symbol of conquest.
Even more legitimate-looking training companies may not be immune to biased training. Blue Shield Tactical Systems offers courses on de-escalation and leadership alongside terrorism. One of its terrorism trainers, however, has written about how Muslim communities are infiltrating America with the aim of taking it over.
As anti-Islam trainers have learned to keep a low profile to avoid the kind of blowback that Guandolo regularly faces, Islamophobia watchers in the US worry that the industry of anti-Islam trainers is larger than it appears.
"You just have this really toxic and really dangerous environment where Muslim individuals, Muslim communities are stigmatised and criminalised and real bias is being trained and taught to law enforcement," said Kristin Garrity Sekerci, a senior research fellow at Georgetown University's Bridge Initiative, which focuses on combating Islamophobia.
'Absolutely no regulation'
While local law enforcement departments show an enormous demand for outsourced training, many courses and their instructors face little to no vetting or regulation.
The Texas Commission on Law Enforcement (TCOLE) found that Guandolo's course in San Angelo was inappropriate only after it sent one of its employees to it. In refusing to issue credit for the course, the commission said it lacks the ability to pre-screen classes.
"With approximately 1.8 million hours of training conducted each year, the vast majority without controversy, TCOLE simply does not have the resources to do so," the commission wrote in a letter to the Texas Observer. "We therefore place a great deal of trust in, and responsibility on, its training providers."
Texas is not an exception to the rule. Maki Haberfeld, an expert on police training programmes and a professor at New York's John Jay College of Criminal Justice, said private police training is a largely unregulated industry, with no federal oversight and very little state regulation.
The result, she said, is unqualified trainers teaching local law enforcement.
"Many of them have no background as police trainers, but they're part of the way American police forces are trained," Haberfeld said. "It's really up to the police chief or the head of the police academy who will deliver training. There's absolutely no regulation of it."
"Basically it's who you know, who the commissioner knows, how much they charge. It's very concerning," she added. "It's not that they are specifically looking for some anti-Islam police trainers, it's just part of the dysfunctional approach to police training."
Teaching that Islam is the enemy
Several recordings which recently surfaced cast a light on what Guandolo taught local cops.
In the San Angelo class, an audio recording by the Texas Commission on Law Enforcement showed that Guandolo told law enforcement officers that the vast majority of Islamic centres in the US were fronts for the Muslim Brotherhood.
He also said that "moderate" Muslims will turn militant if told to do so; that Muslims are obligated to lie to non-Muslims; and that there was nothing particularly more "extreme" or "radical" about the Islamic State (IS) group than Islam as it is practiced by everyday Muslims.
In a video of a class in Arizona last year that was secretly filmed by Al Jazeera, Guandolo sought to paint mosques in America as vehicles of conquest.
"So what's a mosque? Don't say a Muslim church - I hear that all the time," he said. "A mosque is claiming land. Think of a mosque as a mixture of an embassy…a military outpost, an Islamic university or school and a house of prayer all wrapped in one. That's what a mosque is."
Those combating Islamophobia say these kinds of lessons pose a real danger to Muslims living in the communities that these law enforcement officers serve.
"Can you imagine, after somebody takes this three-hour indoctrination course of hating Islam, the next time that officer would stop a Muslim family with a broken taillight? What would happen as a result?" said Ibrahim Hooper, a spokesperson for the Council for American-Islamic Relations (CAIR), a civil rights group that is regularly accused of being a terrorist front by Guandolo and other law enforcement trainers.
"It's just designed to create fear and division and promote bigotry and intolerance."
Hate crimes against Muslims have spiked in recent years, rising by 15 percent in 2017, according to CAIR. And Beirich, the Southern Poverty Law Center's Intelligence Project director, says anti-Muslim training renders Muslims even more at risk.
"I think having somebody sit in a room for a few hours and listen to the complete demonisation of Muslims that Guandolo believes cannot be a good thing," she said.
Full report at:
http://www.middleeasteye.net/news/anti-muslim-us-police-trainers-thrive-unregulated-industry-1377395938
--------
Alberta court orders new human rights hearing for Calgary school prayer space dispute
June 1, 2018
CALGARY—A complaint by two Muslim students who were not allowed to pray at a non-denominational private school in Calgary is headed back to the Alberta Human Rights Commission.
The Court of Appeal of Alberta ruled Friday the original decision five years ago by a commission tribunal, which ordered Webber Academy to pay a $26,000 fine for discriminatory behaviour, included a number of errors.
One error the tribunal made was in assessing the level of accommodation that was being asked of the school.
"The tribunal began its decision by determining the issue was not a request for 'prayer space,'" reads the 15-page Appeal Court decision released Friday. "Clearly, the students required space to pray and Webber Academy was being asked to provide space, whether dedicated or not."
The two students — Sarmad Amir and Naman Siddiqui — were in grades 9 and 10 in 2011 and told the tribunal that praying is mandatory in their Sunni religion. They said the school told them their praying, which requires bowing and kneeling, was too obvious and went against the non-denominational nature of the academy.
The human rights tribunal ruled the school's policy was too rigid and it could have accommodated the students without going against its secular status.
That decision was upheld by the Alberta Court of Queen's Bench. The school then took the matter to the Court of Appeal.
The Court of Appeal said a new hearing is also required because Webber Academy has raised new issues under the Charter of Rights and Freedoms which should be examined.
The school's president, Neil Webber, was happy with the ruling and said he hopes to preserve the secular nature of the school, which has about 1,000 students.
"We welcome students and families of all faiths and beliefs, but we think it's fundamental to our families and students that this be an educational institution where no religious practices are allowed," Webber said.
Webber said Friday the school has always made it clear to incoming students and their parents that there is no space in the school for praying.
"And in our 21 years of operations, we have had two requests for prayer space — one from a Catholic family which we denied and the other from a Muslim family which we denied."
Calgary Imam Syed Soharwardy, founder and president of the Islamic Supreme Council of Canada, said there's no reason the school cannot allow students to pray.
"They were not asking for a dedicated place. They were asking for somewhere they (would be) allowed to perform the prayer," he said Friday. "And that place could be in a corridor ... maybe in a room."
Full report at:
https://www.thestar.com/news/canada/2018/06/01/alberta-court-orders-new-human-rights-hearing-for-calgary-school-prayer-space-dispute.html
--------
Detainment of activists brings Saudi-Canadian relationship into question
June 1, 2018
VANCOUVER—The detainment of former University of British Columbia student and women's rights activist Loujain Al-Hathloul could put a damper on Canada-Saudi Arabian relations, say legal experts.
Irwin Cotler, a human rights lawyer and former federal justice minister, says the arrest of Al-Hathloul and the current Saudi human rights record bring into question the reformist message of the country's Crown Prince Mohammed Bin Salman and the very basis of international trade agreements the country has with Canada.
"I think the investments and trade are out of mutual trust and respect, and it won't work if the trust is not there and the respect is not there," Cotler said. "If he continues to arrest human rights activists like Loujain, then he won't get what he is seeking."
One such agreement is a $15-billion contract Canada signed in 2016 to provide armed vehicles to Saudi Arabia. Despite defending the deal, Cotler said, the Canadian government has already brought concerns to the crown prince through briefings about the country's human rights cases.
The stark difference between the crown prince's statements and Saudi Arabia's current human rights record threatens his credibility as a leader and in international trade, Cotler said.
In recent years, the crown prince has spread the message of Muslim "reform," and recently pledged to loosen bans on women driving and attending sports matches — but at the same time he's cracked down on activists within the country.
"His own credibility is on the line at this point, he can't continue to affirm matters relating to women's rights and then arrest not just Loujain but also 11 women's rights activists," Cotler said.
Al-Hathloul's plight is similar to that of Raif Badawi, a blogger who is now serving a 10-year sentence in Saudi Arabia with punishment of 1,000 lashes, he said. Both activists were arrested for things that the crown prince was supporting on the international stage — women's rights and freedom of speech.
Gail Davidson, executive director of Vancouver-based Lawyers' Rights Watch Canada, described Saudi Arabia's recent human rights message as "completely false," and said Canada's current trade relationship with Saudi Arabia is surprising given the circumstances. She referred to the takeover of the Canadian Wheat Board by a Saudi company, as well as the $15-billion armed vehicles purchase.
"Knowing about their human rights record, I'm surprised at the relationship that Canada has with Saudi Arabia, and the extent to which they have become powerful in Canadian affairs," she said.
Cotler said he believes that the campaign for both Al-Hathloul and Badawi will be growing in Canada, putting increased pressure on the Saudi government. Recently, Badawi was granted honorary citizenship by the city of Montreal, which Cotler said is only the beginning of a long-term campaign to free Saudi activists.
Full report at:
https://www.thestar.com/vancouver/2018/06/01/detainment-of-activists-brings-saudi-canadian-relationship-into-question.html
--------
India
Muslim Groups To Boycott RSS Iftar Party in Mumbai
Jun 2, 2018
MUMBAI: Some Muslim groups have called for a boycott of RSS-sponsored Iftar party on June 4. Community leaders and activists said the Iftar by Rashtriya Muslim Manch (RMM), a wing of the RSS headed by Indresh Kumar, is hypocrisy as the main outfit backs anti-Muslim campaigns of love jihad, mob lynching in the name of cow vigilantism. They said this Iftar was a "ploy" to garner Muslim votes in the 2019 elections.
This will be RSS's first Iftar in Mumbai being hosted at Sahyadri Guest House. "Muslims in the name of love jihad and cow vigilantism. Muslims should stay away from such dinners till the time the RSS drops its anti-Muslim policies," said M A Khalid of All India Milli Council.
https://timesofindia.indiatimes.com/city/mumbai/muslim-groups-to-boycott-rss-iftar-party/articleshow/64422131.cms
--------
Kerala HC Allows Muslim Teenage Couple to Stay Together
June 2, 2018
In a landmark verdict, the Kerala High Court on Friday declined to separate an 18-year-old boy and 19-year-old girl who were in a live-in relationship, saying it cannot close its eyes to the fact that such relationships have become rampant in society.
A division bench of justices V Chitambaresh and K P Jyothindranath pronounced the judgment while dismissing a habeas corpus petition filed by the girl's father. The Supreme Court had recently held that an adult couple has a right to live together without marriage while asserting that a 20-year-old Kerala woman, whose marriage had been annulled, could choose whom she wanted to live with.
In his petition, the girl's father alleged that his daughter was in the illegal custody of the boy. Both the girl and the boy are Muslims and hail from Alappuzha district. Dismissing the plea, the bench said it cannot close its eyes to the fact that live-in relationships have become rampant in society and such partners cannot be separated by the writ of habeas corpus.
The bench, while considering the fact that she stayed with the boy for quite some time and she is a major, allowed her to continue living with the youth.
The Supreme Court has held that live-in relationships were now even recognised by the legislature and they had found a place under the provisions of the Protection of Women from Domestic Violence Act, 2005.
The observations came while the apex court was hearing a plea filed by one Nandakumar against a Kerala High Court order annulling his marriage with Thushara on the ground that he had not attained the legal age of marriage.
Prohibition of Child Marriage Act states that a girl can't marry before the age of 18, and a boy before 21. The high court had also granted the custody of Thushara to her father after noting that she was not Nandakumar's "lawfully wedded" wife.
Full report at:
http://indianexpress.com/article/india/kerala-hc-couple-allows-muslim-teenage-couple-to-stay-together/
--------
NIA registers case against 8 'ISIS sympathisers' from Kerala
Jun 1, 2018
NEW DELHI: The NIA has registered a case against eight Kerala men the stringent Unlawful Activities Prevention Act for allegedly sympathising with banned terror group ISIS, a senior official said on Friday.
The National Investigation Agency (NIA) took over the case from the Kerala police which had last year booked the eight people in Malappuram district of the state.
The state police had alleged they were "members" of ISIS or 'Daesh' and "supported" the organisation by travelling or preparing to travel from Bahrain to Syria for joining the terror group, the official said.
He said the ISIS was waging war against a country that has friendly relations with India.
Those booked were Shaibu Nihar, Manzoor, Mansoor, Shahnad, Fajid, Ashraf Moulavi, Safeer and Muhadis, the agency said.
Full report at:
https://timesofindia.indiatimes.com/india/nia-registers-case-against-8-isis-sympathisers-from-kerala/articleshow/64419427.cms
--------
Karsevaks demolished structure in Ayodhya where Hindus offered prayers: Digvijaya Singh
June 2, 2018
Senior Congress leader Digvijaya Singh on Friday said that in 1992, karsevaks demolished a structure in Ayodhya where Hindus offered prayers.
Singh touched upon the demolition of Babri Masjid when asked about his views on the Ram Janmabhoomi issue in view of state Congress's `Unity Yatra' which started from the Raja Ram temple at Orchha in Tikamgarh district yesterday.
"By linking it (Congress's choice of Raja Ram temple to start its Yatra) with Ayodhya, you all are dwarfing Raja Ram's importance," Singh said.
"I am coming here for the last 40 years. Don't connect it with the controversial Ram Mandir issue," he said.
Full report at:
http://indianexpress.com/article/india/karsevaks-demolished-structure-where-hindus-offered-prayers-digvijay-singh-5200714/
--------
2013 Bodh Gaya blasts: Special NIA court sentences five convicts to life imprisonment
June 1, 2018
A special NIA court in Patna sentenced all the five convicts in the 2013 Bodh Gaya blasts to life imprisonment Friday. The court, which pronounced the verdict last week, had to defer the pronouncement of quantum of sentence owing to defence's persistent efforts to delay the proceedings.
The court of additional district judge Manoj Kumar Sinha awarded the punishment to all five Indian Mujahideen militants — Umer Siddiqui (39), Azaharuddin Qureshi (25), Imtiyaz Ansari(35), Haider Ali (30) and Mujibullah Ansari (28). They were held guilty under IPC sections 120B (criminal conspiracy) and 153A (promoting enmity among different groups on grounds of religion, sect and place of birth) and various provisions of the Unlawful Activities (Prevention) Act and Explosive Substances Act.
Full report at:
http://indianexpress.com/article/india/2013-bodh-gaya-blasts-special-nia-court-sentences-all-accused-to-life-imprisonment-5199931/
--------
No Final Decision on Holding Iftar: Pejawar Seer
JUNE 02, 2018
Vishwesha Tirtha Swami of Pejawar Mutt said on Friday that he was planning to organise Iftar for members of the Muslim community for Id-ul-Fitr, but he had not taken a final decision on it.
Speaking to journalists here, the seer said that when the 'Souharda Koota' (Iftar) was held in the outer precincts of the Sri Krishna Mutt/Temple last year, some people criticised it while others welcomed it.
The seer said that he was holding talks with Muslim leaders on this. But they were not showing much interest because of the row last time. If they agree and a decision is taken, it would be held at the Govinda Kalyana Mantap Hall near Bhujanga Park here, he said.
The seer said that he was not trying to appease anybody. But he wanted harmony between Hindus, Muslims, Dalits and all other communities. There is no change in his stand on the construction of the Ram Temple in Ayodhya. Even some Muslim leaders have agreed for the construction of the Ram temple, he said.
"I want both majority and minority communities to be treated in an equal manner. Some time back, I had said that if necessary, there should be some amendments in the Constitution for this purpose. At no point, I had called for a change in the Constitution. But an unnecessary controversy was generated over it. I do not want any kind of discrimination," he said.
Asked why the National Democratic Alliance had not moved on the Ram Temple, the seer said that the matter was in the courts. While the Ram temple was needed, more essential than this was the cleaning of the Ganga. The construction of the temple could come later, he said.
Full report at:
http://www.thehindu.com/news/cities/Mangalore/no-final-decision-on-holding-iftar-pejawar-seer/article24062045.ece
--------
High alert in Kashmir over 'militant plot' to target security installations
Jun 01, 2018
Security personnel in Kashmir have been placed on high alert in the wake of inputs that Jaish-e-Mohammad (JeM) militants may try to target their installations on the seventeenth day of Ramzan, which coincides with the Battle of Badr.
The Battle of Badr was a key battle in the early days of Islam and a turning point in Muhammad's struggle with his opponents among the Quraish in Mecca.
Officials reportedly picked up wireless chatter indicating that some militants were planning to target security installations either in south Kashmir or Srinagar on that particular day. "Security forces have been placed on high alert with special instructions in light of these strong inputs. There were inputs of a similar attempt last year too, but the militants could not pull off the attacks due to increased cover," a senior police officer familiar with the development said.
The inputs suggested that the attacks were supposed to be carried out by foreign militants affiliated to the JeM. "According to reports reaching us, militants in south Kashmir were assigned the responsibility of targeting the camps on the seventeenth day of Ramzan. We are not going to take any chances, and security has been beefed up," said an officer deployed in south Kashmir.
Police have already issued an advisory to its officers in charge of security installations, and asked them to follow the standing operating procedure in the eventuality of a terror attack. Additional security personnel have been deployed, and vigil is likely to be stepped up in such areas especially after dark. Additional bullet proof vehicles have been deployed close to police camps as well as highways. Special barricades and check posts have also been set up at various locations in the Valley to thwart militant movement.
There have been several attacks on police and Army personnel after the Centre announced a unilateral Ramzan ceasefire earlier this month. An army soldier was killed and three others were injured in two separate attacks in south Kashmir's Pulwama and Shopian districts. In spite of this, security forces refrained from launching any cordon-and-search or search-and-destroy operations against militants during this period.
Nevertheless, seven militants were killed in two operations conducted in north Kashmir's Kupwara district since the ceasefire call. Army officers said all of them were foreigners who attacked an army patrol after infiltrating into the Valley.
Four injured in militant attacks
Meanwhile, militants targeted the CRPF and the house of a Tral legislator – injuring two paramilitary jawans and two civilians – in three separate incidents across south Kashmir on Friday.
Full report at:
https://www.hindustantimes.com/india-news/high-alert-in-valley-over-militant-plot-to-target-security-installations/story-2VLtdmJGSML2W4ooFuNS5O.html
--------
India to discuss ways out of Iran sanctions with EU
Jun 2, 2018
India plans to send a top delegation to Europe next week to explore ways to continue to trade with Iran despite US sanctions.
At the top of the agenda would be preserving the current mechanisms for Indian companies to pay to Iran for their oil purchases through EU banks.
The delegation would comprise officials from the finance, petroleum and foreign ministries and would start discussions for a week with EU officials from Monday, India's media quoted government sources as saying.
Last week, India joined voices of criticisms against US President Donald Trump's efforts to reimpose sanctions against Iran.
The country's Foreign Minister Sushma Swaraj said New Delhi would only abide by sanctions imposed by the United Nations but not those imposed by any other country, such as announced by the US against Iran.
This put India in league with many other countries – particularly those from the European Union – that have already made their opposition to Trump's anti-Iran sanctions clear.
"Europe has taken a position, which is different this time. This time we are in the same boat," the India Times quoted an unnamed official as saying.
The Indian delegation would visit France, Germany, Britain and Brussels to meet governments and bankers. Currently India settles oil payments in euros through Germany's EIH Bank.
"(It's) not only oil imports, we (European nations and India) are also impacted by concomitant things like banking. We will discuss all these and the way forward," the official added.
On a related front, the India Times said state refiner Bharat Petroleum Corp had requested an extra one million barrels of oil from the National Iranian Oil Company (NIOC) for June.
The move by BPCL indicated that refiners were trying to frontload their purchases from Iran ahead of a November US deadline for re-imposing sanctions on the country's petroleum sector.
"At this point of time Iranian crude is attractive ... it is faring better than spot cargoes and other crudes," the daily quoted an official as saying.
Iran has agreed to provide almost free shipping to Indian refiners in 2018/19, an incentive that significantly reduces the landed cost of Iranian oil compared to rival regional grades, it added.
Full report at:
http://www.presstv.com/Detail/2018/06/02/563621/India-to-discuss-way-out-of-Iran-sanctions-with-EU-
--------
Pakistan
Despite deep roots, Pakistani Sikh community faces fresh wave of Taliban attacks
1 June 2018
Pakistan is mourning the death of Charanjit Singh, a beacon of interfaith harmony who was gunned down on Tuesday in broad-daylight in the heart of Peshawar, provincial capital of country's Khyber Paktoonkhaw province.
Bone-chilling murder of a minority Sikh human rights activist has caused uproar in Pakistan highlighting the government's failure to protect its minorities. Unfortunately, this is not the first attack of its kind and going by the recent pattern, the community continues to be a target of such attacks.
Quoting eye witnesses, police said gunmen riding on a motorcycle forced their entry into a grocery shop and killed the owner of the shop and fled from the scene.
Police identified the deceased as Charanjit Singh, 52, a well-known human rights activist and member of the country's minority Sikh community. Motives behind the murder is not yet known. Singh's killing has sparked countrywide protests attended by the minorities, members of civil society and students.
A police source said deceased was an outspoken critic of the Taliban and militant groups and a die-hard supporter of Pakistan military, which has recently quelled militancy from country's tribal areas bordering the porous Pakistan-Afghanistan border.
"We are investigating the case. Will share finding with media after probe concludes," Shaukat Khan, city police chief told Al-Arabiya English. Pakistan's minorities are experiencing another wave of fear and terror following the murder.
Deceased's family had moved to Peshawar city a couple of decades ago from Pakistan's tribal areas bordering Iran and Afghanistan after al-Qaeda backed Taliban and other militant groups went on a rampage there.
Migrating families
In 2013-14, as many as 500 Sikh families had migrated from tribal areas to Peshawar considering it relatively a safe place.
Friends and relatives say Charanjit Singh was a vocal supporter of Pakistani military's efforts to crackdown on extremists, which may have prompted them to carry out attack. Thousands attended Charanjit's funeral held on Wednesday.
Members of the civil society and peaceful yet emotional Sikh community members protested against Singh's murder demanding government to take steps to ensure protection for minorities.
Protesters also urged the government to form a judicial commission to probe Singh's murder and bring the culprits to justice. "Protection of citizens is the prime responsibility of the state institutions. It must ensure it at any cast," Bhagal Singh, deceased's close relative said.
This was the second high profile attack on a prominent Sikh personality in Pakistan. In April 2016, gunmen killed Sardar Soran Singh, provincial Minister for Minorities Affair. Singh, 46, was the first Sikh in the Khyber Paktoonkhaw Provincial Assembly and an advocate of interfaith-harmony.
Police record shows as many as eight prominent members of the Sikh community have been killed in act of target killings in Pakistan's Khyber Paktoonkhaw since 2013.
In February 2010, Pakistani Taliban kidnapped and killed two members of the Sikh community. Police found one dead body from Khyber tribal region, located a short distance from the provincial capital of Peshawar, while another body was found in the Aurakzai Agency.
Traders and businessmen
Peshawar is home to most of the country's little over 40,000 strong Sikh community. Sadly, this small community has been the target of militant organizations for last few years.
Most of the Sikh businessmen have shops in Peshawar's Scheem Chowk area where Sikh traders and businessmen are feeling terrorized following Charanjit's murder. "Every time someone walks into my shop, I prepare for the worst as I don't know if it's a customer or an assailant," Sardar Lal Singh told this correspondent.
People like Sardar Singh believe government and security agencies have abandoned them. Yet they don't imagine migrating. Sikhs see Pakistan as the place where their religion took roots. The founder of Sikhism, Guru Nanak, was born in 1469 in a small village near Lahore.
The 500-year-old religion was founded in what is now part of Pakistan, a Muslim-majority country of nearly 200 million people. Most Sikhs had migrated to India post-partition but keep visiting Pakistan each year for pilgrimage.
An annual report of the United States Commission on International Religious Freedom (USCIRF) revealed on Tuesday that banned outfits are targeting minorities in Pakistan.
"In 2017, religious minorities in Pakistan, including Hindus, Christians, Sikhs, Ahmadis…continued to face attacks and discrimination from extremist groups and society at large," the report states, adding that as many as 231 people were killed and 691 injured in such incidents in Pakistan last year.
In December 2017, the State Department named Pakistan as the first, and only country on its "Special Watch List," a new category created by December 2016 amendments to IRFA.
https://english.alarabiya.net/en/features/2018/06/01/Despite-deep-roots-Pakistani-Sikh-community-faces-fresh-wave-of-Taliban-attacks.html
--------
Pakistani Catholics spread joy to disabled Muslims
June 1, 2018
A Catholic organization distributed gifts to disabled Muslim students at a pre-Eid ceremony in the eastern Pakistani city of Lahore.
The Dorothea Center for Special Children (DCSC) hosted the ceremony for 35 mentally and physically handicapped students and their parents at the Ambassador Hotel on May 31.
The students, aged 6-18, offered garlands to speakers who said prayers before urging the need for interfaith events during the Islamic fasting month of Ramadan.
DCSC director Khalid Shahzad called for the implementation of a jobs quota for people with special needs.
According to the Disabled Persons (Employment and Rehabilitation) Ordinance passed in 1981, any company employing more than 100 people has to reserve 2 percent of jobs for people with disabilities. However, the law is hardly implemented, said Shahzad.
"The only solution is to make disabled people more independent," he said.
Shahzad said Muslim families do not allow DCSC's Catholic staff to leave without food during home visits even at Ramadan. "True acceptance is vital for interfaith harmony," he said.
Khalil Tahir Sindhu, a Catholic, spent his last day as Punjab's minister for minorities and human rights with DCSC students. The Punjab Assembly dissolved on May 31.
Aneesur Rehman, vice-president of Special Olympics Pakistan, told ucanews.com that inter-religious seminars and events have become an annual tradition in Pakistan.
"Our gifted children deserve all the support, especially because they are better than normal athletes. Our teams have won hundreds of medals in world games," Rehman said.
Full report at:
https://www.ucanews.com/news/pakistani-catholics-spread-joy-to-disabled-muslims/82463
--------
Balochistan High Court declares 8 provincial constituencies in Quetta null and void
Malik Asad | Syed Ali Shah
June 01, 2018
The Balochistan High Court on Friday declared delimitation of eight provincial electoral constituencies null and void in Quetta.
A divisional bench comprising Justice Naeem Akhtar Afghan and Justice Abdullah Baloch ordered the Election Commission of Pakistan (ECP) to re-conduct delimitation in view of apprehensions and reservations of political parties.
The constituencies include PB-24, PB 25, PB 26, PB 27, PB 28, PB 29, PB 30 and PB 32 — all located in Quetta district. However, there was no complaint about PB 31 Quetta.
The number of constituencies in Quetta jumped from six to nine following the 2017 census. Almost all political parties had expressed reservations regarding the recent delimitation by ECP in Quetta district.
Pashtoonkhwa Milli Awami Party (PkMAP) leader Nasrullah Zarai, Hazrat Omar and Malik Yaseen had challenged the delimitation.
The court also ordered the inclusion of union council Sorod from PB 44 Awaran/Panjgoor into PB 43 Panjgoor.
The order was passed by the divisional bench of the BHC on Friday.
IHC asks ECP to settle delimitation issue of 10 districts on June 4
The Islamabad High Court (IHC), while hearing a petition regarding the delimitation of constituencies, on Friday asked the ECP to decide the disputes on June 4.
The court, disposing of identical petitions against the delimitation of constituencies, directed the petitioners to approach the ECP to redress their grievances on the said date.
IHC Justice Farooq this week decided on 110 petitions in which the petitioners had challenged the ECP's notification regarding delimitation of their respective constituencies.
Justice Farooq on Friday set aside delimitations of district Abbottabad — which was challenged by outgoing deputy speaker of National Assembly Murtaza Javed Abbasi — Zhob, and Jhang. He upheld the ECP's decision on Sialkot and Multan's constituencies.
On Wednesday, IHC had declared the delimitation of Kharan, Ghotki, Kasur, Sheikhupura, Bahawalpur and Haripur void.
On Tuesday, IHC set aside the delimitation of constituencies in four districts – Jhelum, Jhang, Toba Tek Singh and Lower Dir.
The court had remanded all these cases back to the Election Commission of Pakistan (ECP) for rehearing.
IHC has so far set aside delimitation of 14 constituencies while almost an equal number of decisions of the ECP in this regard have been upheld by the court.
However, there are still 16 petitions pending before the IHC, which have been fixed for hearing on June 4.
In the written order, Justice Farooq observed that ECP "while hearing the matter, has to take into account that the population variation should not be more than 10 per cent, however, where such is the case, reasons have to be given under section 21 (3) & (4) of the Elections Act, 2017".
According to the petitions, the delimitations were made in violation of Section 20 of the Elections Act, 2017 since the changes were not made 'clock-wise' and the population factor and the geographical compactness were not taken into account. It was contended that by virtue of change, a population difference of 25 per cent had resulted in some constituencies.
The ECP maintains that the delimitations that have been carried out in accordance with Section 20 of Elections Act. Any changes made were for the purpose of bringing the delimitation of two constituencies in line with the law.
The court noted that under the scheme of delimitation, after the committee prepares and approves its proposal, the matter is to be forwarded to the ECP which scrutinises the same and can suggest alterations. If it does so, the matter is referred back to the committee for reconsideration of the amendment suggested.
Once the commission is satisfied that the approved proposal for delimitation is convenient to the public then it publishes the same along with its report in the official gazette.
Representations are then invited from the voters registered in the constituencies for changing the approved proposals. In this regard, while considering the representations, the ECP has to see, whether any amendment or change can be made and if it does feel so, it can be ordered accordingly, the court order states.
According to Justice Farooq, ECP although followed the rules related to the delimitation of constituencies, while making the changes, "provided no reasons for altering the approved proposals".
Full report at:
https://www.dawn.com/news/1411358/balochistan-high-court-declares-8-provincial-constituencies-in-quetta-null-and-void
--------
Gunmen kill official, wound 3 guards in Pakistan tribal area
June 02, 2018
PESHAWAR, Pakistan: A Pakistani official says gunmen have shot and killed one of his staff and wounded three security guards in the restive tribal region along the Afghan border.
Mohammad Ayaz Khan, the top administrator in North Waziristan, says Hamidullah Khan's vehicle was ambushed in a mountainous area late Friday night, and that a fourth guard is missing. The two are not related.
Hizbul Ahrar, an offshoot of the Pakistani Taliban, claimed responsibility for the attack.
A number of tribal officials have been assassinated in recent months as residents return to the area following a yearslong military offensive aimed at rooting out extremist groups.
http://www.arabnews.com/node/1314091/world
--------
South Asia
9 ISIS-K Militants Killed In Nangarhar Artillery Strikes
Jun 01 2018
At least nine militants affiliated with the Islamic State of Iraq and Syria Khurasan (ISIS-K) terrorist group were killed in Afghan army operations in eastern Nangarhar province of Afghanistan.
The provincial government media office in a statement the militants were killed during the artillery strikes pounding the hideouts of the terror group in Haska Mina district.
The statement further added that the four hideouts of the terror group were destroyed during the artillery strikes.
According to Nangarhar governor's office, the operations are still being conducted in Haska Mina district to suppress the loyalists of the terror group.
This comes as the US Air Force had earlier carried out an airstrike on a main compound of the ISIS militants in eastern Nangarhar province of Afghanistan, leaving at least 17 militants dead.
The provincial government media office in a statement said the latest airstrike was carried out in the vicinity of Haska Mina district.
According to the provincial government, the hideout of the terror group was targeted late on Wednesday night in the vicinity of Awghaz area.
The provincial government also added that several weapons and munitions belonging to the terror group were also destroyed in the airstrike.
https://www.khaama.com/9-isis-k-militants-killed-in-nangarhr-artillery-strikes-05288/
--------
Archaeologists among 4 dead, wounded in Kabul city blast
Jun 02 2018
At least four people including archeologists were killed or wounded in an explosion in Kabul city earlier this today, the security officials said.
The incident took place in the vicinity of Bani Hesar area of the city after an explosion ripped through the vehicle of the archeologists.
The Kabul Security Commandment officials confirmed that one archeologist was killed in the blast and three others including their driver were wounded.
The officials further added that the wounded individuals have been shifted to the hospital for treatment but there are no reports regarding their health condition.
The Ministry of Information and Culture also confirmed that one archeologist was killed and two others were wounded along with their driver in the explosion.
A spokesman for the Ministry of Information and Culture Mohammad Sabir Momand confirmed that the archeologists were on their way to Logar province when their vehicle was targeted in the blast.
Full report at:
https://www.khaama.com/archaeologists-among-4-dead-wounded-in-kabul-city-blast-05291/
--------
UN and Myanmar Agree Outline of Rohingya Return Deal, No Details
June 02, 2018
Geneva/Yangon. The United Nations said on Thursday (31/05) that it had struck an outline deal with Myanmar aimed at eventually allowing hundreds of thousands of Rohingya Muslims sheltering in Bangladesh to return safely and by choice.
Since August 2017, about 700,000 Rohingya Muslims have fled a military crackdown in mainly Buddhist Myanmar, many reporting killings, rape and arson on a large scale, UN and other aid organizations have said.
"Since the conditions are not conducive for voluntary return yet, the MoU [memorandum of understanding] is the first and necessary step to support the government's efforts to change that situation," the UN High Commissioner for Refugees (UNHCR) said in a statement.
Myanmar's government said in a brief statement late on Thursday the MoU would be signed "soon" and UN agencies would "support access to livelihoods through the design and implementation of community-based interventions."
Myanmar civilian government spokesman Zaw Htay said he had nothing to add to the statement.
Myanmar and Bangladesh agreed in January to complete the voluntary repatriation of the refugees within two years but differences between the two sides persist, impeding implementation of the plan.
In a separate statement on Thursday, Myanmar's government said it would set up an independent commission to investigate "the violation of human rights and related issues" in Rakhine State following the army operation there in response to attacks by Rohingya insurgents on security posts.
The commission will be assisted by international experts, the statement said without elaborating.
In the Bangladeshi capital Dhaka, senior UNHCR official George William Okoth-Obbo told reporters after a five-day visit to Rohingya refugee camps along the border that conditions in Myanmar did not yet allow a "safe and sustainable return."
Okoth-Obbo said an immediate challenge for humanitarian agencies was to relocate 200,000 Rohingya refugees threatened by seasonal monsoon flooding and landslides to a safer place.
The United Nations and aid agencies have described the crackdown on the Rohingya as "a textbook example of ethnic cleansing," an accusation Myanmar rejects.
The Security Council asked Myanmar in November to ensure no "further excessive use of military force" and to allow "freedom of movement, equal access to basic services, and equal access to full citizenship for all."
Full report at:
http://jakartaglobe.id/international/un-myanmar-agree-outline-rohingya-return-deal-no-details/
--------
Kabul hopes dialogue with Pakistan will help in Taliban peace
Tahir Khan
JUNE 2, 2018
ISLAMABAD: Afghanistan says peace and reconciliation is one of the key aspects of the newly launched bilateral dialogue mechanism with Pakistan.
Zardasht Shams, Afghanistan's Deputy Ambassador in Islamabad, points out that objectives of the latest round of negotiations are to reduce violence and stop bloodshed.
Shams was speaking days after President Ashraf Ghani sent a high level delegation to Pakistan to discuss implementation of the Afghanistan-Pakistan Action Plan for Peace and Solidarity, or APAPPSm that also calls for 'effective actions against fugitives and the irreconcilable elements', posing security threats to either side.
Both countries also committed to deny use of their respective territory by any country, network, group or individuals for anti-state activities against either country, in reference to the Taliban and others groups in both countries.
Afghan National Security Adviser Haneef Atmar, who is considered as the second powerful man in the Afghan ruling set-up, led talks with Army Chief General Qamar Javed Bajwa on May 27.
"The new dialogue mechanism with Pakistan is aimed at making joint efforts either to stop or reduce violence and bloodshed in Afghanistan. So the Afghan side called for urgent implementation of whatever both sides have agreed upon in the APAPPS," Shams told Daily Times on Friday.
The Afghan diplomat declined comment on the specifics of the recent discussion among senior Pakistani and Afghan military and security officials, and said that more discussions will be held on ways to ensure peace and stop violence in the region. He was confident about Pakistan's "flexible" approach, which he said led to "consensus and understanding" on several issues.
"Both sides have committed to take action against irreconcilable elements and Atmar reiterated his commitment that Afghanistan will honour its promises and we hope Pakistan will also act in line with the spirit of the APAPPS," the Afghan diplomat said.
He said the security officials concerned and the joint working groups will review the possible measures. He, however, refused to offer more comments.
Although Kabul attaches high hopes that the new dialogue with Pakistan could pave the way for peace with the Taliban, the insurgents have not shown willingness to join the reconciliation with the Kabul administration.
Taliban spokesman Zabihullah Mujahid quickly rejected as "baseless claim" remarks by top U.S. forces commander in Afghanistan, General John Nicholson, that Taliban leaders are holding secret talks with the government on a possible ceasefire.
"We categorically reject this baseless claim made by General Nicholson. The policy of Islamic Emirate regarding talks and negotiations had been frequently announced and it does not have any secret layers. Talking to impotent parties during the presence of occupying forces is pointless," Mujahid said in a statement.
"American General Nicholson is making such fabricated statements to divert attention from his failures and to keep the Washington media busy with false claims instead of exposing the failed Trump strategy for Afghanistan to the American people," he said.
In Kabul, an official of the High Peace Council claimed contacts with certain Taliban but did not confirm any negotiations with the insurgents.
Taliban have stepped up attacks since they launched their spring offensive in late April and also overran few districts including the centre of western Farah province. Last month, the insurgent group killed dozens of police and other security officials when they launched attacks on two districts in Ghazni province, which Afghan defence experts call a gateway to Kabul. Taliban have also increased their operations in northern parts of the country.
On the other hand, U.S. forces in Afghanistan say they have conducted a series of precision strikes over a ten-day period, May 17-26, killing more than 70 senior Taliban leaders.
"These strikes represent one of the largest blows to Taliban leadership in the last year," said U.S. Army Gen. John Nicholson, U.S. Forces-Afghanistan and Resolute Support commander on May 30.
The largest of these strikes came on May 24, when four High Mobility Artillery Rocket System (HIMARS) rockets destroyed a known Taliban command and control node in Musa Qal'ah during a high-level meeting of Taliban commanders, the Resolute Support mission said in a statement.
Full report at:
https://dailytimes.com.pk/247725/kabul-hopes-dialogue-with-pakistan-will-help-in-taliban-peace/
--------
Southeast Asia
Integrate Moral, Religious Values in Education System: Malaysian Minister
By Dr Md. Mahmudul Hasan
June 2, 2018
SINCE the initial dust has now settled and Dr Maszlee Malik assumed the education minister portfolio, it is perhaps timely to reflect on his suitability for the job.
Dr Maszlee is an academic with decades of affiliation with a university and has memberships and fellowships with research institutions and think tanks. Therefore, many must have thought that his appointment as education minister would make perfect sense. But it did not to some commentators and petitioners. They did not see the logic and did not welcome Prime Minister Tun Dr Mahathir Mohamad's decision.
In their opinion, Dr Maszlee's PhD in good governance from a reputable Western university, plurilingual repertoire and shuttling between the academic disciplines of Islamic jurisprudence and political science did not give him an edge.
Before the Simpang Renggam Member of Parliament was sworn in as education minister on May 21, opposition to his appointment were clichéd terms and banal vocabulary. His critics attached labels such as "Islamist", "Salafist", and "defender of Zakir Naik", "supporter of extremism" and "Muslim Brotherhood sympathiser". What they seemed to oppose is his "Islamic leanings" and possible inculcation of Islamic values in the education system of a Muslim-majority country.
There may be debates about how religion is taught in Malaysian schools of various levels and what changes the new education minister should make; but, dismissing the need for religious (Islamic) teachings in public education amounts to a denial of the reality of educational and social life. The petitioners against Dr Maszlee are not mindful of the fact that an educational system imbued with Islamic values can be a panacea for a multitude of problems such as corruption, sexual misconduct, smoking and other addictions, substance abuse, poor work ethics and other dangerous behaviours.
There was a campaign to malign the character of Dr Maszlee and to associate him with "indoctrination" and "radicalisation". This is unfair. Dr Maszlee may be a newbie in active politics, but he has a long career of research, teaching and public/academic speaking.
Given the fact that humanity is in the grip of a worldwide crisis in education, it is untenable to regard religion as irrelevant to the education system. It is worrisome to conscientious scholars both in the East and West that education has been increasingly confined to professional skills and training for employment only.
Harvard professor Harry Lewis, in his book, Excellence without a Soul: How a Great University Forgot Education (2006), sums up the crisis in modern education: "Society is going to hell in a handbasket, and the great universities are going to get there first".
According to Lewis, modern educational institutions largely "feed students candy rather than tougher stuff that will strengthen their ethical bones". Teachers and lecturers "treat a course like a tube of toothpaste: they squeeze out a little bit of material every day … and they try to ensure that the tube is empty at the end of the term, clenching the tube in both fists during the last week if necessary".
Nowadays, educational attainments are driven by selfish reasons such as greed for money and status, lust for power and other materialistic ends. Most students choose university degrees for reasons of career concerns only. As a result, "the relationship of the students to the college" has become "increasingly that of a consumer to a vendor of expensive goods and services". Sadly, the accumulation of wealth and reckless material aggrandizement seems to have become the sole reason for the pursuit of education. As a result, compassion, honesty, integrity and all other cherished and treasured values are gradually disappearing from society. Eventually, sufferers will not be only a certain religious group, rather the entire humanity.
I am not suggesting that education should be otherworldly and out of touch with contemporary society and its structures. What I argue for here is the integration of moral and religious values in pedagogical practices. The best way to address the educational crisis is the integration approach to embrace the faith and learning. This involves inculcating religious and universally accepted moral values in teaching and learning.
In this respect, Dr Maszlee's Islamic background should be a reason to celebrate, not a cause for concern. Time will tell us about the extent of his success or failure as education minister. To pass judgment on the basis of his "religious leanings" only is ill-considered and hasty.
On a final note, those who seek to dichotomise Islam and education should bear in mind that the first revelation that Prophet Muhammad received from God is the command to: "Read!" (Quran, 96:1).
According to Quranic verses 2:251, 3:48, 12:37 and 18:65-66, all prophets invariably received the inestimable blessing of knowledge from God; and the term ilm (knowledge) and its derivatives appear hundreds of times in the Quran. What is more, Prophet Muhammad famously said: "I have been sent as a teacher."
The scope of this article does not allow me to elaborate more on the Islamic concept of education. However, suffice to say that, contrary to the charges of rigidity and backwardness, Islamic education and Islamic world view interpretations — being organic and fluid — can be oriented towards specific life domains without compromising the basic principles of Islam.
Dr Md. Mahmudul Hasan is with the Department of English Language and Literature, International Islamic University Malaysia
https://www.nst.com.my/opinion/columnists/2018/06/375752/integrate-moral-religious-values-education-system
--------
Firm's Care for Muslim Migrant Workers during Ramadan Wins Praise
June 2, 2018
For Bangladeshi national Kadir Mohammed Abdul, working as a construction worker while fasting during the month of Ramadan can be challenging. So it helps that he has employers who recognise his and his fellow workers' efforts.
Yesterday, the management of Lendlease Retail, as it has done for the past three years, organised an Iftar, or breakfast, session. About 240 migrant workers broke fast together with the Member of Parliament for Marine Parade GRC, Associate Professor Fatimah Lateef, in the session held at Wisma Geylang Serai for the first time. Previously, it was held at the Paya Lebar Quarter project site office.
Mr Kadir, 33, who led the evening prayers this year, was heartened that the company has been organising this annual event.
"I was very lucky to lead the prayers this year. I am also happy that the company takes time out to care for us.
"We were allowed to leave work at 4pm today, instead of 7pm, so that we can prepare for this event," said Mr Kadir.
Lendlease also lets its Muslim workers opt for evening or night shifts instead of working during the day.
They are also provided special stickers for their hard hats so that other colleagues are more conscious of their safety while on site.
"We hope that the campaign has helped raise awareness of the sacrifice of migrant workers," said Mr Richard Paine, managing director, Paya Lebar Quarter by Lendlease.
"Our continued progress is only possible with everyone's hard work and dedication, and we hope to be able to celebrate this month together as a family here."
For the iftar, the workers were served a chicken briyani meal by Assoc Prof Fatimah and four Lendlease executives.
The MP said: "It is wonderful to know that Lendlease has put in a lot of effort in looking after our Muslim workers here during the month of Ramadan.
Full report at:
https://www.straitstimes.com/singapore/firms-care-for-muslim-migrant-workers-during-ramadan-wins-praise
--------
Malaysia Arrests 15 for Jihad Weapons Hoarding Plot
1 Jun 2018
Authorities in Malaysia reportedly detained 15 suspected terrorists — including a student, a housewife, six Malaysians, six Filipinos, and a Bangladeshi restaurant owner — on Friday for allegedly smuggling firearms into the Muslim-majority country and plotting attacks on several non-Muslim places of worship.
According to the Washington Post, National police chief Mohamad Fuzi Harun said the Bangladeshi restaurant owner, 41, was believed to be involved in smuggling weapons for terrorists. Meanwhile, the African couple, who are in their early 20s and whose country of origin was not disclosed, were reportedly suspected of having ties to the Islamic State.
The African couple were reportedly detained in April and have been deported.
"Another Malaysian and six Filipinos, aged between 22 and 49, were held in April in Sabah state on Borneo island for being part of a militant cell collecting firearms to wage 'jihad' in Marawi city in the Philippines," the Washington Post reported. The publication noted that "Marawi was the scene of a six-month militant siege last year."
Harun reportedly said one of the six Malaysians detained is a 17-year-old student and suspected Islamic State member who made six Molotov cocktails that he planned to use against churches and Hindu temples in Kuala Lumpur.
One of the detained Malaysians was a 51-year-old woman who allegedly planned to ram a car into a crowd of non-Muslims at a voting center during the country's general elections on May 9. "In addition, the suspect also planned to drive into non-Muslim worship places using a car filled with gas cylinders as explosives," Harun reportedly said.
A senior intelligence source told Channel News Asia that the woman was the "mastermind" of the terror plot and said, "She exhorted her fellow ideological supporters … to reject the democratic system (in Malaysia) and to choose a Caliphate system instead." The sources reportedly added, "She got the idea of using a car to attack non-Muslims from Islamic State (IS) attacks in France and the UK where terrorists used cars to run over people."
Full report at:
http://www.breitbart.com/national-security/2018/06/01/housewife-student-among-15-suspected-terrorists-detained-in-malaysia/
--------
UKM academic calls for intellectual freedom
June 1, 2018
BANGI: The country's intellectuals should be given the freedom to voice their opinions without fear.
Universiti Kebangsaan Malaysia (UKM) Institute of Ethnic Studies principal research fellow Professor Dr Mansor Mohd Noor said today that intellectuals were reluctant to express themselves freely in writing and during debates because they were afraid it could jeopardise their careers.
"We debate and write not because we want to worsen the situation but because we have to learn from history," he said, after a discussion titled "Religion, Pas and the 14th General Election" at UKM.
"We (academicians) are conducting surveys on the disintegration of political parties in Taiwan and India.
"The same thing happened in the country when people were transferred or fired, or criticised by party veterans and former cabinet members who had left the party.
"If the current government does not practice openness, they will face the same fate as the previous government.
"That's why we need to empower civil society and non-governmental organisations so that they can speak up and offer constructive criticism," he said, adding that it was crucial if the country was to be strong, peaceful, united and prosperous.
Commenting on efforts to strengthen the role of Islamic scholars, Mansor said they had to explain the relevant Islamic principles before calling for the punishment of errant individuals.
"Debate on religion, especially when the community is facing an issue, always revolves around what is halal and haram, not Islam," he said.
"They also freely label other people as Salafi, Sunnah Wal Jamaah and Wahabi.
"The weakness of the religious scholars lies in the fact that many of them discuss current issues from the legal viewpoint and not on the basis of Islamic principles.
Full report at:
https://www.nst.com.my/news/nation/2018/06/375619/ukm-academic-calls-intellectual-freedom
--------
Jakarta seeks Catholic ally in fight against radicalism
June 1, 2018
A senior Indonesian government official has appealed to an influential Catholic organization to help foster national unity, amid what he said were growing threats to the country's secular constitution and philosophy by extremist groups.
Addressing a May 30 gathering to mark the 60th anniversary of the Association of Indonesian Catholic Intellectuals (ISKA), Moeldoko, the presidential chief of staff, said radical groups were trying to destroy the very foundations the country was built on. He was speaking about Indonesia's 1945 constitution and its national philosophy, Pancasila, that promotes secularism and the principle of unity through diversity.
"What is happening scares me. I have just read [an] article about a young girl who became radicalized by learning about extreme Islamic teachings from the internet," Moeldoko, who like many Indonesians only goes by one name, told the gathering in Jakarta. He was referring to 18-year-old Dita Siska Millenia, arrested on May 12 near a police detention center in Depok, West Java, and scene of a deadly riot by terrorism suspects three days earlier.
The girl was allegedly planning to stab a policeman with scissors.
"I hope the ISKA, as an organization with a strong commitment to promoting national unity, can really become this nation's pillar of strength to continue national development," he said.
"I hope ISKA will get rid of the terms 'majority' and 'minority.' We need to think about how to build togetherness. National unity is the only thing which can make Indonesia a big country," he said.
The ISKA is a member of Geneva-based Pax Romana ICMICA, a U.N. affiliated international association of Catholic organizations, groups and individuals primarily engaged in dialogue between the Christian faith and cultures.
As such it is heavily involved in the promotion of human rights and democracy, culture and education, social cohesion and eradication of poverty, and inter cultural and inter-religious dialogue.
ISKA chairman Vincentius Hargo Mandirahardjo said the organization has and always will be at the forefront in dealing with issues threatening national unity.
"We cannot stay silent when our nation is facing threats such as radicalism and fake news stoking religious sentiments. We are very concerned about this situation and will continue to be in the front line," he said.
"We need to voice our commitment over and over again. If we don't, then who else will?" he said, adding the government will have the organization's full support in this regard.
Father Paulus Christian Siswantoko, executive secretary of the bishops' Commission for Laity, said ISKA members have many thoughts and ideas they can share with others because of the influence and connections the organization has.
"It is hoped ISKA can really help people understand the current situation, to act wisely and to find solutions to issues such as radicalism and intolerance," he said.
Full report at:
https://www.ucanews.com/news/jakarta-seeks-catholic-ally-in-fight-against-radicalism/82461
--------
PKR: To reform Jakim, fortify National Islamic Affairs Council
01 June 2018
KUALA LUMPUR, June 1 — PKR's religious bureau has supported today Putrajaya's move to reform the Malaysian Islamic Development Department (Jakim), including appointing a committee to review the federal agency's role.
In a statement, it said the Council of Malay Rulers is responsible for Islamic affairs in each state, and the existing National Islamic Affairs Council, that should supervise federal religious agencies, must be reinforced.
"It is unfortunate, if there is an institution and agency labelled with Islam that is implicated with various issues that tarnish Islam's image," the bureau's chairman Senator Muhammad Nur Manuty said.
"Such as breach of trust, delay, cruelty, wastage, declaring others infidels, too quick to punish and label, treating customers roughly, not pro-active, and buried in a comfort zone."
This week, Dr Mahathir announced that a new committee will be formed to evaluate the role of Jakim. It will include religious scholars and non-religious experts.
Full report at:
https://www.malaymail.com/s/1637444/pkr-to-reform-jakim-fortify-national-islamic-affairs-council
--------
Europe
German Muslims Accuse Bavaria of Double Standards Over Crucifix Order
June 1, 2018
BERLIN (REUTERS) - Muslim groups in Germany accused the Bavarian government of double standards on Friday as a new order requiring government buildings in the mainly Catholic southern region to display a crucifix went into effect.
There is no ban on Muslim women wearing a headscarf in Germany, though some states have restrictions on headscarves and other Muslim religious clothing in courtrooms and schools.
Markus Soeder, Bavaria's premier of the arch-conservative Christian Social Union (CSU) party, introduced the decree on crucifixes in April, drawing a furious reaction from opposition politicians and prominent clerics.
"We believe that religious symbols and values are important for society," Burhan Kesici, the head of the Islamic Council organization, told Reuters.
Referring to rulings such as that in the Bavarian capital of Munich last March which banned headscarves in court rooms, Kesici said perceiving headscarves as something negative while celebrating and imposing crosses in public spaces amounted to "double standards".
"We Muslims don't have a problem with the cross or with valuing religion in the social life. However, government neutrality must remain protected," Aiman Mazyek, the head of another Muslim organization, told Reuters.
"What doesn't work is to accept Christian symbols while banning Islamic, Jewish and other symbols in public," Mazyek said.
Some 4 million Muslims live in Germany, making them the largest religious minority group.
All government offices and departments in Germany's wealthiest and most conservative state are obliged to hang a cross in their entrance area under the new rules. Schools, museums, and theatres will be recommended to place one.
https://www.usnews.com/news/world/articles/2018-06-01/german-muslims-accuse-bavaria-of-double-standards-over-crucifix-order
--------
Muslim Spiderman's French fairy tale sparks migrant pride and envy
1 June 2018
At the French migrant workers' hostel where "Spiderman" Mamoudou Gassama was sleeping on a floor before becoming a folk hero for saving a child, his exploits have triggered a wave of pride tinged with envy.
This week television crews swarmed the center in the eastern Paris suburb of Montreuil to find out more about the 22-year-old Malian who was captured on video scaling an apartment block to bring a child hanging from a balcony to safety.
Many residents were unaware the shy youth was living at the hostel and happy to see him hailed for his bravery by President Emmanuel Macron and being placed on a fast track to French citizenship.
"He lives here? It's incredible," said Adama Kone, a 35-year-old Mauritania native.
The all-male facility, which has an official capacity of 430 but houses many more, is part of a network of hostels built to accommodate a wave of migrant workers arriving from Africa starting in the 1960s.
On his arrival in France in September 2017 after travelling the Mediterranean migrant route, Gassama was given a mattress on the floor in a room occupied by his 54-year-old brother Birama and three relatives from his home village of Yaguine in western Mali.
The modest room, furnished with just two bunk beds and a television placed on top of a fridge, was once occupied by Mamoudou's father, according to Birama.
He was glued to the television on Monday as footage of Mamoudou meeting Macron in the gilded settings of the Elysee Palace was being played on a loop.
"As a foreigner I am really pleased," he said.
"He could have fallen and died. He's a true hero."
'We should be jealous'
Several residents of the hostel -- home to migrants from Mali, Senegal and Mauritania -- described a grim existence in France, under pressure to find work to support families at home who live off remittances.
The corridors of the shelter are cluttered with camp beds and cooking stoves, and window ledges act as larders.
Illegal migrants live in hope of eventually gaining the right to stay -- hopes nourished by official statistics which show that in 2017 alone 30,000 were given residency.
But Macron on Monday reiterated he would abide by his tough stance on immigration.
Presenting his decision to naturalise Gassama as an "exceptional" move to honour an "exceptional act" he warned: "We cannot give (papers) to all those who come from Mali or Burkina Faso" -- two countries from where thousands set out each year across the Mediterranean to Europe.
An estimated 300,000 immigrants are living illegally in France, according to the government.
"The president should regularise everyone," said Mamoudou, a 26-year-old Malian who claimed to be a childhood friend of the "Spiderman".
"We should be jealous of him," he added, "to motivate ourselves to do something just as brave."
But he was not hopeful of a rapid change in policy.
Like many young migrants he saw his only hope in pulling off an exceptional feat like that of Gassama or fellow Malian national Lassana Bathily, who was granted French citizenship for helping hide hostages during a jihadist attack in Paris in January 2015.
It took Galadio Diakite, a 50-year-old Malian still living in the hostel after three decades in France, 11 years to obtain residency.
Full report at:
https://english.alarabiya.net/en/features/2018/06/01/Muslim-Spiderman-s-French-fairy-tale-sparks-migrant-pride-and-envy.html
--------
Italy vows to 'send home' half a million undocumented immigrants
Jun 2, 2018
Far-right Italian Interior Minister Matteo Salvini has pledged to deliver on his campaign promise to deport half a million asylum seekers from the country.
Salvini declared on Friday that one of the new government's top priorities would be to "send them home," signaling to keep a campaign pledge which could result in some 500,000 undocumented refugees leaving Italy.
"Open doors in Italy for good people and a one-way ticket for those who come to Italy to create commotion and think they will be taken care of. 'Send them home' will be one of our top priorities," he said.
Salvini also said he would seek to convert refugee reception centers into detention centers and use public funds for mass deportations.
The head of Italy's far-right League, a nationalist party which is part of the ruling coalition, took the tough approach hours after the new government was approved by the Italian president, Sergio Mattarella.
New Prime Minister Giuseppe Conte was sworn in on Friday as the head of the first populist government in a European Union founding member. Conte's government, which has been forged by the anti-establishment Five Star Movement and the far-right League party, has raised concerns in some EU member states.
The 53-year-old is to lead a government that intends to cut taxes and boost welfare spending, while seeking to overhaul EU rules on immigration and budgets.
Europe has launched a string of schemes to tackle its worst refugee crisis since World War II. The continent has been hit since 2014 by an unprecedented influx of refugees who are fleeing conflict-ridden zones in North Africa and the Middle East, in particular Syria.
Many blame major European powers for the mass exodus, saying their interference has led to a surge in conflicts and terrorism in troubled regions, forcing people to flee their homes.
Some 700,000 refugees have landed in Italy over the past four years.
Full report at:
http://www.presstv.com/Detail/2018/06/02/563616/Italy-Matteo-Salvini-EU--illegal-refugees-undocumented-immigrants
--------
Russian pilot found alive 30 years after shot down in Afghanistan
June 2, 2018
MOSCOW - A Russian pilot who was missing presumed dead after his plane was shot down three decades ago during the Soviet intervention in Afghanistan has been found alive and wants to come home, Russian military veterans said Friday.
"He is still alive. It's very astonishing. Now he needs help," the head of the paratroopers' union Valery Vostrotin told RIA Novosti state news agency.
Vostrotin, who heads the Russian side of a Russian-US joint commission on prisoners-of-war and soldiers missing in action, declined to name the pilot for reasons of confidentiality.
The man was shot down in 1987 and is likely now to be over 60, the deputy head of veteran's organisation Battle Brotherhood, Vyacheslav Kalinin, told the news agency, adding that he now wants to come home.
He suggested that the pilot could be in Pakistan, where Afghanistan had camps for prisoners of war.
RIA Novosti reported that during the course of the war between 1979 and 1989, 125 Soviet planes were shot down in Afghanistan.
When Soviet troops pulled out in 1989, around 300 soldiers were listed as missing. Since then some 30 have been found and most returned to their home countries.
Kommersant business daily reported that only one Soviet pilot was shot down in 1987, naming him as Sergei Pantelyuk from the southern Russian Rostov region, who went missing along with his plane after taking off from Bagram airfield, now a US air base, north of Kabul.
The head of a local veterans' organisation said that his mother and sister are both alive.
Komsomolskaya Pravda tabloid also traced Pantelyuk's 31-year-old daughter who was born months before her father went missing.
Senator Frants Klintsevich told RIA Novosti that this was far from the only such case. He said that he had met a former Soviet soldier on a trip to Afghanistan a few years ago who refused to give his name and spoke Russian with difficulty and said it was too late for him to go back.
Former Soviet soldier Bakhretdin Khakimov, who was interviewed by AFP in 2015, was one of those who opted to remain in Afghanistan. He was seriously wounded and was nursed back to health by local people and then converted to Islam.
Full report at:
https://nation.com.pk/02-Jun-2018/russian-pilot-found-alive-30-years-after-shot-down-in-afghanistan
--------
EU making progress on protecting Iran trade: French FM
Jun 1, 2018
French Foreign Minister Jean-Yves Le Drian says the European Union has made some progress on measures to protect the bloc's companies from US sanctions on Iran but they are still insufficient.
"We have moved forward on one point, which is the implementation of a European rule that dates from 1996 which we have modernized and allows us to protect our firms against this American pressure, but that is not enough," he told France's LCI television.
However, there is still a need to create financial mechanisms away from the dollar, in euros or other currencies, that will help firms dealing with Iran, and for Tehran to be able to export its oil, he added.
The 1996 rule allowed Europe to protect its companies from sanctions imposed by US on Cuba and other countries.
The comments come as France, Germany and Britain, as three European signatories to the Iran nuclear agreement, known as the JCPOA, are scrambling to protect their businesses from new American sanctions following US President Donald Trump's withdrawal form the deal.
A reinvigoration of that regulation could also facilitate efforts to save the JCPOA from constant US threats of banning companies from its market of they engage in business with Iran.
Other countries affected by unilateral US sanctions, like Russia, have also proposed the use of euro or other currencies in transactions with the EU.
The US has used its lobby to prevent such a decision as skirting dollar in the relatively large amount of economic activity between Russia and the EU could seriously undermine Washington's global clout.
Reuters on Friday quoted Western diplomats as saying that the remaining parties to the Iran nuclear deal have warned the United States that its decision to withdraw from the pact jeopardizes non-proliferation efforts.
In pulling out of the 2015 deal, Trump triggered the revival of sanctions against the Atomic Energy Organization of Iran (AEOI), which oversees the Arak heavy water research reactor and the Fordow fuel enrichment plant.
Under the deal, the Arak reactor was to be redesigned to render it unable to make plutonium under normal operation, while the Fordow plant was to stop enriching uranium and be converted into a nuclear, physics and technology center.
The restoration of U.S. sanctions on AEOI would expose non-US companies to the risk of punishment by the United States for dealing with it, including Chinese state-owned China National Nuclear Corp. and Russia's Rosatom, which are doing nonproliferation work respectively at Arak and Fordow.
At a meeting in Vienna last Friday, the non-US parties to the deal - Britain, China, France, Germany, Russia and Iran - discussed the subject extensively, with Beijing and Moscow stressing their concerns, Reuters quoted European diplomats as saying.
Full report at:
http://www.presstv.com/Detail/2018/06/01/563531/France-Le-Drian-Iran-nuclear-deal
--------
Africa
How Mozambique's Smuggling Barons Nurtured Jihadists
June 2, 2018
Attacks by young Islamist militants in northern Mozambique are fuelled by a mix of poverty and corruption, writes Joseph Hanlon.
In the most recent attack, 10 people were decapitated with machetes in Palma district in the country's northerly Cabo Delgado province.
More than 300 people have been detained by the police and army since the first attack in the port town Mocimboa da Praia on October 2017.
Coastal northern Mozambique has a long history of trade and movement of people with the rest of East Africa, and people in this area are traditionally Muslim.
The offshore discovery of one of the largest natural gas fields in Africa in 2010 triggered dreams of wealth, but so far there has been little impact locally.
Gas will not be produced in the region until 2022 and there will be no serious government revenue until 2028 or later.
There is currently offshore exploration work being done and onshore construction of infrastructure. But as is common with mega-projects of this kind, few local opportunities have materialised.
Youth unemployment therefore remains very high, as in the rest of Mozambique.
Growing cells
In 2015, poorly educated and marginalised young men, many of them itinerant street traders in Mocimboa da Praia, formed small groups and began to organise around a rudimentary form of Islamic fundamentalism.
They blamed both the mosques and the Mozambican state for their plight, and decided to challenge both.
Groups marched into local mosques wearing shoes and carrying knives as an intentional sign of disrespect of what they saw as "degenerate Islam". Local people called them "al-Shabab", simply local Arabic for youth, or just "the Shababs".
The small cells realised the need to look outside both for weapons and religious training, and found surprising allies.
Smuggling networks
Mozambique has become increasingly corrupt in recent years and its coastal north has become a major centre for ivory, timber, heroin and ruby smuggling - with the involvement of police and other government officials.
Local smuggling barons incorporated the militant young men into their networks and paid them well.
The nearby border with Tanzania is not controlled and there has always been a movement of people. This has increased with more people smuggling - mainly from Kenya, Somalia and the Great Lakes through Mozambique to South Africa.
There were already young Tanzanian men in the Mocimboa da Praia street trading community who became part of the groups.
After the 2012 killing in Kenya of Muslim cleric Aboud Rogo Mohammed (accused of supporting al-Shabab in Somalia), his followers came under pressure and moved south.
They built a presence in Kibiti, Tanzania, and crossed the Ruvuma River into Cabo Delgado by 2015.
Using incomes made from smuggling, religious networks, and people-traffickers, the extremist cells paid to send young men to Tanzania, Kenya and Somalia for military and Islamic training.
The income also helped bring radical clerics to Mozambique.
Within Mozambique, they hired a sacked policeman and two dismissed border guards to provide military training.
Guerrilla tactics
A study of these groups based on a month of fieldwork by Mozambican Islamic cleric Sheik Saide Habibe and researchers Salvador Forquilha and João Pereira was reported in Maputo on 22 May.
The structure remains one of small cells, of 10 to 30 people, who are linked but only loosely, the study found.
Most of the attacks appear to have been done by a single group.
This loose guerrilla format makes it difficult for the army and police to find these small groups.
There is now a large presence of army and riot police in three districts of Cabo Delgado. They have been accused of heavy handed tactics and of killing local people.
Two helicopters and a navy ship shelled the village of Mitumbate near Mocimboa da Praia on 23 and 24 December 2017 with at least 50 casualties.
illagers were accused of supporting the young Islamist militants.
The shelling was in response to an ambush of a riot police convoy on 17 December, which was going from Mocimboa da Praia to Mitumbate, in which the riot police's national director of reconnaissance was killed.
The growing role of young Islamic fundamentalists and incidents like mosque invasions had been reported to local and provincial police and officials since 2015.
But the response has been to turn a blind eye - partly not to rock the boat and jeopardise their own jobs by giving bad news to their superiors, and partly because the young militants have the support of the smuggling barons.
Some commentators have pointed to the attacks' similarity to common guerrilla tactics, and also to the actions of the Renamo guerrilla movement in Mozambique when it first started in the late 1970s.
There is no overt political agenda and the first step is to establish a presence through fear, including atrocities such as the recent beheadings.
Final goal
At the same time, they need to recruit new members and gain local support, and this is apparently being done through family links.
But the final goal is to encourage overreaction by the government, which they hope will turn communities against the government and toward them.
All of that appears to be happening in coastal Cabo Delgado.
Meanwhile, Mozambique will have municipal elections on 10 October and national elections in 2019.
Frelimo, which has governed since independence, is facing a growing backlash, in part because of the lack of rural development and the failure to create jobs - exactly what is at the heart of the Islamist youth militancy.
Although Cabo Delgado has always voted overwhelmingly for Frelimo, the opposition - both Renamo and Mozambique Democratic Movement (MDM) - has also done well in these coastal areas.
Only time will tell whether the impoverished region's lack of development, jobs, growing corruption and heavy-handed response to extremism will help the opposition in the polls.
It could also be the toxic recipe needed to help grow these nascent extremist groups.
https://www.bbc.com/news/world-africa-44320531
--------
US says air strike kills 12 militants in Somalia
June 02, 2018
WASHINGTON : A US air strike in Somalia killed 12 militants from the Shabaab, an Al-Qaeda affiliate that launches regular attacks on targets in the African nation, the United States Africa Command said on Friday.
It said US forces conducted the strike on Thursday in conjunction with Somalia's government about 30 miles (48 kilometers) southwest of Mogadishu.
The Shabaab was pushed out of Somalia's capital in 2011, and subsequently from other towns and cities, by soldiers from the African Union Mission in Somalia (AMISOM).
But the Islamists still hold sway in large parts of the countryside. They launch regular gun and bomb attacks on government, military and civilian targets in Mogadishu as well as ambushes on military convoys and outposts.
Somali commandos often carry out operations side-by-side with the American forces that train them. Air assaults and missile strikes have increased in recent months.
Full report at:
https://nation.com.pk/02-Jun-2018/us-says-air-strike-kills-12-militants-in-somalia
--------
Traffickers shoot dead 12 fleeing refugees in Libya: UN
Jun 1, 2018
The UN refugee agency (UNHCR) says people smugglers shot dead more than 12 refugees who were attempting to flee a camp in Libya last week.
The incident, previously reported by Doctors Without Borders (MSF) and local sources, took place in the town of Bani Walid, south of Tripoli, on May 23.
"Human traffickers in Libya reportedly killed more than a dozen people and wounded many others after a group of some 200 Eritreans, Ethiopians and Somalis, being held captive, attempted to escape," the UNHCR said in a statement on Friday, noting that those murdered "were shot".
"The survivors spoke of torture abuse and exploitation at the hands of traffickers - some being held in captivity for up to three years," the statement added.
Bani Walid is a hub for smugglers to bring refugees from Libya's southern sub-Saharan neighbors to the coast, from where they are shipped by boat to Italy.
People smugglers and kidnappers control around 20 detention centers in the town, telephoning the refugees' families to demand ransoms.
Since the 2011 uprising that toppled longtime dictator Muammar Gaddafi, chaos-ridden Libya has become a major transit hub for refugees trying to reach Europe.
Hundreds of thousands of asylum seekers fleeing violence and persecution have made the perilous journey through Libya and across the Mediterranean Sea to Italy. Many have perished en route.
Full report at:
http://www.presstv.com/Detail/2018/06/01/563563/UN-Libya-traffickers-refugees
--------
Boko Haram: What Global Amnesty Watch said about activities of Nigerian troops, IDPs in north east
June 1, 2018
By Ameh Comrade Godwin
The Global Amnesty Watch, GAW, an international human rights organization, has spoken on activities of troops of the Operation Lafiya Dole currently fighting Boko Haram terrorists in north eastern part of Nigeria.
President of GAW, David Falt, while speaking during a visit to the headquarters of Operation Lafiya Dole, called on other international bodies to come to the aid of the country.
According to Falt, GAW decided to visit Nigeria in order to witness activities of the troops and condition of the Internally Displaced Persons in the region.
In his speech, the GAWA boss said, "The Global Amnesty Watch has been in town for sometimes now and having worked extensively to examine the war against terror in Nigeria, it will be out of place not to visit the theatre of operations to pay our complement to the Nigerian troops."
"The reality however is that I am here after an extended field trip of affected areas and attending the International Conference on Terrorism here in Nigeria. Participants and experts at the conference assessed the war on terrorism in the past three years, which incidentally covers the period the present administration has been in office."
"This is a method of evaluation I recommend experts in conflict monitoring and resolution to return to, on the ground assessment. Advancement in technology has internet connectivity means that international organizations are able to remotely monitor conflicts, conduct interviews and exchange documents and other information.
"But these are fraught with downsides, with the greatest minus being the ease with which they can be easily manipulated for mischief – satellite images that have been doctored, interviews with composite personalities that do not exist but were created to mislead researchers, videos, pictures and audios that have been edited to alter the contexts are few of the pitfalls that have compromised the reports of organizations that otherwise see themselves as reputable."
David, while expressing his reservation on the recent reports against the Nigerian Military by an agency, stated that the limited number of staff deployed as human intervention to mediate technology used on the field have proven even less reliable than the process they are meant to moderate.
The Global President applauded the Nigerian Military saying "One must commend the Army leadership for instilling the highest level of respect for rules of engagement and human rights in the course of fighting terrorists.
"Nigeria has done well in this fight. The kind of destabilization in other places with ISIS and al-Qaeda has been averted for Nigeria because the Army at some point did the right thing by adopting a Nigerian approach to a global problem that surfaced in your country. It is working, even though there are forces that prefer things turn out differently."
Falt charged the Army not to relent or else things will degenerate again, especially in the case of groups in their formative stages of becoming terrorist organizations.
"The world is looking up the Nigerian military. This is why the Nigerian military must shun every form of distraction when carrying out their duties.
"You must continue to ensure that troops comply with rules of engagement and respect human rights so that those working to place obstacle in the way of the war on terrorism would not have substantiation for their allegations. This much is owed to the civilian populations that have come to rightly depend on the military for protection from terrorists. We commend your protection and appeal that you do not let them down for any reason."
Full report at:
http://dailypost.ng/2018/06/01/boko-haram-amnesty-watch-said-activities-nigerian-troops-idps-north-east/
--------
Mideast
International treaty on counter-terrorism comes into effect in Turkey
June 01 2018
The Additional Protocol of the first international treaty on foreign terrorists, which was signed in the Latvian capital Riga in 2015, was put into force in Turkey on June 1.
"The Additional Protocol of the Council of Europe Convention on the Prevention of Terrorism, the first international treaty addressing the foreign terrorist fighters phenomenon that was signed in Riga on Oct. 22, 2015, has been recently ratified by our country and came into force in Turkey as of today," the Turkish Foreign Ministry said in a statement.
It reminded that the protocol had been signed by 40 member states of the Council of Europe and the EU.
Together with Turkey, the number of states which ratified and enforced the protocol reached 12, it added.
"Turkey significantly contributed to the drafting and prompt signing of the Additional Protocol, which not only stipulates strengthening the cooperation among the members of the Council of Europe, but also obligates them to criminalize a number of acts, such as taking part in an association or a group for the purpose of terrorism, receiving terrorist training, travelling abroad for the purposes of terrorism and organizing, financing or facilitating such travels," the statement said.
Noting that Turkey would continue to support international efforts against terrorism, which it described as "a major threat to global peace and security," it said the country had already been combatting several terrorist organizations at the same time.
http://www.hurriyetdailynews.com/international-treaty-on-counter-terrorism-comes-into-effect-in-turkey-132683
--------
Abu Dhabi within range of Yemeni missiles: Army spokesman
Jun 2, 2018
Yemen's army spokesman has warned the UAE that its capital, Abu Dahabi, is "no longer safe" from missiles fired in retaliation for the Saudi-led military campaign on the impoverished state.
"From now on Abu Dhabi is no longer safe, it will be within our ballistic missiles' range," Brigadier General Sharaf Ghaleb Luqman said in a statement carried by Yemen's official Saba news agency on Friday.
Luqman also urged investors in Abu Dhabi to take his warning seriously.
The UAE is a key member of a Saudi-led invasion that began in March 2015 in support of Yemen's former Riyadh-friendly government and against the Houthi Ansarullah movement.
The offensive has killed and injured over 600,000 civilians, according to the Yemeni Ministry of Human Rights.
Elsewhere in his statement, the spokesman said the Yemeni army would confront the military escalation by the UAE forces in the country's western coast in Hudaydah.
"Yemen's army supported by popular committees has recaptured most of the areas in the western coast," he said. "Islands and areas, where the occupation forces of the Saudi-UAE-led coalition are stationing, will be a cemetery."
The remarks came amid a recent military build-up by the UAE-backed forces in Yemen's western port city of Hudaydah and the Socotra Island.
Luqman further rejected reports of advances by the Saudi-led coalition in Yemen's northern Sa'ada Province as false.
Saudi Arabia has also imposed a blockade on Yemen, which has halted humanitarian deliveries of food and medicine to the conflict-ridden state.
Several Western countries, the US and the UK in particular, are accused of being complicit in the aggression as they supply the Riyadh regime with advanced weapons and military equipment.
Yemeni forces regularly target positions inside Saudi Arabia in retaliatory attacks against the Riyadh-led military operation.
Five Saudi soldiers slain in Yemeni attack
On Friday, Arabic-language al-Masirah television network reported that Yemeni forces had attacked Saudi military positions in the kingdom's southwestern Jizan region, killing five soldiers.
The Yemeni army's artillery unit also targeted Saudi army positions in the same region, the report said.
Full report at:
http://www.presstv.com/Detail/2018/06/02/563613/Yemen-UAE-Abu-Dhabi-Saudi-Arabia
--------
Yemeni army creates plan to liberate Hodeidah
1 June 2018
The Yemeni army has devised a plan that consists of three axes to liberate Hodeidah, Yemen's Hodeidah Governor al-Hassan al-Taher told Asharq Al-Awsat daily.
The plan stipulates entering from the city's southern side while closing off the southeastern part of the road that leads to the Bajil district to prevent the Houthi militias from receiving any reinforcements.
An exit from the northern side will also be opened to give Houthi militants a way to escape while a new front towards the international airport will be opened as well.
Yemeni intelligence forces have also detected the posts of Houthi fighters and their equipment.
According to Taher, the airport will be one of the first posts that the army will handle.
Full report at:
https://english.alarabiya.net/en/News/gulf/2018/06/01/Yemeni-army-creates-plan-to-liberate-Hodeidah.html
--------
Israeli forces fatally shoot Palestinian nurse in anti-occupation rally
Jun 1, 2018
A young Palestinian nurse has been killed when Israeli military forces opened fire on a group of protesters taking part in an anti-occupation rally near the border between the besieged Gaza Strip and occupied territories.
Palestinian medical sources, speaking on condition of anonymity, said 21-year-old Razan Ashraf al-Najjar was attending to wounded Palestinian demonstrators east of Khan Yunis, located about 25 kilometers (15 miles) south of Gaza City, when Israeli troopers fired indiscriminate shots, Arabic-language Palestine al-Yawm news agency reported.
Najjar was critically wounded as a result, and succumbed to her grave gunshot wounds shortly afterwards.
At least 120 Palestinians have been killed by Israeli forces since the "Great March of Return" began in Gaza Strip on March 30. Fourteen children are among the fallen Palestinians.
About 13,300 Palestinians also sustained injuries, of whom 300 are in a critical condition.
The occupied territories have witnessed new tensions ever since US President Donald Trump on December 6, 2017 announced Washington's recognition of Jerusalem al-Quds as Israel's "capital" and said the US would move its embassy to the city.
The dramatic decision triggered demonstrations in the occupied Palestinian territories and elsewhere in the world.
The status of Jerusalem al-Quds is the thorniest issue in the decades-long Israeli-Palestinian conflict.
The Palestinians see East Jerusalem as the capital of their future state.
On May 17, Turkish Foreign Minister Mevlut Cavusoglu said the Israeli regime should be brought before the International Criminal Court for the recent Gaza massacre.
"Israel should be taken to the International Criminal Court [over the killing of Palestinians]. Since third parties cannot do it, Palestine needs to initiate this," Cavusoglu said in an interview with state broadcaster TRT.
In a final communiqué issued following an emergency meeting in Istanbul on May 18, the Organization of Islamic Cooperation (OIC) condemned the May 14 massacre of dozens of Gazans as "savage crimes committed by the Israeli forces with the backing of the US administration."
It also urged the UN to "form an international investigation committee into the recent atrocities in the Gaza Strip, and enable the committee to initiate field investigation."
Full report at:
http://www.presstv.com/Detail/2018/06/01/563568/Israeli-forces-fatally-shoot-Palestinian-nurse-in-antioccupation-rally
--------
Police arrest over 60 suspects across Turkey over Gulen network affiliation
Jun 1, 2018
Turkish police forces have arrested at least 61 people across the country on suspicion of affiliation to a movement led by the US-based opposition cleric Fethullah Gulen, whom the Ankara government accuses of having masterminded the July 2016 coup attempt against President Recep Tayyip Erdogan.
Security sources, speaking on condition of anonymity, said on Friday that 30 people were arrested in the capital Ankara after the Chief Public Prosecutor's Office issued arrest warrants for 43 suspects.
Another 20 suspects were arrested after the Chief Public Prosecutor's Office in Istanbul issued arrest warrants for 38 people over suspected affiliation to Gulen network.
The sources said that 18 of the suspects are on-duty soldiers, while the remaining two are cadets.
Furthermore, eleven on-duty soldiers were arrested as part of probe into Gulenists' infiltration into Turkish military.
Separately, an Istanbul court has handed down aggravated life imprisonment to eight defendants for their role in the failed July 2016 coup attempt.
Defendants were among 90 soldiers, who tried to take over Istanbul province during the botched putsch.
During the failed coup attempt, a faction of the Turkish military declared that it had seized control of the country and the government of Erdogan was no more in charge. The attempt was, however, suppressed a few hours later.
Ankara has since accused Gulen of having orchestrated the coup. The opposition figure is also accused of being behind a long-running campaign to topple the government via infiltrating the country's institutions, particularly the army, police and the judiciary.
Gulen has denounced the "despicable putsch" and reiterated that he had no role in it.
"Accusations against me related to the coup attempt are baseless and politically-motivated slanders," he said in a statement.
The 77-year-old cleric has also called on Ankara to end its "witch hunt" of his followers, a move he says is aimed at "weeding out anyone it deems disloyal to President Erdogan and his regime."
Turkish officials have frequently called on their US counterparts to extradite Gulen, but their demands have not been taken heed of.
Turkey, which remains in a state of emergency since the coup, has been engaged in suppressing the media and opposition groups suspected to have played a role in the failed coup.
Tens of thousands of people have been arrested in Turkey on suspicion of having links to Gulen and the failed coup. More than 110,000 others, including military staff, civil servants and journalists, have been sacked or suspended from work over the same accusations.
Full report at:
http://www.presstv.com/Detail/2018/06/01/563553/Police-arrest-over-60-suspects-across-Turkey-over-Gulen-network-affiliation
--------
Over 400 Palestinian prisoners to go on hunger strike in Israeli jails
Jun 1, 2018
Hundreds of Palestinian prisoners currently being held in Israeli jails and detention facilities are expected to launch a hunger strike next week in protest against their detention without charge or trial.
Head of the Palestinian Authority's Committee for Prisoners' Affairs, Issa Qaraqe, said in a statement that some 500 Palestinian inmates have been boycotting Israeli courts since February, and demanding an end to Israel's policy of administrative detention – a controversial form of imprisonment that allows Israeli authorities to detain individuals indefinitely without charge, trial or access to counsel.
Qaraqe added that the detainees would be "escalating measures" in early June, and would be launching a widespread hunger strike.
The administrative detainees are calling upon people from all walks of the Palestinian nation to support their action, the Palestinian official said.
Qaraqe further noted that he expects Israeli authorities to "exercise unprecedented repression and isolate the inmates" during the strike.
More than 7,000 Palestinians are reportedly held at Israeli jails. Hundreds of the inmates have apparently been incarcerated under the practice of administrative detention, a policy under which Palestinian inmates are kept in Israeli detention facilities without trial or charge.
Some Palestinian prisoners have been held in administrative detention for up to eleven years.
Palestinian inmates regularly stage hunger strikes in protest at the administrative detention policy and their harsh prison conditions in Israeli jails.
Full report at:
http://www.presstv.com/Detail/2018/06/01/563546/Over-400-Palestinian-prisoners-to-go-on-hunger-strike-in-Israeli-jails
--------
Yemeni army continues push against Houthis in Hajjah
June 02, 2018
DUBAI: The Yemeni National Army, backed by the Arab Coalition, liberated positions on the outskirts of the Hajjah province from the Iran-backed Houthi militia on Friday, Saudi state-news channel Al-Ekhbariya reported.
The armed forces' media center said that heavy losses were inflicted on the militia.
http://www.arabnews.com/node/1314086/middle-east
--------
Netanyahu to push hard line on Iran during Europe trip
June 02, 2018
JERUSALEM: Israeli Prime Minister Benjamin Netanyahu will travel to Europe Monday to push his uncompromising stance on Iran to leaders eager to salvage the nuclear agreement after the United States withdrew.
Netanyahu, a fierce opponent of the agreement and the Iranian regime, will meet in turn with German Chancellor Angela Merkel, French President Emmanuel Macron and British Prime Minister Theresa May.
Germany, France and the United Kingdom are three of the signatories of the 2015 Joint Comprehensive Plan of Action (JCPOA) between world powers and Iran, aimed at keeping Tehran from acquiring nuclear weapons.
The European leaders have been scrambling to preserve the landmark deal after slamming President Donald Trump's May 8 decision to withdraw.
The fallout from America rejecting the accord is likely to dominate the talks, with Netanyahu expected to firmly oppose European efforts to sustain it.
"I will discuss with them ways to block Iran's nuclear aspirations and Iran's expansion in the Middle East," Netanyahu said on Monday of his European meetings, noting the issues were "crucial to Israel's security."
After years lobbying against the 2015 deal, the decision by close ally Trump to ditch the accord has been greeted as a major triumph by Netanyahu.
The Israeli leader has brushed aside European insistence that the agreement is the best option to prevent Tehran getting the bomb, claiming that it in fact brought Tehran closer to becoming a nuclear power.
He also argues that a cash influx into Iran following the lifting of international sanctions as part of the accord has fueled the expansion of Tehran's military influence in the region, especially in neighboring Syria.
But while the US retreat from the deal is a personal victory for Netanyahu, it also represents a leap into the unknown for Israel and the broader Middle East.
While foes Iran and Israel have been kept at bay for decades, an unprecedented May 10 escalation in Syria that saw Israel bomb alleged Iranian targets after blaming Tehran for a rocket barrage, has sparked fears of open war.
"An Iranian departure from southern Syria alone will not suffice," Netanyahu said on Tuesday.
"The long-range missiles that Iran is working to station in Syria will endanger us even beyond the range of several kilometers from southern Syria; therefore, Iran needs to leave Syria altogether."
The Europeans have acknowledged concerns over Iran's regional role and its ballistic activities, but sought to maintain the JCPOA while creating a separate arrangement on these issues.
Contrary to what the US and Israel say, Europe insists the 2015 agreement works and Iran has abided by it.
"There is no alternative," the EU's foreign policy chief Federica Mogherini said on Monday.
Merkel, May and Macron are still waiting for the Israelis and Americans to present another way to curb Iran's nuclear program, but are under no illusions it will happen in next week's meetings, according to a European diplomat.
Divided on other issues, the Europeans have emphasised their cohesion on the JCPOA, fearing that ripping it up could benefit hard-liners in Iran and push Tehran to resume large-scale uranium enrichment.
If that happens, the fear is it will once again make striking Iran a real option for Israel.
On Thursday, a former Mossad chief said that in 2011 Netanyahu had ordered him and the military chief of staff to prepare an attack on Iran within 15 days.
According to Tamir Pardo's interview on the Uvda television program, such a directive could either mean "he really means it," or be a means to deliver a message, for example to the US, and perhaps drive it to take action.
Other major issues look set to be left on the sidelines in the talks with European leaders.
The Israeli-Palestinian conflict is in the spotlight after the worst military flare-up in Gaza since a 2014 war raised fears this week of yet another full-blown conflict in the beleaguered Palestinian enclave.
The exchange of fire came after scores of Palestinians were shot dead by Israeli troops during protests and clashes along the Gaza border.
But along with other subjects, such as bilateral relations or the rise of anti-Semitism in Europe, it will likely remain overshadowed by Iran.
Expectations of any progress on the conflict with the Palestinians are low.
Full report at:
http://www.arabnews.com/node/1314066/middle-east
--------
Greek court rules to extradite suspected terrorist to Turkey
June 01 2018
A Greek court on June 1 ordered the extradition of a suspected far-left terrorist to Turkey.
Turgut Kaya, a suspected member of the outlawed Revolutionary People's Liberation Party-Front (DHKP-C) was arrested in February while trying to enter into Greece.
According to Greek judicial procedures, the final decision about Kaya, against whom there is an Interpol red notice, is to be made by Greek Justice Minister Stavros Kontonis.
http://www.hurriyetdailynews.com/greece-to-extradite-suspected-terrorist-to-turkey-132711
--------
URL: https://www.newageislam.com/islamic-world-news/al-qaeda-warns-saudi-crown/d/115431
New Age Islam, Islam Online, Islamic Website, African Muslim News, Arab World News, South Asia News, Indian Muslim News, World Muslim News, Women in Islam, Islamic Feminism, Arab Women, Women In Arab, Islamophobia in America, Muslim Women in West, Islam Women and Feminism