New Age Islam News Bureau
15 Feb 2014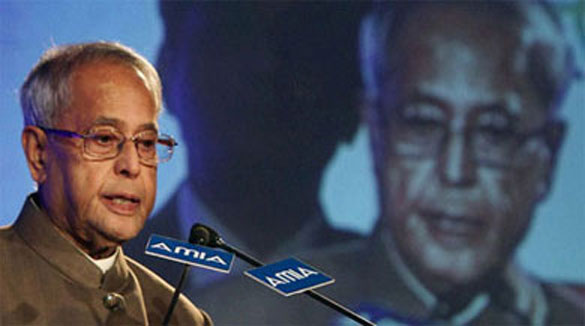 The President said both India and Bangladesh have constituted Parliamentary Friendship Groups to strengthen cooperation between the two Parliaments
-----------
South Asia
• Al-Qaeda urges Jihad in Bangladesh
• 18 Taliban militants killed or injured in Afghan operations
• Latest peace overtures indicate Afghan Taliban's change of heart
• Bangladesh Speaker hopeful of resolving issues with India
• MDP will not respect separation of powers, says President Yameen
• Twenty-five years after Soviet exit, Taliban says US will meet same fate
Arab World
• Car Bomb Attack outside Syria Mosque Kills At Least 47 People, Including 14 Rebel Fighters
• Al Qaeda splinter group executes 13 in Syria — report
• At Least 18 Killed in Syria Car Bomb near Jordan Border
• The Largest Shia Mosque Has Been Attacked In Bahrain
• Overnight Iraq violence kills 16 soldiers, police officials
• Frustrated with Syria talks, Saudis to provide advanced arms to rebels
• Iraq PM visits militant battlefield city Ramadi
• Arab Spring countries still struggling to fix economies
• Rare Video: Dutch Soldier Trains Jihadists in Syria
• Lebanon's Hariri vows to confront Sunni radicals
• Prisoner transfer accord to cement KSA-Pak relations
Pakistan
• Religious decree: 'Constitution completely in line with Sharia'
• Bilawal Bhutto lashes out at the 'stone-age' Taliban
• Foreign ministries hampering Pak-India trade: Minister for Commerce
• Karachi violence claims 5 lives, injures 6 people
• No Government-Army consensus on dialogue with Taliban: Asma Jehangir
• Imran Khan warns against suspending talks with Taliban
• Victims of Soviet-Afghan War Live Forgotten In Pakistan Refugee Camp
Africa
• Weapons for Somalia Government Diverted to Militants
• Mali: Time to Rekindle Timbuktu's Flame
• Niger extradites former Gaddafi intelligence official to Libya
• Libya government and army deny coup rumours
• Kenya Film classification board says jihad videos are illegal
• Tunisia police steps up checks for veiled terror suspects
Europe
• Kyrgyz deaths in Syria raise concern about extremists' recruiting tactics
• Kyrgyzstan: President Signals Toughening Official Attitude on Islam
• Dagestan: New Epicentre of Muslim Terrorism in Russia
• UN Experts Find 'Serious Damage' By Armed Extremists to Cultural Sites in Gao
• Syria peace process in jeopardy as talks flounder
• France to send 400 more troops to Central African Republic
India
• Salman Khurshid in Kandahar backs Karzai amid Afghan stand-off with US
• Stable, prosperous Bangladesh in India's interest: President Pranab Mukherjee
Southeast Asia
• Indonesia on alert for jihadists returning from Syria
• The Malaysian High Court is superior to the Shariah Court, says Bar Council
• Indonesia's Protection of Domestic Workers 'Shameful': Amnesty
• Fatwa council must study weaknesses of states' Islamic laws, says Perkasa
Mideast
• Al-Qaeda-linked New Terrorists, DAESH, in Gaza Strip
• Stop the Executions by the Islamic Republic of Iran
• Ankara Summit urges Taliban to join talks
• Hamas blocks UN textbooks in Gaza, they focus on 'peaceful' conflict resolution
• Salafists rally against Valentine's Day in Gaza
• Iran Cleric Calls Rushdie Fatwa 'Golden Page' For Khomeini
North America
• U.S. Will Target Freed Afghan Militants Who Return To Fight
• CAIR Asks Virginia Sheriff to Drop Anti-Muslim Trainer
• Obama pledges $1 billion in loan guarantees for Jordan
• US congressmen laud Pak role in terror war, peace promotion
• Obama threatens new pressure on Assad regime
Compiled by New Age Islam News Bureau
URL: https://www.newageislam.com/islamic-world-news/new-age-islam-news-bureau/al-qaeda-urges-jihad-in-bangladesh/d/35774
-----------
South Asia
Al-Qaeda urges Jihad in Bangladesh
Feb 14, 2014
Alleging that thousands of people are being killed in the streets of Bangladesh for protesting against a "collusion of the anti-Islam secular government", al-Qaeda chief Ayman al-Zawahiri has invited people to "confront this crusader onslaught against Islam"
The call came in an audio message posted by al-Qaeda's media production house 'As-Sahab Media' on a website jihadology.net, which promotes jihad (war for religious cause) across the globe.
"A massacre of Muslims is being carried out these days, and the Muslim world is totally oblivious to it. The western media is colluding with the killers to belittle its significance and hide the facts," Zawahiri said in the message.
The message titled 'Bangladesh: A Massacre Behind a Wall of Silence', contains photographs from Hefazat-e Islam programmes and law enforcers action on them.
It also carries statements of Maulana Abdul Rasheed Ghazi, a Pakistani cleric who was killed during security forces' operation on July 5, 2011, and Palestinian Sunni Islamic scholar Imam Abdullah Azzam, who was killed by a car bomb blast on November 24, 1989.
"This is the bloodbath taking place in Bangladesh, without the Muslims paying the least attention to it," said the al-Qaeda chief who took over the helm of the terrorist militant outfit after the killing of Osama bin Laden on May 2, 2011 at a house in Abottabad in Pakistan.
"Bangladesh is the victim of the conspiracy in which the agents of India, the corrupt leadership of the Pakistan army, and treacherous power hungry politicians of Bangladesh and Pakistan, who are always prepared to sacrifice everything for the sake of fulfilling their ambitions and desires, were all equal participants," Zawahiri said.
However, the real victim was the Muslim Ummah in the subcontinent generally, and in Pakistan and Bangladesh specifically, the Egyptian physician insisted.
"The crimes that are being committed in Bangladesh today against the core beliefs of Islam, the Prophet of Islam (pbuh), and the Muslim Ummah are only the fruits of the rotten seeds sown by these criminals.
"Their purpose was not independence from Pakistan, stopping the aggression against the people of Bangladesh, or getting rid of military rule in Pakistan. None of these was the real objectives, even if these criminals took cover behind these slogans, parroted these lines, and propagated these out of their malevolence or stupidity, or due to both. None of this was the real purpose."
The real purpose was weakening the Muslim Ummah in the subcontinent, said the al-Qaeda chief.
"It was to rip the Muslim Ummah apart into pieces, and lead it to death by getting it entangled in mutual strife, regional conflicts and wars. Above all, their purpose was to attack the real capital of this Ummah, and the secret of its strength: the Islamic faith."
What is taking place today in Pakistan, Bangladesh, India and Afghanistan is "only a prelude to the execution of this evil plan, and the aforementioned criminals are the tools of the enemies of Islam in this vile conspiracy", he said.
"Those who massacred the Muslims in Bangladesh only yesterday are the same people who are massacring the Muslims in Pakistan today. Similarly, those who allied with India against Pakistan by claiming that they sought to defend the honour and sanctities of Bengalis are the same people who are attacking the sanctities, beliefs, honour, lives and properties of Bengalis today."
Continues Zawahiri: "They claimed that they created Pakistan more than 60 years ago to defend Islam and Muslims in the subcontinent. Today we have a Pakistan that has no Shariah, no independence and no honour.
"Its government, army, intelligence, police and judiciary act as mercenaries hired to defend the interests of the crusader onslaught in South Asia."
Similarly, they claimed that they created Bangladesh more than 40 years ago to protect the independence, glory, honour and freedom of its people, he said.
"But today we see Bangladesh turning into a huge prison in which the sanctities, honour, dignity and sacred places of Muslims are violated. Their lives are put at stake, and they are tortured in defence of the crusader onslaught, which is fighting Islam politically, militarily and ideologically."
Bangladesh, which they claimed to have won from Pakistan so that it may get its freedom, is being turned into a subjugated surrogate of India, the Islamist theologian alleged.
"These anti-Islamic policies that assail Islamic beliefs, symbols and the noble Prophet of Islam (pbuh), are only a manifestation of complete subjugation to India."
The events in Bangladesh enjoy the blessings of both India and America, since their interests in fighting Islam overlap, and this is why their bilateral relations are becoming stronger day by day.
This is the bitter truth that we must be aware of, so that we can take the first step on the road to freeing ourselves from this misfortune, humiliation and subservience to foreign powers.
Zawahiri alleged that thousands of people are being killed in the streets of Bangladesh "without any guilt, except that they have come out to protest against the collusion of the anti-Islam secular government with a bunch of transgressing secularists who are heaping insults and vulgar abuses on Islam and the Prophet of Islam (pbuh)".
"Hundreds of callers to the religion and scholars are also facing hardships, manhunts, imprisonment, trials, death sentences and life imprisonments without any guilt except that they have taken a stand against the agents of this crusader onslaught, who are being used as tools by the leading criminals of the western world to distort the image of Islam and poke fun at this religion, its prophet and beliefs."
He invited Muslims in Bangladesh "to confront this crusader onslaught against Islam, which is being orchestrated by the leading criminals in the subcontinent and the West against Islam, the Prophet of Islam and the Islamic creed, so that they may turn you into slaves of a despotic and disbelieving system".
"The system which they want to impose on you seeks to enslave mankind, steal the resources and divide it into segments with its hellish and brutal apparatus."
http://www.thedailystar.net/al-qaeda-urges-jihad-in-bangladesh-11441
-----------
18 Taliban militants killed or injured in Afghan operations
Feb 15 2014
At least 18 Taliban militants were killed or injured following coordinated military operations by Afghan national security forces.
The militants were killed or injured during military operations conducted by Afghan national police, Afghan national army and Afghan intelligence – National Directorate of Security (NDS) in the past 24 hours.
Interior ministry following a statement said Saturday that the operations were conducted in Kunar, Laghman, Sar-e-Pul, Zabul, Maidan Wardak, Paktia and Helmand provinces of Afghanistan.
The statement further added that 13 Taliban militants were killed and 5 others were injured during the operations.
Interior ministry also confirmed that four other militants were detained during the operations.
Afghan national security forces also discovered and seized weaopns, ammunition and explosives during the operations, interior ministry said.
In separate operations, Afghan national police forces seized 16 improvised explosive device (IEDs) from Nangarhar, Kandahar, Uruzgan and Paktika provinces.
Interior ministry officials said the IEDs were recently planted by Taliban militants to carry out insurgency attacks.
http://www.khaama.com/18-taliban-militants-killed-or-injured-in-afghan-operations-2797
-----------
Latest peace overtures indicate Afghan Taliban's change of heart
February 15, 2014
ISLAMABAD: In a sudden shift from their earlier stance, dozens of senior Afghan Taliban leaders have decided to hold a dialogue with President Hamid Karzai to reach a political solution for Afghanistan ahead of the withdrawal of foreign troops by the year's end.
Agha Jan Mutasim, who served as the finance minister in the Taliban cabinet and is a former close aide of Mullah Omar, organised a meeting of senior Taliban leaders in UAE this week. Speaking to The Express Tribune on Friday via phone from Dubai, Mutasim said he will soon announce a specific address for intra-Afghan dialogue to avoid a civil war after Nato troops leave the country.
In remarks earlier this week, Mutasim claimed the Dubai meeting was attended by former Taliban cabinet ministers, four senior diplomats and top military commanders who had been involved in fighting foreign forces.
Mutasim declined to divulge their names citing security concerns. "They are very important personalities and I will not disclose their names as it could put their lives at risk," he added, when asked to reveal names of the participants.
He, however, said he will soon announce names of negotiators for intra-Afghan dialogue, adding they will not hold talks with foreigners in the first phase and will only do so after Afghans are united over the future of the their country.
Mutasim, who had been shot and injured in Karachi in 2010, and later shifted to Turkey, had returned to Dubai to launch his political activities and efforts to encourage Taliban leaders to join his peace move.
The initiative coincides with the trilateral summit in Ankara where Prime Minister Nawaz Sharif reiterated his support for the Afghan peace process at a joint news conference with President Karzai and Turkish leaders.
It is not yet clear if Pakistan is behind the latest move. However, it seems Pakistani leaders are aware of the development as Prime Minister's security adviser Sartaj Aziz said in Islamabad this week that President Karzai is in informal contact with some Taliban leaders.
Pakistani officials have admitted to facilitating the Qatar process that faced deadlock days after the Taliban opened their office in Doha in June last year. Afghan officials had earlier been upset at Islamabad's inability to encourage Taliban leaders, whom they claim live in Pakistan.
The Afghan Taliban have evaded comments on the latest move and their spokesman Zabihullah Mujahid told The Express Tribune via email that he is "unaware of any such thing." Mutasim had issued a three-page statement after the UAE meeting and also spoke to the media, but Mujahid did not offer any of his input. The Taliban have neither publicly disowned nor backed the latest initiative. This is the first time a senior Taliban leader has publicly announced to hold talks with the Karzai regime and begin the intra-Afghan dialogue. It will be premature to expect much from this process, but it could win support in and outside Afghanistan in view of the drawdown.
Mutasim had said earlier they had taken cue from Pakistan after authorities here began negotiating with the Taliban following several years of conflict and peace agreements.
In a statement sent to The Express Tribune on Friday, the Dubai-based Taliban leaders stated: "If we want our country to remain free from foreign domination, we have to launch an inclusive intra-Afghan dialogue immediately."
The Dubai initiative could be a message for the Afghan Taliban leadership to avoid any rift that could weaken them further as they must know that durable peace can only be restored in war-ravaged Afghanistan by Afghans themselves.
http://tribune.com.pk/story/671953/latest-peace-overtures-indicate-afghan-talibans-change-of-heart/
-----------
Bangladesh Speaker hopeful of resolving issues with India
Feb 14, 2014
Bangladesh needs not to get worried about India's commitment to resolving the pending issues of land boundary agreement and sharing of Teesta river water, Jatiya Sangsad Speaker Shirin Sharmin Chaudhury said in New Delhi today.
Wrapping her four-day official visit to the Indian capital where she held talks with the top Indian leadership, Chaudhury told representatives of Bangladesh newspapers that "I am going back with the view that there is no dearth of commitment on the part of India to implement the LBA and sharing of Teesta waters".
"India is committed to both LBA and Teesta water-sharing and it is just a question of time for these to happen," and Indian government is working on forging a domestic consensus on the two issues, said the Speaker who had held talks with Indian President Pranab Mukherjee, Prime Minister Manmohan Singh and leader of the opposition Arun Jaitley of BJP.
Chaudhury said that during her meeting with Jaitley, whose party has opposed the constitution amendment bill relating to operationalisation of LBA, acknowledged there is a need to settle the land boundary issue with Bangladesh and said "it can be managed".
The Assam state BJP unit has come out against LBA arguing the state will be losing more land to Bangladesh than gaining.
Responding to a question about democracy and elections in Bangladesh, the Speaker claimed the democratic traditions in Bangladesh is very much on track since 1991 and it should not be judged by one party's boycotting the January 5 parliamentary polls.
"Democracy in Bangladesh will be more inclusive and more participatory but we have to work for it," Chaudhury said.
Asked specifically about the prospects of democracy in Bangladesh in the wake of BNP's boycotting the elections, she said, "I don't think one party will stay away from elections for long because in the long run it will harm them." In this context, she cited that BNP is taking part in upazila parishad elections.
Asked about the possibility of engaging BNP in dialogue over returning to the democratic mainstream through participation in parliamentary polls, Chaudhury said, "We never rule out the possibility of dialogue, which is a continuous process in a democracy."
If an initiative is needed to end the current impasse, it is for the political parties of Bangladesh to take that initiative.
She, however, said if there is a dialogue between the parties on democracy and elections, such an exercise should not be limited to just the subject of caretaker government and should cover a broad spectrum of issues like credible elections and how to ensure broader democracy and enacting laws to strengthen democratic institutions.
The question of democratic process and elections should be settled by the political parties of Bangladesh once and for all, she said in reply to a question about frequent election boycott witnessed in Bangladesh.
http://www.thedailystar.net/speaker-hopeful-of-resolving-issues-with-india-11462
-----------
MDP will not respect separation of powers, says President Yameen
By Ahmed Naish | February 15th, 2014
The Maldivian Democratic Party (MDP) did not respect separation of powers during its three years in government, President Abdulla Yameen has said, urging voters to consider the track record of former President Mohamed Nasheed's administration before choosing parliamentary candidates.
Speaking at the Progressive Coalition's parliamentary campaign launching rally on Thursday night, President Yameen strongly criticised the opposition party's campaign slogan – "Vote for the scale [of justice] for separation of powers" – contending that an MDP-controlled parliament would exert undue influence on other state institutions.
Full report at:
http://minivannews.com/politics/mdp-will-not-respect-separation-of-powers-says-president-yameen-77646
-----------
Twenty-five years after Soviet exit, Taliban says US will meet same fate
Feb 14, 2014
KABUL, Feb 15 (Reuters) - The Taliban called on Afghans to expel the United States from Afghanistan on Saturday just as they said Afghan mujahideen fighters had done to Soviet forces 25 years ago to the day.
In a statement issued on the 25th anniversary of the final Soviet withdrawal from Afghanistan, a national holiday for Afghans, the Taliban sought to connect the steady departure of U.S. and NATO troops ahead of a year-end deadline to the end of the decade-long Soviet occupation.
"Today America is facing the same fate as the former Soviets and trying to escape from our country," the Taliban said in a statement emailed to reporters by Qari Yousef Ahmadi, a spokesman for the group.
Full report at:
http://www.trust.org/item/20140215083610-fv015/?source=hpbreaking
-----------
Arab World
Car Bomb Attack outside Syria Mosque Kills At Least 47 People, Including 14 Rebel Fighters (AFP) / 15 February 2014
A car bombing outside a mosque in southern Syria killed scores of people on Friday and rebels detonated mines under a hotel in the north, killing 18 loyalists, monitors said.
At least 47 people, including 14 rebel fighters, were killed when the car blew up in front of the mosque in the rebel-held village of Yaduda in the southern Daraa province, said the Syrian Observatory for Human Rights.
Activists blamed regime forces for the attack, said the Britain-based monitor, adding that it expected the death toll to rise because some 150 others were wounded in the explosion, some critically.
On another front, the Islamic State of Iraq and the Levant (ISIL) executed dozens of people as it was forced by rival rebels to withdraw from five villages including Hreitan, an opposition stronghold in the northern province of Aleppo.
Though rebels once welcomed ISIL in the fight against President Bashar Al Assad, horrific abuses in areas under their domination have turned much of the opposition against them.
Just before their withdrawal from the Hreitan area, ISIL's fighters executed 27 people including 15 rebels, said the Observatory.
Full report at:
http://www.khaleejtimes.com/kt-article-display-1.asp?xfile=data/middleeast/2014/February/middleeast_February155.xml&section=middleeast
---------
Al Qaeda splinter group executes 13 in Syria — report
Feb 14, 2014
BEIRUT, Lebanon: An Al-Qaeda splinter group in Syria executed at least 13 people including relatives of fighters from rival rebel groups before withdrawing from a town near Aleppo, the Syrian Observatory for Human Rights said on Friday.
The London-based monitoring group said the men killed by the Islamic State of Iraq and the Levant (ISIL) militants included rebels who were detained by ISIL after laying down their arms. The Observatory said their bodies had been thrown into a well.
It did not say when the incident took place in Haritan, just northwest of Aleppo, one of the most contested areas in an almost three-year-old civil war between insurgents and the forces of Syrian President Bashar Assad.
Full report at:
http://www.arabnews.com/news/525746
----------
At Least 18 Killed in Syria Car Bomb near Jordan Border
5 February 2014
A car bomb killed at least 18 people in a Southern town of Syria, the UK-based and funded 'Syrian Observatory for Human Rights' reported.
The bomb went off near a mosque in the town of al-Yadouda near the border with Jordan, Rami Abdulrahman, director of the Observatory, said by phone, Al-Manar reported Friday.
Car bombs are commonly deployed as a weapon in the three-year old Syrian conflict.
No one claimed responsibility, however the opposition and Takfiri militiamen become experts in planning and carrying out such attacks against the Syrian people.
Full report at:
http://english.farsnews.com/newstext.aspx?nn=13921126000182
---------
The Largest Shia Mosque Has Been Attacked In Bahrain
FEBRUARY 14, 2014
MAYTHAM AL SALMAN
The religious freedom unit within the BHRO have confirmed that the "Imam Sadiq" Mosque, located in Duraz, has been subject to attack on Friday 14th of February 2014 by the regime's policemen.
Sh. Maytham Al Salman, who heads the religious freedom unit, considered such assault as an obvious signal of the sectarian hatred that is spreaded across the regime's institutions, hence, demanding the effective support from the International community to put an end to the continuous and systematic assaults on the worship places, even on those officially registered within the governmental Jaafari Waqf Directorate (JWD).
Full report at:
http://bahraininterfaith.org/wp/breaking-news-the-largest-shia-mosque-has-been-attacked-in-bahrain/
-----------
Overnight Iraq violence kills 16 soldiers, police officials
AFP | Feb 15, 2014
TIKRIT, Iraq: Attacks and clashes killed 16 soldiers and police overnight in Iraq, officials and doctors said on Saturday.
Attacks north of Baghdad killed seven police and four soldiers on Friday night, while five soldiers died in clashes south of the capital.
http://timesofindia.indiatimes.com/world/middle-east/Overnight-Iraq-violence-kills-16-soldiers-police-officials/articleshow/30456126.cms
-----------
Frustrated with Syria talks, Saudis to provide advanced arms to rebels
Feb 14, 2014
Wall Street Journal cites Arab, Western diplomats as saying that rebels to receive shoulder-fired missiles, anti-tank weapons.
Saudi Arabia will provide sophisticated arms to rebels fighting the regime of Syrian President Bashar Assad, according to a report in Saturday editions of The Wall Street Journal.
According to Western and Arab diplomatic sources who spoke to the Journal, Riyadh intends to deliver advanced, Chinese-made shoulder-fired missiles that are capable of downing airplanes as well as Russian-manufactured 9M113 Konkur anti-tank missiles.
Full report at:
http://www.jpost.com/Middle-East/Report-Frustrated-with-Syria-talks-Saudis-to-provide-advanced-arms-to-rebels-341496
-----------
Iraq PM visits militant battlefield city Ramadi
5 February 2014
Iraqi Prime Minister Nuri al-Maliki paid a visit on Saturday to the battleground western city of Ramadi where security forces and allied tribesmen have for weeks fought to retake neighbourhoods held by militants.
During the visit, Maliki will be briefed on the progress of military operations in the Anbar provincial capital and meet leaders of the powerful local tribes, an official from his office told AFP, without providing further details.
http://english.ahram.org.eg/NewsContent/2/8/94288/World/Region/Iraq-PM-visits-militant-battlefield-city-Ramadi.aspx
---------
Arab Spring countries still struggling to fix economies
Feb 14, 2014
The current political situation has led to the deterioration of the performance of several Arab economies, such as Egypt, Syria, Yemen, Libya and Tunisia. The start of the protest movements and uprisings, which led to regime changes in most of the countries mentioned, have caused the deterioration of living conditions for millions of Arabs, rampant unemployment and no reasonable prospects for a promising future.
Most of those who took to the streets in early 2011 sought to change their conditions and improve their living standards. We recall that many Arabs were stuck below the poverty line for a long time and the ruling regimes were unable to change that dire situation despite claims that they aimed to achieve sufficiency and justice.
Full report at:
http://www.al-monitor.com/pulse/business/2014/02/arab-spring-countries-economies-fix.html#ixzz2tQFP0H5e
-----------
Rare Video: Dutch Soldier Trains Jihadists in Syria
Feb 14, 2014
A rare interview exposes the motives behind a professional Royal Netherlands Army soldier's decision to leave Holland to train jihadists fighting President Bashar Assad's regime in Syria.
The man, named Yilmaz, is reportedly the first Dutch jihadist to be interviewed. There are an estimated 120 Dutch jihadists thought to be in Syria currently.
Dutch news sources Nieuwsuur's foreign editor Roozbeh Kaboly found Yilmaz online, and after eight months of work was able to secure an interview through a Syrian intermediary. It is worth noting the intermediary agreed to do the interview so as to present the rebels in a positive light.
Full report at:
http://www.israelnationalnews.com/News/News.aspx/177445#.Uv_KtWJdUqM
-----------
Lebanon's Hariri vows to confront Sunni radicals
Feb 14, 2014
(Reuters) - Leading Lebanese politician Saad al-Hariri vowed on Friday to tackle sectarian radicalism in his Sunni sect but said Shi'ite Hezbollah must end its involvement in Syria if Lebanon is to avoid being drawn into a "sectarian holocaust".
Citing the example set by his father Rafik al-Hariri on the ninth anniversary of his assassination, Hariri said moderation must win out as Lebanon faces violence fuelled by the Syria war and a political impasse that has left it without a government.
"We will confront incitement and dubious calls to drag Lebanese, particularly the Sunnis, into crazy wars with no use other than to pull Lebanon into a sectarian holocaust," he said.
Hariri was speaking to his supporters from an undisclosed location abroad via video link. He has in the past cited security reasons for staying outside Lebanon.
Full report at:
http://www.trust.org/item/20140214200016-atvcn/?source=hpbreaking
-----------
Prisoner transfer accord to cement KSA-Pak relations
5 February 2014
Saudi Arabia and Pakistan are expected to ink two major agreements — a security cooperation pact and transfer of prisoners' agreement — during the visit of Crown Prince Salman, deputy premier and minister of defense, to the Asian country, beginning Saturday.
Several other proposals, ranging from manpower export to the Kingdom to cooperation in the agriculture sector and Saudi investment in infrastructure, will also be discussed on priority basis during the visit.
"The Kingdom and Pakistan are likely to sign the agreement on security cooperation, addressing issues especially relating to organized crime and drug trafficking, during the three-day royal visit," Pakistani Ambassador Mohammed Naeem Khan told Arab News in an exclusive interview on Friday.
Full report at:
http://www.arabnews.com/news/526166
---------
Pakistan
Religious decree: 'Constitution completely in line with Sharia'
February 15, 2014
ISLAMABAD: The federal government on Friday obtained a fatwa (religious decree) declaring the Constitution of Pakistan completely in accordance with Islam from one of the country's most prominent clerics, preempting any demand for the enforcement of Sharia the Taliban may voice during peace talks.
"Our Constitution is a complete document. The presence of 22 clauses proposed by the then leading religious scholars in the 1973 Constitution make it a perfect Islamic document," observed Rafi Usmani, President of Jamia Darul Uloom Karachi.
In the three-page document which contained his recommendations, Usmani, who claims to be Pakistan's grand mufti, condemned any move to create doubts regarding the Constitution. A copy of the document is available with The Express Tribune.
Full report at:
http://tribune.com.pk/story/672064/religious-decree-constitution-completely-in-line-with-sharia/
-----------
Bilawal Bhutto lashes out at the 'stone-age' Taliban
AFP | Feb 15, 2014
KARACHI: Bilawal Bhutto Zardari, the son of Pakistan's assassinated premier Benazir Bhutto, on Saturday slammed the Taliban for trying to drag the country back to the "stone-age."
Addressing a gathering during the closing ceremony of a two-week cultural festival in his home province of Sindh, Bhutto also urged the country to rise up against the threats.
"The Taliban want to impose the law of terror in the country, but I want to tell them, if you have to live in Pakistan you will have to follow its constitution," he said.
"We don't accept the law of terrorists" he added. "Some people are trying to bring back the stone-age era in the country in the name of Islam."
Full report at:
http://timesofindia.indiatimes.com/world/pakistan/Bilawal-Bhutto-lashes-out-at-the-stone-age-Taliban/articleshow/30472401.cms
-----------
Foreign ministries hampering Pak-India trade: Minister for Commerce
Feb 14, 2014
LAHORE - India and Pakistan foreign ministries have become a hurdle in enhancing bilateral trade ties between the two neighbouring countries as they are hesitating to resume composite dialogue for improving relations.
This was stated by Federal Minister for Commerce, Textile and Industries Khurram Dastgir Khan while talking to media people on the eve of 2nd India Show here at Expo Centre on Friday.
Khurram Dastgir cut the ribbon and formally inaugurated the 2nd India Show, which is aimed at exploiting potential market and expanding vistas of economic cooperation between both the countries. The minister also visited different stalls set up in Expo Centre by different Indian companies. More than 100 stalls, mostly consisting of cloth and jewellery, were displayed at the show.
Full report at:
http://www.nation.com.pk/national/15-Feb-2014/foreign-ministries-hampering-pak-india-trade-dastgir
-----------
Karachi violence claims 5 lives, injures 6 people
Feb 14, 2014
KARACHI: A wave of violence in Karachi claimed five lives and injured six people on Saturday, Express News reported.
Two hand grenade attacks near Mominabad police station in Karachi injured four people.
The incident took place at Hazara Chowk in Orangi Town No 4. People gathered at the scene after the first hand grenade attack at which point the second grenade was thrown.
The injured were taken to Abbasi Shaheed Hospital for medical attention. They were identified as Naseeb, Yousaf, Hussain and Sirajuddin.
Full report at:
http://tribune.com.pk/story/672075/two-grenade-attacks-in-karachi-injure-4-people/
-----------
No Government-Army consensus on dialogue with Taliban: Asma Jehangir
Feb 14, 2014
OKARA- Former Supreme Court Bar Association (SCBA) President Asma Jehangir said no consensus seems to exist between army and the government regarding peace talks with Taliban.
Talking to journalists at District Bar Association today, she added that despite no consensus between the government and the Taliban, dialogue is the need of the hour and it should be successful; however, true representation is inevitable in the peace process.
The government and army should chalk out a comprehensive plan for elimination of terrorism to establish the writ of the state in line with the constitution, she concluded.
http://www.nation.com.pk/national/14-Feb-2014/no-government-army-consensus-on-dialogue-with-taliban-asma-jehangir
-----------
Imran Khan warns against suspending talks with Taliban
PTI | Feb 15, 2014
LAHORE: Cricketer-turned-politician Imran Khan ton Saturday warned the Pakistan government against suspending the peace process with the outlawed Taliban, saying the failure of talks will only lead to military operations.
"First give peace a chance, otherwise a military operation is the ultimate choice," the head of the Pakistan Tehrik-e- Insaf party told reporters here.
"Prime Minister Nawaz Sharif told me that there are less than 40 per cent chances of success if we launch a military operation in North Waziristan," he claimed.
Khan said military operations had never been an option to deal with any issue. A majority of Pakistanis are in favour of peace talks with the Taliban, he claimed.
However, government officials denied that Sharif had quoted the army chief in Khan's presence as saying that there are less than 40 per cent chances of success if a military operation is launched against militants.
Full report at:
http://timesofindia.indiatimes.com/world/pakistan/Imran-Khan-warns-against-suspending-talks-with-Taliban/articleshow/30466626.cms
-----------
Victims Of Soviet-Afghan War Live Forgotten In Pakistan Refugee Camp
Feb 14, 2014
PESHAWAR, Pakistan -- Gathered with friends outside a tiny shop that sells little more than bags of sugar, tea, and simple candies, Sultan Gul says he would like to return someday to his native Afghanistan.
But for Gul, what was supposed to be a temporary spell as a refugee escaping the Soviet-Afghan war has taken on all the trappings of a permanent existence in neighboring Pakistan.
Gul was among the millions of Afghans who fled to escape the 1979-89 war. Now in his 50s -- and 25 years after the last of the Soviets left Afghanistan on February 15, 1989 -- he remains among those who never returned home.
Full report at:
http://www.rferl.org/content/pakistan-soviet-afghan-refugees/25264055.html
-----------
Africa
Weapons for Somalia Government Diverted to Militants
Feb 14, 2014
Weapons shipped to the Somali government have been diverted to al Qaeda-linked militants and clan leaders, according to a team of UN monitors. Senior Somali officials have been implicated in the illicit arms transfers.
A team of UN monitors on Friday called for the reinstatement of a full arms embargo against Somalia, after revealing that weapons shipments to the government in Mogadishu regularly fall into the hands of Islamist militants and clans.
The Somalia and Eritrea Monitoring Group found "high level and systematic abuses in weapons management and distribution" by Somalia authorities, according to a confidential report seen by the news agencies.
Members of the German armed forces may soon be sent to Somalia to take part in a training mission. The opposition is skeptical, saying the security situation in the east African state remains unstable. (11.02.2014)
The UN monitors said that they obtained photographs showing weapons, officially destined for the Somalia government, on sale in the open market in Mogadishu.
Full report at:
http://allafrica.com/stories/201402150112.html?aa_source=mf-hdlns
-----------
Mali: Time to Rekindle Timbuktu's Flame
Feb 14, 2014
Timbuktu — The 'Flamme de la Paix' monument lies on the northwestern outskirts of Timbukutu, Mali. There, on 27 March 1996, hundreds of weapons were symbolically destroyed, and representatives from the Malian government and Tuareg rebel movements promised to promote peace and reconciliation in a region wracked by bitter conflict.
But 16 years later, the country descended into its worst crisis ever. Mali's north, including Timbuktu, was overrun by both Tuareg separatists and Jihadists; the south witnessed a coup and the temporary collapse of the democratic system. The recovery process remains fragile.
Today, the peace monument looks shabby and abandoned. A local guide speaks disparagingly of the failure to maintain it: "Look at the rubbish here. Where is the pride? When the flame was lit, you had statesmen from around the world here. This is shameful."
He is also concerned about safety. "It is time to leave," he says. "The neighbourhood is not good."
Full report at:
http://allafrica.com/stories/201402131344.html?viewall=1
-----------
Niger extradites former Gaddafi intelligence official to Libya
Feb 14, 2014
NIAMEY, Feb 15 (Reuters) - Niger's government has extradited Abdallah Mansour, a former top Libyan intelligence official under toppled President Muammar Gaddafi, to Libya on suspicion of plotting against the government in Tripoli, military sources said.
Mansour was one of a number of senior members of Gaddafi's regime, including the dictator's son Saadi, who fled to neighbouring Niger in 2011 as rebels seized control of the oil-rich north African nation.
Full report at:
http://www.trust.org/item/20140215010959-qcxav/?source=hpbreaking
-----------
Kenya Film classification board says jihad videos are illegal
Feb 14, 2014
THE Kenya Film Classification Board has said all films and movies that preach against any religion are illegal. KFCB said the videos that speak of Jihadism and extremism are not allowed in the Kenyan movie market because they are used to bring hatred and encourage crime.
Speaking to the press after conducting a swoop on video stalls that sell unregistered and unrated movies in Mombasa town yesterday morning, KFCB officer in charge of Mombasa county, Bonventure Kioko, said they will not allow such films to be sold as they mislead the youth. He said they will arrest anyone found with such videos.
http://www.the-star.co.ke/news/article-155205/film-classification-board-says-jihad-videos-are-illegal#sthash.iZ5qekZl.dpuf
-----------
Tunisia police steps up checks for veiled terror suspects
Feb 14, 2014
Tunis — Tunisian authorities said Friday they will tighten checks on people wearing the Muslim full-face veil, as part of efforts to combat Islamist violence, claiming the cover was being used by fugitives.
"The interior ministry announces that it will strengthen checks on everyone wearing the niqab," or the veil, the ministry said on its official Facebook page.
"The measure is being taken because of the threat the country faces and because of terrorist suspects using the niqab .. to disguise themselves and escape justice," it added.
The ministry called on Tunisians to be "understanding" and help the security forces in their work.
Full report at:
Copyright © 2014 AFP. All rights reserved.
-----------
Europe
Kyrgyz deaths in Syria raise concern about extremists' recruiting tactics
Feb 14, 2014
BISHKEK – The Kyrgyz State Committee for National Security (GKNB) is sounding a call for more-vigorous efforts to keep youth out of the grip of extremists in light of the on-going conflict in Syria.
"The destructive manifestations of extremism, particularly in religion, pose a serious threat to our country's security and to society's healthy development," Baktybek Jusubaliyev, first deputy interior minister, said. "Religious extremism can in no way be identified with religion at all. It's the radical ... forms of religion that transform religion into an ideological instrument ... this ideological instrument justifies all means [to an end], including violence."
On February 10 the GKNB released a statement confirming that five Kyrgyz men had been killed fighting in Syria so far and adding that more than 50 Kyrgyz were still there. It was Bishkek's first acknowledgment of Kyrgyz deaths in that conflict.
Full report at:
http://centralasiaonline.com/en_GB/articles/caii/features/main/2014/02/12/feature-01
-----------
Kyrgyzstan: President Signals Toughening Official Attitude on Islam
Feb 14, 2014
Political leaders in Kyrgyzstan tend to have their roots in the atheist, Soviet past, and thus are prone to be skeptical of religion. Yet unlike their counterparts in other Central Asian states, they have been relatively tolerant of Islam's revival. But now speculation is swirling about whether President Almazbek Atambayev's recent broadside against Islam signals a changing government stance on religion.
Criticizing the spread of "Arab culture" at the expense of "native ethnic culture," Atambayev, speaking at a meeting of the Defense Council on February 3, lamented that "there are many people with long beards on our streets now. They force our girls to dress in black instead of light and colorful clothing. This is what widows usually wear here."
The comments, picked up by almost every news agency in the country, quickly developed into a national talking point. The timing was seen as significant, coming in the wake of yet another scandal at the state-sanctioned Spiritual Administration of Muslims of Kyrgyzstan, or Muftiate, which is reeling after a third leader in four years was forced out.
Full report at:
http://www.eurasianet.org/node/68036
-----------
Dagestan: New Epicenter of Muslim Terrorism in Russia
Lawrence A. Franklin
February 14, 2014
According to a survey with 6,000 respondents, the ranks of the jihad are being filled by ever-younger Dagestanis. Dagestan is eclipsing Chechnya as the seat of the most violent insurgency against Russia.
The extremist leaders have targeted their fellow Muslim leaders thought to be too mild.
Dagestan, the largest republic of the north Caucasus, can best be described in negative superlatives. It is probably the most violent spot in the entire Russian Federation.[1] The administrative bureaucracy of the republic's capital, Makhachkala, is among the most corrupt.[2] The ethnic and linguistic diversity of Dagestan is the most complex among Russia's Republics.[3] Its topography is arguably the most forbidding in the Russian Eurasian landmass. Religiously, it is also the most radical Muslim entity in the Russian state. Moreover, in part, because of Dagestan's difficult terrain and the fabled fighting ability of Dagestani mountain peoples, Moscow has found that suppressing jihadists in Dagestan is even more difficult than in their campaigns in Chechnya.
Full report at:
http://www.gatestoneinstitute.org/4172/dagestan-terrorism-russia
-----------
UN Experts Find 'Serious Damage' By Armed Extremists to Cultural Sites in Gao
Feb 14, 2014
Some 90 per cent of the 11th century archaeological site of Gao Saneye in northern Mali was pillaged by Islamic extremists during their seizure of the region in 2012, traditional musical instruments and costumes were destroyed, and a World Heritage site mosque needs urgent repairs, United Nations cultural officials reported today.
The report on the damage to cultural heritage in the town of Gao, addressing both sites and the cultural practices of local people, follows a UN assessment last year of Timbuktu, another major heritage site in northern Mali, which found that damage there was more extensive than first estimated, including the destruction of parts of the 15th century Djingareyber Mosque, one of three madrassas comprising the University of Timbuktu.
Full report at:
http://www.un.org/apps/news/story.asp?NewsID=47140&Cr=Sahel&Cr1=#.Uv_62mJdUqM
-----------
Syria peace process in jeopardy as talks flounder
Agence-France Presse | Geneva | February 15, 2014
Syria's warring sides are due to meet on Saturday in Geneva in a last-ditch effort to save deadlocked peace talks as fears grow the entire process could collapse.
UN mediator Lakhdar Brahimi will hold a final meeting with both sides as the second round of the UN-brokered peace talks wraps up with the rivals further apart than ever.
They appeared to only agree on one thing: that the negotiations were going nowhere.
"We deeply regret that this round did not make any progress," said Syria's deputy foreign minister, Faisal Muqdad, after meeting Brahimi yesterday.
Full report at:
http://indianexpress.com/article/world/middle-east-africa/syria-peace-process-in-jeopardy-as-talks-flounder/
-----------
France to send 400 more troops to Central African Republic
Feb 14, 2014
(Reuters) - France said on Friday it plans to send another 400 troops to help combat a crisis in the Central African Republic as U.N. chief Ban Ki-moon pleaded for more swift, robust international help to stop sectarian violence that could turn into a genocide.
French President Francois Hollande's office urged other countries to show "increased solidarity" and called on the United Nations Security Council to approve the creation of a U.N. peacekeeping force in the landlocked former French colony.
Some 838,000 people have been displaced since the mostly Muslim Seleka rebel group seized power in March last year in the majority Christian country. At least 2,000 people have been killed since December in what a U.N. official described as a wave of "ethnic-religious cleansing."
Full report at:
http://www.trust.org/item/20140214153854-9hae2/?source=hpheadlink
-----------
India
Salman Khurshid in Kandahar, backs Karzai amid Afghan stand-off with US
PTI | Feb 15, 2014
KANDAHAR: Amid a stand-off between the US and the embattled Afghan President, India on Saturday saluted Hamid Karzai's "extraordinary and brave" leadership in nurturing democracy and peace in the war-torn country.
External affairs minister Salman Khurshid, in his speech at the inauguration of Afghanistan's first national agriculture university here, backed Karzai and lauded his leadership in the last 12 years.
Khurshid, who arrived here earlier today on a day-long visit, said upcoming elections in the country were a testament to the fact that democracy had taken firm roots.
"These elections are a testament to the fact that democracy has taken firm roots in this country. It is also a testament to your extraordinary and brave leadership over the last 12 years, and the manner in which you have nurtured the plant of democracy in this country," he said.
Full report at:
http://timesofindia.indiatimes.com/india/Salman-Khurshid-in-Kandahar-backs-Karzai-amid-Afghan-stand-off-with-US/articleshow/30468967.cms
-------------
Stable, prosperous Bangladesh in India's interest: President Pranab Mukherjee
PTI | Feb 15, 2014
NEW DELHI: Expressing full commitment to Bangladesh's economic development, President Pranab Mukherjee has said that it was in the interest of India to have a democratic, stable and prosperous Bangladesh.
These views were expressed by the President when speaker of Bangladesh's 'Jatiya Sangsad' (National Parliament) Shirin Sharmin Chaudhury called on him last evening.
Congratulating her on assumption of the office for the second term, the President said India attaches highest importance to its relations with Bangladesh.
"A democratic, stable and prosperous Bangladesh is in India's interest. Geographic and economic complementaries of the two countries can be used for mutual advantage to improve the lives of peoples in India and Bangladesh," Venu Rajamony, Press Secretary of Rashtrapati Bhavan quoted the President as saying.
Full report at:
http://timesofindia.indiatimes.com/india/Stable-prosperous-Bangladesh-in-Indias-interest-President/articleshow/30466148.cms
-----------
Southeast Asia
Indonesia on alert for jihadists returning from Syria
Feb 14, 2014
JAKARTA – Indonesian jihadists returning from the Syrian civil war could pose a national security threat, Indonesia's counterterrorism chief has warned.
Jihadists coming home from Afghanistan formed radical and terrorist groups, according to National Counterterrorism Agency (BNPT) head Ansyaad Mbai, and history could repeat itself.
"We fear they also may have been trained in Syria. We need to anticipate that upon their return. We should learn from our own bitter experiences of the past," he told Khabar Southeast Asia, adding that his agency would monitor the movements of newly returned Syrian war veterans.
According to the Ministry of Foreign Affairs, some 50 Indonesian militants are in Syria.
"We [got] the information from the Syrian intelligence, but we still can't confirm their whereabouts as they may have taken a non-procedural way to enter the country," Tatang Budi Utama Razak, the ministry's director of legal aid and protection for Indonesians abroad, told Khabar.
Full report at:
http://centralasiaonline.com/en_GB/articles/caii/features/main/2014/02/13/feature-02
-----------
The Malaysian High Court is superior to the Shariah Court, says Bar Council
Feb 14, 2014
The Malaysian High Court is superior to the Shariah Court and has jurisdiction to review decisions of the religious court which affects non-Muslims, says the Bar Council.
Lawyer Edmund Bon said, as such, the civil court could ignore a Shariah Court order that was made against non-Muslims.
Bon was submitting to the Ipoh High Court yesterday in a contempt proceeding brought by kindergarten teacher M. Indira Gandhi against her estranged husband who had converted to Islam.
Full report at:
http://www.themalaysianinsider.com/malaysia/article/high-court-can-review-shariah-court-decision-that-affects-non-muslims-says
-----------
Indonesia's Protection of Domestic Workers 'Shameful': Amnesty
Feb 14, 2014
Jakarta. Amnesty International condemned Indonesia's parliament Friday for "dragging its feet" on the protection of domestic workers, despite the recent brutal abuse of an Indonesian maid in Hong Kong.
The rights organisation called on Indonesia's parliament to pass a bill on the protection of domestic workers that was drafted in 2010 before the legislative's term expires in September, saying it was "shameful" the bill had been ignored.
The case of Erwiana Sulistyaningsih, who was allegedly scalded and beaten repeatedly over an eight-month period by her Hong Kong employer, caused ire in Indonesia, a source country for maids in Hong Kong, Malaysia, Singapore and the Middle East.
Full report at:
http://www.thejakartaglobe.com/news/indonesias-protection-of-domestic-workers-shameful-amnesty/
-----------
Fatwa council must study weaknesses of states' Islamic laws, says Perkasa
Feb 14, 2014
Perkasa has urged the National Fatwa Council to set up a special committee to study the weaknesses of Islamic enactments in all the states.
Its president, Datuk Ibrahim Ali (pic), said this is necessary so that action can be taken against anyone who tries to insult and lower the status of Islam in Malaysia.
"The National Fatwa Council should set up a special committee with expertise in Shariah and civil law to review weaknesses in Islamic enactments in all the states.
"The enactments need to be strengthened so that action can be taken against those who try to discredit Islam.
Full report at:
http://www.themalaysianinsider.com/malaysia/article/fatwa-council-must-study-weaknesses-of-states-islamic-laws-says-perkasa-ber
-----------
Mideast
Al-Qaeda-linked New Terrorists, DAESH, in Gaza Strip
Khaled Abu Toameh
February 14, 2014
"This group is much more dangerous and radical than Hamas." — Palestinian journalist, Gaza City
Palestinians are worried that DAESH terrorists will perpetrate atrocities against those who oppose their ideology and activities.
U.S. Secretary of State John Kerry and Palestinian President Mahmoud Abbas need to take into consideration the possibility that Palestinian unity on the pre-1967 lines would pave the way for DAESH terrorists to move into the West Bank.
It's official: Al-Qaeda has begun operating in the Gaza Strip.
A video posted on YouTube this week showed terrorists belonging to the Al-Qaeda-affiliated Islamic State of Iraq and the Levant, known colloquially by its Arabic acronym, DAESH, announcing plans to wage jihad [holy war] against the "infidels, traitors and Crusaders."
This is the first time that a group linked to Al-Qaeda announces its presence in the Gaza Strip.
The announcement is seen as a challenge to the Palestinian Islamist movement Hamas, which has been in control of the Gaza Strip since July 2007.
Full report at:
http://www.gatestoneinstitute.org/4173/al-qaeda-daesh-gaza
-----------
Stop the Executions by the Islamic Republic of Iran
Shadi Paveh and Shabnam Assadollahi
February 14, 2014
There have been three reports by UN Special Rapporteur Dr. Ahmad Shaheed on the situation of human rights in Iran: March 2012, October 2012 and February 2013.
Furthermore, The Boroumand Foundation has documented executions of the Islamic Republic.
The International Committee Against Execution and Stoning, and the Campaign to Free Political Prisoners in Iran, have detailed reports.
Amnesty International also has numerous reports which are readily available.
Petition
The Islamic Republic of Iran currently ranks first for per capita executions in the world. In a time where the world is naively rejoicing in the election of a "moderate" new Iranian president; Iran has stepped up its executions dramatically since the elections of June 2013.
It is estimated, that on average, Iran hangs someone every seven hours, inhumanely from cranes, for some 131 capital offences which include a wide range of crimes such as murder, adultery, drug trafficking, rape, homosexuality, apostasy and vaguely worded offences such as "enemy of God" and "corrupters on earth".
Full report at:
http://www.gatestoneinstitute.org/4174/iarn-executions-petition
-----------
Ankara Summit urges Taliban to join talks
February 15, 2014
Ankara—The 8th Pakistan-Turkey-Afghanistan trilateral summit has asked the international community to contribute to the efforts aiming at supporting Afghan-led and Afghan-owned processes, including those concentrating on further enhancing the Afghan National Security Forces. In a Joint Statement the leaders of the three countries President Abdullah Gul, Prime Minister Nawaz Sharif and President Hamid Karzai emphasised the pivotal importance of a political settlement within the framework of the Afghan Constitution, to ensure durable peace in Afghanistan and called upon the Afghan Taliban to join the peace process.
The joint statement reiterated the importance of the ongoing electoral process in Afghanistan in securing a smooth and successful political transition in the country, and underlined in this regard the necessity of a suitable security environment.
Full report at:
http://pakobserver.net/detailnews.asp?id=233574
-----------
Hamas blocks UN textbooks in Gaza, they focus on 'peaceful' conflict resolution
Feb 14, 2014
Gaza's Hamas authorities have blocked a UN refugee agency from introducing textbooks promoting human rights into local schools, saying it ignores Palestinian cultural mores and focuses too heavily on "peaceful" means of conflict resolution.
Motesem al-Minawi, spokesman for the Hamas-run Education Ministry, said Thursday that the government believes the curriculum does not match the "ideology and philosophy" of the local population.
He said the textbooks, used in grades 7 through 9, did not sufficiently address Palestinian suffering and did not acknowledge the right to battle Israel. "There is a tremendous focus on the peaceful resistance as the only tool to achieve freedom and independence," he said.
Hamas, which has killed hundreds of Israelis in suicide bombings and other attacks, says that "armed resistance" is a key component of its struggle against Israel.
Full report at:
http://news.nationalpost.com/2014/02/13/hamas-blocks-un-textbooks-in-gaza-saying-they-focus-too-much-on-peaceful-conflict-resolution/
-----------
Salafists rally against Valentine's Day in Gaza
Feb 14, 2014
GAZA CITY, Gaza Strip — Gaza resident Maher Annan gave a red carnation to his wife Umm Mahdi, as their four children Nour, Nagam, Mahmoud and Mahdi stood by smiling. This gesture was blasphemous according to the religious speech given by Sheikh Hamada Jabar on the evening of Feb. 13, directed at the owners of shops selling flowers and other gifts on Al-Wahda Street in Gaza City. Each of these shops was preparing in its own way for Valentine's Day.
"God called upon us to love, so how can celebrating love be considered haram?" asked Annan, as he bought a flower from the Crazy Flower shop. Sheikh Jabar stood in front of the shop, which was decorated with red ribbons, preaching to those who had gathered. He told them that Valentine's Day is a forbidden, Christian practice.
Full report at:
http://www.al-monitor.com/pulse/originals/2014/02/salafist-valentine-gaza-islam-christianity.html#ixzz2tQFYws6f
-----------
Iran Cleric Calls Rushdie Fatwa 'Golden Page' For Khomeini
Feb 14, 2014
Tehran's Friday Prayers leader, Hojatoleslam Kazem Sadighi, has said the fatwa issued by the founder of Iran's Islamic republic against British writer Salman Rushdie is a "golden page" in the life of Ayatollah Ruhollah Khomeini.
Sadighi made the comments on February 14, the 25th anniversary of Khomeini's fatwa ruling that Rushdie's book "The Satanic Verses" was "blasphemous against Islam" and an Iranian religious foundation offered a bounty for the author's assassination.
The Friday Prayers leader of Sabzevar, Ayatollah Gholam Hossein Ebrahimi, also said that the fatwa remains valid. "This man has committed a horrible crime; he is unforgivable," the cleric was quoted as saying by the hard-line Fars news agency.
Full report at:
http://www.rferl.org/content/khomeini-fatwa-golden-page-praise/25264502.html
-----------
North America
U.S. Will Target Freed Afghan Militants Who Return To Fight
Feb 14, 2014
The Pentagon has warned that any of the 65 Afghan militants released by Kabul on February 13 from a former U.S. prison risk being hunted down by U.S. forces if they return to the battlefield.
Navy Rear Admiral John Kirby, the Pentagon's spokesman, said on February 14 that none of the 65 were considered targets.
But he said they would become "legitimate targets" if they "return to the fight."
Their release by the Afghan government has exacerbated already strained relations between Kabul and Washington.
Full report at:
http://www.rferl.org/content/afghanistan-us-security-prisoner-releases/25264897.html
-----------
CAIR Asks Virginia Sheriff to Drop Anti-Muslim Trainer
Feb 14, 2014
WASHINGTON, Feb. 14, 2014 /PRNewswire-USNewswire/ -- A prominent national Muslim civil rights and advocacy organization today called on the Culpeper County Sheriff's Department in Virginia to drop notorious anti-Muslim conspiracy theorist John Guandolo, who is scheduled to offer a three-day program later this month on "Jihadi Networks in America."
In a letter to the sheriff delivered today, Corey Saylor, director of the Washington-based Council on American-Islamic Relations' (CAIR) Department to Monitor and Combat Islamophobia Department, wrote in part:
"Mr. Guandolo has a lengthy record of anti-Muslim extremism and unprofessional behavior. His views on Islam are the equivalent of historical anti-Catholic and anti-Semitic falsehoods. Guandolo offers only his own prejudiced and inaccurate conspiratorial views, not solid counterterrorism training."
Full report at:
http://www.prnewswire.com/news-releases/cair-asks-virginia-sheriff-to-drop-anti-muslim-trainer-245554161.html
-----------
Obama pledges $1 billion in loan guarantees for Jordan
Reuters | Feb 15, 2014
RANCHO MIRAGE, Calif: US President Barack Obama on Friday pledged $1 billion in loan guarantees for Middle East ally Jordan and the renewal of a five-year aid package.
Obama made the announcement while meeting with Jordan's King Abdullah at a summit at a California retreat. Jordan, one of the United States' closest allies in the Middle East, is a regional player in diplomatic efforts seeking peace in the turbulent region and is one of two Arab countries, the other being Egypt, that has signed a peace treaty with Israel.
http://timesofindia.indiatimes.com/world/us/Obama-pledges-1-billion-in-loan-guarantees-for-Jordan/articleshow/30445361.cms
-----------
US congressmen laud Pak role in terror war, peace promotion
February 15, 2014
ISLAMABAD - A four-member bipartisan delegation of the Subcommittee on Defence of the United States House Appropriations Committee (HAC) held a meeting with Foreign Secretary Aizaz Ahmed Chaudhry in the Ministry of Foreign Affairs on Friday.
The delegation was led by sub-committee Chairman Representative Rodney P Frelinghuysen and included Congressman Representative Peter Visclosky, Representative James Moran and Representative Kenneth Calvert. The US Ambassador to Pakistan Richard Olson also attended the meeting.
Full report at:
http://www.nation.com.pk/islamabad/15-Feb-2014/us-congressmen-laud-pak-role-in-terror-war-peace-promotion
-----------
Obama threatens new pressure on Assad regime
AFP | Feb 15, 2014,
RANCHO MIRAGE (UNITED STATES): As Syrian peace talks in Geneva appeared to flounder, US President Barack Obama vowed to step up pressure on the regime of President Bashar al-Assad.
Obama's remarks came as he hosted Jordan's King Abdullah II at the Sunnylands retreat in Palm Springs, California, to address issues including the flood of Syrian refugees into Jordan.
The US leader said both he and the Jordanian king "recognize that we can't just treat the symptoms" of the Syrian crisis.
"We're also going to have to solve the underlying problem - a regime led by Bashar al-Assad that has shown very little regard for the well-being of his people.
Full report at:
http://timesofindia.indiatimes.com/world/us/Obama-threatens-new-pressure-on-Assad-regime/articleshow/30468101.cms
--------------
URL: https://www.newageislam.com/islamic-world-news/new-age-islam-news-bureau/al-qaeda-urges-jihad-in-bangladesh/d/35774