New Age Islam News Bureau
18 Feb 2014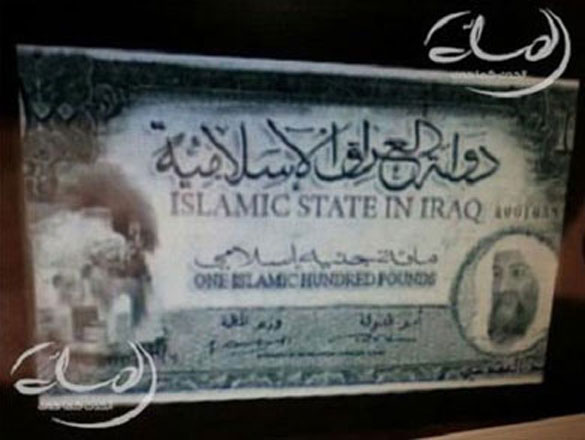 Photo: Al Qaeda Issues Currency Notes with Images of Osama Bin Laden, From ISIL
-------------
Arab World
• Al Qaeda Issues Currency Notes with Images of Osama Bin Laden, From ISIL
• Car bombings kill at least 33 people in Iraq
• Report: Saudi Arabia to Supply Tons of Arms to FSA
• Ouster of Assad regime: Riyadh wins Islamabad's support on Syria
• Egypt army kills 5 suspected militants in North Sinai: Spokesman
• Egyptian militants warn tourists to leave country or face attack
• Syrian Army Sends Troops to Break Siege of Aleppo Prison
India
• Saudi Islamic Affairs Minister Acknowledges Deoband's Contribution
• India takes key step toward full-fledged Islamic banks
• Popular Music Composer Ilaiyaraja's Younger Son Converts to Islam
• Centre revives Muslim quota talks
• My name is Khan, but I'm not a terrorist, says Bihar Minister over alleged links with ISI
• Maritime verdict to benefit Bangladesh and India in Bay
North America
• Dawood Ibrahim and Pakistan-linked terrorists top UK sanctions list
• US to seek soldier's freedom via Taliban prisoner swap: report
• New Leader for Growing Ohio Muslim Community
• The Muslims who fought and died for America
• Bennett to US Jewish leaders: 'Change in religious status quo in Israel will take time,'
• U.S. opposes supply of shoulder-fired missiles to Syria rebels
Pakistan
• No one can change Islamic identity: Jamaat e Islami
• TTP tries to justify ruthless killing of 23 FC soldiers
• Two 'TTP' militants killed in Karachi encounter
• Army major killed in militant attack near Peshawar
• Three conditions for TTP, decides PM and committee
• Pakistan concerned over Iran intentions
• TTP Shura contacts TTP intermediaries for the first time since deadlock
• Taliban surrender to Imran Khan
• US needs to re-engage Taliban for peace: Maulana Fazal ur Rahman
• Saudi Kingdom to provide $58m loan to fund hydroelectric project in Pakistan
South Asia
• 17 Taliban militants killed, 12 injured in Afghan operations
• China to push Pakistan corridor despite terror concerns
• Bangladesh arrests suspected al-Qaeda agent
• BNP-Jamaat violence caused Tk159cr damage
• Maldives Supreme Court uses Majlis testimony in EC contempt trial
• Afghan peace delegation visits Dubai to meet Taliban figures
Africa
• Niger arrests 20 Boko Haram militants in suspected plot
• Boko Haram 'better armed than Nigerian army'
• New bodies recovered from river in CAR's Bangui
• Problems ignored, Tripoli celebrates in deafening and spectacular style
• S. Sudan rebels launch major attack on key oil town: Witnesses
Europe
• Tajik Mullahs Set To Learn Marketable Skills
• Iranian mullah revives death fatwa against Salman Rushdie over Satanic Verses
• Hollande pays tribute to Muslim soldiers at Paris mosque
• International figures sign petition condemning Egypt 'repression'
• France supports Pakistan's dream for peace, stability, says envoy
• EU donates €12m to help destruction of Syrian weapons
Southeast Asia
• Malaysia tops survey of 'Halal holidays' for Muslims
• Inclusive Approach to Stop Sexual Violence in Indonesia
• Anwar to Take Islam to Greater Heights without Tarnishing It with Racism, Hatred against Other Faiths
Mideast
• Israel using thirst as a weapon of war on Palestinians
• Nine dead, 14 soldiers seized in clashes between gunmen and army in Yemen
• IDF may end long-standing night arrests of Palestinians
• Israeli weapons dealers tried to send jet parts to Iran in violation of embargo
Compiled by New Age Islam News Bureau
URL: https://www.newageislam.com/islamic-world-news/new-age-islam-news-bureau/al-qaeda-issues-currency-notes-with-images-of-osama-bin-laden,-from-isil/d/35813
-------------
Arab World
Al Qaeda Issues Currency Notes with Images of Osama Bin Laden From ISIL
Feb 18, 2014
BAGHDAD - A group tied to al Qaeda in Iraq's Anbar province has started issuing notes with the images of Osama bin Laden and of the World Trade Center towers.
The bills come from the Islamic State of Iraq and the Levant, and are stamped with the valuation of "one Islamic Hundred pounds." But a local official said that anyone caught with the currency would be seen as a member of the ISIL.
The official said the money is not being honored in Anbar, a US news agency reported.
"The 100-guinea note bore the likeness of former al Qaeda chief Osama bin Laden on one side, and the two World Trade Center towers attacked by the group on September 11, 2001, on the other," a published statement said.
Fars News Agency reported the bills are being touted as the "ISIL dinar."
The tribal head, who leads the Anbar Salvation Council, said the currency proves the existence of ISIL in Anbar, where members have been engaging in clashes with the Iraqi military for months.
http://www.pakistantoday.com.pk/2014/02/17/entertainment/al-qaeda-issues-currency-notes-with-images-of-osama-bin-laden/
-------------
Car bombings kill at least 33 people in Iraq
2014-02-18
BAGHDAD: Officials say a wave of car bombs in Baghdad and areas to the south has killed at least 33 people.
Police say all Tuesday's attacks were explosives-laden cars parked in or near commercial areas and bus stations.
In Baghdad, four such bombings killed at least 17 people and wounded 49 others.
They added that four car bombs went off simultaneously in different areas in the southern city of Hillah, killing at least 11 people and wounding 35 others.
Hillah is about 95 kilometers south of Baghdad. Outside Hillah in the town of Musayyib, a parked car bomb explosion killed five civilians and wounded 13.
Medical officials confirmed the figures.
All spoke on condition of anonymity as they were not authorised to release information.
https://www.dawn.com/news/1087851/car-bombings-kill-at-least-33-people-in-iraq
-------------
Report: Saudi Arabia to Supply Tons of Arms to FSA
Feb 18, 2014
Saudi Arabia is reportedly to provide more than 3,000 tons of heavy arms to the so-called Free Syrian Army (FSA).
The Saudi government has agreed to do so following a decision by the FSA governing body, the Supreme Military Command, to replace the forces' overall commander Selim Idriss, the DPA reported on Tuesday.
The kingdom had reportedly suspended its military aid to the Free Syrian Army in November 2013 to protest the way that Idriss had distributed arms from western countries and Persian Gulf Arab states.
"Idriss was identified as someone we could not work with and we made the strategic decision to suspend all support to the Free Syrian Army until it changed its leadership," Saudi Arabia's diplomatic liaison to the FSA said.
"Now we can resume arms supplies in full and as fast as possible," said the official, who did not wish to be named as he was not authorized to speak to the press.
In a statement posted online, the FSA said it had fired Idriss and named Abdel al-Ilah al-Bachir to replace him as the military chief of the Free Syrian Army, AFP reported on Sunday.
The military coalition, which was established in 2011 to operate against the Syrian government, has been weakened by the deep divisions among its members and its failure to make major gains.
Syria has been gripped by deadly violence since March 2011. According to the United Nations, more than 130,000 people have been killed and millions displaced due to the unrest.
http://english.farsnews.com/newstext.aspx?nn=13921129000909
-------------
Ouster of Assad regime: Riyadh wins Islamabad's support on Syria
February 18, 2014
ISLAMABAD: Saudi Arabia has managed to win crucial support from Pakistan in the ongoing insurrection in Syria, as the two key Muslim states on Monday called for the formation of an interim governing body to replace the Bashar al Assad regime.
Following talks between the visiting Saudi crown prince, Salman bin Abdulaziz al Saud, with Prime Minister Nawaz Sharif, the two countries demanded 'the formation of a transitional governing body with full executive powers enabling it to take charge of the affairs of the country (Syria)'.
A joint statement issued after the Saudi dignitary's meetings with the top civil and military leadership in Islamabad clearly suggests a shift in Pakistan's policy on Syria. Until now, Islamabad had not taken sides in an attempt to maintain a delicate balance in its ties with both Riyadh and Tehran, which are at odds over the Syrian conflict.
Official sources told The Express Tribune that the recent flurry of visits by top Saudi officials were aimed at persuading Islamabad to support Riyadh on Syria after it lost faith in the US administration to oust Assad's regime.
"The two sides reiterated the need for finding a quick solution to the existing conflict in Syria according to Geneva I Resolution in order to restore peace and security in Syria and prevent bloodshed of the brotherly Syrian people," reads the joint statement.
The two sides went on to call for an immediate withdrawal of all 'foreign armed forces and elements' from Syrian territory. This is believed to be a reference to the alleged Iranian support to the Assad regime.
The two countries also demanded an end to the siege of Syrian towns and villages and cessation of aerial and artillery bombardment. They called for "setting up safe corridors and regions to deliver food and humanitarian aid to besieged Syrian citizens, under international supervision".
This apparent shift in Pakistan's Syria policy is likely to upset neighbouring Iran. Monday's warning by Iran's interior minister to send troops into Pakistan to secure the release of kidnapped border guards is seen as Tehran's uneasiness over Islamabad's warming up ties with Riyadh.
When contacted, a senior government official insisted that there was no change in Pakistan's Syria policy. Sources, however, said that in return for supporting Saudi Arabia on Syria, Pakistan is expected to get defence contracts and other economic favours from the oil-rich kingdom.
The Saudi crown prince, who is also the country's minister for defence, also held talks with Army chief General Raheel Sharif and Chairman Joint Chiefs of Staff Committee General Rashad Mahmood.
During these meetings, the two sides agreed to strengthen their defence cooperation. However, details of their understanding have not been made public. Islamabad, according to officials, is keen to sell JF-17 Thunder combat jets and other military equipment to Saudi Arabia.
Afghanistan situation
The two countries expressed their support for Afghan reconciliation and called for including all sides and components of the Afghan society for the restoration of peace and stability in the strife-torn country. They underlined support for the political process through holding the elections scheduled for April 2014.
Kashmir solution
The Saudi side expressed hope for reaching a peaceful resolution to the decades-old Kashmir dispute in accordance with the relevant UN resolutions so that it contributes to the achievement of permanent peace and stability in the region.
The Saudi side welcomed the positive developments in Pakistan-India relations, which would reflect positively in the interest of the two neighbouring countries and stability in the South Asian region.
Bilateral ties
The two sides called for taking advantage of the opportunities available in the two brotherly countries for expanding and improving investment, trade, energy, infrastructure development, agriculture and exchange of government's delegations for mutual benefit of the two brotherly countries.
The two sides decided to continue to work on further fortifying existing political relations between the two countries through regular holding of bilateral consultations between the foreign ministries of the two countries. The two sides also agreed on the need to enhance bilateral cooperation in the field of defence.
Both sides acknowledged importance of completing necessary measures for signing of the Agreements and MoUs in different fields including Islamic Affairs and endowments, labour, manpower, sports and an agreement to encourage and protect mutual investment in the two countries.
The two sides reiterated their commitment to fighting extremism and terrorism in all its forms and manifestations and continue to cooperate in the field of exchange of security related information.
http://tribune.com.pk/story/673146/ouster-of-assad-regime-riyadh-wins-islamabads-support-on-syria/
----------
Egypt army kills 5 suspected militants in North Sinai: Spokesman
Feb 18, 2014
A military offensive in Egypt's North Sinai on Monday resulted in five suspected militants killed and three arrested, Army Spokesman Colonel Ahmed Ali announced.
Ali, in a statement on his official Facebook account, said 34 primitive structures used by militants to launch attacks against army and police personnel were burned.
Three motorcycles, two cars, and a mini-truck with no license plates, used by the militants were also destroyed.
The armed forces have been carrying out offensive to combat a growing insurgency in the restive Sinai Peninsula, leaving dozens of militants killed.
Attacks on police and military targets in the region have intensified since the ouster of Islamist president Mohamed Morsi in July 2013. Scores of police and army personnel have been killed since then.
Full report at:
http://english.ahram.org.eg/NewsContent/1/64/94503/Egypt/Politics-/Egypt-army-kills--suspected-militants-in-North-Sin.aspx
-------------
Egyptian militants warn tourists to leave country or face attack
Feb 18, 2014
The Islamist militant group Ansar Bayt al-Maqdis has told tourists to leave Egypt and threatened to attack anyone who stays in the country after a deadline of Feb. 20.
The Sinai-based group, which claimed responsibility for a suicide bombing that killed two South Korean tourists and an Egyptian on Sunday, made the statement on an affiliated Twitter account.
"We recommend tourists to get out safely before the expiry of the deadline," read the tweet, written in English.
The warning has not appeared on the group's official website but the Twitter account has been accurate in the past.
Full report at:
http://www.hurriyetdailynews.com/egyptian-militants-warn-tourists-to-leave-country-or-face-attack.aspx?pageID=238&nID=62620&NewsCatID=352
-------------
Syrian Army Sends Troops to Break Siege of Aleppo Prison
Feb 18, 2014
The Syrian army sent troops to the Northern city of Aleppo to break the siege of the Central Prison that has lasted for a year now.
The army units have prepared themselves for an all-out war on the militants surrounding the Aleppo Central Prison.
Also in the past 24 hours, Turkey closed the border passage of Bab Al-Hava along its border with Syria.
Turkey took the decision after the terrorist Islamic Front group attacked a convoy of Syrian refugees, killing and injuring a large number of militants.
Elsewhere, the Syrian army regained control of a road used by militants to send bomb-laden cars from Syria to Lebanon.
Full report at:
http://english.farsnews.com/newstext.aspx?nn=13921129000380
-----------
India
Saudi Islamic Affairs Minister Acknowledges Deoband's Contribution
Feb 18, 2014
Islamic Affairs Minister Saleh Al-Asheikh has pledged to work closely with Darul Uloom Deoband, India's oldest and most prestigious Islamic university. The minister is currently on a visit to India.
The pledge to extend support to Deoband was given by Al-Asheikh during a ceremony organized in the minister's honor on Sunday by Deoband students and faculty members.
After landing in a special helicopter at a helipad in Deoband, Al-Asheikh went around the campus, where he was briefed about the achievements of the 159-year-old Islamic seminary.
The minister visited the King Khaled building on the campus. The minister was accompanied by a 12-member delegation, including Saudi Ambassador to India Saud Al-Saati.
"My visit underlines the keenness of Riyadh to communicate with Muslims in various parts of the world, as well as to boost interaction between Muslims in the Kingdom, represented by the Ministry of Islamic Affairs, and India," said Al-Asheikh.
Full report at:
http://www.arabnews.com/news/527401
-------------
India takes key step toward full-fledged Islamic banks
Feb 18, 2014
THIRUVANANTHAPURAM: India is planning to set up a body to fine-tune and promote Islamic finance before issuing license to start full-fledged banking operations, according to one of the country's senior ministers.
"The formation of the entity is an important step forward. We need to set a framework for rules for different financial products to be offered by these banks or through the Islamic banking windows," said Rahman Khan, India's minister for minority affairs.
He was talking to Arab News on the sidelines of the international seminar on Interfaith Harmony and Tolerance in Kuala Lumpur organized by the International Islamic University Malaysia (IIUM) in association with Kerala-based Ma'din Academy recently.
"We will introduce a financial product like Tabung Haji which would be a great relief to those who want to undertake the pilgrimage," said the minister, who has aggressively been pursuing the idea ahead of the general elections two months away.
Full report at:
http://www.arabnews.com/news/527476
-----------
Popular Music Composer Ilaiyaraja's Younger Son Converts to Islam
Feb 18, 2014
Popular music composer Ilaiyaraja's younger son, Yuvan Shankar Raja, has converted to Islam.
Though the rumour was going around for quite some time, Yuvan, a music composer, confirmed this in a tweet.
There were rumours that Yuvan, who was married twice, was now going to marry a Muslim woman.
However, he has denied the rumours.
"I'm not married for the third time. The news is false, and yes, I follow Islam and I'm proud of it," he said.
Yuvan also tweeted: "My family supports my decision and there is no misunderstanding between me and my dad".
Full report at:
http://indiatoday.intoday.in/story/composer-ilayarajas-son-yuvan-converts-to-islam/1/342826.html
-------------
Centre revives Muslim quota talks
Dhananjay Mahapatra,TNN | Feb 18, 2014
NEW DELHI: Ahead of general elections, the Centre on Monday moved the Supreme Court requesting lifting of stay on implementation of 4.5% subquota for Muslims, to be carved out from the 27% OBC quota, for admissions to central educational institutions and jobs.
Solicitor general Mohan Parasaran mentioned the application for interim relief, which was refused on June 13, 2012. The Centre has cited the Supreme Court's earlier order of March 25, 2010 permitting Andhra Pradesh government to implement similar reservation for backward Muslims within the state.
Parasaran requested a bench of Chief Justice P Sathasivam and Justices Ranjan Gogoi and RK Agrawal for an urgent hearing on the pending petition to bring parity between the conflicting orders.
Full report at:
http://timesofindia.indiatimes.com/india/Centre-revives-Muslim-quota-talks/articleshow/30585973.cms
-------------
My name is Khan, but I'm not a terrorist, says Bihar Minister over alleged links with ISI
Press Trust of India | Patna | February 18, 2014
"My name is Shahid Ali Khan but I am not a terrorist," said the Bihar Minister for Minority Affairs who came under attack by Opposition over his alleged links with Pakistan ISI and terrorist outfit Indian Mujahideen (IM). Using a famous dialogue from Shahrukh Khan starrer 'My Name is Khan', he said "I am Shahid Ali Khan, but I am not a terrorist."
Opposition BJP had on Monday created an uproar over his alleged links with Indian Mujahideen activists in Bihar Assembly and Legislative Council when Khan, the Minority Affairs Minister in the Nitish Kumar government, rose to answer members' questions. The minister, who is a JD (U) MLA from Sursand in Sitamarhi district, said the opposition protest against him has no justification. "They are trying to use a non-issue against me because of politics," he added.
Full report at:
http://indianexpress.com/article/india/politics/bihar-ministers-srk-moment-my-name-is-khan-but-im-not-a-terrorist-says-shahid-khan-over-alleged-links-with-isi/
-------------
Maritime verdict to benefit Bangladesh and India in Bay
Feb 18, 2014
Indian High Commissioner in Dhaka Pankaj Saran, also communicated the same view
Bangladesh and India can cooperate more in the exploration of deep and shallow seas, after getting the verdict on the maritime boundary dispute.
"We have cooperation at present, and we can have more cooperation on the exploration of shallow and deep seas, when we get the verdict," Energy Adviser to the Prime Minister Towfiq-e-Elahi Chowdhury told the Dhaka Tribune yesterday.
Indian High Commissioner in Dhaka Pankaj Saran, also communicated the same view.
"Definitely, we can have more cooperation when the verdict is announced," Saran told the Dhaka Tribune.
Full report at:
http://www.dhakatribune.com/foreign-affairs/2014/feb/18/maritime-verdict-benefit-bangladesh-and-india-bay#sthash.kRAquKRI.dpuf
-------------
North America
Dawood Ibrahim and Pakistan-linked terrorists top UK sanctions list
Press Trust of India | London | February 18, 2014
India's most wanted man Dawood Ibrahim Kaskar and Pakistan-linked terrorists and terror groups figure prominently in an updated list of financial sanctions imposed by the British government. Dawood Ibrahim features under his various aliases and with his last known address given as White House, near the Saudi Mosque in the Pakistani port city of Karachi.
The alleged mastermind of the 1993 serial bombings in Mumbai has been on a consolidated list of asset freeze targets designated by the United Nations, European Union and United Kingdom since November 2003. "International arrest warrant issued by the Government of India, also referred to as Hizrat," reads the latest document released by the Treasury Department.
Jaish-e-Mohammed or the Army of Mohammed, blamed for the 2001 attack on India's parliament, featured on the freeze list as a key outfit "based in Peshawar and Muzaffarabad, Pakistan". It is linked with other banned groups like Harkat-ul-Mujahidin, Lashkar-e-Taiba, Al-Akhtar Trust International and Harkat-ul Jihad Islami.
Full report at:
http://indianexpress.com/article/world/europe/dawood-ibrahim-and-pakistan-linked-terrorists-top-uk-sanctions-list/
-------------
US to seek soldier's freedom via Taliban prisoner swap: report
Feb 18, 2014
WASHINGTON: Washington will attempt to resume talks with the Taliban on exchanging a US soldier held captive by insurgents since 2009 for Guantanamo Bay prisoners, The Washington Post reported late Monday.
The move is an attempt to free Army Sergeant Bowe Bergdahl before the majority of US forces leave Afghanistan by the end of 2014, the report said, citing current and former officials.
The swap would trade Bergdahl for five Taliban members who would be released from Guantanamo Bay into protective custody in Qatar, the Post reported.
State Department spokeswoman Jen Psaki told that she could not discuss details of US efforts but that "there should be no doubt that we work every day -- using our military, intelligence and diplomatic tools -- to try to see Sergeant Bergdahl returned home safely."
Full report at:
http://www.thenews.com.pk/article-138217-US-to-seek-soldiers-freedom-via-Taliban-prisoner-swap:-report
-------------
New Leader for Growing Ohio Muslim Community
Feb 18, 2014
CINCINNATI (AP) -- Among the tasks ahead for the new leader of a large and growing Islamic Center in southwest Ohio is increasing understanding of Muslims.
The Cincinnati Enquirer reports (http://cin.ci/1iWqoDT) that Shakila Ahmad becomes the first woman to hold the role of president in the 18-year history of the Islamic Center of Greater Cincinnati. She got involved early at the center, offering to arrange tours that have drawn tens of thousands of visitors over the years.
Nearly two decades later, she says education and promoting inclusiveness remain important because much work needs to be done, as Muslims still face harassment and social isolation.
"It's been tremendously difficult for me as a Muslim American," said the Cincinnati native and University of Cincinnati graduate. "As much progress as we're making, there is two-fold the work that has to be done. There are those who desire to push Muslim Americans to the side."
She said Muslim children are harassed in school, and she worries about young professionals entering the workforce.
Full report at:
http://www.the-news-leader.com/ap%20state/2014/02/17/new-leader-for-growing-ohio-muslim-community
-------------
The Muslims who fought and died for America
World Bulletin / News Desk
18 February 2014
The Mother Mosque in Cedar Rapids, Iowa, is considered to be the first official purpose-built mosque in the United States.
Originally built in 1934 as a 'Moslem Temple', the mosque, which survived a devastating floods in 2008, has over time earned the love and respect of all walks of life in Iowa. After the 2008 flood, local Christians and Jews even offered to help restore the building.
Its congregation has kept good relations with non-Muslim communities since it was established, even helping to build the St. George Orthodox Church for Arab Christian migrants in Cedar Rapids.
One particular Cedar Rapids Muslim, Haj Yahya Aossey, who migrated to the area in 1907, donated several acres of land im 1949 to be used as the first Muslim cemetery in the US.
Interestingly the cemetery is full of graves for Muslim war veterans who fought and died for the US in World War II.
Full report at:
http://www.worldbulletin.net/muslim-world/129100/the-muslims-who-fought-and-died-for-america
------------
Bennett to US Jewish leaders: 'Change in religious status quo in Israel will take time,'
Feb 18, 2014
Religious Services Minister Naftali Bennett asked American Jewish leaders on Monday to have patience with Israel as it grapples with issues of religious pluralism and the status of non-Orthodox streams of Judaism.
Speaking at the opening of the Conference of Presidents of Major American Jewish Organizations' annual Israel Mission, Bennett, who also runs the Economy Ministry and the Jerusalem and Diaspora Affairs Ministry, said that it is important for Israel to "somehow work together" with the leaders of Conservative and Reform Judaism, whom he called "my brothers and sisters."
Full report at:
http://www.jpost.com/National-News/Bennett-to-US-Jewish-leaders-Change-in-religious-status-quo-in-Israel-will-take-time-341732
-------------
U.S. opposes supply of shoulder-fired missiles to Syria rebels
February 18, 2014
WASHINGTON (Reuters) - The United States is opposed to the supply of shoulder-fired missiles, capable of taking down warplanes, to rebel forces in Syria, a senior Obama administration official said on Tuesday.
The official, travelling with U.S. Secretary of State John Kerry in Tunisia, was responding to a report in the Wall Street Journal on Friday which said Saudi Arabia had offered to give Syrian rebels Chinese man-portable air defence systems, or MANPADS, and anti-tank guided missiles from Russia.
Full report at:
http://www.thestar.com.my/News/World/2014/02/18/US-opposes-supply-of-shoulderfired-missiles-to-Syria-rebels/
-----------
Pakistan
No one can change Islamic identity: Jamaat e Islami
Feb 18, 2014
LAHORE - Jamaat e Islami chief Syed Munawar Hasan has said that nobody could change the Islamic identity of Pakistan in the past nor would anyone be able to do that in the future. Pakistan came into being in the name of Islam and it would exist and flourish with the same, he added while addressing the JI central workshop for party workers at Mansoora.
The JI chief said that the Islamic Shariah consisted of the injunctions of the Almighty and the Holy Prophet (PBUH) which could not be altered on someone's wishes. It was most shameful to term hooliganism as Shariah, he added.
He said the enemy was making every effort to divide the Pakistani nation to create anarchy and disruption. Therefore, all views and ideas in conflict with Islam should be given up in order to forge national cohesion and unity of the Ummah, he said. The JI chief was confident that the nefarious designs of the forces opposing dialogue with the Taliban won't succeed. However, he said, the citizens should be vigilant of the conspiracies of the enemies of Islam and Pakistan and play their role to foil these.
Full report at:
http://www.nation.com.pk/lahore/17-Feb-2014/no-one-can-change-islamic-identity-ji
-------------
TTP tries to justify ruthless killing of 23 FC soldiers
2014-02-18
NOWSHERA/MIRAMSHAH: As the killing of 23 detained paramilitary soldiers cast a pall over peace talks between the government and Taliban, a spokesman for the banned Tehreek-i-Taliban Pakistan (TTP) said on Monday that the Taliban in Mohmand Agency might have avenged the killing of their colleagues.
Talking to Dawn on phone from an unspecified place, Shahidullah Shahid said custodial killings could further complicate the dialogue process.
He alleged that 23 people who were in government custody had been killed over the past three days -- 16 in Nowshera district and seven in Karachi.
"The killing of 16 people belonging to the Mohmand Agency might have enraged the Taliban in the region and they killed the 23 soldiers," he said.
Full report at:
https://www.dawn.com/news/1087719/ttp-tries-to-justify-ruthless-killing-of-23-fc-soldiers
-------------
Two 'TTP' militants killed in Karachi encounter
February 18, 2014
KARACHI - Law enforcement agencies claimed to have gunned down two more militants affiliated with Tehreek-e-Taliban Pakistan in Gulshan-e-Bunair area of Landhi, Karachi.
Police claimed the victims were involved in the blast at the commandos' van in Razzakabad area which claimed the lives of 13 cops and wounded 50 others.
The encounter took place when the paramilitary force, on a tip-off and in coordination with the police, raided their hideout in Gulshan-e-Bunair area in the outskirts of the City.
The militants attacked the raiding party by hurling two hand grenades towards them. As result, one policeman and two personnel of Rangers were wounded.
Full report at:
http://www.nation.com.pk/karachi/18-Feb-2014/two-ttp-militants-killed-in-karachi-encounter
-----------
Army major killed in militant attack near Peshawar
2014-02-18
ISLAMABAD/PESHAWAR: A senior Pakistani army officer was killed on Tuesday in an exchange of fire with militants, the military said, after peace negotiations between the government and Pakistani Taliban insurgents broke down a day earlier.
"(The) exchange of fire continues," the ISPR said in a statement, adding the attack took place near Frontier Region Peshawar close to the Afghan border.
Major Jahanzaib suffered bullet injuries and succumbed to his wounds, the military's media wing said, adding that three militants were also killed in the exhcnage of fire.
https://www.dawn.com/news/1087866/army-major-killed-in-militant-attack-near-peshawar
-------------
Three conditions for TTP, decides PM and committee
February 18, 2014
In a meeting with Prime Minister Nawaz Sharif on Tuesday, the government appointed committee for peace negotiations have come up with three primary conditions to pursue dialogue with militant insurgents of Tehreek-e-Taliban (TTP), a private news channel reported.
According to the report, the committee will be putting forward the following conditions before TTP
• TTP should immediately announce a ceasefire and end all terror activities.
• Affiliated groups of TTP that are targeting forces and civilians must be disowned by the TTP, so that they can be singled out for action by the government.
• All high profile captives held by TTP must be released. These include Ali Haider Gillani, son of former PM Syed Yousuf Raza Gilani and Shahbaz Taseer, son of slain Punjab Governor Salman Taseer.
Full report at:
http://www.pakistantoday.com.pk/2014/02/18/national/three-conditions-for-ttp-decides-pm-and-committee/
-----------
Pakistan concerned over Iran intentions
MEENA MENON
February 18, 2014
Pakistan has noted with serious concern the statement by the Iranian Interior Minister Abdolreza Rahmani-Fazli that Iran would send forces into Pakistan to free five border guards, who were kidnapped by the militants on February 6 from the border region about five kilometres inside Iranian territory.
The spokesperson for the Ministry of Foreign Affairs said in a statement on Tuesday that the Government of Pakistan regrets the suggestions of negligence on its part over the incident, especially when Pakistan's active support against terrorists groups in the past, is well-known and acknowledged by Iran.
Full report at:
http://www.thehindu.com/news/international/south-asia/pakistan-concerned-over-iran-intentions/article5702886.ece
-----------
TTP shura contacts TTP intermediaries for the first time since deadlock
February 18, 2014
PESHAWAR: The Tehreek-e-Taliban Pakistan (TTP) shura contacted the TTP intermediary committee for the first time since the deadlock, stated Professor Mohammad Ibrahim, who is one of the members of the TTP committee, Express News reported on Tuesday.
During a press conference on February 17, Professor Ibrahim had said that the TTP committee was a neutral body acting as a bridge between the government and the TTP in the talks process.
Professor Ibrahim said that he was in contact with the TTP shura via telephone and discussed the killings of the 23 Frontier Corps (FC) men with them.
The peace talks took a new turn two weeks after they began following a claim from the Mohmand Agency chapter of the TTP on February 16 that they had executed 23 soldiers who were kidnapped in June 2010.
Full report at:
http://tribune.com.pk/story/673239/ttp-shura-contacts-ttp-intermediaries-for-the-first-time-since-deadlock/
-------------
Taliban surrender to Imran Khan
February 18, 2014
Touched by an emotionally-charged candlelight vigil held by liberal aunties and their naïve young followers at Lahore's Liberty Roundabout last week, the Taliban made a unanimous decision in an historic meeting to abandon their armed struggle and surrender.
"They were so angry and so upset," a Taliban spokesman said from his office in Pakistan's lawless northwestern areas located in the heart of Peshawar. "They were holding posters saying 'Stop this terrorism,' and so compelled were we that we had no choice but to stop."
Holding their own vigil at the same spot carrying signs saying 'Okay! Fine!' demonstrators from the formerly banned group decided to merge their group with Pakistan Tehrik-e-Insaf (PTI) and accepted the party's chairman Imran Khan as their emir. The march was led by PTI leader Shireen Mazari, after Taliban leaders declined to allow women to walk with them.
Full report at:
http://www.nation.com.pk/columns/18-Feb-2014/taliban-surrender-to-imran-khan
-------------
US needs to re-engage Taliban for peace: Maulana Fazalur Rahman
February 18, 2014
ISLAMABAD - Chief of JUI-F Maulana Fazalur Rahman on Monday said that the US should not confine itself to ensuring peaceful presidential elections in Afghanistan but instead redouble its efforts for meaningfully re-engaging the Afghan Taliban.
"There is a dire need that Pakistan and Afghanistan come on the same page and for this, both the countries need to work on redressing grievances particularly in security arena," Maulana said, in telephonic conversation with Afghan President Hamid Karzai. Both the leaders stressed the need for a renewed push for Afghan reconciliation.
The Afghan President appreciated Prime Minister Nawaz Sharif's efforts for improving the bilateral relations between Pakistan and Afghanistan.
Full report at:
http://www.nation.com.pk/islamabad/18-Feb-2014/us-needs-to-re-engage-taliban-for-peace-fazl
-------------
Saudi Kingdom to provide $58m loan to fund hydroelectric project in Pakistan
Feb 18, 2014
ISLAMABAD – Crown Prince Salman Bin Abdul Aziz, Deputy Premier and Minister of Defense, and Pakistan Prime Minister Nawaz Sharif witnessed the signing of two agreements between the Kingdom and Pakistan here on Monday.
The first agreement includes a development loan to fund a hydroelectric project "Golen Gol" with a cost of $58 million. The second is an agreement to provide export credit facility of $125 million for Pakistan's purchase of urea from Saudi Basic Industries Corporation (SABIC).
Crown Prince Salman and Sharif held wide-ranging talks on the last day of his visit to Pakistan. The leaders agreed to further strengthen bilateral ties and cooperation in defense, energy, economy and other vital sectors.
Full report at:
http://www.saudigazette.com.sa/index.cfm?method=home.regcon&contentid=20140218196140
-------------
South Asia
17 Taliban militants killed, 12 injured in Afghan operations
Feb 18, 2014
At least 17 Taliban militants were killed and 12 others were injured following military operations by Afghan national security forces.
The interior ministry of Afghanistan following a statement said Monday that the militants were killed or injured during operations in the past 24 hours.
The statement further added that the operations were jointly conducted by Afghan police, Afghan army and Afghan intelligence in Kunar, Nangarhar, Kandahar, Zabul, Logar, Herat and Helmand provinces of Afghanistan.
Interior ministry confirmed that 17 Taliban militants were killed, 12 militants were injured and 3 others were detained by Afghan forces during the operations.
Full report at:
http://www.khaama.com/17-taliban-militants-killed-12-injured-in-afghan-operations-2804
-------------
China to push Pakistan corridor despite terror concerns
February 18, 2014
Beijing is keen to play down terror concerns in the light of its 'all-weather' ties with Islamabad
China does not see the rising threats from terror groups as derailing its new "economic corridor" plan linking the troubled western Xinjiang region with Pakistan-occupied Kashmir (PoK), officials told The Hindu on Monday.
Both countries are planning to accelerate development of the project when Pakistani President Mamnoon Hussain arrives here on a three-day visit, starting Tuesday.
The economic corridor, which envisages expanding road links, building railway lines and installing energy pipelines linking Xinjiang with the Gwadar port in Pakistan, was flagged as a priority project by both countries last year.
Full report at:
http://www.thehindu.com/news/international/world/china-to-push-pakistan-corridor-despite-terror-concerns/article5699713.ece
-----------
Bangladesh arrests suspected al-Qaeda agent
RAB arrests 1 over al-Qaeda clip
Feb 18, 2014
He was arrested with three mobile phones, two laptops, a lot of Jihadi books and various other materials in his possession
Rapid Action Battalion arrested a youth from Tangail for his alleged links to the recent audio message issued by al-Qaeda that called upon Bangladeshi Muslims to join in on a jihad against western countries.
Col Ziaul Ahsan, additional director general of RAB (operations), confirmed about the arrest to the Dhaka Tribune.
Identified as Mohammad Russell bin Sattar Khan, 21, son of Abdus Sattar Khan, the youth is a final year student at Tangail's Textile Institute. He is also the main admin of the extremist militants' page in the Facebook page "Basher Kella" and many other similar pages.
Full report at:
http://www.dhakatribune.com/crime/2014/feb/18/al-qaeda-clip-1-held-tangail#sthash.zv74ElsG.dpuf
-------------
BNP-Jamaat violence caused Tk159cr damage
Tribune Report
Feb 18, 2014
The violence peaked after November 25 when the Election Commission announced the schedule of the 10th parliamentary polls
Violent activities during recent political protests by the BNP-led 18 party alliance, caused damage worth over Tk159 crore in the railway and road transport sectors, a minister disclosed during a question and answer session in parliament yesterday.
The minister also claimed that nine people were killed in the spate of violence that gripped the country, as the then opposition parties staged demonstrations, demanding elections under a non-party caretaker government.
Full report at:
http://www.dhakatribune.com/politics/2014/feb/18/bnp-jamaat-violence-caused-tk159cr-damage#sthash.1z1IiOnT.dpuf
-------------
Maldives Supreme Court uses Majlis testimony in EC contempt trial
By Zaheena Rasheed | February 17th, 2014
Elections Commission (EC) testimony given during a People's Majlis committee has been used in today's Supreme Court trial to implicate the four commission members for contempt of court and disobedience to order.
The Supreme Court is prosecuting the EC under new 'Sumoto' or 'Suo motu' regulations that allow the apex court to initiate hearings and act as both plaintiff and judge in a trial.
Article 90 of the constitution says no person will be subject to any inquiry, arrest, detention, or prosecution with respect to anything said in the People's Majlis or any of its committees if such a statement is not contrary to tenet of Islam.
Full report at:
http://minivannews.com/politics/supreme-court-uses-majlis-testimony-in-ec-contempt-trial-77898
-------------
Afghan peace delegation visits Dubai to meet Taliban figures
Feb 18 2014
According to reports, a delegation from Afghan high peace council has left for Dubai to meet with the Taliban group figures in a bid to pave the way for peace talks between the Afghan government and Taliban group.
The delegation led by Mohammad Masoom Stanekzai left for United Arab Emirates on Sunday, officials from the Afghan high peace council confirmed.
The officials speaking on the condition of anonymity said the delegation planned to a group of Taliban figures led by Mullah Agha Jan Mutasim, who was a finance minister during the Taliban's 1996-2001 government.
Full report at:
http://www.khaama.com/afghan-peace-delegation-lefts-for-dubai-to-meet-taliban-figures-3448
-------------
Africa
Niger arrests 20 Boko Haram militants in suspected plot
Reuters
Feb 18, 2014
Niger's army chief General Seyni Garba tells troops in Mali during a visit that the militants were preparing attacks on markets and other gathering places
Niger has arrested about 20 Boko Haram Islamist militants from neighbouring Nigeria who are suspected of planning attacks in Niger's south east, Nigerien security officials said on Monday.
The alleged plot to strike Diffa, a Nigerien town that borders Nigeria's Borno state, highlights the cross-border threats following a Nigerian army offensive against militants that has pushed thousands of refugees and some insurgents across the porous border into Niger, reports Reuters.
Full report at:
http://www.dhakatribune.com/africa/2014/feb/18/niger-arrests-20-boko-haram-militants-suspected-plot#sthash.f8lB8gzZ.dpuf
-------------
Boko Haram 'better armed than Nigerian army'
World Bulletin / News Desk
Feb 18, 2014
Boko Haram is better armed than the Nigerian military force fighting it, the governor of the region worst hit by the insurgency said on Friday after more than 100 people died in a village raid.
President Goodluck Jonathan ordered extra troops into northeast Nigeria in May to crush Boko Haram, which wants to create an Islamic state in the largely Muslim north.
The military denied it was less well armed than the insurgents.
"Boko Haram are better armed and are better motivated than our own troops," Borno state Governor Kashim Shettima told journalists at the presidential villa after a meeting with President Jonathan.
Full report at:
http://www.worldbulletin.net/headlines/129141/boko-haram-better-armed-than-nigerian-army
-------------
New bodies recovered from river in CAR's Bangui
World Bulletin / News Desk
Feb 18, 2014
Many bodies have been found in a river in the capital of Central African Republic, Bangui on Monday.
According to an AA reporter in the region, the bodies were recovered from the Ubangi River.
Amnesty said it has documented at least 200 killings of Muslim civilians by Christian militia groups.
Since December, more than 1,000 Central Africans have been killed in sectarian violence, and nearly 1 million in the country of 4.6 million have fled their homes.
http://www.worldbulletin.net/todays-news/129136/new-bodies-recovered-from-river-in-cars-bangui
-----------
Problems ignored, Tripoli celebrates in deafening and spectacular style
Feb 18, 2014
Political problems and the lack of security were forgotten today as Tripoli embarked on raucous, if not deafening, celebrations of the 2011 revolution. Hundreds of thousands of dinars went up in smoke as constant fireworks from dusk onwards lit up the skies. Some were as loud a bombs, shaking windows and setting off car alarms.
Moving across the city became a major undertaking, not just because of the amount of horn-blowing, flag waving traffic. Camels as well as sheep were sacrificed in the streets to celebrate the day.
Full report at:
http://www.libyaherald.com/2014/02/17/problems-ignored-tripoli-celebrates-in-deafening-and-spectacular-style/#ixzz2tic5O6gi
-------------
S. Sudan rebels launch major attack on key oil town: Witnesses
Feb 18, 2014
Rebel forces in South Sudan launched a major assault early Tuesday against the key town of Malakal, the government-controlled capital of the oil-rich Upper Nile state, witnesses told AFP.
"The fighting is very heavy. There is fighting on the outskirts of the town. It's a very big, coordinated attack," an independent source said.
The fighting appeared the heaviest to take place since the government of President Salva Kiir and rebels loyal to former vice president Riek Machar signed a ceasefire agreement in neighbouring Ethiopia on 23 January.
Full report at:
http://english.ahram.org.eg/NewsContent/2/8/94536/World/Region/S-Sudan-rebels-launch-major-attack-on-key-oil-town.aspx
-------------
Europe
Tajik Mullahs Set To Learn Marketable Skills
Feb 18, 2014
Tajik authorities have a message for mullahs: learn marketable skills, and get regular jobs.
The northern Sughd Province is expected to serve as the testing ground for a new effort to expand madrasah curriculums well beyond religious education.
The goal is to produce multi-skilled mullahs, ones who will not only depend on their followers or state funding to make a living.
All of the province's major madrasahs have been closed since July 2013, when they were shuttered by authorities for failing to abide by state education regulations.
When they reopen they are expected to have a more well-rounded, secular-minded, educational offering.
"We might even turn madrasahs to religious colleges, where students would learn both Islamic subjects and professional skills," says Abdulhakim Sharifov, who oversees the Sughd provincial government's Religious Affairs Department.
Full report at:
http://www.rferl.org/content/tajik-mullahs-set-to-learn-marketable-skills/25265616.html
------------
Iranian mullah revives death fatwa against Salman Rushdie over Satanic Verses
Feb 17, 2014
The Iranian clergy has revived Salman Rushdie's death fatwa 25 years after it was issued over his 'blasphemous' Satanic Verses.
On February 14, 1989, Ayatollah Ruhollah Khomeini called on all Muslims to murder the award-winning author and anyone involved in the publication of his work.
This Friday, senior cleric Ahmad Khatami reminded worshippers at the Tehran Friday prayer that the 'historical fatwa' is 'as fresh as ever'.
He added that even if Rushdie repents, it will not affect the sentence.
The religious ruling forced the award-winning writer into hiding, and Britain's ties with the Islamic republic were severely damaged just a few years after collaborating on a UN resolution between Iraq and Iran.
Full report at:
http://www.dailymail.co.uk/news/article-2560683/Iranian-mullah-revives-death-fatwa-against-Salman-Rushdie-Satanic-Verses-25-years-issued.html#ixzz2tjWl8Tai
------------
Hollande pays tribute to Muslim soldiers at Paris mosque
February 18, 2014
French President Francois Hollande has visited the Grand Mosque of Paris to pay respect to Muslim fighters who died fighting for France between 1914 and 1918.
Hollande inaugurated the memorial of the Muslim soldiers before delivering a speech on this occasion.
The Grand Mosque of Paris is the largest mosque in France and was built between 1922 -1926.
With its 33-meter-high minaret, the first communal prayer in the mosque was led by Ahmad al-Alawi, an Algerian Sufi, in 1926.
About 100,000 Muslims died fighting against Germany in World War I, according to Inter France news agency.
http://english.alarabiya.net/en/News/world/2014/02/18/Hollande-pays-tribute-to-Muslim-soldiers-at-Paris-mosque-.html
-----------
International figures sign petition condemning Egypt 'repression'
Feb 18, 2014
A petition condemning the arrest, detention and torture of peaceful activists in Egypt has been signed by dozens of international academics, trade unionists and political and rights activists.
The 'Defend democratic rights in Egypt' petition was initiated by the US-based Egypt Solidarity Campaign, which supports the 2011 uprising against Hosni Mubarak.
Signatories include including prominent writers Noam Chomsky and Naomi Klein.
The letter was addressed to interim President Adly Mansour and Prime Minister Hazem Beblawi.
Allegations of arbitrary arrests and torture of activists have been on the rise in Egypt in recent months.
The authorities have repeatedly denied torture takes place in the country.
Most of those detained, including hundreds of Islamists, are accused of breaking a new protest law which requires an official permit in advance of any demonstration or public conference.
Full report at:
http://english.ahram.org.eg/NewsContent/1/64/94479/Egypt/Politics-/International-figures-sign-petition-condemning-Egy.aspx
-------------
France supports Pakistan's dream for peace, stability, says envoy
February 18, 2014
ISLAMABAD: France is committed to strengthening bilateral relations with Pakistan by supporting business linkages, higher education opportunities and hydropower projects in the country, according to Philippe Thiebaud, the Ambassador of France.
Speaking to The Express Tribune in an exclusive interview, Thiebaud outlined the important areas of cooperation and highlighted avenues of future collaboration between the two countries.
The ambassador, who took up his assignment in December 2011, said the French embassy was trying to enhance interaction between the business communities in the two countries.
Business linkages
Full report at:
http://tribune.com.pk/story/673029/enhanced-interaction-france-supports-pakistans-dream-for-peace-stability-says-envoy/
-------------
EU donates €12m to help destruction of Syrian weapons
Feb 18, 2014
The EU Commission has pledged a €12 million grant for the destruction of chemical weapons in Syria.
The news was announced during a ceremony attended by the Director General of the Prevention of Chemical Weapons (OPCW), Ahmet Uzumcu.
EU Development Commissioner, Andris Piebalgs said there have been no previous examples of this kind of funding in terms of scope and timing.
Full report at:
http://www.worldbulletin.net/headlines/129105/eu-donates-12m-to-help-destruction-of-syrian-weapons
-----------
Southeast Asia
Malaysia tops survey of 'halal holidays' for Muslims
Feb 18, 2014
SINGAPORE (AFP) - Malaysia is the world s friendliest destination for Muslim travellers, according to a survey released Tuesday, but Japan has shown most improvement as it ramps up efforts to cash in on a growing market.
Malaysia was followed by the United Arab Emirates, Turkey, Indonesia and Saudi Arabia in this year s rankings for "halal" friendly holiday destinations released by Singapore-based Muslim travel specialist Crescentrating.
The survey evaluates countries in terms of their attentiveness to the needs of Muslim travellers, including the presence and accessibility of halal restaurants with meat slaughtered to Islamic standards, and the provision of prayer rooms at airports, shopping malls and hotels.
"An increasing number of destinations are now keen on tapping into this segment and adapting their services to take into account the unique faith-based needs of Muslim travellers," said Crescentrating chief executive Fazal Bahardeen.
Full report at:
http://thefrontierpost.com/article/76516/Malaysia-tops-survey-of-halal-holidays-for-Muslims/
-------------
Inclusive Approach to Stop Sexual Violence in Indonesia
Feb 18, 2014
Jakarta. Encouraging men to become involved in anti-violence campaigns can help minimize gender-based violence, activists say.
Dhyta Caturani, coordinator of the One Billion Rising campaign in Jakarta, described the increased participation by men as "a big achievement for us."
The global campaign, launched last year and initiated by Eve Ensler's V-Day, sees flash mobs appearing in cities around the world on Feb. 14 in an effort to raise awareness of violence against women. It also encourages participation and support from men.
Dhyta expressed concern about the protection victims of sexual violence enjoy with regard to the punishment of the perpetrators.
Full report at:
http://www.thejakartaglobe.com/news/inclusive-approach-to-stop-sexual-violence/
-----------
Anwar to Take Islam to Greater Heights without Tarnishing It with Racism, Hatred against Other Faiths
Feb 18, 2014
Improving the position of Islam in Selangor would be Anwar Ibrahim's top priority should he win the Kajang by-election and be part of the state government.
Next on his must-attend-to list would be economic matters and how to assist Selangor residents in dealing with daily financial demands.
Anwar gave an indication of his priorities at a tea-party for a couple of hundred supporters in Kampung Sungai Kantan, Kajang at the home of PKR's Penanti assemblyperson Norlela Ariffin.
Quoting the Quran about Muslims respecting other religions, Anwar saw no contradition in being a Muslim and wanting Islam's stature raised and its teachings disseminated, co-existing with the followers of other religions exercising their rights of reliious belief and practice.
"To me, this is the priority in Selangor. I have always said this. Even at the church yesterday, I said I am Muslim and I want the mosques to be filled with people and Islamic preaching (dakwah) to be expanded.
Full report at:
http://www.malaysia-chronicle.com/index.php?option=com_k2&view=item&id=228711:anwar-to-take-islam-to-
------------
Mideast
Israel using thirst as a weapon of war on Palestinians
World Bulletin / News Desk
Feb 18, 2014
Martin Schulz, the president of the European Parliament, recently caused uproar in the Israeli Knesset (parliament) when he questioned the Israelis as to whether or not they were following agreements over water distribution with the Palestinians.
His comments enraged far-right Economy Minister Naftali Bennett's Habayit Hayehudi Party so much that they stormed out of the meeting. The Israeli Justice Minister Tzipi Livni also told Schulz that he was being 'intentionally misled' and that Israel 'gives' more water to Palestinians than agreed to.
However, while Livni's choice of words in saying that Israel 'gives' waters to the Palestinians may indicate an underlying sense of ownership over all the water in the region, what Livni was probably supposed to say instead of 'gives' is perhaps the word 'sells' i.e. Israel is selling Palestinians water that rightfully belongs to Palestinians in the first place.
Full report at:
http://www.worldbulletin.net/headlines/129083/israel-using-thirst-as-a-weapon-of-war-on-palestinians
-------------
Nine dead, 14 soldiers seized in clashes between gunmen and army in Yemen
February 18, 2014
ADEN: Nine people were killed on Tuesday in clashes between armed men and Yemeni soldiers in the southern city of Dalea, local residents and the Defense Ministry said, in escalating unrest in the province.
The Defense Ministry's website said four soldiers and one officer were killed in the clashes. Fourteen other soldiers were kidnapped by what it described as saboteurs after an attack by gunmen on a truck carrying food supplies.
Local residents reported that four civilians, including a child, had also died in the clashes. The province is regarded as a stronghold for southern separatists demanding restoration of the former socialist state that merged with North Yemen in 1990.
http://www.dailystar.com.lb/News/Middle-East/2014/Feb-18/247702-army-separatist-clash-kills-8-in-south-yemen.ashx#ixzz2tjPs0rE5
-----------
IDF may end long-standing night arrests of Palestinians
Feb 18, 2014
Lt. Col. Maurice Hirsch tells 'Post' that IDF will unveil program by which Palestinian suspects will be summoned for questioning, rather than apprehended in overnight arrest raids.
In an exclusive interview and for the first time, the IDF's head West Bank Prosecutor, Lt. Col. Maurice Hirsch, officially announced a major policy change to The Jerusalem Post - that very soon the IDF will initiate a pilot program which may end its long-standing policy of night arrests of certain Palestinians.
Hirsch will publicly unveil the new pilot program, in which Israel would issue a written summons to Palestinians suspected of crimes and wanted for questioning, at a near-future Knesset committee hearing.
Full report at:
http://www.jpost.com/Defense/EXCLUSIVE-Chief-West-Bank-Prosecutor-says-IDF-may-end-long-standing-night-arrests-of-Palestinians-341749
-------------
Israeli weapons dealers tried to send jet parts to Iran in violation of embargo
Feb 18, 2014
Israeli weapons smugglers tried to send fighter jet parts to Iran in violation of an arms embargo, Greek daily Kathimerini reported on Monday, citing the findings of a probe carried out by US Homeland Security and Greece's Financial Crimes Squad.
The arms dealers attempted to send the spare parts for F-4 Phantom aircraft via Greece, according to the report. The illegal transaction was carried out in two phases, in December 2012 and April 2013.
The spare parts shipment originated in Binyamina, south of Haifa, and was shipped to a Greek company near Athens registered under the name Tassos Karras SA. Greek authorities determined that the firm was a ghost company.
Full report at:
http://www.jpost.com/Defense/Report-Israeli-weapons-dealers-tried-to-send-jet-parts-to-Iran-in-violation-of-embargo-341675
-------------
URL: https://www.newageislam.com/islamic-world-news/new-age-islam-news-bureau/al-qaeda-issues-currency-notes-with-images-of-osama-bin-laden,-from-isil/d/35813