New Age Islam News Bureau
16 Apr 2014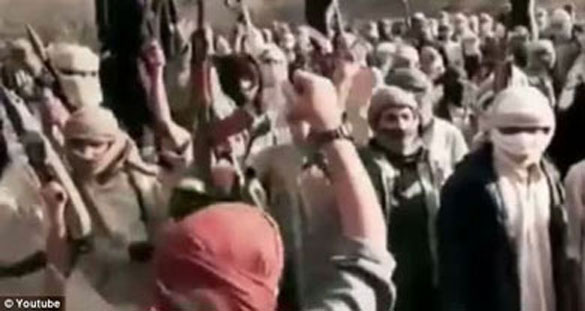 The 15 minute video was filmed as Al-Qaeda in the Arabian Peninsula celebrated a mass breakout from a prison in Sana'a, and surfaced on several YouTube channels
------------
Arab World
• Al Qaeda Holds Largest 'Most Dangerous' Meeting in Years
• Bombers kill five at Iraq provincial govt compound
• Poison gas use by Syria challenge to world: KSA
• Brotherhood members banned from elections
• Maaloula's monastery destroyed after Assad forces drive rebels out
• Syrian Army Inflicts Heavy Losses upon Terrorists' Ranks
• Rebel videos show first U.S.-made rockets in Syria
• Egypt clamps hold over mosques to control message
Pakistan
• Ulema and Mashaikh Convention Resolved To Give a Message of Peace and Harmony
• New governor suggests amnesty for militants
• Taliban, banned extremist organisations behind killings
• Ibrahim doesn't doubt Nawaz's sincerity in peace efforts
• Evidence shows Musharraf's sole responsibility for Nov 3: Prosecutor
• Sharif, Zardari vow to uphold democracy
• Over text messages: Bail petition dismissed in blasphemy case
Europe
• Prince Charles turned his back on Sir Salman Rushdie over The Satanic Verses
• David Cameron urged to raise blasphemy law concerns with Pakistan
• UK lawmakers slam lax security in Taliban attack
• UK extends probe into alleged radical Islamic practices in schools
• Ukraine prime minister demands Russia stop 'exporting terrorism'
Mideast
• Mystery Gaza Blast Kills Three, Wounds Five
• Zionist Police Breaks into Al-Aqusa, Wounds 30 Palestinians
• Twitter rules out Turkey office amid tax row
• Report: Israel-PA peace talks postponed after West Bank terror attack
• 'Turkey's Erdogan following in footsteps of Hitler, Mussolini': CHP
• Hamas leader urges Palestinians to kidnap Israeli soldiers amid crumbling peace talks
India
• Some apprehension among Muslims vis-a-vis Modi: Prominent cleric Kalbe Jawwad
• Shobhaa De, Ritu Menon to attend second Islamabad Literature Festival
Southeast Asia
• Indonesian governor orders prayers to stop adultery
• Sharia offenders to be counselled, detained in Aceh
• Resolve cases between Muslims, non-Muslims in civil court, says legal expert
• Malaysia will play key role in ASEAN peace
North America
• New York Drops Unit That Spied on Muslims
• Muslim American group urges engagement to head off extremism
• U.S. adopts harsher tone in U.N. envoy dispute with Iran
• US Air Force pilots carry out drone strikes says a new documentary
• Obama Should 'Forget Middle East, Focus on Ukraine'
• California Muslims to Lobby Lawmakers at 3rd Annual Muslim Day at the Capitol
South Asia
• Shaheed Minar vandalised night before Pahela Baishakh in Bangladesh
• Children among 8 killed or injured in Zabul blast
• Afghanistan says US air strike kills 3 civilians
• 4159 detainees released from Bagram prison: Gen. Farooq
• Prosecution: Khokon Razakar burnt people alive in 1971
• Syria at 'critical moment', China tells Syrian opposition chief
Africa
• Nigeria: Christians and Muslims join hands in defiance of Boko Haram attacks
• Thousands flee gun battle as Chad withdraw from CAR
• Violence Surges from Islamic Uprising in Nigeria
• Somali al Qaeda-linked al Shabaab Islamist kill nine in western Ethiopia bus attack
• Somalia government wants residents to 'spy' on militants
Compiled by New Age Islam News Bureau
URL: https://www.newageislam.com/islamic-world-news/new-age-islam-news-bureau/al-qaeda-holds-largest--most-dangerous--meeting-in-years/d/66582
-----------
Arab World
Al Qaeda Holds Largest 'Most Dangerous' Meeting in Years
Apr 16 2014
A Yemeni faction of al-Qaeda may be planning on attacking western targets, including the United States, a recent video indicates.
The video allegedly shows a gathering of hundreds of al-Qaeda members, filmed during a celebration of a mass jailbreak of fighters in Sana'a, Yemen.
During the 15-minute clip, which was reportedly shot last month and just emerged, the leader of Al-Qaeda in the Arabian Peninsula (AQAP) speaks of 'removing America'.
The video was posted on several YouTube channels, including terrorism and political violence watchdog TRAC - Terrorism Research and Analysis Consortium - and is dated March 2014.
It shows masked men waving al Qaeda's black flag and celebrating the arrival of members who were freed from the main prison in Sana'a, the capital of Yemen.
The jailbreak in February saw attackers mount a bomb, grenade and gun assault on the prison, freeing 29 inmates, including 19 jailed for terrorism-related crimes.
At the centre of the film is Nasser al-Wuhaishi, a man who has been named the 'crown prince' of AQAP.
'We have to remember that we are always fighting the biggest enemy,' says al-Wuhaishi. 'We have to remove the cross, (and) the bearer of the cross, America.'
Although the authenticity of the video has not yet been independently verified, U.S. officials told CNN they believe it to be real.
Security experts have criticized American intelligence for allowing such a meeting to take place without their knowledge.
'The U.S. intelligence community should be surprised that such a large group of al-Qaeda assembled together, including the leadership, and somehow they didn't notice,' Peter Bergen, CNN national security analyst said.
Abdulrazzaq al-Jamal, a journalist who has interviewed members of AQAP, said it was the largest known gathering of al Qaeda in Yemen.
'It included about 400 people, and these are not all the members of the group. This gathering is a confirmation that al Qaeda is gaining strength and influence,' he said.
Formed in 2009, AQAP has attacked military targets, tourists and diplomats in Yemen and taken over territory for long periods.
U.S. drone attacks have killed several suspected AQAP figures, including Anwar al-Awlaki, a U.S.-born Islamist cleric accused of links to a plot to bomb a Detroit-bound airliner in 2009 and U.S. cargo planes in 2010.
'Al Qaeda will gain strength as there continues to be division and weakness in security performance,' said Ali al-Sarari, political adviser to Prime Minister Mohammed Salem Basindwa.
'The last appearance (the video) shows that Yemen is confronting a dangerous challenge. And if the security performance continues in this manner, then Yemen will face an even bigger failure than what it has faced in the past.'
http://www.dailymail.co.uk/news/article-2606004/Is-brazen-meeting-al-Qaeda-leaders-sign-attack-U-S-again.html#ixzz2z3kQZzr4
------------
Bombers kill five at Iraq provincial govt compound
Apr 16 2014
Two suicide bombers blew up vehicles packed with explosives outside a government compound in the Iraqi city of Ramadi on Wednesday killing five people, police and a doctor said.
The twin attacks come as Iraq's security forces battle to win back control of Anbar province after militants overran parts of Ramadi and all of the city of Fallujah, to its east, in early January.
The bombers each attacked one of the two entrances to the compound, which includes the governor's office, provincial council building and a military headquarters, a police lieutenant colonel and an army captain said.
The blasts killed three soldiers, a policeman and a civilian and wounded 12 other people, a doctor said.
The crisis in the desert province erupted in late December when security forces dismantled Iraq's main Sunni Arab anti-government protest camp just outside Ramadi, the provincial capital.
Militants subsequently seized parts of Ramadi and all of Fallujah, marking the first time anti-government forces have exercised such open control in major cities since the peak of the deadly violence that followed the US-led invasion of 2003.
In other violence on Wednesday, a mortar attack on a military base at Saba al-Bur, north of Baghdad, killed two soldiers and wounded nine, while a roadside bomb at a market there killed one person and wounded five, officials said.
And in Baghdad, gunmen shot a man dead near his home in the Shaab area.
Iraq is suffering a protracted surge in violence that has claimed more than 2,600 lives this year.
The heightened unrest has been driven mainly by widespread anger among the Sunni Arab minority, who say they are mistreated by the Shia-led government and security forces.
It has also been fuelled by the civil war in neighbouring Syria.
Violence in Iraq has killed at least 380 people since the beginning of the month, according to AFP figures based on security and medical sources.
http://english.ahram.org.eg/NewsContent/2/8/99181/World/Region/Bombers-kill-five-at-Iraq-provincial-govt-compound.aspx
-----------
Poison gas use by Syria challenge to world: KSA
Apr 16 2014
Saudi Arabia called on the international community on Tuesday to take "stern and decisive action" against Syria amid growing criticism over the Syrian regime's announcement to hold presidential elections in the strife-torn country.
Foreign Minister Prince Saud Al-Faisal made the call while strongly denouncing the systematic genocide of civilians in Syria and condemning the recent use of toxic gas in central Hama.
He said the "grave news" that Syrian forces had carried out two poison gas attacks last week was a challenge to "international will."
"These continuous violations by the Damascus regime require the international community to take firm action against the continuous defiance of international, Arab and Islamic will," Prince Saud said.
The reported gas attacks posed a clear challenge to the Security Council decision to dismantle Assad's chemical arsenal, he said.
"The only way the regime would listen to calls for peace is if he (Assad) is forced to agree that we cannot reach a military solution for his desire to quell the revolution," he said.
Addressing a joint press conference with Algerian Foreign Minister Ramtane Lamamra, Prince Saud emphasized and supported the decision made by the Arab League that calls for giving Syria's Arab League seat to the Syrian National Coalition (SNC).
The prince, who held wide-ranging talks with Lamamra on a range of bilateral and regional issues, blasted Syria for defying the UN Security Council's policies and resolutions.
Lamamra, who has been invited by Prince Saud to visit Riyadh, also met with Crown Prince Salman, deputy premier and minister of defense, and conveyed a message from Algerian President Abdelaziz Bouteflika.
Talks between Saudi officials and Lamamra also focused on the need for closer coordination to counter terrorist groups in the region, as well as ways to dry up the financial resources of such groups.
The two sides denounced Israel for its intransigence and ill intentions, which have hampered the Middle East peace process.
Prince Saud hoped that the next round of Iran negotiations with the P5+1 powers would result in a final solution to the Iranian nuclear deal.
He urged all parties to comply with regulations and procedures set by the International Atomic Energy Agency, as well as the provisions of international treaties and agreements.
He called on all stakeholders to ensure "a Middle East free of weapons of mass destruction."
The two ministers have expressed the need to reform the Arab League in order to expand and empower the 22-member regional organization of Arab countries.
He said that the recent visit of US President Barack Obama to Riyadh reaffirmed the historic relations between the two countries.
He said that both the Kingdom and the US benefited from the presidential visit, especially in terms of "explaining their positions on key regional issues."
http://www.arabnews.com/news/556416
-----------
Brotherhood members banned from elections
Apr 16 2014
CAIRO: An Egyptian court on Tuesday banned members of ousted President Muhammad Mursi's Muslim Brotherhood from running in upcoming elections, a lawyer and state media said.
Egypt's military-installed authorities are engaged in a deadly crackdown against the movement, which swept elections in Egypt after the overthrow of president Hosni Mubarak in 2011 but is now blacklisted as a "terrorist group."
A court in the Mediterranean city of Alexandria ordered authorities to bar any candidacies from Brotherhood members or former members in presidential and parliamentary elections
The ruling came after a group of private citizens who have protested against the Brotherhood filed a petition calling for the ban.
"It is illogical to receive such candidacies after the government designated the Brotherhood a terrorist organization," Tareq Mahmoud, a lawyer from the group, told AFP.
"We submitted videos, photos and documents showing terrorist acts carried out by the Muslim Brotherhood, which is why it is illogical that they lead the country or represent its people in elections."
The 85-year-old Brotherhood, Egypt's most well-organized opposition group during decades of dictatorship despite being banned, stepped out of the shadows after the 2011 uprising.
http://www.arabnews.com/news/556306
-----------
Maaloula's monastery destroyed after Assad forces drive rebels out
Apr 16 2014
The Syrian regime shows off its latest conquest – a scarred monastery where the language of Christ is still spoken
It has stood for centuries above the ancient settlement at Maaloula, one of a handful of villages in the mountains northeast of Damascus where Aramaic, the language of Jesus Christ, is still spoken.
But on Tuesday, as Syrian army officers showed off their latest conquest in the long back-and-forth war with the country's rebels, the monastery of St Sergius was a sorry sight.
The same shellfire that had helped to drive the rebels out had breached its massive limestone walls and, inside what had long been seen as a symbol of Syria's religious freedom, broken icons lay on the ground alongside crosses, catechisms, and images of the Virgin Mary - though it was not possible to ascertain the cause.
Full report at:
http://www.telegraph.co.uk/news/worldnews/middleeast/syria/10768900/Syria-war-Maaloulas-monastery-destroyed-after-Assad-forces-drive-rebels-out.html
-----------
Syrian Army Inflicts Heavy Losses upon Terrorists' Ranks
Apr 16 2014
Syrian Army operations carried out Wednesday resultedSyrian Army in inflicting heavy losses upon the terrorists as many of their gatherings were targeted, while their attempts to infiltrate areas were thwarted.
Army units uncovered a workshop for making explosive devices and rocket shells in the telephone center in Housh Arab in al-Qalamoun area, Damascus Countryside, according to SANA reporter.
The workshop was found to include large amounts of explosive materials and scores of explosive devices and shells.
Syrian troops engaged militants in Jouret al-Shayah, al-Hamidiyah, Bab Hood and Wadi al-Sayeh neighborhoods, killing scores of anti-government gunmen.
Syrian government forces also destroyed several pickup trucks equipped with heavy machine guns in the al-Houla area.
Full report at:
http://www.almanar.com.lb/english/adetails.php?eid=146441&cid=23&fromval=1&frid=23&seccatid=20&s1=1
----------
Rebel videos show first U.S.-made rockets in Syria
Apr 16 2014
Online videos show Syrian rebels using what appear to be U.S. anti-tank rockets, weapons experts say, the first significant American-built armaments in the country's civil war.
They would signal a further internationalization of the conflict, with new rockets suspected from Russia and drones from Iran also spotted in the forces of President Bashar al-Assad.
None of that equipment, however, is seen as enough to turn the tide of battle in a now broadly stalemated war, with Assad dominant in Syria's central cities and along the Mediterranean coast and the rebels in the interior north and east.
It was not possible to independently verify the authenticity of the videos or the supplier of the BGM-71 TOW anti-tank rockets shown in the videos. Some analysts suggested they might have been provided by another state such as Saudi Arabia, a U.S. ally, probably with Washington's acquiescence.
Full report at:
http://english.alarabiya.net/en/perspective/features/2014/04/16/Rebel-videos-show-first-U-S-made-rockets-in-Syria.html
----------
Egypt clamps hold over mosques to control message
Associated Press
Apr 16 2014
CAIRO (AP) - In his weekly sermon, Muslim cleric Ali Abdel-Moati preached to his congregation in a southern Egyptian city about the evils of making hasty judgments. That prompted a complaint to authorities from a judge, who accused him of criticizing a recent mass death sentence issued against supporters of ousted Islamist President Mohammed Morsi.
Days later, Abdel-Moati was suspended from the mosque in Assiut, replaced by a new preacher, and put under investigation by the Religious Endowments Ministry.
Egyptian authorities are tightening control on mosques around the country, purging preachers and seeking to control the message, as the military-backed government cracks down on Morsi's Muslim Brotherhood following his ouster last summer.
Some 12,000 freelance preachers have been barred from delivering sermons. The Religious Endowments Ministry, or Awqaf in Arabic, now sets strict guidelines for sermons, and anyone who strays from them in Egypt's more than 100,000 mosques risks removal.
Full report at:
http://www.nbc29.com/story/25258387/egypt-clamps-hold-over-mosques-to-control-message
-----------
Pakistan
Ulema and Mashaikh Convention Resolved To Give a Message of Peace and Harmony
April 16, 2014
KARACHI- Announcing an Ulema and Mashaikh convention today for bringing peace and harmony in Karachi, Maulana Tahir Ashrafi has resolved to relay the message of peace and harmony all around.
The head of Pakistan Ulema Council (PUC), Tahir Ashrafi has also stressed on all political parties to dismantle their armed wings, and while reacting to Taliban threat to attack peace convention, conveyed to Taliban that the Ulema convention , where 23 parties, including MQM, PPP, PML, and minorities have also been invited aimed at peace and harmony. He also reminded that he had always stressed for dialogue with Taliban, which would resume after 2 or 3 days; while "If the government was releasing non-combatant Taliban, Taliban might as well reciprocate and release its abductees", he stressed. Maulana Tahir also rejected the notion of any Muslims' involvement in attacks on Hindu temples of Sindh's interiors, and asked the Sindh government to form a judicial Commission to probe these alleged attacks.
http://www.nation.com.pk/national/15-Apr-2014/maulana-tahir-ashrafi-resolved-to-relay-massage-of-peace-and-harmony
----------
New governor suggests amnesty for militants
2014-04-16
PESHAWAR: Sardar Mehtab Khan Abbasi, who took oath as the Governor of Khyber Pakhtunkhwa on Tuesday, has said there is no harm in granting amnesty to militants if they submit to the Constitution.
Talking to journalists at the Governor's House, Sardar Mehtab said people involved in militancy had become hostage to the situation and their families were facing severe hardship. Many of them might be fed up with the situations, but were not able to find a way out, he added.
"I think the government should grant a general pardon," the governor said.
Peshawar High Court Chief Justice Mazhar Alam Miankhel administered the oath to Sardar Mehtab who is politically affiliated with the PML-N.
The oath-taking ceremony was attended by Chief Minister Pervez Khattak, Punjab Chief Minister Shahbaz Sharif, judges of the high court, federal and provincial ministers, parliamentarians, diplomats and civil and military officers.
Full report at:
http://www.dawn.com/news/1100227/new-governor-suggests-amnesty-for-militants
----------
Taliban, banned extremist organisations behind killings
April 16, 2014
Karachi—Sindh senior Minister for Education Nisar Ahmed Khuhru had claimed that terrorists belonging to Tehreek-e Taliban and banned extremist outfits were behind in targeted killings, abundance of illegal weapons and lawlessness in Karachi. However, Sindh government was fully aware of the situation and was after them through targeted operation, which had yielded satisfactory results.
He was talking to the newsmen at a ceremony of Life Awards at Sindh Boys Scouts Association headquarters in Karachi Tuesday.
He said that arresting any citizen by personnel of security forces in plain clothes was a crime and a lawsuit could be filed against any cop or Police officer if found involved in unlawful arrest of any civilian in plain clothes.
Full report at:
http://pakobserver.net/detailnews.asp?id=239727
-------
Ibrahim doesn't doubt Nawaz's sincerity in peace efforts
April 16, 2014
Member of the Taliban committee and Jamaat-e-Islami (JI) leader Professor Ibrahim on Tuesday said that Prime Minister Nawaz Sharif was serious for restoration of peace in the country.
The Taliban interlocutor said that those talking of the constitution themselves did not accept it. He said certain political parties were following "hereditary politics" while JI was the only party which was following the "policy of consultation".
Replying to a question, Prof Ibrahim said that certain reservations posed by Taliban carried weight. He said talks will be held with those who accept the Constitution of Pakistan.
Moreover, he advised Pakistan People's Party (PPP) to ask its chief Bilawal Bhutto Zardari to have "control on his tongue".
Full report at:
http://www.pakistantoday.com.pk/2014/04/16/national/ibrahim-doesnt-doubt-nawazs-sincerity-in-peace-efforts/
-------
Evidence shows Musharraf's sole responsibility for Nov 3: Prosecutor
April 16, 2014
The special court hearing of treason trial against former president General (retd) Pervez Musharraf was resumed here on Wednesday, a private news channel reported.
During the hearing, chief prosecutor Akram Sheikh submitted his written reply about the facilitators of November 2007's emergency imposition.
Sheikh stated that evidence found regarding the event by the Federal Investigation Agency (FIA) was only against Musharraf, adding the relevant documents of evidence had only his signature and so, as per the law, he was solely responsible for the imposition of emergency.
He said that the then prime minister was not notified in advance through any summary of the decision nor were there any records that proved the cabinet's approval of the act.
Shiekh said that he did not have FIA investigation report but no evidence regarding consultations were found before November 3's decision.
Full report at:
http://www.pakistantoday.com.pk/2014/04/16/national/evidence-shows-musharrafs-sole-responsibility-for-nov-3-prosecutor/
-------
Sharif, Zardari vow to uphold democracy
April 16, 2014
ISLAMABAD- Prime Minister Nawaz Sharif and former President Asif Ali Zardari vowed that no one would be allowed to harm the democratic system.
The affirmation was made at a one on one meeting between Prime Minister Nawaz Sharif and former president Asif Ali Zardari at Prime Minister House. The two leaders discussed several issues including recent tension between the government and the military, Taliban talks and Protection of Pakistan Ordinance. The ongoing operation in Karachi and anti-terrorism laws were also discussed.
Full report at:
http://www.nation.com.pk/national/16-Apr-2014/sharif-zardari-vow-to-uphold-democracy
----------
Over text messages: Bail petition dismissed in blasphemy case
April 16, 2014
LAHORE: An additional district and sessions judge on Tuesday dismissed the petition for an after-arrest bail by a man accused of blasphemy. Asif Parvaiz said that he was innocent. He said he and the complainant worked in the same factory. He said the latter held a grudge against him and had framed him.
The complainant said that he had received blasphemous text messages from Parvaiz. Parvaiz said that someone had stolen the SIM card from his phone and used it to send the messages a month before the FIR was registered. He said the complainant was trying to blackmail him. Ghulam Mustafa Chaudhary, counsel for the complainant, said that the complainant had a record of the petitioner's blasphemous text messages. He said the petitioner was lying. Saeed Ahmed Khokhar had filed a blasphemy complaint against Parvaiz with the Green Town police on September 25, 2013.
http://tribune.com.pk/story/696138/over-text-messages-bail-petition-dismissed-in-blasphemy-case/
----------
Europe
Prince Charles turned his back on Sir Salman Rushdie over The Satanic Verses
Apr 16 2014
Prince Charles turned his back on Sir Salman Rushdie during his fatwa over publication of The Satanic Verses because he thought the book was offensive to Muslims, it has been claimed.
In an interview with Vanity Fair, the author Martin Amis claims that the Prince's views caused a row at a dinner party after Rushdie was issued with the death sentence by Islamic clerics in 1989. Amis claims that Charles told him that he would not offer support "if someone insults someone else's deepest convictions".
Amis attempted to remonstrate with him, but the Prince offered little beyond insisting he would "take it on board". Rushdie went into hiding for a decade after Iran's late spiritual leader, Ayatollah Khomeini, issued a fatwa in 1989 calling for the author's assassination.
The Iranian government distanced itself from the fatwa a decade later, declaring that it would not support the edict, but could not rescind it. The Vanity Fair article features Rushdie's friends and literary colleagues and tells the inside story of the controversy. "I had an argument with Prince Charles at a small dinner party," Mr Amis said.
Full report at:
http://www.independent.co.uk/news/people/news/prince-charles-turned-his-back-on-sir-salman-rushdie-over-the-satanic-verses-because-he-thought-book-was-offensive-to-muslims-9260570.html
-----------
David Cameron urged to raise blasphemy law concerns with Pakistan
Apr 16 2014
Pakistani Christians in Britain have pleaded with David Cameron to do more for victims of Pakistan's stringent blasphemy laws.
Wilson Chowdhry, chairman of the British Pakistani Christian Association, raised his concerns during a meeting with the Prime Minister at 10 Downing Street.
The call is timely as this week an appeal hearing against the death sentence of Christian mother Asia Bibi for blasphemy was delayed by the Pakistani courts for the third time.
Mr Chowdhry said the Prime Minister had indicated he would raise the issue of the blasphemy laws with Pakistan's President Mamnoon Hussein during a forthcoming visit.
"Mr Cameron's promised efforts on behalf of the victims of Pakistan's blasphemy laws is welcome news," said Mr Chowdhry.
"However, against this we must not underestimate the deeply entrenched support for the blasphemy laws amongst the significant portion of the Pakistani population and elite that is, shall we say, rather retrogade.
"We look forward to hearing what response Mr Cameron receives."
Pakistan is one of the harshest places on earth for Christians, with churches and Christian neighbourhoods the victim of bombings and mob attacks. Christian girls are often abducted and forced to convert to Islam and marry their abductors. Many Pakistani Christians work in the lowest paid jobs because of their faith.
Full report at:
http://www.christiantoday.com/article/david.cameron.urged.to.raise.blasphemy.law.concerns.with.pakistan/36816.htm
-----------
UK lawmakers slam lax security in Taliban attack
014-04-16
LONDON: British army commanders were partly to blame for the inadequate defences and complacency that allowed the Taliban to attack a base in Afghanistan, killing two US marines, a parliamentary committee said on Wednesday.
The September 2012 attack on Camp Bastion in Helmand province saw 15 heavily-armed Taliban fighters dressed in US army uniforms cut the perimeter wire before destroying six US harrier jets and damaging many other aircraft and vehicles.
Two US marines were killed during the attack and 16 US and British staff as well as a civilian contractor were injured.
The committee said the perimeter security measures in place at the time of the attack were inadequate, with less than half of the camp's 24 guard-towers manned that night.
"Insufficient attention was given to the fundamental requirement of defending Camp Bastion from external assault. We believe that this was complacent," the Defence Committee, which scrutinises government defence policy and expenditure, said in a report. "Given that the attack took place in the British sector of the camp, British commanders must bear a degree of responsibility for these systemic failures and associated reputational damage."
Full report at:
http://www.dawn.com/news/1100278/uk-lawmakers-slam-lax-security-in-taliban-attack
----------
UK extends probe into alleged radical Islamic practices in schools
Apr 16 2014
Further inquiries into radical Islamic practices in some British schools were widened again yesterday amid contradictory reports of the nature of the investigation, The Times UK reported on Tuesday.
The extended probe will now look into 25 Birmingham schools and include over 200 testimonies or pieces of evidence.
The widening investigation conflicted with city council's chief executive Mark Rogers's denial last week of the existence of a radicalism plot conspiracy.
"I don't believe there is a conspiracy. Conspiracy is such a damaging and loaded word. Easy to use, and difficult to prove," Rogers told a local website, the Chamberlain Files.
"What we may be seeing are some individuals from communities who are asking questions about the kinds of custom and practices they want to see and whether they can fit in with the prevailing cultures and customs and practices. This is not about some radicalization agenda," he added
Full report at:
http://english.alarabiya.net/en/News/world/2014/04/15/UK-extends-probe-into-alleged-radical-Islamic-practices-in-schools.html
-----------
Ukraine prime minister demands Russia stop 'exporting terrorism'
Apr 16 2014
KIEV (Reuters) - Ukraine's prime minister on Wednesday accused Russia of "exporting terrorism" to Ukraine by using covert forces to organise armed separatists who he said had attacked Ukrainian forces and occupied state buildings.
"The Russian government must immediately call off its intelligence-diversionary groups, condemn the terrorists and demand that they free the buildings," Arseny Yatseniuk told a government meeting.
"That is, if the Russian Federation is interested in stabilising the situation, which I have significant doubts about," he added.
http://www.thestar.com.my/News/World/2014/04/16/Ukraine-prime-minister-demands-Russia-stop-exporting-terrorism/
-----------
Mideast
Mystery Gaza Blast Kills Three, Wounds Five
Apr 16 2014
An explosion in Gaza killed three people and wounded five on Wednesday, a medical official said, but the reason for the blast was unclear.
The three killed were already dead on their arrival at hospital, and all were in their 20s, Hamas's health ministry spokesman Ashraf al-Qudra told AFP.
The other five were in serious condition, he said.
Witnesses said the blast took place at a training camp belonging to Hamas's armed wing the Ezzedine al-Qassam Brigades east of the city of Khan Yunis in the southern Gaza Strip, but it was unclear what caused the explosion.
A blast during a "training session in bomb-making" killed a Qassam Brigades member and injured six others last month in the southern town of Rafah, on the Egyptian border, the terror group said.
http://www.israelnationalnews.com/News/News.aspx/179662#.U05iiVVdU4U
-----------
Zionist Police Breaks into Al-Aqsa, Wounds 30 Palestinians
Apr 16 2014
More than 30 of Palestinians holding a sit-in in Al-Aqsa Mosque were wounded after Israeli occupation forces shot at them on Wednesday in an attempt to eject them by force from the mosque, Al-Manar correspondent said.
Aqsa woundedA large number of police officers broke into Al-Aqsa Mosque courtyard, firing rubber bullets and stun grenades. The occupation forces also detained one of the mosque guards.
Palestinians holding the sit-in confronted the Israeli forces that attempted to bring Jewish settlers to Al-Aqsa to perform their rituals, Palestine Today reported.
Full report at:
http://www.almanar.com.lb/english/adetails.php?eid=146331&cid=23&fromval=1&frid=23&seccatid=18&s1=1
-----------
Twitter rules out Turkey office amid tax row
16 April 2014
Social networking company Twitter on Wednesday rejected demands from the Turkish government to open an office there, following accusations of tax evasion and a two-week ban on the service.
Speaking after two days of closed-door talks with Turkish officials, Colin Crowell, Twitter's head of global public policy, told AFP: "We did not agree on opening an office in Turkey."
"Making greater investments here to grow our business has a relationship to whether or not we can count on the continuity of our service," he said.
"And an investment climate in which our service has been shut off would give any company reservations about making an imminent investment," Crowell said in an interview in Istanbul.
The Twitter delegation was in Turkey to ease tensions after Turkish Prime Minister Recep Tayyip Erdogan accused the firm of tax evasion and blocked it.
"Twitter, YouTube and Facebook are international companies established for profit and making money," Erdogan said on Sunday. "Twitter is at the same time a tax evader. We will go after it."
Full report at:
http://voiceofrussia.com/news/2014_04_16/Twitter-rules-out-Turkey-office-amid-tax-row-6715/
---------
Report: Israel-PA peace talks postponed after West Bank terror attack
Apr 16 2014
A meeting scheduled between Israeli and Palestinian peace negotiators on Wednesday evening has been postponed, AFP is reporting.
The talks, which were aimed at salvaging the peace negotiations that have been teetering on the brink of collapse since late last month, were pushed back following Monday evening's terrorist attack near Hebron which left an Israeli man dead.
AFP cited an unnamed Israeli official as saying that the meeting was postponed, though no official reason was given. According to the report, Palestinian officials said the talks were being pushed back to Thursday in order to allow Martin Indyk, US Secretary of State John Kerry's envoy to the peace talks, to arrive in the region and participate in the negotiating session.
Full report at:
http://www.jpost.com/Diplomacy-and-Politics/Report-Israel-PA-peace-talks-postponed-in-wake-of-West-Bank-murder-348637
-----------
'Turkey's Erdogan following in footsteps of Hitler, Mussolini': CHP
Apr 16 2014
The head of Turkey's main opposition party in parliament likened Prime Minister Recep Tayyip Erdogan to 20th century fascist dictators.
According to Today's Zaman, Kemal Kilcdaroglu is quoted as telling deputies from his Republican People's Party (CHP) that the Turkish premier, who has consolidated power by stifling dissent in the press while undercutting rivals in the military and other key centres of power in Turkey, is following the same path of Hitler and Mussolini.
"Hitler was elected by popular vote," Today's Zaman quotes him as saying. "Mussolini was elected. They were elected, but after a while, they started to see themselves as the state. And humanity had to pay a very high price. Such events also took place in our democracy. We sent prime ministers, young people to the gallows. Supremacy of law is a most important concept. Everyone should internalize it."
Full report at:
http://www.jpost.com/Diplomacy-and-Politics/Turkeys-Erdogan-following-in-footsteps-of-Hitler-Mussolini-348648
-----------
Hamas leader urges Palestinians to kidnap Israeli soldiers amid crumbling peace talks
Apr 16 2014
Hamas Prime Minister Ismail Haniyeh is urging Palestinians to kidnap Israeli soldiers, in light of the recent halt in Israeli-Palestinian peace talks, reported Palestinian Ma'an News Agency Tuesday night.
"Abducting Israeli soldiers is a top priority on the agenda of Hamas and the Palestinian resistance," Haniyeh reportedly said during a conference. "Negotiations with the occupation have failed."
According to the Palestinian news agency, the Gaza leader called the end of recent US-backed peace talks an "unquestionable fact."
Full report at:
http://www.jpost.com/Diplomacy-and-Politics/Hamas-leader-Haniyeh-urges-Palestinians-to-kidnap-Israeli-soldiers-amid-failed-peace-talks-348597
-----------
India
Some apprehension among Muslims vis-a-vis Modi: Prominent cleric Kalbe Jawwad
Apr 16, 2014
Prominent cleric Maulana Kalbe Jawwad today said there was some fear among Muslims as far as BJP prime ministerial candidate Narendra Modi was concerned, but its national president Rajnath Singh's image was emerging like former Prime Minister Atal Bihari Vajpayee.
"There is some apprehension among Muslims vis-a-vis Modi.
They feel Rajnath Singh will prove better. They used to apprehend that if BJP comes to power, something could happen. But the ground reality is that the best relations with Pakistan developed when Vajpayee was the External Affairs Minister," he said.
Jawwad, however, said his meeting with Rajnath, who is contesting from Lucknow, last night was not political, but personal.
"I don't consider this meeting as political, but personal. We had been meeting earlier as well. When he was the Chief Minister, he used to meet us. He used to come and greet us when Namaz of Eid was held. From this point of view we have old relations…this meeting was not political, but personal," he said.
Full report at:
http://indianexpress.com/article/india/politics/some-apprehension-among-muslims-vis-a-vis-modi-kalbe-jawwad/
----------
Shobhaa De, Ritu Menon to attend second Islamabad Literature Festival
Apr 16, 2014
Indian authors Shobhaa De and Ritu Menon will take part in the three-day second Islamabad Literature Festival from April 25 to 27 organised by the Oxford University Press (OUP).
Announcing this, OUP Managing Director Ameena Saiyid OBE and Dr Asif Farrukhi, the co-founders of the Karachi Literature Festival and the Islamabad Literature Festival (ILF) said at a press conference on Tuesday that over 120 writers and speakers from Pakistan and abroad from five countries would take part in the festival. There will be 67 sessions and 14 book launches.
In addition there will be two Dastangoi performances by Danish Husain, Darain Shahidi, Fawad Khan and Nazrul Hasan. The first ILF last year had over 15,000 visitors and generated much interest. Ms. Saiyid said the festival allows writers to be freely accessible to people in an open and participatory manner.
Full report at:
http://www.thehindu.com/news/international/south-asia/shobhaa-de-ritu-menon-to-attend-second-islamabad-literature-festival/article5916010.ece
----------
Southeast Asia
Indonesian governor orders prayers to stop adultery
April 16, 2014
JAKARTA: Indonesian governor said on Wednesday he has ordered all civil servants in a central province to attend mass prayer sessions and religious sermons in a bid to stop adultery.
It was just the latest attempt by Rusli Habibie to encourage government employees in Gorontalo province — which is mainly Muslim like most parts of the vast archipelago — to stay faithful.
He enacted a local law earlier this month requiring all government employees regularly to pray together and attend half-hour sermons each Friday in the hope it would discourage them from cheating on spouses.
"I have heard so many reports of married civil servants cheating. They have one girlfriend or boyfriend one day, and another the next. They are not allowed to do this," Habibie told AFP.
"Their behaviour is destroying the image of the government. They cannot do this," he added, rejecting criticism that infidelity was a private matter.
Full report at:
http://tribune.com.pk/story/696335/indonesian-governor-orders-prayers-to-stop-adultery/
---------
Sharia offenders to be counselled, detained in Aceh
April 16 2014
The Aceh administration's approval of the Qanun Hukum Acara Jinayat (criminal code procedure) by law authorizes Sharia police in the province to detain any person suspected of violating Sharia for a maximum of 20 days, if initial counselling of the offender proves ineffective.
"This is in accordance with the bylaw, which stipulates that we have the authority to detain Sharia offenders," Aceh Public Order Agency (Satpol PP) and Wilayatul Hisbah (WH) sharia police law enforcement unit chief Samsuddin said on Tuesday.
Samsuddin said detention would be aimed at enabling the sharia police to conduct investigations into alleged offenses.
In preparation for the enforcement of the Jinayat procedural law, the sharia police have set up a special detention house at their headquarters.
Citizens suspected of breaking sharia will be held temporarily at the detention center while the investigation process is carried out and dossiers are submitted to the prosecutor's office and later to the Sharia Court.
Full report at:
http://www.thejakartapost.com/news/2014/04/16/sharia-offenders-be-counseled-detained.html
-----------
Resolve cases between Muslims, non-Muslims in civil court, says legal expert
Apr 16 2014
A legal expert has suggested that cases involving disputes between Muslims and non-Muslims be heard in the civil court for easier management of such cases.
Prof Dr Najibah Mohd Zin, deputy dean of the Ahmad Ibrahim Kulliyyah of Laws (AIKOL) at the International Islamic University Malaysia, said this would provide the solution to problems faced by non-Muslims who could not appear in a shariah court to seek justice in the case of a spouse having embraced Islam.
At the same time, it could also avert the situation where two judicial systems handed down differing orders or judgments for the same case heard in the shariah court as well as the civil court.
"I do not see anything wrong in bringing these cases to the civil court, where there are Muslims and non-Muslims (counsel and judges) who can hear the cases," she said.
Najibah was commenting on a recent case where the Shariah Court and the civil court gave custody of the children to the father, who had embraced Islam, and the Hindu mother, respectively.
Full report at:
http://www.themalaysianinsider.com/malaysia/article/resolve-cases-between-muslims-non-muslims-in-civil-court-says-legal-expert
-----------
Malaysia will play key role in ASEAN peace
Apr 16 2014
KUALA LUMPUR: Malaysia is expected to play a more prominent role in ensuring the continued stability and peace in the region upon assuming the ASEAN chair next year, said Deputy Prime Minister Tan Sri Muhyiddin Yassin.
"The South China Sea disputes and the intercession of outside interests makes maintaining the security and stability of the region more complex.
"These possible causes of conflict require more than the diplomatic efforts of our governments to diffuse tensions," he said when closing the Putrajaya Forum yesterday.
Muhyiddin said the world is not only recognising the importance of ASEAN as a platform for maintaining peace and stability, but as a forum for engagement with regional powers such as China, India, Japan and South Korea.
"It is a known fact that since the formation of ASEAN in 1967, there has not been any open conflicts among its member countries.
Full report at:
http://www.thestar.com.my/News/Nation/2014/04/16/Msia-will-play-key-role-in-ASEAN-peace-DPM-Consensus-and-respect-important-in-resolving-conflicts/
---------
North America
New York Drops Unit That Spied on Muslims
By MATT APUZZO and JOSEPH GOLDSTEIN
Apr 16 2014
The New York Police Department has abandoned a secretive program that dispatched plainclothes detectives into Muslim neighborhoods to eavesdrop on conversations and built detailed files on where people ate, prayed and shopped, the department said.
The decision by the nation's largest police force to shutter the controversial surveillance program represents the first sign that William J. Bratton, the department's new commissioner, is backing away from some of the post-9/11 intelligence-gathering practices of his predecessor. The Police Department's tactics, which are the subject of two federal lawsuits, drew criticism from civil rights groups and a senior official with the Federal Bureau of Investigation who said they harmed national security by sowing mistrust for law enforcement in Muslim communities.
To many Muslims, the squad, known as the Demographics Unit, was a sign that the police viewed their every action with suspicion. The police mapped communities inside and outside the city, logging where customers in traditional Islamic clothes ate meals and documenting their lunch-counter conversations.
Full report at:
http://www.nytimes.com/2014/04/16/nyregion/police-unit-that-spied-on-muslims-is-disbanded.html?hpw&rref=nyregion
-----------
Muslim American group urges engagement to head off extremism
Apr 16 2014
A year after the Boston Marathon bombing, which authorities said was carried out by two Muslim Chechen immigrants, a Muslim American group Monday announced a plan to help steer susceptible members in their communities away from radical Islamist ideology.
Speaking at the National Press Club in Washington, officials of the Muslim Public Affairs Council said the Boston attack, which killed three people and injured 264, had highlighted the need for Muslim communities to intervene more effectively with troubled youths.
"Law enforcement can only go so far in preventing these attacks," the council stated in a report presented Monday. "In order to keep our nation safe, the American Muslim community must take a proactive approach to identifying and intervening with individuals who may be susceptible to violent extremism."
One of the accused bombers, Dzokhar Tsarnaev, 19, told officials after his capture that he and his brother Tamerlan, 26, had developed radical Islamist beliefs because of the U.S. wars in Iraq and Afghanistan and had learned to build bombs from an al-Qaeda-linked Web site. Tamerlan, who was killed in a shootout with police a few days after the bombing, had reportedly been ejected from a Boston area mosque for disrupting prayers.
Full report at:
http://www.washingtonpost.com/local/muslim-american-group-urges-engagement-to-head-off-extremism/2014/04/14/b1ba7744-c3ed-11e3-bcec-b71ee10e9bc3_story.html
-----------
U.S. adopts harsher tone in U.N. envoy dispute with Iran
World Bulletin/News Desk
Apr 16 2014
The United States adopted a harsher tone toward Iran's proposed U.N. ambassador on Tuesday, calling Tehran's choice of Hamid Abutalebi "unacceptable" and tying him to the 1979-1981 U.S. hostage crisis in Tehran.
While it did not detail what the veteran diplomat may have done during the period, when radical Iranian students seized the U.S. embassy and held 52 U.S. hostages for 444 days, the State Department for the first time linked the U.S. decision not to issue him a visa to those events.
"He himself has said he was involved and, given his role in the events of 1979, which clearly matter profoundly to the American people, it would be unacceptable for the United States to grant this visa," State Department spokeswoman Jen Psaki told reporters at her daily briefing.
Abutalebi has said that he acted only as a translator.
Full report at:
http://www.worldbulletin.net/headlines/133851/us-adopts-harsher-tone-in-un-envoy-dispute-with-iran
-----------
US Air Force pilots carry out drone strikes says a new documentary
2014-04-16
WASHINGTON: US Air Force pilots, and not CIA operatives, carry out drone strikes in Pakistan, says a new documentary.
The documentary – "Drone" – confirms the claim made in an earlier documentary on the subject that despite all technological and human assets, there's a lot of room for error in the strikes.
Thousands of people have been killed in the drone strikes, including many children.
"This calls into question the credibility of the kill-list methodology" as the vast majority of strikes in Pakistan were "against people whose identities the government doesn't know", the documentary revealed.
The US media pointed out that "the revelation that US Air Force pilots were carrying out targeted drone strikes in Pakistan at the behest of the CIA, once again brought into question the legality of the largest targeted killing programme in history".
Full report at:
http://www.dawn.com/news/1100188/us-air-force-pilots-carry-out-drone-strikes
--------
Obama Should 'Forget Middle East, Focus on Ukraine'
Apr 16 2014
US President Barack Obama and US Secretary of State John Kerry need to abandon the Israel-Palestinian Authority (PA) peace talks now - so says the New York Times.
In an editorial board opinion piece, the American paper argues that "there is scant sign of serious purpose" in US efforts to salvage the talks, which were derailed on March 1 as PA Chairman Mahmoud Abbas breached talk conditions by requesting to join 15 international conventions.
Instead, Obama and Kerry "should move on and devote their attention to other major international challenges like Ukraine," reasons the paper, noting the tense standoff between Russia and Ukraine.
The New York Times suggests that the US administration draw up a list of principles for a two state solution that would create a PA-run state in the heart of Israel. The paper calls for a PA state along 1949 Armistice lines, land swaps, and Jerusalem as a capital for both Israel and the PA.
Full report at:
http://www.israelnationalnews.com/News/News.aspx/179652#.U05jKFVdU4U
-----------
California Muslims to Lobby Lawmakers at 3rd Annual Muslim Day at the Capitol
Apr 16 2014
On Tuesday, April 22, California Muslims will meet with their state lawmakers in Sacramento as part of the annual "Muslim Day at the Capitol" organized by that state's chapter of the Council on American-Islamic Relations (CAIR-CA), the nation's leading Muslim civil rights and advocacy organization.
hroughout the meetings with their legislators, California Muslims will urge elected officials to act on three critical issues:
AB 1976 and AB 330, two bills that seek to make college more affordable for incoming students.
The Health for All Act (AB 241), a bill that aims to expand access to health care coverage for all Californians, regardless of immigration status.
Full report at:
http://www.cair.com/press-center/american-muslim-news/12449-california-muslims-to-lobby-lawmakers-at-3rd-annual-muslim-day-at-the-capitol.html
---------
South Asia
Shaheed Minar vandalised night before Pahela Baishakh in Bangladesh
Apr 16 2014
Miscreants damaged the main Shaheed Minar of Polashbari union under Nilphamari Sadar upazila beside Nilphamari-Domar road on Sunday night, hours before Pahela Baishakh, the first day of Bangla New Year.
Locals found one of the three pillars of the Shaheed Minar broken as they gathered at the field adjoining the Shaheed Minar to celebrate Pahela Baishakh on Monday morning.
Locals including teachers and students were shocked to see the Shaheed Minar damaged when they gathered on the school premises to attend a function on Pahela Baishakh, said Subash Chandra Roy, headmaster of New Model Pre-Cadet School, standing beside the Shaheed Minar.
"A vested quarter belonging to anti-liberation forces torched and looted houses of local Hindus in December last year. We suspect the same forces, which are opposed to Bangladeshi culture and heritage, damaged the Shaheed Minar just before the joyous day of Pahela Baishakh," said Tapon Kumar Roy, chairman of Polashbari union parishad, also district unit president of Bangladesh Workers Party.
Full report at:
http://www.thedailystar.net/country/shaheed-minar-vandalised-night-before-pahela-baishakh-20186
-----------
Children among 8 killed or injured in Zabul blast
Apr 16 2014
At least eight civilians including children were killed or injured following an explosion in southern Zabul province of Afghanistan.
According to local government officials, the incident took place in Shahr-e-Safa district late Tuesday.
Provincial police Chief Gen. Ghulam Sakhi Rogh Lewanai said at least two children were killed and six others were injured following the explosion.
Gen. Rogh Lewanai said the incident took place after a vehicle struck with an improvised explosive device.
Full report at:
http://www.khaama.com/children-among-8-killed-or-injured-in-zabul-blast-3587
-----------
Afghanistan says US air strike kills 3 civilians
April 16, 2014
KABUL: A US air strike in eastern Afghanistan has killed three civilians, the Afghan president's office said on Tuesday.
The bombing took place in Khost on Monday night, a statement said. The US-led military coalition ISAF said it was looking into the incident. Air strikes that have killed or wounded hundreds of Afghan civilians are a serious source of tension between the two countries and one of the main reasons President Hamid Karzai has refused to sign an agreement that would allow US forces to stay beyond 2014. "The Afghan President called the strike a violation of agreements between the two countries and strongly condemned it," the statement said. The Nato-led coalition declined to confirm whether there had been an air strike in the area overnight, saying only that it was looking into allegations of civilian casualties.
Full report at:
http://www.nation.com.pk/international/16-Apr-2014/afghanistan-says-us-air-strike-kills-3-civilians
----------
4159 detainees released from Bagram prison: Gen. Farooq
Apr 16 2014
The government of Afghanistan has released 4159 prisoners from the Bagram prison after they were transferred to Afghan control.
Head of the Bagram prison and commander of the military police, General Farooq said around 5021 prisoners who were detained by US forces, have been transferred to Afghan during the past three years.
Gen. Farooq further added 4159 prisoners have been released from the Bagram prison after their cases were reviewed by review panel.
He said they have not received the files regarding 336 prisoners from the US side.
The review panel presented their report regarding the progress of Bagram prisoners transfer to a meeting which was chaired by President Hamid Karzai on Monday.
Full report at:
http://www.khaama.com/4159-detainees-released-from-bagram-prison-gen-farooq-3584
-----------
Prosecution: Khokon Razakar burnt people alive in 1971
Apr 16 2014
During the second day of placing closing arguments against BNP leader Zahid Hossain alias Khokon Razakar, the prosecution yesterday pointed out Khokon's viciousness during the war, mentioning that Khokon – who is currently facing charges of committing crimes against humanity during the Liberation War – had burned people alive in 1971.
Prosecutor Mokhlesur Rahman Badal said the prosecution, along with the depositions by the witnesses, have been successful in proving the crimes that Khokon committed during the war.
He also claimed that the accused was responsible for all the crimes against humanity committed in and around Faridpur's Nagarkanda upazila during the war.
Full report at:
http://www.dhakatribune.com/law-rights/2014/apr/16/prosecution-khokon-razakar-burnt-people-alive#sthash.KuGAPJmS.dpuf
-----------
Syria at 'critical moment', China tells Syrian opposition chief
Apr 16 2014
Syria has reached a "critical moment" as the world awaits news of fresh peace talks, China's foreign minister told the warring nation's opposition leader Ahmed Jarba in Beijing Wednesday.
Wang Yi was speaking at the start of four days of talks with a delegation led by the head of the Syrian National Coalition, as Beijing attempts to portray a neutral stance in the three-year conflict.
Along with Russia, China has given key diplomatic backing to Syrian President Bashar al-Assad, using its veto in the UN Security Council to block several draft resolutions against his regime.
"The current situation in Syria has reached a new critical moment," Wang told Jarba at the foreign ministry in Beijing.
Full report at:
http://english.ahram.org.eg/NewsContent/2/9/99173/World/International/Syria-at-critical-moment,-China-tells-opposition-c.aspx
-----------
Africa
Nigeria: Christians and Muslims join hands in defiance of Boko Haram attacks
Apr 16 2014
Christians and Muslims in Nigeria are uniting in peace efforts in the face of relentless attacks by Islamist militant group Boko Haram.
A "Friends Day Service" was held at a church in Tudun Nupawa, Kaduna in Northern Nigeria, one of the areas being targeted by militants.
Successive attacks by Boko Haram over several years have left thousands dead. Most recently, an attack on Saturday left at least 210 dead in Borno State.
Around 50 Muslim leaders attended the service at the church belonging to Evangelical Church Winning All (ECWA).
Gifts were given to the Muslim leaders and the service was followed by a shared lunch.
During speeches, Senator Aziz Zego, chairman of the event's planning committee, said that commitment to peace should not only be in words but also visible in deed, while Sheikh Dahiru Adamu, the Imam of the Salam'at Jumu'at Mosque Bachama, Tudun Wada, called on members of both religious communities to live in peace in order to ensure development, stability and progress, Christian Solidarity Worldwide reports.
Full report at:
http://www.christiantoday.com/article/nigeria.christians.and.muslims.join.hands.in.defiance.of.boko.haram.attacks/36803.htm
-----------
Thousands flee gun battle as Chad withdraw from Central African Republic
Apr 16 2014
BANGUI (Reuters) - Thousands fled a gun battle between Chadian troops escorting a convoy of Muslim civilians and local militia in Central African Republic, Medecins Sans Frontieres said on Tuesday, as Chad completed a withdrawal of soldiers from its violence-ravaged neighbour.
Central African Republic has descended into chaos since the mainly Muslim Seleka rebel coalition seized power a year ago. Its abuses on the majority Christian population triggered waves of revenge attacks, leading to thousands of deaths and displacing hundreds of thousands of civilians, including the majority of the country's Muslims.
The Chadian troops were escorting the last 540 Muslim residents of the north-western town of Bossangoa to Gore in Chad when militia attacked the convoy at night on April 11 as it passed through Boguila, around 310 miles (500 km) north of the capital Bangui.
The Chadian soldiers fought back, and three wounded were later admitted to MSF facilities in Boguila and Paoua.
Full report at:
http://www.thestar.com.my/News/World/2014/04/16/Thousands-flee-gun-battle-as-Chad-withdraw-from-Central-African-Republic/
-----------
Violence Surges From Islamic Uprising in Nigeria
Apr 16 2014
Suspected Muslim extremists kidnapped about 100 girls Tuesday from a school in northeastern Nigeria, less than a day after militants bombed a bus station and killed 75 people in the capital — a surge of violence that raised new doubts about the military's ability to contain an Islamic uprising.
With an 11-month-old state of emergency in three northeastern states failing to bring relief, the attacks are increasing calls for President Goodluck Jonathan to rethink his strategy in confronting the biggest threat to the security of Africa's most populous nation.
The attacks by the Boko Haram terrorist network have killed more than 1,500 people in this year alone, compared with an estimated 3,600 dead between 2010 and 2014.
In the latest attack, gunmen killed a soldier and a police officer guarding a school in Chibok on the edge of the Sambisa Forest and abducted the teenage girls after midnight, according to authorities.
Full report at:
http://abcnews.go.com/International/wireStory/suspected-extremists-kidnap-100-girls-nigeria-23332076
-----------
Somali al Qaeda-linked al Shabaab Islamist kill nine in western Ethiopia bus attack
Apr 16 2014
ADDIS ABABA (Reuters) - Gunmen ambushed a bus carrying dozens of people in western Ethiopia near the Sudanese border, killing nine and wounding six others, state-run media said on Wednesday.
There was no claim of responsibility and no group was blamed for the attack, but Ethiopia says it has thwarted several plots in recent years by Ethiopian insurgents as well as Somali al Qaeda-linked al Shabaab Islamist militants.
A handful of rebel groups are waging low-level separatist insurgencies in Ethiopia, while Ethiopian troops are part of an offensive against al Shabaab in neighbouring Somalia.
The bus ambush on Tuesday evening - near the $4 billion-Grand Renaissance Dam - was the second attack on public transportation in the Benishangul Gumuz region in five months. Four people were killed by a bomb on a minibus in November.
http://www.thestar.com.my/News/World/2014/04/16/Gunmen-kill-nine-in-western-Ethiopia-bus-attack--state-media/
-----------
Somalia government wants residents to 'spy' on militants
World Bulletin/News Desk
Apr 16 2014
When militants blasted their way to within 50 metres of the Somali president's residence, they forced a sharp rethink of security in the capital Mogadishu.
The deadly Feb. 21 assault on the Villa Somalia compound was the closest militants had got to President Hassan Sheikh Mohamud.
The assault by al Shabaab at the heart of government, and a bloody attack five months earlier on a Kenyan shopping mall, showcased the rebels' destructive reach at home and abroad and cast more doubt on Mohamud's pledge to improve security.
"The government's sugar-coated promises are the norm in Mogadishu. So too are bomb blasts," said 30-year-old Samira Farah, echoing widespread scepticism that Mohamud is capable of quashing the seven-year-old insurgency.
Full report at:
http://www.worldbulletin.net/todays-news/133912/somalia-government-wants-residents-to-spy-on-militants
-----------
URL: https://www.newageislam.com/islamic-world-news/new-age-islam-news-bureau/al-qaeda-holds-largest--most-dangerous--meeting-in-years/d/66582