New Age Islam News Bureau
30 March 2013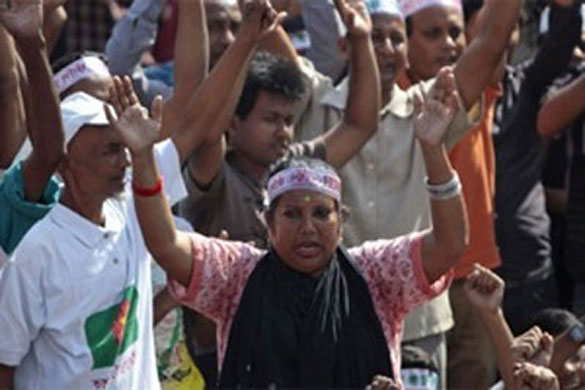 Arab World
• Al Qaeda Expert Predicts the Most Dangerous Phase of Al Qaeda
• Treat non-Muslim staff well, says Saudi Grand Mufti
• Activists Challenge Egypt's Views on Women's Status in Society
• Human Rights Watch is interfering in Egypt's affairs: Shura Council
• An Unlikely Jihadist, Denouncing Assad in Mandarin
• 2,000 set to lose jobs following demolition of Madinah hotels
• Bahrain protesters clash with police: Reports
• Kuwait PM Says Two Kuwaitis among 94 Accused in UAE Plot Trial
• Saudis may try to end anonymity for Twitter users: Report
• Dozens of Islamists protest demanding purge of Egypt's media
• Prosecutor orders arrest of Bassem Youssef, the 'Egyptian Jon Stewart'
Africa
• 'We'll kill French hostages if Mali battle continues', Al-Qaeda tweets
• Libyans held for 'sex attack' on Britons in Benghazi
• Tunisian Protesters Join Lawmakers' Call for Women's Affairs Minister to Resign
• 'Senegalese forces will do more in Mali'
• Libya seeks UAE expertise to build security forces
India
• Pakistan denies asking Afghanistan to snap ties with India
• Best consideration for Indians: Saudi Deputy Minister of Foreign Affairs
• After 16 yrs, brothers from Kashmir in tearful Delhi reunion
• UP govt yet to reimburse Bismillah's medical bills
• Two injured in clash with police in Valley
• Unrest may revisit Kashmir this summer
• NIA team visits Hyderabad blasts sites
• Suspected Hizb ul militant Sayyed Liyaqat sent to jail for 14 days
• Kin of Parliament attack martyrs take bravery medals back
• India, Pakistan cannot sideline Kashmir issue: Hurriyat
Pakistan
• Pakistan supports India's stand on UN Arms Trade Treaty
• Hindus protest after woman converted to Islam in Pakistan
• Terrorism biggest threat to elections: Sethi
• Forces kill 12 militants in Orakzai Agency
• Taliban spreading terror in Karachi as new gang in town
• Former CM of Balochistan lashes out, claims PPP humiliated him
• One killed, six wounded in Mardan explosion
• One killed, two wounded during targeted operation in Lyari
• Fifteen office-bearers of political parties allege violence and intimidation against workers
• 'Legal help to Hafiz Saeed will strengthen Indian allegations', LHC told
• Principal killed on school's doorstep in Karachi
• Felt insulted, humiliated standing before judge: Pervez Musharraf
• Musharraf's name placed on Exit Control List
• PTI chief launches 'Naya Pakistan Fund'
• 26/11 attacks: Pak court issues summons to those who sold boat
• Musharraf is a national criminal: Leader PML-N
• Apology not made due to army factor: Asma Jahangir
South Asia
• The 'Burmese bin Laden' fomenting violence against Myanmar's Muslims
• Five killed in Jamaat-police clashes in Bangladesh
• NATO air strike kills 2 children, 9 suspected Taliban in Afghanistan
• Myanmar unrest death toll reaches 43: Media reports
• Shahbag heat on Hasina as activists go on fast unto death
• Karzai heads to Qatar to discuss Taliban peace talks
• Bangladesh police arrest 4 Pakistanis with bombs, fake Indian currency
• Islami Bank Bangladesh Ltd denies terror finance link
• Khaleda trying her best to save Jamaat: Muhith
Mideast Asia
• Exiled Iranian Satirist Still Mocks Ruling Elites
• Iran hopes 'forward movement' continues in N-talks
• Fewer Israelis see Obama as pro-Palestinian: poll
• Abbas Pardons Journalist Sentenced for Insulting Him
• Turkey gold exports to Iran resume despite US sanctions
• One shot dead as south Yemen protests
Europe
• Pope's foot-washing final blow for traditionalists
• Pope refers to "Muslim brothers" on Good Friday
• UK fears homecoming of 'London boys' fighting in Syria
• Chechen Insurgency Leader Doku Umarov Tells Chechens Not to Fight in Syria
• Kyrgyzstan: 3 Opposition Lawmakers Sentenced to Prison
• Rumblings of Russia's Afghan re-entry
• Algeria's southern unemployed demand oil jobs
• End violence, UN experts appeal
North America
• Call for the 'Prosecution and Execution' Of Bush, Cheney; Compares To Nazis
• 'Jihad Obsession' Upsets US Muslims
• Iraq, Afghan wars to cost US up to $6 trillion: study
• US activists launch month-long protests against drones
• Event aims to shed light on Islamic Sharia law
• White House condemns assaults on women at Egyptian demonstrations
Southeast Asia
• Churches hold Easter mass before Indonesian Palace, demand end to their plight
• Indonesian President Attacked Over Failure to Investigate 1998 Abuses
• Japanese Man at Centre of Child Sex Trafficking Claims in Bali, Indonesia
Compiled by New Age Islam News Bureau
Photo: Hindus protest after woman converted to Islam in Pakistan
URL: https://newageislam.com/islamic-world-news/new-age-islam-news-bureau/al-qaeda-expert-predicts-the-most-dangerous-phase-of-al-qaeda/d/10952
--------------
Arab World
Al Qaeda Expert Predicts the Most Dangerous Phase of Al Qaeda
Rym Ghazal
Mar 30, 2013
Abdel Bari Atwan leaves a lasting impression wherever he goes.
The sometimes controversial senior journalist and Al Qaeda expert looks serious and intimidating as he approaches a huge group of fans and well-wishers waiting outside a session at the recent Emirates Airline Festival of Literature, where he gave a talk about <i>After Bin Laden</i>, his latest book.
Serious, that is, until he cracks a big smile and says: "Ahlan ahlan! Hello hello!"
And he doesn't have just Arab fans. The editor-in-chief of <i>Al-Quds Al-Arabi</i> – a leading pan- Arab daily newspaper, where he has been the editor since its foundation in 1989 - has garnered international interest due to his regular appearances on global news networks and his contributions to English newspapers.
Even though he replies with wit and charm to the questions he is posed, there is a very earnest side to Atwan that reveals itself as soon as he starts talking about the conflicts rupturing parts of the Arab world.
"In Syria, in the battle for power between Al Qaeda and Ikhwan [the Muslim Brotherhood], Al Qaeda will win," he says.
"The irony of it all is that Bashar Al Assad was saying this and using this line when it wasn't true. It is now a sad reality and I wouldn't be surprised if Al Qaeda launched an attack against Israel from Syria."
He lists some of the groups that are fighting in Syria as "branches" of Al Qaeda, such as Suqour Al Sham and Jabhat Al Nusra, and warned that we should be wary of them.
He also says that, according to his sources, Israel was about to bomb chemical weapons sites in Syria, but the US put a stop to it to prevent the whole region from "sinking into a toxic disaster". Atwan predicted that "the situation in Syria is going to be even worse than Iraq".
Atwan's first insights on Al Qaeda arrived after he famously interviewed Osama bin Laden in 1996 in Afghanistan, even sleeping in the same cave as the Al Qaeda leader. He then spent several years tracking the rise of the head of Al Qaeda and the group's development as a whole.
"You know something, Sheikh Osama didn't snore," he says. Whenever Atwan mentions bin Laden, he insists on calling him "Sheikh", a title given to Muslims who are considered diligent and knowledgeable in Islam.
"He was a simple and reserved man. Polite and soft-spoken, speaking in a dialect of classical, almost Quranic Arabic," he says.
Some of Atwan's recollections of his time with bin Laden include crawling up mountainous terrain dressed in Afghan clothes and sleeping on a battered mat next to boxes of ammunition.
"He wasn't initially concerned with Arab causes like Palestine. He cared more about the peripheral Muslims who were persecuted in non-Arab states.
"He was strict with his children. They lived without air conditioning, without TV and without any luxuries," he says. "But I did see his children once playing video games."
Atwan claims that Al Qaeda was a name the US gave to bin Laden's group, which was called "Al Jabha Al Islamiya Lemoharabat Al Yahoud wal Nasara", a name that translates as "the Islamic Front for the fight against Jews and Christians".
"He told me once that he can't fight the West in their own land, and how he can win if he brings the West to our lands," says Atwan. Shortly afterwards, the September 11 attacks took place.
When he is asked about Al Qaeda's plans in the Arabian Gulf, he says that there are "no plans for Al Qaeda operations in the GCC".
As for the relationship between the Muslim Brotherhood and Al Qaeda, it is one of "hate", he says.
"Al Qaeda views Ikhwan as a moderate movement that has derailed from the right and straight Islamic way as Quran and the Prophet had set. They are enemies."
As for the funding of these groups, Atwan says they are backed by rich businessmen from the Arab world, using "indirect means".
"Some people say that Al Qaeda is now a dead topic, but I say that Al Qaeda is more dangerous now than before, as there is no one leader," he says. "The Arab Spring was the best thing that could happen for Al Qaeda. A failed state is what Al Qaeda looks for and thrives in."
From being born and raised in a refugee camp in Gaza to making his own way in London, to death threats and being banned from travelling to certain countries at different periods of his career, Atwan's life story may soon be re-imagined on the stage. "There is interest to turn my story into a play, especially my experiences with the Al Qaeda leaders," he says.
In 2012 he was named as one of the "50 most influential Arabs" by The Middle East magazine.
Atwan recounted his meeting with Osama and included his take on his death in a reprint of his 2006 book, <i>The Secret History of Al Qaeda</i>.
One of the recurring accusations thrown at Atwan is that he took money from both Saddam Hussein and Muammar Qaddafi.
"If that was true, I would be a billionaire now!" he laughs. "I wouldn't be working like mad in a tiny office."
When asked about his one weakness, he says it is "women. Nothing like a beautiful woman who smiles at you," he jokes.
But his true weakness is Palestine. "I will not stop dreaming and planning for the day when Palestine is freed and returned to us," he says. "Even though I have lived across the world and in the best cities, my fondest memories are still from my days in the refugee camps. We were all equal there. We all ate the same food, drank the same tea, and all shared the same canned food."
He notes the general lack of interest in the Palestinian cause and how it hurts him that the world, especially the Arab world, doesn't want to talk about it anymore. "When I write about Syria, it is the top story. When I write about Palestine, it gets much less readership than my usual pieces," he says. "Instead of finding solutions to the conflicts ruining our region, we sweep the issues under the rug until the next disaster. It will be turbulent in the next five years for the Arab world."
Until then, Atwan will continue to voice his controversial opinions and is preparing himself for a "worse kind" of Al Qaeda.
"The most dangerous phase of Al Qaeda is coming, and we must be careful to document everything and plan for the worse."
Rym Ghazal is a senior features writer and columnist for The National.
http://www.thenational.ae/arts-culture/abdel-bari-atwan-predicts-the-most-dangerous-phase-of-al-qaeda#ixzz2P110Cact
--------------
Treat non-Muslim staff well, says Saudi Grand Mufti
March 29, 2013
JEDDAH – Grand Mufti Sheikh Abdul Aziz Al-Alsheikh has urged employers to treat their non-Muslim employees well and give them all their lawful rights.
He also called upon employers to be fair, just, honest, and kind to all workers and never oppress them or mistreat them or deprive them of their rights.
"Treating people kindly and gently is one of the best ways to call persons to Islam," he said during a phone interview with Okaz Thursday.
This is not the first time that the Grand Mufti has defended the rights of expat workers. Last month he urged the Ministry of Labour to reconsider its decision to impose annual fees of SR2, 400 on each foreign employee working for companies that have not met the Saudisation quota.
The Grand Mufti said the fee is unjustifiable, adding that the ministry should deal with this issue immediately.
Al-Alsheikh made the remarks following a lecture at Imam Turki Bin Abdullah Mosque of Riyadh.
The ministry should explain the basis and grounds on which it imposed this annual fee on foreign workers. "What were the real reasons behind such a decision?" the Grand Mufti asked. "Did it make the decision due to logical reasons? I believe the ministry should reconsider its decision wisely. Is this money spent on public services?"
The Grand Mufti called for paying the salaries of workers on time and treating them kindly and with compassion. He stressed that any company or business which has paid the fee should follow up with concerned authorities and claim its rights legally.
Chambers of commerce and industry claimed the decision could deter expats from coming to Saudi Arabia or remaining there, potentially affecting the national economy.
A number of businessmen have heavily criticized the Ministry of Labour for hastily enforcing the decision to impose a SR2, 400 annual levy.
At the same time, some business owners said they will ask their employees to shoulder the extra cost defeating in effect the whole purpose of the levy, which is to make employment of foreigners more expensive to encourage Saudisation.
However, many other businessmen said they will pay the new fee themselves in order to avoid disruptions in their operations.
http://www.saudigazette.com.sa/index.cfm?method=home.regcon&contentid=20130330159057
--------------
Activists Challenge Egypt's Views on Women's Status in Society
By: Daria Solovieva
Mar 30, 2013
On March 24, Egyptian President Mohammed Morsi convened a meeting with women's groups and activists at the presidential palace, where he announced a new initiative to "support the rights and freedoms of the Egyptian women." Morsi, a former member of the guidance office of the Muslim Brotherhood, called for a "new system" to reach "solutions through a series of workshops" to discuss women's issues with the government-run National Centre for Social and Criminal Research.
Officially, the event was an Islamist president reaching out to the opposition and civil society following a rash of criticism of the ruling party's conservative views on women's role in society and the Muslim Brotherhood's objection to the UN Declaration on the Elimination of Violence Against Women earlier in March. For many, however, Morsi's effort was too little, too late. The government's new initiative revealed a presidency that is struggling to understand women's basic demands and economic needs.
Over the past year, Islamist views on women's issues have been increasingly put to the test by an unprecedented rise in sexual assaults on female protesters, growing unemployment and lack of economic opportunities. Many of those invited to the meeting with Morsi dismissed this latest initiative as a populist measure aimed at an international audience. "There is a difference between being invited to participate and being invited to witness an announcement," said Hania Sholkamy, an assistant professor at the Social Research Center of the American University in Cairo. Those in attendance had received notices of the event only days earlier.
While women took an active role in the 2011 revolution, their political representation has declined over the past two years. Before the dissolution of parliament, the percentage of women in the Egyptian legislature had dropped from 12.5 percent in 2010 to 2% in 2011, according to TNS Global.
Earlier in March, Pakinam al-Sharkawi, Egyptian special assistant for political affairs, addressed the United Nations in New York, revealing her government's view, which positioned women's roles first and foremost within a family and religious framework.
"The Egyptian women have started a new path of work to consolidate their rights through religious, cultural and human references," she said, based on a transcript of her speech. "She [the Egyptian woman] stands to contribute more effectively in formulating the international discourse on women and in developing visions that are more in tune with the values and culture she shares with millions of women in the Arab and Islamic worlds."
The Muslim Brotherhood, which registered as a legal NGO the last week, went further by denouncing the UN declaration for allegedly "contradicting principles of Islam and destroying family life and the entire society." The organization also issued a wide range of objections beyond the scope of the declaration, including equal inheritance for men and women and "canceling the need for a husband's consent in matters like travel, work or use of contraception."
Other members of the UN delegation and women's groups pounced on the statement. "The claim that the proposed document contradicts Islamic shariah and its principles, demolishes Islamic manners and ruins the family institution is completely false," said Mervat Tallawy, president of the National Council for Women, a symbol of the state-sponsored feminism of the Mubarak era. The Freedom and Justice Party, on the other hand, did not object to the Brotherhood statement and posted a copy of it on its website.
"The Muslim Brotherhood as a group were always advocating their views," noted Mozn Hassan, director of the Nazra for Feminist Studies, a non-governmental organization that has tracked the rise of sexualized violence in Egypt. "For the first time, this Islamic conservative view has been adopted by the Egyptian government and the official UN delegation."
Amal Abdel Hadi, founding member of the New Woman Foundation, said the new constitution would not allow for reference to international documents. In the end, Egypt agreed to implement the declaration, albeit with reservations in accordance with the country's laws.
"The constitution says nothing specifically [about] non-discrimination on the basis of gender, nothing about equality of men and women," said Abdel Hadi. "What we have is a document saying they would support women who are widows or housewives; they don't see women outside the family." In her UN address, Sharkawi portrayed a different picture of Egypt's constitution. "The 2012 constitution underlines the rights of women, and stresses that they are full-fledged citizens," Sharkawi asserted.
In terms of economic empowerment, data indicate that Egyptian women are far from being full-fledged citizens. Unemployment among women continued to rise in 2012, to 24.7%, compared with 23.6% in 2011 and 22.76% before the revolution, according to CAMPAS data.
As Egyptian women became more politically active, they also began to feel more financially insecurity, according to recent TNS Global's data. "Our study reveals that 84% of women feel less financially secure now than before the revolution and 39% believe that women's employment opportunities have decreased," Tamer el-Naggar, chief executive officer for Egypt and North Africa at TNS Global, said in a statement.
The lack of women's participation is also hampering the economy, which is not being widely confronted by the government. For example, the Freedom and Justice Party's Women's Committee does not address women's unemployment issues directly, leaving it to other committees.
The Women's Committee structure and activities also reveal the party's real views on women. Those who work inside the house constitute the largest segment of women in the party. "They have the most time. They work to attract new members," contended Manal Abou Hasan, Cairo secretary of the Women's Committee.
If Egypt were to raise the level of female employment to male levels, Egypt's GDP [gross domestic product] could experience a boost of 34%, according to "Empowering the Third Billion," a recent study by Booz Allen & Co.
"If women are to play a more active economic role in Egypt, the government must craft policies to formally correct societal and legal constraints that are hindering their advancements," the study contends. "Women's participation in the workforce and ability to start businesses should be the most urgent items on the national agenda."
The opposition quickly dismissed the new presidential initiative and the intentions behind it. "We are tired of empty talk about women's rights," said Aneesa Hassouna, a representative of al-Dostour at a press conference held by the National Salvation Front, an umbrella opposition group, which announced its own committee to defend women's rights.
"It's a public whitewashing of the image for public consumption, especially international consumption," Sholkamy asserted. "The results of this survey [workshops] could say that women don't want to be equal — that's really not a good policy."
http://www.al-monitor.com/pulse/originals/2013/03/egypt-muslim-brotherhood-views-women-morsi.html#ixzz2P103ev9D
--------------
Human Rights Watch is interfering in Egypt's affairs: Shura Council
Human Rights Committee chairman says that the Human Rights' Watch report against Egypt's new protest law is an interference in Egyptian affairs
30 Mar 2013
Human Rights Committee Secretary Ezzeddin El-Komy of the Shura Council condemned on Friday a recent Human Rights Watch (HRW) report on Egypt's proposed Law on the Protection of the Right to Peacefully Demonstrate in Public Places.
The HRW report published last month argues the law would, "severely limit the right to peaceful public assembly and is open to abuse by police."
Full report at:
http://english.ahram.org.eg/NewsContent/1/64/68034/Egypt/Politics-/Human-Rights-Watch-is-interfering-in-Egypts-affair.aspx
---------
An Unlikely Jihadist, Denouncing Assad in Mandarin
By EDWARD WONG
March 30, 2013
BEIJING — The man in camouflage fatigues raised his Kalashnikov rifle and fired three shots into the air while trudging through a field of purple and yellow flowers.
He told the person filming him that after reading the works of Sayyid Qutb, the modern Islamist theorist, he had gone to study in Libya and witnessed the revolution there. Then he travelled to Syria to help overthrow the government of Bashar al-Assad, which he said "is butchering every Muslim here in cold blood, including children and women."
He spoke in Mandarin. He called himself Yusef, but a subtitle in English said his Chinese name was Bo Wang. On the surface, he appeared to be an extremely rare — perhaps the only — example of an ethnic Han citizen of China joining a jihadist group in the Arab world.
Full report at:
http://www.nytimes.com/2013/03/30/world/asia/an-unlikely-chinese-warrior-in-the-battle-
--------------
2,000 set to lose jobs following demolition of Madinah hotels
30 March 2013
More than 2,000 young men will lose their jobs if downtown Madinah hotels are demolished.
About 150 hotels in downtown Madinah are scheduled for demolition to make way for the expansion of the Prophet's Mosque. Significant job losses totaling about 2,000 are expected.
Some of the young men hold high school diplomas, and some are college graduates.
Many workers are employed by the hotels and not through the Human Resources Department. The workers say they hold the Labor Office responsible for finding employment for them after their termination.
They want authorities to allocate pieces of land to large property developers to build new hotels so new jobs are created.
Many workers are the sole breadwinners of their families.
http://www.arabnews.com/news/446462
--------------
Bahrain protesters clash with police: Reports
March 30, 2013
Bahraini police used tear gas and sound bombs to disperse hundreds of protesters who took to the streets of Manama on Friday to demand the overthrow of the Sunni-led regime, witnesses said.
The protests came a day after Bahrain's main Shia opposition group al Wefaq warned of fresh protests across the kingdom unless a national dialogue with the regime leads to real reforms, namely a constitutional monarchy.
"A peaceful revolution for reforms is our choice," al Wefaq chief Sheikh Ali Salman told a party congress late on Thursday in the village of Saar, near Manama, according to a statement received by AFP on Friday.
Full report at:
http://tribune.com.pk/story/528708/bahrain-protesters-clash-with-police-reports/
-----------
Kuwait PM Says Two Kuwaitis Among 94 Accused in UAE Plot Trial
March 30, 2013
RIYADH (Reuters) - Two Kuwaiti citizens are among 94 suspected Muslim Brotherhood members on trial in the United Arab Emirates accused of planning to overthrow the state, Kuwait's prime minister said.
The two are "suspected of involvement in financing this cell", Sheikh Jaber al-Mubarak al-Sabah said in an interview published by pan-Arab daily Asharaq al-Awsat on Saturday.
The UAE's attorney general was quoted in January as saying the group was linked to Egypt's Muslim Brotherhood and had sought to infiltrate state institutions with the aim of seizing power. The trial started early this month.
Full report at:
http://www.nytimes.com/reuters/2013/03/30/world/middleeast/30reuters-kuwait-uae-
------------
Saudis may try to end anonymity for Twitter users: Report
Saudi Arabia's government says it can monitor the tweets of individual Saudis via adding a user's identification numbers while topping up mobile phone credit
30 Mar 2013
Saudi Arabia may try to end anonymity for Twitter users in the country by limiting access to the site to people who register their identification documents, the Arab News daily reported on Saturday.
Last week, local media reported the government had asked telecom companies to look at ways they could monitor, or block, free internet phone services such as Skype.
Full report at:
http://english.ahram.org.eg/NewsContent/2/8/68042/World/Region/Saudis-may-try-to-end-anonymity-for-Twitter-users-.aspx
----------
Dozens of Islamists protest demanding purge of Egypt's media
Islamists gather again at media complex on outskirts of Cairo to protest 'media bias'
29 Mar 2013
On Friday, dozens of Islamist protesters gathered at Egyptian Media Production City, a media complex on the outskirts of Cairo, to once again demand the "purging of biased Egyptian media."
A number of security vehicles were deployed around the complex.
At a similar protest on Monday, several media figures were assaulted by protesters at the entrance to the area.
Full report at:
http://english.ahram.org.eg/NewsContent/1/64/68006/Egypt/Politics-/Dozens-of-Islamists-protest-demanding-purge-of-Egy.aspx
-----------
Prosecutor orders arrest of Bassem Youssef, the 'Egyptian Jon Stewart'
30 March 2013
Egypt's public prosecutor on Saturday ordered the arrest of popular satirist Bassem Youssef over alleged insults to Islam and to President Mohamed Mursi, state news agency MENA reported.
Judicial sources told AFP that several complaints had been filed against Youssef, whose razor-sharp humor -- delivered on his weekly television program Albernameg (The Show) -- has spared few public figures.
Dubbed the Egyptian Jon Stewart, Youssef has repeatedly poked fun at the ruling Islamists and Mursi in particular.
The soaring number of legal complaints against journalists has cast doubt on Mursi's commitments to freedom of expression -- a key demand of the popular uprising that toppled Hosni Mubarak in 2011.
http://english.alarabiya.net/en/News/middle-east/2013/03/30/Renounced-Egyptian-satirist-ordered-for-arrest-by-prosecutor.html
-----------
Africa
'We'll kill French hostages if Mali battle continues', Al-Qaeda tweets
30 March 2013
Al-Qaeda in the Islamic Maghreb created an account on the social networking site Twitter on which it threatened to kill French hostages, an American website that monitors Islamic organizations reported on Saturday.
Three posts were published on the Twitter account, one of which addressed the people of France, in particular the hostages' families, saying that they should put pressure on the government to stop fighting Islamist groups in Mali, said the report.
In a statement published by the Mauritanian Nouakchott News Agency on March 19, Al-Qaeda said that the hostages were in good health but killed "the spy Philip Vardon to avenge our children and women in northern Mali."
The statement accused the French government of wanting to occupy Mali, adding: "Young Muslims will turn Africa into a swamp in which the French government will drown, and we will transform it into a hell where French companies could not bear to stay."
Al-Qaeda in the Islamic Maghreb is still holding at least five French hostages in the Sahel. The sixth hostage, Philip Vardon, was abducted in November 2010 in Mali where he was on a business trip, according to his relatives.
Vardon was executed on March 10, Al-Qaeda's official spokesman announced, whereas France has yet to confirm the news.
http://english.alarabiya.net/en/News/africa/2013/03/30/-We-ll-kill-French-hostages-if-Mali-battle-continues-Al-Qaeda-tweets.html
-------------
Libyans held for 'sex attack' on Britons in Benghazi
Mar 30, 2013
Two Libyans have been arrested over claims they sexually assaulted three British aid workers earlier this week.
The workers were apparently abducted at a checkpoint near the city of Benghazi and held for hours before being freed on Wednesday.
The women were in a convoy travelling overland to Gaza.
Defence official Abdul Salam Barghathi told the BBC the arrested men were soldiers. He described their behaviour as "an individual, isolated act".
Officials quoted earlier said four people had been arrested and two women had been assaulted.
Full report at:
http://www.bbc.co.uk/news/world-africa-21976801
--------------
Tunisian Protesters Join Lawmakers' Call for Women's Affairs Minister to Resign
March 30, 2013
TUNIS (Agence France-Presse) — Dozens of angry Tunisians brandishing shoes on Friday demanded the resignation of the minister of women's affairs, accusing her of failing to stand up to the ruling Islamists.
The minister, Sihem Badi, has for months been strongly criticized by civil society activists over her ties to Ennahda, the Islamist party that leads the coalition government and that secular opposition groups say seeks to curtail women's rights.
Full report at:
http://www.nytimes.com/2013/03/30/world/africa/tunisians-call-for-womens-affairs-minister-to-resign.html?ref=world
-----------
'Senegalese forces will do more in Mali'
March 29, 2013
WASHINGTON — Senegalese forces are ready to take on a greater role in Mali as French-led efforts to root out Islamist rebels evolve, Senegalese President Macky Sall said Thursday during a visit to Washington.
Until now, Senegalese forces had not been in direct contact with rebel fighters, but were moving toward the key city of Gao in the war-wracked north of Mali and the fabled desert city of Timbuktu, Sall said.
Seven people were killed in clashes between the Malian army and Islamists in Gao on Sunday, according to an African security source. "We must hold them back, maintain our positions, ensure that the local population is safe and confront suicide attackers," the Senegalese leader said, calling such assailants the main threat in the west African country.
Full report at:
http://www.saudigazette.com.sa/index.cfm?method=home.regcon&contentid=20130330159144
----------
Libya seeks UAE expertise to build security forces
March 30, 2013
TRIPOLI – Libyan Prime Minister Ali Zidan has used a busy two-day visit to the UAE to seek further support to build and develop Libya's security forces.
Travelling with foreign minister Mohamed Abdelaziz, Zidan first met Dubai's ruler and Vice-President and Prime Minister of the UAE, Sheikh Mohammed Bin Rashid Al-Maktoum. He then moved on for a meeting with Abu Dhabi's crown prince General Sheikh Mohamed Bin Zayed Al-Nahyan, who is Deputy Supreme Commander of the UAE Armed Forces.
The Crown Prince was reported by local new agency Wam as hoping that the transitional period now taking place in Libya would meet the aspirations of the people for more stability and security, so as to continue progress and development.
Full report at:
http://www.saudigazette.com.sa/index.cfm?method=home.regcon&contentid=20130330159093
----------
India
Pakistan denies asking Afghanistan to snap ties with India
ANITA JOSHUA
Mar 30 2013
Pakistan on Friday rejected Afghanistan's contention that Islamabad had asked Kabul to sever all ties with New Delhi. On Thursday, an AFP report from Kabul quoted Afghan President Hamid Karzai's spokesman Aimal Faizi as saying that Pakistan "demanded we cut all ties to India, send army officers to Pakistan for training, and sign a strategic partnership".
According to Mr. Faizi, Pakistan had abandoned the peace process and was imposing "impossible" pre-conditions on any further discussions that would encourage the Taliban to lay down weapons. "Things were going well up to the trilateral [summit] in Britain, so we were hopeful, but soon it became clear that Pakistan had changed its position and the peace process was no longer its priority."
Responding to these remarks, Pakistan Foreign Office maintained that Islamabad had not laid down any pre-conditions for the peace process. "Pakistan is whole-heartedly supporting and facilitating the peace process without any conditions or preference for any particular group or party."
Full report at:
http://www.thehindu.com/news/international/south-asia/pakistan-denies-asking-afghanistan-to-snap-ties-with-india/article4562463.ece
--------------
Best consideration for Indians: Saudi Deputy Minister of Foreign Affairs
March 29, 2013
Minister of State for External Affairs E. Ahamad, who is in Dushanbe to attend the Asian Development Dialogue, met Saudi Arabia's Deputy Minister of Foreign Affairs Prince Abdulaziz bin on Friday and expressed the hope that Riyadh would not take any step that would adversely impact expatriates in the Kingdom.
Full report at:
http://www.thehindu.com/news/national/best-consideration-for-indians-saudi-minister/article4562483.ece
--------------
After 16 yrs, brothers from Kashmir in tearful Delhi reunion
Mar 30 2013
New Delhi : The last time Inayat Shah saw his brother Liyaqat was in 1997, as he left for the fields after lunch. Liyaqat never came back. The brothers met again on Friday — after 16 years — in circumstances neither could have imagined.
The first sight the brothers set on each other were blurred by tears, Inayat, the older of the two, told The Indian Express after their meeting in a room in the Delhi Police Special Cell office in south Delhi.
Delhi Police say Liyaqat is a Hizbul Mujahideen militant who was planning to carry out a terror attack in the capital; both Liyaqat's family and the J&K Police insist he was trying to cross over into India under the state government's rehabilitation policy for surrendered militants.
Full report at:
http://www.indianexpress.com/news/after-16-yrs-brothers-from-kashmir-in-tearful-delhi-reunion/1095141/
--------------
UP govt yet to reimburse Bismillah's medical bills
Faisal Fareed
Mar 30 2013
Lucknow : During his lifetime, Bharat Ratna Ustad Bismillah Khan mesmerised the world with his shehnai. But, more than six years after his death, the Uttar Pradesh government is yet to reimburse the last medical bill of the shehnai maestro.
An amount of Rs 83,751 is still outstanding against Ustad's name at Heritage Hospital in Varanasi where he breathed his last on August 21, 2006, although Samajwadi Party president Mulayam Singh Yadav, who was the then Chief Minister, had announced that the government would bear the cost of his treatment.
Full report at:
http://www.indianexpress.com/news/up-govt-yet-to-reimburse-bismillahs-medical-bills/1095126/
--------------
Two injured in clash with police in Valley
Mar 30 2013,
Srinagar : TWO YOUTHS were injured during a clash with the police in the old city here soon after the Friday prayers following a protest demanding the return of Parliament attack convict Afzal Guru's body from Tihar jail.
Soon after the prayers at city's Jamia Masjid, some protesters held a demonstration under the leadership of Hurriyat chairman Mirwaiz Umar Farooq. They demanded the return of the mortal remains of Afzal Guru and Maqbool Bhat, who have been buried at Tihar jail. After the Mirwaiz left the protest spot, many youths clashed with the police at Rajopuri Kadal. Sources said that two protesters were injured during the stone pelting that continued till evening.
Separatist conglomerate, MMM, comprising both factions of Hurriyat Conference, had called for the protest.
A police spokesman termed the situation across the Valley as normal.
http://www.indianexpress.com/news/two-injured-in-clash-with-police-in-valley/1095110/
--------------
Unrest may revisit Kashmir this summer
M Saleem Pandit, TNN | Mar 30, 2013
SRINAGAR: Unrest may revisit Kashmir this summer given the disclosures made by Lashkar-e-Taiba commander Abu Talha, arrested by the police for the fidayeen attack at Bemina's CRPF camp earlier this month. The slain terrorists, identified as Saif of Dera Ghazi Khan and Haider of Multan, Pakistan, by the police, and Talha's questioning, has confirmed fears of more such incursions into the Valley with the melting of snows this summer.
Full report at:
http://timesofindia.indiatimes.com/india/Unrest-may-revisit-Kashmir-this-summer/articleshow/19284593.cms
--------------
NIA team visits Hyderabad blasts sites
March 29, 2013
A team of National InvestigationAgency and forensic experts on Friday visited the sites of February 21 twin blasts at Dilsukhnagar, as part of the ongoing probe.
"Forensic experts of Gujarat FSL visited the scene along with NIA officials," police said.
Hyderabad branch of NIA has already lodged two FIRs in the case. The first FIR is about 'unknown persons' who caused blast by Improvised Explosive Device at 72 Bus stop near Venkatadri Theatre, while the second deals with blast at Mirchi Shop at Rajiv Chowk.
The NIA website, where FIRs have been uploaded, also carries the photos of Yasin, Riaz and Iqbal Bhatkal as wanted.
http://www.hindustantimes.com/India-news/hyderabad/NIA-team-visits-Hyderabad-blasts-sites/Article1-1034423.aspx
----------
Suspected Hizbul militant Sayyed Liyaqat sent to jail for 14 days
Mar 30 2013
New Delhi : Suspected Hizbul Mujahideen militant Sayyed Liyaqat Shah, booked for waging war against the country by Delhi Police which claimed he was planning to carry out terror attacks in the national capital, was today remanded in 14 days judicial custody by a court here.
Chief Metropolitan Magistrate (CMM) Manoj Kumar sent 45-year-old Shah, a resident of Jammu and Kashmir, to Tihar jail till April 12 after he was produced in the court before the expiry of his 15-day police remand.Shah was being quizzed since March 21 by the special cell of Delhi police which had earlier secured his custody for 15 days. Police moved a plea saying that the accused be sent tom jail as they do not need to quiz him anymore in their custody.
Full report at:
http://www.indianexpress.com/news/suspected-hizbul-militant-sayyed-liyaqat-sent-to-jail-for-14-days/1095324/
---------
Kin of Parliament attack martyrs take bravery medals back
Mar 30 2013
New Delhi : The family of eight security personnel, who died in the 2001 Parliament attack, today took back the gallantry medals which they had returned in 2006 to protest delay in the execution of Afzal Guru.
The kin of those who lost their lives in the attack received the medals from President Pranab Mukherjee. The families had decided to take back the medals after Afzal was hanged last month.
The families had returned the gallantry medals they had received in honour of the slain personnel to the Rashtrapati Bhavan on December 13, 2006.
Daughter of slain CRPF constable Kamlesh Kumari, Shweta Singh said, "I was here for my mother and I am grateful to the President that he rejected the mercy plea of Guru. It has honoured my mother's martyrdom."
Full report at:
http://www.indianexpress.com/news/kin-of-parliament-attack-martyrs-take-bravery-medals-back/1095314/
-----------
India, Pakistan cannot sideline Kashmir issue: Hurriyat
Mar 30, 2013
Srinagar: The moderate faction of Hurriyat Conference on Saturday expressed concern over what it claimed 'increasing confrontation' between India and Pakistan and said it will intensify efforts to bring together the two countries to resolve the Kashmir issue. The Hurriyat Conference headed by Mirwaiz Umer Farooq constituted a two-member committee to chalk out its future strategy in the wake of the situation in Jammu and Kashmir.
"A two-member committee has been constituted so that the Hurriyat can chalk out its counter strategy," the separatist amalgam said in a statement after a meeting. The meeting, first since the hanging of Parliament attack convict Mohammad Afzal Guru, was chaired by Mirwaiz and was attended by all the members of the executive, General council and working committee of the conglomerate.
The Hurriyat said the meeting discussed in detail the changing political scenario in the sub-continent and its impact on Kashmir and felt that both the nuclear powers, India and Pakistan, cannot improve their relations by sidelining the issue. "Both the countries have failed to achieve positive results despite restoration of trade ties, cricket diplomacy and people-to-people contact and unless the Kashmir issue, which is the basic cause behind the animosity between the two countries, is addressed, the political uncertainty will remain," the statement said. The Hurriyat decided "to intensify efforts to bring India and Pakistan together to resolve the Kashmir issue".
http://ibnlive.in.com/news/india-pakistan-cannot-sideline-kashmir-issue-hurriyat/382110-3-245.html
---------
Pakistan
Pakistan supports India's stand on UN Arms Trade Treaty
Mar 30 2013
United Nations : Pakistan has supported India's stand on the UN Arms Trade Treaty that would regulate the USD 70 billion conventional arms trade around the world, saying it favours the arms exporting countries and does not protects the interests of importers.
"The treaty may be seen by many as essentially a product of and by the exporters only. It falls short of striking an appropriate balance of interests and obligations among the exporters and importers as well as the affected states," said Pakistani Ambassador to the UN Masood Khan.
In his remarks to the Arms Trade Treaty Conference at the UN headquarters in New York - which concluded Thursday – Khan said the call for balance was echoed by an overwhelming majority.
"Some treaty provisions, however, legitimise in a global legal instrument what the existing national and plurilateral export control systems cover. The interests of exporting countries have been accommodated in the form of special exemptions, exceptions and protections," he has said.
The Treaty fell apart due to lack of consensus among the 193 member countries because of opposition from North Korea, Iran and Syria.
India said the treaty in its present form would compromise with its national interest mainly it does it favours the arms exporting nations and is weak on arms supply to non-State actors. Pakistan, however, remained silent on the second concerns raised by India.
Full report at:
http://www.indianexpress.com/news/pakistan-supports-indias-stand-on-un-arms-trade-treaty/1095252/
--------------
Hindus protest after woman converted to Islam in Pakistan
PTI | Mar 30, 2013
ISLAMABAD: Members of Pakistan's minority Hindu community staged a protest in southern Sindh province after a Hindu woman converted to Islam and married a Muslim man, according to a media report on Saturday.
The protest and a "wave of anger" within the minority community led to the postponement of polls for the Hindu panchayat in Jacobabad on Friday.
Reports from Jhanjhri Street area of Jacobabad said Ganga, the daughter of gold trader Ashok Kumar, married Asif Ali, son of another gold trader Bahadur Ali Surhio, at Amrot Sharif Dargah after converting to Islam, the Dawn reported.
Full report at:
http://timesofindia.indiatimes.com/world/pakistan/Hindus-protest-after-woman-converted-to-Islam-in-Pakistan/articleshow/19290292.cms
--------------
Terrorism biggest threat to elections: Sethi
By Farooq Awan
Mar 30, 2013
ISLAMABAD: Punjab caretaker Chief Minister Najam Sethi on Friday said terrorism was the biggest threat to the upcoming elections, in the first acknowledgement by any high-profile figure in the interim set-up.
Sethi told journalists at his maiden press conference at the Punjab House that intelligence reports indicated that terrorist elements in the country were bent upon sabotaging the general election.
Full report at:
http://www.dailytimes.com.pk/default.asp?page=2013\03\30\story_30-3-2013_pg7_13
--------------
Forces kill 12 militants in Orakzai Agency
Mar 30, 2013
ORAKZAI AGENCY: At least twelve militants have been killed during operation by the security forces in Mamoonzai area of Orakzai Agency on Friday. According to media reports, the militants have been killed in shelling by jet fighters of security forces in Mamoonzai area. Three militants' hideouts have also been destroyed in the shelling.
http://www.dailytimes.com.pk/default.asp?page=2013\03\30\story_30-3-2013_pg7_9
--------------
Taliban spreading terror in Karachi as new gang in town
Mar 30, 2013
KARACHI: This seaside metropolis is no stranger to gangland violence, driven for years by a motley collection of armed groups who battle over money, turf and votes.
But there is a new gang in town. Hundreds of miles from their homeland in the mountainous northwest, Pakistani Taliban fighters have started to flex their muscles more forcefully in parts of this vast city, and they are openly taking ground.
Taliban gunmen have mounted guerrilla assaults on police stations, killing scores of officers. They have stepped up extortion rackets that target rich businessmen and traders, and shot dead public health workers engaged in polio vaccination efforts. In some neighbourhoods, Taliban clerics have started to mediate disputes through a parallel judicial system.
Full report at:
http://www.dailytimes.com.pk/default.asp?page=2013\03\30\story_30-3-2013_pg1_7
--------------
Former CM of Balochistan lashes out, claims PPP humiliated him
March 30, 2013
ISLAMABAD: Former chief minister of Balochistan, Nawab Muhammad Aslam Raisani, is no stranger to political games. And yet, the events that led to his dismissal a few months back took even this seasoned player by surprise.
In this exclusive interview with The Express Tribune, he talks about his removal, his relationship with the Pakistan People's Party, his dedication to the welfare of the Baloch people, and his father.
"After being disgraced by the PPP leadership, I am left with no option but to stay away from electioneering all together," he explains, frowning deeply. "I have no plan to contest elections, and no immediate plan to join another party. I prefer to sit in my house for the time being."
On January 14, a presidential proclamation dismissed Raisani's government, a move he took as a personal insult. "It was not my decision to quit the PPP, the party's leadership arbitrarily suspended my membership five months ago," he says.
Full report at:
http://tribune.com.pk/story/528584/exclusive-interview-raisani-lashes-out-claims-ppp-humiliated-him/
--------------
One killed, six wounded in Mardan explosion
Mar 30, 2013
PESHAWAR: A police official was killed and six others were wounded in a suicide blast in northwestern Pakistan's Mardan town on Saturday.
The explosion took place in the city's Katlang bazaar and DIG Mardan Jaffar Khan confirmed it was a suicide attack.
The bomber had initially lobbed a hand grenade at police personnel standing outside a police station in the area, sources told Dawn.com, adding that upon being chased by the personnel, the bomber blew himself up. Moreover, the bomber had an accomplice who managed to flee and the police had started a search for him.
Mardan lies around 50 kilometres northeast of Peshawar, which is on the edge of Pakistan's lawless tribal belt, known as a haunt of Taliban and Al Qaeda linked militants.
http://dawn.com/2013/03/30/three-wounded-in-mardan-explosion/
--------------
One killed, two wounded during targeted operation in Lyari
Mar 30, 2013
KARACHI: A suspected individual was killed and two, including a Rangers man and another suspected criminal, were wounded during a targeted operation in Karachi's Lyari Town, DawnNews reported on Saturday.
The casualties occurred during an exchange of fire between suspected criminals and Rangers personnel near Lyari's Aath chowk.
Sources in the paramilitary force told DawnNews that the injured suspects were involved in the killing of a trader.
Following the incident, residents of the area took to the streets and forced shut local businesses.
The enraged residents also set alight tyres and suspended traffic in the area.
http://dawn.com/2013/03/30/one-killed-two-wounded-during-targeted-operation-in-lyari/
--------------
Fifteen office-bearers of political parties allege violence and intimidation against workers
Mar 30, 2013
ISLAMABAD: The Free and Fair Election Network (FAFEN)'s District Long-Term Observers (DLTOs) interviewed 894 office-bearers of various political parties between March 18 and 22, 2013, in 79 districts where fifteen office-bearers reported acts of violence and/or intimidation against party workers, says a press release issued by FAFEN on Friday.
The 15 office-bearers reporting violence and/or intimidation against their party workers belonged to eight different political parties. Office-bearers reporting these incidents belonged to Balochistan National Party (BNP) and Pakistan Peoples Party Parliamentarian (3 each, or 20% of the total); followed by Pakistan Tehreek-e-Insaf (PTI), Muttahida Qaumi Movement (MQM) and Jamaat–e-Islami (2 each or 13%); and Sunni Tehreek (ST), Pakistan Muslim League (PML) and Awami National Party (1 each or 7%).
Full report at:
http://www.dailytimes.com.pk/default.asp?page=2013\03\30\story_30-3-2013_pg11_6
--------------
'Legal help to Hafiz Saeed will strengthen Indian allegations', LHC told
Mar 30, 2013
LAHORE: The Lahore High Court was told on Friday that any legal assistance to Jamaat ud Dawa chief Hafiz Muhammad Saeed in a case in the US would strengthen Indian claims against Pakistan.
LHC Chief Justice Umar Ata Bandial postponed for April 29 the hearing of petition moved by Hafiz Saeed, who has sought direction to the federal government to defend him in a US court which issued summons to him, former ISI chiefs and other officials on a lawsuit filed by the relatives of US nationals killed in Mumbai attacks.
Full report at:
http://www.dailytimes.com.pk/default.asp?page=2013\03\30\story_30-3-2013_pg13_3
--------------
Principal killed on school's doorstep in Karachi
Mar 30 2013
Karachi : The principal of a school was killed and six others, including four children, were injured in an attack by an armed man in this southern Pakistani port city today, police officials said.
Abdur Rasheed, principal of the Nation Public School and a leader of the Awami National Party (ANP), was killed in the attack at Baldia Town this morning.
The armed man hurled a low intensity bomb at the school's gate and then opened fire, police officials said.
Full report at:
http://www.indianexpress.com/news/principal-killed-on-schools-doorstep-in-karachi/1095293/
--------------
Felt insulted, humiliated standing before judge: Pervez Musharraf
Mar 30 2013
Washington : Former Pakistan President Pervez Musharraf has said he felt a little "insulted and humiliated" standing before a judge in a Karachi court, where he appeared to seek extension of his pre-arrest bail in a series of cases.
Musharraf, 69, who ruled Pakistan for about a decade, following a military coup in which he overthrew Nawaz Sharif, appeared in a court in Karachi for the first time in his life.
"This is the first time, that I ever entered a courtroom in my life. If I was to be very frank with you on my feelings, if you want to know my feelings, the first feeling when I stand up for the judge when he entered which was the norm the norm which I had to follow, I did feel somehow a little insulted, a little humiliated," Musharraf told CNN.
Full report at:
http://www.indianexpress.com/news/felt-little-insulted-humiliated-standing-before-judge-pervez-musharr.../1095262/
-----------
Musharraf's name placed on Exit Control List
March 30, 2013
Former president Pervez Musharraf's name was put on the Exit Control List (ECL) over his involvement in several cases, Express News reported on Saturday.
The Interior Ministry has sent a notification to the Federal Investigation Agency (FIA) Immigration in this regard.
On Friday, the Sindh High Court had ordered Musharraf to not leave the country without seeking prior permission of the concerned courts.
Justice Sajjad Ali Shah had also granted a 21-day extension to Musharraf in the Benazir Bhutto assassination and Nawab Akbar Bugti case to appear and surrender before the trial courts.
Musharraf arrived in Karachi on March 24 after four years in self-exile to contest the upcoming general elections under the banner of his party, the All Pakistan Muslim League (APML).
He has filed his nomination papers for the National Assembly from three constituencies – NA-250 (Karachi), NA-32 (Chitral) and NA-48 (Islamabad).
http://tribune.com.pk/story/528709/musharrafs-name-placed-on-exit-control-list/
--------------
PTI chief launches 'Naya Pakistan Fund'
Mar 30, 2013
ISLAMABAD: Pakistan Tehreek-i-Insaf (PTI) chief Imran Khan on Friday launched what he called the 'Naya Pakistan Fund' campaign to finance party candidates who couldn't afford to run election campaigns on their own.
Speaking on the occasion, Mr Khan said the PTI was the only party which had begun the fund raising programme so that people belonging to lower classes could take part in politics.
He once again declared that his party would not form any election alliance with other parties.
Without naming any group, he said his party would not go for seat adjustment with terrorists. In the past, Mr Khan had criticised the PML-N for maintaining links with militant organisations for political purposes.
Full report at:
http://dawn.com/2013/03/30/pti-chief-launches-naya-pakistan-fund/
--------------
26/11 attacks: Pak court issues summons to those who sold boat
PTI | Mar 30, 2013
ISLAMABAD: A Pakistani anti-terrorism court conducting the trial of seven men charged with involvement in the Mumbai attacks on Saturday issued summons to six witnesses for selling a boat and other equipment to the accused.
Judge Chaudhry Habib-ur-Rehman, who is conducting the trial behind closed doors at Adiala Jail in Rawalpindi for security reasons, issued the summons to Hamza Bin Tariq, Muhammad Ali, Mohammad Saifullah, Umer Draz, Saqib Iqbal and Atiq Ahmed, prosecutors said.
Full report at:
http://timesofindia.indiatimes.com/world/pakistan/26/11-attacks-Pak-court-issues-summons-to-those-who-sold-boat/articleshow/19292395.cms
------------
Musharraf is a national criminal: Leader PML-N
Mar 30 2013
LAHORE: Senior leader of the Pakistan Muslim League – Nawaz (PML-N) said Saturday that General (retd) Pervez Musharraf is a national criminal and hoped that the courts would hold the former military ruler accountable for all his crimes.
Speaking to the media about the former military strongman's recent return, Iqbal said the list of Musharraf's crimes was a long one. He has left no stone unturned in destroying the peace and integrity of Pakistan, Ahsan alleged.
Full report at:
http://dawn.com/2013/03/30/musharraf-is-a-national-criminal-ahsan-iqbal/
-----------
Apology not made due to army factor: Asma Jahangir
Pak rights activist Asma Jahangir tells The Daily Star
HASAN JAHID TUSHER
30 Mar 2013
Internationally renowned human rights lawyer and former special envoy of UN secretary general Asma Jahangir said because of its military, Pakistan could not apologise to the people of Bangladesh for the atrocities and genocide committed by its army during the Liberation War of Bangladesh in 1971.
"I think they [government] are afraid of our military," she told The Daily Star in an interview here on March 26, the day Bangladesh proclaimed its independence 42 years ago.
"Pakistan's foreign policy is kept hostage by the military dictatorship even now," she said adding, "I hope that Pakistan and Bangladesh can put their past behind, learn a lesson from it and go forward together for a prosperous South Asia."
Full report at:
http://www.thedailystar.net/beta2/news/apology-not-made-due-to-army-factor/
-----------
South Asia
The 'Burmese bin Laden' fomenting violence against Myanmar's Muslims
Eric Randolph
Mar 29, 2013
BANGKOK // He emanates the soft-spoken calm expected of a Buddhist monk, but the venom that Sayadaw Wirathu directs at Myanmar's Muslim population has led many to see him as one of the chief instigators of the violence that has convulsed the country in the past two weeks.
Wirathu, a monk based in the northern city of Mandalay, has described himself as "the Burmese Bin Laden", even though he is stridently and noxiously anti-Muslim.
The misnomer notwithstanding, Wirathu has become a key figure in a growing movement of extremist Buddhists who have taken advantage of increased freedom in Myanmar to foment communal tensions.
A video that circulated on the internet this week shows Wirathu addressing a crowd and declaring, "We Buddhists let them freely practise their religion, but once these evil Muslims have control and authority over us they will not let us practise our religion.
Full report at:
http://www.thenational.ae/news/world/asia-pacific/the-burmese-bin-laden-fomenting-violence-against-myanmars-muslims#ixzz2P10eEYB8
--------------
Five killed in Jamaat-police clashes in Bangladesh
PTI | Mar 29, 2013
DHAKA: At least five people were shot dead and 20 others injured on Friday in violent clashes that broke out after the supporters of Jamaat-e-Islami attacked police in Bangladesh during a raid.
JI activists have been staging countrywide strikes for months to protest against ongoing war crimes trial in cases dating back to the 1971 independence war.
The clashes broke out when police raided a village in northwestern Chapainawabganj district to arrest a party activist accused of torching a power plant during the last month shutdown.
Hundreds of Jamaat and BNP activists from the adjacent villages gathered at the site and tried to snatch the accused from police, forcing them to open fire and lob teargas shells, ASP Ashok Kumar Pal was quoted as saying by bdnews24.com.
Full report at:
http://timesofindia.indiatimes.com/world/south-asia/Five-killed-in-Jamaat-police-clashes-in-Bangladesh/articleshow/19280464.cms
--------------
NATO air strike kills 2 children, 9 suspected Taliban in Afghanistan
30 March 2013
A NATO helicopter supporting Afghan security forces killed two children and nine suspected Taliban fighters on Saturday, officials said, a month after President Hamid Karzai forbade troops to call for foreign air support.
The deaths reopen an often heated debate between those who blame NATO air strikes for civilian deaths and others who argue that NATO air support is vital for protecting vulnerable Afghan security forces.
Full report at:
http://english.alarabiya.net/en/News/asia/2013/03/30/NATO-air-strike-kills-2-children-9-suspected-Taliban-in-Afghanistan.html
---------
Myanmar unrest death toll reaches 43: Media reports
AFP | Mar 30, 2013
YANGON: The death toll from recent communal violence in central Myanmar has risen to 43 with more than 1,300 homes and other buildings destroyed, state media reported on Saturday.
Sixty-eight people have been arrested in connection with the Buddhist-Muslim unrest, which has left 11,376 people homeless, the New Light of Myanmar newspaper reported.
In total, 163 incidences of violence have been reported in 15 townships, it added.
Previously the official death toll stood at 40.
Full report at:
http://timesofindia.indiatimes.com/world/rest-of-world/Myanmar-unrest-death-toll-reaches-43-Media-reports/articleshow/19288087.cms
--------------
Shahbag heat on Hasina as activists go on fast unto death
Mar 30, 2013
KOLKATA: A section of protesters at Bangladesh's Shahbag Square has begun a fast unto death to demand a ban on the Jamaat-e-Islami and death for its leaders being tried for war crimes, stepping up pressure on a government dithering to act in the face of violent opposition-led protests that claimed three more lives on Friday.
The fast at Shahbag Square despite an appeal by Prime Minister Sheikh Hasina to the activists to be patient is an indication of the growing restlessness among the youth that came out in thousands to support the movement against the Jamaat believing it would usher in a social and political revolution and wipe out fundamentalism.
Full report at:
http://timesofindia.indiatimes.com/india/Shahbag-heat-on-Hasina-as-activists-go-on-fast-unto-death/articleshow/19284579.cms
--------------
Karzai heads to Qatar to discuss Taliban peace talks
Mar 30, 2013
KABUL: Afghan President Hamid Karzai traveled to Qatar on Saturday to discuss the opening of a Taliban office in the Gulf state for peace talks that could end more than a decade of war.
Until earlier this year, Karzai was strongly opposed to the extremists having a meeting venue outside Afghanistan as he feared that his government would be frozen out of any negotiations.
The militants refuse to have direct contact with Karzai, saying he is a puppet of the United States, which supported his rise to power after the military operation to oust the Taliban in 2001.
Full report at:
http://dawn.com/2013/03/30/karzai-heads-to-qatar-to-discuss-taliban-peace-talks/
------------
Bangladesh police arrest 4 Pakistanis with bombs, fake Indian currency
Mar 30 2013
Dhaka : Bangladesh police today said they have arrested four Pakistanis and 12 others and seized 8 crude bombs and 12.9 million in fake Indian currency while the group was allegedly planning subversive activities.
"Other than the Pakistanis, we arrested 12 Bangladeshis including a doctor while carrying out our overnight raids in different parts of the capital," police spokesman Manirul Islam told.
He said plainclothesmen carried out the raids on a tip-off while they also seized eight crude bombs and a huge amount of counterfeit Indian and Pakistani currencies.
Full report at:
http://www.indianexpress.com/news/bangladesh-police-arrest-4-pakistanis-with-bombs-fake-indian-currency/1095333/
----------
Islami Bank Bangladesh Ltd denies terror finance link
Mar 30, 2013
Islami Bank Bangladesh Ltd has no relation with terror financing, its Chairman Prof Abu Nasser Muhammad Abduz Zaher said yesterday.
"Our regulator may ban our banking activities if it finds any of our transactions are related to terror financing," he said.
"Islami Bank does not belong to any political party and is a bank of 16 million people, he continued, "Over the last few months, our deposit accounts and deposits have been increasing thanks to our clients' trust."
Full report at:
http://www.thedailystar.net/beta2/news/islami-bank-denies-terror-finance-link/
--------------
Khaleda trying her best to save Jamaat: Muhith
Mar 30, 2013
The opposition leader [Khaleda Zia] is trying her best to save the "militant and terrorist outfits" Jamaat-e-Islami and Islami Chhatra Shibir, Finance Minister AMA Muhith said yesterday.
He said her act went against the interests of the country, and it was an enmity with the people. The minister also said Jamaat-Shibir's activities were making Hefazate Islam Bangladesh, a radical Islamist group, violent.
Full report at:
http://www.thedailystar.net/beta2/news/khaleda-trying-her-best-to-save-jamaat-muhith/
--------------
Mideast Asia
Exiled Iranian Satirist Still Mocks Ruling Elites
By: Saideh Jamshidi
Mar 30, 2013
There is a mantra among the people who know Ebrahim Nabavi: "don't mess with Nabavi." One of his friends writes on his website, "With no doubt, it is against all common sense to go up against Nabavi. With his incomparable wit he can easily defeat any opponent, and if necessary, drag him through the mud."
Nabavi is a prolific Iranian satirist, diarist and writer. In 1998, he gained wide-spread recognition for his political satire writings published in Jameh, the first reformist privately-owned newspaper in Iran. His approach has been to select a political official or a cleric and then conduct an imaginary interview with him.
Nabavi has been able to write about forbidden political or social topics such the history of homosexuality in Iran or conducting an imaginary interview with Ayatollah Ruhollah Khomeini, the founder of the Islamic Republic of Iran. After he was imprisoned for his writing in 2000 and 2002, he decided to leave Iran for Belgium.
Full report at:
http://www.al-monitor.com/pulse/originals/2013/03/ebrahim-nabavi-iranian-comedian-interview.html#ixzz2P10K53ZY
--------------
Iran hopes 'forward movement' continues in N-talks
30 March 2013
TEHRAN: Iran said yesterday it is hopeful "forward movement" continues during talks with major world powers over its controversial nuclear drive, the state broadcaster reported.
"Almaty I meeting bore positive results, and we also hope that in Almaty II this forward movement continues," IRIB's website reported Foreign Minister Ali Akbar Salehi as saying in Dushanbe, where he is attending a ministerial meeting of the Asia Cooperation Dialogue.
Full report at:
http://www.arabnews.com/news/446455
--------------
Fewer Israelis see Obama as pro-Palestinian: poll
29 March 2013
JERUSALEM: Fewer Israelis see US President Barack Obama as pro-Palestinian since his landmark visit to Israel and the occupied West Bank last week, according to an opinion poll published yesterday.
The poll carried by the English-language Jerusalem Post found that just 16 percent of respondents said Obama was "pro-Palestinian" against 36 percent before the March 20 to 22 visit.
Full report at:
http://www.arabnews.com/news/446442
-----------
Abbas Pardons Journalist Sentenced for Insulting Him
By ISABEL KERSHNER
March 30, 2013
The president of the Palestinian Authority, Mahmoud Abbas, has pardoned a Palestinian journalist whose one-year prison sentence for insulting him on Facebook was upheld by a West Bank appeals court on Thursday, the president's legal adviser said in a statement. The journalist, Mamdouh Hamamreh, was arrested in 2009 after Palestinian intelligence officers said they saw a photograph portraying Mr. Abbas as a traitor on Mr. Hamamreh's Facebook page. The Palestinian Center for Development and Media Freedoms, a nongovernmental organization based in the West Bank, said that Mr. Hamamreh was not the person who had posted the photograph, nor did he share or "like" it. The president's legal adviser said that Mr. Abbas respected freedom of opinion and expression and that he had not personally filed a complaint against the journalist.
http://www.nytimes.com/2013/03/30/world/middleeast/mahmoud-abbas-pardons-
------------
Turkey gold exports to Iran resume despite US sanctions
March 29, 2013
ISTANBUL – Turkey exported almost $120 million worth of gold to Iran in February, data showed, suggesting the two countries' trade of gold for natural gas has resumed despite tighter US sanctions, though at levels below last year's peaks.
US officials have sought to prevent Turkish gold exports from providing a financial lifeline to Tehran, which has been largely frozen out of the global banking system by Western sanctions over its nuclear program.
Turkey sold no gold to Iran in January, according to data from the Turkish Statistics Institute (TUIK), as banks and dealers eyed the Feb. 6 implementation of US sanctions that tightened control over precious metal sales.
Full report at:
http://www.saudigazette.com.sa/index.cfm?method=home.regcon&contentid=20130330159091
------------
One shot dead as south Yemen protests
30 Mar 2013
A passer-by was killed and three others were wounded when police opened fire to disperse protesters in the southern Yemeni city of Aden on Saturday, witnesses and medical sources said.
The witnesses said police intervened to clear the roads in the flashpoint Crater district of the port city where dozens of southern activists had set up roadblocks as part of a "civil disobedience" campaign.
Medical sources confirmed the casualty toll, naming the dead man as Hisham al-Nunu from the city of Taez north of Aden.
On Saturday morning, southern activists used rocks and logs to block main roads in several districts, where shops, banks and schools stayed closed, an AFP correspondent said.
Full report at:
http://english.ahram.org.eg/NewsContent/2/8/68046/World/Region/One-shot-dead-as-south-Yemen-protests.aspx
------------
Europe
Pope's foot-washing final blow for traditionalists
AP | Mar 30, 2013
VATICAN CITY: Pope Francis has won over many hearts and minds with his simple style and focus on serving the world's poorest, but he has devastated traditionalist Catholics who adored his predecessor, Benedict XVI, for restoring much of the traditional pomp to the papacy.
Francis' decision to disregard church law and wash the feet of two girls, a Serbian Muslim and an Italian Catholic, during a Holy Thursday ritual has become something of the final straw, evidence that Francis has little or no interest in one of the key priorities of Benedict's papacy: reviving the pre-Vatican II traditions of the Catholic Church.
One of the most-read traditionalist blogs, "Rorate Caeli," reacted to the foot-washing ceremony by declaring the death of Benedict's eight-year project to correct what he considered the botched interpretations of the Second Vatican Council's modernizing reforms.
"The official end of the reform of the reform, by example," "Rorate Caeli" lamented in its report on Francis' Holy Thursday ritual.
Full report at:
http://timesofindia.indiatimes.com/world/europe/Popes-foot-washing-final-blow-for-traditionalists/articleshow/19284436.cms
--------------
Pope refers to "Muslim brothers" on Good Friday
AP | Mar 30, 2013
ROME: Pope Francis reached out in friendship to ``so many Muslim brothers and sisters'' during a Good Friday procession dedicated to the suffering of Christians from terrorism, war and religious fanaticism in the Middle East.
The new pontiff, who has rankled traditionalists by rejecting many trappings of his office, mostly stuck to the traditional script during the nighttime Way of the Cross procession at Rome's Colosseum, one of the most dramatic rituals of Holy Week.
With torches lighting the way, the faithful carried a cross to different stations, where meditations and prayers were read out recalling the final hours of Jesus' life and his crucifixion.
Full report at:
http://timesofindia.indiatimes.com/world/europe/Pope-refers-to-Muslim-brothers-on-Good-Friday/articleshow/19286614.cms
--------------
UK fears homecoming of 'London boys' fighting in Syria
March 29, 2013
British security services said that scores of UK citizens are fighting in Syria, and may use their military know-how to wreak havoc when they return home. Syrian journalist Malik Al-Abdeh told RT British why Muslim extremists eagerly go to Syria.
A recent Home Office's annual report titled 'The United Kingdom's strategy for Countering Terrorism' highlights the growing threat that might come to the UK from Syria, where jihadists from European states have joined the ranks of the Al-Qaeda-linked armed groups to fight the government of President Bashar Assad.
Full report at:
http://rt.com/news/threat-uk-syria-jihadists-014/
--------------
Chechen Insurgency Leader Doku Umarov Tells Chechens Not to Fight in Syria
Mar 30 2013
Over the past several months, various sources have raised the issue of Chechen involvement in the armed uprising in Syria. Few doubt that Chechens have been present in the conflict-ridden country. The question is how central their position is in the anti-Assad armed opposition.
First of all, it needs to be emphasized that no Chechens went directly from Chechnya specifically to fight in Syria. Most of the Chechens now fighting in Syria went to the Middle East on the pretext of studying in Islamic institutions. Egypt and Syria were the primary destination for their Islamic studies. As the situation unfolds in Syria, participation of Chechens from Western countries is also becoming important.
Full report at: James Foundations
--------------
Kyrgyzstan: 3 Opposition Lawmakers Sentenced to Prison
30 March 2013
BISHKEK: A court in Kyrgyzstan sentenced three opposition members of Parliament to up to 18 months in jail yesterday for leading a protest that, the judge said, had aimed to seize power by force in the Central Asian nation.
Prosecutors had sought jail terms of up to 10 years for nationalist MPs Kamchibek Tashiyev, Sadyr Zhaparov and Talant Mamytov, who led a crowd which tried to storm government headquarters last October.
Full report at:
http://www.arabnews.com/news/446477
--------------
Rumblings of Russia's Afghan re-entry
ATUL ANEJA
Mar 30, 2013
Russia appears set to stage a re-entry into the Afghan theatre by establishing military maintenance bases inside the strife-torn nation after the withdrawal of NATO forces next year.
These facilities are meant to service Russian military equipment routed through NATO to the Afghan armed forces. For several years the Pentagon has been purchasing Russian weaponry, including helicopters, which have been transferred to the Afghan armed forces.
"We will consider various options for establishing maintenance bases on the territory of Afghanistan," Sergei Koshelev, head of the Russian Defence Ministry's chief administration for international military cooperation, was quoted as saying.
Full report at:
http://www.thehindu.com/news/international/world/rumblings-of-russias-afghan-reentry/article4562449.ece
-----------
Algeria's southern unemployed demand oil jobs
March 30, 2013
ALGIERS, Algeria — Protests by the unemployed in southern Algeria are raising the specter of rising unrest in the country's sensitive oil regions, and are increasingly attracting the attention of Al-Qaeda.
Algeria's vast, sparsely populated Sahara only holds 10 percent of the country's population but it is home to this North African country's enormous oil and gas reserves — the basis of the entire economy and the source of the government's power. Those who live there claim they aren't benefiting from that wealth, and can't get jobs with the oil companies.
Full report at:
http://www.saudigazette.com.sa/index.cfm?method=home.regcon&contentid=20130330159150
---------
End violence, UN experts appeal
30 Mar 2013
A group of United Nations independent human rights experts on Friday called for an immediate stop to violence in Bangladesh and a return to peaceful demonstrations following large-scale protests since early February.
The demonstrations are largely linked to the decisions of the International Crimes Tribunal established in 2010 to try people accused of atrocities, including genocide, war crimes and crimes against humanity, during the country's 1971 independence war.
Clashes in recent weeks between security forces and activists have reportedly killed at least 88 people and injured hundreds of others, according to a press release from UN News Centre.
Full report at:
http://www.thedailystar.net/beta2/news/un-rights-experts-appeal-for-end-to-violence/
---------
North America
Call for the 'Prosecution and Execution' Of Bush, Cheney; Compares To Nazis
Mar 30 2013
On the 10th anniversary of the US invasion of Iraq, a columnist for the London daily Al-Hayat calls for the "prosecution and execution" of former US President George W. Bush and VP Dick Cheney for "fabricating evidence to justify the war in Iraq", according to a Middle East Media Research Institute report March 28.
Jihad Al-Khazen wrote in the Al-Hayat, "On this day, 10 years ago, the United States invaded Iraq. The administration of George W. Bush committed a war crime, but none of those involved in fabricating evidence to justify the war that they planned and implemented have been held accountable. This is despite the fact that their war has led to the death of one million Arabs and Muslims, along with 5,000 of America's prime in Iraq alone; furthermore, the killing there is ongoing."
Al-Khazen compares the actions of the Bush administration to the Nazis, stating that the crimes of these leaders are "almost as heinous as those of the Nazis," he said that if there were any justice in the world, they would have been detained in a "Nazi-like concentration camp."
Full report at:
http://www.theglobaldispatch.com/al-hayat-columnist-calls-for-the-prosecution-and-execution-of-bush-cheney-compares-to-nazis-22099/
--------------
'Jihad Obsession' Upsets US Muslims
24 March 2013
WASHINGTON – American Muslims see the new advertisements linking Jihad to violence and terrorism by Islamophobic blogger Pamela Geller reflecting her obsession with Islam and the sizable minority.
"What I'm troubled by is Miss Geller's obsession and fascination with Islam and with American Muslims," Linda Sarcour, a spokesperson for the National Network for Arab American Communities, told CNN in an interview.
Championed by Geller, new ads linking Jihad to violence and terrorism appeared on buses in San Francisco earlier this month.
The ads feature photos of Al-Qaeda leader Osama bin Laden and a victim of the Fort Hood mass shooting
"Killing Jews is worship that brings us closer to Allah," reads an ad attributed to a Hamas TV station.
Full report at:
http://www.onislam.net/english/news/americas/461946-us-muslim-slams-absurd-anti-islam-ads.html
------------
Iraq, Afghan wars to cost US up to $6 trillion: study
Mar 30, 2013
WASHINGTON: The Iraq and Afghanistan wars will cost the United States between $4-6 trillion in the long term, constraining the government's budget for decades to come, a study said.
Harvard University scholar Linda Bilmes concluded that the United States will face increasing costs to care for an estimated 2.5 million veterans, and to pay down debt incurred by borrowing to pay for the wars. "As a consequence of these wartime spending choices, the United States will face constraints in funding investments in personnel and diplomacy, research and development and new military initiatives," said the report released Thursday. Full report at:
http://www.dailytimes.com.pk/default.asp?page=2013\03\30\story_30-3-2013_pg7_23
--------------
US activists launch month-long protests against drones
Mar 30, 2013
WASHINGTON: Peace activists in the United States are starting a month of protests this week to mobilise American public opinion against drone strikes, the organisers say.
Also this week, a data firm in Berkley, California, released new interactive visuals, which track every drone strike the United States has carried out in Pakistan since 2004.
The Pitch Interactive says it plans to "shock people" into action against the unmanned aircraft, which has now become the main US weapon against suspected terrorists across the globe.
Full report at:
http://dawn.com/2013/03/30/us-activists-launch-month-long-protests-against-drones/
--------------
Event aims to shed light on Islamic Sharia law
Mar. 29, 2013
A local interfaith group will present a special event April 14 that will explore Islamic Sharia law -- a topic that has stirred controversy and news coverage in recent years.
"Islamic Sharia Law: Myths and Facts" will be held at 2 p.m. April 14 at Congregation Beth El, 8000 Main St. in Voorhees.
The event is presented by the Jewish Catholic Muslim Dialogue of Southern New Jersey in cooperation with the Jewish Community Relations Council.
The keynote speaker will be Imam Sohaib Nazeer Sultan, Muslim Life Coordinator and chaplain at Princeton University. U.S. Rep. Rob Andrews will also speak.
http://www.courierpostonline.com/article/20130329/NEWS01/130329001/Voorhees-event-aims-shed-light-Islamic-Sharia-law?nclick_check=1
--------------
White House condemns assaults on women at Egyptian demonstrations
White House denounced the sexual assaults and attacks on female protesters in recent demos in Egypt
29 Mar 2013
The White House on Friday condemned the rape and assault of women at recent demonstrations in Egypt and called on the Cairo government to prevent sexual violence and prosecute those responsible.
The New York Times reported that on Jan. 25, the second anniversary of the Tahrir Square revolution in Cairo, at least 18 cases of sexual assaults were reported by human groups.
White House deputy press secretary Josh Earnest told reporters that the United States is deeply concerned at reports of rapes and sexual assaults in public squares in Egypt.
Full report at:
http://english.ahram.org.eg/NewsContent/1/64/68011/Egypt/Politics-/White-House-condemns-assaults-on-women-at-Egyptian.aspx
----------
Southeast Asia
Churches hold Easter mass before Indonesian Palace, demand end to their plight
March 30 2013
Members of a number of churches in Greater Jakarta will hold their Easter mass in front of the Presidential Palace in Central Jakarta on Sunday and call for an end to their suffering.
Members of the Yasmin Indonesian Christian Church (GKI) in Bogor, the Batak Protestant Church (HKBP) Taman Sari and HKBP Filadelfia in Bekasi would present an Easter egg to President Susilo Bambang Yudhoyono as a symbol of religious freedom, GKI Yasmin spokesman Bona Sigalingging said.
On Sunday, however, Yudhoyono will be in Bali at the Democratic Party's national congress to save his sinking party.
Bona said they would give the president a big Easter egg ornamented with colourful paper in the hope that the government would protect all citizens, irrespective of religion and faith.
"We will keep praying in front of the palace as long as the state lets the majority discriminate against us and close our churches," he said.
Full report at:
http://www.thejakartapost.com/news/2013/03/30/churches-hold-easter-mass-palace-demand-end-their-plight.html
-----------
Indonesian Presiden Attacked Over Failure to Investigate 1998 Abuses
Yohannie Linggasari | March 30, 2013
Rights activists have blasted President Susilo Bambang Yudhoyono for his failure to order a human rights tribunal set up to investigate the widespread abuses surrounding the fall of Suharto in 1998.
Putri Kanesia, a lawyer at the Commission for Missing Persons and Victims of Violence (Kontras), called on the president to at least order the Attorney General's Office to immediately open an inquest into the events of the tumultuous period so that an inquiry might begin.
Full report at:
http://www.thejakartaglobe.com/home/sby-attacked-over-failure-to-investigate-1998-abuses/582585
--------------
Japanese Man at Centre of Child Sex Trafficking Claims in Bali, Indonesia
Made Arya Kencana | March 30, 2013
Denpasar. Child rights activists in Bali are demanding a police investigation into allegations that a Japanese man had sex with underage schoolgirls and sold them into prostitution.
Titik Suhariyati, the secretary of the Bali Child Protection Institute (LPA), said on Friday that the case first came to light with an allegation by a high school student in Jembrana district that she and several other young girls were paid to have sex with the man and his associates.
Titik said that in following up on the girl's claim, the LPA had identified another schoolgirl who also claimed to have been a victim of the 47-year-old Japanese national.
Full report at:
http://www.thejakartaglobe.com/news/japanese-man-at-center-of-child-sex-trafficking-claims-in-bali/582591
--------------
URL: https://newageislam.com/islamic-world-news/new-age-islam-news-bureau/al-qaeda-expert-predicts-the-most-dangerous-phase-of-al-qaeda/d/10952