New Age Islam News Bureau
3 Oct 2014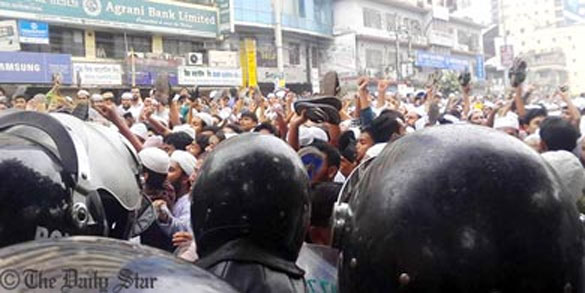 Muslim devotees bring out the procession in Dhaka on Friday demanding capital punishment of Latif Siddique. Photo: Prabir Barua
-------
India
• Al-Qaeda Chief in Region May Be Of Indian Origin: Intel Agencies
• Pakistan Says Kashmir a 'Legal Issue'; Demands Plebiscite
• As J&K battled flood, vigilant Army killed 14 terrorists
Arab World
• Islamic State Leads Mideast into Warlord Era as Nations Dissolve
• 16 Islamic State Fighters Killed In Syria
• 13 ISIL Terrorists Killed in Salahuddin Province
• IS Lays out Case for 'Allegiance' To Its Leader
• Murder Is the Greatest Sin, Haram in Islam: Grand Mufti
• Islamic State seizes Hit, assaults Iraqi military headquarters in Anbar
• Hajj rituals begin, pilgrims to observe 'Wuquf' Friday
• Faced with IS horror, Iraqis retaliate with humour
• Saudi group performs hajj on behalf of Syria 'martyrs'
Pakistan
• Jet Fighters Kill 15 Suspected Militants In Khyber
• TTP, Lashkar-E-Islam Hideouts Destroyed In Khyber Agency Air Strikes
• Religious scholars must play role in countering terrorism: PM Nawaz
• 29 suspects arrested in Quetta operation
• Sit-ins aim to incite civil war: Hashmi
• The worst form of censorship is killing journalists: Media analyst
• Qadri announces to take part in next elections
Europe
• Chechen unit from Islamic State reportedly fighting at Kobane
• Islamophobic attacks increase 65% in London
• EU condemns new Israeli settlements in east Jerusalem
• UK PM lands unannounced in Afghanistan to meet President
• Facing fears over extremism, Austria unveils new law on Islam
North America
• Pro-al Qaeda ideologues propose truce between Islamic State, rivals
• U.S. Embassy in Damascus mocks Syrian FM's U.N. speech
• American joins Kurds fighting ISIS in Syria
• U.S. House members press Kerry on nuclear talks with Iran
• US should not have withdrawn forces from Iraq: former Pentagon chief
• US welcomes Turkey vote to use military in Iraq, Syria
• US envoy lands in Iraq to drum up support for coalition against IS
Mideast
• Turkey 'will do whatever' to stop ISIS taking Kobani
• Motion is actually against Syria, not ISIL: Turkish opposition
• 500 Mideast scholars call for academic embargo of Israeli institutions
• Palestinian government calls for $4 bn for Gaza reconstruction
• Iran warns Turkey against aggravating regional tensions
• Houthis dictate state spending in absence of Yemen govt
• Palestinians: ICC if no Israeli pullout deadline
Australia
• Australia to join anti-ISIS strikes in Iraq
• Australian PM seeks re-think on parliament Burqa ban after backlash
South Asia
• Bangladesh Islamic parties seek capital punishment to Minister
• Nato soldiers in Afghanistan have made the world a safer place: Afghan President
• Young Bangladeshis called upon to join British politics
• Centre for Law and Democracy suggests Maldives failing to protect journalists
Southeast Asia
• FPI Members Riot at Jakarta City Council over Non-Muslim Governor
• Insanity the norm in Indonesian politics
Africa
• Libya's fugitive parliament shelters in hotel
• French troops edge closer to Libya border to cut off Islamists
• Libya death toll rises as clashes in Benghazi continue
Compiled by New Age Islam News Bureau
URL: https://www.newageislam.com/islamic-world-news/new-age-islam-news-bureau/al-qaeda-chief-in-region-may-be-of-indian-origin--intel-agencies/d/99368
---------
India
Al-Qaeda Chief in Region May Be Of Indian Origin: Intel Agencies
Oct 3, 2014
India's intelligence agencies have begun investigating information that the head of al-Qaeda's new unit in the subcontinent is a former Uttar Pradesh resident, highly-placed government sources have told The Indian Express.
Maulana Asim Umar, earlier reported to be a Pakistani national, is now believed to have studied at the famous Dar-ul-Uloom seminary in Deoband, before emigrating from India in the late-1990s.
The investigations were under way even as Prime Minister Narendra Modi told a Washington, DC-based think tank that terrorism in India was "exported, not home-grown".
Both the UP Police and Intelligence Bureau (IB) have questioned figures linked to the Islamist movement in India in the 1990s, seeking details on any Indian national who may have moved abroad. Intelligence sources said their inquiries had focussed on former members of the now-proscribed Students Islamic Movement of India (SIMI), whose cadres were enthusiastic in their support for al-Qaeda and the Taliban regime that took power in Afghanistan in 1996. "No firm details have emerged so far," one intelligence official said. "But from the bits and pieces of information we have, we're increasingly convinced that Maulana Umar is likely of Indian origin, perhaps even an Indian national." The fact that the cleric has never appeared without a digital mask, the official said, "suggests he has something to hide, since the top jihadist leadership in Pakistan generally do not hesitate to show their faces". Maulana Ashraf Usmani, a spokesperson for the Deoband seminary, said that in the absence of identifying pictures, or approximate dates of residence, it was impossible to confirm — or deny — whether Maulana Umar had been a student there. "Thousands of students go through here," he said, "and we don't have full records of the many who drop out". However, Maulana Usmani said, "I want to emphatically underline that the Dar-ul-Uloom Deoband is unequivocal in its condemnation of terrorism, and, indeed, in its opposition to all forms of wrongdoing. Wherever this man got his ideas, it was not here." From three separate Pakistani sources familiar with the jihadi movement, The Indian Express learned that Maulana Umar arrived in Pakistan in the late-1990s, and began studies at the Jamia Uloom-e-Islamia, a Karachi seminary that has produced several top jihadist leaders, including Maulana Masood Azhar, leader of the Jaish-e-Muhammad, Quari Saifullah Akhtar, who headed the Harkat-ul-Jihad-al-Islami, and Fazl-ur-Rehman Khalil, the leader of the Harkat-ul-Mujahideen. Maulana Umar, the sources said, was mentored by Nizamuddin Shamzai, a cleric with close links to the Taliban, who once bragged about having been a "state guest" in Taliban leader Mullah Muhammad Omar's Islamic Emirate of Afghanistan. E-mail requests to the Jamia Uloom-e-Islamia, seeking confirmation of Maulana Umar's residence and nationality, went unanswered. The seminary says on its website, though, that students from 60 countries, including India, have studied there. After finishing his studies in Karachi, Maulana Umar is believed to have joined Fazl-ur-Rehman Khalil's Harkat-ul-Mujahideen; teaching briefly at the Dar-ul-Uloom Haqqania seminary in Peshawar, and serving at the Harkat-ul-Mujahideen's training camps in Pakistan-occupied Kashmir. Following the events of 9/11, the sources said, Maulana Umar moved back to Karachi, living from 2004-2006 at the Harkat-ul-Mujahideen's office in Haroonabad. He also authored a number of best-selling books, which gave him rock-star status among Pakistani Islamists. The Pakistani state's growing confrontation with jihadists pushed Maulana Umar towards al-Qaeda. The decision, the sources said, appeared to have been made final by President Pervez Musharraf's storming of the Lal Masjid in Islamabad, a seminary run by Maulana Umar's old Jamia Uloom-e-Islamia friend, Maulana Abdul Rashid Ghazi. He then made contact with Muhammad Ilyas Kashmiri, a top jihadist with close links to al-Qaeda. Interestingly, Lashkar-e-Toiba operative David Headley had told the FBI about a "Karachi project" run by Kashmiri, with plans to target India. Maulana Umar delivered exhortations specifically targeting Muslims in India for the first time last year — also the first of its kind in global jihadist writing. Published in the June-July 2013 issue of the jihadist magazine Azan, and made available online as digital audio, the essay said, "The global jihad leadership feels justified in asking the Indian Muslim scholars and masses as to why the jihad battlefields remain deprived of their blessed presence — especially when history shows that their ancestors always raised the banner of jihad against the enemies of Islam. In it, Maulana Umar invoked anti-Muslim communal violence in India, saying "the Red Fort in front of the mosque cries tears of blood at your slavery and mass killing at the hands of the Hindus". He asked, "Is there no mother left in UP (Uttar Pradesh) who can sing to her sons the songs that would inspire them to decorate the battlefield of Shamli instead of wasting their time in marketplaces, parks and sports fields? Have the inheritors of Shaykh-ul-Hind left out Hijrah and jihad from their lives forever? "Has the land of Bihar become so barren that it is unable produce even one Jama'ah [group] of the likes of the Mujahideen of Azeemabad? And which Kafir's evil sight affected the land of Bengal that the eyes of history became weary awaiting another Siraj-ud-Daula?" India-specific memes like these have been frequent in Maulana Umar's work — especially calls directed at Indian Muslims, such as 'Why is there no storm in your ocean?', released by al-Shahab, al-Qaeda's media house, in 2013. Internet forums used by Islamists have long contained hints of Maulana Umar's Indian origins. In a 2012 discussion on the absence of Indians in global jihadist movements, a commentator on the popular SunniForum.com platform lamented that just one Indian — "one mujahid made hijrah (holy emigration, modelled on the Prophet Muhammad's migration from Mecca to Medina) to where the sword is being used. Only one out of billions of Indian Muslims. His name is Maulana Asim Umar Sahab (rh). Just one (sic)." The forum member, 'mh16388', used Maulana Umar's story to make the case that jihad was incumbent on all Muslims, writing: "could Muslims even do half the Tableegh (missionary work) in India that they do today had India not been conquered by (the medieval warlord Muhammad) Bin Qasim (rh) and other subsequent Muslim rulers?" In another discussion the same year on another Islamist forum, forum member 'Mullah' argued that "the Prophet (PBUH) migrated to a safer place and then formed a state. Which is what they should do too if they are serious about Khilafah (a caliphate). (and Alhamdulillah [praise the lord] done by Maulana Asim Umar)". Following news that Maulana Umar had been appointed chief of the new al-Qaeda unit, @Pak_Witness, a reliable Twitter feed followed by many Pakistani journalists for information on the jihadist movement in that country, reported that "@Pak_witness … Maulana Asim Omar is a graduate from Darul Uloom Deoband in India, he taught in various madrasas in Karachi" (sic).
http://indianexpress.com/article/india/india-others/al-qaeda-chief-in-region-may-be-of-indian-origin-intel-agencies/99/#sthash.g1WN1aaU.dpuf
----------
Pakistan Says Kashmir a 'Legal Issue'; Demands Plebiscite
Oct 3, 2014
Needling India, Pakistan on Thursday asserted that Kashmir is a "legal issue" and must be resolved through plebiscite as per the aspirations of the Kashmiri people.
At the weekly briefing here, Foreign Office spokesperson Tasnim Aslam also made it clear that Indo-Pak talks were not a substitute to the UN resolutions on Kashmir which envisage plebiscite in the region.
"Kashmir is a legal issue also and its legal position demands that the dispute must be resolved as per the aspirations of Kashmiri people through plebiscite," she said.
Aslam said that Simla Agreement between the two countries does not make UN resolutions ineffective. Her remarks come within days of Pakistan Prime Minister Nawaz Sharif raking up the Kashmir issue at the UN General Assembly where he said the UN had passed resolutions to hold a plebiscite in Jammu and Kashmir more than six decades ago. "The people of Jammu and Kashmir are still waiting for the fulfillment of that promise," Sharif said. India had strongly rejected the "untenable comments" made by Sharif, asserting that the people of the state have peacefully chosen their destiny in accordance with universally accepted democratic principles. Speaking at UNGA, Prime Minister Narendra Modi had offered to engage in a serious bilateral dialogue "without the shadow of terrorism" while asking Pakistan to create an "appropriate environment" for that. At Thursday's briefing, Aslam also claimed that India never responded positively on Pakistan's proposals to resolve the Siachen issue and for declaring Siachen a Peace Park including demilitarization of the territory. The Foreign Office spokesperson termed that Indian policy towards resolution of Siachen as "inflexible". Former President Pervez Musharraf had claimed that Pakistan and India were close to clinching a deal on Siachen during his tenure. Aslam said India and Pakistan would have to resume talks for the sake of sustainable peace in the region. India had called off Foreign Secretary-level talks in August after Pakistan's High Commissioner in New Delhi Abdul Basit had met Kashmiri separatist leaders ahead of the meeting, ignoring India's warning that the move could derail the parleys. Aslam saw nothing wrong in Basit's meeting with Hurriyat leaders, saying Pakistan regularly consults with them.
http://indianexpress.com/article/india/india-others/pakistan-says-kashmir-a-legal-issue-demands-plebiscite/#sthash.CMaunTdc.dpuf
----------
As J&K battled flood, vigilant Army killed 14 terrorists
M Saleem Pandit,TNN | Oct 3, 2014
SRINAGAR: The Army killed at least 14 terrorists while Kashmir was facing worst floods in recent memory, a defence spokesman said on Thursday.
"September also saw a number of terrorist infiltration attempts along the line of control. But their attempts were foiled by vigilant soldiers, killing 14 terrorists and apprehending six others.''
"In the beginning of September, even as the rains were lashing Kashmir and causing large scale flooding of parts of South Kashmir, the Army eliminated three terrorists in an encounter at Hanjan Bala near Shopian on 2nd September.''
He said when Srinagar was reeling under worst floods, four terrorists were killed at Laribal and Pharkian in north Kashmir on September 9 and 10.
"While the situation was stabilizing in Srinagar and other flood affected parts of the valley, two terrorists were eliminated at Machhal in Kupwara district on September 17 followed by four more at Tangdhar on September 19," the spokesman said.
http://timesofindia.indiatimes.com/india/As-JK-battled-flood-vigilant-Army-killed-14-terrorists/articleshow/44157468.cms
----------
Arab World
Islamic State Leads Mideast into Warlord Era as Nations Dissolve
Oct 3, 2014
The Middle East may be sliding toward a warlord era, with nation-states increasingly struggling to control all their territory and millions living under the rule of emergent local chiefs and movements.
Armed irregular forces hold effective power over growing areas of Iraq, Syria, Yemen and Libya where central government authority barely reaches. Motivated by religious ideology or regional separatism, they have grabbed oil facilities and weapons, imposed taxes or changed school curriculums, and fought each other as well as national armies.
"It is almost like the whole regional order that was built in the 20th century is collapsing," Nadim Shehadi, associate fellow at the Middle East and North Africa Programme at Chatham House in London, said in an interview. "Non-state actors are filling the vacuum."
The breakdown, in a region that holds more than half the world's oil, has allowed extremist groups to thrive and drawn in external powers bent on stopping them. Underlying many of the conflicts is the inability of governments to provide security and basic services. In turn, economic failure will be even harder to remedy without functioning administrations.
It's not clear whether interventions such as the U.S.-led bombing campaign in Iraq and Syria can put the pieces back together, said James Coyle, director of global education at Chapman University in California. Military operations will only achieve short-term gains, unless governments are "given legitimacy by the people through the provision of security and basic social services," he said by e-mail.
'Too Fragile'
Islamic State, which declared a caliphate on the territory it controls in Iraq and Syria, is the most visible challenge to a Middle Eastern system of nation states that was largely imposed by European colonial powers after the Ottoman Empire collapsed in World War I.
Other non-state forces have also emerged, especially since the Arab revolts of 2011, which plunged Syria into civil war. The latest fighting in northern Syria pits Islamic State against Kurdish forces that have also won de-facto autonomy from Damascus. In Iraq, where the collapse of central authority dates to the U.S. invasion of 2003, much of the fighting against Islamic State has also been done by non-state forces -- Kurdish Peshmerga fighters, or Iran-backed Shiite militias.
In some countries, "the state has been too fragile to withstand the combination of internal challenges and foreign intervention," Jane Kinninmont, a senior research fellow at Chatham House, said in response to e-mailed questions.
Government Eclipsed
Libya, holder of Africa's biggest oil reserves, hasn't suffered as much bloodshed as Syria yet the eclipse of government power is even more complete, as the country slid into chaos after the overthrow of Muammar Qaddafi by NATO-backed rebels. Two rival parliaments and premiers emerged, and separatist groups seized oil terminals and at one point sought to sell the crude themselves. The past few weeks of fighting between rival militias has displaced more than 140,000 people, the United Nations estimates.
Yemen was convulsed by almost a year of protests that toppled its longtime leader in late 2011, and his successor, President Abdurabu Mansur Hadi, hasn't been able to restore stability. Last month, Shiite Muslim Houthi rebels advanced from the north, seized key buildings in the capital, Sana'a, and forced authorities to change the cabinet and revoke tax increases. Yesterday, they barred the Finance Ministry from making any payments except salaries.
Oil Advantage
Other national governments have experienced lower-level challenges to their authority over parts of their territory. Militants have repeatedly targeted the Egyptian army and police in the Sinai Peninsula, drawing air strikes in retaliation. In the mountainous interiors of Tunisia and Algeria, insurgents elude government efforts to hunt them down. An Algerian militant group kidnapped and beheaded a French mountain guide last month.
The region's biggest crude producers, many of which have close military or economic ties to the U.S., have largely escaped the centrifugal forces, and maintained strong central governments.
"Oil countries did have an advantage in the Arab Spring," said Gregory Gause, head of the International Affairs Department at Texas A&M University. "Only Libya saw major upheaval, and that's largely because Qaddafi didn't spread the money around. The Saudis actually did a much better job than he did at that."
Angry Youth
Saudi Arabia, which pumps almost $1 billion-worth of crude every day, has expanded spending on jobs and welfare. Elsewhere, where governments are less flush with cash, efforts to rein in the militias and extremist groups will be difficult as long as there are few economic opportunities for Arab youths, said Eckart Woertz, a Persian Gulf specialist at the Barcelona Centre for International Affairs.
The region has the world's highest rate of youth unemployment, according to the International Labour Organization.
"There is no shortage of angry young men," Woertz said. "Sectarianism, religious intolerance and conspiracy theories are unfortunately widespread. Islamic State can thrive in such an environment."
The U.S. has vowed to crush the militant group, and there are signs that the threat from non-state actors is making some of its regional allies more assertive too. Saudi Arabia and the United Arab Emirates are among five Arab nations to join in the U.S. airstrikes in Syria. Egypt and the U.A.E. have been involved in attacks on Islamist militias in Libya, according to the U.S., though neither country has confirmed it.
Hezbollah Example
It's not clear whether all non-state actors can be conclusively beaten, and Lebanon offers an alternative route. There, the Shiite militia Hezbollah, classified as a terrorist group by the U.S., has been at least partially integrated into the state structure, retaining its own militia yet also joining coalition governments.
That's unlikely to be repeated because Lebanon is a "special case," according to Theodore Karasik, director of research at the Institute for Near East and Gulf Military Analysis in Dubai. He said Hezbollah emerged three decades ago during "a different era in terms of political powers -- regional and international -- and their designs on the Middle East."
The region-wide clash between Sunni Saudi Arabia and Shiite Iran, which both support proxies in other countries, has deepened the recent instability. Beneath the sectarian and ethnic divisions, though, are similarities in political culture that helped enable the rise of non-state actors.
Most Middle Eastern countries are classified as autocracies by the Economist Intelligence Unit's Democracy Index, and their leaders have typically cultivated an image as strongmen at the head of powerful regimes.
For all that, "the problem in the Middle East is not a surplus of government, but a deficit," said Coyle, who was also director of Middle East studies at the U.S. Army War College.
http://www.bloomberg.com/news/2014-10-02/islamic-state-leads-mideast-into-warlord-era-as-nations-dissolve.html
----------
16 Islamic State fighters killed in Syria
Oct 3, 2014
The armed Kurdish militia killed 16 fighters of the Islamic State (IS) Sunni radical group near the city of Kobane in northern Syria on Thursday, the Syrian Observatory for Human Rights said.
The IS fighters were targeted by the Kurdish People's Protection Unites (YPG) in the village of Halang, close to the predominantly Kurdish city of Kobane, where the militant group is on a crushing offensive against the Kurdish militants.
In the south-eastern parts of Kobane, at least seven Kurdish fighters were killed during clashes with IS, according to the Observatory.
In earlier reports, the Observatory said the IS fighters were just metres away from the city, warning of a mass massacre if the IS militants succeeded to storm the Kurdish city.
Tens of thousands of Kurds have fled to the Turkish borders since IS started its bombardment on Kobane and the surrounding Kurdish towns and villages. Kurdish activists accused Turkey of aiding IS in battling the Kurds in Kobane to create a pretext for military intervention and to establish a buffer zone in Syria.
http://www.thehindu.com/news/international/16-islamic-state-fighters-killed-in-syria/article6468601.ece
----------
13 ISIL Terrorists Killed in Salahuddin Province
Oct 3, 2014
An Iraqi tribe clashed with the Islamic State of Iraq and the Levant (ISIL) terrorists, and killed 13 terrorists in Balad district in Salahuddin province on Thursday.
"Bani Saad tribe clashed with the ISIL terrorists in the district, killing 13 of the terrorists and burning 2 of their vehicles," a security source said.
The Takfiri terrorists currently control parts of Syria and Iraq. They have threatened all communities, including Shiites, Sunnis, Kurds, Christians, Ezadi Kurds and others, as they continue their atrocities in Iraq.
Senior Iraqi officials have blamed Saudi Arabia, Qatar, and some Persian Gulf Arab states for the growing terrorism in their country.
The ISIL has links with Saudi intelligence and is believed to be indirectly supported by the Israeli regime.
http://english.farsnews.com/newstext.aspx?nn=13930710000750
---------
IS lays out case for 'allegiance' to its leader
Reuters
Oct 3, 2014
Islamic State (IS) insurgents in Iraq and Syria have issued a pamphlet calling for Muslims to pledge loyalty to their chief, Abu Bakr al-Baghdadi, pressing a campaign to establish a "caliphate" even as US-led forces bomb their positions.
Baghdadi's claim to the mantle of Islam's caliphate, the Muslim state established by the Prophet Mohammad's first followers after his death, has infuriated many Islamic leaders and ignited an ideological battle for legitimacy.
Islamist sources in Syria said the pamphlet, distributed widely online by supporters of the al Qaeda offshoot, was a step in the group's campaign to establish the caliphate and familiarise people with Baghdadi.
Entitled "Extend your hands and pledge loyalty to Baghdadi," the pamphlet appeared to be based largely on a longer statement written last year by IS religious figure Turki al-Binali arguing why Baghdadi deserved to command the loyalty of believers.
Addressing itself "to whoever fought and still fights in the path of God ... to commanders of groups," the pamphlet traced Baghdadi's purported lineage to the Prophet Mohammad, outlined his studies of Islamic law, and listed his battlefield achievements while asking supporters to unite against the group's enemies.
A coalition of the United States and Arab allies including Saudi Arabia, which follows the ultraconservative Wahhabi school of Sunni Islam, has been carrying out air strikes against IS in Syria.
"Isn't it time for you to unite with your brothers? To establish and elevate your state? The enemy has allied to fight you, so unite to fight him," said the pamphlet.
The US-led campaign has pushed some members of al Qaeda's affiliate in Syria, the Nusra Front, to pressure their leaders to reconcile with IS after the two groups clashed earlier in the year.
Among other historical religious scholars, the pamphlet quoted Mohammad ibn Abd al-Wahhab, founder of Saudi Arabia's Wahhabi school, whose 18th century alliance with the Saudi ruling family continues to underpin the country's politics.
The kingdom's religious establishment has campaigned against militancy in recent weeks, describing both Islamic State and al Qaeda as Islam's foremost enemy. In August, the country's Grand Mufti urged young people to ignore calls to jihad from people representing "deviant principles."
Power struggles
IS has its roots as al Qaeda's affiliate in Iraq, but split with the central organization headed by Ayman Zawahri this year after falling out over its expansion into Syria.
Leading figures affiliated with al Qaeda this week launched an initiative to establish a "truce" with IS and asked the group to respond by the Muslim holiday of Eid al-Adha, which starts on Saturday. The rise of IS has appeared to capture the imaginations of at least some militants previously affiliated with al Qaeda. Algerian Islamist militants who pledged their loyalty to IS beheaded a French hostage last month.
http://www.dhakatribune.com/world/2014/oct/03/lays-out-case-%E2%80%98allegiance%E2%80%99-its-leader#sthash.T7K8ix1L.dpuf
----------
Murder is the greatest sin, haram in Islam: Grand Mufti
Oct 3, 2014
MOUNT ARAFAT, Saudi Arabia: Mufti Azam Saudi Arabia, Sheikh Abdul Aziz Bin Abdullah delivered Hajj sermon in Masjid-e-Nimra at Mount Arafat and said that murder is a great sin and 'haram' in Islam, Geo News reported on Friday.
He also urged the Muslims to shun evil, practice unity and teachings of Islam.
"Islam is a complete code of life, it's a perfect and definite religion of Allah, it teaches brotherhood among Muslims and provides spiritual, moral and social training," said the grand Mufti while addressing millions of Hajj pilgrims.
The chief mufti urged Muslims to keep away from crimes, such as murder and other evil deeds.
Full report at:
http://www.thenews.com.pk/article-161573-Murder-is-the-greatest-sin,-haram-in-Islam:-Grand-Mufti-
----------
Islamic State seizes Hit, assaults Iraqi military headquarters in Anbar
Oct 3, 2014
The Islamic State continues its offensive to consolidate control of Iraq's Anbar province. Today, the jihadist group is reported to have taken control of the town of Hit and has launched assaults on the Anbar Operations Command north of Ramadi and the 7th Division headquarters at Al Asad Airbase in Al Baghdadi.
Iraqi officials confirmed that much of Hit, a town just 20 miles west of the provincial capital of Ramadi, is under the control of the Islamic State.
"Ninety percent of Hit has been overrun by militants," a member of the Anbar provincial council told Reuters. Witnesses stated that "scores" of heavily armed fighters are patrolling the town and the Islamic State's black flag is flying over several government buildings, including the mayor's office and the police station. Sporadic fighting between Islamic State fighters and the local Albu Nimr tribe has also been reported.
The Islamic State began its attack on Hit with a complex suicide assault, according to the National Iraqi News Agency (NINA).
Full report at:
http://www.longwarjournal.org/archives/2014/10/islamic_state_seizes.php#ixzz3F4bRKWEb
----------
Hajj rituals begin, pilgrims to observe 'wuquf' Friday
Oct 3, 2014
More than two million Muslim pilgrims from across the world have gathered at the holy city of Makkah in Saudi Arabia to perform hajj.
On the first official day of the hajj on Thursday, pilgrims converged in Mina, where they offered Zuhr, Asr, Maghrib, and Isha' prayers, shortening the four-unit prayers so as to make them two units each.
Later they spent the night praying and seeking divine blessings in the sprawling tents of Mina.
The pilgrims will set out for Arafat right after sunrise chanting Talbiyah and Takbeer on Friday.
Full report at:
http://www.dhakatribune.com/bangladesh/2014/oct/02/hajj-rituals-begin-pilgrims-observe-wuquf-friday#sthash.Nov07fjd.dpuf
----------
Faced with IS horror, Iraqis retaliate with humour
Oct 3, 2014
How can societies shield themselves from the worst horrors? Sometimes humour helps.
The situation in Iraq is no laughing matter, but artists of all stripes are turning to humour to wage war on the Islamic State (IS), an entity so terrifying by nature that no distortion is needed to achieve the goal of ridicule, according to a report by The Christian
Science Monitor.
"The purpose of comedy and cartoons is to pick something peculiar and exaggerate it, but what is happening now in Iraq is so abnormal that I can't pump it up any further," says veteran Iraqi cartoonist Diyaa al-Hajjar.
"Hollywood movie monsters like Dracula and zombies are sweet compared to ISIS and its brutality," adds Mr. Hajjar, known also for his children storybooks.
Published across national newspapers and picked up on Facebook, his political cartoons depict the sliced up victims of terrorism; IS executioners and fighters; Gulf states bankrolling terrorists; and the purported profiteers – namely the US and Israel, who he says are the only ones to benefit from Iraq's chaos.
Full report at:
http://www.dhakatribune.com/world/2014/oct/03/faced-horror-iraqis-retaliate-humour#sthash.ijMkEjp0.dpuf
----------
Saudi group performs hajj on behalf of Syria 'martyrs'
Oct 3, 2014
One hundred and twenty young Saudis are performing hajj this year on behalf of Syrians who died fighting the Damascus regime, Mohammad al-Nuaimi, supervisor of the "hajj campaign for Syrian martyrs," has said.
The Saudi youth are part of the 450-strong contingent offering hajj on behalf of those who have laid down their lives in fighting the brutal regime of President Bashar al-Assad, al-Nuaimi was quoted by Makkah daily as saying.
About 100 Syrian extremists have been barred from entering Saudi Arabia for the hajj, Makkah daily, citing the founder of the relief organization for Syrian refugees, reported.
"These terrorists tried to come to the Kingdom to perform the hajj but we obstructed their attempts," said al-Nuaimi.
Full report at:
http://english.alarabiya.net/en/special-reports/hajj-2014/2014/10/02/Saudis-perform-Hajj-on-behalf-of-Syrian-martyrs.html
----------
Pakistan
Jet fighters kill 15 suspected militants in Khyber
Oct 3, 2014
PESHAWAR: At least 15 militants were killed early on Friday in jet strikes in the Jamrud and Bara areas of northwestern Pakistan's Khyber tribal region, the Inter-Services Public Relations (ISPR) said.
Sources told Dawn that three militant hideouts were also destroyed in the strikes when jets bombed suspected militant positions in Sipah, Malakdinkhel and Chapri areas of Jamrud.
The information could not be independently verified as journalists have limited access to the restive tribal region.
Khyber is one of Pakistan's seven semi-autonomous regions governed by tribal laws and lies near the Afghan border. The Taliban and other Al Qaeda-linked groups, who stage attacks in both countries, are known to have strongholds in the zone.
The latest strikes are part of the ongoing military operation named Zarb-i-Azb, initiated on June 15 against anti-state militants hiding in the North Waziristan Agency.
The operation was launched after the Taliban and their ethnic Uzbek allies both claimed responsibility for the attack on Karachi airport and peace talks failed between the government and Tehreek-i-Taliban Pakistan negotiators.
http://www.dawn.com/news/1135951/jet-fighters-kill-15-suspected-militants-in-khyber
----------
TTP, Lashkar-e-Islam hideouts destroyed in Khyber Agency air strikes
Oct 3, 2014
KHUBER AGENCY: Five militant hideouts were destroyed as security forces bombard their havens in the tribal belt on Friday.
Sources said that the Pakistan Air Force warplanes also targeted hideouts belonging to the proscribed Lashkar-e-Islam and the Tehreek-e-Taliban Pakistan in Bara, Nala Khajoori and Yousuf Talaab area of Khyber tribal region.
The air strikes are part of Pakistan's drive against militants in tribal areas bordering Afghanistan.
http://www.thenews.com.pk/article-161530-TTP,-Lashkar-e-Islam-hideouts-destroyed-in-Kyber-Agency-air-strikes-
--------
Religious scholars must play role in countering terrorism: PM Nawaz
Oct 3, 2014
ISLAMABAD: Prime Minister Nawaz Sharif on Friday said it was imperative for religious scholars to come forward and play their part in countering terrorism.
Addressing a delegation of religious leaders from different schools of thought at the Prime Minister House in Islamabad, the premier said religious scholars had the responsibility to preach their fellow Muslims that Islam was a religion of peace and not violence.
The premier termed the role of ulema as extremely vital for the country, which he said was going through a critical phase in its history. The premier also called upon religious scholars to show unity in their ranks.
Full report at:
http://www.dawn.com/news/1135960/religious-scholars-must-play-role-in-countering-terrorism-pm-nawaz
----------
29 suspects arrested in Quetta operation
Oct 3, 2014
QUETTA: At least 29 suspects were arrested on Friday during a joint search operation carried out by police and Frontier Corps personnel in the Killi Kirani area of Quetta, the capital of Balochistan province.
Upon receiving a tip-off regarding the presence of suspects in Killi Kirani and Ittehad Colony, a joint team of security personnel conducted a raid in the vicinity.
A senior police officer, who requested anonymity, told Dawn that the suspects were shifted to Brewery Police Station for further investigation.
He said innocent people would be set free after interrogation whereas those involved in subversive activities would be held.
The arrests come two days after a hand grenade attack occurred at two barber shops on Quetta's Double road.
Subsequently, three people were killed in the attack.
Chief Minister Balochistan Dr Abdul Malik Baloch took notice of the incident and ordered law enforcers to arrest the culprits.
http://www.dawn.com/news/1135957/29-suspects-arrested-in-quetta-operation
----------
Sit-ins aim to incite civil war: Hashmi
Oct 3, 2014
MULTAN: Veteran politician Javed Hashmi has said the participants in the sit-ins want civil war.
Speaking at a press conference here on Thursday, the disgruntled politician reiterated: "The plan was to roll back the (democratic) system and impose ban on all political parties. I not only saved democracy but also saved all political parties including the Pakistan Tehreek-i-Insaf," he said.
He said there was a risk of disintegration of the county if the ban on political parties was imposed. He said politics was another name of tolerance and the prime minister and chief minister must exhibit it.
"The present government has all along shown tolerance and not used power against the protesters and they should continue to do so," he advised.
He said he had requested PTI chairman Imran Khan not to push the party workers towards civil war. "I told Imran Khan that any mishap in sit-ins can lead to killing of many innocent people. There are some foreign forces working to ignite civil war in the country and I would reveal about them at a suitable time," he said.
Full report at:
http://www.dawn.com/news/1135907/sit-ins-aim-to-incite-civil-war-hashmi
----------
The worst form of censorship is killing journalists: Media analyst
Oct 3, 2014
LAHORE: Censorship in Pakistan appears in many forms, but of them is the worst is: intimidating, threatening, torturing and even killing journalists.
Media analyst Adnan Rehmat said this at a seminar on 'Media Ethics in the Time of Threat' on Thursday. The seminar was held by Rozan's Secretariat of Pakistan Coalition for Ethical Journalism with the Digital Rights Foundation and the Human Right Commission of Pakistan.
Mr Rehmat said censorship today had become much worse than ever when even cable operators who were not content producers could easily block out channels on their own.
He read out excerpts from his book 'Reporting Under Threat', where the compelling personal accounts of three journalists were highlighted. Later these journalists -- Shumaila Jafary (BBC), Rana Azeem (PFUJ), and Yousuf Ali (The News) spoke as part of a panel.
Mr Rehmat said telling stories was important as they helped us understand what the ground reality was. The job of journalists is to tell these stories but they faced several dangers in uncovering these stories.
"A free media is intrinsic of an open society and a democracy, where people can freely communicate and air their opinions and issues," he said. Unfortunately, he said, journalists were threatened commonly by non-state actors and sometimes by the government too in different ways, and when in 2002 UNESCO recorded that 612 journalists were killed globally, of them 10 per cent belonged to Pakistan.
Full report at:
http://www.dawn.com/news/1135867/the-worst-form-of-censorship-is-killing-journalists
----------
Qadri announces to take part in next elections
Oct 3, 2014
ISLAMABAD: Pakistan Awami Tehreek (PAT) chief Tahirul Qadri on Thursday announced that his party will take part in the electoral politics by contesting the next general elections.
"PAT will provide a platform to likeminded people in the next general elections to bring revolution," said Qari while addressing his workers at the sit-in at the Constitution Avenue. On the 50th day of the landmark sit-in Qadri said that we will take part in the next general elections whenever they are held. "Our doors are open for people who want to bring a revolution in the country. We will field candidates across the country in the elections. We will develop our party to a number one party in the country," he said.
Qadri vowed to demonstrate his political strength by holding two public meetings, one on October 12 and the other on the 19th in Faisalabad and Lahore, respectively. Addressing the party workers twice in the day, Qadri severely criticised the incumbent government for borrowing money from local and international banks. The government borrows hundreds of billions of rupees each month from local banks, he said. "They also borrow billions of dollars from the international financial institutions and banks," Qadri said, adding that the government has no economic policy whatsoever. "The whole economy is running on borrowed money," he said.
http://www.dailytimes.com.pk/islamabad/03-Oct-2014/qadri-announces-to-take-part-in-next-elections
----------
Europe
Chechen unit from Islamic State reportedly fighting at Kobane
Oct 3, 2014
In a video released by 'Amaq News, an unofficial news organization affiliated with the Islamic State, several Russian-speaking fighters are shown taking positions overlooking the Kurdish city of Kobane (or Ayn al Arab in Arabic). The fighters, according to the video's title, are Chechen and more than likely belong to a group loyal to Omar al Shishani, a senior military leader in the Islamic State. The Islamic State has been battling forces from the PKK-linked People's Protection Units, or YPG, for control of the Syrian town. [See Threat Matrix report, Islamic State advances near Kobane.]
According to Joanna Paraszczuk of From Chechnya to Syria, a website that tracks Russian-speaking fighters in Syria, this group is known as the al Aqsa Brigade. The group is comprised of those fighters who left the Chechen Jaysh al Muhajireen wal Ansar (Muhajireen Army) with Omar after he swore allegiance to the Islamic State. The Muhajireen Army is a Chechen-led group that considers themselves to be the Syrian branch of the Islamic Caucasus Emirate. The US State Department added the Muhajireen Army to its list of Foreign Terrorist Organizations on Sept. 24. [For more on the Muhajireen Army, see LWJ report State Department adds Chechen, Moroccan-led jihadist groups to terrorist list]
Full report at:
http://www.longwarjournal.org/threat-matrix/archives/2014/10/chechen_unit_from_islamic_stat.php#ixzz3F4cO5Wnd
----------
Islamophobic attacks increase 65% in London
World Bulletin / News Desk
Oct 3, 2014
Islamophobic hate crimes against Muslims in London has risen by 65% over the last 12 months, Metropolitan Police figures have shown.
Offences have increased from 344 to 570 in the last year, with many attacks targeting women wearing the headscarf.
BBC's Asian Network reporter Shabnam Mahmood spoke to a mother-of-two, Asma Sheikh, who has been a victim of abuse.
She said that after major events such as the beheading of the British journalists in Iraq by ISIL militants, there is a spike in attacks, noting that her car and the cars of her friends have been vandalized.
In addition to having her tyres burst, the small business owner said she had the words 'Go Back Home' left on her windscreen.
'Why should I have to re-route my life in the fear of not being accepted?' she asked, pointing out that some of her female Muslim friends have resorted to removing their veils due to intimidation by the public.
http://www.worldbulletin.net/muslim-world/145517/cuba-rejects-plans-for-first-mosque
----------
EU condemns new Israeli settlements in east Jerusalem
3 October 2014
The European Union on Wednesday condemned an Israeli plan to build 2,610 new settler homes in annexed east Jerusalem, calling it "highly detrimental" to diplomatic efforts for Israeli-Palestinian peace.
Brussels called on Israel to "urgently reverse" actions leading to settlement expansion in east Jerusalem, which the Palestinians hope to make the capital of a future state alongside Israel.
"This represents a further highly detrimental step that undermines prospects for a two-state solution and calls into question Israel's commitment to a peaceful negotiated settlement with the Palestinians," the EU's diplomatic service said.
The housing units, which have been slated for construction since 2012 in the neighborhood of Givat Hamatos, were given final approval last week, according to the Peace Now watchdog.
The project has also drawn sharp criticism from the United States, with President Barack Obama on Wednesday telling Israeli Prime Minister Benjamin Netanyahu of Washington's deep concern over the proposed development, and from France.
Full report at:
http://english.alarabiya.net/en/News/middle-east/2014/10/03/EU-condemns-new-Israeli-settlements-in-east-Jerusalem.html
----------
UK PM lands unannounced in Afghanistan to meet President
Oct 3, 2014
Kabul: UK Prime Minister David Cameron landed in Kabul on Friday for an unannounced visit to meet with new Afghan President Ashraf Ghani, who took office four days ago. Cameron flew into the Afghan capital on a C-17 military transport plane after earlier meeting with an air crew at a UK base in Akrotiri, Cyprus, from where British bombers are flying sorties against Islamic State militants in Iraq. The UK is winding down combat operations 13 years after first sending forces to Afghanistan as part of an international coalition to fight the Taliban and hunt for al-Qaeda leader Osama bin Laden. The focus of the fight against Islamic militants has now shifted to Iraq and Syria, where Islamic State has seized a swath of the two countries, carrying out mass executions and beheading western journalists. "We are fighting a generational struggle against Islamist extremist terrorism," Cameron told reporters in Kabul before talks with Ghani and other officials.
Full report at:
http://www.livemint.com/Politics/fMFpCDAtBUA2yoSOPXU5LN/David-Cameron-lands-unannounced-in-Afghanistan-to-meet-Presi.html?utm_source=copy
----------
Facing fears over extremism, Austria unveils new law on Islam
Oct 3, 2014
VIENNA (Reuters) - Austria called on Thursday for standardised German-language translations of the Koran and moved to prohibit foreign funding of Muslim organisations on its soil in a draft law aimed in part at tackling Islamic extremism.
The bill will overhaul a 1912 law governing the status of Austrian Muslims, prompting concern from a major local Islamic body, which saw it mirroring widespread mistrust of Muslims.
The initiative comes at a time of robust support for the far-right in Austria and also alarm over reports of Muslims from the small, neutral country joining Islamist militant forces fighting in the Middle East.
"The clear message should be that there is no contradiction between being a faithful Muslim and a proud Austrian," said Foreign Affairs and Integration Minister Sebastian Kurz, a member of the conservative People's Party.
Full report at:
https://uk.news.yahoo.com/facing-fears-over-extremism-austria-unveils-law-islam-181556484.html#WC9UI5I
----------
North America
Pro-al Qaeda ideologues propose truce between Islamic State, rivals
Oct 3, 2014
Leading jihadist ideologues, including several openly allied with al Qaeda, have proposed a truce between the Islamic State and its rivals. The initiative, which is being promoted on Twitter, aims to bring together the warring jihadist factions in Iraq and Syria against the West.
The proposal, titled "An Initiative and Call for a Ceasefire Between Factions in Syria," was released online on Sept. 30. "Due to the Crusader attack on our Muslim brothers in Syria and Iraq," the authors argue, the jihadists must set aside their violent disagreements.
They claim that the US-led bombing campaign is part of a war "against Islam and not against a specific organization."
The Islamic State, headed by Abu Bakr al Baghdadi, has been warring with the Al Nusrah Front, al Qaeda's official branch in Syria, and other jihadist organizations since last year. Some of the signatories were involved in previous efforts to reconcile the Islamic State with its rivals. Those efforts failed, but the jihadist ideologues are trying once again.
"We call on all factions in Syria and Iraq to cease fighting among themselves no later than the evening of [Oct 3, 2014], for perhaps Allah most high will descend his mercies upon Syria and its people in the prayer of Muslim crowds on that great day," the proposal reads.
Full report at:
http://www.longwarjournal.org/archives/2014/10/leading_pro-al_qaeda.php#ixzz3F4cSWMks
----------
U.S. Embassy in Damascus mocks Syrian FM's U.N. speech
3 October 2014
The U.S. Embassy in the Syrian capital Damascus has mocked Syrian Foreign Minister Walid al-Muallem's recent U.S. speech, posting on its Facebook page a photo showing the address being delivered to a near-empty auditorium, with the caption "Empty Chairs for Empty Words."
The social media post, which was published on Wednesday, has since been shared over 300 times and has garnered 128 comments.
In Muallem's speech made at the U.N. General Assembly late last month, the veteran Assad-regime diplomat slammed Washington's "dual policy" of launching air strikes on some militants in Syria while providing assistance to others.
"This is a real recipe for the increase of violence and terrorism, shedding of Syrian blood, [and] prolonging of the Syrian crisis," Muallem said.
Full report at:
http://english.alarabiya.net/en/News/middle-east/2014/10/03/U-S-Embassy-in-Damascus-mocks-Syrian-FM-s-U-N-speech.html
---------
American joins Kurds fighting ISIS in Syria
3 October 2014
BEIRUT/CHICAGO: A U.S. citizen has joined Kurdish forces fighting against ISIS militants in northern Syria, a spokesman for the main Kurdish armed group in the country said Thursday.
The Kurdish official said that Jordan Matson had joined the Kurdish People's Protection Units (YPG), which is mainly battling advances by ISIS close to Syria's borders with Turkey and Iraq.
"Yes it is true," YPG spokesman Redur Xelil said in an online message. "He is fighting in the Jazaa area." Jazaa is a town in Syria's northeastern Hassakeh province, close to the Iraqi border and has been the site of heavy fighting between the two groups.
The YPG said last month it has lost 35 of its fighters in a two-week battle for control of Jazaa and said Kurdish forces had killed hundreds of ISIS fighters. Xelil, who said he had met Matson, sent a link to online photos on a Kurdish news agency which he said were of the American.
Full report at:
http://www.dailystar.com.lb/News/Middle-East/2014/Oct-03/272833-american-joins-kurds-fighting-isis-in-syria.ashx#ixzz3F5AaRdb7
---------
U.S. House members press Kerry on nuclear talks with Iran
3 October 2014
Hundreds of U.S. lawmakers pressed Secretary of State John Kerry to lean harder on Iran in talks over its nuclear program in a letter released on Thursday after Israel warned Washington not to go easy on Tehran.
Three hundred and fifty-four members - four-fifths - of the U.S. House of Representatives signed the letter sent to Kerry on Wednesday night, expressing concerns that an agreement on Iran's nuclear program might not require sufficiently strict inspections of its nuclear facilities.
The U.N. nuclear watchdog said on Sept. 5 that Iran had failed to address concerns about suspected atomic bomb research by an agreed deadline.
Israeli Prime Minister Benjamin Netanyahu told President Barack Obama on Wednesday that he must make sure any final nuclear deal with Iran does not leave it at the "threshold" of being able to develop nuclear weapons.
Netanyahu has been attempting to shift the global spotlight away from Islamic State fighters in Iraq and Syria and back to Iran, warning that a nuclear-armed Tehran would pose a far greater threat than the militant Islamists.
On Thursday, Netanyahu voiced doubts that his talks with Obama would lead to a tougher U.S. line.
Full report at:
http://english.alarabiya.net/en/News/middle-east/2014/10/03/U-S-House-members-press-Kerry-on-nuclear-talks-with-Iran.html
---------
US should not have withdrawn forces from Iraq: former Pentagon chief
Oct 3, 2014
WASHINGTON: Former Pentagon chief Leon Panetta has denounced the White House in a new memoir, accusing President Barack Obama's top aides of undercutting efforts to secure a deal in 2011 that could have kept US troops in Iraq.
Retaining a small US force would have helped contain sectarian violence and prevented the conditions that helped open the door to the onslaught of the Islamic State group, which has seized a large area of Iraq in recent months, Panetta argues in a soon-to-be released book, "Worthy Fights".
"In the fall of 2011, it was clear to me — and many others — that withdrawing all our forces would endanger the fragile stability then barely holding Iraq together," Panetta wrote in an adapted excerpt published in Time magazine Thursday.
"Privately, the various leadership factions in Iraq all confided that they wanted some US forces to remain as a bulwark against sectarian violence," he wrote.
While Defence and State Department officials tried to broker an agreement with the Baghdad leadership, the White House took a back seat and showed little determination to make the deal happen, Panetta said.
Full report at:
http://www.dawn.com/news/1135958/us-should-not-have-withdrawn-forces-from-iraq-former-pentagon-chief
--------
US welcomes Turkey vote to use military in Iraq, Syria
Oct 3, 2014
The Obama administration welcomed Turkey's parliamentary vote on Oct. 2 authorizing military action in Syria and Iraq to fight any group threatening the country.
The motion was submitted by Prime Minister Ahmet Davutoğlu's Cabinet, and passed by a vote of 298-98 in the 550-seat Parliament.
U.S. Secretary of Defense Chuck Hagel hailed the vote as a "very positive development."
"We appreciate the Parliament's overwhelming vote," Hagel said. "We will continue to consult with the Turkish government on the specifics of how the implementation of that authority would be carried out, and we welcome it very much."
The State Department also welcomed the vote.
"We welcome the Turkish Parliament's vote to authorize Turkish military action," State Department spokeswoman Jen Psaki said. "We've had numerous high-level discussions with Turkish officials to discuss how to advance our cooperation in countering the threat posed by ISIL in Iraq and Syria."
Full report at:
http://www.hurriyetdailynews.com/us-welcomes-turkey-vote-to-use-military-in-iraq-syria-----.aspx?pageID=238&nID=72483&NewsCatID=359
-----------
US envoy lands in Iraq to drum up support for coalition against IS
3 October 2014
US President Barack Obama's envoy charged with building the coalition against the Islamic State militant group arrived in Iraq on Thursday and will also visit Belgium, Jordan, Egypt and Turkey, the State Department said.
Retired General John Allen's trip aboad, his first in his new role, is "in support of international coalition efforts to degrade and defeat ISIL," the State Department said in a brief statement, referring to the Islamic State group.
Allen, accompanied by his deputy, Brett McGurk, arrived in Iraq on Thursday to meet Iraqi officials and regional leaders "on US support for and cooperation with Iraq in the fight against ISIL," the State Department said.
http://www.jpost.com/Breaking-News/US-envoy-lands-in-Iraq-to-drum-up-support-for-coalition-against-IS-377951
---------
Mideast
Turkey 'will do whatever' to stop ISIS taking Kobani
3 October 2014
Turkey will do whatever it can to prevent the predominantly Kurdish town of Kobani, near its border with Syria, falling to Islamic State of Iraq and Syria (ISIS) insurgents, Prime Minister Ahmet Davutoglu said late on Thursday.
Just hours before Davutoglu's comment, parliament gave the government powers to order cross-border military incursions against ISIS, and to allow foreign coalition forces to launch similar operations from Turkish territory.
"We wouldn't want Kobani to fall. We'll do whatever we can to prevent this from happening," Davutoglu said in a discussion with journalists broadcast on the A Haber television station.
"No other country has the capacity to affect the developments in Syria and Iraq. No other country will be affected like us either," he said.
Full report at:
http://english.alarabiya.net/en/News/middle-east/2014/10/03/Turkey-will-do-whatever-to-stop-ISIS-taking-border-town.html
----------
Motion is actually against Syria, not ISIL: Turkish opposition
Oct 3, 2014
The motion brought to Parliament by the government is not aimed at broadening the struggle against terror, but is directed against Syria itself, according to main opposition Republican People's Party (CHP) leader Kemal Kılıçdaroğlu.
"We would support a motion on the struggle against the Islamic State of Iraq and the Levant [ISIL] or the Kurdistan Workers' Party [PKK], in short, against terrorist organizations. This was also what the Western coalition was looking for: A struggle against the terrorist organization of ISIL," Kılıçdaroğlu said during an Ankara meeting Oct. 2 with journalists from the International Press Institute (IPI) and the Committee to Protect Journalists (CPJ).
"But this is not the motion that came to Parliament. On the contrary, it is about struggling against Syria," he added, The CHP leader said there was a perception in the West that Turkey was "backing ISIL."
Full report at:
http://www.hurriyetdailynews.com/motion-is-actually-against-syria-not-isil-turkish-main-opposition.aspx?pageID=238&nID=72470&NewsCatID=338
----------
Palestinian government calls for $4 bn for Gaza reconstruction
Oct 3, 2014
The Palestinian government on Thursday in a reconstruction plan for Gaza ahead of an October 12 donor conference called for $4 billion to rebuild the strike-battered territory.
Gaza's infrastructure was devastated during a 50-day Israeli military offensive which killed nearly 2,200 Palestinians.
The 76-page report, released ahead of the donor conference in Cairo, said $4 billion (3.2 billion euros) would be needed for the "direct costs" of rebuilding the besieged coastal territory.
It would include $1.9 billion for public and private infrastructure repairs, and $1.2 billion for "reactivating economic productivity", according to The National Early Recovery and Reconstruction Plan for Gaza.
Full report at:
http://english.ahram.org.eg/NewsContent/2/8/112264/World/Region/Palestinian-government-calls-for--bn-for-Gaza-reco.aspx
----------
Iran warns Turkey against aggravating regional tensions
Oct 3, 2014
Iran warned neighbouring Turkey Thursday against doing anything that might aggravate tensions in the region, after the parliament in Ankara voted to authorise military intervention in Syria and Iraq.
Foreign Minister Mohammad Javad Zarif spoke by telephone with his Turkish counterpart, Mevlut Cavusoglu, and "criticised the method chosen to fight terrorism, expressing concern about any action that might aggravate the situation," state news agency IRNA reported.
"In the current situation, the countries of the region must act with responsibility and avoid aggravating" matters, he addedEarlier Thursday, Turkish MPs voted to allow the use of armed forces against jihadists of the Islamic State (IS) group in Syria and Iraq, both of which border Turkey.
Full report at:
http://english.ahram.org.eg/NewsContent/2/8/112284/World/Region/Iran-warns-Turkey-against-aggravating-regional-ten.aspx
---------
Houthis dictate state spending in absence of Yemen govt
3 October 2014
Yemeni rebels in control of the capital ordered the finance ministry on Thursday to suspend all payments except salaries to state employees, in an apparent tightening of their control over government bodies.
Abdelmalek al-Ejri, a member of the political bureau of the Shiite Muslim Houthi movement, or Ansarullah, told Reuters the measure was at the request of employees anxious that public funds be protected at a time of uncertainty.
Houthi fighters seized Sanaa with little resistance on Sept. 21 after overrunning an army brigade affiliated to the rival but moderate Islamist Islah party, making them effectively the power brokers in the country.
Full report at:
http://english.alarabiya.net/en/News/middle-east/2014/10/03/Houthis-dictate-state-spending-after-seizing-Sanaa.html
----------
Palestinians: ICC if no Israeli pullout deadline
3 October 2014
UNITED NATIONS: The Palestinian ambassador to the United Nations says his government will join the International Criminal Court if the U.N. Security Council refuses to set a deadline for Israel to withdraw from all Palestinian territory.
Joining the court would enable the Palestinians to pursue war crimes charges against key Israelis.
Riyad Mansour also said in an interview Thursday with The Associated Press that if the council shuts the "door to peace," the Palestinians will keep seeking new doors, including holding an international conference leading to Palestinian independence.
Mansour expressed hope that the Security Council will approve a recently circulated draft resolution that would set a deadline of November 2016 for an Israeli pullout. But the draft is almost certain to face opposition from the United States, Israel's closest ally.
http://www.dailystar.com.lb/News/Middle-East/2014/Oct-02/272810-palestinians-icc-if-no-israeli-pullout-deadline.ashx#ixzz3F5AhscWj
-----------
500 Mideast scholars call for academic embargo of Israeli institutions
3 October 2014
In excess of 500 Middle East studies scholars and librarians signed a petition boycotting Israeli academic institutions and submitted it for publication to the Jadaliyya website.
"We, the undersigned scholars and librarians working on the Middle East, hold that silence about the latest humanitarian catastrophe caused by Israel's new military assault on the Gaza Strip - the third and most devastating in six years - constitutes complicity," read the letter.
"World governments and mainstream media do not hold Israel accountable for its violations of international law. We, however, as a community of scholars engaged with the Middle East, have a moral responsibility to do so," it said.
"The ongoing Israeli massacres in Gaza have been ghastly reminders of the complicity of Israeli academic institutions in the occupation and oppression of Palestinians. Tel Aviv University, the Hebrew University of Jerusalem, Bar-Ilan University, Haifa University, Technion, and Ben-Gurion University have publicly declared their unconditional support for the Israeli military."
http://www.jpost.com/Breaking-News/500-Mideast-scholars-call-for-academic-embargo-of-Israeli-institutions-377977
---------
Australia
Australia to join anti-ISIS strikes in Iraq
3 October 2014
Australia's prime minister said Friday that the nation's air force will launch airstrikes against Islamic State of Iraq and Syria (ISIS) targets in Iraq.
The announcement has been widely anticipated since six F/A-18F Super Hornet jet fighters were pre-deployed to the United Arab Emirates more than two weeks ago in response to a formal request from the United States for specific contributions to the international coalition.
Prime Minister Tony Abbott told reporters that the deployment to Iraq "could be quite lengthy. Certainly, months rather than weeks."
"Yes, it is a combat deployment, but it is an essentially humanitarian mission to protect the people of Iraq and ultimately the people of Australia from the murderous rage of the ISIL (ISIS) death cult," Abbott said.
"ISIL must be disrupted and degraded at home and abroad, so it is absolutely in Australia's national interests that this mission go ahead," he said.
The seven cabinet ministers who make up the government's National Security Committee approved the deployment after an official request was received from Iraq overnight.
Two unarmed Australian air force planes - an E-7A Wedgetail surveillance and communications jet and a KC-30A refueling plane - joined operations over Iraq from the al-Minhad Air Base outside Dubai for the first time on Wednesday in support roles.
Full report at:
http://english.alarabiya.net/en/News/middle-east/2014/10/03/Australia-to-join-air-strikes-against-ISIS.html
----------
Australian PM seeks re-think on parliament burqa ban after backlash
3 October 2014
Australian Prime Minister Tony Abbott asked officials on Friday to re-think restrictions on members of the public wearing face-coverings such as burqas in parliament following a public backlash against the measures.
The restrictions, which would have forced women wearing head coverings to view chambers of parliament from a glassed-in gallery, had sparked criticism that the government was inflaming tensions with the Muslim community following a series of security-related raids.
"I asked the Speaker to re-think that decision and my understanding is that it was an interim decision, that it would be looked at again in the light of security advice that will come in coming days and I'm sure that the matter will be fully resolved before the parliament comes back in a fortnight," Abbott told reporters in Canberra.
Full report at:
http://english.alarabiya.net/en/News/2014/10/03/Australian-PM-seeks-re-think-on-parliament-burqa-ban-after-backlash.html
----------
South Asia
Bangladesh Islamic parties seek capital punishment to Minister
Oct 3, 2014
Different Islamic parties brought out a huge protest procession from Baitul Mukarram after Jum'ah prayers on Friday demanding capital punishment of minister Abdul Latif Siddique for his recent anti-Islamic comments.
Islamic parties like Hefazat-e-Islam, Islami Andolon, Dawat-e-Tabligh and Khelafat Majlish under the banner of 'Sammilita Islami Dal' brought out the procession with brooms and shoes from the north gate of the national mosque which paraded Paltan and Motijheel areas.
They chanted slogans demanding arrest and capital punishment of Latif Siddique for his derogatory comments that hurt the religious sentiment of Muslims.
A large number of police and Rab members were deployed in the area as many devotees of the Friday prayers also joined in the protest programme.
Full report at:
http://www.dhakatribune.com/bangladesh/2014/oct/03/islamic-parties-seek-capital-punishment-latif#sthash.y3m5Wslz.dpuf
----------
Nato soldiers in Afghanistan have made the world a safer place: Afghan President
Oct 3, 2014
KABUL: Newly-inaugurated Afghan President Ashraf Ghani on Friday set a fresh tone in relations with the North Atlantic Treaty Organisation (Nato) countries that have fought in the country against the Taliban, paying a fulsome tribute to foreign soldiers who died in battle.
Ghani, speaking alongside British Prime Minister David Cameron in Kabul, said the Nato soldiers in Afghanistan had made the world a safer place.
"I want to say thank you to those families for the loss of their loved ones," Ghani said. "They stood shoulder-to-shoulder (with Afghan forces) and we will remember them."
"Your presence here has meant London has been safe as well as the rest of the world."
Ghani has already begun to reset ties with the US and Nato military by signing a long-delayed agreement allowing about 12,000 foreign troops to stay on into 2015 to further train the Afghan army and police.
Full report at:
http://www.dawn.com/news/1135959/nato-soldiers-in-afghanistan-have-made-the-world-a-safer-place-ghani
----------
Young Bangladeshis called upon to join British politics
Oct 3, 2014
Renowned Bangladesh-born British politicians have called upon the young Bangladeshis to get involved in the mainstream politics in UK.
The young leaders of British-Bangladeshi community made the call saying that "the representation of Bangladeshi-origin youths in the British parliament doesn't reflect the proportions of Bangladeshis to the entire UK population."
They came up with the invitation while attending a programme titled "Meet Your Future MPs" at the Atrium in East London on Thursday, a press release said.
The event was organised celebrating the achievements of five British-Bangladeshi prospective parliamentary candidates, who have been nominated by their parties from five different constituencies to represent their local residents at the general election of 2015.
Conducted by Urmi Majhar, the programme was addressed by Rushanara Ali, British Labour Party MP for Bethnal Green and Bow, Tulip Siddiq, Labour candidate for Hampstead and Kilburn, Barrister Anwar Babul Miah, Labour candidate for Welwyn Hatfield, Rupa Haq, Labour's Candidate in Ealing Central and Acton, Mina Rahman Conservative Party's Candidate for Barking.
Full report at:
http://www.dhakatribune.com/bangladesh/2014/oct/03/young-bangladeshis-called-upon-get-involved-british-politics#sthash.eWLtxSvf.dpuf
----------
Centre for Law and Democracy suggests Maldives failing to protect journalists
By Daniel Bosley | October 3rd, 2014
The Centre for Law and Democracy (CLD) has accused the Maldives of failing to protect journalists following recent attacks on media and the disappearance of Minivan News journalist Ahmed Rilwan.
In an open letter to President Abdulla Yameen, the Canadian Human Rights NGO described Rilwan's disappearance 55 days ago as fitting into "a broader pattern of violence and intimidation directed towards the media in the Maldives".
"CLD calls on the government of the Republic of Maldives to do everything within its power to rescue Mr. Rilwan and to bring the perpetrators of this and other crimes against the media to justice," wrote CLD Executive Director Toby Mendel.
Rilwan was last seen in the early hours of August 8 travelling home, just minutes before a man was seen being forced into a car outside his apartment.
The release of a private investigation's findings into the case last week suggested that – among a number of possible lines of inquiry – gang-related abduction was a strong possibility in the case.
Full report at:
http://minivannews.com/politics/centre-for-law-and-democracy-suggests-maldives-failing-to-protect-journalists-90356
----------
Southeast Asia
FPI Members Riot at Jakarta City Council Over Non-Muslim Governor
Oct 3, 2014
Jakarta. Hundreds of protesters from Indonesia's most notorious hard-line rent-a-mob threw rocks at police on Friday and demanded that Basuki Tjahaja Purnama be prevented from serving as Jakarta governor.
The demonstration by the Islamic Defenders Front (FPI) in front of the City Council building in Kebon Sirih turned violent and police refused to back down against the protesters, who tried to break police lines and push farther into the grounds of the council. A line of police behind riot shields crept forward toward the rock-throwing protesters in a measured attempt to not escalate the situation.
Detik.com reported that at least three officers suffered head injuries from projectiles thrown by the mob, who were shouting "God is great." The men were taken into the council's clinic to receive treatment. The Jakarta Globe could not confirm whether these injuries were serious in nature.
Full report at:
http://thejakartaglobe.beritasatu.com/news/jakarta/fpi-members-riot-jakarta-city-council-non-muslim-governor/
----------
Insanity the norm in Indonesian politics
Oct 3, 2014
In Indonesia, people have always been forced to vote for figures they do not exactly know as their representatives. It is the political parties that decide who should be on the candidate list, of which the public then gets to vote into power.
Therefore, the quality of Indonesian politics and democracy, and in turn, law and policy, very much depends on the quality of the parties' candidates.
However, political parties are among the country's most corrupt institutions, which are known for recruiting people based on how much they are willing to pay. It is never about capacity, capability or achievement. It is always a matter of money and how close a candidate is to the party's powerful.
It is how close you are to Aburizal Bakrie, Susilo Bambang Yudhoyono, Megawati Soekarnoputri, or Prabowo Subianto that is the foundation for a fruitful career in politics. There has never been a system of merit. There has never been proper recruitment that allows people to work their way up the ladder.
Full report at:
http://www.themalaysianinsider.com/sideviews/article/insanity-the-norm-in-indonesian-politics-jakarta-globe#sthash.YnwaHdCS.dpuf
----------
Africa
Libya's fugitive parliament shelters in hotel
3 October 2014
Trucks with anti-aircraft cannon, troops and cement roadblocks protect the five-star hotel in Tobruk that is now the last bastion of Libya's fugitive parliament.
Holed up in the Dar al-Salam seaside resort and pretending that all is normal, elected legislators debate laws and plan the future from the eastern city where they fled to last month after losing control of Tripoli and much of the country.
A thousand kilometers away across the desert in the capital, a rival parliament sits, internationally unrecognized and made up of members of an earlier assembly whose mandate has expired. It is making its own decisions, taking over ministries and staking a competing claim to ruling the country.
Three years after NATO missiles helped overthrow Muammar Qaddafi, North Africa's major oil producer is effectively divided, with two governments and two parliaments, each backed by rival groups of armed men.
Full report at:
http://english.alarabiya.net/en/News/africa/2014/10/03/Libya-s-fugitive-parliament-shelters-in-hotel.html
---------
French troops edge closer to Libya border to cut off Islamists
Oct 3, 2014
France is setting up a base in northern Niger as part of an operation aimed at stopping al Qaeda-linked militants from crisscrossing the Sahel-Sahara region between southern Libya and Mauritania, officials said.
Paris, which has led efforts to push back Islamists in the region since intervening in its former colony Mali last year, redeployed troops across West Africa earlier this year to form a counter-terrorism force.
Under the new plan, about 3,000 French troops are now operating out of Mali, Burkina Faso, Niger and Chad -- countriesstraddling the vast arid Sahel band -- with the aim of stamping out Islamist fighters across the region.
Another 1,000 soldiers are providing logistical support in Gabon and Senegal.
"A base is being set up in northern Niger with the throbbing headache of Libya in mind," a French diplomat said.
Full report at:
http://english.ahram.org.eg/NewsContent/2/8/112281/World/Region/French-troops-edge-closer-to-Libya-border-to-cut-o.aspx
----------
Libya death toll rises as clashes in Benghazi continue
Oct 3, 2014
Up to 13 Libyan soldiers were killed and 50 others wounded in clashes between army forces and militant Islamist groups in the eastern port city of Benghazi on Thursday, Al Arabiya News Channel reported.
Two cars loaded with explosives targeted a military checkpoint near Benina International Airport in Benghazi, Al Arabiya's Benghazi correspondent quoted the commander of army's special forces in Benghazi, Wanis Bukhmada, as saying.
An Al Hawari Hospital source, who spoke on condition of anonymity for security reasons, said some of the wounded required surgery and special care.
Many of the wounded are members of Ansar Shariah, according to the same source.
Four airstrikes have targeted Islamist militants' positions and more will be carried out soon, an army source said.
Full report at:
http://english.alarabiya.net/en/News/africa/2014/10/02/Seven-Libyan-soldiers-killed-in-Benghazi-bombs-and-clashes-army-official-says.html
----------
URL: https://www.newageislam.com/islamic-world-news/new-age-islam-news-bureau/al-qaeda-chief-in-region-may-be-of-indian-origin--intel-agencies/d/99368