New Age Islam News Bureau
23 March 2014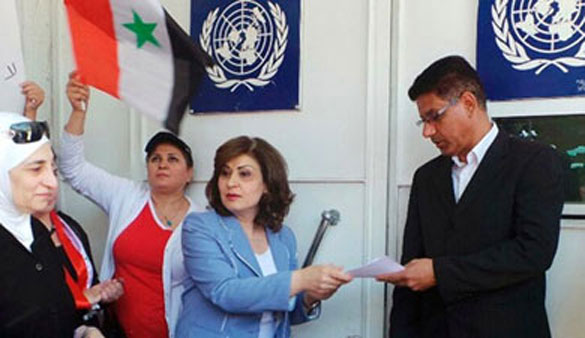 Head of the Syrian Women's Union hands a letter to a UN representative in Syria. (File photo)
--------------
Arab World
• Al Qaeda a Terrorist and Hezbollah a Freedom Fighter: Syrian envoy to India
• Syrian Army Ambushes, Kills Scores of Terrorists in Adra
• Syria to Give UN 228 Saudi ID Cards Belonging to Killed Militants
• ISIS enforces strict religious law in Raqqa
• Egyptian court bails leading leftwing activist Abdel Fattah
• Egypt satirist quits writing over alleged plagiarism
• Human chains in Egypt called for Monday to demand detainees release
• Qatar says no differences with Saudi over Syria
• Syrian opposition group seizes Kesab
• Arab League to reject Israel as Jewish state
Africa
• Nigeria Islamists kill 17 in market attack: Police
• Gunmen kill three in "terrorist" attack on Kenyan church
• Violent clashes kill 4 in C. African capital
• Nigeria: 3000 Members of Northern Youth Leaders Forum Killed By Insurgents
• Nigeria: Scores of Human Skulls Found in Ibadan
• Facing Libyan justice, the trial of Morning Glory's crew may just be starting
South Asia
• PM Sheikh Hasina: There will be no law against Quran, Sunnah
• Defy Taliban through education, Karzai tells Afghan children
• "Maldivians have said yes to President's strong leadership" – FM
• "Money politics threatens to hijack democratic process", says Transparency Maldives
• Foreign criticism of court verdicts tantamount to criticism of Islam, says Yameen
• Inu: Certain quarter is trying to defame Liberation War
• Bangladesh Govt declines Islami Bank donation on nat'l anthem event
Pakistan
• Some Madrasas spread disinformation about security policy, says Nisar
• Five 'militants' killed in shootout
• N. Waziristan attack leaves two dead
• Pakistan erases NYT lead story on Islamabad-bin Laden ties
• TTP accuses govt of stepping up attacks in tribal areas
• India conspiring to end Islamic traditions: Hafiz Saeed
• Negotiations with the Taliban without army's representation to fail: JUI-F chief
• NAB official among 12 killed in Karachi violence
• Principles of unity and faith our guiding force: Pak President
India
I• IM-A graduate fetches modern training for Islamic teachers
• Swami Shivanand's testimony frees terror accused after seven years in jail
• Unpaid Indians in Saudi Arabia call for help
North America
• Vatican forms special team with Anglicans and Muslims to fight human trafficking
• New American TV show fuels more anti-Arab stereotypes
• Obama visit to highlight expanding Saudi role
• NY Muslims to appeal ruling on police spying
• Report: US could free Pollard to rescue Israeli-Palestinian peace talks
Southeast Asia
• Malaysian Deputy Minister to face more heat over child-rape remarks
• Saudi-Malaysia bourses in deal to develop Islamic financial services
• DAP urges Turkey to lift ban on Twitter
• RI to strengthen international efforts on nuclear security
Mideast
• Turkey, Qatar excluded from Cairo Islamic meeting: report
• Erdogan rallies against 'terrorist' Turkey rivals
• Turks face new Net curbs after Twitter block
• Turkish President Gül says presidency in contact with Twitter to end ban
• After Jenin raid, Netanyahu vows Israel 'will attack those who attack us'
• Turkey warns Syria of 'heavy' response if its airspace violated
• Abbas: Israel not freeing prisoners would be breach of deal
Europe
• French parents find themselves alone against Syria jihad recruiters
• Salafist group calls for boycott of French local elections
• Jewish, Muslim leaders: Danish minister 'put[s] animal rights before religious rights'
Compiled by New Age Islam News Bureau
URL: https://www.newageislam.com/islamic-world-news/new-age-islam-news-bureau/al-qaeda-a-terrorist-and-hezbollah-a-freedom-fighter--syrian-envoy-to-india/d/66231
------------
Arab World
Al Qaeda a Terrorist and Hezbollah a Freedom Fighter: Syrian envoy to India
March 23, 2014
New Delhi, March 20, 2014, Syrian Ambassador to India Dr Raid Kamel Abbas today while speaking to Views around Sub-Editor Mr Hemant Sharma said that Al-Qaeda is the terrorist organization and threat to civilized world. It has carried out attacks against almost all the countries of world and it can't be compared with Lebanese organization Hezbollah which is according to Dr Abbas is fighting a war for its people freedom.
He added that Hezbollah is dedicated towards serving its people and ensuring peace and stability in its country. Moreover Syrian envoy said that fight of Hezbollah against Israel is just and lawful.
Giving detail about the recent Israeli airstrikes against the Syrian military forward positions in Golan Heights Dr Abbas said that in strikes one soldier of Syrian armed forces was killed.
He further added that if Syria again attacked will exercise its right of self defence and fight till end and. Views around desk tried to contact the Israel embassy for knowing their reaction about the recent accelerated tension between the two countries because of the Air Strikes. But Israeli diplomats denied giving any reaction.
It should be known that Four Israeli paratroopers were injured Tuesday when the bomb suspected to be planted by Syrian rebels exploded under their patrol jeep in the Golan Heights, near the frontier between Israel and Syria.
In reaction to this incident Israel carried out Airstrikes against several Syrian Army positions across the decades-old cease-fire line in the Golan Heights without any provocation by Syria.
http://www.khaama.com/al-qaeda-a-terrorist-and-hezbollah-a-freedom-fighter-syrian-envoy-2911
http://thedemocrate.com/2014/03/22/al-qaida-a-terrorist-and-hezbollah-a-freedom-fighter-syrian-ambassador/
------------
Syrian Army Ambushes, Kills Scores of Terrorists in Adra
March 23, 2014
The Syrian army carried out successful operations against rebel groups in different regions, killing scores of terrorists and destroying their dens and ammunition stockpile.
A military source said that an army unit ambushed members of al-Nusra Front terrorist group who infiltrated across the Jordanian borders in al-Ma'amel area (factories) in Adra city in the Eastern al-Ghouta on Saturday, Al-Manar reported.
The source added that the army unit also seized the terrorists' weapons and ammunition.
A Syrian army's field commander said that, based on accurate information and in cooperation with the inhabitants in the region, the movement of a terrorist group from Jordan to Adra industrial area, toward the Eastern al-Ghouta was monitored, most members of the group were killed and injured and the others were arrested.
The source went on to say that the Syrian soldiers confiscated a significant quantity of drugs belonged to the antigovernment fighters.
The field commander added that tightening the grip by the army on the terrorist groups in al-Ghouta and monitoring the infiltration attempts by other groups left hundreds of terrorists dead and wounded in a series of ambushes.
He affirmed that the army units are on a high alert to root out all insurgents for the complete eradication of terrorism from all towns and villages in the Eastern al-Ghouta.
Late in February, the army units killed more than 175 rebels and wounded others belonging to al-Nusra Front and so-called al-Islam Brigade.
Saudis, Chechens and Qataris terrorists were among the killed and wounded terrorists.
The conflict in Syria started in March 2011, when sporadic pro-reform protests turned into a massive insurgency following the intervention of western and regional states.
The unrest, which took in terrorist groups from across Europe, the Middle-East and North Africa, has transpired as one of the bloodiest conflicts in recent history.
As the foreign-backed insurgency in Syria continues without an end in sight, the US government has boosted its political and military support to Takfiri extremists.
Washington has remained indifferent to warnings by Russia and other world powers about the consequences of arming militant groups.
http://english.farsnews.com/newstext.aspx?nn=13930103000091
-------------
Syria to Give UN 228 Saudi ID Cards Belonging to Killed Militants
March 23, 2014
The Syrian Foreign and Expatriates Ministry criticized Saudi Arabia over lack of genuine measures to stop instigation of terrorism in Syria.
On Saturday, in two letters addressed to United Nations Secretary-General Ban Ki-moon and President of UN Security Council Sylvie Lucas on Saudi Arabia's subversive role in Syria, the ministry referred to a raft of counter-terrorism legislations issued by the Saudi regime in a make-believe attempt to convince the international community of its involvement in a counter-terrorism drive, Al-Alam reported.
Saudi Arabia thinks that its $100mln contribution to finance the United Nations Counter-Terrorism Center will absolve it of legal and ethical responsibility for the loss of thousands of lives, and will cover up millions of dollars it pumped to support terrorist groups in Syria and elsewhere in the world, read the letters.
The letters indicated that "combating terrorism requires that words match actions, i.e. that legislations are issued and put into force. Consequently, the Saudi regime by not taking real measures to stop instigation of terrorism and deter the fitna-mongers (plotters) who issued calls for Jihad in Syria and elsewhere in the world in answer to the call of al-Qaeda leader, Ayman al-Zawaheri in October 2013 reveal these laws to be grossly lacking credibility."
Saudi Arabia continues to spread Wahabi thought which underpins the crimes committed by radical militants in Syria where the danger lies, the Syrian ministry pointed out.
"The evil triggered by Wahabi thought had not remained confined to Syria but boomeranged on all strata of Saudi society,'' the letters added. "It is therefore not odd that thousands of Saudis, including university professors, doctors, engineers and employees have embraced the al-Qaeda-linked Wahabi thought due to the regime's efforts to foster it in the society."
Blinded by mass media and social networks oversupplied with Wahabi indoctrination, those people have abandoned their families, lives and future to come to Syria to kill with impunity, said the ministry.
The ministry said that Syria will supply the United Nations Security Council and the relevant counter-terrorism committees with the IDs of 228 Saudi terrorists who got killed in Syria.
The letters dismissed Saudi vows to punish those involved in combat operations in Syria upon their return as "cheap media propaganda" that ought to be replaced by real measures.
A recent British defense study showed that about 100,000 militants, fragmented into 1,000 groups, are fighting in Syria against the government and people. Syria has been gripped by deadly unrest since 2011.
http://english.farsnews.com/newstext.aspx?nn=13930103000265
------------
ISIS enforces strict religious law in Raqqa
March 23, 2014
The color black covers the place. This color prevents you from ignoring that the Syrian city of Raqqa is straining under the iron grip of fighters of the Islamic State of Iraq and al-Sham (ISIS). They worked to turn the city into a "black province" after capturing it from fighters belonging to the Free Syrian Army (FSA) and the Ahrar al-Sham Islamic Movement.
The road from the city of Deir al-Zour, "the state of goodness," as ISIS fighters call it, to Raqqa province is not easy because you have to drive on a dirt road to avoid the area of the clashes between ISIS fighters and fighters from Jabhat al-Nusra and the FSA. Jabhat al-Nusra fighters, with FSA support, are seeking to advance toward Raqqa in an attempt to evict ISIS.
Before entering Raqqa, you have to pass through many checkpoints. The numerous questions they ask depend on the checkpoint and its supervisor. Before reaching a checkpoint, the car driver asks the women in the car to don the veil and put on full "Islamic" attire, where the woman gets covered in black except for the eyes. Otherwise, both she and the driver may get punished, as has happened to many.
The first checkpoint we passed through is called "Dignity Checkpoint." ISIS fighters only searched the men as the fighters looked for violation of ISIS laws. They checked personal data and inspected the passengers' as they looked for Jabhat al-Nusra or FSA fighters, who are immediately arrested, as is anyone they suspect of belonging to a Syrian faction or an activist in the Syrian revolution.
A city in black
Raqqa is very different from what it used to be. Raqqa used to enjoy freedom after the withdrawal of Assad's forces. Many displaced people from other cities have moved to Raqqa. Yet Raqqa changed after ISIS took control. Most ISIS fighters in Deir al-Zour moved to Raqqa, which is now a black province in every sense of the word.
Many of the city's features have been painted black, to match the color of the ISIS banner. Women wear black from head to toe. And you can't ignore how many foreign fighters there are. They are called the muhajirin [immigrants] and come mostly from Chechnya. They are in Raqqa with their families and can be recognized because they are taller than the locals and look different.
Immigrants to Raqqa
The immigrant fighters have a long story. Al-Hayat secretly met a number of civilians in Raqqa. They each told their stories, or what they witnessed, with the immigrants. They all said that the population won't remain silent for long. The pressure on the civilians will lead to an explosion, according to "Mohammad," 24. He and his family fled Deir al-Zour. He said, "[The following story] summarizes what the immigrants think about the people of the city and the region. One day, when I was at an internet cafe filled with Tunisian fighters, [I overheard one fighter say] to his friend via Skype to come do jihad in Syria, especially in Raqqa, where food is abundant and where there are many empty homes, and where the women are pretty, and 'the men are cowards.'"
Chechen immigrants have their own story. Many of them came to Syria with the intensification of fighting, and most joined Jabhat al-Nusra or ISIS. In the words of more than one person we met, Chechen immigrants have special privileges over others because they came with all their family members. And that can be noticed as you walk Raqqa's streets.
Rim, a Raqqa local, told us, "Chechen immigrants are living a luxurious life. You always see them in the city's restaurants and they buy food in large quantities. Their children keep buying chocolate, especially foreign chocolate, such as Mars or Snickers, which cost 100 or more Syrian pounds. The Chechens also have the latest technology in mobile phones, computers, computer tablets and many others."
Defecting from ISIS equals death
The immigrant's life isn't always easy. His jihad in Syria could also be a curse. Recently, many immigrants were executed in the field, according to Raqqa locals. Not a week goes by without someone being executed. There have been as many as five executions per week. The charges against them range from disbelief in God to leaving the "group" [ISIS]. But according to the locals, executions are for those who defected from ISIS after they saw how it truly functions.
Patrols to enforce Islamic attire
"They leap over the walls so as not [to] give us a chance to correct matters," said "Sarah" to Al-Hayat about what's happening in her high school, where ISIS conducts foot or car patrols to check that women are wearing Islamic attire. ISIS fighters jump over the walls of the schools to surprise the girls and to catch those not complying. Sarah added, "The patrol consists of two teams, the first consists of men who jump over the school's wall, and the second consists of women who enter through the main door. They are mostly the wives of immigrant fighters and they enter the school armed with machine guns and beat up students breaking [ISIS] laws. In many cases, the students are arrested along with the teachers and the school director as punishment for violating ISIS laws. They are released hours later after being humiliated by the patrol elements."
Men also get punished
Men are not better off than the women under the rule of the black state. Men are harassed in different ways. The man is the first and last one responsible for the actions of the women of his family. Men are often punished as a result of the behavior of a girl within the family, such as lack of commitment to Islamic dress. Men are often given several lashes in the public squares for violating some Islamic law. Anyone who smokes or sells cigarettes is given a punishment ranging from having his store closed to being given several lashes.
We entered Raqqa at prayer time. ISIS has forced everyone to pray, and all shops have to close at prayer time and all men must go to mosque, or a group of shop owners can put a prayer mat and perform their prayers in congregation.
"Khaled," 40, told Al-Hayat, "Many men don't actually pray but pretend to be doing so in front of ISIS patrols that roam the city. … Many worshipers pray without ablution to avoid harm. Many shop owners lock themselves in their shops by lowering the iron doors till prayer time ends. However, ISIS patrols found out, so ISIS now goes to the shops and sometimes pulls their owners out and forces them to perform prayer."
"Mohammad," a Raqqa resident and a friend of Khaled, said, "One mosque preacher who is of Tunisian origin said during a Friday sermon that the reason the people are being forced to pray is so that they get admitted to paradise. Then a worshiper said that some are praying while doing a lot of things forbidden by God. The Tunisian imam answered: We will take you to paradise, even if we have to drag you in chains on the way there."
Many throughout Syria have become aware of ISIS's religious strictness. ISIS conducts tests on those stopped at checkpoints. They ask them questions about how many rak'aas [kneels] are performed for each prayer time and the way one is supposed to pray. At first we doubted that, but then we saw it ourselves in Azaz in the Aleppo countryside. In Azaz, an ISIS fighter asked the driver the number of rak'aas for each prayer. The driver answered wrongly, so the Chechen ISIS fighter asked the driver to get out of the car, took him to a nearby field, explained to him how to pray properly, and didn't let the driver go till after praying four full rak'aas.
http://www.al-monitor.com/pulse/security/2014/03/isis-enforces-islamic-law-raqqa-syria.html#ixzz2wq7p13zY
------------
Egyptian court bails leading leftwing activist Abdel Fattah
AFP, Cairo
23 March 2014
An Egyptian court released on bail Sunday leading leftwing activist Alaa Abdel Fattah, in the opening session of his trial on charges of participating in an illegal and violent protest.
Abdel Fattah, a prominent youth leader of the 2011 uprising that overthrew president Hosni Mubarak, was arrested last November for taking part in a protest against widened military powers under the new army-appointed regime.
His trial was set to begin as another court resumes the trial of Mursi, ousted by the military in July, on charges of involvement in the killing of opposition activists during his single year in power.
The authorities have banned all but police-sanctioned protests and arrested thousands of activists, mostly Islamists, in Egypt's most extensive crackdown on opposition in decades.
More than 2,000 people have been put on trial, including Mursi and the leadership of his Muslim Brotherhood movement, as well as secular activists such as Fattah who supported the Islamist's overthrow.
More than 1,400 people, mostly Islamists, have been killed in street clashes since Mursi's removal, rights group Amnesty International says.
Three prominent secular activists who spearheaded the early 2011 uprising that overthrew Mubarak have already been sentenced to three years in prison for joining unsanctioned protests last year.
Mubarak himself is on trial for allegedly inciting the killings of protesters during the uprising. A court had sentenced him to life in prison but he won a retrial.
http://english.alarabiya.net/en/News/2014/03/23/Prominent-Egypt-leftwing-activist-goes-on-trial.html
------------
Egypt satirist quits writing over alleged plagiarism
March 23, 2014
Cairo: Egypt's celebrated TV satirist Bassem Yousuf said Sunday he would temporarily stop writing in a local newspaper after he was accused of plagiarism for failing to credit an analysis by a British writer in an article published in his name last week.
"What happened was a mistake. There was no justification for this," Yousuf wrote in an apology in the independent newspaper Al Shorouk. "The way the [previous] apology [was made] was a mistake. There was no justification for this."
Full report at:
http://gulfnews.com/news/region/egypt/egypt-satirist-quits-writing-over-alleged-plagiarism-1.1307671
------------
Human chains in Egypt called for Monday to demand detainees release
March 23, 2014
Eight political forces have announced that they will organise a protest rally Monday in many governorates across the country to demand the release of what they deem political detainees, Al-Ahram Arabic news website reported.
The Strong Egypt Party, April 6 Youth Movement, Revolutionary Socialists and a number of other groups have signed a statement calling for a protest on 6 October Bridge in Cairo.
The eight political parties will form human chains on 6 October Bridge. They will also form chains in Alexandria, Giza, Damietta, Gharbiyia, Port Said, Sharqyia and other governorates.
Believing in "the freedom of expression and human dignity," the parties say they are organising the protest to remind Egyptians of the situation of political detainees, regardless of their political affiliations.
Full report at:
http://english.ahram.org.eg/NewsContent/1/64/97314/Egypt/Politics-/Human-chains-in-Egypt-called-for-Monday-to-demand-.aspx
------------
Qatar says no differences with Saudi over Syria
March 23, 2014
DOHA, March 23 (Reuters) - Qatar dismissed reports of rivalry with neighbouring Saudi Arabia over efforts to end Syria's war, saying the two countries - the main Arab backers of rebel forces - had "the highest level of coordination".
Diplomats and opposition sources have reported strains between Qatari- and Saudi-backed groups within Syria's opposition National Coalition and have said the two countries have supported different armed groups on the ground.
The official Qatar News Agency said Foreign Minister Khaled al-Attiyah, speaking at a public forum in Brussels on Saturday, "denied the rumours" about a dispute between Riyadh and Doha over Syria.
Full report at:
http://www.trust.org/item/20140323091129-z6o1f/?source=hpbreaking
---------
Syrian opposition group seizes Kesab
March 23, 2014
Syrian armed opposition have seized the northwestern town of Kesab in Syria after a series of clashes with regime forces, officials said.
The clashes killed two members of the opposition and 45 members of the regime's forces while at least eleven others were injured.
Some of the injured were taken to hospitals for treatment in the Syrian bordering city of Hatay in Turkey.
The Local Coordination Committees of Syria (LCC) -- a network of local opposition groups -- said that government helicopters bombed opposition-controlled areas in Aleppo, adding that rebels fired artillery shells in regime-controlled areas in Aleppo's northern rural side.
LCC sources said intensive clashes occurred between the Free Syrian Army and regime forces in the old part of Aleppo, claiming that rebels made gains against the government in Latakia and that Islamic Front troops captured strategically important areas around the Keseb border with Turkey.
Full report at:
http://www.worldbulletin.net/headlines/131777/syrian-opposition-group-seizes-kesab
-------------
Arab League to reject Israel as Jewish state
March 23, 2014
Thirteen heads of state have so far confirmed their attendance at the two-day Arab summit which commences on Tuesday, with Arab foreign ministers set to hold a preparatory meeting on Sunday to finalize the summit's agenda.
This is the first Arab summit to be hosted by Kuwait since it joined the Arab League on June 20, 1961, and comes at a critical time.
The summit's agenda is expected to include talks on the ongoing Syrian conflict, the Palestinian–Israeli peace process, and diplomatic tensions between Arab states.
Kuwaiti Minister for Cabinet Affairs Sheikh Mohammed Abdullah Al-Mubarak Al-Sabah told Asharq Al-Awsat that the summit will seek to find solutions to a number of ongoing issues. "Wisdom always prevails among Arab leaders during difficult times ... Kuwait always plays the role of calming (tensions) and supporting cooperation and joint (Arab) interests."
Top diplomats will be discussing draft resolutions on the Palestinian cause, the Arab-Israeli conflict and activating the Arab peace initiative, since US Secretary of State John Kerry said the Israelis and Palestinians could not reach an agreement by next month.
"They will reject recognition of Israel as a Jewish state, which, if happens, would undermine the right of the Palestinian people to return to their lands and the compensation of Palestinian refugees," said KUNA in a statement.
http://www.arabnews.com/news/544636
------------
Africa
Nigeria Islamists kill 17 in market attack: Police
March 23, 2014
At least 17 people have been killed by an explosion in a village market in northeast Nigeria in an attack blamed on Boko Haram Islamists, a local police chief said on Sunday.
The deadly blast struck a busy marketplace late on Thursday in the remote village of Nguro-Soye, Borno state, injuring many more, said police chief Lawan Tanko.
News on the attack was slow to emerge after insurgents destroyed nearby telecom towers, shutting down communications in the area.
"An explosion in the market in Nguro-Soye killed 17 people," Tanko told AFP, adding that police were investigating the source of the explosion.
"The attack on Nguro-Soye, as in previous attacks, is the handiwork of Boko Haram insurgents."
Residents who fled the village to the state capital Maiduguri put the death toll at nearly 30, and said more people were hurt.
Full report at:
http://english.ahram.org.eg/NewsContent/2/9/97327/World/International/Nigeria-Islamists-kill--in-market-attack-Police-.aspx
------------
Gunmen kill three in "terrorist" attack on Kenyan church
March 23, 2014
MOMBASA, Kenya, March 23 (Reuters) - Two gunmen stormed a packed church near the Kenyan coastal city of Mombasa on Sunday and opened fire on worshippers, killing three people and wounding others, in what police called a terrorist attack.
One witness said the gunmen shouted out in a foreign language before shooting indiscriminately at the congregation. Blood-spattered Bibles and overturned plastic chairs lay strewn across the church's floor after the attack.
"Both carried big guns and began shooting all over the place. I fell to the ground and could hear screams," said Lilian Omondi, who was leading a prayer recital at the time.
Kenya's parliament has called for better coordination between the security and intelligence agencies after 67 people were killed in an attack on a shopping mall in Nairobi in September.
The raid on Sunday took place in Likoni, located across a deep-water channel from Mombasa city, a major tourist hub.
Full report at:
http://www.trust.org/item/20140323102734-x8in6/?source=hpbreaking
------------
Violent clashes kill 4 in C.African capital
March 23, 2014
At least four people have been killed in clashes between armed groups and international peacekeepers in the capital of the strife-torn Central African Republic, a military official said Sunday.
A further seven people were injured when violence erupted Saturday in the PK-5 district of Bangui between Christian militia and Muslim groups, said an officer with the African Union military force known as MISCA.
"The clashes erupted in several places at once, causing international forces to intervene to stop the hostilities," said the officer.
A French military source confirmed the violence, saying: "Our men were attacked and fought back."
Full report at:
http://english.ahram.org.eg/NewsContent/2/9/97350/World/International/Violent-clashes-kill--in-CAfrican-capital.aspx
------------
Nigeria: 3000 Members of Northern Youth Leaders Forum Killed By Insurgents
March 23, 2014
Daji Sani The National Chairman, Northern Youth Leaders Forum, NYLF, Comrade Elliot Afiyo has revealed that 3000 of his members have been killed by the outlawed Boko Haram lslamic sect in the northern region of the country.
Afiyo who expressed worry over the spate of killings and the lingering insurgents activities particularly in the north, which he believed was occasioned by bad governance, told Journalist yesterday in Yola that his organisation has lost 3000 out of two million registered members to the recent insurgency attacks.
He said that 81 Northern Youth organisations amalgamated to form an umbrella body known as the Northern Youth Leaders Forum which he has been the national chairman for 11 years now.
Full report at:
http://allafrica.com/stories/201403220045.html?aa_source=acrdn-f0
------------
Nigeria: Scores of Human Skulls Found in Ibadan
March 23, 2014
Residents of Oyo State capital on Saturday evening received with shock the discovery of an underground dungeon where hundreds of human skulls were found.
Most of the people who besieged the site, in Soka area in Oluyole local government area of the state, wept when a search party went to the underground located in the state's capital and uncovered several corpses of persons killed inside the dungeon.
As at the time of filing this report, many of such skulls were still being discovered. Apart from hundreds of skulls, human body parts, including decomposed ones, disused clothes, shoes, pictures and voter cards were found at the scene.
Full report at:
http://allafrica.com/stories/201403230024.html?aa_source=sptlgt-grid
------------
Facing Libyan justice, the trial of Morning Glory's crew may just be starting
March 23, 2014
KARACHI: "If my son was an accomplice of the Libyan rebels, would I be making frantic calls to international authorities, requesting them to conduct an operation against the kidnappers?" asks Shua-ul Qamar Shamsi, the father of the second officer onboard the ill-fated ship.
After US commandoes successfully carried out an operation on the oil tanker, Morning Glory, rescuing the 21-member crew from the clutches of Libyan rebels and seizing stolen Libyan oil, the fears of the families about their loved ones' fate are far from over.
The ship — which has been taken over by US Navy Seals — has a Pakistani captain, Mirza Noman Baig, and five other Pakistanis in its crew — chief officer Ghufran Margoob, second officer Mehdi Shamsi, third officer Asif Hasan, Naik Zada and Muhammad Arshad.
Full report at:
http://tribune.com.pk/story/686156/at-sea-facing-libyan-justice-the-trial-of-morning-glorys-crew-may-just-be-starting/
---------
South Asia
PM Sheikh Hasina: There will be no law against Quran, Sunnah
March 23, 2014
Prime Minister Sheikh Hasina urged the country's Islamic scholars to remain aware so that no one from other faiths could infiltrate into the Muslim community and create difference among the Muslims to instigate anarchy in Bangladesh.
She made the call while addressing a function, marking the 39th founding anniversary of the Islamic Foundation, at Bangabandhu International Conference Center in the capital.
Sheikh Hasina said many Islamic countries across the globe were engaged in fighting each other or the Muslims of an Islamic country were fighting among themselves.
She also said in the recent times, these people wanted to create anarchy in Bangladesh. "But they had failed miserably as the government took timely steps."
Reminding that their "ill motives are still alive," the premier urged the Islamic scholars of the country to remain alert in this regard and said that those engaged in killing, terrorism and militancy had no religion.
Terming Bangladesh a Muslim majority country, she said the country would be run as per the Madinah Charter and the last sermon and directives of Prophet Hazrat Muhammad (PBUH).
"There will be no law against the Holy Quran and Sunnah here ever," she assured the Islamic scholars of the county.
Full report at:
http://www.dhakatribune.com/politics/2014/mar/23/pm-there-will-be-no-law-against-quran-sunnah#sthash.fNB9Fhv0.dpuf
------------
Defy Taliban through education, Karzai tells Afghan children
March 23, 2014
KABUL — Afghan President Hamid Karzai Saturday urged his country's young people to defy the Taliban in honor of the two young children shot dead in a militant attack on a Kabul hotel.
Four teenage attackers gunned down nine people on Thursday evening at the city's Serena hotel, including AFP journalist Sardar Ahmad, his wife and two of his three children.
The attack on the supposedly safe venue, favored by foreign visitors, was the latest violence ahead of the April 5 election when Afghans will choose a successor to Karzai in what will be the country's first-ever democratic transfer of power.
Ahmad's infant son remained in intensive care on Saturday being treated for bullet wounds to the head, chest and leg.
Full report at:
http://www.saudigazette.com.sa/index.cfm?method=home.regcon&contentid=20140323199530
------------
"Maldivians have said yes to President Yameen's strong leadership" – FM
By Lucy Lovell | March 23rd, 2014
Foreign Minister Dunya Maumoon has described the Progressive Coalition's victory in the Majlis elections as vote of confidence in President Abdulla Yameen as well as a signal to foreign powers to stay out of the country's affairs.
"Maldivians have said yes to President Yameen's strong leadership," said Dunya.
She also interpreted the coalition victory as a sign of voters' faith in the leadership of her father, former President and Progressive Party of Maldives (PPM) leader Maumoon Abdul Gayoom – President Yameen's half-brother.
Fellow cabinet member, Tourism Minsiter Ahmed Adeeb, reiterated Dunya's comments during a press conference held today, adding that opposition MPs would now be unable to further "obstruct" the government's efforts.
Full report at:
http://minivannews.com/politics/majlis-elections-%E2%80%9Cmaldivians-have-said-yes-to-president-yameen%E2%80%99s-strong-leadership%E2%80%9D-foreign-minister-80702
------------
"Money politics threatens to hijack democratic process", says Transparency Maldives
By Ahmed Naish | March 23rd, 2014
Majlis elections: "Money politics threatens to hijack democratic process", says Transparency Maldives thumbnail
Yesterday's parliamentary elections were well-administered and transparent "but wider issues of money politics threatens to hijack [the] democratic process," NGO Transparency Maldives (TM) has said in its preliminary statement on the Majlis polls.
TM revealed that a survey conducted prior to last year's presidential election showed that 15 percent of respondents had been offered "money or other incentives" in exchange for their vote.
Full report at:
http://minivannews.com/politics/majlis-elections-money-politics-threatens-to-hijack-democratic-process-says-transparency-maldives-80699
------------
Foreign criticism of court verdicts tantamount to criticism of Islam, says Yameen
March 23, 2014
President Abdulla Yameen has compared allowing international actors to criticise the Supreme Court and its verdicts as being similar to allowing people to criticise the tenets of Islam.
"This is a message I am giving especially to President Nasheed [former President Mohamed Nasheed]. If you want to maintain the eminence, dignity and sovereignty of the Maldives, do not allow foreign entitities to criticise the final verdicts released from the courts of law."
"If you allow them to do so, you are giving them the freedom to criticise the Islamic tenets that we have amongst us," Yameen stated, speaking at a political rally held in the island of Fuvahmulah on Wednesday night.
Full report at:
http://minivannews.com/category/news-in-brief
------------
Inu: Certain quarter is trying to defame Liberation War
March 23, 2014
Jatiya Samajtantrik Dal (JSD) President and Information Minister Hasanul Haque Inu yesterday said a certain section, who was not a part of the Liberation War of 1971, was trying to defame the history of the great war.
While addressing a discussion programme organised by the Muktijoddha Sangram Parishad at the JSD central office, Inu made the observations, and said the liberation war was a political war and the country's peoples participated in the war under the command of Bangabandhu Sheikh Mujibur Rahman.
Full report at:
http://www.dhakatribune.com/politics/2014/mar/23/inu-certain-quarter-trying-defame-liberation-war#sthash.NMXUBZfX.dpuf
------------
Bangladesh Govt declines Islami Bank donation on nat'l anthem event
March 23, 2014
The government has declined to accept Islami Bank's donation of Tk 3 crore for "Lakho Konthe Shonar Bangla", an Independence Day event to set the world record for singing of national anthem by the highest number of people.
The finance ministry issued a statement in this regard today after the cultural ministry has refused to accept the money from the Islami Bank.
The government's move came amid huge criticism from the pro-liberation forces.
Earlier when the issue came to light, the pro-liberation forces criticised the government for taking the donation from the bank, which they said, is linked to war criminals.
The statement, however, said the bank can donate the fund for the ongoing World T20 tournament if it wants.
Full report at:
http://www.thedailystar.net/govt-declines-islami-bank-donation-on-natl-anthem-event-16921
------------
Pakistan
Some Madrasas spread disinformation about security policy, says Nisar
2014-03-23
ISLAMABAD: Interior Minister Chaudhry Nisar Ali Khan has said that with a view to gaining 'political advantages' some Madrasas are spreading false information about the National Security Policy.
Talking by phone to Muhammad Rafi Usmani, the grand mufti of Pakistan and vice-president of Wifaqul Madaris Al Arabiya, the minister said that such rumours were particularly damaging for the country in the existing atmosphere.
He assured the grand mufti that the government was not planning to launch any operation against Madrasas.
"If there is a report about suspicious activities regarding any madressah we will take Wifaqul Madaris into confidence and fulfil all the legal requirements," he remarked.
Full report at:
https://www.dawn.com/news/1094999/some-Madrasas-spread-disinformation-about-security-policy-says-nisar
------------
Five 'militants' killed in shootout
2014-03-23
GWADAR: Five militants were killed and three others injured in an 'encounter' with security forces on the outskirts of Turbat on Saturday, according to a spokesman for the Frontier Corps (FC).
He said that security forces arrested eight suspected militants and seized arms and ammunition.
According to the spokesman, the paramilitary force launched a search operation in Pidrak area of Turbat in Kech district. Militants opened fire on the soldiers who retaliated. In the following exchange of fire, five militants were killed and three injured.
Security forces arrested eight suspects and handed them over to the authorities concerned for interrogation
Full report at:
https://www.dawn.com/news/1095002/five-militants-killed-in-shootout
------------
N. Waziristan attack leaves two dead
2014-03-23
MIRAMSHAH: Two people were killed and two others injured in an attack in Lowara Mandi area in Dattakhel tehsil of North Waziristan tribal region on Saturday.
Sources said that four men were going from Dattakhel bazaar to Lowara Mandi near the Afghan border in a pick-up when some people attacked them with heavy and light weapons.
Two of the men died on the spot and two others suffered bullet wounds. Local tribesmen took the injured to a hospital. The sources said the deceased belonged to the Mehsud tribe and they worked for a militant group.
Full report at:
https://www.dawn.com/news/1095001/n-waziristan-attack-leaves-two-dead
------------
Pakistan erases NYT lead story on Islamabad-bin Laden ties
Bloomberg | Mar 23, 2014
A New York Times story saying Pakistan's government protected Taliban forces was censored by the publisher's printing partner in that country, resulting in a blank hole on the front page of its international edition.
The article, a 4,800-word excerpt from a forthcoming book by Times reporter Carlotta Gall to be published by Houghton Mifflin Harcourt next month, appeared in New York Times magazine in the US and was intended as a front-page article of International New York Times. While the story appears on most copies of the international edition, it doesn't show up in papers distributed in Pakistan, about 9,000 copies, according to the publisher.
Full report at:
http://timesofindia.indiatimes.com/world/pakistan/Pakistan-erases-NYT-lead-story-on-Islamabad-bin-Laden-ties/articleshow/32515328.cms
------------
TTP accuses govt of stepping up attacks in tribal areas
2014-03-23
MIRAMSHAH: The outlawed Tehreek-i-Taliban Pakistan (TTP) has accused the government of increasing attacks on militant hideouts and raids on houses of its members in tribal areas.
Despite a ceasefire announced by it earlier this month, its members in the custody of law enforcement agencies are not only being tortured but tortured with greater intensity, the TTP has said.
TTP spokesman Shahidullah Shahid told media personnel by phone on Saturday that instead of reciprocating his group's goodwill gesture with a befitting move the authorities had intensified activities against the militants.
Full report at:
https://www.dawn.com/news/1095008/ttp-accuses-govt-of-stepping-up-attacks-in-tribal-areas
------------
India conspiring to end Islamic traditions: Hafiz Saeed
2014-03-22
LAHORE- The Ameer, Jamat ud Dawa (JuD), Professor Hafiz Muhammad Saeed has said that India first parted East Pakistan from us and it is not just causing terrorism here, but also conspiring to demolish our Islamic traditions.
Addressing a press conference along with the lawyers of Lahore High Court (LHC) Bar at GPO Chowk today, Hafiz Saeed stressed on the need of following the Ideology of Pakistan prescribed by Quaid-e-Azam Muhammad Ali Jinnah and Allama Iqbal. He said JuD will organize a conference on March 23 in this regard, which will be attended by the people from all walks of the society, a private TV channel reported. Hafiz Saeed alleged India of spreading terrorism in Pakistan, yet he expressed his hopes that the patriotic Pakistanis will foil all heinous bids. The JuD Chief said that the success of negotiations is a bare necessity for eradicating terrorism from Pakistan and it is a positive gesture that all the Taliban factions have announced a truce; this will bring peace and prosperity in the state.
http://www.nation.com.pk/national/22-Mar-2014/india-conspiring-to-end-islamic-traditions-hafiz-saeed
------------
Negotiations with the Taliban without army's representation to fail: JUI-F chief
March 22, 2014
MULTAN: "The absence of army representatives in negotiations with the Taliban is part of a plan to launch a military operation," Jamiat Ulema-i-Islam-Fazl (JUI-F) chief Maulana Fazl ur Rehman said on Friday.
Speaking at a press conference at Jamia Qari Hanfia in Multan, he said the peace talks would fail if the army was not included directly.
"The Taliban are ready to negotiate." Rehman said he had advised Prime Minister Nawaz Sharif to include army in the peace talks by any means necessary.
"The issue with the peace talks is that on one side, there are non-state actors according to our military establishment.
Full report at:
http://tribune.com.pk/story/685745/peace-talks-negotiations-with-the-taliban-without-armys-representation-to-fail-says-fazl/
--------
NAB official among 12 killed in Karachi violence
March 23, 2014
KARACHI - At least 12 people including a deputy superintendent of police currently on deputation in National Accountability Bureau (NAB) Sindh as an assistant director were killed in separate acts of violence and encounter here in the provincial metropolis on Saturday.
As per details, a DSP currently on deputation in National Accountability Bureau (NAB) Sindh as an assistant director and a passerby minor were shot dead at a hotel located at Sharfabad locality in the jurisdiction of New Town Police Station. DSP Nasir Lodhi told The Nation that the deceased were DSP Agha Jamil Ahmed, and a child Faizan Ahmed. The officer said the DSP was taking its meal at Malik Niazi Hotel when two unidentified armed riders came close to him and sprayed bullets on him before managing their escape from the scene. He said deceased sustained multiple bullet wounds while the child also sustained a bullet wound.
Full report at:
http://www.nation.com.pk/karachi/23-Mar-2014/nab-official-among-12-killed-in-karachi-violence
------------
Principles of unity and faith our guiding force: Pak President
March 23, 2014
The commemoration of Pakistan Day each year is an occasion to reiterate our pledge toward those ideals that lead to the creation of our beloved homeland.
It is an occasion to pay tribute to our great leaders who withstood all adversities but remained steadfast in their mission to secure a separate homeland for the Muslims of the subcontinent.
The day is also an occasion to pass on the thought behind the creation of the state and to prepare the future architects achieve and uphold those noble ideals.
Let us never be oblivious of the fact that the unparalleled democratic struggle by our ancestors was aimed at providing the Muslims of the subcontinent a place where they could develop to the fullest spiritual, cultural, economic, social and political life in a way that they thought best and in consonance with their own ideals and genius.
Let us always holds high the banners of democracy, constitutionalism and rule of law through which this state was created.
Full report at:
http://www.arabnews.com/news/544416
----------
India
IIM-A graduate fetches modern training for Islamic teachers
March 23, 2014
AHMEDABAD: A rare Gujarati Muslim studying at the Indian Institute of Management, Ahmedabad (IIM-A), is changing the education environment for Muslims in Ahmedabad. Abrarali Saiyed, a student of Fellowship Programme in Management (FPM), has improved education in Islamic schools by imparting skill and content-based training to teachers at Hindu schools.
Saiyed came up with the idea when he saw that most of the Islamic schools for children from humble backgrounds set up after the 2002 riots failed to provide quality education. While talking to trustees of these schools, Saiyed realized the importance of training teachers in order to improve the quality of education.
Full report at:
http://timesofindia.indiatimes.com/city/ahmedabad/IIM-A-graduate-fetches-modern-training-for-Islamic-teachers/articleshow/32162044.cms
------------
Swami Shivanand's testimony frees terror accused after seven years in jail
Written by Manish Sahu | Lucknow | March 23, 2014
32-year-old Nasir Hussain had spent nearly seven years in jail after the UP Police accused him of sedition and planning terror attacks. He walked free this week — after a 71-year-old Hindu spiritual leader testified in court that Nasir had been abducted from his ashram in Uttarakhand days before the police recorded his "arrest".
Nasir's family in Bijnore expressed their gratitude for Swami Shivanand. The government's lawyer conceded that the swami's testimony had been vital. The court noted the fact that the swami had travelled from his ashram entirely at his own expense for the case.
The UP Special Task Force had claimed to have arrested Nasir alias Masoom alias Chhotu from a Lucknow hotel in June 2007. They had accused him of being a HuJI operative, claimed he had explosives on him, and alleged that he had intended to trigger terrorist explosions.
Swami Shivanand, head of an ashram at Muni Ki Reti town in Uttarakhand's Tehri Garhwal district, was named as a witness for the defence. After being summoned by the special court in Lucknow jail, the swami travelled to Lucknow in June 2013.
Full report at:
http://indianexpress.com/article/india/india-others/swamis-testimony-frees-terror-accused-after-seven-years-in-jail/
------------
Unpaid Indians in Saudi Arabia call for help
March 23, 2014
Dubai: Eleven Indian women, working as cleaners in a hospital in Saudi Arabia have appealed for help after they were allegedly not paid their salaries for the past nine months, a media report said Saturday.
The workers, hailing from the south Indian state of Kerala, are on contractual jobs for a cleaning company in the hospital in the Saudi capital Riyadh and have not been at work since March 16, the Arab News reported Saturday.
They said they would return to work only after their salaries were paid.
The report said the cleaning company owners could not be contacted Friday.
However, the Indian embassy in Riyadh expressed its concern over the matter.
"We are in constant touch with the workers, top management of the company and Saudi authorities. It will continue to follow up on the case on a priority basis," the Indian embassy said in a statement.
Full report at:
http://timesofindia.indiatimes.com/india/2008-Indian-embassy-attack-in-Kabul-sanctioned-by-ISI-new-book-claims/articleshow/32545791.cms
------------
North America
Vatican forms special team with Anglicans and Muslims to fight human trafficking
March 23, 2014
The Vatican has joined forces with the Anglican church and an Islamic institution to end human trafficking by 2020. The three forces have formed the Global Freedom Network.
LOS ANGELES, CA (Catholic Online) - The Vatican has joined forces with the Anglican church and Ahman el-Tayeb, a leading Sunni Muslim institution in Cairo, to found the Global Freedom Network. They were also joined by Andrew Forrest, the founder of the Walk Free Foundation, which will act as a partner in the Network's activities.
The Network will be devoted to the cause of ending human trafficking around the world by 2020.
Pray for an end to human trafficking!
The Network will take concrete steps to accomplish its goals. Among those steps will be campaigns of prayer, fasting and public awareness.
According to the Catholic Herald, there are also other steps that will be taken, including:
- Getting faith communities to ensure their "supply chains" and investments are free from using or profiting from slave labor.
Full report at:
http://www.catholic.org/news/hf/faith/story.php?id=54620
------------
New American TV show fuels more anti-Arab stereotypes
March 23, 2014
In 1991, MGM in Hollywood produced a film that it called "Not Without My Daughter."
The movie is about an American woman who marries an Iranian man in the United States and, after having a young daughter, the husband convinces the wife to visit his family in Tehran.
What starts out as a visit turns into a hostage scenario as the husband refuses to allow his wife and daughter to leave Iran and return to the United States. The wife and daughter are forced to embrace Islam and to toss their Westernized lifestyle in favor of a strongly conservative lifestyle.
"Not Without My Daughter" starred Sally Field as the American wife, Alfred Molina as the Iranian husband, and Sheila Rosenthal as the daughter.
I hated that film for a lot of reasons. Everyone I knew thought Iranians and Arabs were one and the same. (Americans are the most educated people in the world, but the least educated about the world.) And it portrayed Arab culture as hostile, extreme and oppressive.
Full report at:
http://thearabdailynews.com/2014/03/22/new-american-tv-show-fuels-anti-arab-stereotypes/
------------
NY Muslims to appeal ruling on police spying
2014-03-22
NEWARK: A group of Muslims is appealing a federal judge's ruling that the New York City police department's surveillance of Muslims didn't violate their civil rights.
Attorneys with Muslim Advocates and the Centre for Constitutional Rights filed a notice of appeal on Friday over the dismissal of a 2012 lawsuit brought by Muslim individuals and groups.
They alleged the NYPD's surveillance of their activities was unconstitutional because it was based on religion, national origin and race.
Judge William Martini ruled last month that the NYPD's activities were part of a lawful effort to prevent terrorism.
Full report at:
https://www.dawn.com/news/1094811/ny-muslims-to-appeal-ruling-on-police-spying
------------
Obama visit to highlight expanding Saudi role
March 23, 2014
Saudi Arabia's growing importance in regional and international affairs, as well as its relations with the US, will come under the spotlight when US President Barack Obama visits the Kingdom on Friday.
The Kingdom is the last leg of the president's six-day trip, which will include stops in the Netherlands, Belgium, Italy and Vatican City.
Obama will hold talks with King Abdullah on a range of key bilateral and regional issues, said Johann Schmonsees, US Embassy spokesman, on Saturday.
"It will be an opportunity to reinforce one of our closest relationships in the region and build on the strong US-Saudi military, security and economic ties that have been a hallmark of our bilateral relationship," said Johann.
Full report at:
http://www.arabnews.com/news/544641
-----------
Report: US could free Pollard to rescue Israeli-Palestinian peace talks
March 23, 2014
Obama administration hasn't ruled out releasing Pollard in exchange for Israel's agreement to free Israeli Arabs convicted of terrorist acts.
With Israeli-Palestinian peace talks teetering on the brink of collapse, US officials are mulling a desperate bid to resuscitate the negotiations by making a significant move that would win the approval of Prime Minister Binyamin Netanyahu's coalition, one that may perhaps include the release of Israeli spy Jonathan Pollard, Israel Radio reported on Sunday.
Citing Western diplomatic sources, Israel Radio reported that Obama administration officials have not ruled out Netanyahu's proposal that Pollard be released in exchange for Israel's agreement to free Israeli Arabs convicted of terrorist acts, as has been demanded by Palestinian Authority President Mahmoud Abbas.
Full report at:
http://www.jpost.com/Diplomacy-and-Politics/Report-US-could-free-Pollard-to-rescue-Israeli-Palestinian-peace-talks-346199
------------
Southeast Asia
Malaysian Deputy Minister to face more heat over child-rape remarks
March 23, 2014
A group of non-governmental organisations (NGOs) have demanded that Datuk Wan Junaidi Tuanku Jaafar (pic) apologise for his controversial remarks on child rape, which had caused a storm in Malaysia.
They also plan to confront the deputy home minister in Parliament next week, demanding he retract his statement about non-Malays being "less sensitive" about statutory rape.
Representing over 30 NGOs, the KL & Selangor Chinese Assembly Hall women section chairperson, Ng Geok Chee, said they will go to Parliament to handover a protest memorandum to Junaidi denouncing his remarks.
"Just because you are a deputy minister does not mean you can simply say anything. You must have the facts to support your arguments," she said at a press conference today.
Her members held placards denouncing Wan Junaidi's statement, emblazoned with the words such as "Junaidi Letak Jawatan" (Junaidi, quit), "Minta maaf secepat mungkin" (Apologise Immediately) and "Stop Violence Against Women".
Full report at:
http://www.themalaysianinsider.com/malaysia/article/deputy-minister-to-face-more-heat-over-child-rape-remarks
------------
Saudi-Malaysia bourses in deal to develop Islamic financial services
March 23, 2014
Malaysia and Saudi Arabia, the world's two largest Islamic financial services markets, formed ties to help the industry grow at a greater clip in both the countries.
A report released by the Oxford Business Group (OBG), a global publishing and consultancy company producing annual investment and economic reports on more than 30 countries, said: "A cooperation agreement between the bourses of Malaysia and Saudi Arabia stands to help the industry grow at a greater clip in both countries."
The report said that the deal, signed recently, will see the exchanges in Kuala Lumpur and Riyadh share expertise and develop human resources jointly.
It covers topics such as equities, mutual funds and sukuk (Islamic bonds) and comes after an agreement between Malaysia's central bank and the UAE in October on bolstering economic ties, including in the arena of Islamic finance services.
Full report at:
http://www.arabnews.com/news/544366
-----------
DAP urges Turkey to lift ban on Twitter
March 23, 2014
DAP has called on the Turkish government to withdraw its ban on the microblogging tool Twitter, saying the move befits a tin-pot dictatorship more than the democracy that the world believes Turkey to be".
DAP secretary-general, Lim Guan Eng, saying the ban was a gross infringement on freedom of speech, said Ankara should not fear Twitter.
"Public criticism is part and parcel of democracy, and should be accorded space insofar as it is peaceful.
"The Turkish government need not fear a social media tool like Twitter. Only those who fear the truth and wants to impose fear on the people will ban Twitter," he said in a statement.
Turkish Prime Minister Tayyip Erdogan had reportedly declared a war on Twitter, saying he would "eradicate" the site.
Full report at:
http://www.themalaysianinsider.com/malaysia/article/dap-urges-turkey-to-lift-ban-on-twitter
------------
RI to strengthen international efforts on nuclear security
March 23, 2014
Indonesia will lay out its concrete efforts in an international cooperation to prevent the trafficking and illicit use of nuclear material by terrorist groups and other non-state actors both domestically and regionally during the nuclear summit in The Hague on Monday.
Vice President Boediono will travel to the Netherlands to attend the Nuclear Security Summit (NSS), where world leaders will highlight progress made in securing nuclear material and commit to future steps to prevent nuclear terrorism.
The Vice President attended the first NSS in Washington DC in 2010, while President Susilo Bambang Yudhoyono attended the second summit in Seoul in 2012.
The Foreign Ministry's director general for multilateral affairs, Hasan Kleib, said that the country was interested in contributing to peace and security.
Full report at:
http://www.thejakartapost.com/news/2014/03/22/ri-strengthen-international-efforts-nuclear-security.html
---------
Mideast
Turkey, Qatar excluded from Cairo Islamic meeting: report
March 23, 2014
Egypt has not invited Qatar and Turkey for a major Islamic conference due in Cairo later this week, according to a report published on March 22.
"We are not having a crisis with the Qatari or Turkish people … The issue lies in the policy of the Turkish and Qatari governments," Egyptian Minister of Waqfs (religious endowments) Mohammad Jumaa told at a press conference, gulfnews.com has reported.
Cairo will host a conference on March 25 on religious extremism, as Egypt continues a crackdown on Islamists in what the military-backed government portrays as a "war on terrorism". Around 80 scholars from 34 countries and foreign Islamic organisations are participating in the two-day conference.
According to the report, Jumaa said that Egypt would continue to "welcome" Qatari and Turkish students into Al Azhar, a prestigious Islamic seat of learning.
Relations between Egypt on the one hand and Qatar and Turkey on the other have deteriorated since July last year when the Egyptian military toppled Islamist president Mohammad Mursi following enormous street protests against his one-year rule. Qatar and Turkey are staunch backers of Mursi and his Muslim Brotherhood group.
Full report at:
http://www.hurriyetdailynews.com/turkey-qatar-excluded-from-cairo-islamic-meeting-report.aspx?pageID=238&nID=63961&NewsCatID=352
------------
Erdogan rallies against 'terrorist' Turkey rivals
By Ralph Boulton | Reuters Istanbul
23 March 2014
With a huge rally on the approach to the Bosphorus waterway, Turkish Prime Minister Tayyip Erdogan will launch a final electoral push on Sunday to stifle rivals he described this weekend as an 'alliance of evil' in cahoots with terrorism.
Erdogan, who vowed last week to wipe out Twitter in Turkey for carrying anonymous postings accusing him and associates of corrupt dealings, accused the networking site of "systematic character assassination." The site remained blocked on Saturday in Turkey, access denied as a "protection measure."
Leading condemnation from Western governments and rights groups, the White House said the Twitter ban ahead of March 30 local elections undermined democracy and free speech. Criticism reflected growing concern over events in a NATO country held up in the past as a template for a stable Muslim democracy.
Full report at:
http://english.alarabiya.net/en/News/world/2014/03/23/Erdogan-rallies-against-terrorist-Turkey-rivals.html
------------
Turks face new Net curbs after Twitter block
March 23, 2014
ISTANBUL — Turks faced fresh difficulties in accessing the Internet on Saturday after the government blocked access to Twitter, the site where tweets on a corruption scandal have angered Prime Minister Tayyip Erdogan.
Twitter was blocked late on Thursday, hours after Erdogan vowed to "wipe out" the social media service. Leading international condemnation, the White House said the Twitter ban undermined democracy and free speech.
Turks attempting to access Twitter have found an Internet page carrying court rulings saying that a "protection measure" has been taken, blocking the site.
But many have been able to get around the ban, either by using virtual private network (VPN) software or changing their Domain Name System (DNS) setting, effectively disguising their computers' geographical whereabouts.
Full report at:
http://www.saudigazette.com.sa/index.cfm?method=home.regcon&contentid=20140323199555
------------
Turkish President Gül says presidency in contact with Twitter to end ban
March 23, 2014
President Abdullah Gül has said the presidency is in talks with Twitter for a speedy resolution to the block on the website in Turkey.
"I instructed my staff to contact [Twitter] when this problem started to put an end to this bitter situation," Gül told reporters in Ankara before his departure for an official visit to the Netherlands on March 23.
It is not legally possible to shut down the Internet and platforms [like Twitter]" he added, remarking on the fact that the number of tweets had doubled since the government blocked access to Twitter.
Full report at:
http://www.hurriyetdailynews.com/turkish-president-gul-says-presidency-in-contact-with-twitter-to-end-ban.aspx?pageID=238&nID=63963&NewsCatID=338
------------
After Jenin raid, Netanyahu vows Israel 'will attack those who attack us'
March 23, 2014
Prime Minister Binyamin Netanyahu praised Israel's security forces at Sunday's weekly cabinet meeting for the raid in Jenin on Saturday that led to the death of Hamas member Hamza Abu Aleija.
"Our forces hit someone who planned and organized attacks on innocent civilians," he said, calling this a "very important" operation.
"Our policy is to attack those who attack or plan to attack us."
Likewise, Netanyahu praised the IDF for its recent discovery of a massive tunnel from the southern Gaza Strip into Israel. Calling this a "Hamas attack tunnel," Netanyahu said this showed the importance of strict security arrangements under any possible future agreement.
In addition to Abu Aleija, two other Palestinians were shot dead in gun battles that erupted during the counterterrorism raid in Jenin early on Saturday.
Full report at:
http://www.jpost.com/Diplomacy-and-Politics/Netanyahu-praises-IDF-after-Jenin-raid-Gaza-tunnel-discovery-346205
------------
Turkey warns Syria of 'heavy' response if its airspace violated
March 23, 2014
Turkish Prime Minister Recep Tayyip Erdogan on Sunday congratulated the military for downing a Syrian warplane near the border and warned of a "heavy" response if its airspace was violated.
"Our response will be heavy if you violate our airspace," Erdogan said during an election rally, referring to the regime of President Bashar al-Assad.
http://english.ahram.org.eg/NewsContent/2/8/97349/World/Region/Turkey-warns-Syria-of-heavy-response-if-its-airspa.aspx
----------
Abbas: Israel not freeing prisoners would be breach of deal
March 23, 2014
Palestinian president Mahmoud Abbas warned Saturday of action if Israel failed to release the fourth and final batch of veteran prisoners as agreed under a U.S.-backed deal.
"We are awaiting the release of the fourth batch of prisoners, as agreed upon with the Israelis through the United States," he told members of the central committee of his Fatah movement.
"We are saying, if they are not released, this is a violation of the agreement and allows us to act however we see fit within the norms of international agreements."
Israel agreed to release a total of 104 long-term prisoners when talks kick-started by U.S. Secretary of State John Kerry began in July.
Full report at:
http://english.alarabiya.net/en/News/middle-east/2014/03/23/Abbas-Israel-not-freeing-prisoners-would-be-breach-of-deal-.html
------------
Europe
French parents find themselves alone against Syria jihad recruiters
March 23, 2014
TOULOUSE, France: When Dominique Bons' timid son stopped smoking overnight and started praying frequently at his home in the southern French city of Toulouse, she alerted the authorities.
They did nothing because Nicolas was not suspected of any crime. One day last year he disappeared. Then Bons was sent a text message saying the 30-year-old had been "martyred" on Dec. 22 driving a truck bomb in the Syrian city of Homs.
He grew up in a middle class suburb to atheist parents but converted to Islam in 2009. Like his younger half-brother who died in Syria months earlier, he joined the Al-Qaeda splinter group, Islamic State of Iraq and Greater Syria (ISIS).
Full report at:
http://www.dailystar.com.lb/News/International/2014/Mar-22/251037-french-parents-find-themselves-alone-against-syria-jihad-recruiters.ashx#ixzz2wqmHw0b3
----------
Salafist group calls for boycott of French local elections
March 23, 2014
The organisation Anâ-Muslim ("I am Muslim") is calling for a boycott of France's local elections via its website, social network and brochures. Our Observer tells us more about who is behind this Salafist group.
Anâ-Muslim is a nonprofit organisation recognised by the French state. Its members share their vision of Islam on the organisation's website, on its Facebook and Twitter pages, and on YouTube. A few days ago, Anâ-Muslim called on Muslims to boycott French municipal elections, which will take place on March 23 and 30. They explain this decision by using various religious arguments and by saying that for a Muslim person, "voting is an act of submission … while abstaining is an act of resistance".
Full report at:
http://observers.france24.com/content/20140320-salafist-organisation-boycott-french-elections
-------------
Jewish, Muslim leaders: Danish minister 'put[s] animal rights before religious rights'
March 23, 2014
A joint delegation of European Muslim and Jewish religious leaders accused Danish Agriculture Minister Dan Jørgensen of putting animal rights before religious freedom on Thursday.
Jørgensen had enacted a ban on Muslim and Jewish rituals performed without pre-stunning slaughter in February.
The delegation included the chief rabbi of Brussels, Afzal Khan of the Muslim- Jewish Forum of Greater Manchester and several other advocates of Muslim- Jewish cooperation.
The meeting was organized by New York-based Foundation for Ethnic Understanding and the Gathering of European Muslim and Jewish Leaders.
Jørgensen denied having made the statement that "animal rights come before religion," which was attributed to him by Danish media as his rationale for the ban, participants in the gathering said.
Full report at:
http://www.jpost.com/Jewish-World/Jewish-News/Jewish-Muslim-leaders-Danish-minister-puts-animal-rights-before-religious-rights-346165
----------
URL: https://www.newageislam.com/islamic-world-news/new-age-islam-news-bureau/al-qaeda-a-terrorist-and-hezbollah-a-freedom-fighter--syrian-envoy-to-india/d/66231