New Age Islam News Bureau
5 Dec 2014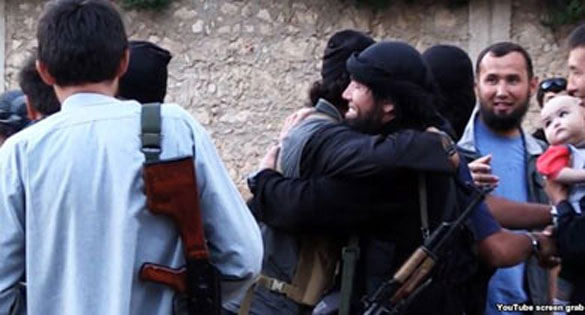 Kazakh nationals fighting in Syria as seen in an undated YouTube video
----------
Arab World
• Al-Azhar Sponsors Conference to Educate 'Brainwashed' Arab Militants
• Sheikhs of Al-Jubour Clan Killed For Inspiring Anti-ISIS Ethos in Mosul
• Four bombs kill 20 people in Baghdad
• Iraqi Forces Kill, Injure 13 ISIL Terrorists in Salahuddin
• Car bomb in Iraqi city of Kirkuk kills 15: health official
• IS launches attack on Syrian air base, At least 19 Syrian soldiers and militiamen killed
• Be wary of 'misguiding channels': Saudi Grand Mufti
• Al-Azhar urges Christians not to flee Mideast radicals
• New group of Iraqi Peshmergas enters Syrian Kurdish town
• IS closes in on east Syria air base: monitor
• Anti-Mubarak groups vow Friday protest in Cairo
India
• Most Madrasas Don't Teach Science, Maths, Social Studies: SIO of India
• 11 Security Men, 6 Militants Killed In Attack on Uri Army Camp
• Top LeT commander killed in encounter with security forces
• Ayodhya, Dec 6: BJP Plans 'Saffron Day'
• India: Pakistan govt. giving Saeed 'legitimacy' by helping rally
Europe
• Kazakhstan Muftiate: 'Kazakh Jihadis' With IS In Syria 'Acting against Islam'
• Leading UK Muslim Group Assured Brotherhood Won't Be Banned
• France: 'Major' anti-ISIS raid taking place in Iraq
• Why Birmingham MP Is Speaking Out Over Radicalisation
• German man sentenced to 3 years, 9 months for joining ISIS
• Rich nations' failure to take Syria refugees 'shocking': Amnesty
• 'I am fed up with the Bulgarians,' Putin tells Erdoğan
• Clashes erupt as Islamist militants attack Grozny, 20 dead
North America
• Despite Beheadings, Americans against Paying Ransoms To Terrorists
• US extends Coalition Support Fund for Pakistan with new restrictions
• Pentagon confirms failed effort to rescue U.S. hostage in Yemen
Pakistan
• Enemy 'Lives within Us and Looks Like Us', Says Army Chief
• Blasts kill five in Bajaur, Khyber agencies
• Recognising Afghan Taliban regime was Pak's blunder: Parvez Musharraf
• Lawyer defending 2 blasphemy accused receives threatening letter from Daish
• One soldier killed, six injured during rocket attack in Orakzai
• Islamabad, Kabul at one on fighting terror without discrimination: Nawaz
• Pakistan's ISI guns down US-educated Baloch school principal in Gwadar
• Several IS militants arrested, Rehman Malik claims
Mideast
• No Islamic State in Gaza, Says Hamas Despite Menacing Fliers
• Hamas: Netanyahu Is Playing With Fire by Allowing Jews on Temple Mount
• Religion courses for primary schools on agenda of Turkish education council
'• Post' poll: 60% of Israelis don't want Netanyahu anymore
• Report: 75 Students Become Disabled Due to Israeli Aggression
Southeast Asia
• Selangor Sultan Warns Muslims against Deviant Teachings
• Ex-top cop warns of jihad against liberalism and Christian evangelism
• Human rights body still wants Putrajaya to replace Sedition Act
Australia
• Muslims Facing Discrimination in New Zealand
• Islamic State's terrorist capital is first area off limits for Australians
Africa
• Kenya: Suspect Denies Recruiting Youth into Al-Shabaab
• Kenyan military plane crashes in Somalia, rebels say shot down
• Kenya arrests 77 Chinese in Internet hacking case
• Sukuk for vaccine fund ushers Islamic finance into ethical sphere
• UN condemns "in strongest terms" air strikes and military escalation
South Asia
• Pakistan will never cooperate with the Afghan peace process: Afghan Minister
• US, Britain pledge to support Afghanistan as combat troops withdraw
'• Malaysia to recruit 12,000 Bangladeshi workers': Pm Sheikh Hasina
• Jamaat's Subhan awaits verdict in war crimes case
Compiled by New Age Islam News Bureau
URL: https://www.newageislam.com/islamic-world-news/new-age-islam-news-bureau/al-azhar-sponsors-conference-to-educate--brainwashed--arab-militants/d/100344
-------------
Arab World
Al-Azhar Sponsors Conference to Educate 'Brainwashed' Arab Militants
Dec 5, 2014
Egypt's most prestigious Sunni Islamic Institute, Al-Azhar called on clerics and religious men from 120 countries attending a terrorism-fighting conference Wednesday to educate the "brainwashed" Arab youth who join the extremist militant groups.
The two-day conference, sponsored by Al-Azhar and attended by 600 Muslim clerics and heads of Christian churches, comes as part of Egypt's ongoing attempts to respond to the radical image of Islam exported through the rising militancy in the region.
Egypt is part of the international coalition to fight terrorism, with high expectations from the international community about the significance of its role in fighting radical religious thought and spreading moderate Islamic teachings through its Al-Azhar organisation.
Since the ouster of former islamist president Mohamed Morsi last year, the country's authorities have branded Al-Azhar as the advocate for moderate Islam, saving the country from the Muslim Brotherhood and their allies. President Abdel-Fattah El-Sisi has, on several occasions, blamed religious discourse for the extremism that Egypt and other countries in the region are suffering from.
In the second and final day of Al-Azhar's conference, the renowned institution condemned militant groups as "sinful" and having nothing to do with Islam.
"Terrorising the peaceful, killing the innocent, assaulting property and sanctities are crimes against humanity that Islam totally condemns," the final statement said.
It has called on the moderate clerics and institutions to hold training programs and learning sessions for the young Arab men who have been fed faulty interpretations of the Holy Quran and Islamic law, which led to terrorism.
A militant group calling itself the Islamic State, which has claimed control over large parts of Syria and Iraq, poses a real threat to the Arab countries and has been attracting thousands of fighters worldwide.
The group, establishing a self-proclaimed caliphate, drew support and allegiance from several militant groups including Egypt's Ansar Beit Al-Maqdis.
Al-Azhar said meanings of caliphate and Jihad should be set straight for the youths.
"All the recommendations (of the conference)…will be a clear agenda for fieldwork in the coming period in mosques, conferences with youth and training of Imams," Ahmed El-Torki, head of religious preaching and research department said.
"When Al-azhar talks, everyone else stays silent," El-Torki said. "It is the only institution qualified for taking that leading role in spreading moderate teachings of Islam."
Al-Azhar stressed that Muslims and Christians have lived in harmony in the Middle East for many centuries and will continue doing so, criminalising any action of forced eviction to Christian residents in areas controlled by militant groups.
"Assaulting Christians and believers of other religions through false piety is a disobeyance of the correct teachings of Islam," the statement said.
It has also called on "impartial thinkers and officials of the West" to correct Islam's image and to rethink the negative stances.
Head of Al-Azhar, Ahmed El-Tayyeb had blamed on Wednesday Western plots for "playing on the sectarian and racial tension."
http://english.ahram.org.eg/NewsContent/1/64/117193/Egypt/Politics-/Egypts-AlAzhar-sponsors-conference-to-educate-brai.aspx
-------------
Sheikhs of Al-Jubour Clan Killed For Inspiring Anti-ISIS Ethos in Mosul
5 December 2014
Three tribal heads, or sheikhs, from one of Iraq's biggest clans - Al-Jubour - were killed by ISIS militants in front of a government building in the northern city of Mosul for trying to stir anti-ISIS sentiment, the country's human rights ministry said in a statement on Friday.
The ministry said the sheikhs were killed in front of a government building in the city, which was captured by ISIS militants in June.
The statement also said that ISIS burned books of Islamic religious studies for high school students over the alleged blasphemous content.
ISIS, which is now in control of one third of the country, has established its own education committee, sidelining the Iraqi ministry of education and its curriculum is militant-held territory.
http://english.alarabiya.net/en/News/world/2014/12/05/French-lawmaker-rapid-ISIS-recruitment-done-online.html
-------------
Four bombs kill 20 people in Baghdad
Dec 5, 2014
Four bombs struck across Baghdad on Thursday, mainly in Shi'ite Muslim districts of the Iraqi capital, killing 20 people, medical and police sources said.
Sunni militants from Islamic State, who control much of northern and western Iraq as well as a belt of territory around Baghdad, regularly target Shi'ite neighbourhoods of the city.
The deadliest explosions were two car bombs in the densely populated Sadr City in eastern Baghdad, which killed 15 people and wounded 51 others, the police and medics said.
A roadside bomb near a small restaurant in the northern Shi'ite neighbourhood of Shaab killed three people and wounded nine, police said.
Earlier a bomb killed two people near the Green Zone district which houses most government buildings, security and medical sources said.
The bomb struck 200 metres from the edge of the zone, they said. In response, security forces closed two nearby bridges that span the Tigris River, linking eastern and western Baghdad.
Bombings are frequent in the Iraqi capital but mostly strike neighbourhoods some distance from the central district, which houses the Iraqi parliament and the U.S. Embassy and is a base for many Iraqi politicians.
http://english.ahram.org.eg/NewsContent/2/8/117198/World/Region/UPDATE-Four-bombs-kill--people-in-Baghdad.aspx
-------------
Iraqi Forces Kill, Injure 13 ISIL Terrorists in Salahuddin
Dec 5, 2014
Iraqi security forces on Thursday killed five terrorists of the Islamic State of Iraq and the Levant (ISIL) group and injured eight others in Aziz Balad area, South of Tikrit, Salahuddin province.
"Armed clashes broke out between the security forces, backed by the volunteers, and the ISIL terrorists in Aziz Balad area," a security source said, adding that five terrorists were killed and eight others were injured during the clashes.
http://english.farsnews.com/newstext.aspx?nn=13930913000853
-------------
Car bomb in Iraqi city of Kirkuk kills 15: health official
Dec 5, 2014
A car bomb in the northern Iraqi city of Kirkuk killed 15 on Thursday, a health official was quoted by AFP as saying.
The car bomb ripped through a crowded street in a mainly Kurdish neighborhood of the Iraqi city of Kirkuk.
"It's a busy street with restaurants and shops, there is great destruction," a police colonel said. The explosion rocked the predominantly Kurdish northern neighborhood of Shorjah.
Both he and the head of the health directorate for Kirkuk province, Sabah Mohammed Amin, said the blast killed at least 15 people and wounded 20.
Earlier today, two car bombs in Baghdad's densely populated eastern district of Sadr city also killed 15 people and wounded 47 people, AFP reported police and medical sources saying, hours after a bombing on the edge of the capital's central Green Zone killed two others.
The car bombs went off within 20 minutes of each other on Thursday evening, the sources said. A total of 51 people were also wounded.
Full report at:
http://english.alarabiya.net/en/News/middle-east/2014/12/04/Car-bombs-in-east-Baghdad-kill-15-after-Green-Zone-blast.html
-------------
IS launches attack on Syrian air base, At least 19 Syrian soldiers and militiamen killed
Dec 5, 2014
At least 19 Syrian soldiers and militiamen were killed when Islamic State attacked one of the government's last remaining strongholds in the country's east, a monitoring group and a media activist said on Thursday.
The Islamic State has been gradually consolidating control of Syria's oil-producing Deir al-Zour Province this year, but President Bashar Assad's forces have held on to several areas including the local military air base.
Islamic State launched its attack on the base on Wednesday night after detonating a suicide car bomb at a nearby building where government fighters congregated, said the Britain-based Syrian Observatory for Human Rights. Islamic State fighters shelled the air base and other areas under government control.
Full report at:
http://www.thehindu.com/news/international/world/islamic-state-launches-attack-on-syrian-air-base/article6662139.ece
-------------
Be wary of 'misguiding channels': Saudi Grand Mufti
Dec 5, 2014
Grand Mufti Sheikh Abdul Aziz Al-Asheikh has urged people to be wary of misleading ideas and information broadcast by top satellite channels in the name of Islam that are aimed at fostering terrorism and extremist agendas.
He slammed extremist groups operating around the world for falsely claiming that they are abiding by Islamic law.
In his speech, Al-Asheikh said their actions show that they are continuing to defy religious precepts.
He was addressing students and staff members at Madinah Islamic University. He urged the students to arm themselves with the correct knowledge of Islam.
"The Islamic university was founded on the principles of moderation with regard to science and knowledge, and to seek a united Muslim world," he said.
http://www.arabnews.com/featured/news/670041
-------------
Al-Azhar Urges Christians Not To Flee Mideast Radicals
Dec 5, 2014
CAIRO: Al-Azhar, Islam's most prestigious centre of learning, urged Christians in the Arab world to stand firm in the face of jihadi violence and not flee into exile.
The call, made at a Cairo conference organized by Al-Azhar, came just days after Pope Francis pressed the world's Muslim leaders to condemn terrorism carried out in the name of Islam by groups such as the Islamic State (IS) and Al-Qaeda, and called for an end to the persecution of Christians in the Middle East.
"We condemn the forced exile of Christians and other religious or ethnic groups," the conference said in a final statement. "We urge Christians to stay rooted in their homelands and to weather this wave of terrorism we all are suffering."
Full report at:
http://www.arabnews.com/middle-east/news/669836
-------------
New group of Iraqi Peshmergas enters Syrian Kurdish town
5 December 2014
A second group of 150 Iraqi Kurdish Peshmerga forces has entered the Syrian border town of Kobane from Turkey to replace a first group helping Kurdish forces fight off a siege by Islamic State of Iraq and Syria (ISIS) militants, Peshmerga sources said on Thursday.
Despite having limited strategic significance, Kobane has become a powerful international symbol in the battle against hardline Sunni Muslim insurgents who have captured large swathes of territory in Iraq and Syria and declared an Islamic 'caliphate'. The majority of its inhabitants are Kurds.
"The first group has left Kobane and is en route to the airport right now," one Peshmerga source told Reuters, referring to the 150 Iraqi Kurdish forces who arrived in the besieged town in early November.
Full report at:
http://english.alarabiya.net/en/News/middle-east/2014/12/05/New-group-of-Iraqi-Peshmergas-enters-Syrian-Kurdish-town.html
-------------
IS closes in on east Syria air base: monitor
Dec 5, 2014
Islamic State group jihadists are closing in on the government-held Deir Ezzor air base in eastern Syria, nearly surrounding its beleaguered garrison, a monitoring group said on Friday.
IS fighters seized the village of Al-Jaffrah, adjacent to the base, leaving it surrounded except for a narrow corridor to the west, the Syrian Observatory for Human Rights said.
IS forces control most of Deir Ezzor province, but half of its capital remains in government hands, along with the military airport.
The oil-rich province lies between IS-controlled Raqa province and the Iraqi border, and is a key prize for the jihadist group, which declared an Islamic "caliphate" straddling the two countries in June.
IS launched a renewed assault on the military airport earlier this week.
The fighting has killed at least 30 government troops and militia, as well as 27 IS fighters, over the past 48 hours, the Observatory said.
Two of those killed on the government side were captured and beheaded, the Britain-based group said.
Further east, at least 15 jihadists were killed in a US-led coalition air strike on an IS convoy near the Albu Kamal crossing on the border with Iraq, it added.
http://english.ahram.org.eg/NewsContent/2/8/117223/World/Region/IS-closes-in-on-east-Syria-air-base-monitor.aspx
-------------
Anti-Mubarak groups vow Friday protest in Cairo
5 December 2014
Groups dubbed "revolutionary" are vowing a protest on Friday after an Egypt court cleared charges against toppled strongman Hosni Mubarak, a local newspaper reported.
The groups include the April 6 Youth Movement, Revolutionary Socialists, Youth for Justice and Freedom, Constitution Party and Strong Egypt Party, Ahram Online reported Thursday.
"The corrupt and tyrannical regime that Egyptians revolted against is back, but the martyrs are not," they said on a Facebook event launched to call for the demonstration.
While they called their planned demonstration: "The Martyr's Right... A popular trial for the ousted president and his regime," the venue for the protest is said to take place at the Cairo Opera, west of Tahrir Square.
The April 6 Youth Movement, which was one of the main forces behind toppling Mubarak in the 2011 uprising, urged other political factions to stay united.
In late November, clashes between police and angry protesters at the court's verdict left one person killed and three others injured in Cairo.
The protest appears to have started with secular leaning activists but was joined by supporters of the blacklisted Muslim Brotherhood movement.
http://english.alarabiya.net/en/News/middle-east/2014/12/05/Anti-Mubarak-groups-vow-Friday-protest-in-Cairo-.html
----------
India
Most Madrasas Don't Teach Science, Maths, Social Studies: SIO of India
TANU KULKARNI
Dec 5, 2014
The survey was conducted by Students' Islamic Organisation of India
Playgrounds, computer labs, and quality education in science and mathematics — these are some of the features that make "model madrasas". However, many madrasas in the State do not come close to this, according to a study by the Students' Islamic Organisation of India, Karnataka chapter.
The study covered 55 madrasas across the State and found that 80 per cent of the students did not have access to science, mathematics and social science subjects, while over half of them did not have access to English.
Thouseef Ahmed M.Y., SIO State president, said there was a need to make mathematics, social studies and science subjects compulsory in madrasas.
"Those studying in madrasas are well-versed in Urdu, Arabic and Islamic texts, but this alone is not sufficient as we live in a pluralistic society. These institutions need to upgrade themselves and teach other subjects so that students are not isolated," he said.
'Students have low self-esteem'
The study also states that many students pursuing studies in madrasas had low self-esteem as they were not equipped with basic knowledge of other subjects. Some of the other recommendations of the study include setting up a committee to study the infrastructure requirements in madrasas, appointing physical education teachers and providing sports equipment, and setting up a non-governmental body to regulate madrasas.
The study assigned scores to the madrasas based on factors such as infrastructure, community participation, teaching environment, innovative activities, faculty, and integration of secular and religious education.
Full report at:
http://www.thehindu.com/news/national/karnataka/most-madrasas-dont-teach-science-maths-social-studies-study/article6662441.ece
-------------
11 security men, 6 militants killed in attack on Uri Army camp
Dec 5, 2014
In multiple attacks two days ahead of the Prime Minister's visit to Jammu and Kashmir, militants stormed an Army camp in Uri in Baramulla district, killing 11 security personnel, including a Lt. Col., and targeted a police party in Shopian while a top LeT commander was killed in an encounter.
In a daring pre-dawn attack ahead of third phase of elections in Jammu and Kashmir on December 9, 2014, heavily armed militants killed 8 Army men and three policemen around 3 a.m. at the camp in Mohra in Uri tahsil of North Kashmir's Baramulla district.
Six militants were also killed in the attack at the Army camp which is 20 km from the Line of Control (LoC), official sources said.
A Lt. Colonel. and seven Army personnel were among the dead. While bodies of four Army personnel were charred, one had burn injuries and the other three had bullet injuries, the sources said.
Uri is about 100 km northwest of Srinagar, where Prime Minister Narendra Modi is due to campaign on Monday.
Full report at:
http://www.thehindu.com/news/national/militants-attack-army-camp-at-mohra-near-uri-border-town-in-kashmir/article6664357.ece
-------------
Top LeT commander killed in encounter with security forces
M Saleem Pandit,TNN | Dec 5, 2014
SRINAGAR: Top Lashkar-e-Taiba commander was killed in the outskirts of the city by security personnel when he was making attempts to enter into the city.
Giving details of the incident, police said at least two militants travelling in a car tried to run away from a check point at Ahmadnagar in Soura area this afternoon.
The policemen chased the car and in the ensuing gun battle, one militant identified as Qari Israr was gunned down. One AK-47 rifle was recovered from him.
The area has been cordoned off as another militant had taken refuge in a house in the same locality.
Director General of J&K police K Rajendra said that it was a "brilliant operation" by his men as the deceased militant was wanted in many cases. Israr is a Pakistani national and had been active in this area.
Police had intensified random search of vehicles following intelligence inputs that militants might carry out a suicide attack in the city ahead of the elections and the scheduled rally of Prime Minister Narendra Modi on Monday.
In another incident in Shopian, militants hurled a grenade at a police ambush party.
http://timesofindia.indiatimes.com/india/Top-LeT-commander-killed-in-encounter-with-security-forces/articleshow/45384440.cms
-------------
Ayodhya, Dec 6: BJP plans 'Saffron Day'
Dec 5, 2014
Using WhatsApp messages and pamphlets, BJP workers in Ayodhya and Faizabad are urging people to plant saffron flags atop temples and houses to mark Bhagwa Divas (saffron day) on December 6, the day the Babri Masjid was destroyed in 1992.
BJP leaders in Uttar Pradesh are distancing themselves from the campaign, saying it's not a party exercise but they "can't stop local residents from celebrating" since "it comes naturally".
While state unit Chief Laxmikant Bajpai has threatened action against BJP workers if they go ahead with the plan, Faizabad MP Lallu Singh maintains "Lord Ram is not interested in getting his own Makan (house) first. He would want homes for his devotees first."
Yet Singh, a staunch RSS worker, admits that the "celebrations" this December 6 will be greater because "this is the first anniversary after the BJP came to power with such a clear majority".
Full report at:
http://indianexpress.com/article/india/india-others/ayodhya-dec-6-bjp-plans-saffron-day/#sthash.QNuYgDD2.dpuf
-------------
India: Pakistan govt. giving Saeed 'legitimacy' by helping rally
SUHASINI HAIDAR
Accusing the Pakistan government of giving Jamaat-ud-Dawa (JuD) chief Hafiz Saeed "legitimacy," government sources said a rally being held in Lahore by the group accused of masterminding the 2008 Mumbai attacks was being viewed with "concern" in India. Home Ministry sources said the government was keeping an eye not only on the rally on Thursday and Friday, but also on the kind of facilitation the government in Pakistan was giving it.
Pakistan news agencies have quoted Saeed describing the elaborate arrangements for the two-day 'Ijtima' of the organisation, including setting up a "tent-city" at Pakistan's national monument: the 'Minaar-e-Pakistan, and commissioning two special trains to bring in supporters from the Pakistani cities of Karachi and Hyderabad. In addition, hundreds of buses are bringing in cadres of the group from other parts of the country, including Pakistan-occupied Kashmir. JuD leaders told the press that at least 70 tents had been erected across Lahore to house more than one lakh people at the rally. While the Indian government has made no official statement yet, officials called the assistance being provided by the Pakistan government to the JuD rally as "blatant disregard of the international norms of zero tolerance of terrorism."
Full report at:
http://www.thehindu.com/news/national/india-pakistan-govt-giving-saeed-legitimacy-by-helping-rally/article6662470.ece
-------------
Europe
Kazakhstan Muftiate: 'Kazakh Jihadis' With IS In Syria 'Acting Against Islam'
Dec 5, 2014
The Kazakh Muftiate, also known as the Spiritual Administration of the Muslims of Kazakhstan (SDMK), has published an appeal to Kazakh nationals who traveled to Syria to fight.
The plea, published on the muftiate's website on December 3, slams those Kazakh nationals who "went [to Syria] on the grounds of phantom ideas and who now are inciting discord," according to RFE/RL's Kazakh Service, Radio Azattyq.
According to Kazakh intelligence, there are around 300 Kazakh nationals fighting in Syria with the Islamic State (IS) militant group. Of these, around around are women, the chairman of the Kazakh National Security Committee (KNB), Nurtai Abykaev, said in November.
According to the muftiate, Kazakh citizens who are fighting in Syria are acting against Islam and in a manner that is alien to humanity.
Why has the muftiate spoken out now against IS and Kazakh militants fighting for it? And who is this address really aimed at: Kazakh militants in Syria, or Kazakhs in Kazakhstan who might be considering joining IS?
IS 'Kazakh Child Militant' Video 'Sickens Muslim Community'
The muftiate's appeal comes in the wake of Kazakh government outrage against the recent publication and distribution by IS militants of a video showing Kazakh militants in Syria, including a group of children who were filmed undergoing military and ideological instruction in an IS camp.
Full report at:
http://www.rferl.org/content/kazakhstan-isis-syria-recruiting/26724862.html
-------------
Leading UK Muslim group assured Brotherhood won't be banned
Dec 5, 2014
The UK government will not ban the Muslim Brotherhood movement as a result of its review into the Islamist group, a leading British Muslim group has said.
The UK prime ministerial review was ordered by David Cameron in April into all activities, ideology and policies of the Muslim Brotherhood.
While the review team, led by Sir John Jenkins, UK ambassador to Saudi Arabia, completed the task and handed over its final report in July, the government has not yet published the results.
The British media has speculated that the results could be controversial.
"The government confirmed to us that it will not designate the Muslim Brotherhood a terrorist organisation," Dr Omar Al-Hamdoon, president of Muslim Association of Britain (MAB), told Ahram Online.
Full report at:
http://english.ahram.org.eg/NewsContent/2/9/117128/World/International/Leading-UK-Muslim-group-assured-Brotherhood-wont-b.aspx
-------------
France: 'Major' anti-ISIS raid taking place in Iraq
5 December 2014
France said Friday its fighter jets were conducting a "major" raid in Iraq as part of the U.S.-led coalition offensive against the Islamic State group, days after members said the strikes were having effect.
"At the moment, a major raid is taking place," Defense Minister Jean-Yves Le Drian told BFMTV, refusing to detail the targets or the number of jets involved.
He said French planes based in the United Arab Emirates and more recently in Jordan had carried out "120 to 130 missions" since the start of the coalition offensive.
These include intelligence gathering missions. Compared to the United States, France has carried out only a handful of strikes on the militants.
The coalition of around 60 mainly Western and Arab states was formed several months after ISIS jihadists swept across northern Iraq, seizing swathes of territory and proclaiming a caliphate in parts of the country and neighboring Syria.
Full report at:
http://english.alarabiya.net/en/News/middle-east/2014/12/05/France-major-anti-ISIS-raid-taking-place-in-Iraq.html
-------------
Why Birmingham MP Is Speaking Out Over Radicalisation
Dec 5, 2014
A "generation of lost young people" are falling prey to an extremist ideology which goes against everything Islam stands for, Birmingham MP Khalid Mahmood has warned.
Mr Mahmood, who became the first Muslim MP in an English constituency when he entered the Commons in 2001, spoke passionately about his fear that Britain isn't doing enough to combat extremism as MPs debated new anti-terror legislation.
He also spoke of the opposition he encountered when he investigated claims that hard-line "religious" views were being promoted in Birmingham schools.
Mr Mahmood told MPs: "I had to deal with the 'Trojan horse' schools in Birmingham, and found myself in a very lonely place."
But he insisted that the ideology promoted in some city schools – which included telling children it was a crime to have photographs of family members at home, and making girls sit at the back of the classroom – could indeed lead children into extremism when they were older.
Full report at:
http://www.birminghampost.co.uk/news/news-opinion/birmingham-mp-khalid-mahmood-speaking-8227313
-------------
German man sentenced to 3 years, 9 months for joining ISIS
5 December 2014
A 20-year-old German man was sentenced to 3 years and 9 months in prison on Friday after he admitted joining Islamic State militants in Syria, in the first trial in Germany of a home-grown jihadi accused of membership of the insurgent group.
Judges decided to treat the man, known as Kreshnik B., who was born in Germany to Kosovan parents and spent six months in Syria last year, as a juvenile because of his lack of maturity.
They said there was no evidence he had participated directly in fighting.
"As a youth he was not able to resist the influence of his Islamist friends," said chief judge Thomas Sagebiel.
Although he still displayed the attitudes of a radical Islamist, the judge expressed hope that a youth sentence would have the necessary educational effect.
In Germany, people between the age of 18-21 can be treated according to juvenile law if they are judged to lack an adult's sense of responsibility.
Full report at:
http://english.alarabiya.net/en/News/world/2014/12/05/German-accused-of-fighting-for-ISIS-to-be-sentenced.html
-------------
Rich nations' failure to take Syria refugees 'shocking': Amnesty
Dec 5, 2014
Wealthy nations have only taken in a "pitiful" number of the millions of refugees uprooted by Syria's war, placing the burden on the country's ill-equipped neighbours, Amnesty International said Friday.
In a statement ahead of a 9 December donors' conference in Geneva, the London-based rights group blasted as shocking the failure of rich nations to host more refugees.
"Around 3.8 million refugees from Syria are being hosted in five main countries within the region: Turkey, Lebanon, Jordan, Iraq and Egypt," said Amnesty.
"Only 1.7 percent of this number have been offered sanctuary by the rest of the world."
Highlighting what it called "the pitiful numbers of resettlement places offered by the international community," Amnesty noted that the Gulf States, Russia and China had not offered a single resettlement place.
Full report at:
http://www.middleeasteye.net/news/rich-nations-failure-take-syria-refugees-shocking-amnesty-273796481#sthash.qRywADDu.dpuf
-------------
'I am fed up with the Bulgarians,' Putin tells Erdoğan
Dec 5, 2014
Bulgarian authorities creating difficulties is the main reason why Russia scrapped the South Stream pipeline project, Russian President Vladimir Putin told President Recep Tayyip Erdoğan during their meeting on Dec. 1, according to Turkish diplomatic sources.
"I am fed up with Bulgarians. Having the West and the European Union at their back, they are challenging and opposing us. They are delaying the project," Putin reportedly told Erdoğan during the Turkey-Russia High-Level Cooperation Council meeting.
The Russian president announced the end of the much-anticipated South Stream pipeline project at a joint press conference with Erdoğan on Dec. 1. The project was planned to carry 63 billion cubic meters of natural gas to European markets via a pipeline under the Black Sea and Bulgaria.
Full report at:
http://www.hurriyetdailynews.com/i-am-fed-up-with-the-bulgarians-putin-tells-erdogan-.aspx?pageID=238&nID=75182&NewsCatID=510
-------------
Clashes erupt as Islamist militants attack Grozny, 20 dead
Dec 5, 2014
Police waged hours-long gunbattle with Islamic militants who attacked Chechnya's capital on December 4, leaving at least 20 people dead and underscoring Russia's vulnerability just as President Vladimir Putin used patriotic and religious imagery in his state-of-the-nation address to defend his standoff with the West.
The clashes in Grozny, the city's biggest in years, dented a carefully nurtured image of stability created by Chechnya's Kremlin-backed strongman after two separatist conflicts. The new violence raised fears of more attacks in Chechnya and widening unrest in the rest of Russia's volatile North Caucasus region.
The Kavkaz Center website, a mouthpiece for Islamic militant groups operating in the North Caucasus, carried a link to a video message by an individual claiming responsibility for the attack. The man in the video said he was operating on orders from Emir Khamzat, reportedly a nom de guerre of Chechen warlord Aslan Byutukayev. The claim could not immediately be verified.
Full report at:
http://indianexpress.com/article/world/europe/grozny-20-dead-in-hours-long-gunbattle-between-police-and-islamic-militants/99/#sthash.jRrwdYvg.dpuf
---------
North America
Despite Beheadings, Americans against Paying Ransoms To Terrorists
Dec 5, 2014
After the killing of three U.S. citizens by the militant group Islamic State this year, there has been a renewed debate in the United States about the logic of not paying ransoms to terrorists — although many other nations do pay up covertly.
That debate may well come into focus again this week, after al-Qaeda in the Arabian Peninsula — the terror network's affiliate in Yemen — threatened to kill Luke Somers, an American kidnapped in Yemen, in a video released Wednesday.
In the past, the United States has used moral and tactical arguments to defend its policy, arguing that paying ransoms not only emboldens hostage-takers, but also helps finance terrorism. But there's also a political factor for the U.S. government to keep in mind: According to polls, the U.S. public is overwhelmingly against paying ransoms to international terrorists who take Americans hostage.
Full report at:
http://www.washingtonpost.com/blogs/worldviews/wp/2014/12/04/despite-beheadings-americans-are-still-overwhelmingly-against-paying-ransoms-to-terrorists/?tid=hpModule_04941f10-8a79-11e2-98d9-3012c1cd8d1e
-------------
US extends Coalition Support Fund for Pakistan with new restrictions
Dec 5, 2014
WASHINGTON: The US Congress has extended the Coalition Support Fund for Pakistan for a year but has also included some new conditions in its final budget proposals.
The fund reimburses US allies for the efforts they make in the war against terror.
The final budget proposal, however, clarifies that Pakistan cannot receive more than a billion dollars in a year from this fund.
Pakistan received $370 million from this fund in October this year. The annual imbursements are made in four instalments.
The final text, issued by the US Senate Armed Services Committee, shows that the support fund for Pakistan has been extended till US fiscal year 2015. The text includes both old and new restrictions.
Of the total amount of reimbursements and support authorised for Pakistan during fiscal year 2015, $300 million shall not be eligible for the waiver unless the US Secretary of Defence certifies to the congressional defence committees that Pakistan has "undertaken military operations in North Waziristan that have contributed to significantly disrupting the safe haven and freedom of movement of the Haqqani network in Pakistan."
Full report at:
http://www.dawn.com/news/1148889/us-extends-csf-for-pakistan-with-new-restrictions
---------
Pentagon confirms failed effort to rescue U.S. hostage in Yemen
Dec 5, 2014
The Pentagon says a hostage rescue mission last month in Yemen failed to liberate American Luke Somers because he was not present at the targeted location.
The Pentagon press secretary, Rear Adm. John Kirby, said in a brief written statement on Thursday that the U.S. government was acknowledging the attempted rescue of the 33-year-old Somers, the only American among the roughly dozen hostages held by al-Qaeda in the Arabian Peninsula, a Yemen-based al-Qaeda offshoot.
Mr. Kirby said the Pentagon wanted to "provide accurate information" in light of the fact that the rescue attempt has been widely reported. Eight hostages were rescued, as has been reported previously.
Full report at:
http://www.thehindu.com/news/international/world/pentagon-confirms-failed-effort-to-rescue-us-hostage-luke-somers-in-yemen/article6664250.ece
--------
Pakistan
Enemy 'Lives within Us and Looks Like Us', Says Army Chief
Dec 5, 2014
KARACHI: Chief of the Army Staff Gen Raheel Sharif has said that security does not refer only to external threats but is a concern in terms of politics, human rights, economy, water security, terrorism and insurgency.
Gen Sharif, who was the chief guest at a conference (Industry Summit) organised by the South Asian Strategic Stability Institute in a hotel here on Thursday, also spoke about the Palestine and Kashmir issues and said there must be conflict resolution in these areas because security could not be achieved by securing borders alone, but also by protecting ways of life, culture, ideas and sensitivities.
The army chief, who earlier visited the Ideas-2014, said at the outset that he had been pleased by the success of the exhibition.
He said Pakistan's current enemy "lives within us and looks like us", adding that the definition of security had changed with the passage of time.
He said that because of increased polarisation, governments were unable to protect their people and national security.
Full report at:
http://www.dawn.com/news/1148898/enemy-lives-within-us-and-looks-like-us-says-army-chief
------------
Blasts kill five in Bajaur, Khyber agencies
Dec 5, 2014
KHAR: Five people, including two activists of a pro-government group, were killed in roadside blasts in Bajaur and Khyber tribal regions on Thursday.
In Bajaur, one man and two women were killed when a bomb went off in Karani area of Nawagai tehsil, some 40km northwest of the agency headquarters Khar.
Officials said that Siraj Khan, a member of village defence committee, his wife and daughter were on way to Nawagai bazaar when they met with the fatal IED blast.
"Gul Pari, wife of Siraj Khan, died on the spot. Siraj Khan and his daughter Laila suffered critical wounds and were taken to AHQ hospital in Khar," the officials said, adding that Siraj succumbed to his injuries at the Khar hospital and Ms Laila was shifted to a Peshawar hospital where she died.
According to local people, Siraj Khan had no enmity with anyone in the area.
Two activists of the pro-government Tauheedul Islam group were killed in a blast in a remote area of Khyber Agency.
Sources said a vehicle of the group was targeted with an IED along a roadside in Nari Baba area of Bazaar Zakakhel. The blast killed two TI activists on the spot.
http://www.dawn.com/news/1148908/blasts-kill-five-in-bajaur-khyber-agencies
------------
Recognising Afghan Taliban regime was Pak's blunder: Parvez Musharraf
Dec 5, 2014
Nearly two decades after Pakistan recognised the brutal Taliban regime in Afghanistan, former military ruler General Pervez Musharraf has admitted that the move was a "blunder".
Speaking at the Youth Parliament in Karachi on Thursday, Musharraf said that Pakistan was the only country that recognised the Taliban government in Afghanistan when it grabbed power in 1996 up to 2001 as Saudi Arabia and UAE later backed out.
He admitted that recognising its brutal rule in the late 1990s was a mistake by Pakistan.
The Soviet invasion of Afghanistan in 1979 changed the political climate worldwide and "three blunders" were made by the US who left the region after withdrawal of the Soviets, said 71-year-old Musharraf, who ruled Pakistan from 1999 to 2008.
The "first blunder was not to rehabilitate the 25,000 Afghan Mujahideen who fought in the war against USSR and they then came to Pakistan which led to the formation of al-Qaeda," he said.
Full report at:
http://indianexpress.com/article/world/asia/recognising-afghan-taliban-regime-was-paks-blunder-parvez-musharraf/#sthash.d4RzYyVE.dpuf
-------------
Lawyer defending 2 blasphemy accused receives threatening letter from Daish
Dec 5, 2014
MULTAN: A lawyer defending two blasphemy accused has received a letter from the 'Islamic State of Iraq and Al Sham or Daish' militant group with a warning to withdraw from the cases.
Shahbaz Gurmani is representing Junaid Hafeez, a visiting lecturer at the Bahauddin Zakariya University, and Khalil Qadri who are facing blasphemy cases.
"I am also the counsel for Saleem Aslam who has filed a petition in the Multan bench of Lahore High Court seeking orders for registration of an FIR against JUI-F chief Maulana Fazlur Rehman for committing blasphemy," Mr Gurmani told Dawn.
The lawyer said he was in his office on Wednesday when at about 9.30pm his brother informed him that he had heard gunshots outside their residence.
"I did not take the matter seriously and asked my brother not to worry about. I returned home and was taking dinner at about 12.15am when there was a knock at the main gate," he said.
Full report at:
http://www.dawn.com/news/1148920/lawyer-defending-2-blasphemy-accused-receives-threatening-letter-from-daish
------------
One soldier killed, six injured during rocket attack in Orakzai
Dec 5, 2014
PESHAWAR: One soldier was killed and six others were injured Friday in a rocket attack on Kalaya, the agency headquarters of the restive northwestern Orakzai tribal region.
Official sources said that two rockets were fired on the Kalaya Headquarters as a result of which seven soldiers sustained injuries. One of the injured soldiers died on his way to a hospital, while six others are receiving medical treatment.
Last month, 18 suspected militants and six soldiers were killed during a gun-battle in Orakzai Agency. The gun-battle was set off by an attack by militants before dawn, on a check-post in Shireen Dara area of Lower Orakzai.
Orakzai is one of Pakistan's seven semi-autonomous tribal regions in the northwest, where Pakistani Taliban and Al Qaeda-linked militants are said to have carved out strongholds.
It was a key abode of former Tehreek-i-Taliban Pakistan (TTP) chief Hakimullah Mehsud before he was killed in a US drone strike in North Waziristan in 2013.
http://www.dawn.com/news/1148981/one-soldier-killed-six-injured-during-rocket-attack-in-orakzai
------------
Islamabad, Kabul at one on fighting terror without discrimination: Nawaz
Dec 5, 2014
LONDON: Prime Minister Nawaz Sharif said on Thursday that Islamabad and Kabul are in agreement on fighting terrorism without discrimination.
While reiterating Pakistan's strong solidarity with the people of Afghanistan he urged the international community to do more to help the Afghan leadership realize its vision. In his address at the London Conference on Afghanistan, the Prime Minister said Pakistan and Afghanistan were committed to advance their common goal of a peaceful, stable, united and prosperous Afghanistan. The Prime Minister is on a three-day visit to the United Kingdom to participate in the conference also attended by British Prime Minister David Cameron, Afghan President Ashraf Ghani and US Secretary of State John Kerry. The conference is being co-hosted by the governments of UK and Afghanistan.
Full report at:
http://www.dailytimes.com.pk/national/05-Dec-2014/islamabad-kabul-at-one-on-fighting-terror-without-discrimination-nawaz
------------
Pakistan's ISI guns down US-educated Baloch school principal in Gwadar
Dec 5, 2014
A young U.S. educated Baloch school principal was Thursday morning gunned down by agents of Pakistan's infamous Inter-Services Intelligence in the port city of Gwadar. Zahid Askani, who was educated in Appleton, Wisc., had returned to Balochistan to promote co-education and had established the Oasis School in Gwadar. Seven bullets were pumped into his body by what Pakistan media described as "unknown assailants." It was clear that the slain principal, who was originally from Panjgur, believed in an independent homeland for the Baloch people as he was a member of the Baloch Students Organization Azad and Baloch Freedom Struggle groups on Facebook.
Jane E. Weisner, of Amherst, Mass., who is general secretary of the American Friends of Balochistan, told the Baltimore Examiner Thursday for a person to be Baloch was reason enough for him to be killed by the I.S.I. Weisner said she met Askani through the social media and was impressed with his fervent, impassioned dedication to freedom for Balochistan. "He was too young to die, but died for freedom as so many do before freedom is achieved," Weisner said. A sad Erin Reardon, a friend of Askani's from Appleton, said on Facebook, "Zahid Askani, thank you for being a beautiful person who has helped so many in the world."
Full report at:
http://www.examiner.com/article/pakistan-s-isi-guns-down-us-educated-baloch-school-principal-gwadar
-------------
Several IS militants arrested, Rehman Malik claims
Dec 5, 2014
ISLAMABAD: Former interior minister Rehman Malik said Friday that militant group Islamic State's (IS) network is present in the country and that it is led by Yousuf Salfi.
Speaking to media representatives in Islamabad, where the former interior minister had arrived to attend a meeting of the missing persons commission, Malik claimed that security personnel had arrested several IS militants during raids conducted in different parts of the country.
He said that being a former interior minister, he had his own means of gathering information from sources which had provided him with information regarding the presence of IS militants in the country.
Full report at:
http://www.dawn.com/news/1148972/several-is-militants-arrested-rehman-malik-claims
------------
Mideast
No Islamic State in Gaza, says Hamas despite menacing fliers
Dec 5, 2014
Hamas denied the presence of the Islamic State terror group in the Gaza Strip Wednesday, after fliers signed by the jihadist organization have emerged in the Palestinian territory in recent weeks, threatening women and intellectuals
The Islamic State of Iraq and Syria (ISIS) is the former name of the Islamic State, a jihadist offshoot of Al-Qaeda headed by Abu Bakr al-Baghdadi, which has succeeded in gaining control of large swaths of land in northeastern Syria and northern Iraq in recent months.
On Monday, reports of a flier signed by "ISIS – Gaza Province" emerged on social media websites, warning 18 Gaza-based writers to repent within three days "for offending the tenets of Islam" or face the death penalty for apostasy. The Ramallah-based Palestinian Authority unity government of Rami Hamdallah rushed to condemn the communique, calling it "a dangerous precedent that must be stopped immediately."
Another pamphlet, dated November 29 and titled "The hijab, the hijab" (the Islamic veil), instructed Gaza's women to cover their heads "in accordance with Sharia" or face an Islamic trial.
Full report at:
http://www.timesofisrael.com/hamas-denies-existence-of-isis-in-gaza-following-menacing-pamphlets/#ixzz3L4OW6y2b
-------------
Hamas: Netanyahu is playing with fire by allowing Jews on Temple Mount
Dec 5, 2014
Khaled Mashaal, the leader of Hamas, railed against Jews being allowed to visit the Temple Mount and justified the recent wave in Palestinian terror attacks as a reaction to the handful of times prayer at the holy site was closed due to security concerns, in an interview with Sky News on Friday.
"Netanyahu is playing with fire when he allows members of his government and the extremists to repeatedly storm the al-Aksa mosque," he said. "That's dangerous. For every action, there's a reaction."
In relation to the Temple Mount being closed for Friday prayers on a number of recent occasions, Mashaal continued to lash out against the prime minister. "Our fight is a national fight. Netanyahu is turning it into a religious fight. He bears responsibility for the consequences of what's happening," he said.
Full report at:
http://www.jpost.com/Arab-Israeli-Conflict/Hamass-Khaled-Mashaal-Netanyahu-is-playing-with-fire-by-allowing-Jews-on-Temple-Mount-383755
----------
Religion courses for primary schools on agenda of Turkish education council
Dec 5, 2014
The national education council is set to discuss the introduction of religious courses to primary schools and kindergartens across Turkey, raising fresh concerns over the rise of religious conservatism in the country.
The suggestion has been made by teachers' union Eğitim Bir-Sen, which offered to discuss religious courses in primary schools during meetings for the 19th national education council in the southern province of Antalya. The council decided to discuss the proposal during its ongoing meetings, and if it is approved by the council, it will be included in non-binding recommendation letter submitted to the Education Ministry, Doğan News Agency reported.
Religious culture and moral knowledge courses are compulsory for every Turkish student from the fourth grade onward. Religious courses are currently not given to first, second and third graders.
Full report at:
http://www.hurriyetdailynews.com/religion-courses-for-primary-schools-on-agenda-of-turkish-education-council.aspx?pageID=238&nID=75225&NewsCatID=338
-------------
'Post' poll: 60% of Israelis don't want Netanyahu anymore
Dec 5, 2014
Prime Minister Benjamin Netanyahu's chances of coasting to an easy victory in the March 17 election took a surprising hit on Thursday when a Panels Research poll taken for The Jerusalem Post and its Hebrew sister newspaper, Ma'ariv Sof Hashavua, found that a hefty majority of Israelis want him to lose.
The poll, taken on Wednesday among 500 respondents representing a statistical sample of the adult population, indicated that the election could end up being close and assumptions that Netanyahu cannot be defeated may be incorrect.
It asked respondents whether they want Netanyahu to remain prime minister after the vote. Sixty percent said no, 34% said yes, and 6% did not know.
Full report at:
http://www.jpost.com/Israel-Elections/Post-poll-60-percent-of-Israelis-dont-want-Netanyahu-anymore-383724
----------
Report: 75 Students Become Disabled Due to Israeli Aggression
Dec 5, 2014
Nearly 75 Palestinian students became disabled after being injured during the Israeli fierce offensive on Gaza last summer, an official report revealed.
Dr Ahmad El Hawajri, Director General of Educational Guidance and Counseling at the Ministry of Education, confirmed that 75 Palestinian students became disabled after sustaining different injuries during Israel's aggression on Gaza, of whom there are 22 suffering from visual impairment, 25 from hearing impairment, and 28 from mobility impairment, PIC reported.
He pointed out that hundreds of students in Gaza still suffer from psychological and emotional traumas caused by the summer aggression. "Nearly 673 students suffer from underachievement due to the war effect on them."
He stressed that his ministry will provide all the necessary and required material and psychological support for those students to enjoy their normal life.
On July 2014, Israel carried out a fierce and bloody aggression on Gaza that lasted for 50 days and led to the martyrdom of more than 2100 civilians mostly children and the injury of more than 11,000 others.
The General Federation for the Disabled in Gaza earlier said that more than 40% of the war-wounded are either visually impaired, or hearing impaired, or mobility impaired.
http://english.farsnews.com/newstext.aspx?nn=13930913000779
--------
Southeast Asia
Selangor sultan warns Muslims against deviant teachings
Dec 5, 2014
The Sultan of Selangor, Sultan Sharafuddin Idris Shah, today reminded Muslims in the state to be wary of deviant teachings which he said could disunity.
He said they should lodge reports on deviant teachings for these could evolve into something difficult to contain.
"Deviant teachings can confuse Muslims and distort their faith, leading to disunity and disputes among them and earn them the disrespect of other communities," he said when opening the Ar-Ridhuan Mosque in Simpang Empat, Jeram, in Kuala Selangor.
The sultan said the Selangor Islamic Affairs Department (Jais) should ensure that those who spoke on Islam held recognised credentials and adhered to guidelines.
Jais should also monitor all activities at mosques and suraus so as to be able to nip deviant teachings in the bud, he said.
"I wish to remind all mosque officials and Muslims in the state to monitor those trying to spread deviant teachings.
"Complaints can be registered with the mosque officials or committees to be forwarded to Jais," he said.
The sultan advised Muslims in the state to make use of mosques and suraus as places to foster goodwill in society.
http://www.themalaysianinsider.com/malaysia/article/selangor-sultan-warns-muslims-against-deviant-teachings-bernama#sthash.pTaYLNJ8.dpuf
------------
Ex-top cop warns of jihad against liberalism and Christian evangelism
Dec 5, 2014
"Liberalism" and Christian evangelism may become causes for returning Malaysian jihadists from the Middle East to launch a local crusade, former top cop Tun Mohammed Hanif Omar (pic) said.
"God forbid these two local developments are turned into a local crusade, it may destroy one of the last oasis of religious peace in the world," he told The Malaysian Insider in an interview.
He specifically named Comango, or the Coalition of Malaysian NGOs, in the Universal Periodic Review Process, and "evangelical Jesuits" as "causes that may be seized upon by Malaysian jihadists as justification for a local crusade".
Hanif, who was Inspector-General of Police (IGP) for 20 years, was interviewed recently in conjunction with the 25th anniversary of the Hatyai Peace Accord on December 2, 1989, which ended the communist insurgency. The treaty was signed by the Communist Party of Malaya (CPM) and the Malaysian and Thai governments.
Full report at:
http://www.themalaysianinsider.com/malaysia/article/ex-top-cop-warns-of-jihad-against-liberalism-and-christian-evangelism1#sthash.jaKJzsrt.dpuf
-------------
Human rights body still wants Putrajaya to replace Sedition Act
Dec 5, 2014
Putrajaya must fulfil its pledge to repeal the Sedition Act, a disappointed national human rights commission said, after witnessing the prime minister's U-turn on law reform at the Umno general assembly.
The Human Rights Commission of Malaysia (Suhakam) acting chairman Datuk Dr Khaw Lake Tee said the Sedition Act, which she termed as "repressive and obsolete", was never designed to promote, nurture or maintain peace and harmony.
She said the decision to retain the colonial-era law did not reflect well on Malaysia given that the nation was due to assume two important high-profile international positions next year: membership at the United Nations Security Council and chairmanship of Asean.
Prime Minister Datuk Seri Najib Razak announced at the Umno general assembly last week that the act would stay, reneging on his promise made two years ago to repeal it.
He said the act would be fortified with additional provisions that would make it a crime to insult Islam and other faiths.
Full report at:
http://www.themalaysianinsider.com/malaysia/article/human-rights-body-still-wants-putrajaya-replace-sedition-act#sthash.eks0Mmq5.dpuf
-------------
Australia
Muslims Facing Discrimination in New Zealand
Dec 5, 2014
Muslim New Zealanders are facing increased discrimination in the wake of the political focus on the potential threat from Islamic State supporters in this country.
The tension is also being increased by continued fighting in Iraq and Syria involving ISIS forces.
Those gathering details about racist outbursts say they are mostly being directed at women and children wearing a Hijab or headscarf. But it's not just those who have moved to New Zealand more recently who are bearing the brunt of such discrimination.
Musa Taukuri decided to follow Islam shortly before the terrorist attacks of 9/11 in New York and Washington DC in 2001.
He said the extra pressure and scrutiny of the Muslim community in New Zealand following those events strengthened his faith. But this time, his family have been the subject of verbal assaults.
Full report at:
http://www.radionz.co.nz/news/national/260967/muslims-facing-discrimination-in-nz
-------------
Islamic State's terrorist capital is first area off limits for Australians
Dec 5, 2014
A PROVINCE of Syria declared by the Islamic State terrorist group to be its capital is the first place designated by the Abbott government as a no-go area for Australians.
Foreign Minister Julie Bishop yesterday formally "declared" ­Al-Raqqa province, making it an ­offence under Australian law to enter or remain there without a legitimate purpose.
Islamic State operations are mainly ­directed from Al-Raqqa and some of the group's senior commanders are Australians.
Australian jihadists who have spent time in the city of Al-Raqqa include Khaled Sharrouf whose son was photographed holding the severed head of a Syrian ­soldier in the city square several months ago.
It is expected that more areas will be declared in the weeks to come.
Under section 119.2 of the Criminal Code, anyone visiting a declared area faces a jail term of up to 10 years unless they can demonstrate that they have a legitimate reason to be there.
Foreign fighters and supporters of foreign conflicts posed a significant threat to Australia and its way of life, Ms Bishop said.
Full report at:
http://www.theaustralian.com.au/in-depth/terror/islamic-states-terrorist-capital-is-first-area-off-limits-for-australians/story-fnpdbcmu-1227145268937
-------------
Africa
Kenya: Suspect Denies Recruiting Youth Into Al-Shabaab
5 December 2014
A close ally of slain Sheikh Sharif Abubakar alias Makaburi was yesterday charged with recruiting youths to al Shabaab.
Mohammed Ali denied that he recruited Abdalla Said, Swaleh Pesa, Swaleh Ahmed and Swaleh Juma at Masjid Musa, Mombasa county, on November 17.
Ali also denied robbery with violence charges and refuted allegations that on January 3 in the same mosque he robbed police officer Shemuro Athuman of a Sh10,000 spy pen.
Police accused Ali of being the new kingpin behind radicalisation of Muslim youths at the Coast, succeeding Makaburi in inspiring youths to fight against non-Muslims and security organs.
Ali was also denied harbouring youths with intent to commit a terrorist act and handling of stolen property.
On November 24, the police were given 10 days to conduct investigations against Ali.
His lawyer Gacue Gakuhi pleaded with the court to release him on bail pending determination of his case.
Full report at:
http://allafrica.com/stories/201412050706.html
----------
Kenyan military plane crashes in Somalia, rebels say shot down
Dec 5, 2014
A Kenyan warplane crashed in southern Somalia on Thursday, with the Kenyan military saying the crash was due to technical problems while Somali rebels said they had shot it down with a missile.
The aircraft, which had been on a combat mission, came down in the area of the southern port city of Kismayu, where Kenyan troops are deployed as part of an African Union peacekeeping force battling the Islamist rebel group al Shabaab.
A spokesman for the Kenya Defence Force (KDF) said the pilot reported a technical problem on returning from a combat mission at about 3 p.m. (1200 GMT) before he was forced to eject.
Full report at:
http://english.alarabiya.net/en/News/africa/2014/12/04/Kenyan-military-plane-crashes-in-Somalia-rebels-say-shot-down.html
-------------
Kenya arrests 77 Chinese in Internet hacking case
Dec 5, 2014
Police in Kenya are consulting technical experts to determine if 77 Chinese nationals arrested with advanced communications equipment in several houses in an upscale Nairobi neighborhood were committing espionage, an official on December 4.
The Chinese were arrested since the weekend with equipment that Kenya's Daily Nation newspaper said was capable of hacking into government servers.
"We have roped in experts to tell us if they were committing crimes of espionage," said Ndegwa Muhoro, the head of criminal investigations for Kenya's police. "These people seem to have been brought here specifically for a mission which we are investigating."
The arrests began on Sunday, when computer equipment in one of the upscale houses the Chinese nationals had rented near the U.S. Embassy and U.N. headquarters caught fire, killing one person.
Full report at:
http://indianexpress.com/article/world/middle-east-africa/kenya-arrests-77-chinese-in-internet-hacking-case/#sthash.bSuONxIv.dpuf
-------------
Sukuk for vaccine fund ushers Islamic finance into ethical sphere
5 December 2014
The latest entrant into Islamic finance is leading the industry in the new direction of socially responsible investment - which could even include the fight against Ebola.
Last week an immunization program secured a $500 million issuance of Islamic bonds, or sukuk, in the largest debut issue ever by a global non-profit organization, under a broader trend to use bond markets to fund development and humanitarian projects.
The sukuk from the International Finance Facility for Immunization Co (IFFIm), for which the World Bank acts as treasury manager, is a break from the predominantly commercial nature of most Islamic finance transactions.
The deal is part of World Bank efforts to adapt sukuk for use in a variety of ethical pursuits, including advising the Dubai government on a funding strategy for the emirate's green investment program.
Full report at:
http://english.alarabiya.net/en/business/2014/12/05/Sukuk-for-vaccine-fund-ushers-Islamic-finance-into-ethical-sphere.html
--------
UN condemns "in strongest terms" air strikes and military escalation
5 December 2014
The United Nations Support Mission in Libya (UNSMIL) has condemned "in the strongest terms" the recent air raids and escalation of violence in Libya.
"Those seeking to undermine the dialogue through these attacks will not achieve their objectives," it has said in a statement.
UNSMIL warned that all those who threaten Libya's peace, stability or security would face targeted sanctions.
Not only have the attacks, it said, had a disastrous impact on civilians, property and infrastructure, the military escalation on both sides is negatively impacting the process of political dialogue.
Nevertheless said UNSMIL, it was confident that Libyans want this dialogue to succeed and would not be deterred from supporting and participating in it.
http://www.libyaherald.com/2014/12/05/un-condemns-in-strongest-terms-air-strikes-and-military-escalation/#ixzz3L4r4Udtj
----------
South Asia
Pakistan will never cooperate with the Afghan peace process: Afghan Minister
Dec 5, 2014
The former Afghan Minister of Interior Omar Daudzai has said Islamabad will not cooperate with the Afghan government in peace process with the anti-government militant groups.
Speaking during a press conference on Thursday, Daudzai said previous government has attempted on numerous occasions to persuade Islamabad to assist the government in peace process.
Daudzai further added that similar approach by the new government would be a waste of time.
He called on President Mohammad Ashraf Ghani to undertake a new approach towards the peace process, insisting that Islamabad will never assist the Afghan government in this regard.
Daudzai also added that terrorism and extremism is now threatening the whole region and called for the formation of a regional coalition to fight the growing extremism.
According to Daudzai, decisions were taken last year to hand over a specific region within the Afghan soil to the Taliban control.
He accused the regional intelligence agencies for supporting the Taliban group in Afghanistan and insisted that the Taliban leadership is based outside Afghanistan, in Quetta city.
Daudzai warned that the conspiracies have not ended and new apporoaches will be undertaken by Taliban group and their supporters next year.
http://www.khaama.com/pakistan-will-never-cooperate-with-the-afghan-peace-process-daudzai-8825
-------------
US, Britain pledge to support Afghanistan as combat troops withdraw
Dec 5, 2014
The United States and Britain pledged on Thursday to support Afghanistan's new unity government even as foreign combat troops withdraw from the country after a 13-year war that ousted the Islamist Taliban.
U.S. Secretary of State John Kerry said President Ashraf Ghani's new government had already made moves to combat money laundering and corruption since taking office in September in the first democratic transfer of power in Afghan history.
Ghani, who with former presidential rival Abdullah Abdullah formed a power-sharing government after months of wrangling over election results, sought to reassure allies that he would tackle endemic corruption and stop the theft of aid money.
"We are confident that the policies outlined today by President Ghani and CEO Abdullah will result in a more stable and prosperous Afghanistan," Kerry said at a conference on Afghanistan in London.
Full report at:
http://english.ahram.org.eg/NewsContent/2/9/117210/World/International/US,-Britain-pledge-to-support-Afghanistan-as-comba.aspx
-------------
'Malaysia to recruit 12,000 Bangladeshi workers': Pm Sheikh Hasina
Dec 5, 2014
Prime Minister Sheikh Hasina has informed that Malaysia has agreed to recruit 12,000 more Bangladeshi workers to the country.
The premier made the remarks while briefing media on the outcome of her just-concluded official visits to Nepal and Malaysia.
"An agreement was also signed regarding the manpower export to Malaysia," said the prime minister.
She said positive progress was also marked in strengthening economic relations between Bangladesh and Malaysia.
http://www.dhakatribune.com/bangladesh/2014/dec/05/pm-briefing-media#sthash.Vbpa2BTy.dpuf
-------------
Jamaat's Subhan awaits verdict in war crimes case
Dec 5, 2014
The International Crimes Tribunal 2 has completed the recording of closing arguments in the war crimes case against Jamaat-e-Islami Nayeb-e-Ameer Maulana Abdus Subhan, and will deliver the verdict any day.
The three-member tribunal, led by Justice Obaidul Hassan with members Justice Md Mozibur Rahman Miah and Justice Md Shahinur Islam, gave the order yesterday.
The other tribunal on Wednesday kept the war crimes case of Jatiya Party's former lawmaker M Abdul Jabbar awaiting verdict.
Maulana Subhan, 77, is facing nine charges of crimes against humanity including genocide and murders of unarmed people, mainly Hindus, along with looting and setting houses on fire in Pabna during the 1971 Liberation War.
Full report at:
http://www.dhakatribune.com/crime/2014/dec/05/jamaat%E2%80%99s-subhan-awaits-verdict-war-crimes-case#sthash.nsXpBFM5.dpuf
---------
URL: https://www.newageislam.com/islamic-world-news/new-age-islam-news-bureau/al-azhar-sponsors-conference-to-educate--brainwashed--arab-militants/d/100344